Lasooni Palak
Lasooni Palak recipe is an authentic North Indian recipe of spinach sautéed in garlic.
If you love garlic, then you must try this recipe as it is loaded with flavours of garlic! On the other hand, if you have a reservation to the strong garlic flavour, you can adjust the quantity of garlic as per your taste. I love spinach as it is such a versatile healthy, nutritious leafy vegetable and absorbs all the flavours of spices added to it. There are lots of spinach recipes wherein paneer, potatoes, chicken, corn or other ingredients are added to spinach for instance Palak Paneer, Palak Chole Masala, Palak Poori, Bird's nest in Spinach gravy, Lahsuni palak khichdi, Spinach and Cheese Muffins, and Cream Cheese Spinach Mushrooms amongst other spinach recipes. Lasooni Palak recipe is a true celebration of two ingredients- spinach and garlic!
Both spinach and garlic have loads of nutritional benefits. Spinach is dense in vitamins and minerals, low in calories. Spinach is beneficial for maintaining healthy skin, hair and strong bones, as well as helping with digestion, lowering the risk for heart disease and improving blood glucose control in diabetics. Whereas Garlic too is believed to be topped with medicinal properties. Garlic contains very few calories, fat, protein, or carbohydrates. Its health action comes from the enzymes and unique compounds that it contains that helps in lowering cholesterol, High BP amongst other things.
My children are not very keen on green leafy vegetables, so I always have to think of innovative ways to feed them spinach. Lasooni Palak is right up their street as they both love garlic (and I can sneak in the spinach)! Lasooni Palak is a simple, delicious recipe which makes the simple ingredients sing!
A perfect recipe for those evening meals when you crave something delicious, simple and nutritious. Lasooni Palak goes well with Lachha paratha, Plain naan or plain rice.
Ingredients
For Blanching
400 grams spinach leaves
For Spinach Paste
6-7 garlic cloves
2-3 green chillies
1 inch ginger piece
For Gravy
1 tablespoon oil
1 teaspoon cumin seeds
1 inch cinnamon stick
2 bay leaves
5-6 black pepper
1 black cardamom
½ cup finely chopped onions
1 teaspoon turmeric powder
Salt to taste
2 teaspoons coriander powder
2 teaspoons red chilli powder
1 teaspoon kasuri methi
1 teaspoon garam masala
1 tablespoon cream
1 tablespoon butter
For Tempering
2 teaspoons ghee
¼ cup garlic cloves
2 dry red chillies
Directions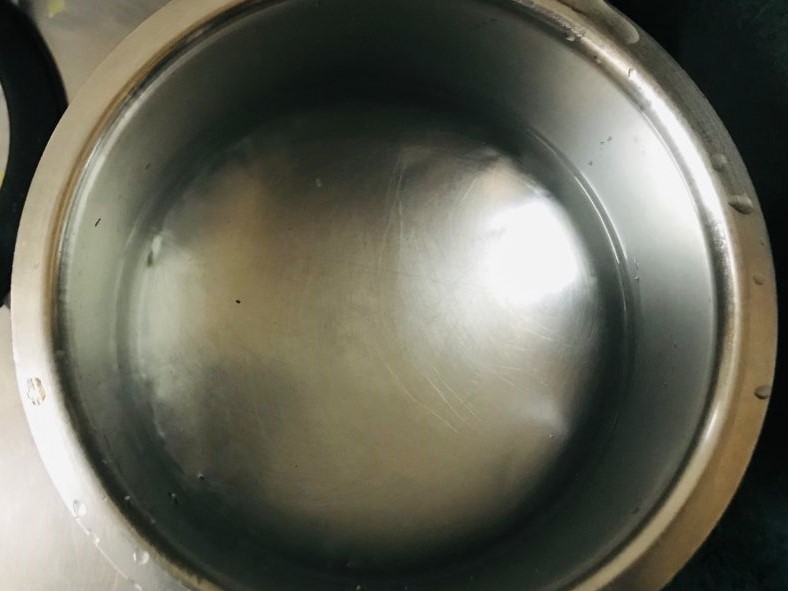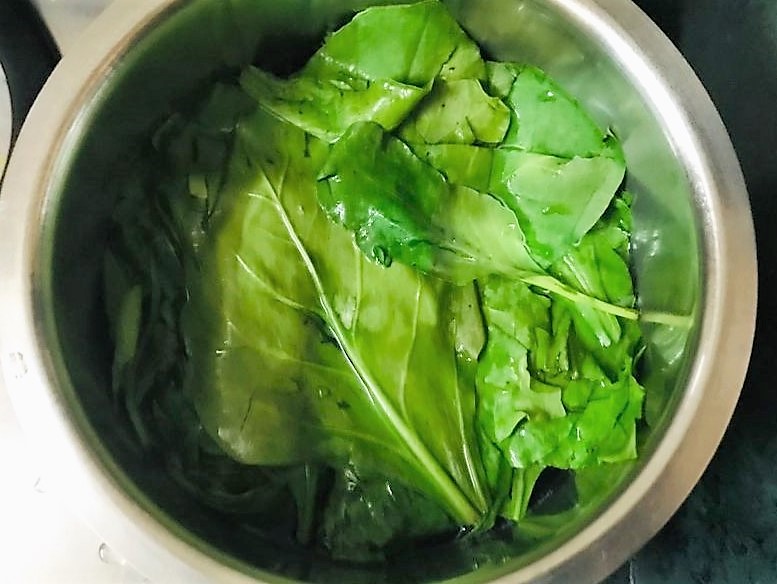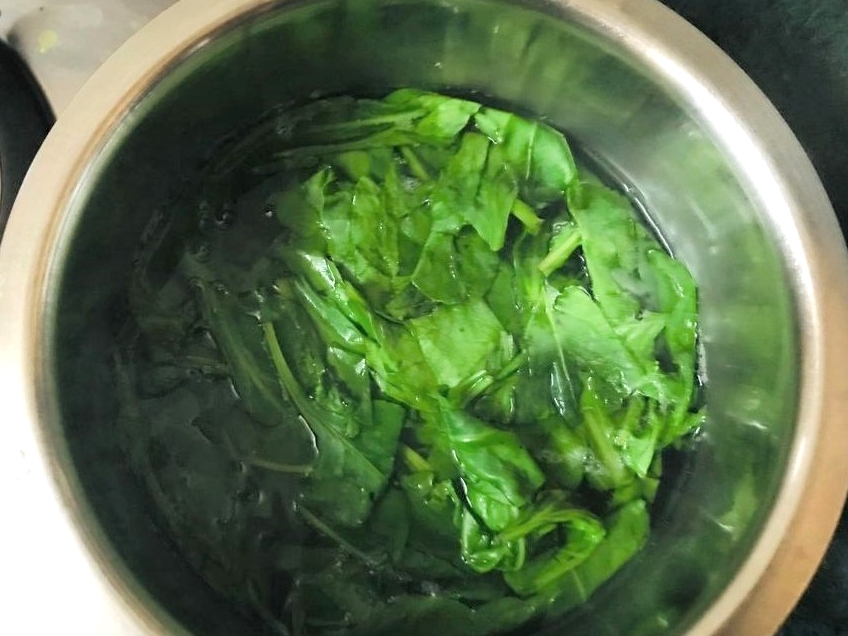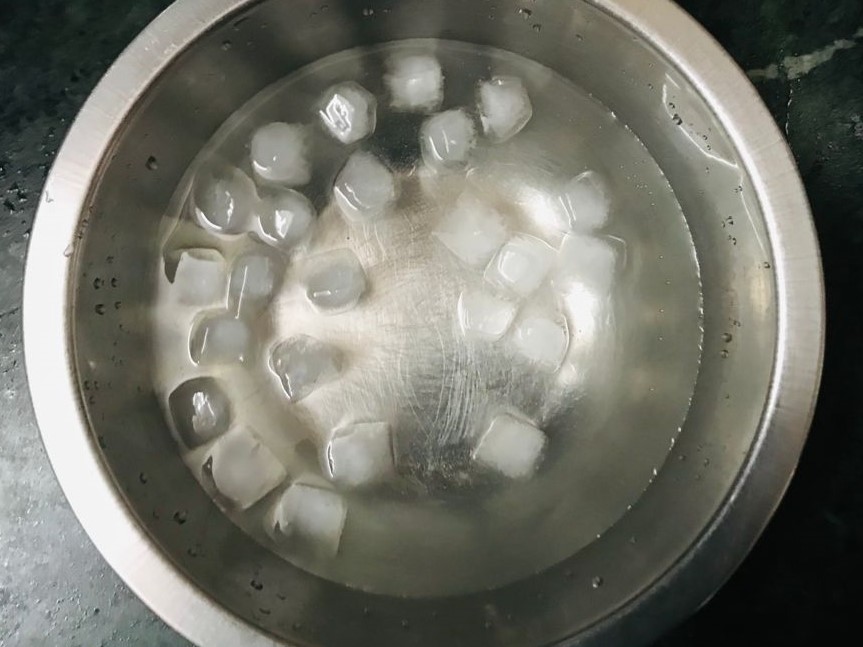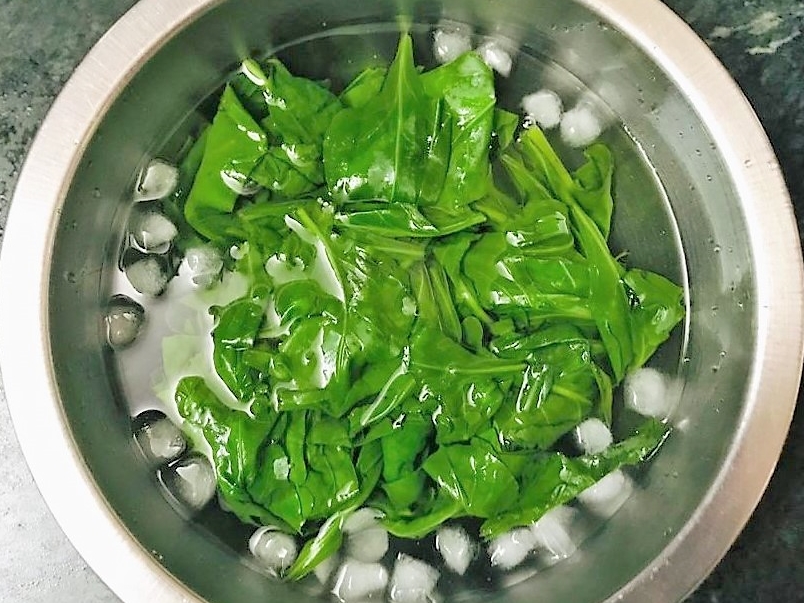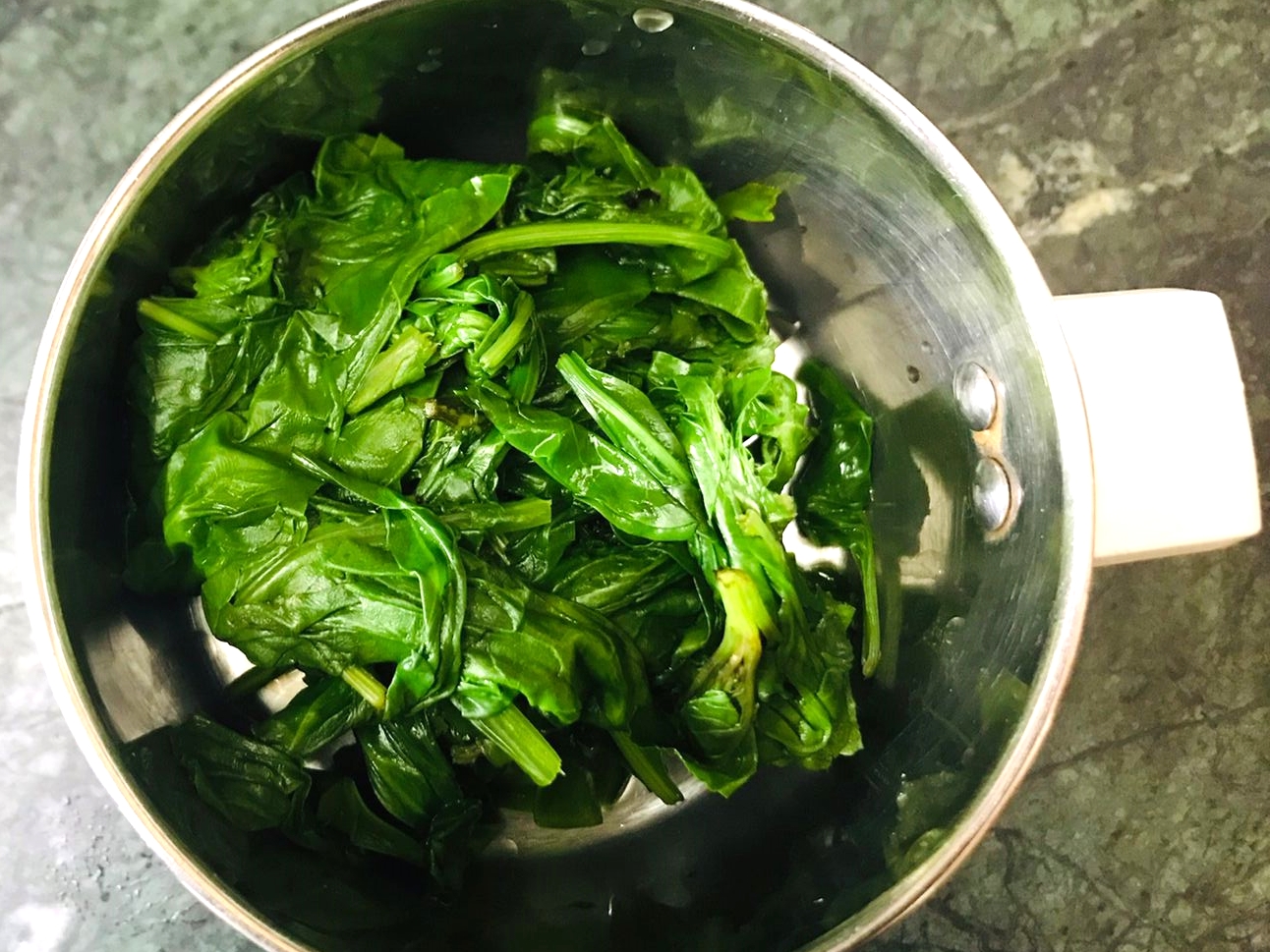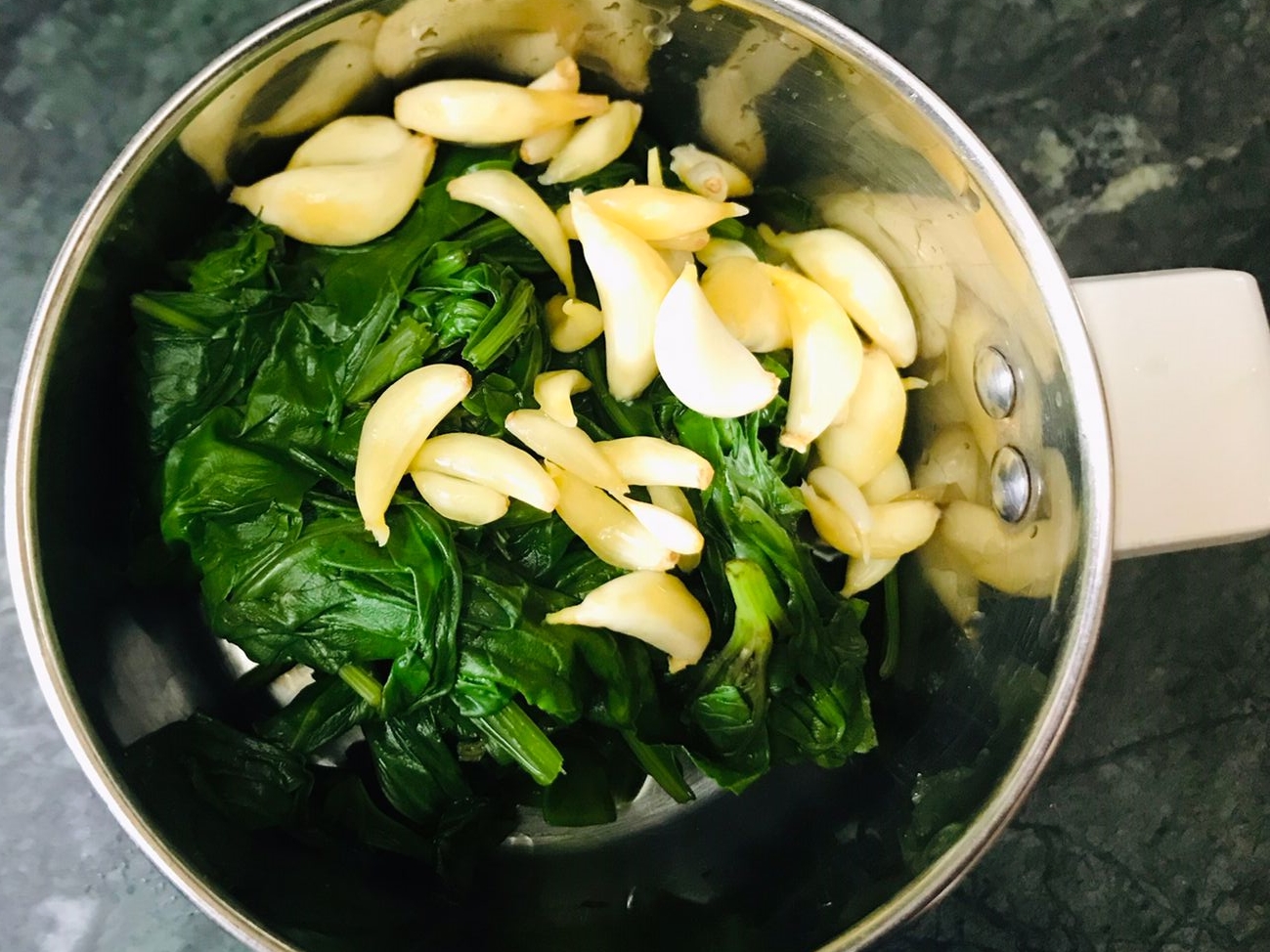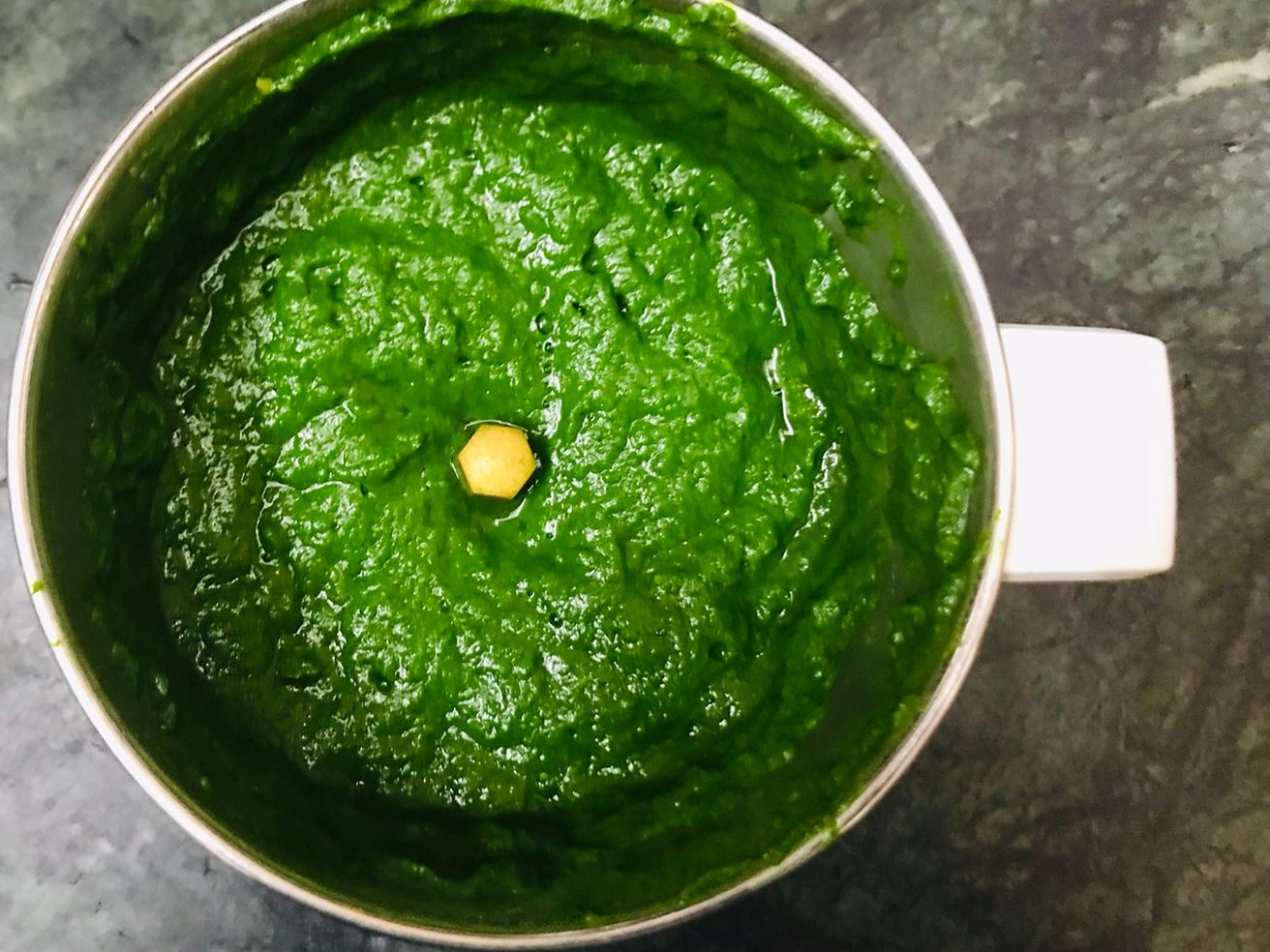 Boil 2 cups water in a pan and add the spinach leaves.  Boil the spinach for 1-2 minutes. Turn off the heat and transfer the spinach leaves to ice cold water. Keep it aside for about 3-4 minutes (This process is blanching which keep the spinach leaves green).
Once the spinach has cooled down squeeze the excess water from the spinach and add the garlic cloves, ginger and green chillies and blend it to a smooth puree.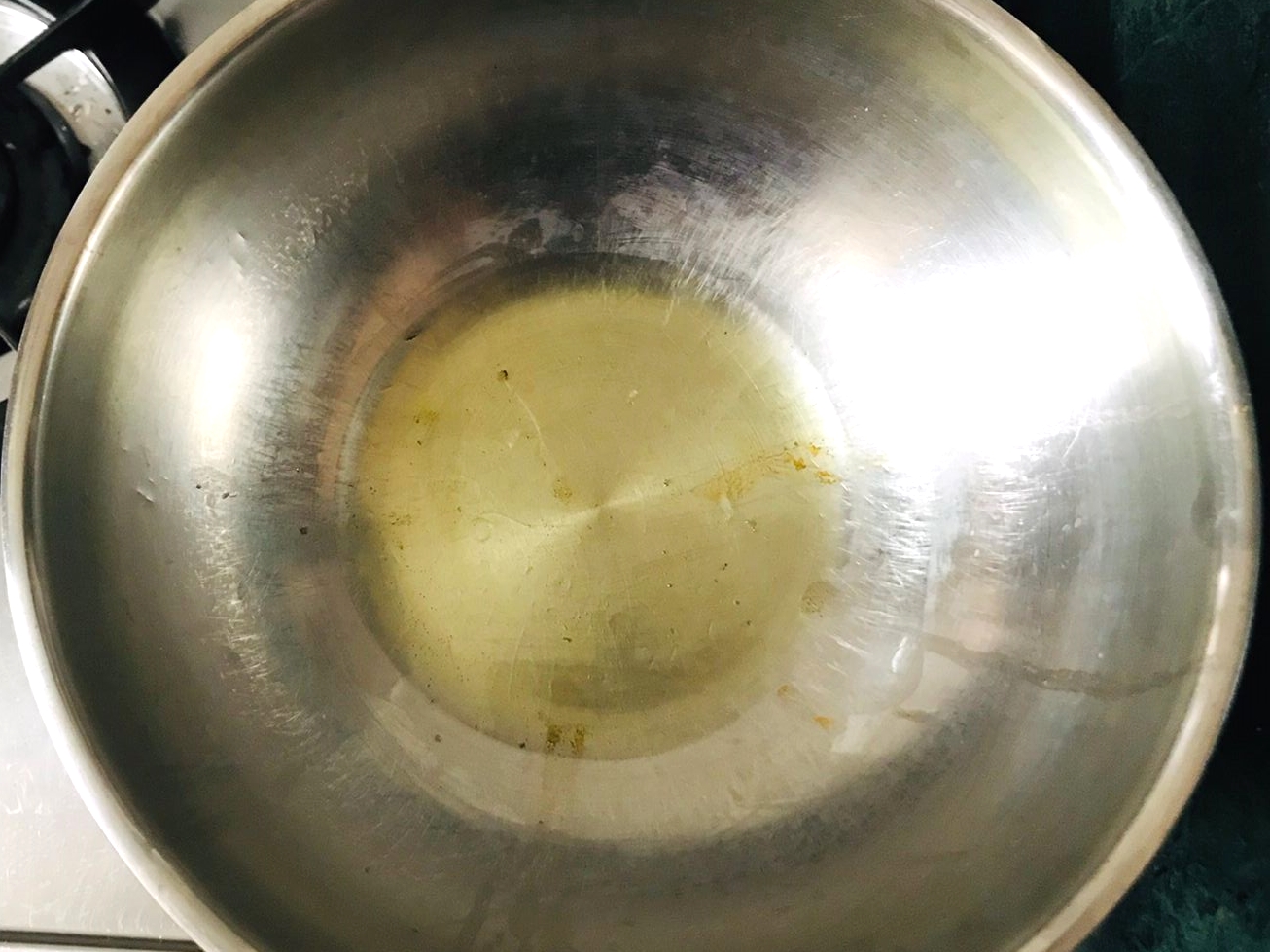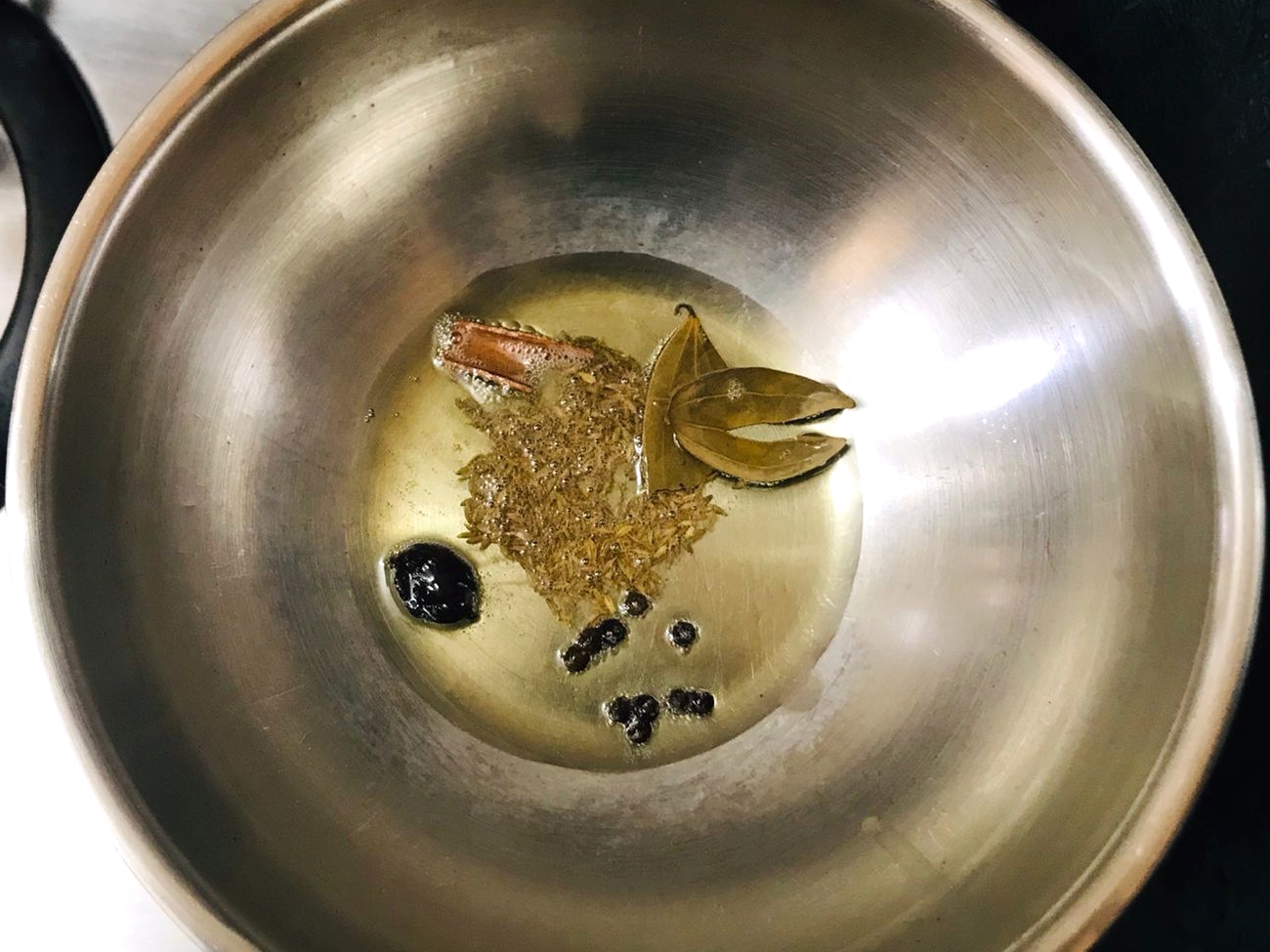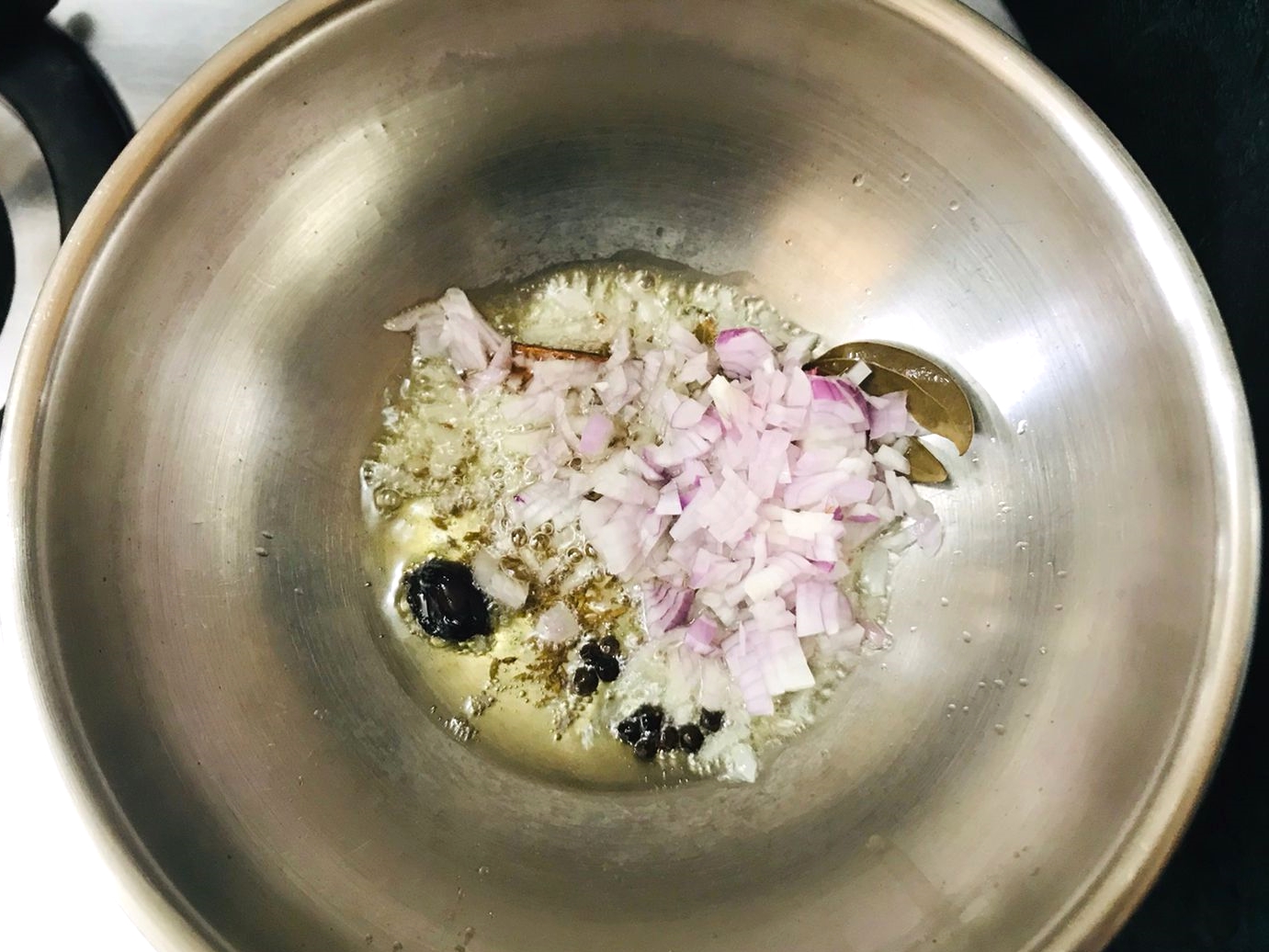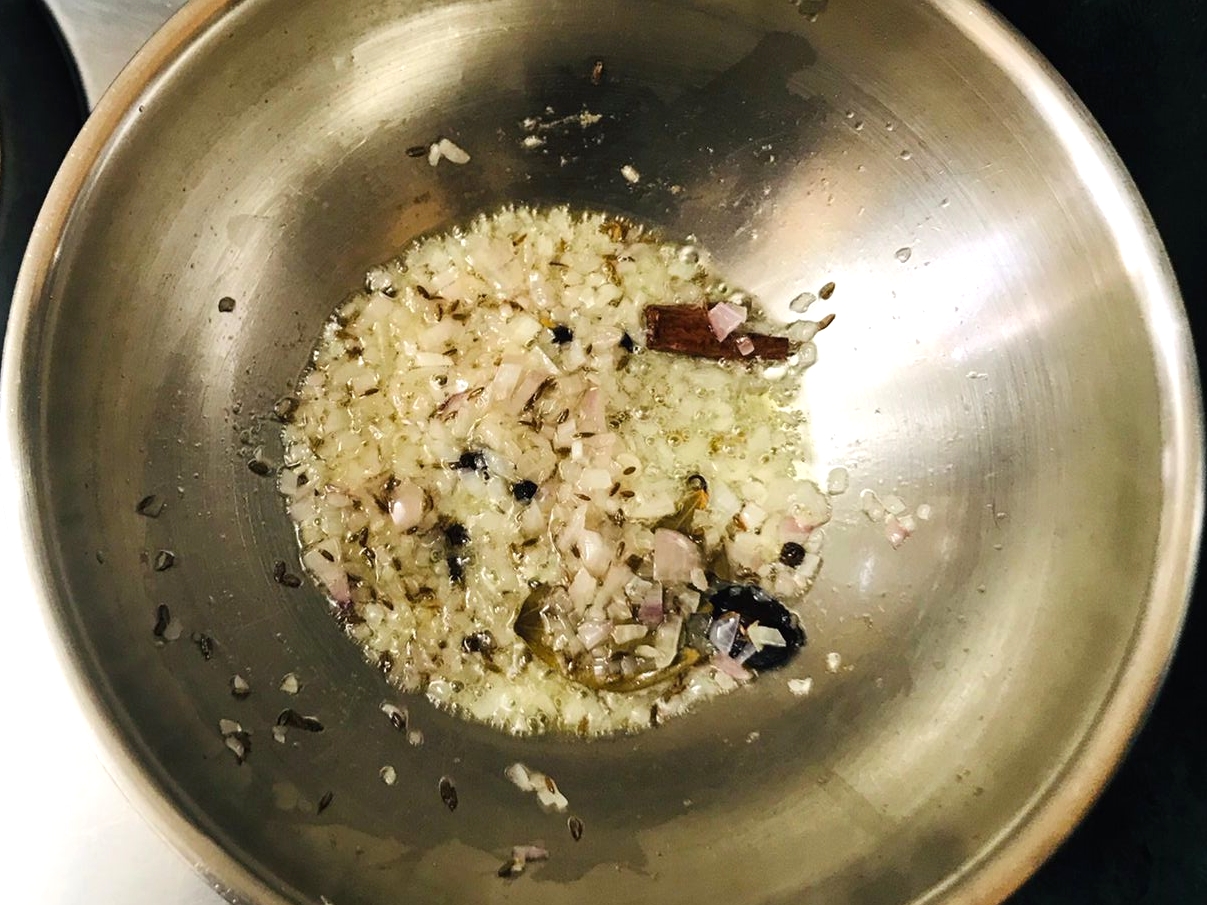 Heat oil in a pan and add the cumin seeds, black pepper, bay leaf, cinnamon and black cardamom. Once the cumin seeds begin to splutter and turn golden add the onions and cook for 4-5 minutes on medium heat until the onions turn golden and translucent.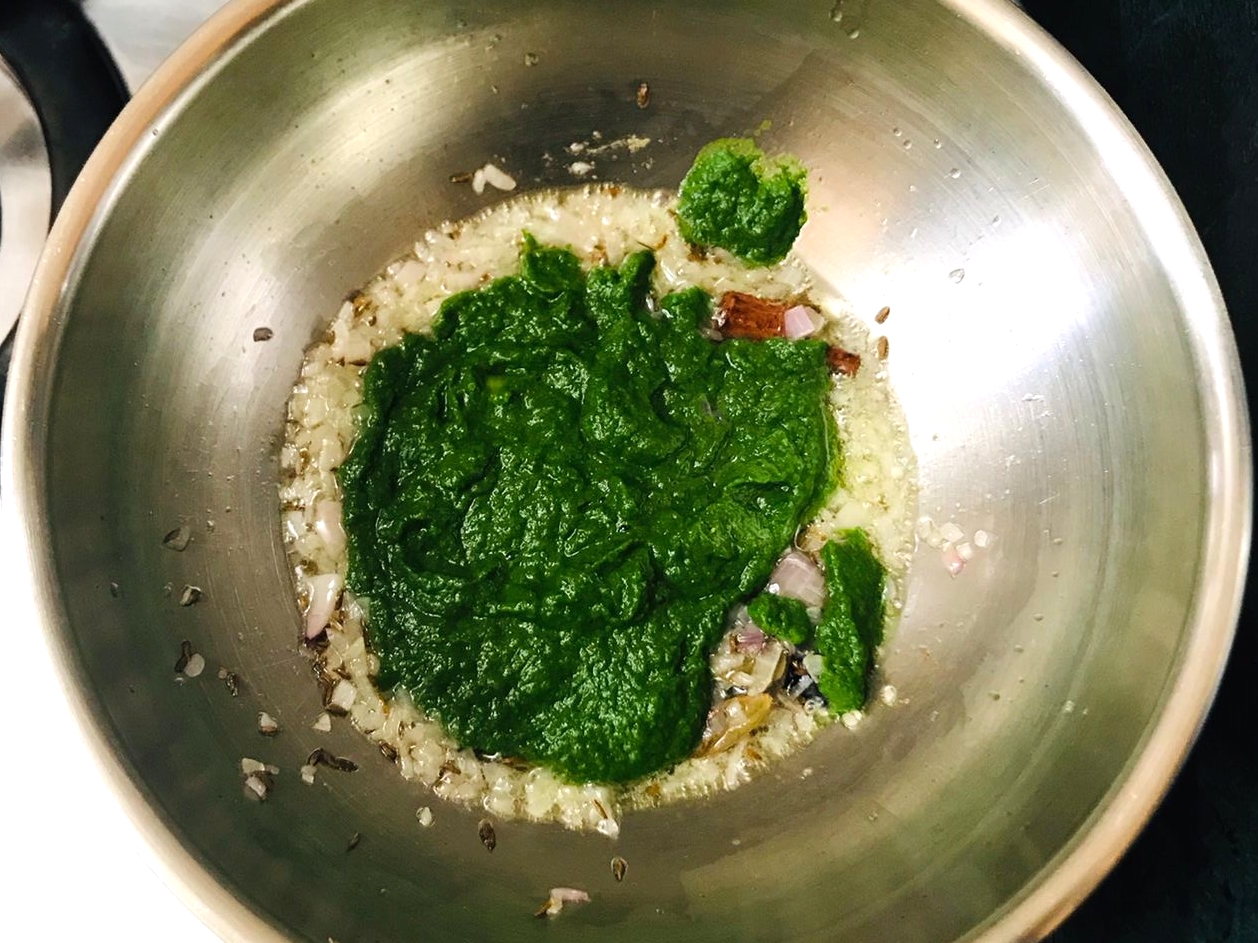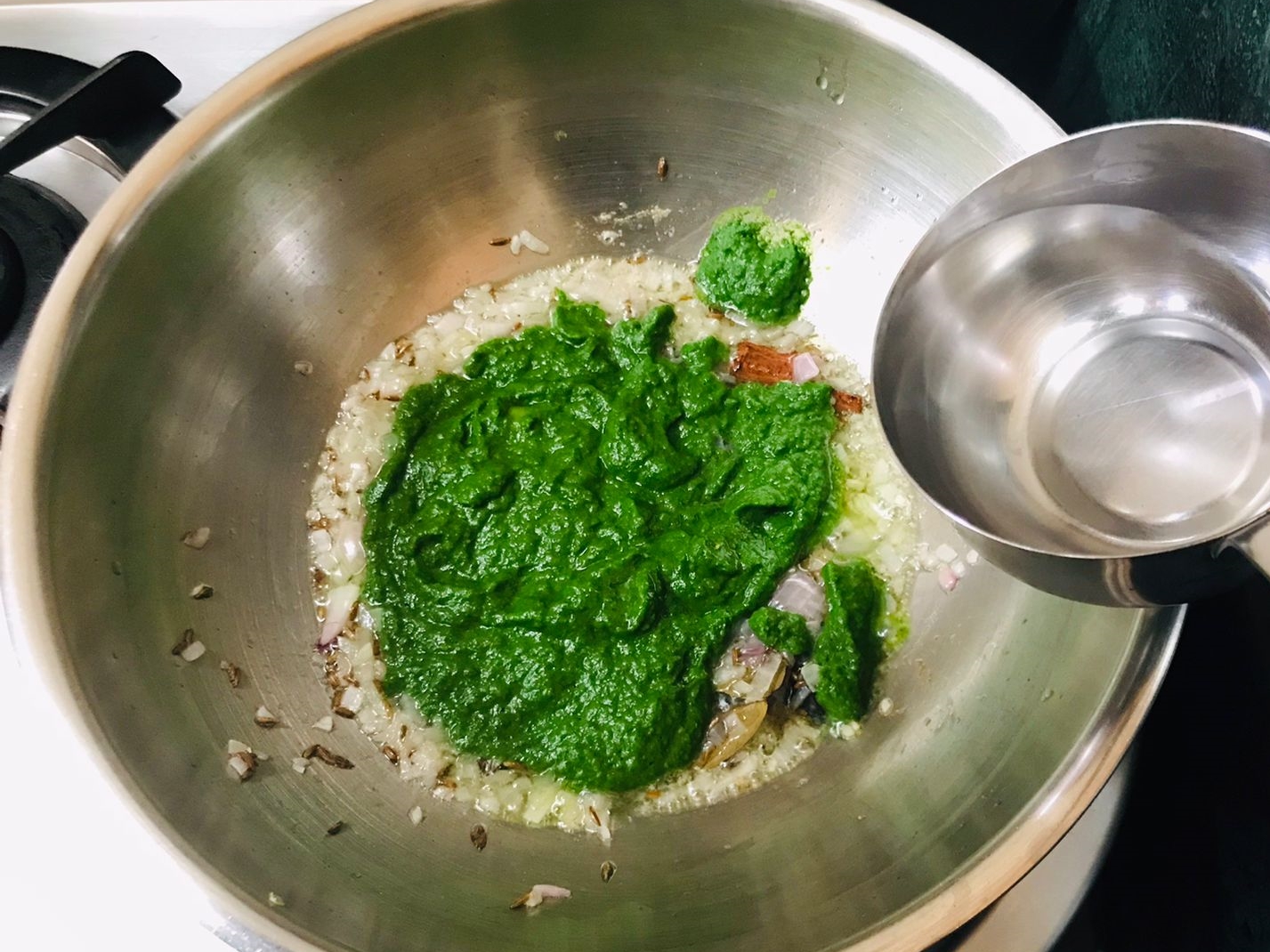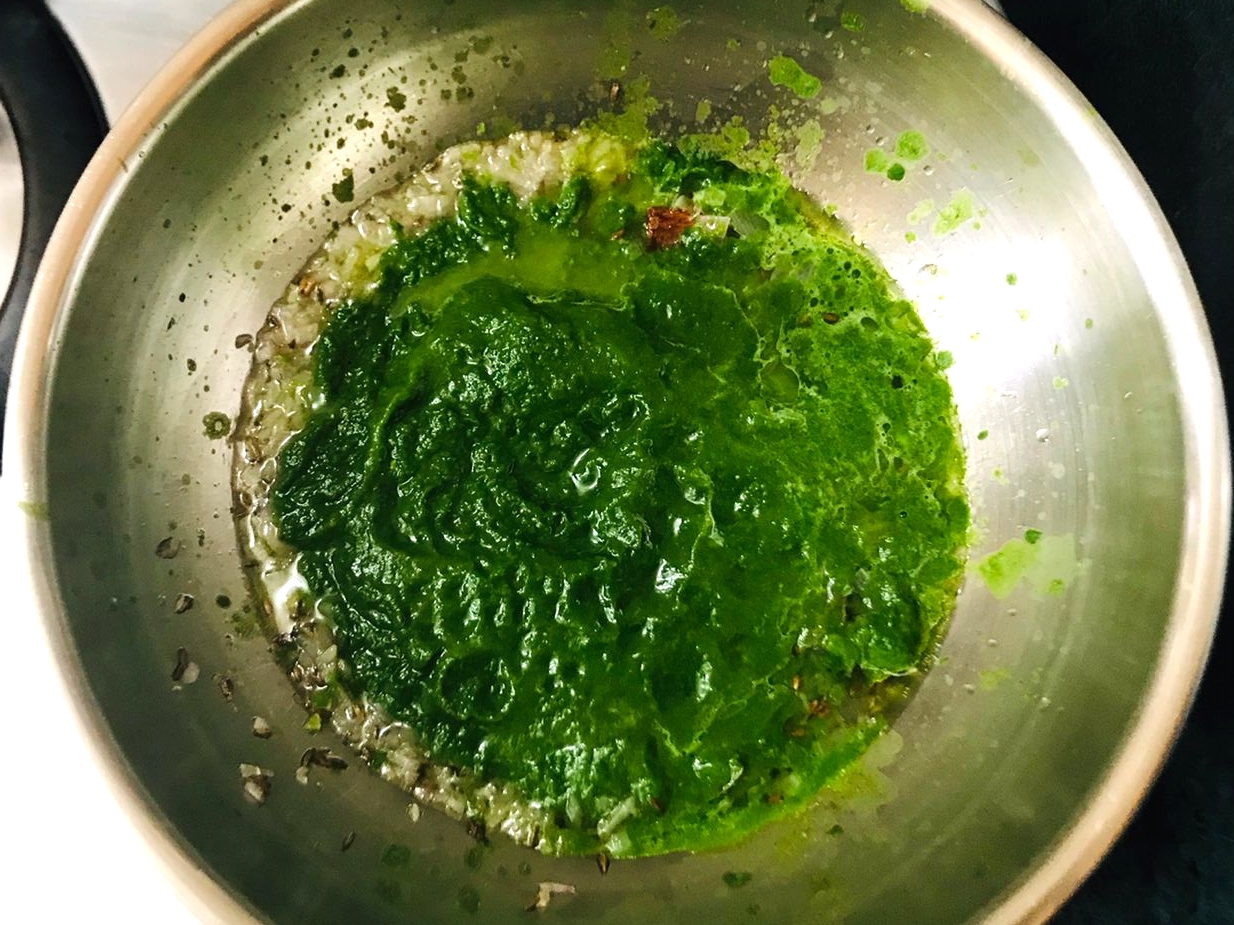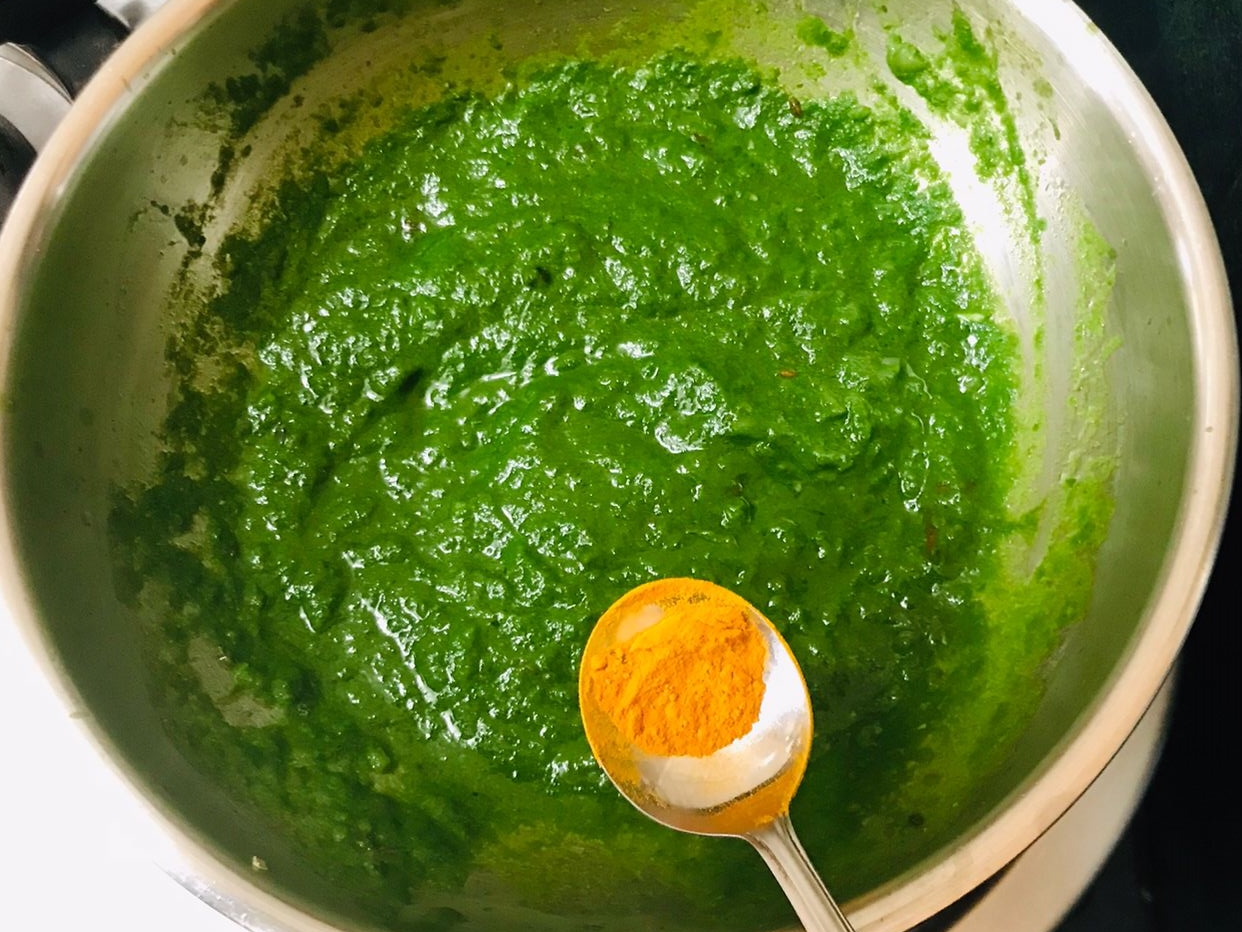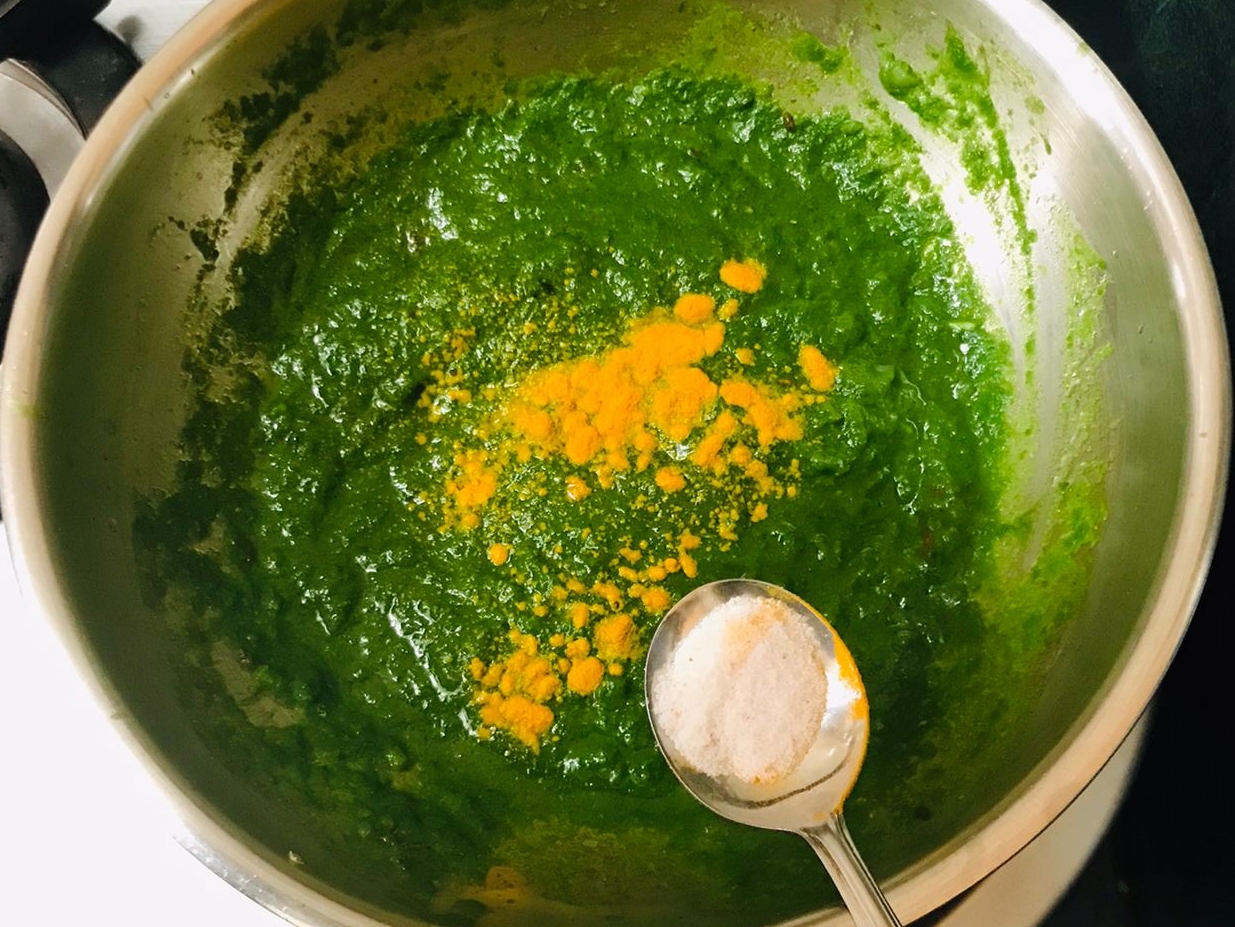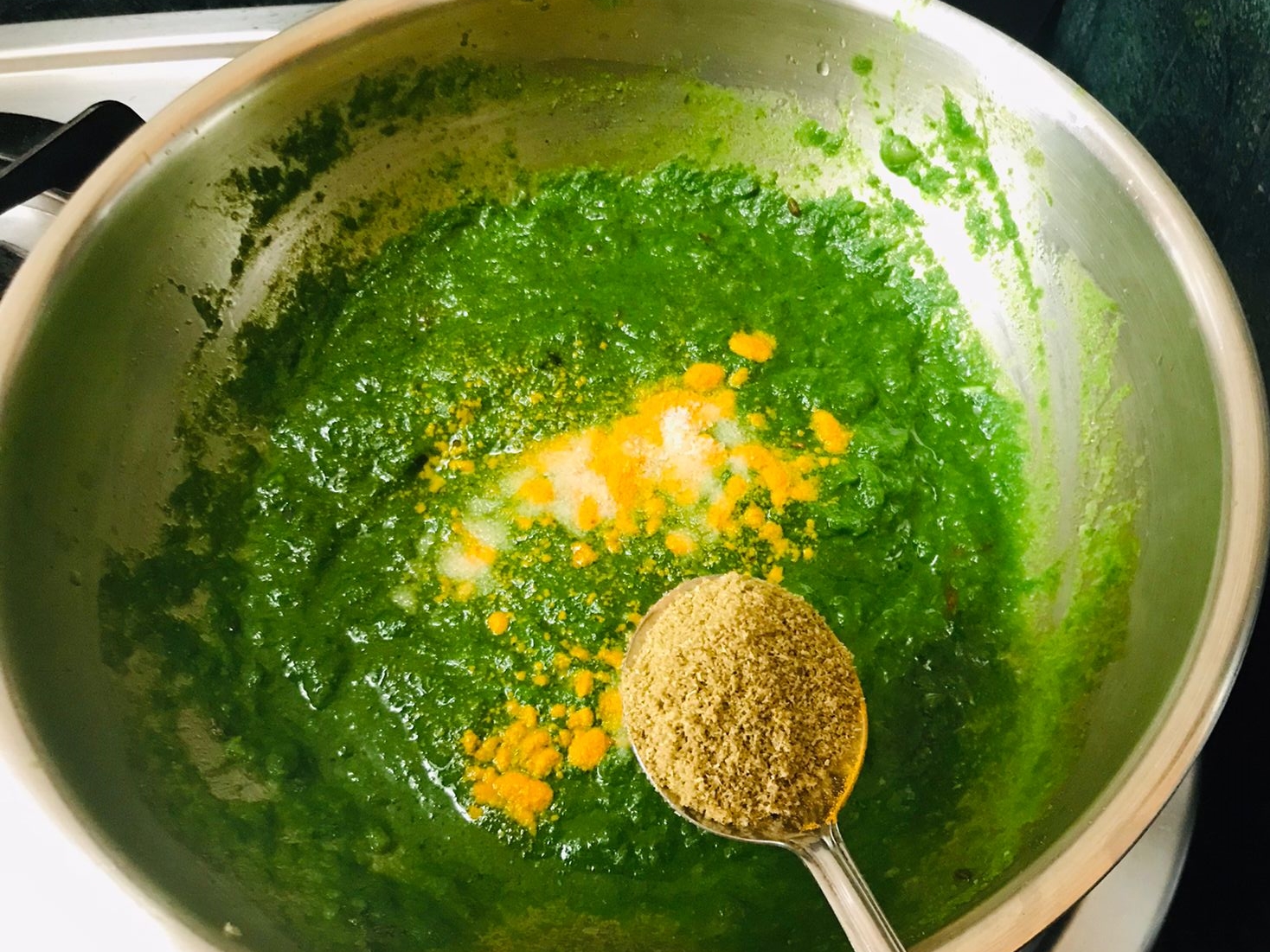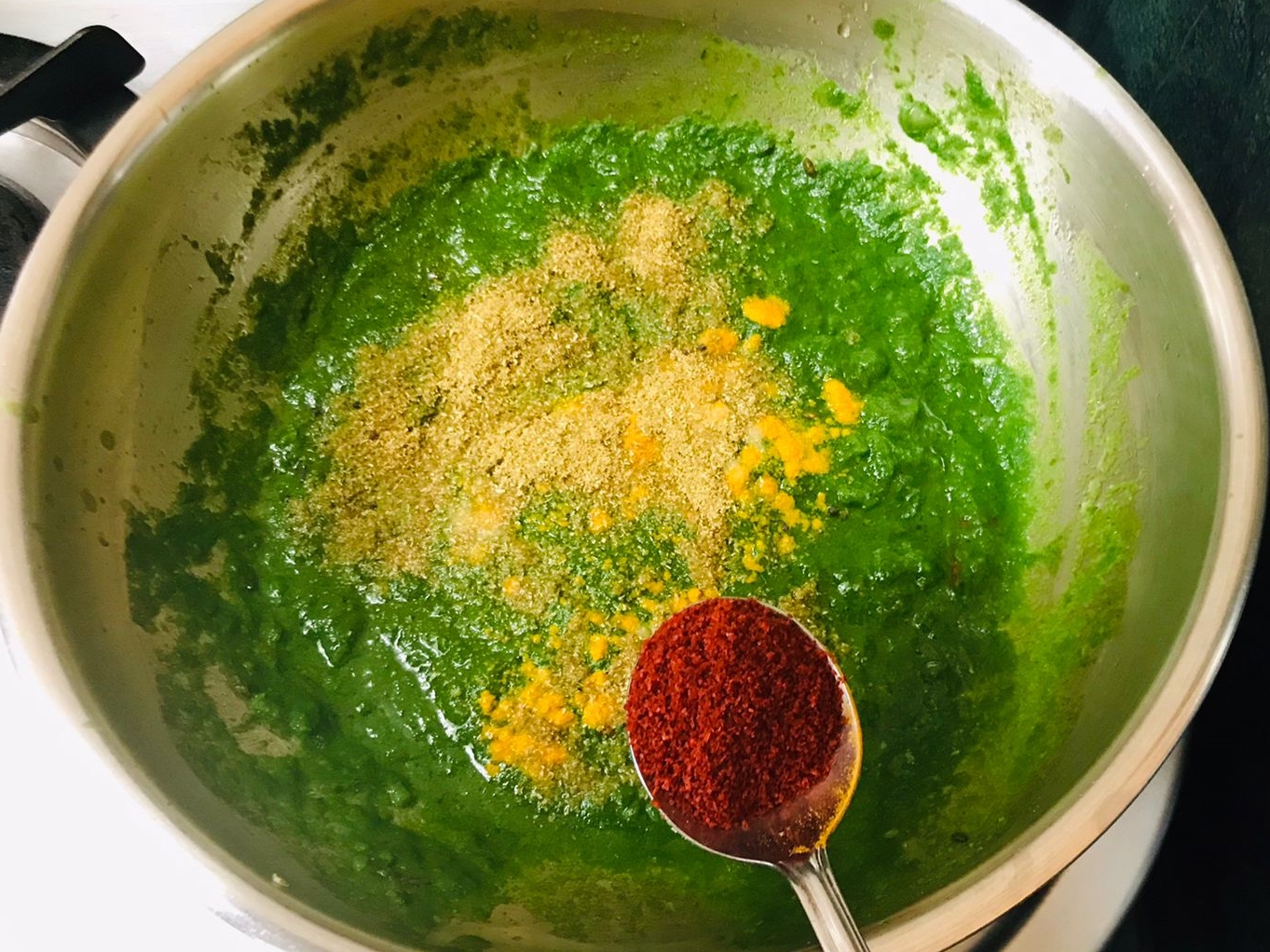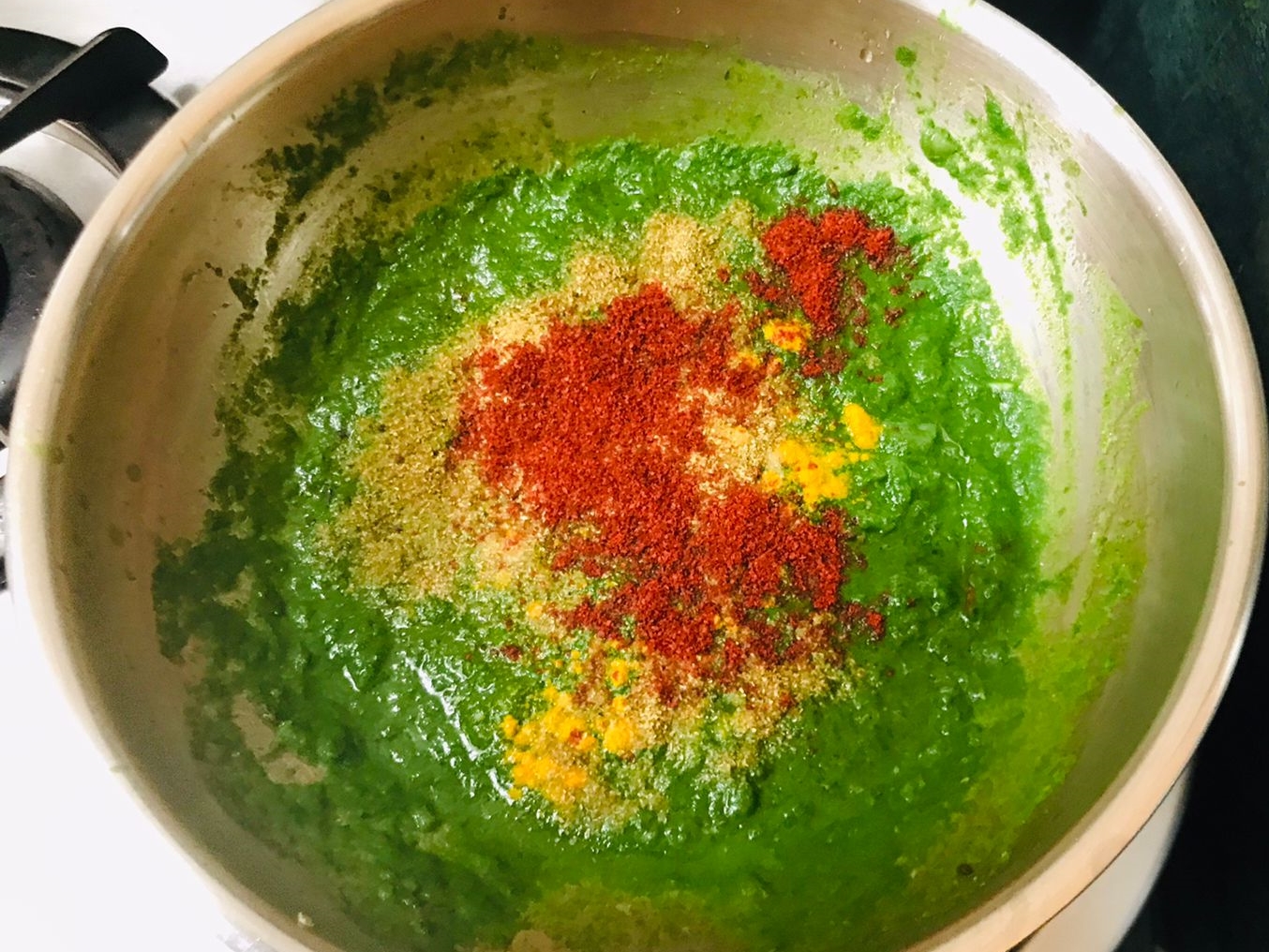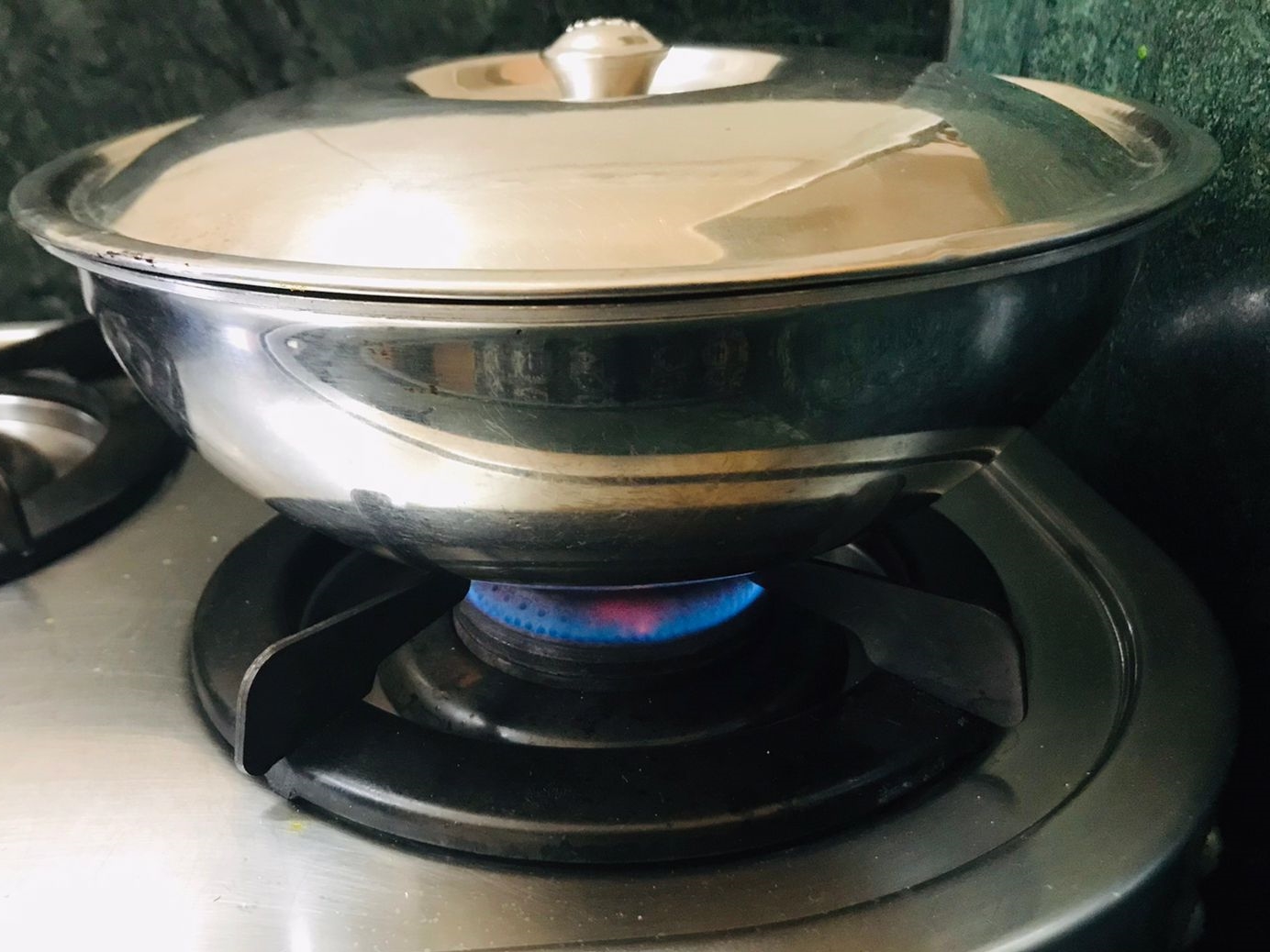 Add the spinach puree, 1/3 cup water, turmeric powder, salt, coriander powder and red chilli powder and mix. Cover and cook for 6-7 minutes of low to medium heat.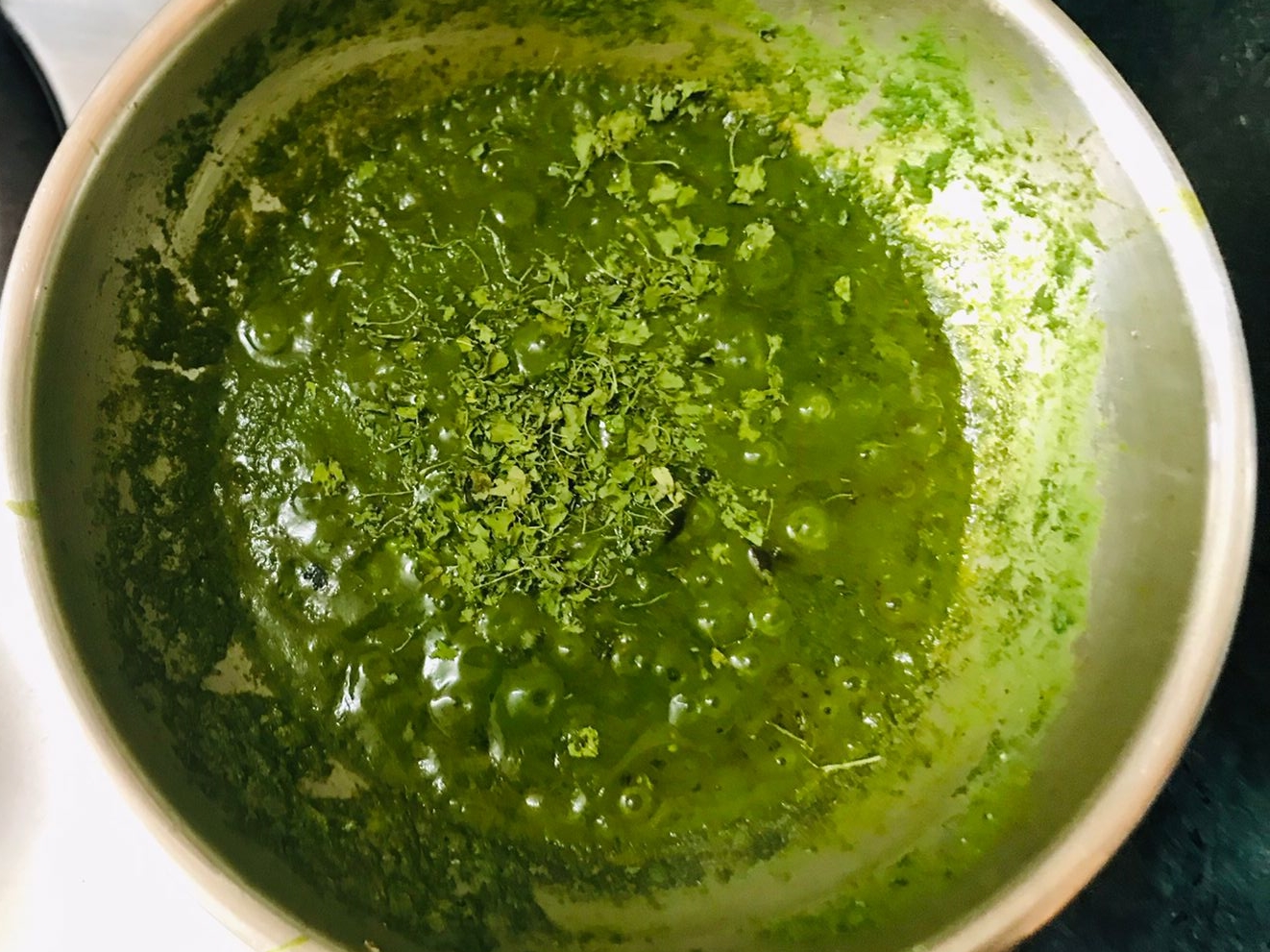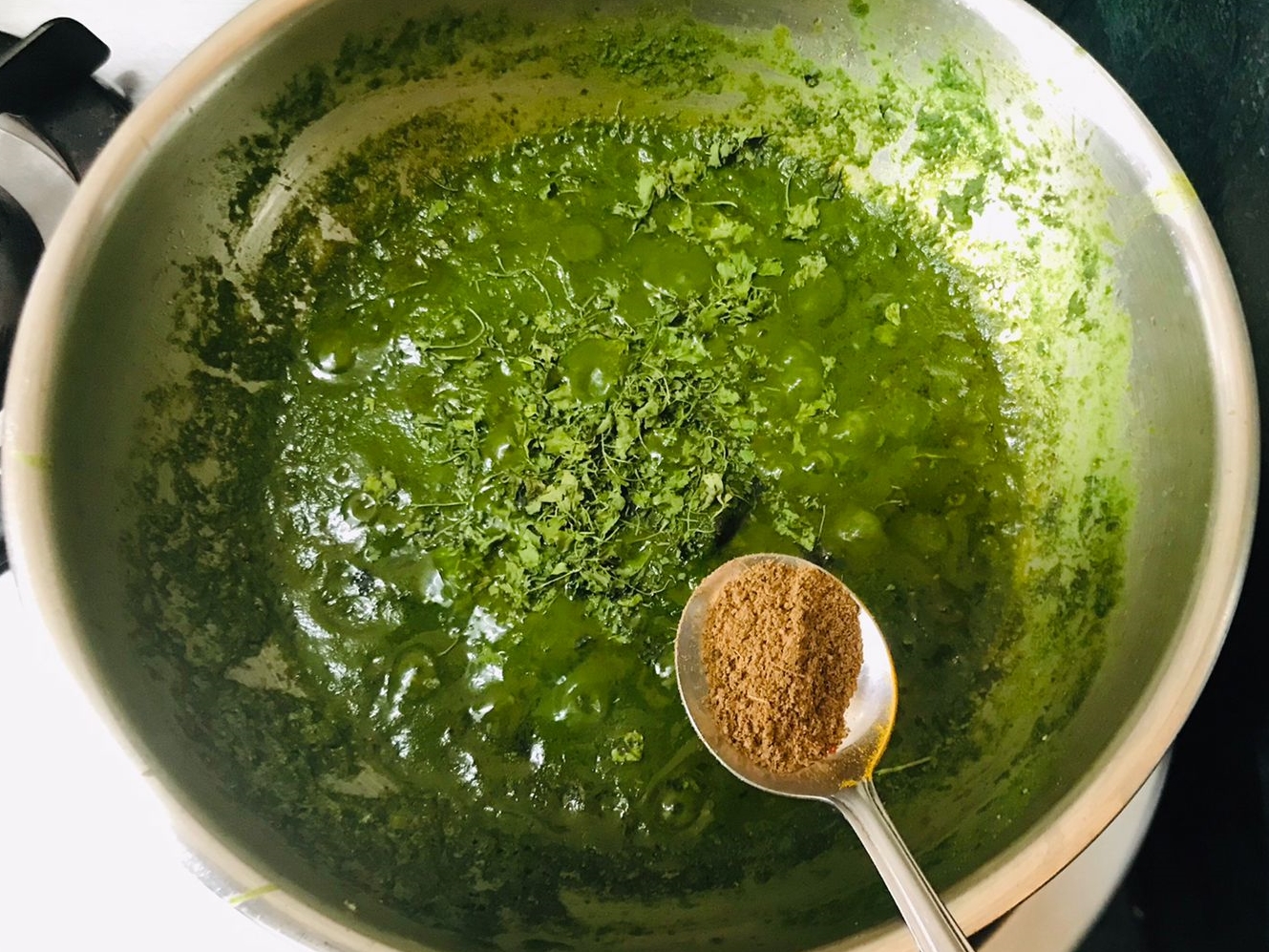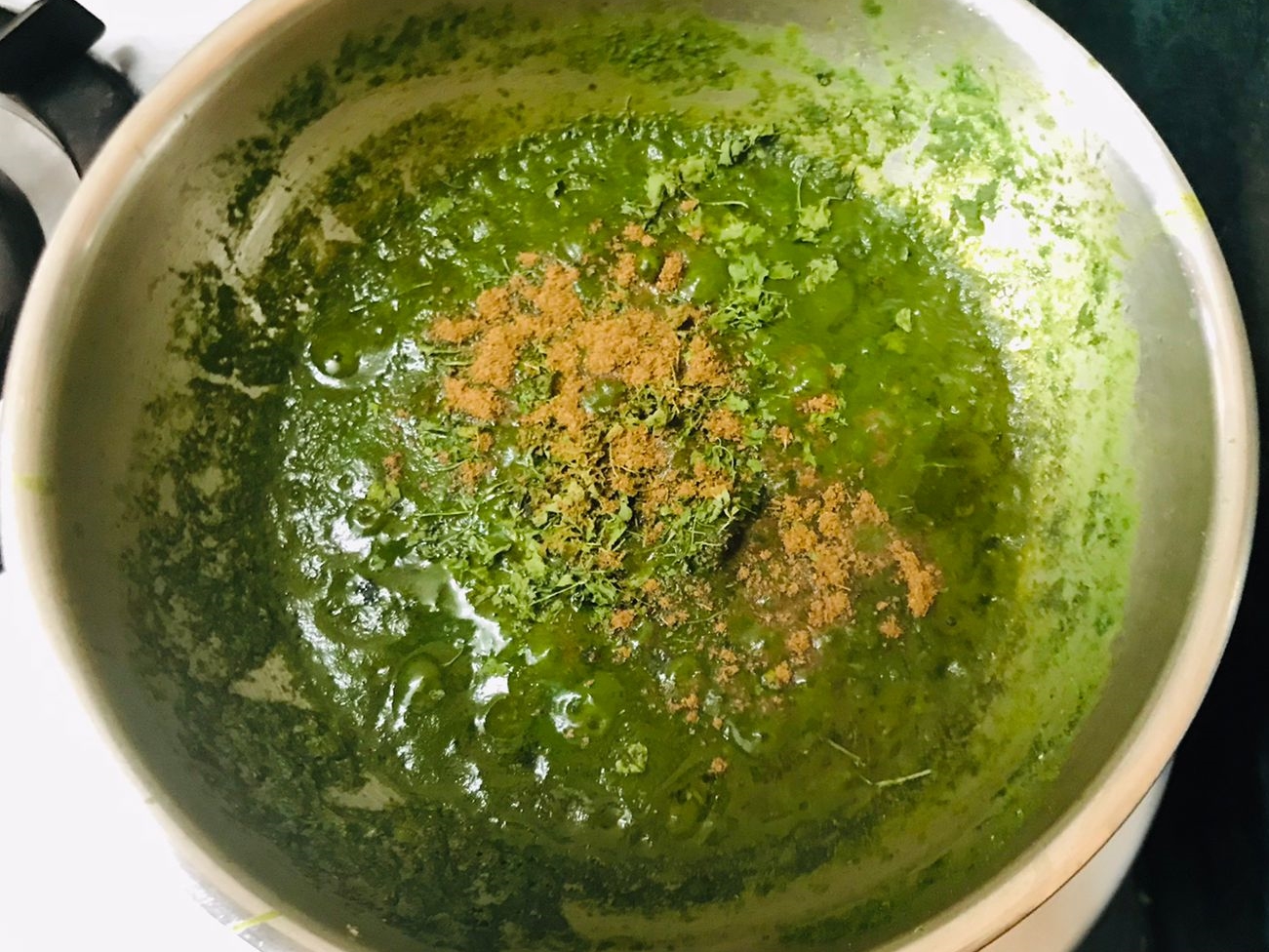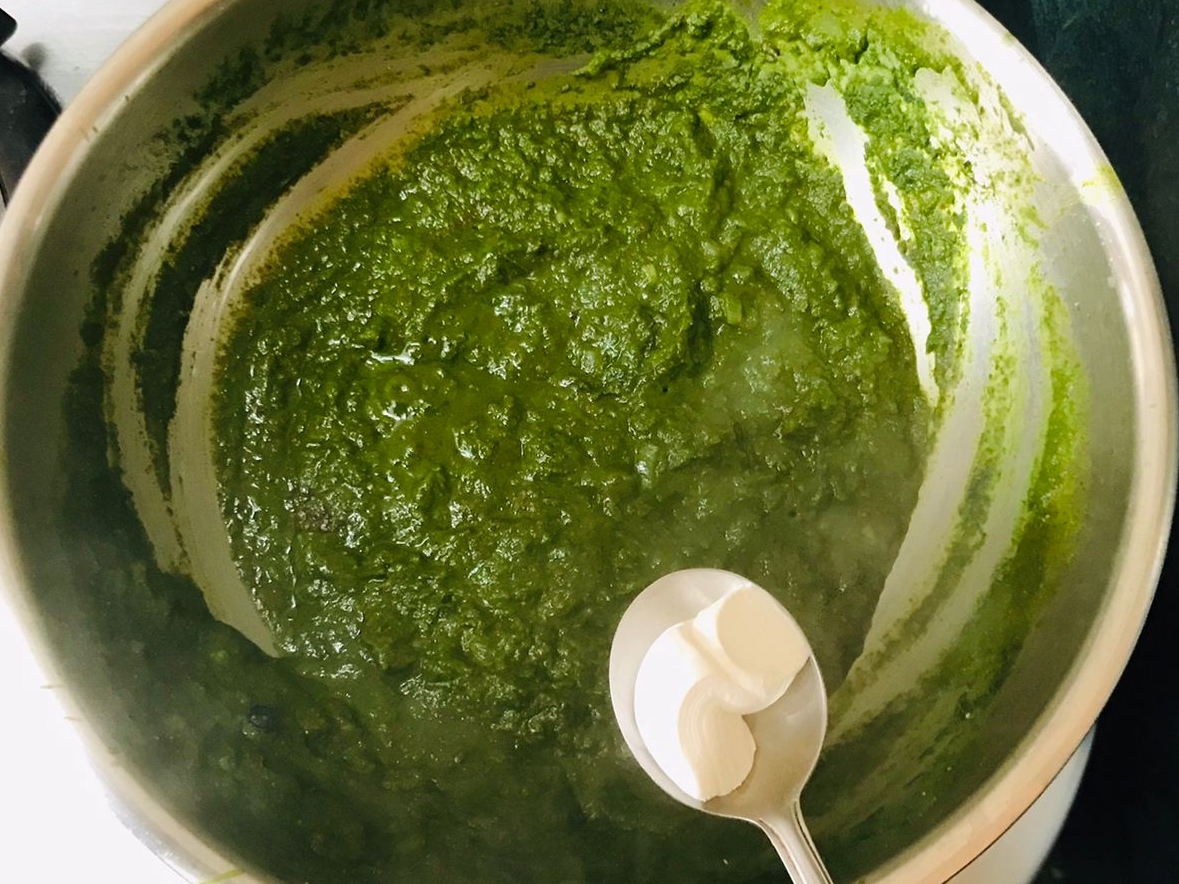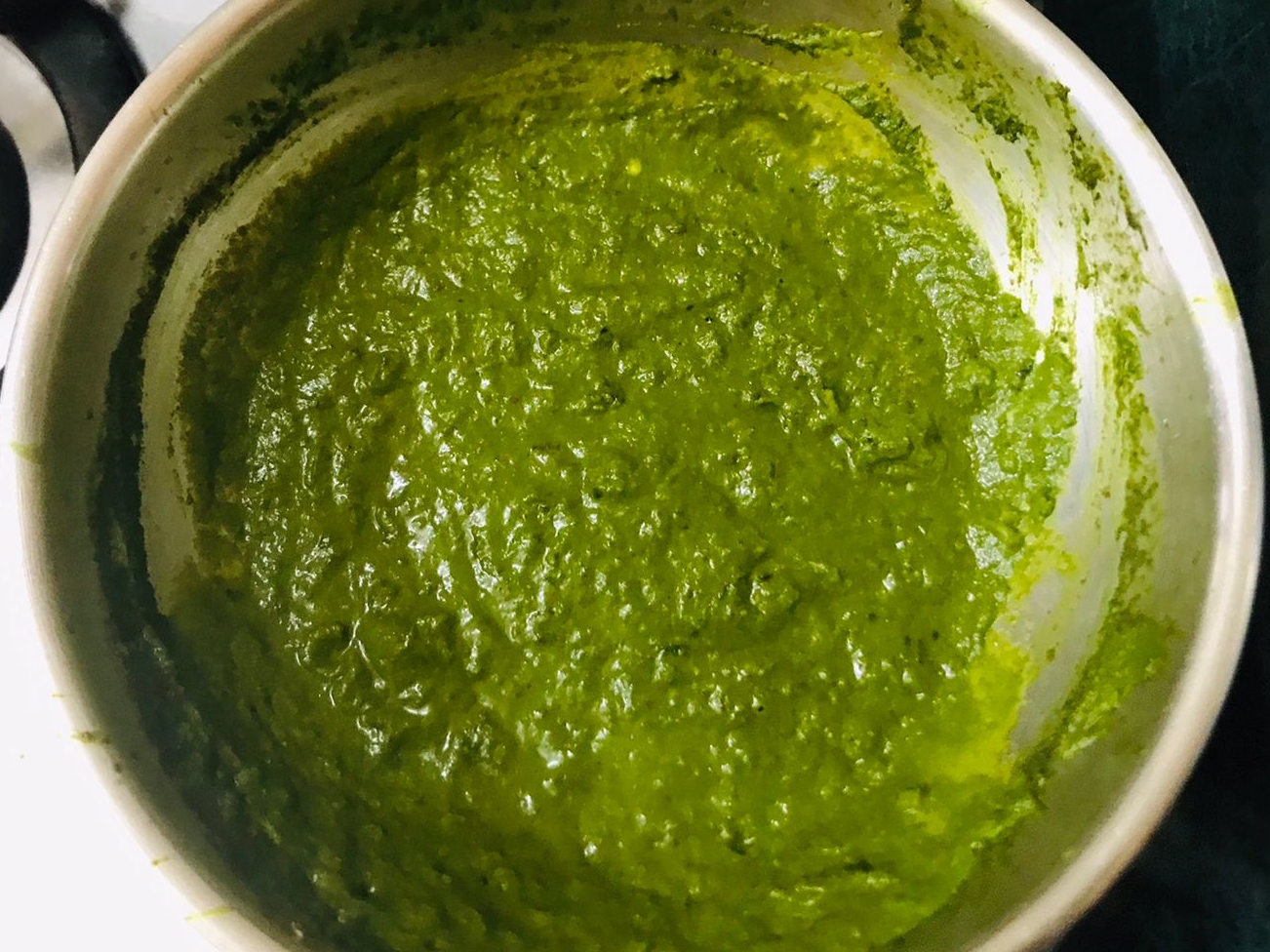 Once the spinach has cooked for 6-7 minutes add the crushed kasuri methi, garam masala and cream. Cook for 1-2 minutes and add the butter.   Let the butter melt on low heat and turn off the heat.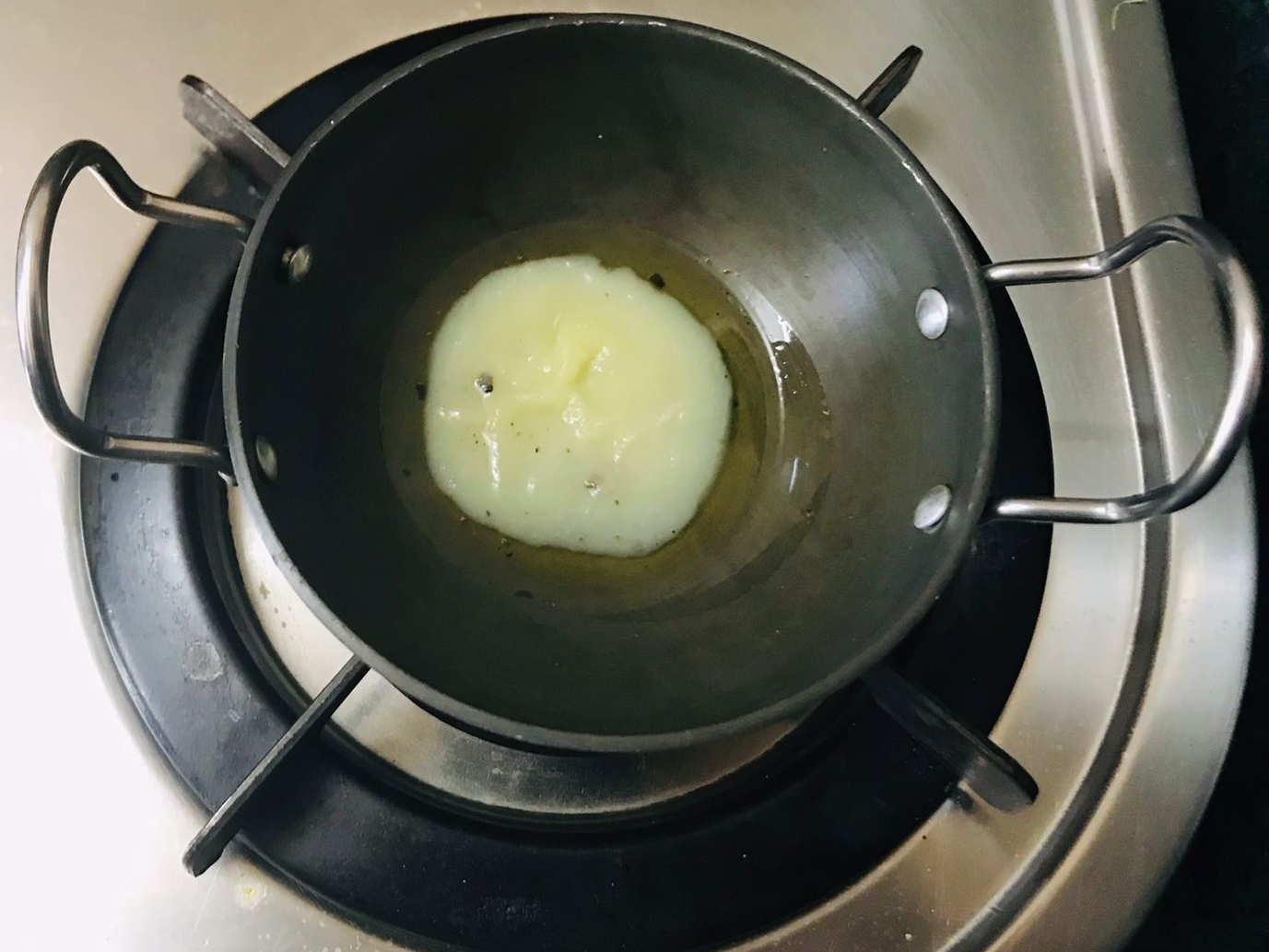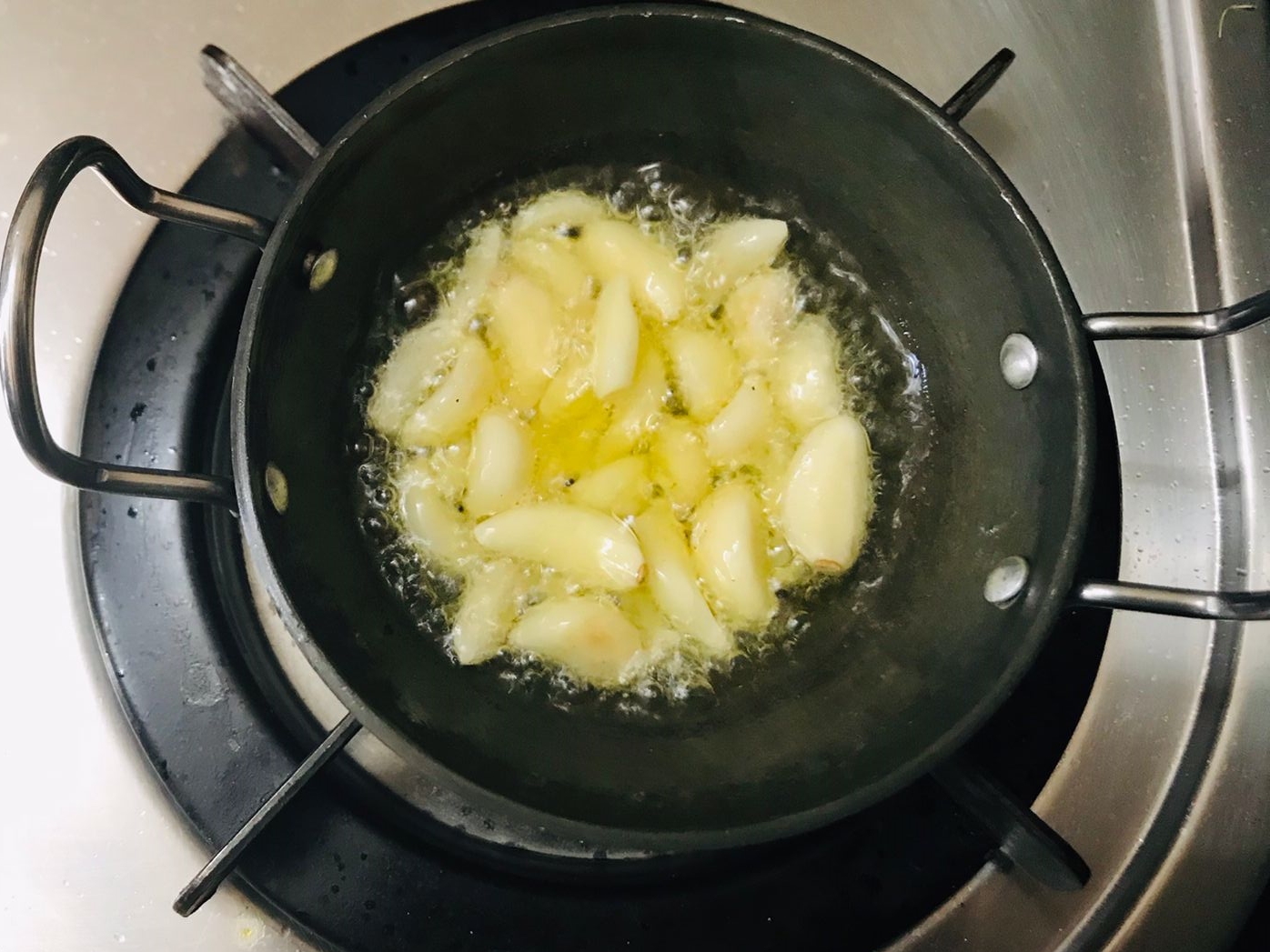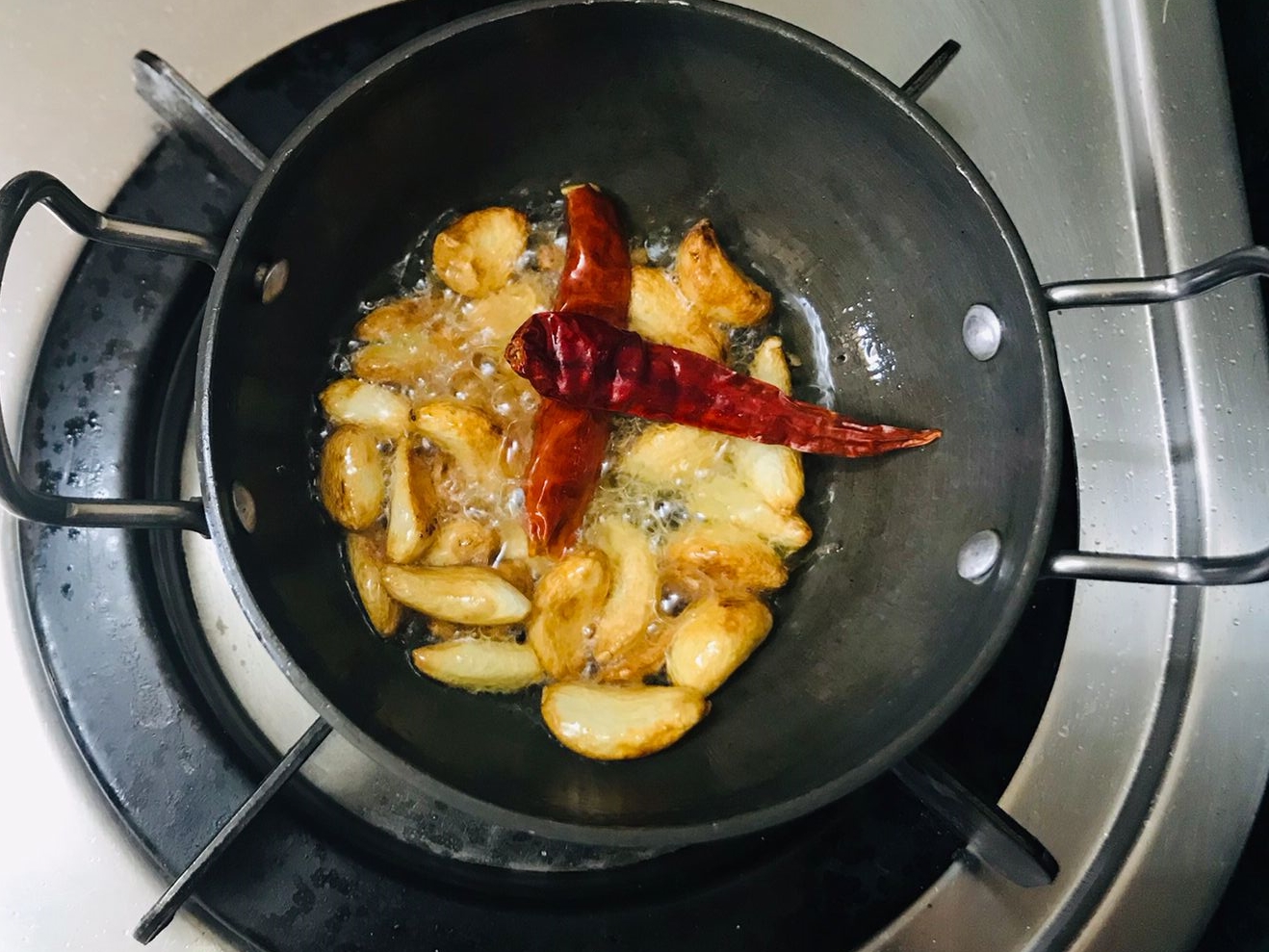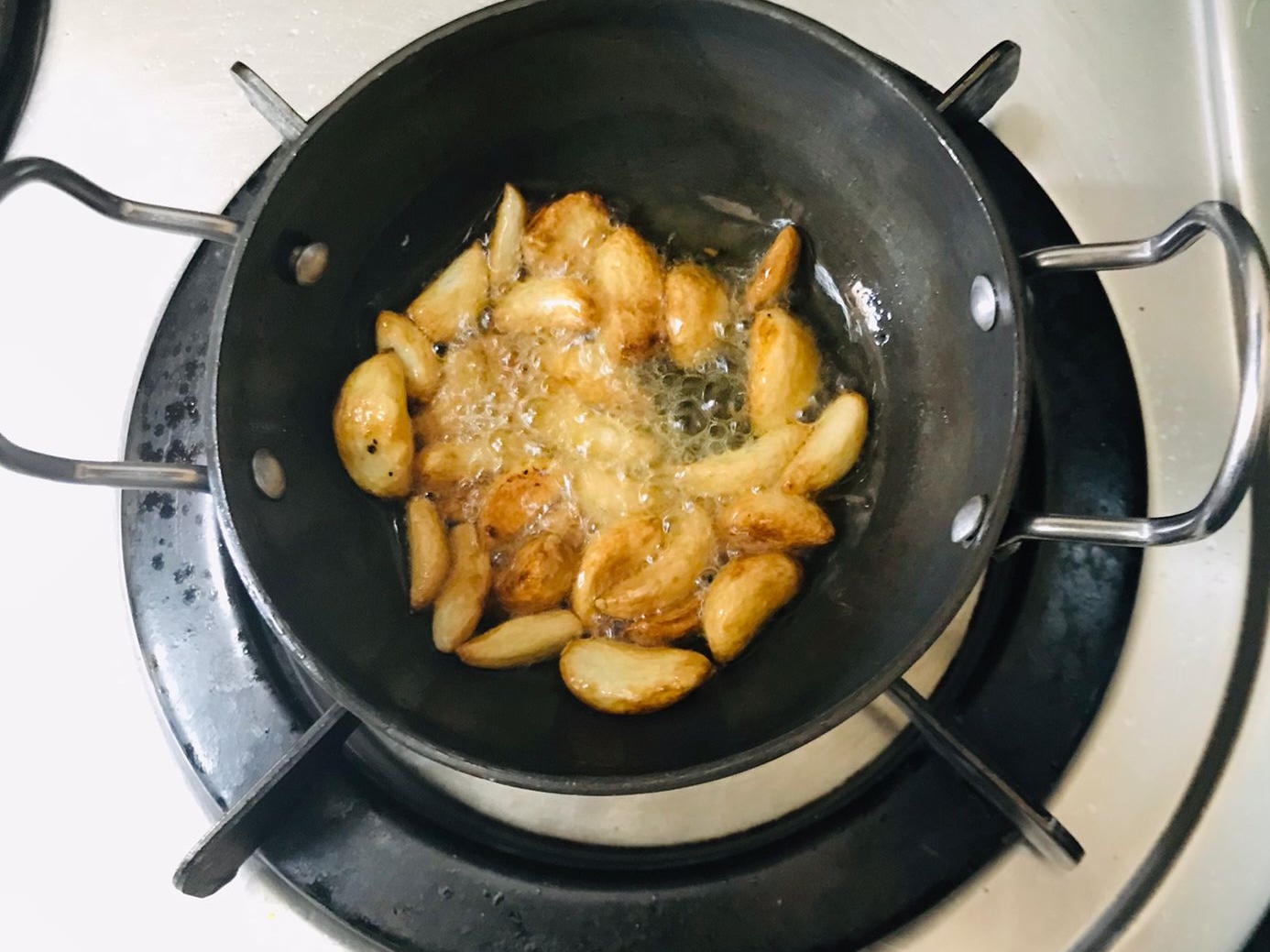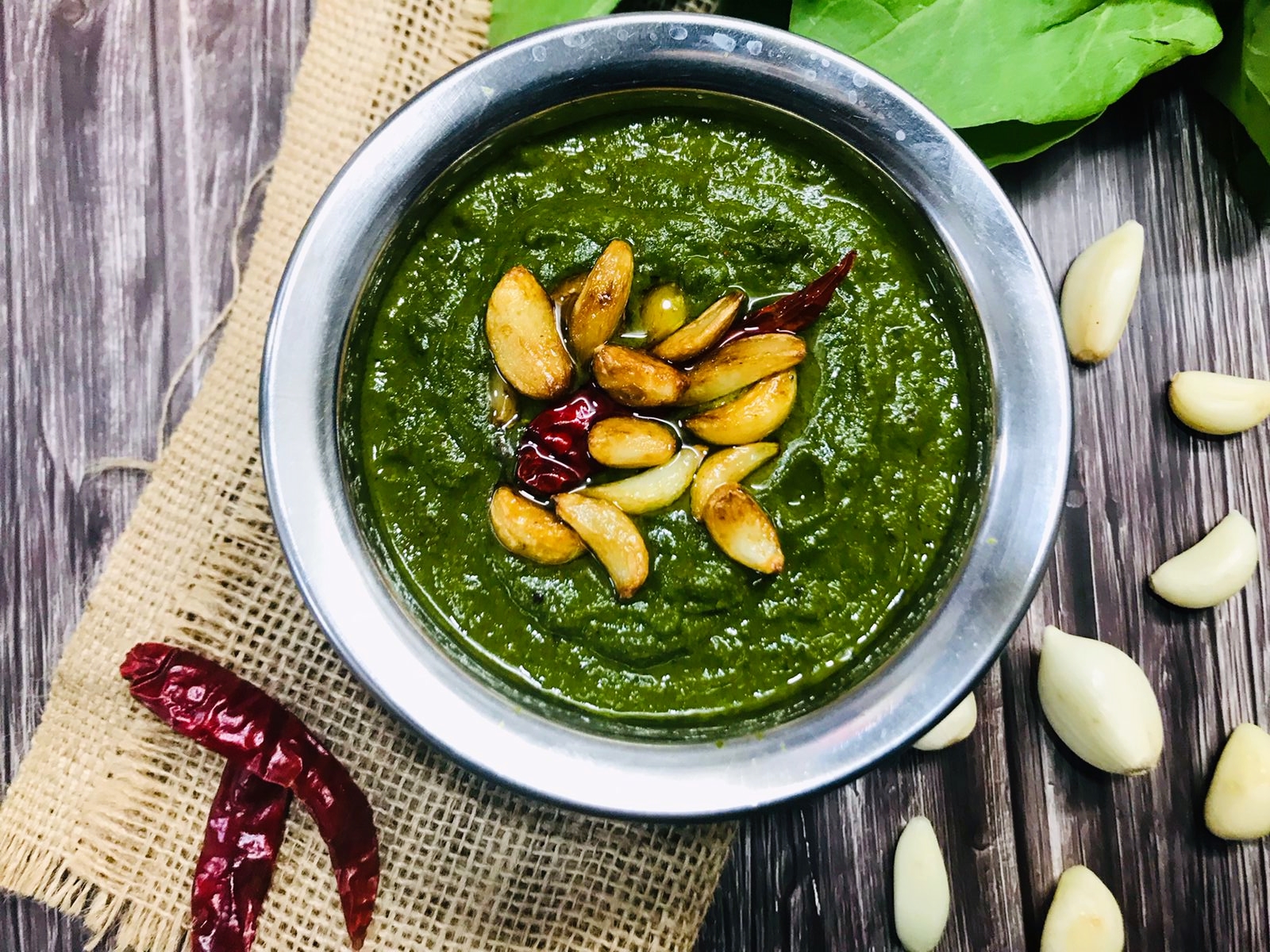 To temper the spinach with garlic, heat ghee in a pan and add the garlic cloves and sauté on low heat for 3-4 minutes or until the garlic turn golden. At this point add the dry chillies and sauté on low heat for 1-2 minutes to infuse the flavours. Turn off the heat and add the tempering to the spinach.
Serve hot with rice or naan!