Dal Makhani
Dal Makhani is a creamy buttery dal prepared with whole black lentils (urad dal) and kidney beans (Rajmah) slow cooked with onion, tomatoes and spices. 
Creamy and buttery Dal Makhani is India's most loved dal! There's dal, and then there's Dal Makhani! While dal, a general word for dried lentils, pulses and beans, as well as the infinite variety of cooked dishes they're made into, is an everyday staple across India, Dal Makhani is a "king of dals" and in a league of its own.
Everybody loves a 'tadka dal' as part of an Indian meal. A bowl of warm dal, rice topped with ghee is comfort food and even makes a perfect accompaniment to any meal. The most common dal that my mother used to make for lunch was usually moong dal and occasionally we had other dals like chana dal, panchmeli dal, and urad dal. Dal Makhani was made on weekends with naan or laccha paratha. It was not a usual weekday dal as this dal is laboured with time and patience.
Dal Makhani requires urad, sometimes written as urid. These small black beans are available whole, split and split and hulled. This dal traditionally has whole black lentils (sabut urad), and rajmah (kidney beans) cooked with butter and cream and simmered on low heat for that unique flavour. I do like to add in a bit of split urad too. Urad dal is a lentil that thrives on slow cooking; the longer it cooks, richer the Dal Makhani is! 
Dal Makhani is part of most Indian meals at weddings and special occasions. I do not think I have ever been out for an Indian meal and not ordered Dal Makhani in India. I do not usually order it in the UK as I have always been disappointed with the Dal Makhani served in restaurants here except for a handful of places.
I have adapted my recipe of Dal Makhani from a family recipe to make it indulgent and luxurious without making it full of calories. Believe me that its possible! I know lot of recipes suggest not cutting out on ghee/butter/cream which I know traditionally, authentically is correct but I love 'everyday indulgent food' and I don't think I would be able to make this dish often enough if I use that much ghee/butter/cream. I do not think my dish compromises on the taste but yes it sits well on your waist.
Other recipes you might like to try Hariyali Paneer Tikka, Egg curry, Kaju Curry, Tawa Paneer, Methi Lasuni Paneer, Paneer Kali Mirch and Paneer Hara Pyaaz to name a few.
Serve Dal Makhani with Plain Naan, Chilli Garlic Naan or Lachha Paratha.
Ingredients
To Pressure cook
1 cup whole urad dal (whole black lentil)
1/4 cup red kidney beans
1/4 cup split urad dal (split black lentils)
1.5 litres water
1 teaspoon salt
1 cinnamon stick
1 black cardamom pod
1-2 bay leaf
1-2 green cardamom pods
Pinch of bicarbonate of soda (optional)
Tempering ingredients
3 tablespoons butter
pinch of asafoetida
2 roughly chopped large onions
2 roughly chopped tomatoes
1 inch piece roughly chopped fresh ginger
4-5 garlic cloves
1-2 green chillies slit length ways
½ inch ginger cut in julienne
1/2 teaspoon garam masala
1 cup milk
1½ teaspoons ground coriander powder (dhania powder)
1 teaspoon Kashmiri red chilli powder
½ teaspoon red chilli powder (lal mirch)
¼ teaspoon turmeric powder (haldi)
1 teaspoon salt (to taste)
¼ cup cream
¼ teaspoon mango powder (amchur)
2 tablespoons finely chopped coriander leaves
1 teaspoon dried fenugreek leaves (optional)
Directions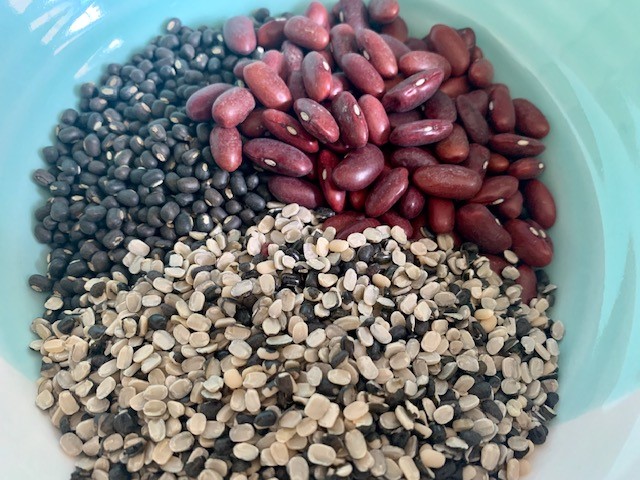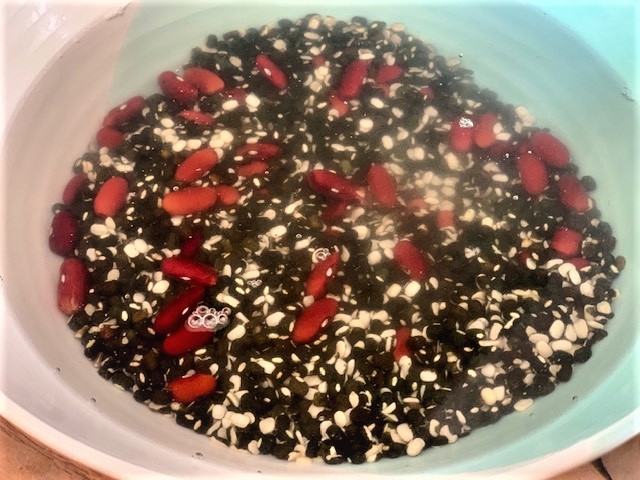 Wash the dals and rajmah in a large bowl and soak in 3-4 cups of water for 6-8 hours. You can soak them overnight too.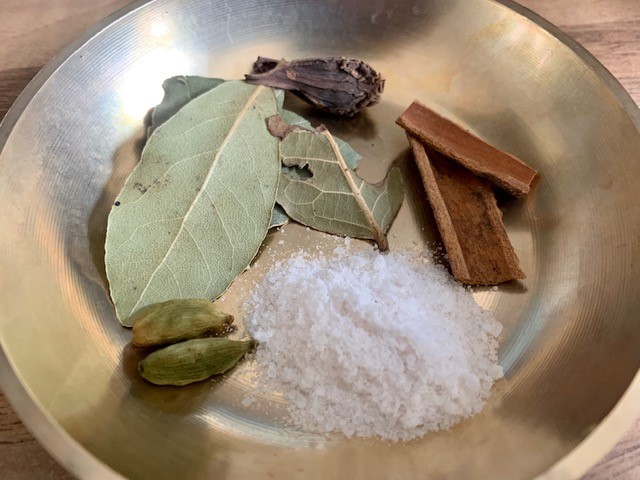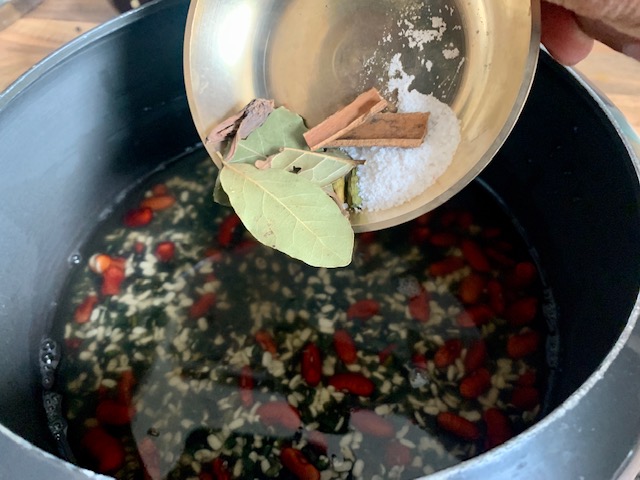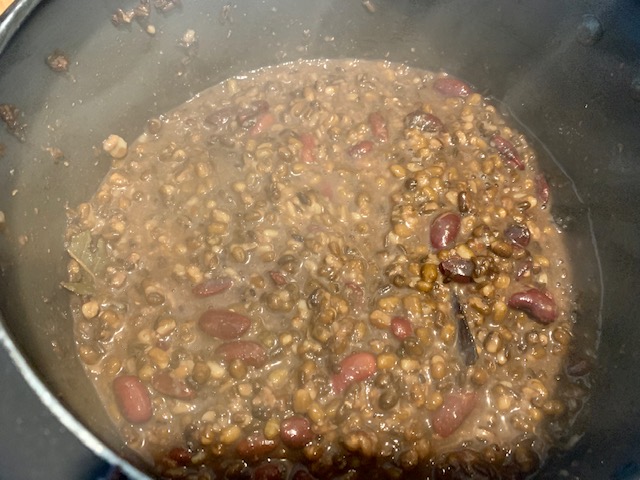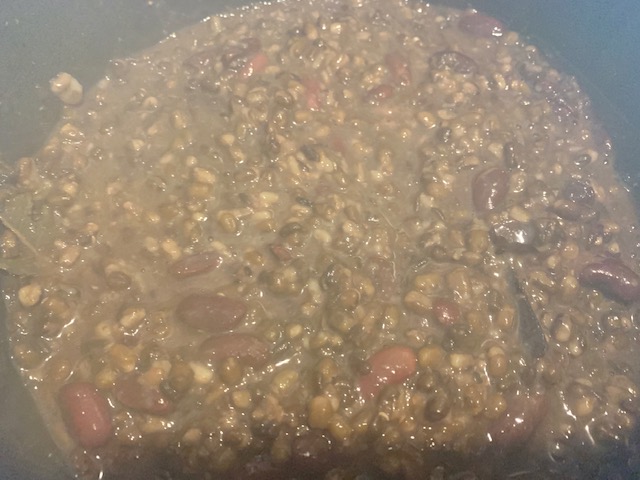 Drain the water in which the dal and rajma was soaked. The best way is to cook this dal in a pressure cooker. However, if you do not have a pressure cooker, it can be cooked in a pan too. (I have given the details in the 'Tips and Variations' section.
Transfer the dal and rajma to a pressure cooker. Add around 3.5 cups of water. Add the whole spices, salt and a pinch of bicarbonate of soda. Pressure cook on high-medium heat for 10 whistles, then lower the heat to low-medium and cook for another 10 minutes. In total around 15 to 20 whistles. Let the pressure release naturally. The dal and rajma should be completely cooked, and you should be able to mash them with your fingers.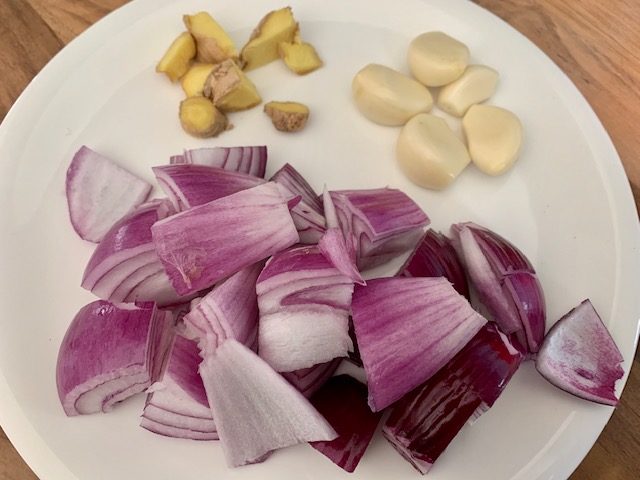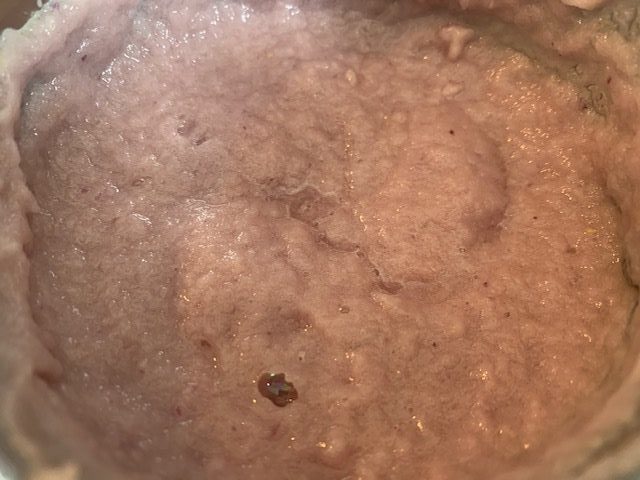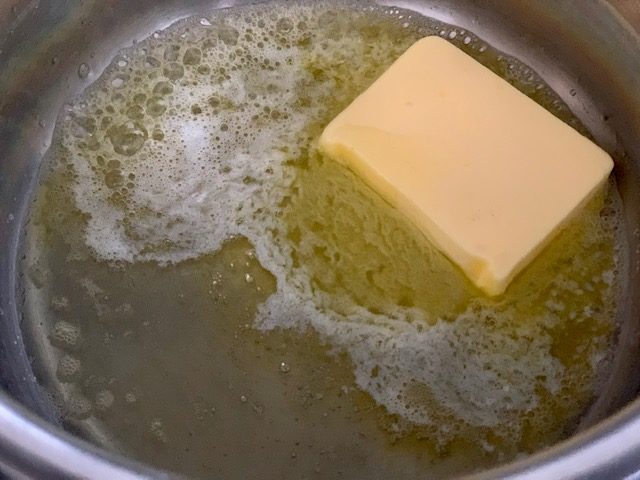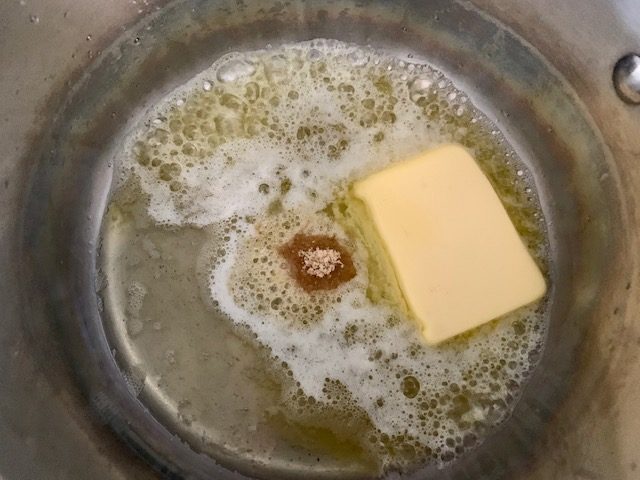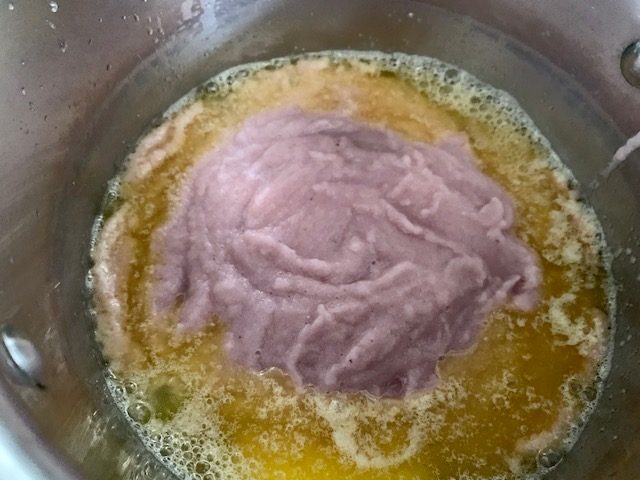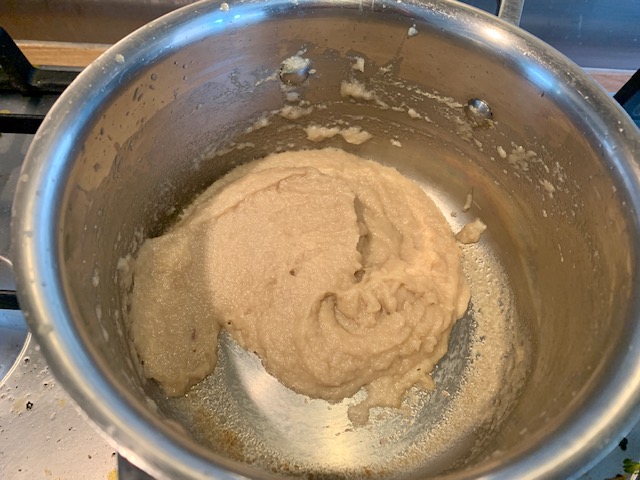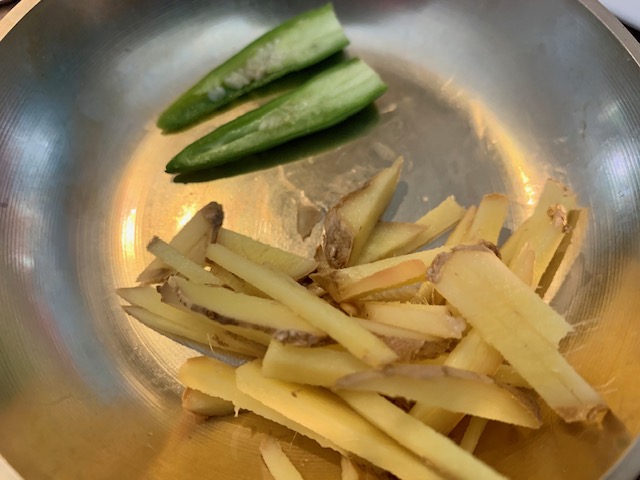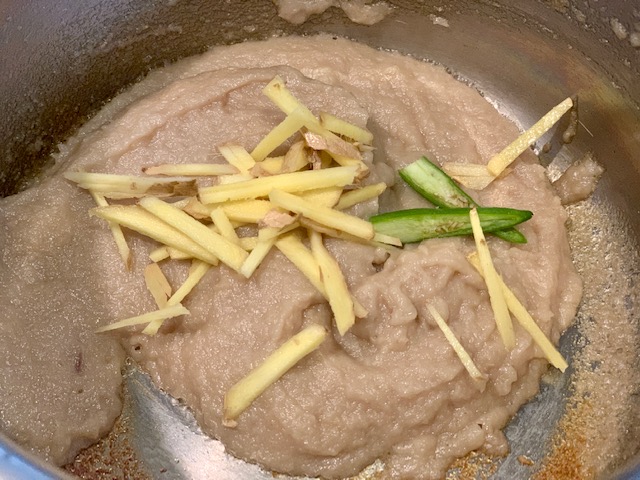 Grind onion, ginger and garlic into a fine paste.
Heat 2 tablespoons of butter and add a pinch of asafoetida and then the onion paste. Cook the onion paste on low to medium heat for around 6 to 7 minutes or until it turns light golden brown. Keep stirring it continuously so that it does not burn. Add the chillies and ginger juliennes.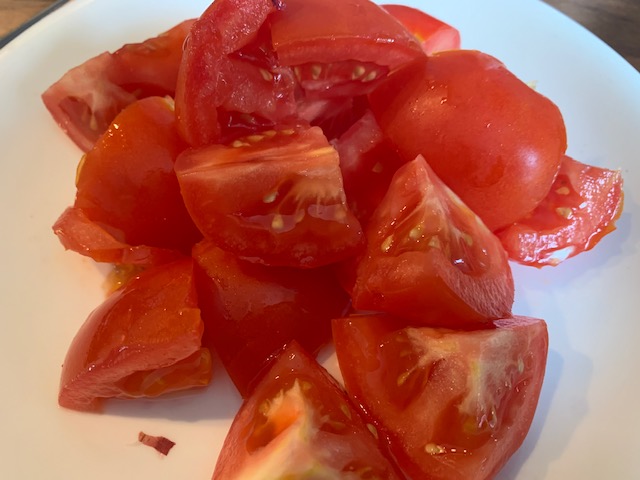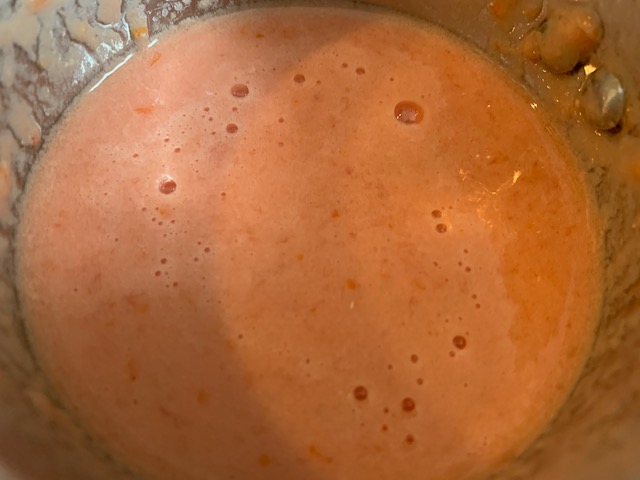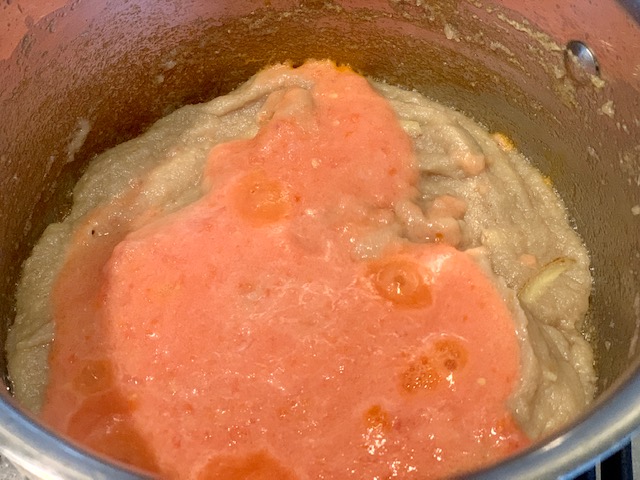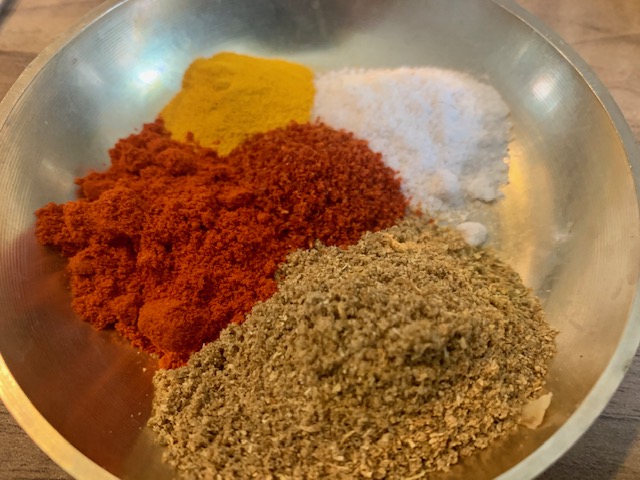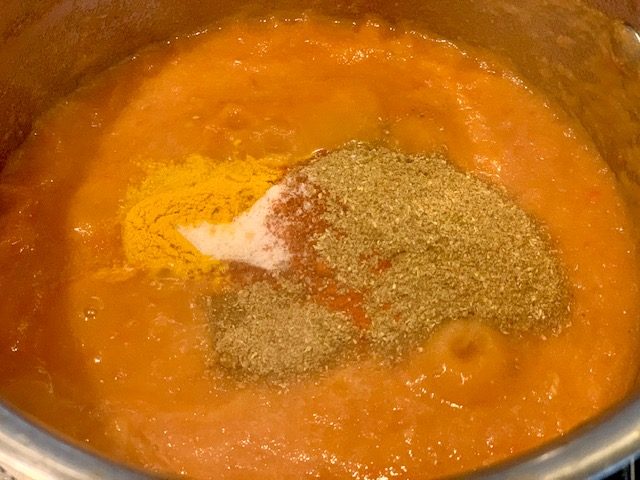 Grind the tomatoes into a paste and add it to the golden-brown onions. Cook for 3-5 minutes.
Add red chilli powder, kashmiri chilli powder, coriander powder, turmeric powder and salt. Cook for 2-3 minutes.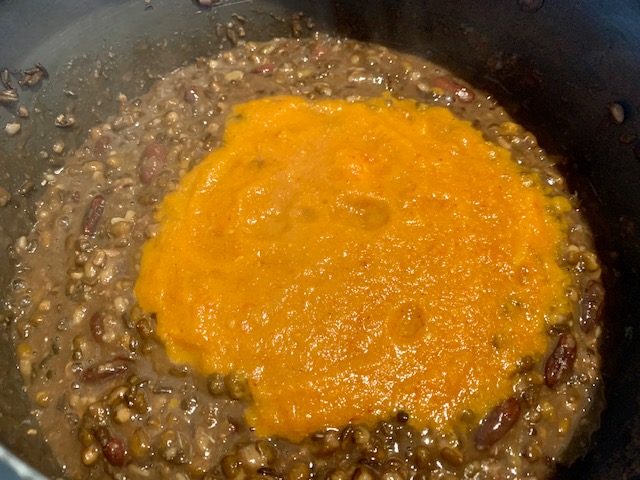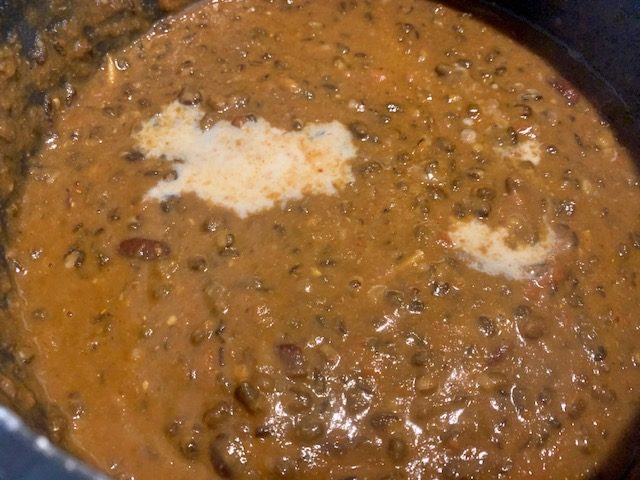 Add the onion tomato mix to the dal and stir it. Add the milk and let it simmer on low heat covered for around 30 minutes. Stir every 10 minutes. If the dal is too thick you can add some more milk or some warm water. I added 1 cup of water to the dal while it was simmering.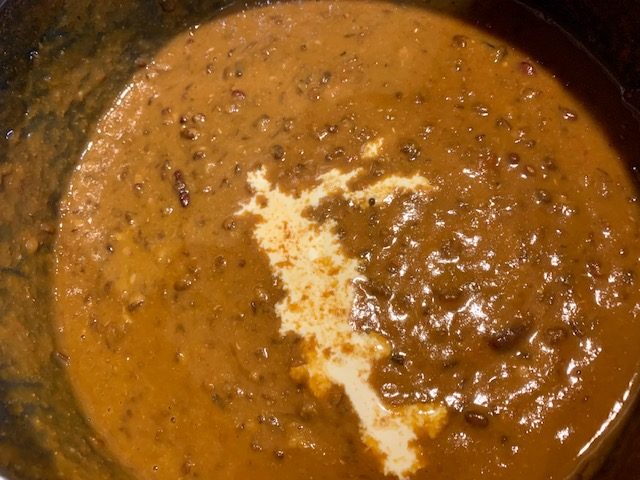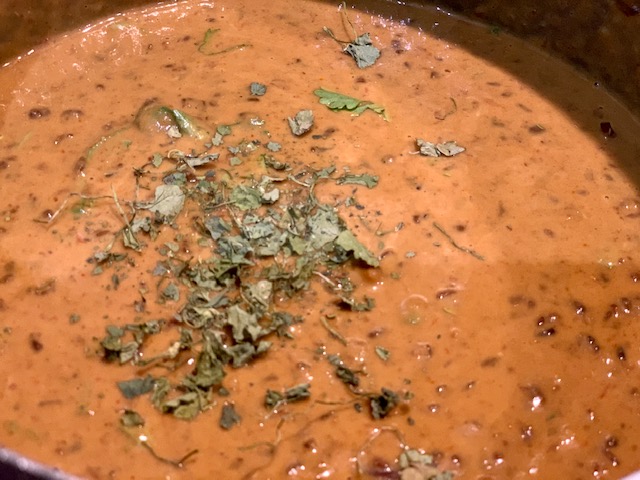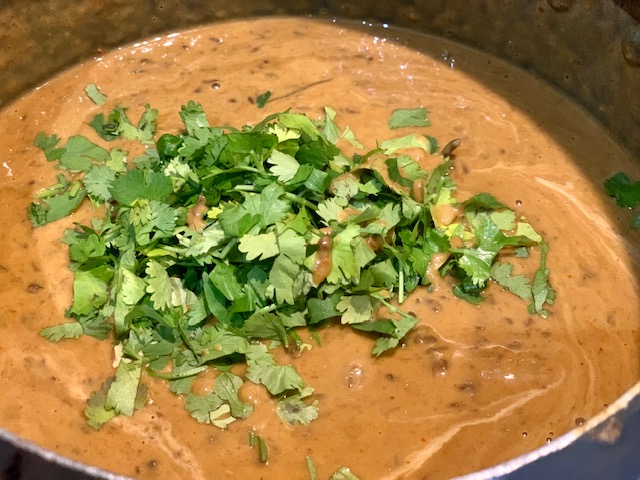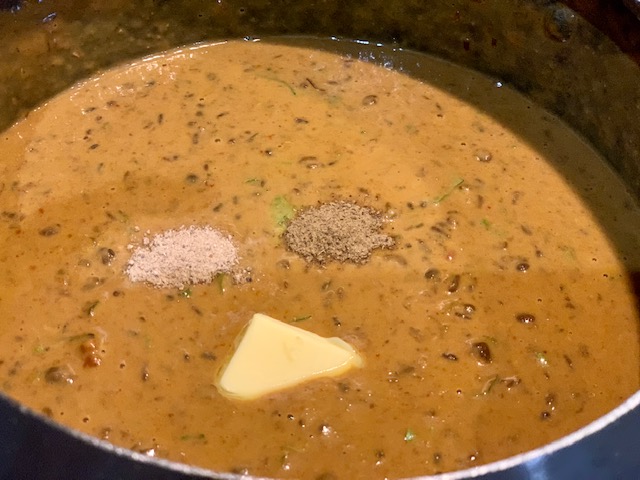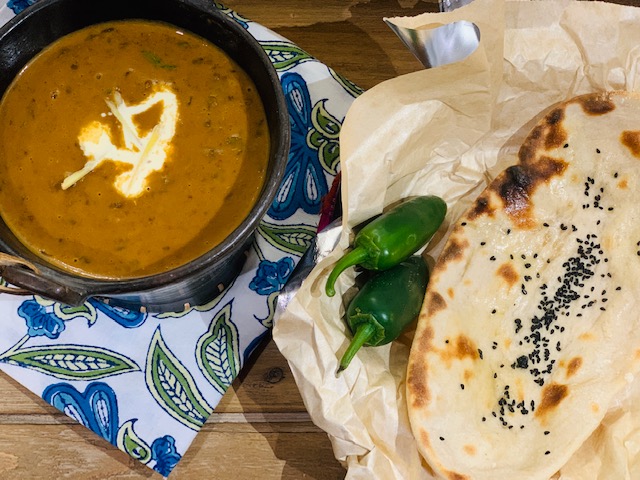 Next, add cream, crushed kasuri methi and coriander leaves and mix as you add in each ingredient.
Lastly, add butter, garam masala and mango powder and simmer for 5-10 minutes on low heat.
Serve hot with naan, laccha paratha or rice.