Punjabi Egg Curry
This easy and delicious Indian Egg Curry is a flavoursome recipe using eggs. Egg is probably one of the simplest and most comforting foods for many of us. It is so versatile and can be used in countless number of dishes anytime of the day. All you need are eggs and some basic ingredients to put together a quick and delicious meal. One such popular recipe is of a delicious bowl of egg curry. It is basically boiled eggs dunked in spicy, aromatic Indian gravy.
The spicy onion and tomato gravy packs the curry with irresistible flavours and makes it perfect for a weekday dinner or weekend lunch. Different regions of India have their own versions of egg curry. This recipe is North Indian in origin. It is medium spicy, and you can alter the time according to your taste.
I always have a large box of eggs in my refrigerator. That's because I use eggs in baking and my daughter and husband love egg. So, obviously I need a keep a big stock of it at home all the time for my daughter and husband. My husband loves simple and rustic egg curry, and this egg curry reminds him of egg curries from small dhaba's in India.
Rich, flavoursome onion tomato gravy with oil oozing on the sides and perfectly boiled eggs soaking up all the flavours.
Ingredients
4 Hard-boiled Eggs
For Roasting Eggs
1 teaspoon oil
¼ teaspoon red chilli powder
¼ teaspoon turmeric powder
¼ teaspoon garam masala
For Gravy
1 tablespoon Oil
½ teaspoon cumin seeds
1-2 bay leaf
½ whole red chilli
1 finely chopped onion
1 tablespoon ginger garlic paste
1 cup tomato puree
1 teaspoon coriander powder
½ teaspoon red chilli powder
½ teaspoon Kashmiri red chilli
½ teaspoon turmeric powder
½ teaspoon garam masala
¼ teaspoon dried mango powder
1 green Chilli chopped (optional)
1 teaspoon dried fenugreek leaves (Kasuri Methi)
1 cup Water
salt to taste
2 tablespoons finely chopped coriander
Directions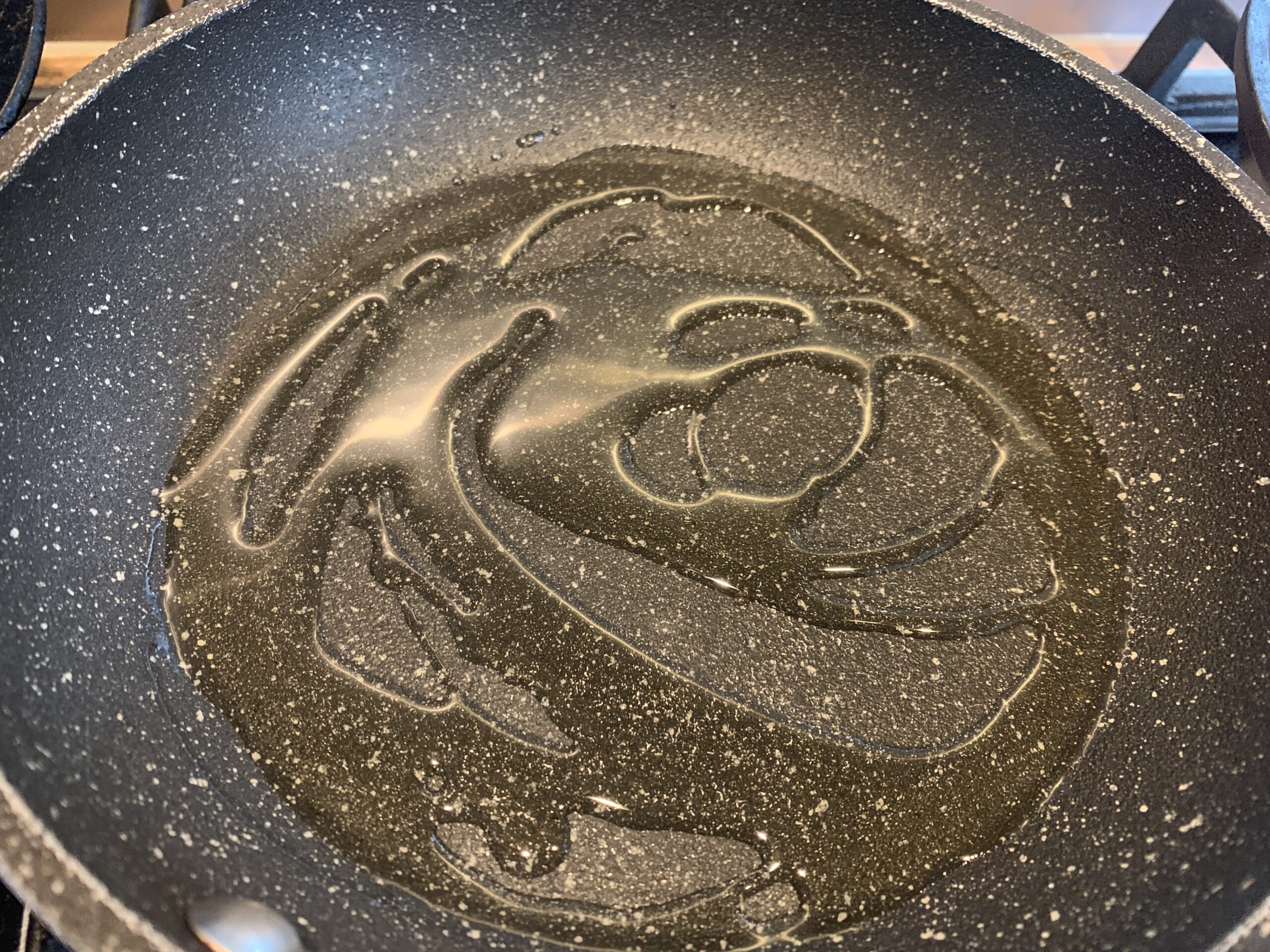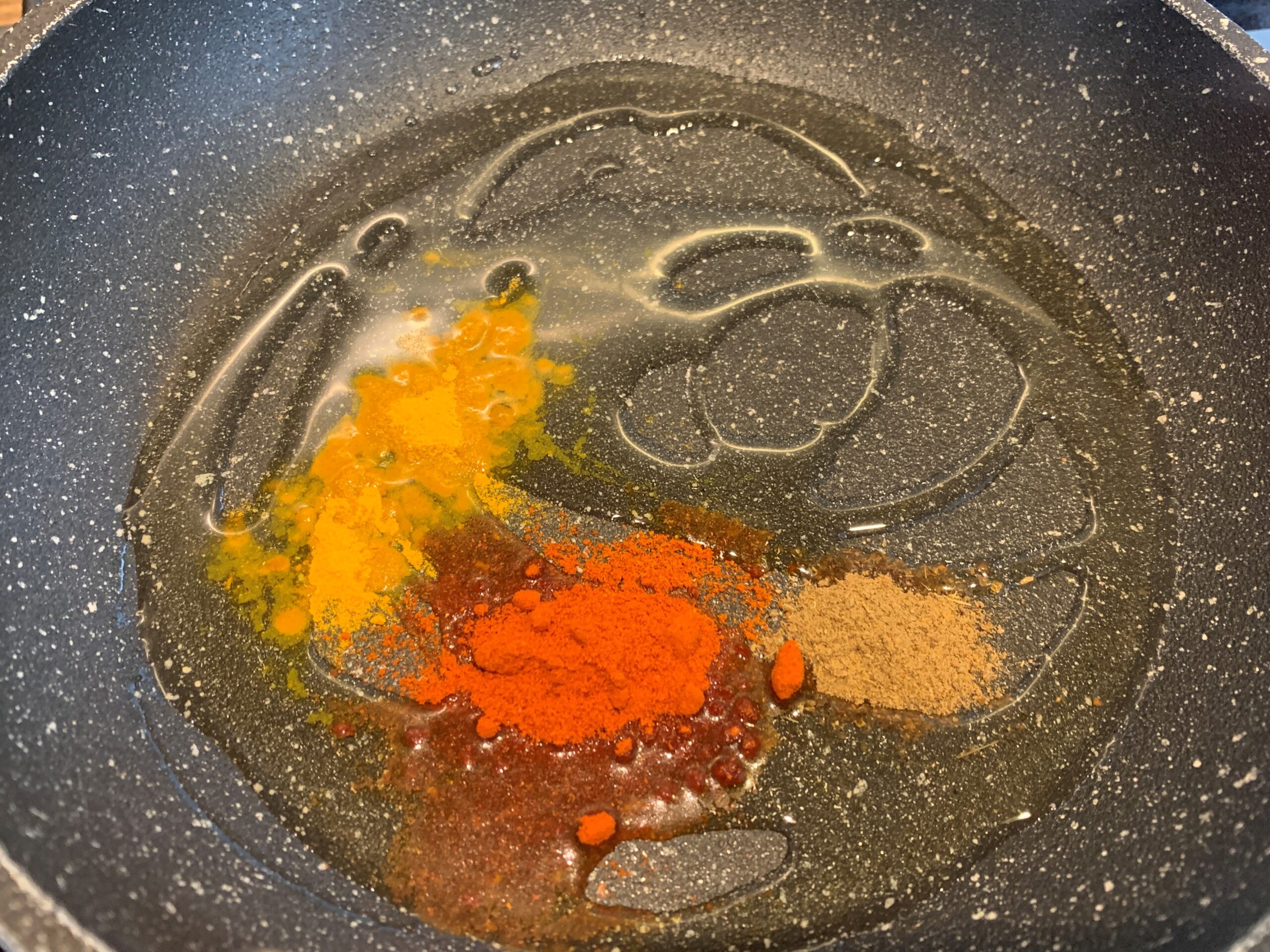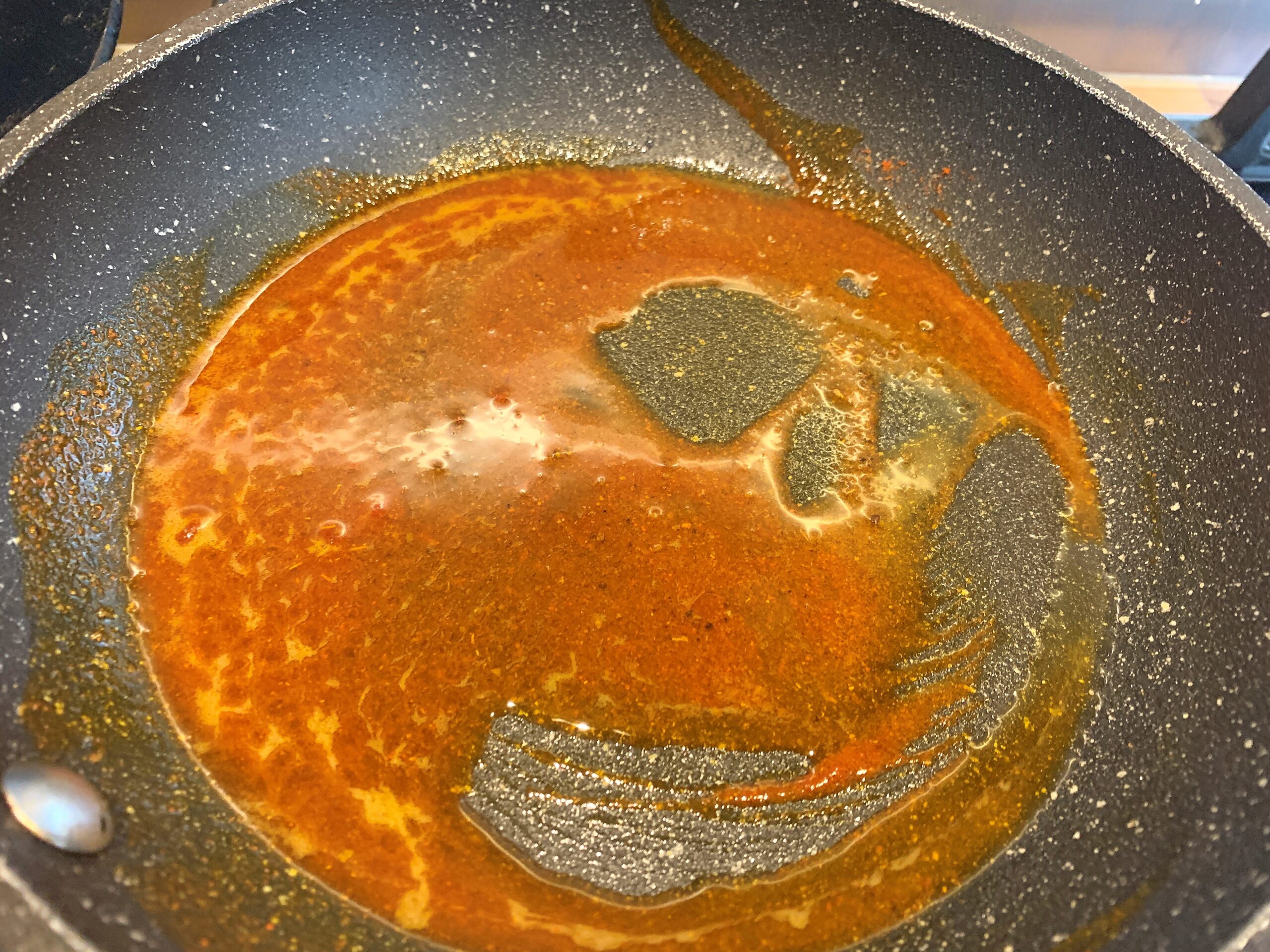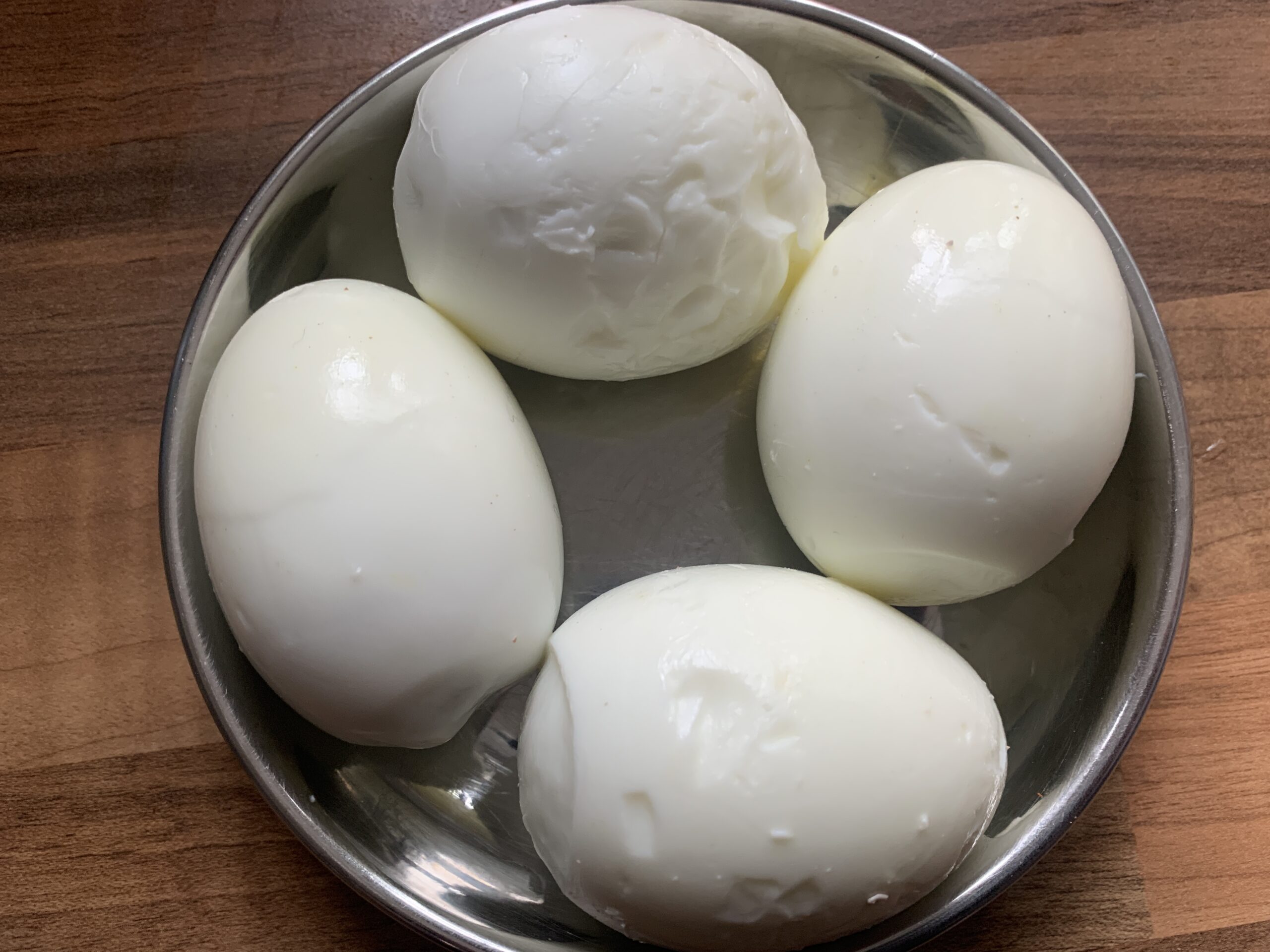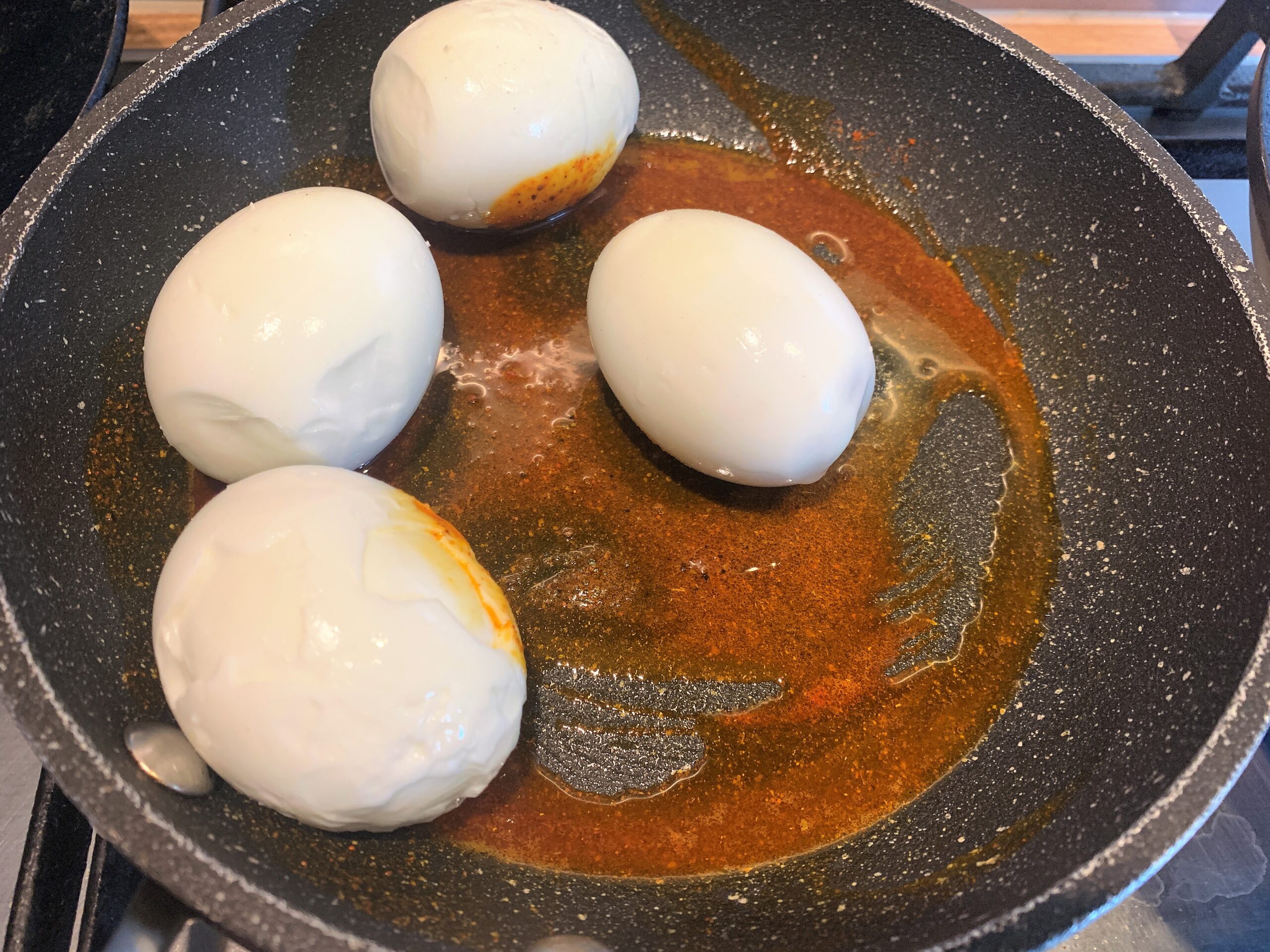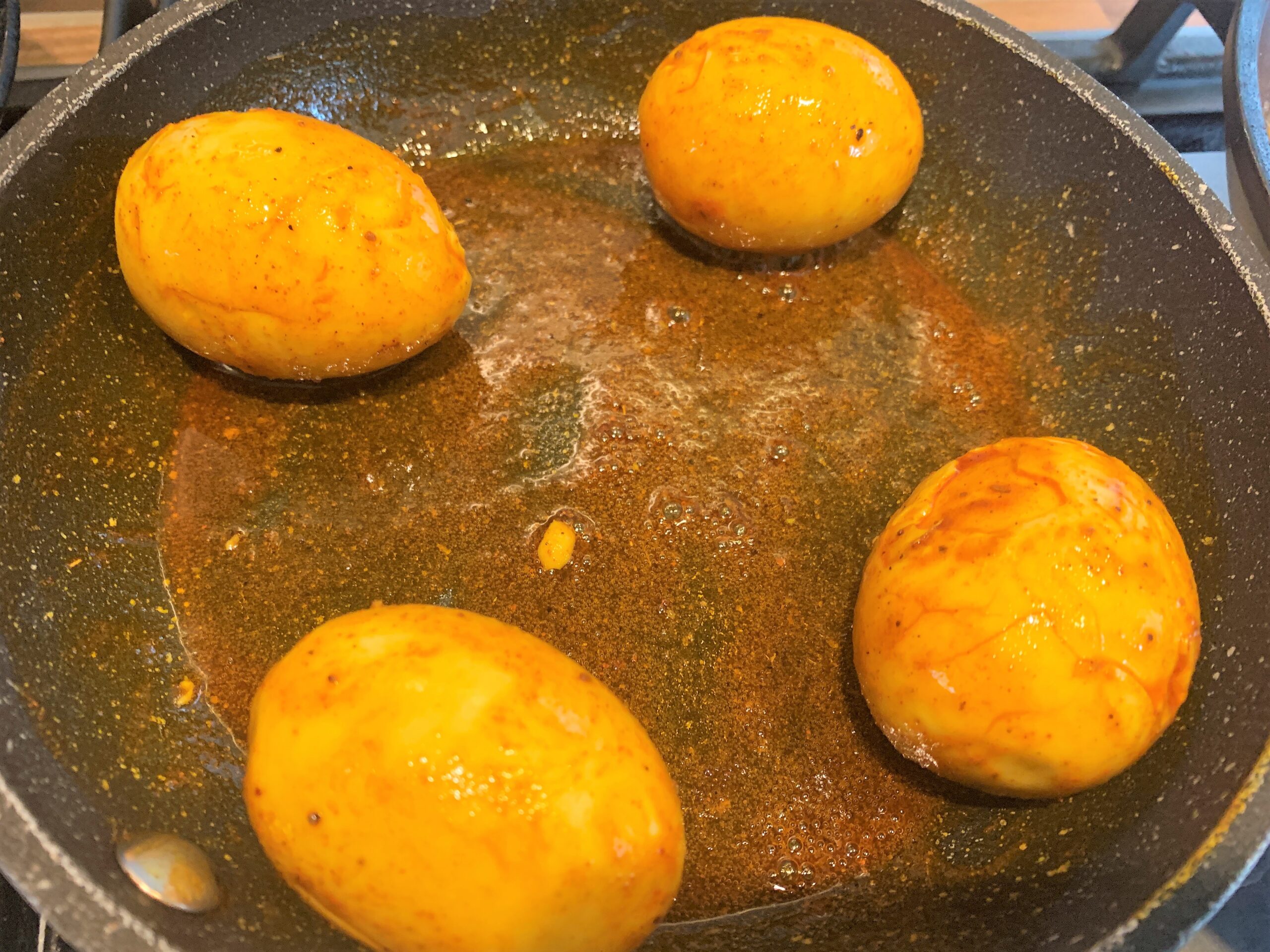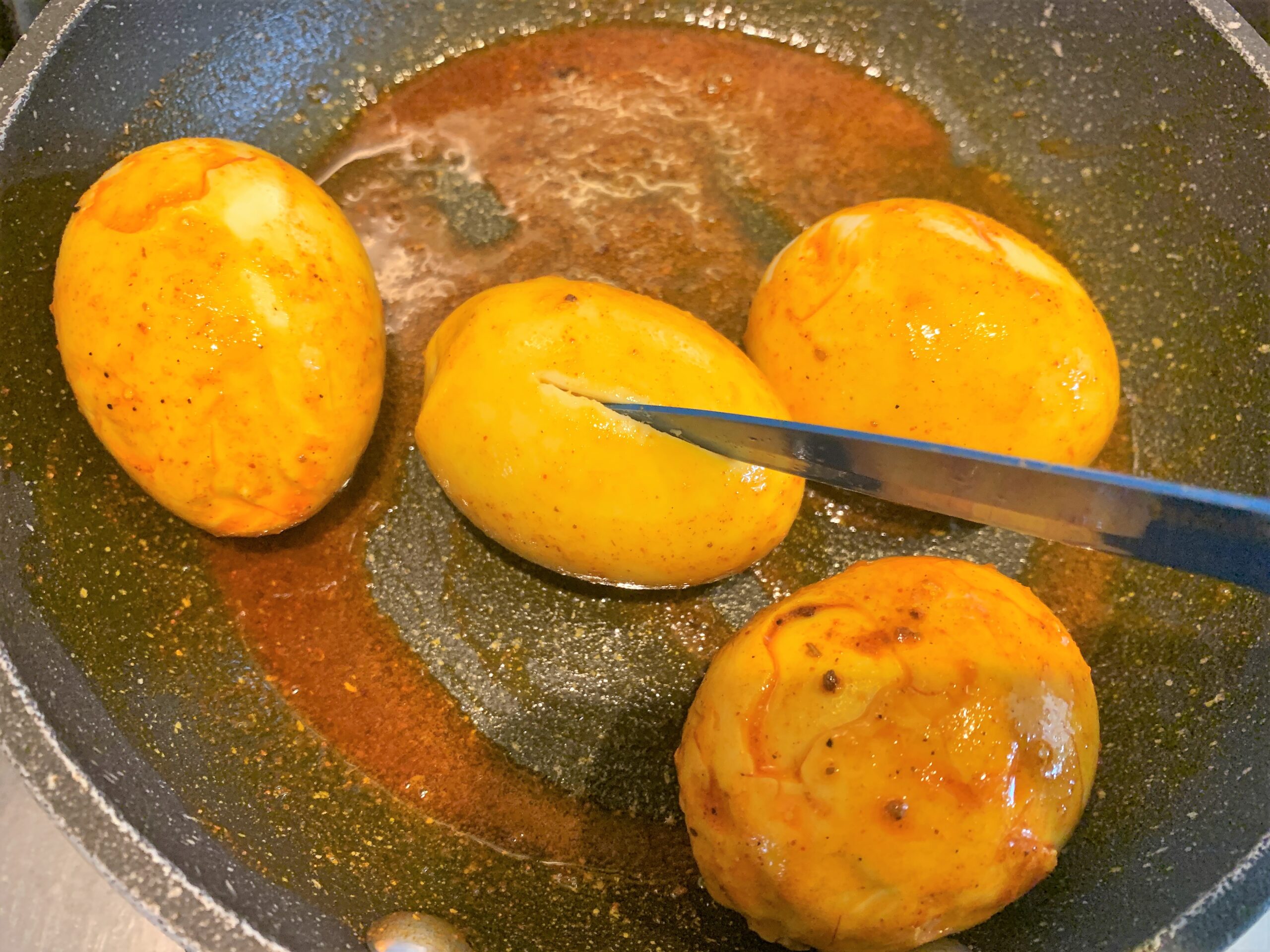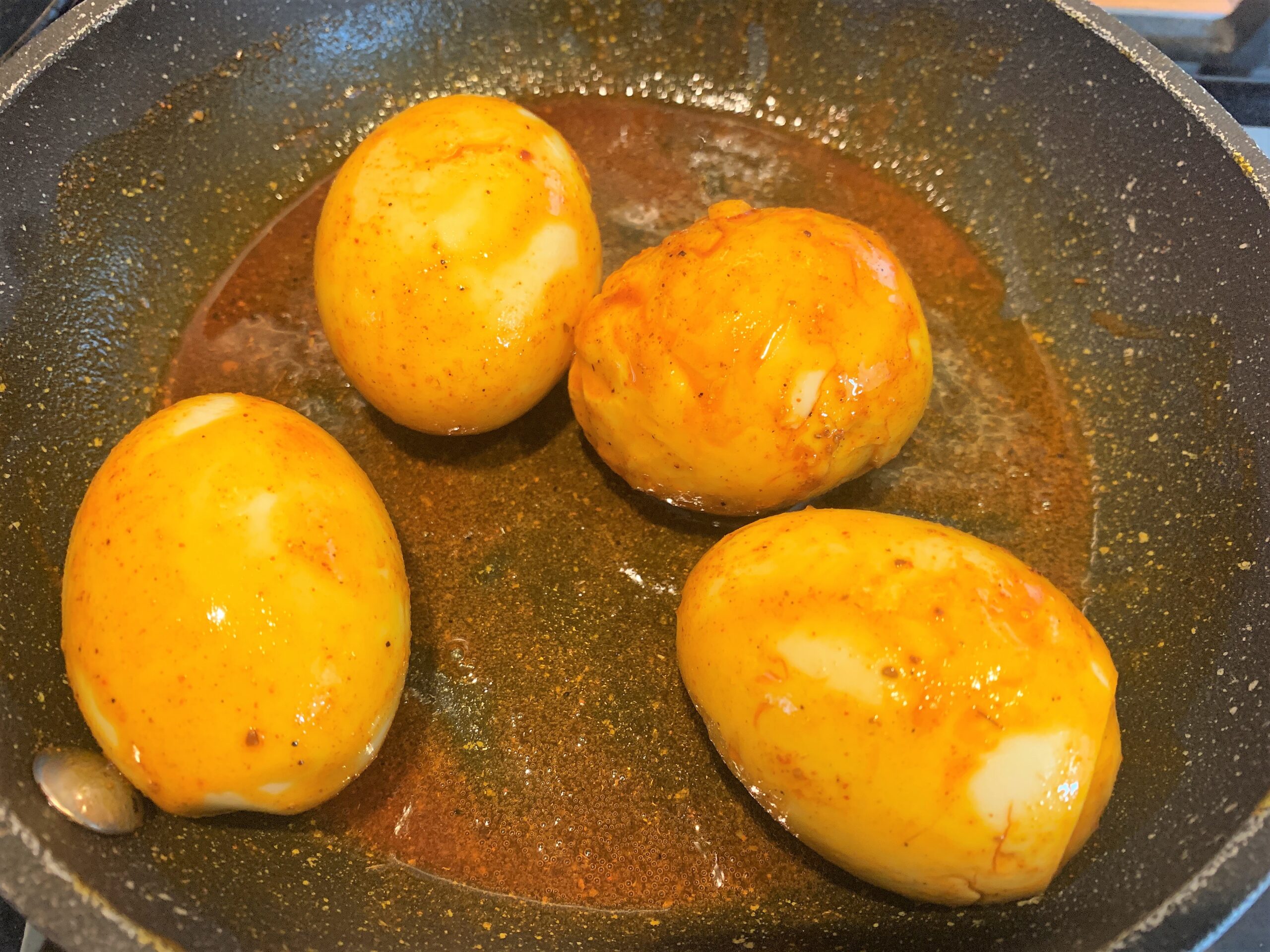 Heat oil in a pan and add the turmeric powder, chilli powder and garam masala. Toss the boiled eggs in the masala for 1-2 minutes. Carefully make small slit in the eggs so that the masala can seep in.  Remove and keep aside.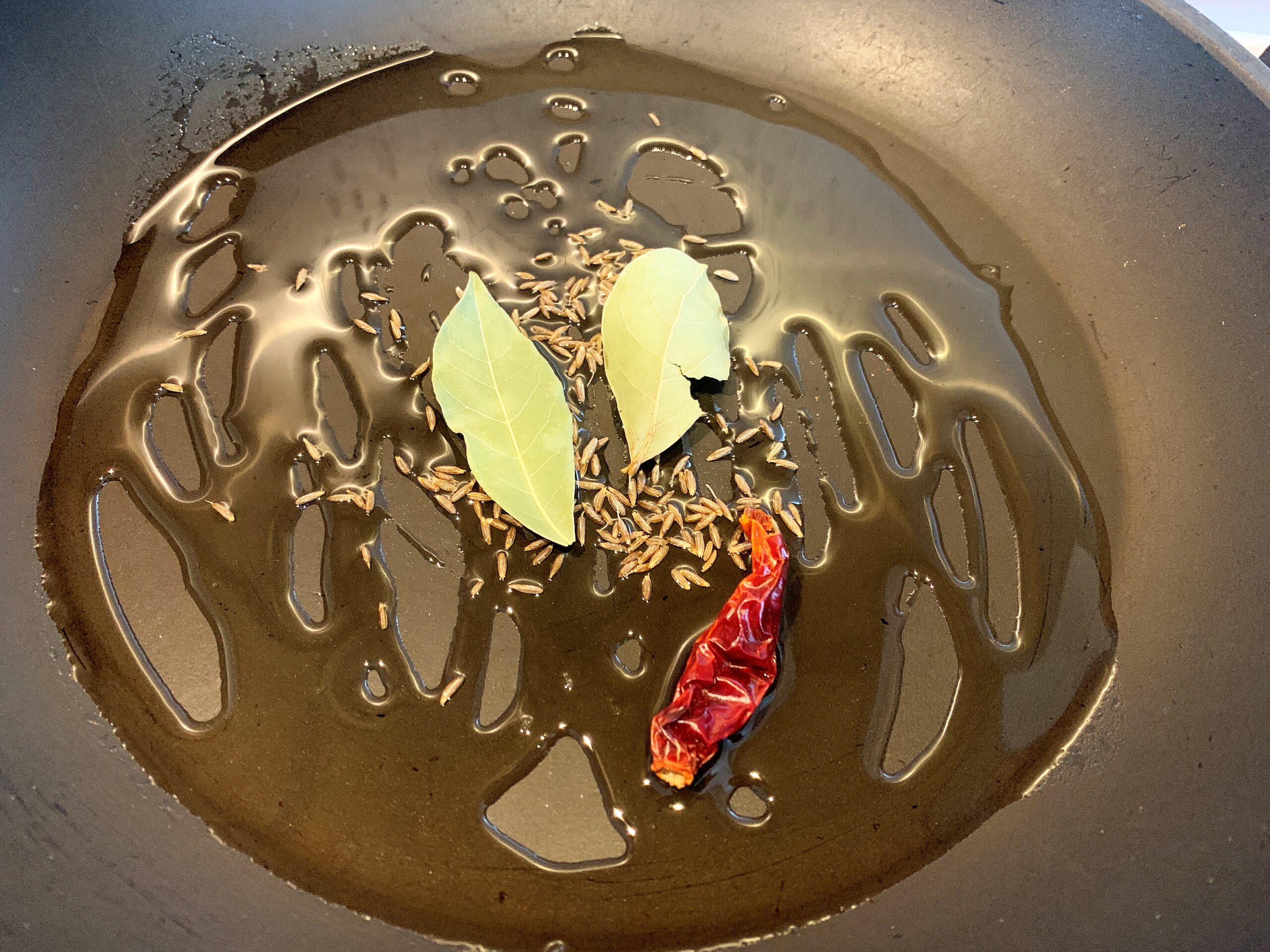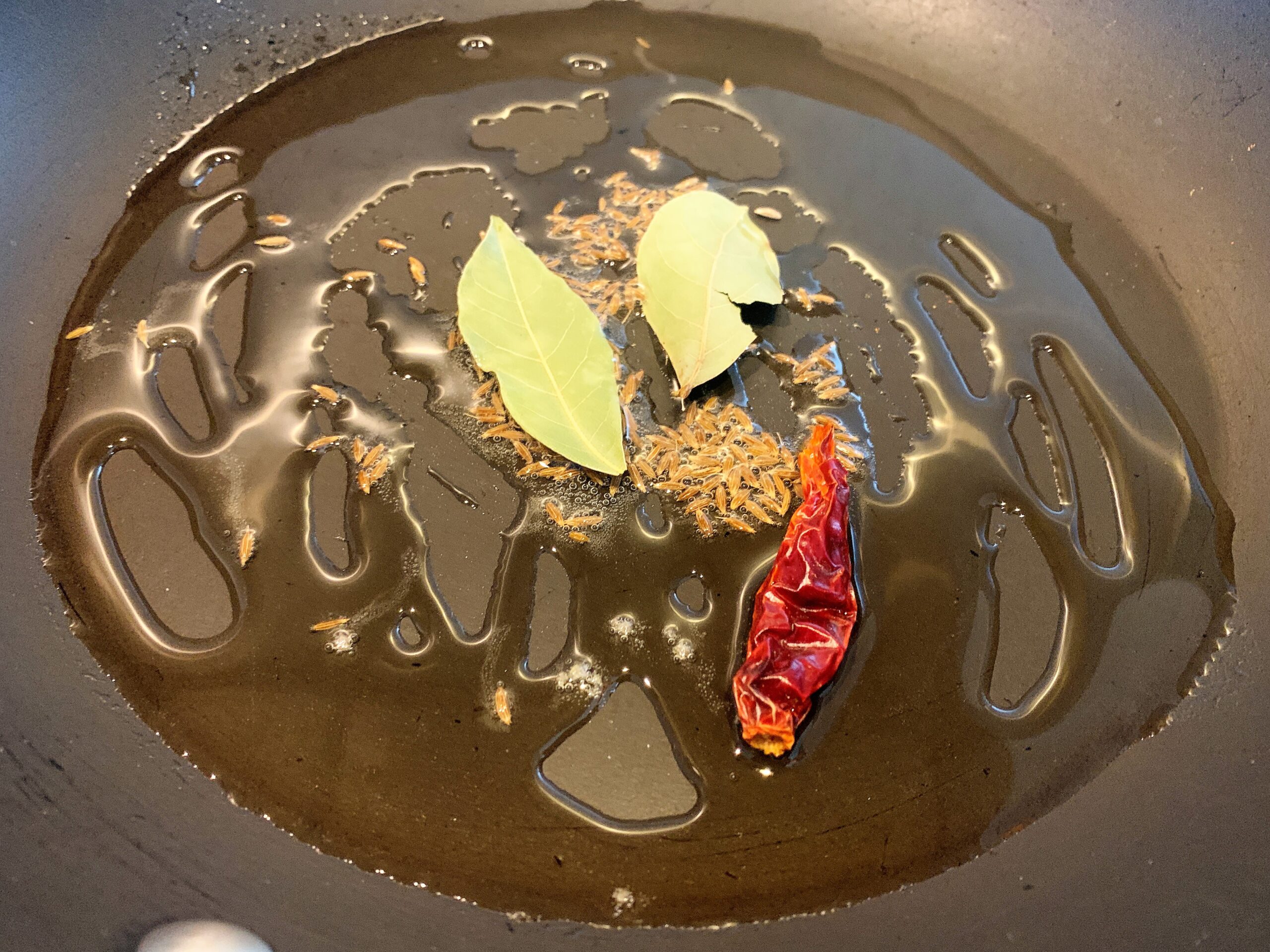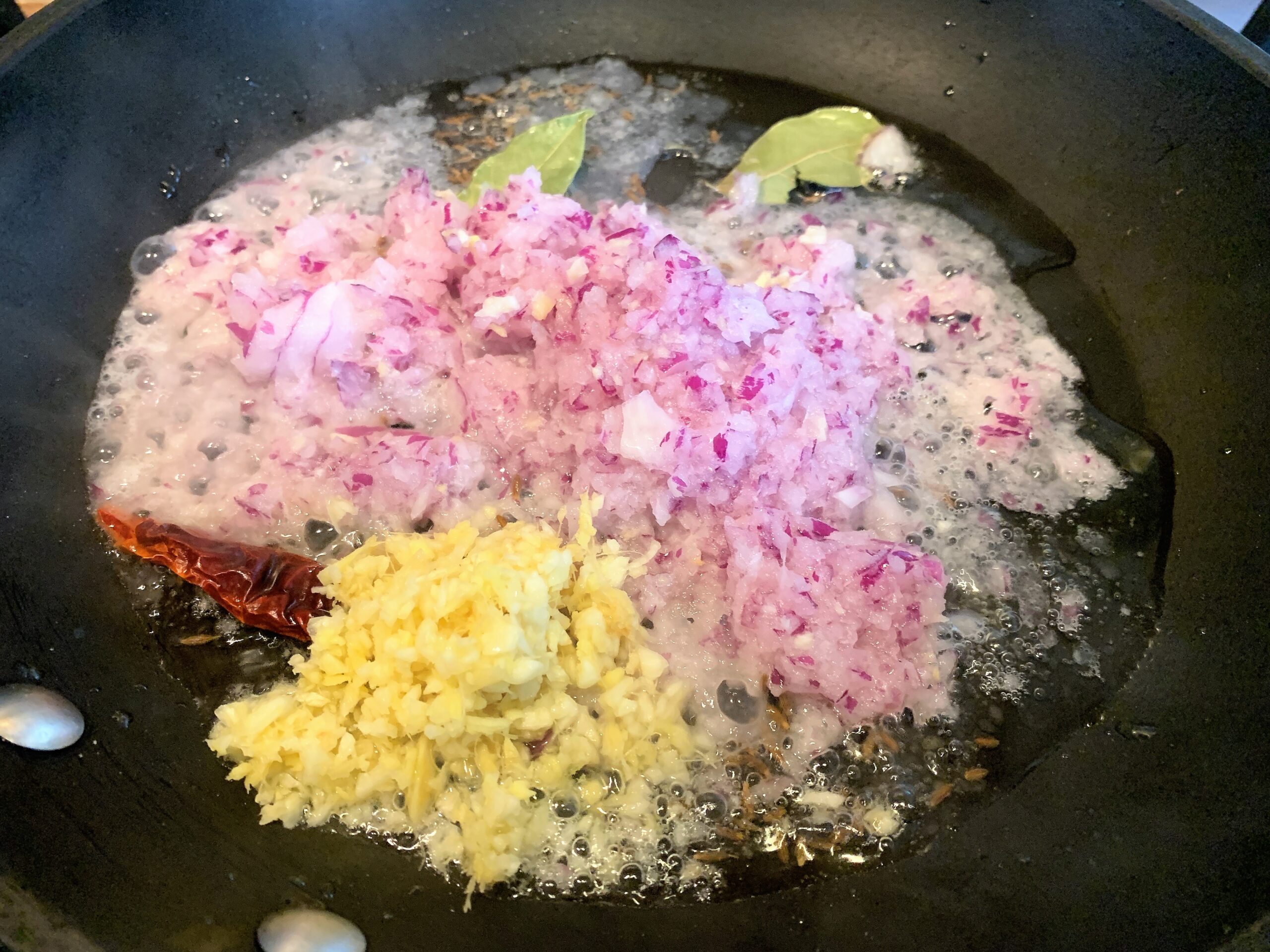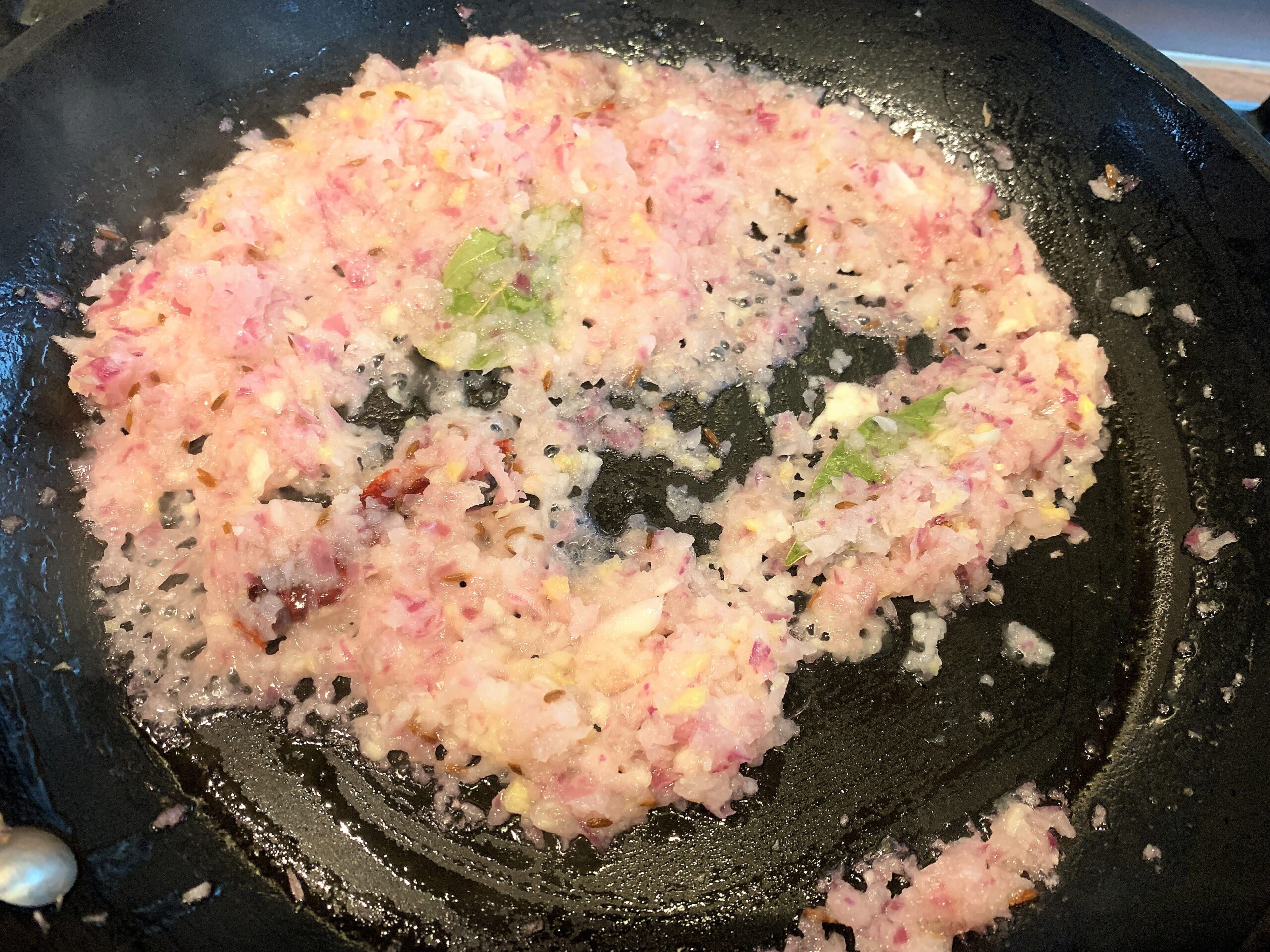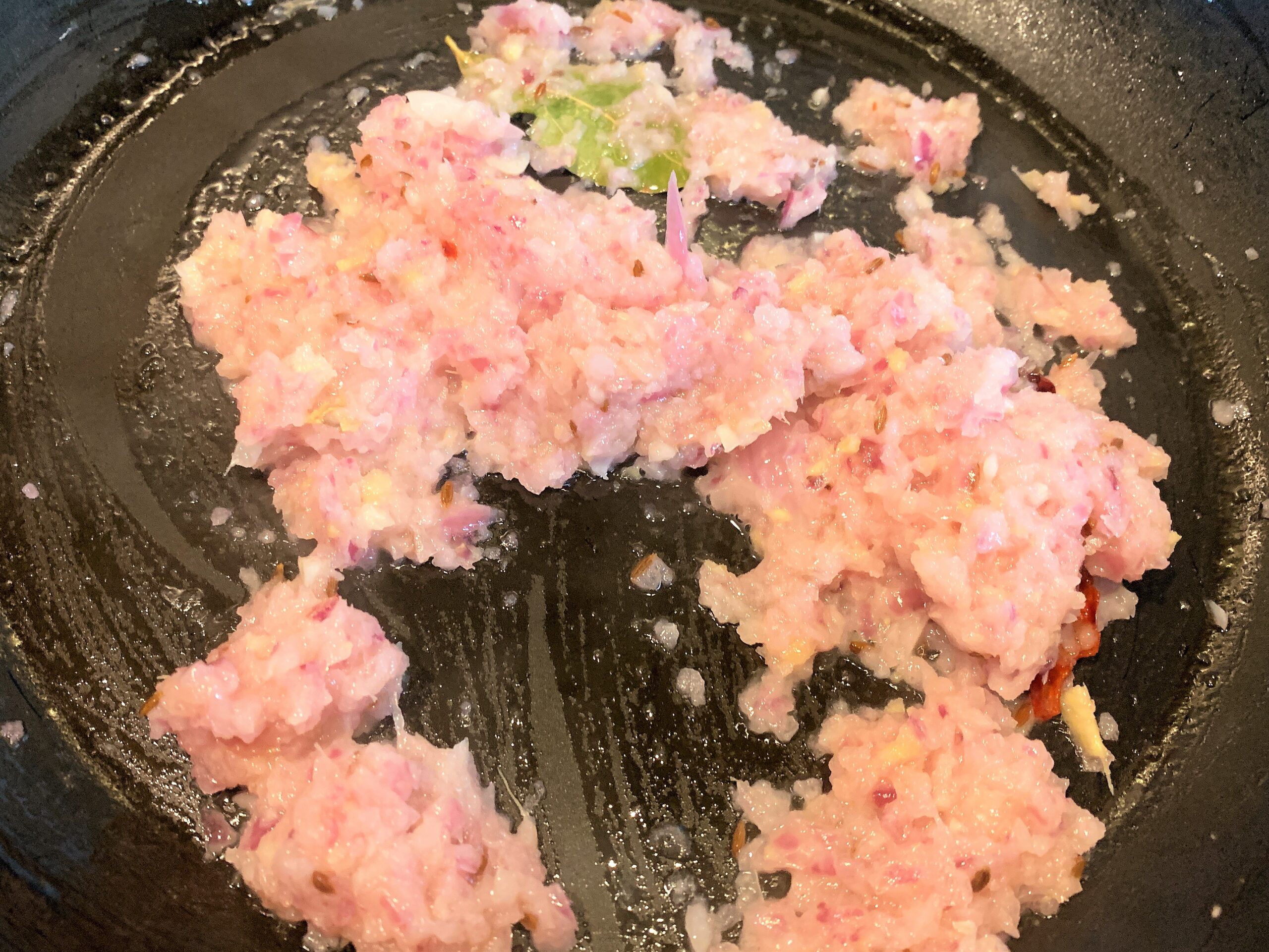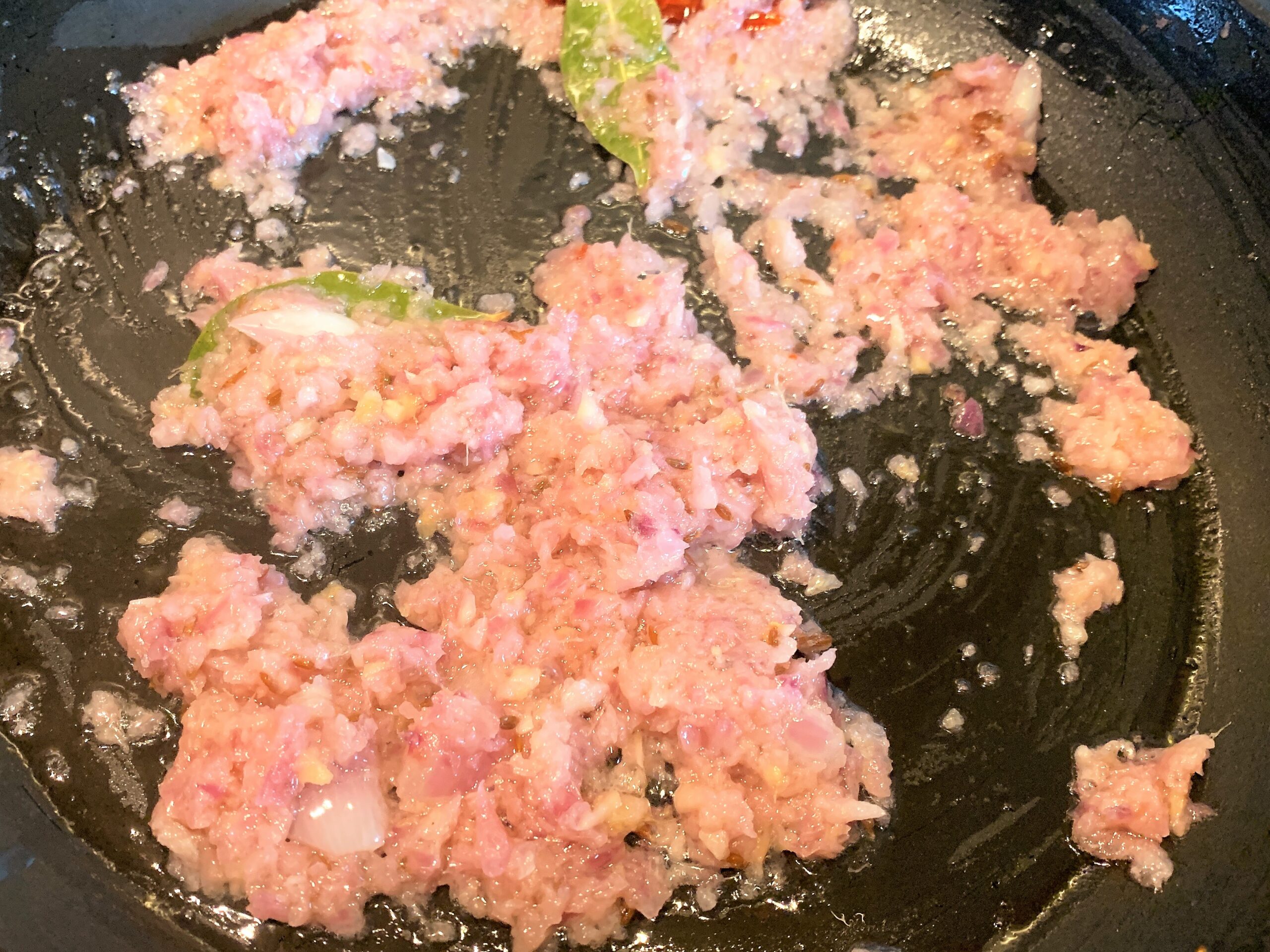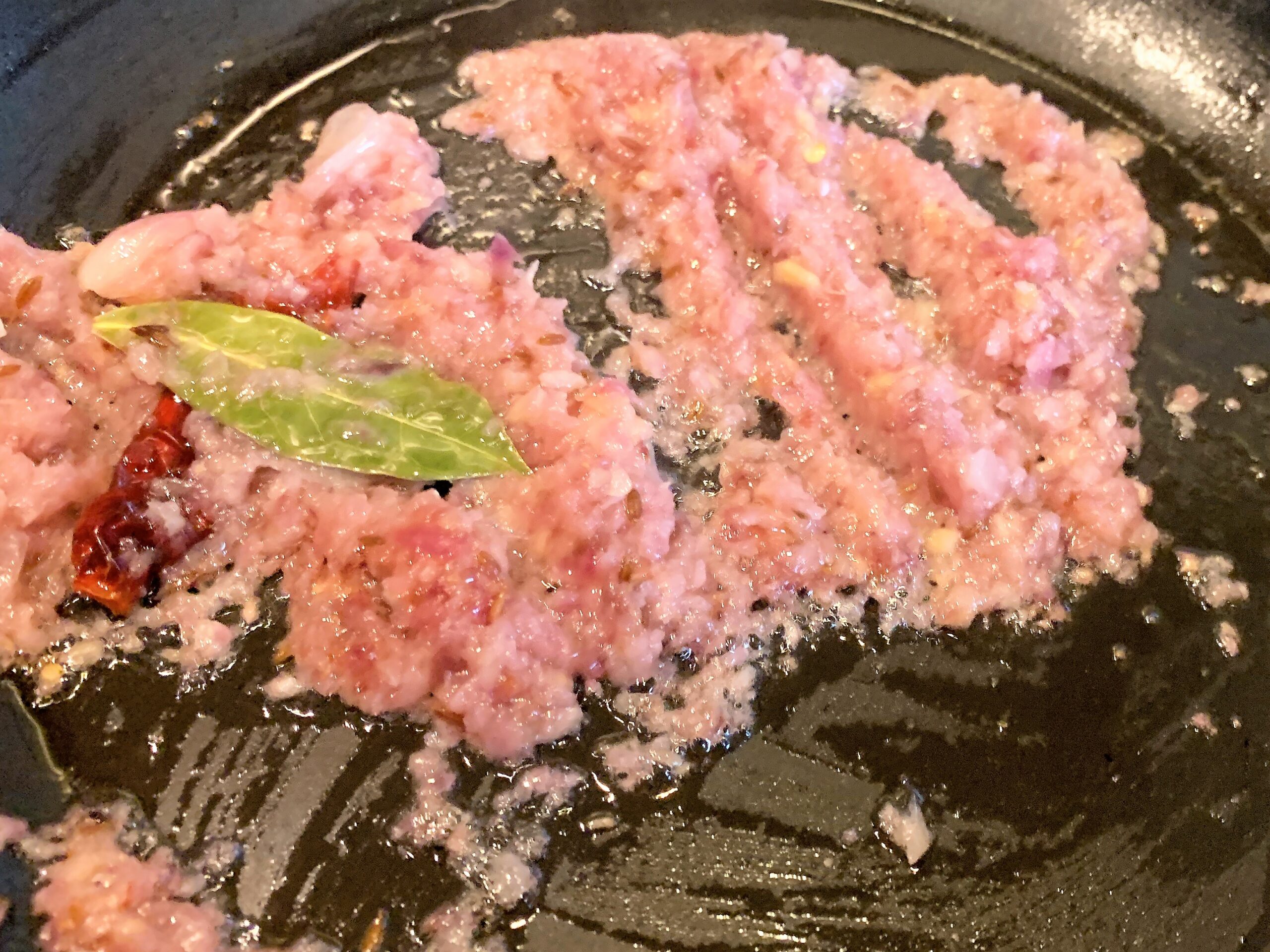 Heat oil in a pan and add the cumin seeds, bay leaf and whole red chilli. Once the cumin seeds begin to splutter add the onions and ginger garlic paste.
Cook the onions on medium heat for 3-4 minutes until the onions soften and begin to brown.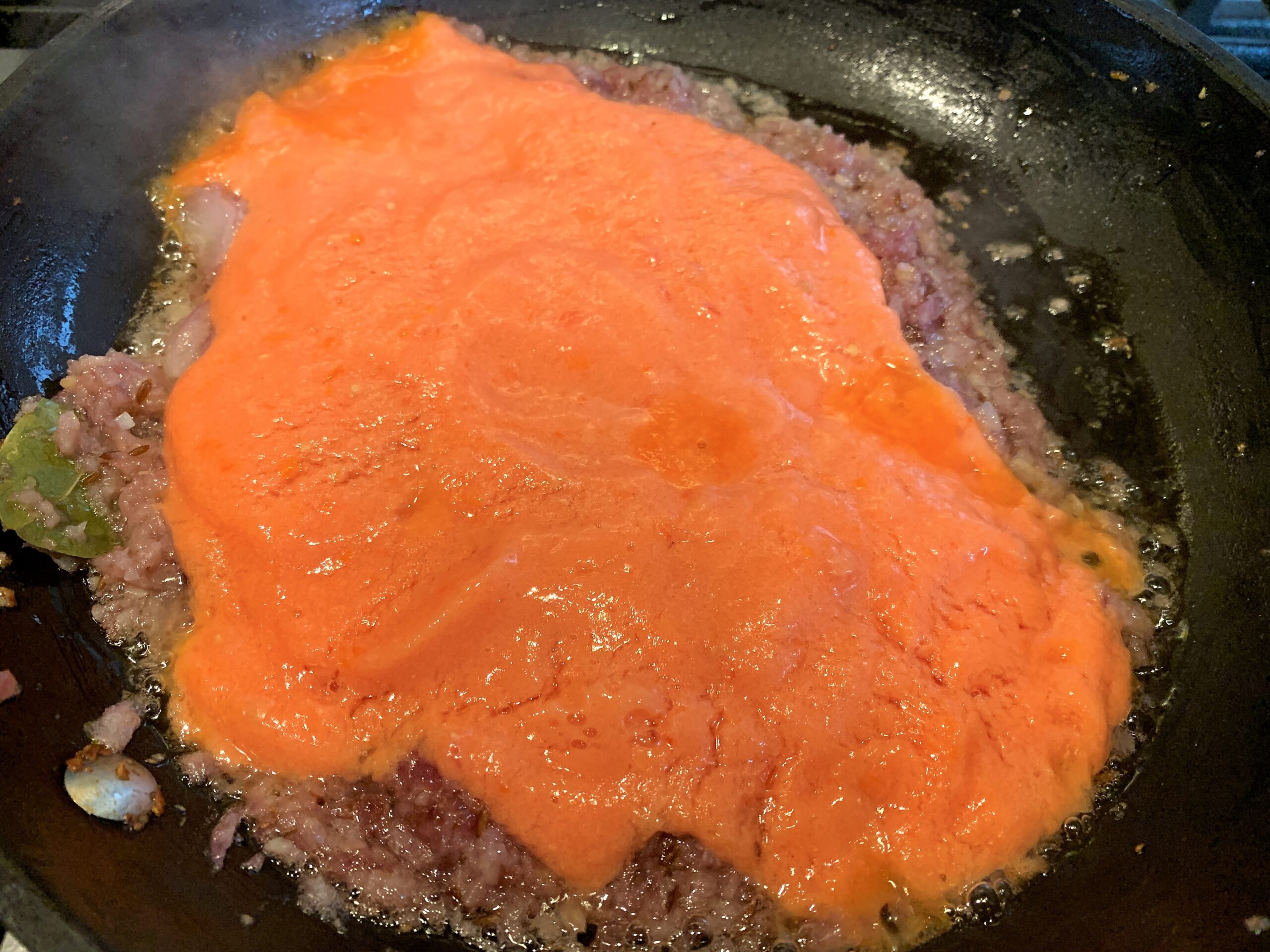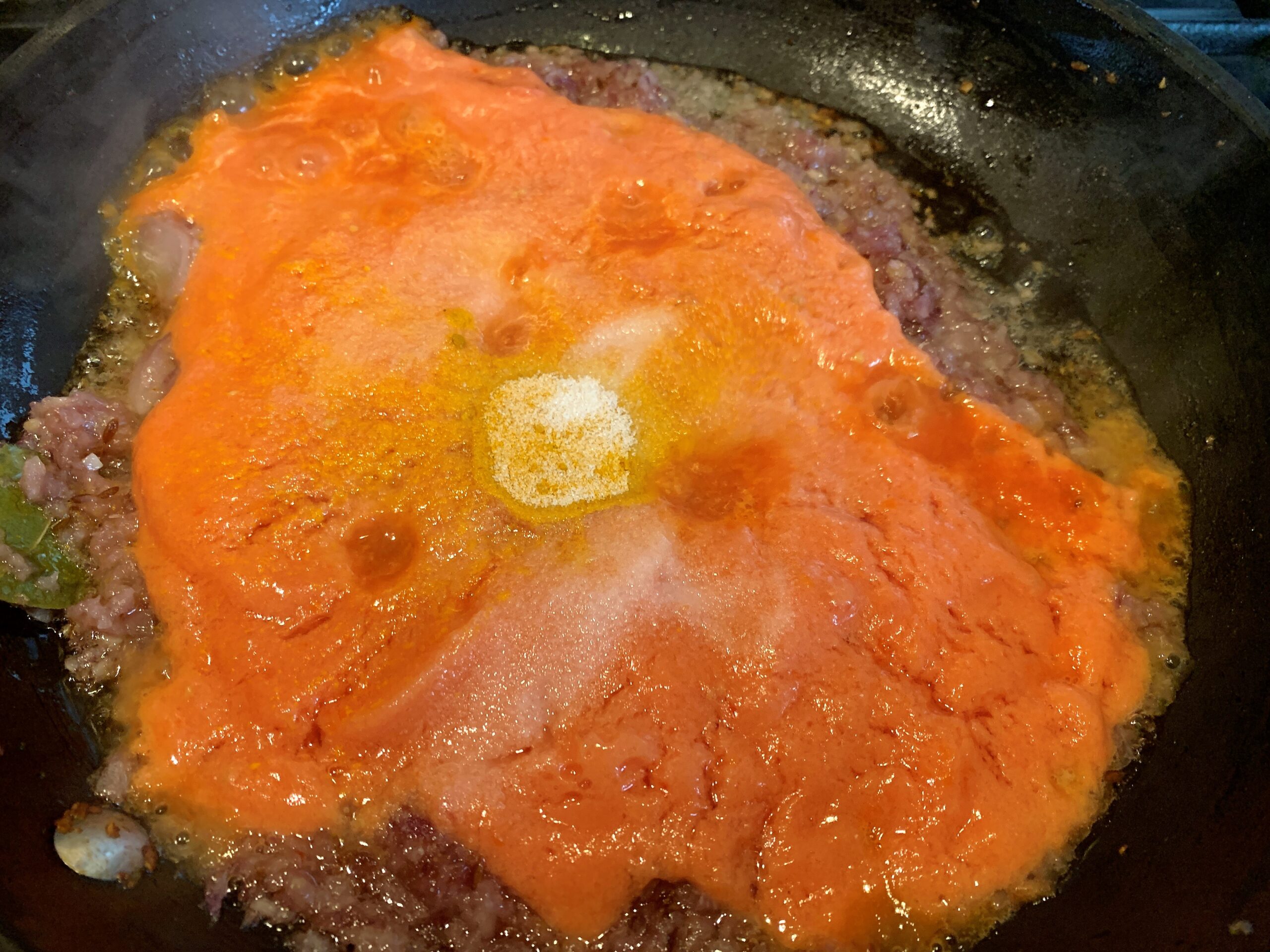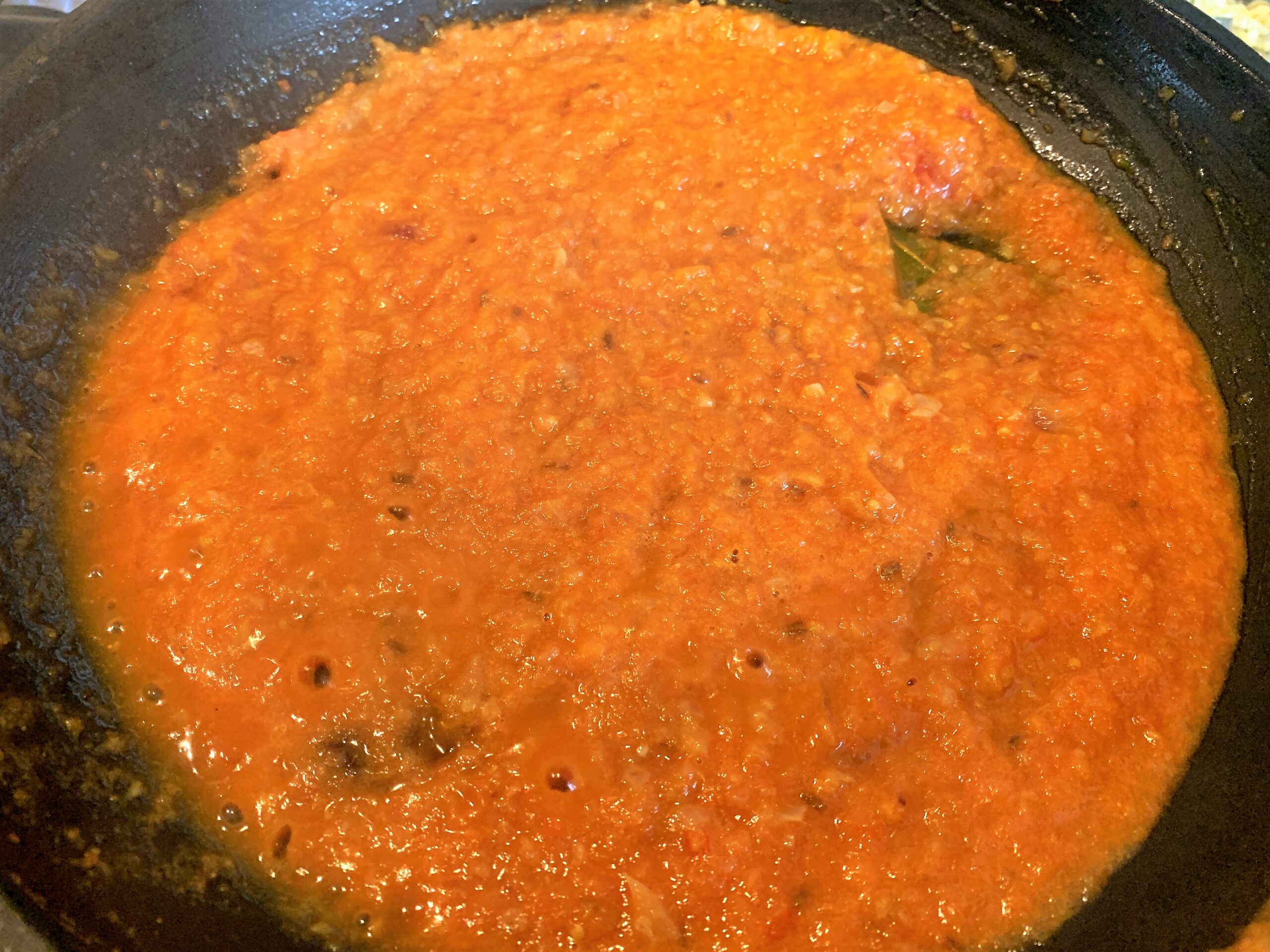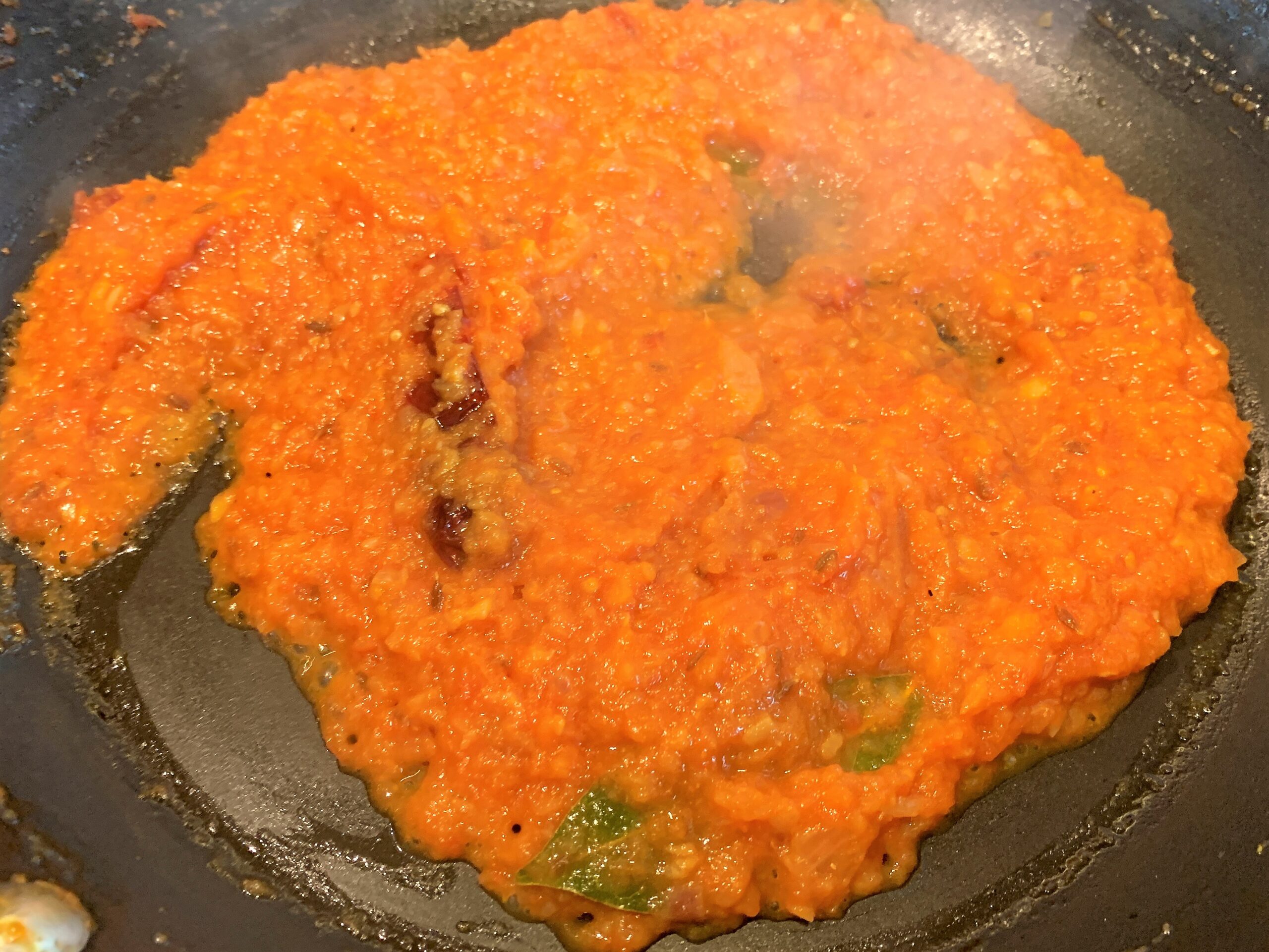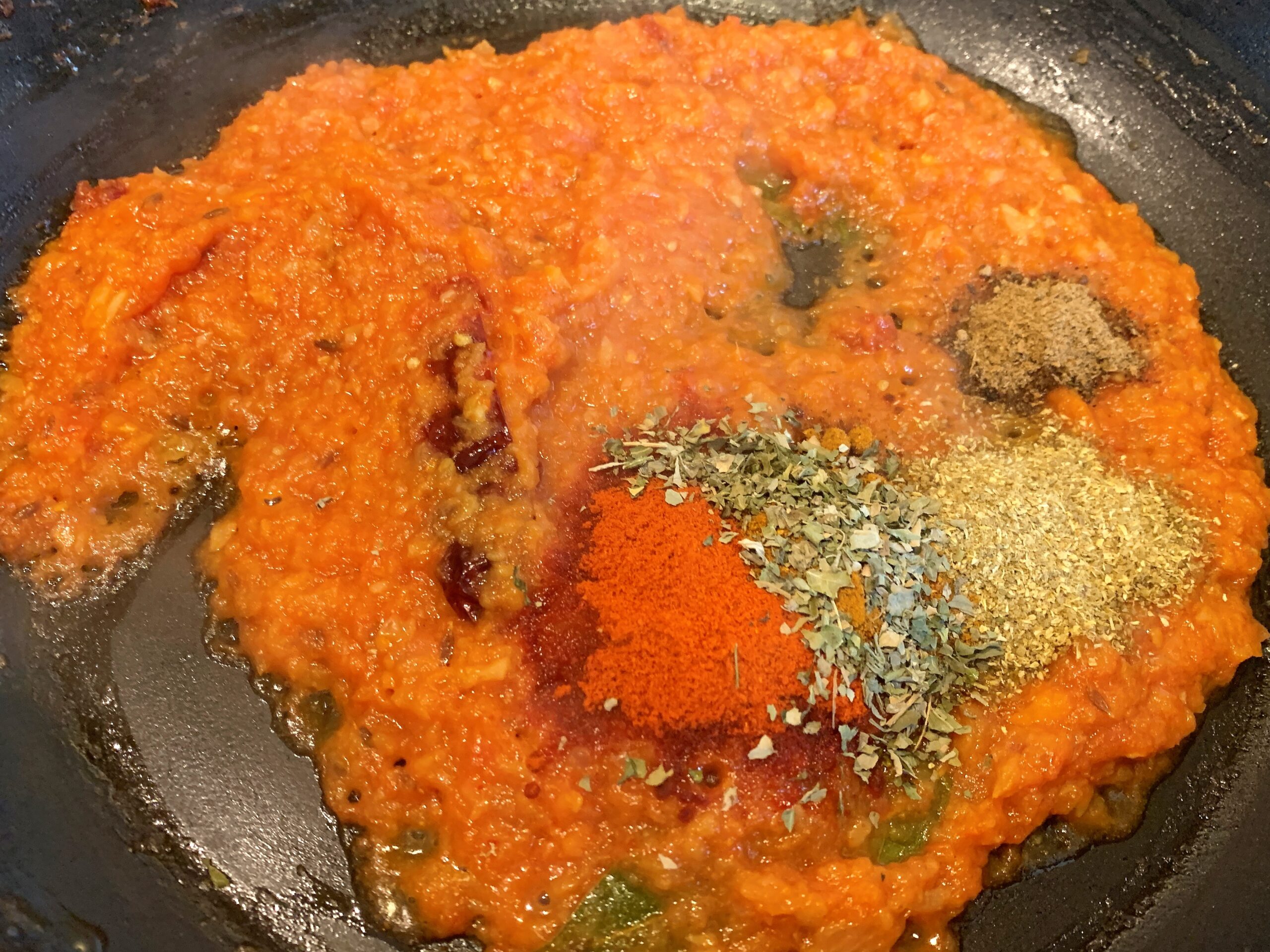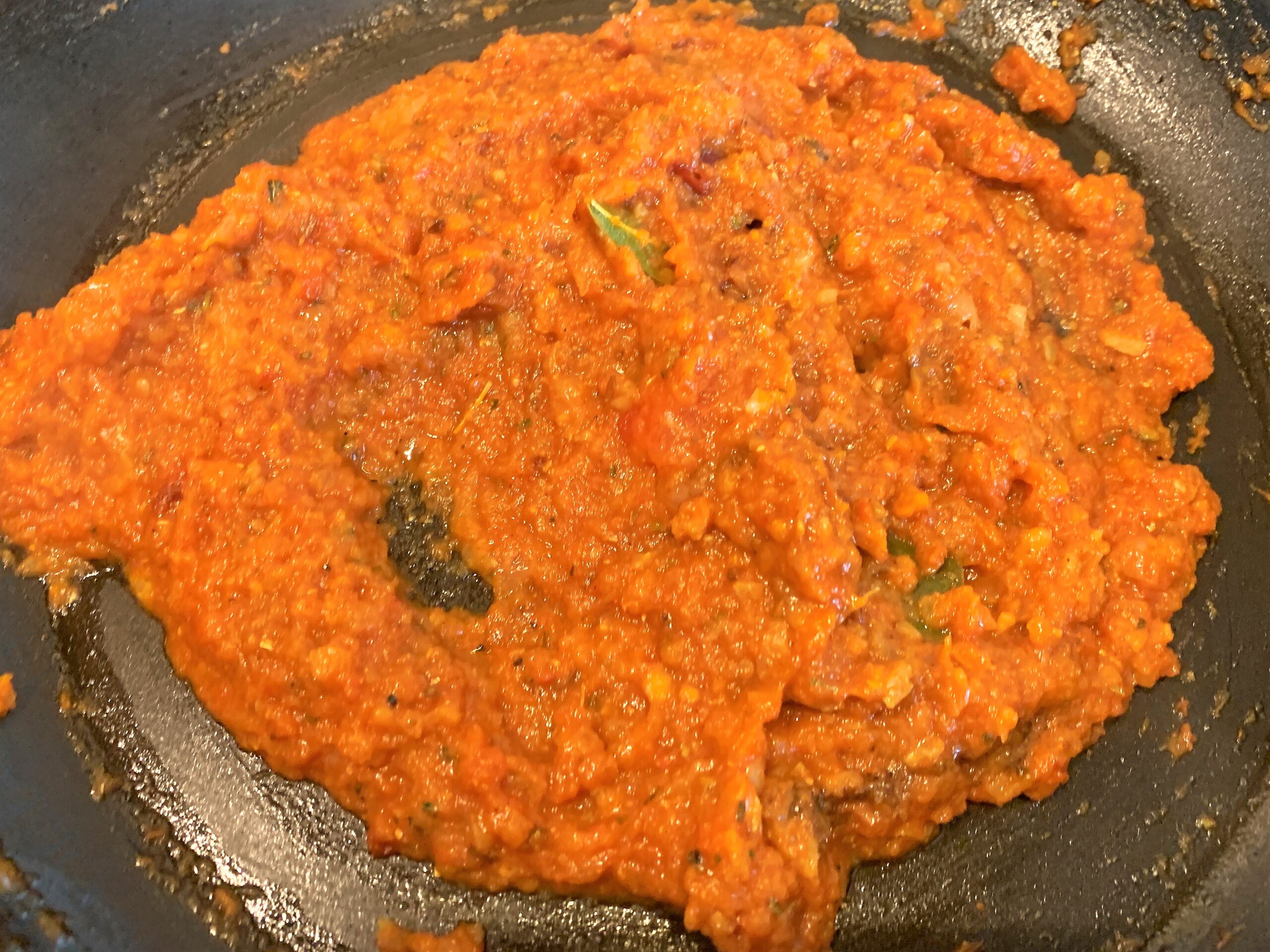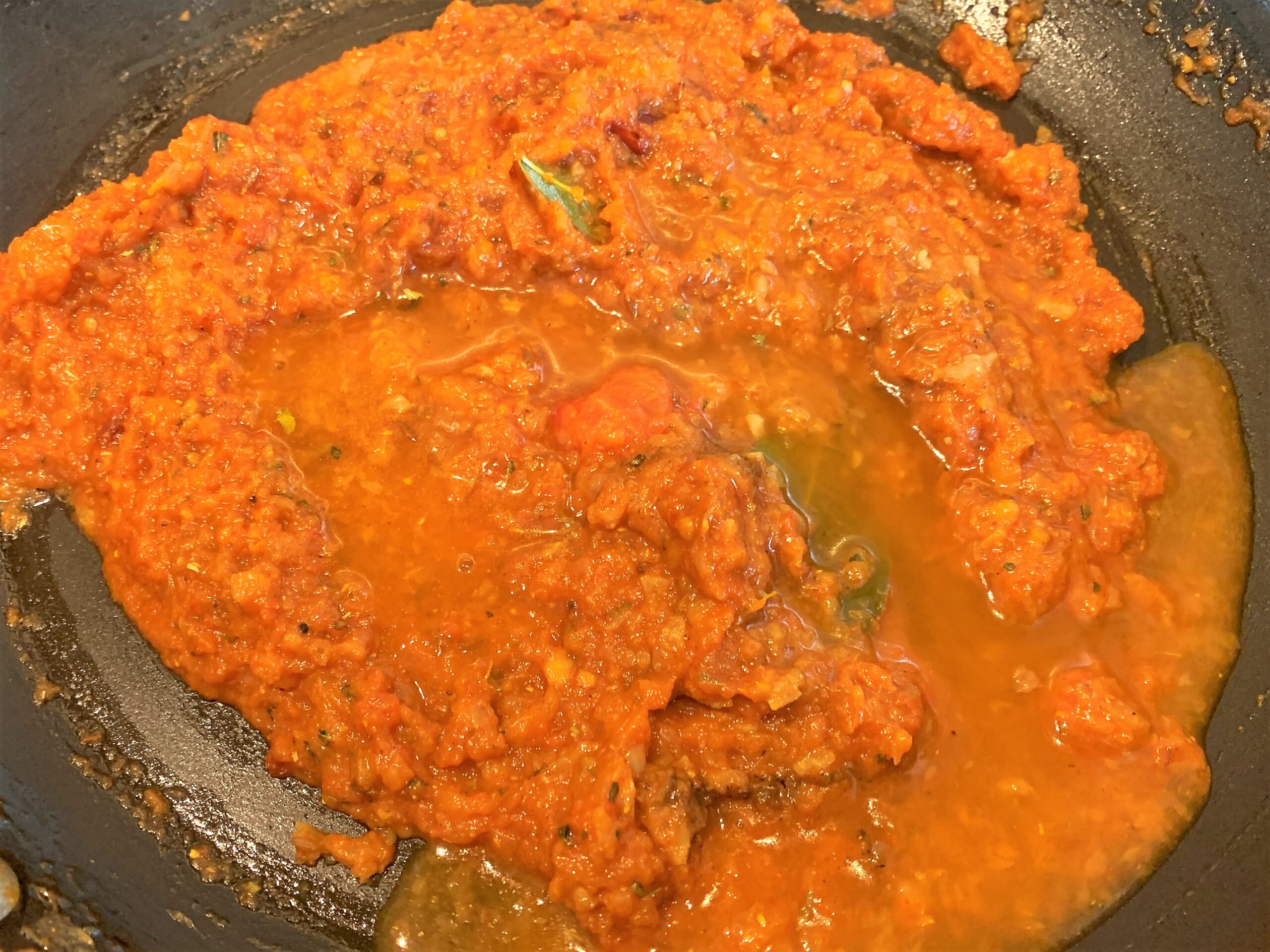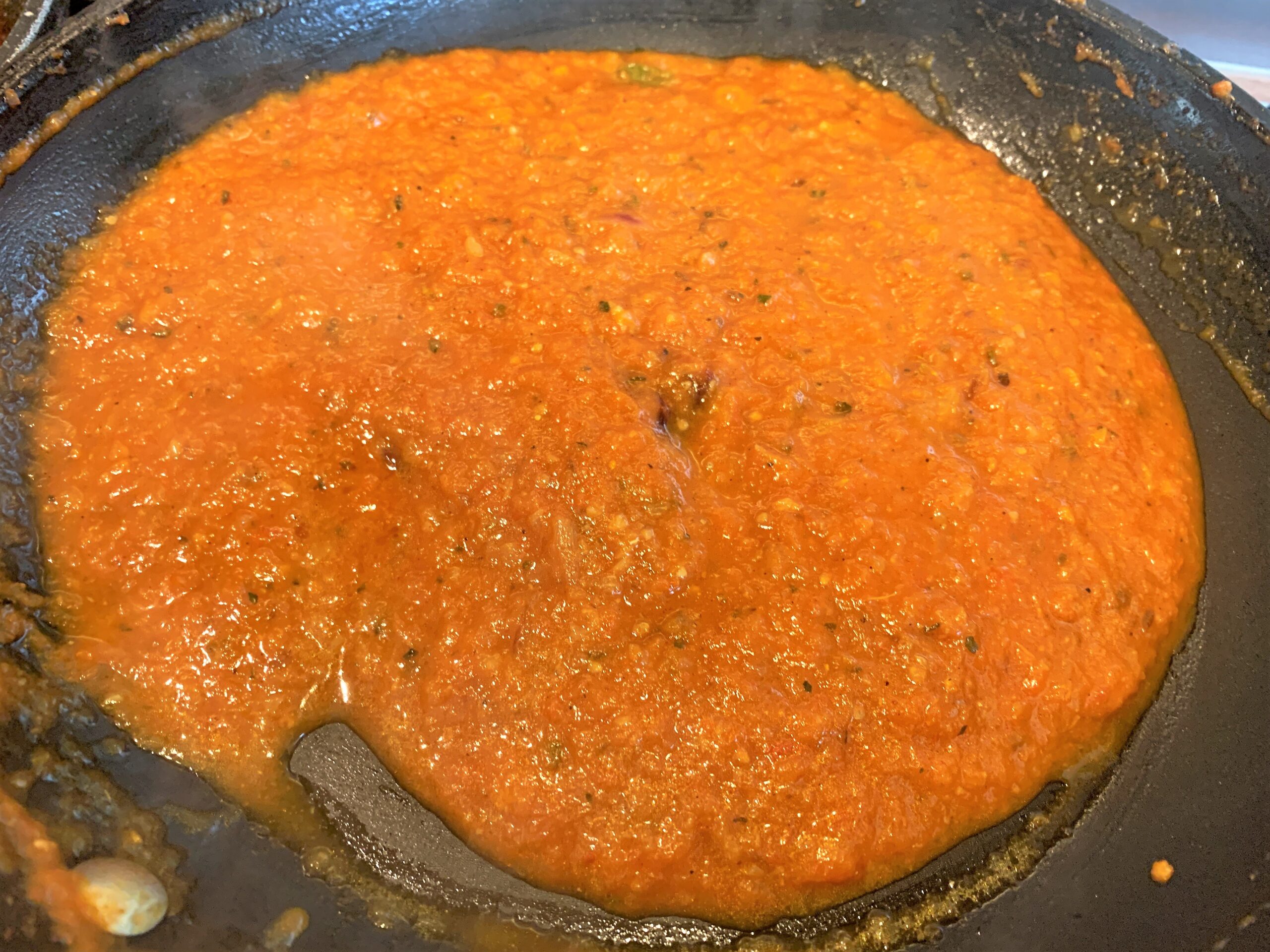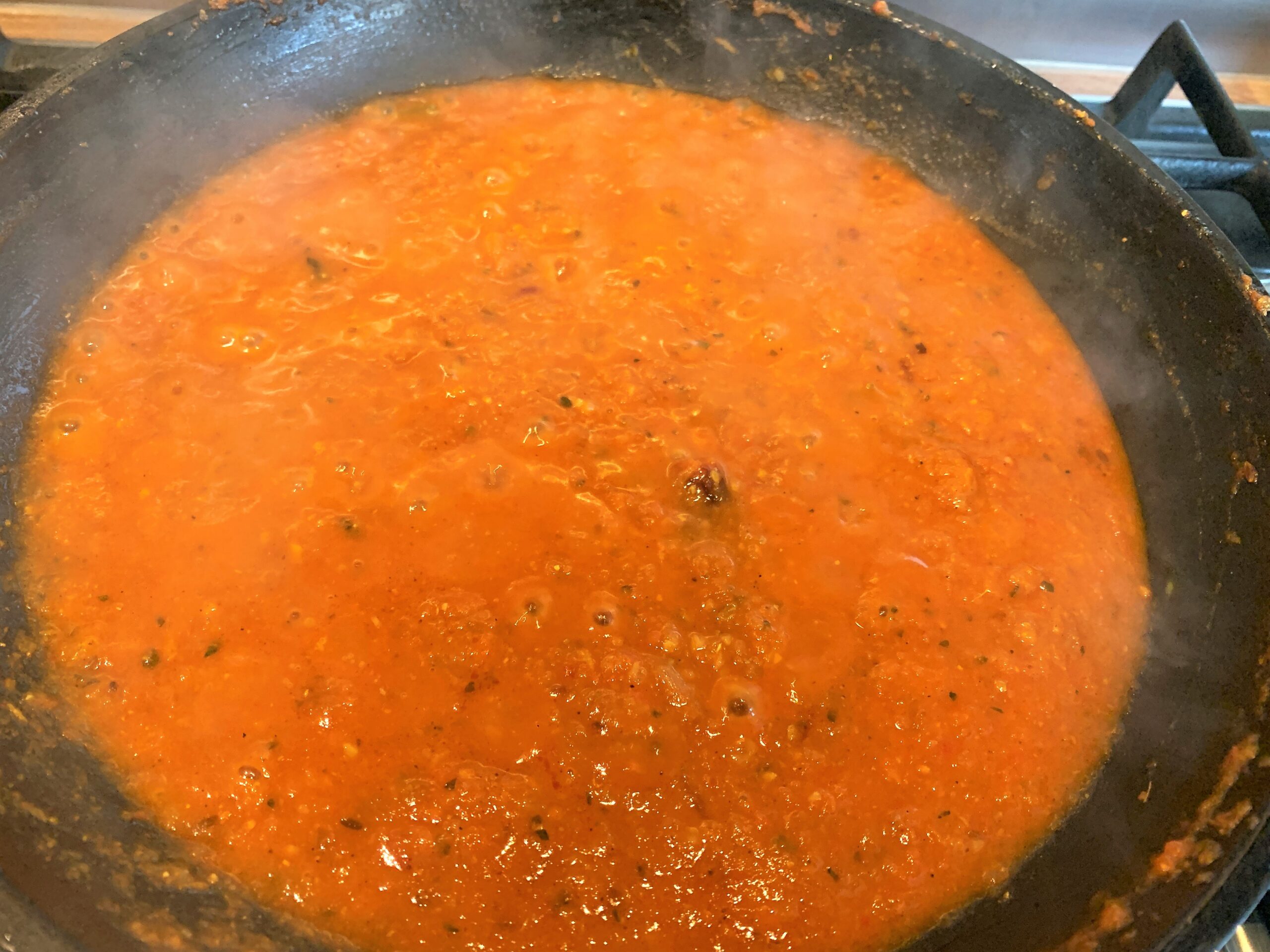 Add the tomato puree, salt and turmeric and cook for 3-4 minutes on medium heat.
Next add the coriander powder, red chilli powder, Kashmiri red chilli powder and dried fenugreek leaves. Mix and add 1 cup water and cook on medium heat for 5-6 minutes.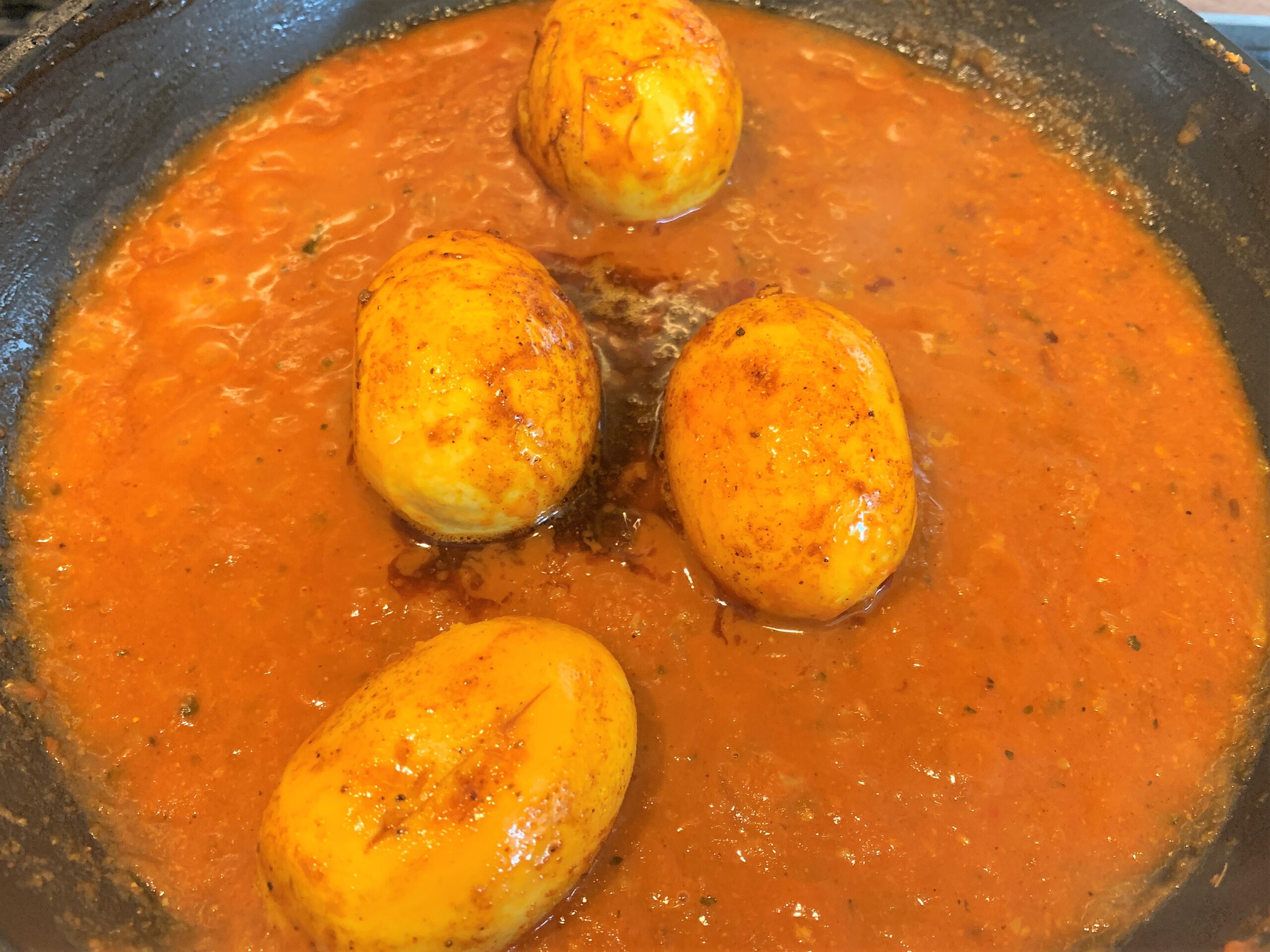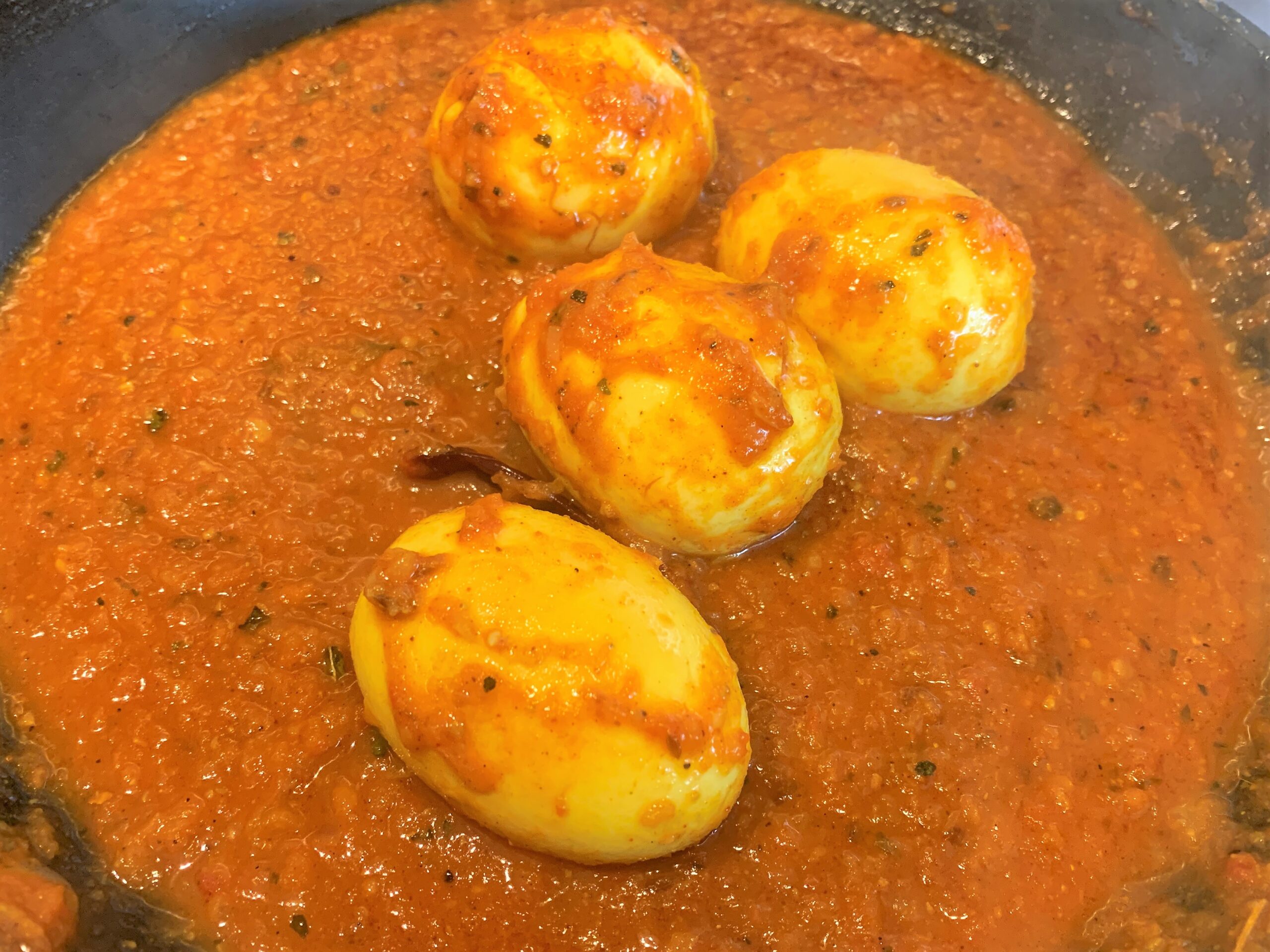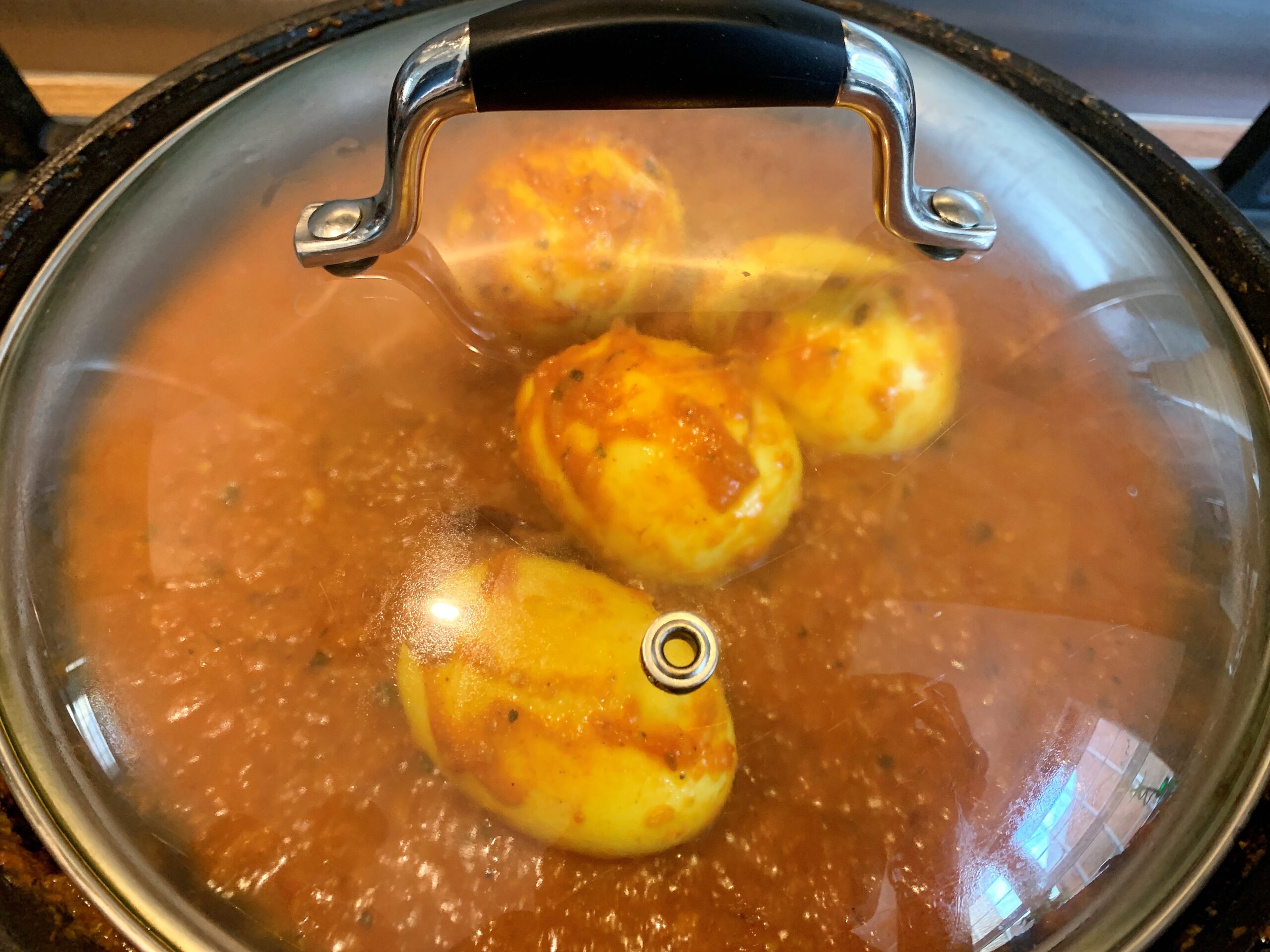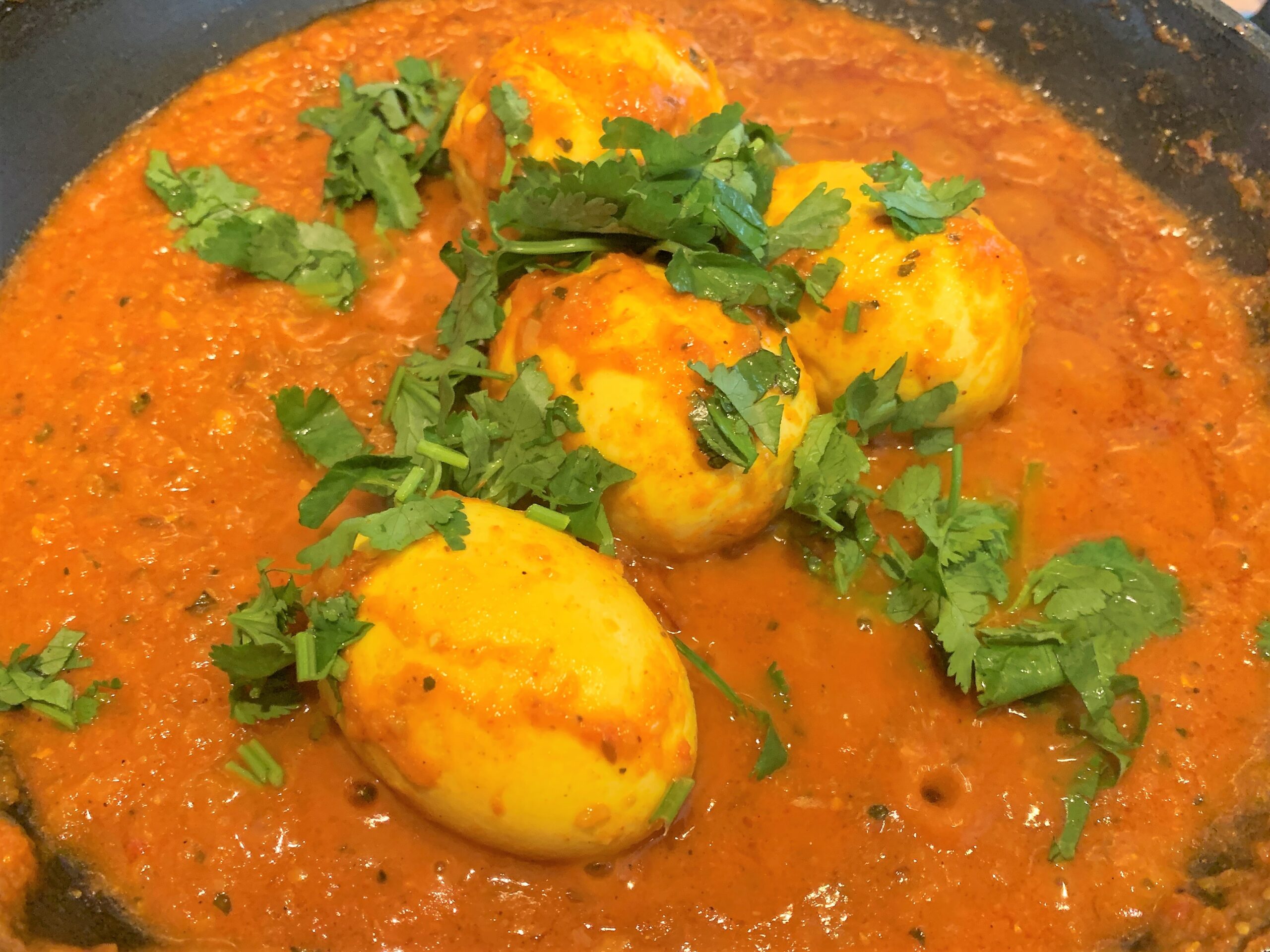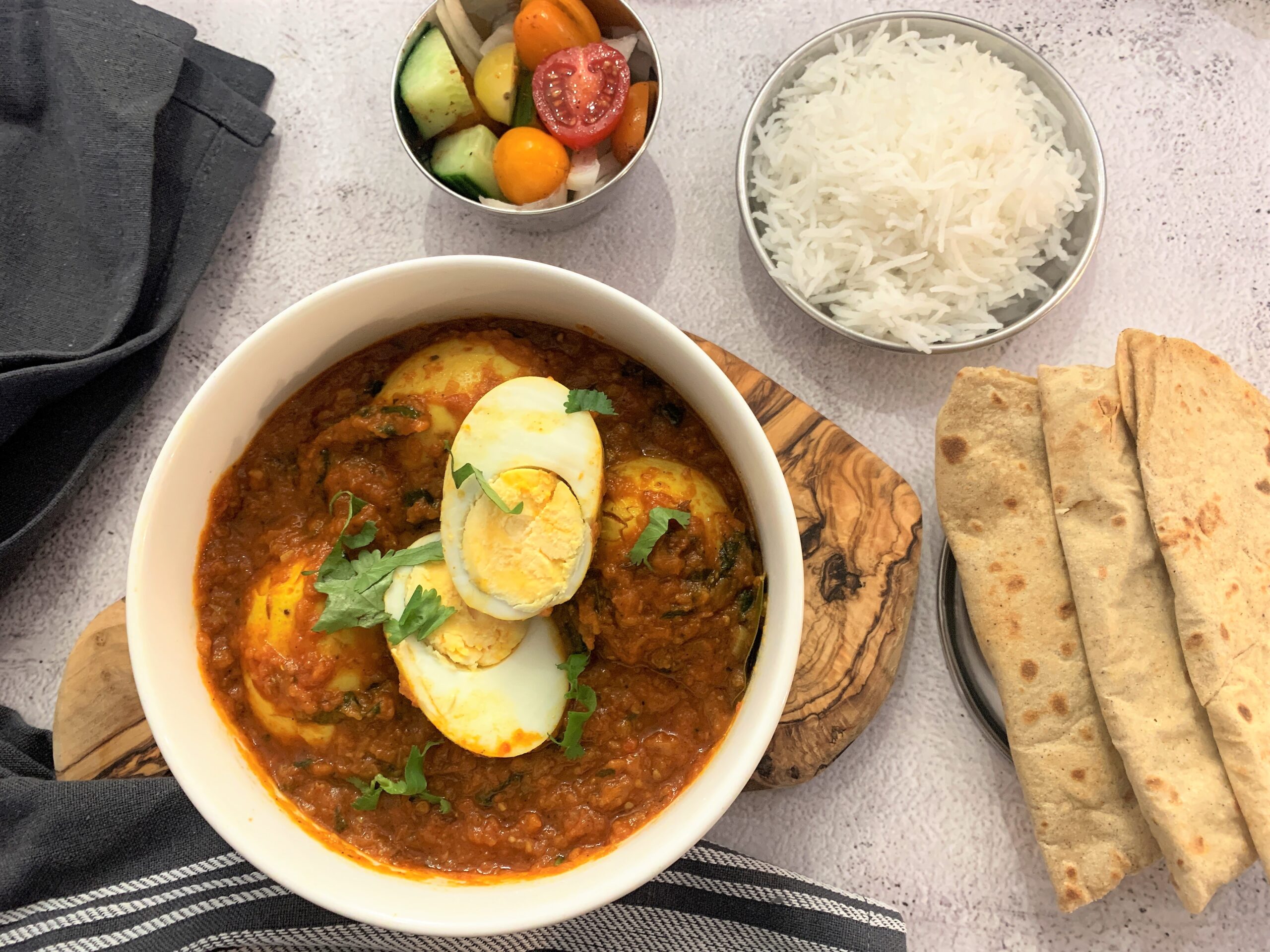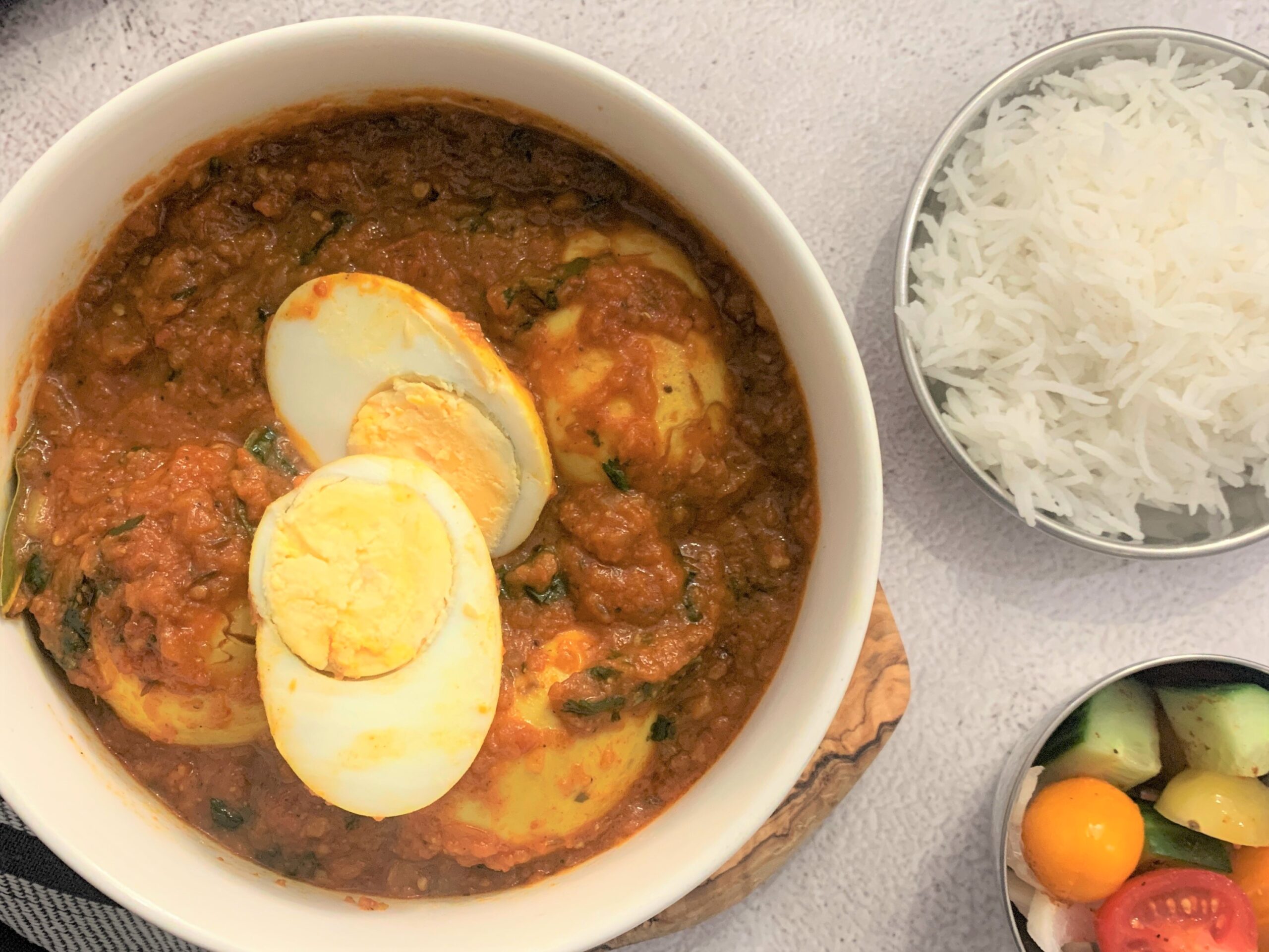 Add the roasted eggs and mix. Cover and cook on medium heat for 2-3 minutes.
Add the coriander leaves and mix.
Serve hot with rice and/or any Indian bread.