Chettinad Prawn Chukka
Chettinad Prawn Chukka is a delicious, fragrant, and full of wonderful authentic South Indian flavour. 'Chettinad' is the most renowned cuisine from the Tamil Nadu repertoire and the dishes are made with fresh ground masalas. 'Chukka' means a dry dish.
The traditional Chettinad cuisine is known for using many varieties of spices like star anise, whole red chillies, fennel seed, cinnamon, cloves, peppercorn, cumin seeds and cardamom. The richness of the gravies is increased by addition of ginger, garlic and chillies. I first experienced Prawn Chukka at a small roadside café in UK. Spicy, flavoursome recipe loaded with onions, peppers with juicy succulent prawns- it was just a standout dish. The key ingredient and the standout flavour of any chukka recipe are curry leaves. I always keep dried curry leaves at home for those moments when I don't have fresh leaves at home.
As with any good Indian curry, a combination of whole and ground spices is the secret to creating the most alluring and flavoursome dish. The prawn chukka recipe is actually semi- dry dish similar to a stir-fry, so I leave the gravy to reduce quite considerably, meaning all those spices increase in intensity, leaving a rich, glossy gravy that clings to the juicy prawns. Chettinad prawn chukka is an easy-to-make recipe prepared with a freshly ground aromatic spice mix.
Other South Indian recipes you might like to try are Dosa, Onion Rava Dosa, Idli, Appe, Sambar, Coconut Chutney, Raw Mango Curd Rice, Paruppu Rasam, Chicken 65 and South Indian Vegetable Korma to name a few.
Ingredients
To Grind
5-6 garlic pods
1 Inch ginger
1-2 green chillies
½ inch cinnamon stick
1-2 cardamom
2-3 cloves
10-12 whole black pepper
1 star anise
½ teaspoon cumin seeds
½ teaspoon fennel seeds
1-2 dry chillies
Other Ingredients
150 grams prawns (shelled, de-veined and washed)
1 teaspoon oil
1 teaspoon mustard seeds
1-2 sprigs curry leaves
1 thinly sliced onion
½ thinly sliced green pepper
Salt to taste
½ teaspoon turmeric powder
½ teaspoon Kashmiri Red chilli powder
1 teaspoon lime juice or tamarind water
Directions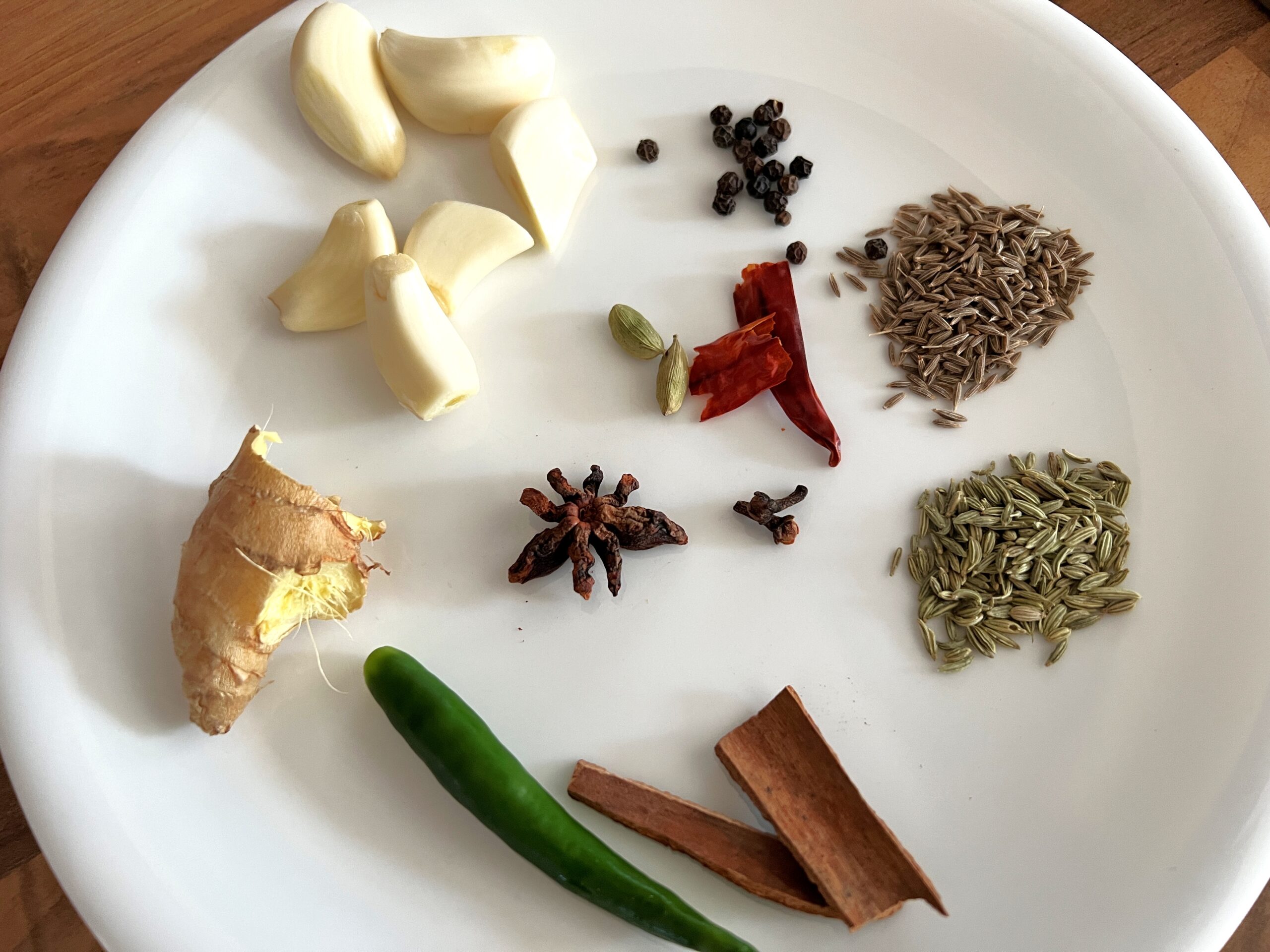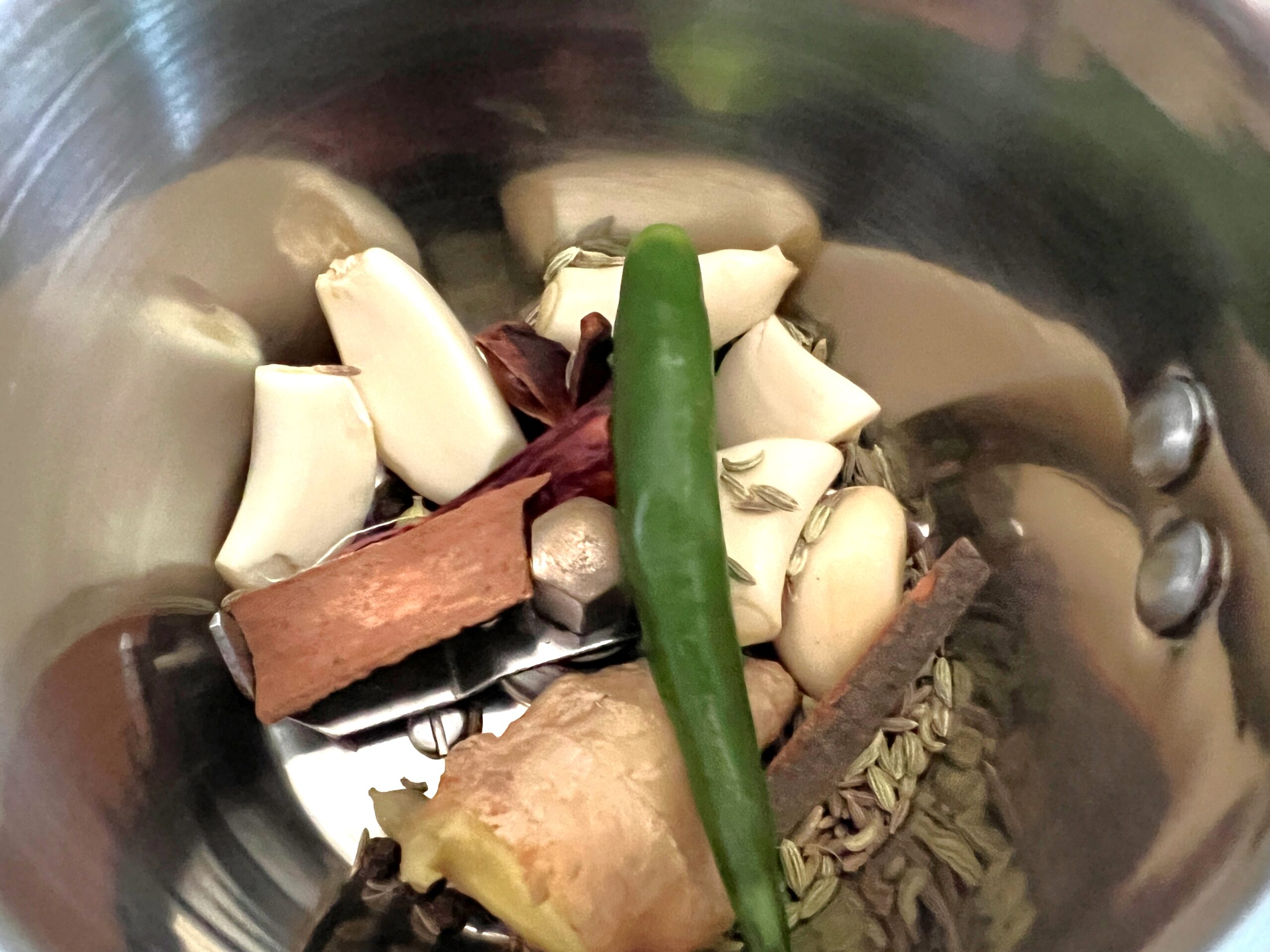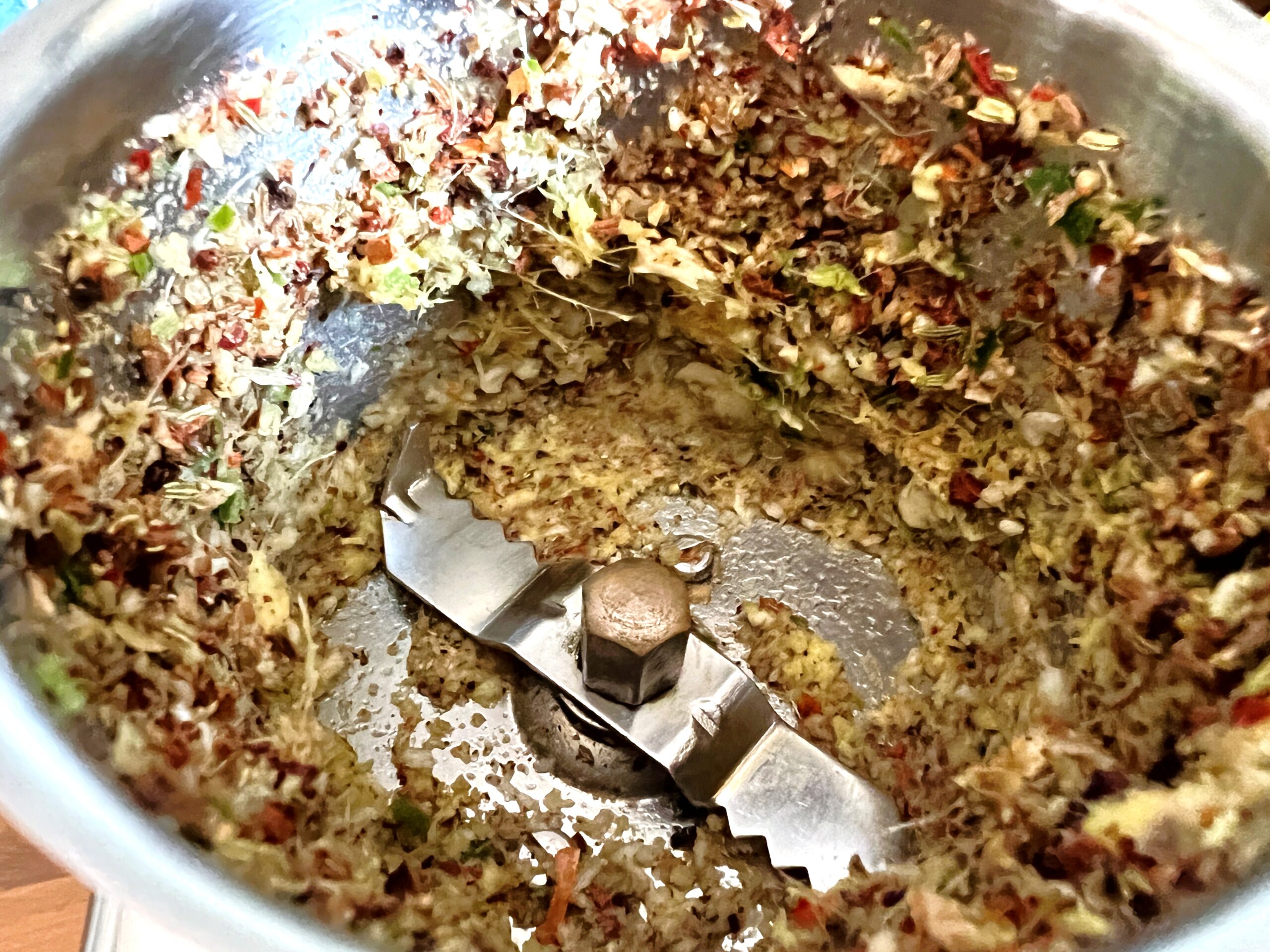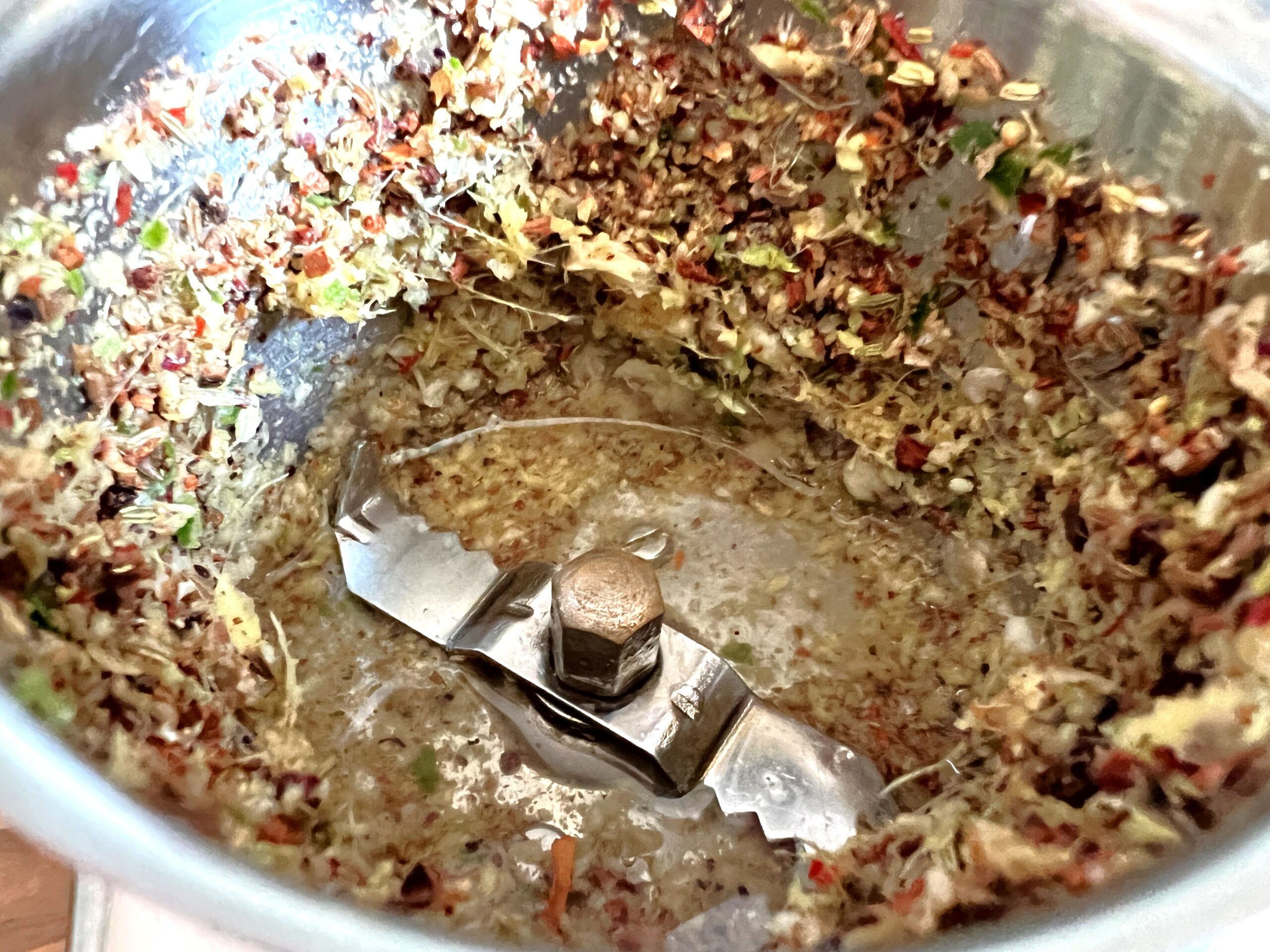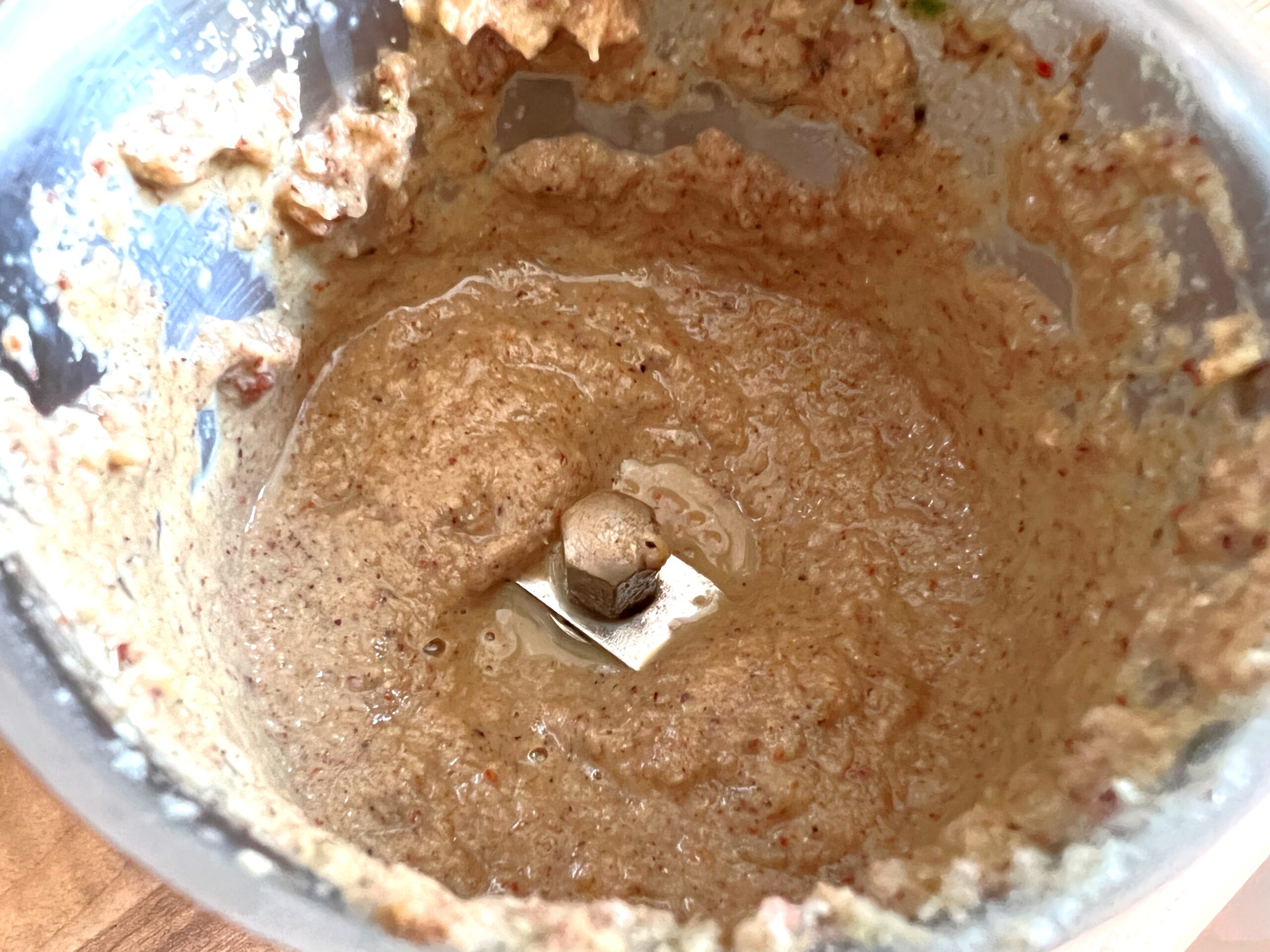 Grind the garlic pods, ginger, green chillies, cinnamon stick, cardamom, cloves, whole black pepper, star anise, cumin seeds, fennel seeds and dry chillies to a fine paste. You can add ¼ cup of water if needed. Keep it aside.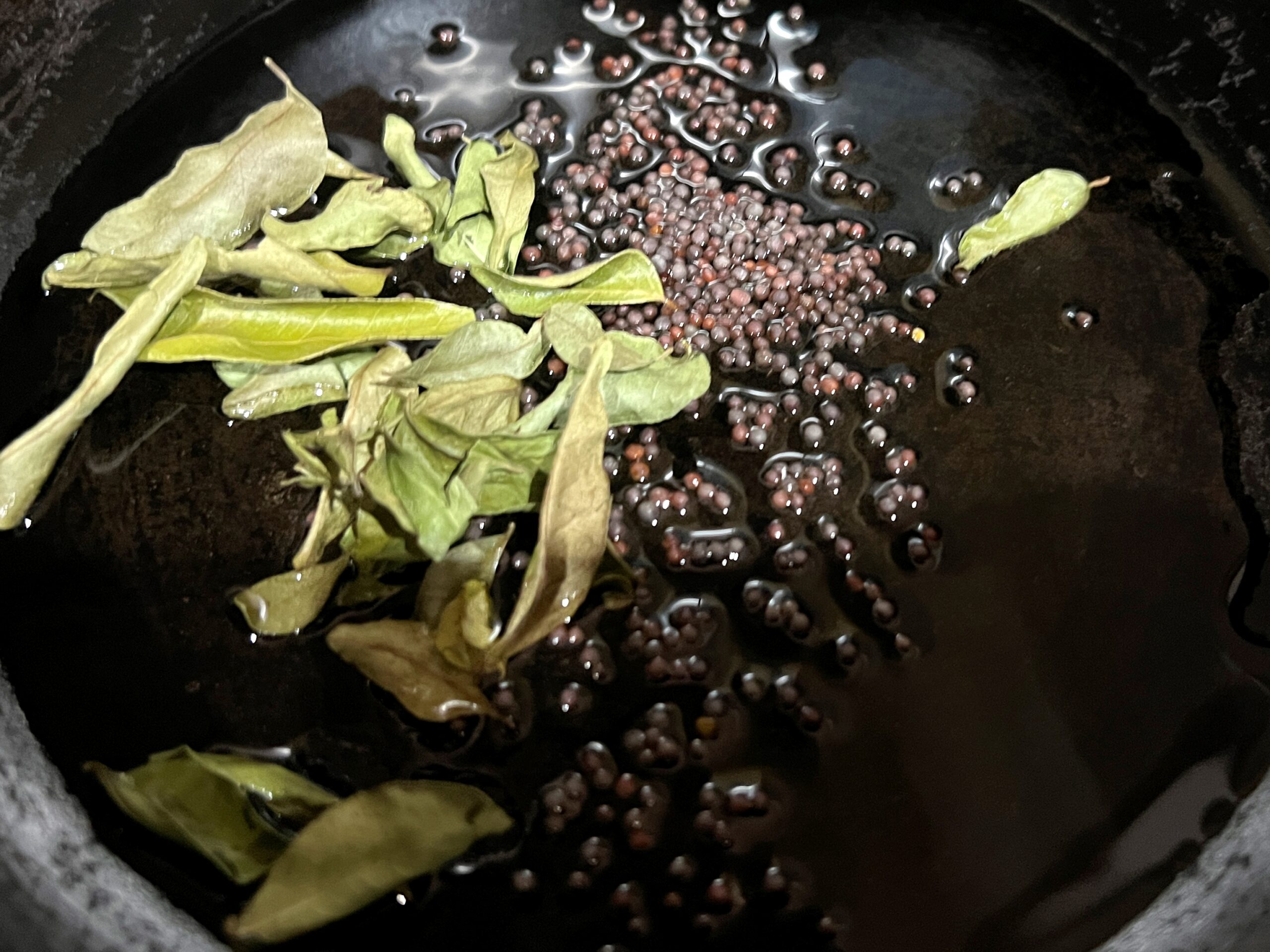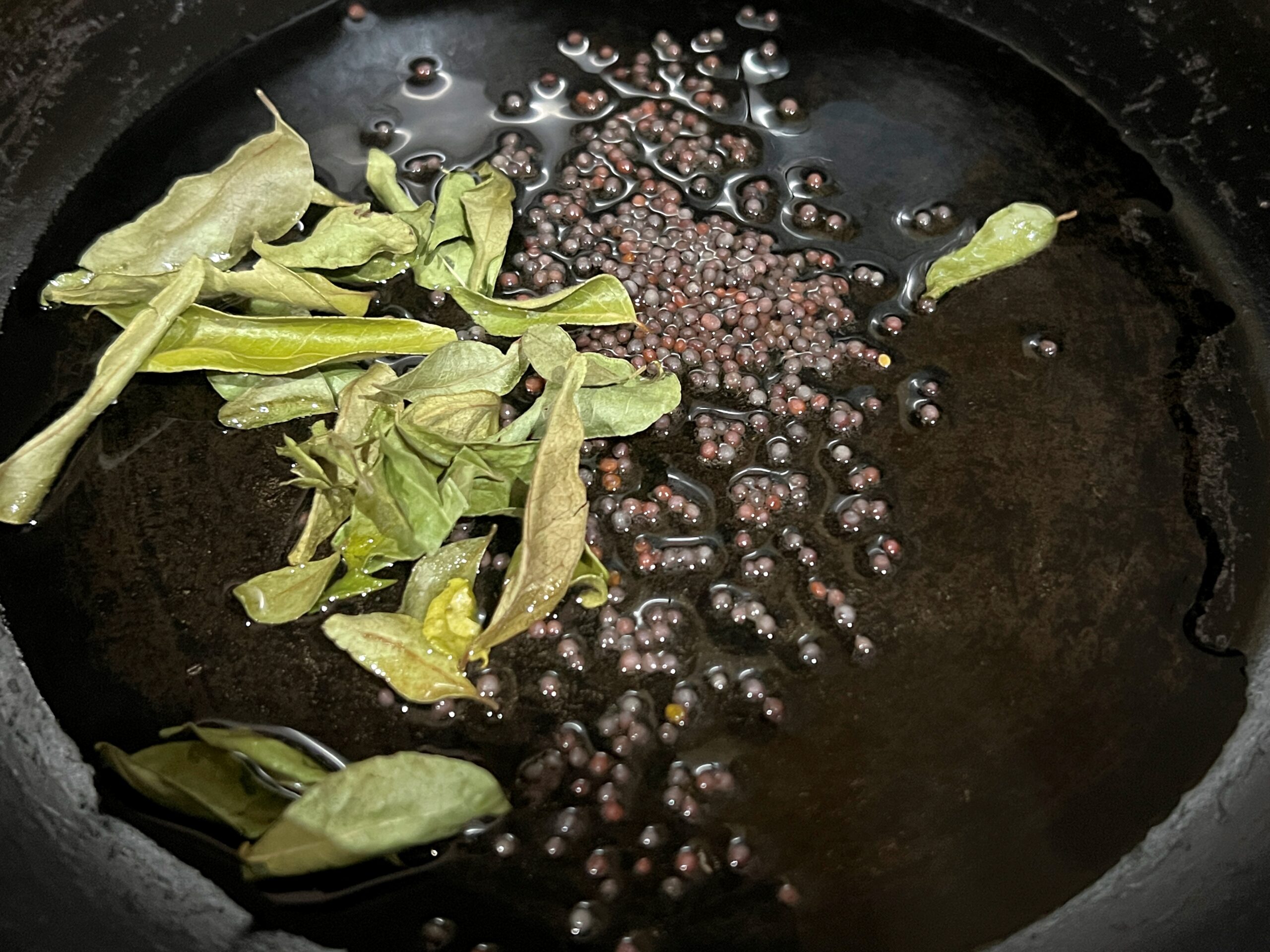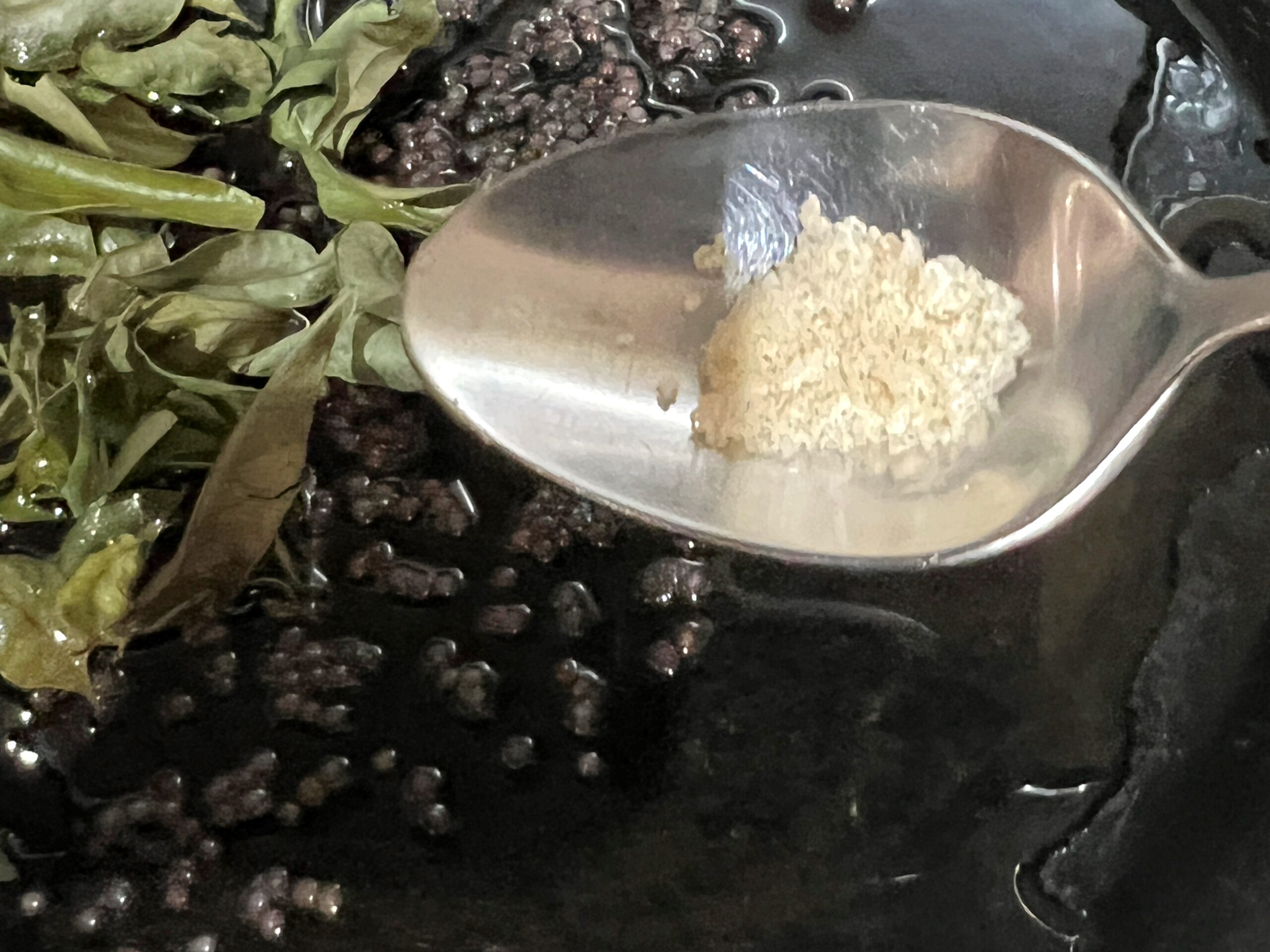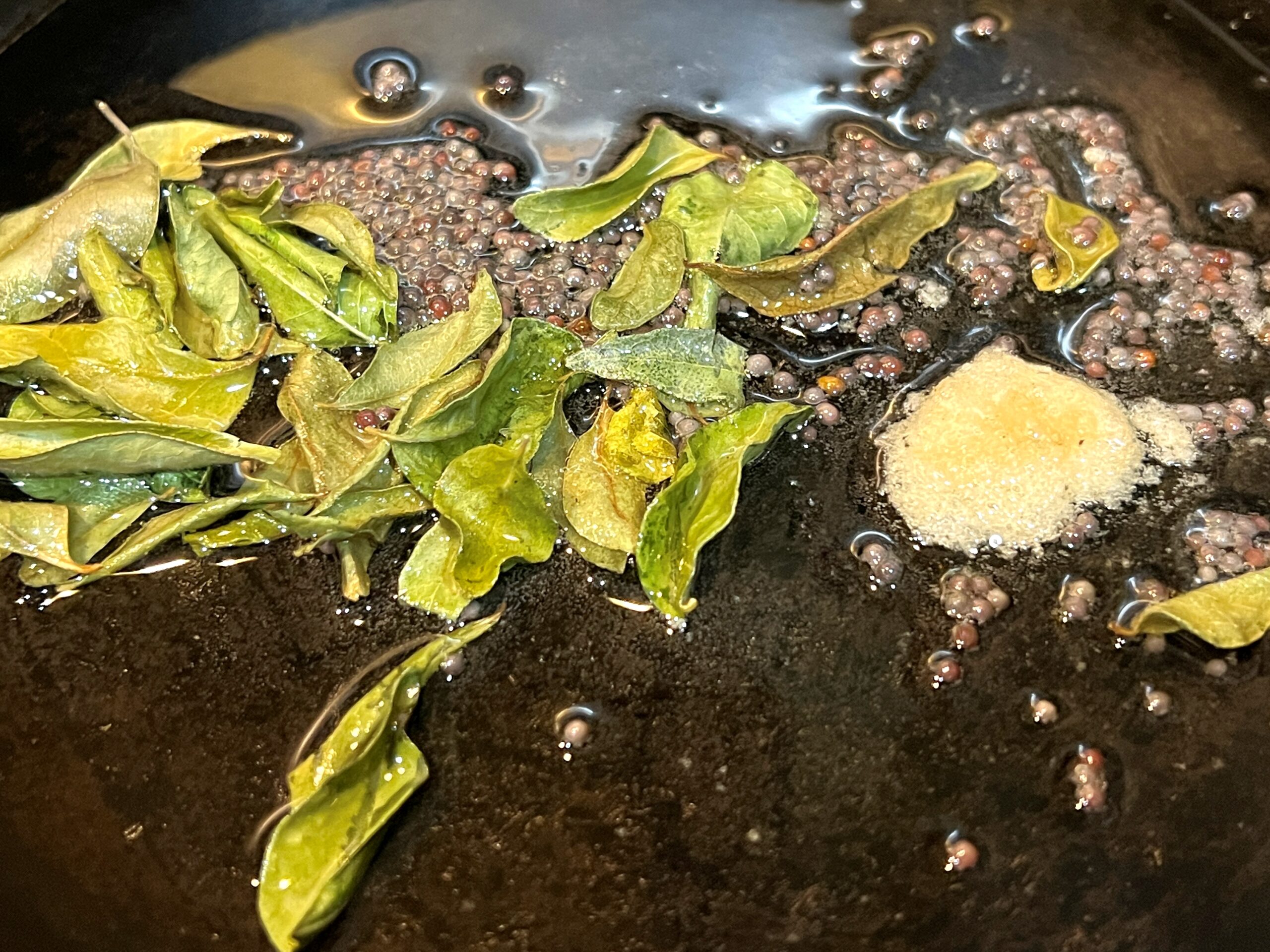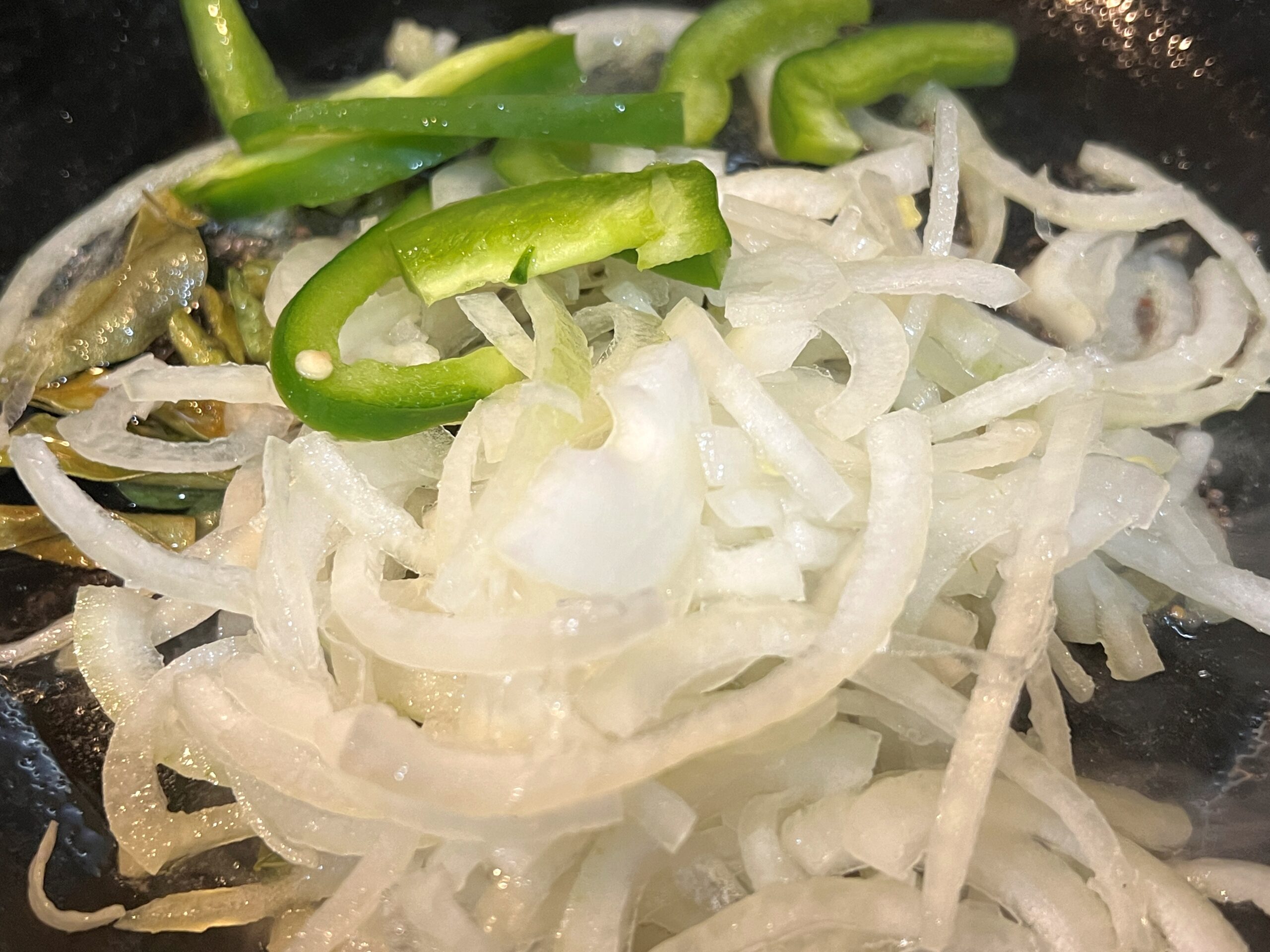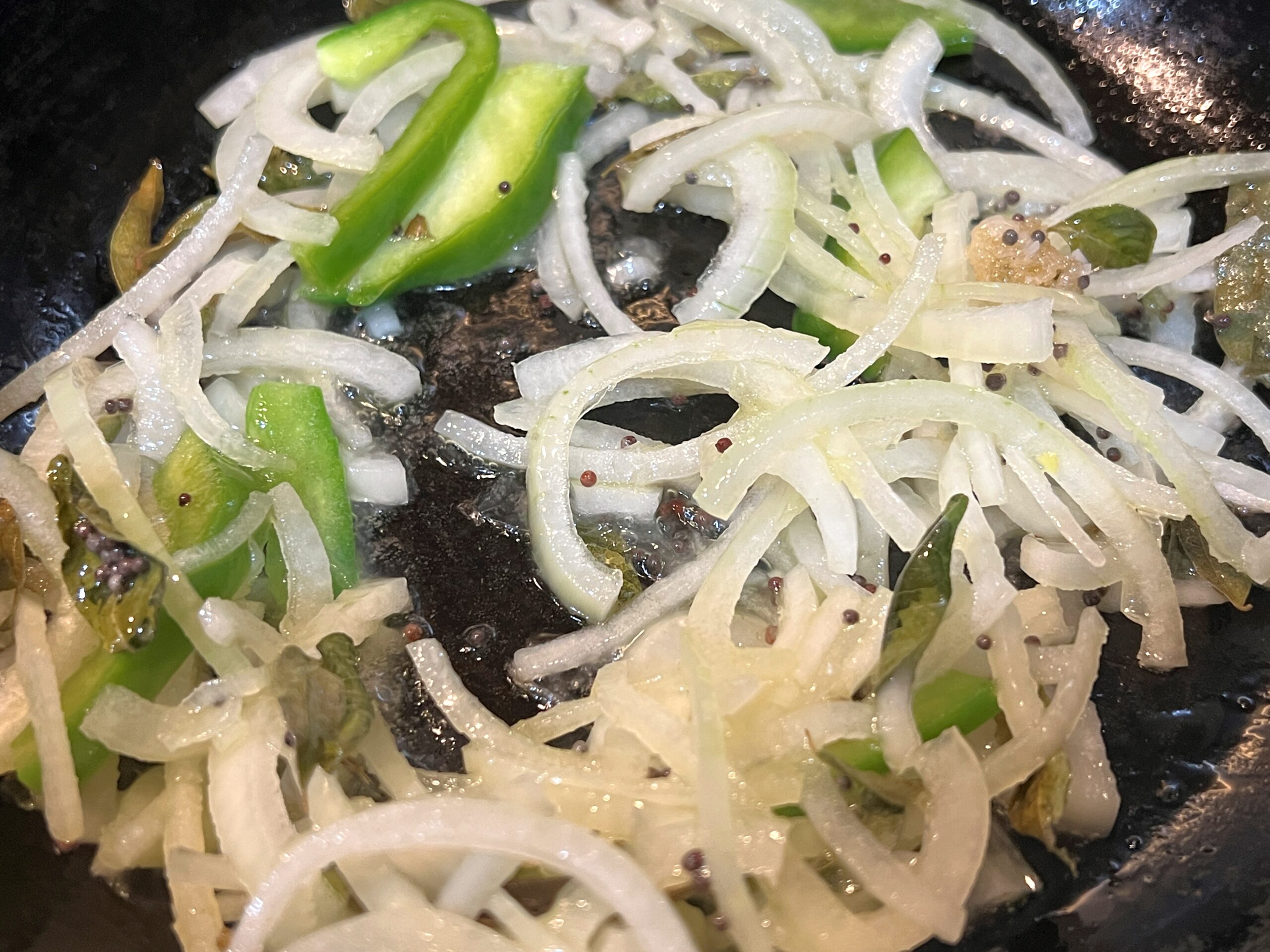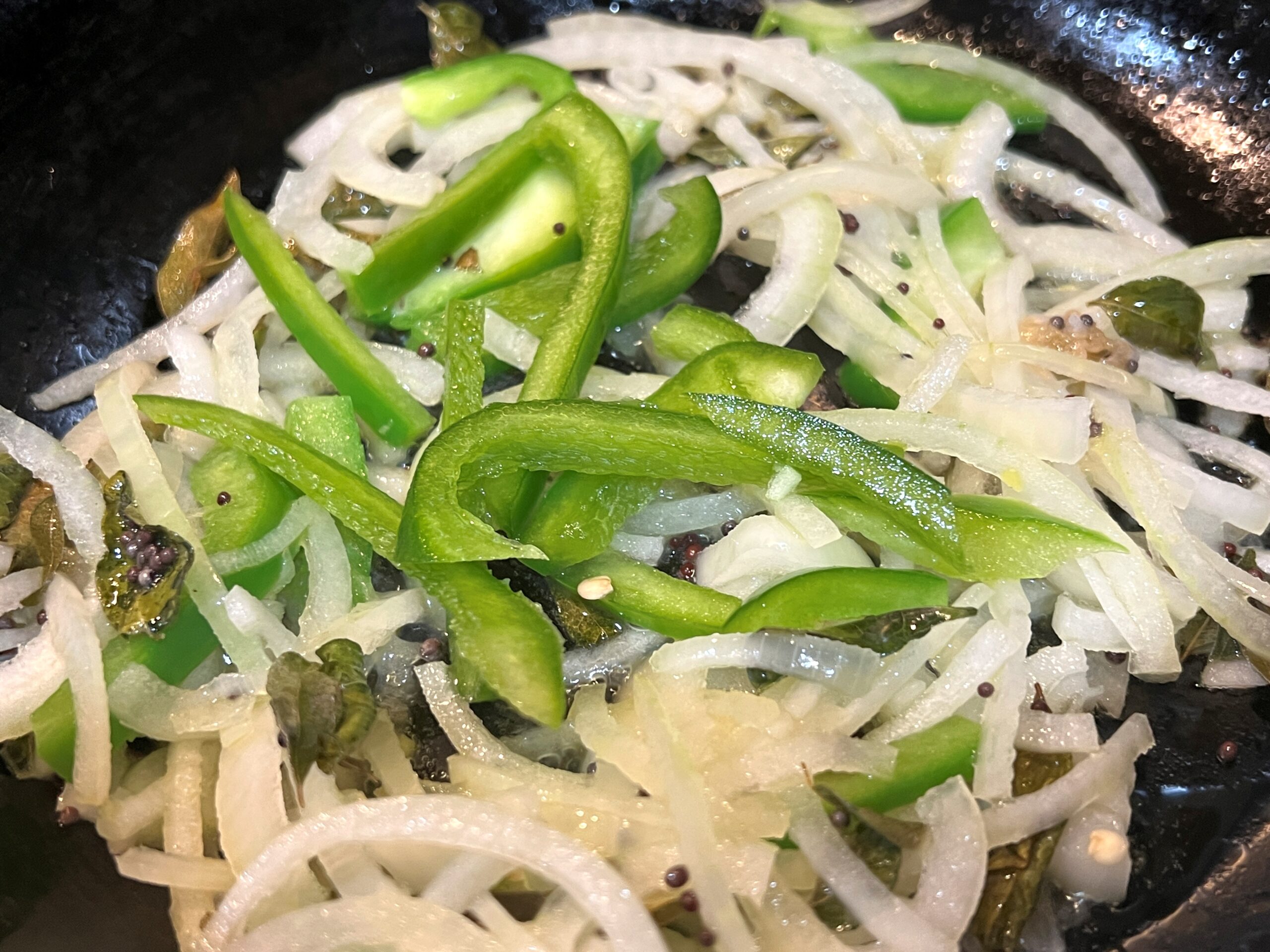 Heat the oil in a pan and add the mustard seeds, curry leaves and asafoetida. Once the seeds begin to splutter add the onions and peppers and sauté on medium heat for 3-4 minutes to lightly soften them.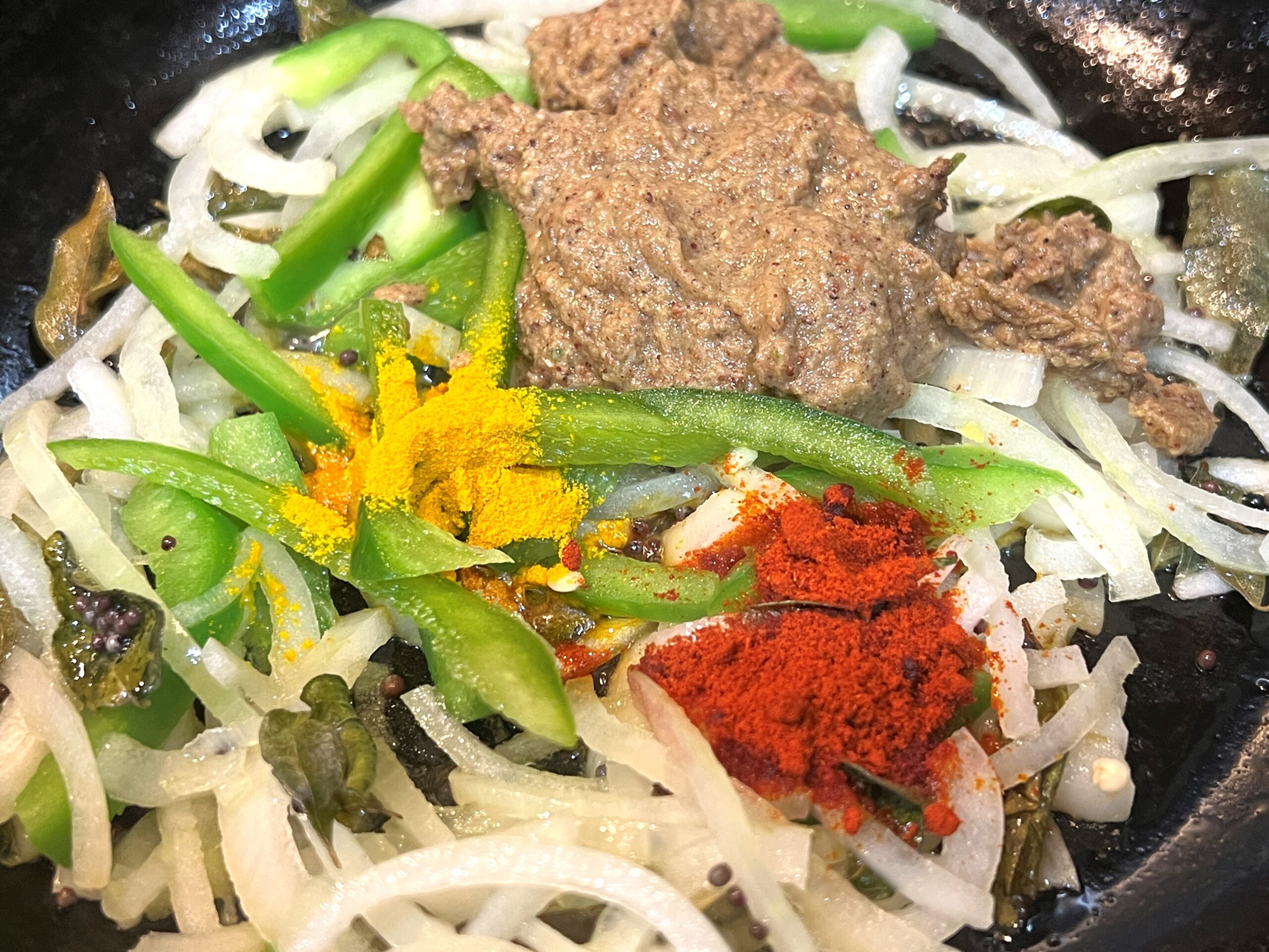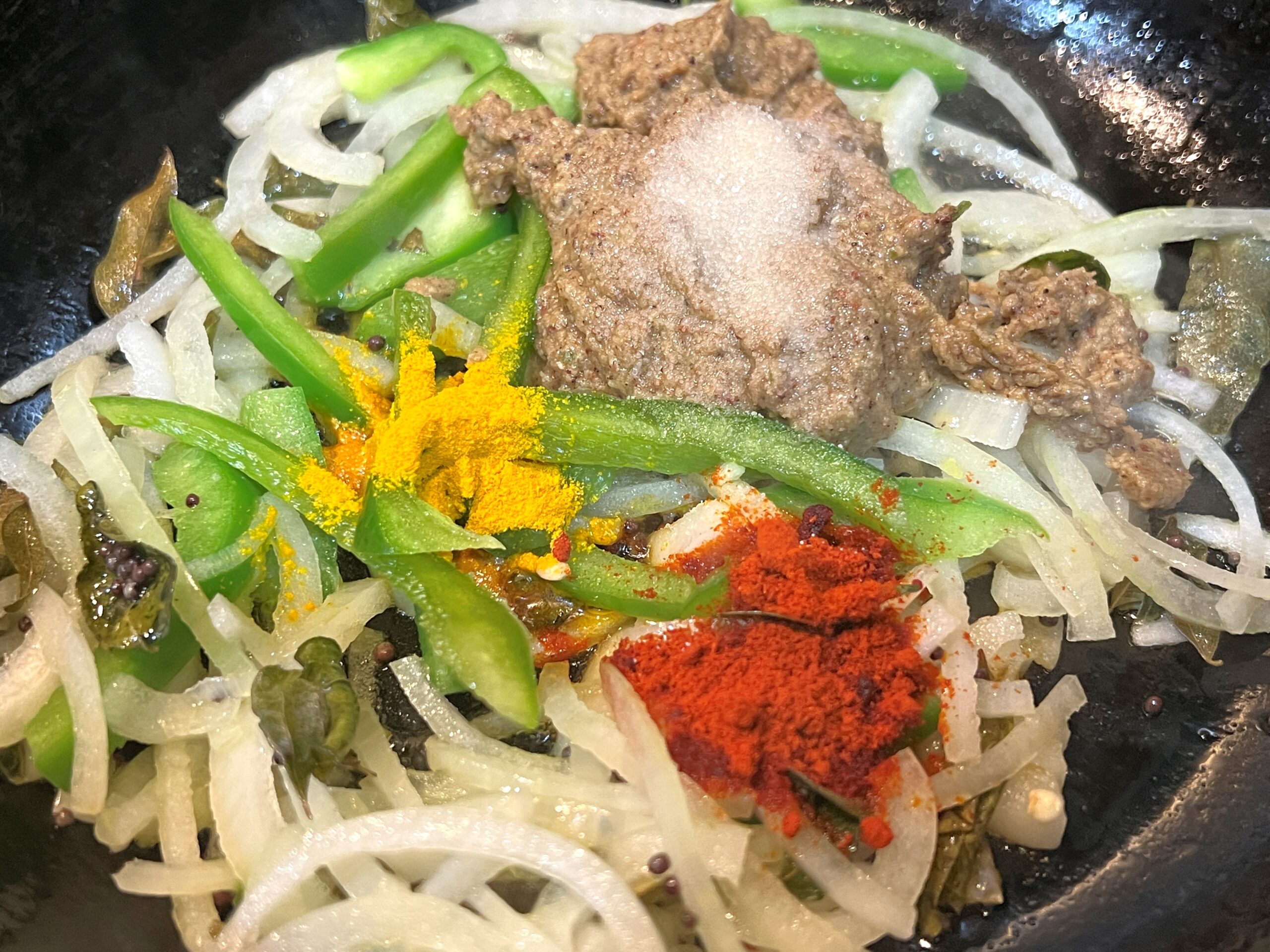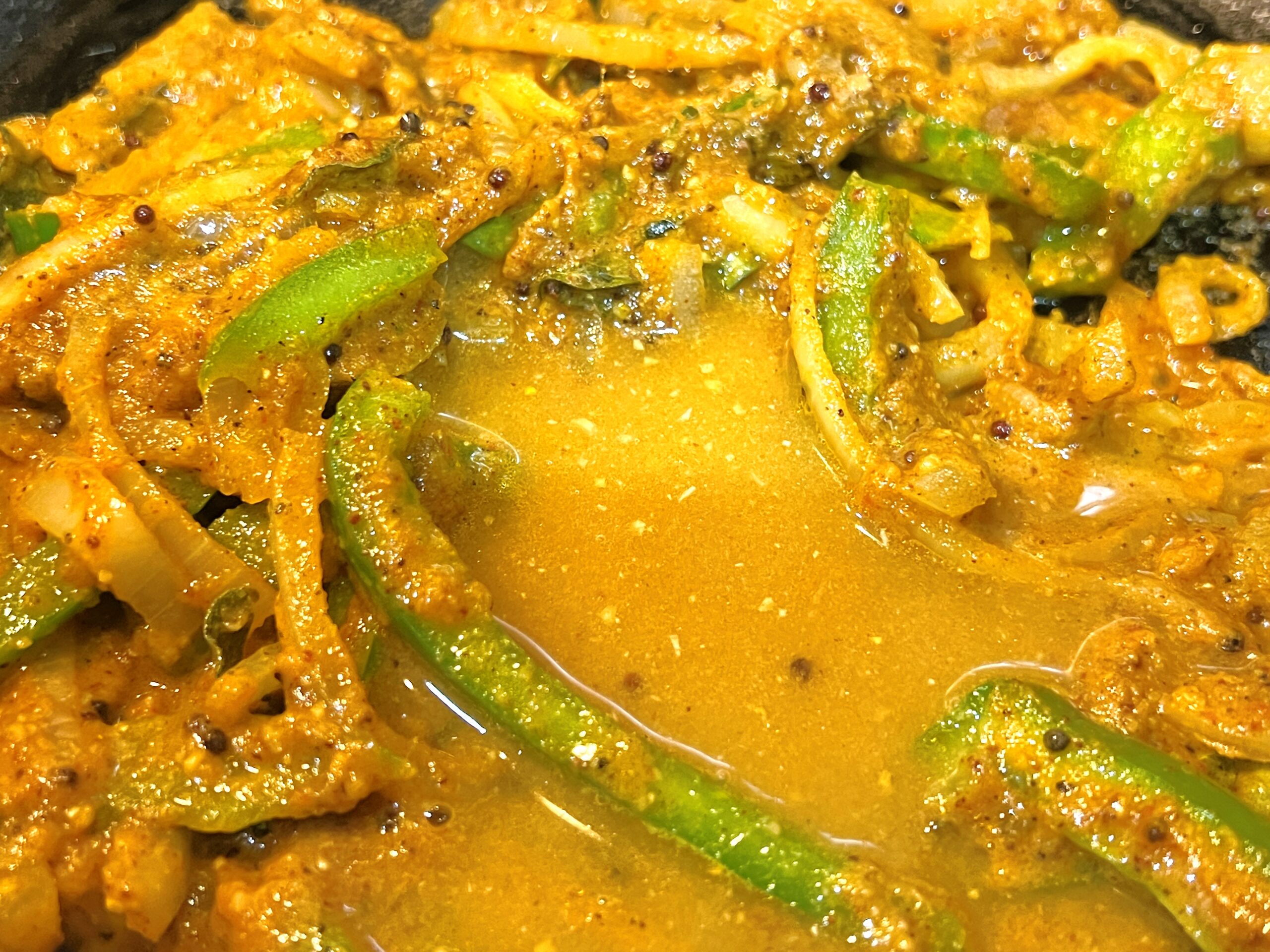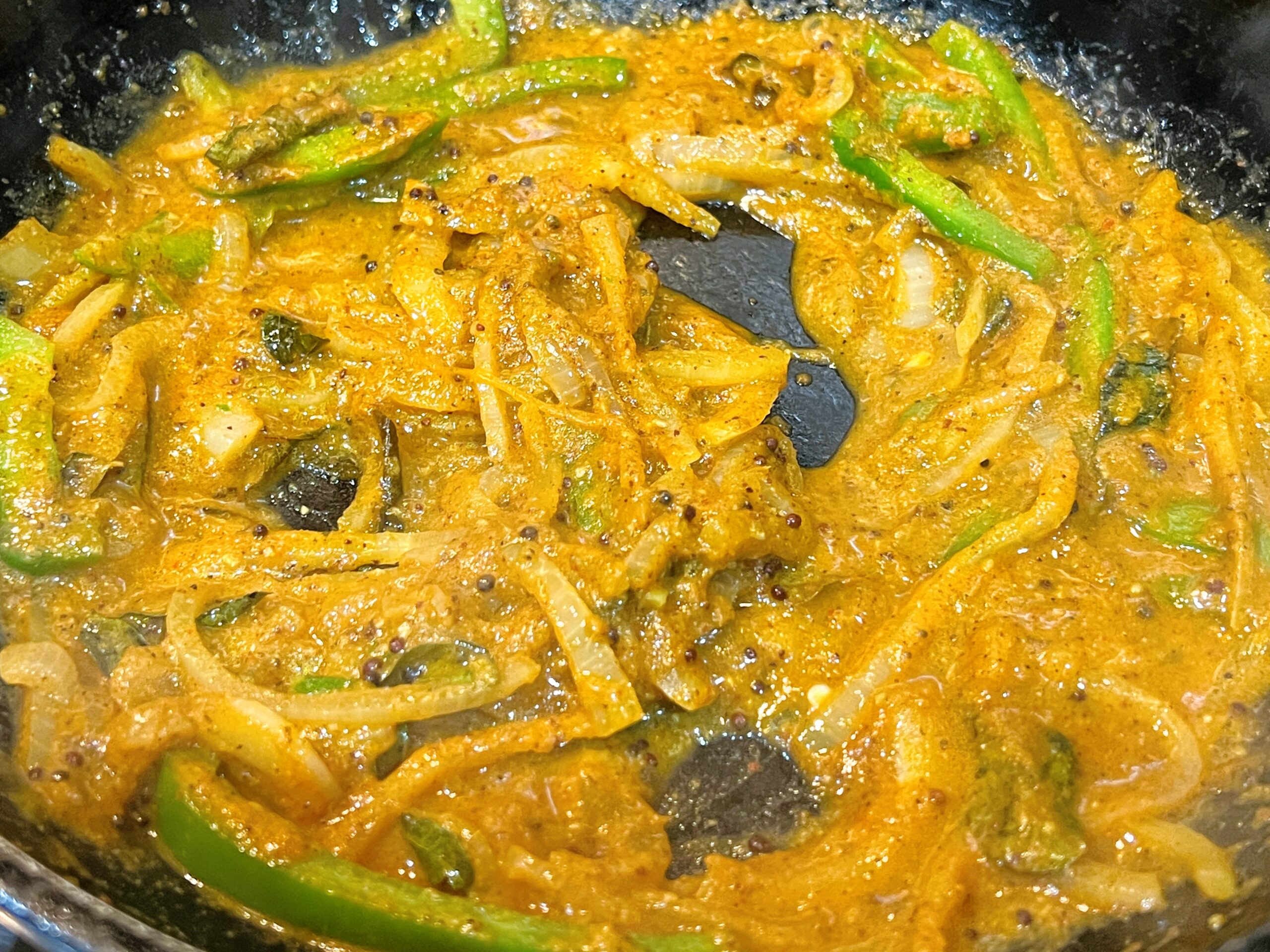 Once the onions have softened, add the turmeric powder, Kashmiri Red Chili powder and the masala paste. Add ¼ cup water and let it come to a boil.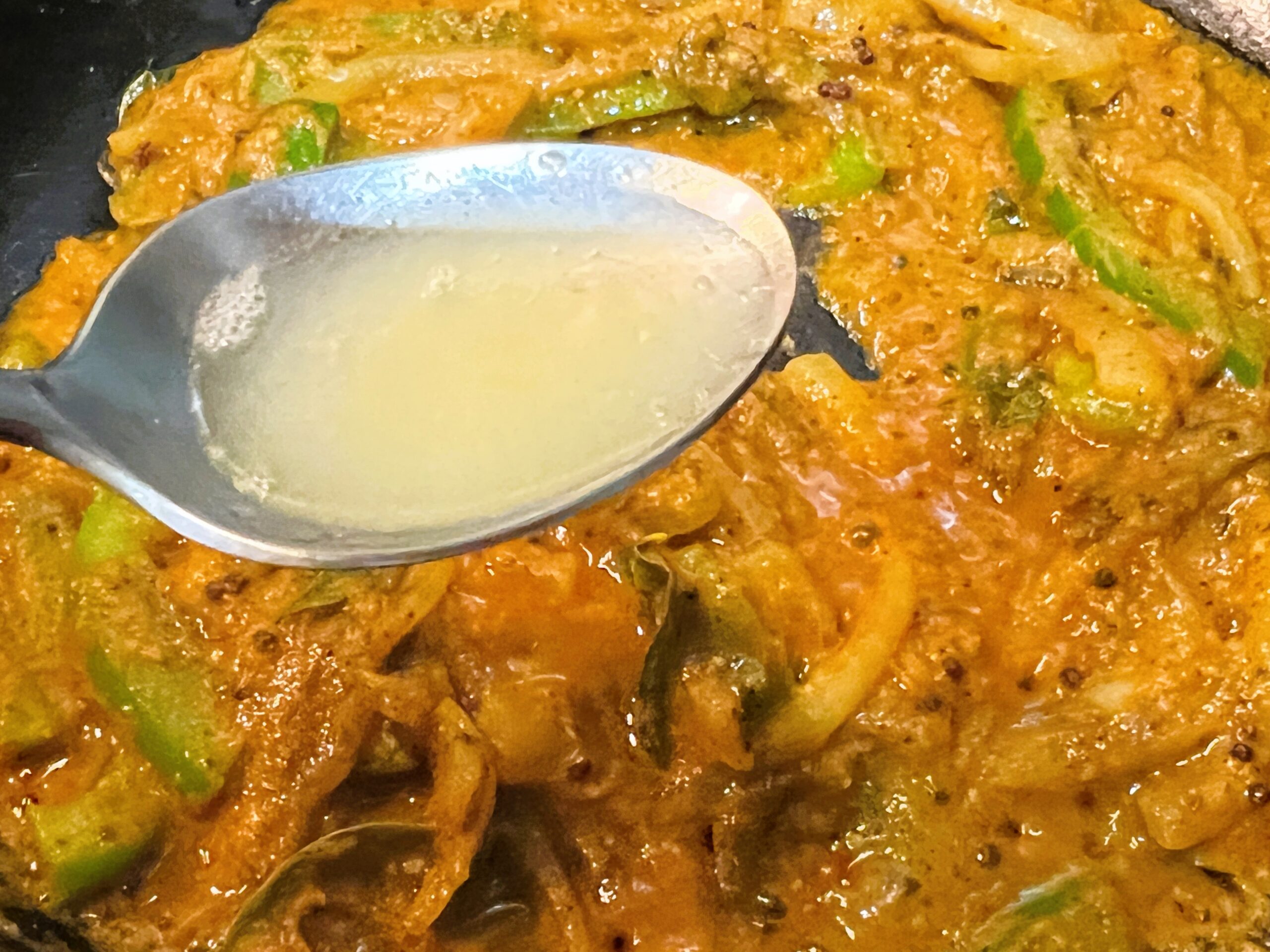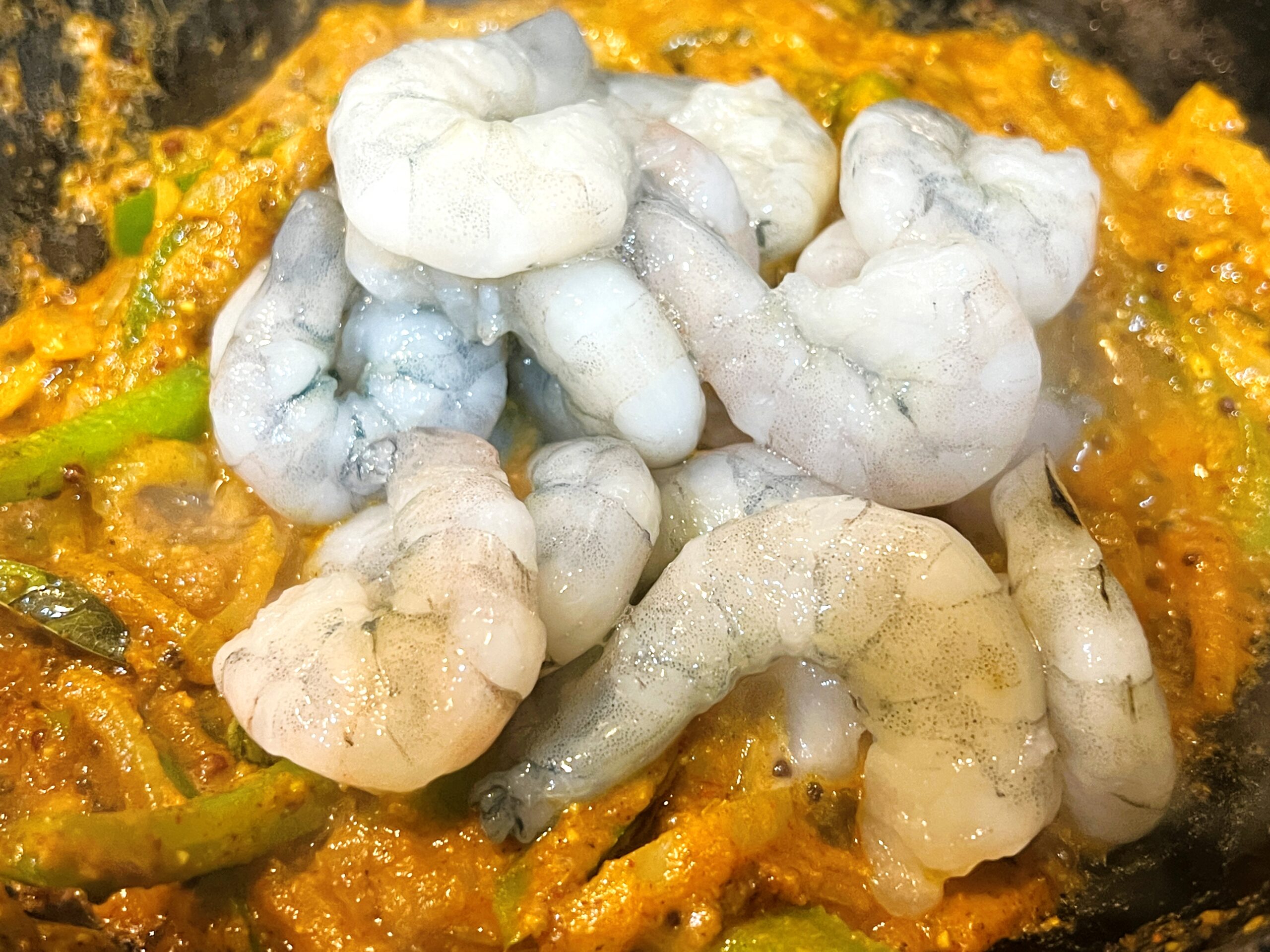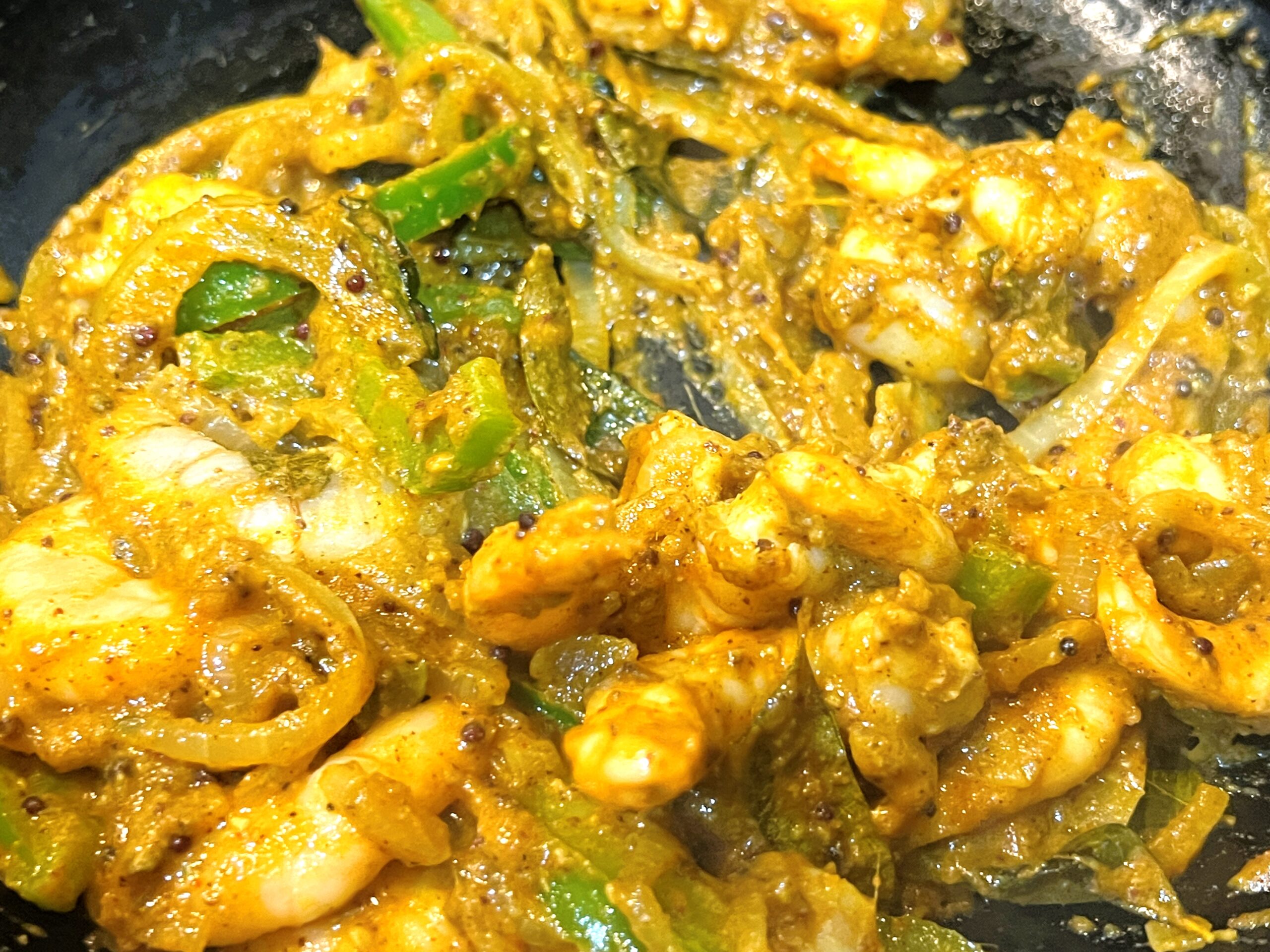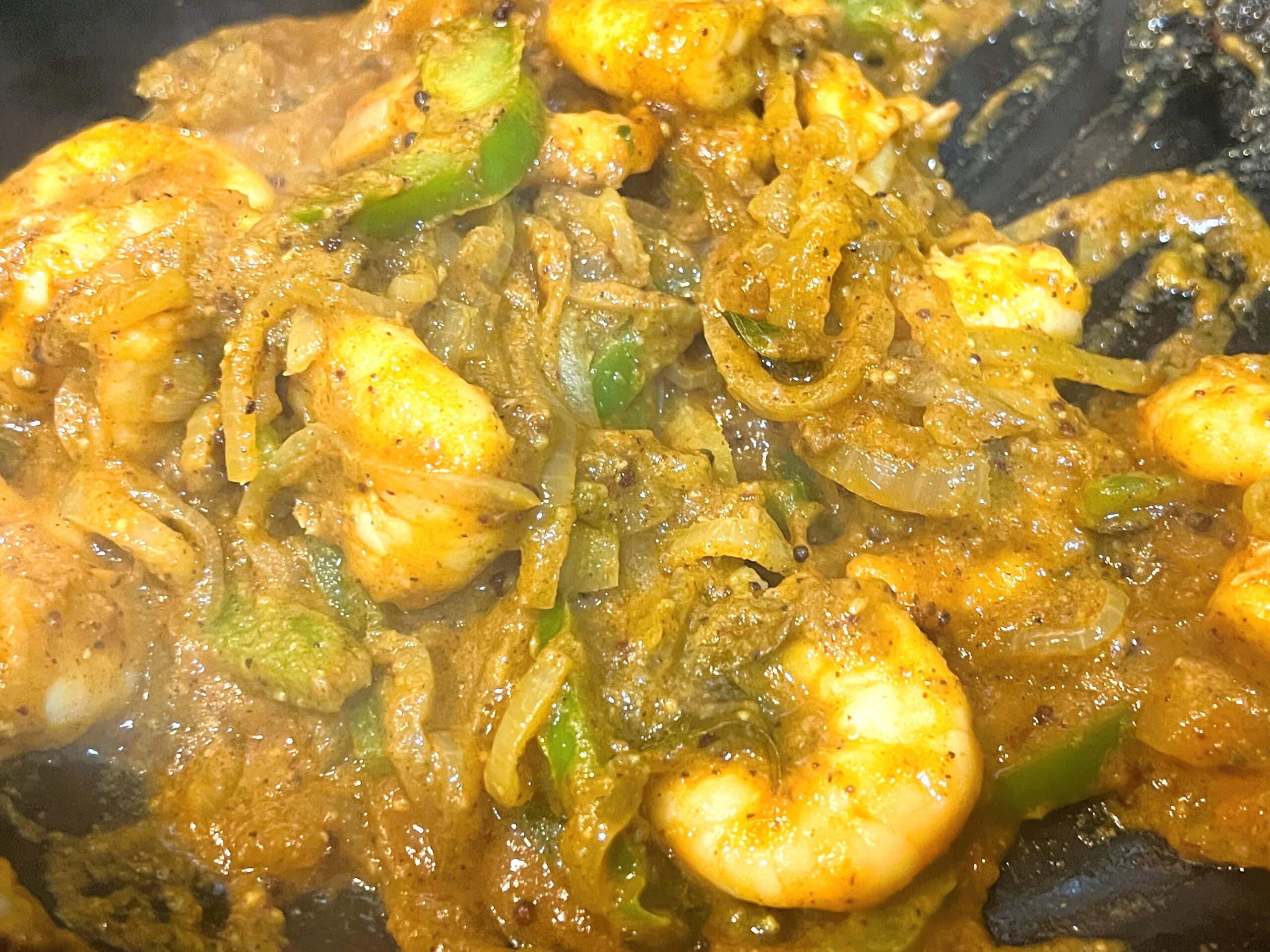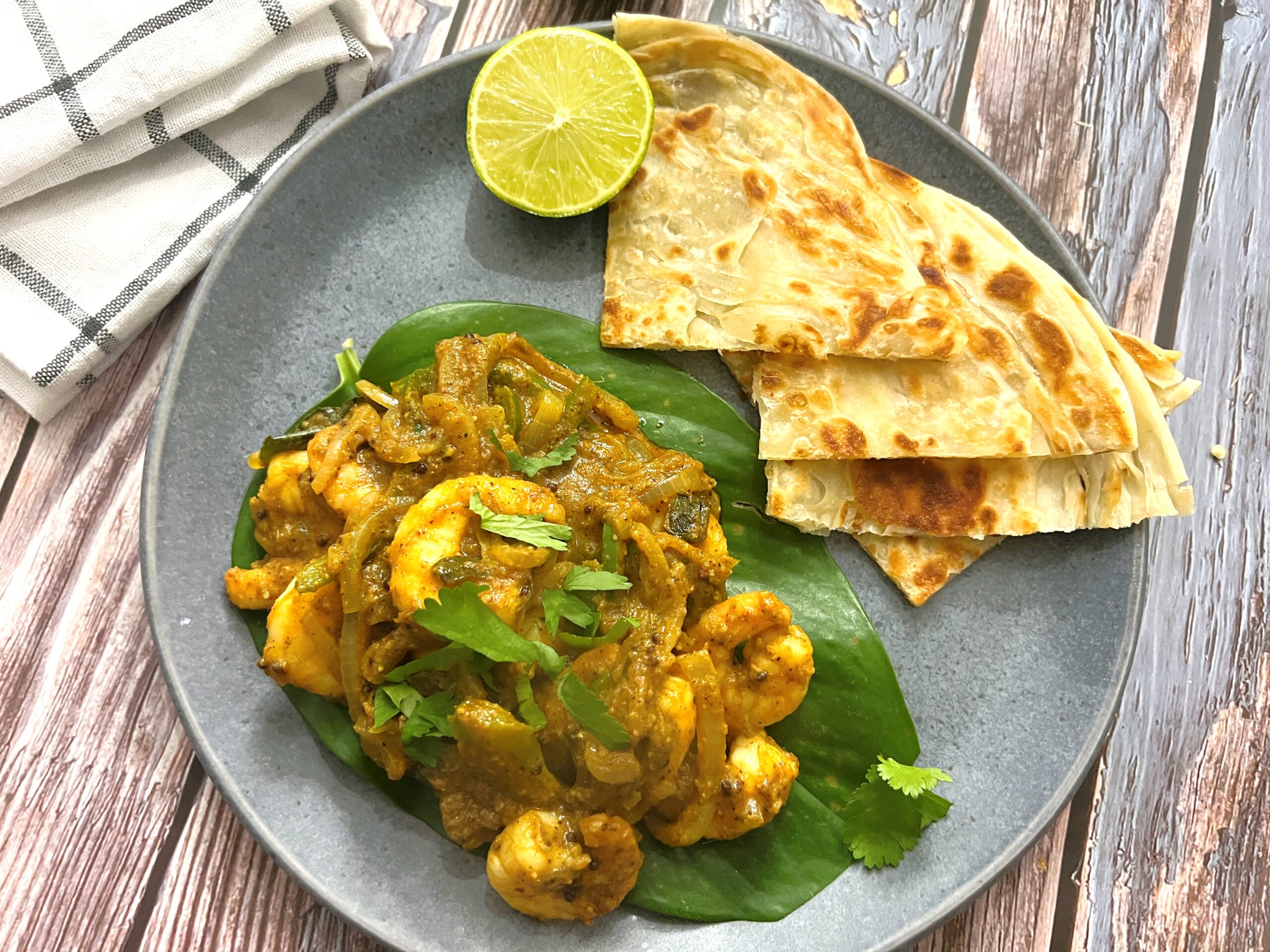 Add the lime juice and prawns and toss to coat the masala on the prawns. Cook on high heat for 4-5 minutes or until the prawns have cooked. You can add a splash of water if it looks too dry.
Turn the heat off and serve hot with rice or Malabar paratha.