Onion Rava Dosa
Dosa is a popular South Indian dish. Onion Rava Dosa is a quick and instant dosa that can be prepared with handful of ingredients. They are wafer thin and super crispy and resembles a savoury crepe/ pancake.
Onion Rava Dosa is a good substitute to traditional rice and lentil dosa when pressed for time as making this dosa does not require hours of soaking, grinding, and fermentation. Rava dosa seasoned with onions, green chilies and coriander is thin, crisp, and lacy and tastes delicious when served hot right from the stove with coconut chutney and tomato chutney.
Onion Rava dosa is a relatively simple dosa variety with an instant recipe. Instant because it does not require hours of soaking, grinding and fermenting the batter. A thin batter of semolina, rice flour and plain flour is prepared spiced with onions, green chillies, ginger and some more spices.
Everyone in my family enjoys South Indian food and when I am pressed for time or for instant meal, onion rava dosa is a perfect recipe. I personally love the dosa as it is light, tasty, easily digestible, and healthy. It forms a wholesome and delicious combination with chutney and sambar. Quick, simple, and delicious!
Ingredients
1 cup unroasted fine semolina (rava)
1 cup rice flour
½ cup plain flour (maida)
4 cups water
4-5 finely chopped green chillies
½ inch grated ginger
8 to 10 finely chopped curry leaves
1 cup finely chopped onions
2 tablespoons finely chopped coriander leaves
1 teaspoon cumin seeds
1 teaspoon salt
4 tablespoons oil
Directions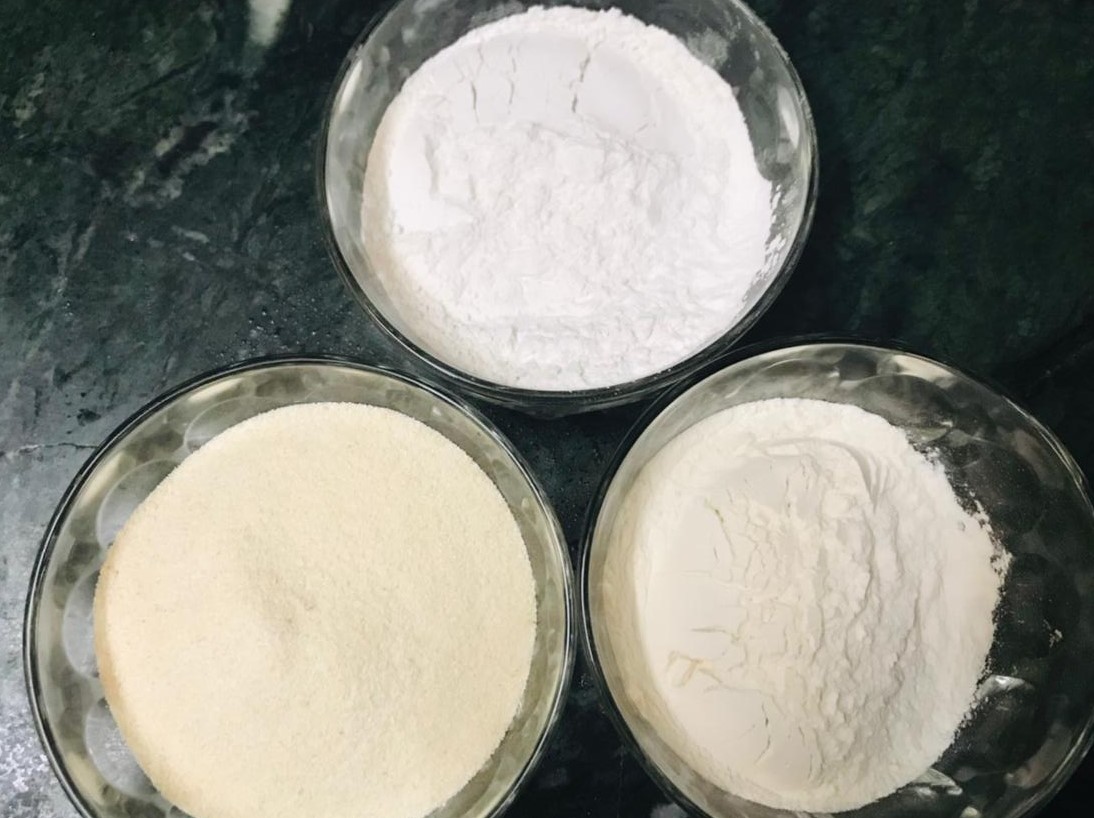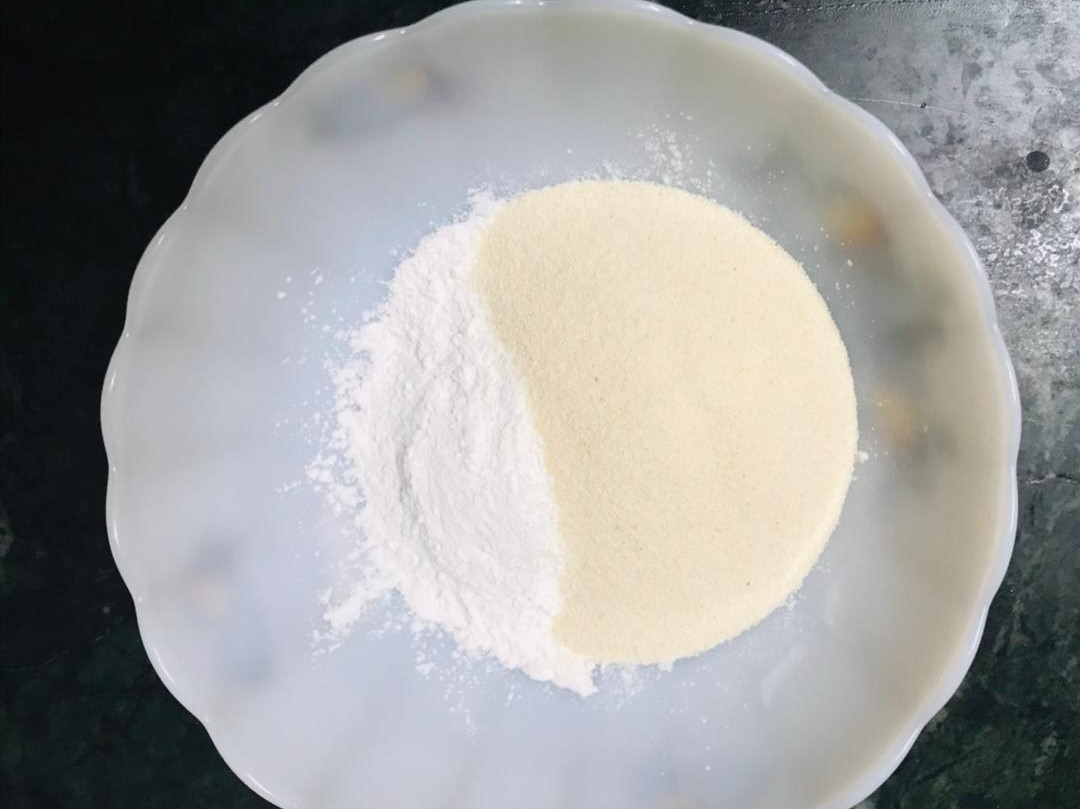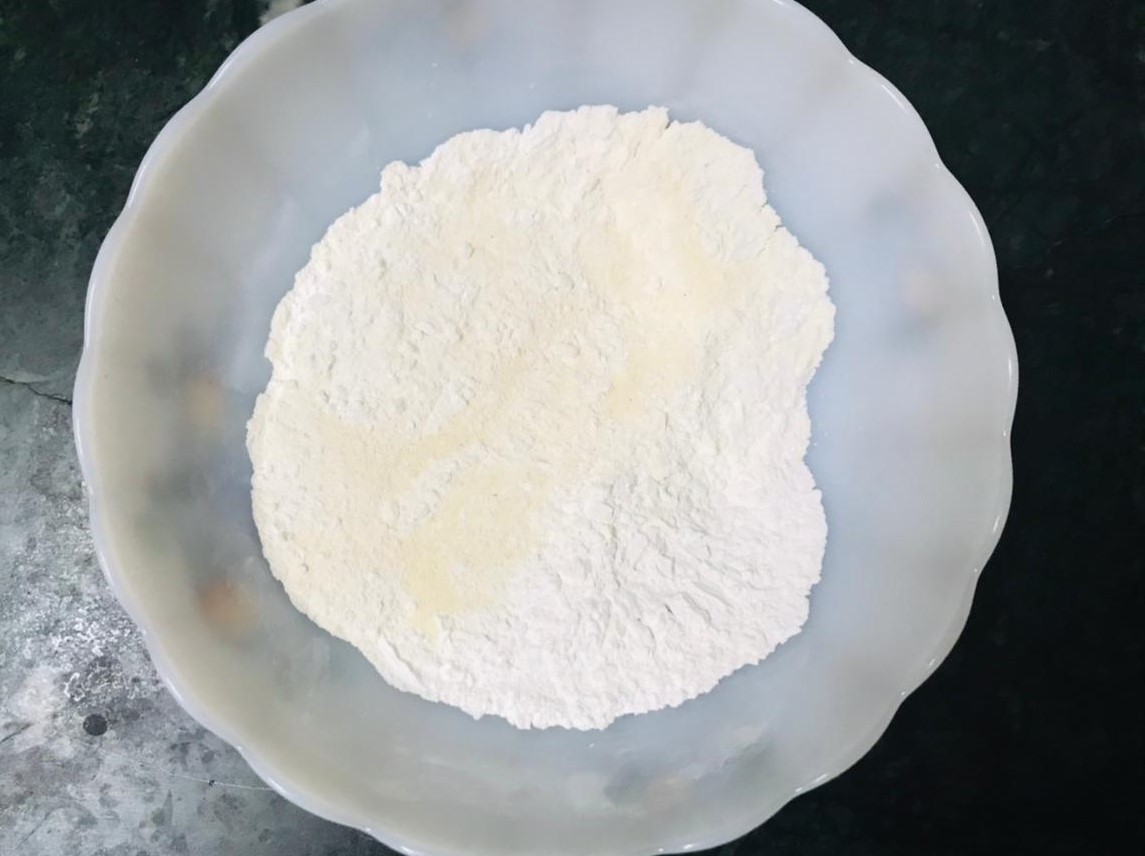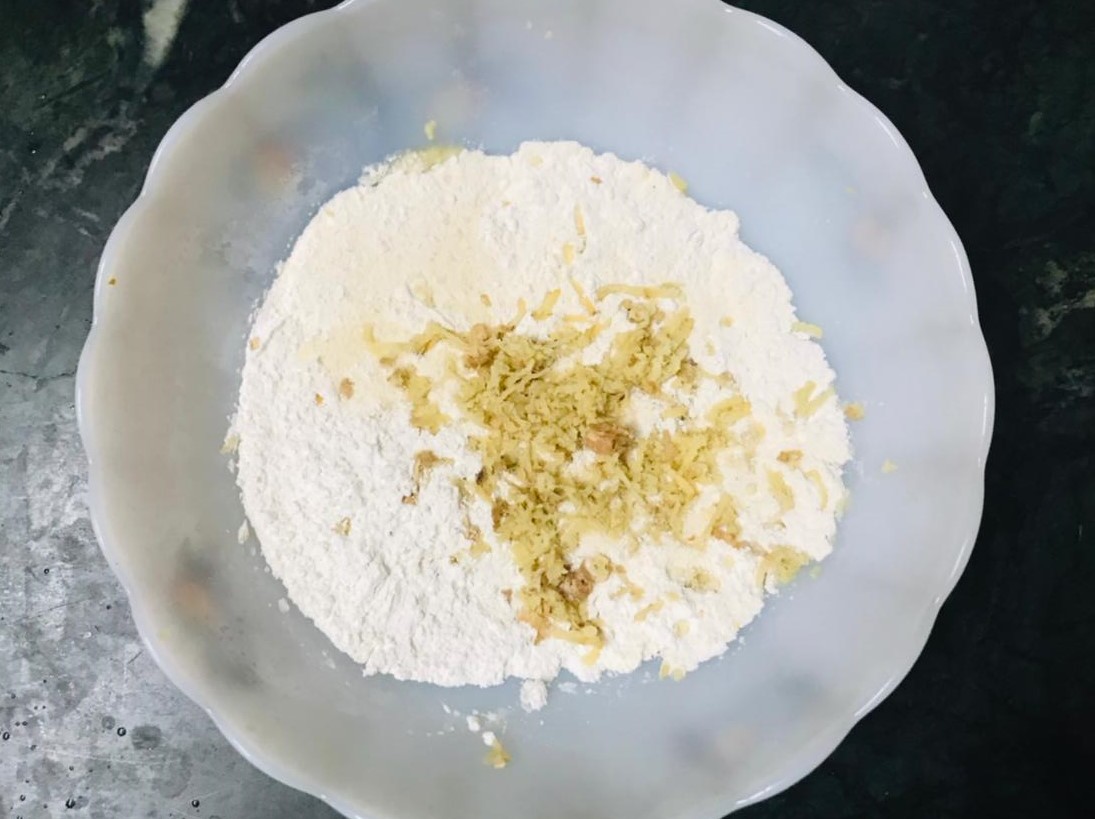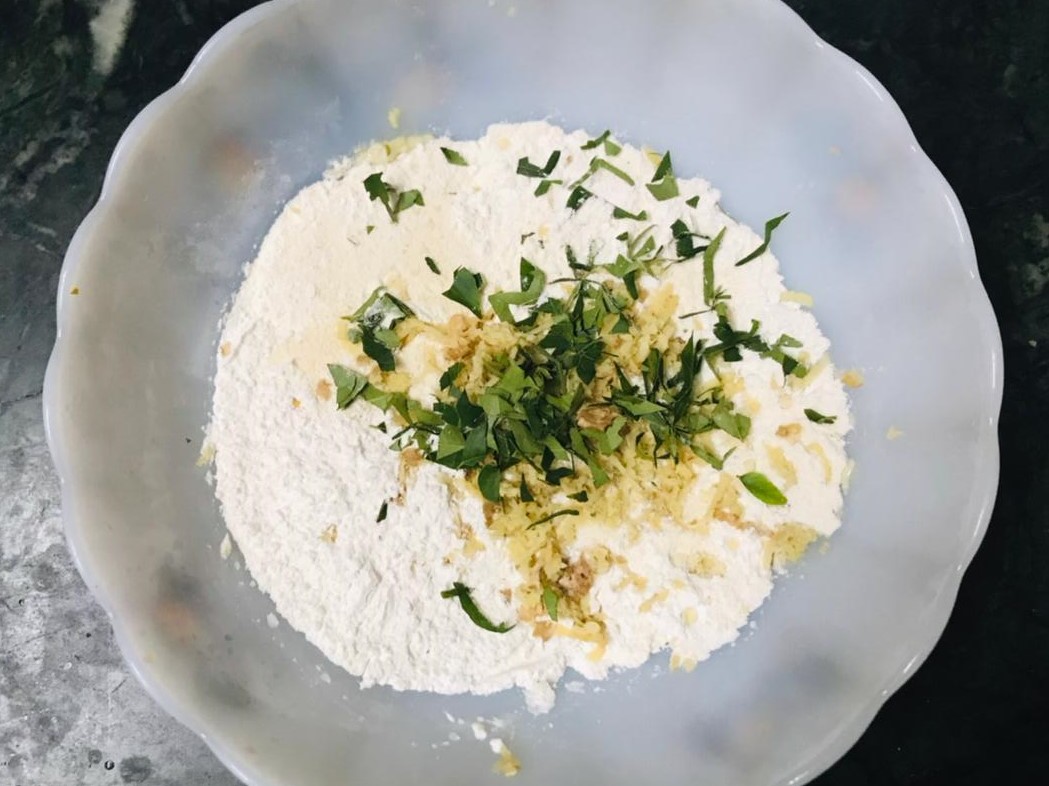 In a bowl mix plain flour, rice flour, semolina, ginger and curry leaves.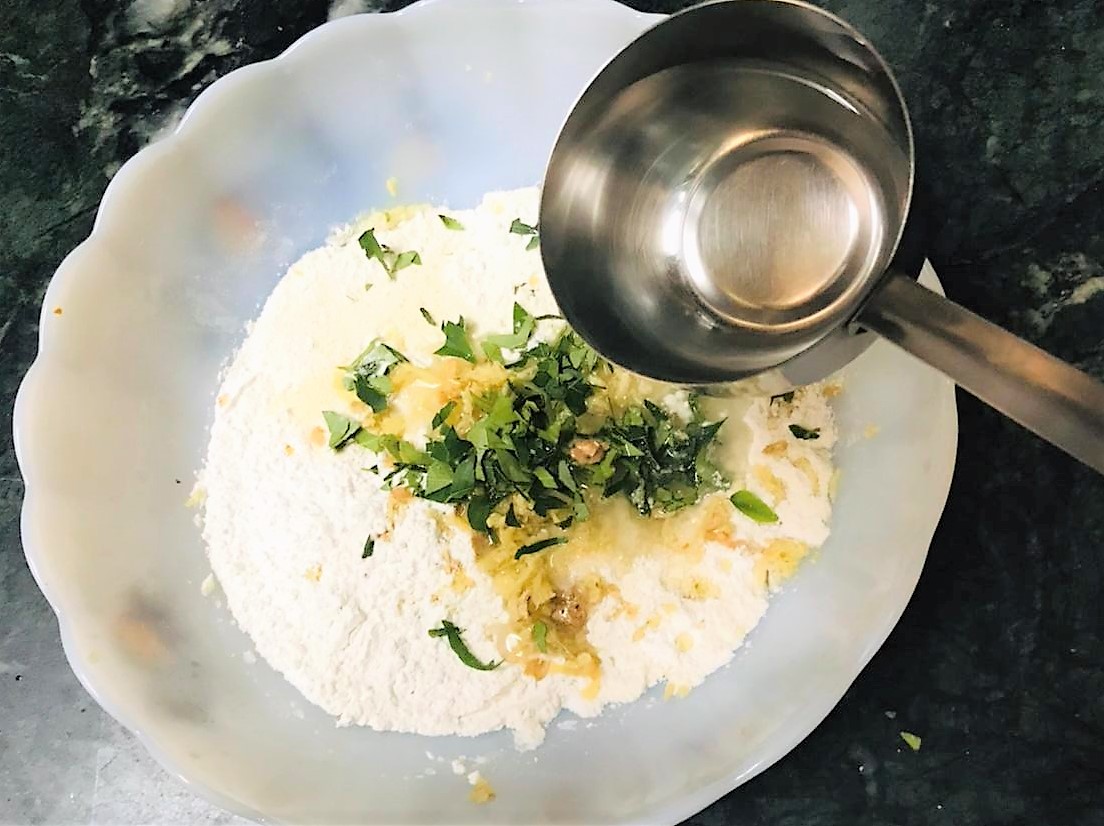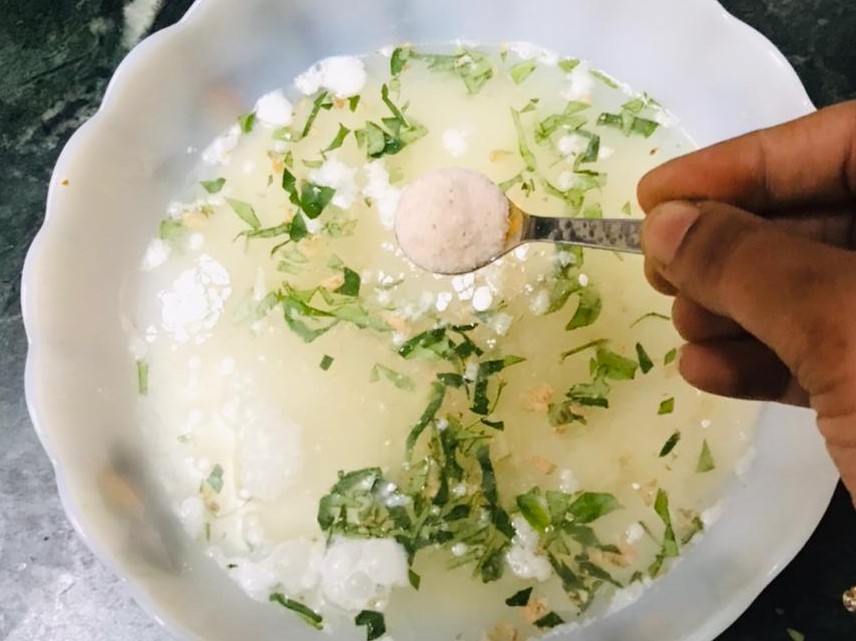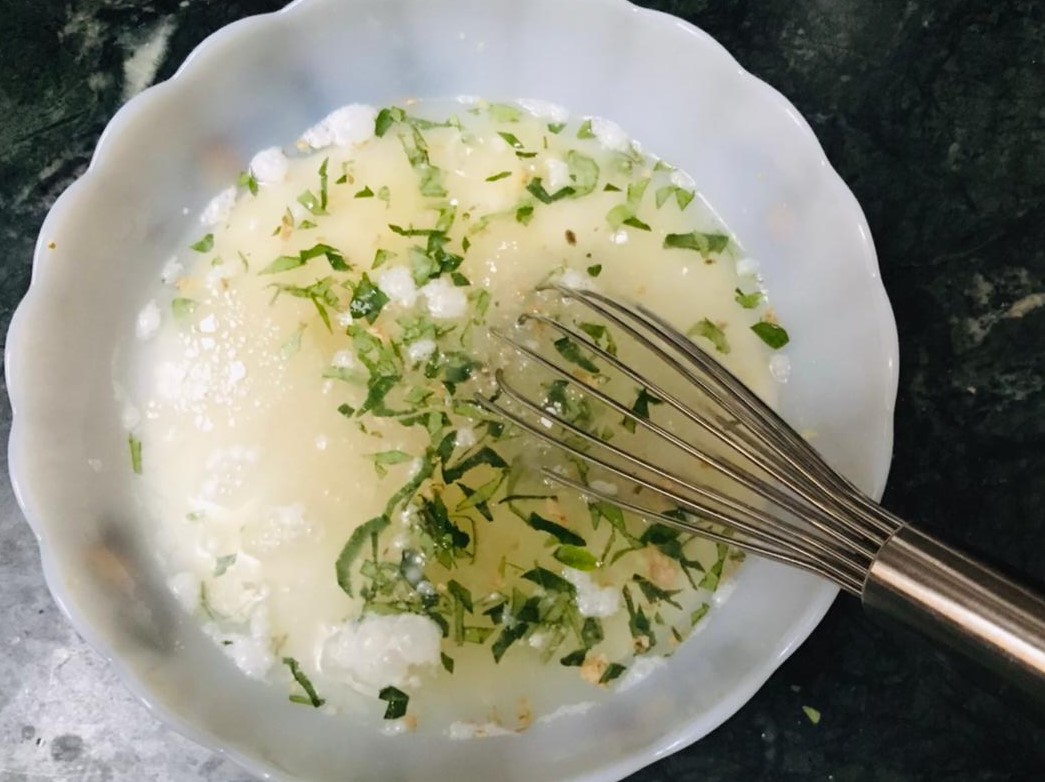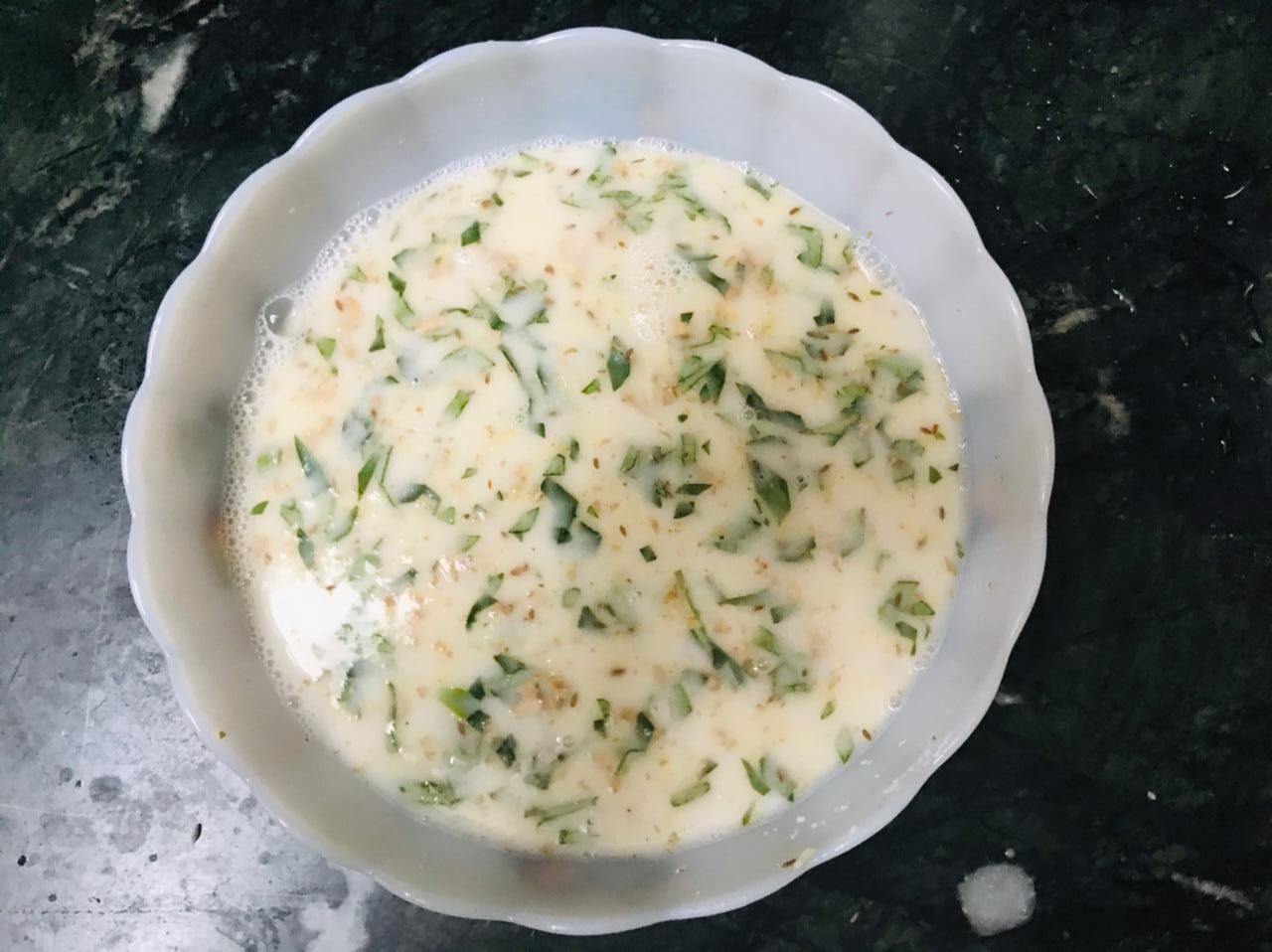 Add water and salt and whisk to form a smooth batter.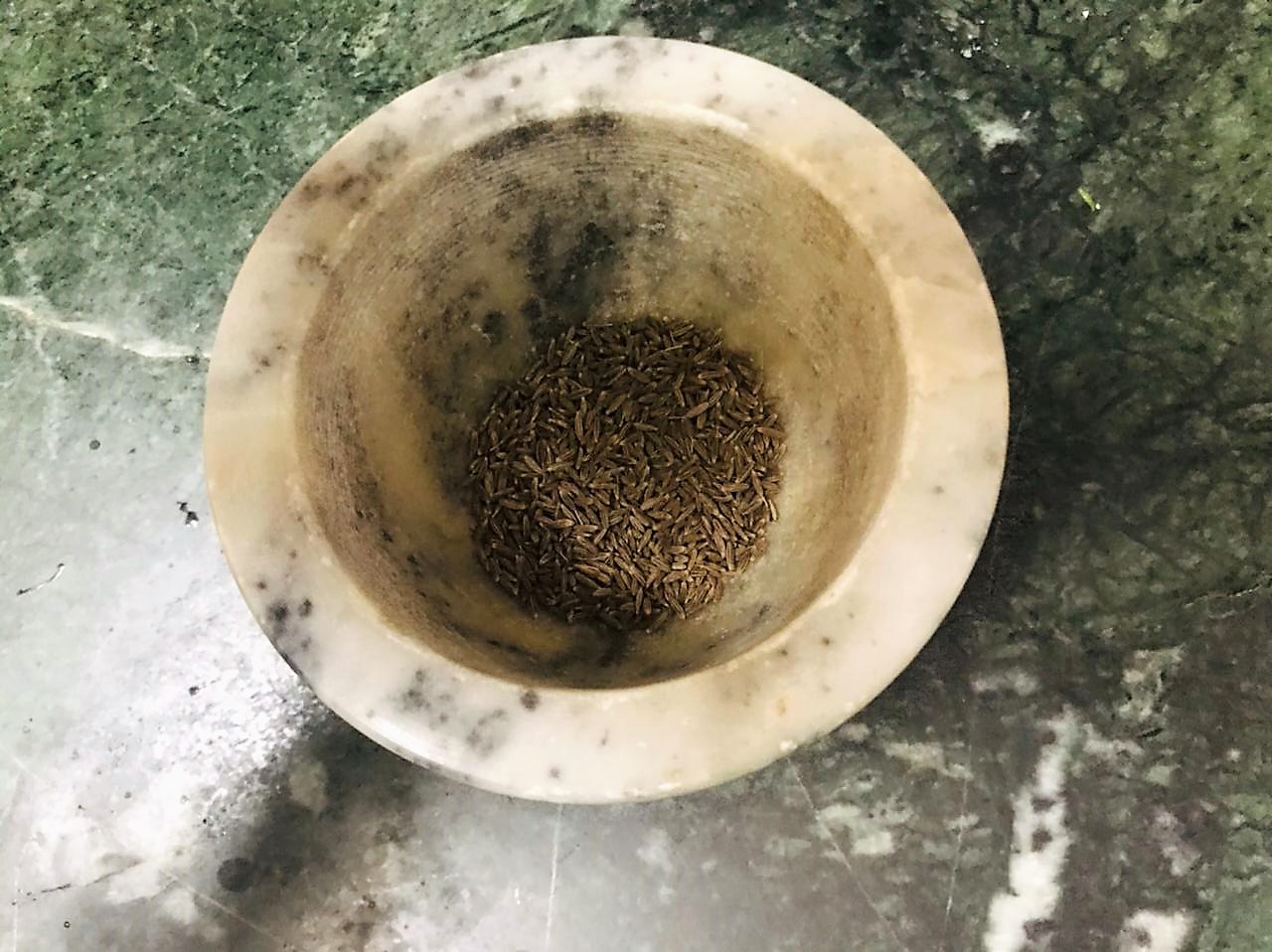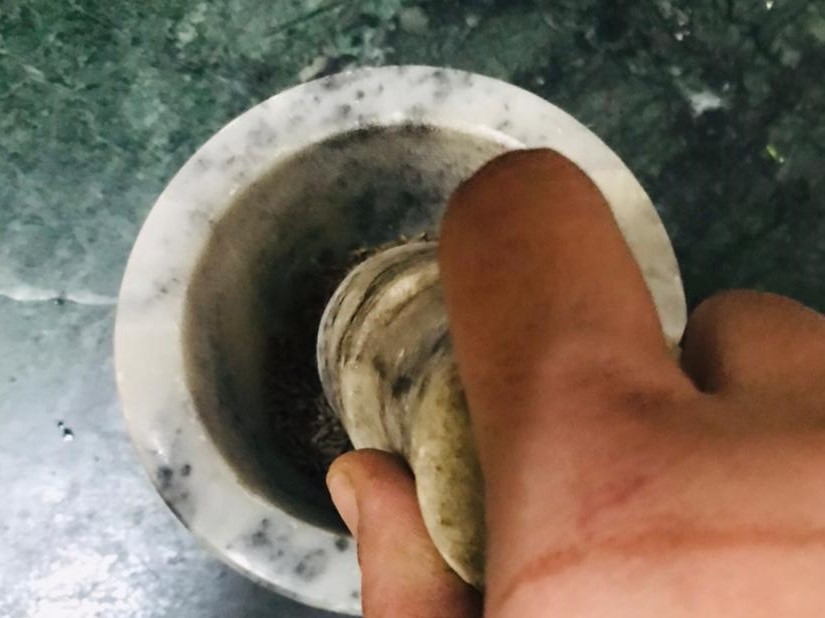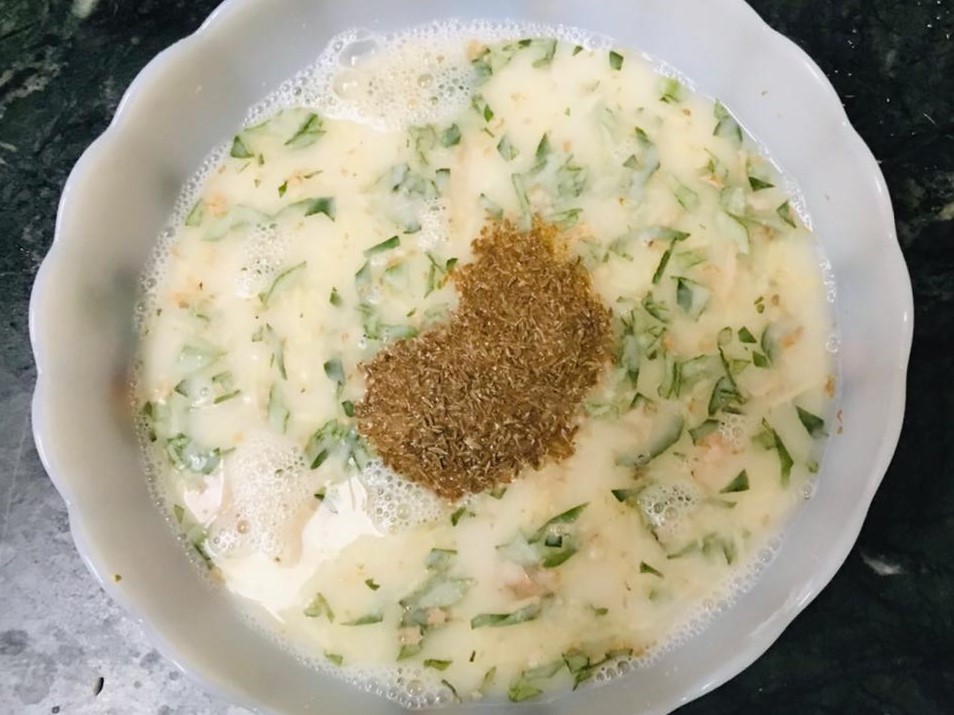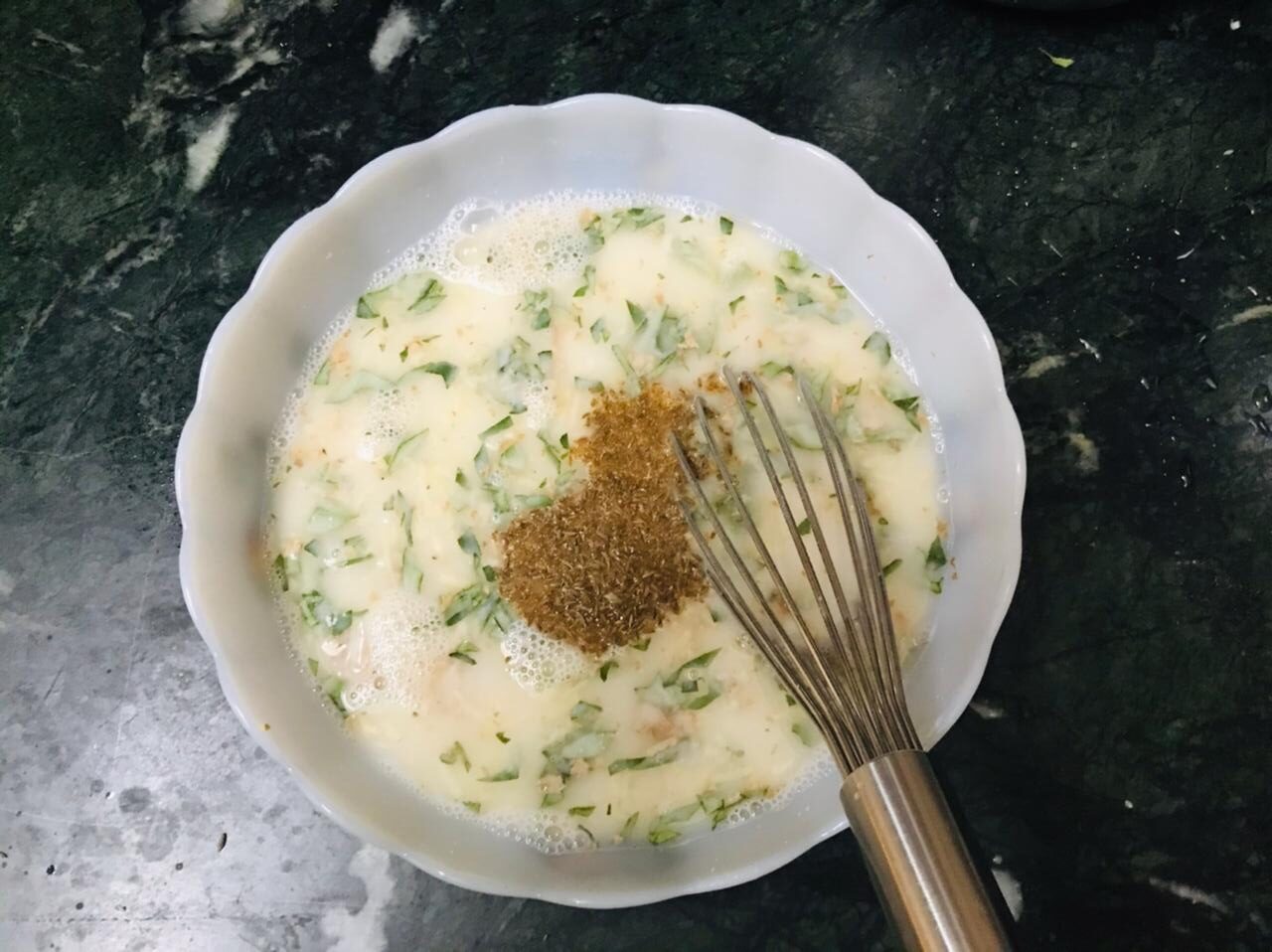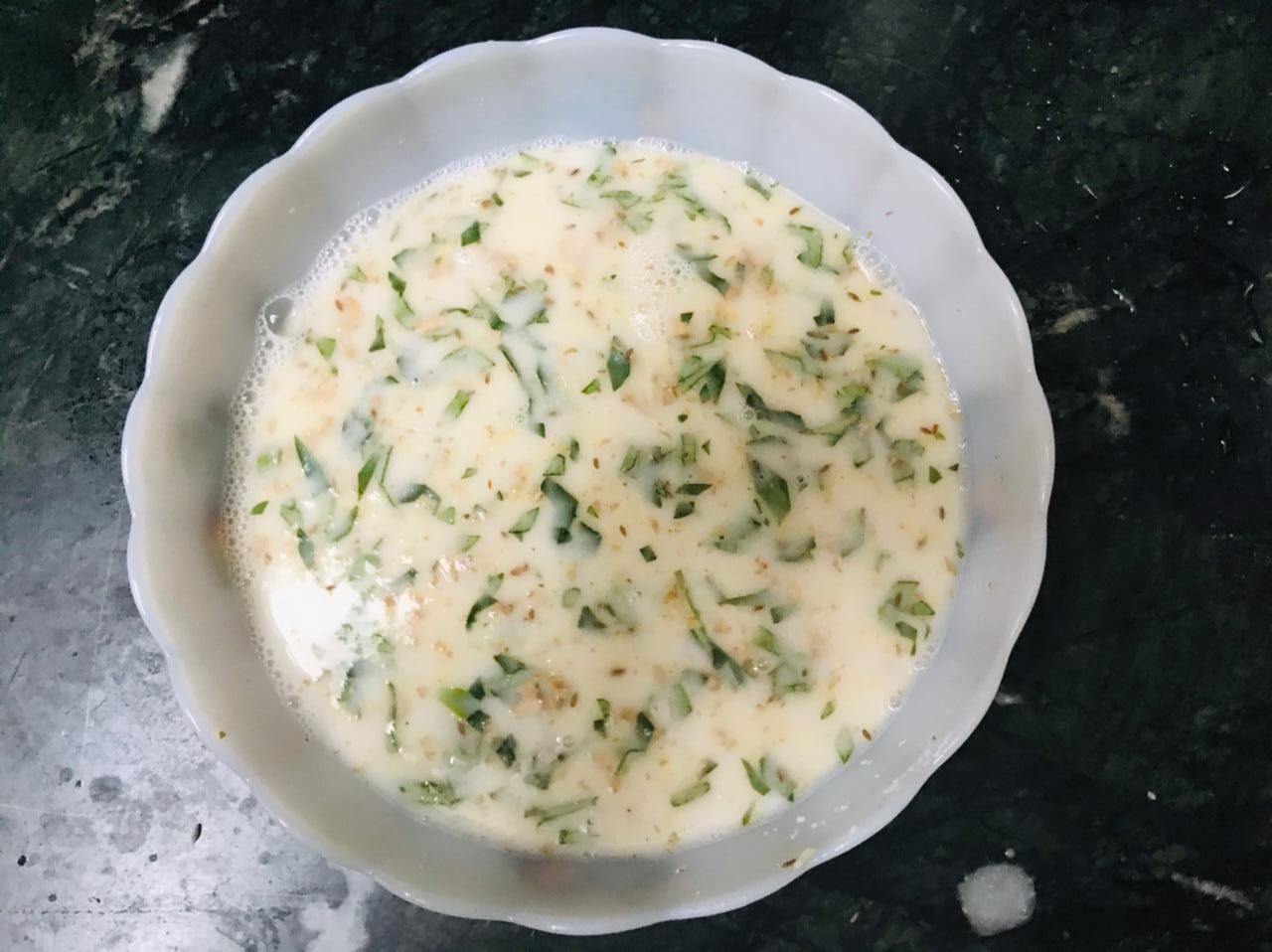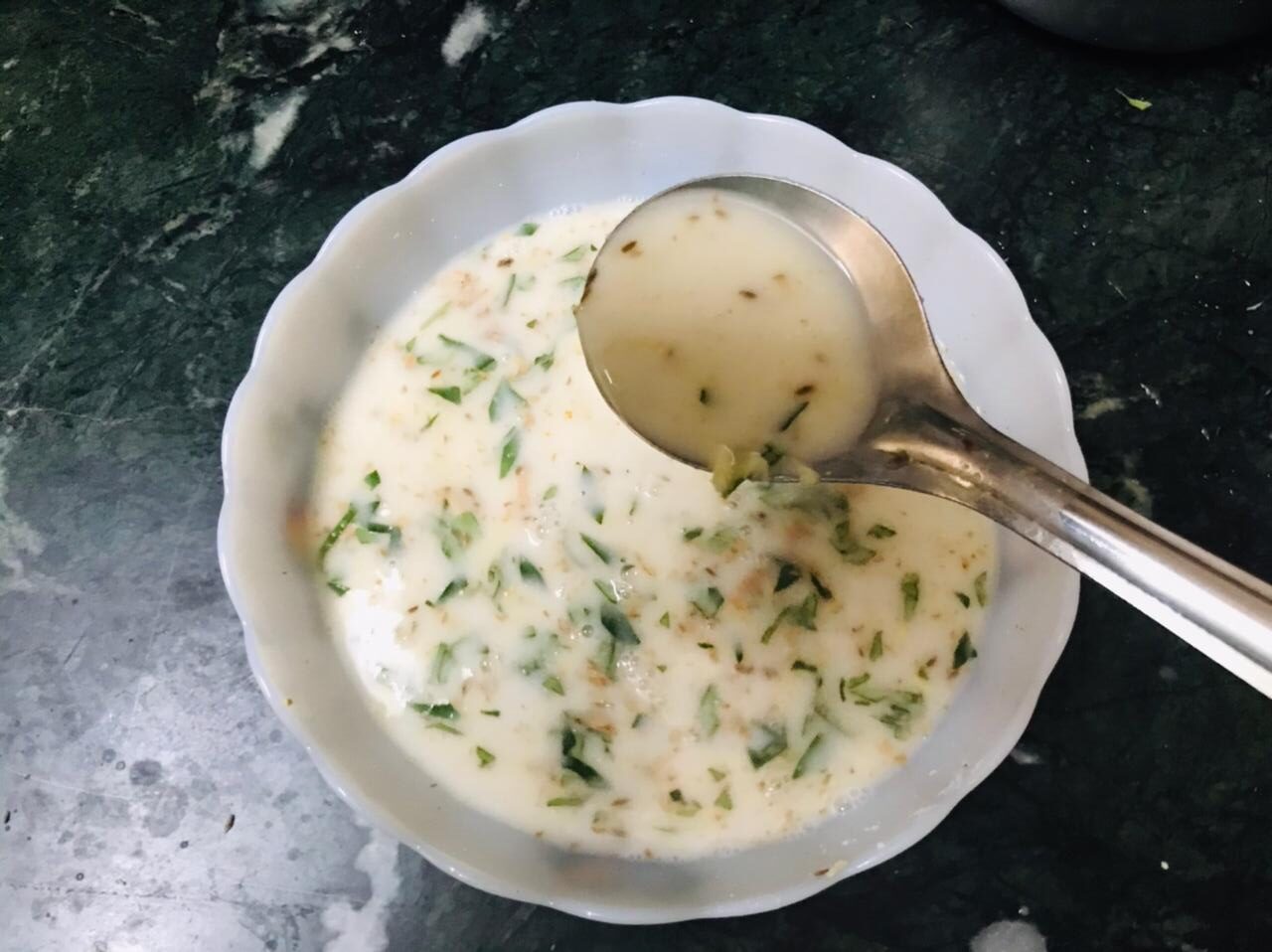 Use a pestle and mortar and crush the cumin seeds roughly. Add the crushed cumin seeds to the batter and mix.
Let the batter rest for 15-20 minutes.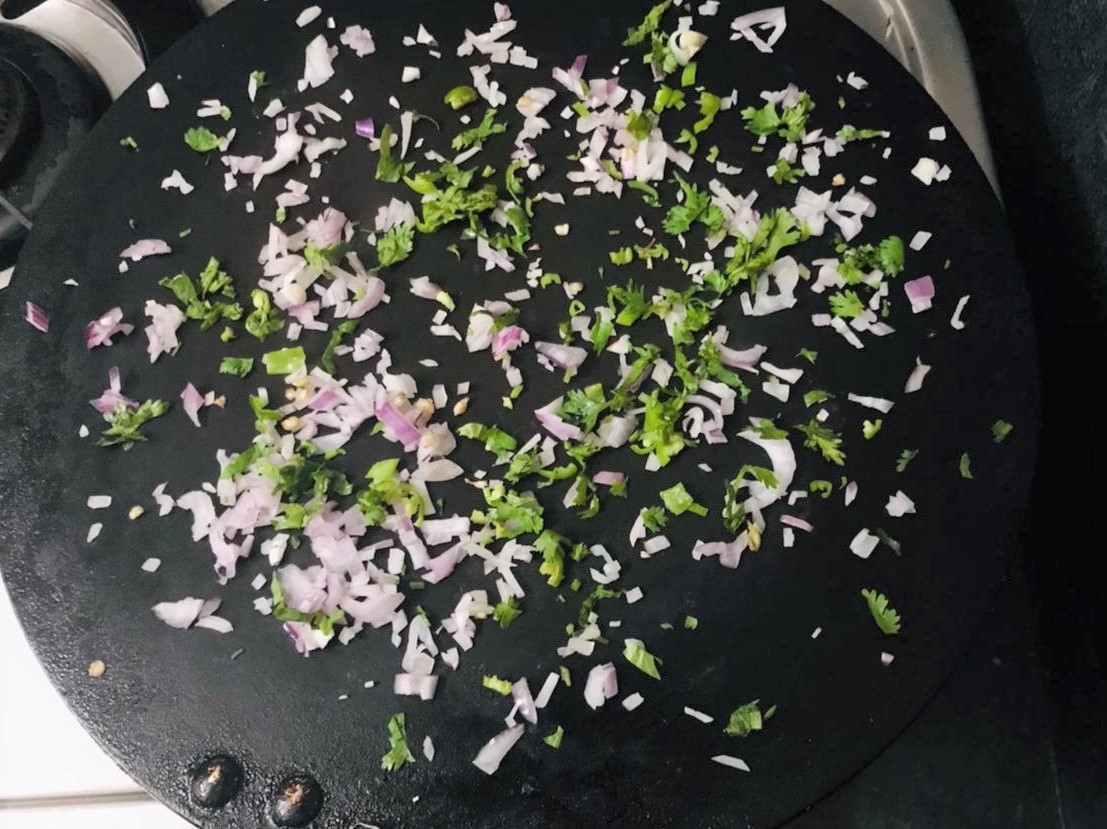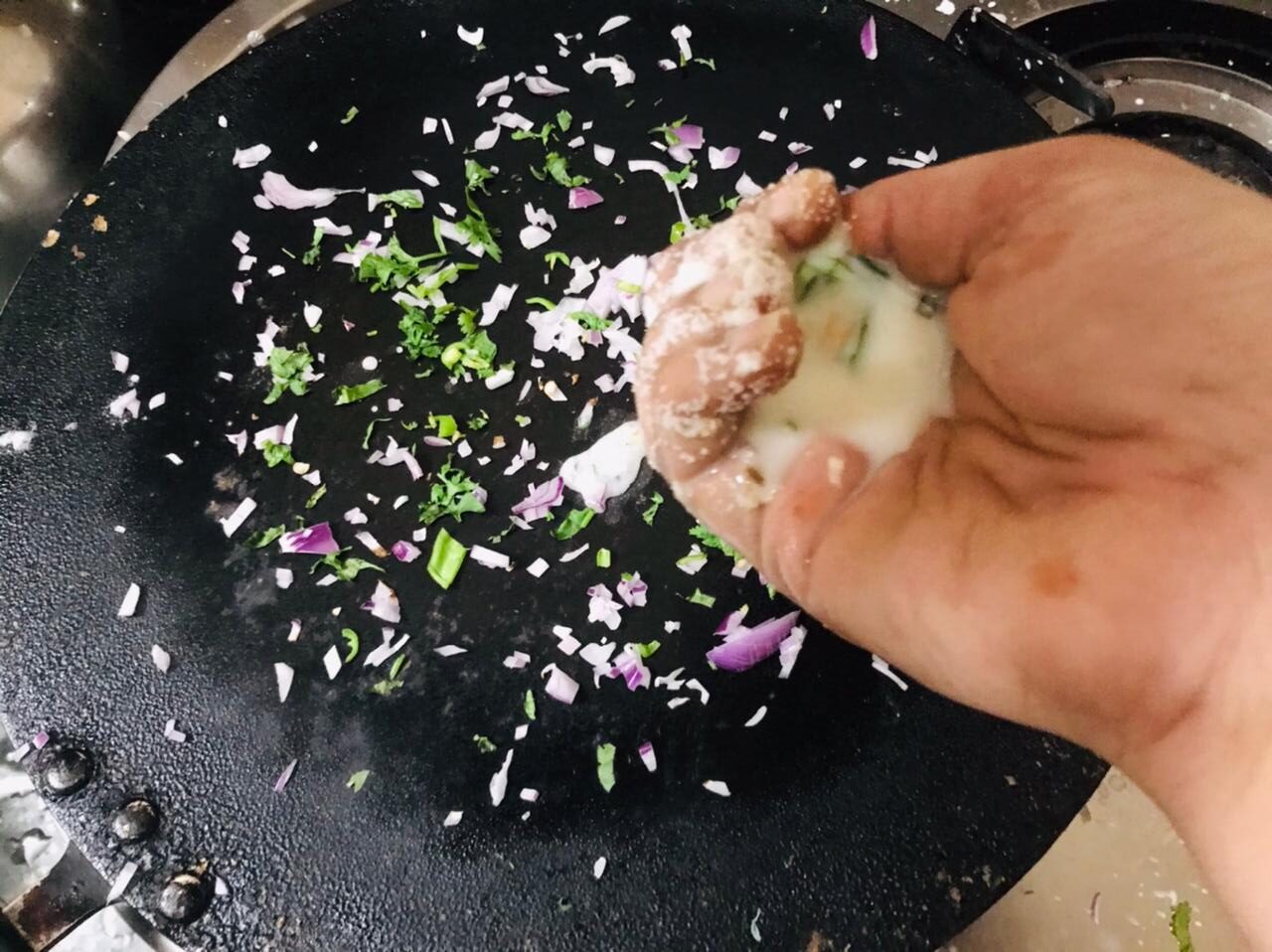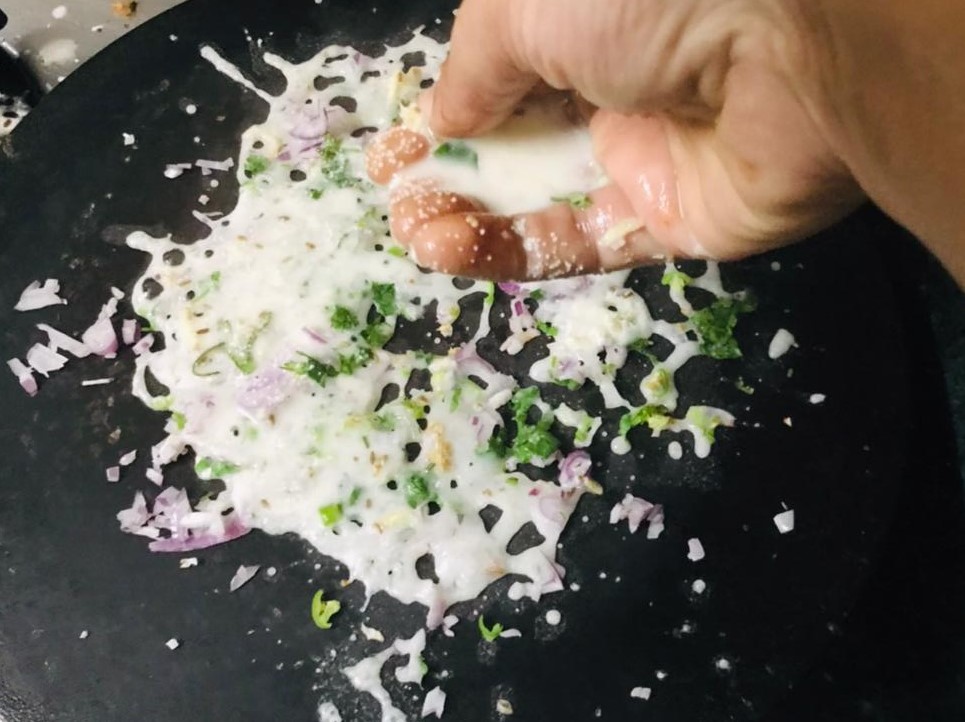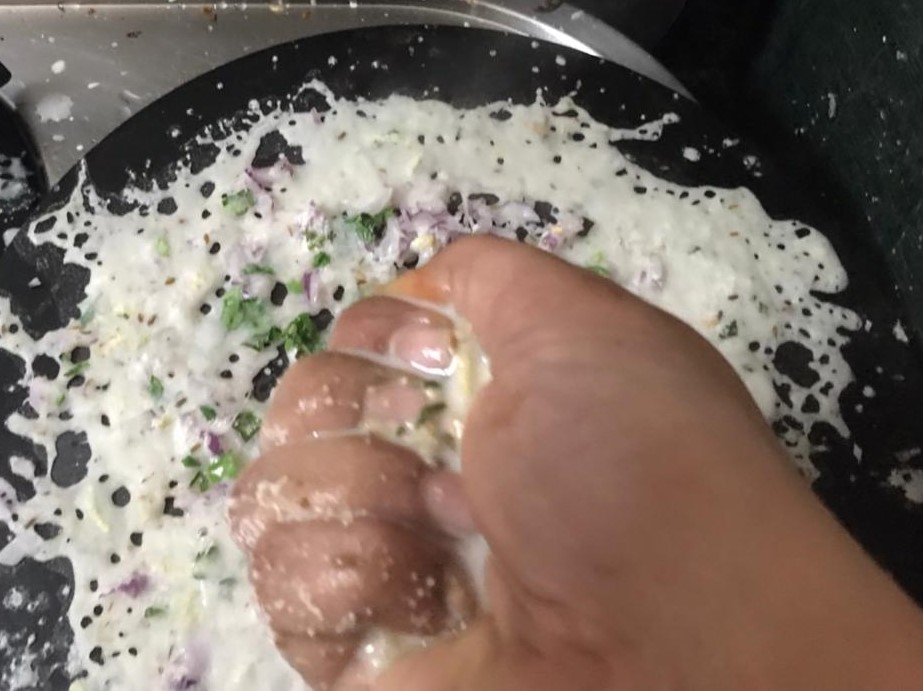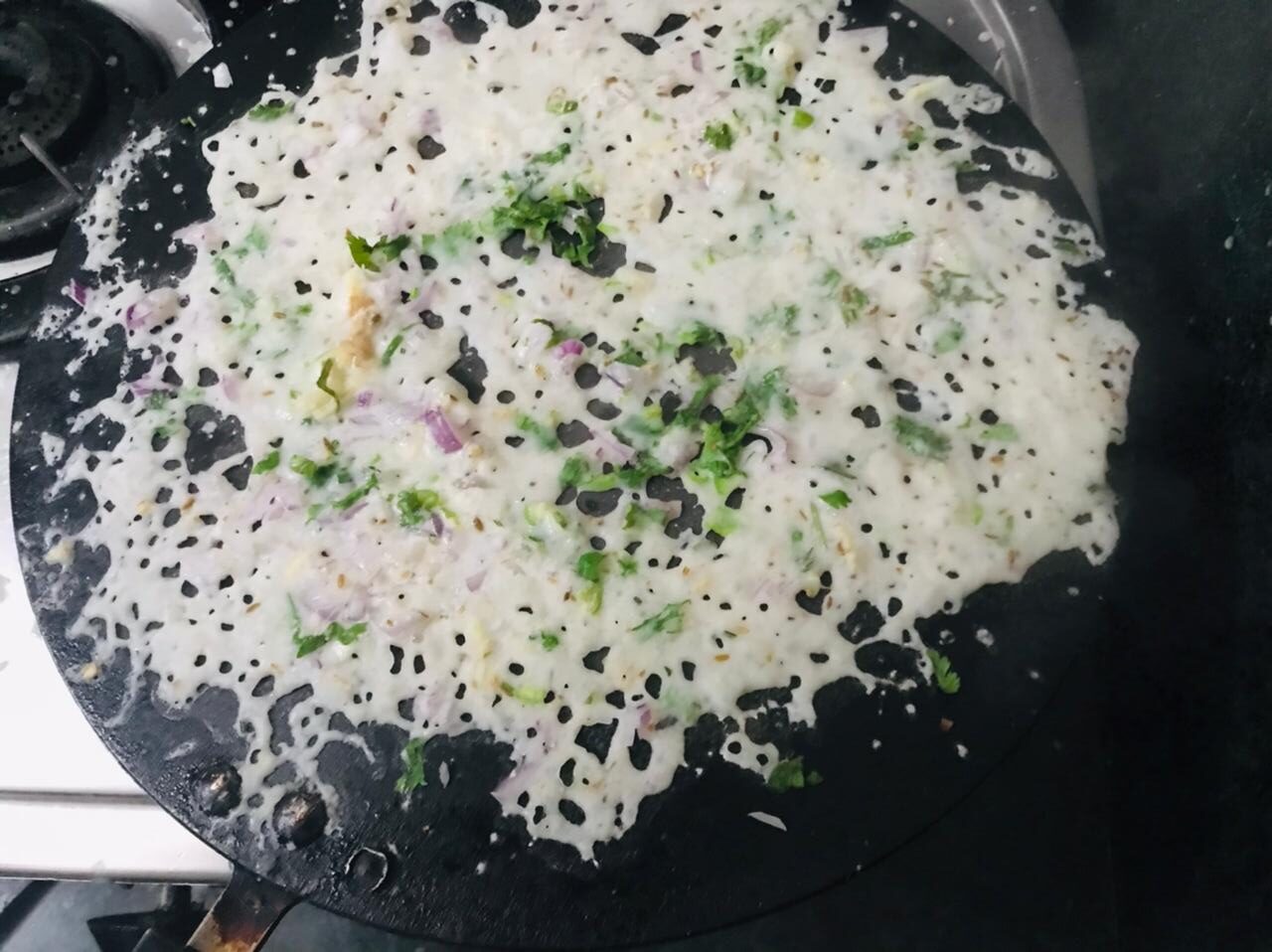 Whisk the batter once again after 15 minutes.
Heat a flat pan/tawa on high heat. Sprinkle some green chillies and onions on the hot pan.
Sprinkle the batter with your hands/ tumbler starting from the edges and move towards the center in circular motion filling any large gaps. This must be done fast and without using too much batter. It should just form a thin covering over the onions and chilli.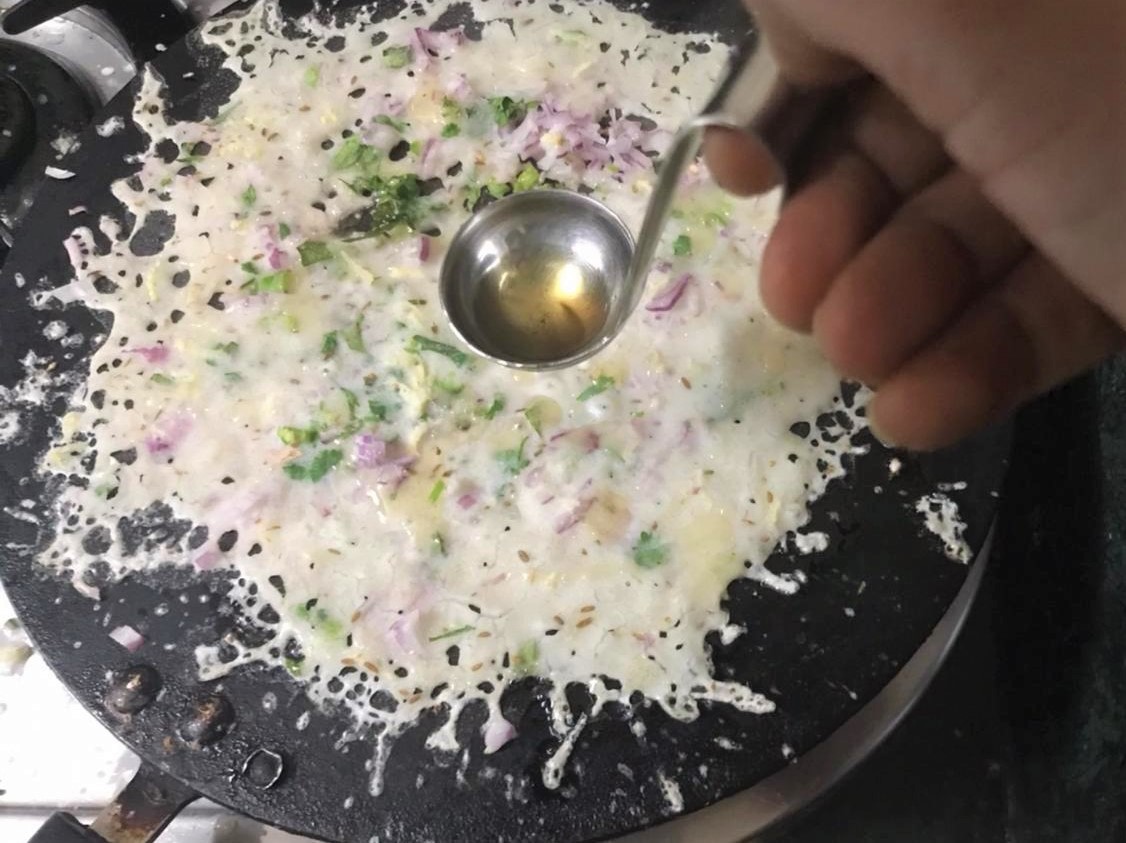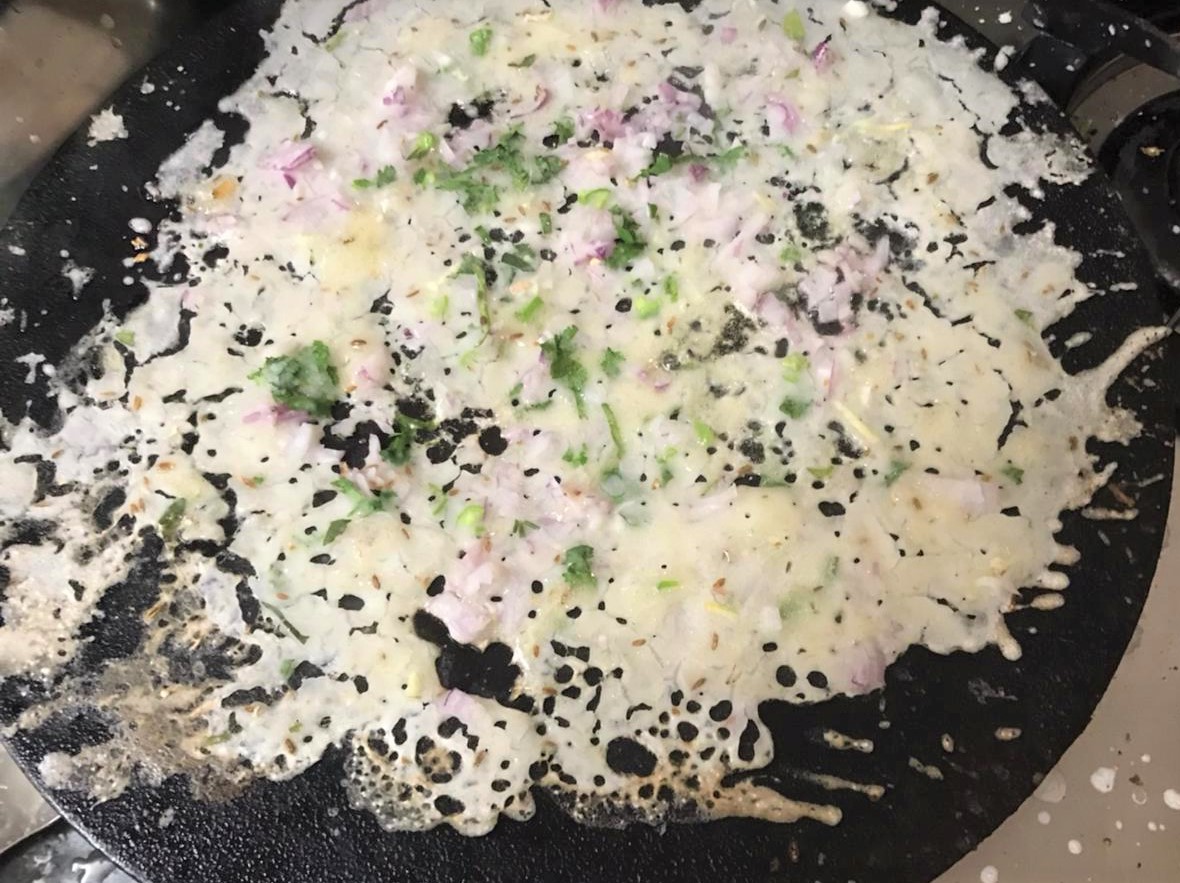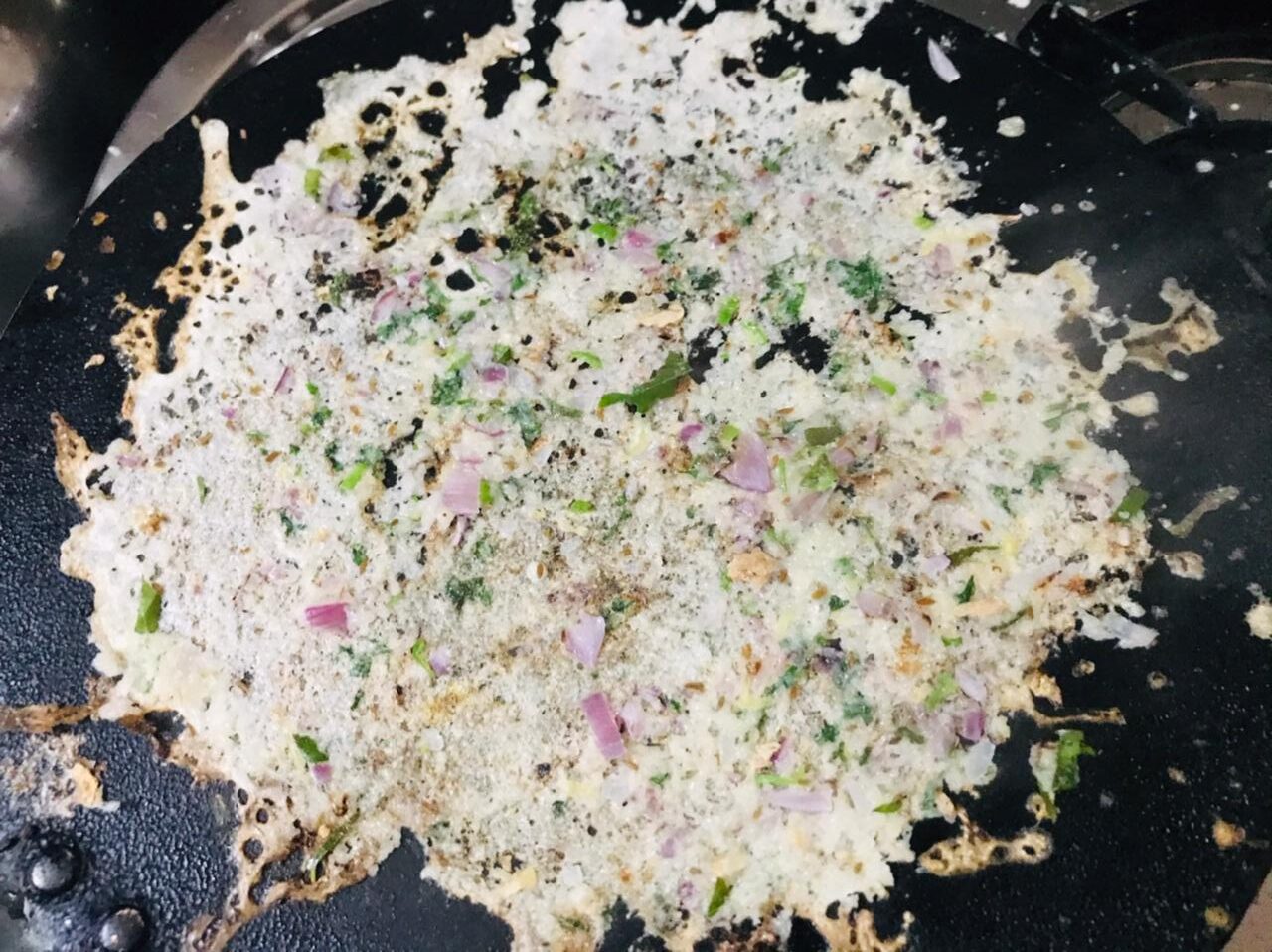 Turn the heat to medium and let the dosa cook for about 2 minutes. Sprinkle some oil and let it cook until the bottom looks golden brown.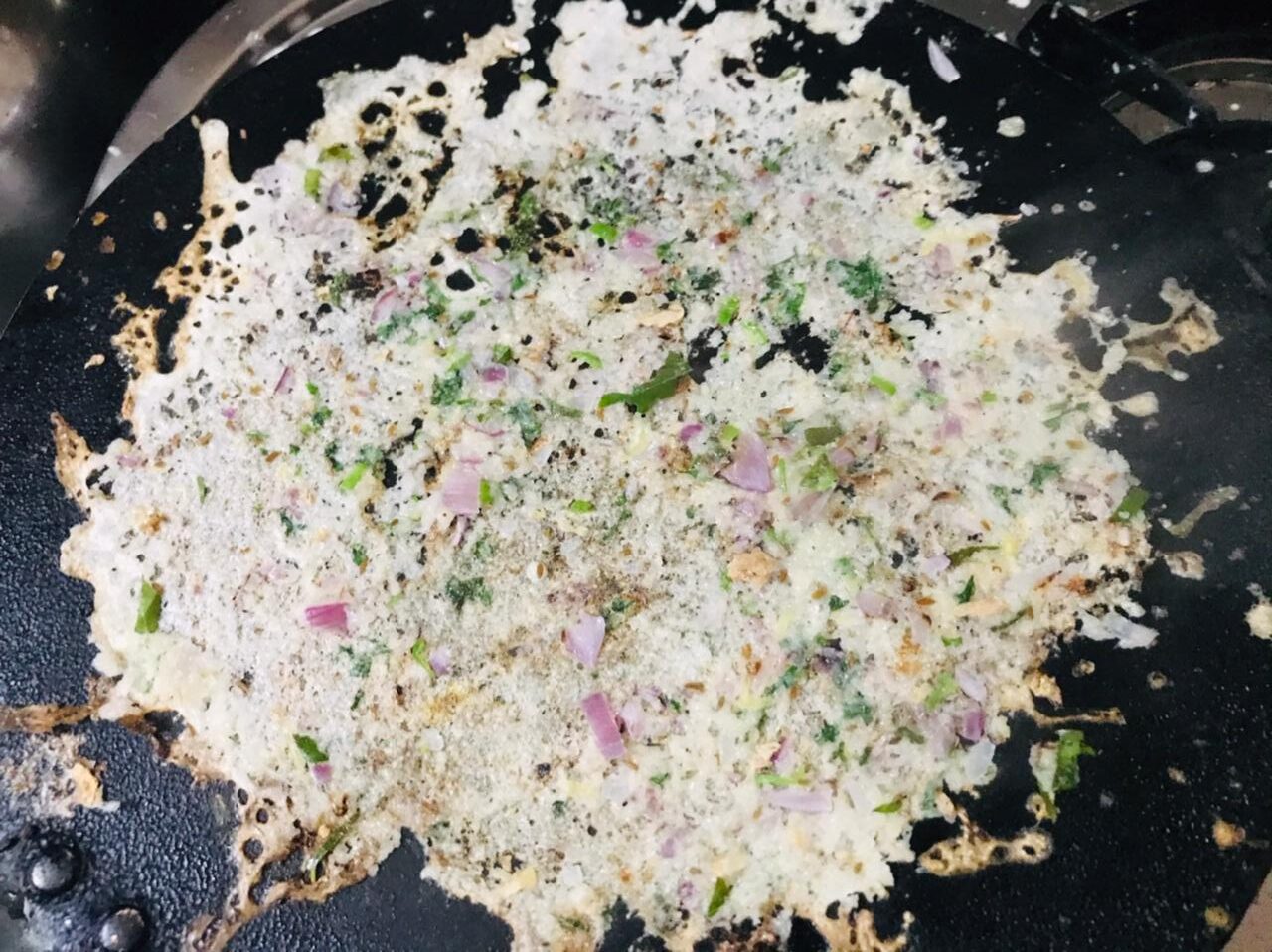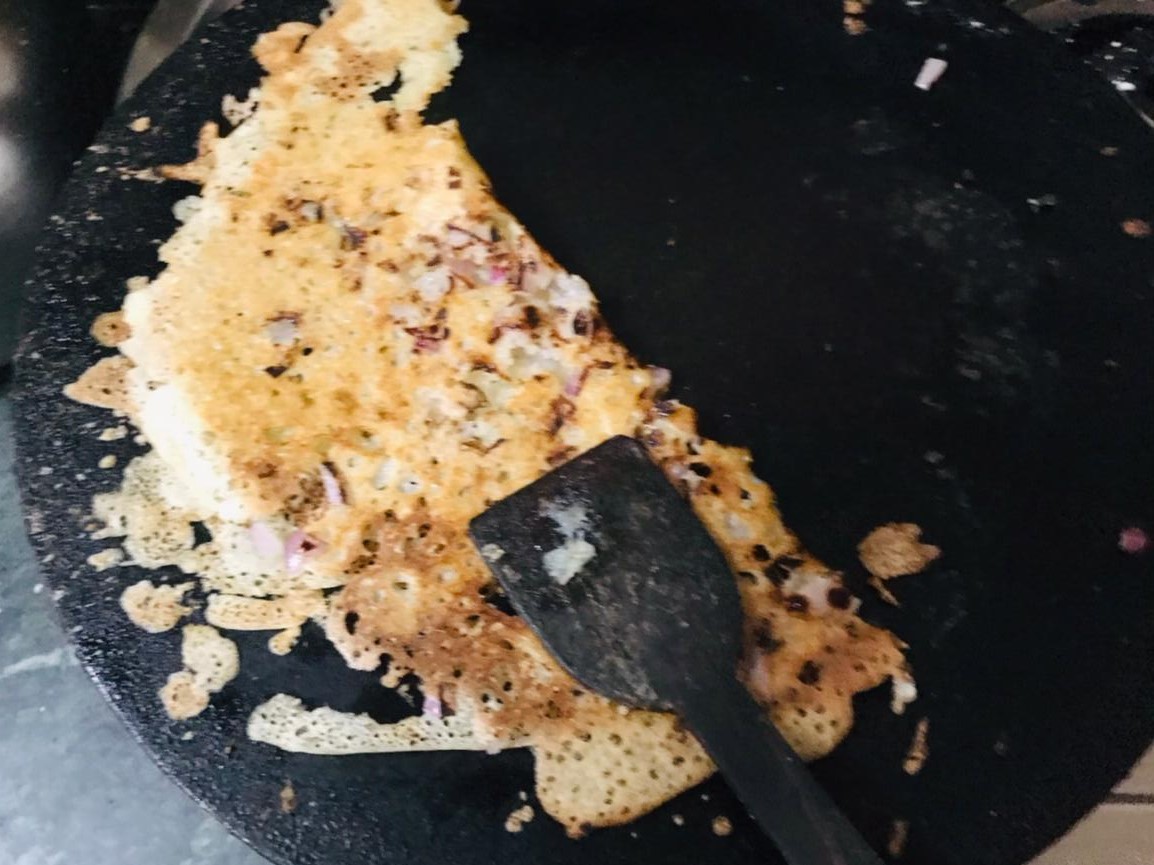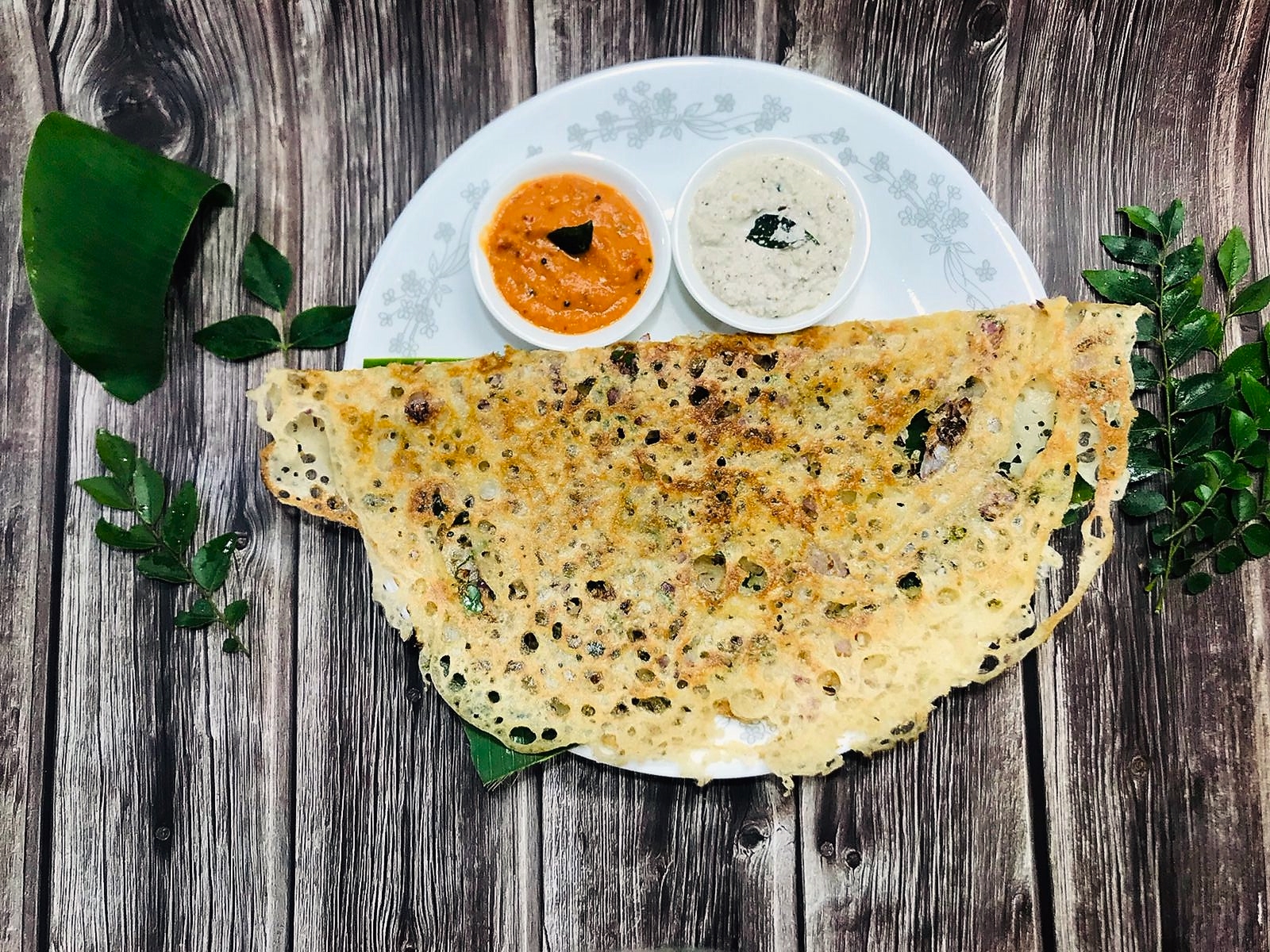 Gently lift the dosa from the edges and fold it in half.
Serve it with chutneys!