Pinwheel Samosa
Pinwheel Samosa is a delicious twist on the most popular Indian snack Samosa. Delicious crusty samosa dough is used to make these deep-fried pinwheels.
Samosa needs no introduction! Samosa is not only popular in India but on almost all Indian menus all over the world. Garam Garam Samosa with garam cup of Chai (Hot samosa with hot chai) is one of the most amazing combinations. I still remember shopping with my sister-in-law and eating spiced Potato filling samosa with mint and coriander chutney and khajur chutney. Nowadays there are soo many different varieties of samosa available like vegetable, meat, Chinese, paneer, dry fruits to name just a few.
Although I am quite a traditionalist and still like the traditional authentic recipes, these pinwheel samosas are definitely worth a try with a modern twist. Making Samosa requires patience, time and energy. Saying that the end result never disappoints, hence it is always worth it. Same is the case with these pinwheel samosas, they might seem slightly tricky and time consuming, but the outcome is really satisfying and mouth-watering.
Other recipes you might like to try are Palak Patte Pakora, Aloo Bread Rolls, Vegetable Cutlet, Matar Kachori, Semolina Spinach Fingers, Onion Bhajia and can be enjoyed with Mint Coriander/Green Chutney and Tamarind Chutney or Khajur Ki Chutney/date Chutney.
Ingredients
For the Dough
2 cups plain flour
Salt to taste
5 tablespoons oil
5-6 tablespoons cold water
For the Filling
2 teaspoons oil
1 teaspoon cumin seeds
½ teaspoon asafoetida
2 cups mashed boiled potatoes
Salt to taste
2 teaspoons chaat masala
1 teaspoon garam masala
1 teaspoon cumin powder
2 teaspoons mango powder
2 teaspoons red chilli powder
2 teaspoons minced green chilli ginger
¼ cup corn flour
2 tablespoons finely chopped coriander leaves
Other Ingredients
Oil for deep frying
Directions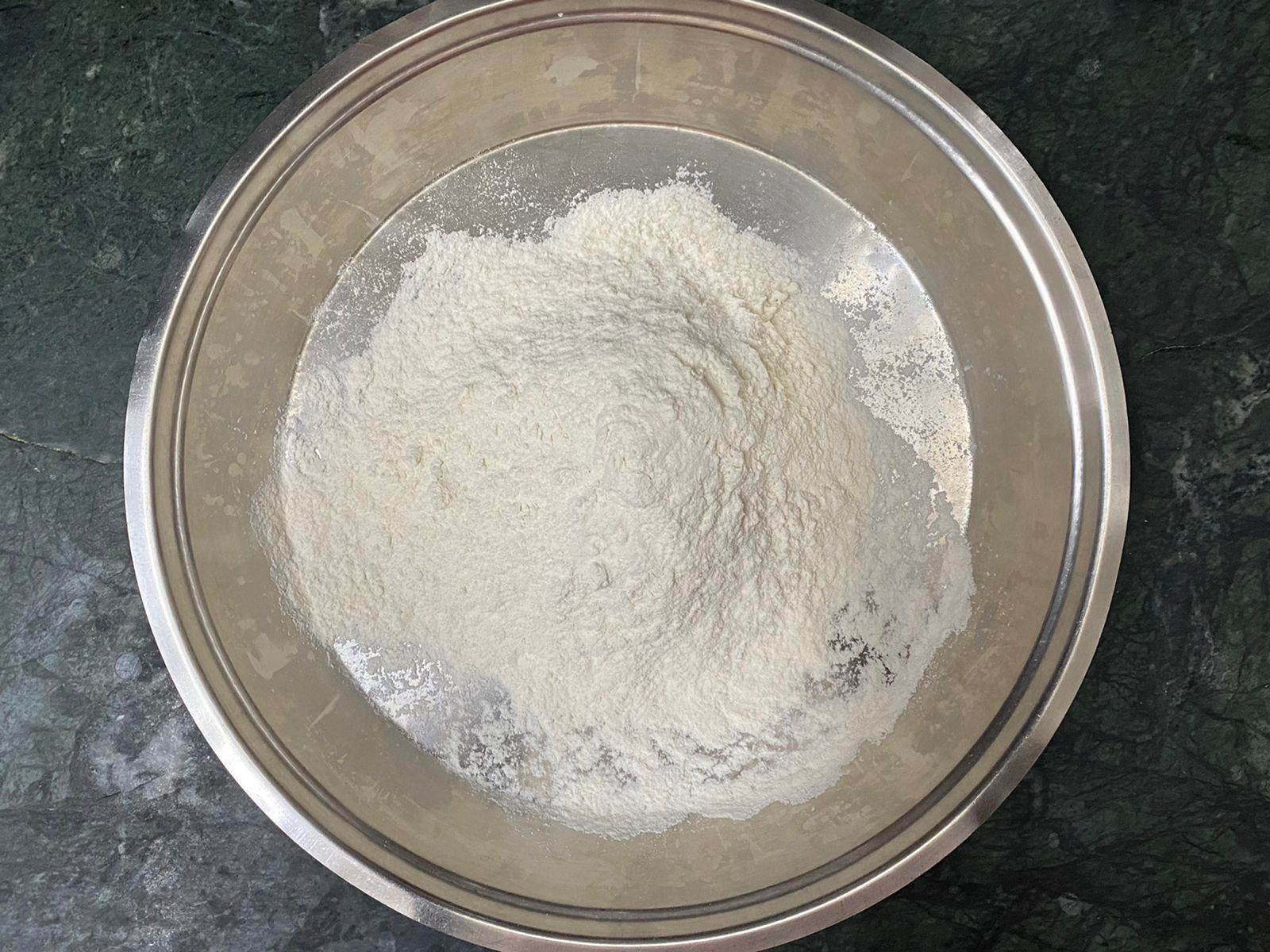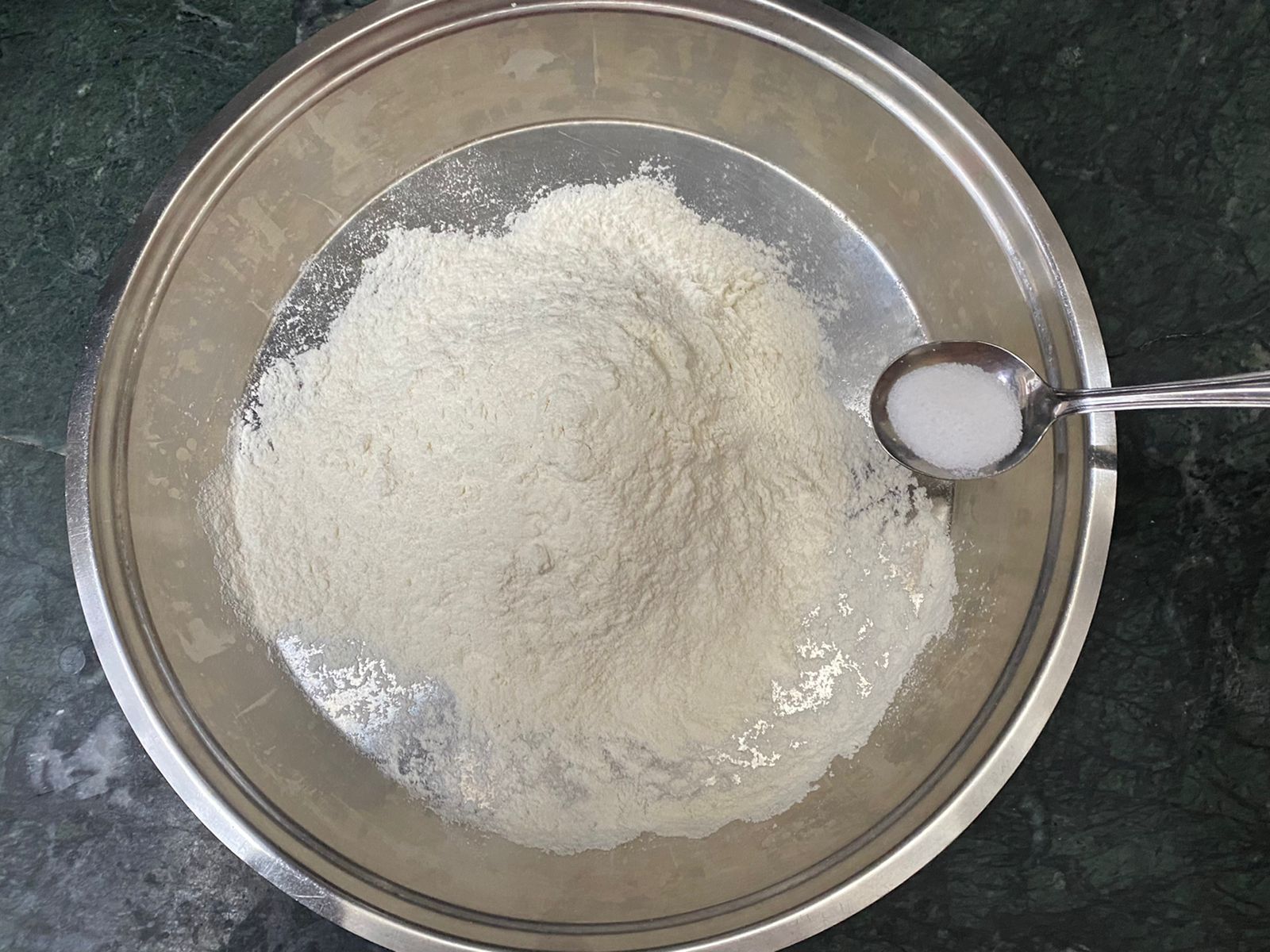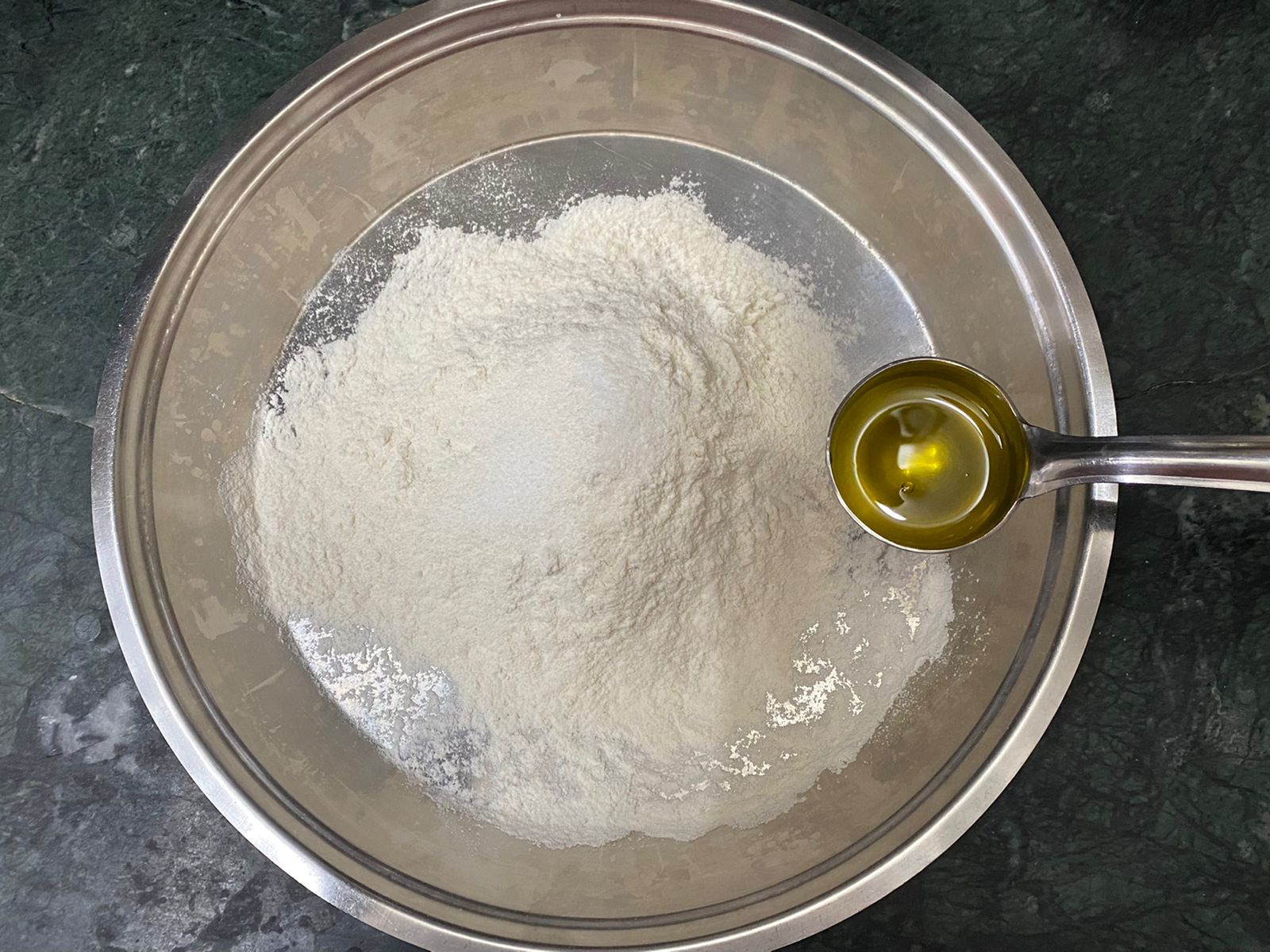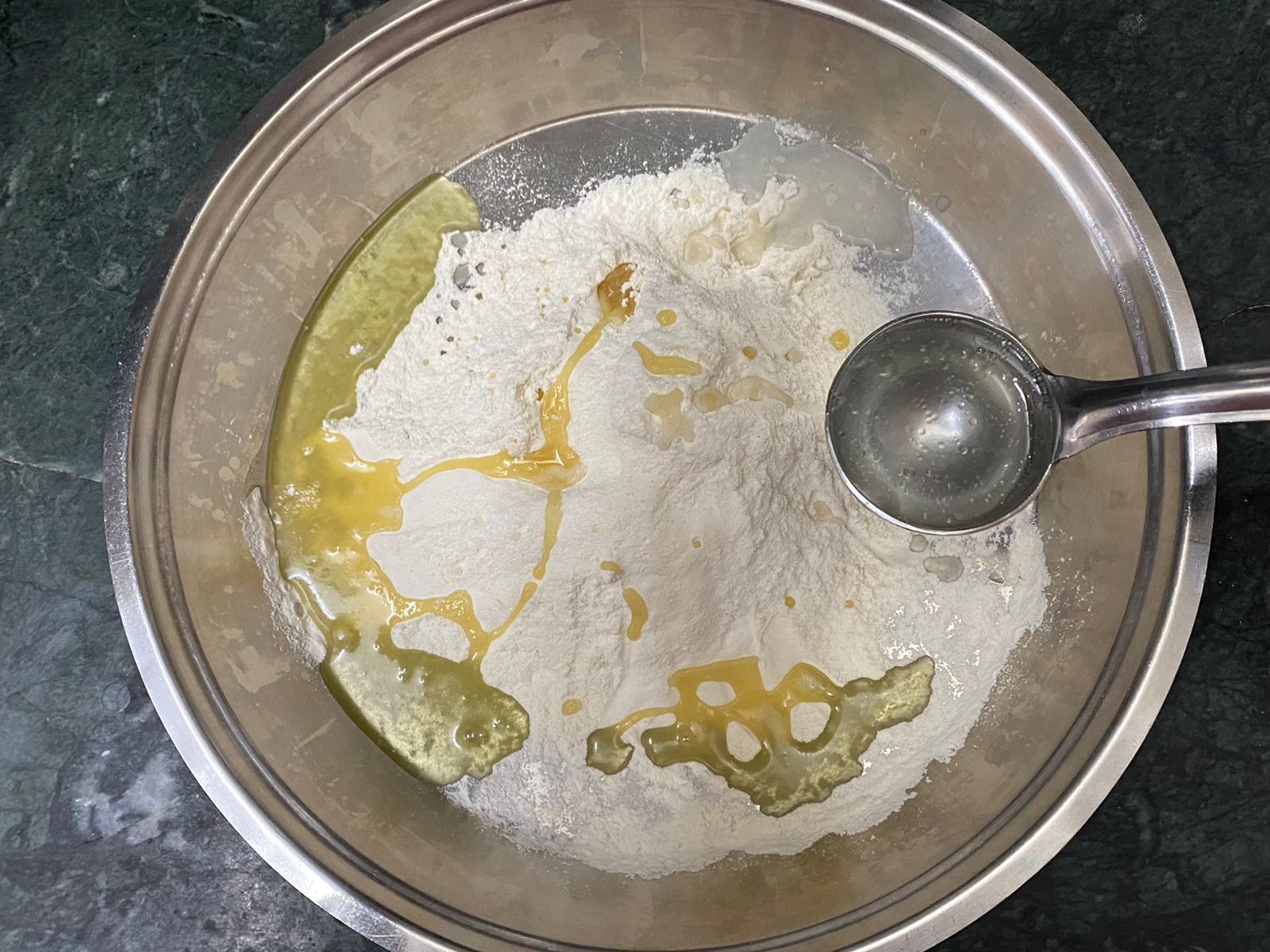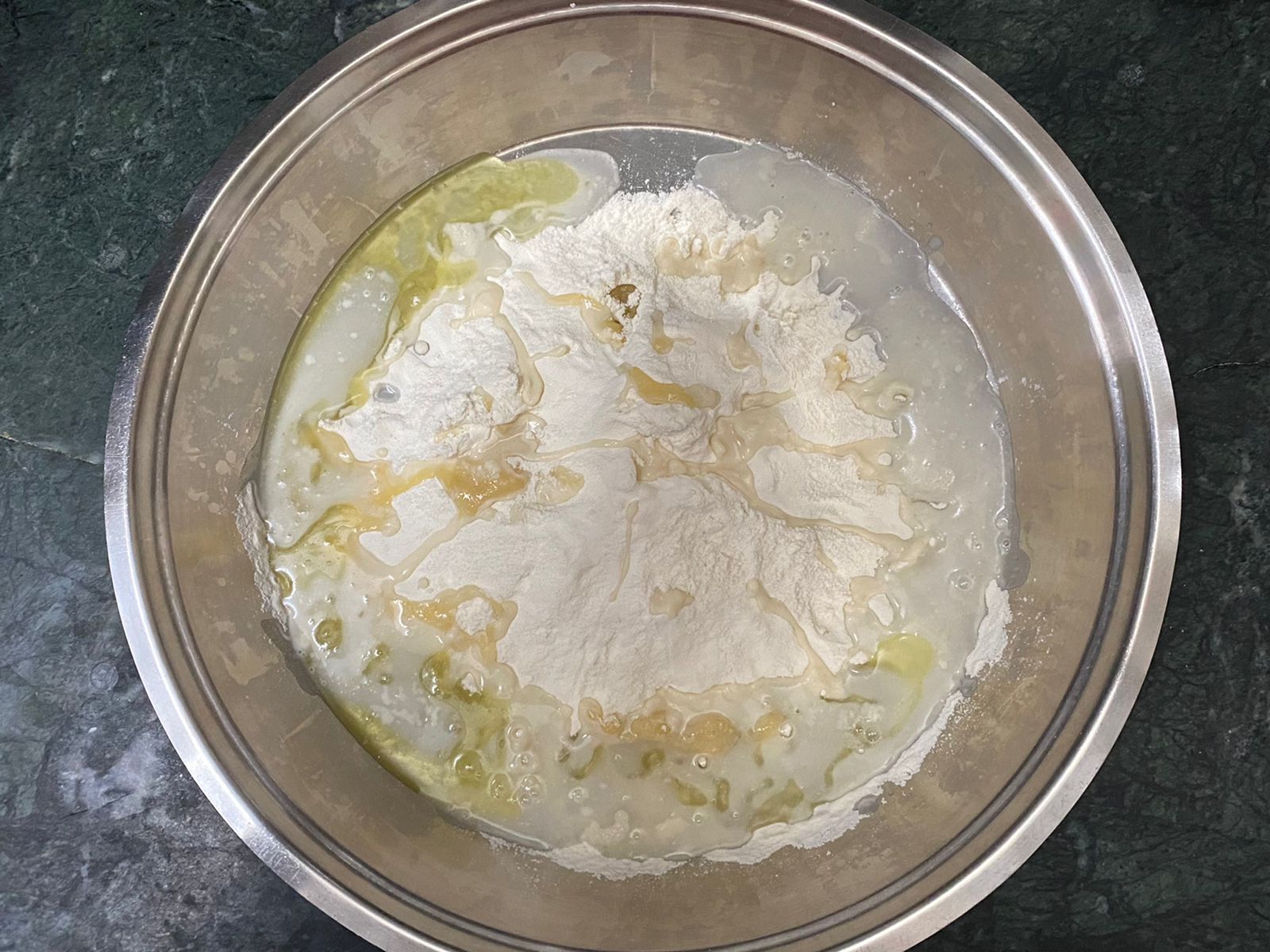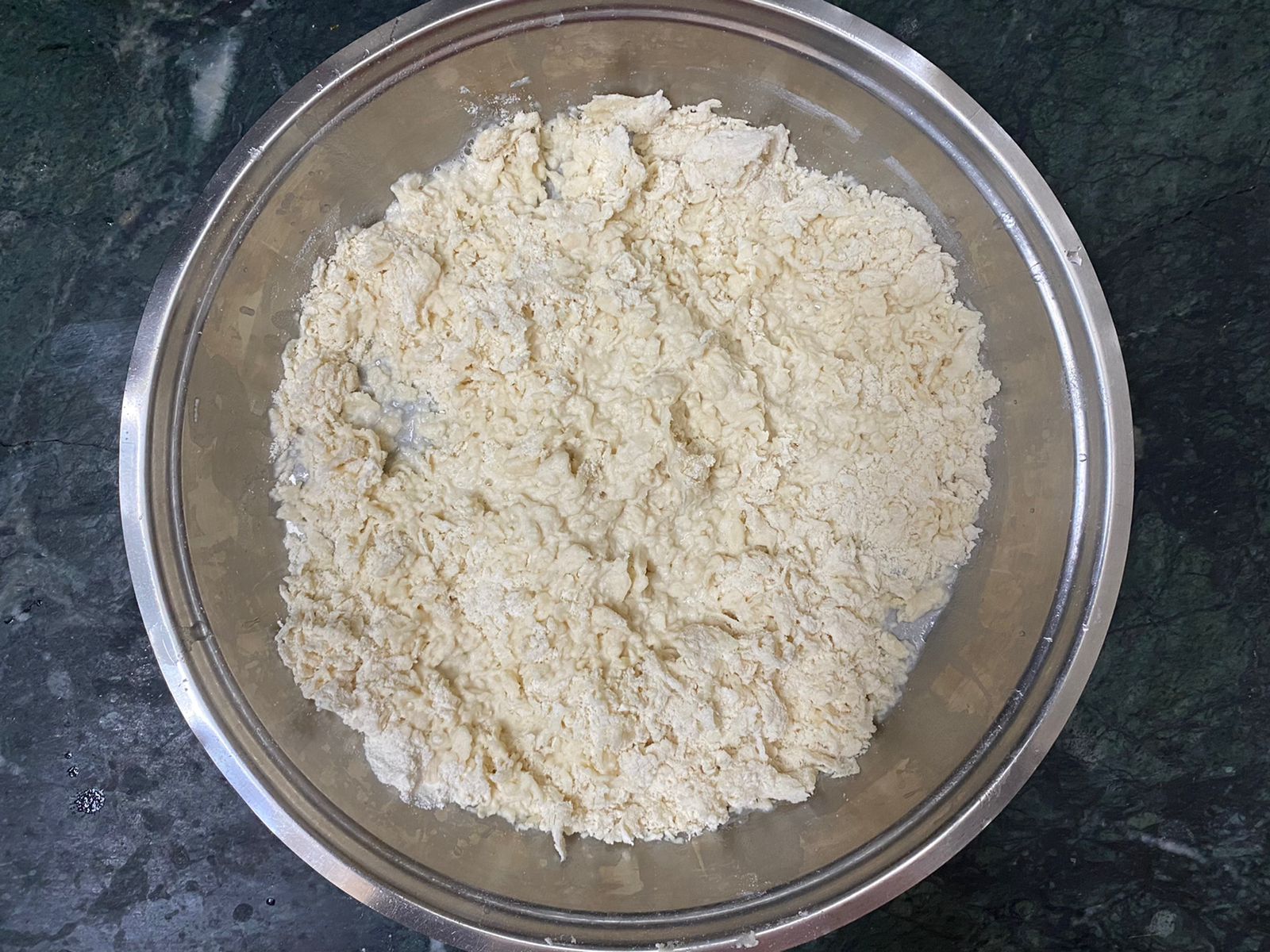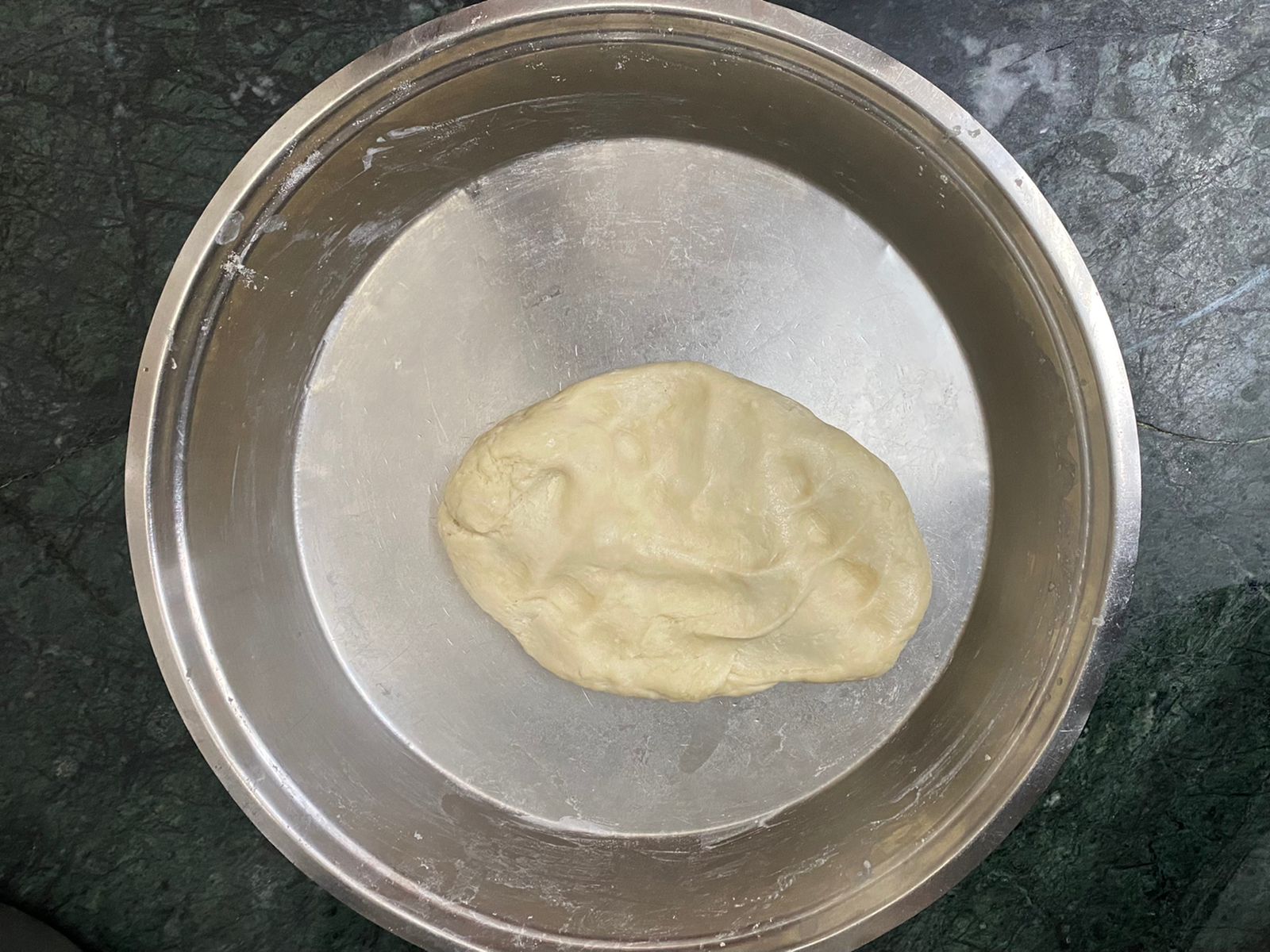 Mix flour, salt, oil and 2 tablespoons of water and rub the mixture together with your fingertips. Rub the mixture together till it resembles bread crumb (around 3-4 minutes)
Press some flour in your palm and it should form a shape (and not crumble) which means oil is enough and well incorporated.
Using your hand begin to sprinkle in a little water at a time to bring the dough together. Continue to add the water slowly until the dough comes together. The dough should be stiff and hard.
Cover and set aside for at least 30 minutes.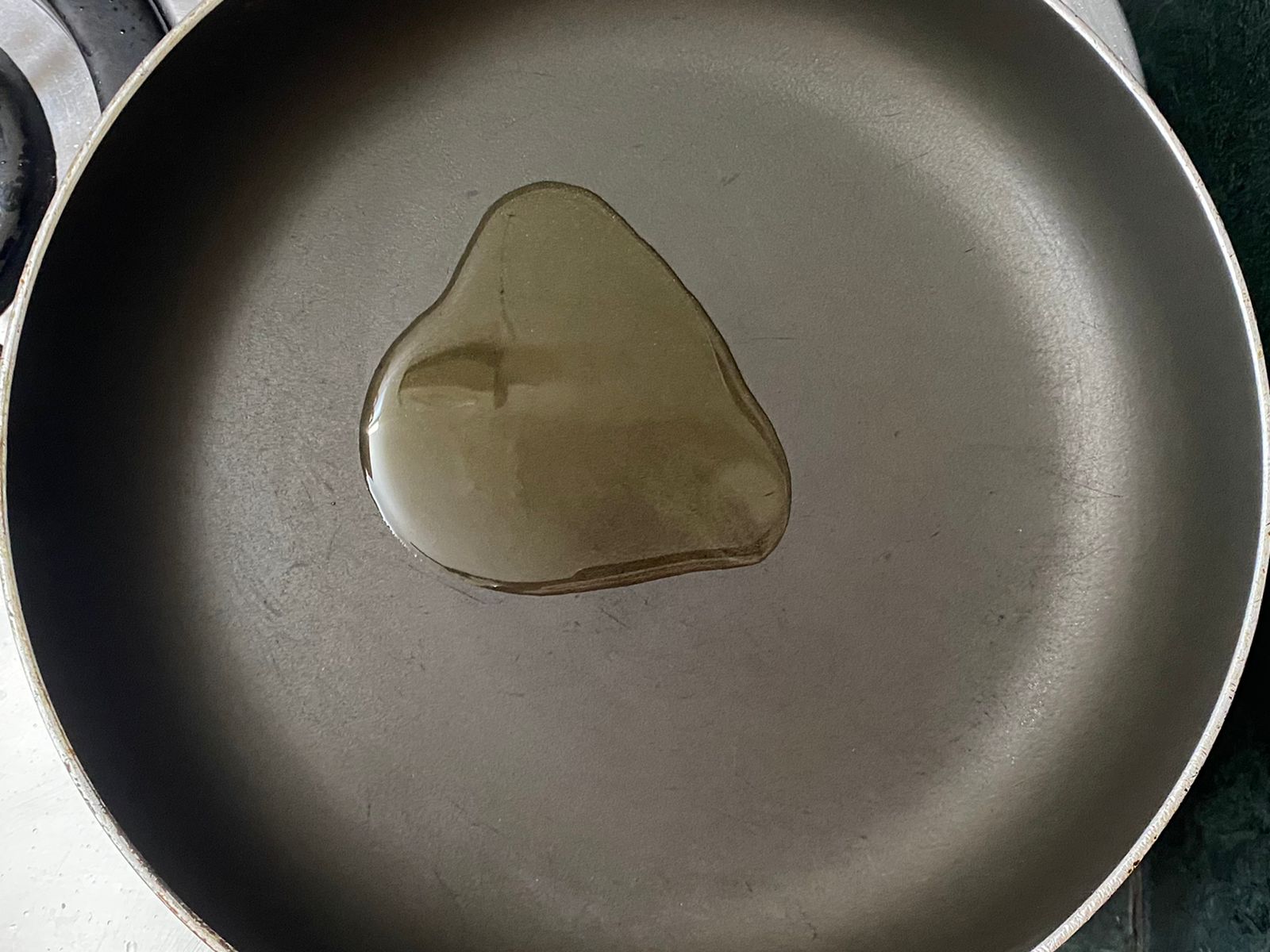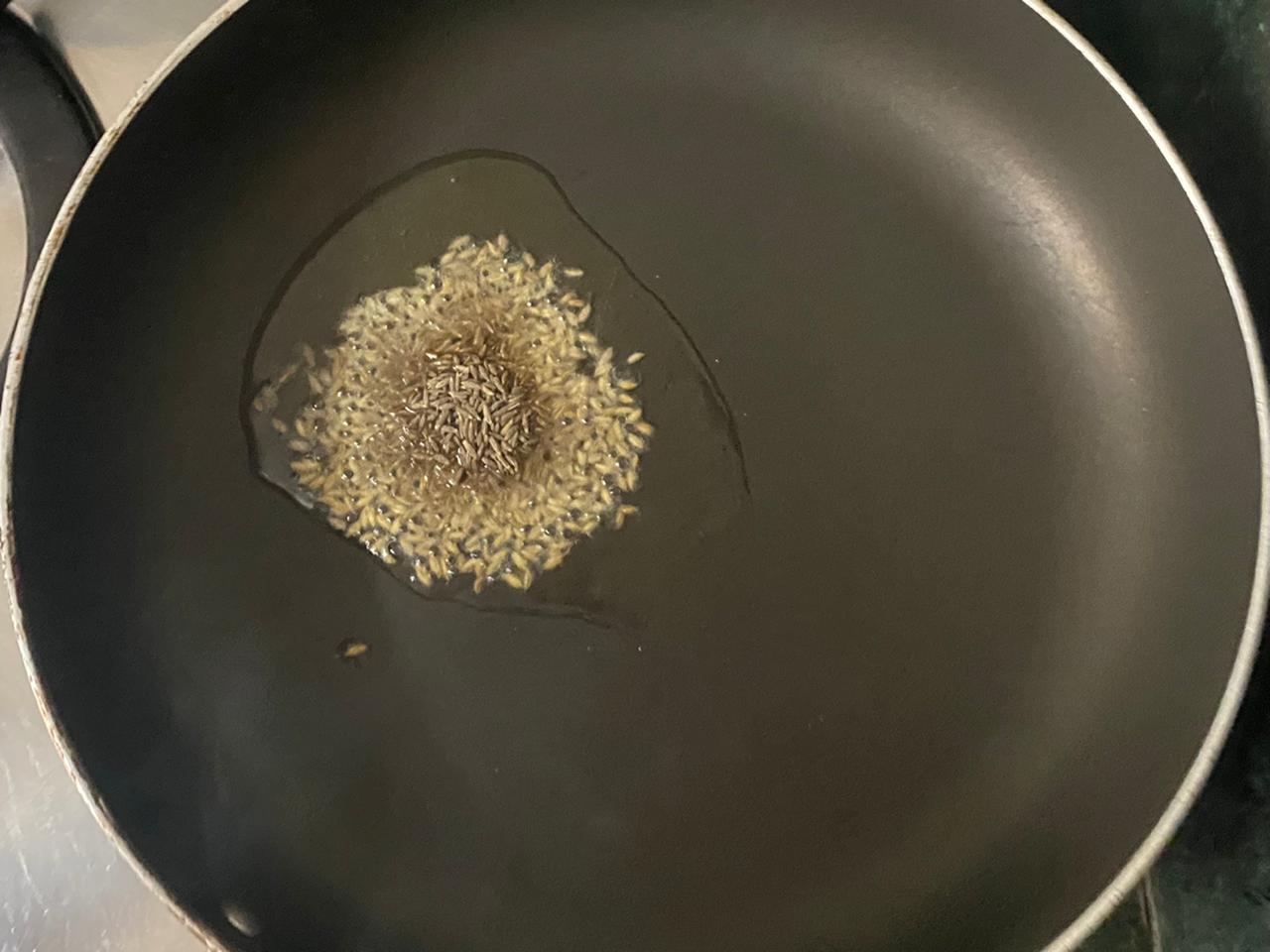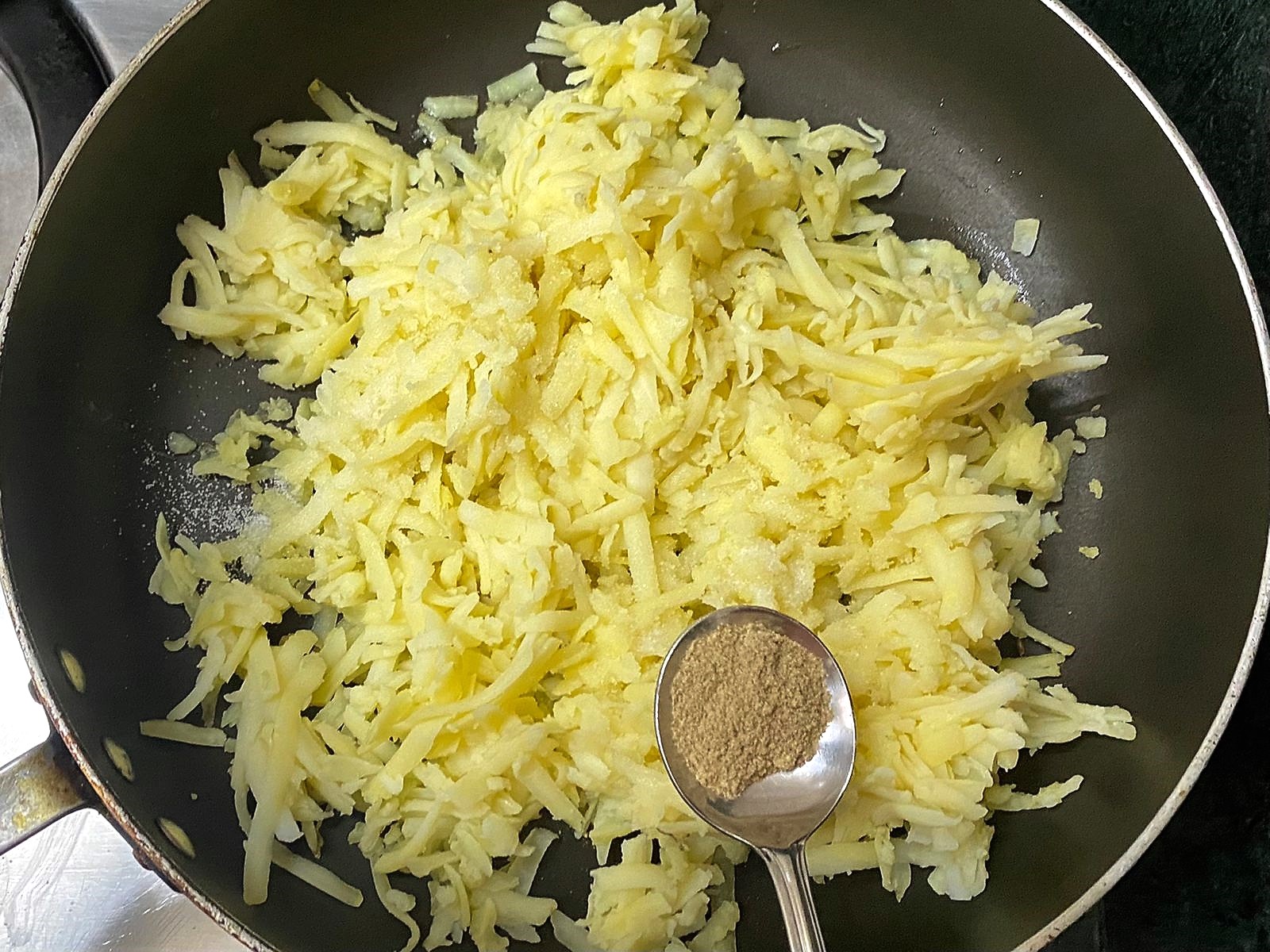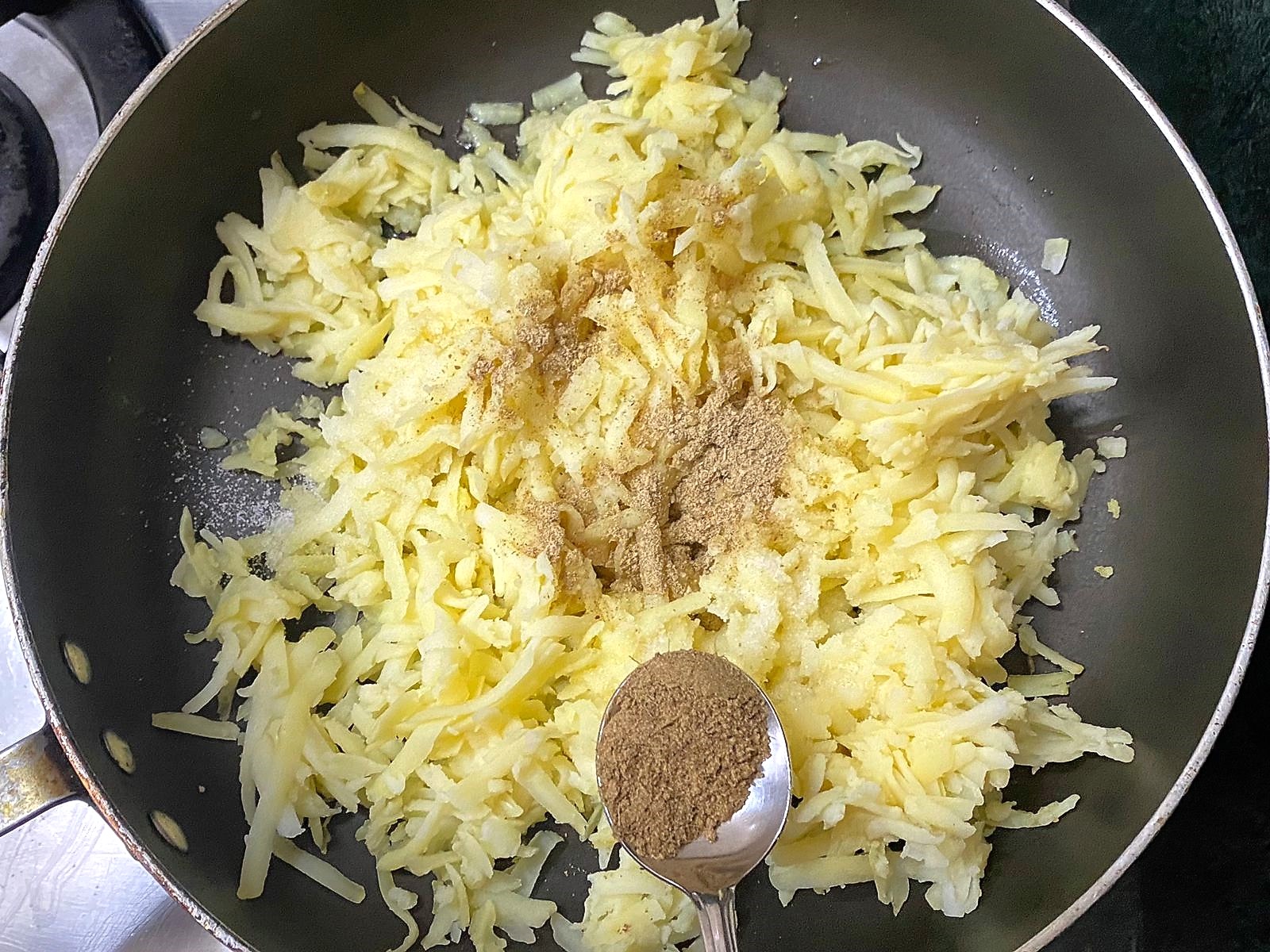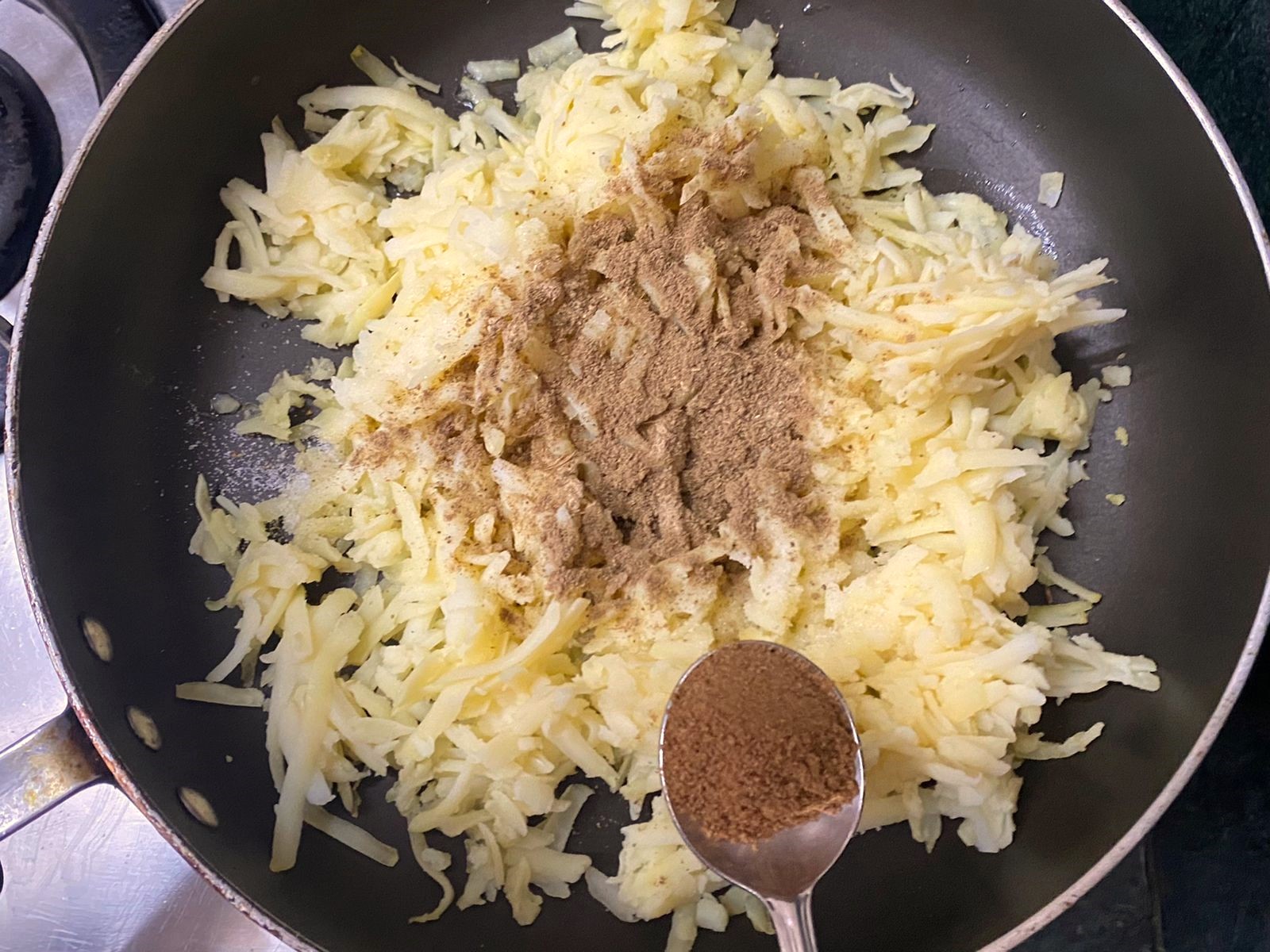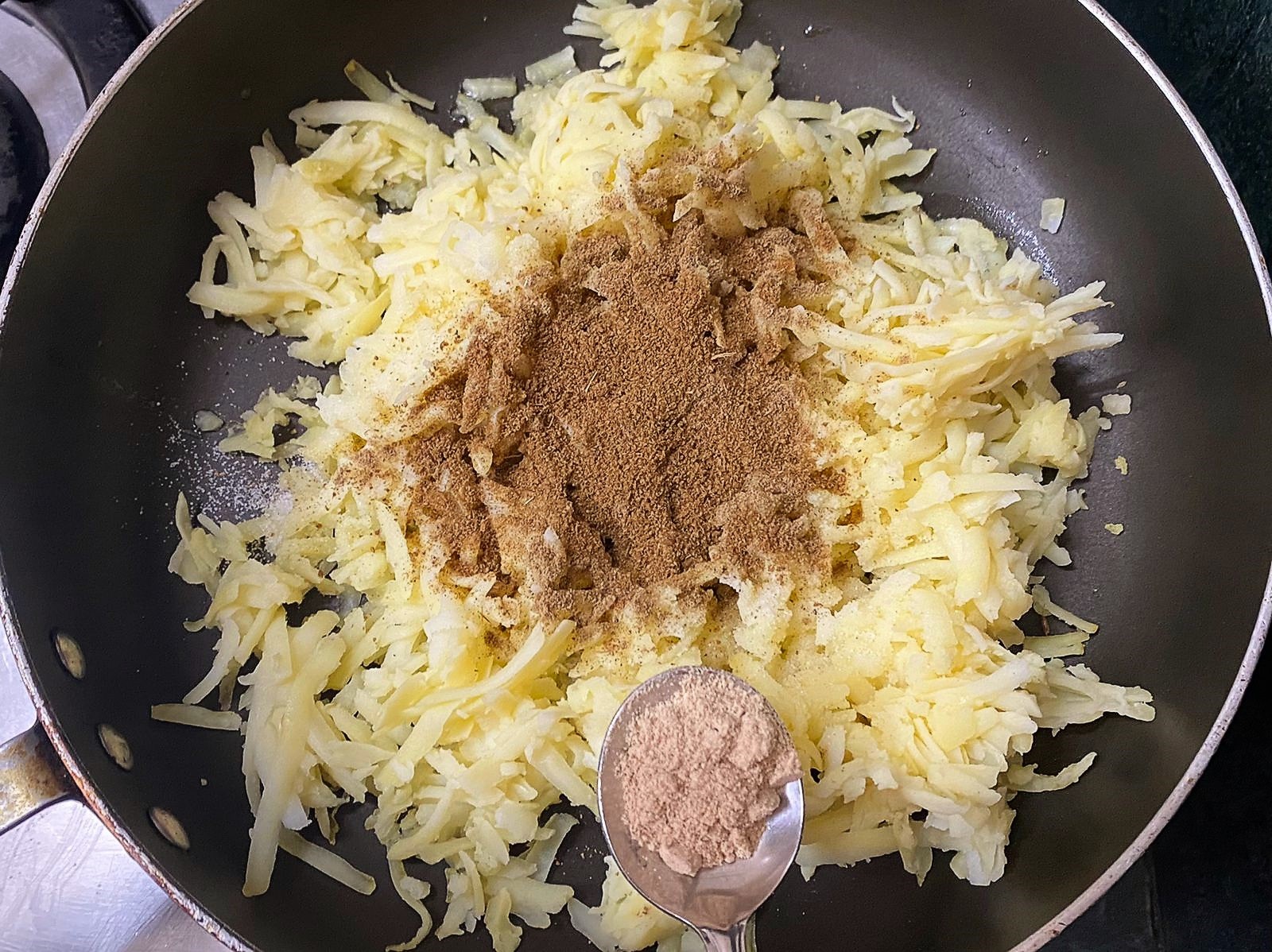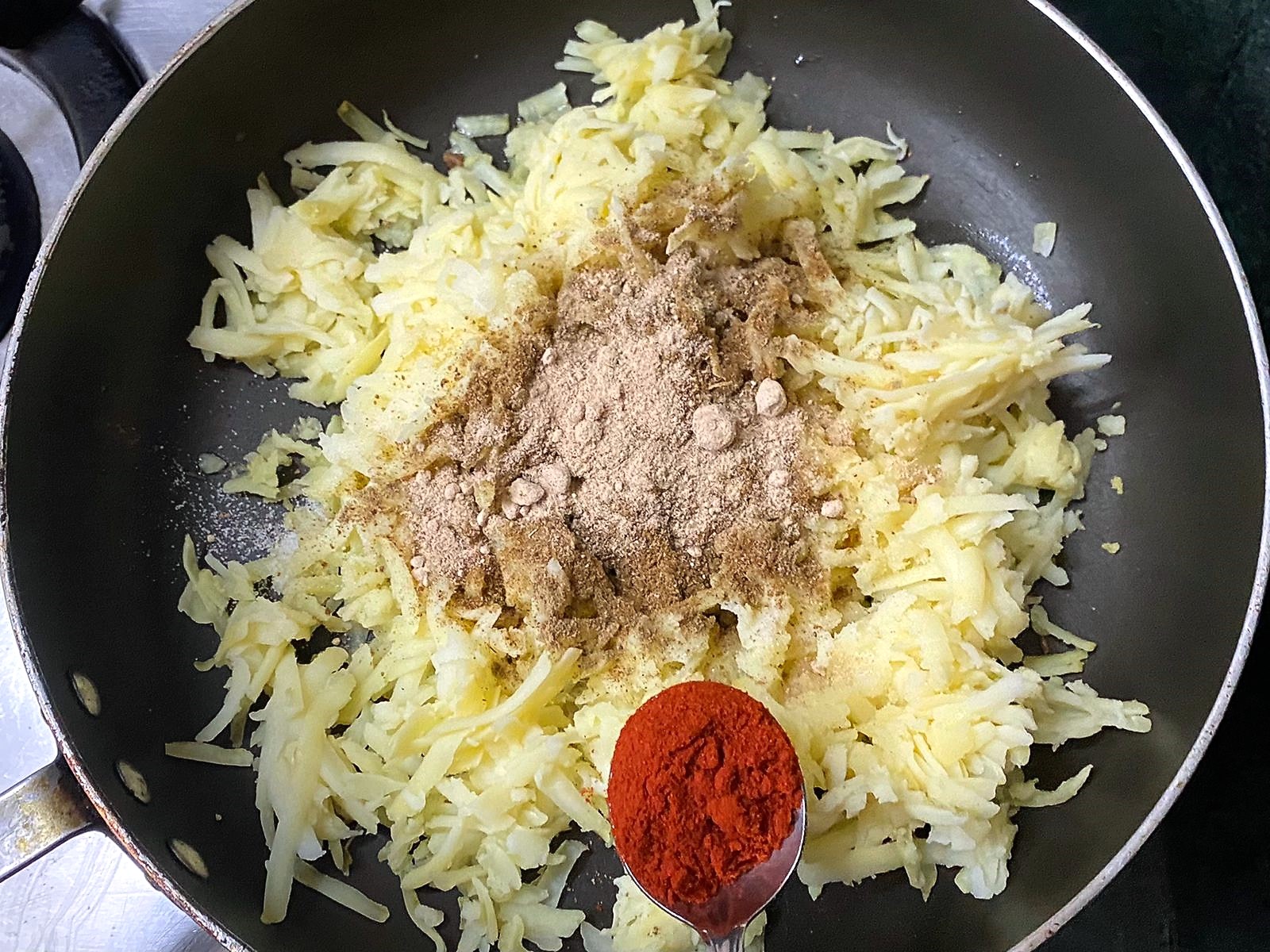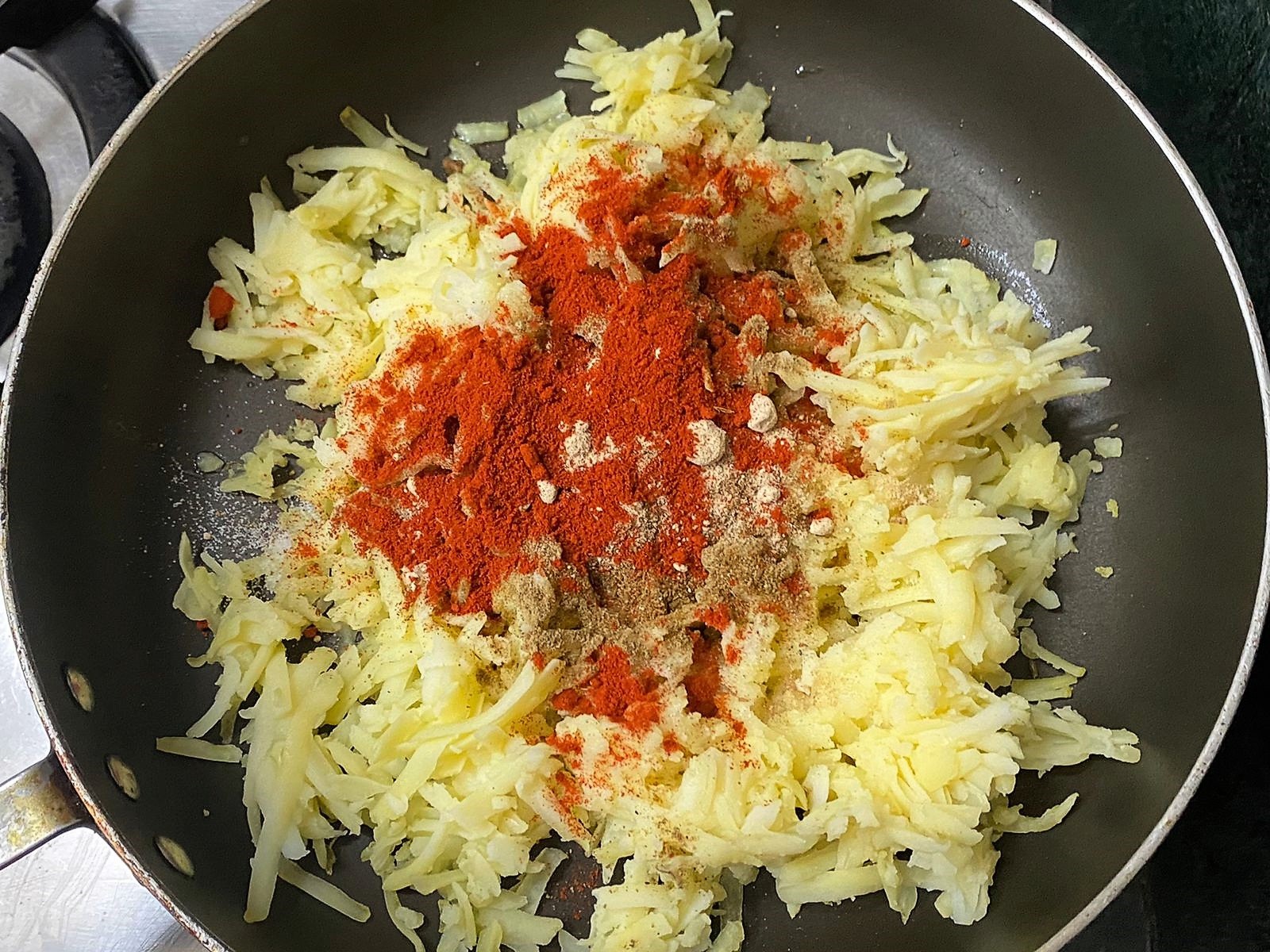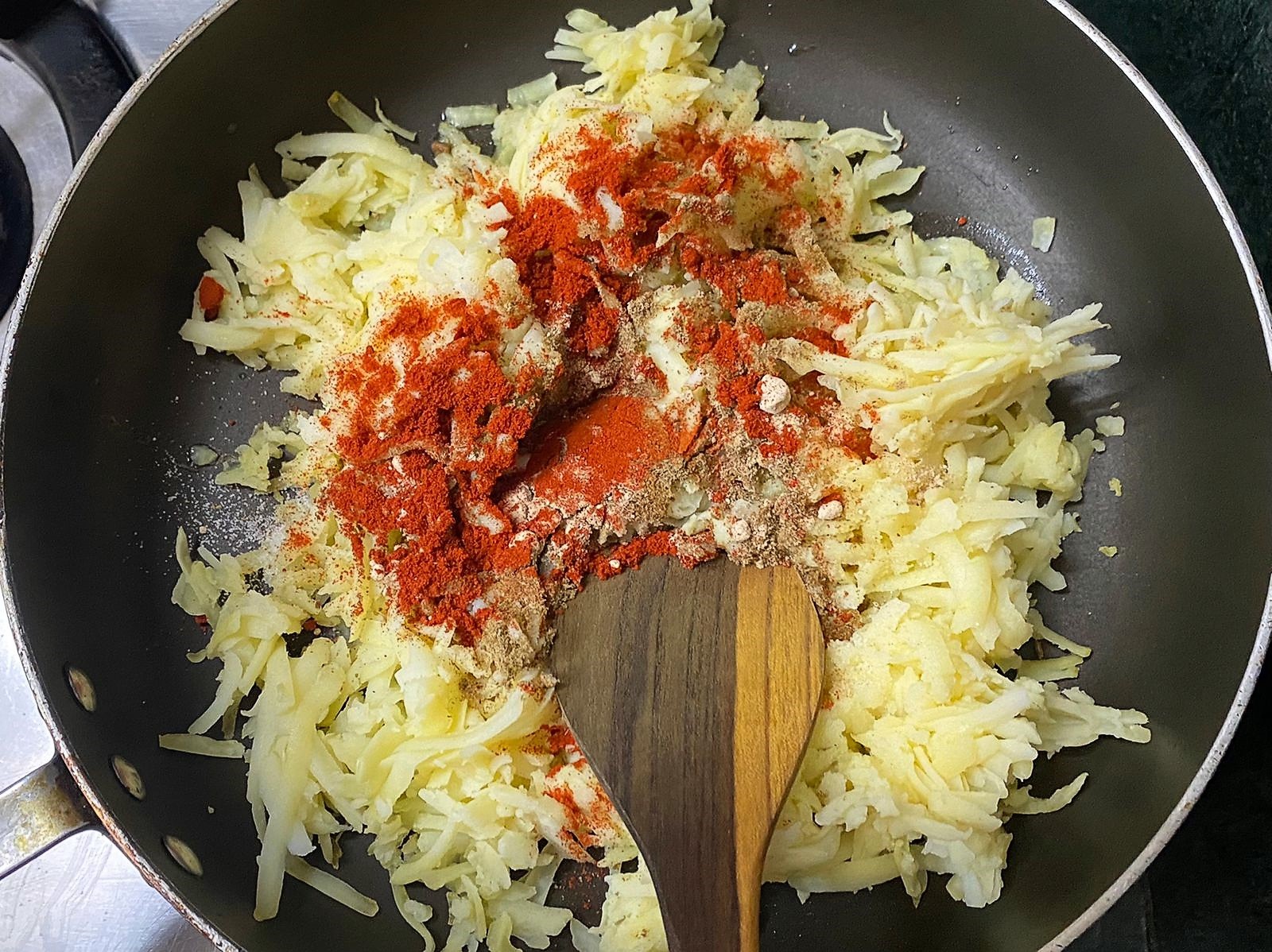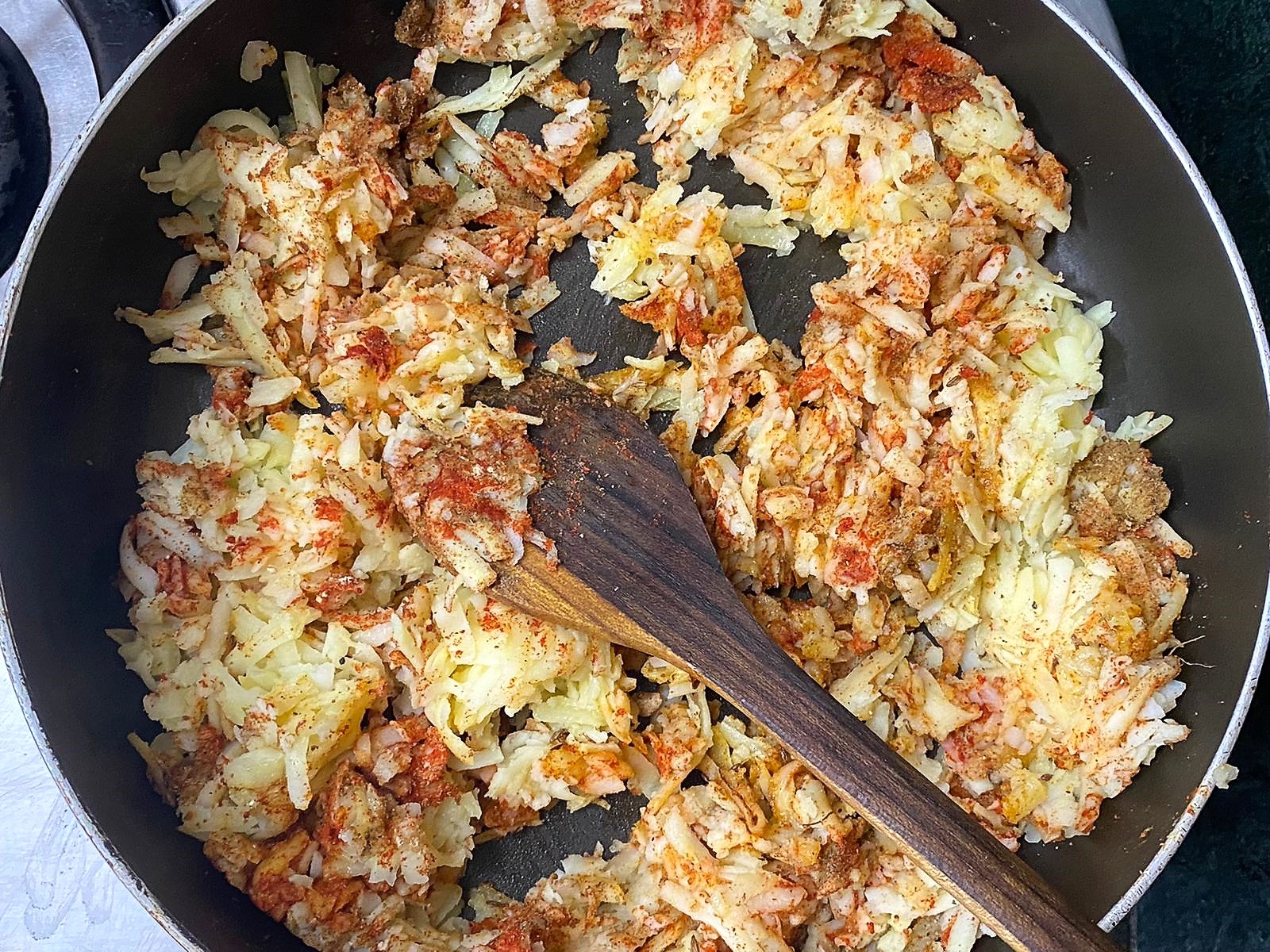 Heat oil in a pan and add cumin seeds and asafoetida. When it begins to splutter and turn golden, add the potatoes, salt, chaat masala, garam masala, cumin powder, mango powder and red chilli powder. Sauté on medium heat for 3-4 minutes.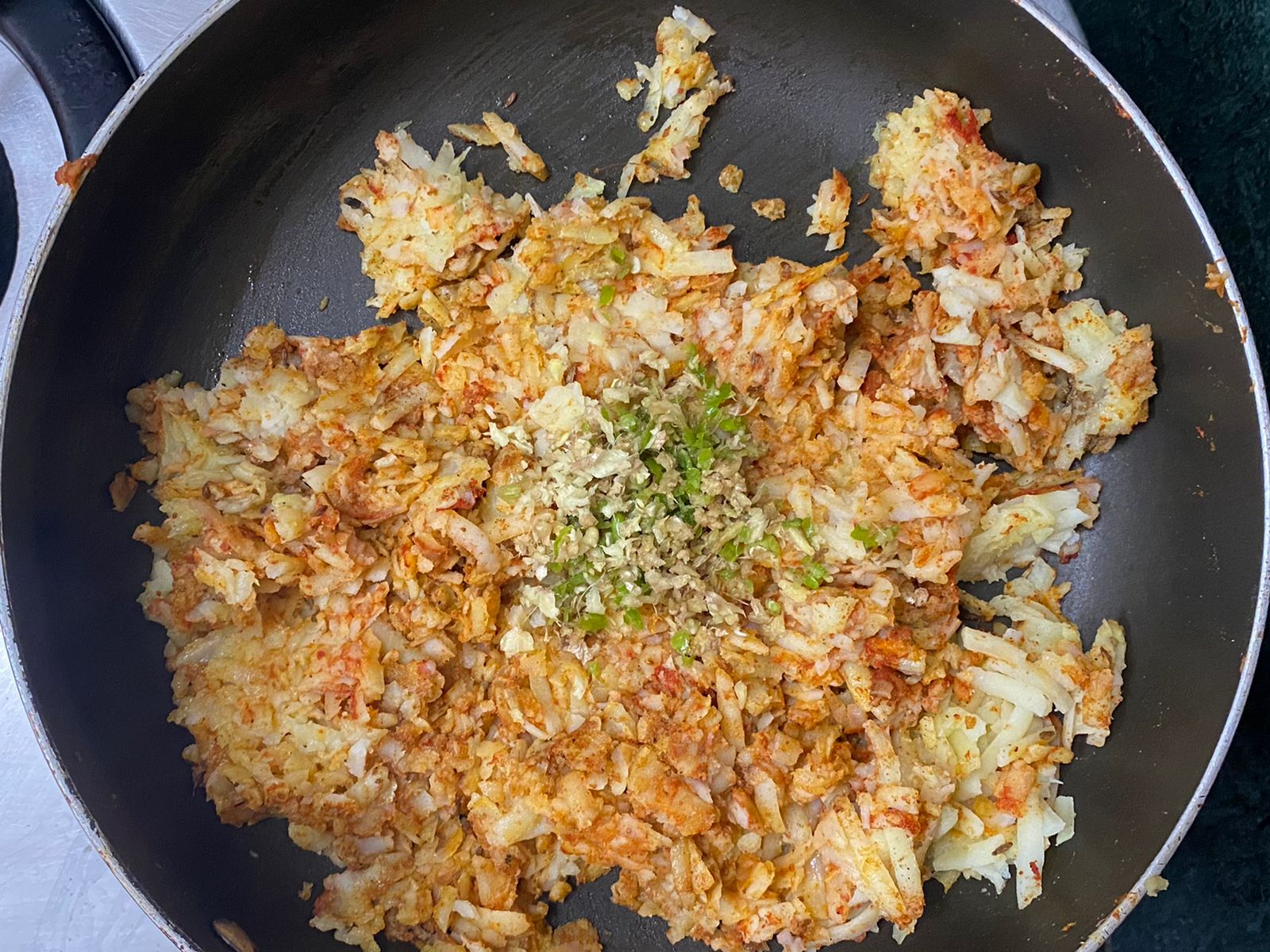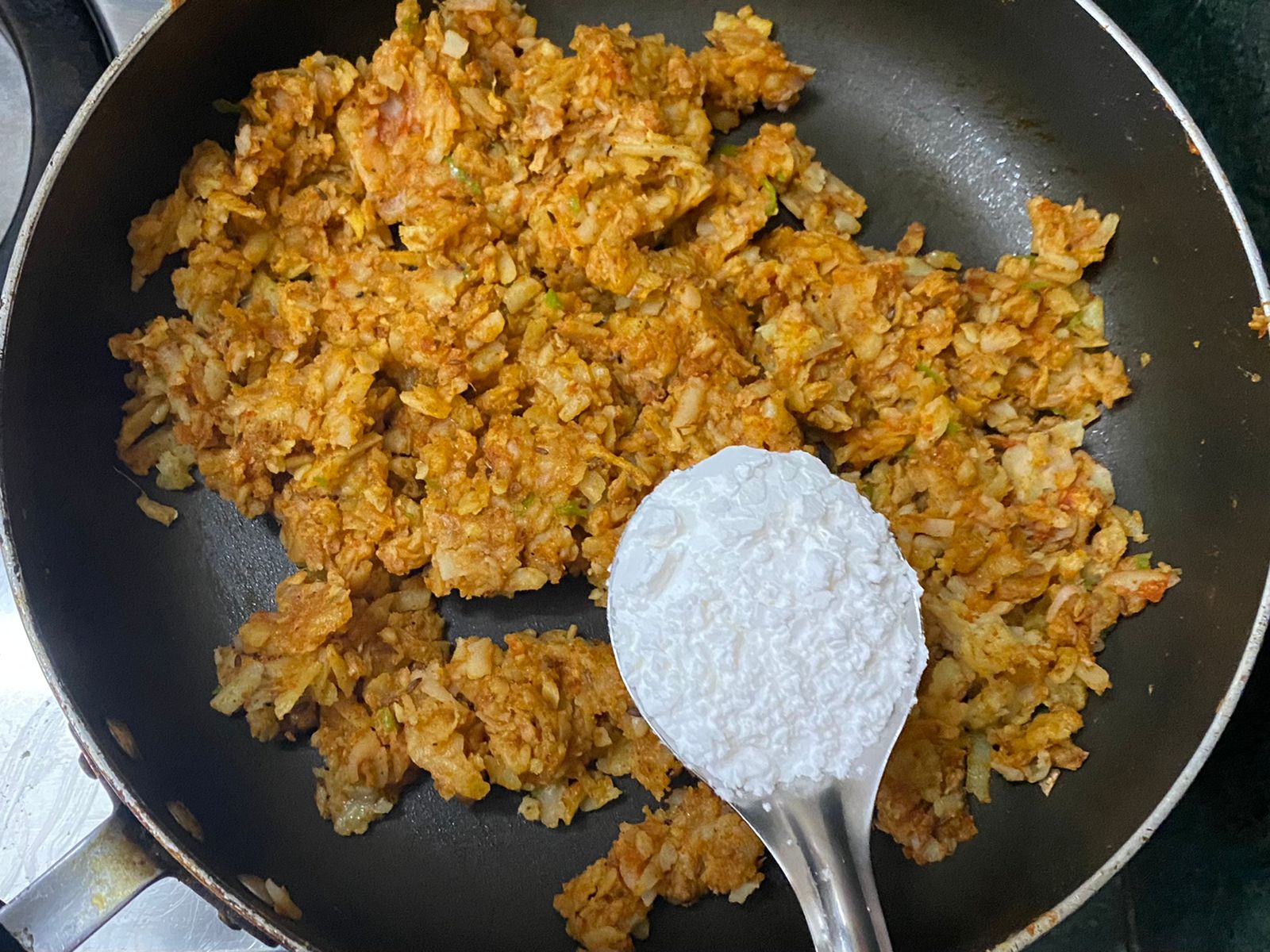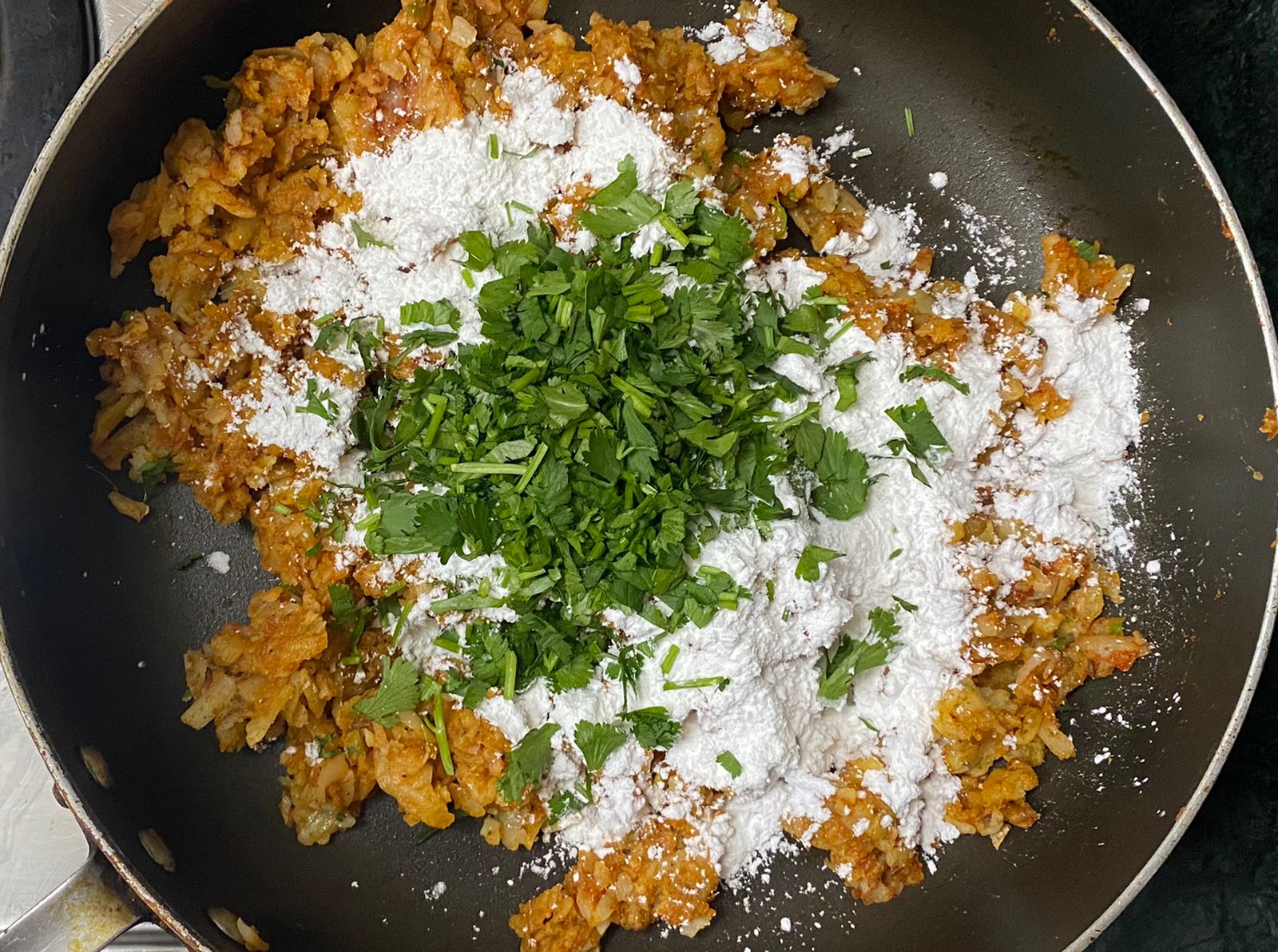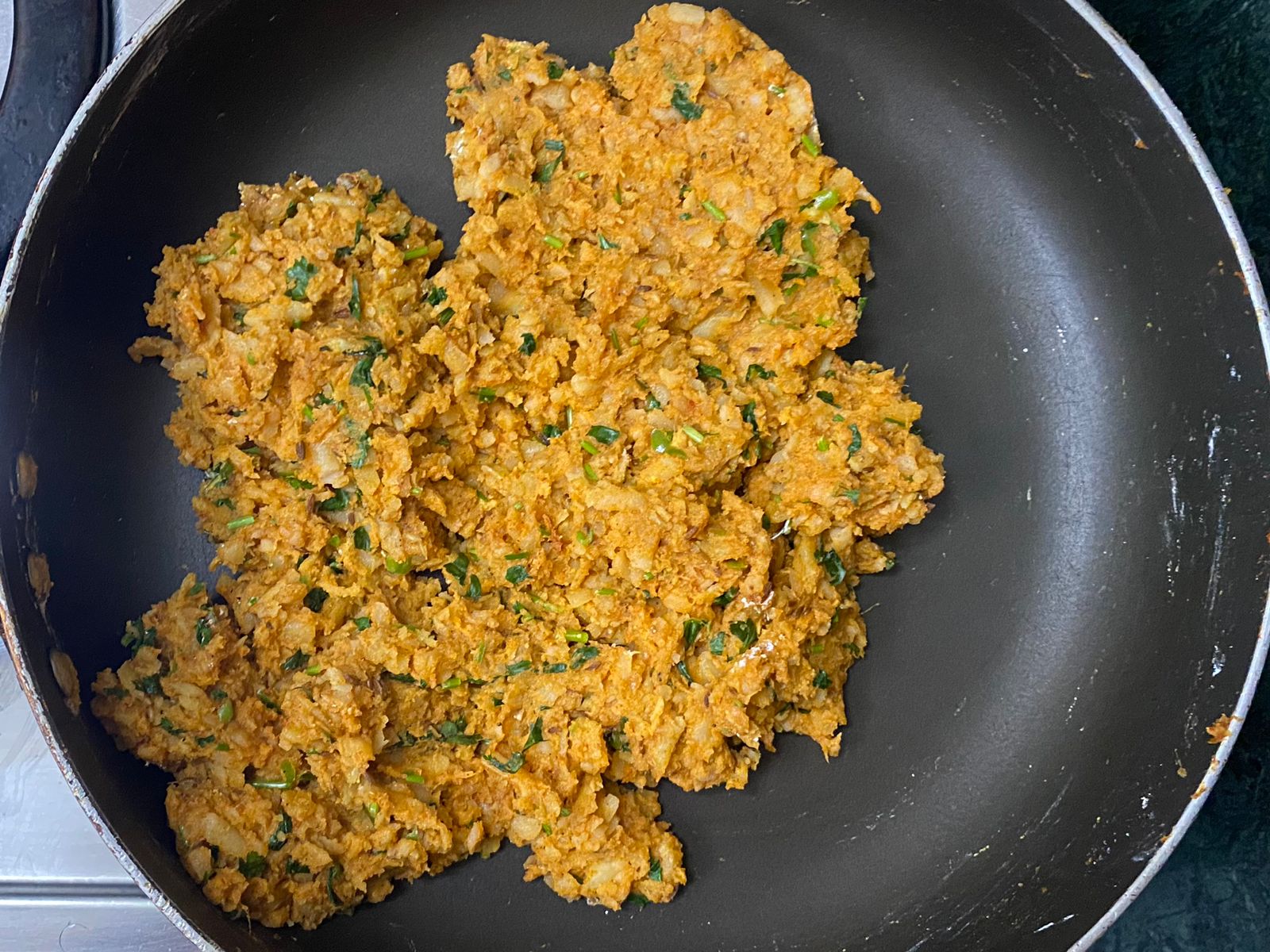 Next add the ginger green chilli, corn flour and coriander and mix.
Turn off the heat and put it aside to cool.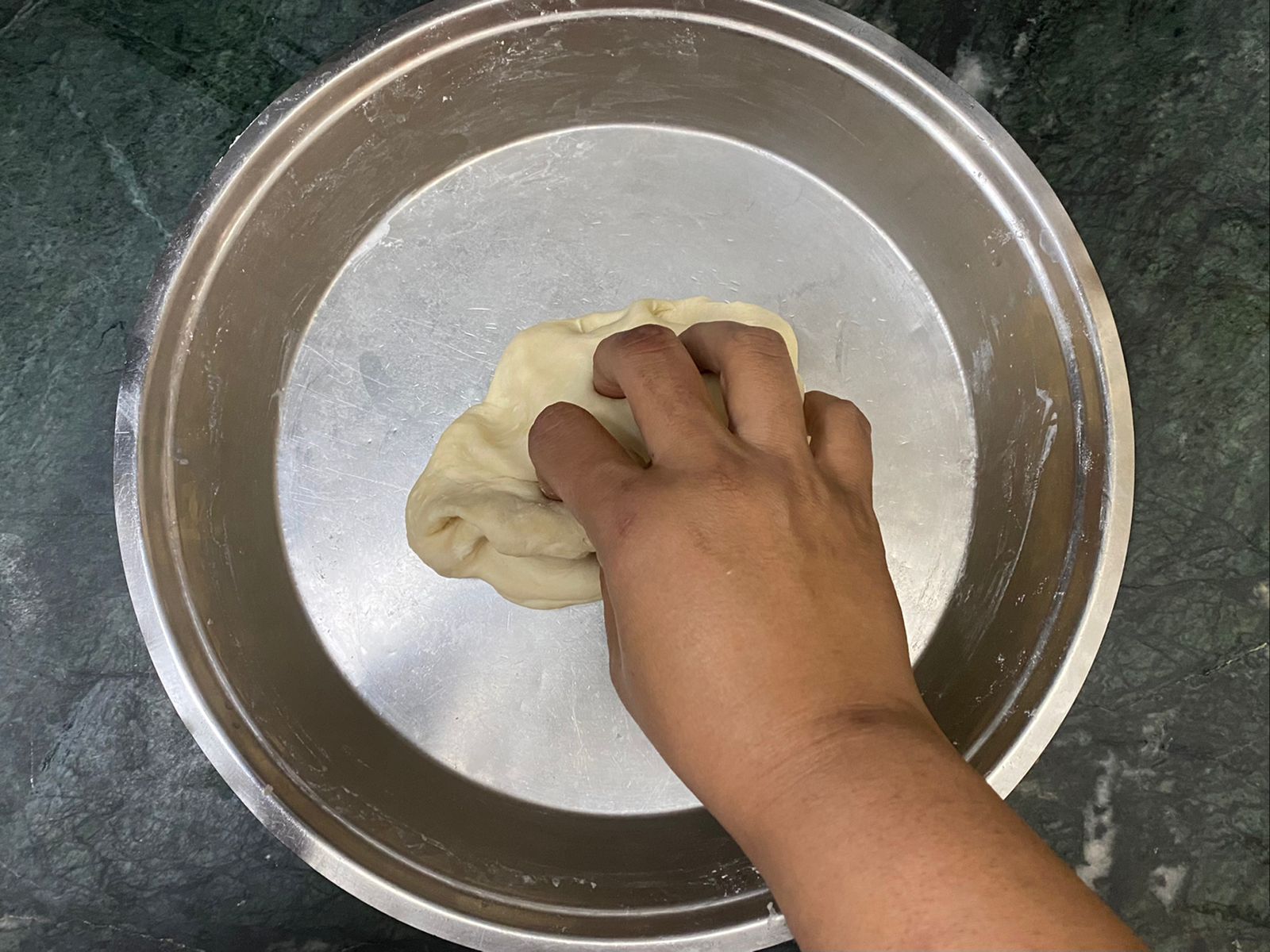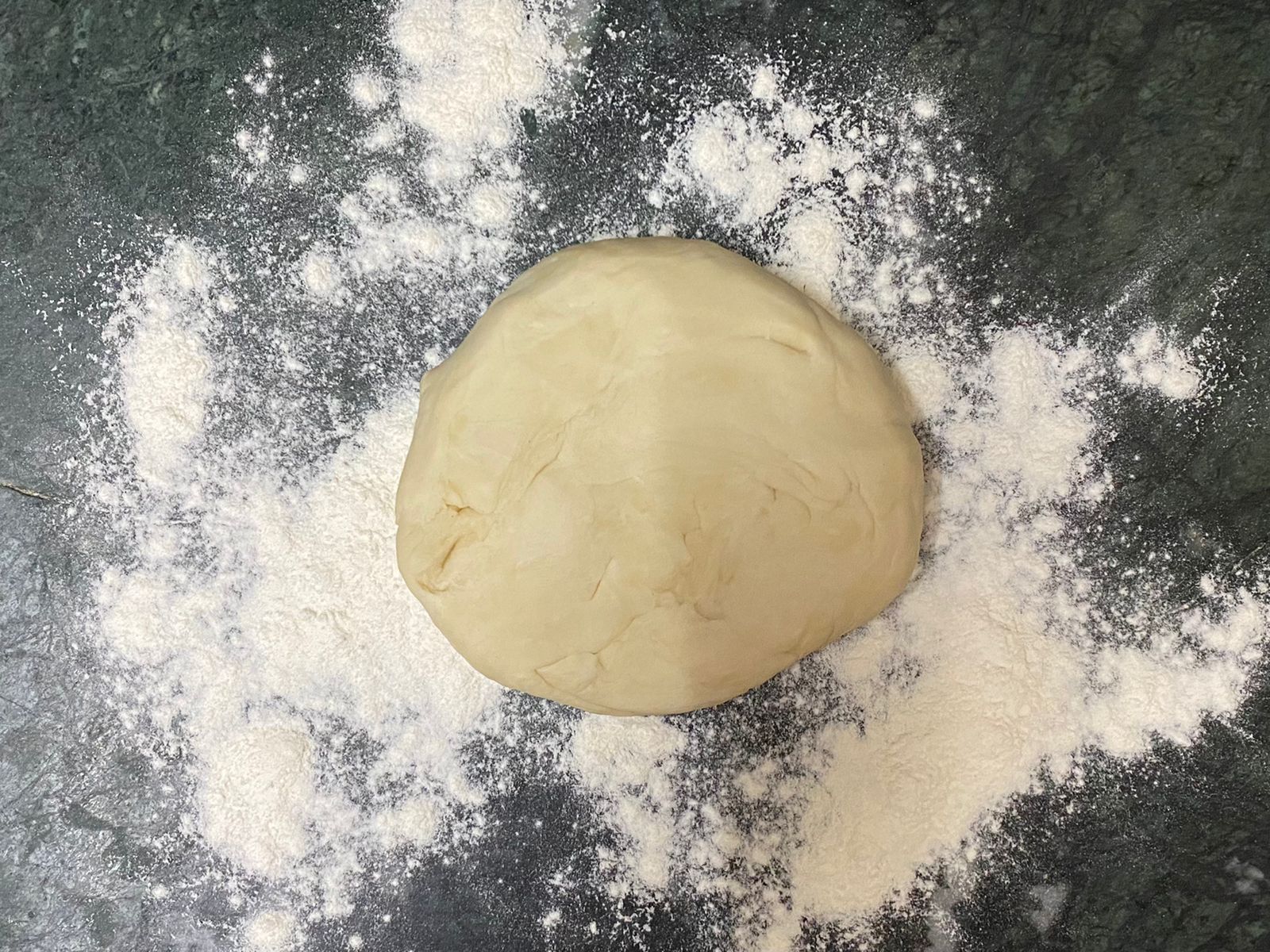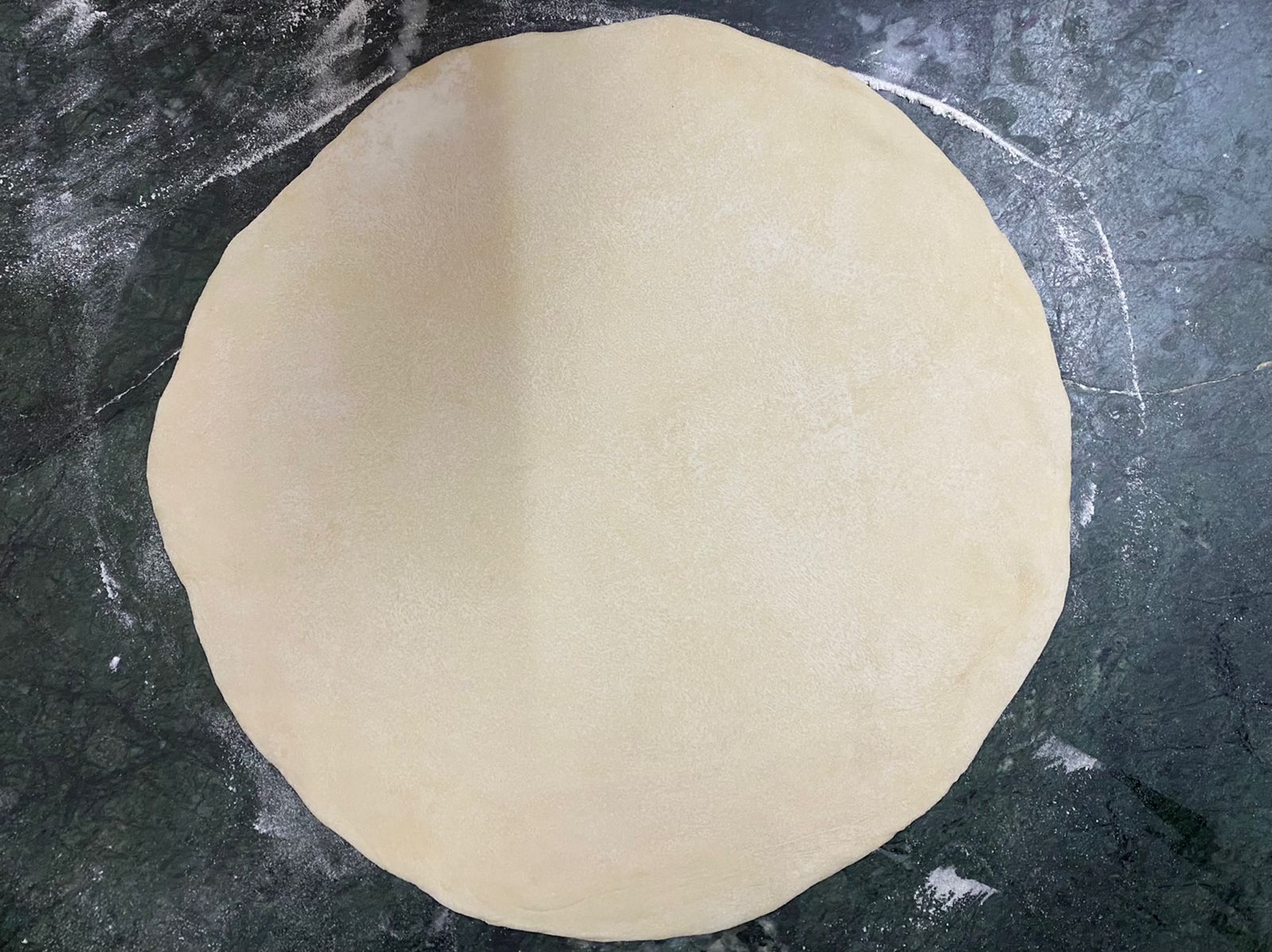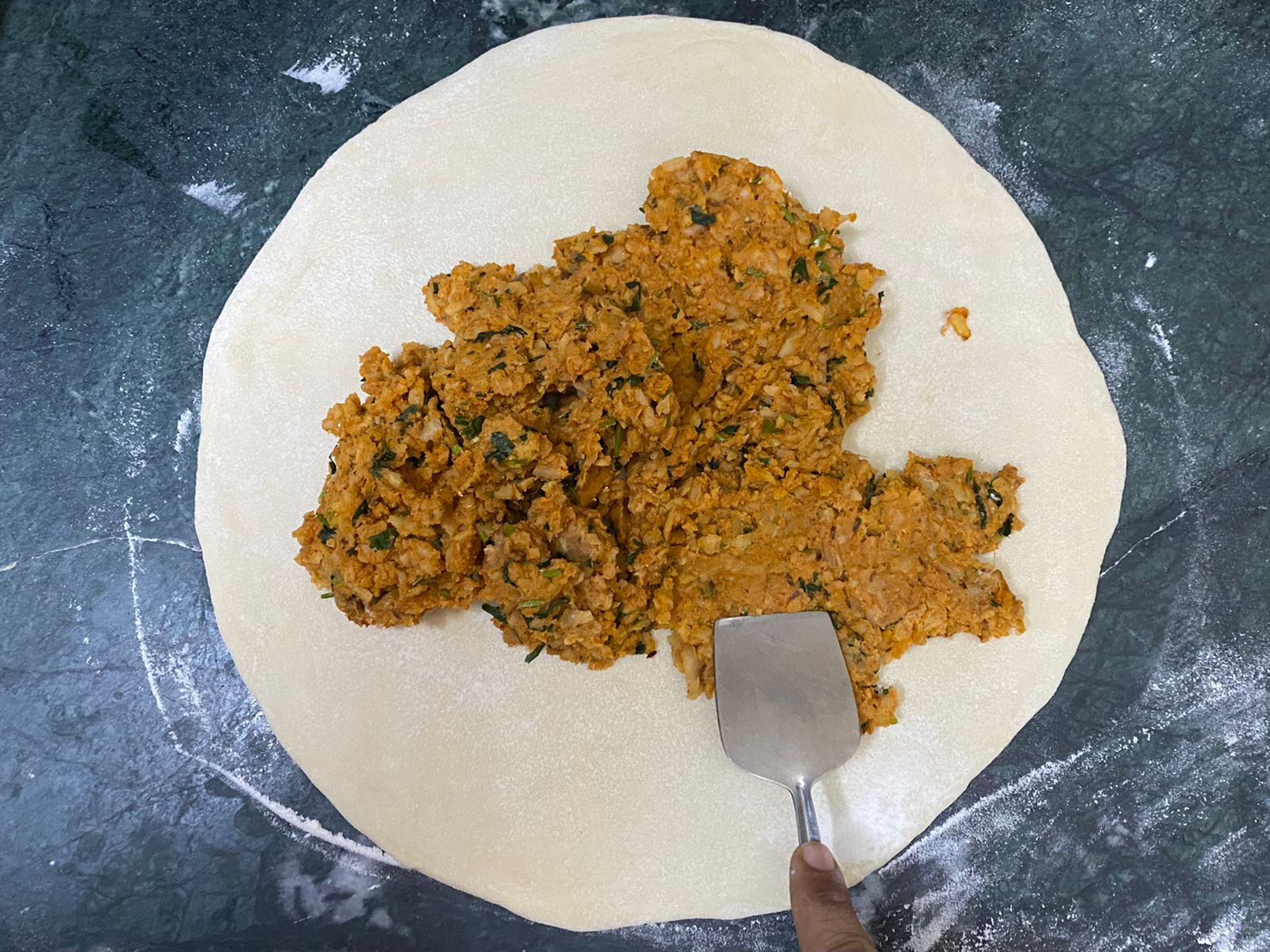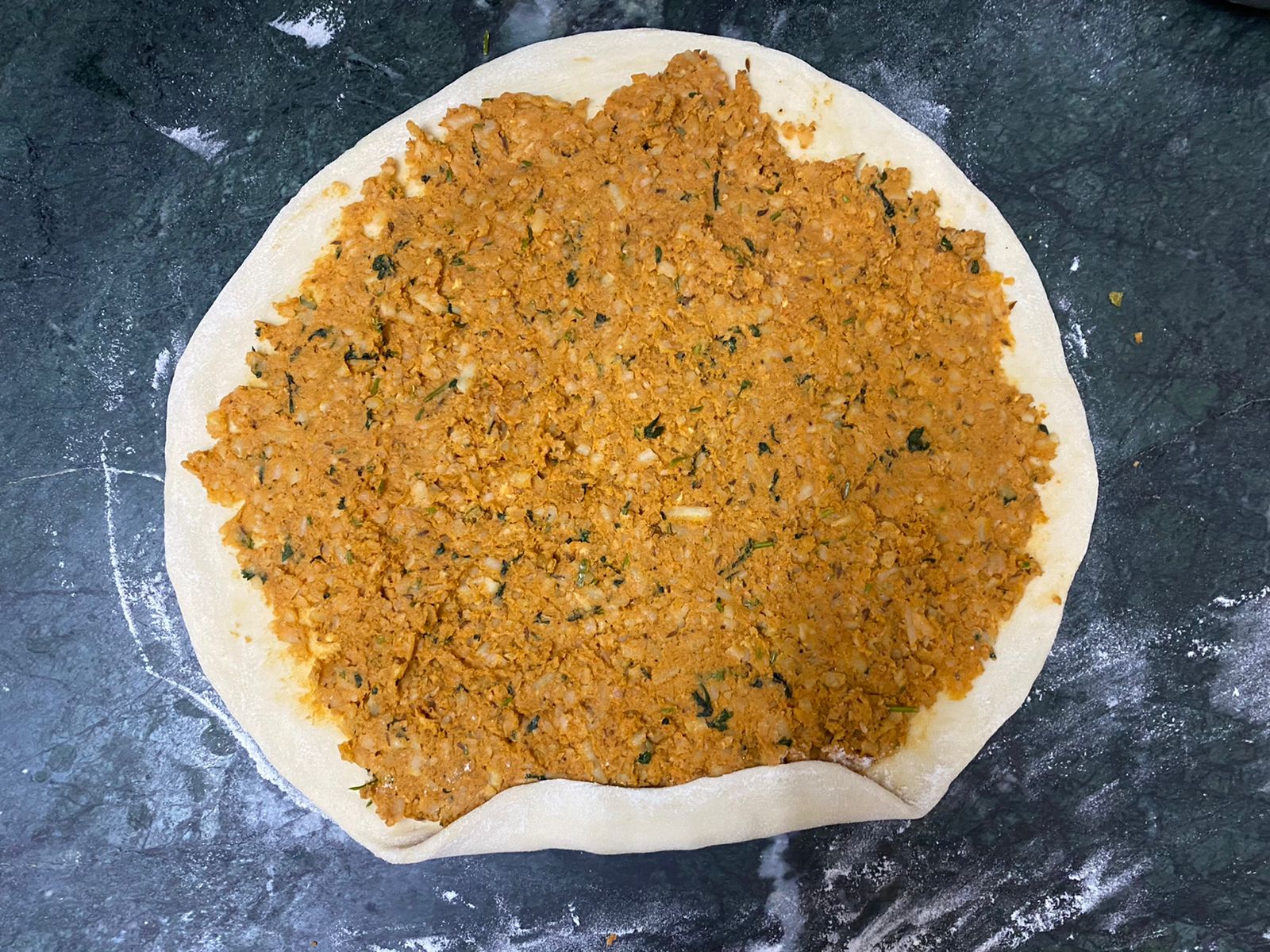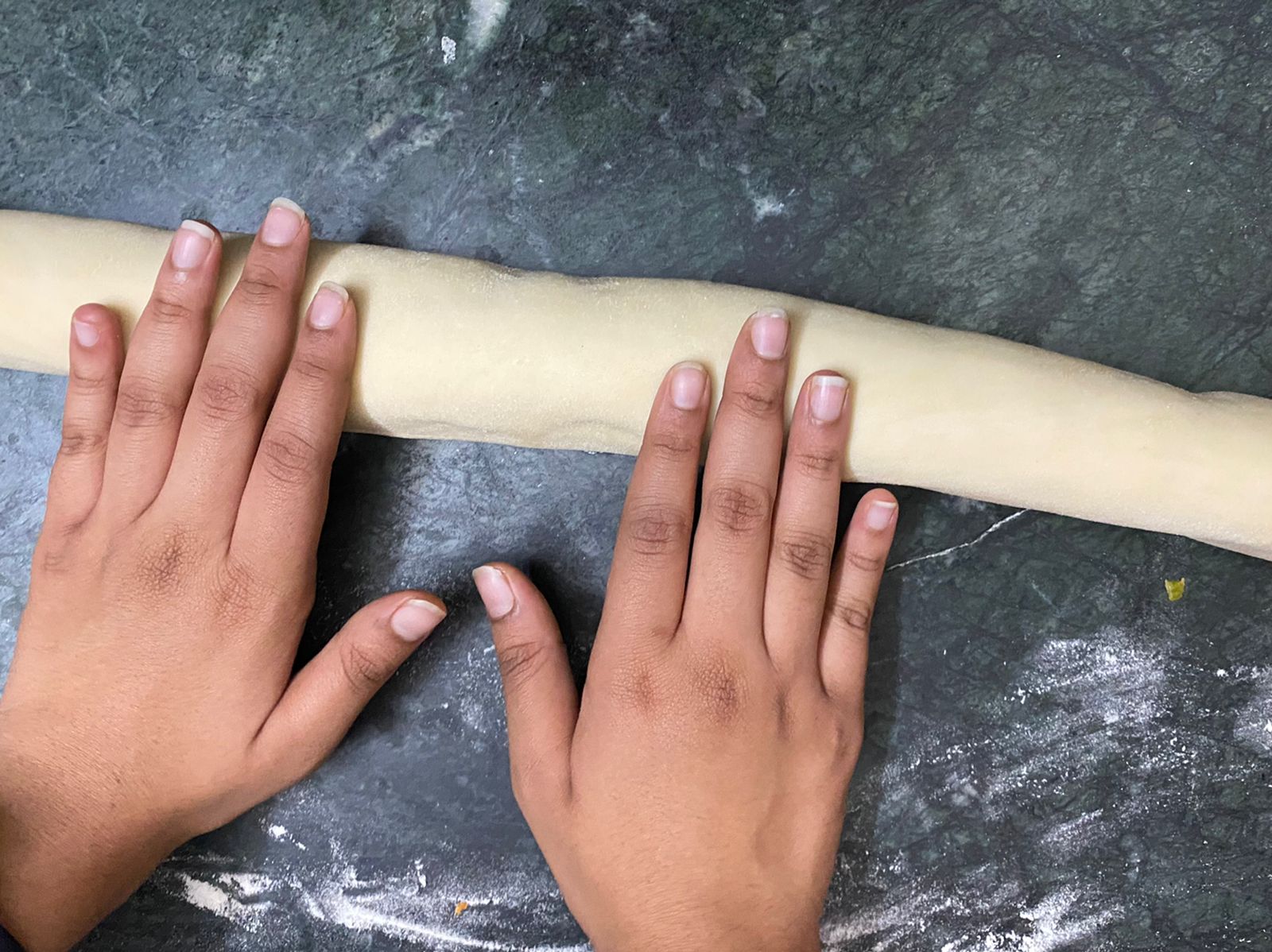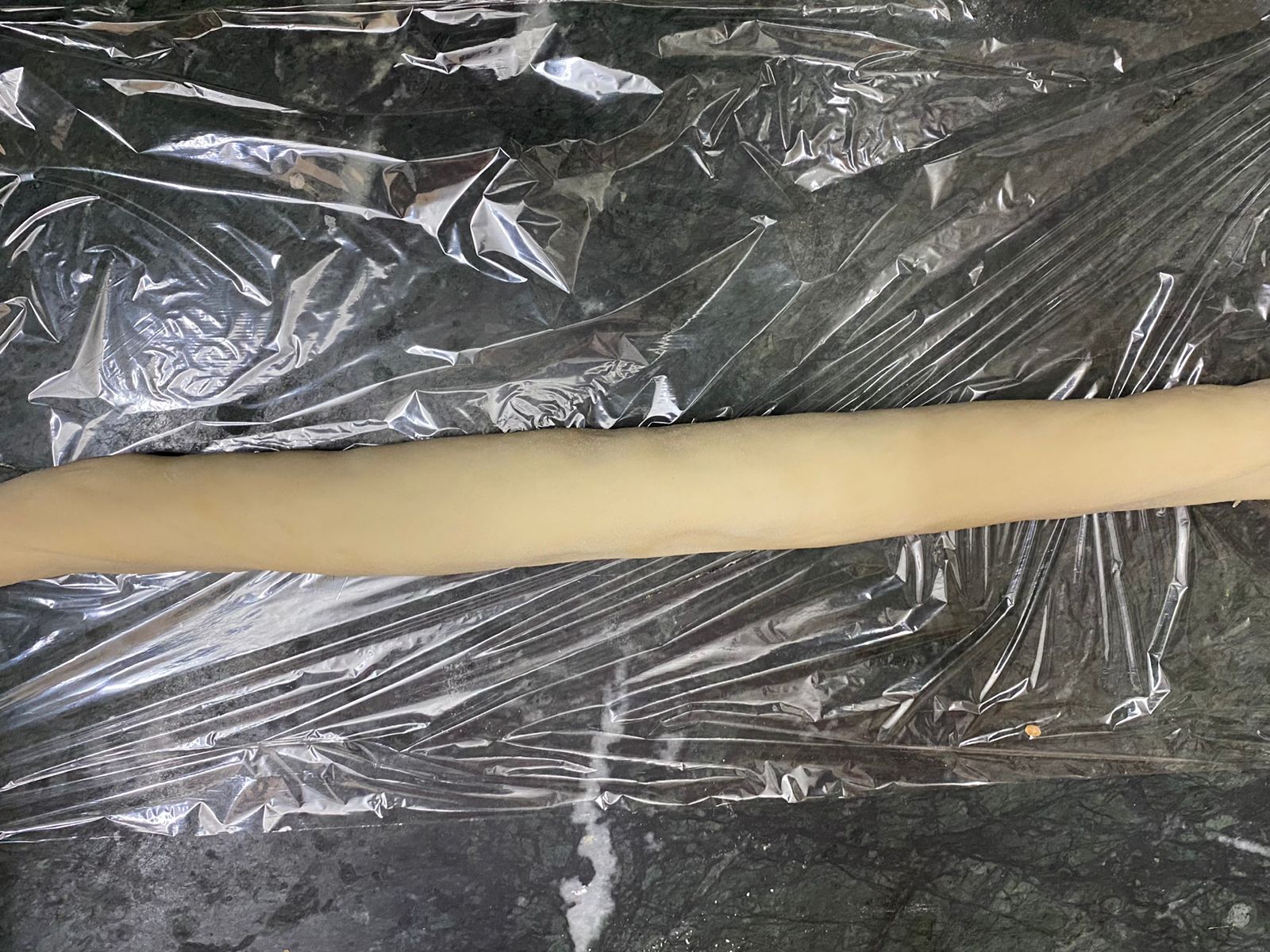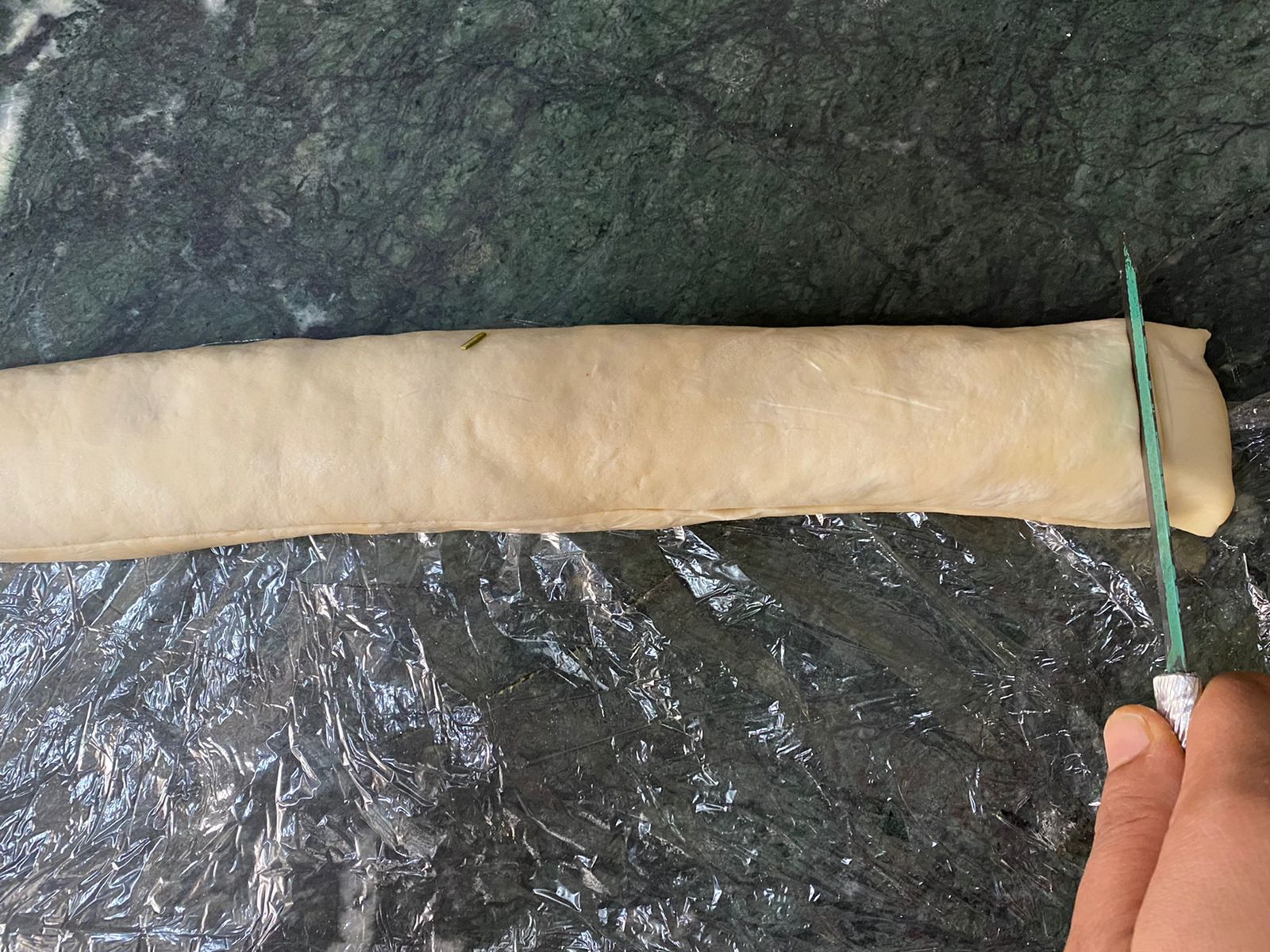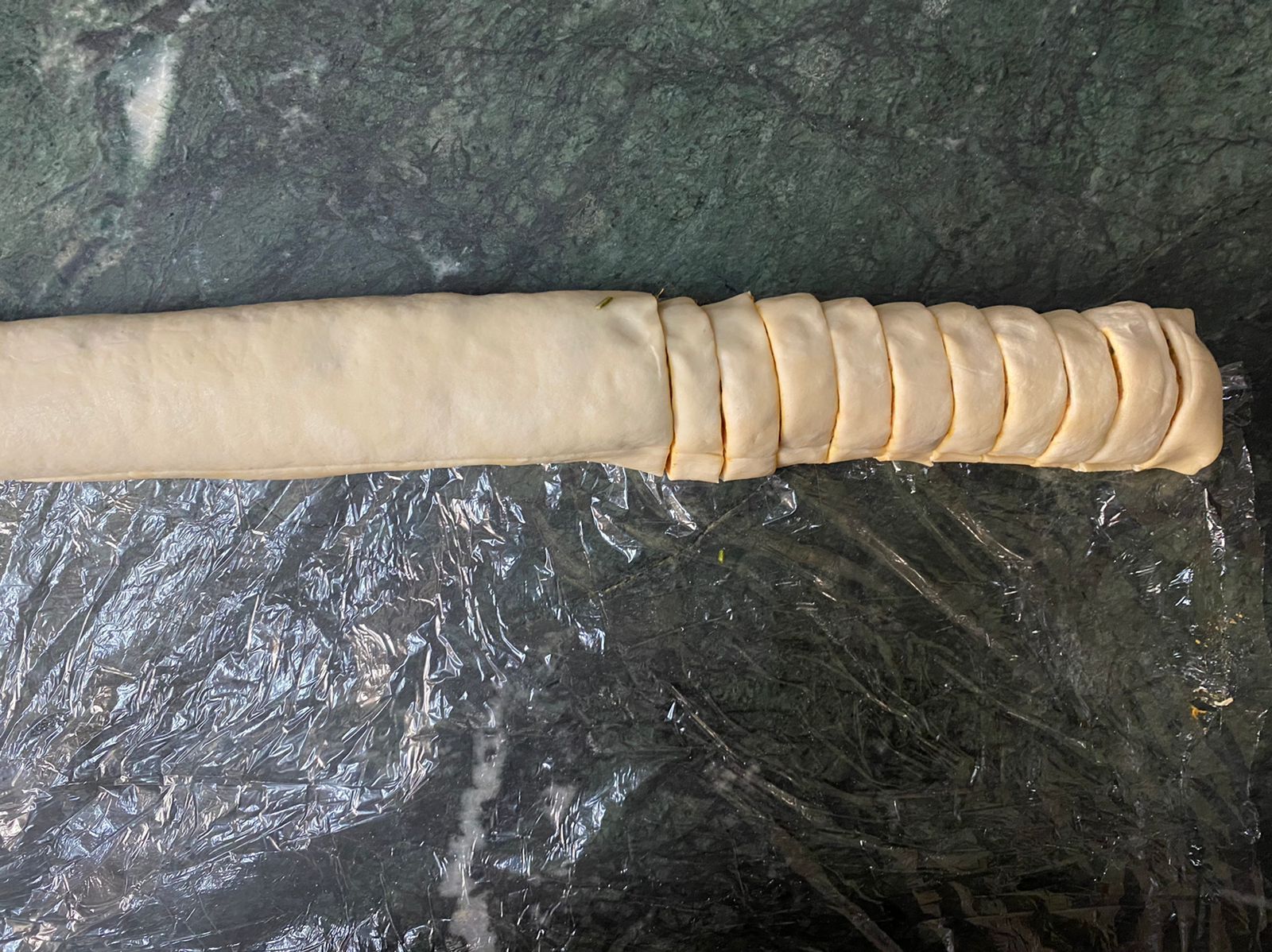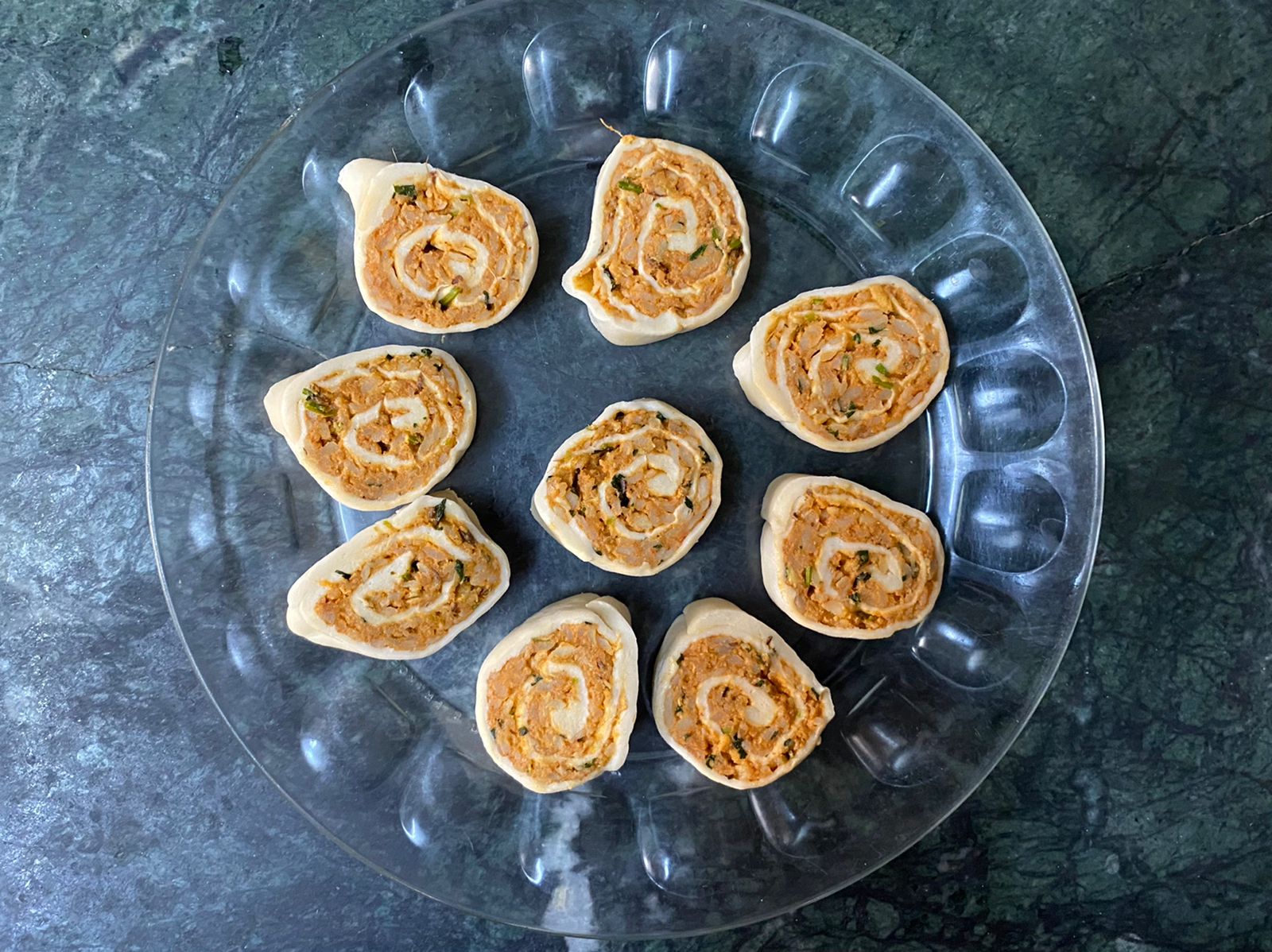 After 30 minutes, after the dough has rested, give it a quick knead.
Flatten and roll out to create a disc of 12-14 inch of around 1.5 mm thickness. Spread the cooled potato filling on the disc leaving the edges of the dough.
Roll it so that there are no air pockets (like seen in picture) and wrap it in a cling wrap. Keep it in the fridge for about 1-2 hours.
After 1-2 hours, using a knife slice the samosas into 1-inch sized pinwheels.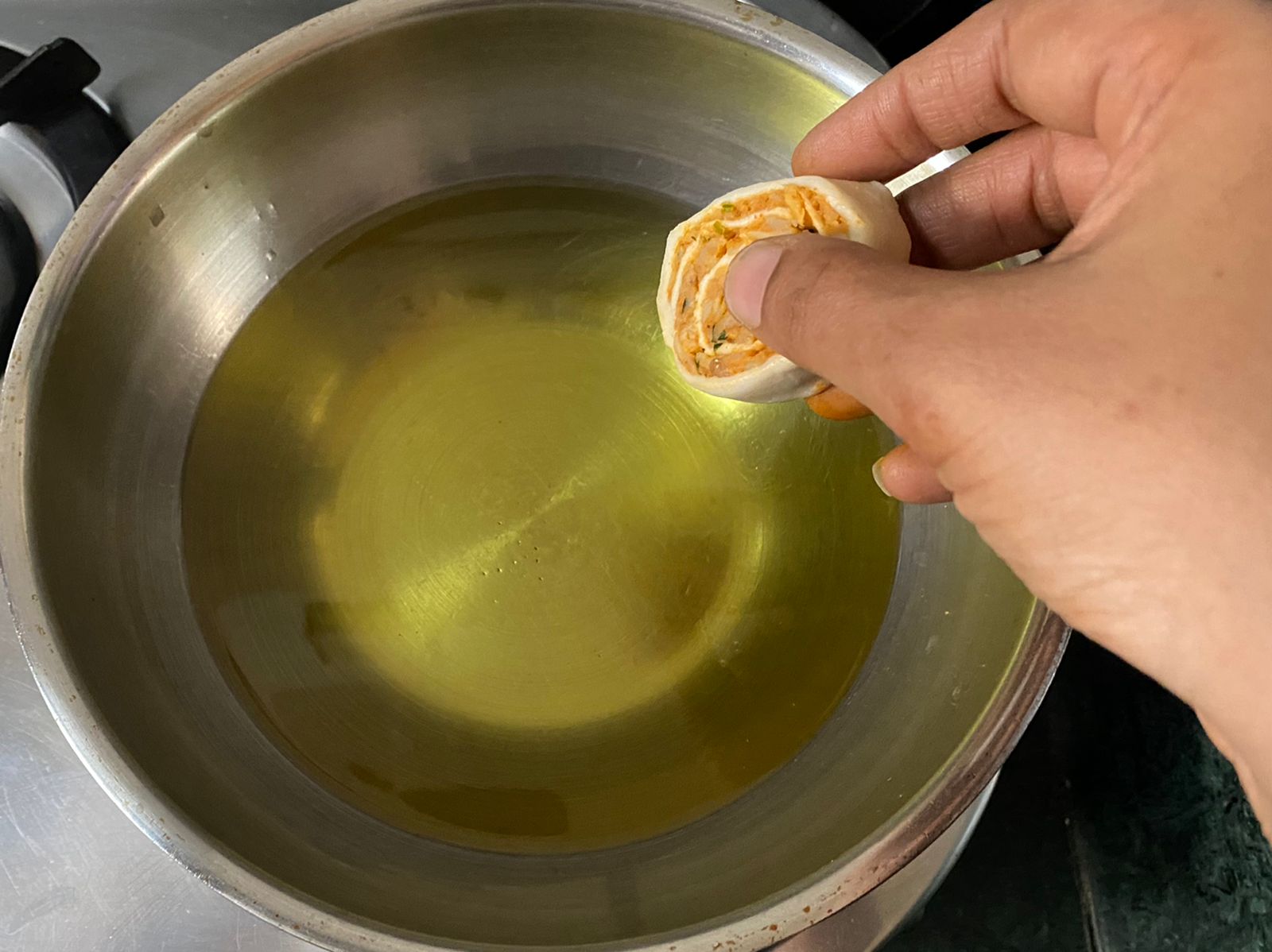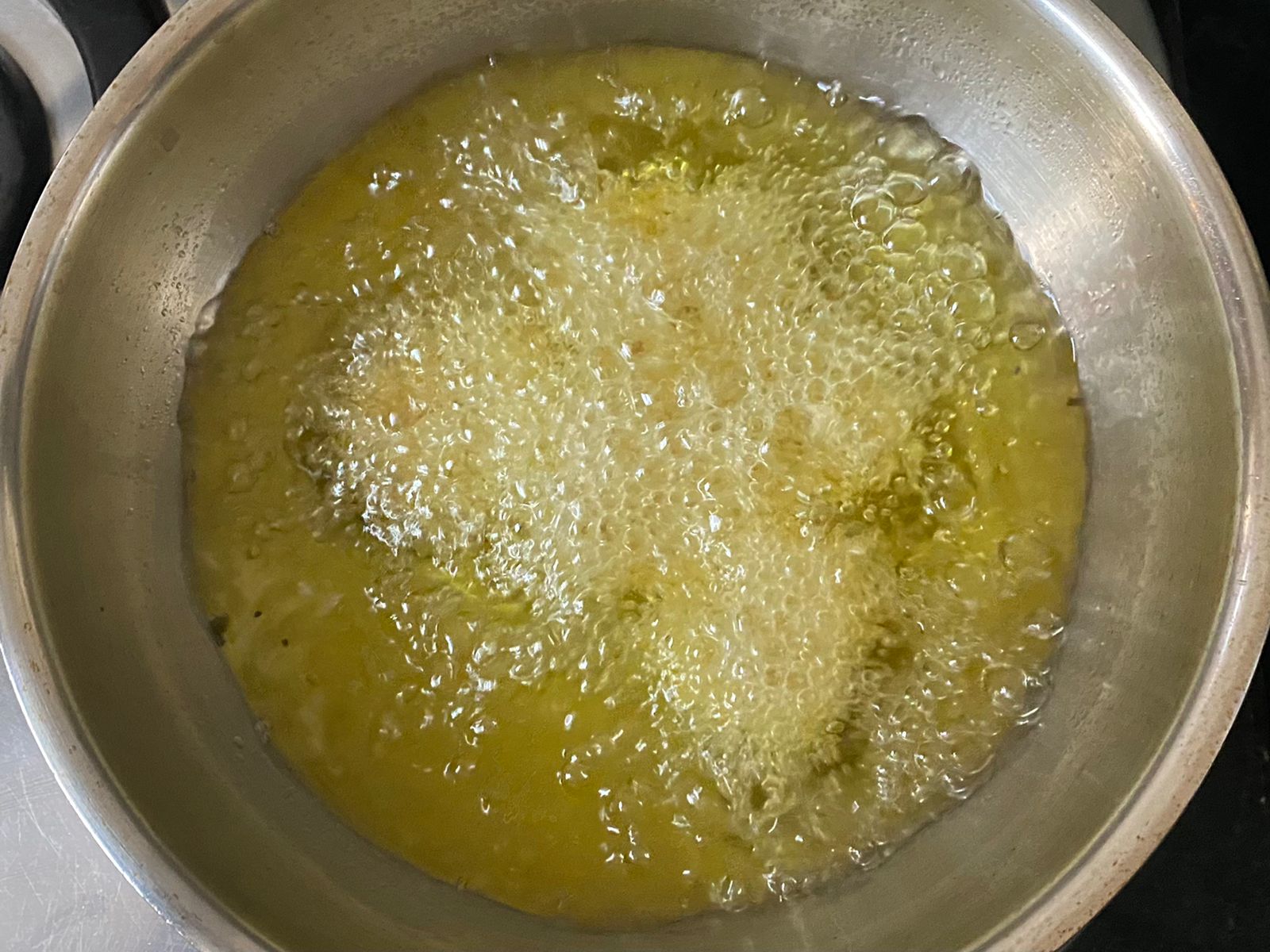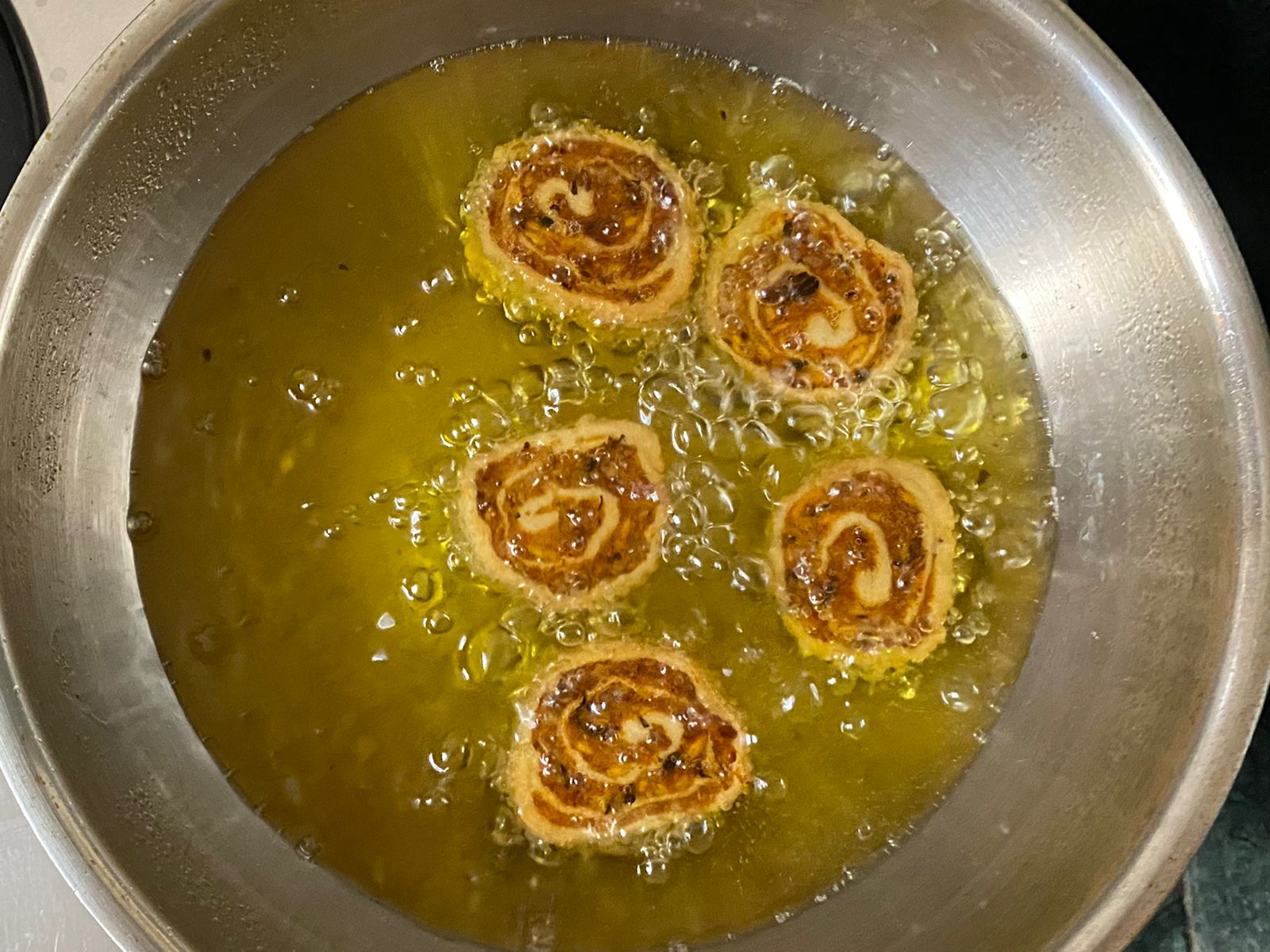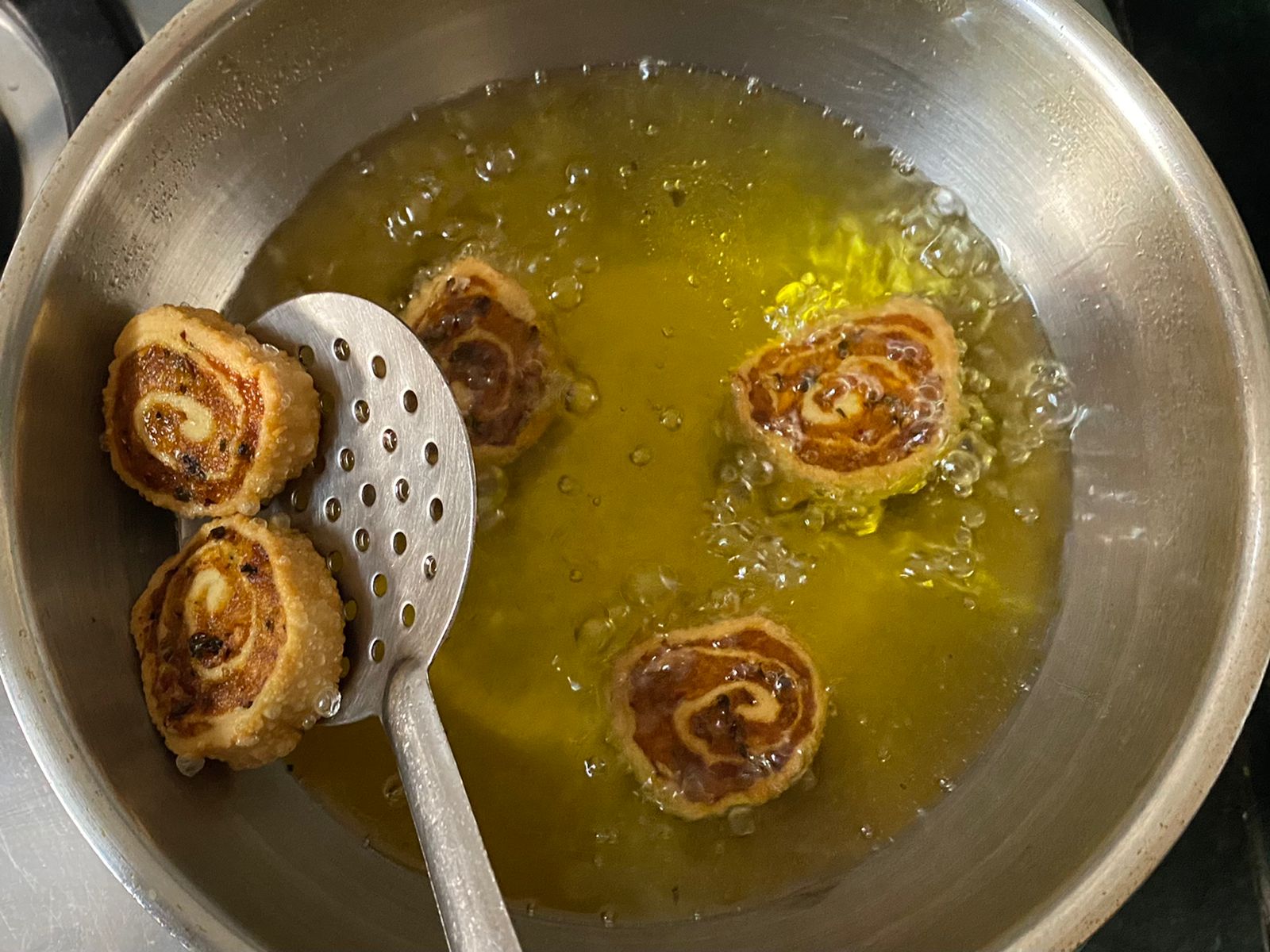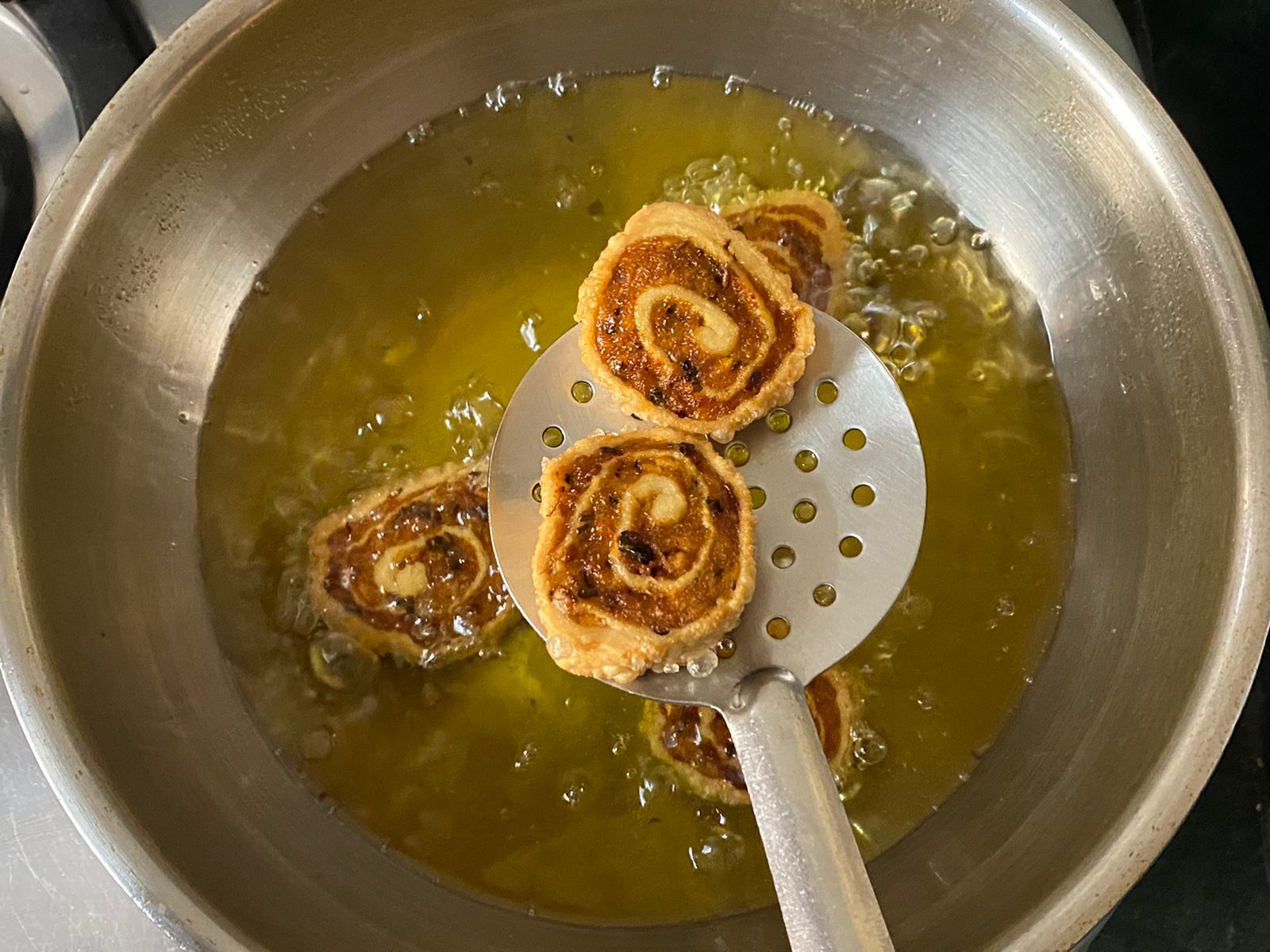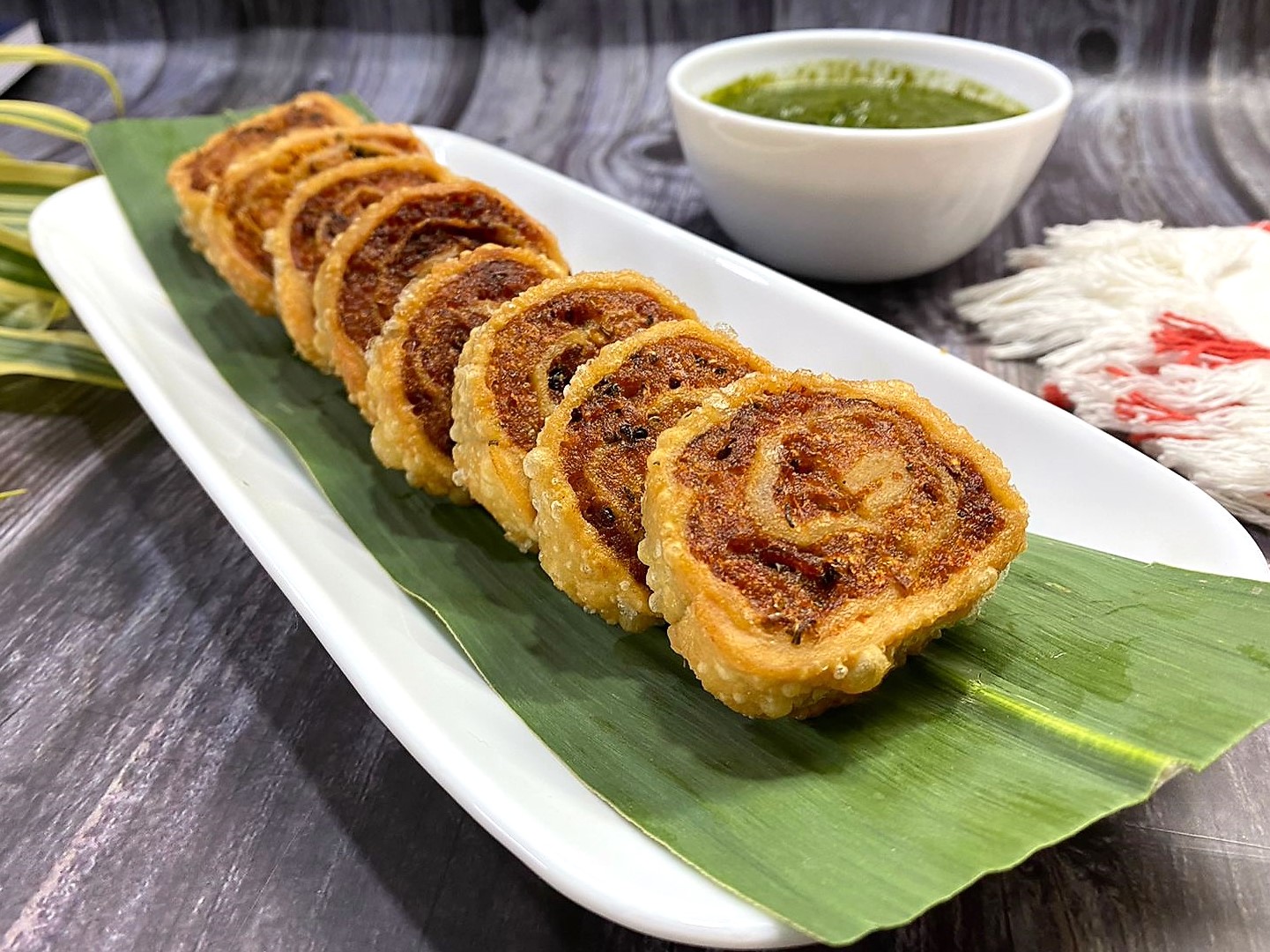 Heat the oil in a pan. To check if the oil is ready, drop a small piece of dough into the oil. It should take a few seconds for it to come up to the surface. That means the oil is ready.
Drop the pinwheel samosas carefully into the oil. Fry on low heat. Once the samosas are light brown in colour (around 8-10 minutes) then increase the heat to medium and fry till samosas are golden brown. Once you finish frying one batch, lower the heat again to low and wait until the temperature of the oil drops and then add the second batch.
Serve hot with green chutney!