Thai Sweet Corn Fritters (Tod Man Khao Pod)
Thai sweet corn fritters are called 'Tod Man Khao Pod' in Thai. They are the BEST corn fritters ever!
In Thailand, these corn fritters are served fresh by the street vendors where they are fried up in huge batches. Few years ago, I had the opportunity to travel to Thailand for holiday and I savoured the most delicious sweetcorn fritters. They were light, airy and crispy!
I know that lot of people advocate adding egg while making fritters however, it is made with rice flour and cornflour as it gives the fritters lighter touch. I learnt how to make these fritters while I was travelling in Thailand.
There is something satisfying about eating these crispy fritters. They are sweet from the sweetcorn, crispy from cornflour and have a hit of Thai spices. They are soo moreish that you will not be able to stop at one.
Super quick and easy to make! The batter takes only minutes to put together, fry spoonful's in hot oil and you will have the yummiest savoury fritters ever. It is a super easy dish that is terrific as an appetizer, snack, or finger food for a party.
Oh! I just love these fritters! Give me a big bowl of these fritters with a Thai sweet chilli dip and I am in food heaven!
If you like South Asian food, I would highly recommend trying Paneer in Pandan Leaves, Thai Cod in Pandan Leaves, Thai Pandan Leaf Chicken, Thai Corn Rice Parcels, Vietnamese Spring Roll/ Goi Cuon, Singaporean Prawn Laksa and Burmese Khow Suey to name a few dishes.
Ingredients
2-3 fresh sweet corn cobs (1.5 cups sweetcorn)
1 teaspoon galangal/ginger
1 teaspoon chopped lemon grass
1 garlic clove
¼ red onion
1-2 fresh chilli
1-2 kaffir lime leaves
1 teaspoon cumin seeds
1 teaspoon coriander seeds
1 tablespoon coriander stems
½ teaspoon baking powder
½ cup rice flour
½ cup cornflour
Salt to taste
2 tablespoons finely chopped spring onions
1-2 teaspoons black sesame seeds (optional)
oil for frying
Directions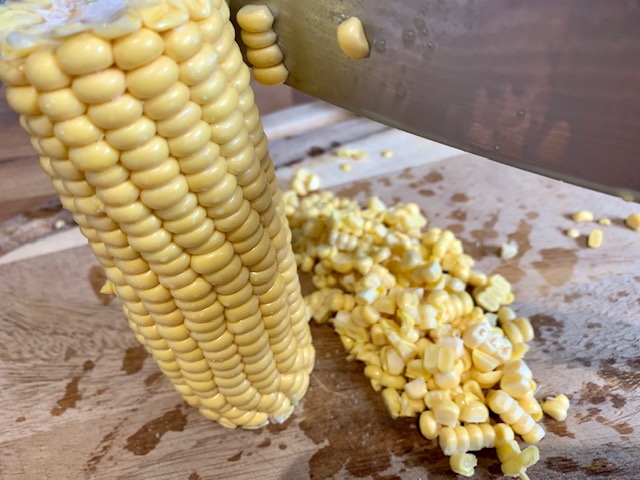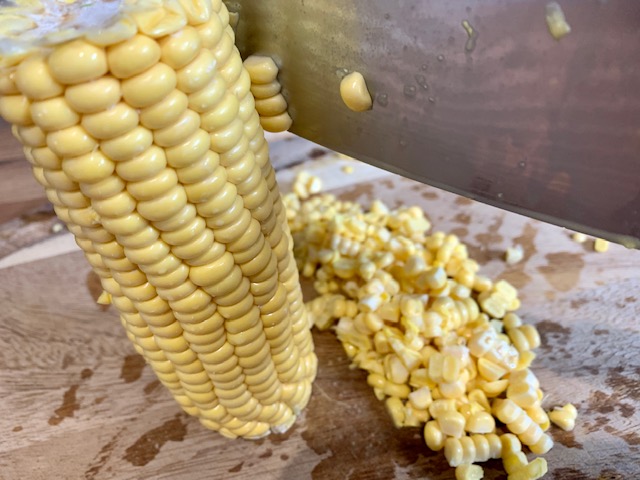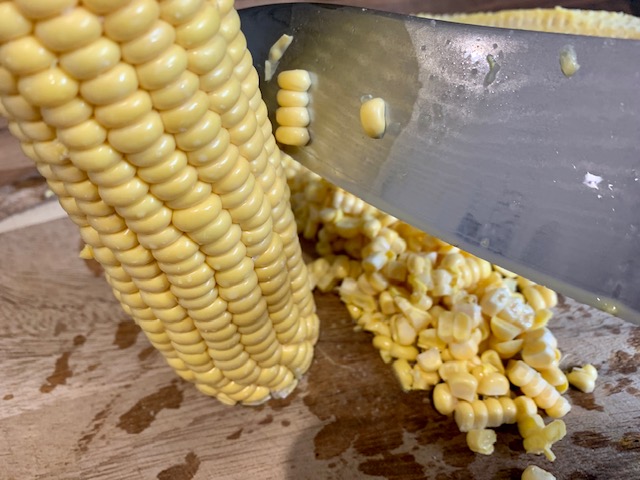 Remove corn kernels from cobs using a sharp knife. You need around 1.5 cups of corn kernels.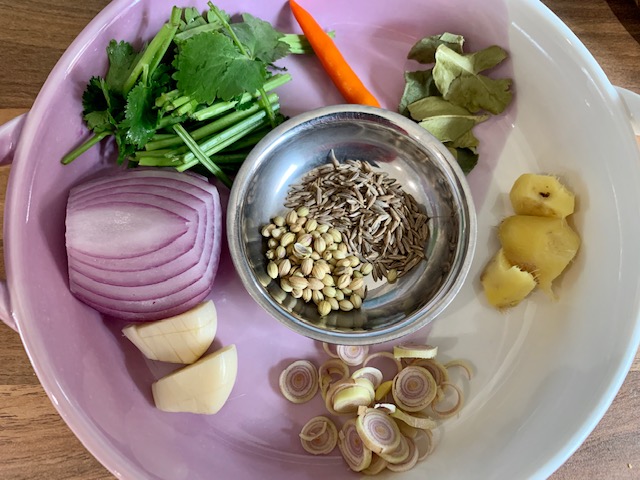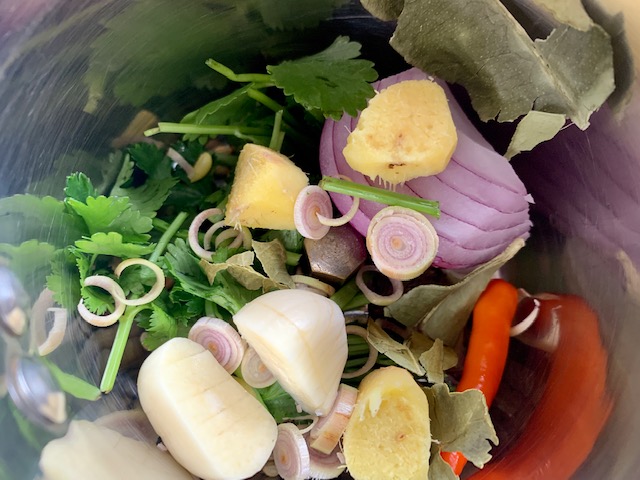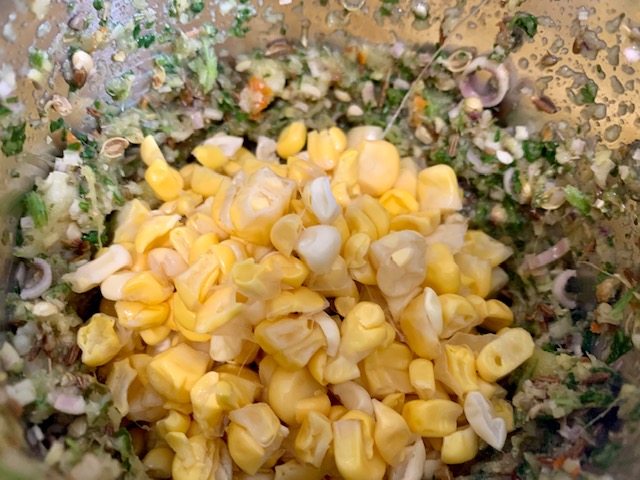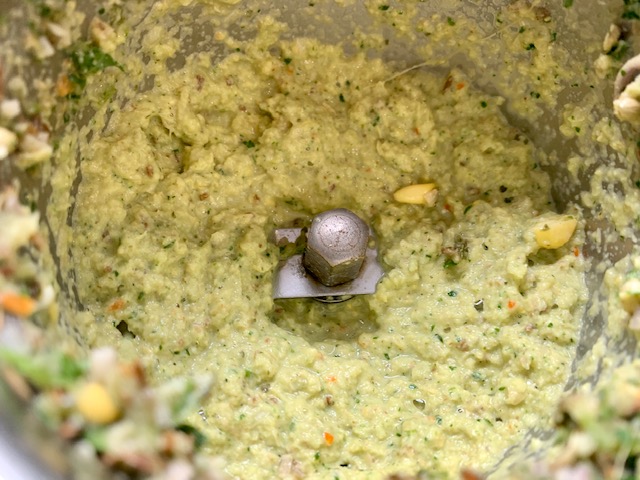 Grind ginger, lemon grass, garlic, red onion, chilli, kaffir lime leaves, cumin seeds, coriander seeds and coriander stem to make Thai curry paste.  I added couple of tablespoons of sweetcorn to make a paste instead of water.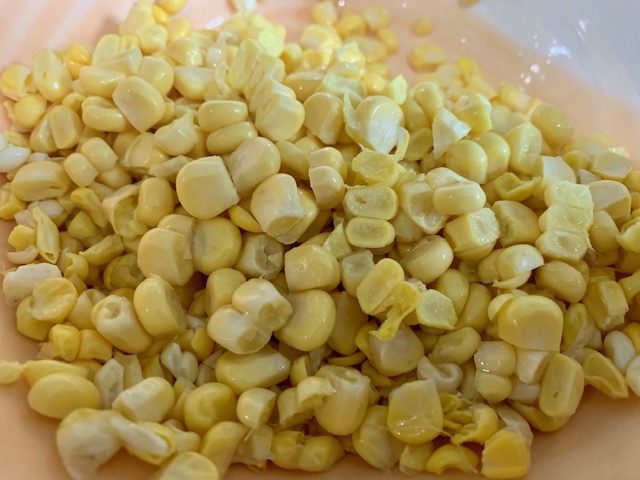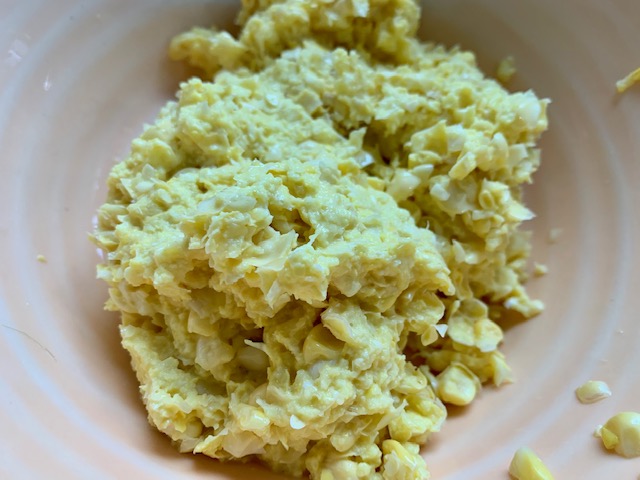 Place the corn kernels in the blender or food processor and pulse it. You need to create a mixture where some kernels are whole, and some are broken up/smooth. Empty in a bowl.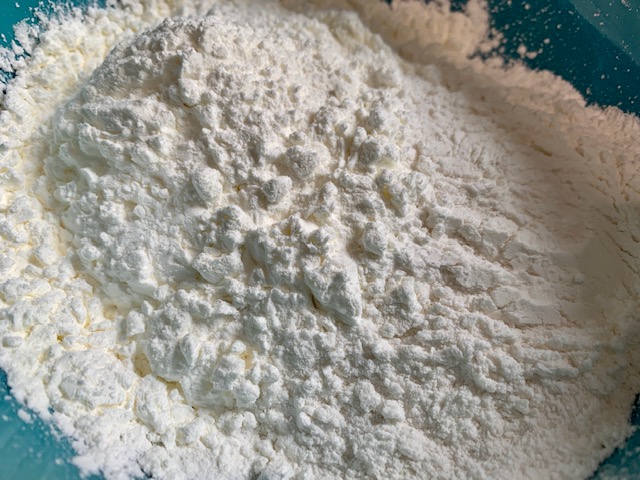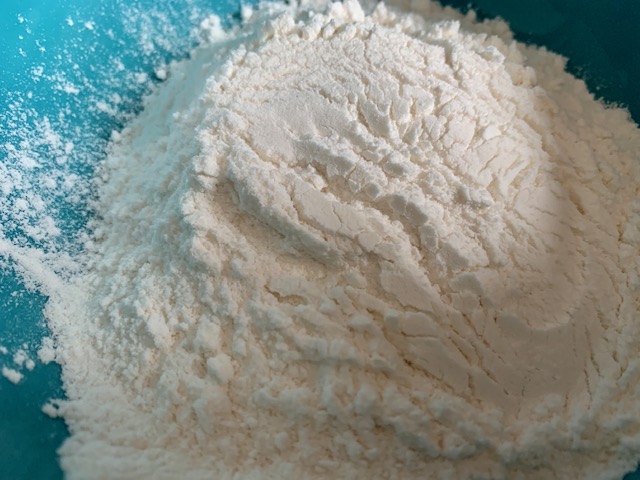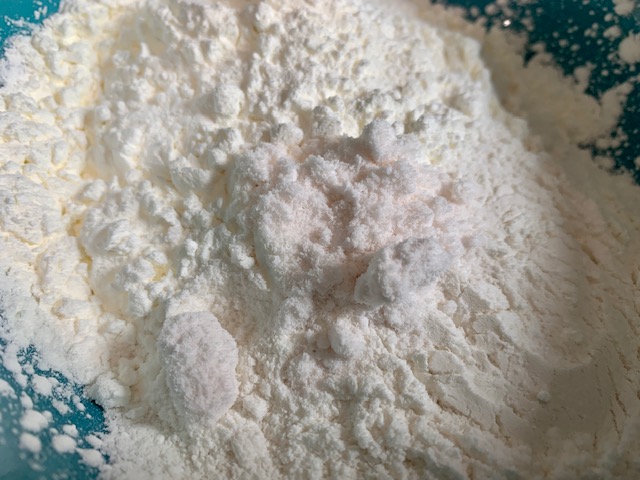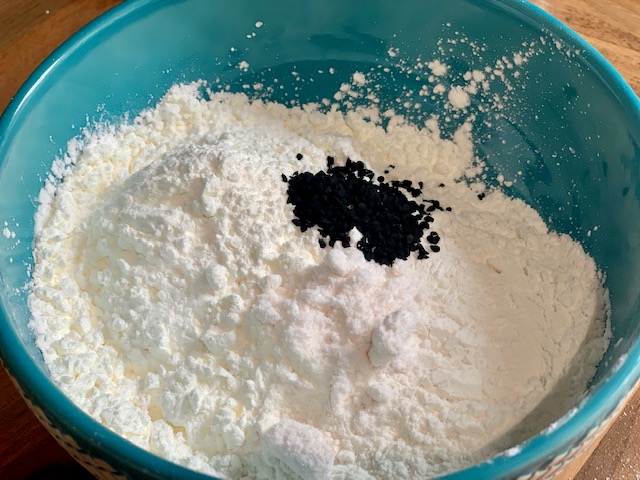 Take cornflour, salt, rice flour, black sesame seeds and baking powder and mix it all together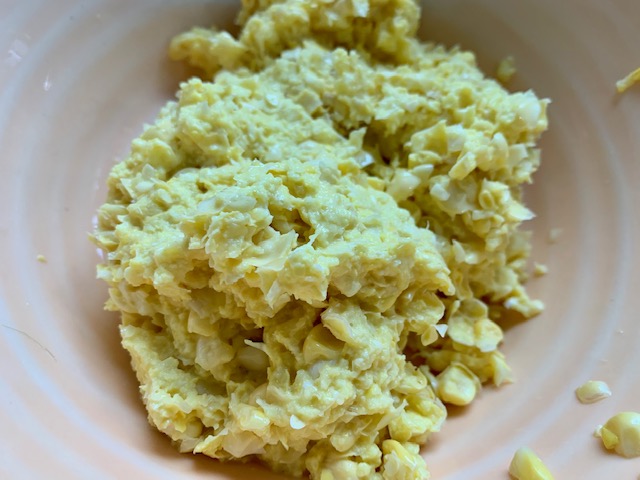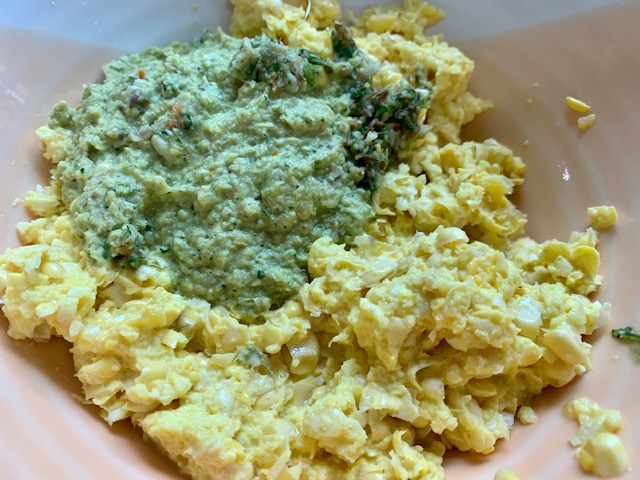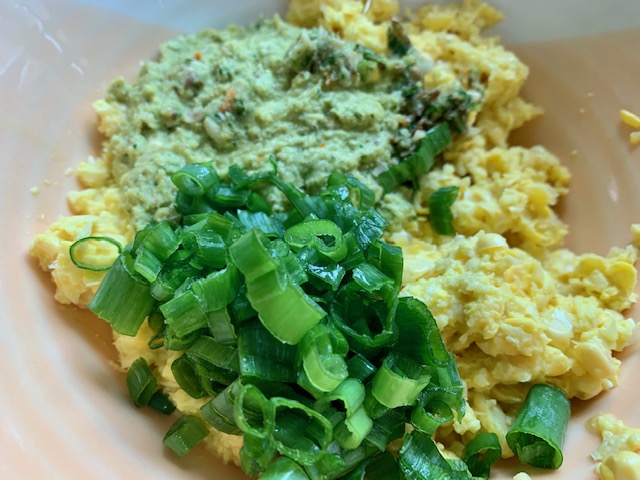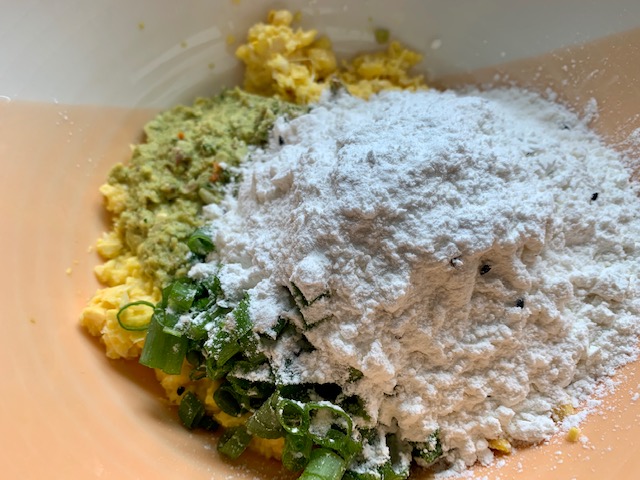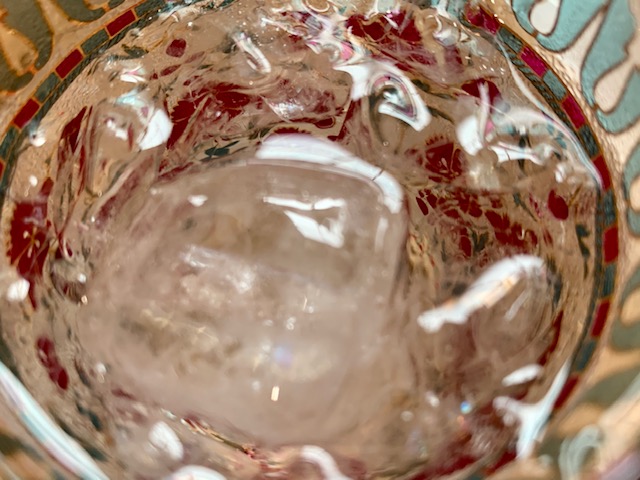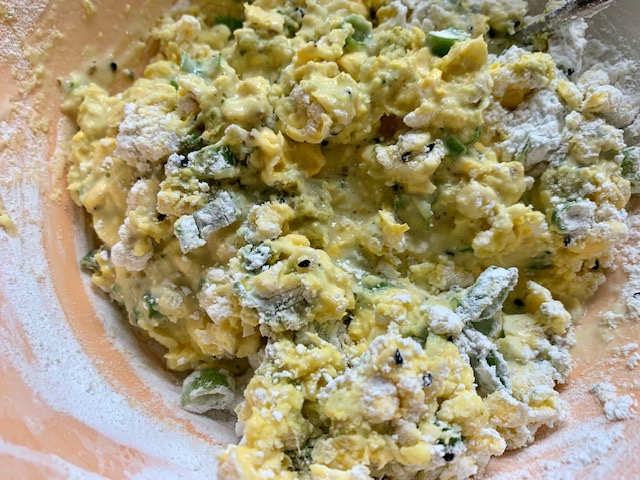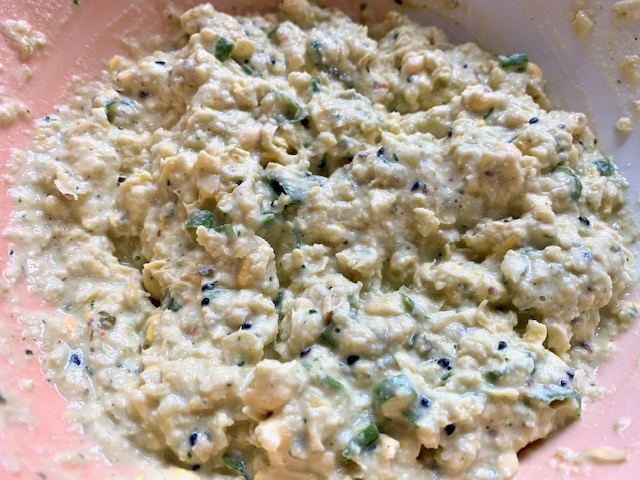 To the pulsed corn add the Thai curry paste, flour mix, spring onions to make a batter using ice cold water. Only add 1 teaspoon of water at a time. The batter should be dropping consistency which means that you can take a teaspoon of batter and should be able to easily it in the hot oil. The batter needs very gentle mixing. Do not overwork the batter.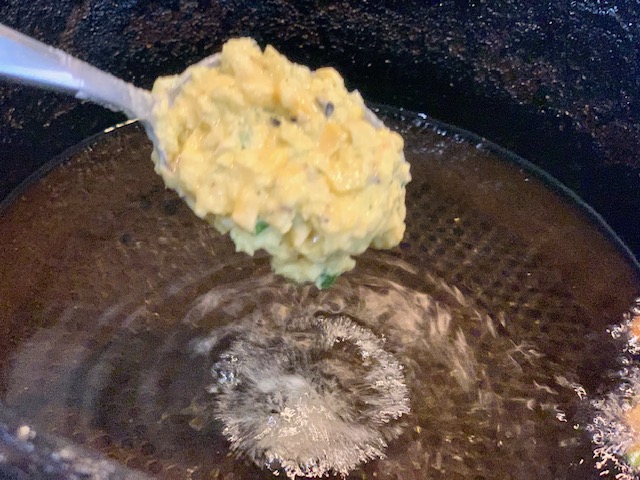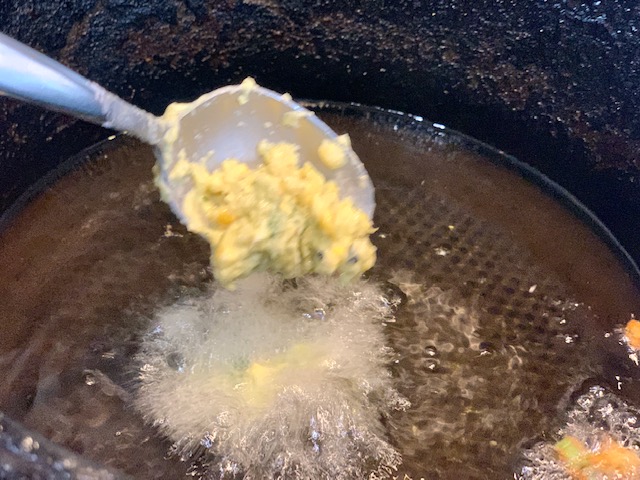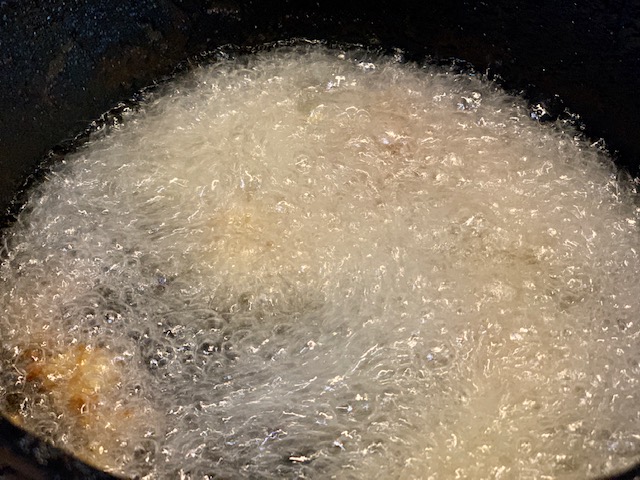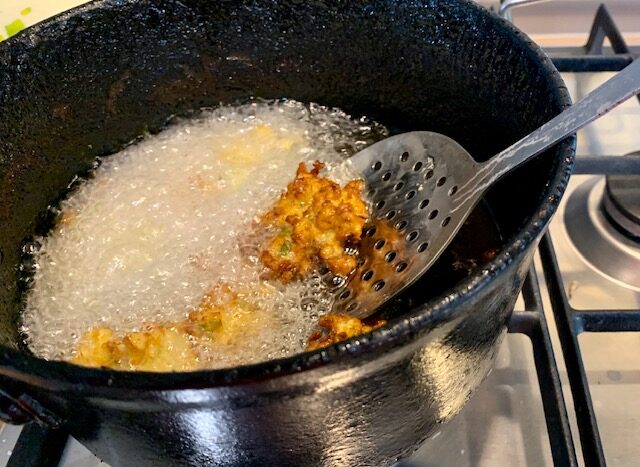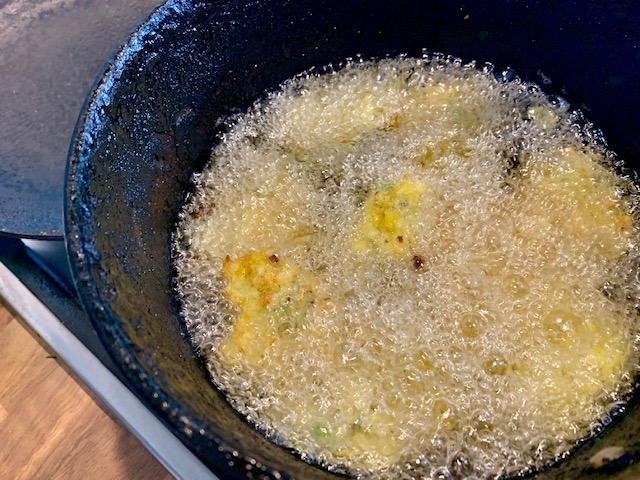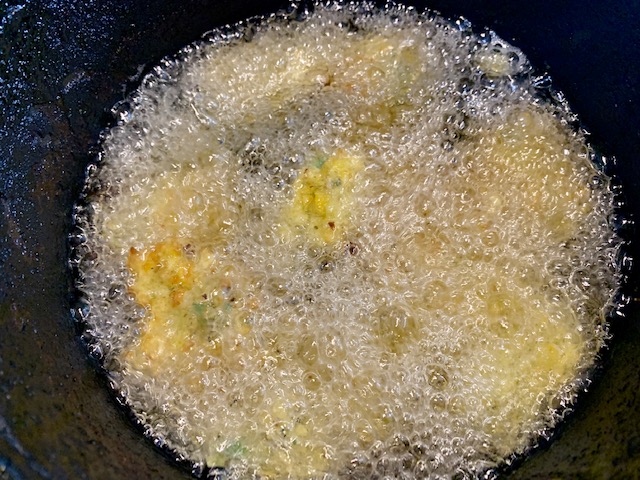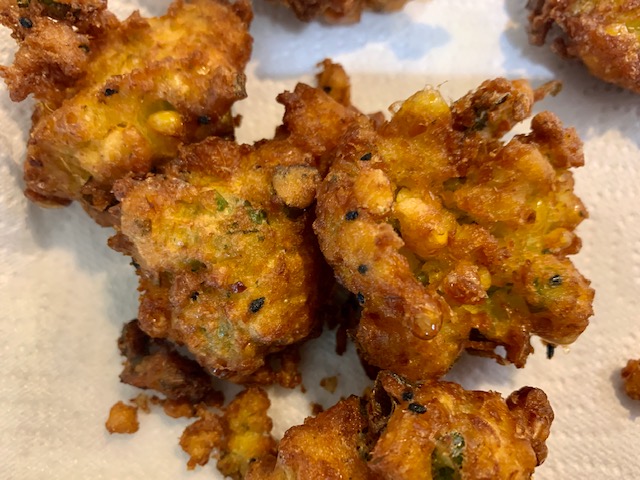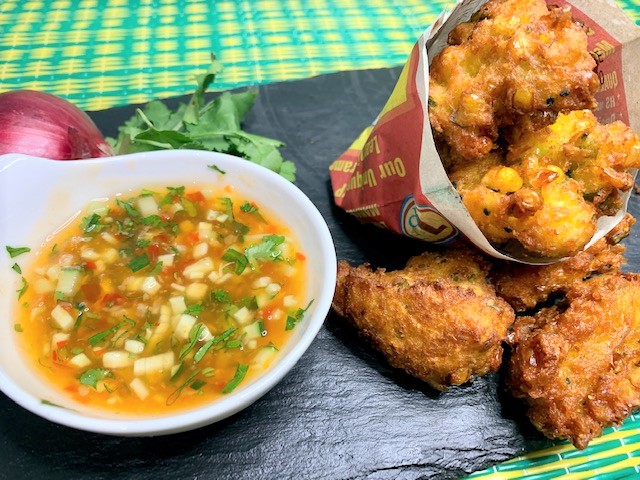 Heat oil for frying. To check if the oil is hot enough to start frying, add a pinch of batter to the oil and if it bubbles up immediately then you know the oil is ready for frying.
Taking a spoonful of this mixture gently drop it to hot oil. When it rises to the surface, add the next spoonful. The mixture should easily slide down the spoon. Continue doing this until the pan is full. Flip them once and turn the heat to medium. Fry them for 3-4 minutes flipping them couple of times so they are golden brown and start to darken around the edges.
Use a slotted spoon to fish them from the oil. Drain the fritters on a kitchen roll/ absorbent paper to soak up excess oil.
Serve hot with Thai sweet chili sauce!