Street Style Vegetarian Manchurian Frankie
Street Style Vegetarian Manchurian Frankie is a super delicious street food popular in India. Delicious Indo-Chinese Manchurian is wrapped in a homemade wrap and pan fried for a crispy texture.
At my home any type of frankies, rolls or wraps go down a treat! But they are just so good loaded with different flavours, textures and ingredients- each version has a different filling so the challenge of making them all different is fun, interesting and challenging. I love Indo- Chinese food so figured I would take a different approach with this one. It is a vegetarian Manchurian in a wrap that is slathered with Szechuan Sauce and pan roasted for a crispy Frankie.
Whether you make it for a quick weeknight meal or a leisurely gathering, these frankie are sure to be a hit!
You may like few other recipes like Dry Manchurian, Dry Gobi Manchurian, Vegetable Manchurian in Sauce, Schezwan Paneer, Street Style Paneer Frankie, Vegetable Frankie, Aloo Frankie, Paneer Kathi Roll and Schezwan Paneer Frankie.
Ingredients
For Dough
1 cup plain flour
½ teaspoon salt
2 teaspoons oil
½ cup warm water
For Manchurian Balls
1 cup grated cabbage
1 cup grated carrot
1 cup grated cauliflower
2 teaspoons grated garlic ginger green chillies
¾ teaspoon salt
1 teaspoon white pepper
2 teaspoons soy sauce
¼ cup corn flour
2 tablespoons plain flour
For the Filling
2 teaspoons sesame oil
½ cup sliced carrots
½ cup sliced onions
½ cup sliced cabbage
½ cup sliced green pepper
1 teaspoon salt
1 teaspoon white pepper
2 teaspoons vinegar
2 teaspoons soy sauce
2 teaspoons red chilli sauce
1 tablespoon schezwan sauce
For Manchurian Frankie
2 tablespoons schezwan sauce
2 tablespoons butter
Directions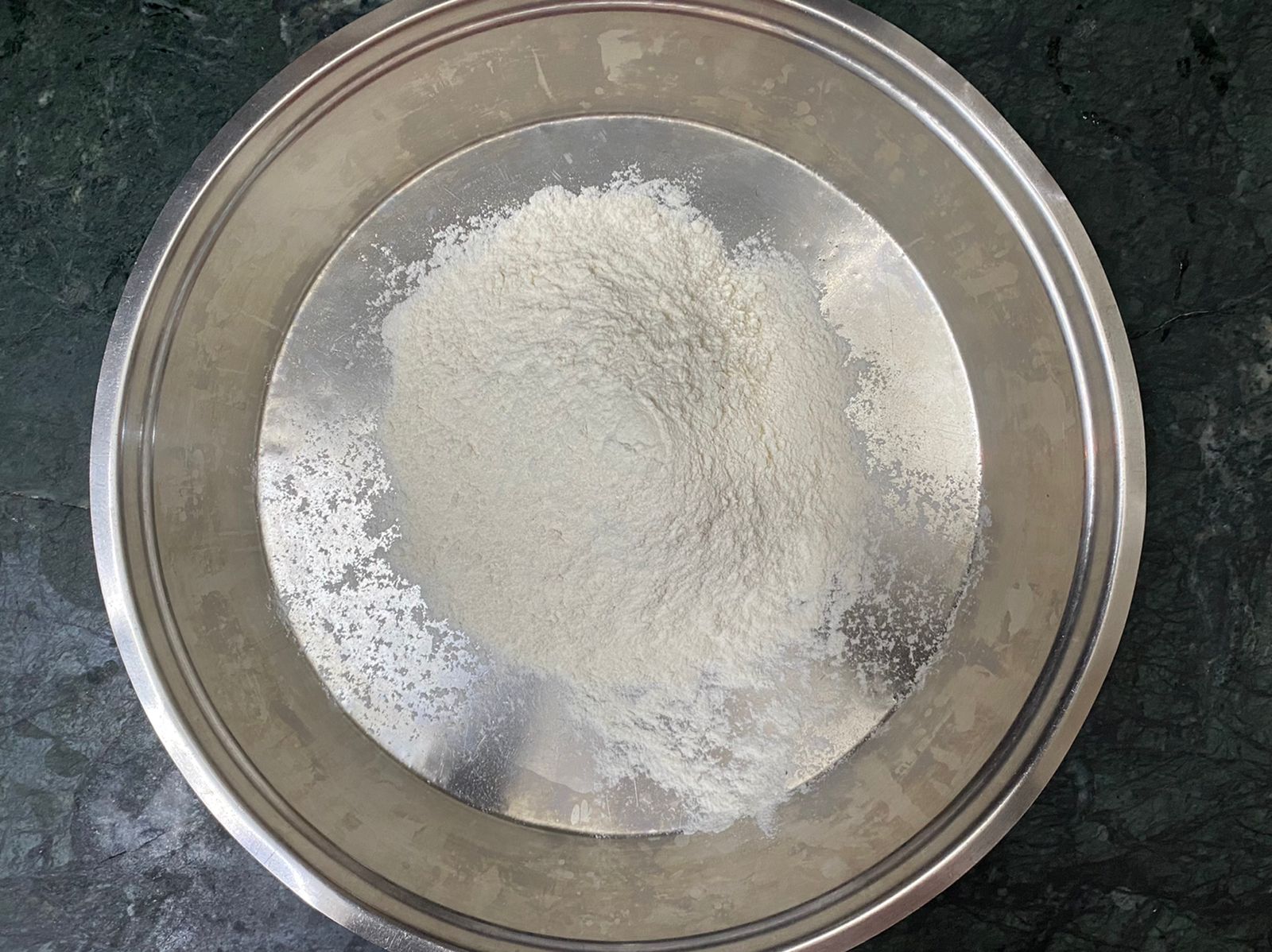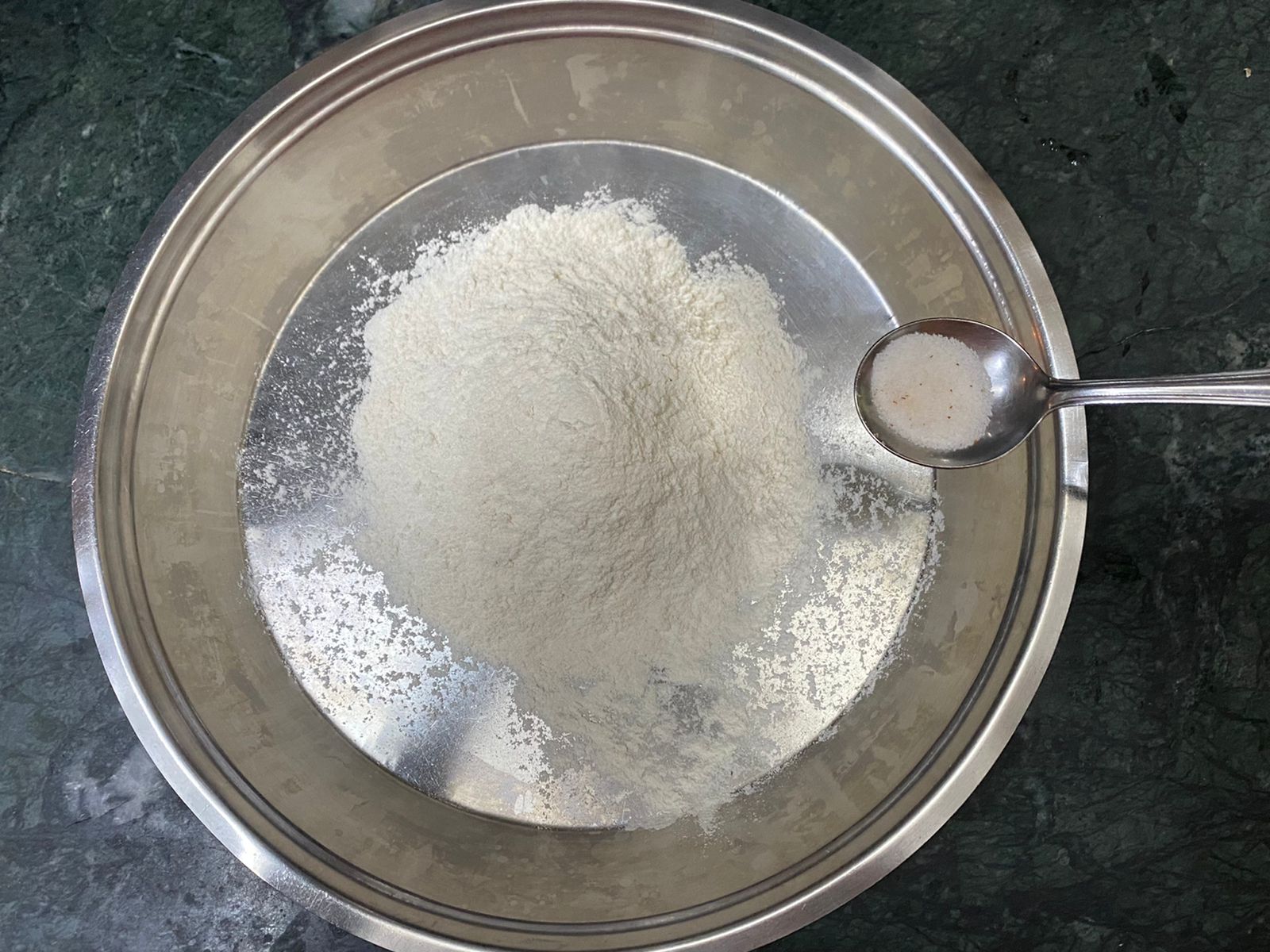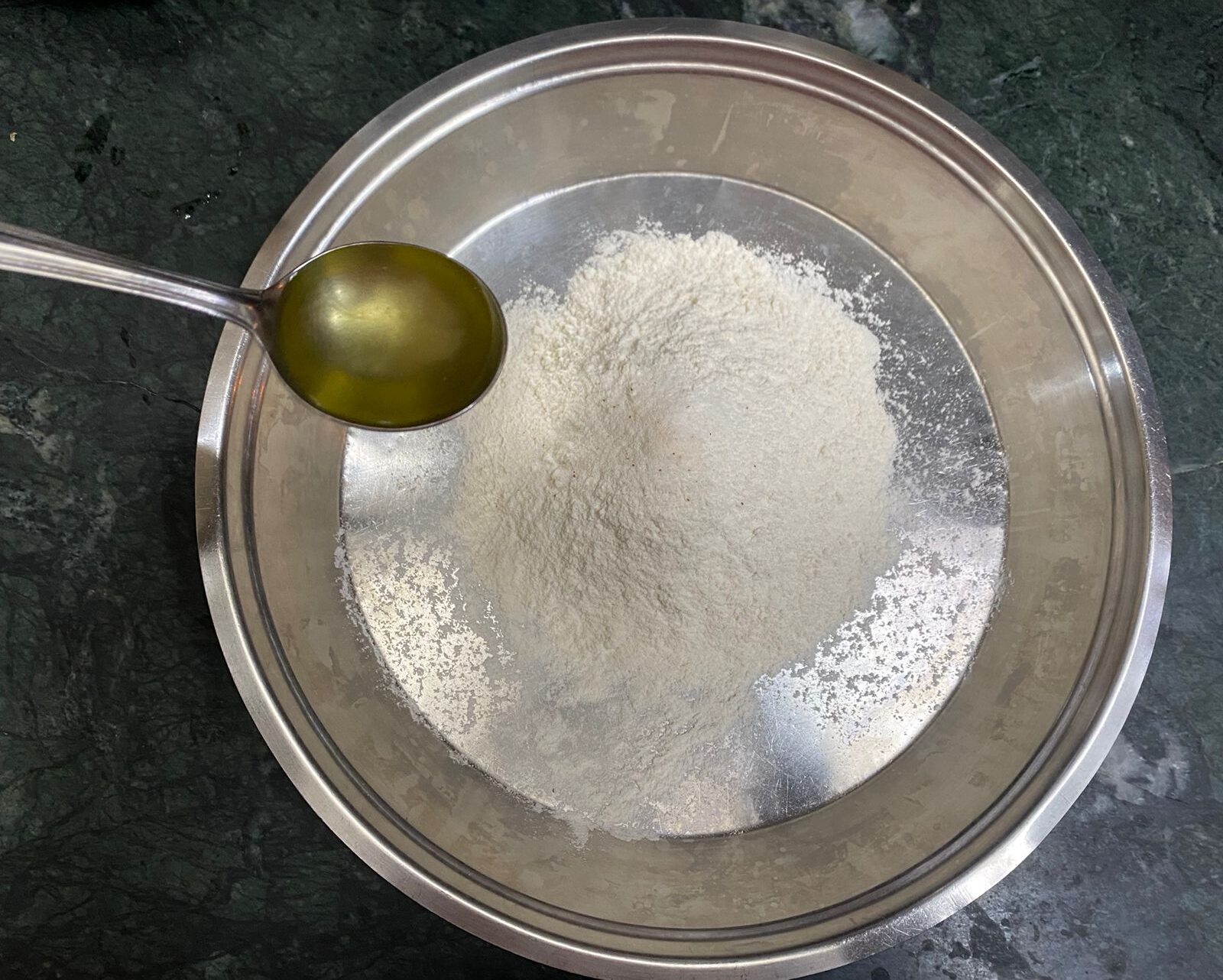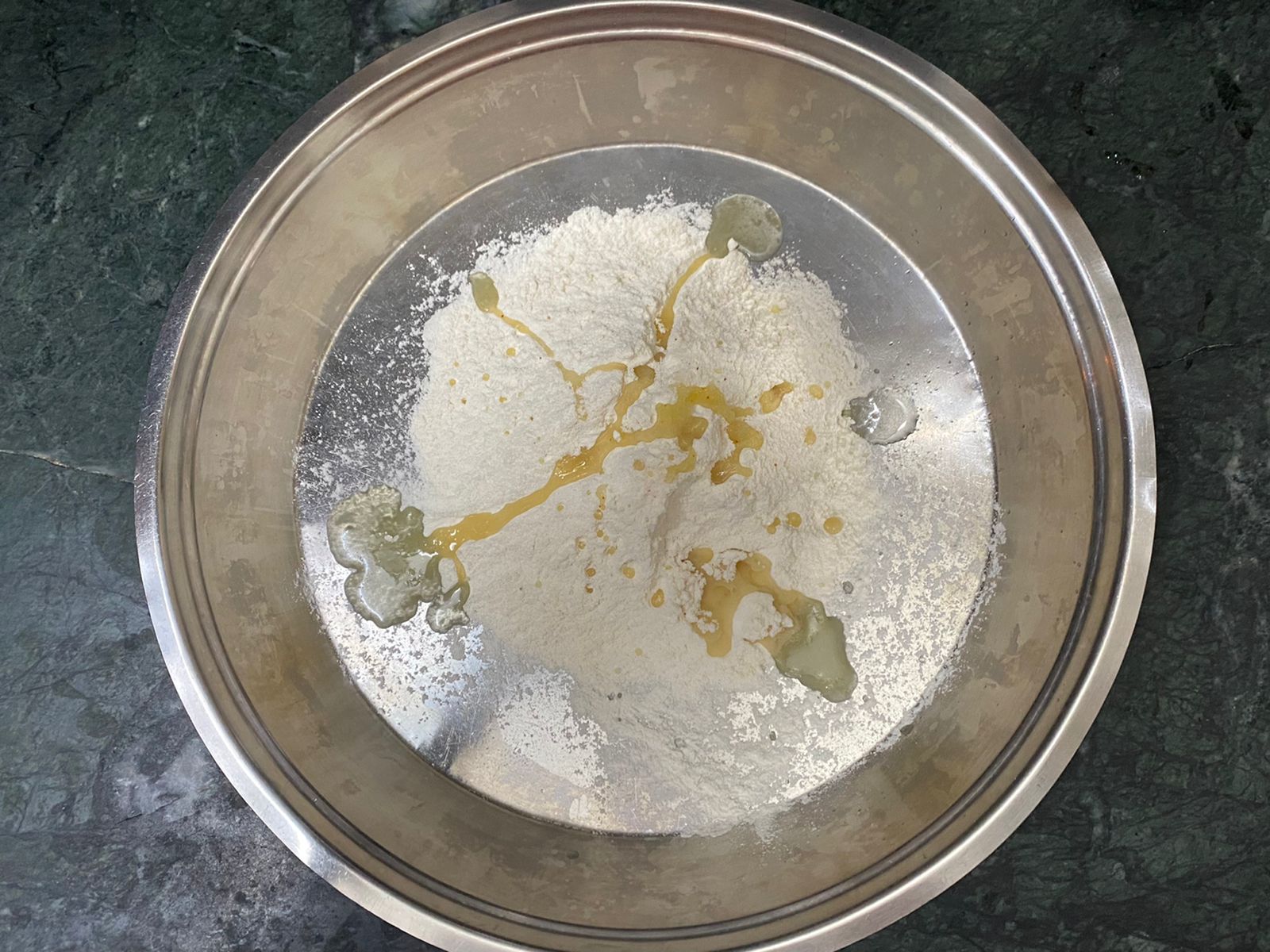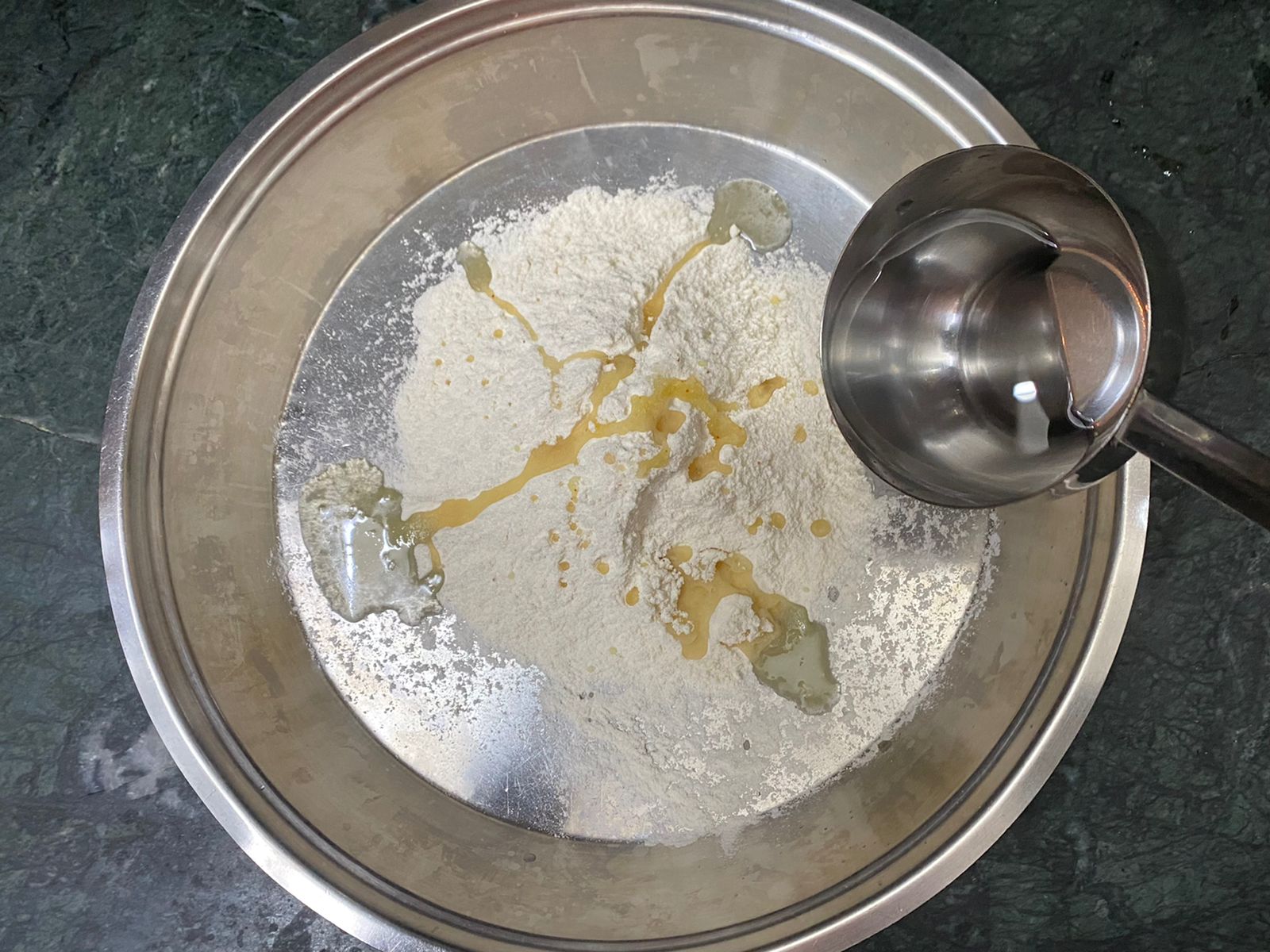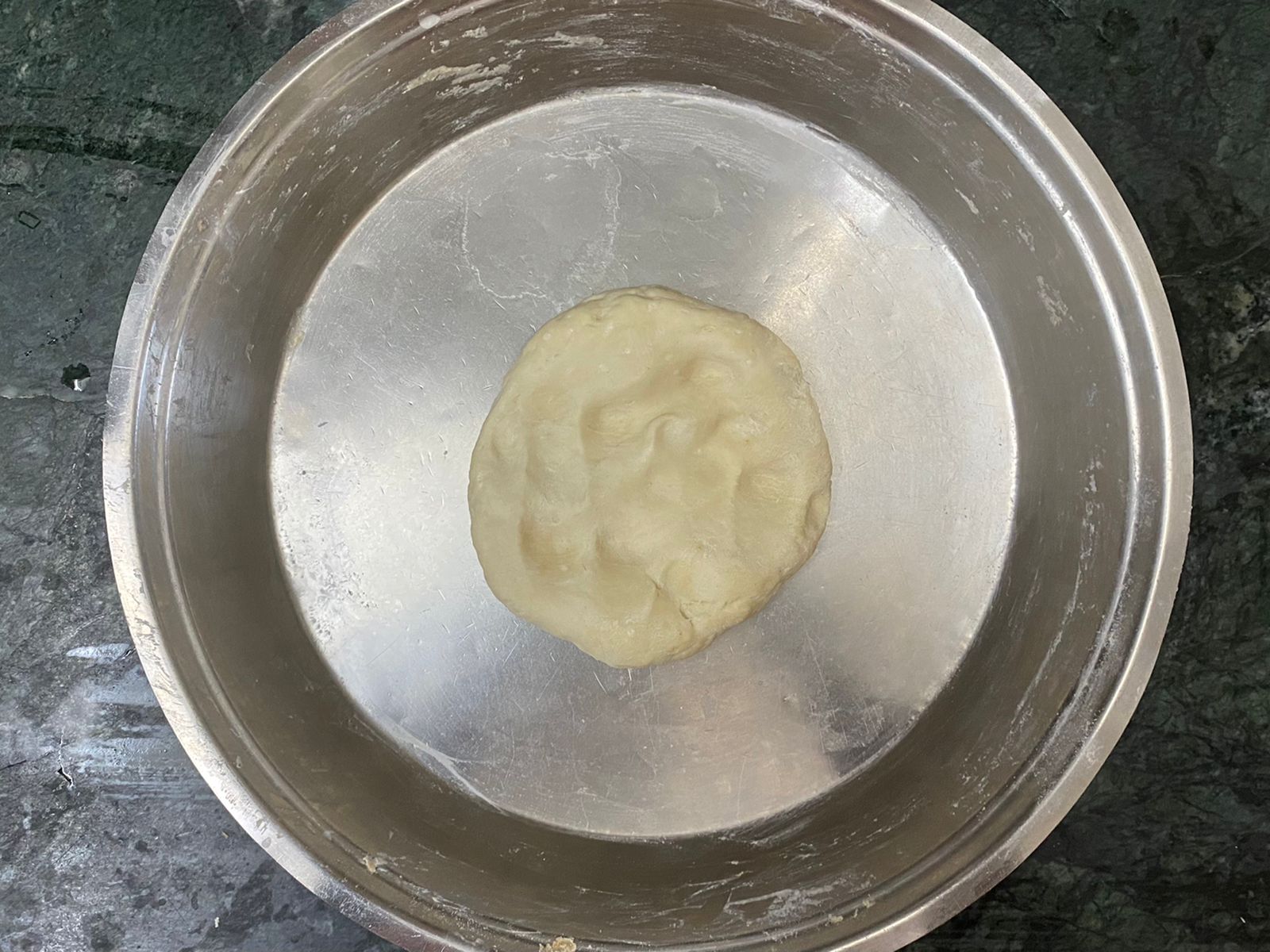 In a bowl mix flour, salt, oil and water and knead it to form a smooth dough (Adjust the amount of water to knead a soft dough).
Cover and let it rest for half an hour.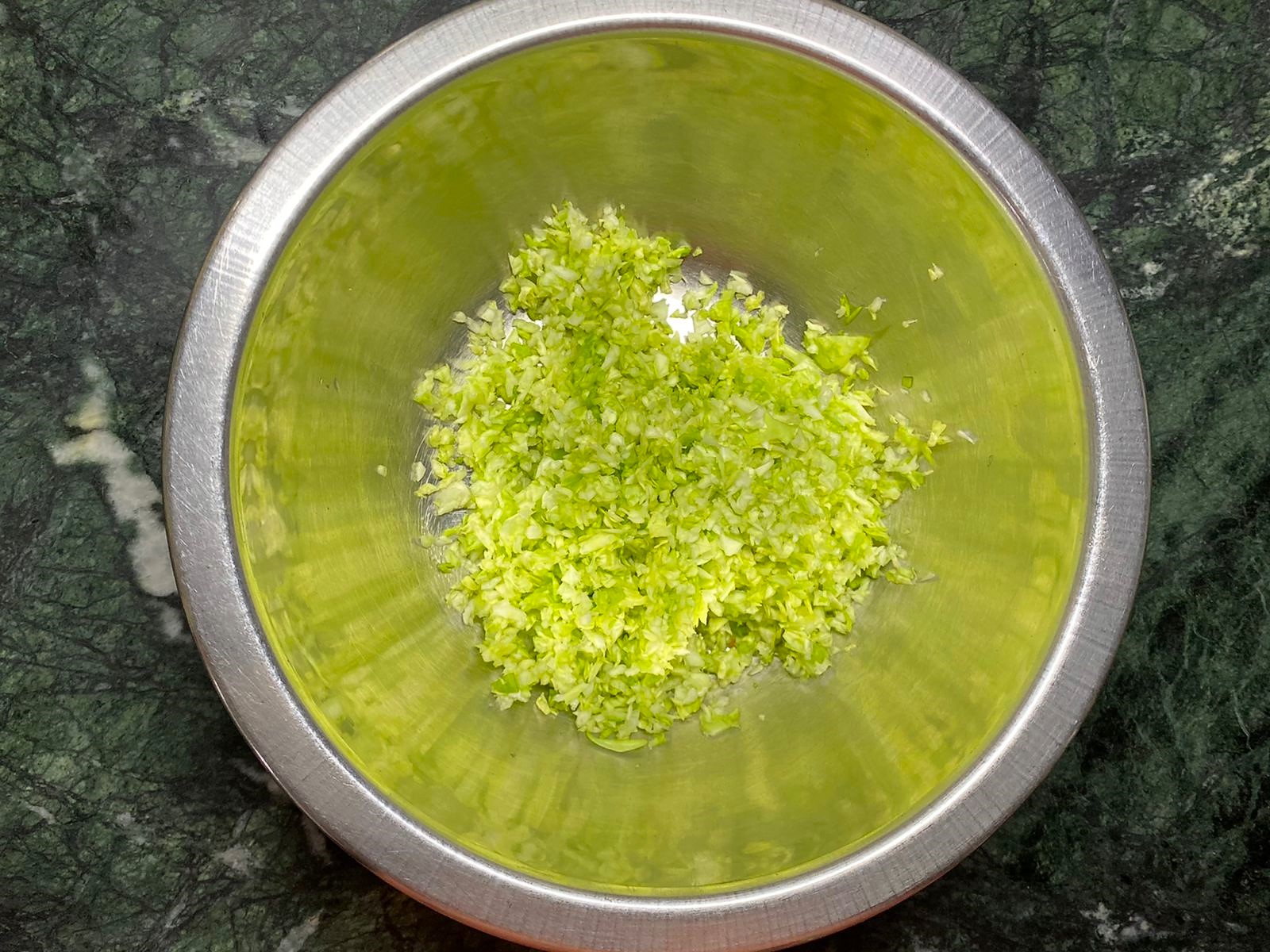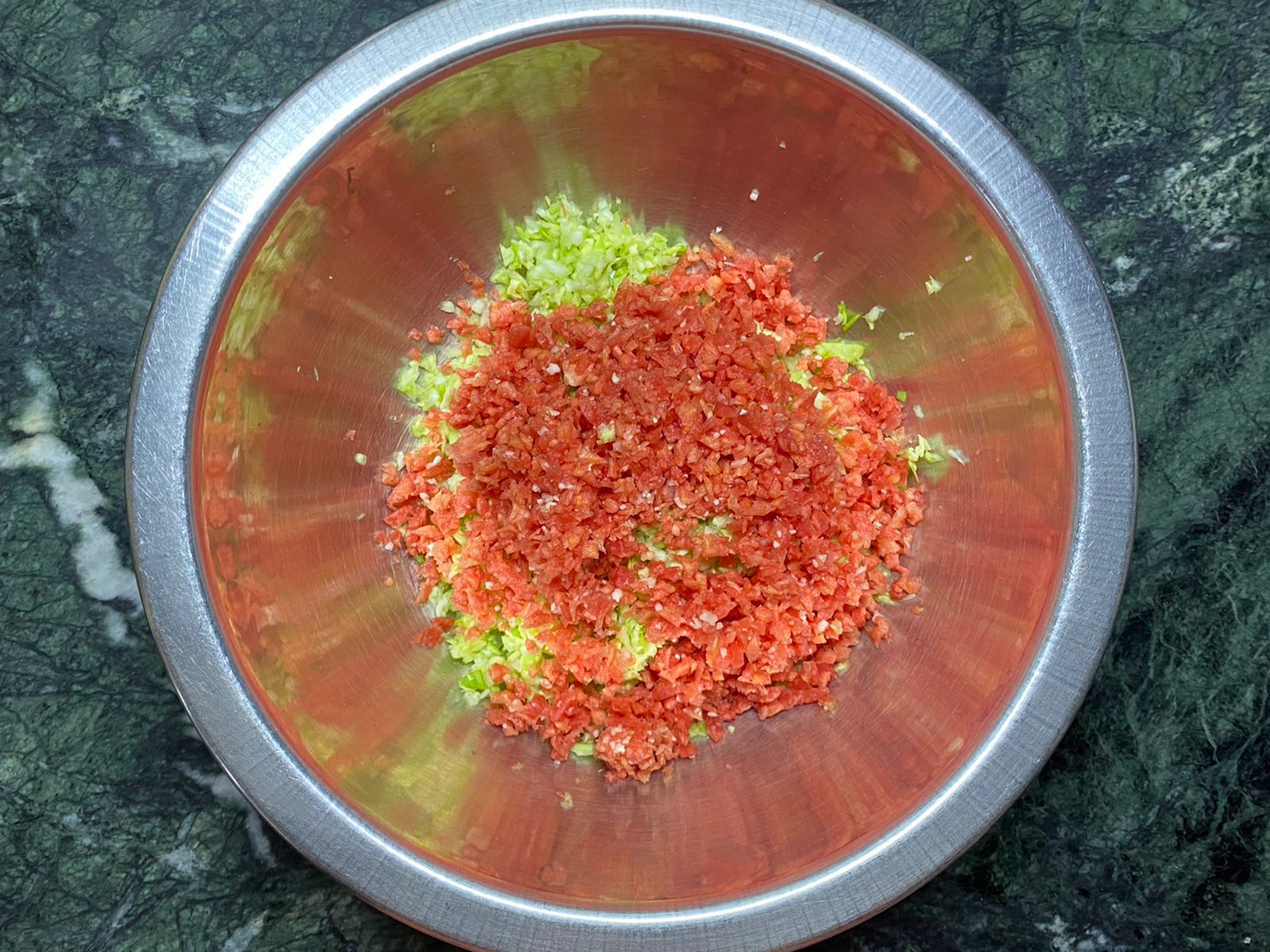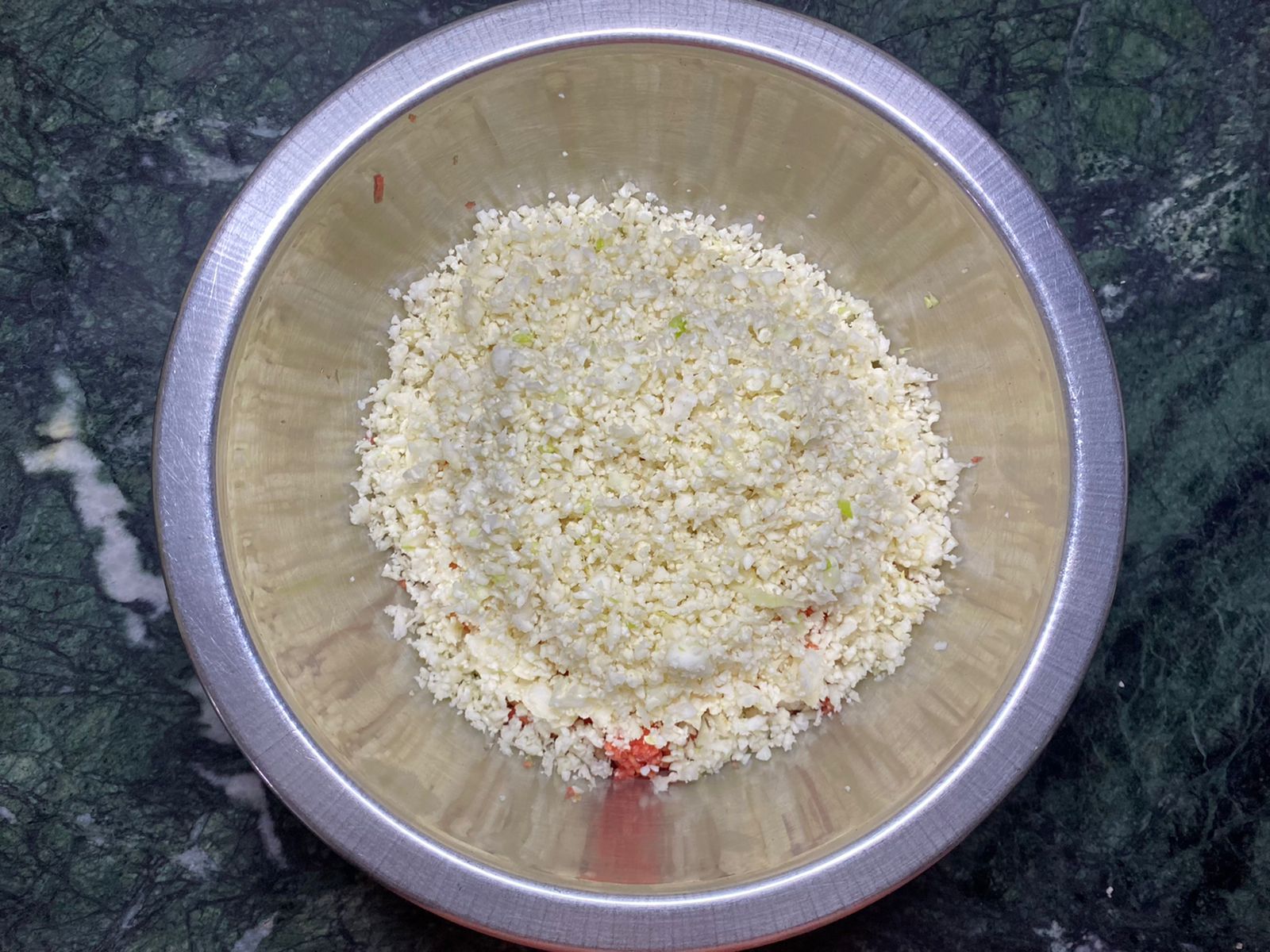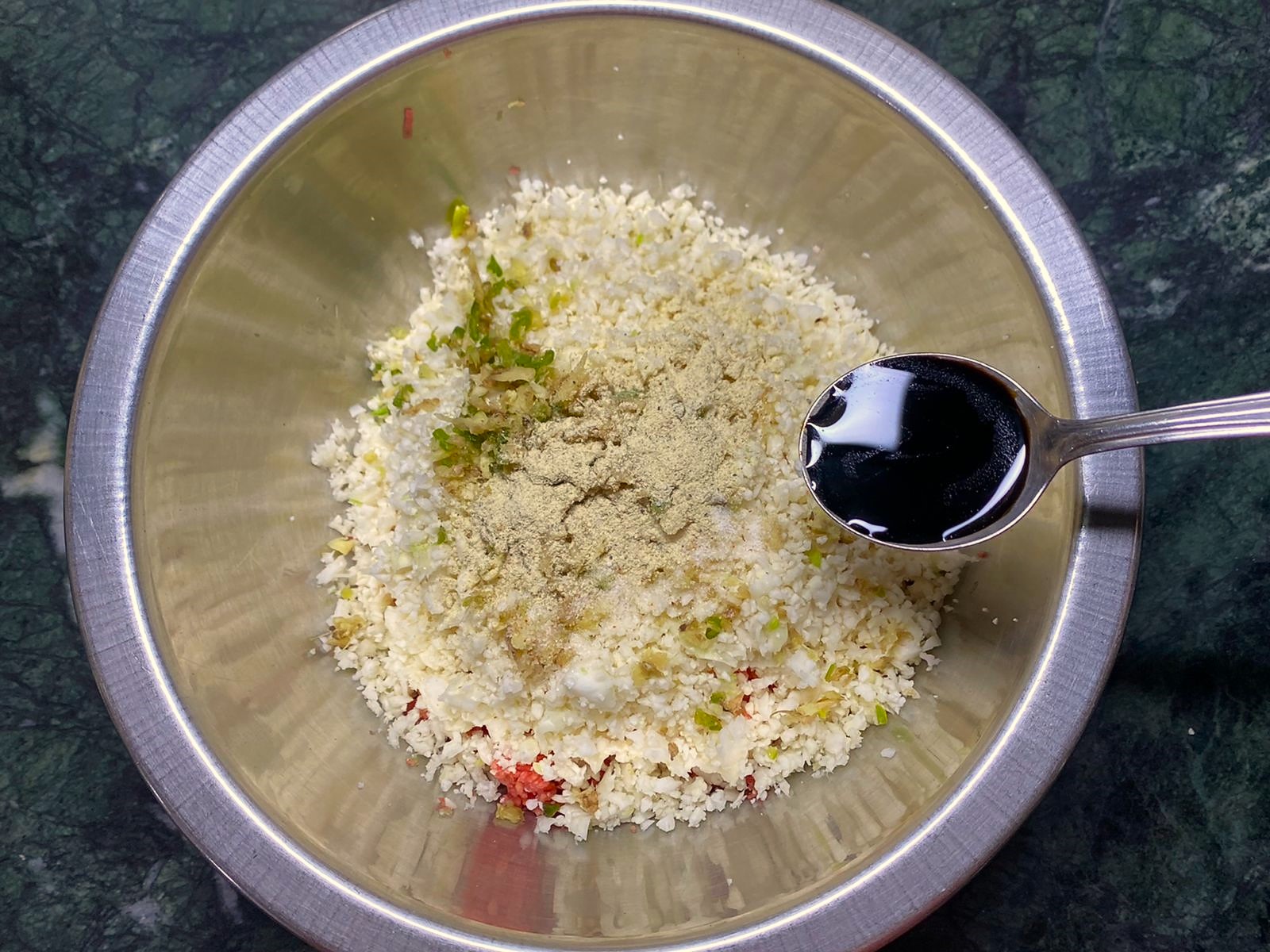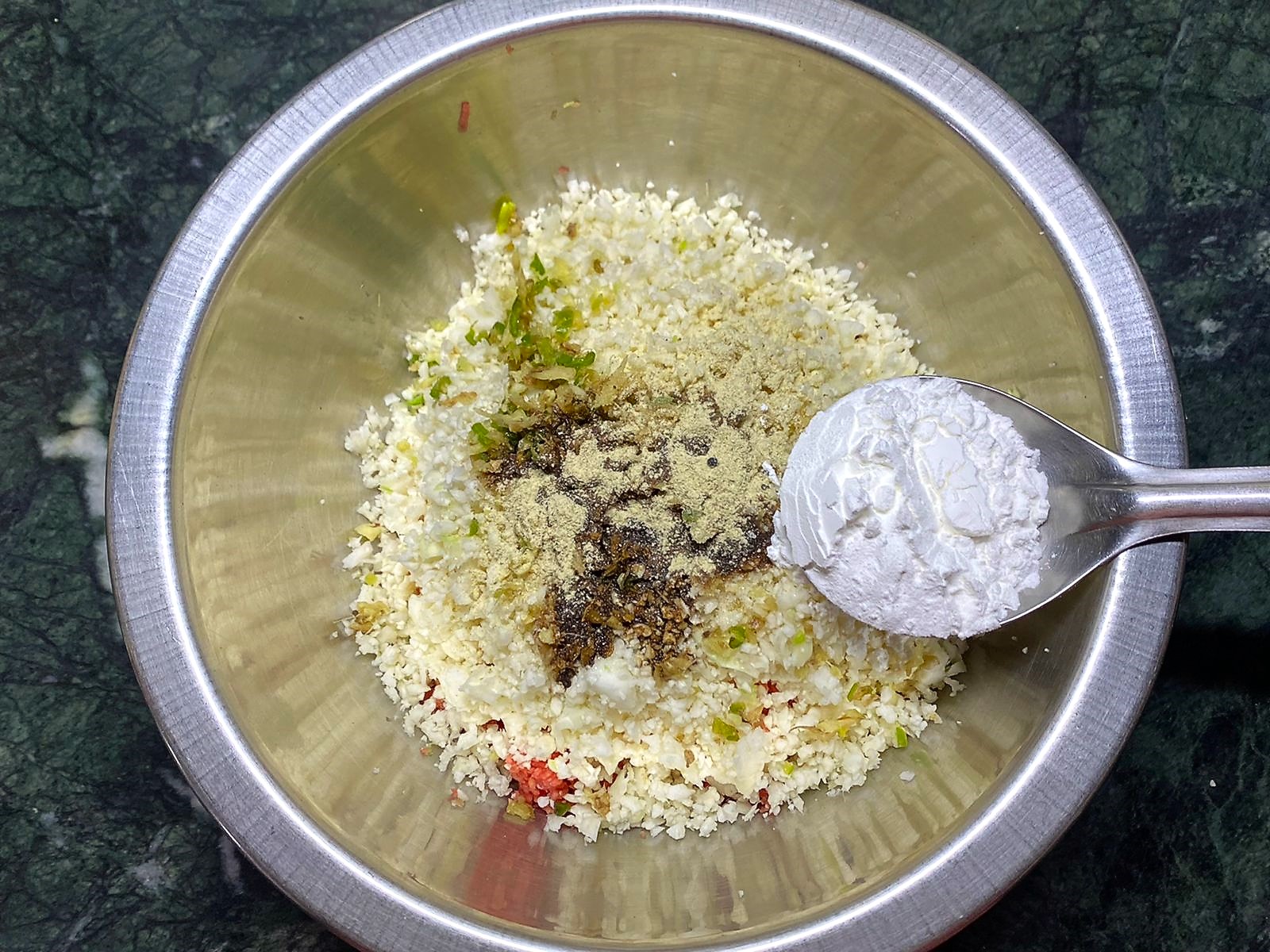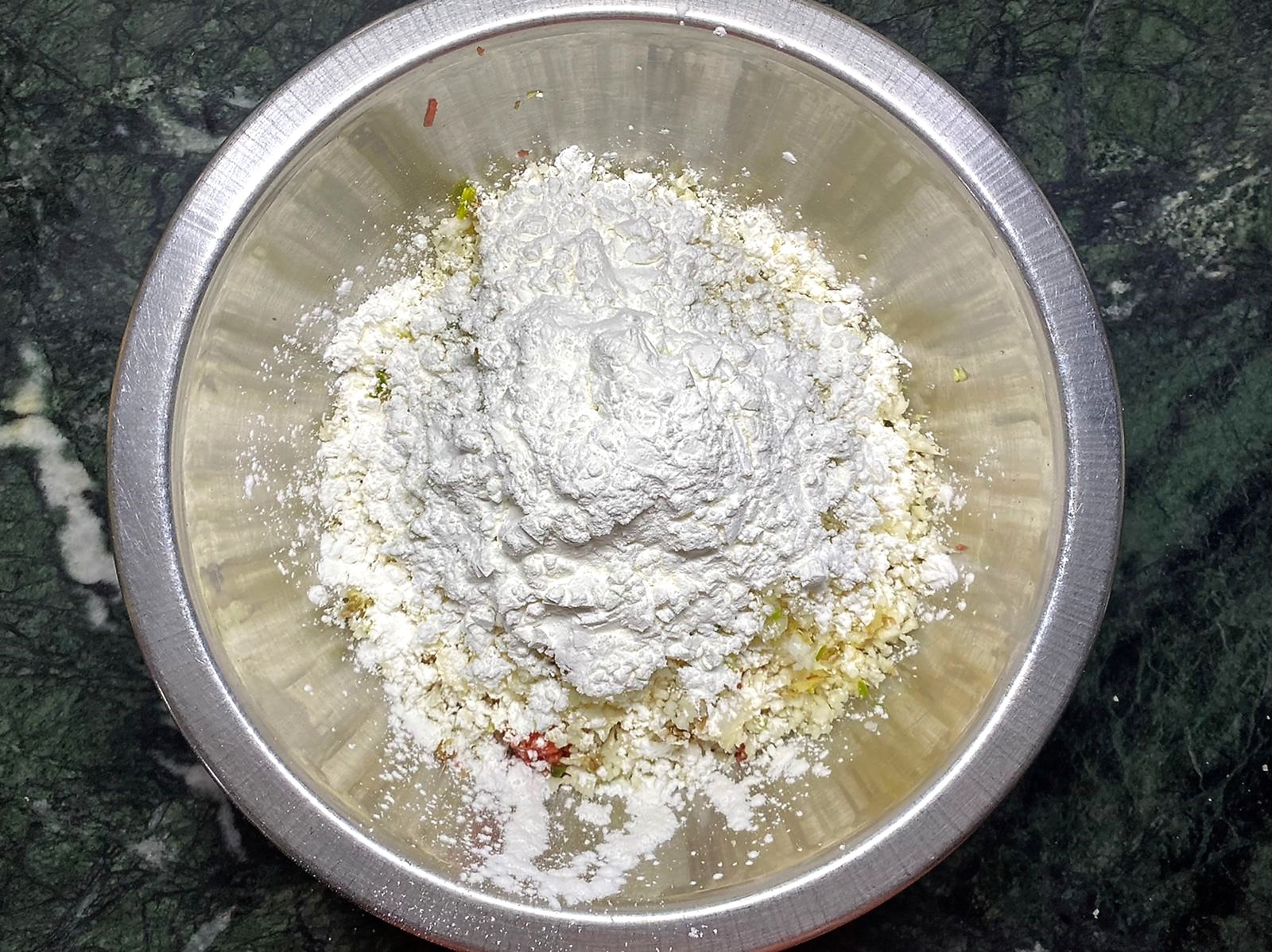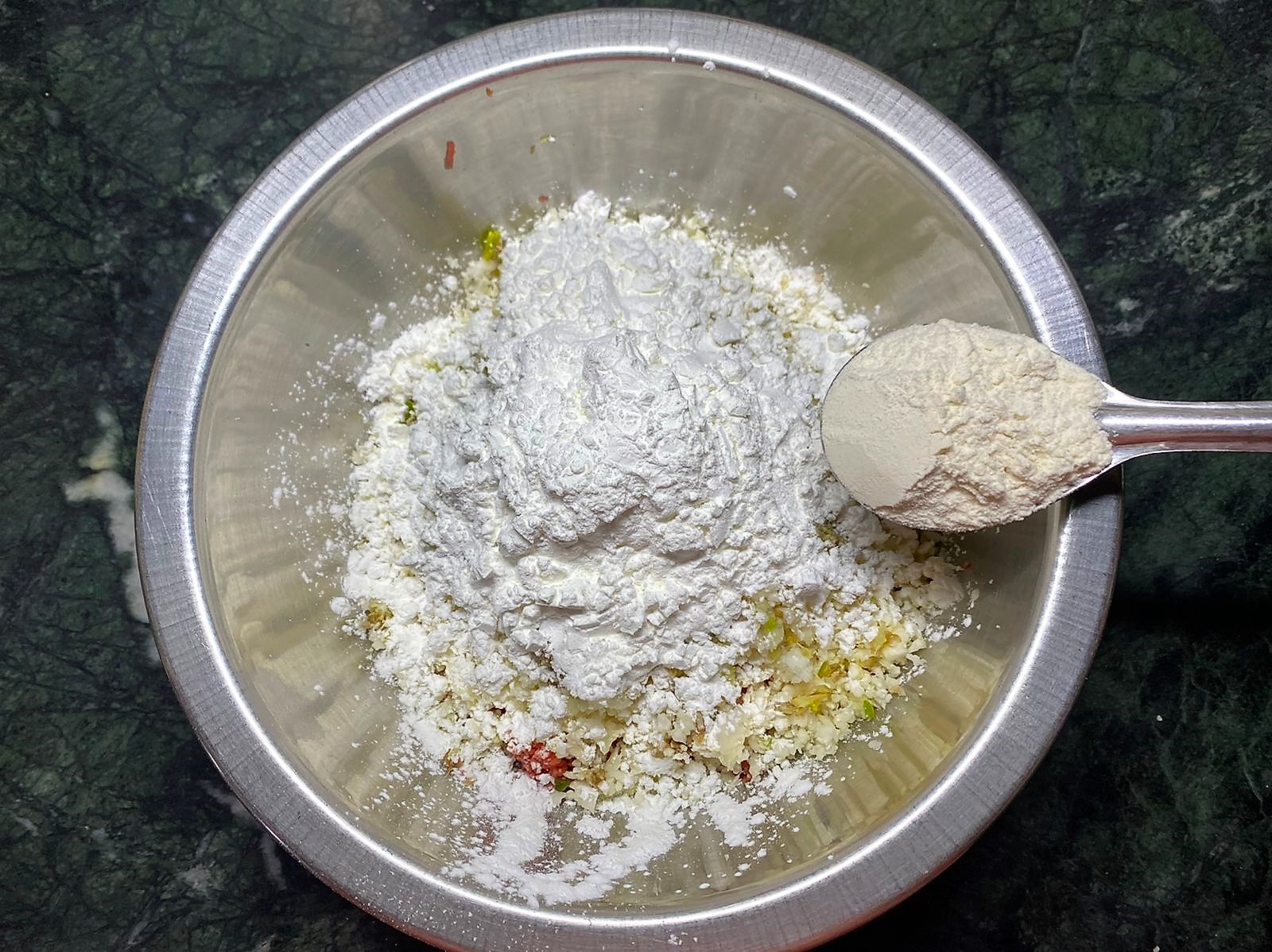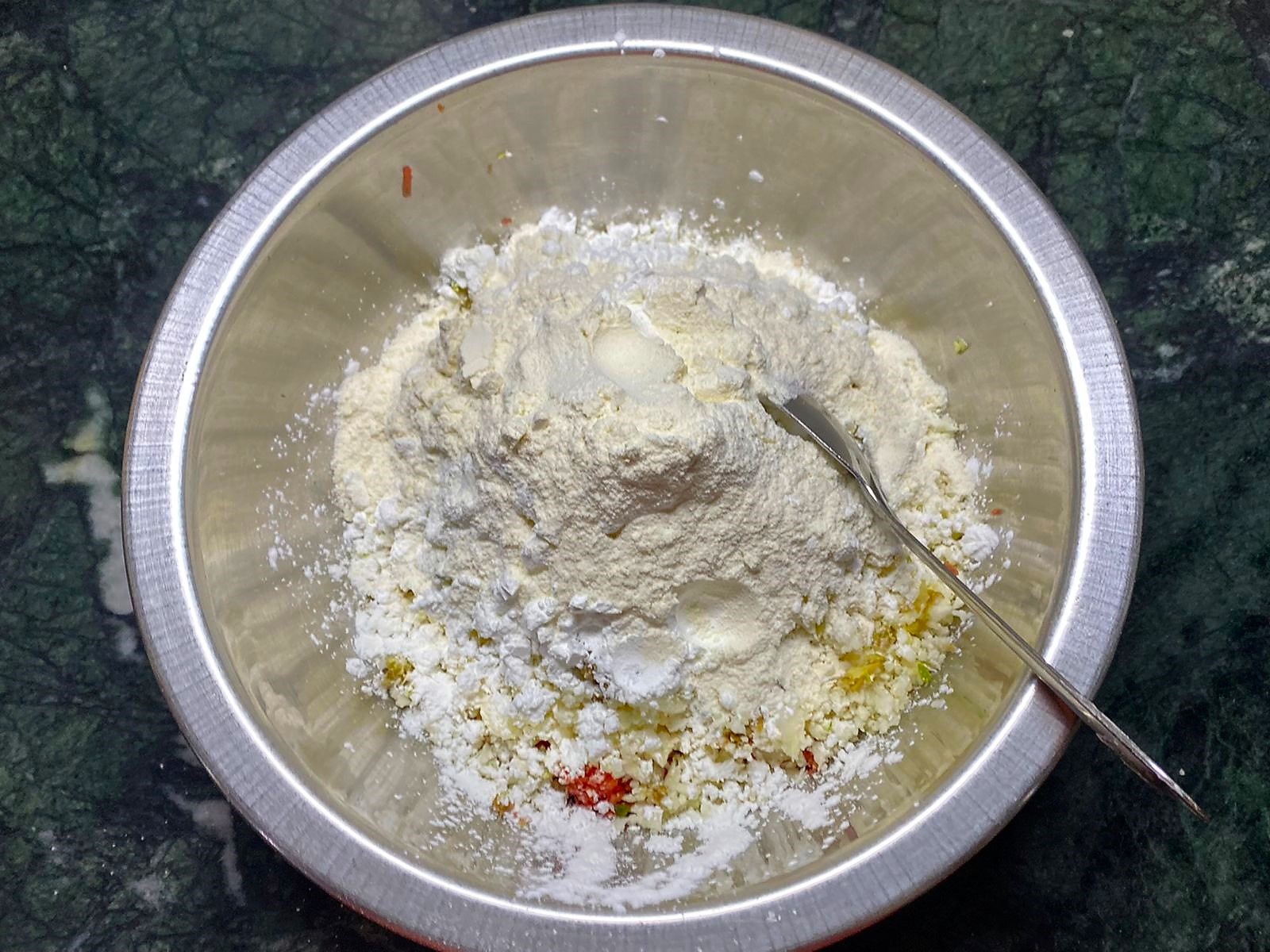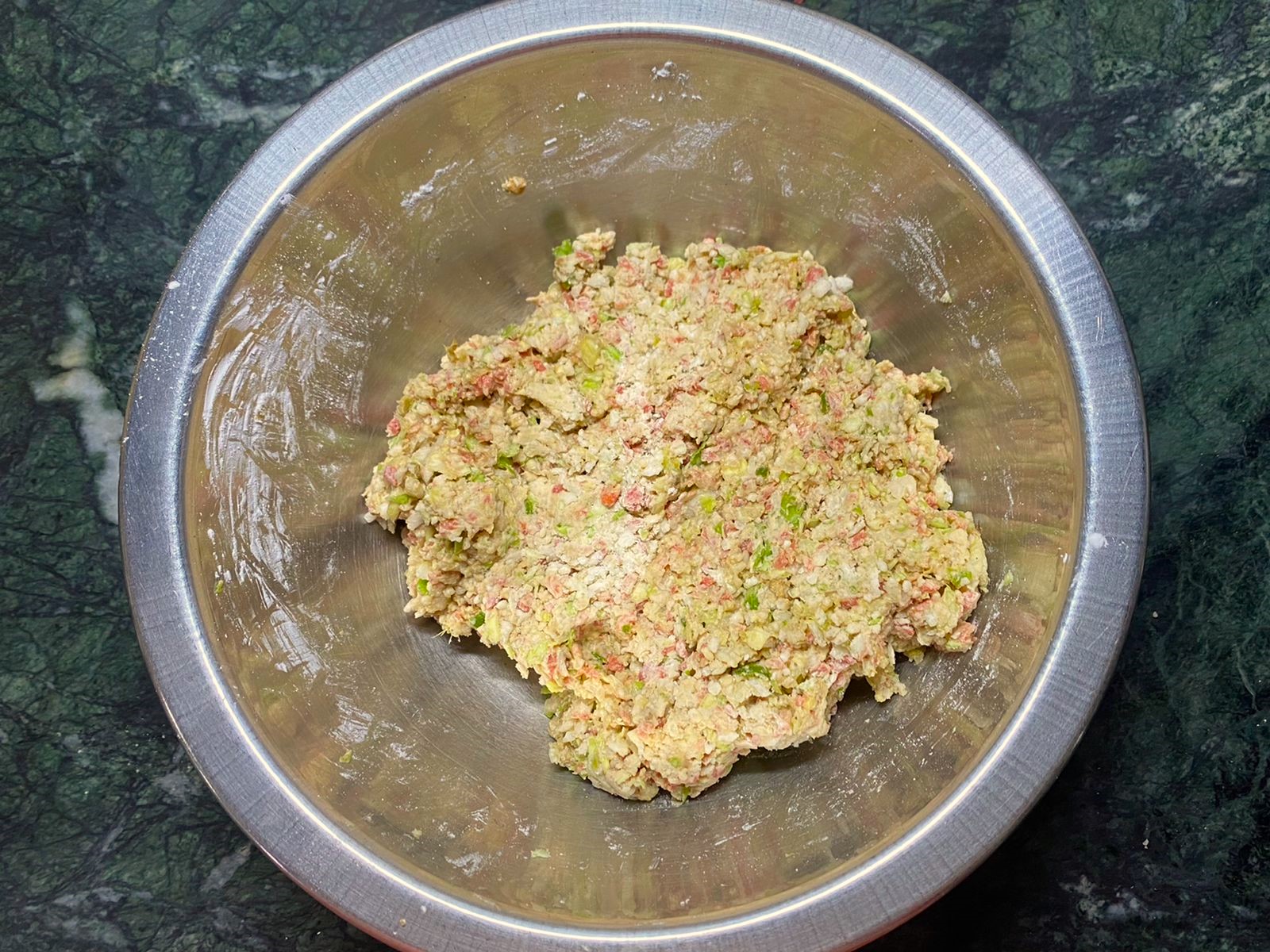 In a bowl, add the grated vegetables, garlic, ginger, green chillies, salt, white pepper, soy sauce, corn flour and plain flour and mix.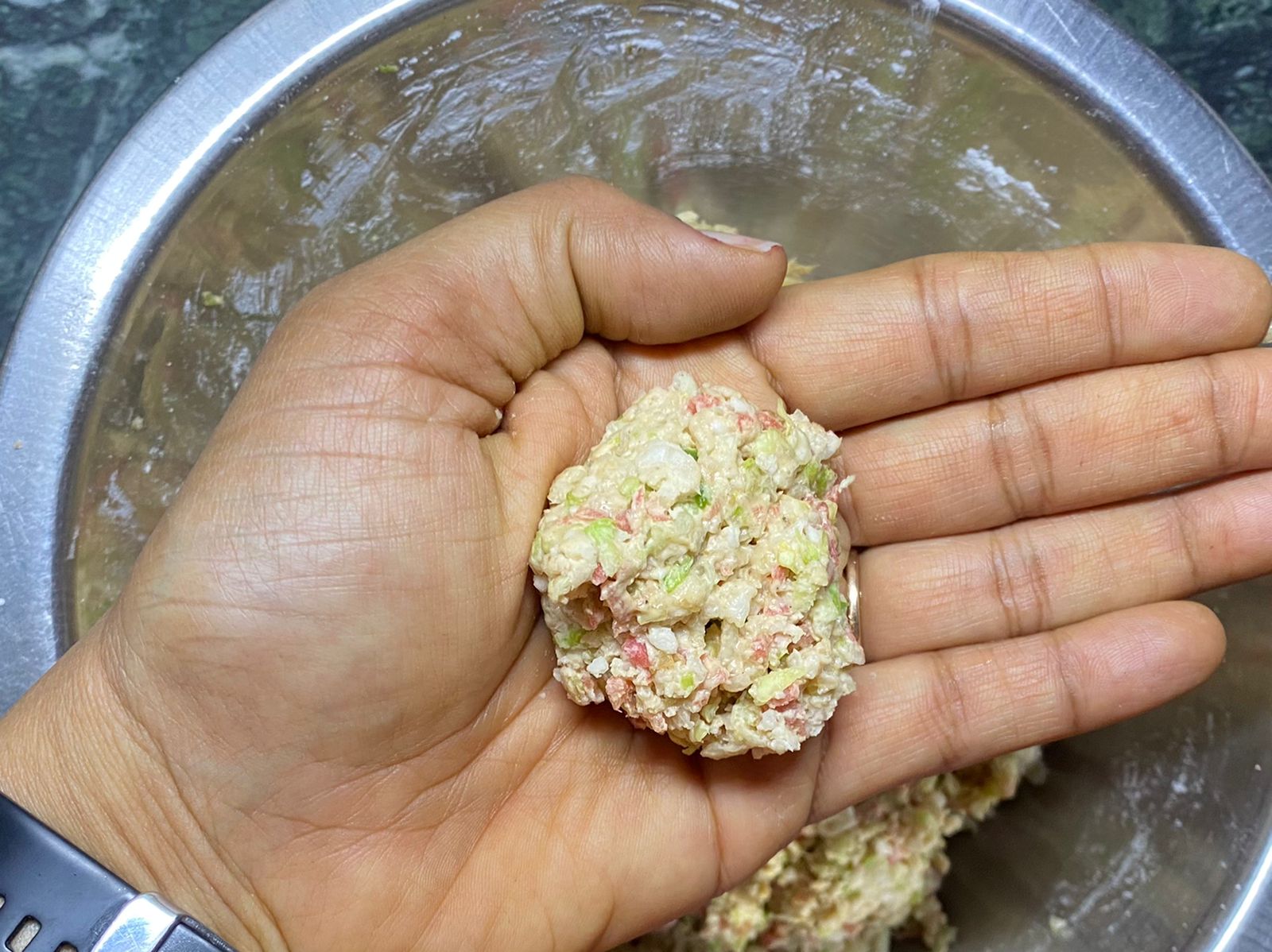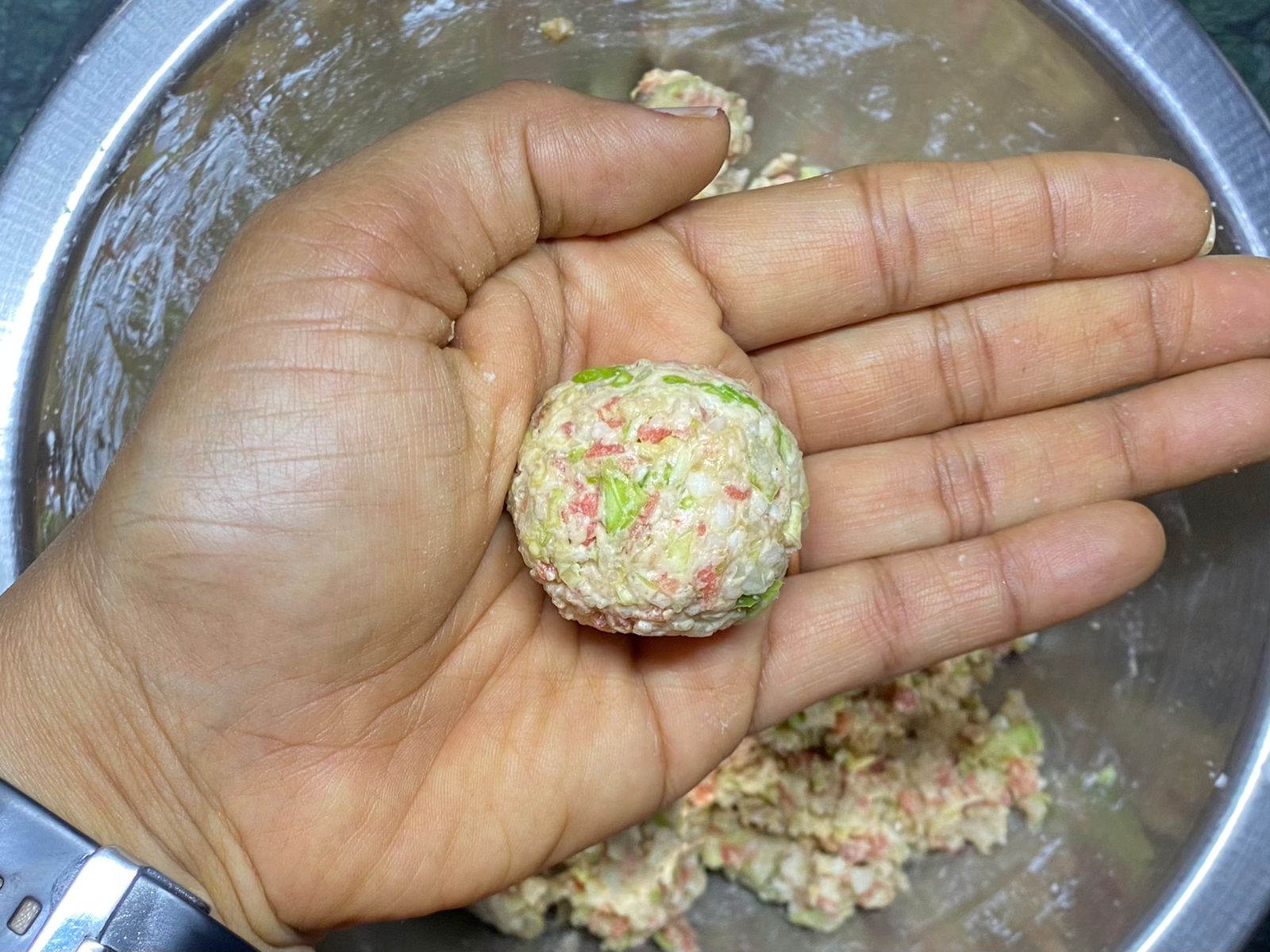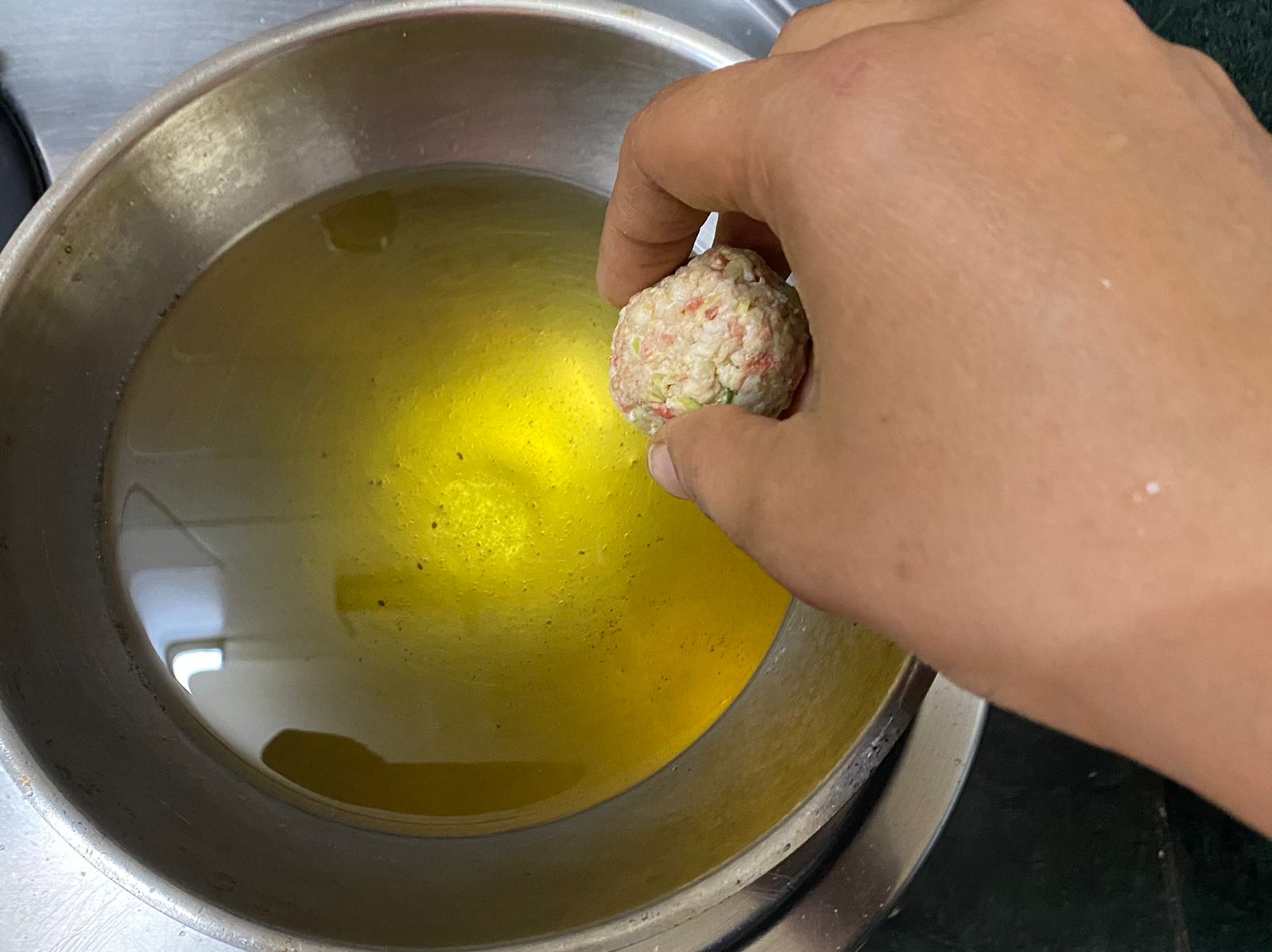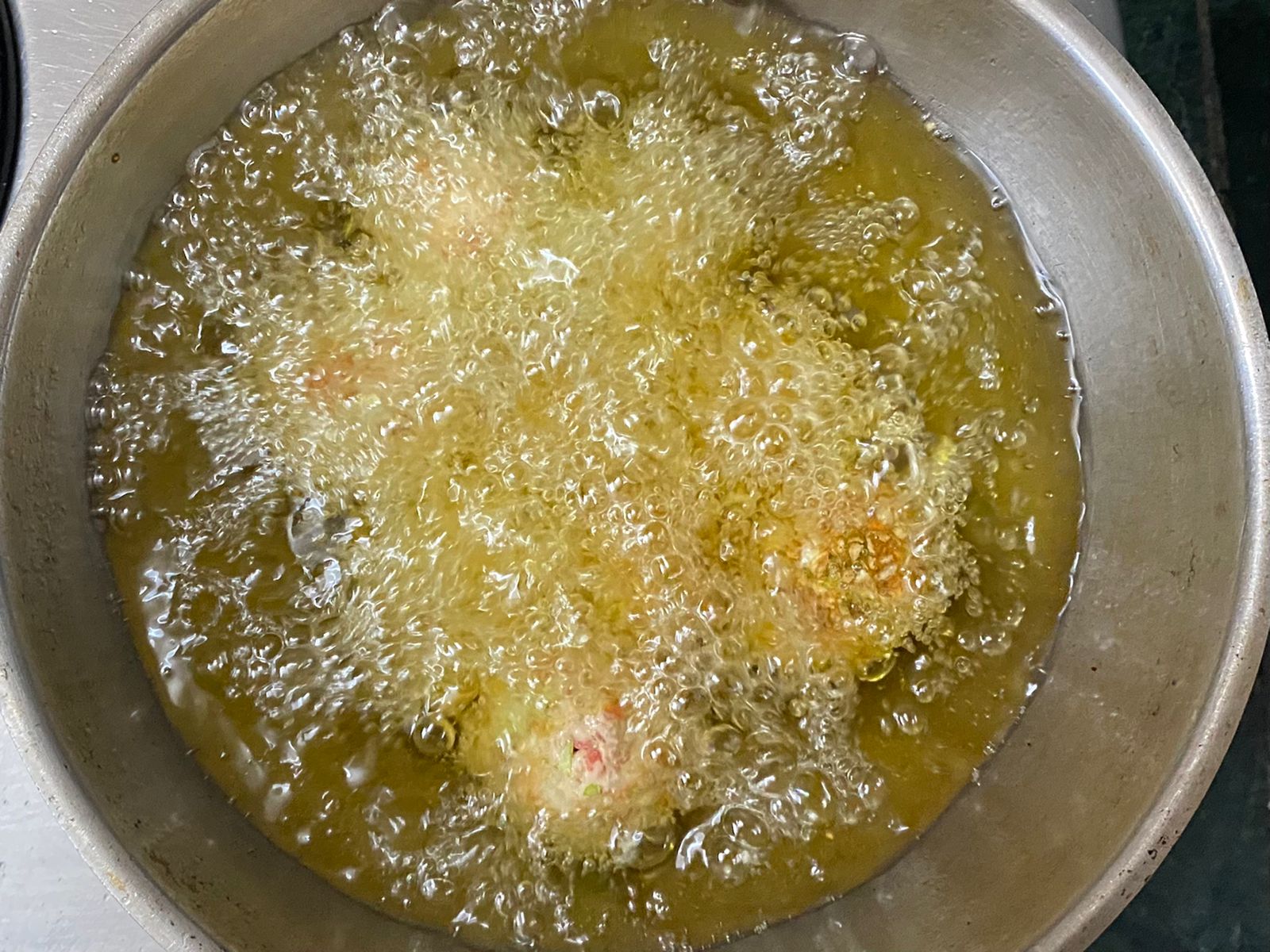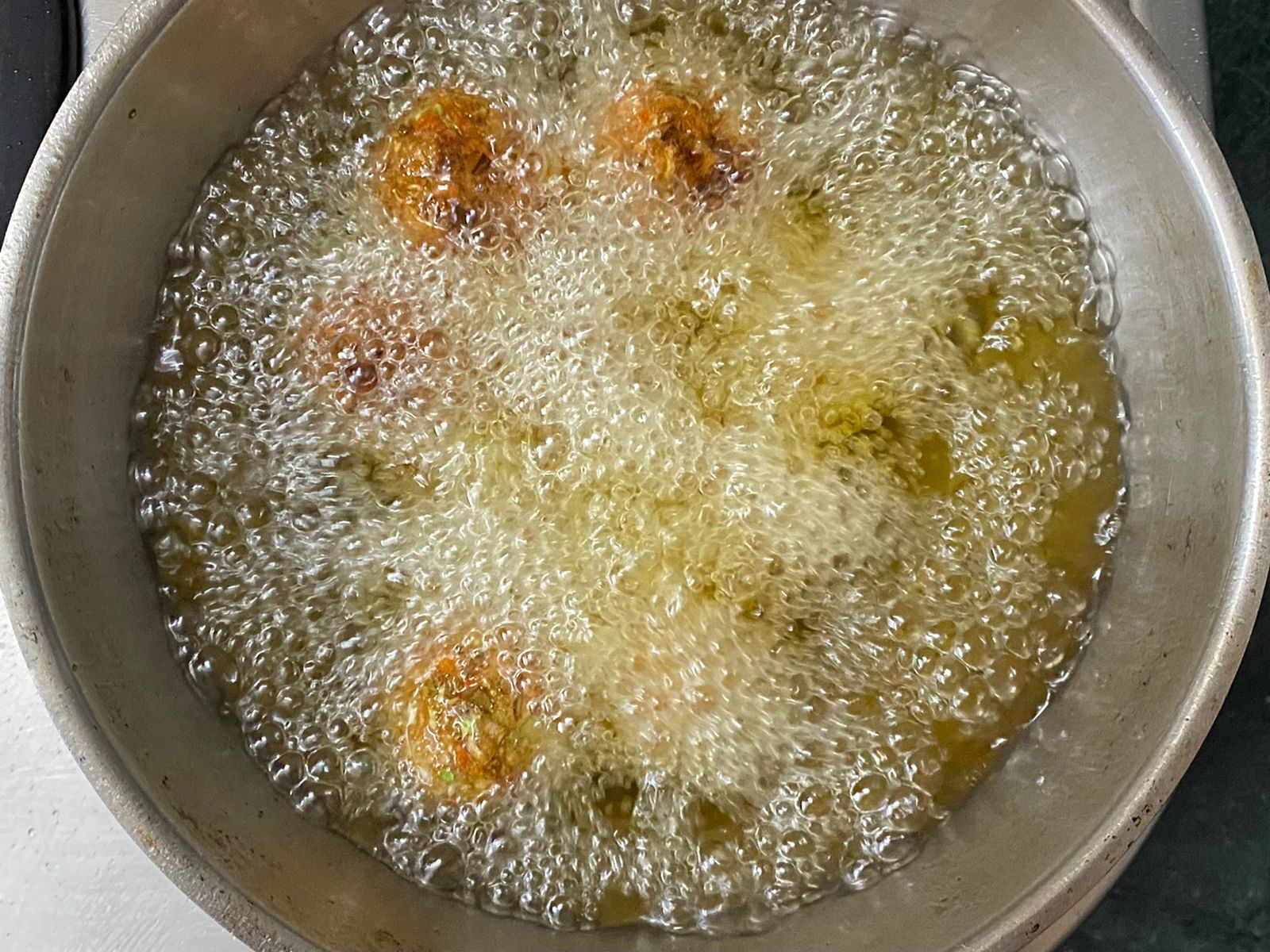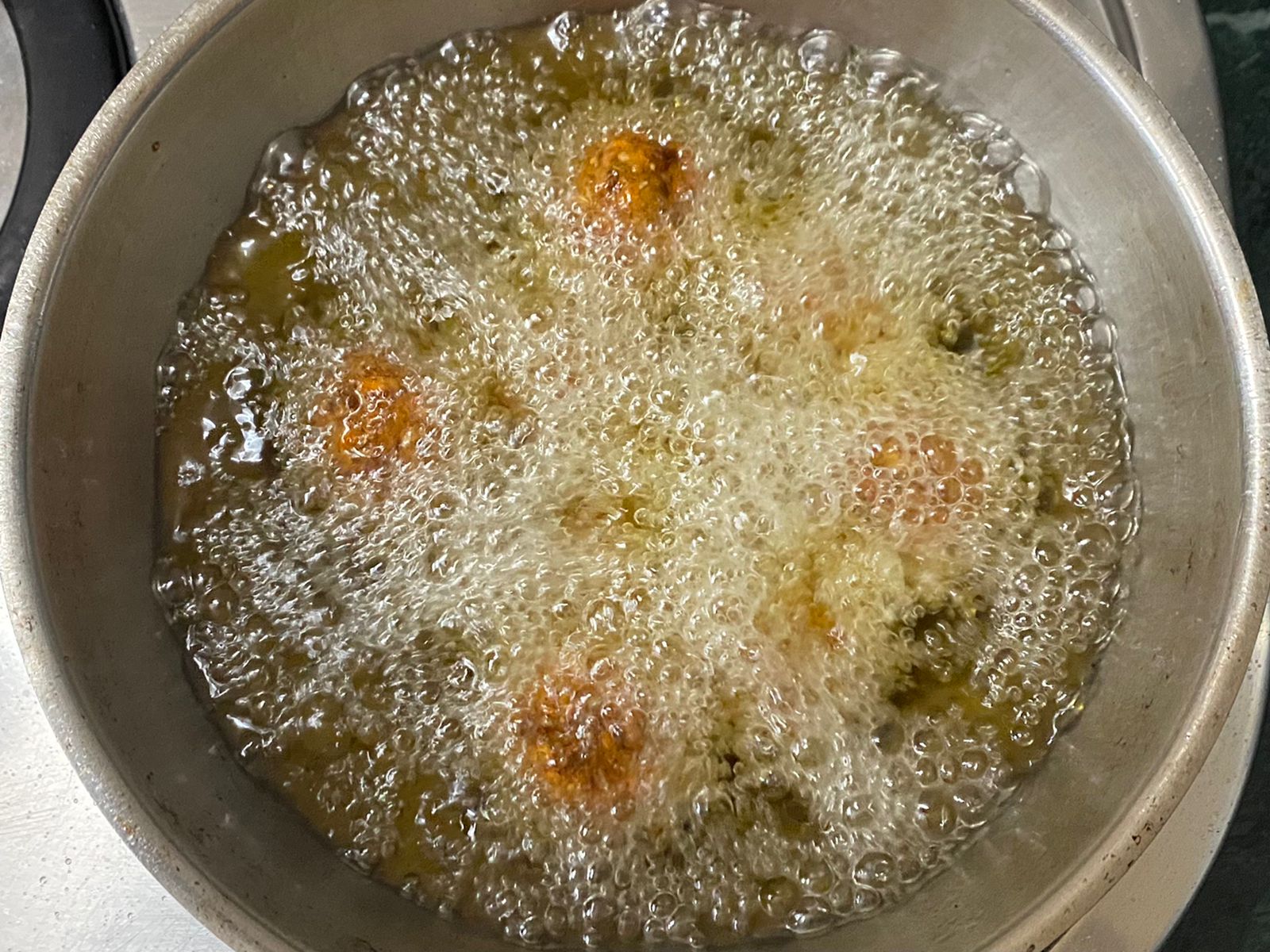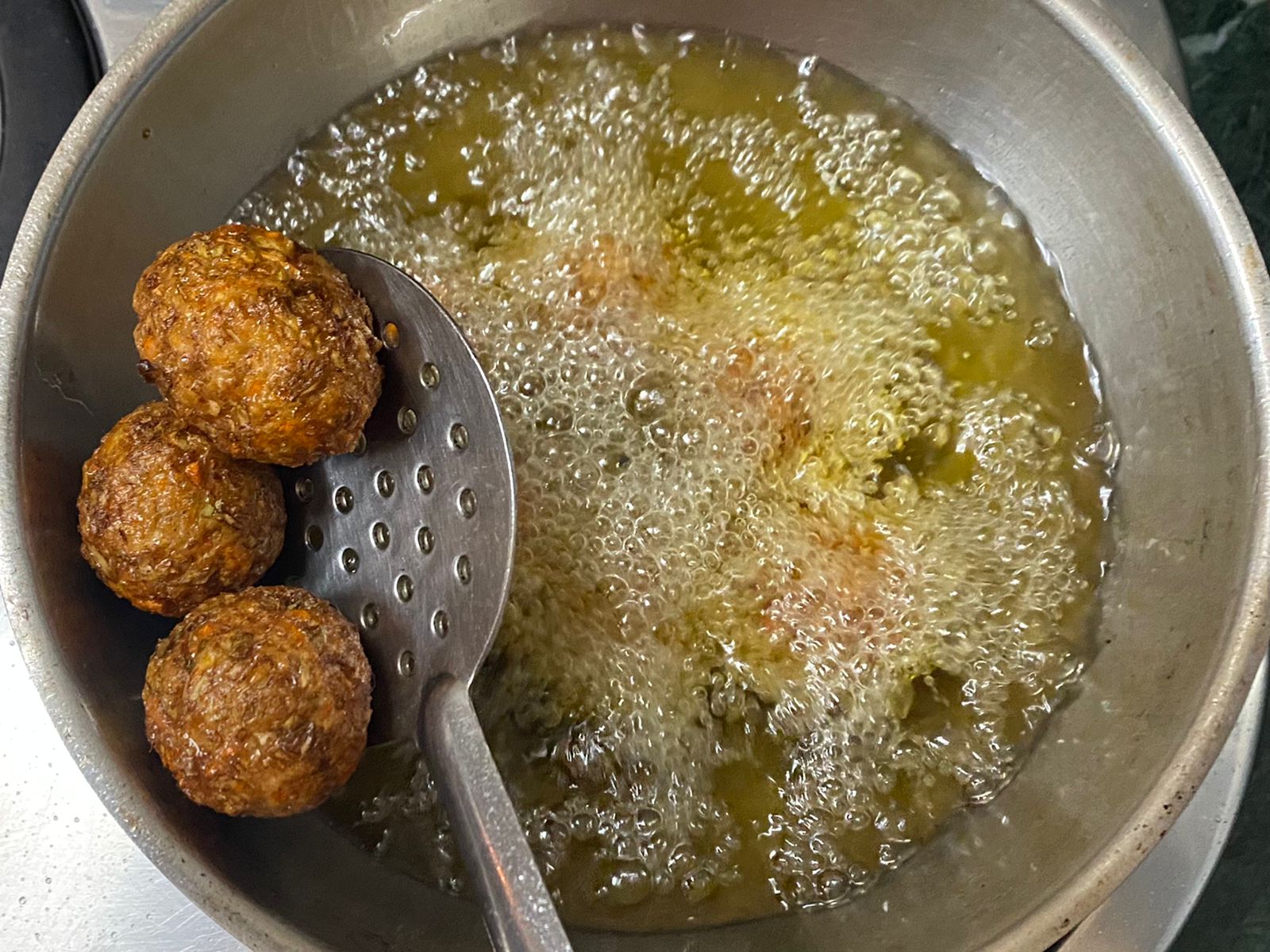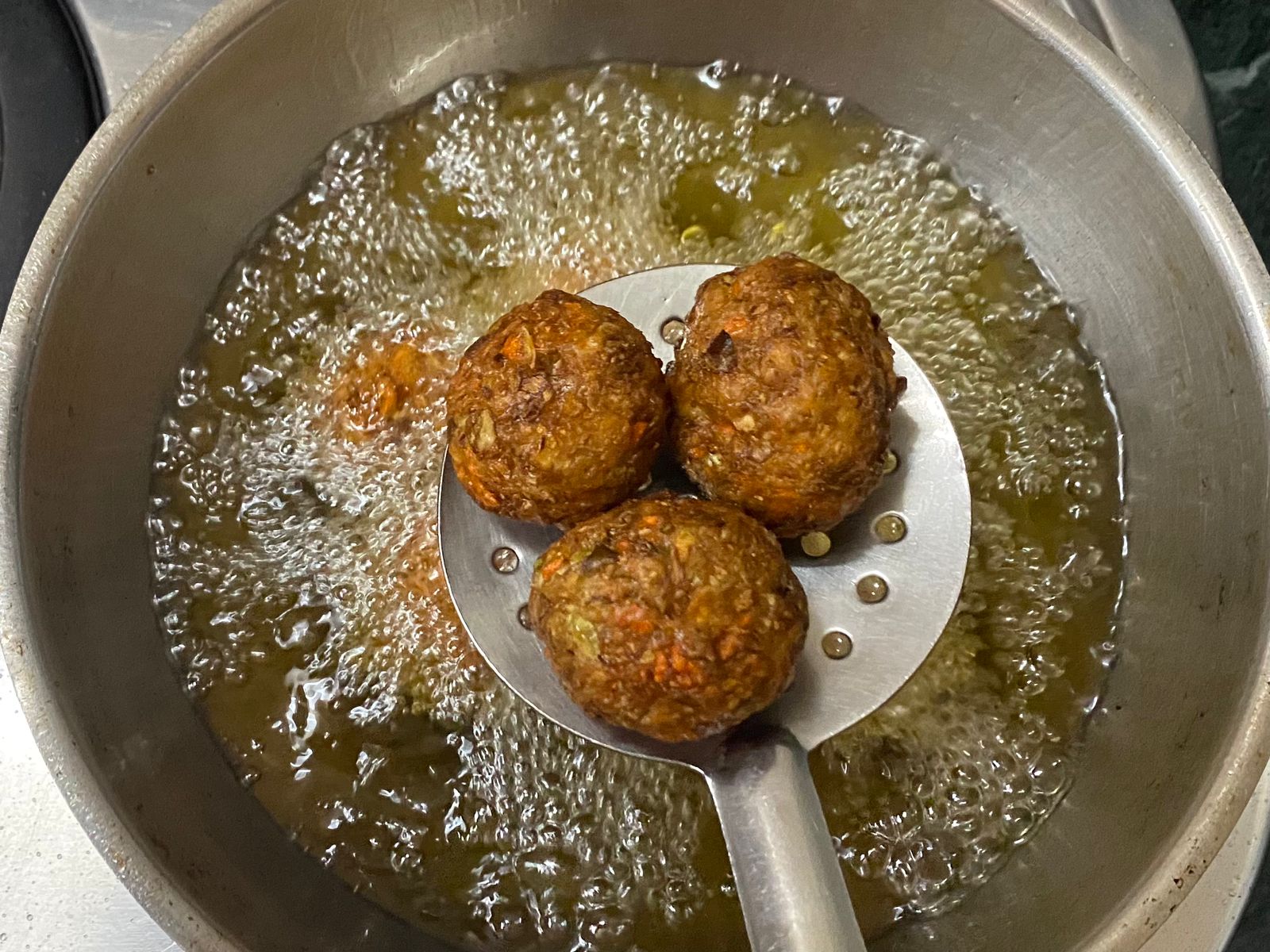 Heat oil in a pan for frying.
To test if the oil is ready for frying gently drop a small piece of a ball to the hot oil. If the ball comes up steadily the oil is ready for frying. If the ball breaks, then add 1 to 2 teaspoons of corn flour.
When the oil is ready, take a spoonful of mixture and make small balls.  Gently drop them in the oil and fry them on medium-low heat. When cooked from one side, turn the balls, and fry them until the balls turn golden and crisp. Remove them with a slotted spoon and drain the oil as much as possible. Place the fried balls on some kitchen paper towel.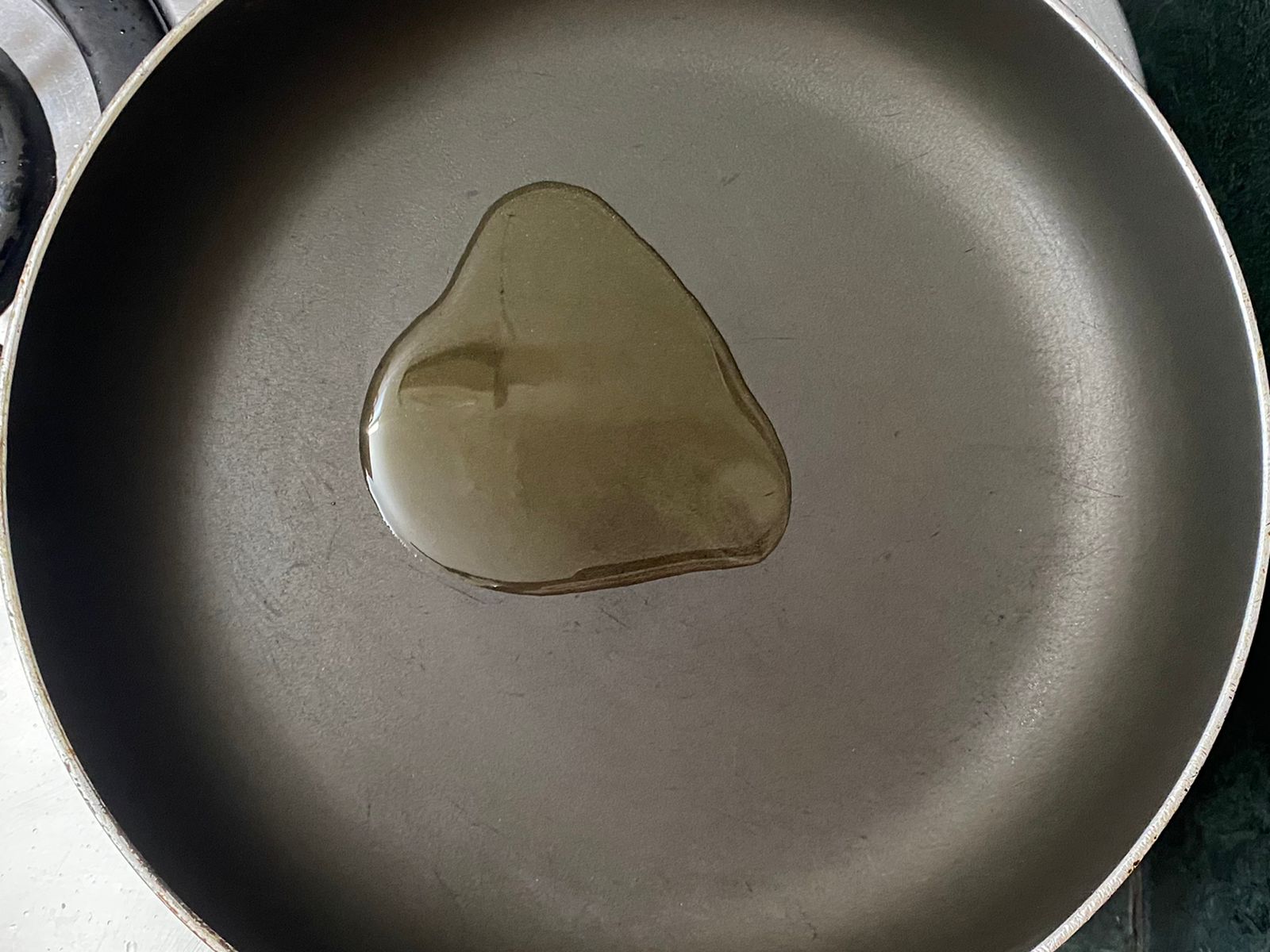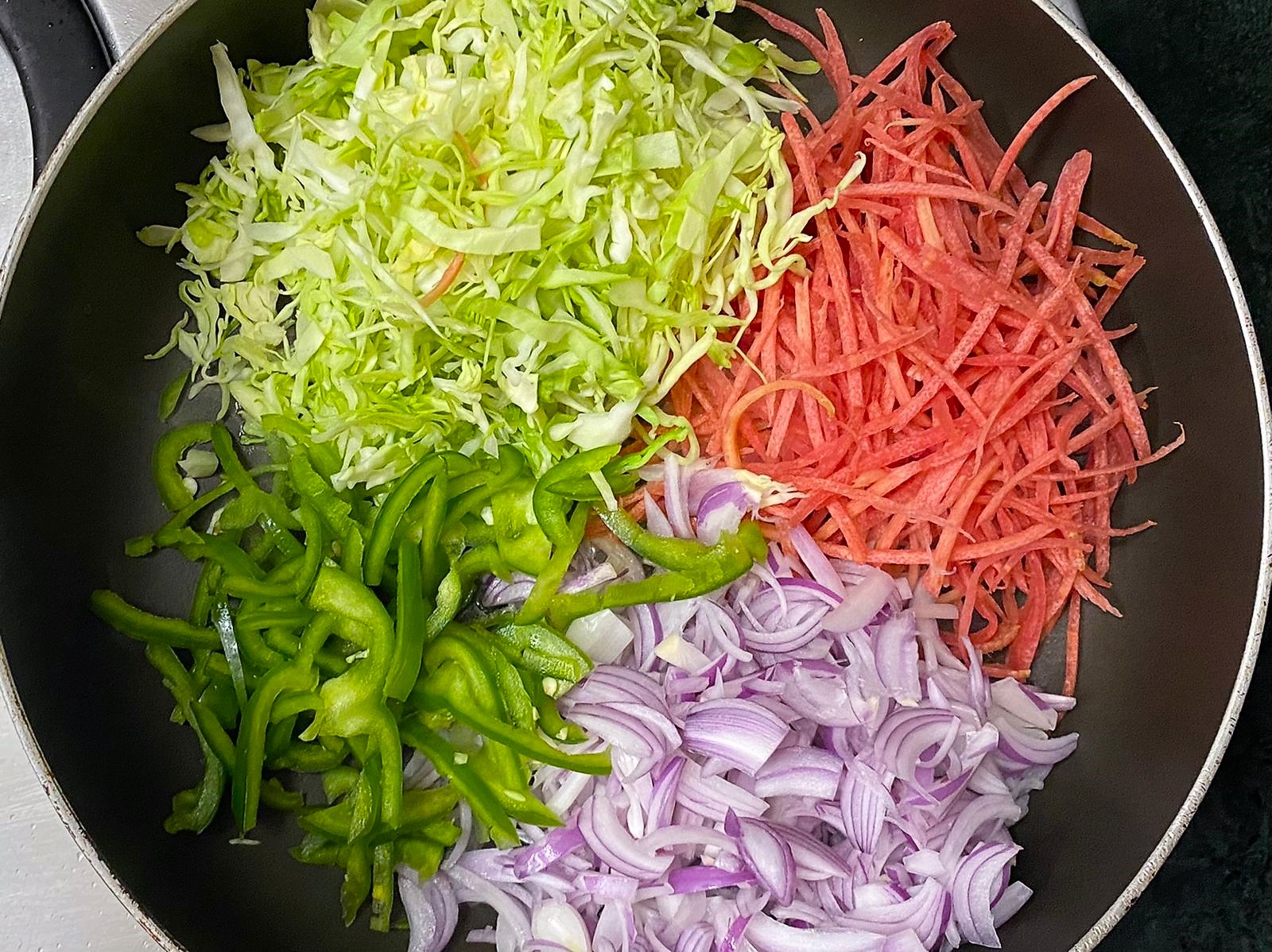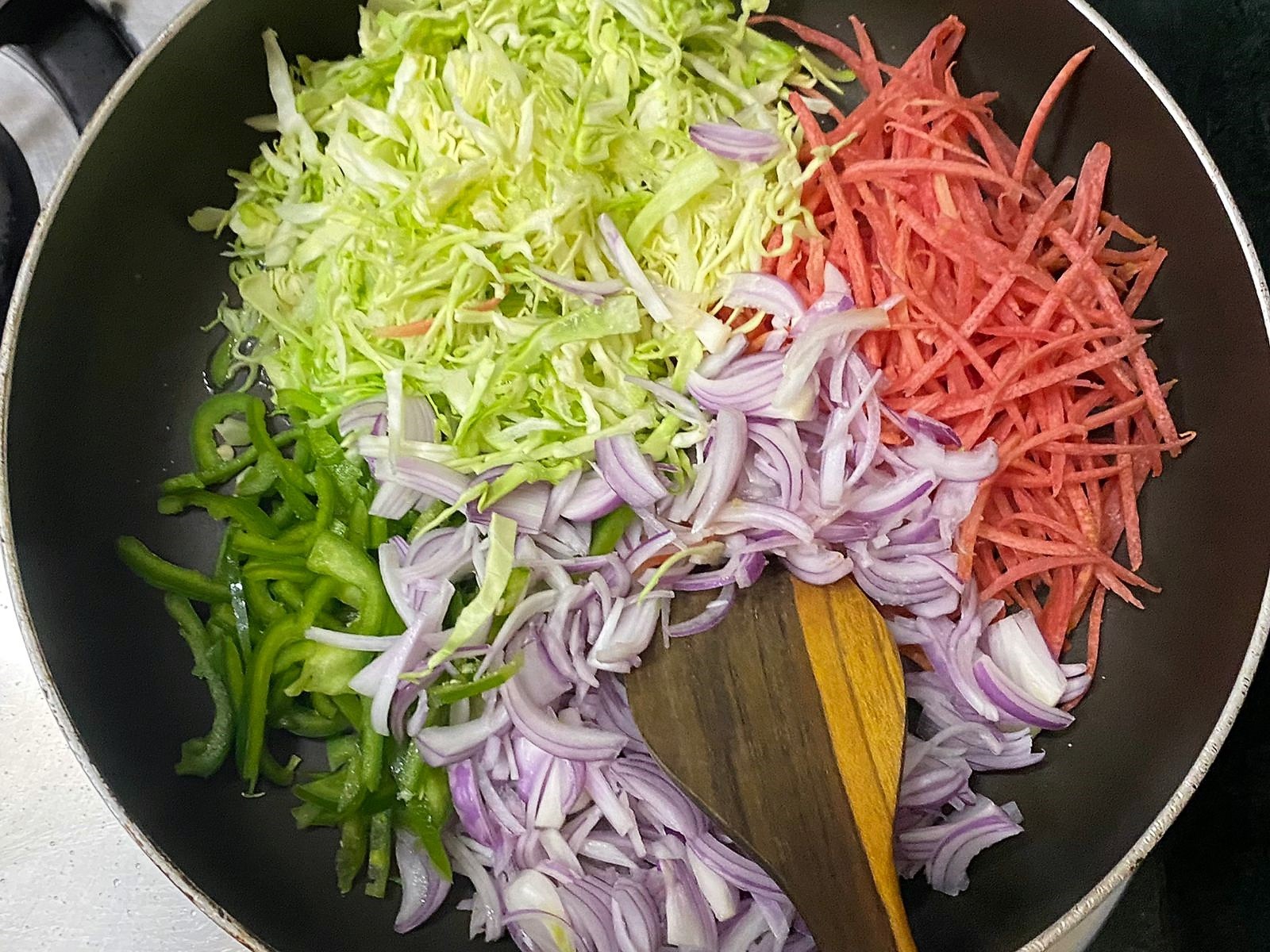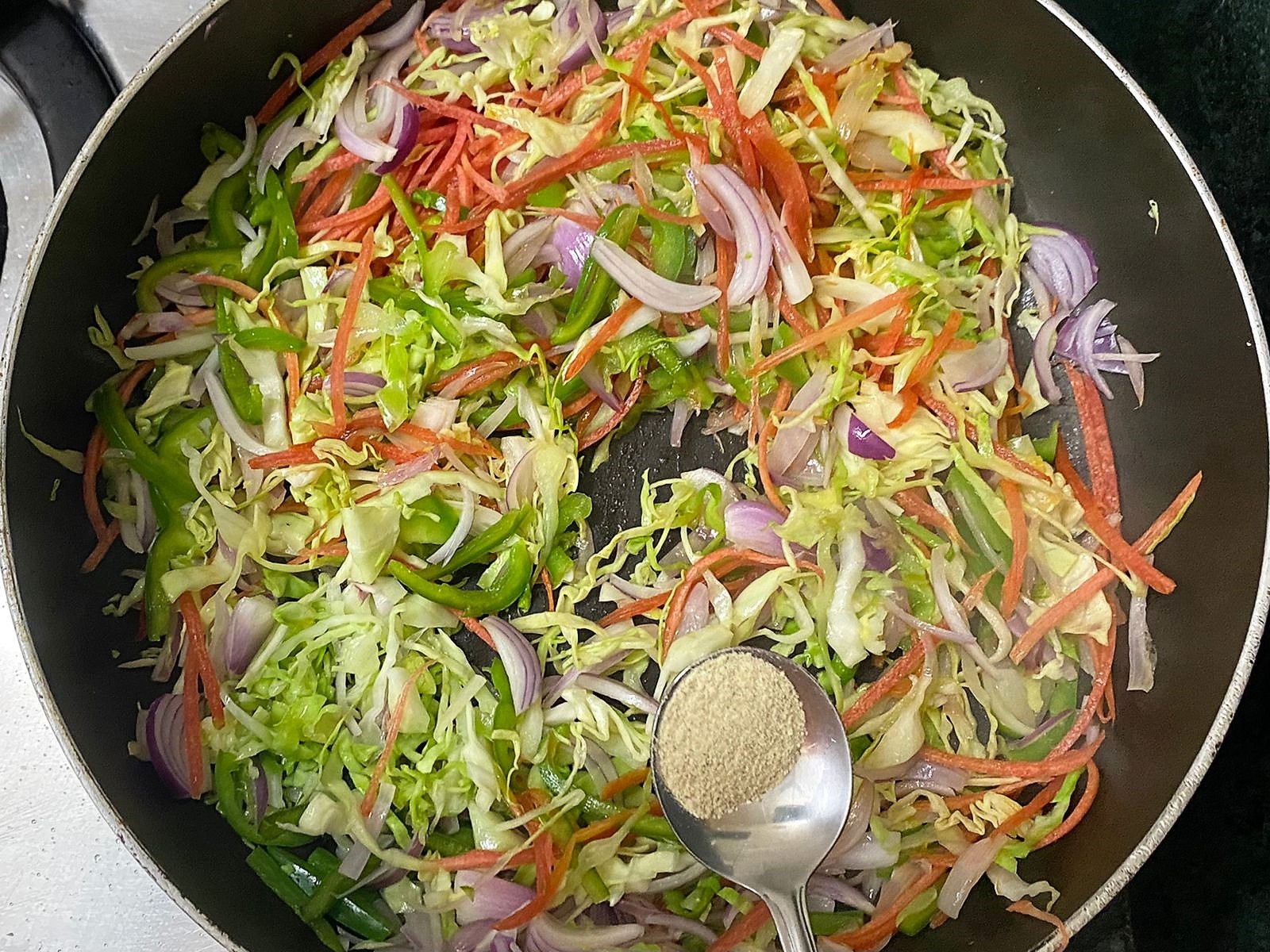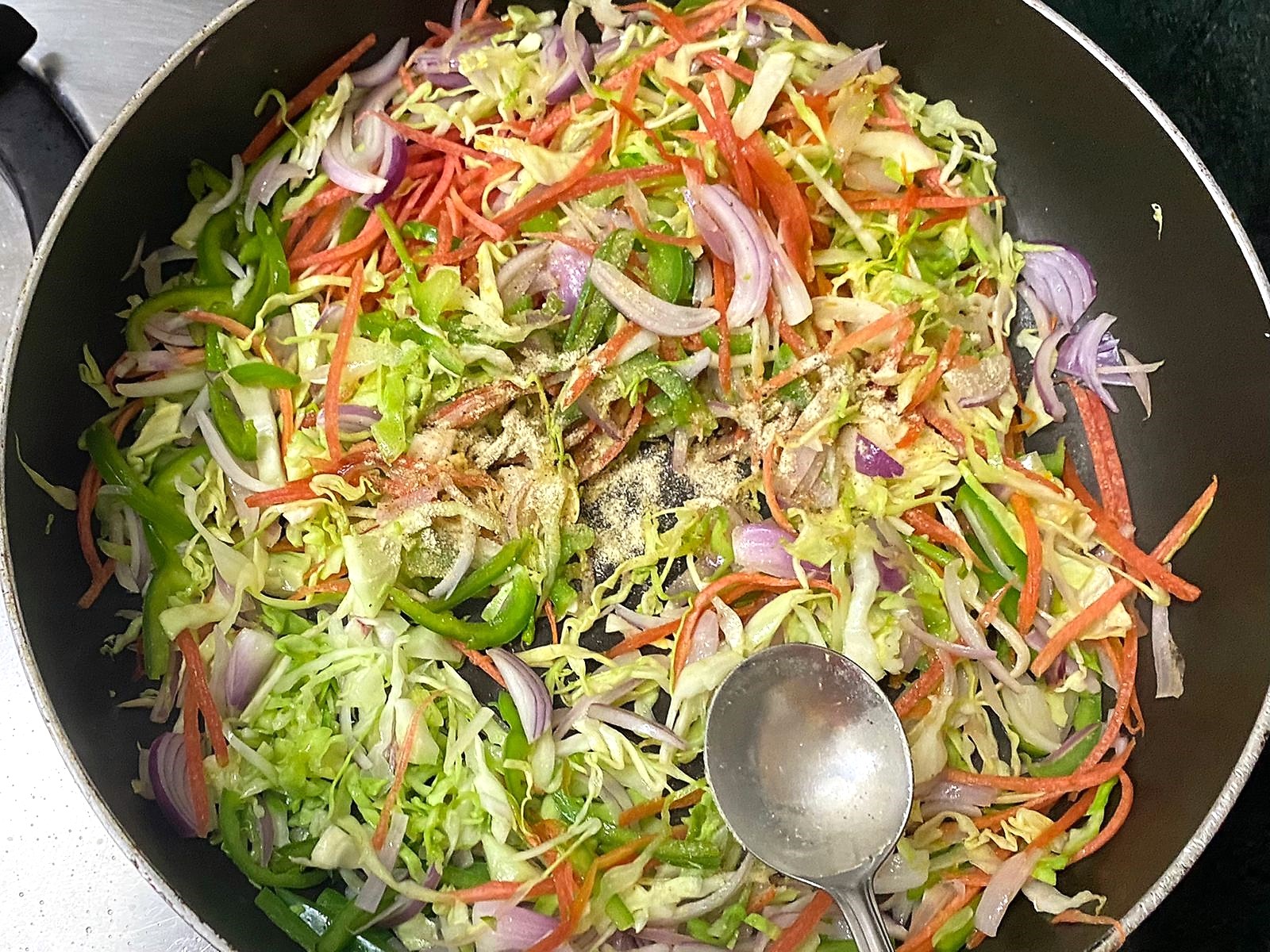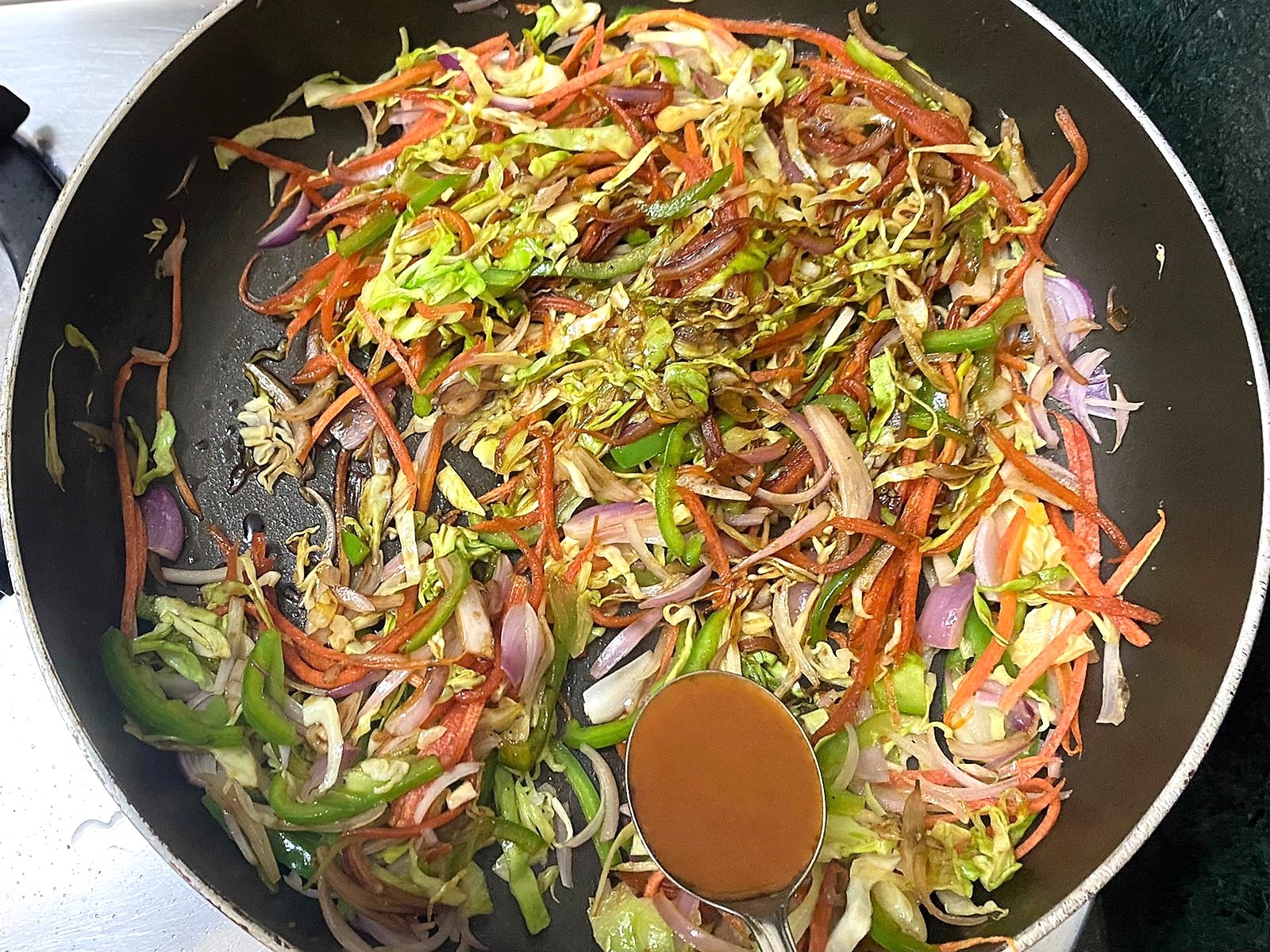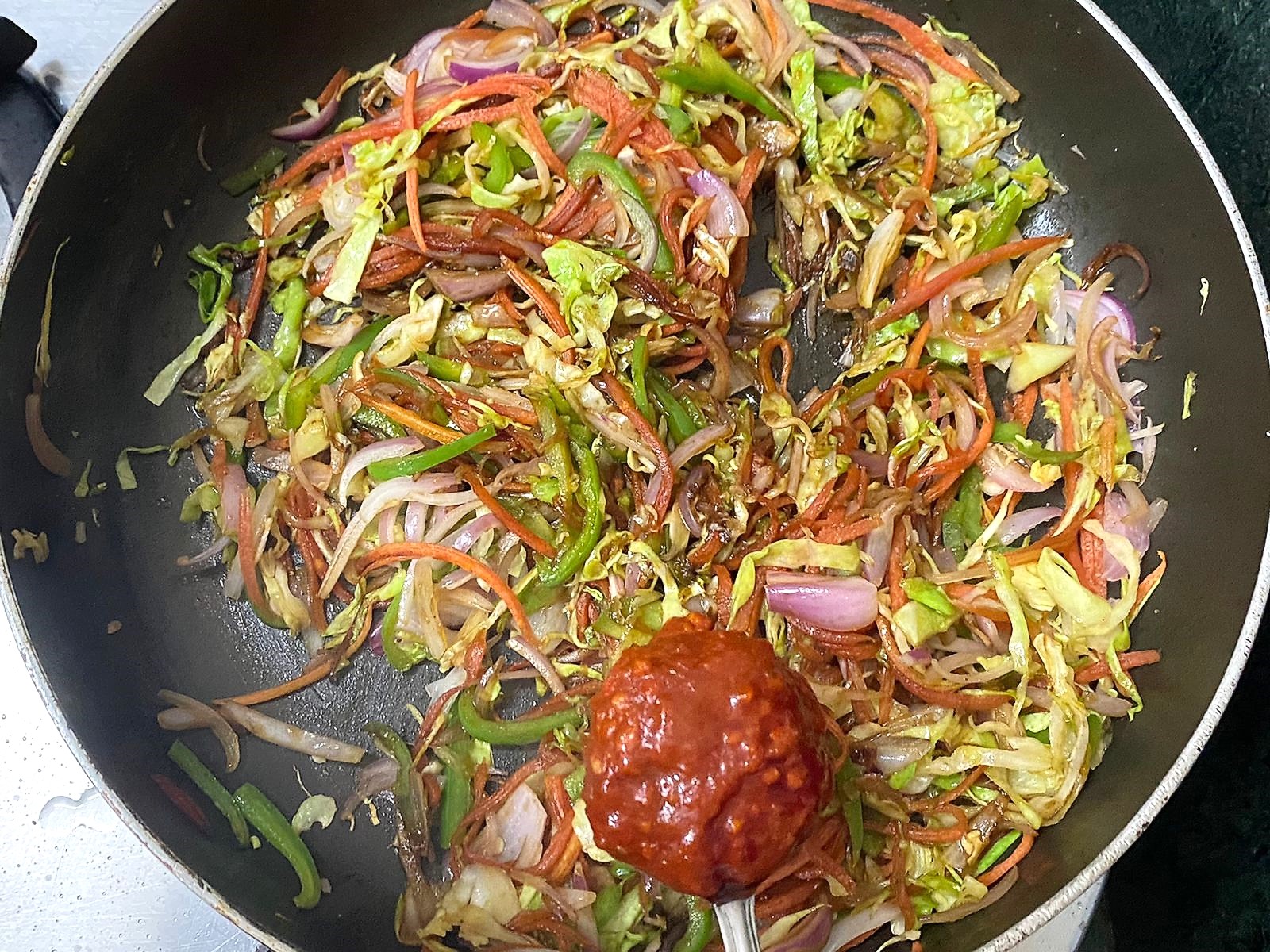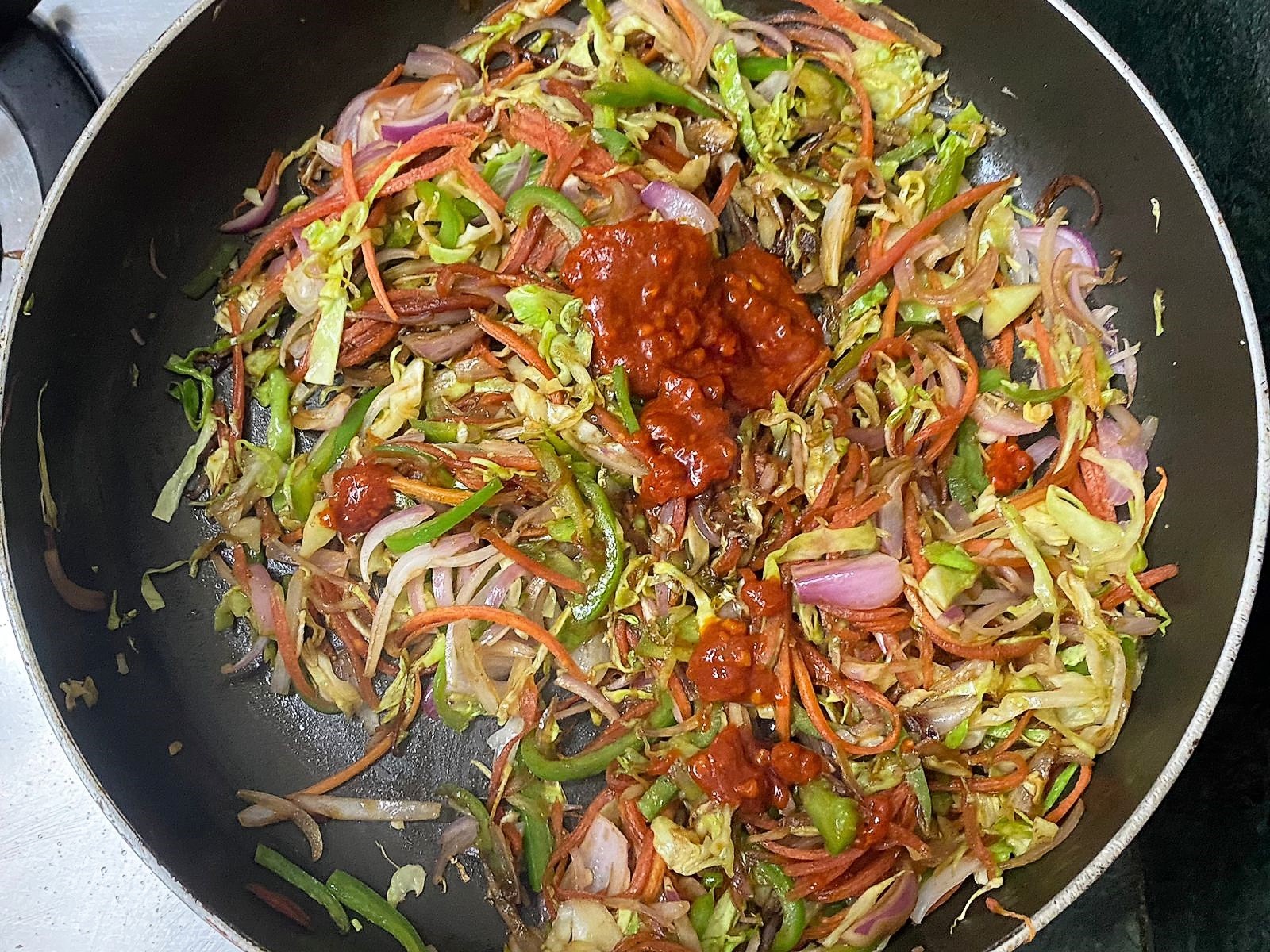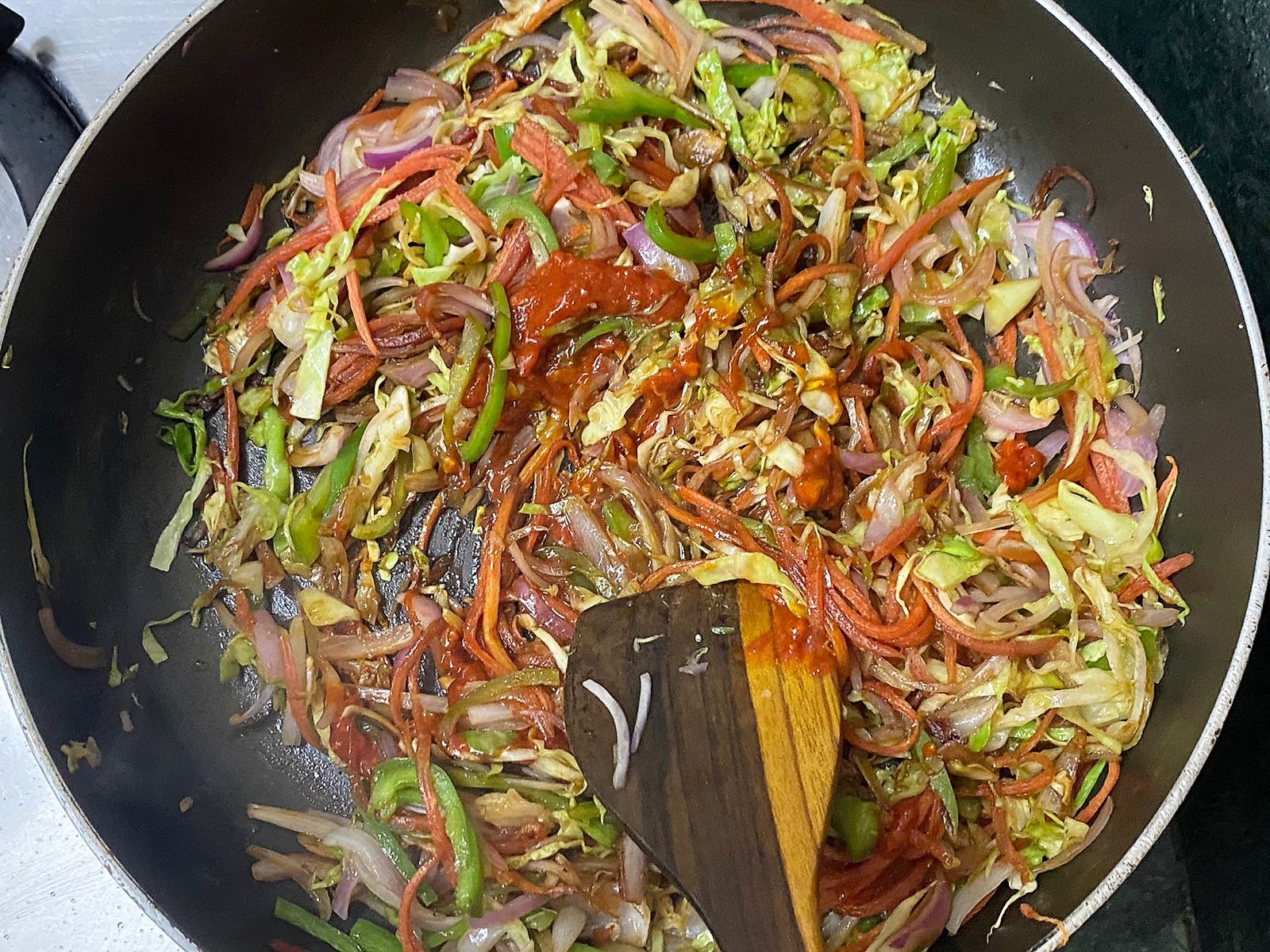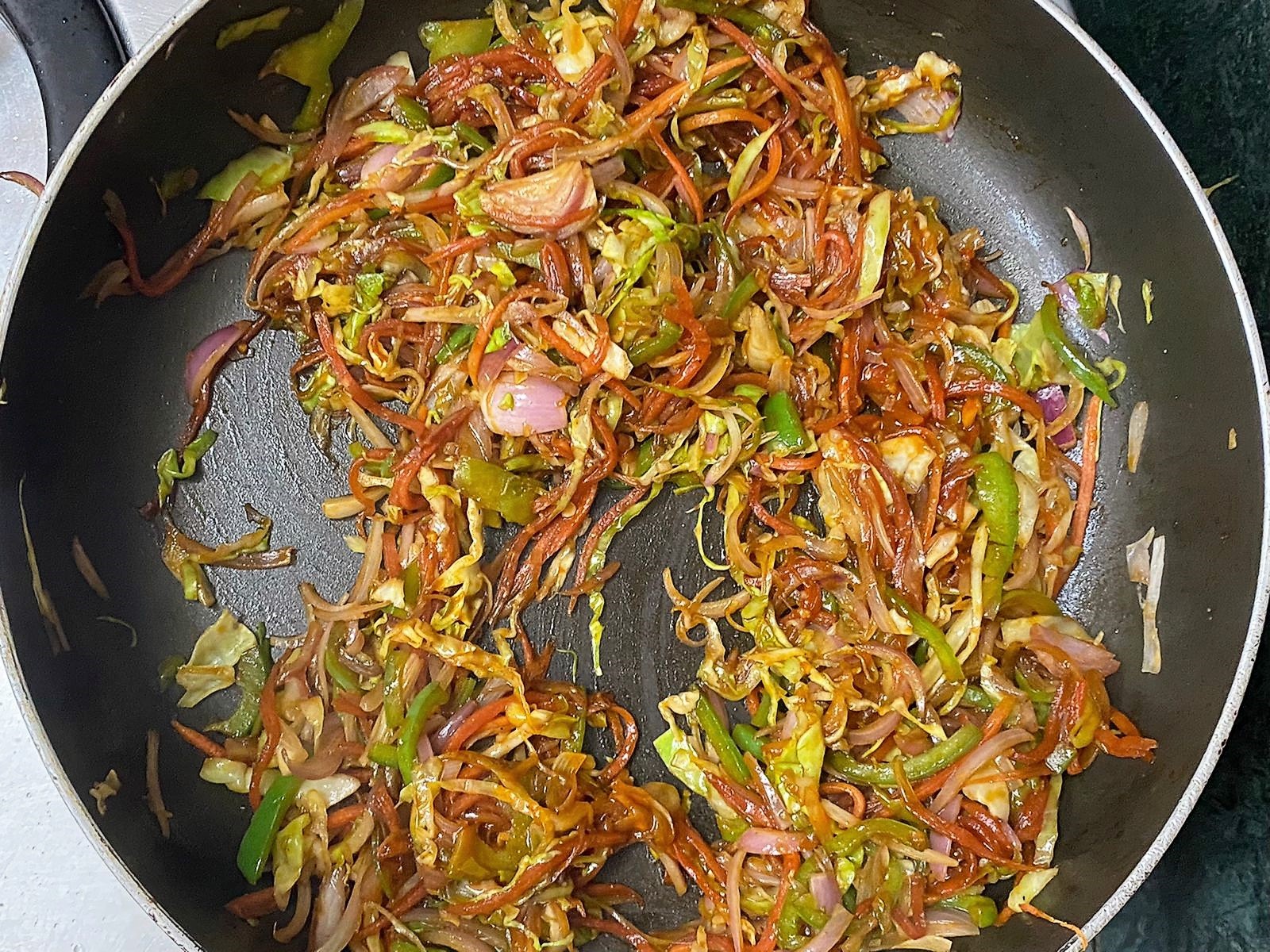 Heat oil in a pan and add carrots, cabbage, green pepper and onions and sauté for a minute on high heat.
Next add salt, white pepper, vinegar, soy sauce, red chilli sauce and schezwan sauce and sauté on medium heat for 2-4 minutes until the vegetables are partially cooked. We want to keep the vegetables al dente so do not overcook.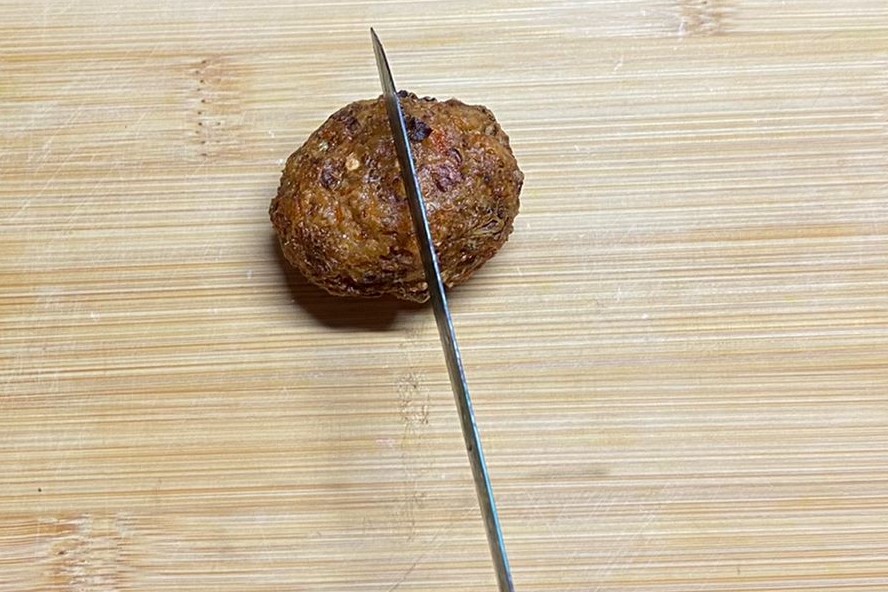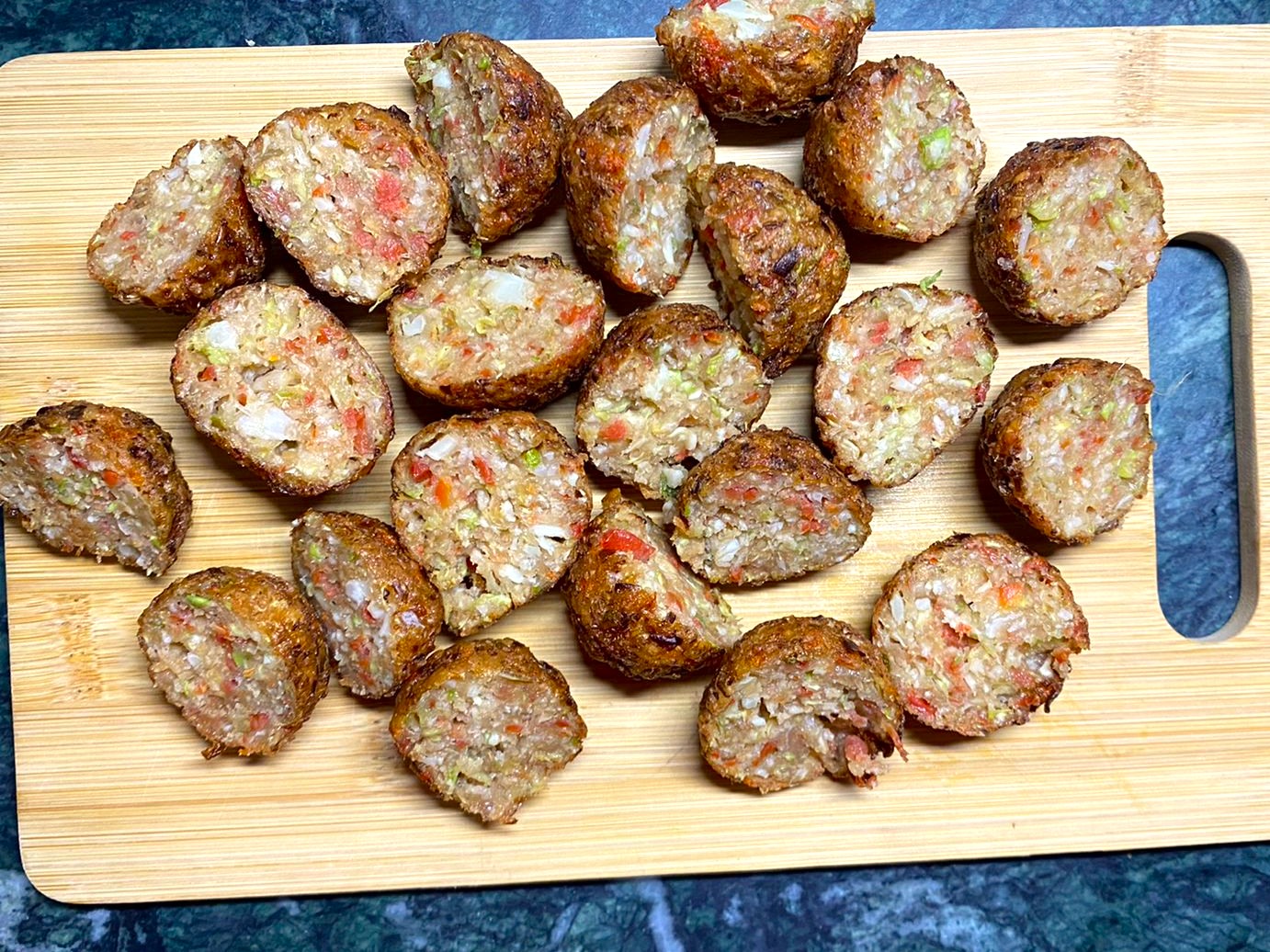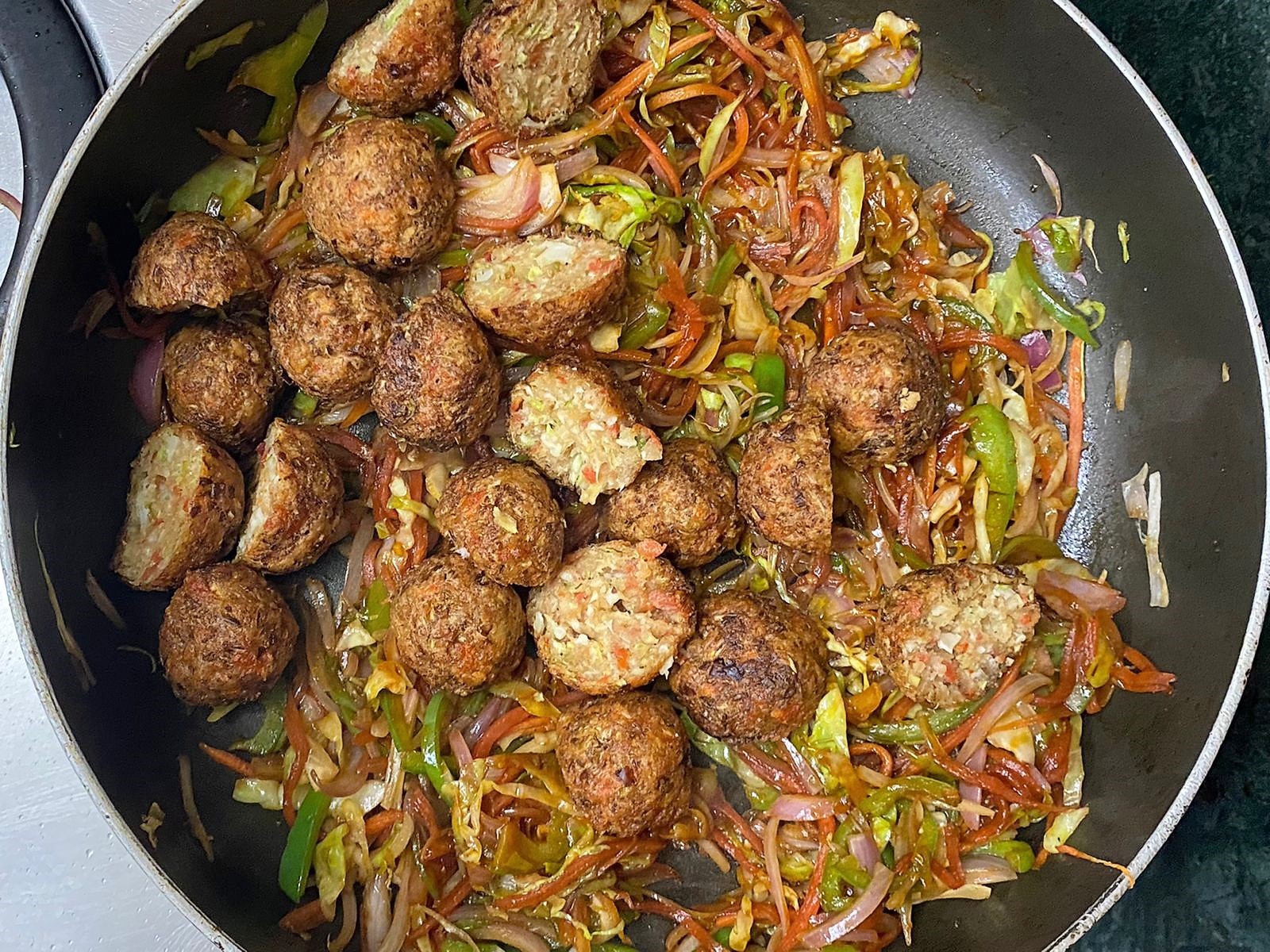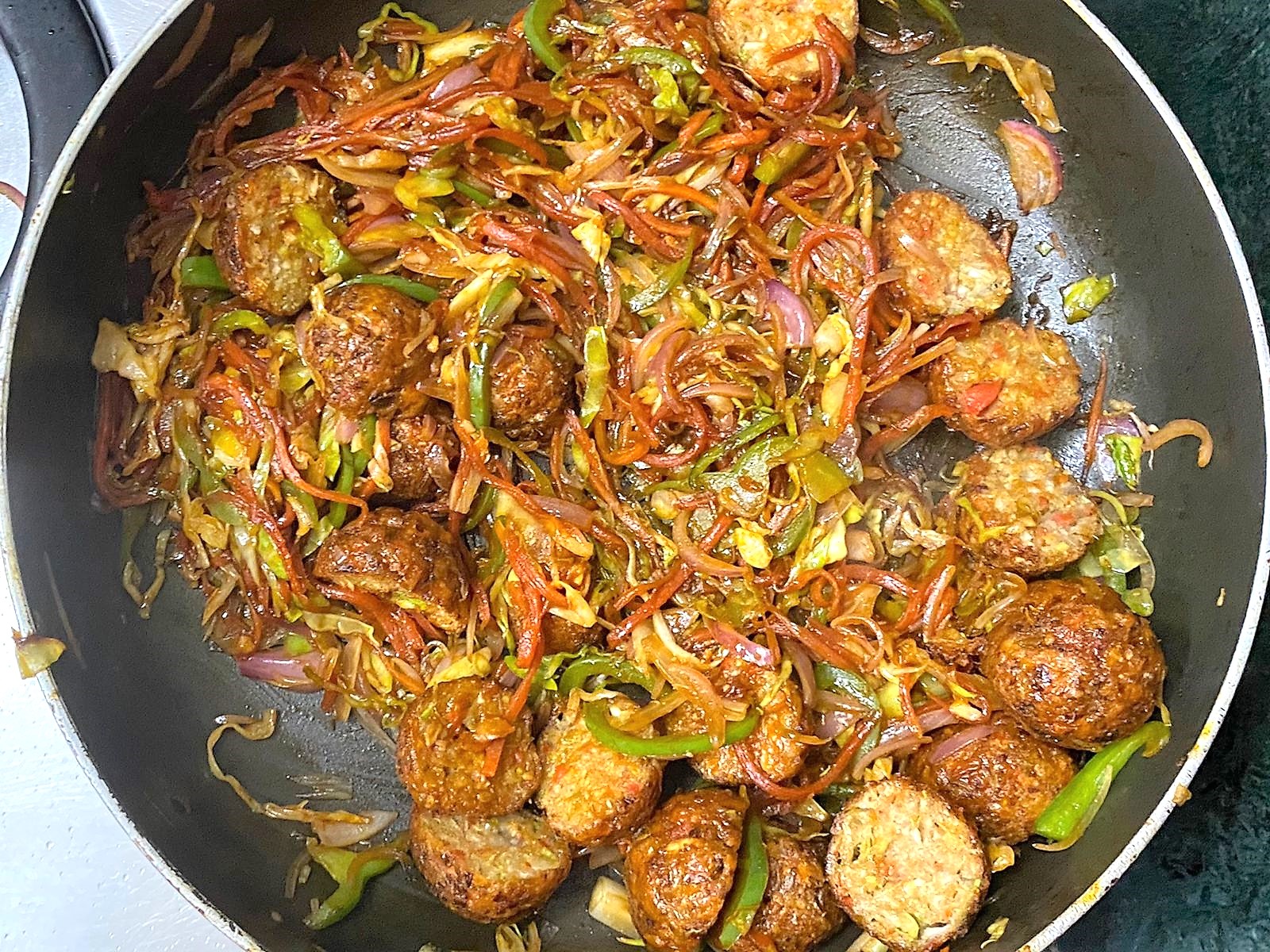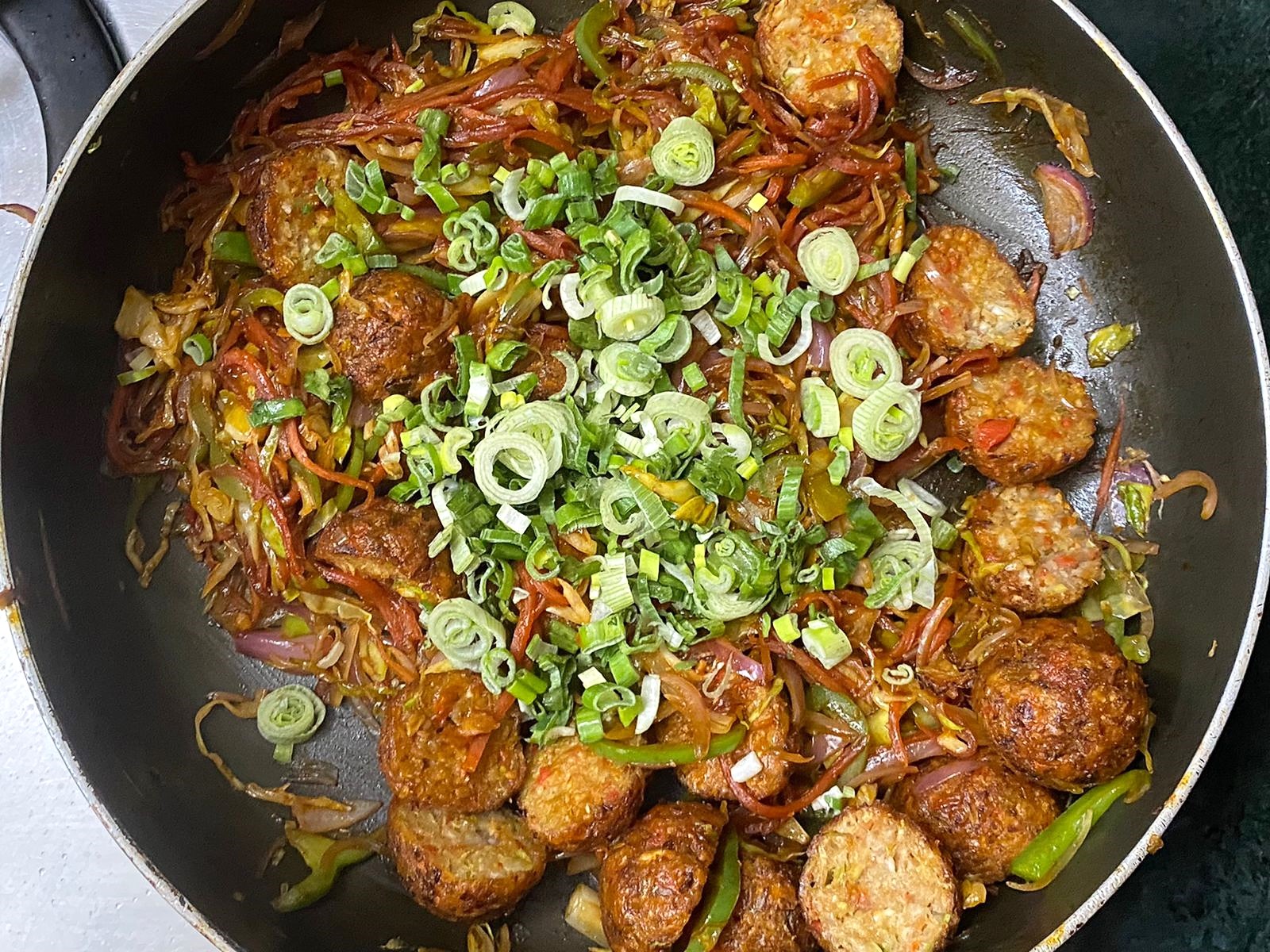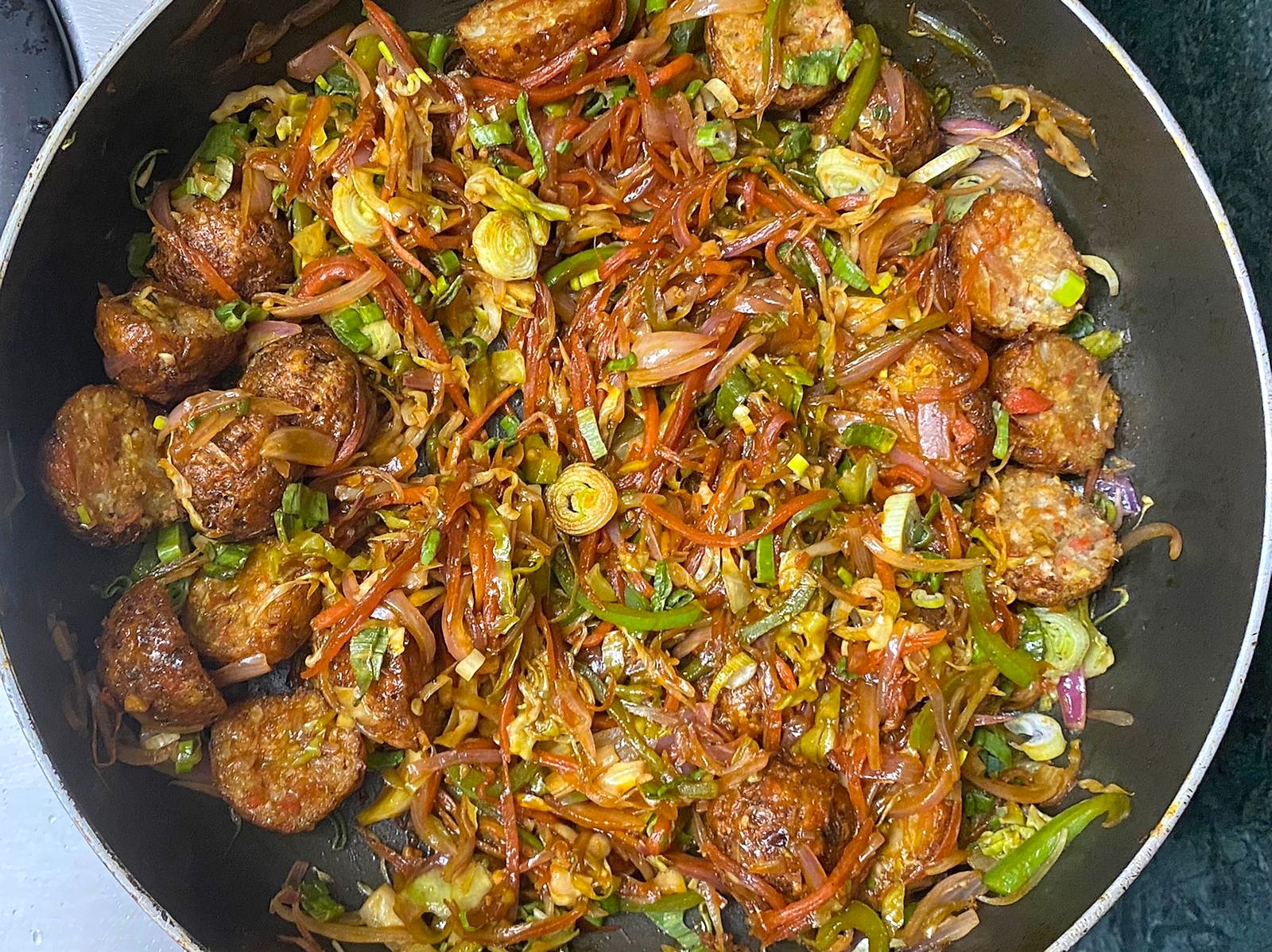 Cut the Manchurian balls in half or quarters.
Add the Manchurian balls and spring onions to the sauteed vegetables and sauté on medium heat for 1-2 minutes. Turn off the heat and keep it aside.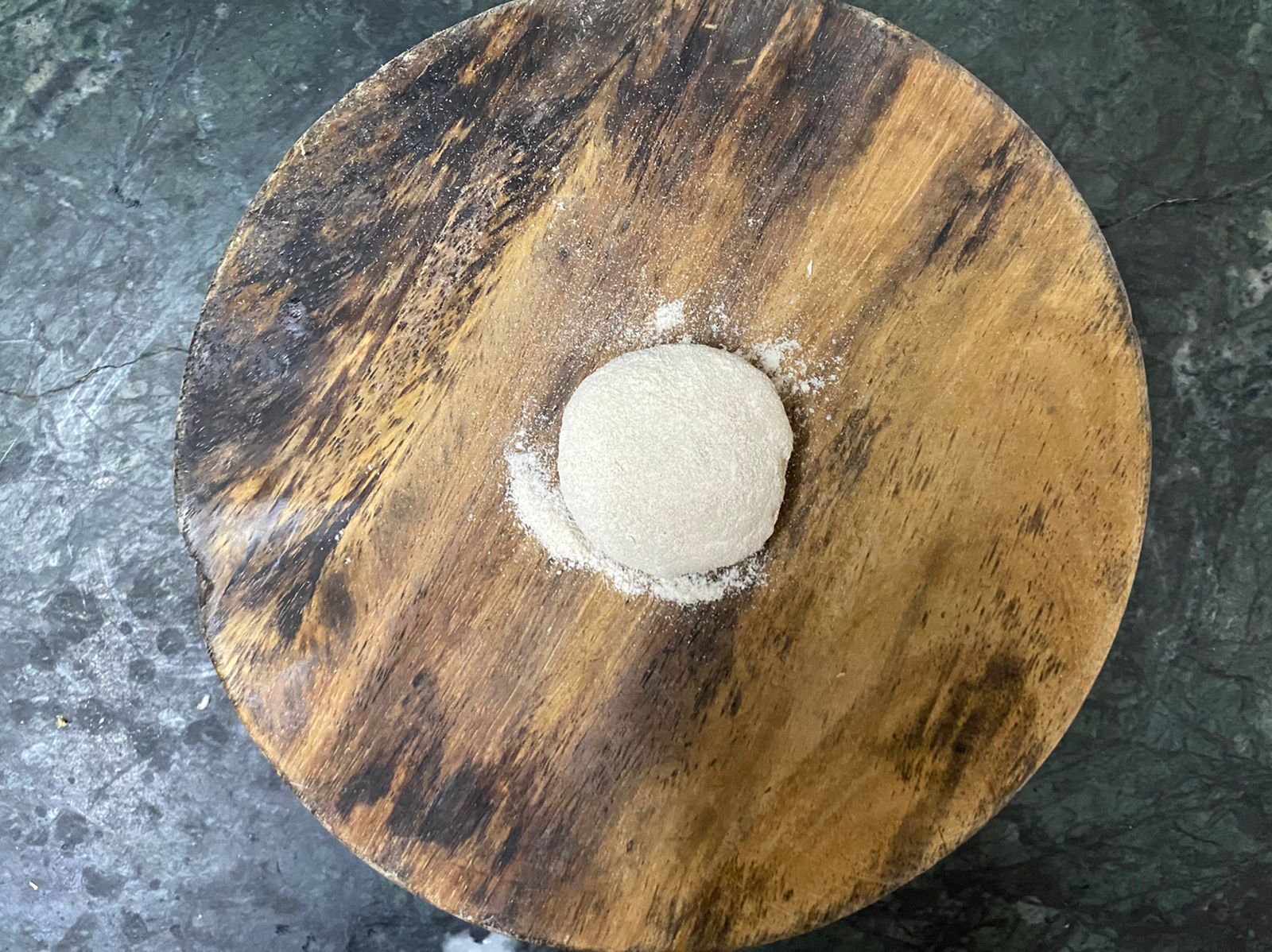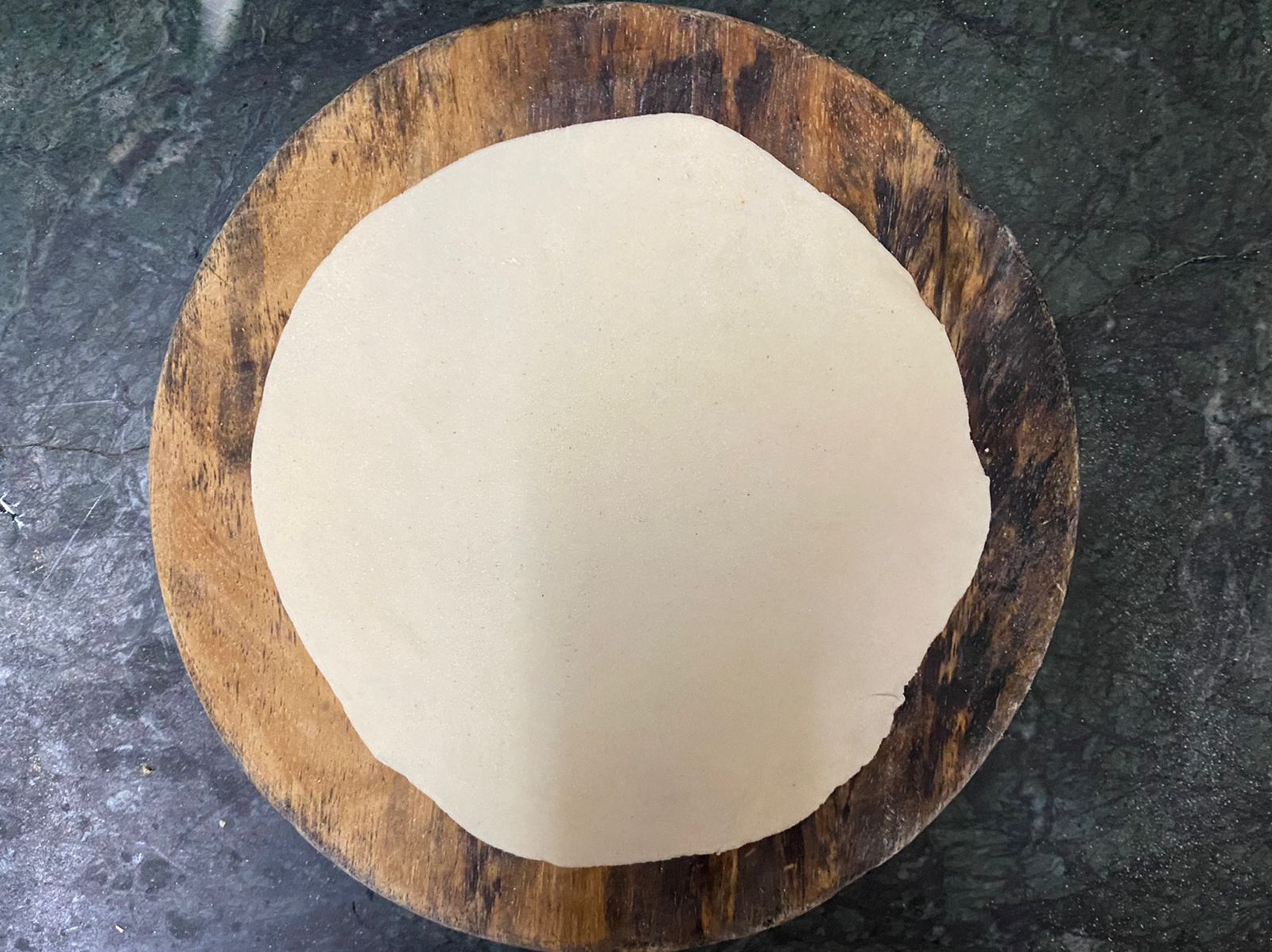 Once the dough has rested for at least 30 minutes knead the dough once again and divide it into 6 equal portions.
Dust some flour on the worktop and roll the dough balls into thin circles around 6-7 inches in diameter.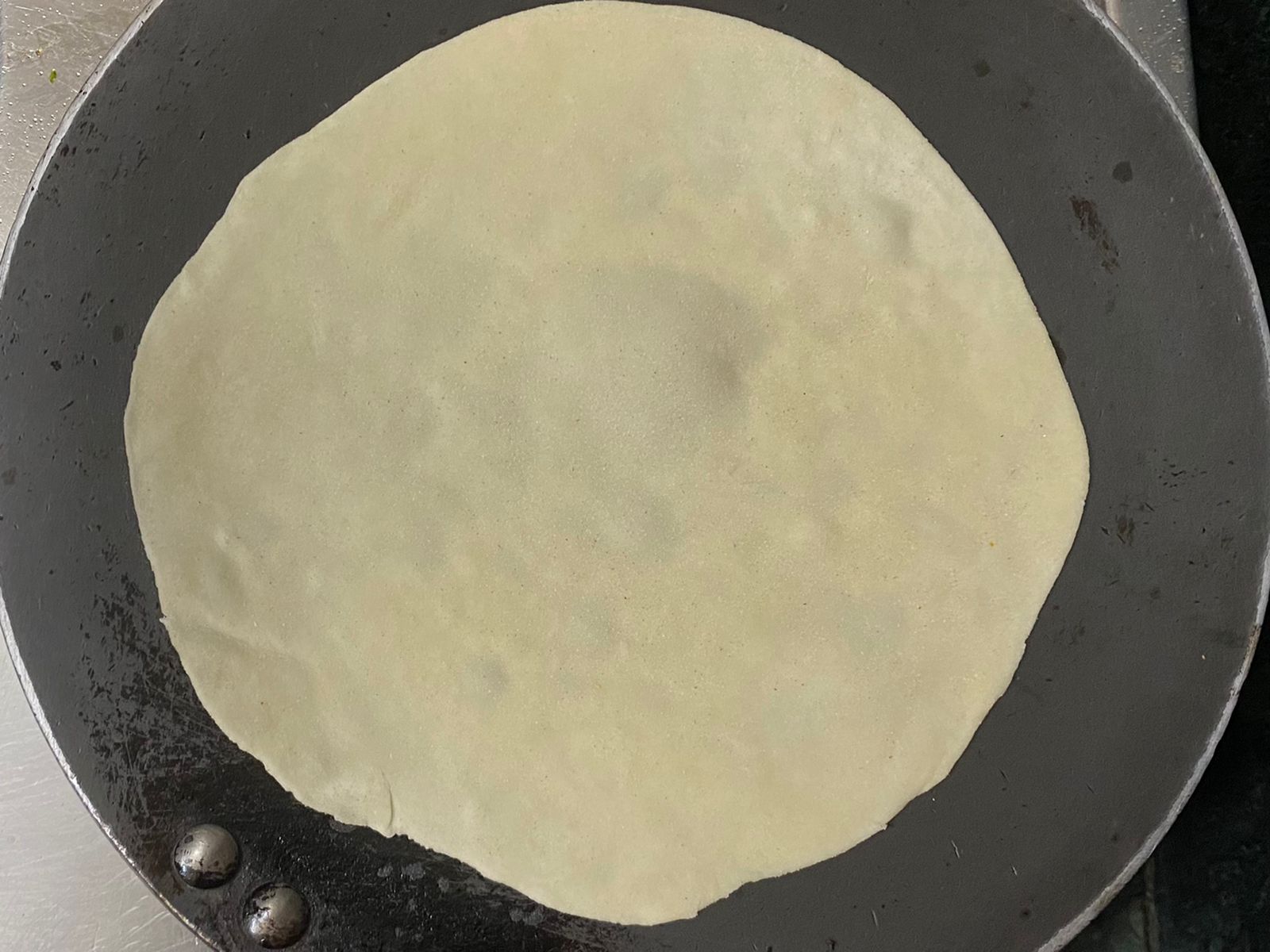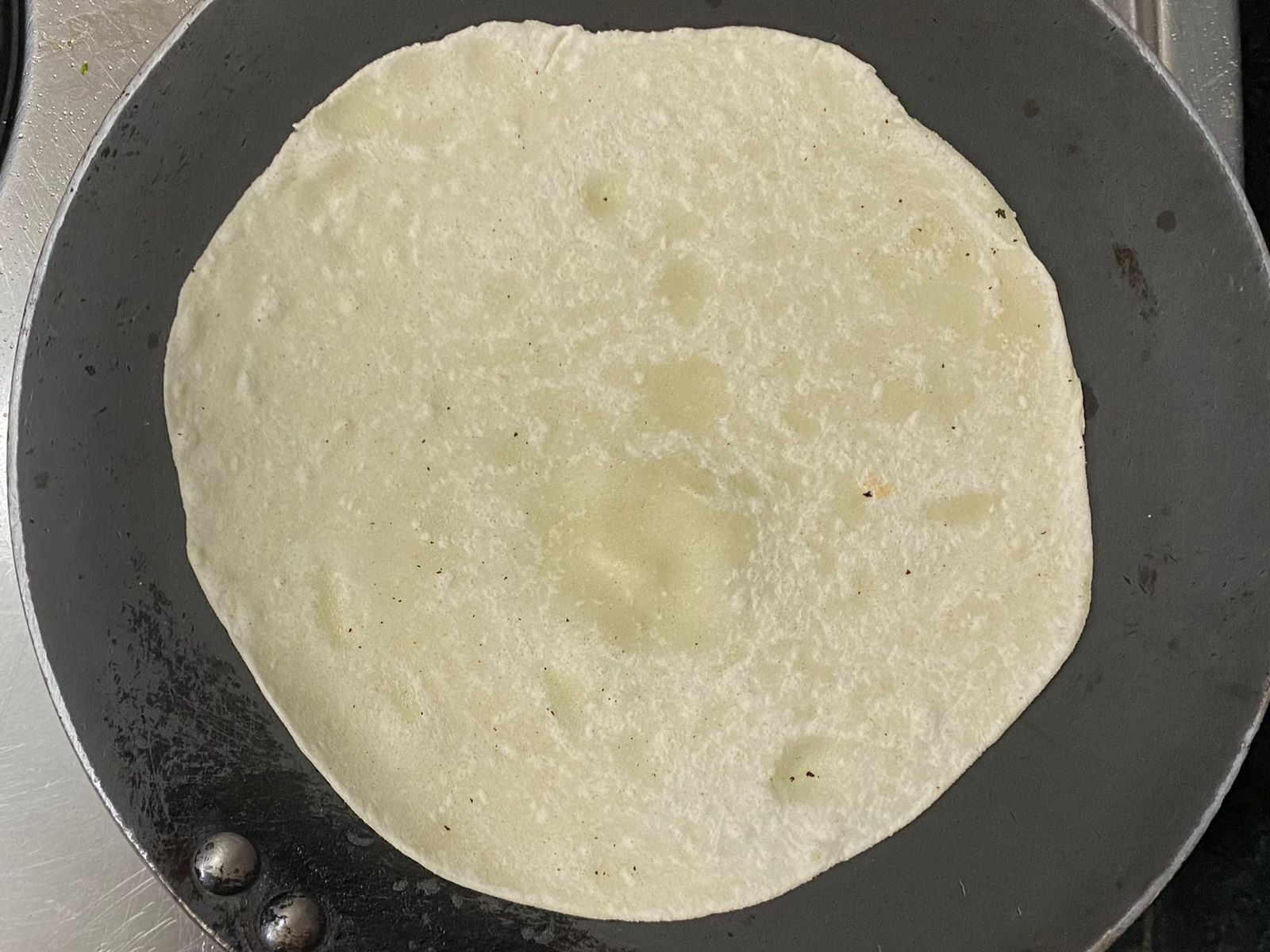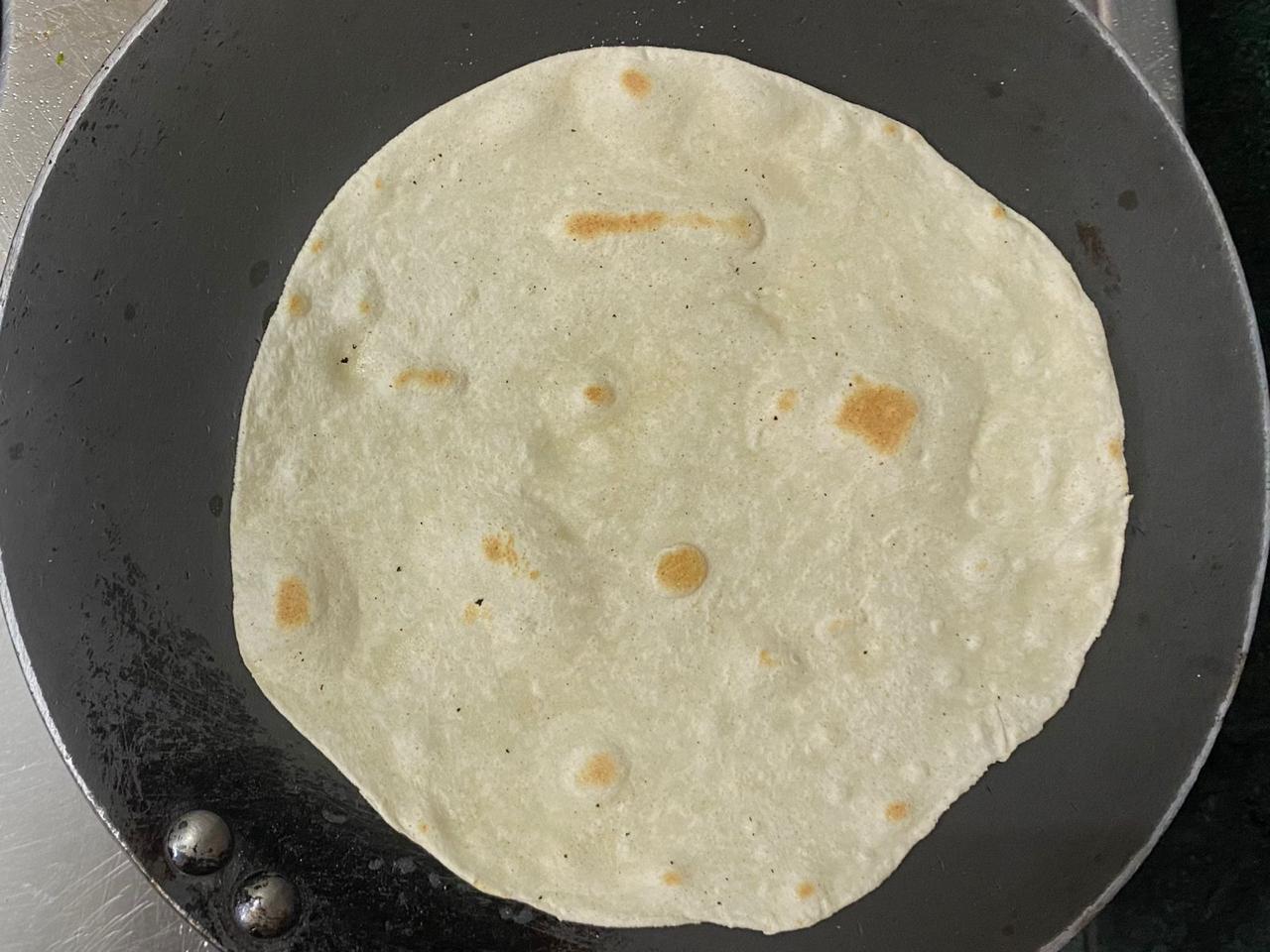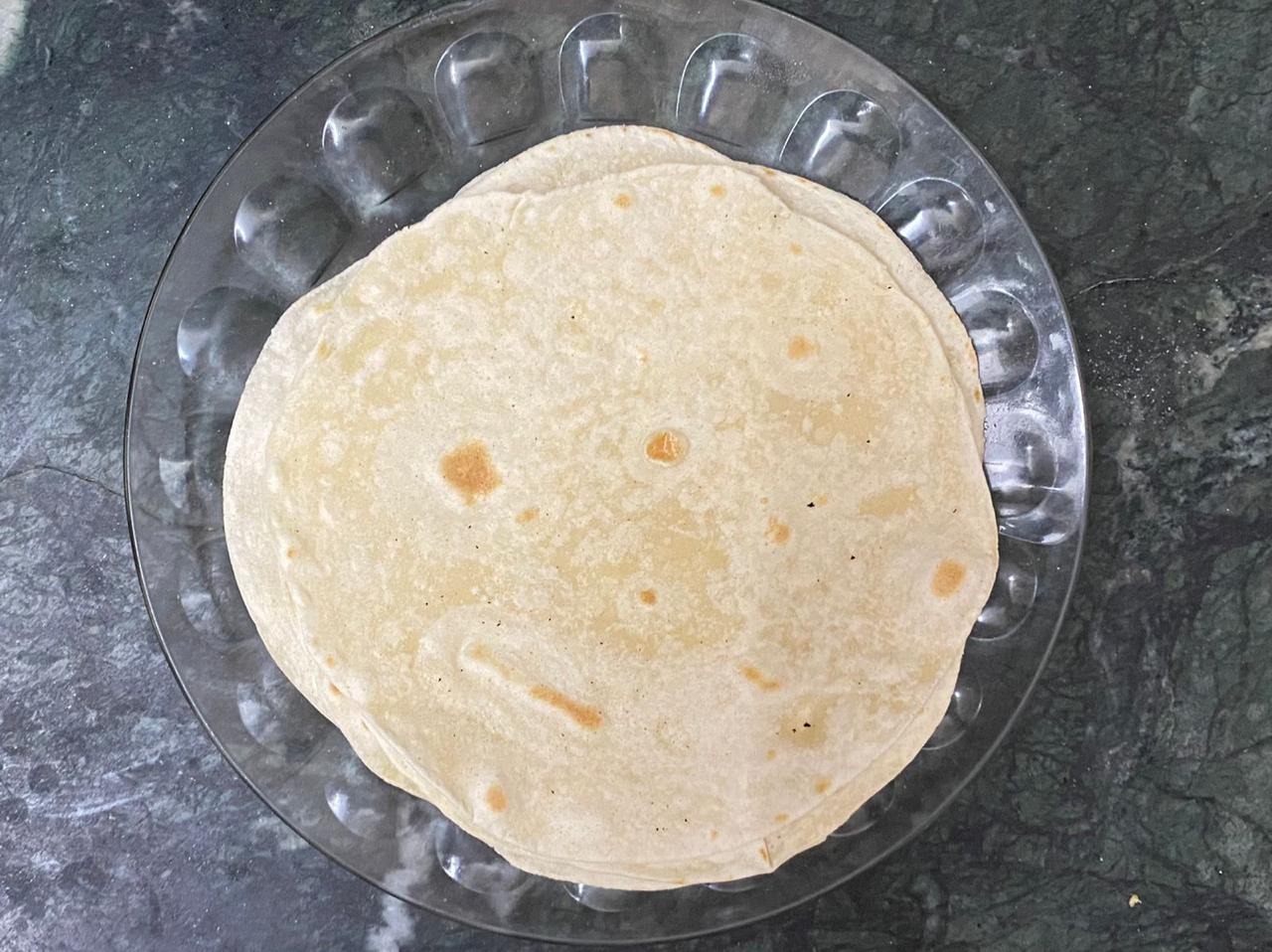 Heat a tawa/flat pan and place the rolled wrap on the hot tawa. Cook the wrap on medium heat by flipping it couple of times on each side. When it has golden spots that means it is cooked. Store them in a lidded box while you cook the other wraps.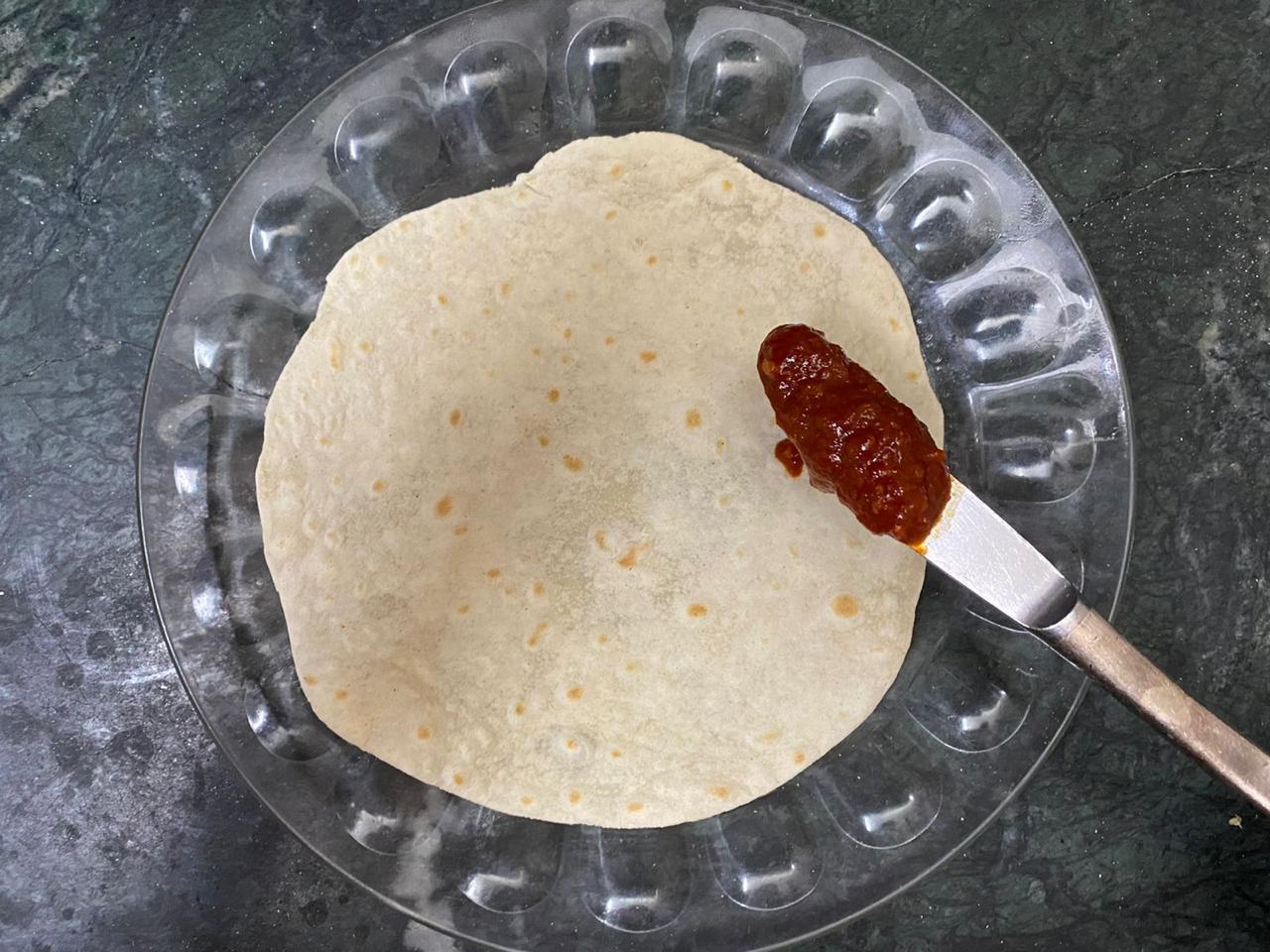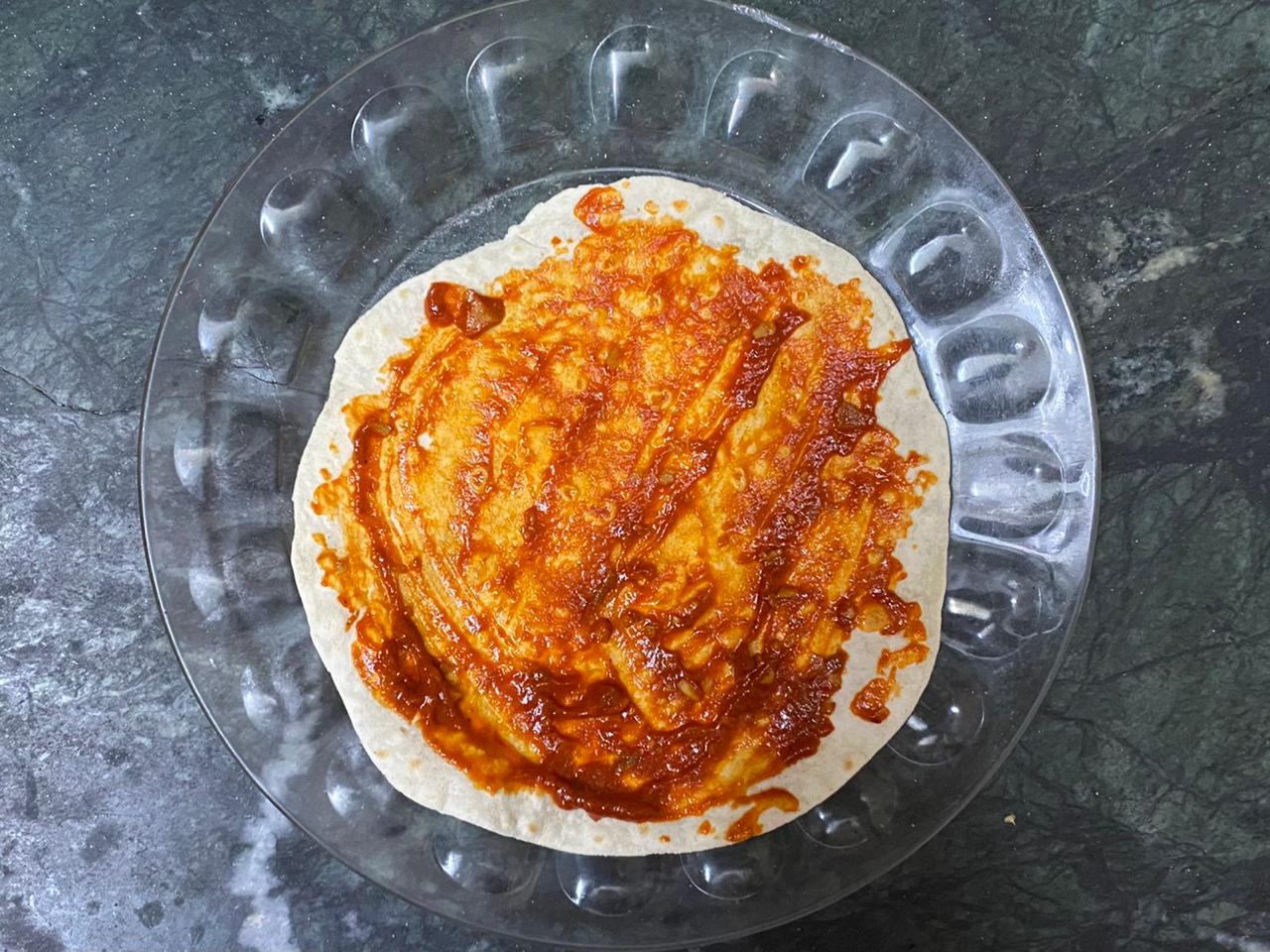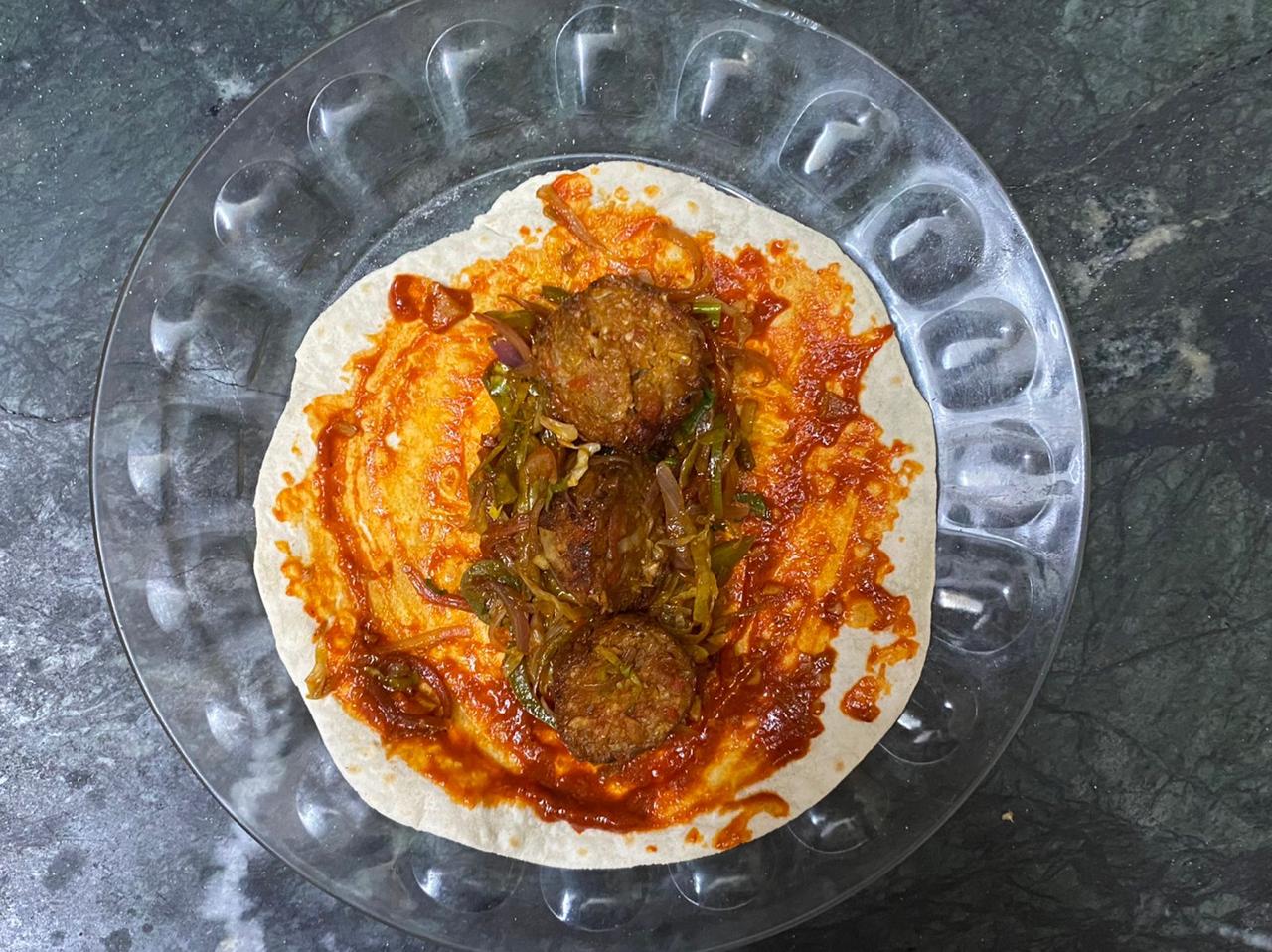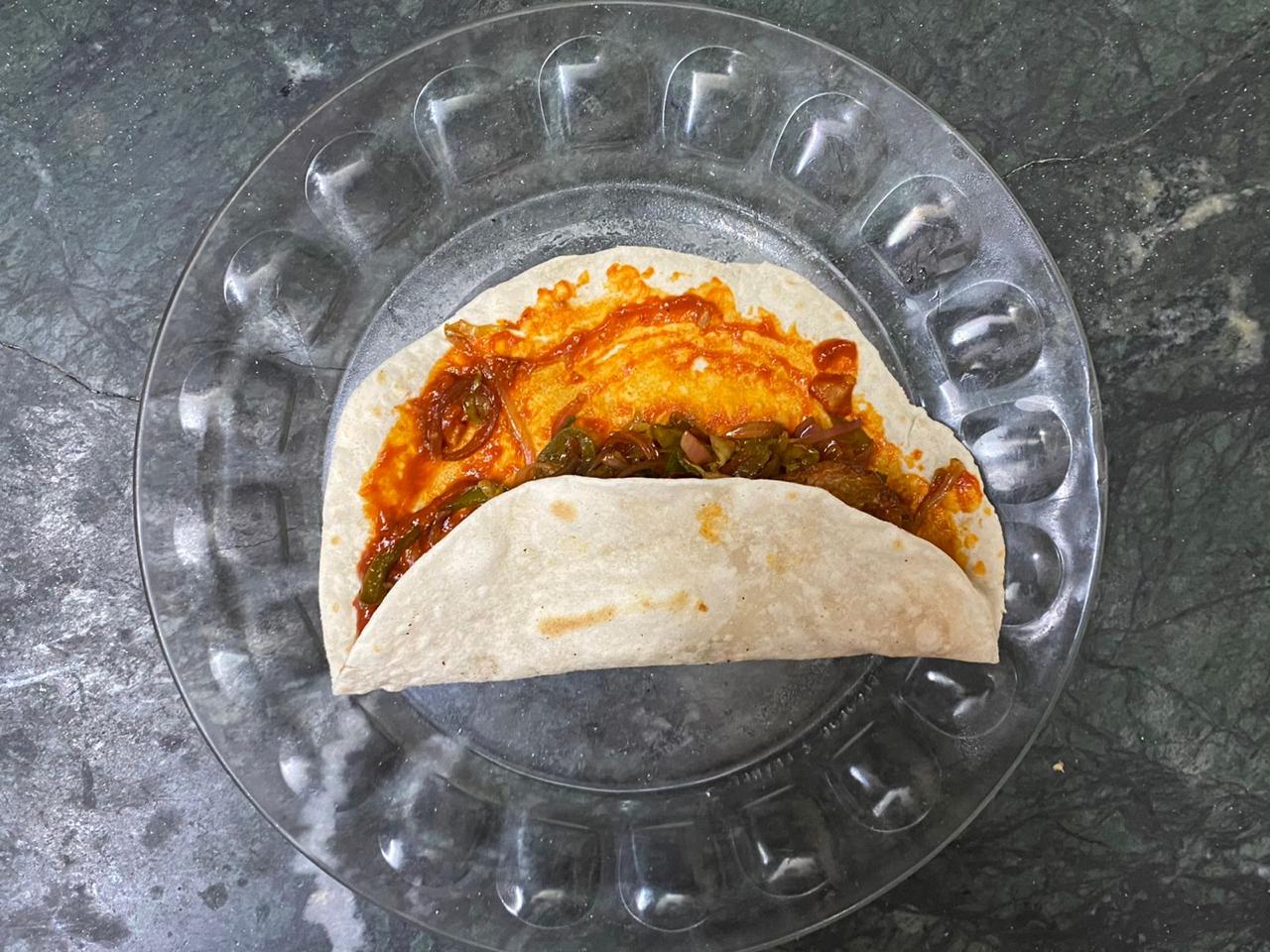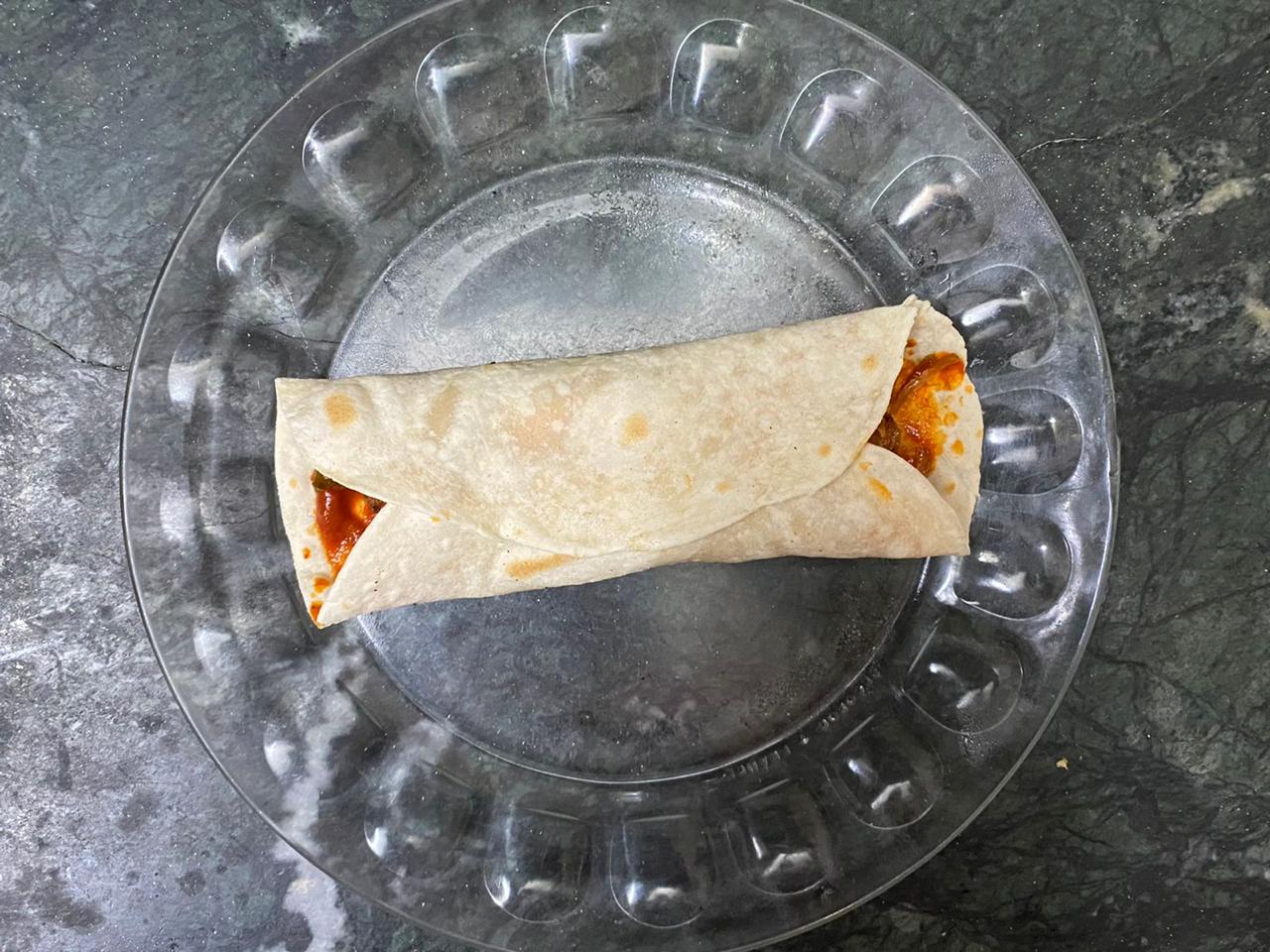 Take a cooked wrap and spread a teaspoon of schezwan sauce evenly. Place the manchurian filling in the middle of the wrap (as shown in the pictures).
Roll the sides up to the middle. If you wish you can use a small toothpick to hold the wrap together.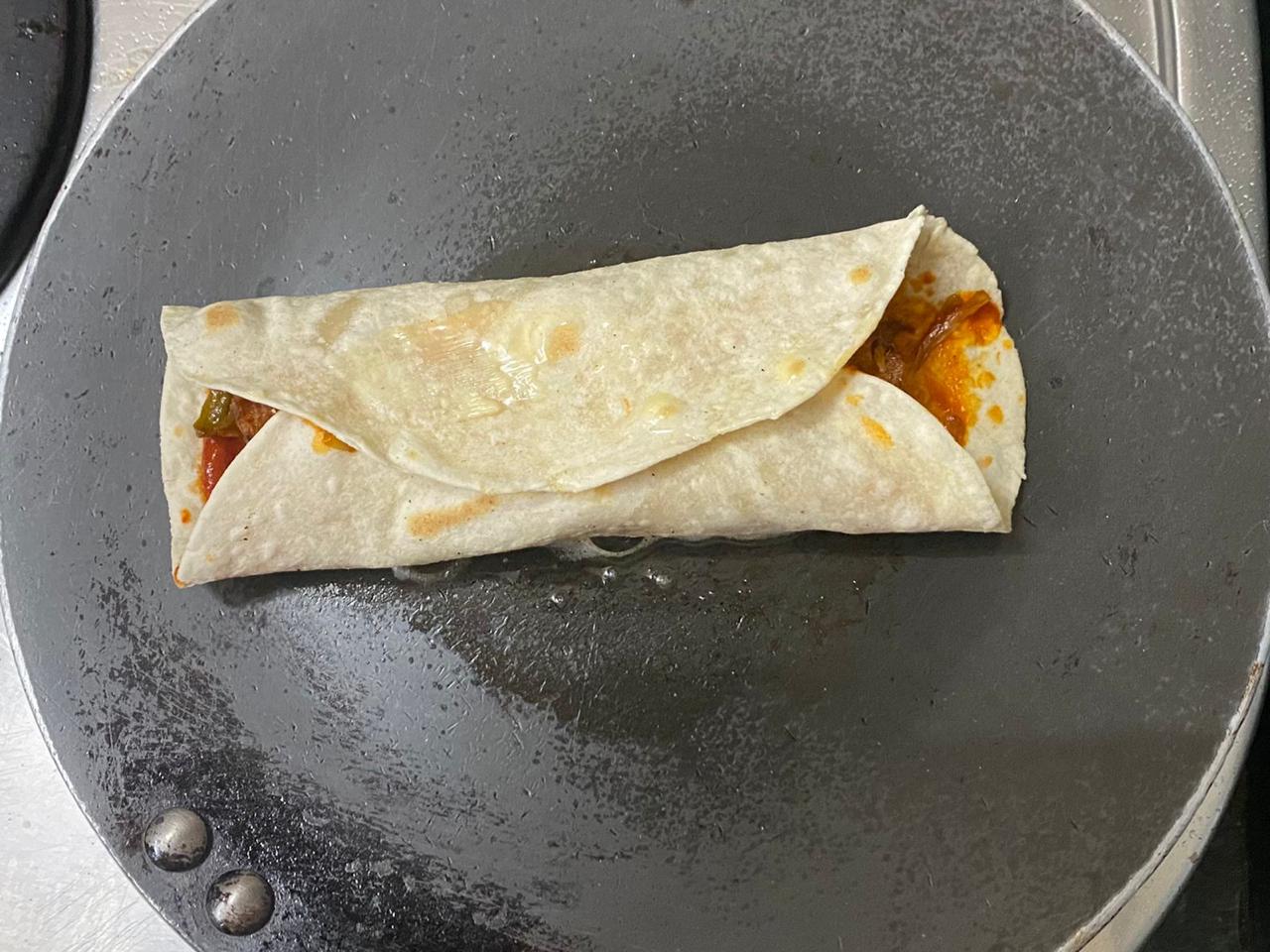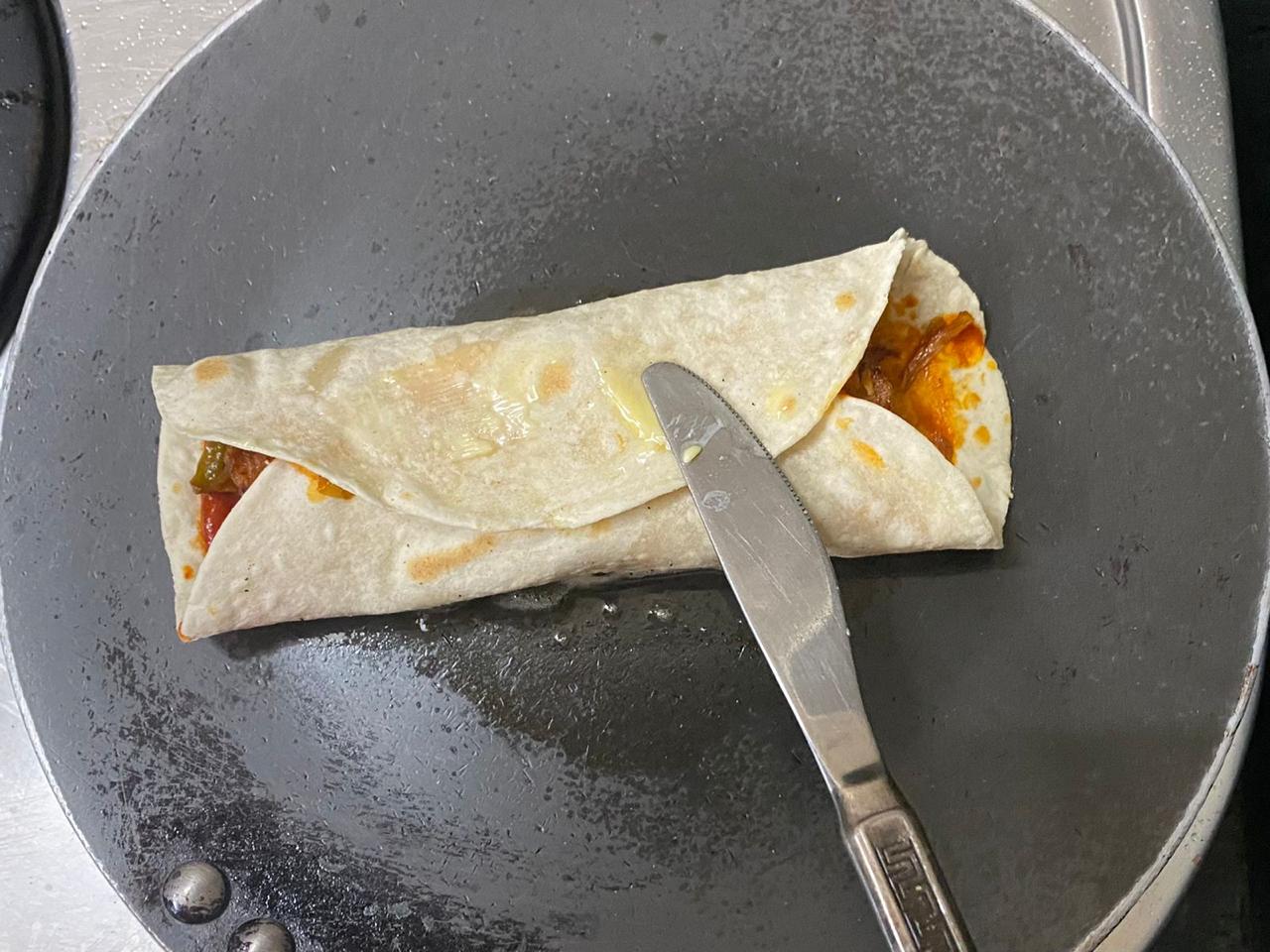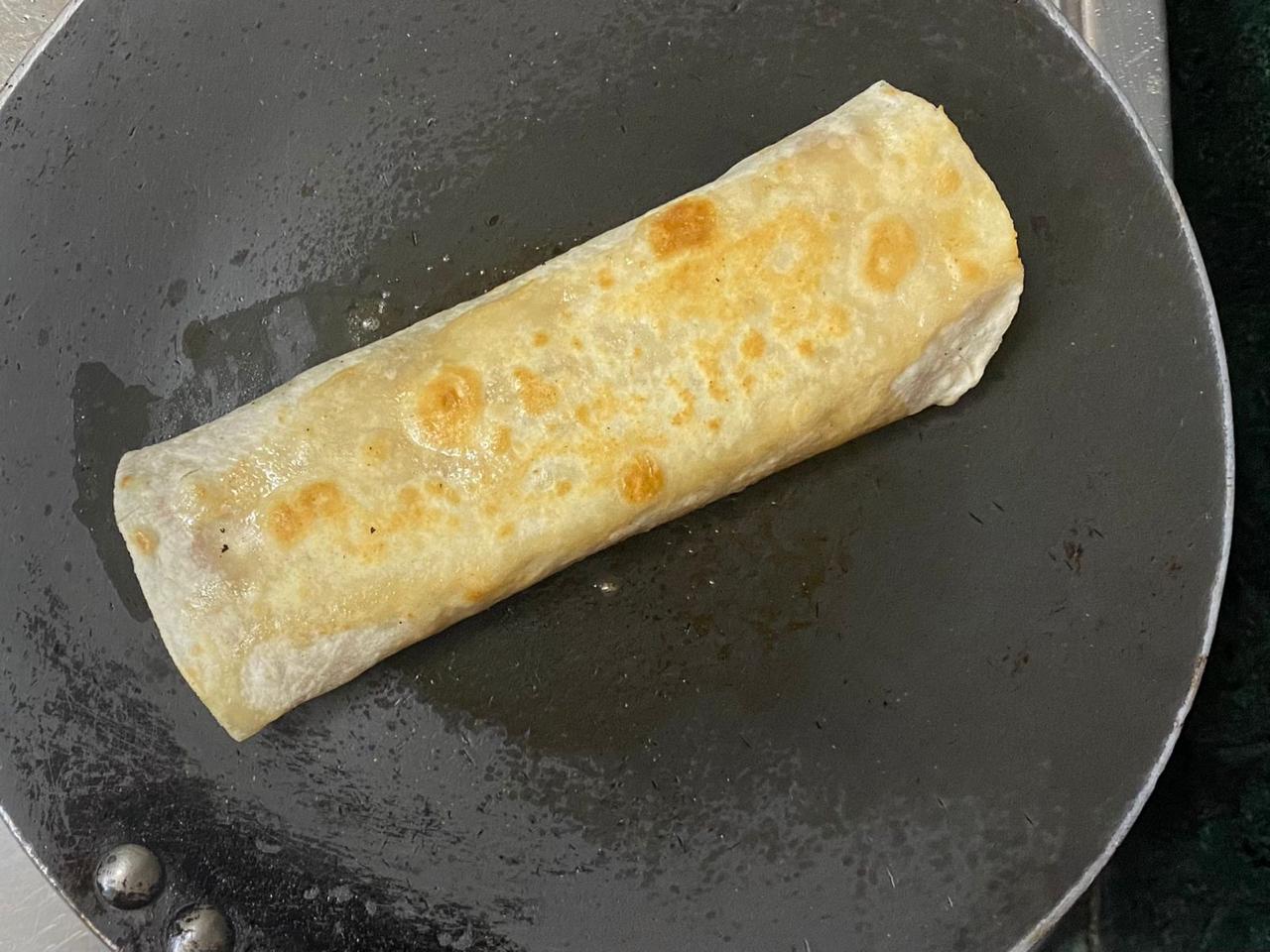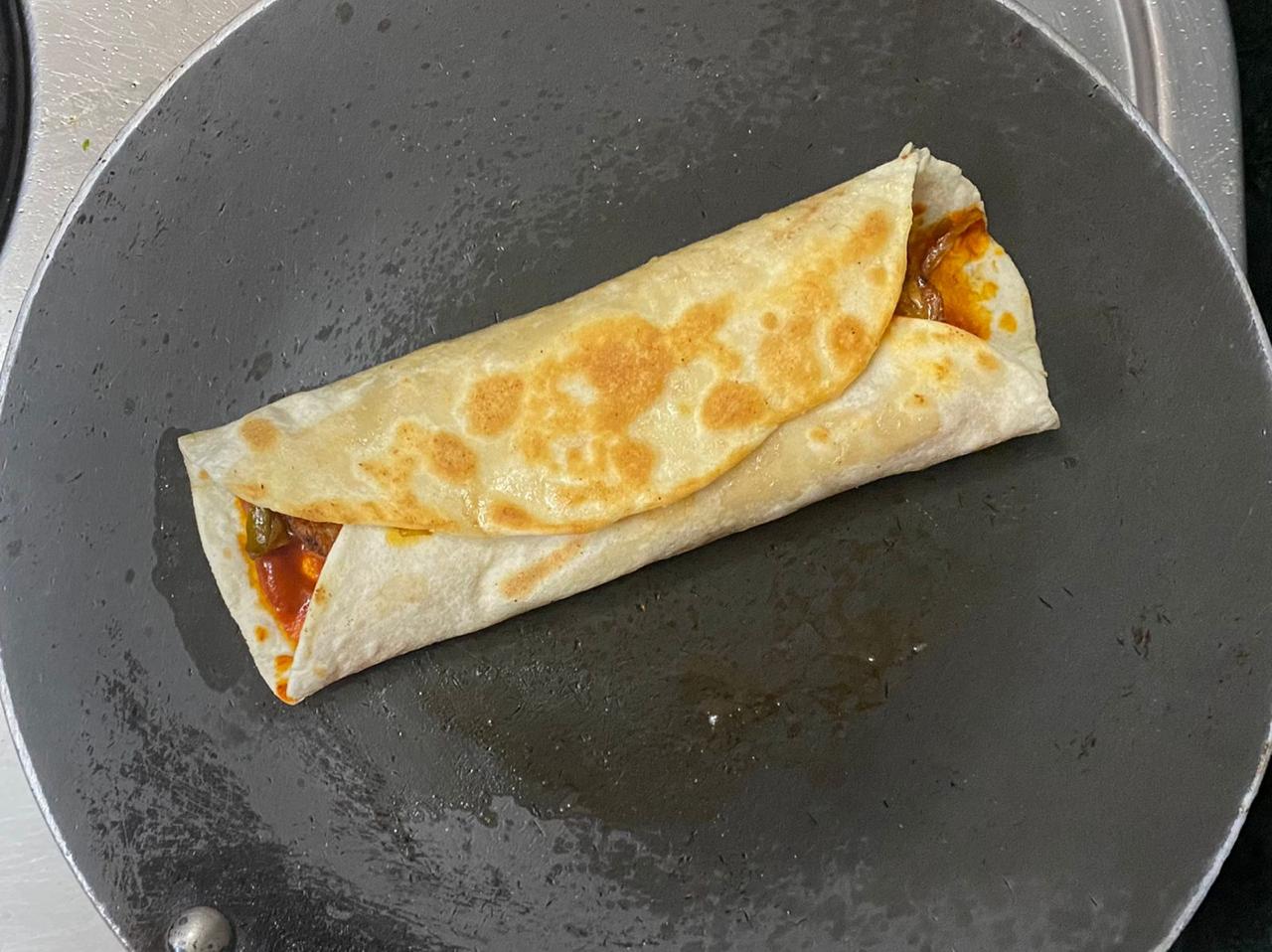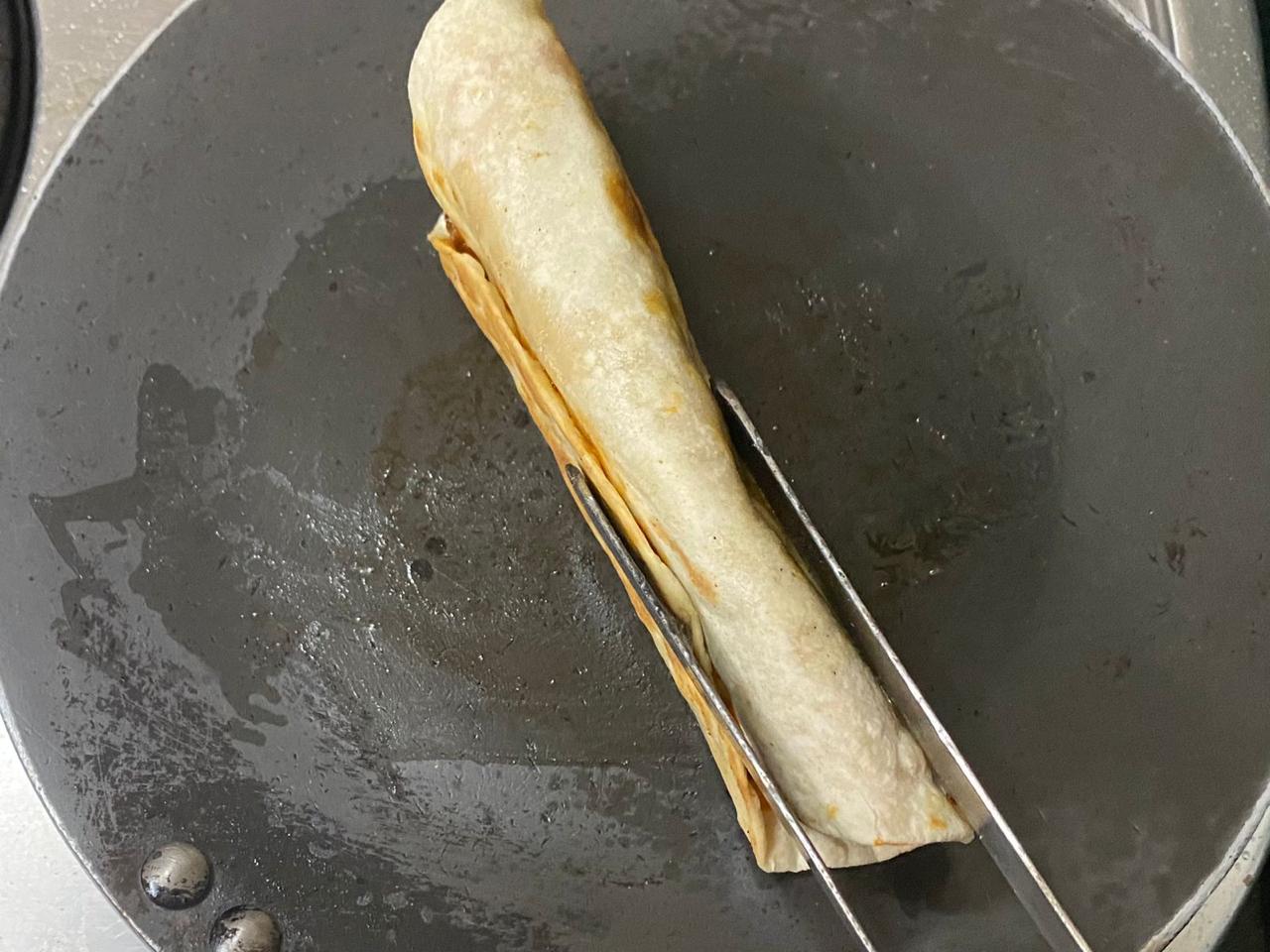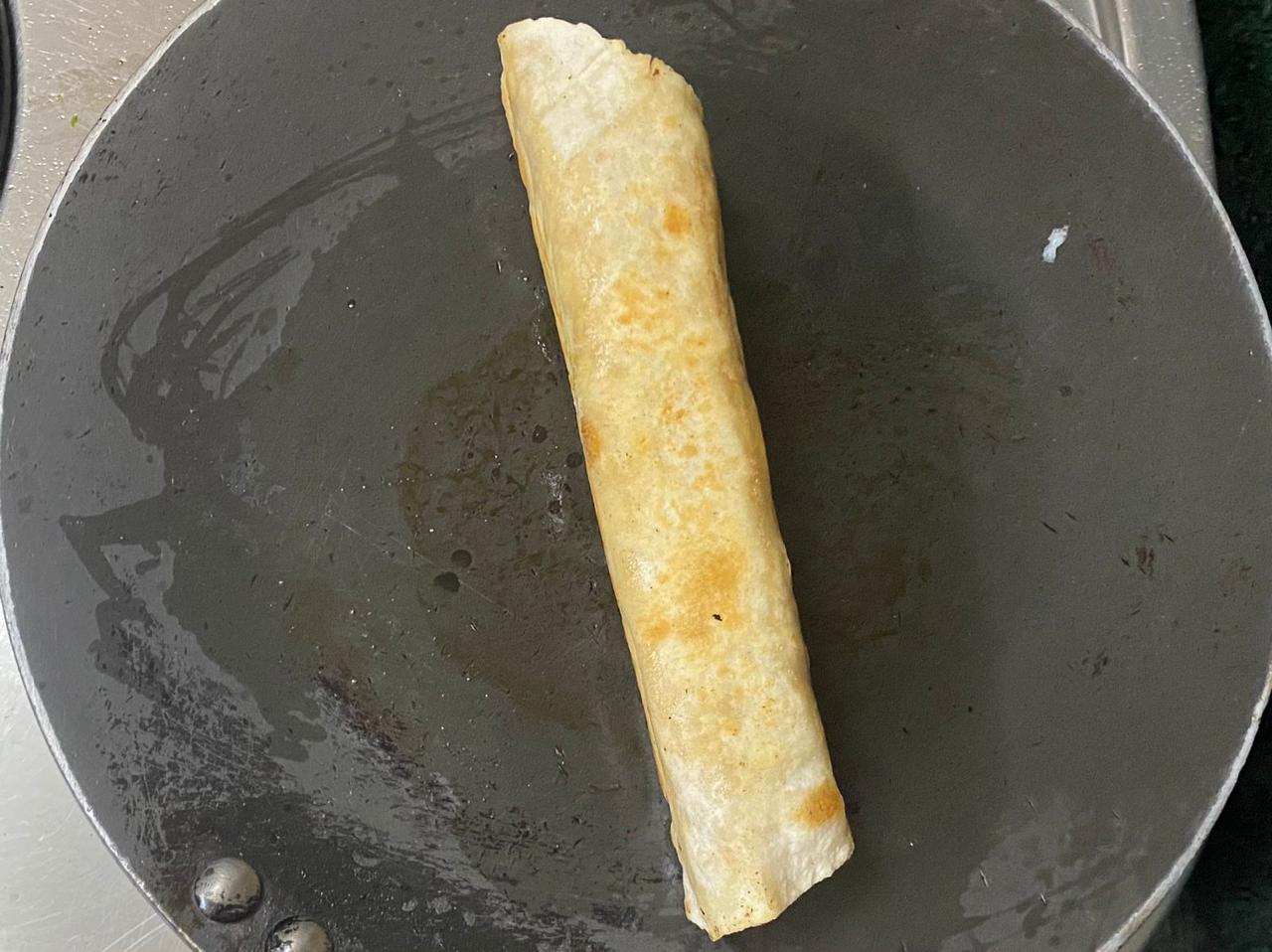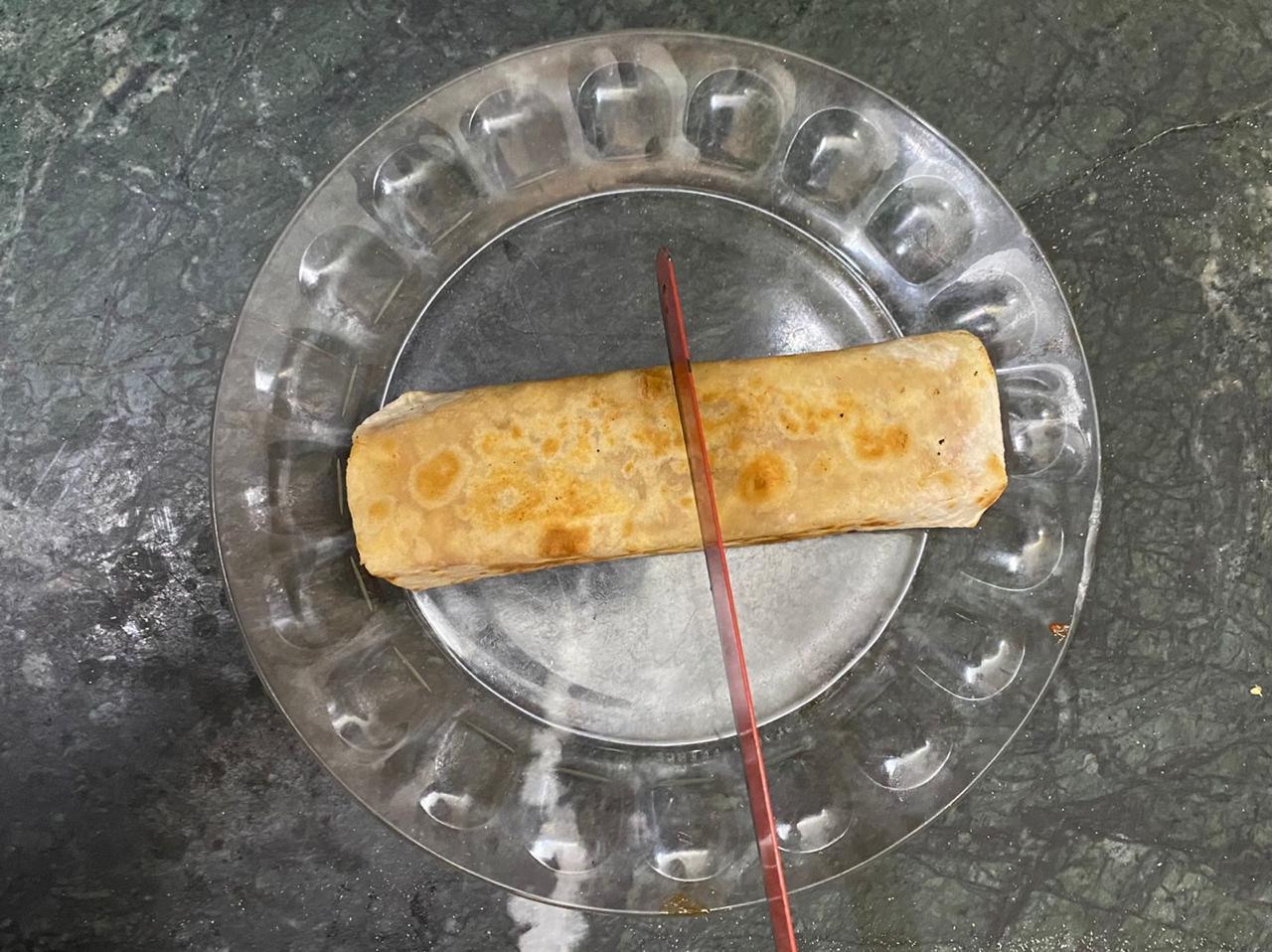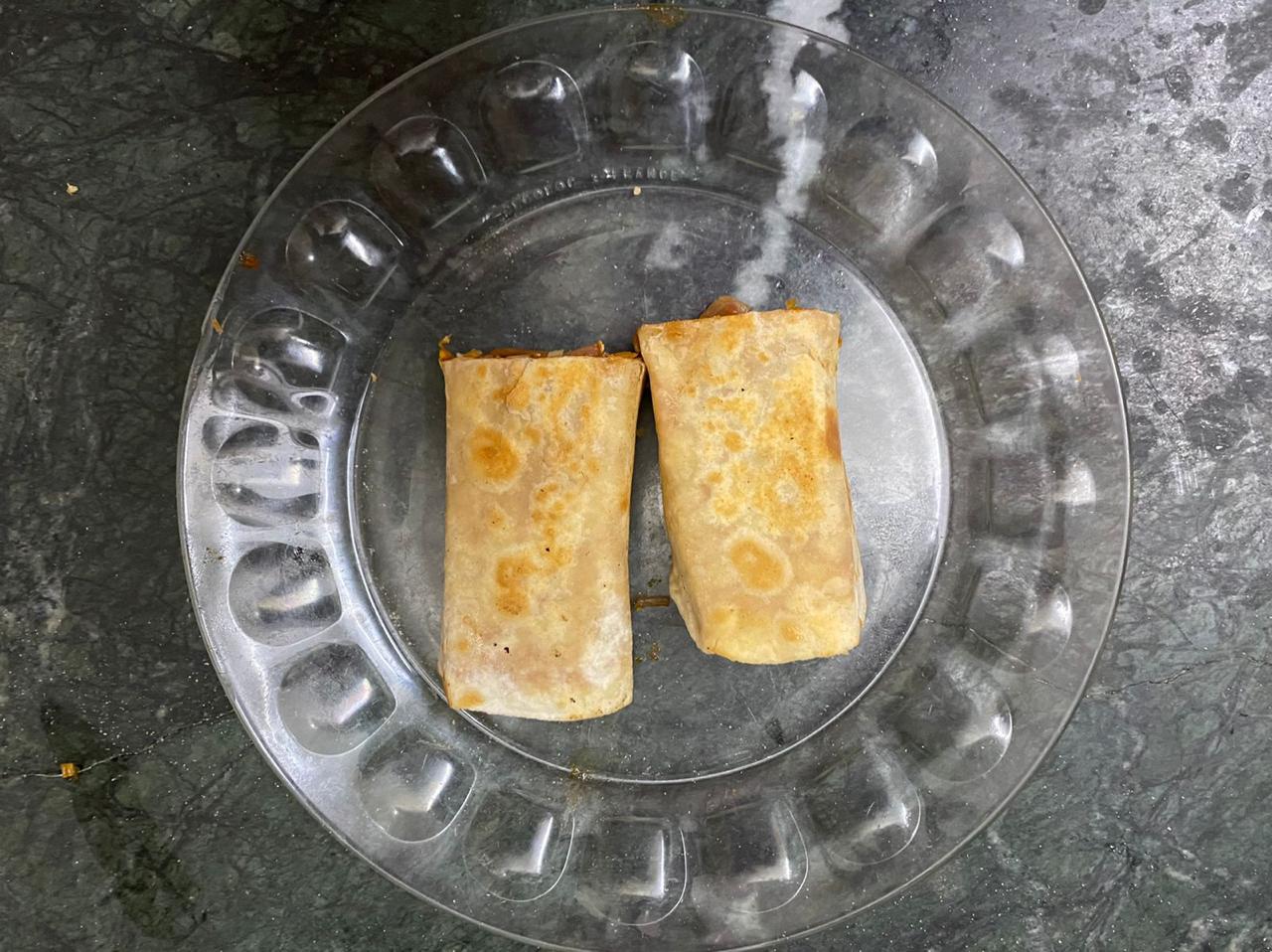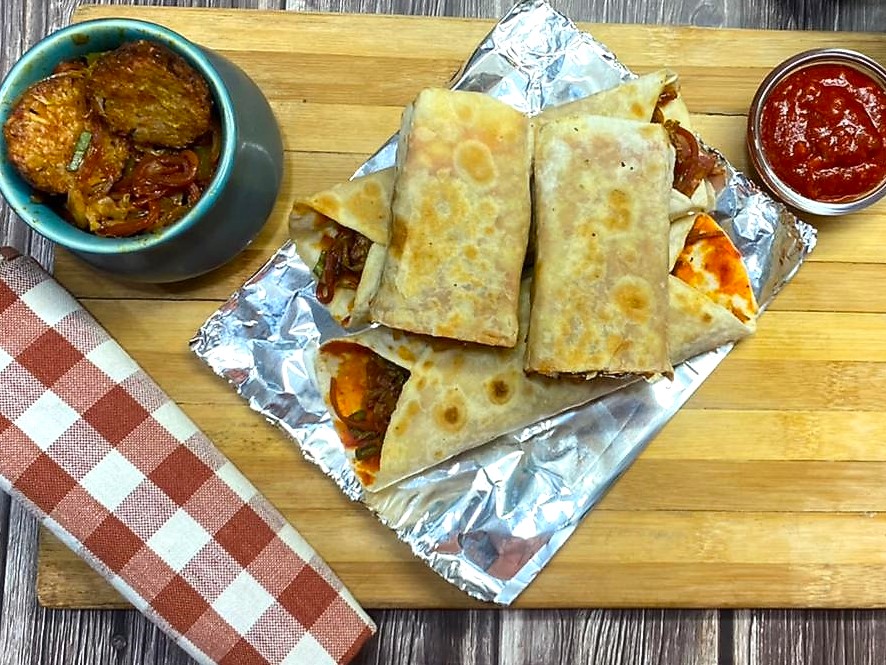 Heat a pan and spread some butter on both sides of the wrap and gently cook for 1-2 minutes on both sides for a golden crispy crust.
Serve hot with choice of your dip or on its own.