Aloo Frankie
Aloo Frankie is a wrap made with potato patty and salad. Mumbai is famous for many things and one such thing is the lip-smacking aloo frankie amongst some other wraps, rolls and frankies. Originally a simple man's food to help get through the day, this quick and filling dish is an amazing snack for those on the run — spicy, tasty and so easy to make.
Easy-to-eat, loaded and ever-so-delightful, the aloo frankie is a perfect pick for those who are in a rush, as it is convenient and of course, yummy! Whenever we travel to Mumbai, it is always in our bucket list. This easy Indian frankie roll is one of the tastiest ways to enjoy Mumbai Street food. Aloo Kathi rolls are warm, layered wraps filled with aloo patty, onion salad and frankie masala. Whether you make it for a quick weeknight meal or a leisurely gathering, these kathi rolls are sure to be a hit!
I have had some of the best kathi rolls on the streets of Mumbai, often way past midnight. A popular post-party food, these rolls never failed to delight. The delectable aroma wafting through the small carts selling these in the by lanes still lingers in my mind even to this day. My love for these frankies, rolls and wraps has been passed on to my husband and children and it is often on our weekly menu.
Aloo Frankie is one of the most delicious and easy recipes to make at home. A treat for all those who love vegetarian food.
Ingredients
For The Dough
2 cups plain flour
1 teaspoon salt
2 tablespoons yoghurt
½ cup milk
1 tablespoon oil
For The Frankie Masala
½ teaspoon black salt
½ teaspoon turmeric powder
1 teaspoon red chilli powder
1 teaspoon chaat masala
1 teaspoon cumin powder
1 teaspoon coriander powder
½ teaspoon garam masala
½ teaspoon mango powder
For The Potato Patty
2 cups boiled grated potatoes
1 teaspoon Kashmiri red chilli powder
Salt to taste
1 teaspoon red chilli powder
2 teaspoons cumin powder
1 teaspoon garam masala
2 teaspoons frankie masala
1 teaspoon chaat masala
Other Ingredients
3-4 teaspoons butter/oil
Finely sliced onions
Directions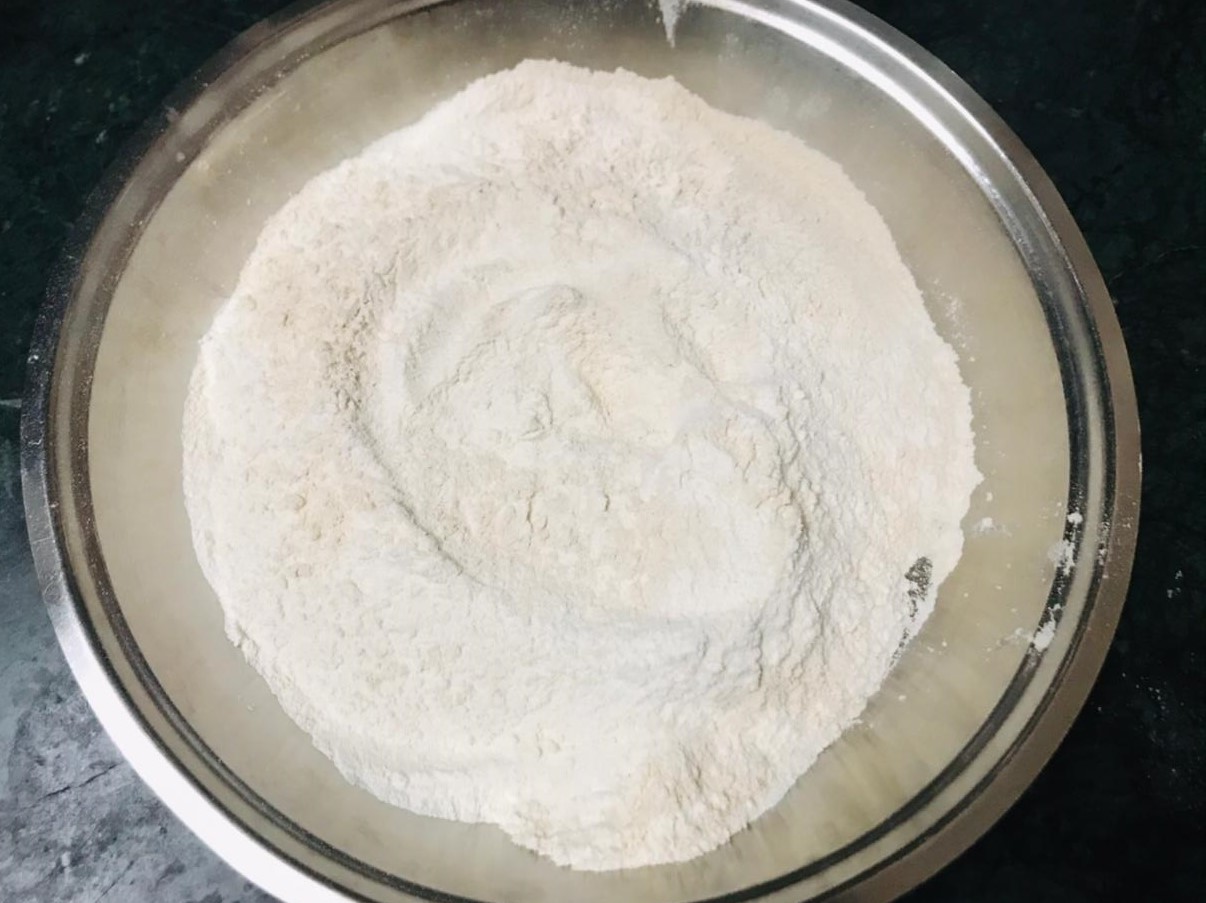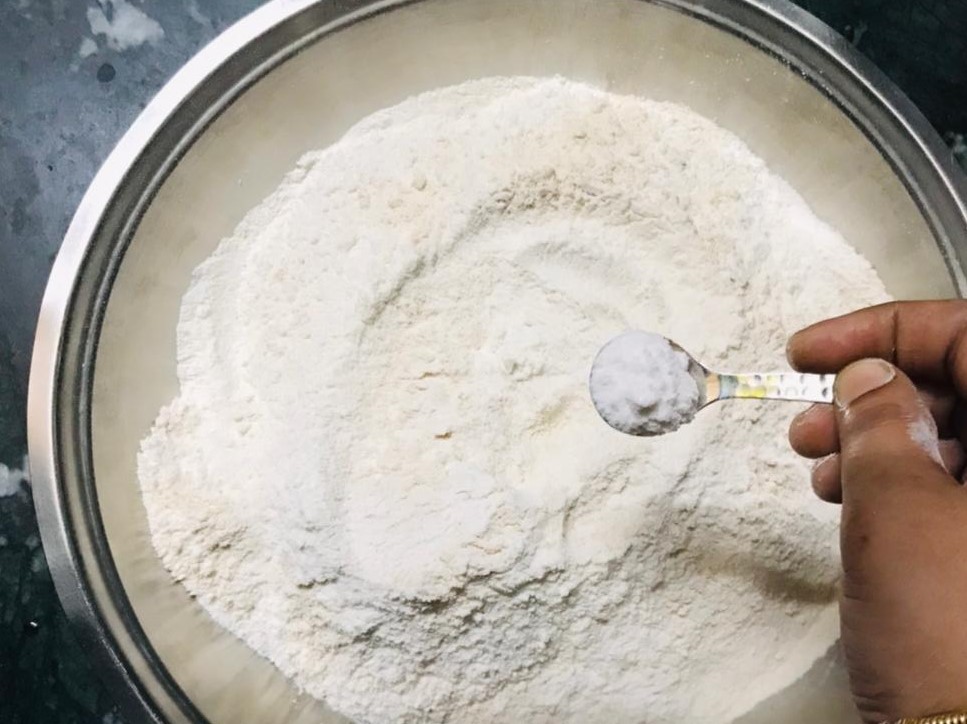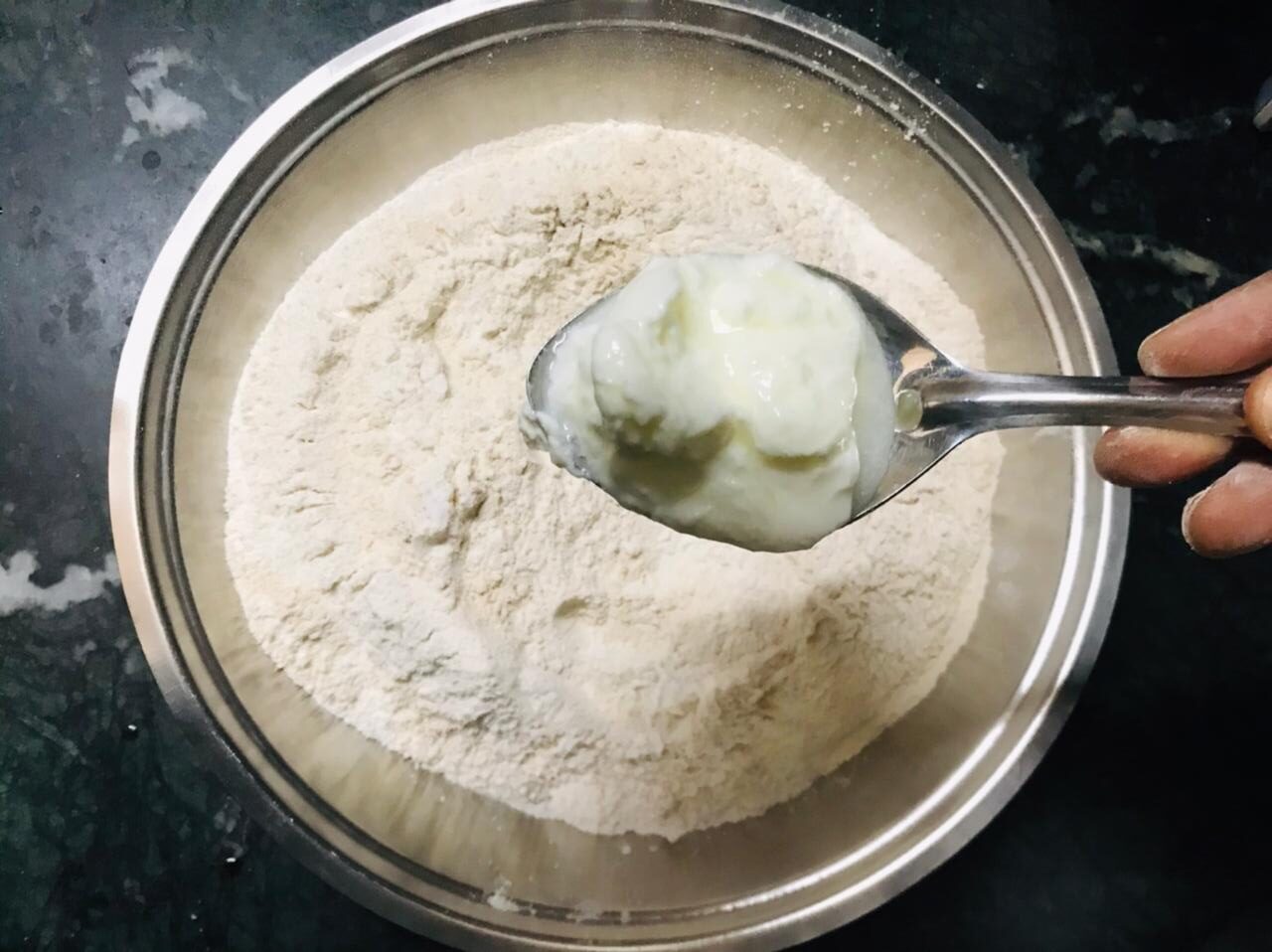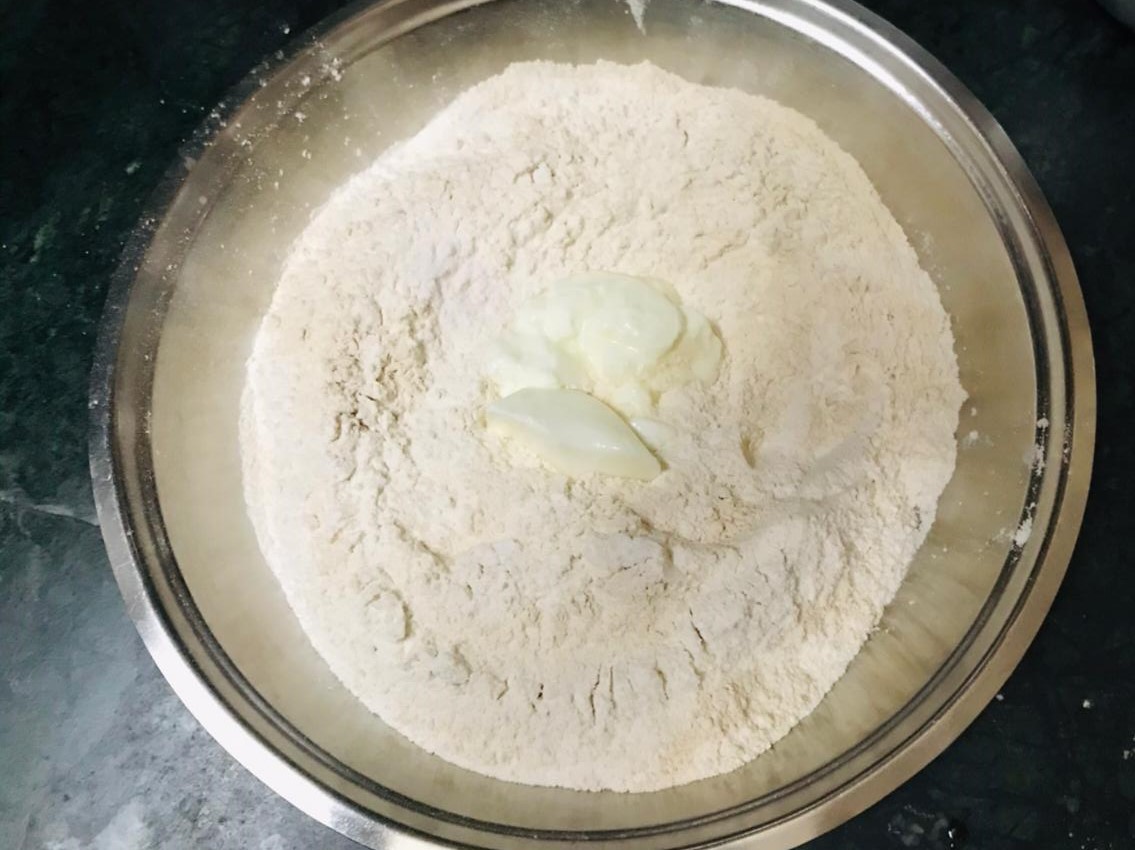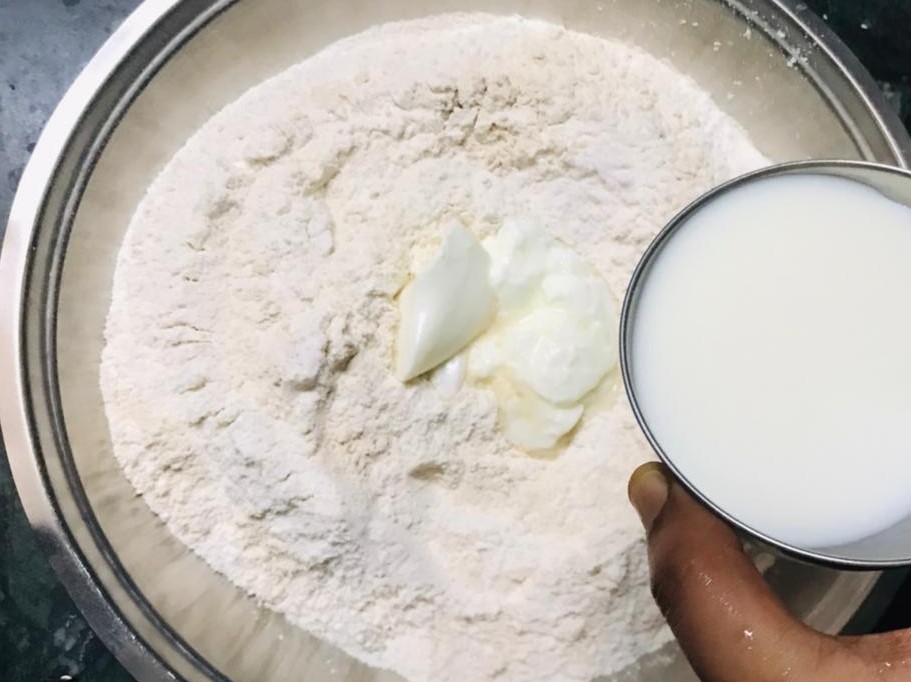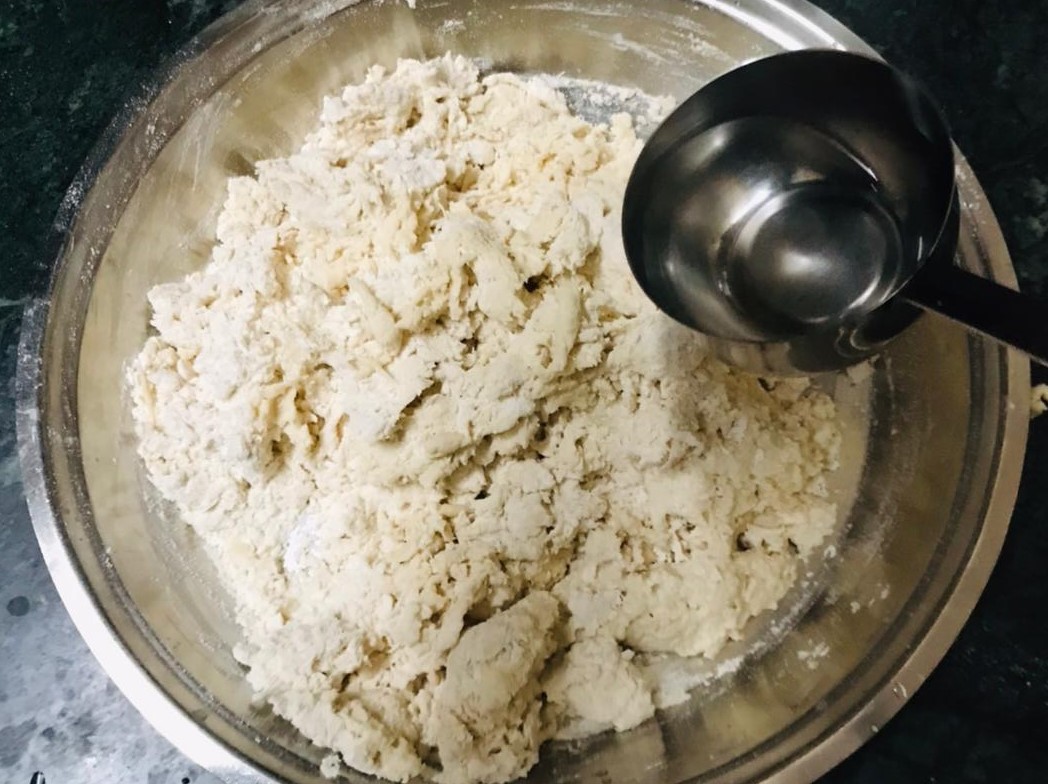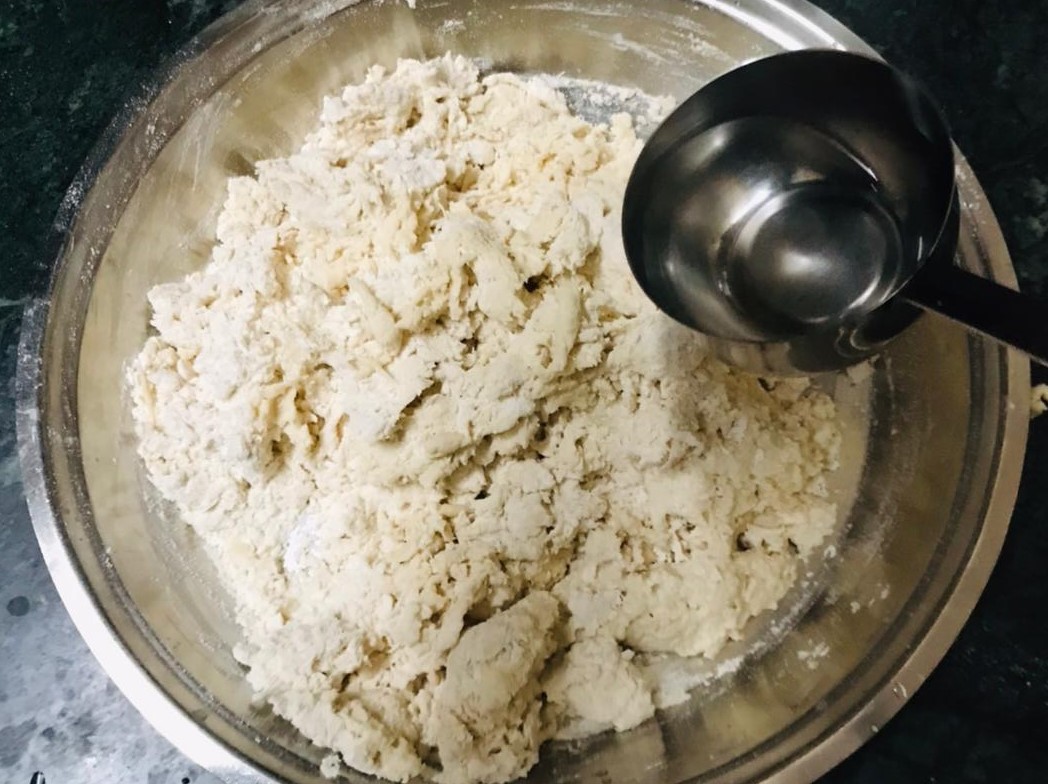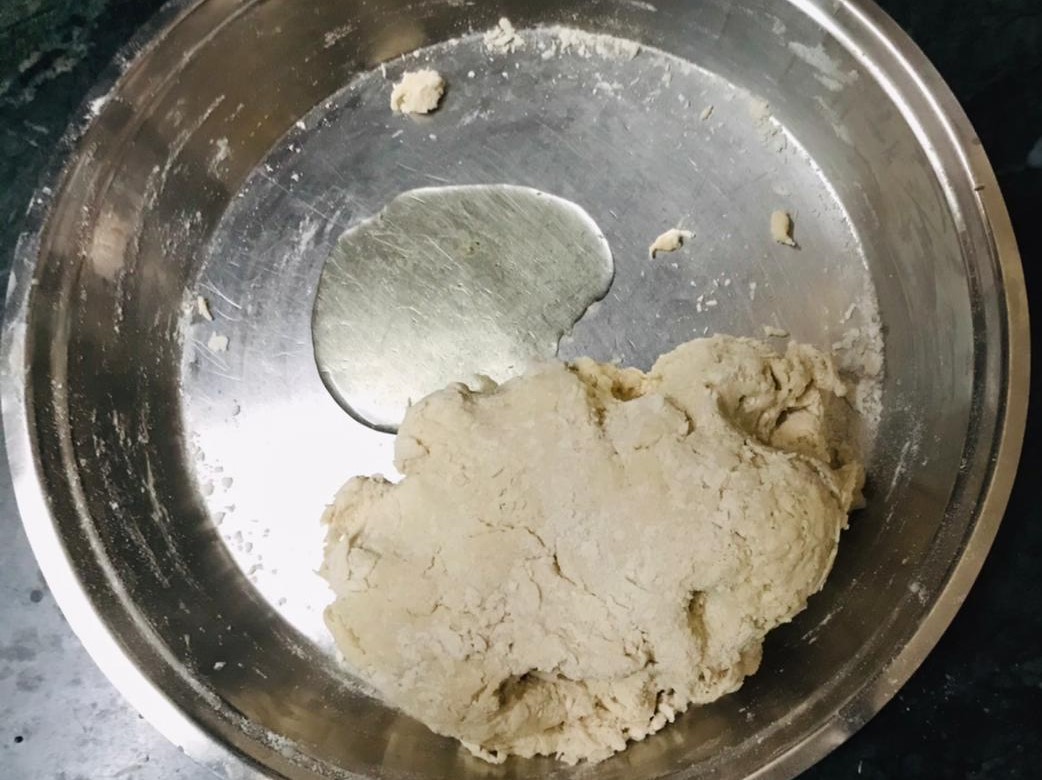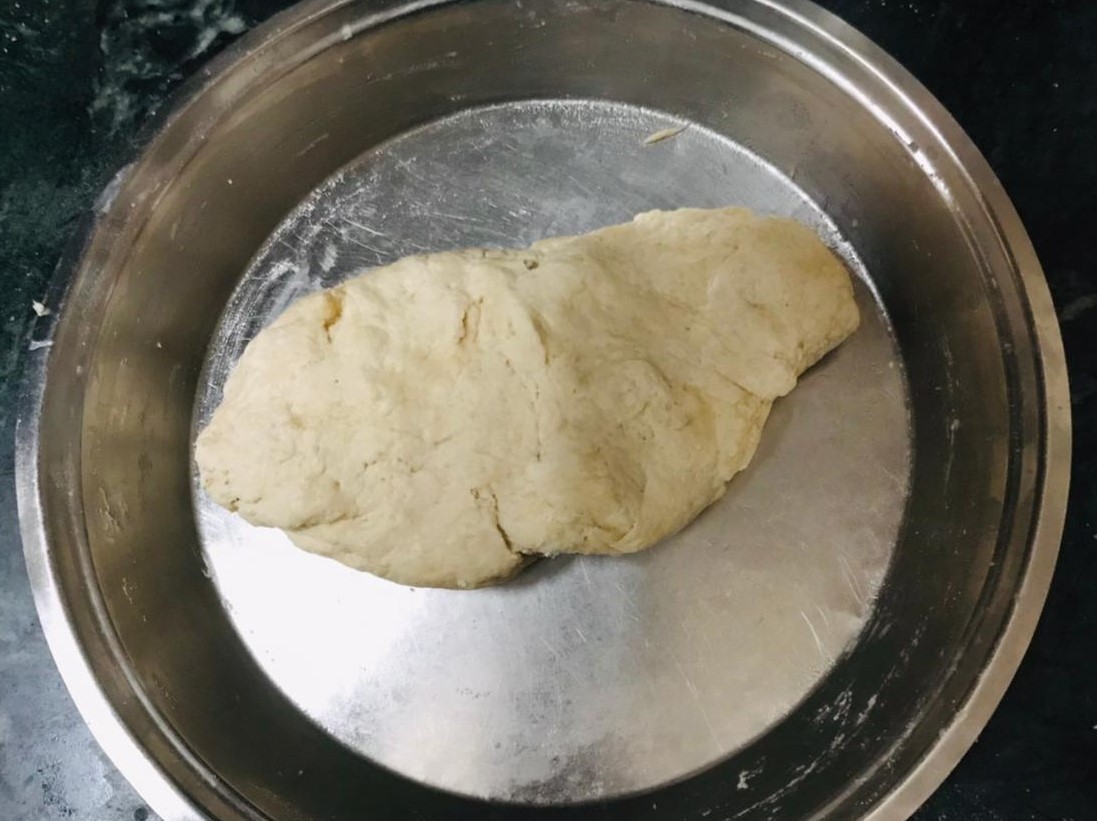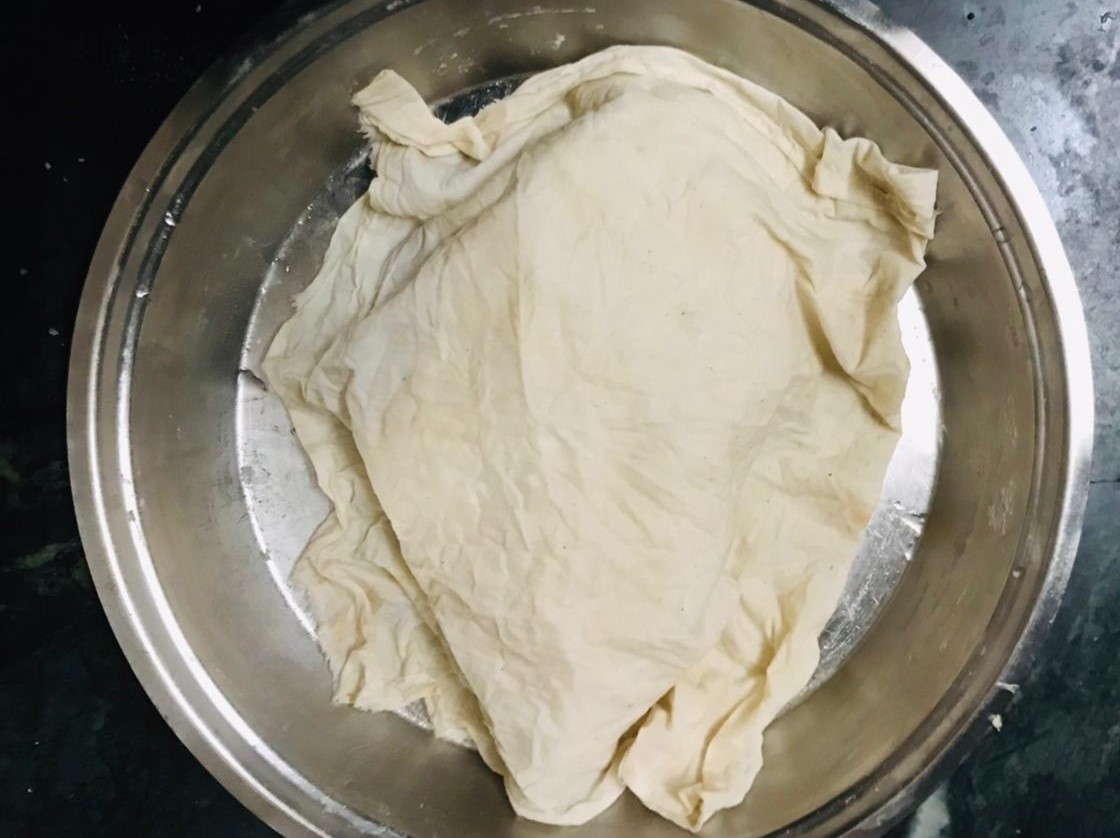 In a bowl, add the plain flour, salt, yoghurt, milk and 2 tablespoons of water and knead it to form a smooth dough (Adjust the amount of water to knead a soft dough).
After that, add the oil and knead it for a couple of minutes. Cover and let it rest for half an hour.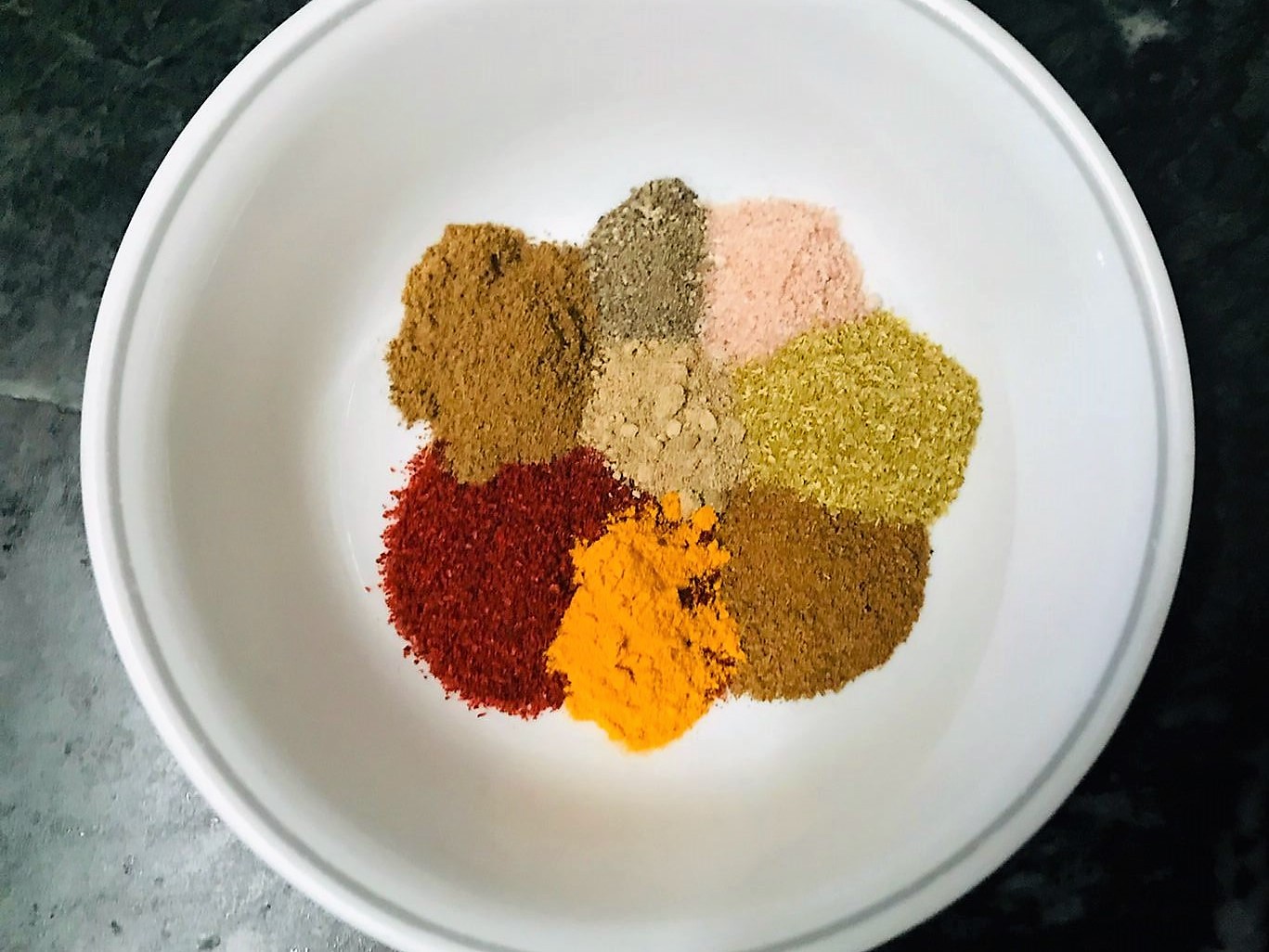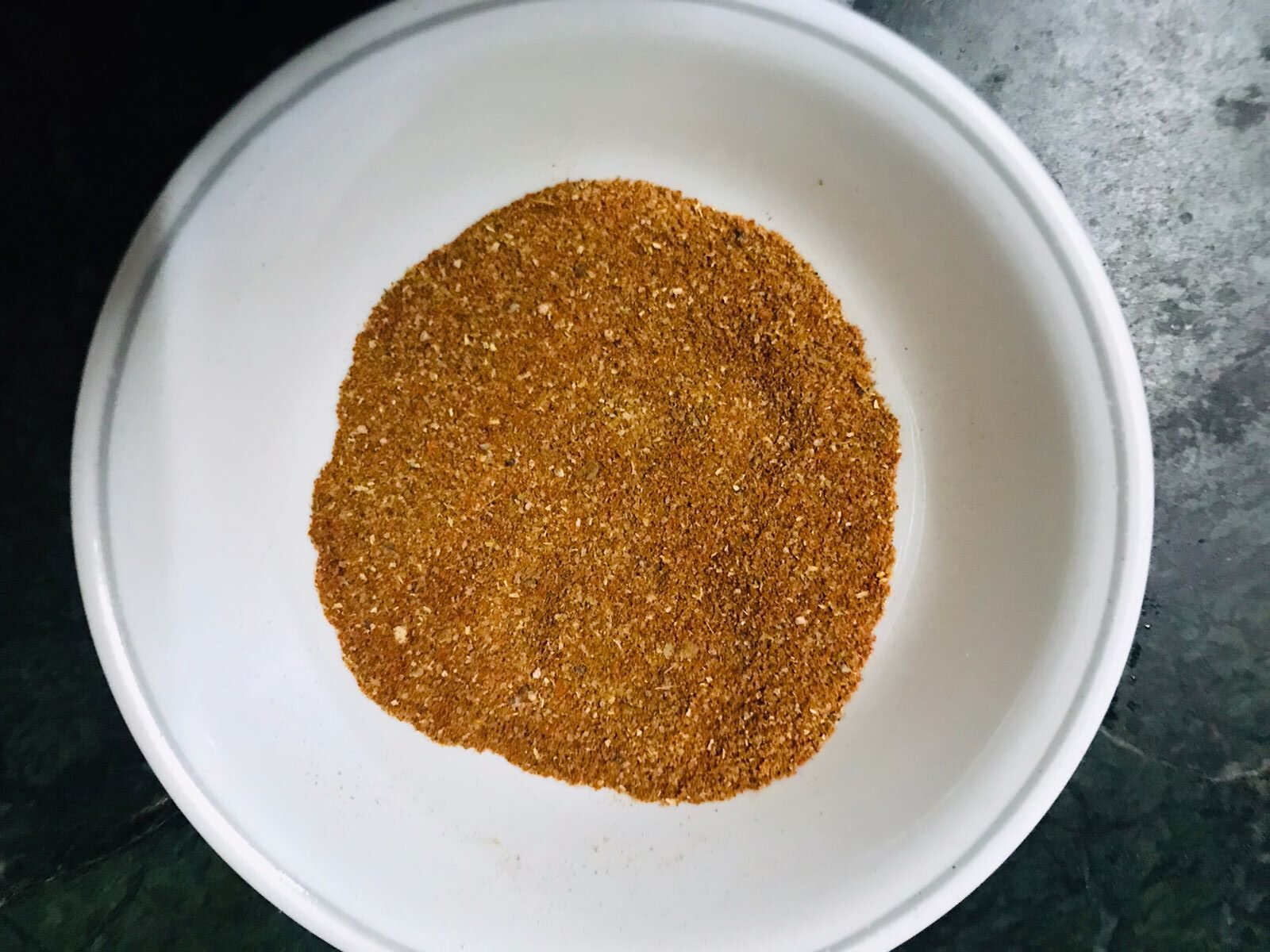 In a bowl, mix black salt, coriander powder, garam masala, turmeric powder, red chilli powder, cumin powder, mango powder and chaat powder to prepare frankie masala. Store the frankie masala in an airtight container.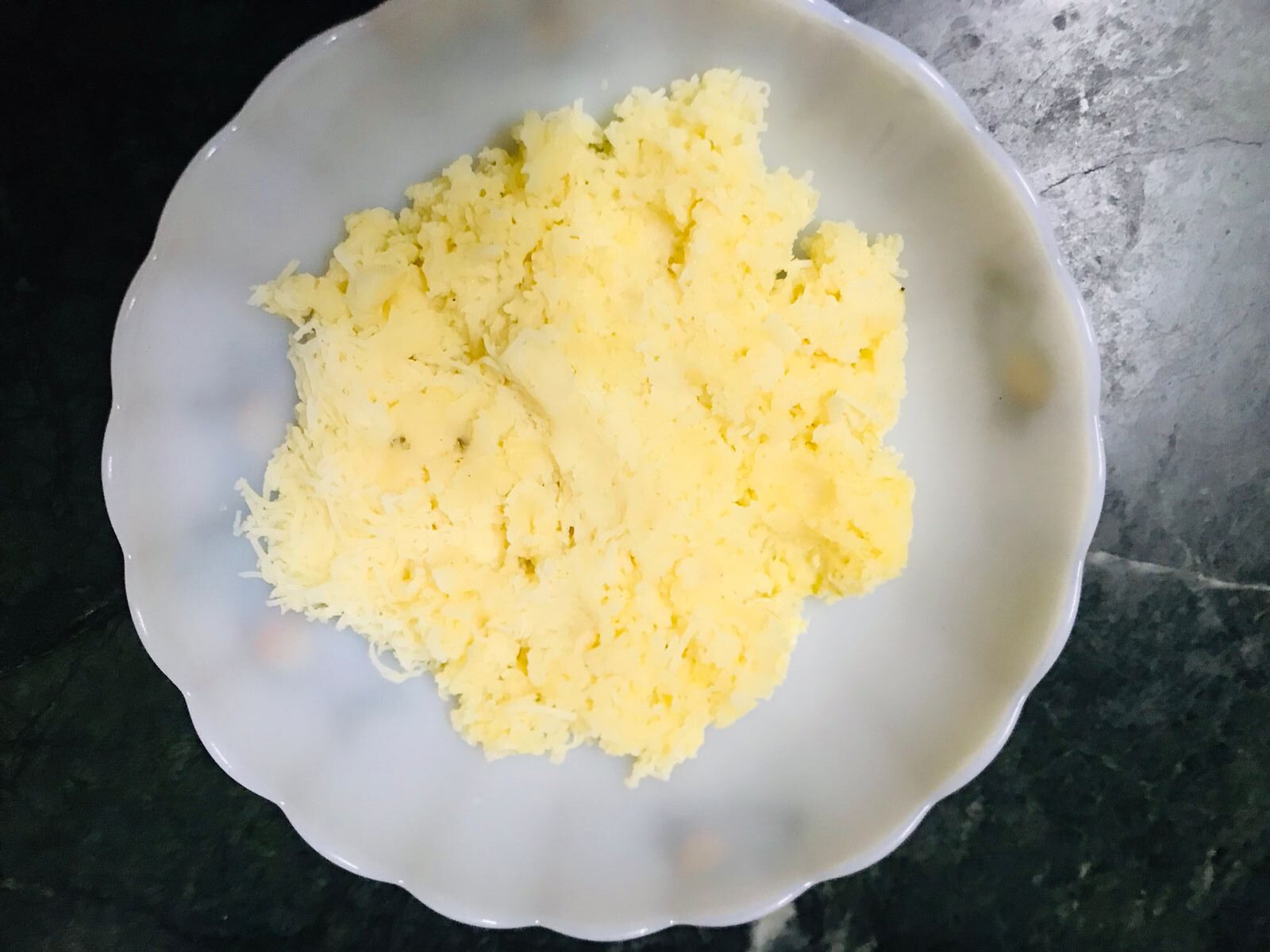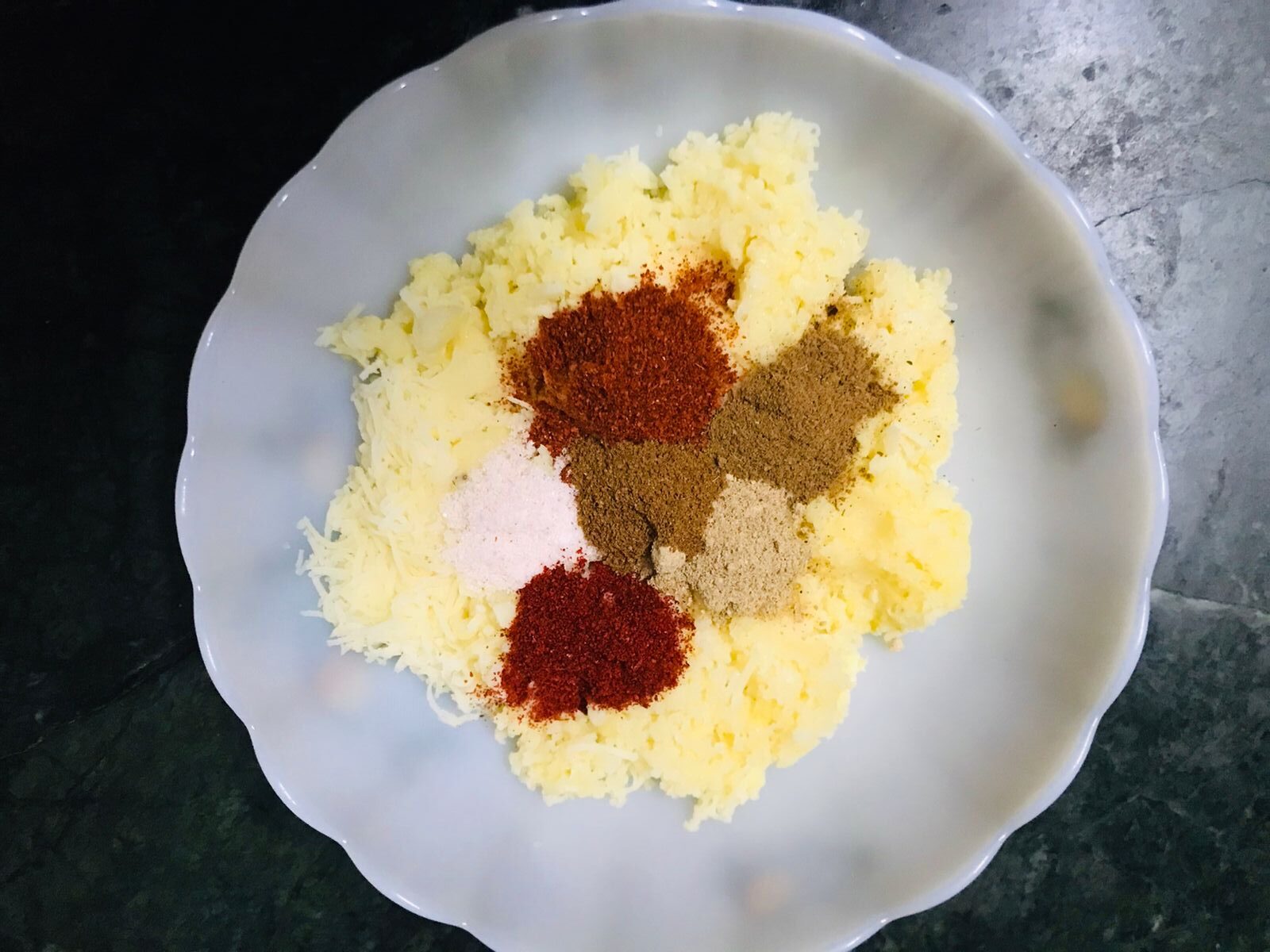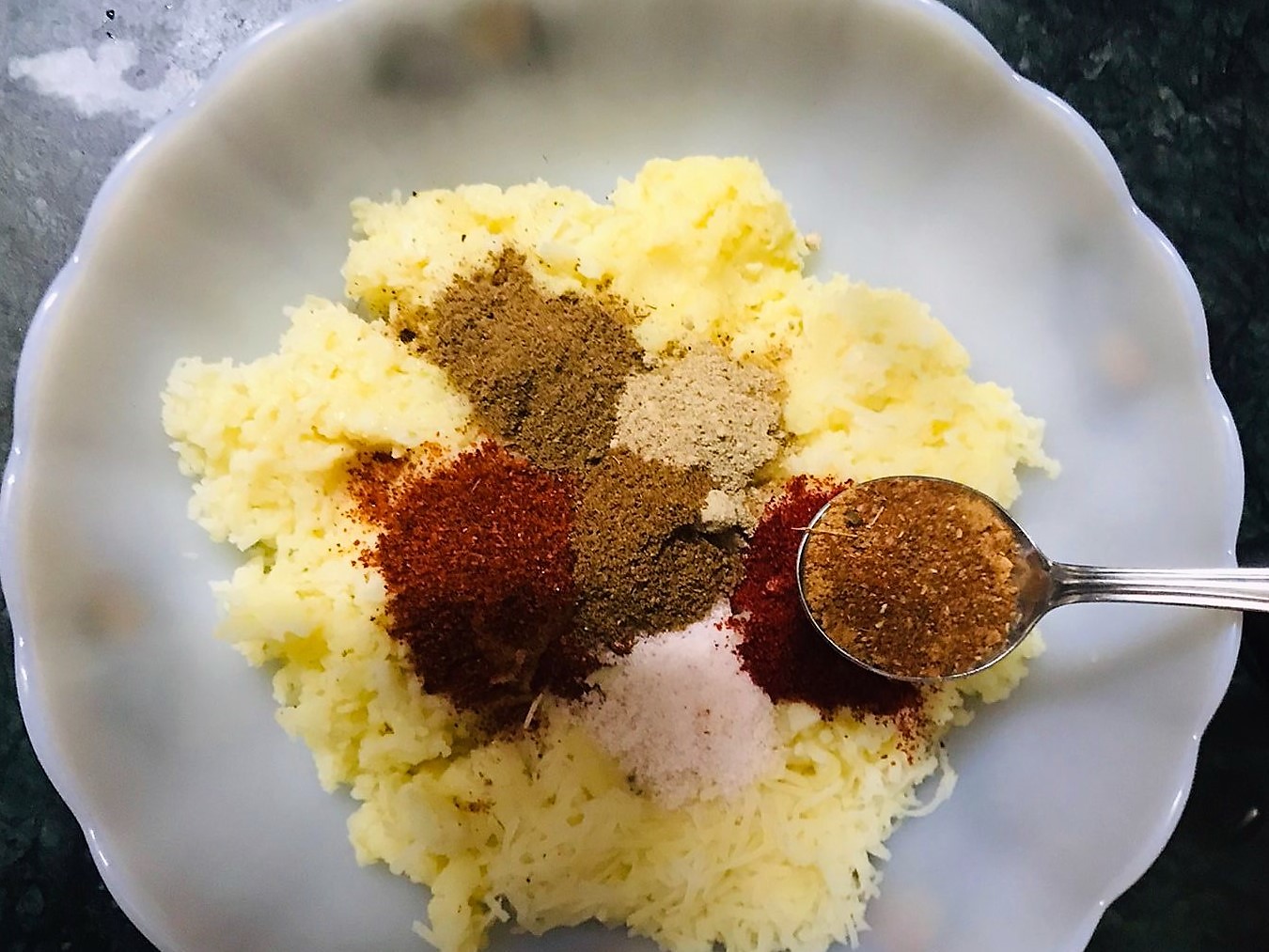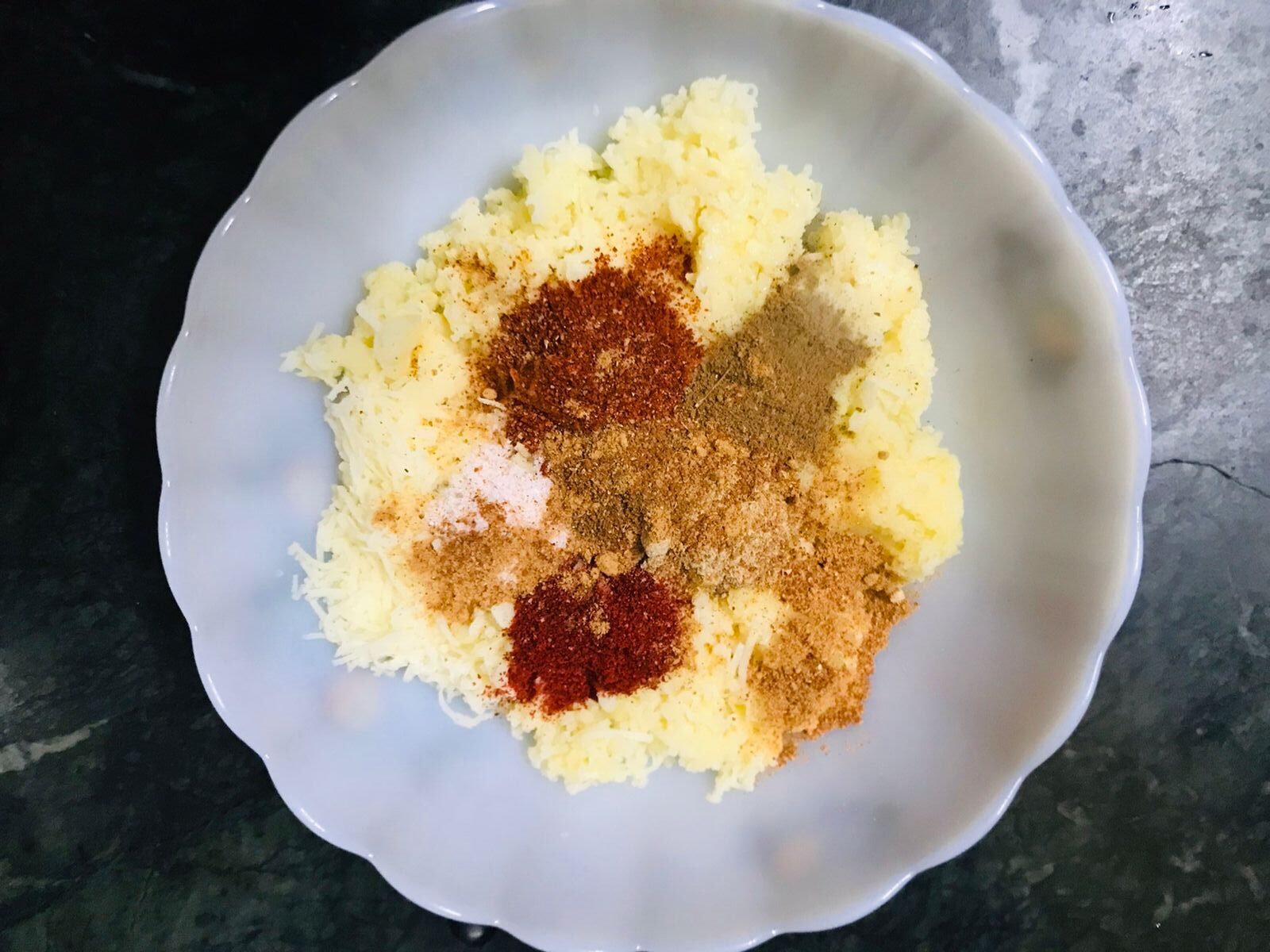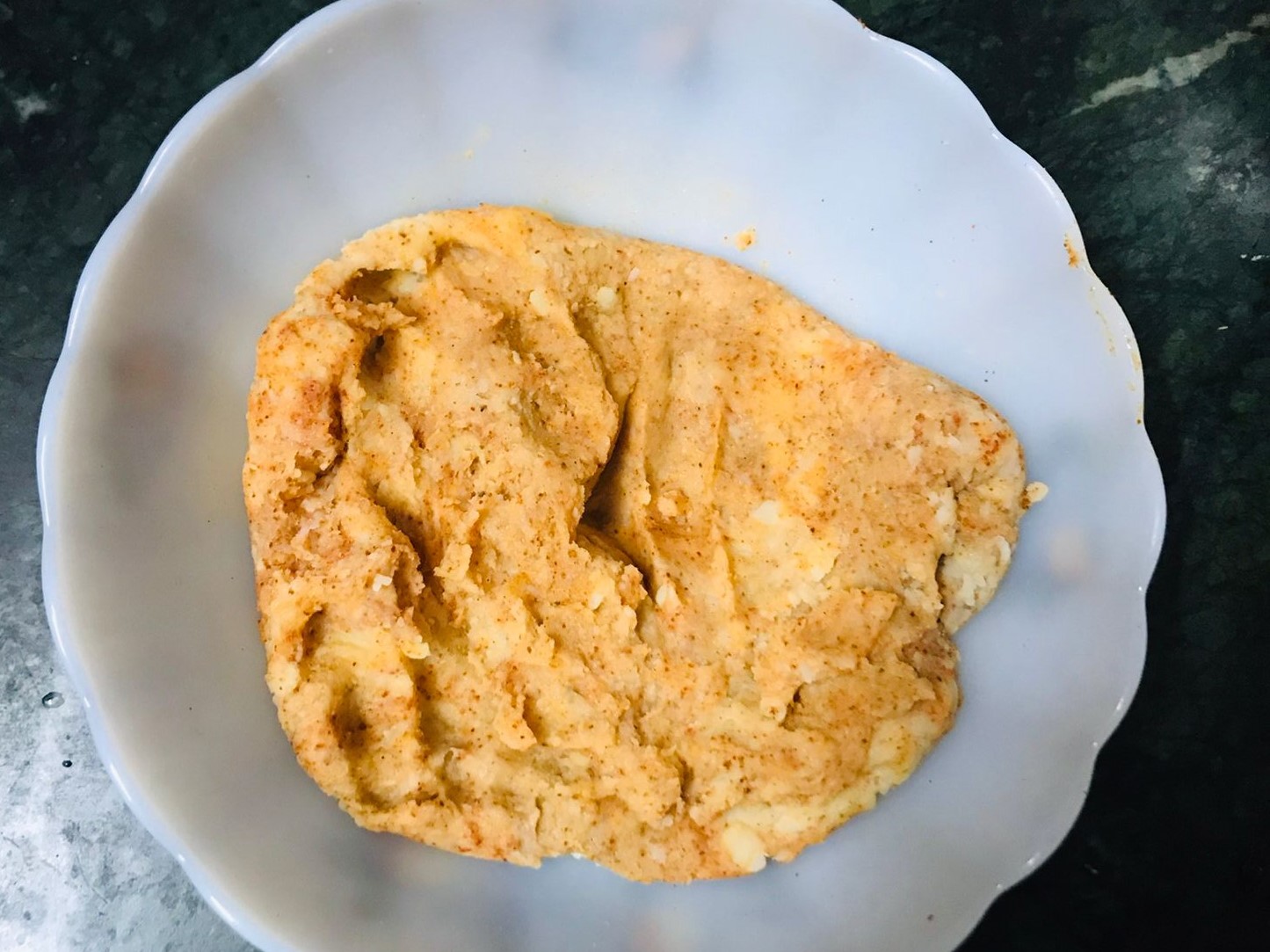 In a bowl add the grated potatoes, Kashmiri red chili powder, salt, red chilli powder, cumin powder, garam masala, frankie masala and chaat masala.  Mix until everything is well combined. Taste to adjust the seasoning according to your taste.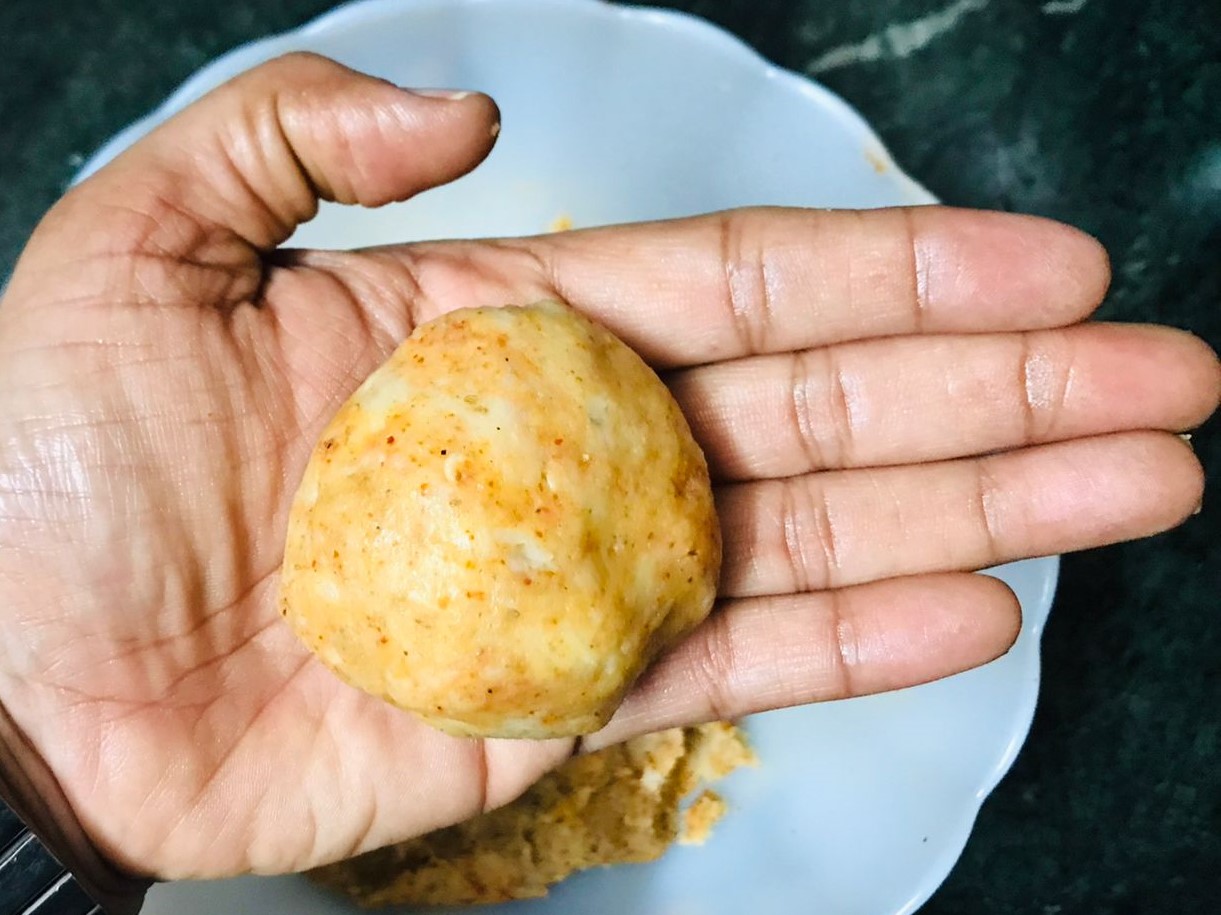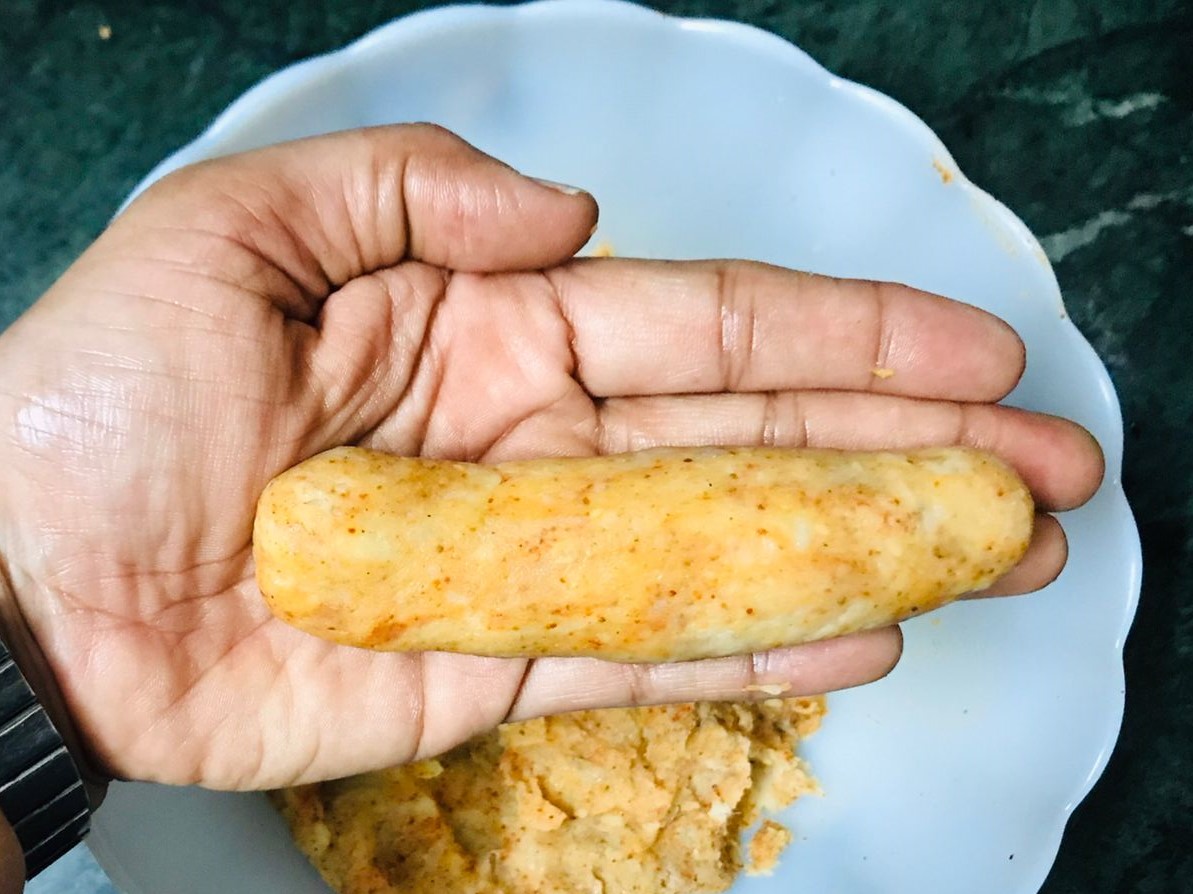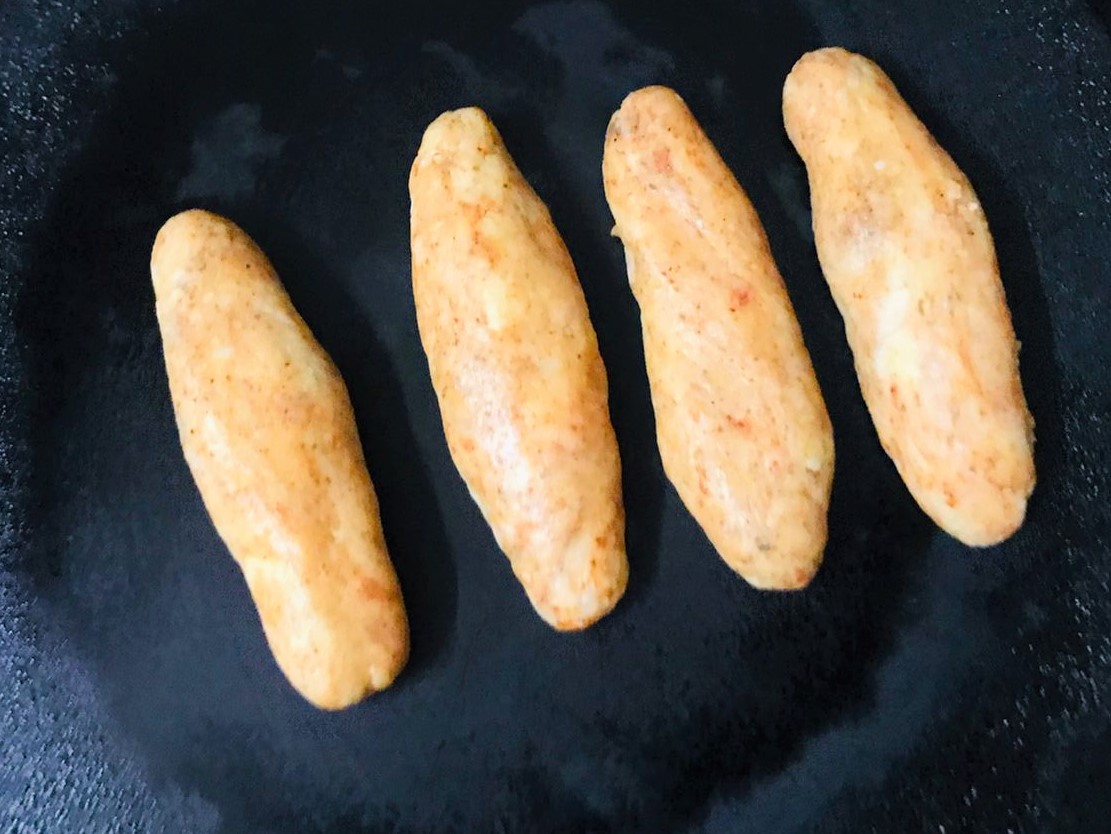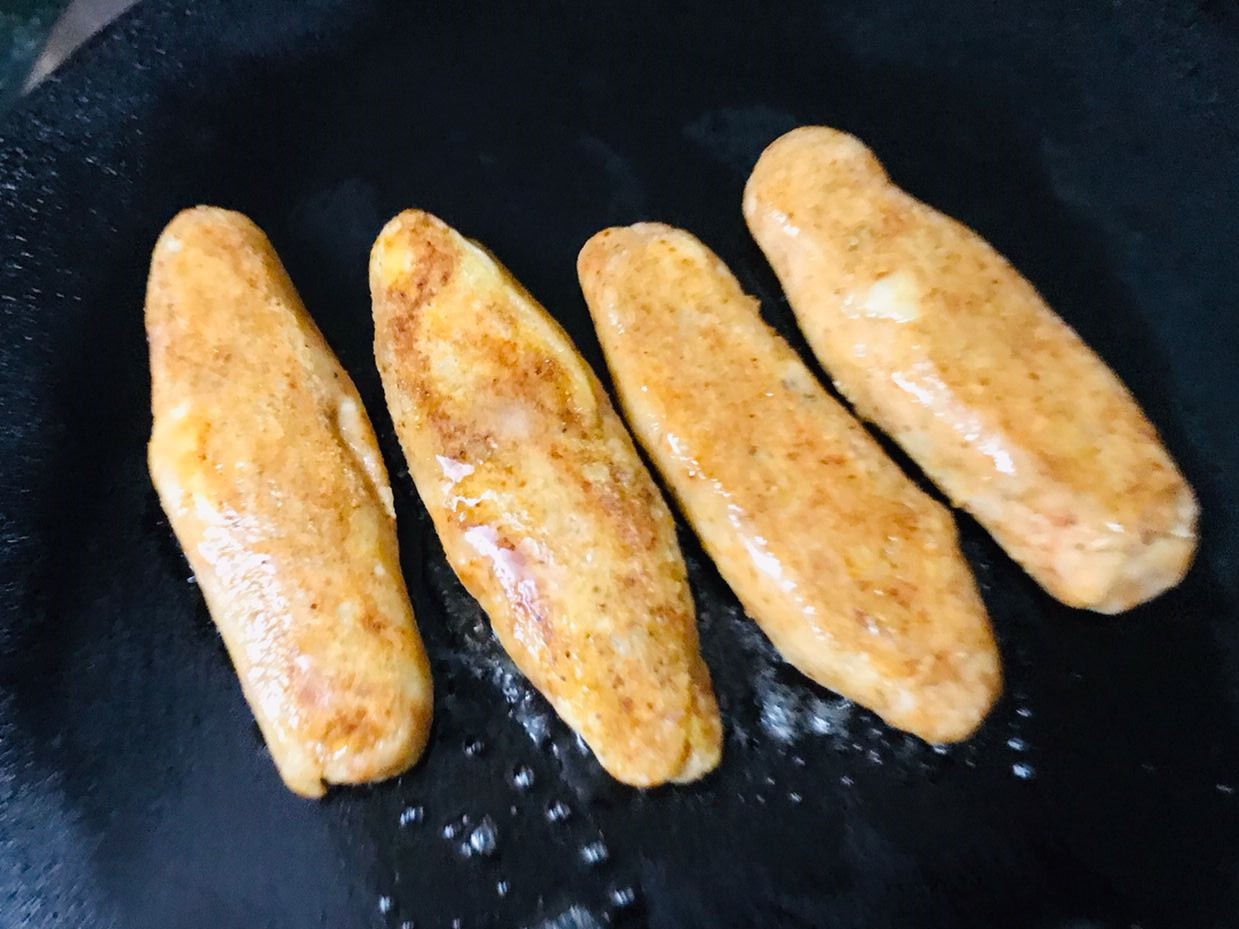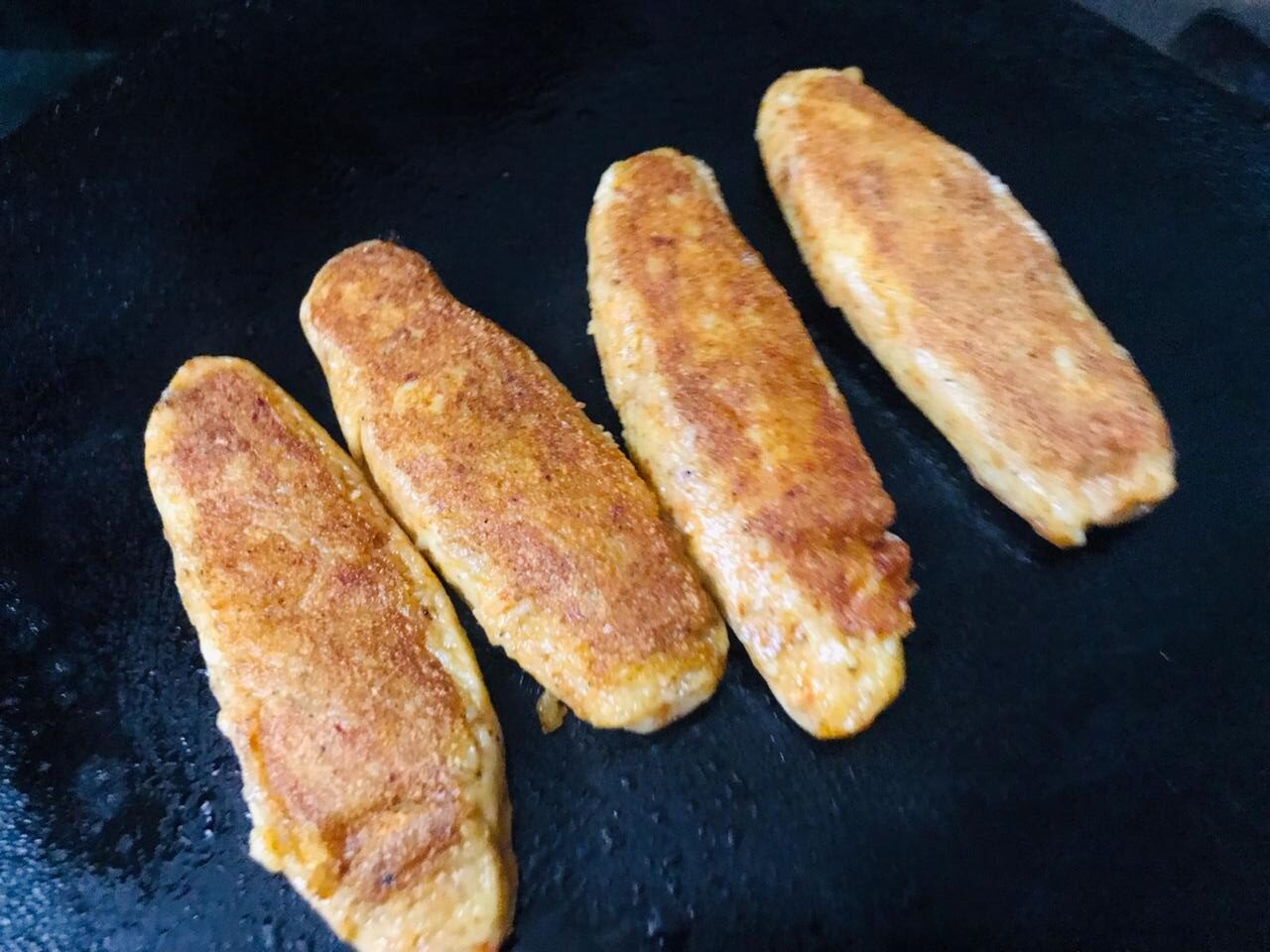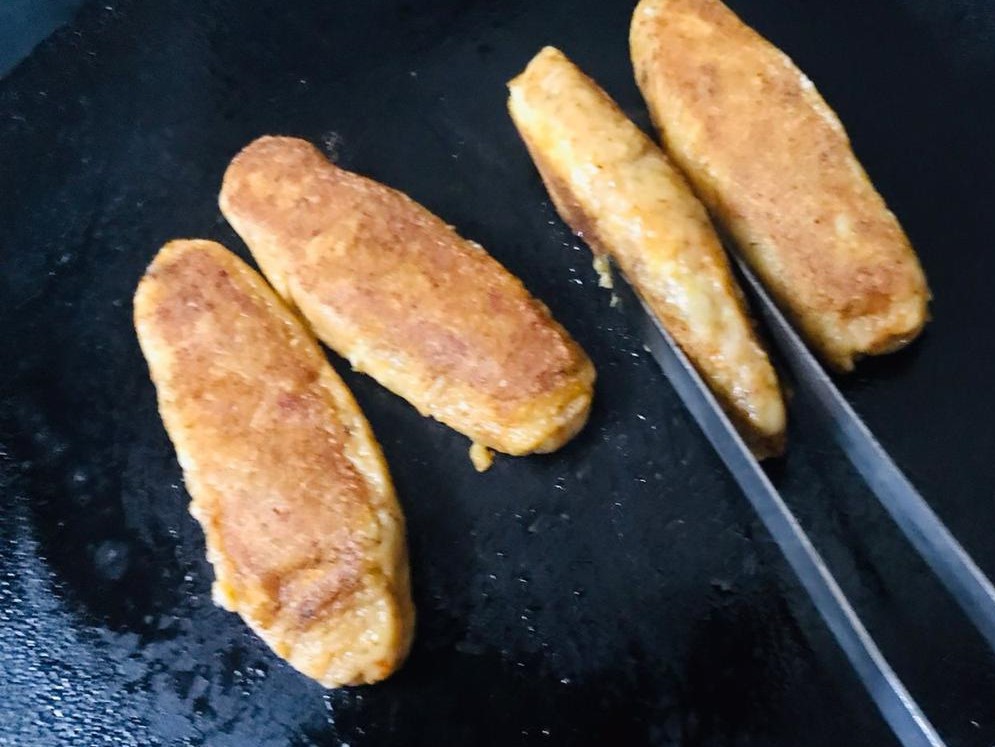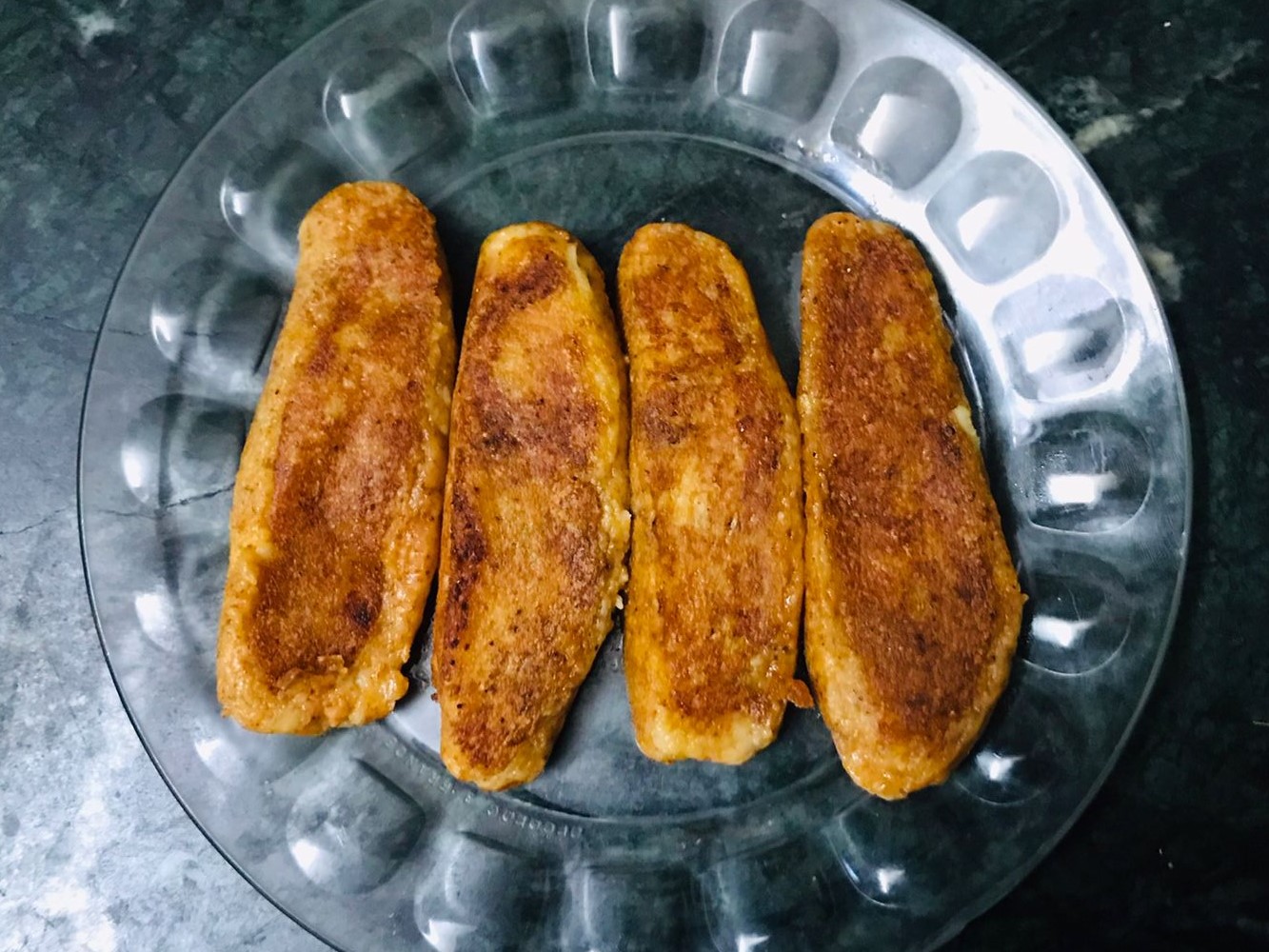 Take a spoonful of potato masala and roll it in 7-8 cylindrical log shape of about 4 inches.
Heat a tawa/flat pan and place the potato patty on the tawa. Spread some butter over the patty and pan fry it. When one side of the patty becomes golden and crispy, flip it over and fry the other side of the patty with some butter. Gently flip a couple of times till the aloo patty is evenly golden and crisp. Once they are ready drain them on paper towels to remove excess butter. Pan fry the rest of the patties with butter as needed and keep aside.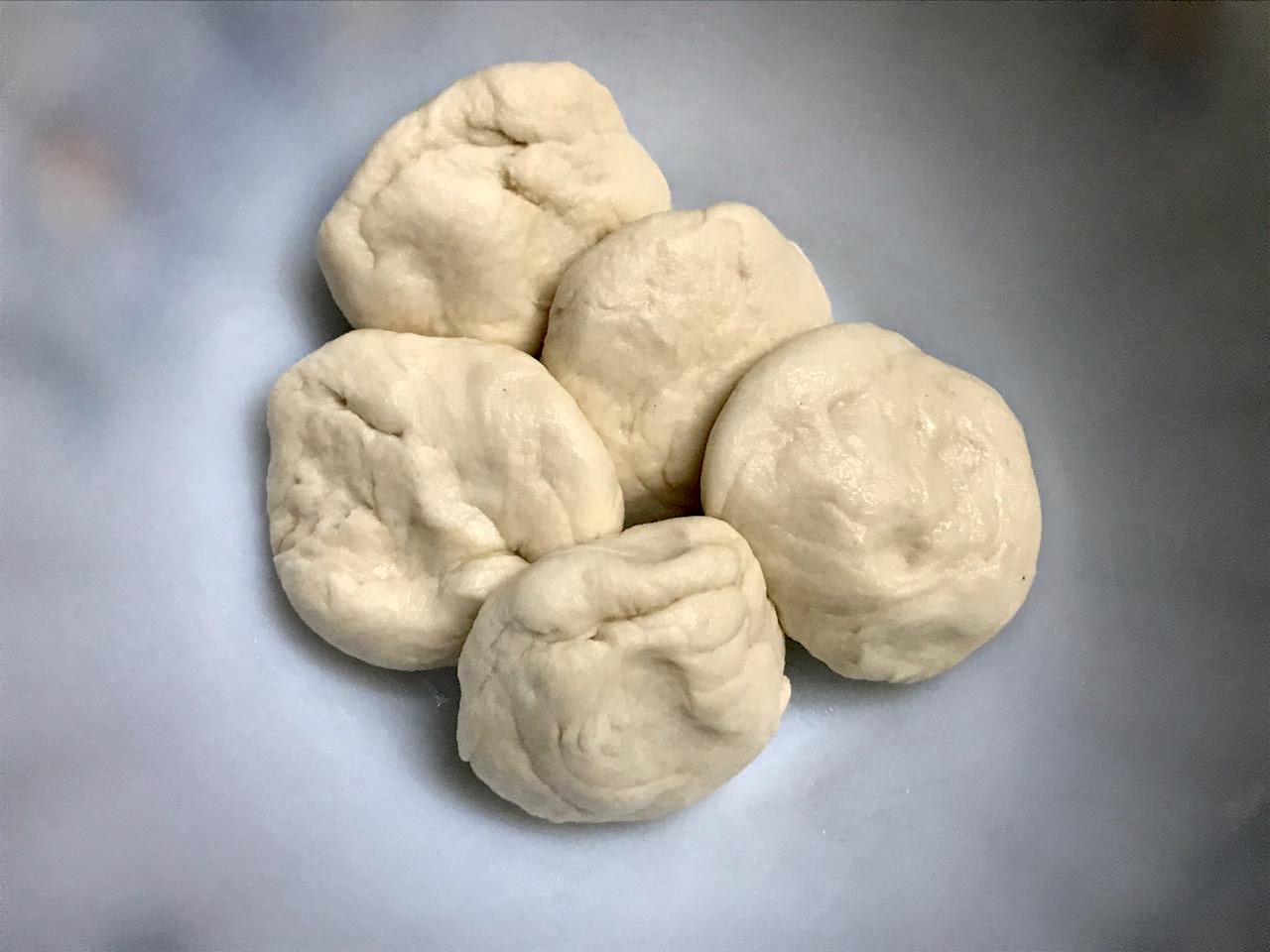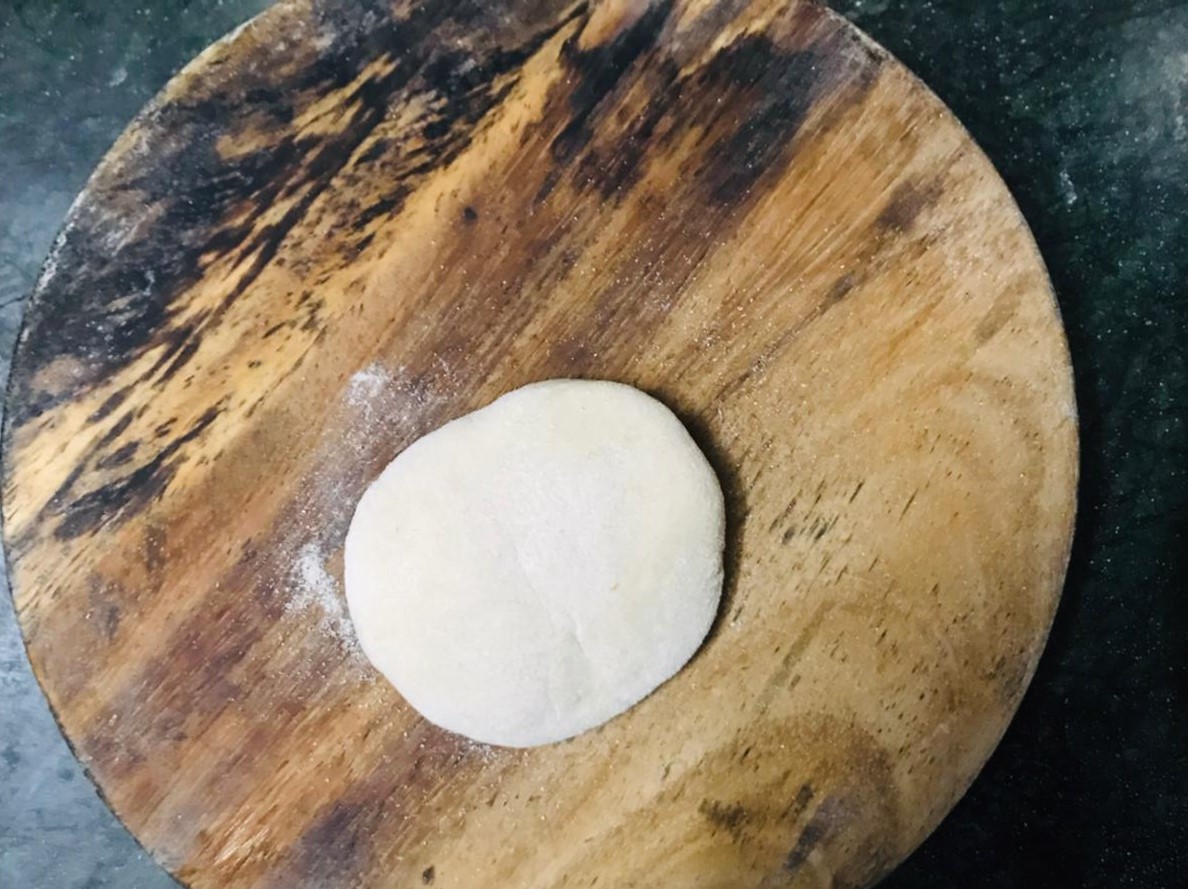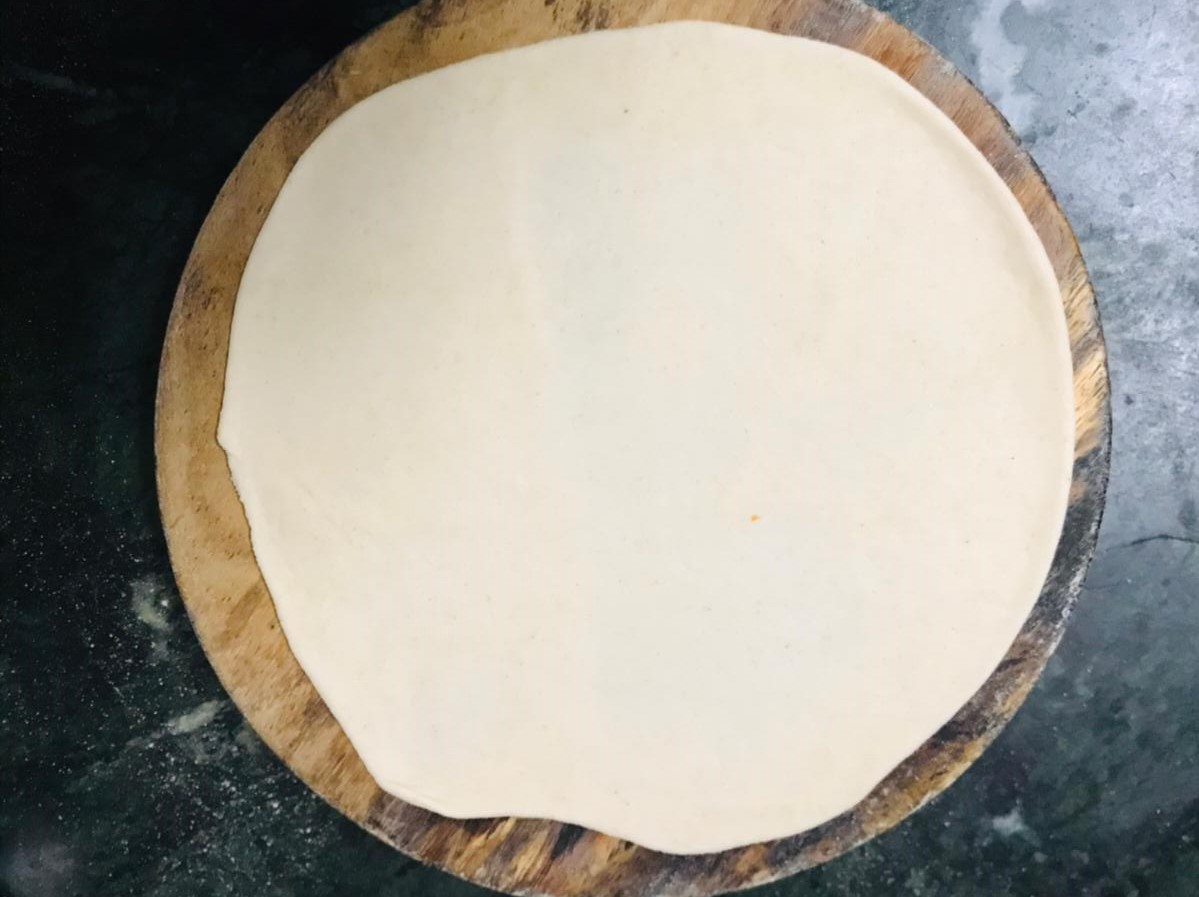 Once the dough has rested for at least 30 minutes knead the dough once again and divide it into 7-8 equal portions.
Dust some flour on the worktop and roll the dough balls into thin circles around 6-7 inch in diameter.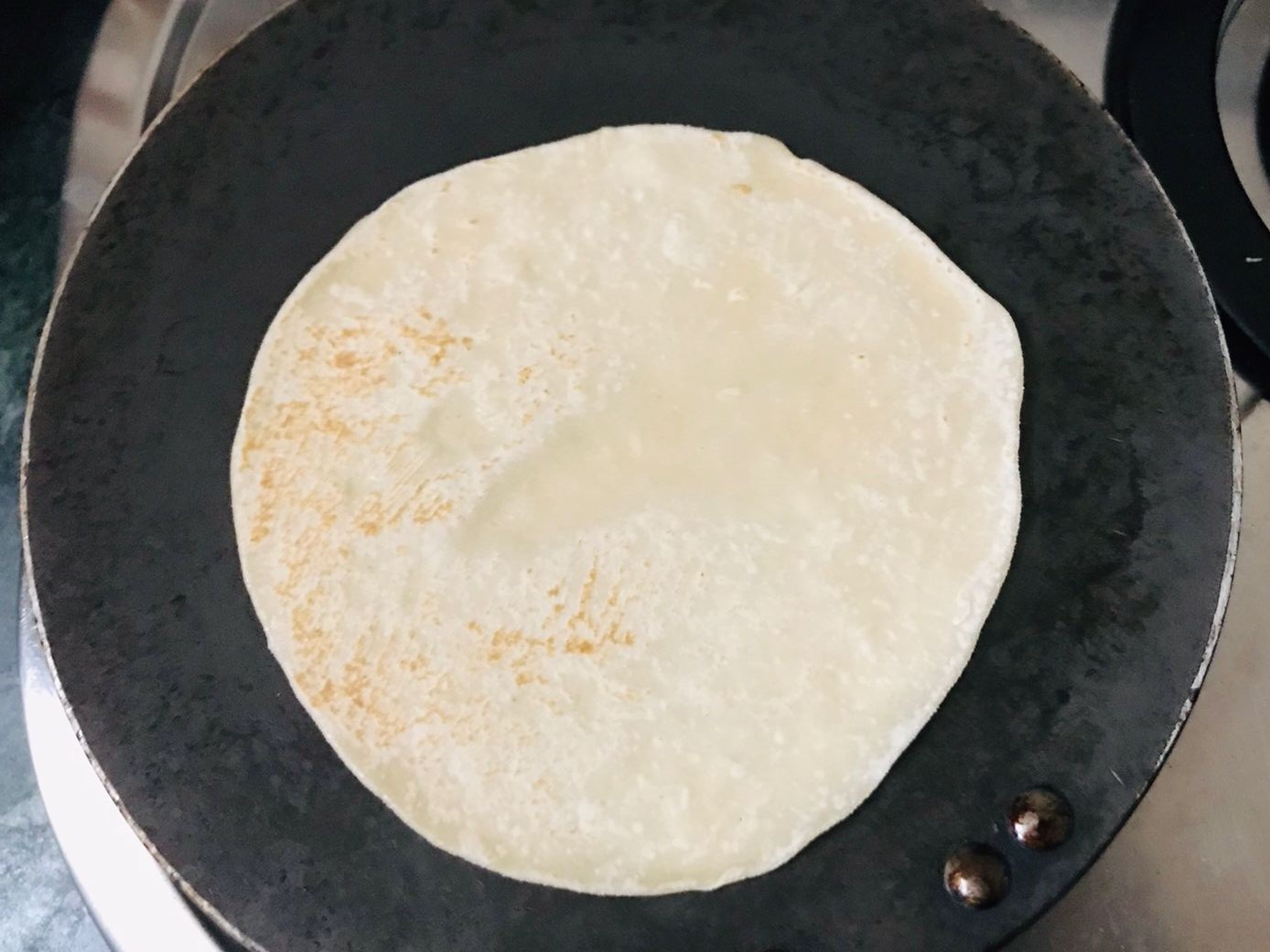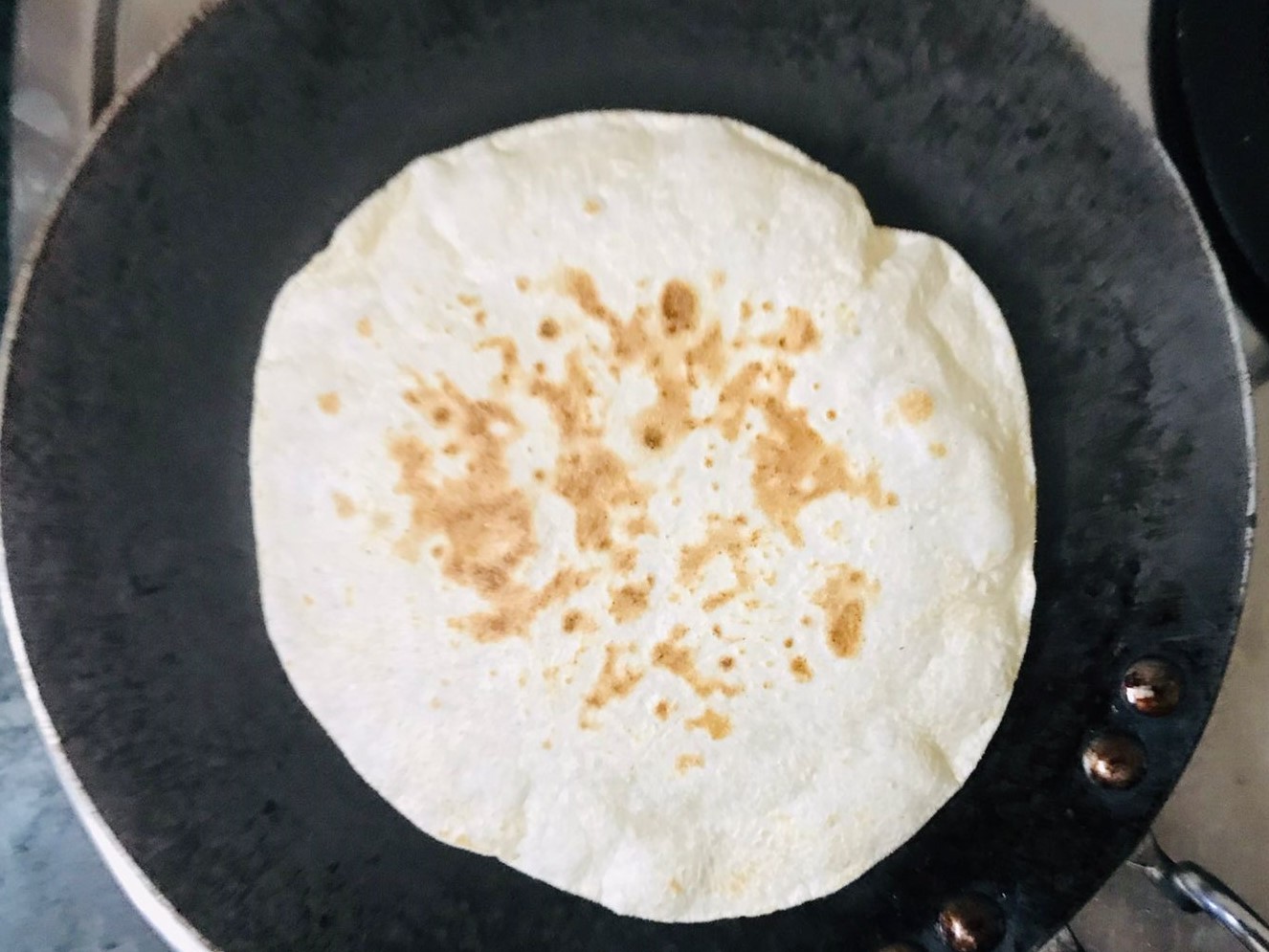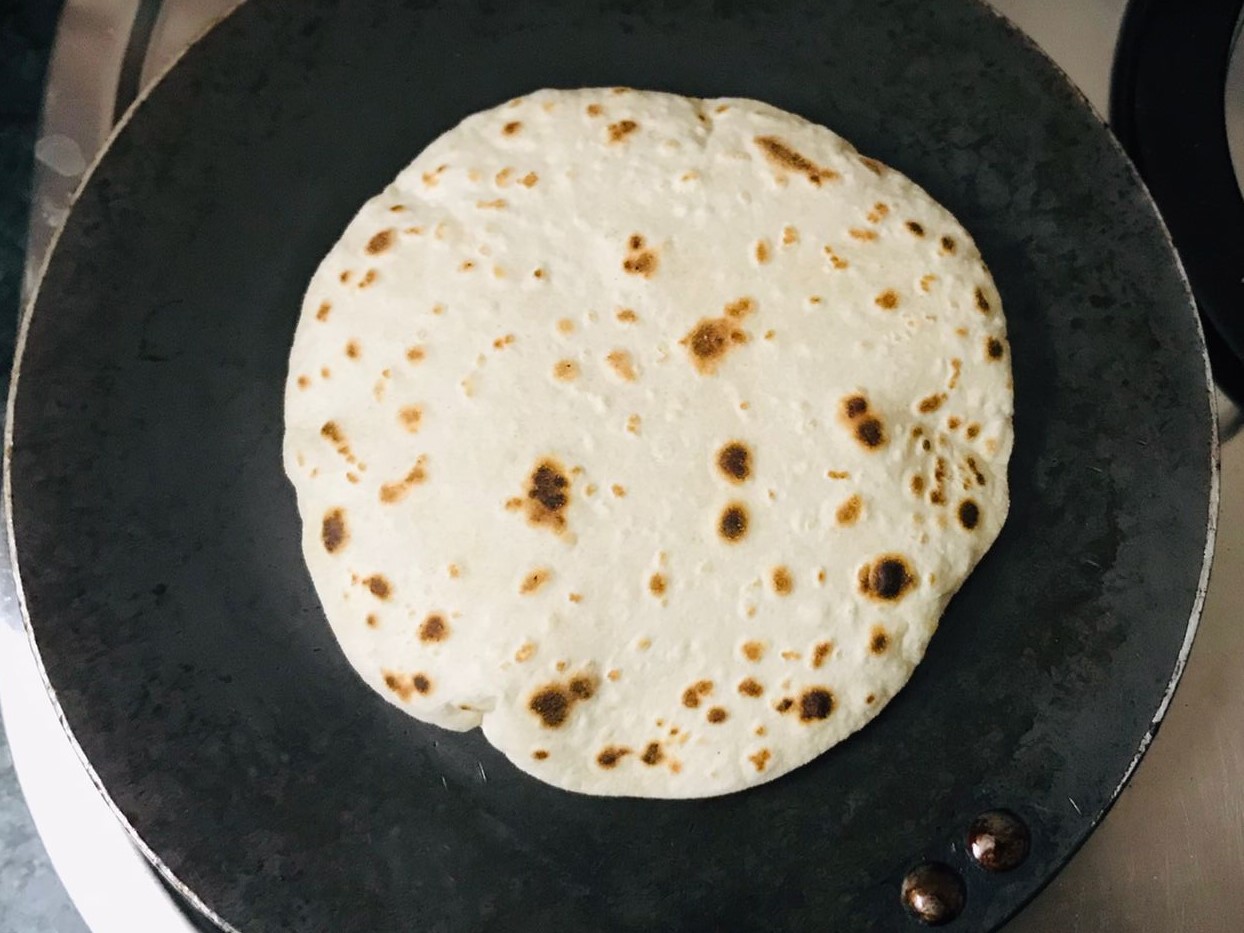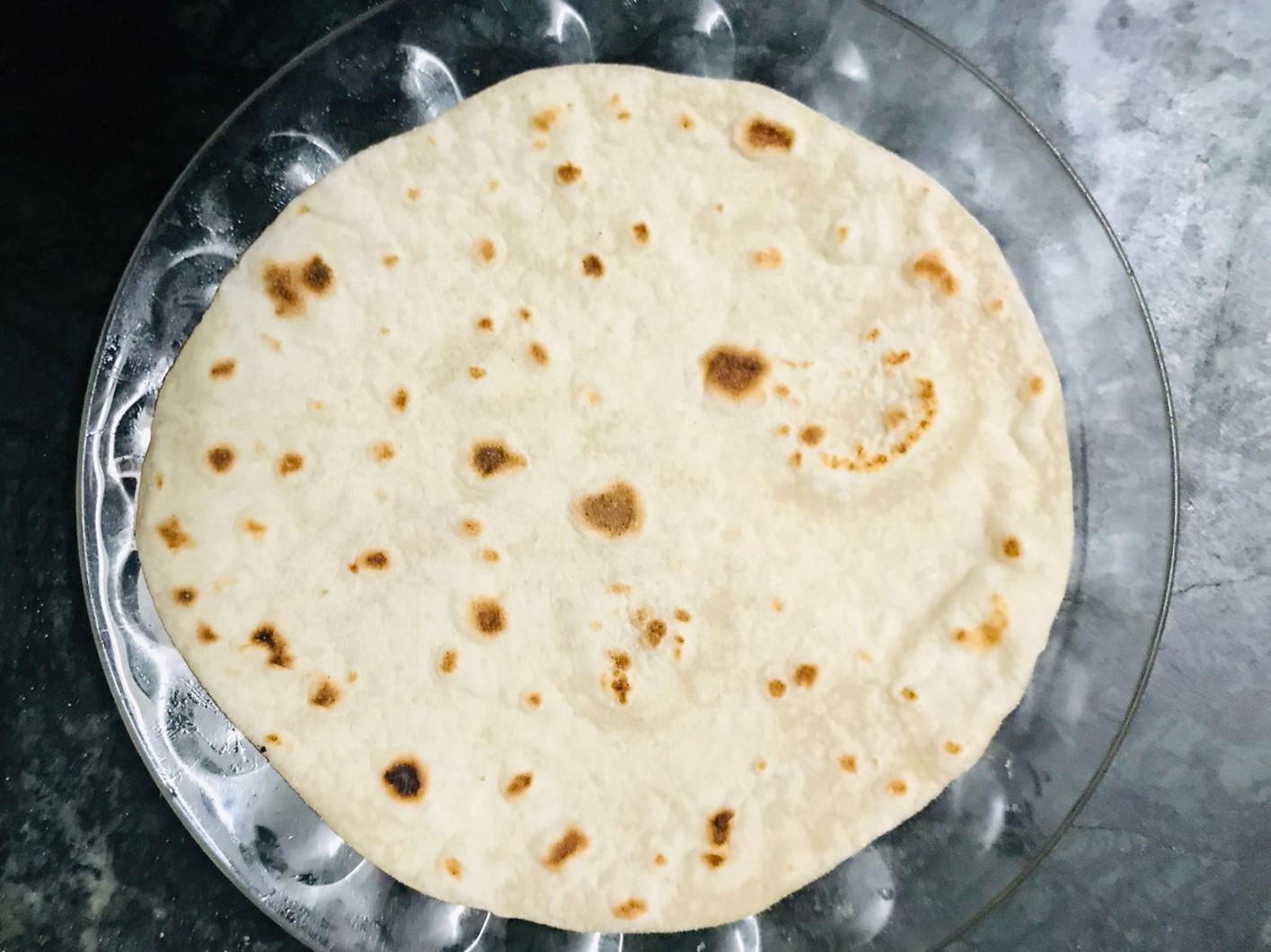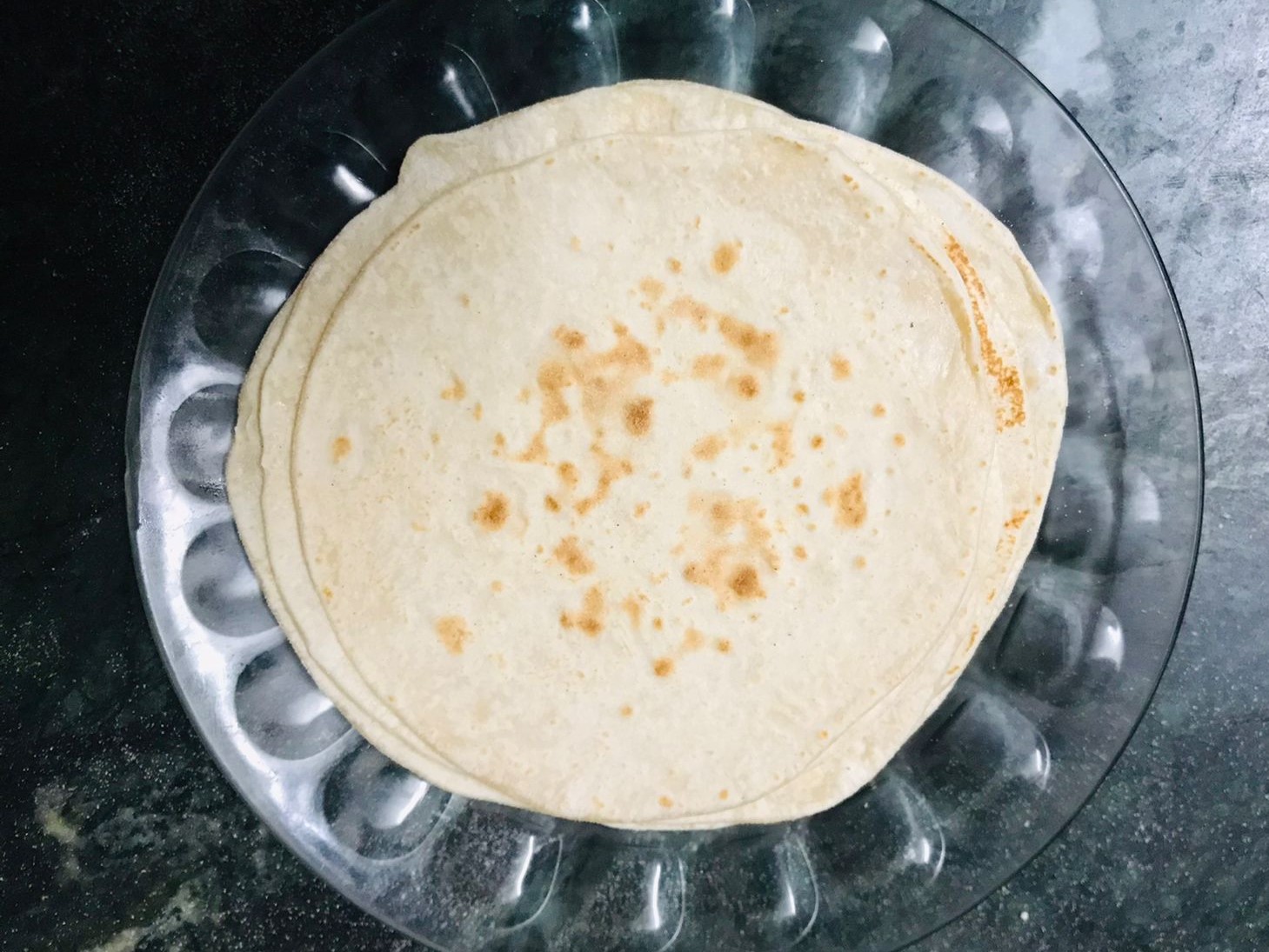 Heat a tawa/flat pan and place the rolled wrap on the hot pan. Cook the wrap on medium heat by flipping it a couple of times on each side. When you see small blisters and air pockets appearing, flip and cook it on the other side. Flip it a couple of times, till the wrap is cooked well.
Make all wraps this way and store them in an air-tight container until you begin to assemble the frankie.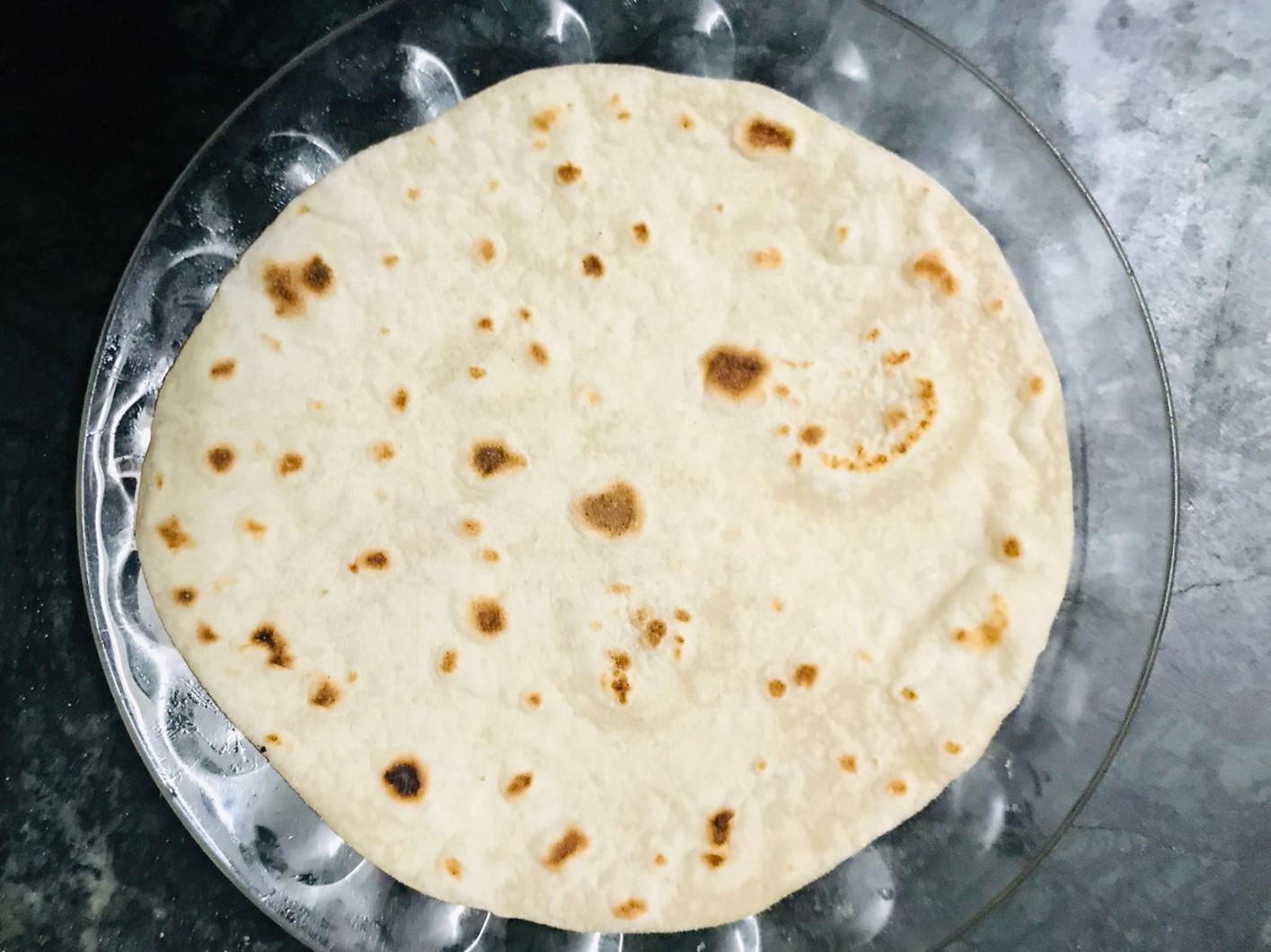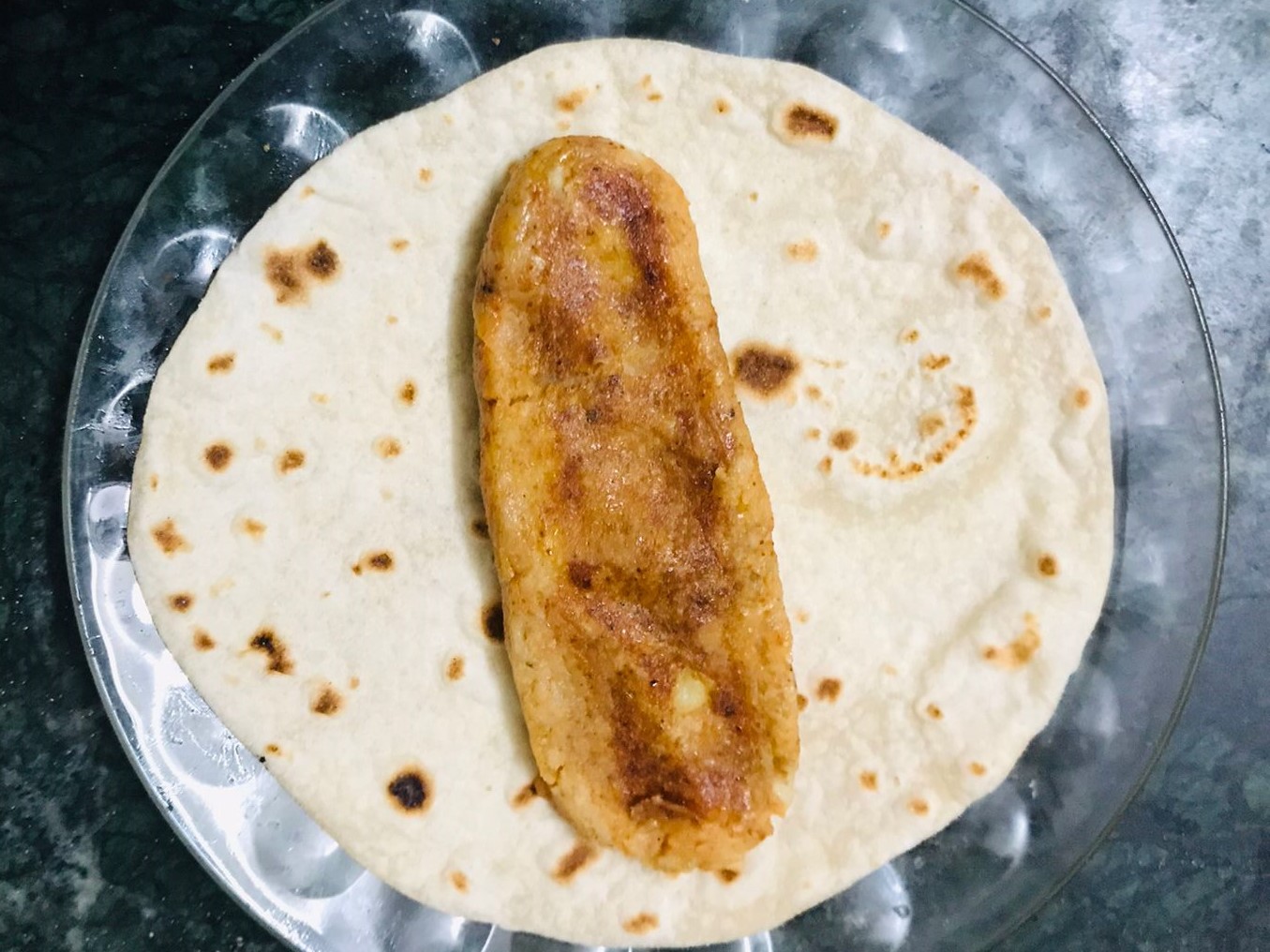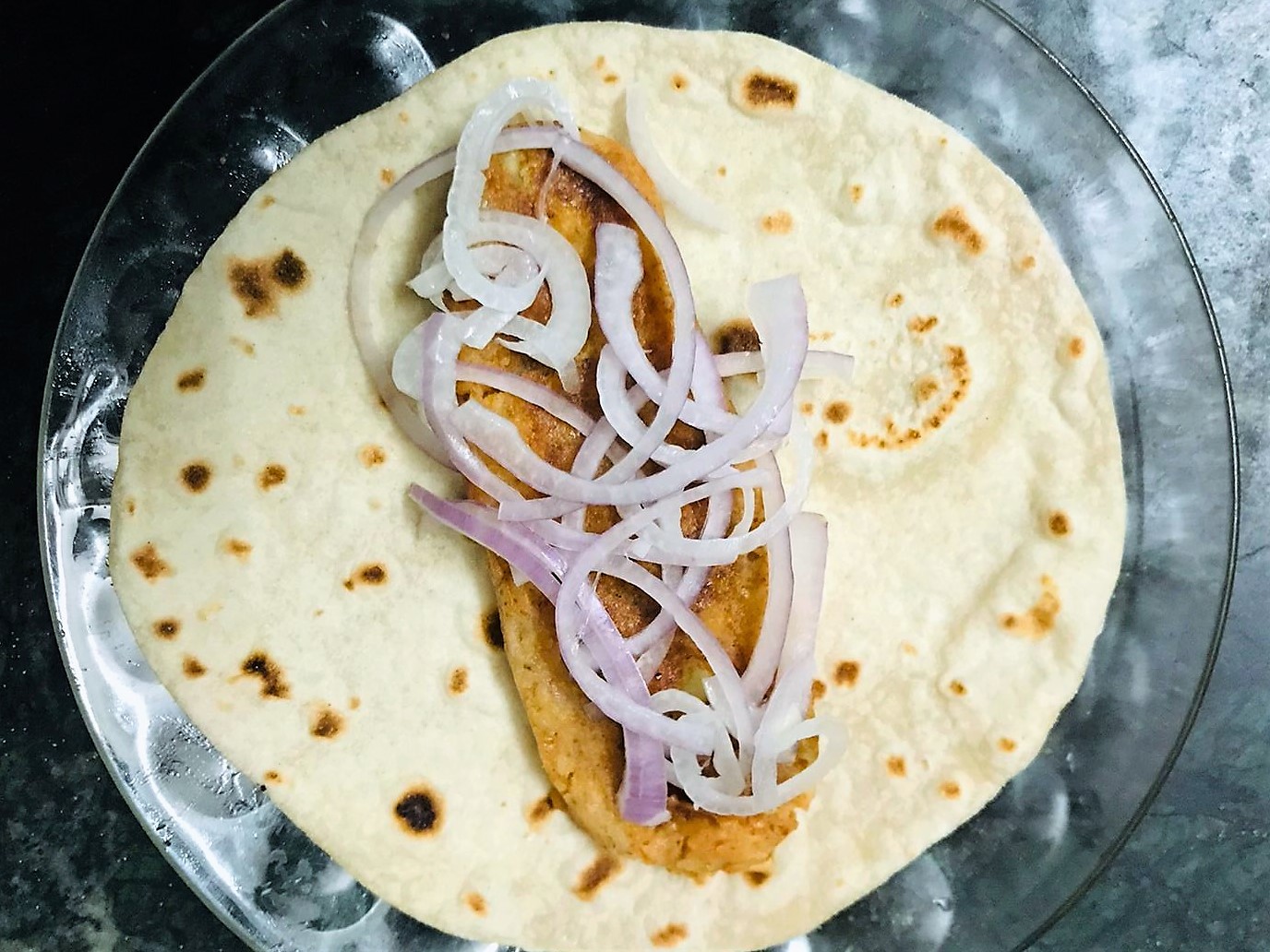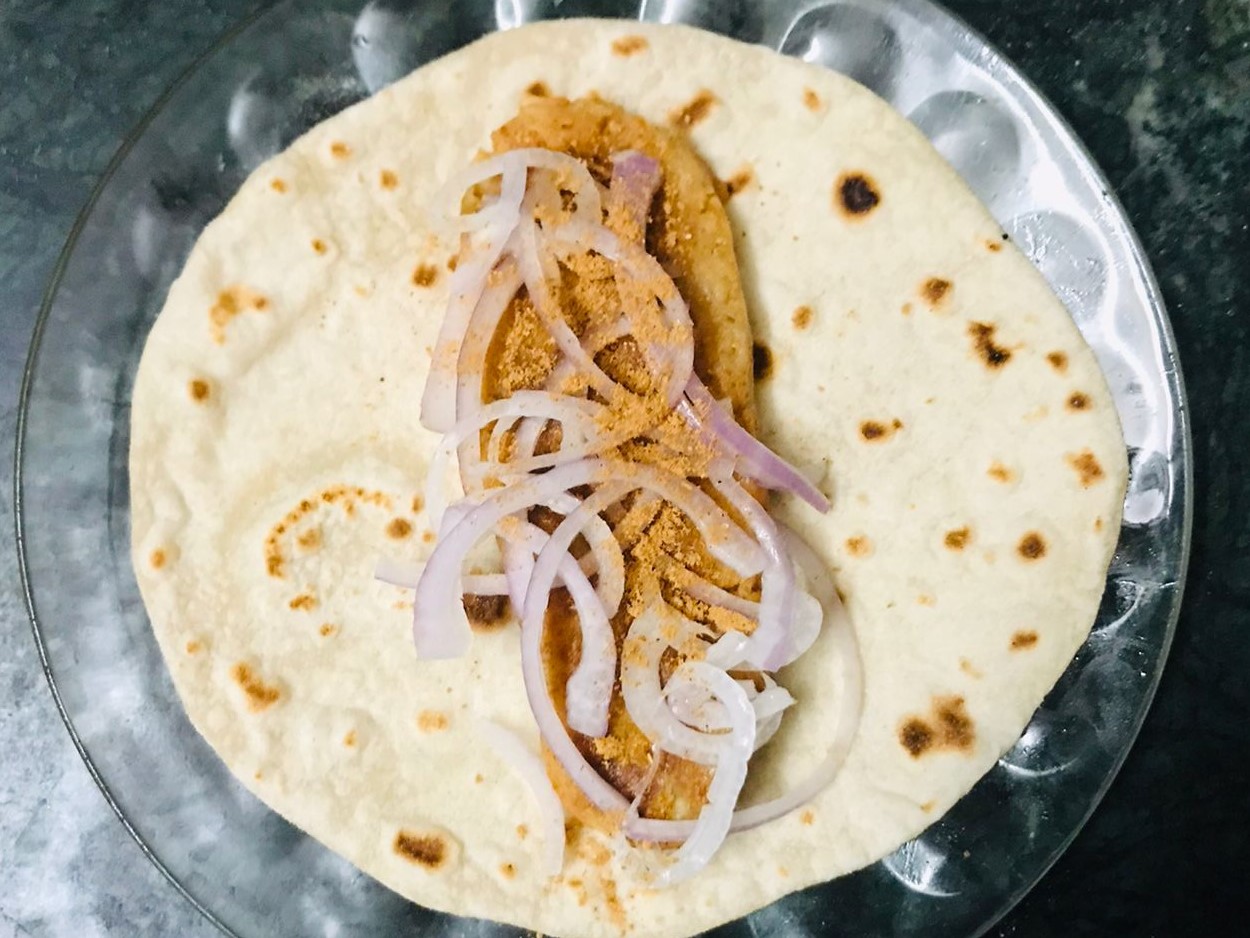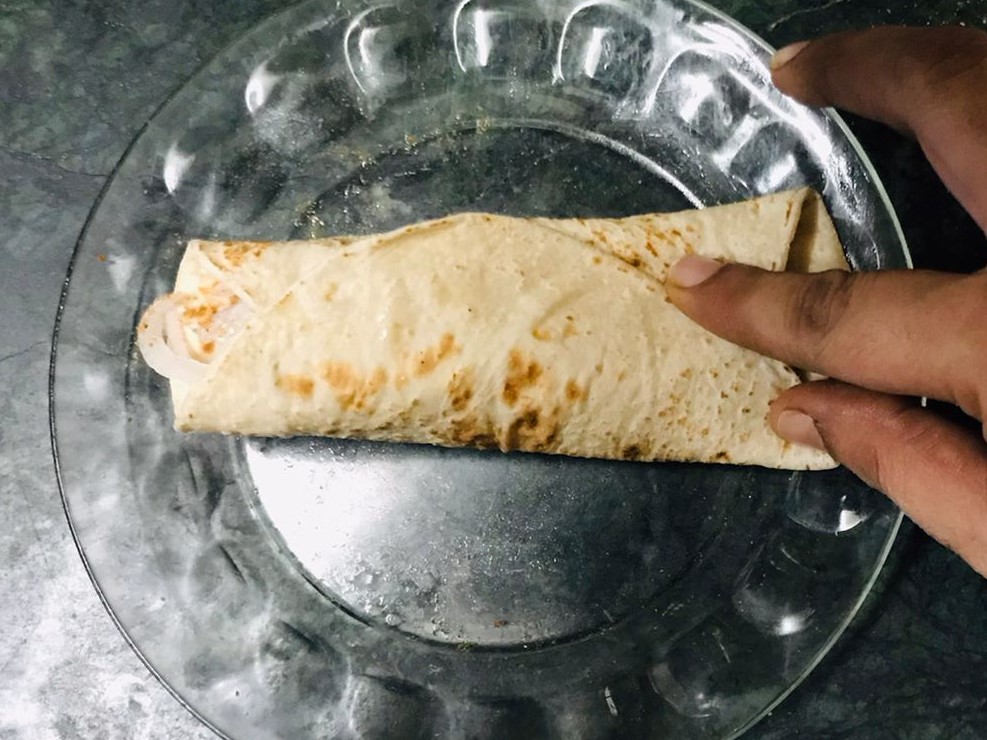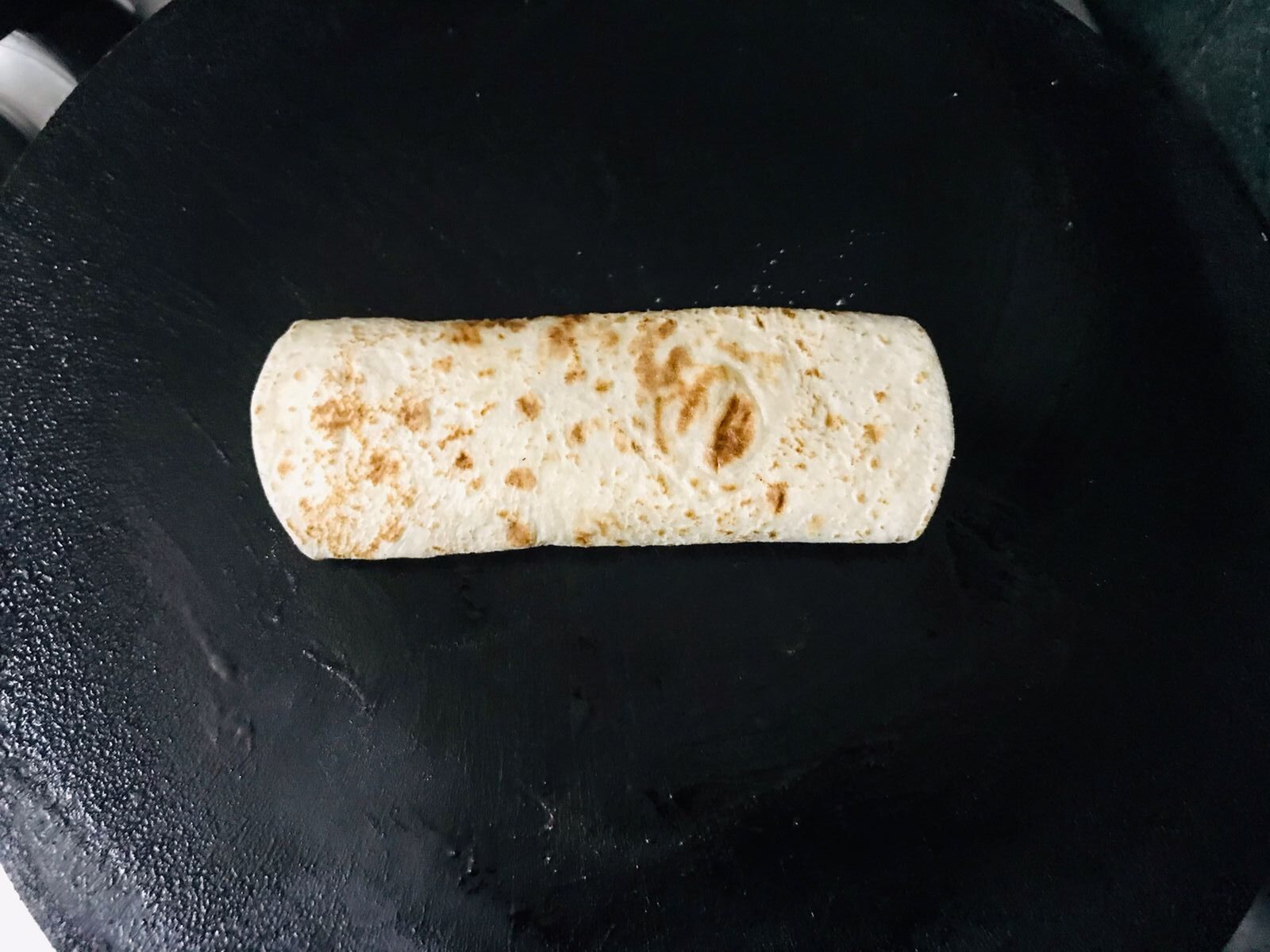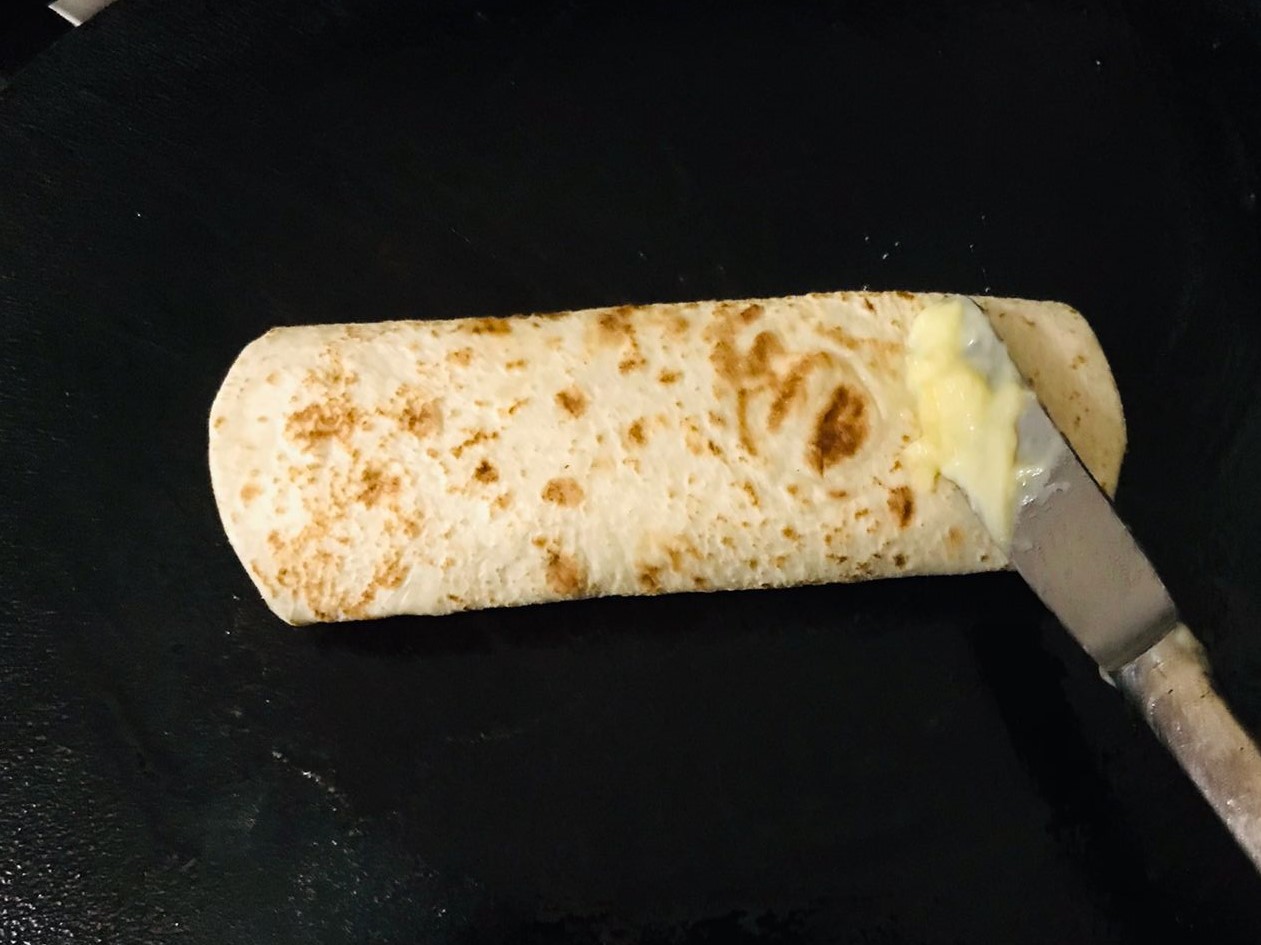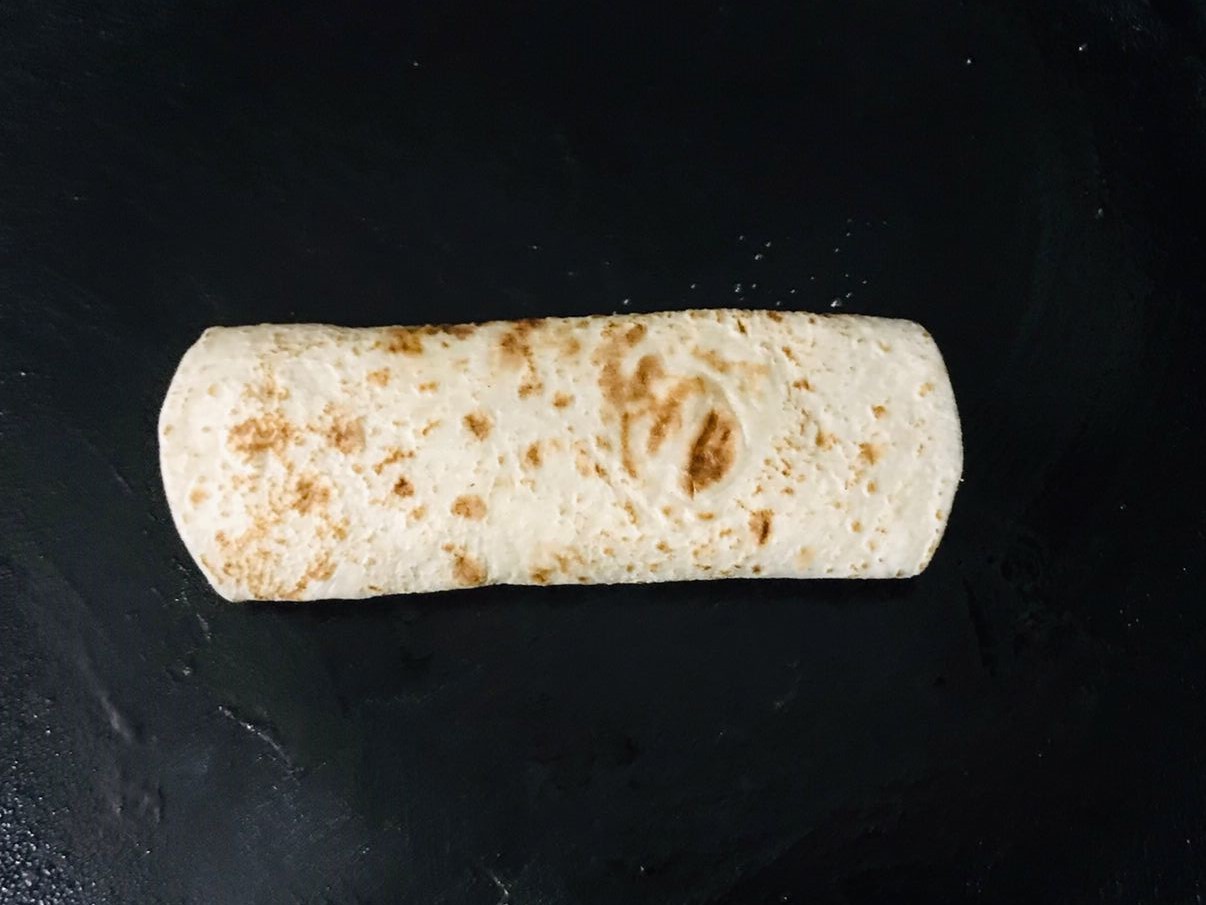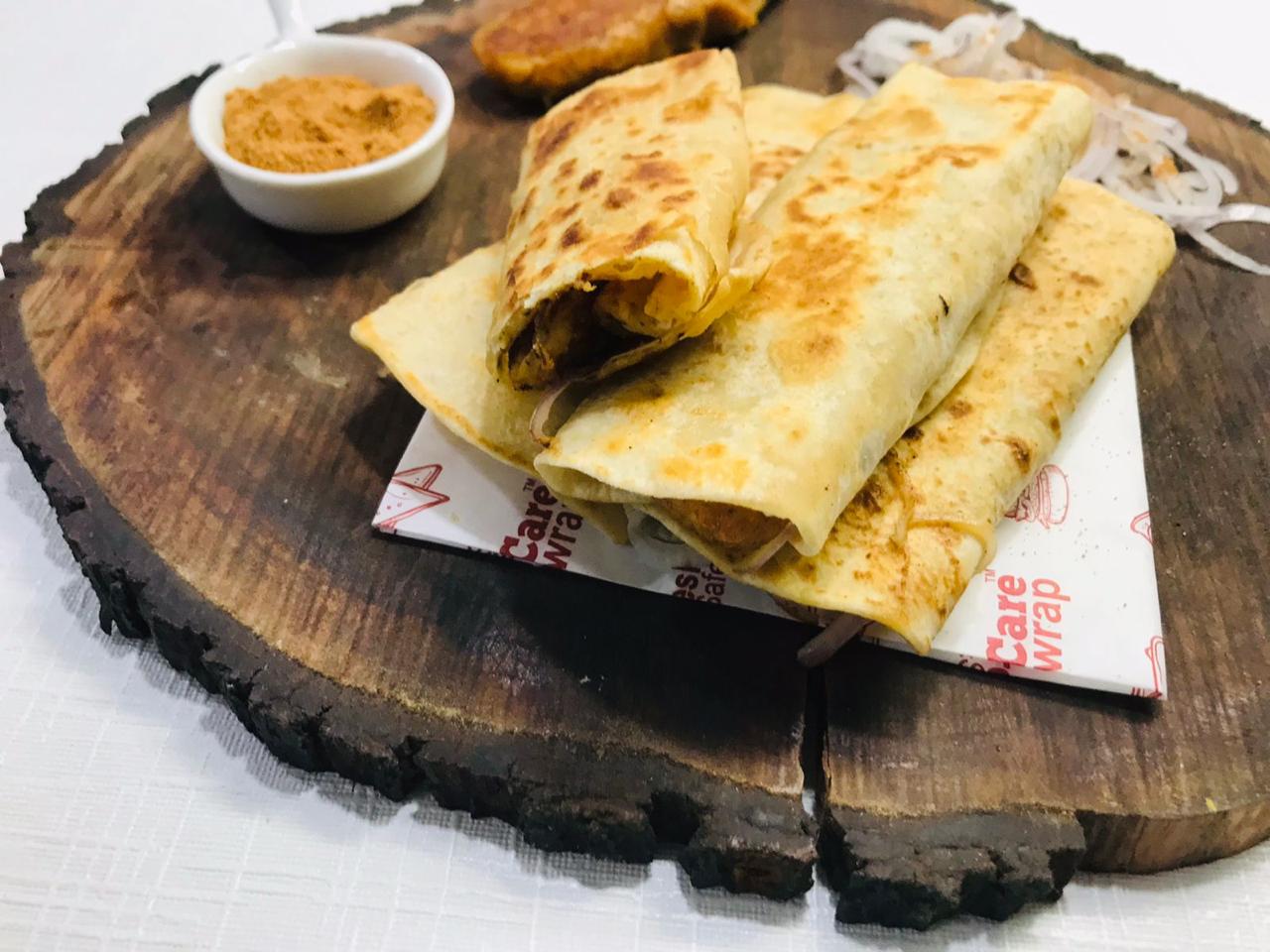 In a serving plate, place the wrap, add the potato patty and layer it with onion slices and sprinkle some frankie masala. Pull both sides together. Prepare the rest of the frankies like this.
Heat a pan and spread some butter on both sides of the wrap and gently cook for 1-2 minutes from both sides for a golden crispy crust.
Serve hot with choice of your dip or on its own.