Schezwan Paneer Frankie (Wrap)
Frankies are India's flavourful street food, also known as the Mumbai Burrito, Bombay Burrito or roti wrap. Originally a simple man's food to help get through the day, this quick and filling dish hails from Mumbai, as the name suggest. Frankies have ruled the Indian hearts much before the advent of burgers on the Indian food scene and continue to be a hit still.
It is an amazing snack for those on the run — spicy, tasty and so easy to make. There are various combinations and variations of frankies on the Mumbai Streets. My favourite has to be the frankies I had at Irla road, Vile Parle, Mumbai while out for shopping or hanging out with my friends. My love for these frankies has been passed on to my husband and children. They love the Schezwan Paneer Frankie bursting with different textures and flavours, loaded with salad.
My version of Frankie is an amalgamation of flavours that I love. Schezwan Paneer with salad in a thin and crispy wrap. Schezwan Paneer Frankie is a perfect healthy lunch recipe, which you can easily prepare for children especially as it is high-protein recipe with fresh salad. The 5 a day can easily be accomplished with just one meal. Make these wraps fresh, and I bet your children will love this delectable surprise.
Easy-to-eat, loaded and ever-so-delightful, the Schezwan Paneer Frankie is the perfect pick for those who are in a rush, as it is convenient and of course, yummy!
Ingredients
For The Dough
2 cups plain flour
1 teaspoon salt
2 tablespoons yoghurt
½ cup milk
1 tablespoon oil
For Frying Paneer
500 grams paneer (cut in 1 cm cubes)
½ cup plain flour
2 tablespoons corn flour
1 tablespoon minced garlic
1 teaspoon salt
1 teaspoon black pepper
Oil for deep frying
Schezwan Sauce
10-12 Kashmiri red chilies
2 tablespoons sesame oil
¼ cup minced garlic
¼ cup finely chopped onions
1 tablespoon grated ginger
2 teaspoons red chili sauce
2 teaspoons vinegar
2 tablespoons tomato ketchup
2 teaspoons soy sauce
2 tablespoons corn flour
1 teaspoon salt
1 teaspoon white pepper
¼ cup diced onions
¼ cup diced green pepper
¼ cup diced red pepper
To Assemble
2 tablespoons butter
2 teaspoons Frankie Masala
¼ cup finely sliced onions
¼ cup finely sliced red pepper
¼ cup finely sliced green pepper
¼ cup finely sliced cabbage
Directions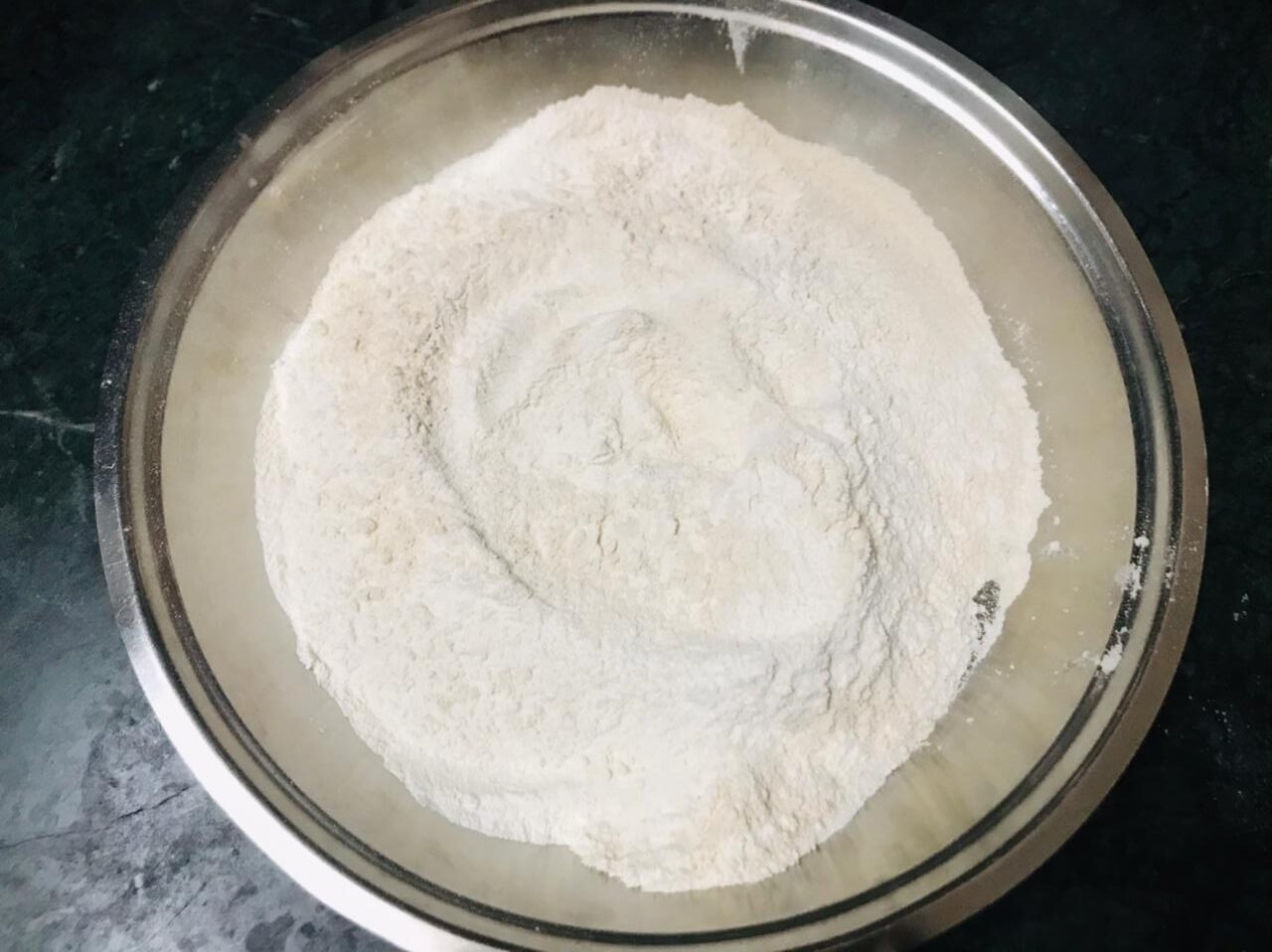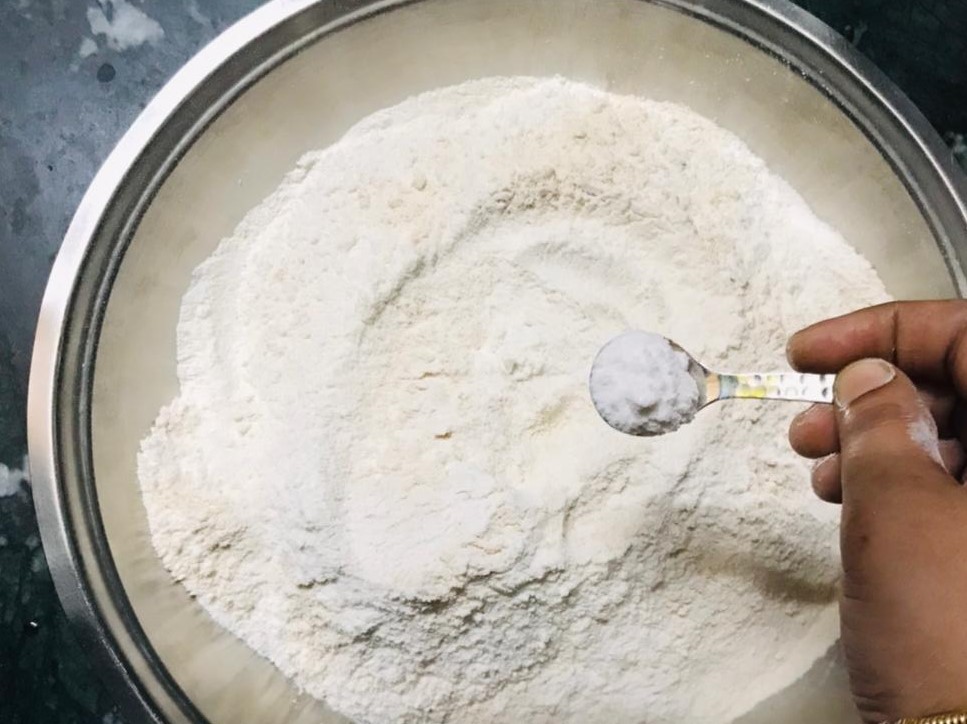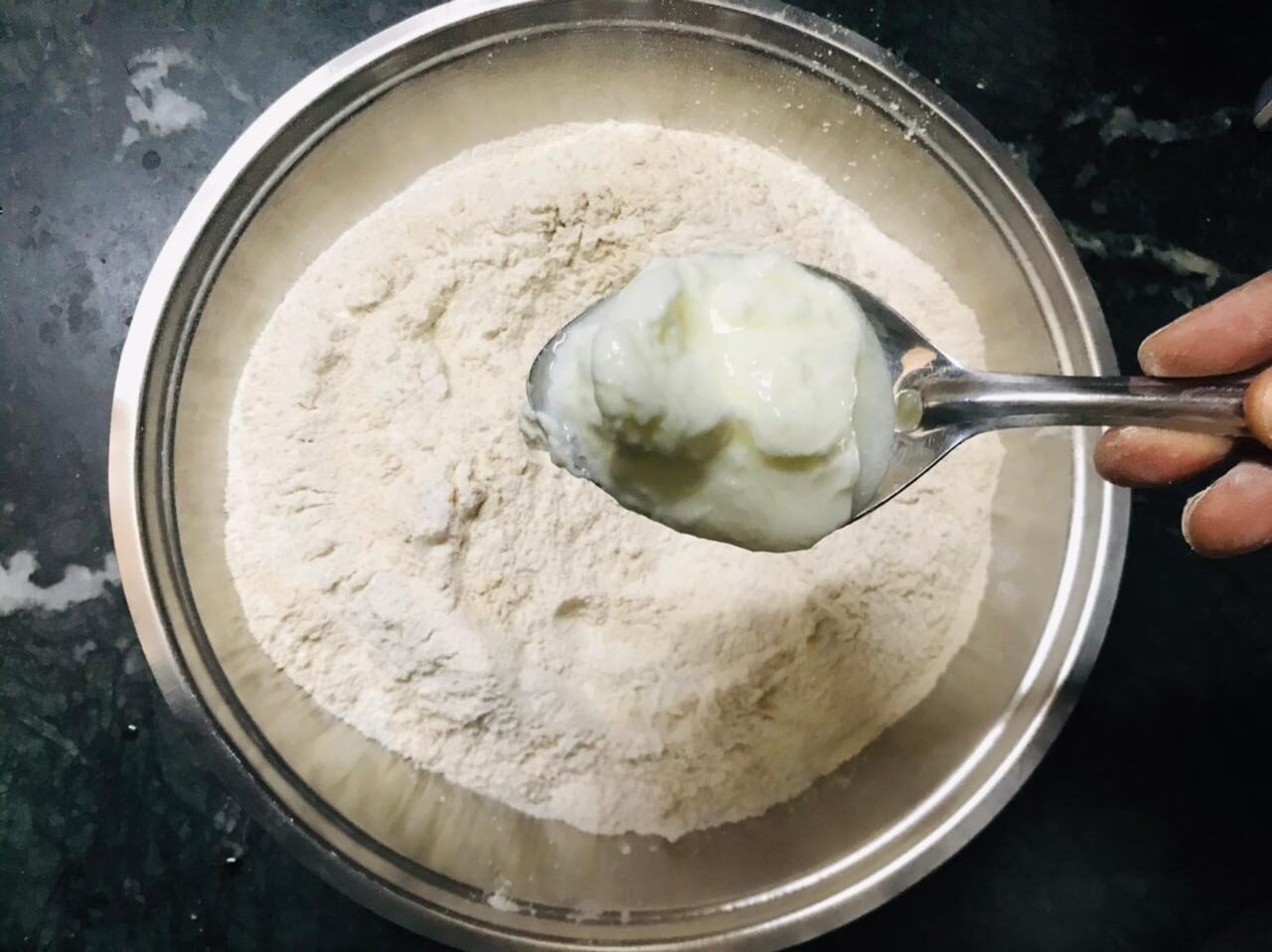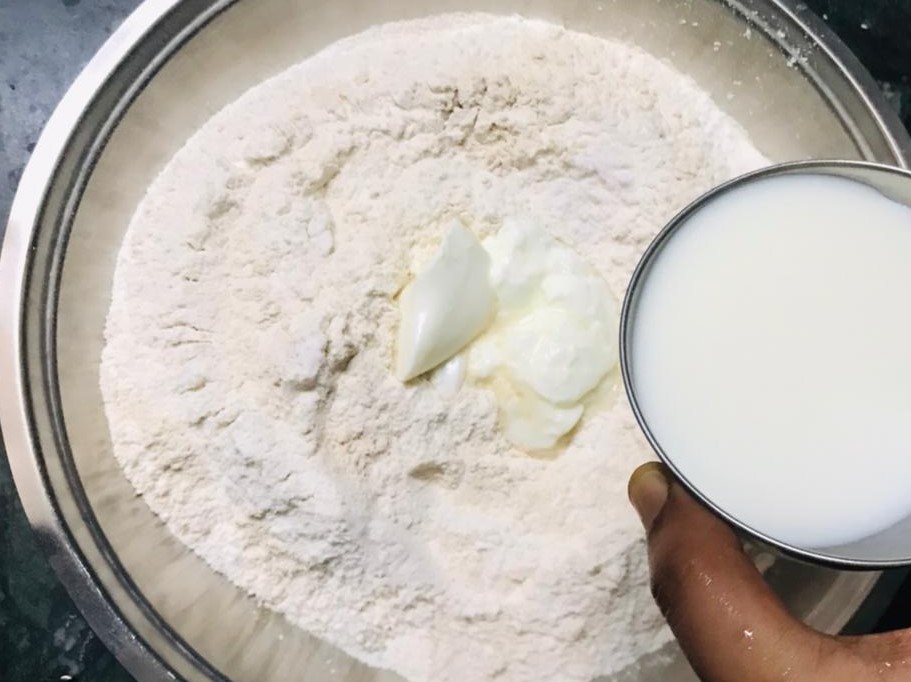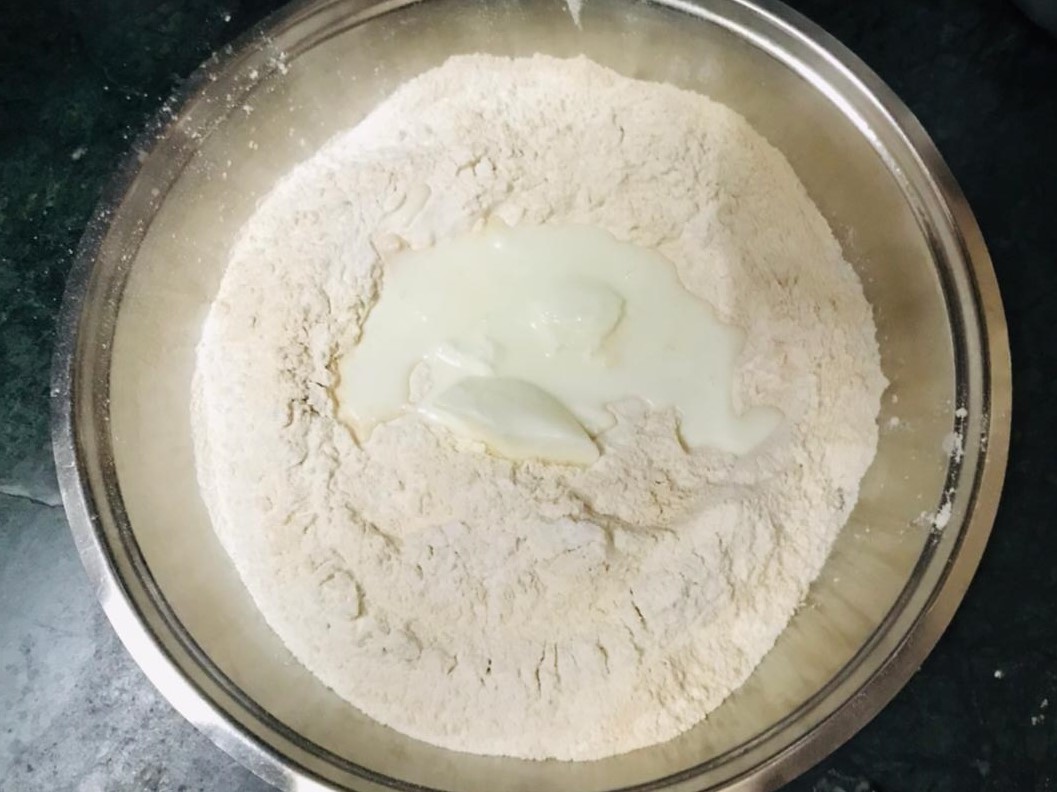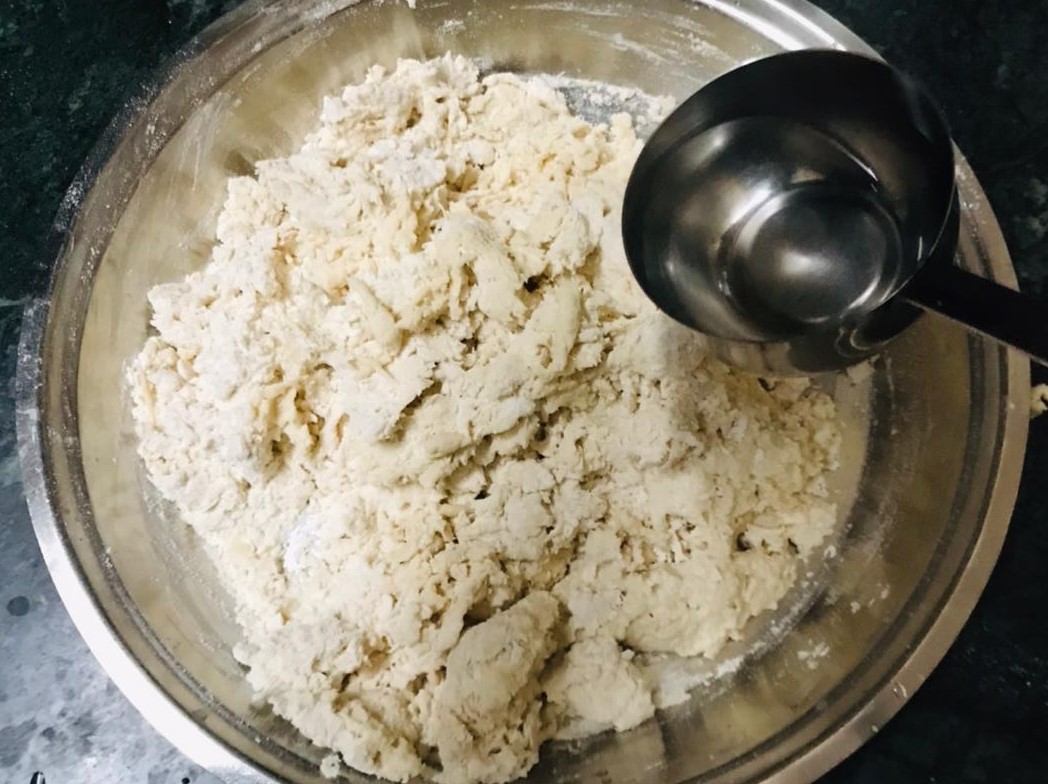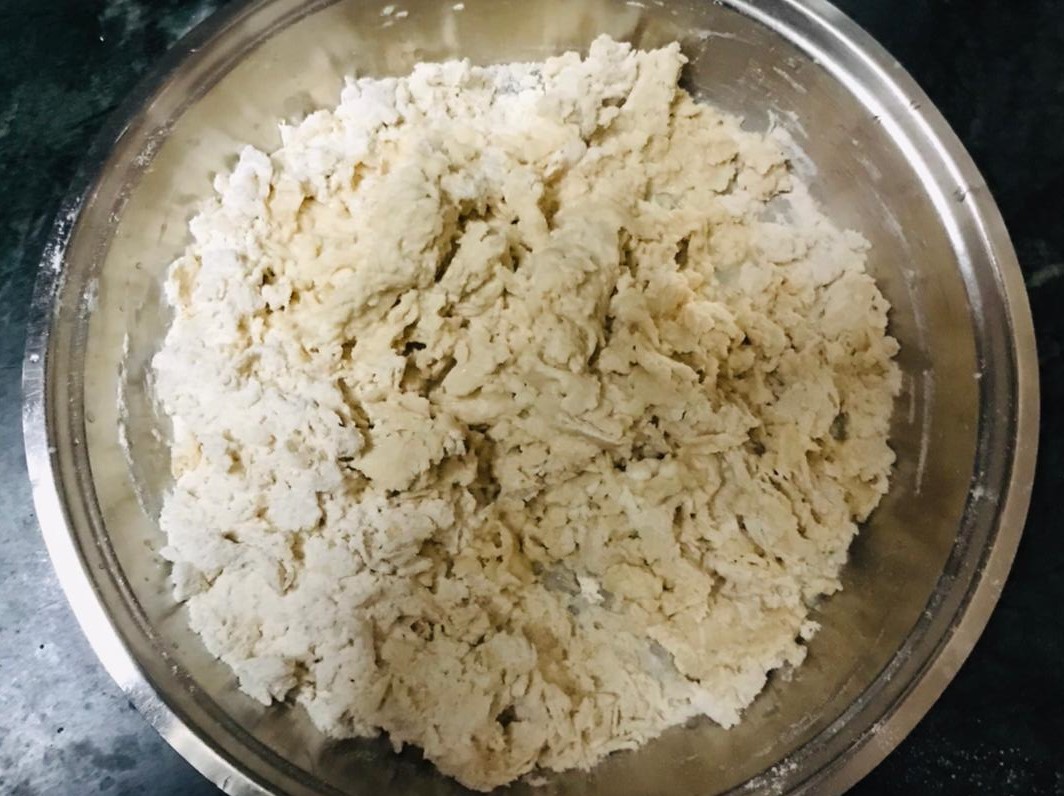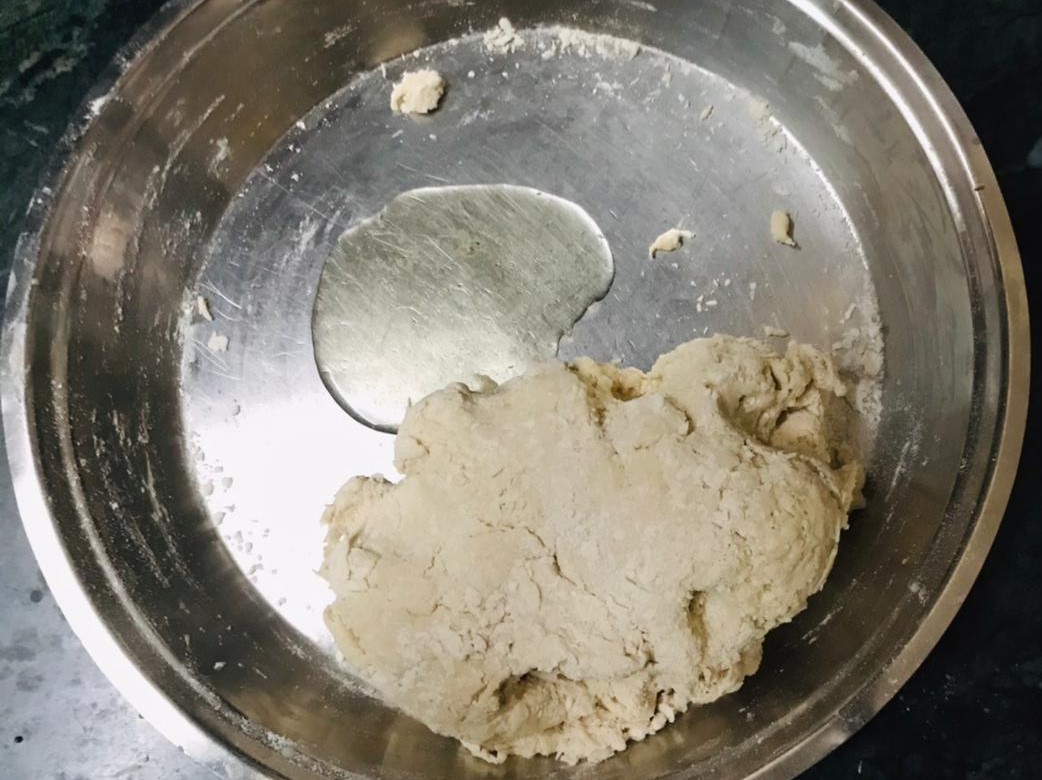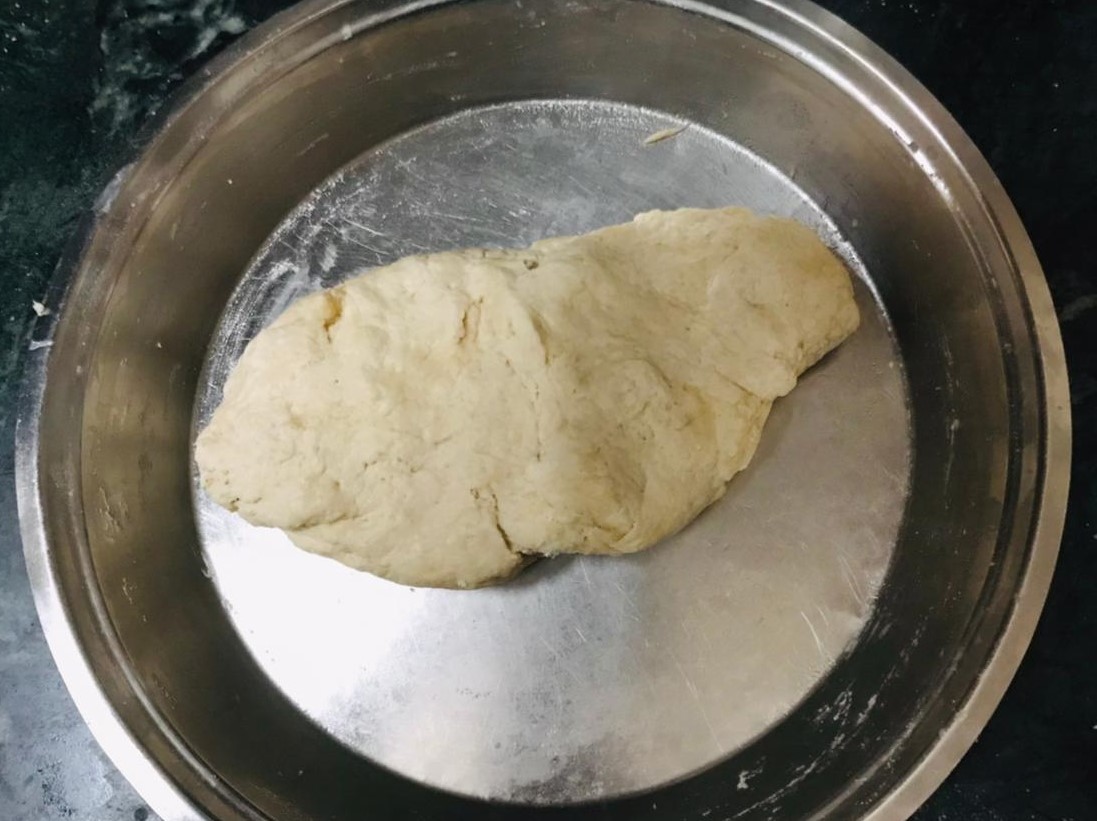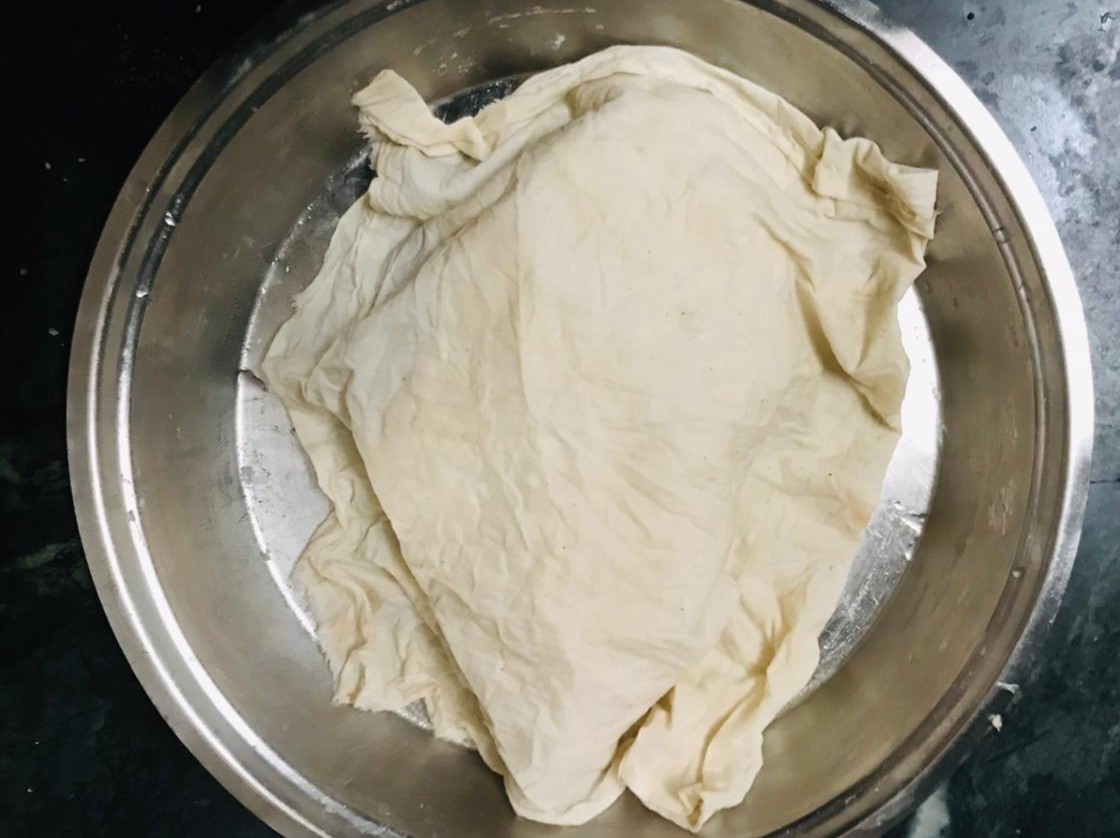 In a bowl, add the plain flour, salt, yoghurt, milk and 2 tablespoons of water and knead it to form a smooth dough (Adjust the amount of water to knead a soft dough).
After that, add the oil and knead it for a couple of minutes. Cover and let it rest for half an hour.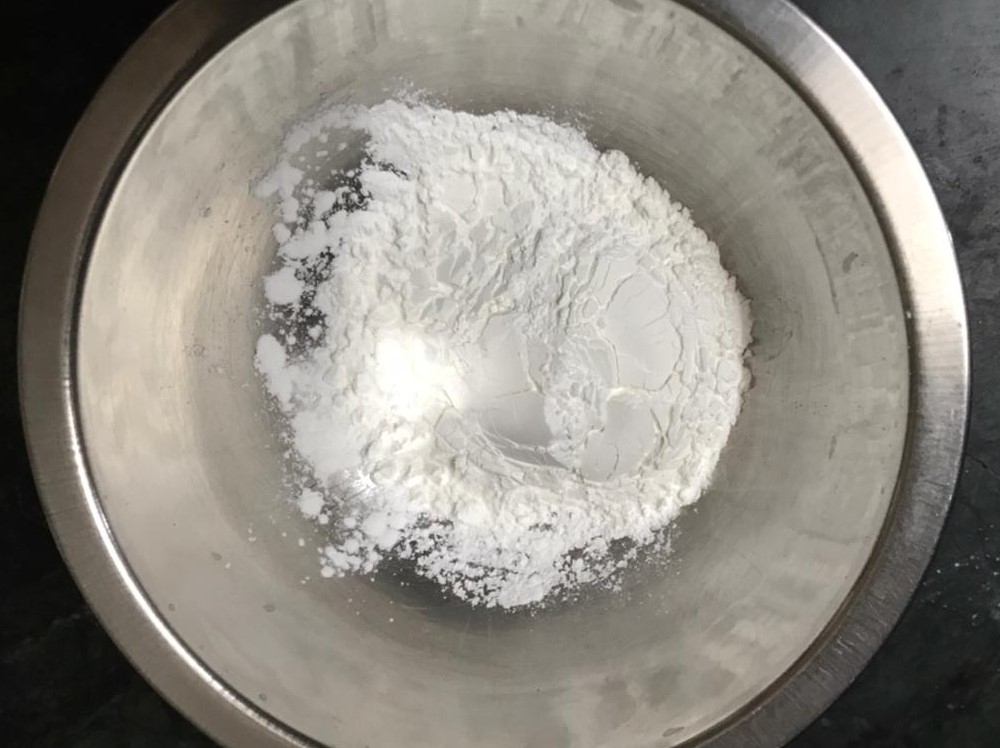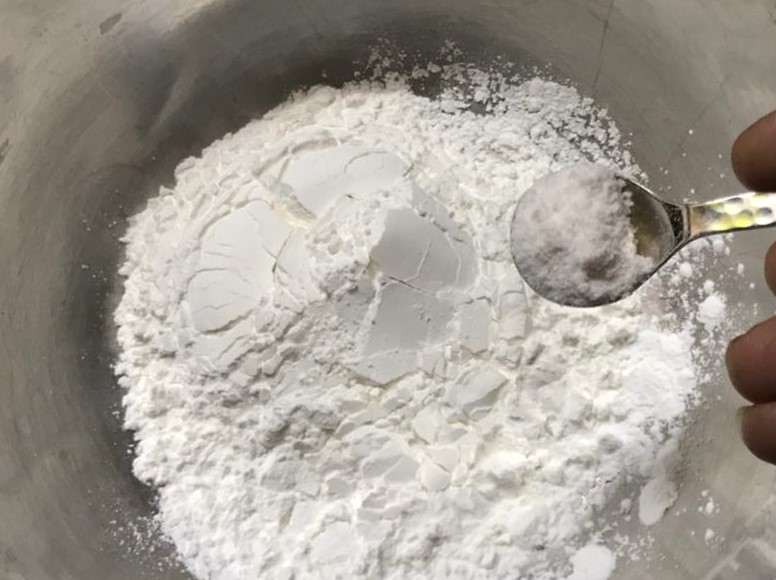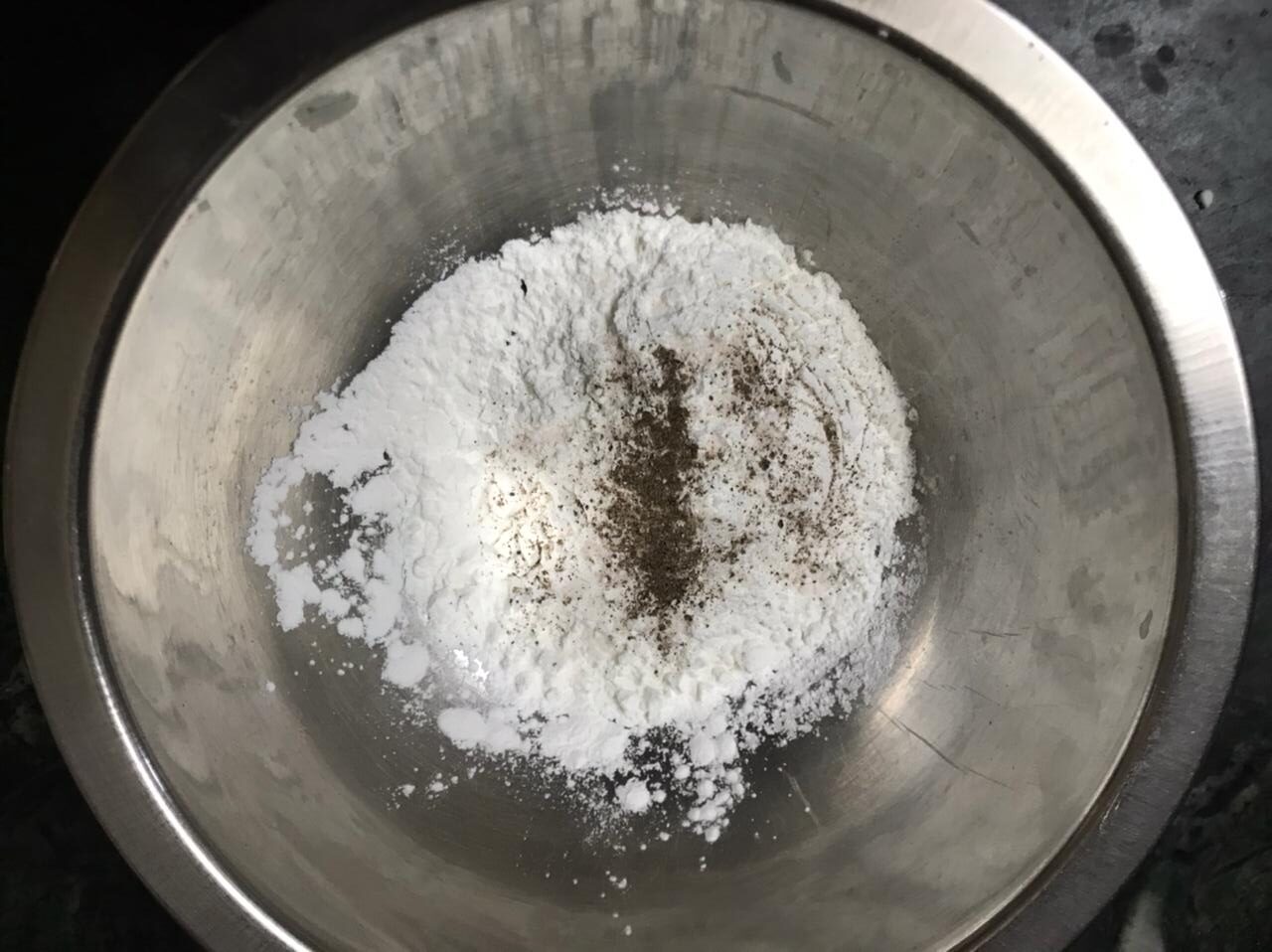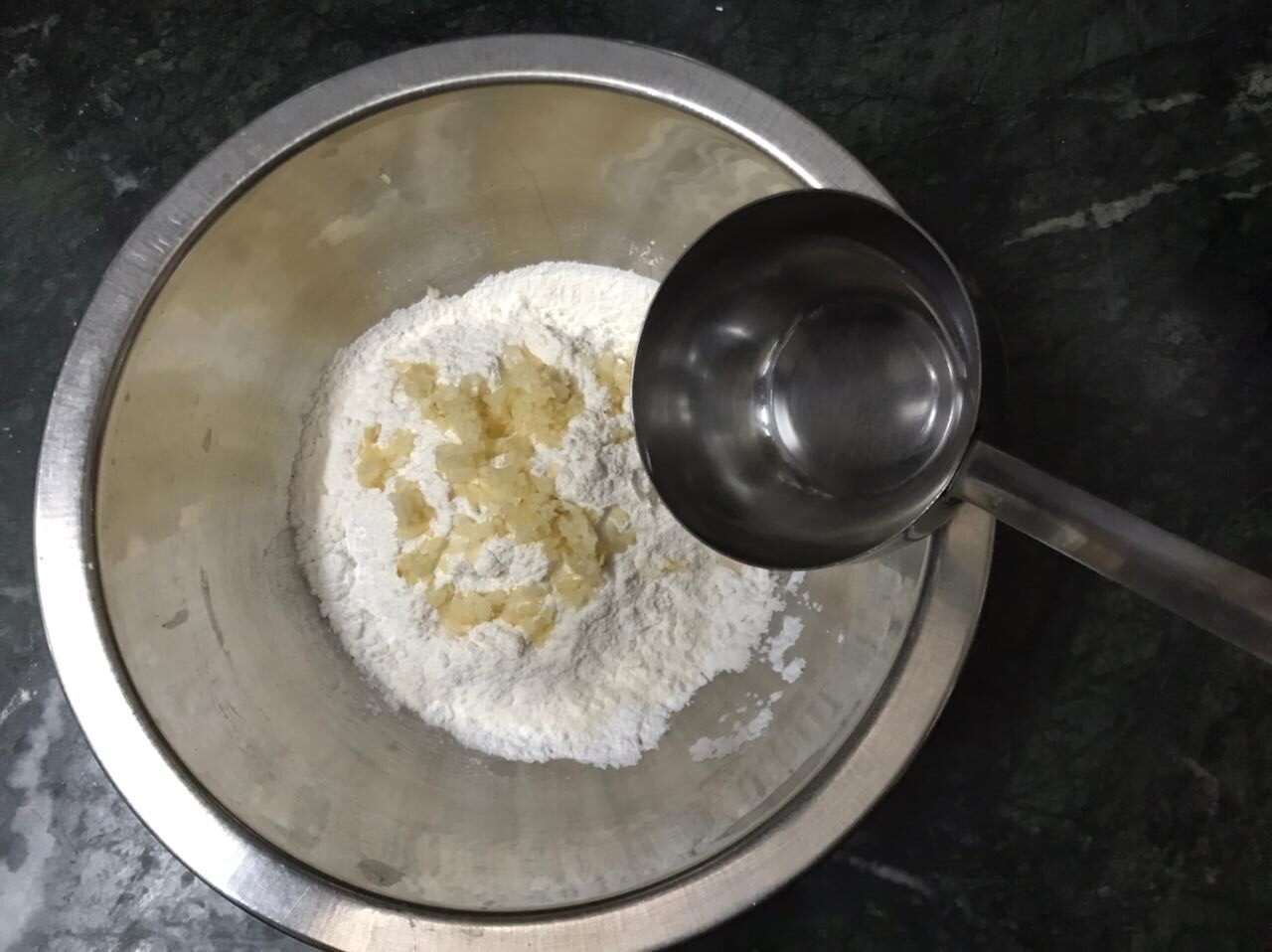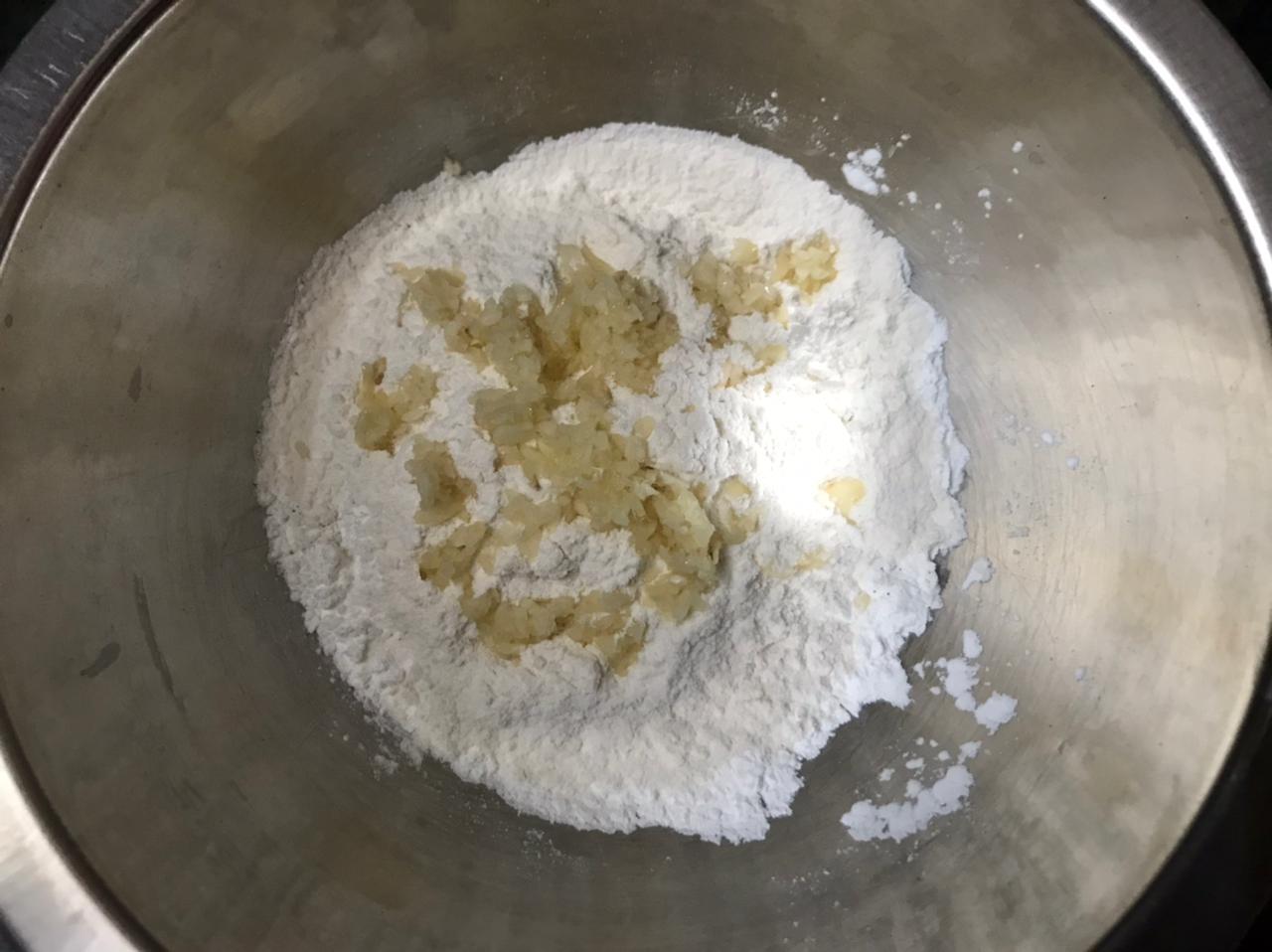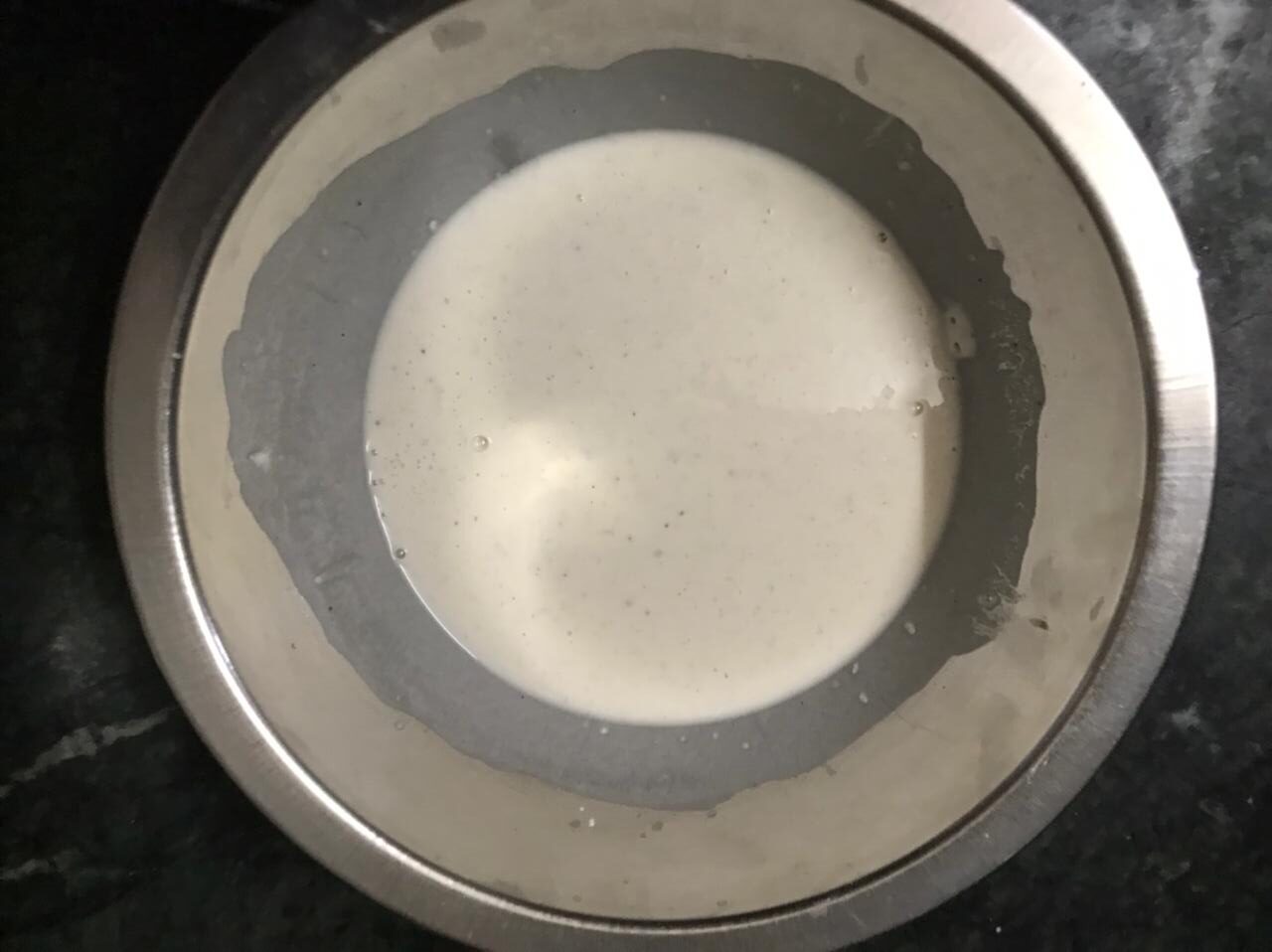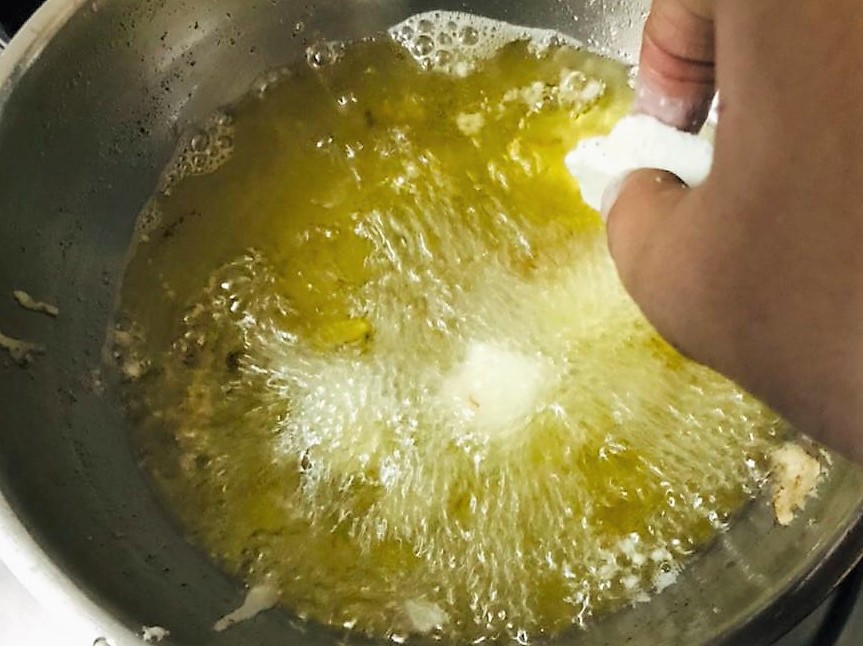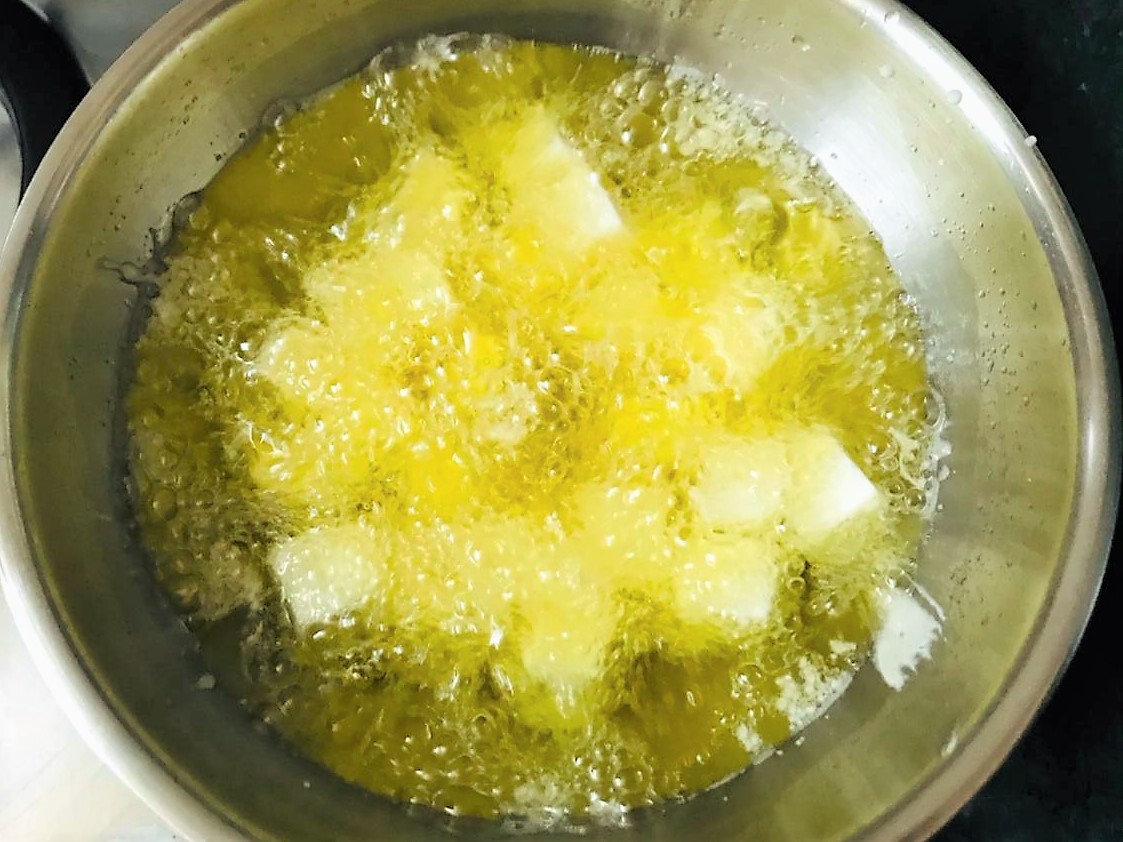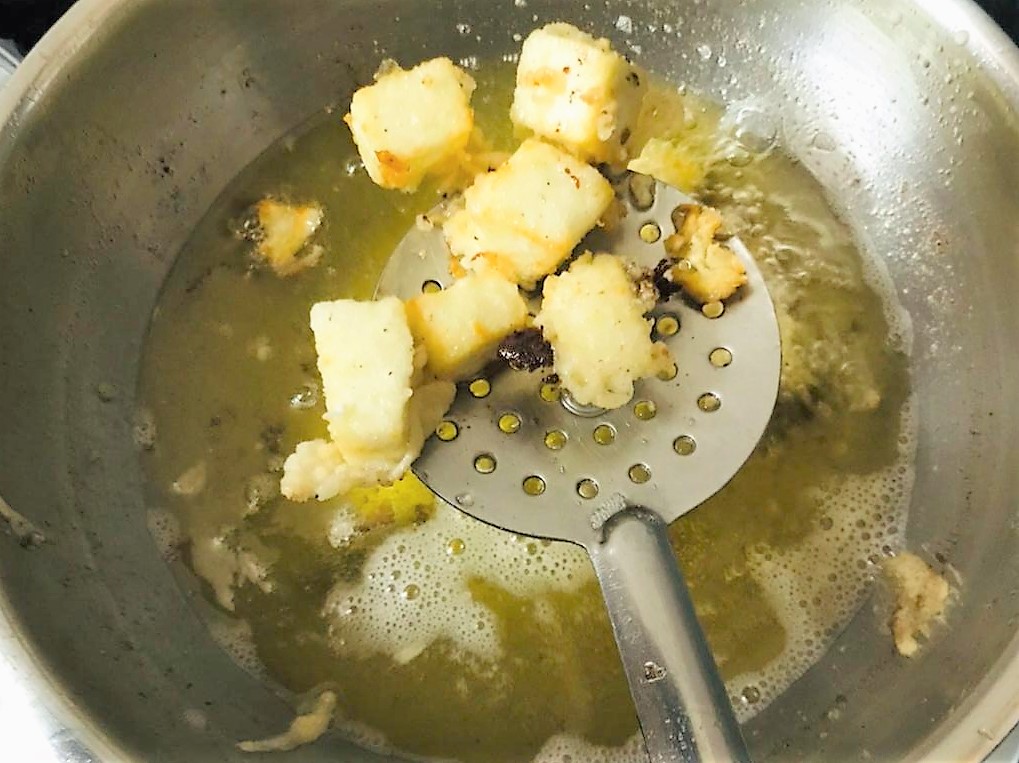 In a bowl, mix plain flour, corn flour, garlic, salt, black pepper and 2 tablespoons water to form a smooth paste. Add the paneer cubes and gently mix to coat the paneer pieces.
Heat oil in a pan for frying on medium heat.
Once hot gently slide the paneer cubes in the oil and fry them on medium heat. Flip them once and fry them until they turn golden in colour. Use a slotted spoon to remove them from the oil. Drain them on a kitchen roll/absorbent paper to soak excess oil.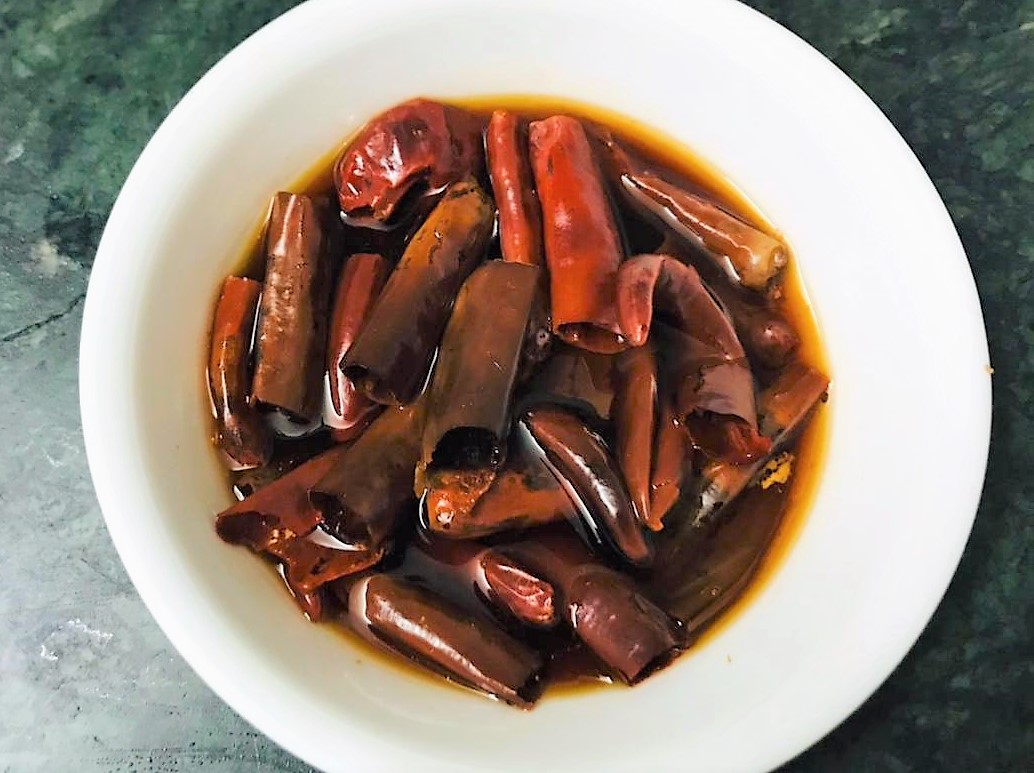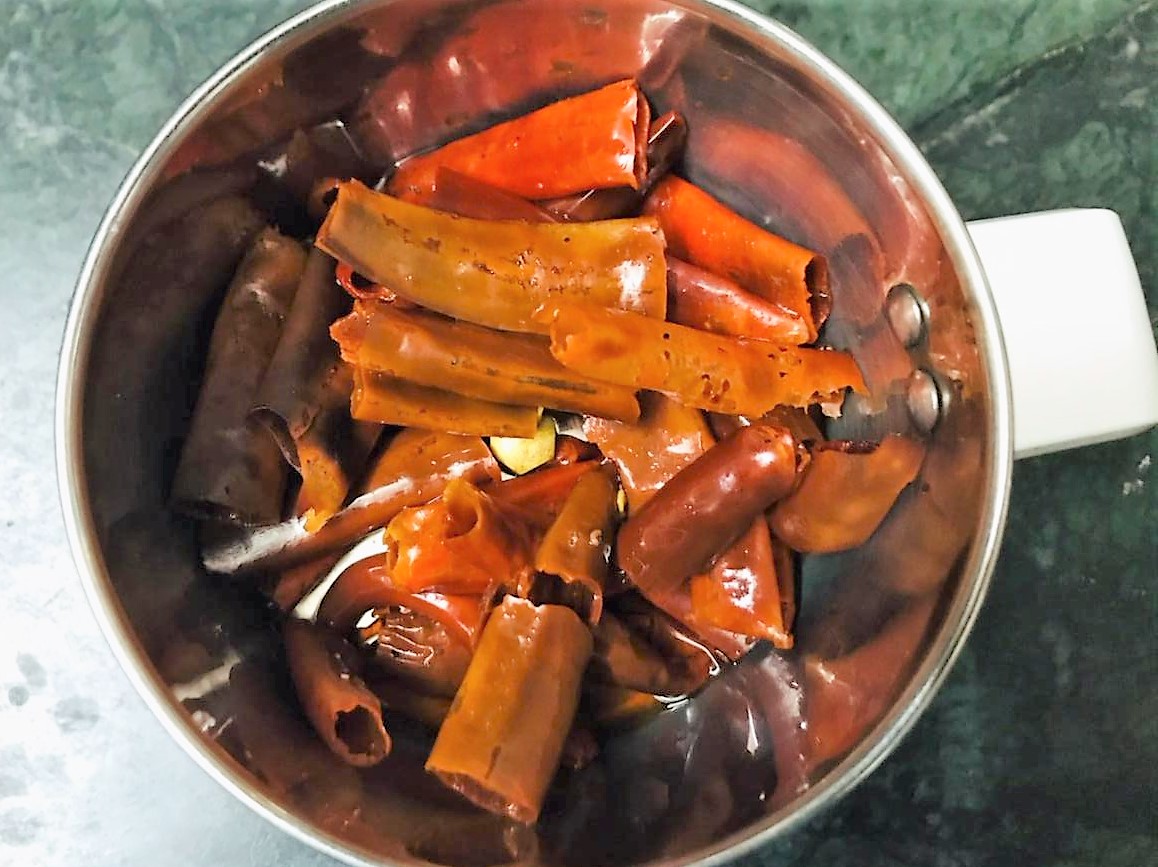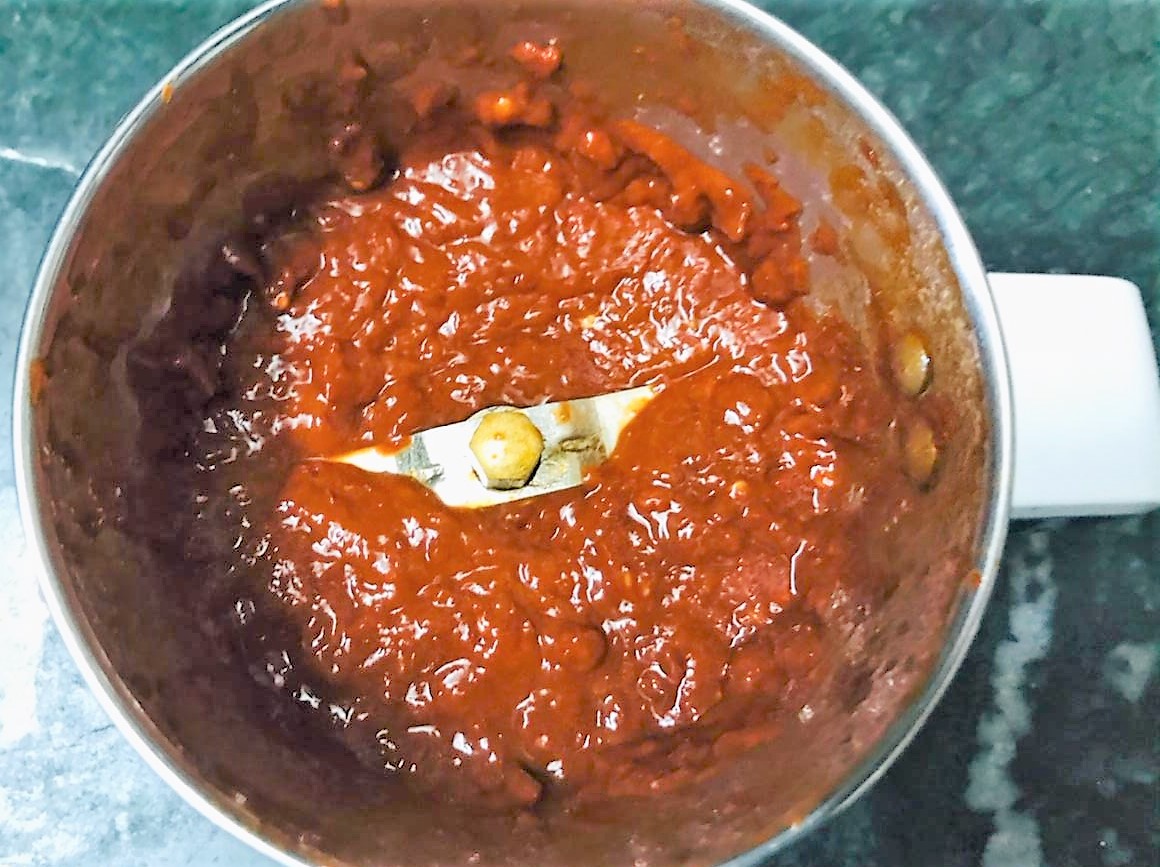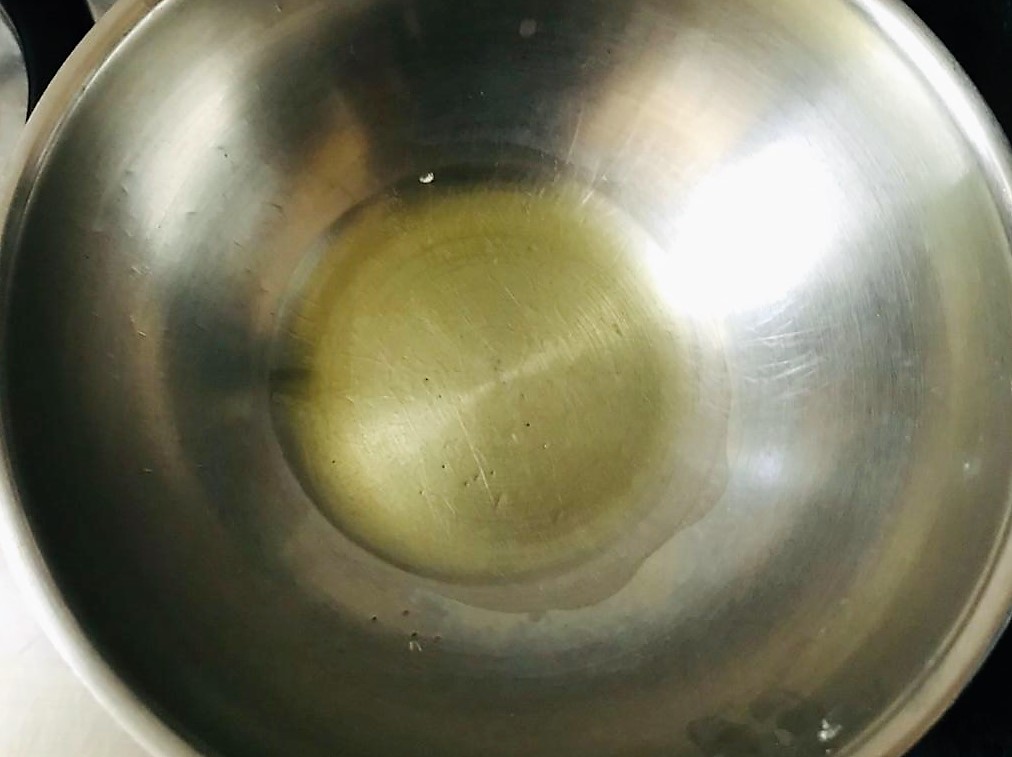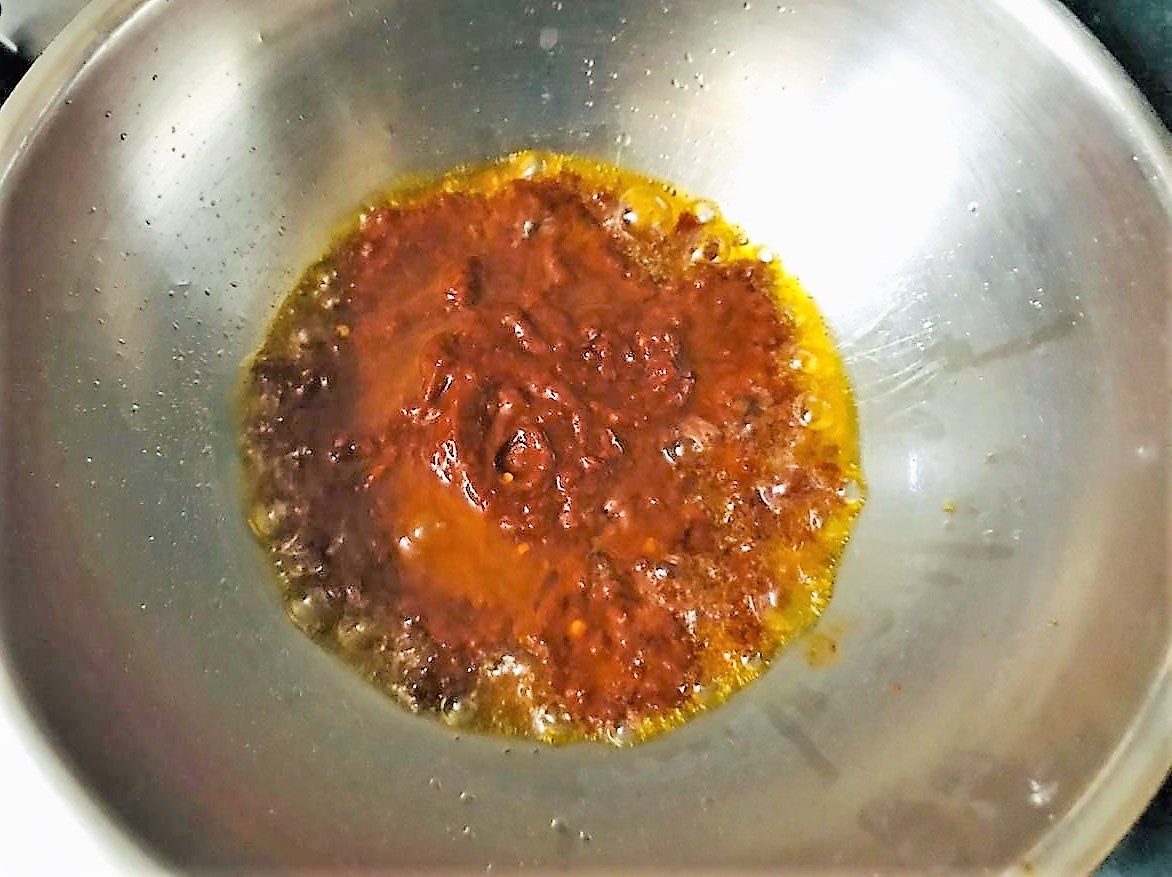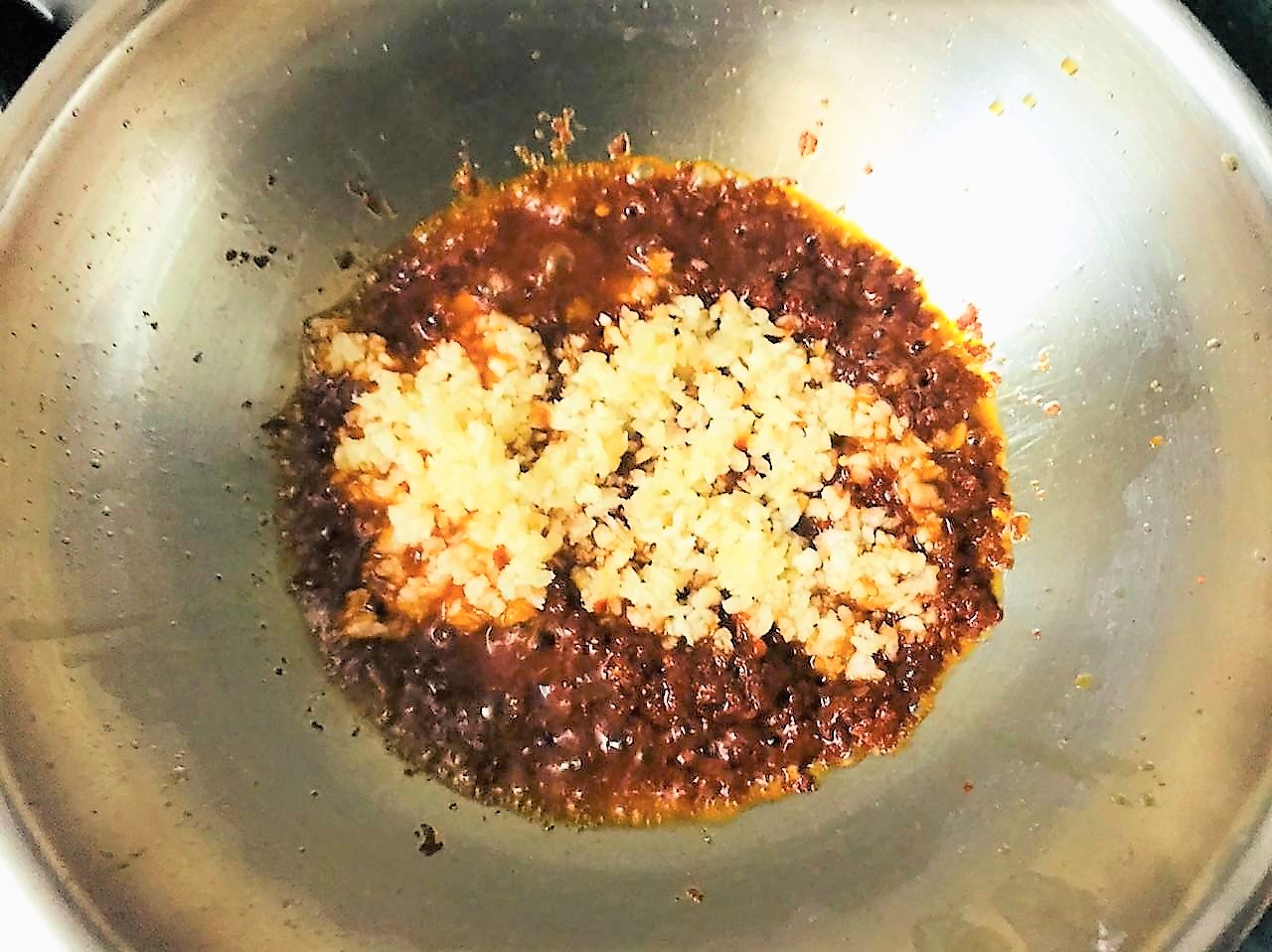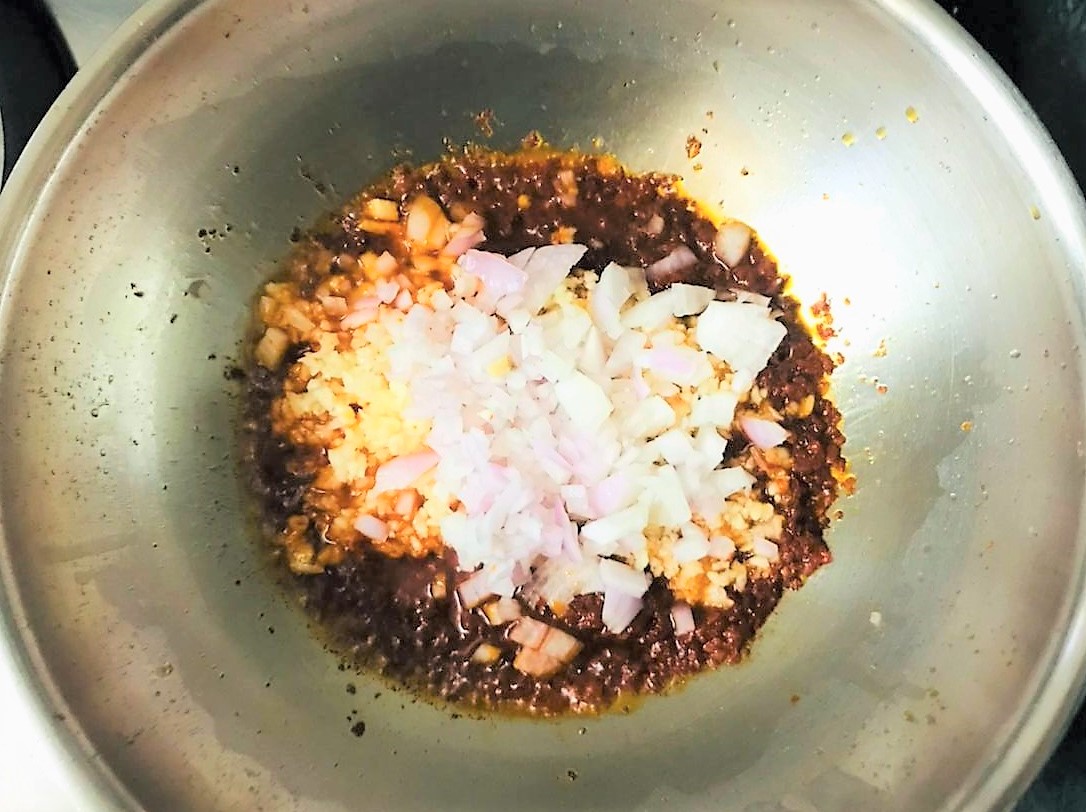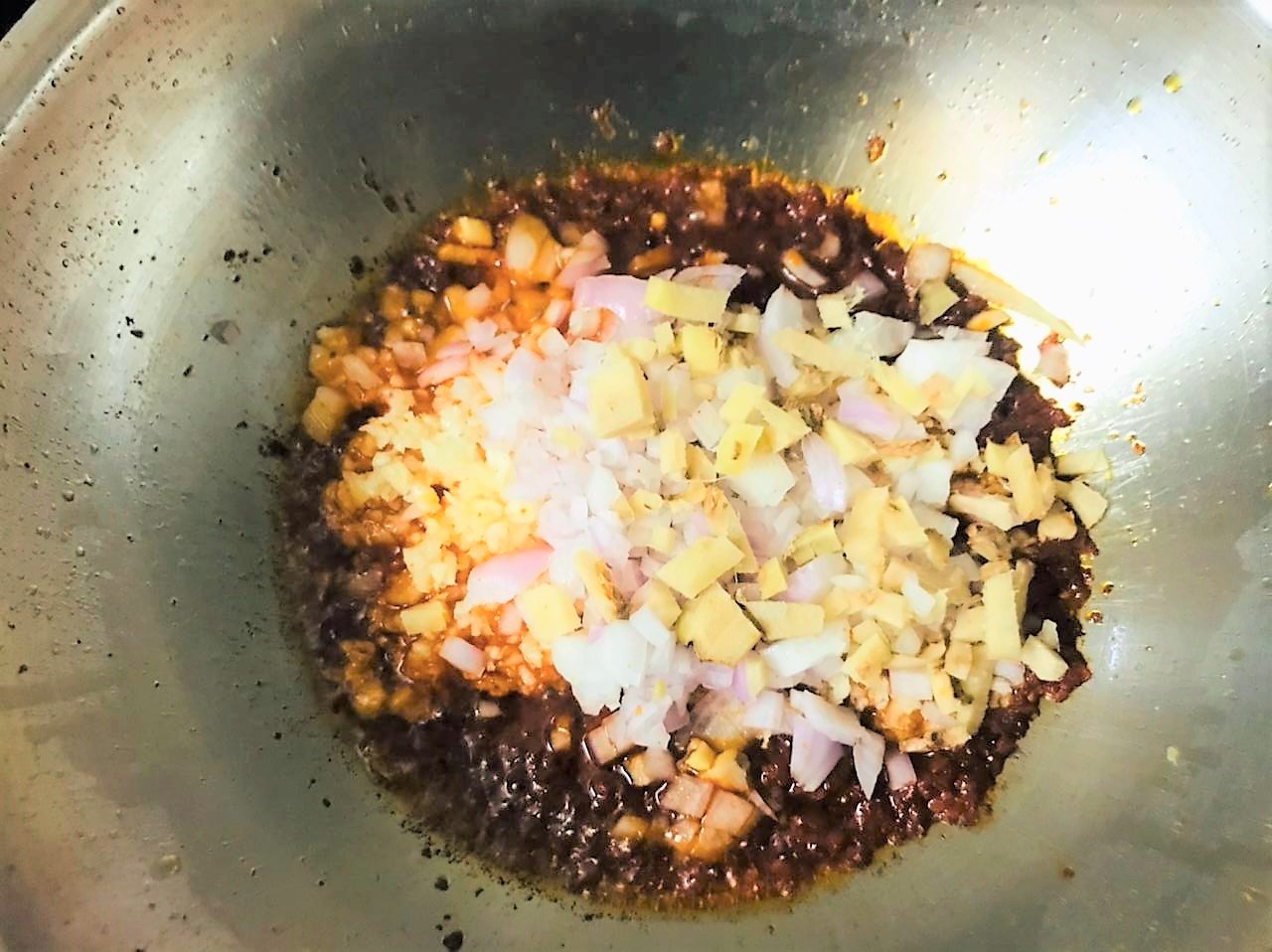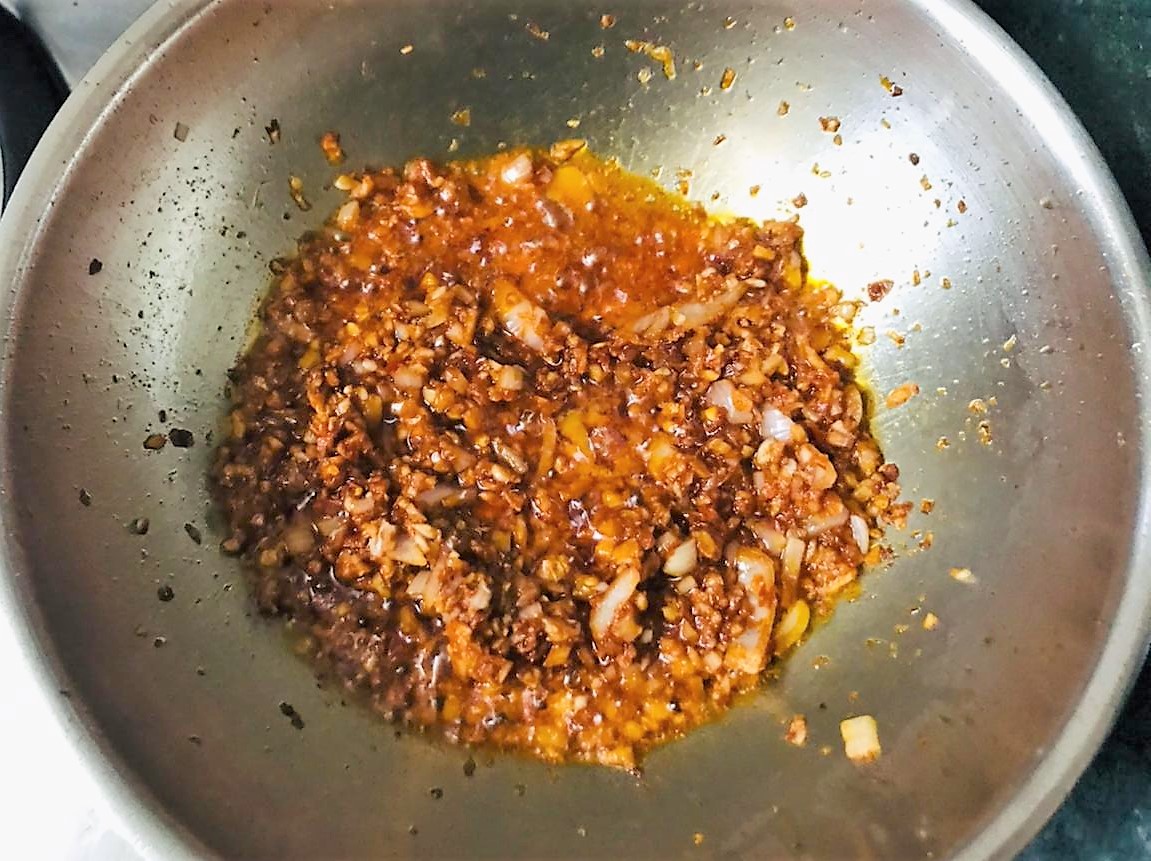 Soak the Kashmiri red chillies in warm water for about an hour. After an hour, squeeze the chillies and grind them to a fine paste.
Heat oil in a pan and sauté the red chili paste for a minute. Next add the garlic, ginger and onions and sauté for couple of minutes on medium heat.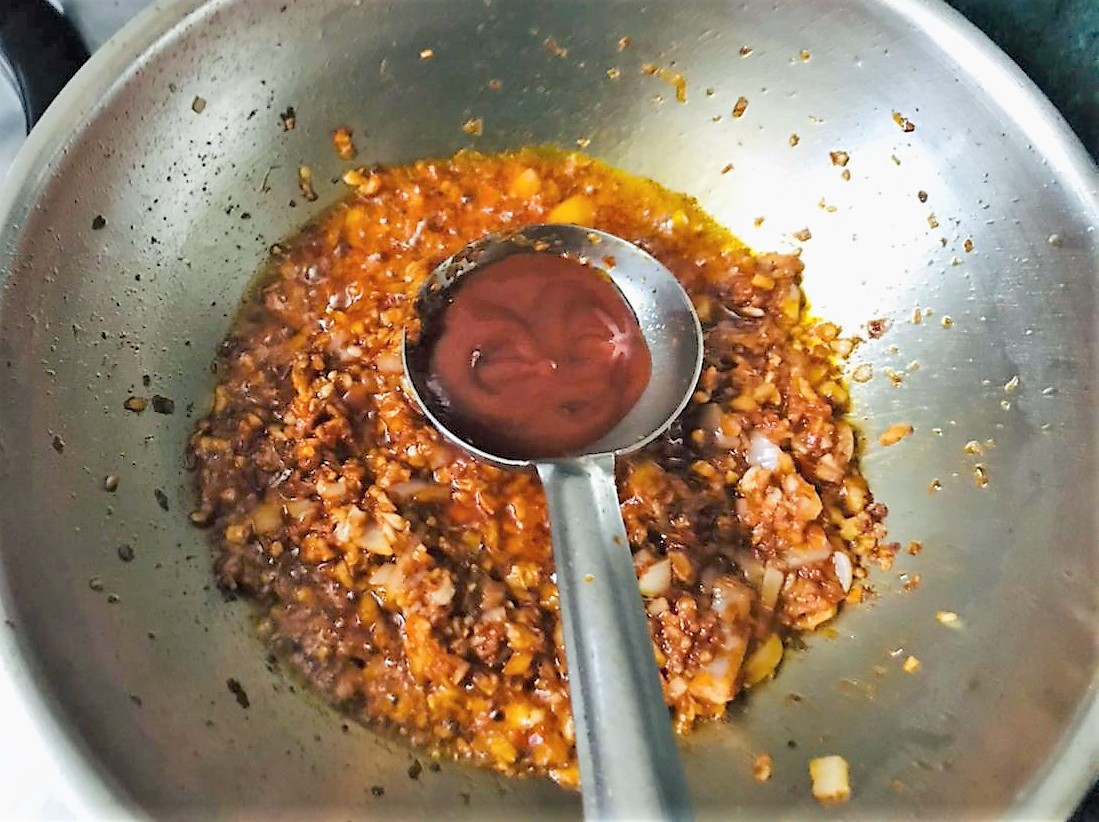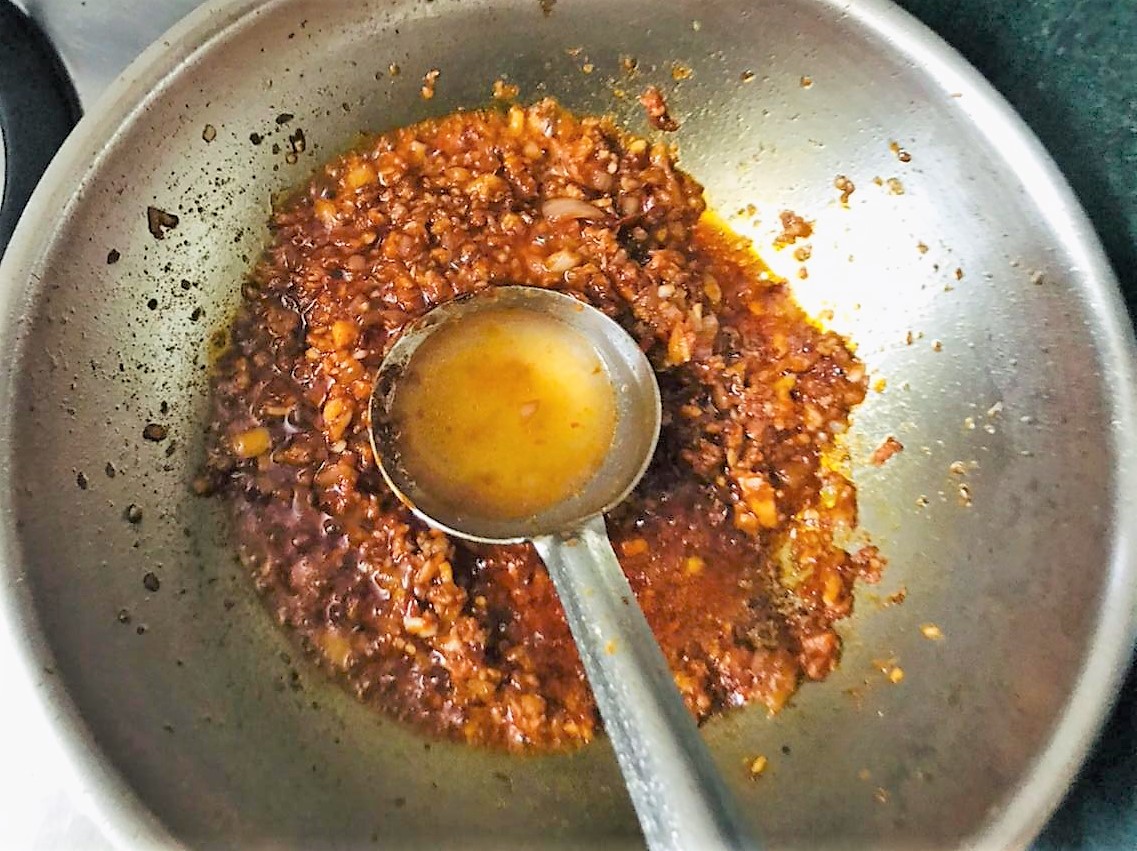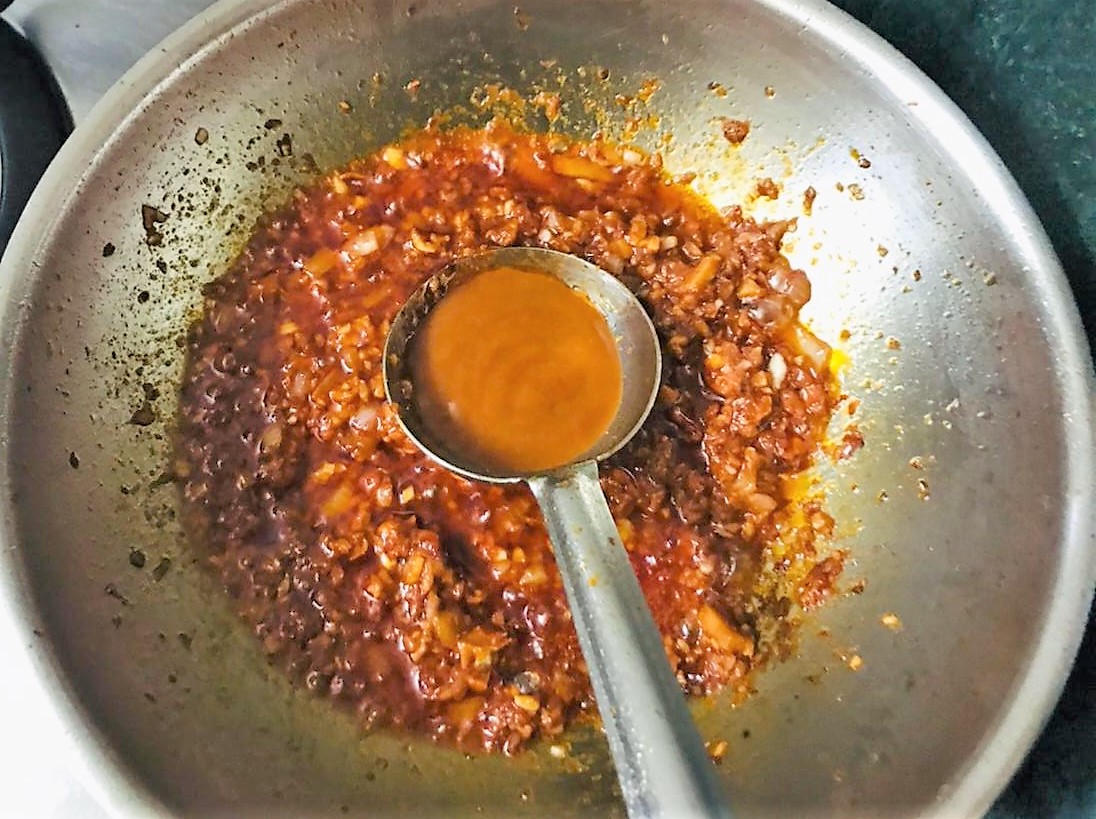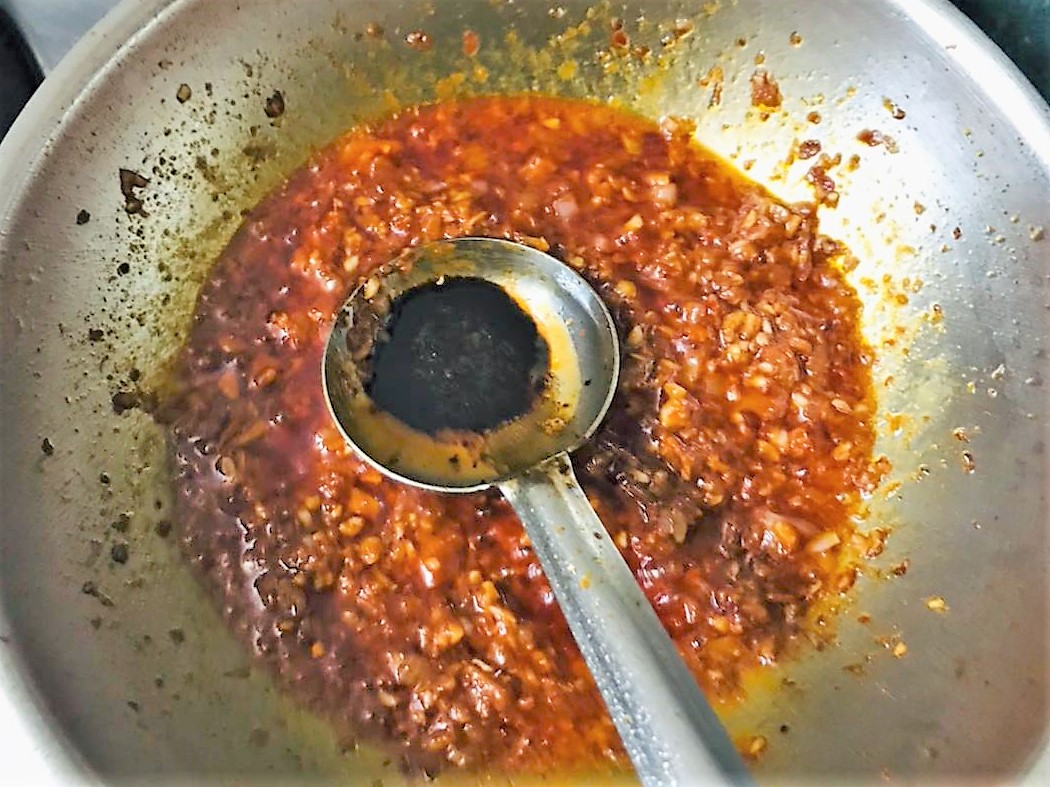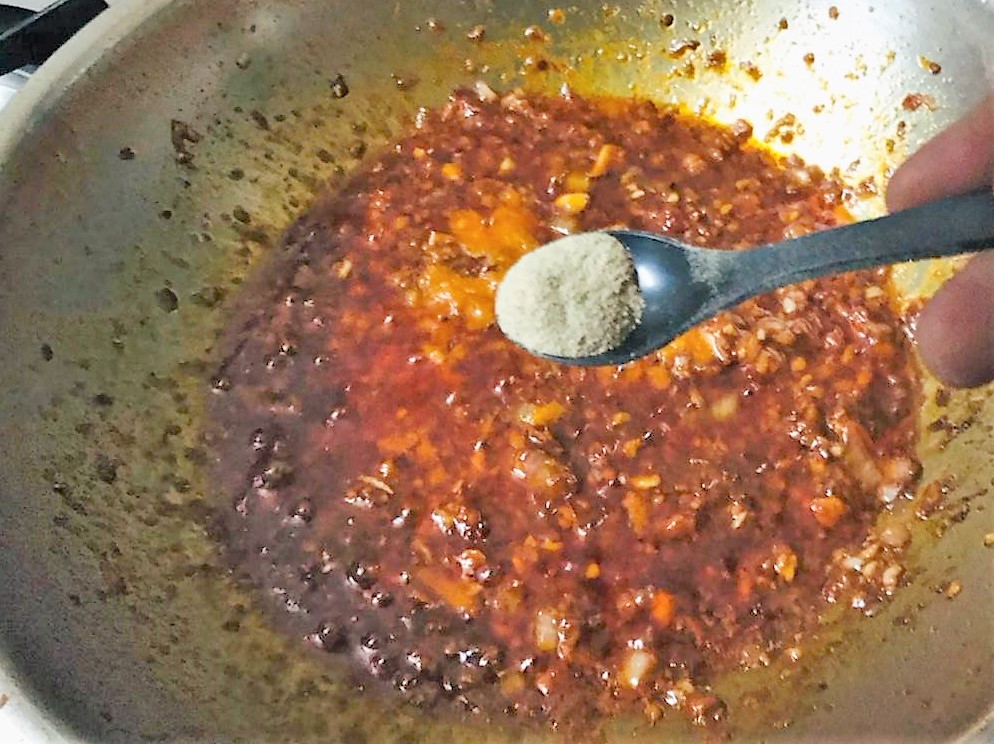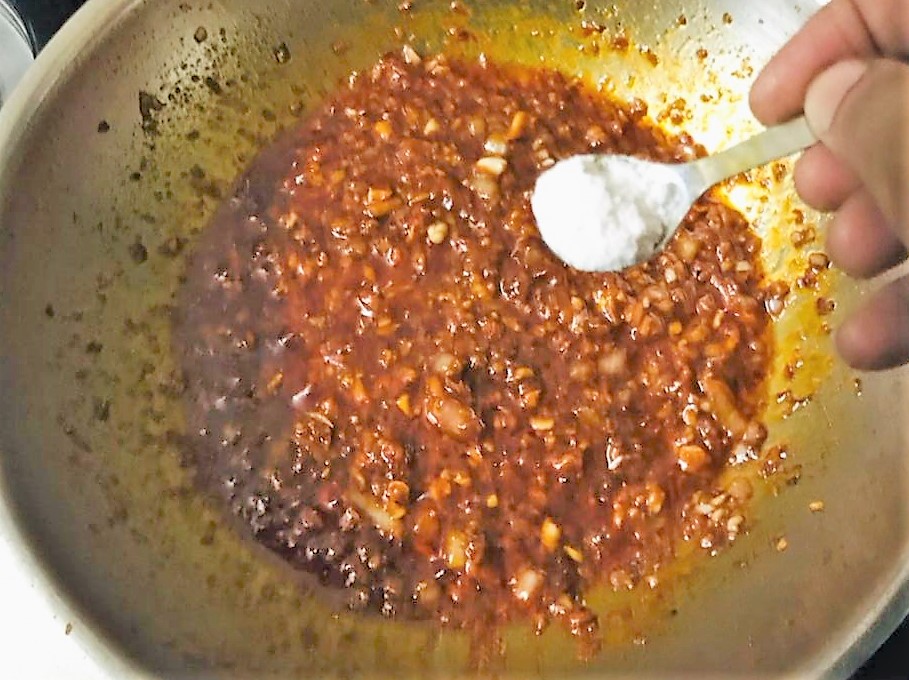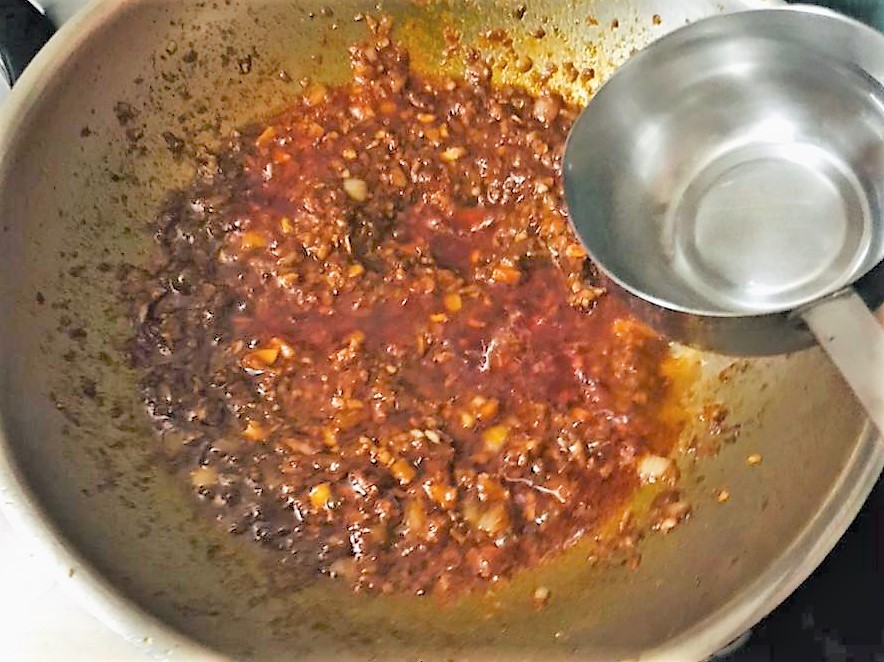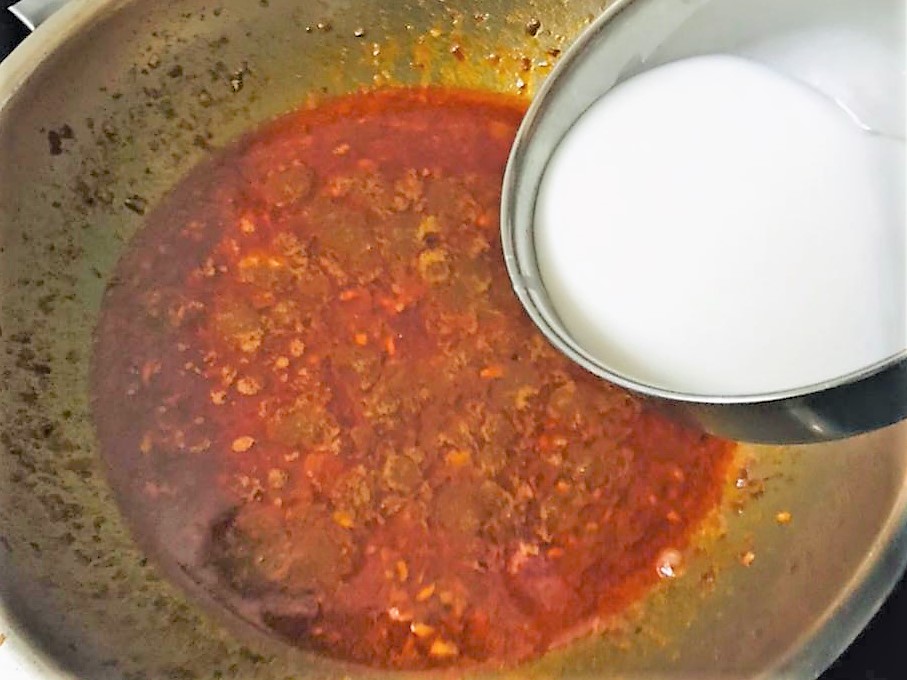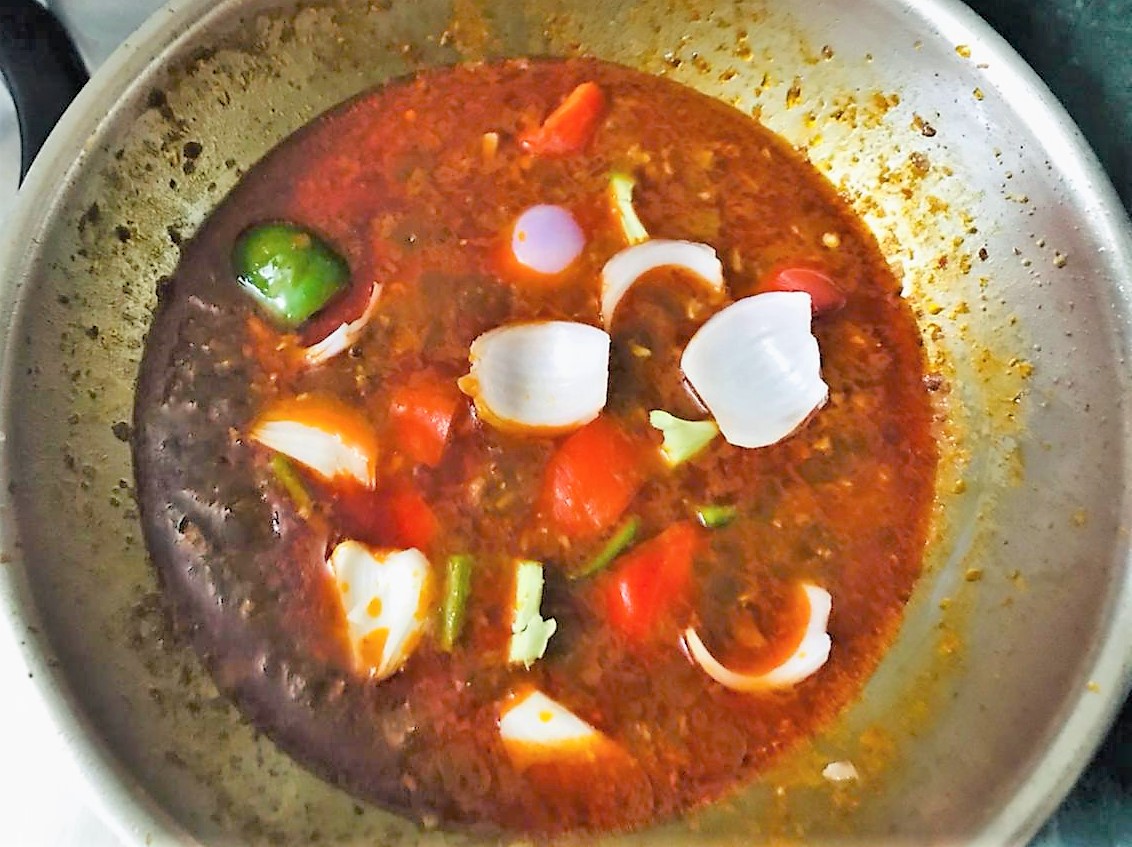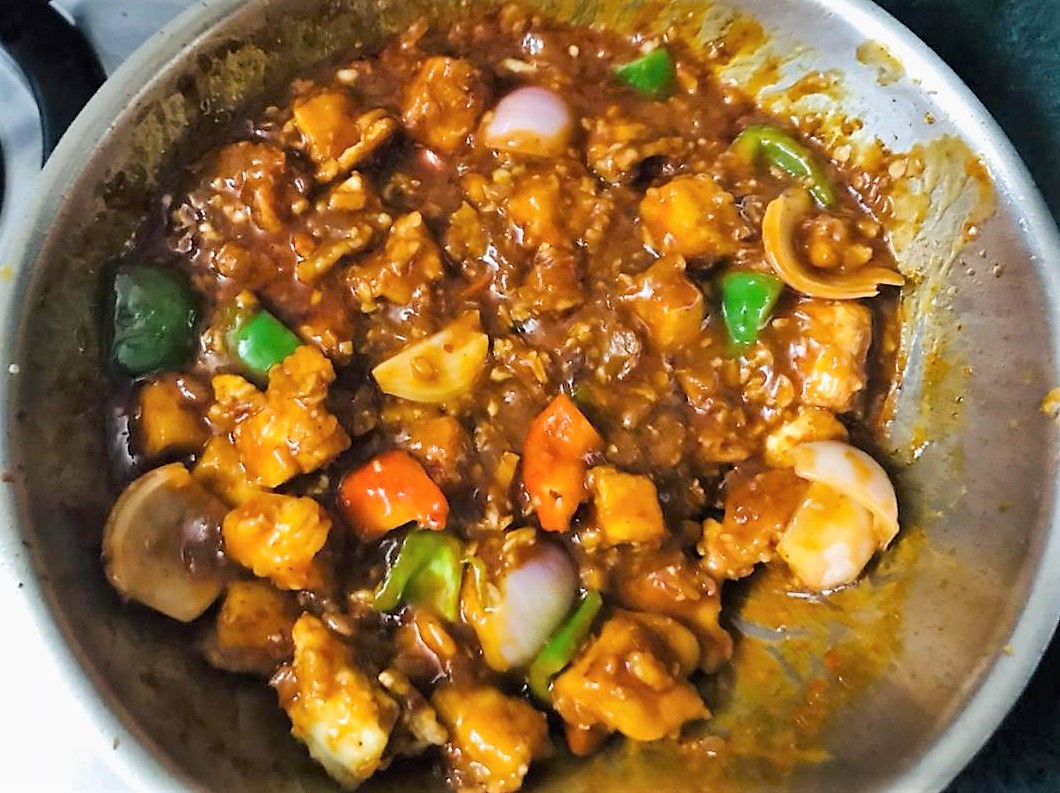 Add the red chili sauce, tomato ketchup, vinegar, soy sauce cook on low heat for a minute and next add 1 cup of water. Let the sauce come to a boil.
Mix the cornflour with 2 tablespoons of cold water to make cornflour slurry. Add this to the sauce and mix. You will notice that the sauce begins to thicken as soon as you add the cornflour slurry. Add the fried paneer, onions, red and green peppers and mix. Cook for 2-3 minutes and then turn off the heat.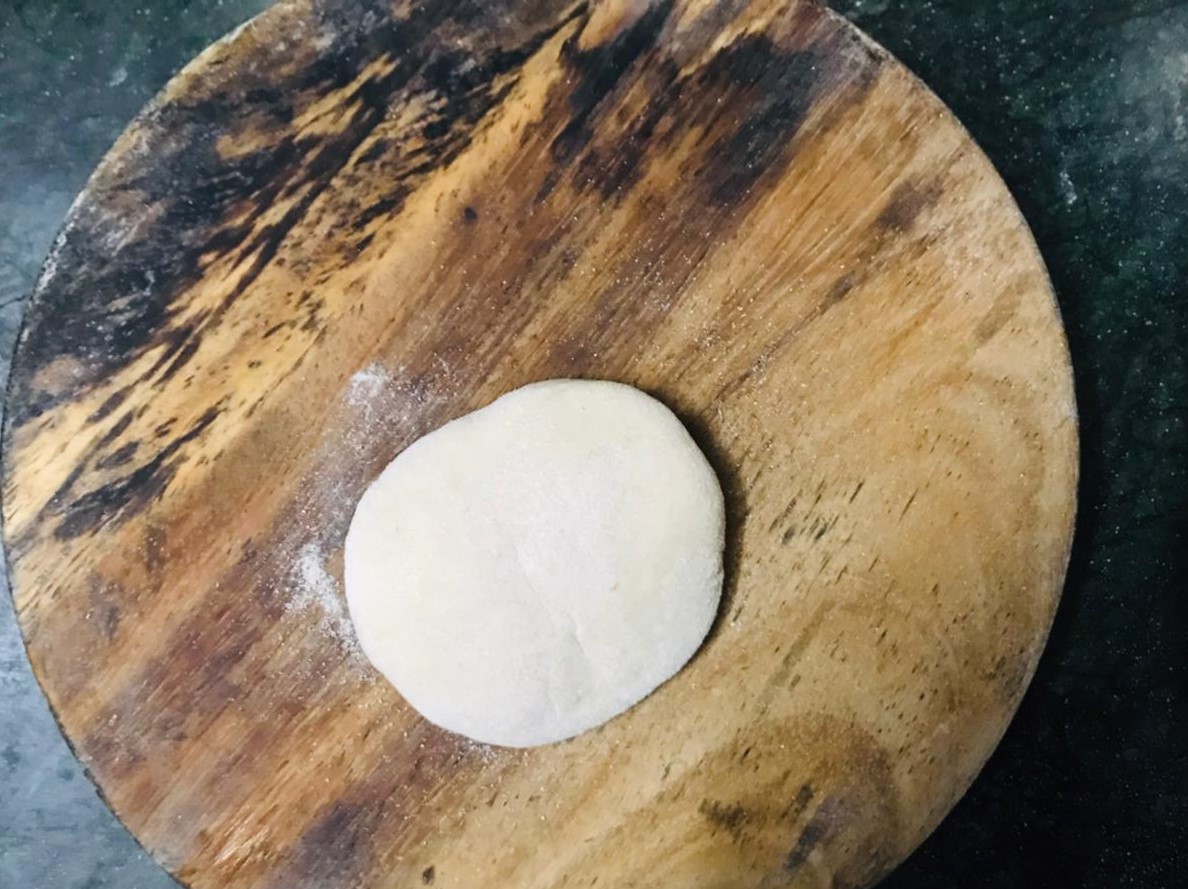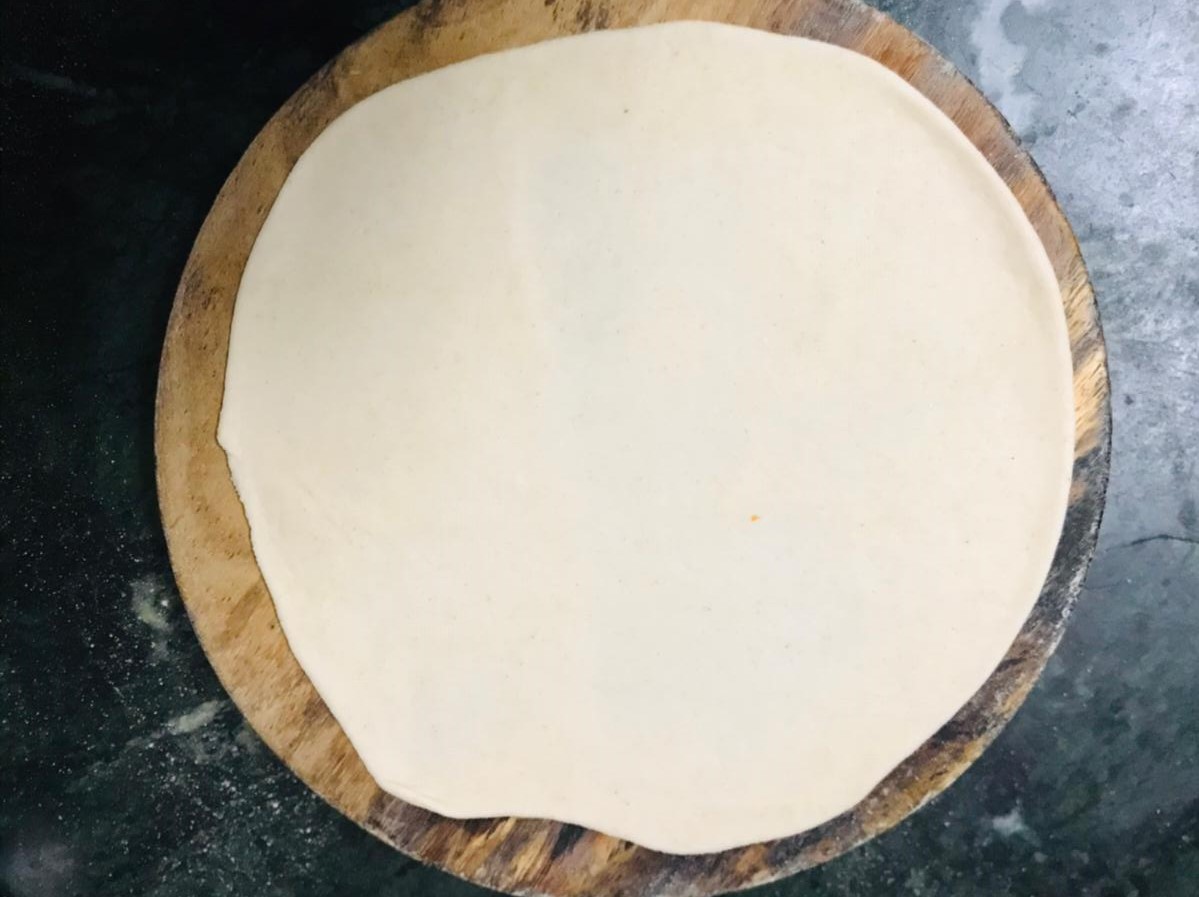 Once the dough has rested for at least 30 minutes knead the dough once again and divide it into 6-8 equal portions.
Dust some flour on the worktop and roll the dough balls into thin circles around 6-7 inch in diameter.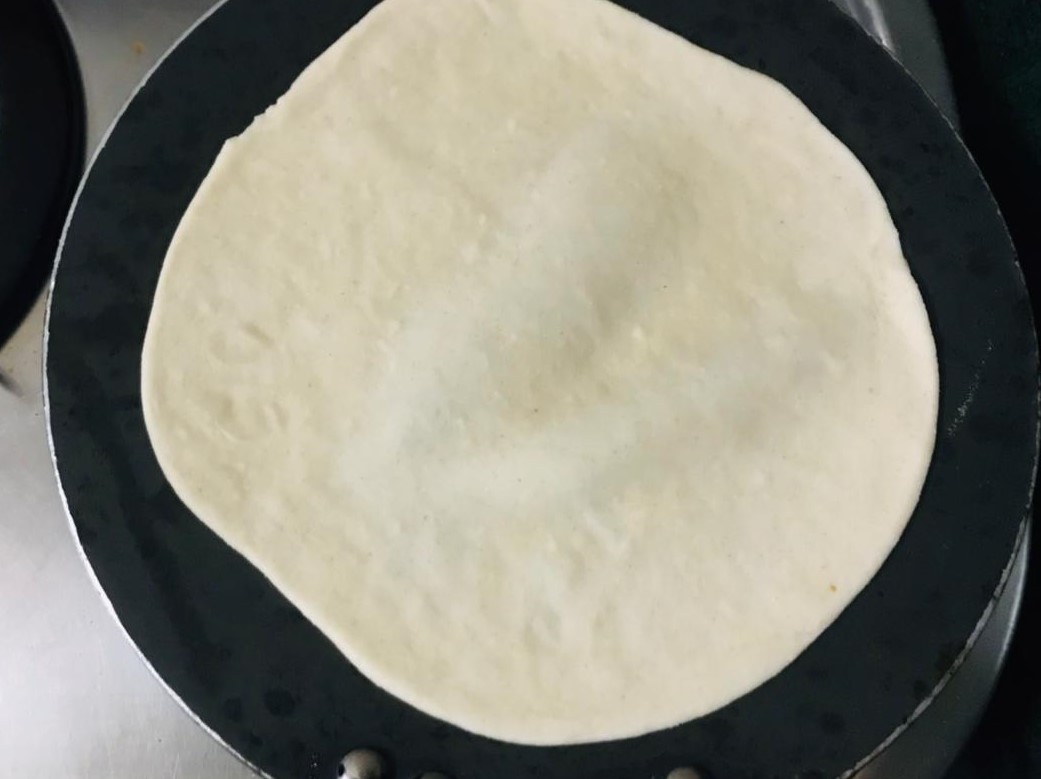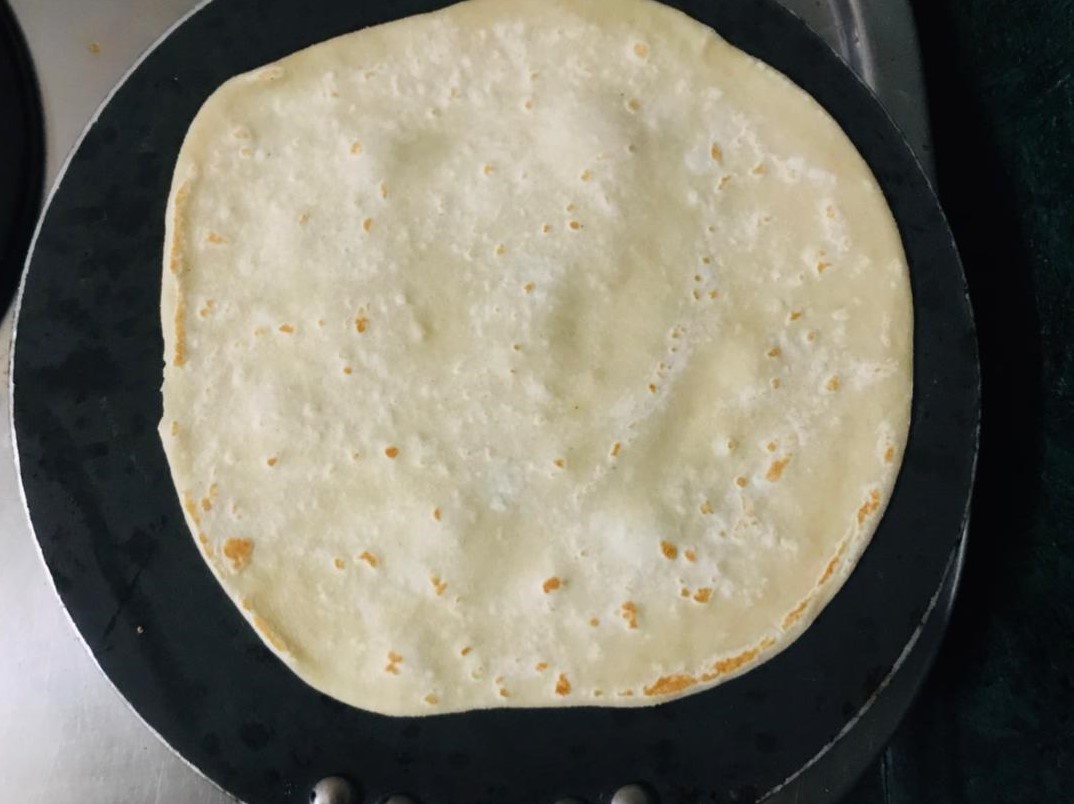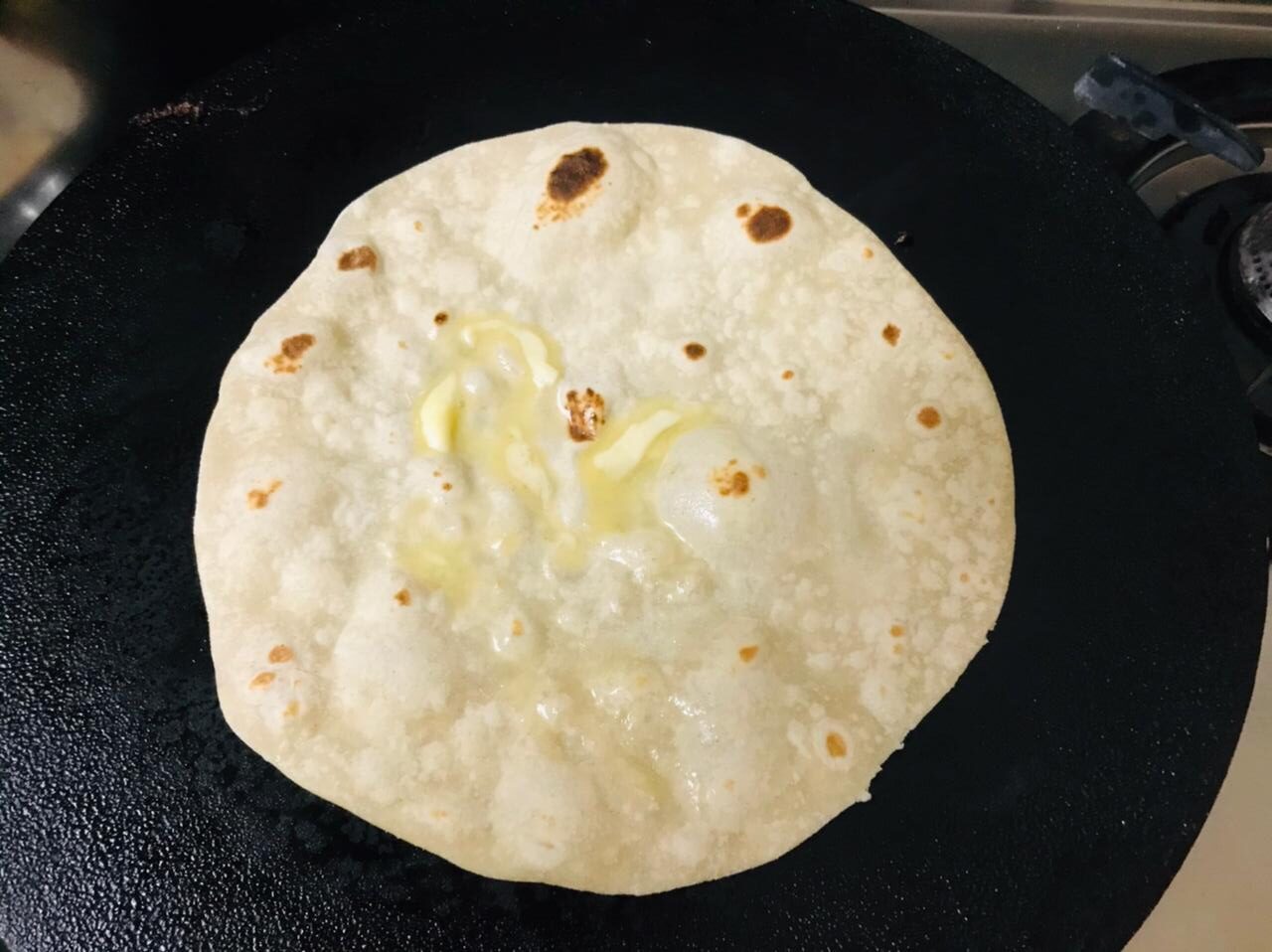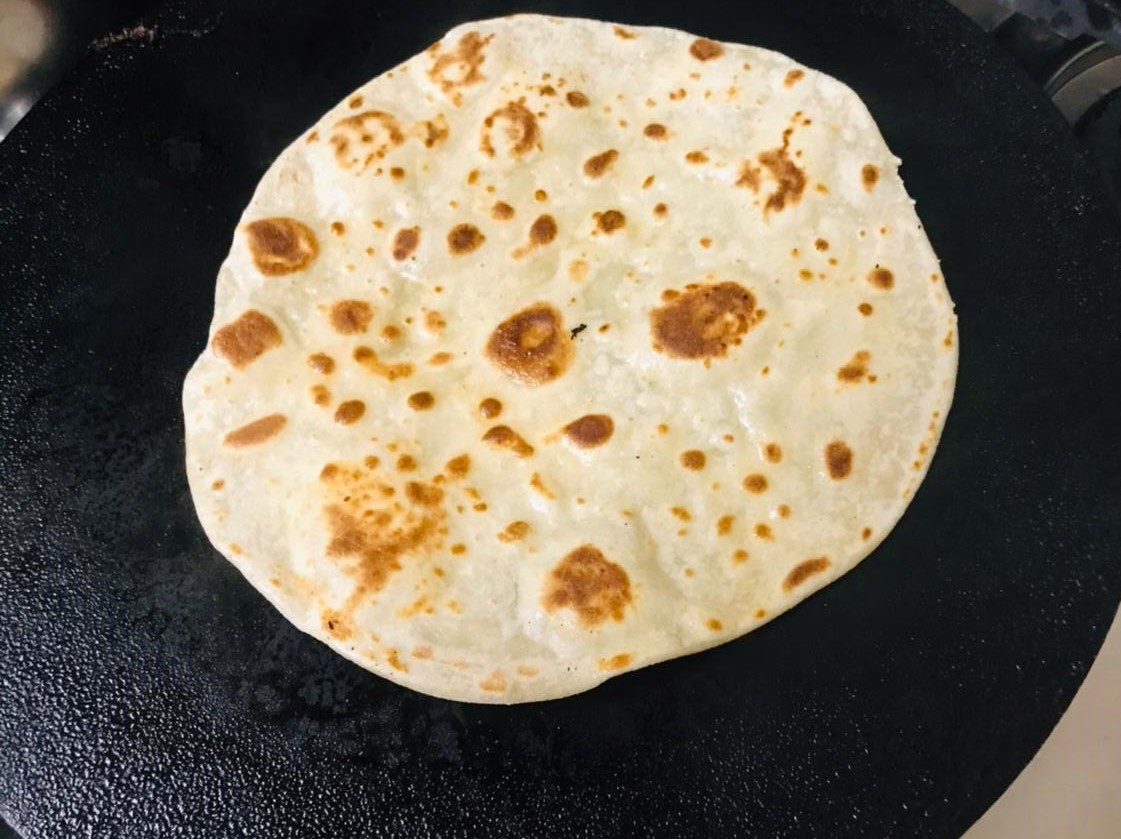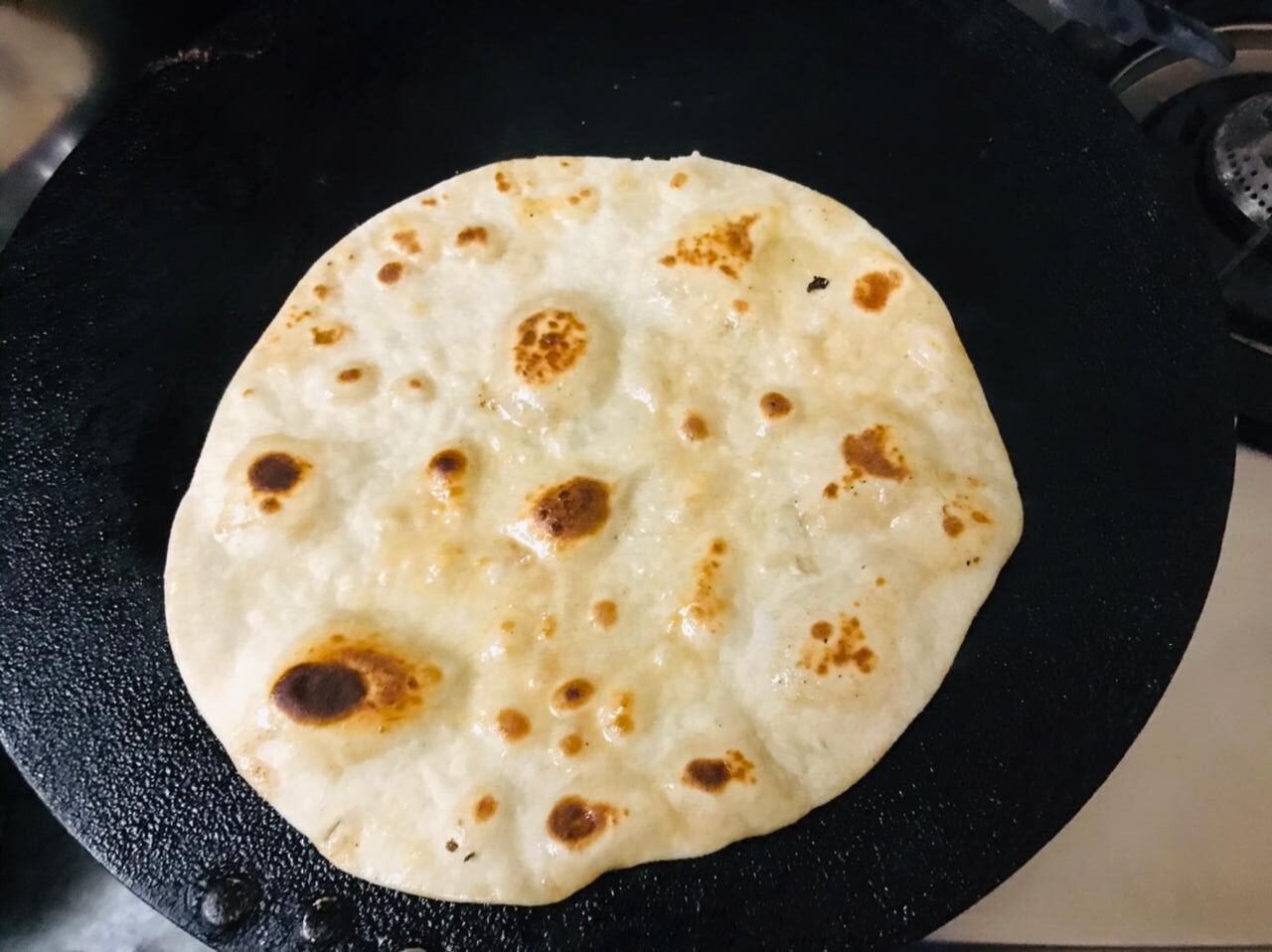 Heat a tawa/flat pan and place the rolled wrap on the hot pan. Cook the wrap on medium heat by flipping it a couple of times on each side.
Spread some butter on the wrap and cook from both sides until golden and crispy.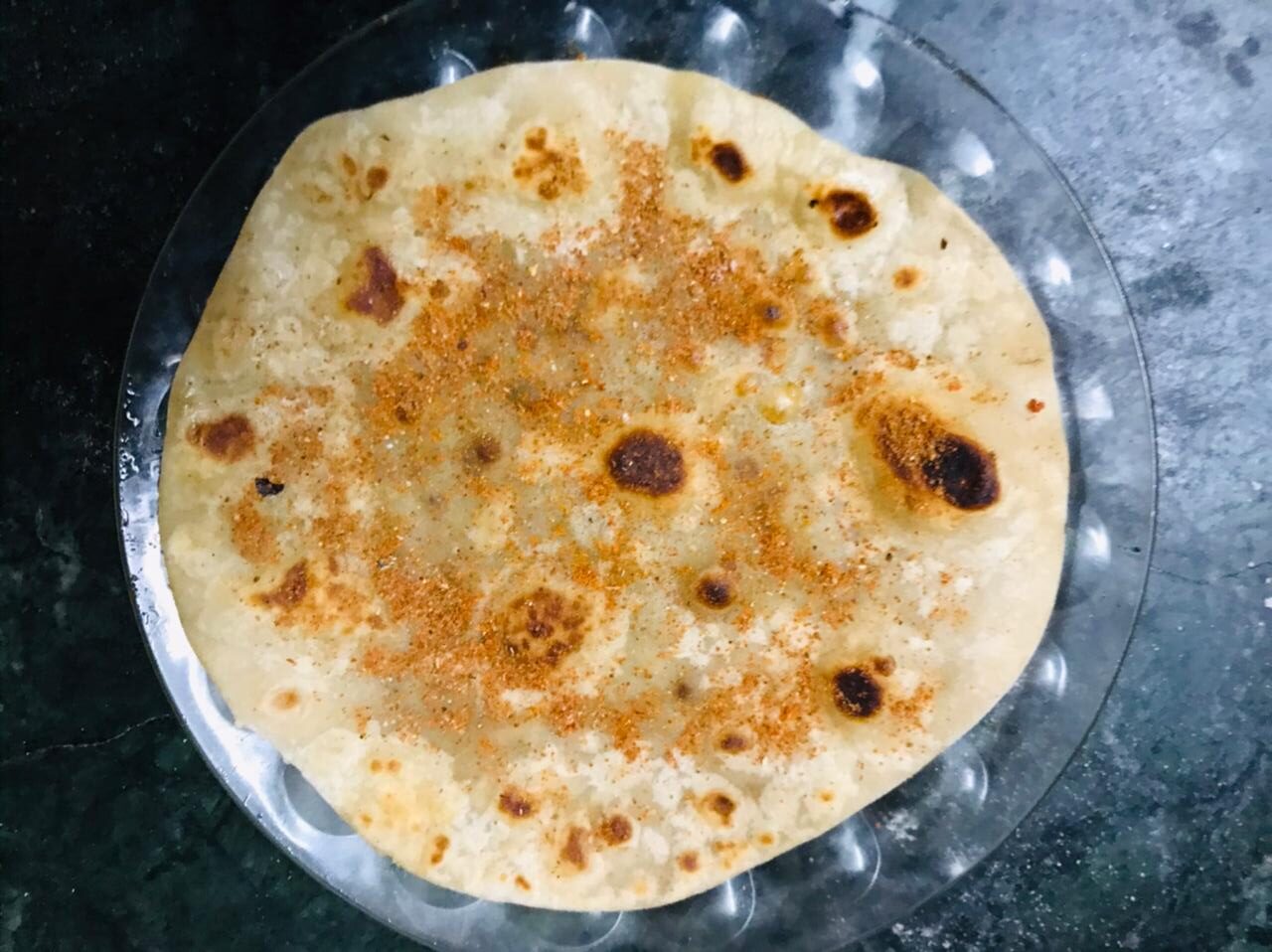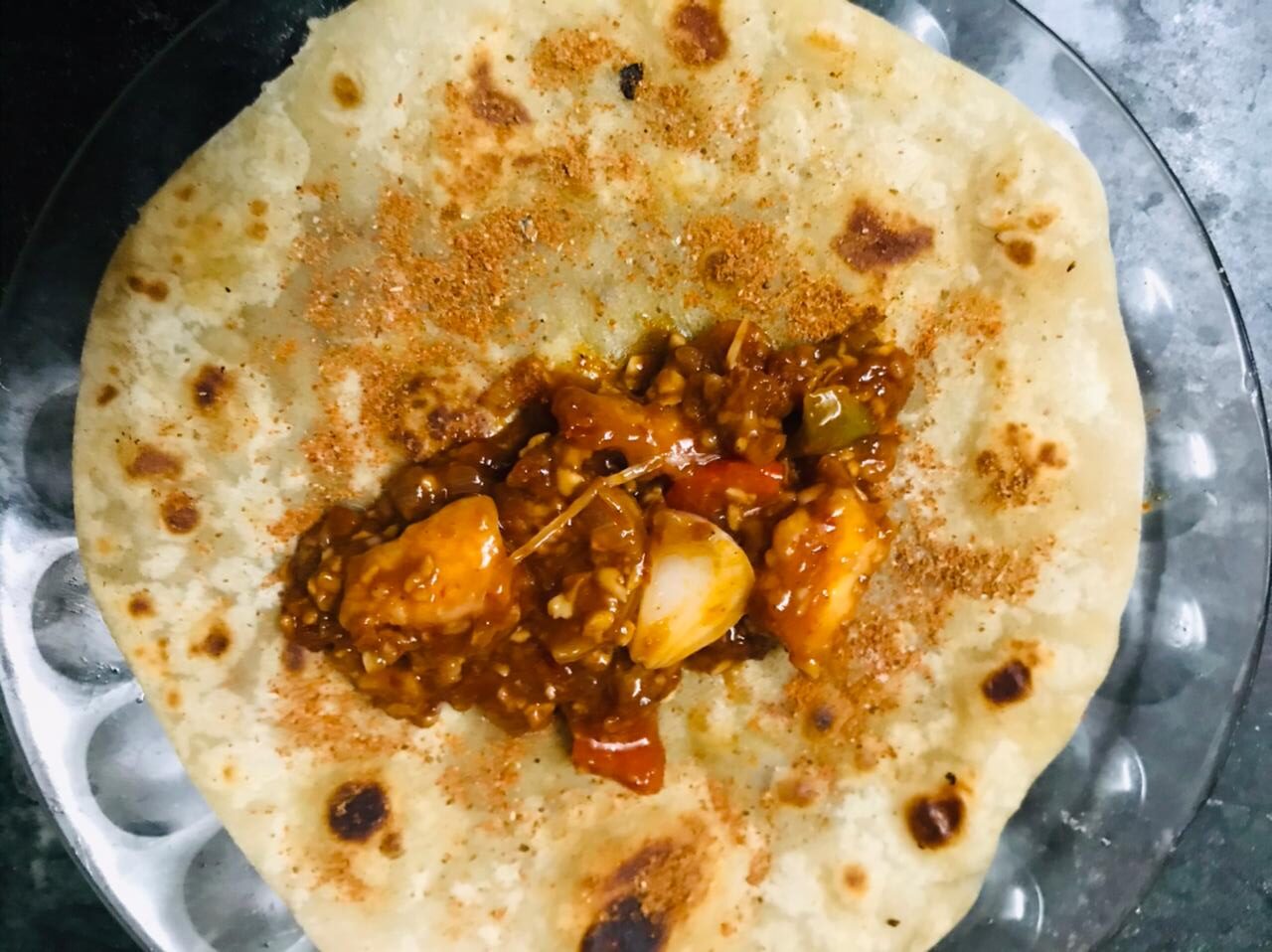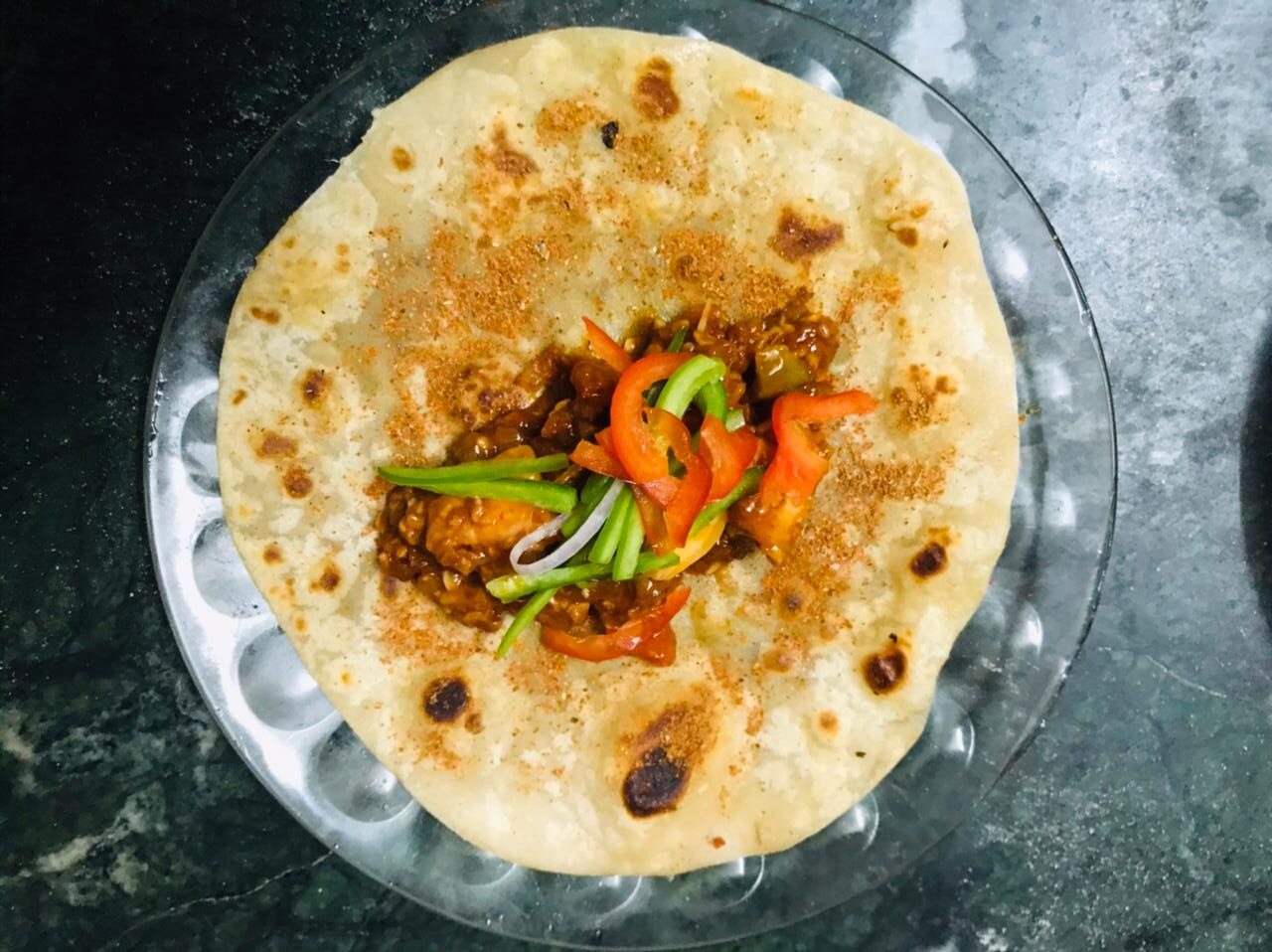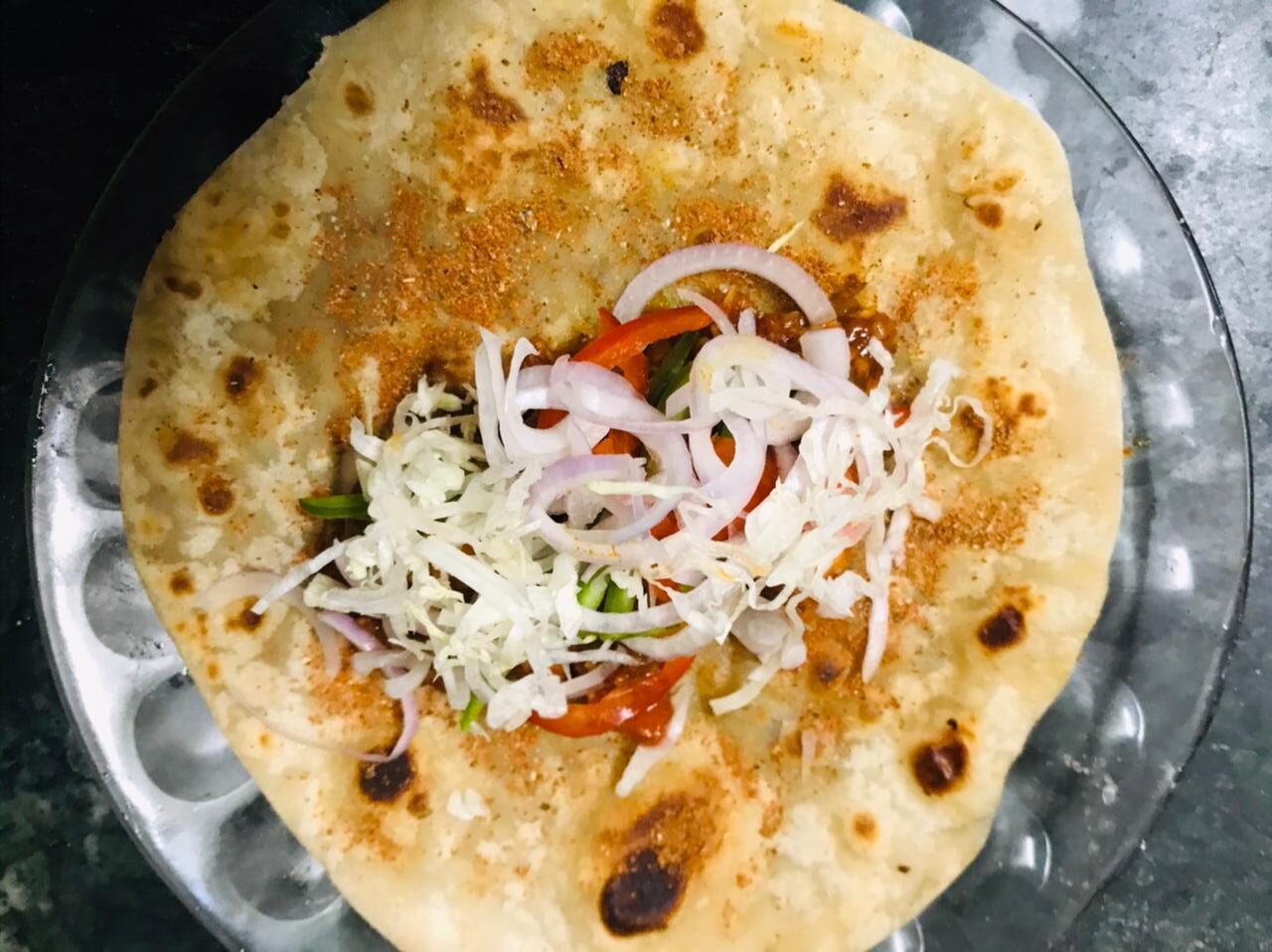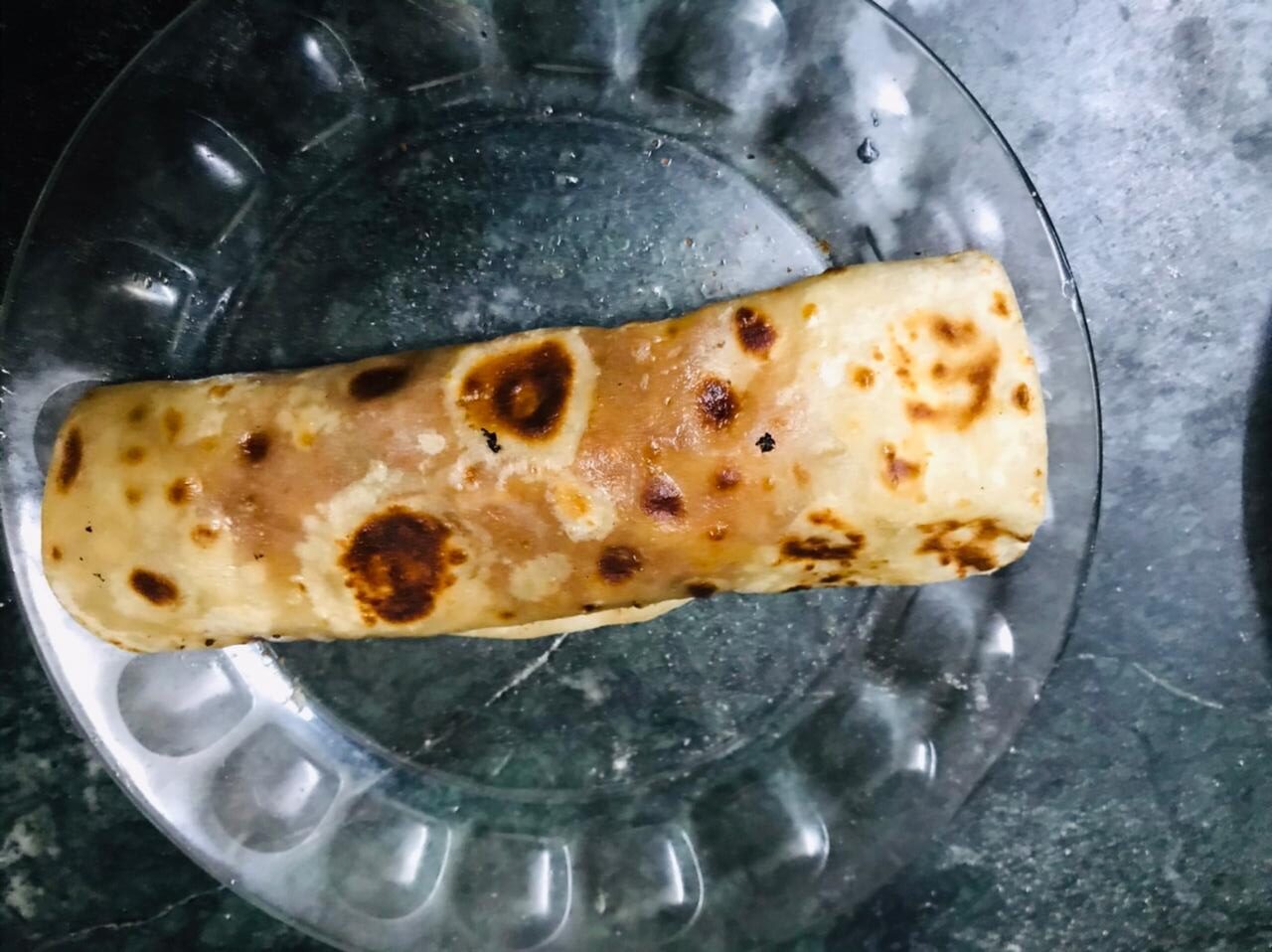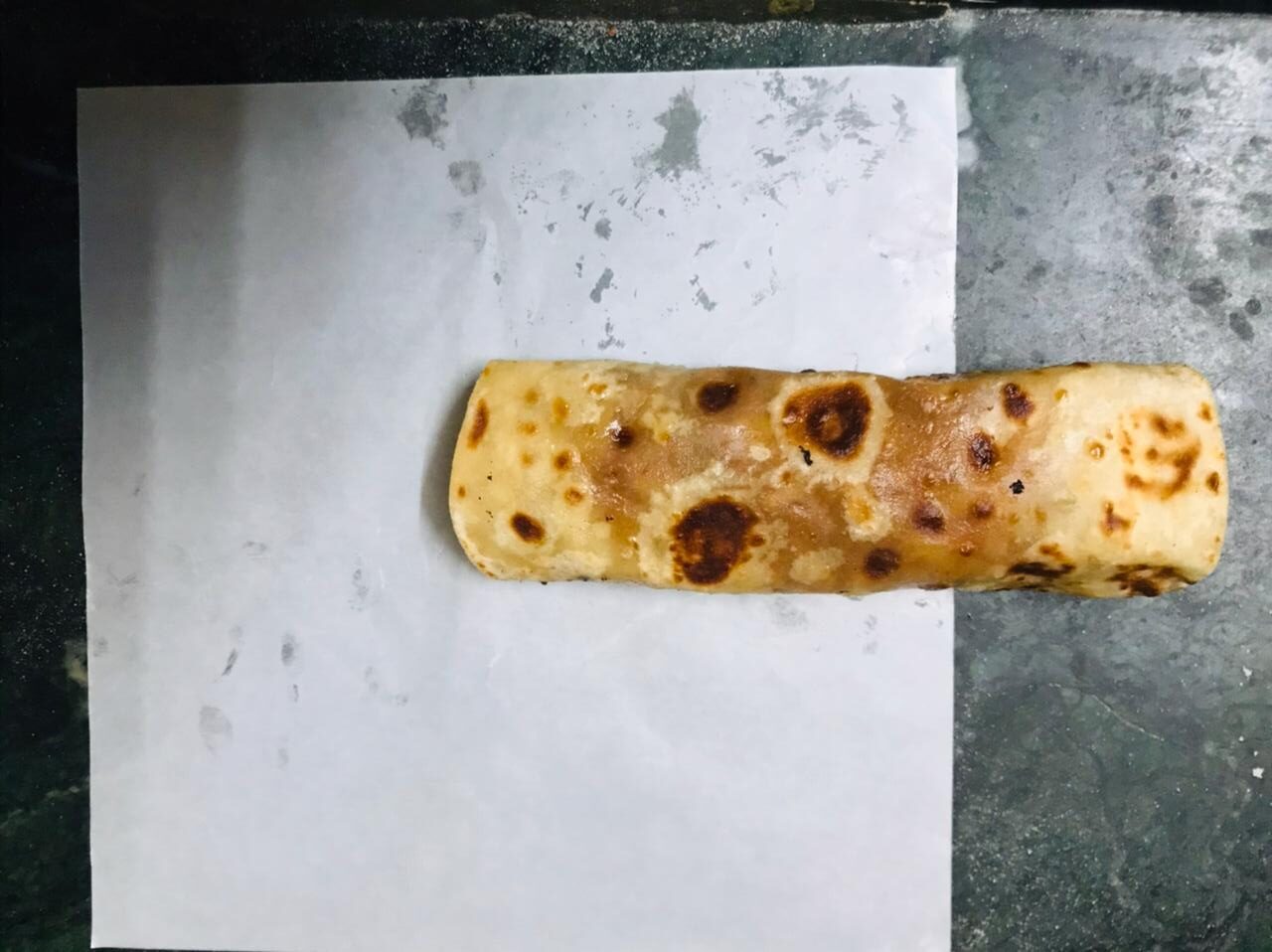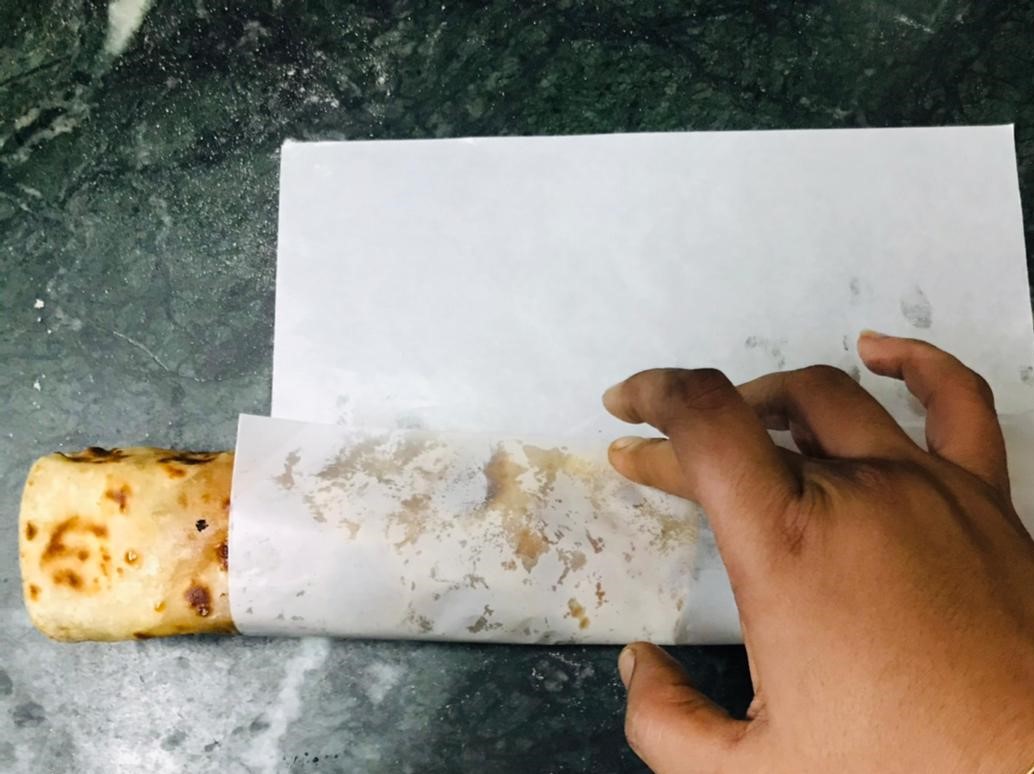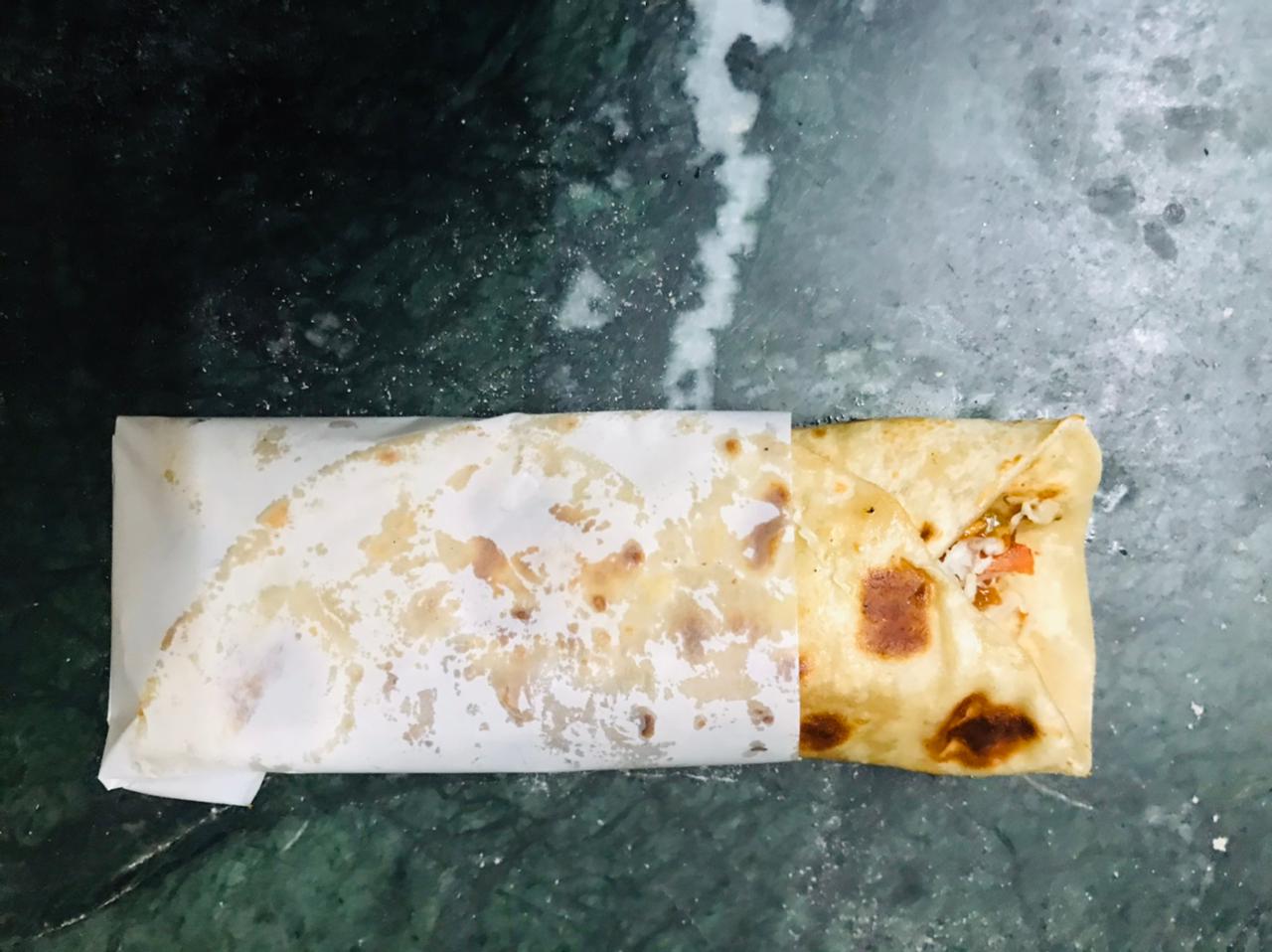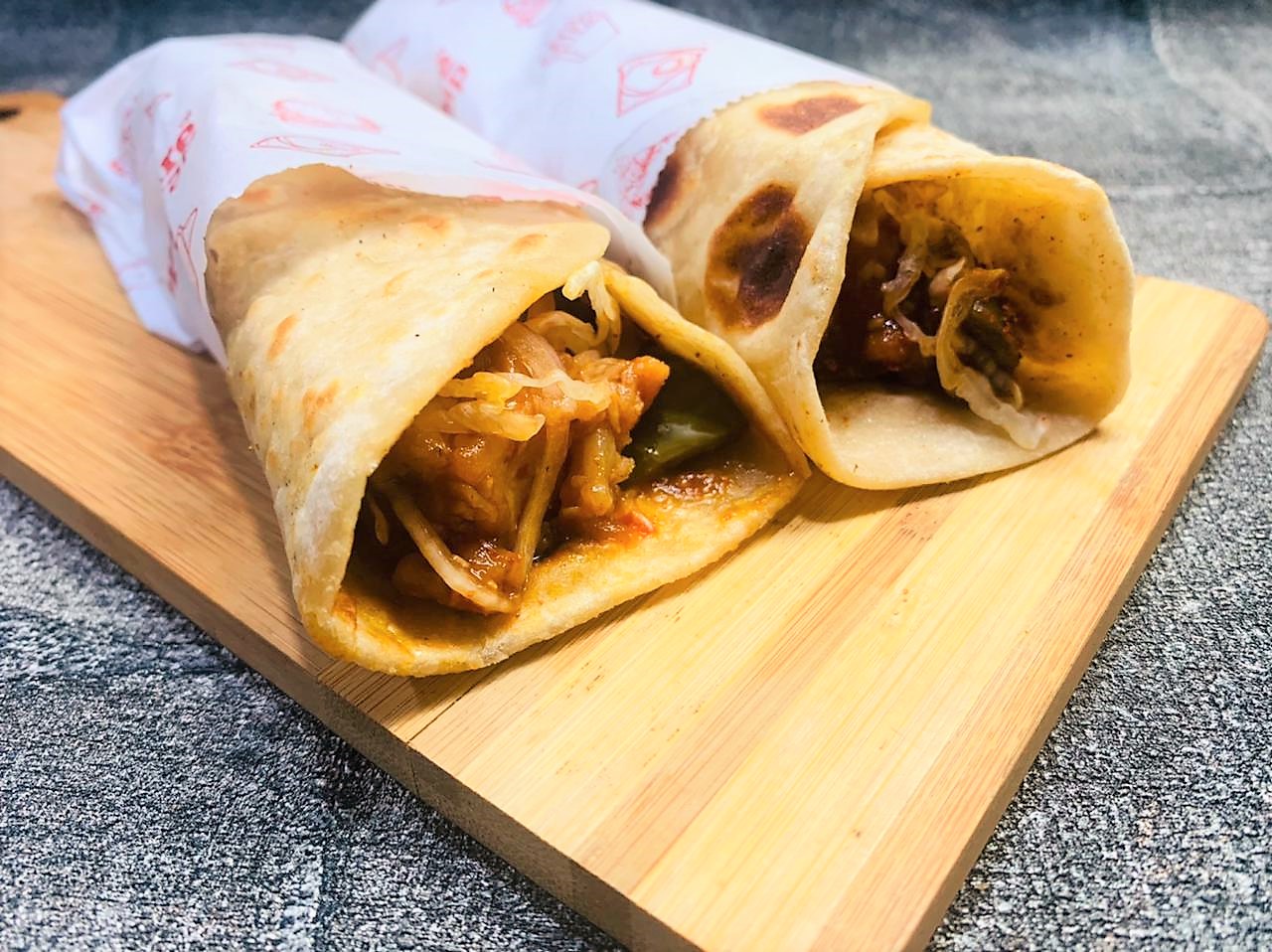 In a serving plate, place the wrap and sprinkle some frankie masala. Place a couple of teaspoons of the schezwan paneer in the middle of the wrap. Top with onions, peppers and cabbage and roll the sides up to the middle.
To wrap in a parchment or foil a good rule of thumb is to cut a piece of parchment paper that is about one and a half times the length of the frankie. Begin by setting your paper vertically in front of you and fold 2 inches of paper. Then place the frankie diagonally across the paper, near one of the corners and fold the frankie around the paper.
Serve hot with choice of your dip or on its own.