Sliced Aloo Kuttu Pakora
Sliced Aloo Kuttu Pakora is a delicious, deep-fried fritters prepared with buckwheat flour, sliced potatoes, chillies, coriander, and spices. These gluten free vegan fritters crispy, moreish, and simply irresistible!
Kuttu or buckwheat flour is a great source of carbohydrates and dietary fibers and also rich in minerals and vitamins. The flour has a slightly bitter, nutty taste. This nutritious, gluten-free flour has caught the fancy of bakers and food bloggers across the world.
Buckwheat flour is made by grinding the pyramid-shaped kernels of buckwheat. Despite its name, buckwheat is not related to wheat and is naturally gluten-free. Buckwheat, also called beech wheat, is actually a fruit that is closely related to rhubarb and sorrel. The flour can be light or dark. Light buckwheat flour is made by grinding hulled kernels. On the other hand, is made from whole buckwheat groats with the hulls. This flour has dark specs and is higher in fiber than the light variety. For this recipe, both works fine.
For this recipe, thinly sliced potatoes are dipped in batter and deep fried until crispy. These pakoras taste different to my other Kuttu ke Pakore as these are crispier due to the thinly sliced potatoes.
Other recipes you might like to try are Masala Sabudana, Sugar Free Makhane Ki Kheer, Roasted Nut Chaat, Sabudana Vada Appe,  and Sukha Kala Chana.
Ingredients
1 cup kuttu atta (buckwheat flour)
1 thinly sliced potato
Salt to taste
2-3 finely chopped green chillies
2-3 teaspoons finely chopped coriander
¼ teaspoon black pepper
½ cup water (approx)
Other Ingredients
Oil for deep frying
Green chutney (for serving)
Bowl of Plain yogurt (for serving)
Directions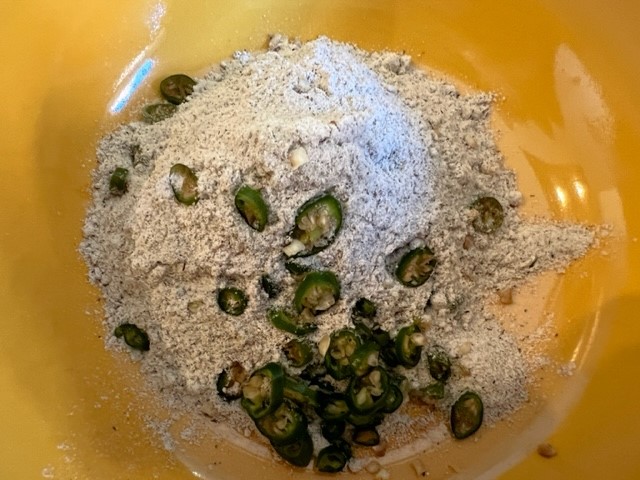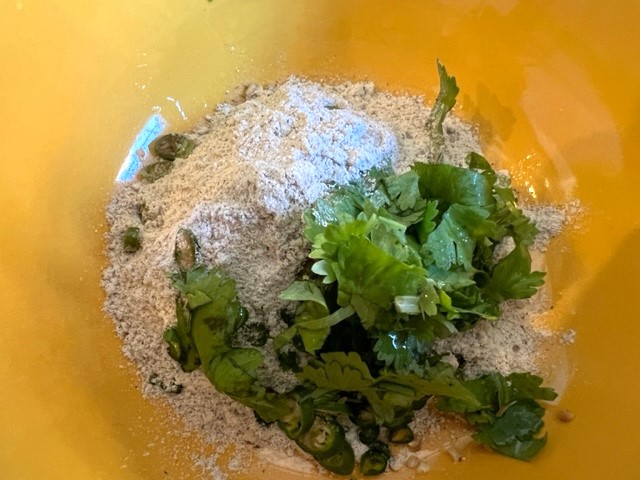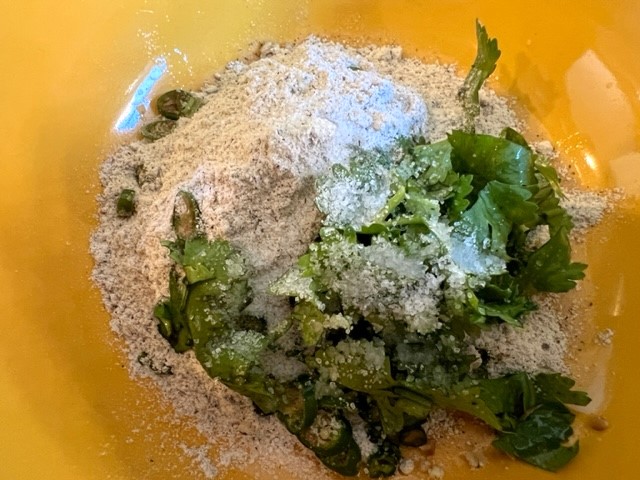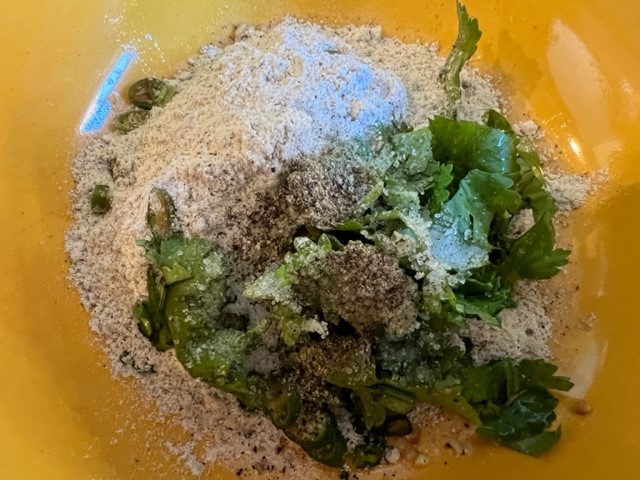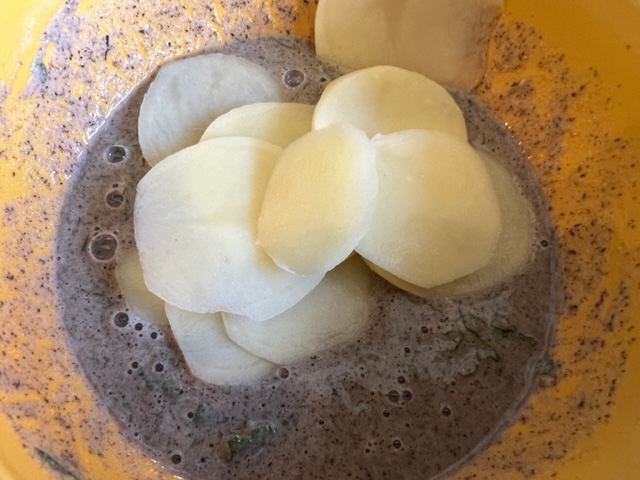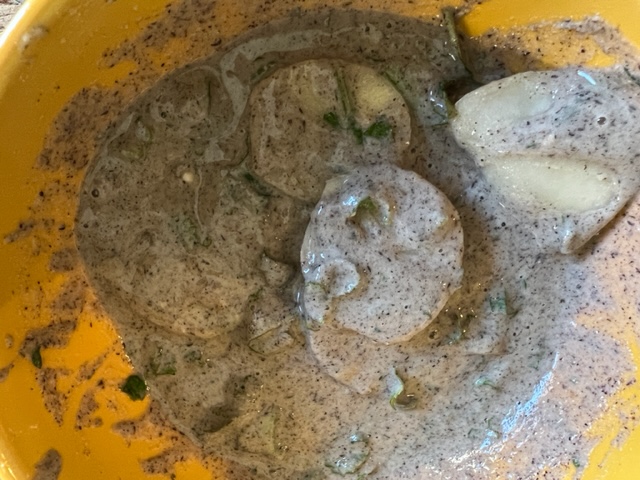 Mix the kuttu atta, salt, green chillies, coriander, and black pepper in a bowl. Gradually add water and mix to make a thick batter. We want the consistency of the batter to be like double cream. Add the potatoes and coat each slice with the batter.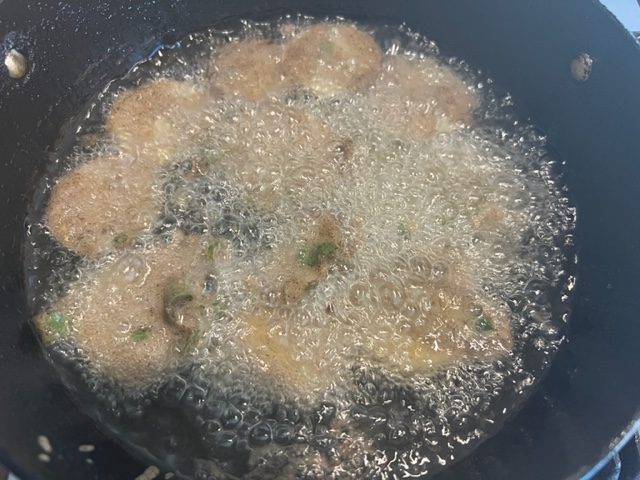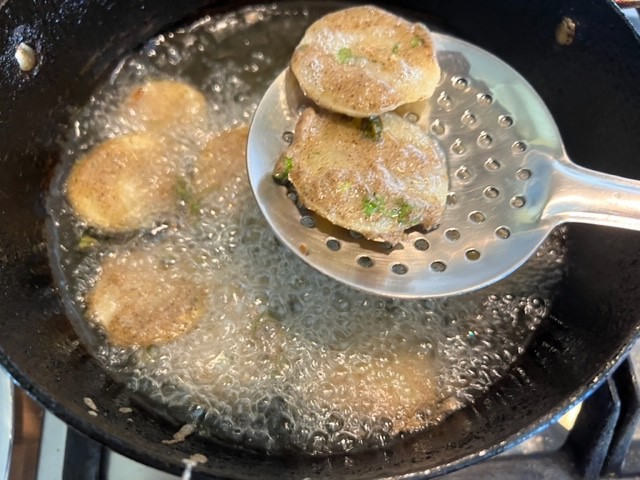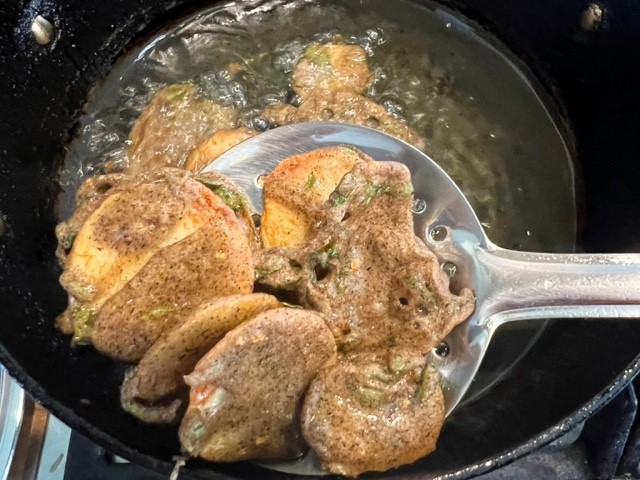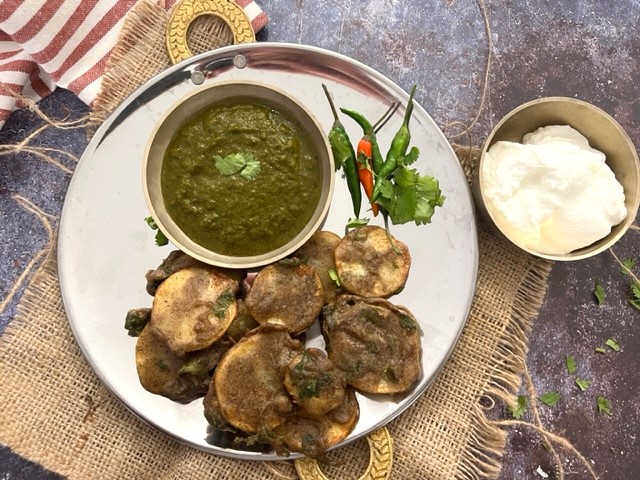 Heat oil for frying. To check if the oil is hot enough for frying, add drop of the batter to the oil and if it bubbles up immediately then the oil is ready for frying.
Take each potato slice coated with batter and gently drop it in the oil and deep fry them on medium heat for 4-5 minutes until they turn golden brown.
Once they are golden brown drain them on an absorbent paper or kitchen towel.
Serve hot with green chutney or plain yogurt.