Navratan Korma
Navratan Korma is a rich, creamy, delicious recipe from North Indian. 'Navratan' is a Sanskrit compound word meaning 'nine gems' or 'ratnas'.
Navratan Korma recipe was created during the Mughal era in India to be served to kings, queens, and other royals during the. Navratan Korma was named after the nine courtiers so the key 9 ingredients represented the courtiers in the king's courtroom. The key 9 ingredients are a medley of mixed vegetables, dry fruits and fresh fruits cooked in a rich cashew nut and onion gravy.
If you are a fan of rich, creamy and delicious Indian vegetarian recipes with a hint of sweetness, then Navratan Korma is your go-to dish. Cooked in rich cashew gravy with various vegetables, this dish is a sweet and savoury delicacy served widely in Indian restaurants.
The combination of fruits, nuts, cream makes Navratan Korma a slightly sweet dish. It has this sweet creamy taste and is not spicy at all. I absolutely love the pineapple here and I would recommend not replacing it a fruit which elevates the recipe with its juicy, sweet flavour.
Navratan Korma goes well with Indian breads like Onion Coriander Tandoori Roti, Plain Naan, Lachha Paratha or Chilli Garlic Naan.
Ingredients
For The Onion Paste
2 cups finely sliced onions
2 roughly chopped green chillies
1 inch roughly chopped ginger
7-8 garlic cloves
2 tablespoons cashew nuts
1 tablespoon poppy seeds
Vegetables
½ cup carrots (diced small)
½ cup French beans (cut into ½ inch pieces)
¼ cup peas
½ cup cauliflower florets (small florets)
½ cup potato (diced into 1cm cubes)
½ cup paneer (cut into 1 cm cubes)
Oil for deep frying
For The Dry Nuts
1 tablespoon ghee
2 tablespoons cashew nuts pieces
1 tablespoon raisins
For The Gravy
2 tablespoons oil
1 bay leaf
1 cinnamon stick
2-3 green cardamom
2-3 cloves
1 teaspoon red chilli powder
2 teaspoons coriander powder
2 teaspoons cumin powder
Salt to taste
1 tablespoon sugar
½ teaspoon garam masala
2 tablespoons pineapple pieces
2 tablespoons cream
1 tablespoon pomegranate seeds
1 tablespoon finely chopped coriander leaves
Directions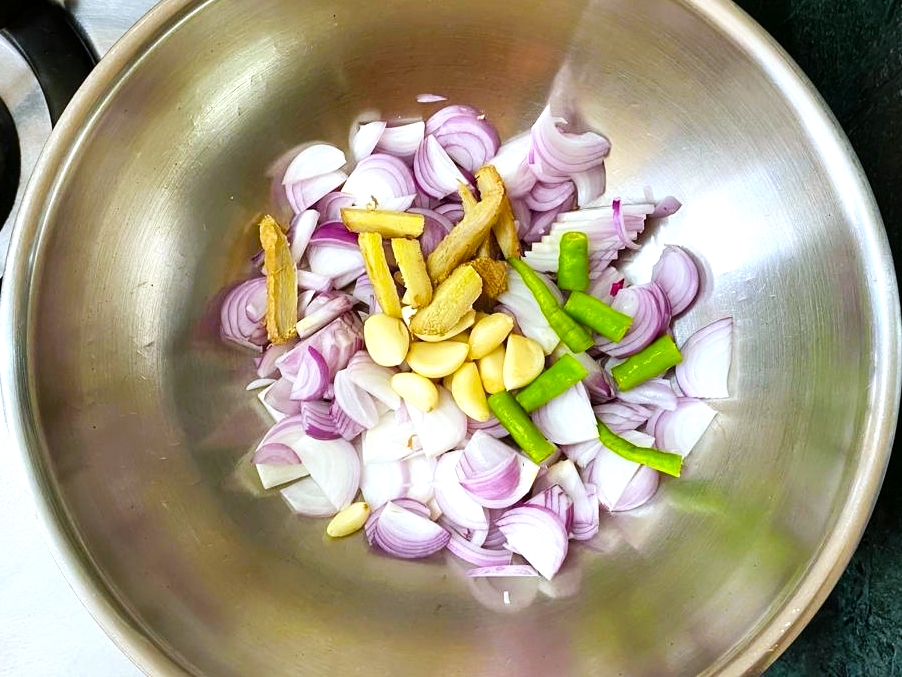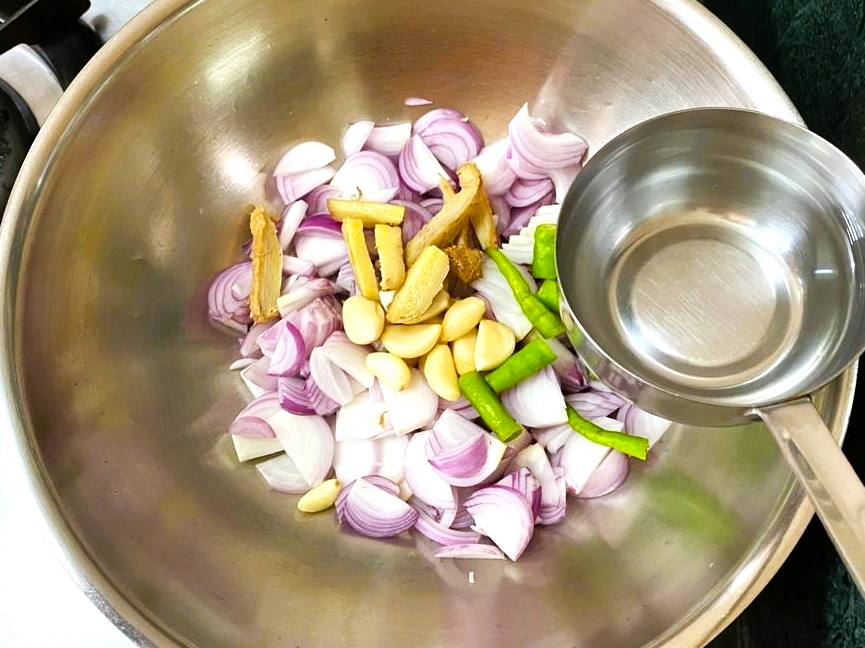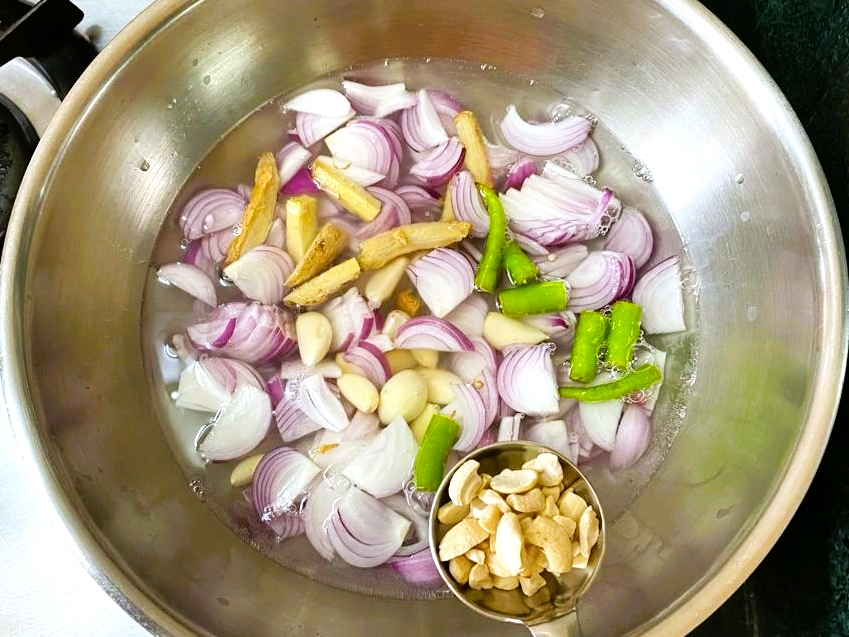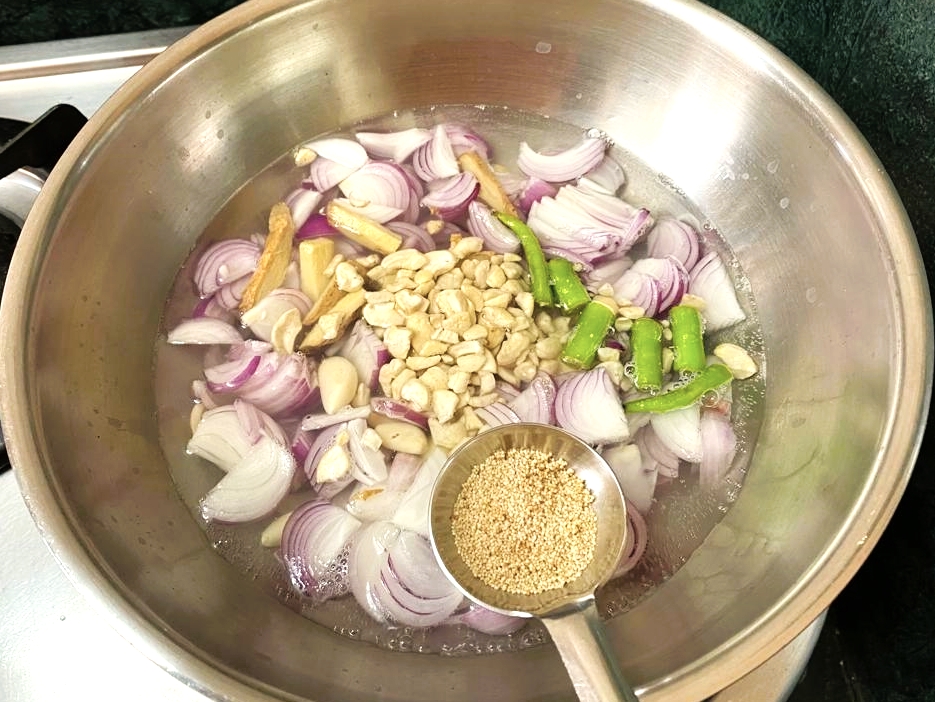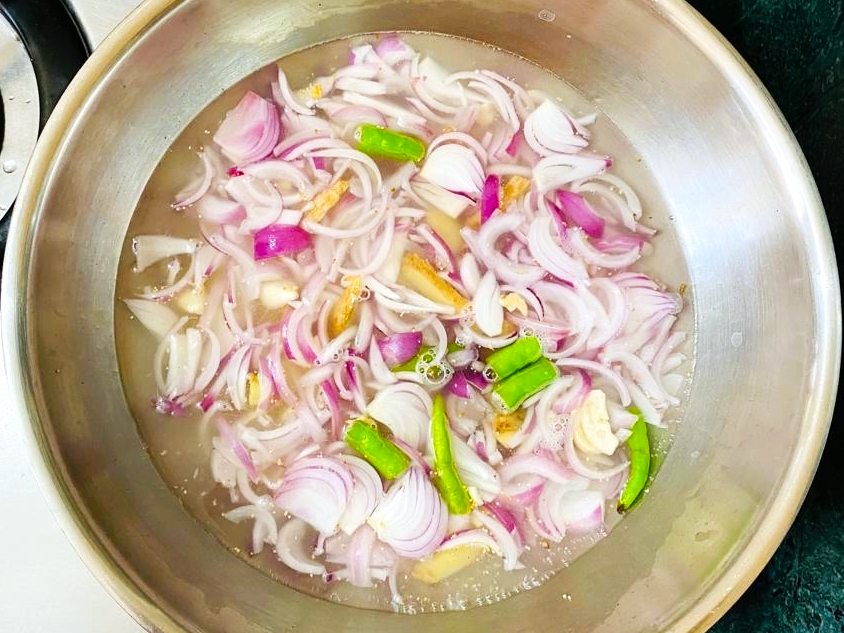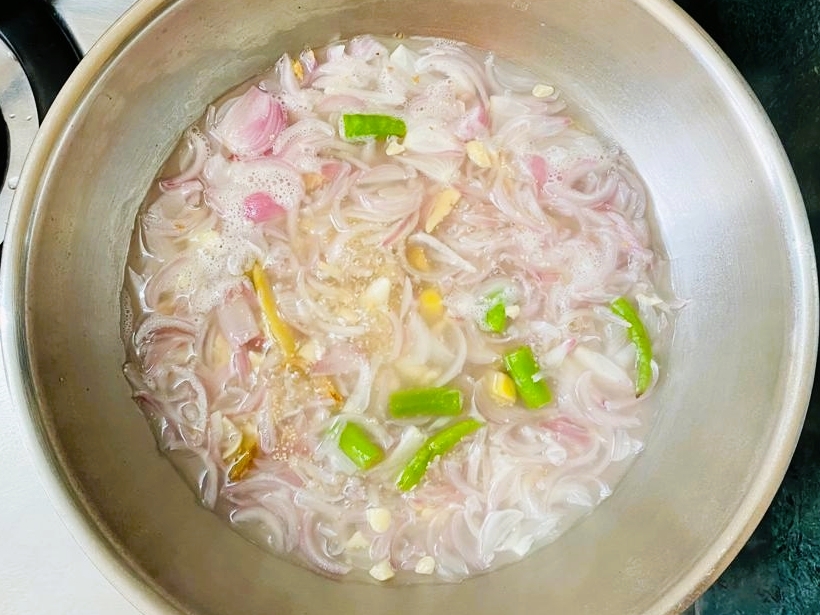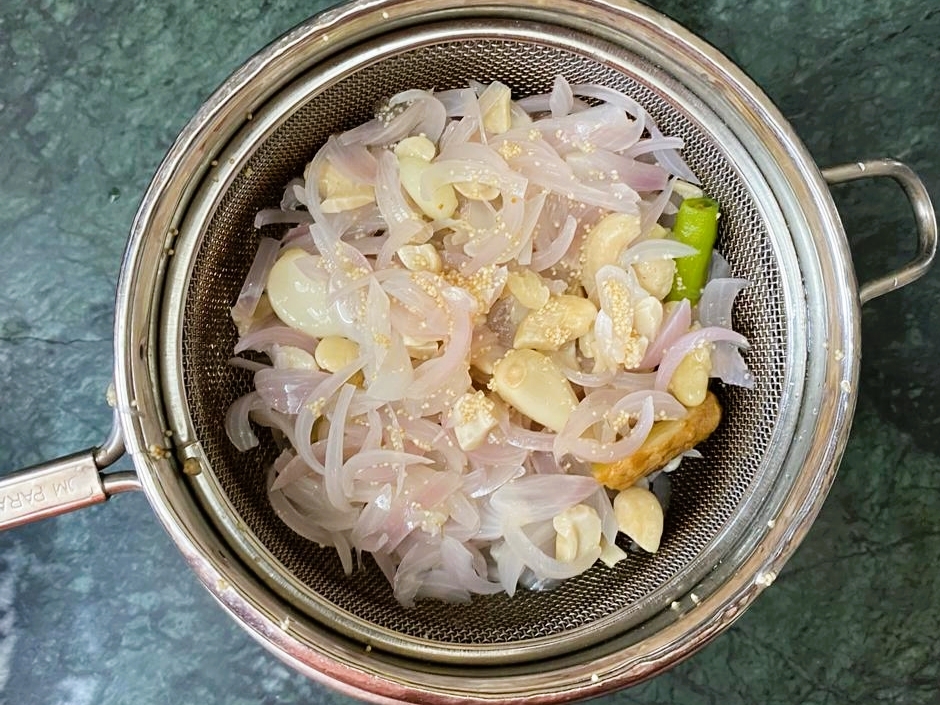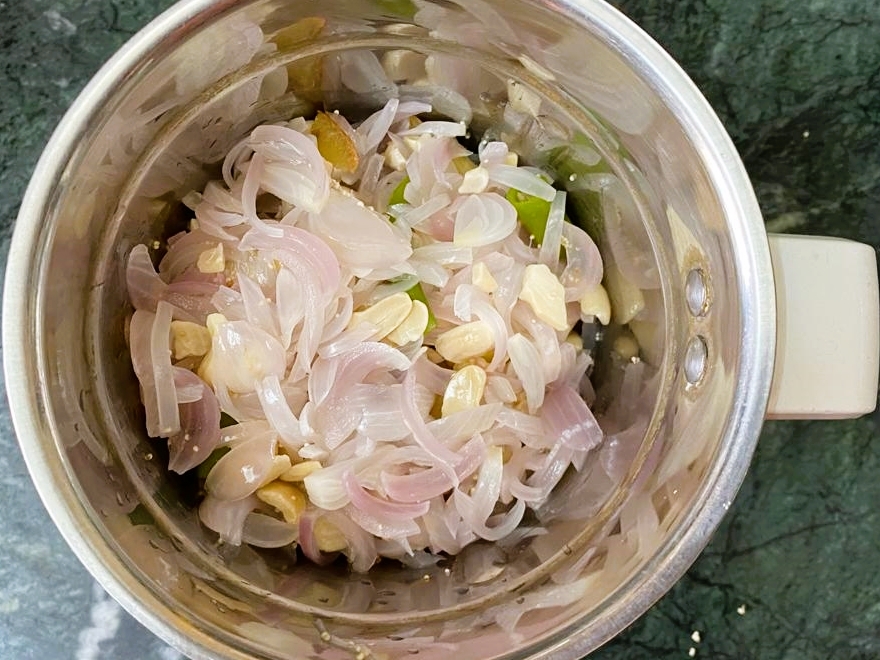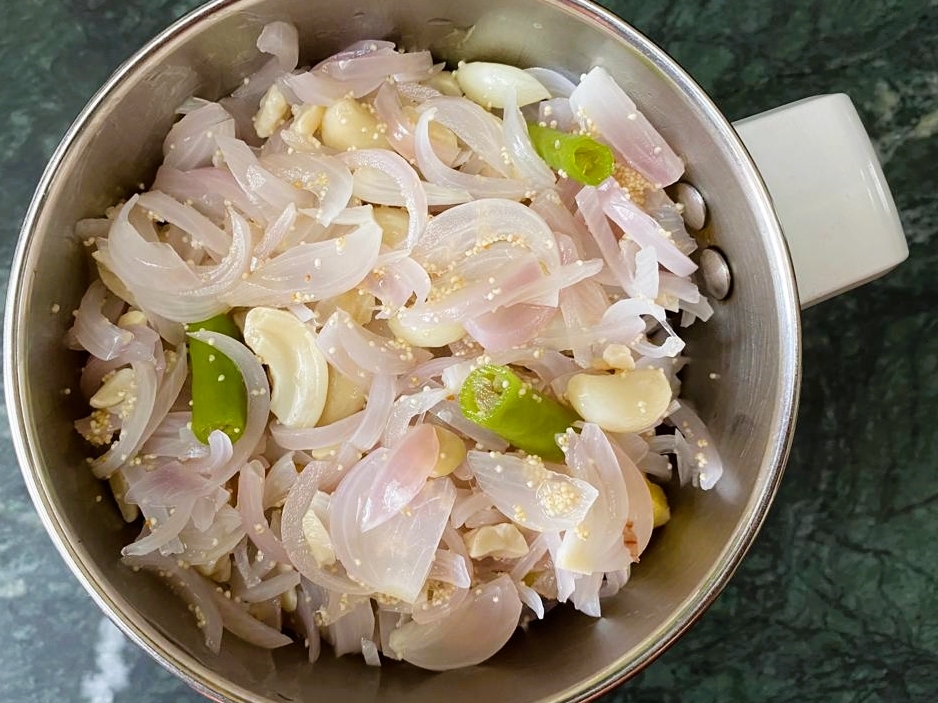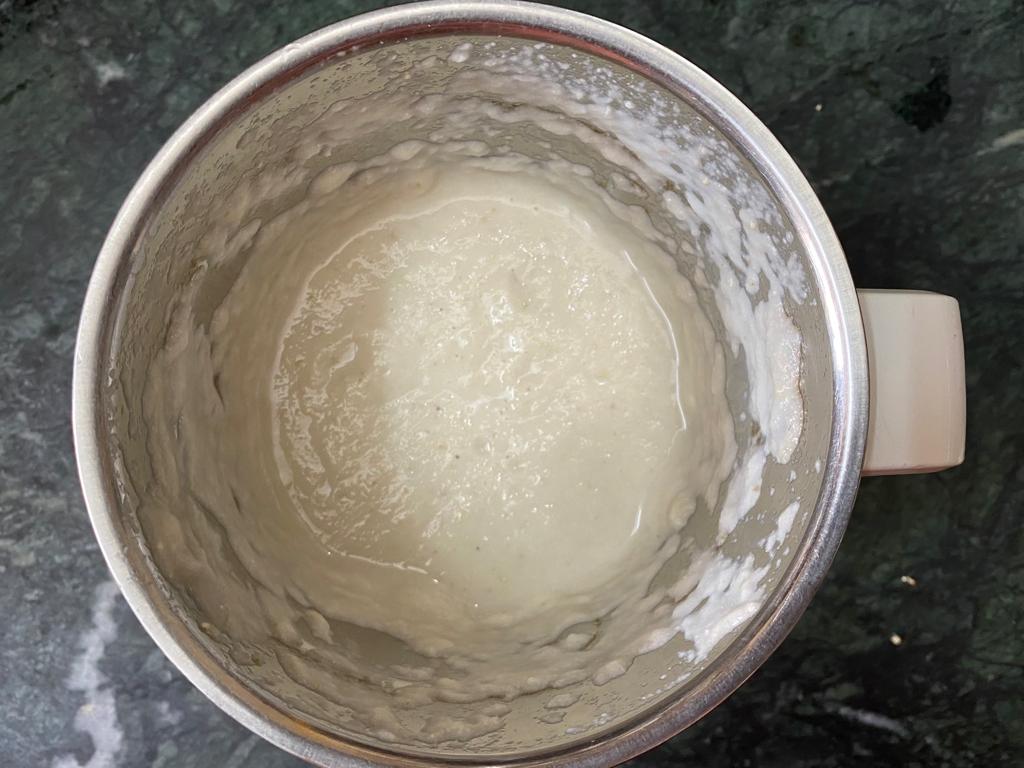 Boil the onions, garlic cloves, ginger, green chillies, cashew nuts and poppy seeds in 2 cups of water on medium heat for 7-8 minutes or until the onions turns soft. Turn off the heat and keep it aside to cool.
Strain the excess water and blend to a smooth puree.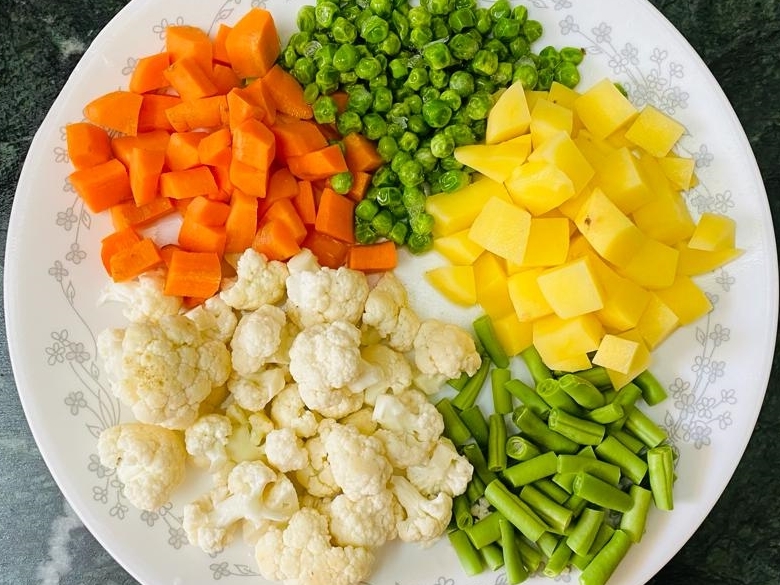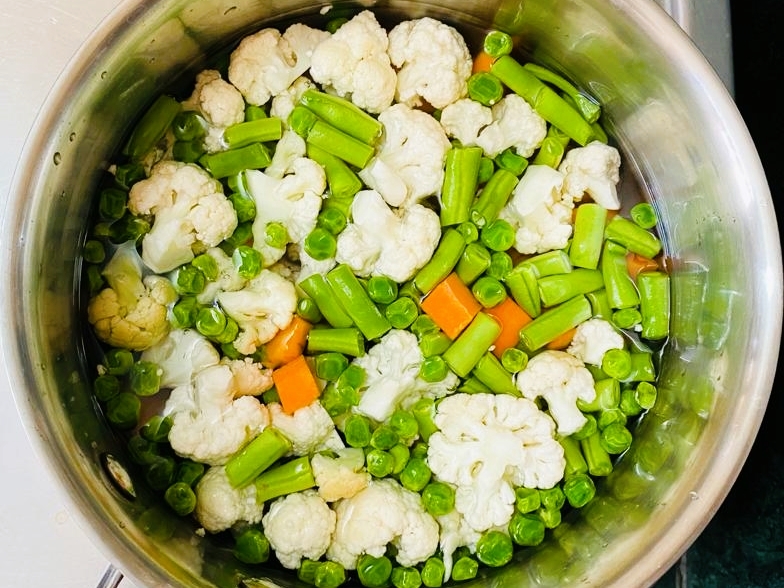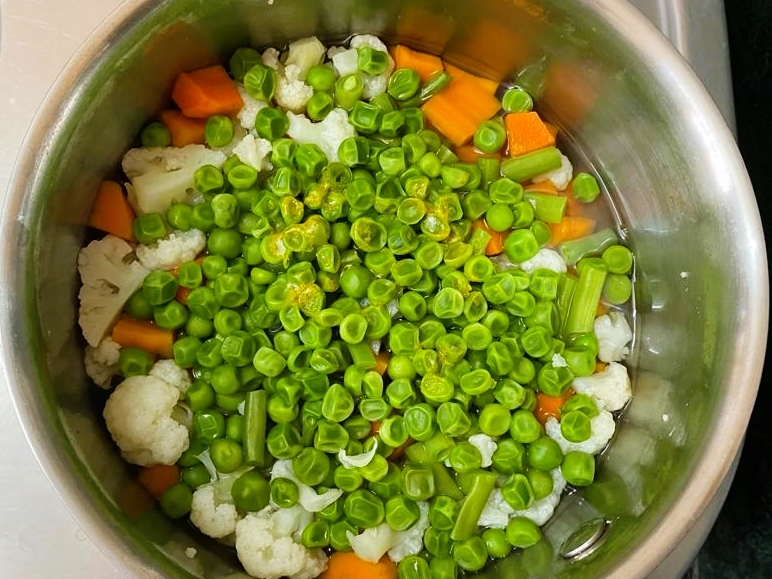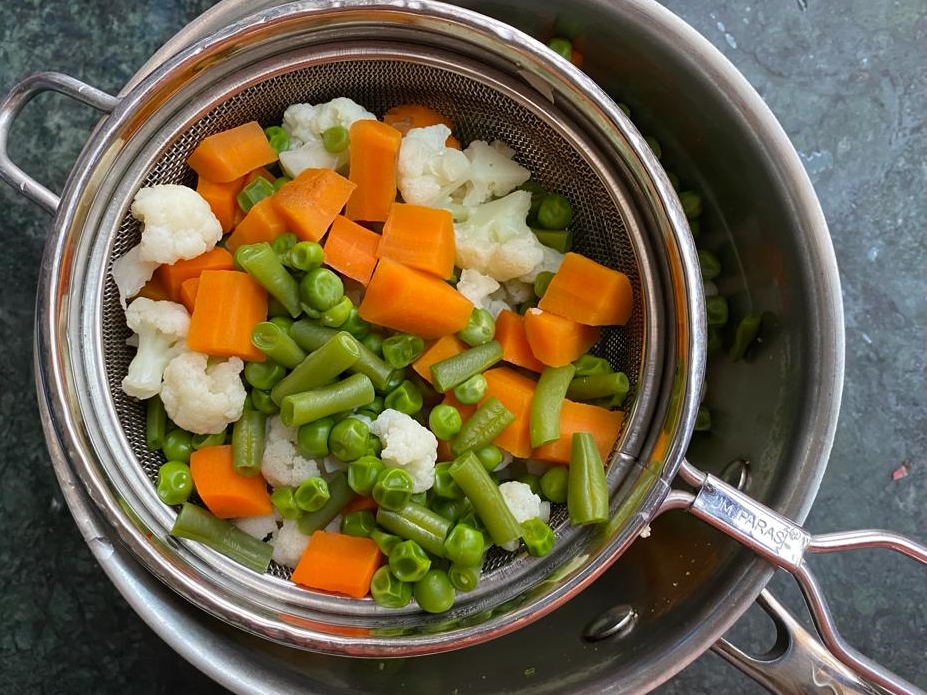 Boil or steam the cauliflower florets, carrots, French beans and peas on medium heat for about 4-5 minutes or until they turn tender. The vegetables should be fork tender, and not mushy or overcooked.
Turn off the heat and strain the vegetables using a colander.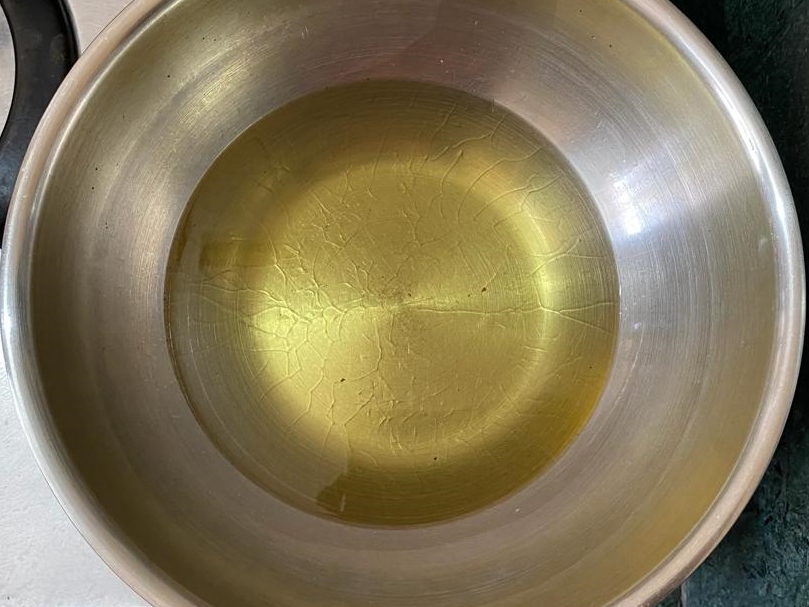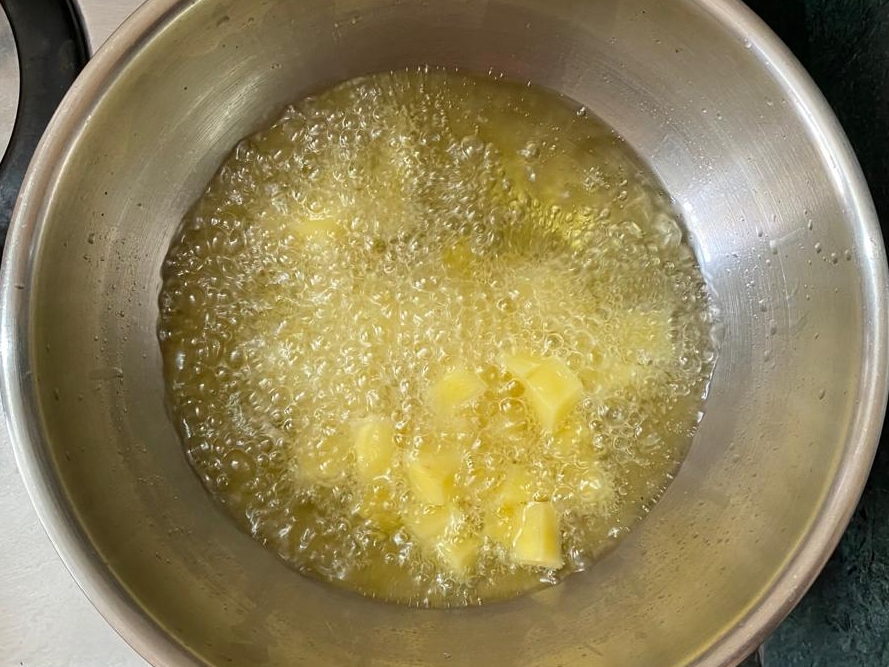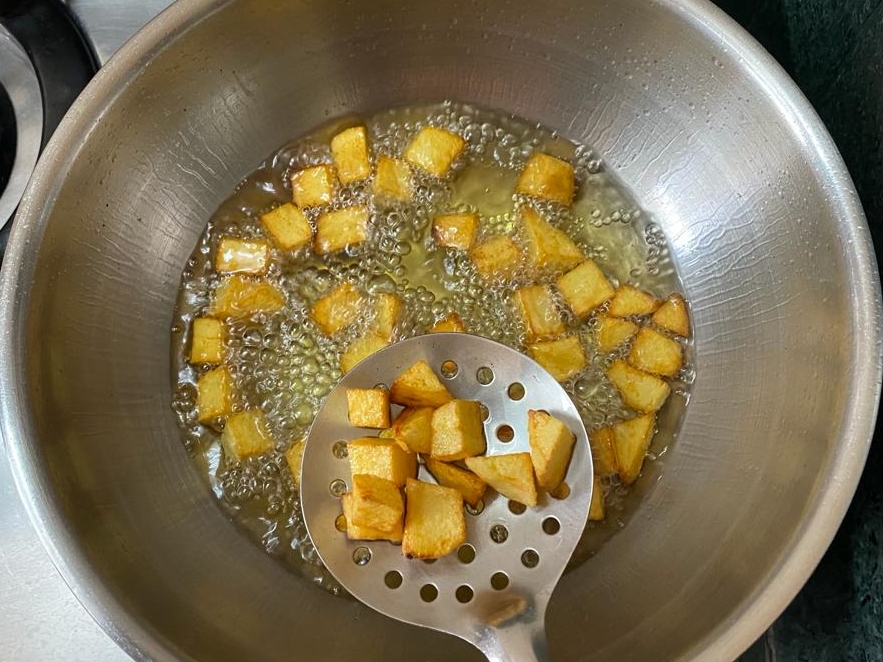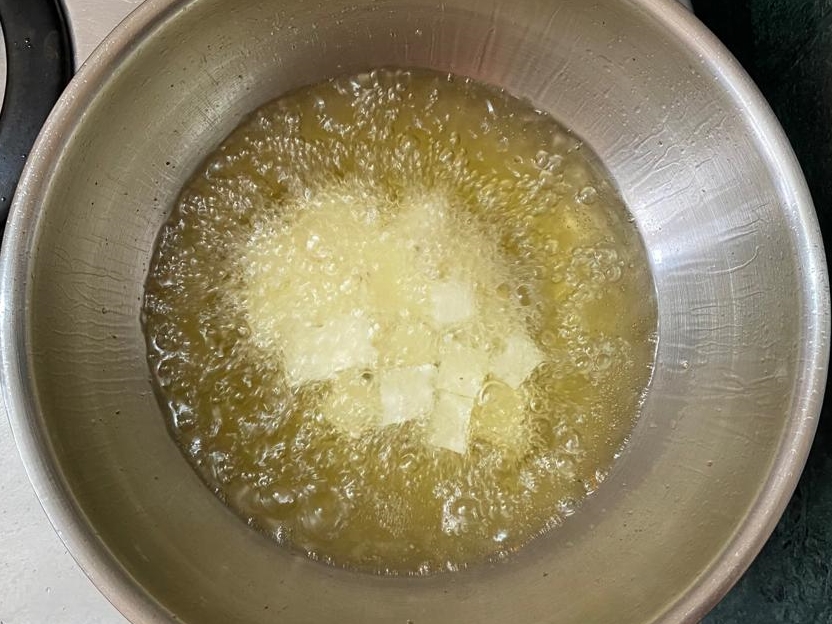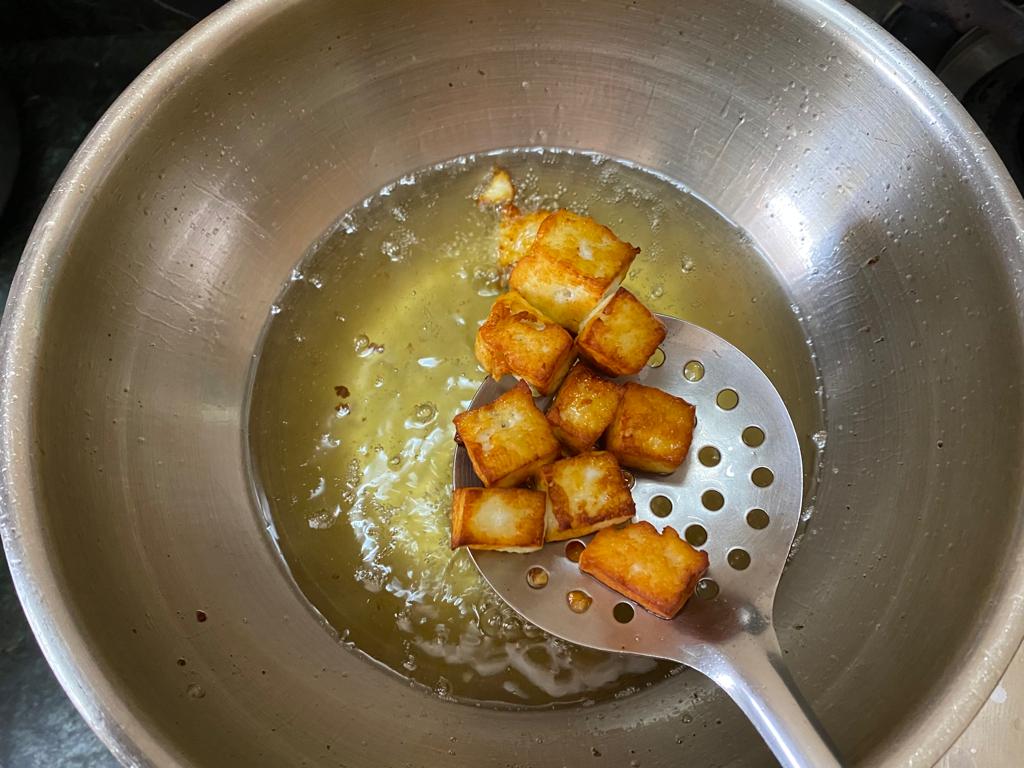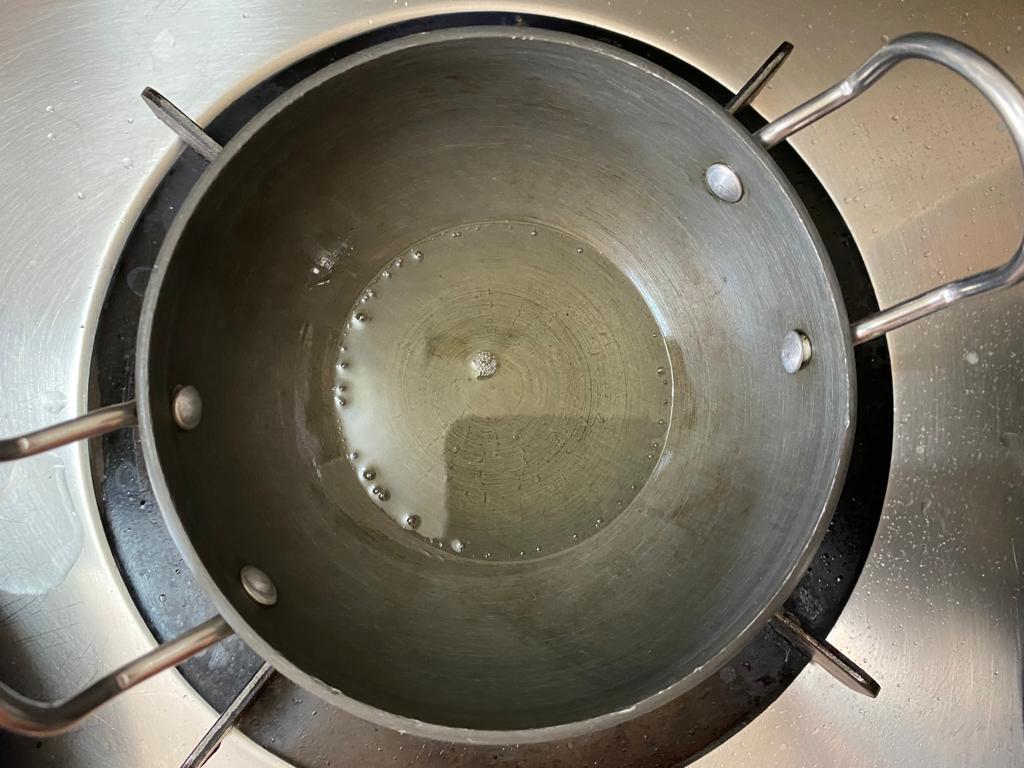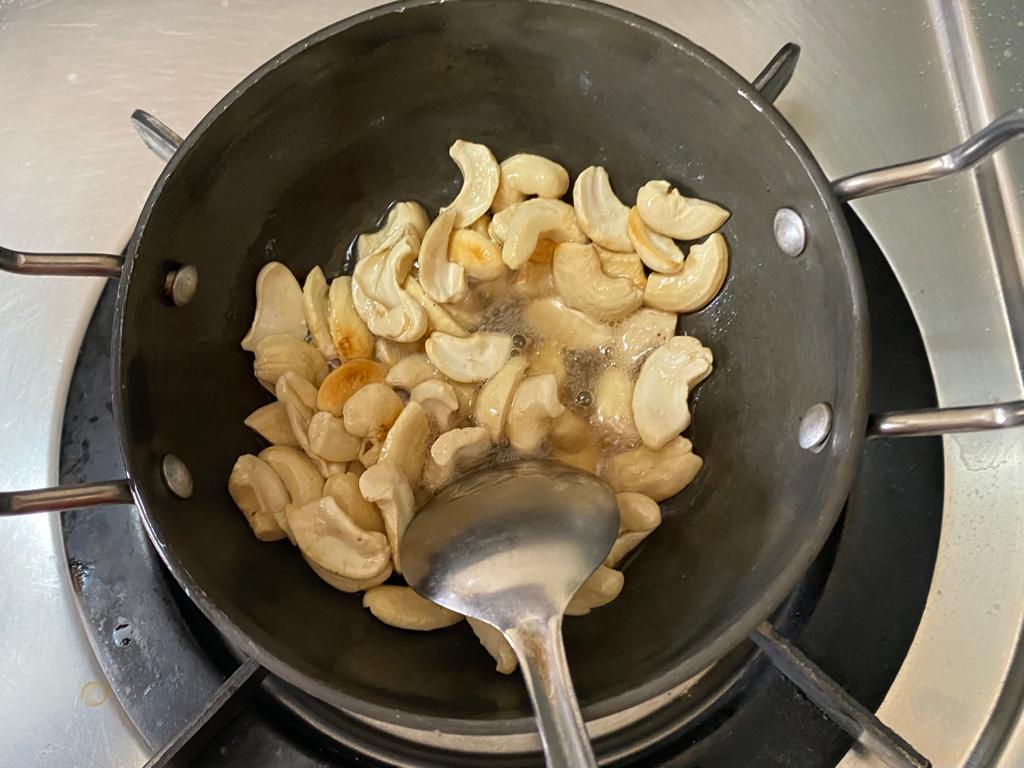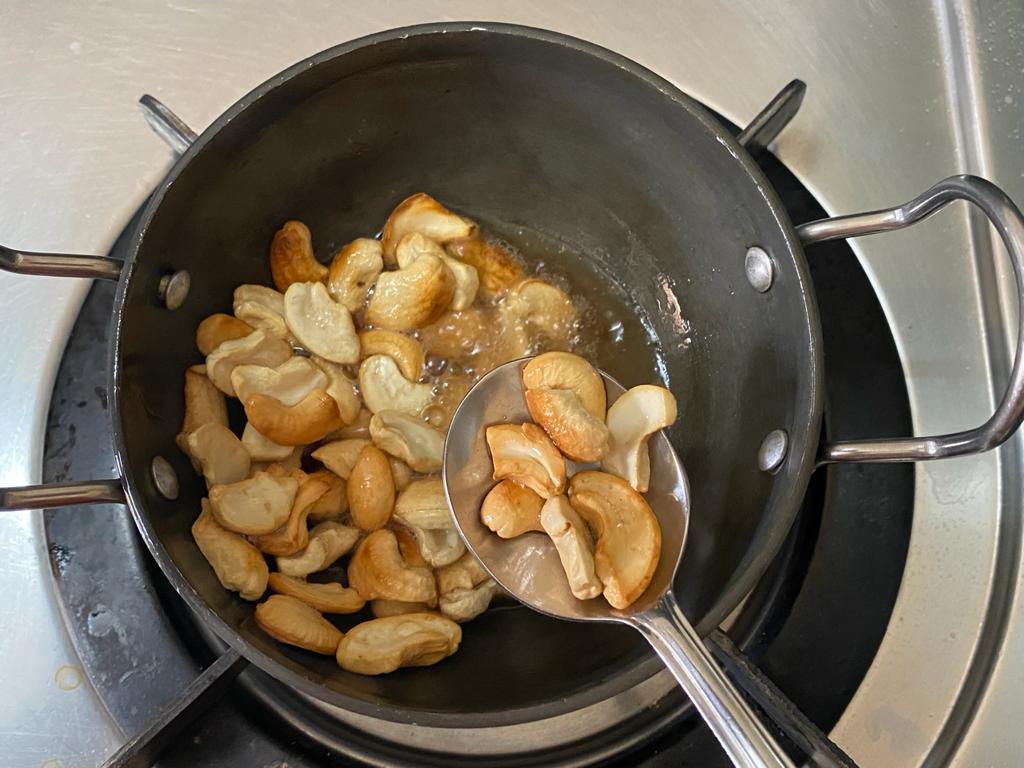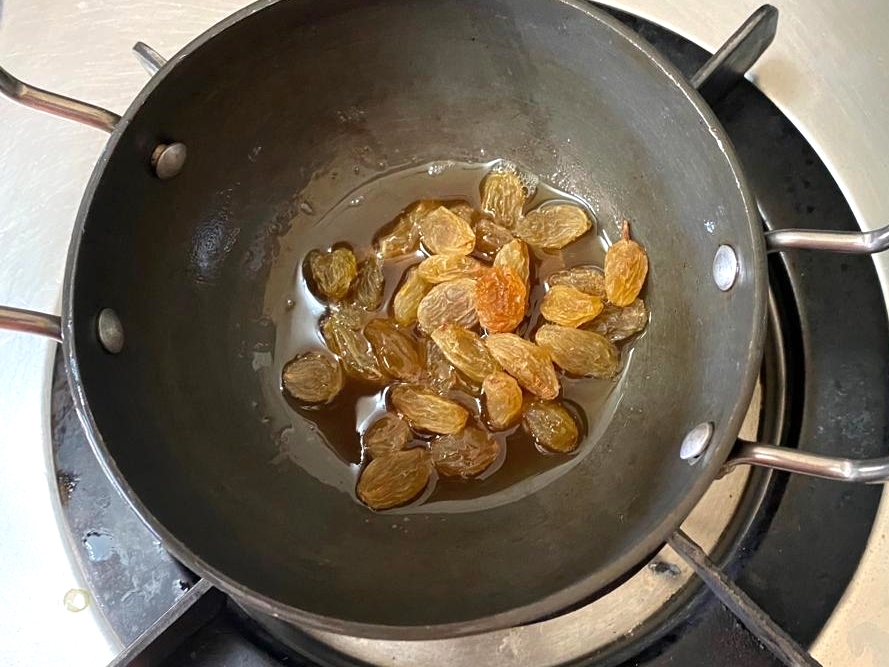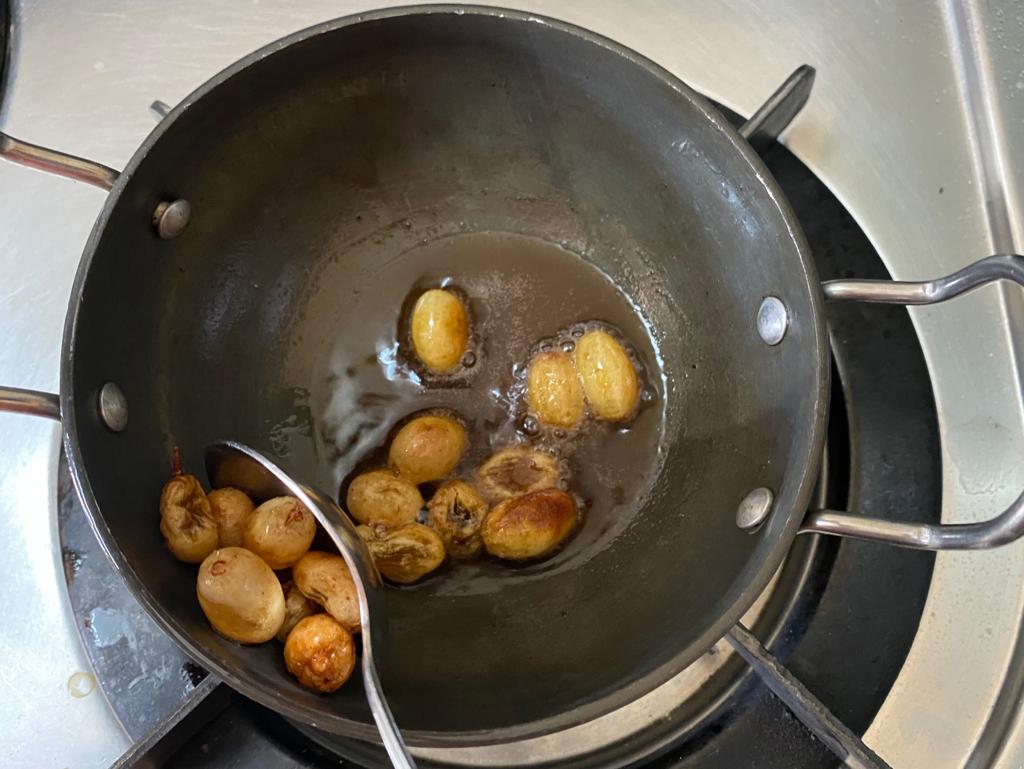 Heat oil in a pan for deep frying. Fry the potato cubes and paneer cubes separately on medium heat until they turn golden.
Heat ghee in a pan and fry the cashew nuts on low heat for 1-2 minutes until it turns golden. Remove from the ghee.
Add the raisins to the same ghee and sauté for a couple of minutes and keep it aside.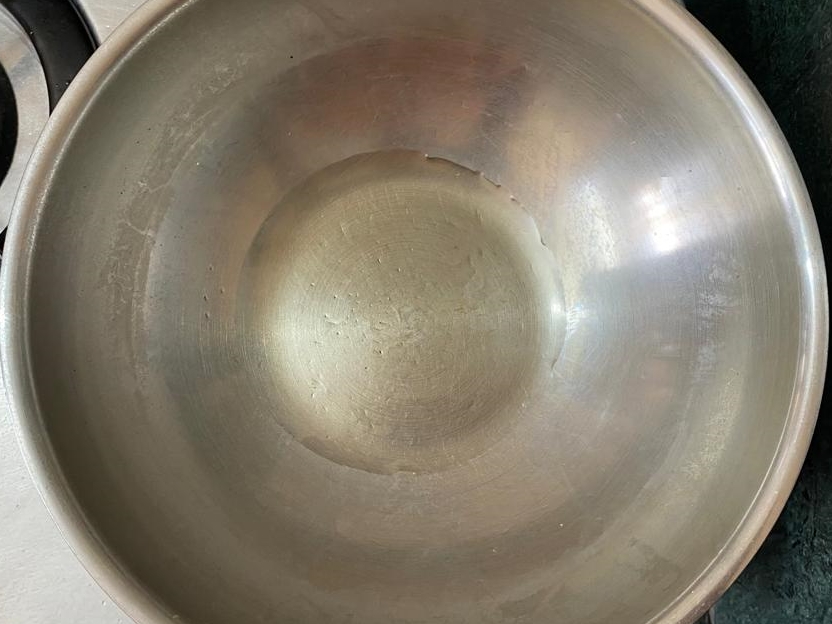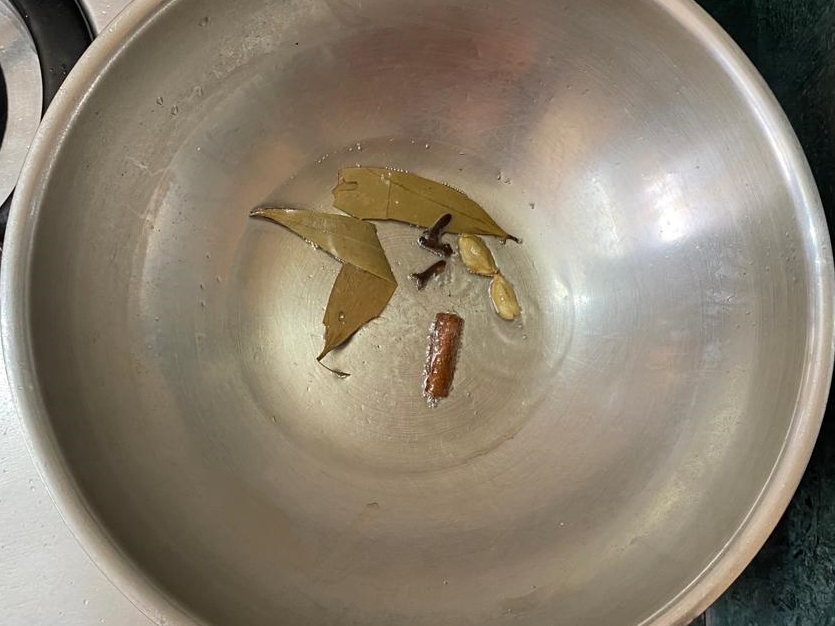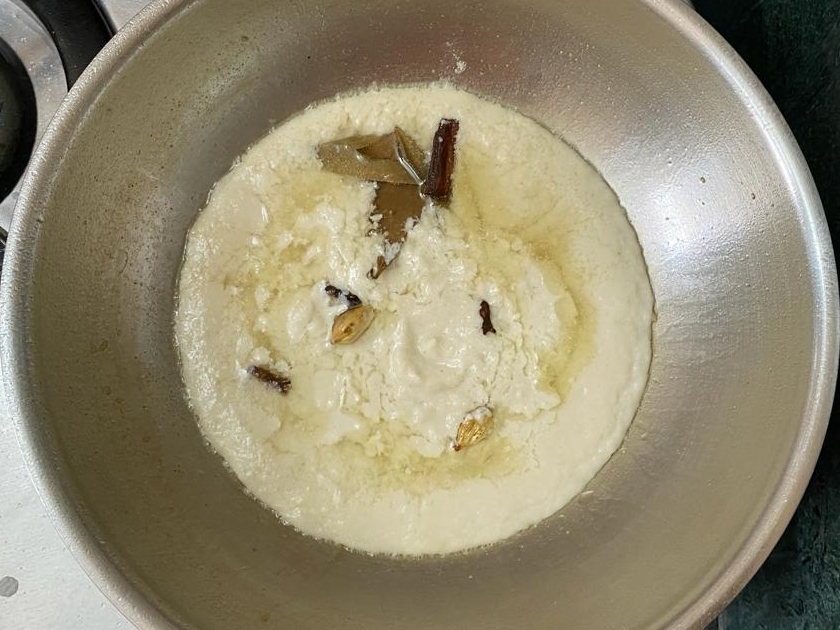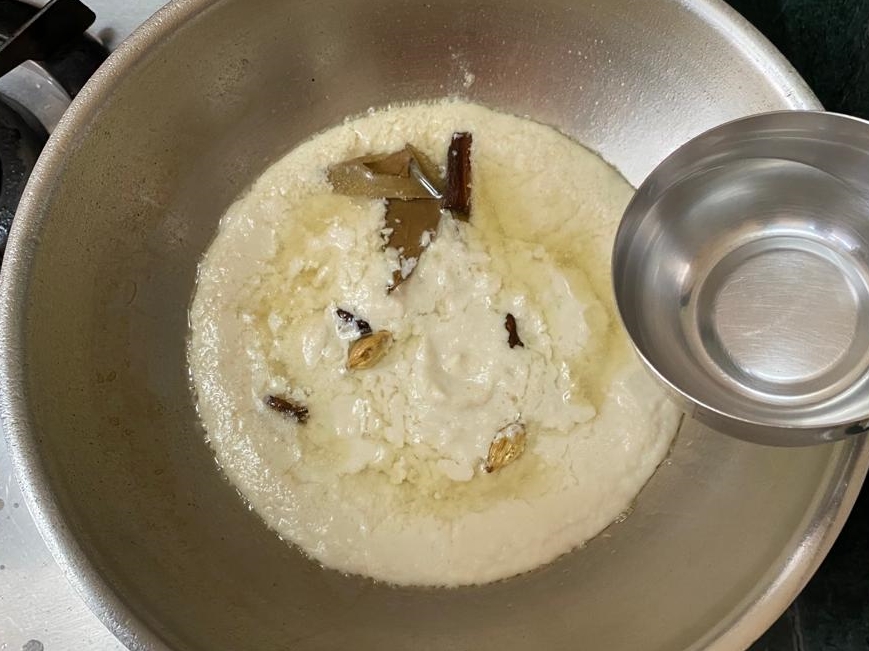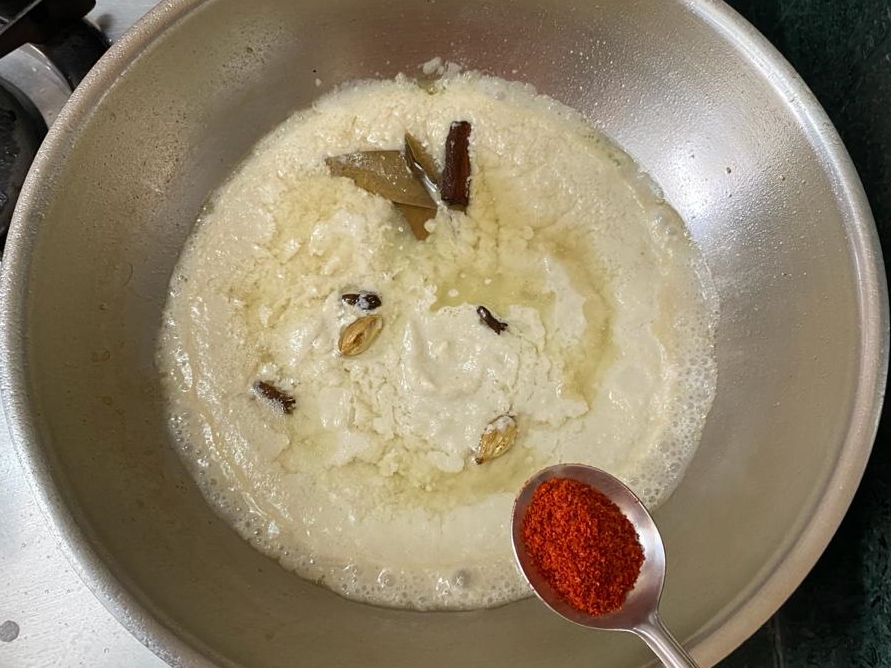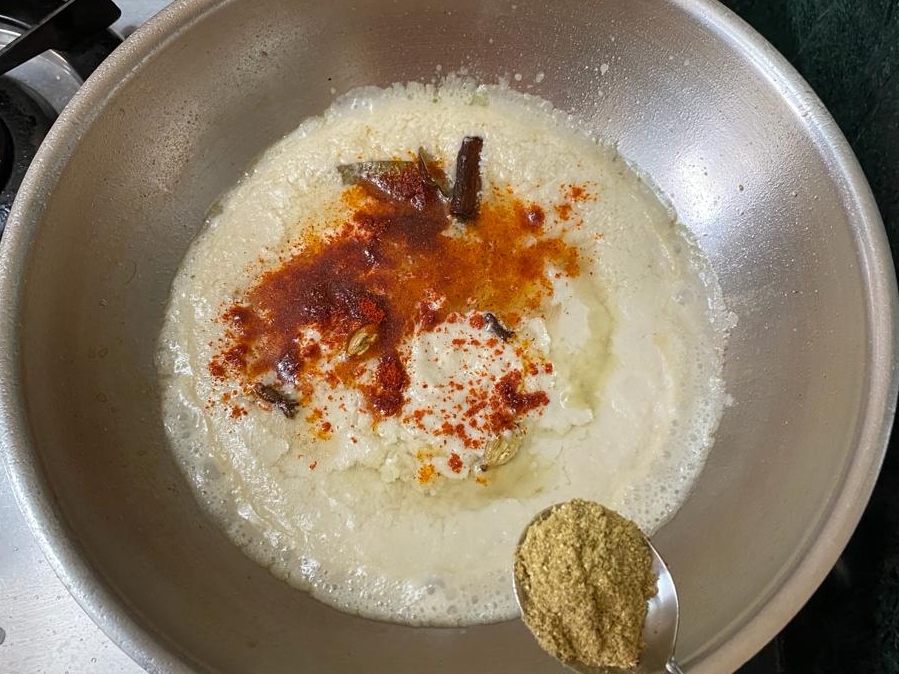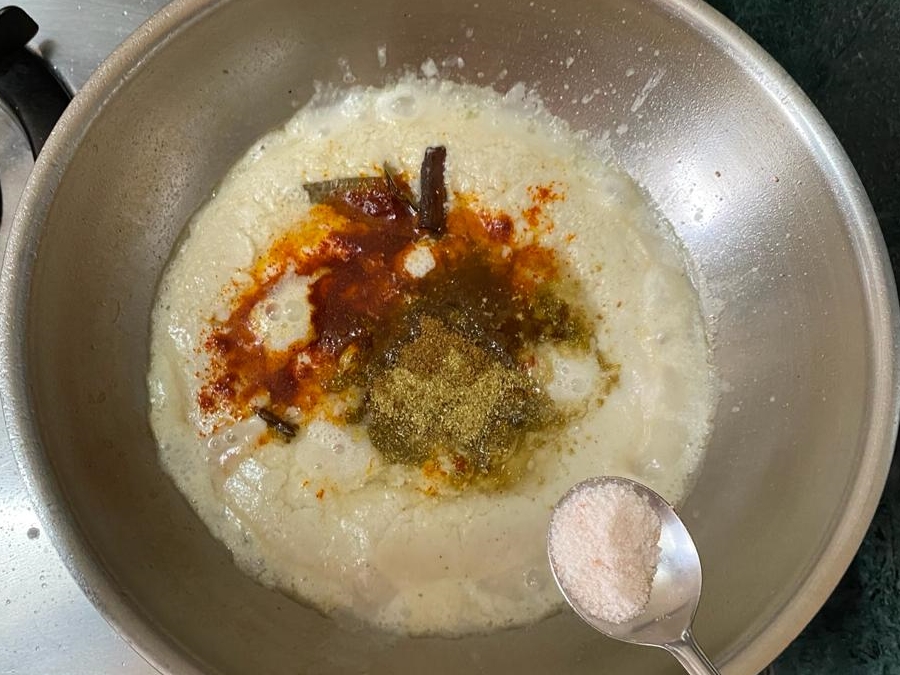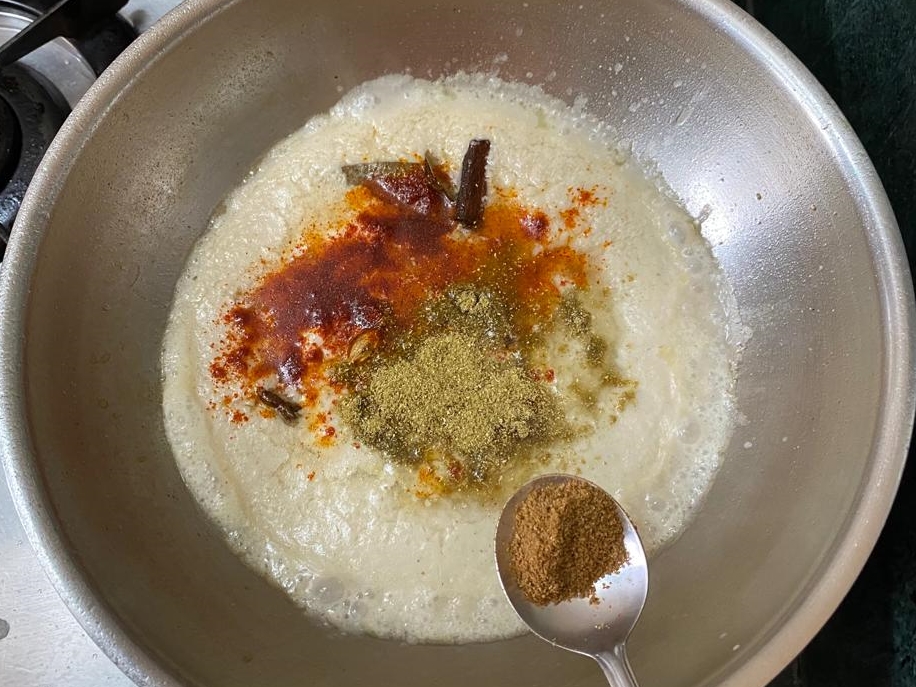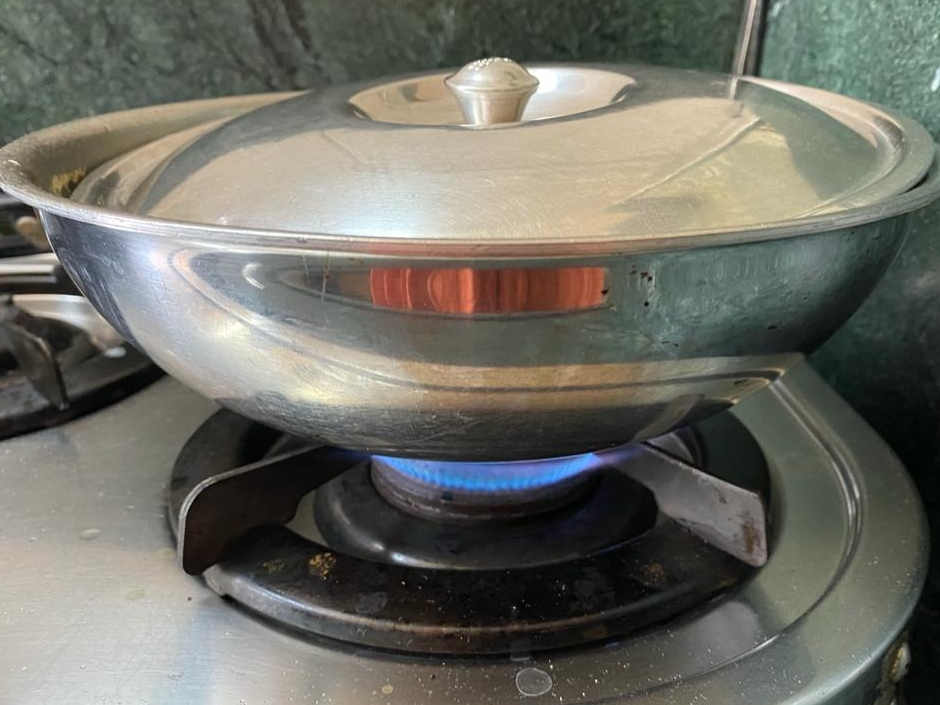 Heat oil in a pan and add the bay leaf, cinnamon, cardamom and cloves. Let the whole spices infuse the oil for 1-2 minutes on low heat and then add the onion paste, ½ cup water, red chilli powder, coriander powder, cumin powder and salt. Cover and cook for about 5-6 minutes.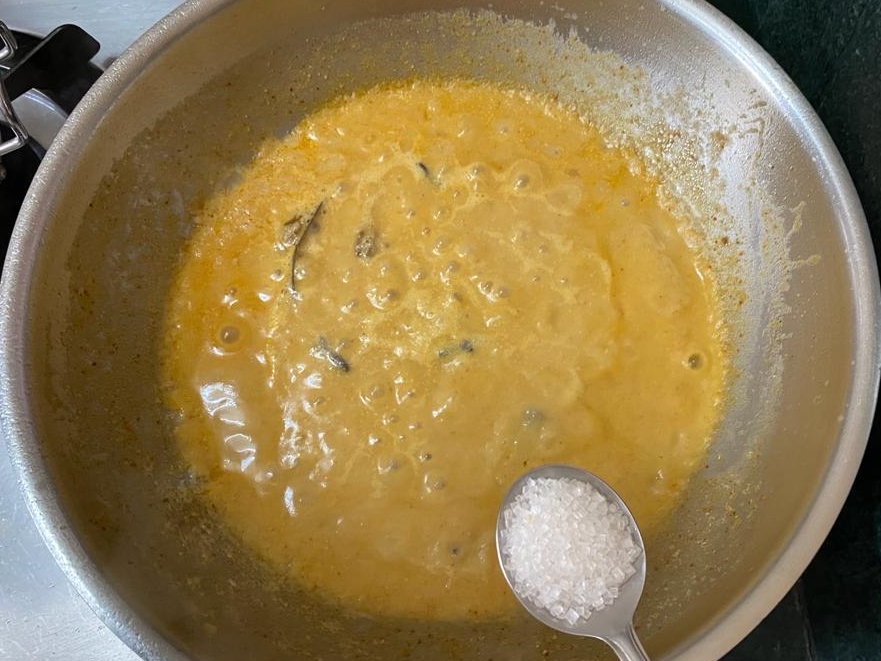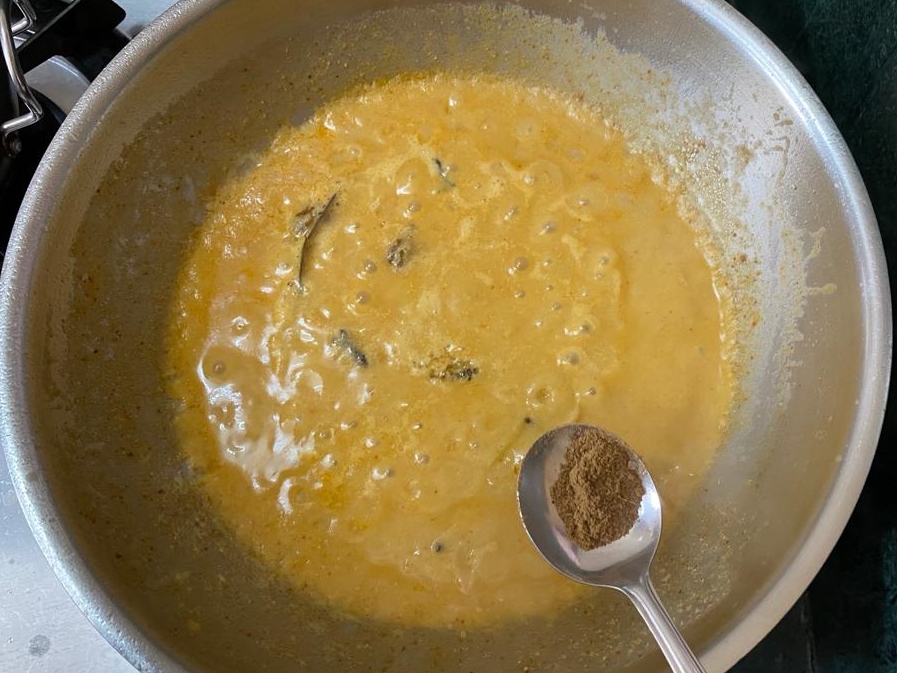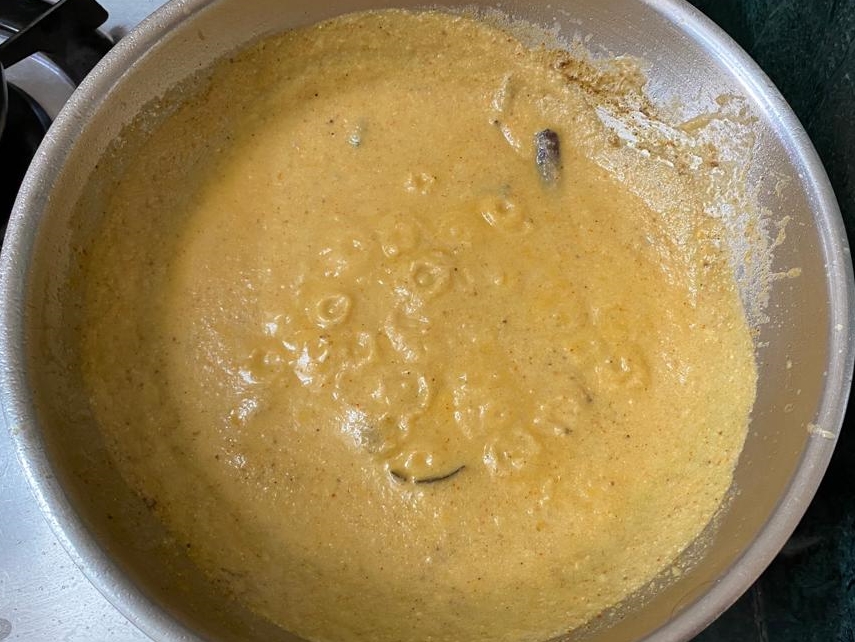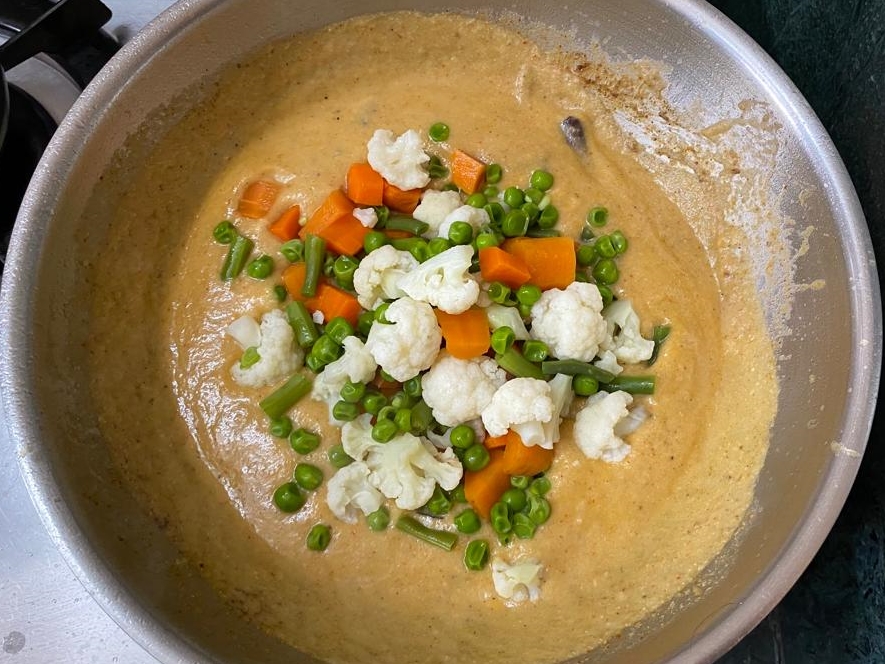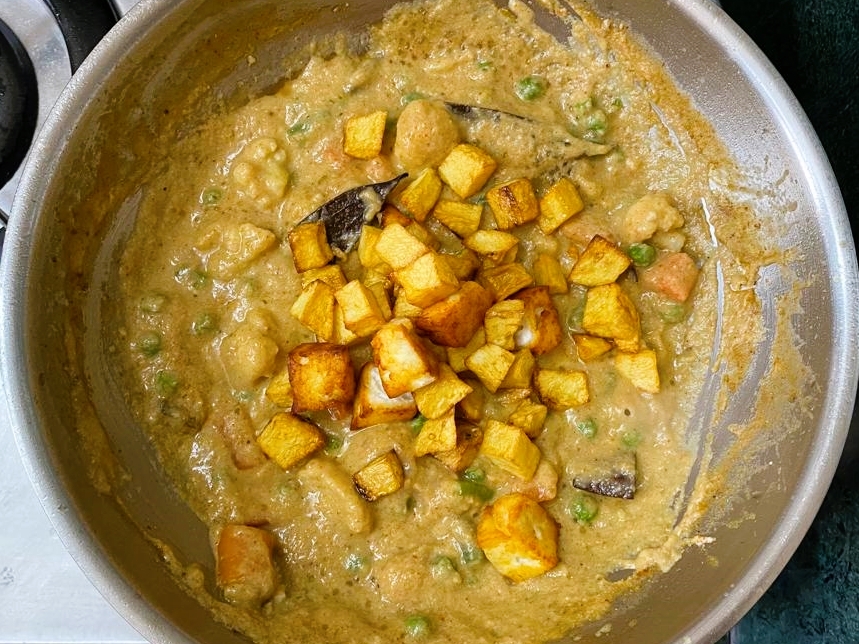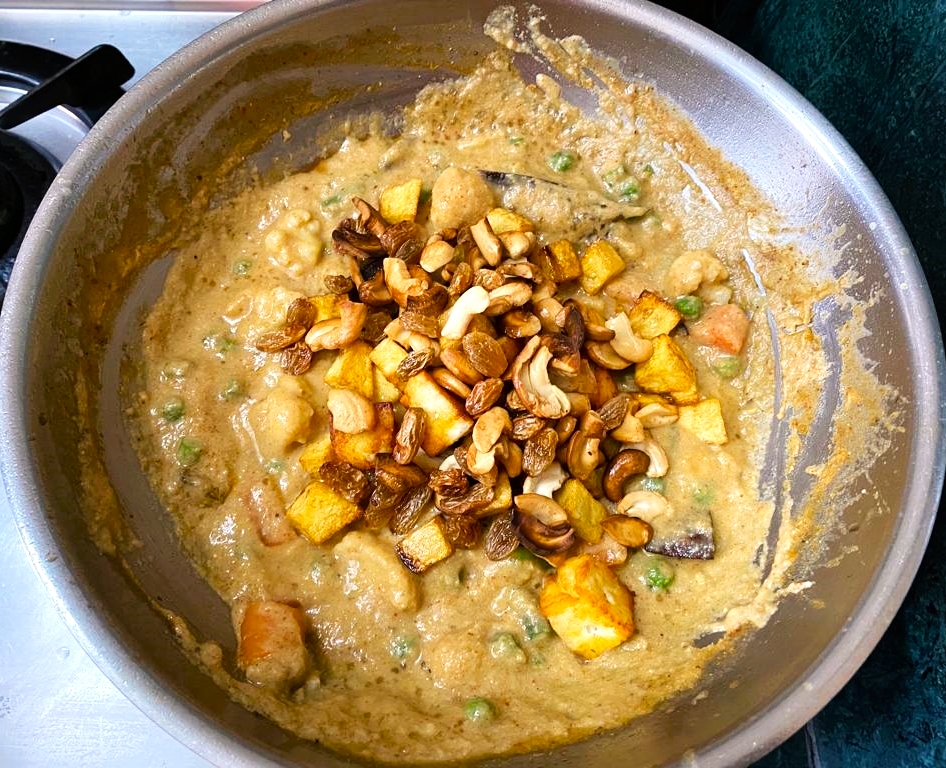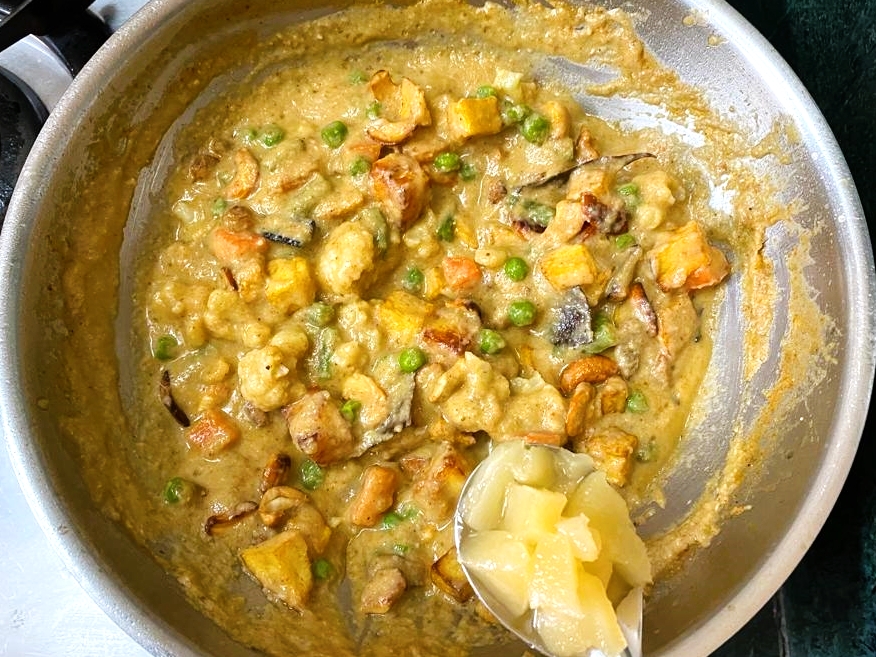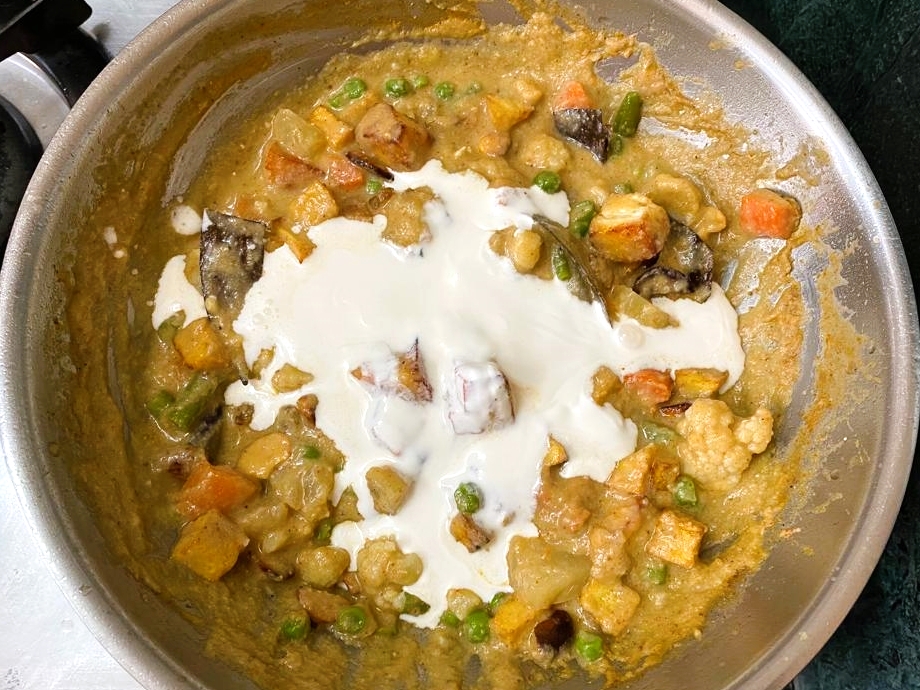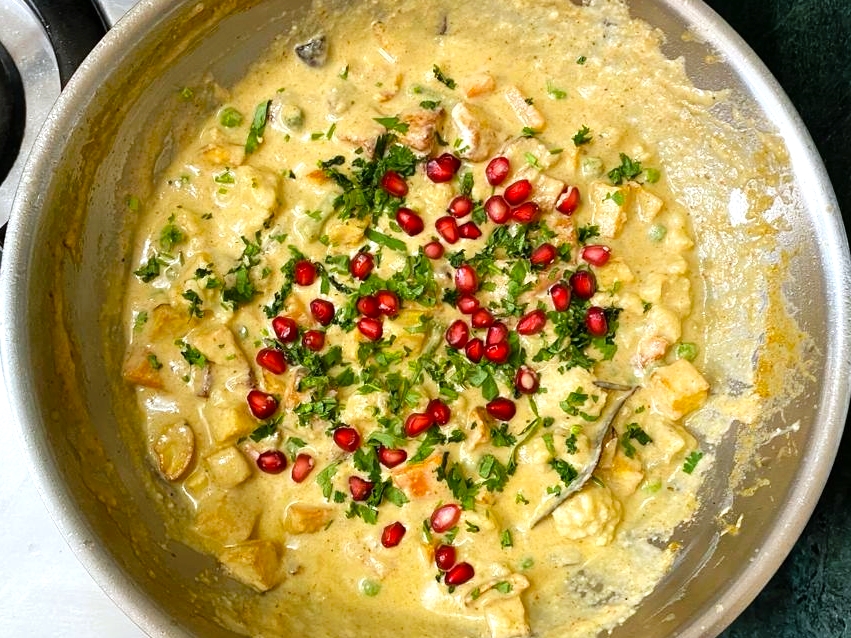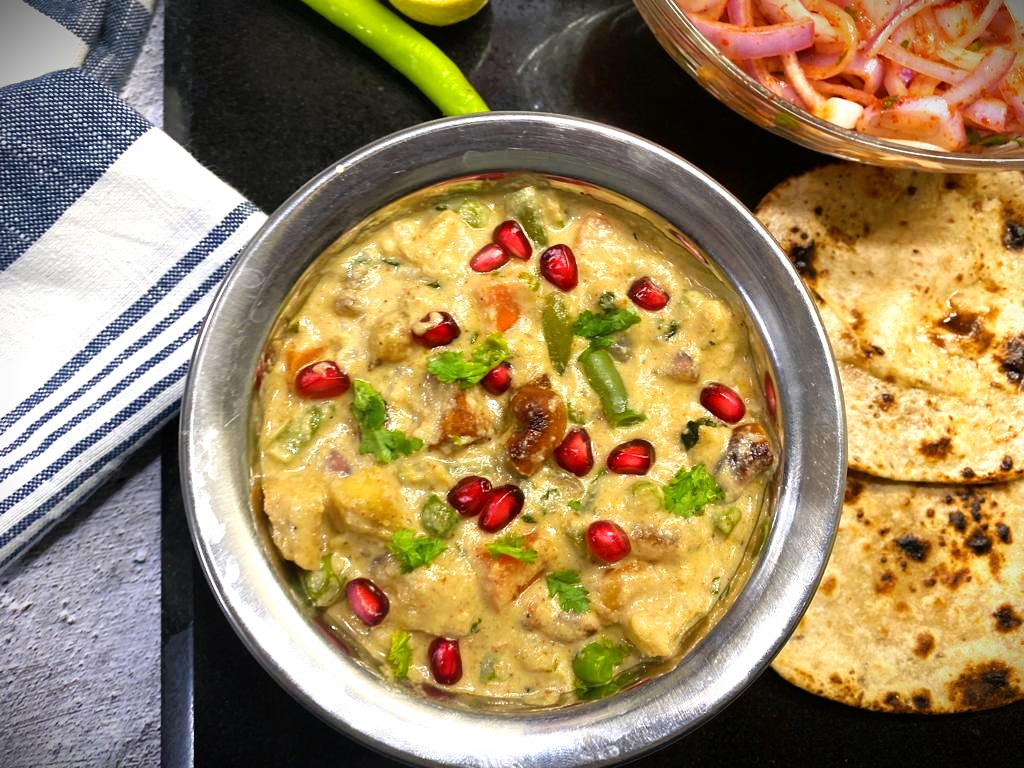 Once the gravy has cooked for 5-6 minutes, add the sugar, garam masala, boiled vegetables, fried potatoes, paneer cubes, cashew nuts and raisins. Mix and cook for 1-2 minutes. Next add the pineapple chunks and cream and cook for 1 minute to infuse the flavours.
Finally, add the coriander leaves and pomegranate and mix.
Serve hot garnished with some pomegranate seeds.