Lychee Sandesh
Lychee Sandesh is a popular dish from Bengal, India. It is prepared by stuffing sweetened and flavoured sandesh in Lychee.
Sandesh (Shôndesh in Bengali) light delicious dessert, originating from the Bengal region in the eastern part of India. Bengal is a state in the eastern part of India and well known for its rich culture, art and food and definitely sweets. Sandesh is prepared with cheena/paneer and a sweetening agent like sugar, jaggery or fresh fruit. There is a version of Sandesh in Bangladesh called pranahara (literally 'heart stealer') which is softer and made with mawa and yogurt. Sandesh is a symbol of harmony and love and its literal meaning in Hindi means 'message' and as it is a sweetened dessert it means 'sweet/good message'.
There are many ways to make Sandesh and each one varies in shape, colour, size, and even flavour. Conch shells, seashells, fish, and classic shapes like cube, oval, cylindrical are the most common shapes of Sandesh. It is quite astonishing how one recipe has so many variations, each being unique in its flavour, texture and shape.
Lychee (also known as 'alligator strawberry') is a fruit that originated in China and is now grown in the Far East and the West Indies. It is about the size of a small plum and has a thin, hard, rough shell that comes away easily from the flesh. The white, juicy opaque flesh has a similar texture to grapes but is chewier, with a fragrant and sweet flavour and floral delicate scent. There is a large dark brown stone in the center.
Lychee and Sandesh are a match made in heaven as it complements not only the flavours but also the texture. Chewy lychee with a soft melt in the mouth sandesh, flavoured with saffron and pistachio. Lychee Sadesh is a reminiscent of a tropical paradise!
Bengali Sandesh is a versatile sweet as there are many variations made for different festive occasions for example Classic Sandesh, Strawberry Sandesh, Layered Mango Sandesh, Petha Sandesh, Steamed Sandesh and Mango Pistachio Sandesh to name a few.
Ingredients
10-12 lychee
1 cup grated paneer
2 tablespoons powdered sugar
½ teaspoons cardamom powder
2 tablespoons milk
Few saffron strands
1 teaspoon finely chopped pistachios
Directions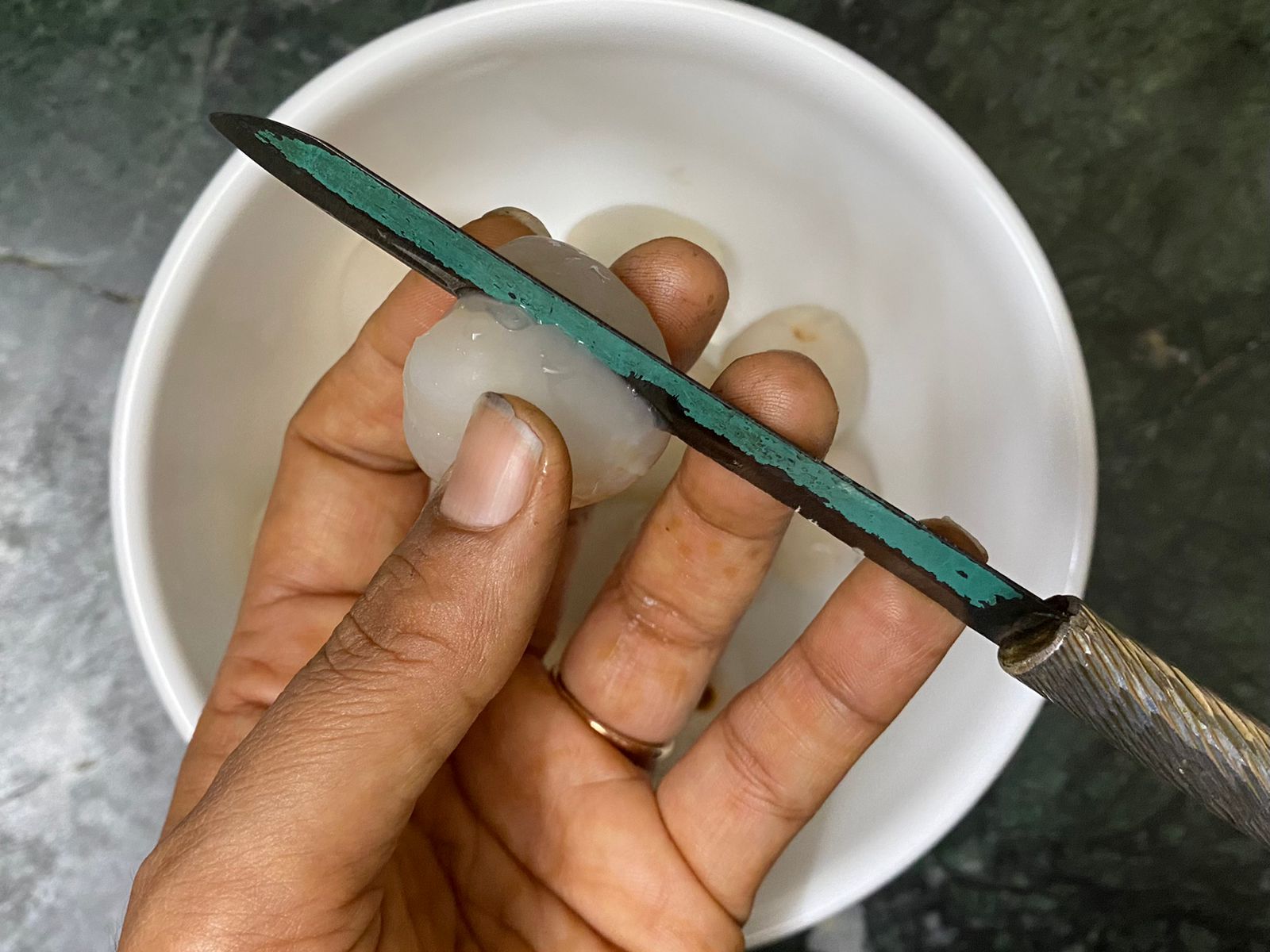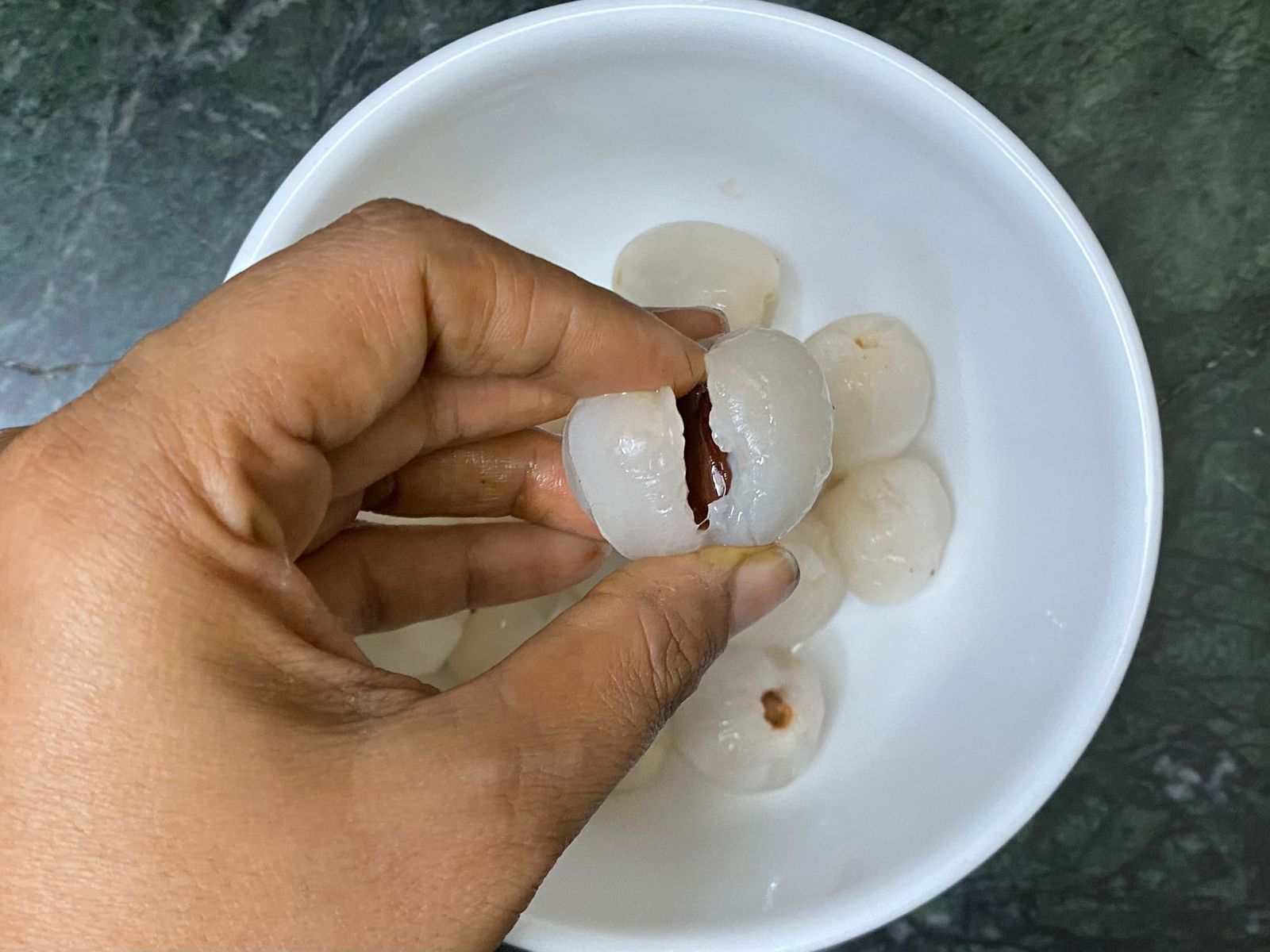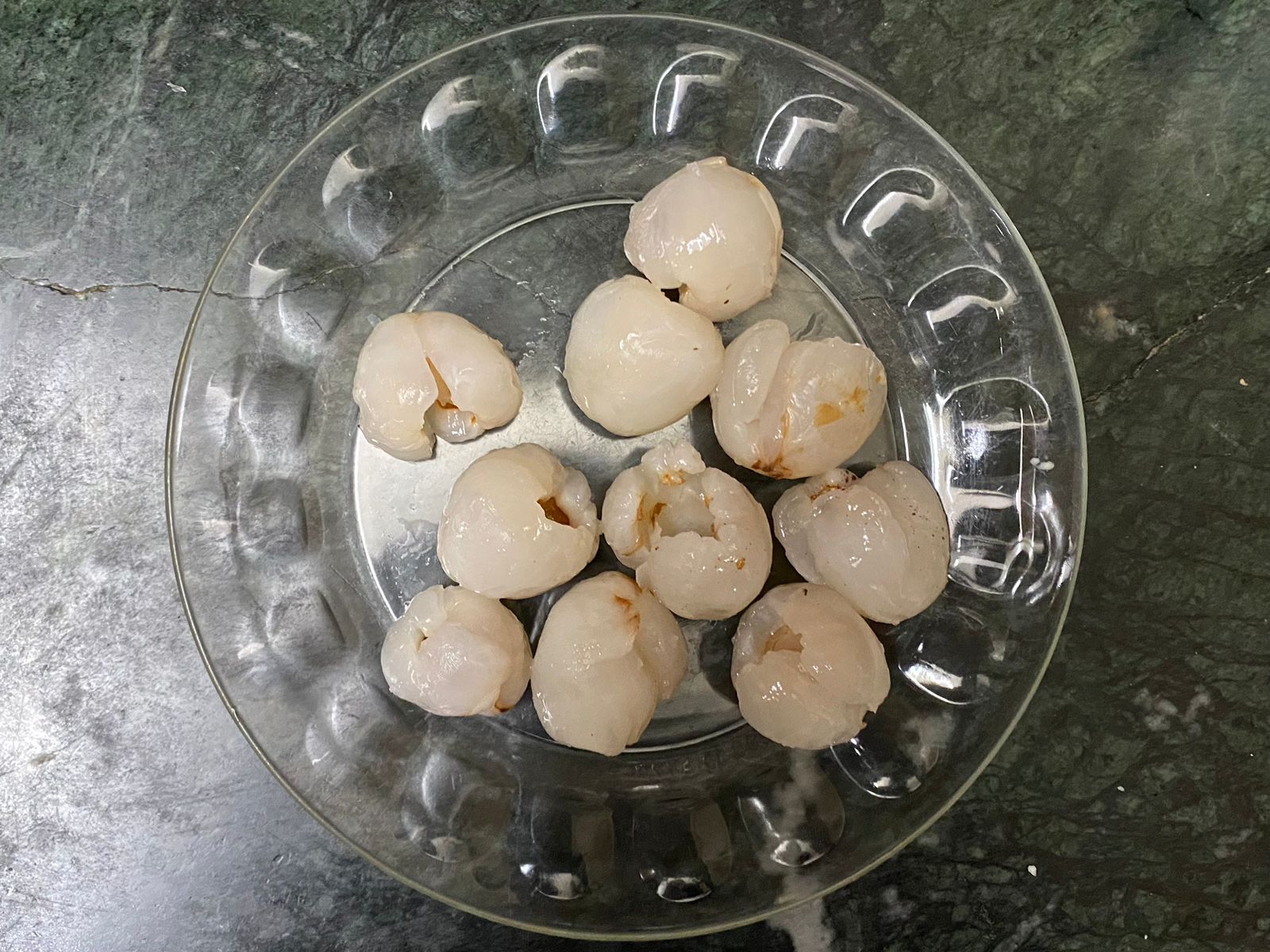 Slit the lychee from the center to remove the seed. We do not want to cut it in half, just a slit on one side so the lychee is still intact.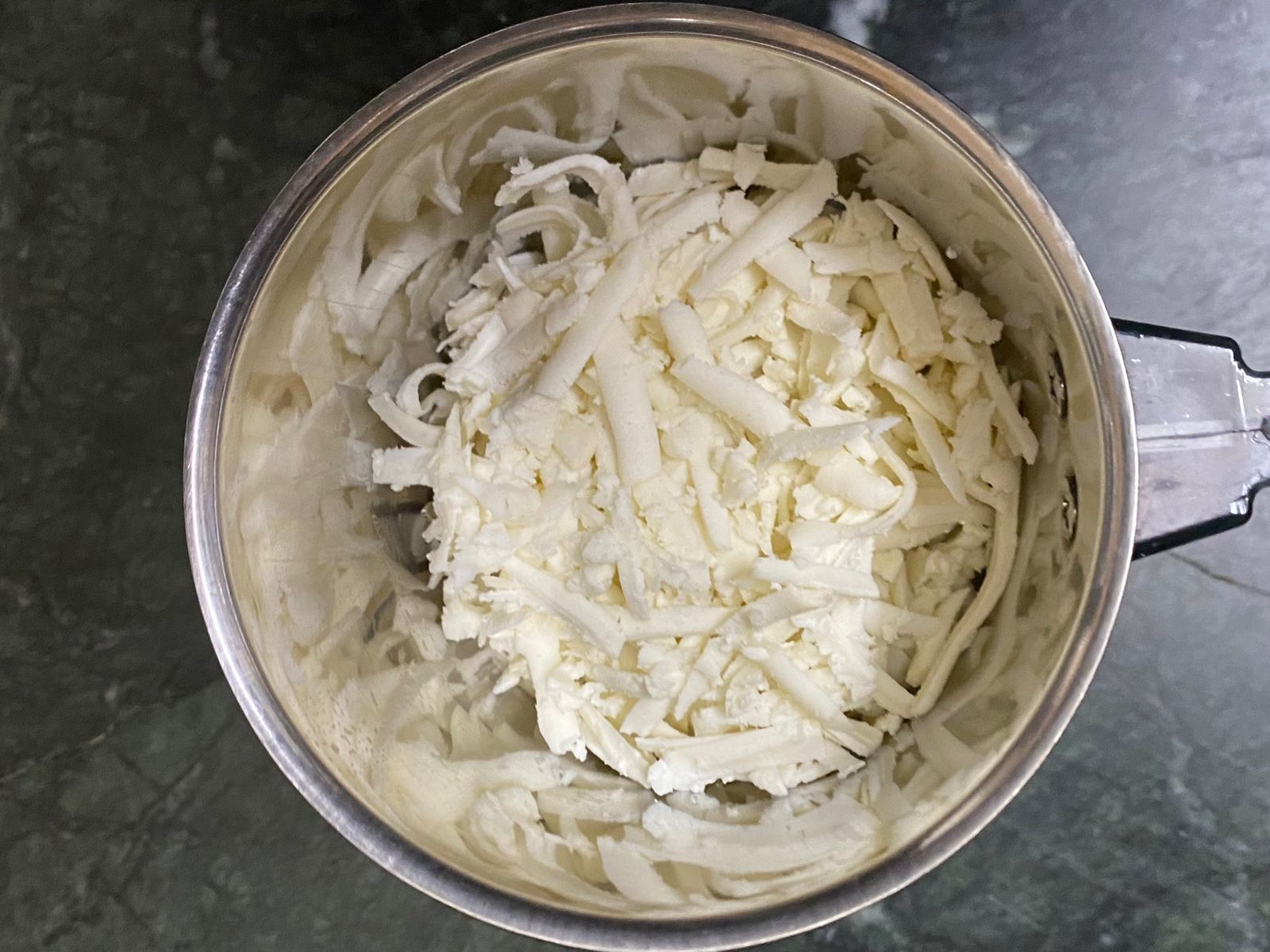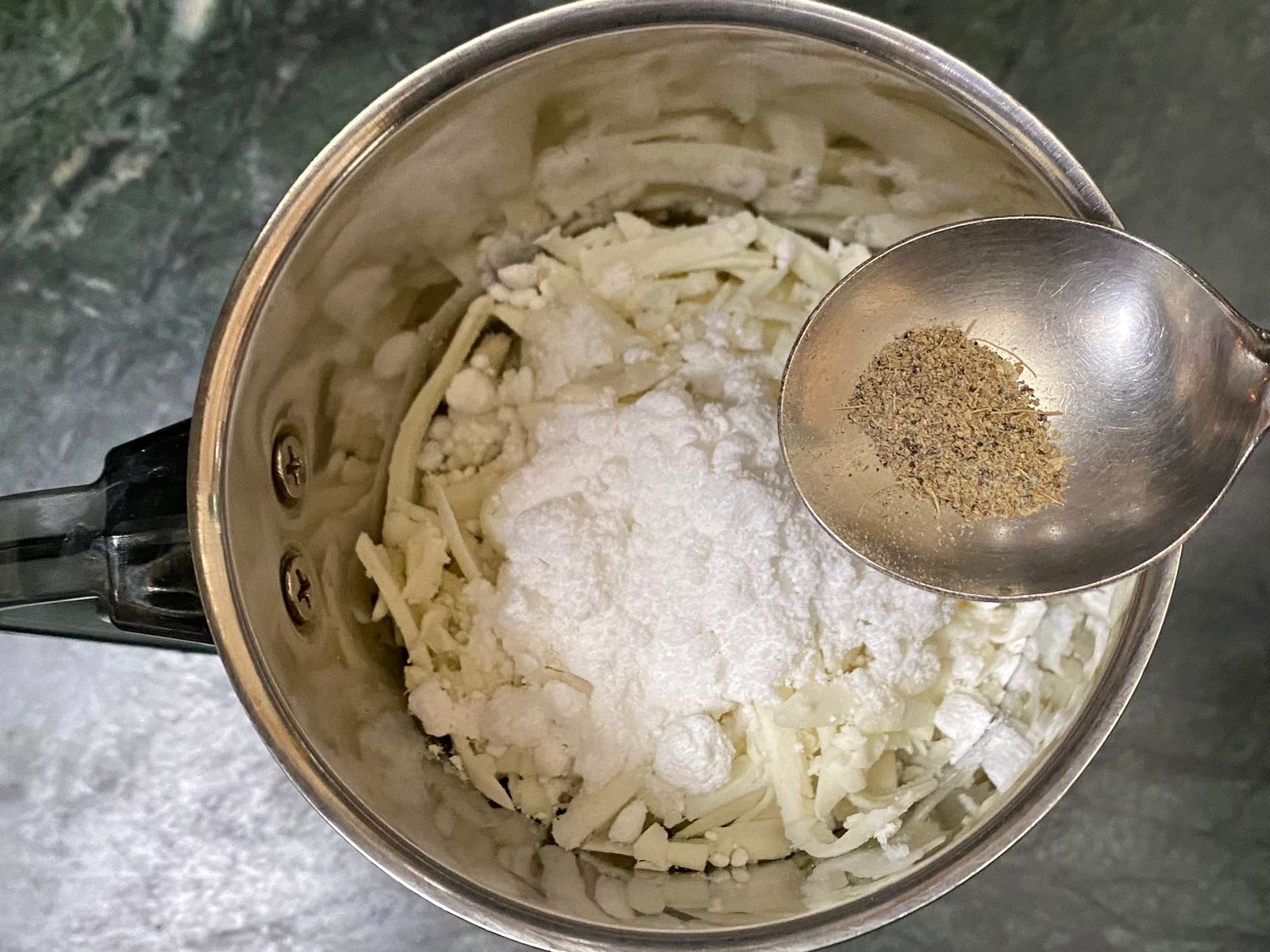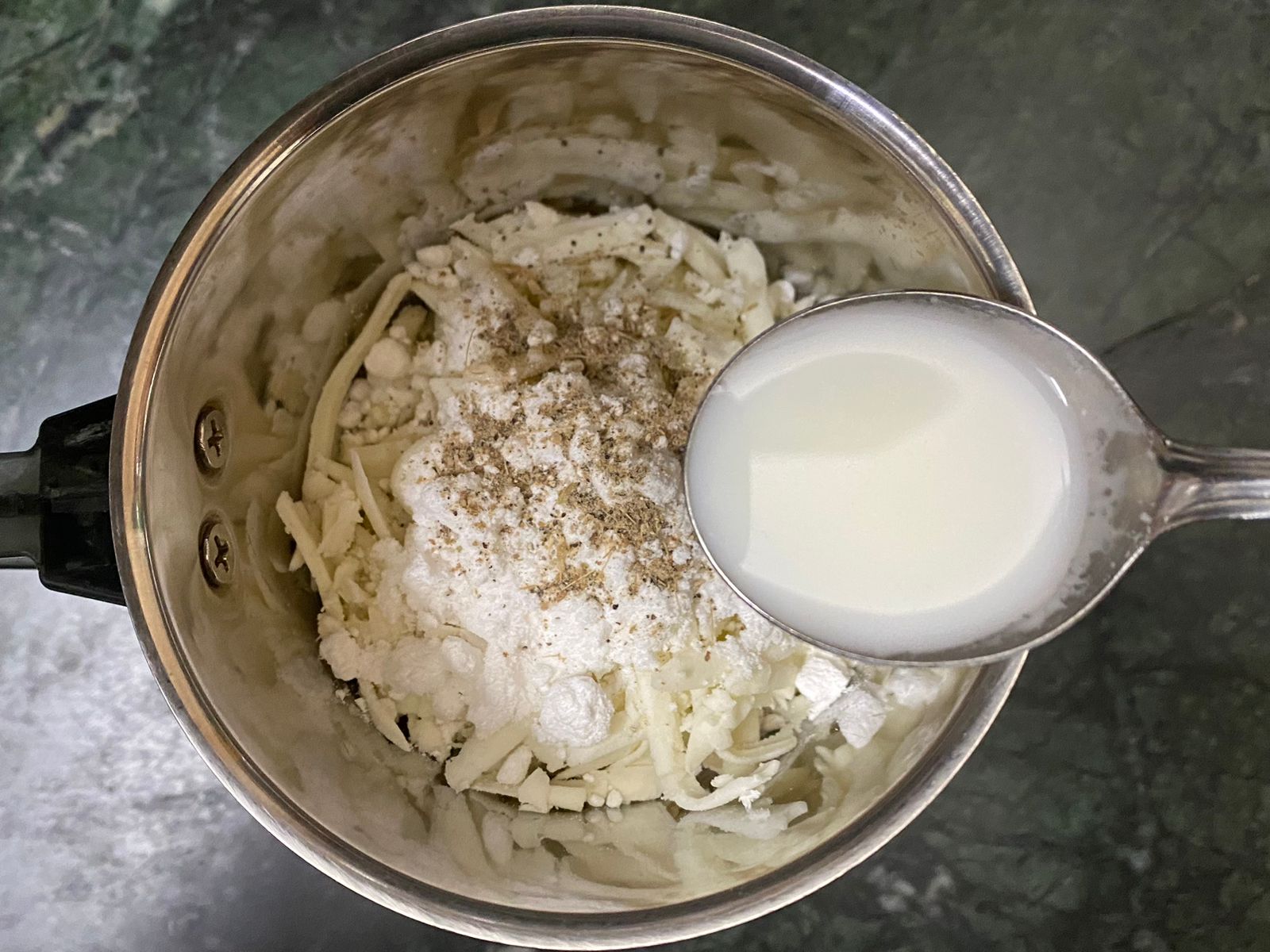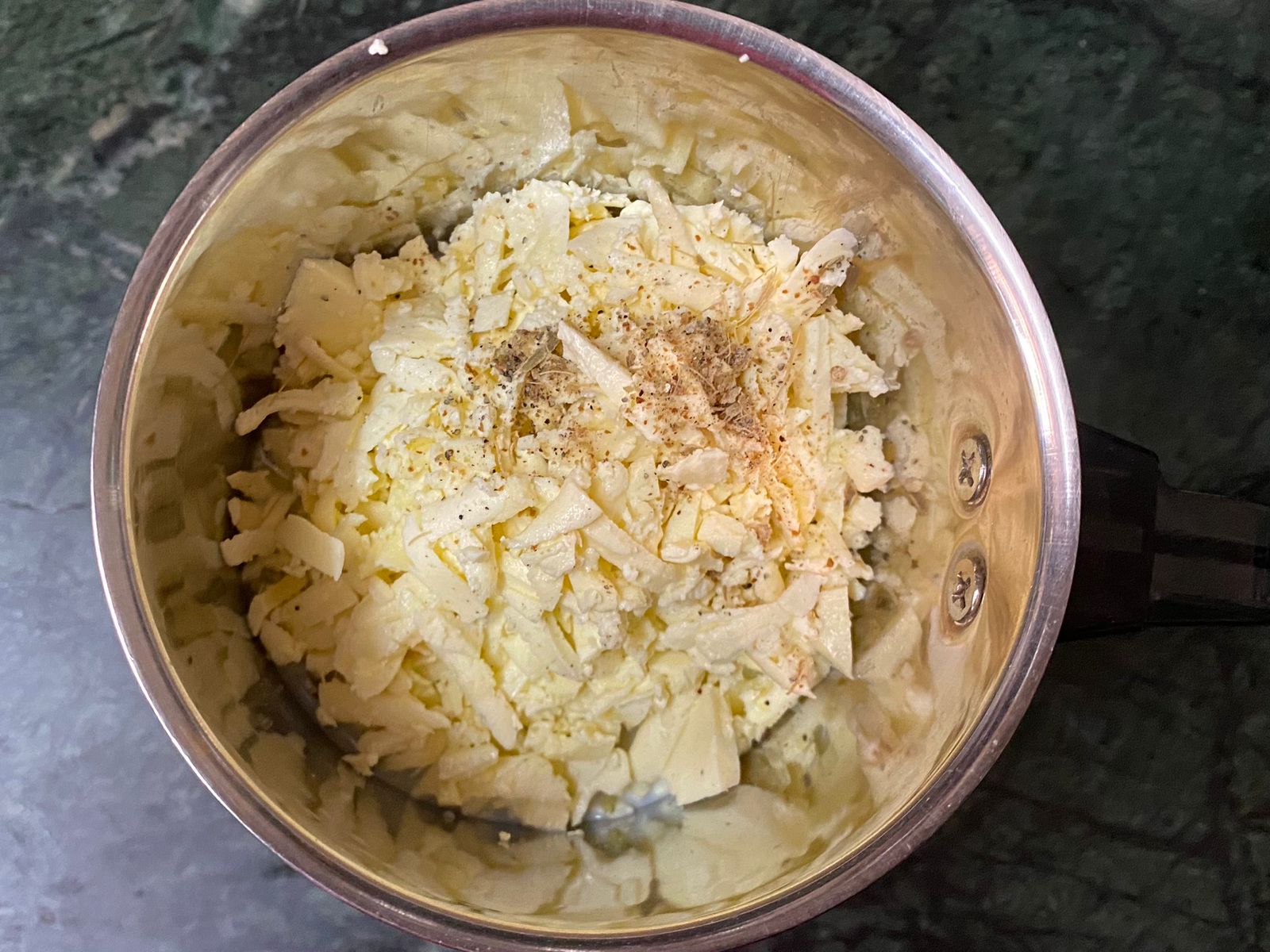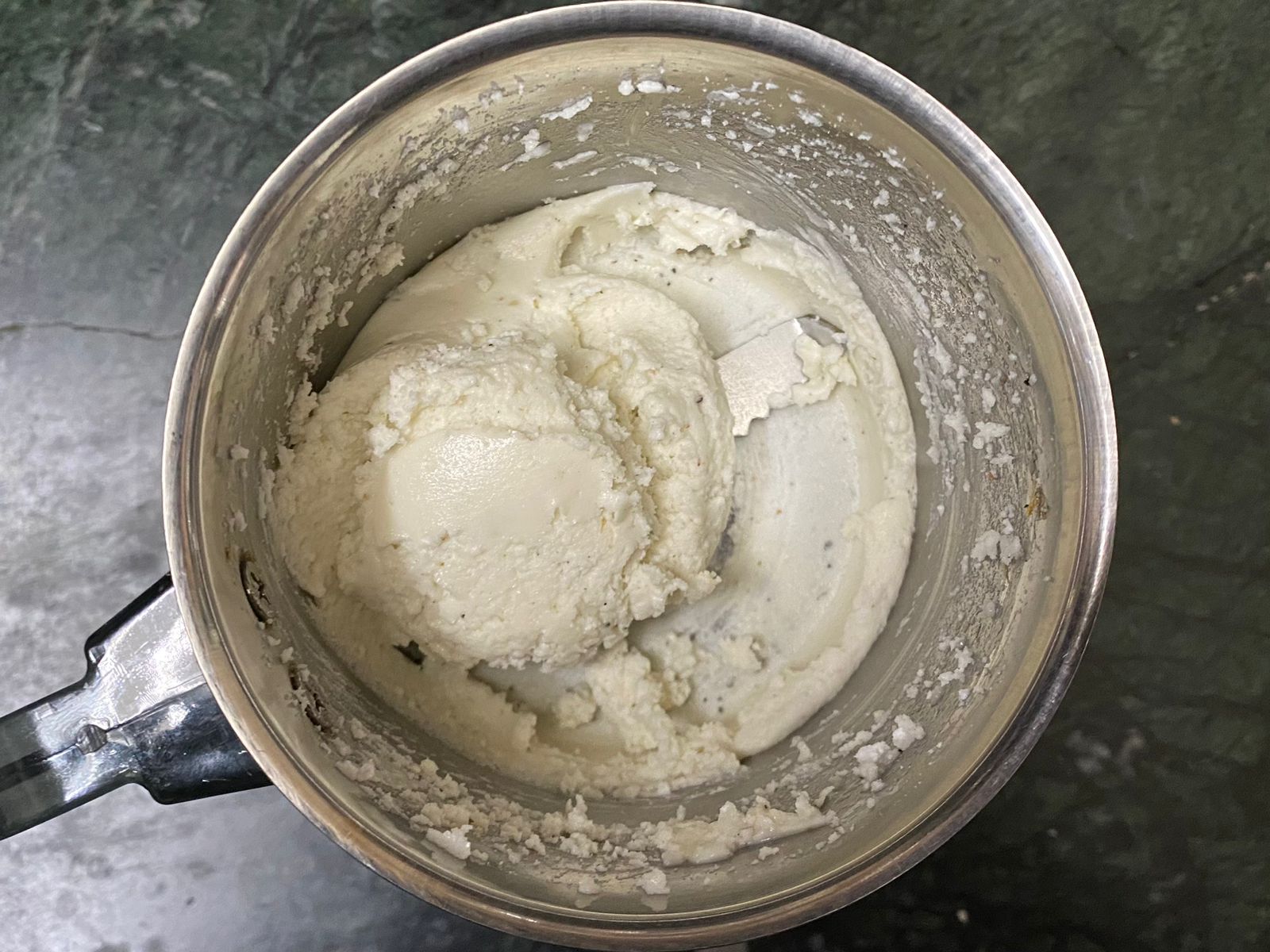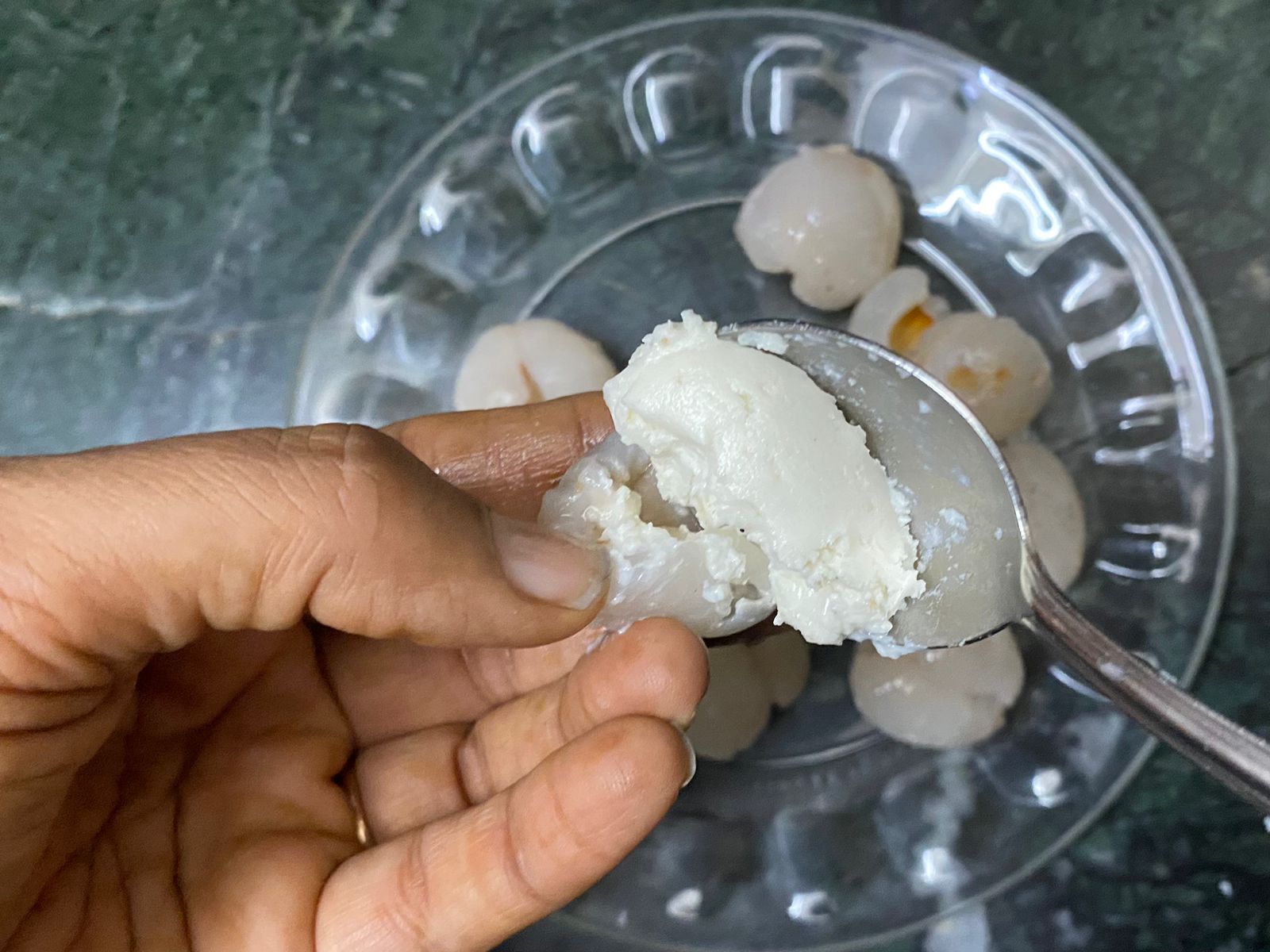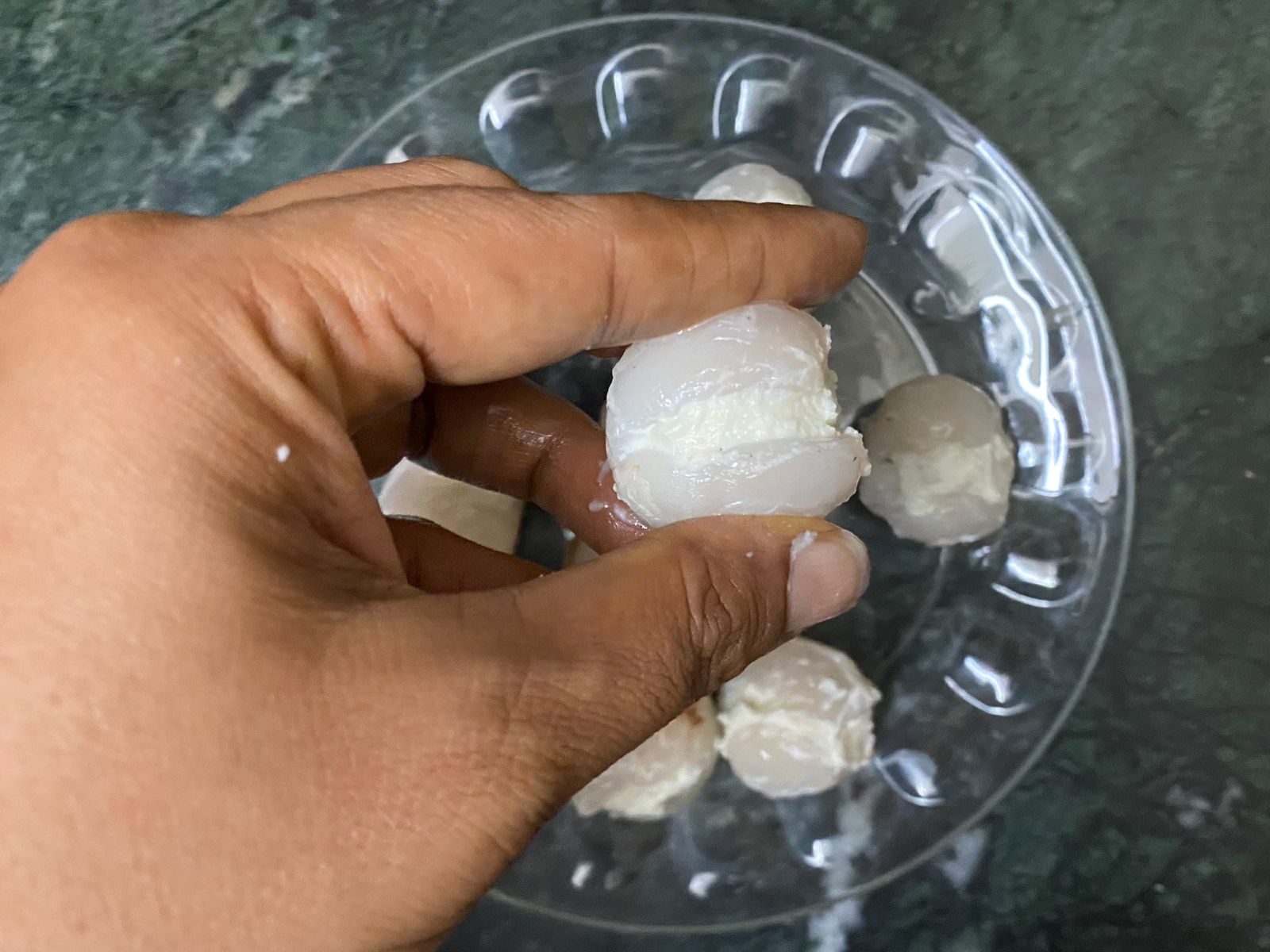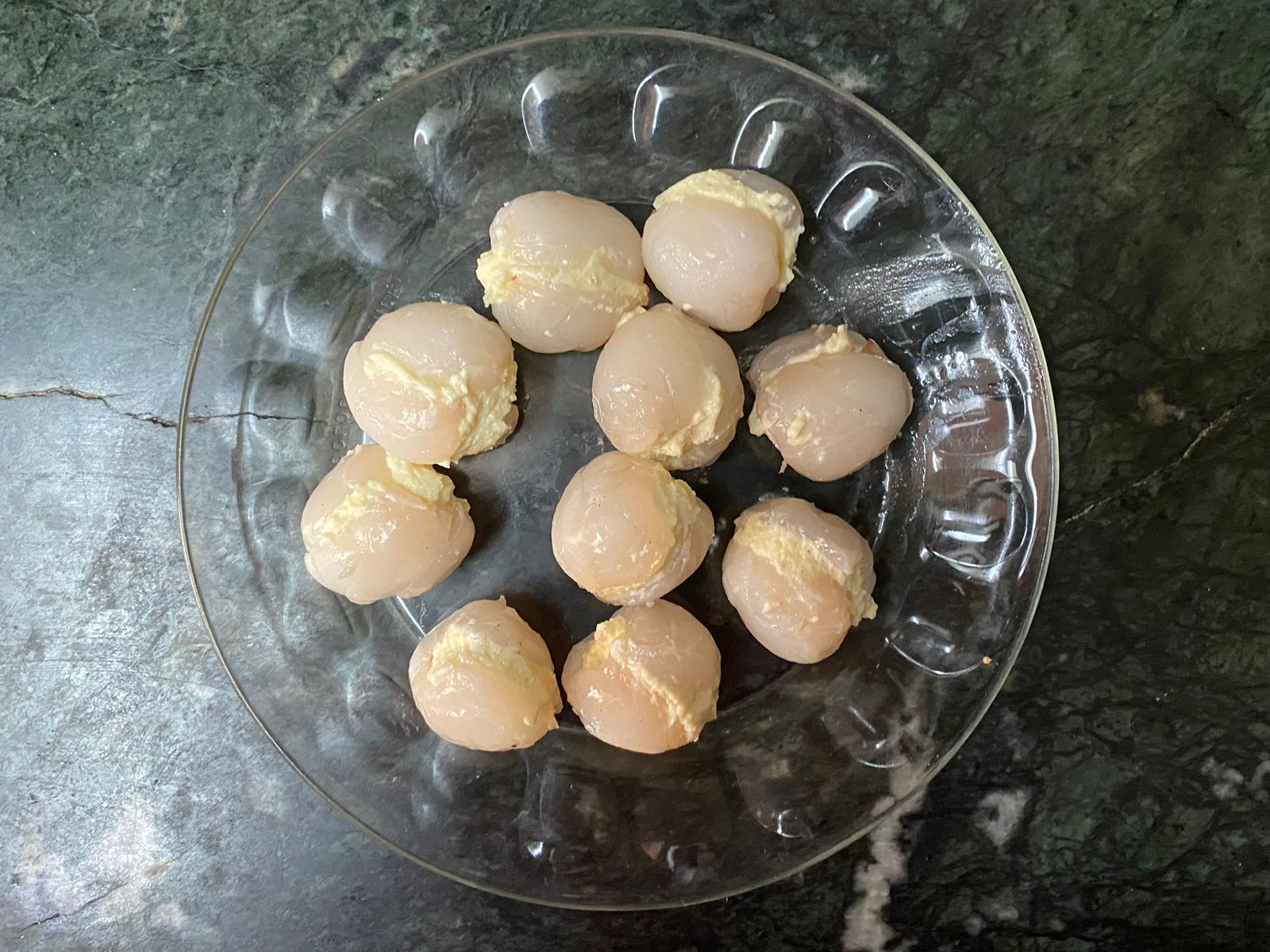 Pulse together paneer, castor sugar, cardamom powder and 1 tablespoon milk to a smooth textured sandesh.
Gently stuff the lychee with the prepared sandesh.  Usually, ½ teaspoon sandesh is enough for each lychee but adjust the quantity according to the size of the lychee.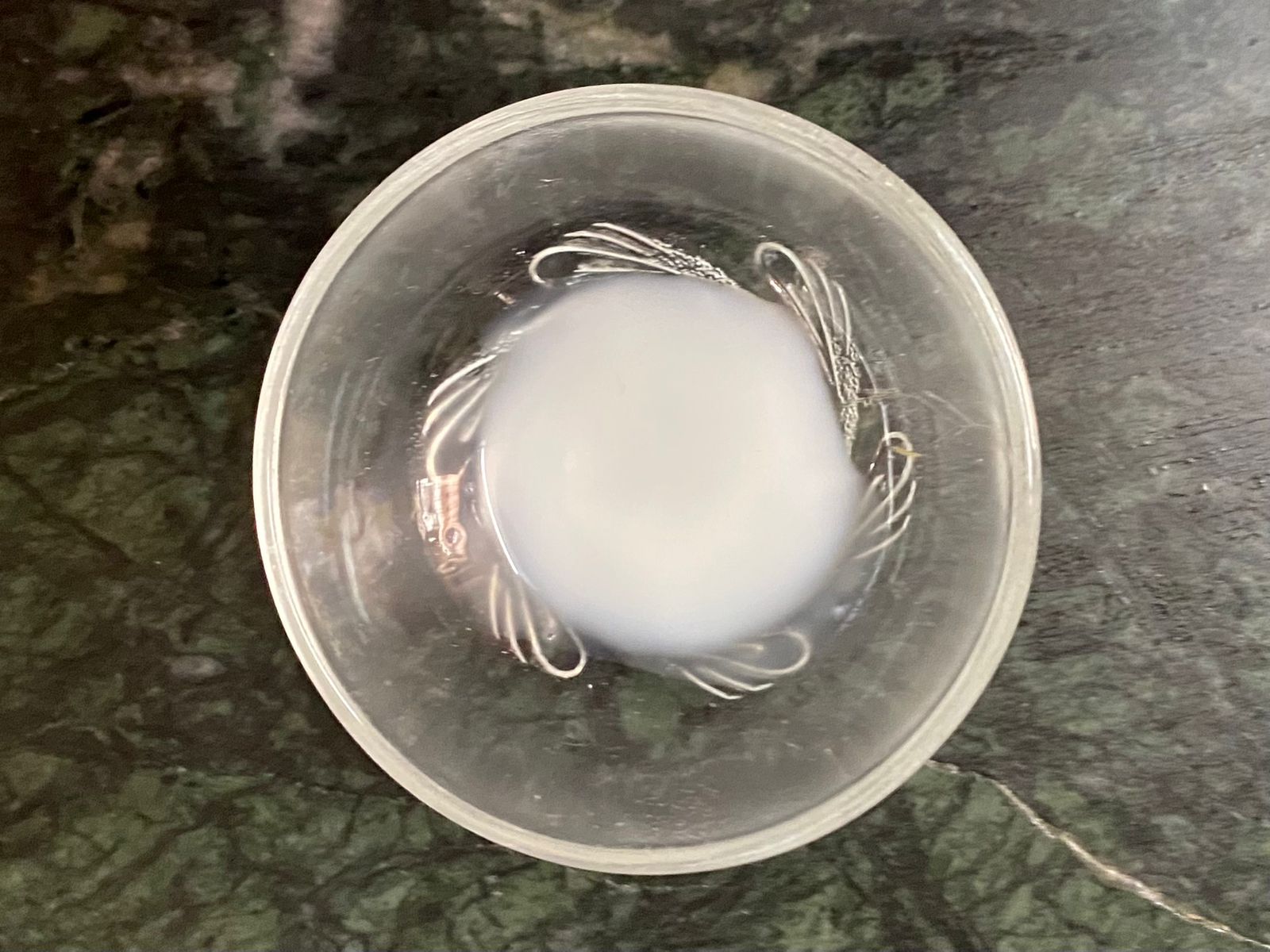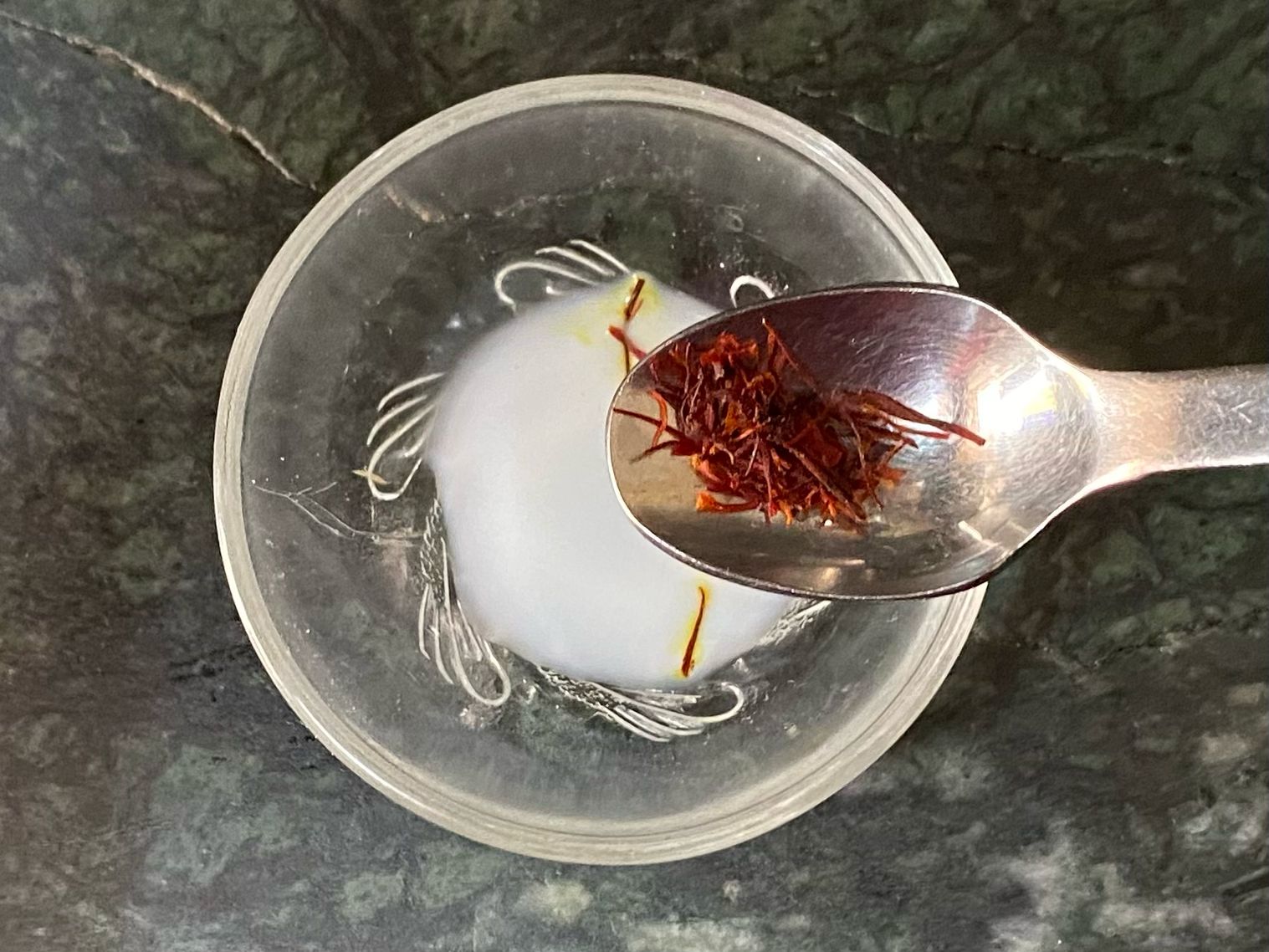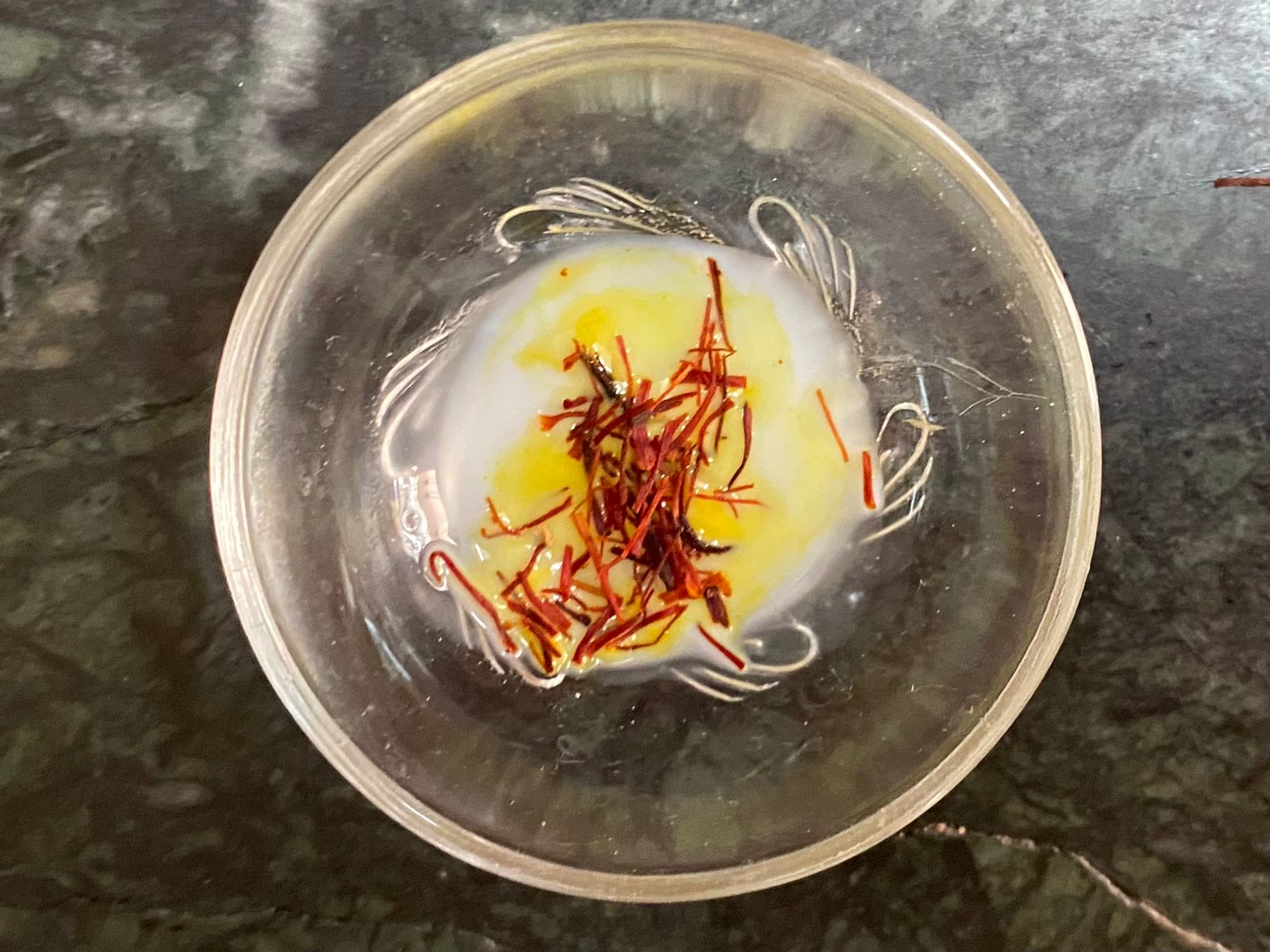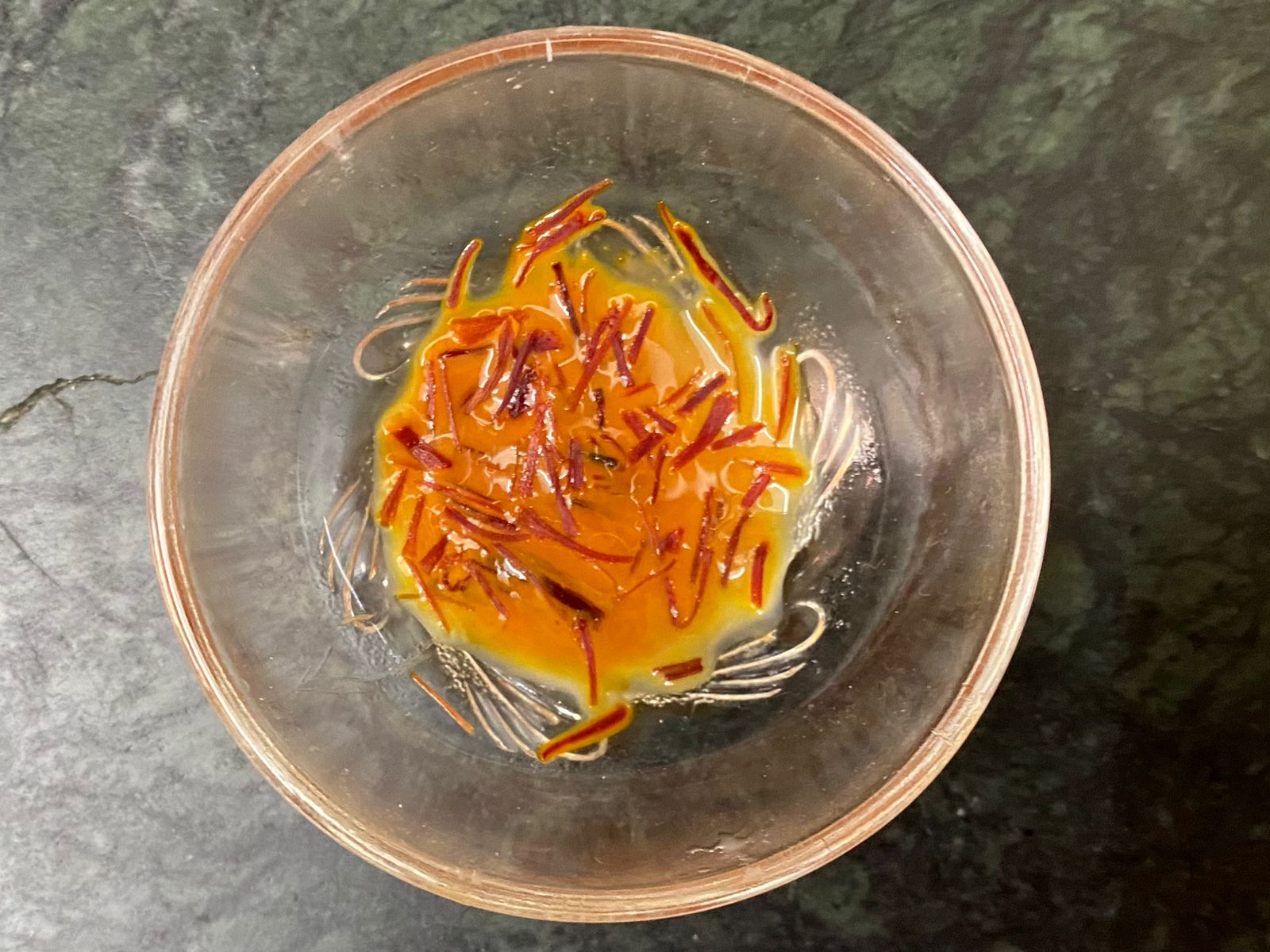 Dissolve saffron in 1 tablespoon milk and keep it aside for about 5 minutes.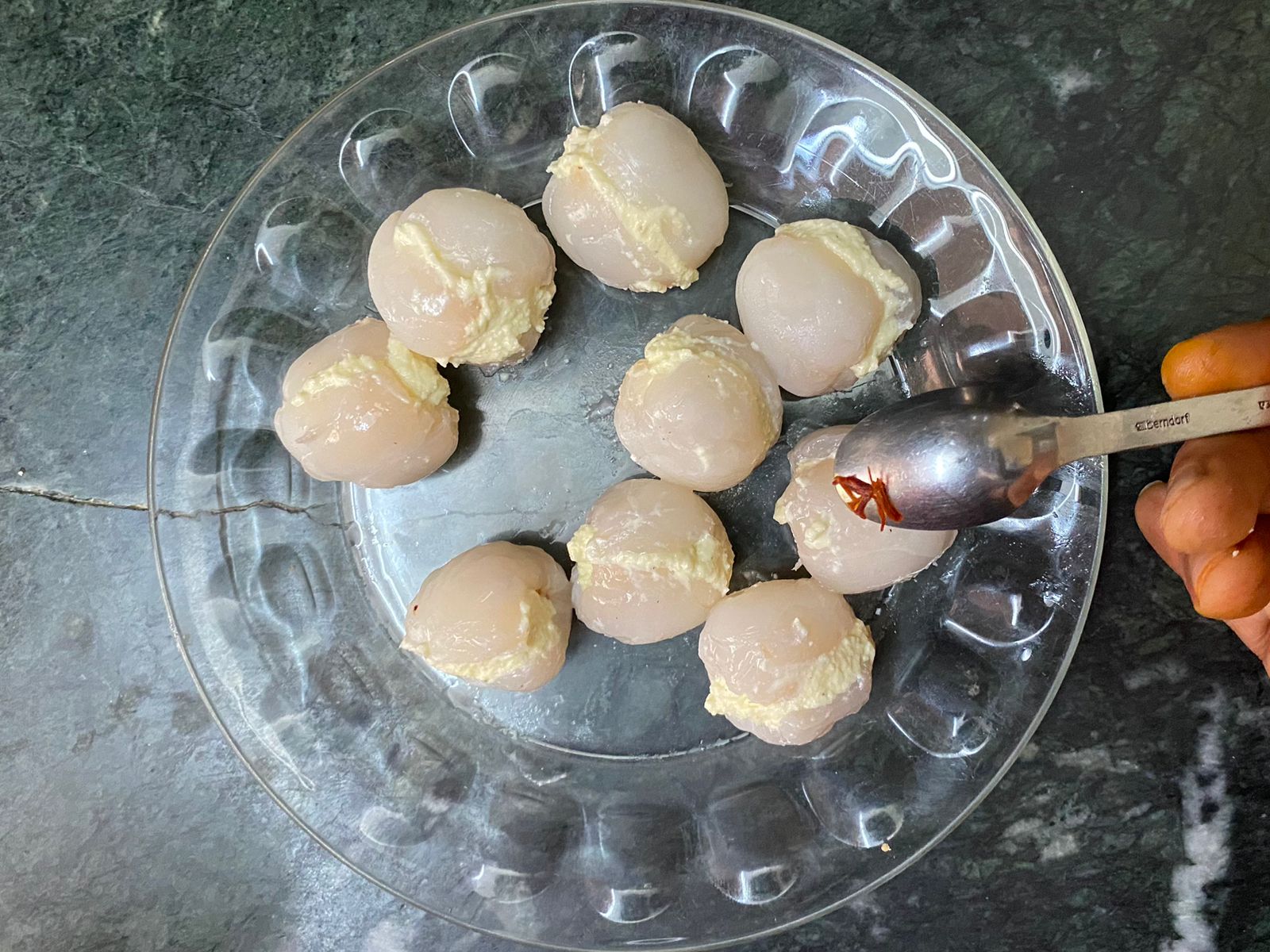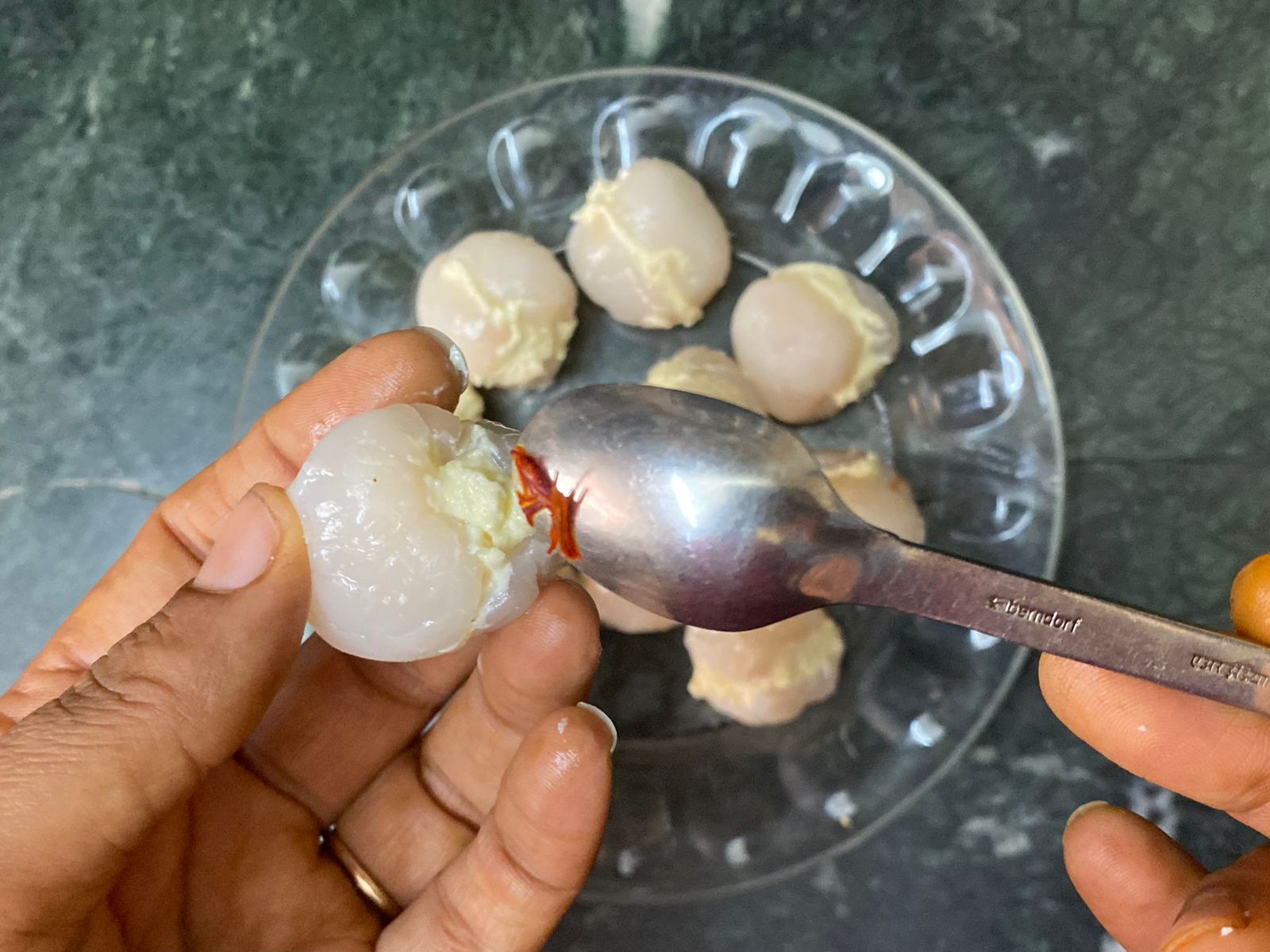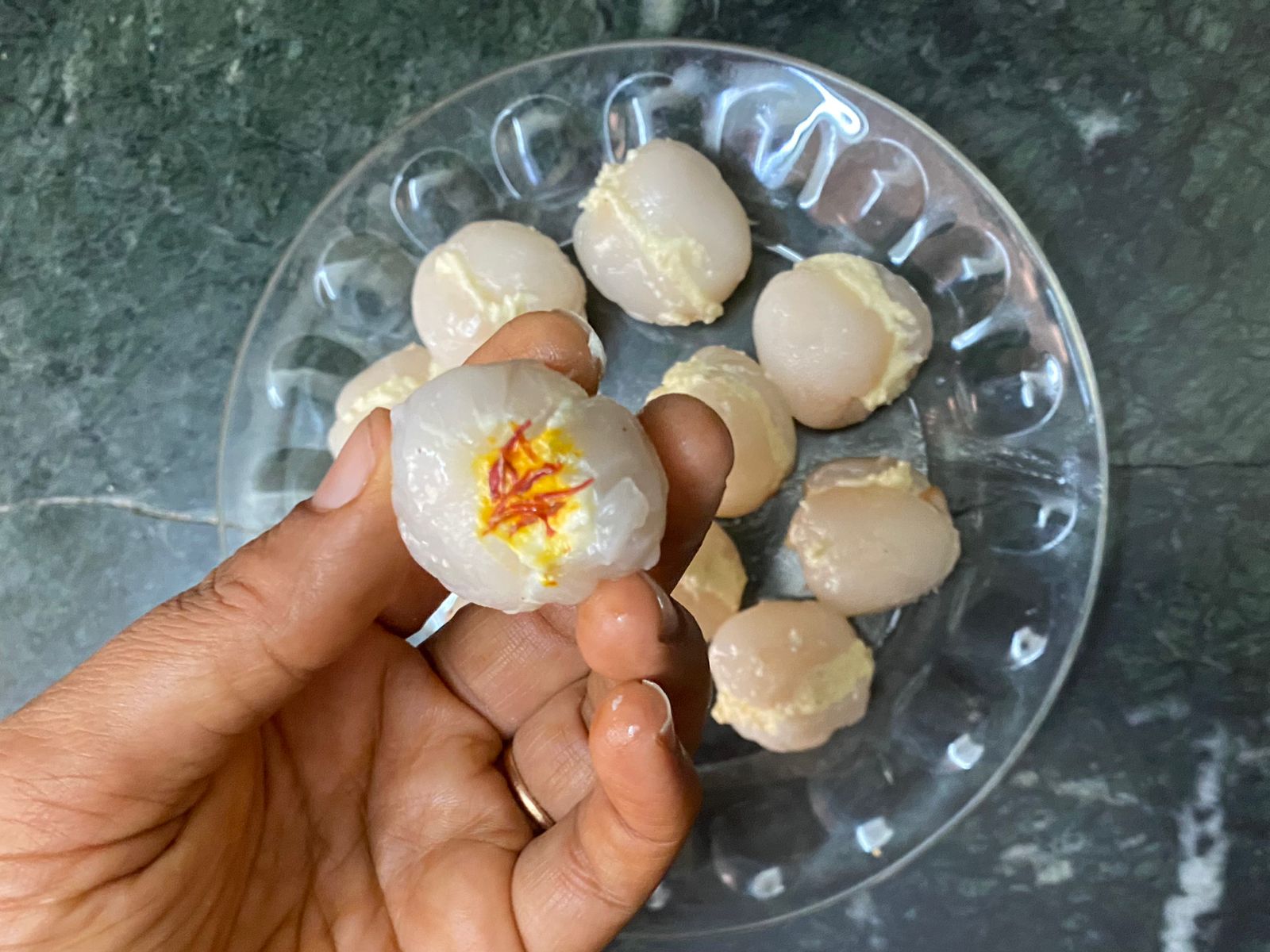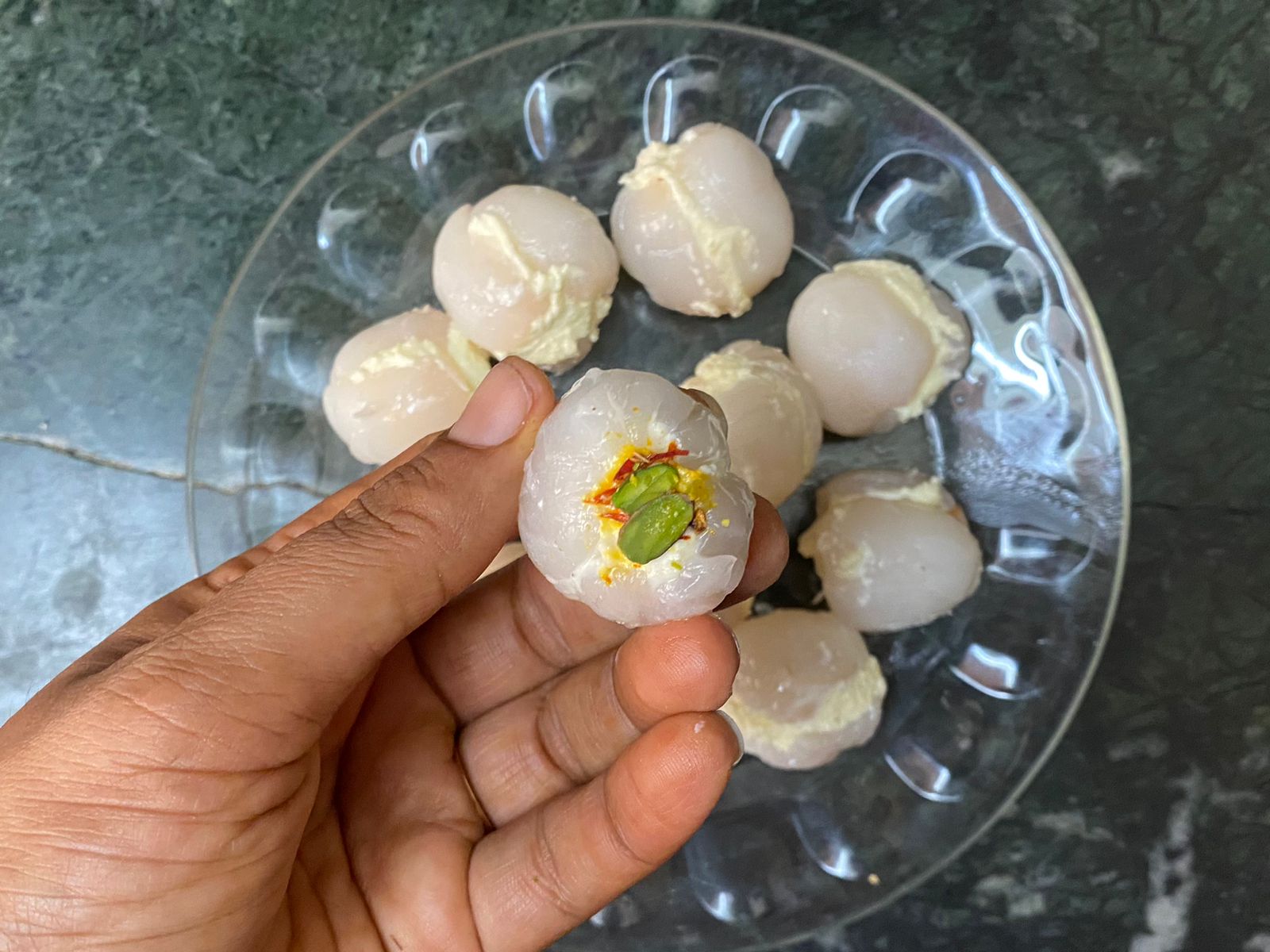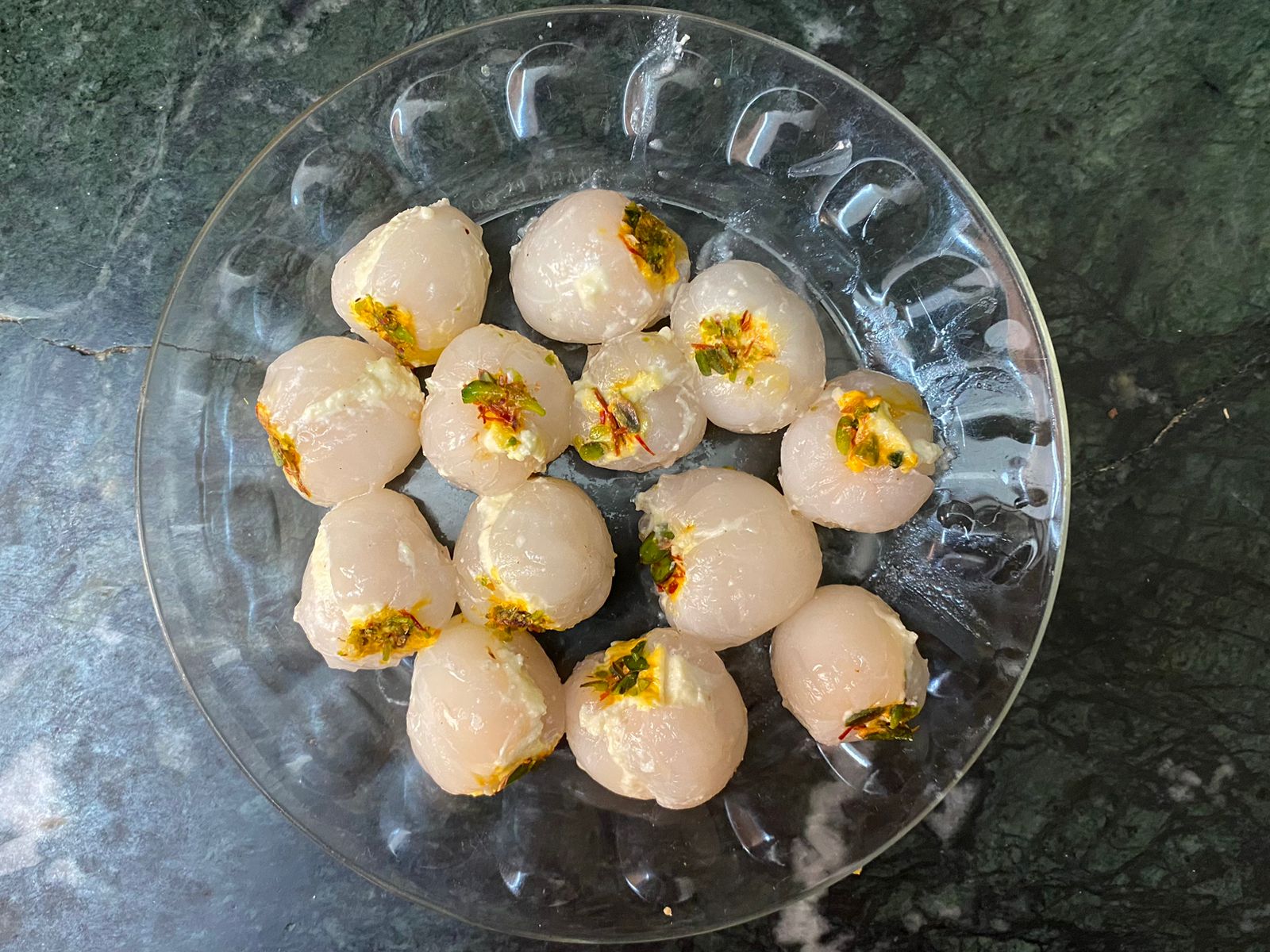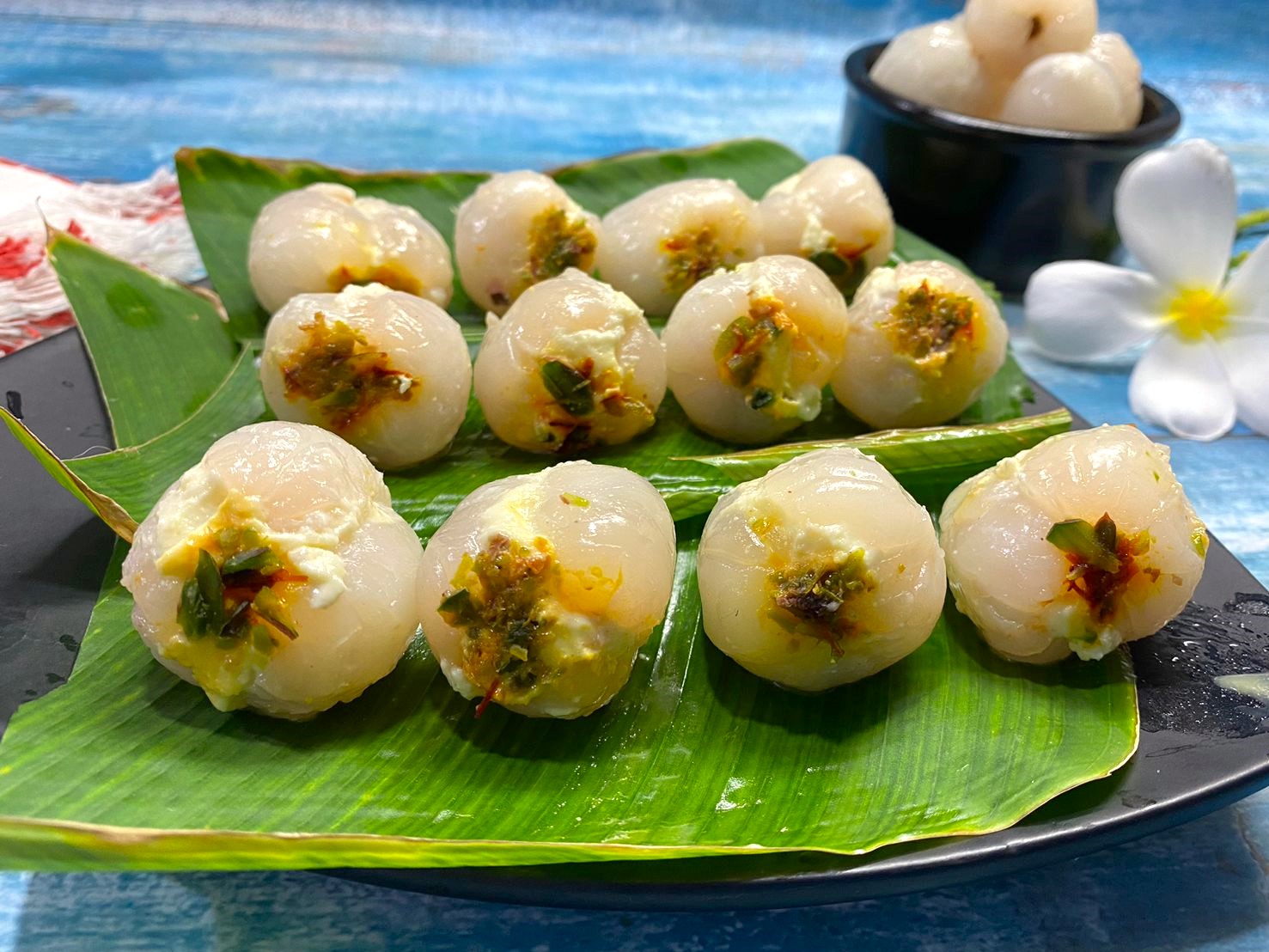 Using the back of a teaspoon, dab some soaked saffron on one end of the stuffed lychee and some pistachios.
Chill the lychee sandesh in the refrigerator for an hour to cool.
Enjoy it chilled!