Kung Pao Paneer
Kung pao Paneer is a spicy Indo-Chinese dish prepared with shallow-fried paneer cubes sauteed in Chinese sauces with crunchy roasted peanuts and red chillies making it sweet, spicy and nutty. Kung Pao Paneer is also known as Gong Bao or Kung Po.
Traditionally, Sichuan peppercorns and Chaotian chillies are used in this classic Sichuan dish for the fiery hot flavours, however other regional versions are often less hot than the Sichuan version. Chaotian chillies, also known as 'heaven facing chillies', are hot and fragrant chillies. Unlike other chillies which point down as they grow, the Chaotian chillies points up to the sky – hence the unusual name. Dried Chaotian chillies are a pantry staple in Sichuan cuisine. They are fried in oil to release their fragrance and then paired with cold and numbing Sichuan peppercorns for a classic Kung Pao recipe.
My Indo-Chinese version replaces some of the hard-to-find-ingredients with staples from any supermarket. Kung Pao Paneer has all the same spicy and sour appeal as traditional kung pao and makes it a really nice weeknight dinner with a side of rice or noodles. If you like paneer and Indo- Chinese flavours, then this recipe is definitely worth a try!
It is a healthy recipe which is full of nutrients. Adding roasted peanuts in this dish adds crunch and Chinese sauces adds spice and flavours to this recipe. Other recipes you might like are Kung Pao Rice Bowl, American Chopsuey, Vegetable Fried Rice, Hakka Noodles, Vegetable Manchurian and Indo-Chinese Paneer Chilli.
Ingredients
For Sautéing Paneer
1 cup corn flour
1 teaspoon white pepper
Salt to taste
250gm paneer (diced 1cm cubes)
½ teaspoon oil (for greasing pan)
Sauteed Vegetables
¼ cup diced green pepper
¼ cup diced yellow pepper
¼ cup diced red pepper
¼ cup diced onions
For The Sauce
2 teaspoons sesame oil
1 teaspoon finely chopped green chillies
1 teaspoon finely chopped ginger
2 teaspoons finely chopped garlic
2 dry red chillies
1 teaspoon white pepper
Salt to taste
2 teaspoons vinegar
2 teaspoons red chilli sauce
1 tablespoon soy sauce
2 tablespoons schezwan sauce
1 tablespoon corn flour
2 teaspoons finely chopped spring onions
2 teaspoons roasted peanuts
Directions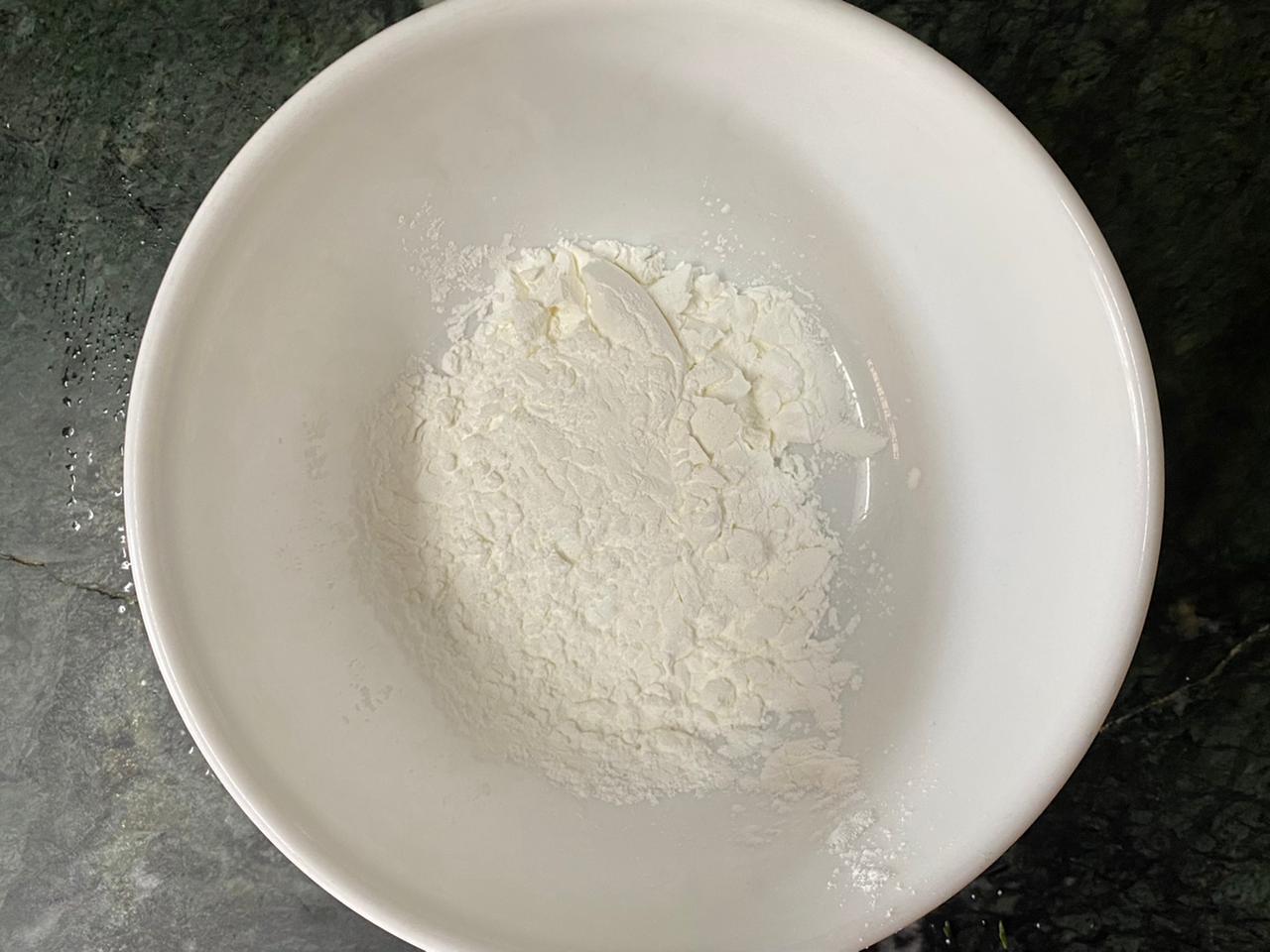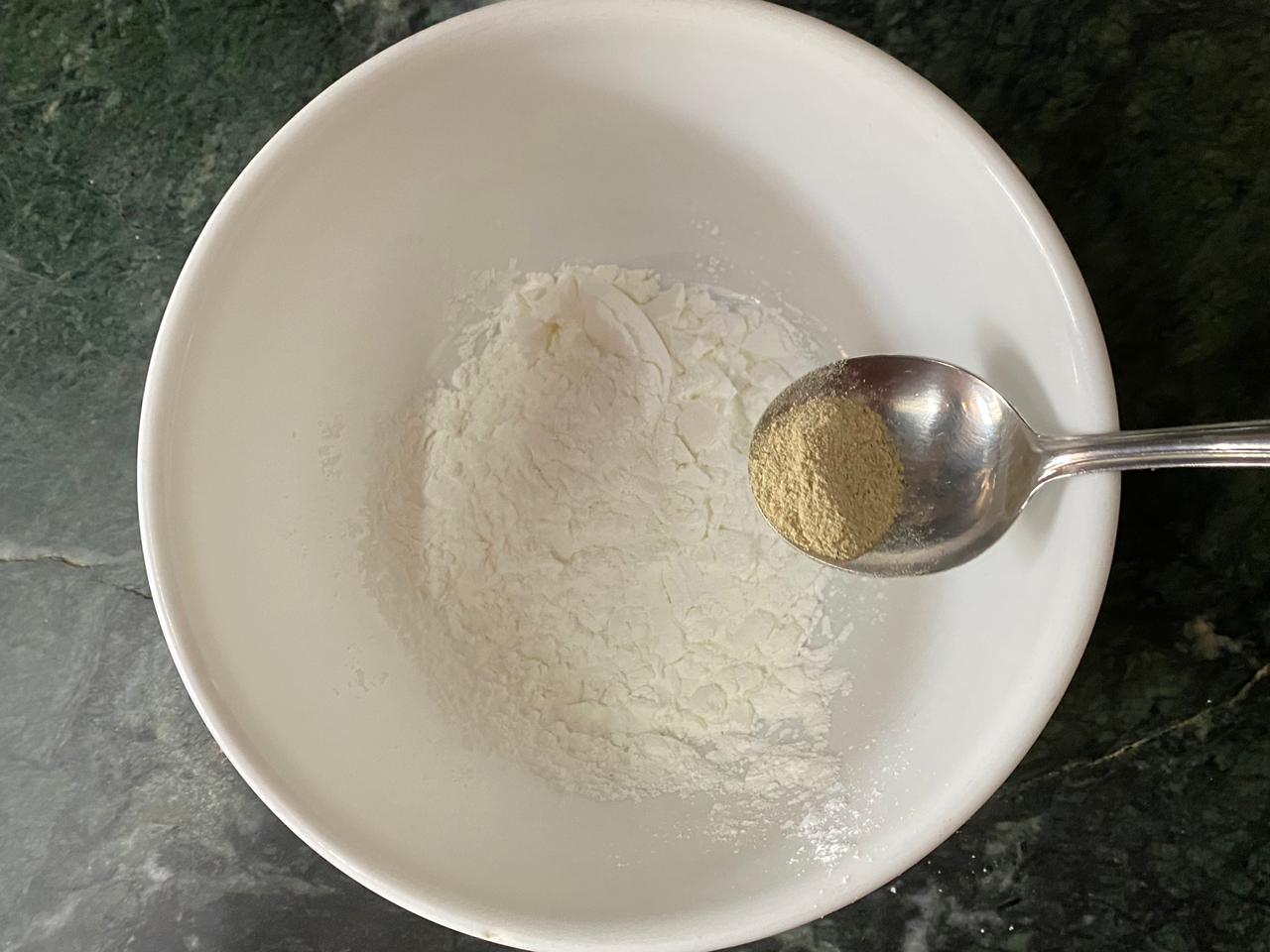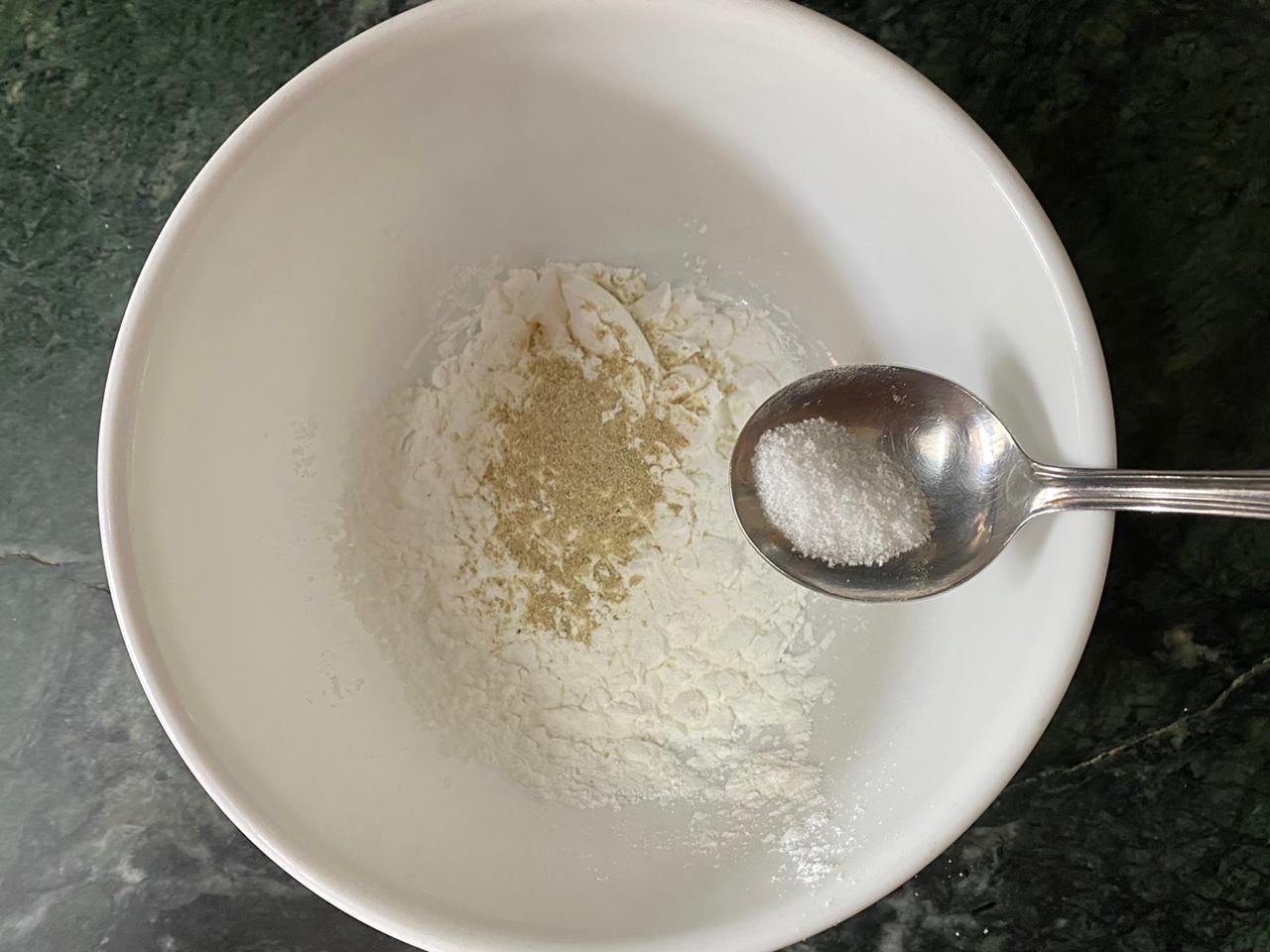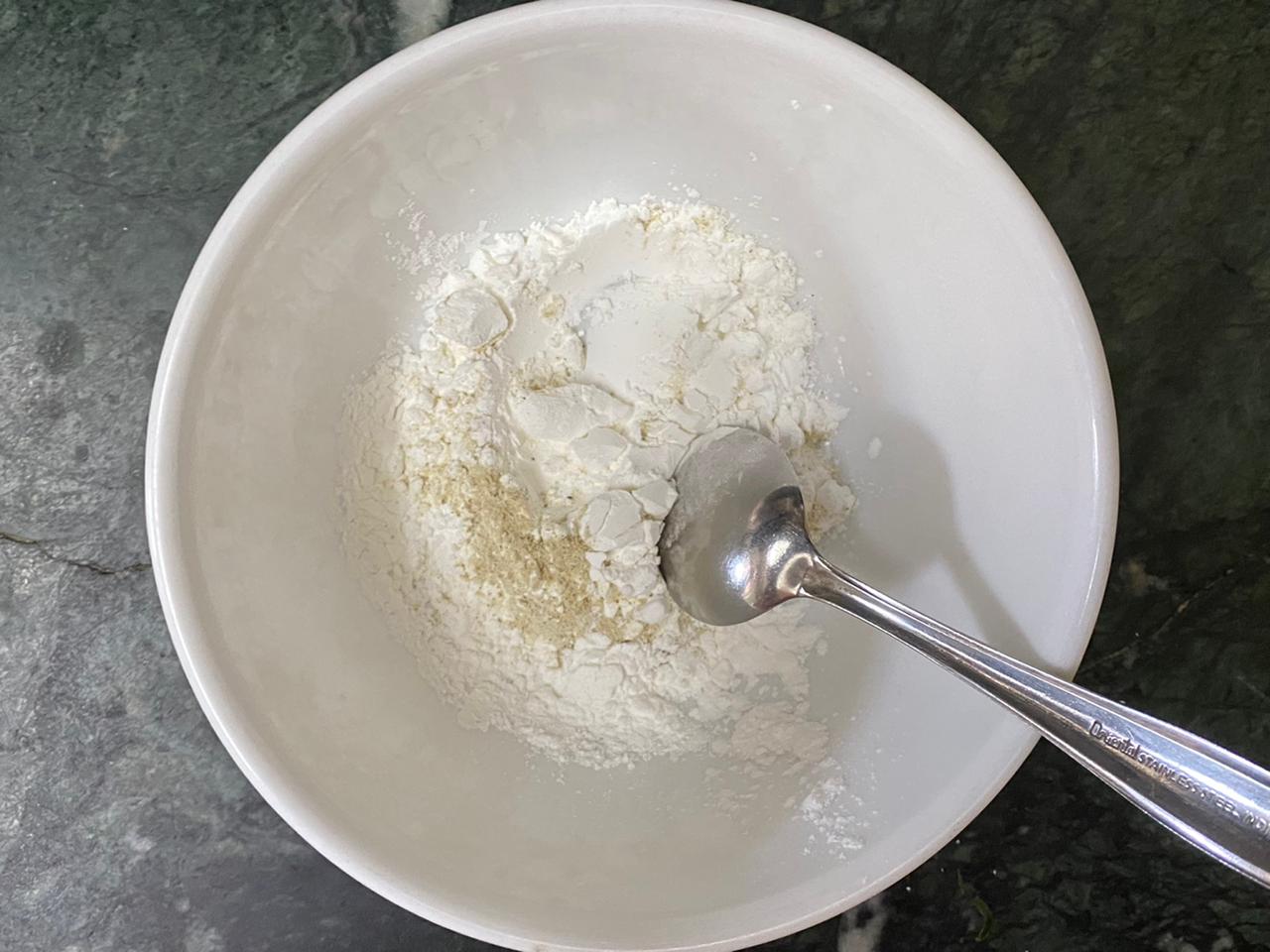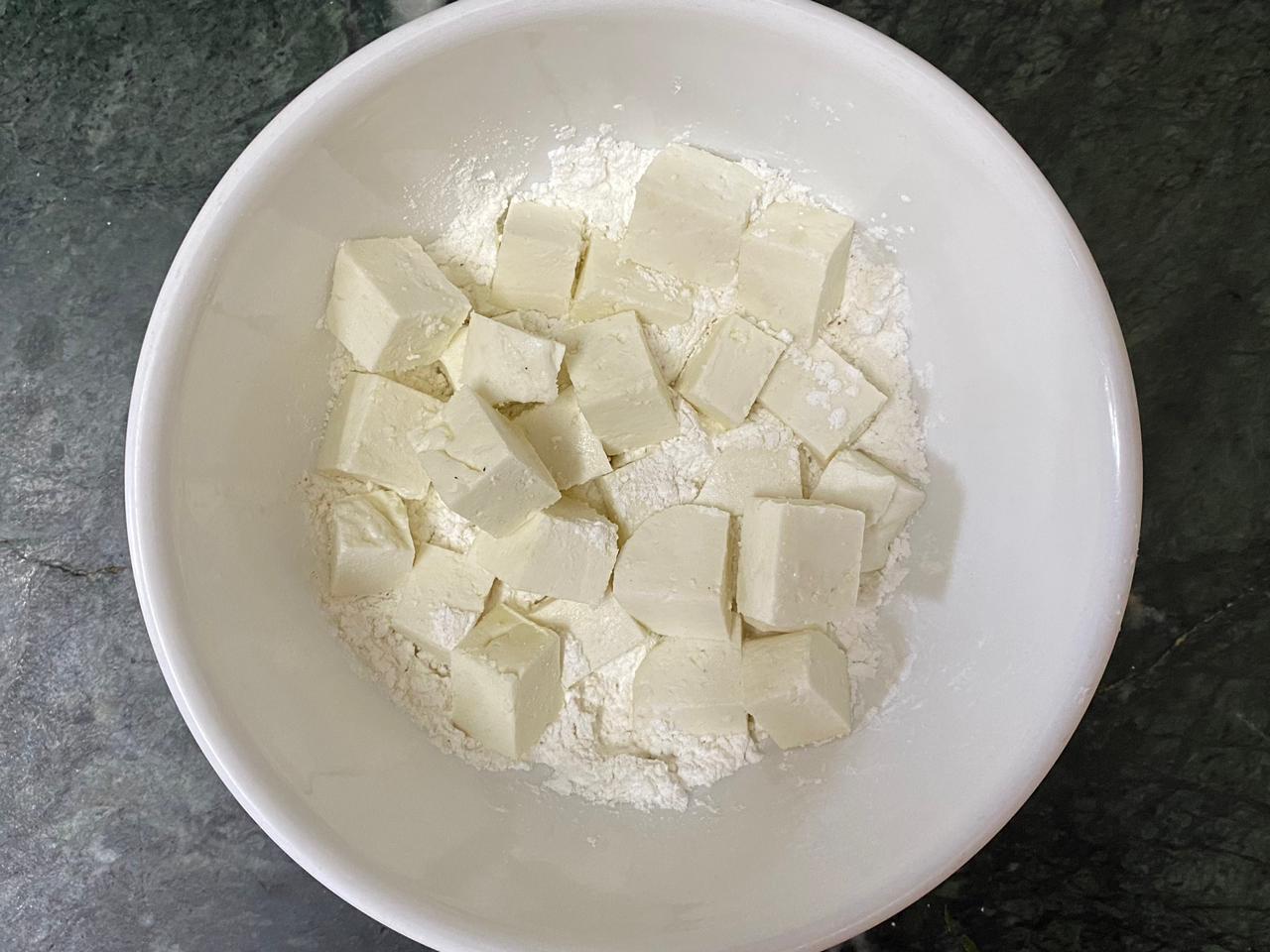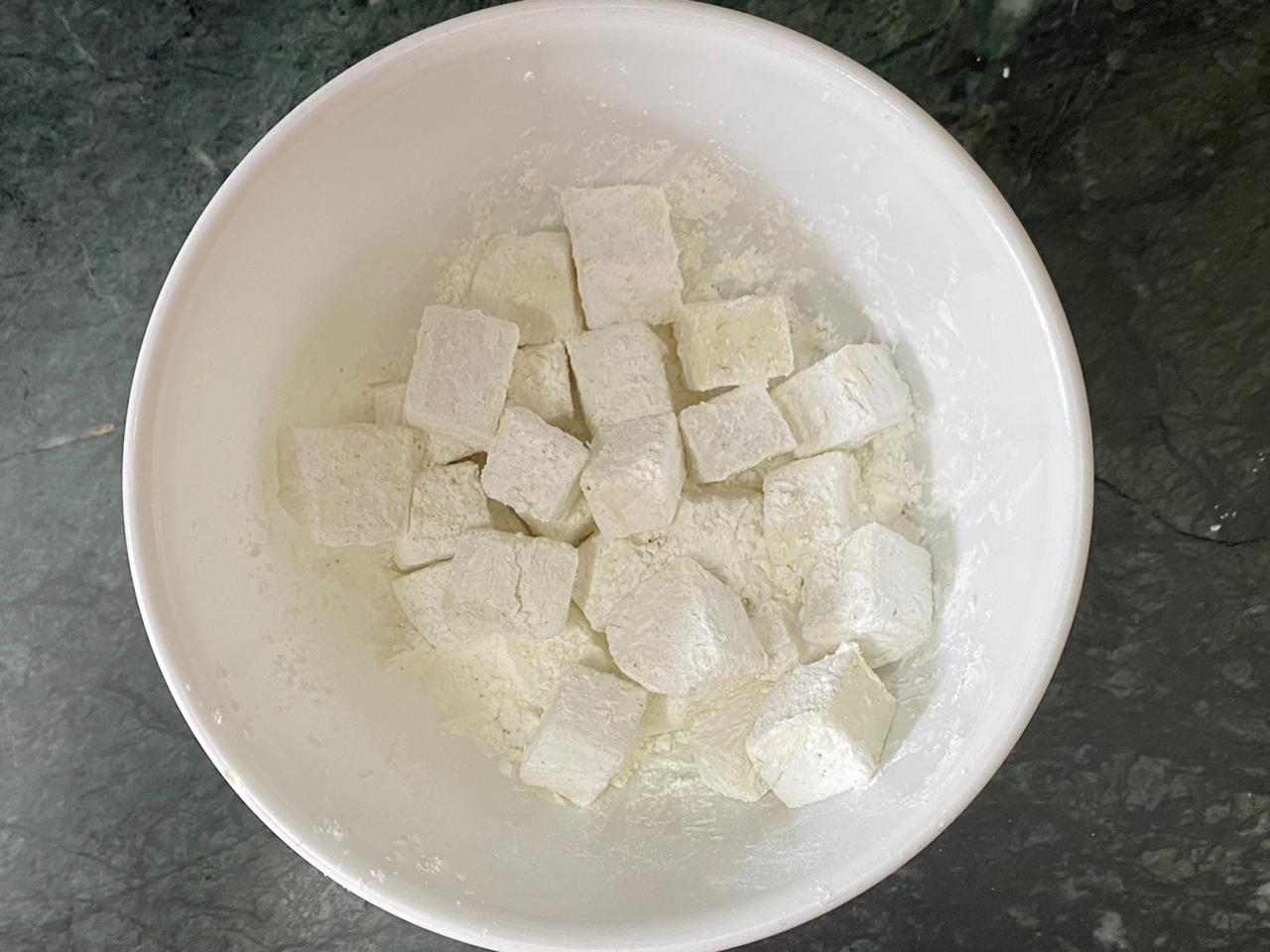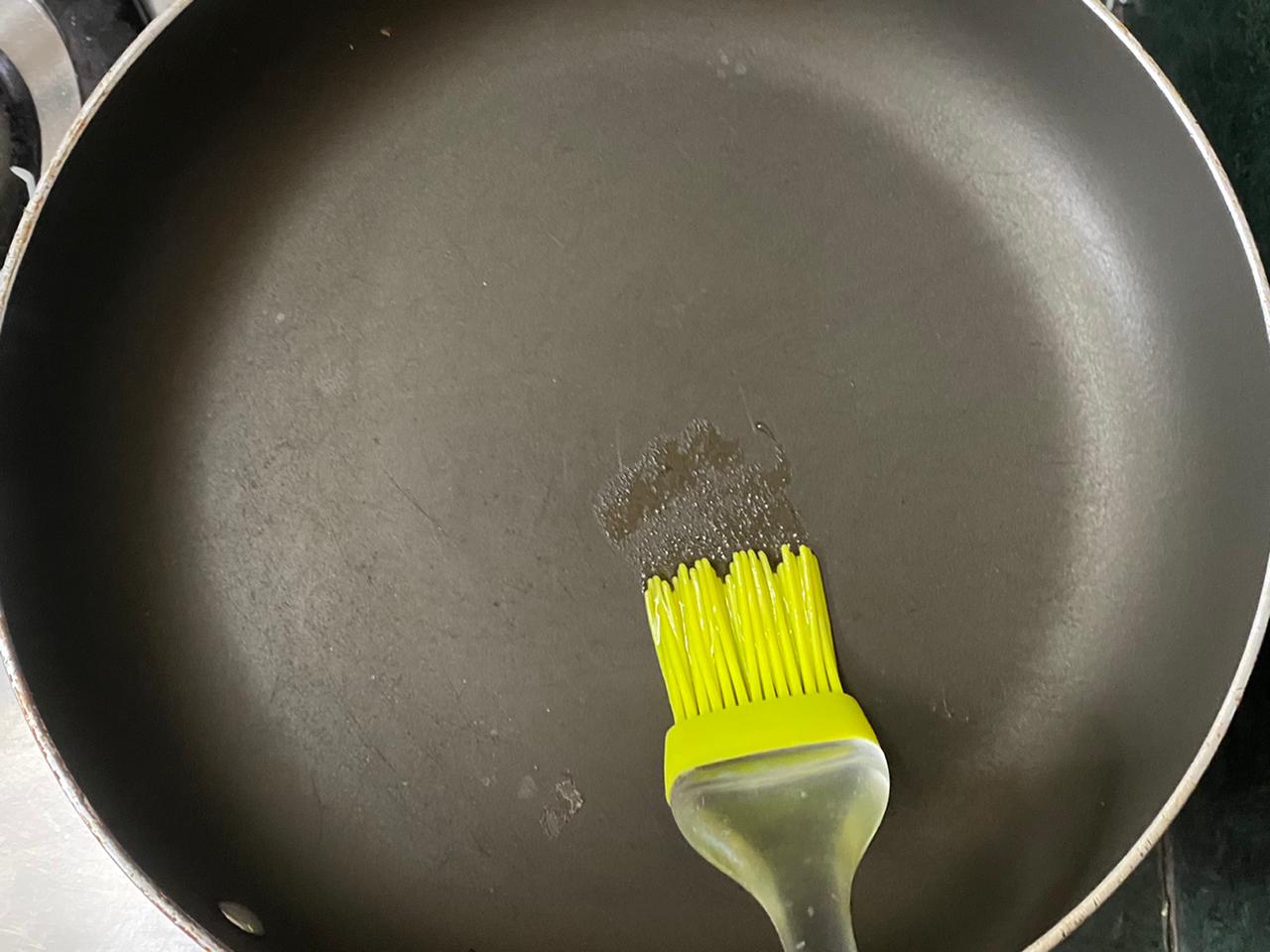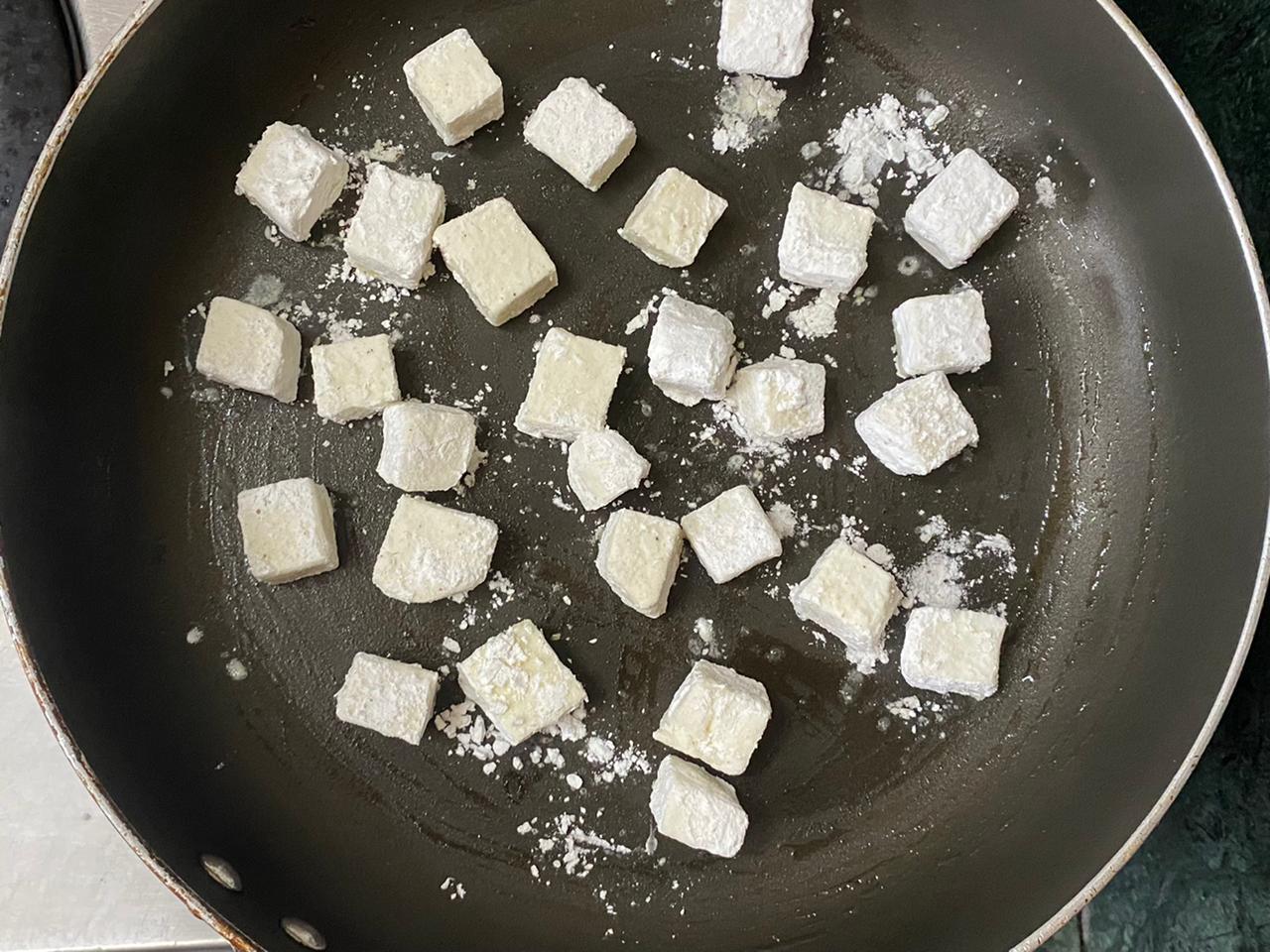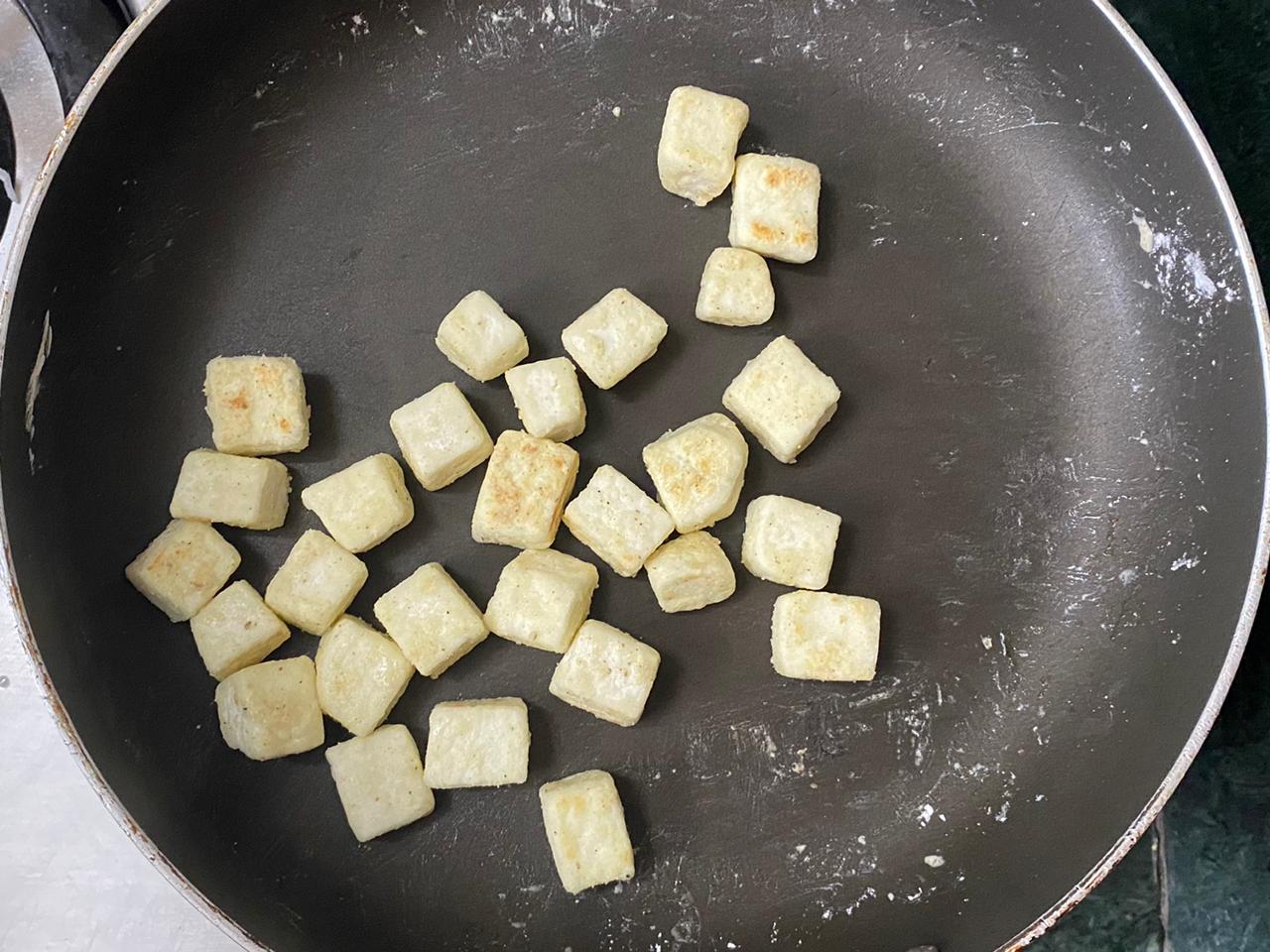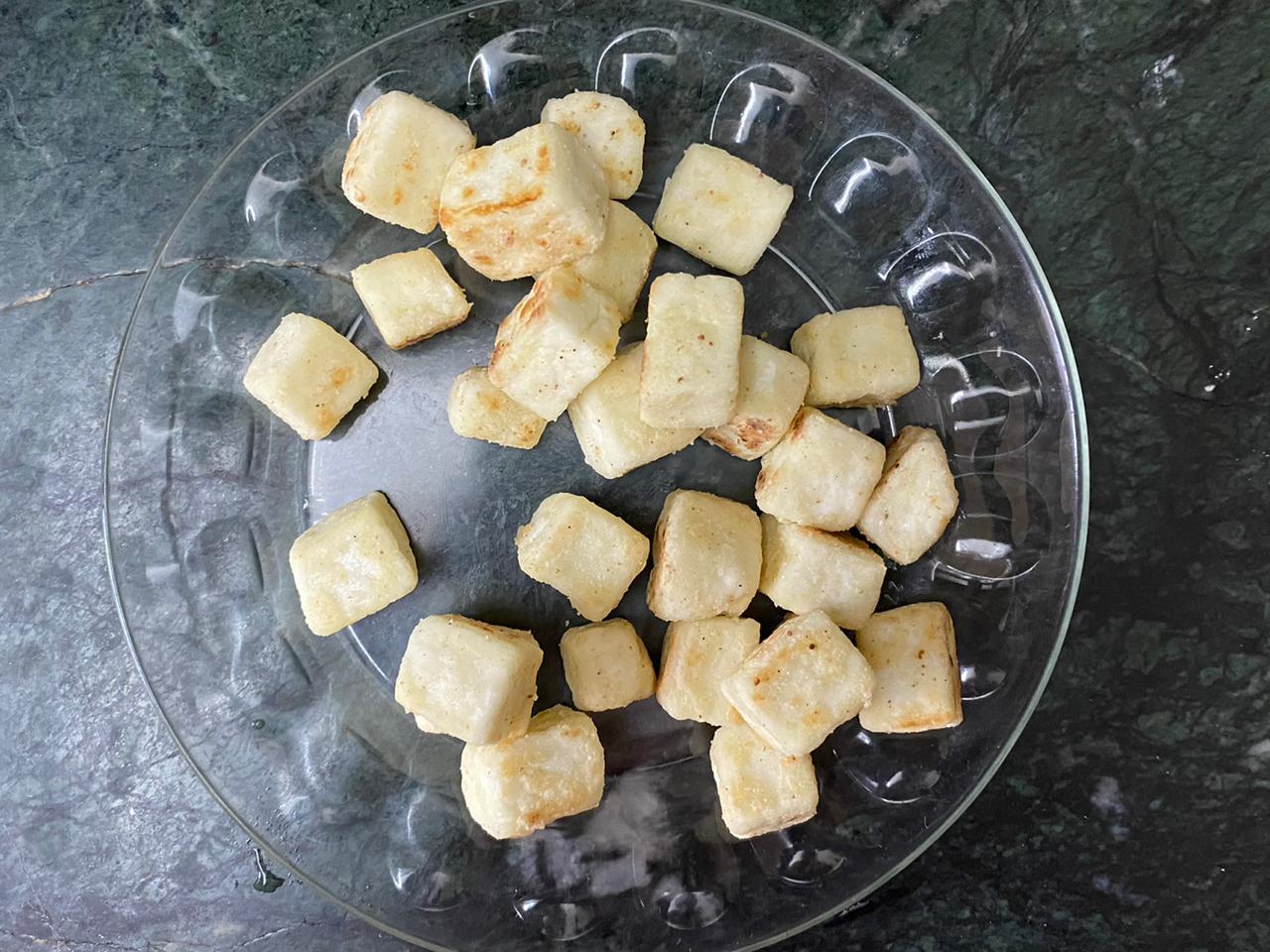 In a bowl mix together corn flour, white pepper and salt. Once mixed, add the cubed paneer and toss to coat the paneer with the seasoned cornflour. Make sure the paneer pieces are coated from all sides.
Grease a pan with ½ teaspoon oil and add the cornflour coated paneer (Shake off the excess cornflour before adding to the pan). Sauté the paneer on high heat for 3-4 minutes or until the paneer is golden brown from all sides. Keep the paneer aside.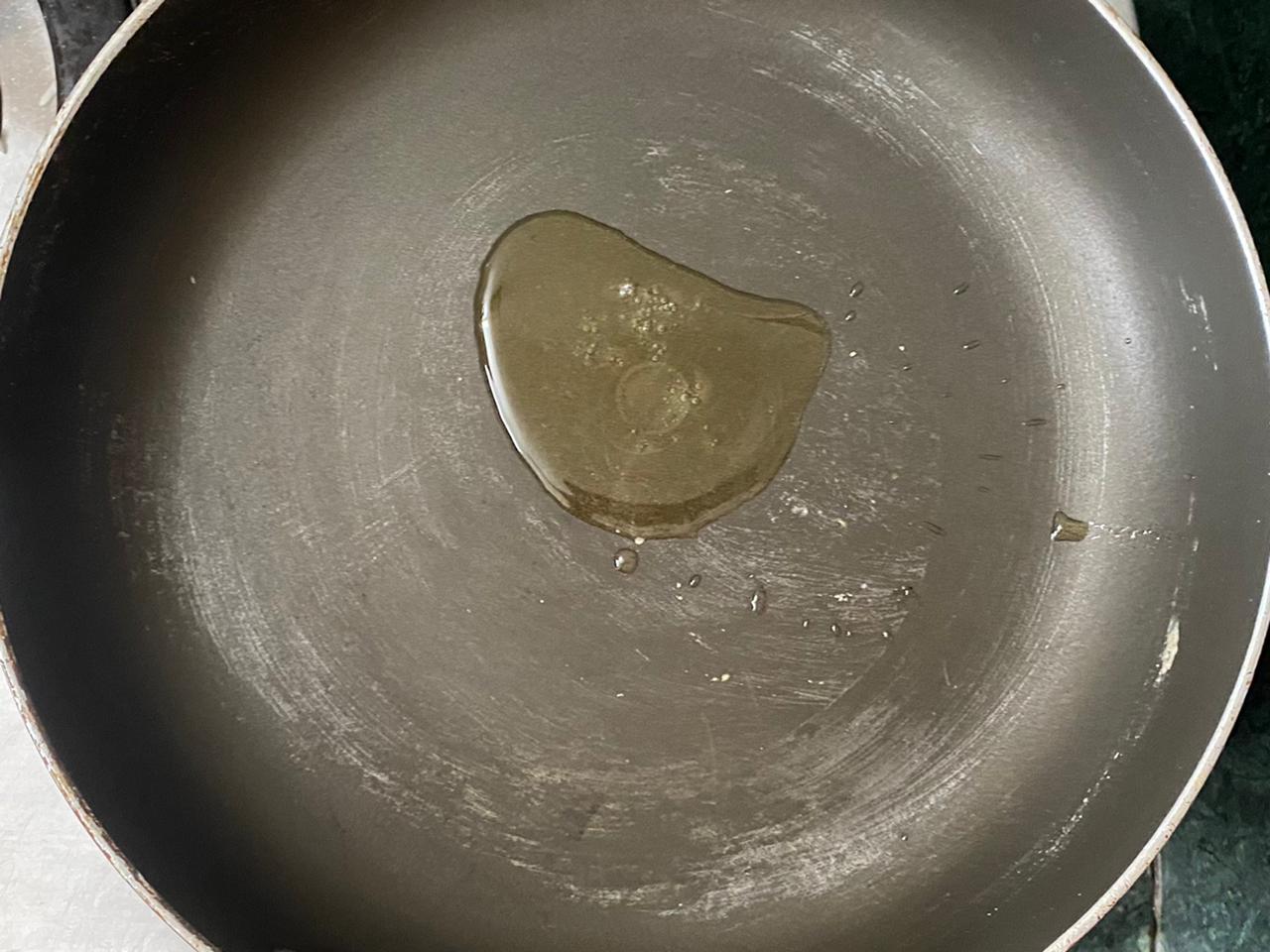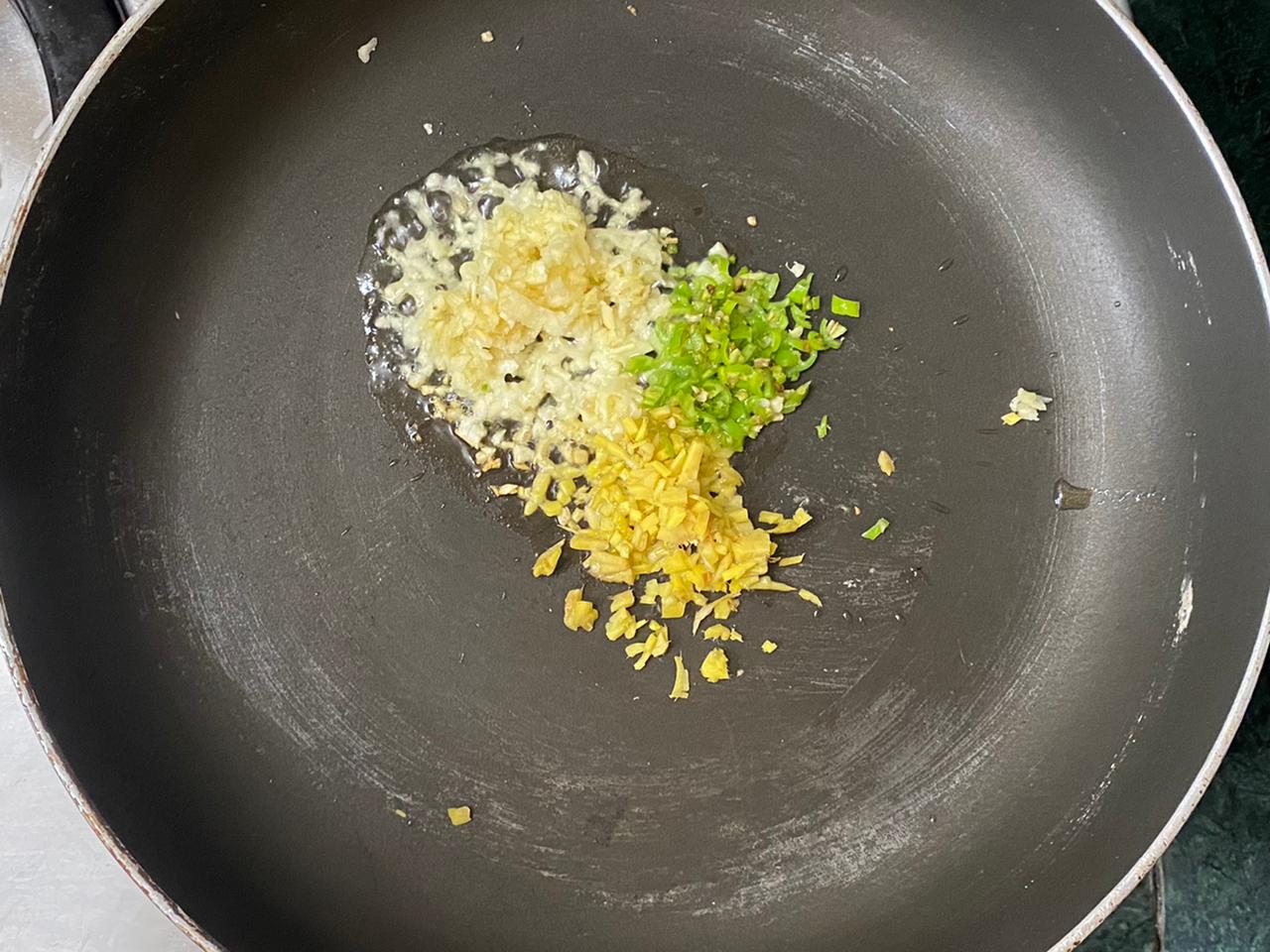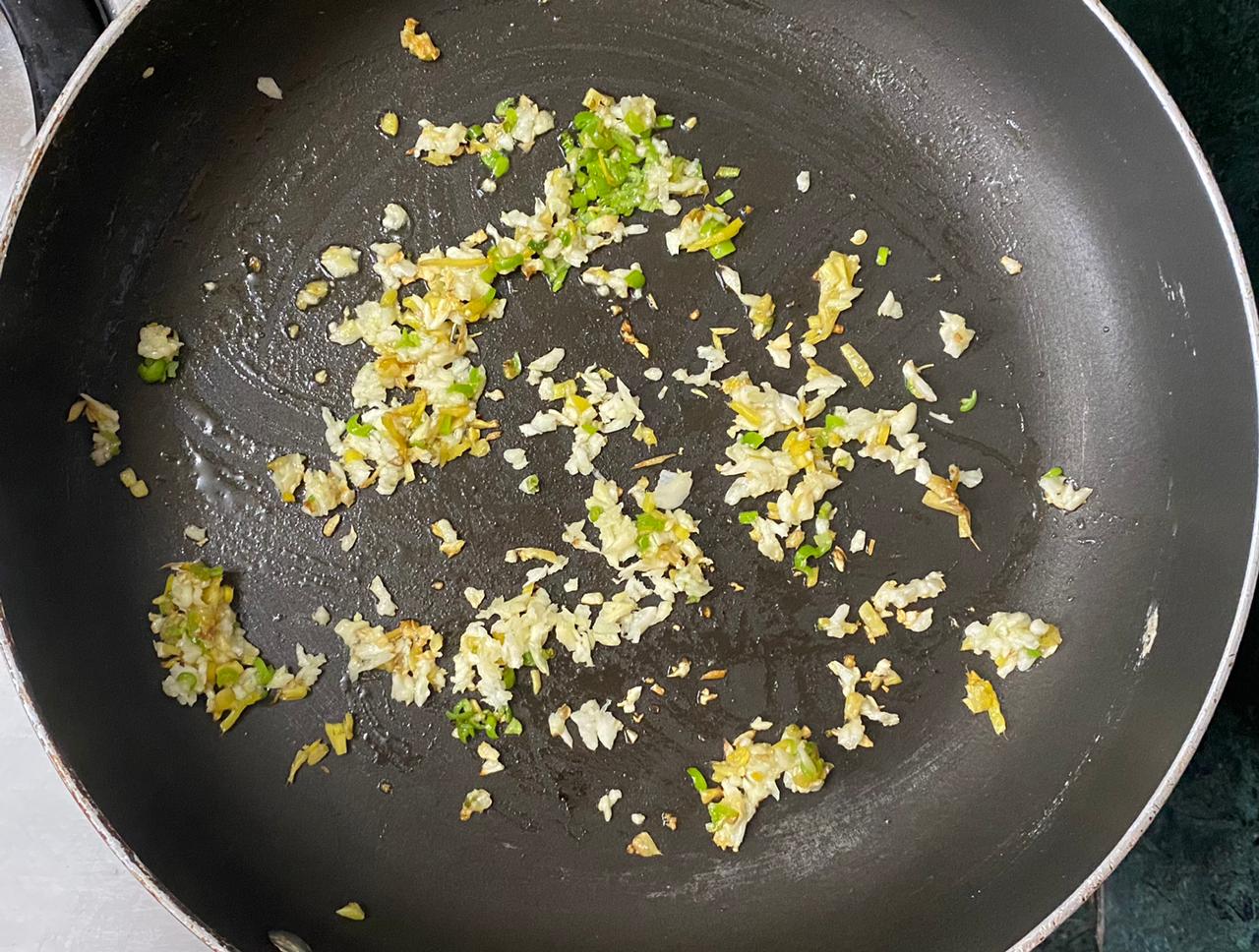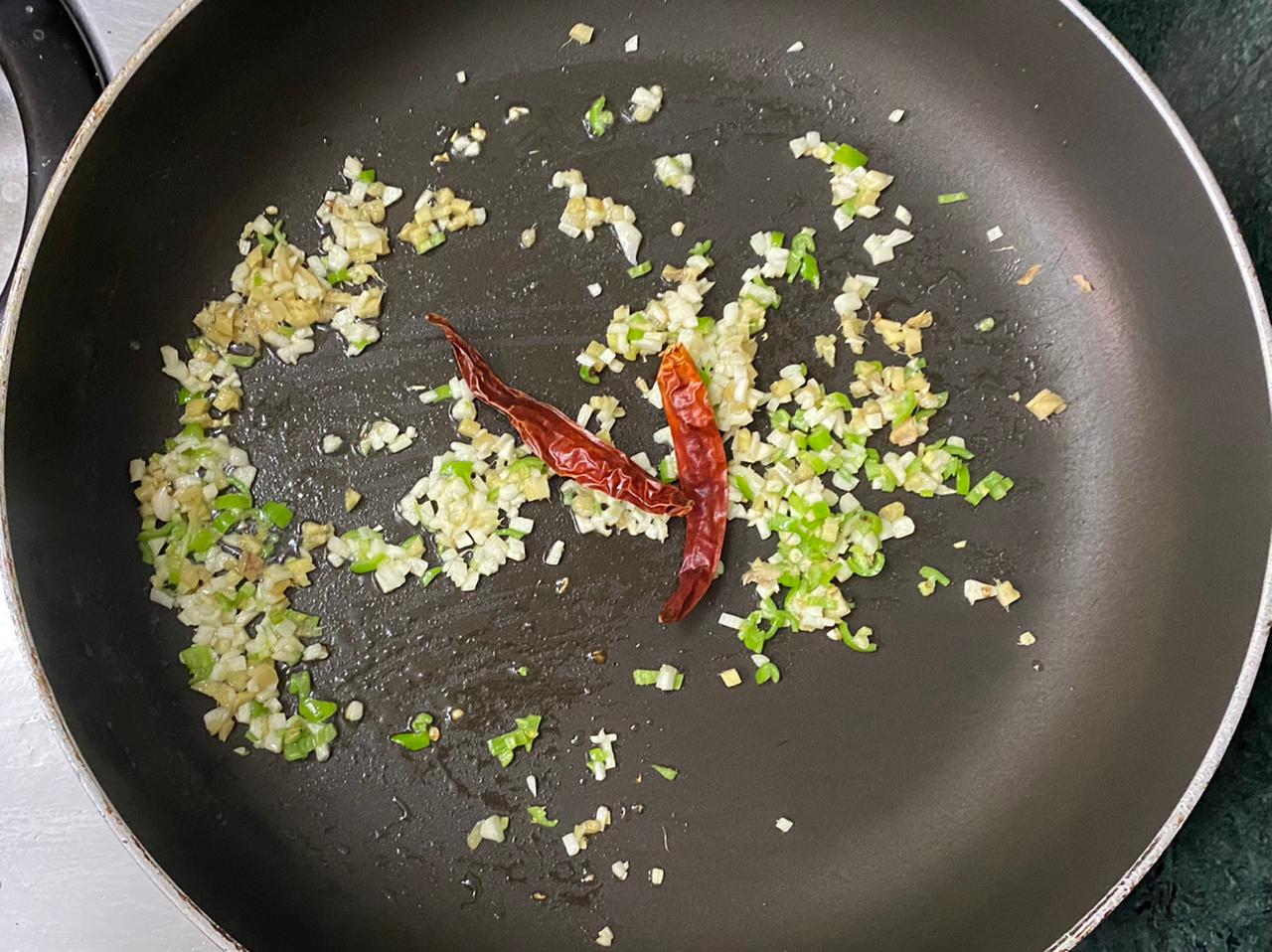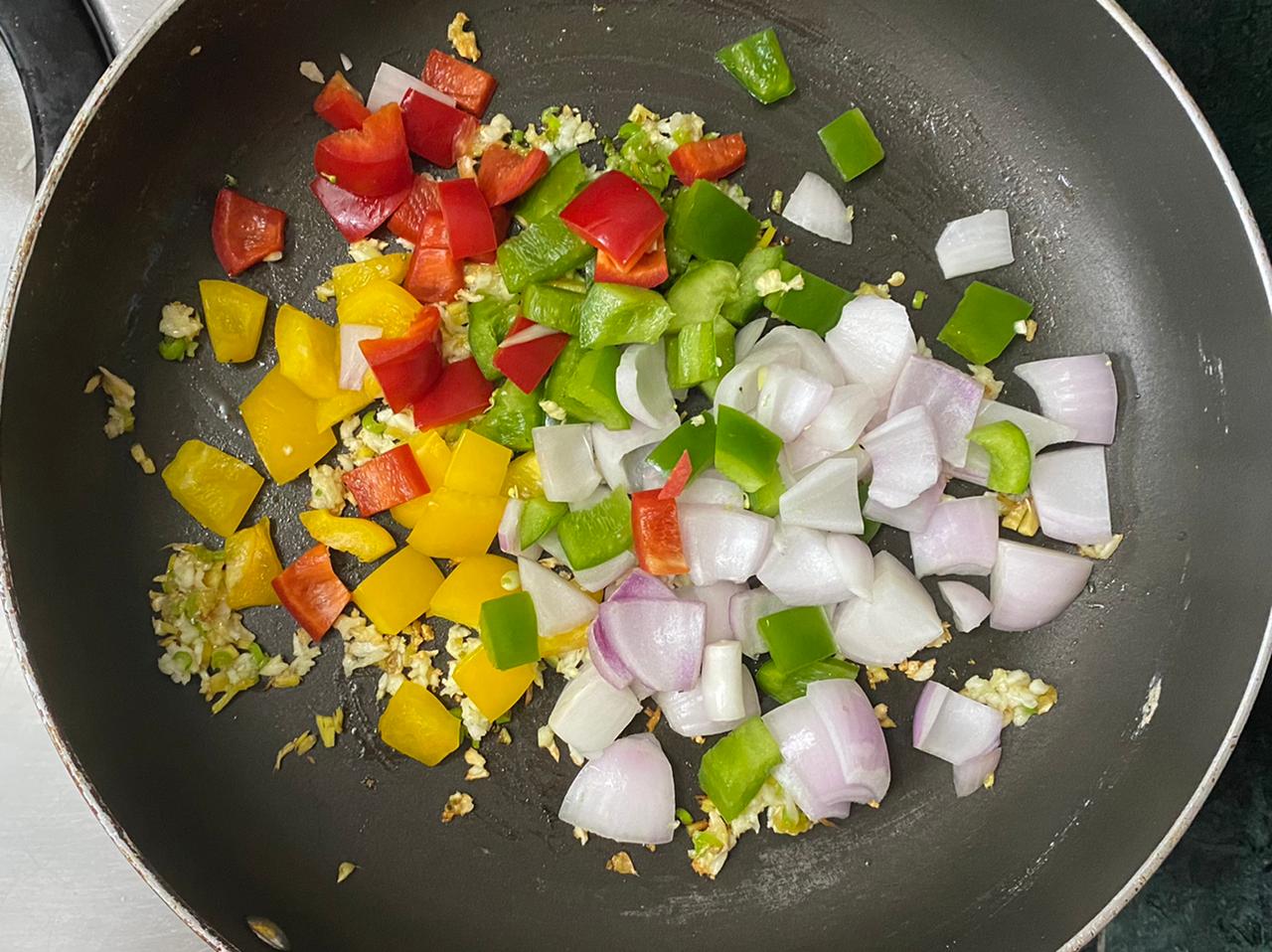 Heat oil in a pan and sauté the green chillies, ginger, garlic and dry red chillies on medium heat for 1-2 minutes to infuse the oil with all the flavours. Next add onions, green pepper, red pepper and yellow pepper and sauté on high heat for 1-2 minutes.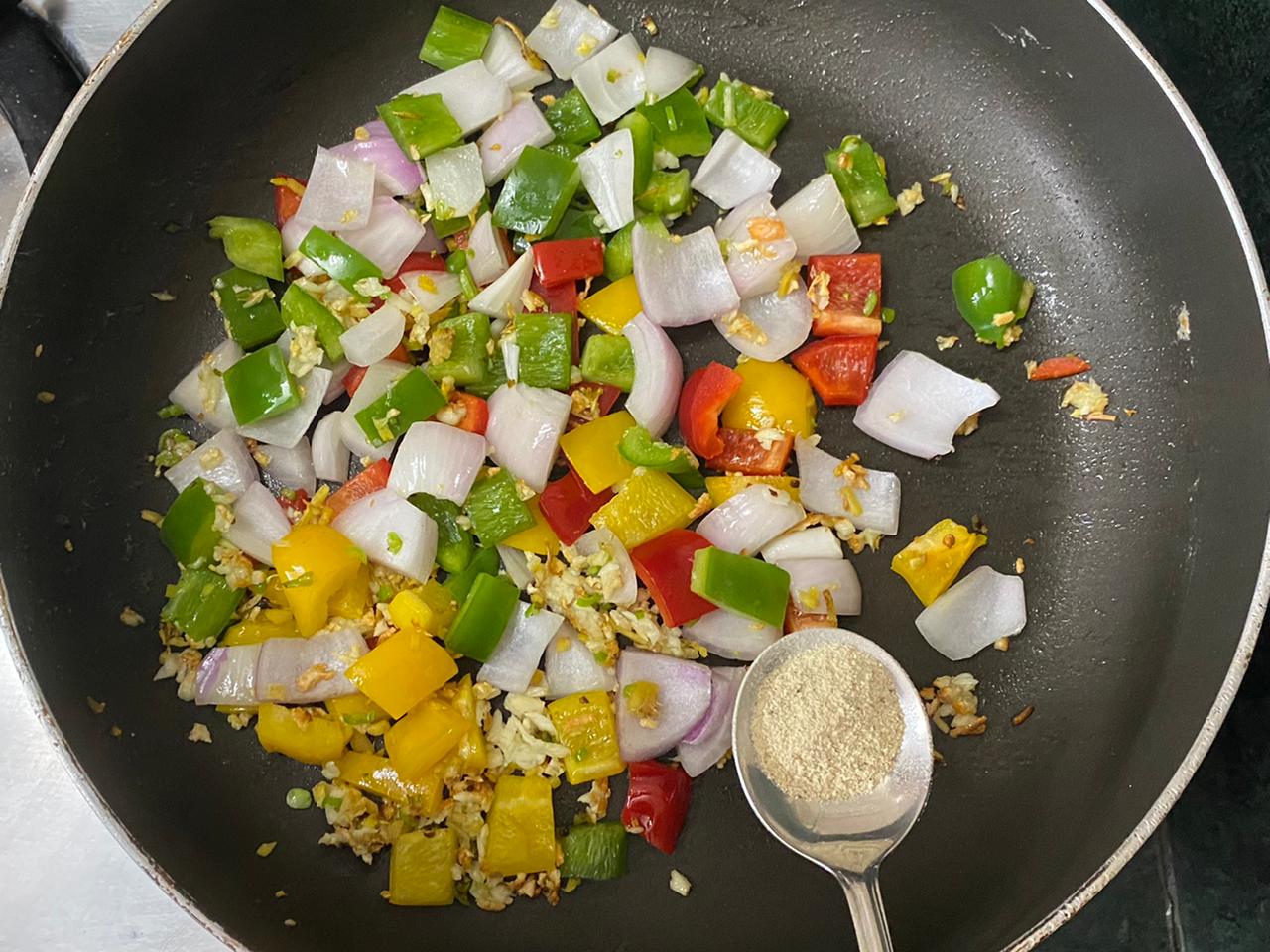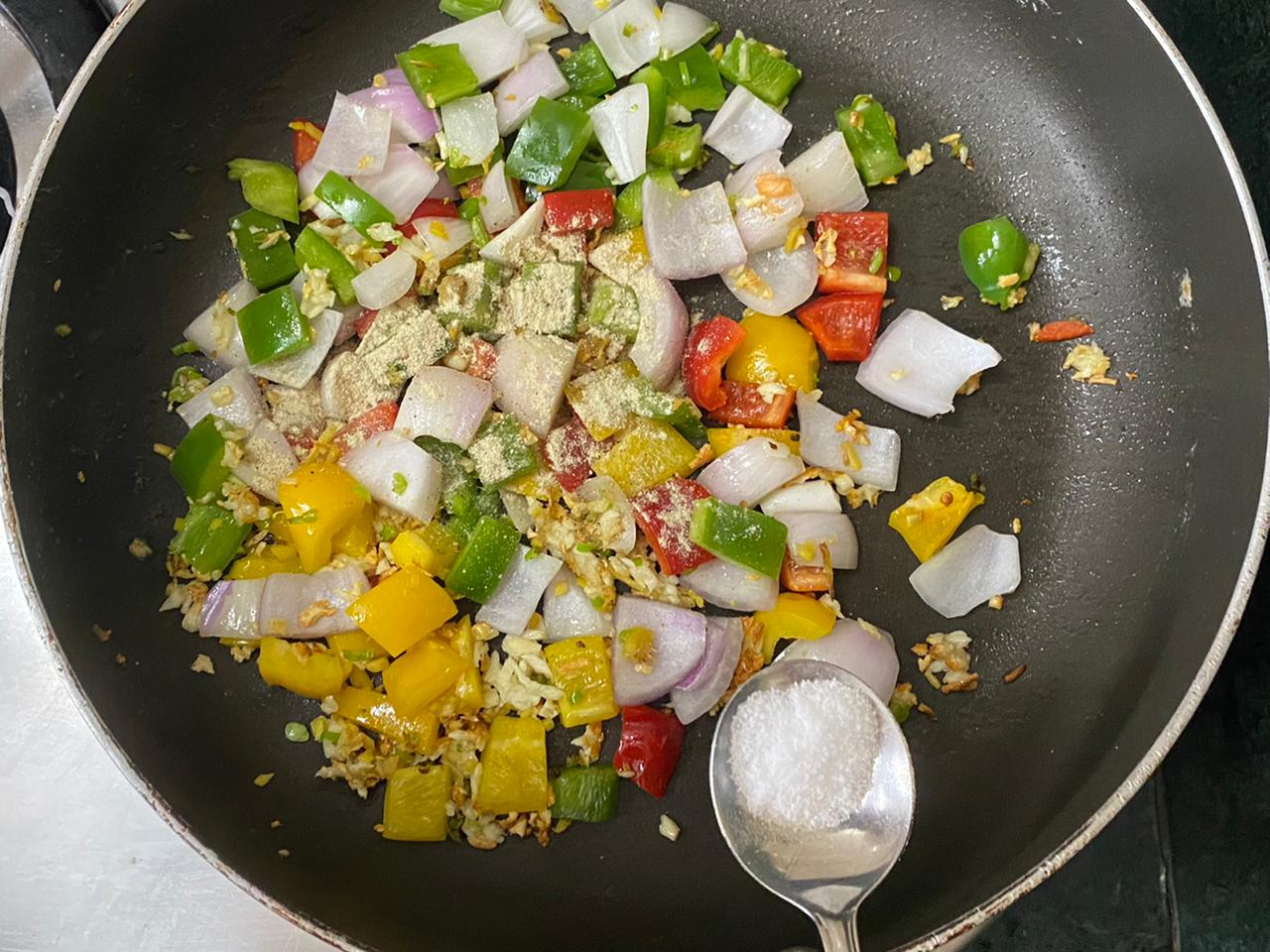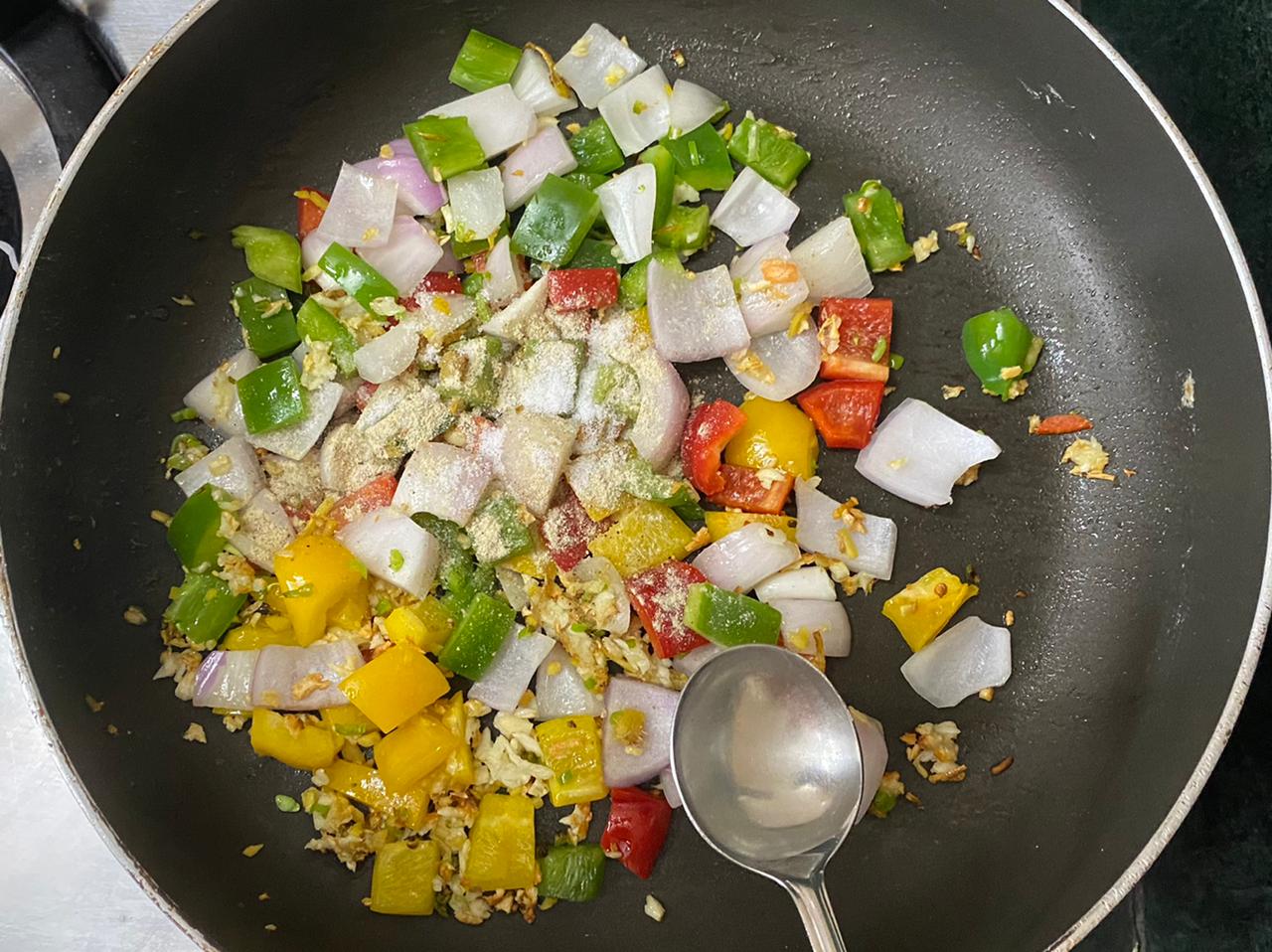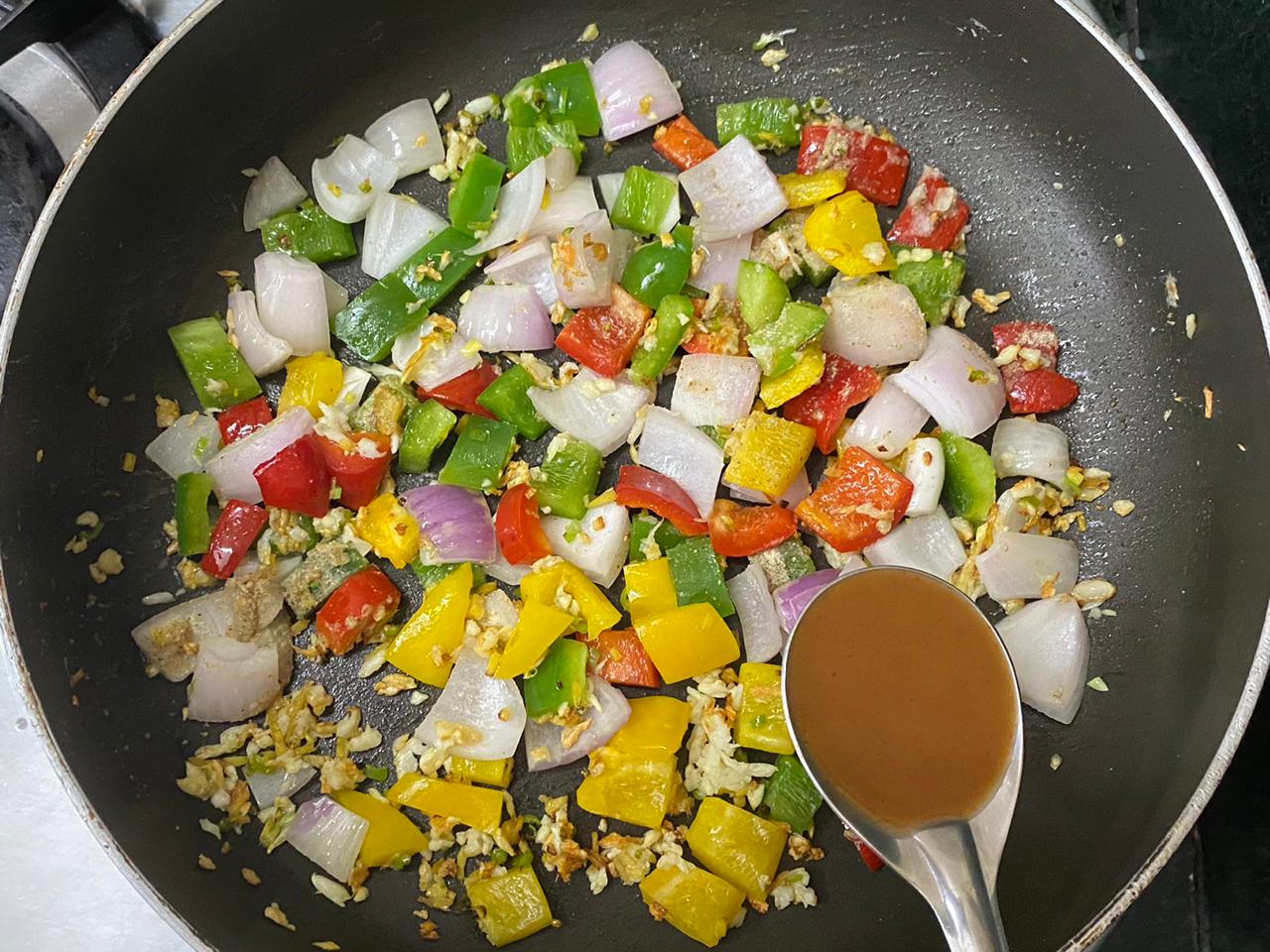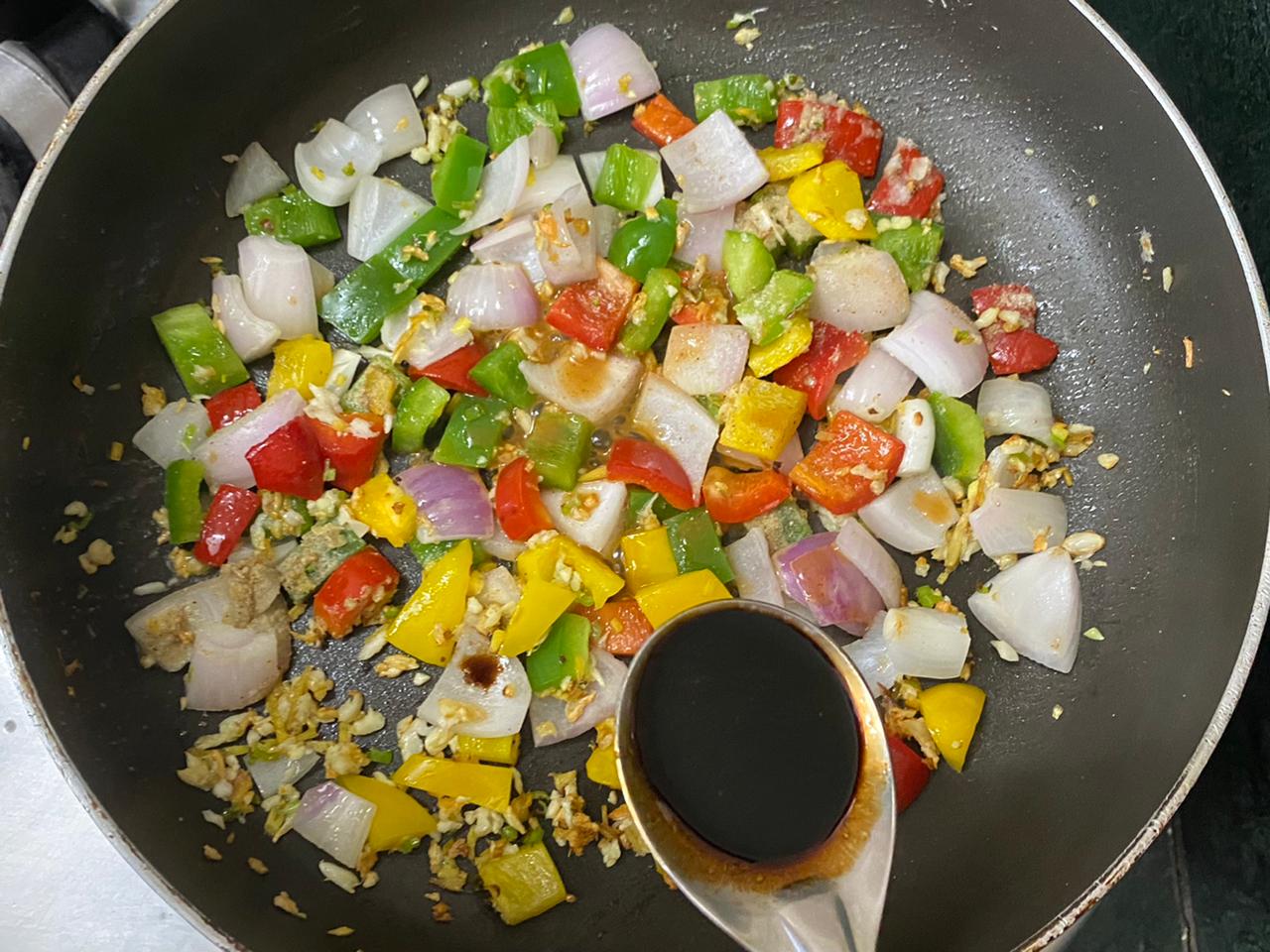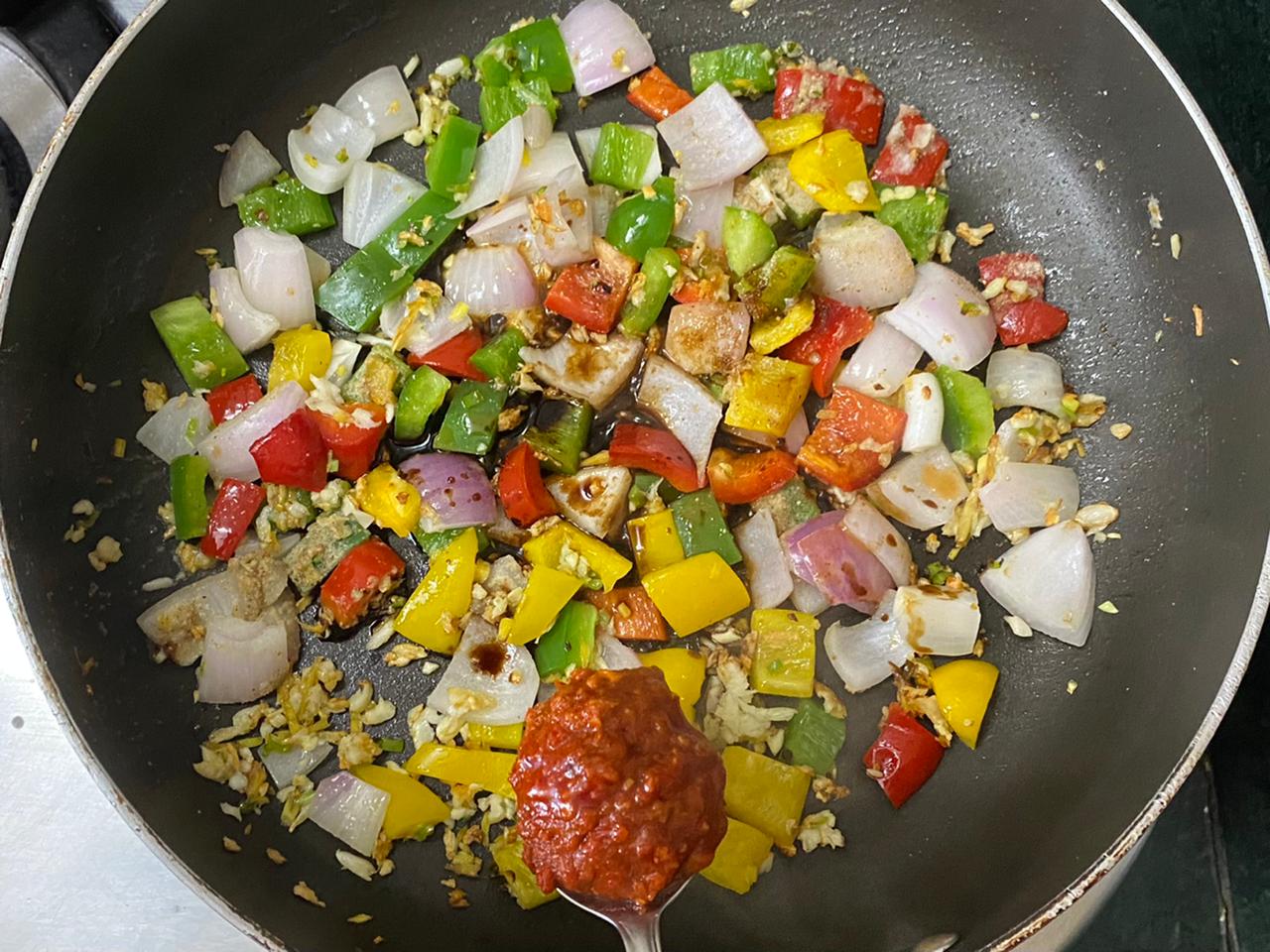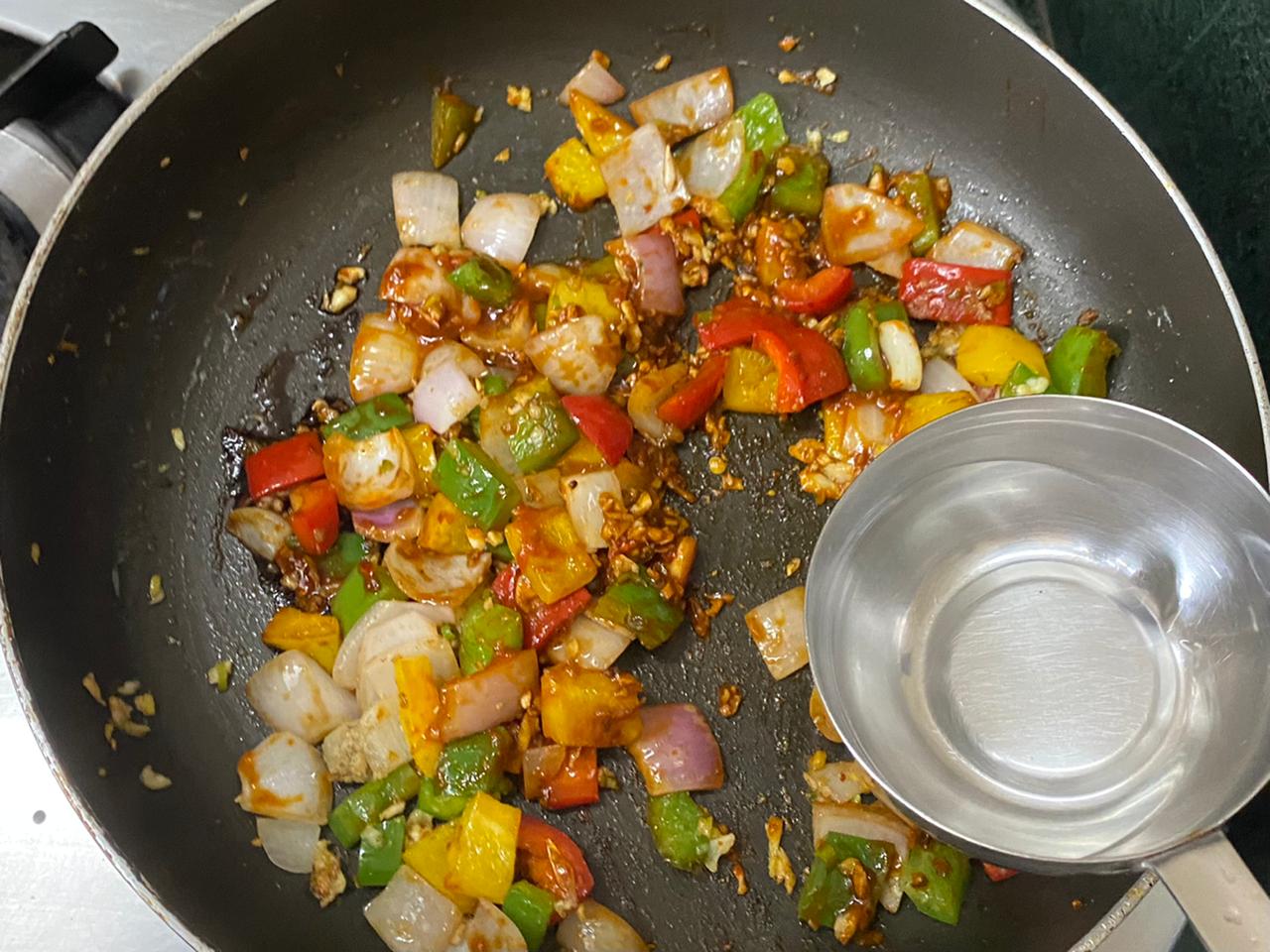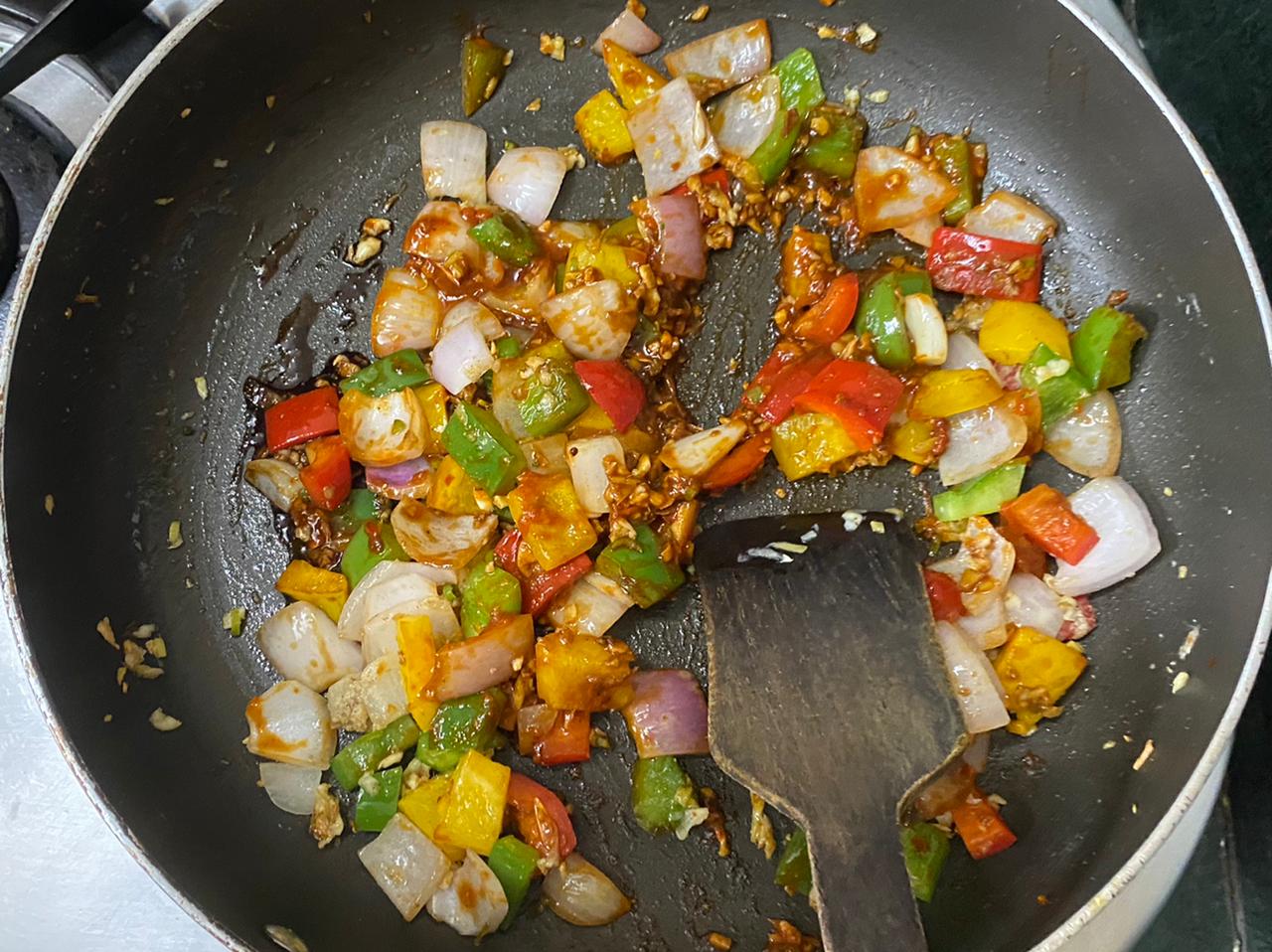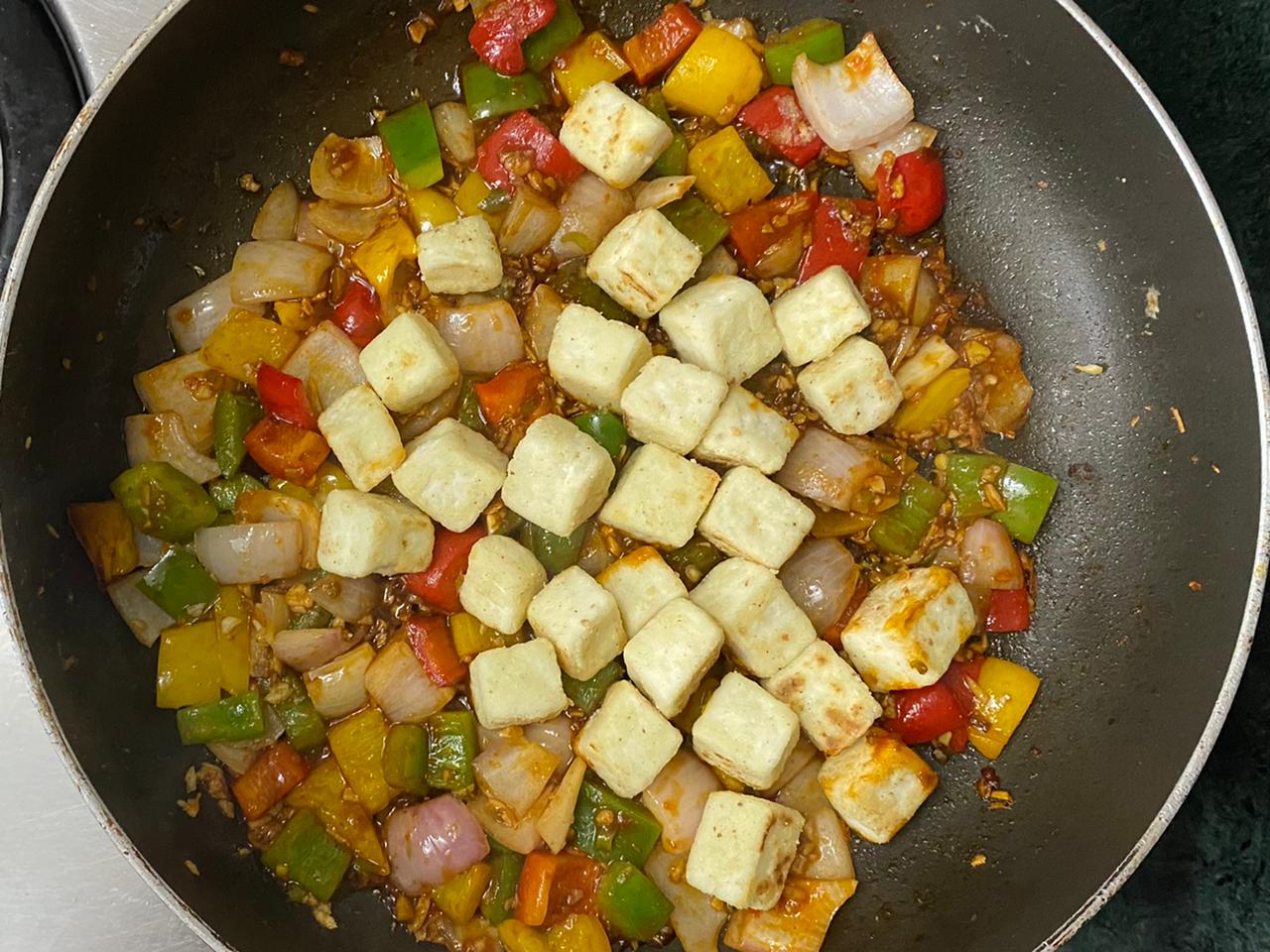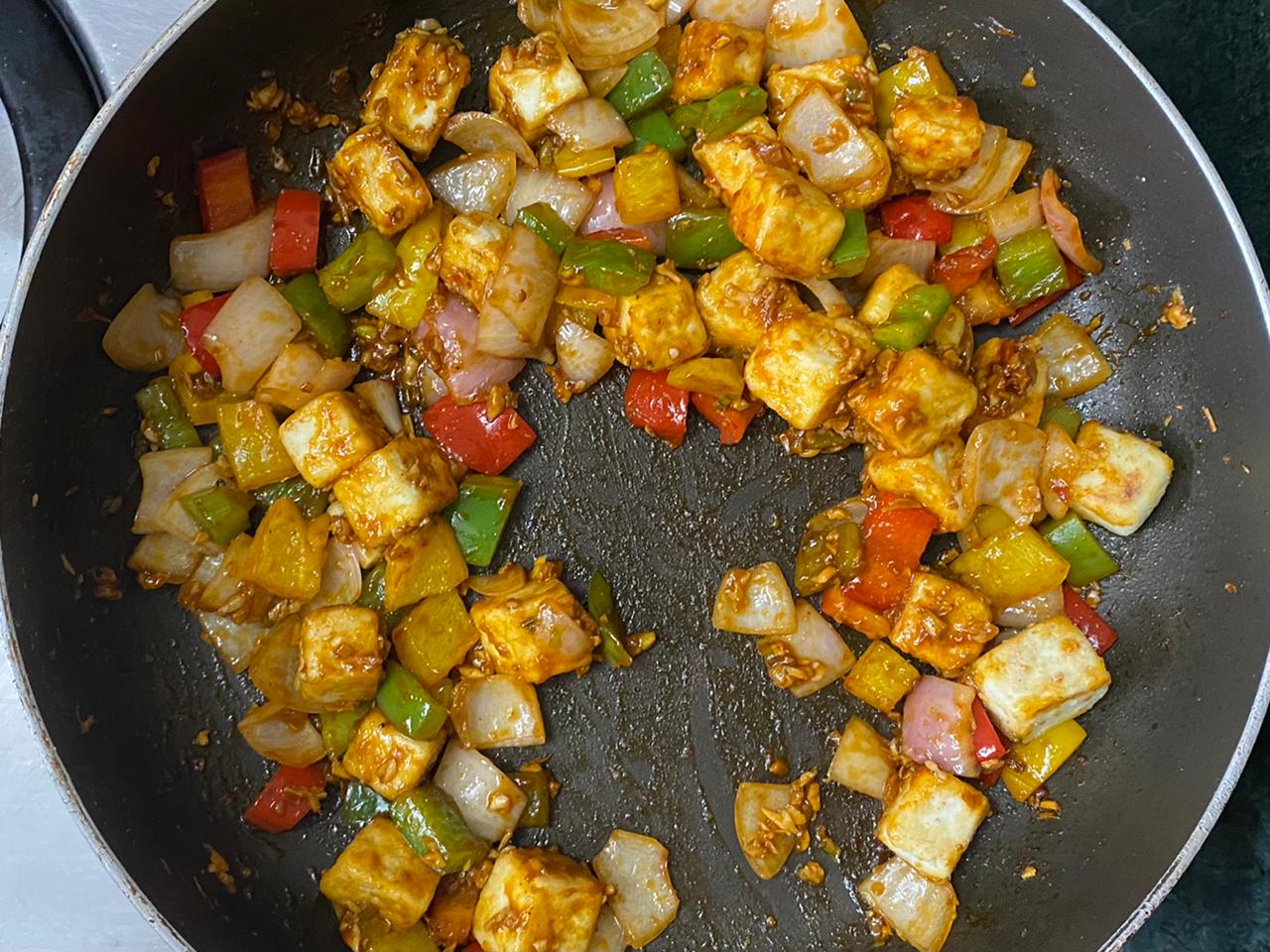 Add white pepper, salt, vinegar, red chilli sauce, soy sauce, schezwan sauce and 1 cup of water and bring the sauce to a rolling boil.
Once the sauce comes to a rolling boil, add the paneer cubes and toss to coat the paneer with all the sauce.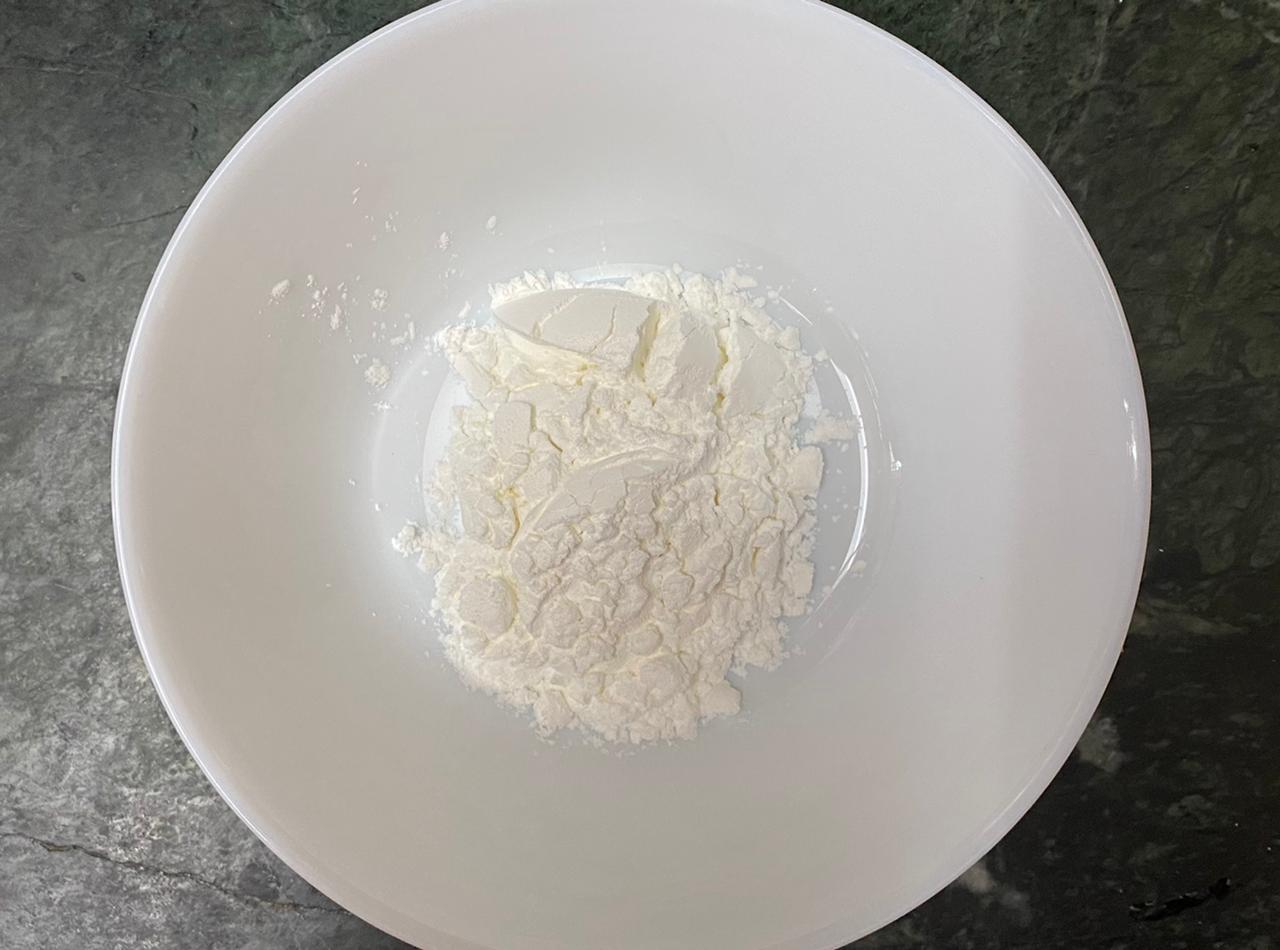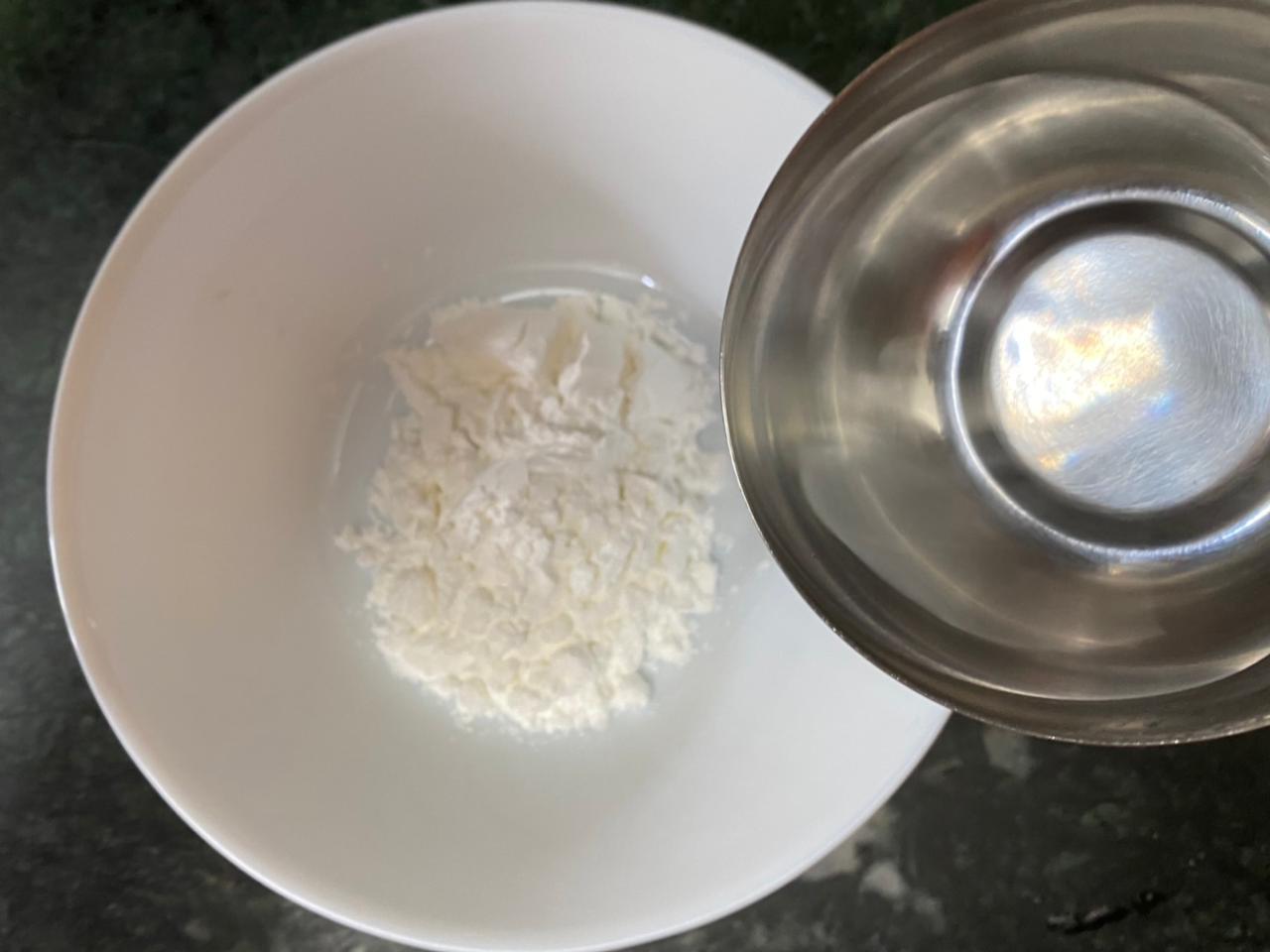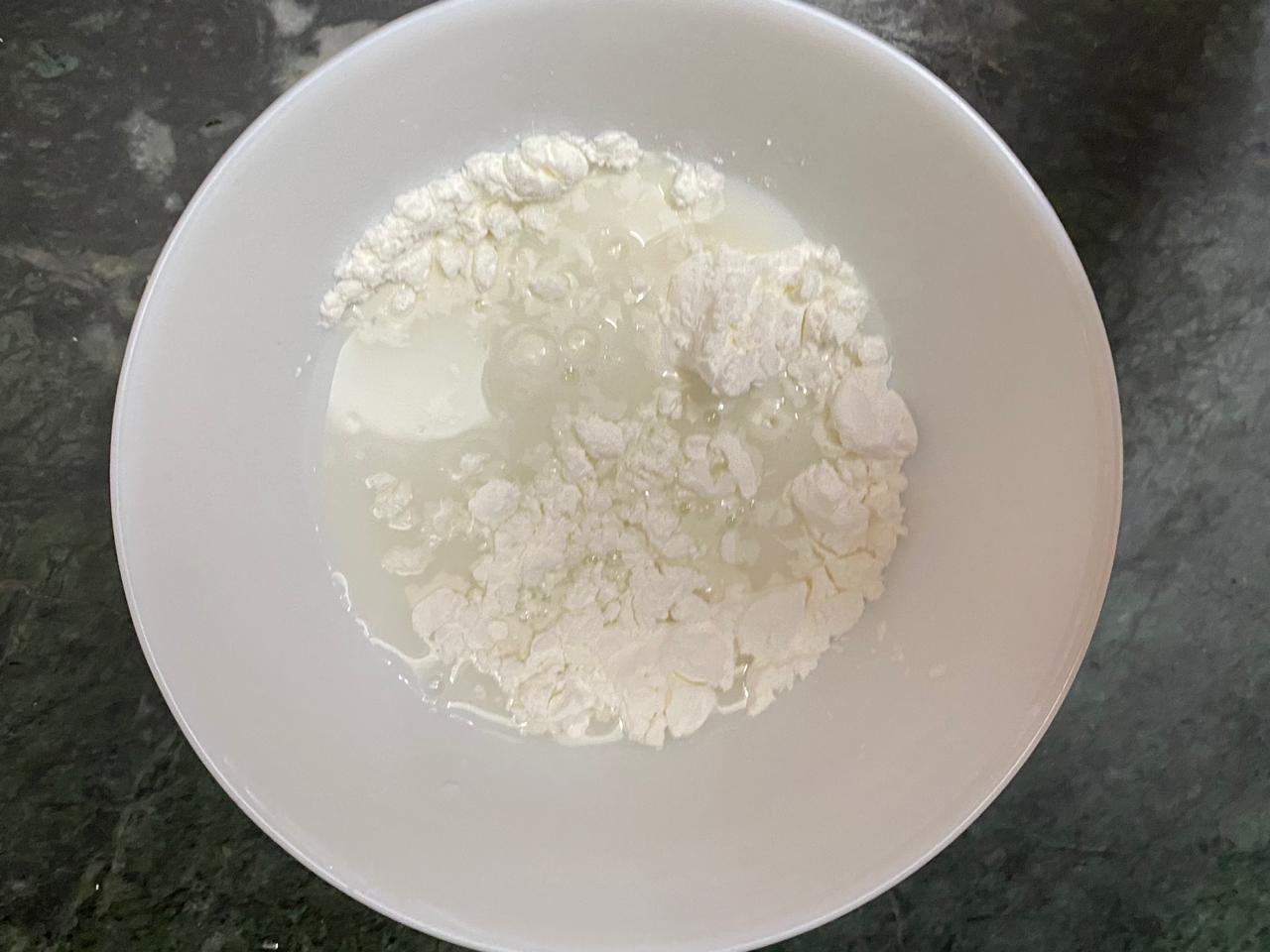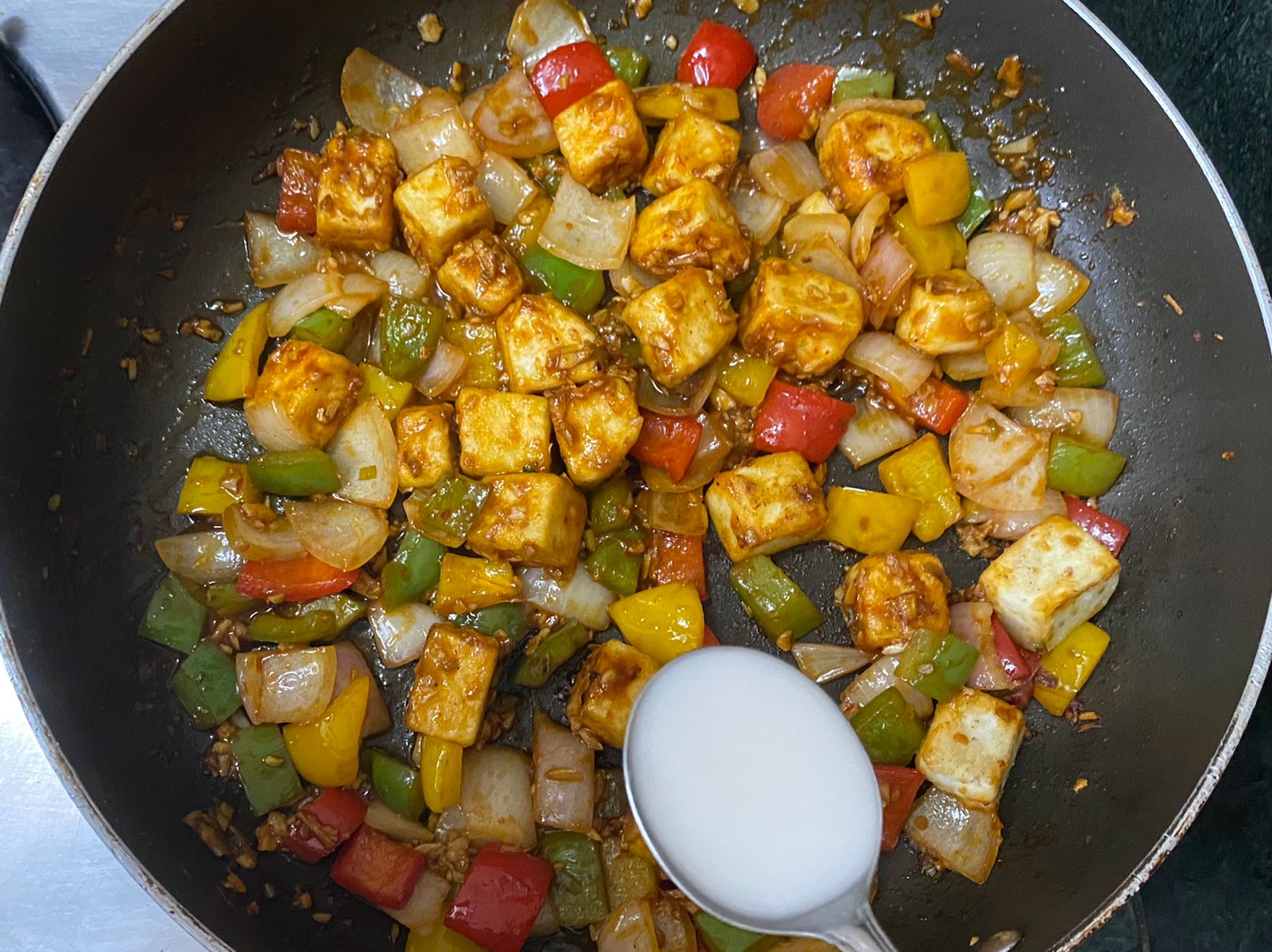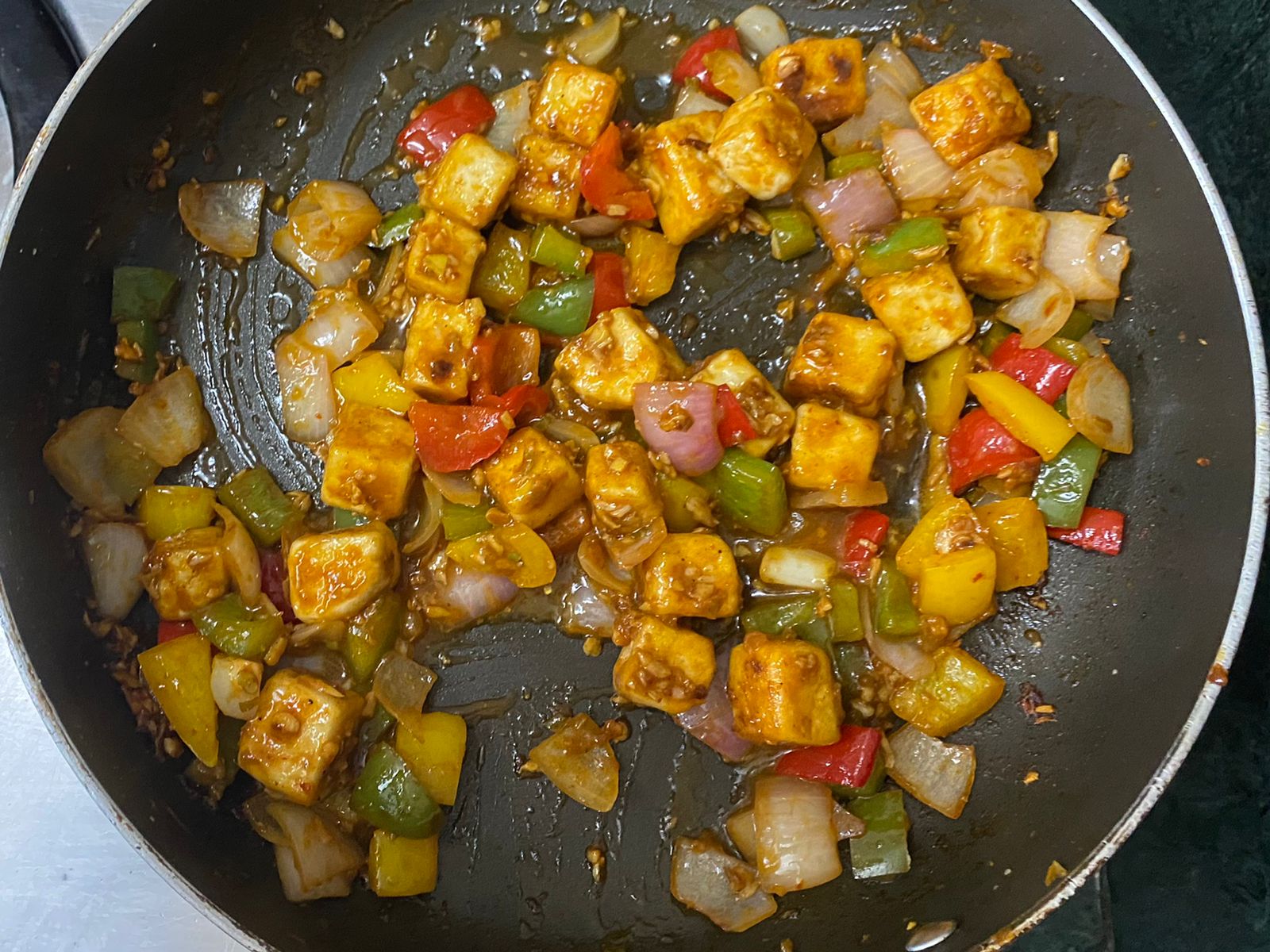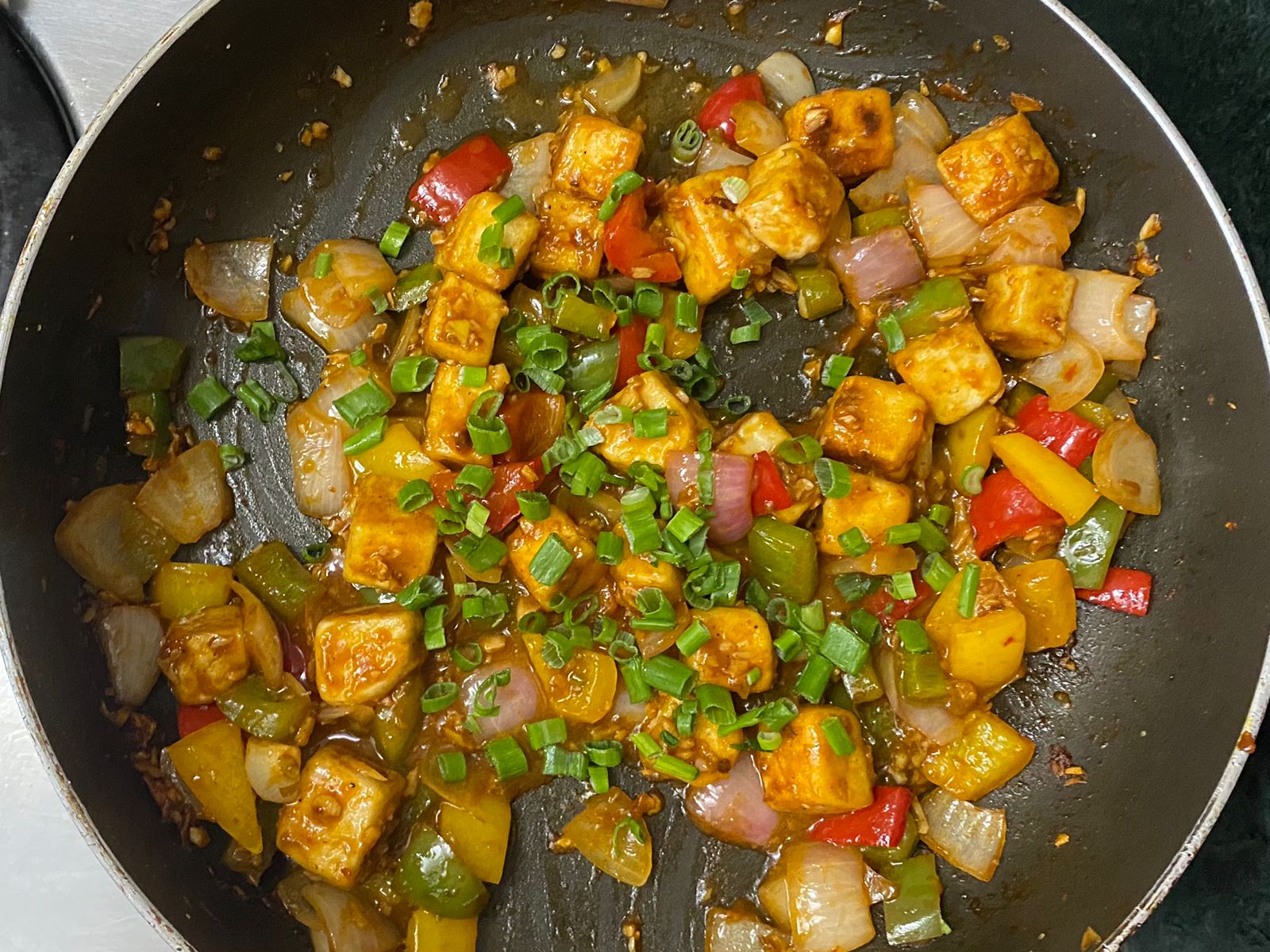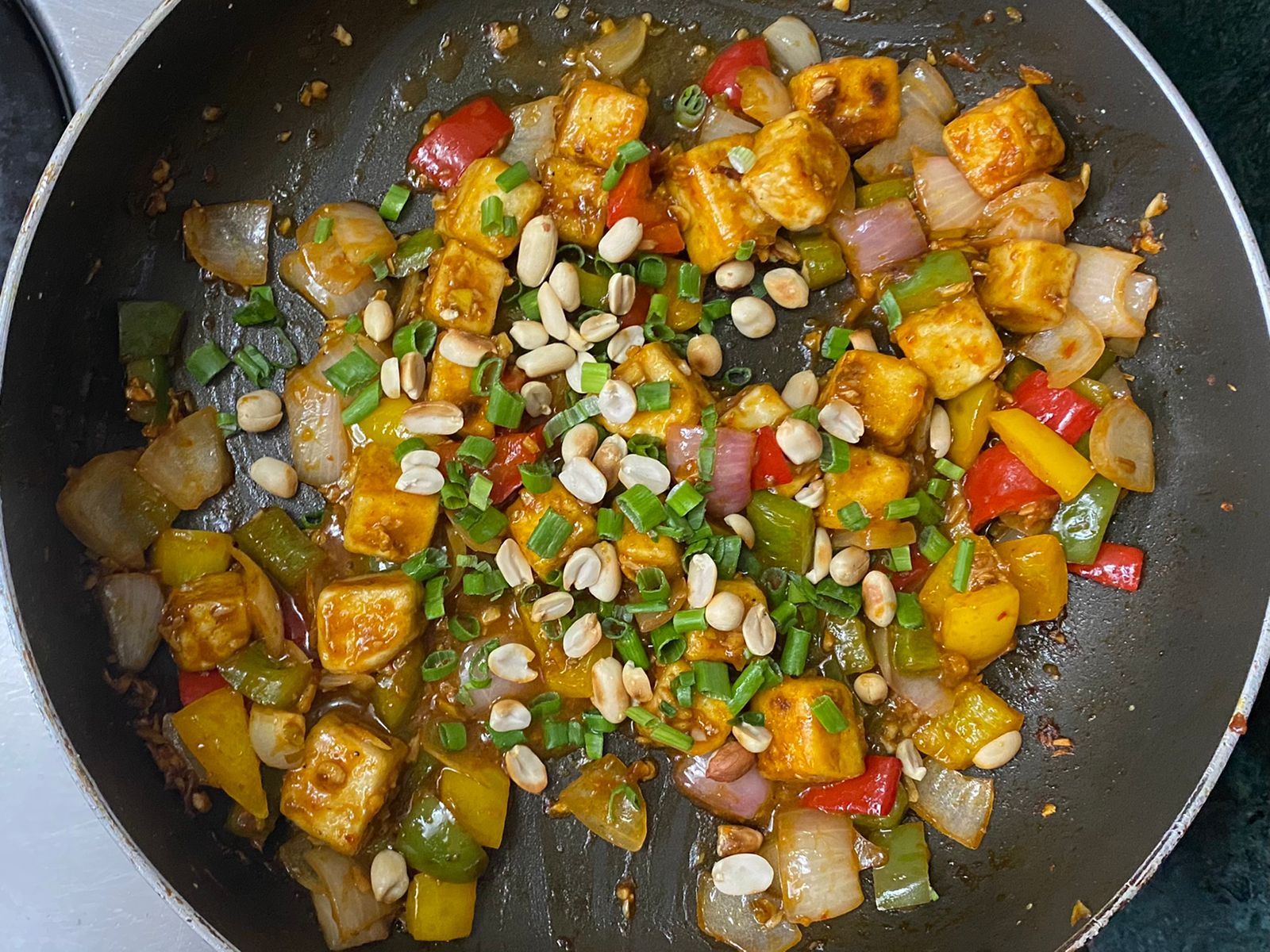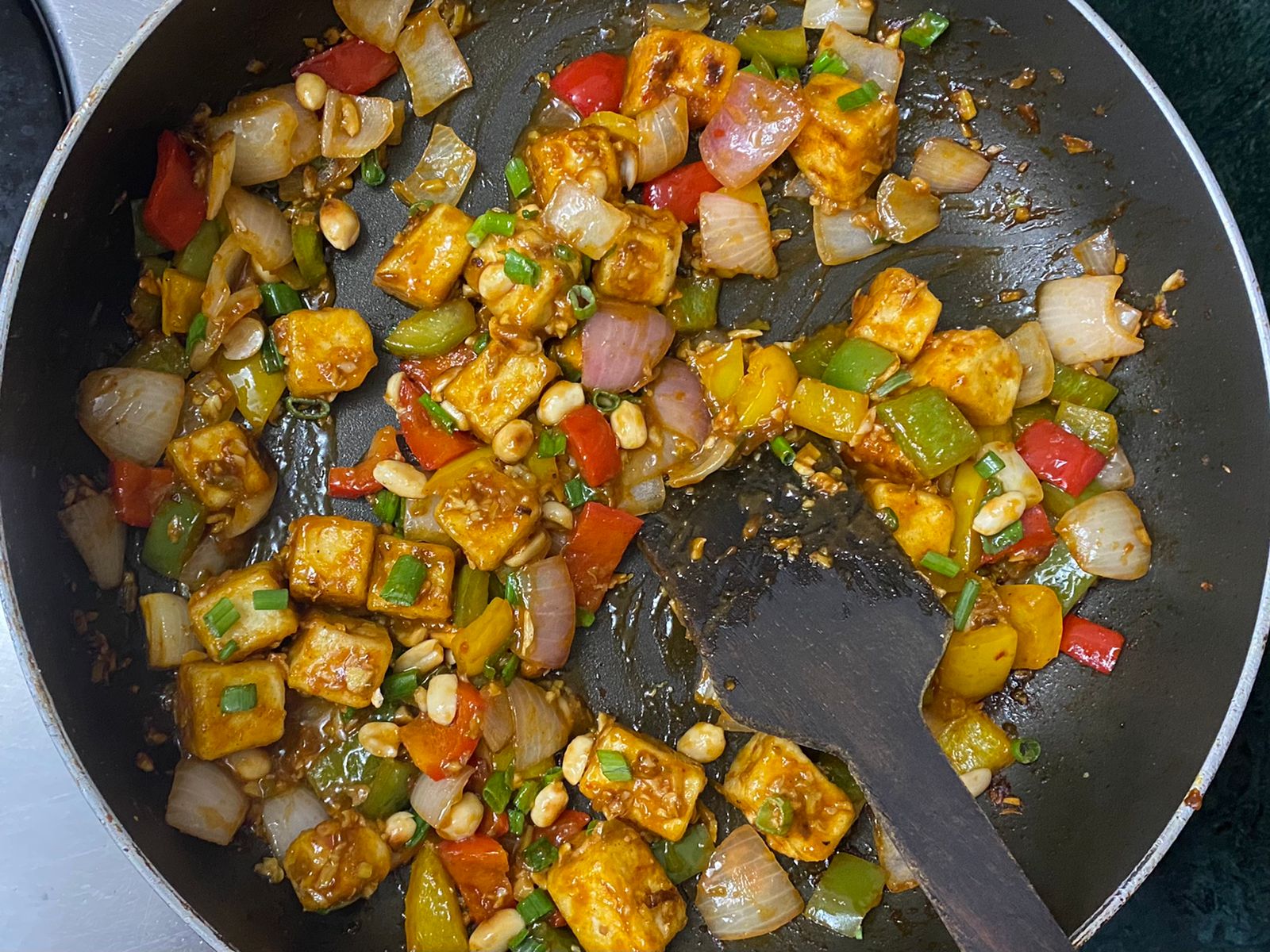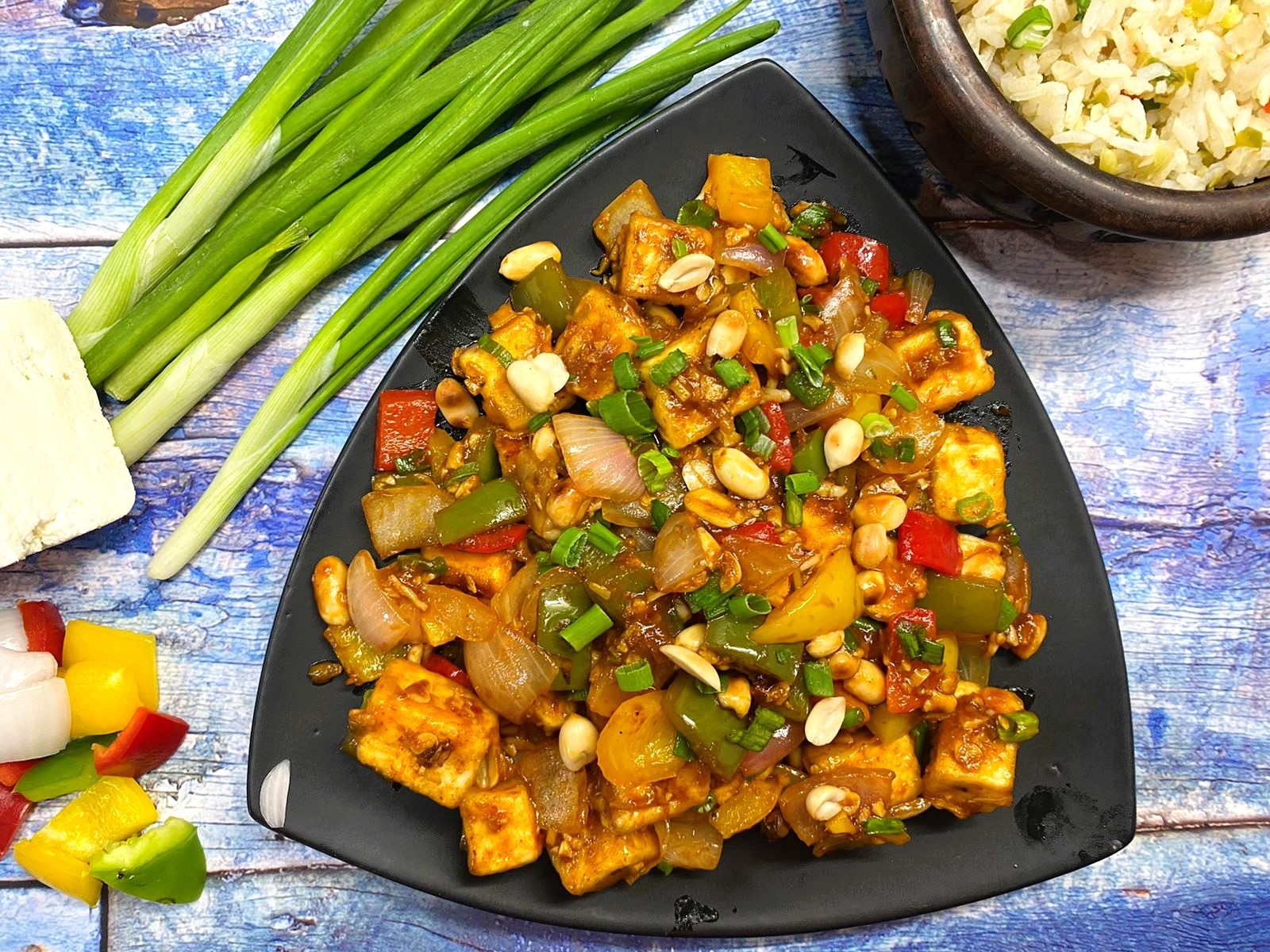 Add corn flour in 2 tablespoons of water and mix it to form corn flour slurry.
Add the corn flour slurry to the sauce and stir continuously. Let the sauce come to a boil and turn the heat off.
After that, add spring onions and peanuts. Toss to coat them with the sauce.
Serve hot!