Crispy Chilli Lotus Stem
Crispy Chilli Lotus Stem is a delicious Indo-Chinese recipe of battered deep fried lotus stem in a garlicky, chilli flavoured sauce.
Lotus Stem is also known as Nadru, Kamal Kakdi, Bhein, Lian Ou in different countries and languages is a popular vegetarian ingredient widely used in Chinese, Indian and Asian sub-continent cuisine. Although named as 'root', it is in fact the rhizome, a continuously growing horizontal underwater stem, of the lotus plant. Lotus root comes in connected, cylinder-shaped segments (like giant linked sausages). When cut crosswise, one can see a 'rotary dial phone' pattern. Lotus Stem comes in 2 different varieties; one is with 7 holes and the other one has 9 holes. 7-hole lotus root is best for soups or lotus root powder because it is softer whereas the 9-hole lotus root is best for stir-fries, and salad. But the two types can be interchangeable for common home cooking.
Lotus root has a slightly sweet, nutty and earthy taste and offers a crunchy texture to any recipe, making it perfect for stir fry recipes. However, taste isn't the only reason lotus root is a widely eaten meal across Asia. There are many benefits to eating lotus root; for example, it is high in dietary fibre and so great for digestion and is also rich in carbohydrates to provide a good source of energy. It is also loaded with Vitamins like Vit. C, Vit. B complex, forms and integral part of collagen which maintains strength and rigidity of cells, skin and organs.
My daughter likes the lotus stem and hence it is often on my grocery shopping list. If you like Indo-Chinese flavours then you might also like Chilli Baby Corn, Chilli Water Chestnut, Crispy Chilli Corn, Indo-Chinese Chilli Paneer, Asian Chilli Garlic Prawns, and Chinese Style Crispy Vegetables to name a few.
Ingredients
500 grams lotus stem peeled and chopped into ½ cm disc
Oil for deep frying
For The Batter
2 teaspoons finely chopped garlic
1 teaspoon finely chopped ginger
1 teaspoon finely chopped green chillies
Salt to taste
1 teaspoon white pepper
2 tablespoons plain flour
2 teaspoons corn flour
For The Sauce
2 teaspoons sesame oil
1 teaspoon finely chopped green chillies
2 teaspoons finely chopped garlic
1 teaspoon finely chopped ginger
2 teaspoons finely chopped celery
½ cup finely chopped onion
½ cup finely chopped green pepper
2 teaspoons vinegar
2 teaspoons red chilli sauce
2 teaspoons soy sauce
2 teaspoons schezwan sauce
Salt to taste
1 teaspoon white pepper
½ cup water
2 tablespoons corn flour
2 tablespoons finely chopped spring onions
Directions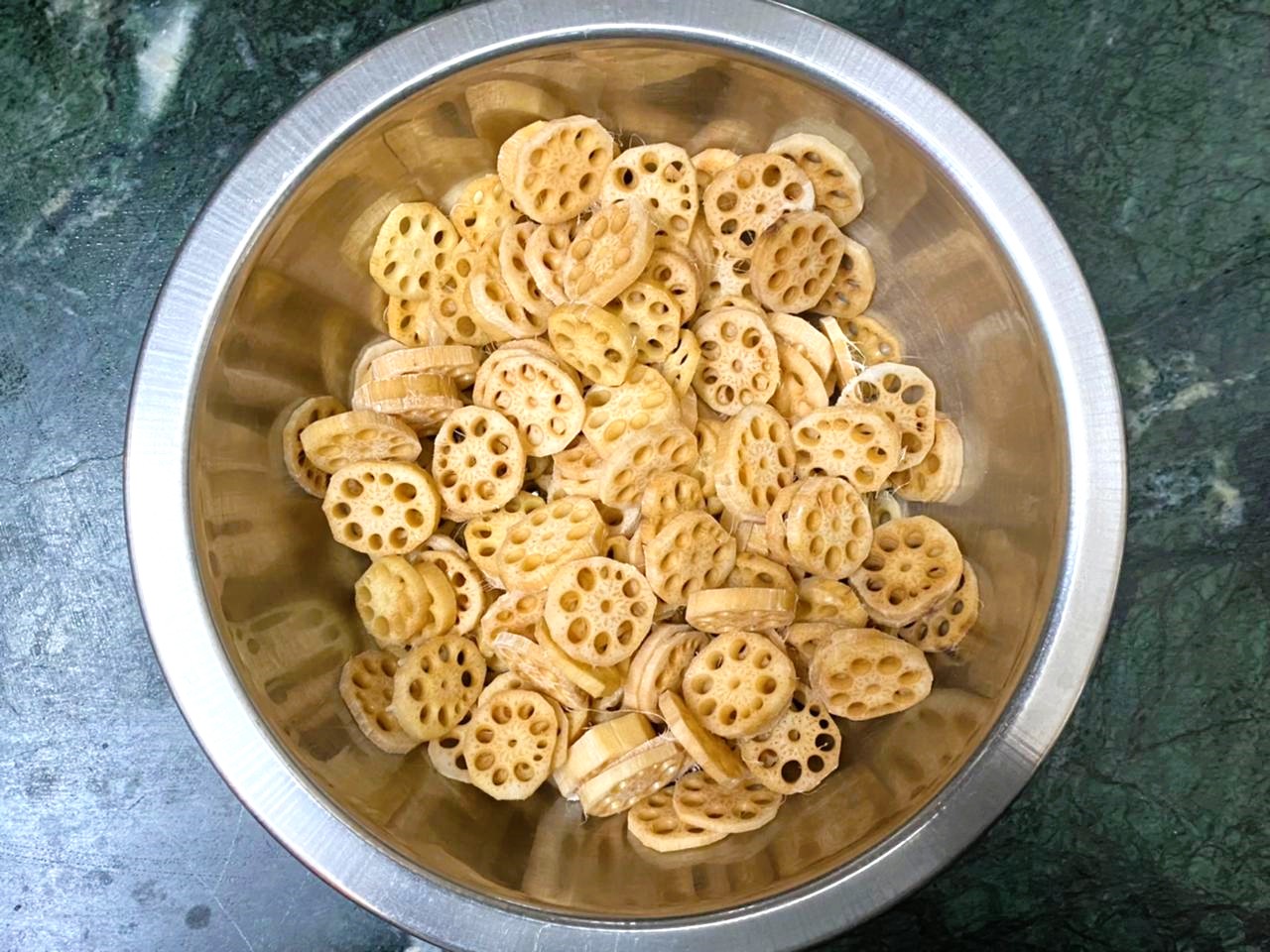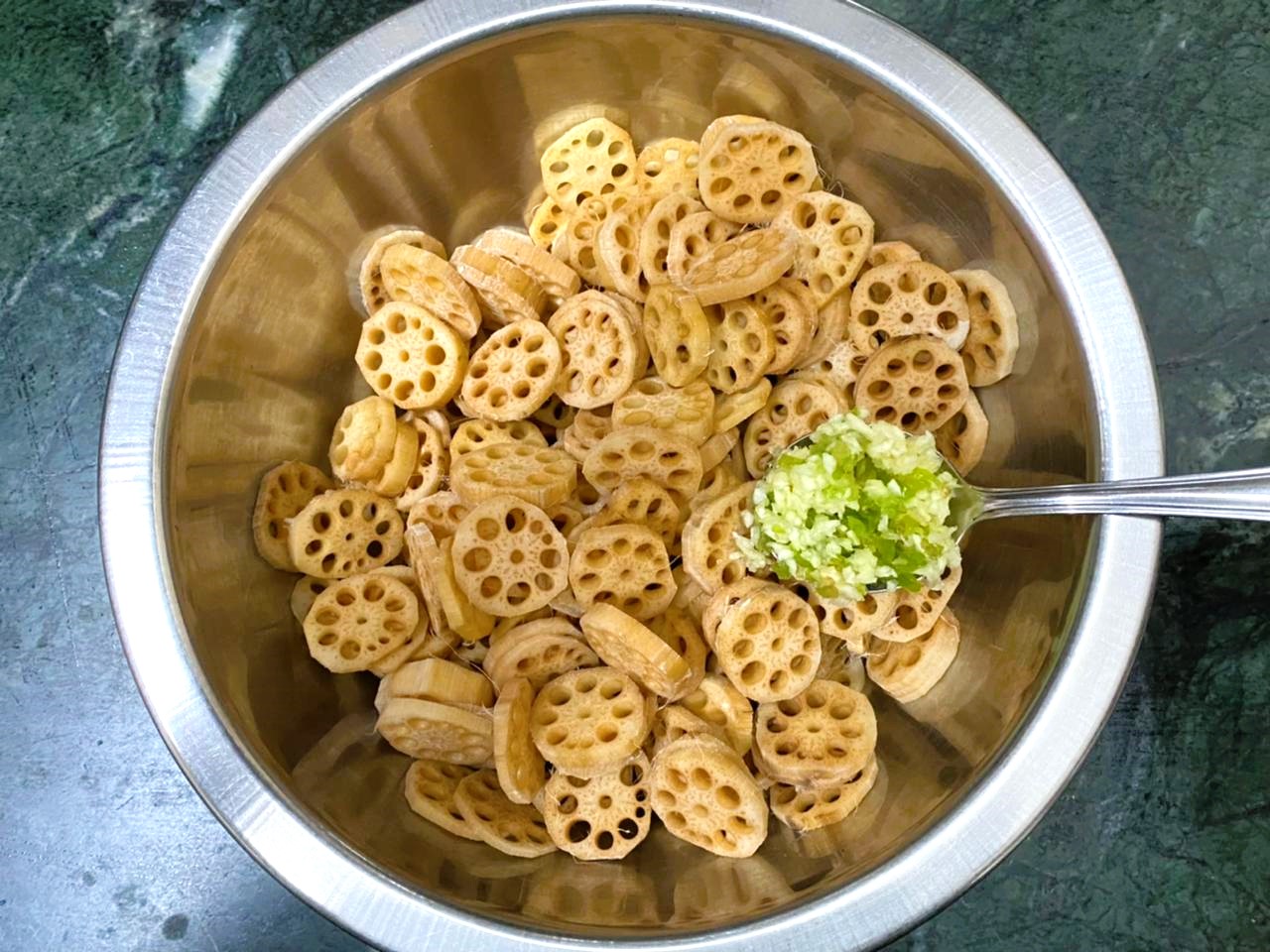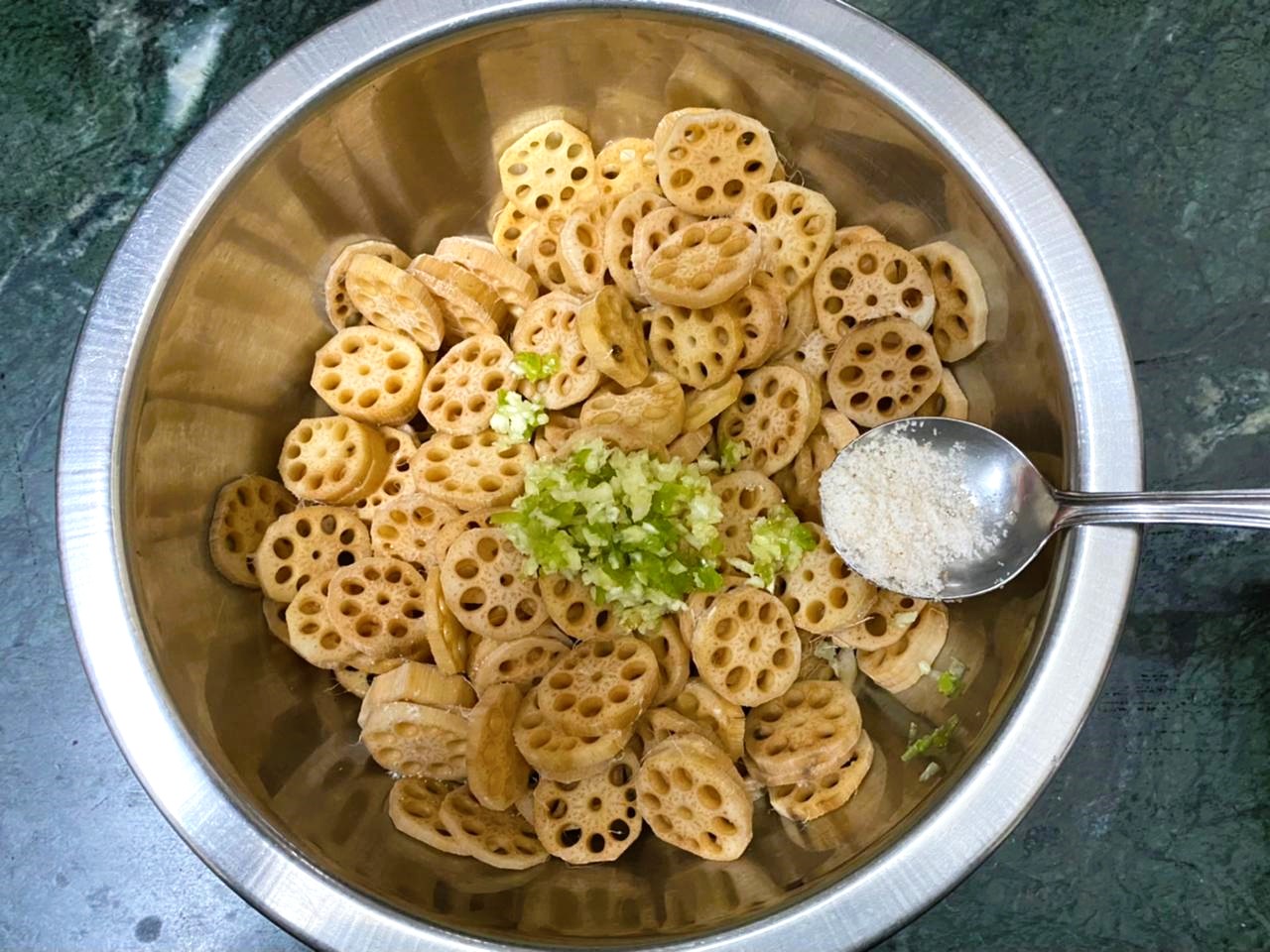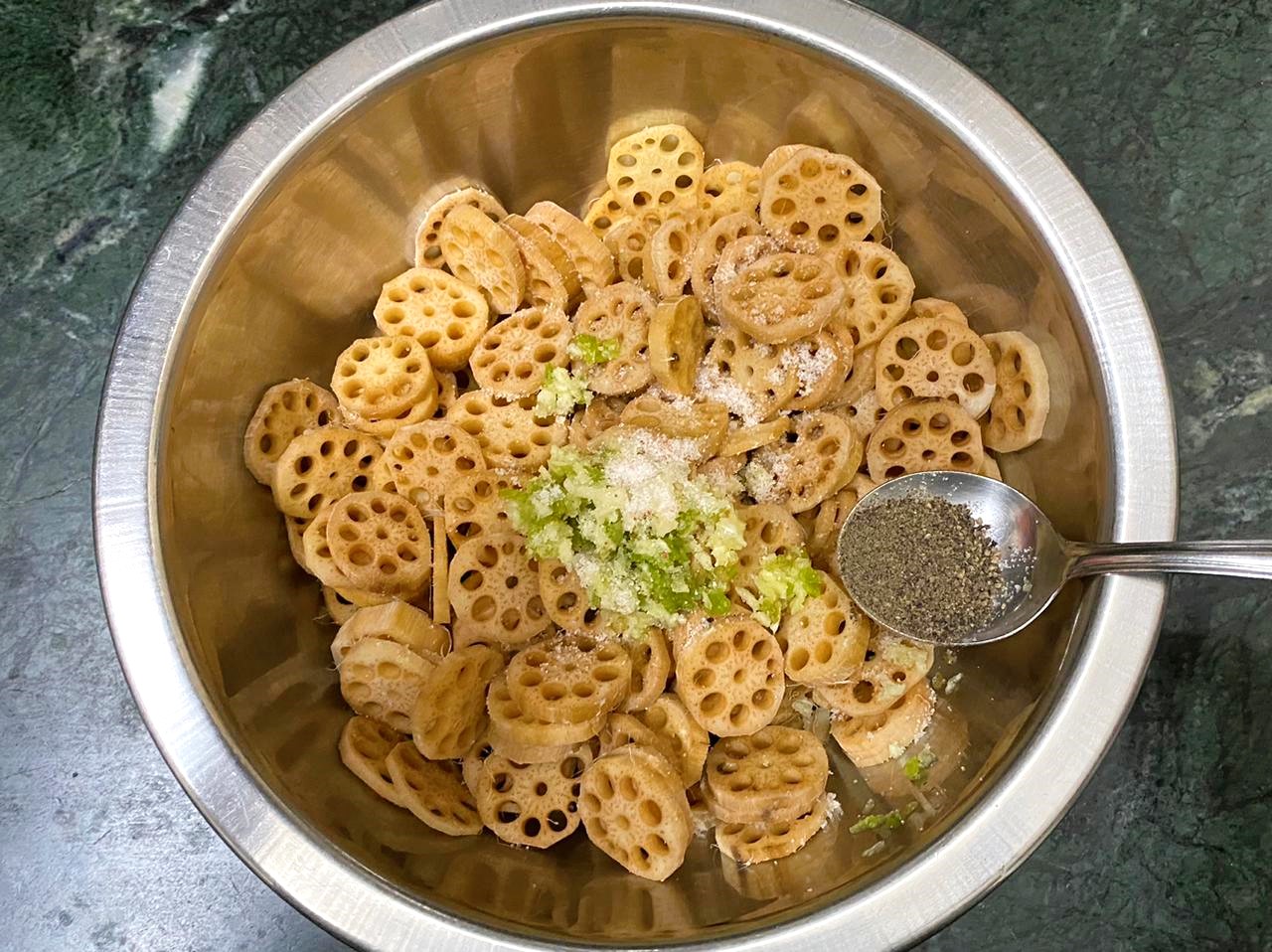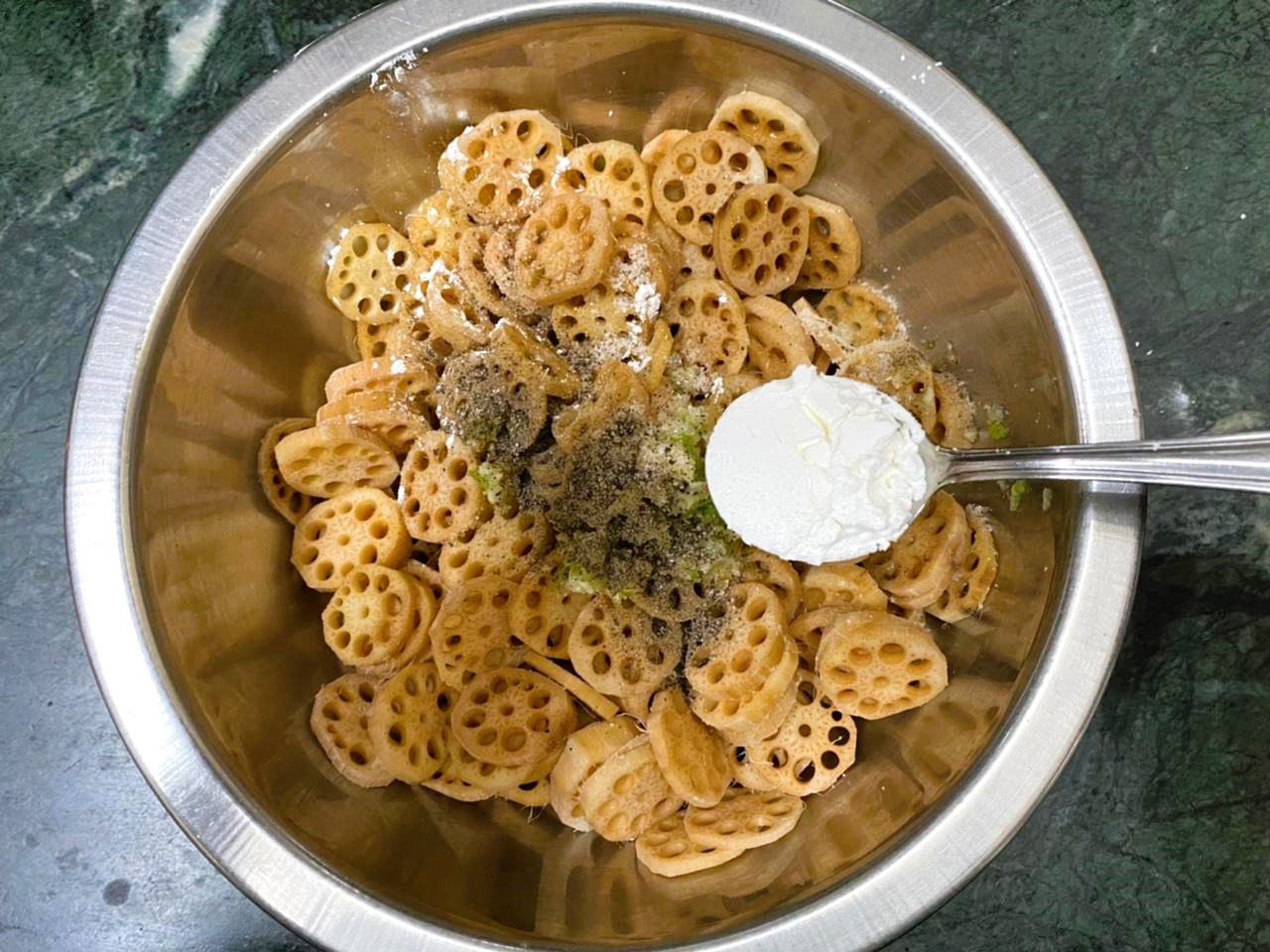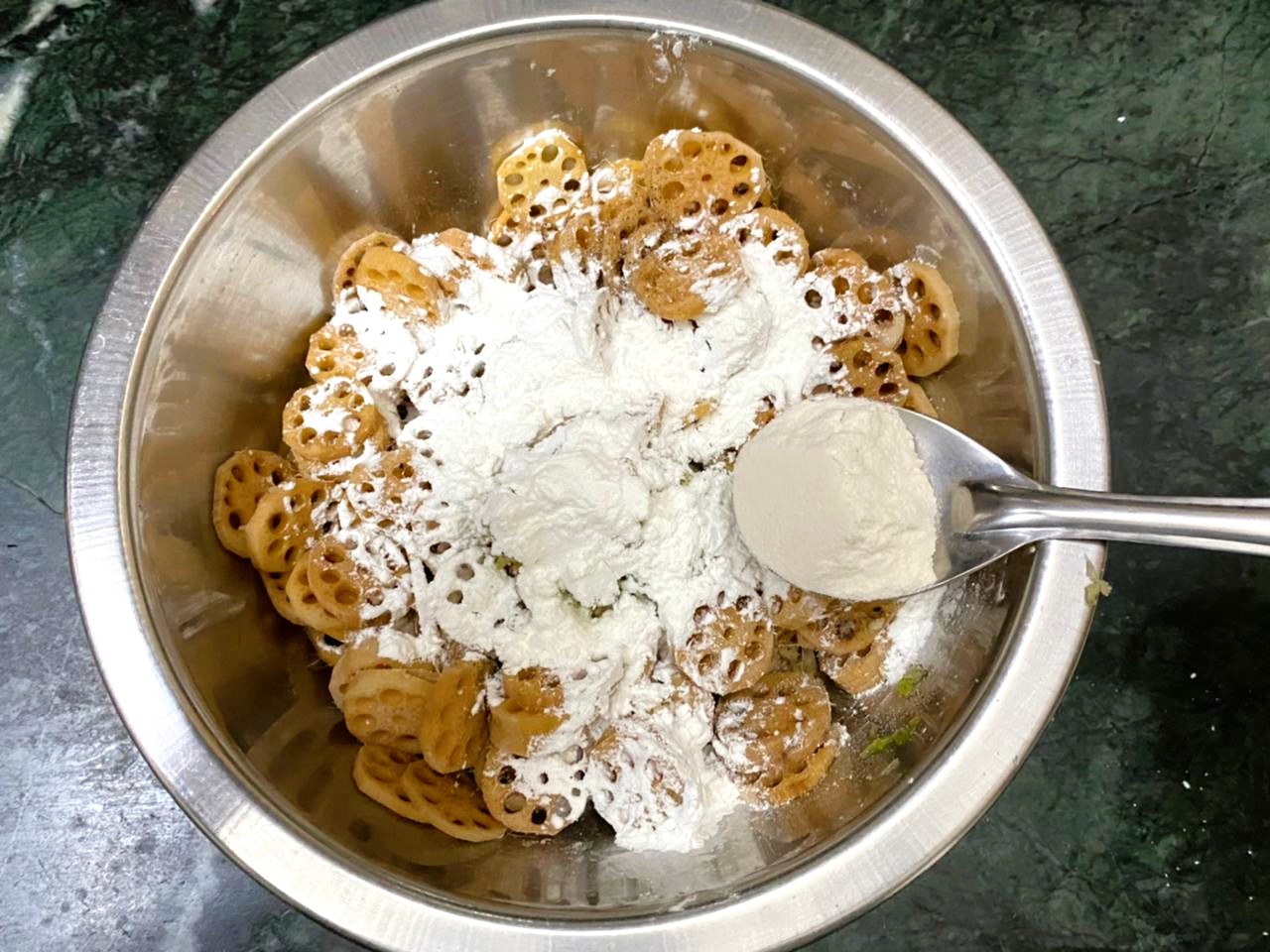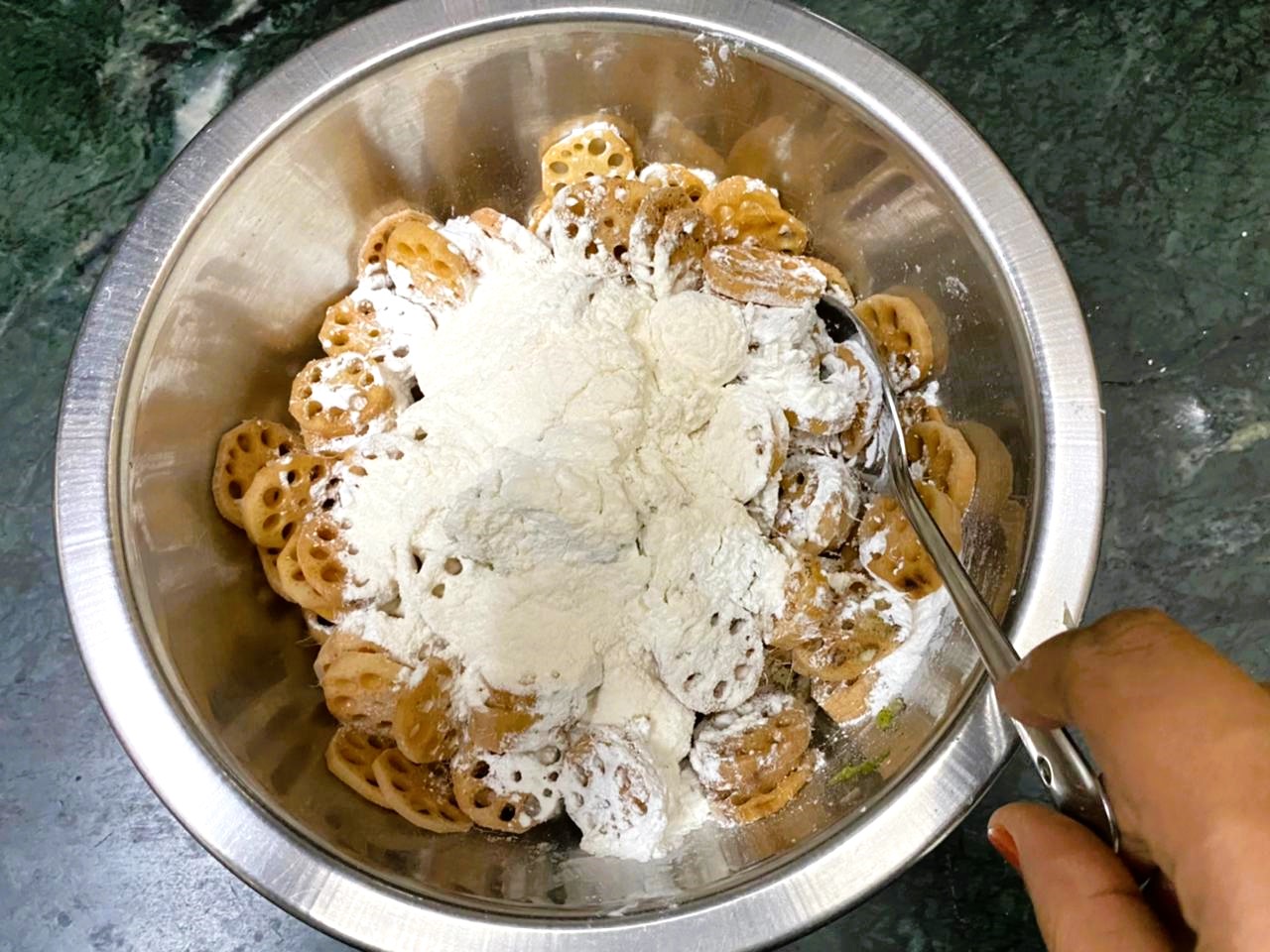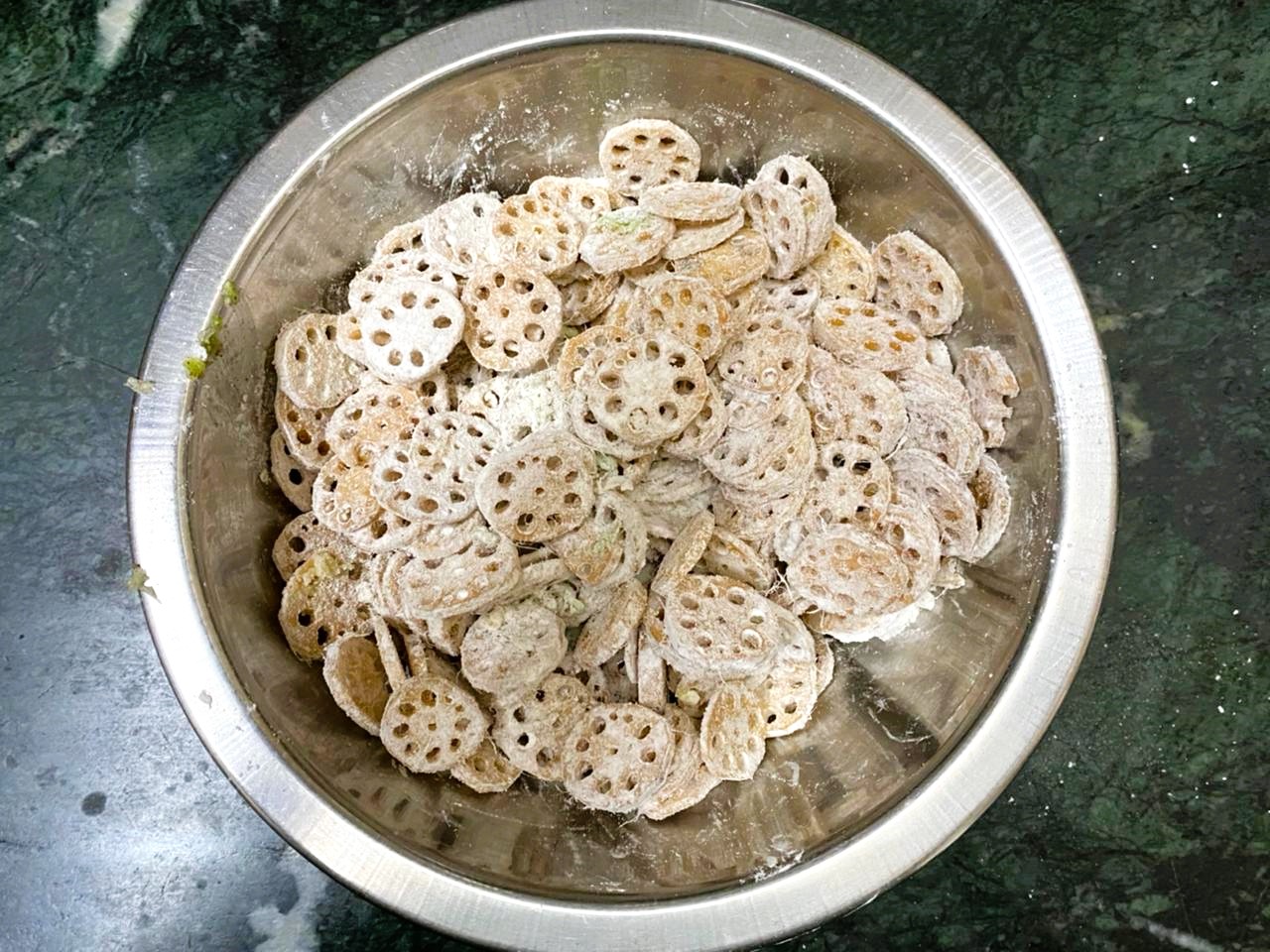 In a bowl, add the lotus stem, garlic, ginger, green chillies, salt, pepper, plain flour and corn flour. Toss everything together to coat the lotus stem. You can add 2-3 tablespoons of cold water if the coating is too dry as we need to evenly coat the stems.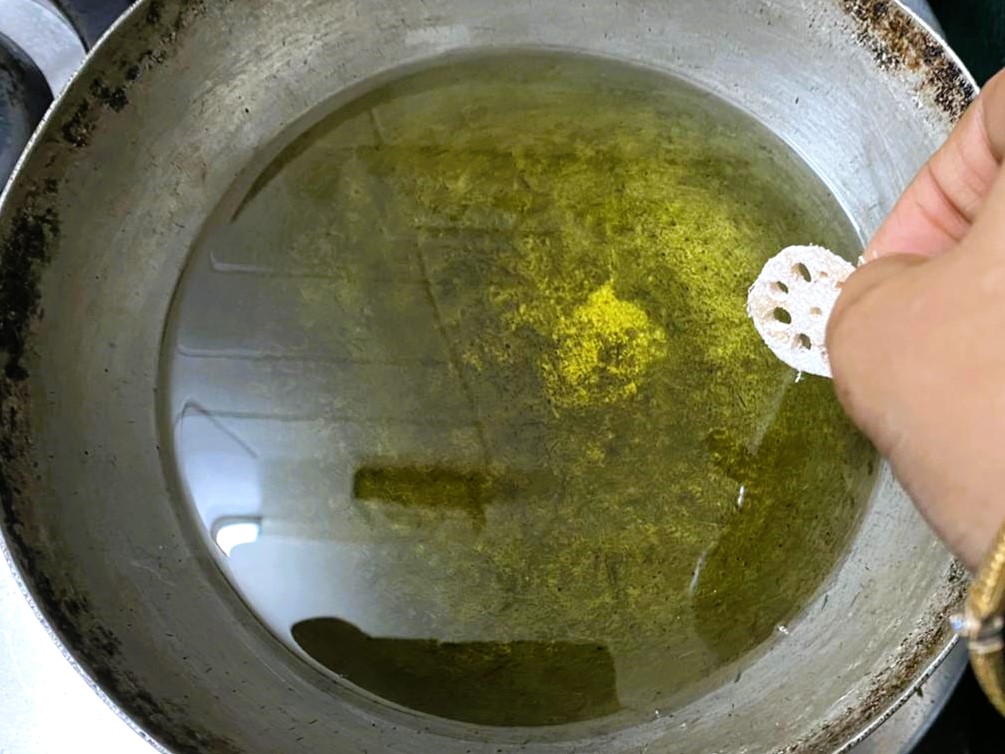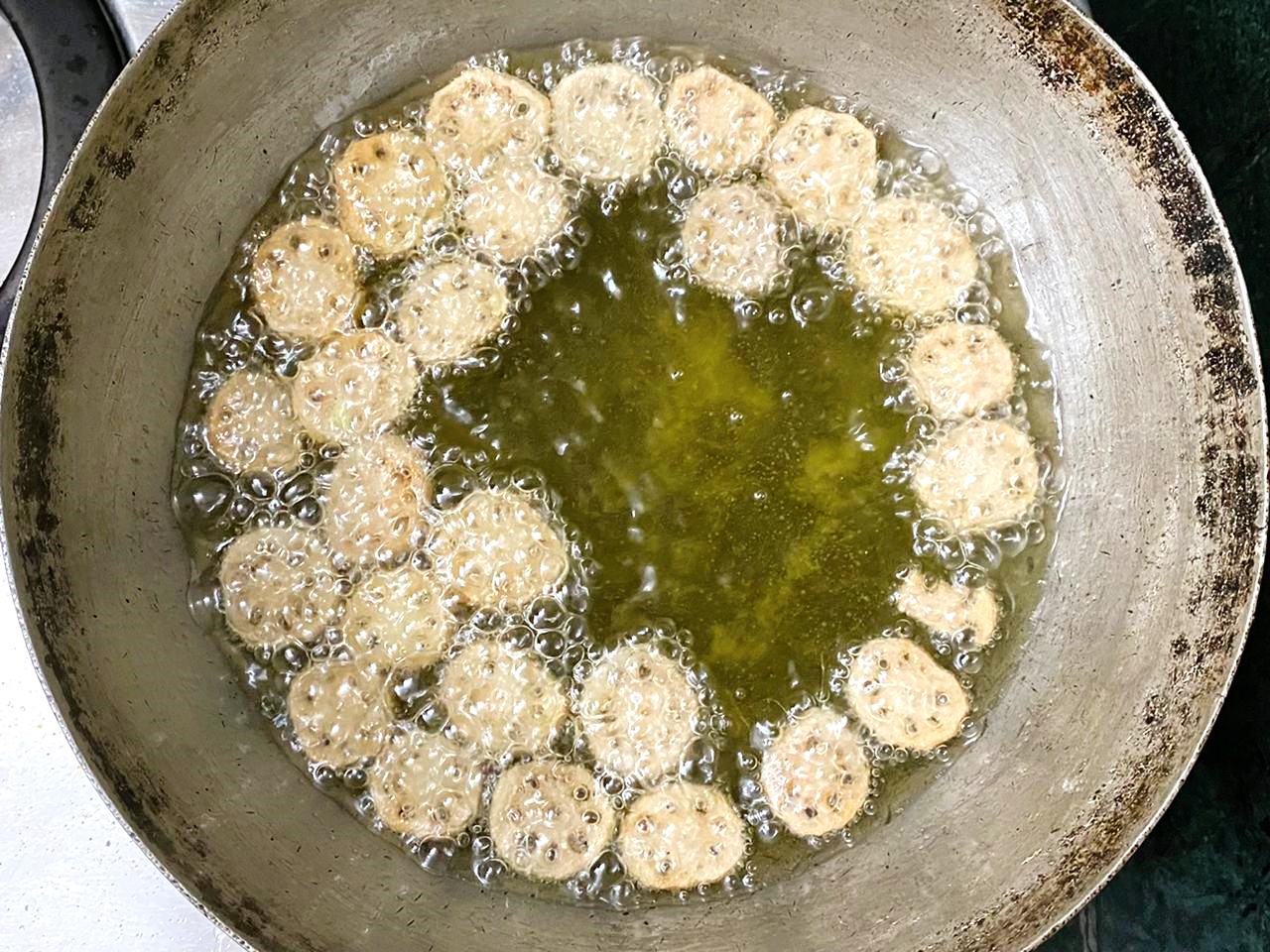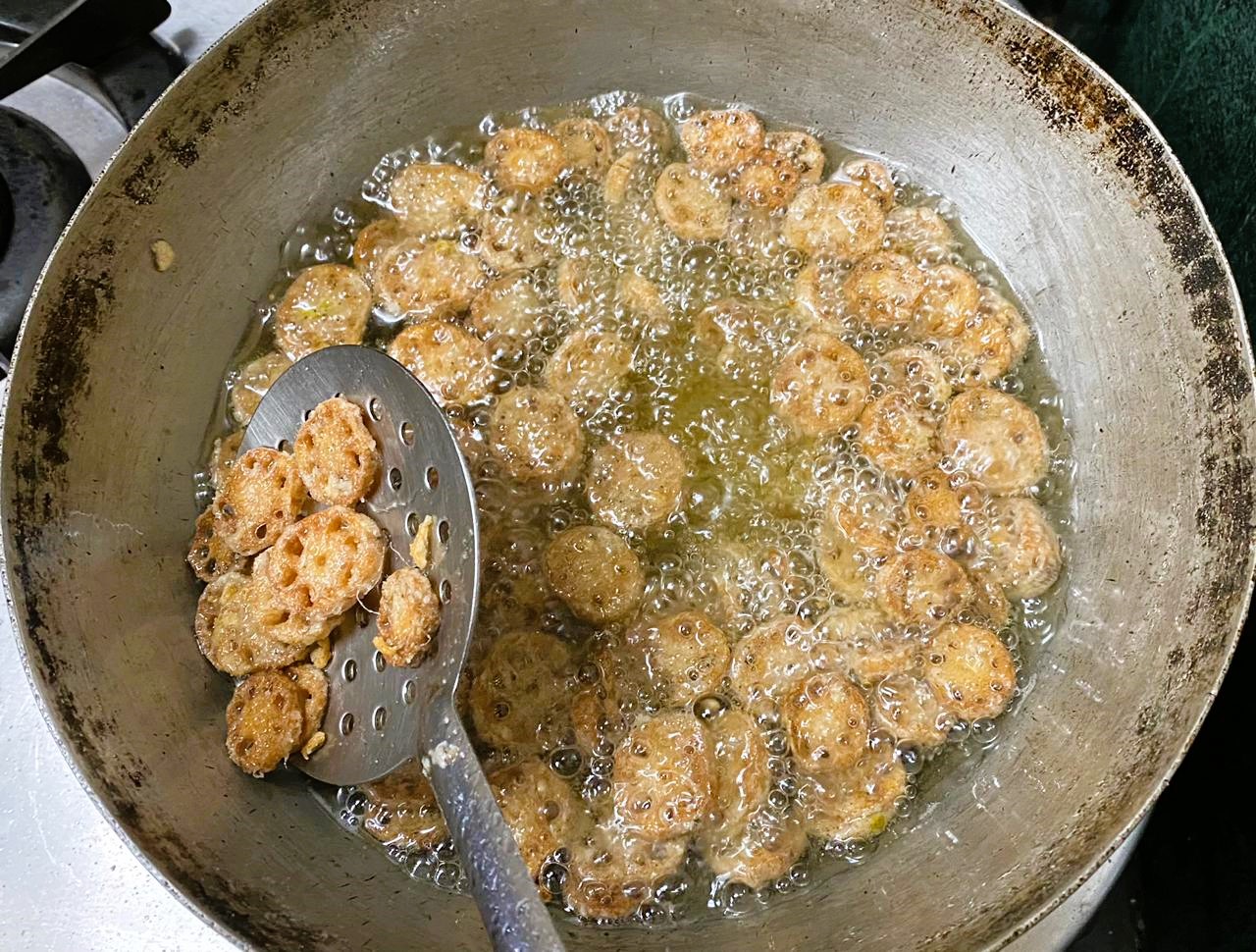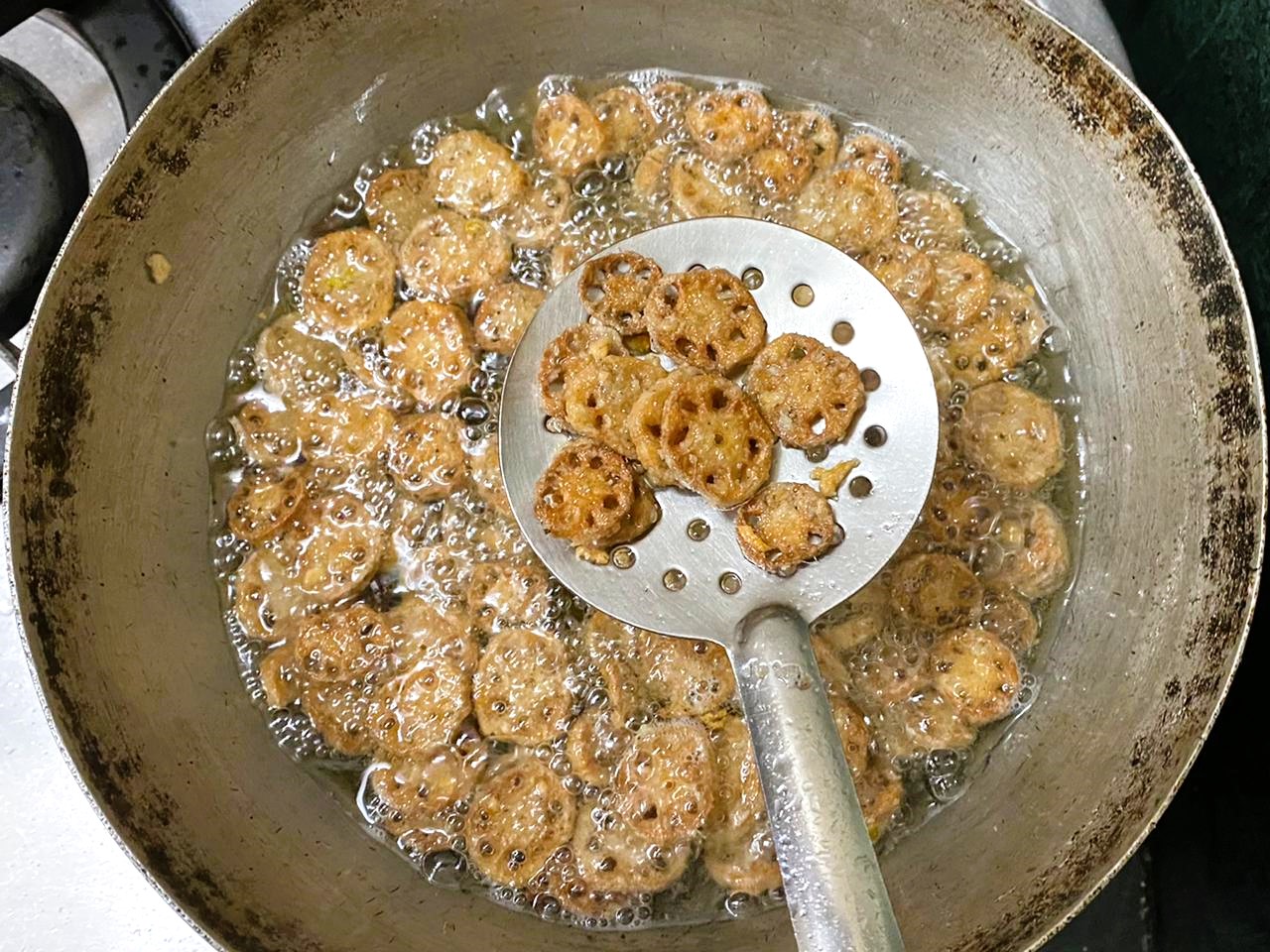 Heat oil for frying. To check if the oil is ready for frying add one piece of coated lotus root in the oil. If it comes steadily and quickly on the surface, then that means the oil has the right temperature to fry.
Gently slide each lotus stem in the hot oil and fry them on medium heat for 3-4 minutes or until they turn golden and crisp on all sides. I prefer to fry them in batches.
Use a slotted spoon to fish them out from the oil. Drain the lotus stems on a kitchen roll/ absorbent paper to soak up excess oil.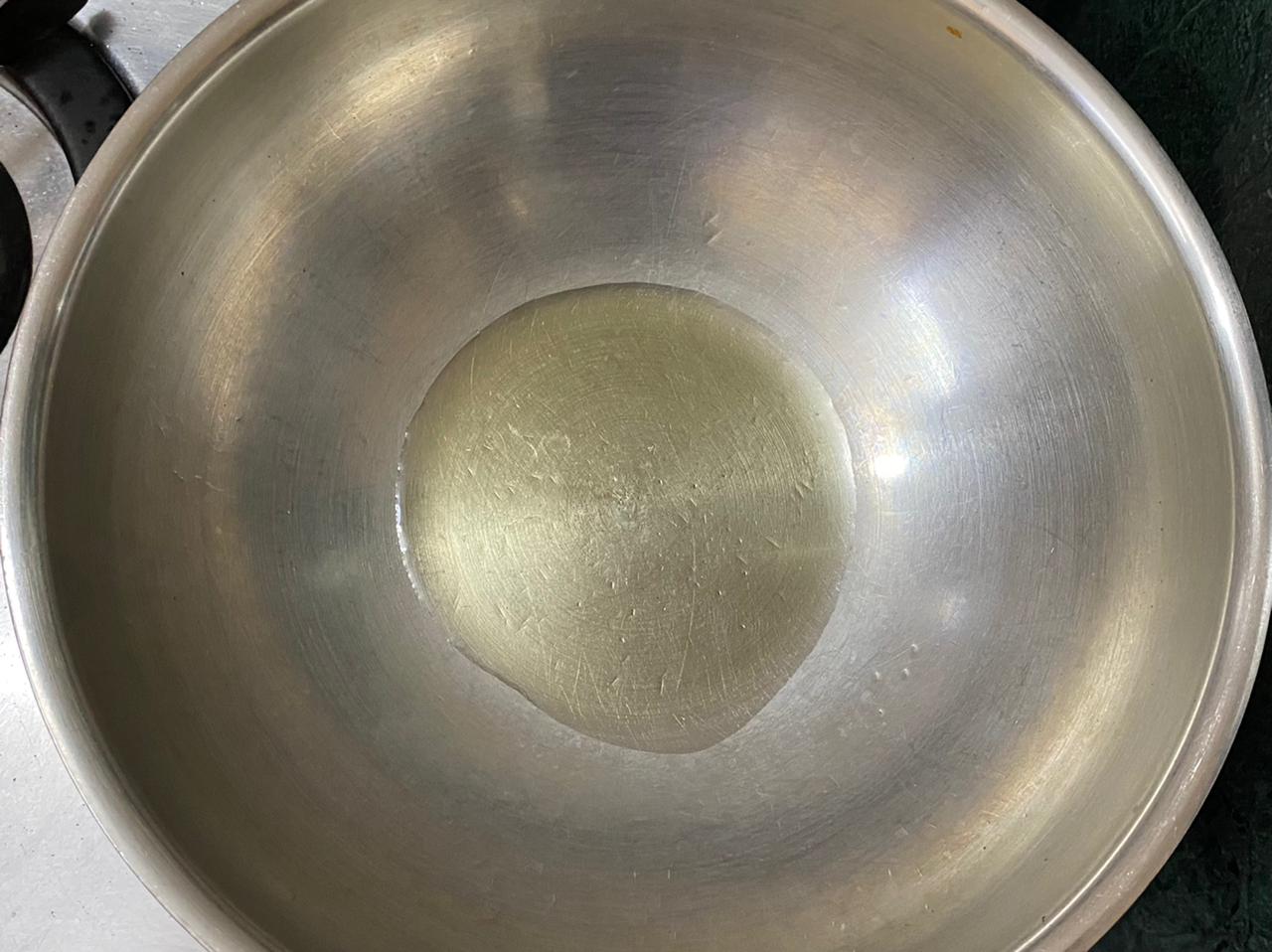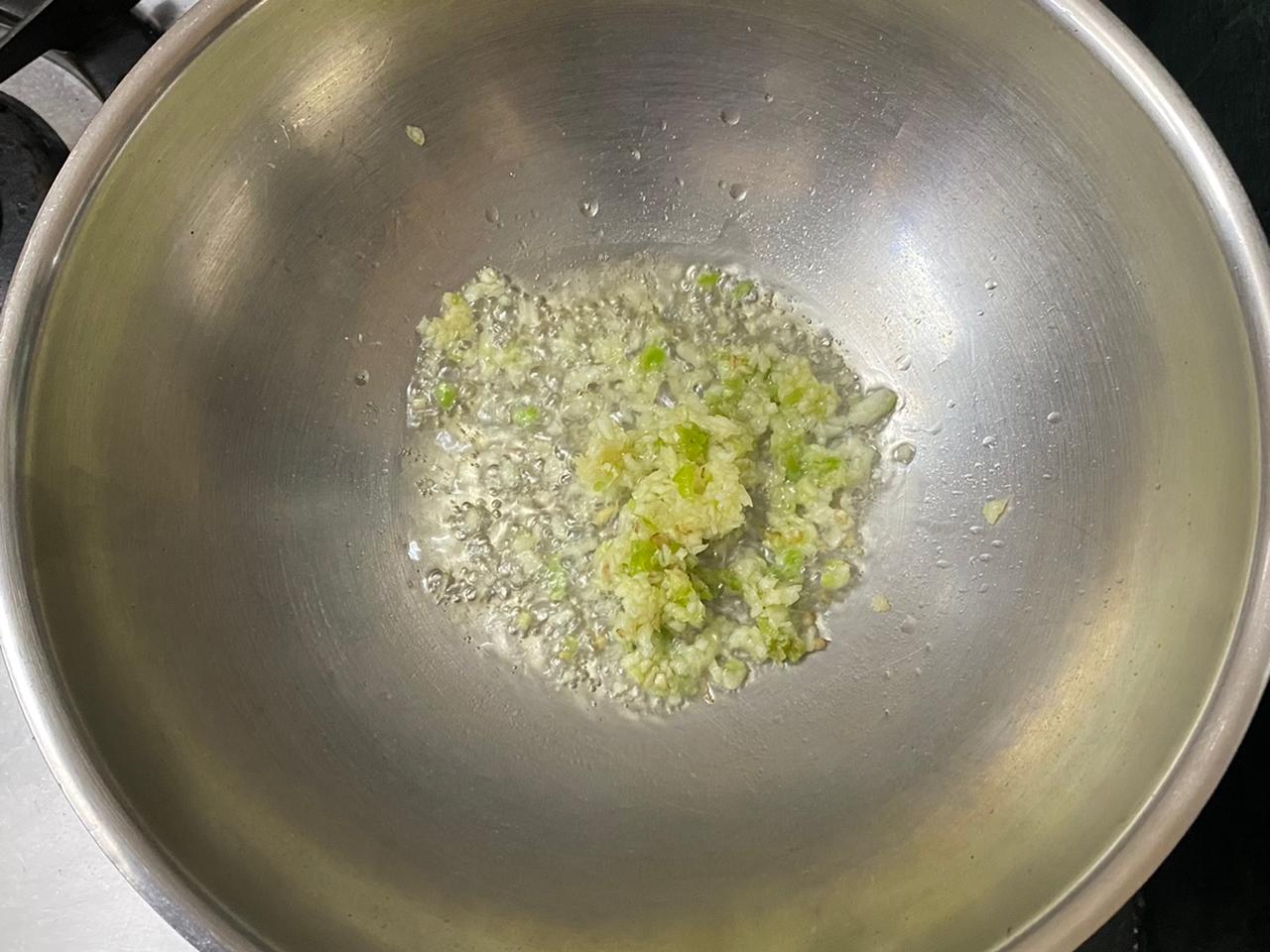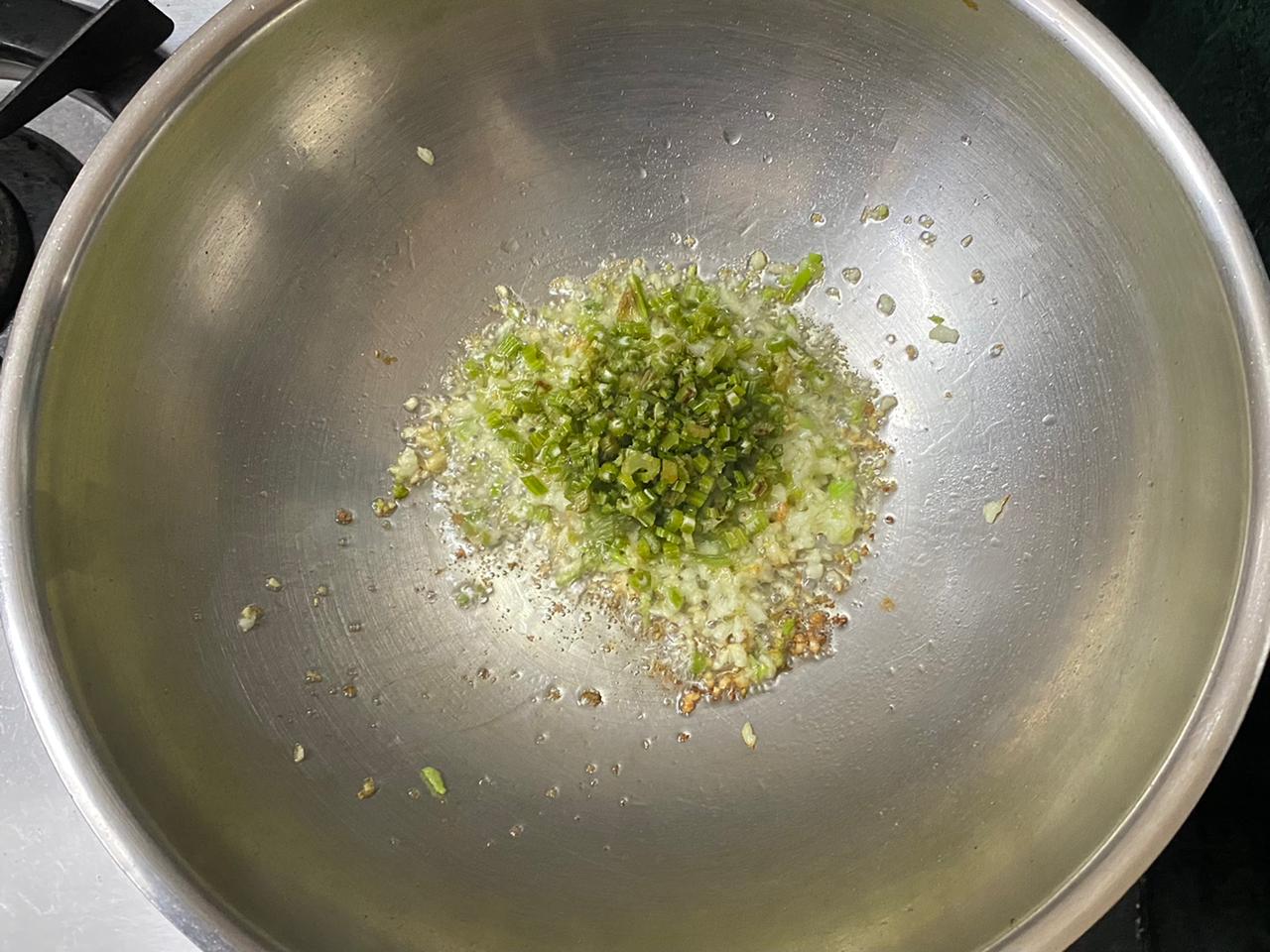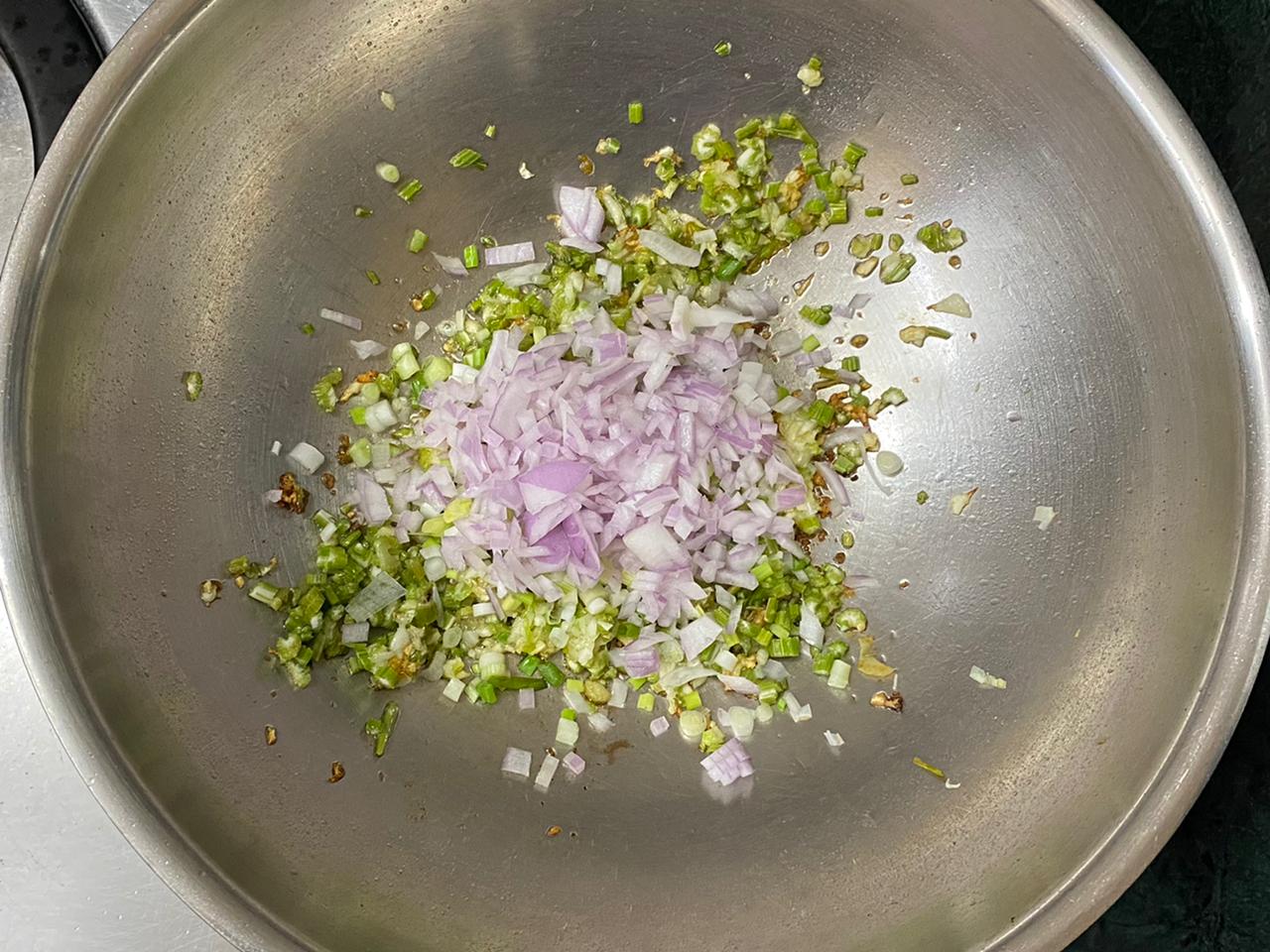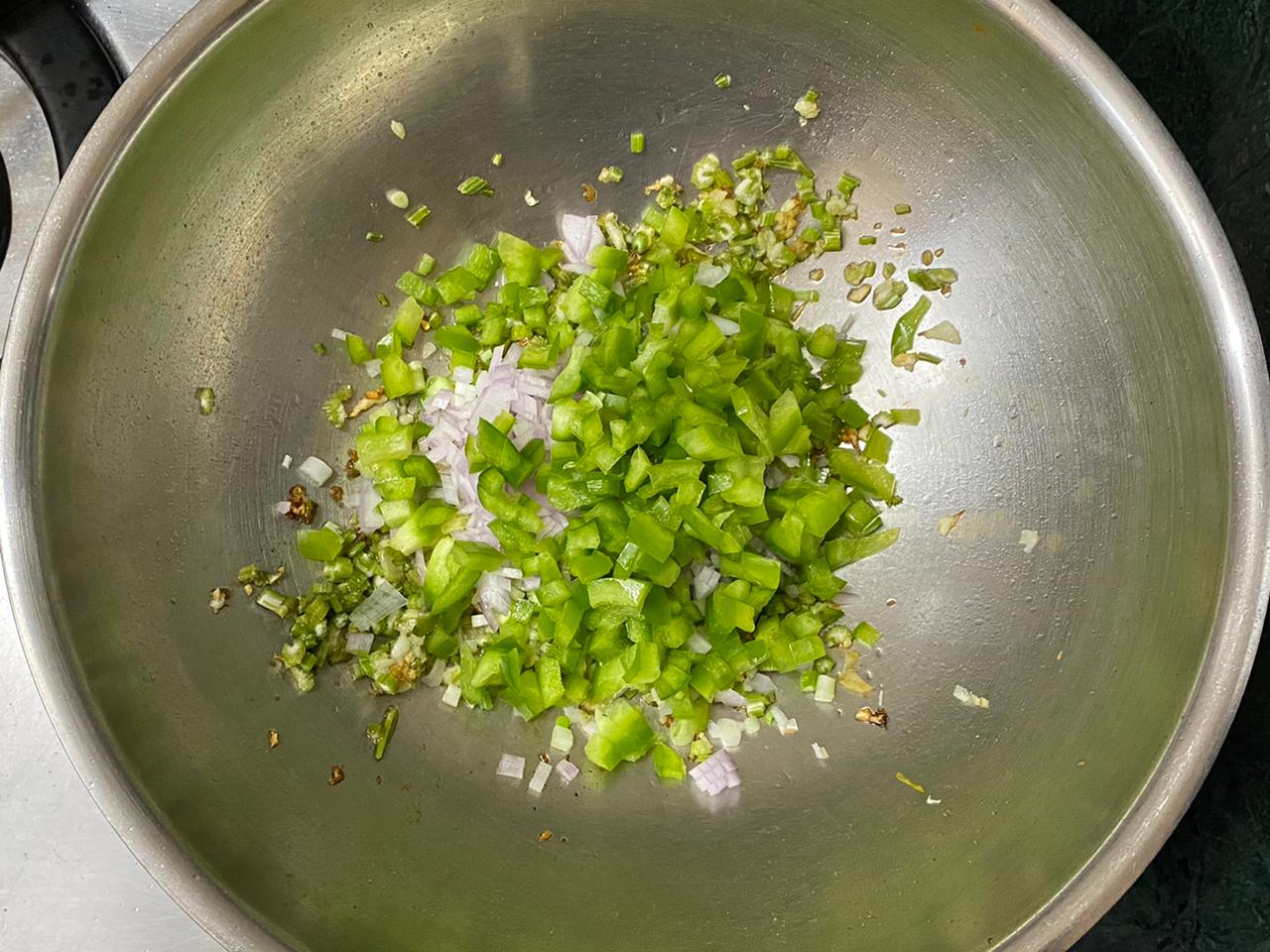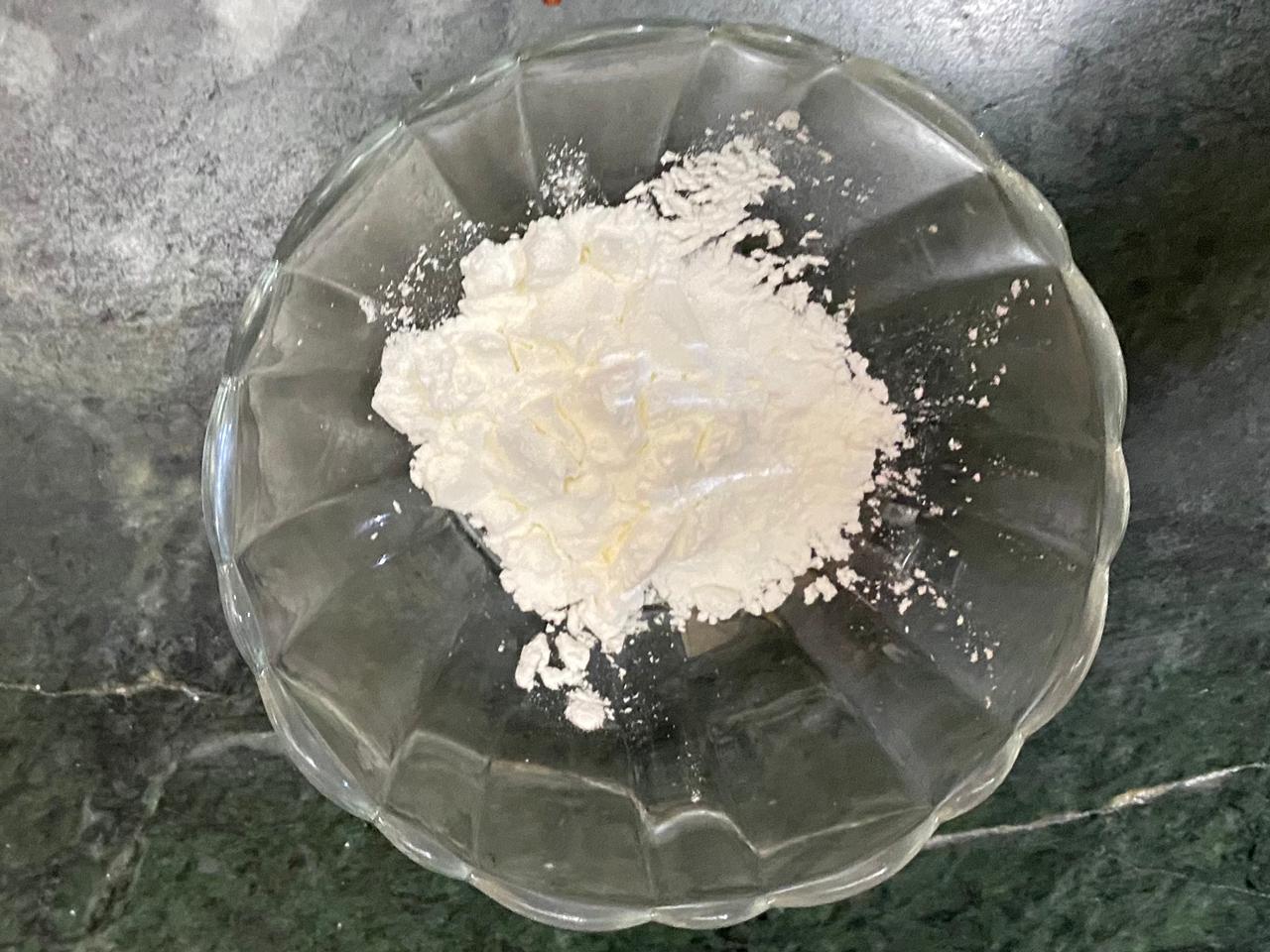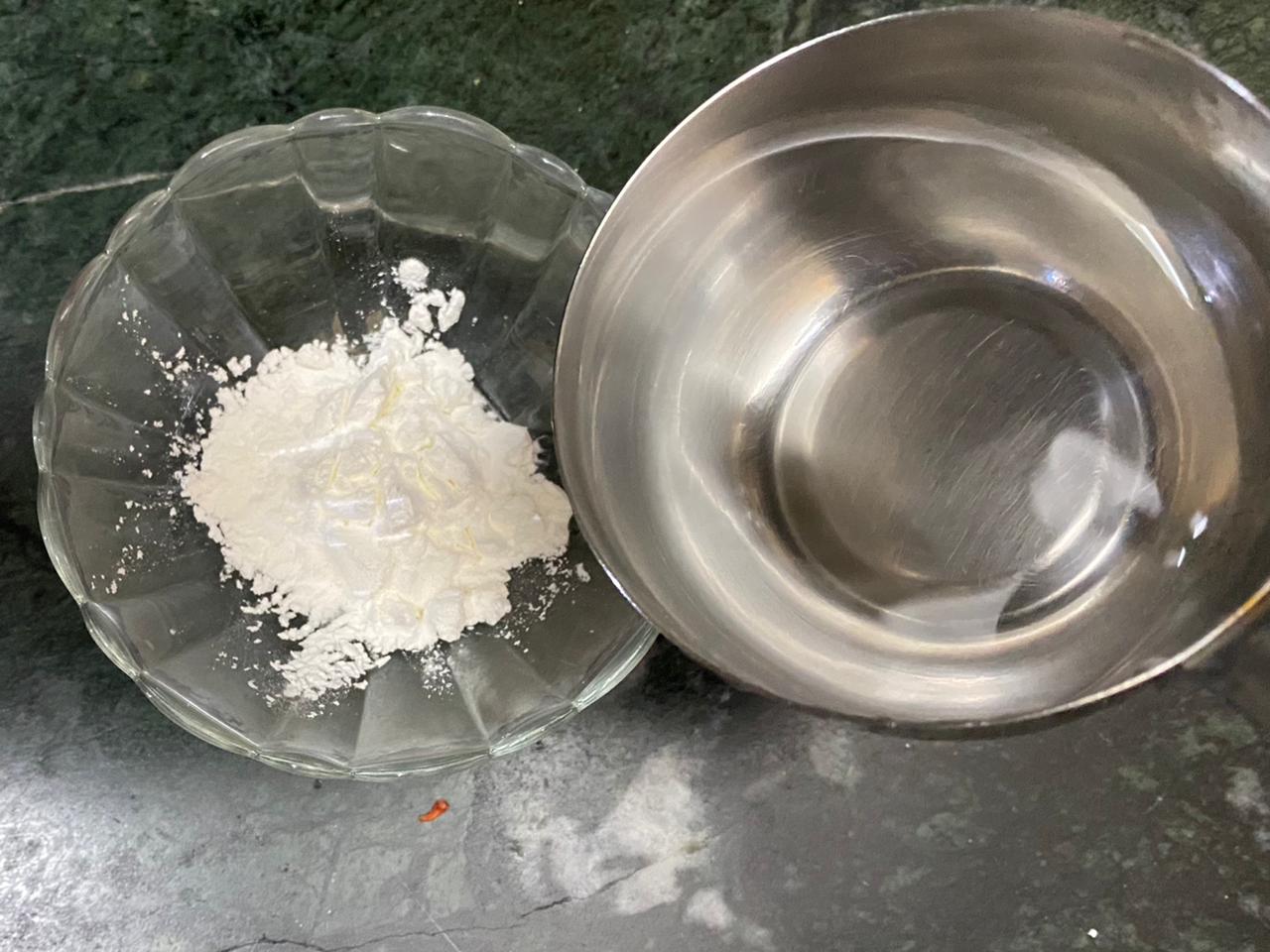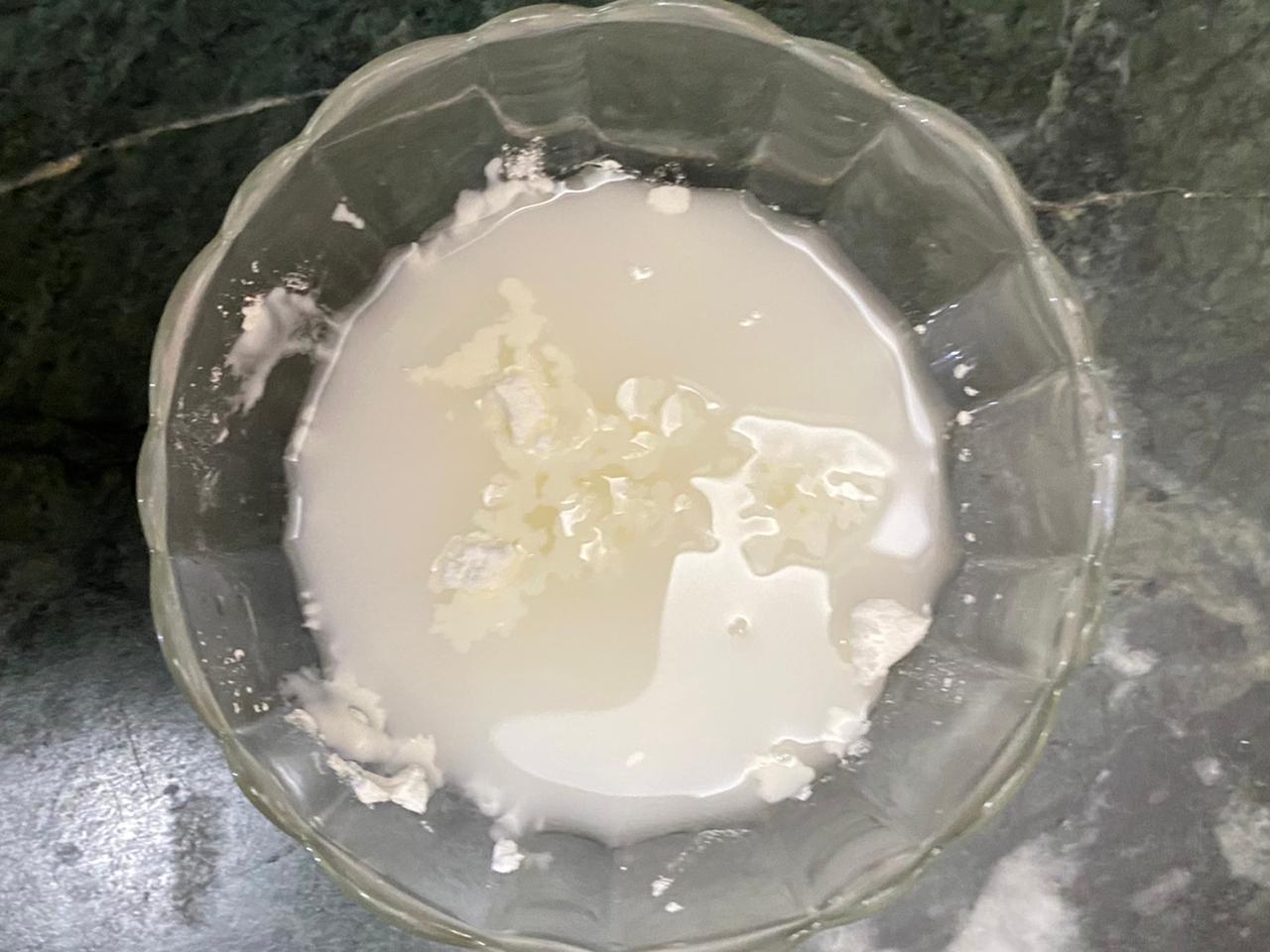 Heat oil in a pan and sauté the green chili, ginger and garlic for a minute on medium heat.
Next add the celery, onions and green pepper and sauté for 2-3 minutes on medium heat.
Mix corn flour in 2 tablespoons of water and mix it to form smooth corn flour slurry. Keep it aside.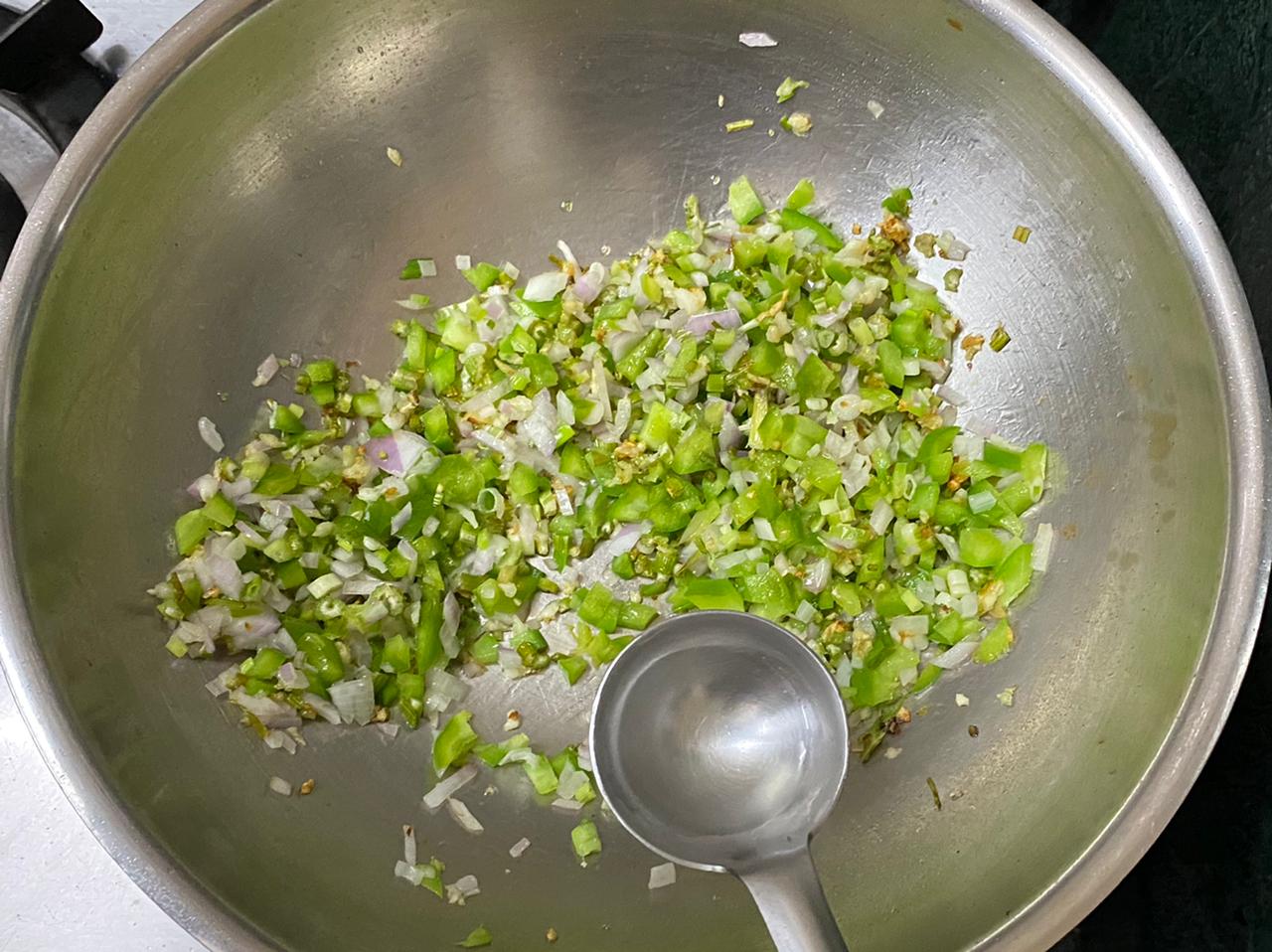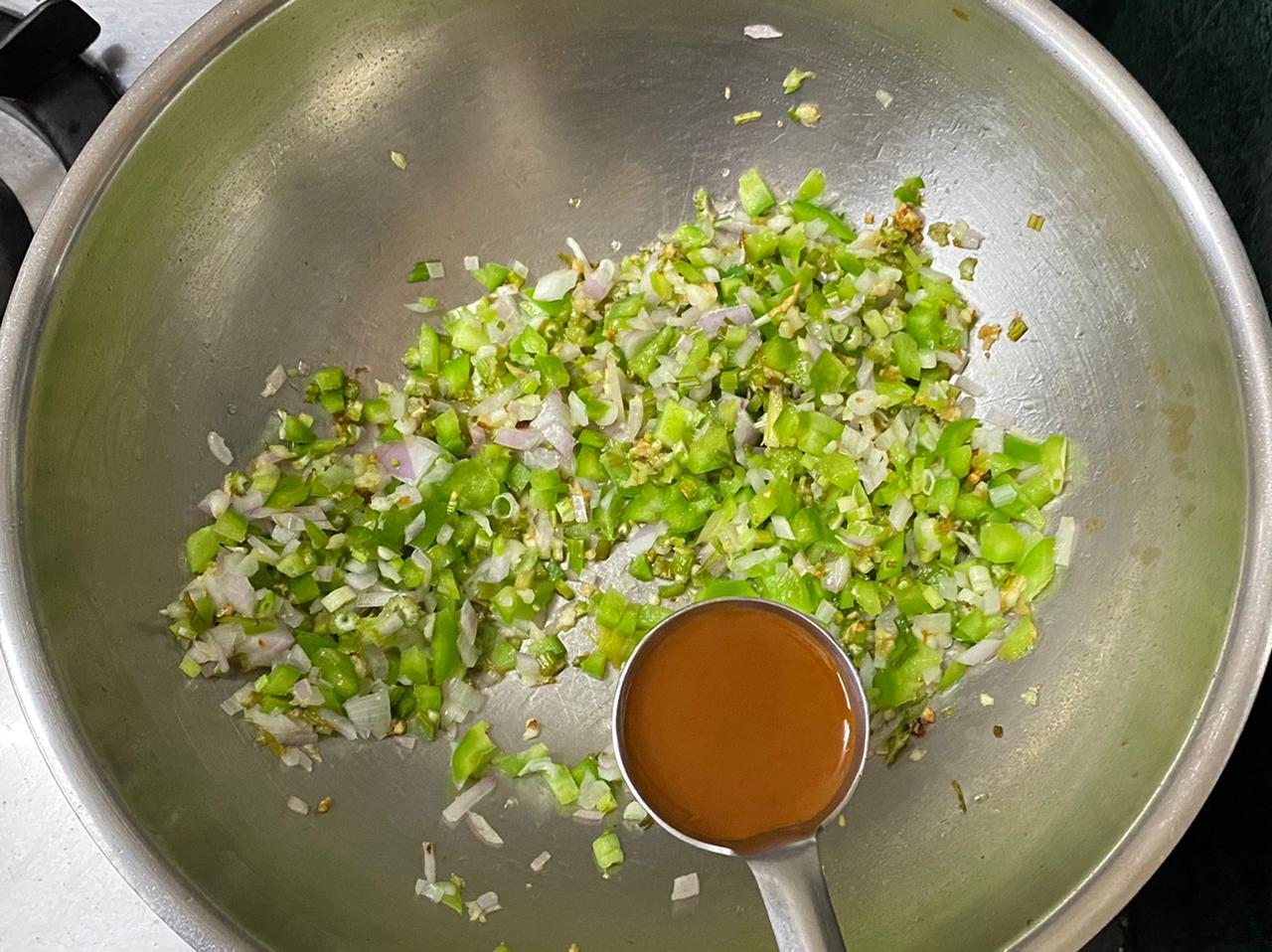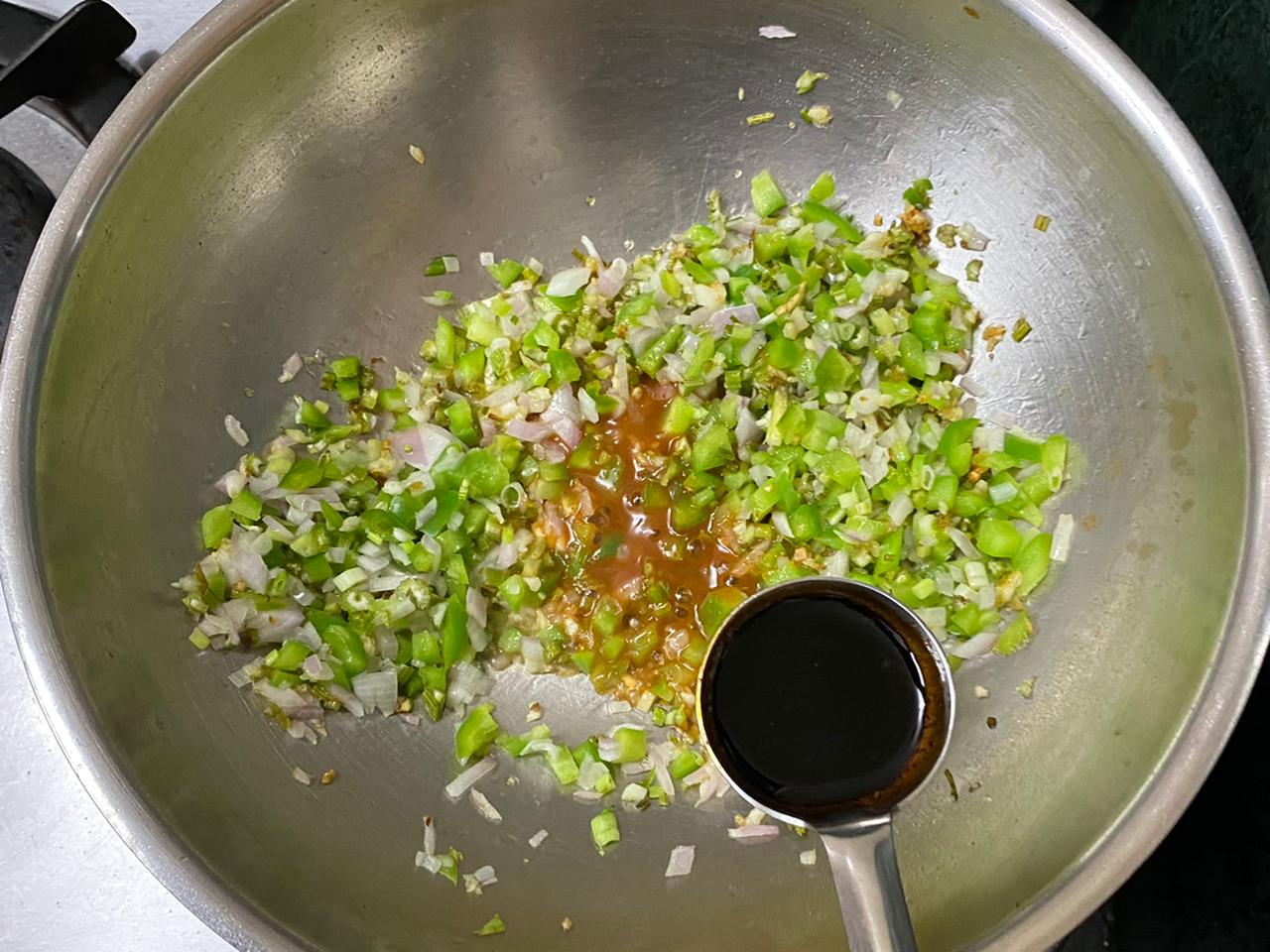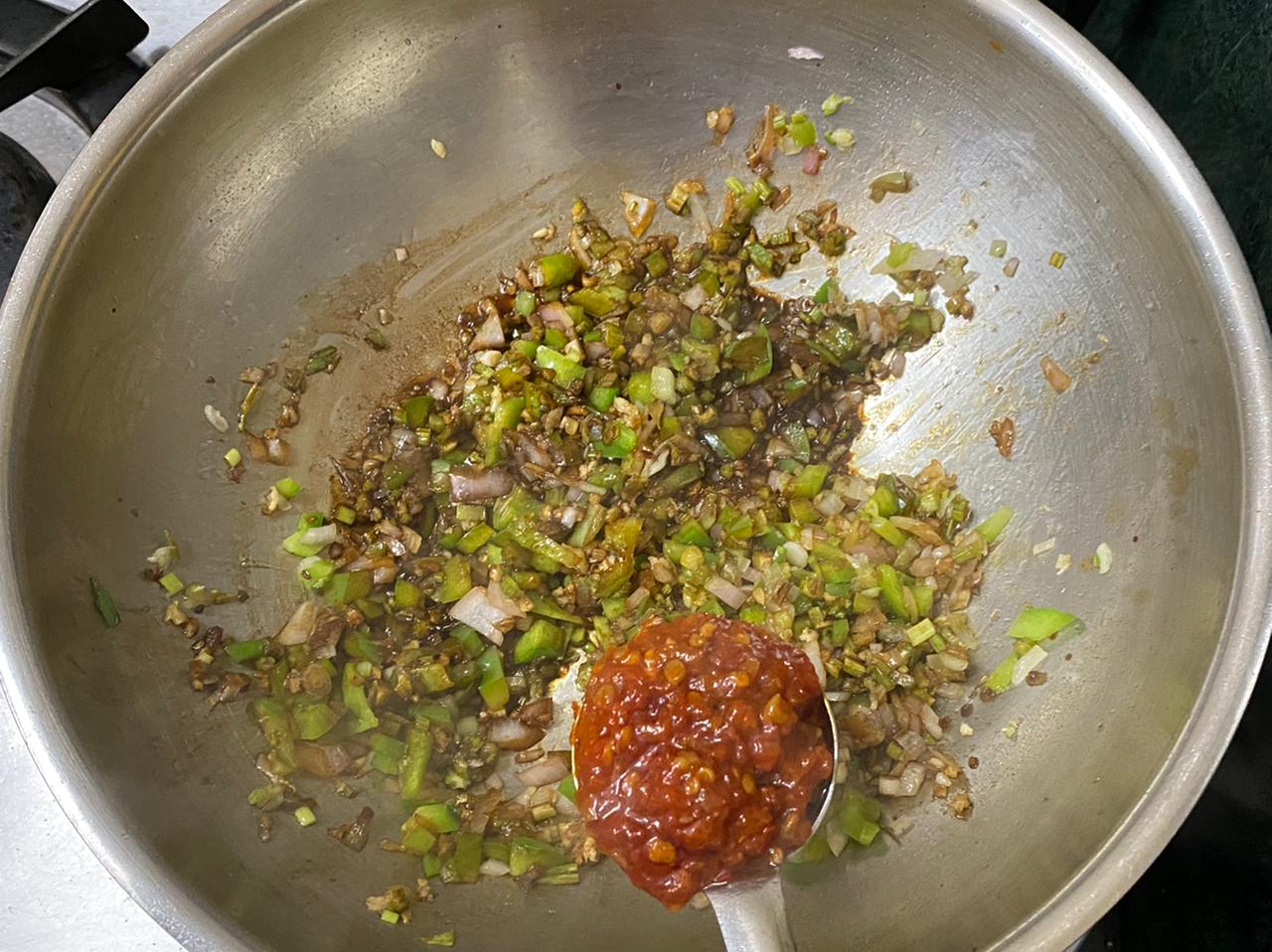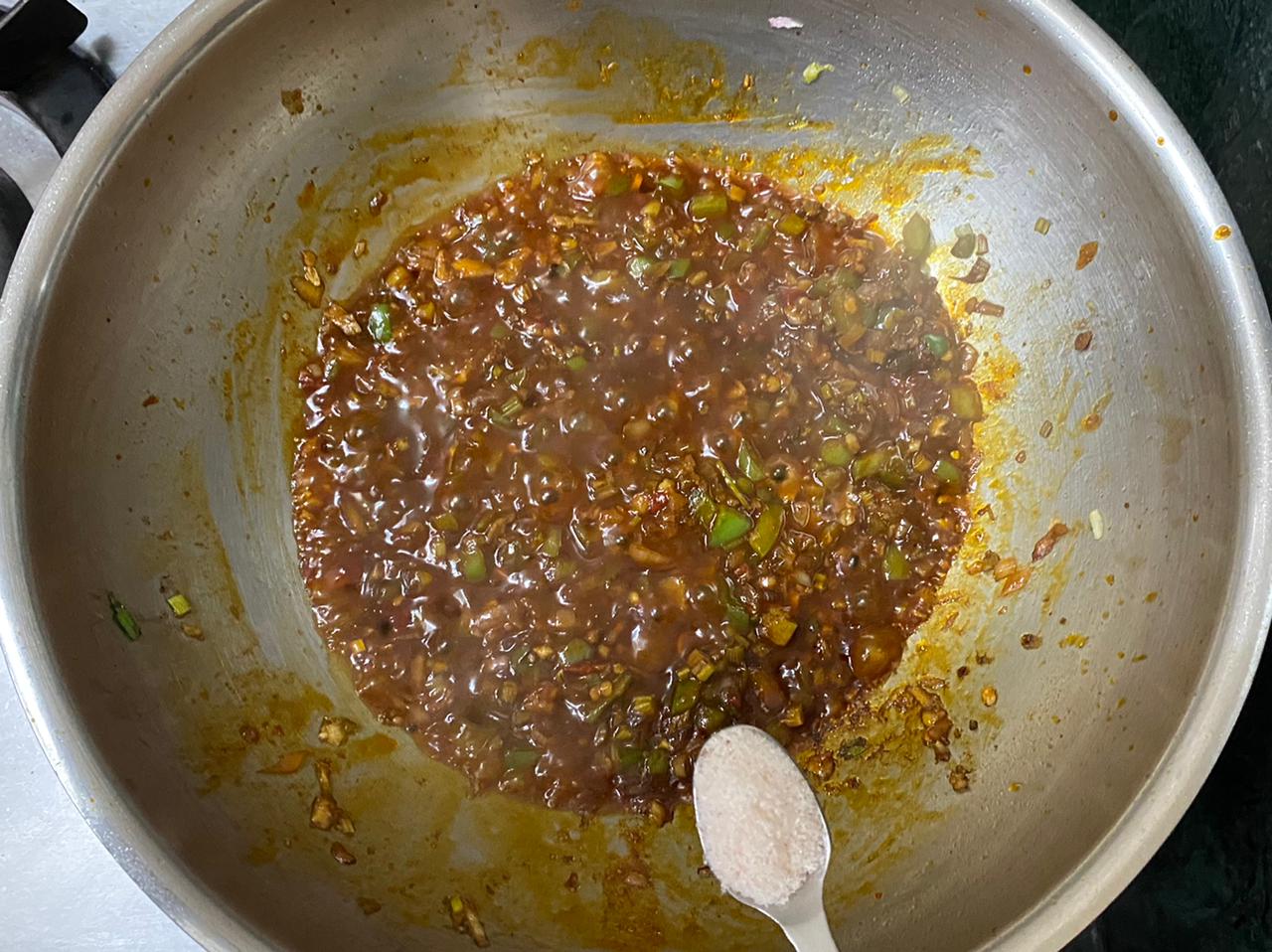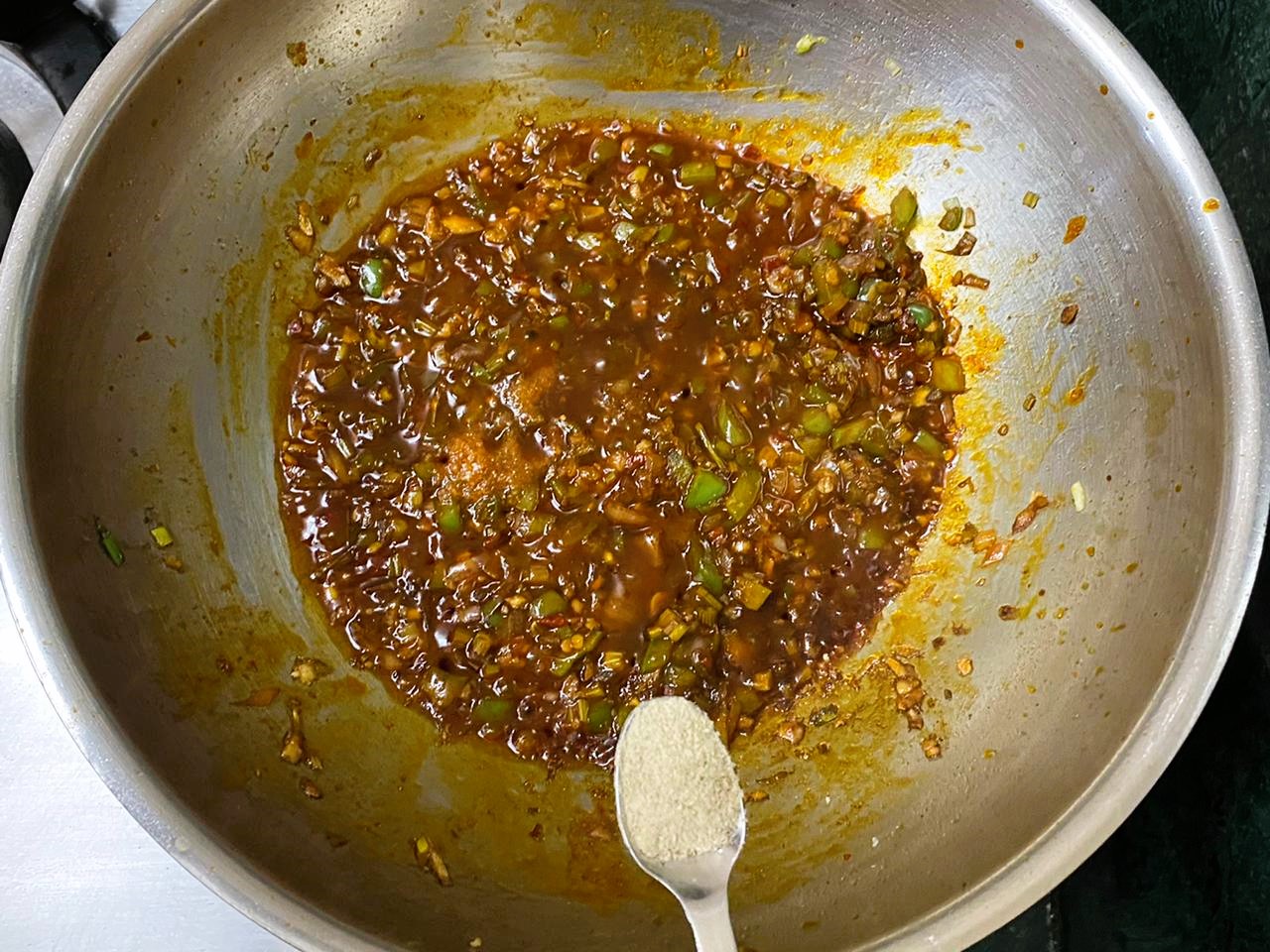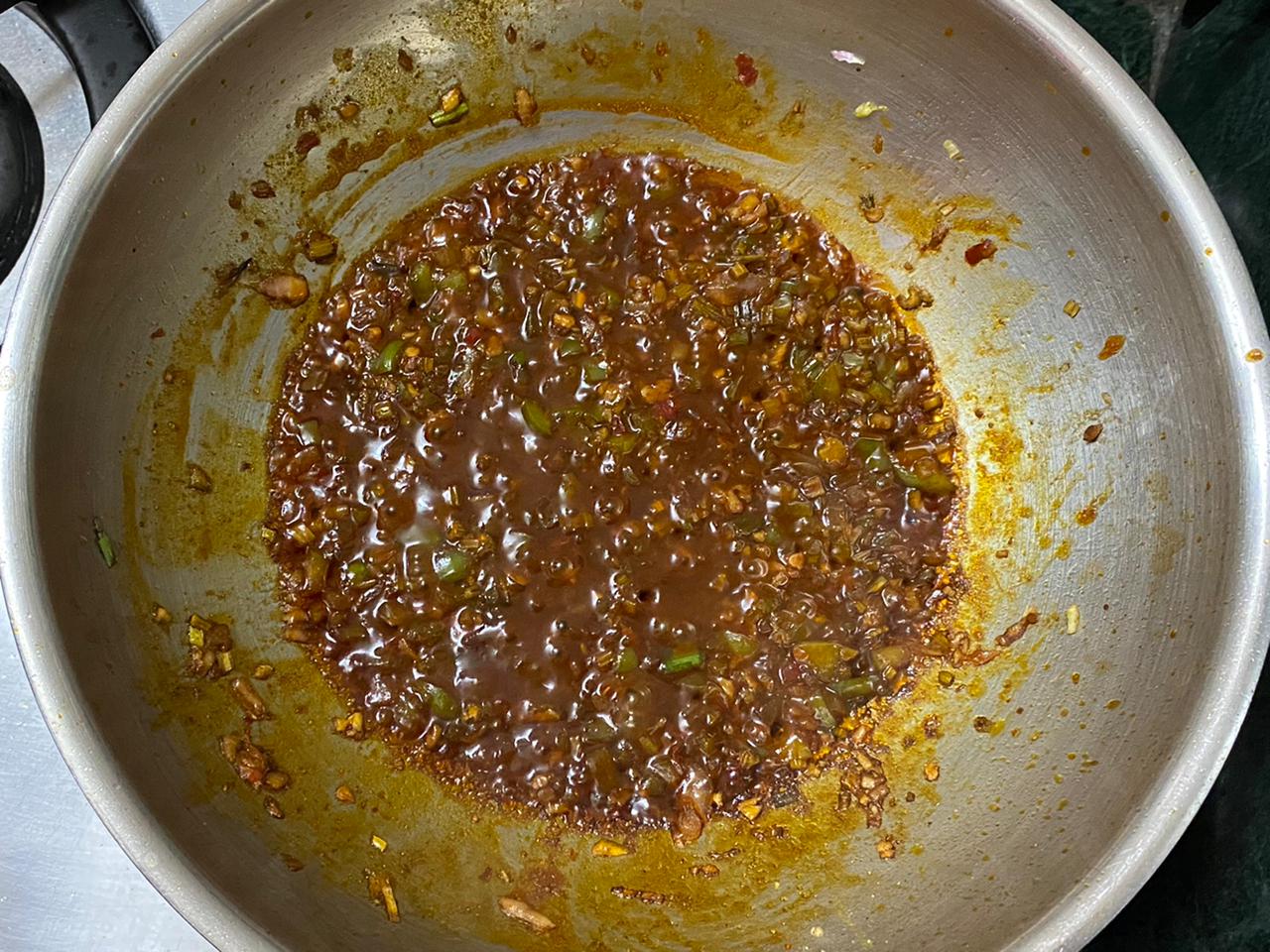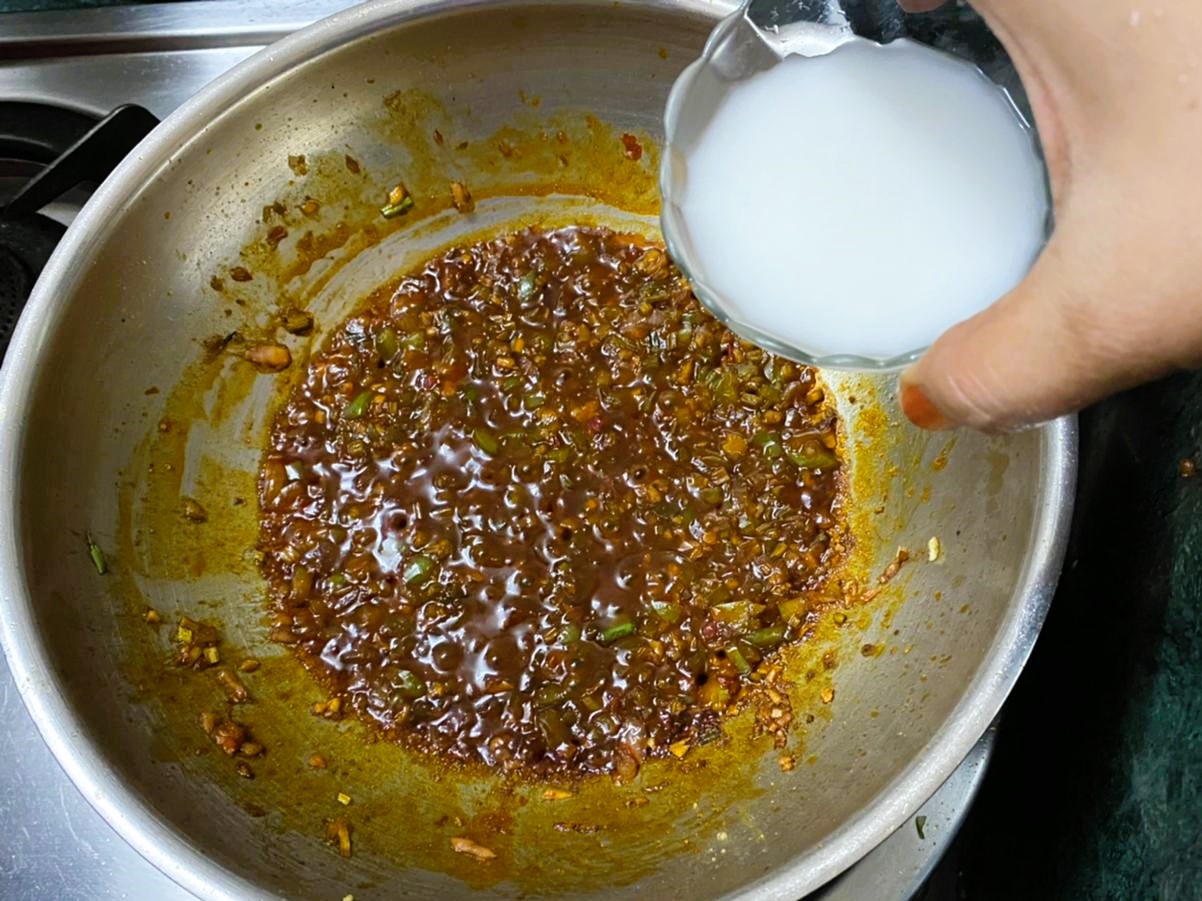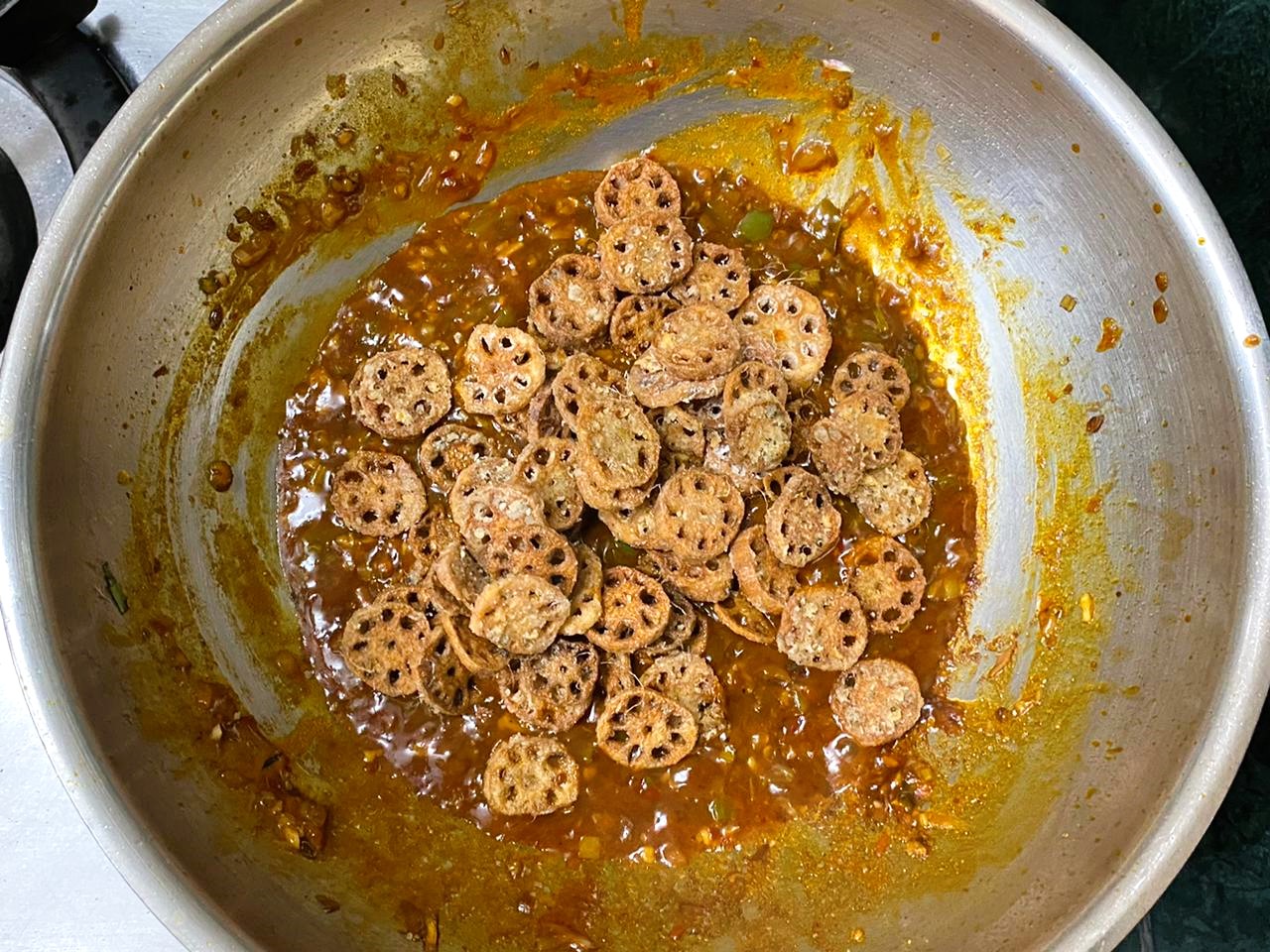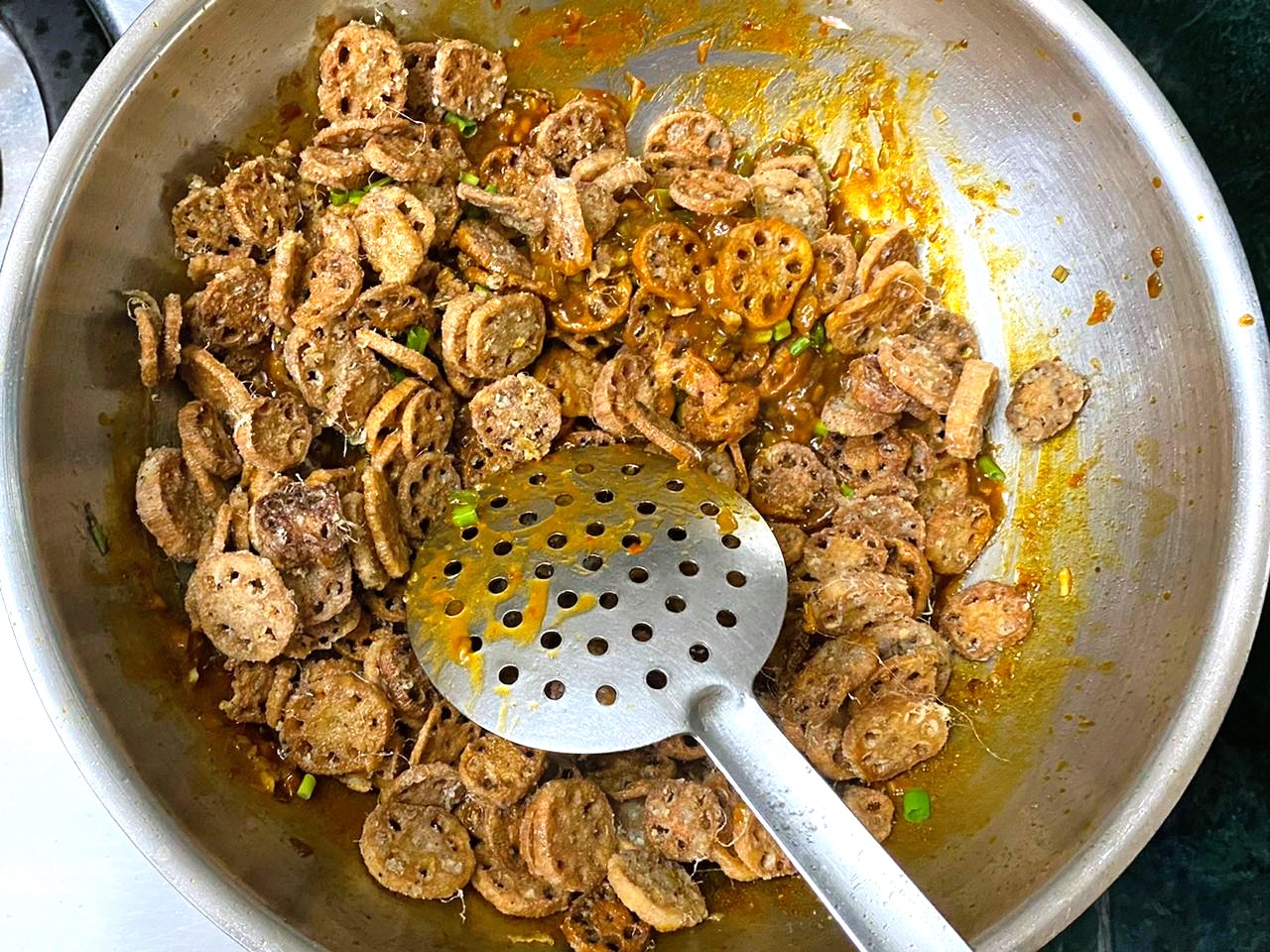 Add the vinegar, red chilli sauce, soy sauce, schezwan sauce, salt, pepper and water. Let it come to a boil and add the corn flour and fried lotus stems. Toss on high heat.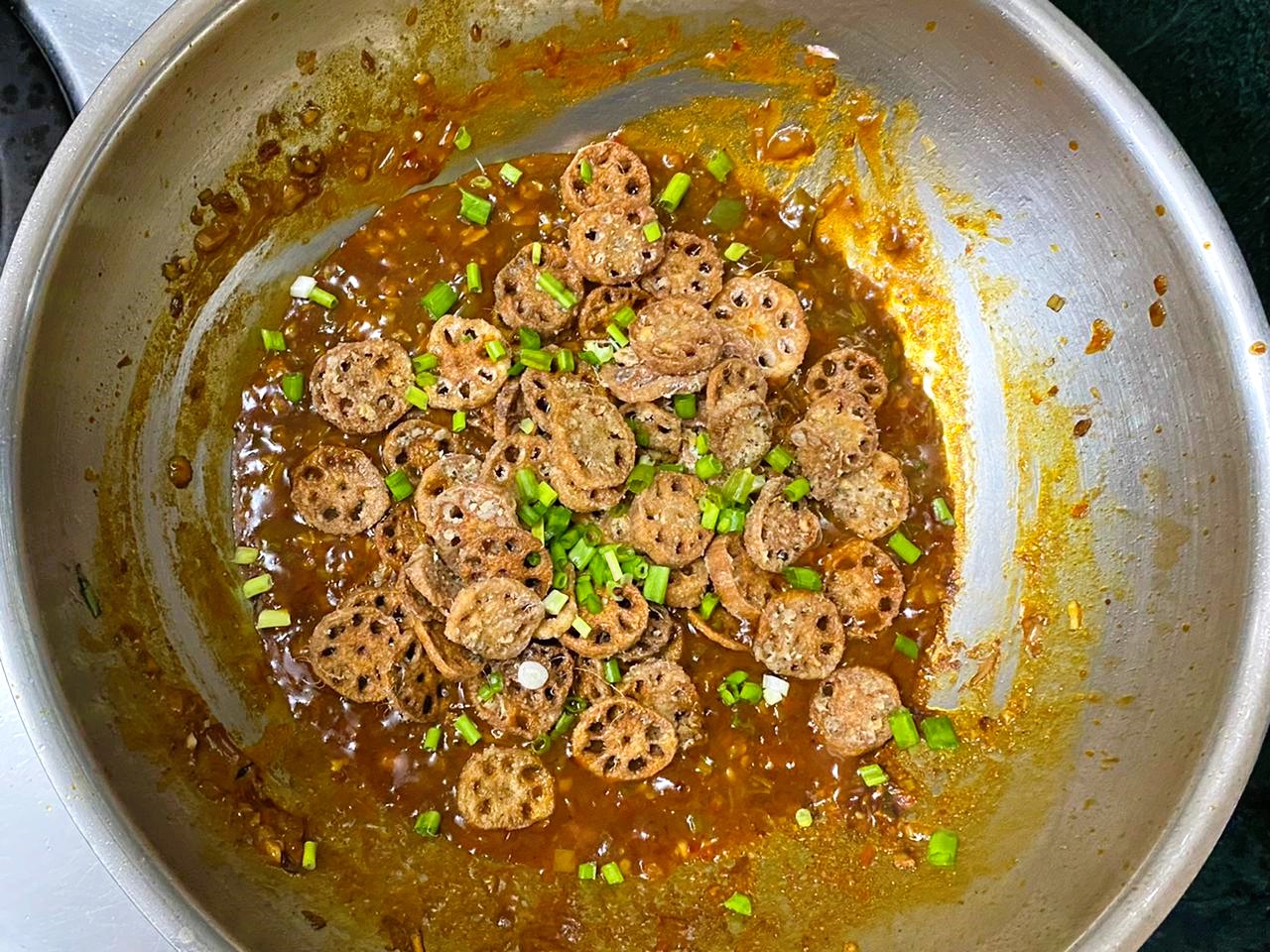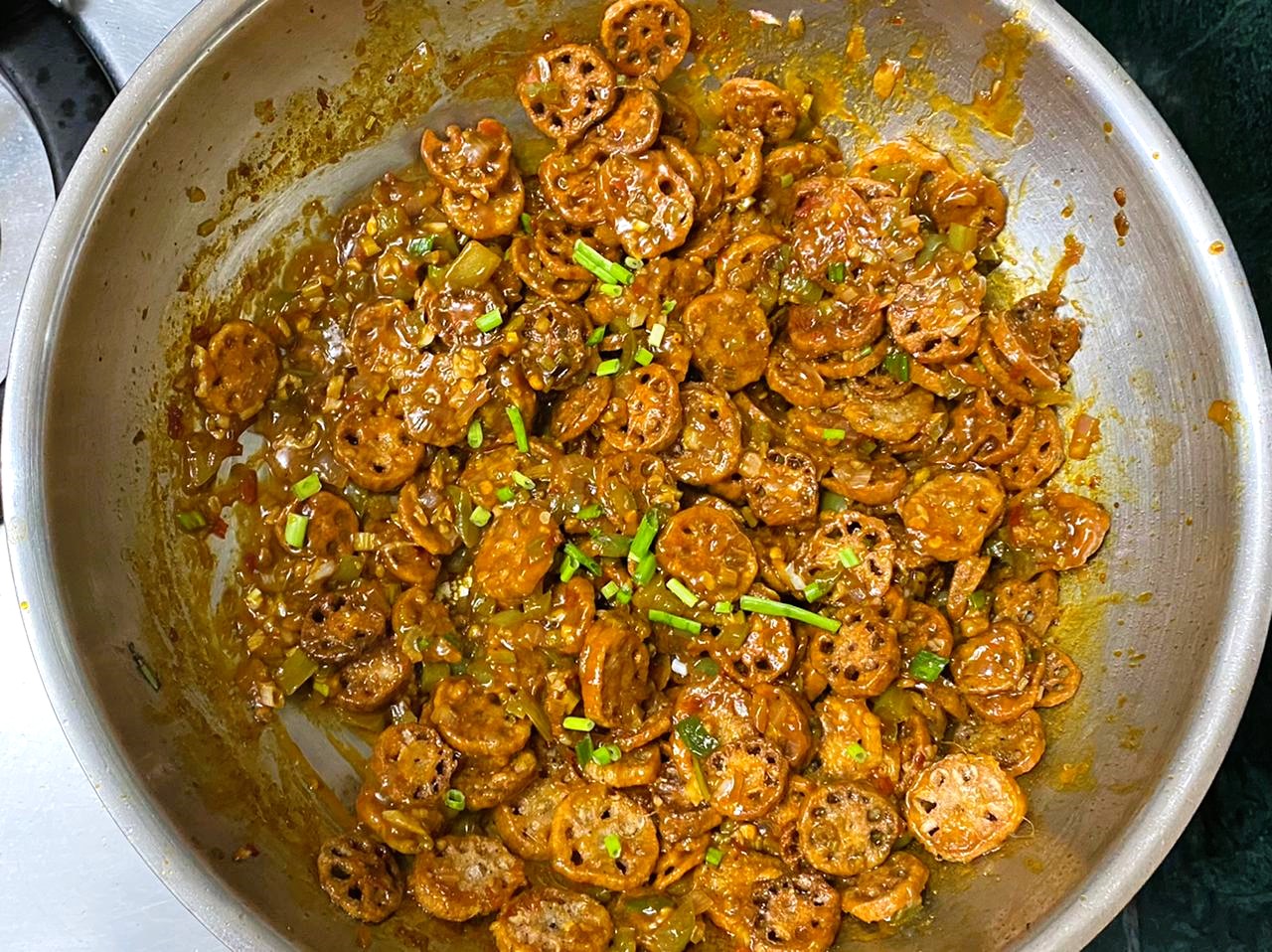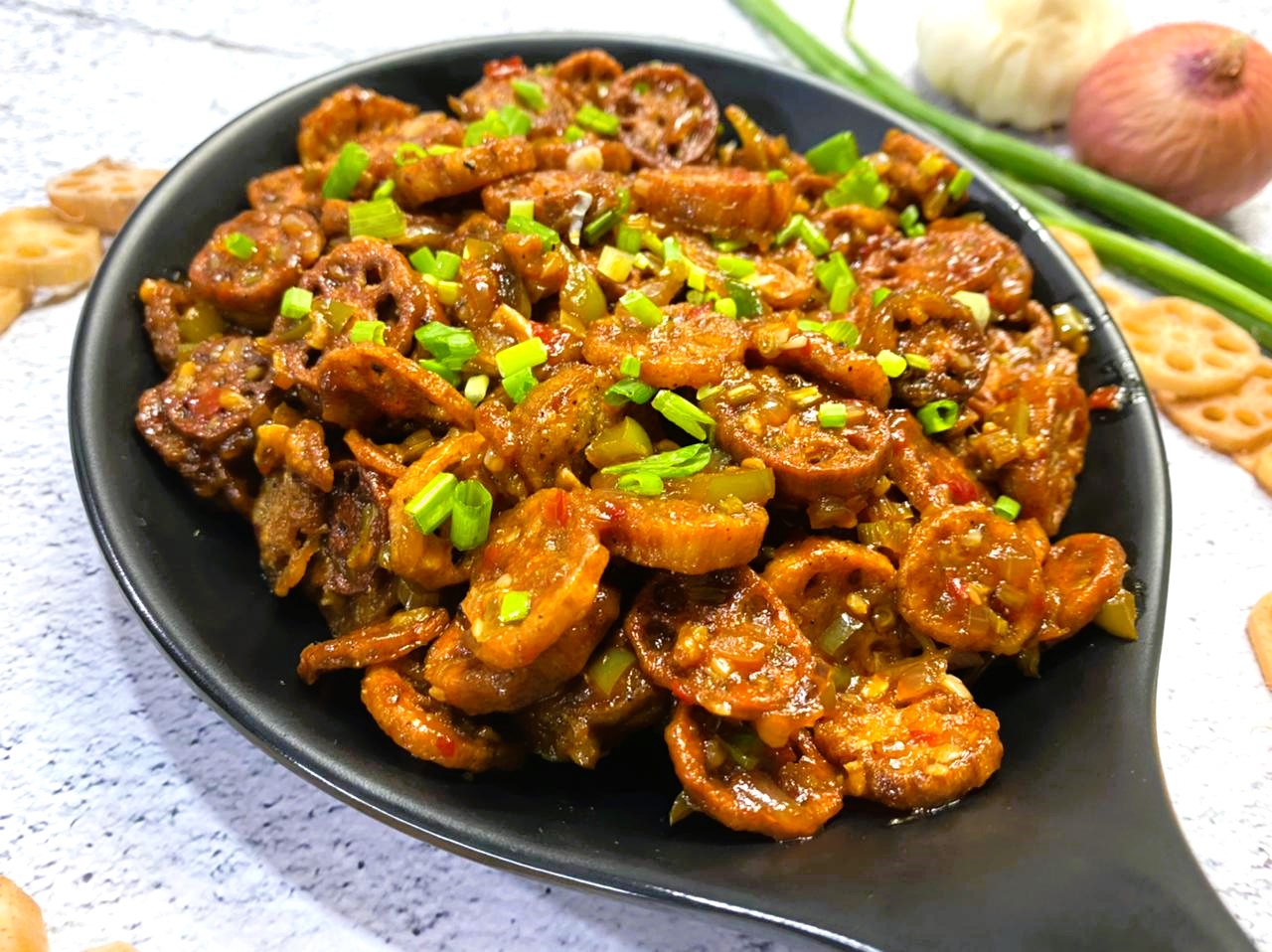 Add the spring onions and toss. The sauce begins to thicken as soon as you add the corn flour slurry. Sauté for 1 minute on high heat and turn the heat off.
Serve hot garnished with spring onions.