Cheddar Jalapeno Focaccia
Cheddar Jalapeno Focaccia is a beautifully crisp and crunchy bread with grated cheddar cheese and pungent spicy jalapeno chillies. Sharp cheddar cheese and spicy jalapeno makes super combination in this soft and flavourful focaccia bread!
Focaccia (pronounced foh-kah-chuh) is one of my favourite guilty pleasures because there are so many ways to customize it. I love the distinctive flavours of this Italian bread and often make it over the weekends. Focaccia is incredibly easy to make! It is a moist dough that is quick and easy to knead. It is a flat bread, so it cooks quickly and evenly! Adding jalapenos and cheddar cheese just makes it even better.
Although focaccia is super easy to make, you have to plan the timing carefully as needs 'rise' time and also 'resting time' for the deep flavours to develop. The wait is definitely worth it! As with most of the focaccia I prepare at home, the dough for this cheddar jalapeno focaccia is prepared the night before and rested in fridge for the flavours and also for the perfect chewy taste. Cold, refrigerated dough is the secret to making delicious focaccia! Allowing the dough to rest 18 to 48 hours in the fridge will yield extra-pillowy and airy focaccia, though if you are pressed for time, you can make this start-to-finish in 3 hours. The next day- Literally all you will be doing is adding the topping and baking it!
This Cheddar Jalapeno Focaccia is quite simple to prepare, bake and tastes great on its own or with a bowl of soup. The jalapenos give a spicy kick to the bread and cheese gives a soft, chewy flavour.
Other Italian recipes worth trying are Focaccia, Vanilla Panna Cotta, Florentine Spinach Bean Pizza Strips, Classic Basil Pesto, Homemade Pizza Dough Recipe, Mushroom Risotto with Parmesan Crisp and Vegetable Pesto Spaghetti to name a few.
Ingredients
1 cup (225ml) lukewarm water
1 teaspoon dried yeast
2- 2½ cups plain flour
1 teaspoon sugar
1 teaspoon salt
2 tablespoons olive oil
For The Topping
½ cup grated cheddar
½ cup sliced jalapenos
Other Ingredients
1-2 teaspoons olive oil for greasing
Directions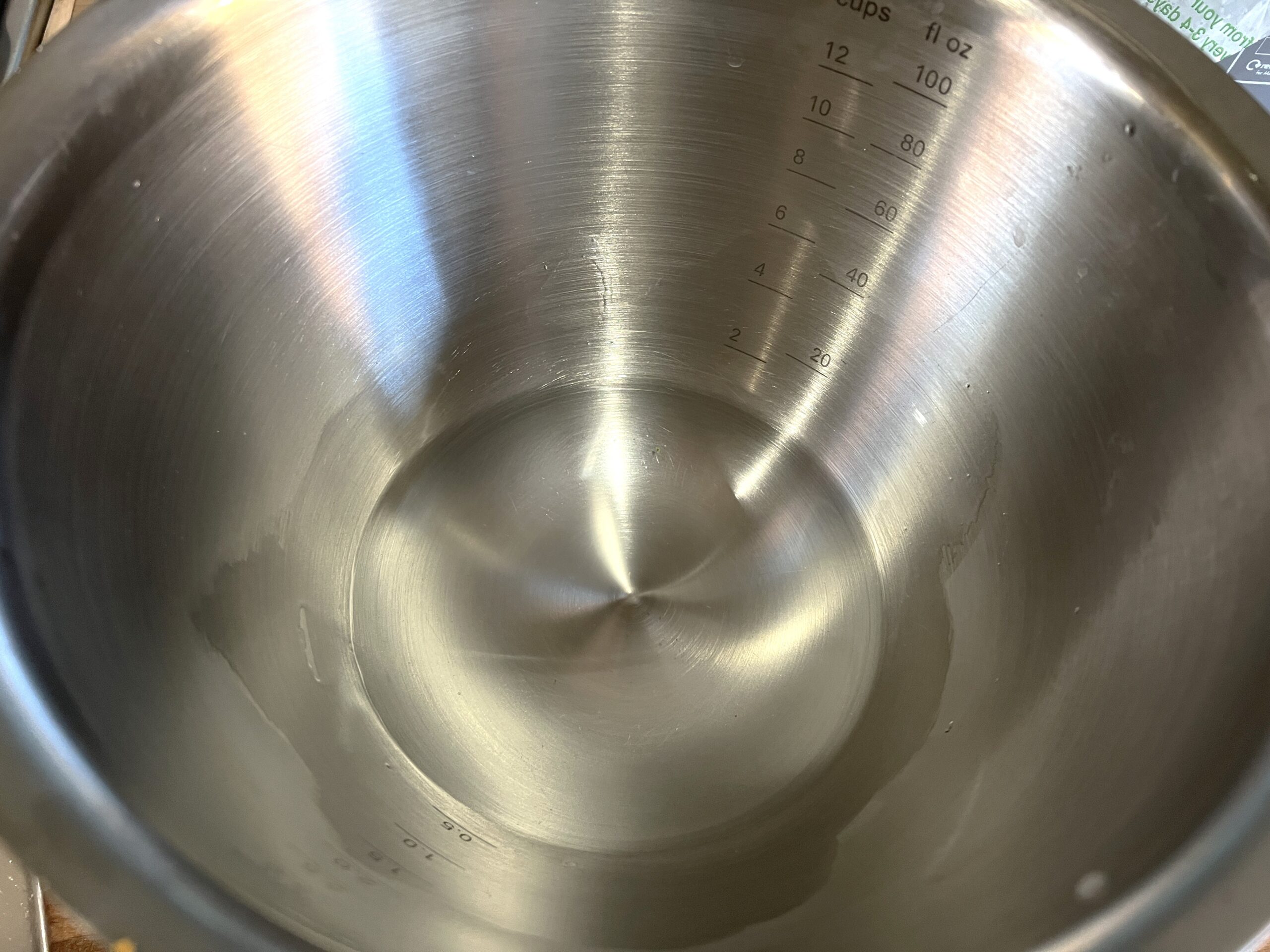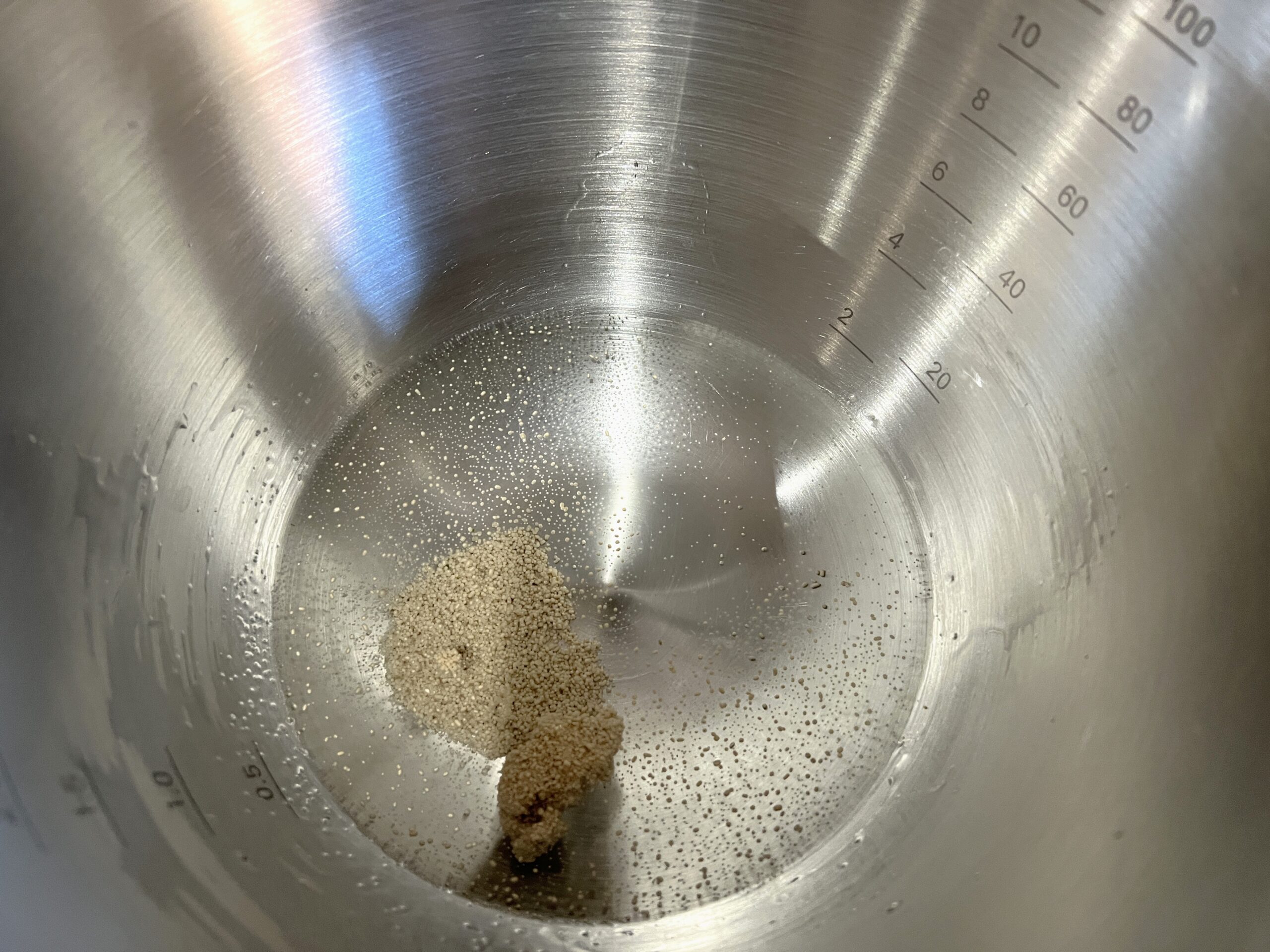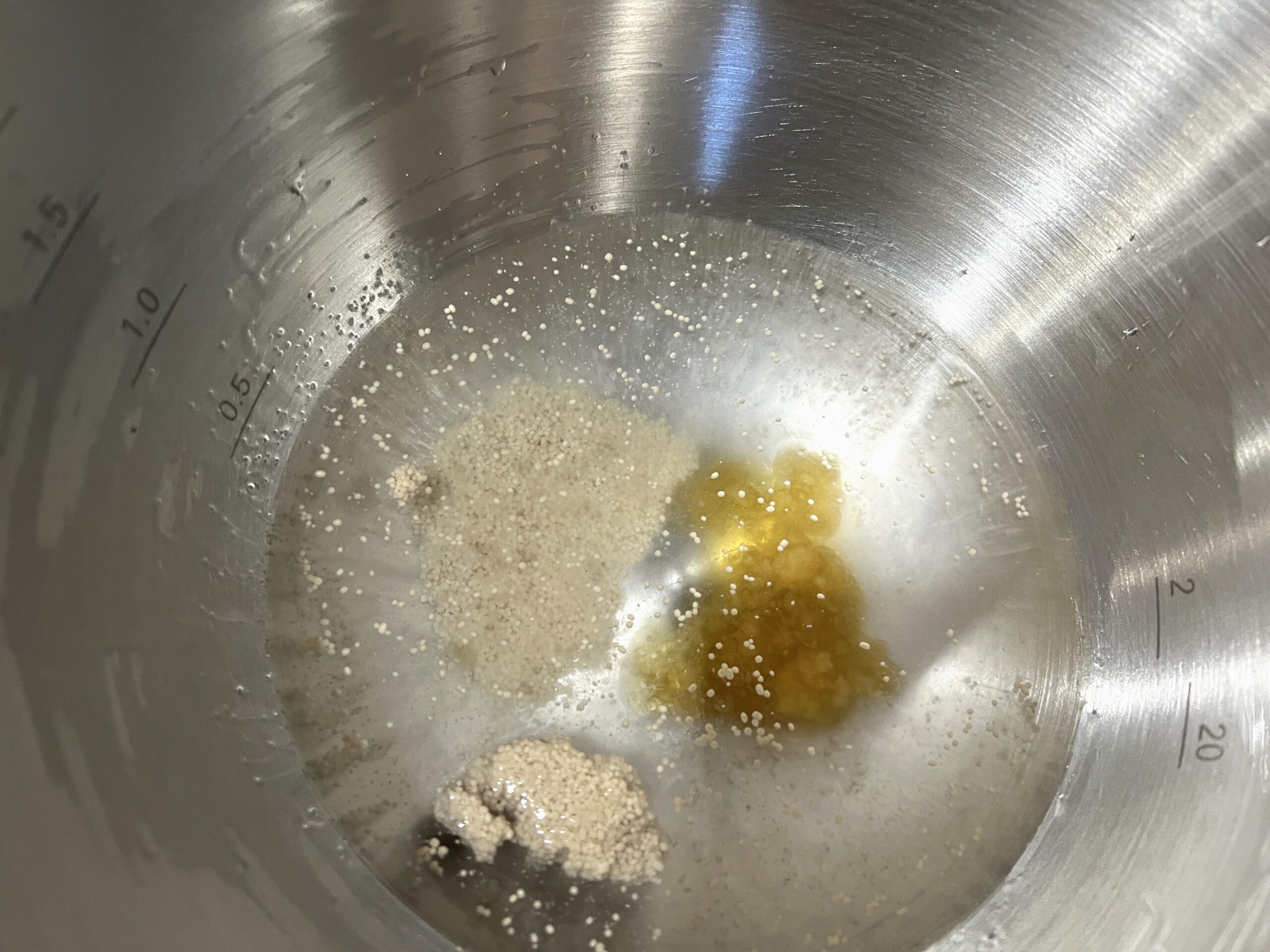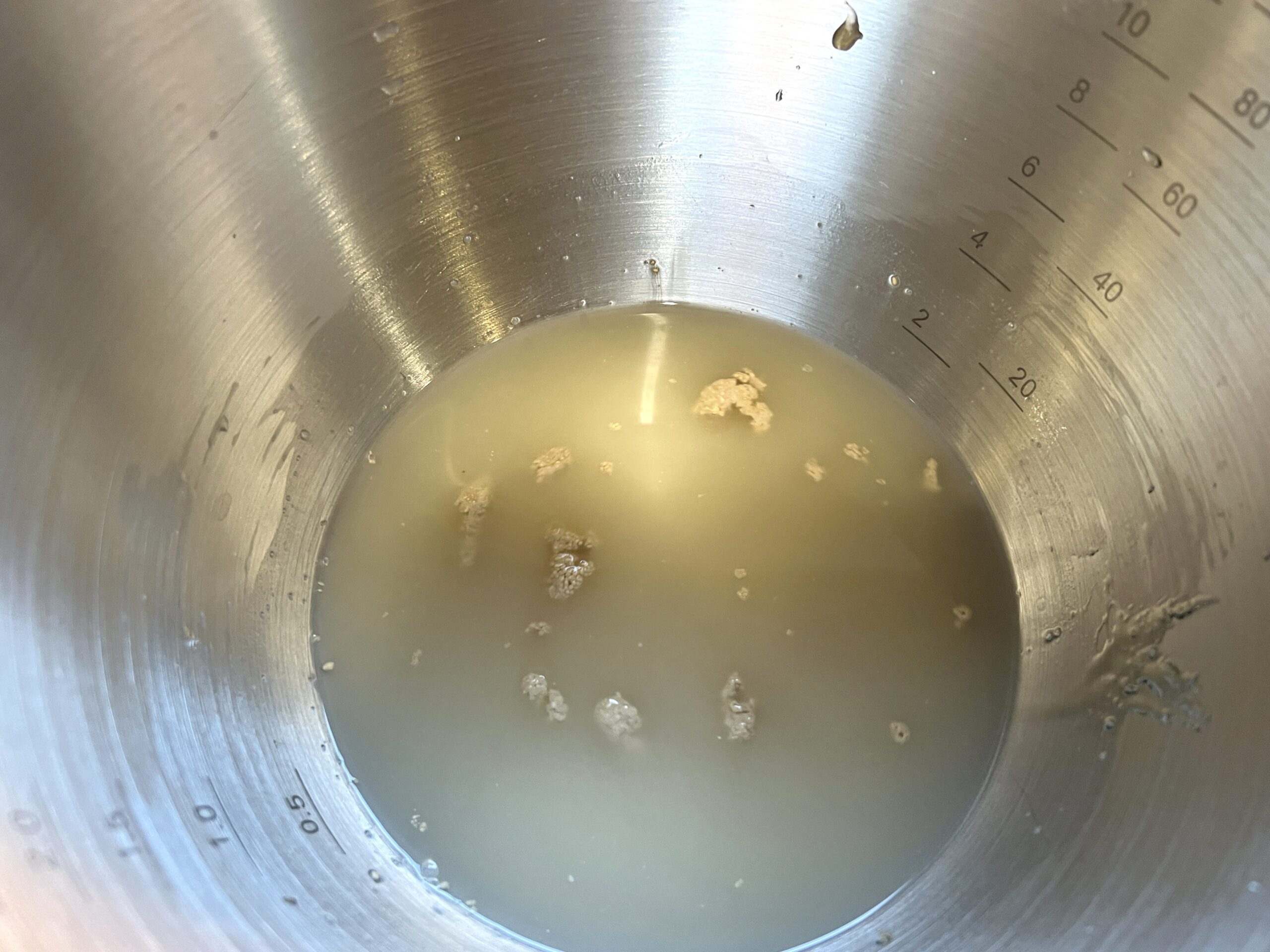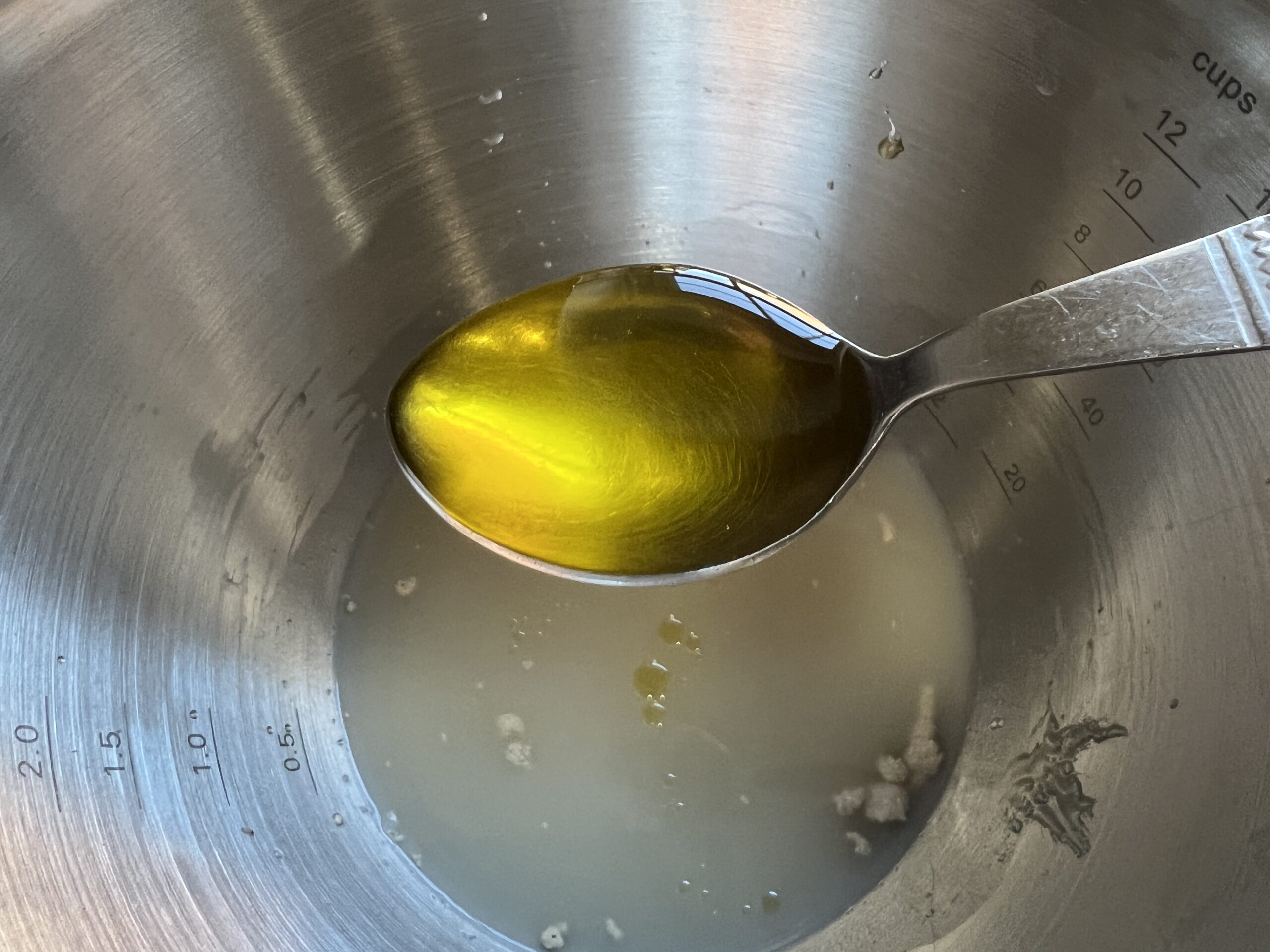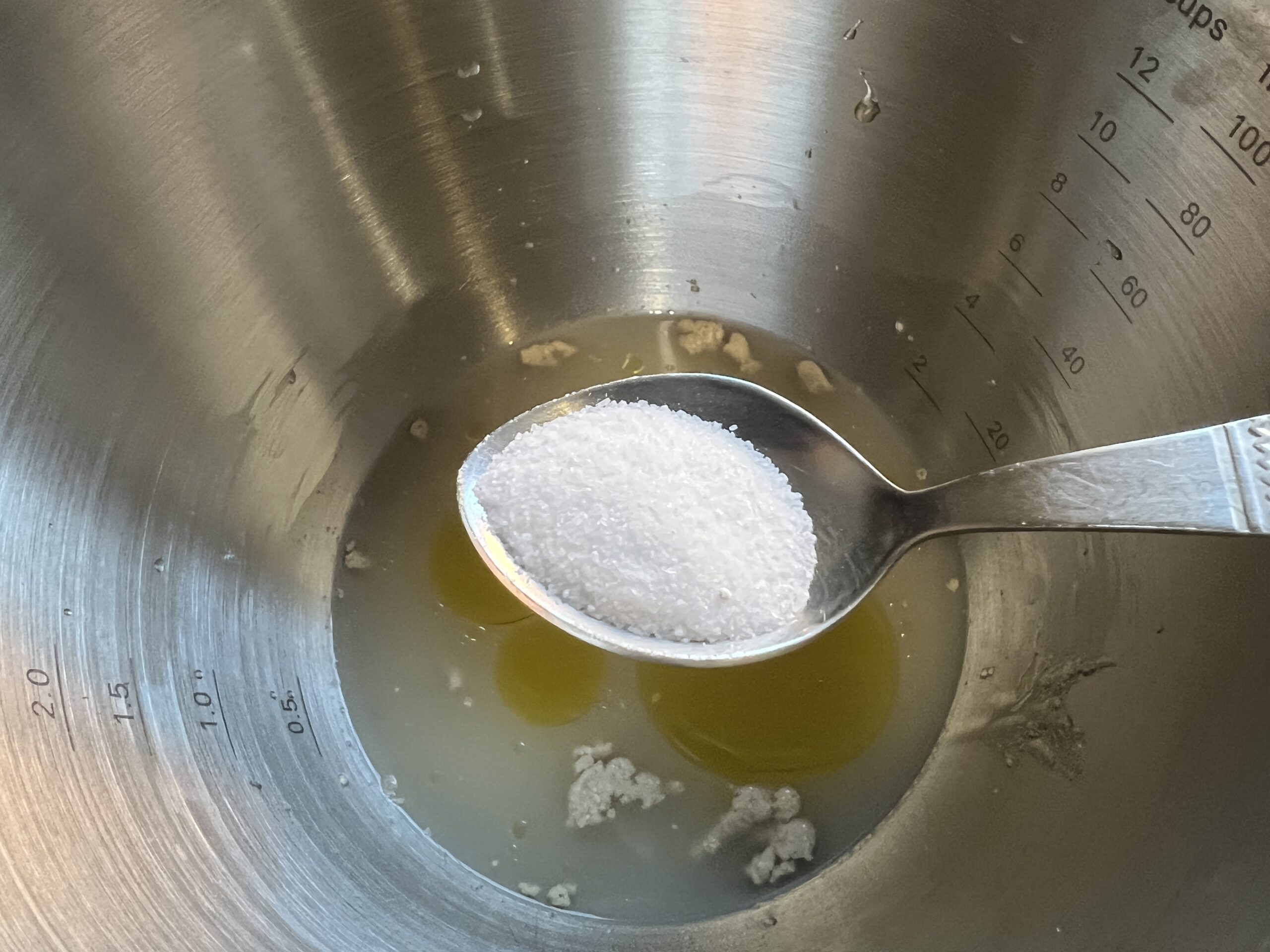 In a bowl mix the water, yeast and sugar. Allow the mixture to sit for few minutes until frothy. Add the salt and oil.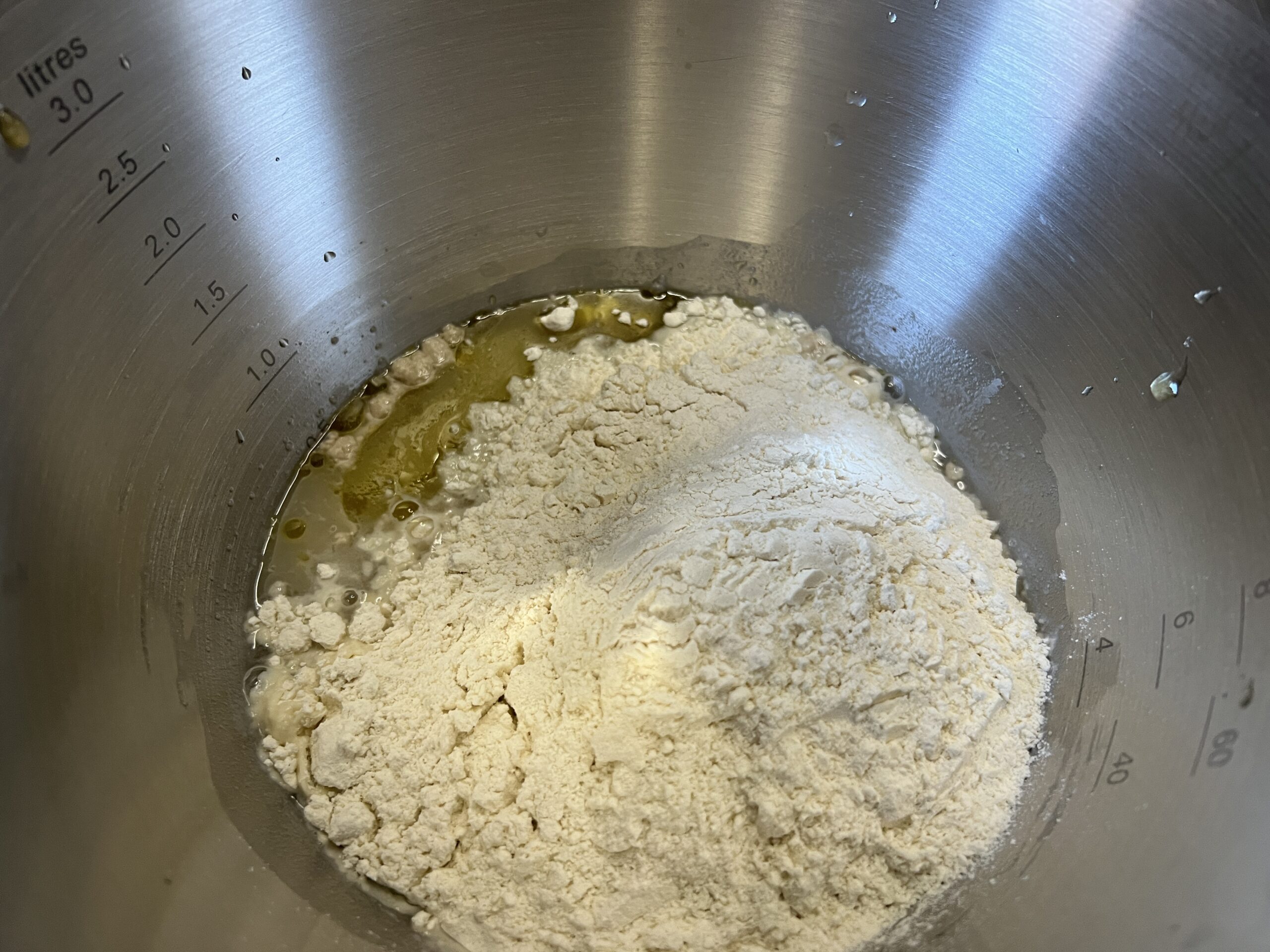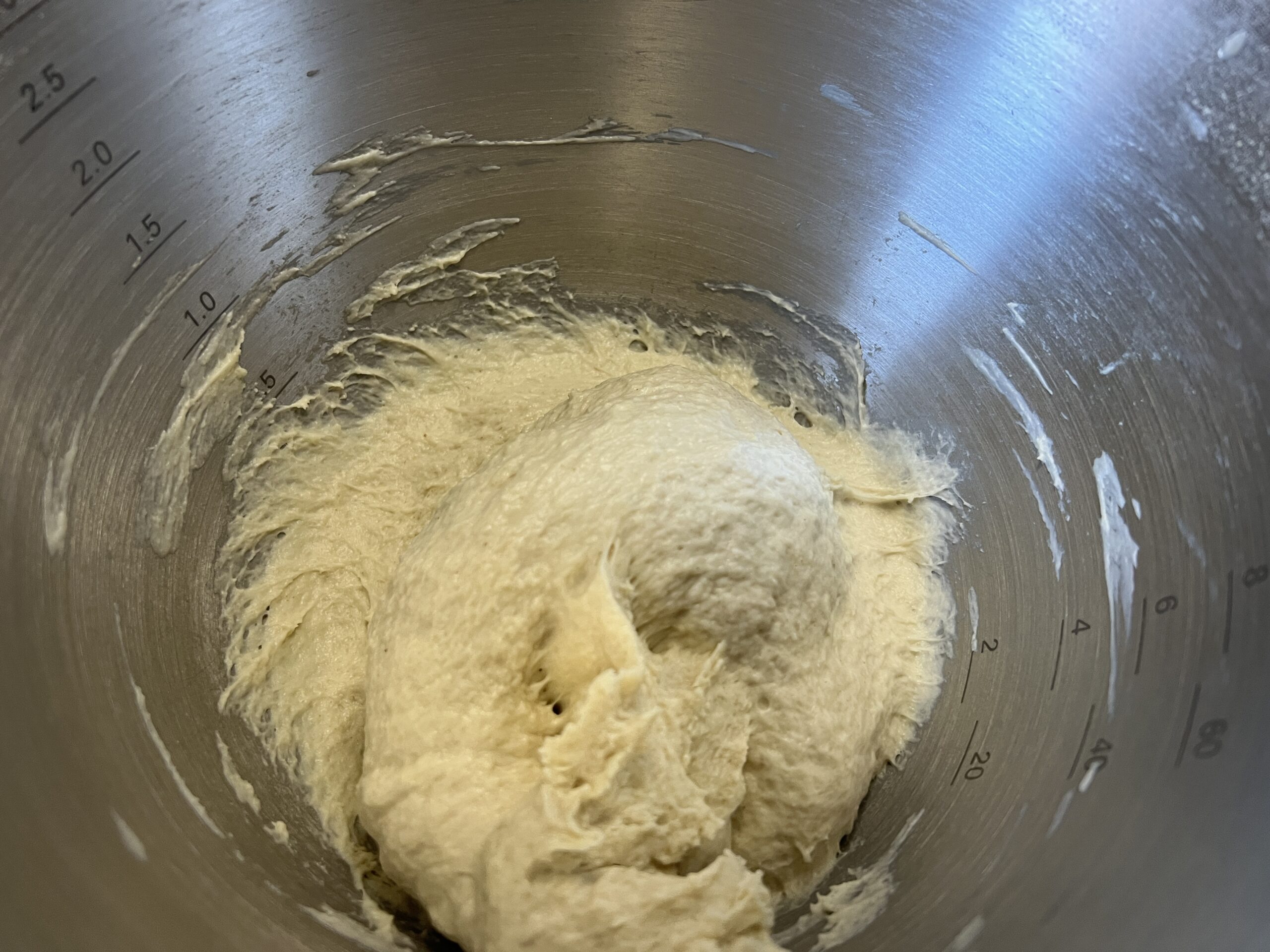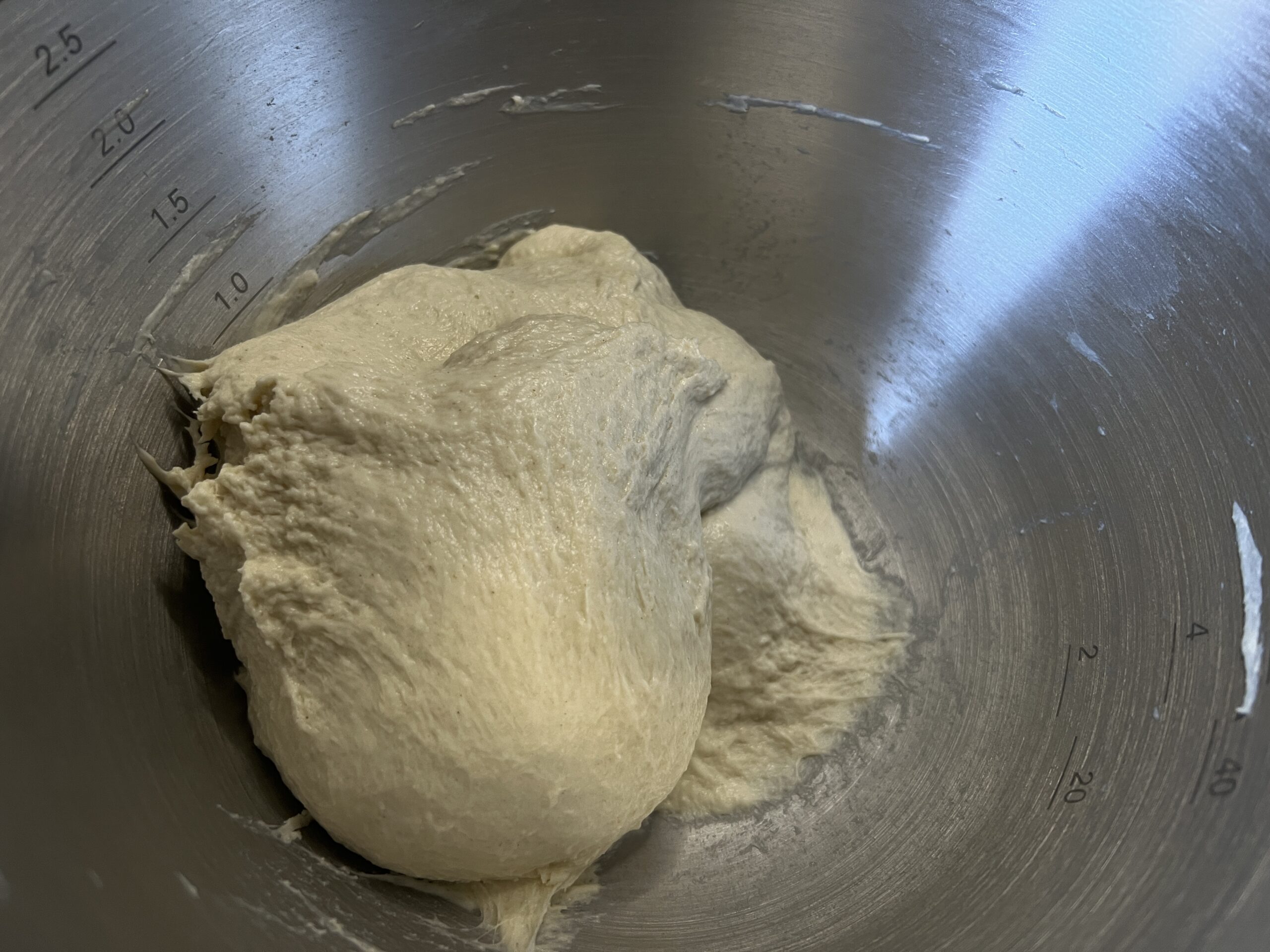 Add the flour and mix to make a smooth dough. Continue mixing until you have an elastic and just slightly sticky ball of dough. You may need to add in a little bit more flour, but the key is to remember that the dough should be slightly sticky and hydrated.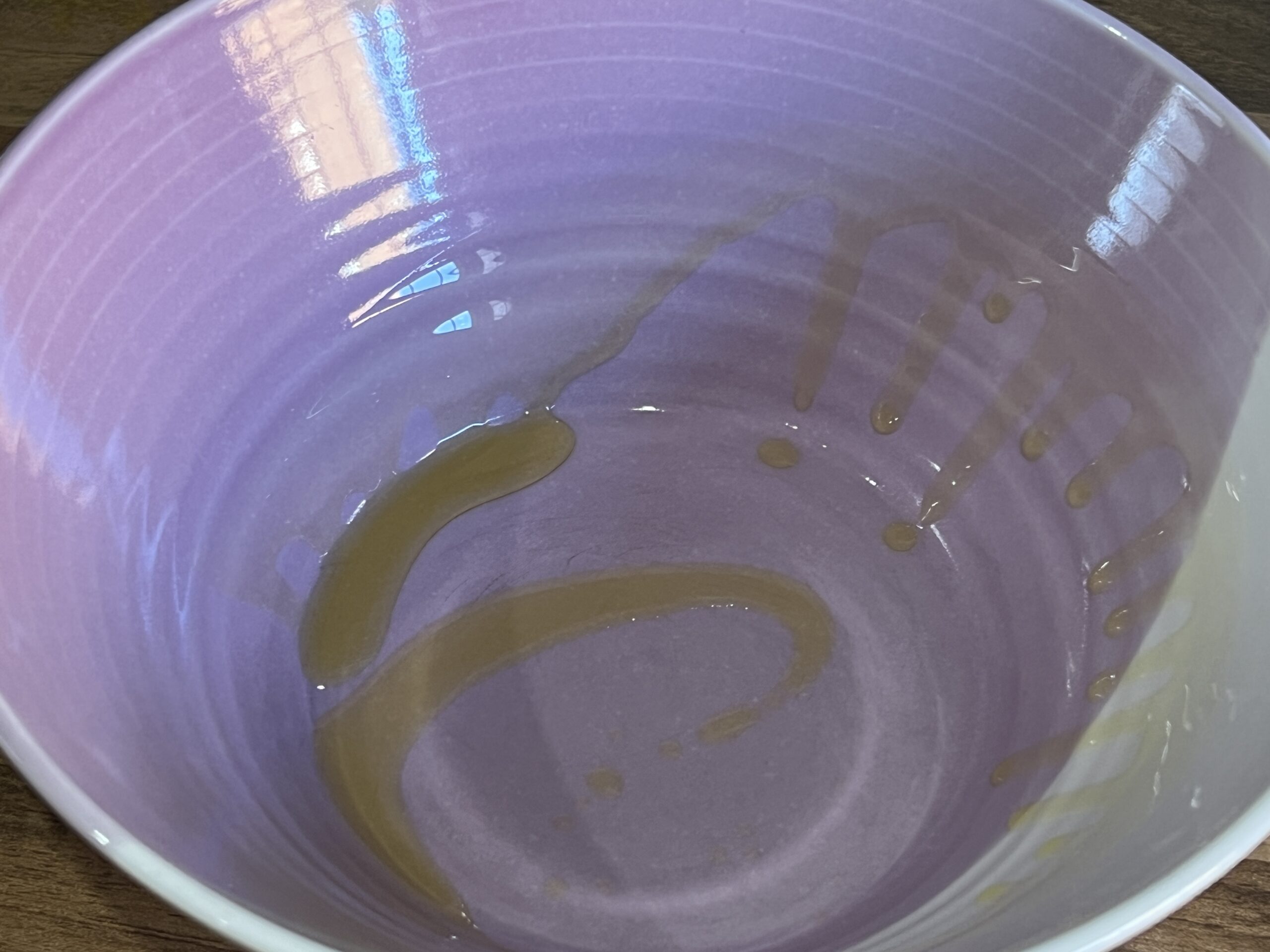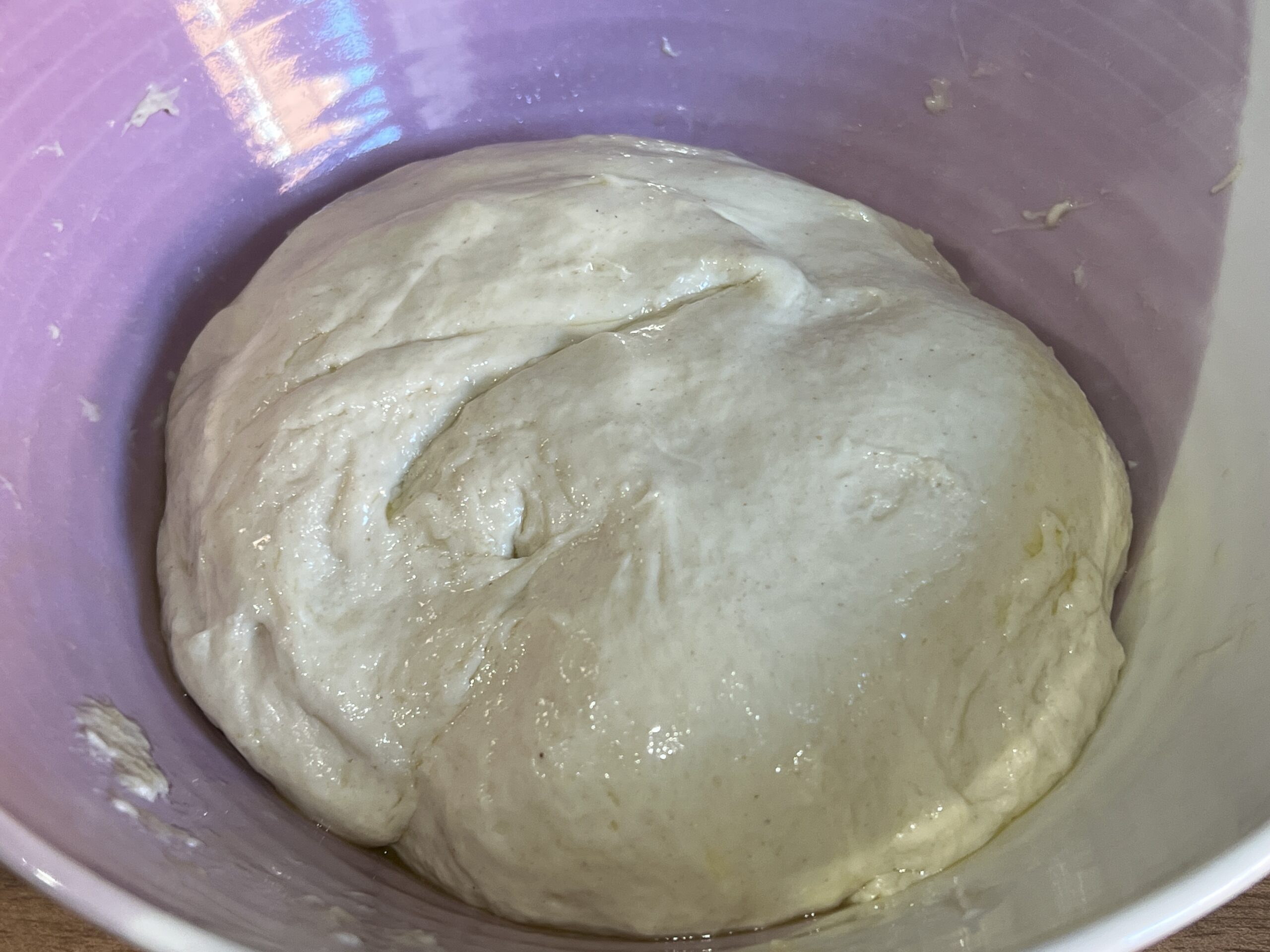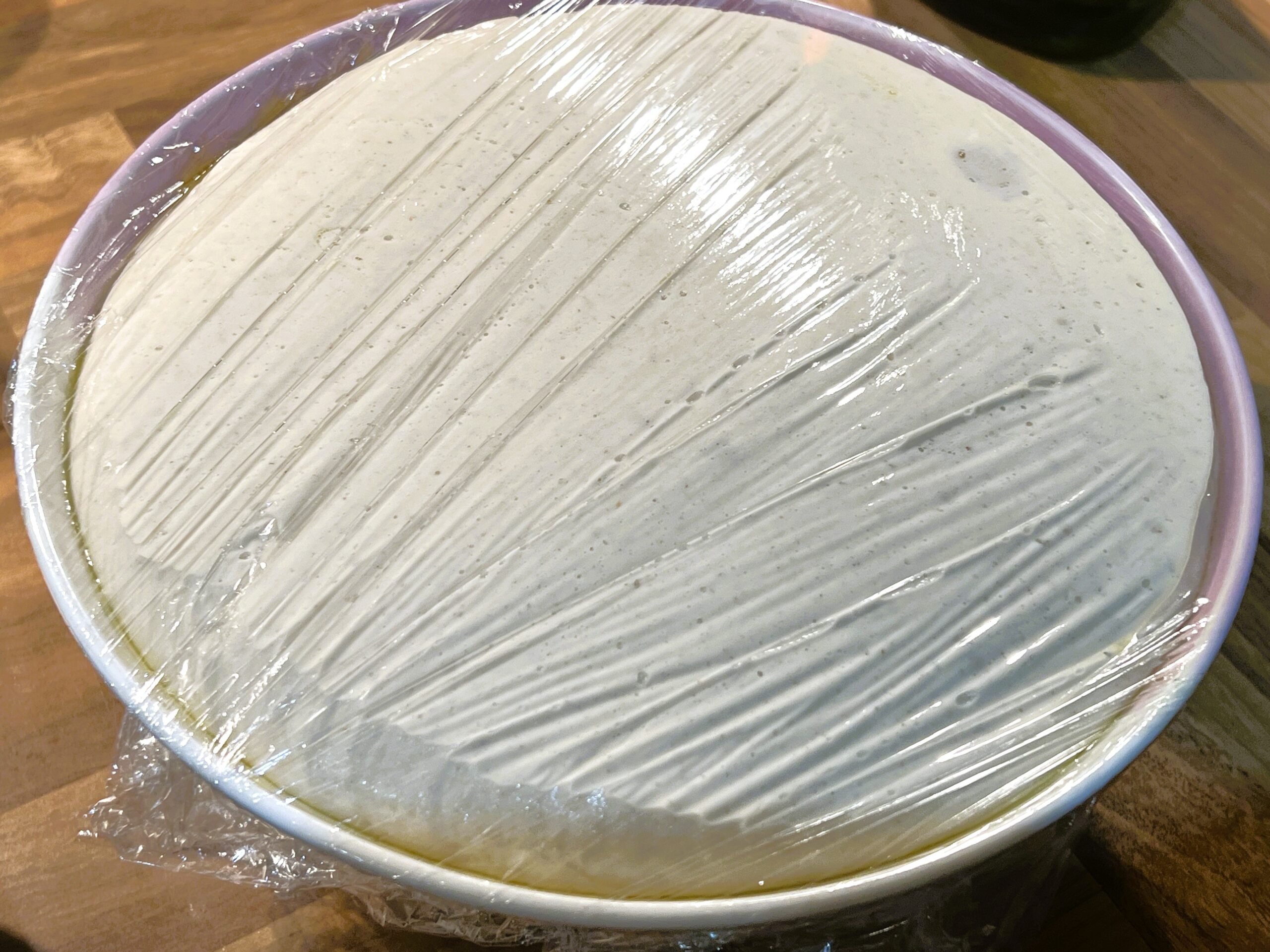 Grease a large bowl and gently scrape the dough into it. Turn the dough to coat it in oil. Cover the bowl and a let the dough rise at room temperature until doubled for 1-2 hours.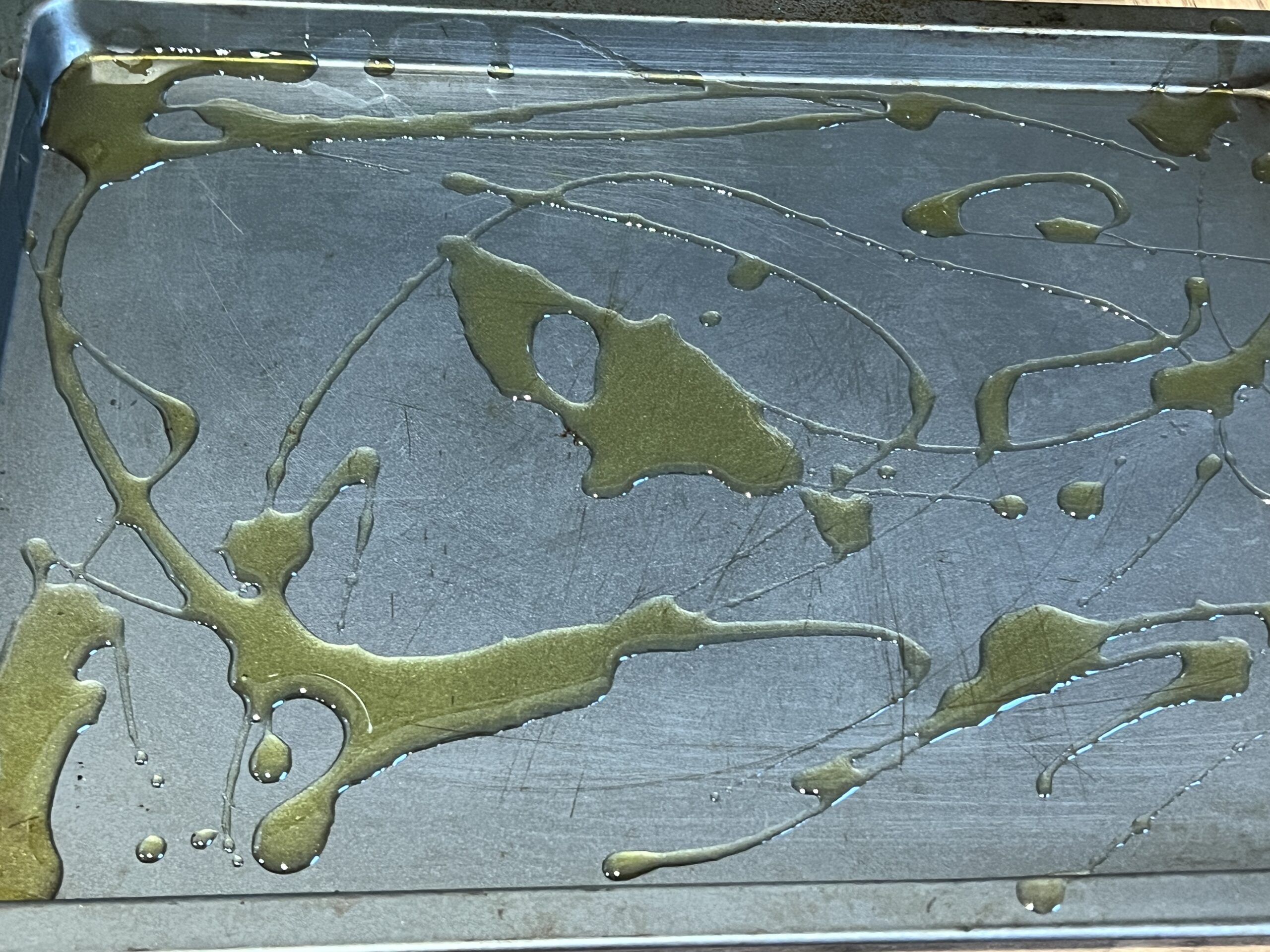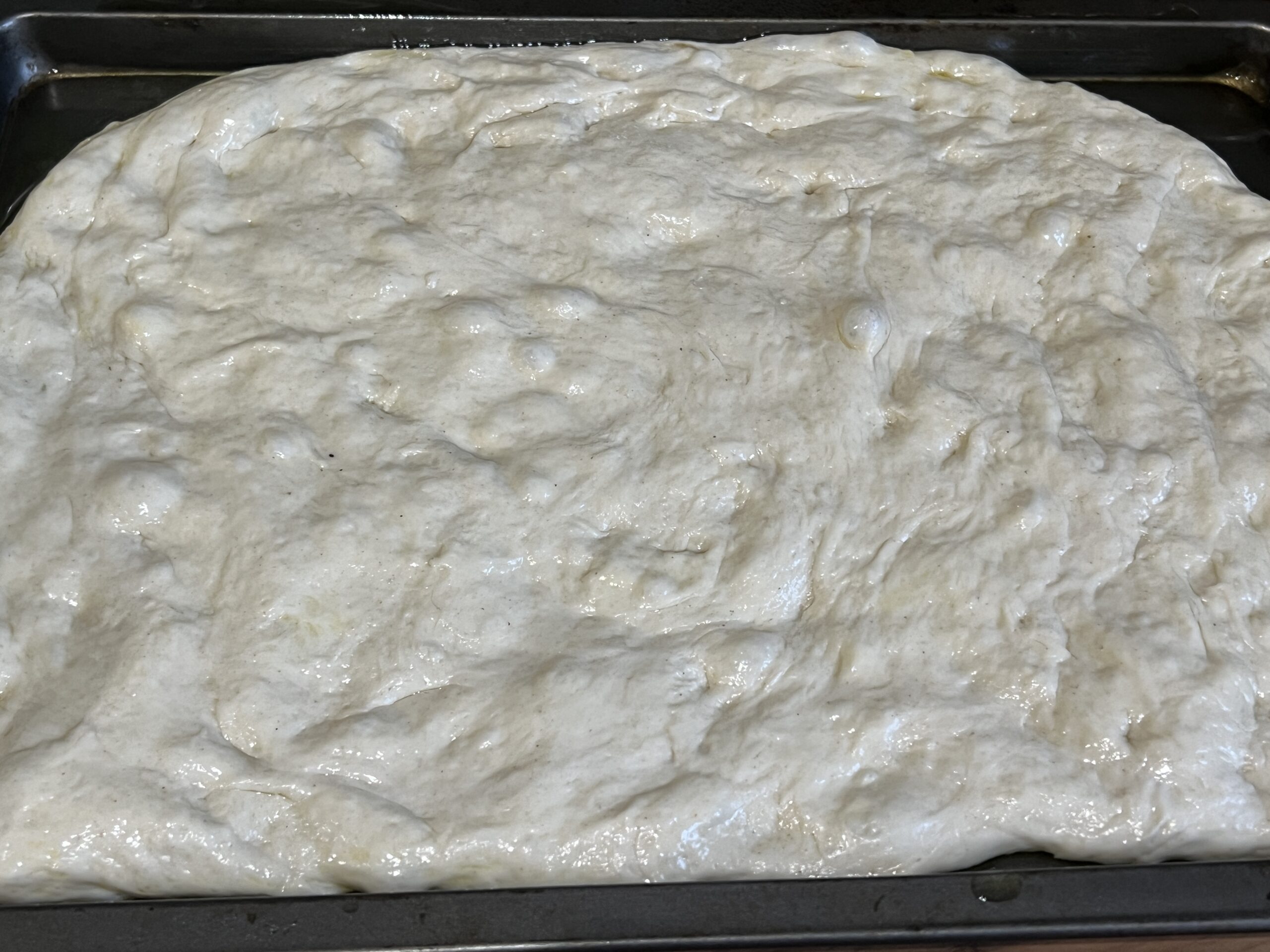 Grease a baking tray with a good pour of olive oil. Then scoop the dough onto the tray.  Flatten the dough out into a roughly rectangular shape with your hands, until it thinly and evenly covers the entire surface of the baking tray. If the dough has not expanded to the edges of the baking sheet, coax it to the edges.
Cover with a cling film and leave it in the fridge to rise overnight.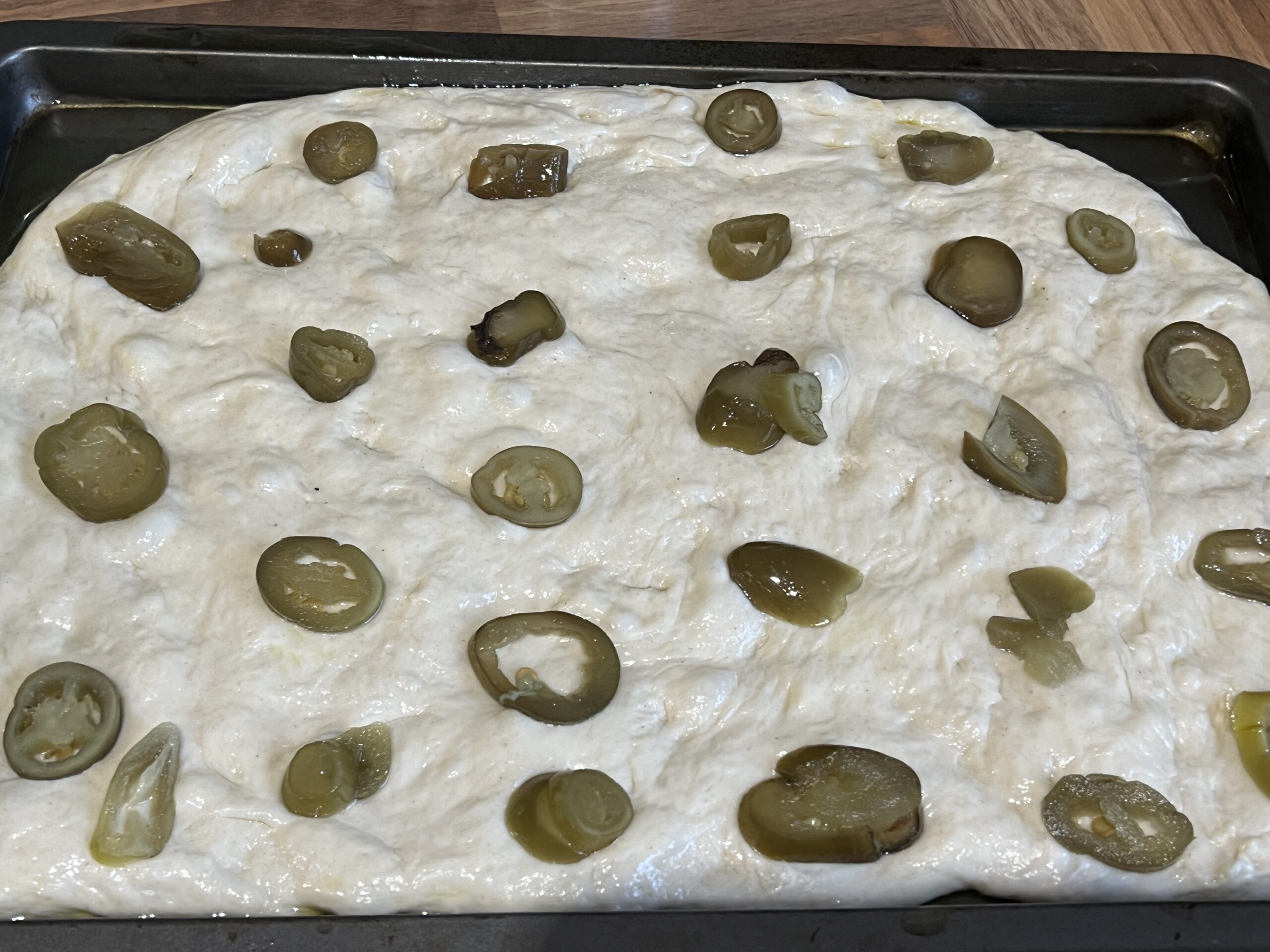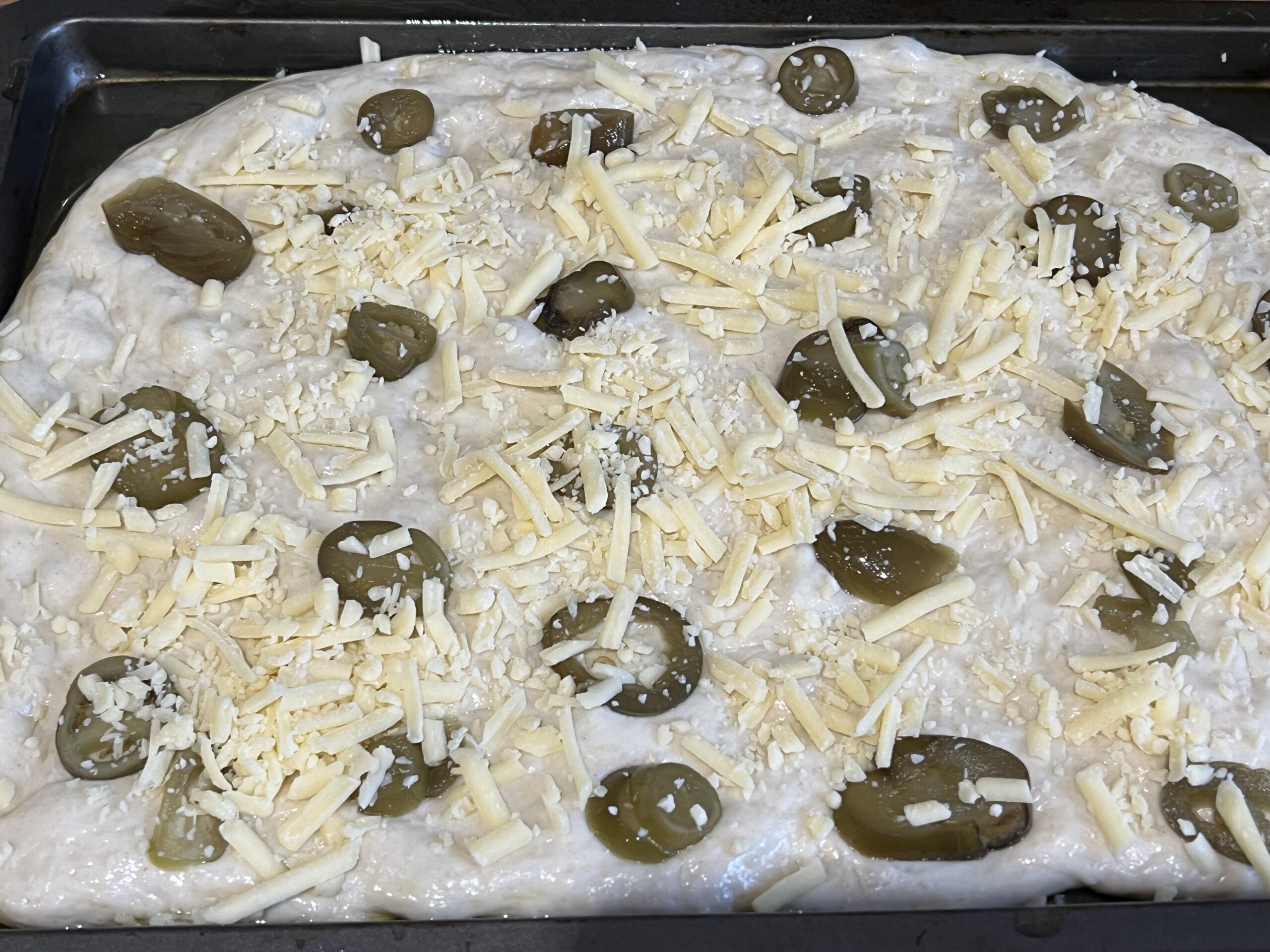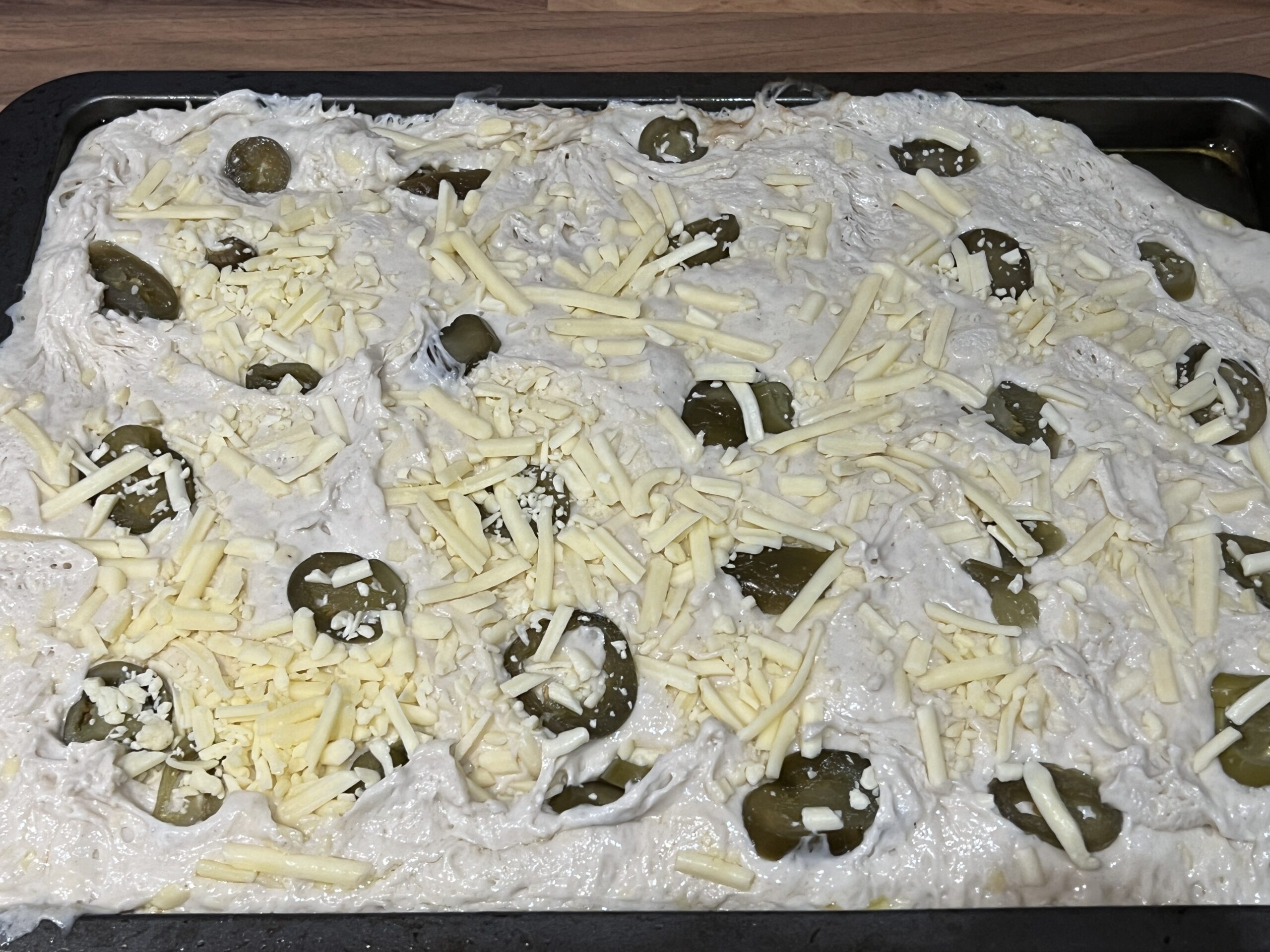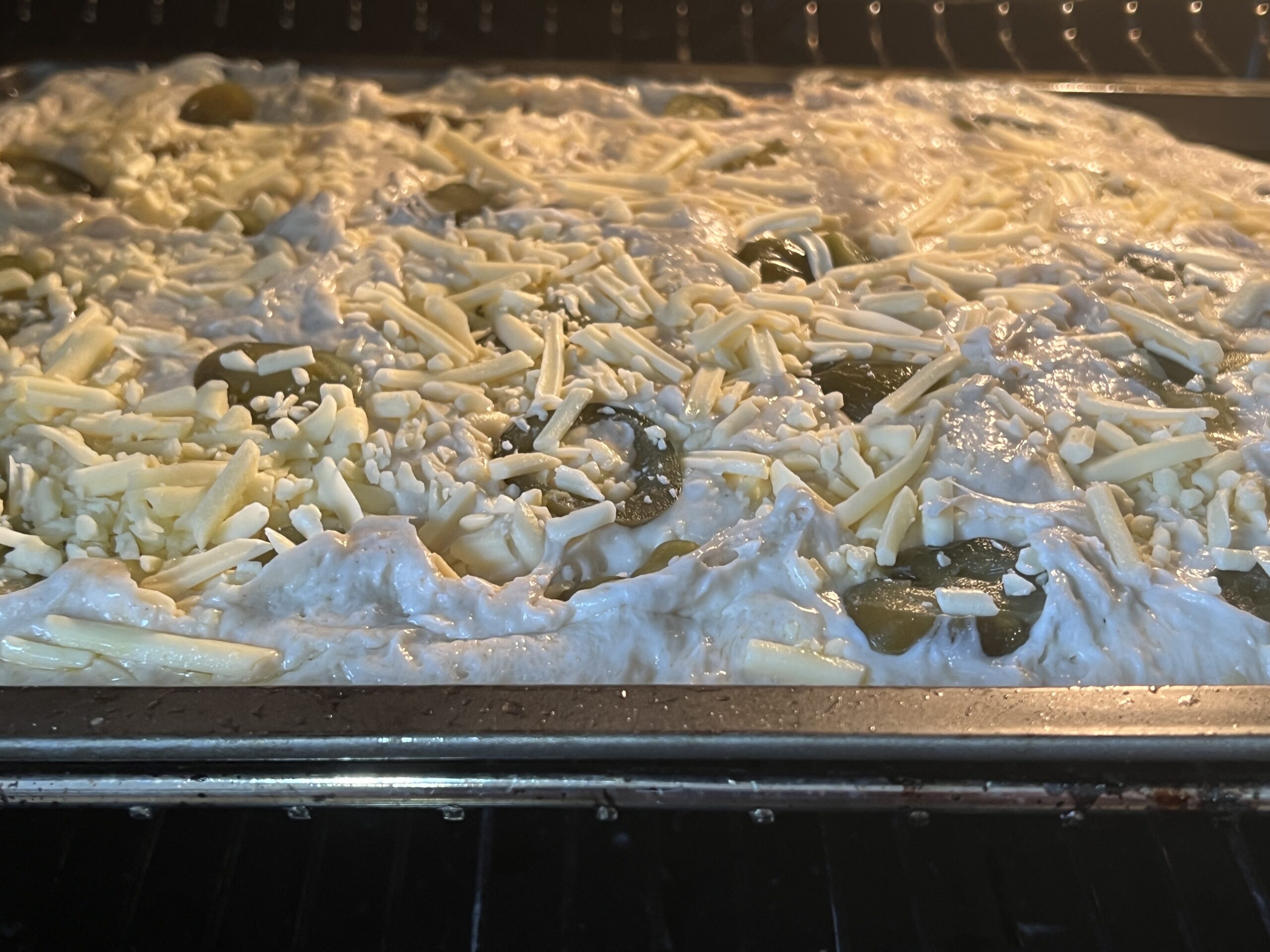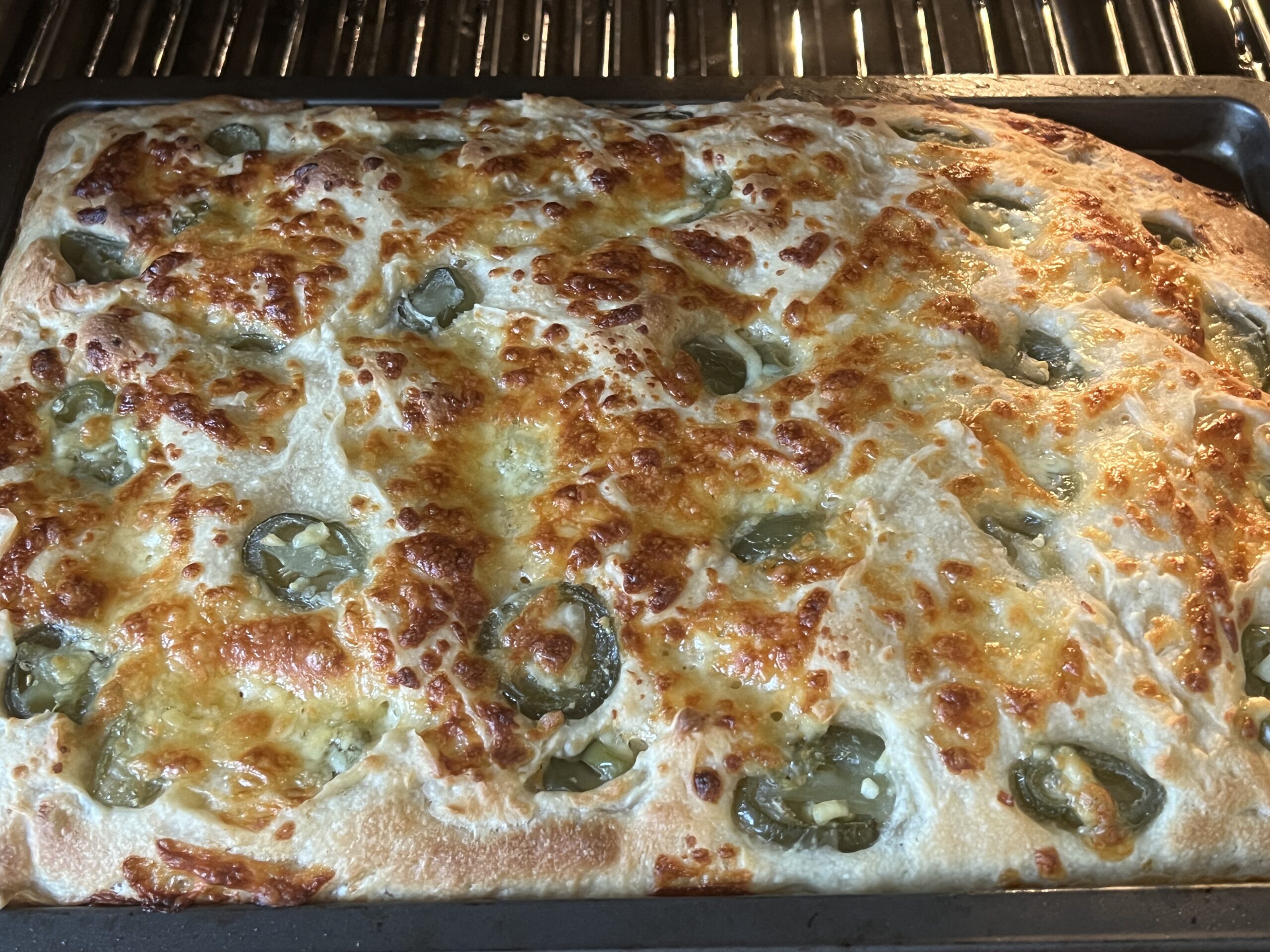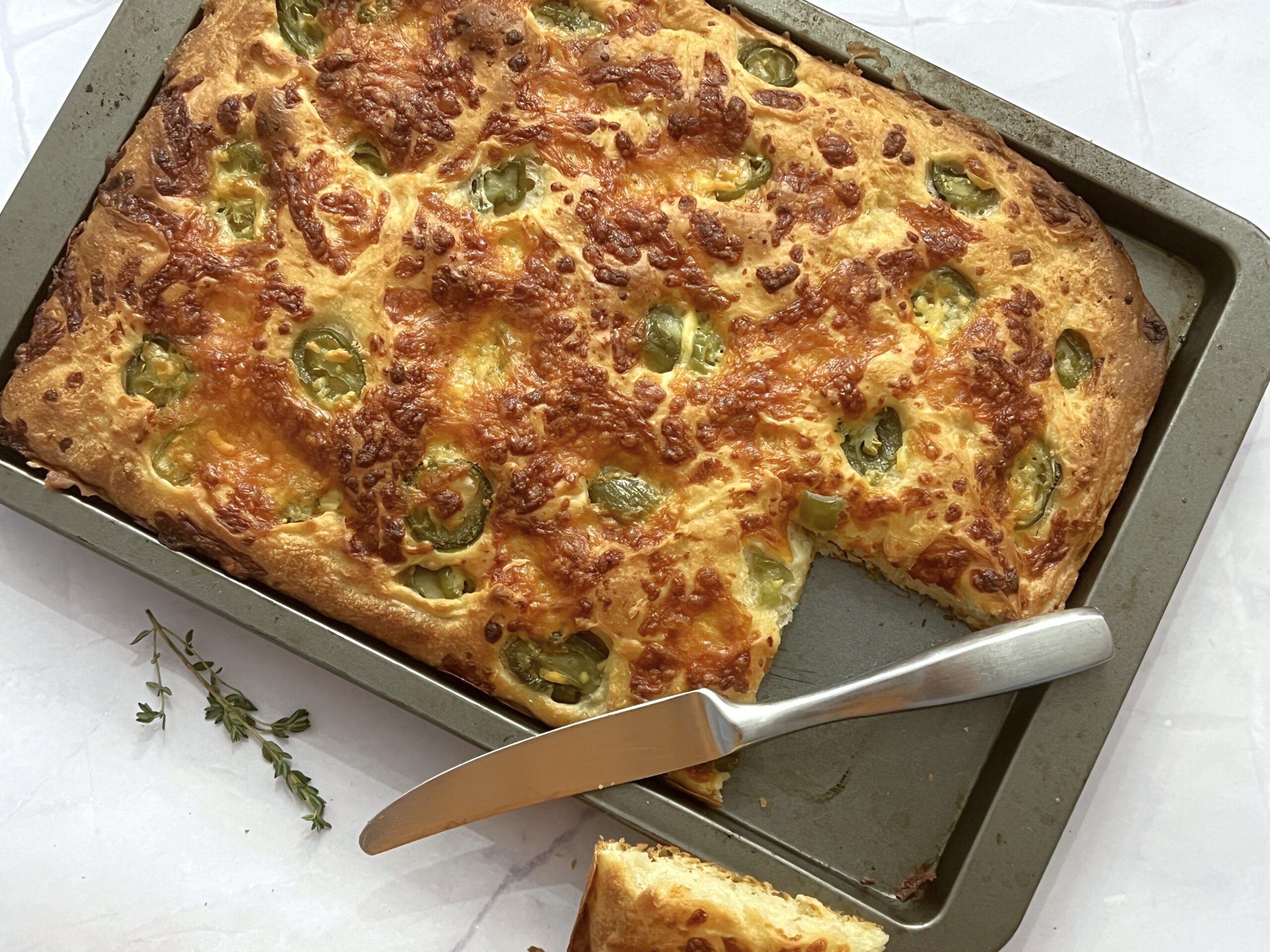 Preheat oven to 200C/ 180C Fan/Gas 6.
The next day, take the focaccia out of the fridge and arrange the jalapenos making sure each bite should have one piece and spread the grated cheese. You don't want to cover the entire surface, so make sure you leave some areas blank.
Bake the focaccia in the pre-heated oven for 20-30 minutes, until it is puffed and golden brown on top (If focaccia is browning too quickly, lightly cover with a sheet of foil).
Let the focaccia cool in the pan for 5-10 minutes, then remove it to a cooling rack to cool to cool completely. You can transfer it back to the pan after both have cooled, but if you leave it in the pan to cool, the bottom tends to get soggy.
Enjoy warm!