Homemade Pizza Dough Recipe
Pizza Pizza Pizza! I have never met anyone who does not like a pizza.
Growing up whenever I had a pizza, I probably did not bother to sneak a peek behind the counter to see if the pizza emerging from the oven were cut into thin, crunchy triangles or thicker slabs. Pizza was pizza!
Thick crust, thin crust, Italian crust, stuffed crust who knew?The most important is getting the Italian pizza dough right! The dough is what gives the pizza it's texture, holds together the flavours and – if done right – can make you feel like you have been transported right back to Italy.
My daughter loves home made fresh food and we usually have to drag her if we ever want to eat out. She loves pizza and even eating at the most popular Pizza restaurants does not give her the satisfaction to that of a home cooked pizza! So, I gave myself a challenge to learn how to make the pizza dough at home.
Believe me when I say that I have had hundreds of failed attempts until my friend recommended me a dough recipe. The recipe was good but my whole kitchen was covered with so much flour that I gave up! I altered the recipe time and again till I had my own perfect recipe that makes the most delicious pizza.
This is my all-time favourite homemade pizza dough recipe, this recipe has been tried and tested week after week, making the best homemade pizza. My family now likes homemade pizza better than take-out!
Ingredients
1 ¼ cups warm water
2 tablespoons sugar
1 ½ teaspoons instant dry yeast
2 tablespoons olive oil
3 cups plain flour (or '00 flour')
1 teaspoon salt
Oil for greasing bowl
Directions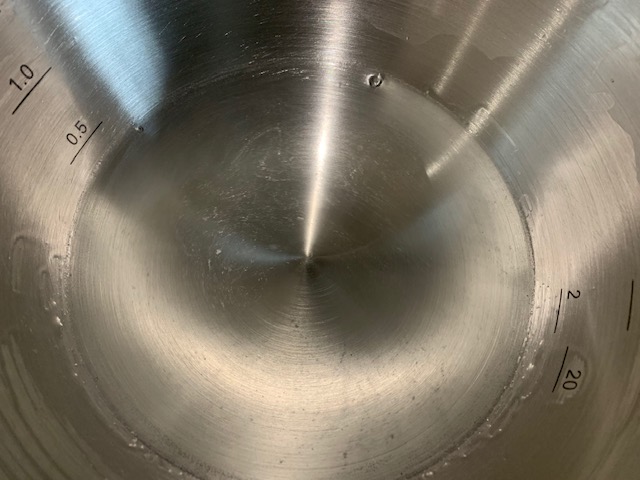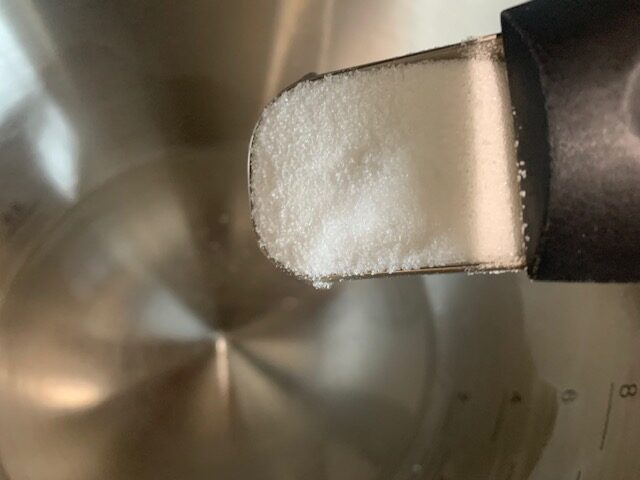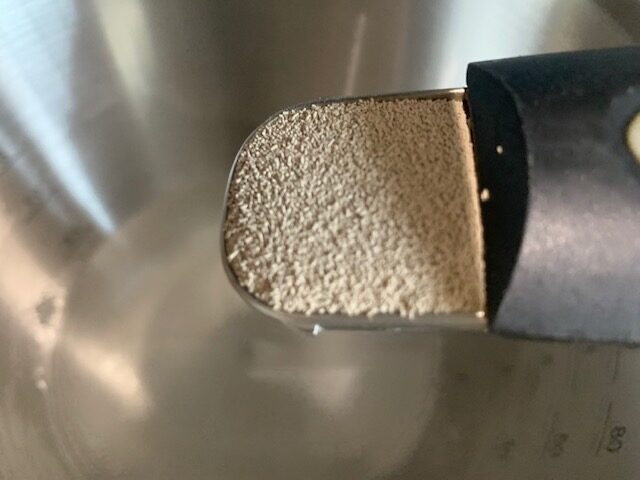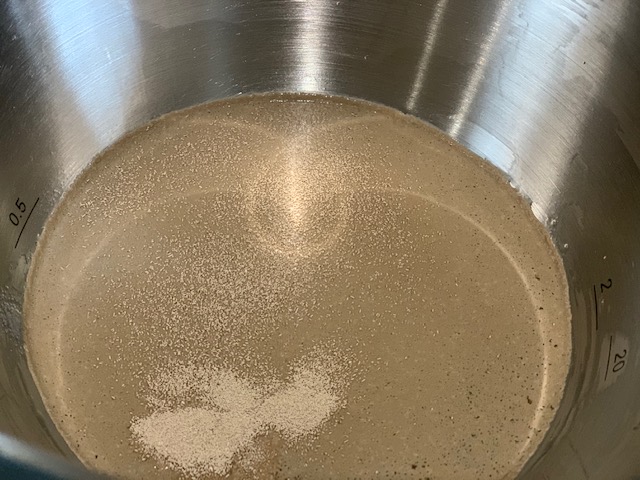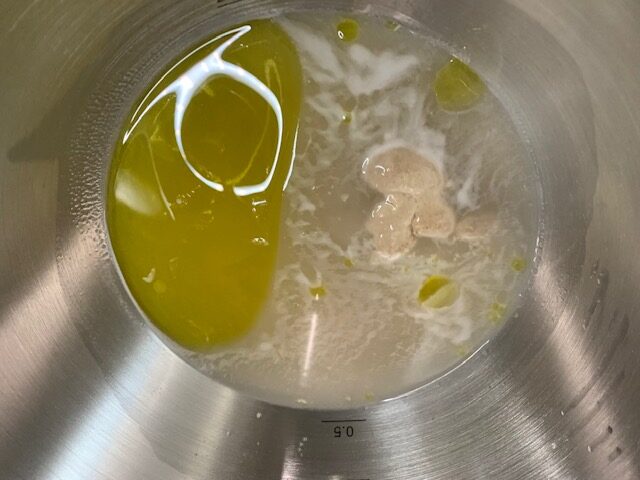 In the bowl mix the water, sugar and yeast. Allow the mixture to sit for a few minutes until frothy. Add the oil.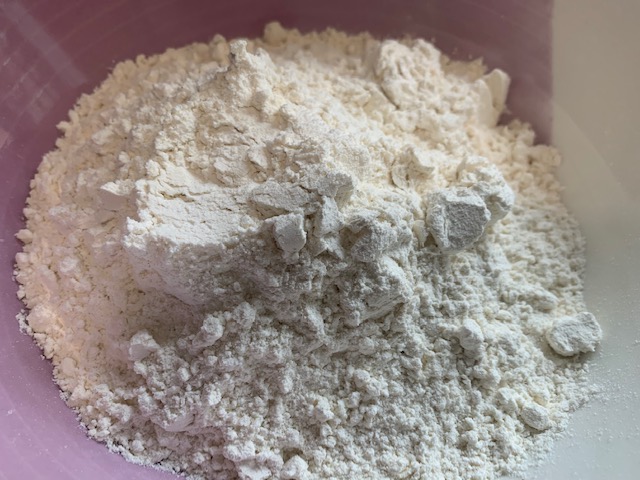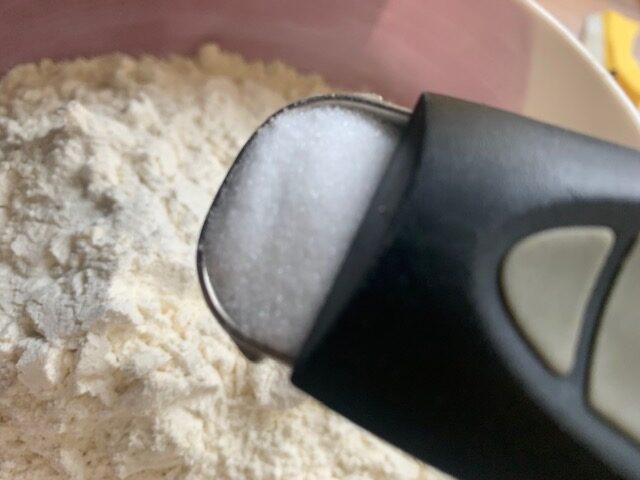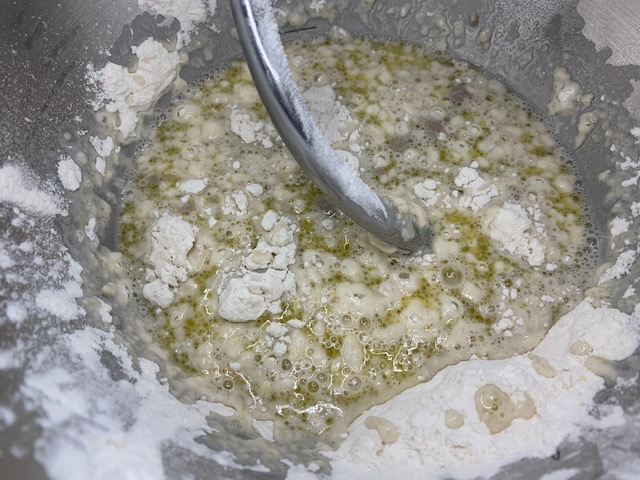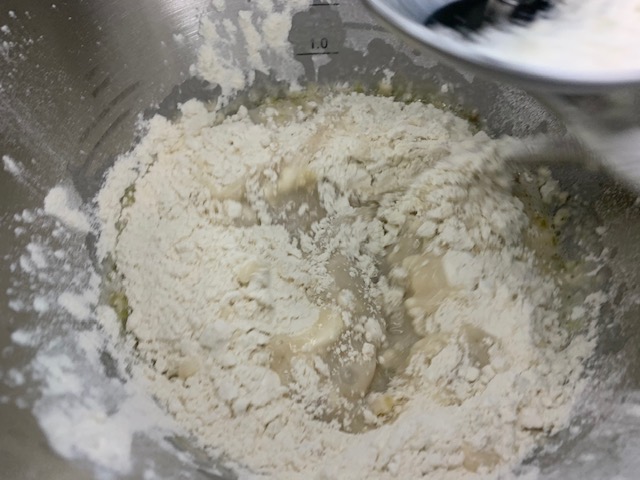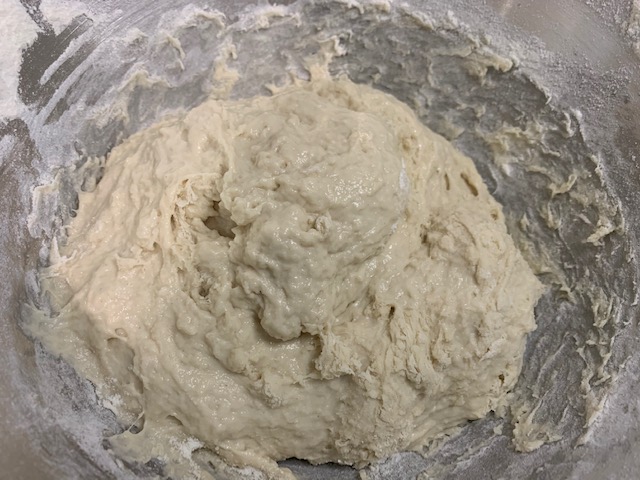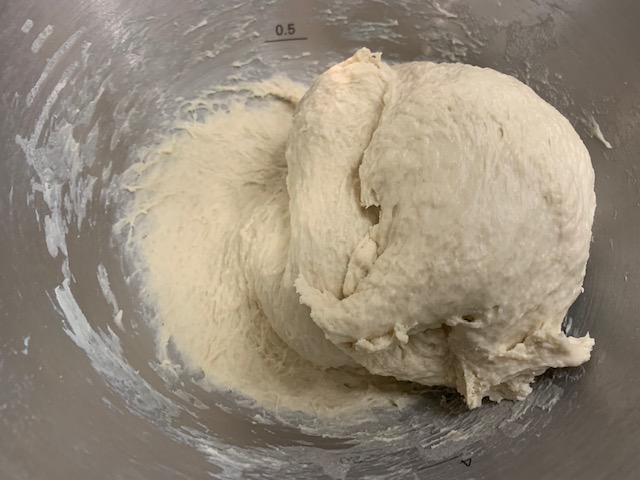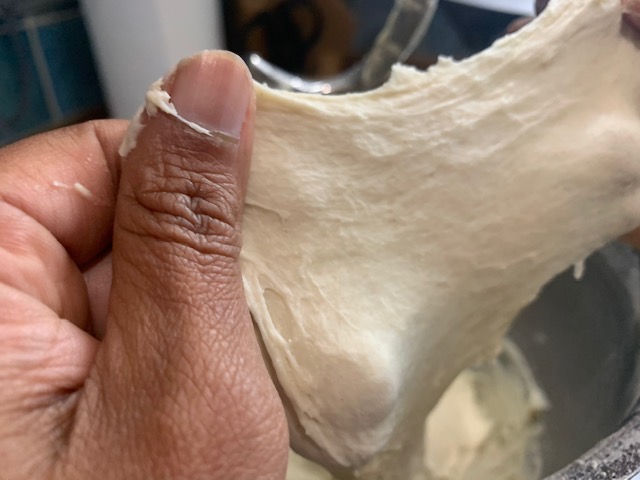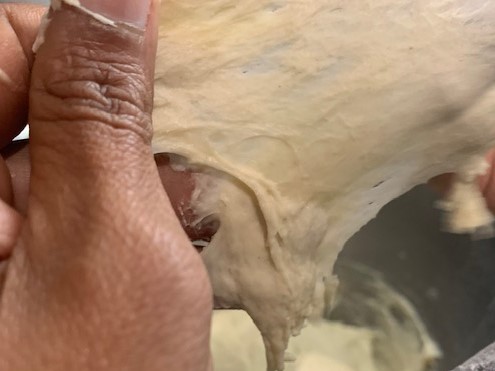 In a bowl mix the flour and salt. Gradually add the flour to the yeast mixture few tablespoons at a time, mixing and kneading between additions. Continue adding the flour until the dough can be pulled away from the sides of the bowl with a spatula, but the dough will still be quite sticky.
You may need to add in a little bit more or less flour, but the key is to remember that the dough will be slightly sticky and will stick to your fingers when you try to pull it apart.
A simple test to check if the pizza dough is ready for proofing is tear a small piece of dough off and gently stretch it so it does not tear. If you see a web like structure when held up to light, then the gluten has developed enough strands and it is ready for proofing. If it breaks apart the dough needs more kneading.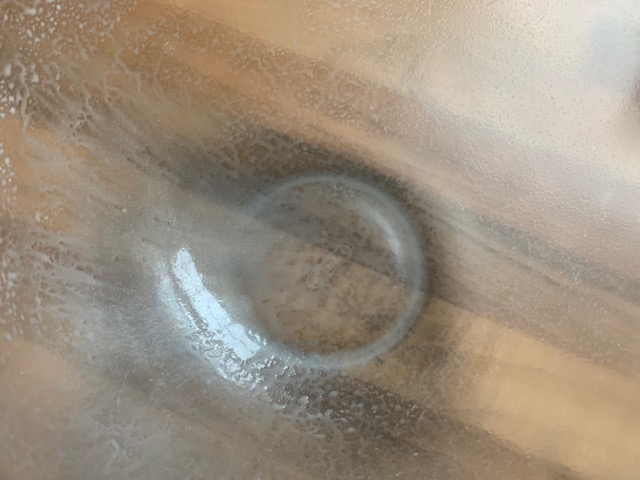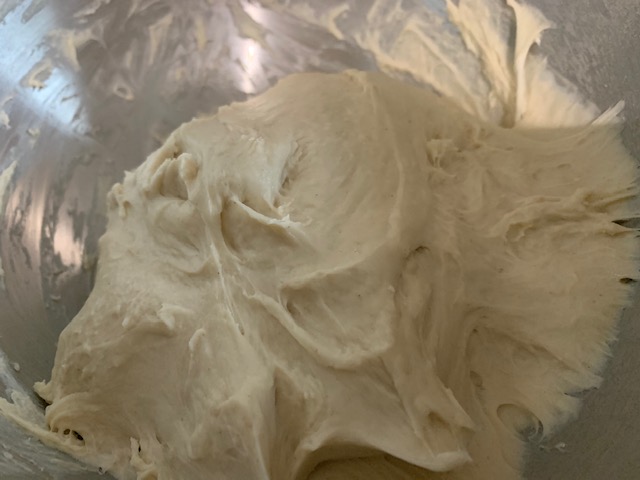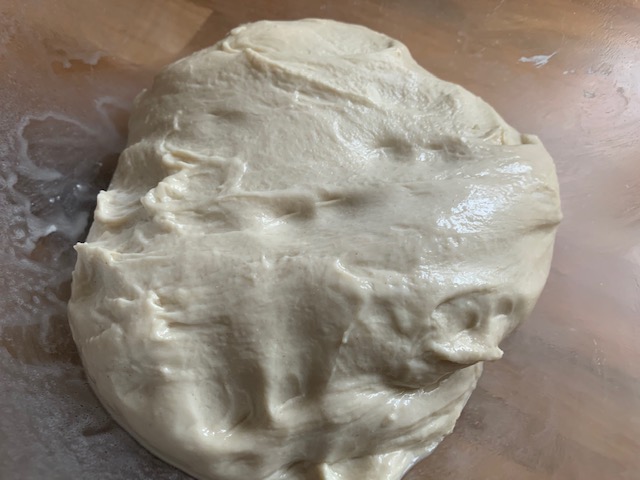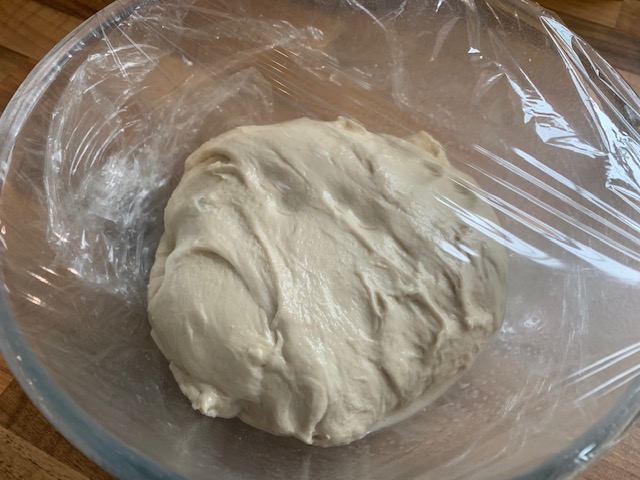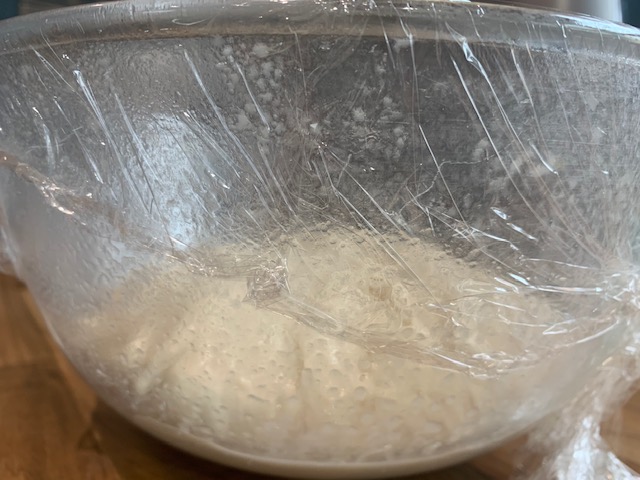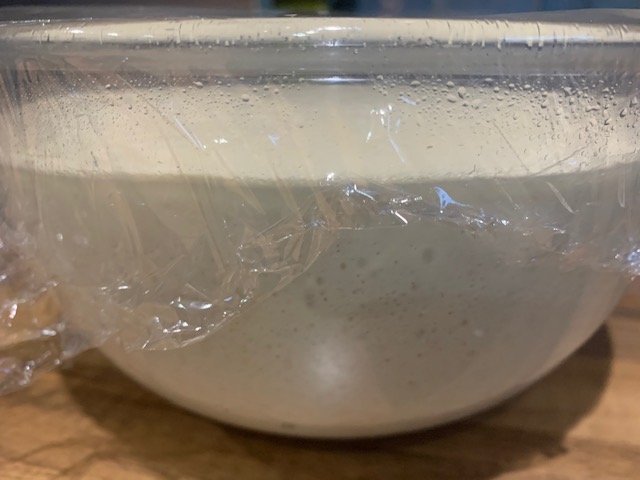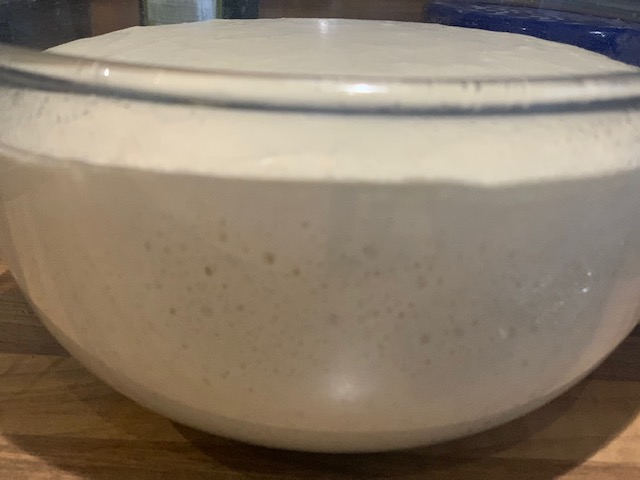 Grease a large bowl and gently scrape the dough into it. Turn the dough to coat it in oil. Cover the bowl and a let the dough rise at room temperature until doubled for 1-2 hours.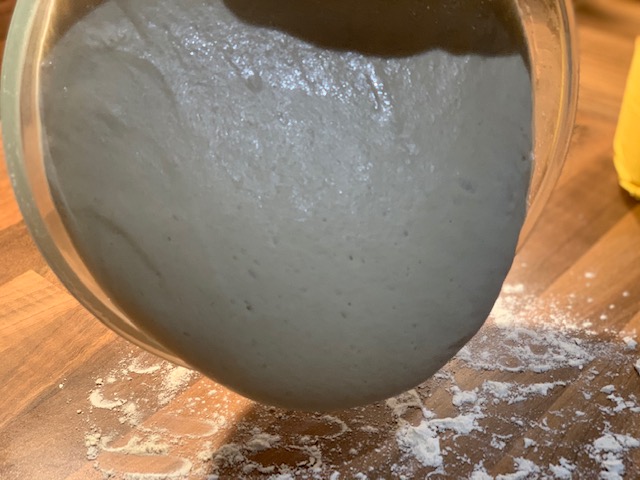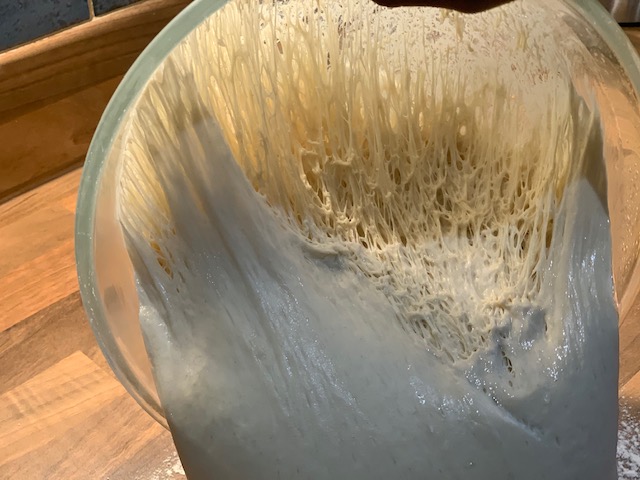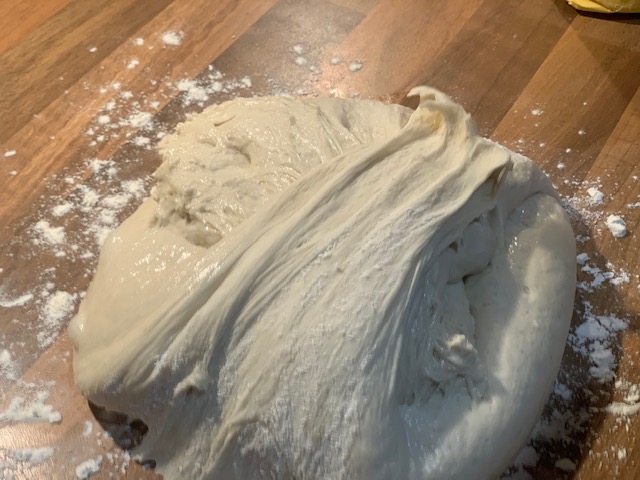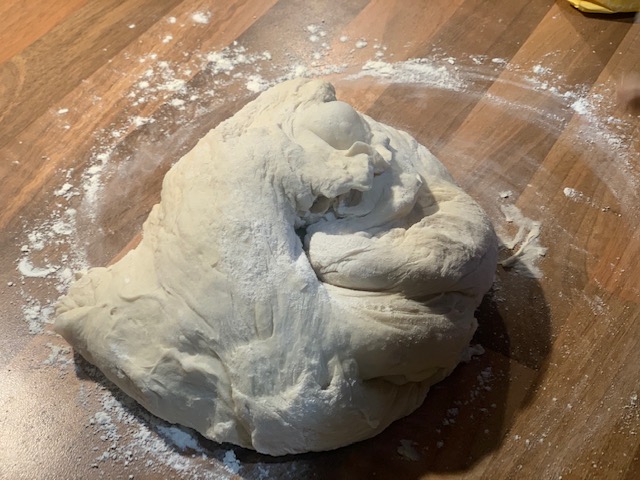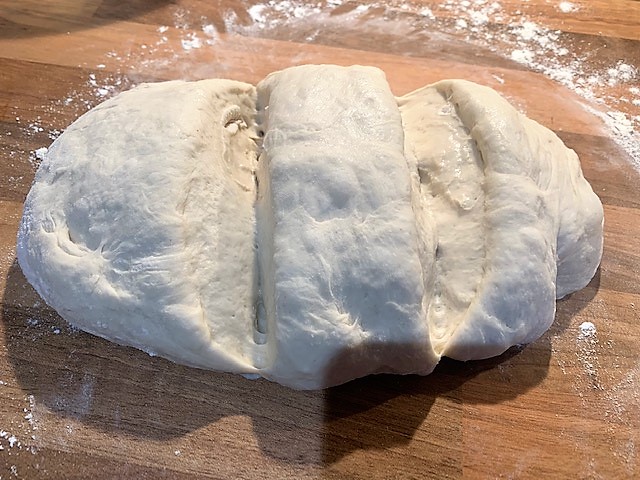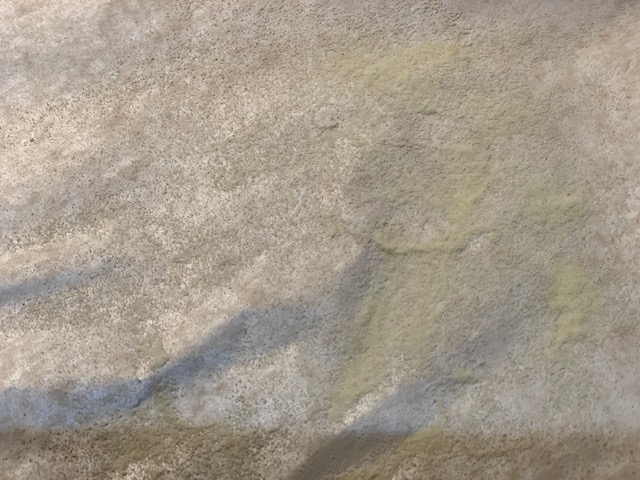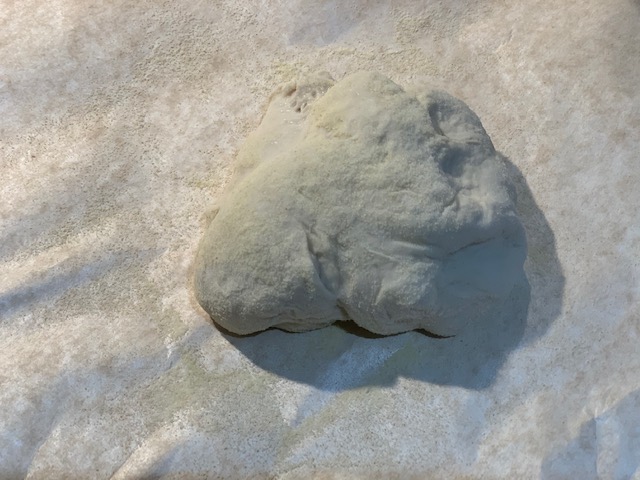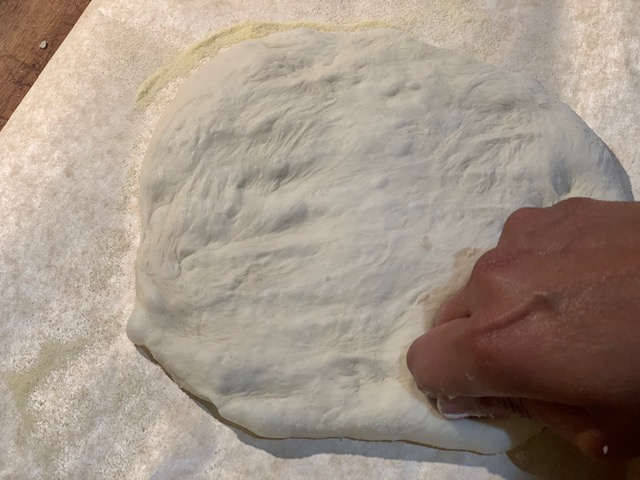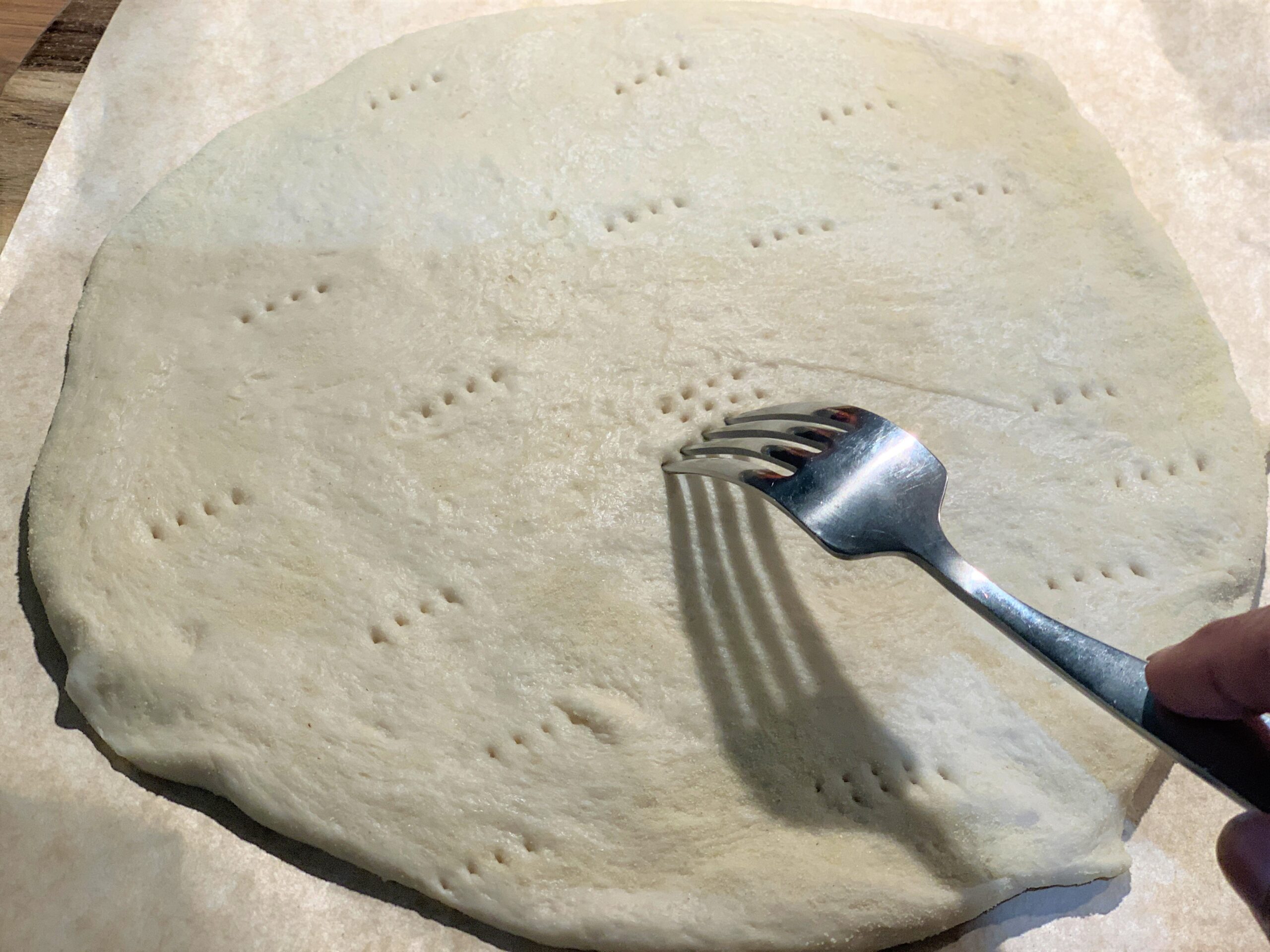 Sprinkle some flour on the work surface and turn the dough on it and knead to make a smooth ball. Cut the dough into 3 equal portions.
Sprinkle some semolina on a parchment paper and roll out the dough to make your pizza. Now's the time to decide how thick you want your pizza to be! Do you want it 'pizza alta' (Neapolitan-style) or 'pizza bassa' (Roman-style)? Just remember, your crust will puff up a little bit as it is baked so decide the thickness accordingly and you can make indentations using fork to avoid it.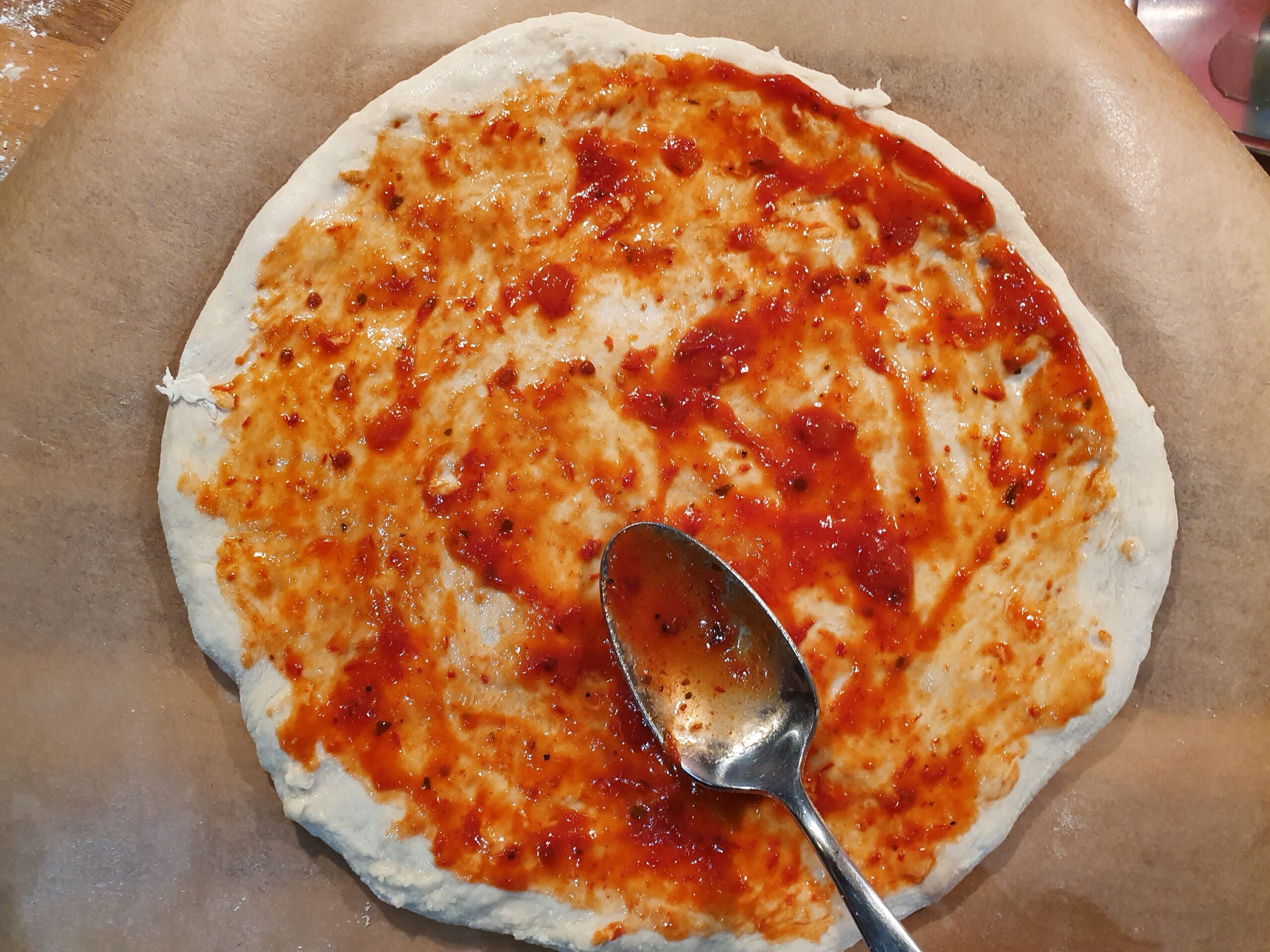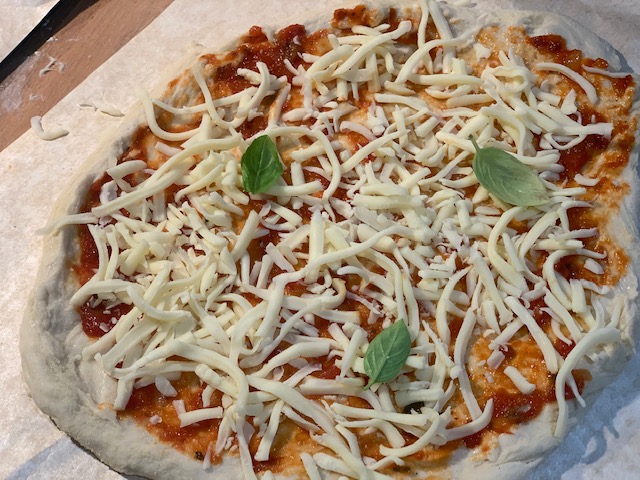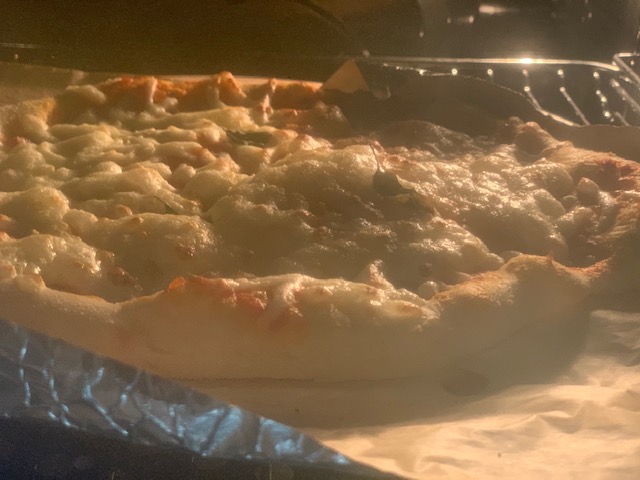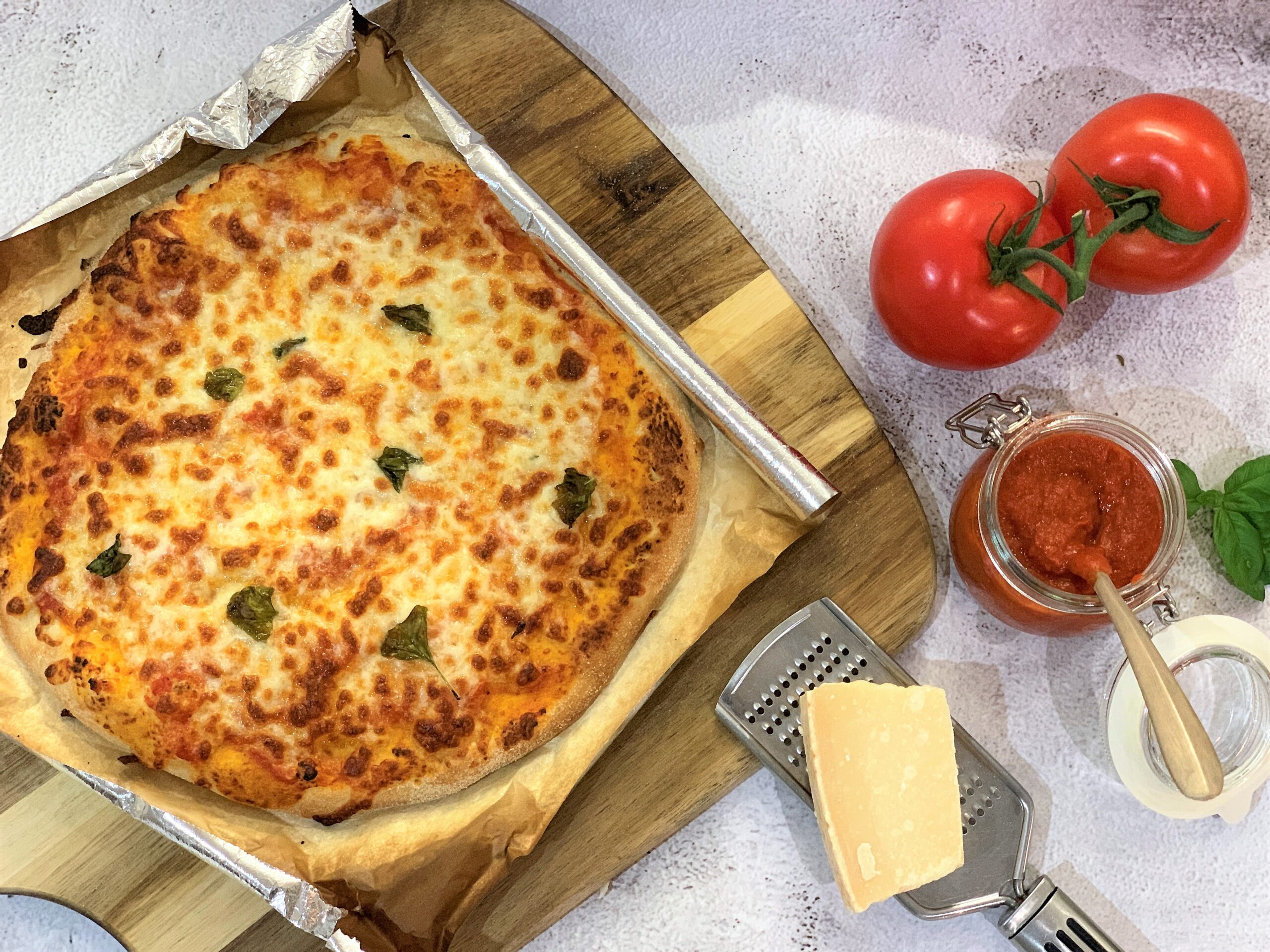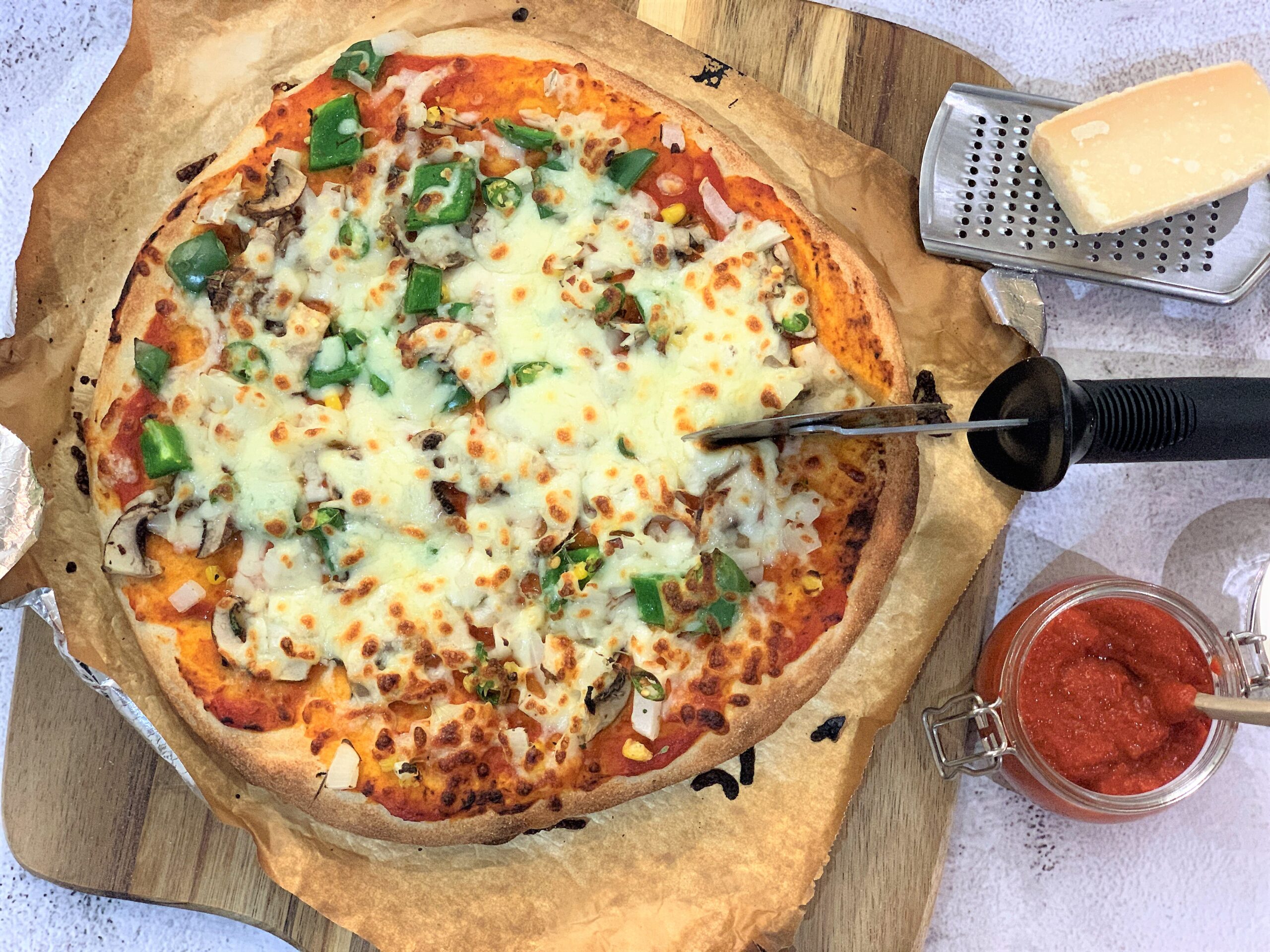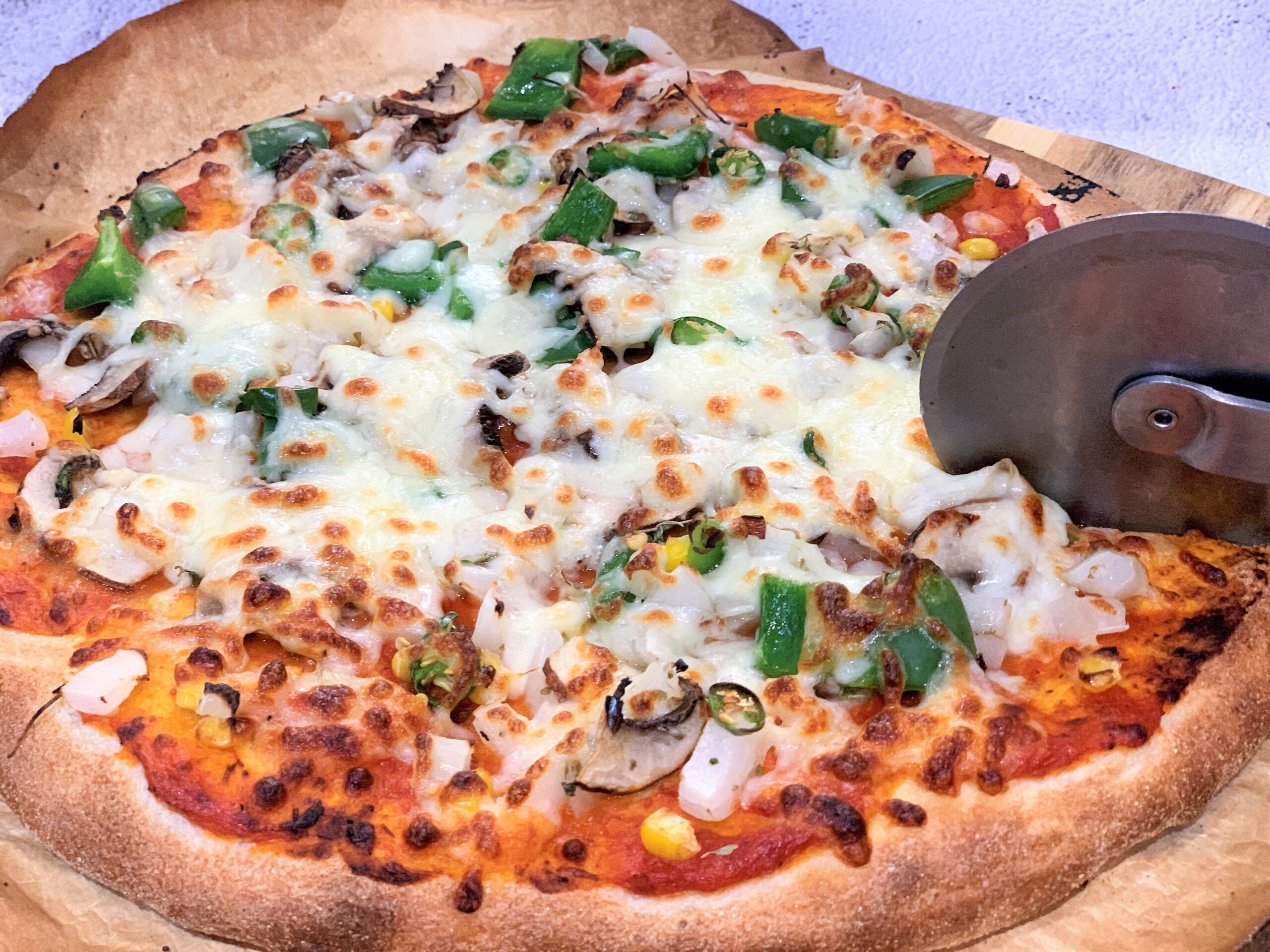 To bake, preheat a pizza stone in the oven to 240 C/fan 220/Gas 9 or the highest your oven heats up to for at least 15 minutes.
Prepare your pizza with your desired toppings and bake until the crust is golden. It usually takes 8-10 minutes.