Authentic Amritsari Kulcha
Amritsari Aloo Kulcha is a popular recipe from 'Amritsar', a city in the Indian state of Punjab. Crispy, stuffed with filling and baked in the tandoor- these kulchas are mouth wateringly delicious!
My husband grew up in Amritsar and has very fond memories of Amritsari food. Amritsari Chole with Kulcha tops the list! Whenever I make these kulchas at home, as he tucks into his meal, he invariably has a childhood memory to share. Food definitely plays an important role in revoking our memories and at times the nostalgia we associate with them. Eating Chole Kulcha instantly brings a smile to his face and he is transported to his childhood.
A traditional Punjabi recipe, Chole Kulche is made from maida (white refined flour) and cooked in a tandoor. What is special about Amritsari Kulcha is that it is filled with a mouth-watering potato filling and is soft from inside and crispy on the top. The potato stuffing is what makes this dish unique. Once the Kulcha is prepared completely, it is taken out and is brushed with fresh butter until the butter seeps into it. Someone once said that eating a kulcha can activate your fifth sense because you can not only see, smell, taste and feel it but can also listen to it as you break the bread. The combination of an Amritsari Kulcha with spicy Chole and Imli chutney is one of the best combinations ever made.
I am a huge enthusiast of traditional authentic food and often explore ways to bring the delicious flavours with minimum effort for busy workdays. This is one of those recipes for me! I often make the kulcha dough at home but when I need an instant fix, I use the shop bought puff pastry and it taste equally good if not better!
Ingredients
250 grams block puff pastry
1-2 tablespoons plain flour for dusting
1-2 tablespoons finely chopped coriander (optional)
1-2 teaspoons butter (optional)
For Potato Stuffing
1 cup mashed potatoes
1 teaspoon crushed coriander seed
1-2 finely chopped green chilies
1 teaspoon grated ginger
1 teaspoon carom seeds
1-2 tablespoon finely chopped coriander leaves
1 teaspoon black salt
1 teaspoon red chili powder
¾ teaspoon cumin powder
1 teaspoon amchur powder
1 teaspoon anardana powder (crushed pomegranate seeds)
¼ cup onion, finely chopped
1 teaspoon kasoori methi
Directions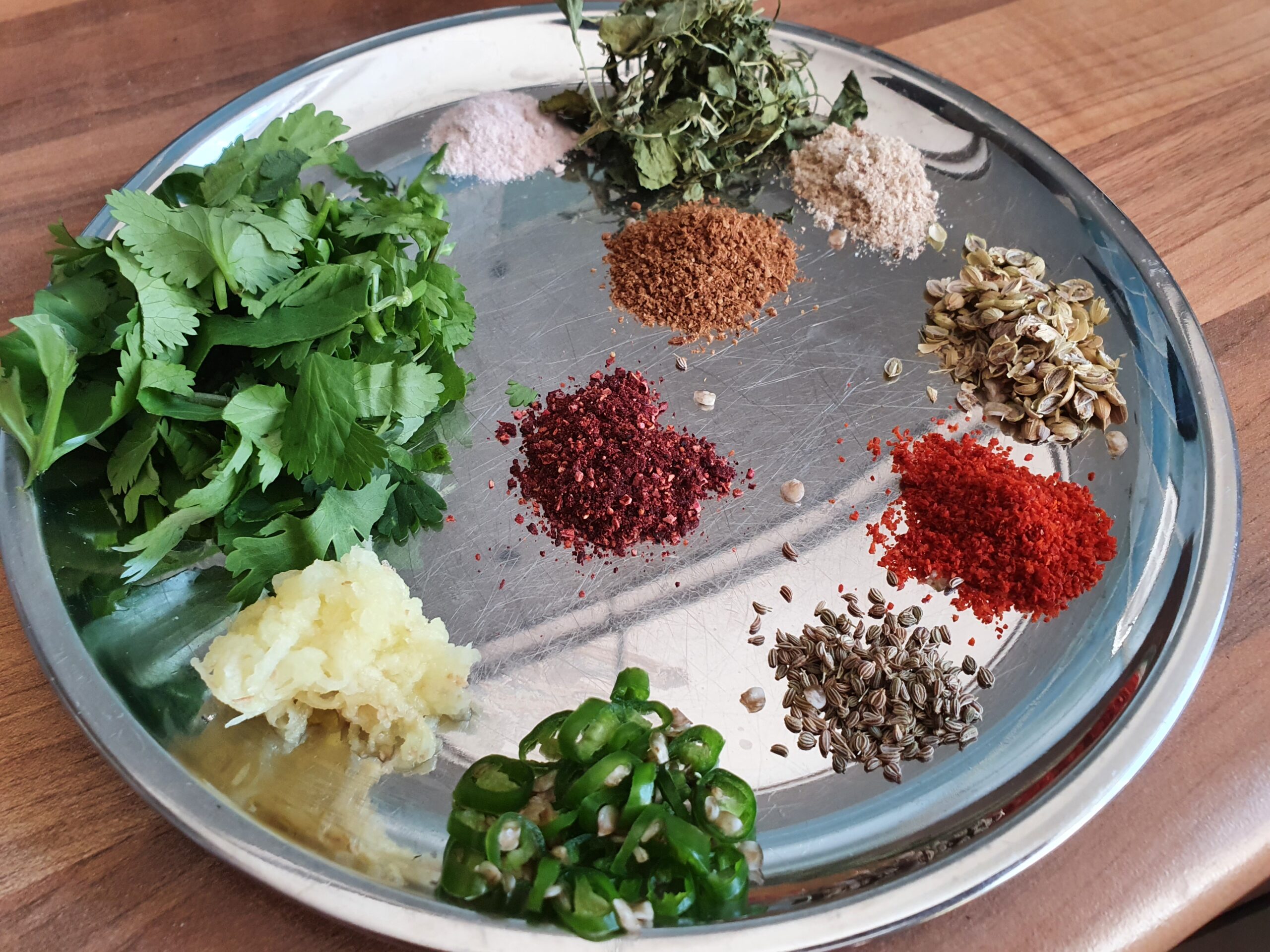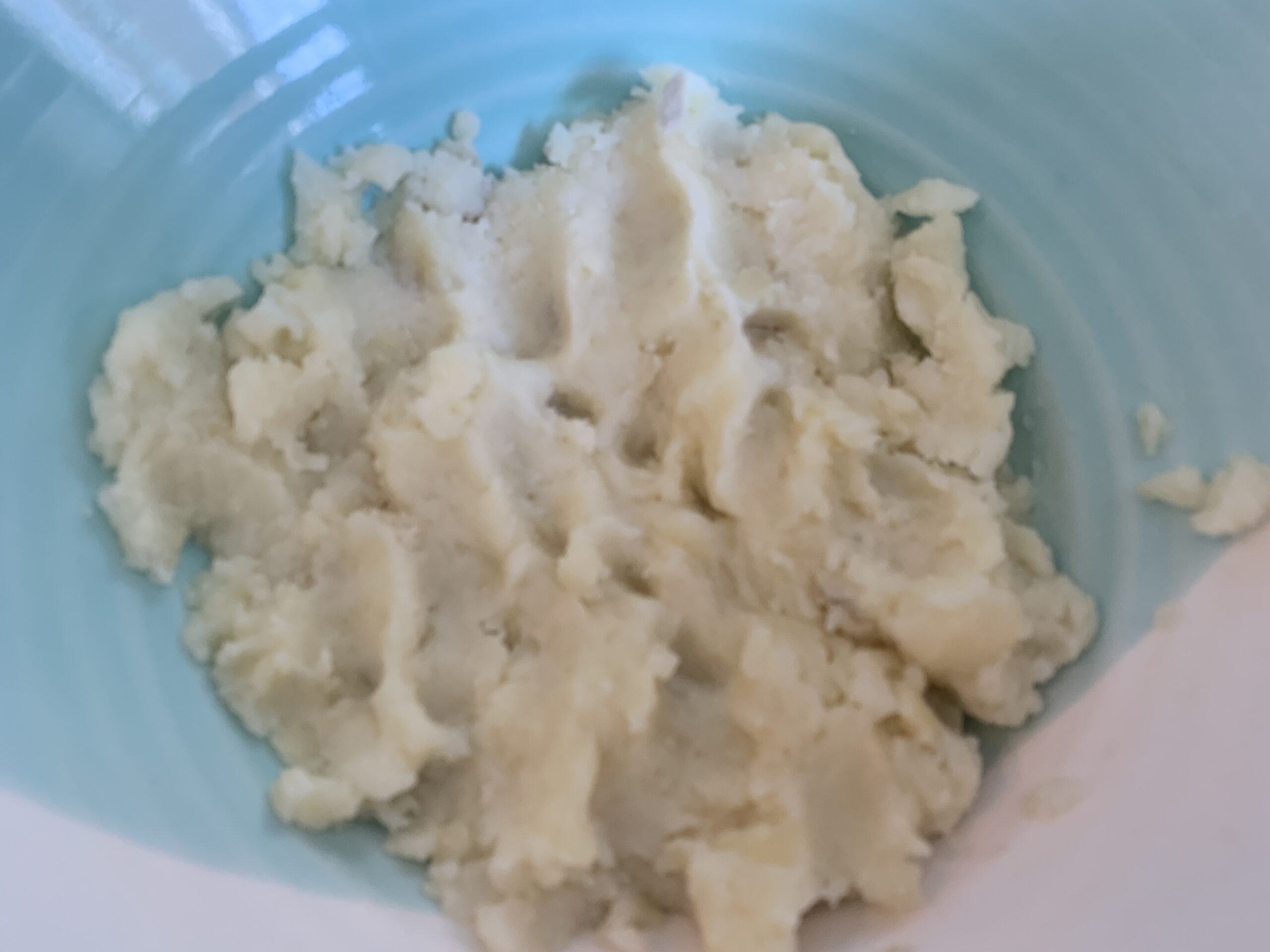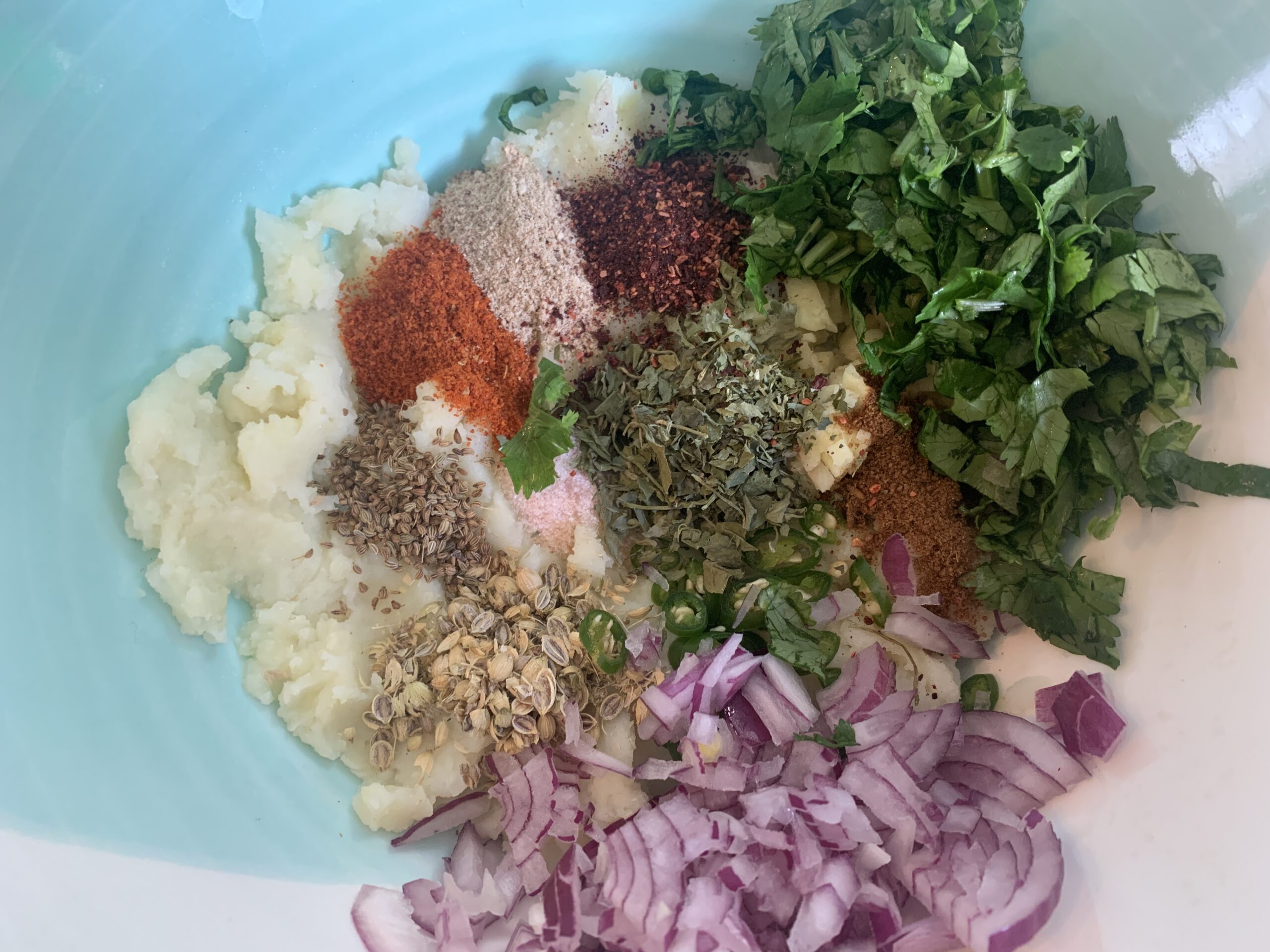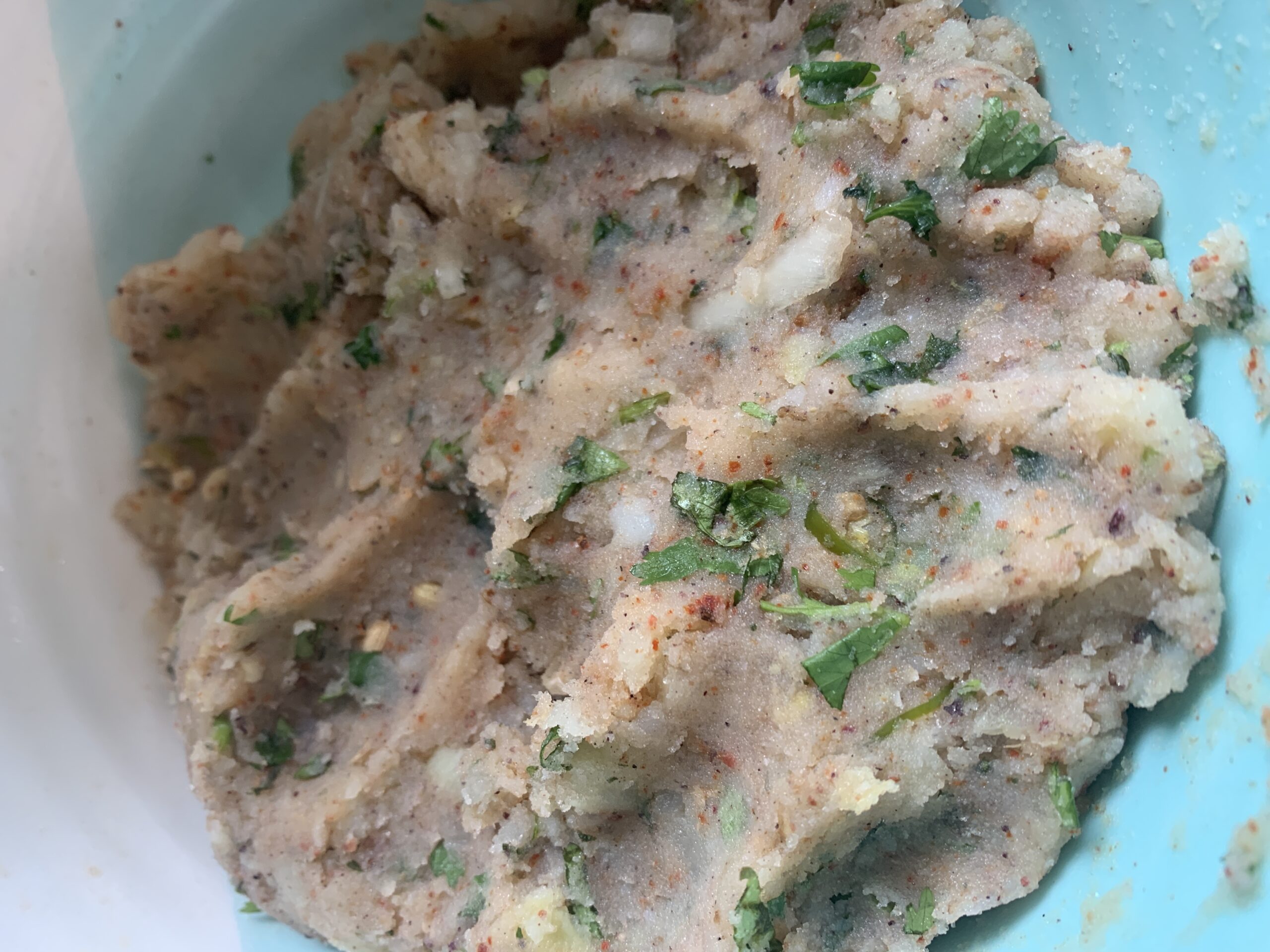 In a bowl mix all the potato stuffing ingredients together.  Taste and adjust the seasoning according to your taste.
Because there is onion and salt in this stuffing, do not make it in advance or else the onions will leave water making the stuffing watery. If you need to make it in advance, then I would suggest keep onions and salt aside to mix at the last minute.
Leave the puff pastry outside to bring it to room temperature for 25-30 minutes.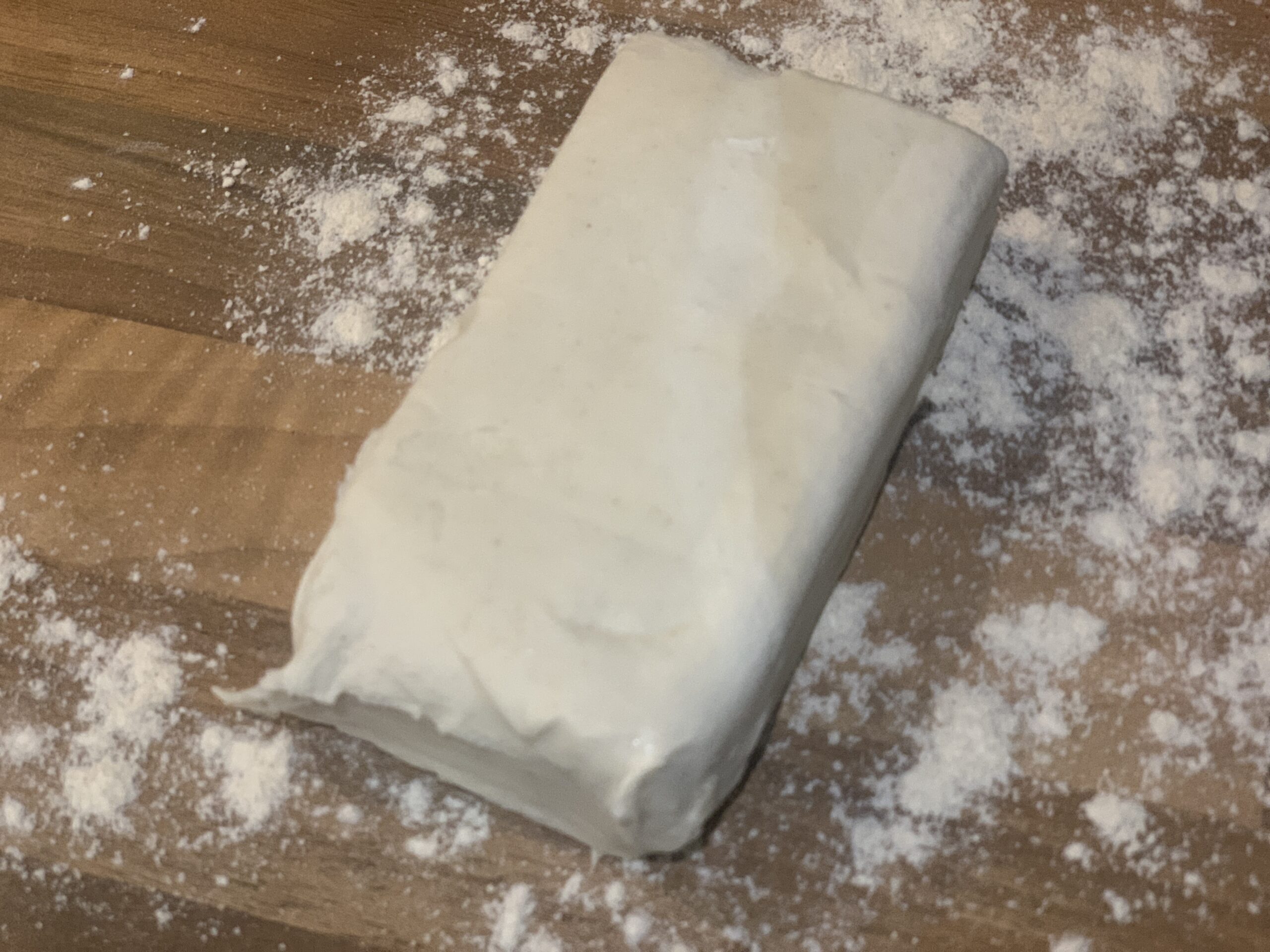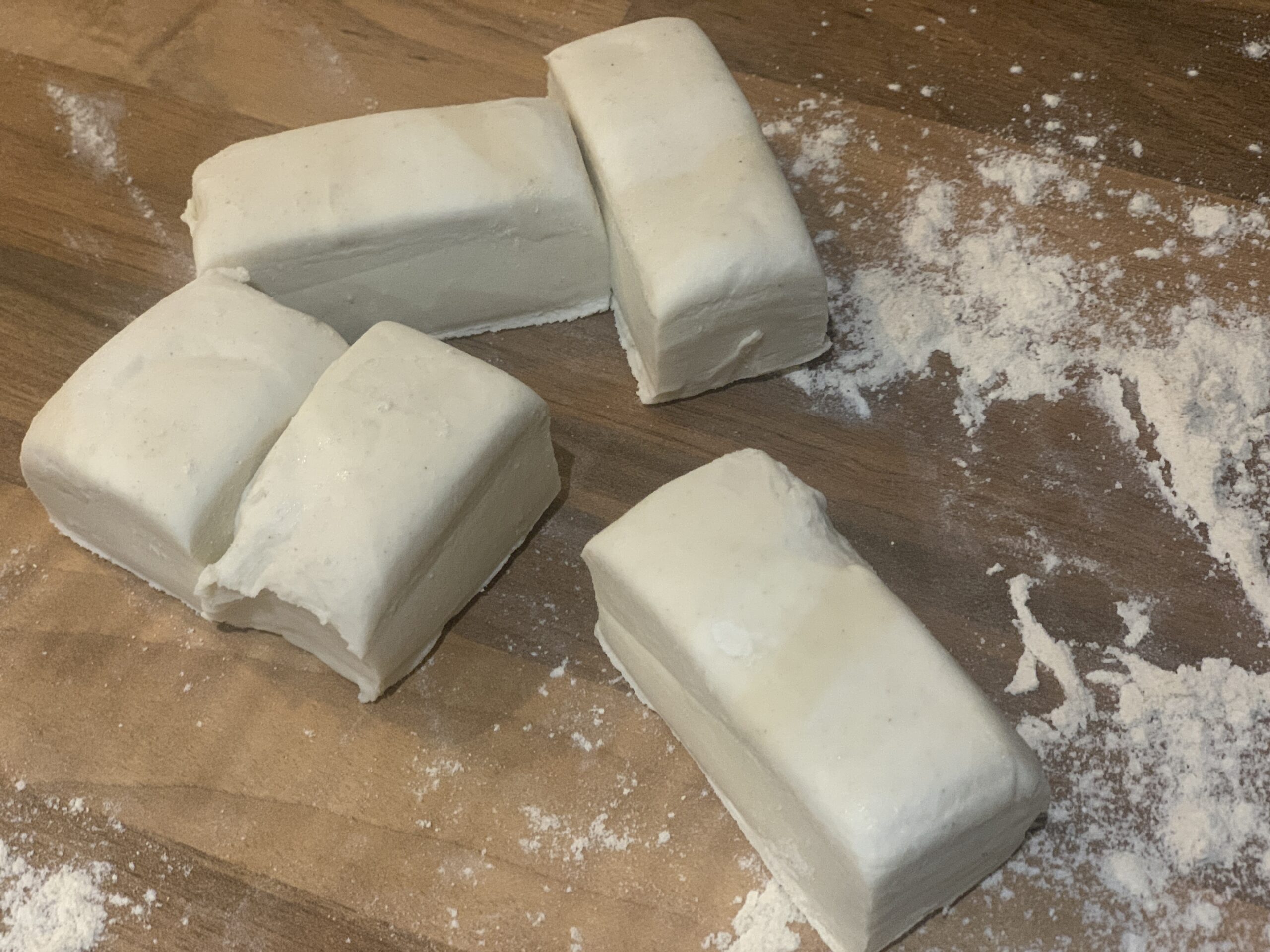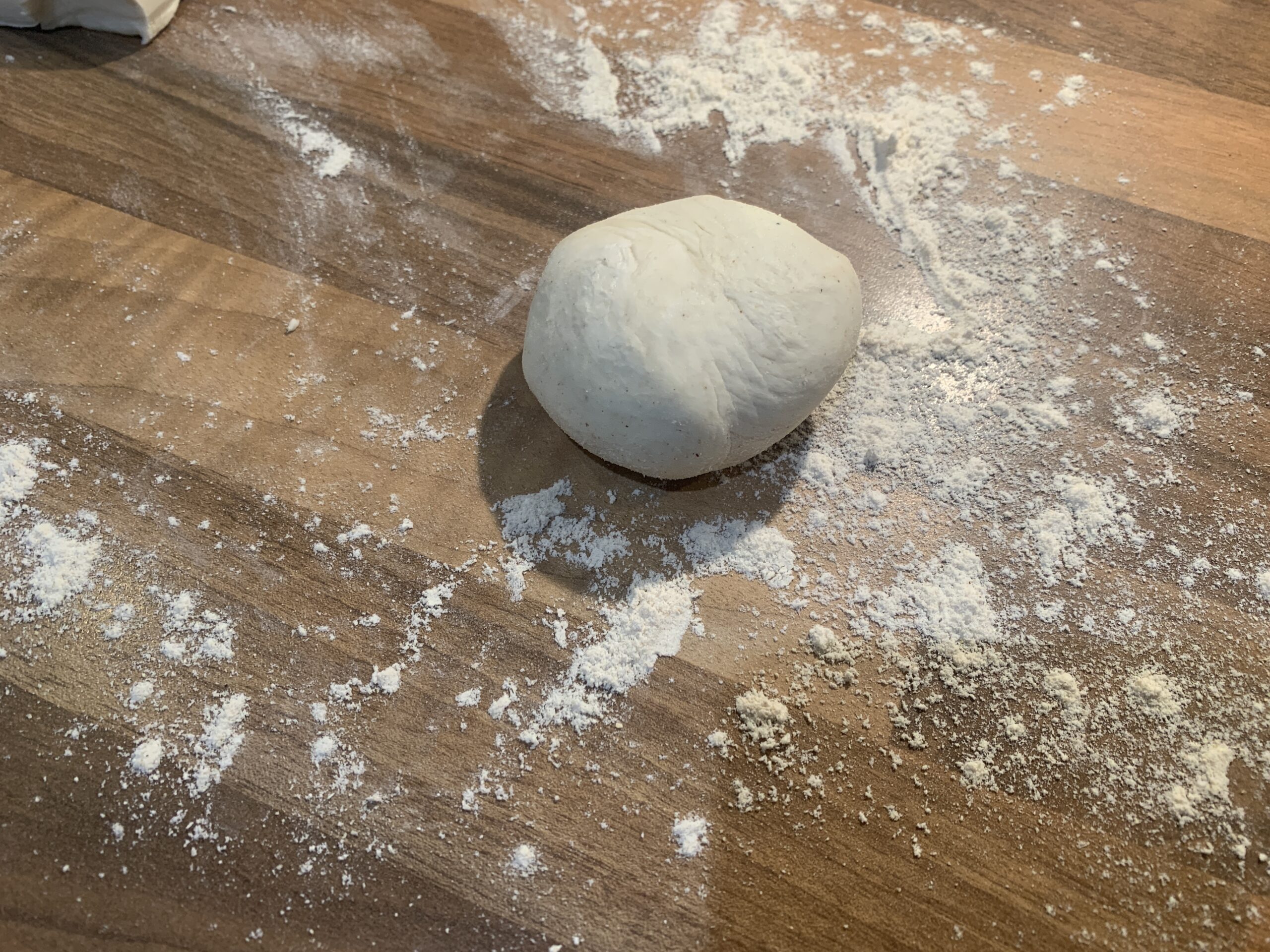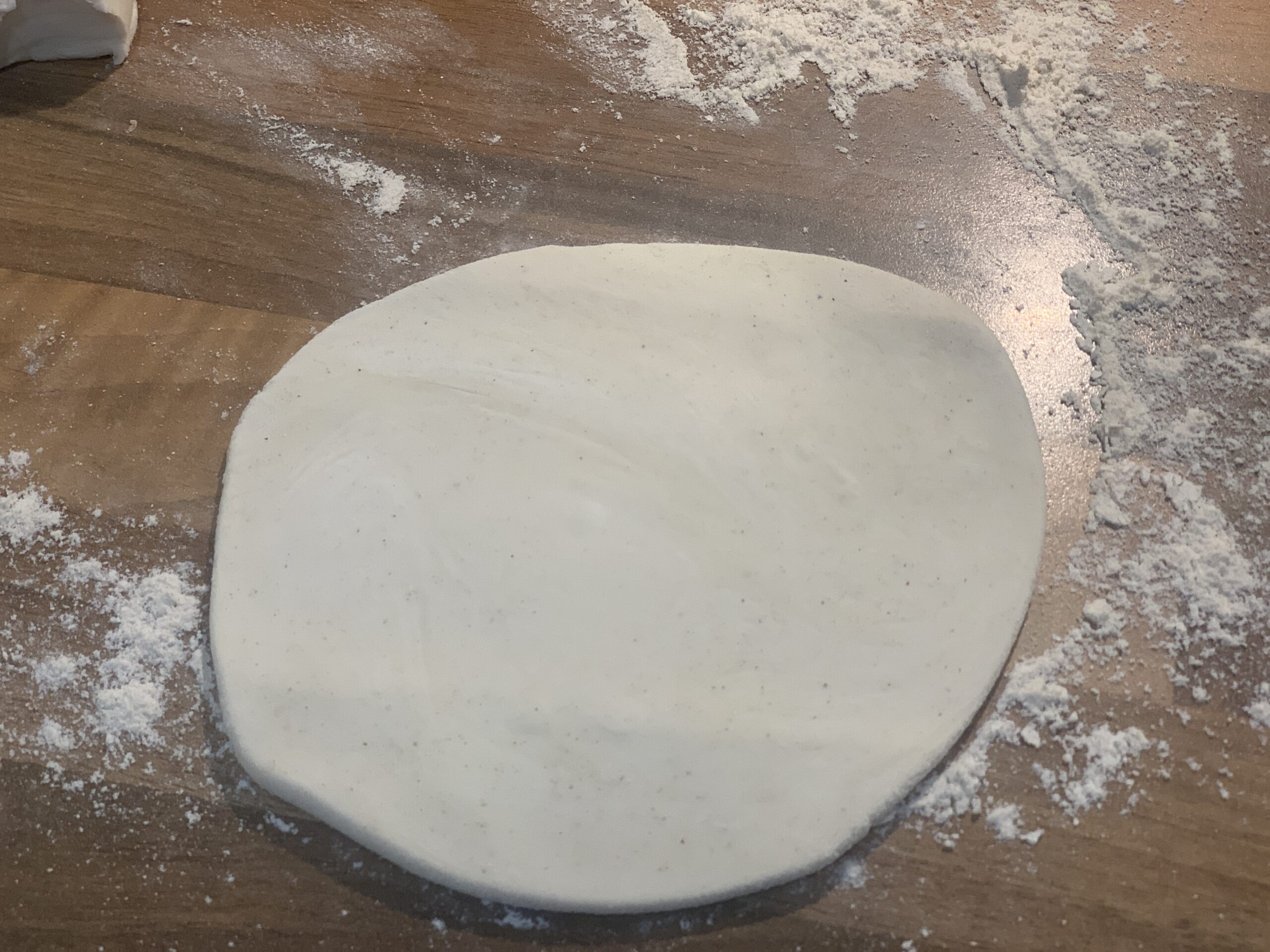 Cut the puff pastry into equal 5-6 portions. Take one portion and roll it gently to make a flattened ball. Dust some flour on the worktop and roll the ball into 4-inch circle using a rolling pin.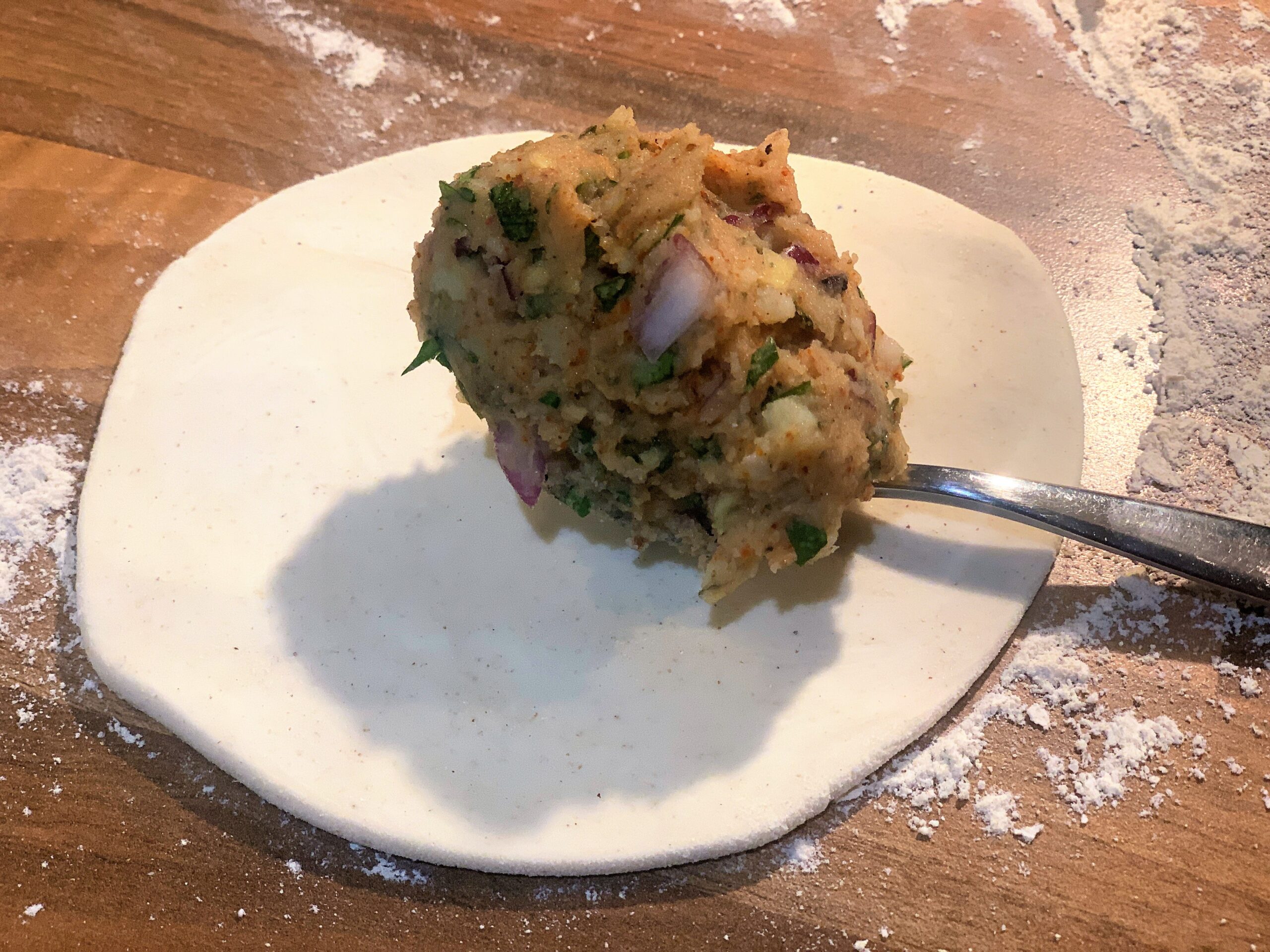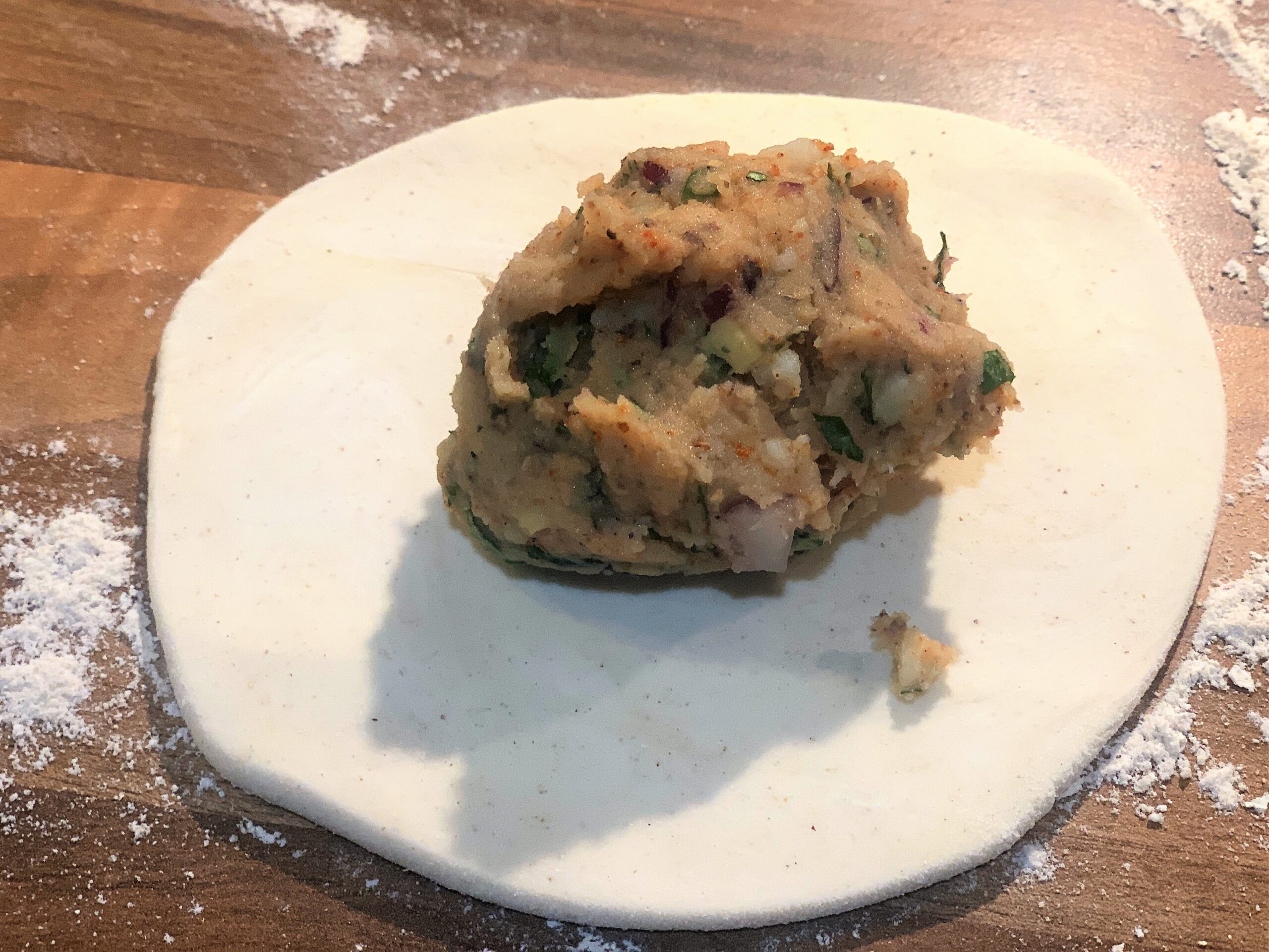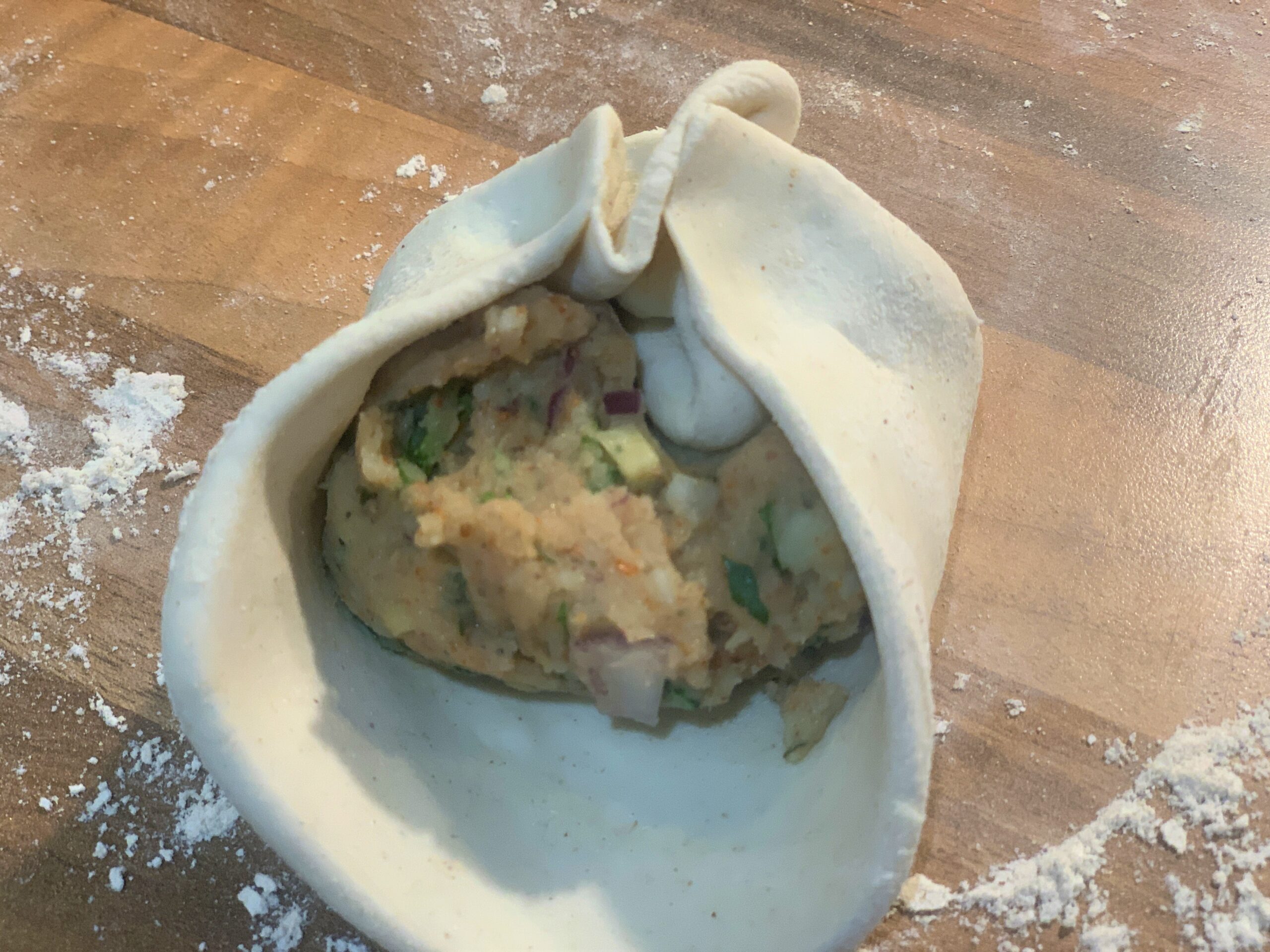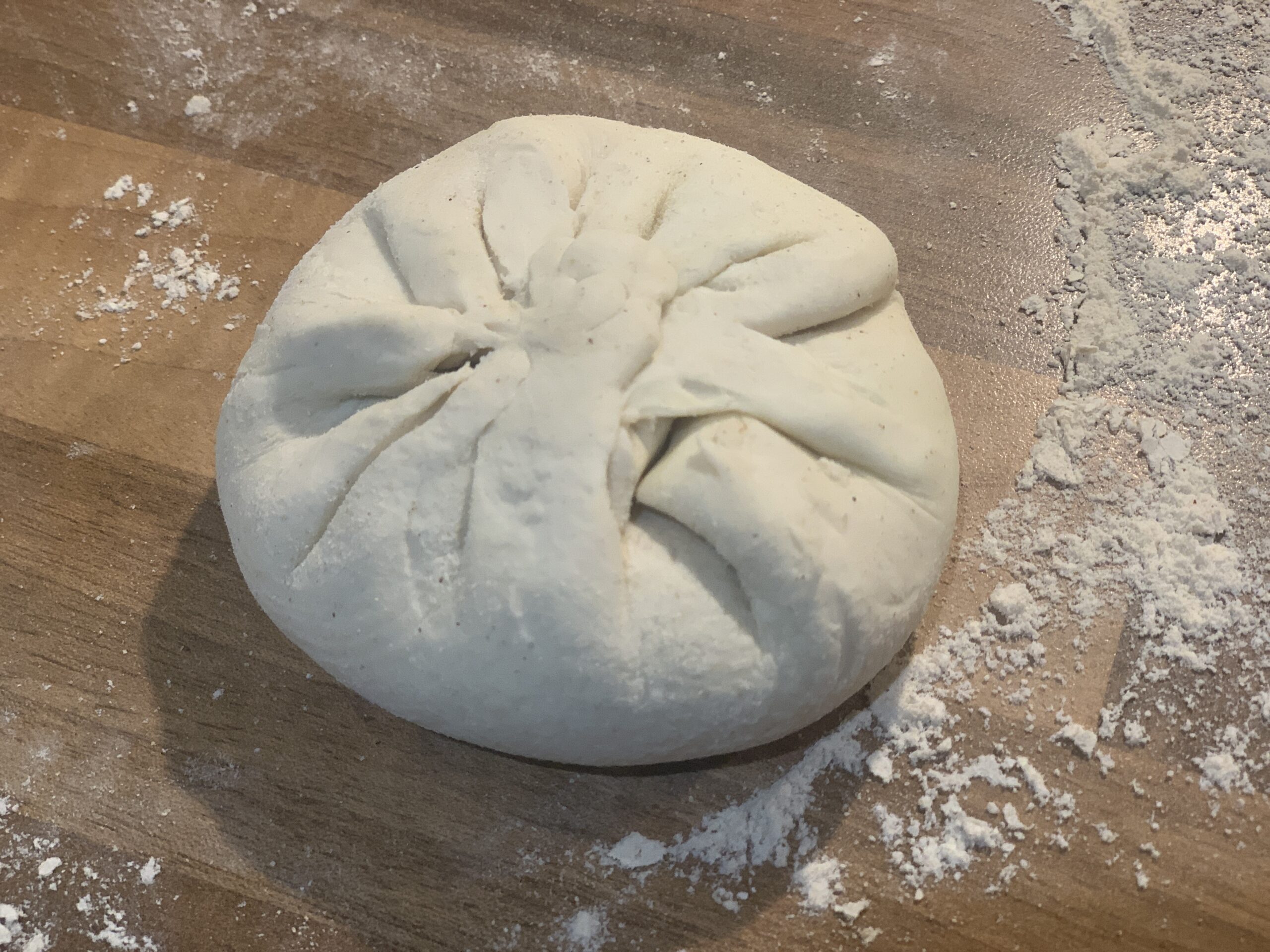 Place 1 teaspoon of filling in the center. Bring together all the sides and start pleating the dough. Seal the dough ball by pinching. Dust the ball with some plain flour.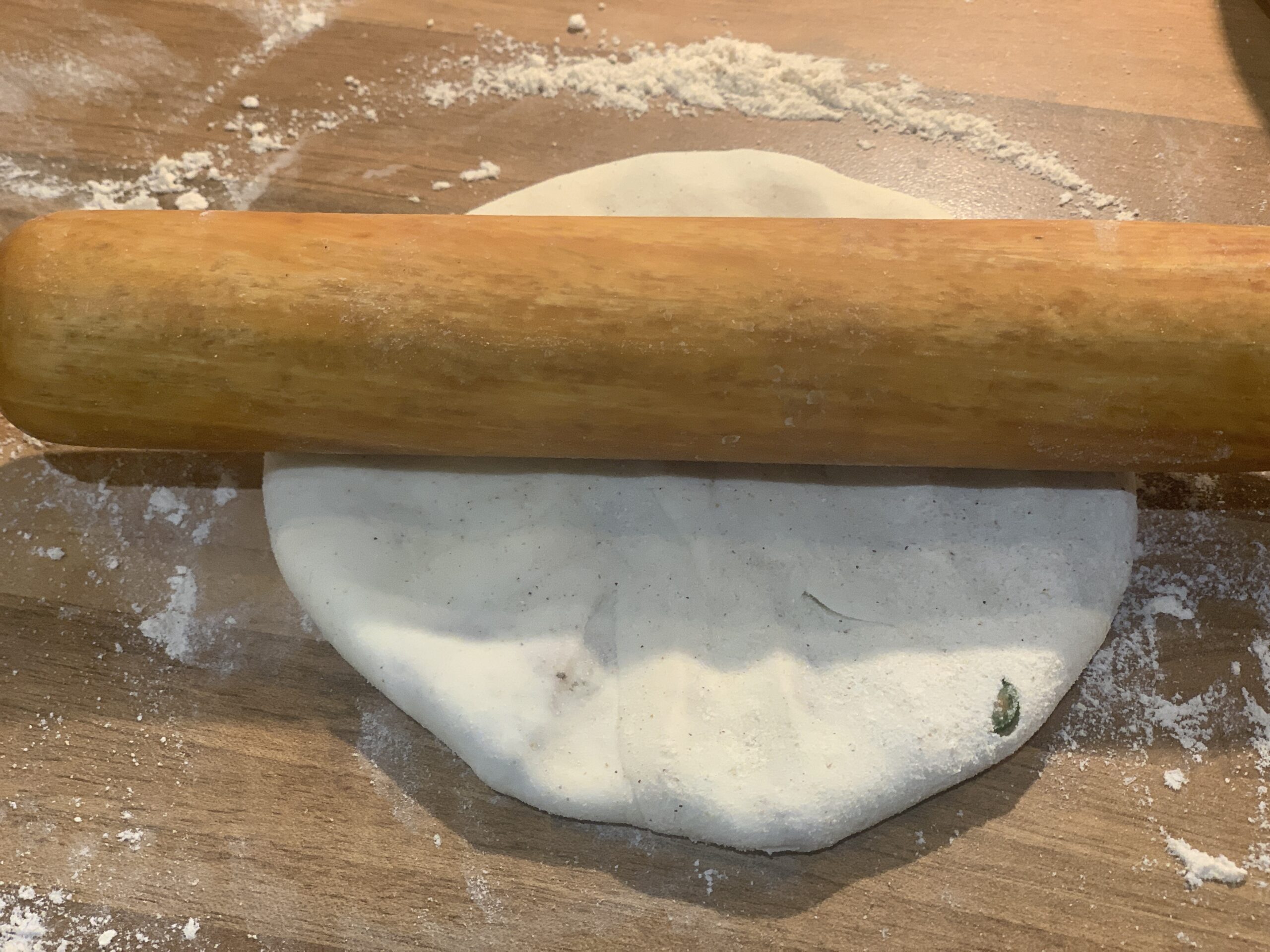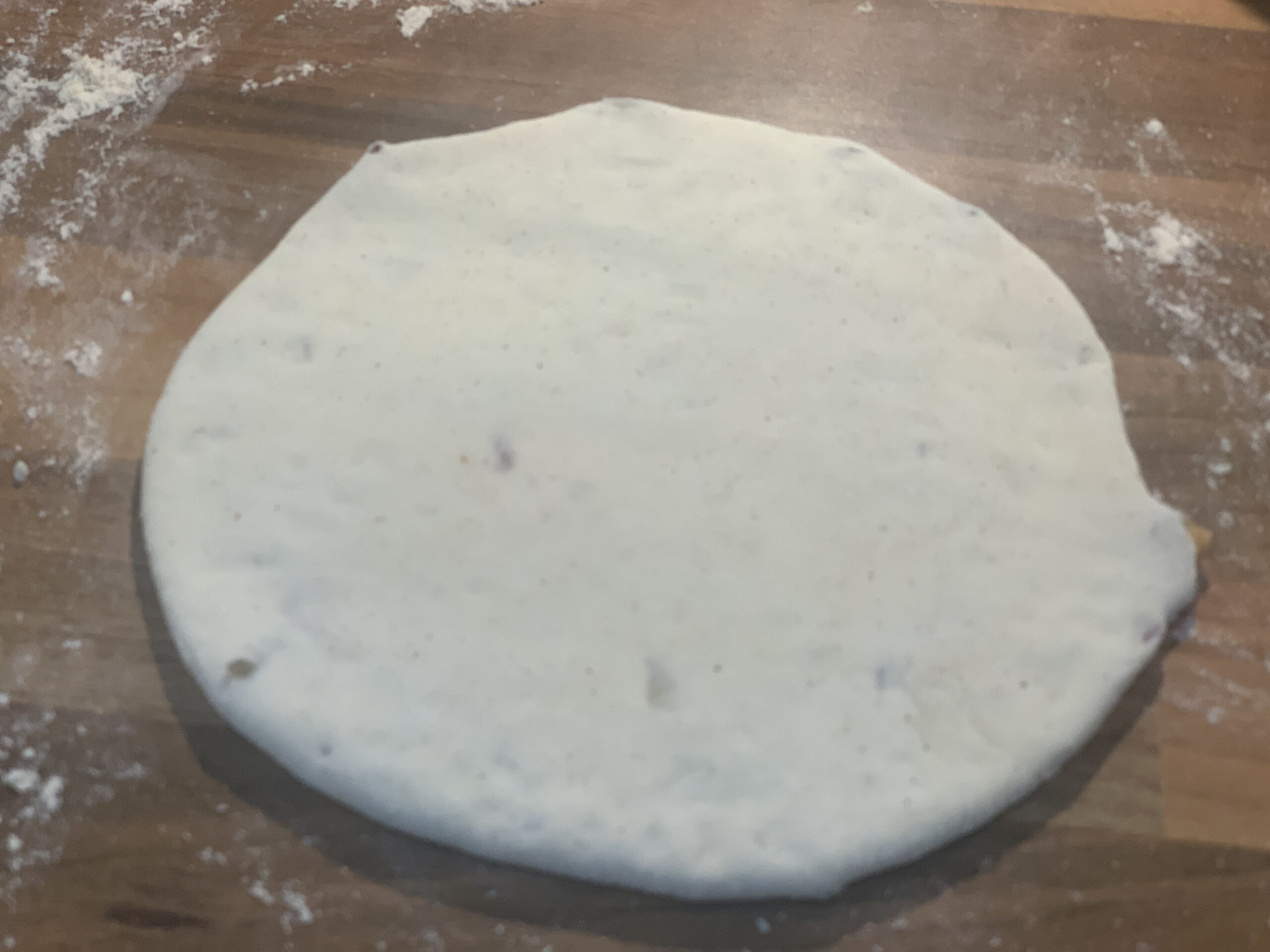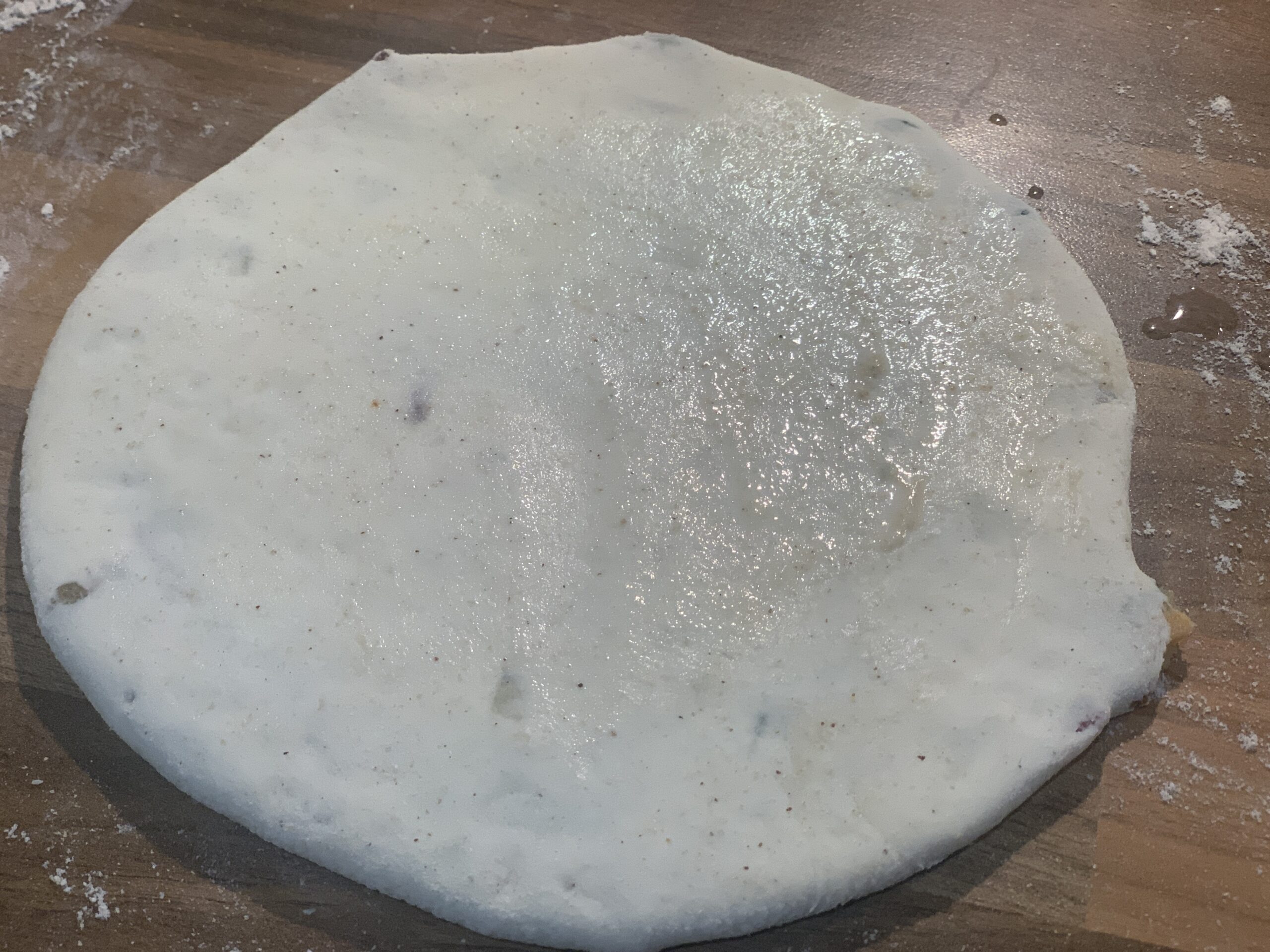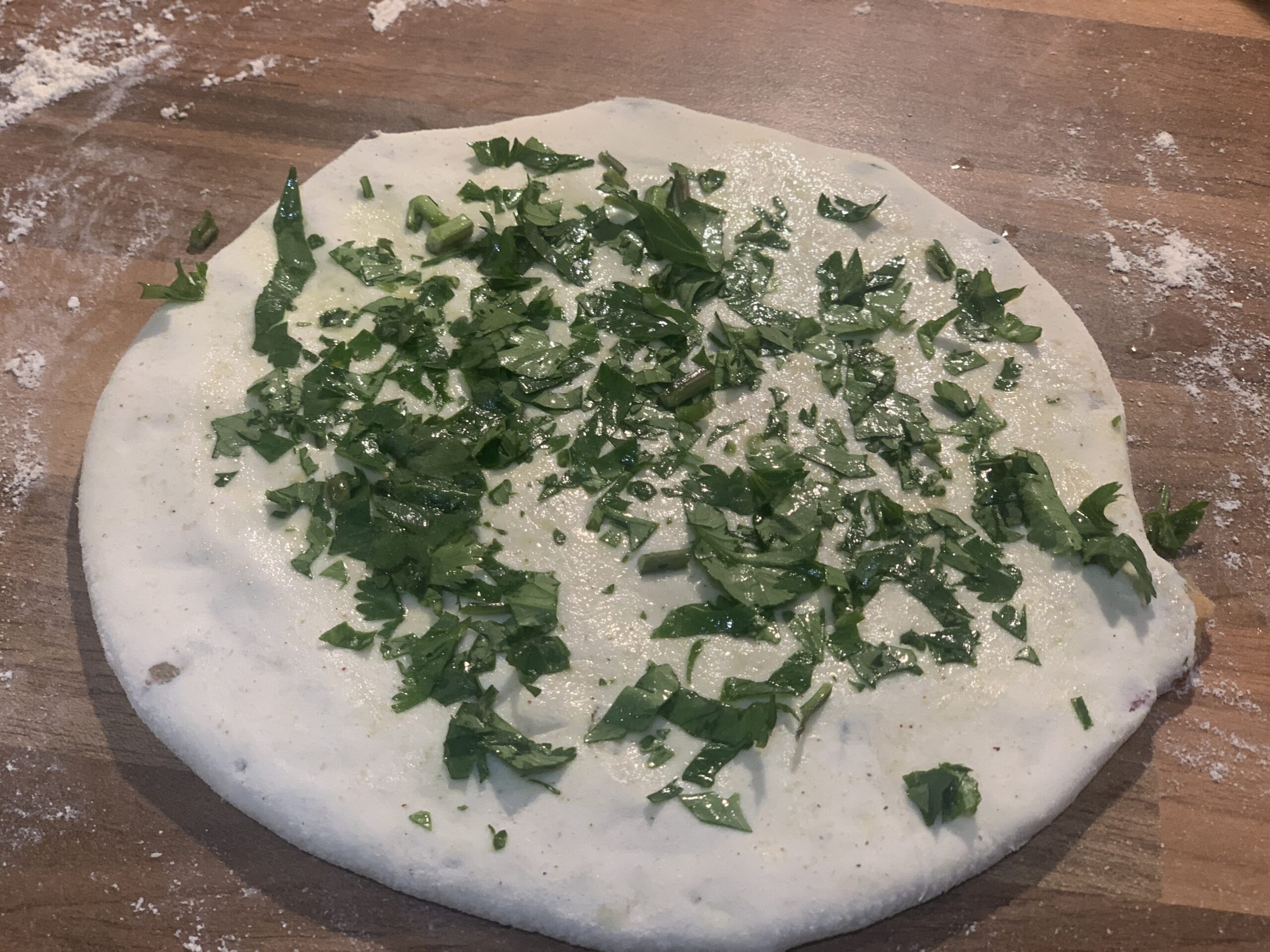 Press with your fingers/ or using a rolling pin roll the stuffed dough ball into a 5-6 inch round shape.
Optional- sprinkle some water on the rolled kulcha and sprinkle some chopped coriander and press it down.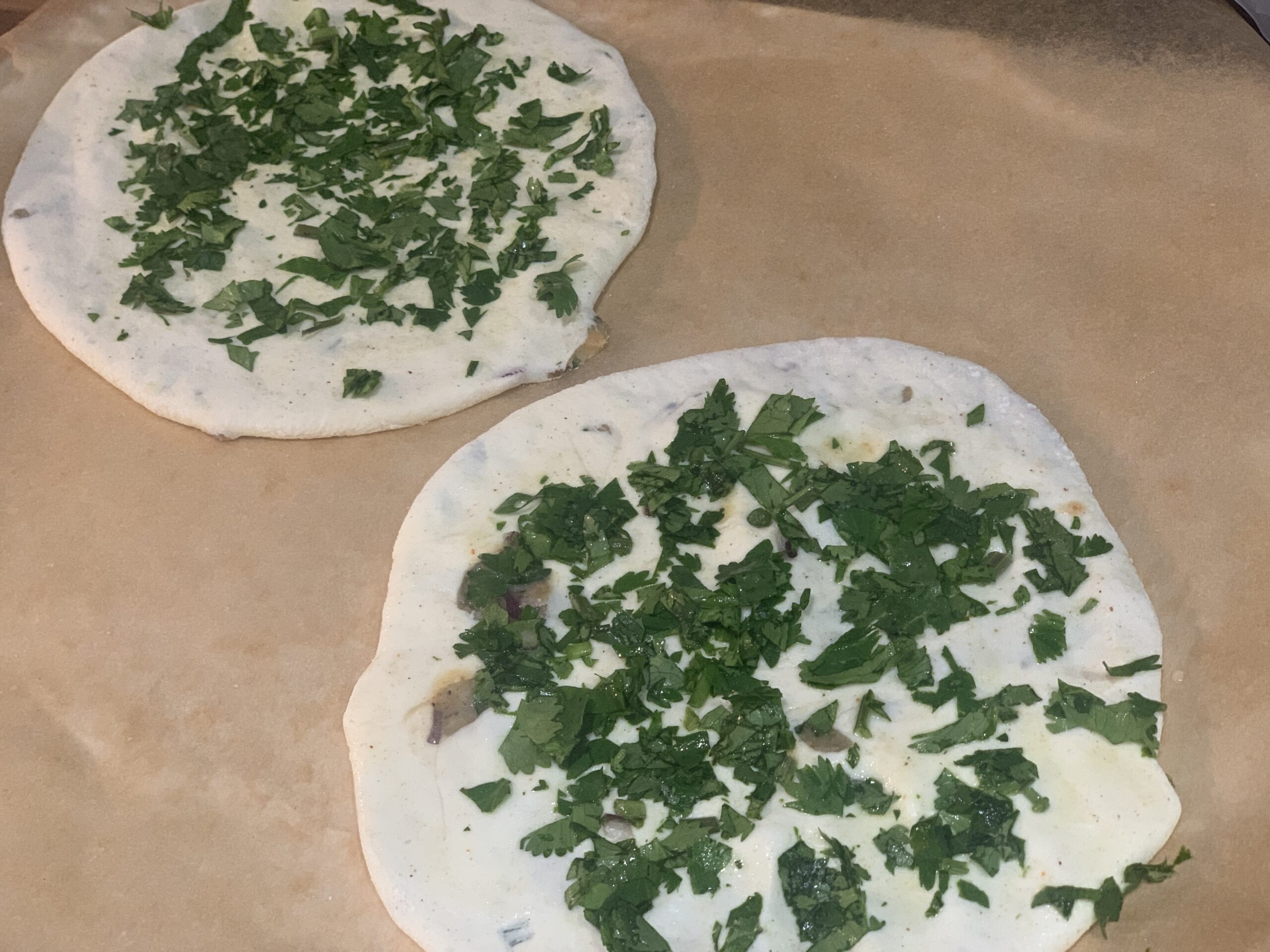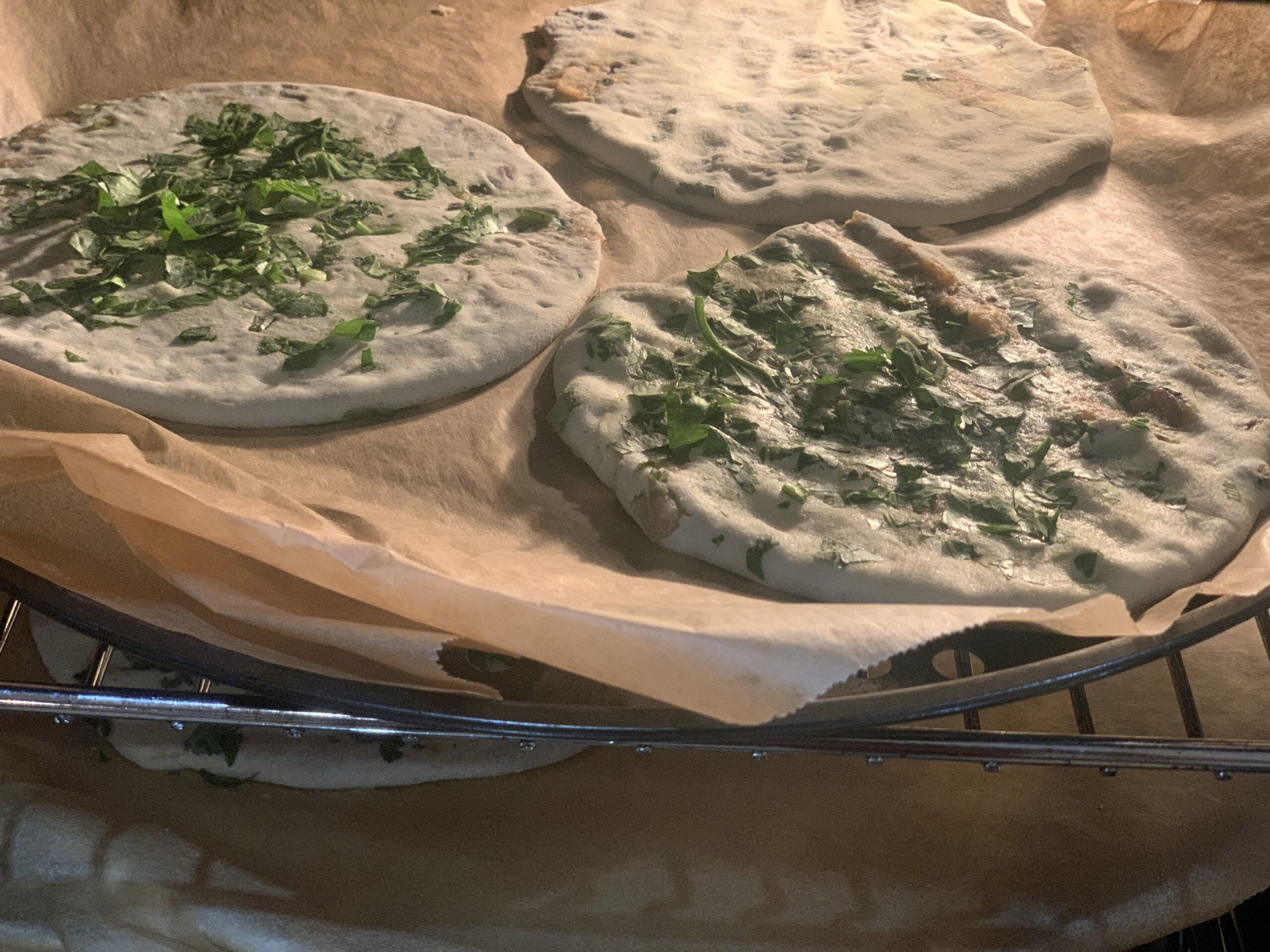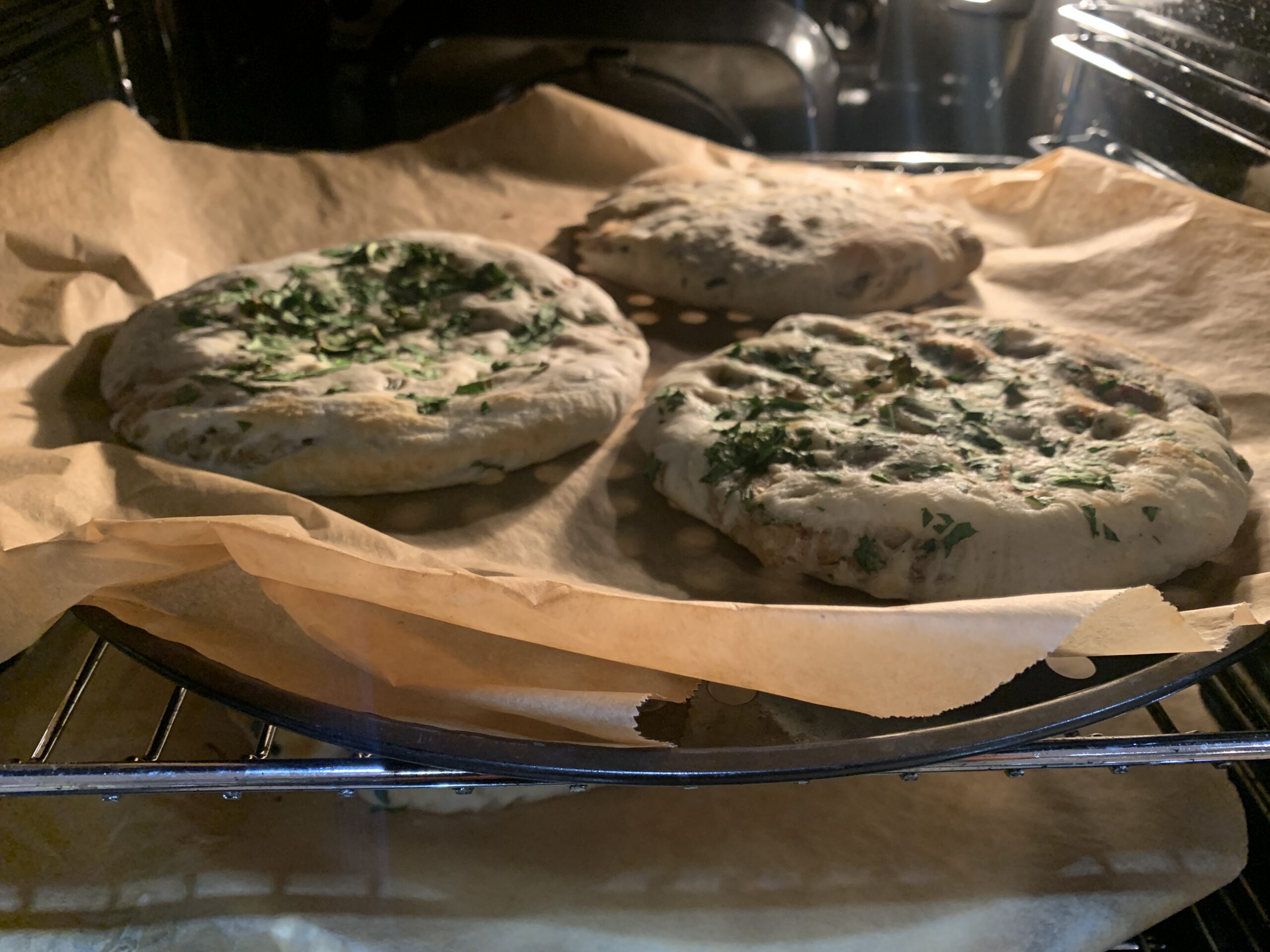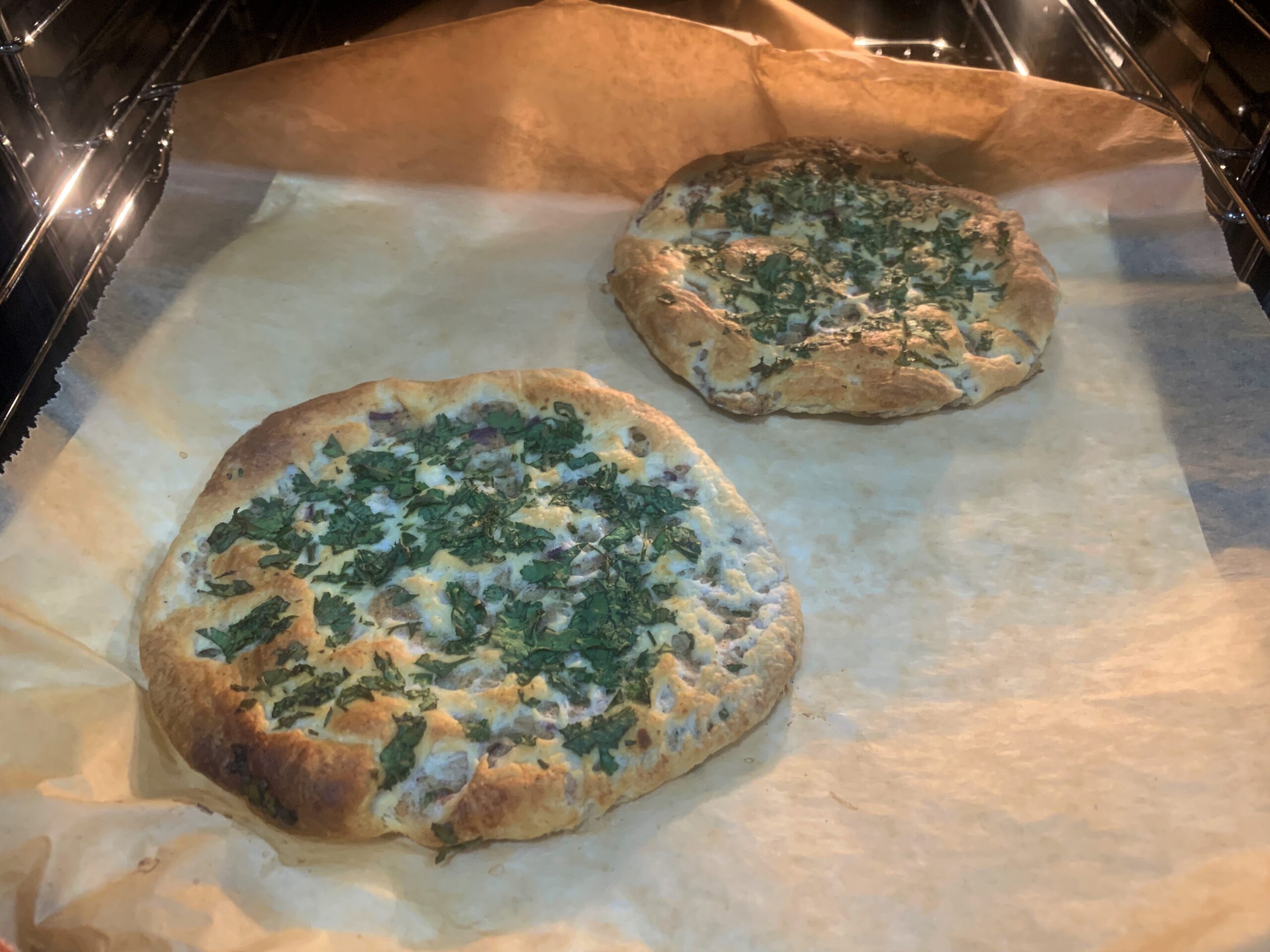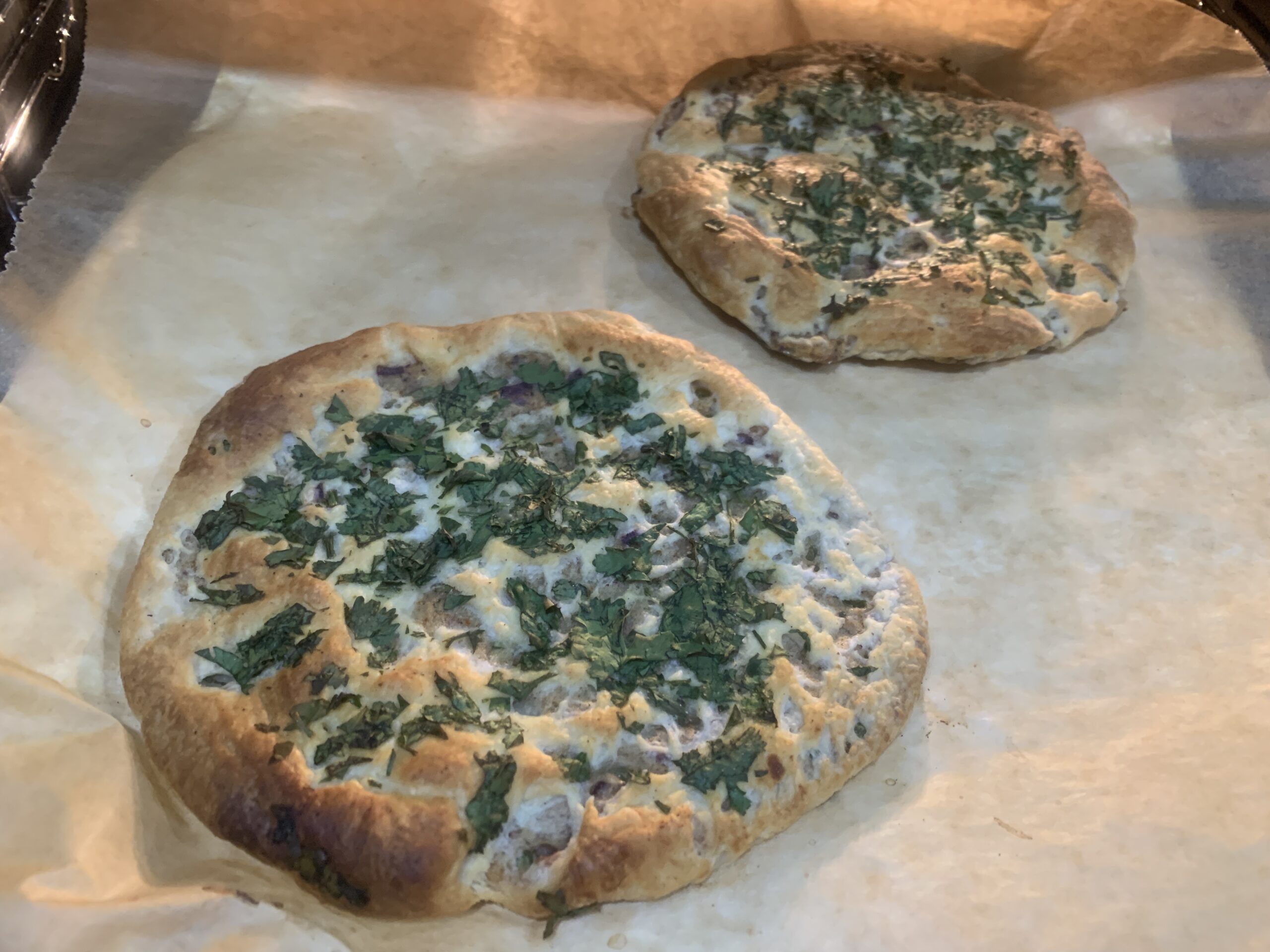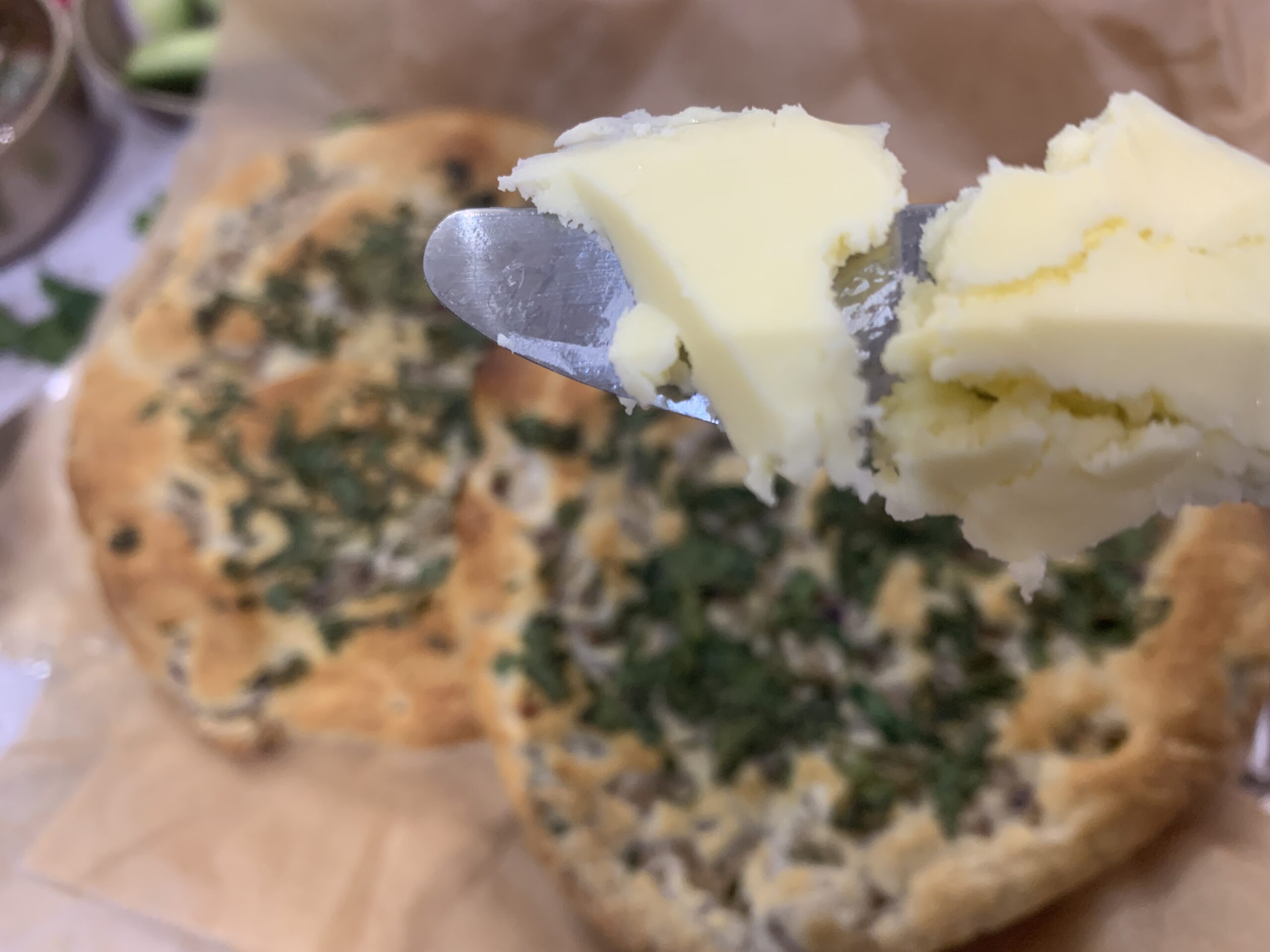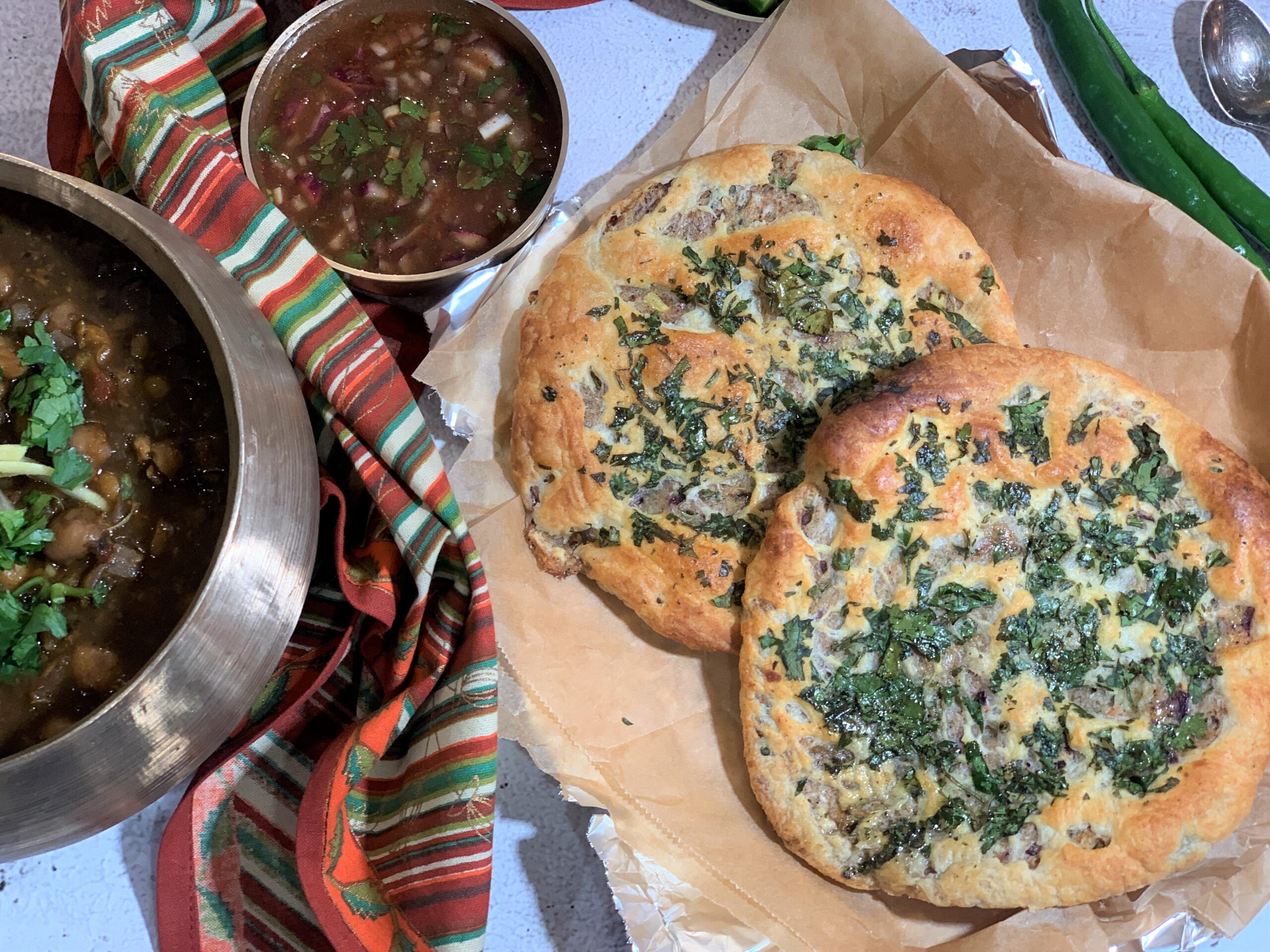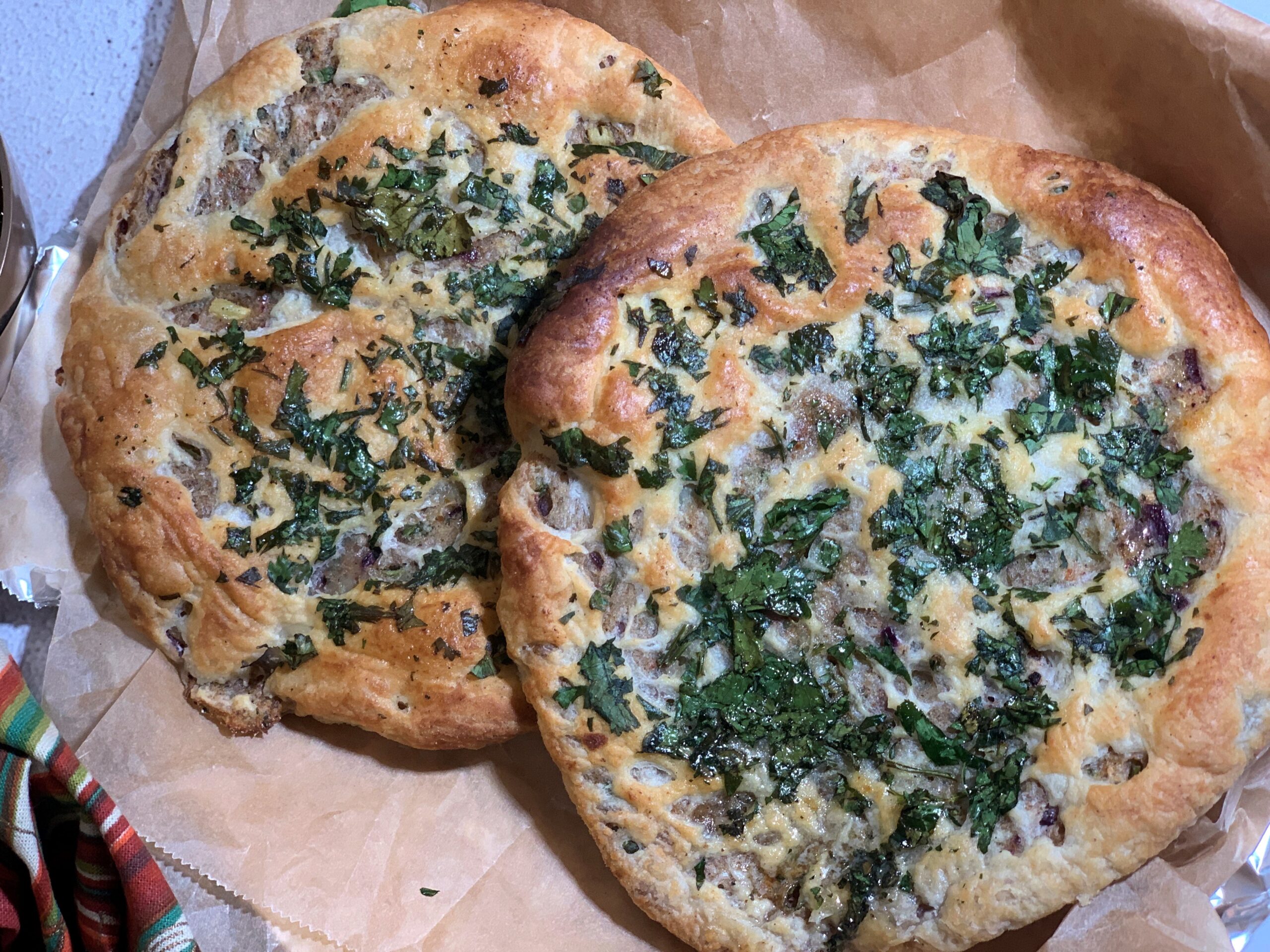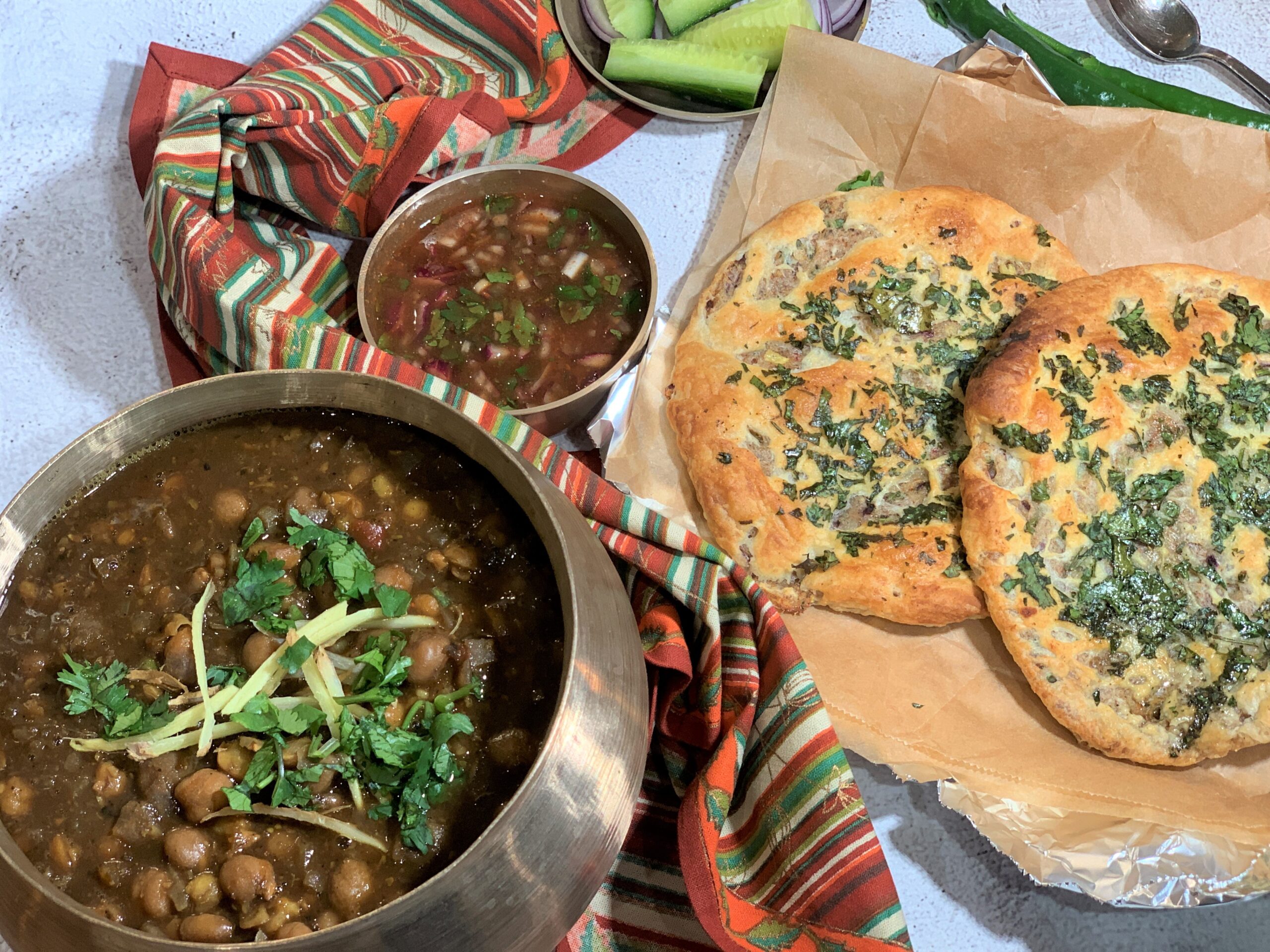 Preheat your oven to 220C/fan 200C /gas 7.
Line a baking tray with the parchment paper. Arrange the rolled kulchas on the prepared tray. Bake them in a preheated oven for about 12-15 minutes or until the kulchas are golden brown in colour.
Remove them from the oven. Kulcha is ready to serve hot. Top it up with butter and serve with Amritsari chole and imli chutney or your choice of curry.
(At this point, you can also crush the kulcha lightly between your palms. Crushing the kulcha will open the layers. This step is optional.)