Maharashtrian Thalipeeth
Maharashtrian Thalipeeth is a multigrain flatbread popular in Maharashtra, Western India, and hence they are also popularly known as Maharashtrian Bhajani Thalipeeth or Thalipith.
It is called 'Thalipeeth' as the dough is pressed into shape, using the palm of the hand. 'Bhajani' in Maharashtra is a term used for dry roasted multi grain flour. Thalipeeth can be made with a variety of different ingredients and flour mixes, but all of them call for patting the dough into a flat disc with an open palm as traditionally it was prepared with gluten free flours and hence was difficult to rolled into shape.
Ever family has their own favourite mix of flours that they use while making thalipeeth. In some areas of Maharashtra, thalipeeth is also known as 'dhapata'. 'Dhapata' means to pat into shape. Many families still follow the traditional method of preparing the flour at home. Nowadays, one can buy roasted flour these days that makes perfect thalipeeth.
For my recipe, I have used wheat flour so I can roll the thalipeeth as 'patting' the thalipeeth is a skill which sadly I haven't been able to learn yet.
Other recipes you might like to try are Gujarati Methi Thepla, Sattu Tawa Paratha, Vegetable Mughlai Paratha, Mint and Sesame Lachha Paratha, Moong Dal Paratha, and Onion Coriander Tandoori Roti.
Ingredients
For the Dough
1 cup wheat flour
1 cup sorghum flour (jowar)
½ cup rice flour
¼ cup gram flour
¼ cup pearl miller flour (bajra flour)
1 cup finely chopped onions
1 tablespoon finely chopped ginger
2 tablespoons minced garlic cloves
1 tablespoon finely chopped green chillies
¼ cup finely chopped coriander leaves
Salt to taste
1 teaspoon turmeric powder
2 teaspoons red chilli powder
1 teaspoon cumin seeds
2 teaspoons sesame seeds
½ teaspoon asafoetida
2 teaspoons ghee
1½ cup water (approx.)
½ teaspoon Oil for greasing
Other Ingredients
½ cup ghee
Directions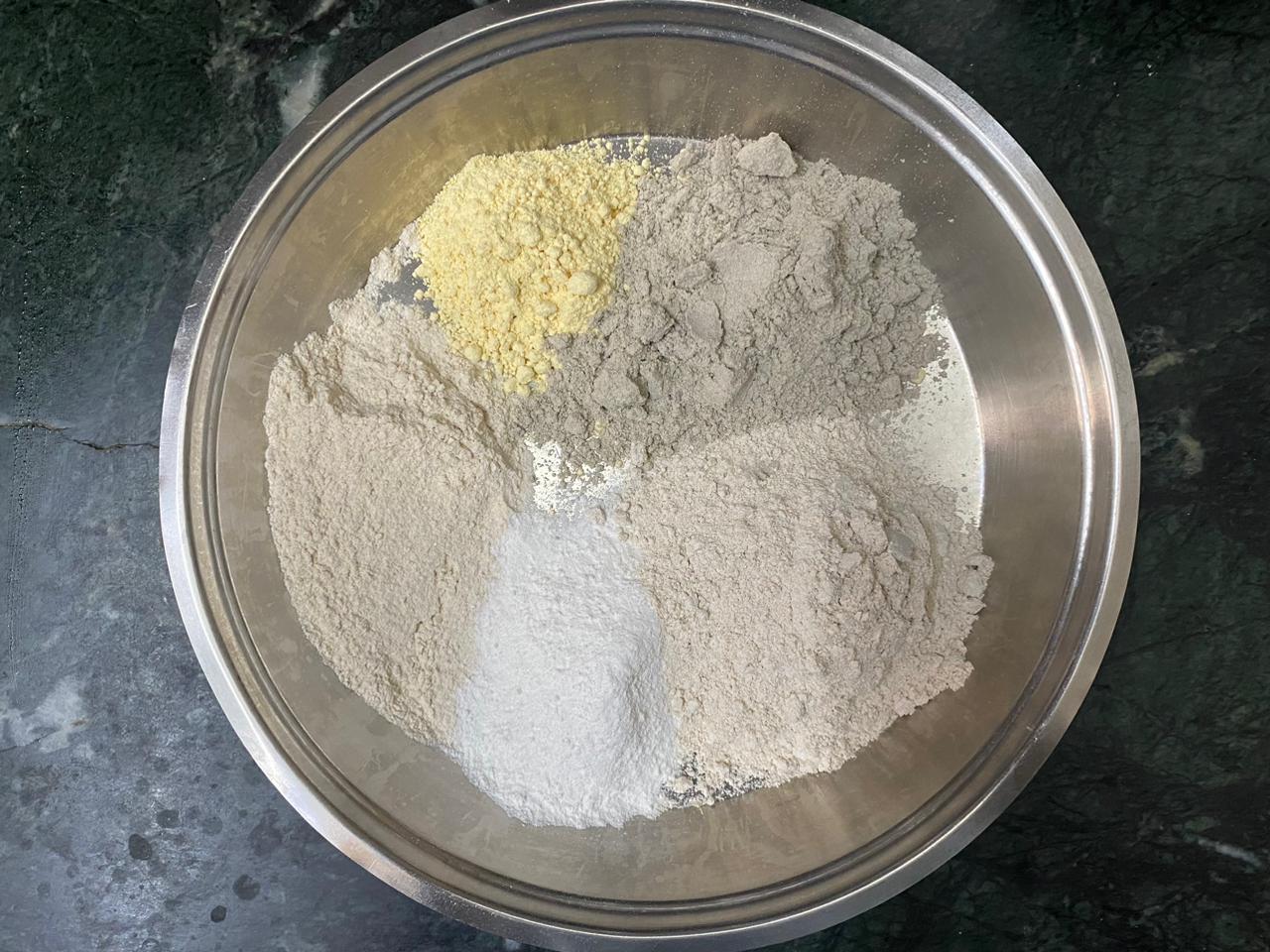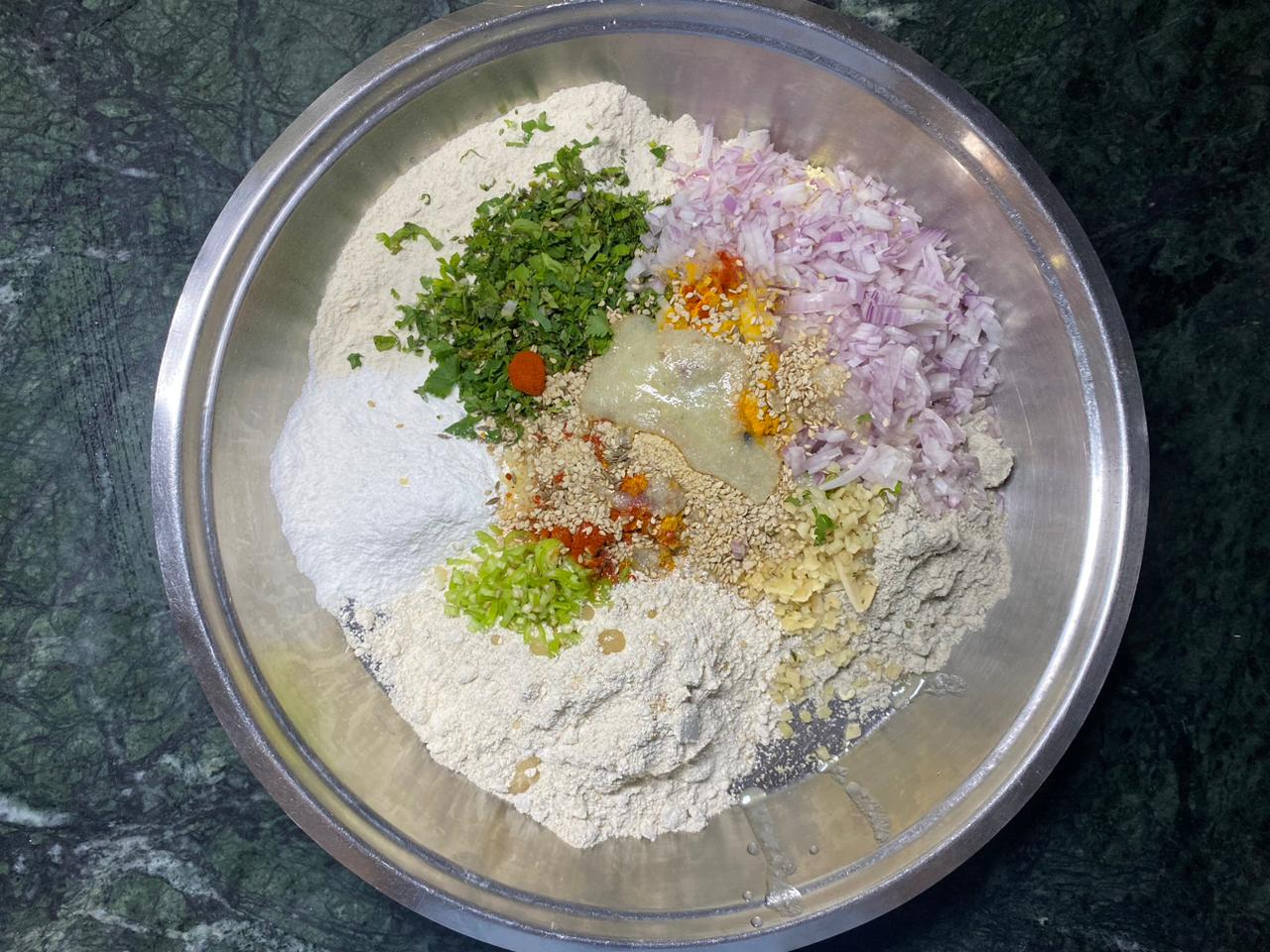 In a bowl, add wheat flour, jowar flour, rice flour, gram flour, bajra flour, onions, ginger, garlic, green chillies and coriander leaves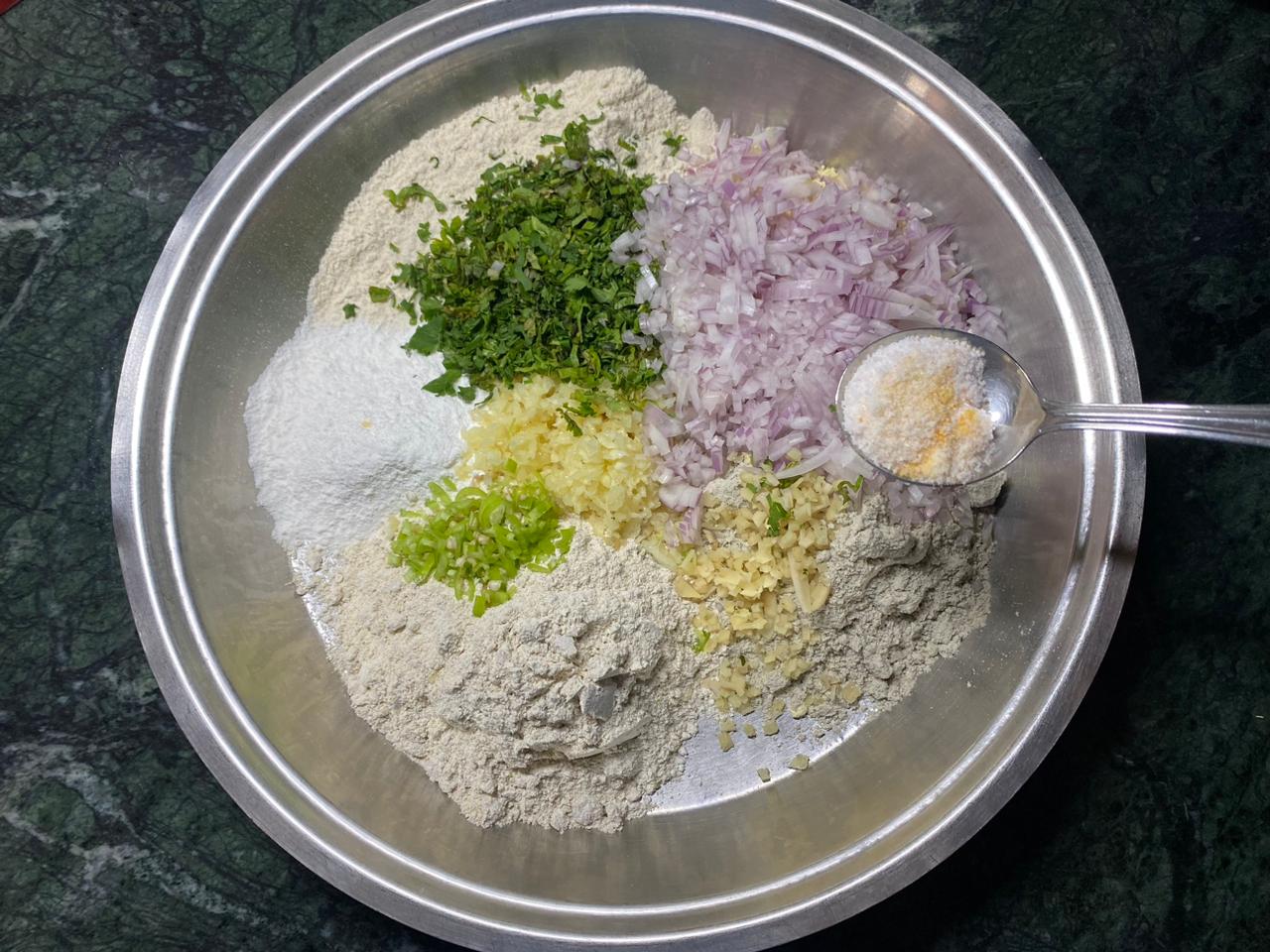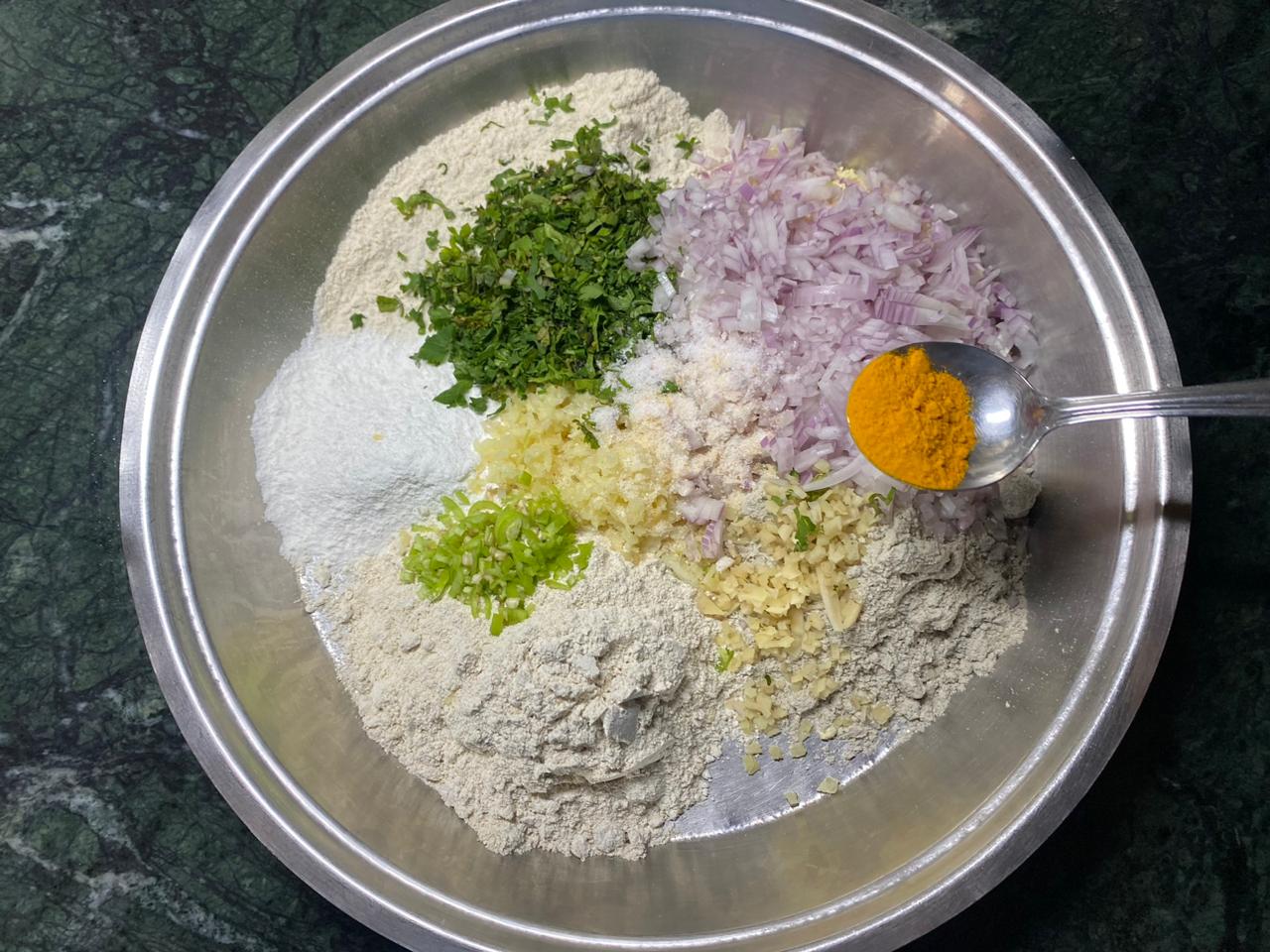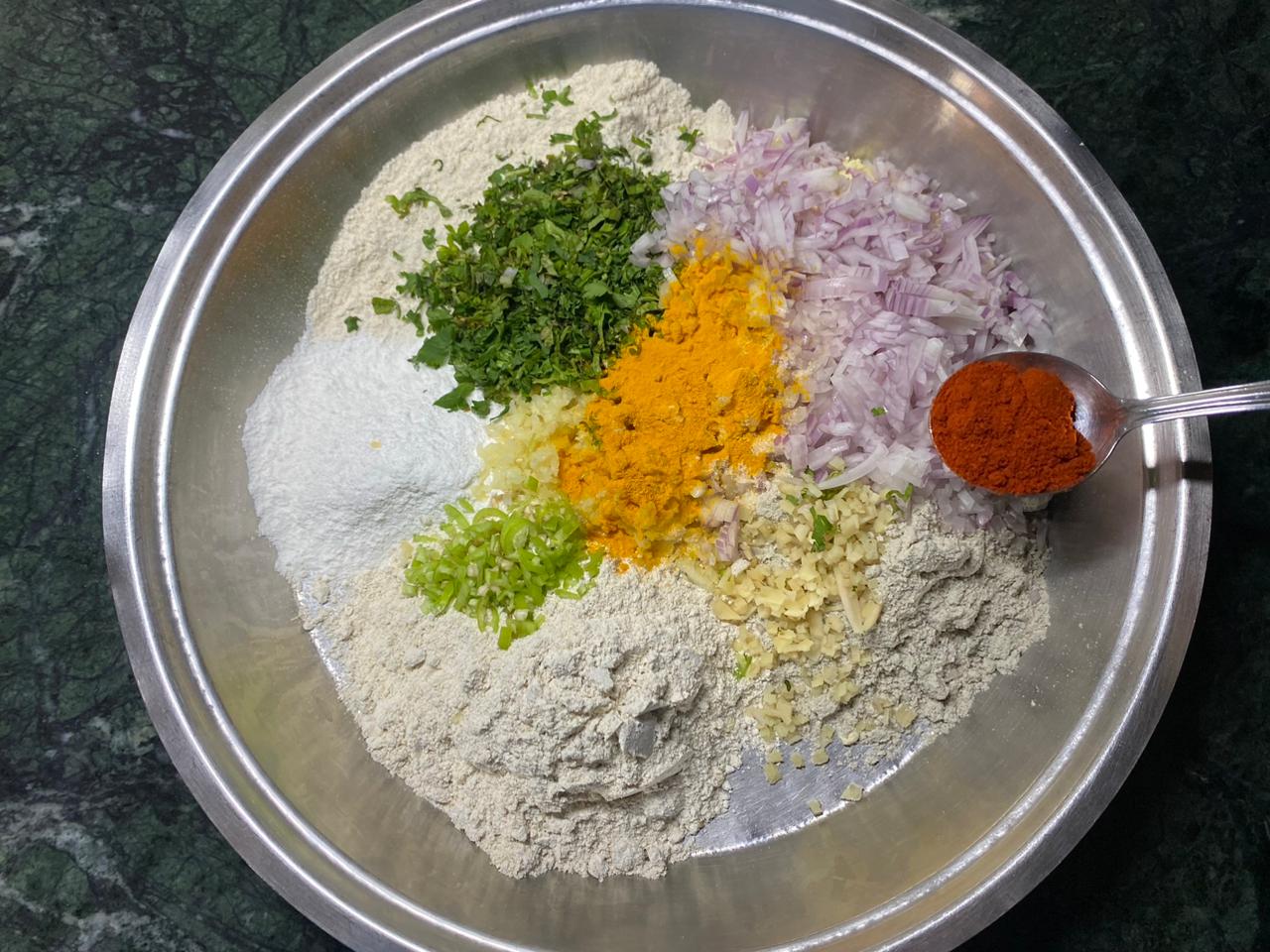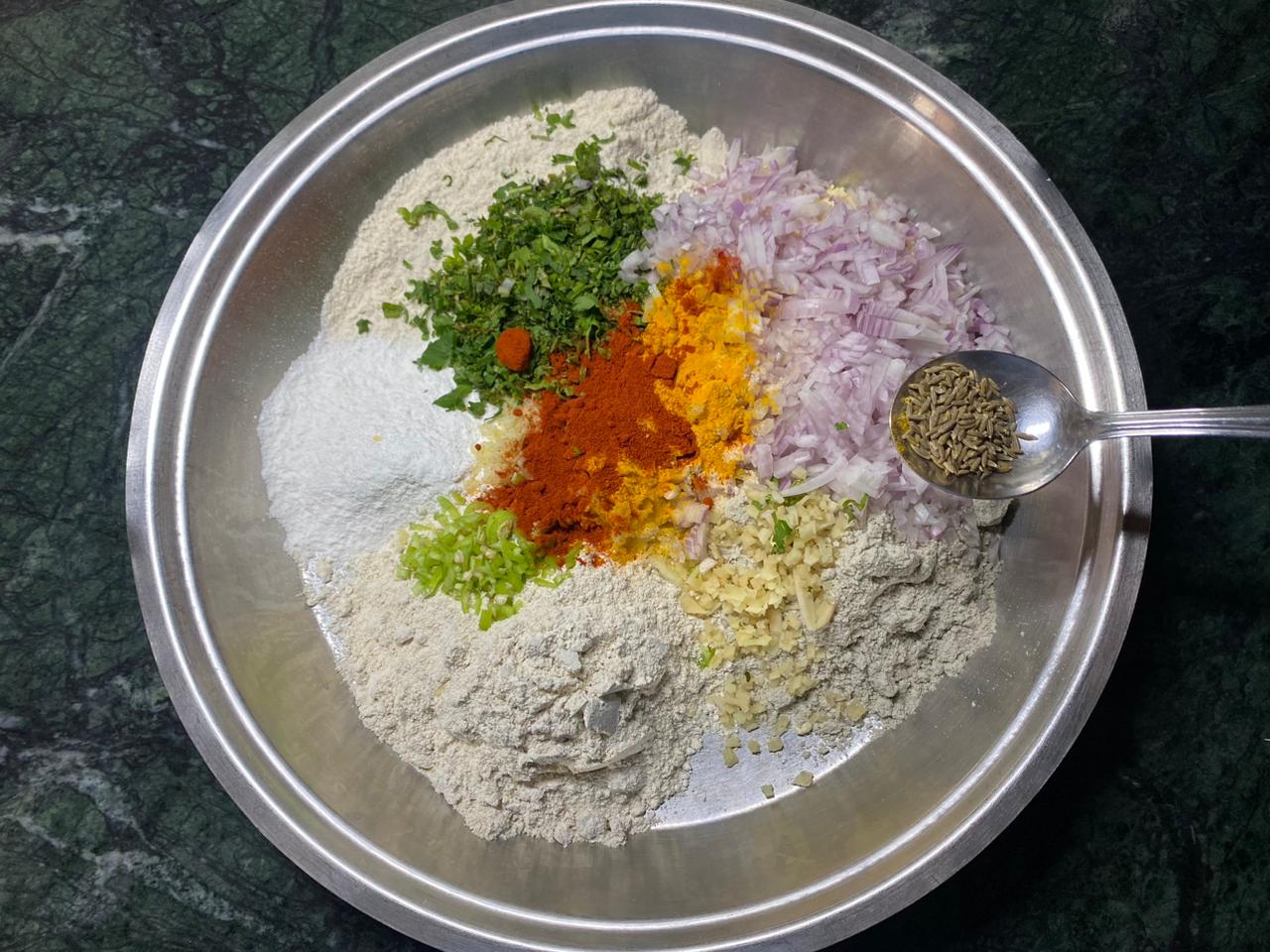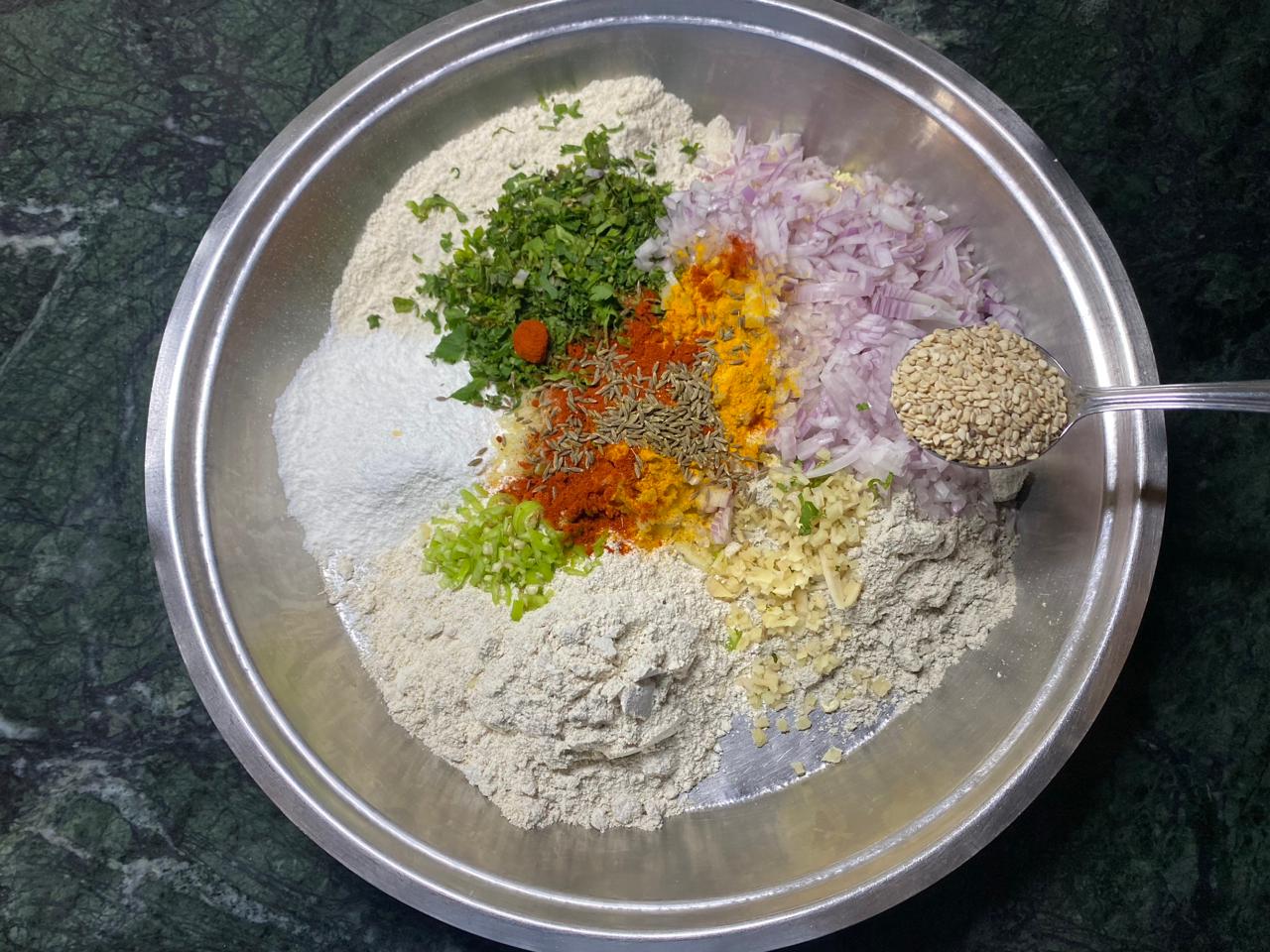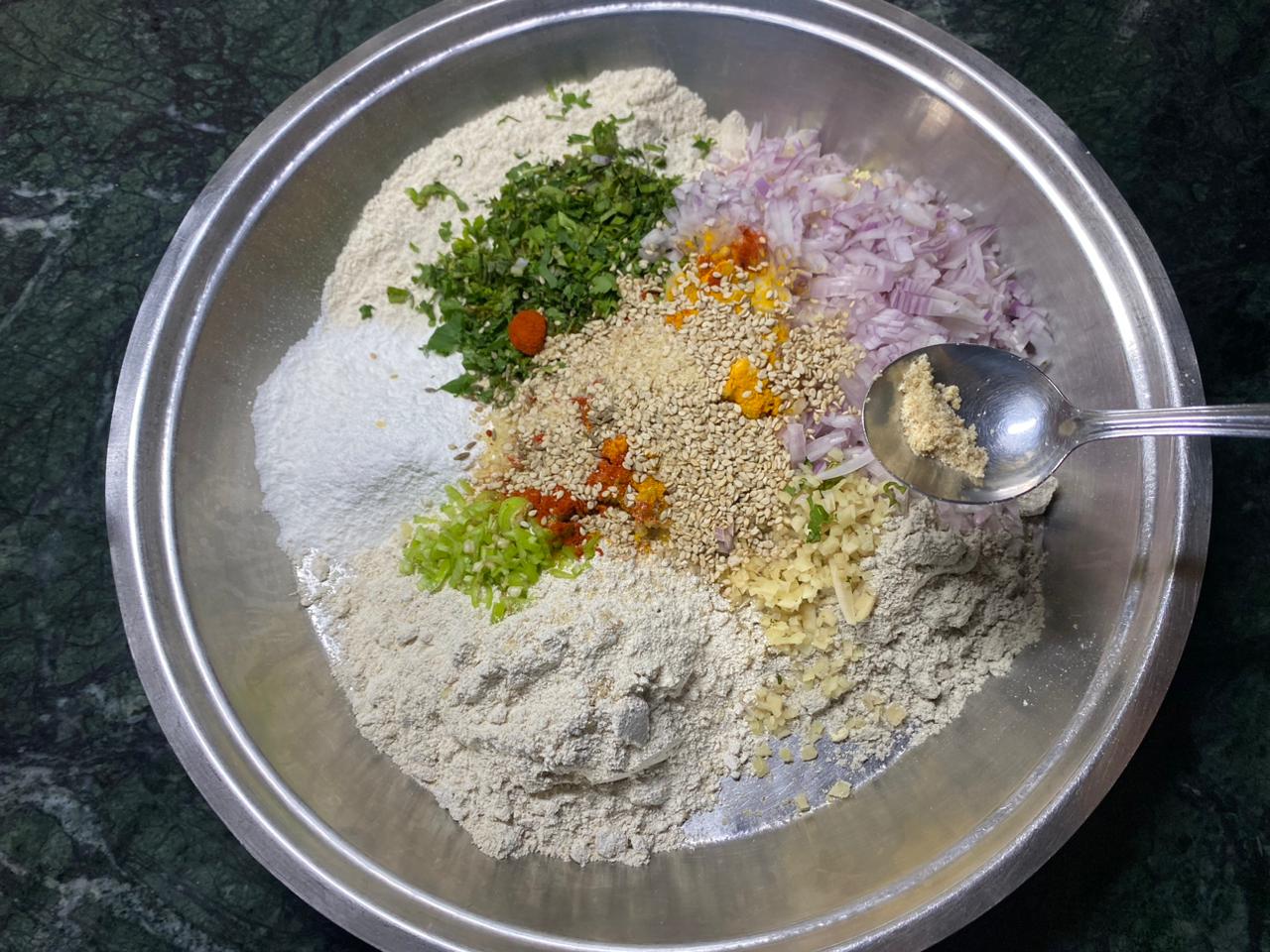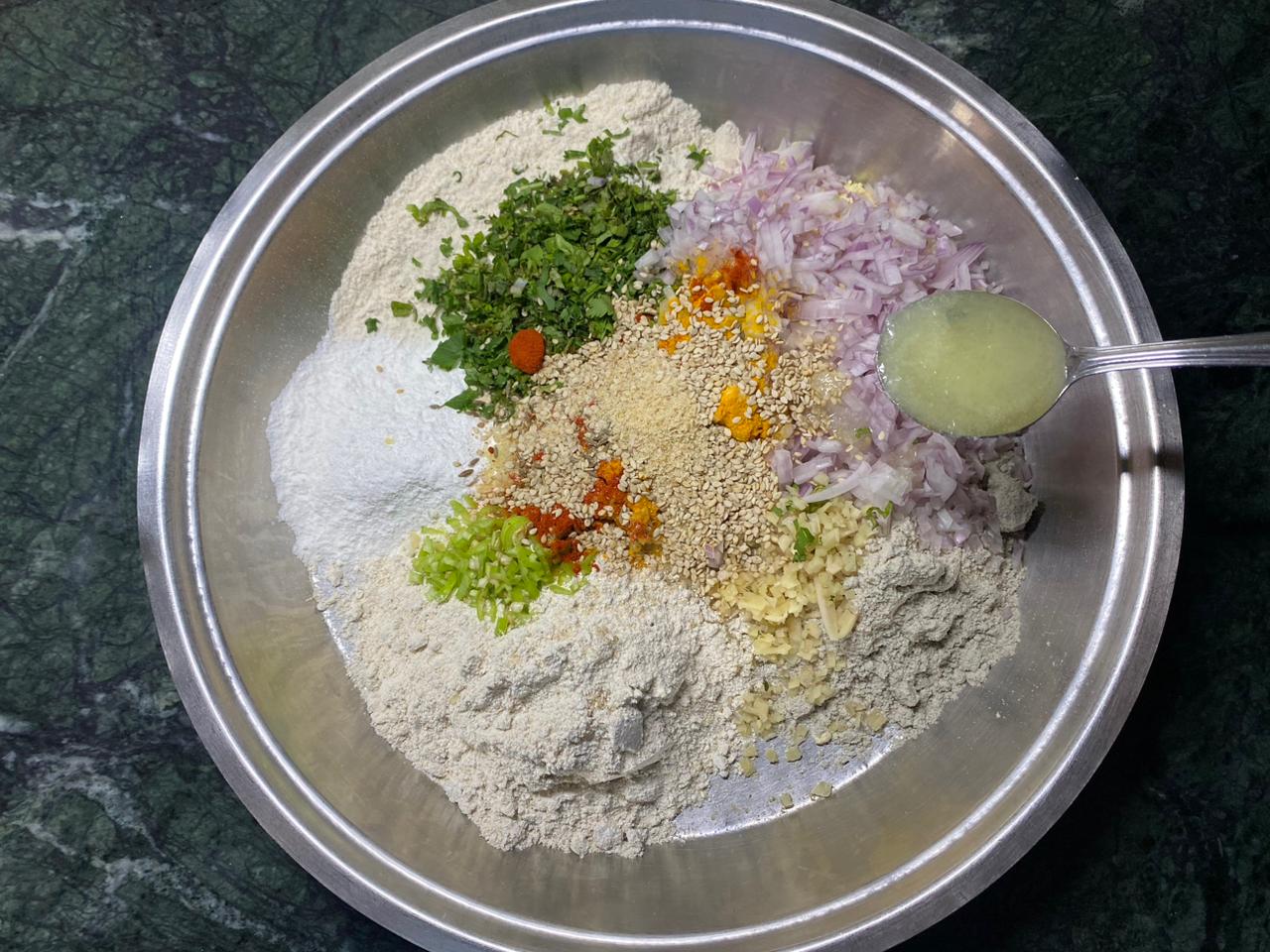 Next, add salt, turmeric powder, red chilli powder, cumin seeds, sesame seeds, asafoetida and ghee and mix.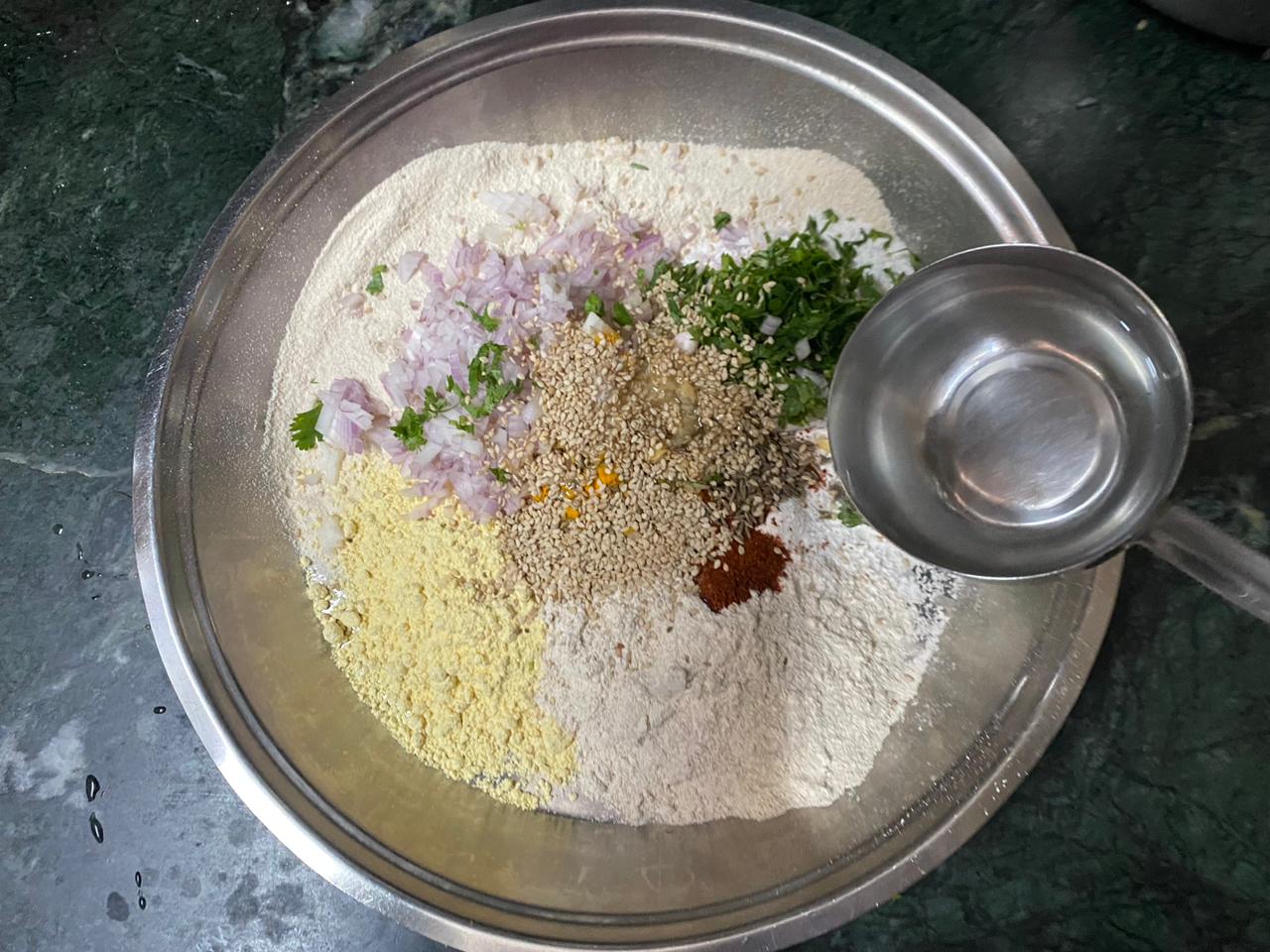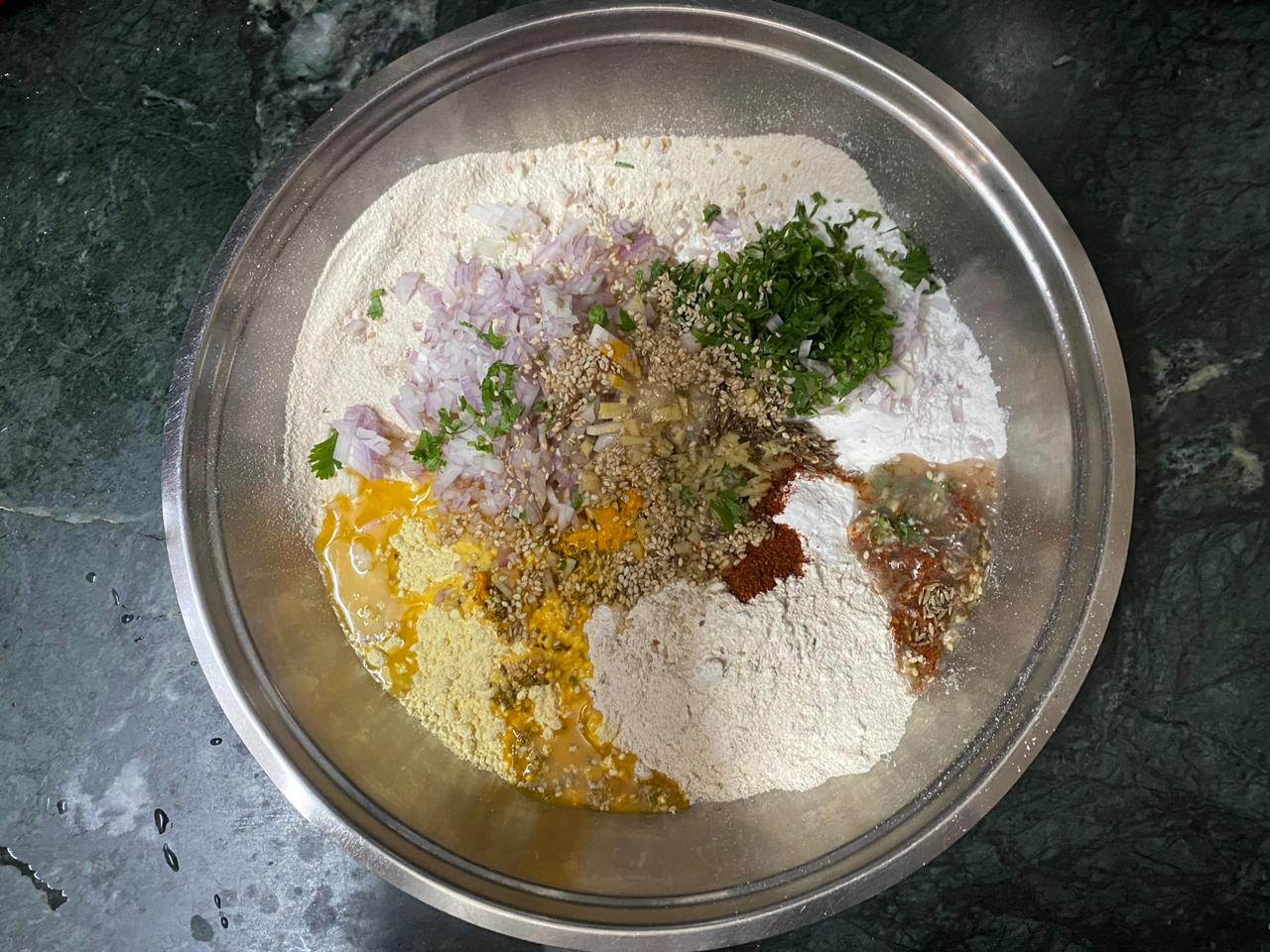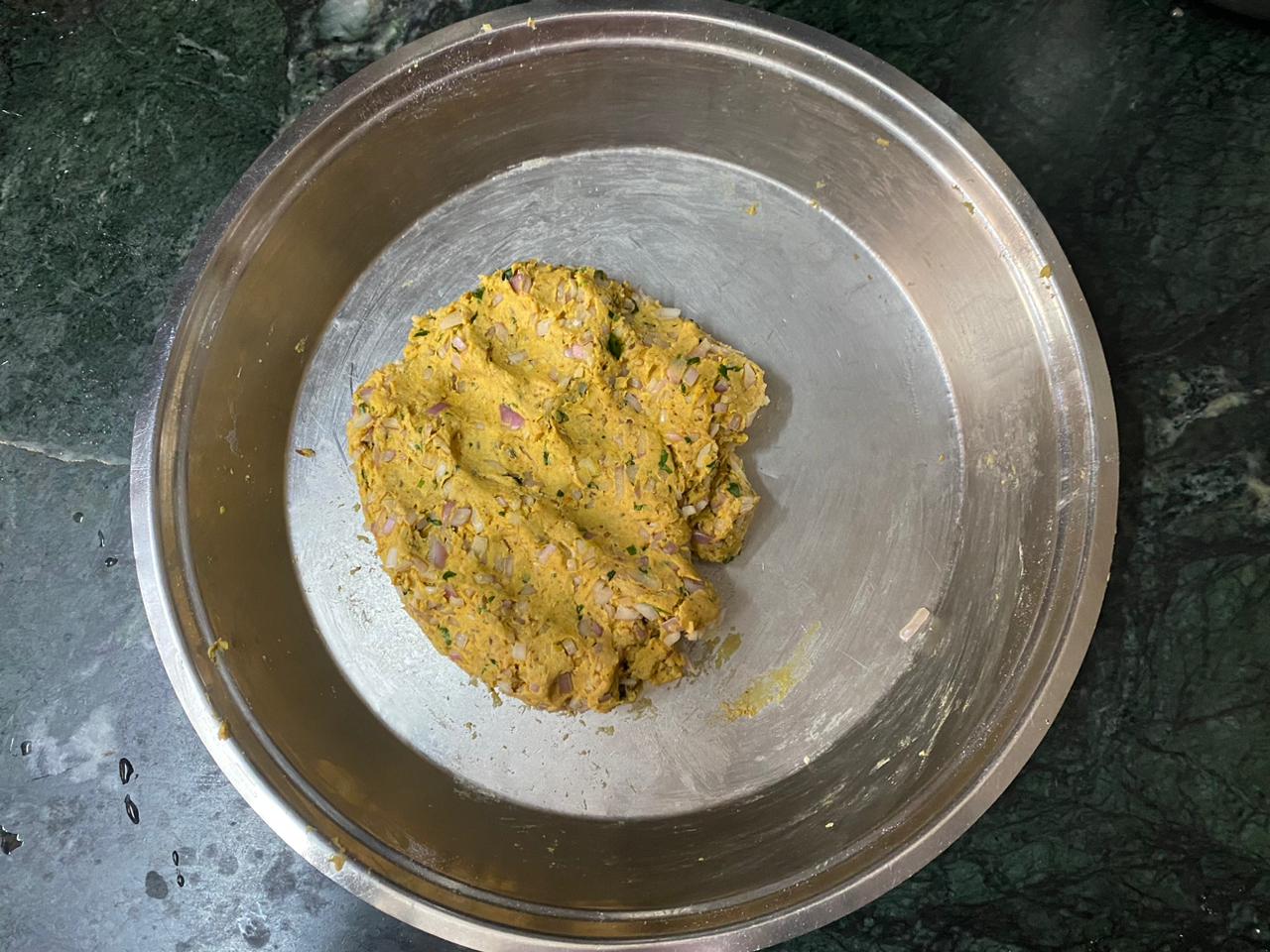 Slowly add water and knead into a soft dough. Adjust the water as needed while making the dough. I usually end up using 1½ cups of water for this recipe, but you may need slightly less.  Add oil in the end and knead for another minute. Cover and allow the dough to rest for at least 30 minutes.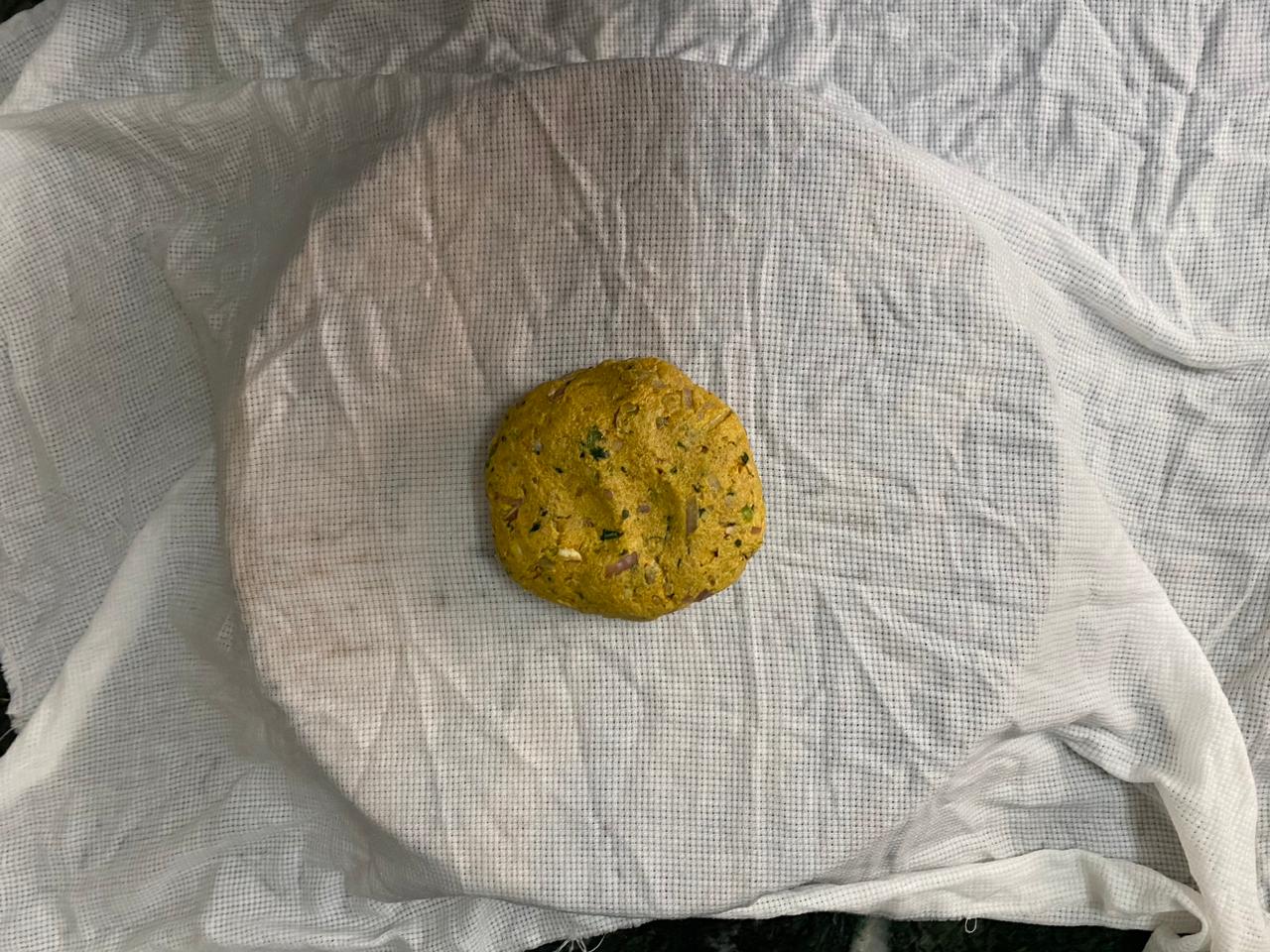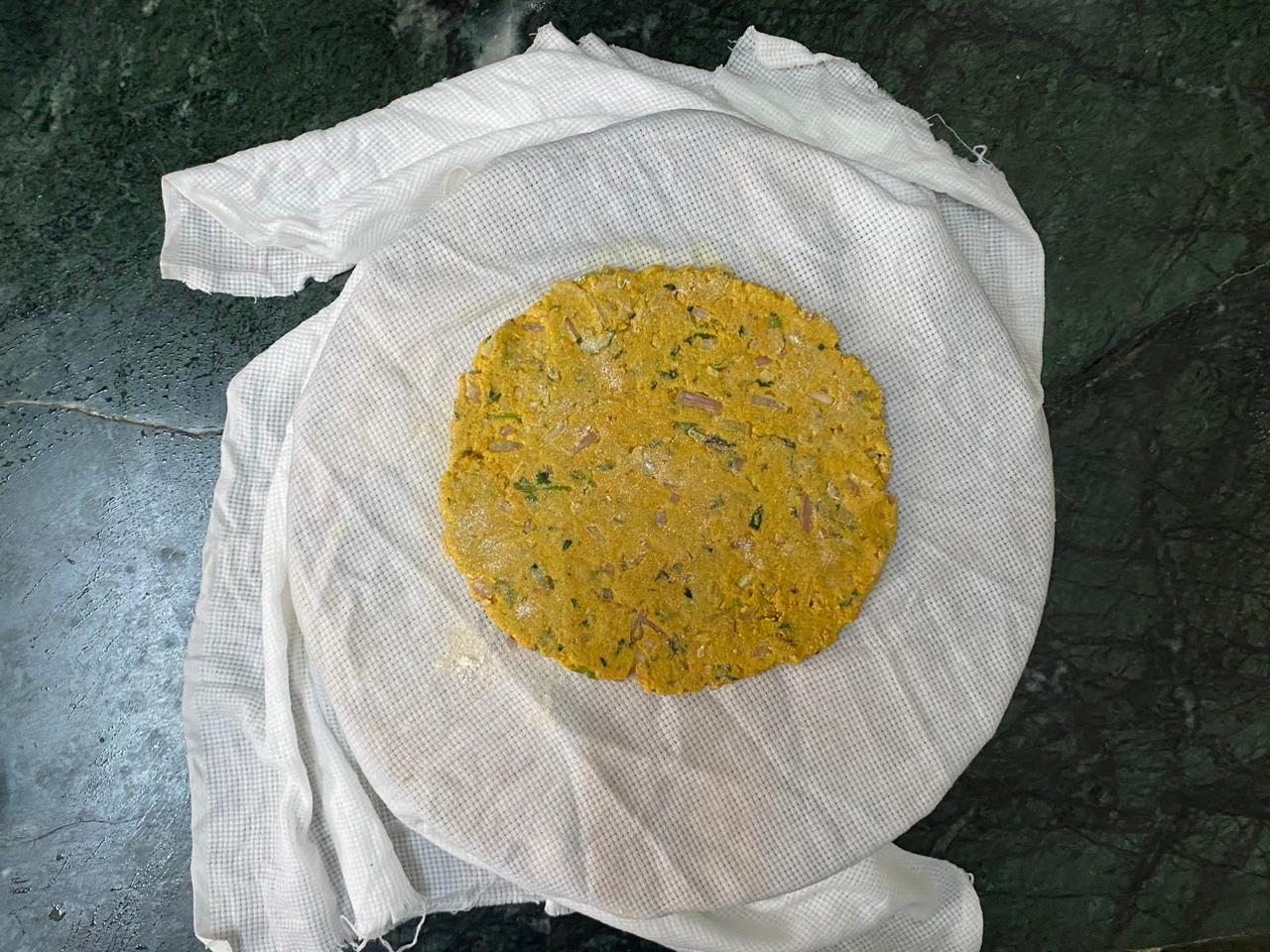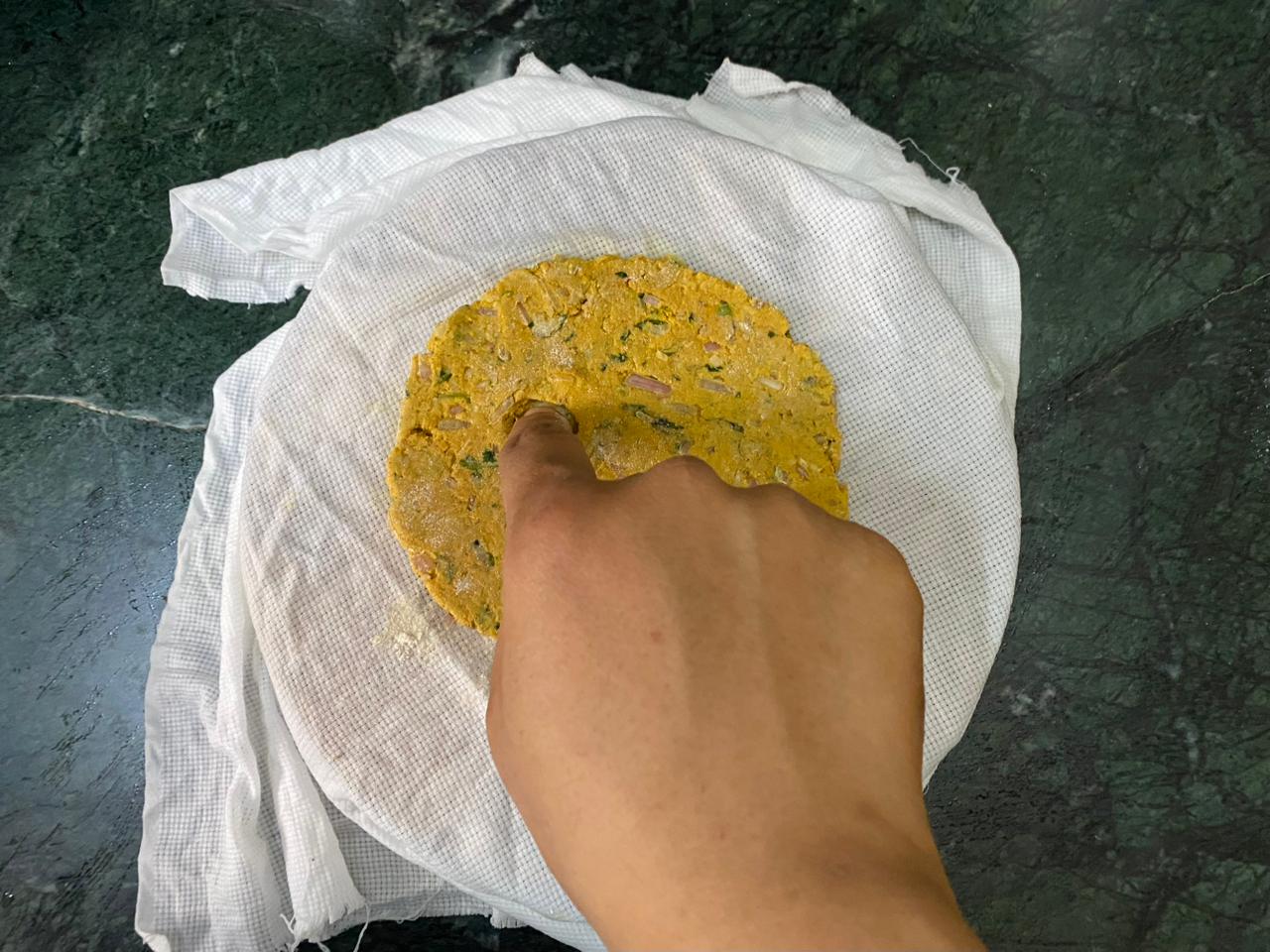 Pinch out 10-12 lime sized balls off the dough and roll them into a smooth ball. Place one ball of dough on the wet cloth or parchment.
Press them with wet hands or using a rolling pin gently roll the balls into thin circles of 5-6 inch with a thickness of 1 mm. Make small holes in the thalipeeth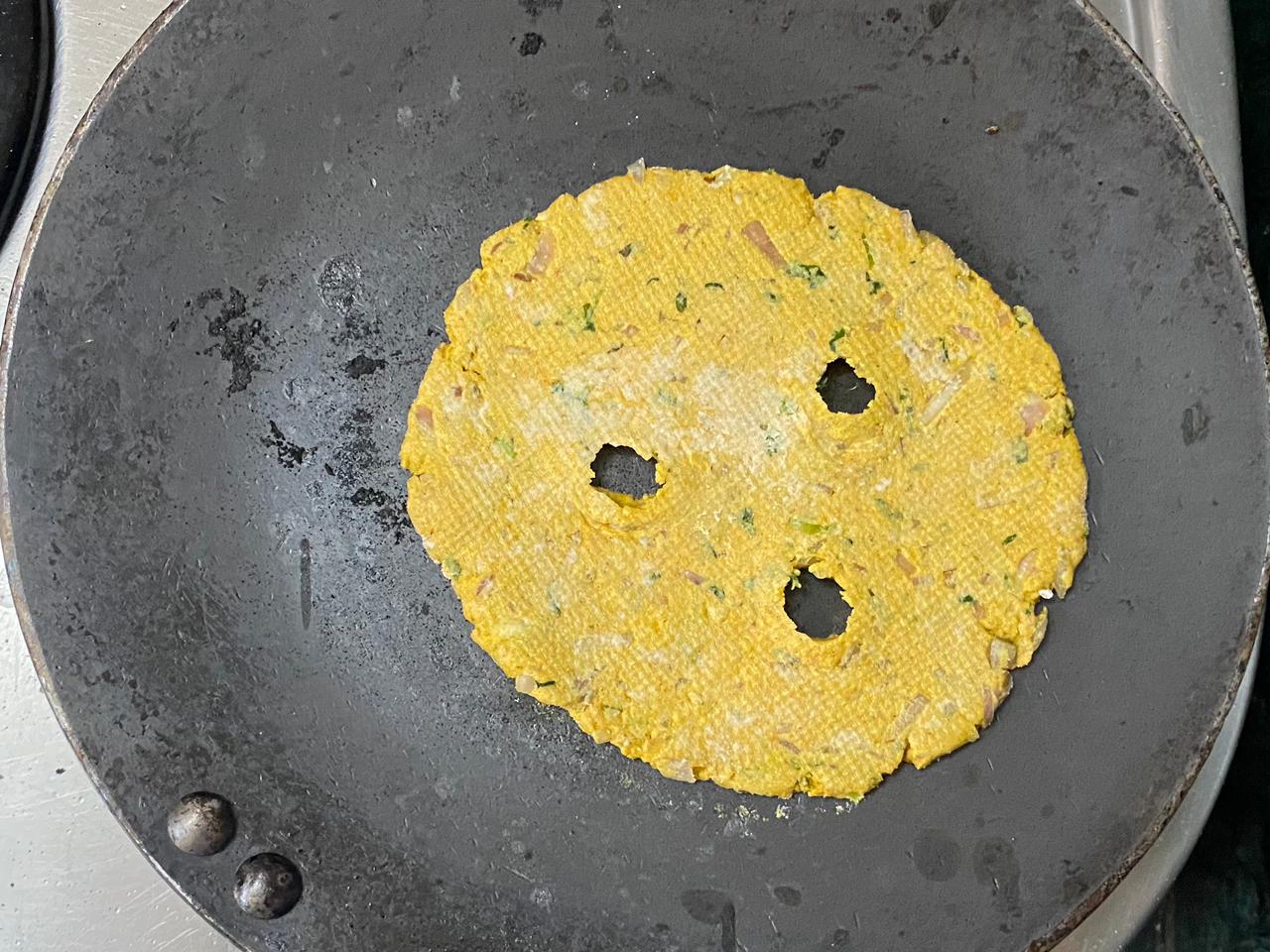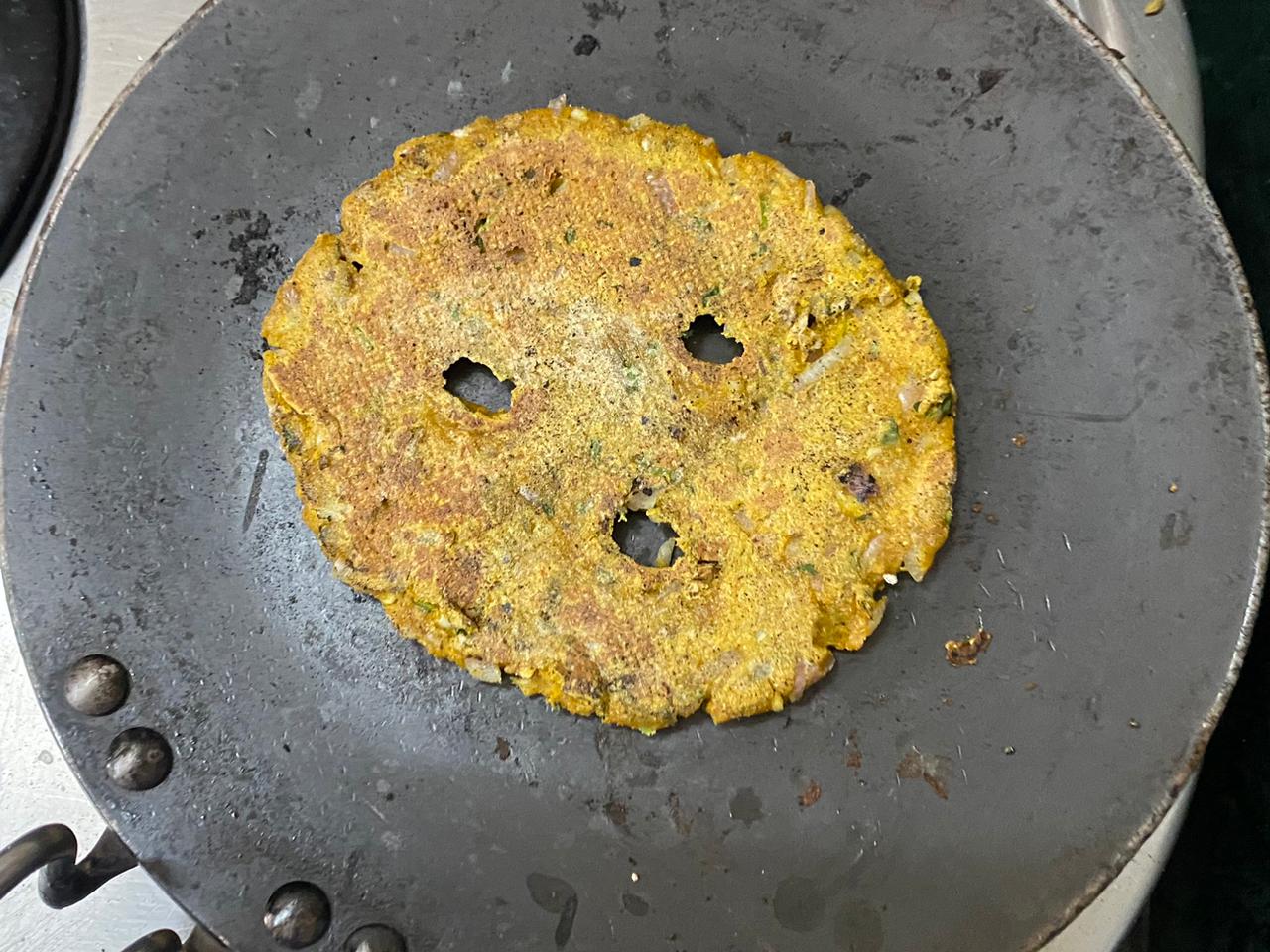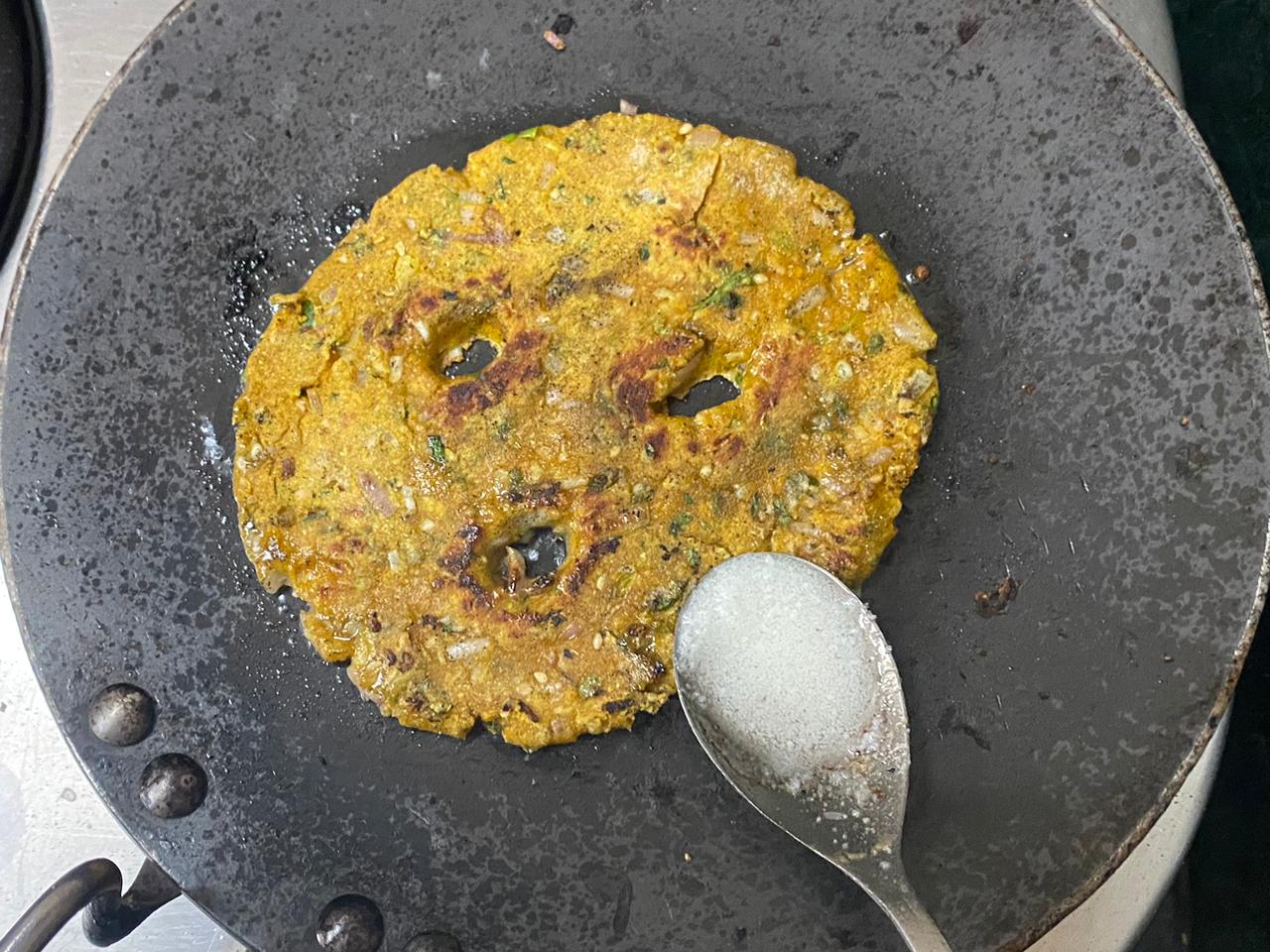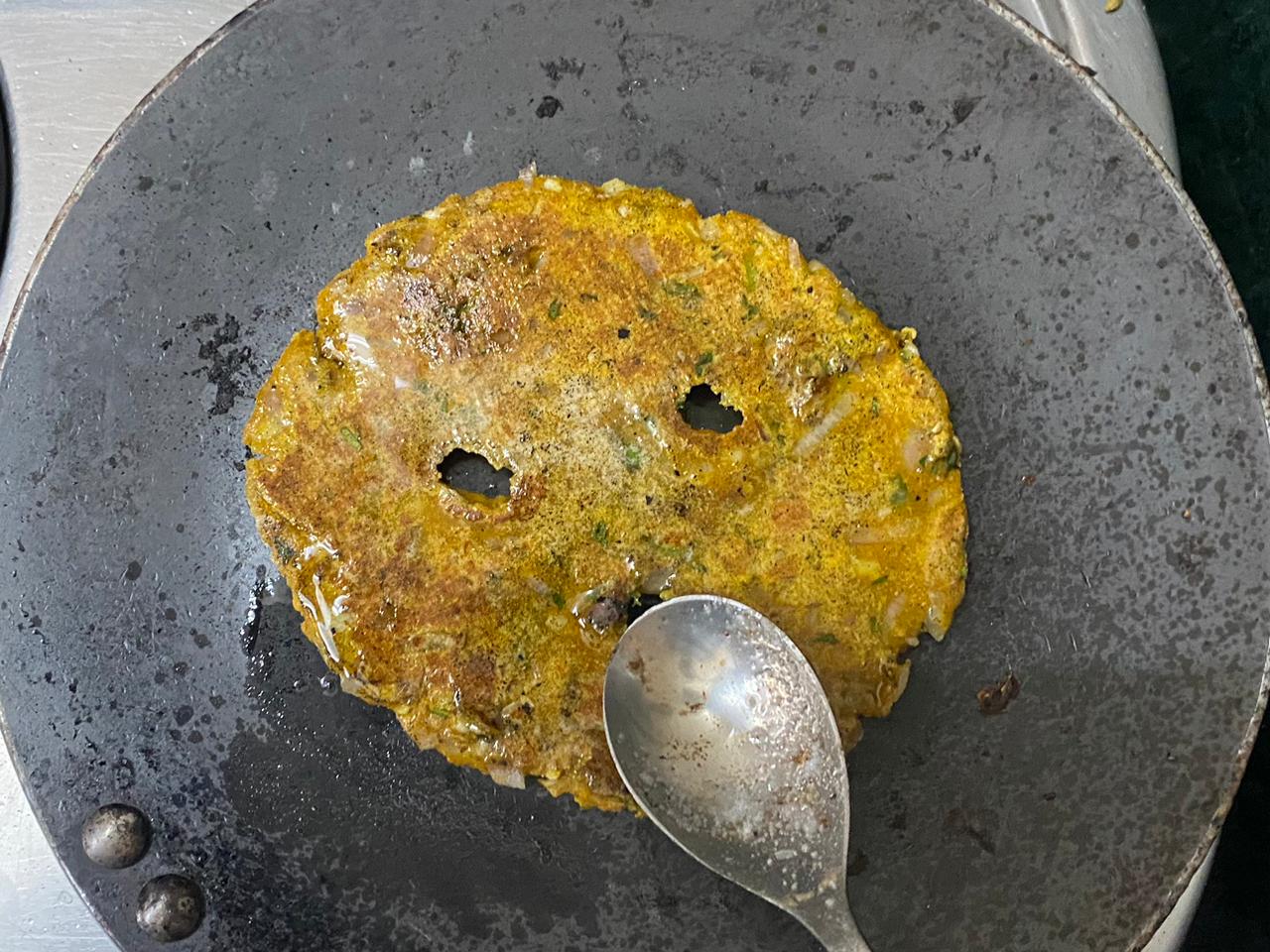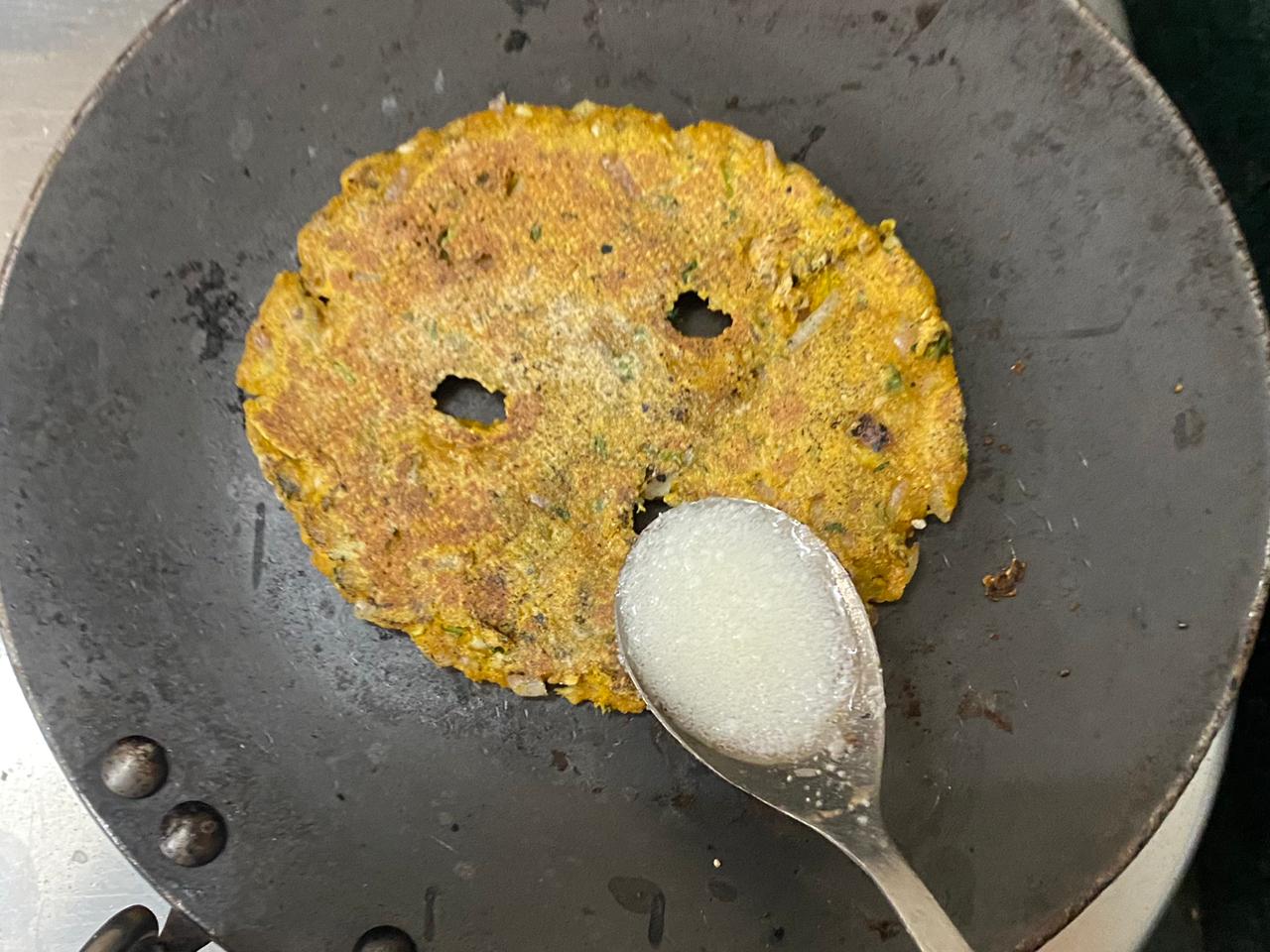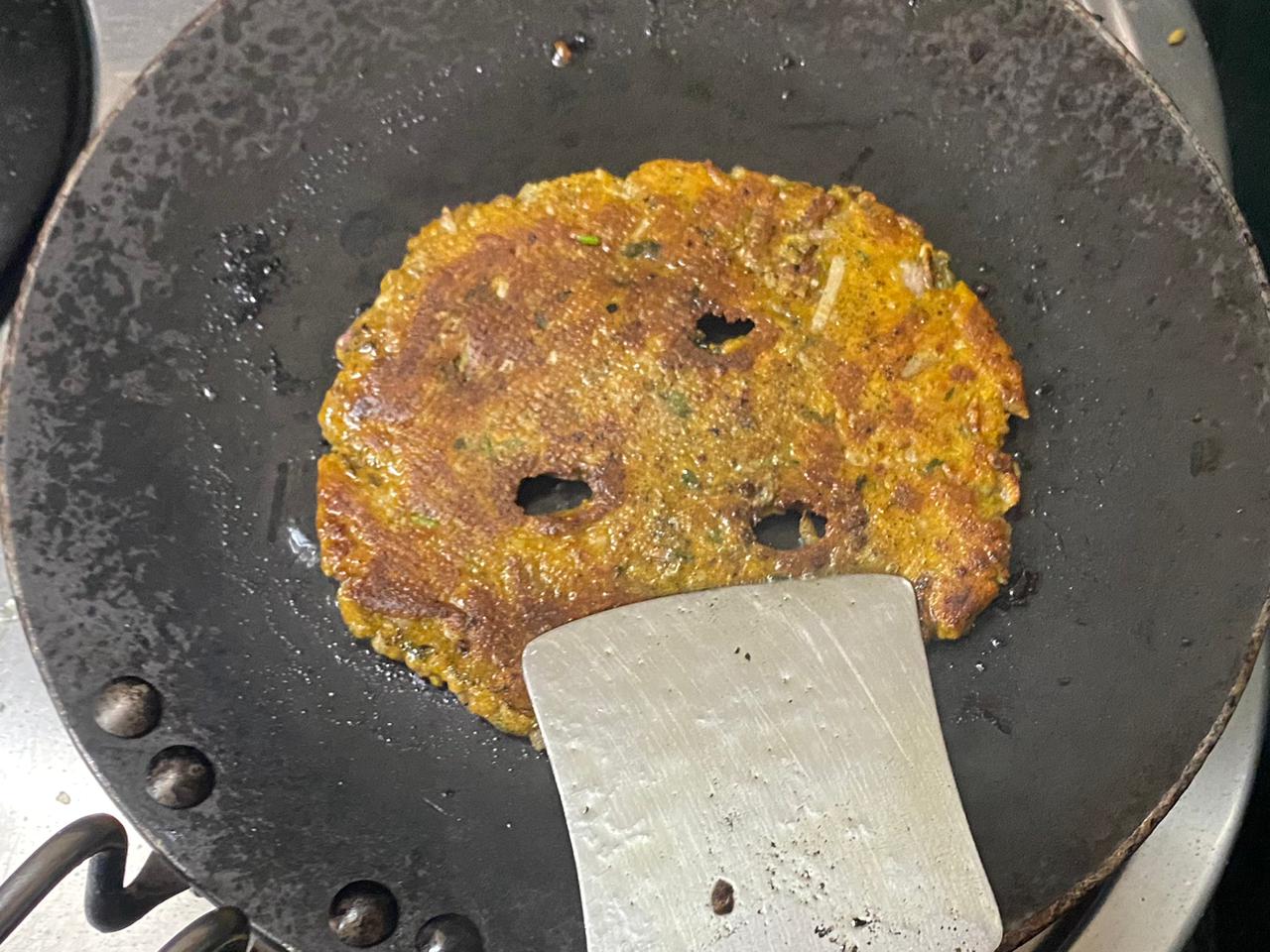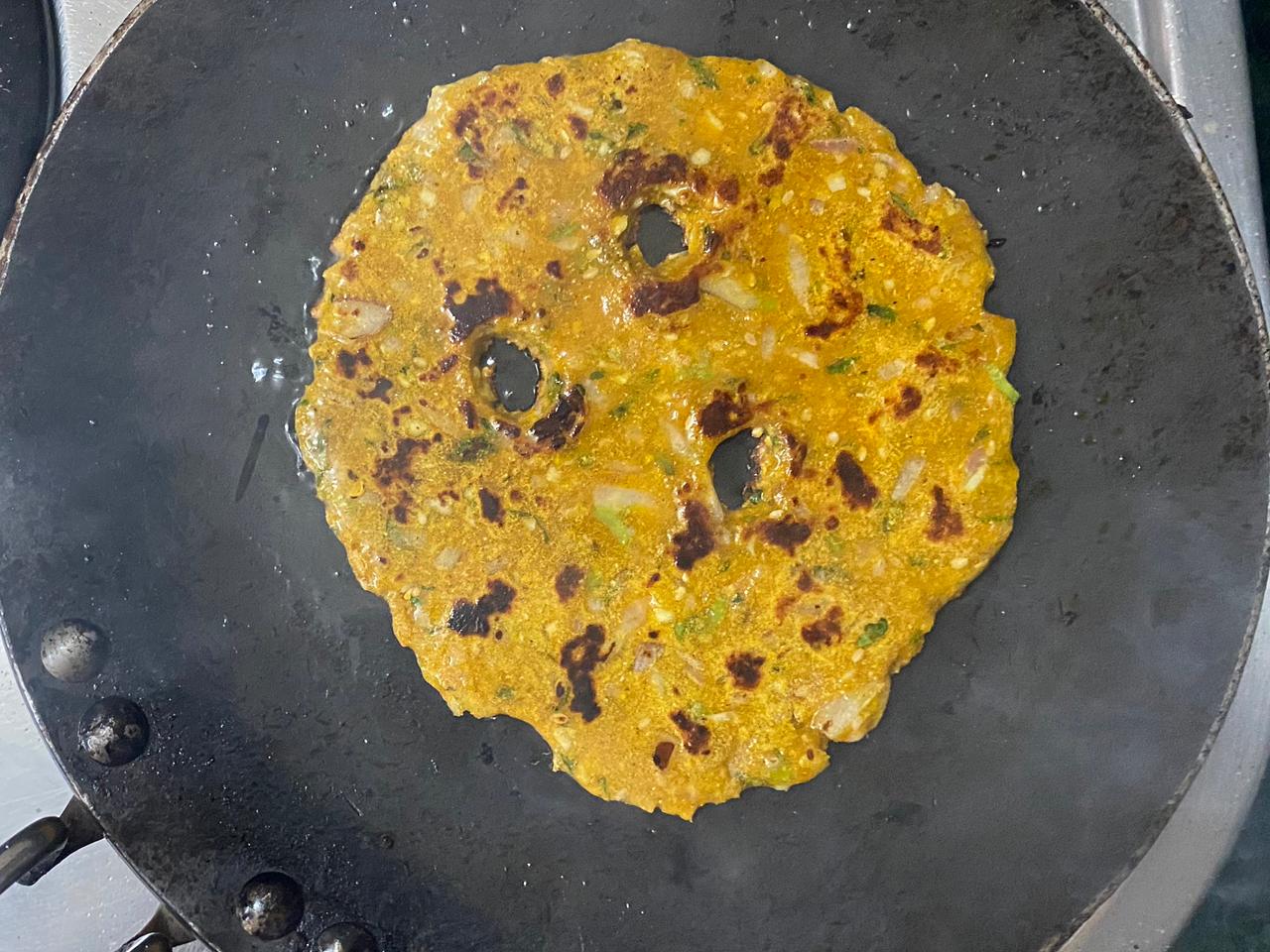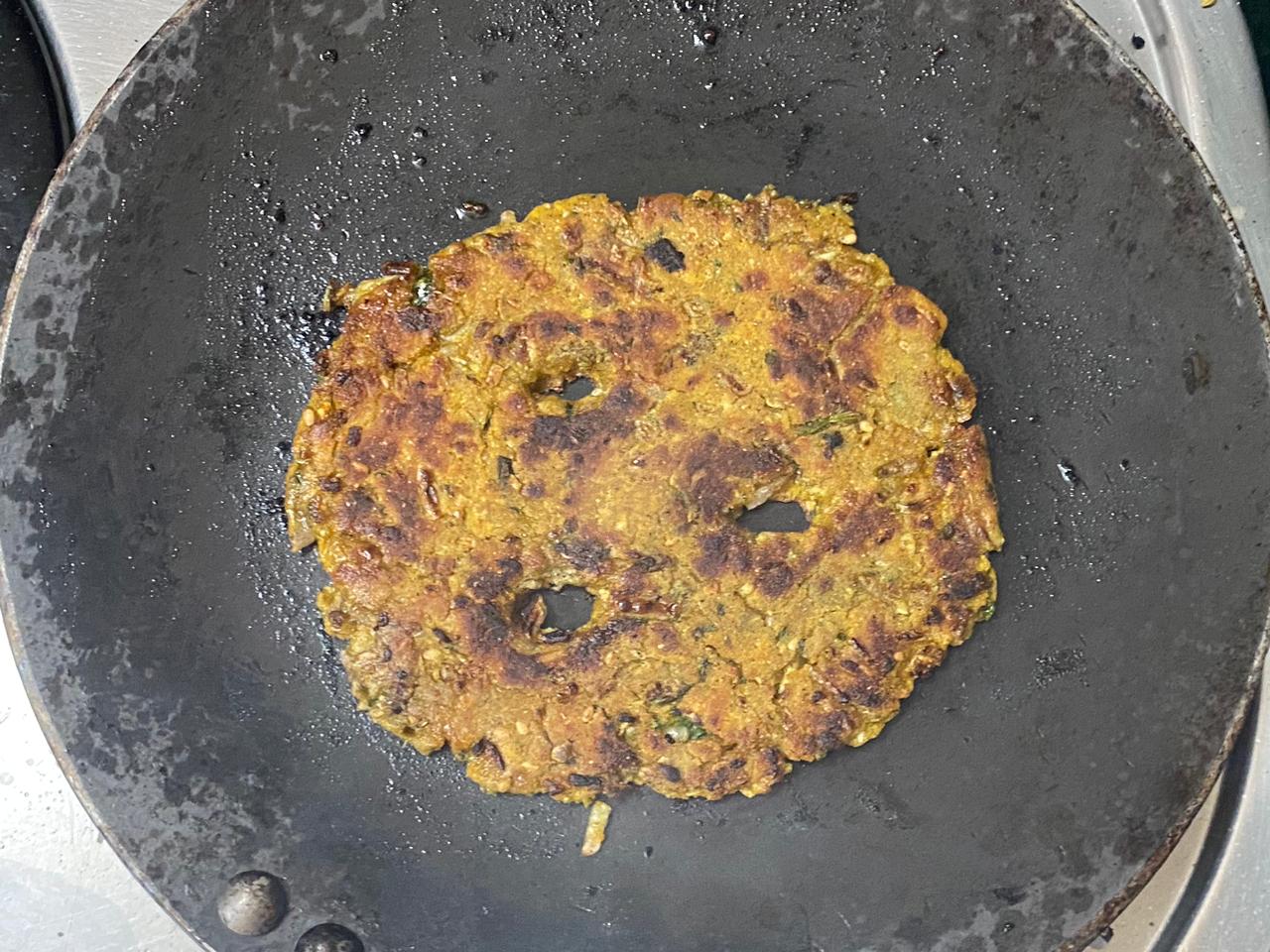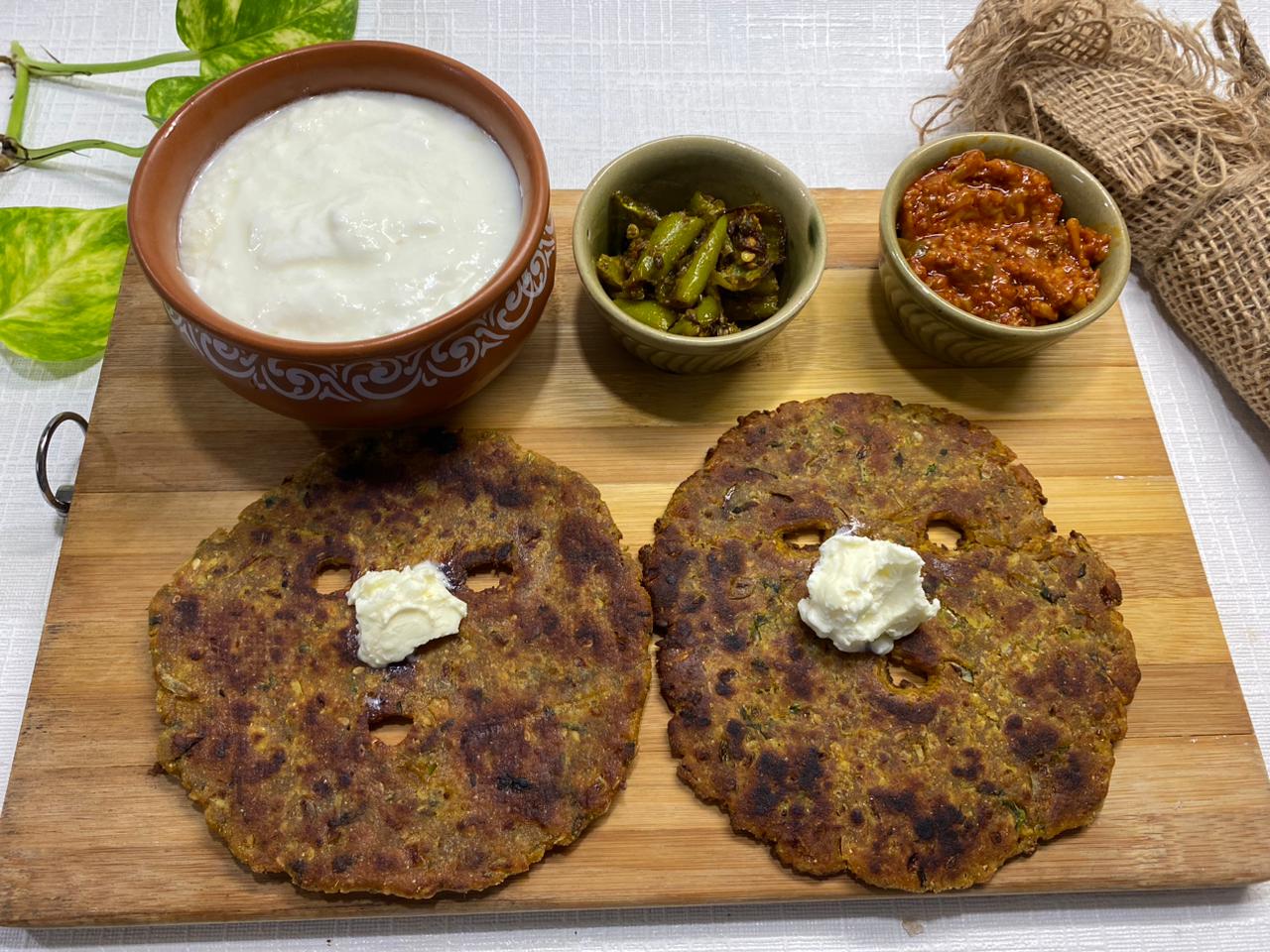 Heat the tawa or griddle on medium heat. Transfer the rolled thalipeeth on to the tawa/griddle and cook on one side for 30- 45seconds on medium heat.
Flip the thalipeeth and apply ghee on the side facing up. Cook around 1 to 2 minutes on each side as the thalipeeth starts to turn golden brown. Add ghee as needed on both sides.
Enjoy with yogurt, chutney or pickles.