Aloo Paratha
Aloo Paratha is one of the most popular breakfast foods in Northern India, especially Punjab. It is whole wheat flatbread, stuffed with spicy mashed potatoes. In my kitchen, aloo paratha presides over all other parathas. It is indisputably the king of parathas! For food connoisseurs, aloo parantha is not just any meal, it is an ode to Punjabi food.
I had an opportunity to visit Amritsar, Punjab few years ago with my family. I had aloo parathas most days for breakfast! Crispy parathas filled with spiced potato were served with a dollop of homemade butter, yogurt and/or pickle. They were hands down the best parathas! The Punjabi community in India (and globally) are known for their big-heartedness and love for food. Punjabis can adjust to everything in life, but there is no compromise in the flavours of food. And when it comes to aloo parathas, Punjabis prefer everything about it to be perfect.
My aloo paratha is nothing fancy, it is a basic recipe which is made in so many homes across India. Spiced mashed potatoes are stuffed in dough and pan fried until crispy and brown. Every family have their own variations to aloo paratha. There is no right or wrong way to make aloo paratha! The stuffing of the aloo paratha, which is primarily spiced boiled potatoes, can be a deal maker or deal breaker for foodies. In my humble opinion aloo paratha always tastes delicious no matter how you make it- just need to have the right potato mix and also pan fry them crispy.
Ingredients
For The Dough
2 cups wheat flour
½ cup water
1 tablespoon ghee
For The Filling
1 cup grated boiled potatoes
1 teaspoon salt
1 teaspoon black salt
1 teaspoon cumin powder
1 teaspoon mango powder (amchur)
1 teaspoon garam masala
2 teaspoons Kashmiri red chili powder
2 teaspoons dried fenugreek leaves (kasuri methi)
½ cup finely chopped coriander leaves
4-5 finely chopped green chilies(optional)
To Fry Paratha
½ cup ghee/oil for making parathas
Directions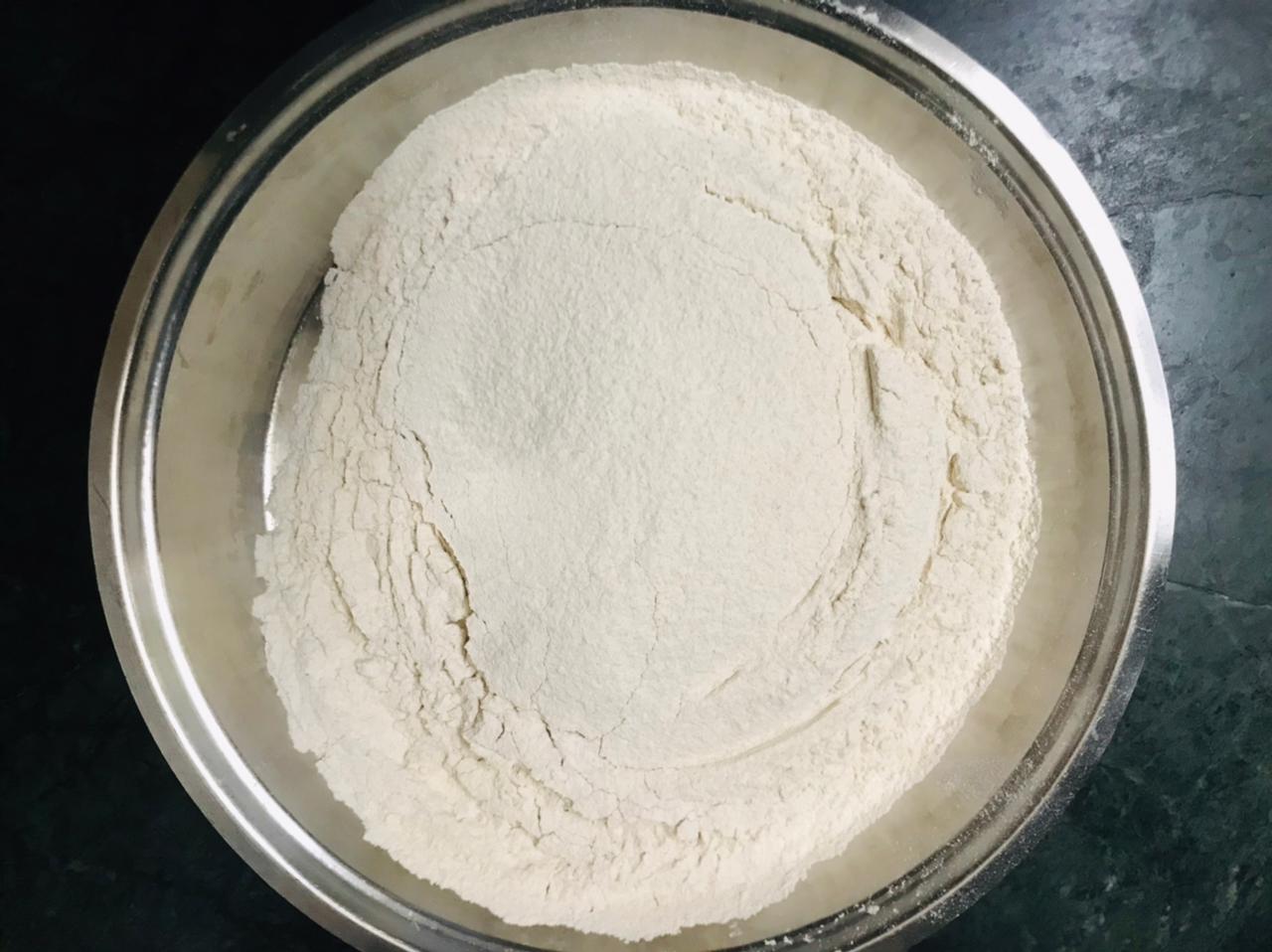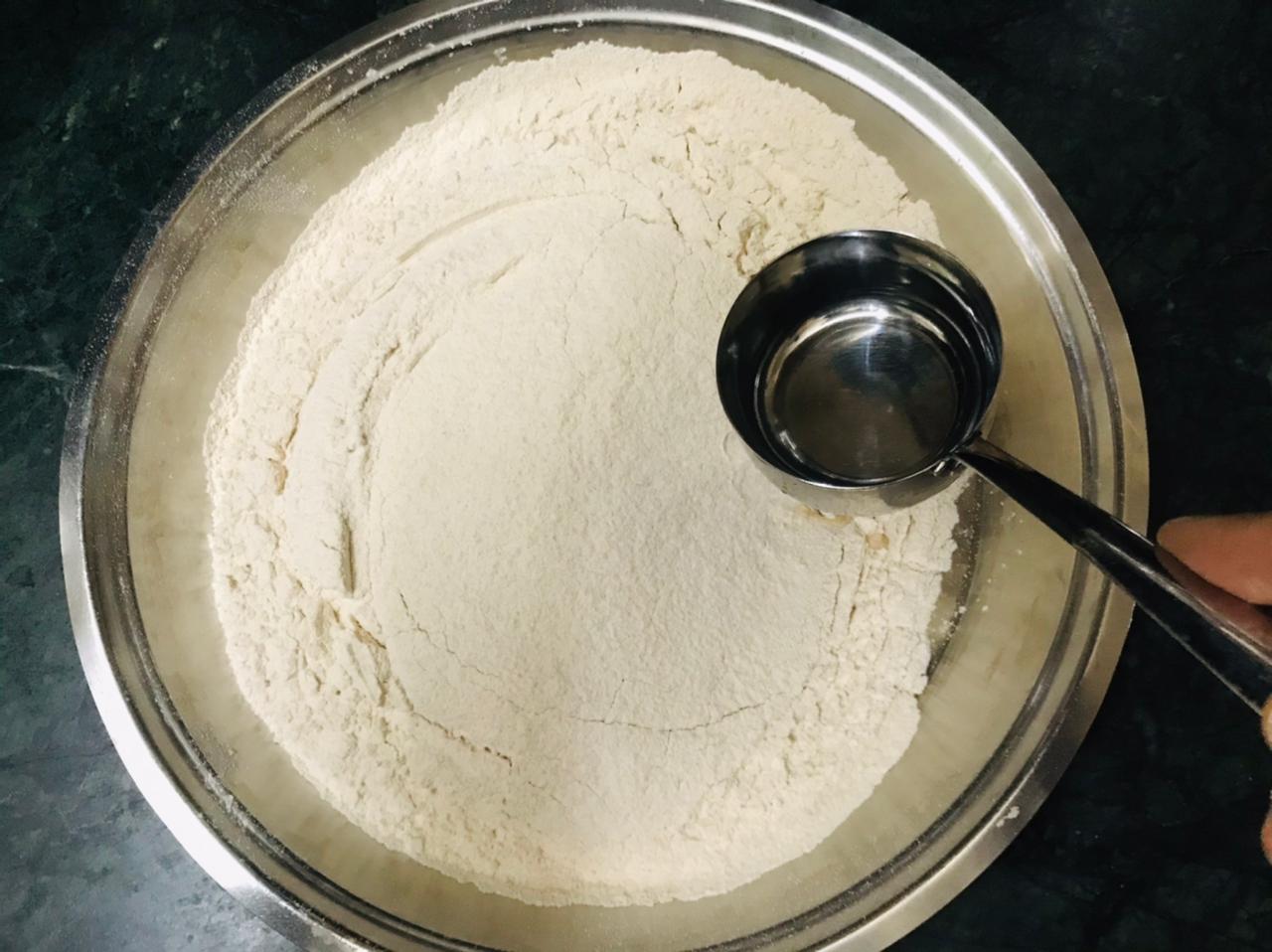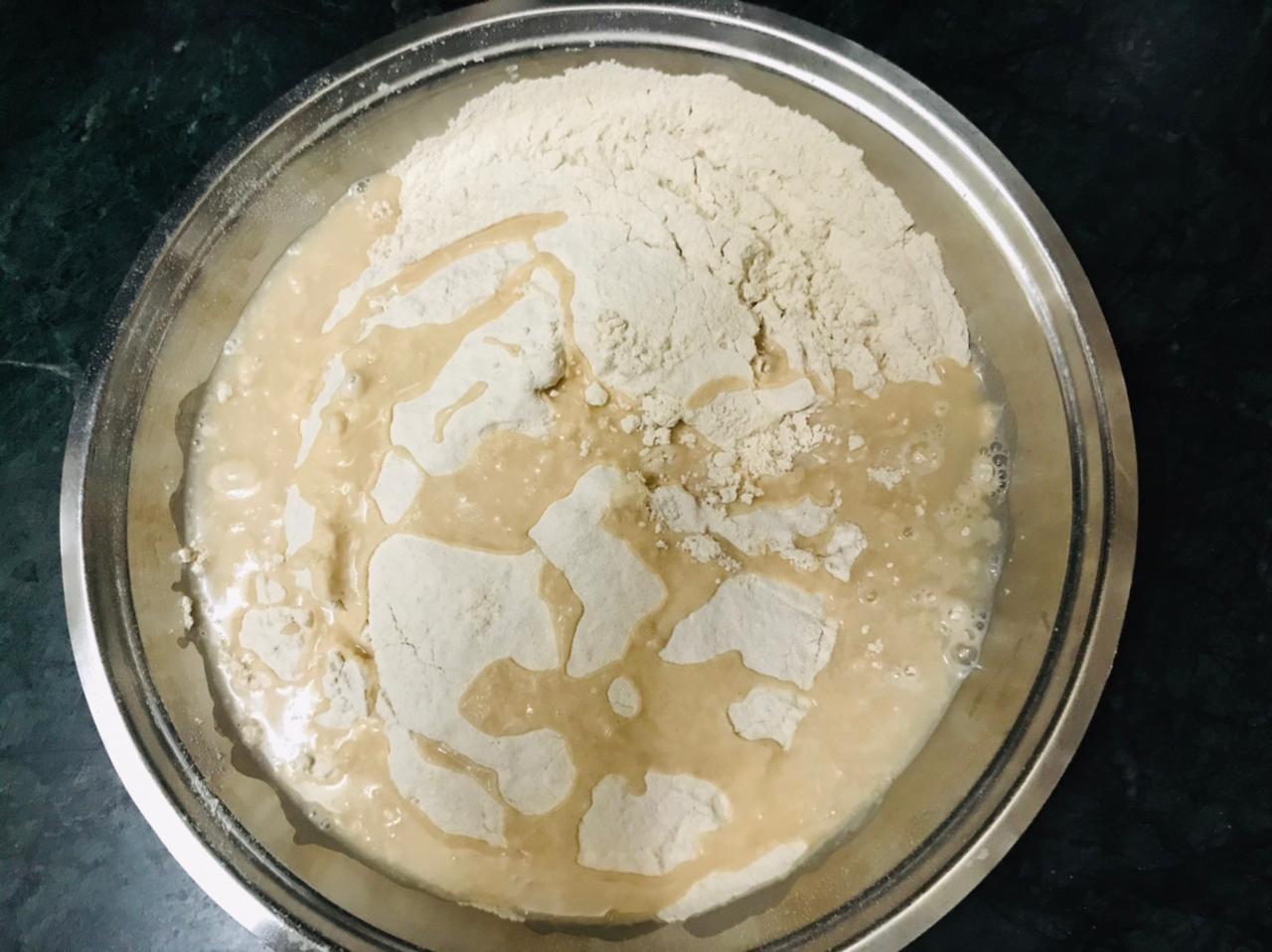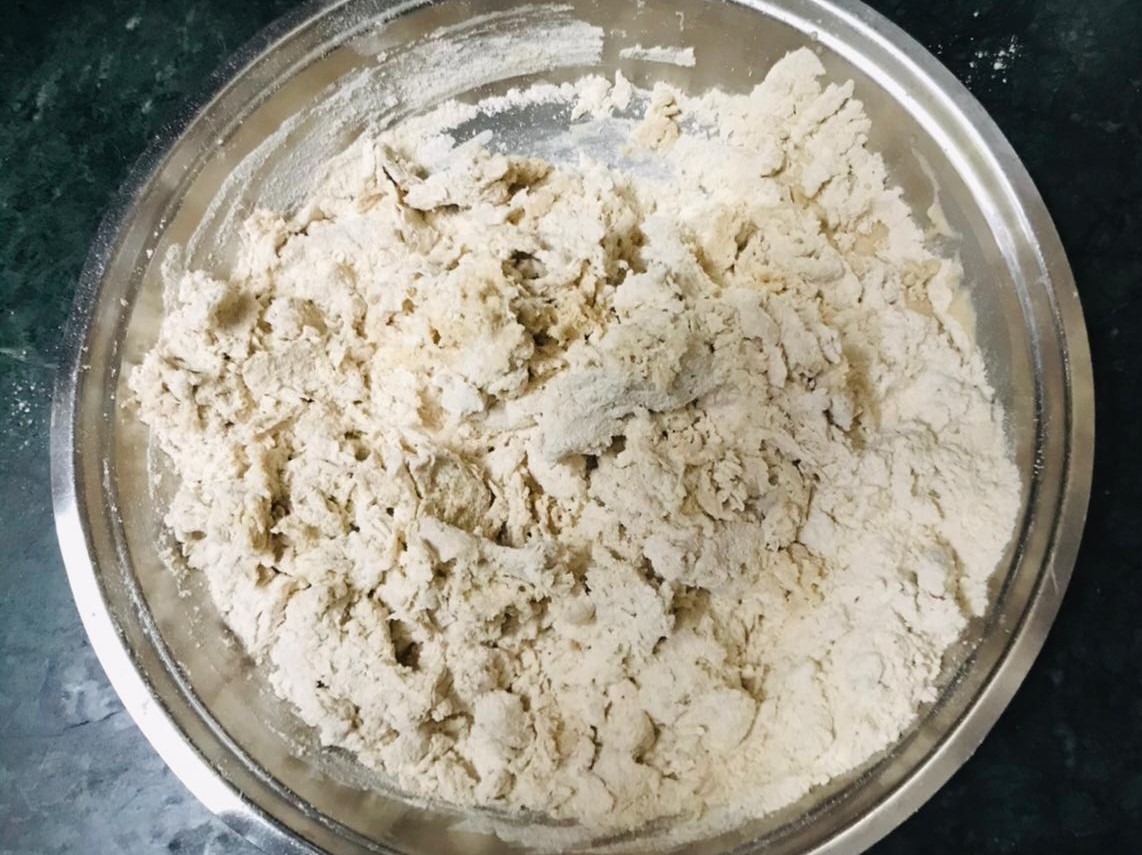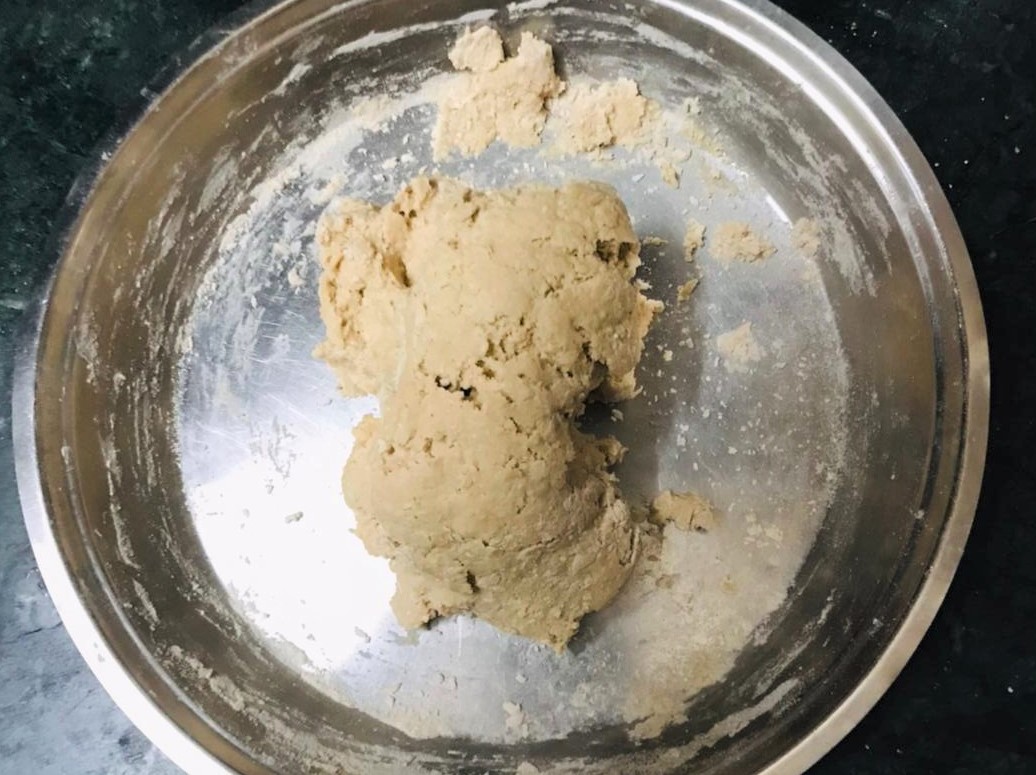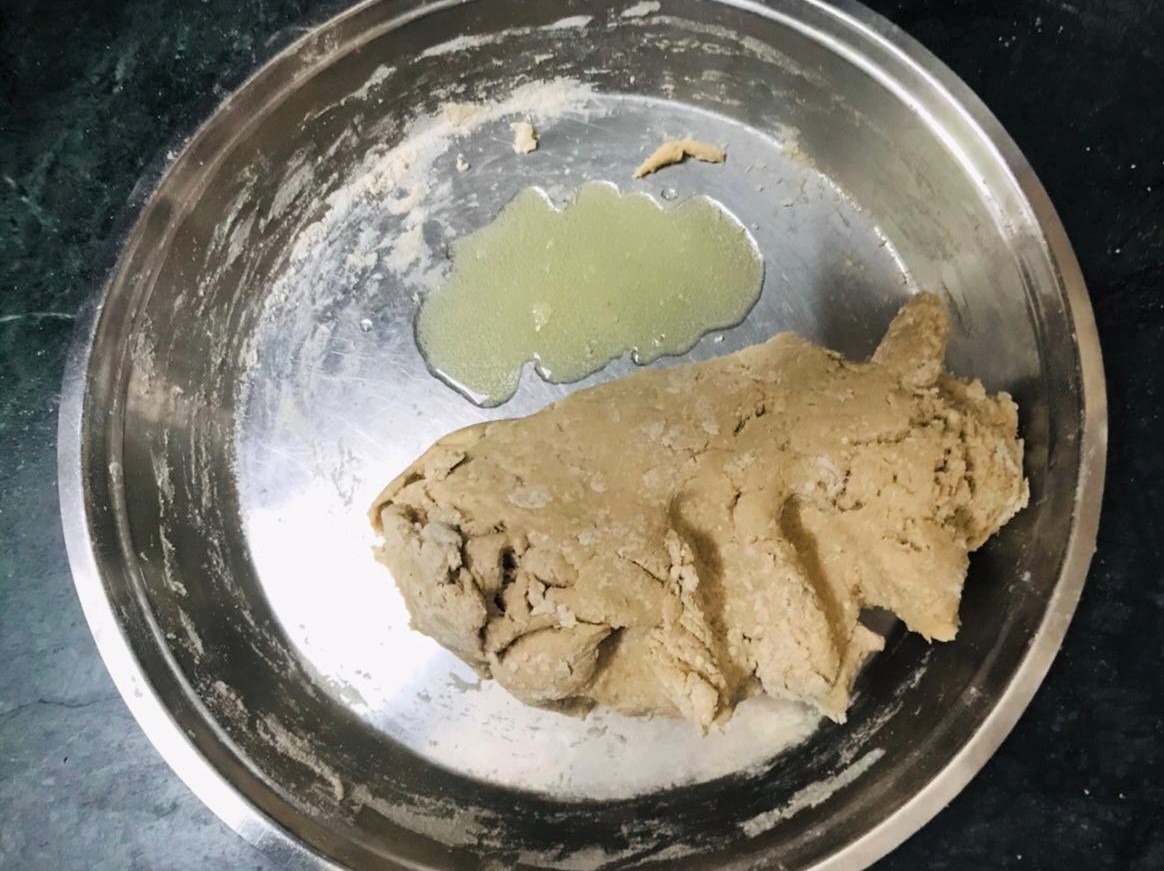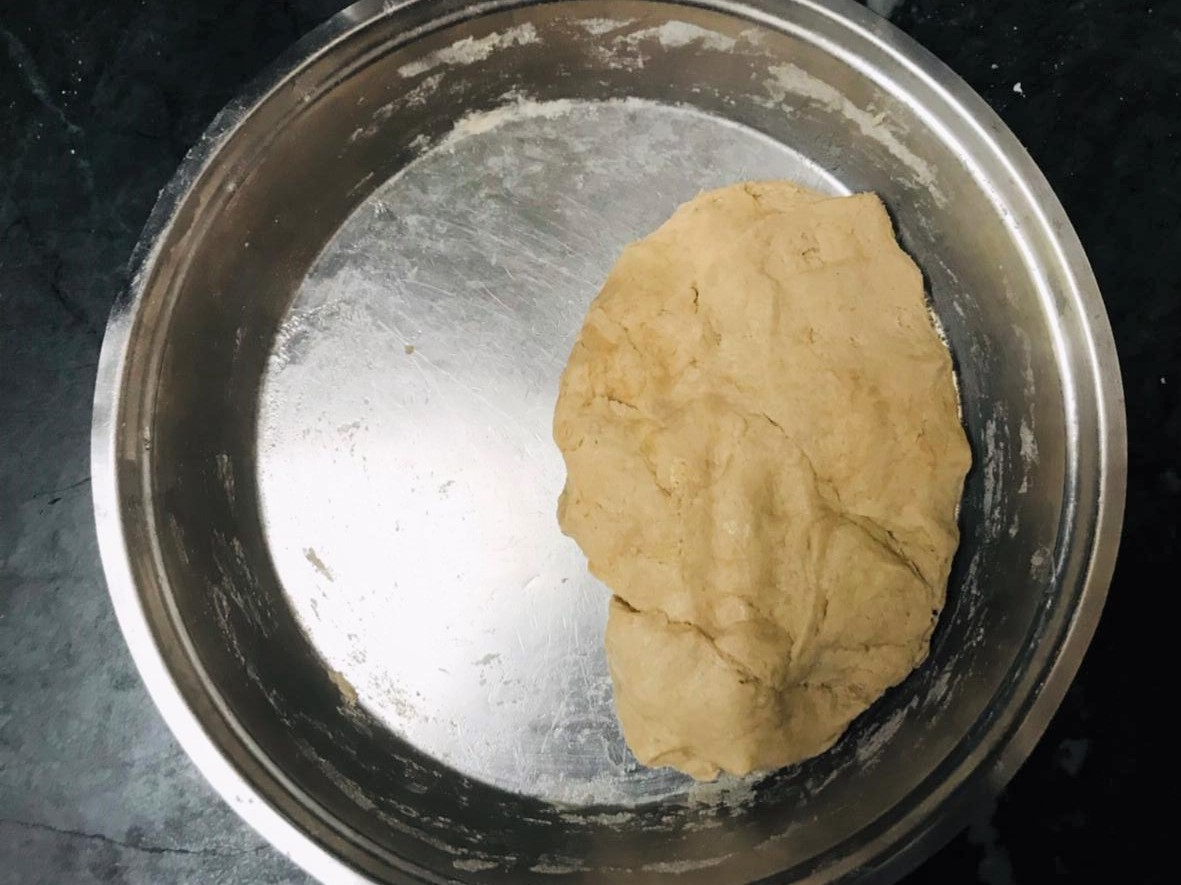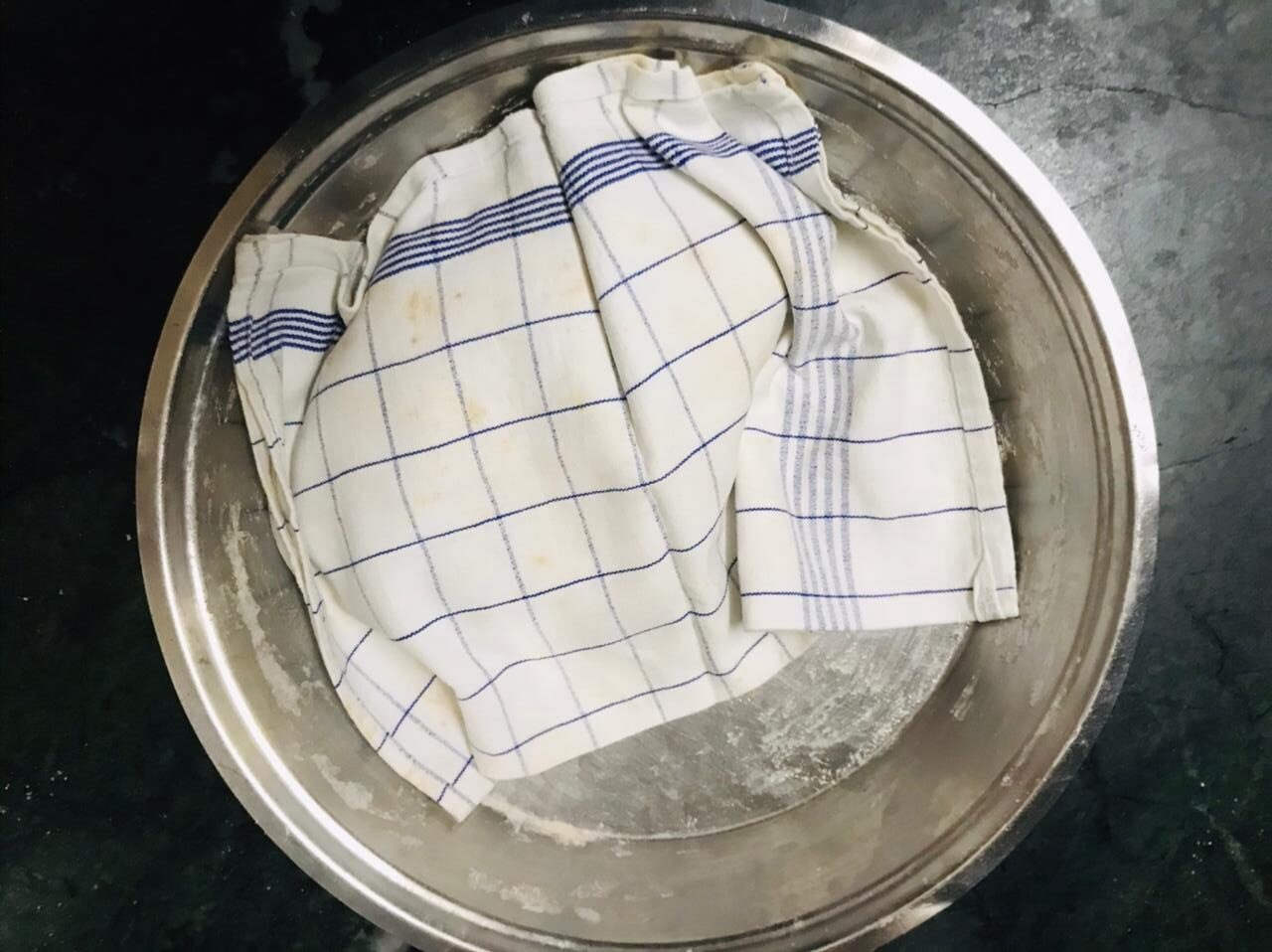 In a bowl mix wheat flour and water to form a soft smooth dough. Add ghee and knead it for a couple of minutes. Let the dough rest for 30 minutes.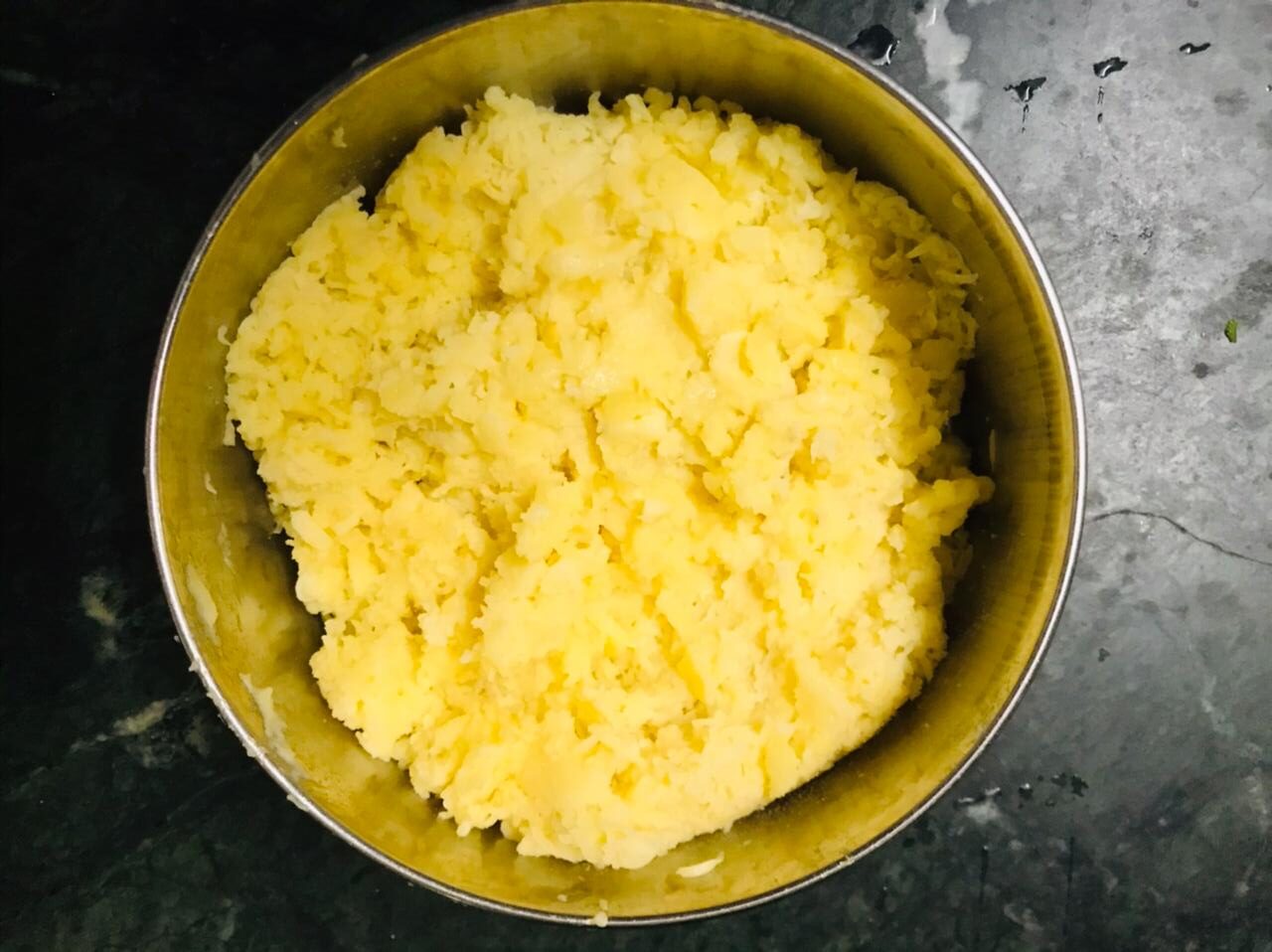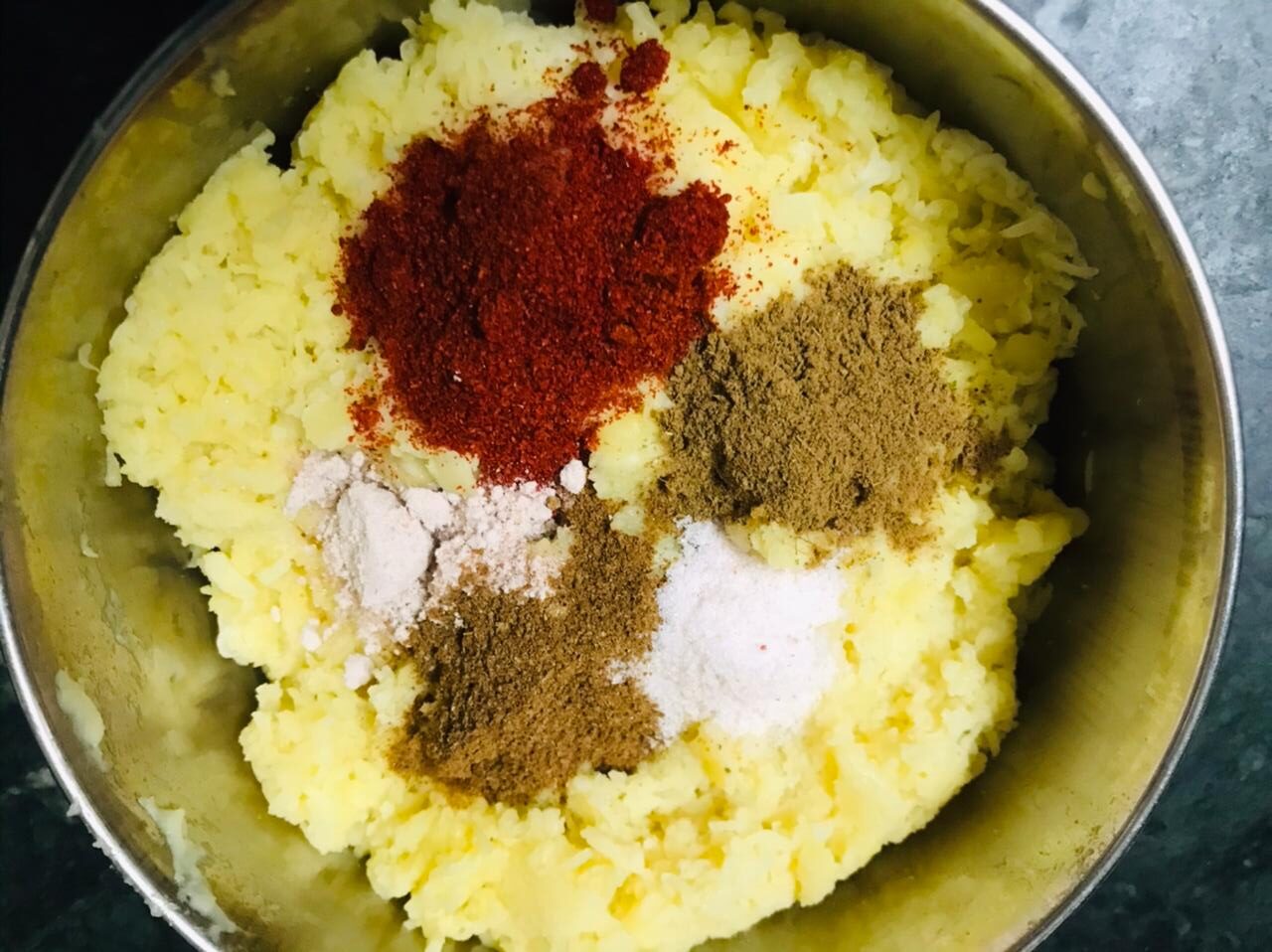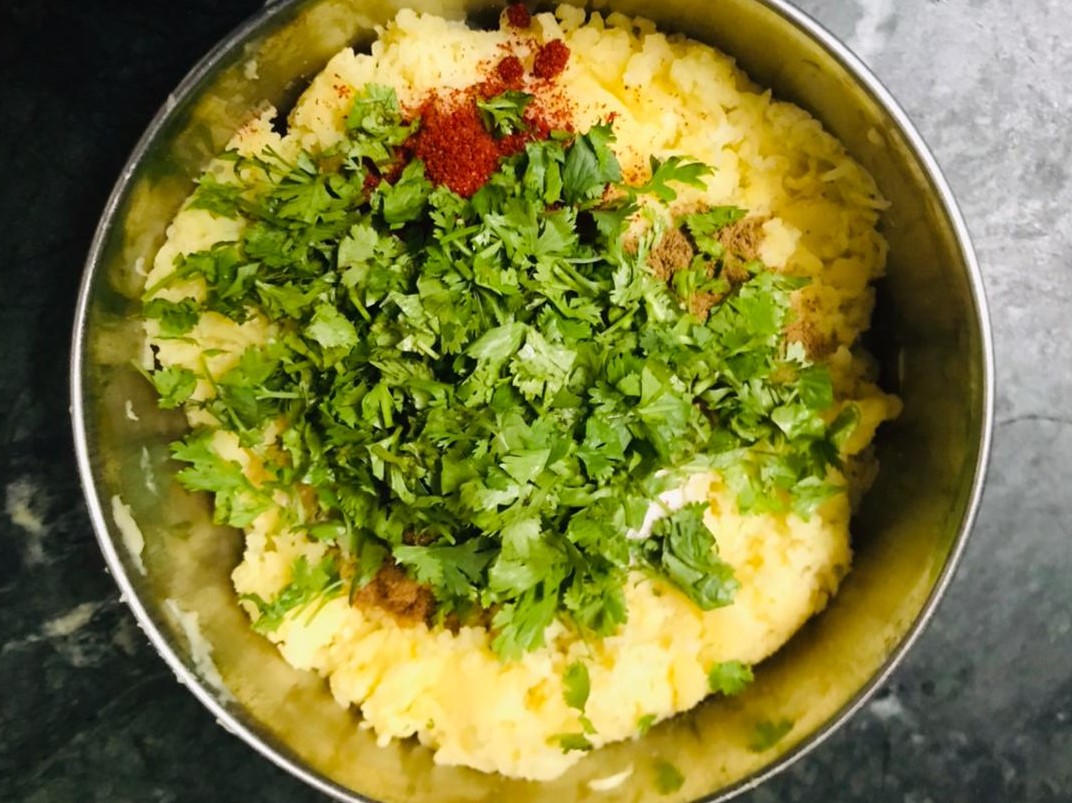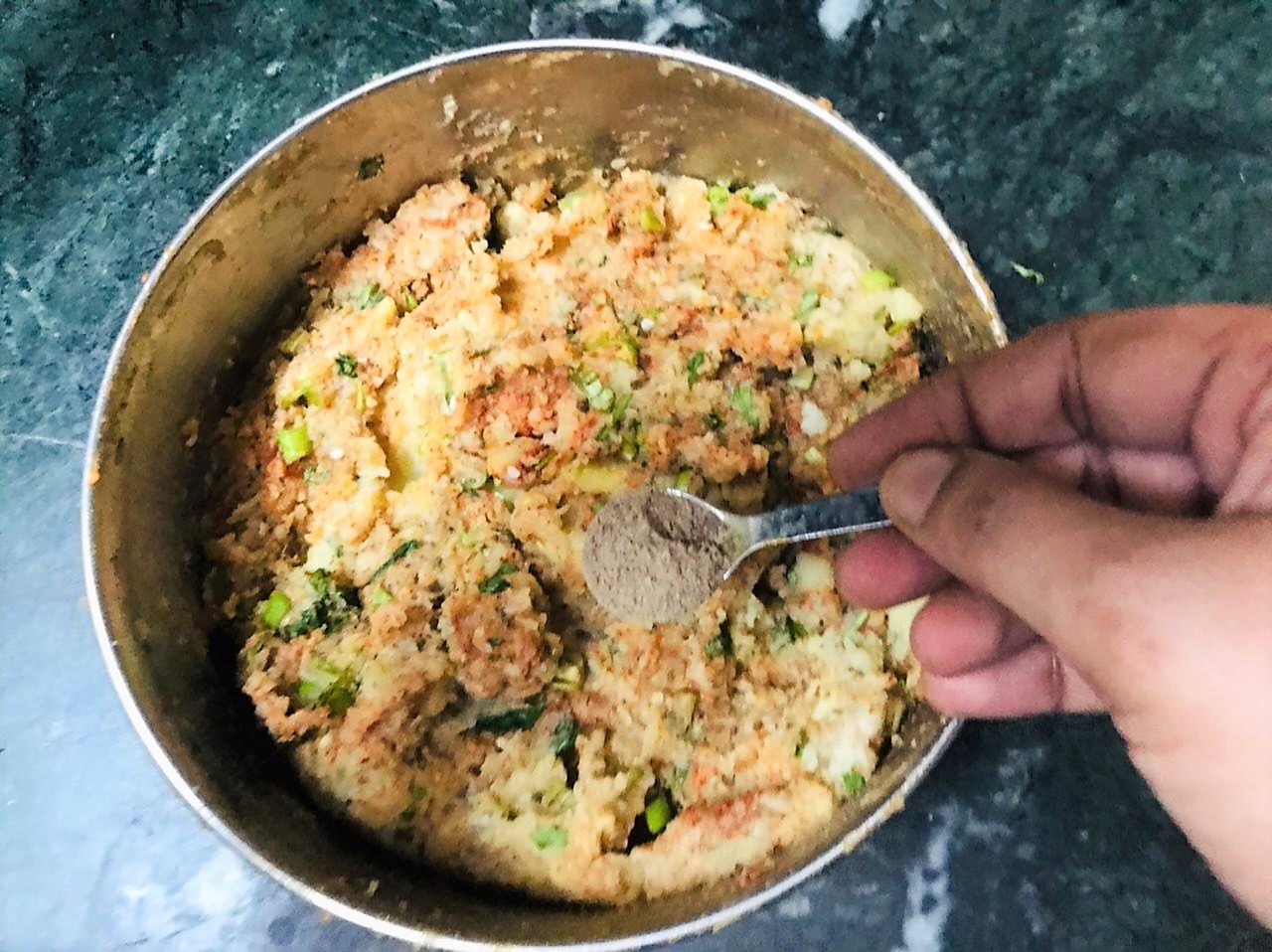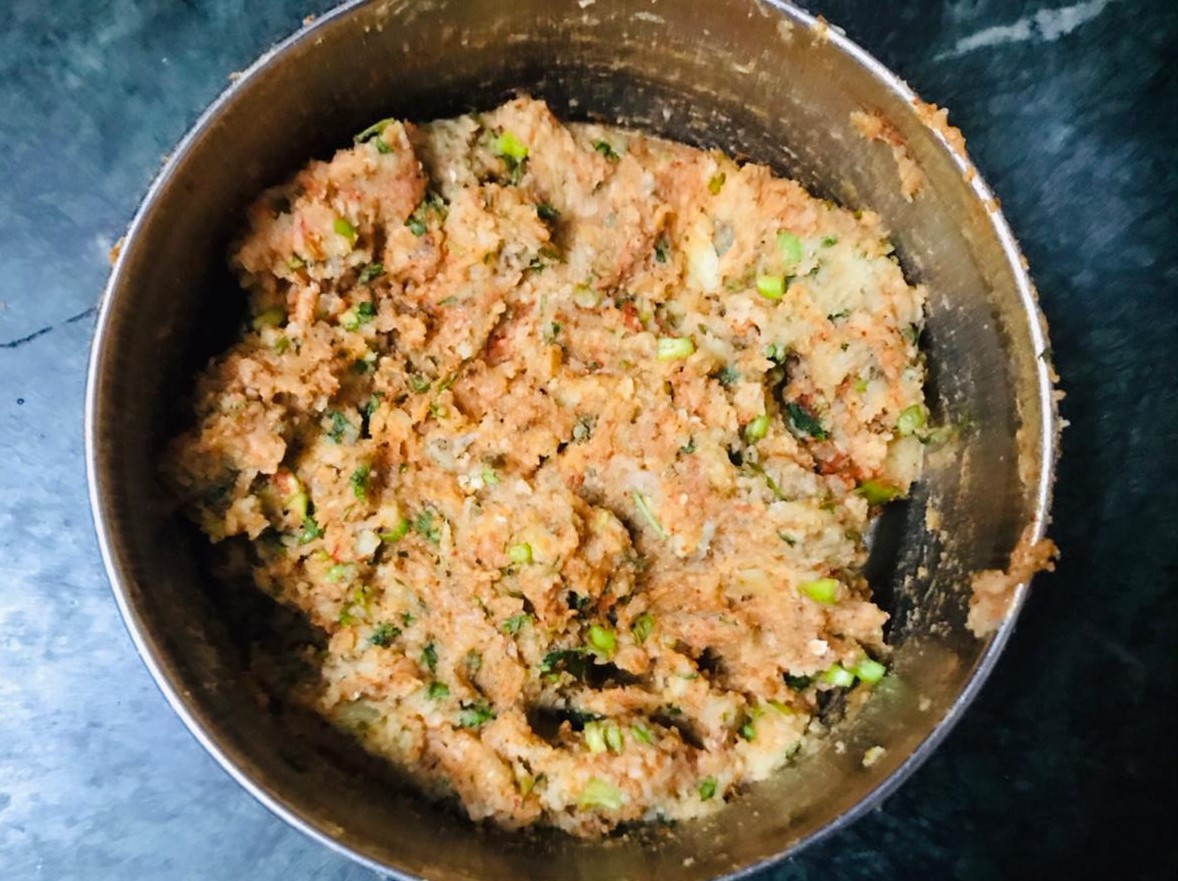 In a bowl add the grated potatoes, Kashmiri red chili powder, salt, black salt, cumin powder, garam masala, mango powder, kasuri methi, green chilies and coriander leaves.  Mix until everything is well combined. Taste to adjust the seasoning according to your taste.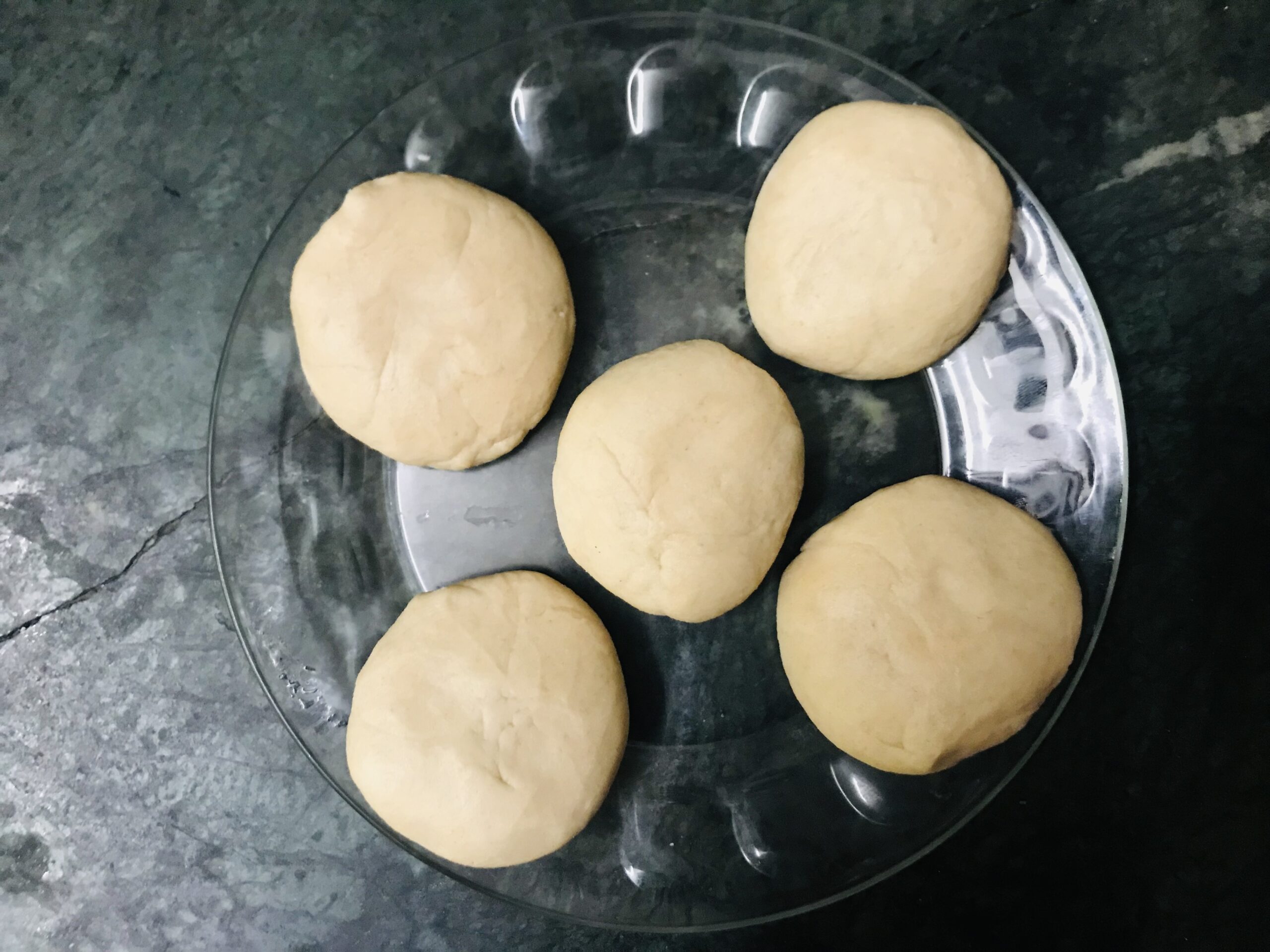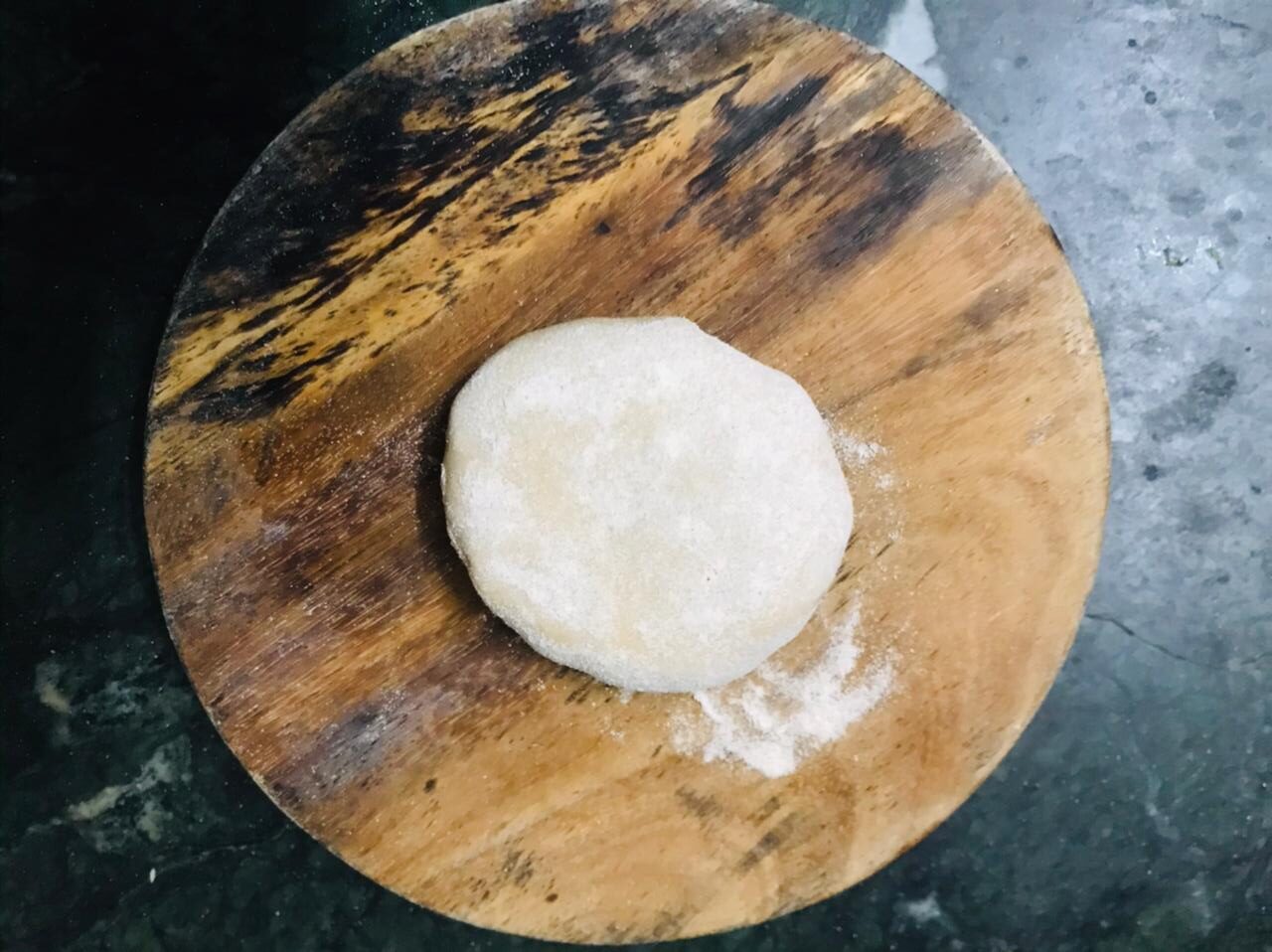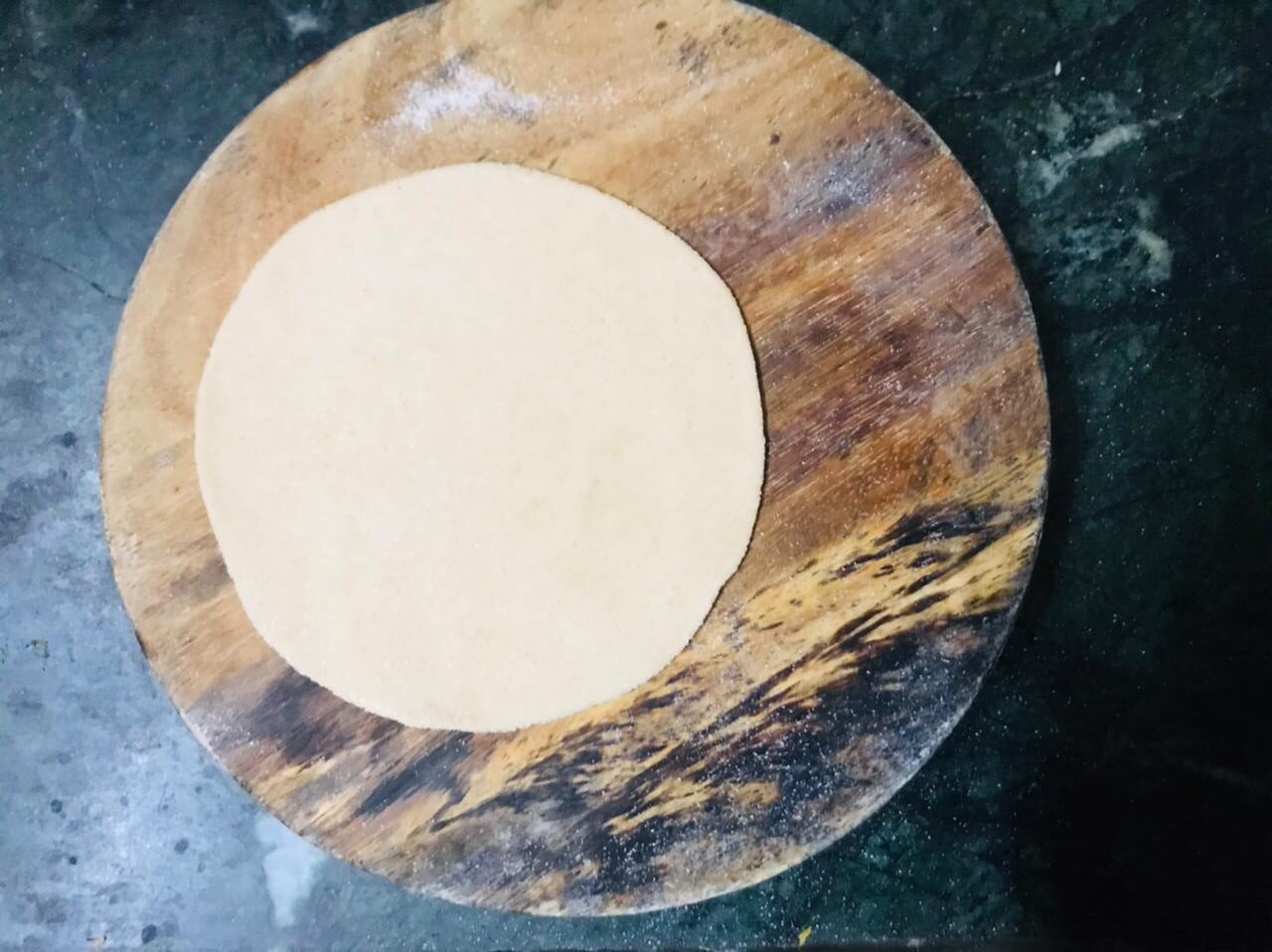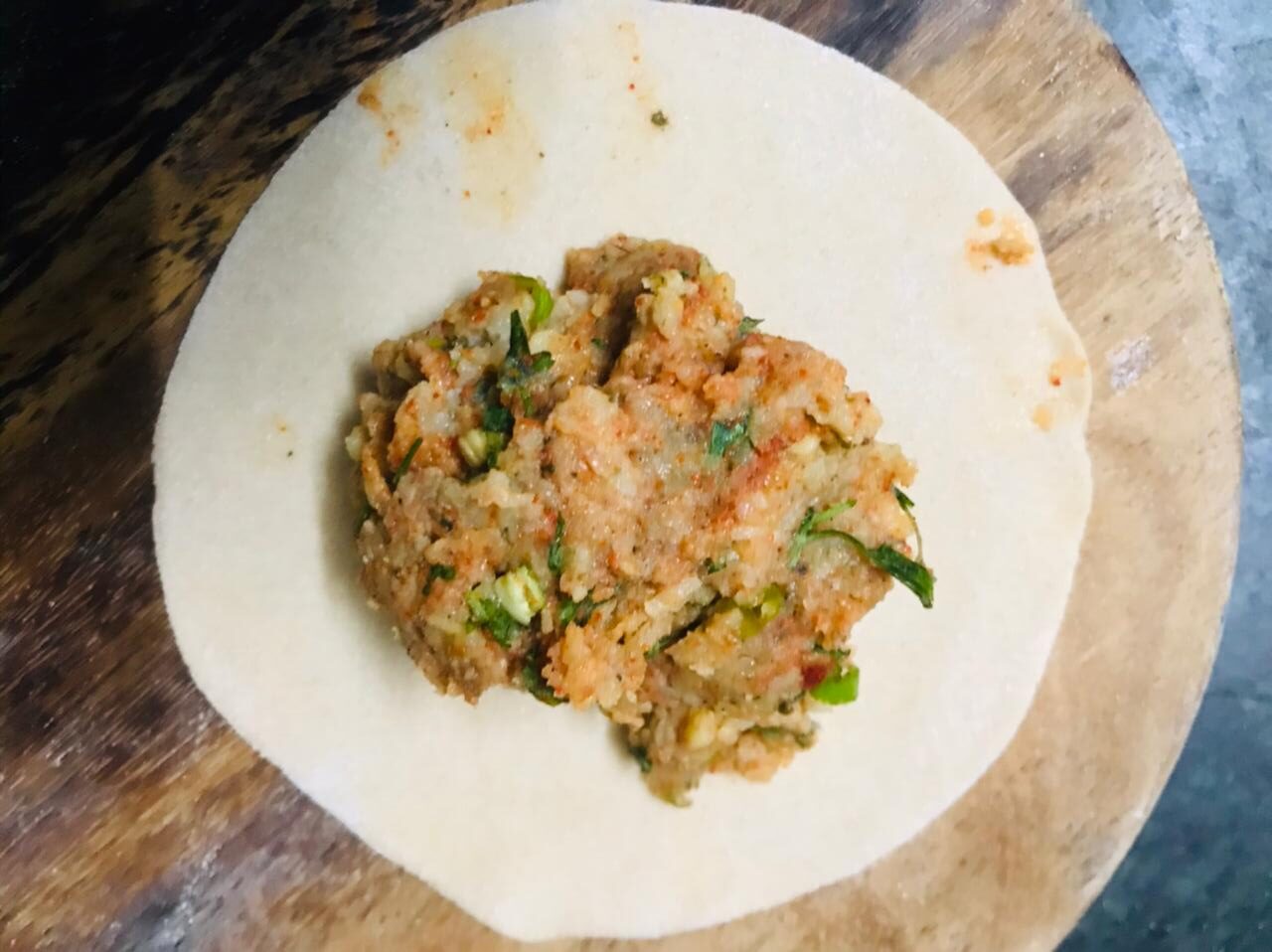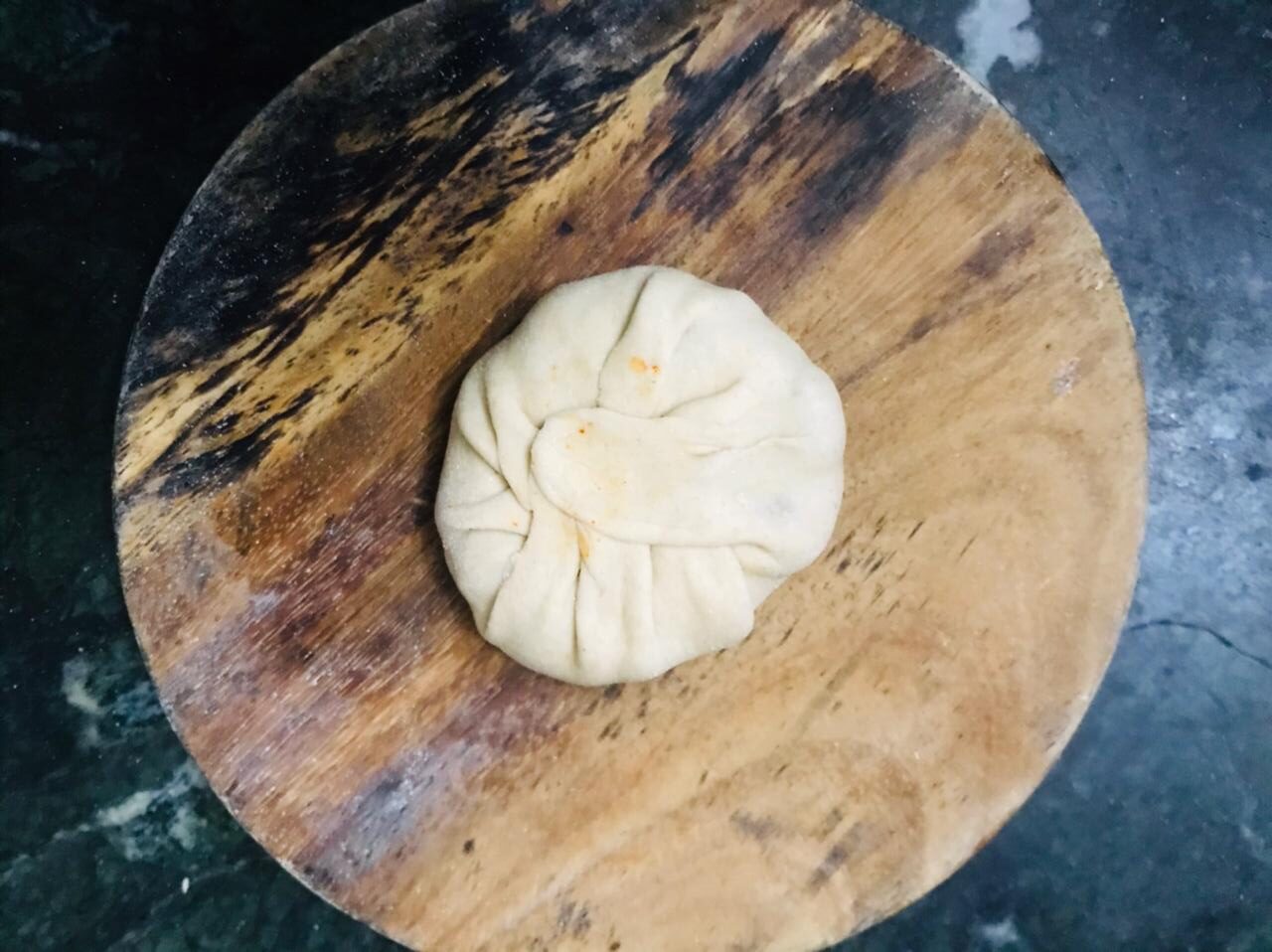 Once the dough has rested make 6-7 balls out of the dough. Roll the dough ball in some dried flour and roll it into a circle of 3-4 inches in diameter. Apply around 1/8 teaspoon oil on the rolled dough (optional). Place around 2 tablespoon of filling in the center (you can add more filling, but I would suggest not to overfill).
Bring all the edges together to the center and then pinch to seal the edges.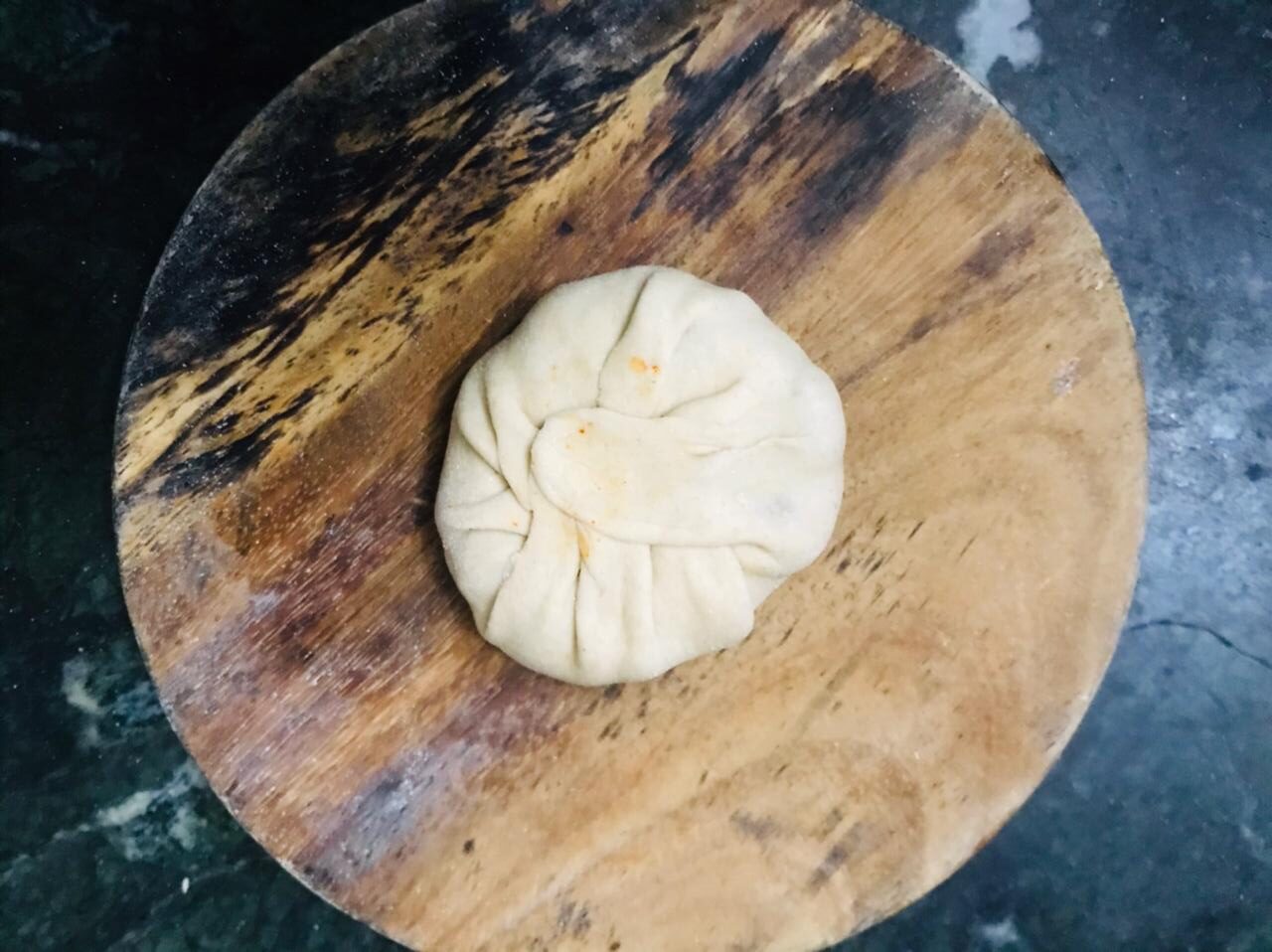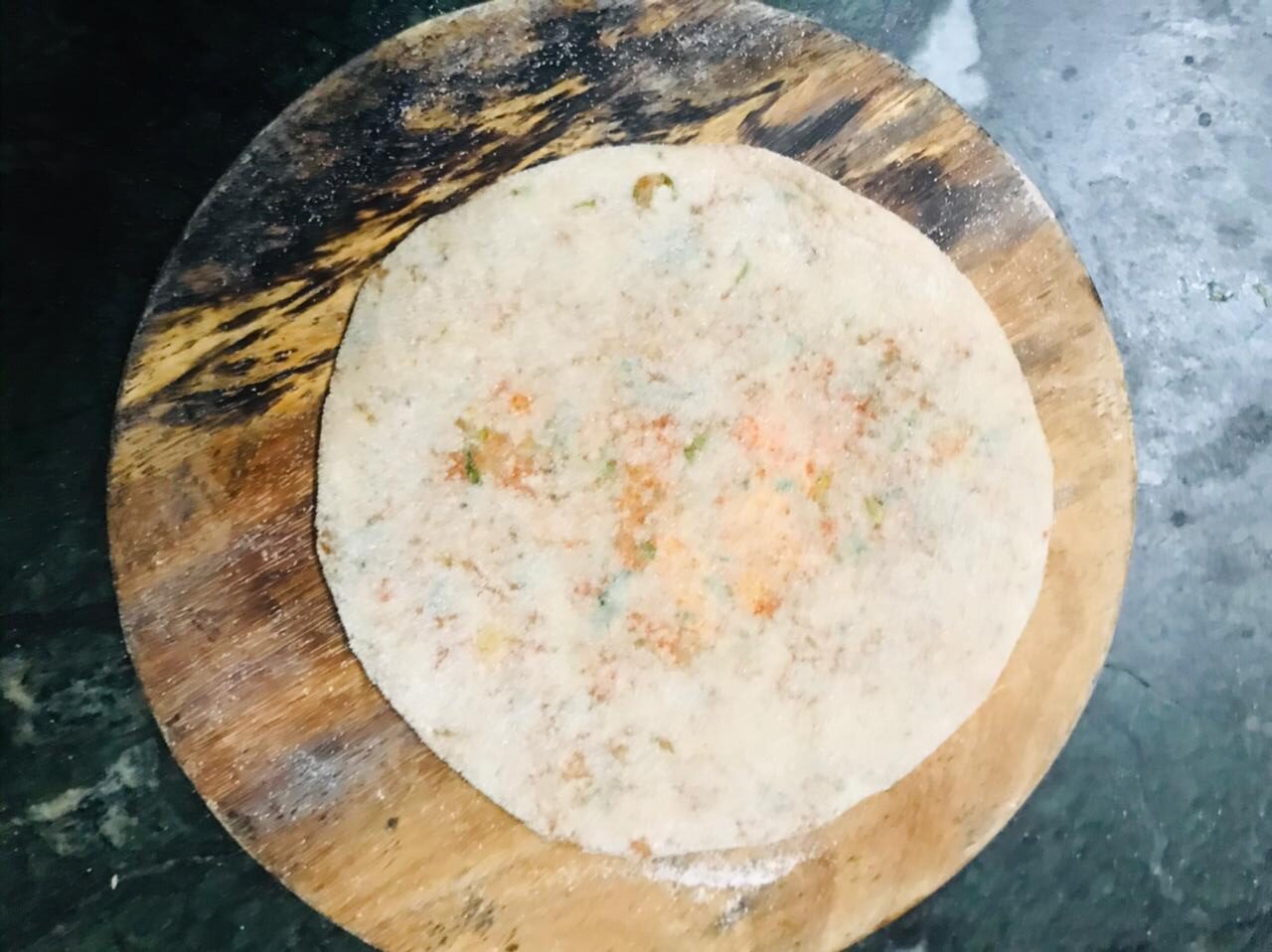 Gently flatten the filled dough ball using your hands. Dust some dry flour on the dough ball and roll it to a circle of around 5-6 inches diameter. (I always use dried flour while rolling especially when it becomes difficult to roll or feels slightly sticky).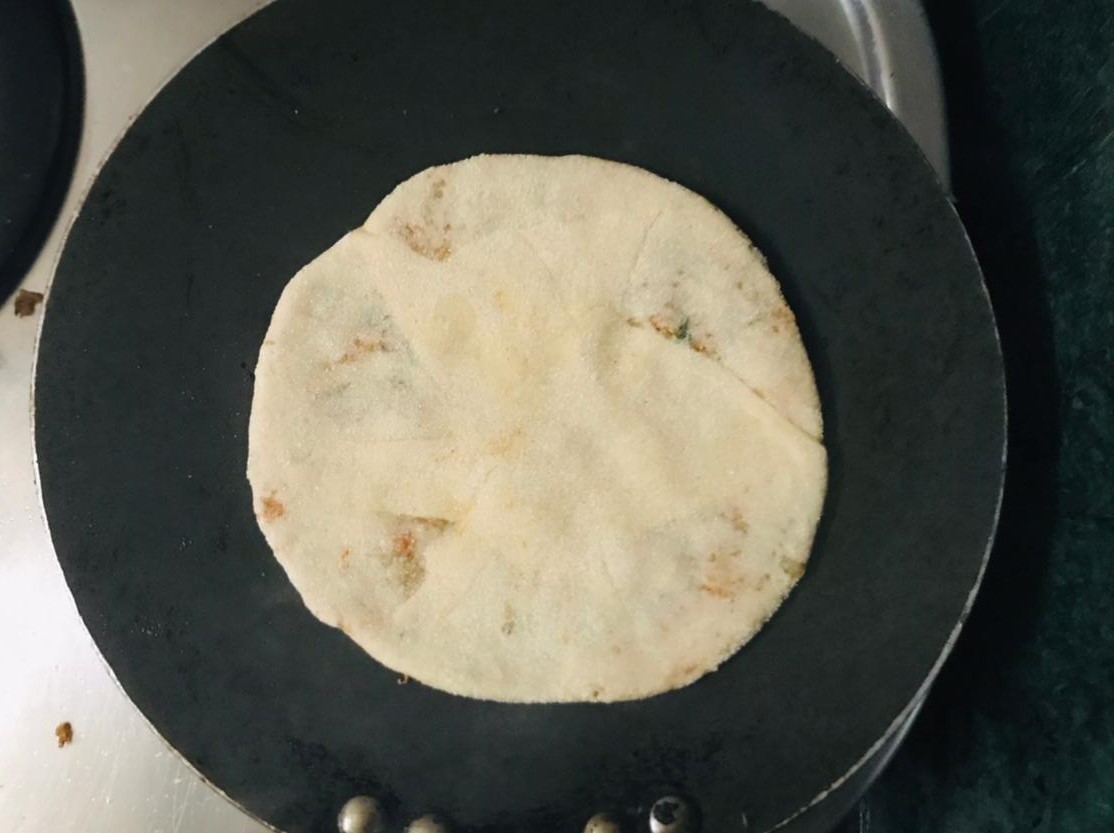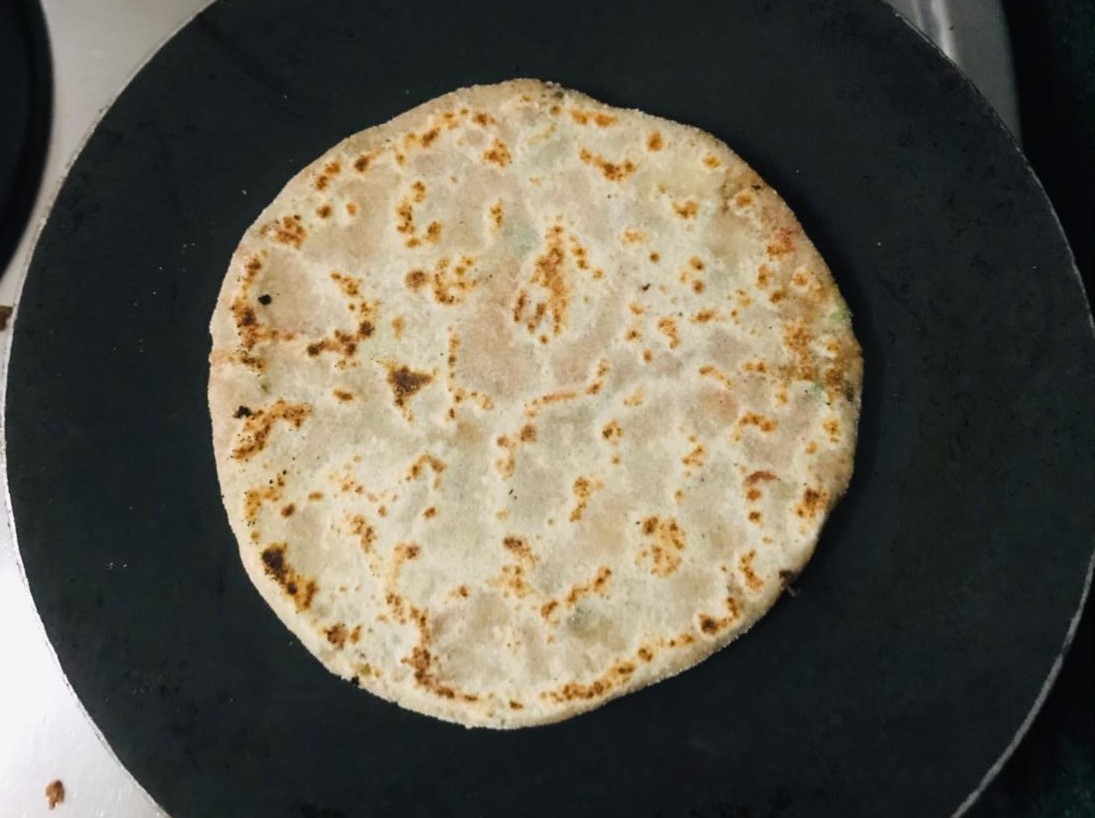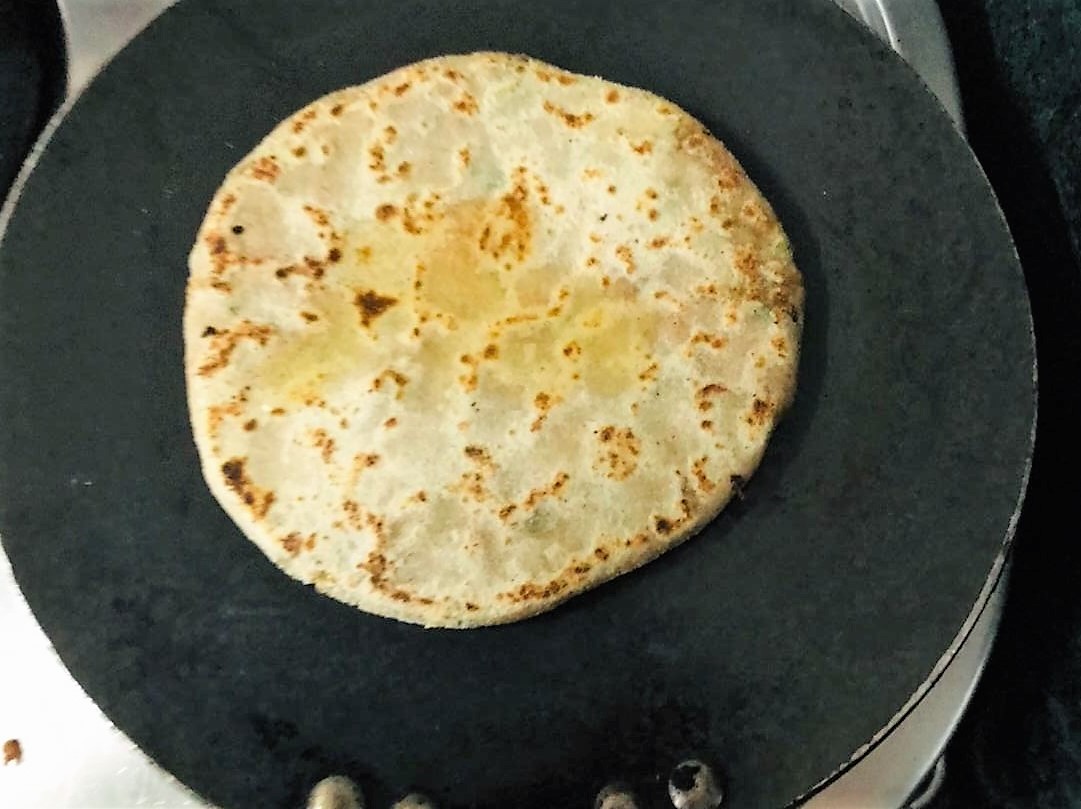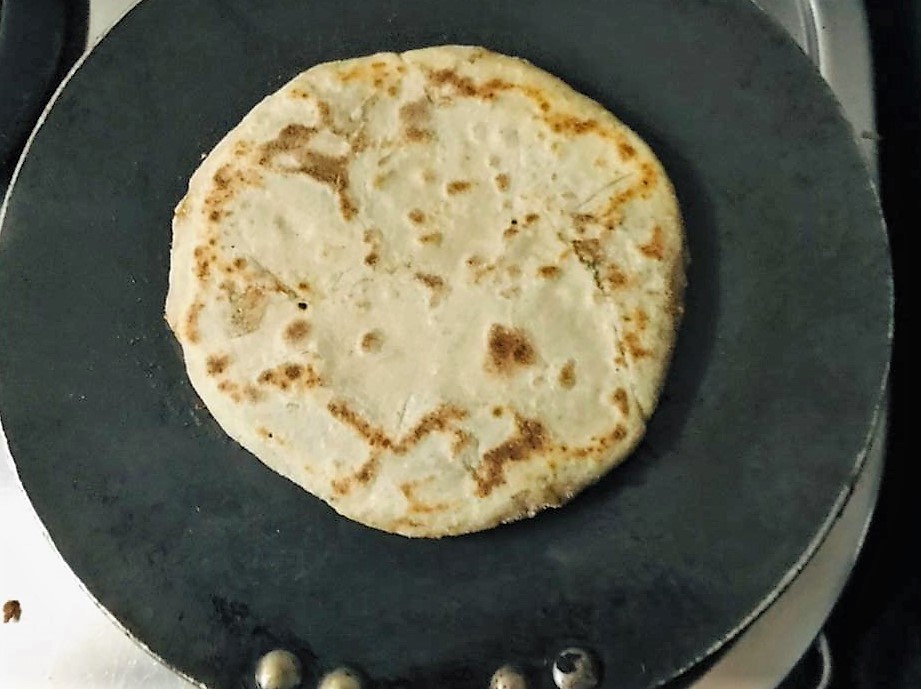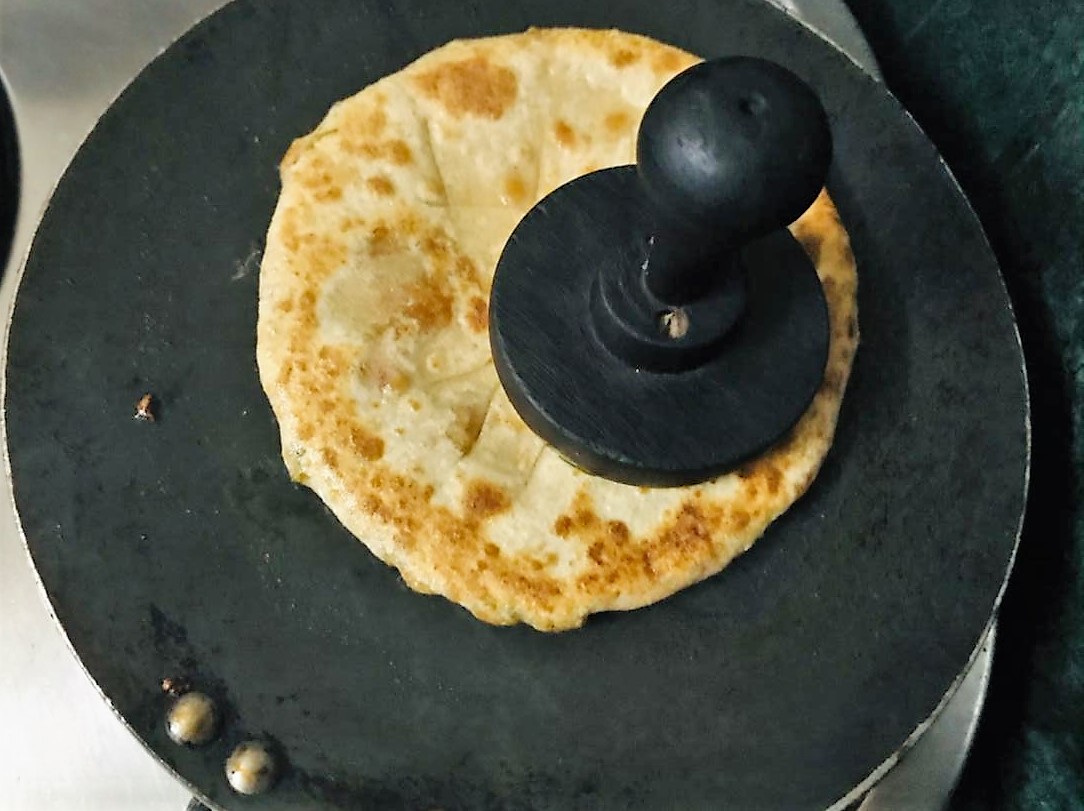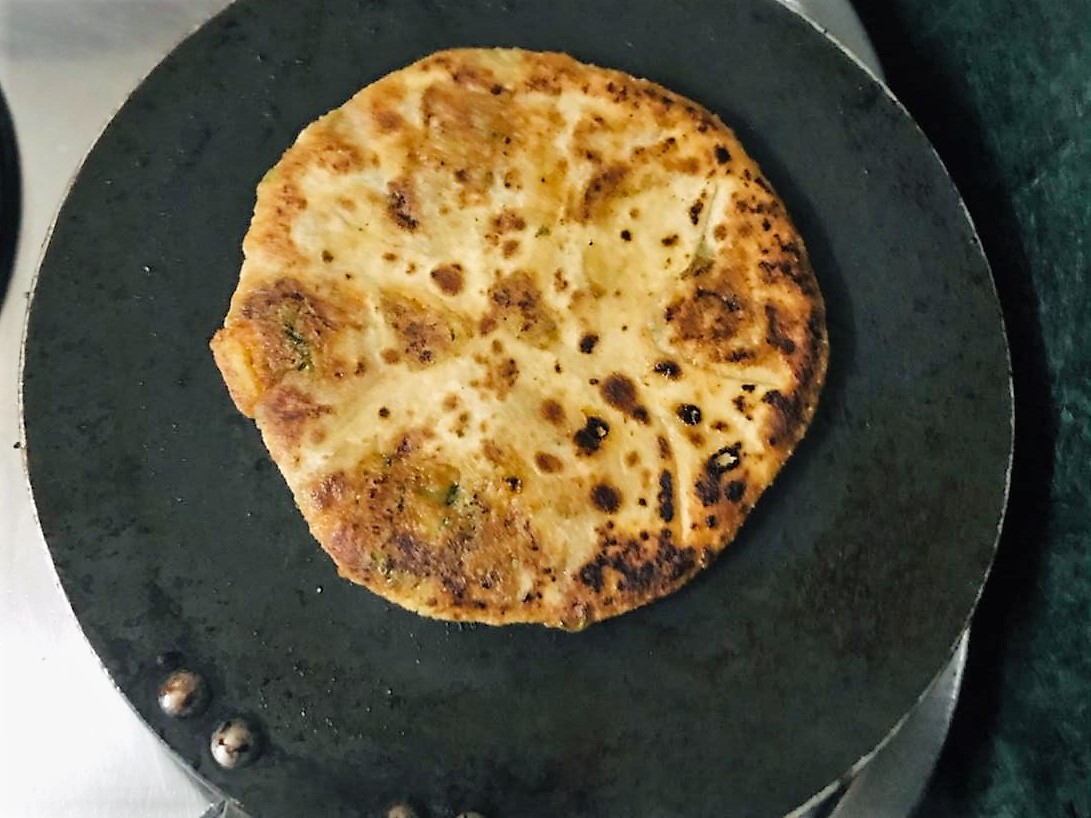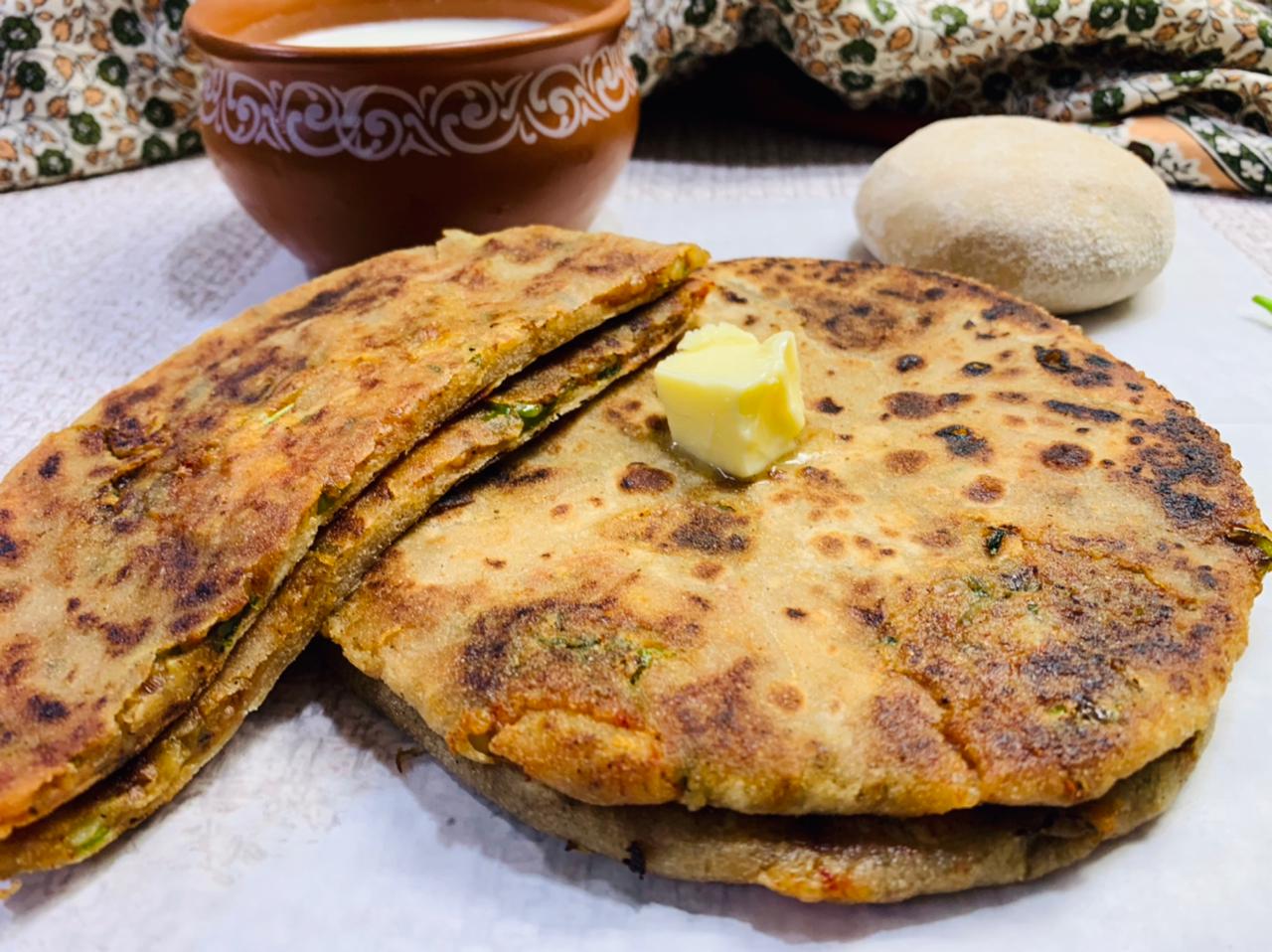 Heat a flat pan or tawa on medium heat. Transfer the rolled paratha onto the hot pan. Cook the side for 1-2 minutes on medium to hot heat until it is partially cooked and then flip over. Apply ½ teaspoon ghee/oil on the half-cooked side and flip again. Apply ghee/oil on the other side as well and press with a spatula/roti presser and cook the paratha until both sides have golden brown spots on them. Make sure to press the edges so that they get cooked as well.
Serve aloo paratha hot dolloped with butter, with a side of pickle and yogurt.