Honey Chilli Lotus Stem
Honey Chilli Lotus Stem is an Indo-Chinese dish of crispy lotus stem in a sweet, spicy sauce. This can be starters or even as finger food.
Lotus stem, also known as 'kamal kakdi' in Hindi and 'bhein' in Punjabi, is widely used in Indian, Chinese, and Japanese cuisine. Lotus stem is the edible portion of the lotus flower that grows under water. It is a powerhouse of nutrients as it is high in fibre and proteins, the chlorophyll in lotus stem acts as an antioxidant amongst some of its benefits.
It has a crunchy texture and a sweet flavour like that of a water chestnut and flavours and is used to make a variety of dishes, including curries and koftas. My daughter always orders this whenever we dine out. She loves the simple flavours of garlic, chilli and crunch of sesame seeds with the sweetness of honey. The honey added to it not only elevates that taste but also balances the spices.
This recipe of Honey Chilli Lotus Stem is super simple and straightforward to make. I have deep fried the lotus stem, but they can also be shallow fried, and the result is equally amazing!
If you like Indo-Chinese flavours then you might also like Crispy Chilli Lotus Stem, Chilli Baby Corn, Chilli Water Chestnut, Crispy Chilli Corn, Indo-Chinese Chilli Paneer, Asian Chilli Garlic Prawns, and Chinese Style Crispy Vegetables to name a few.
Ingredients
500 grams lotus stem peeled and diagonally chopped into 1 cm disc
For The Batter
2 tablespoons plain flour
2 teaspoons corn flour
1 teaspoon salt
1 teaspoon white pepper
Oil for deep frying
For The Sauce
2 teaspoons sesame oil
2 teaspoons finely chopped garlic
2 teaspoons red chilli flakes
2 teaspoons sesame seeds
2 teaspoons vinegar
2 teaspoons red chilli sauce
2 teaspoons soy sauce
2 teaspoons schezwan sauce
Salt to taste
1 teaspoon white pepper
2 tablespoons corn flour
2 tablespoons honey
2 tablespoons finely chopped spring onions
Directions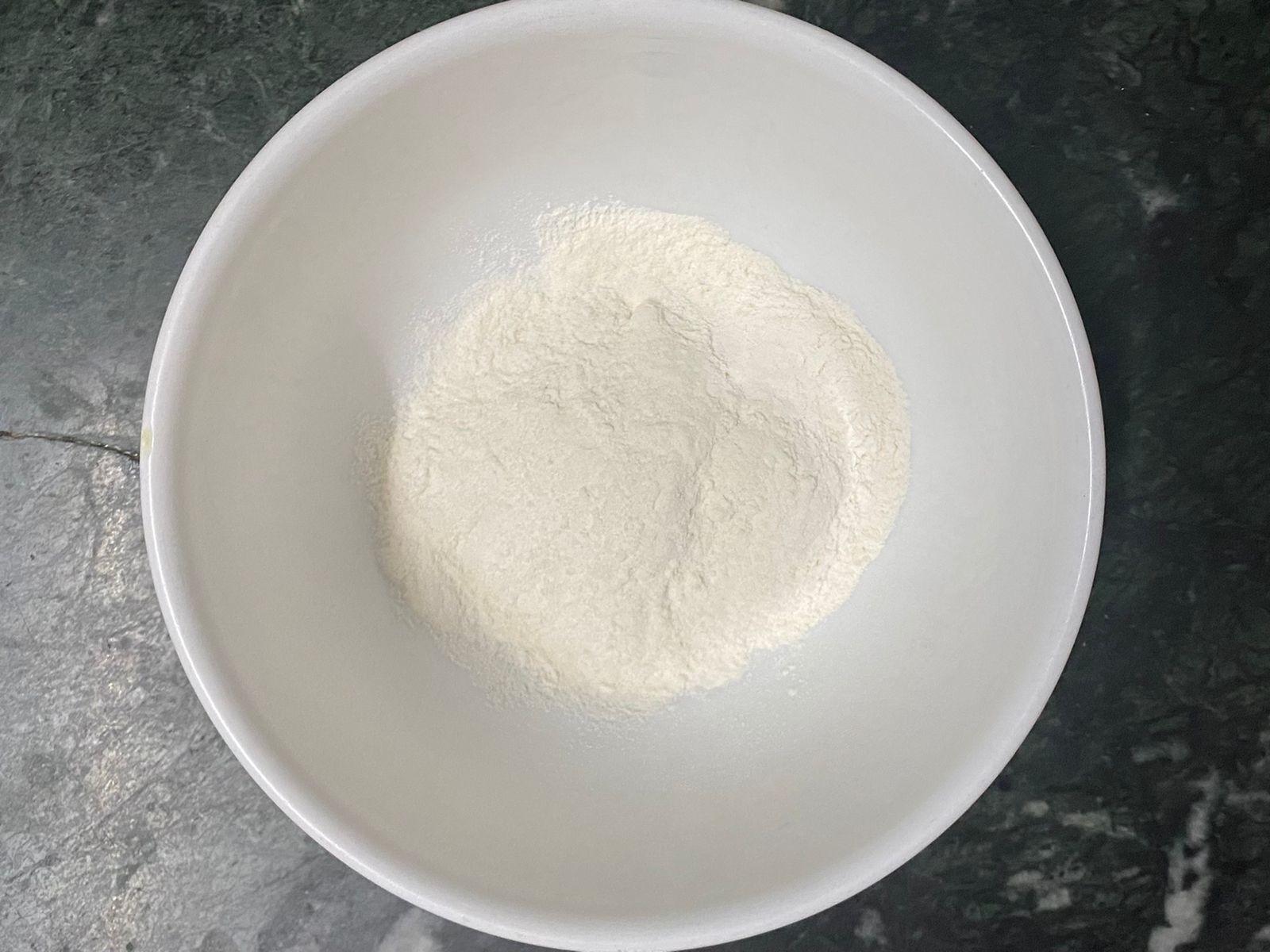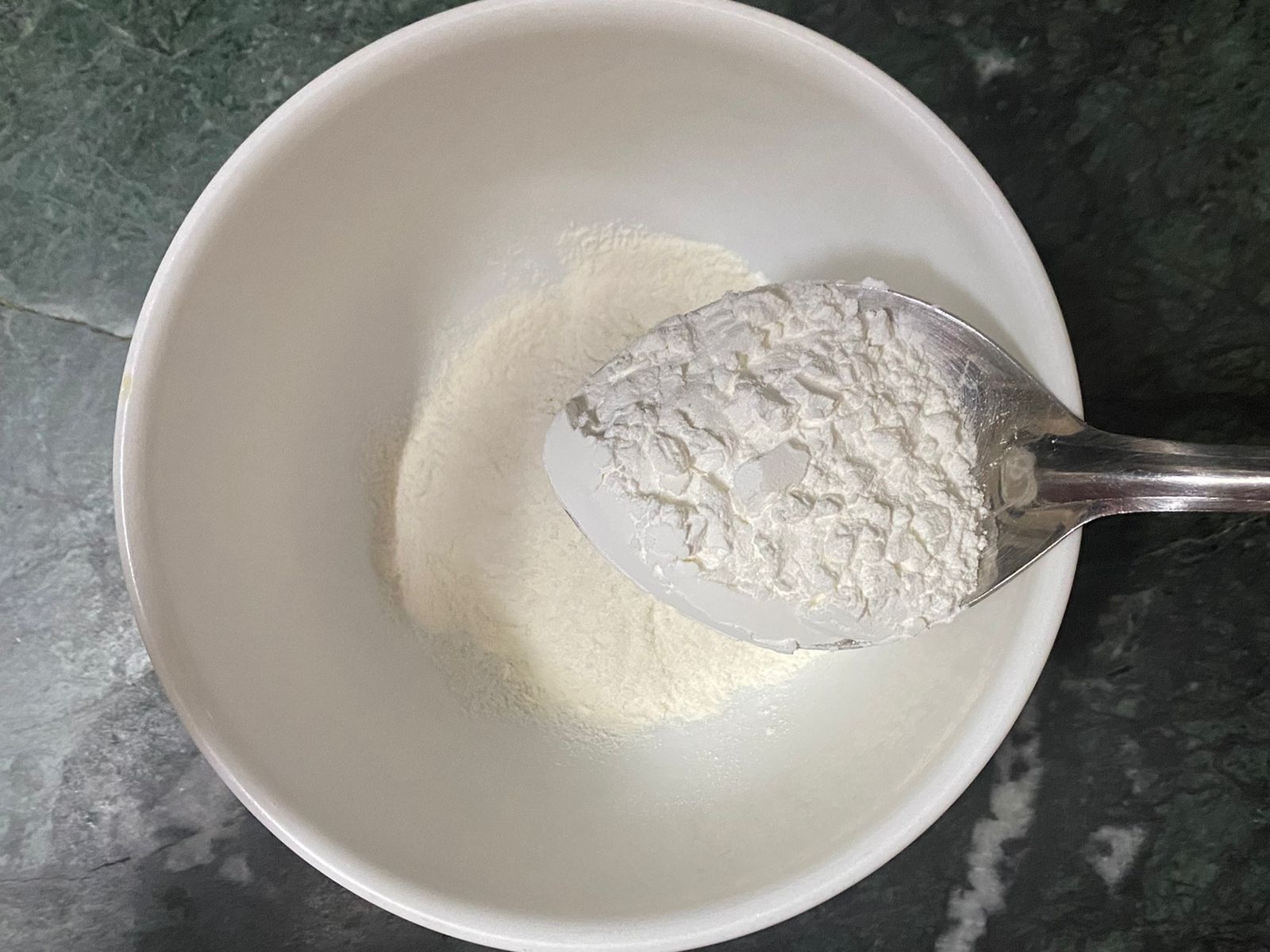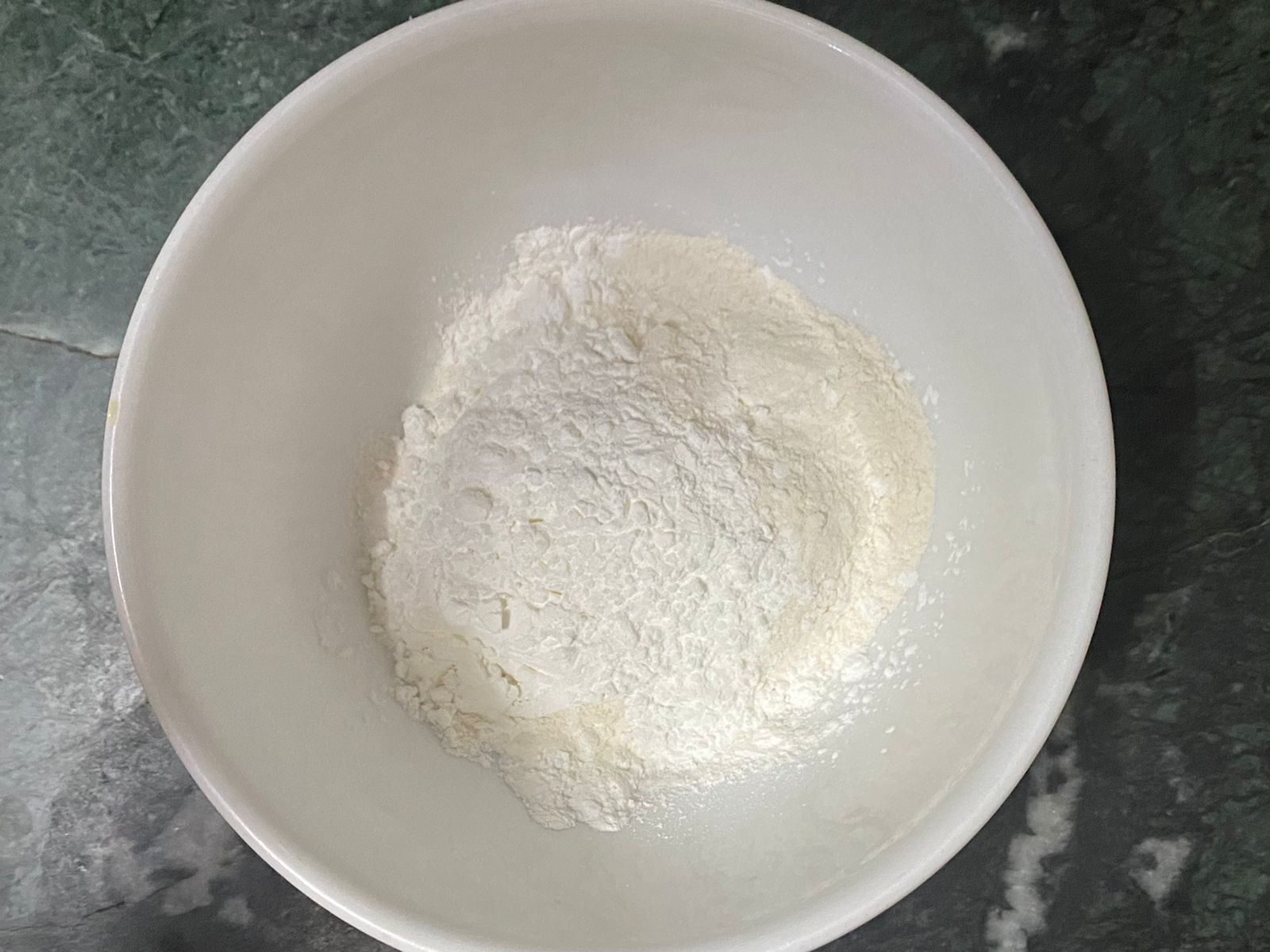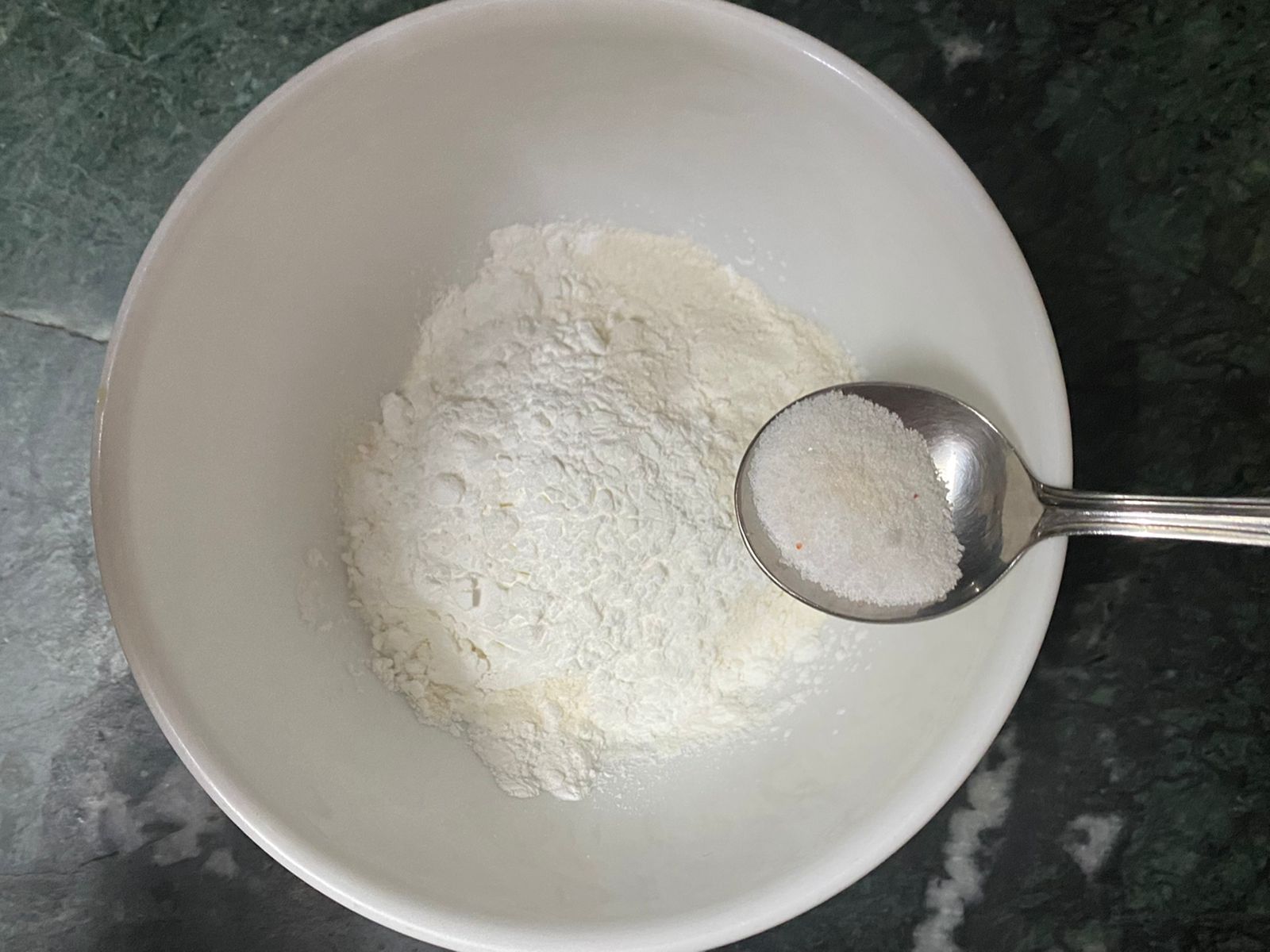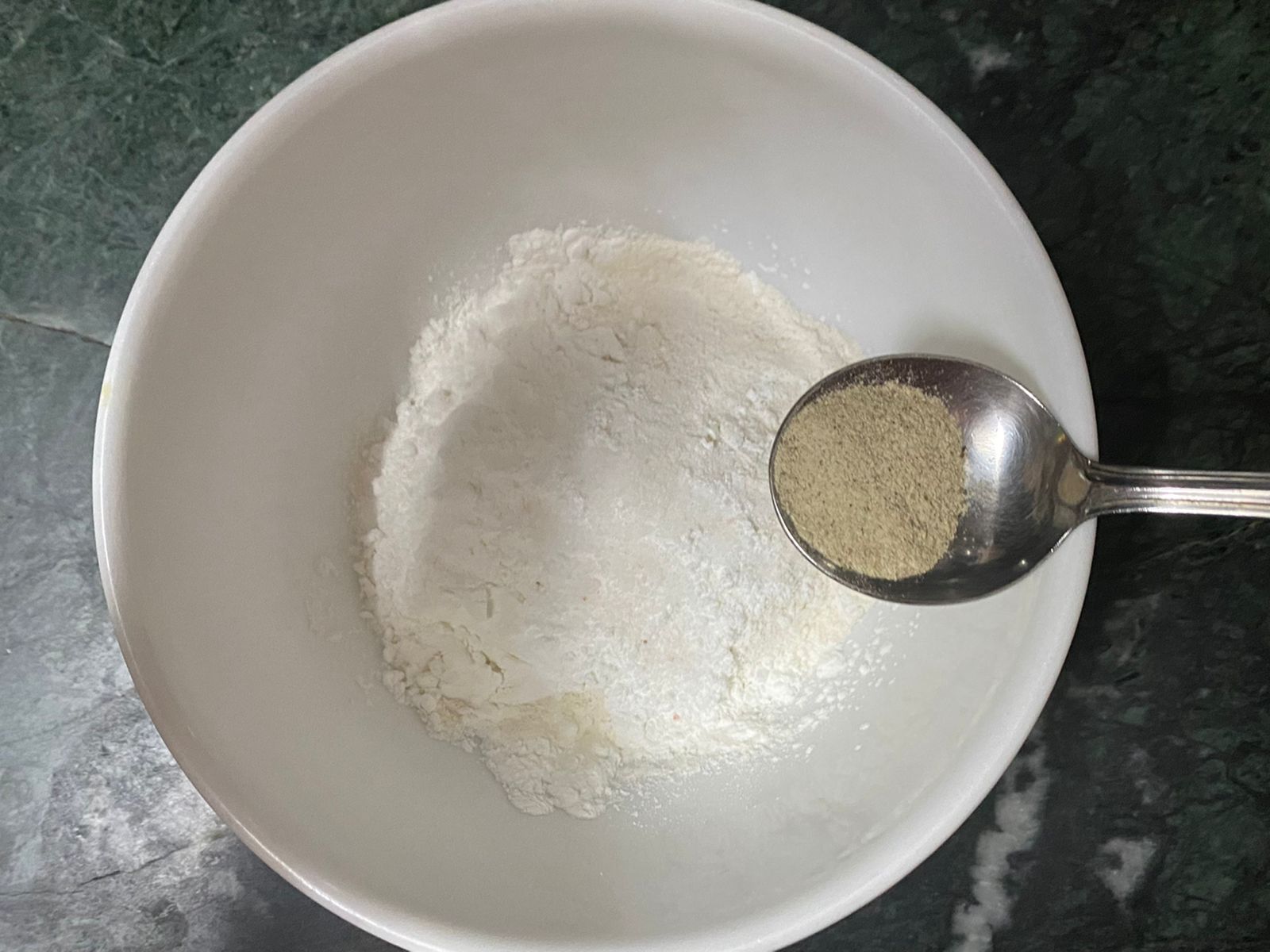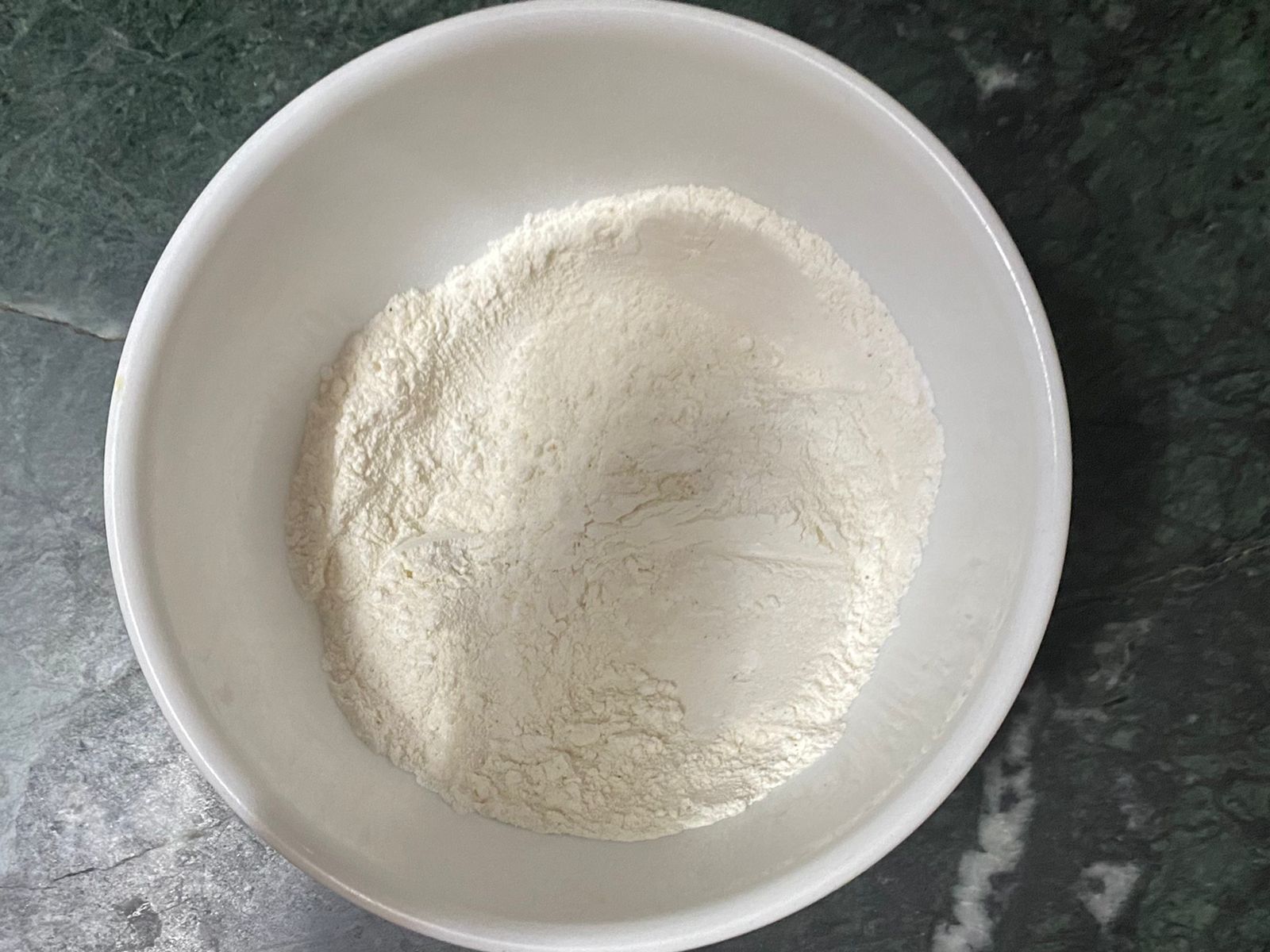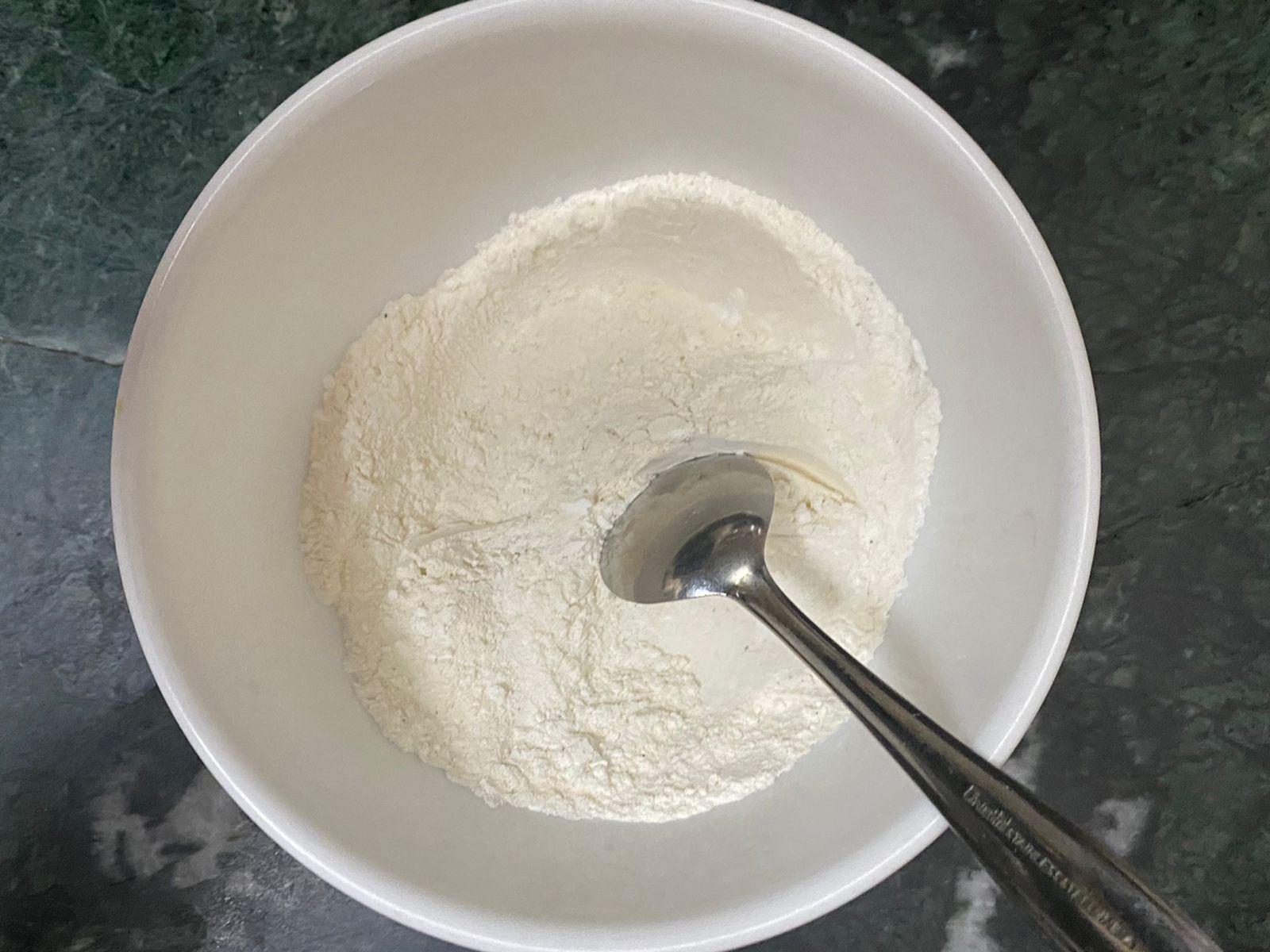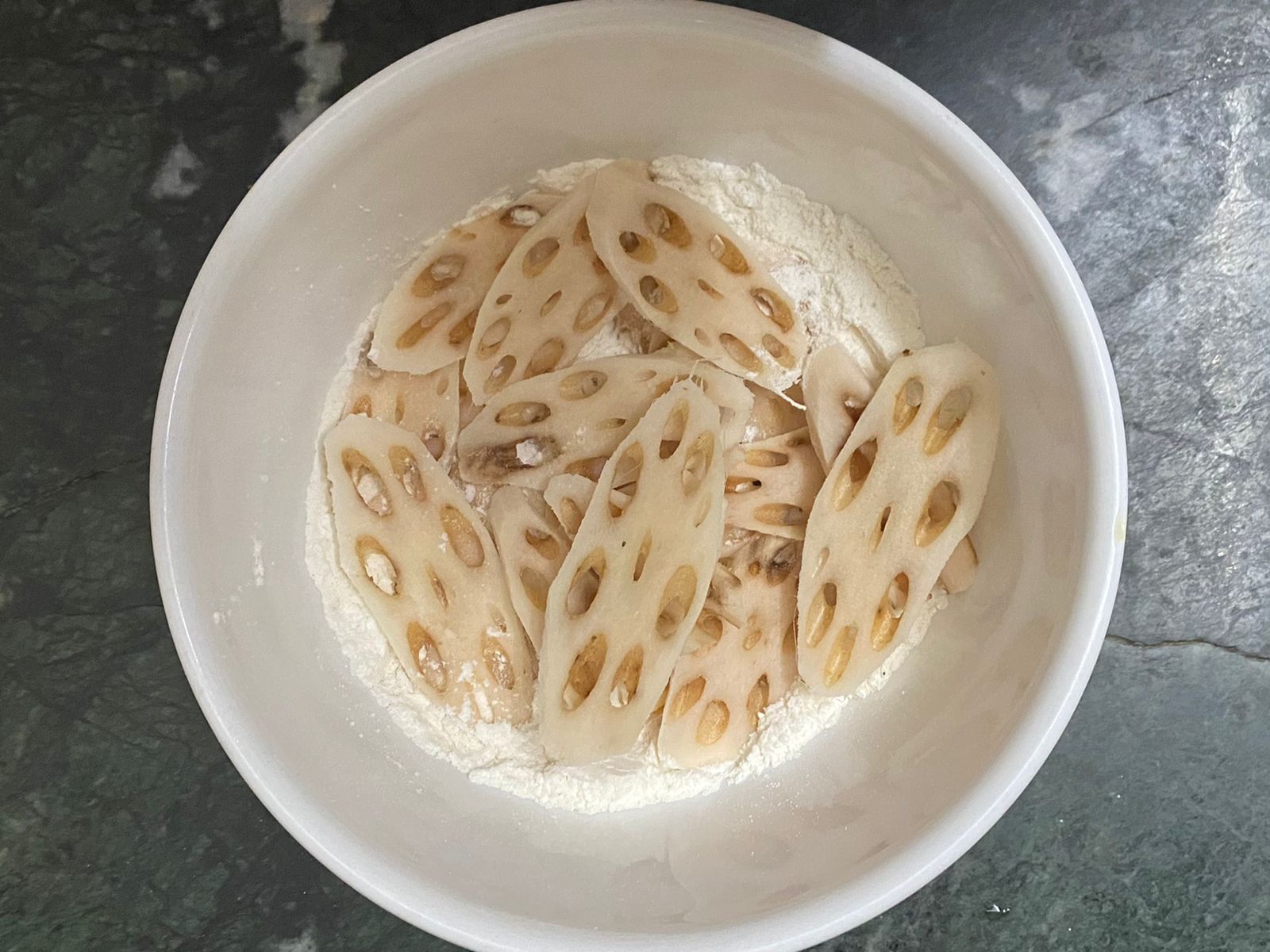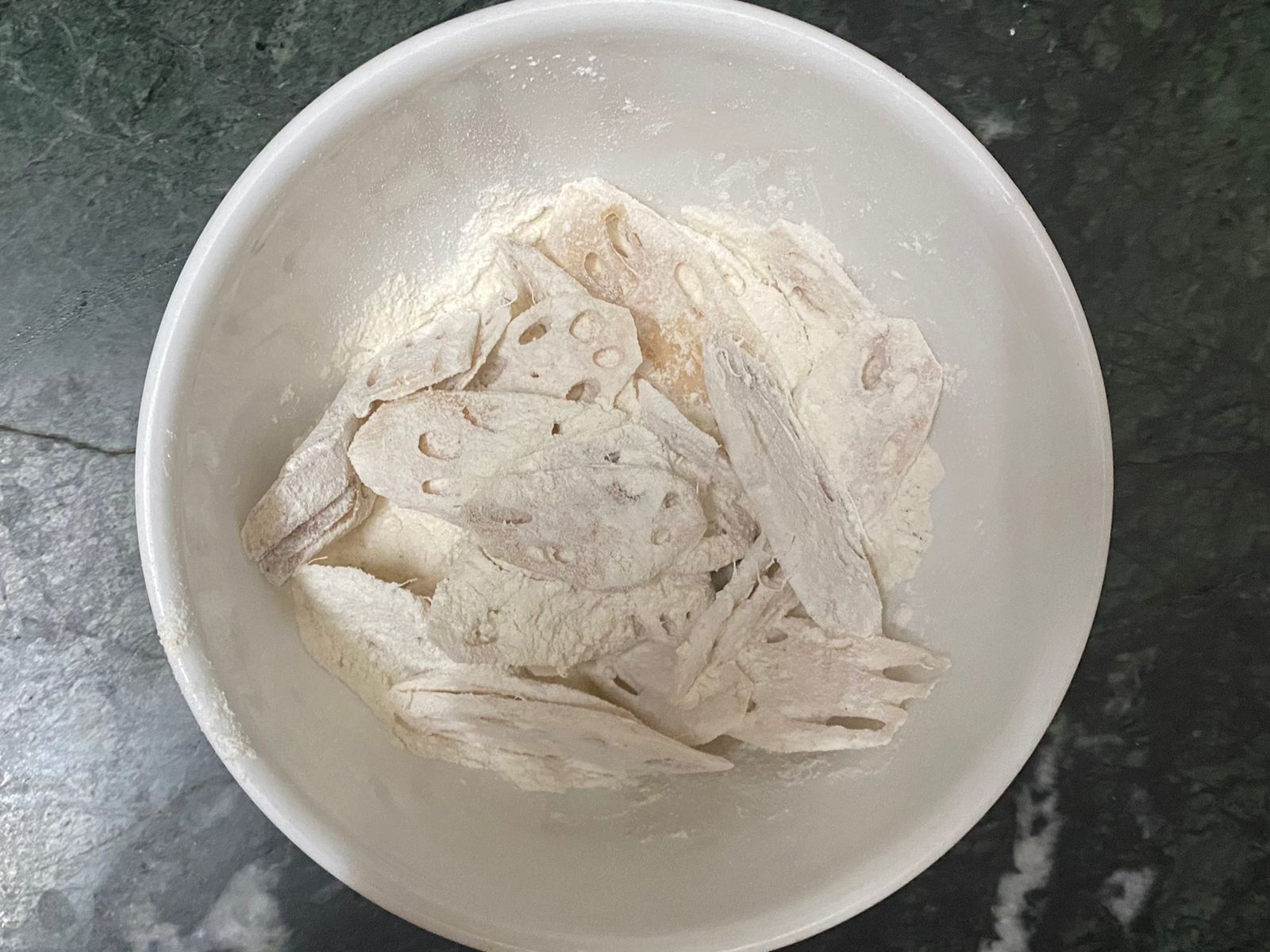 In a bowl mix together plain flour, corn flour, salt and white pepper. Add the lotus stems and toss until all the pieces are coated.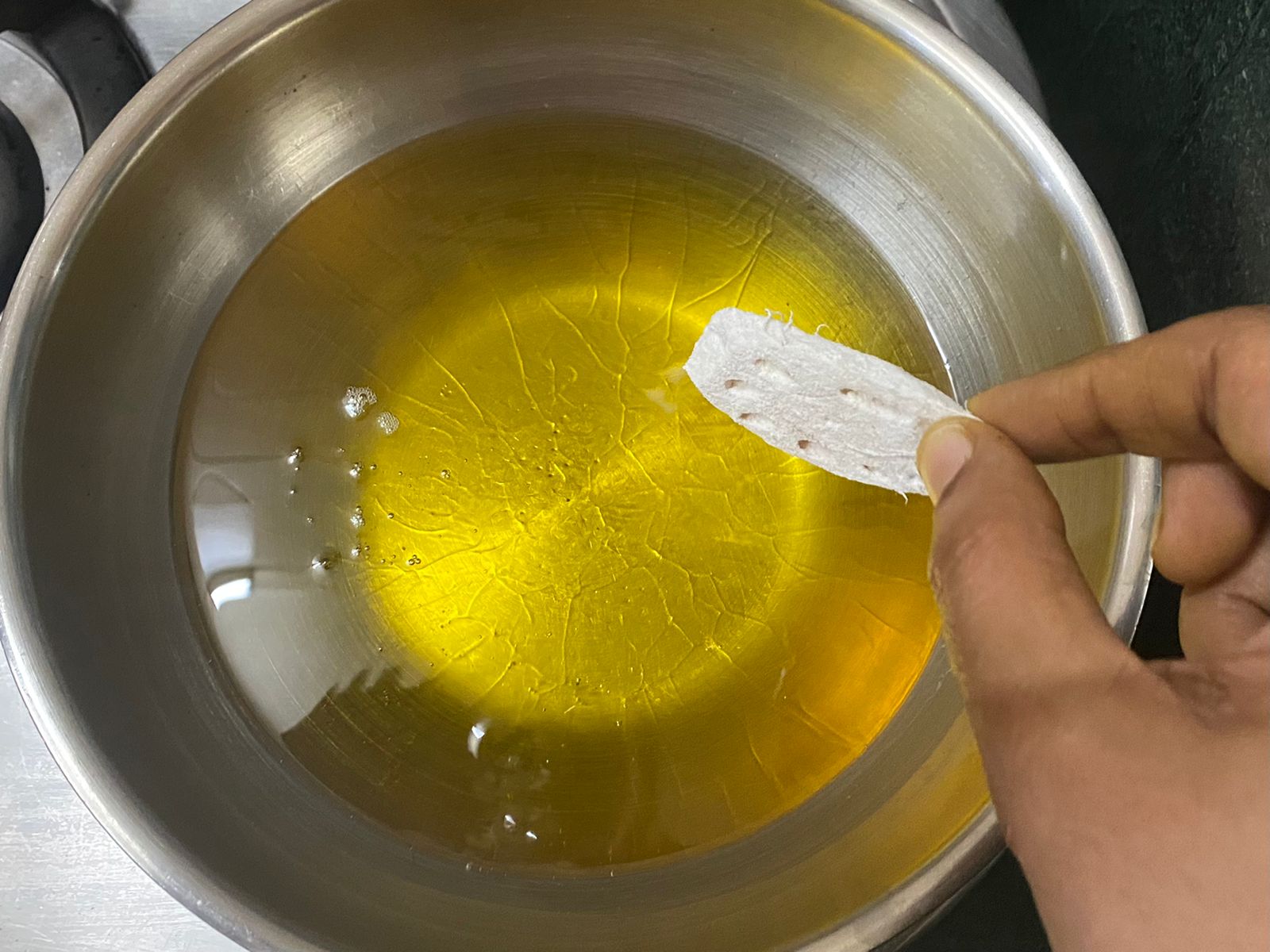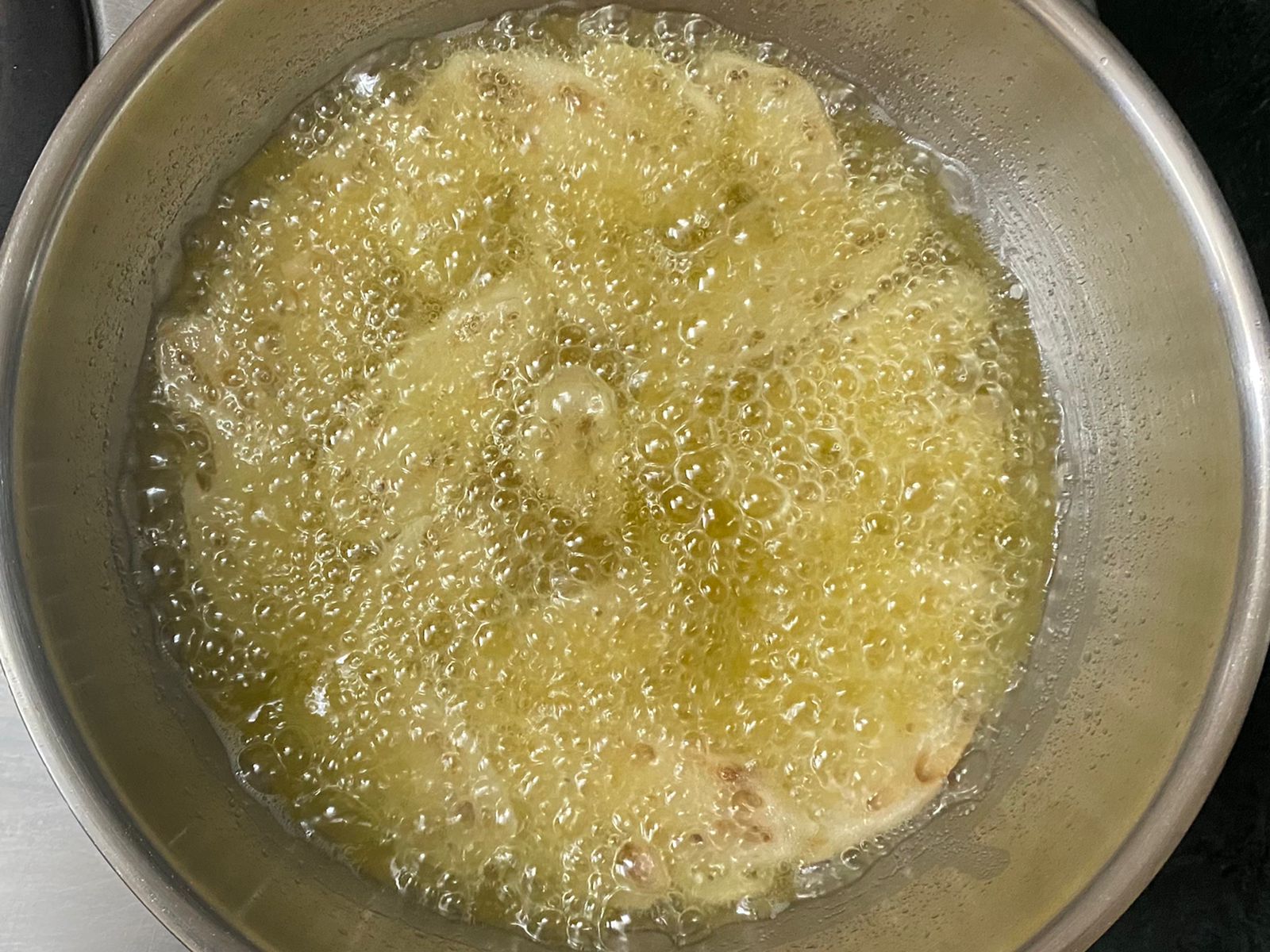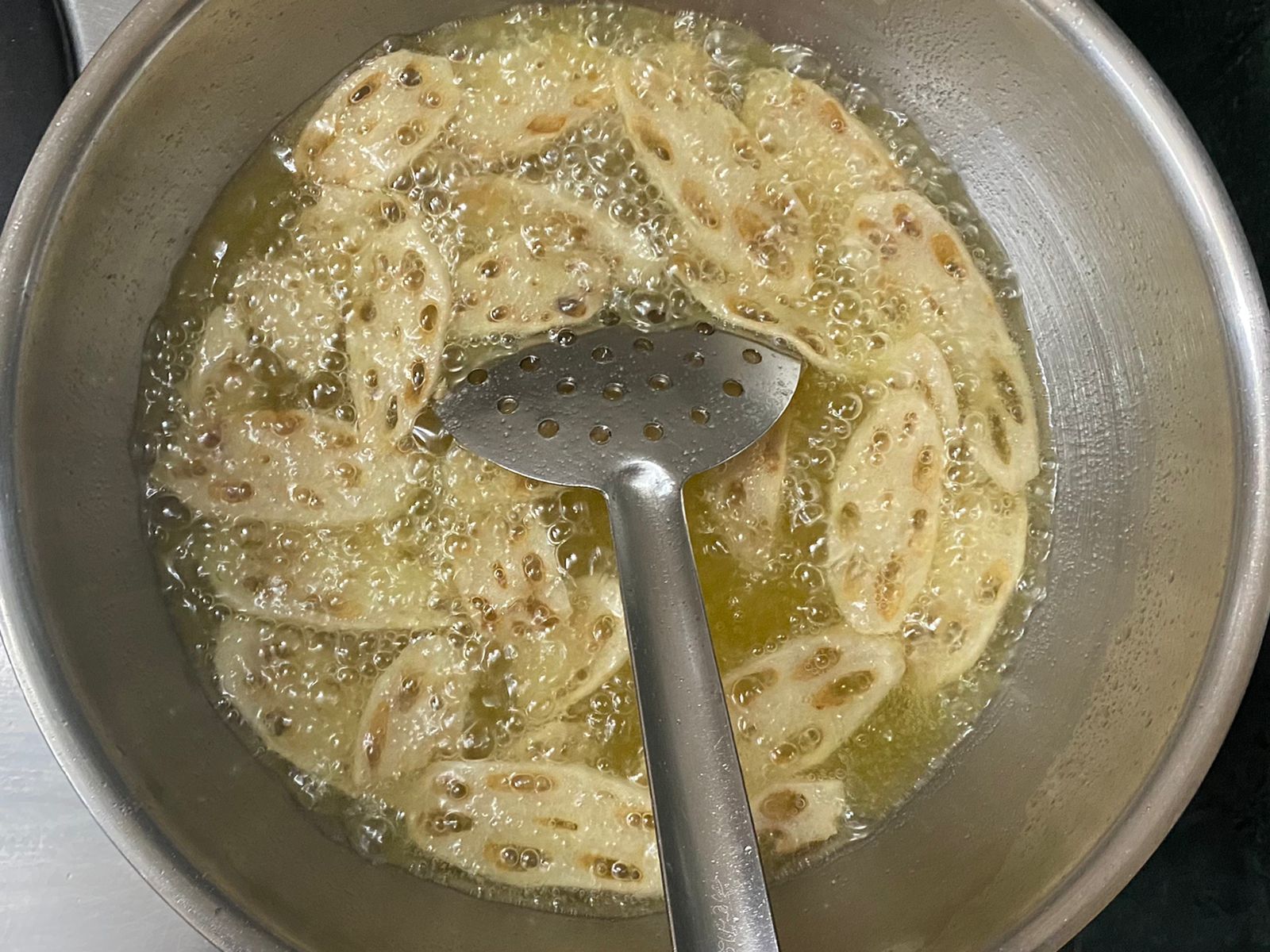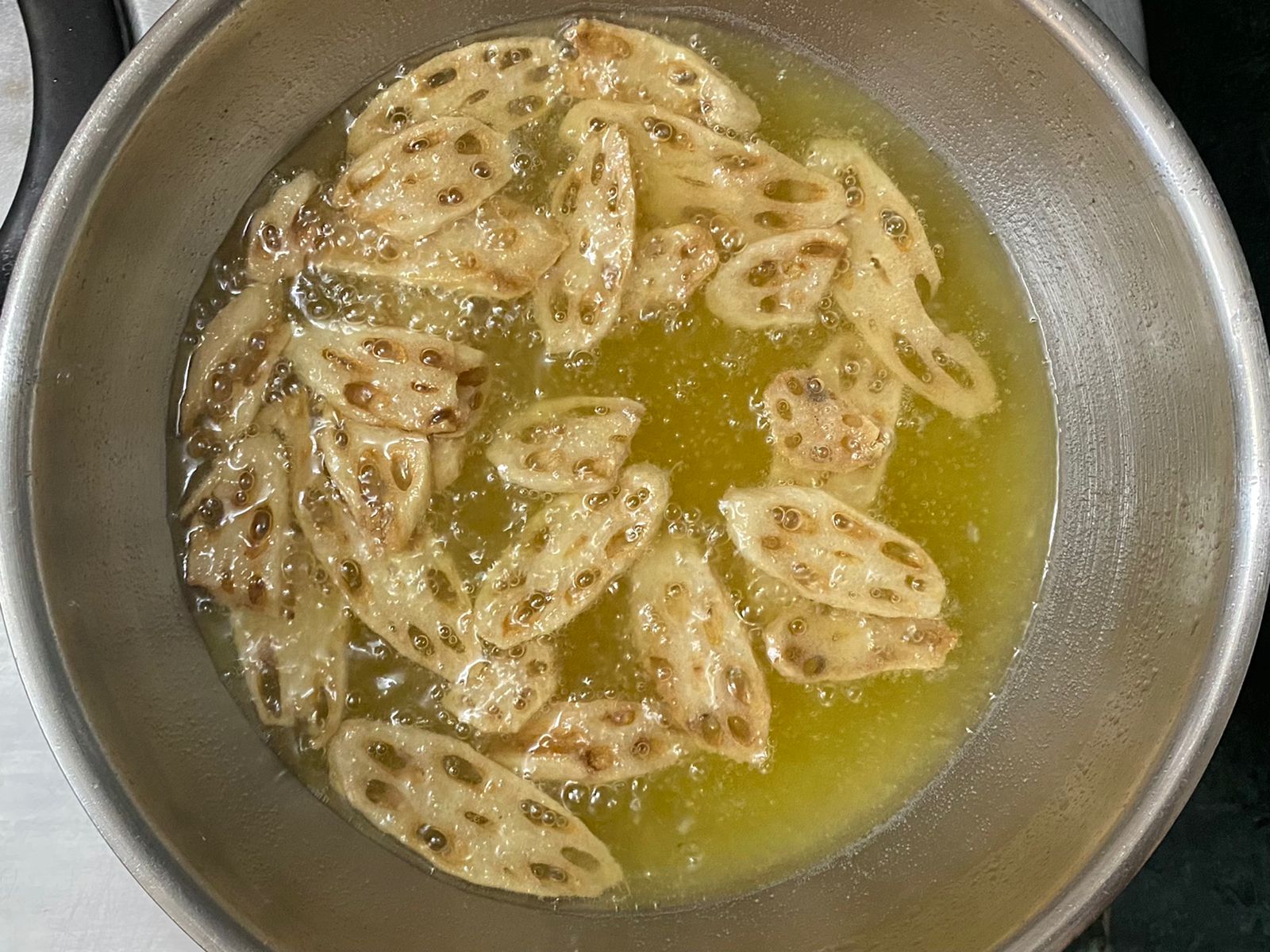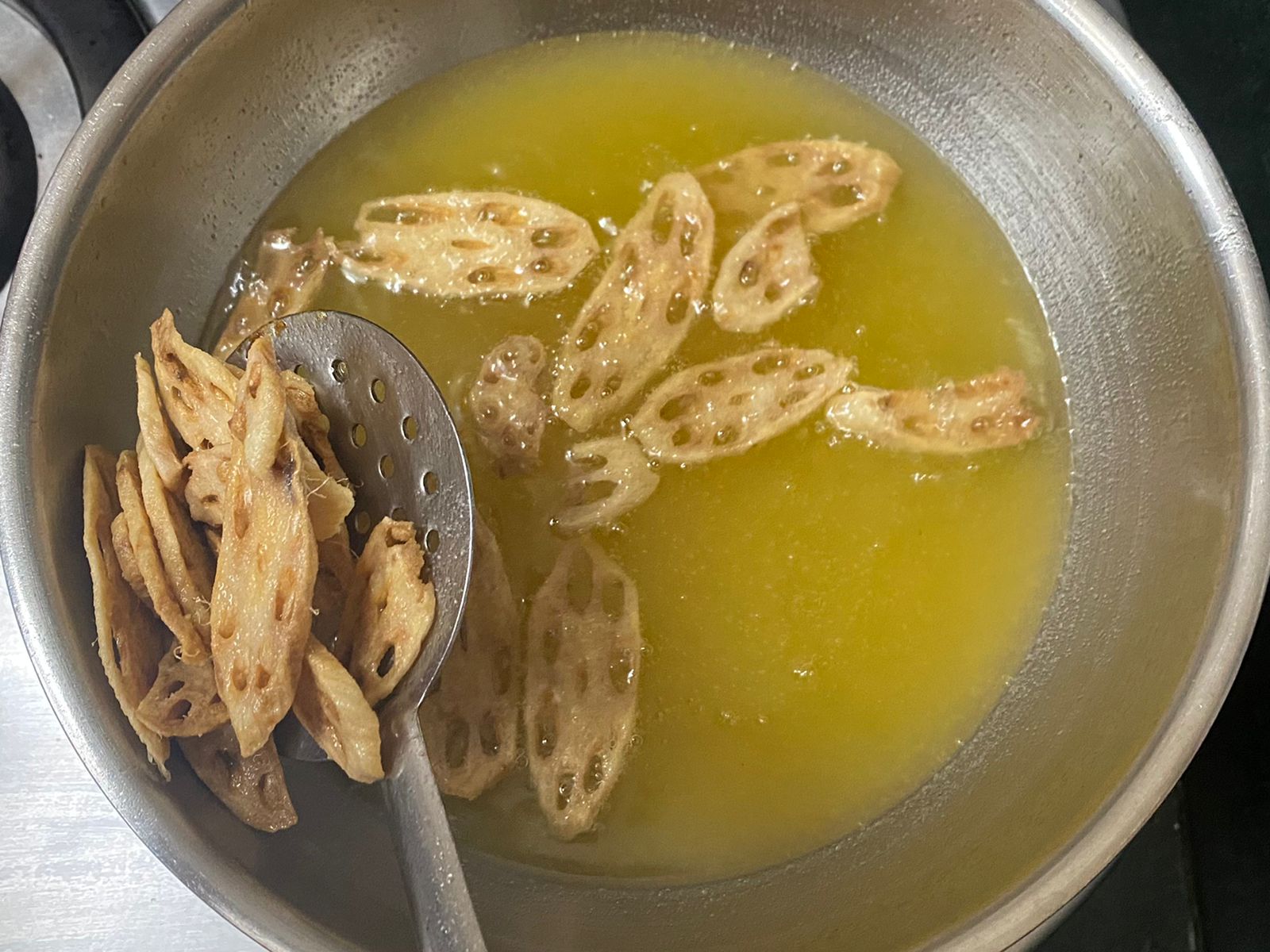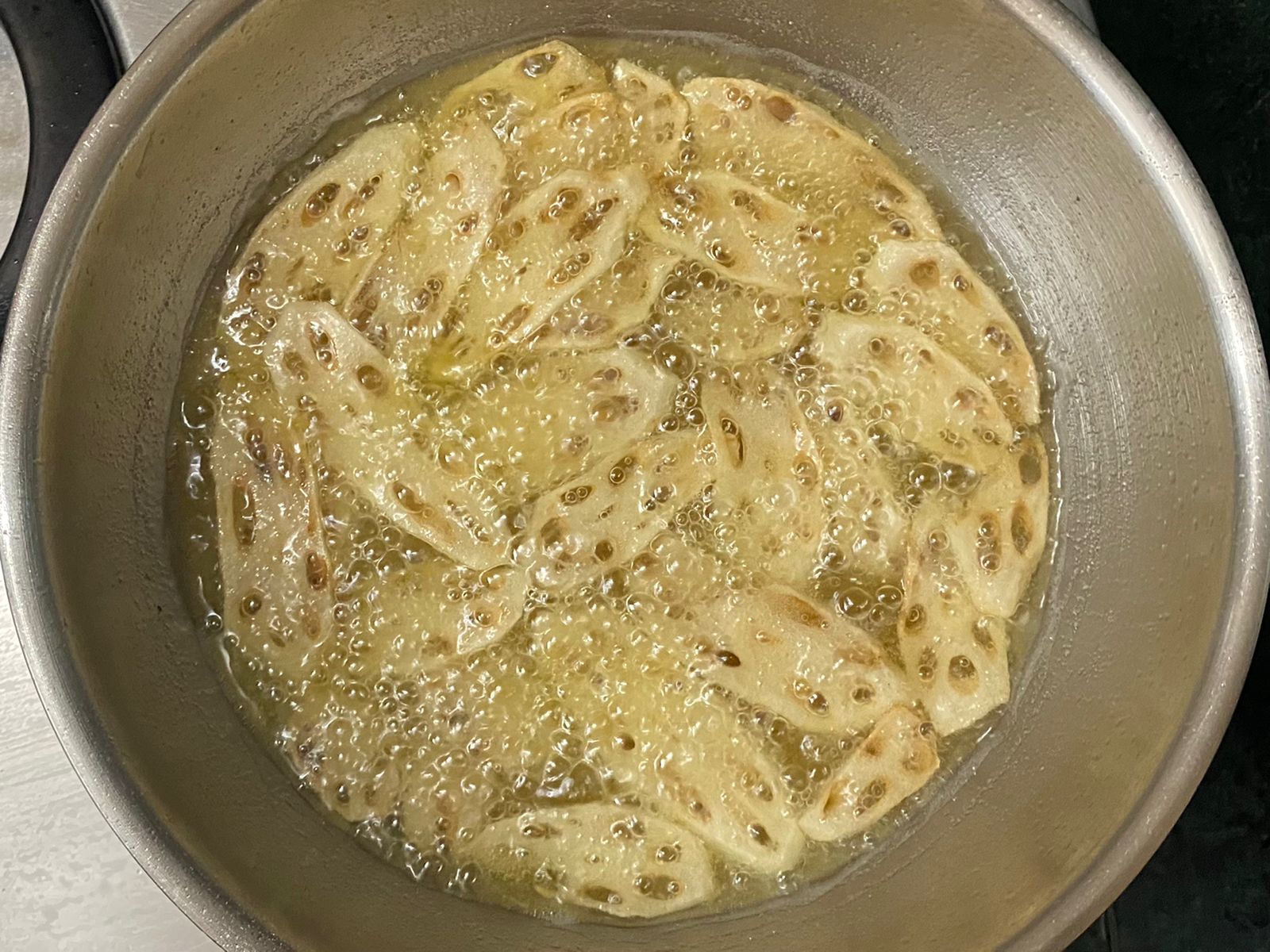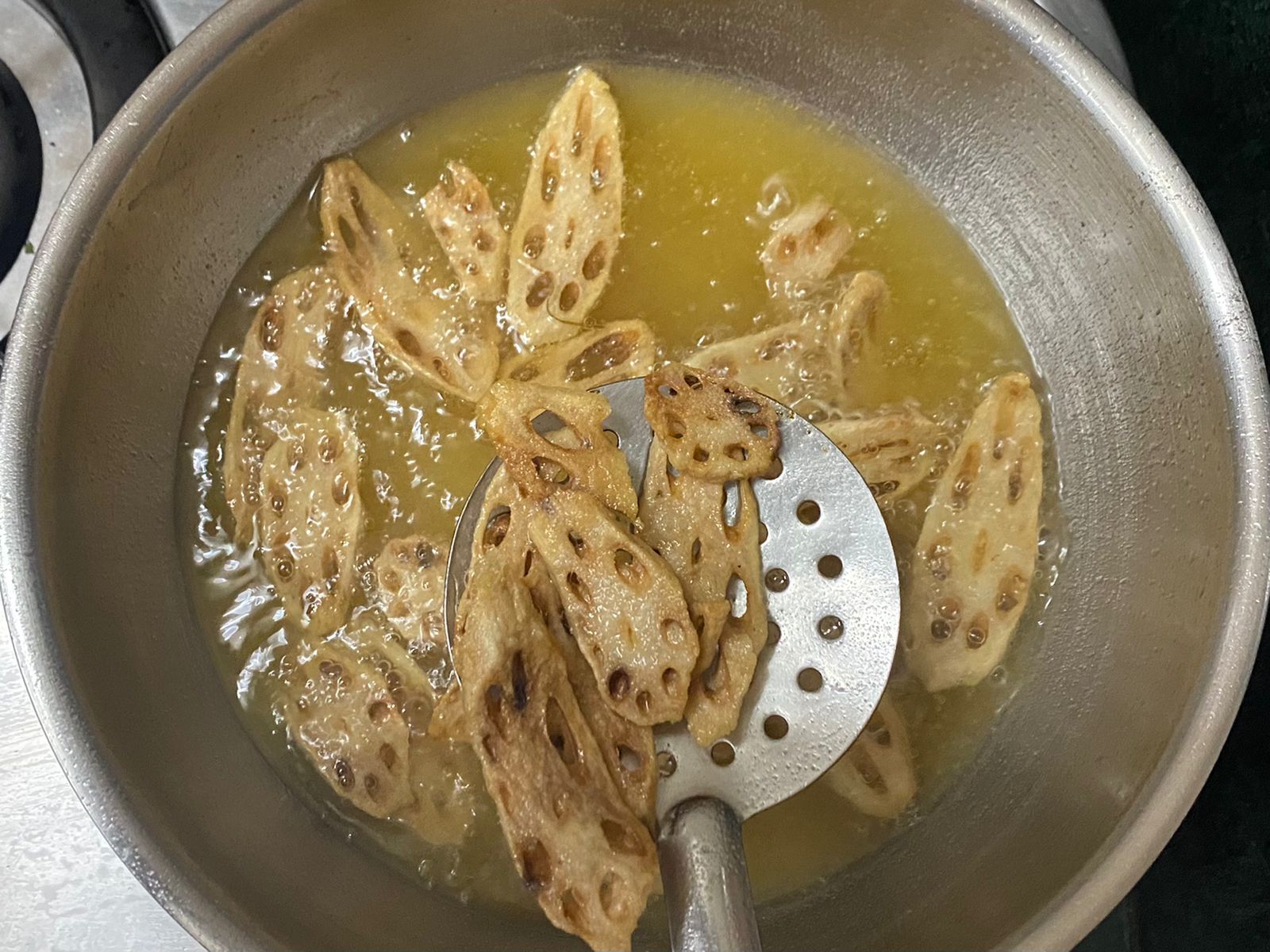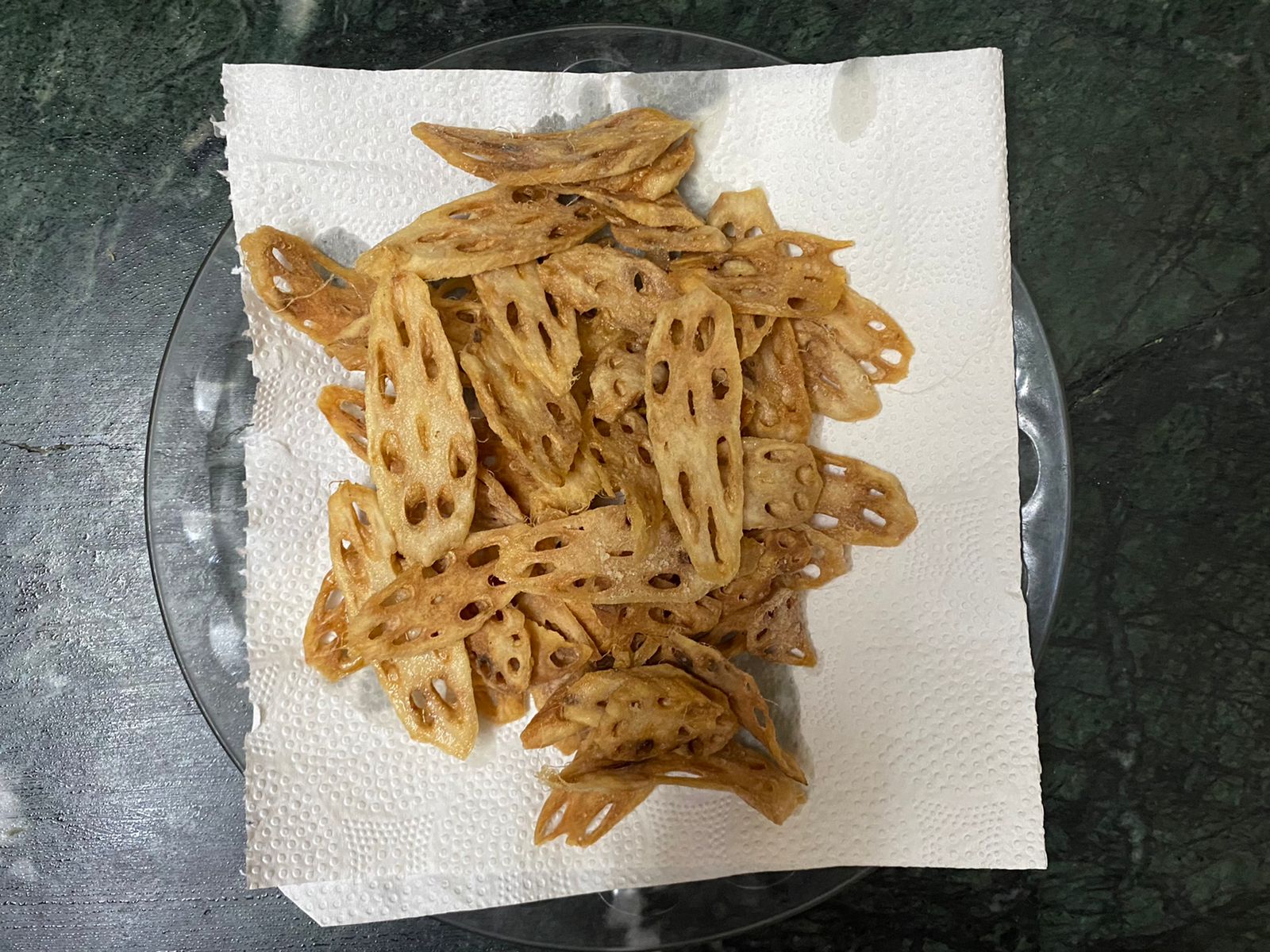 Heat oil for frying. To check if the oil is ready for frying add one piece of coated lotus root in the oil. If it comes steadily and quickly on the surface, then that means the oil is at the right temperature to fry.
Gently slide each lotus stem in the hot oil and fry them on medium heat for 3-4 minutes or until they turn golden and crisp on all sides. I prefer to fry them in batches.
Use a slotted spoon to fish them out from the oil. Drain the lotus stems on a kitchen roll/ absorbent paper to soak up excess oil.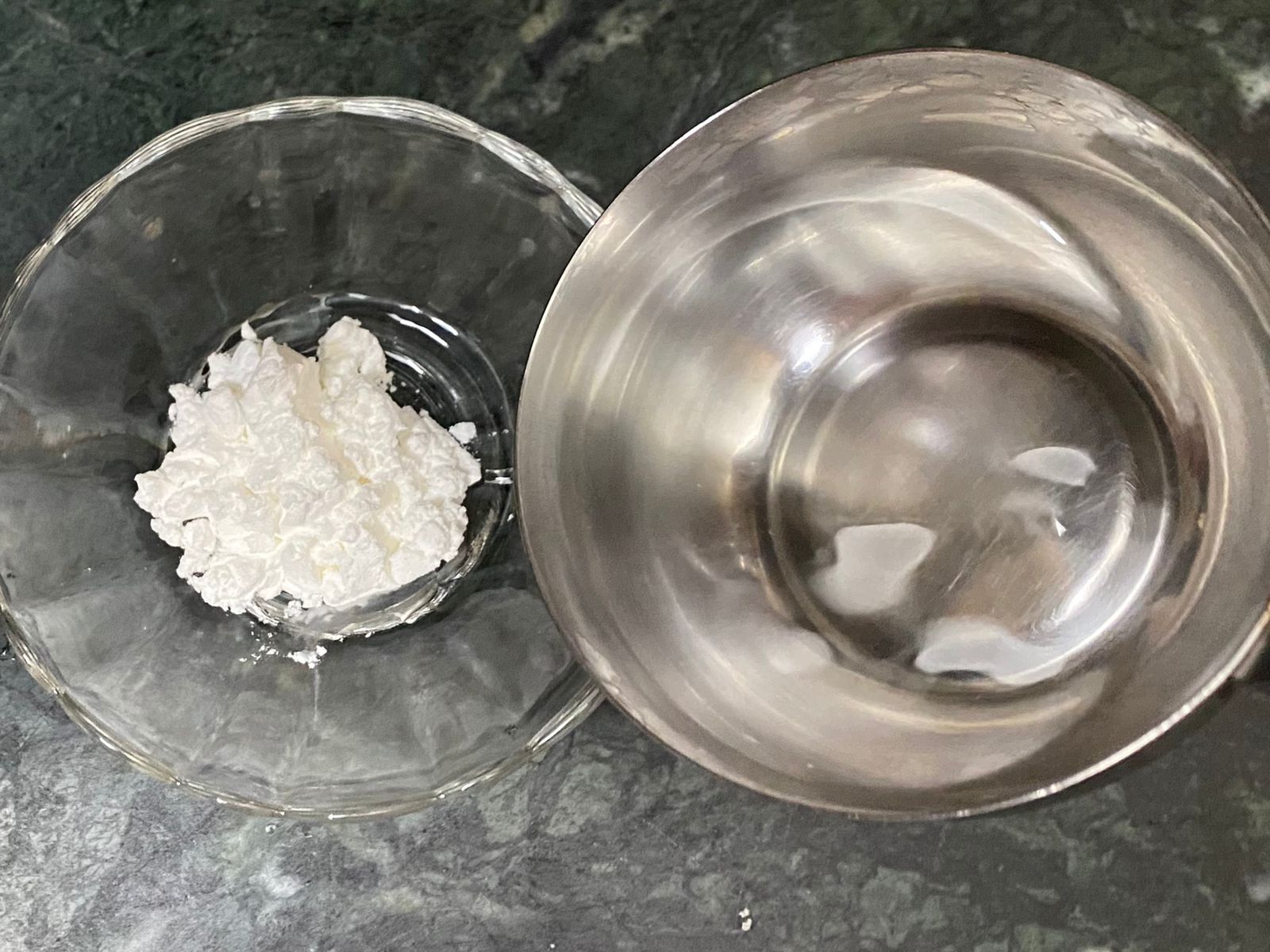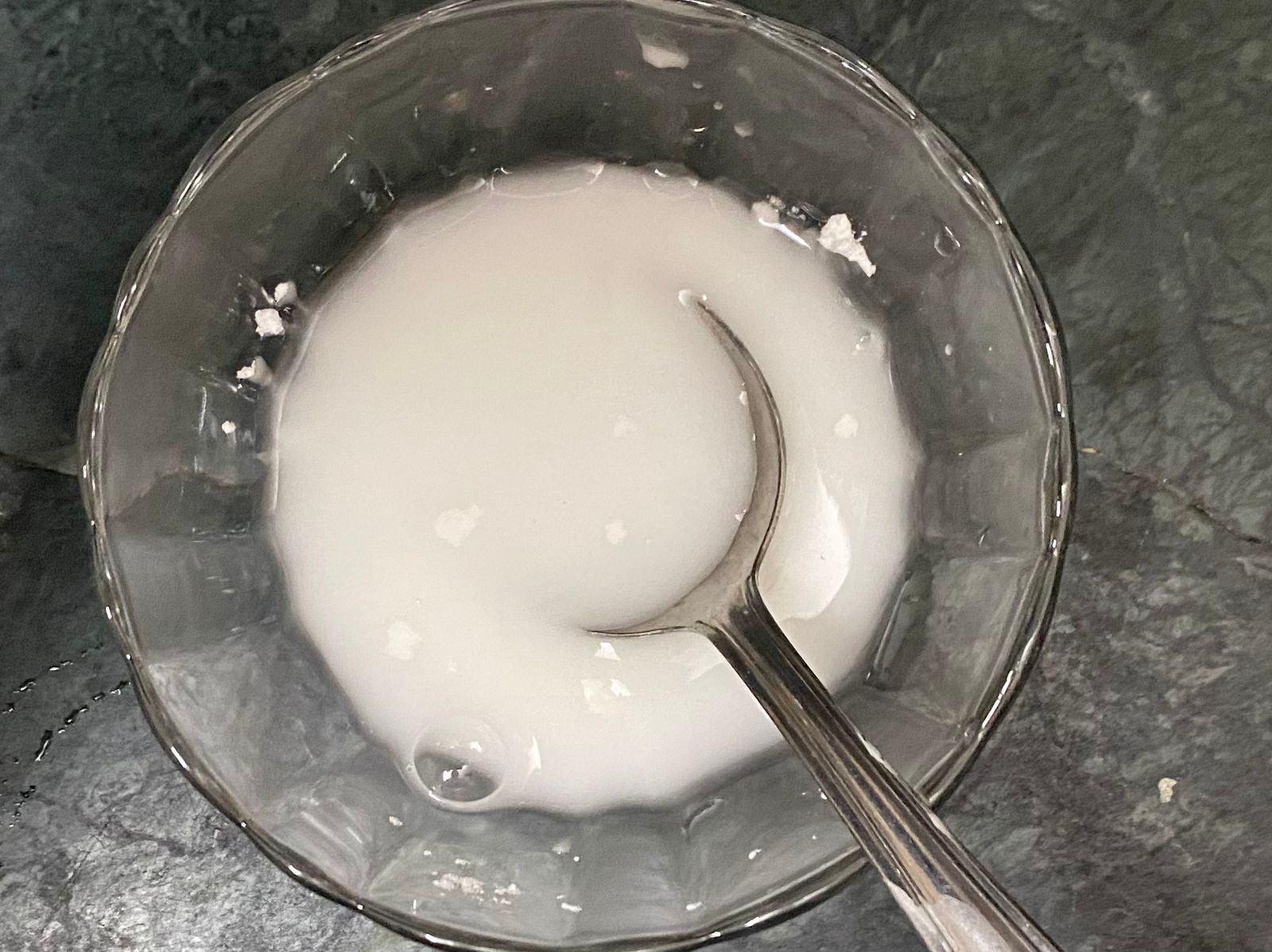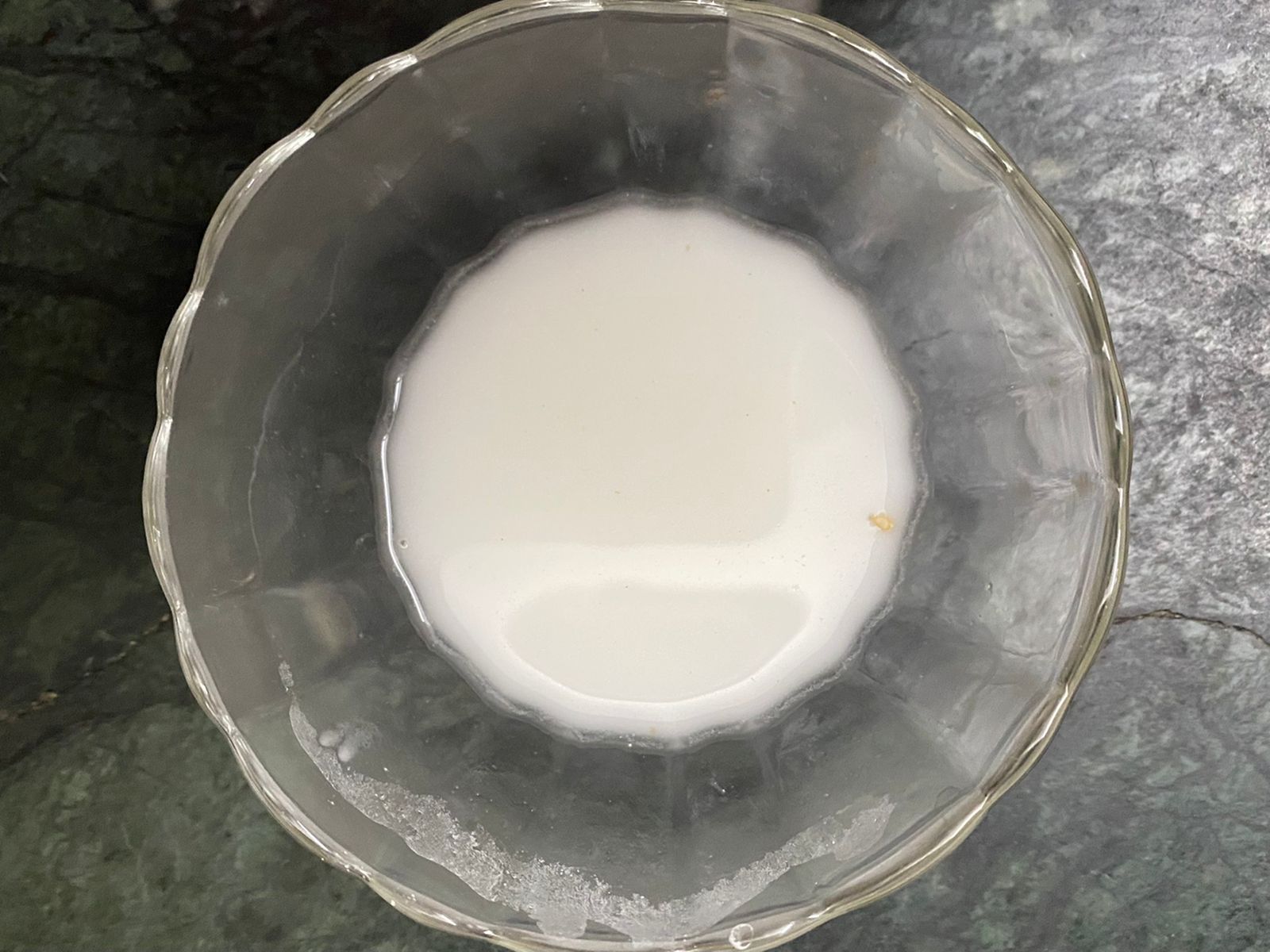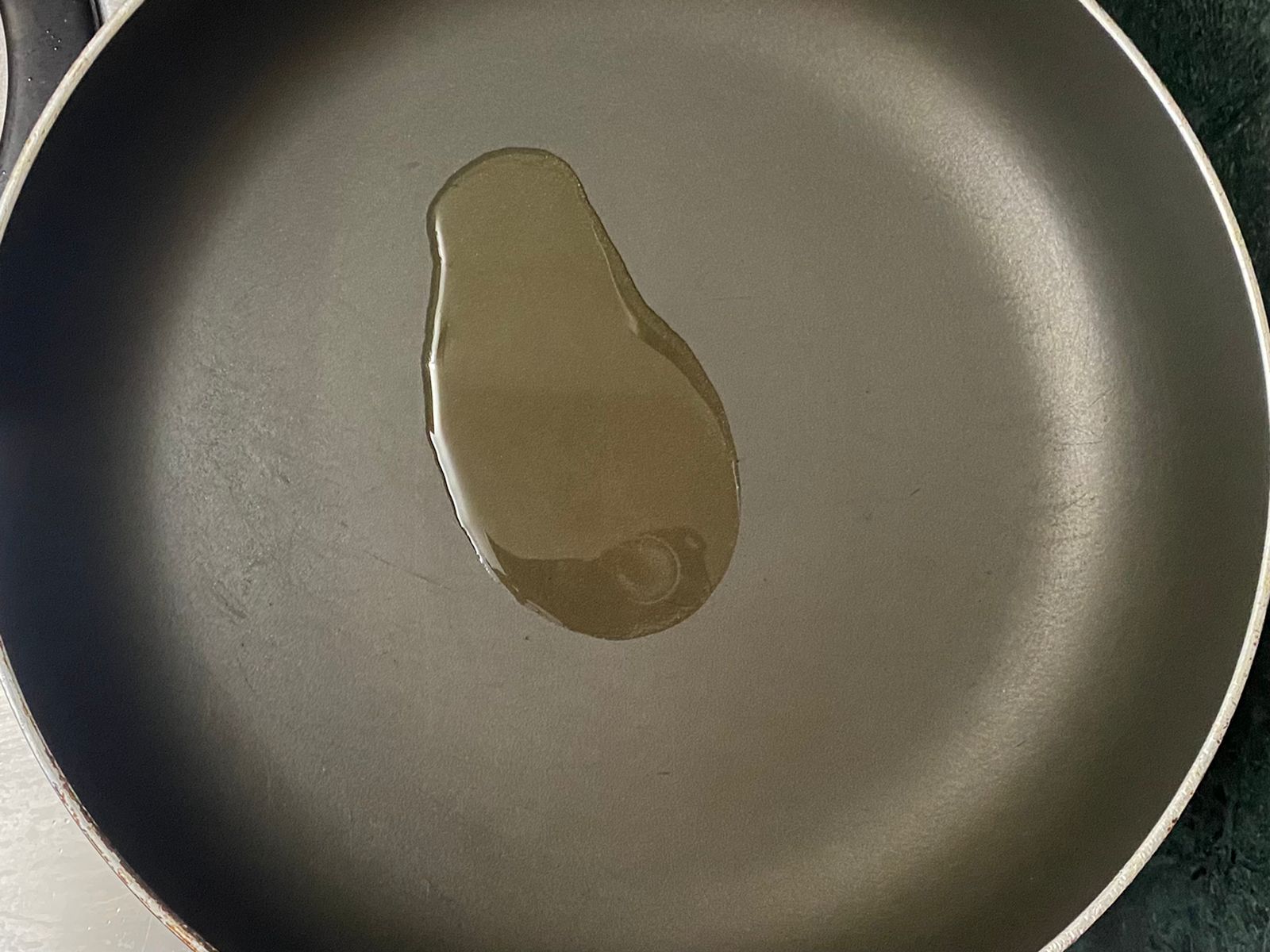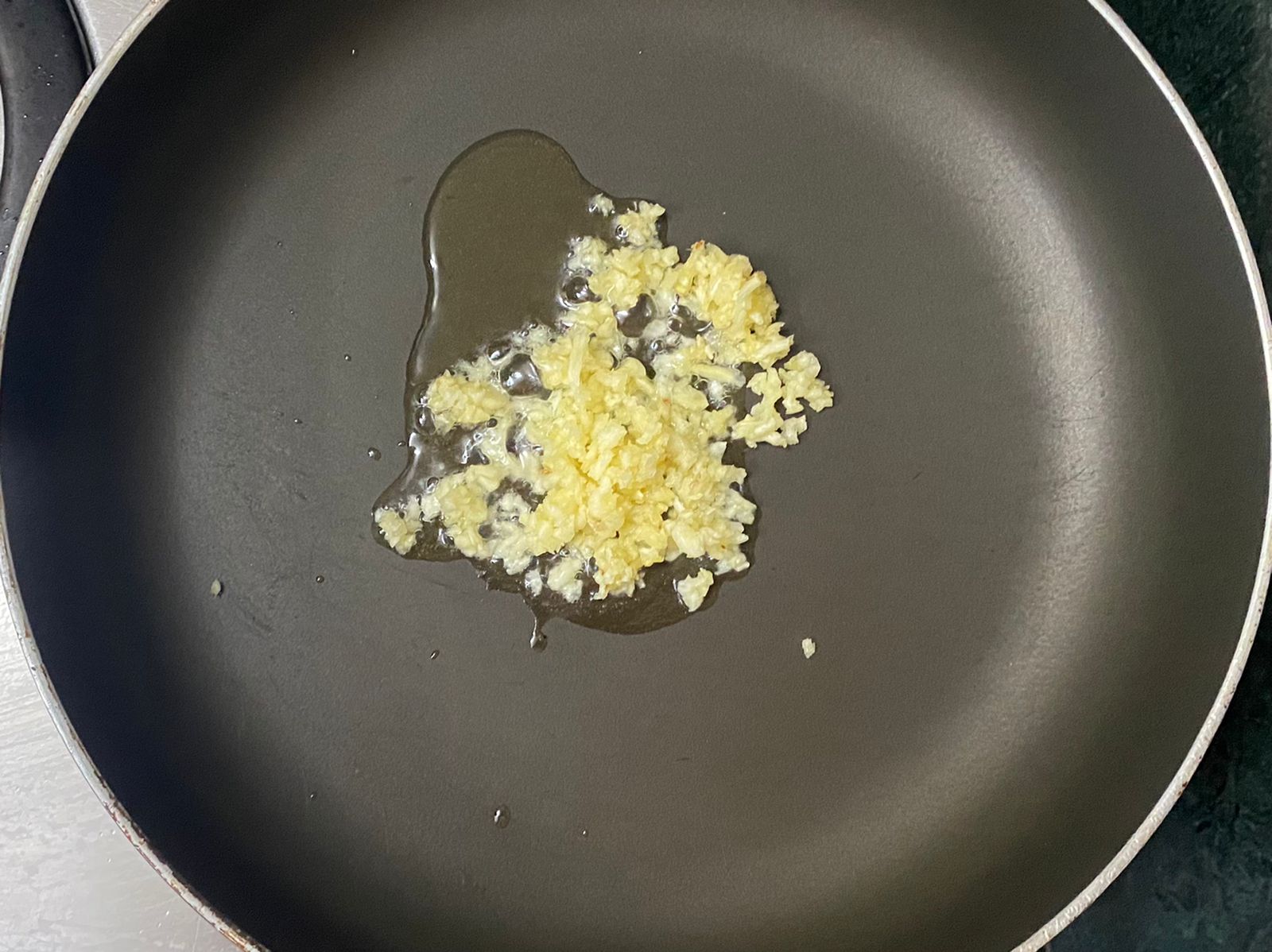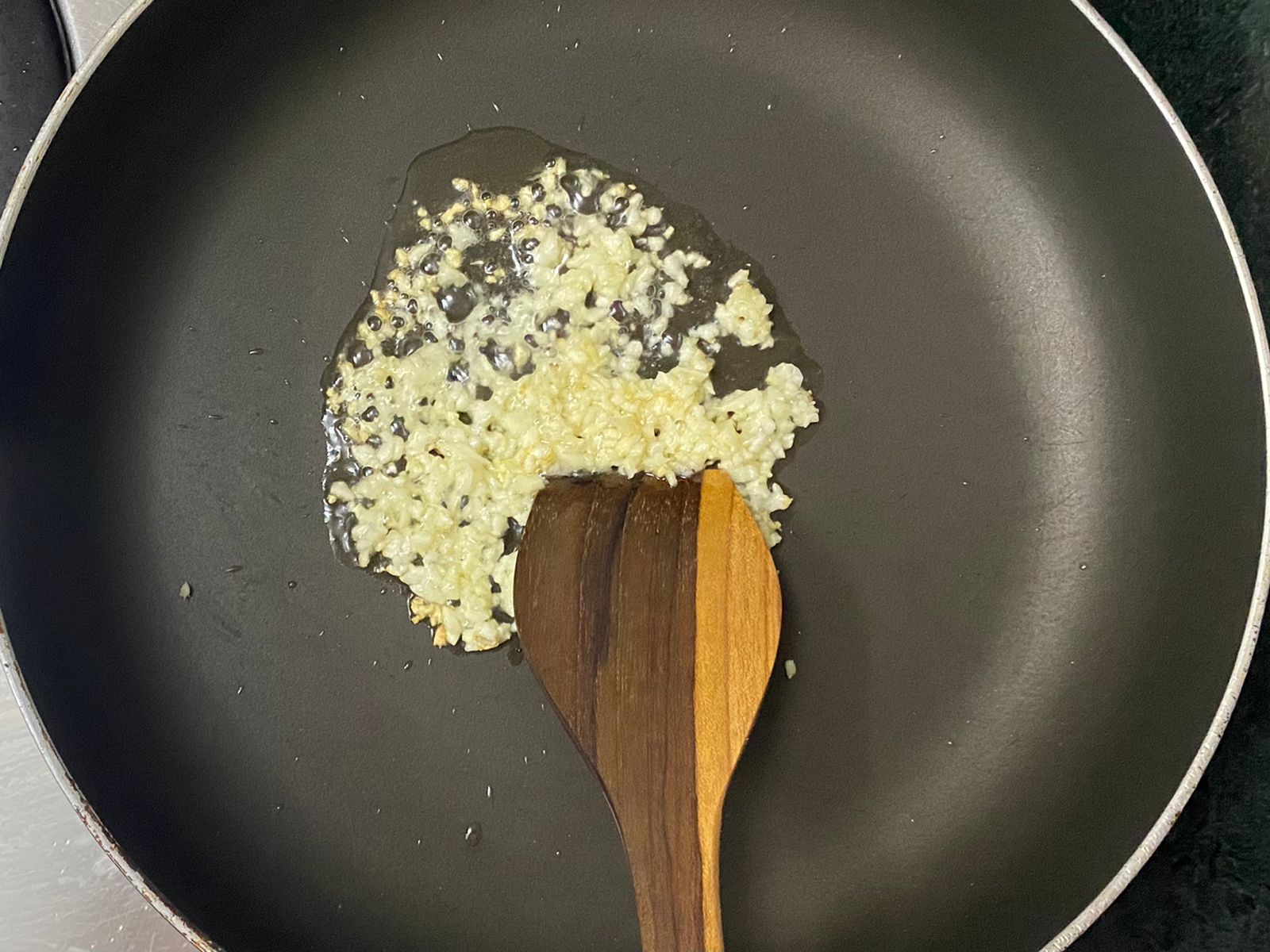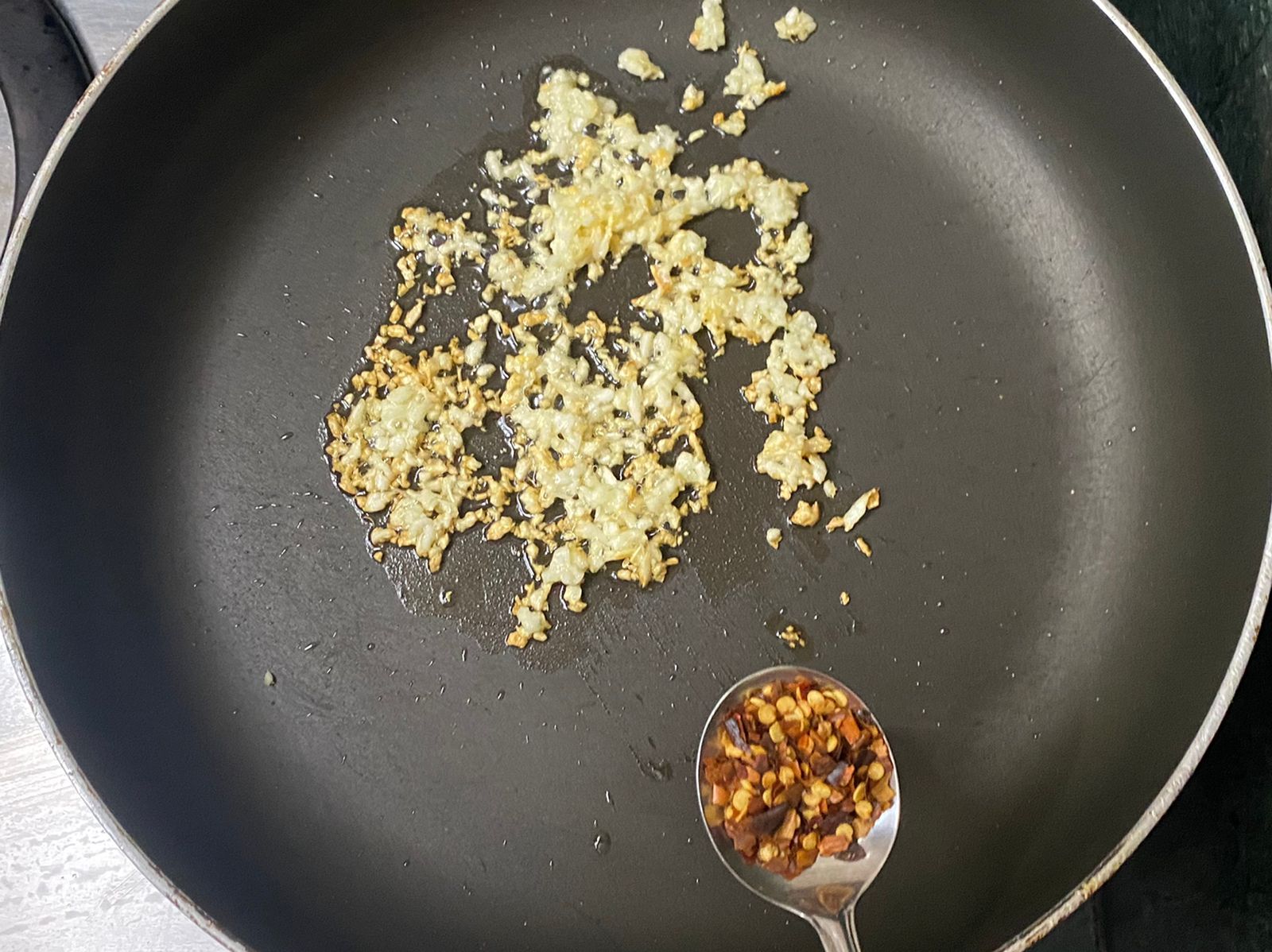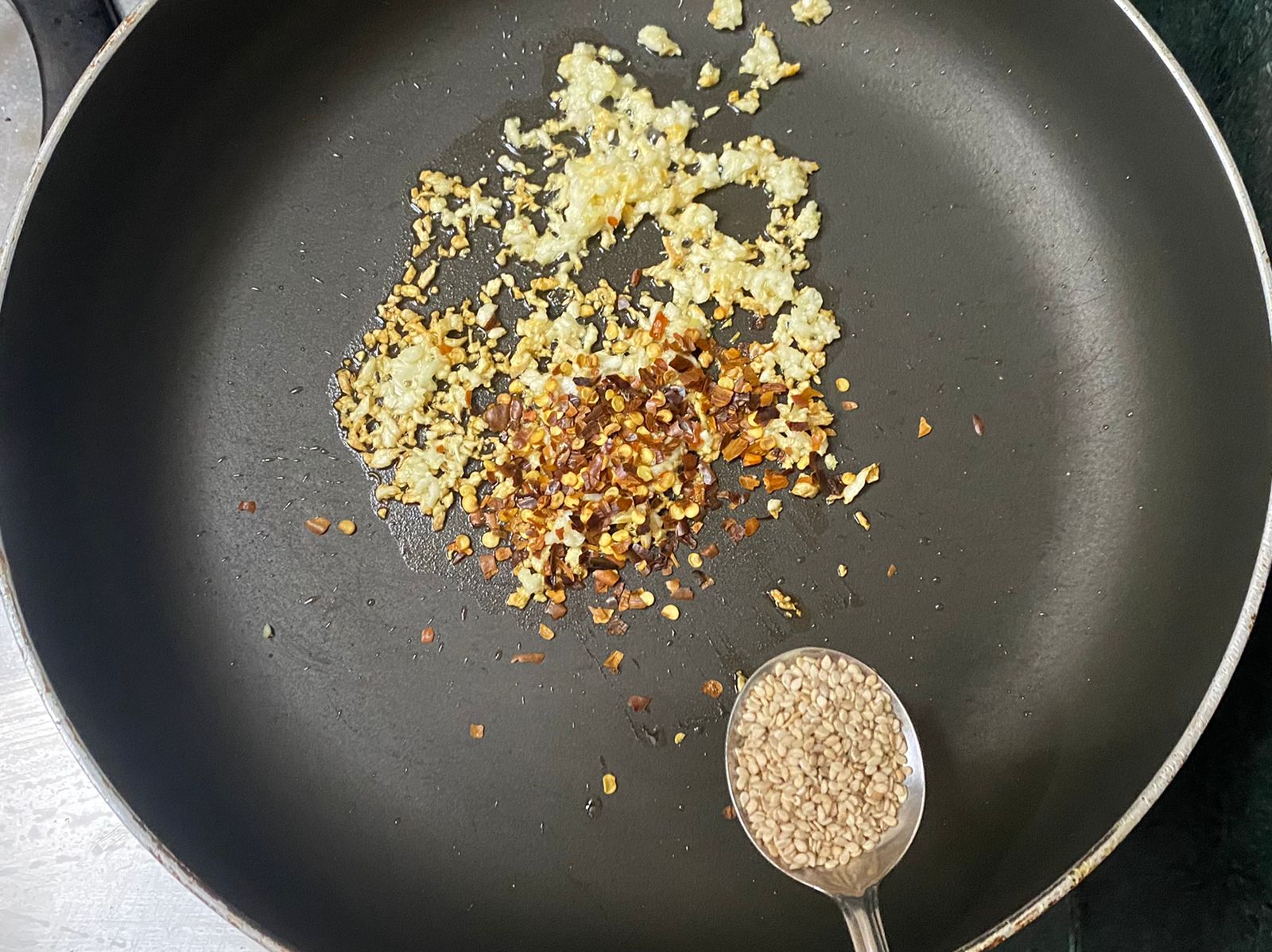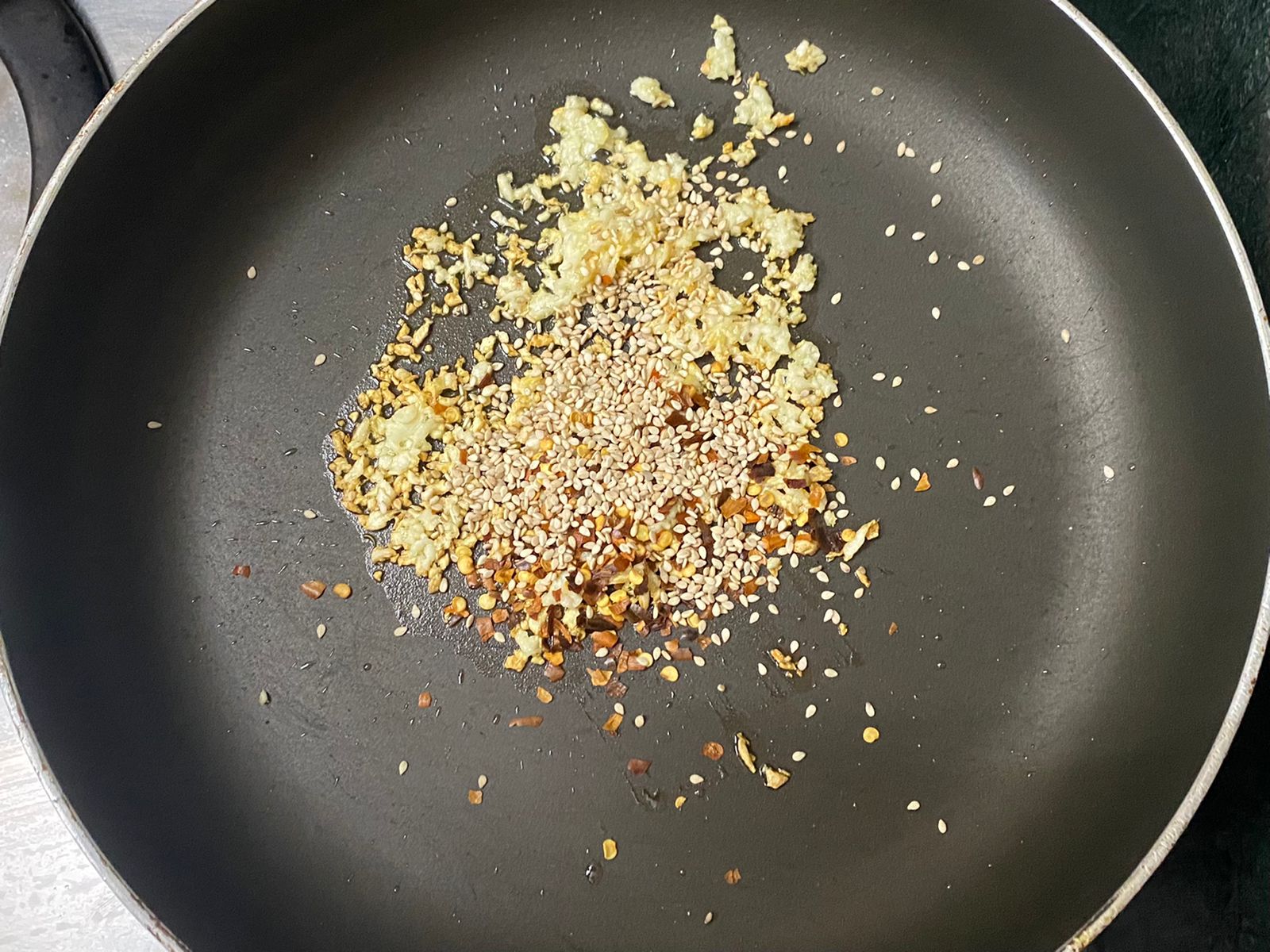 Mix corn flour in 2 tablespoons of water and form smooth corn flour slurry. Keep it aside.
Heat oil in a pan and sauté the garlic, chilli flakes and sesame seeds for a minute on medium heat.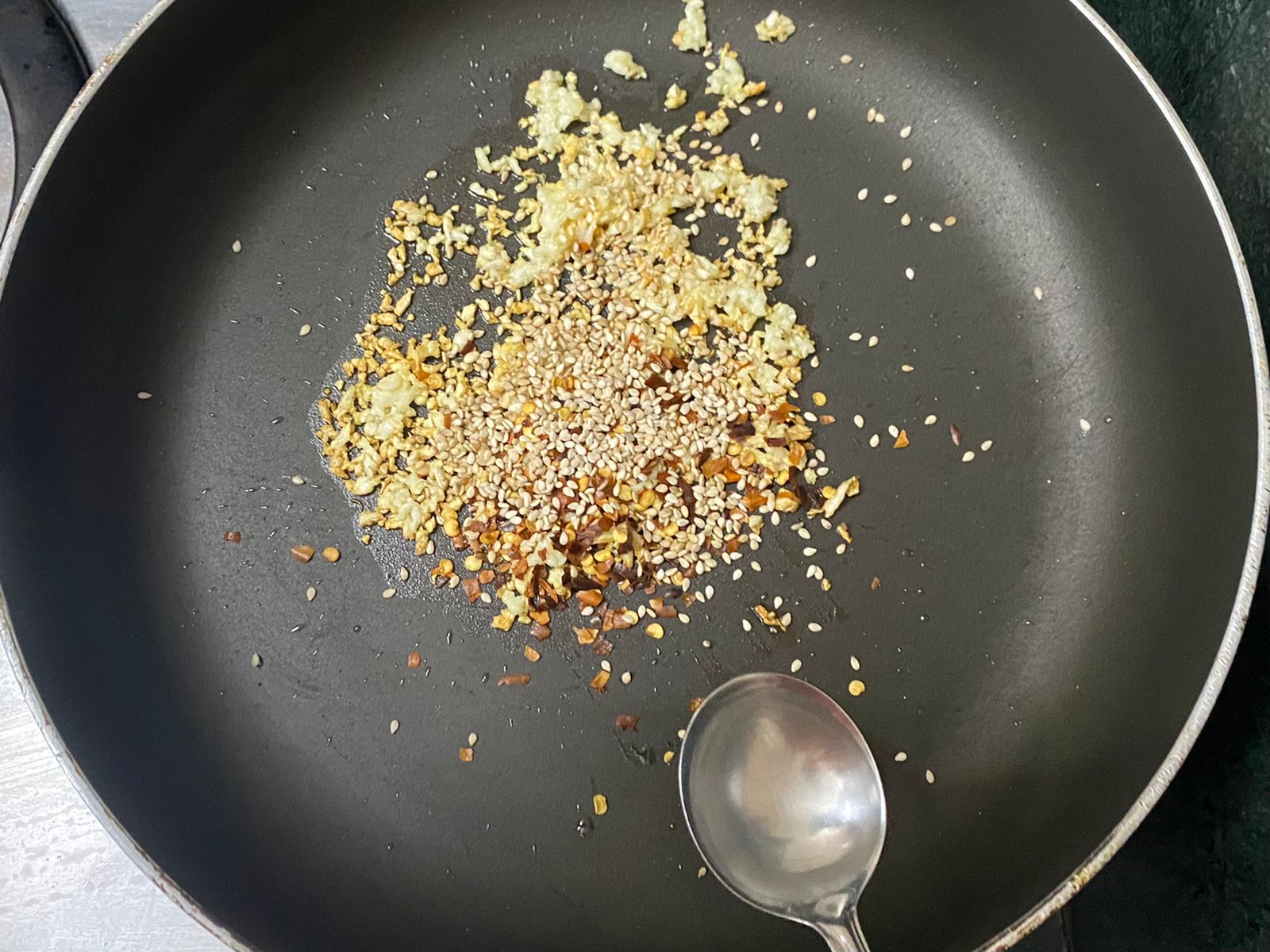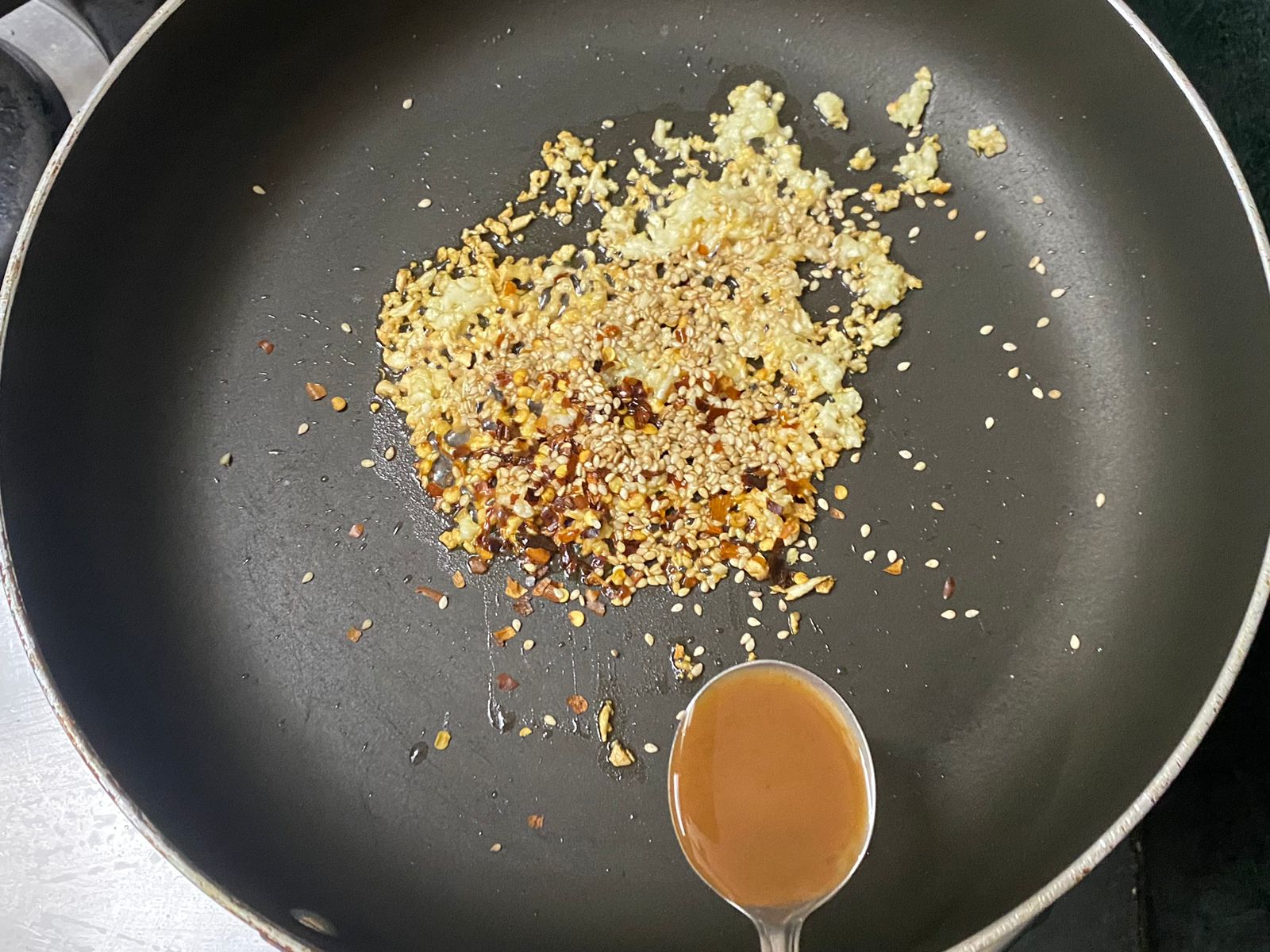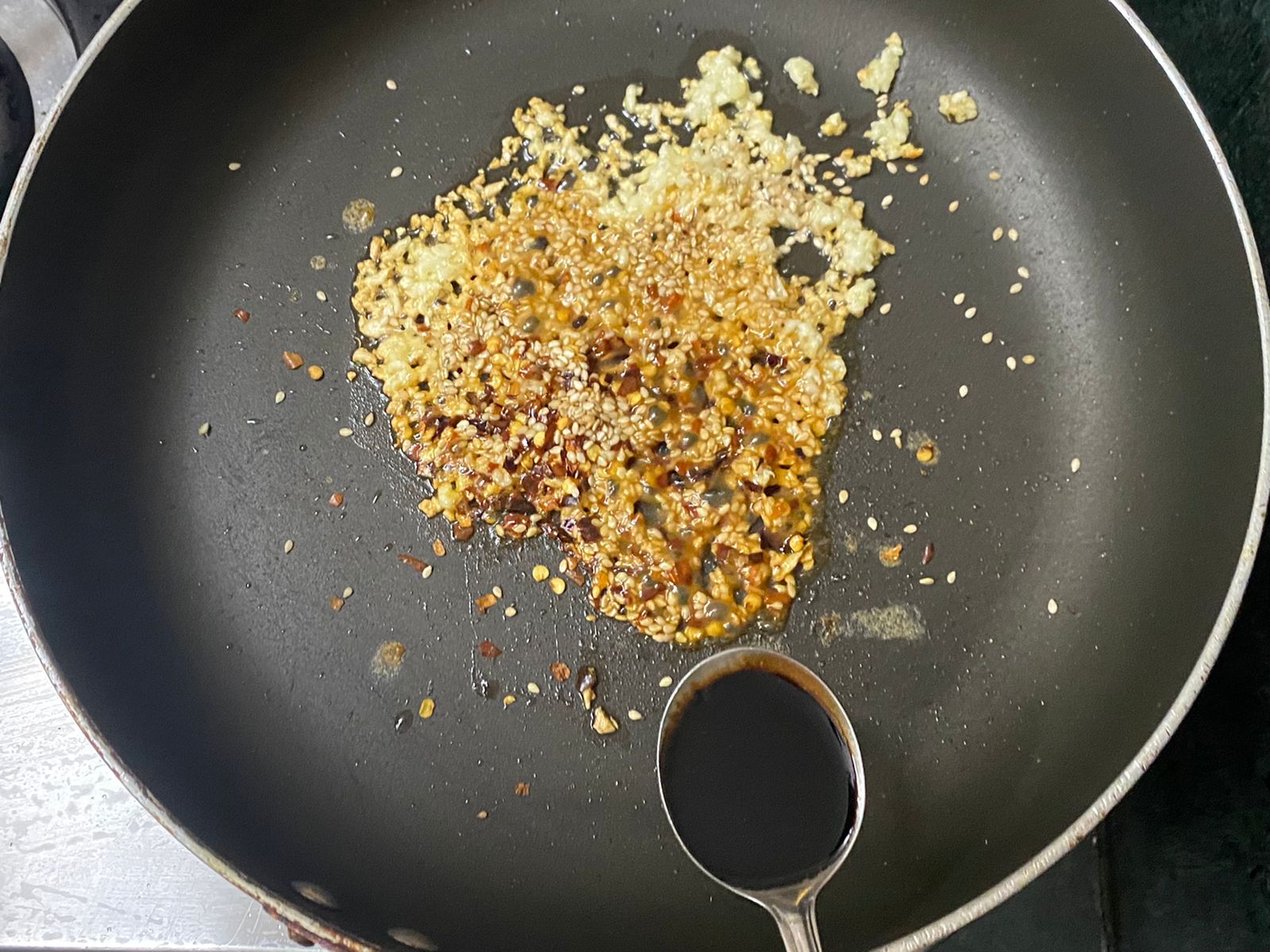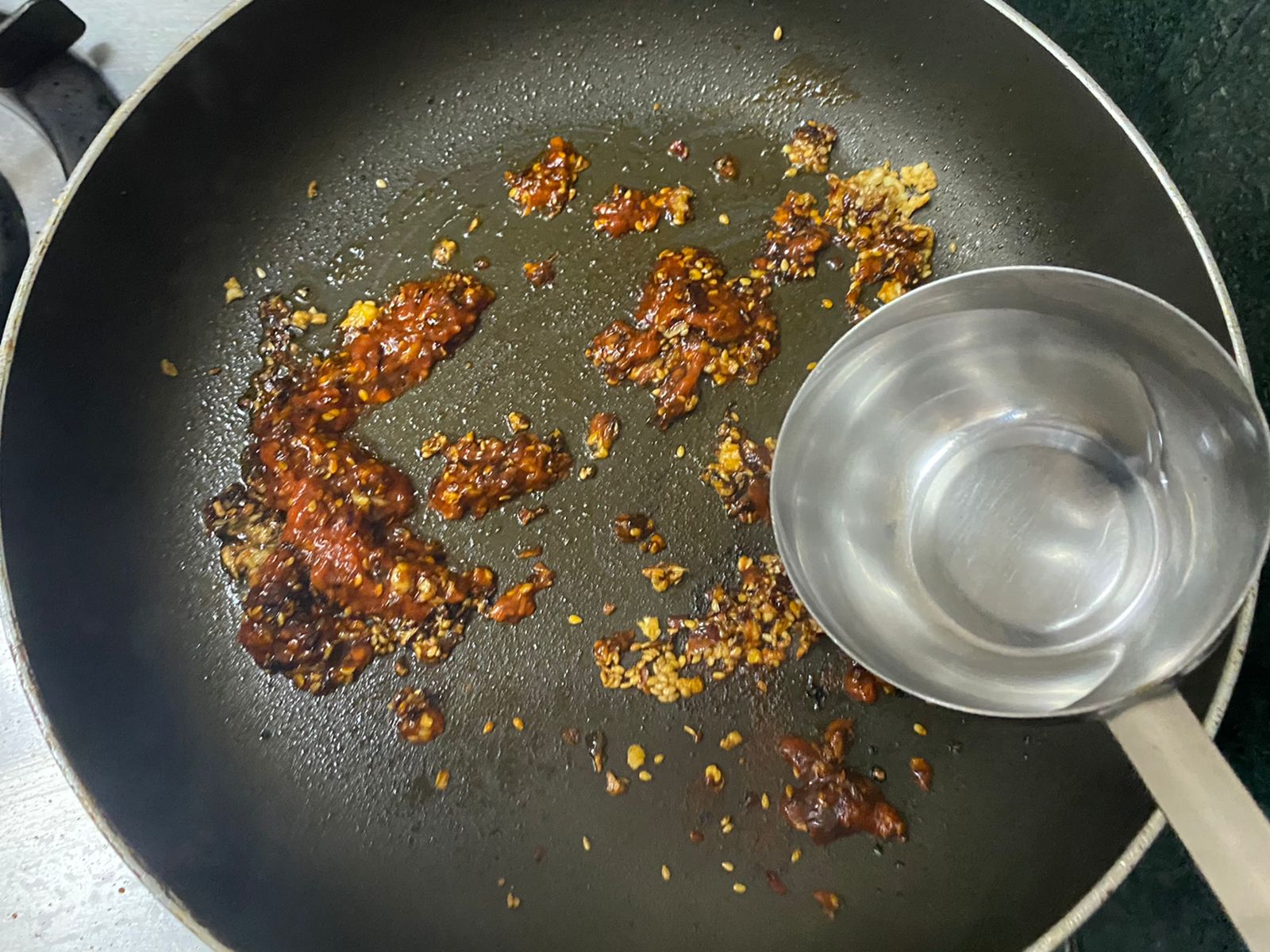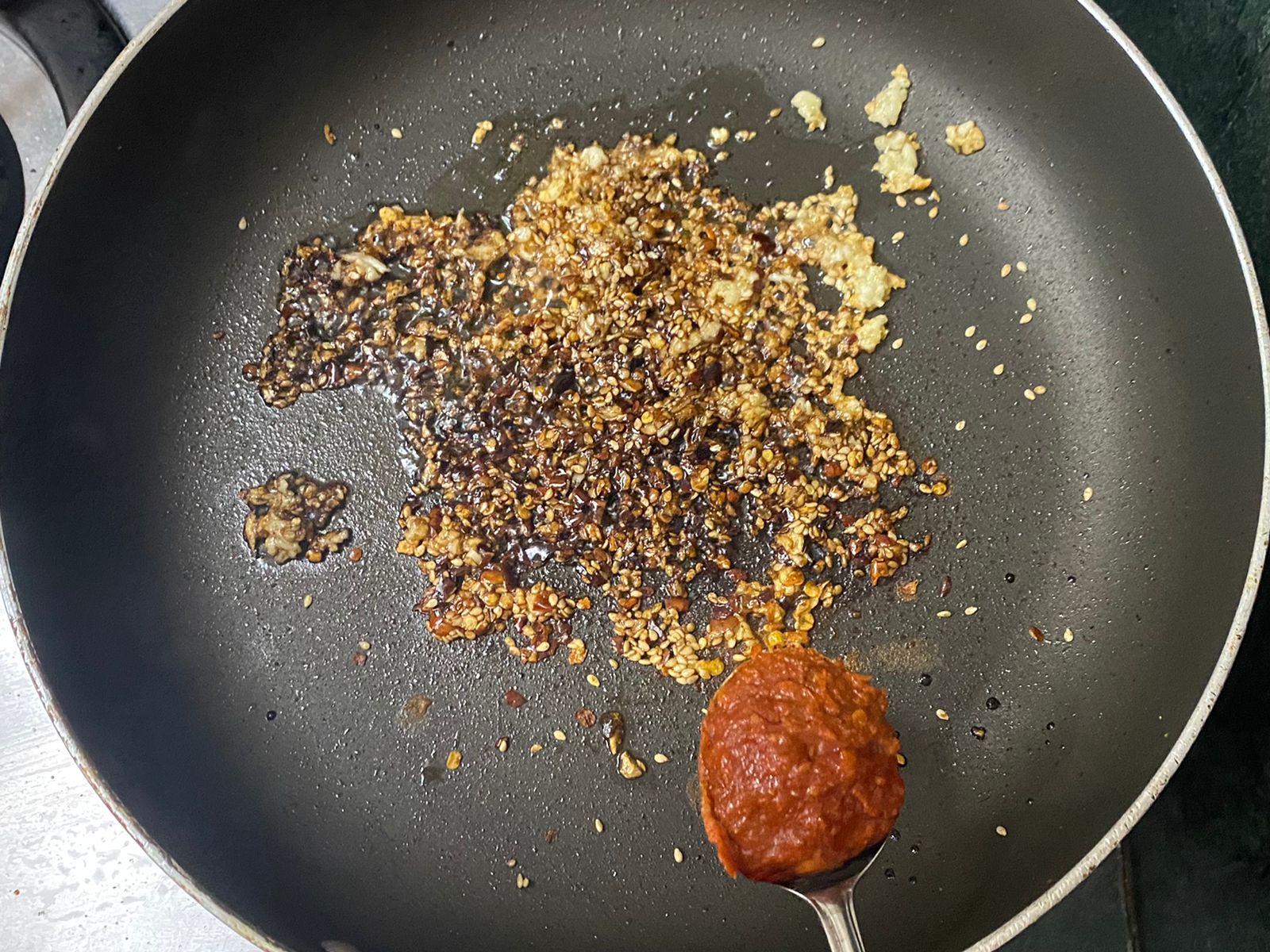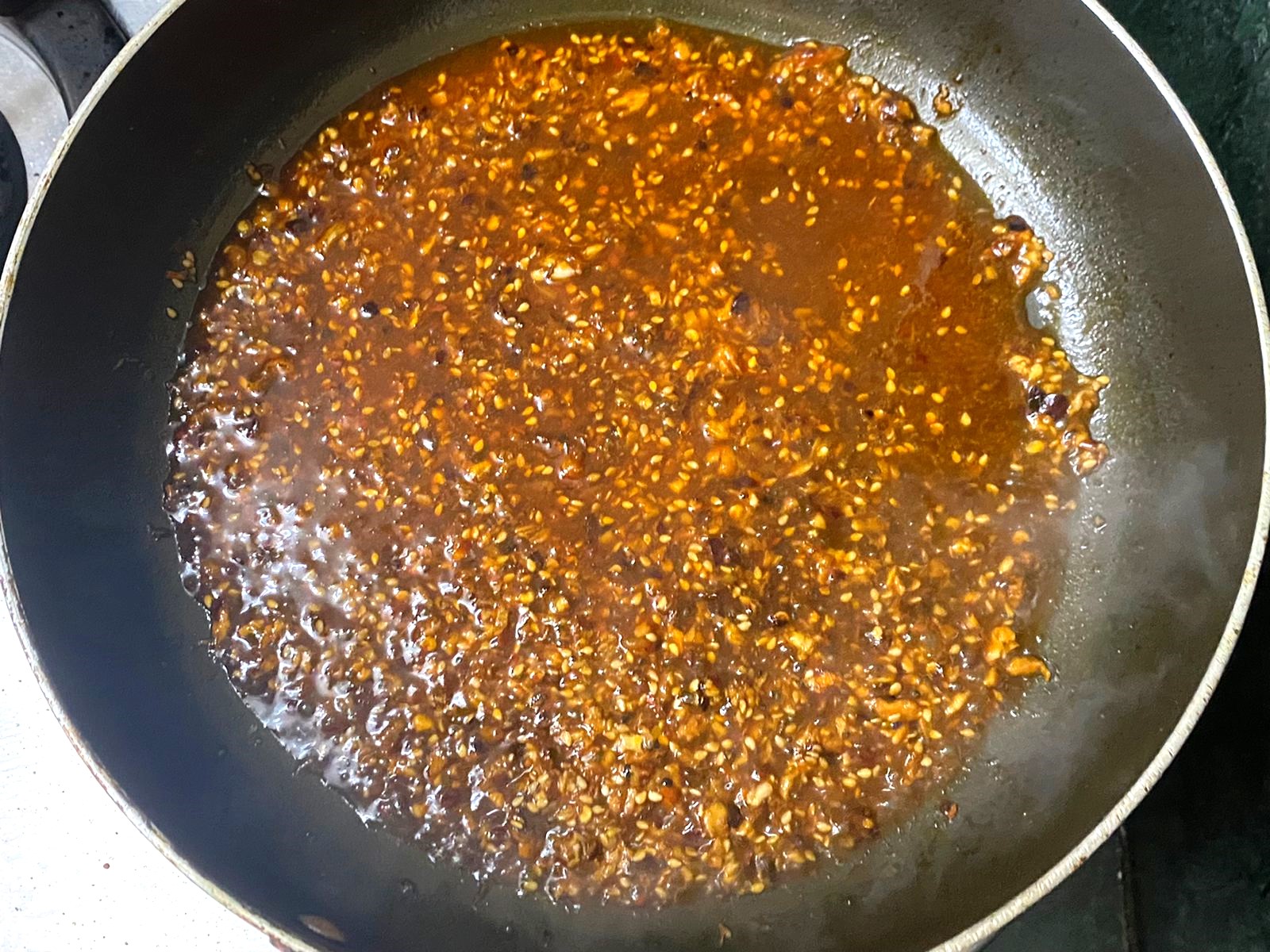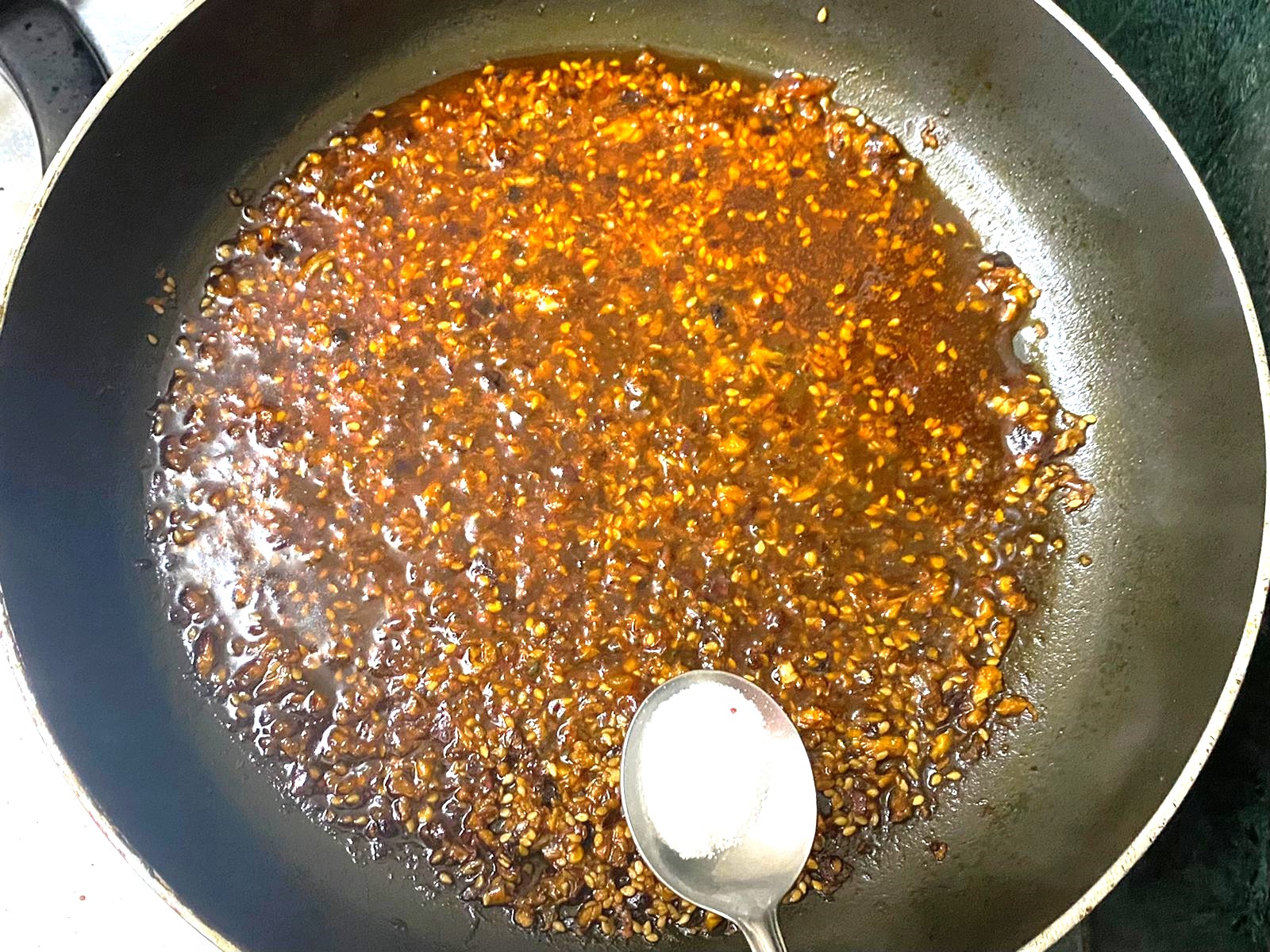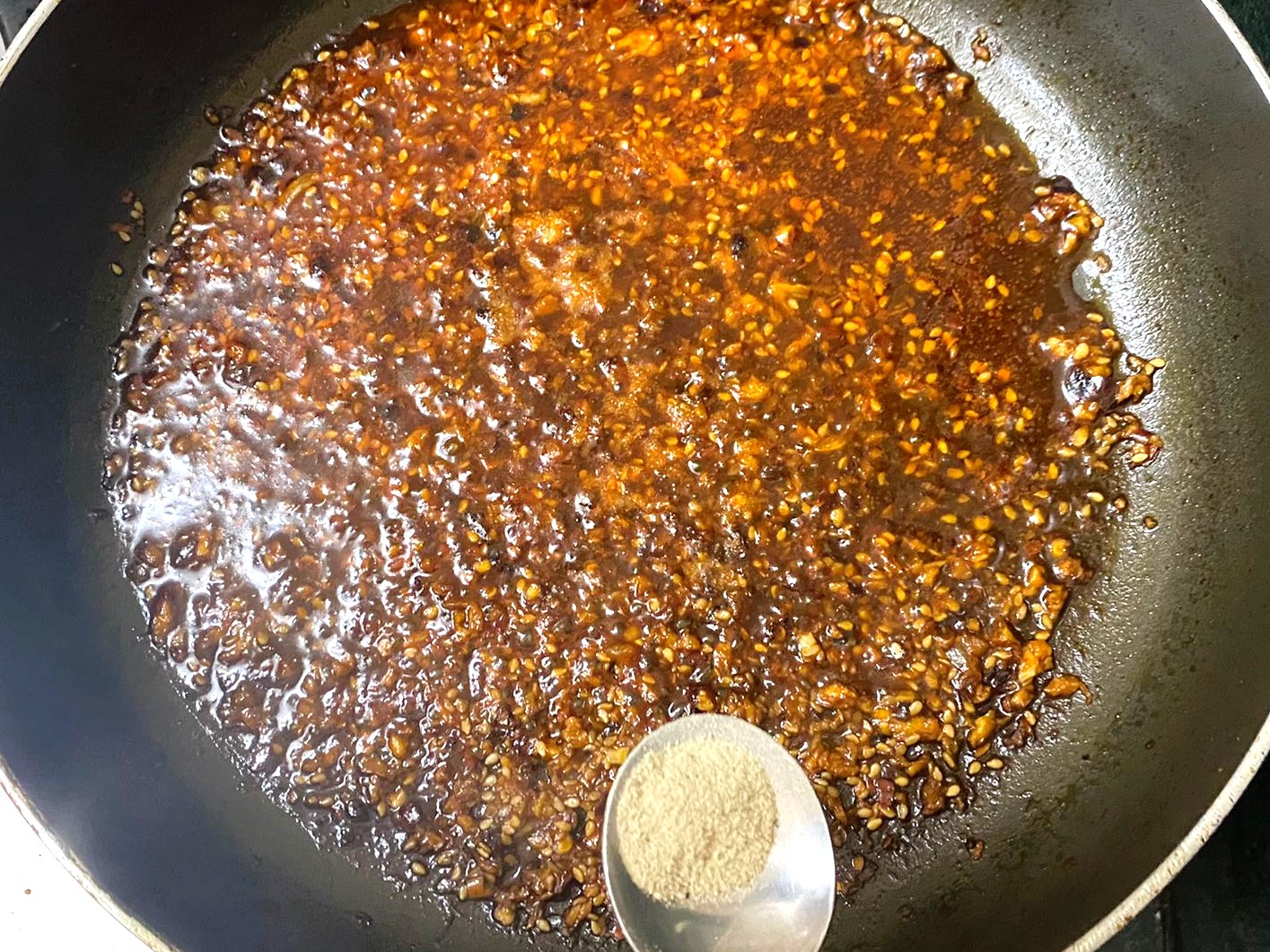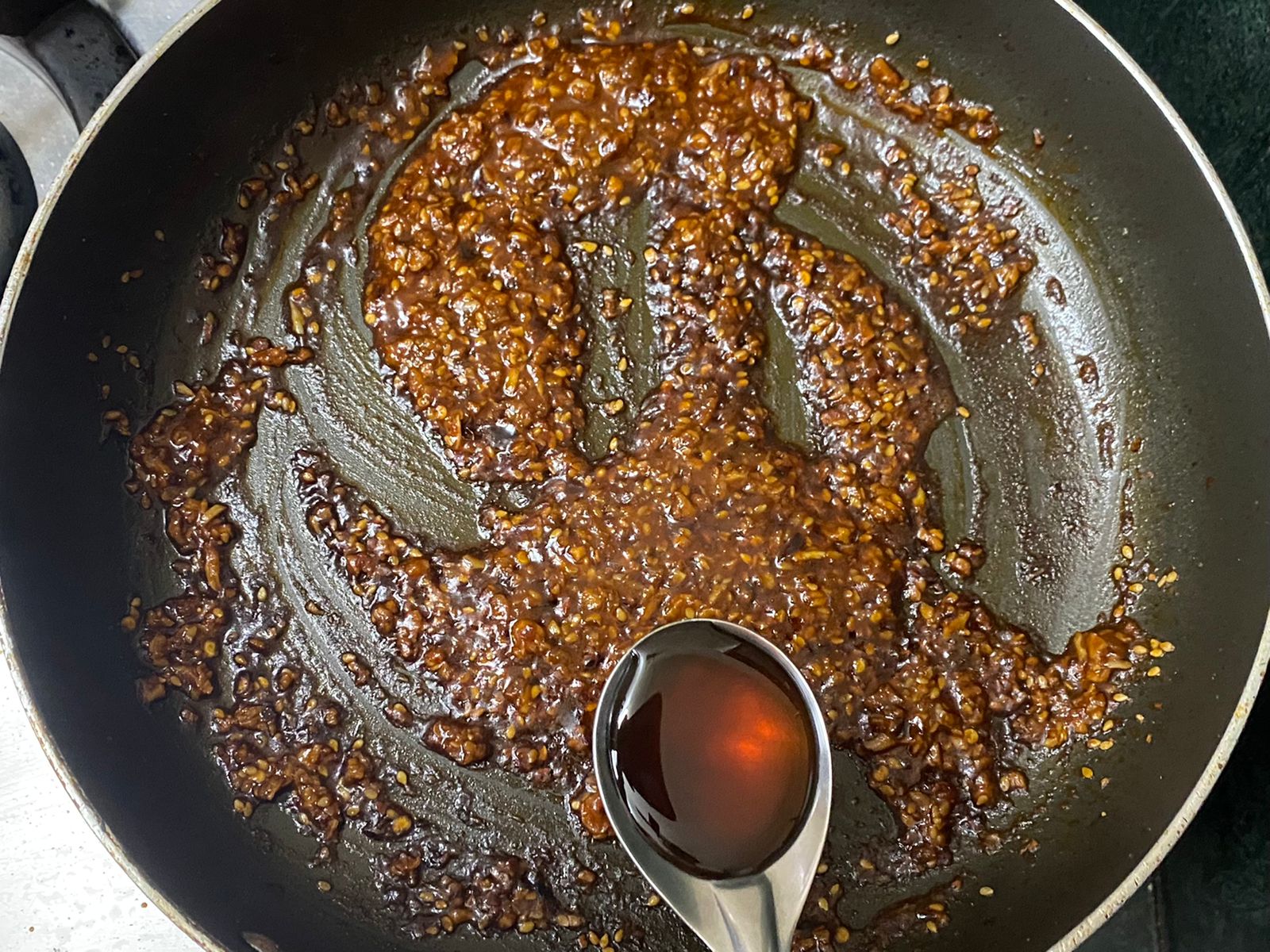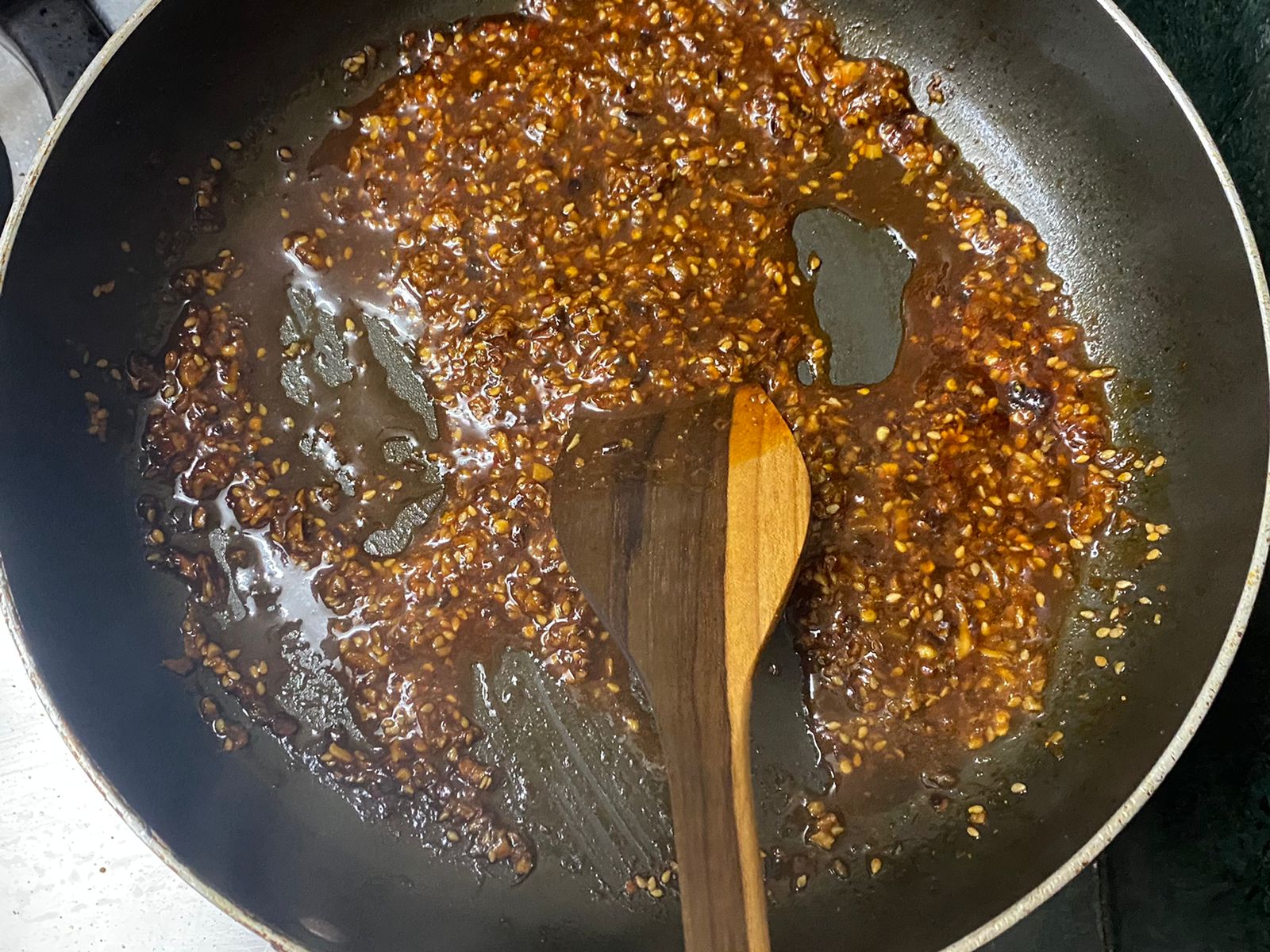 Next add the vinegar, red chilli sauce, soy sauce, ¼ cup water, schezwan sauce, salt, pepper and honey. Let it come to a boil and add the fried lotus stems. Toss on high heat.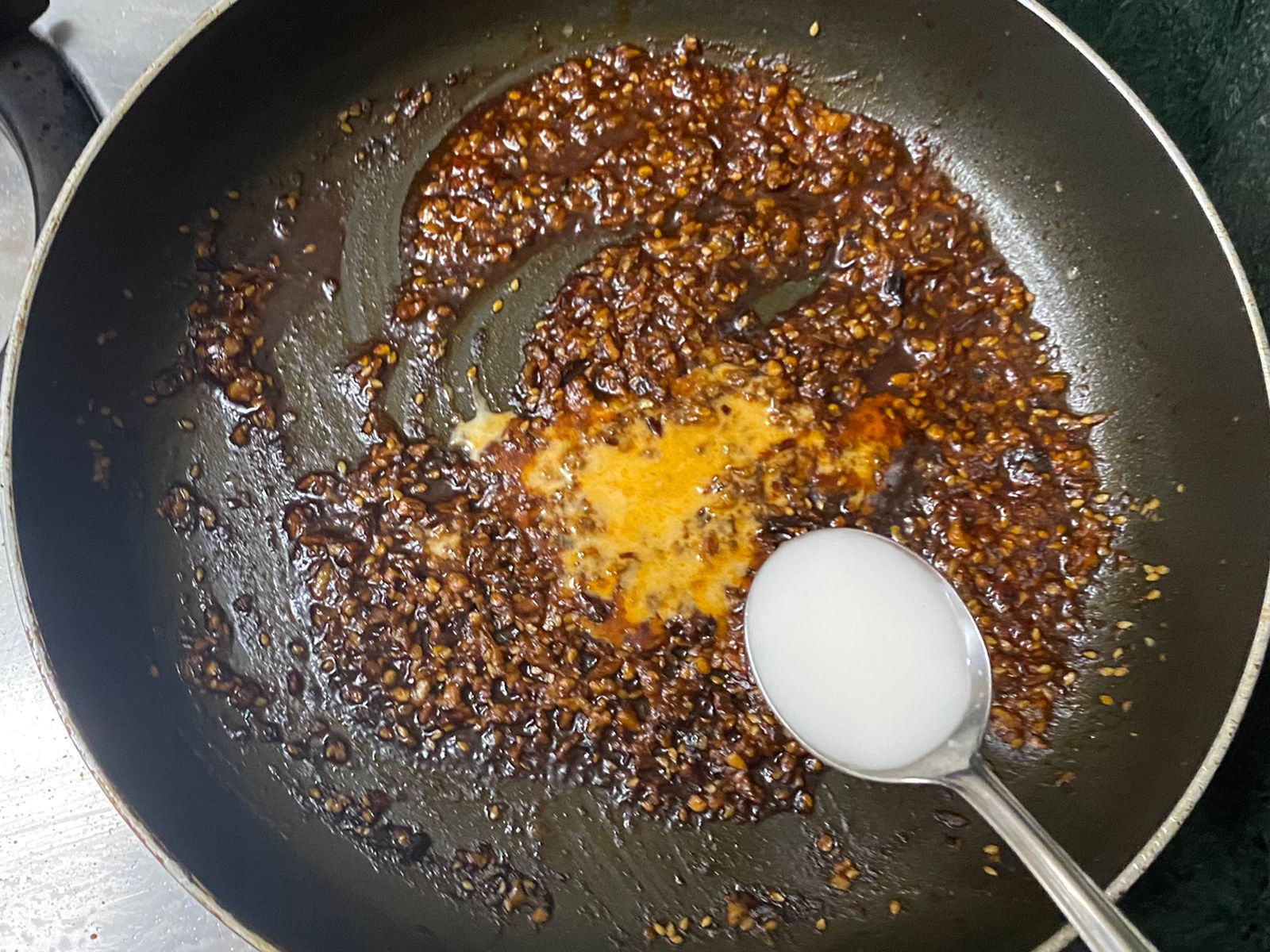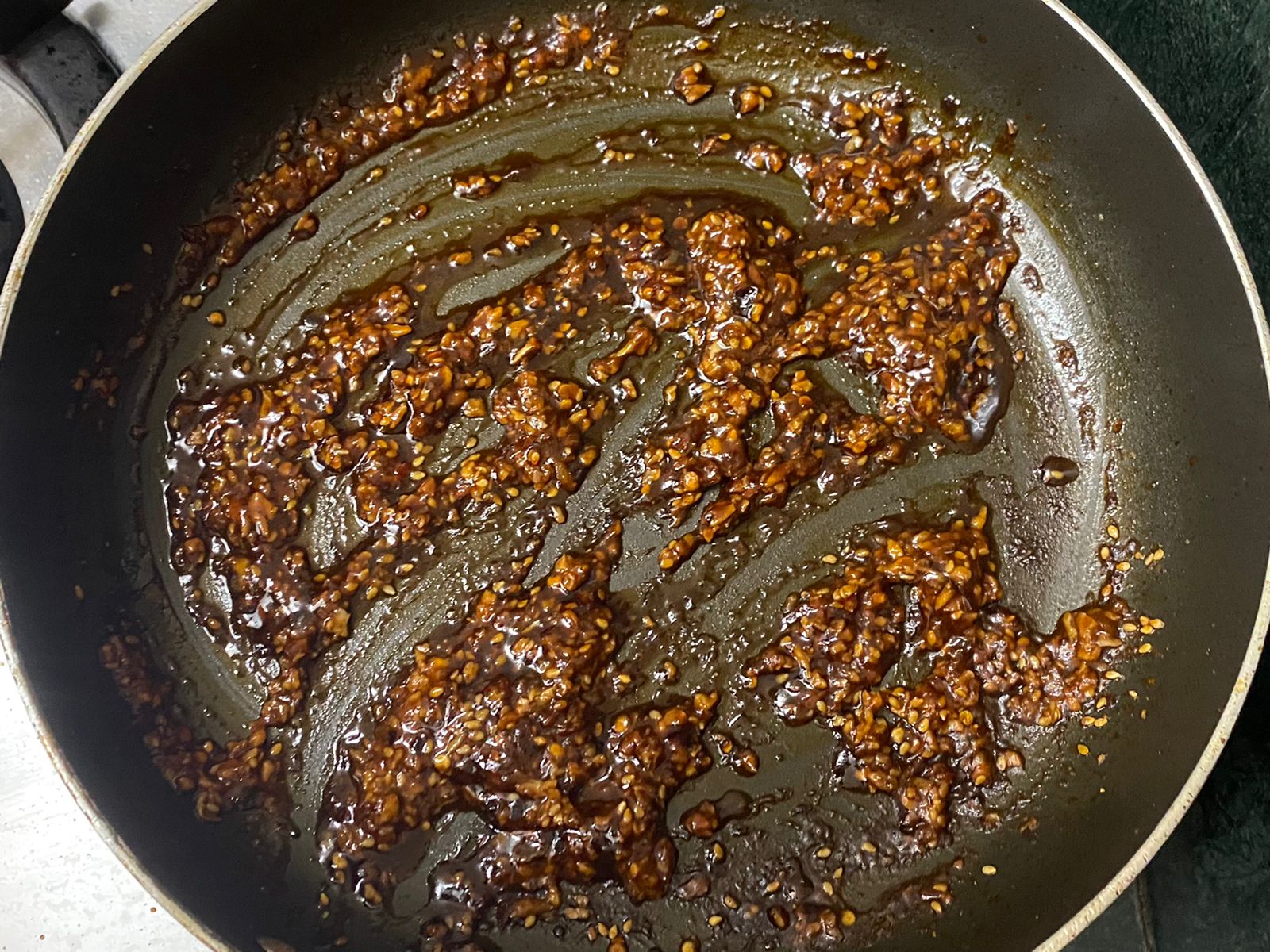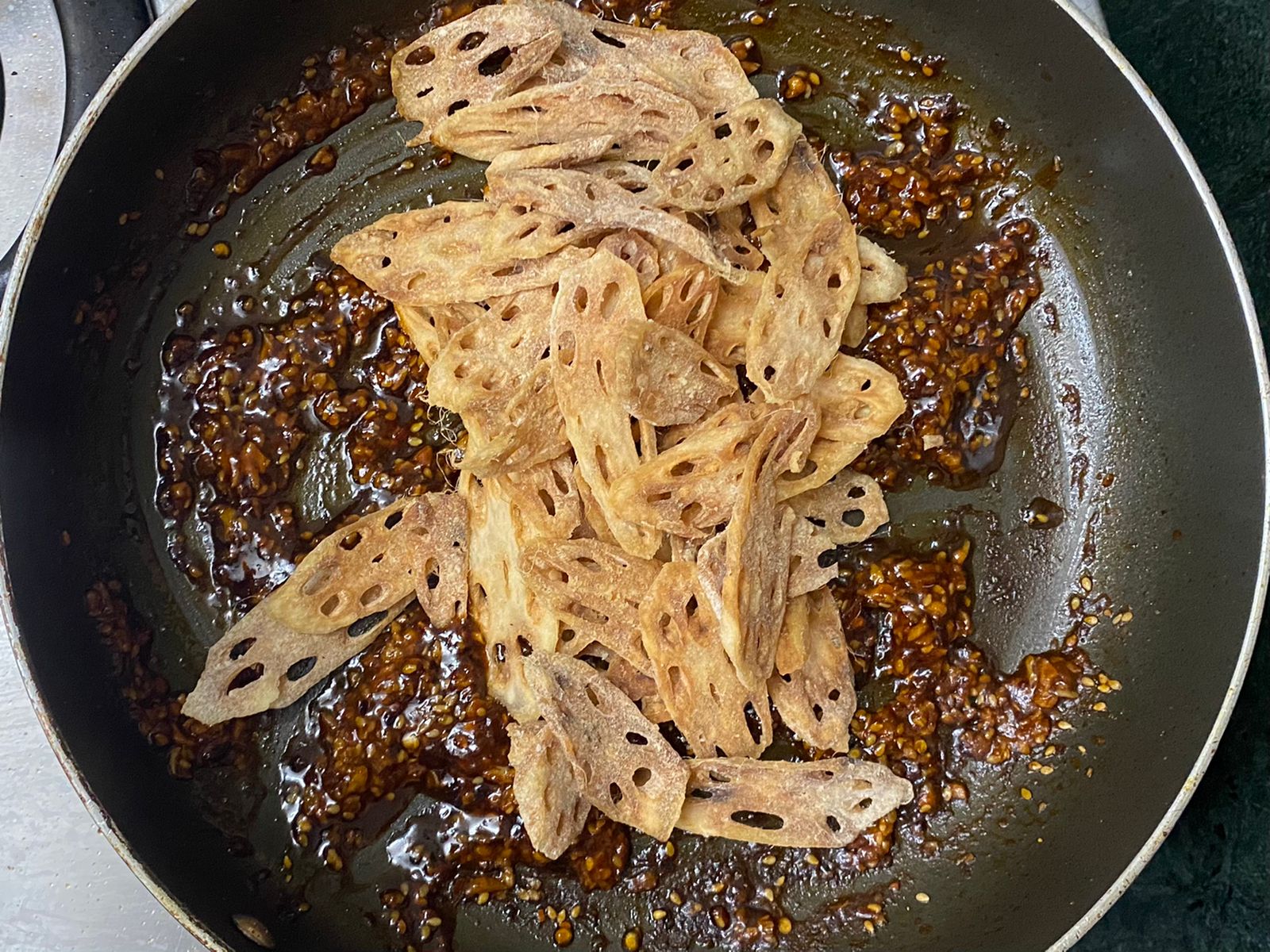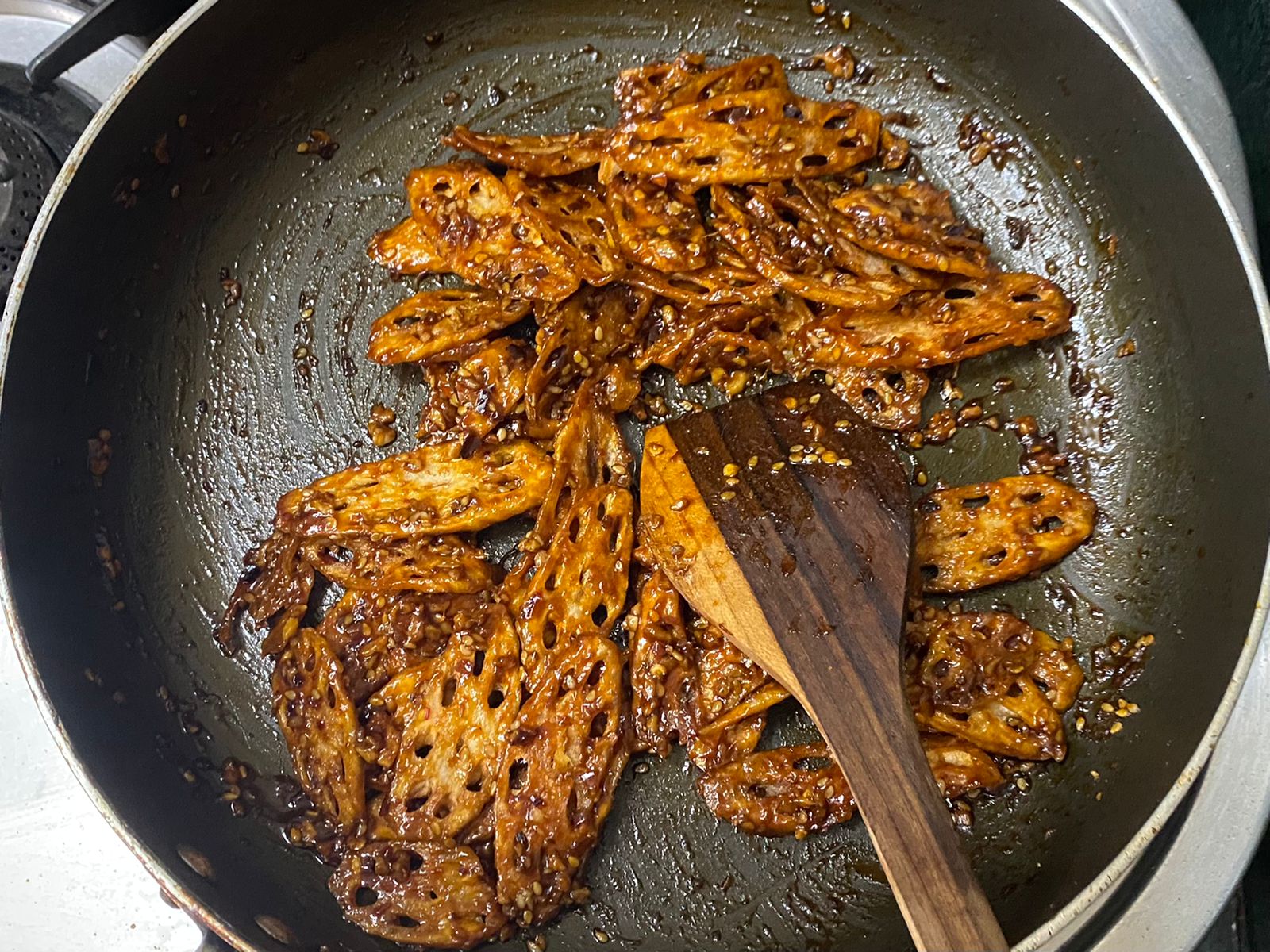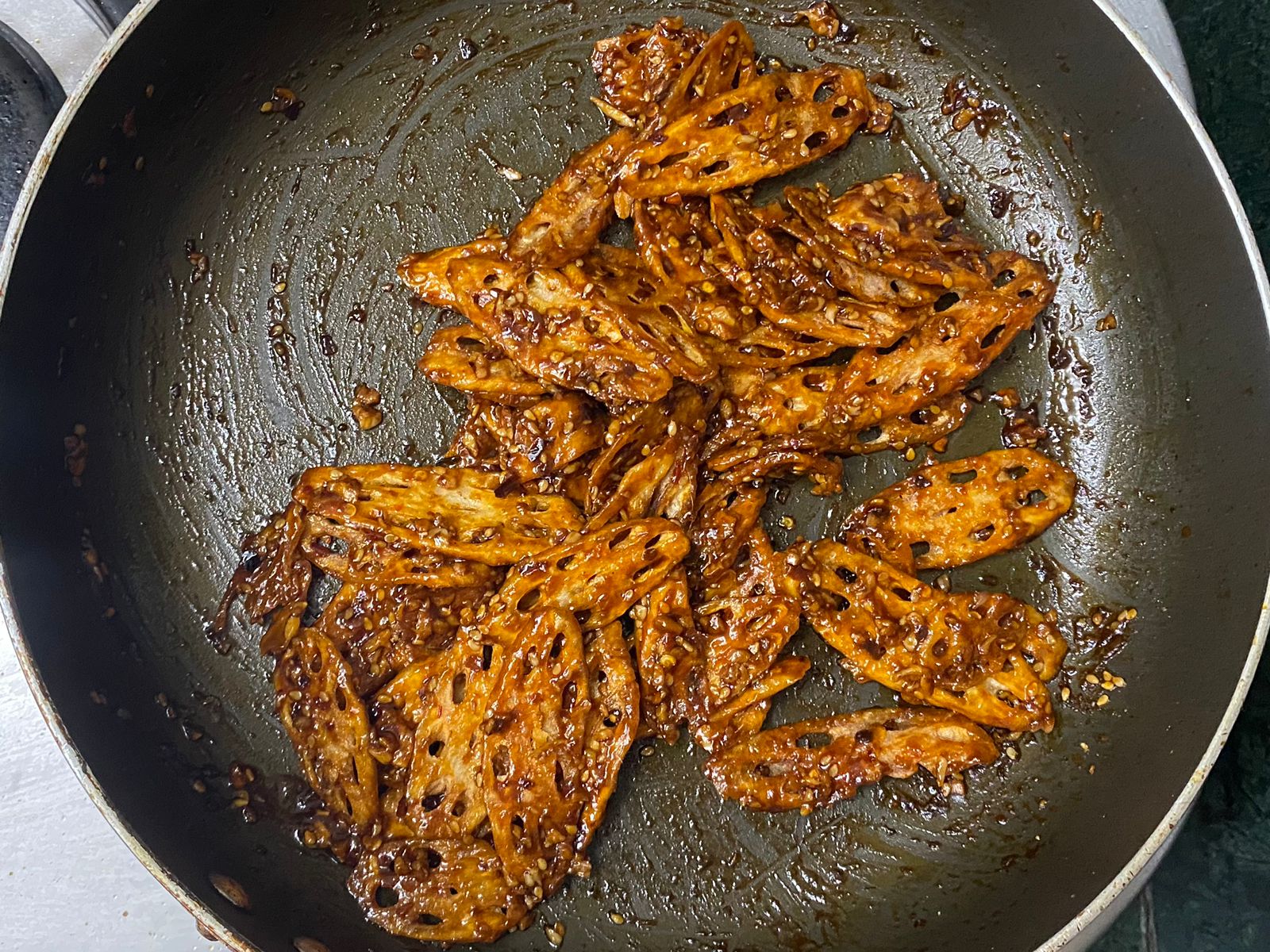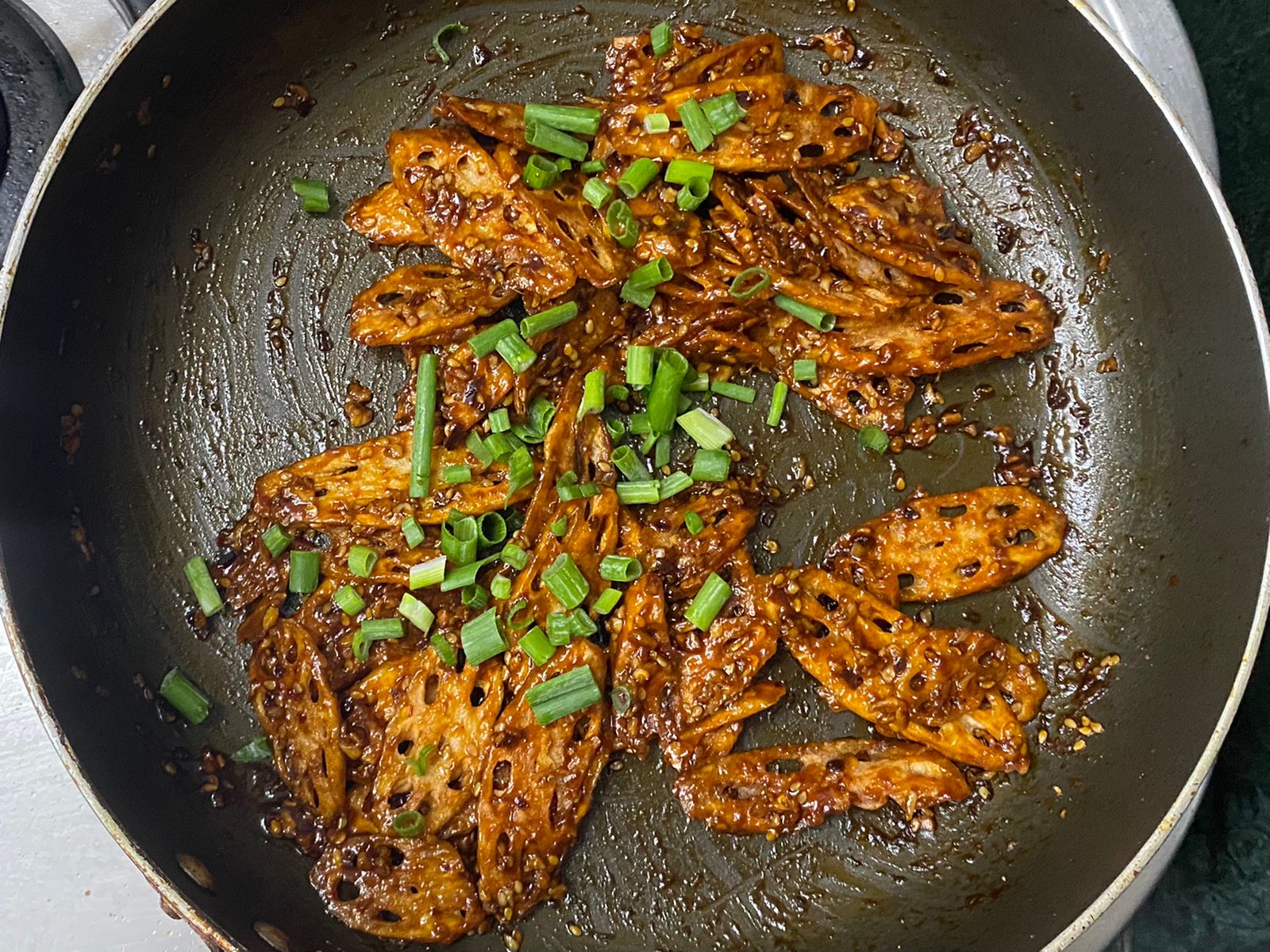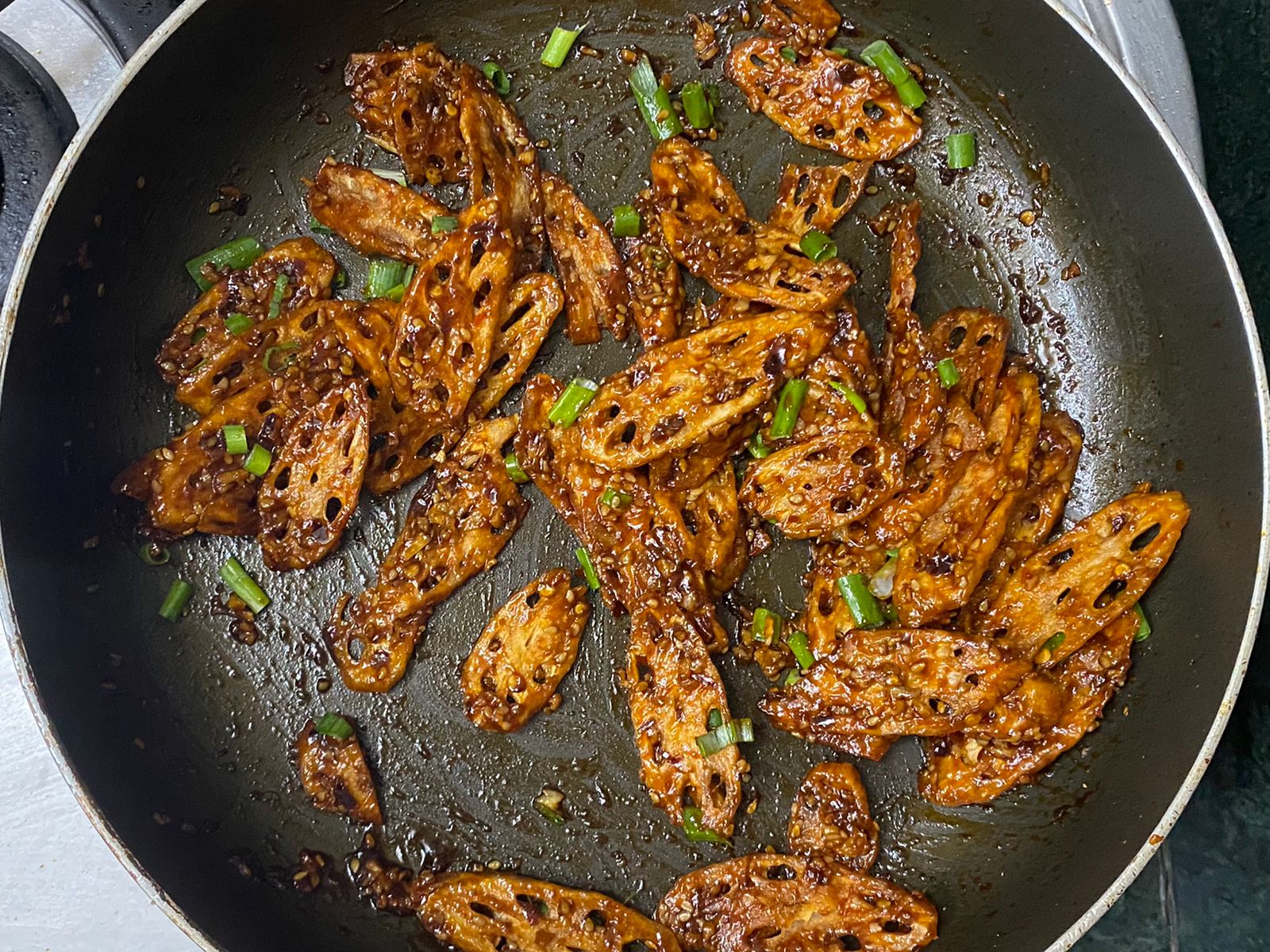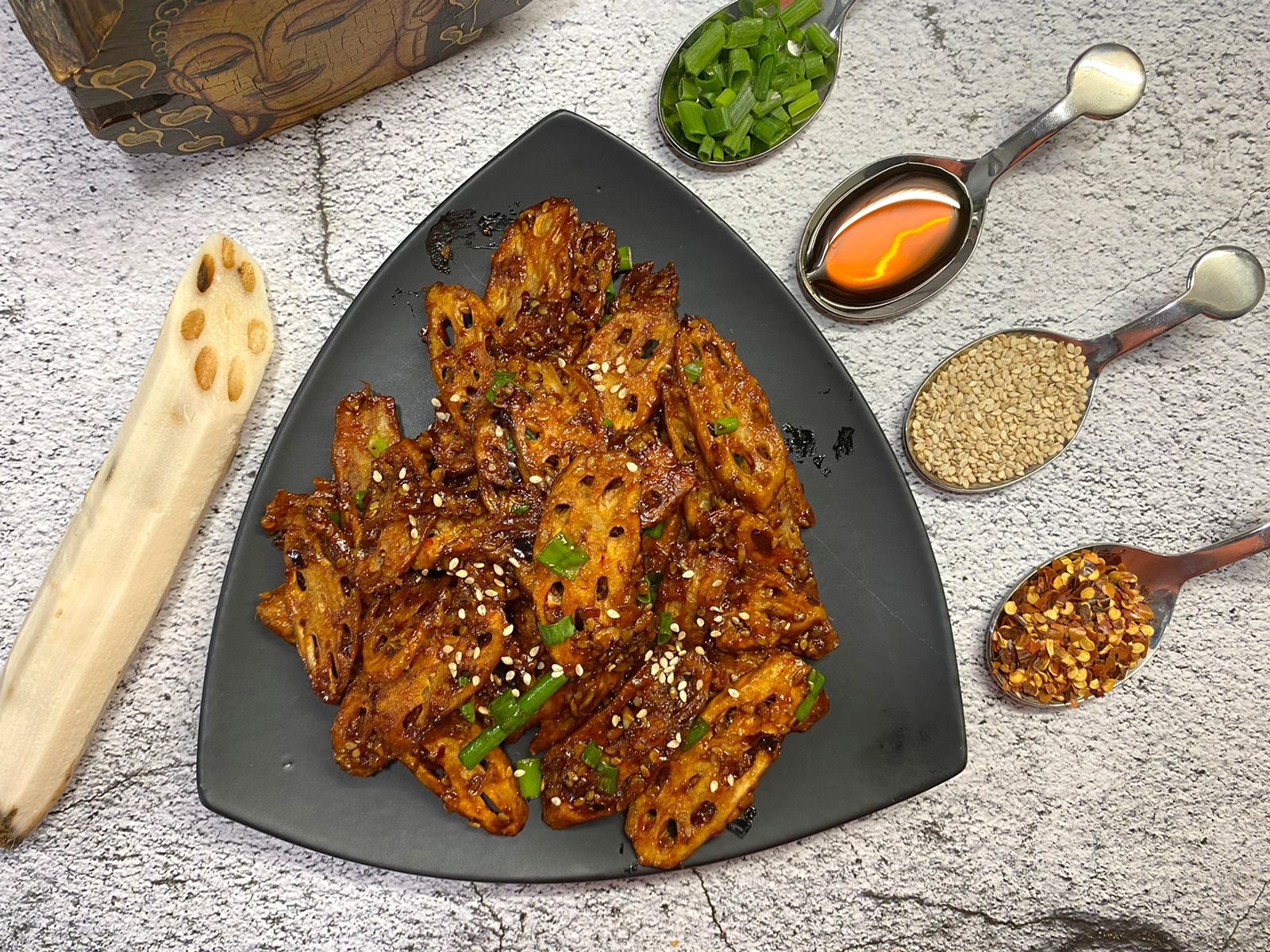 Add the prepared corn flour slurry and sauté for 1 minute until the sauce thickens. The sauce begins to thicken as soon as you add the corn flour slurry.
Finally, add the spring onions and toss until well combined.
Serve hot garnished with spring onions.