Ajwaini Fish Tikka
Ajwaini Fish Tikka is a delicious recipe of tender, boneless pieces of fish marinated with spicy and pungent flavours of ajwain (carom seeds) and served hot with green chutney.
Ajwain, also known as carom or oomam, is a pungent, Indian spice which is used extensively in cooking. It has a slightly bitter taste, similar to that of anise or oregano and smells almost identical to thyme. Ajwain is one of those spices that fulfil the twin purpose of adding flavour and being good for health hence the reason behind its wide use in Indian cuisine. Ajwain seeds are rich in fiber, minerals, vitamins and antioxidants and also help in maintaining good digestive health amongst some of its benefits.
The secret to the incredible flavour of this fish tikka is the double marinade – first in salt and lime juice, then with a fragrant yoghurt paste flavoured with punchy ajwain seeds (or carom) and other spices. Cod is an excellent choice of fish if you want to experiment with the accompanying flavours. This white-fleshed fish on its own doesn't have a strong flavour. It's got a mild, buttery taste with a juicy flesh that can soak up all the flavours in which you cook it. In short, this fish doesn't really have a fishy taste, and would also appeal to people who don't like the fish smell- that's me! Also, cod is an extremely healthy and nutritious fish as it is low in calories and an excellent source of protein, selenium, and essential omega-3 fatty acid.
Ajwaini Fish Tikka is a easy, and delicious recipe that will surely become a family favourite. You can cook it on a grill, oven or pan!
Other recipes you might to try are Crispy Beer Battered Fish, Kerela Style Fish Parcels, Seared Basil Scallops with Courgette Ribbons and Simple Chimichurri Prawns.
Ingredients
For First Marinade
350 grams skinless cod (or any other white fish)
Salt to taste
1 teaspoon lime juice
For Second Marinade
½ inch roughly chopped ginger
1-2 garlic cloves
1-2 green chillies
½ teaspoon turmeric
1 teaspoon carom seeds
½ teaspoon garam masala
1 teaspoon Kahmiri lal mirch
1 teaspoon oil
2 tablespoons plain yogurt
1-2 teaspoon rice powder
Other Ingredients
1-2 teaspoons oil
½ teaspoon chaat masala
Lime wedges
Green chutney to serve
Onion salad
½ teaspoon finely chopped coriander
Directions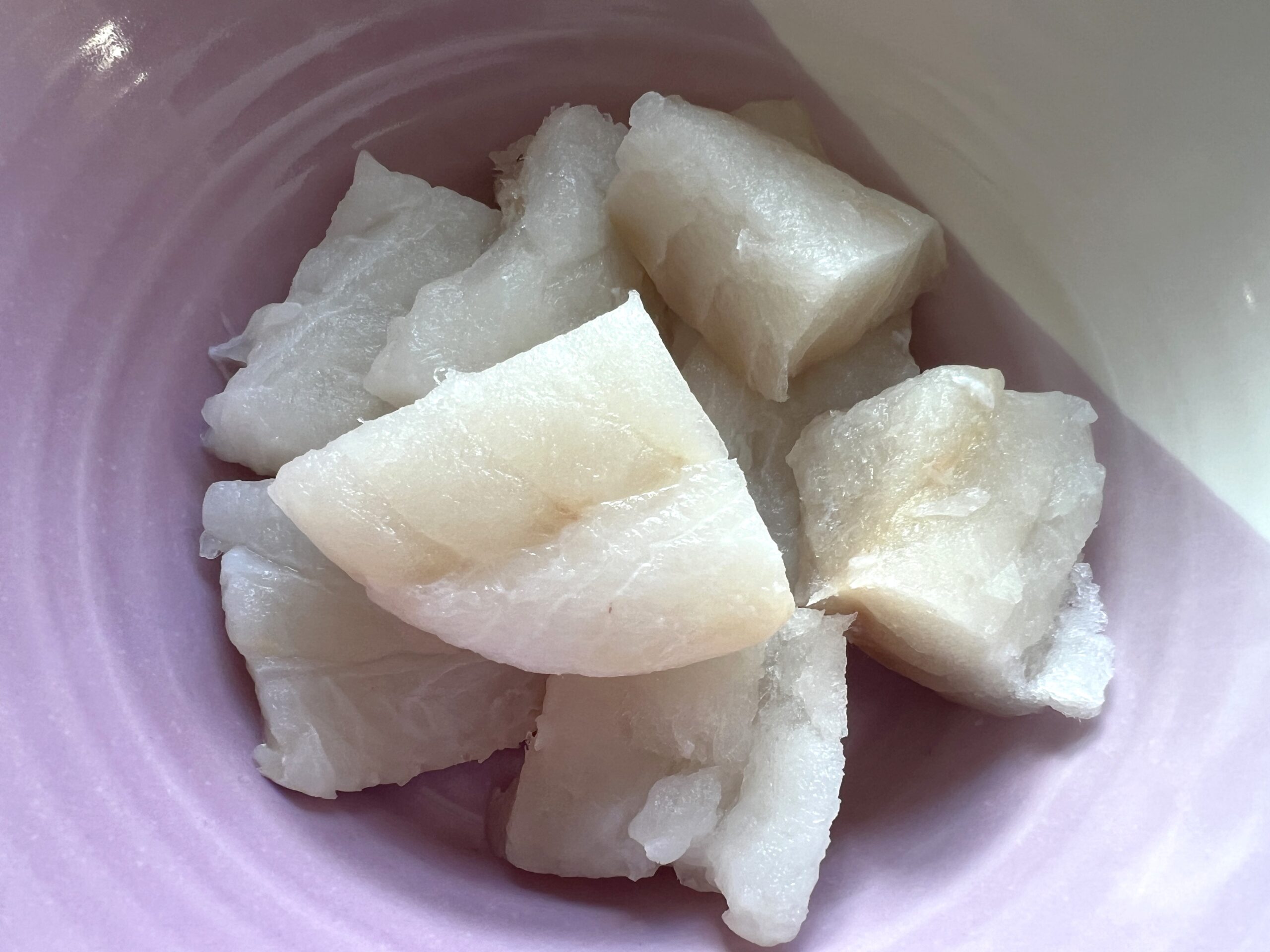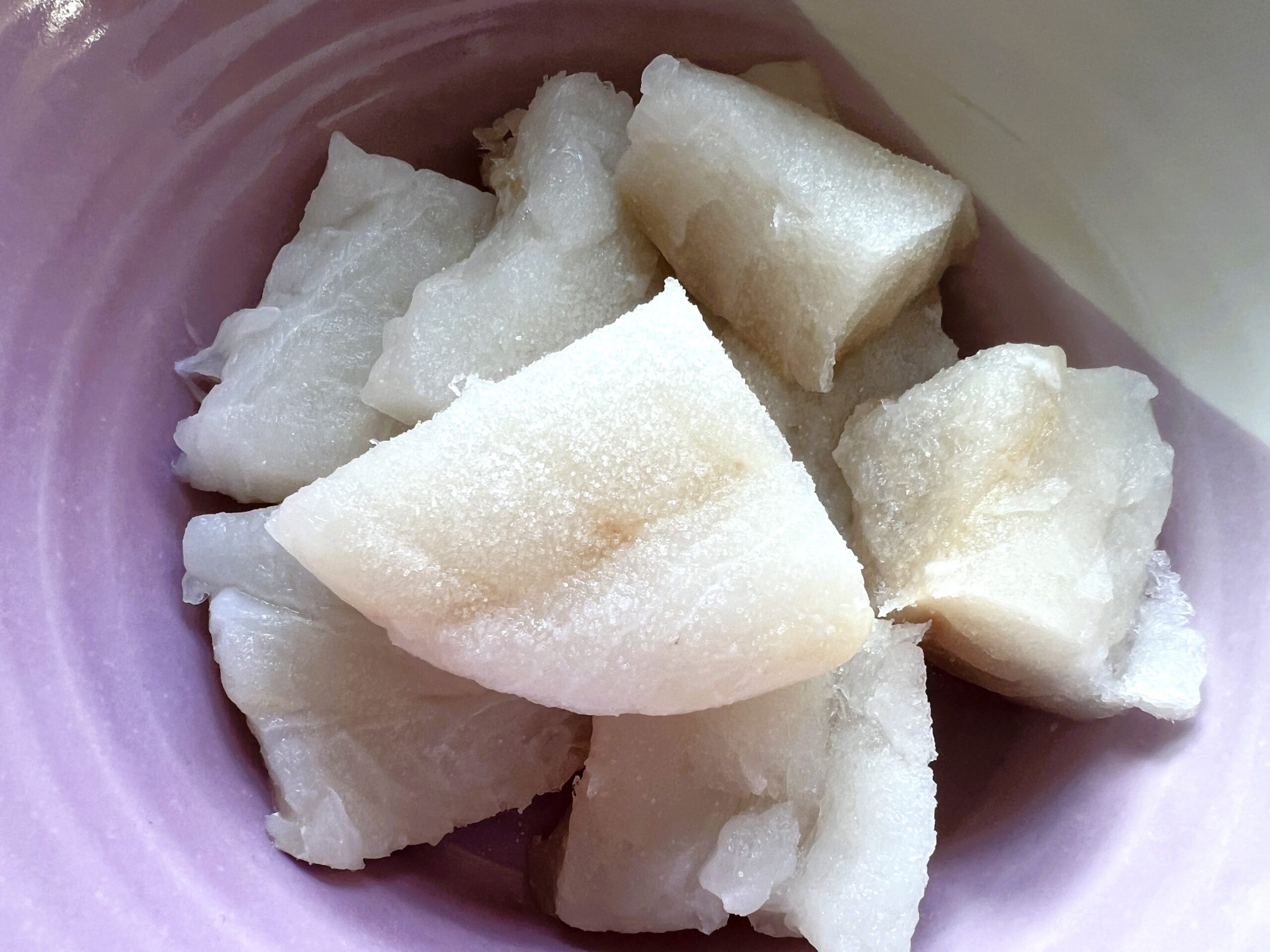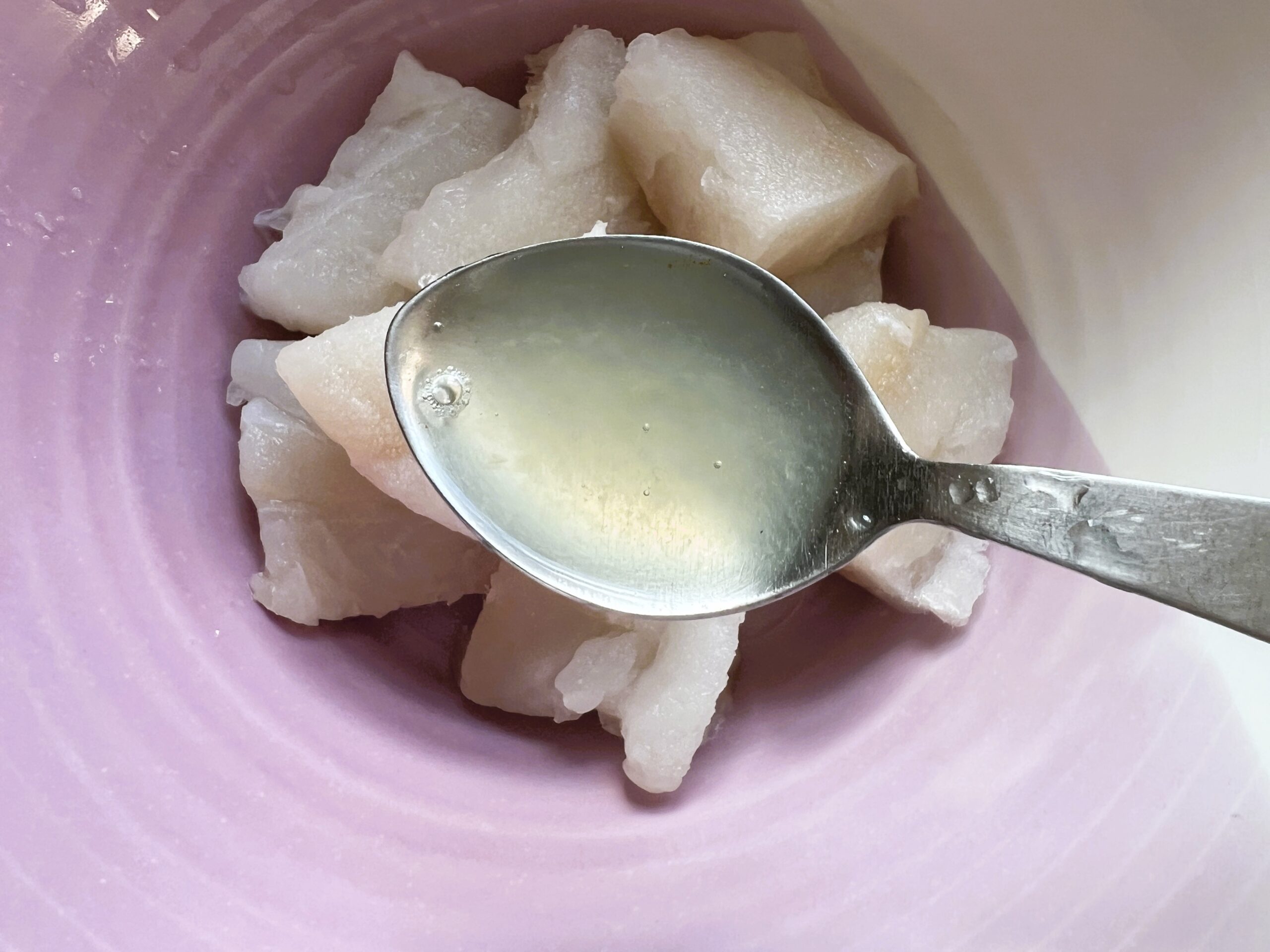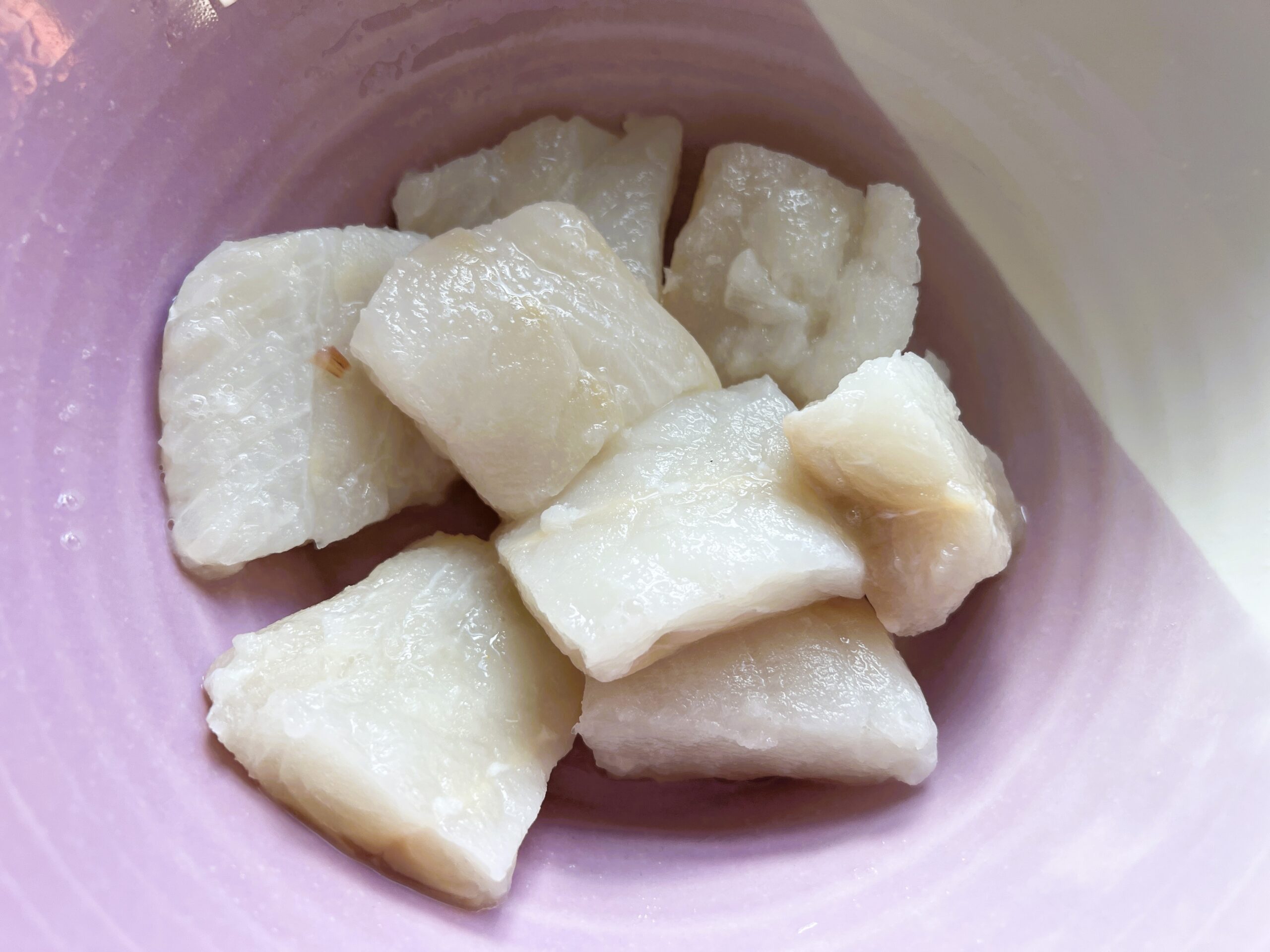 Cut the fish into equal 1-inch pieces and sprinkle the salt and lime juice and keep aside for 20-30 minutes.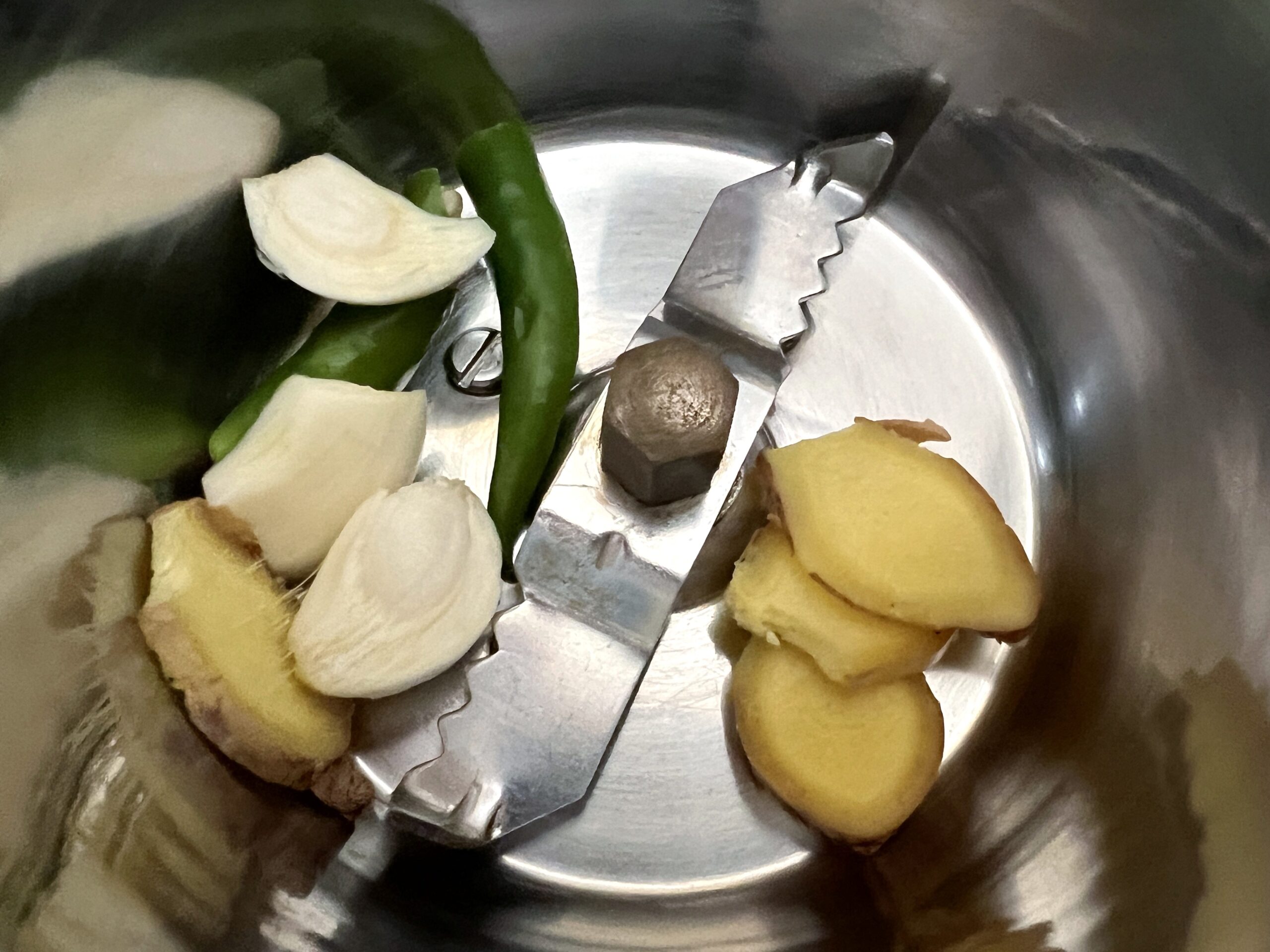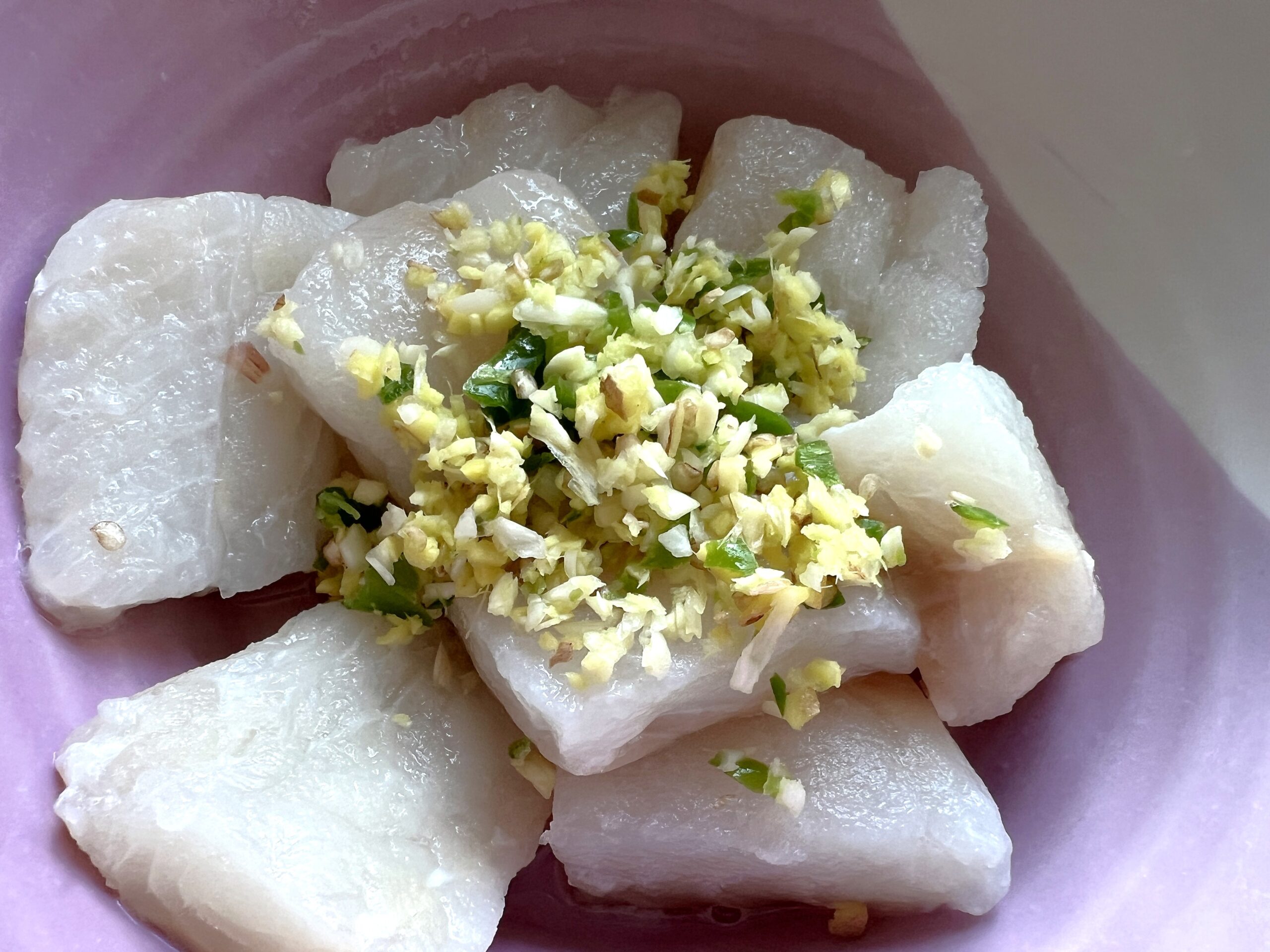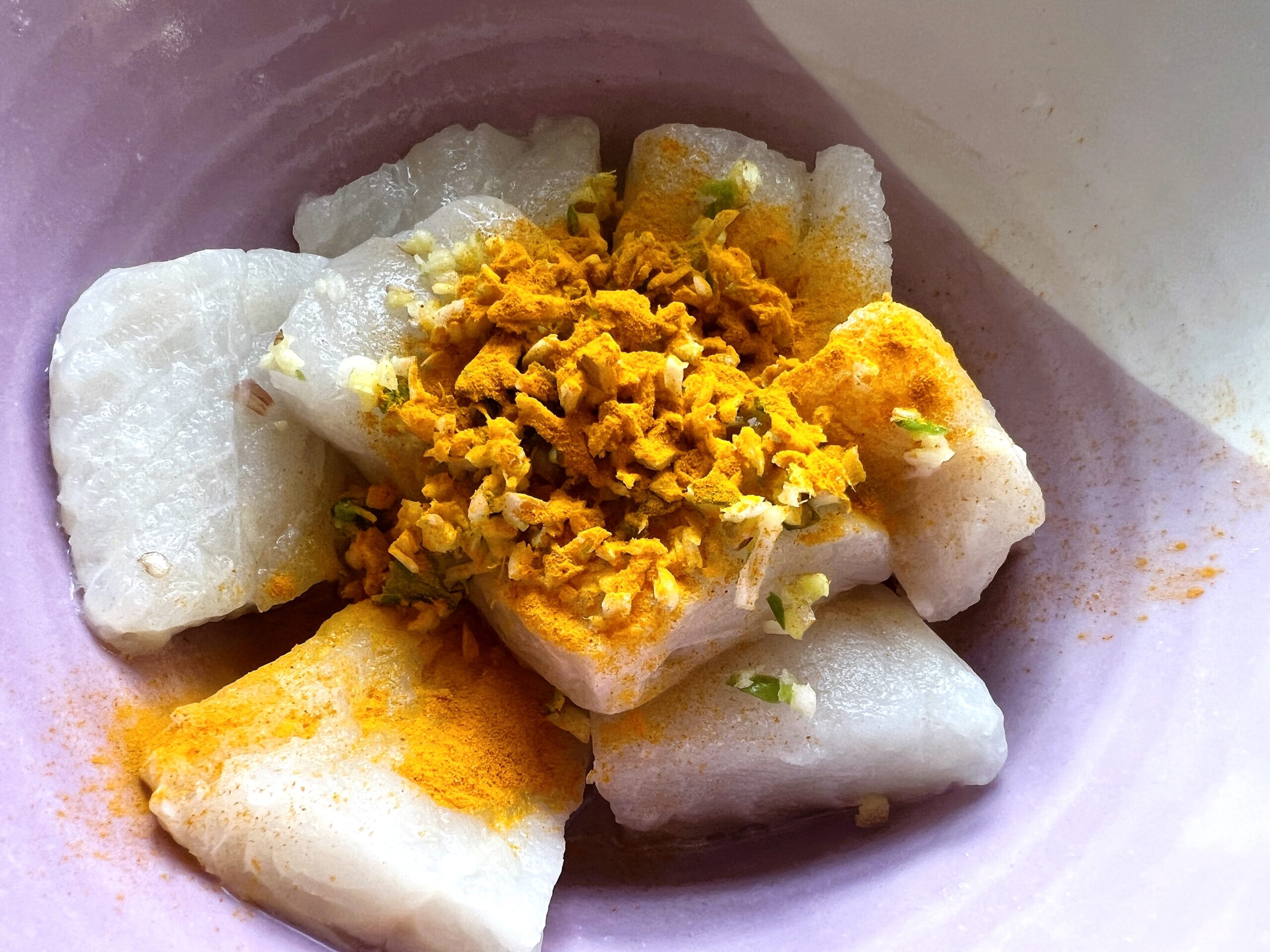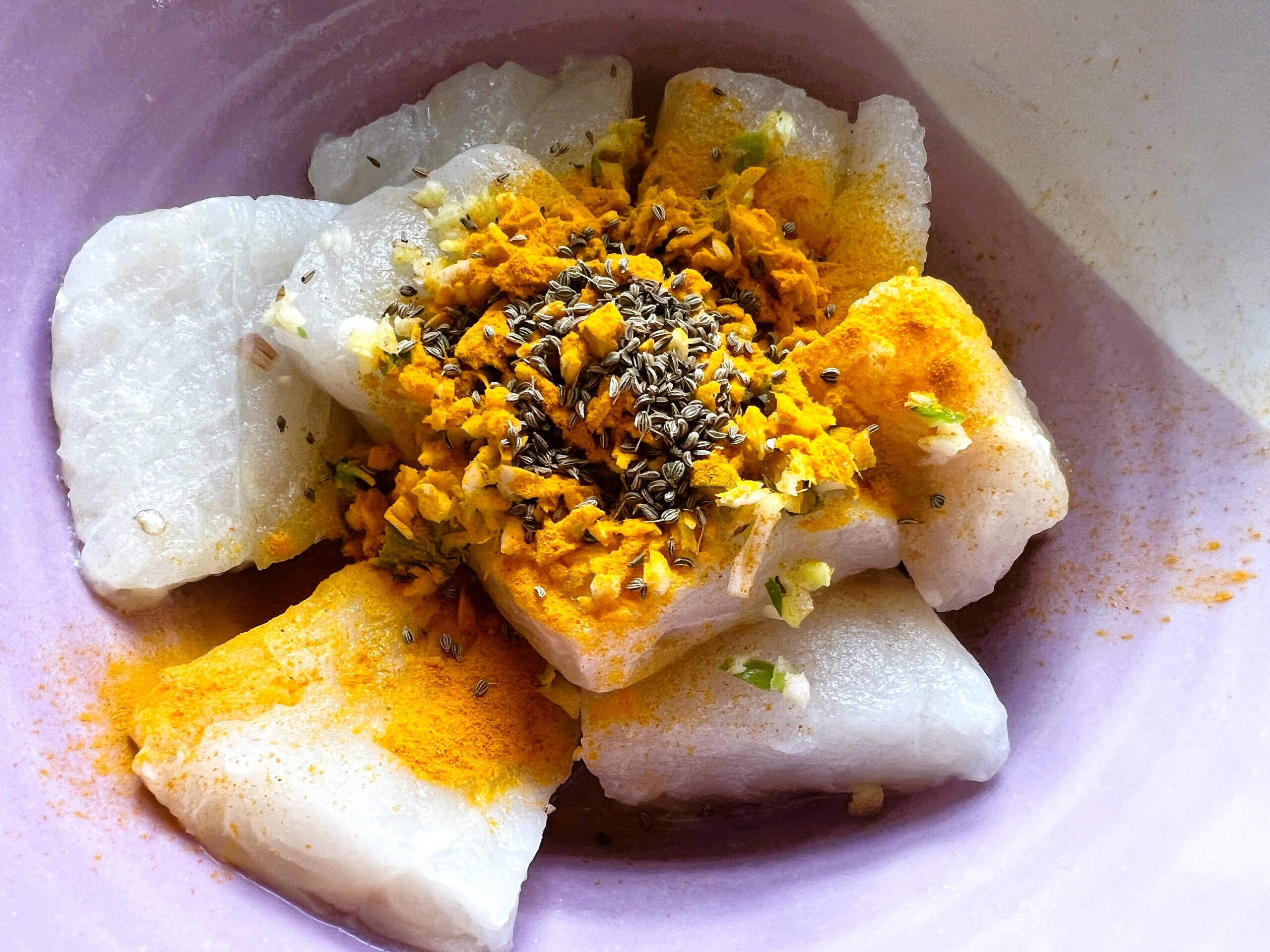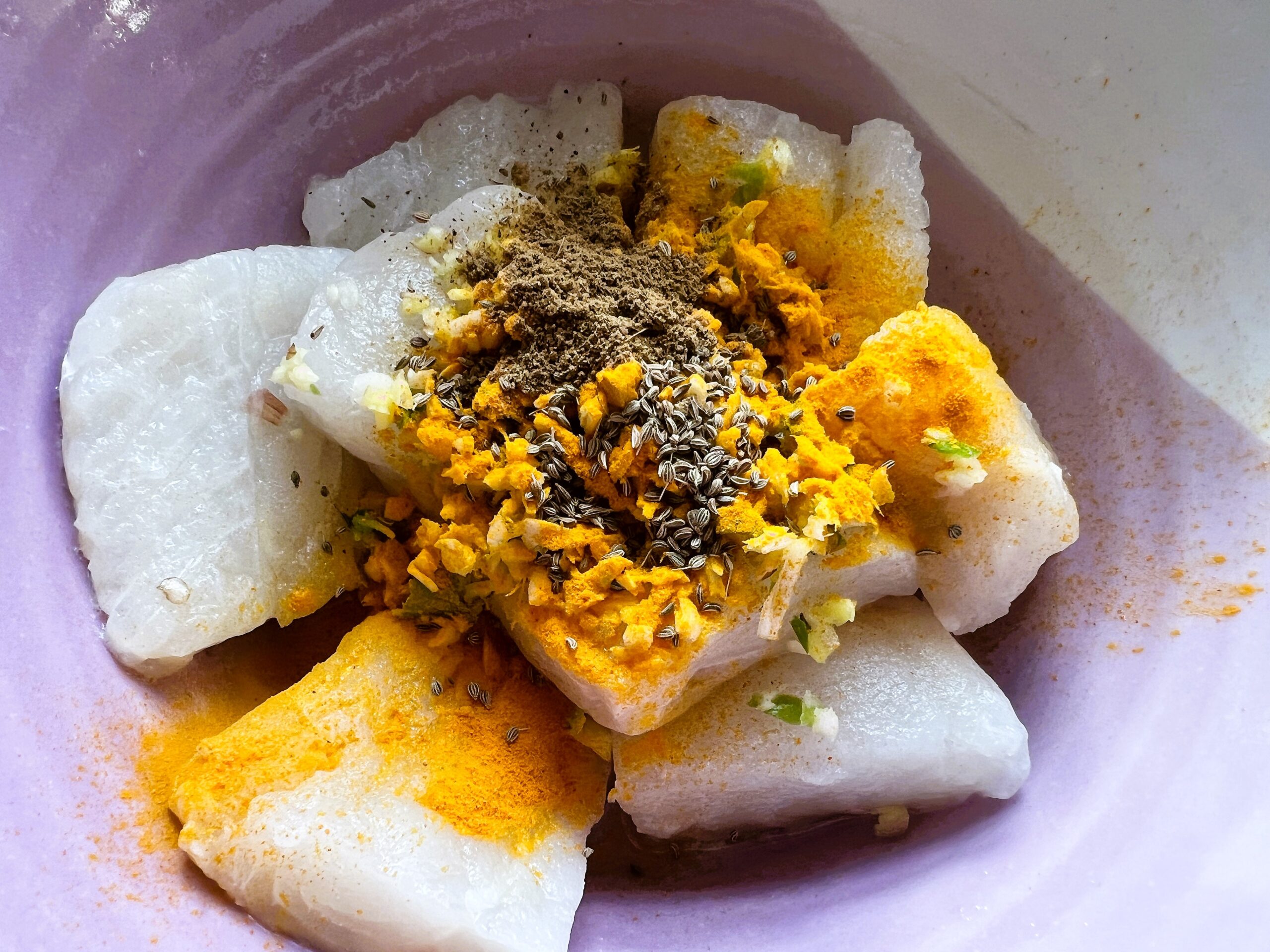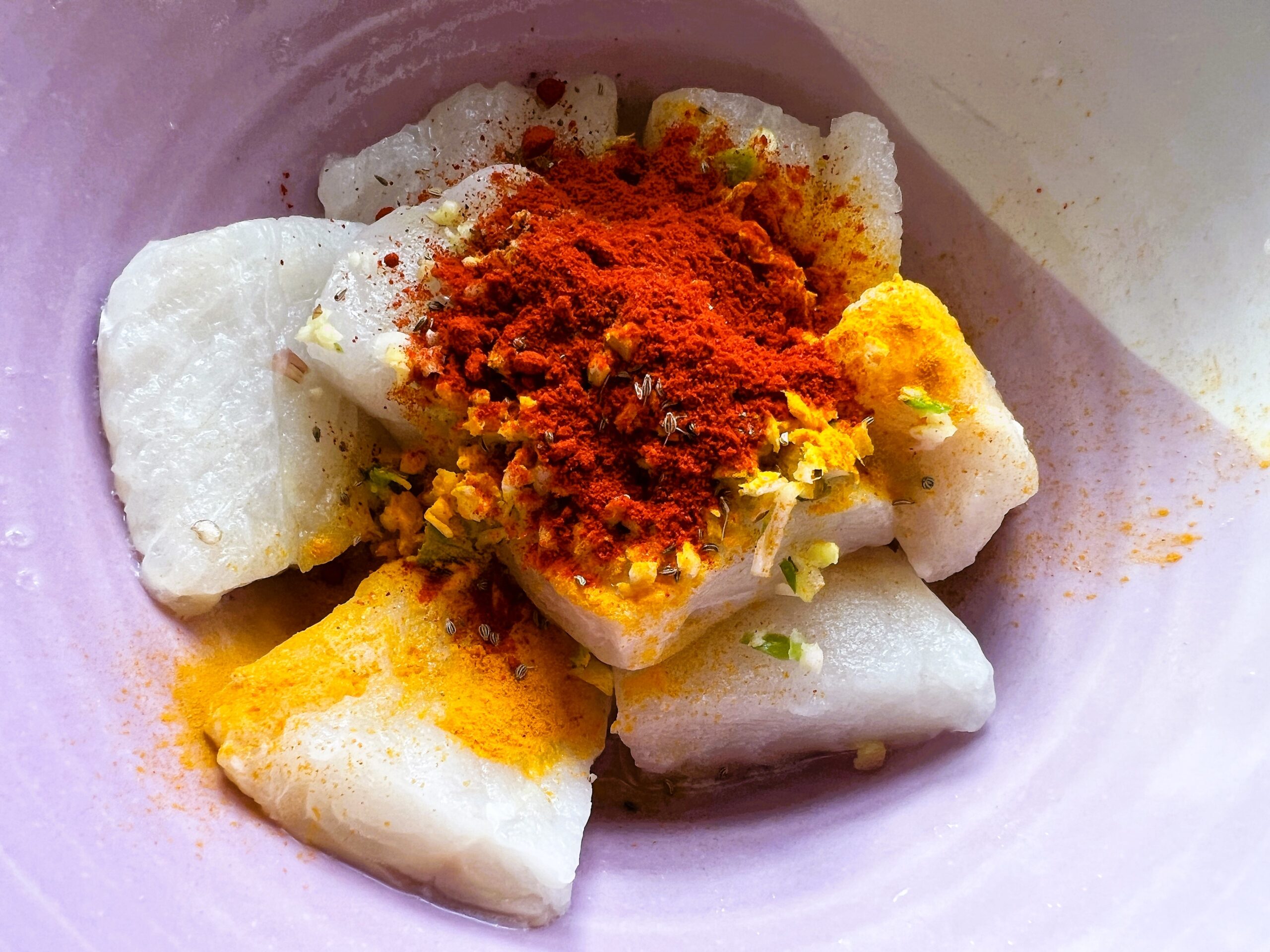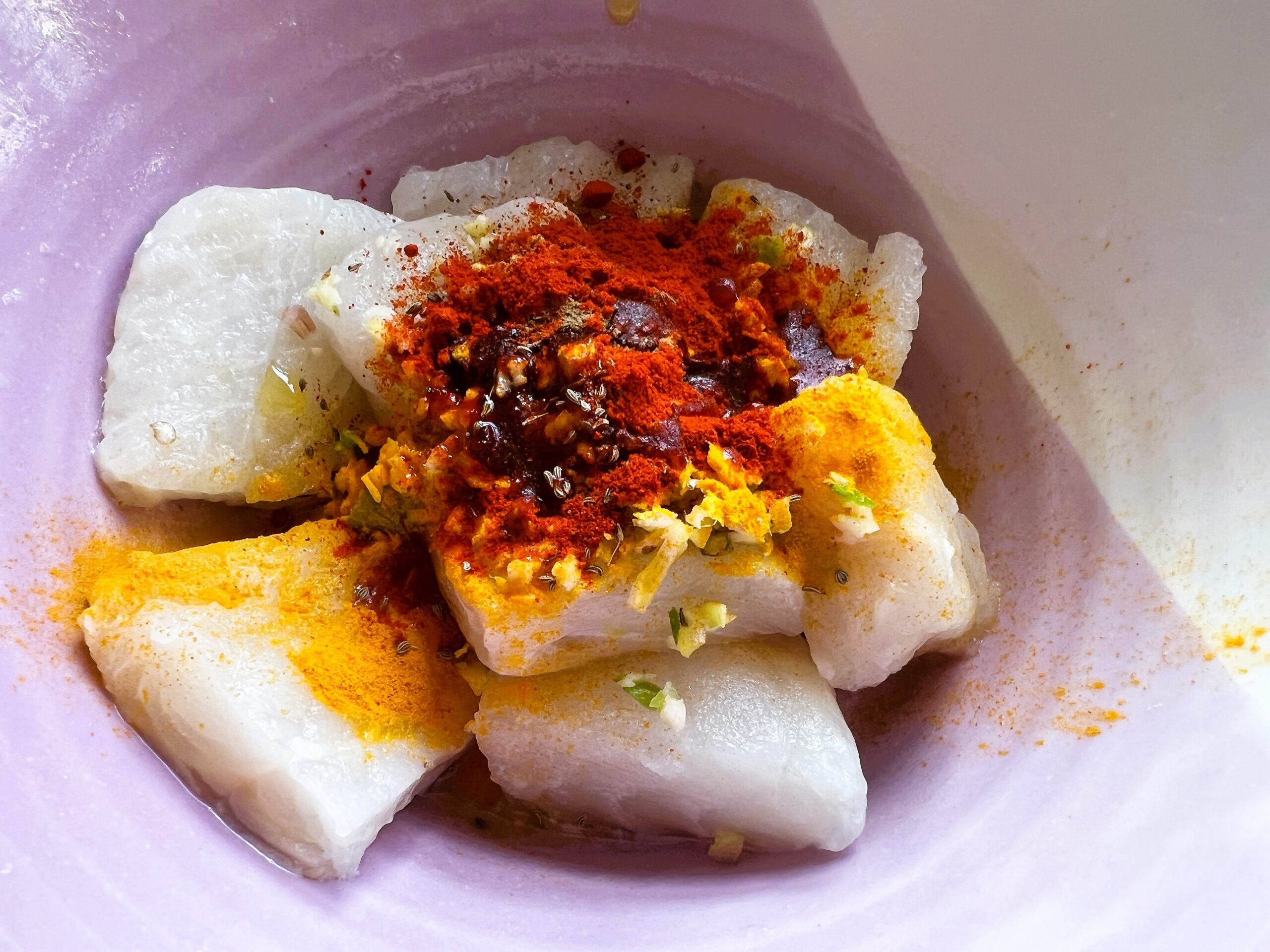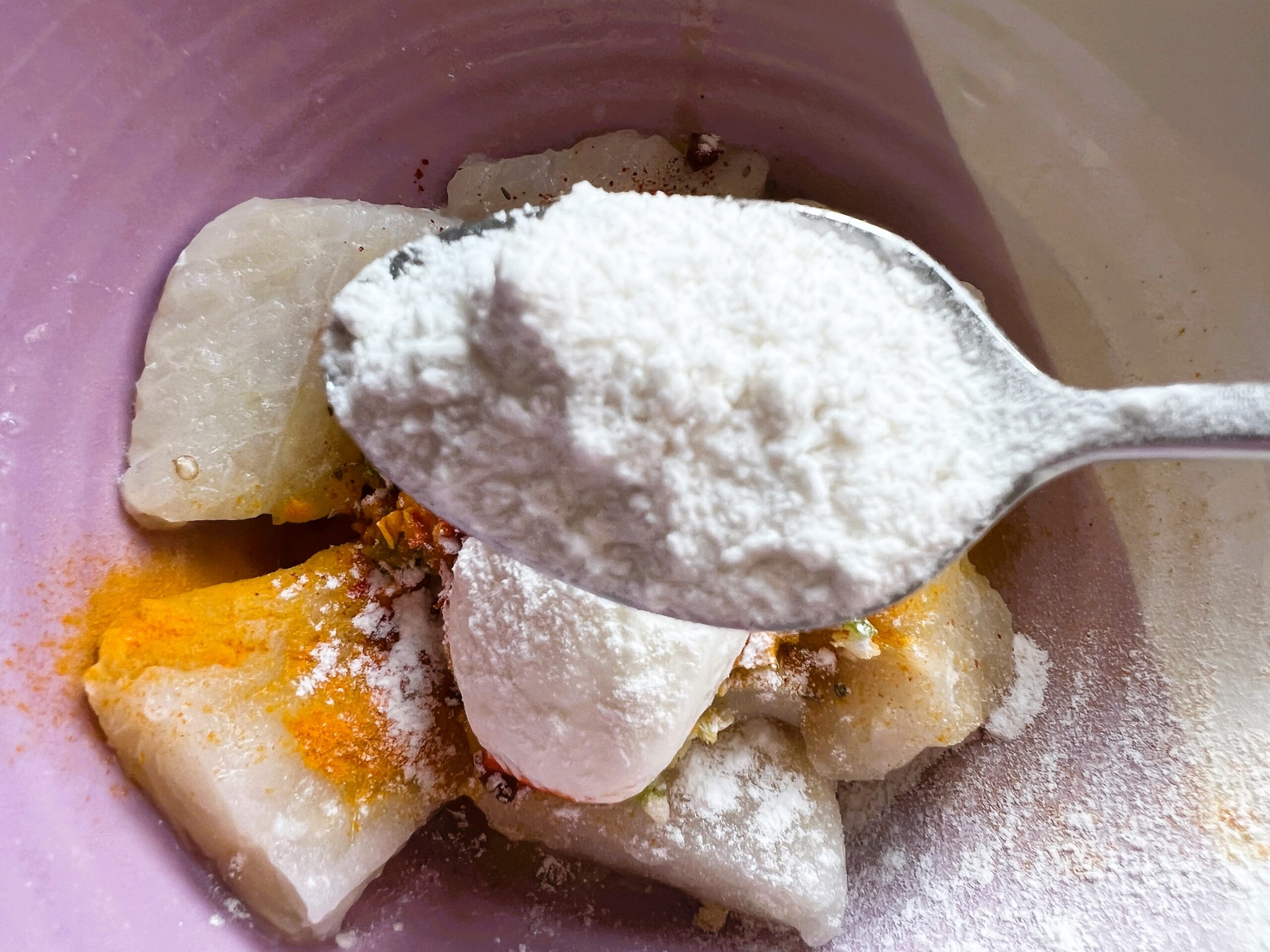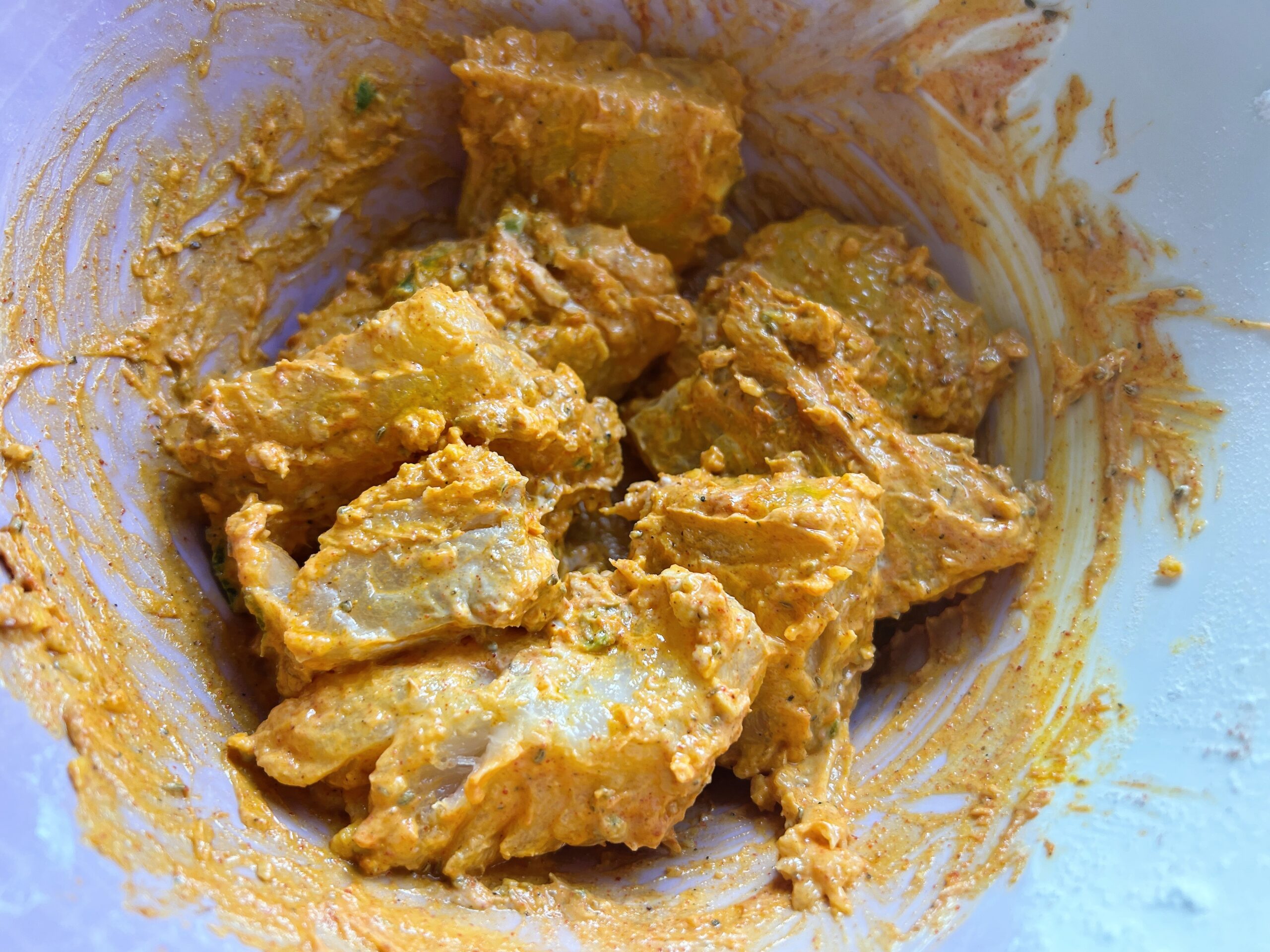 Grind the ginger, garlic and green chillies. Add it to the fish along with turmeric powder, carom seeds, garam masala, Kashmiri Lal Mirch, oil, yogurt and rice powder and mix until the fish pieces are thoroughly coated in the marinade. Leave to marinate in the fridge for 1-2 hours.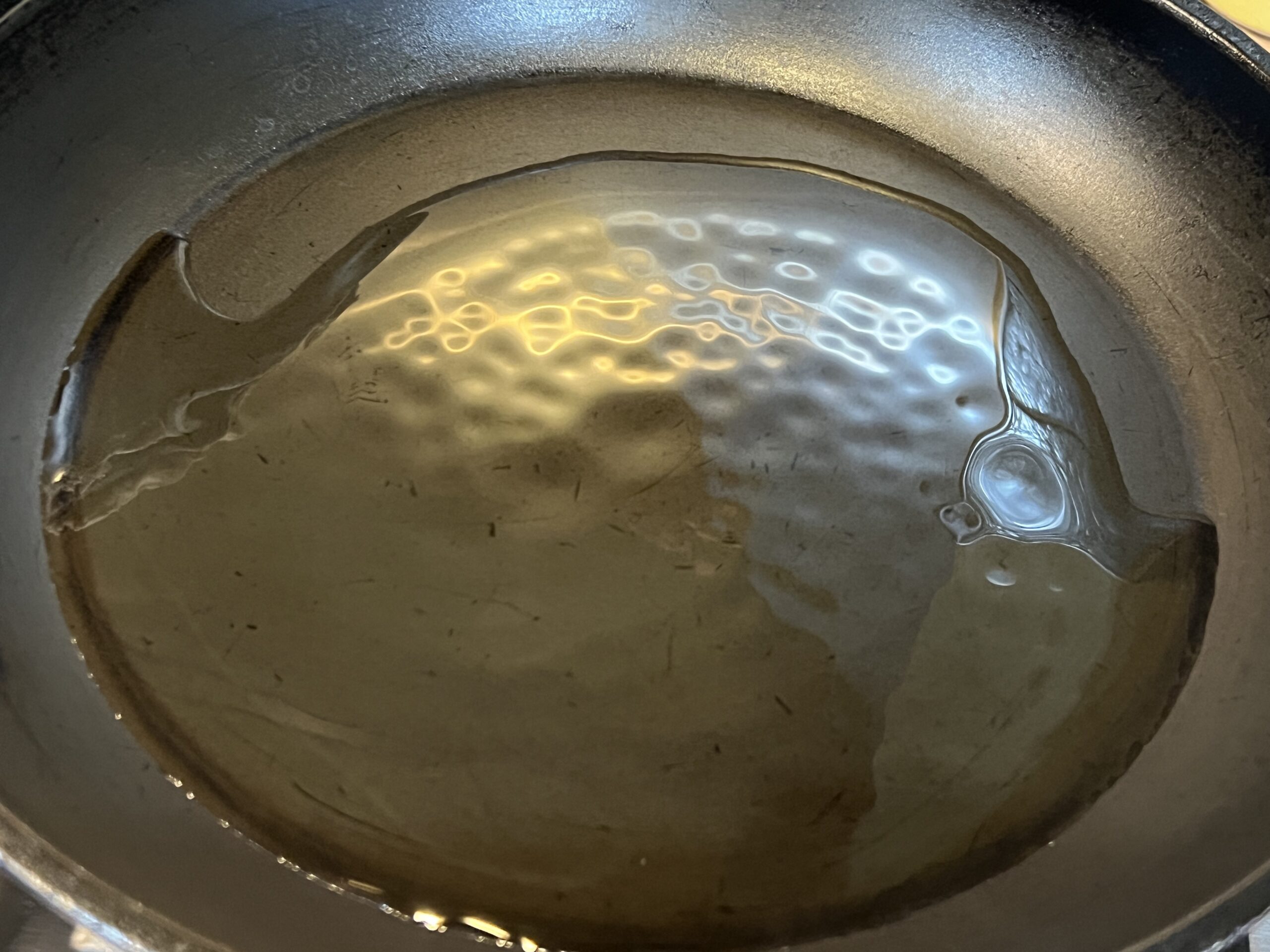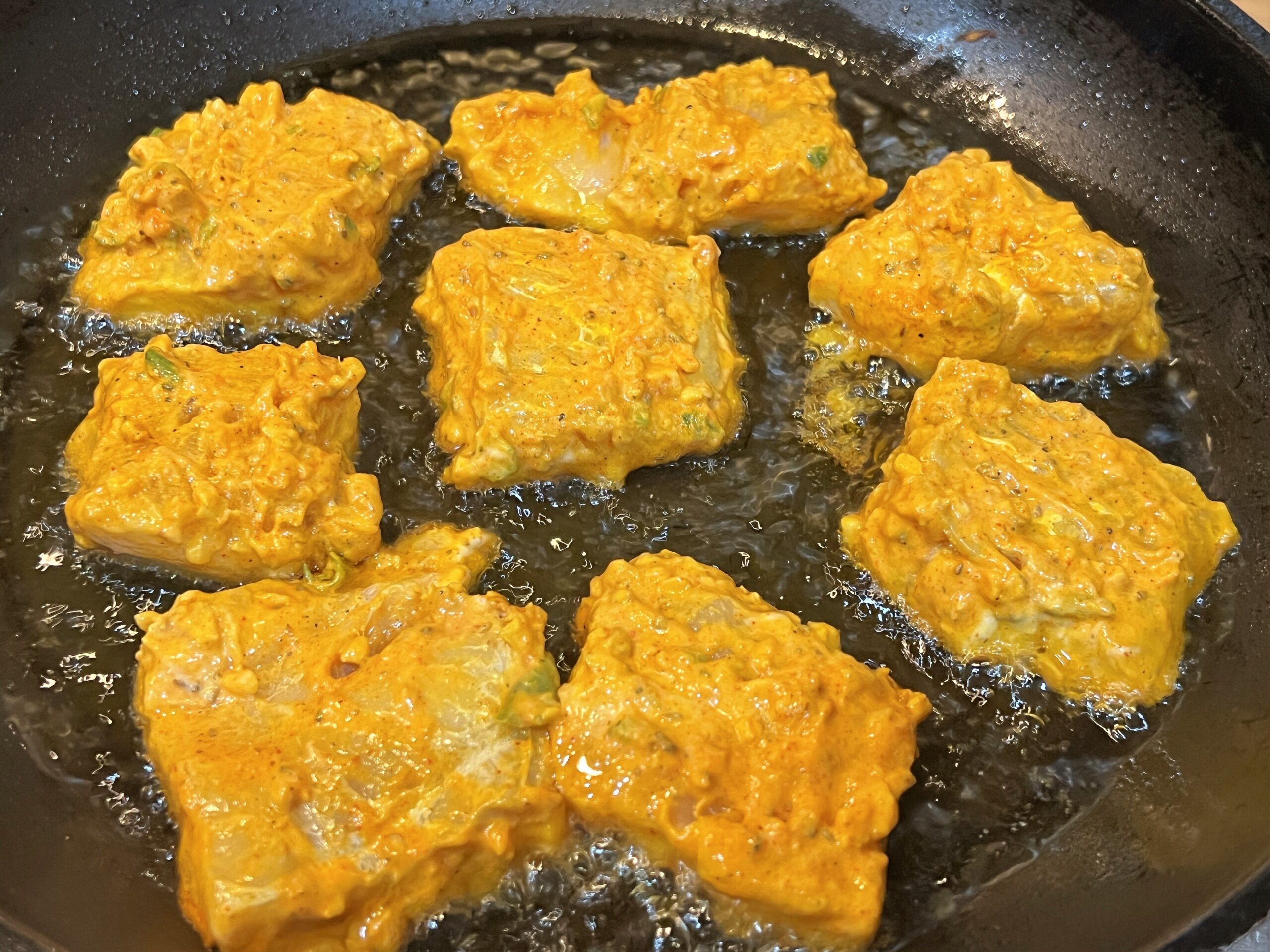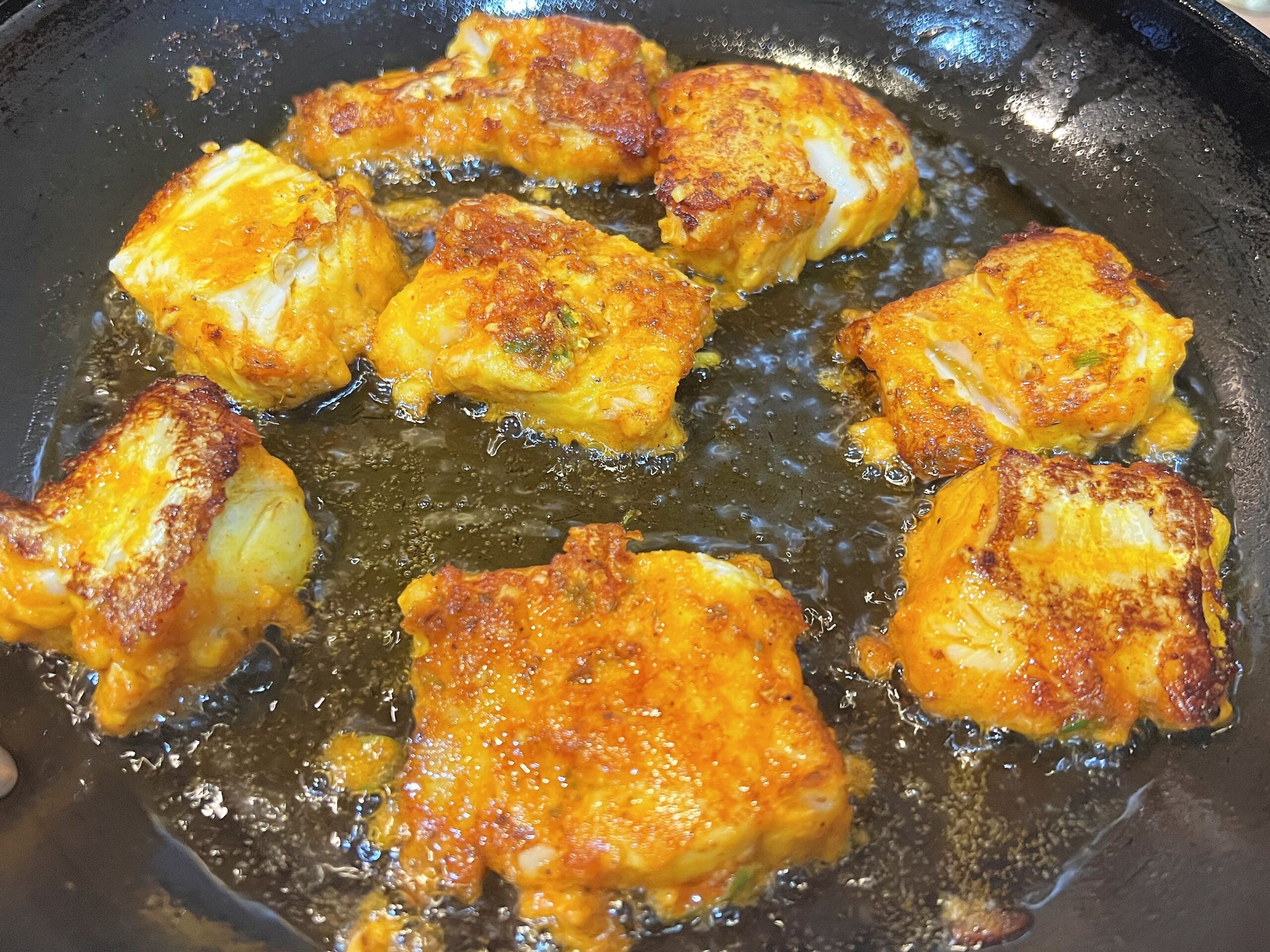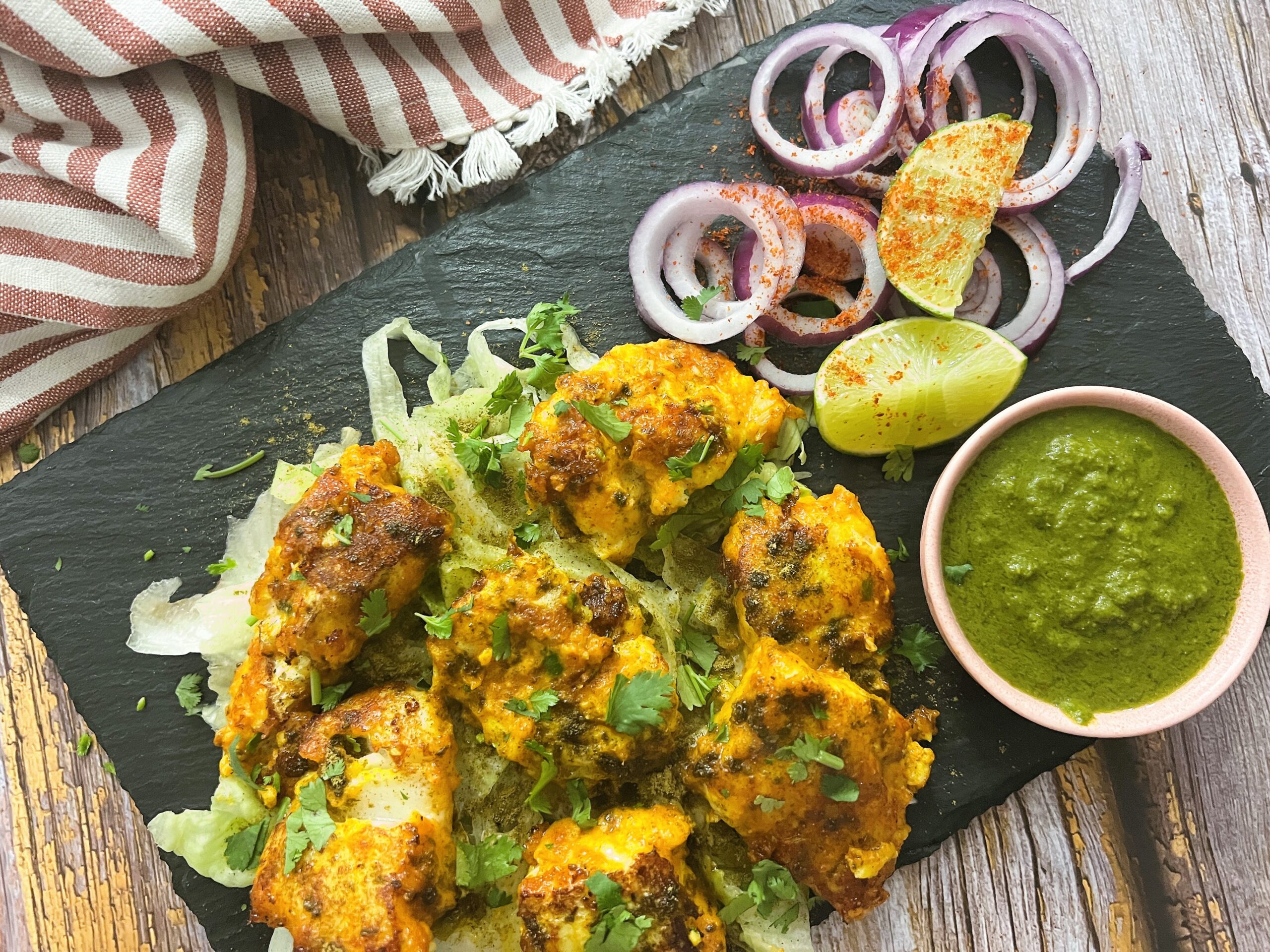 Once marinated heat oil in a non-stick pan and gently cook the fish until golden and crispy and cooked. It takes around 2 minutes to cook the fish from each side. The fish is cooked when the flesh becomes opaque. The time will vary depending on the thickness of the fish.
To serve, sprinkle the chaat masala and coriander leaves and enjoy with green chutney.