Tandoori Aloo Paratha
Tandoori Aloo Paratha is one of the most popular Indian bread one can find on the restaurant menus across the world. You would rarely meet a North Indian who doesn't love an Aloo Paratha. Tandoori Aloo Paratha is whole wheat flatbread, stuffed with spicy mashed potatoes and cooked in a cooker for the iconic tandoori taste.
In my kitchen, aloo paratha presides over all other parathas. I love the tandoori version of the aloo paratha for those special days when you just want something scrumptious and comforting.
My recipe of Tandoori aloo paratha is nothing fancy, it is a basic recipe but instead of cooking with oodles of ghee/butter (definitely a place for that too) I have cooked it in a cooker for a crispier paratha that can be enjoyed without that feeling of guilt. Every family has their own variations of the aloo paratha stuffing. There is no right or wrong way to make the stuffing! Saying that, the stuffing of the aloo paratha can be a deal maker or deal breaker for foodies. So, always taste the potato filling and adjust the seasoning according to your taste before stuffing it in the paratha (then it is too late).
Tandoori Aloo Paratha is crisp on the edges and soft in the center and is perfect to serve with Dal Makhani, Burani Raita, Mixed Dal, Paneer Butter Masala or any other Indian vegetable.
Ingredients
For The Dough
2 cups whole wheat flour
Salt to taste (optional)
3/4 cup warm water approximately
For Potato Filling
2 medium sized boiled and peeled potatoes
1 finely chopped green chilli
½ inch grated ginger
1 finely chopped onion
Salt to taste
½ teaspoon carom seeds
½ teaspoon roasted cumin powder
1 tablespoon finely chopped coriander leaves
½ teaspoon chilli powder
½ teaspoon garam masala
¼ teaspoon dried mango powder
½ teaspoon dried mint powder (optional)
½ teaspoon chaat masala (optional)
Other Ingredients
¼ cup whole wheat flour
1-2 teaspoons oil/butter/ghee
Directions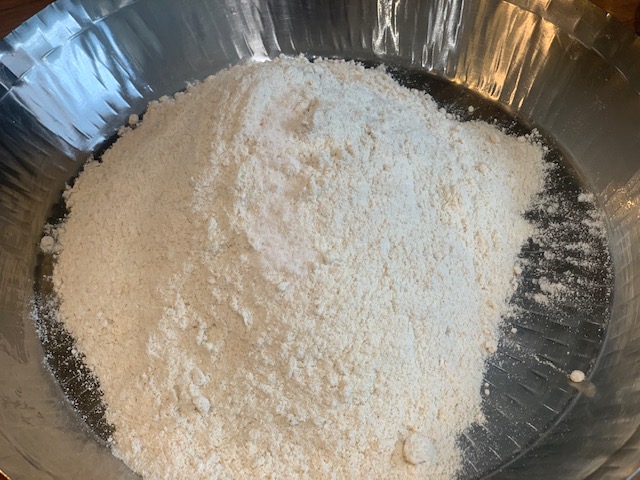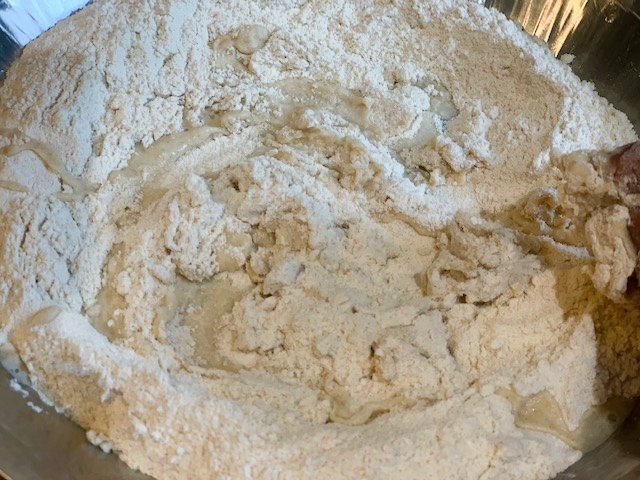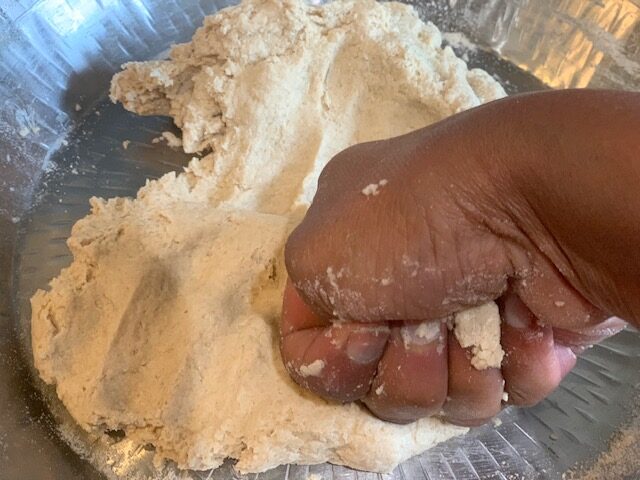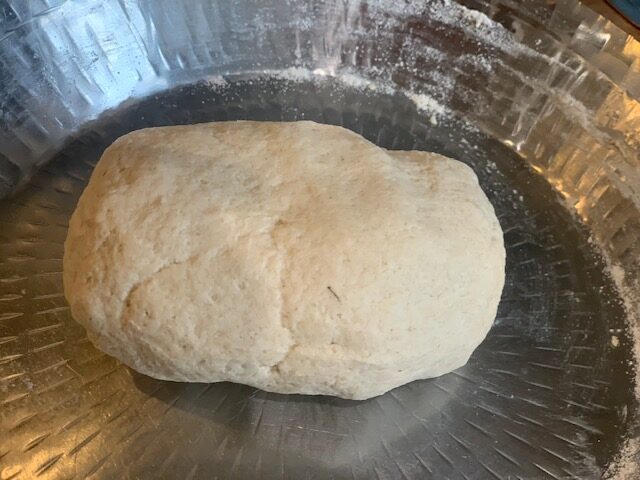 In a bowl, add the whole wheat flour and salt and mix well. Slowly add warm water and mix into a soft dough. Knead for a few minutes and allow the dough to rest for at least 30 minutes. This helps in gluten formation and helps in making paratha soft.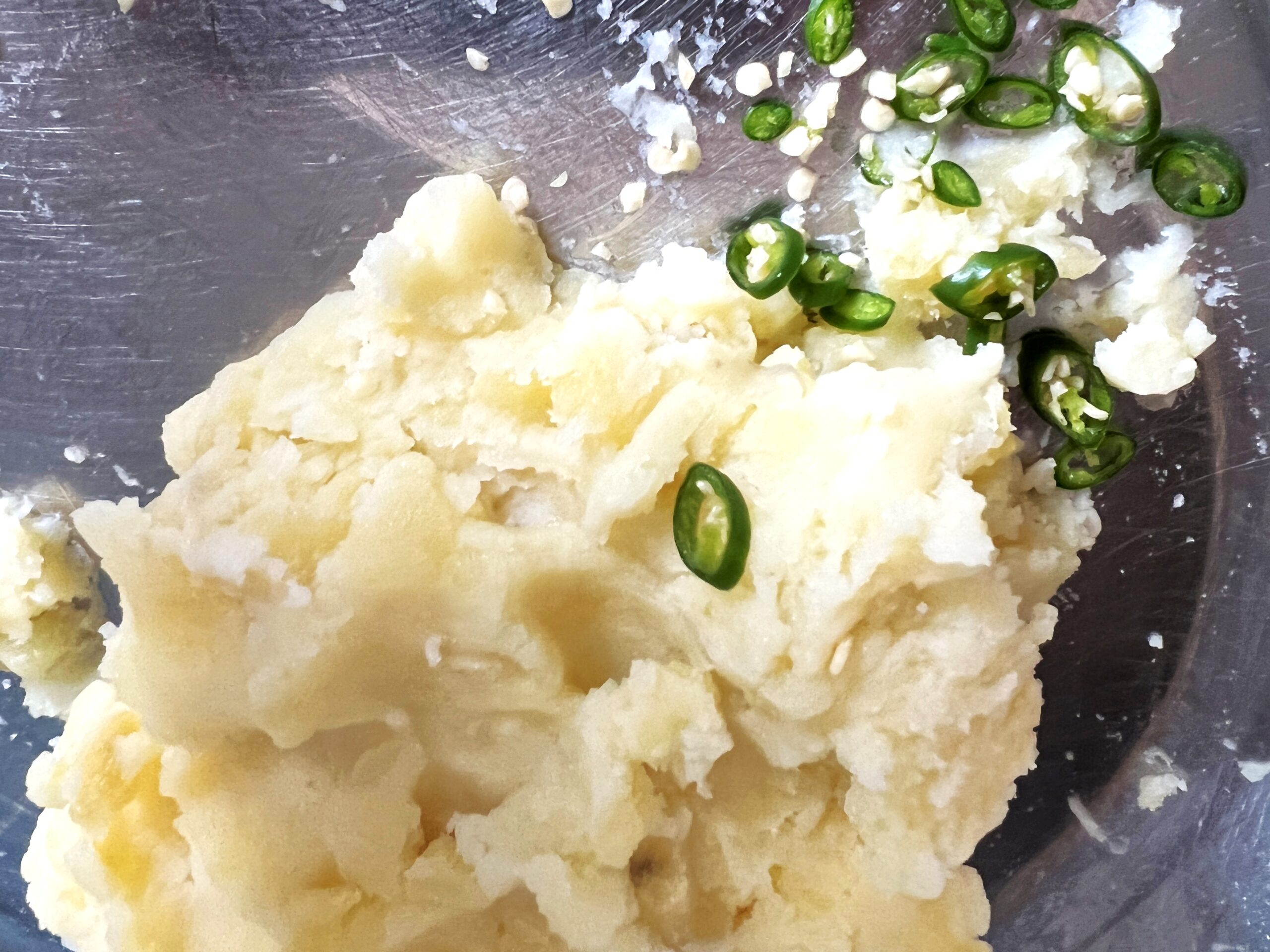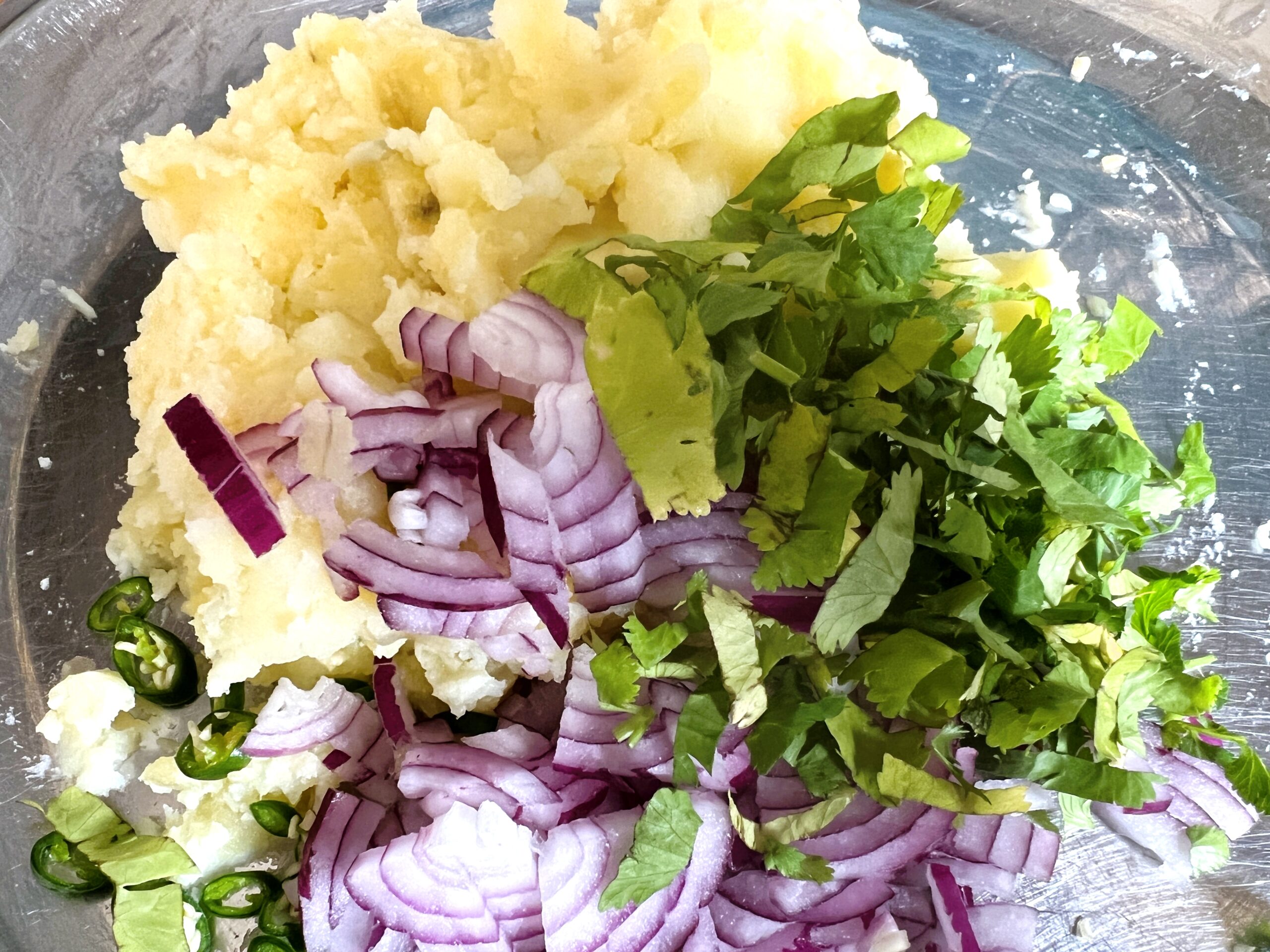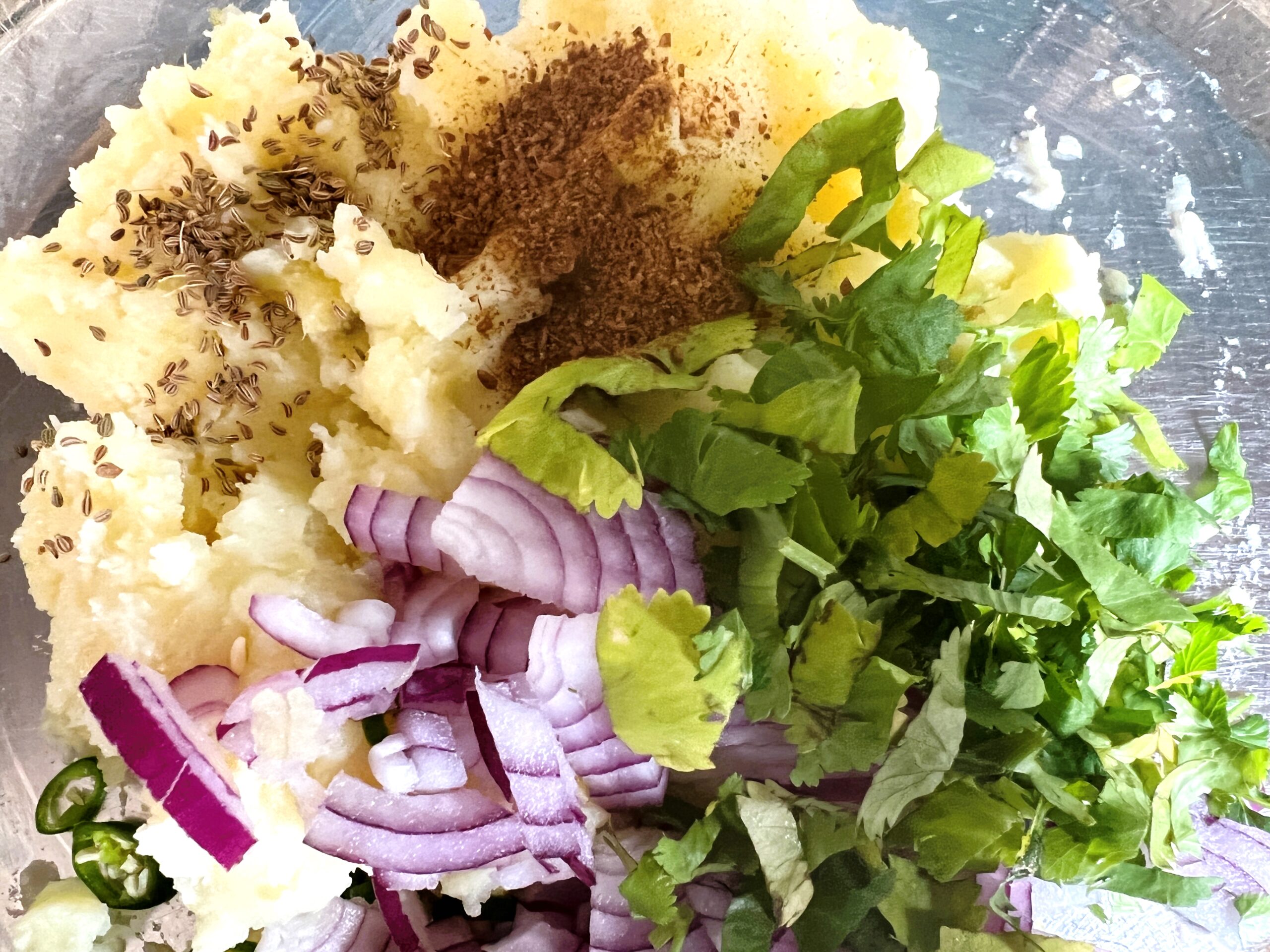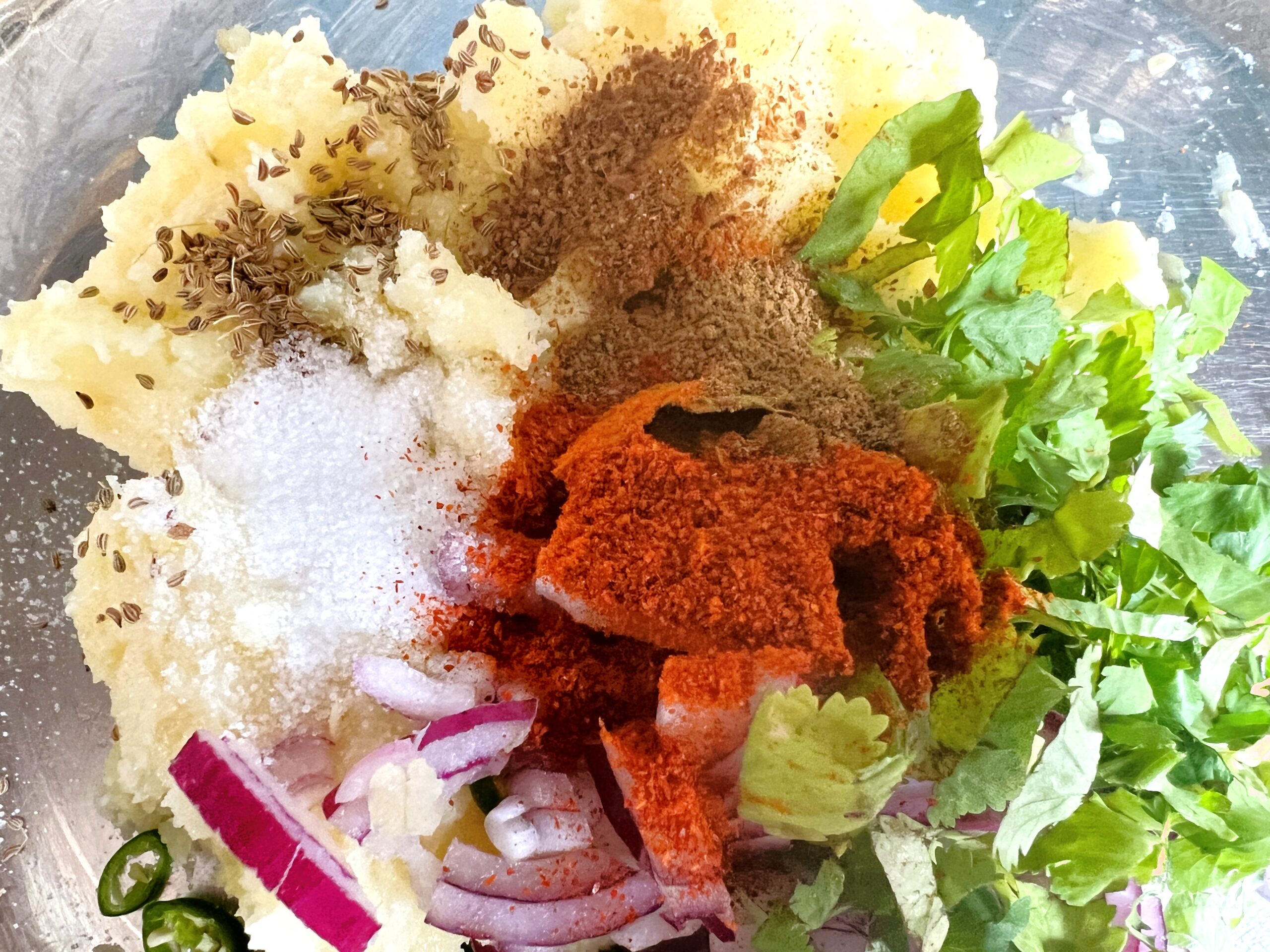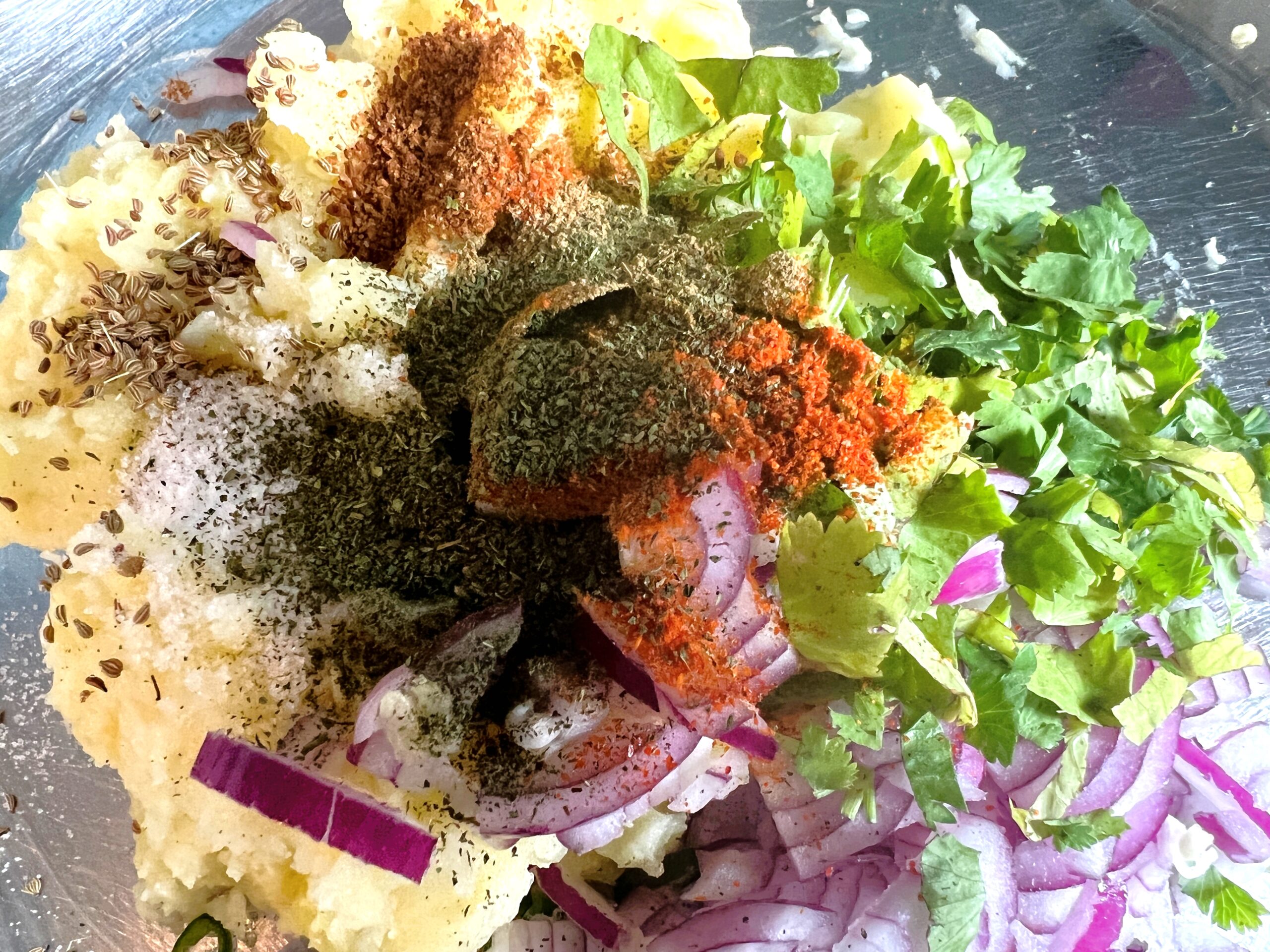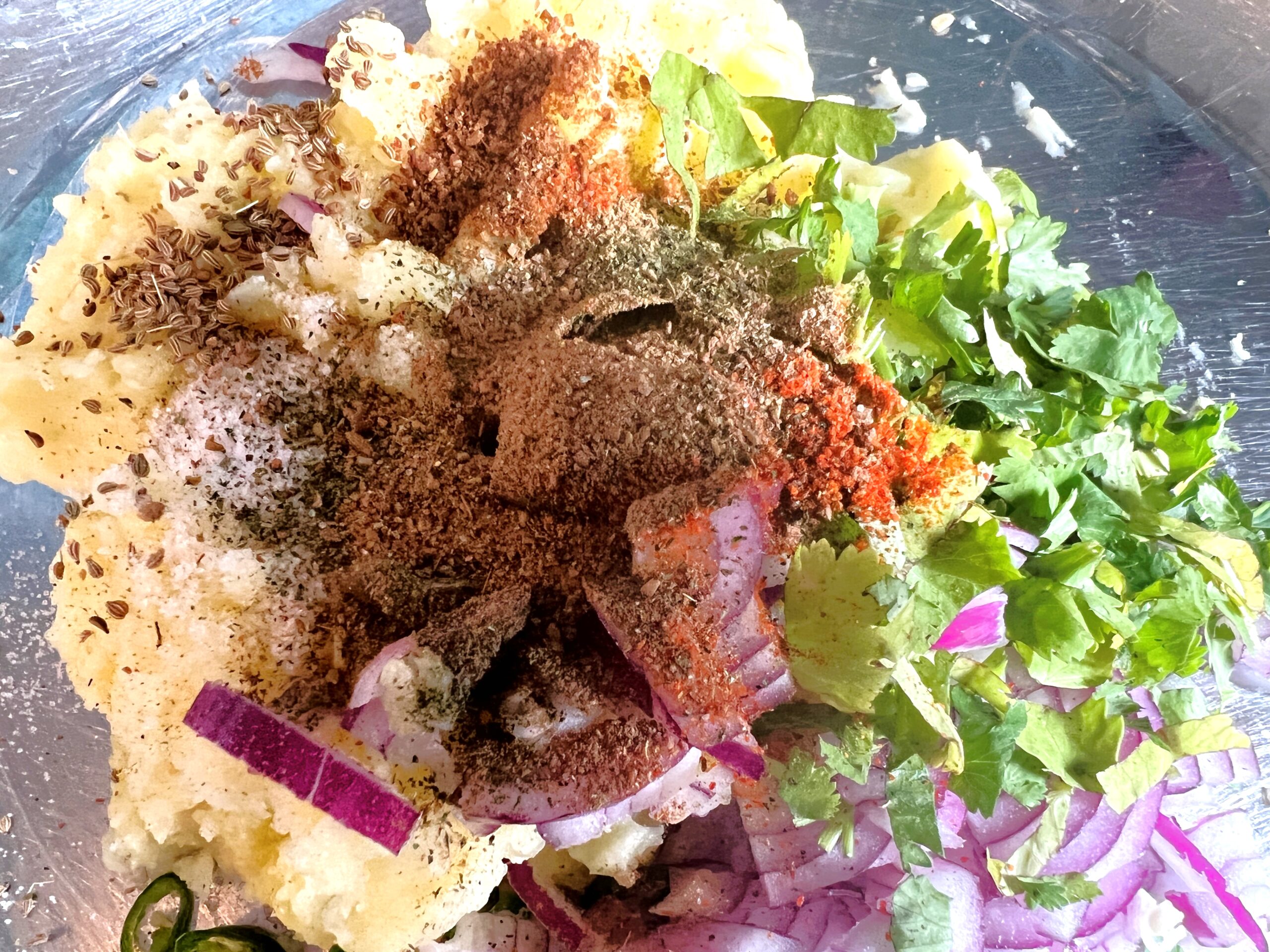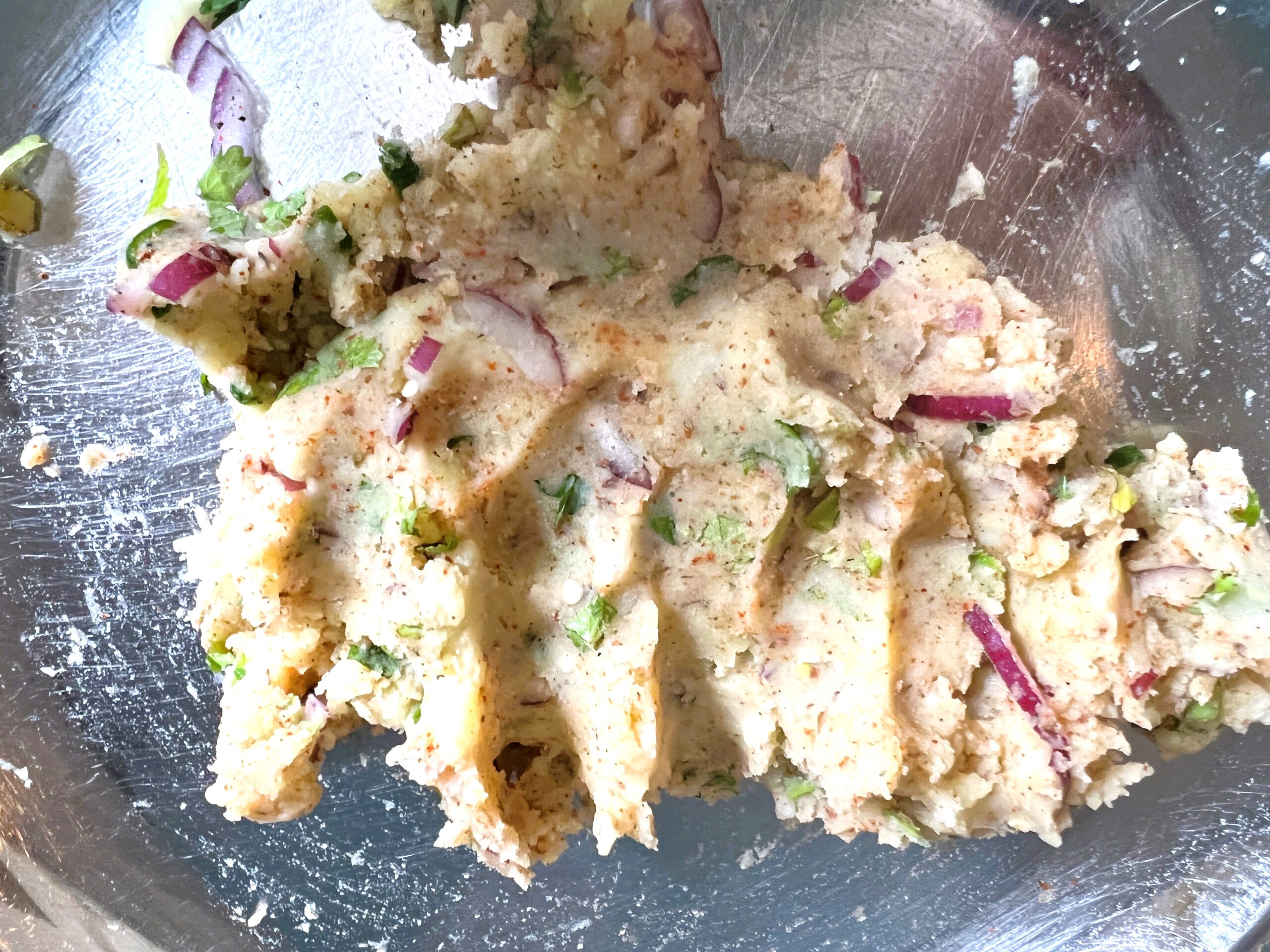 Mash the boiled potatoes and add the green chilli, ginger, onion, salt, carom seeds, roasted cumin powder, coriander leaves, chilli powder, garam masala, mango powder, mint powder (optional) and chaat masala (optional) and mix. Taste to adjust the seasoning.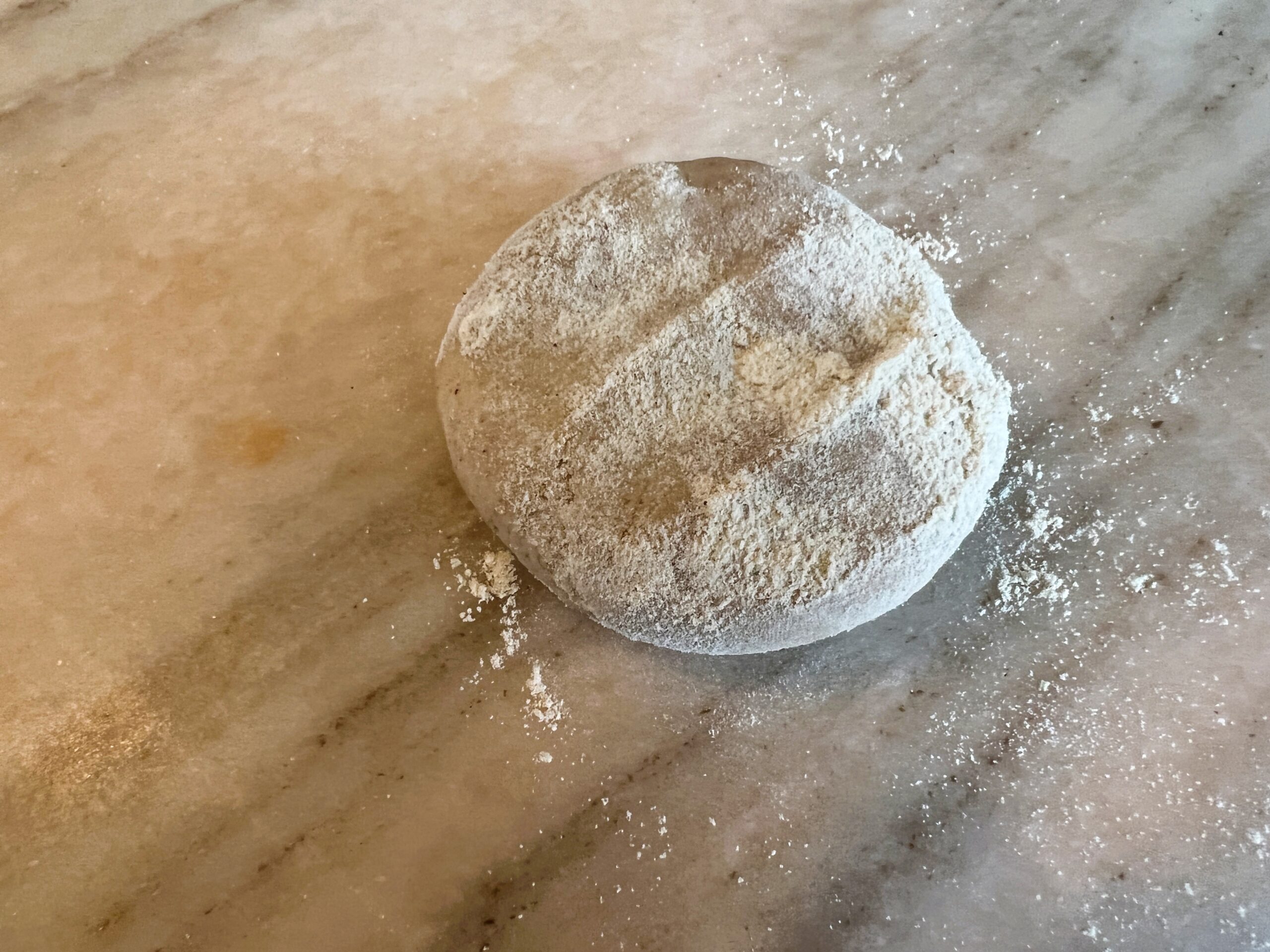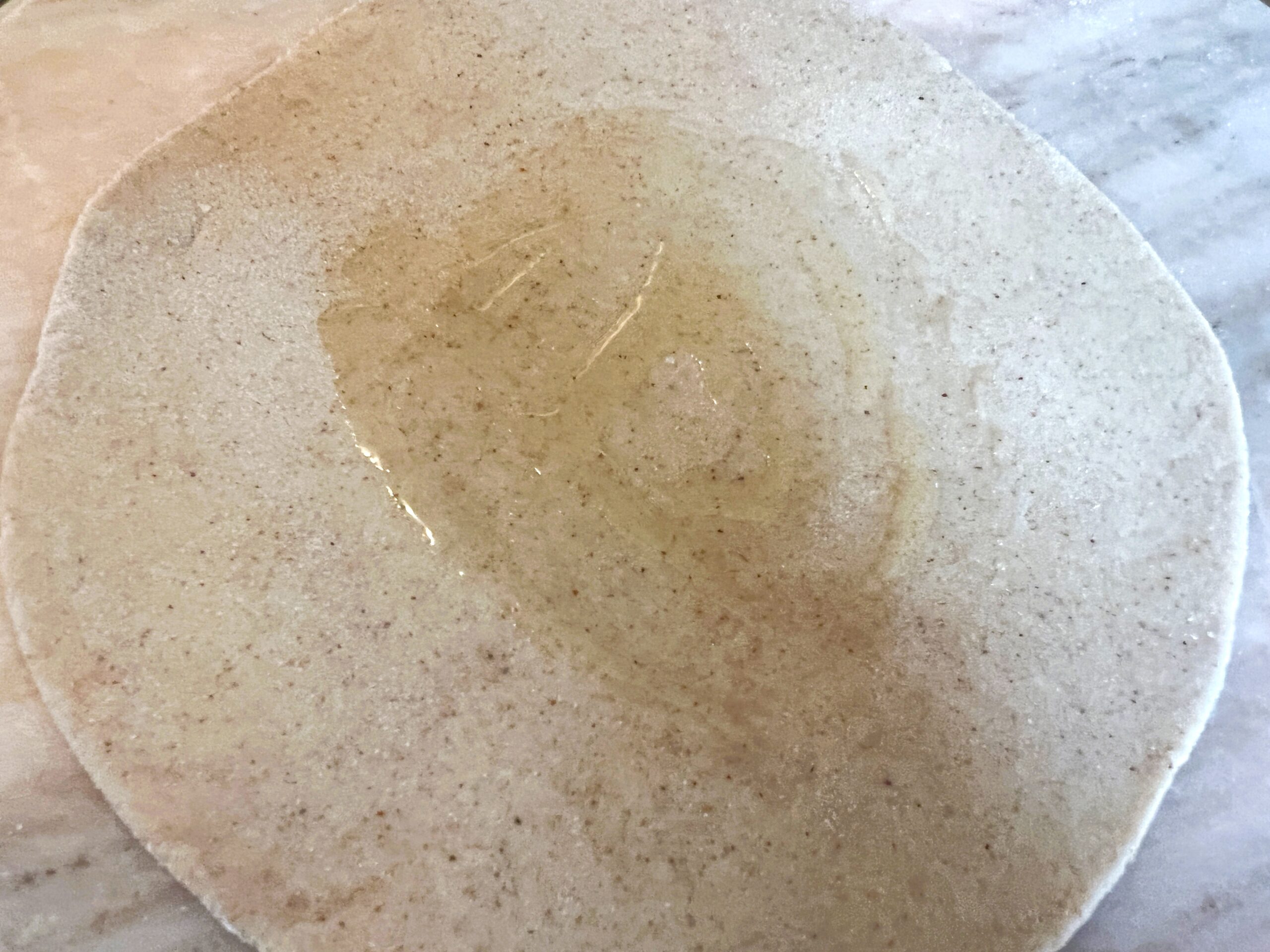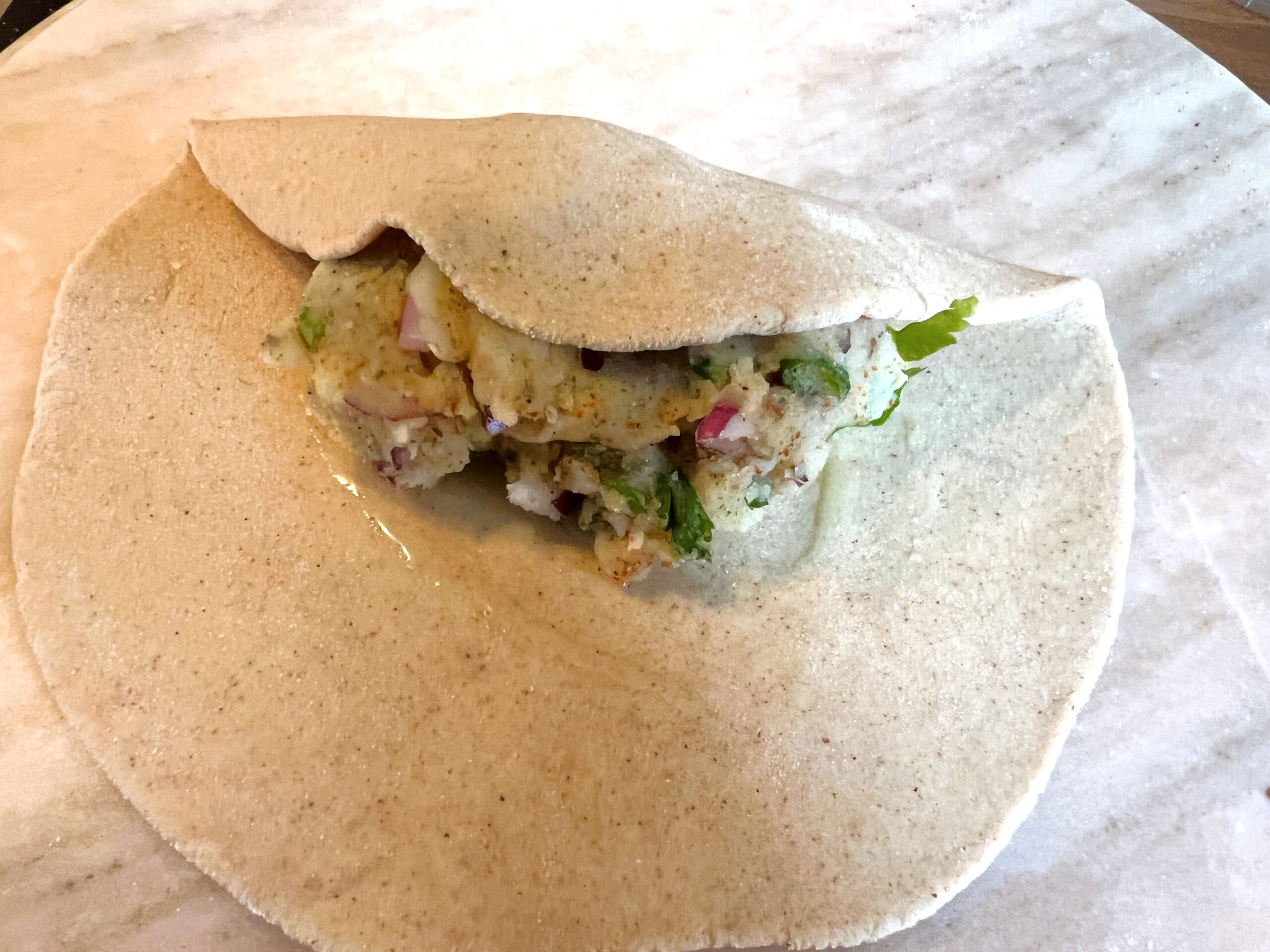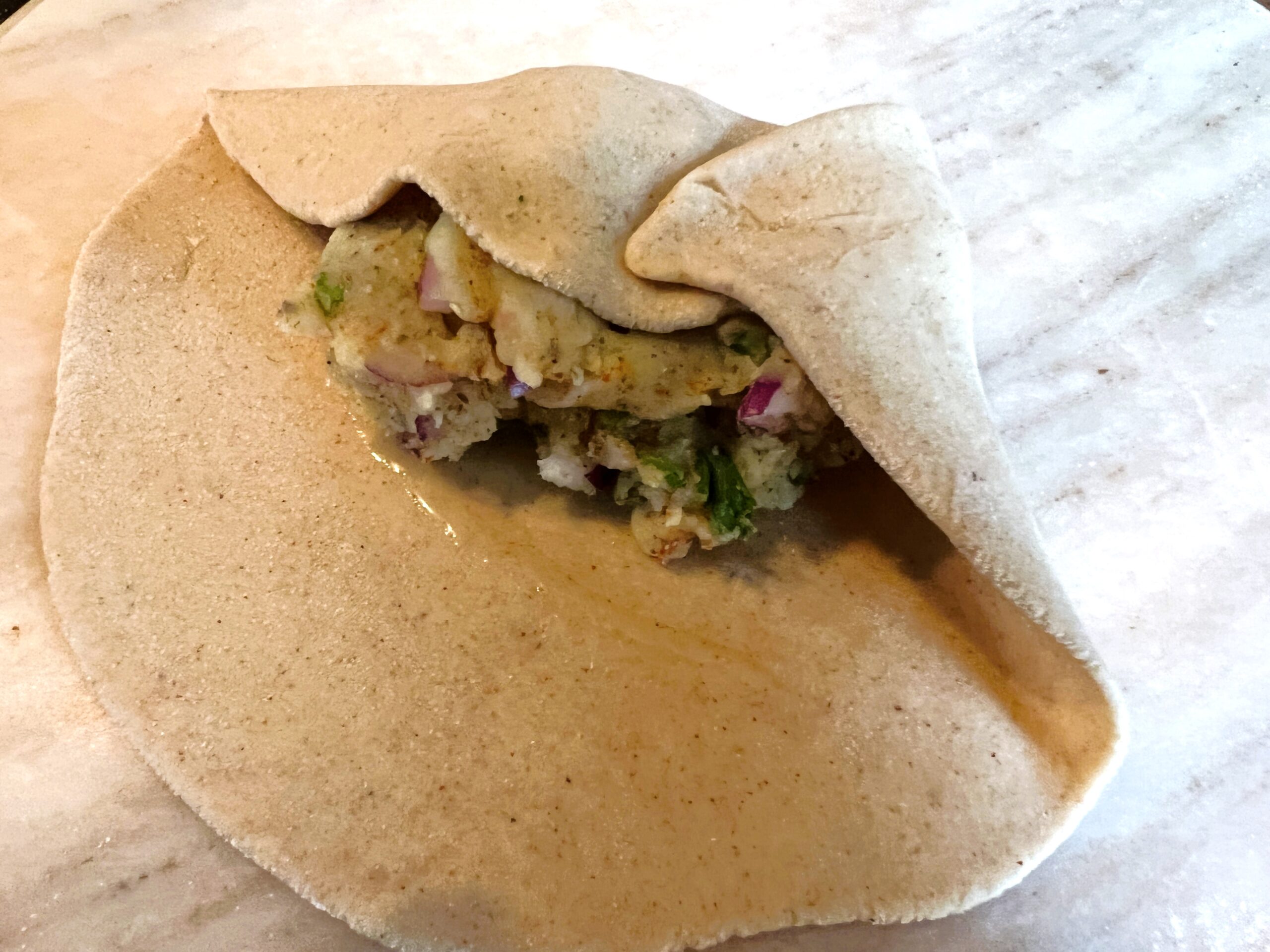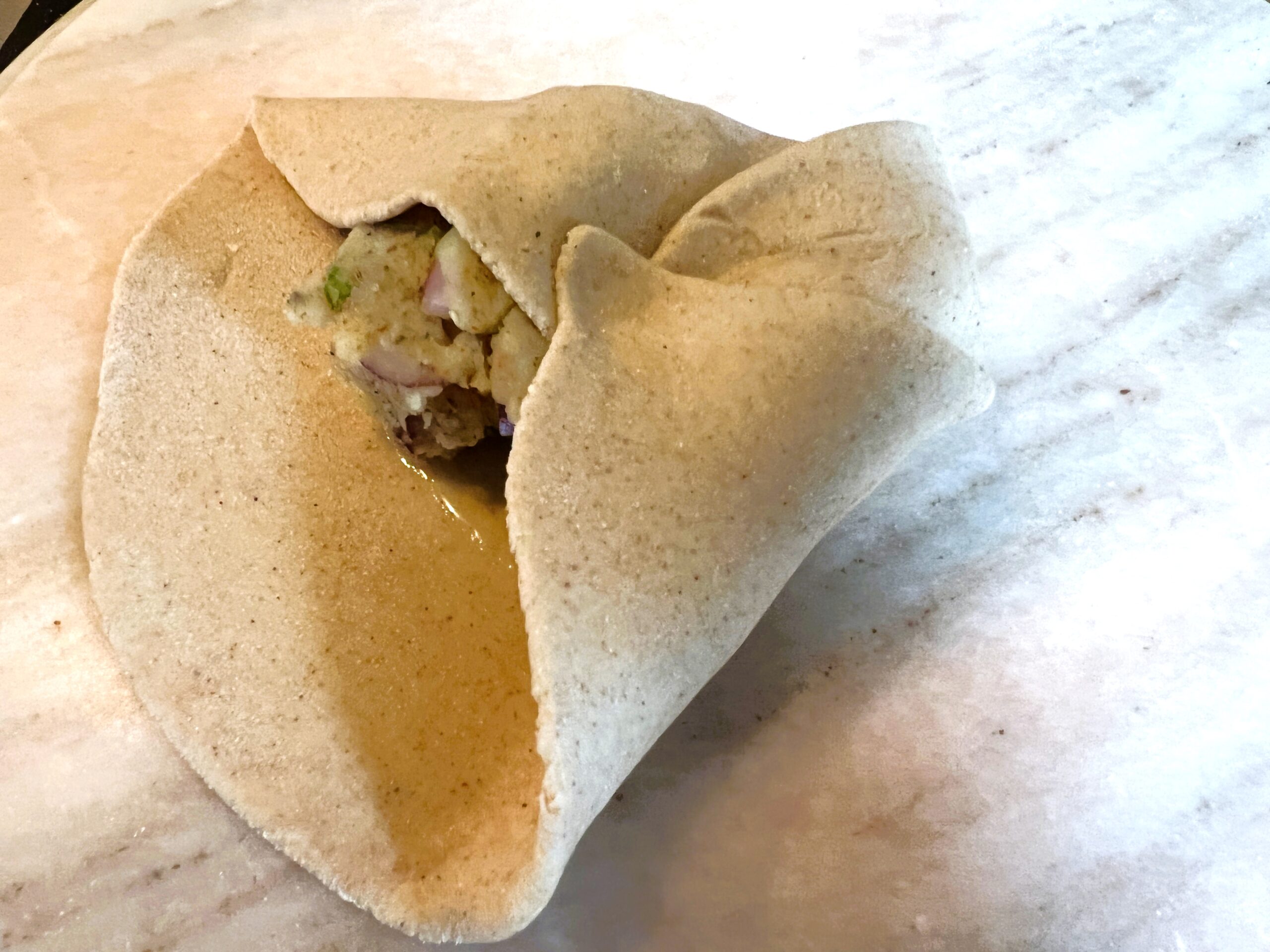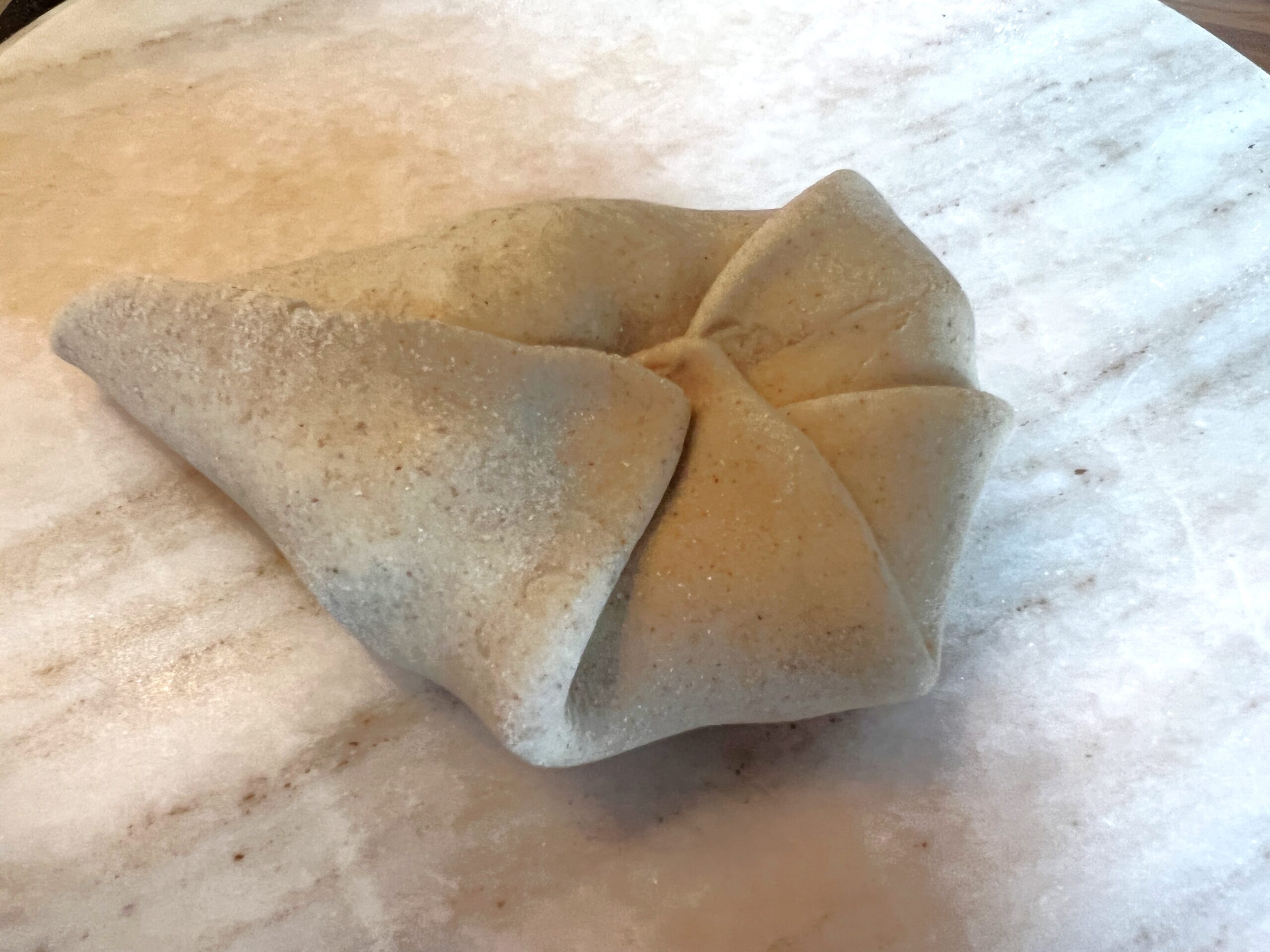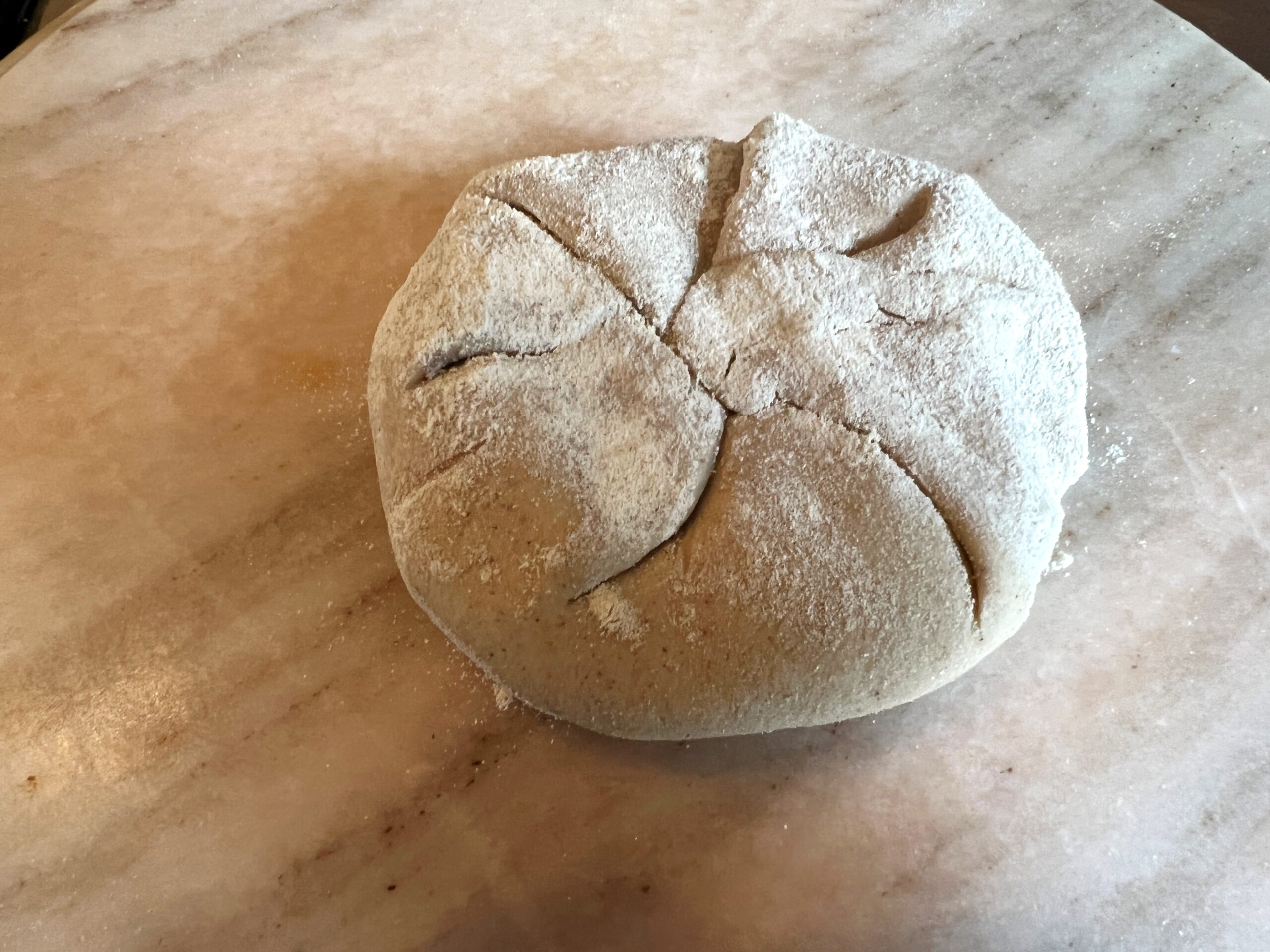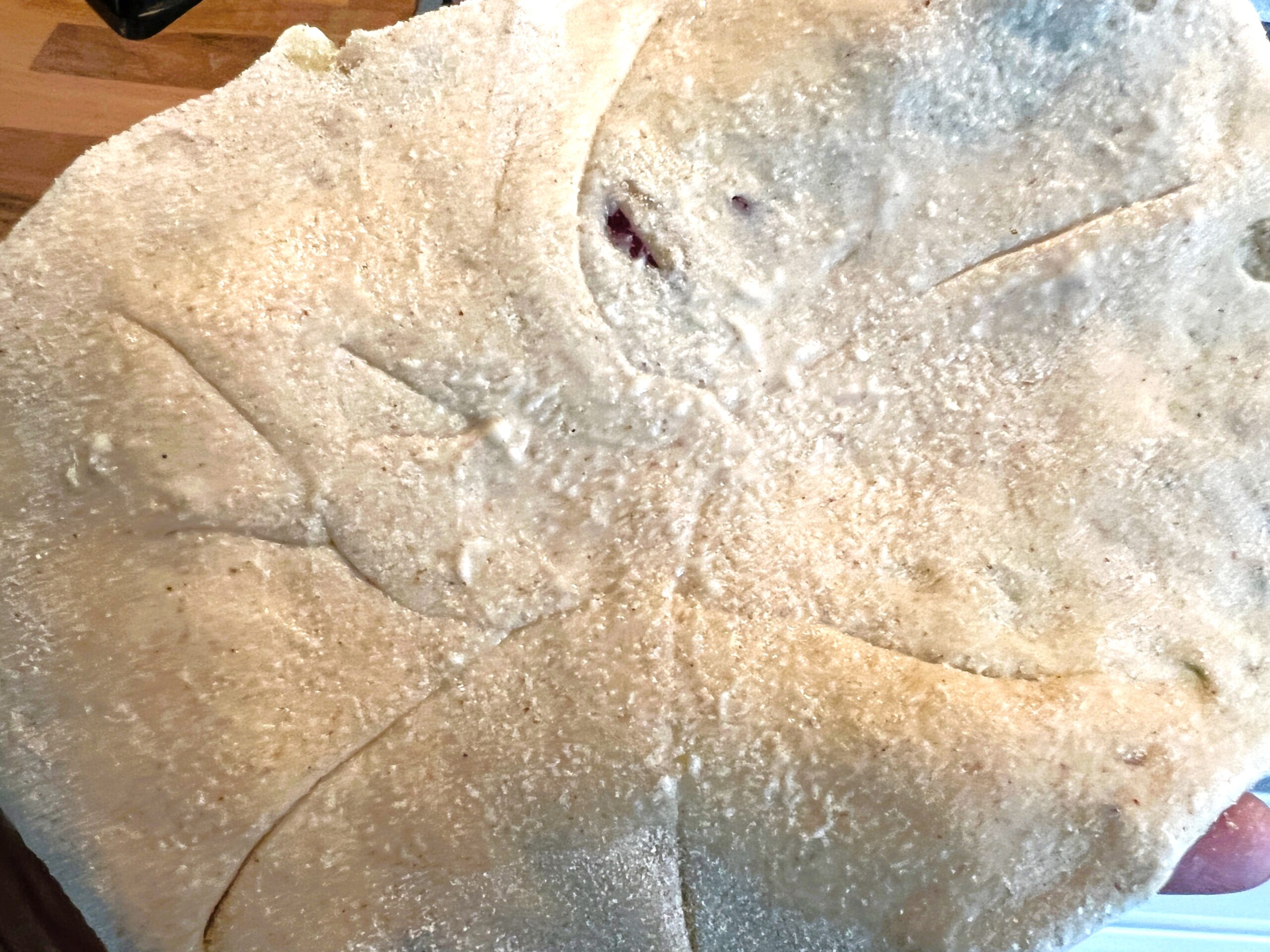 Pinch out 6-7 lime sized balls off the dough and roll them into a smooth ball.
Roll one dough ball in dry flour and roll it to a 4–5-inch diameter. Drizzle some oil/ghee and spread it in the middle. Place 1-1½ teaspoon of the prepared potato filling in the middle. Bring together all the sides in the center. Press lightly to seal the edges well.
Roll the ball in dry flour and then gently roll it to a 4" diameter circle. Use some extra flour for dusting if it sticks to the work surface.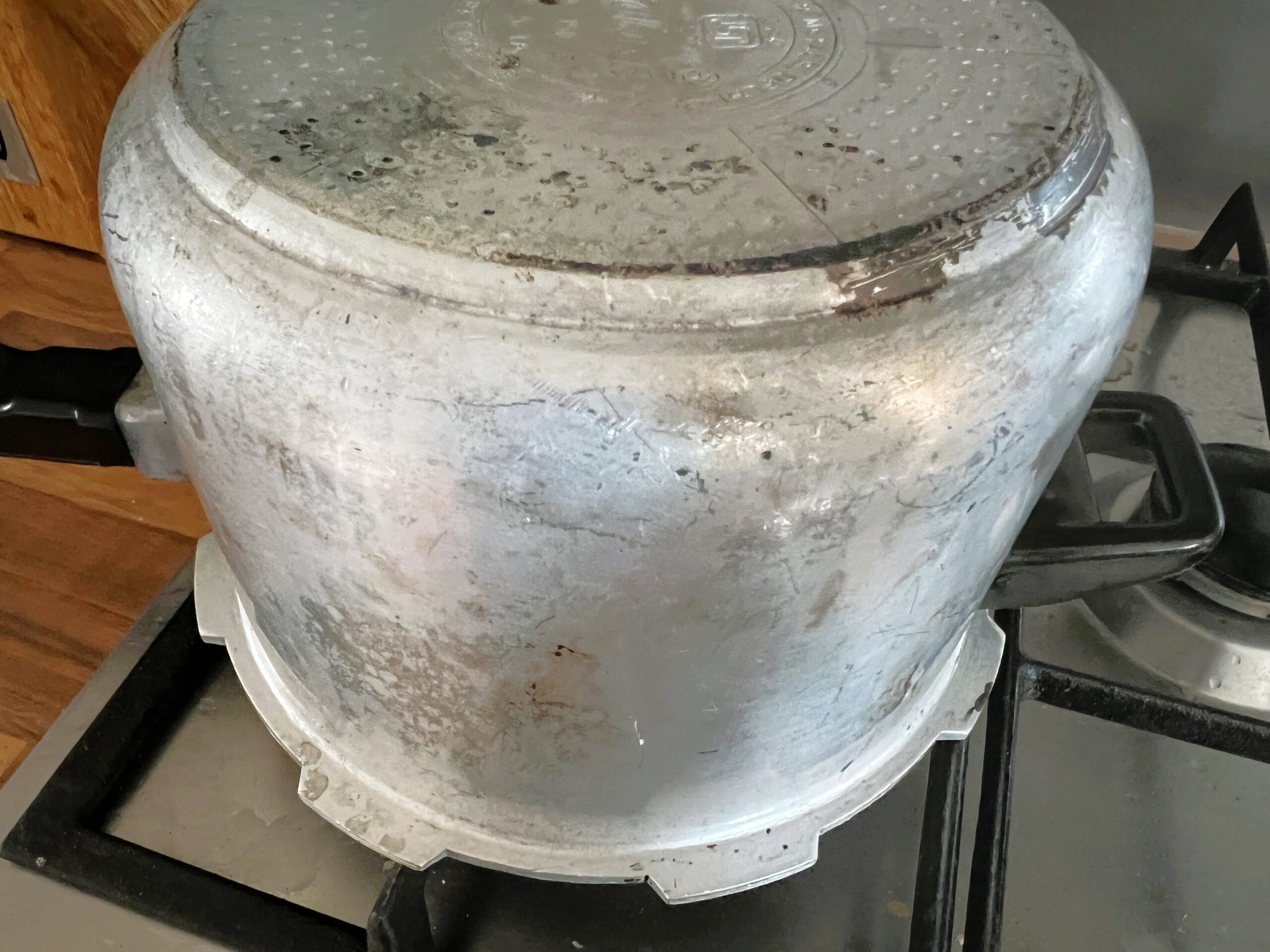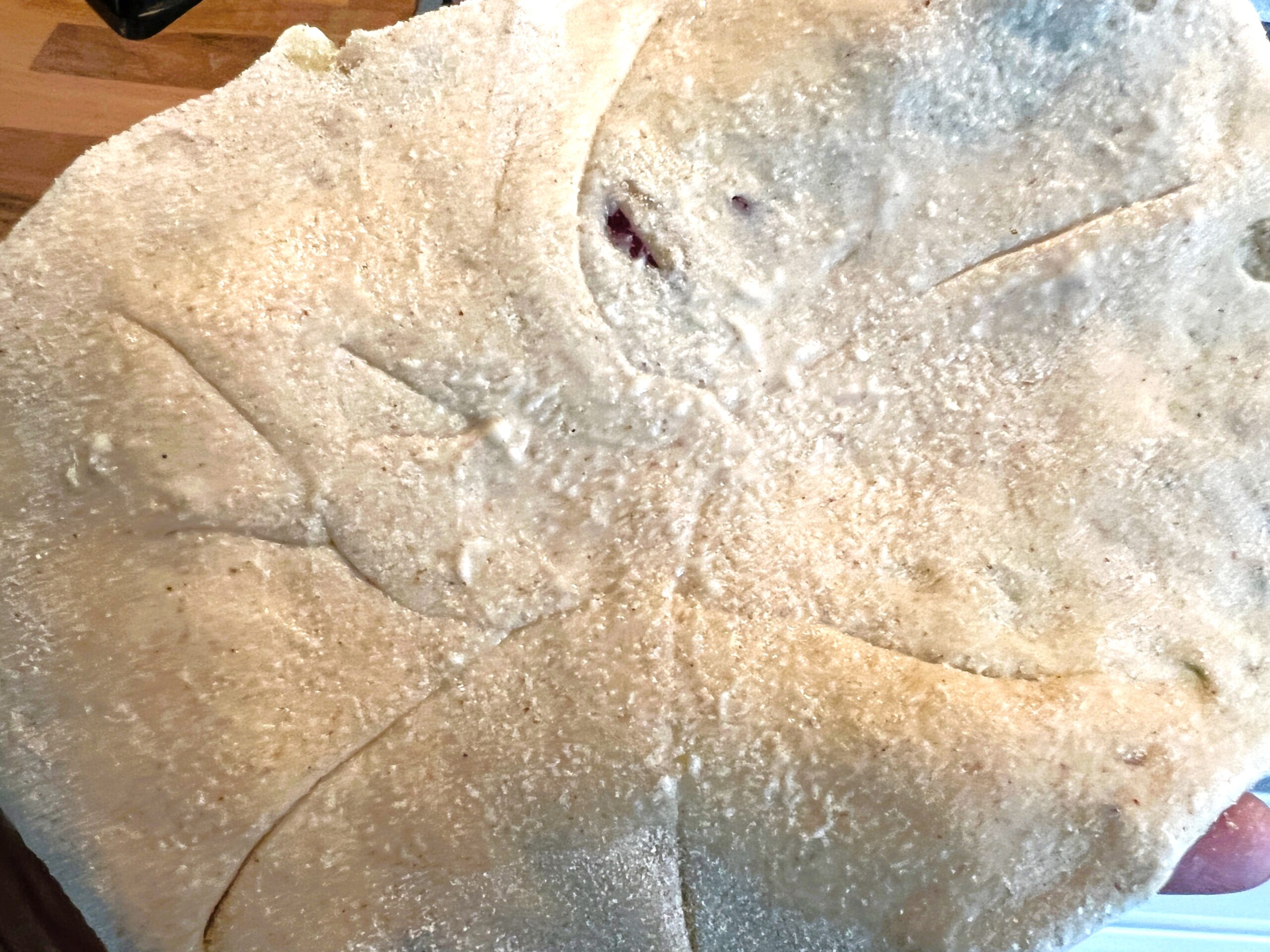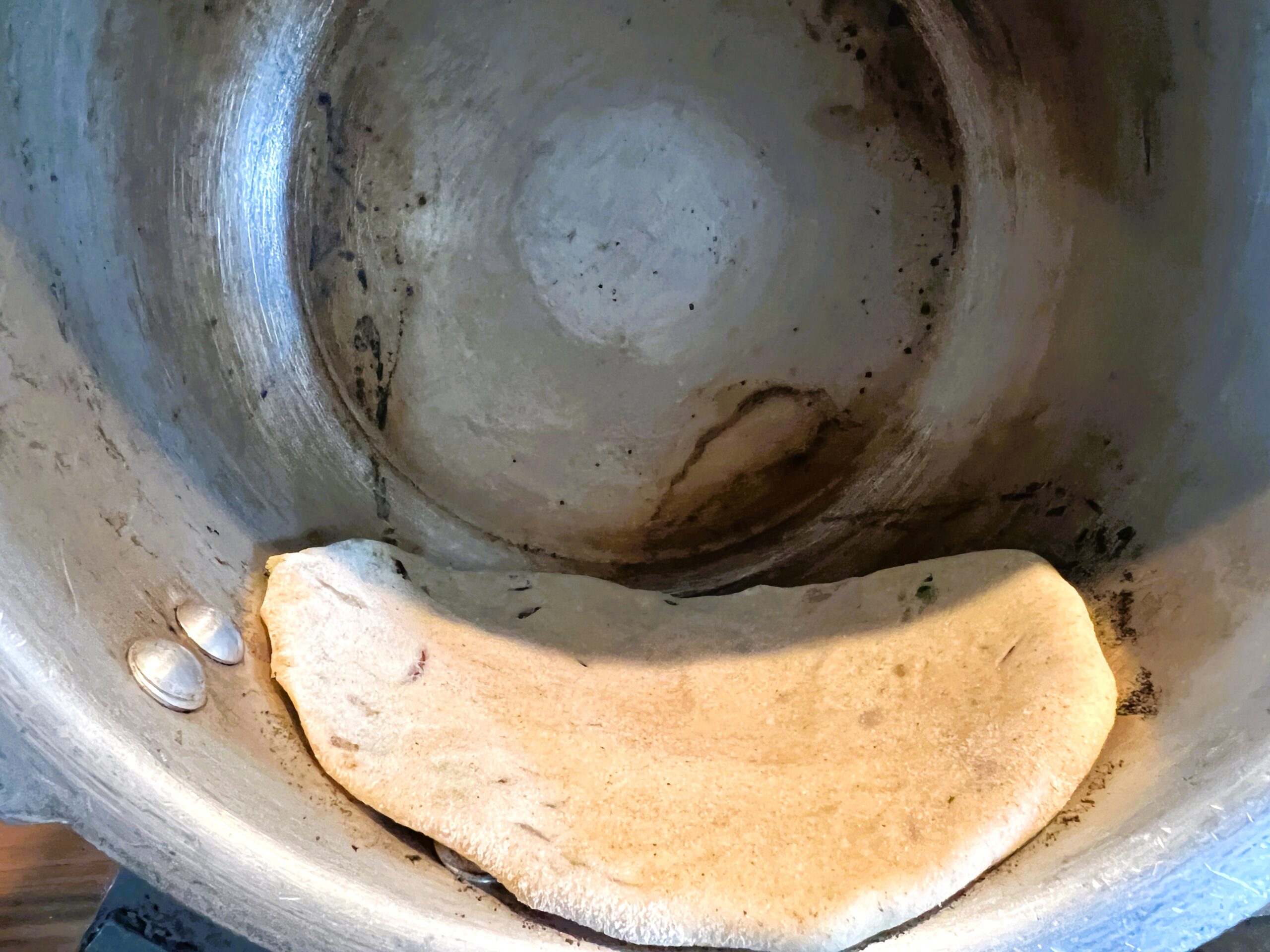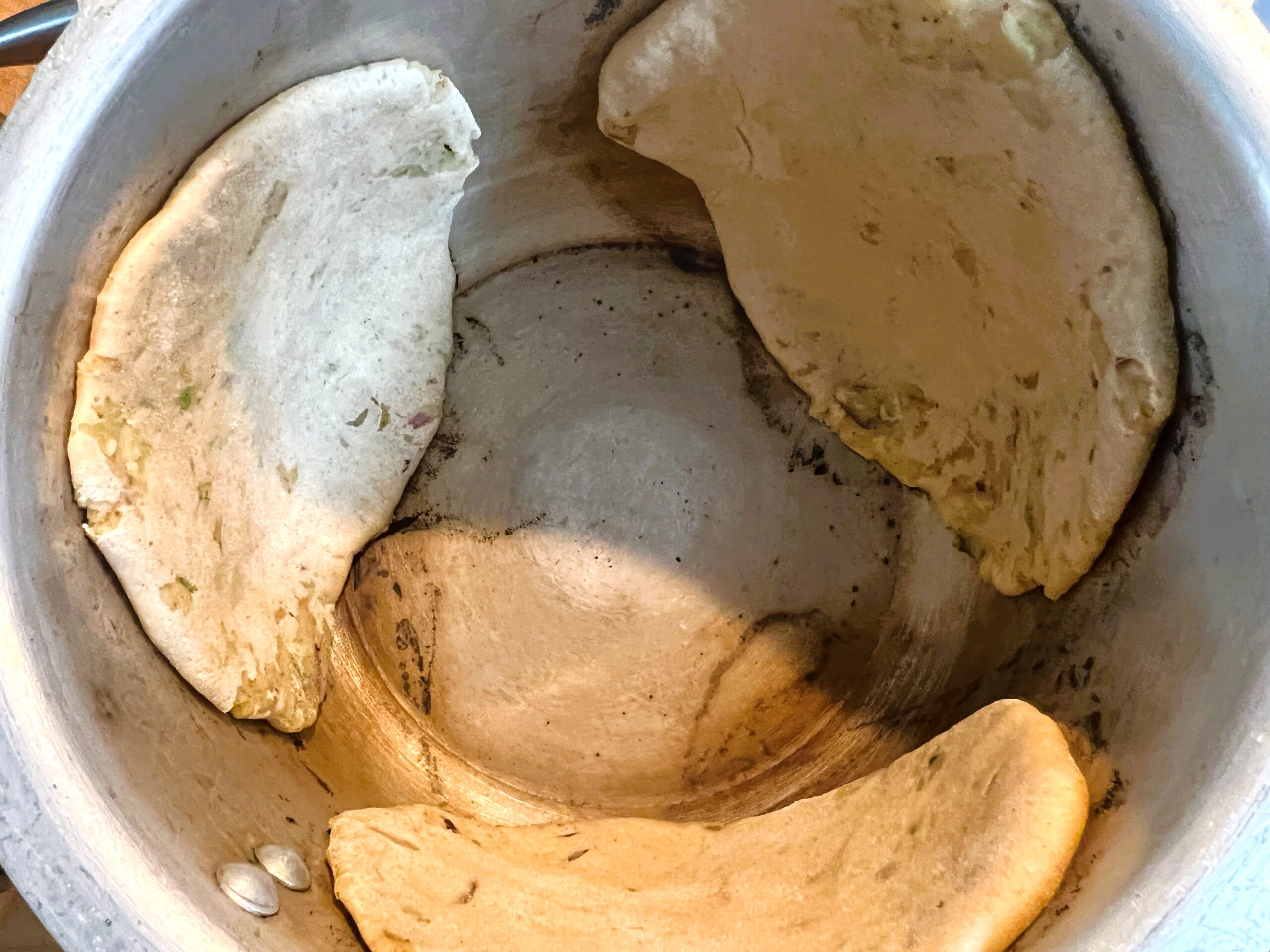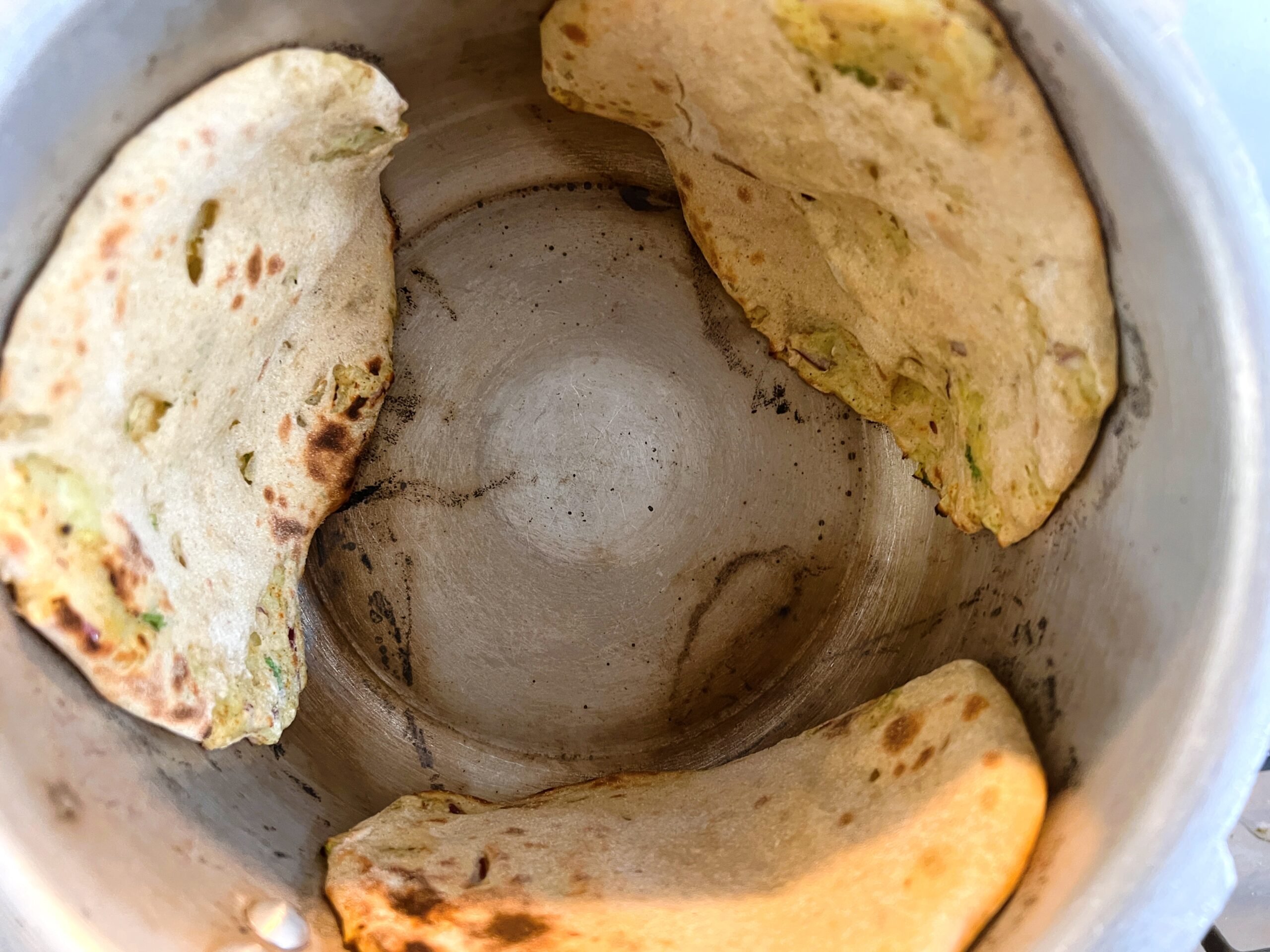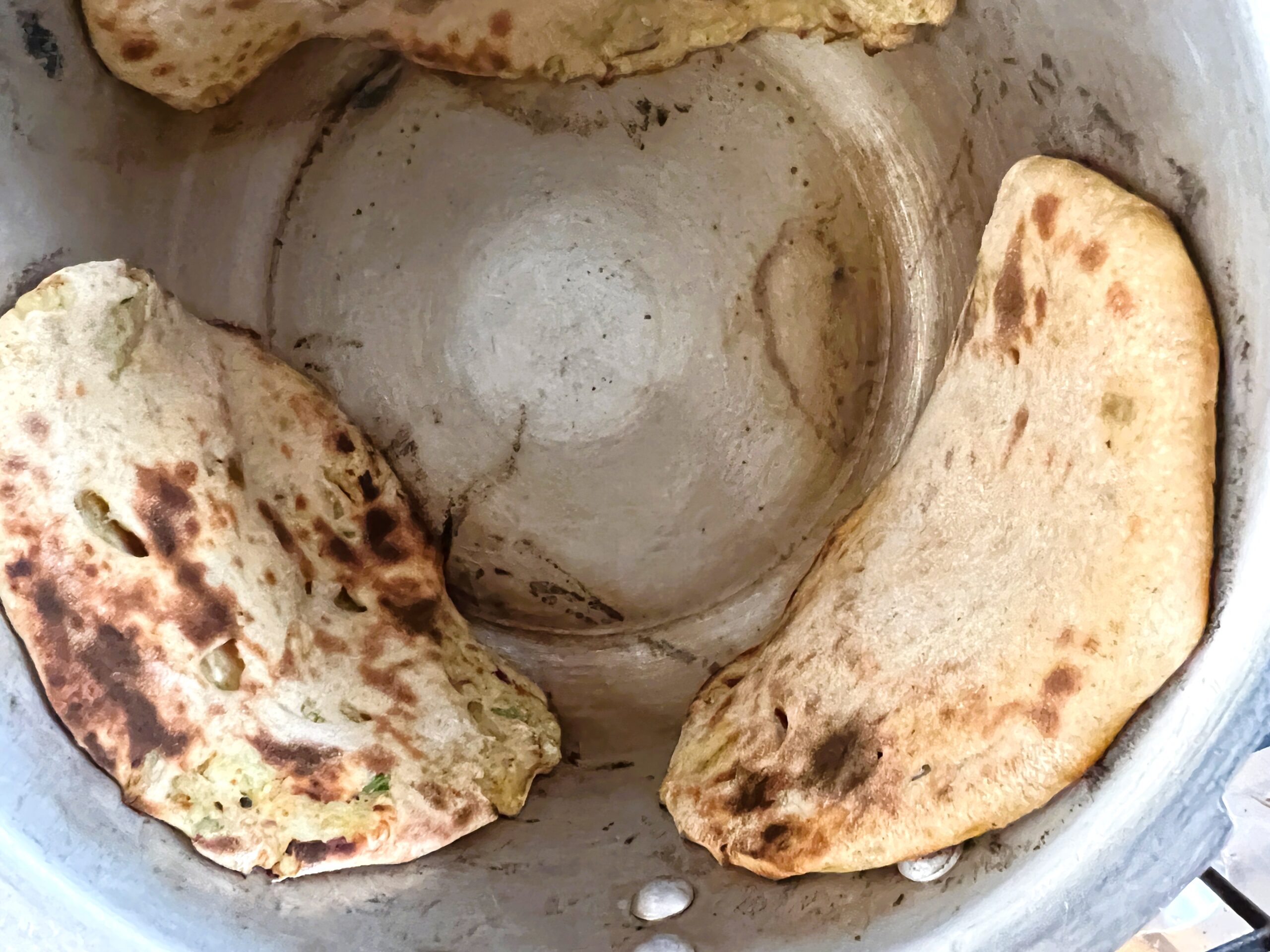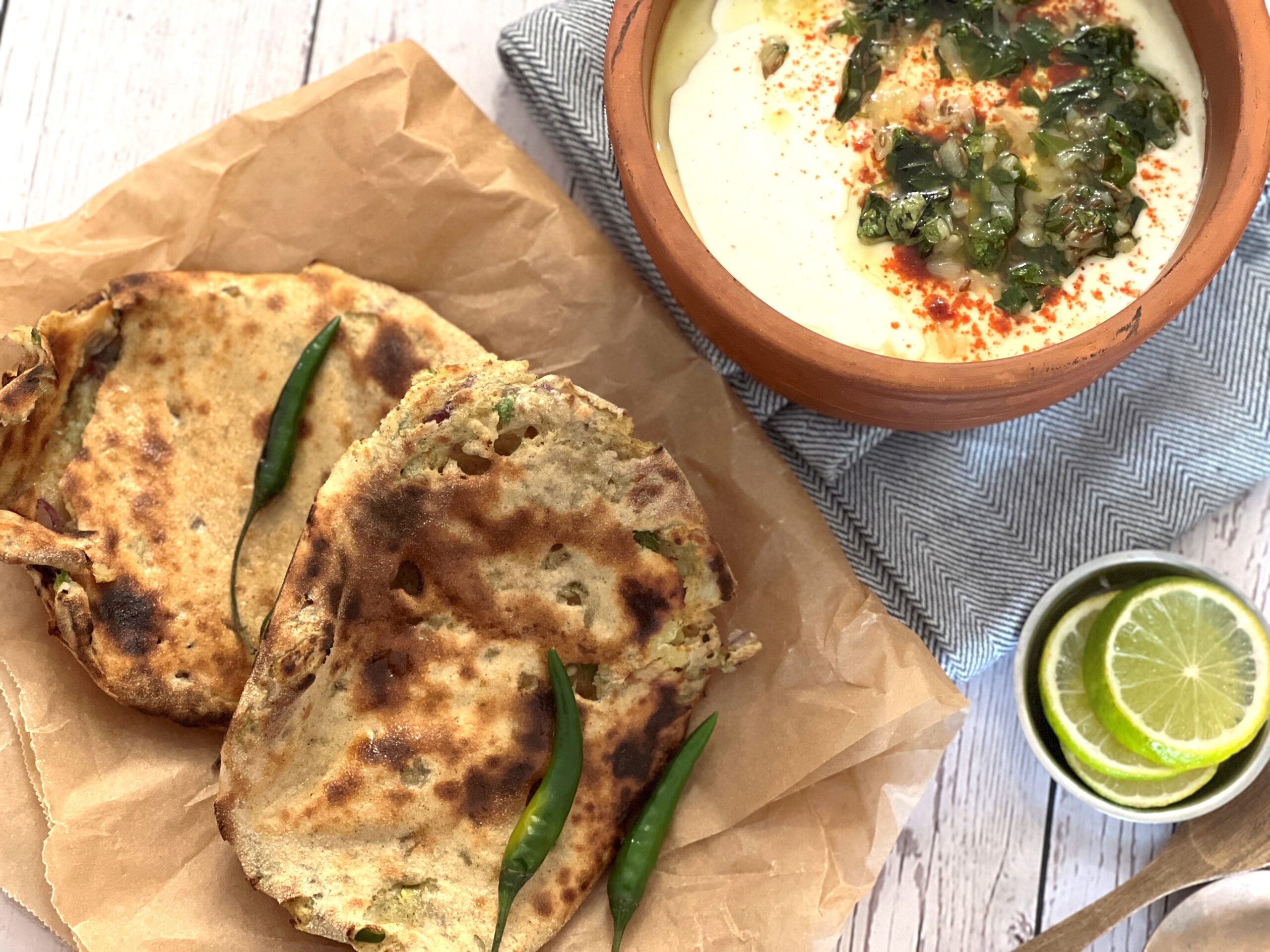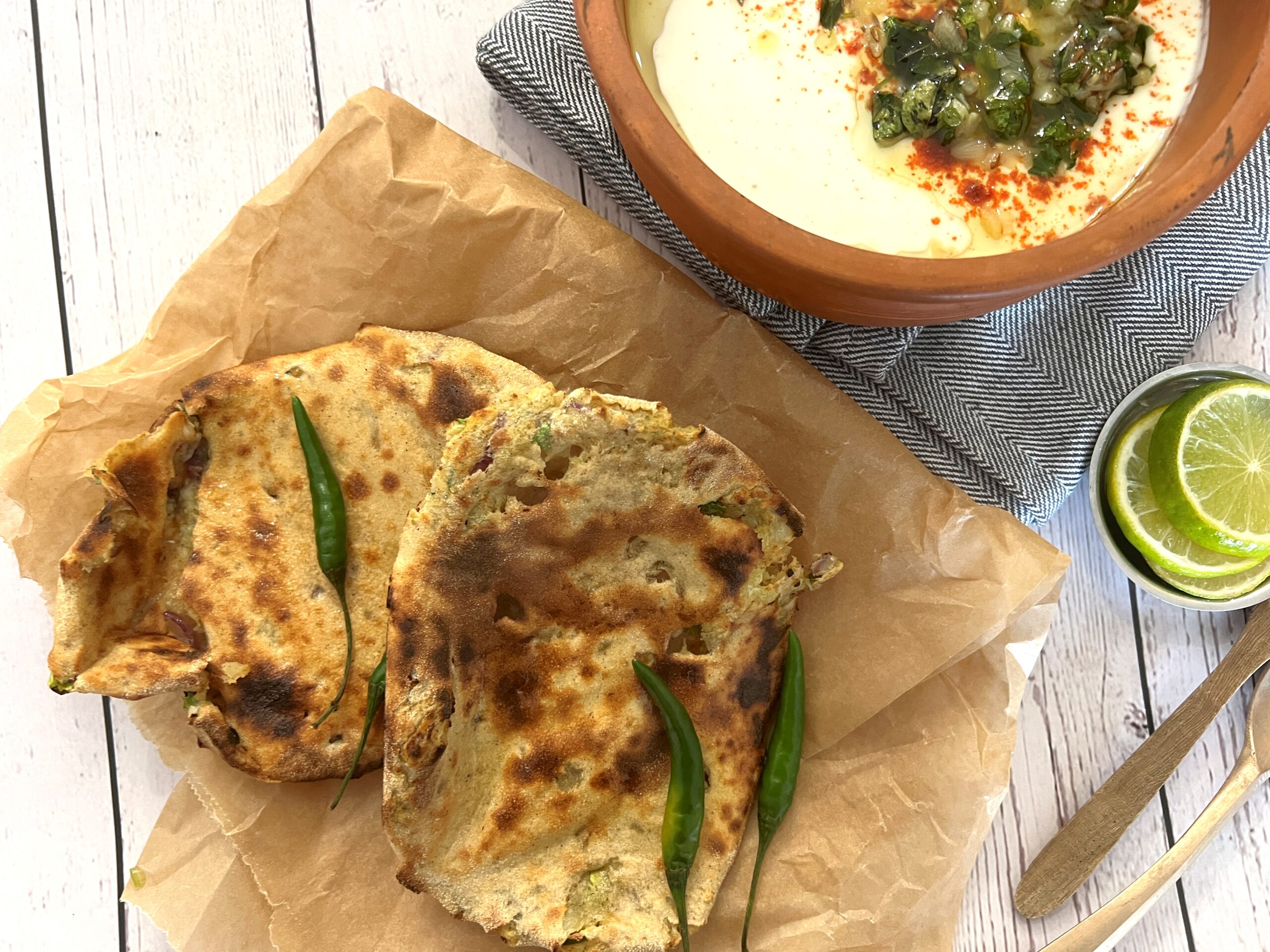 Put your aluminium cooker upside down on high heat and warm it. The cooker needs to be really hot for this paratha. It would take approximately 2-3 minutes on high heat for it to be that hot. Please be very careful while handling it.
Spread few drops of water with the help of your fingers on one side of the rolled paratha.  This side needs to stick to cooker's wall and water will do the trick.
Once cooker is hot, paste the paratha on its wall (as shown). Turn cooker upside down and keep the heat on medium/low. You will have to keep checking the parathas by turning the cooker over to make sure that the parathas are cooking evenly. Upside-down is to help accumulate heat inside the cooker and cook the paratha like in a tandoor.
Cook the paratha turns light golden brown in colour.
Take it off and drizzle some ghee/butter on top before serving.