Surti Undhiyu
Undhiyu is a regional specialty of the state of Gujarat. This winter mixed vegetable dish enjoys a cult status and is especially made and consumed during Uttarayan (the festival of kites) in households across the state.
Undhiyu gets its name from the Gujarati words 'matlu' meaning earthen pot and 'undhiyu' meaning upside down since it was traditionally cooked upside down in an underground space in earthen pots fired from above.
Undhiyo defines the change of seasons through the bounty of each ingredient that marks the start of the winter and announces the beginning of undhiyo season. In Gujarat, it is the arrival of the Surti papdi, the green garlic and the yam (that are harvested at this time) that marks the start of winter. For most Gujaratis, winter is not winter without the steaming bowls of undhiyu gracing their dining tables.
There are different varieties of undhiyo in Gujarat, each has a distinct and unique taste depending on the ingredients used. While the Palanpuri undhiyu has mustard oil, the Kathiyawadi undhiyu has muthias, Ahmedabad's undhiyu is reddish in colour and spicy while the Surti undhiyu is green and garlicky.
My whole family loves Undhiyo and my sisters-in-law who live in Delhi and UK would always do a big takeaway parcel whenever they visit us. I always felt intimidated to cook this dish at home not only due to the number of ingredients, but I think due to its cult status. However, I have been cooking undhiyo at home for the last 3-4 years perfecting my recipe and overcoming my fear of cooking it. Thinking back, I realize that it was all in my mind and now I look forward to cooking this delicious dish! The undhiyu is a robust, unctuous dish. There is no escaping the quantities of oil that is required to cook it and it is best eaten with fluffy deep fried pooris or Bajra Roti, that help to soak up all the flavours.
Undhiyo making can be divided in three main steps. First is to prepare methi muthiya, the second step is to prepare all the vegetables and masala and the third and final step is to assemble the undhiyu in a large pot and then cook.
Ingredients
For Muthiya
2 cups gram flour(besan)
½ cup wheat flour
2 cups finely chopped fenugreek leaves (methi)
3 teaspoons sugar
2 teaspoons sesame seeds
2 teaspoons salt
2 teaspoons red chilli powder
2 teaspoons carom seeds(ajwain)
2 teaspoons coconut powder
1 teaspoon turmeric powder
2 teaspoons peanuts
2 tablespoons oil
2 tablespoons ginger green chilli paste
Oil for deep frying
For Undhiyu
6-8 green chilli
2-inch ginger piece
½ cup surti papdi beans
½ cup tuvar beans/lilva (fresh pigeon peas)
1 cup surti papdi (flat beans)
1 cup baby potatoes
1 cup carrot
1 cup small brinjal (aubergine/eggplant)
1 cup sweet potato
1 cup ratalu (purple yam/kand)
4-6 batwani mirchi
2 cups tomatoes
1 cup fresh coriander leaves (dhaniya)
½ cup fresh mint leaves (pudina)
1 cup spinach leaves (palak)
1 cup hara lasun (green garlic)
4 tablespoons sesame seeds
2 tablespoons coconut powder
3 tablespoons peanuts
6 tablespoons oil
3 teaspoons salt
1 teaspoon turmeric powder
2 teaspoons Kashmiri red chilli powder
2 teaspoons coriander powder
2 tablespoons jaggery
3 tablespoons undhiyu masala
4 tablespoons lemon juice
Directions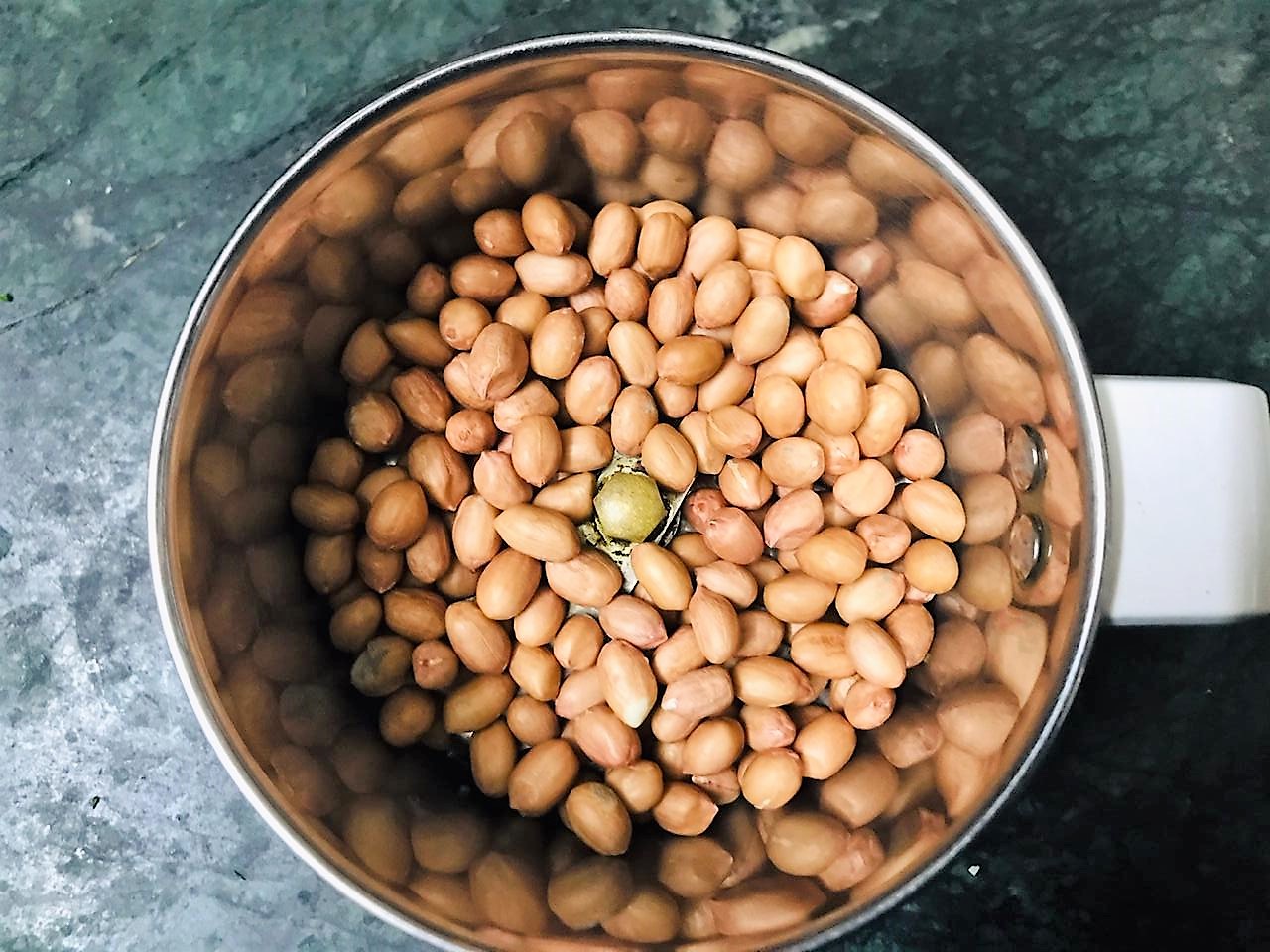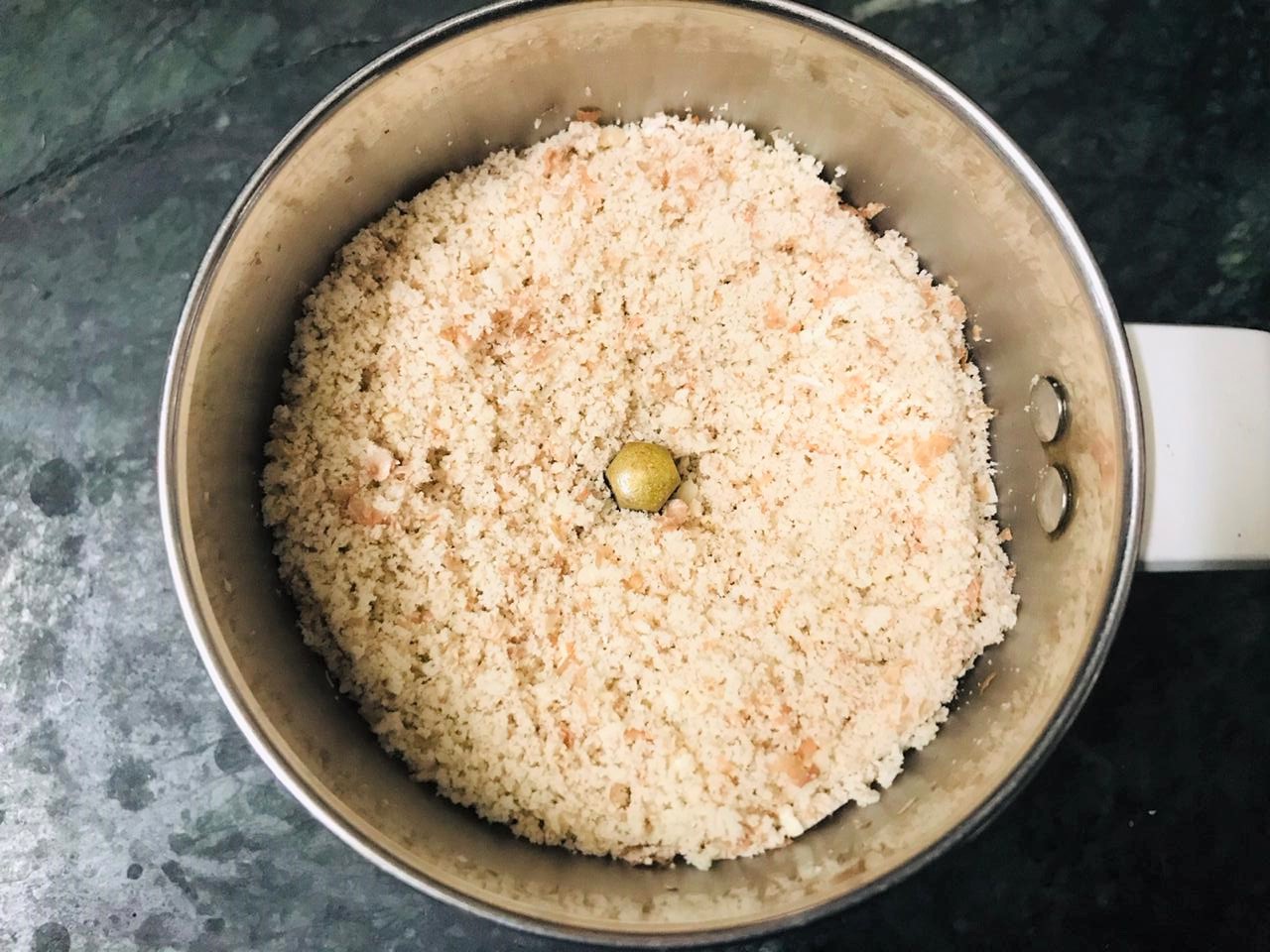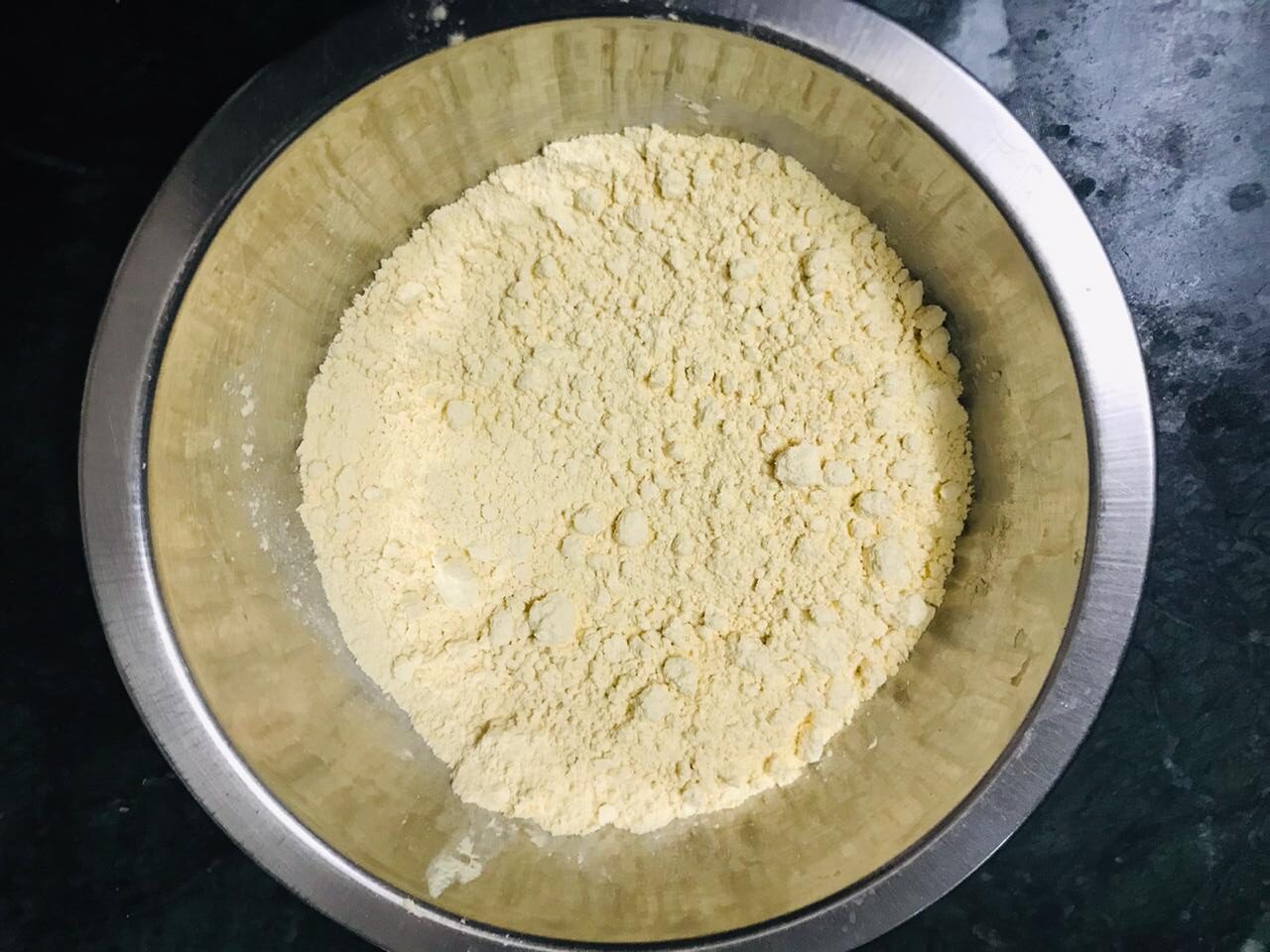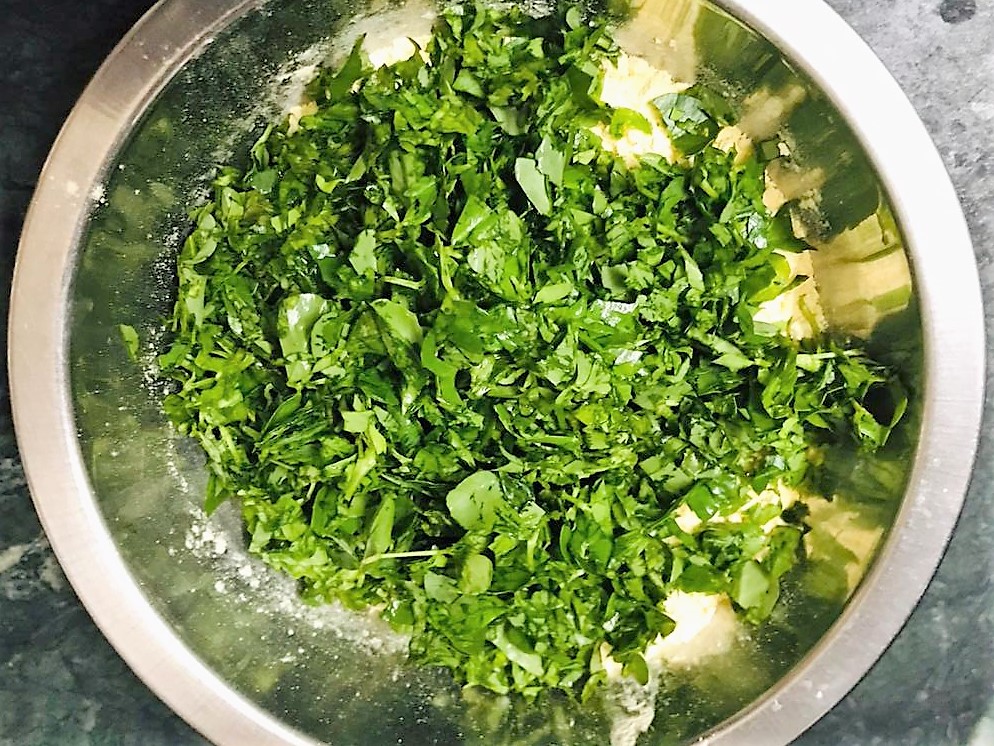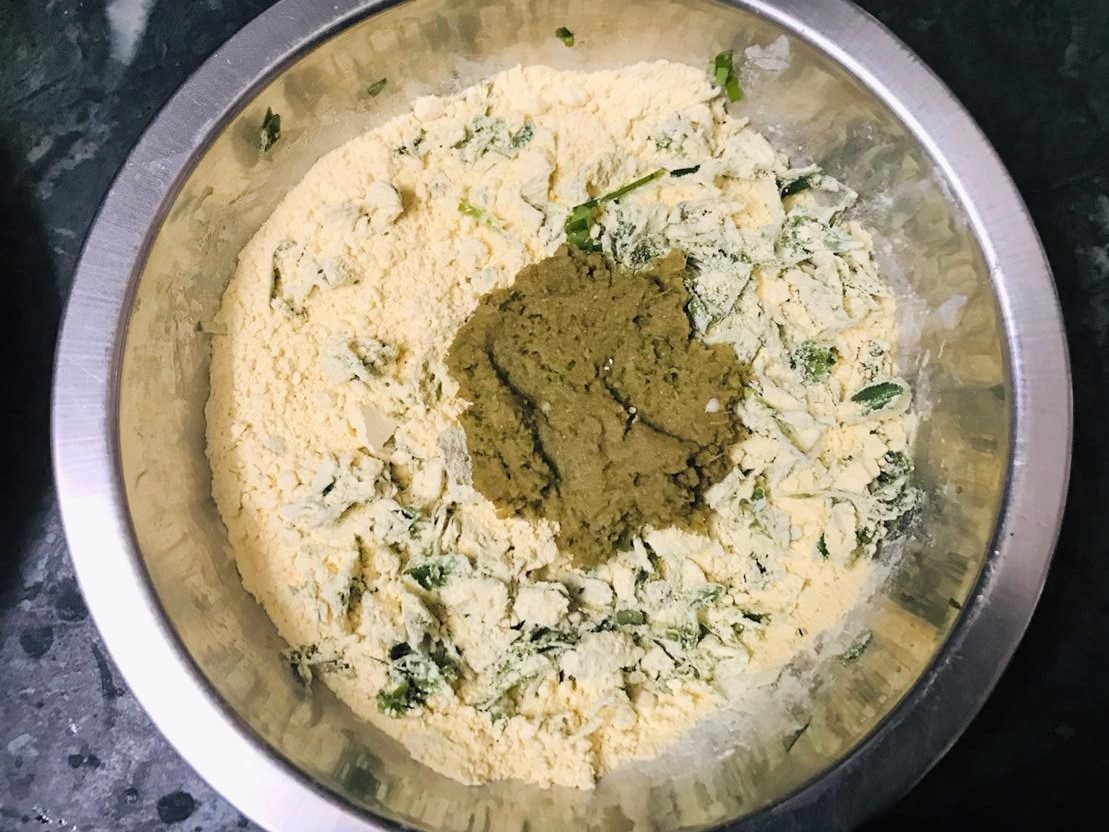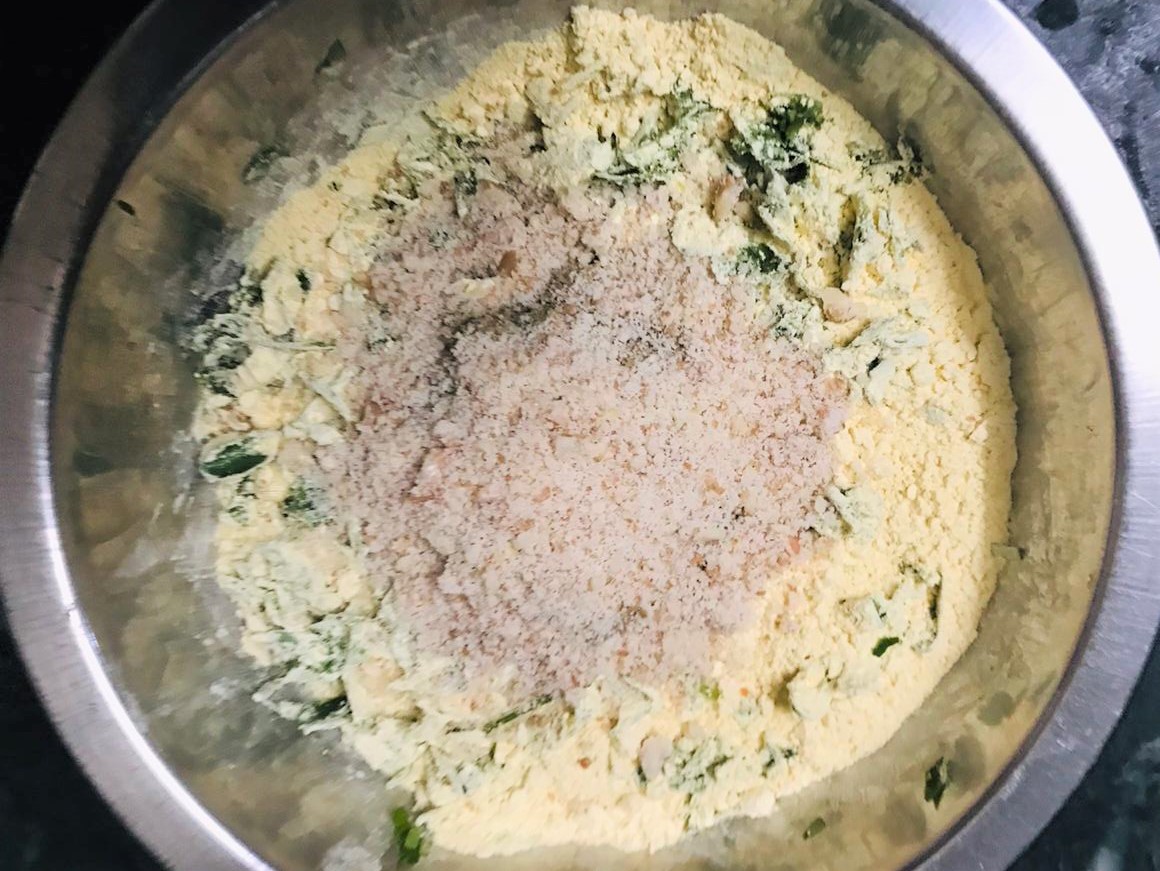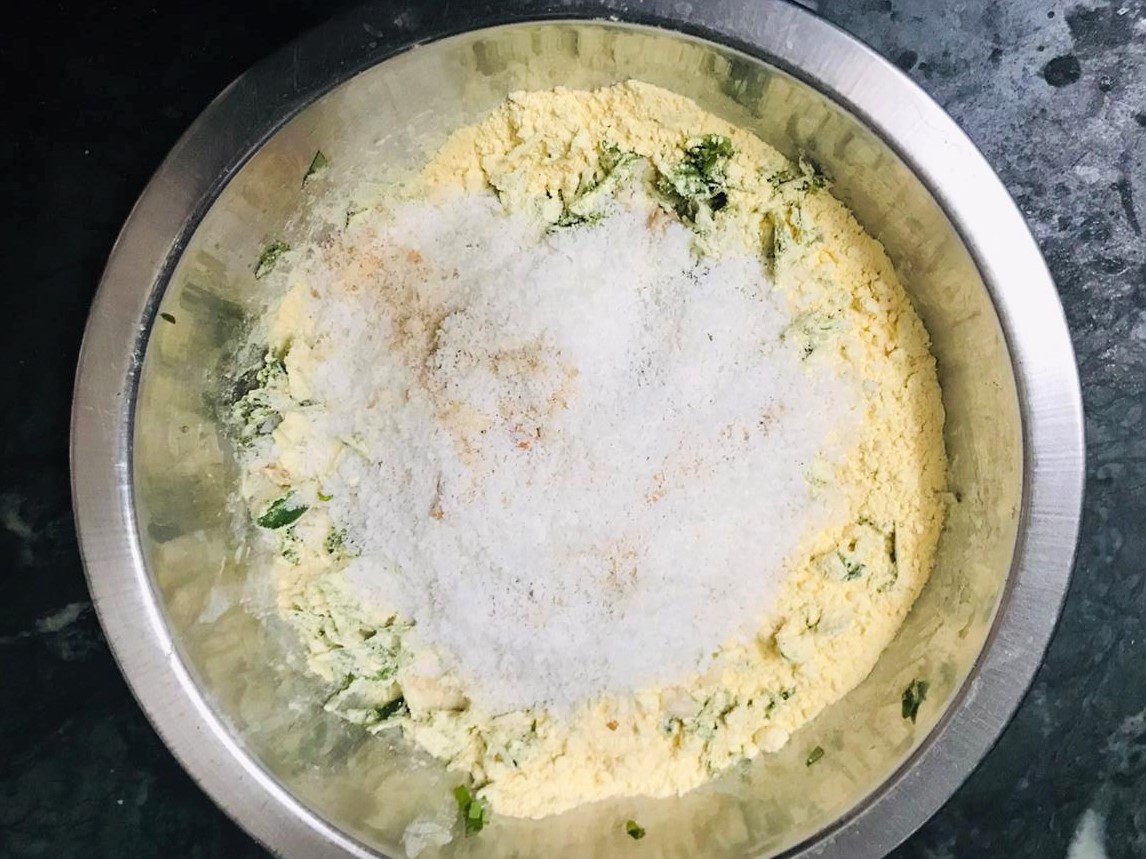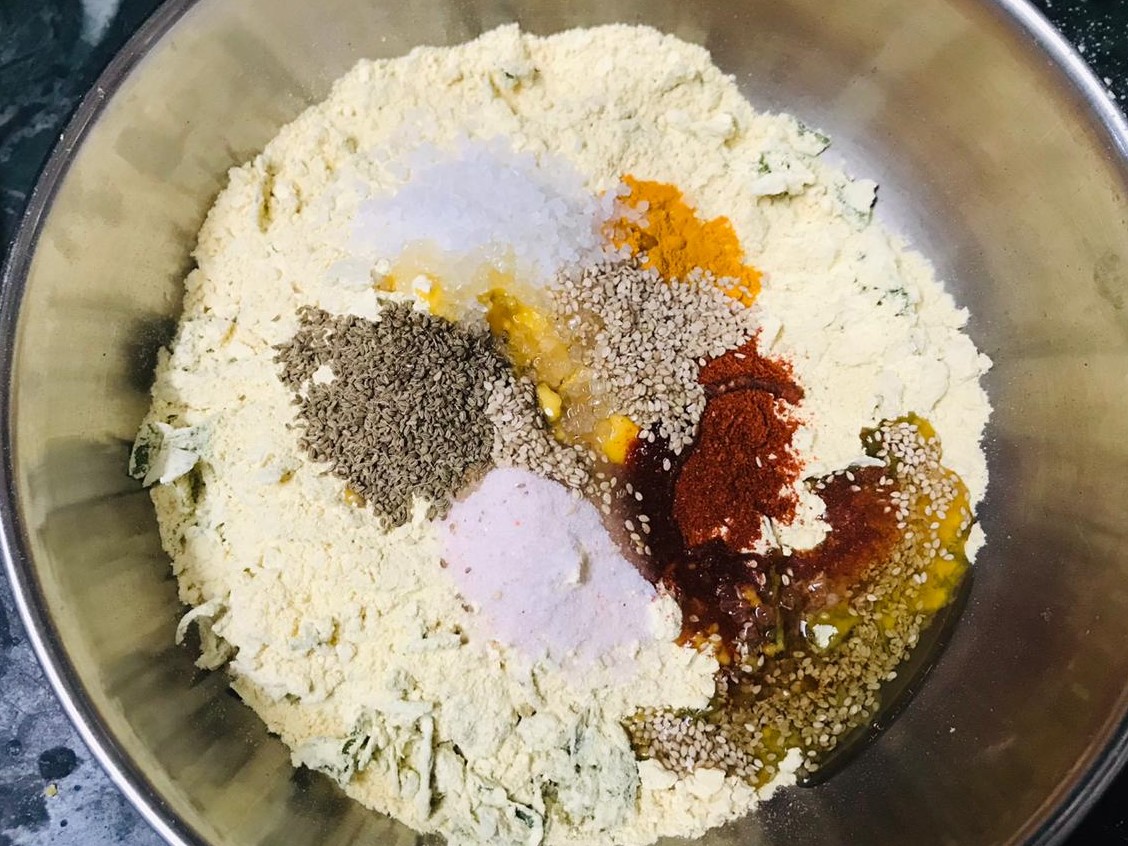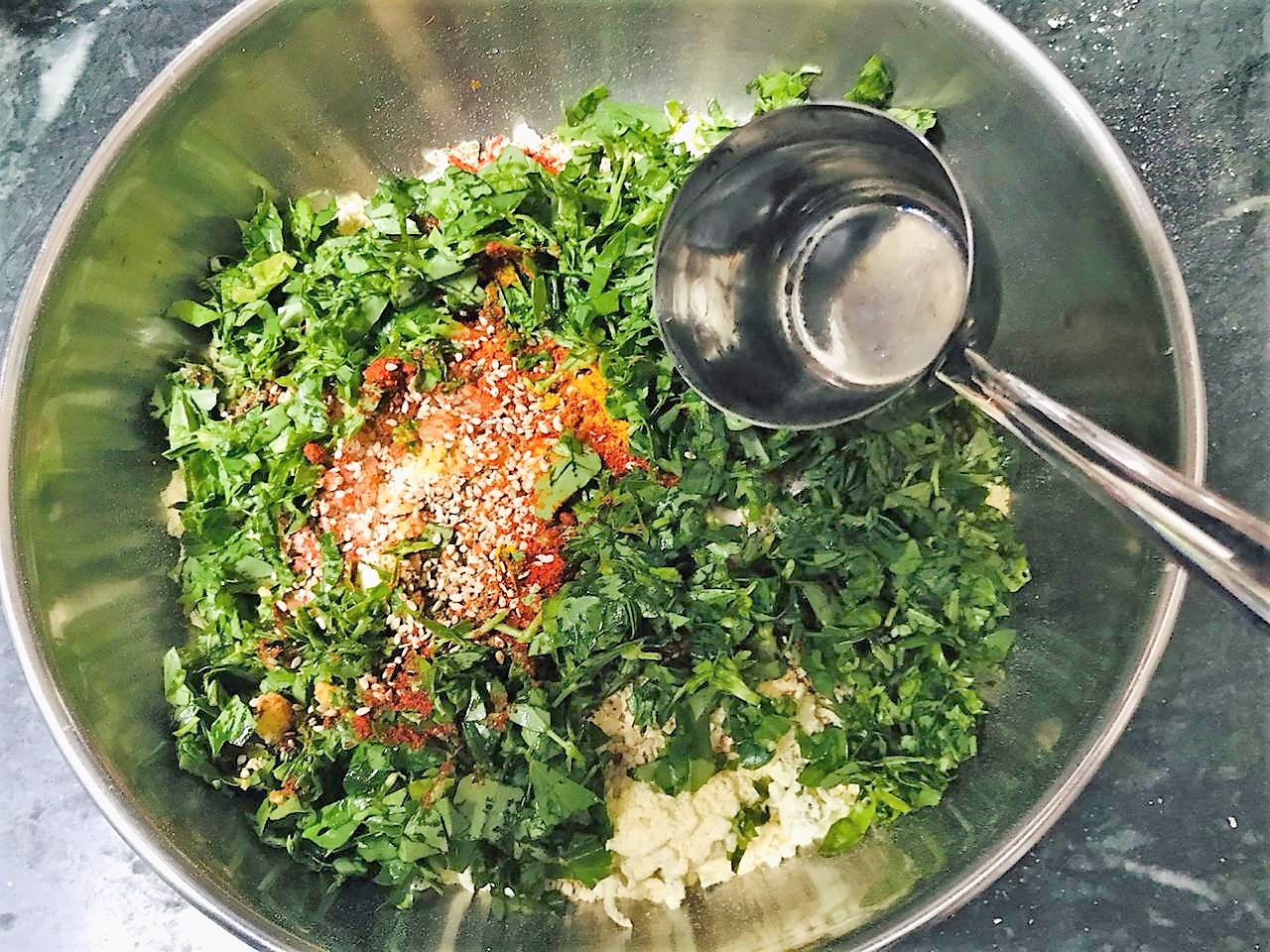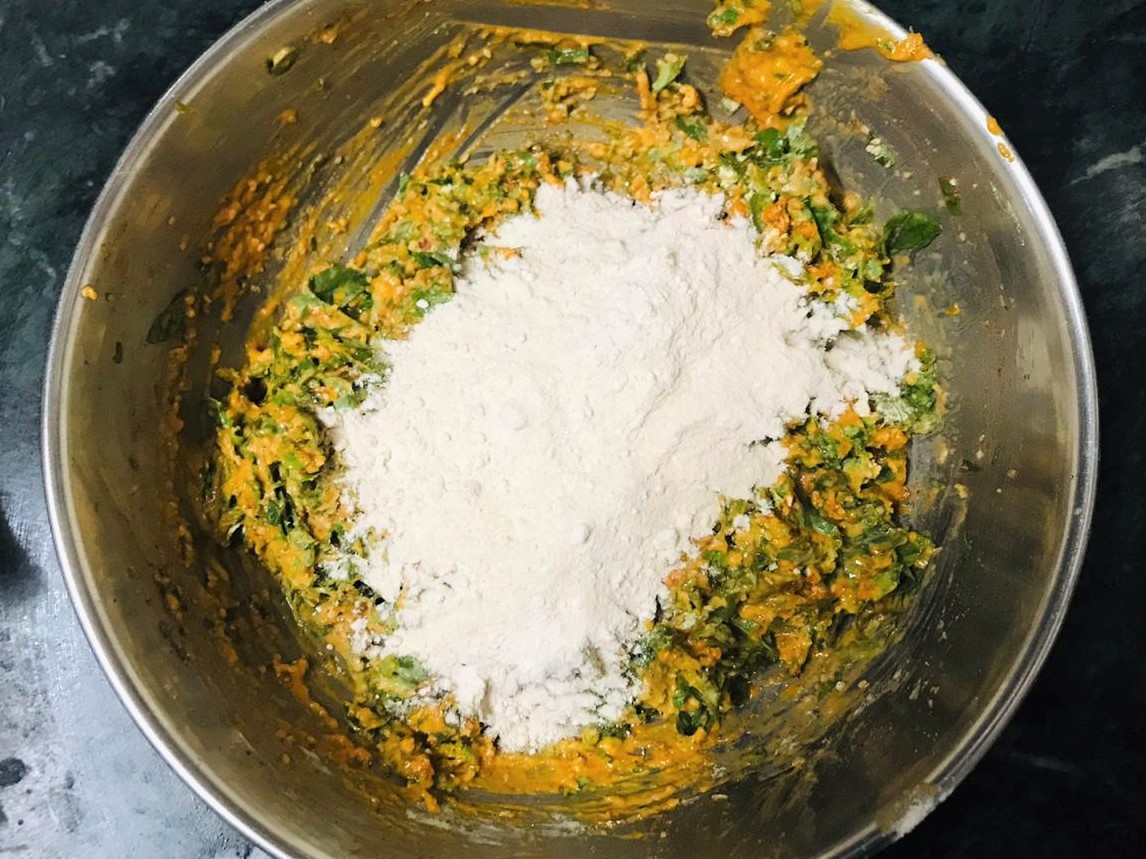 Grind peanuts into a fine powder.
In a bowl take the gram flour and add fenugreek leaves, green chilli ginger paste, coconut powder and peanut powder and mix.
Next add the salt, sugar, carom seeds, red chilli powder, turmeric powder, sesame seeds and oil. Gradually add ½ cup water and mix to form a thick consistency batter. Lastly, add the wheat flour atta and mix.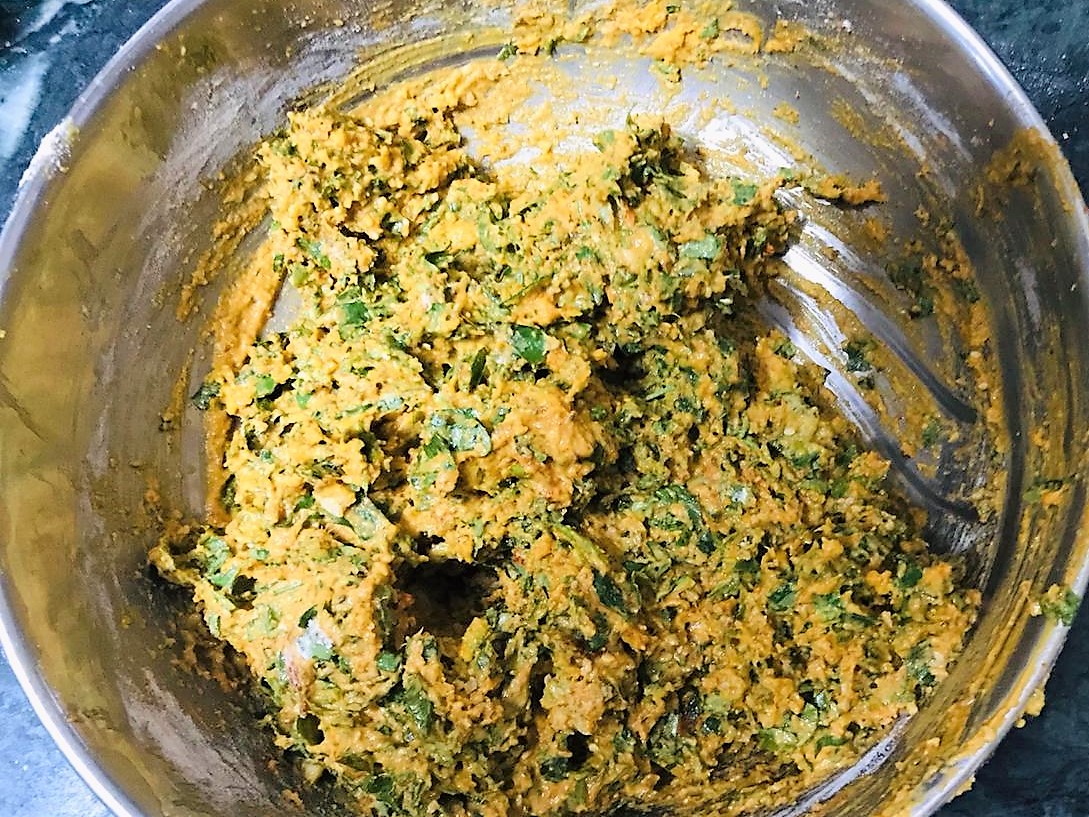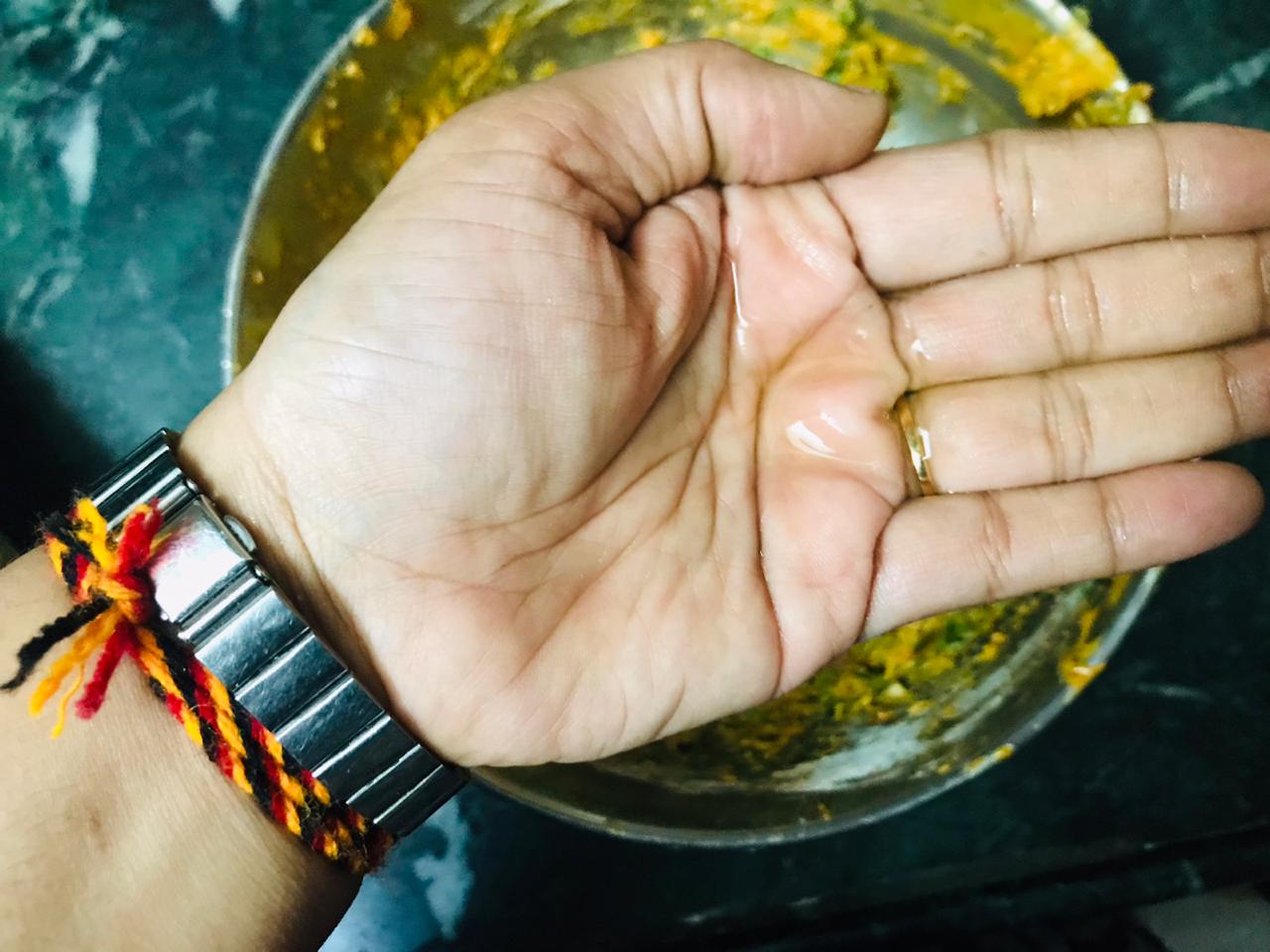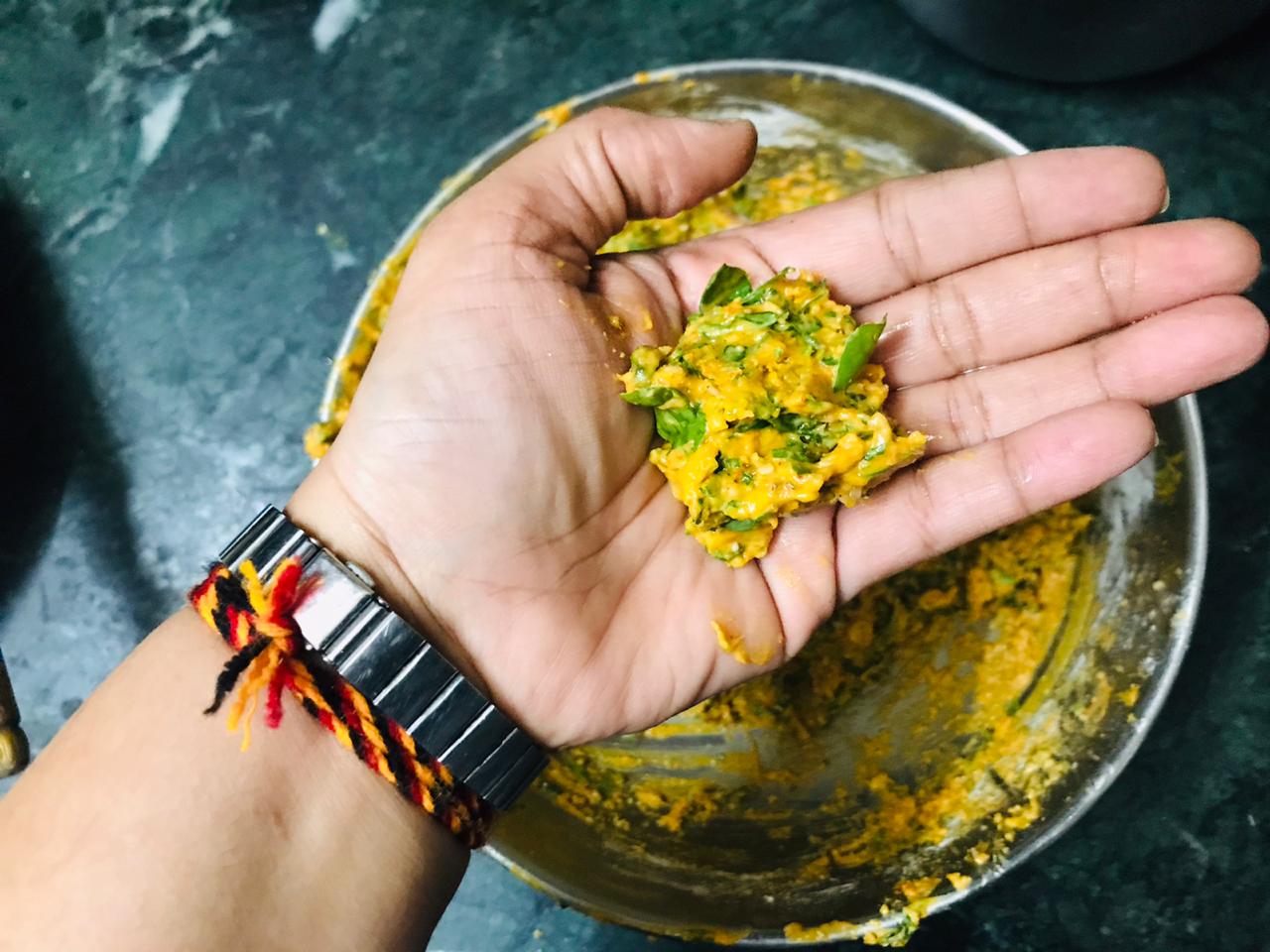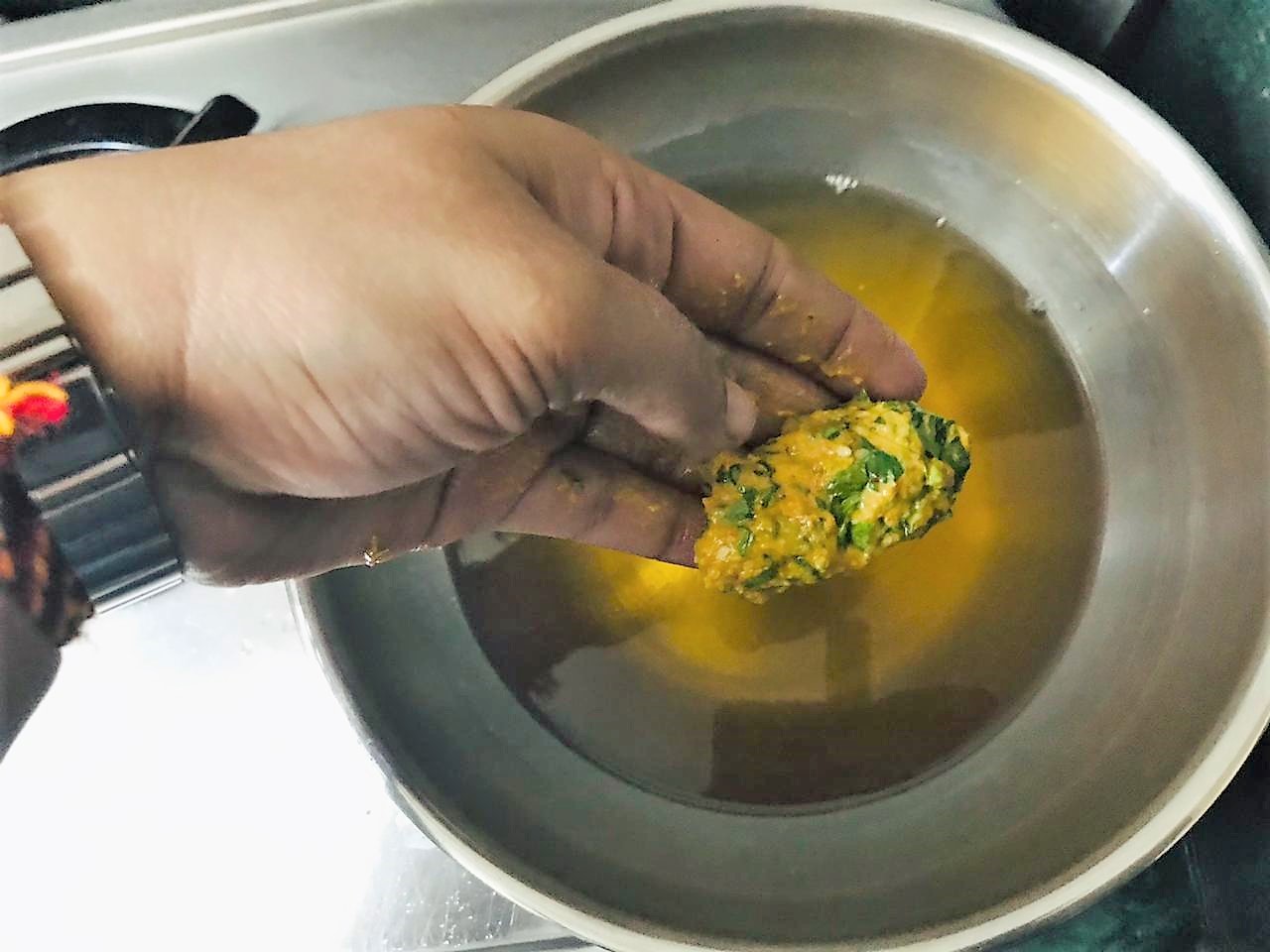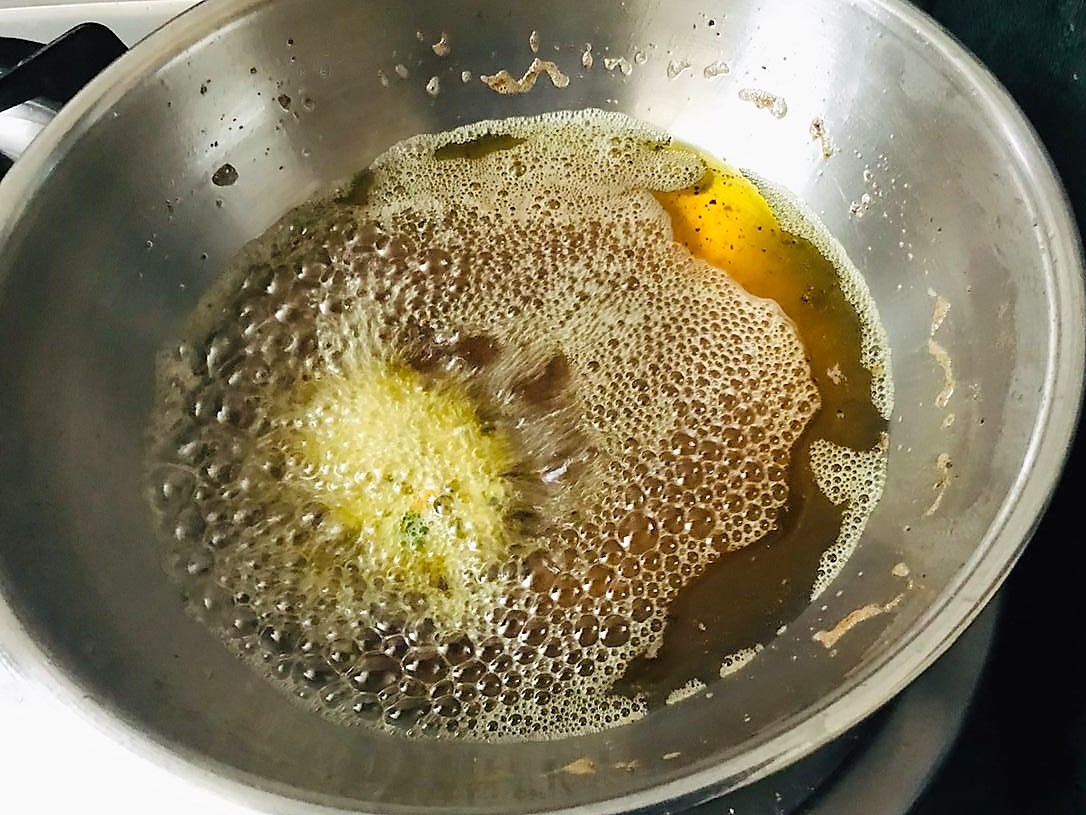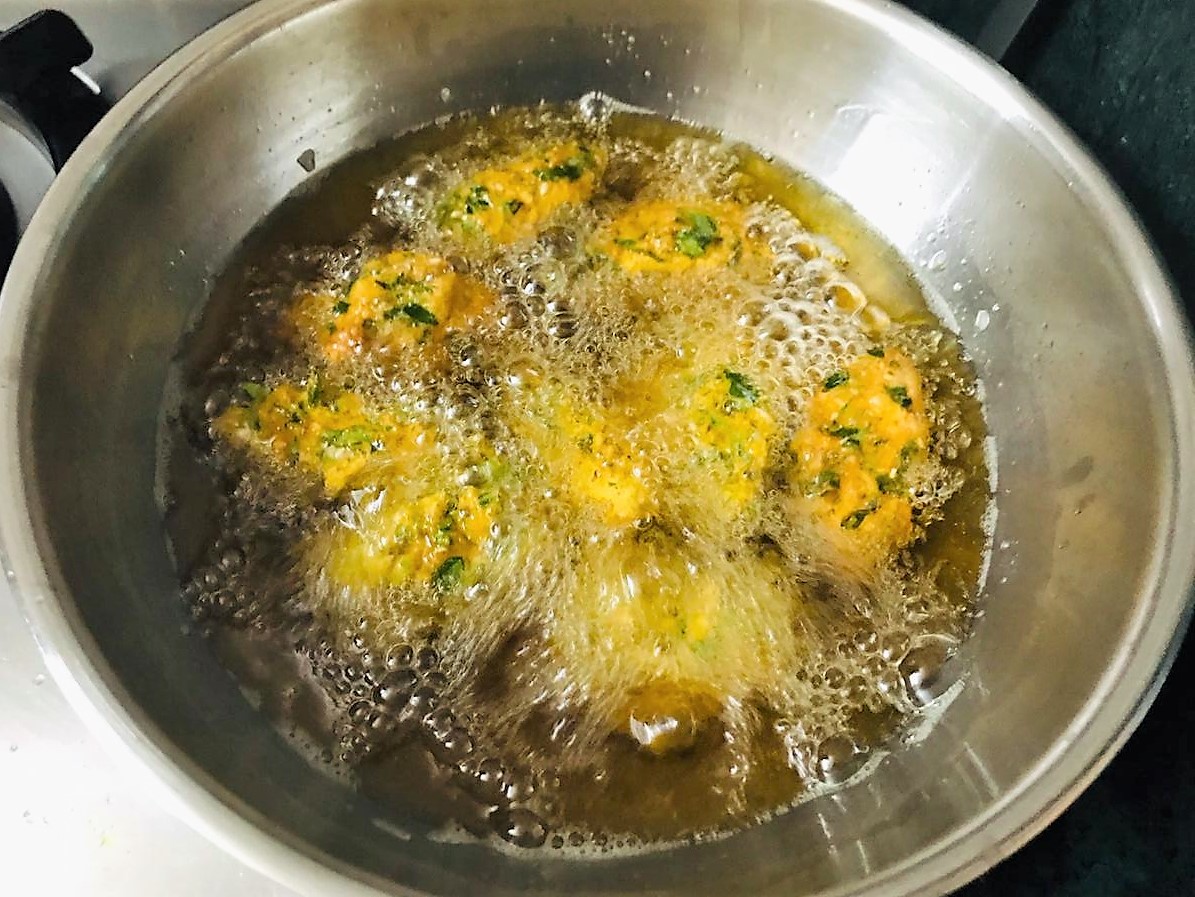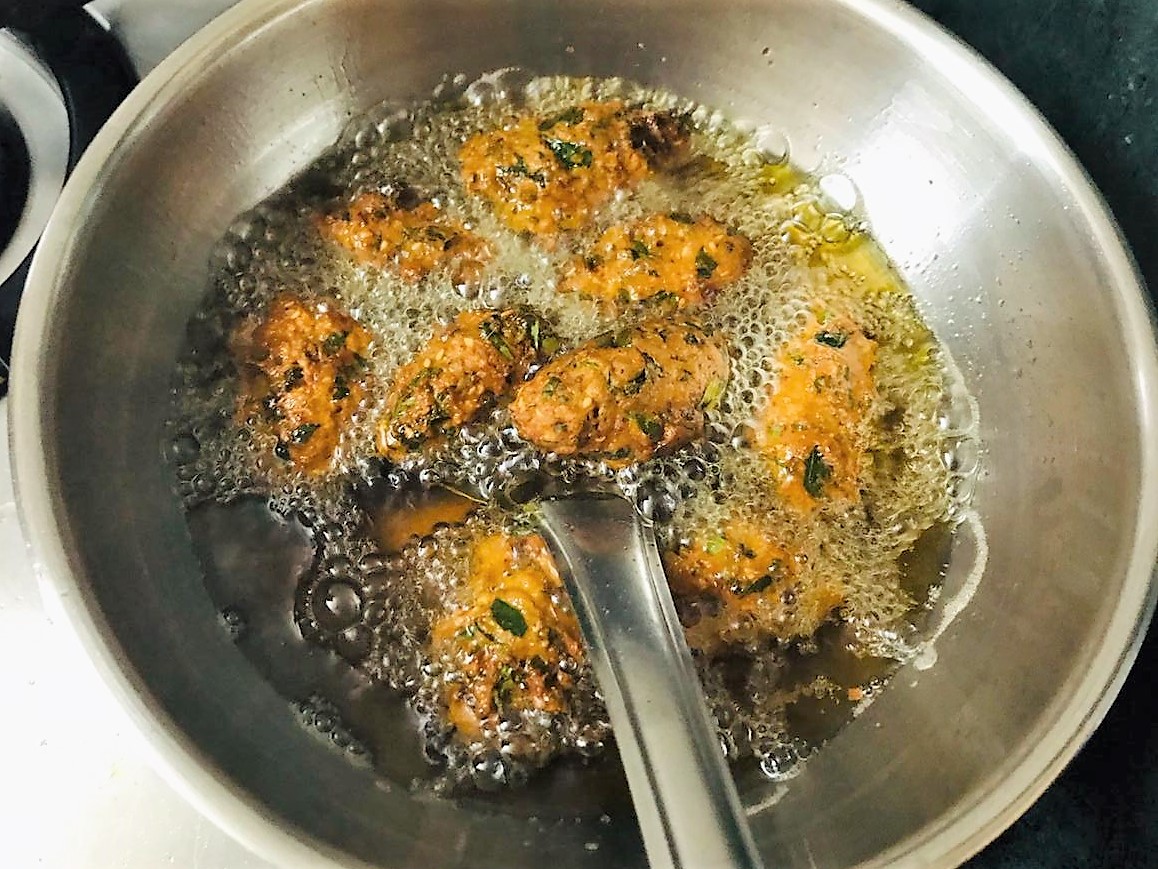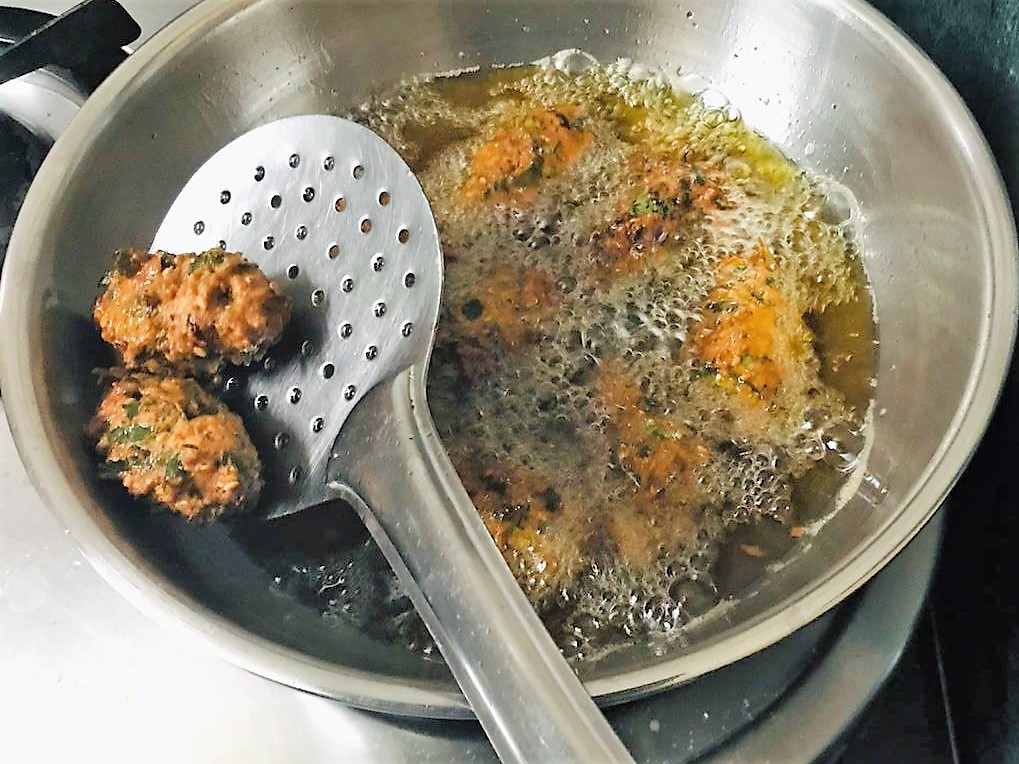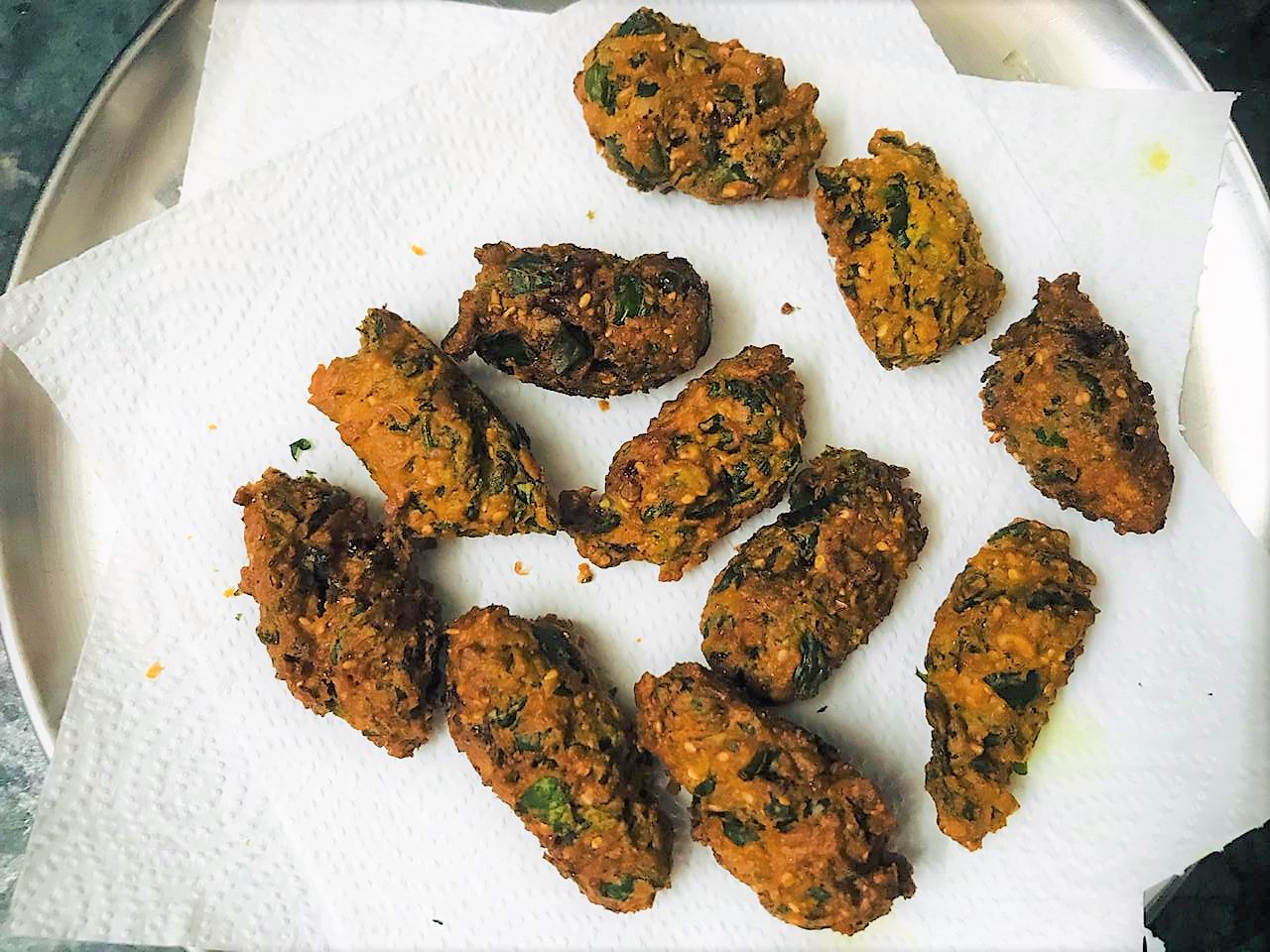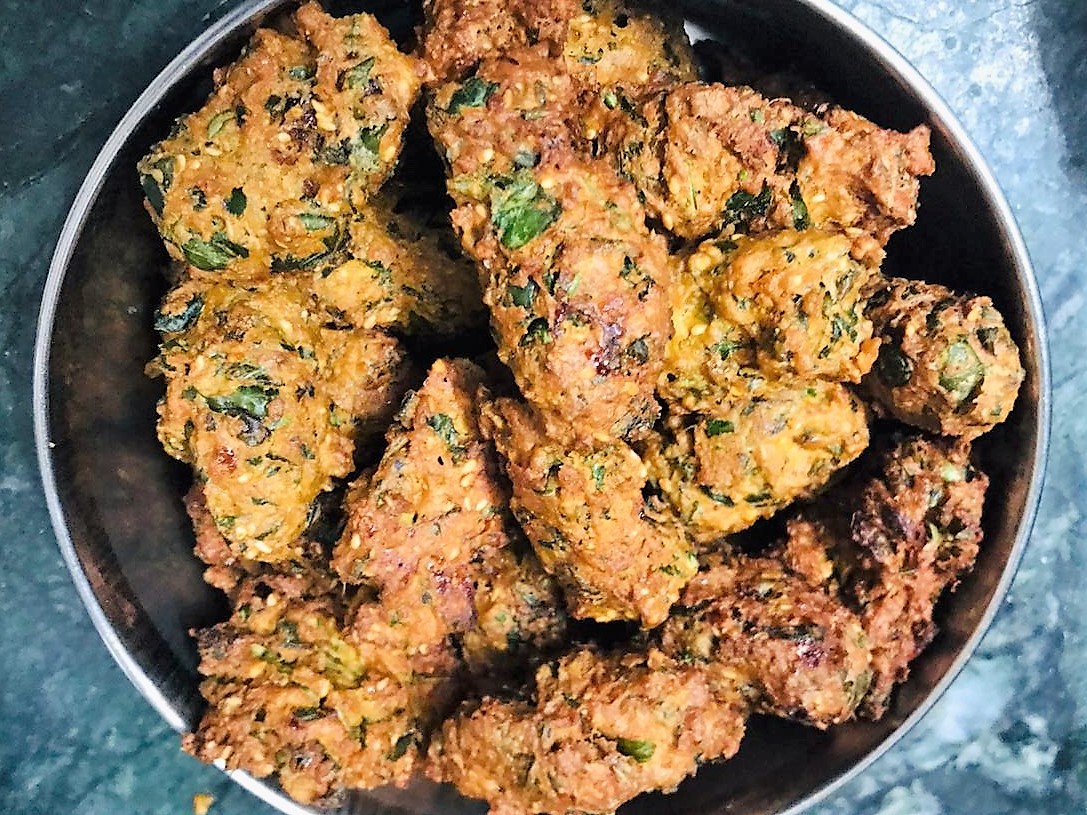 Heat oil for frying. To check if the oil is hot enough to start frying, add a pinch of batter to the oil and if it bubbles up immediately then the oil is ready for frying.
Grease your hands with some oil and take a spoonful of the mixture, roll it in oval shape and gently drop it in the hot oil. When it rises to the surface, add the next one. Flip them few times while frying and fry on medium heat for around 3-4 minutes until they are golden brown.
Use a slotted spoon to fish them from the oil. Drain the muthiyas on a kitchen roll/absorbent paper to soak up excess oil. Keep them aside.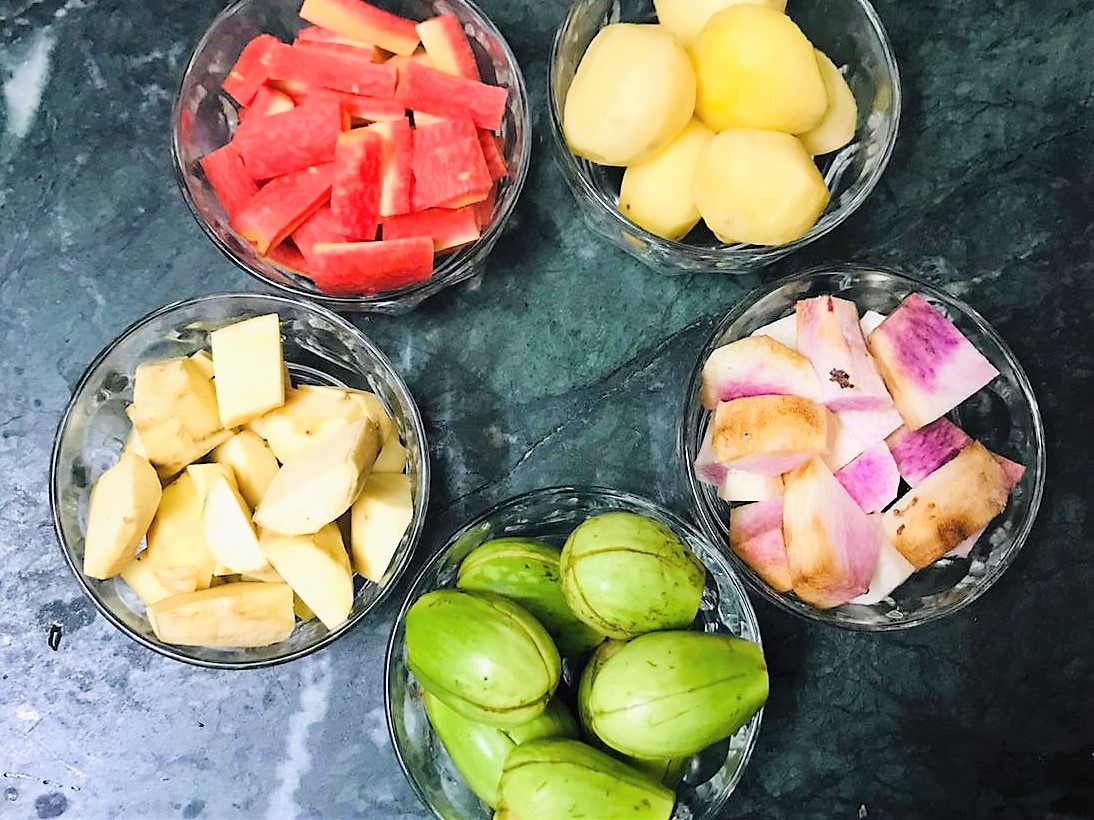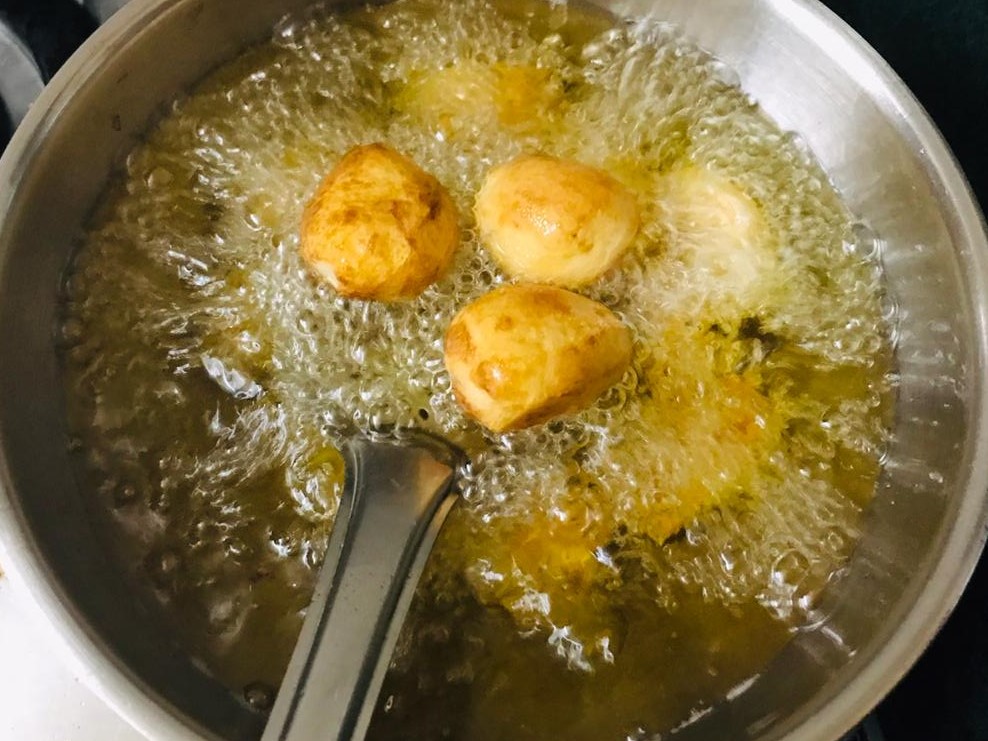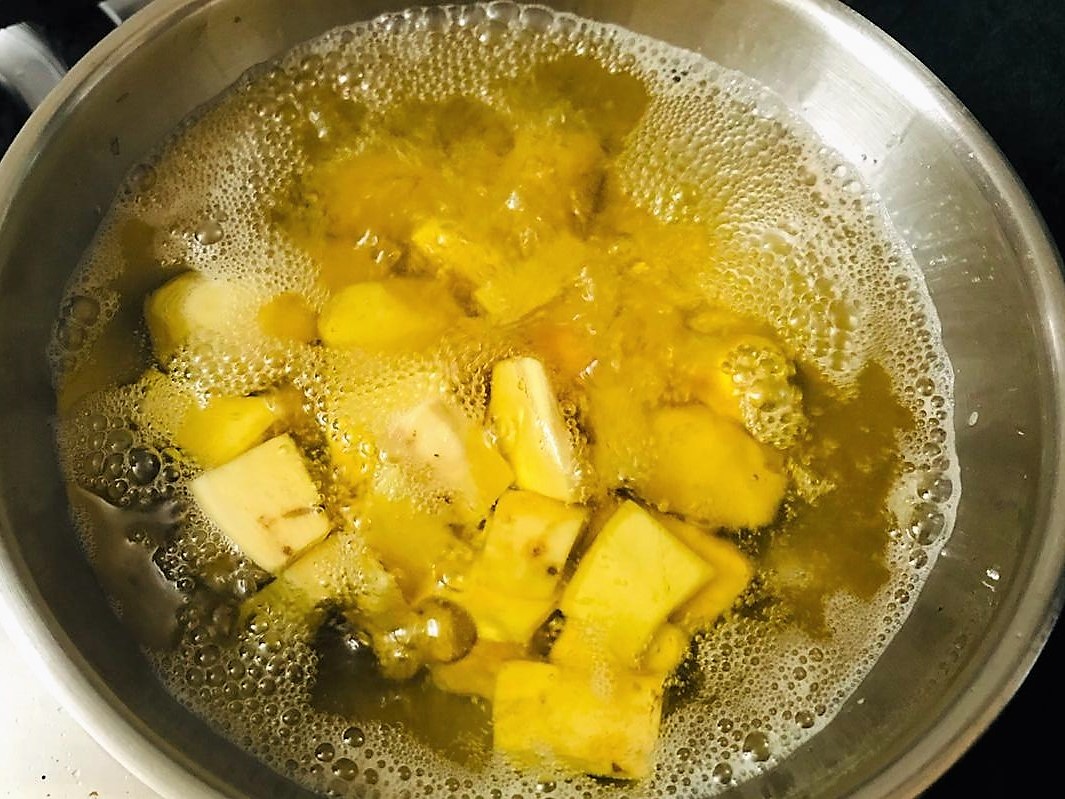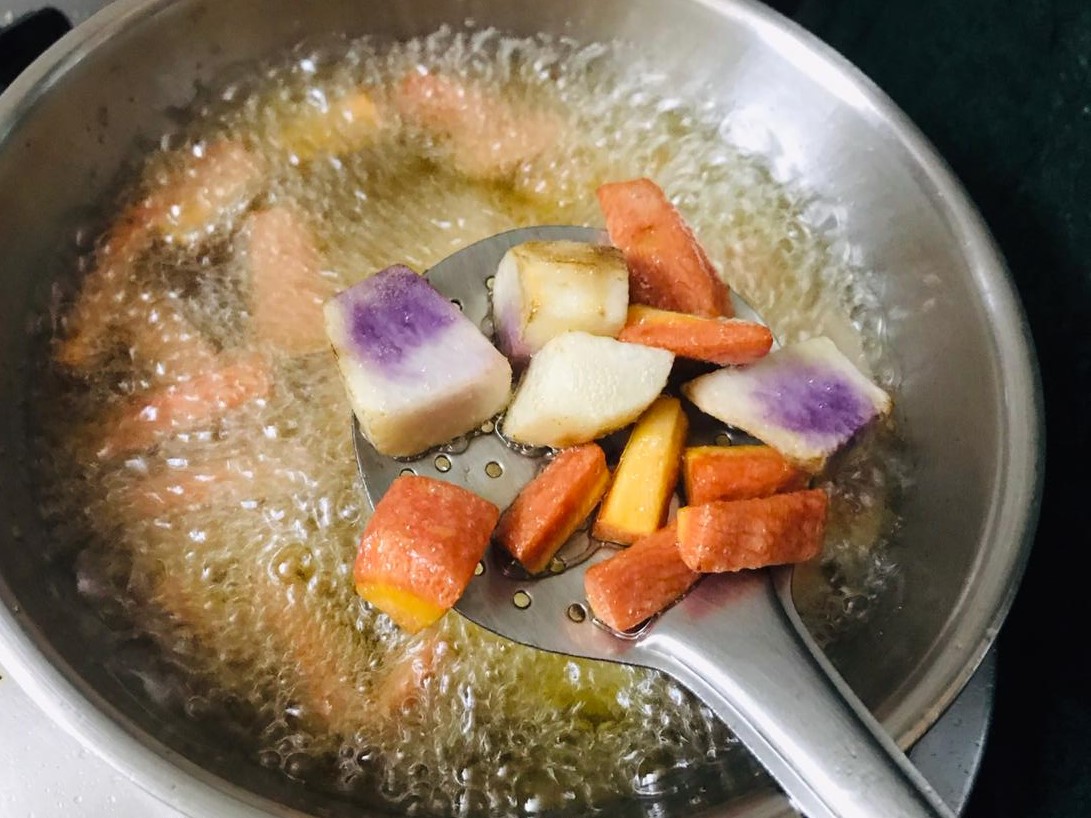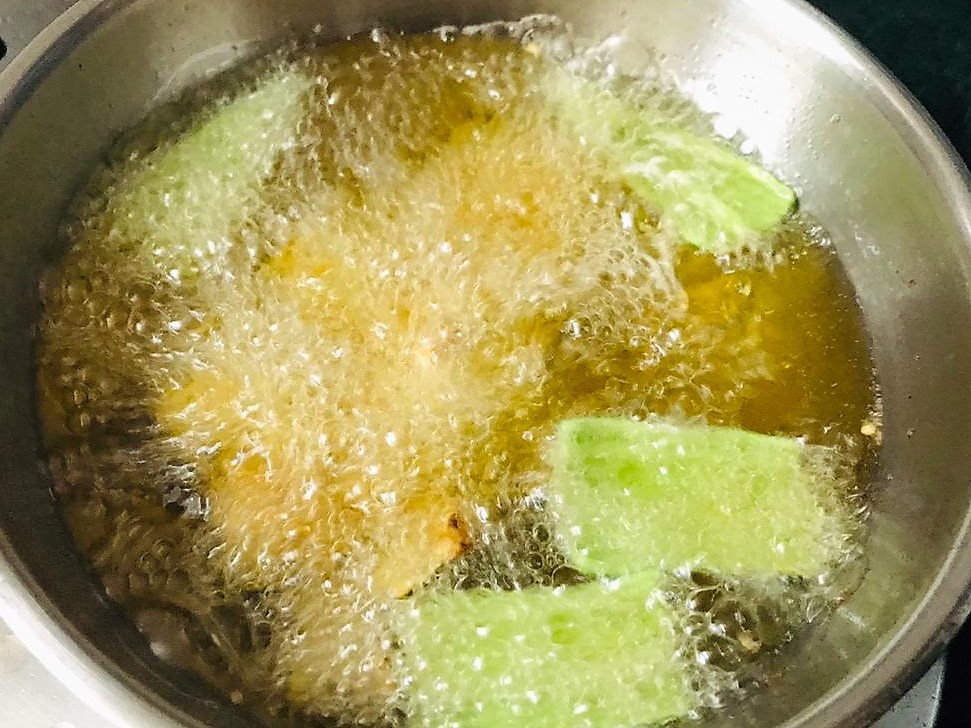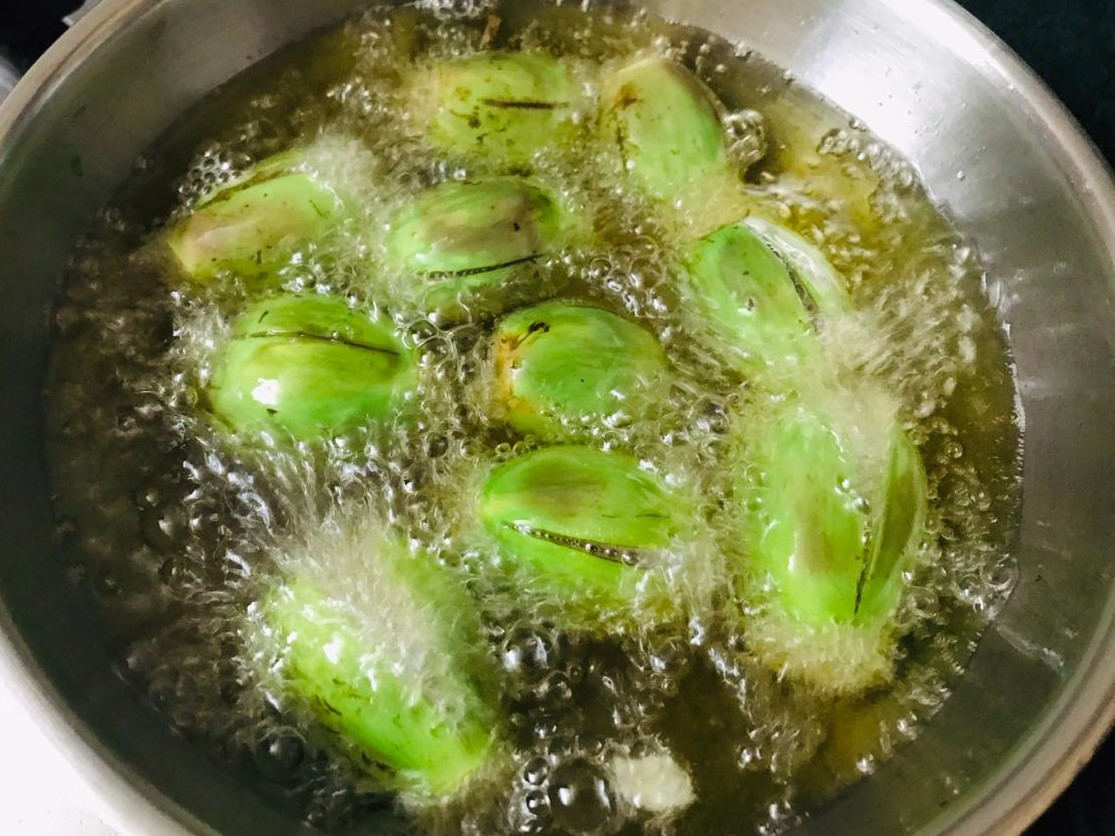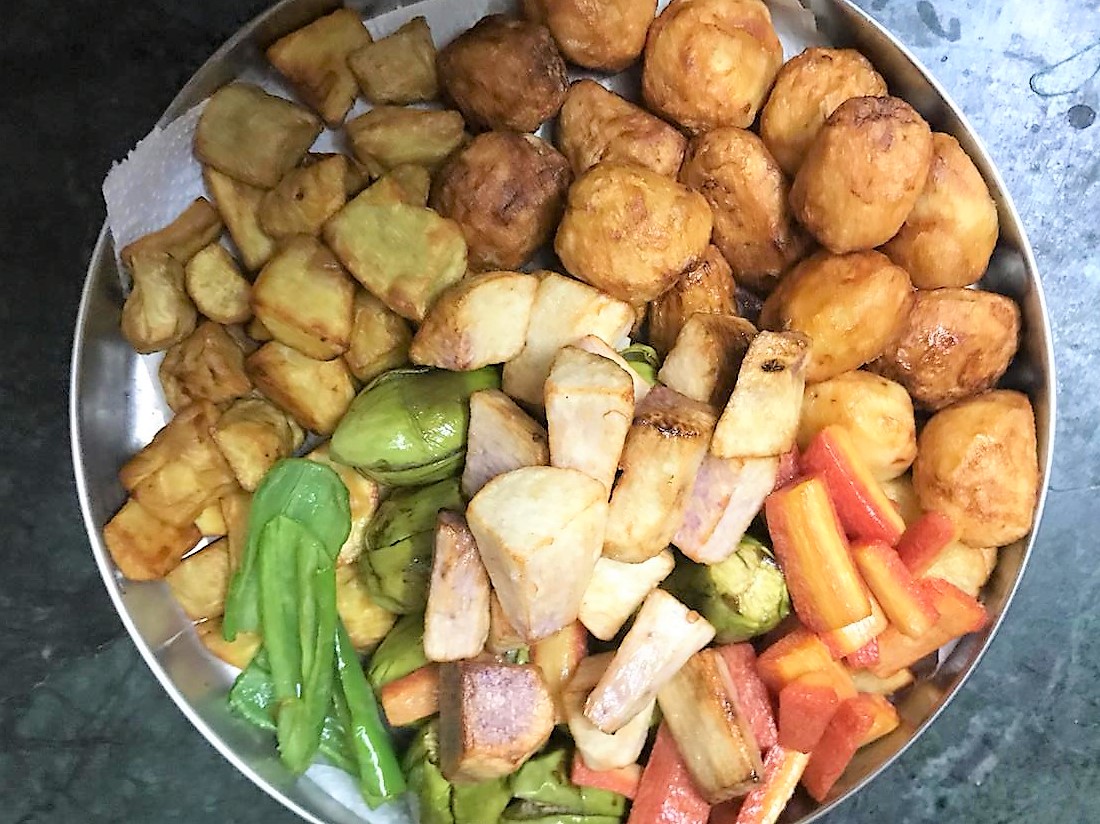 Dice carrot, baby potatoes, ratalu, sweet potatoes into big pieces. Slit the eggplant lengthwise.
Heat oil for frying and fry them on medium heat until they are golden and crisp.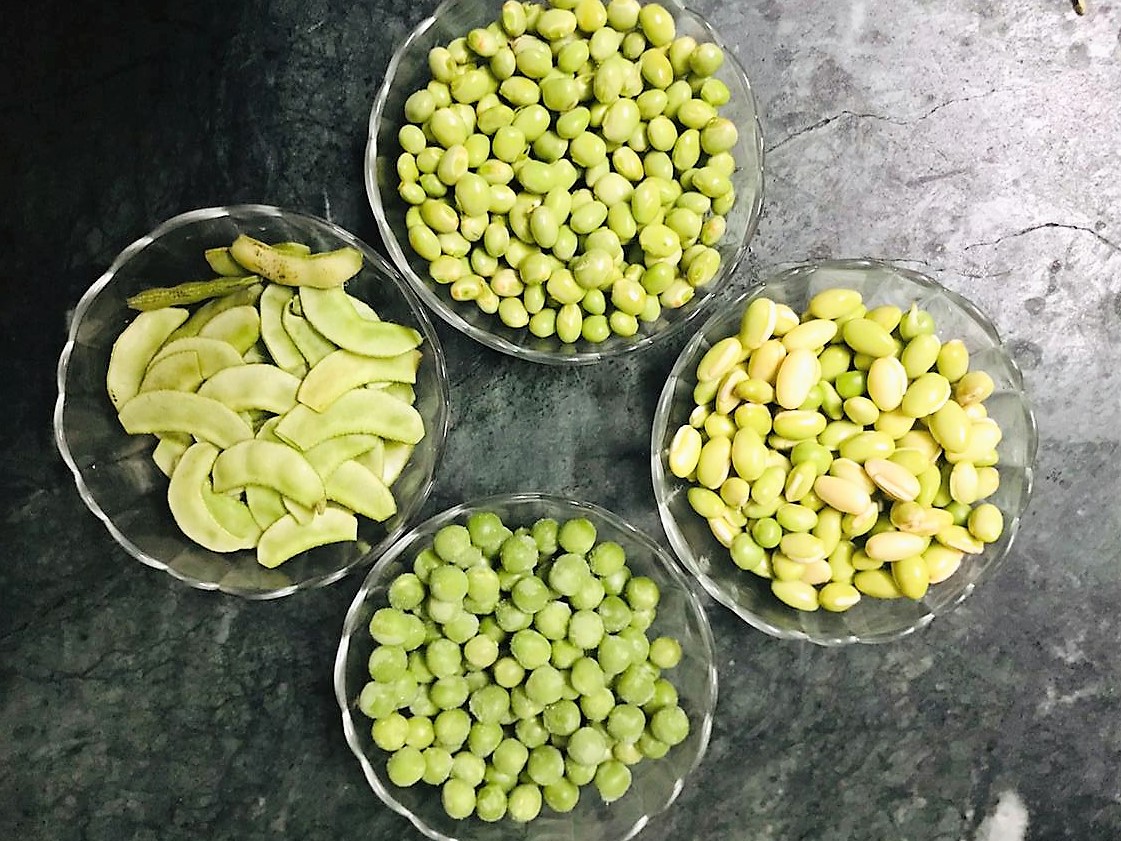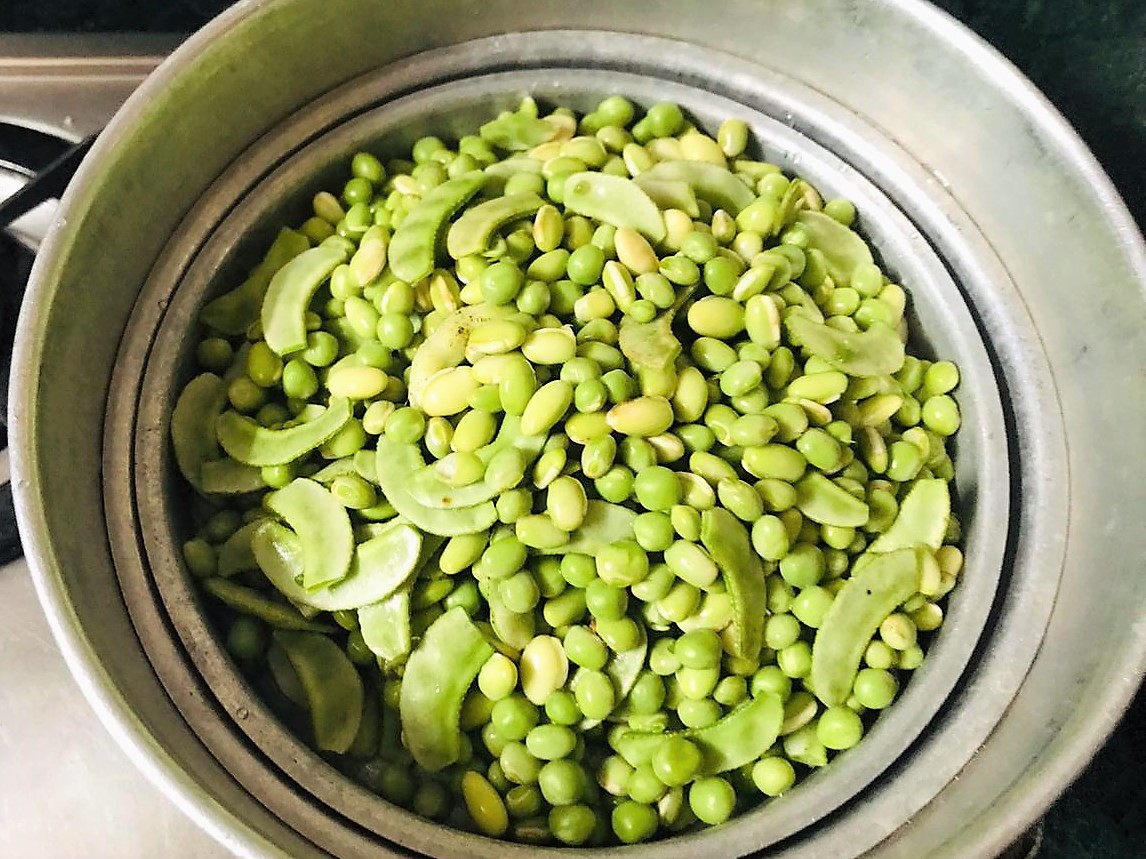 Steam surti papdi, surti papdi beans and tuvar beans in the steamer for around 8-10 minutes.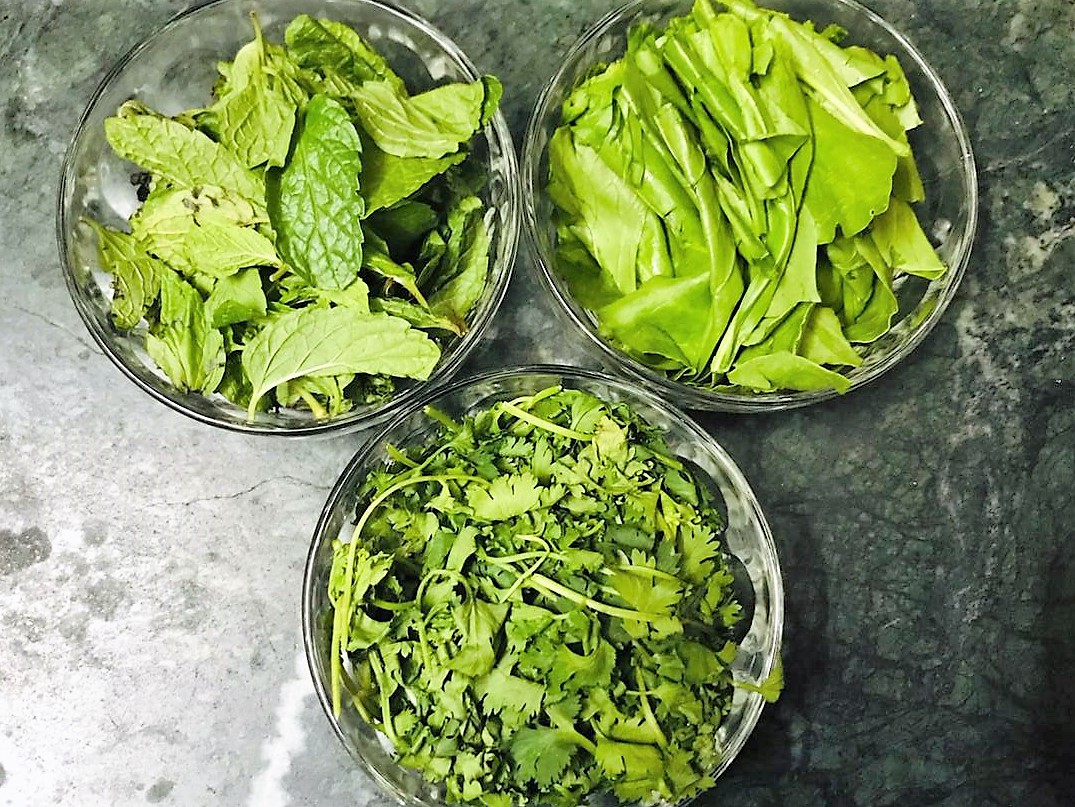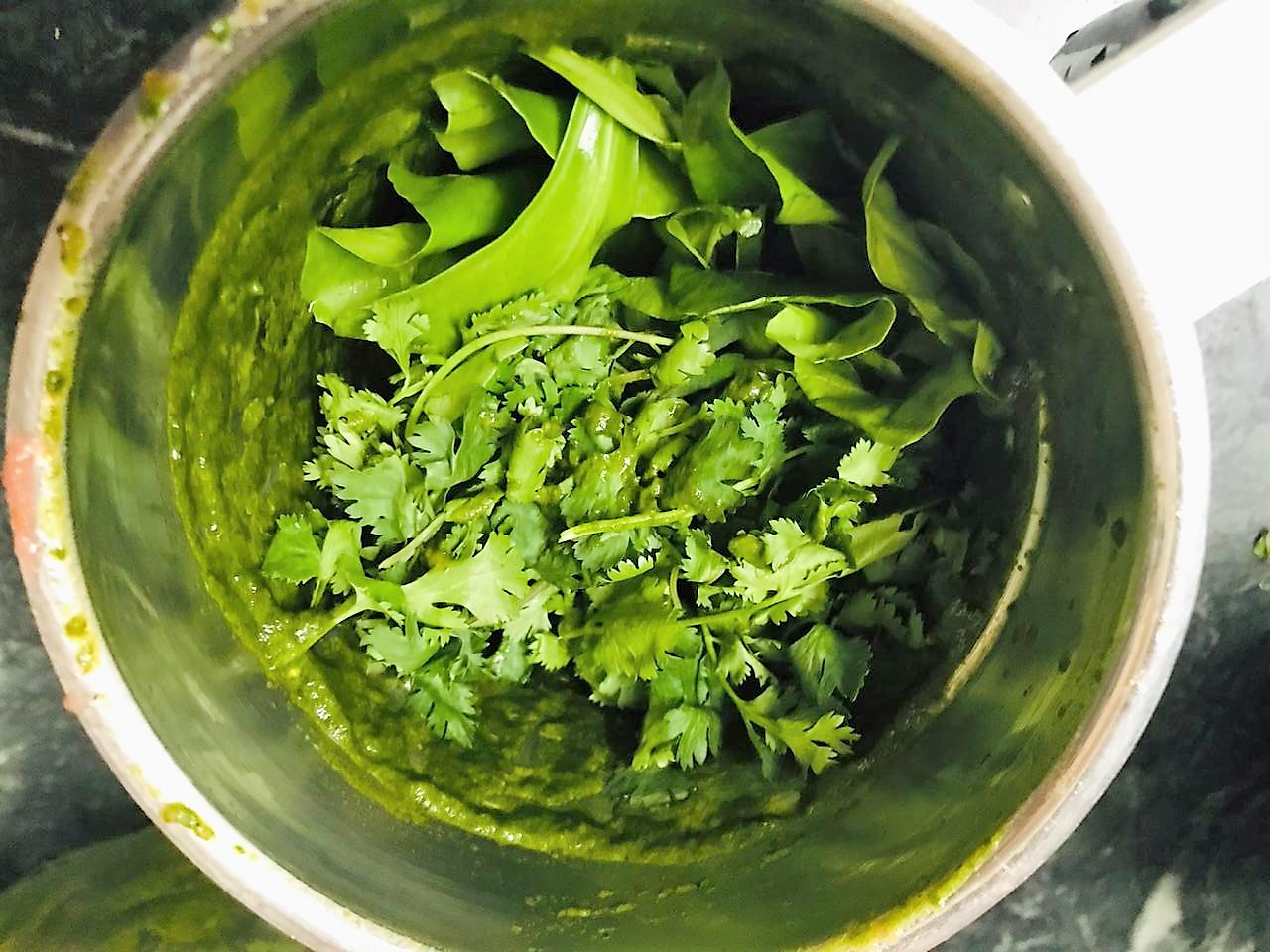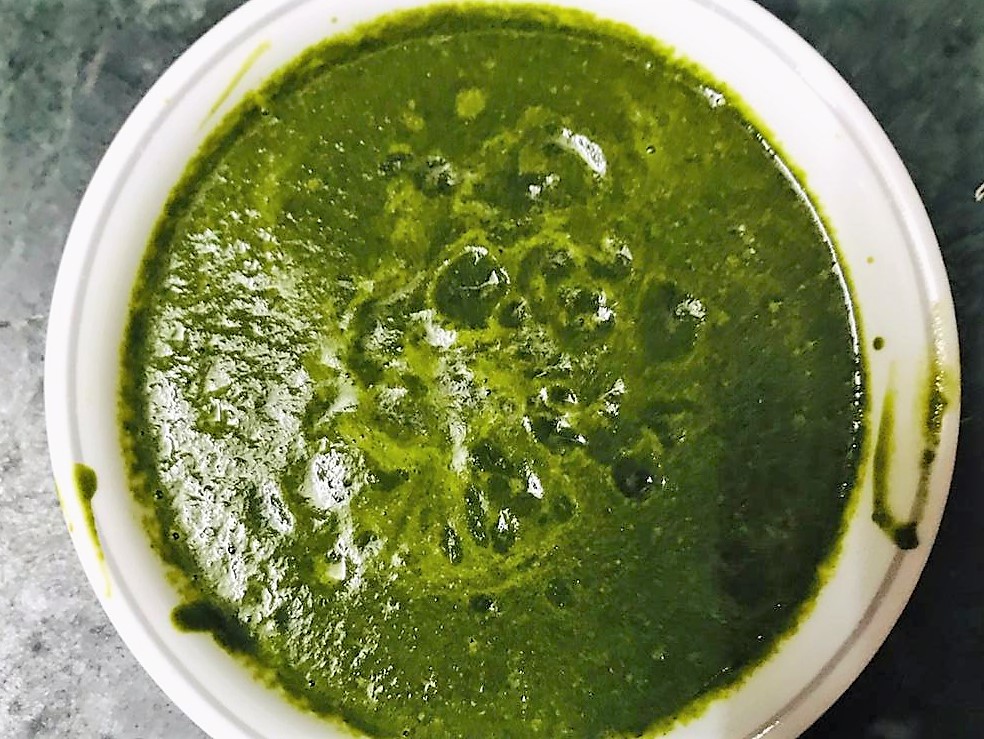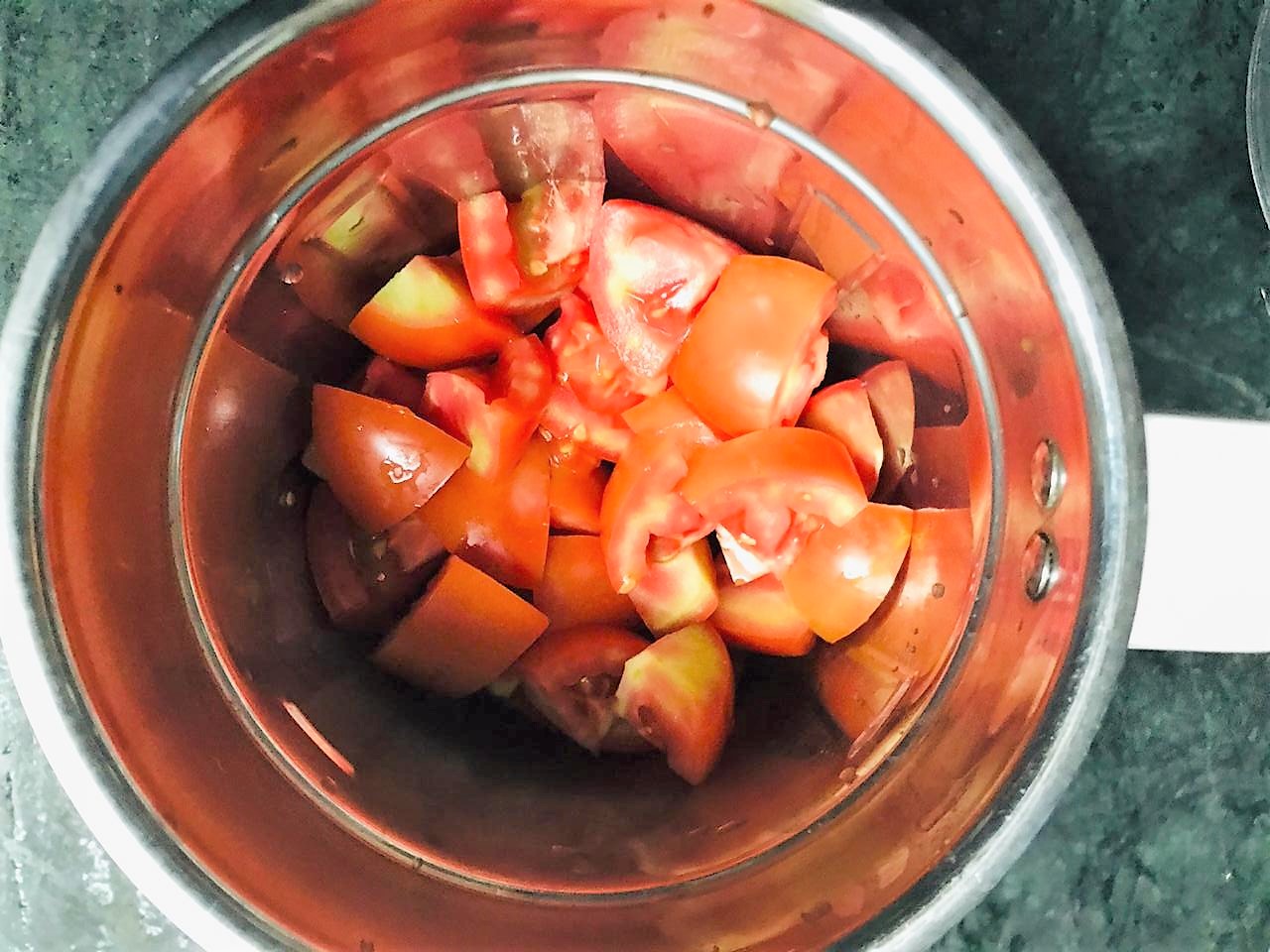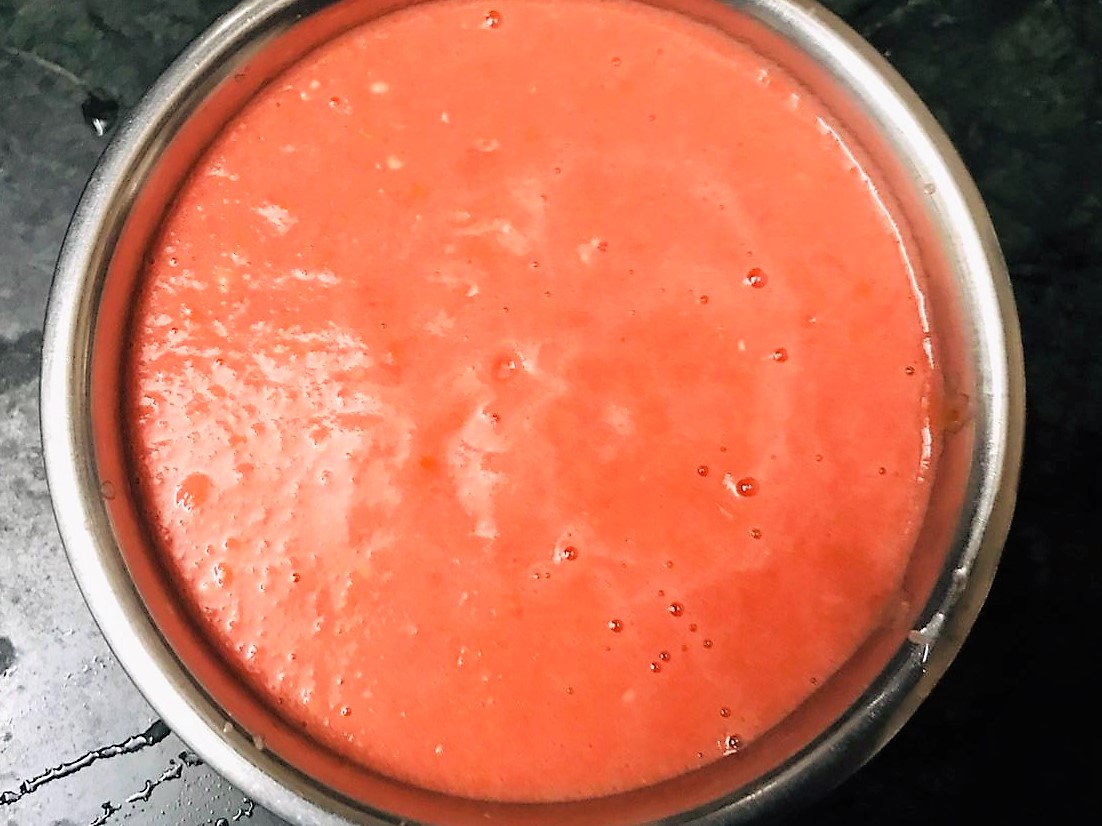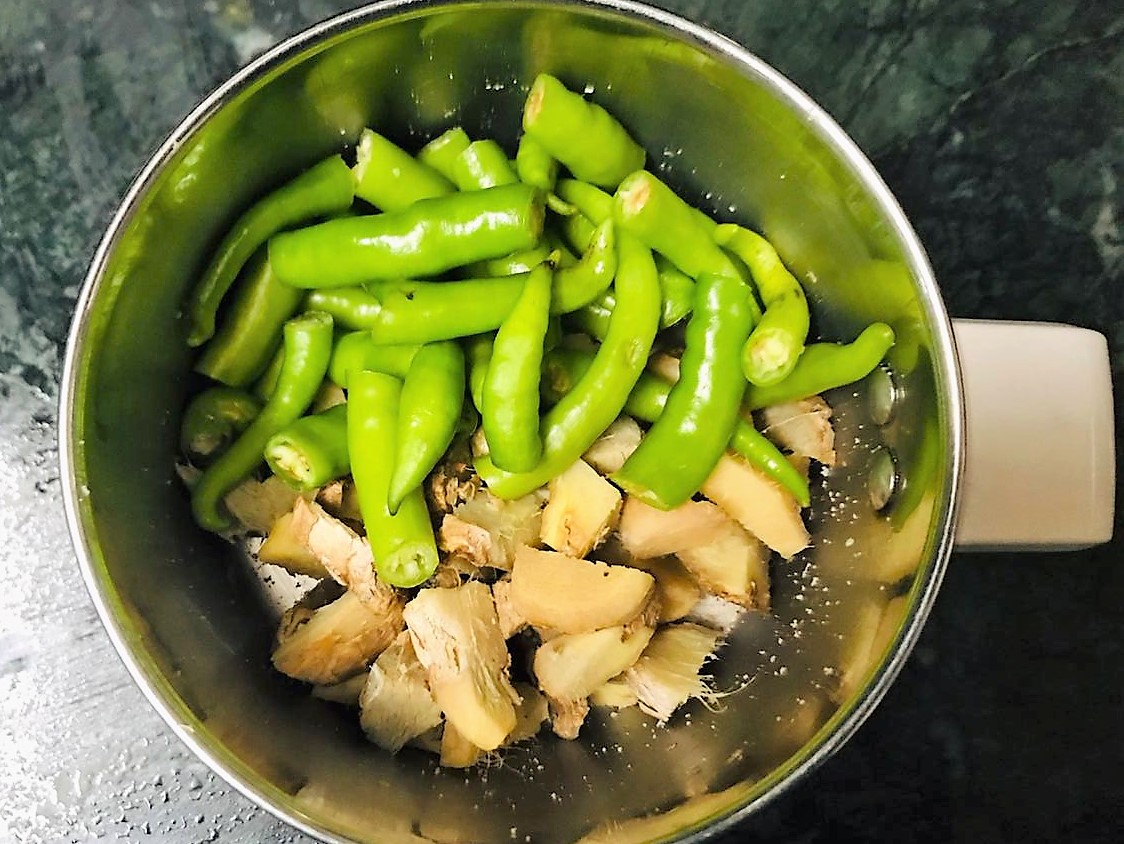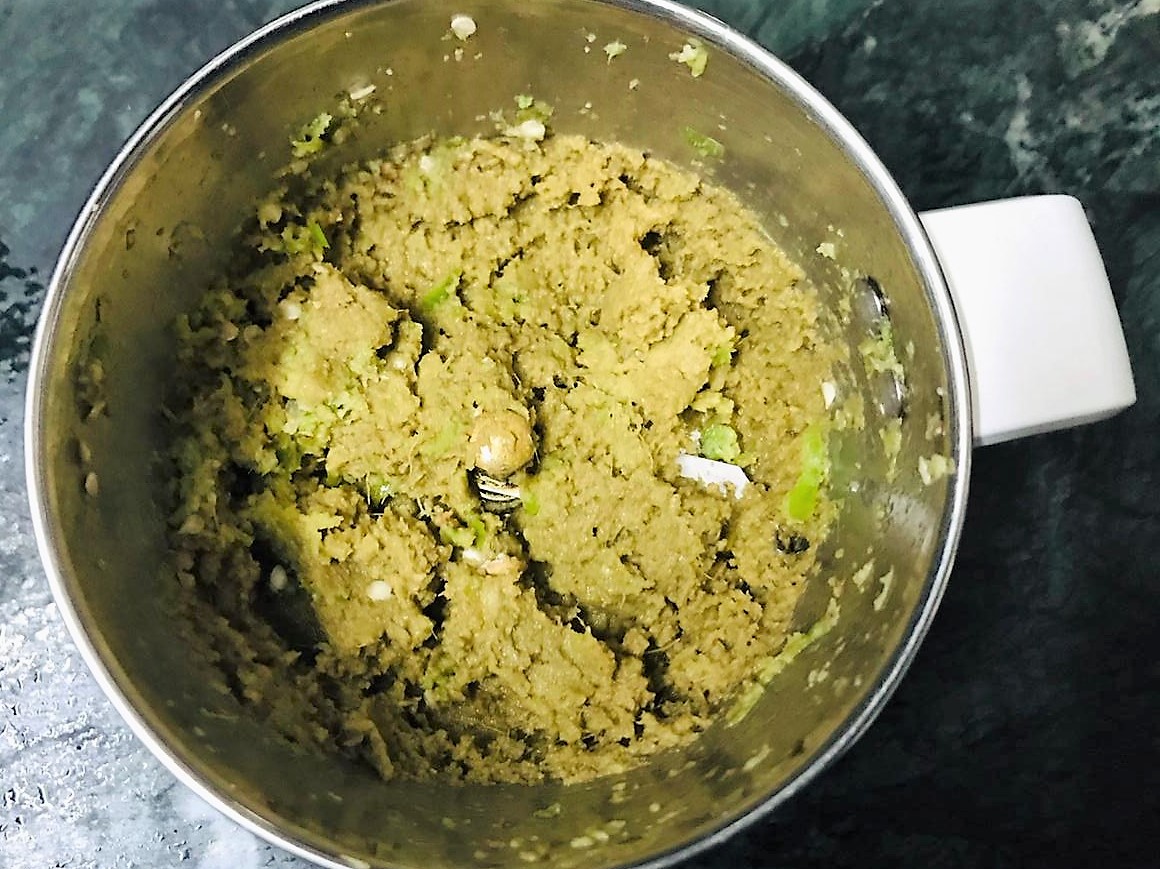 Grind coriander leaves, mint leaves and spinach into a puree.
Grind tomatoes into a fine puree.
Grind green chilli and ginger into a fine paste.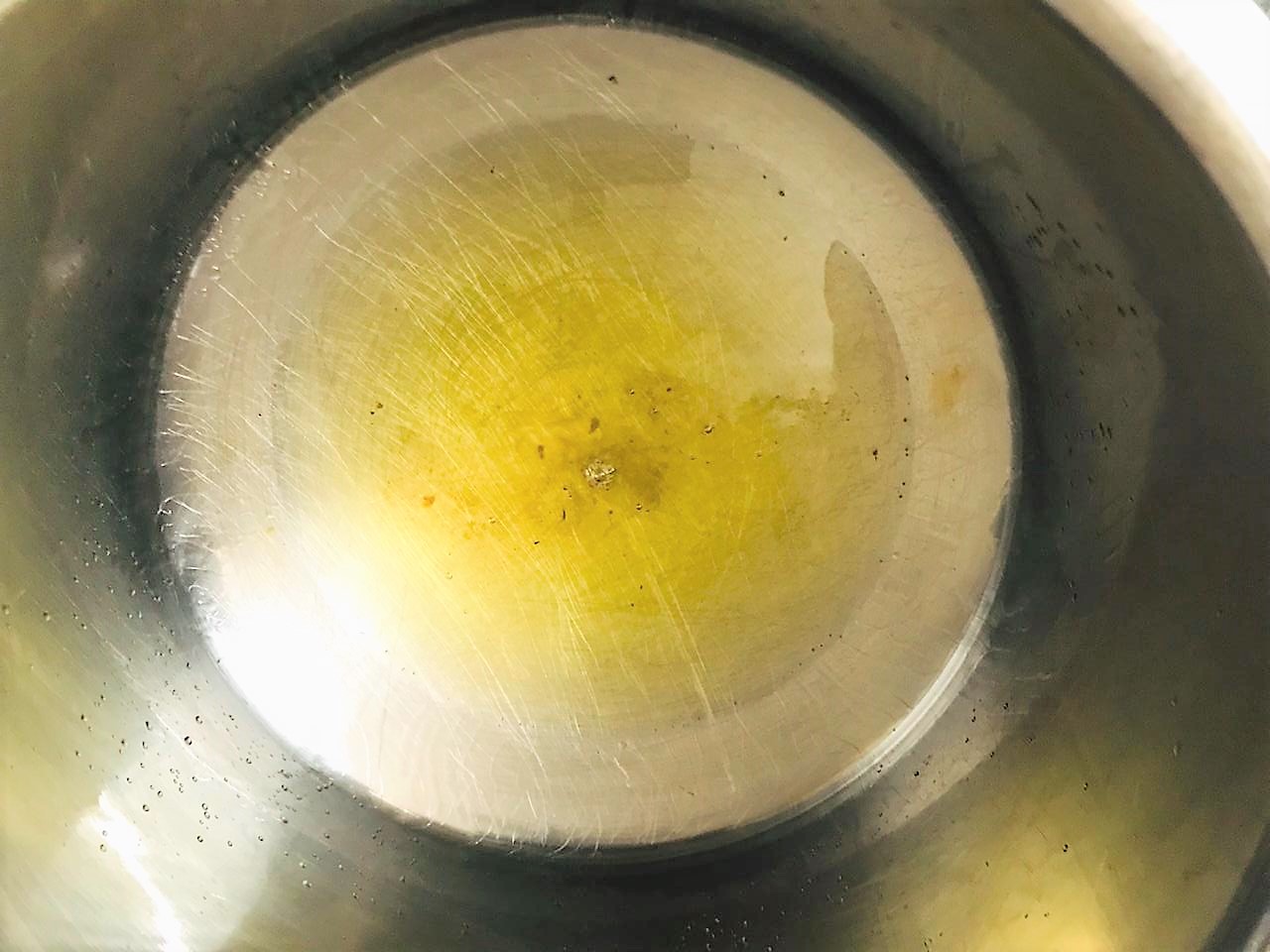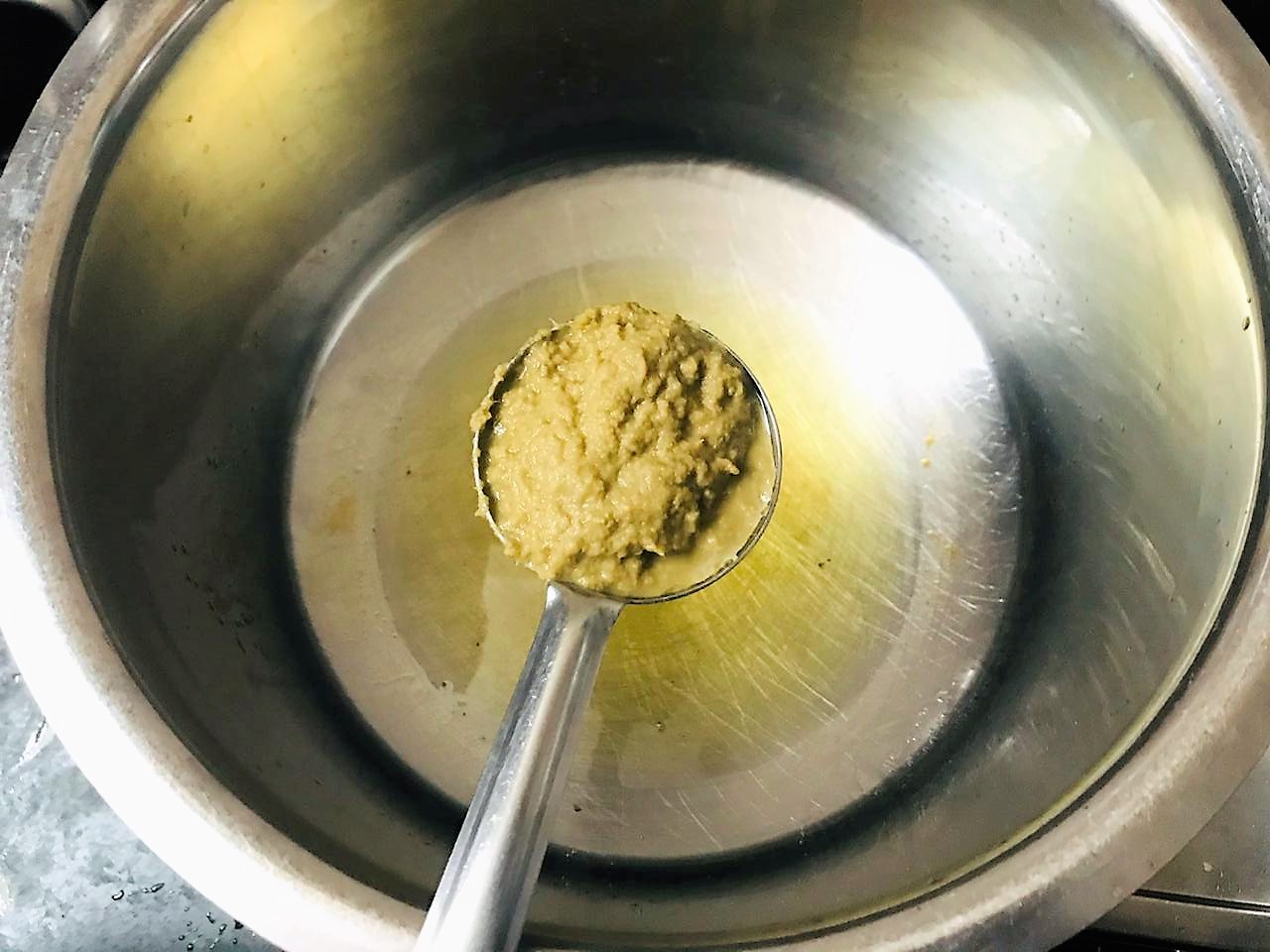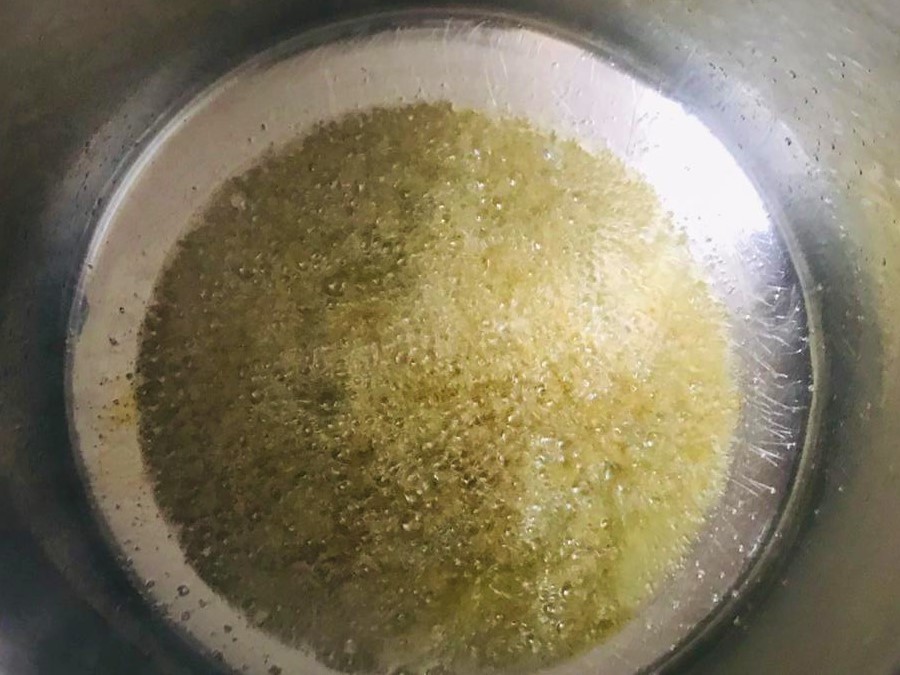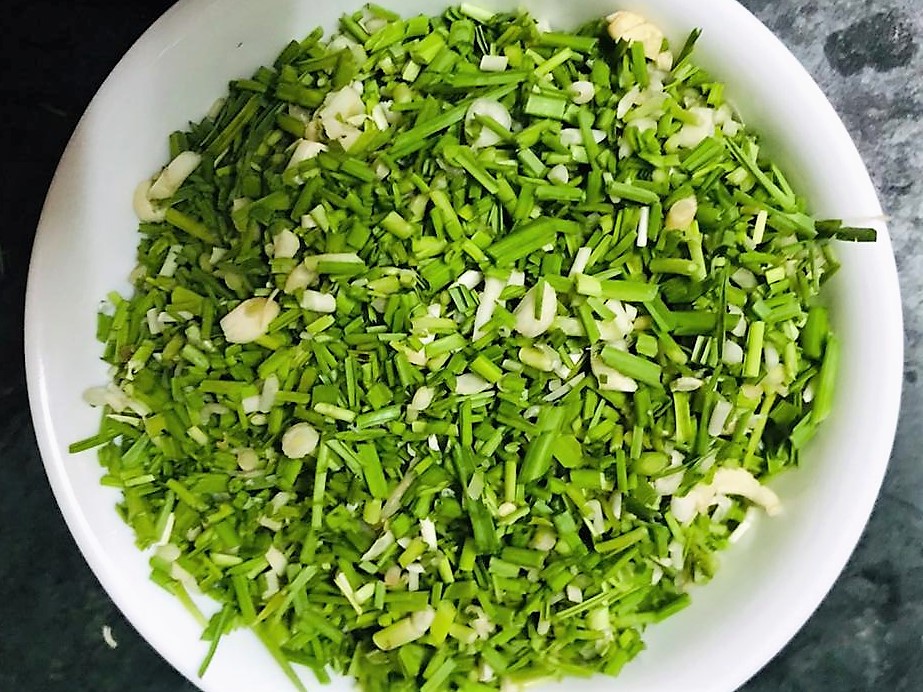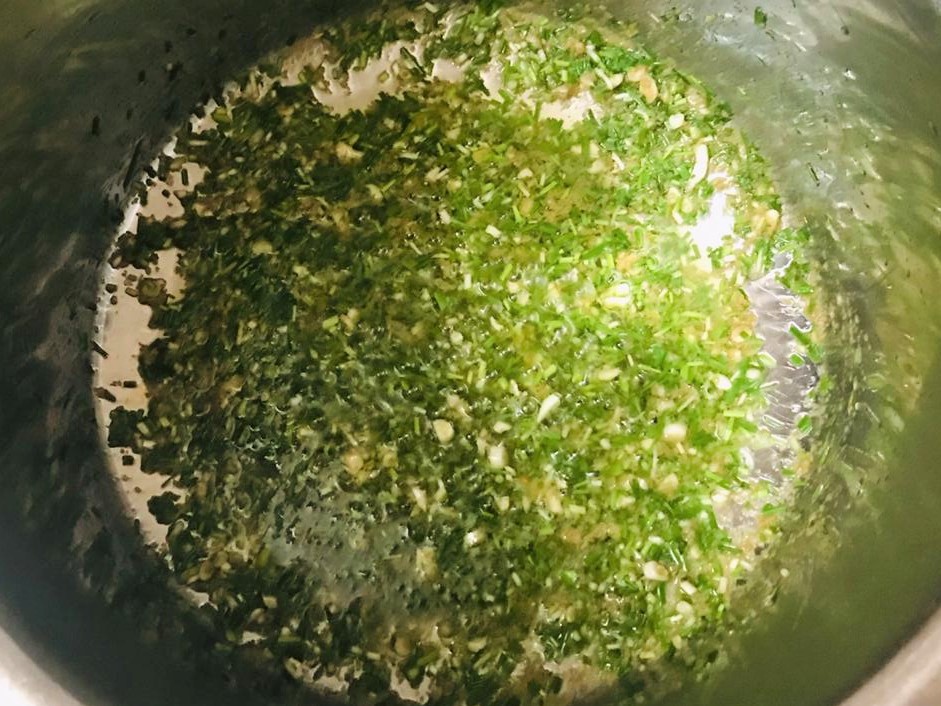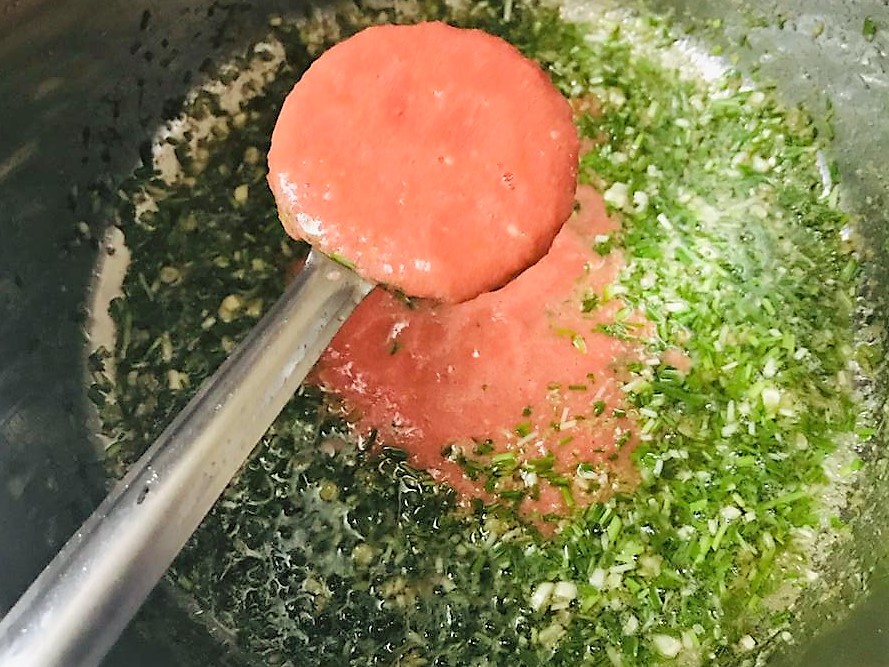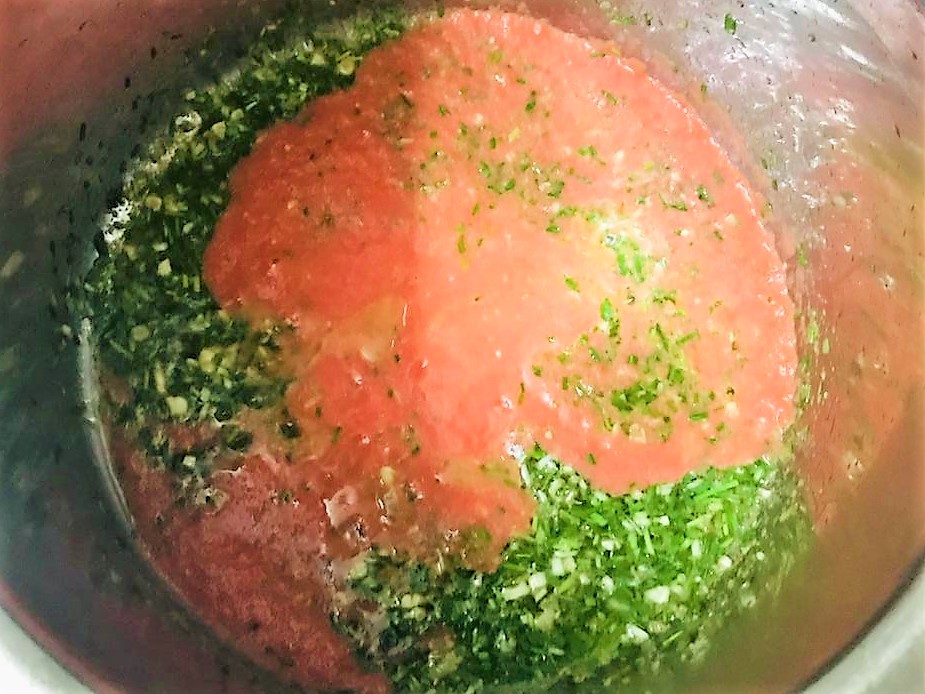 Heat oil in a pan and add the chilli ginger paste and sauté for a minute. Next, add the green garlic and tomato puree and cook for 2-3 minutes.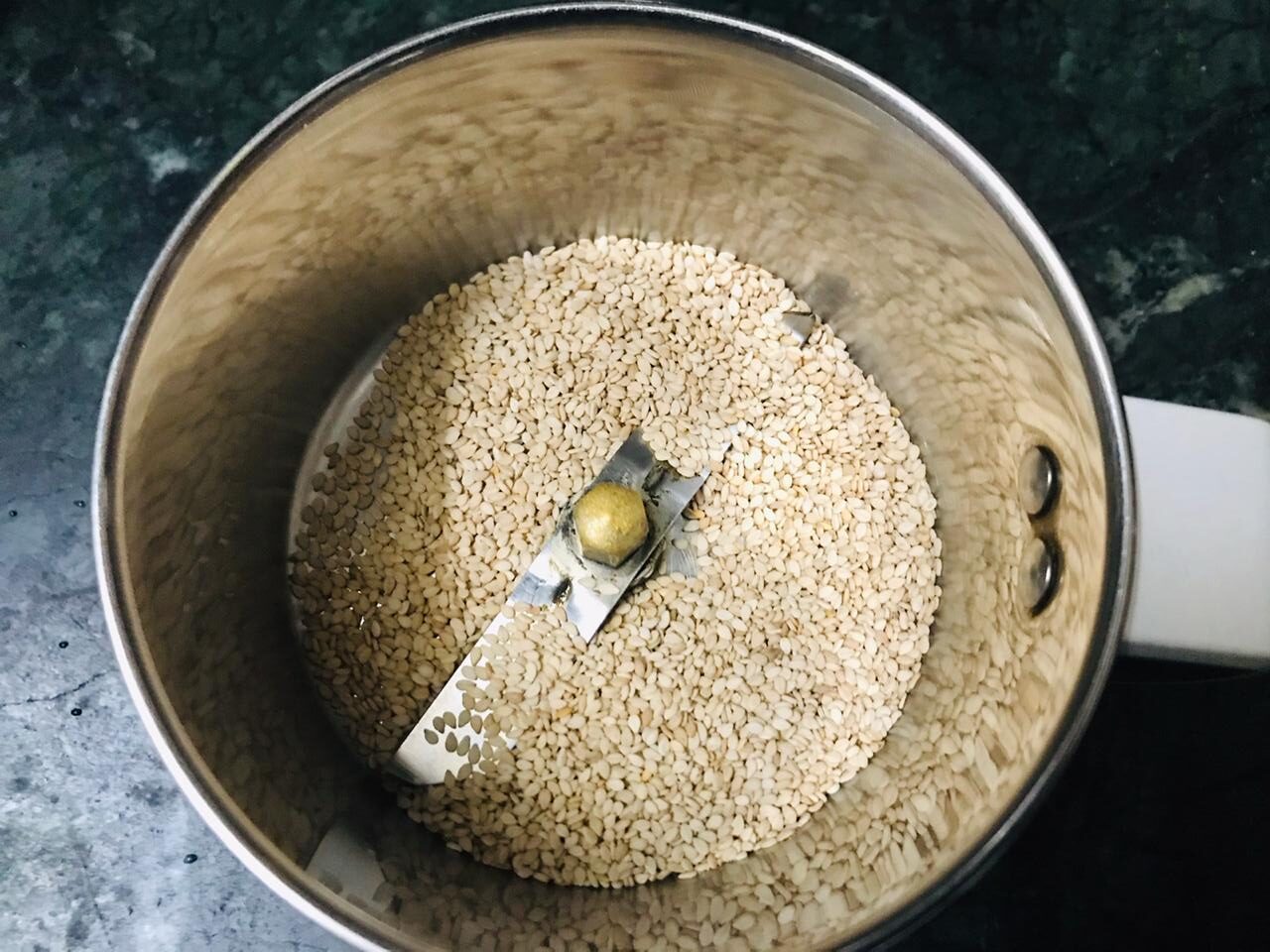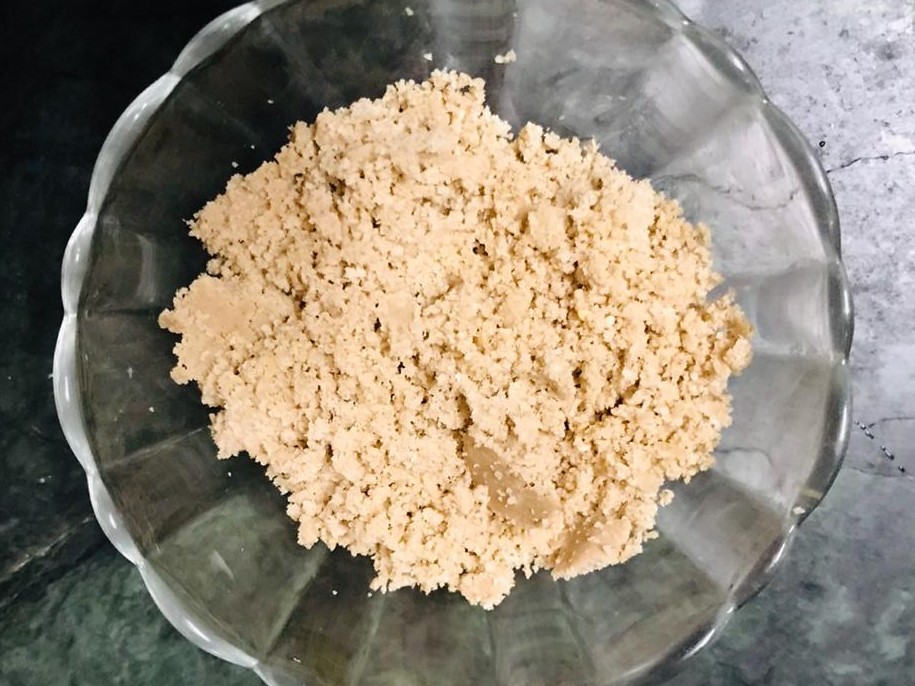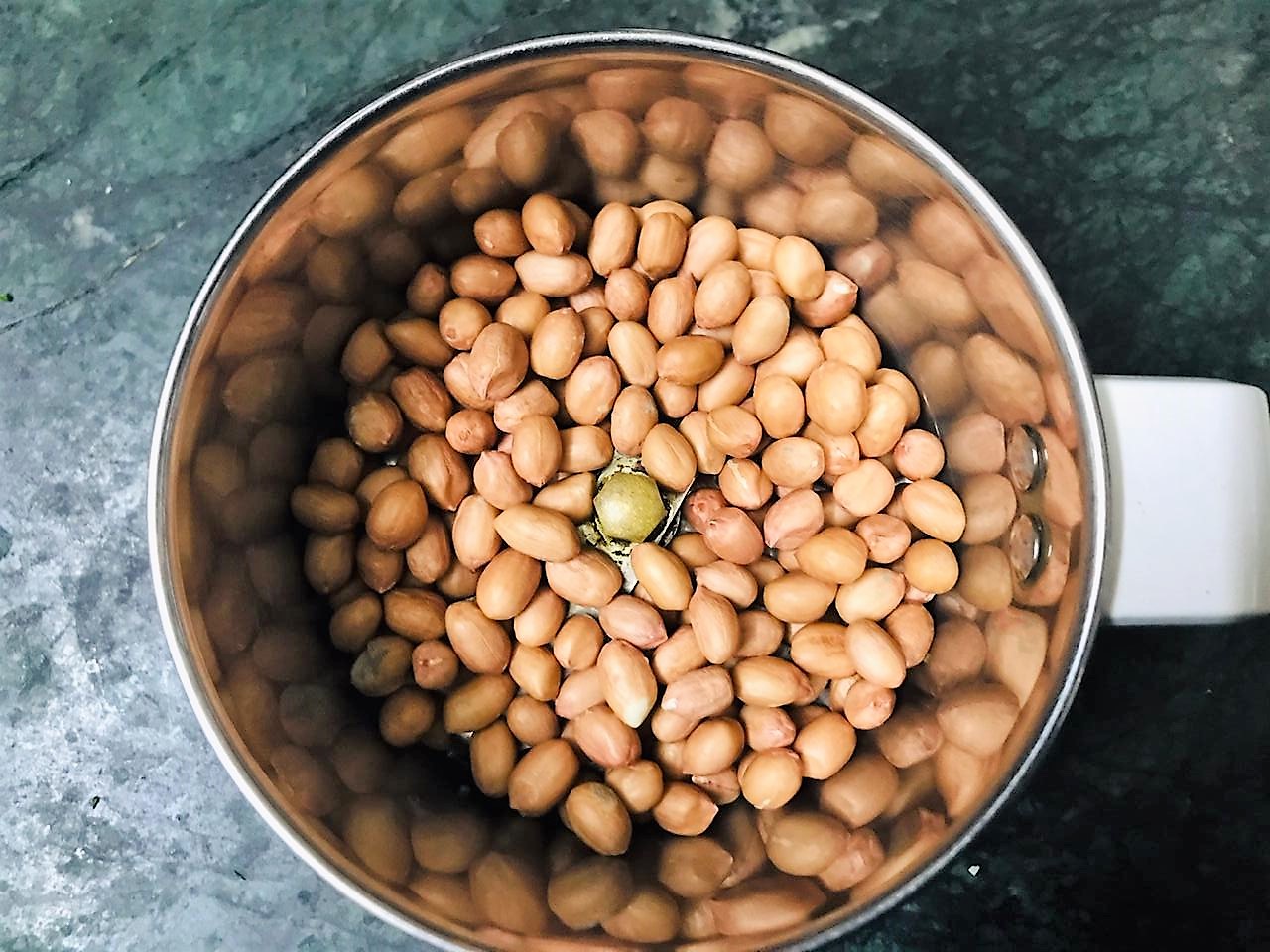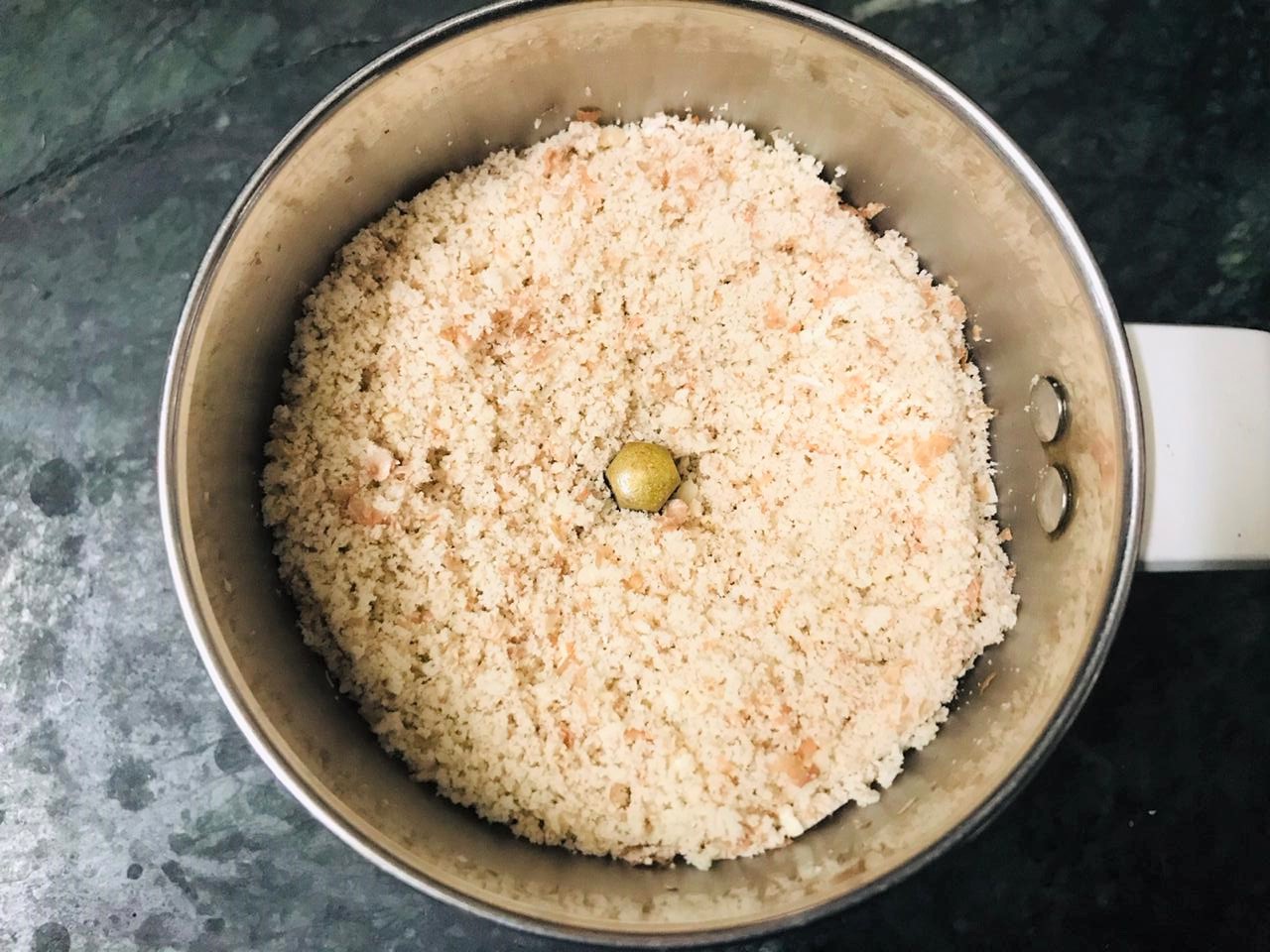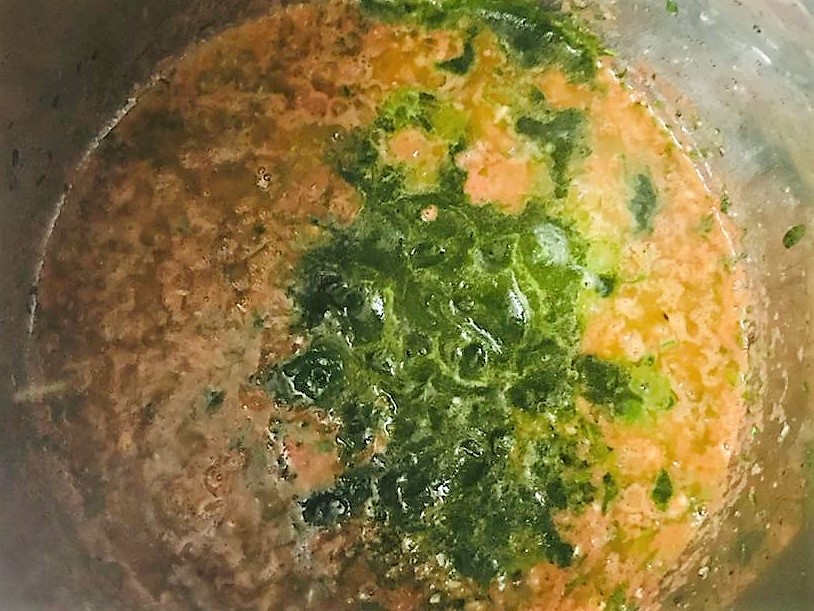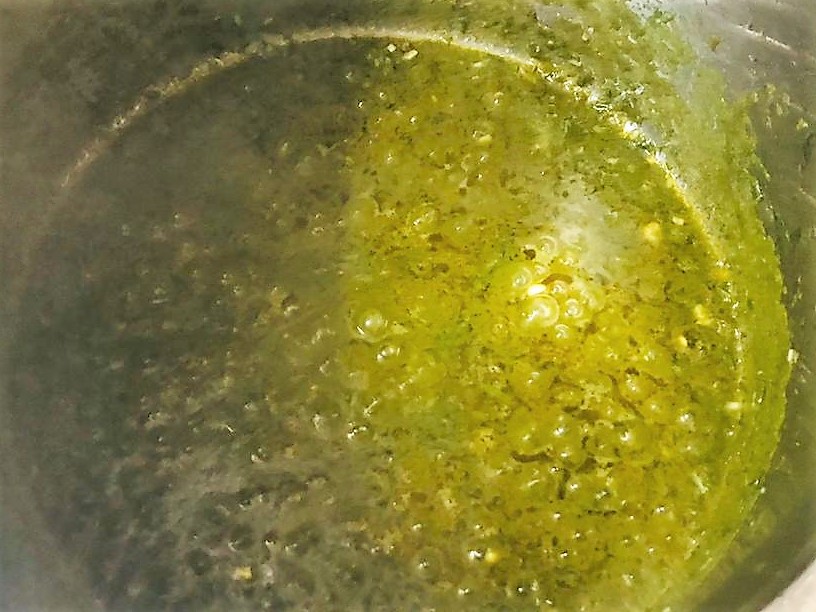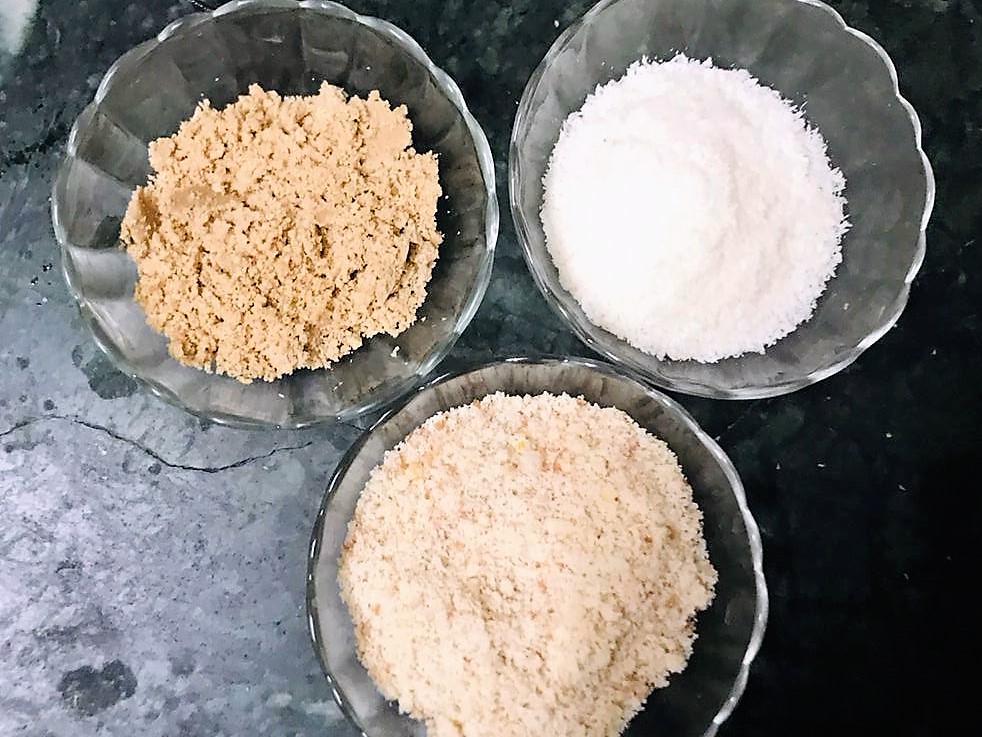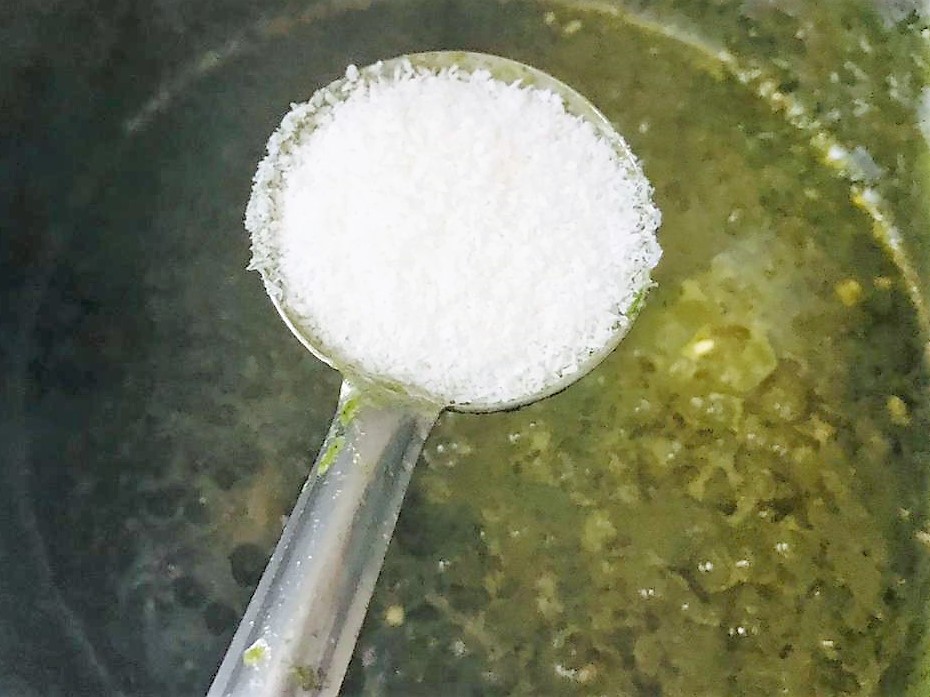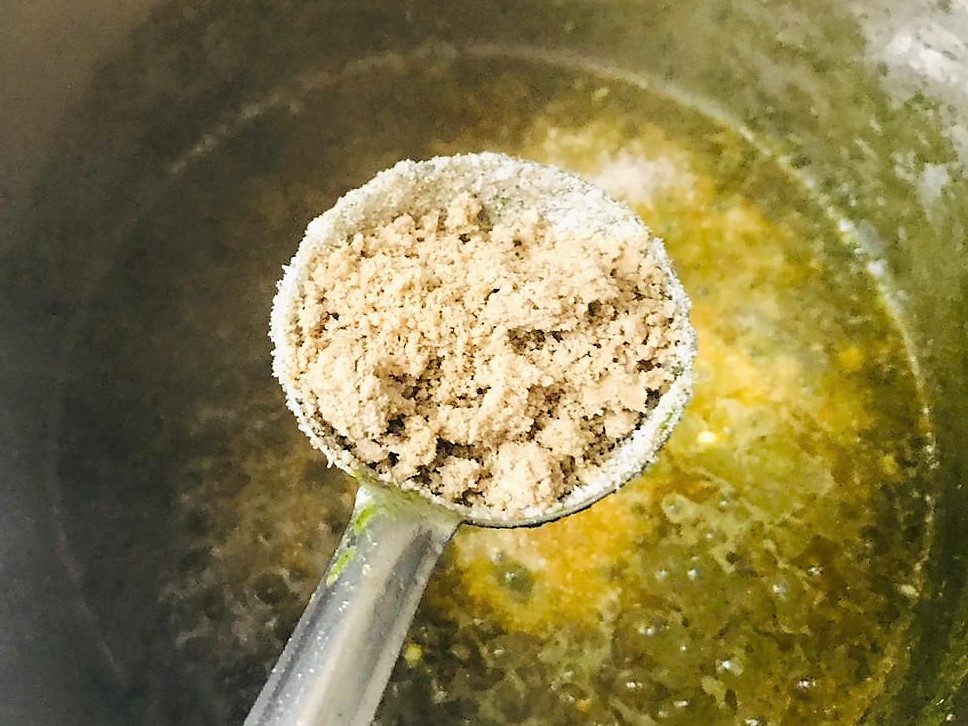 Grind sesame seeds into a fine paste.
Grind peanuts into fine powder.
Add the coriander, mint and spinach leaves puree, sesame seeds paste, coconut and peanut powder and mix.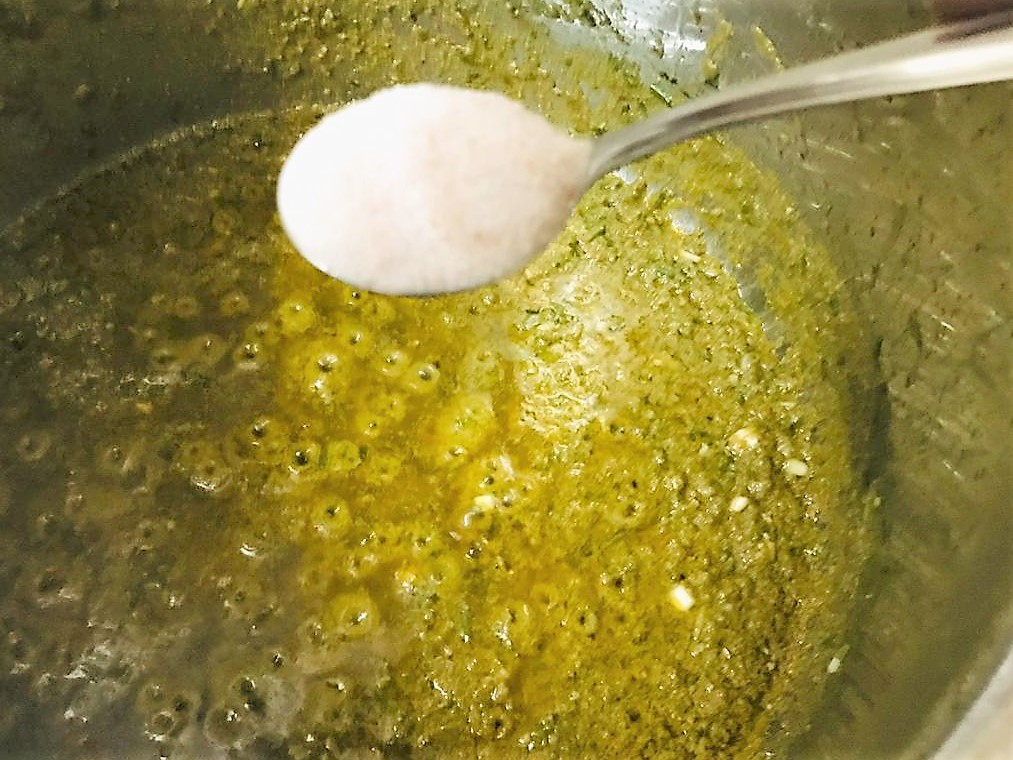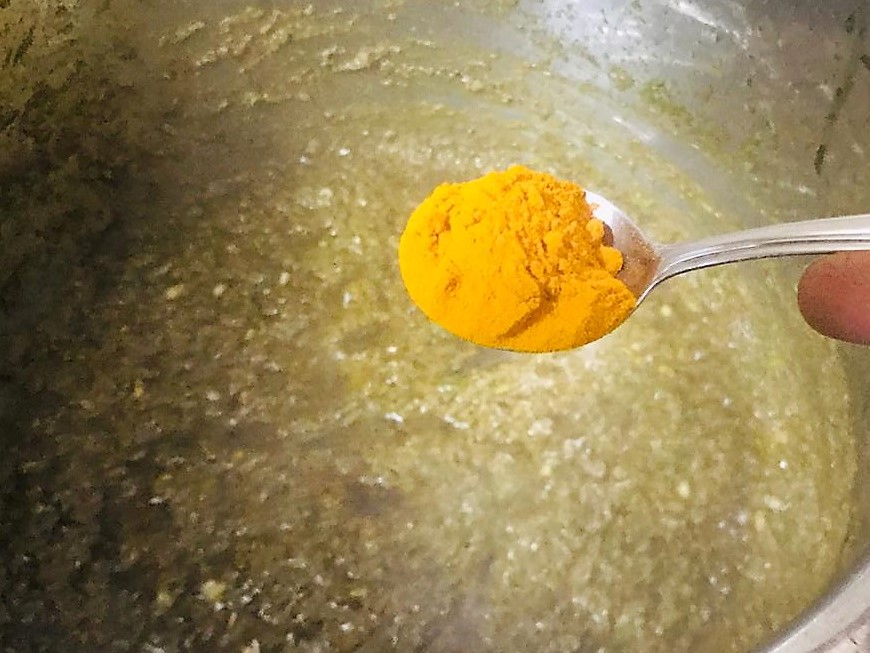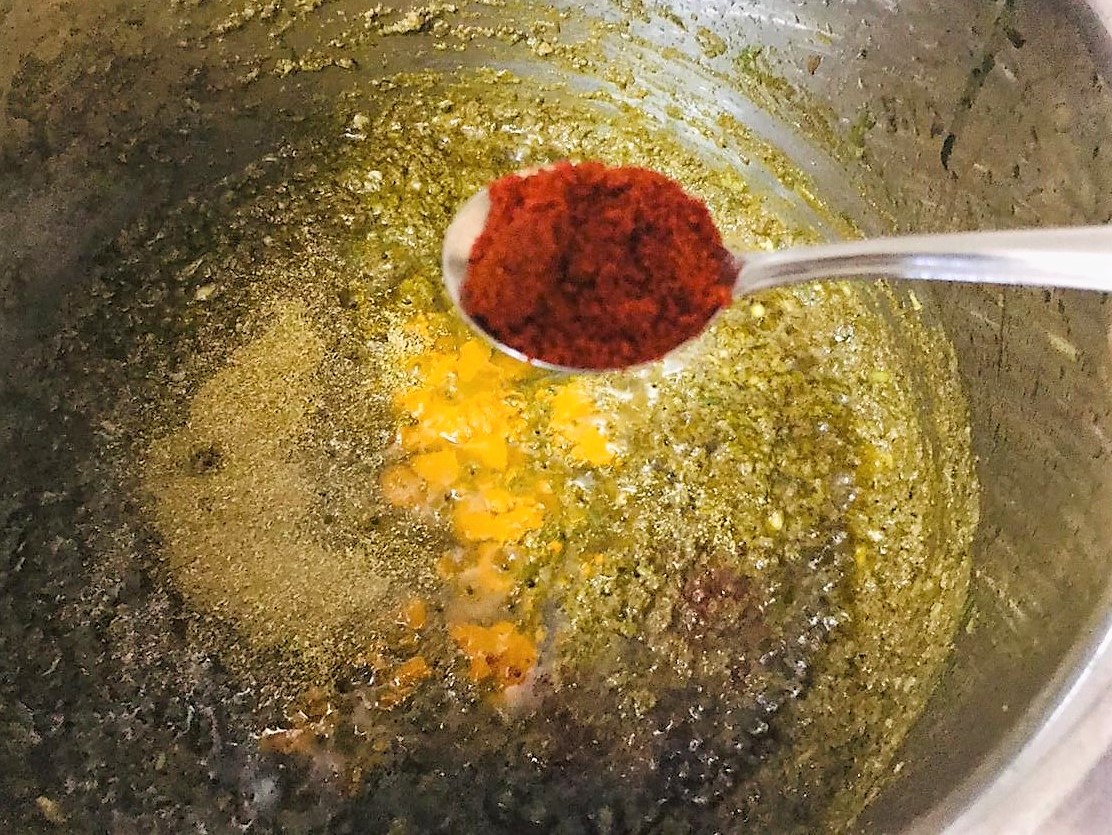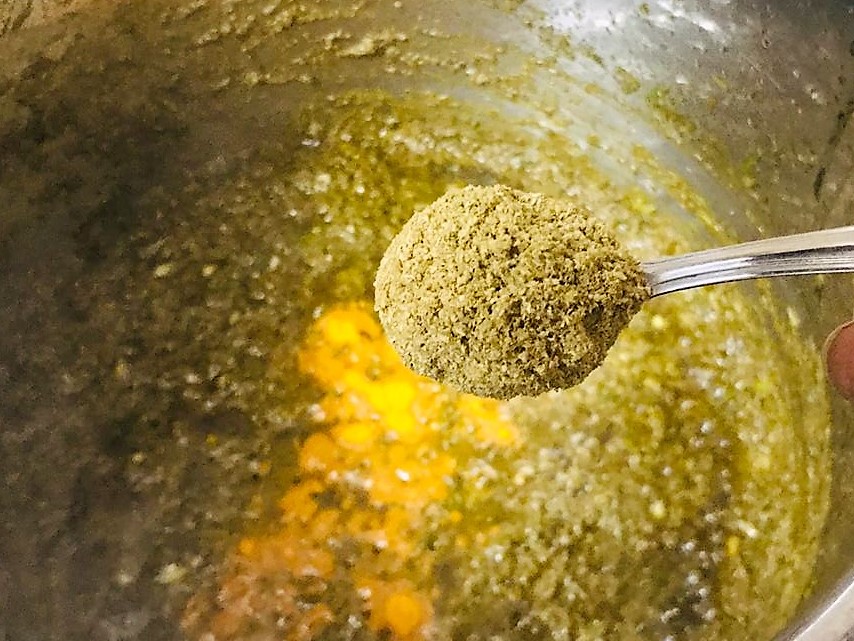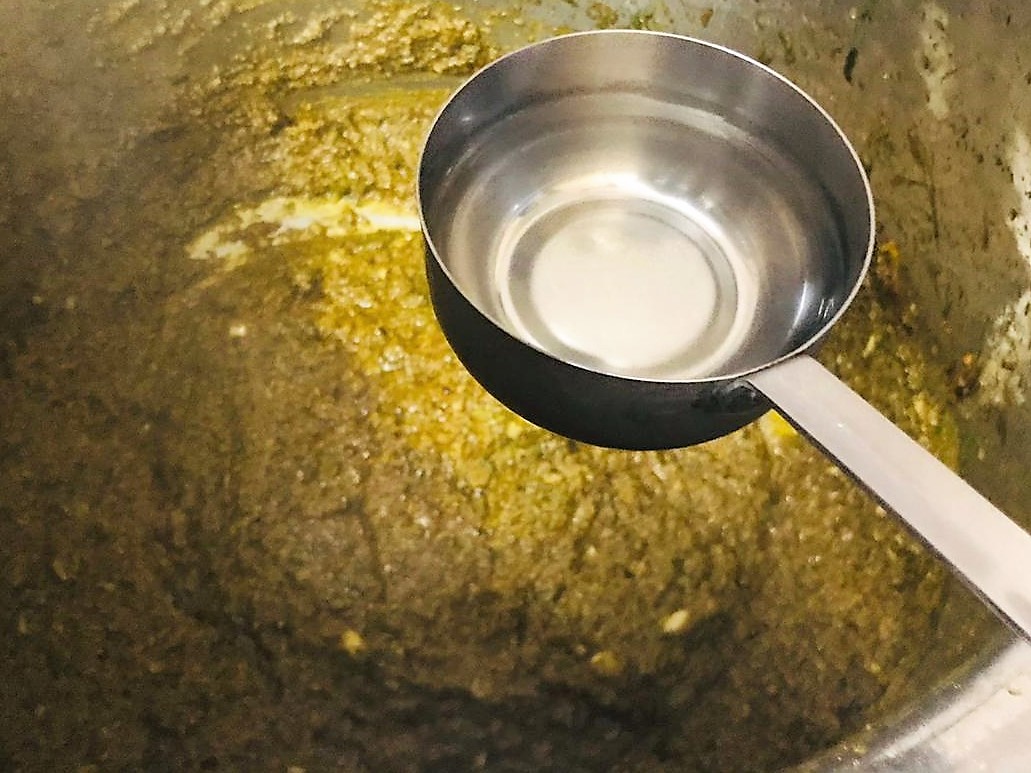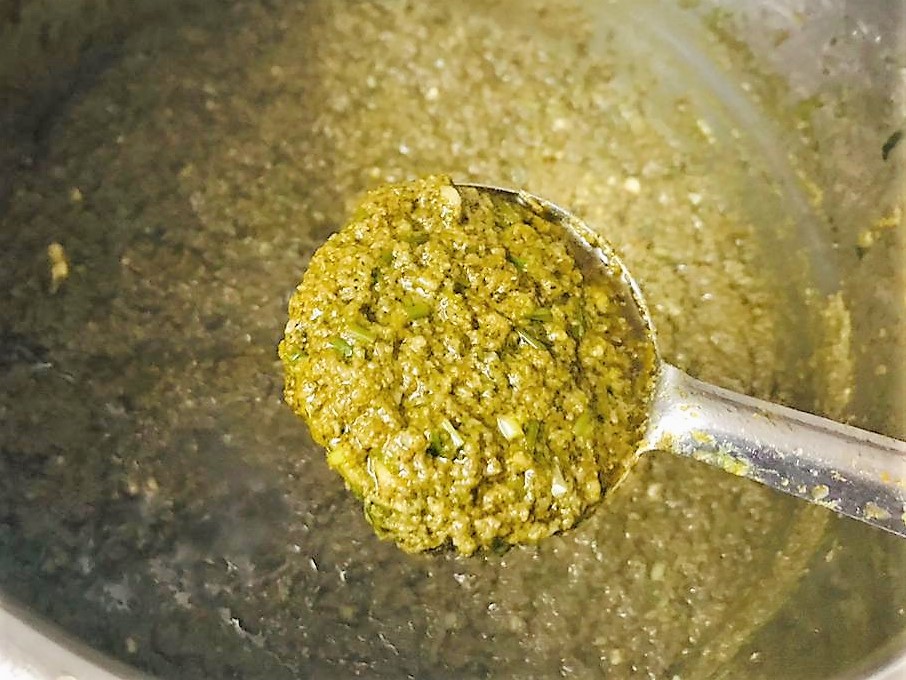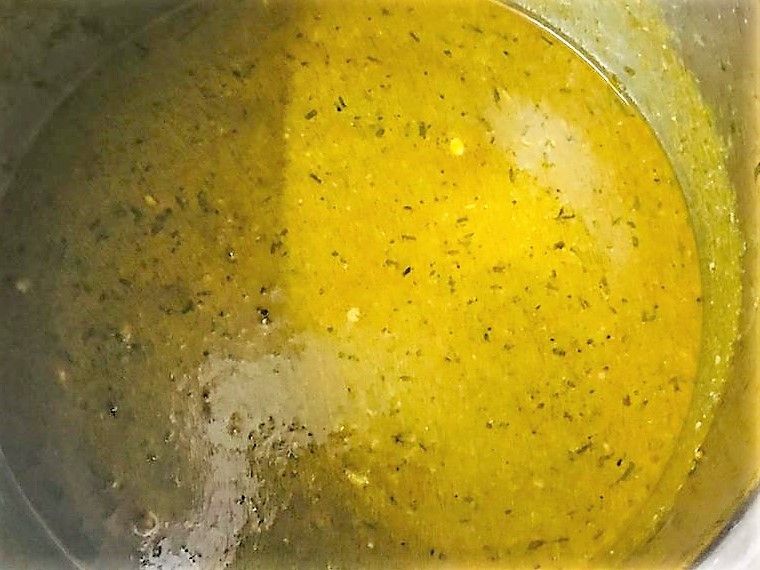 Next add salt, turmeric powder, Kashmiri red chilli powder and coriander powder and sauté for a minute. Add 1 cup water and cook for about 8-10 minutes, stirring continuously so that it does not stick at the bottom.
Add the undhiyu masala and cover and cook for about 5 minutes.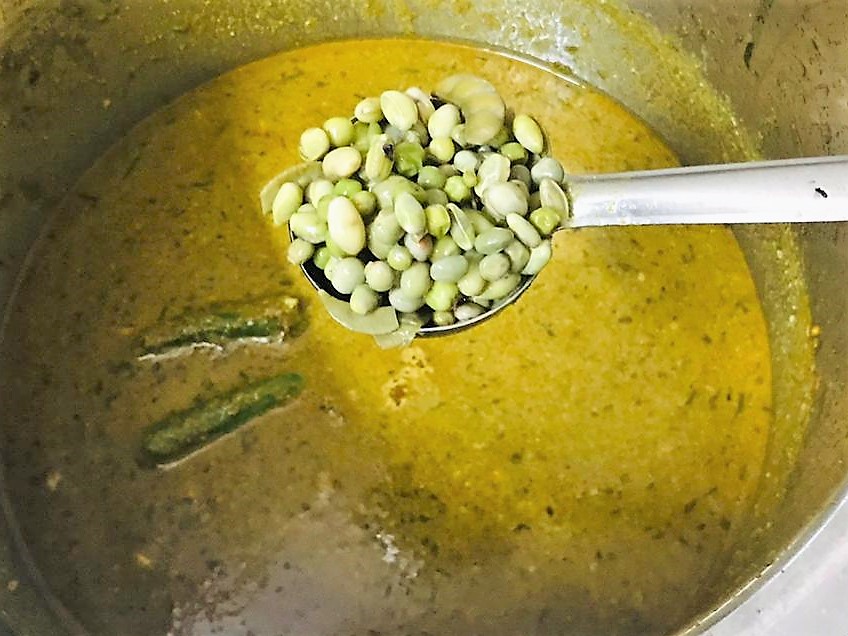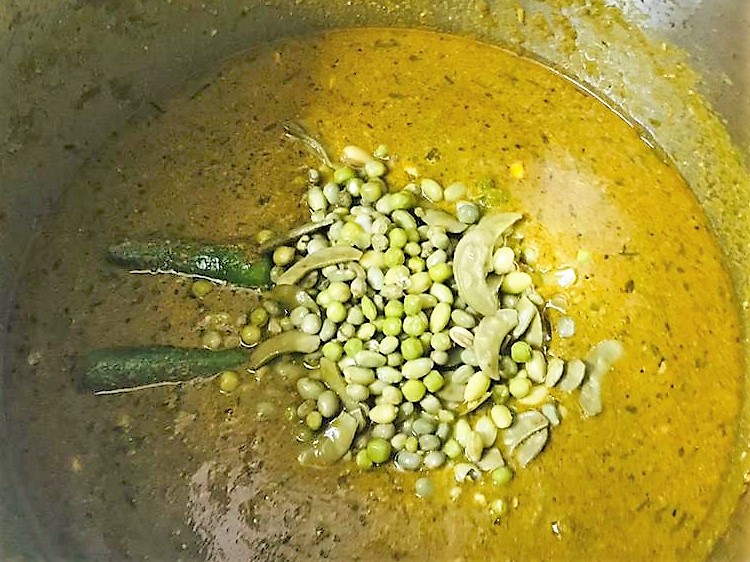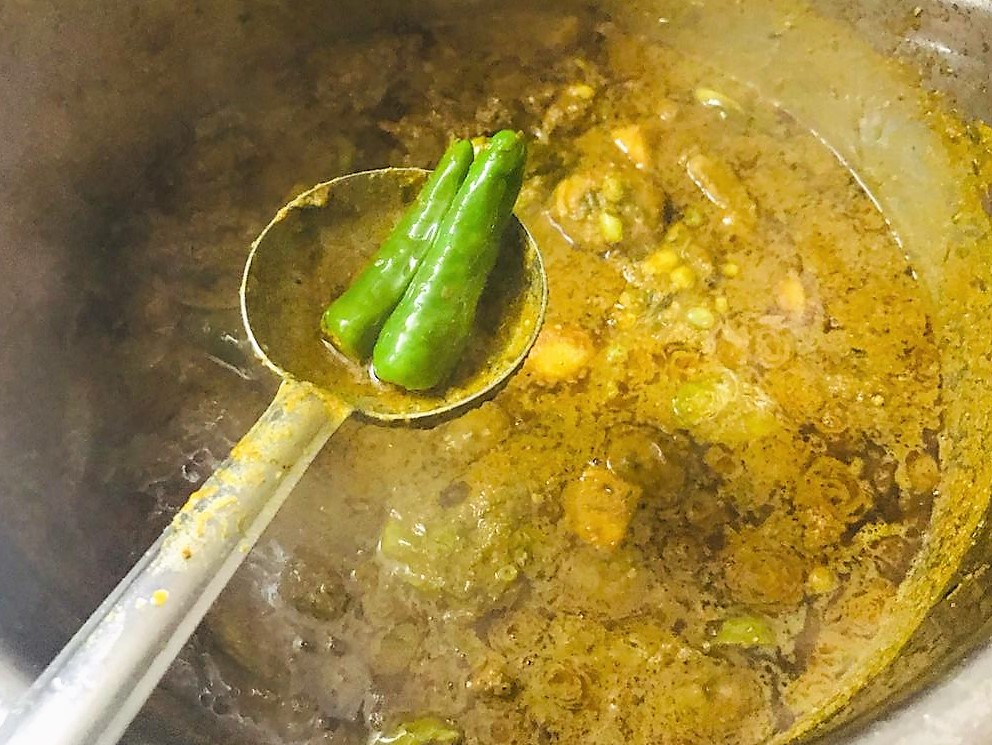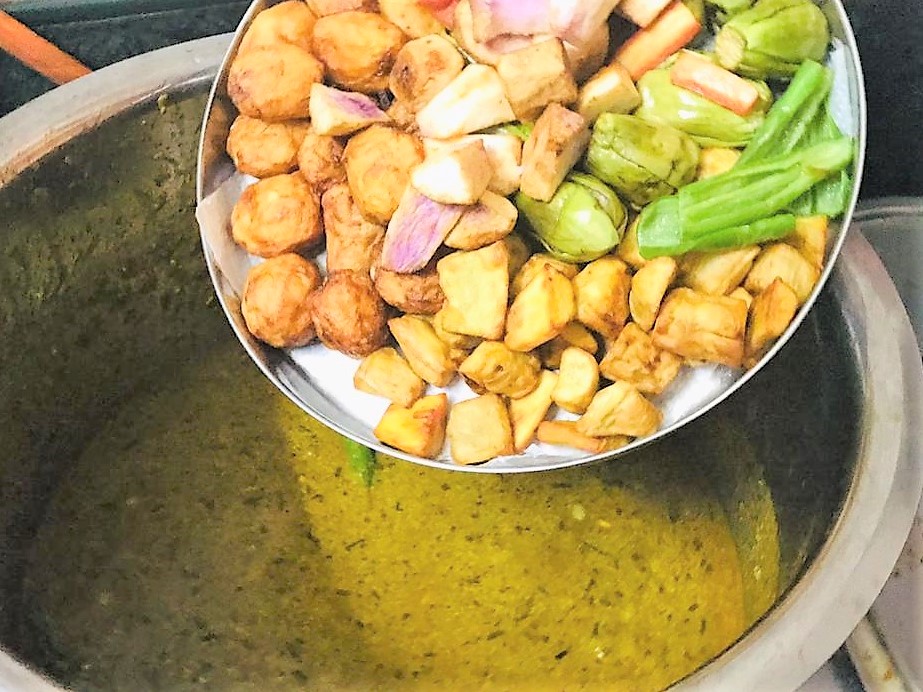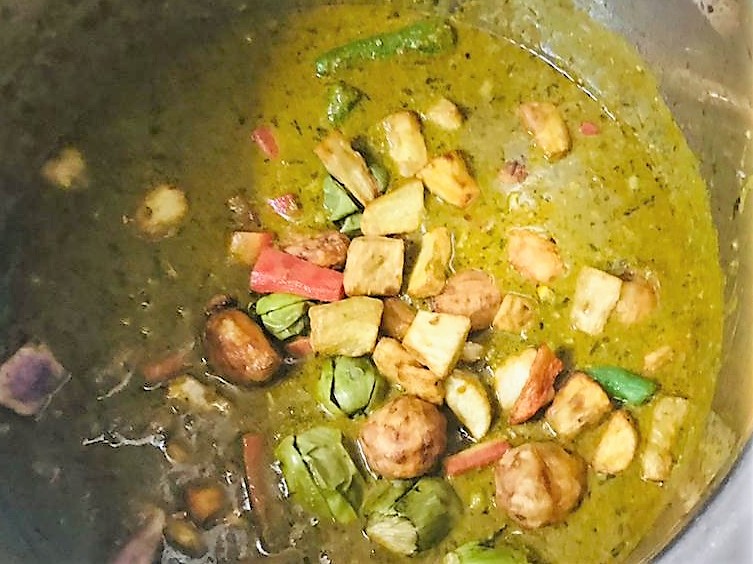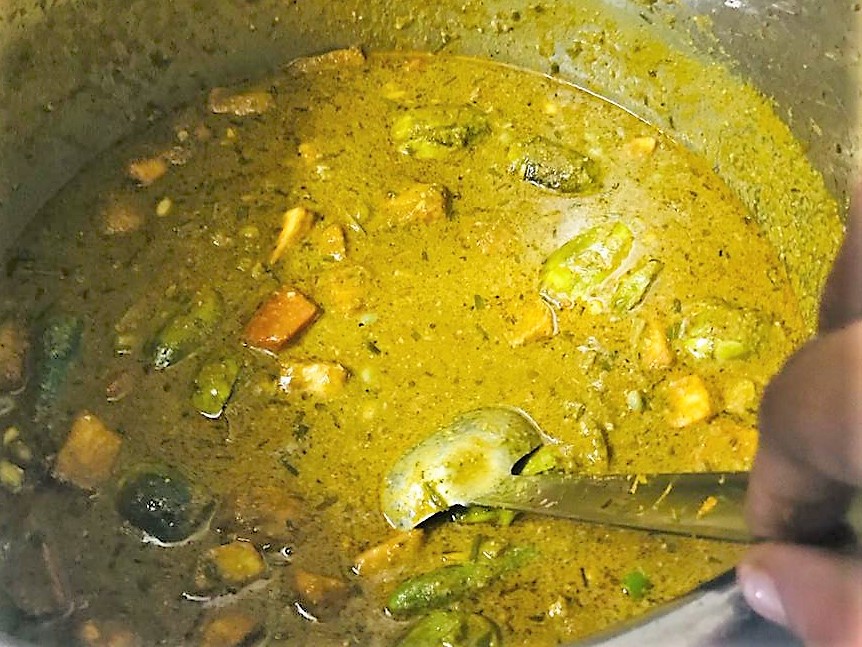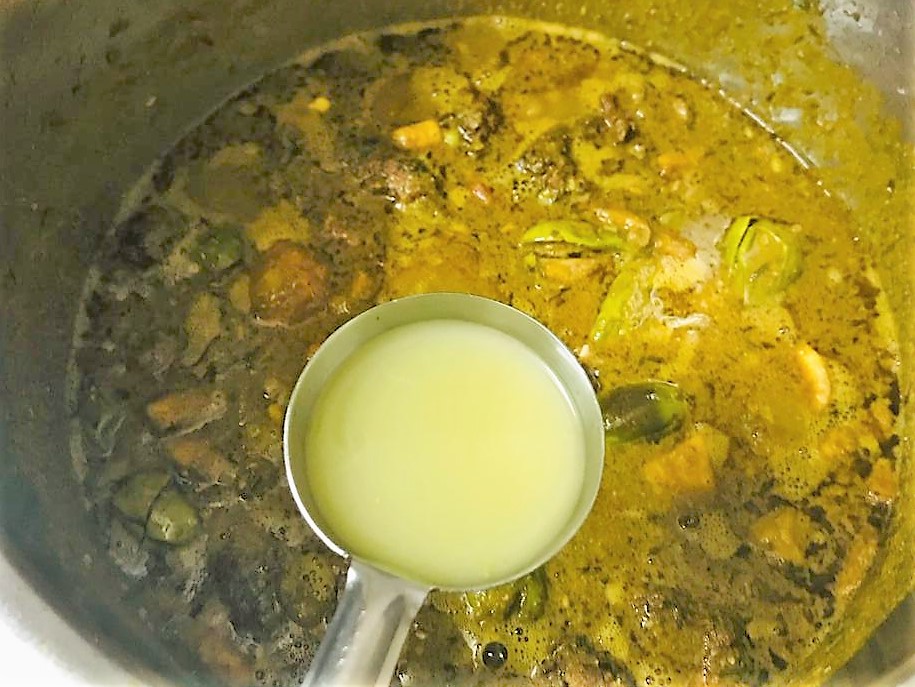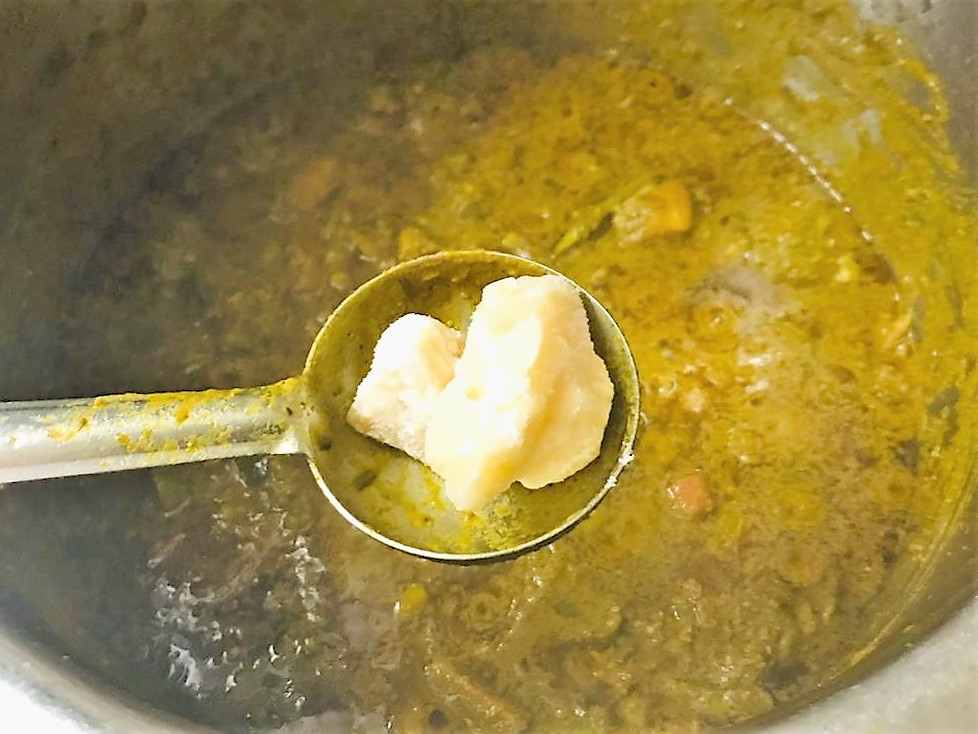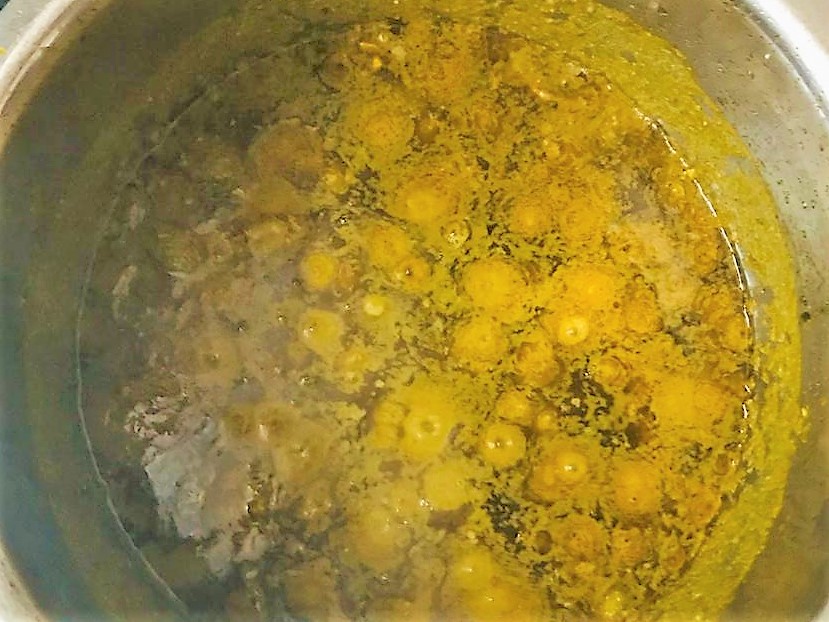 Add the steamed beans, batwani mirchi and fried vegetables and mix gently. Add lemon juice and jaggery and mix.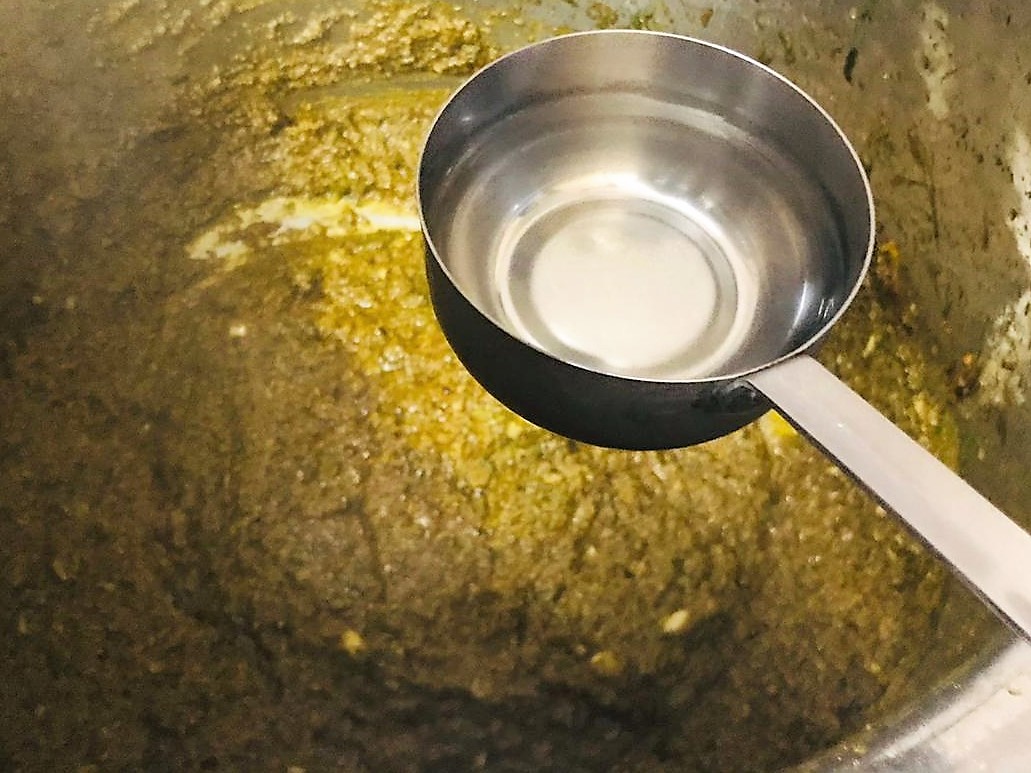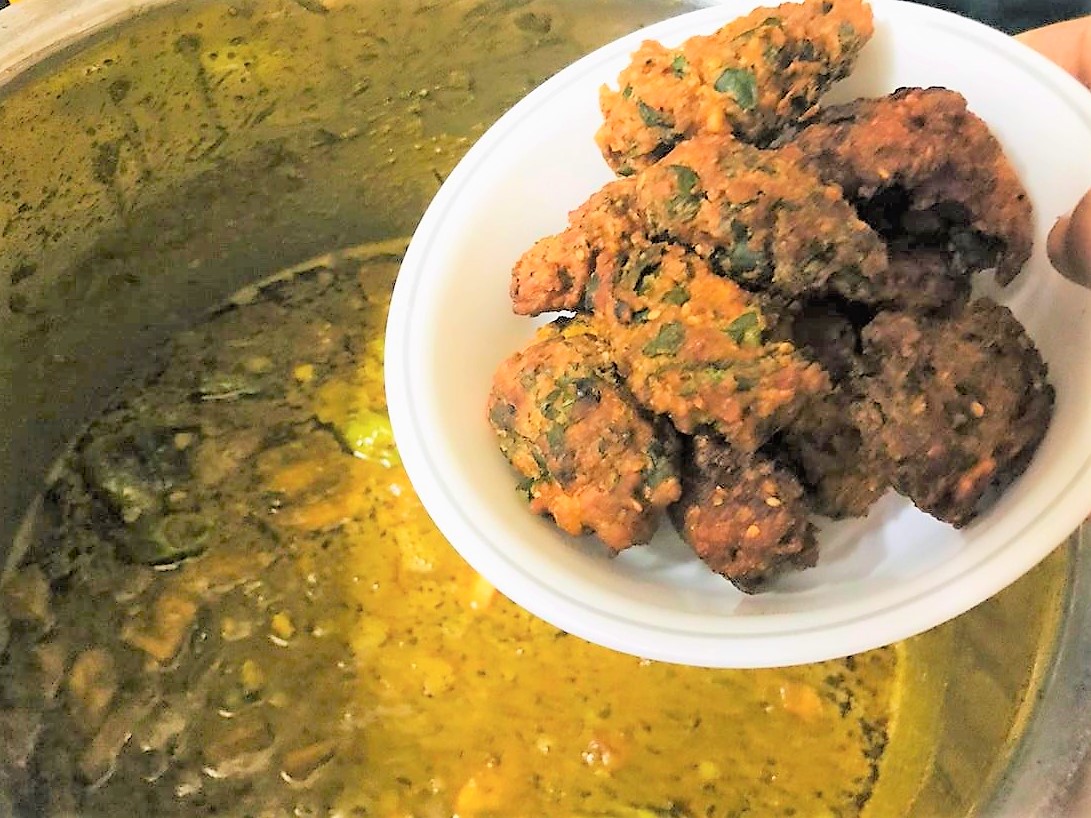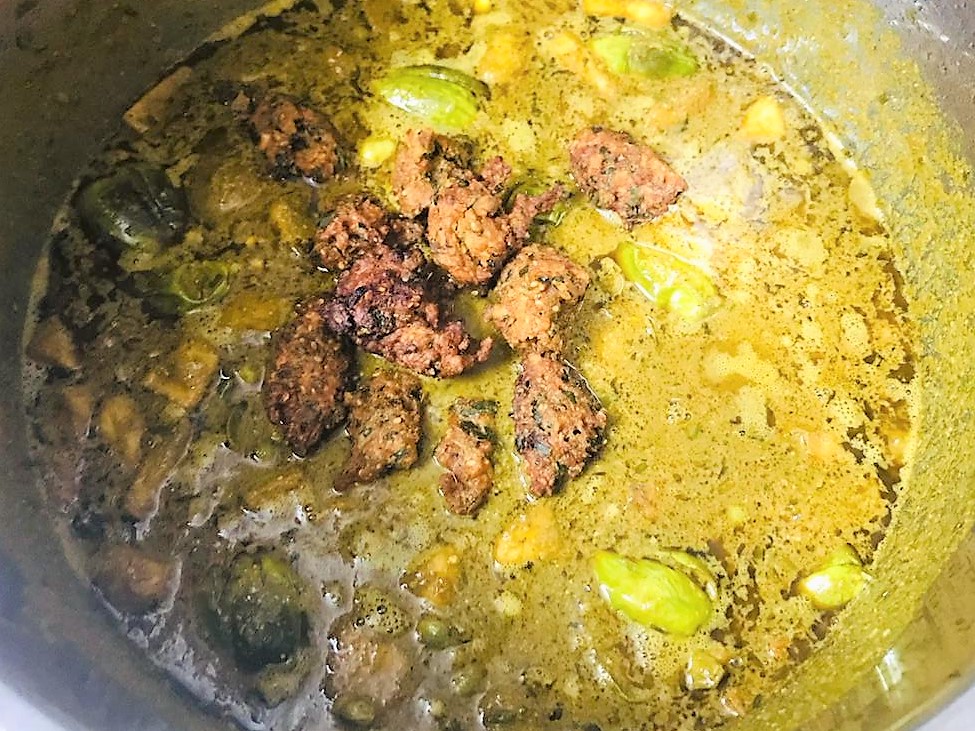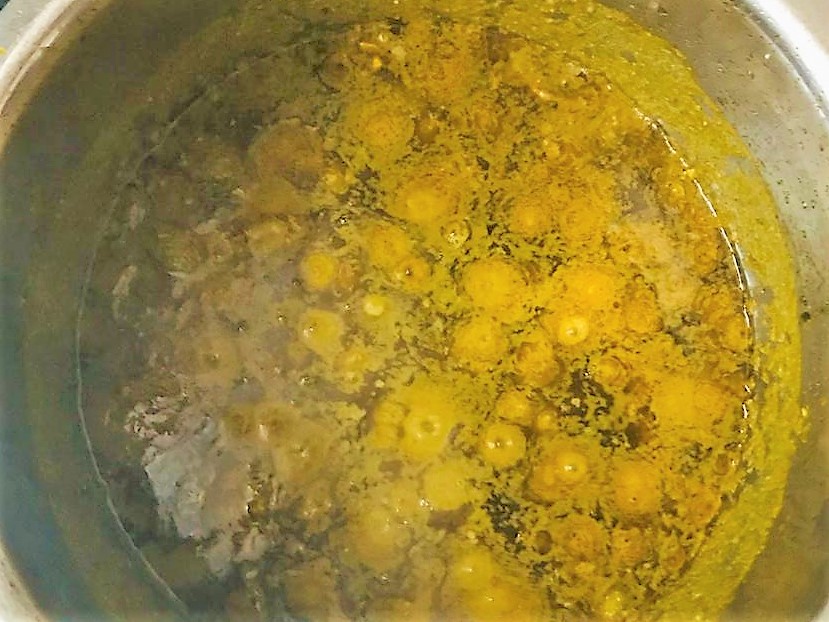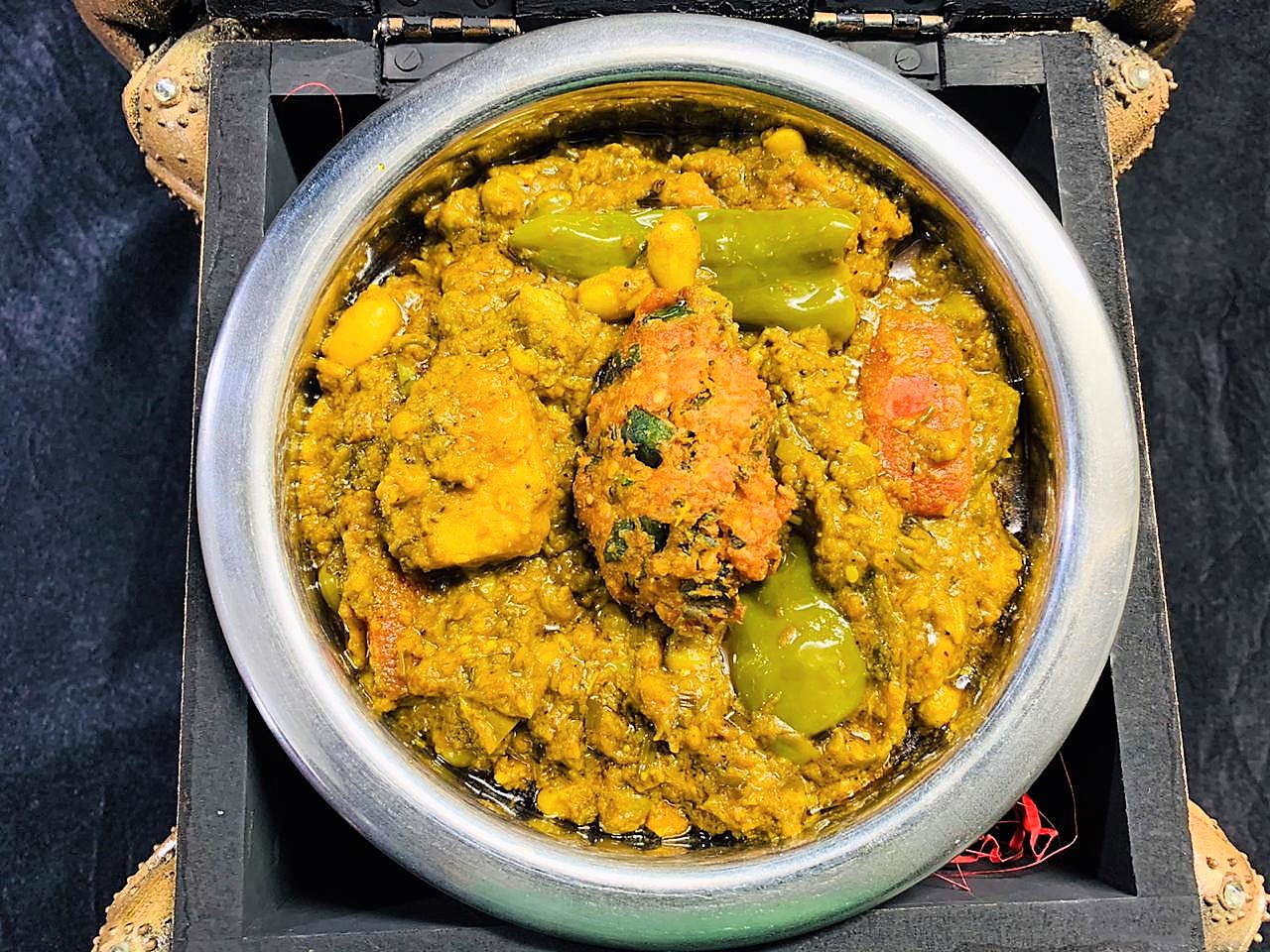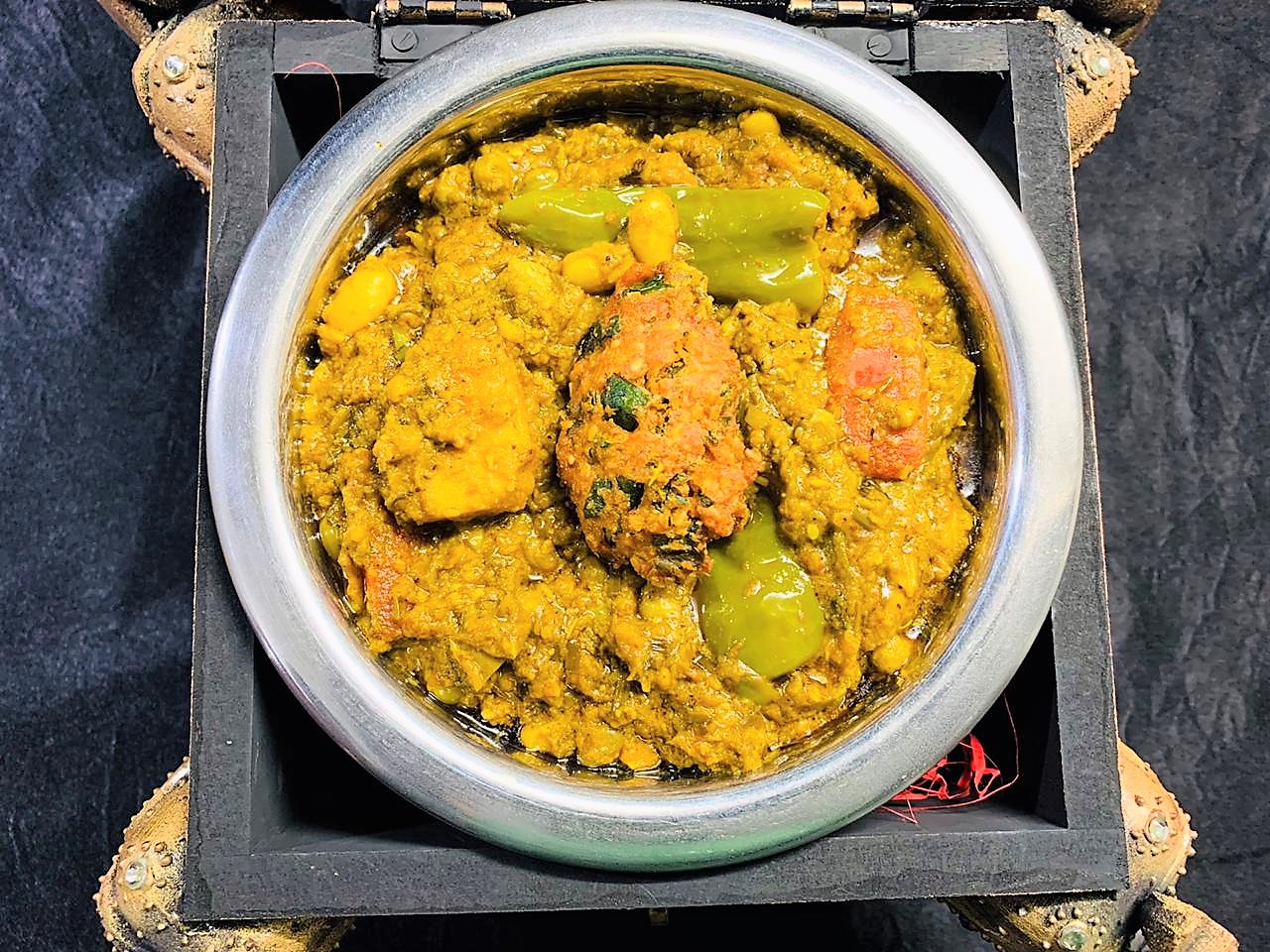 Add I cup water and cook for 10-15 minutes, stirring it every 2-3 minutes.
Finally add the fried muthiya and gently fold it in the curry.
Serve with poori or bajra rotli!