Smoked Baigan Bharta
Smokey roasted eggplant mash with Indian spices, is a very popular dish in North India and one of my personal favourites. Eggplant, aubergine, brinjal are some of the names of this humble vegetable. The word bharta (pronounced Bhuurrrtaah) means that the ingredients are mashed in the dish.
Baigan bharta is silky in consistency, smoky on the nose and roaring with the full stash of basic spices from the spice box. Aubergine is one of those vegetables that people either love, hate or don't know what to do with it.
Aubergine requires no justification these days as it has slowly begun to take its well-deserved spot in the culinary world due to its taste and versatility but also due to its nutritional significance.
Aubergine is rich in antioxidants, fibre, potassium, and Vitamin C. It is also low in calories and has rich fibre content which helps in controlling blood cholesterol levels. It is also believed that the Brinjal has long-term anti-carcinogenic properties.
I had almost forgotten about this humble dish while trying to cook new innovative dishes. Few years ago, while visiting India I ordered Baigan Bharta at a restaurant for dinner. Oh! I could have eaten the whole plate of it. Smoky, oozing with flavours it was just riot in the mouth! I was initiated once again! Since then, it is a dish I prepare often at home.
Ingredients
For roasting the eggplant
2 medium aubergines
1-2 large garlic cloves
For the baingan bharta
2 tablespoons oil
2 tablespoons ginger garlic paste
1 finely chopped green chilli (optional)
1 teaspoon cumin seeds
1-inch cinnamon stick
1-2 bayleaf
Pinch of asafoetida
1 finely chopped onion
2 finely chopped tomato
Salt to taste
½ teaspoon turmeric powder
½ cup peas (optional)
½ teaspoon red chilli powder
11/2 teaspoons coriander powder
½ teaspoon Kashmiri red chilli powder
½ teaspoon garam masala
½ teaspoon mango powder
2-3 tablespoons finely chopped coriander
For smoking
A piece of charcoal
oil/ghee
Directions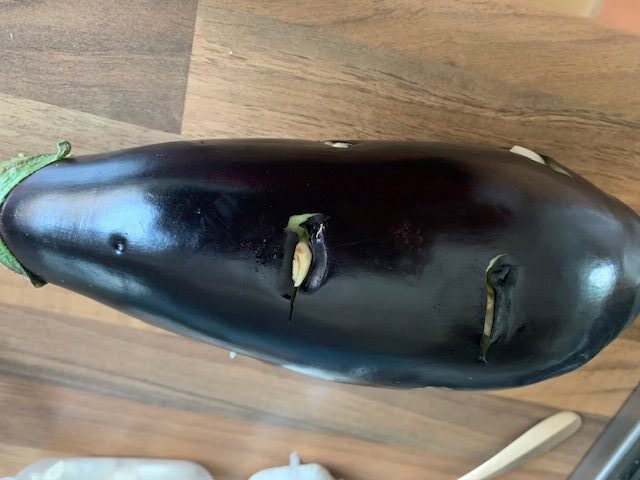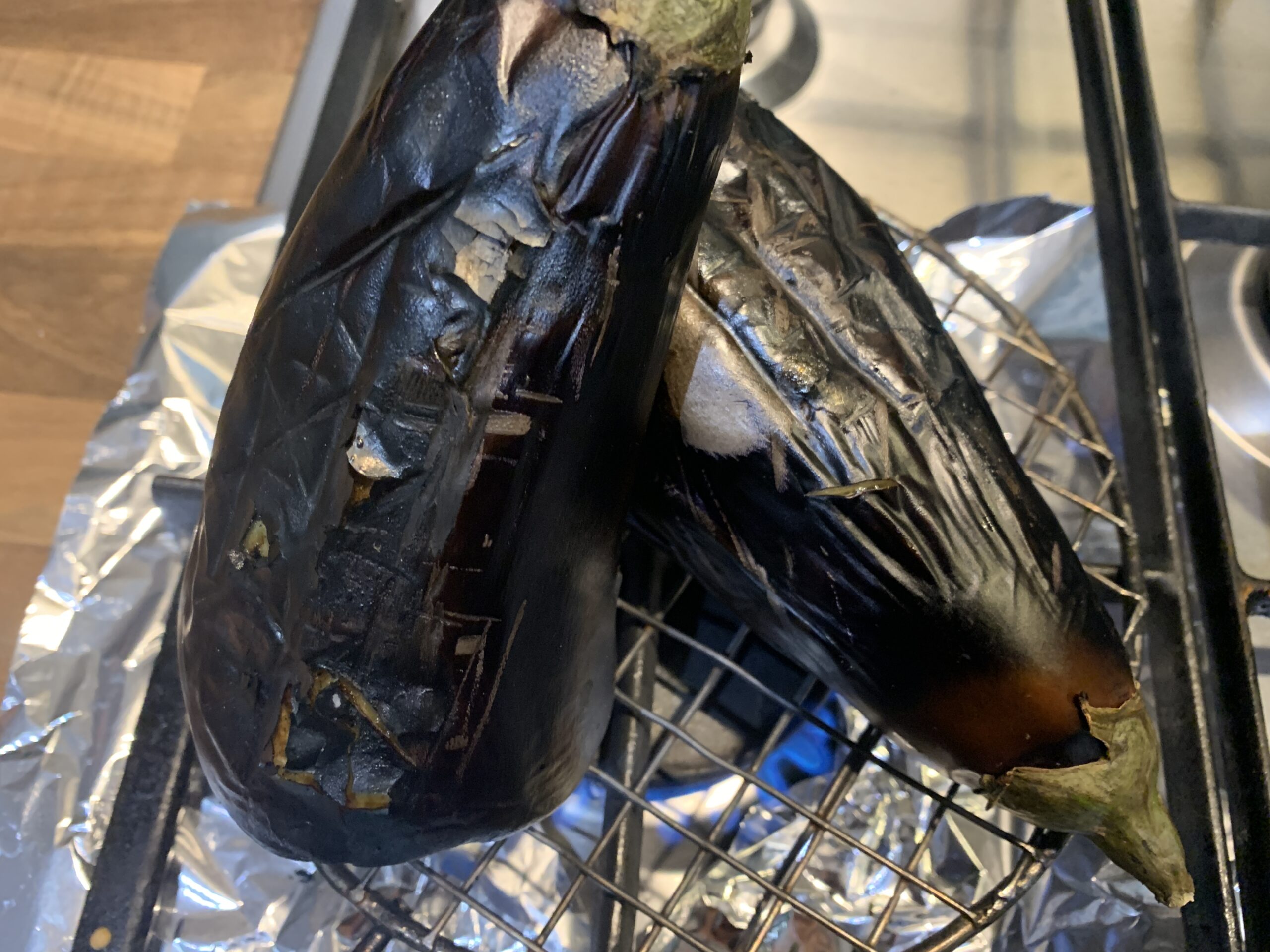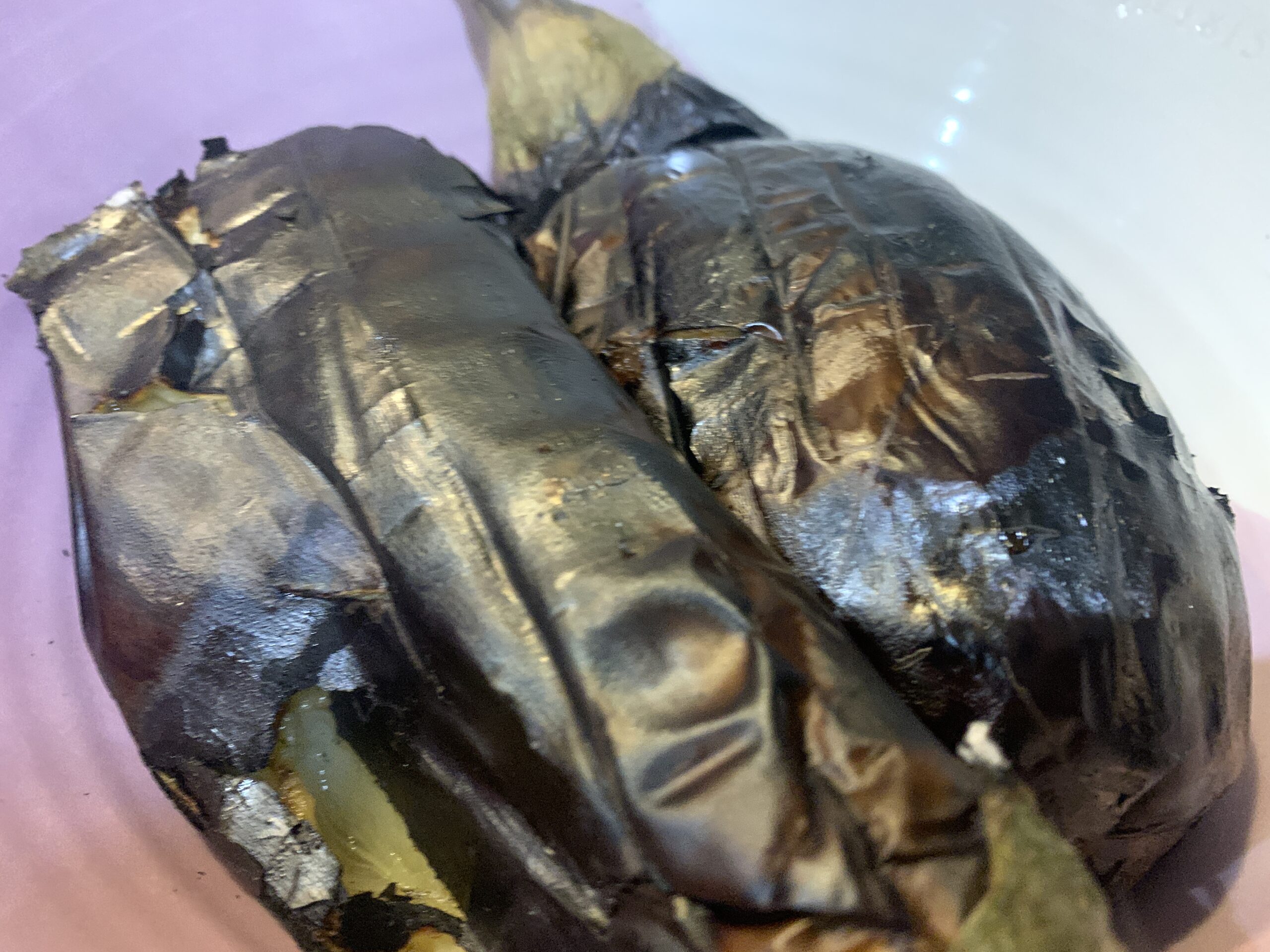 Wash and dry the aubergine. Make 3-4 slits all over the aubergine with a knife. Slice the garlic and insert the garlic in 2-3 of those slits. I find this is the best way to induce the lovely garlicy flavour into the aubergine.
Roast the aubergine. You will find that roasting directly over the heat will produce a smokier, richer flavour. TIP– I always put a piece of aluminium foil on the hob to catch any drips from the aubergine while roasting. Easy cleaning afterwards.  It should take 15-20 min to roast it. Remember to keep turning it around to make sure it is cooked evenly.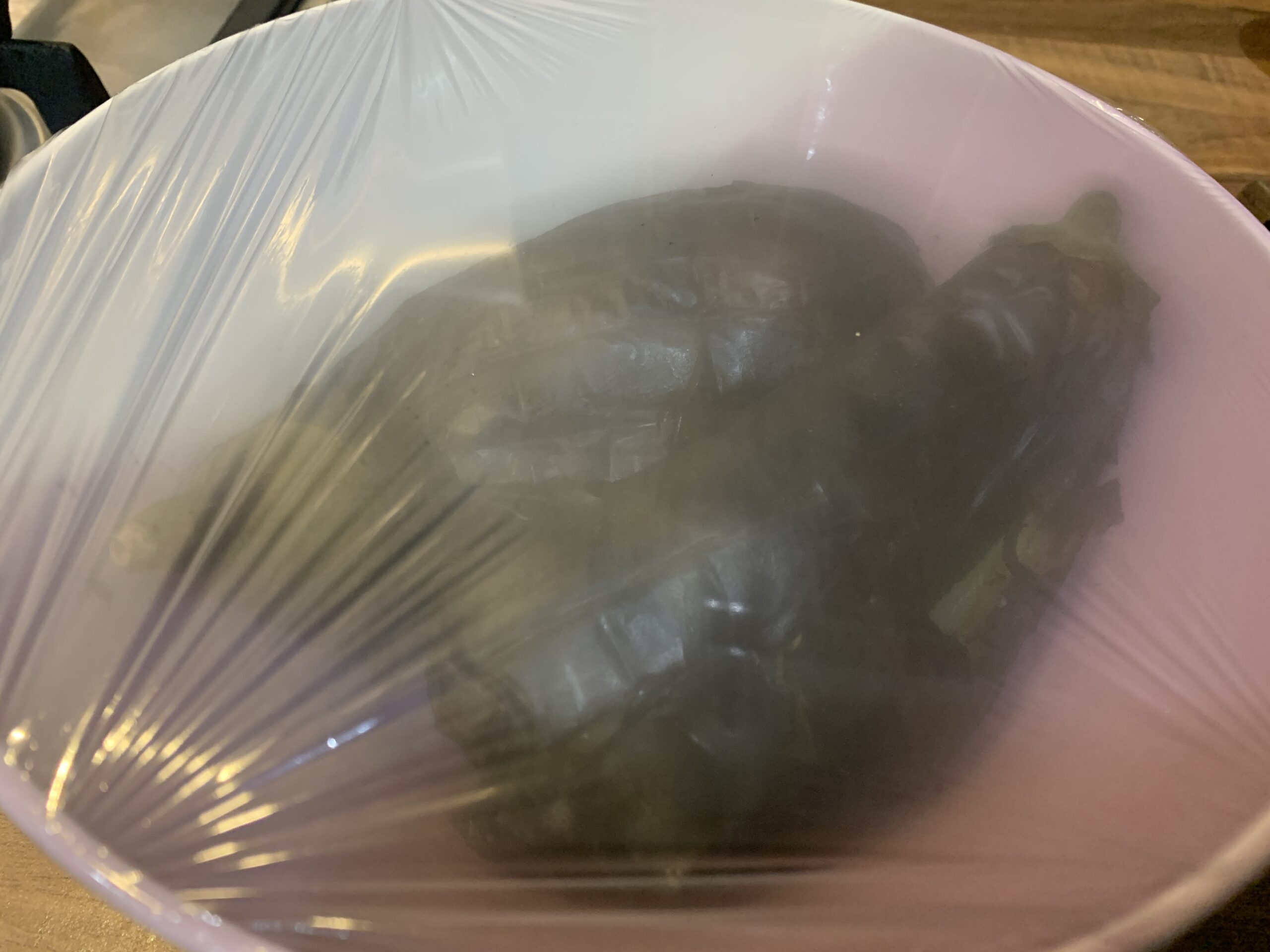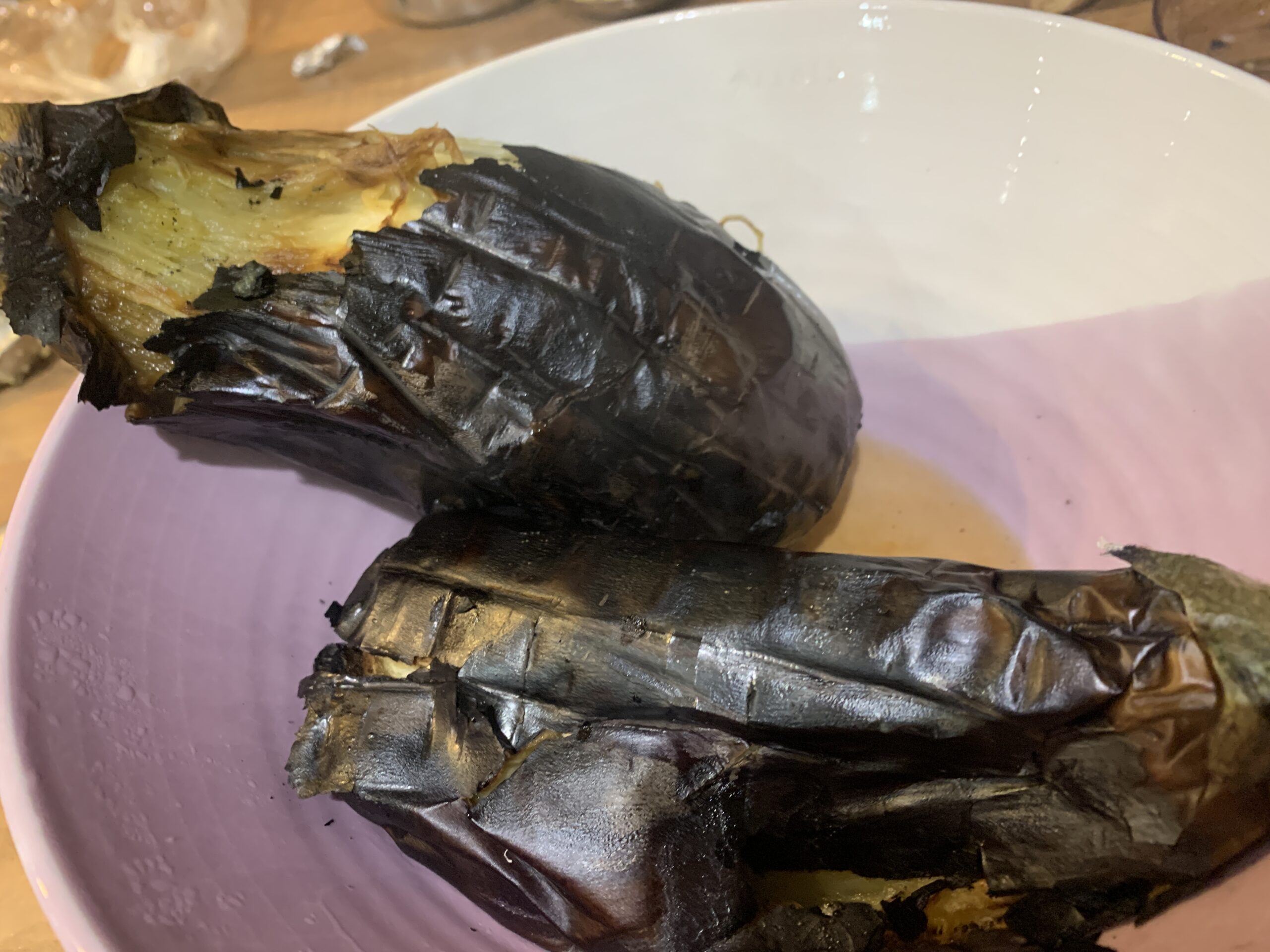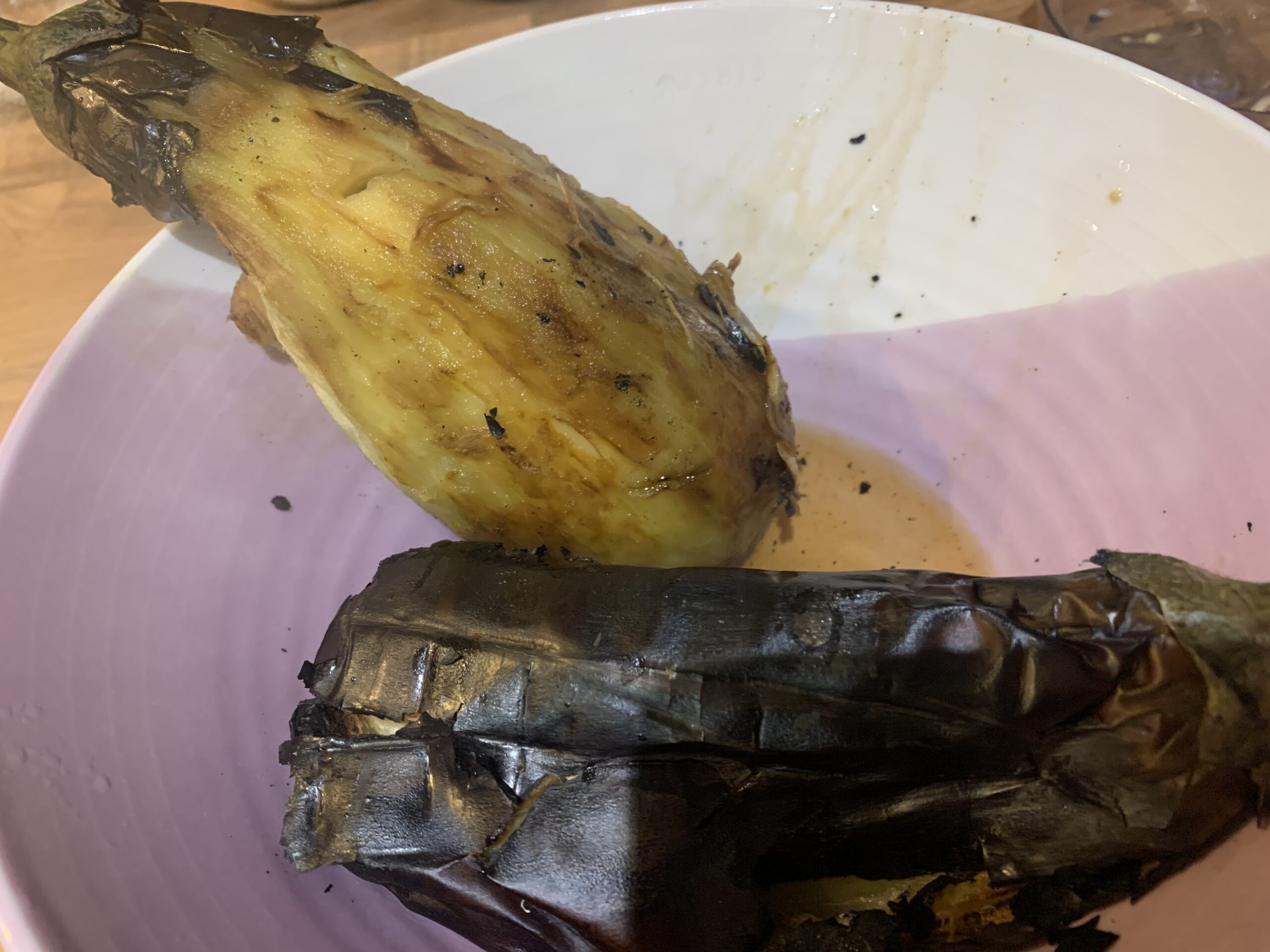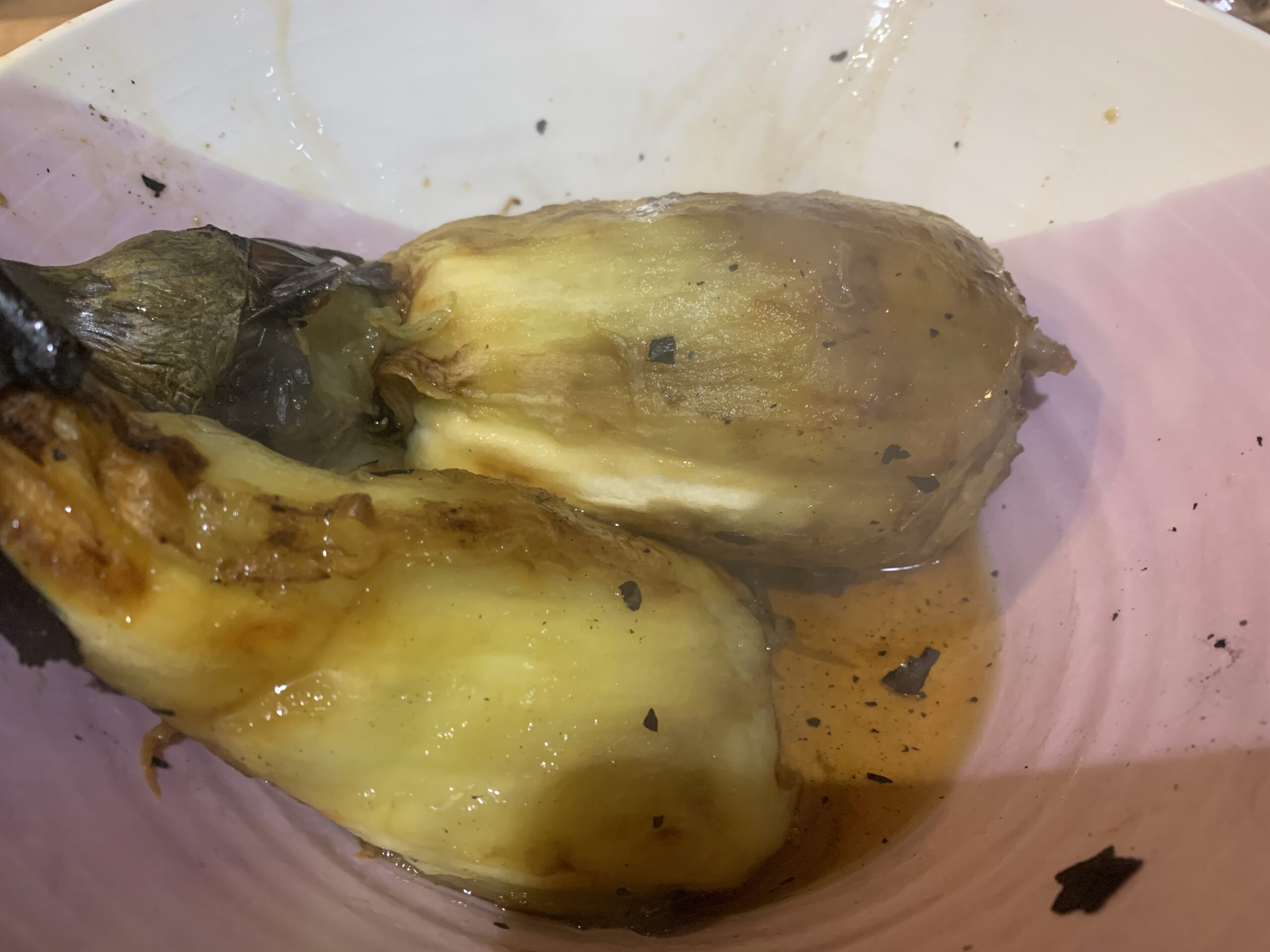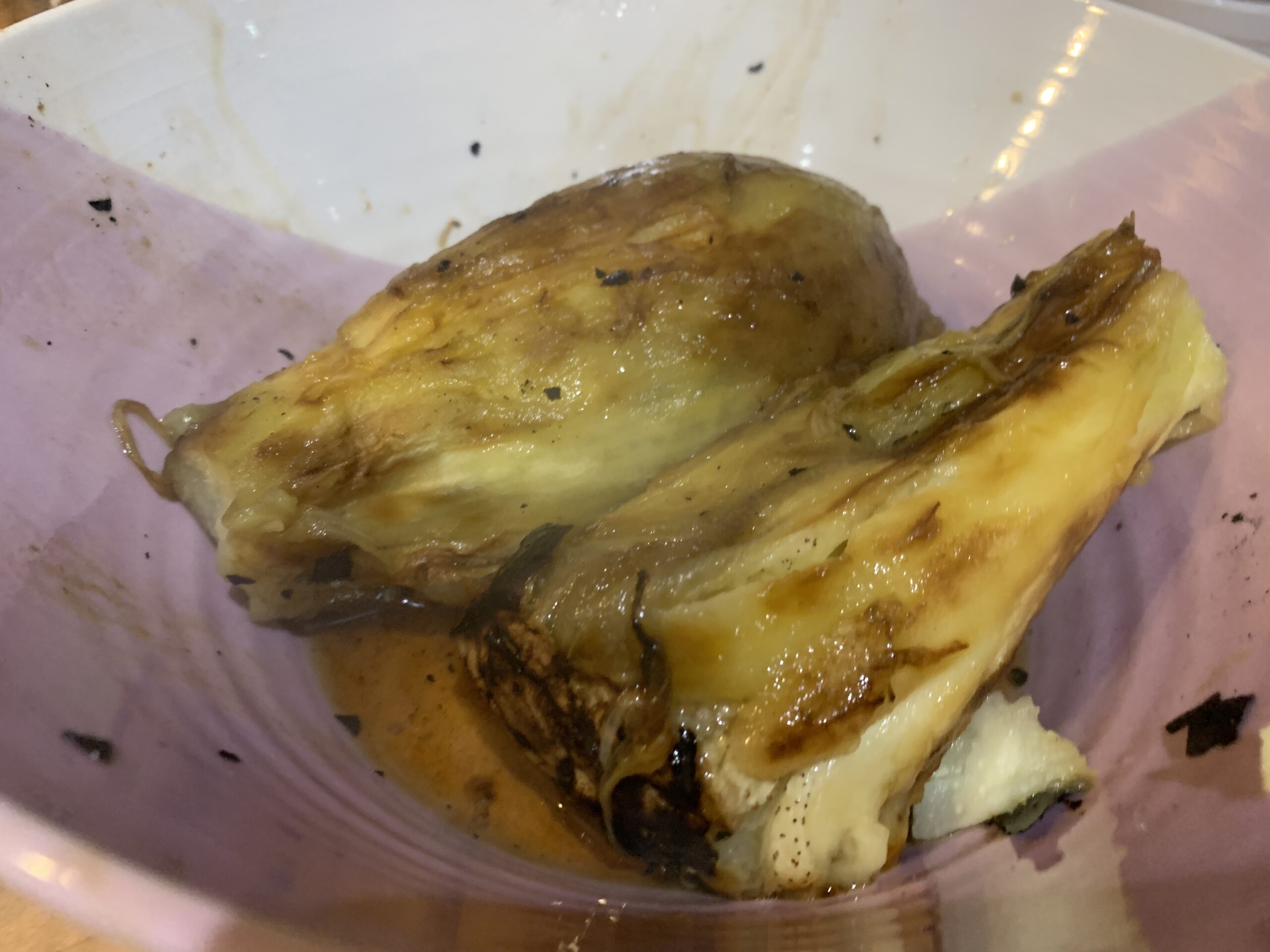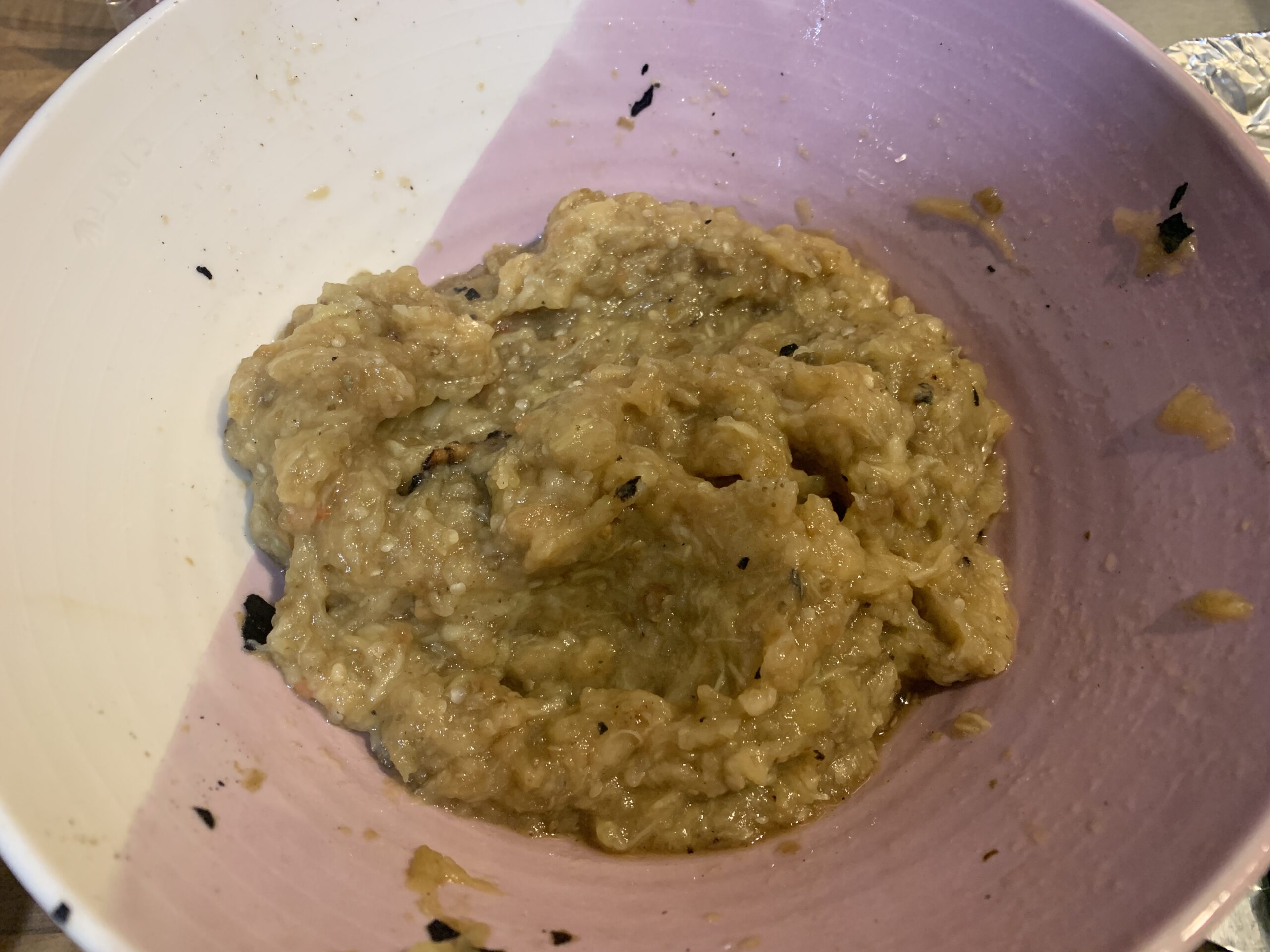 Place the roasted eggplant in a large bowl and cover with cling film. This will help in taking the skin off easily. Once cooled remove the skin and mash the aubergine using a fork or potato masher.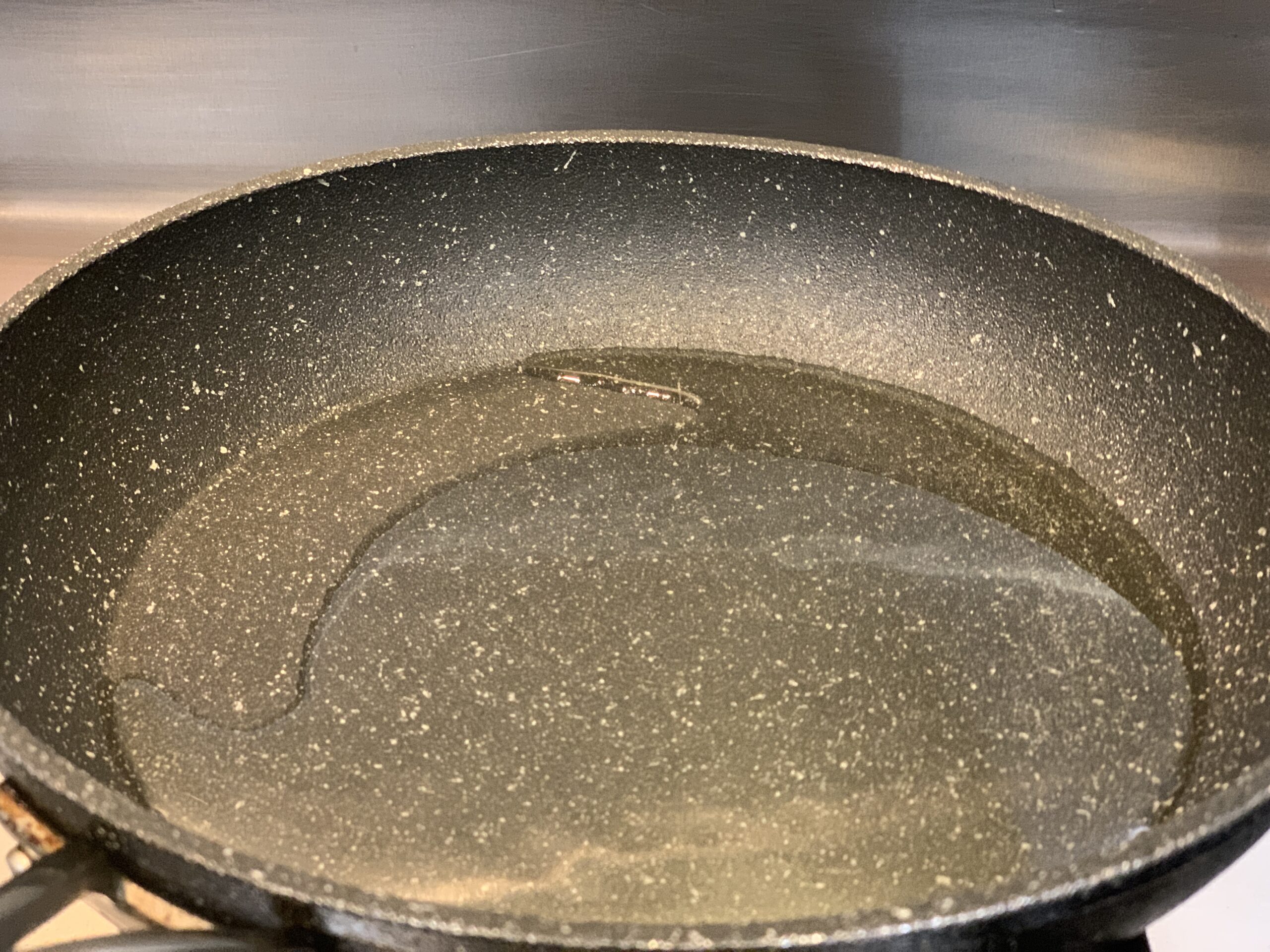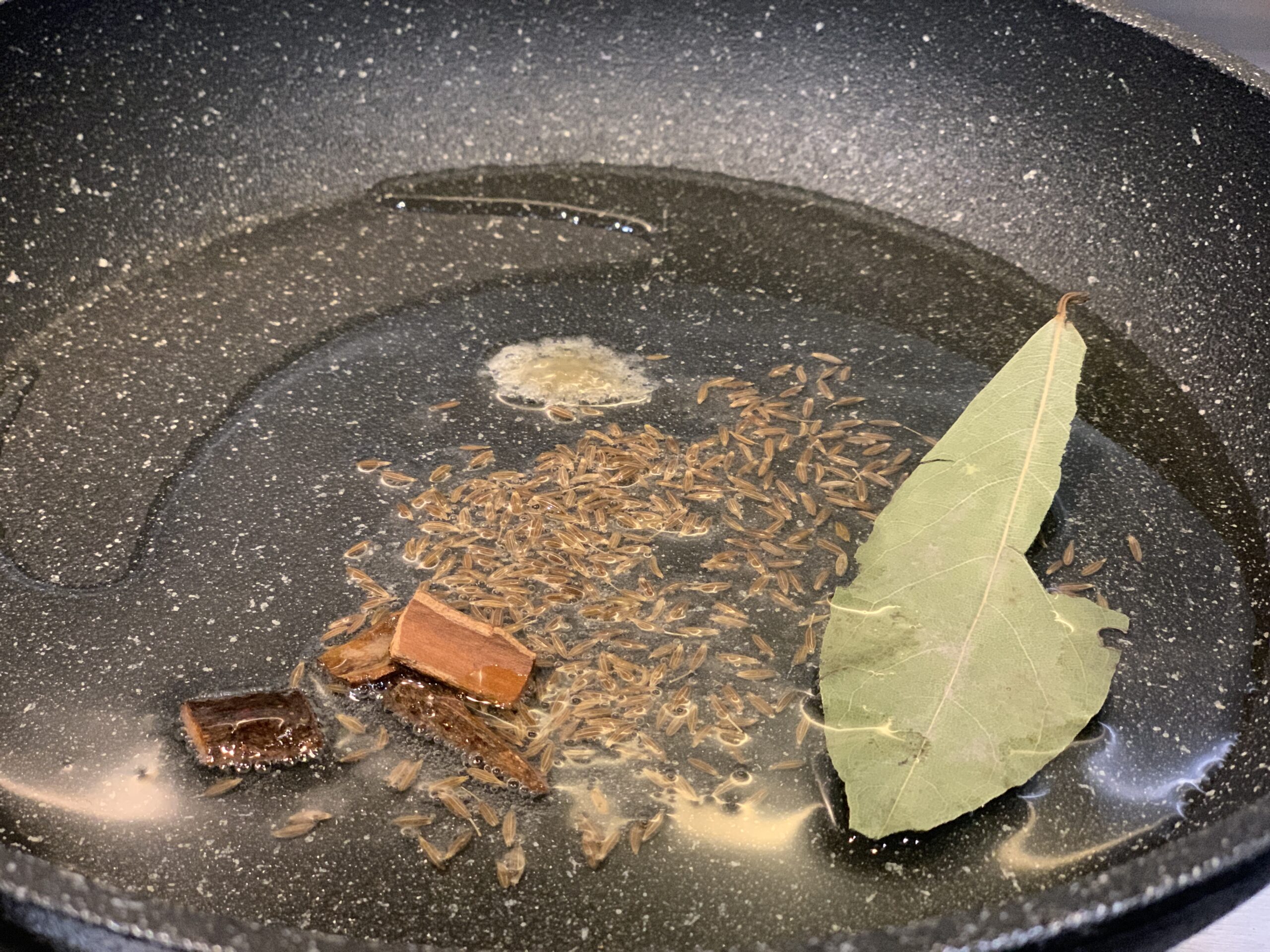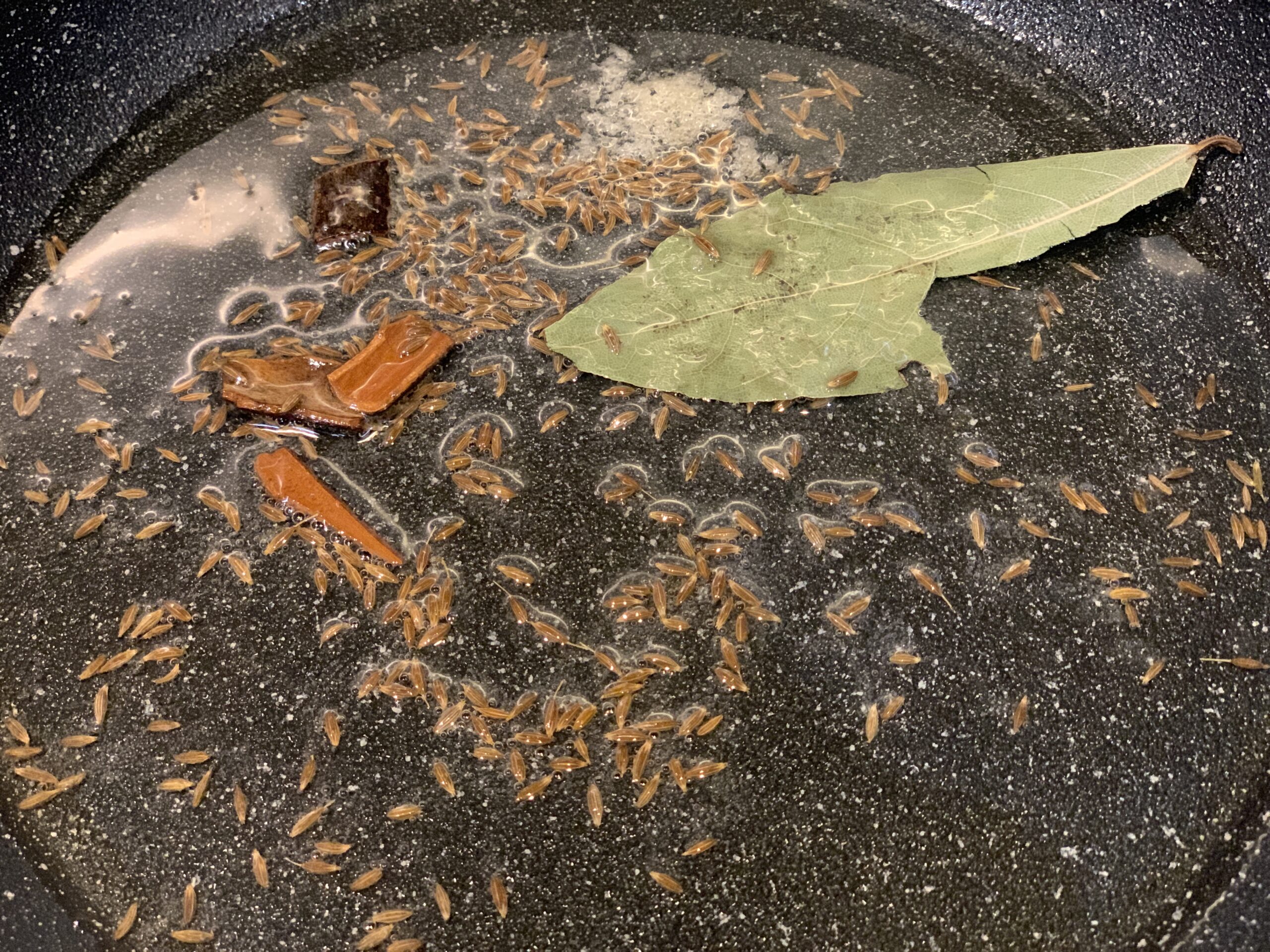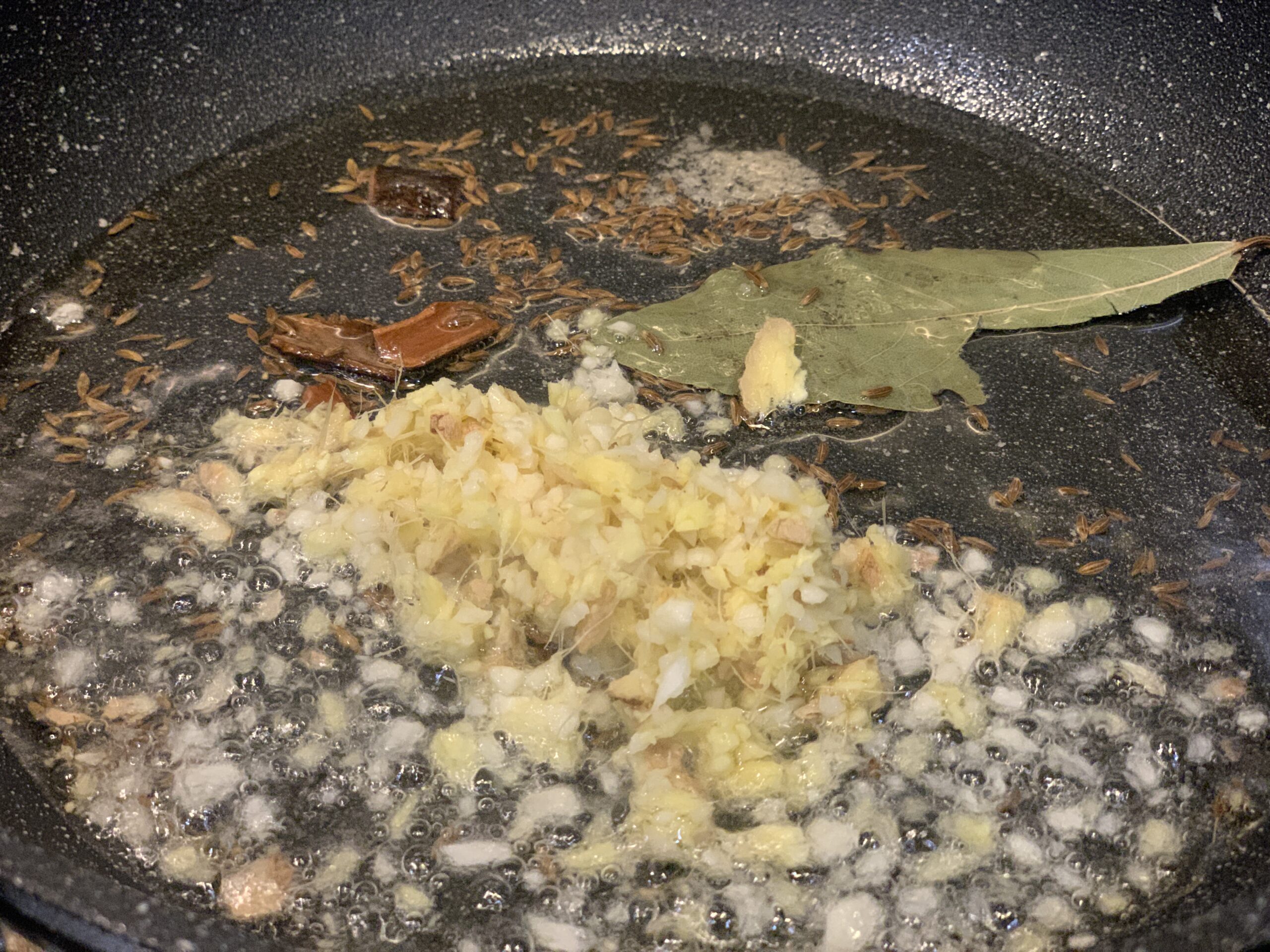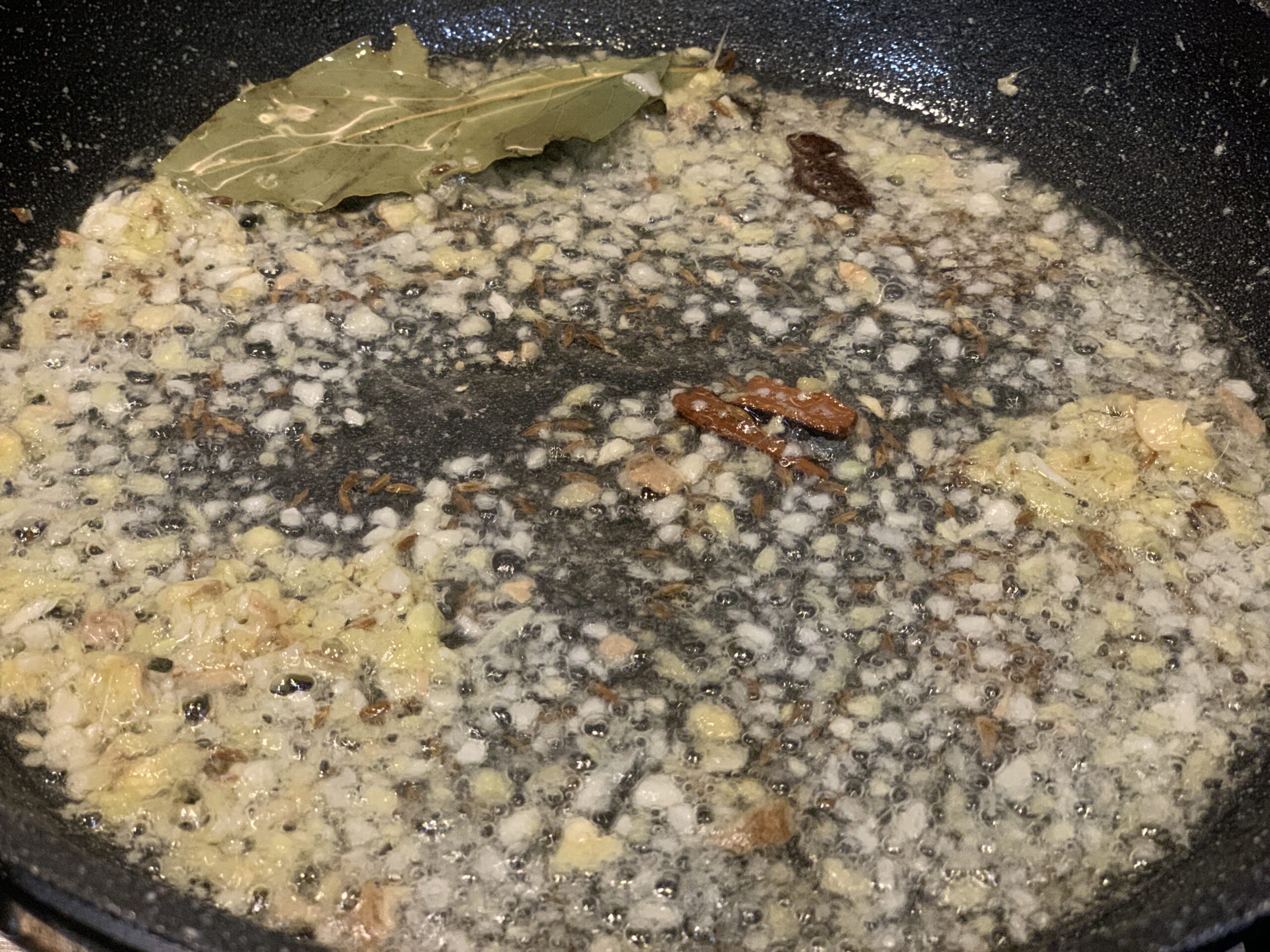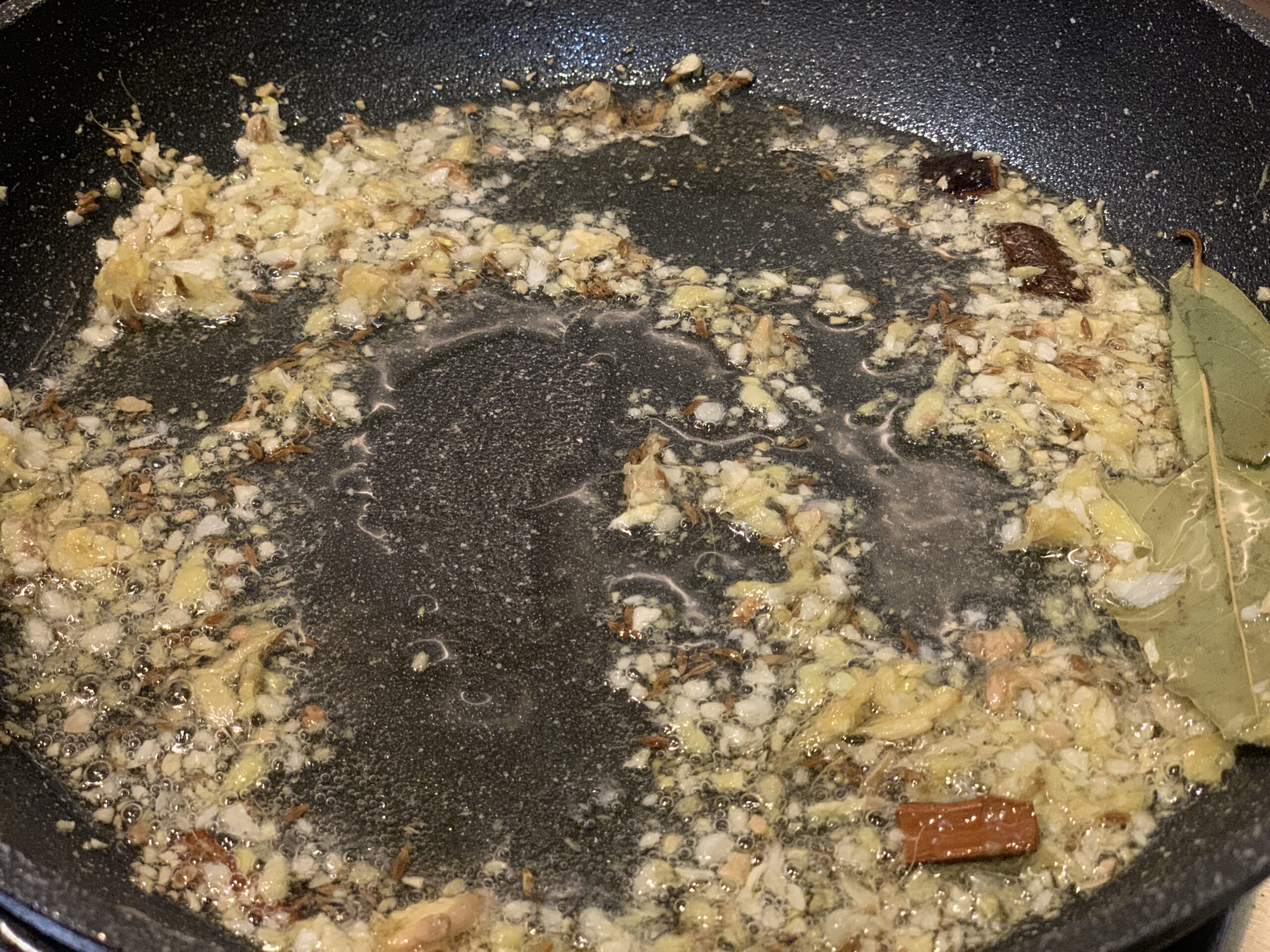 Heat oil in a pan and add the cumin seeds, cinnamon stick, bayleaf and asafoetida. Once the cumin seeds begin spluttering add the ginger and garlic paste and sauté on medium heat for 2-3 minutes.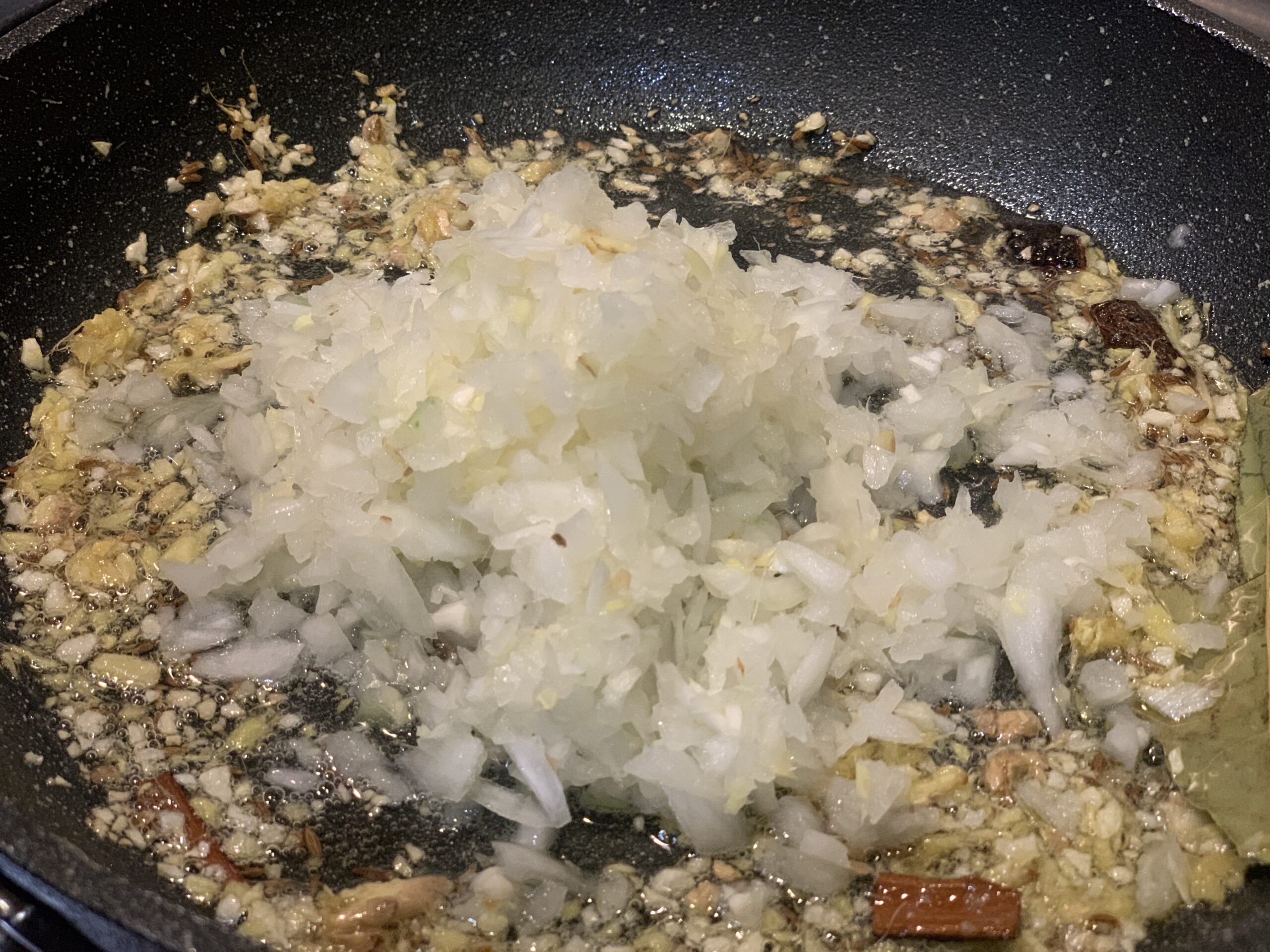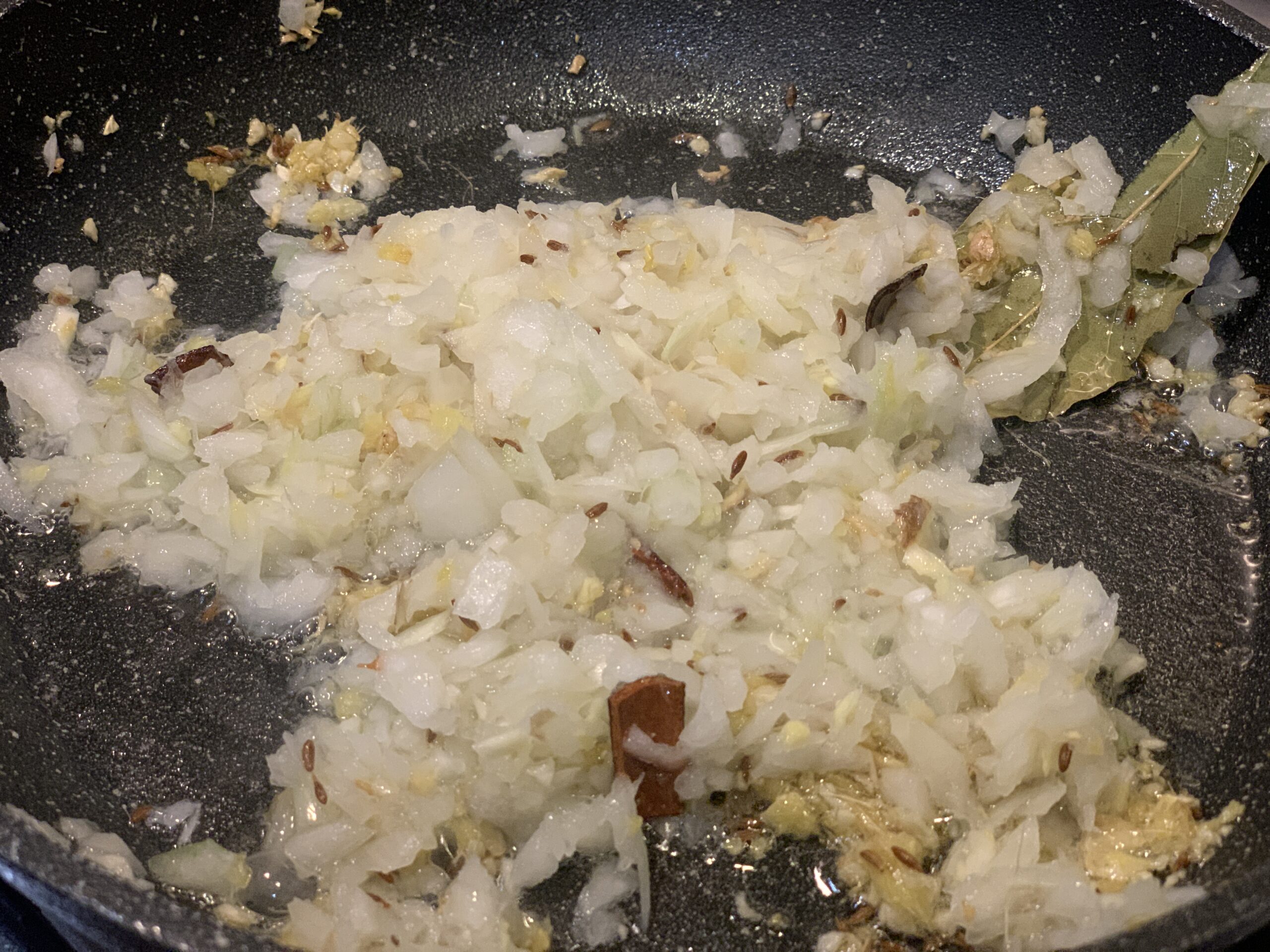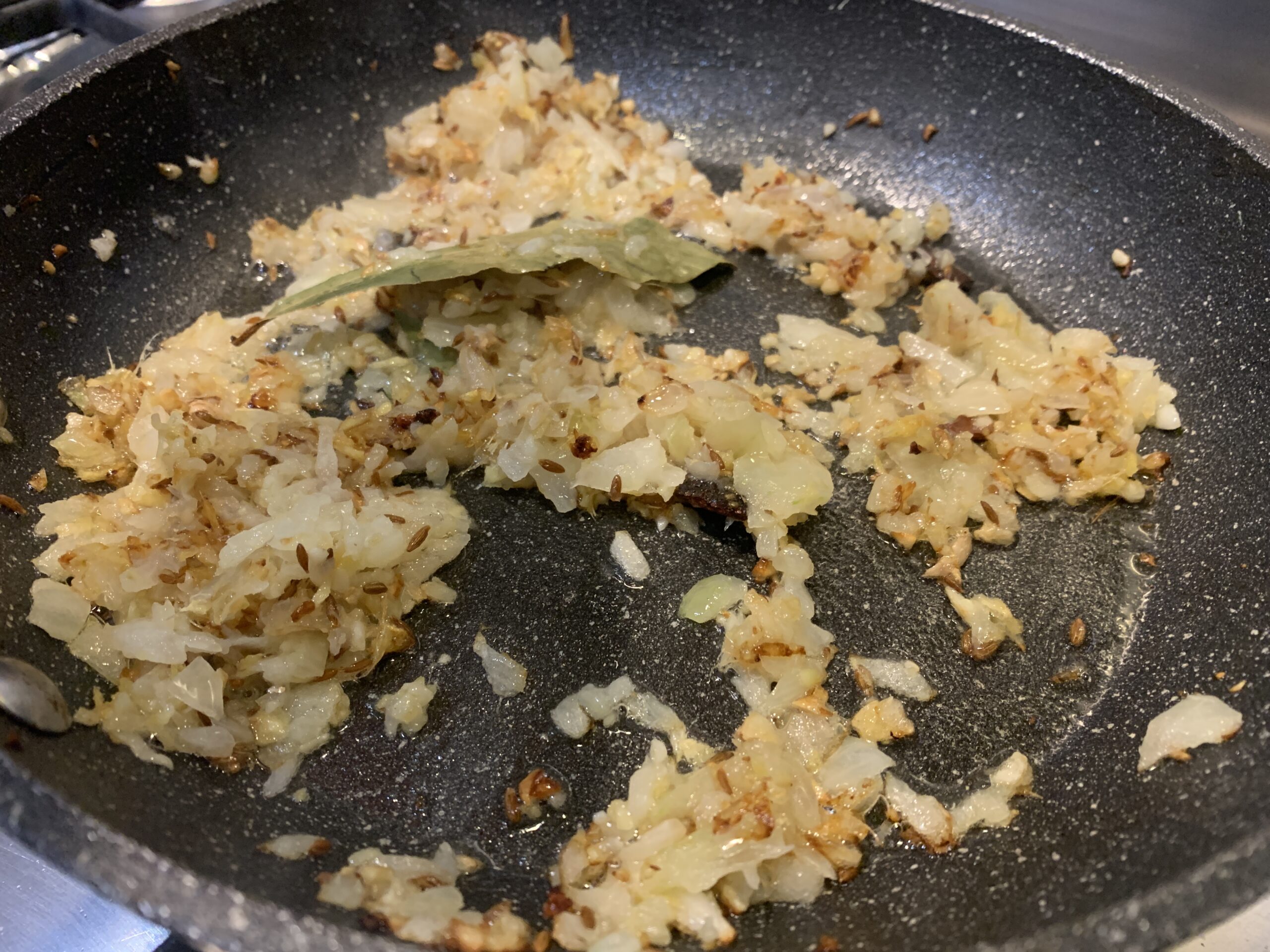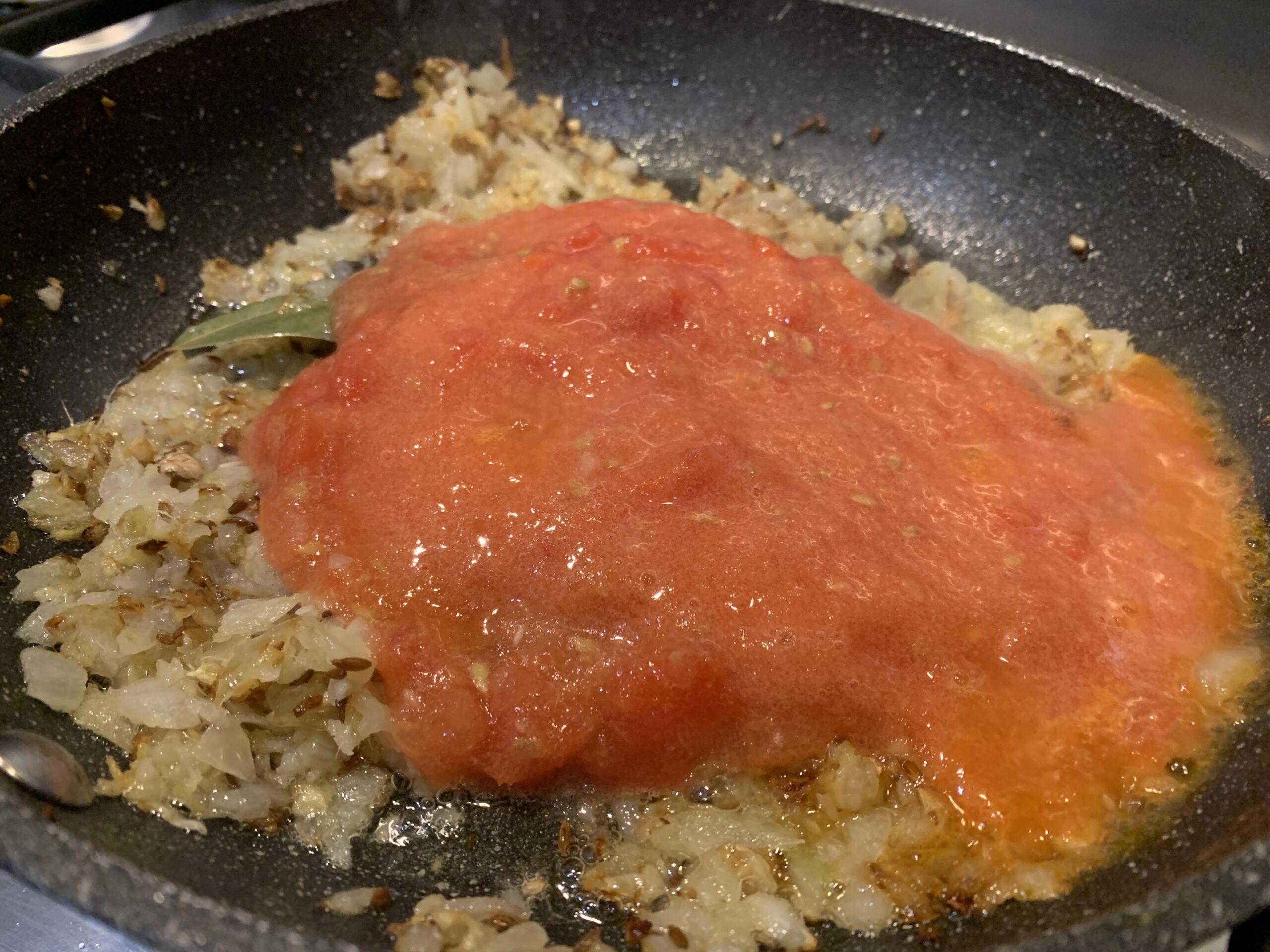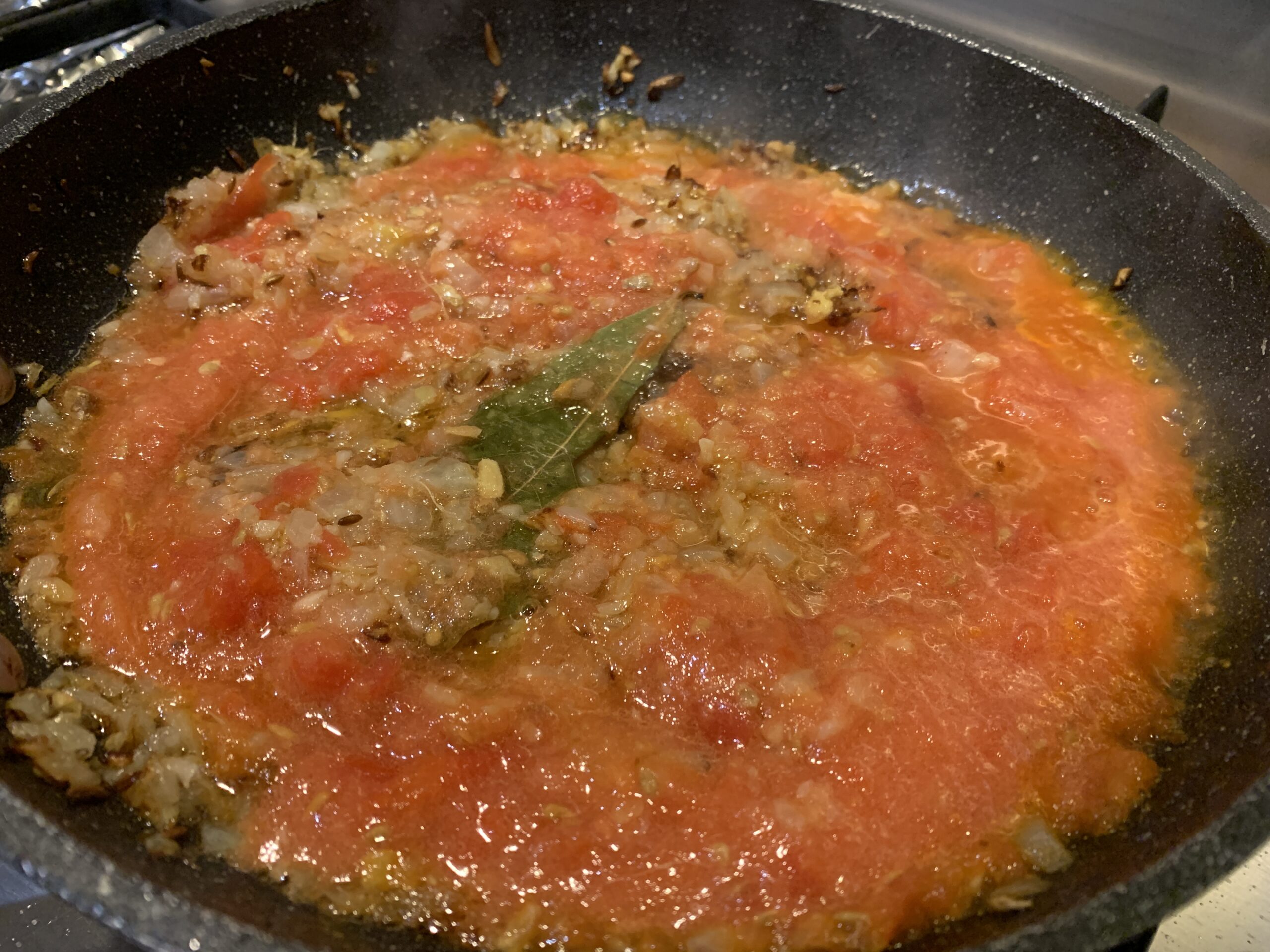 Add the chopped onion and cook for 2-3 minutes until the onion is soft and golden brown.
Add the chopped tomatoes and mix.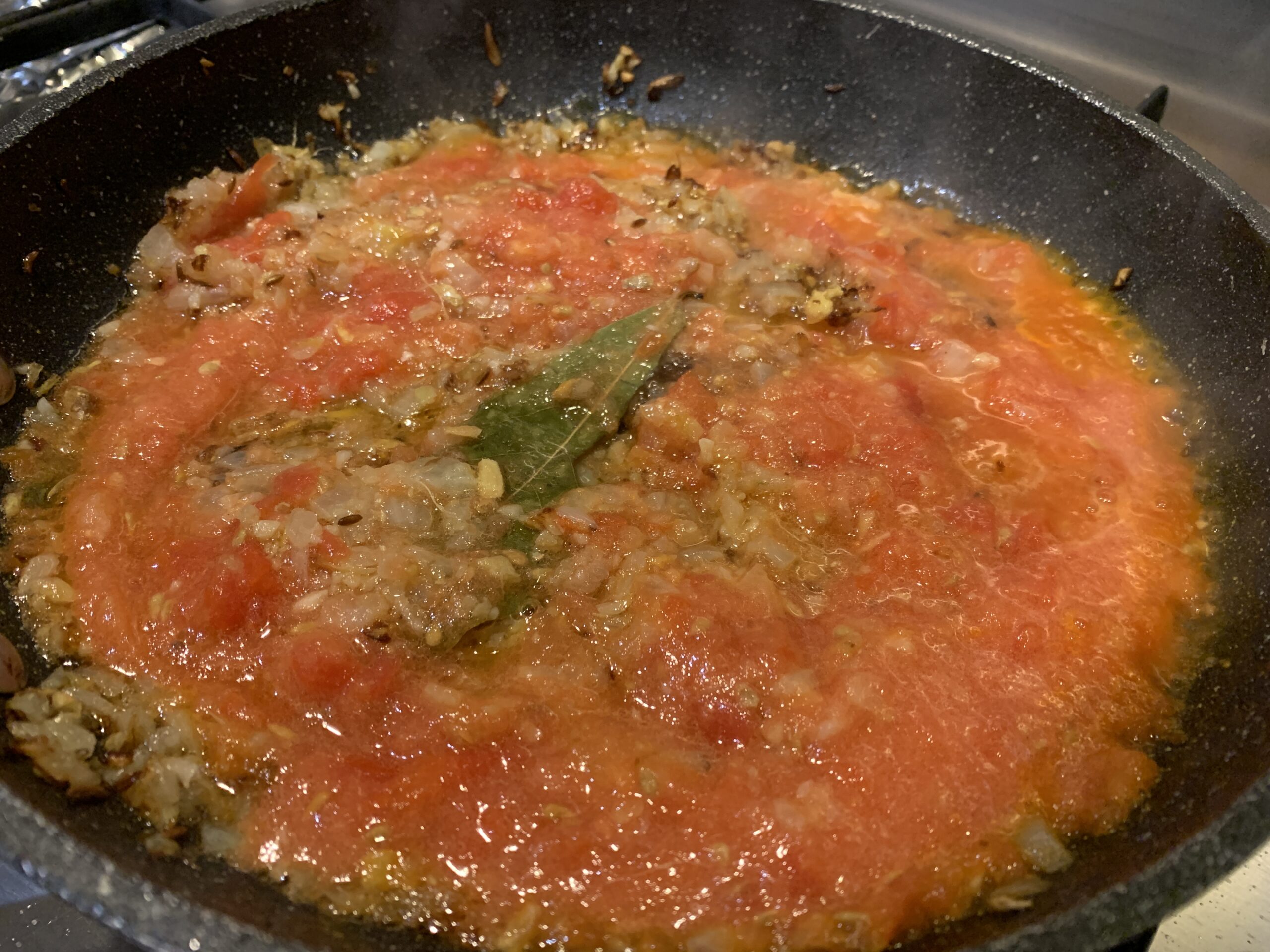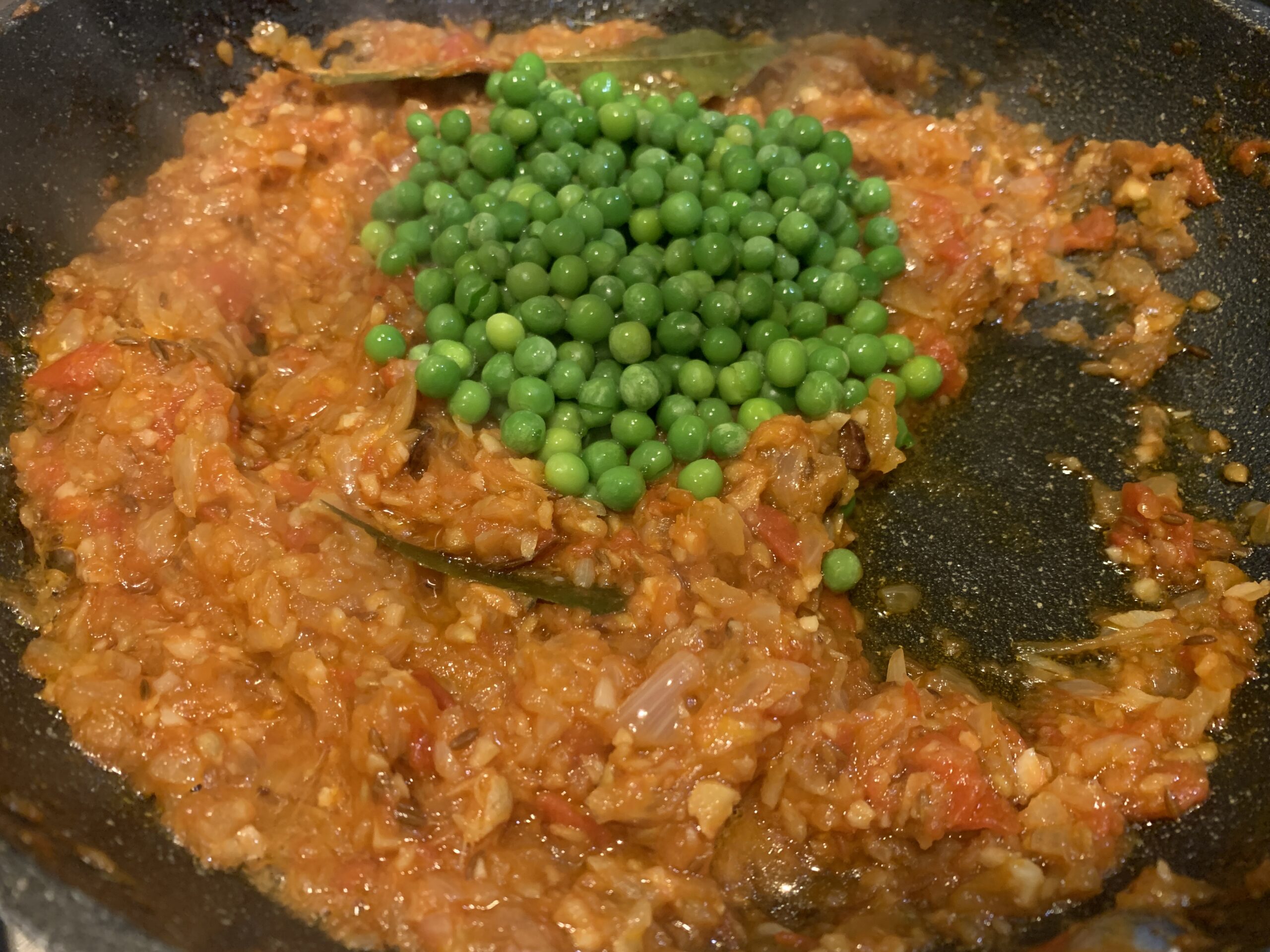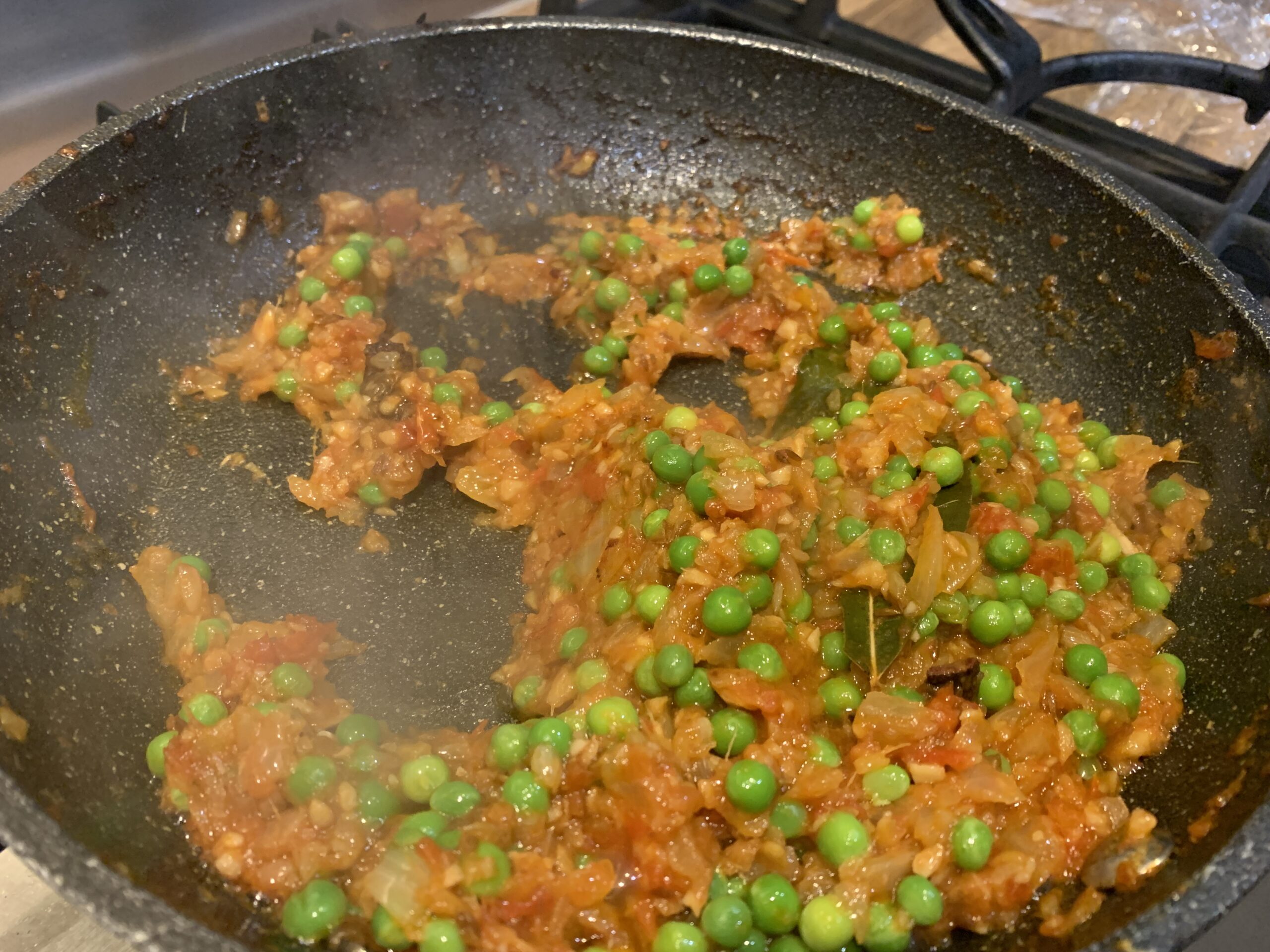 Cook the tomatoes until soft for around 4-5 minutes.
Add the peas (optional) and cook for 2-3 minutes.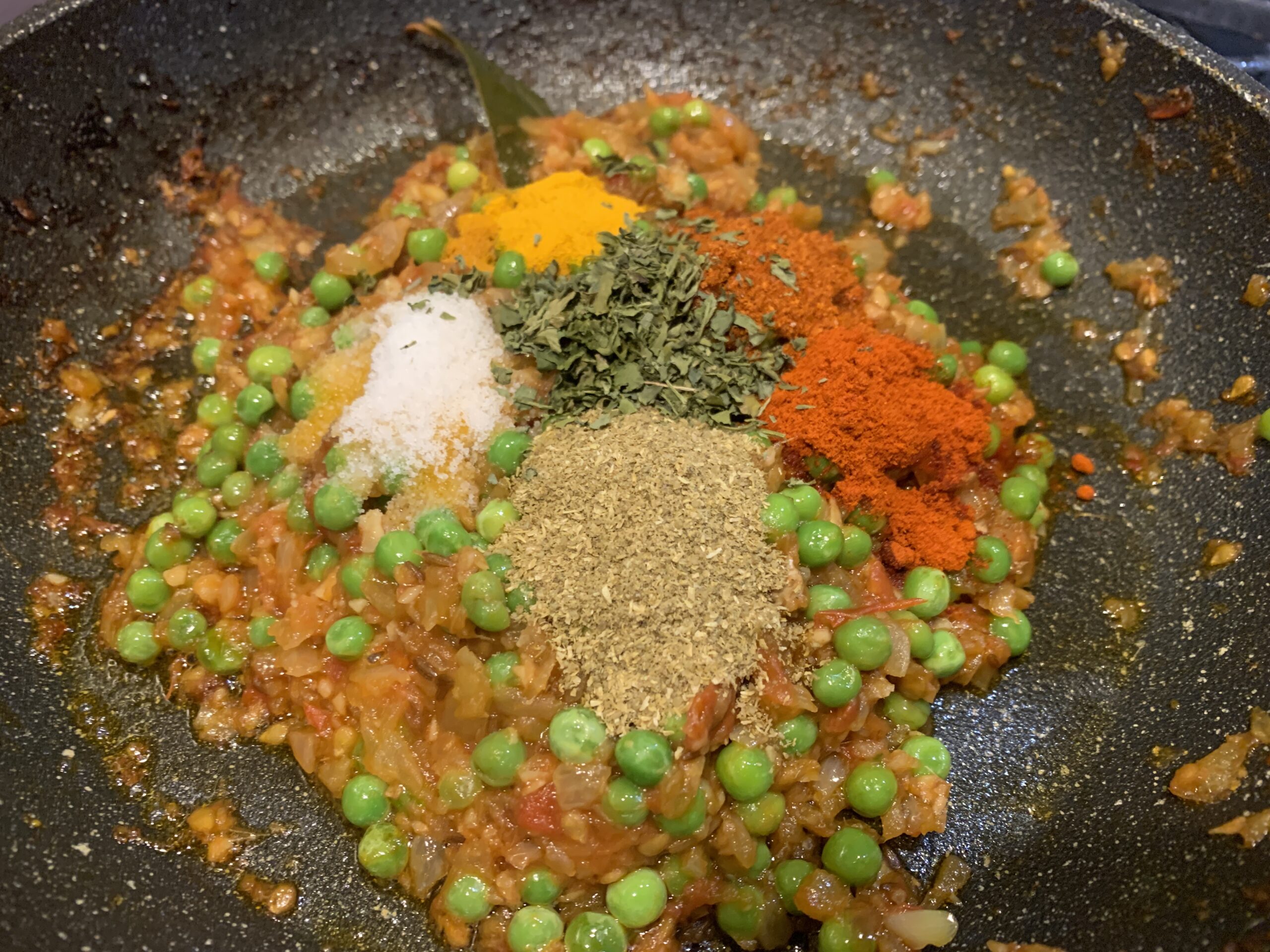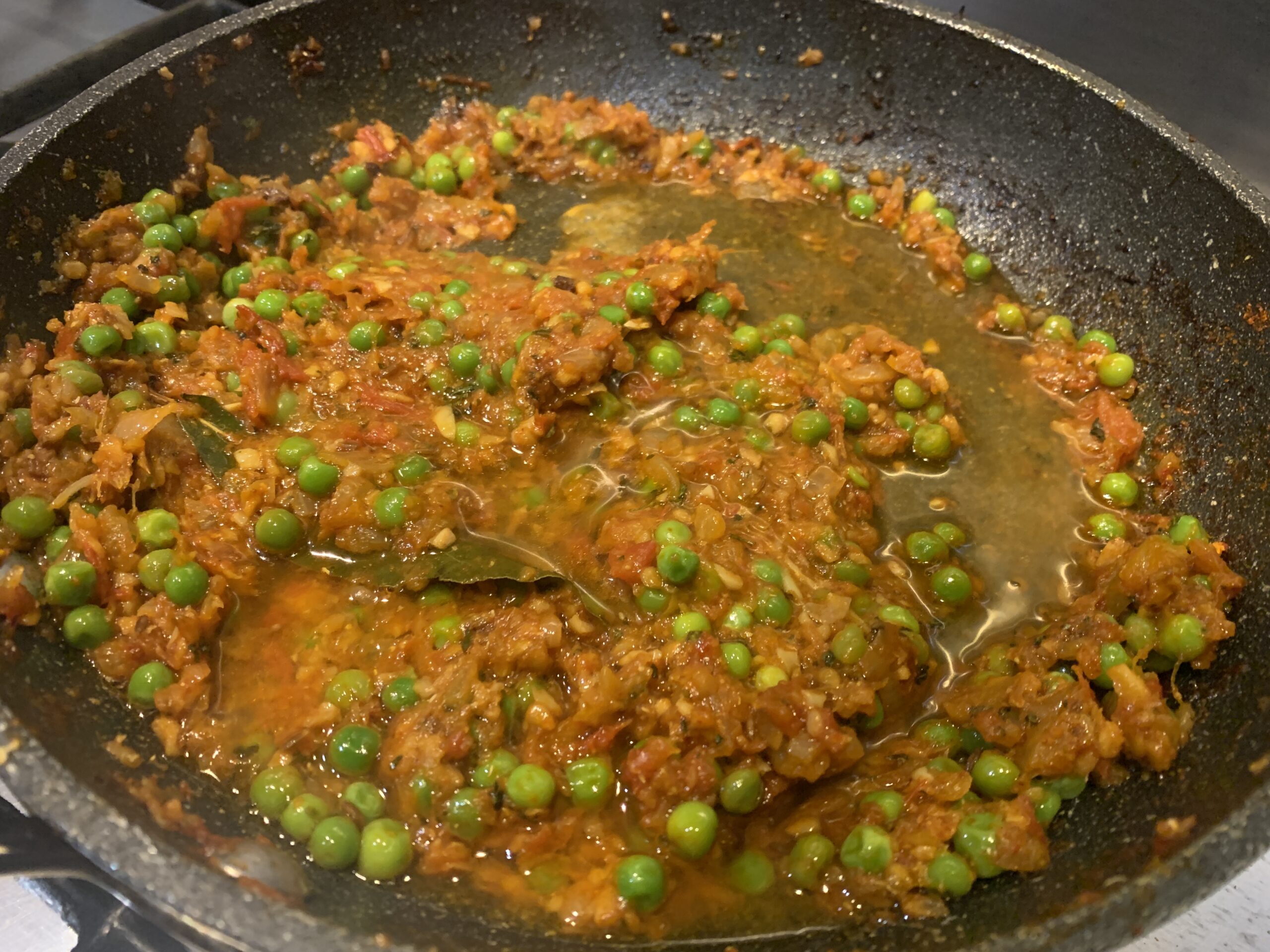 Add the salt, turmeric powder, coriander powder, chilli powder, and Kashmiri red chilli and mix. Add ½ cup water and let it come to boil.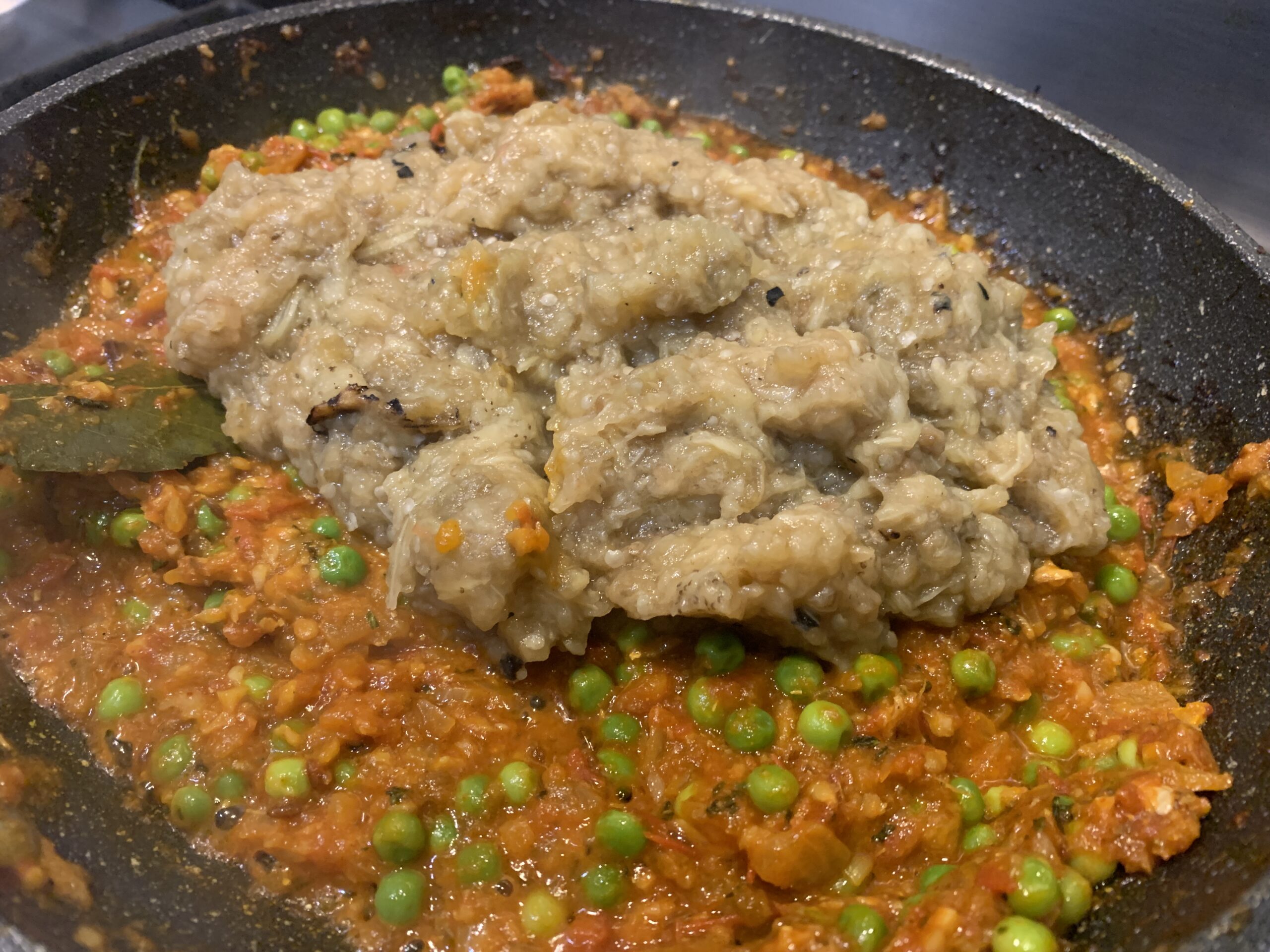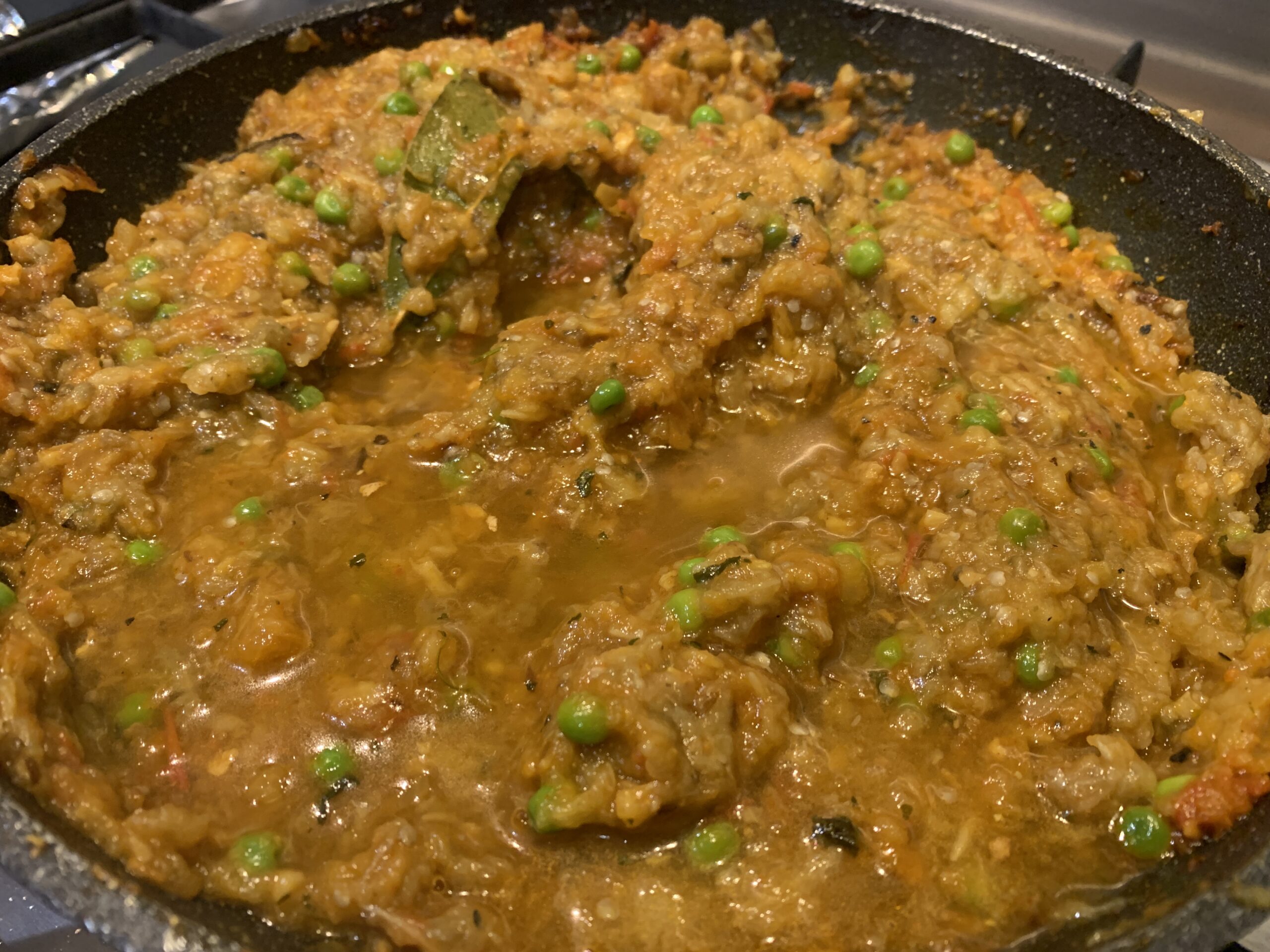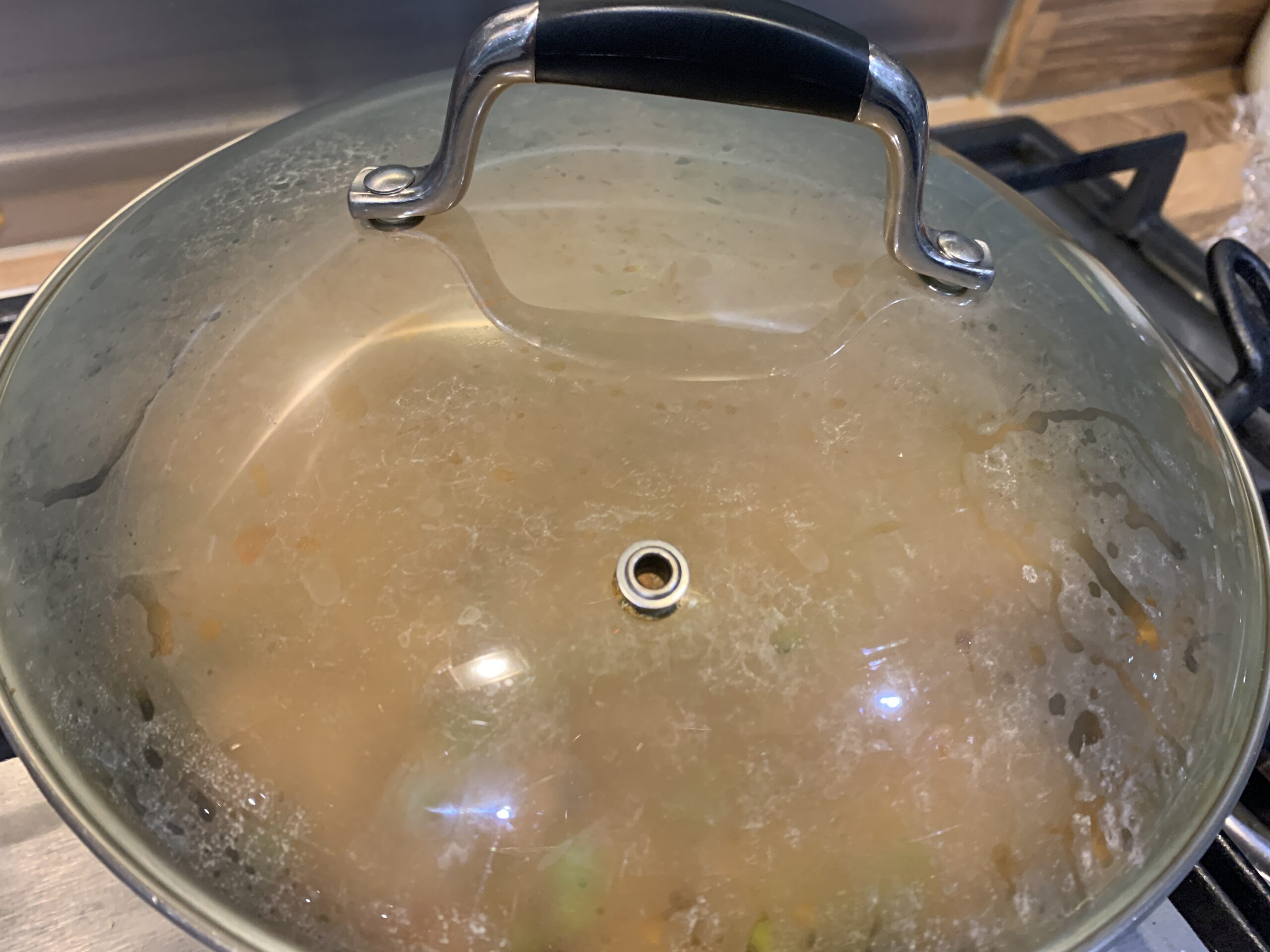 Add the mashed roasted aubergine and mix. Cover and cook the bharta for 8-10 minutes on medium heat, stirring every few minutes. Add ½ cup water if the bharta is too dry.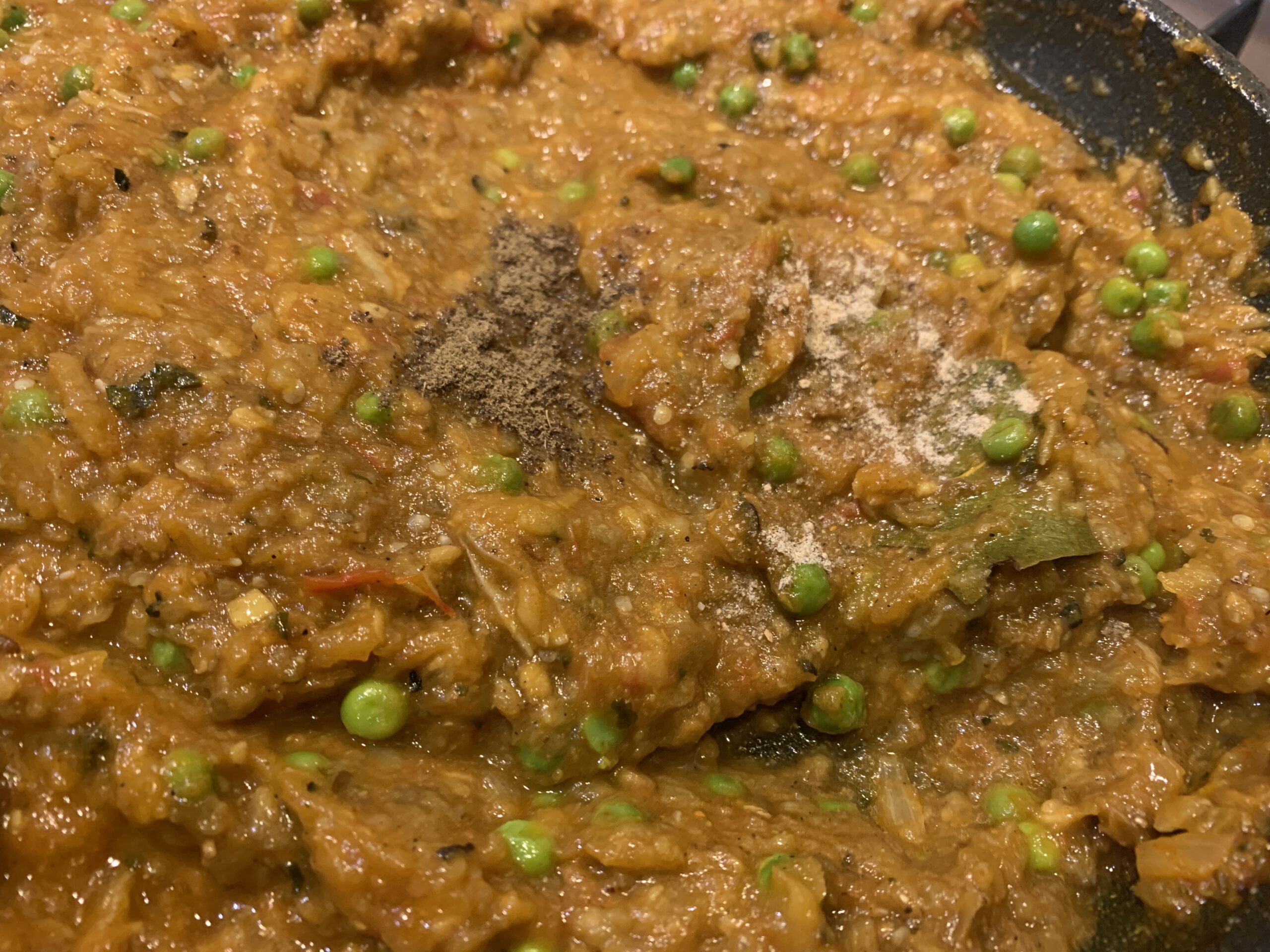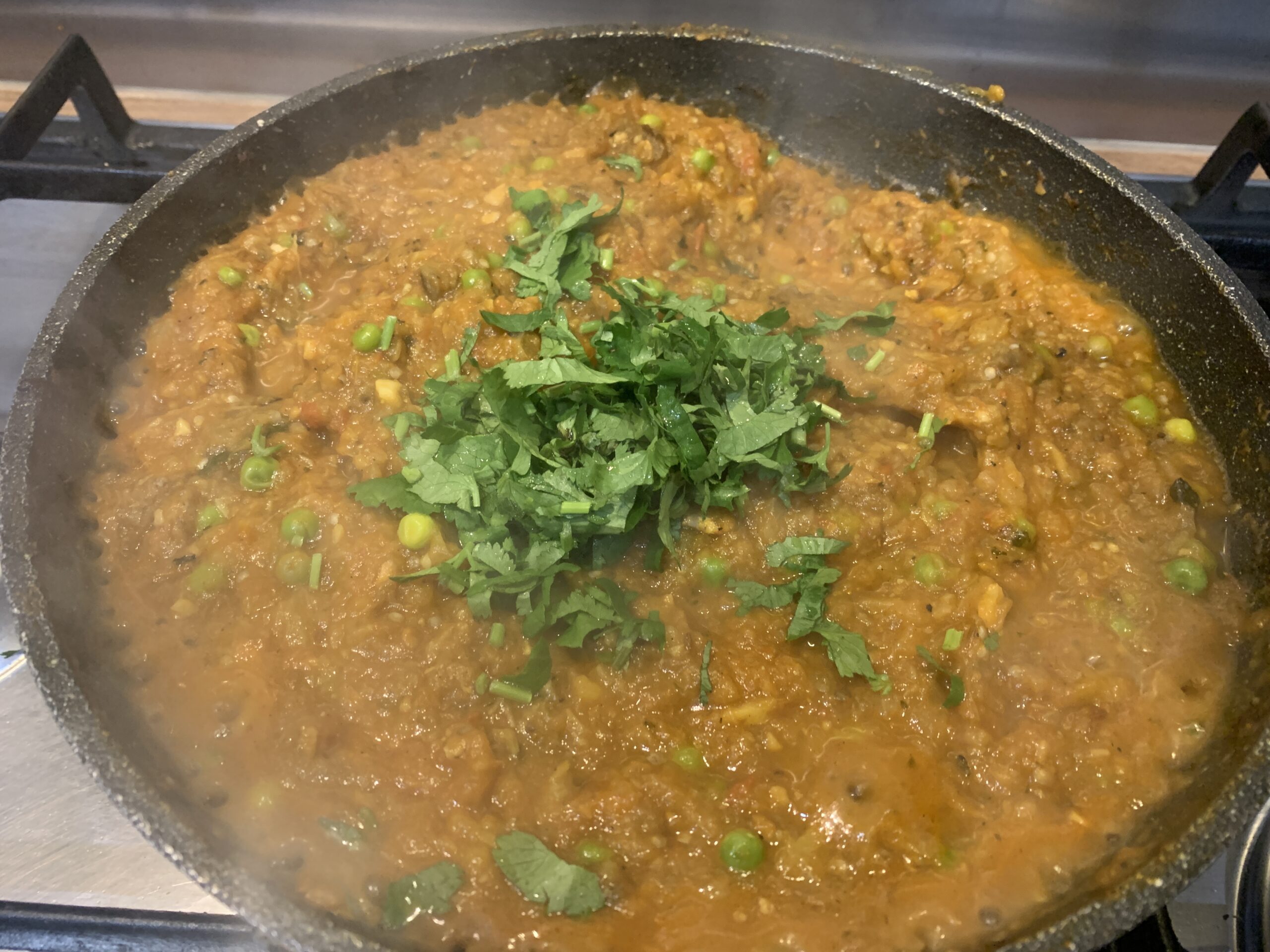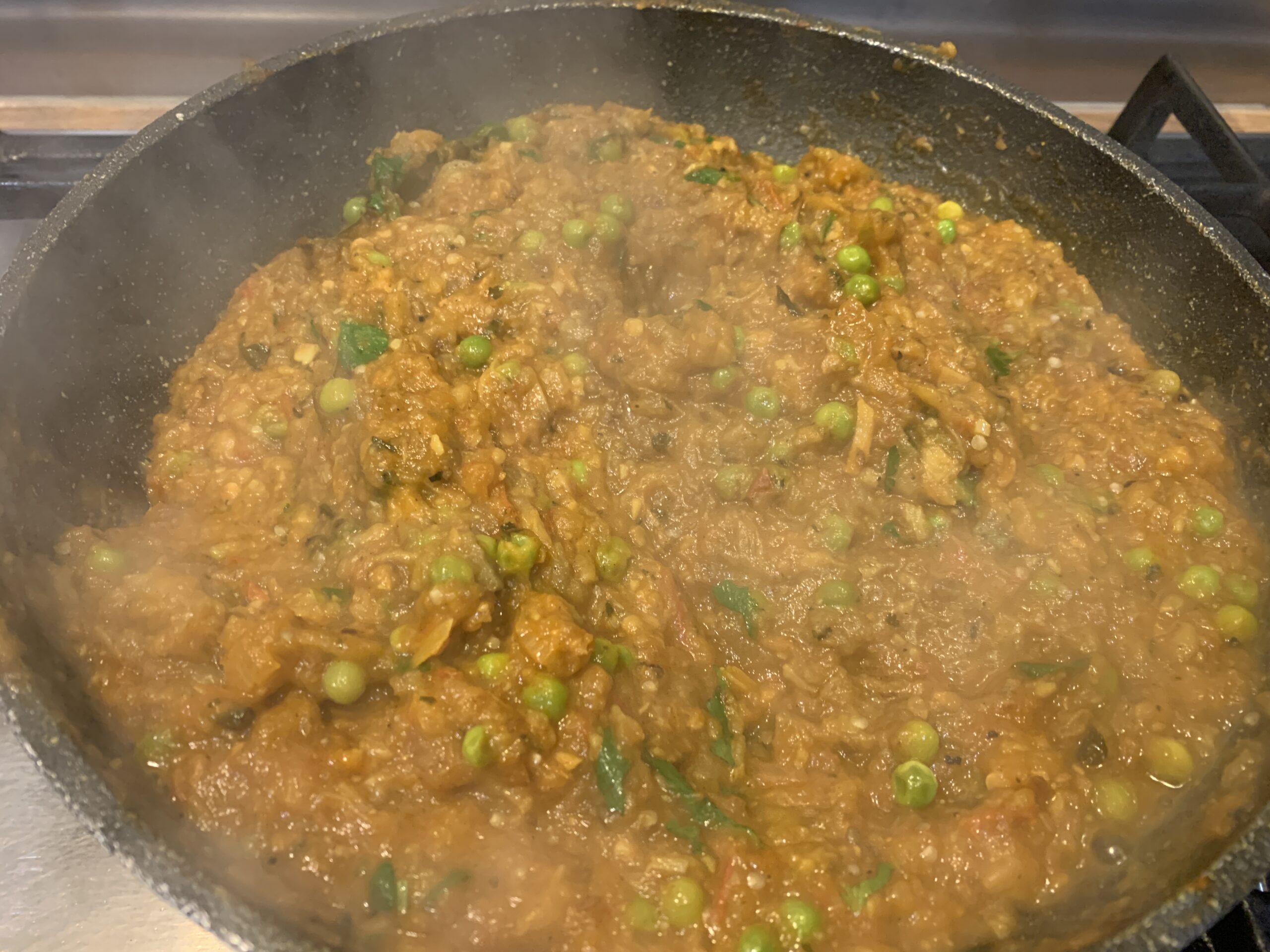 Add the garam masala, mango powder and chopped coriander and cook for 3-4 minutes on low heat.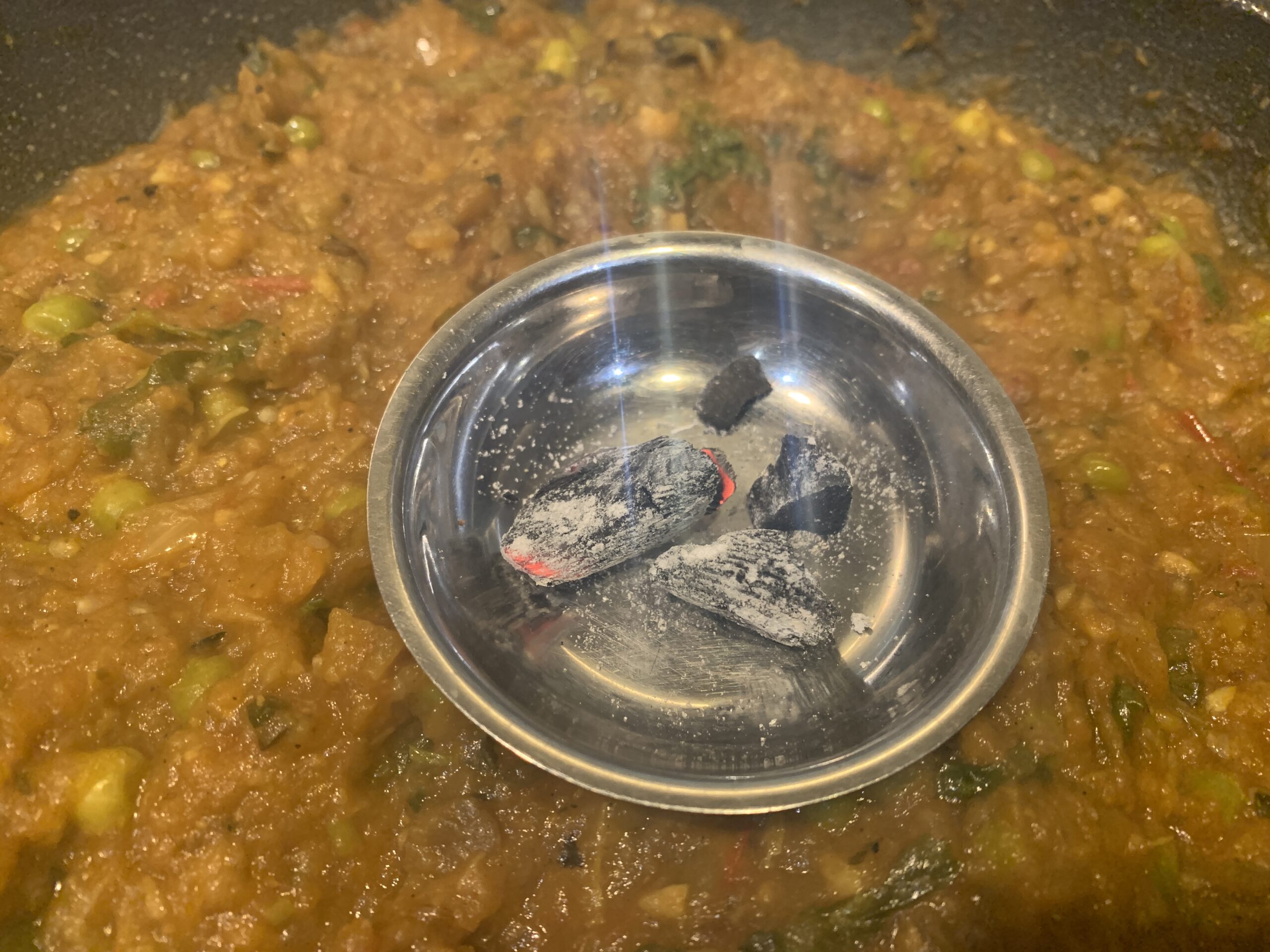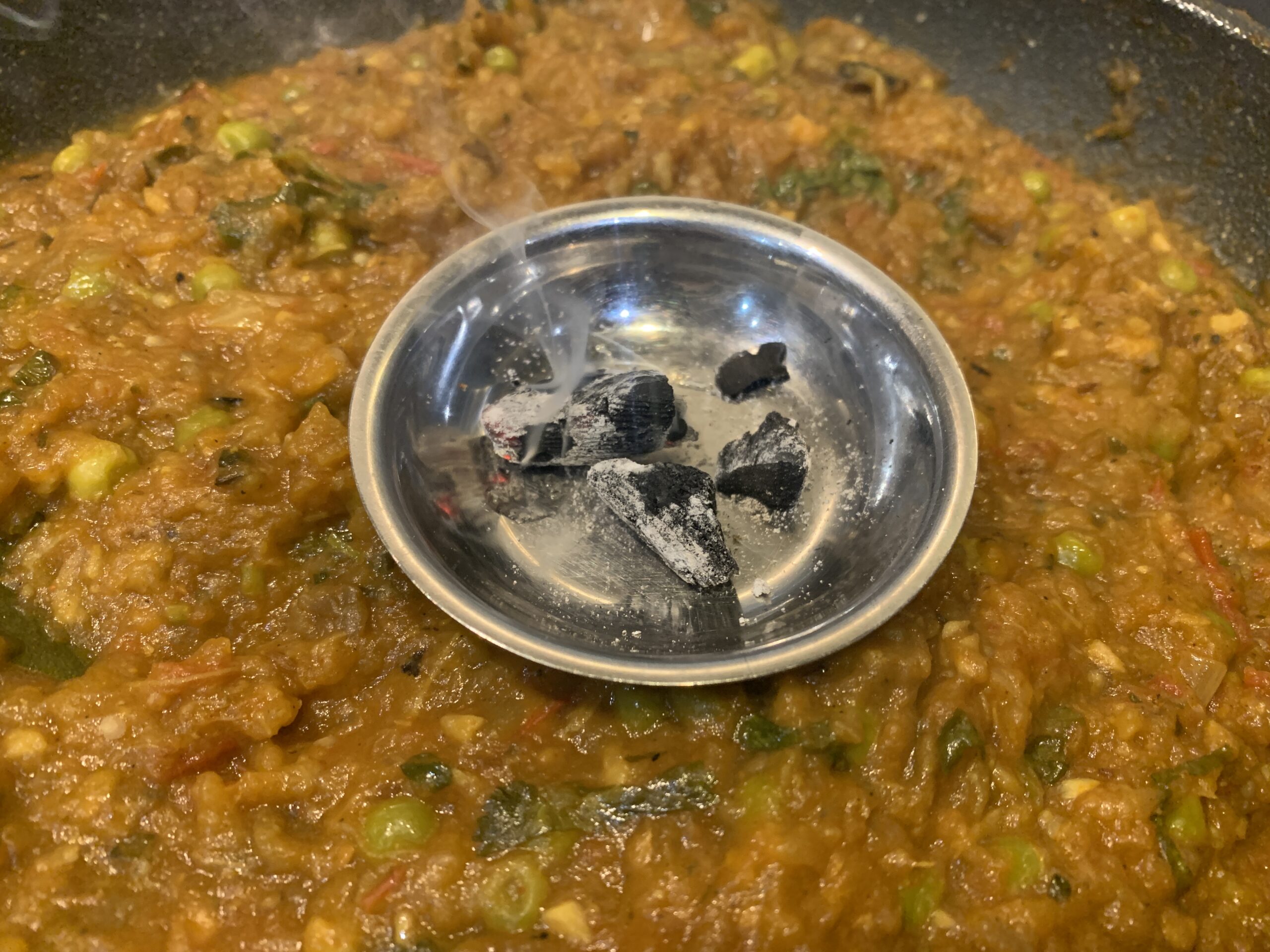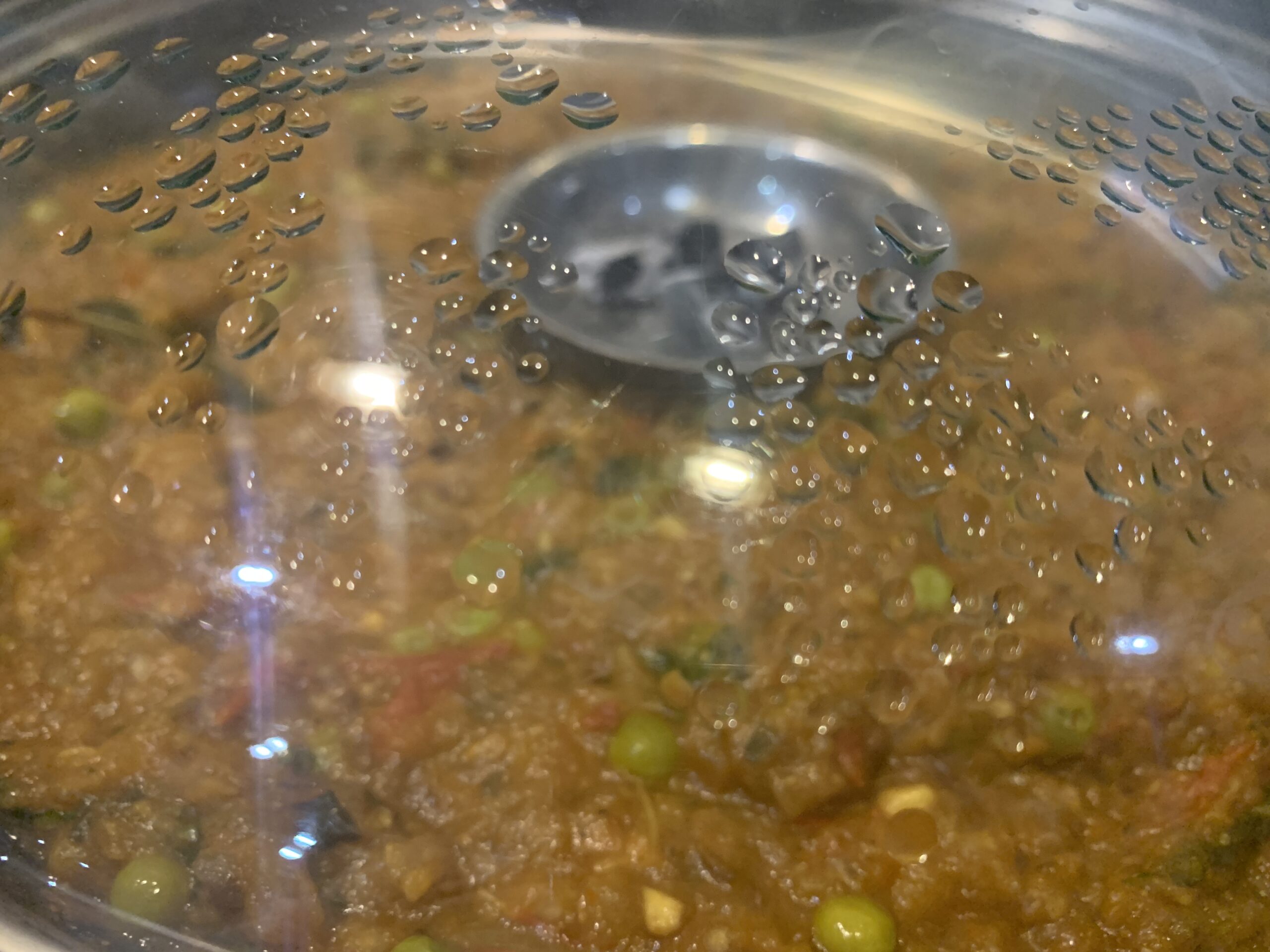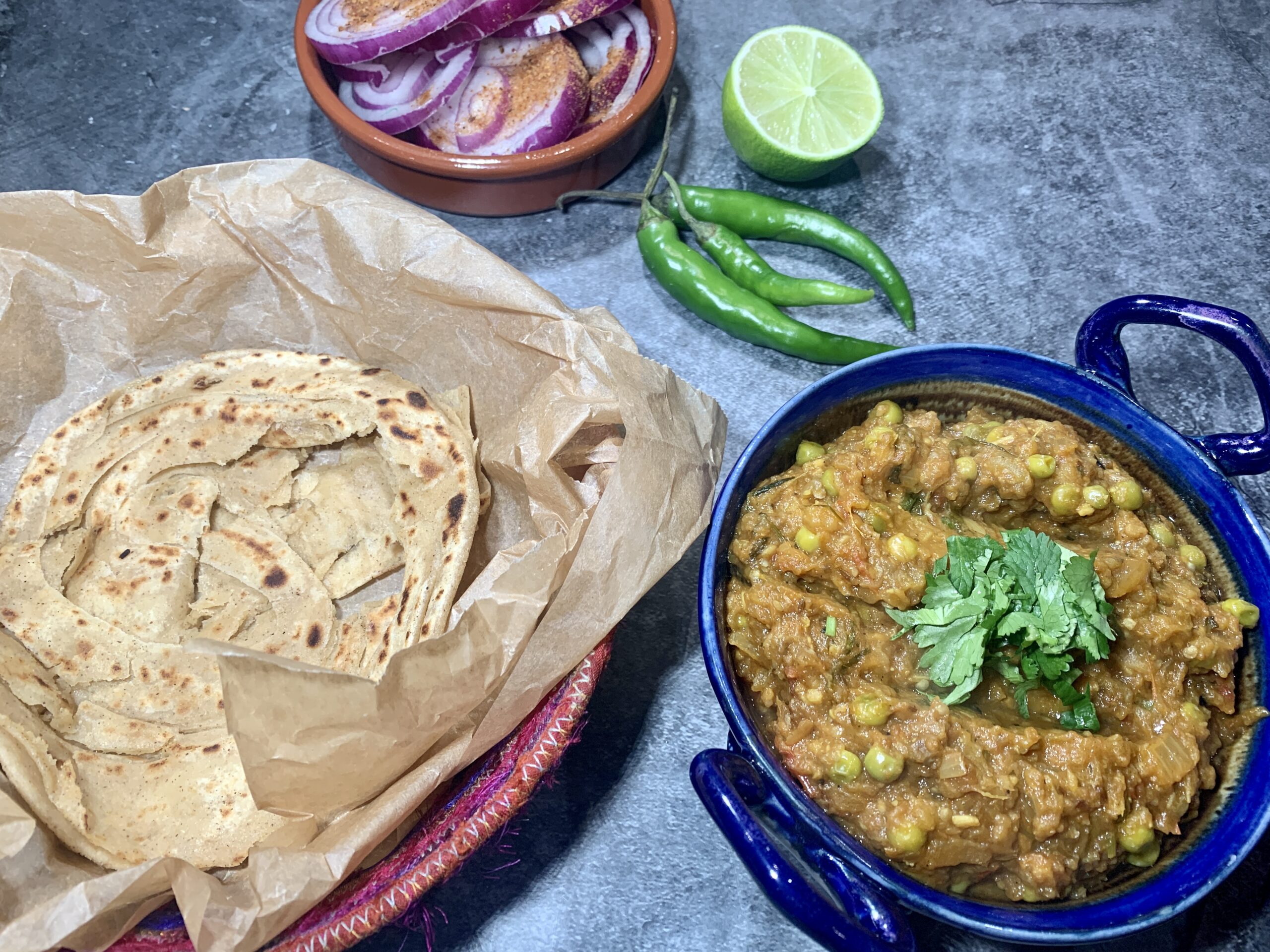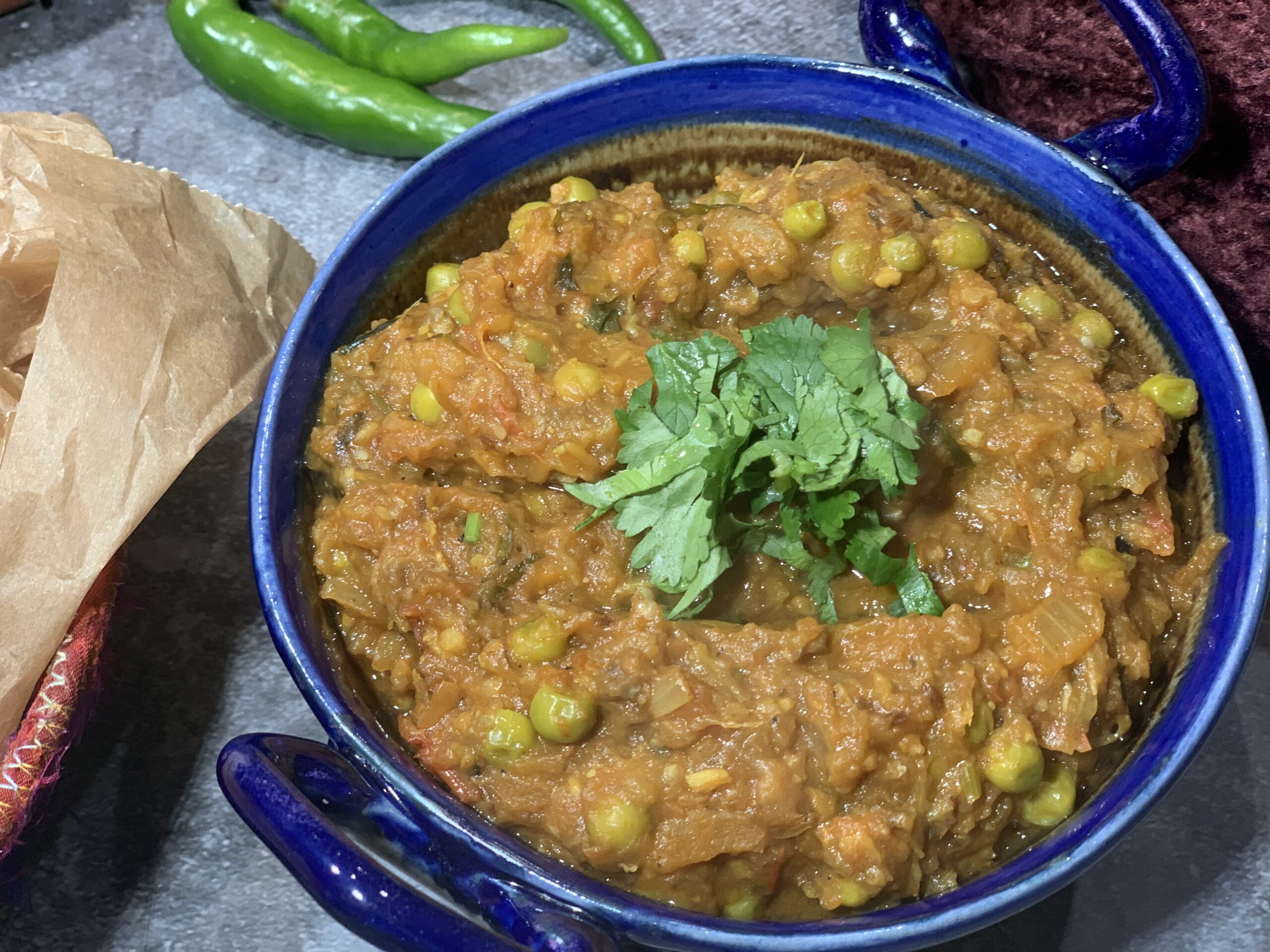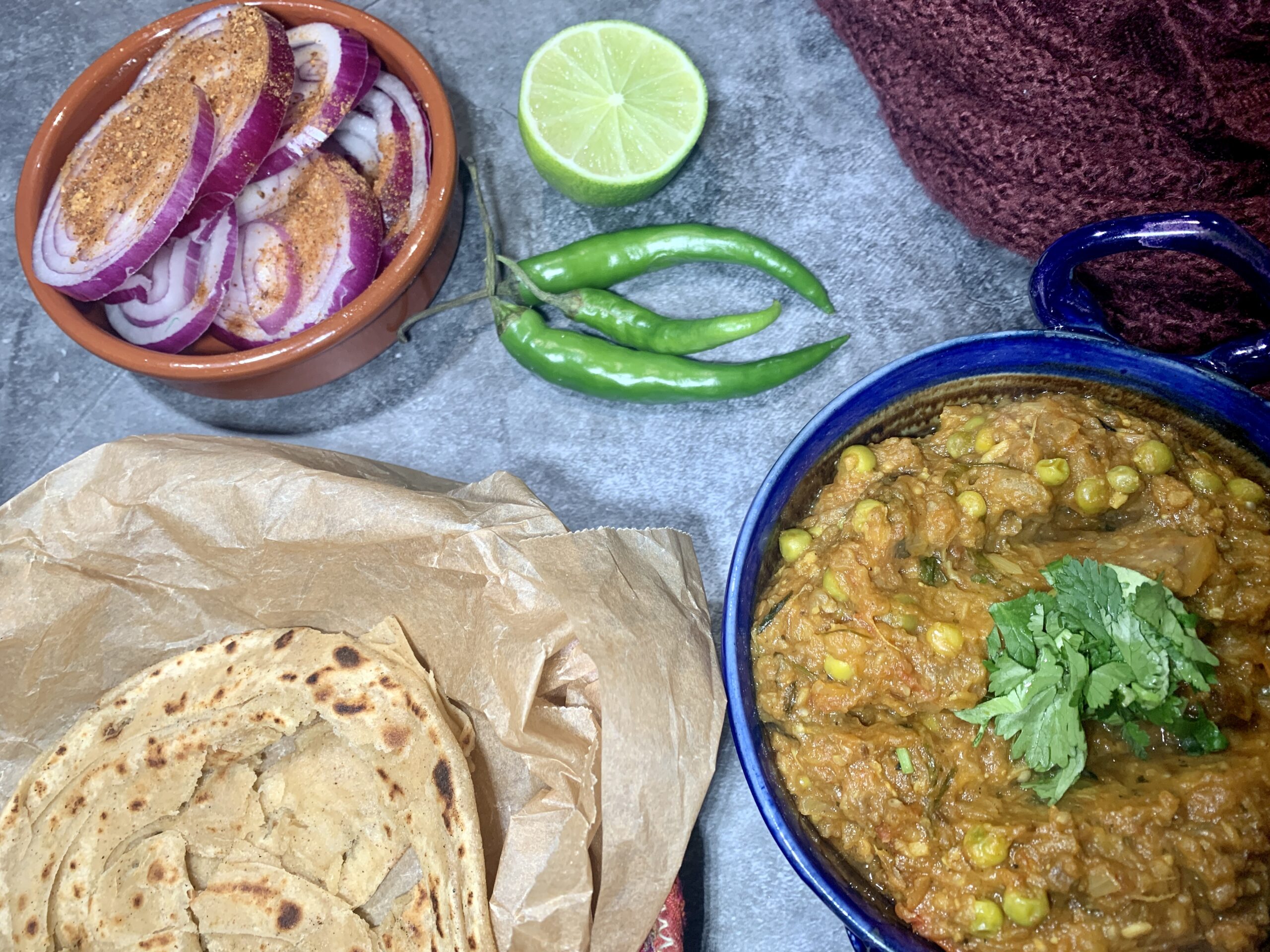 Smoking the Bharta
Heat a piece of charcoal over direct heat until its red hot. With the help of tongs, keep on turning the charcoal piece so that it burns evenly. Place a small steel bowl/aluminium foil on the bharta and place the hot charcoal in the bowl. Pour few drops of melted ghee/oil on top of the charcoal. You will see smoke coming out of charcoal. Immediately close the pan with a lid. Let it remain like this for 2 minutes. After 2 minutes, remove the charcoal bowl.
The longer you keep the lid closed, the smokier bharta will get and for bharta usually 1-2 minutes is enough, but you can experiment with it based on your taste.
Serve with roti, rice or bajra roti!