Rajasthani Masala Baati with Dal
Dal Bati is a quintessential Rajasthani dish that forms an integral feature of every conventional Rajasthani menu and revered as much for its simplicity as for its delicious taste.
Dal Baati consists of a special panchmeli 'dal' made of 5 different lentils and seasoned with Indian spices which is poured over the 'baati', i.e., the baked balls made of wheat flour, crushed and made tastier with a generous helping of clarified butter or ghee. In this instance the baati are stuffed with spiced potato filling to give another taste sensation.
This dish transports me to my university days. My aunt (lovingly called Kanta Chachi) was my local guardian, and she would often invite me over for lunch and/or dinner to feed some healthy 'ghar ka khana' (home food). She makes the most awesome masala baati and I loved visiting her whenever I had an opportunity. Somehow thinking of masala baati just reminds me of those precious moments spent with her and that time of my life in general.
I do strongly feel that food memories are vivid, and they sometimes feel more evocative than other types of memories as they involve all five senses. I sadly didn't have the opportunity to learn this recipe from her, but I dedicate this to my aunt and cherished memories of our time together.
Ingredients
For Baati
3 cups whole wheat flour
1 teaspoon salt
1 teaspoon carom seed (ajwain)
½ cup melted ghee
1 cup lukewarm water
ghee for soaking
For Stuffing
2 tablespoons oil
1 teaspoon coarsely crushed coriander seeds
1 teaspoon cumin seeds
pinch of asafoetida
1 teaspoon chopped or grated ginger
2 finely chopped green chilies
½ tablespoon red chili powder
½ teaspoon garam masala
1 tablespoon coriander powder
1 tablespoon dried mango powder
2 cups boiled, peeled and mashes potatoes
2 tablespoons finely chopped coriander leaves
For Dal
¼ cup split Bengal gram (chana dal)
¼ cup split pigeon peas (arhar dal)
¼ cup split green gram (moong Dal)
¼ cup split black lentils (urad dal)
¼ cup green gram skinned (moong dal chilka)
salt to taste
1 teaspoon turmeric powder
3 tablespoons ghee
1 teaspoon cumin seeds
Pinch of asafoetida
3-4 cloves
1 bayleaf
1 dried whole red chilli (optional)
2 green cardamom
1 black cardamon
1 inch cinnamon stick
1 tablespoon finely chopped ginger
1 tablespoon finely chopped garlic (optional)
1 teaspoon finely chopped green chilli (optional)
1 finely chopped onion
2 finely chopped tomatoes
1 teaspoon red chilli powder
1 teaspoon Kashmiri red chilli powder
2 teaspoons coriander powder
½ teaspoon garam masala
½ teaspoon dried mango powder
2-3 tablespoons finely chopped coriander
For Serving
½ cup ghee
Directions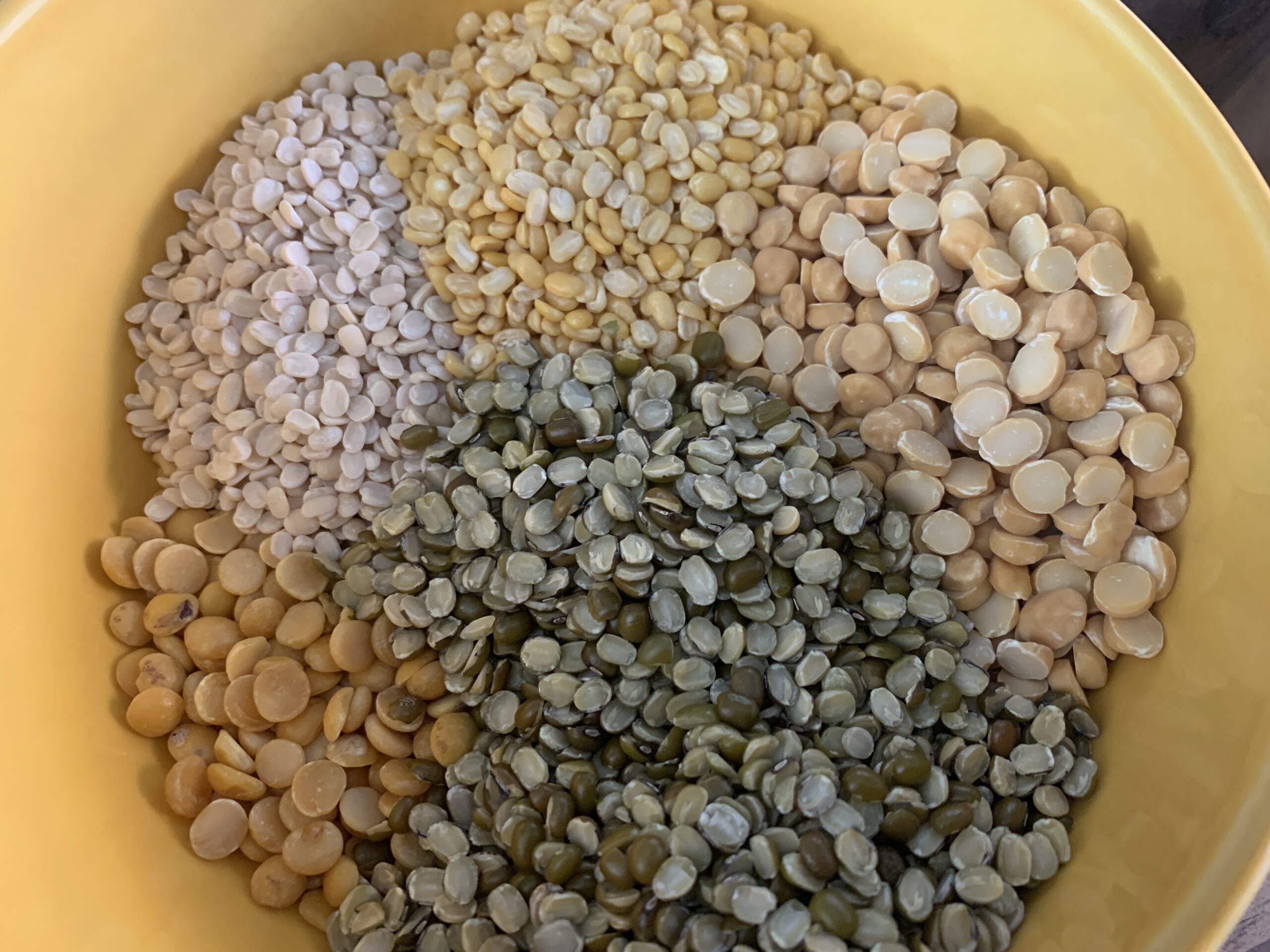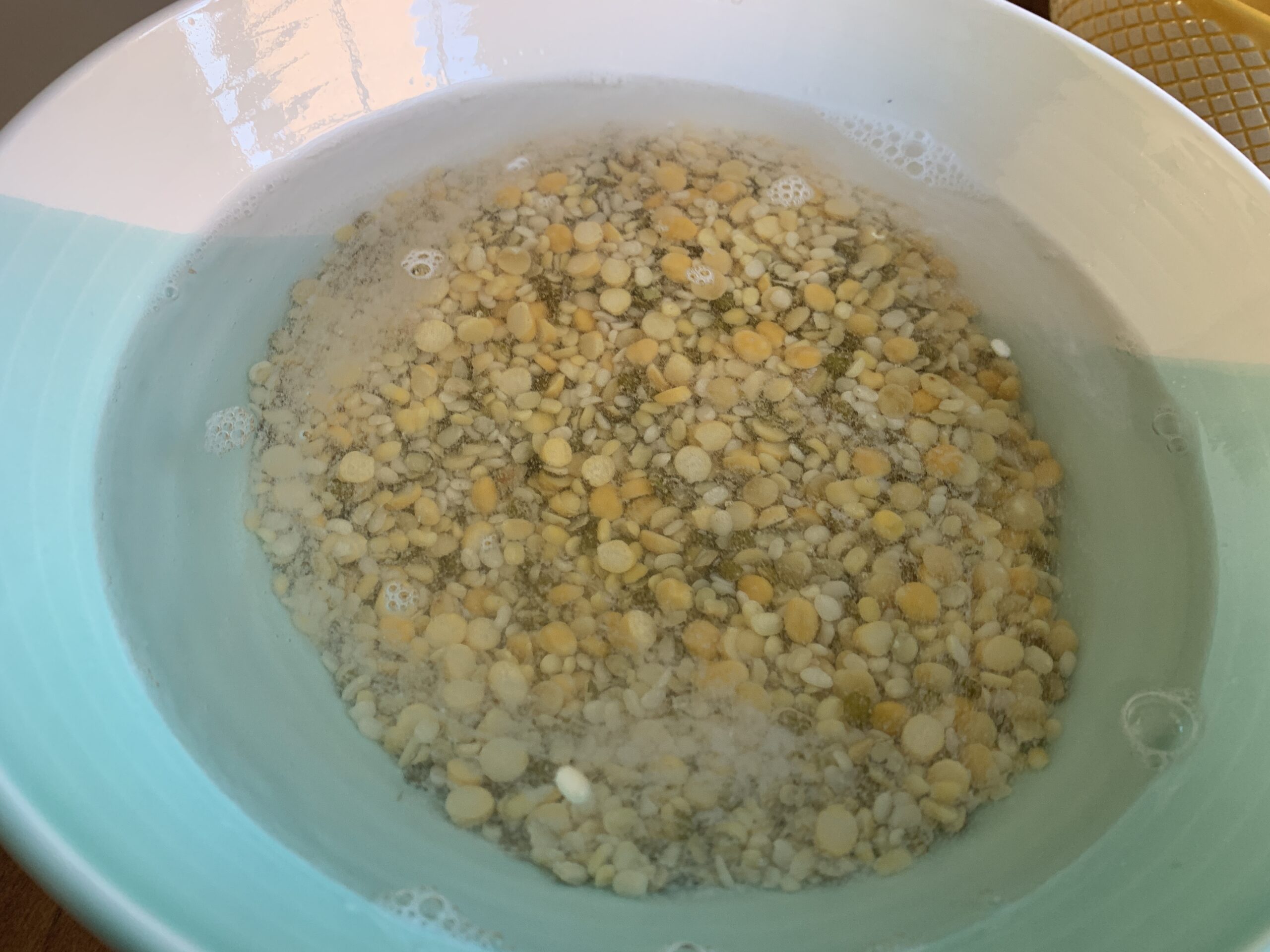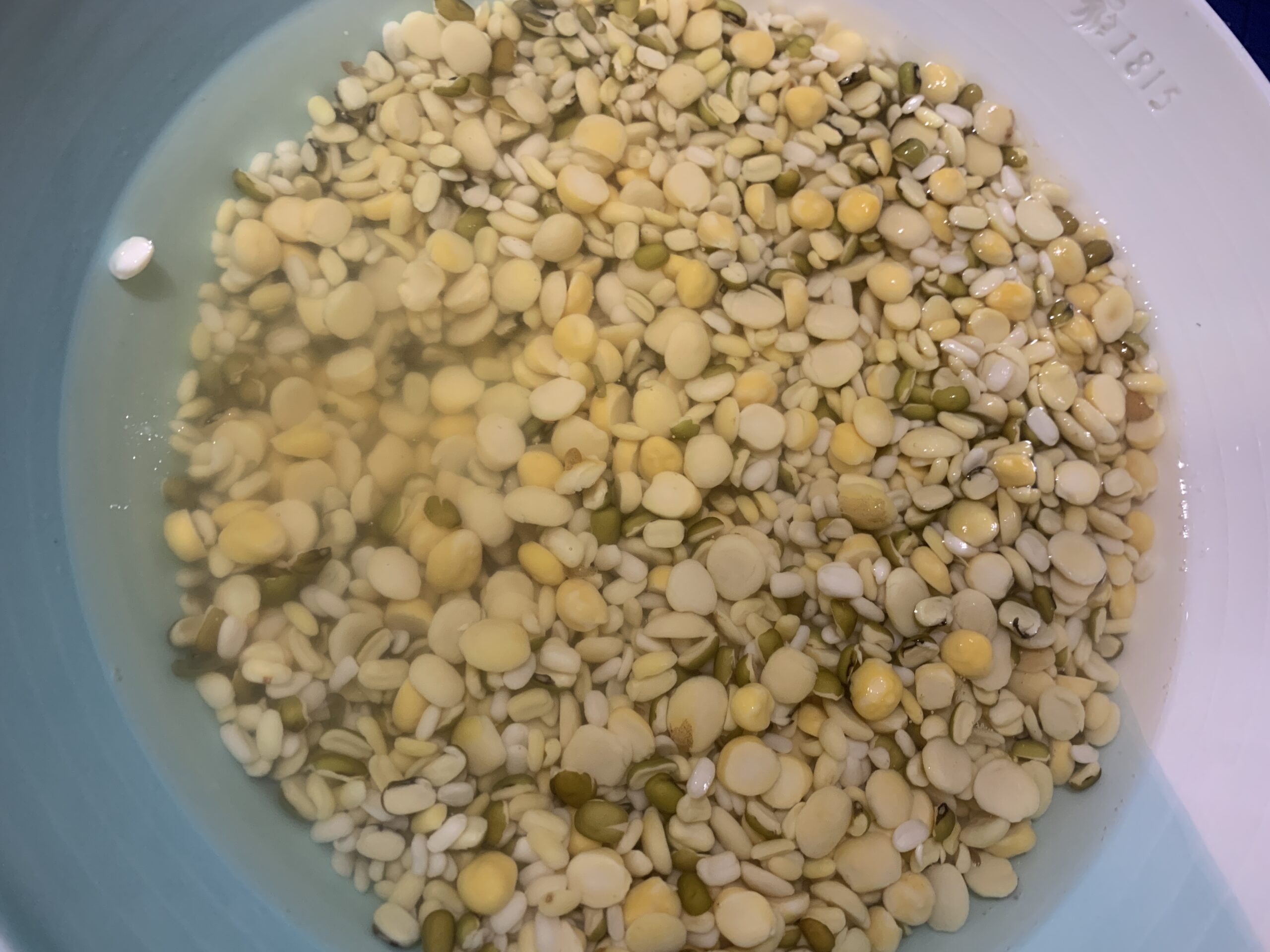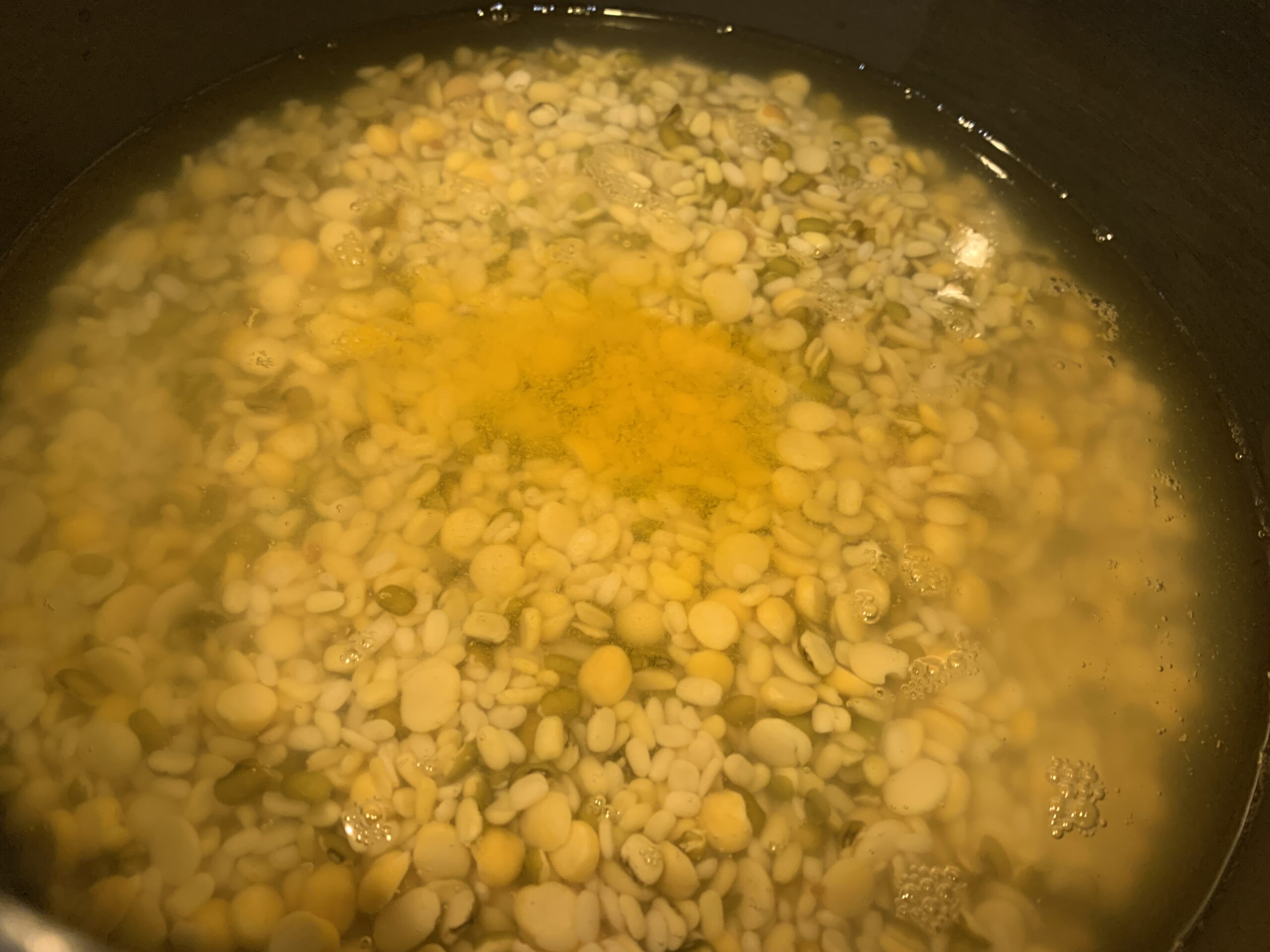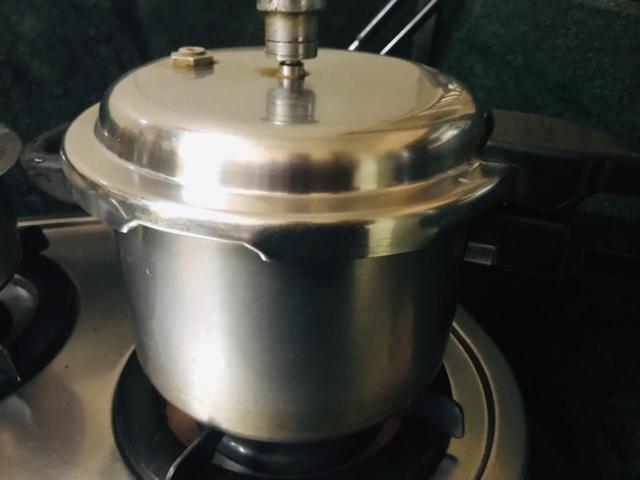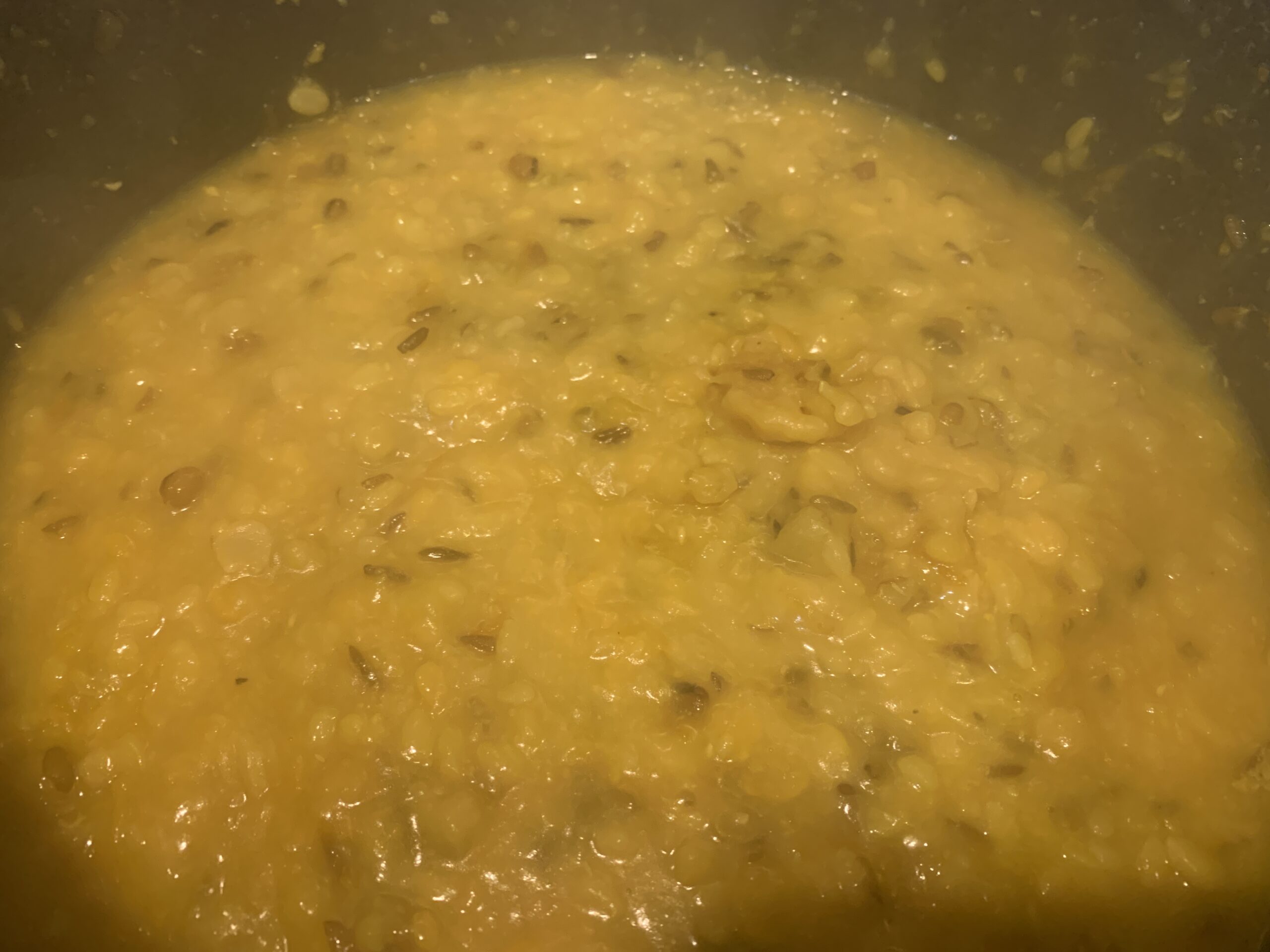 Wash all the dals until the water runs clear. Soak the dal for 2-3 hours in water.
Add 4-5 cups of water and cook the dal with salt and turmeric powder. If using pressure cooker, then give 4-5 whistles. If boiling in pan, then cover and cook until the dal is soft (40-45 minutes).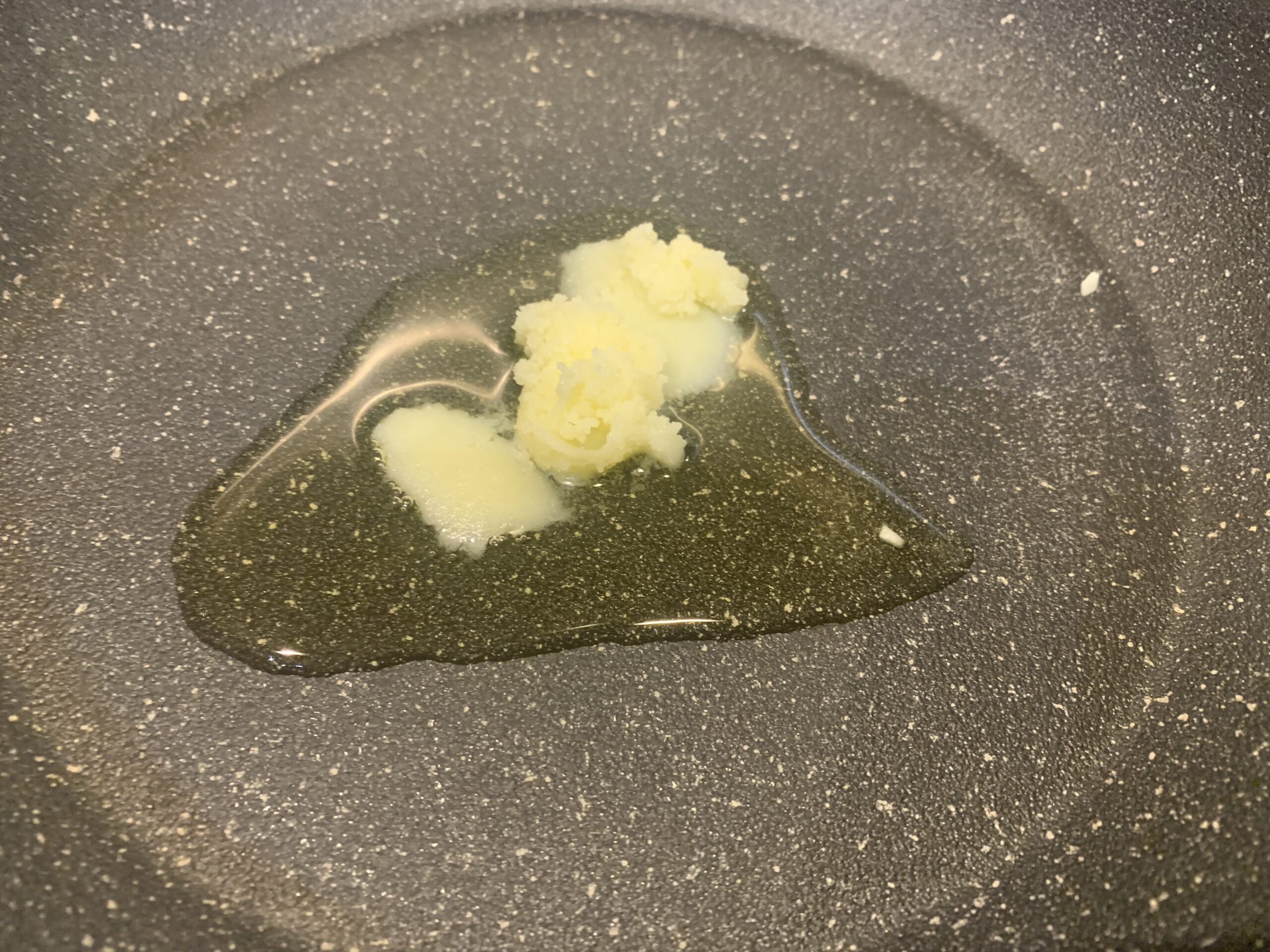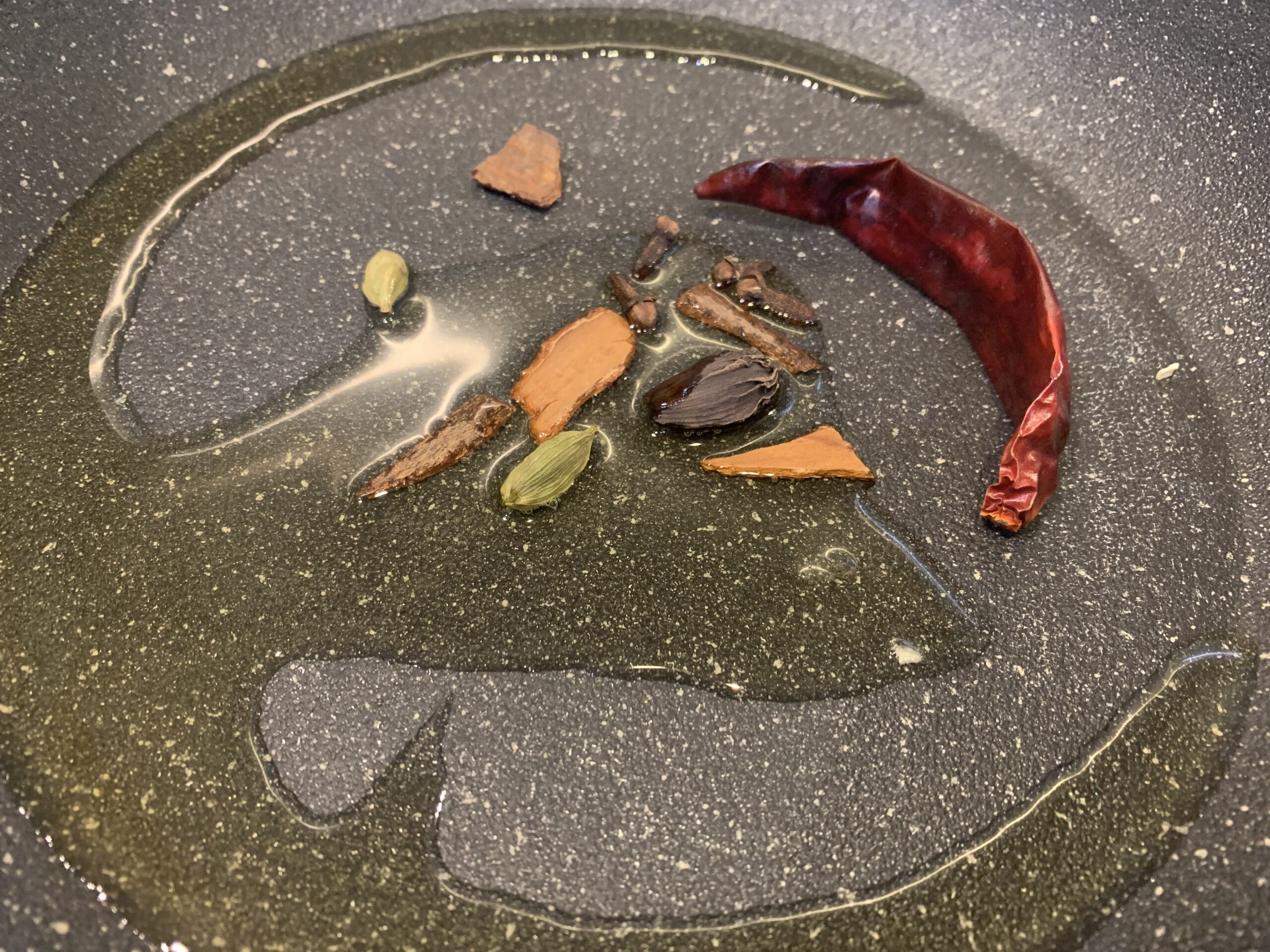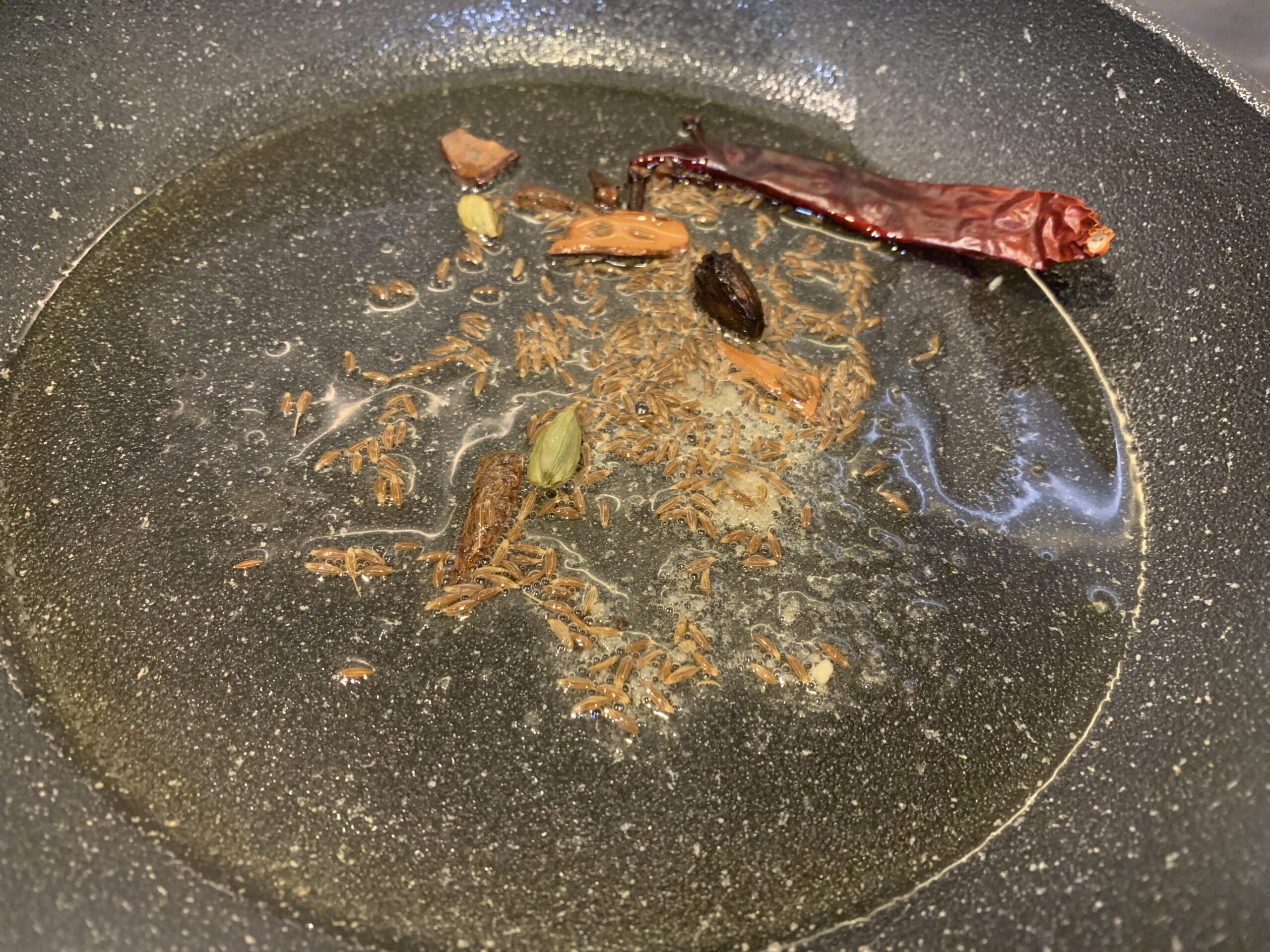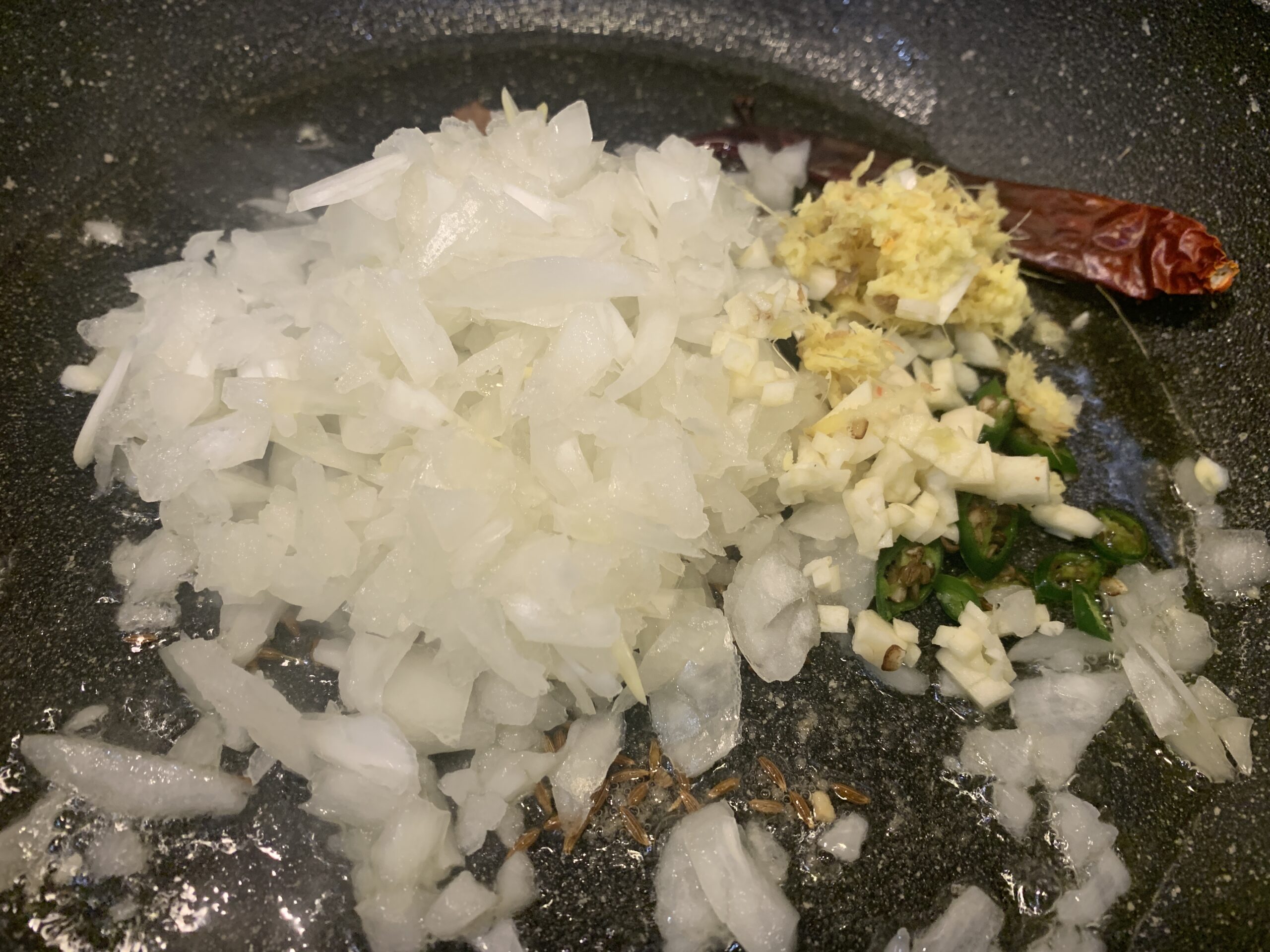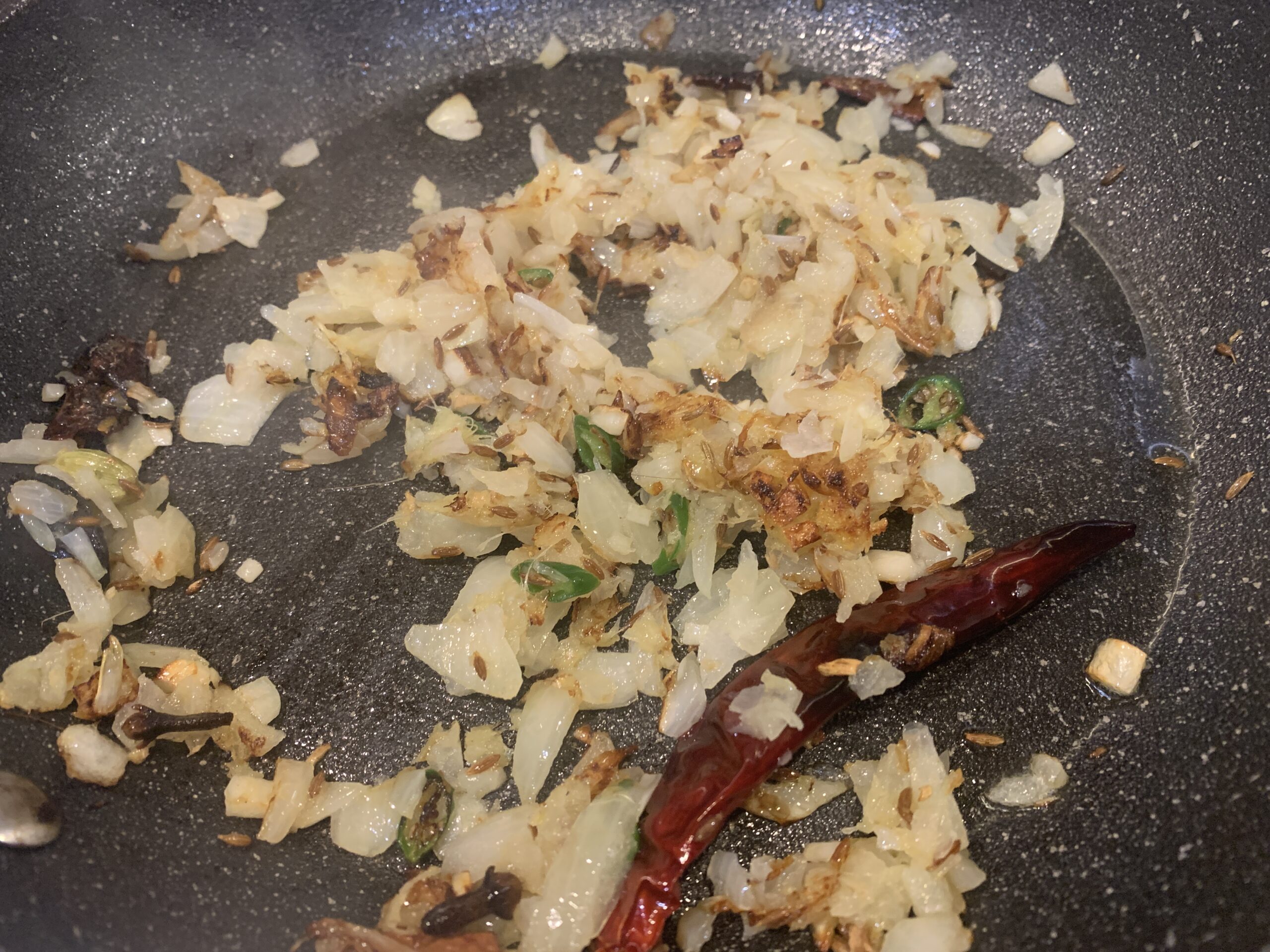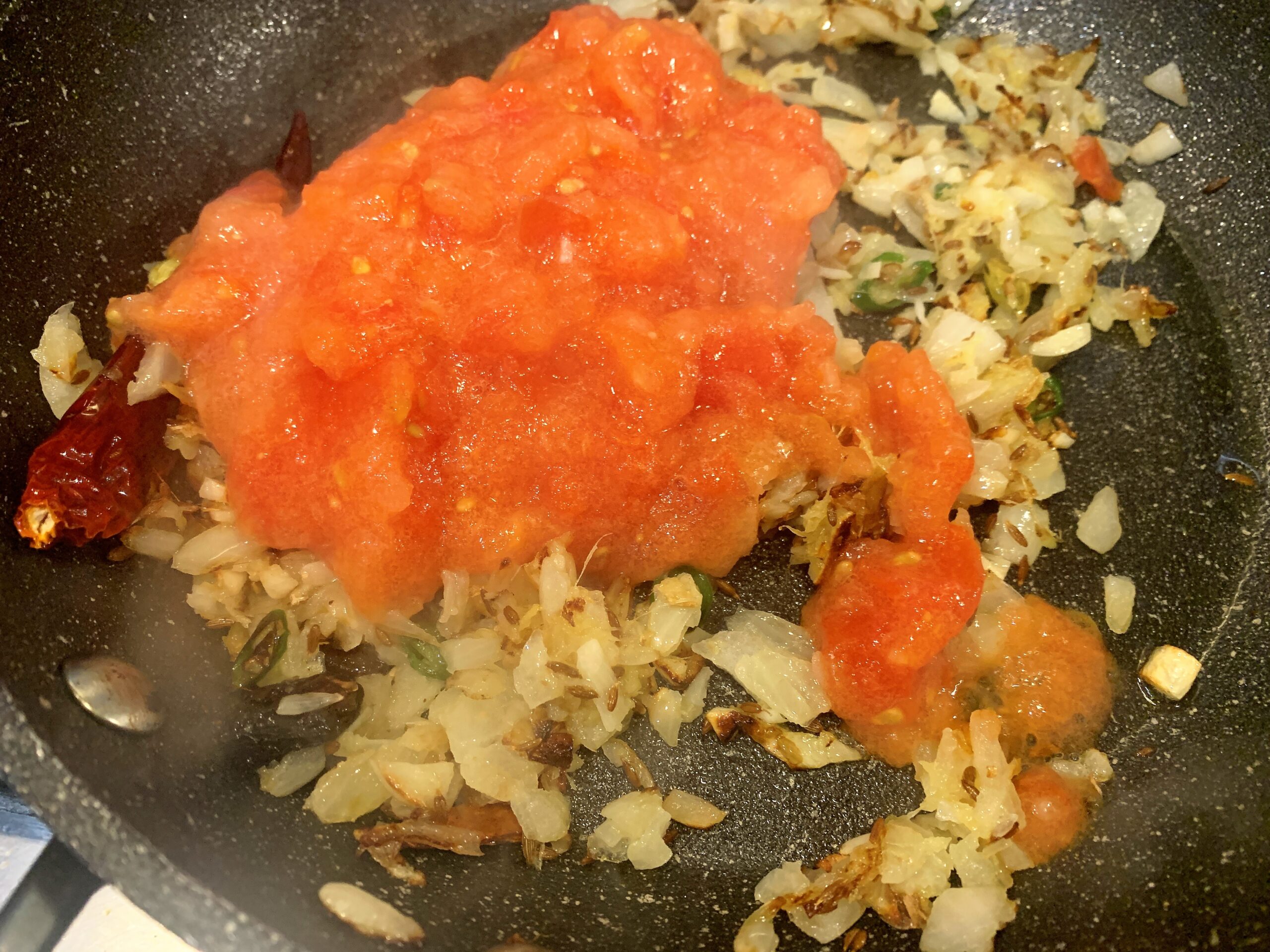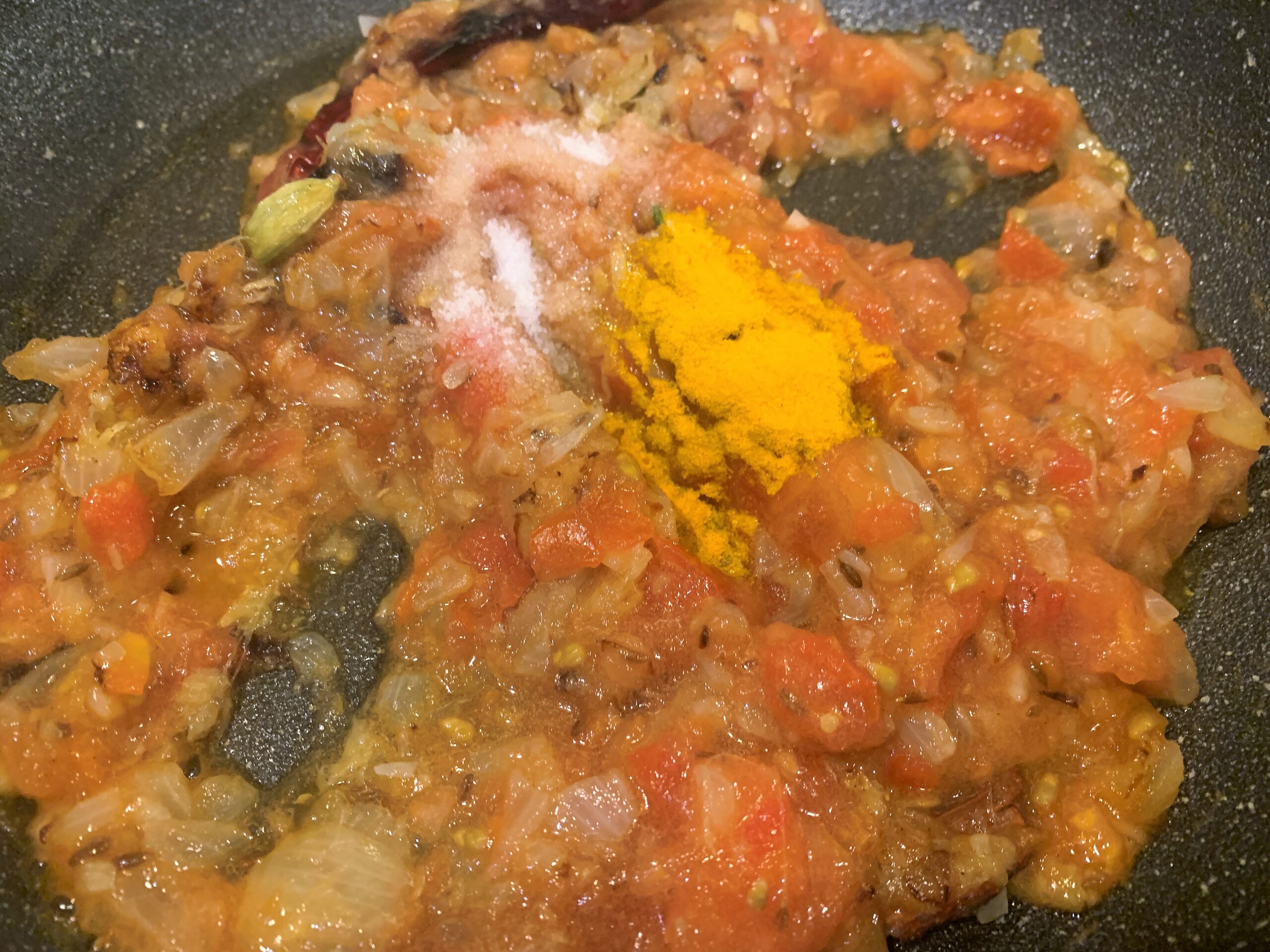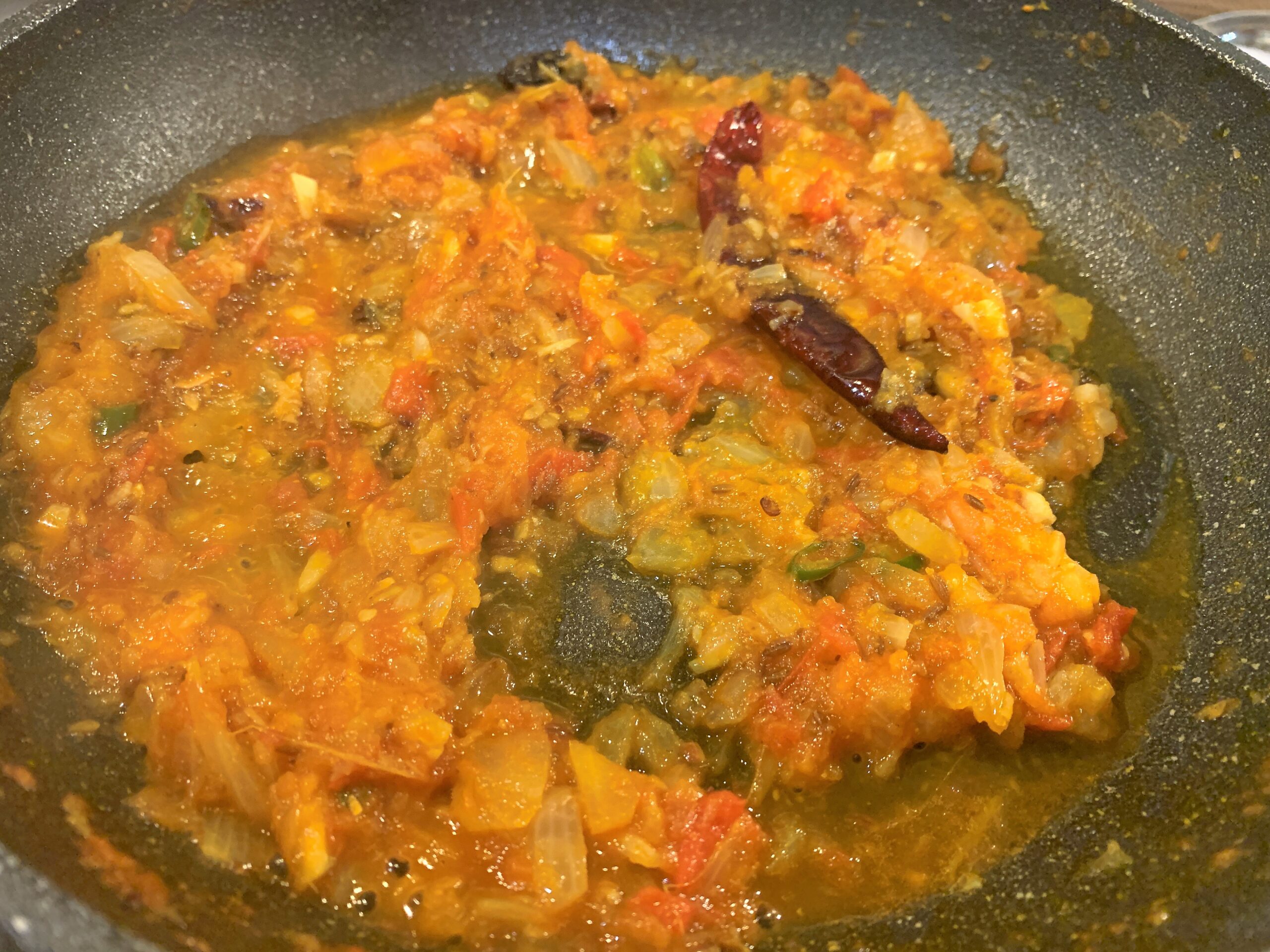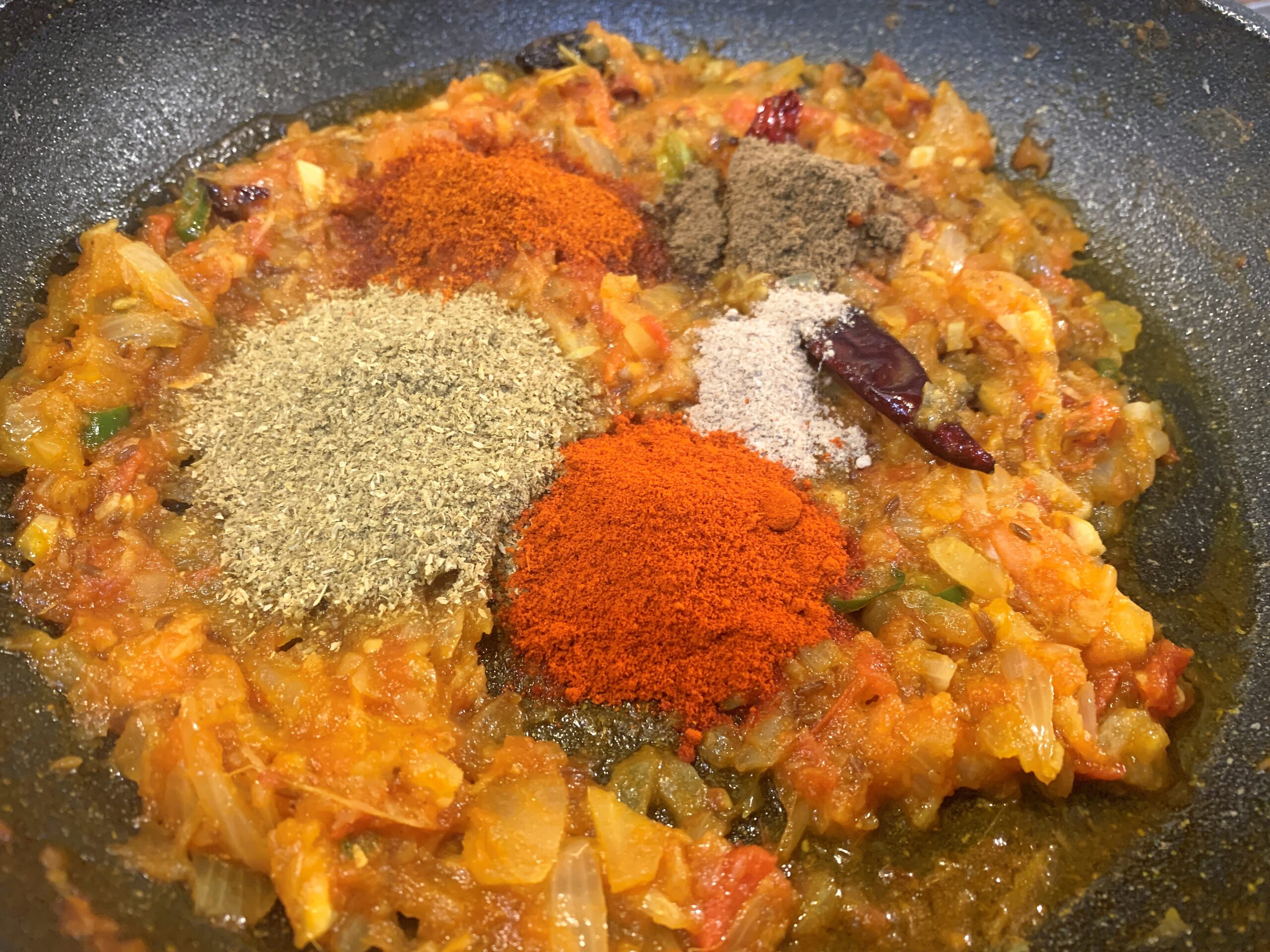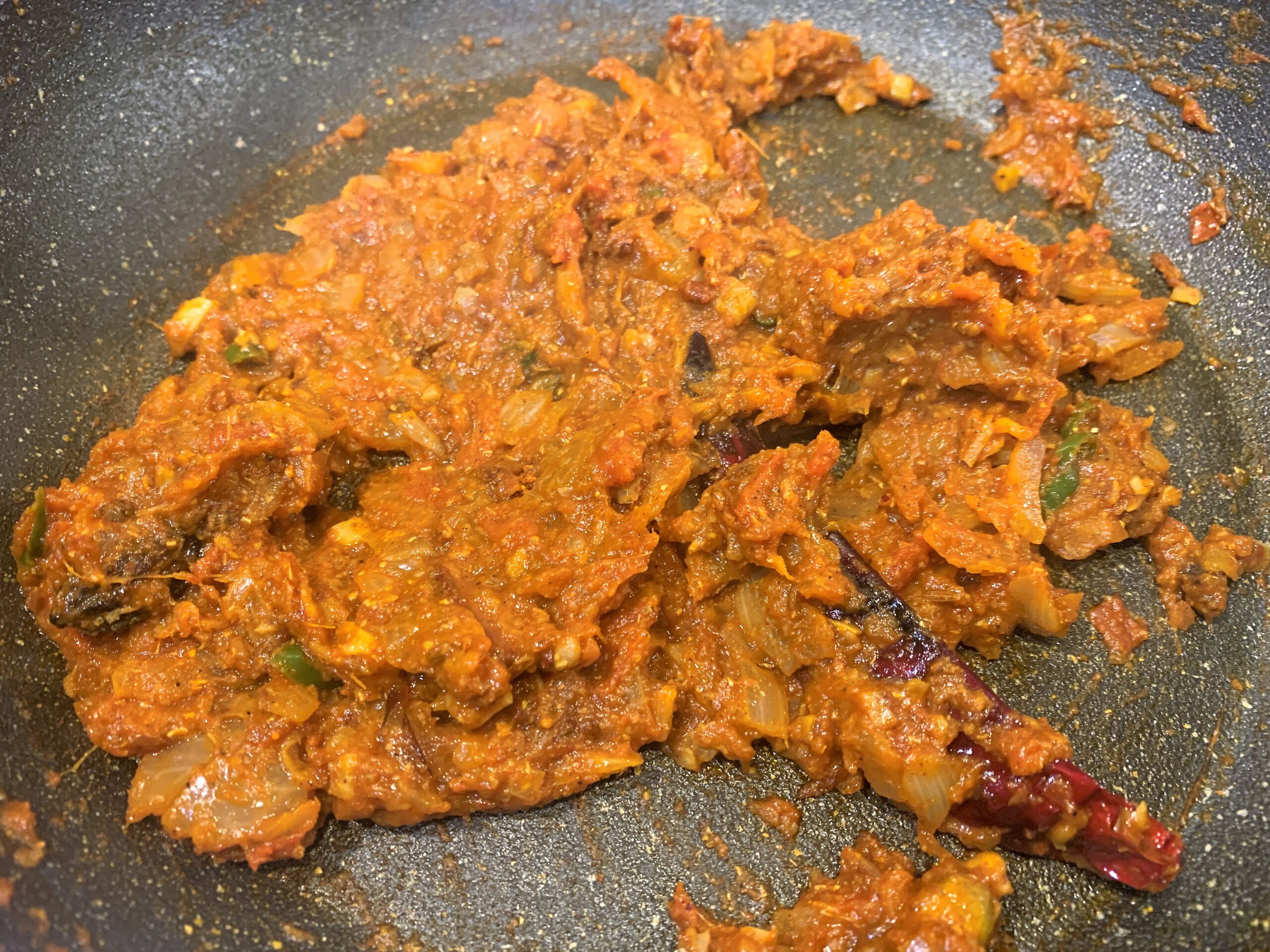 Heat the ghee in a pan and add the cloves, dried red chili, green cardamom, black cardamom, bay leaf, cinnamon stick, cumin seeds and asafoetida and sauté for a few seconds.
When the seeds begin to crackle, add the onion, chilies, ginger and garlic (optional) and sauté for 2-3 minutes until onion softens and is golden brown. Next add the tomato, salt and ½ teaspoon turmeric powder and cook for 3-4 minutes until tomatoes soften.
Now add coriander powder, chilli powder, Kashmiri chilli powder, mango powder and garam masala and mix.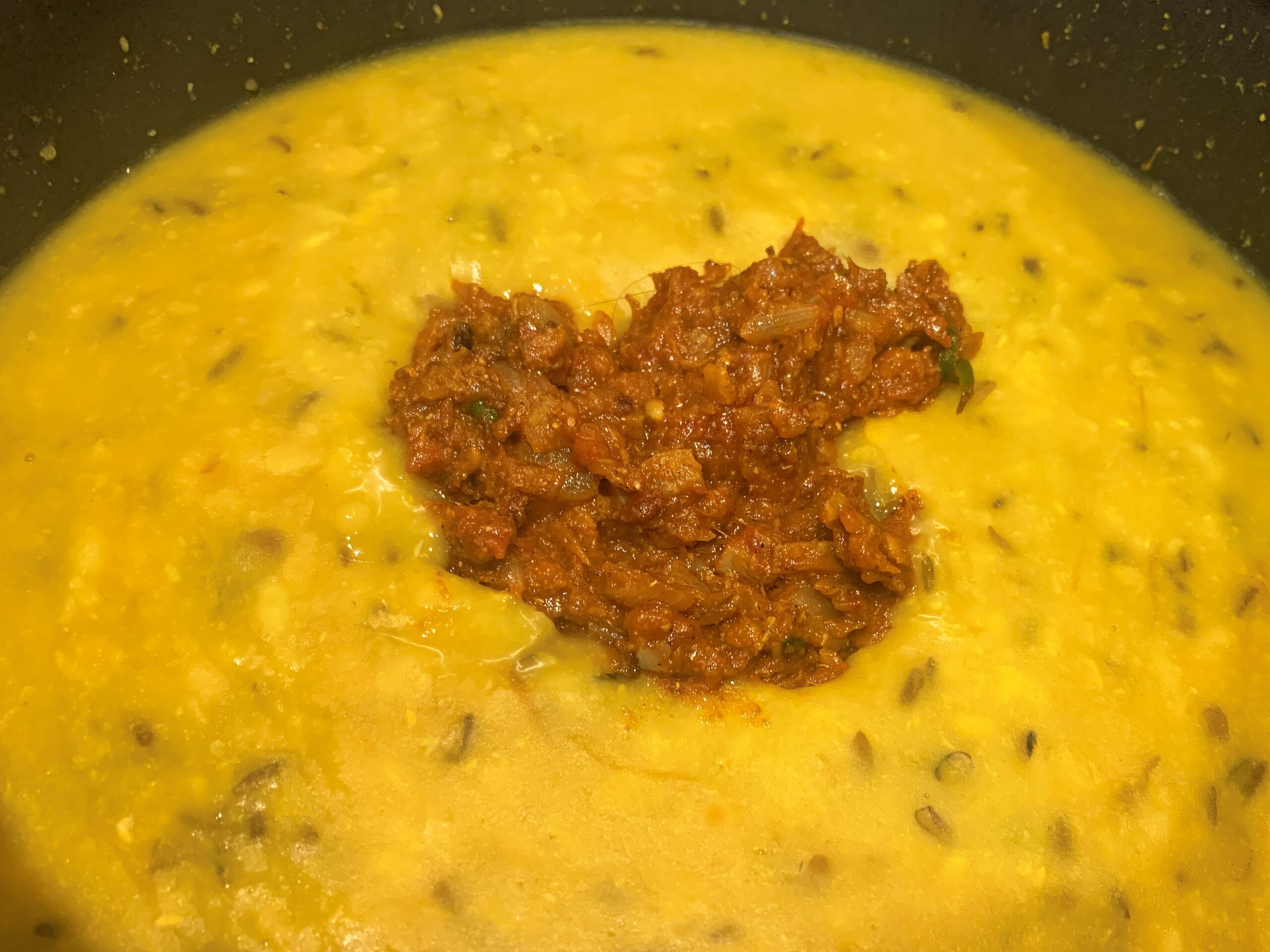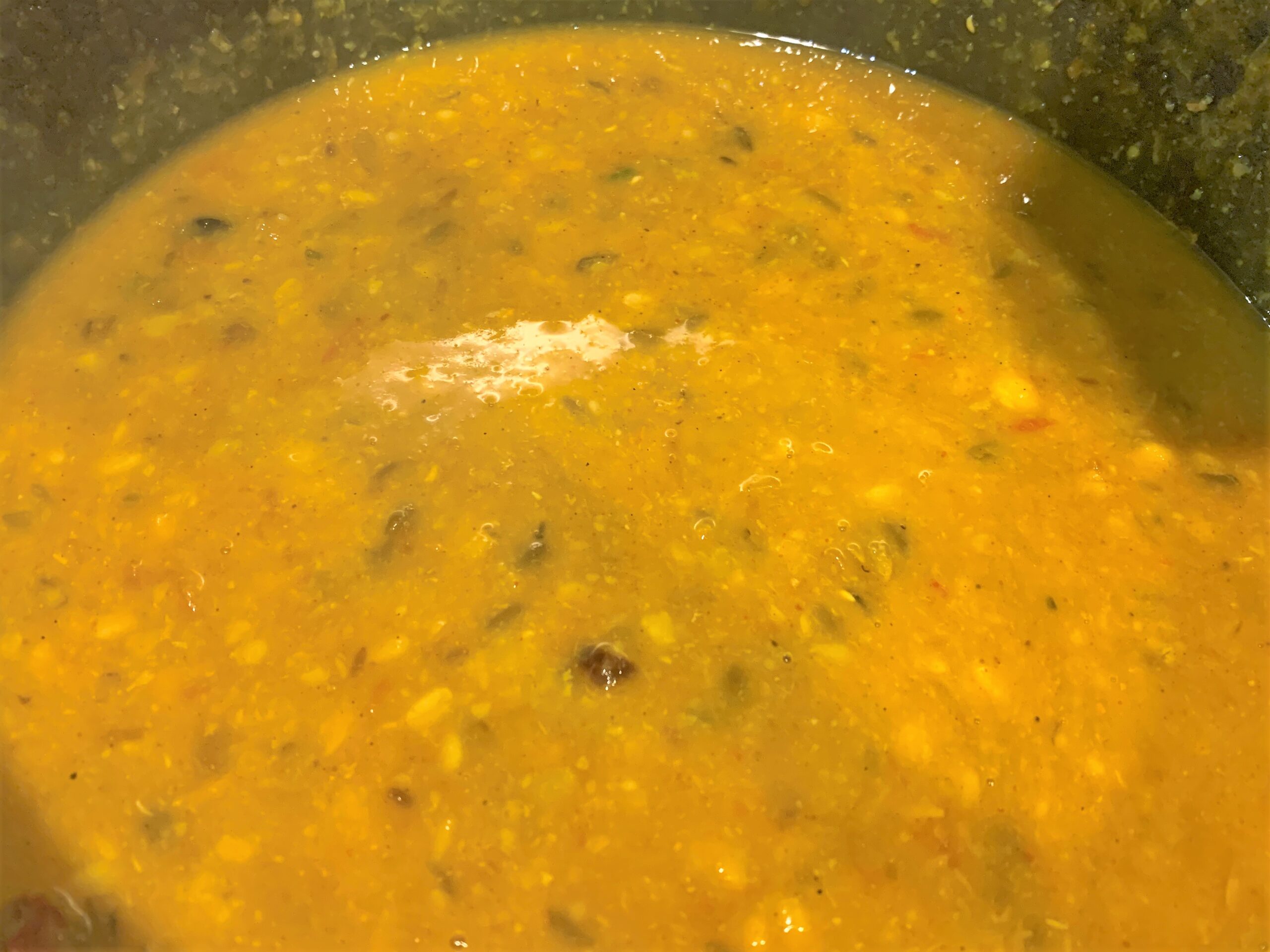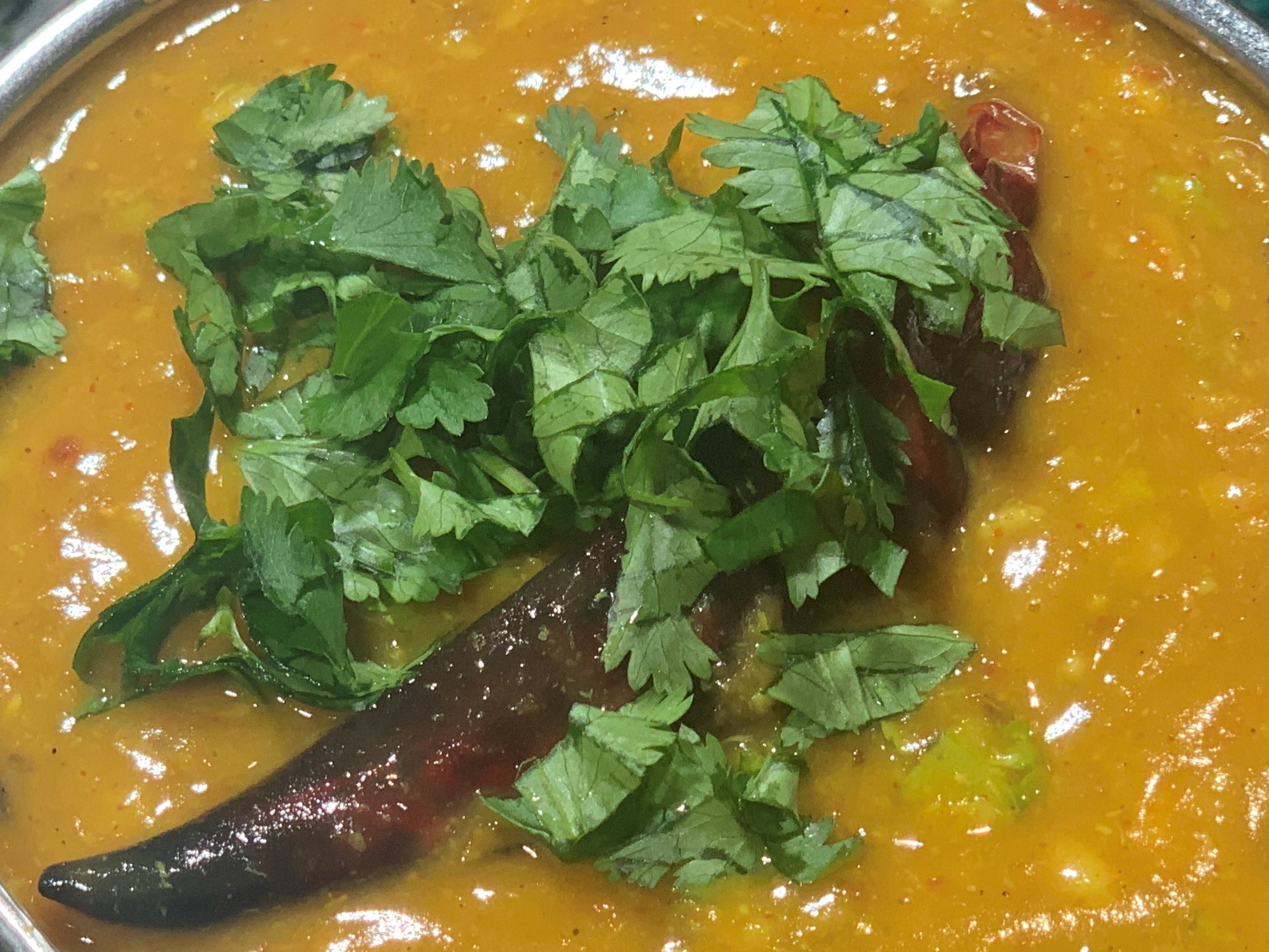 Add the prepared tempering to the cooked dal and mix well. Adjust the water if needed as the dal should be medium consistency. Cook on low heat for 4-5 minutes. Add the coriander and mix well. Dal is ready!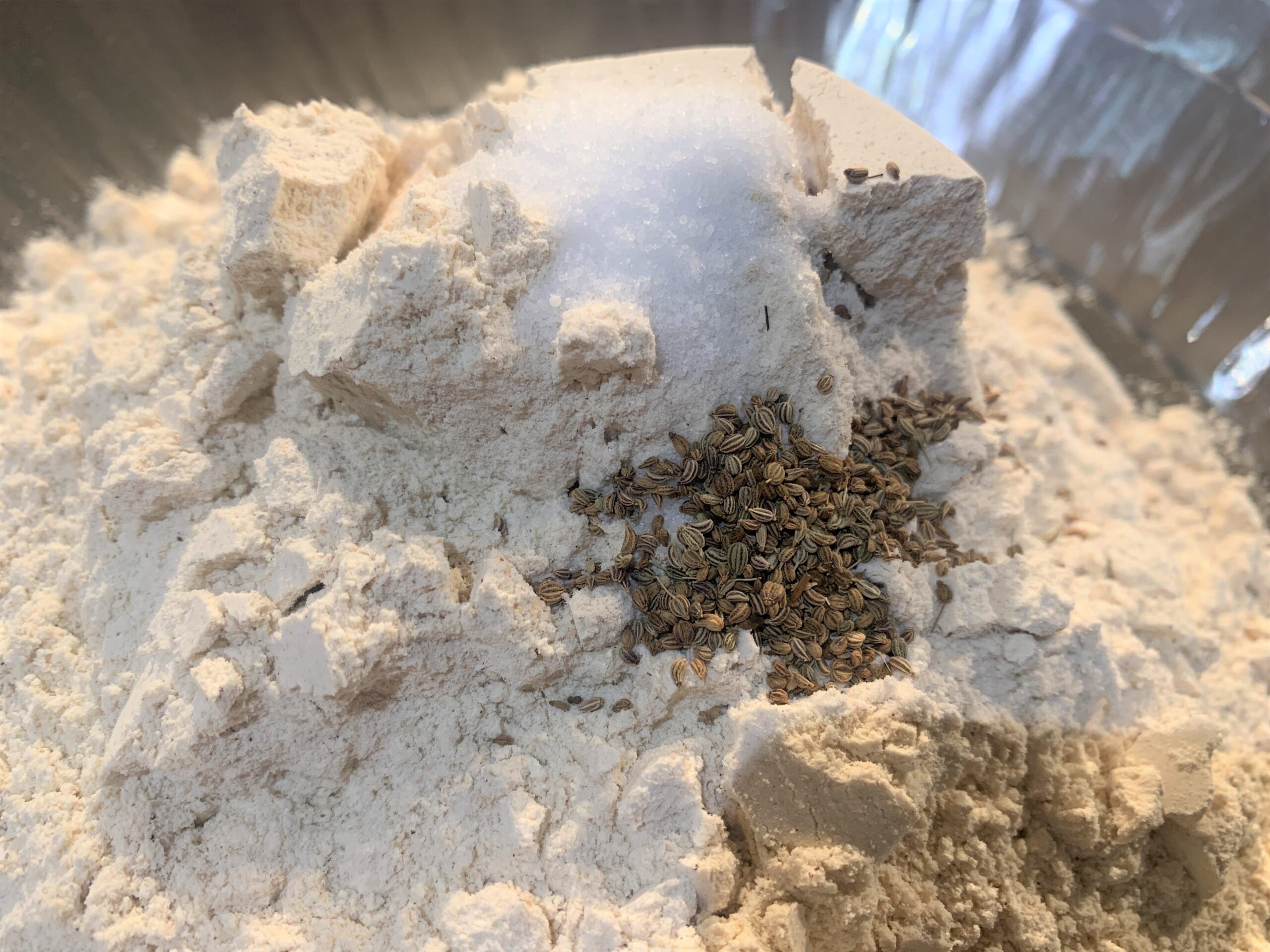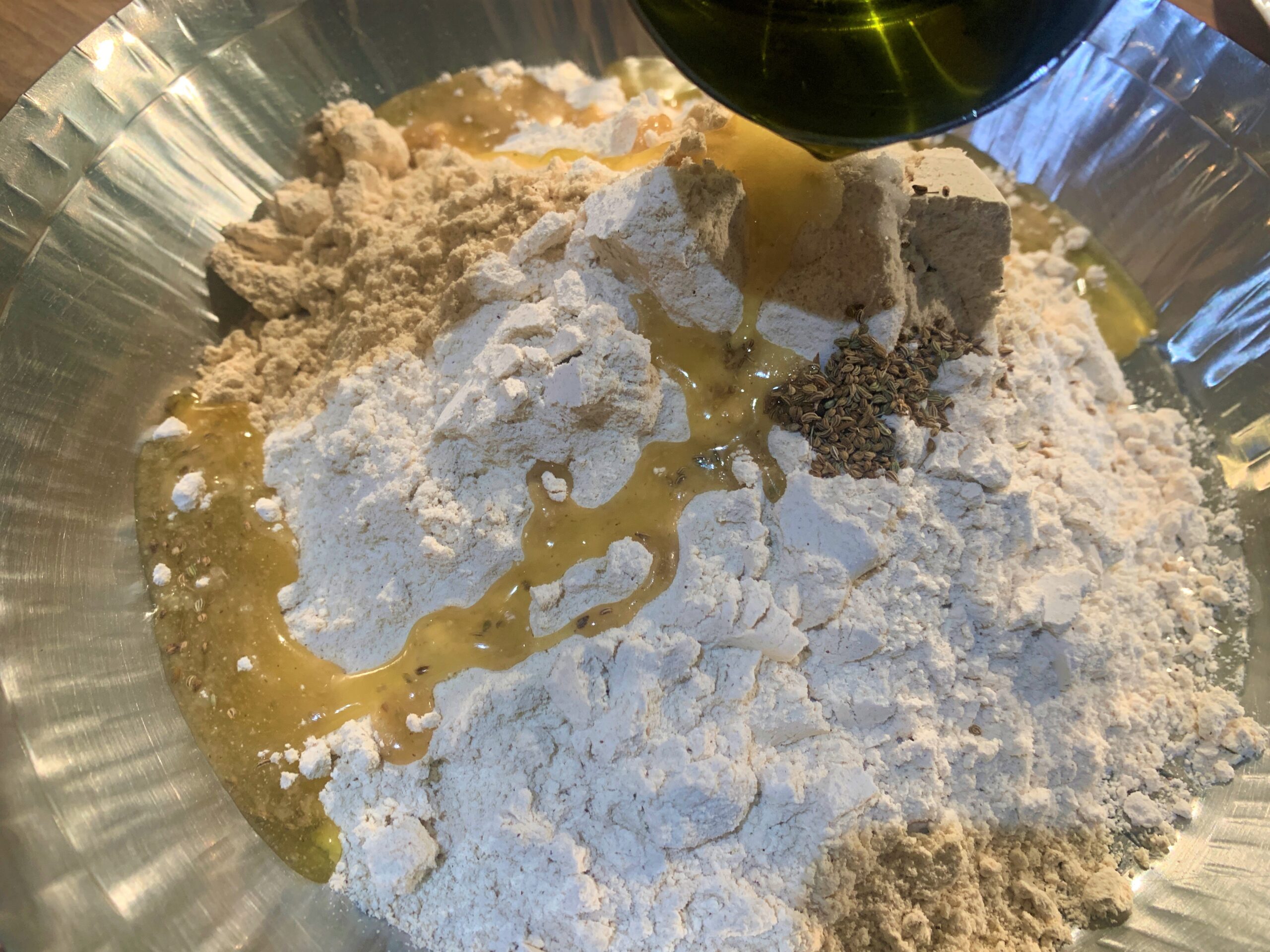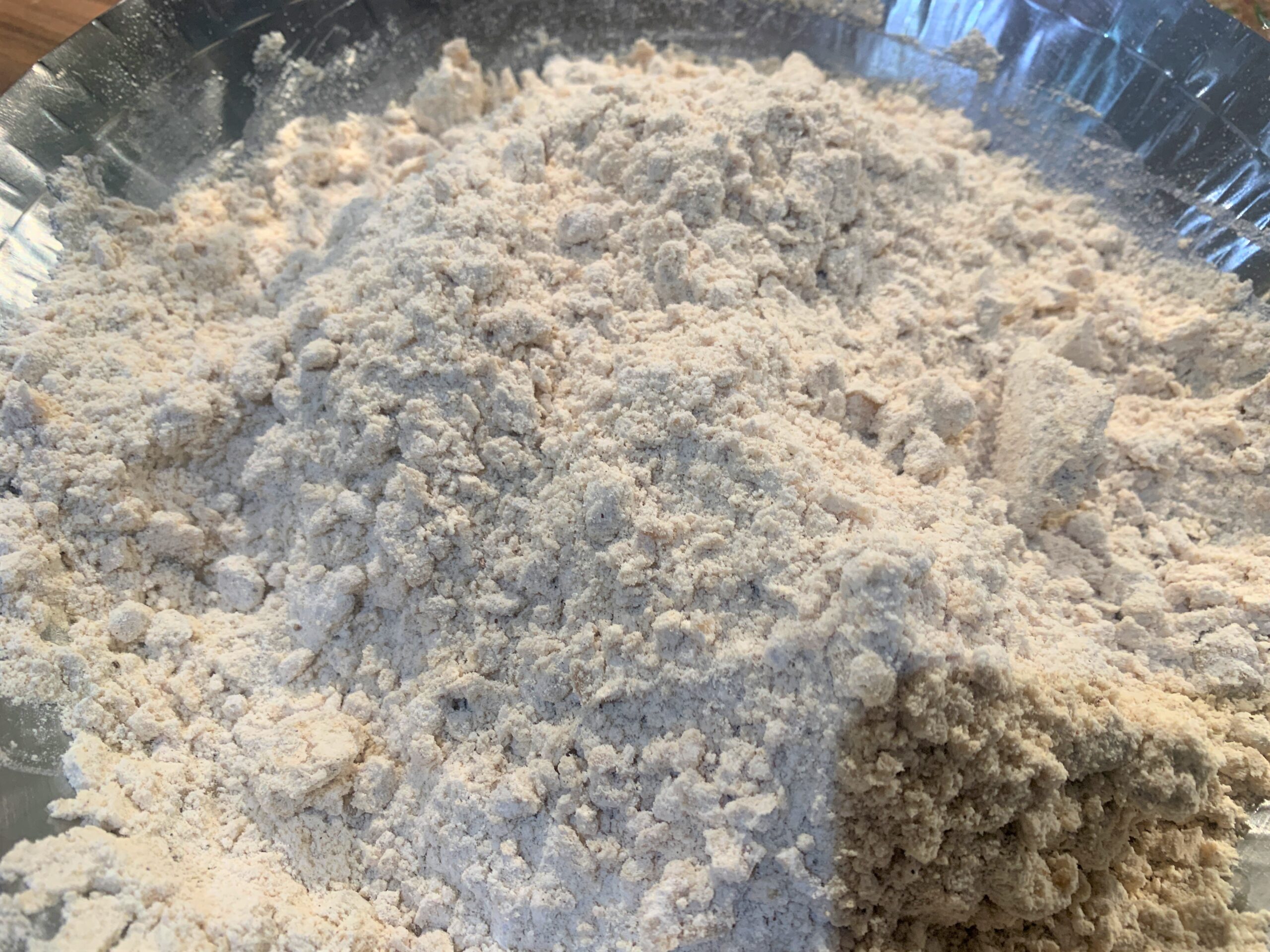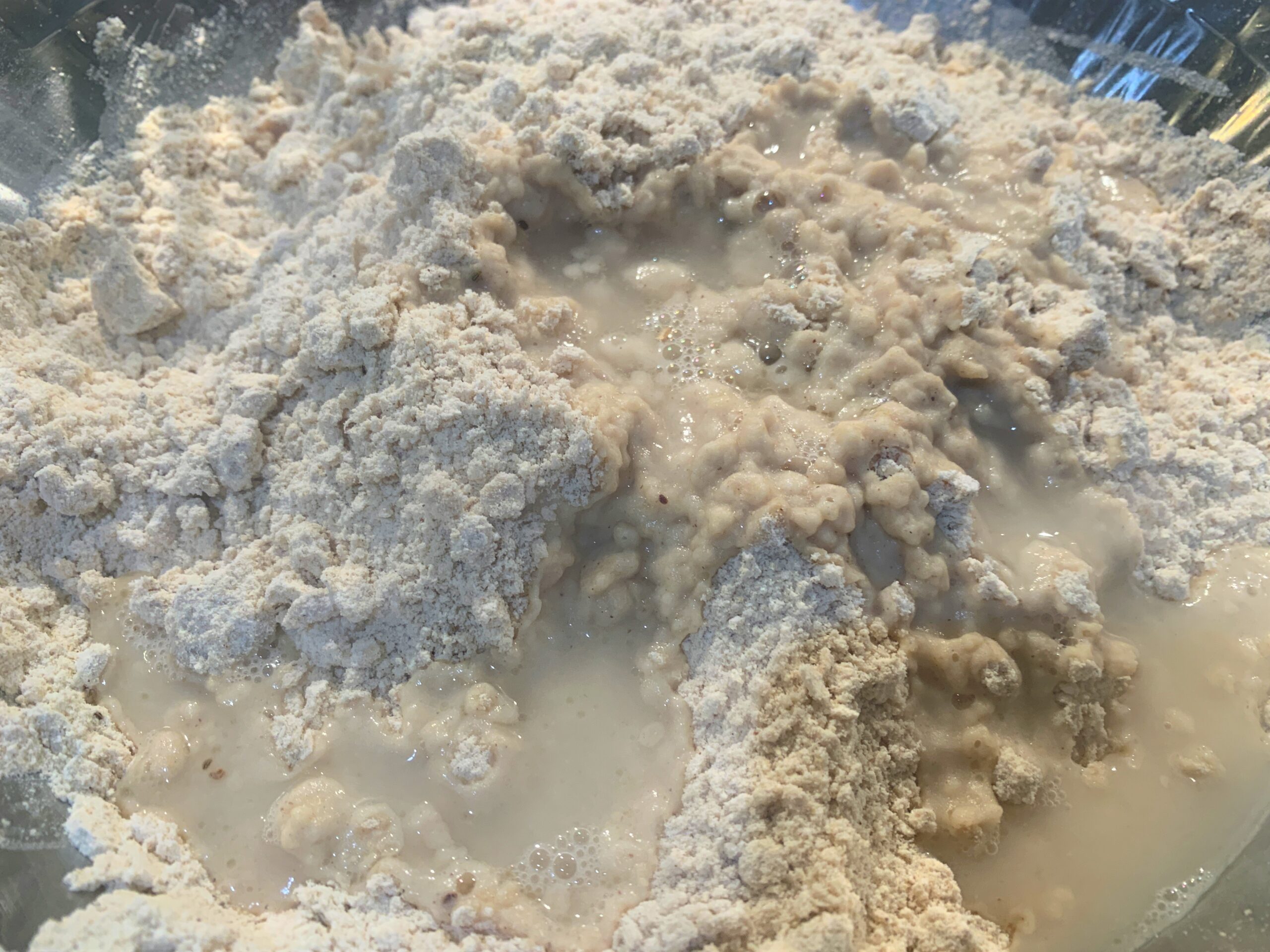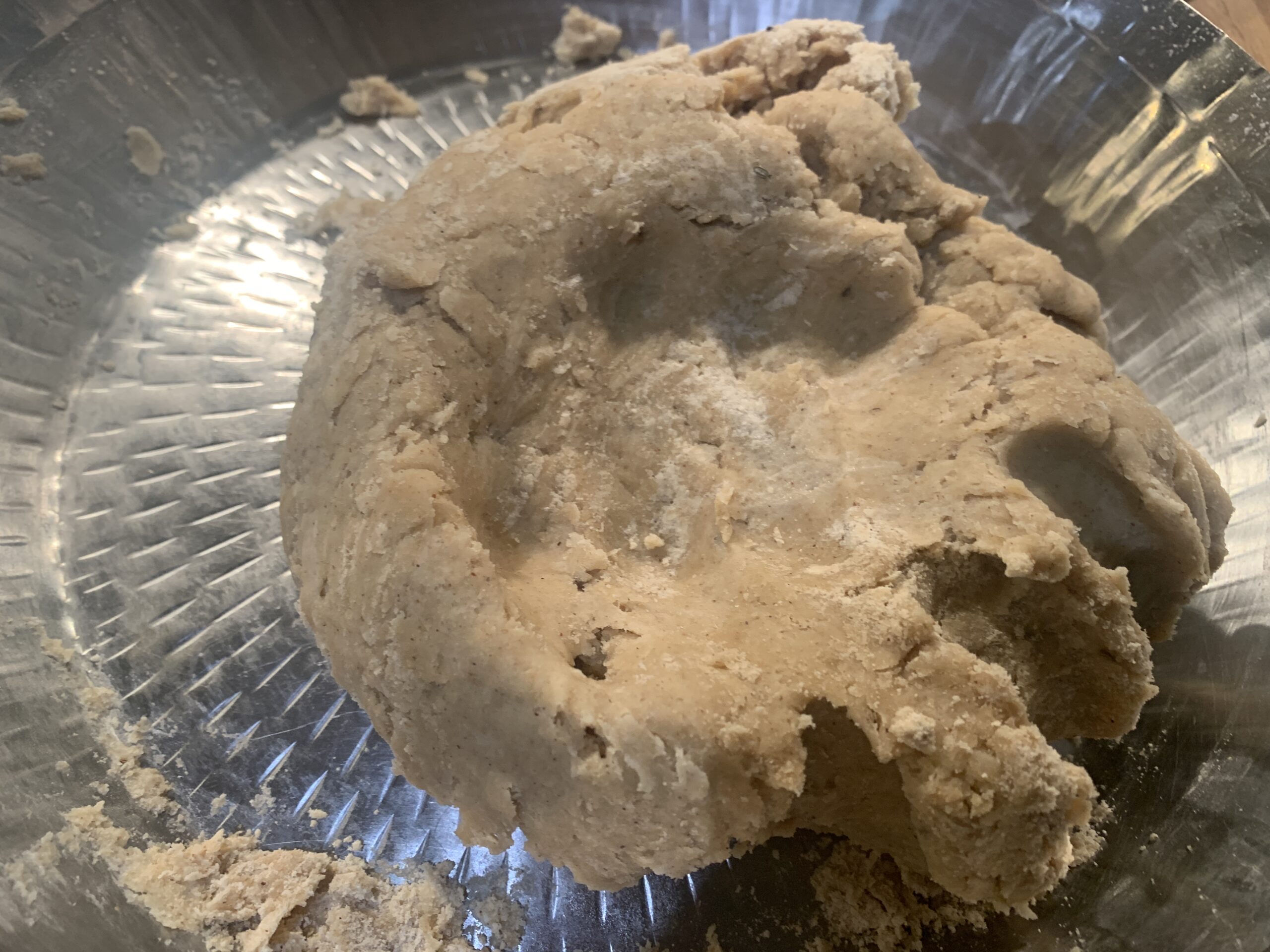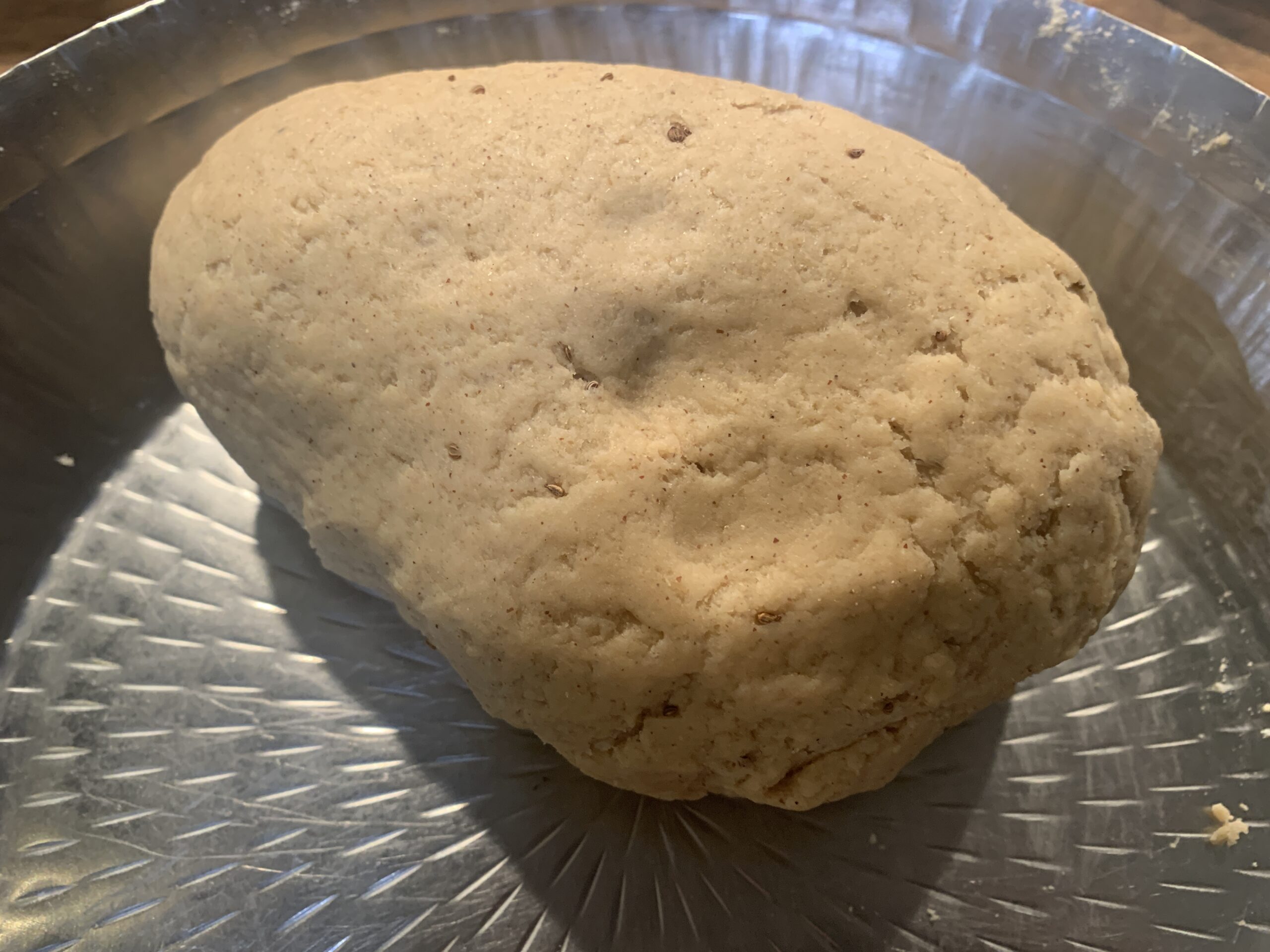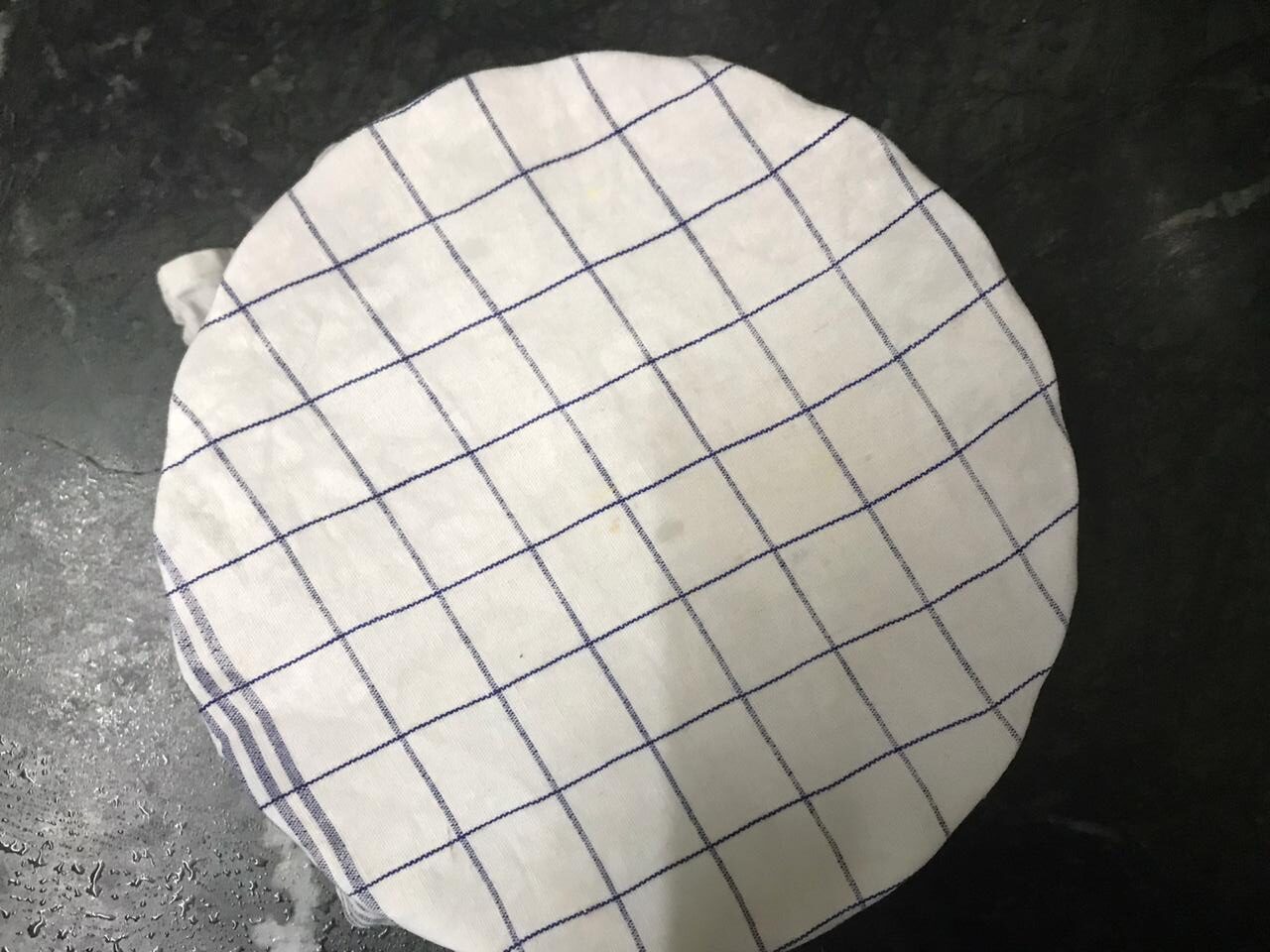 Mix the whole wheat flour, salt, carom seeds and ghee in a bowl. Knead a tight dough using lukewarm water. Gradually add the water until you have a tight dough. Adjust the amount of water if needed.  Cover the dough and leave aside for at least 30 minutes.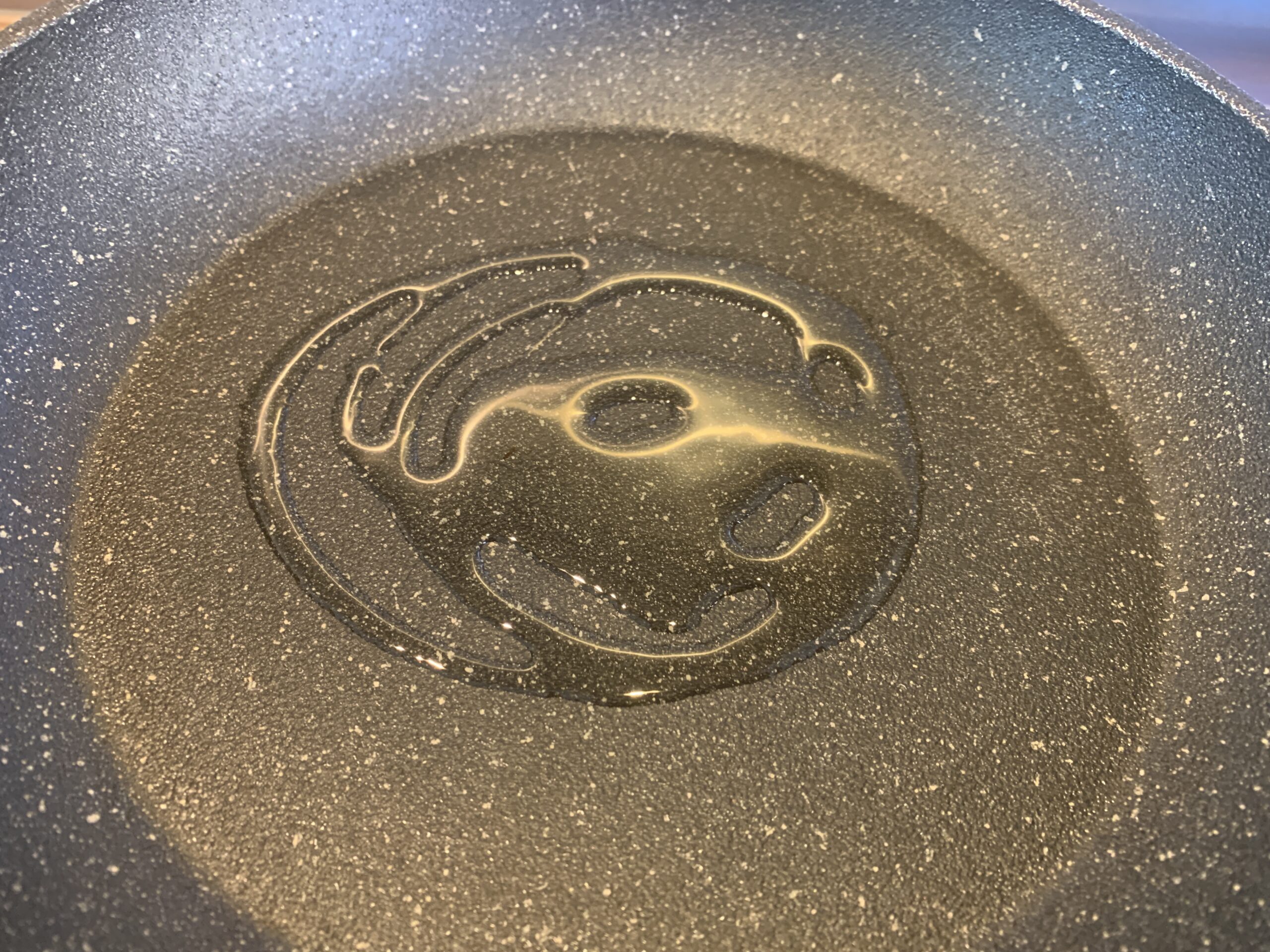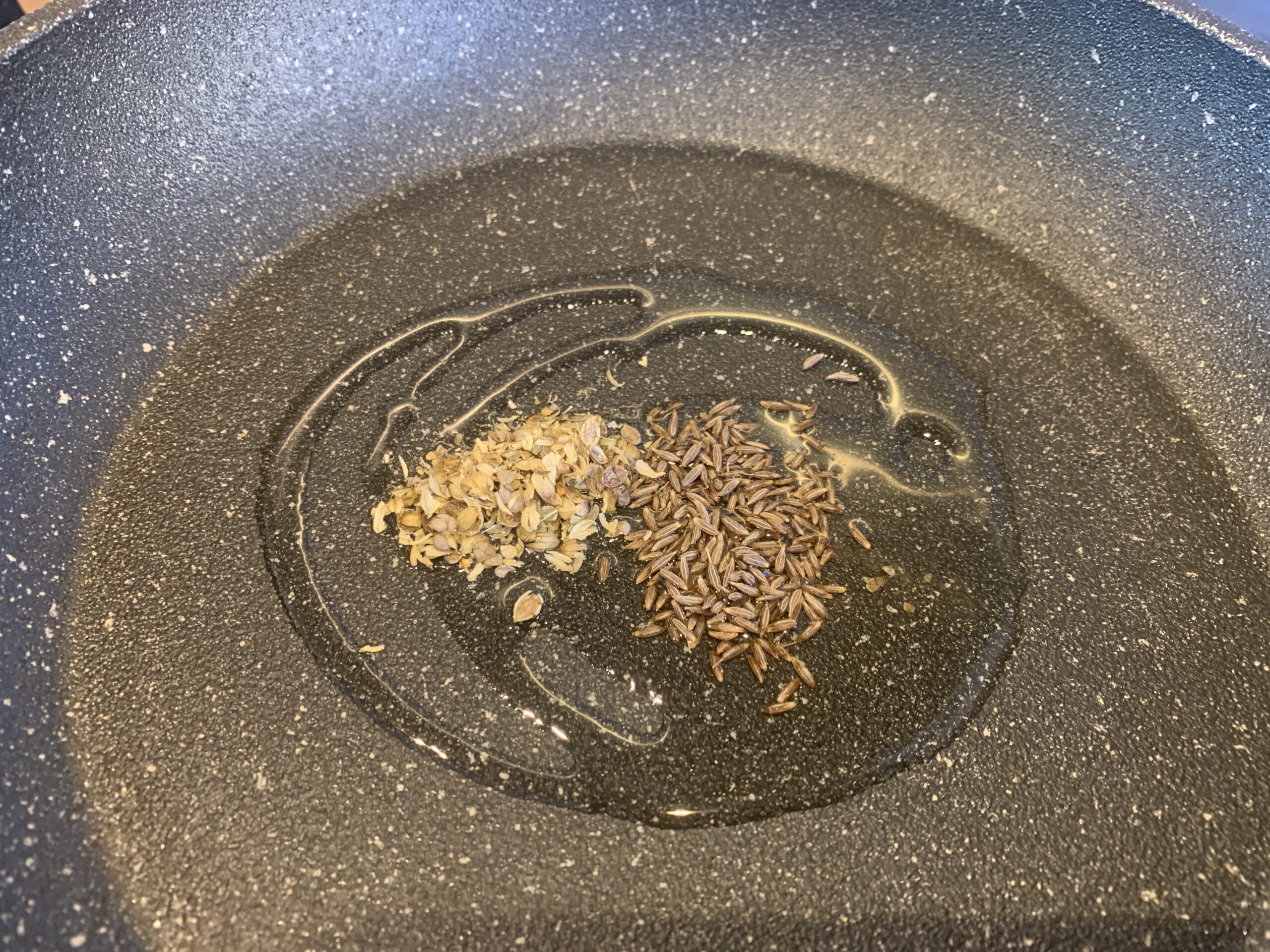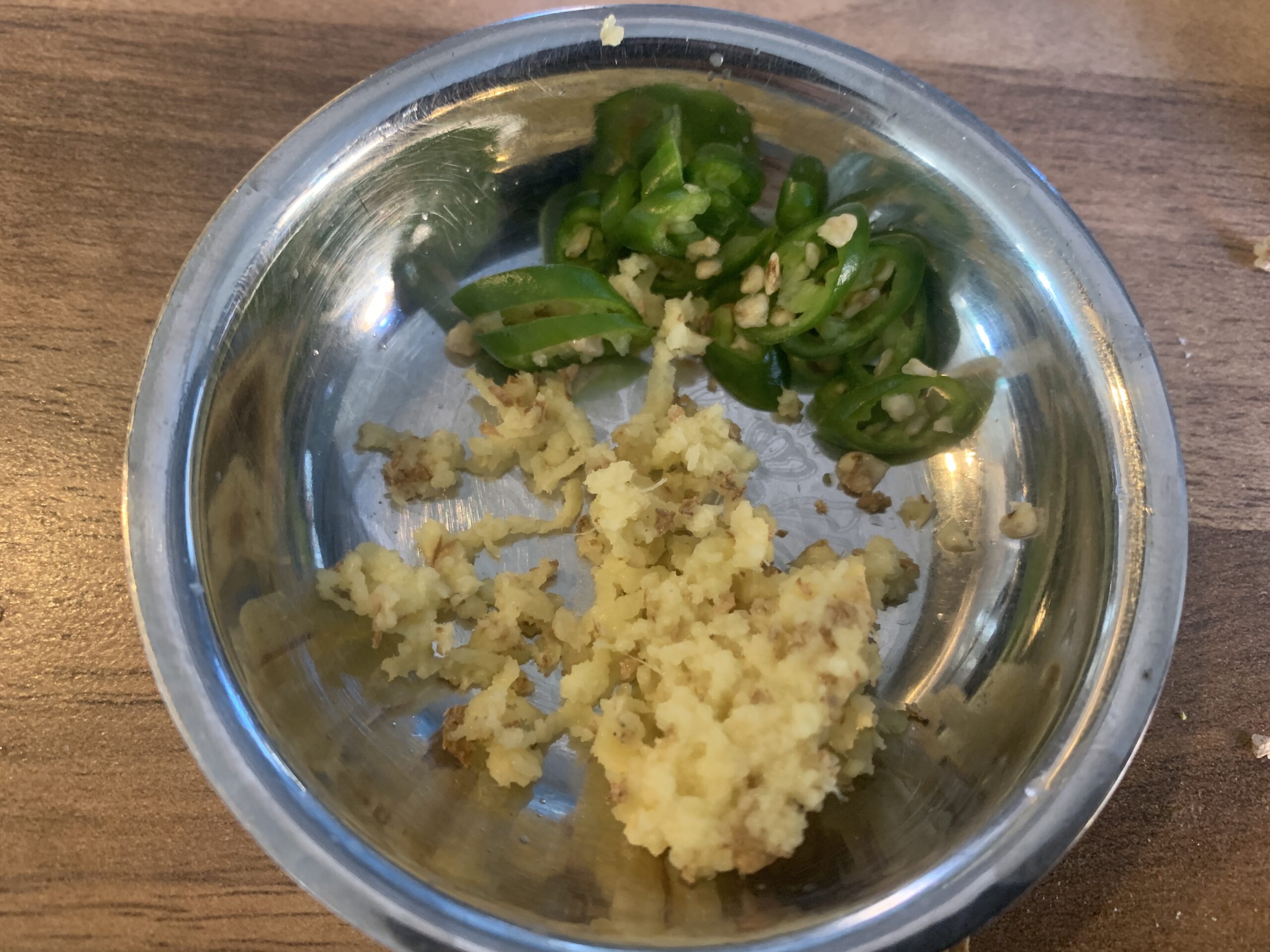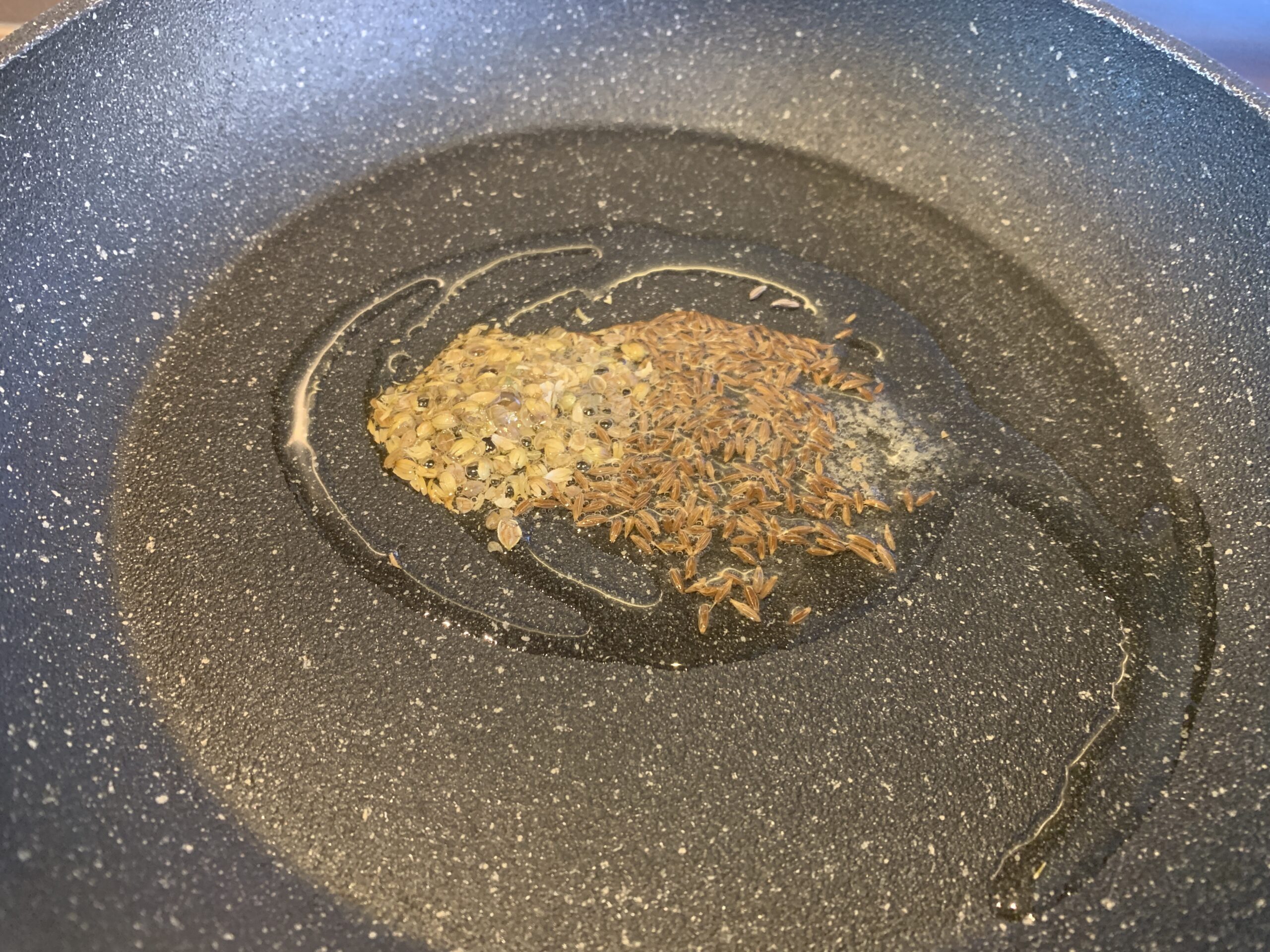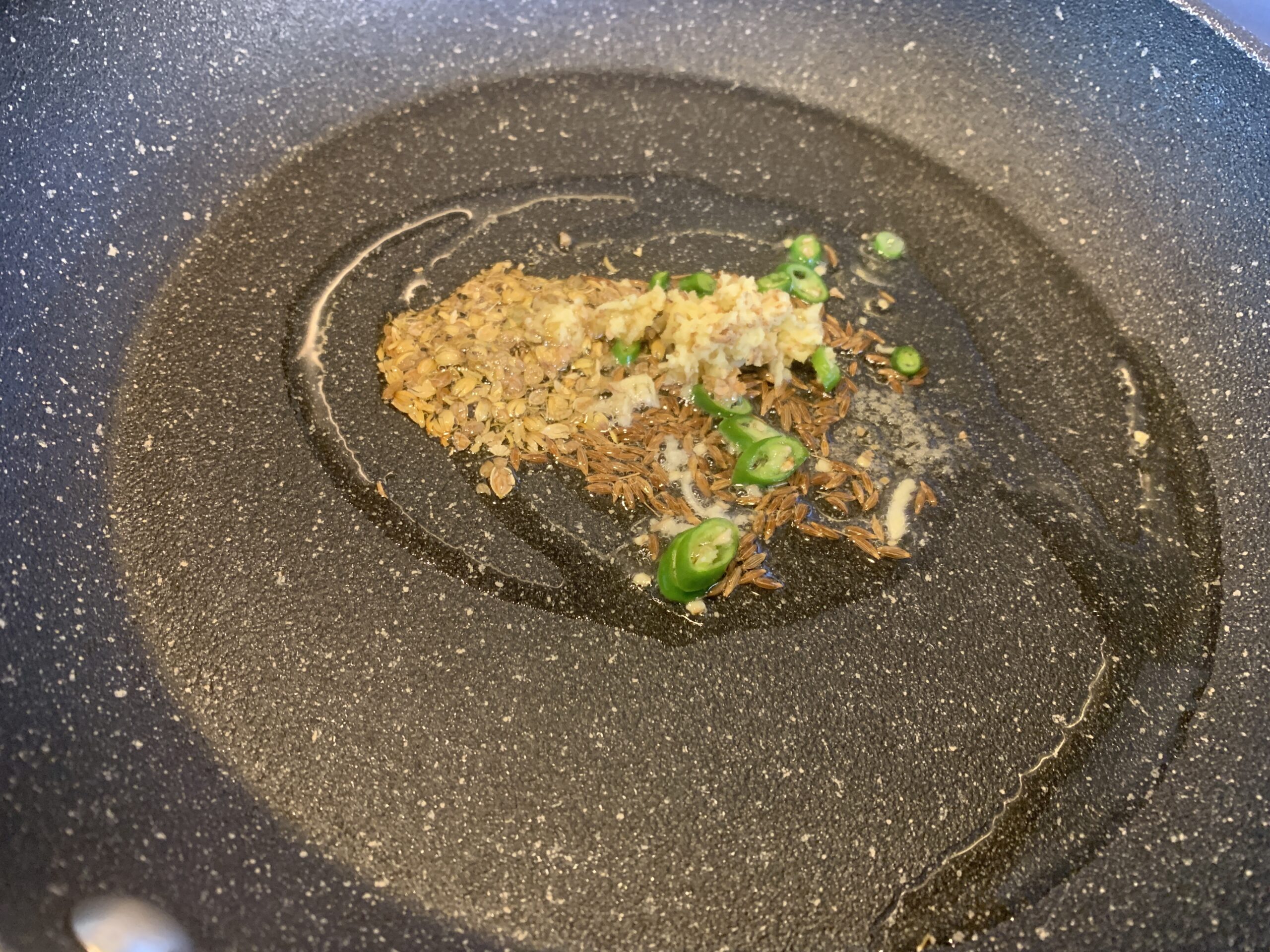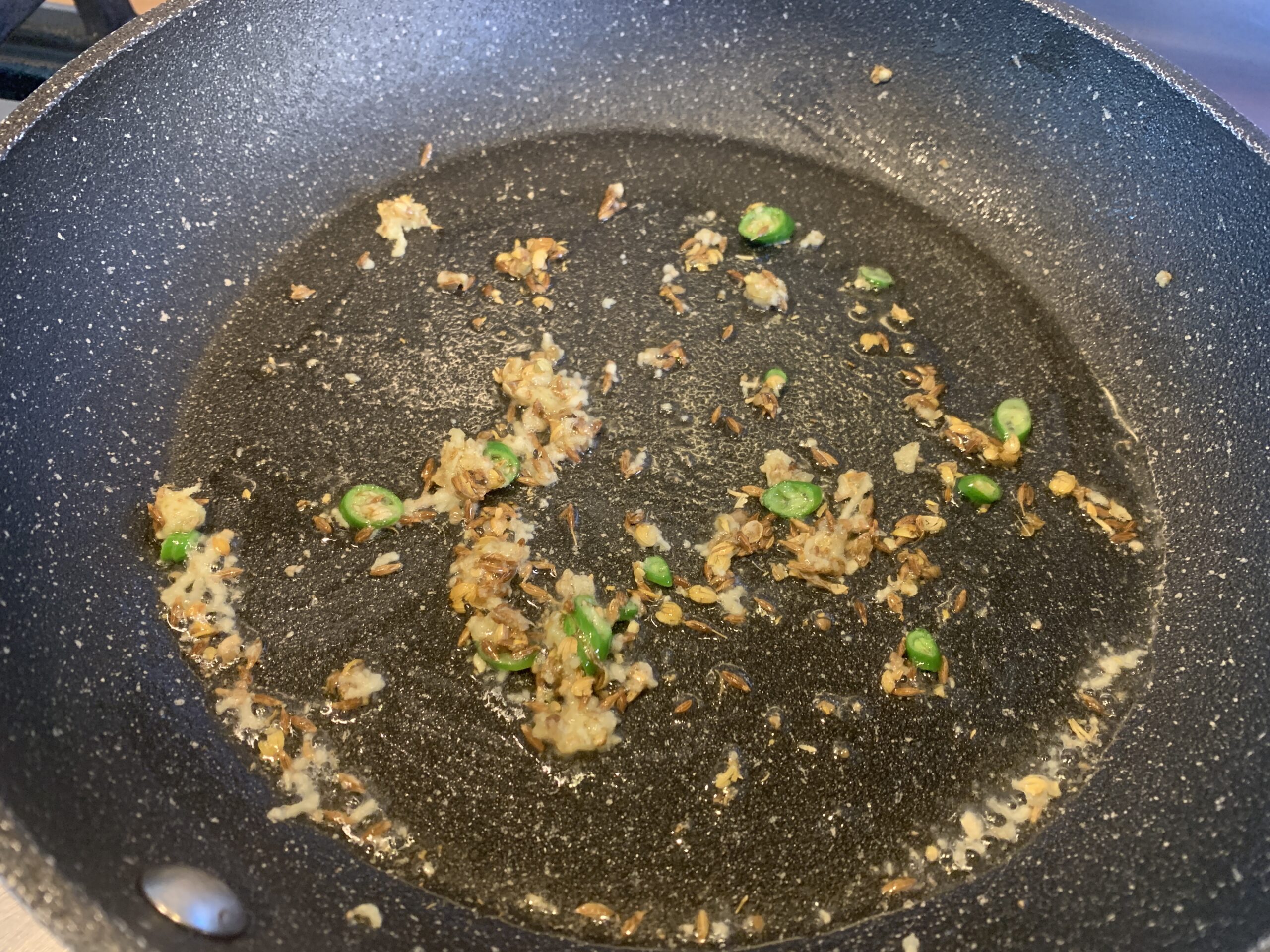 Heat oil over medium heat and add coriander seeds, cumin seeds and asafoetida and let it splutter.
When the seeds crackle, add ginger, green chilies, and sauté for a minute.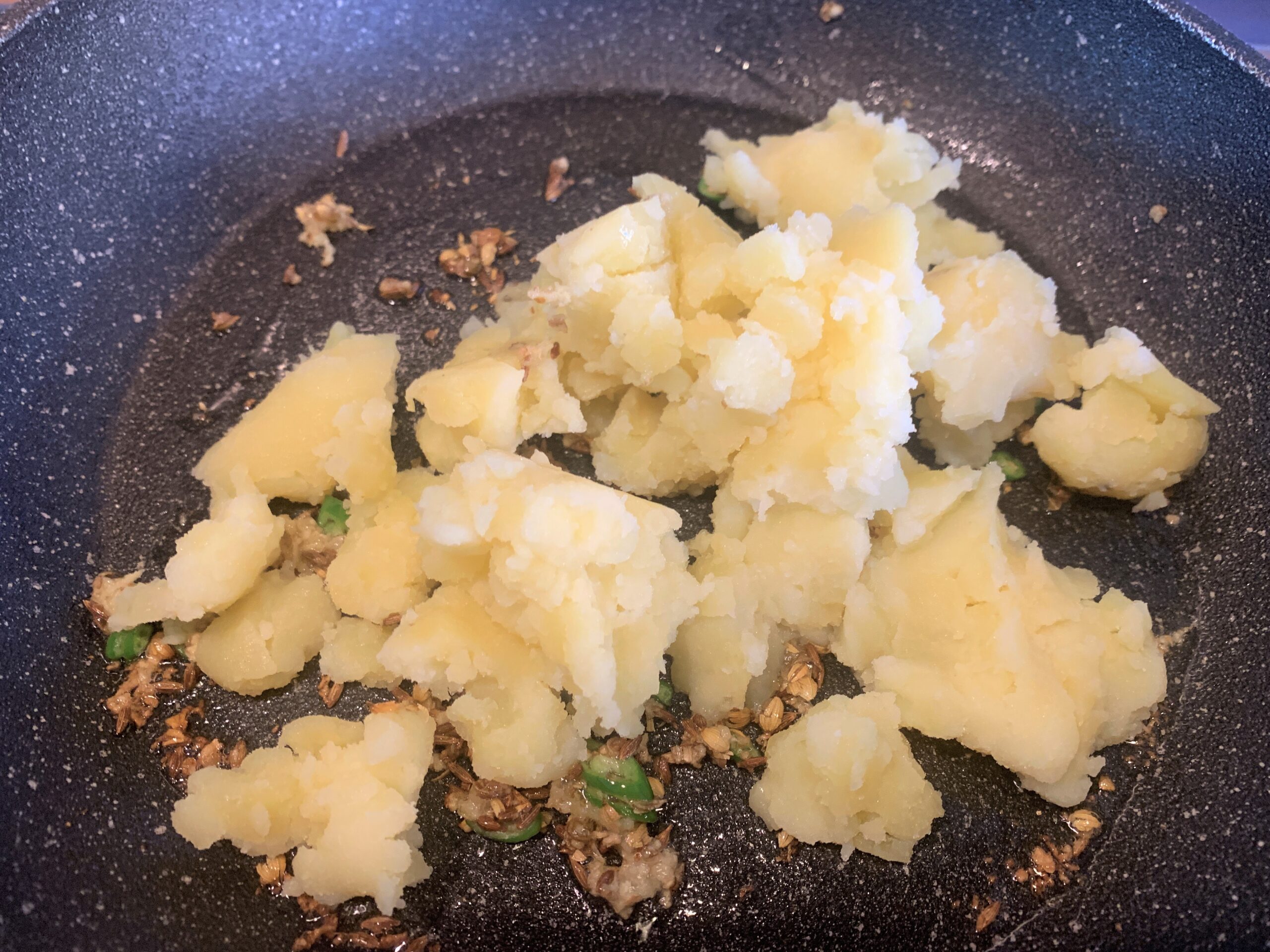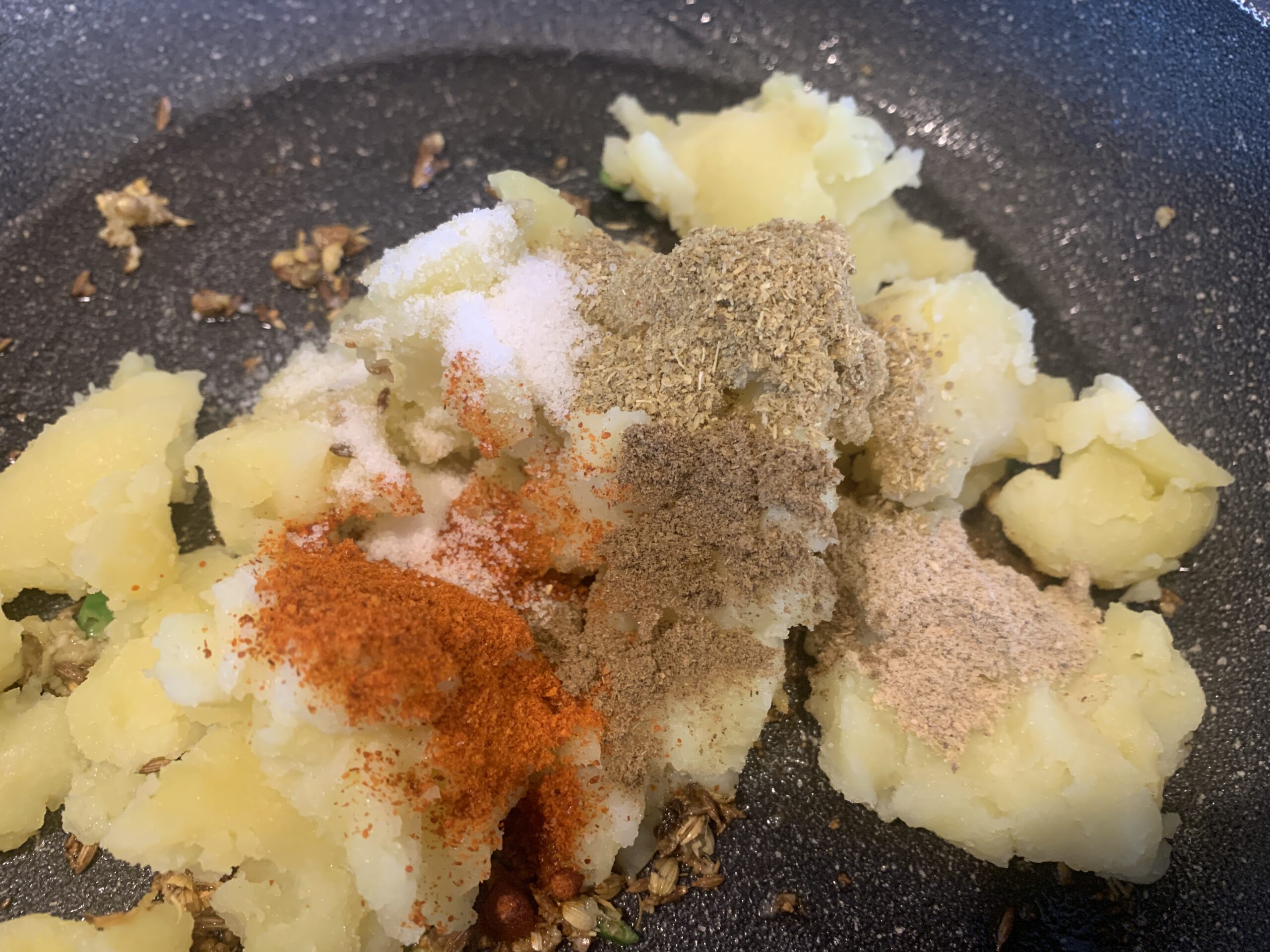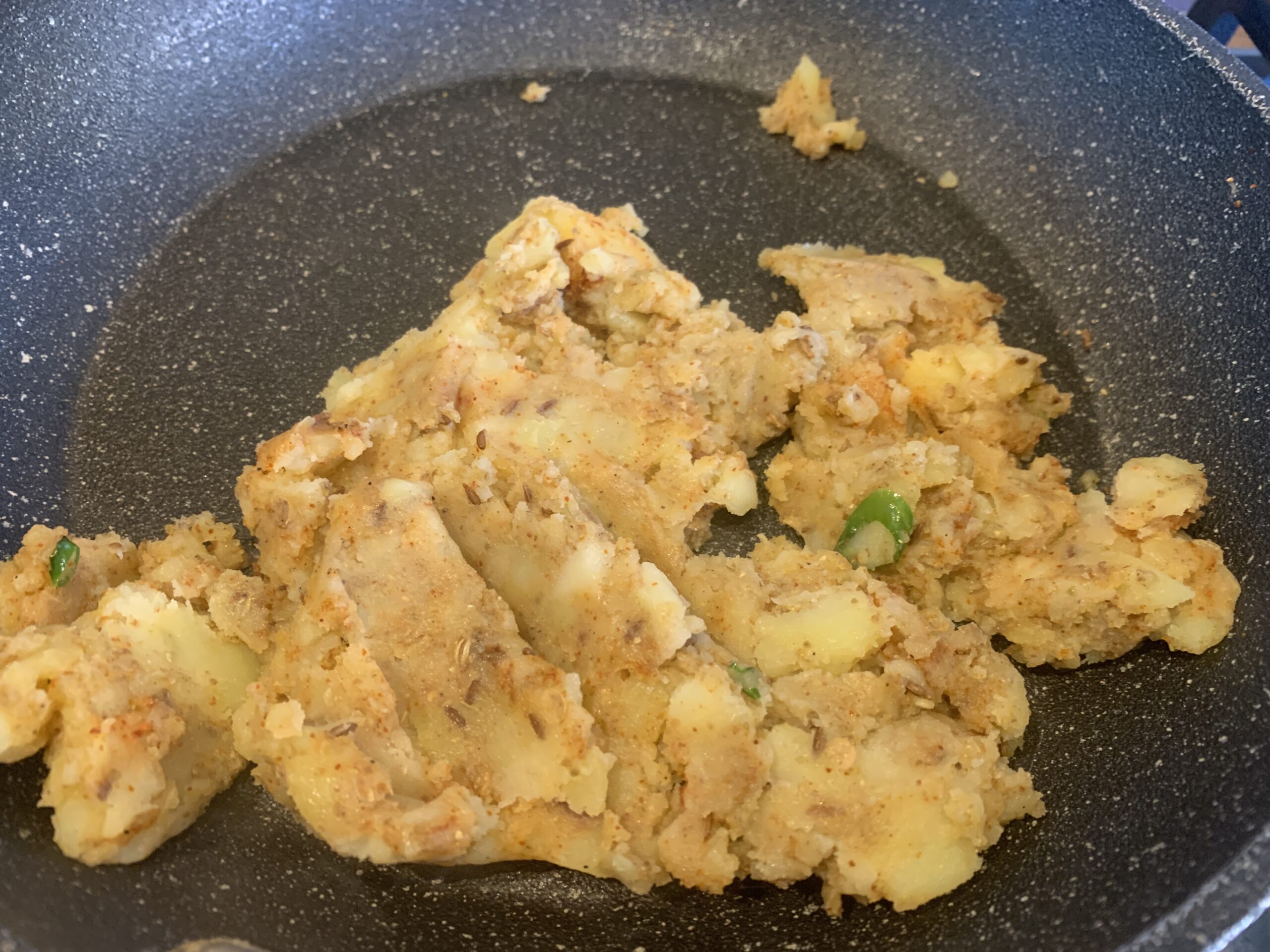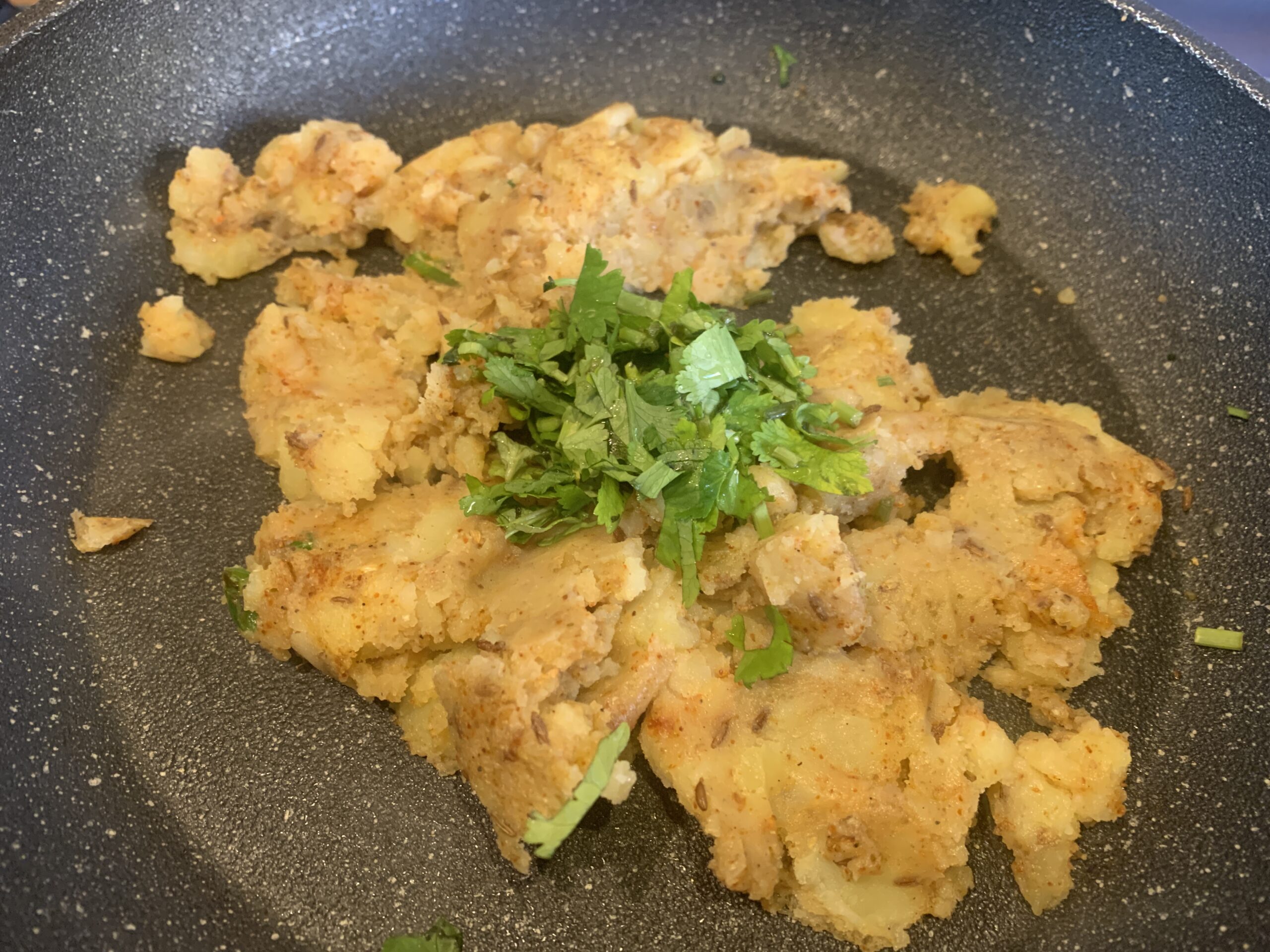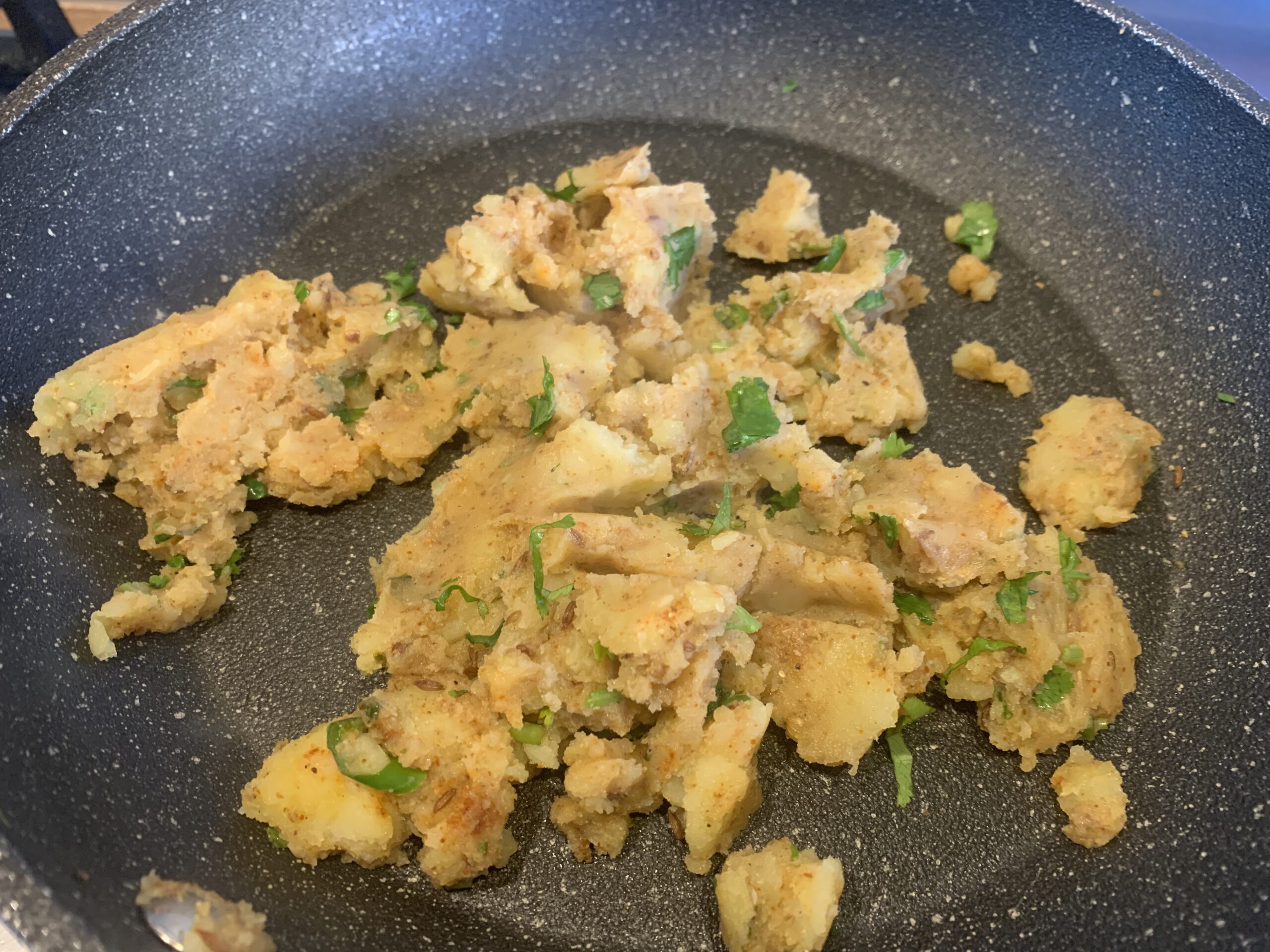 Add potato, chilli powder, garam masala powder, coriander powder, mango powder, and salt. Mix everything well and cook on medium heat for 2 to 3 minutes. Keep stirring continuously.
Add chopped coriander leaves and mix well. Turn off the heat and let it cool completely.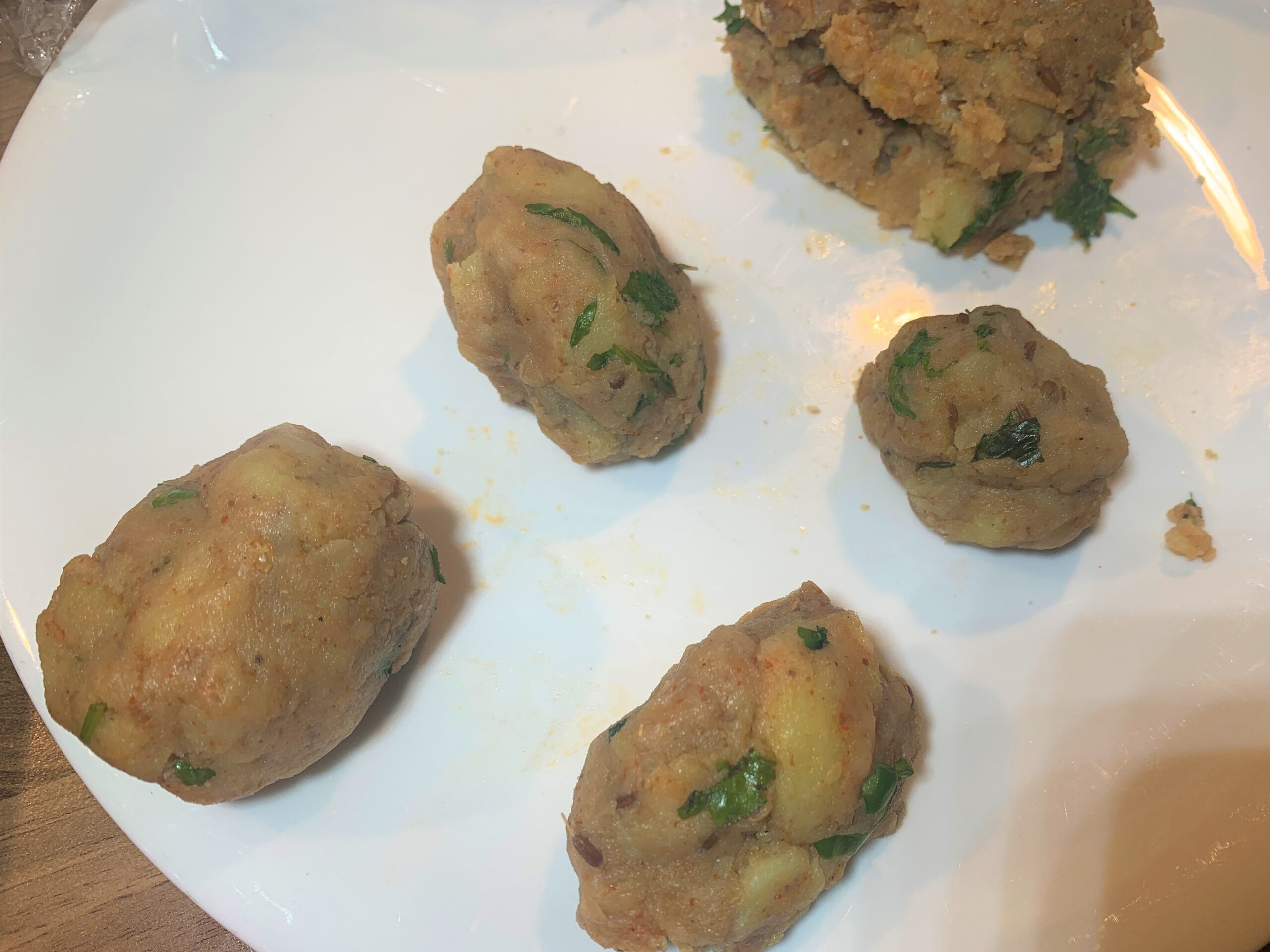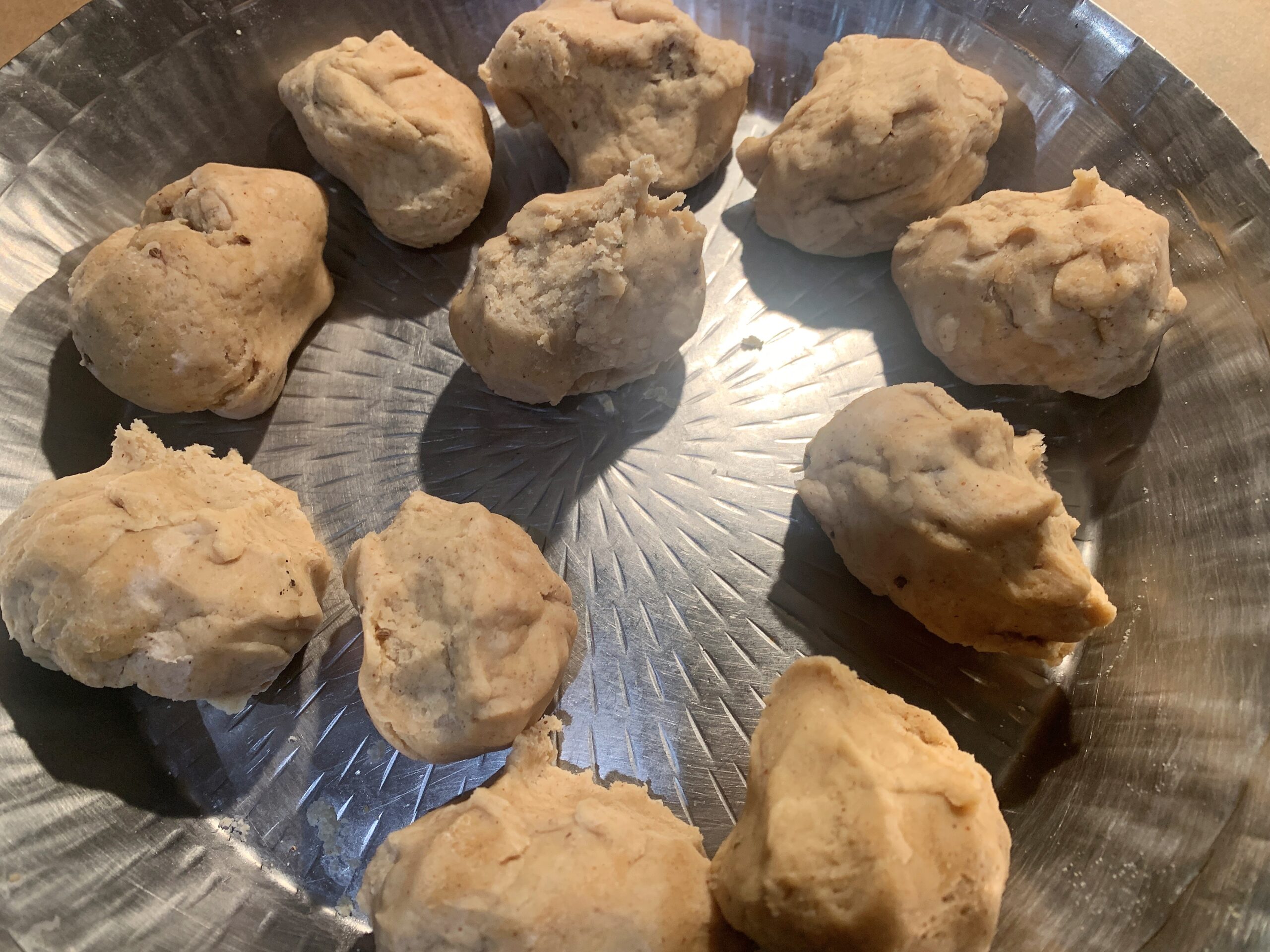 Once cooled, divide the stuffing into 10-12 equal portions and roll them into balls. Keep them aside.
Once the dough is rested for 30 minutes, divide it into 10-12 portions and shape them into balls.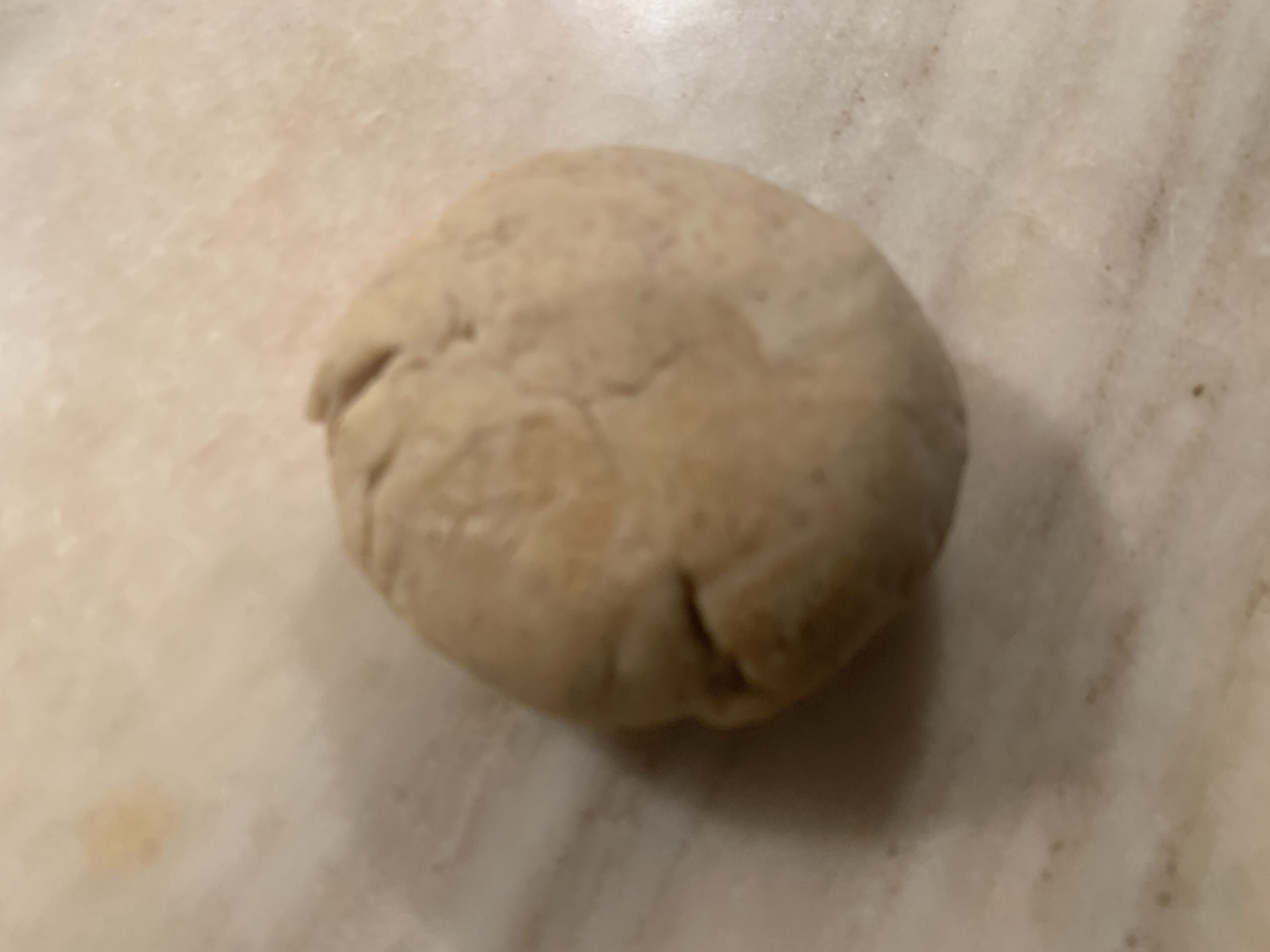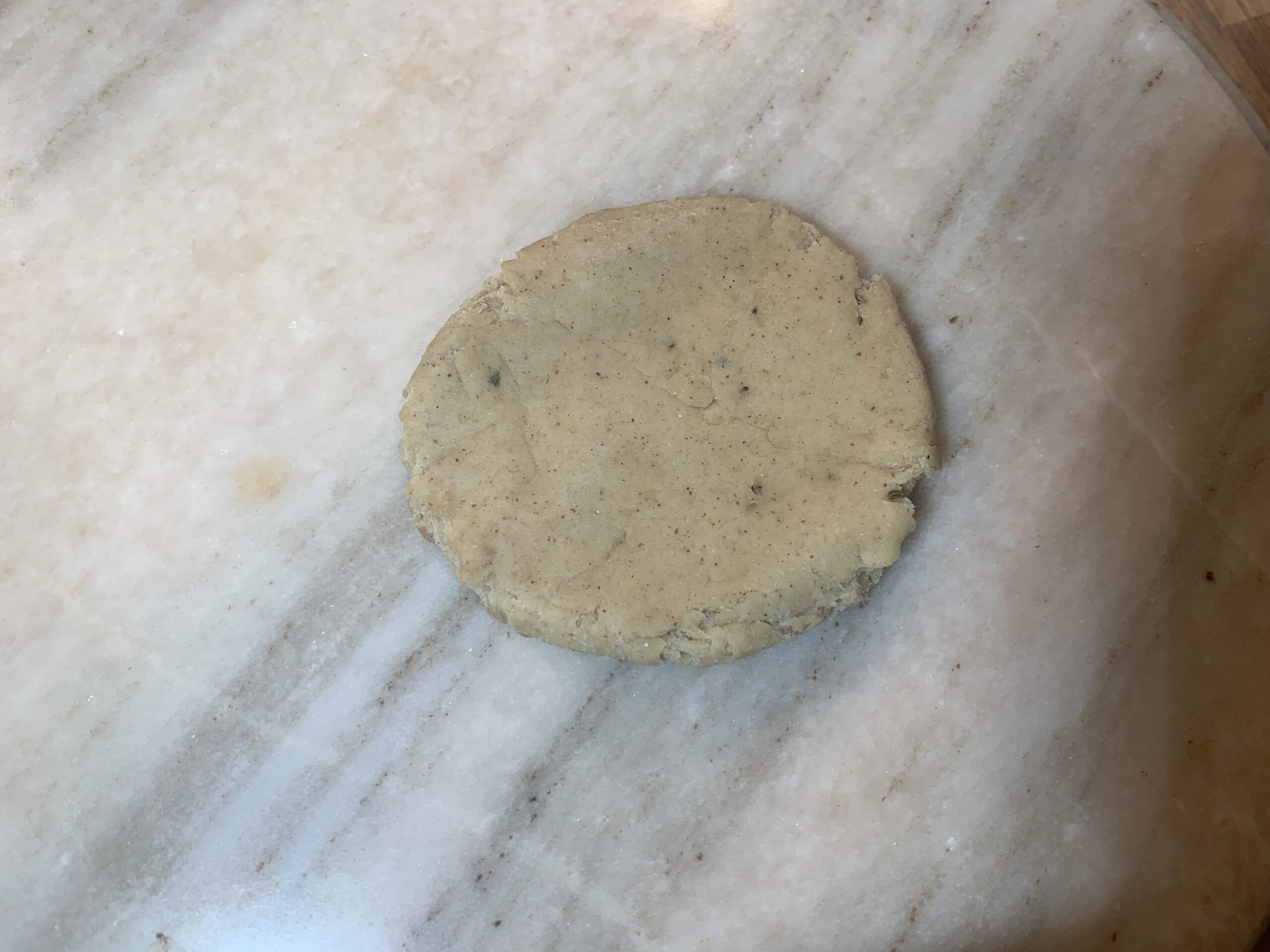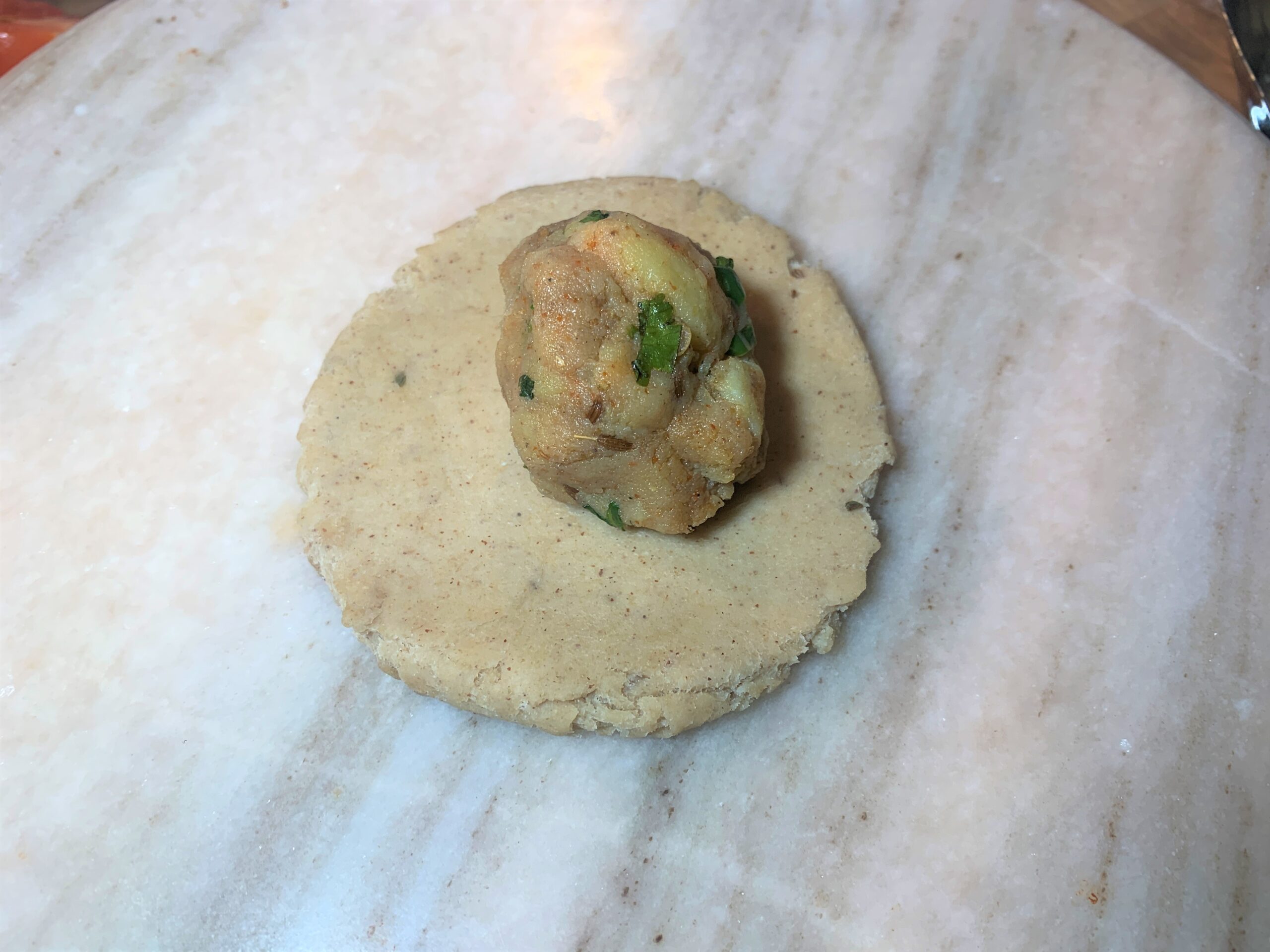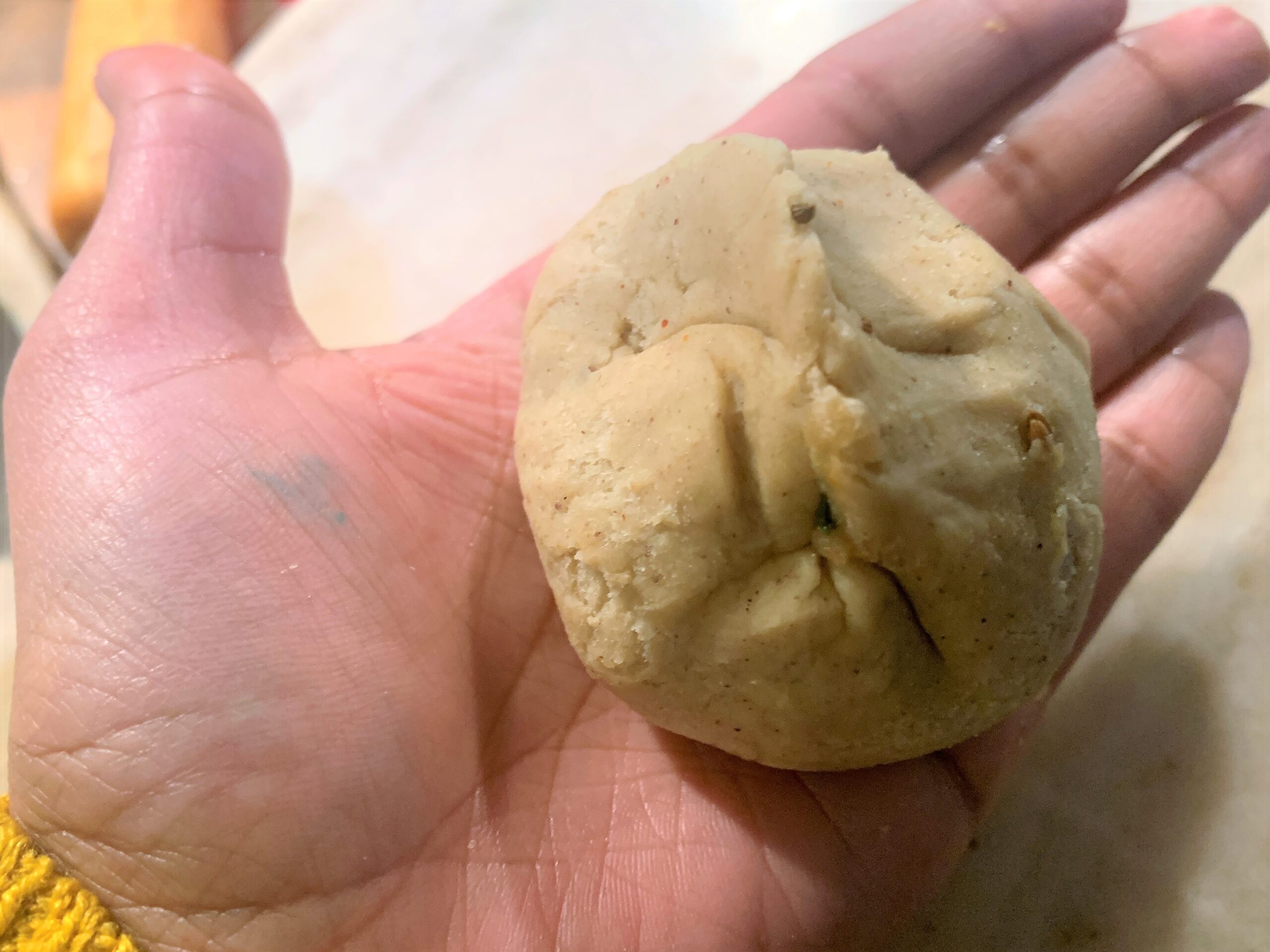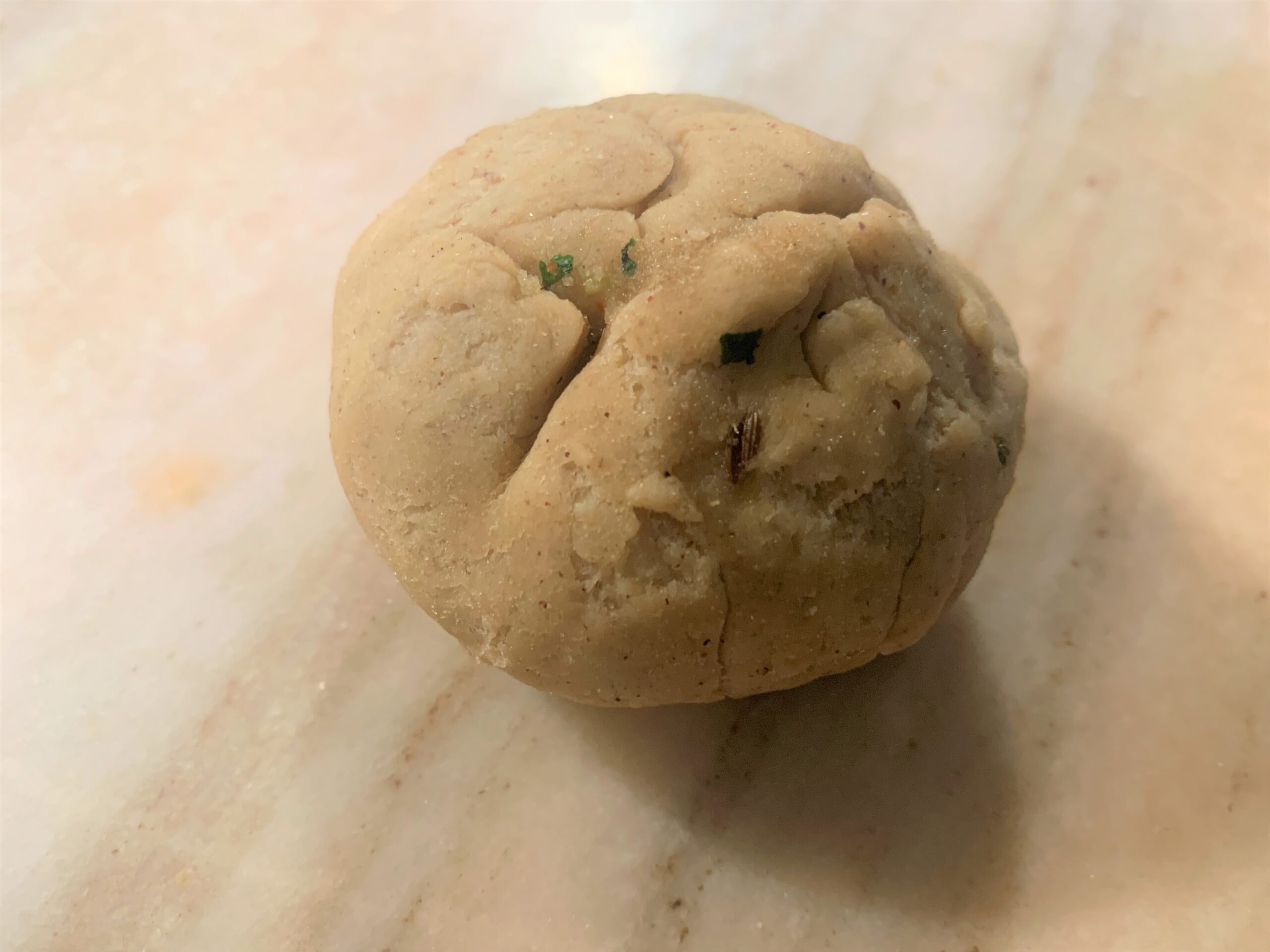 Gently roll the ball into a 2-inch diameter circle and place 1 stuffing ball in the center. Bring together all the sides, and seal it tightly by removing the excess dough. Roll it gently to make a ball.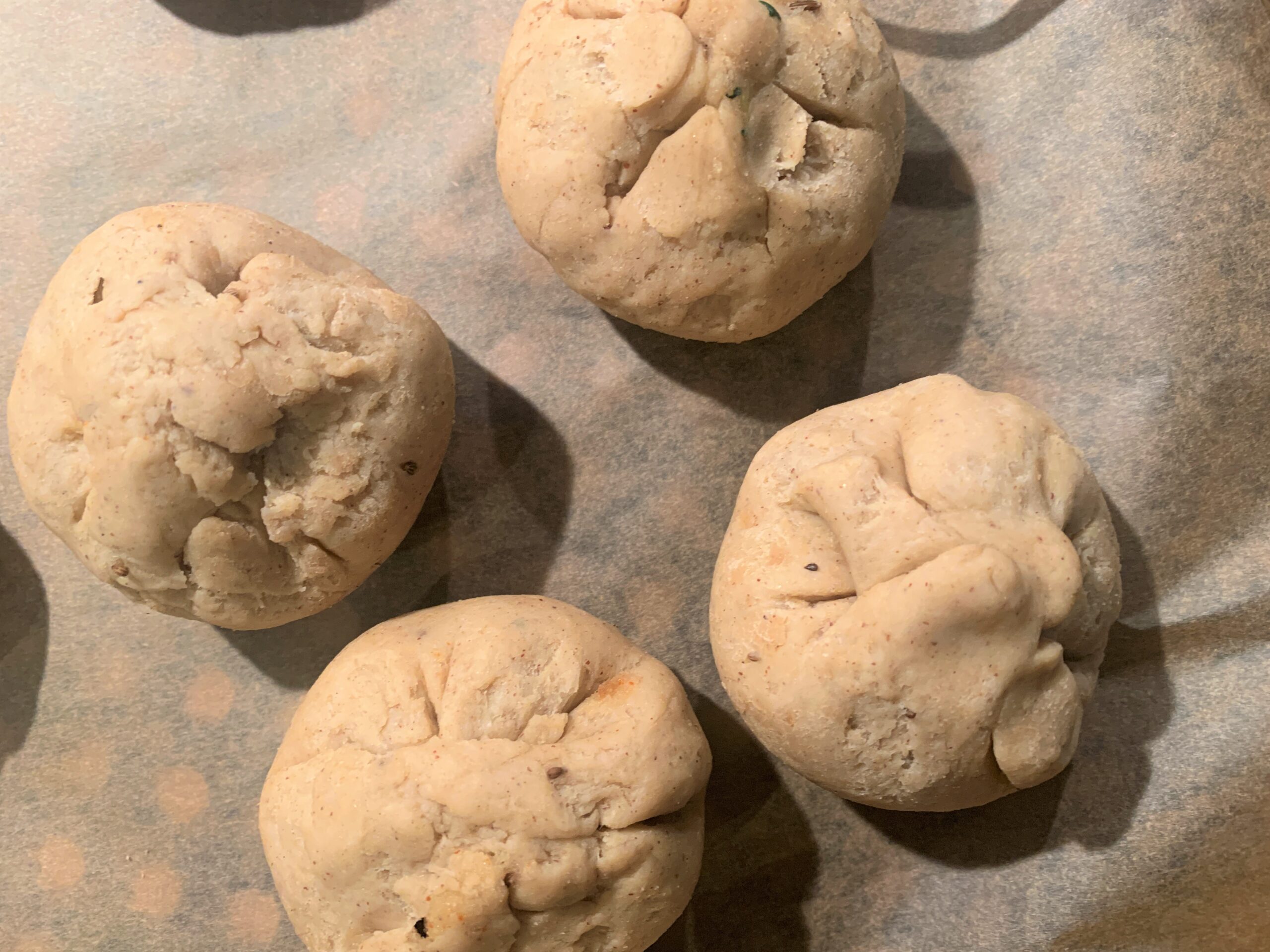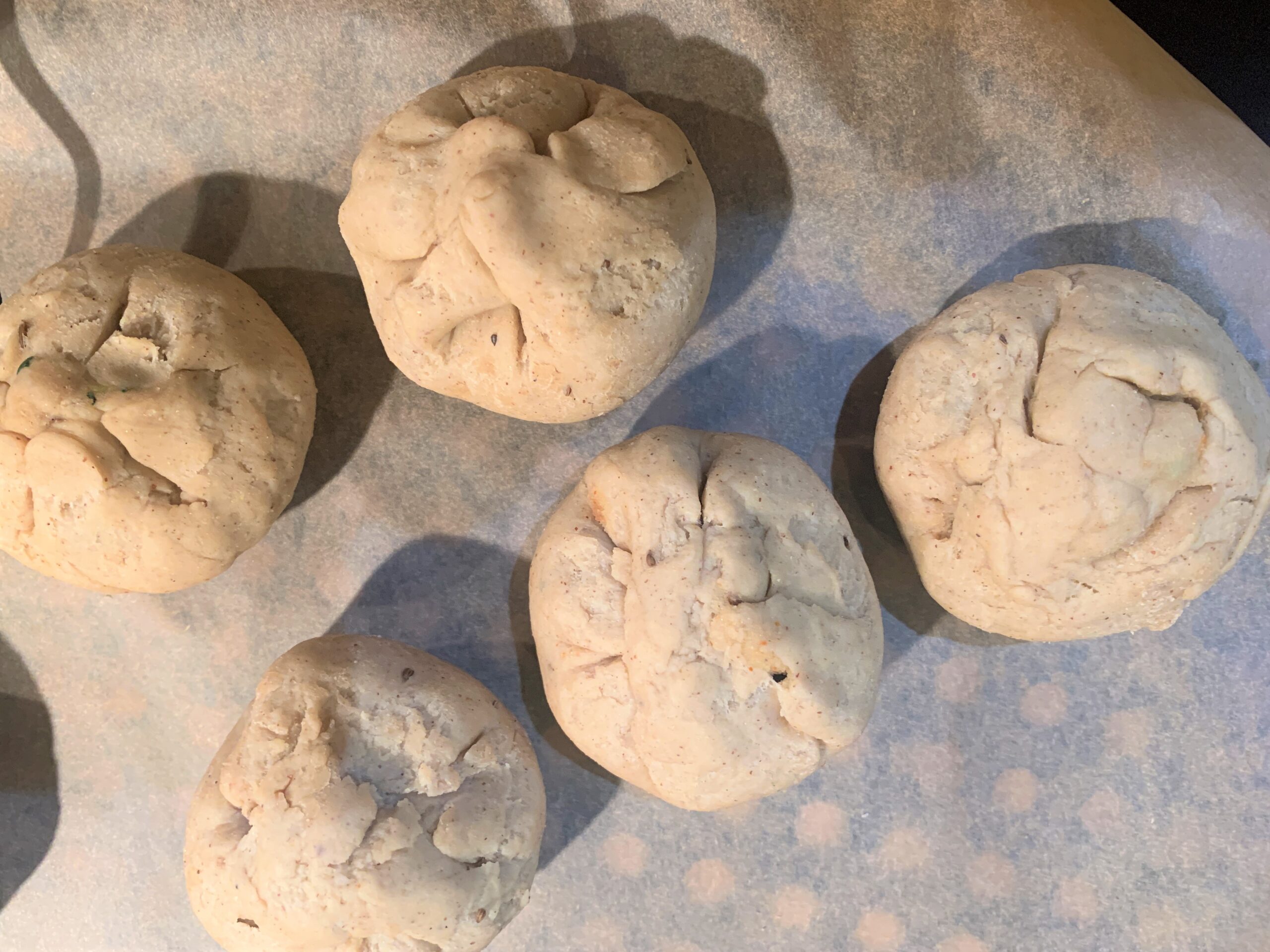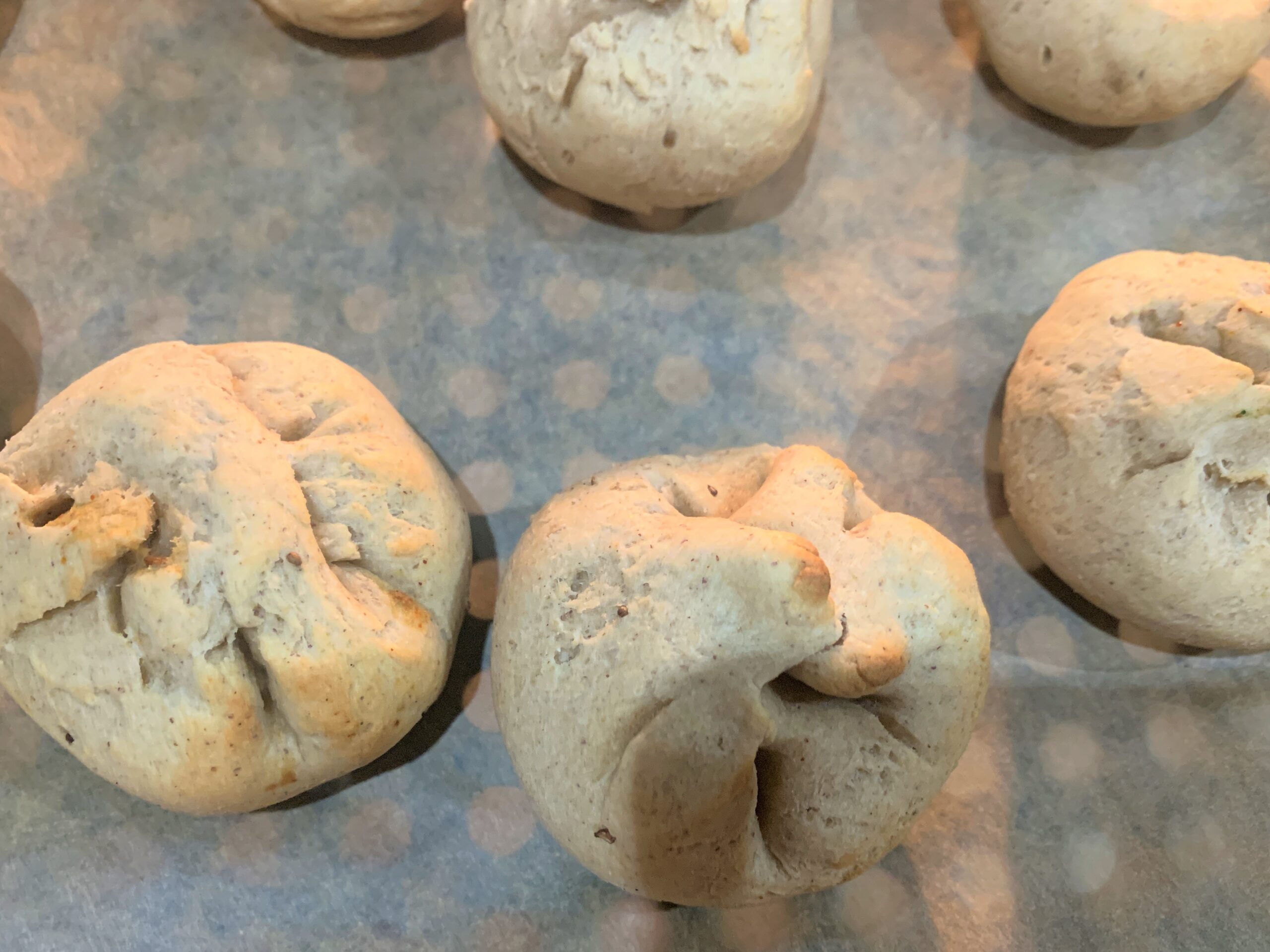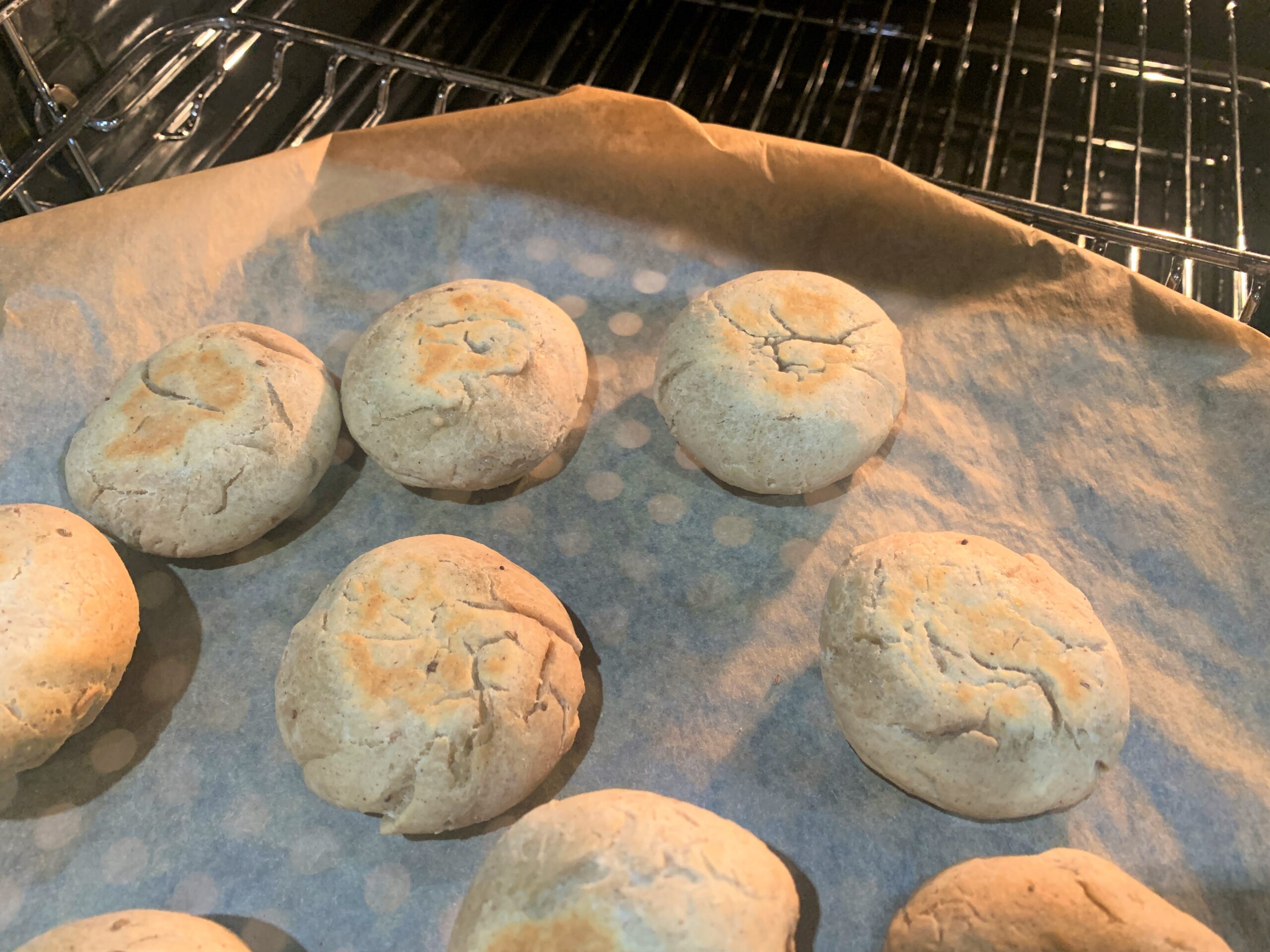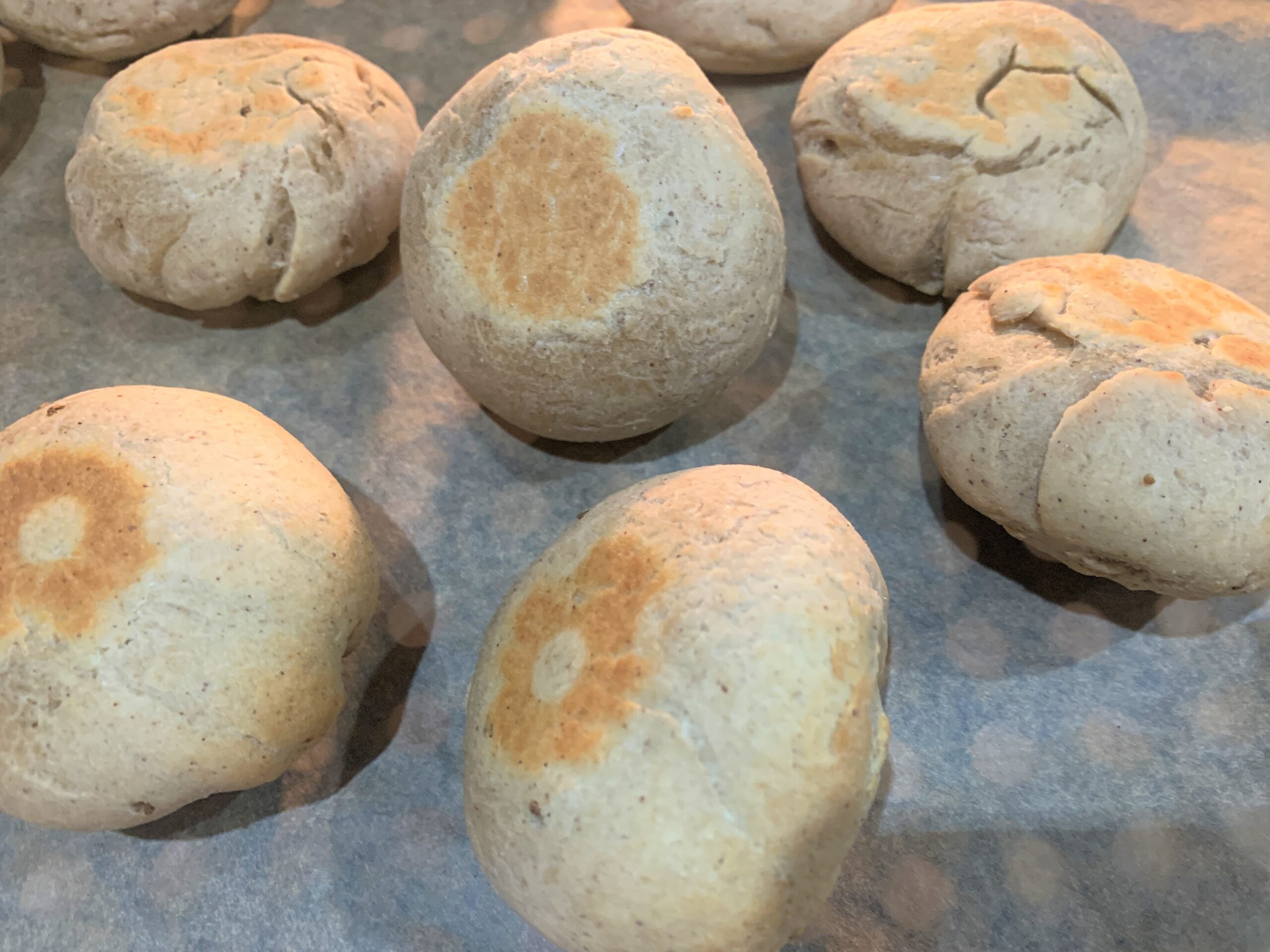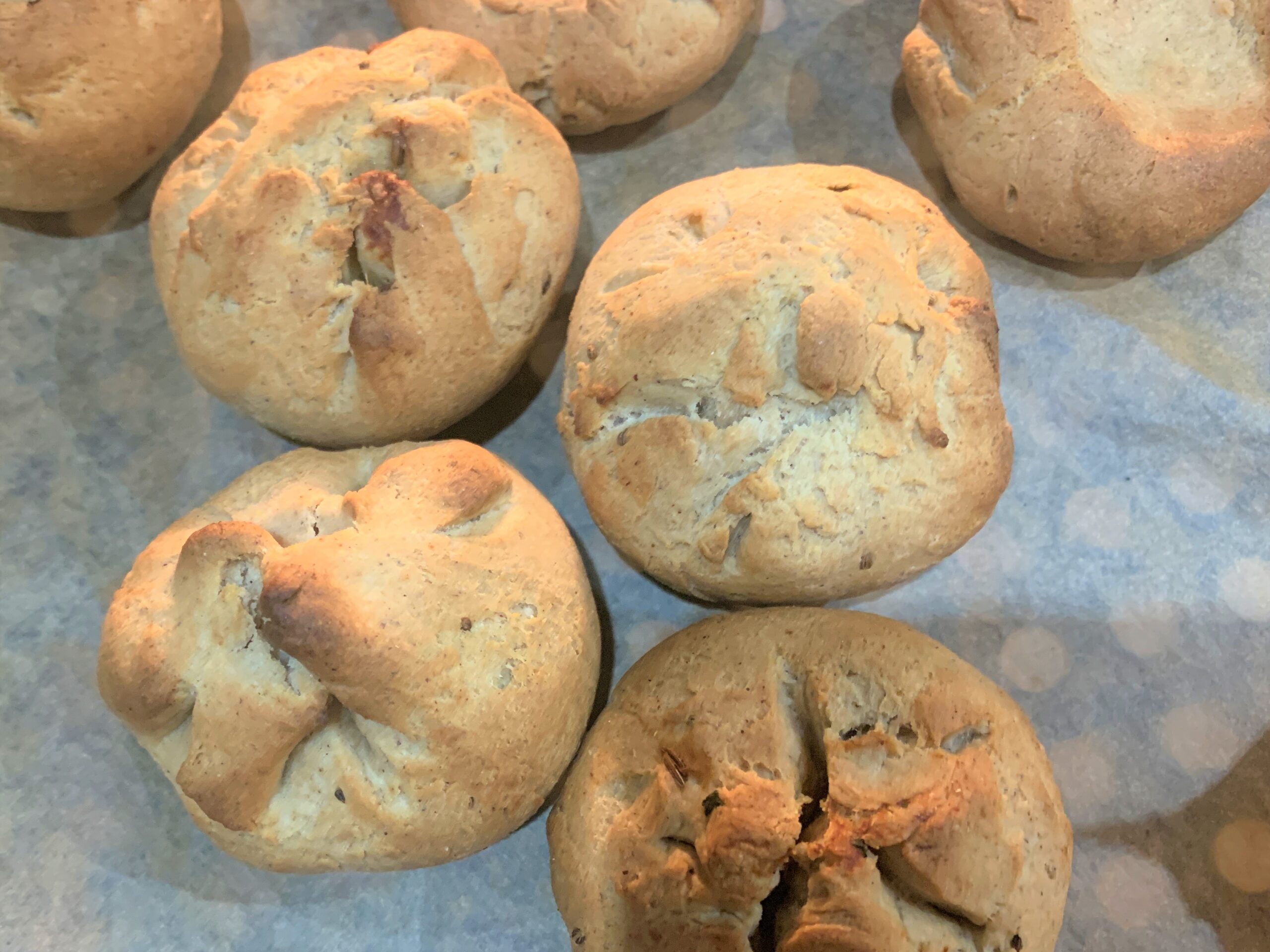 Preheat oven to 200C/ 400F/Gas 6. Arrange the prepared stuffed baatis on a lined baking tray. Bake for 30-40 minutes or until they are crisp and golden brown. Remember to flip them over halfway to ensure even baking.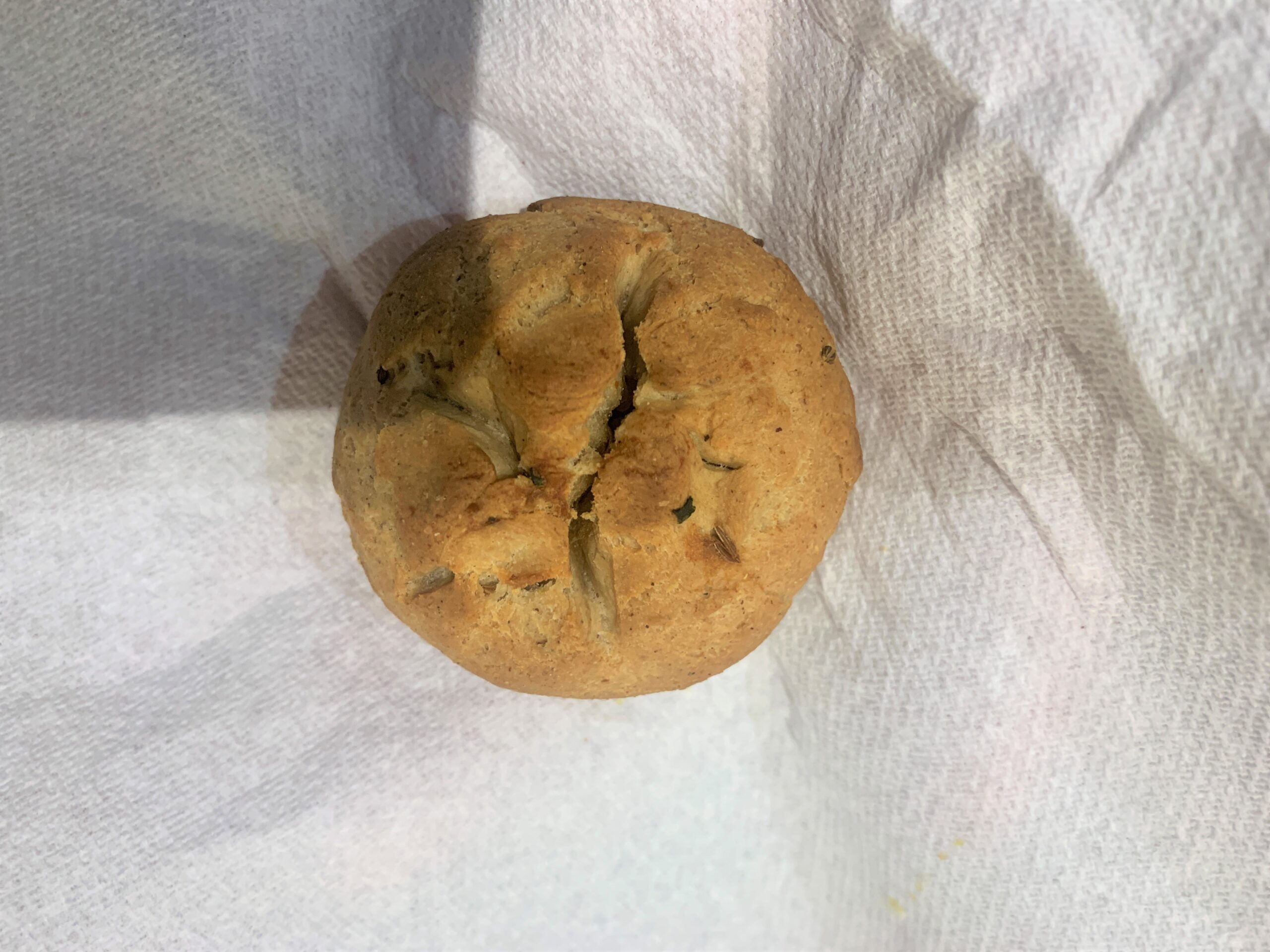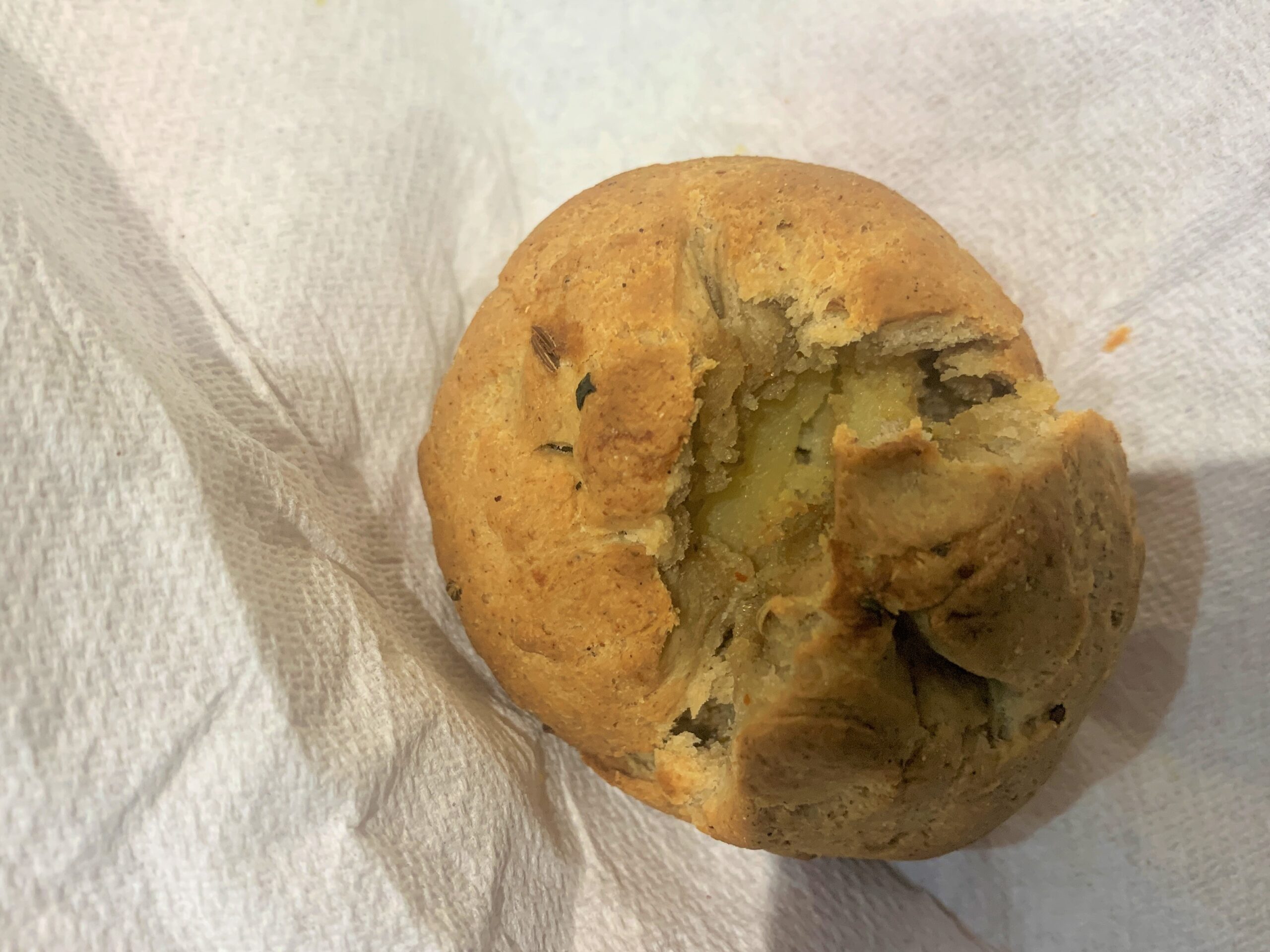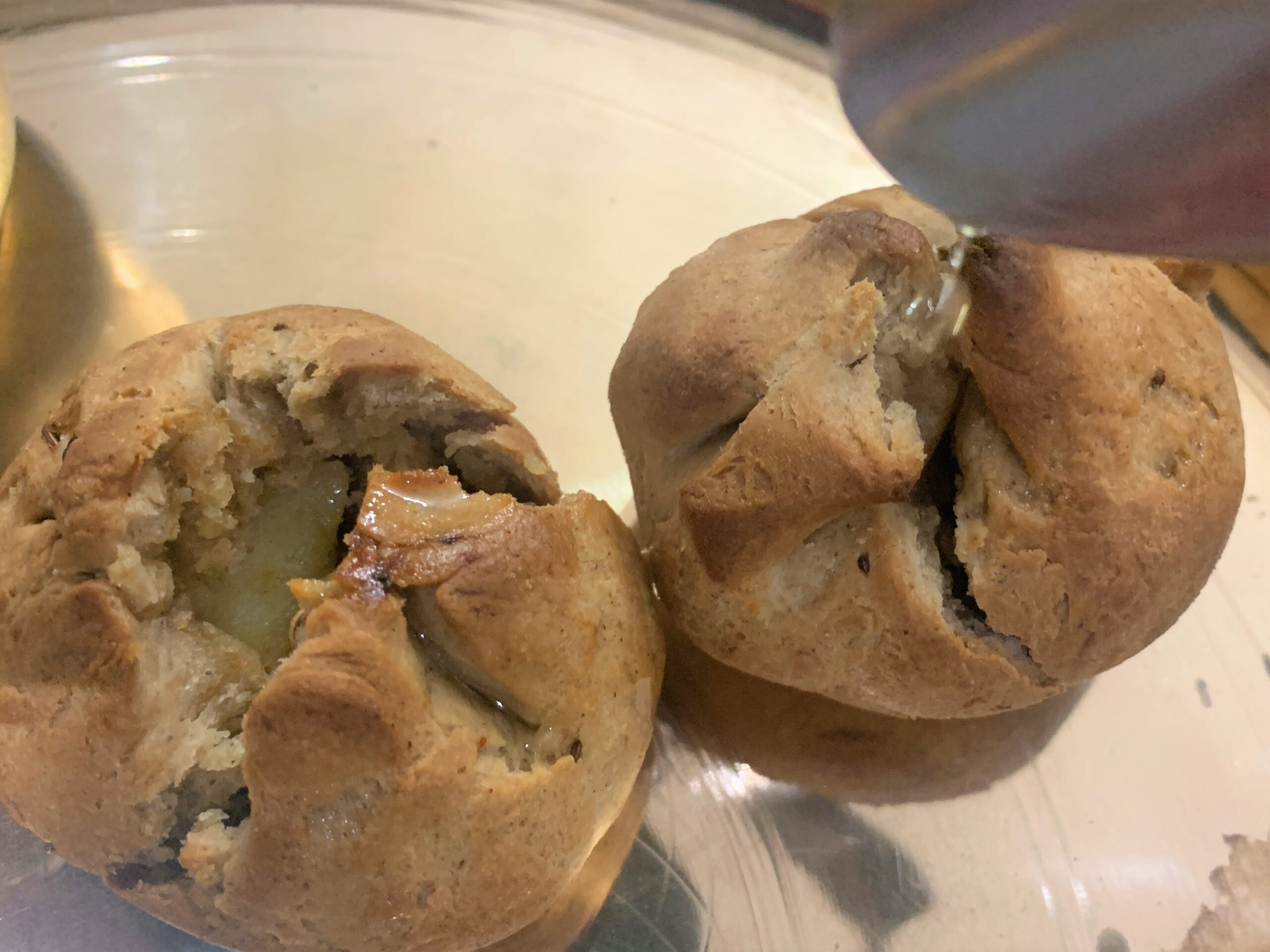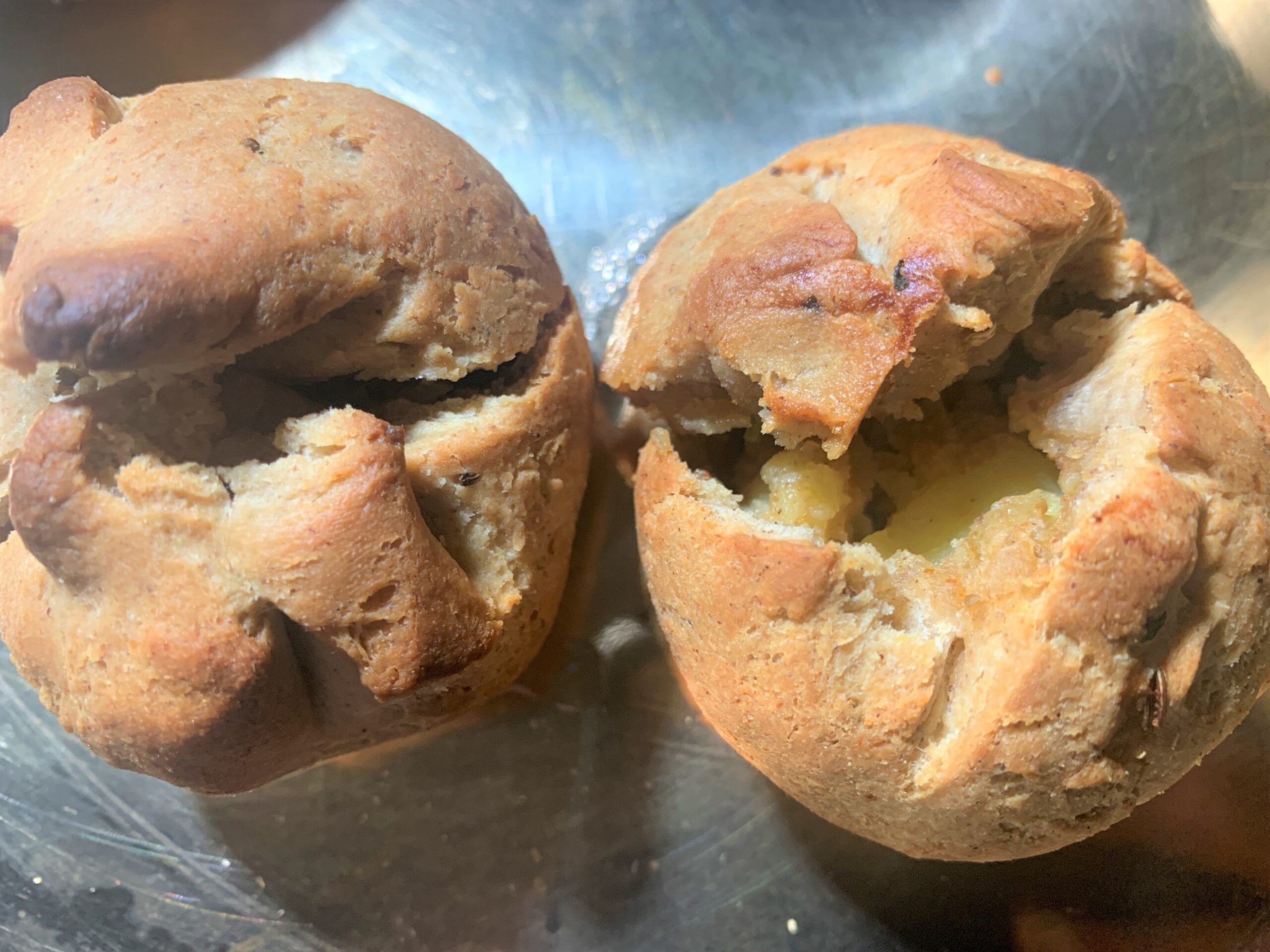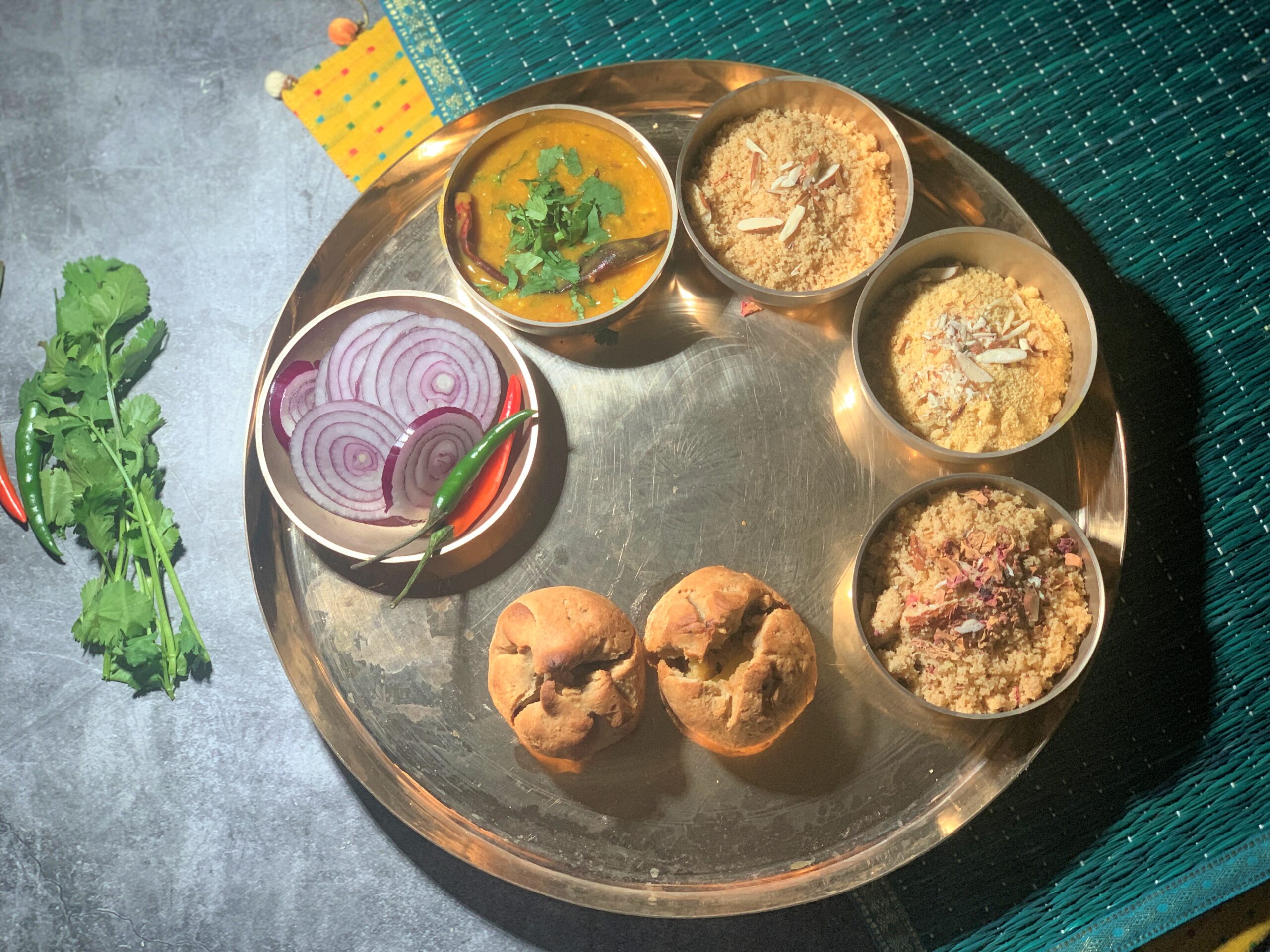 Use a kitchen towel and press hot baati slightly with your palm. Do not press it very hard, we just want to crack them slightly so the ghee can seep in.
Drizzle some ghee or dunk them in ghee and serve hot masala bati with dal and churma.