Phirni
Phirni is a popular Indian dessert prepared with coarse white rice, milk, and sugar. This creamy nutty dessert from Punjab has been a popular dessert since time immemorial.
My family visited Amritsar few years ago and thoroughly enjoyed Phirni at 'Kesar ka Dhaba' (a popular restaurant in Amritsar). It was thick, creamy, nutty with just the right amount of sugar! My daughter absolutely loved it and would visit Amritsar any day just to enjoy the Phirni from there. If I had to choose my favourite Indian dessert, Phirni would stand out to be a hands down winner. This creamy, nutty, aromatic rice pudding served in earthen bowls is more of a comfort food to me rather than a dessert.
Phirni is a dessert popular in lots of other countries too with different names and maybe some local variations. For example, in Iran this dish is known as Fereni, Egypt as Muhallabia and Afghanistan and India know it as Phirni.
There are couple of things to remember while making delicious Phirni. Firstly, slow cooking is key while making phirni for a creamy and thick consistency. Secondly, setting the Phirni in an earthen bowl is important (not essential) as it soaks the excess moisture and liquid, giving it that thick creamy consistency and also infuses an earthy aroma to the phirni. Phirni is traditionally served in small eco-friendly earthen pots bowls called as Shikoras or Mitti Ke Kulhad or Matki.
This gluten free recipe of Phirni is super easy and delicious!
Ingredients
1 litre full fat milk
4 tablespoons jasmine rice
8 tablespoons sugar
¼ teaspoon saffron strands
½ teaspoon cardamom powder
For Garnishing
1 tablespoon finely chopped almond
1 tablespoon finely chopped pistachio
Directions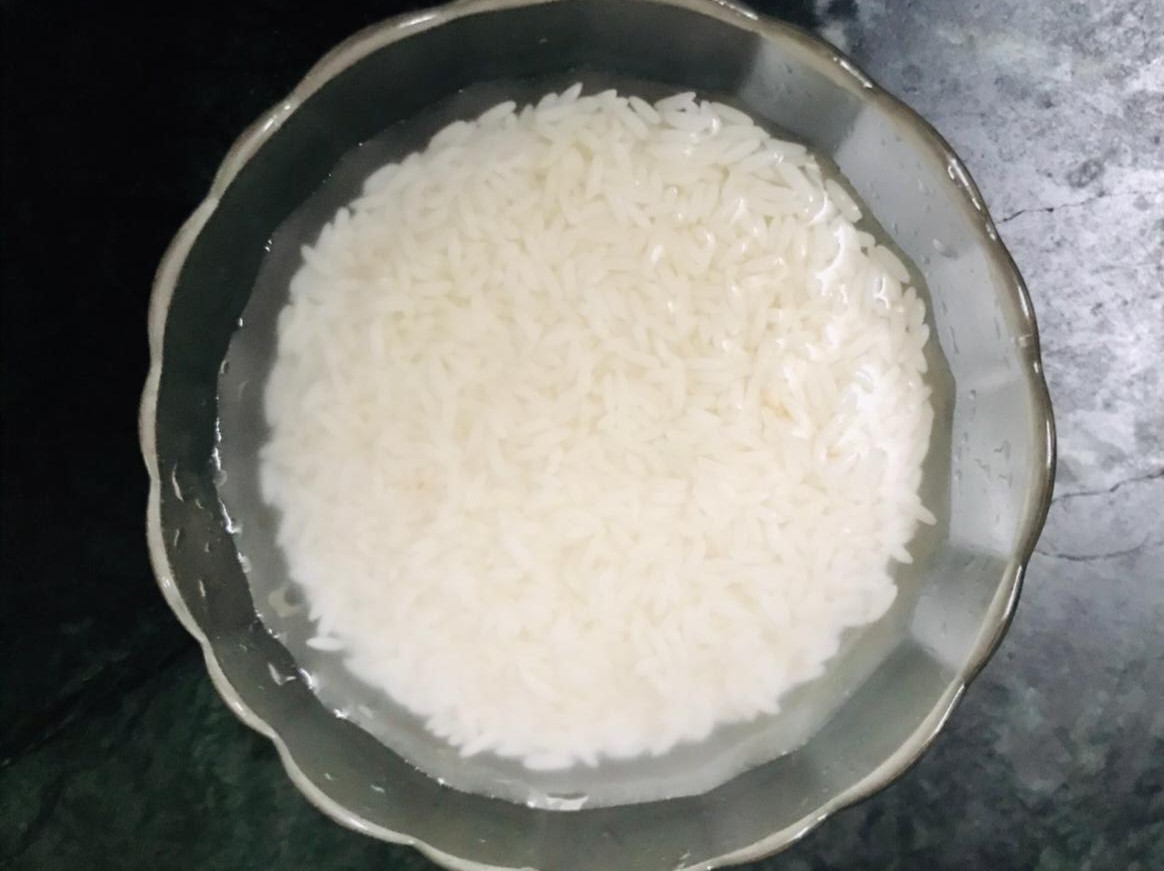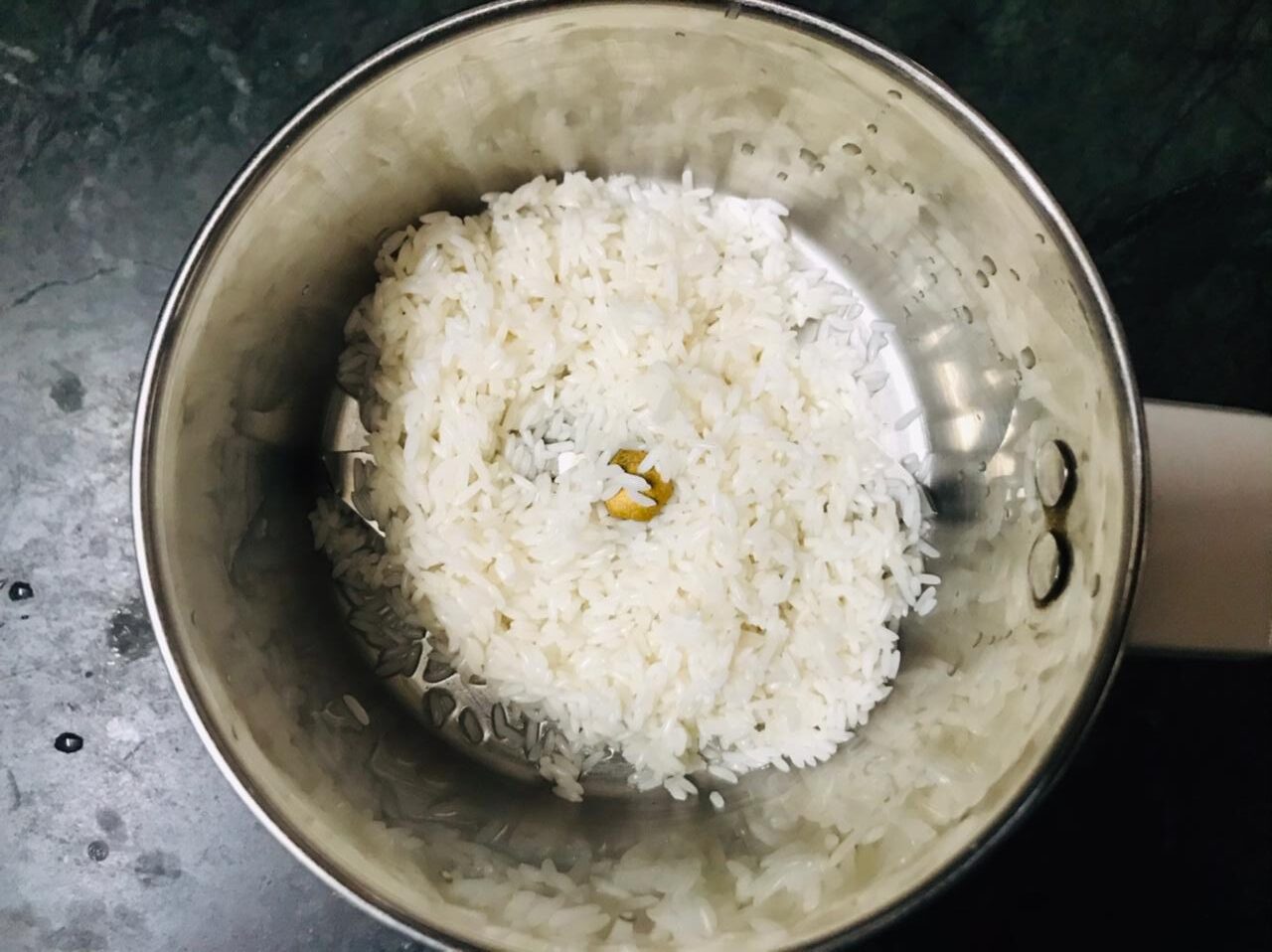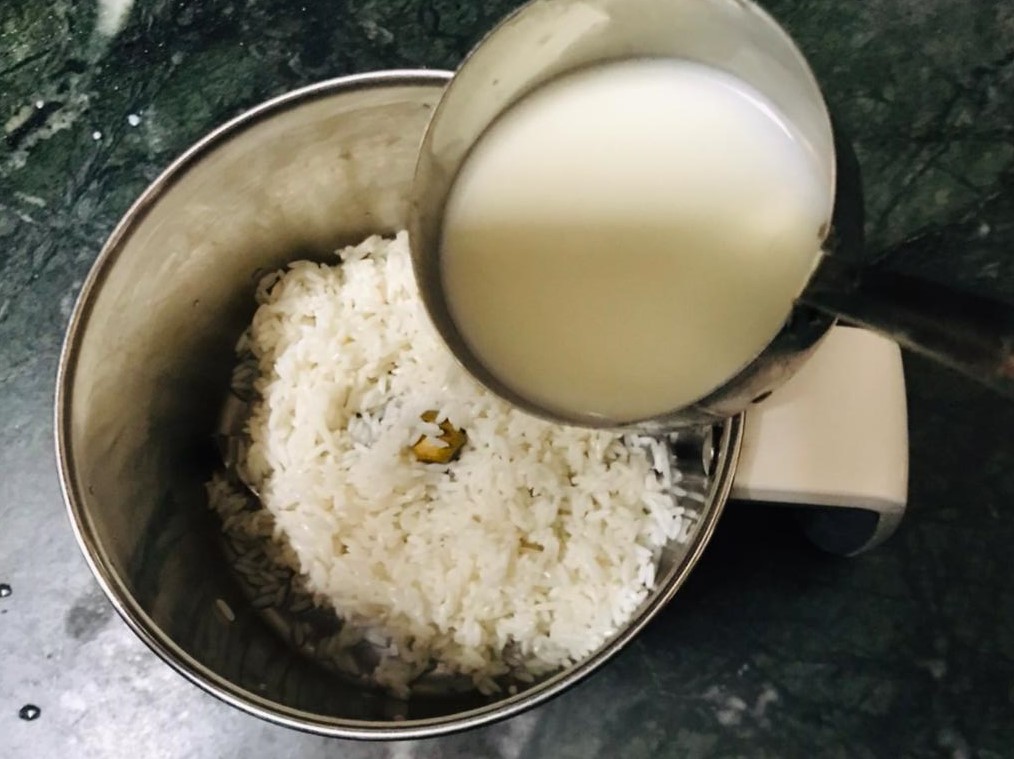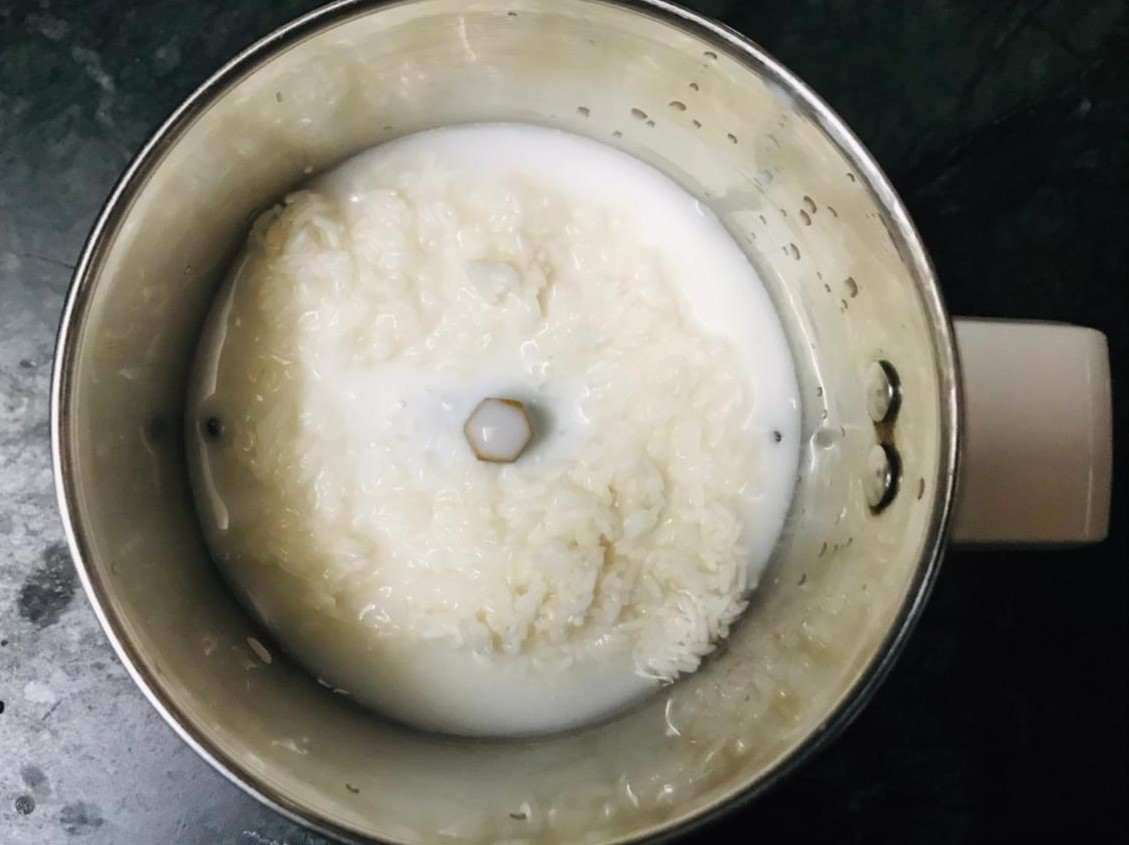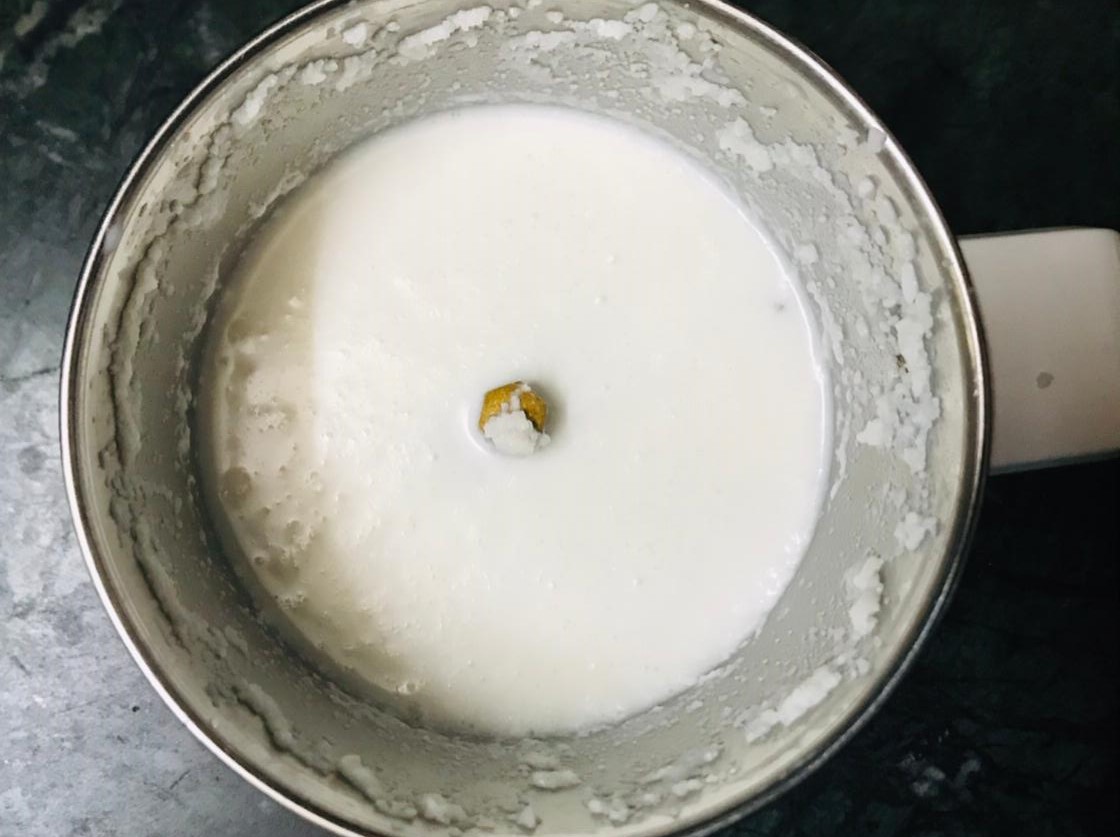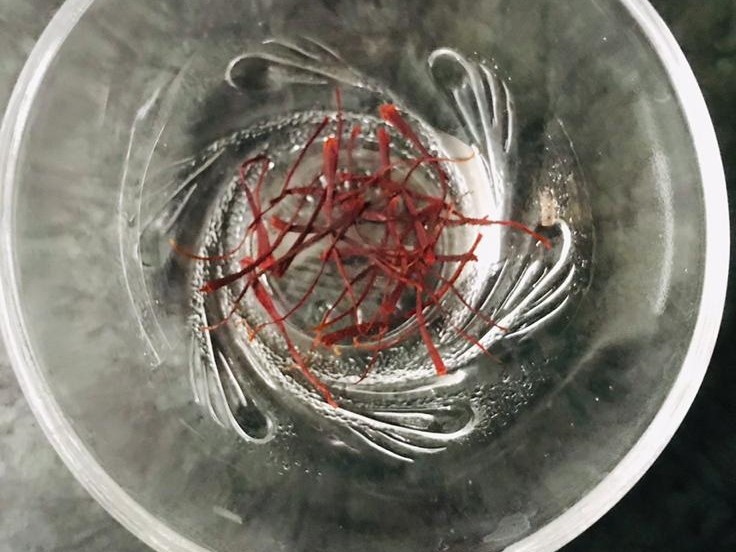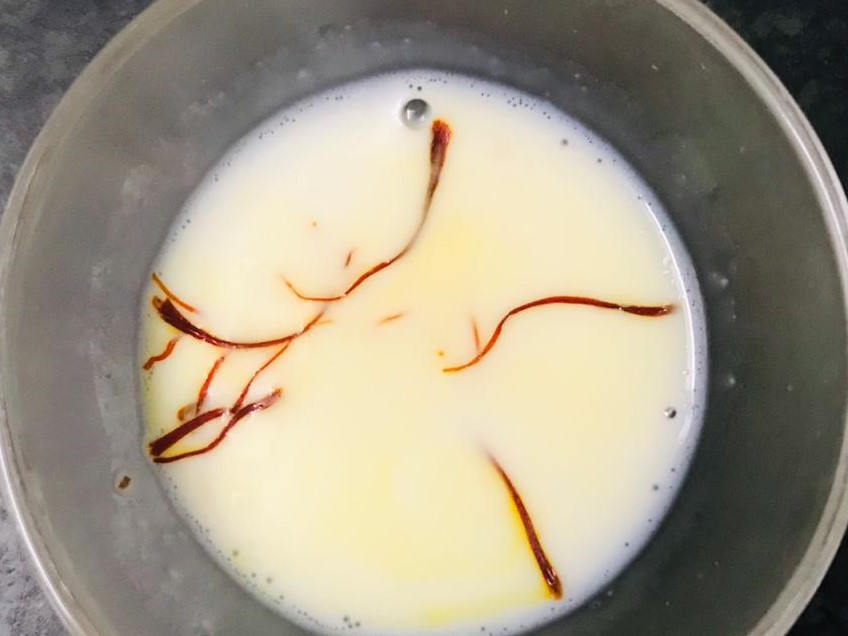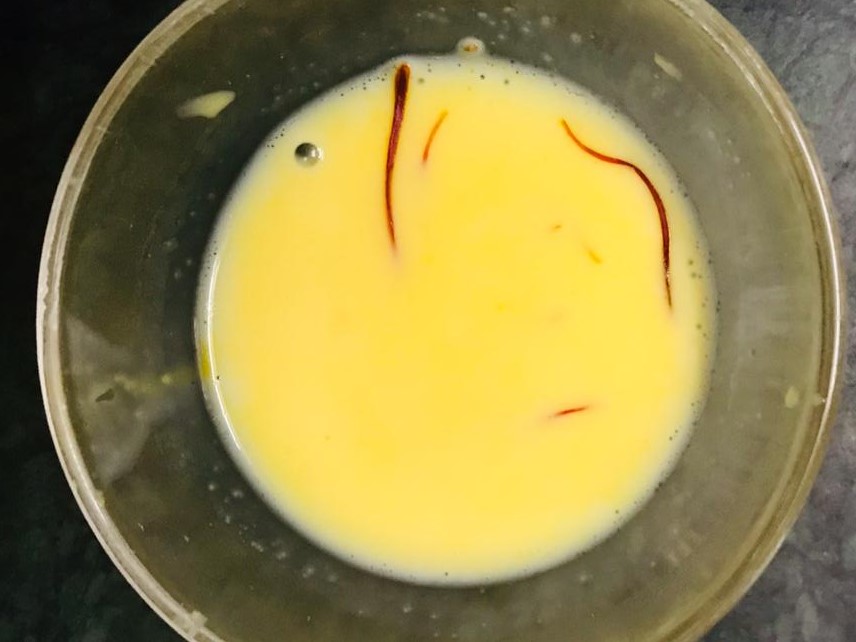 Wash and soak the rice in water for 30 minutes.
After the rice has soaked drain the excess water and grind the rice with 2 tablespoons milk into a coarse paste.
Soak the saffron strands in 1 tablespoon warm milk.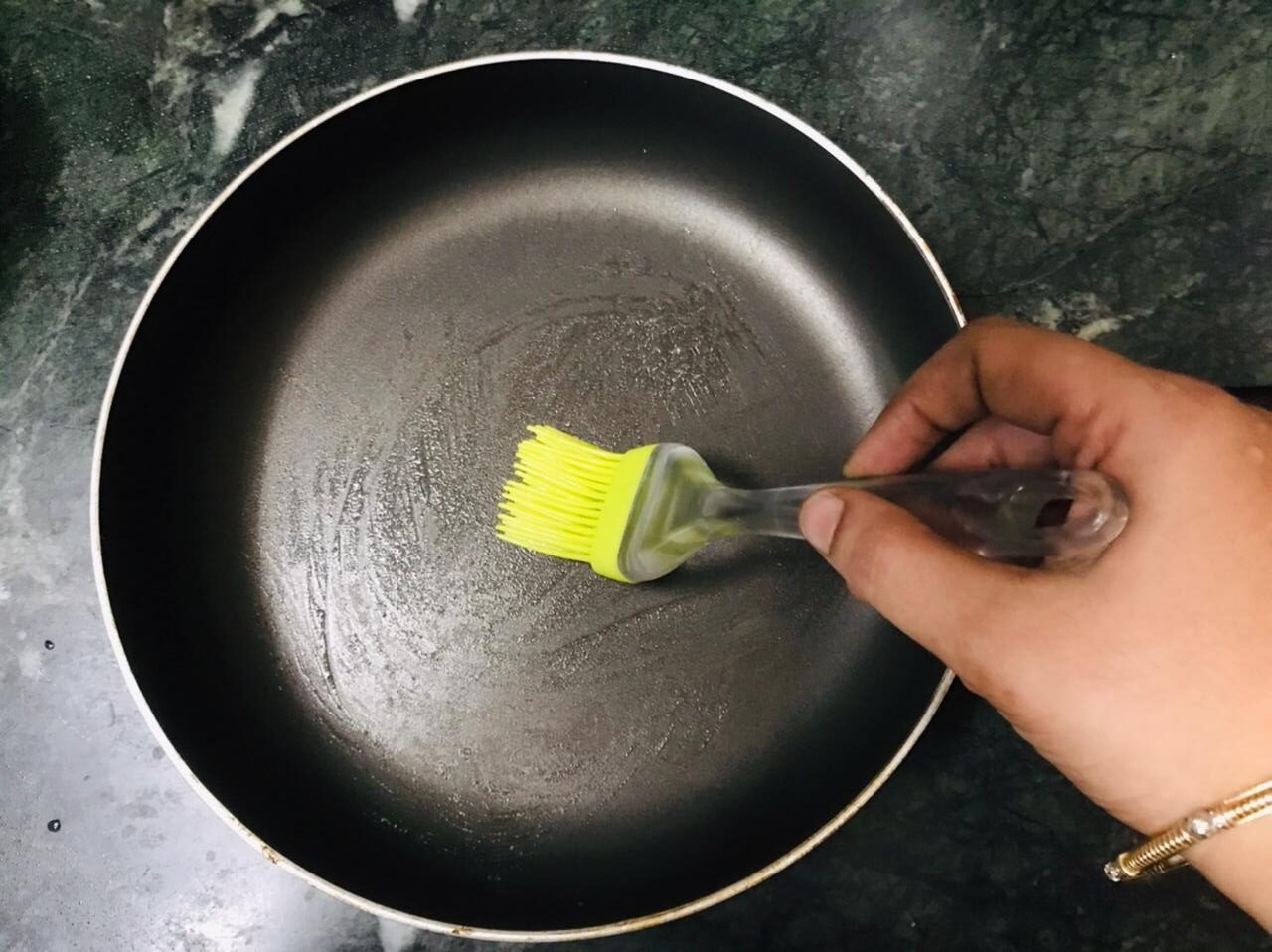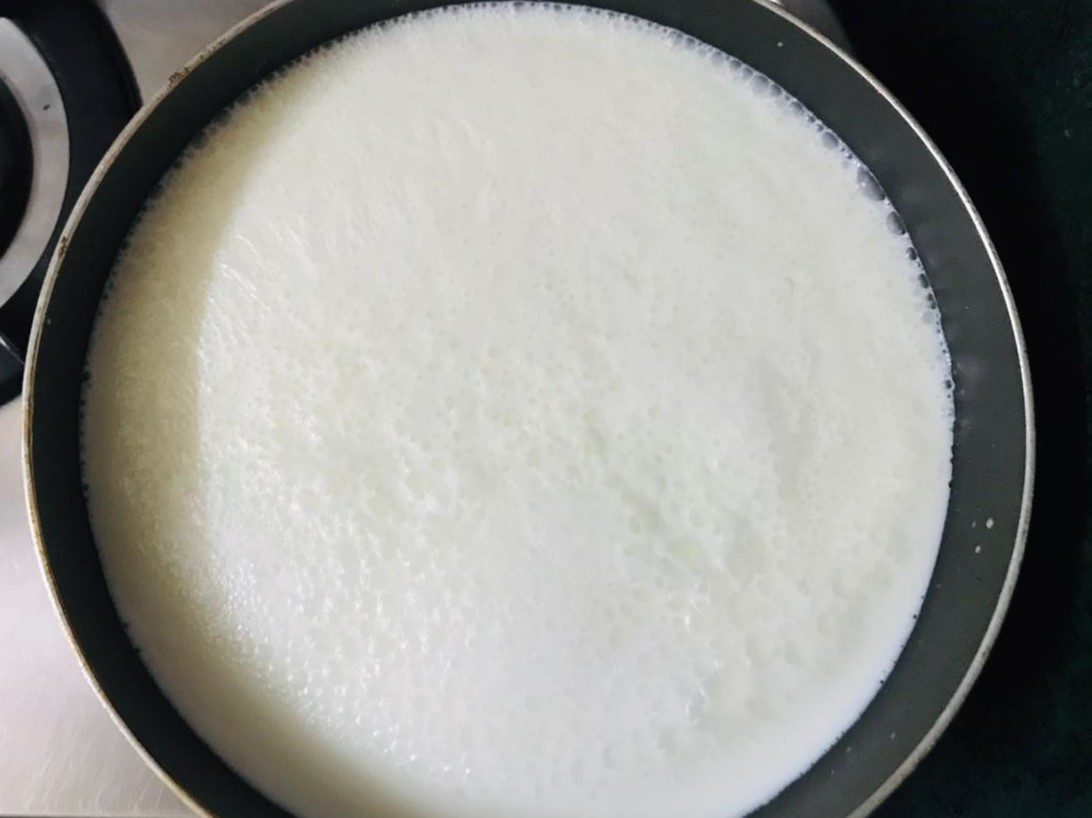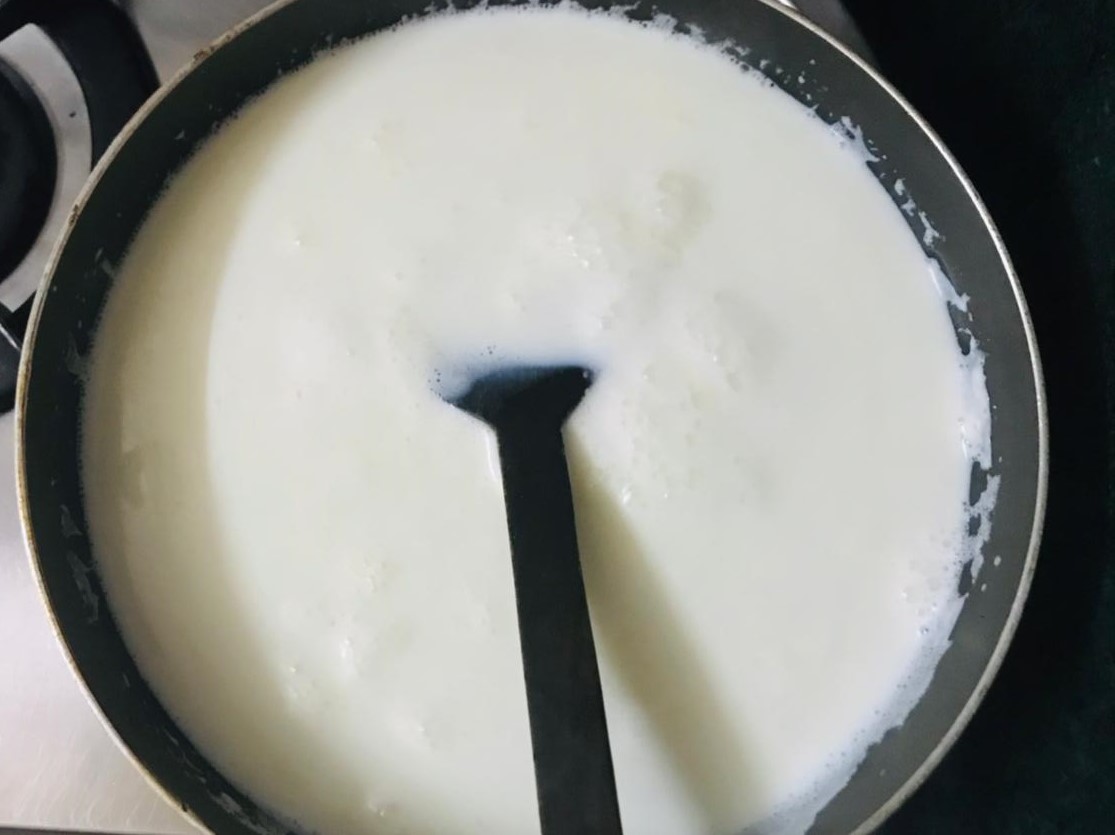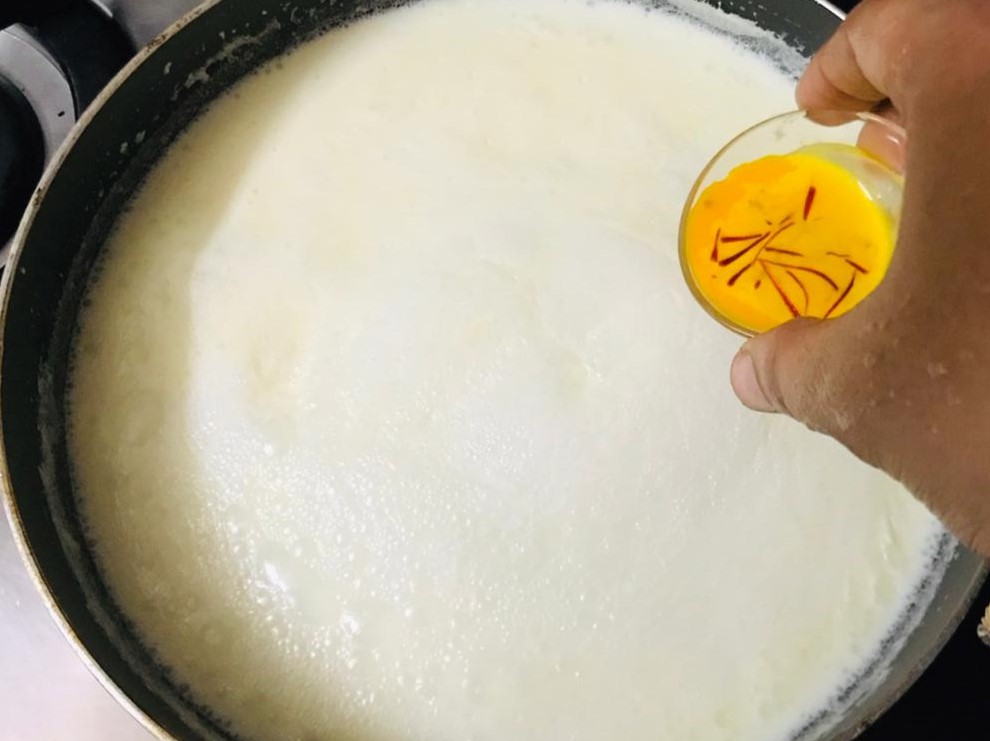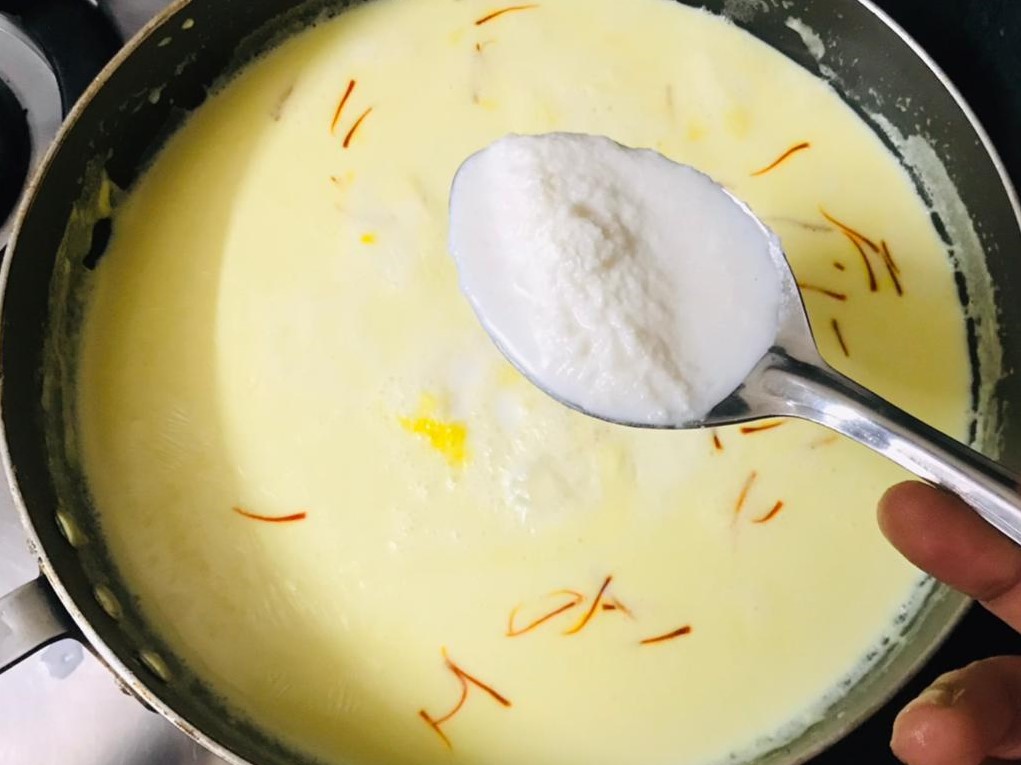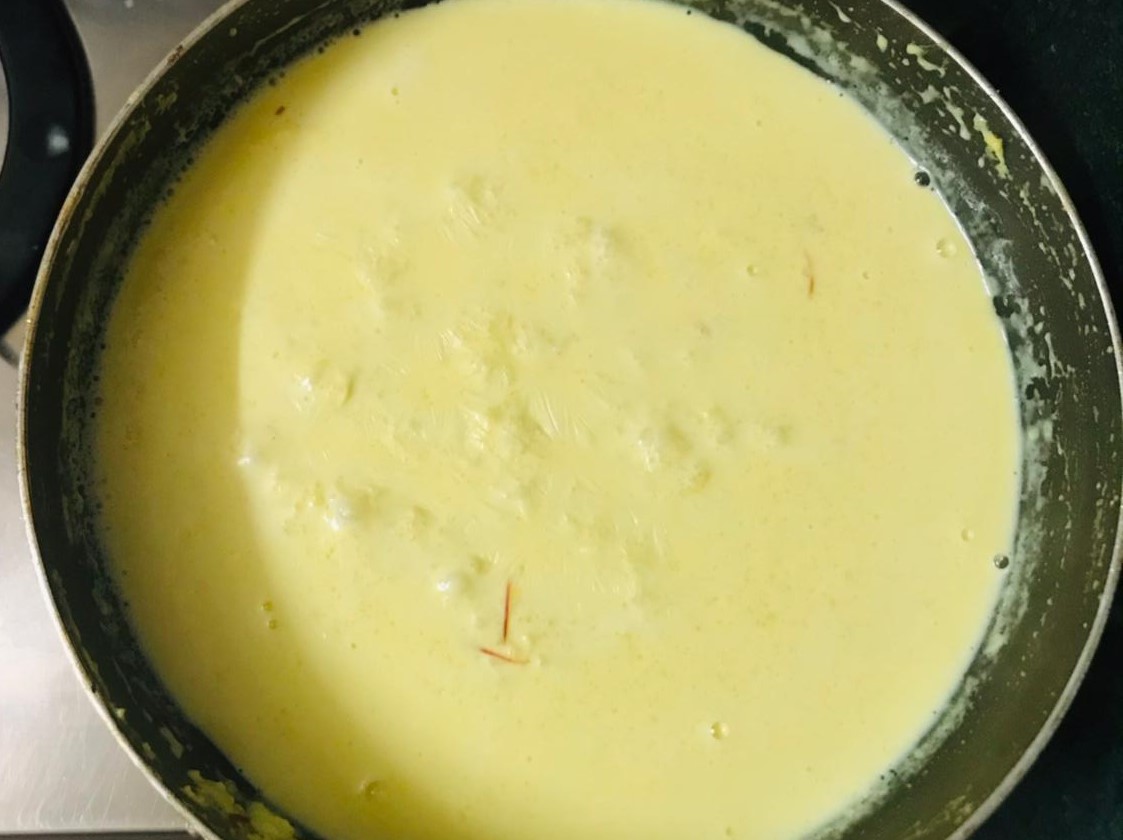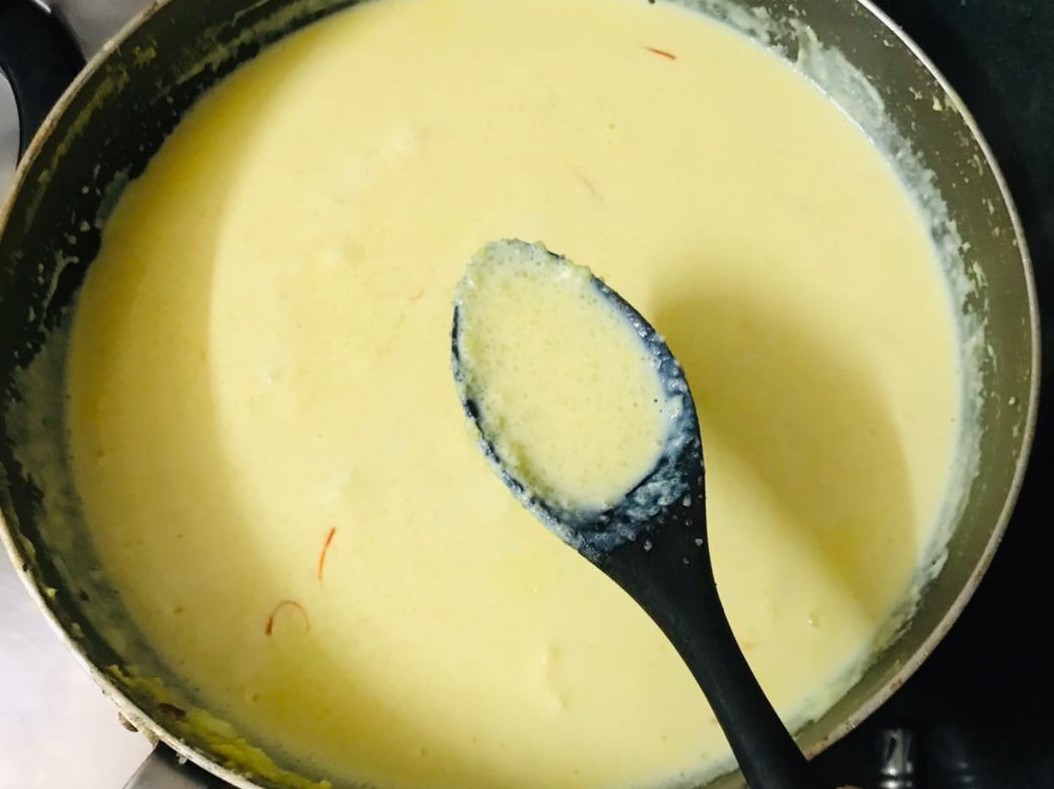 Grease a heavy bottom pan with ghee and add milk. Bring the milk to boil.
Once the milk begins to boil, add the soaked saffron and the rice paste.  Stir continuously until the milk begins to boil.  It is important to keep stirring so the lumps do not form. Let it simmer on medium-low heat for 10-15 minutes. Stir the phirni every 2-3 minutes. You will notice that the milk begins to thicken gradually as the rice grains get cooked.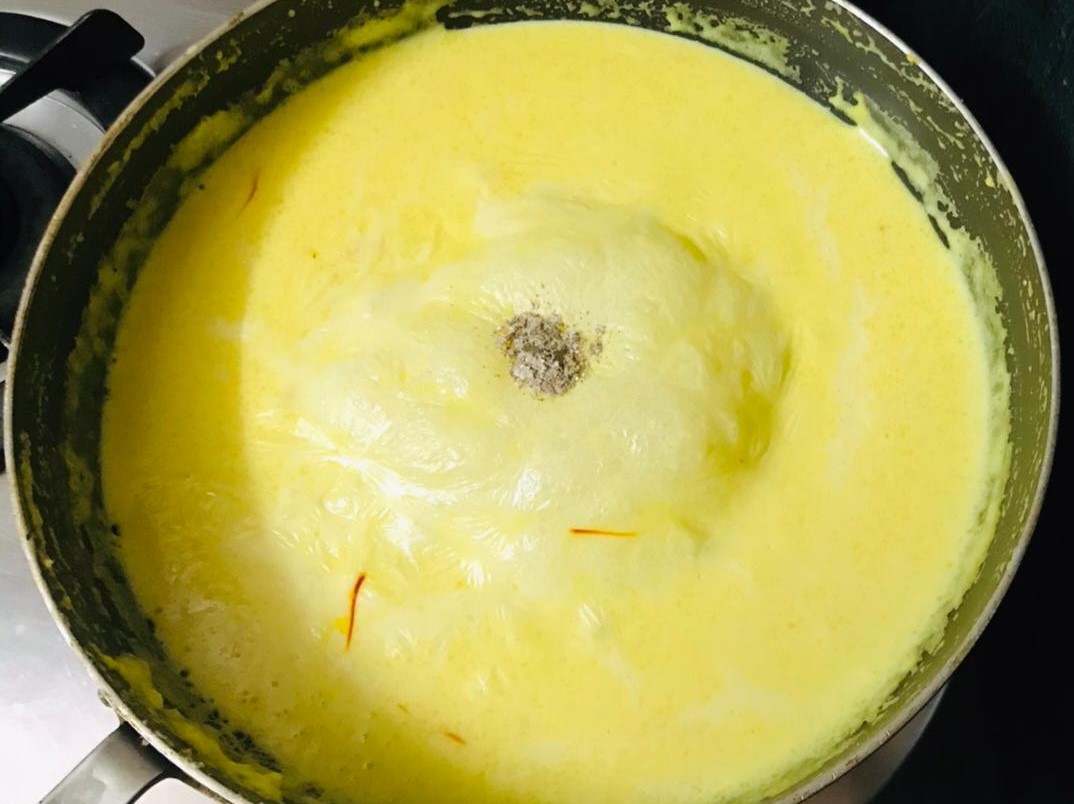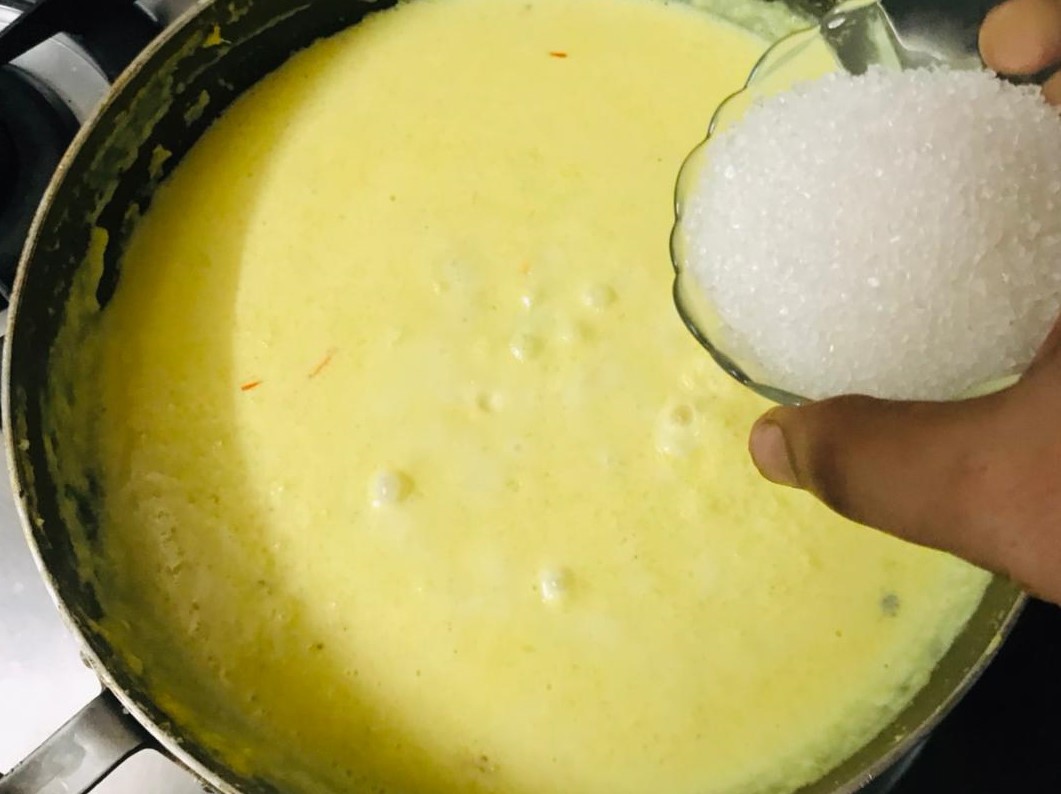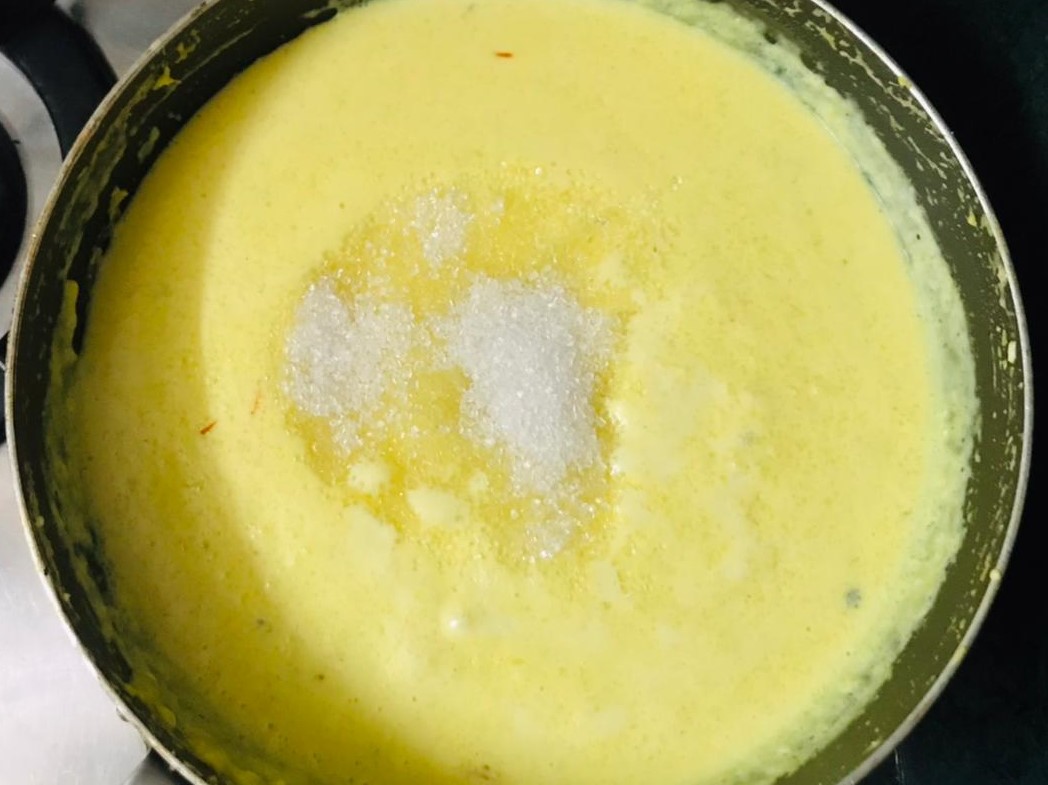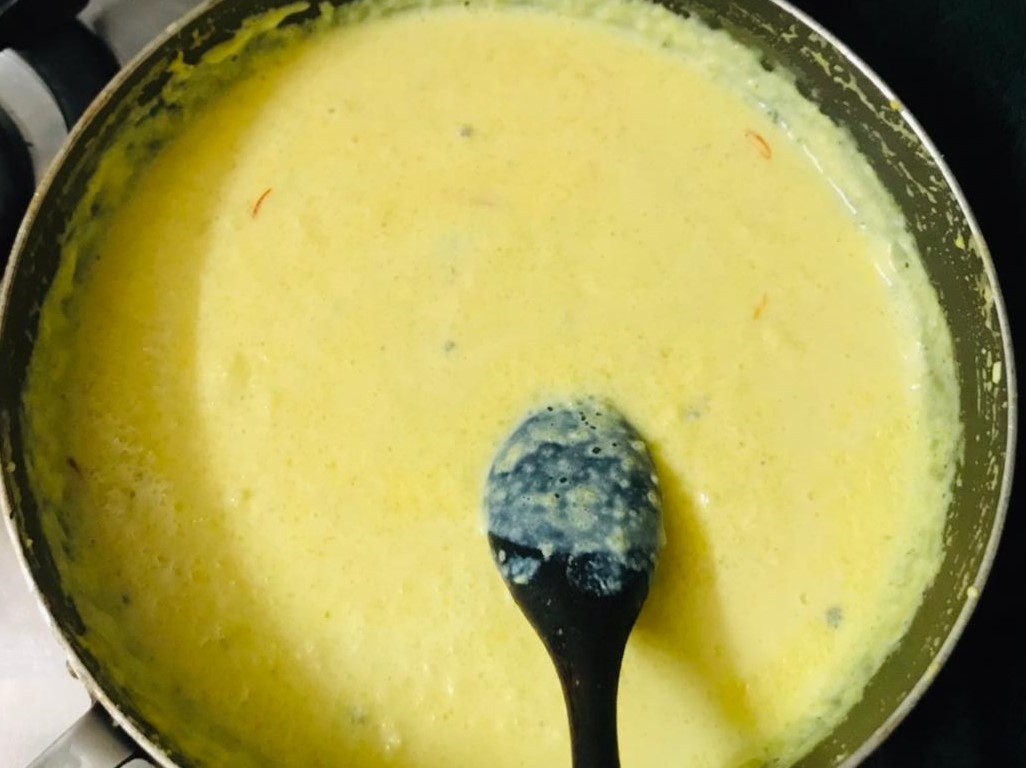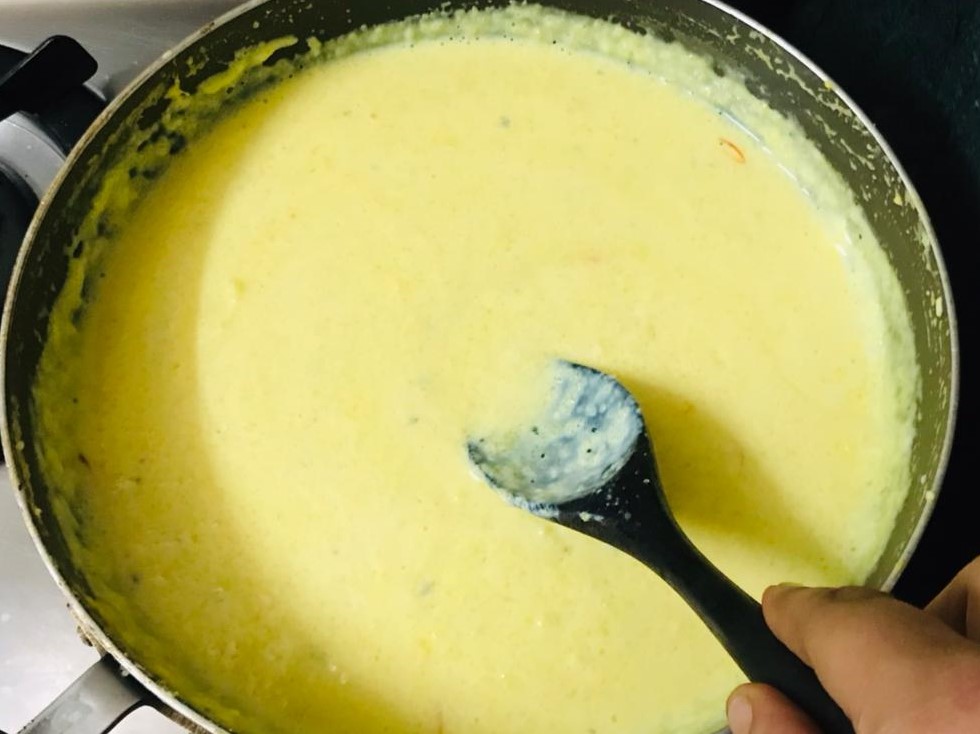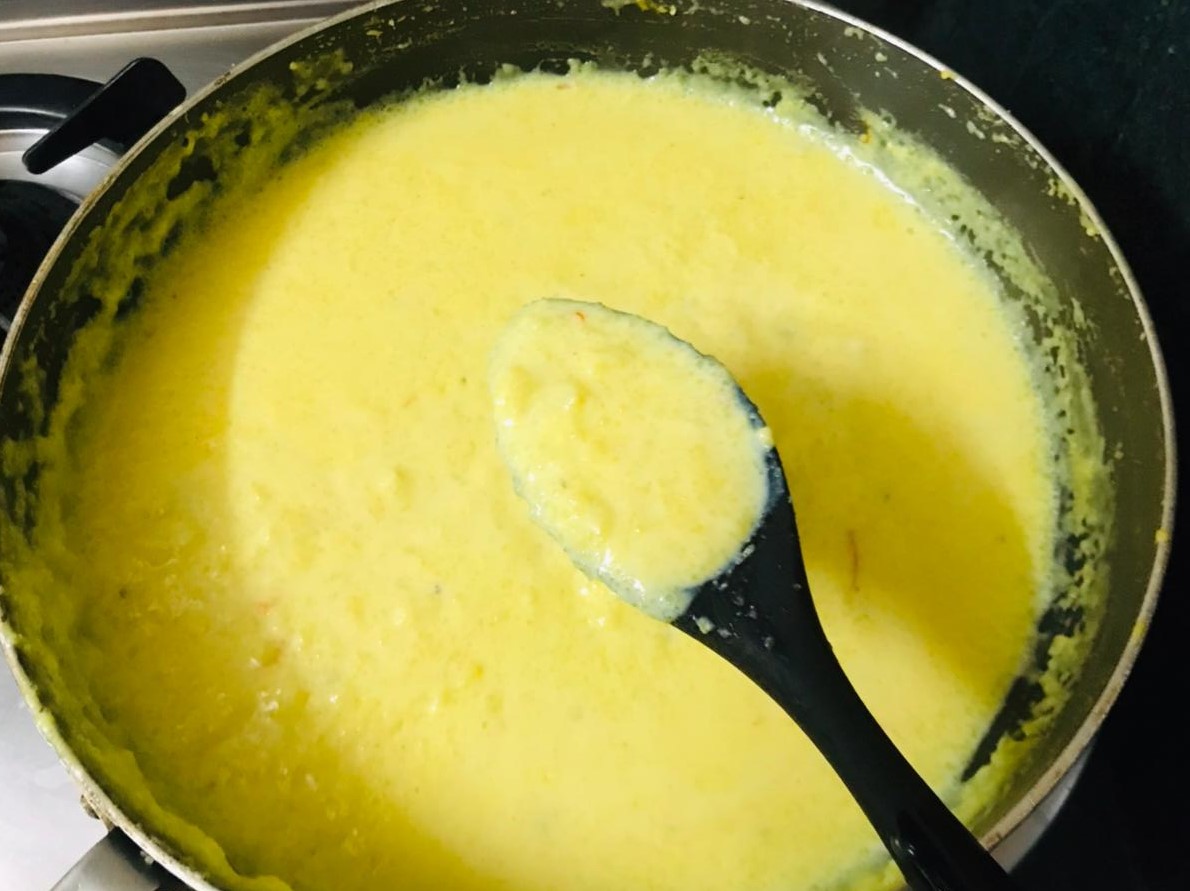 After 10-15 minutes, add the cardamon powder and sugar and simmer for another 8-10 minutes on medium heat or until the rice is soft and it is double cream consistency. (Keep in mind that phirni will thicken more on cooling). At this point turn off the heat.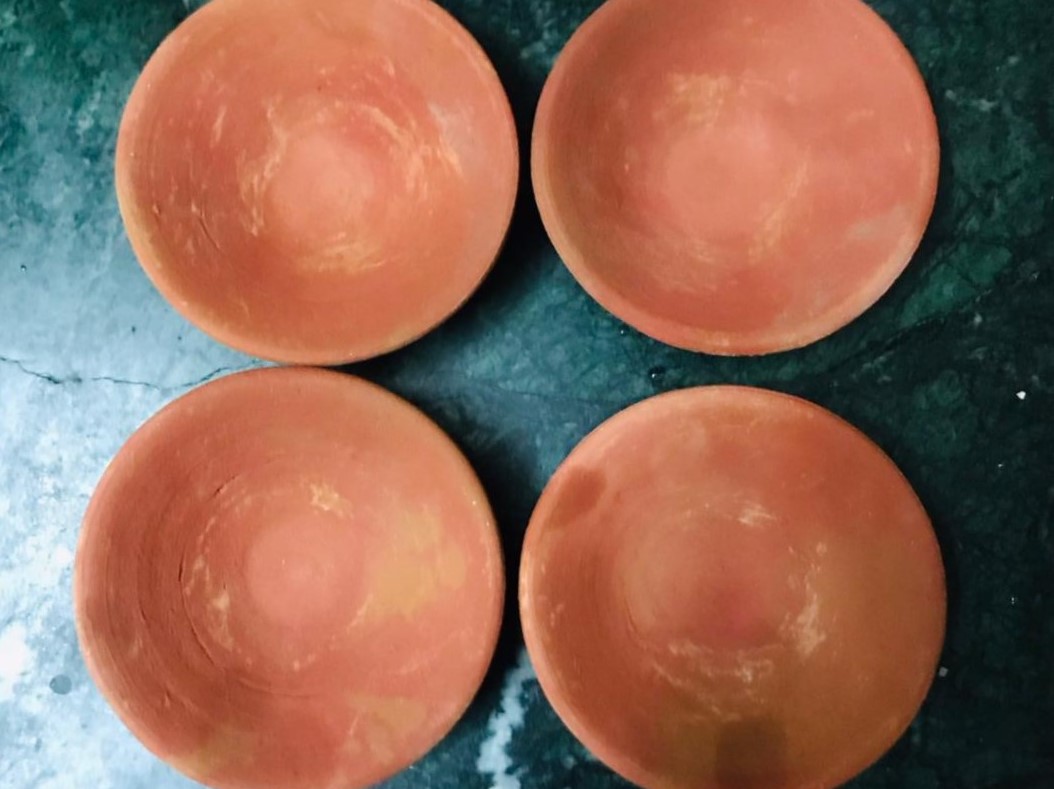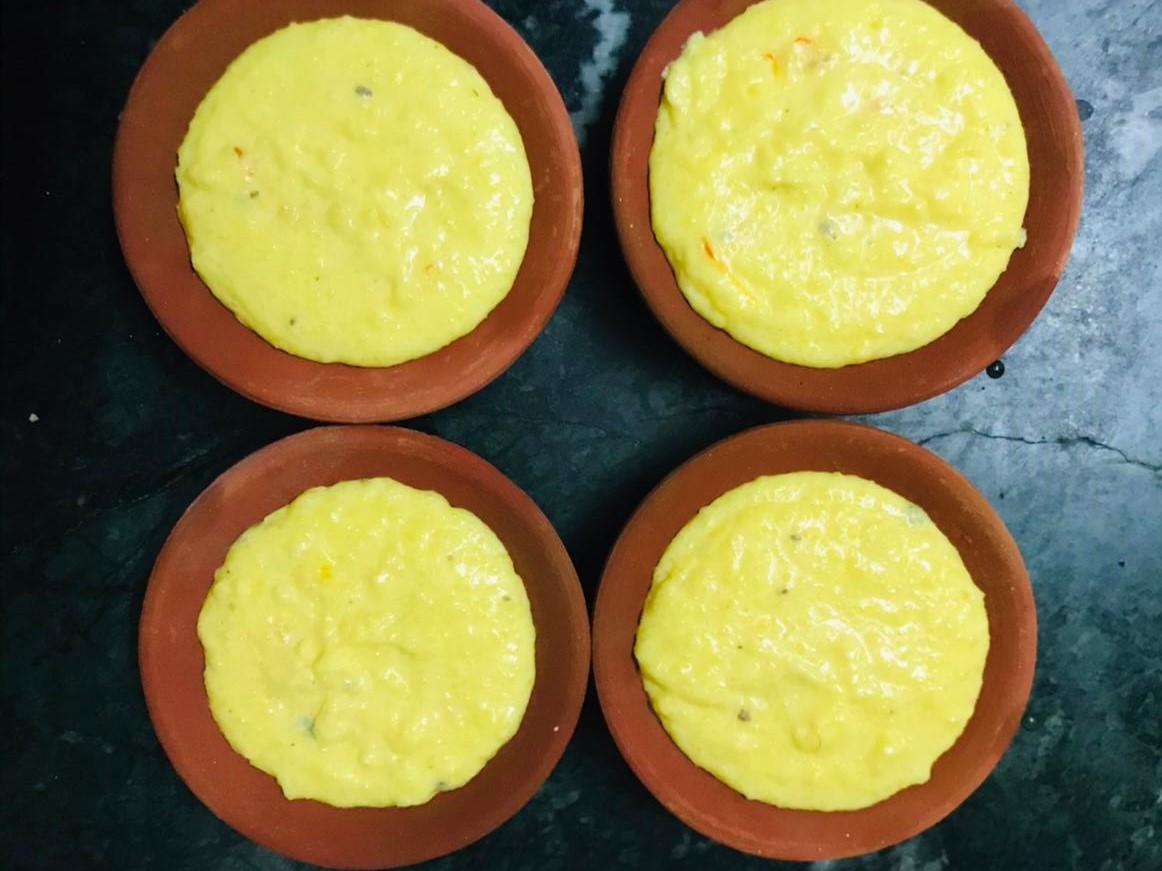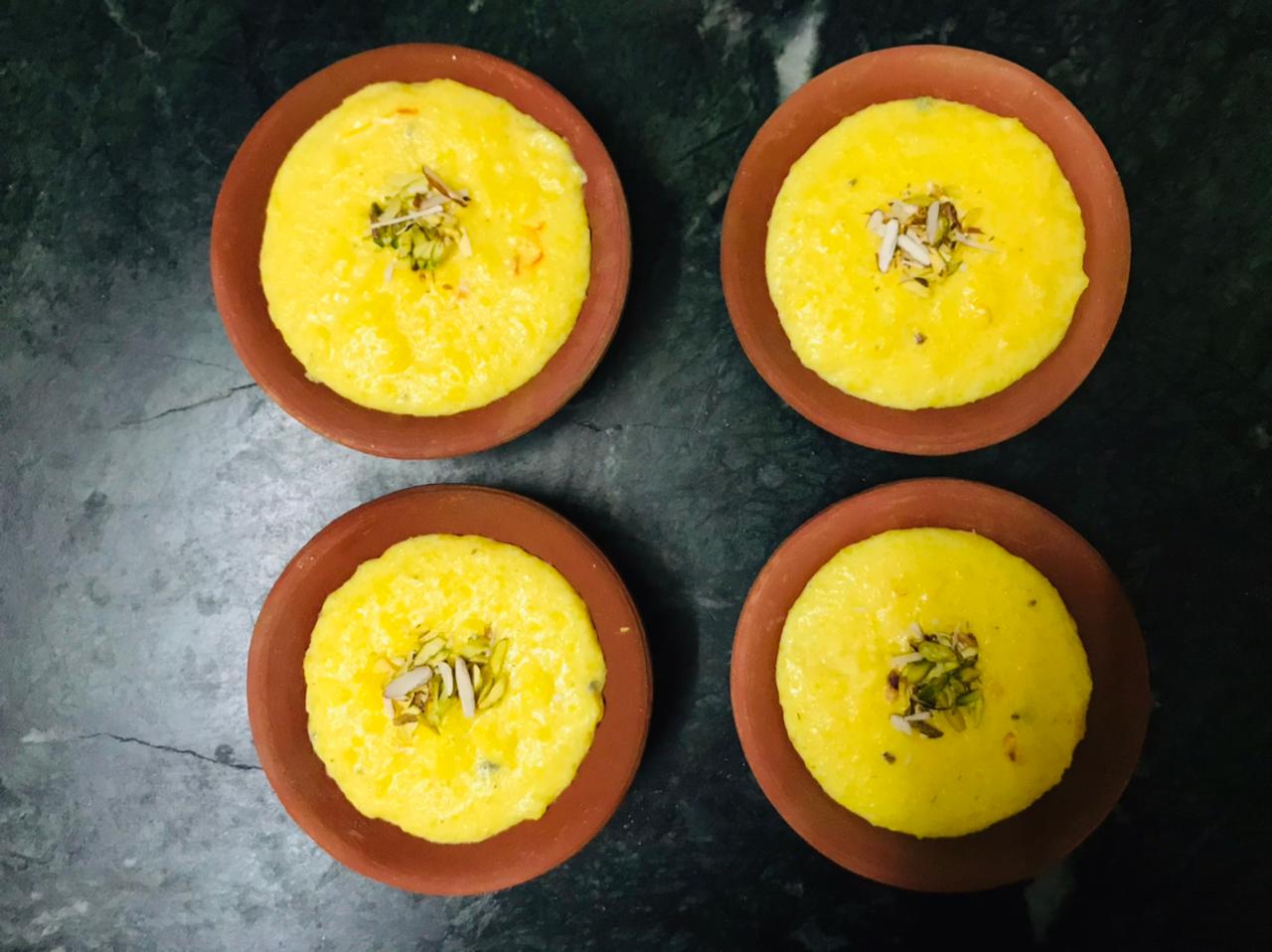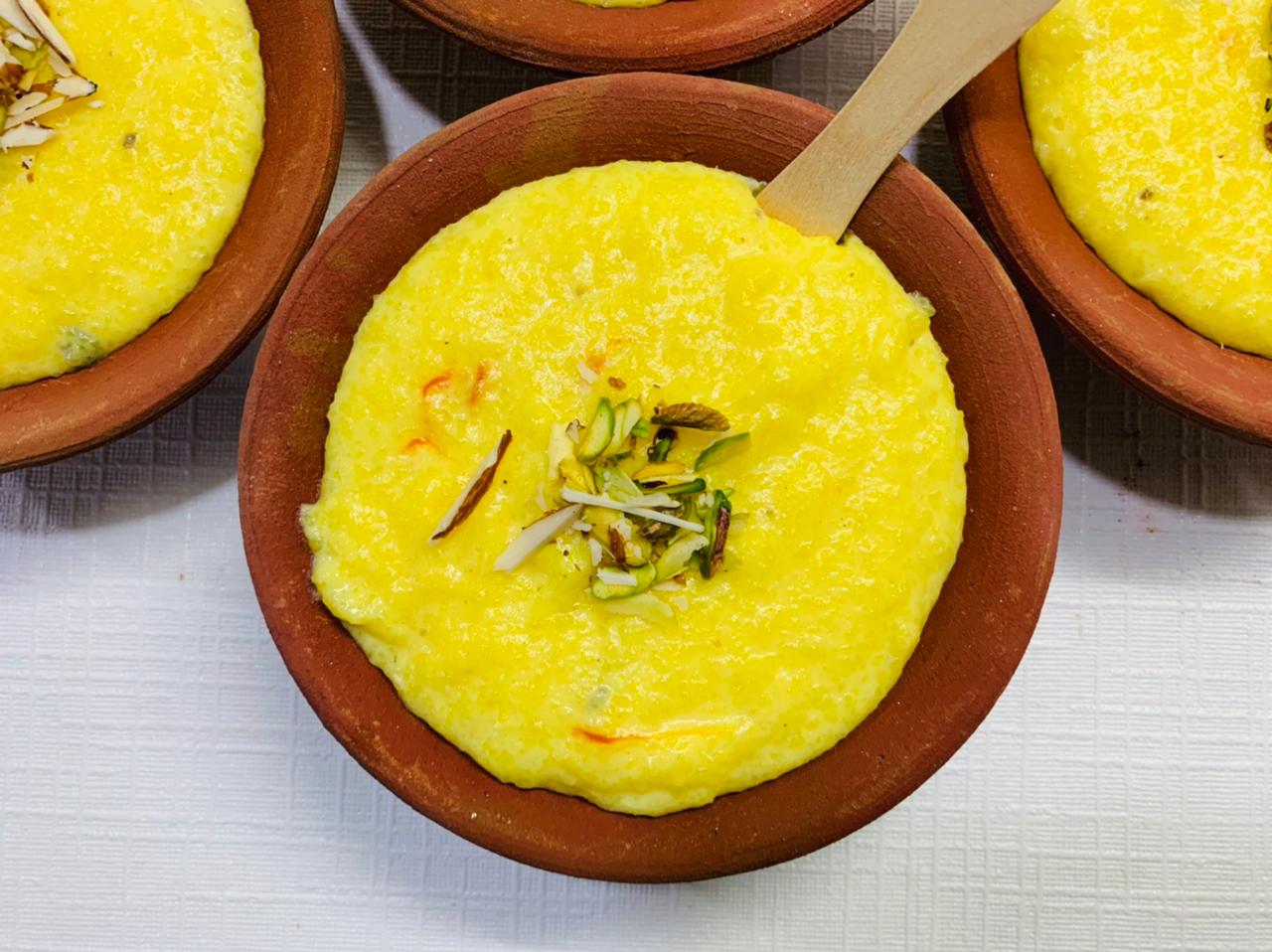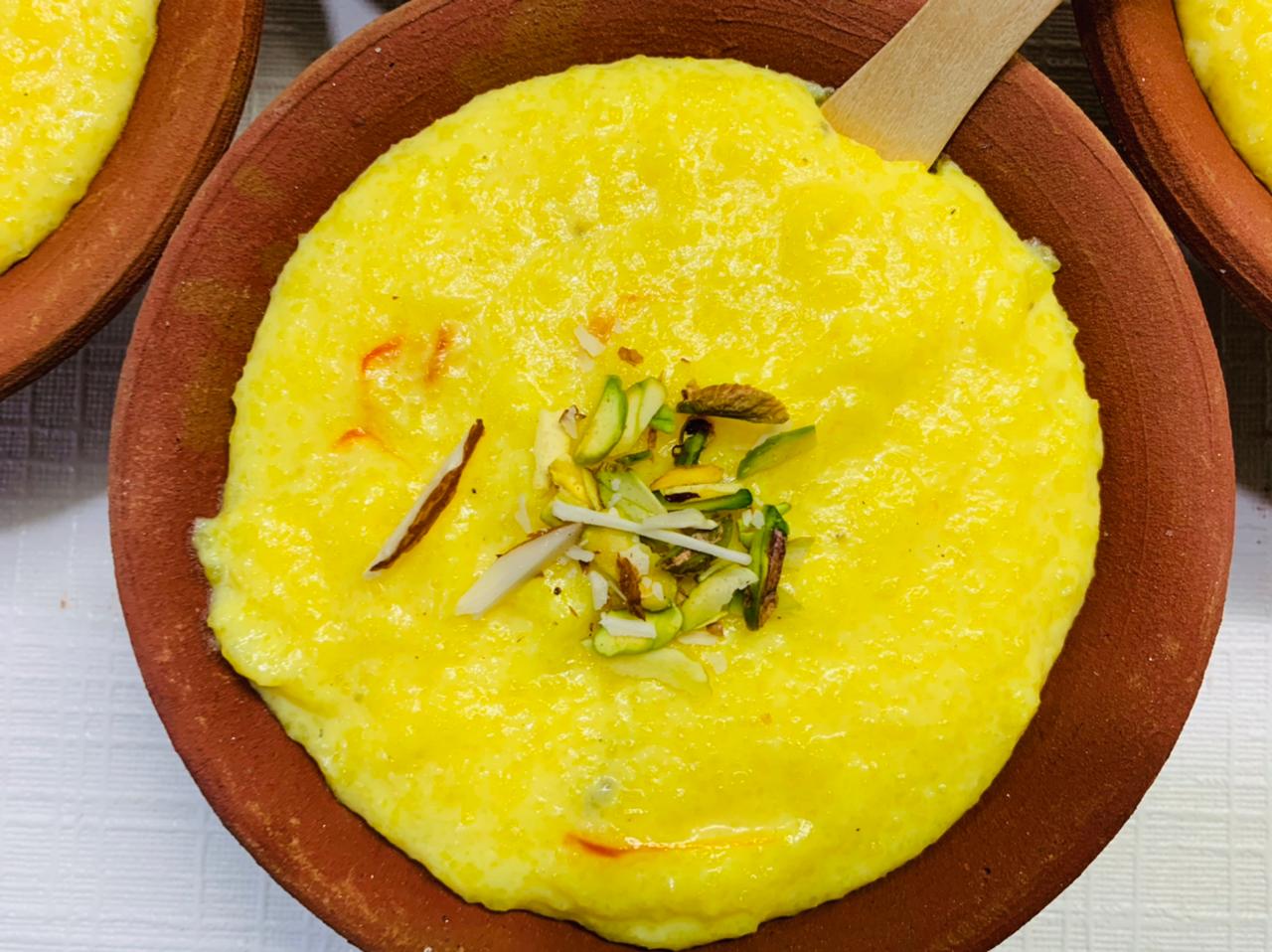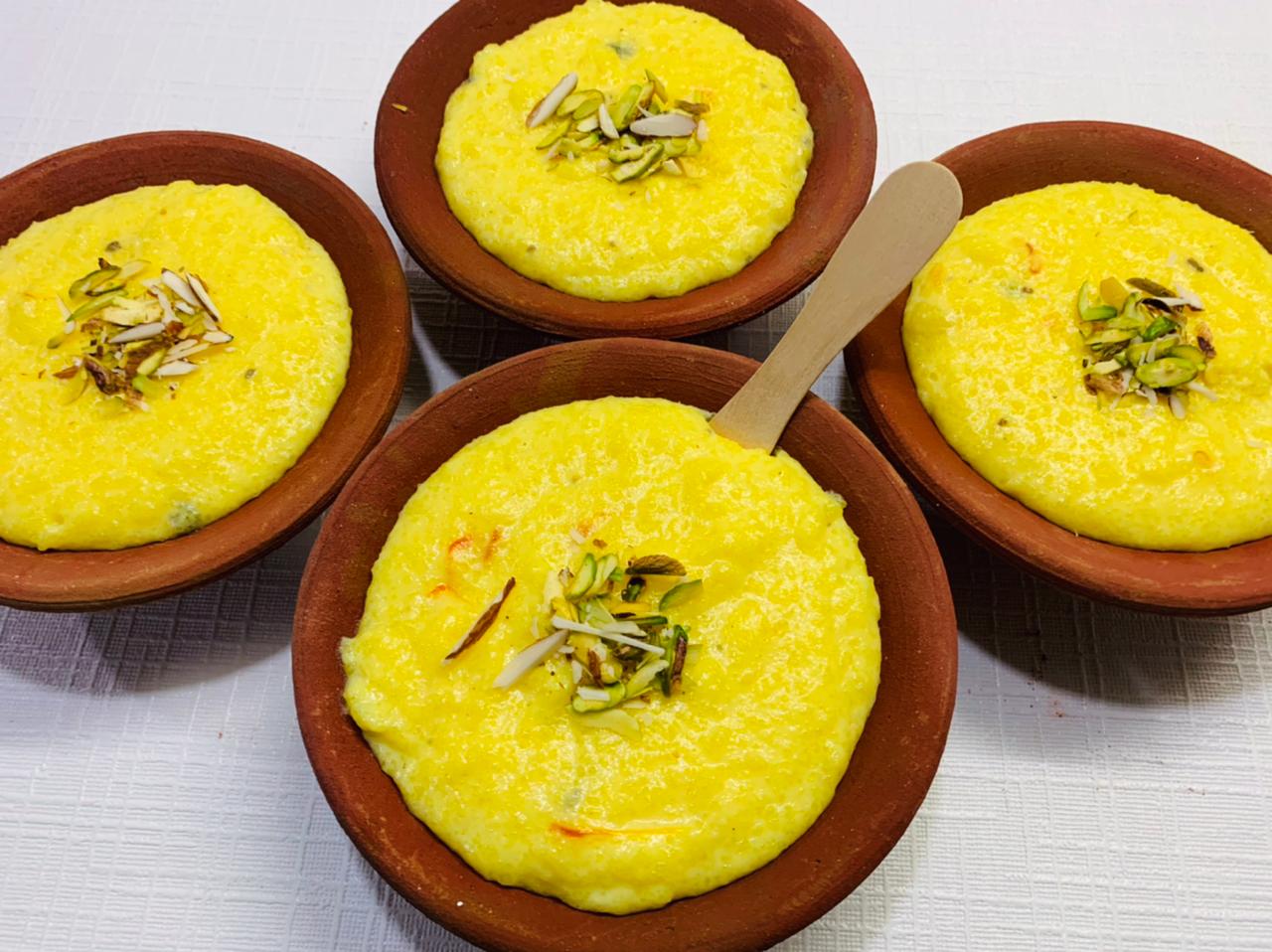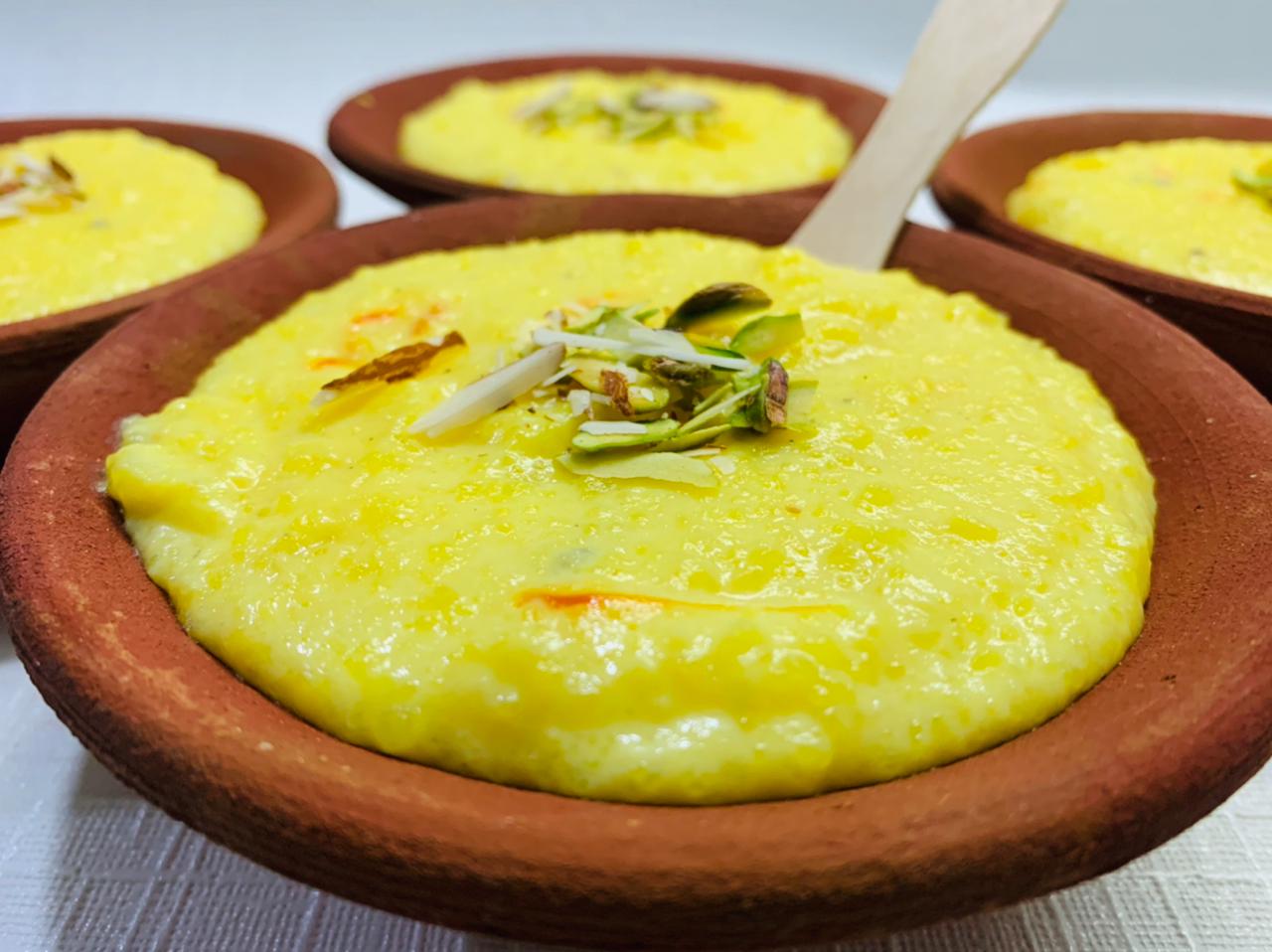 Carefully pour the phirni in either shikoras or a ceramic bowl. Sprinkle some almonds and pistachios and let the phirni come to room temperature. Once they are at room temperature keep them in the fridge for couple of hours to chill.
Enjoy the phirni chilled from the fridge!