Grilled Thai Chicken (Gai Yang)
Grilled Thai Chicken is a delicious classic Thai street food. This chicken is soo good that the chicken simply melts in the mouth.
Gai yang (ไก่ย่าง) is the Thai word for grilled chicken, and throughout Thailand, there are so many variations of Gai Yang- different in each region, restaurants, street food vendors and home style versions. But there are two key ingredients that everyone uses while making this authentic Thai – lemongrass and fish sauce. Omit either of these, and you can't call it a chicken recipe from Gai Yang family. In addition to lemongrass and fish sauce, the marinade for this chicken is packed full of other classic Thai ingredients – loads of garlic, Kefir lime leaves, coriander, chilli, galangal, Thai Basil, soya sauce to name a few.
When we travelled to Thailand there were street carts after street carts in Bangkok selling different BBQ chicken. Some BBQ the whole chicken or some parts of chicken. My husband and daughter prefer bite site pieces of chicken, so this is my take on the classic Thai Gai Yang recipe. The marinade for this chicken is super super delicious! The flavour is so good, that I sometimes make extra chicken as I know it will be devoured in no time.
If you're feeling inspired, indulge in a Thai banquet with other dishes like Thai Pandan Leaf Chicken (Gai Haw Bai Toey), Thai Green Curry, Thai Sweet Corn Fritters (Tod Man Khao Pod), Thai Coconut Mussels, and Thai Style Paneer in Pandan Leaves to name a few.
Ingredients
300 gm chicken thighs (2-inch pieces)
1 teaspoon soya sauce
1 teaspoon fish sauce
½ teaspoon sugar
1 tablespoon sesame seeds (optional)
1 teaspoon finely chopped coriander
1-2 roughly chopped jalapeno chillies (optional)
To Grind for The Marinate
1 inch galangal/ginger
2 chopped lemon grass
2-3 garlic cloves
3 roughly chopped green hot chillies
1 tablespoon coriander leaves
1-2 kaffir lime leaves
1 tablespoon Thai Basil leaves
Salt to taste
Directions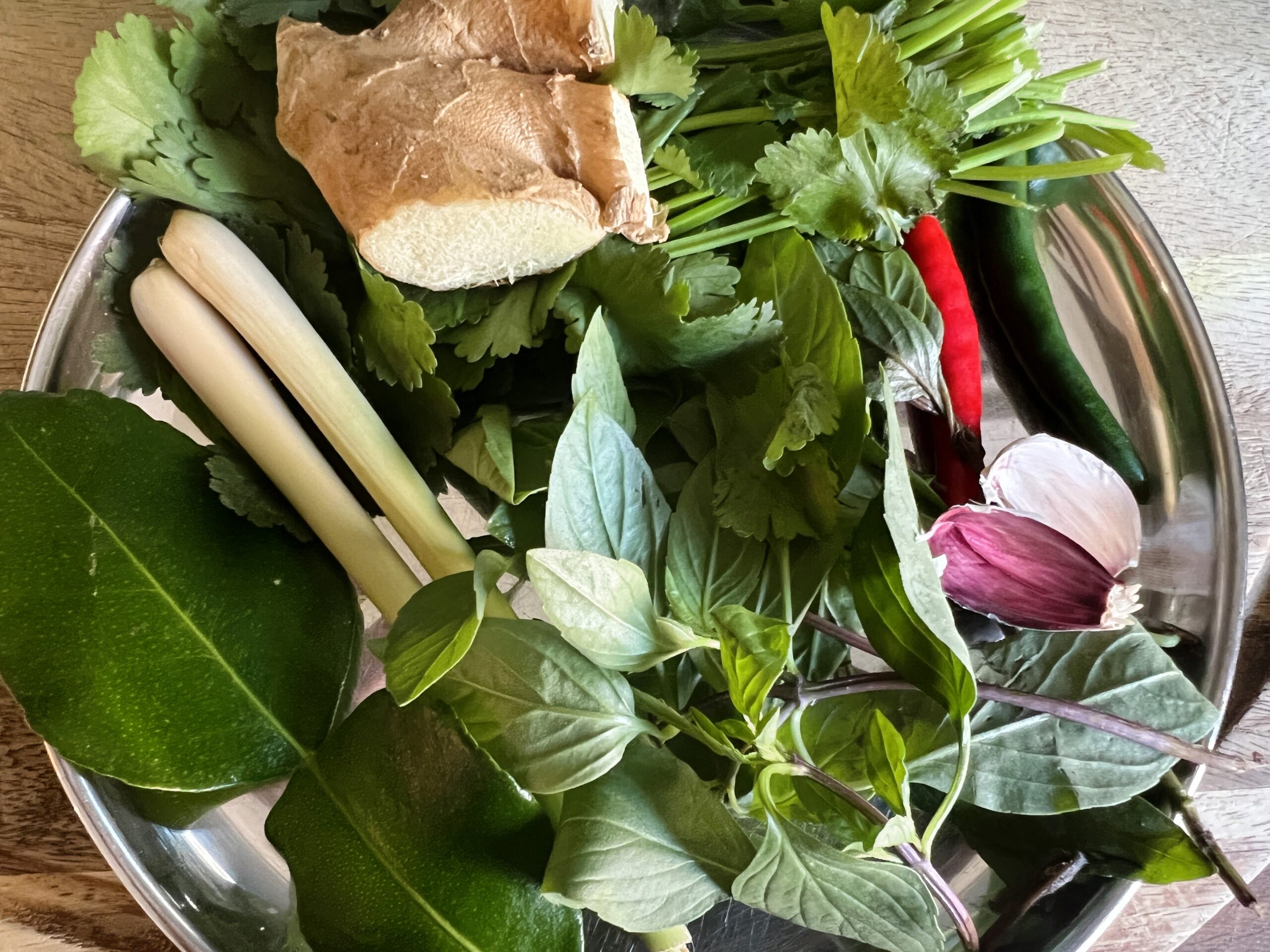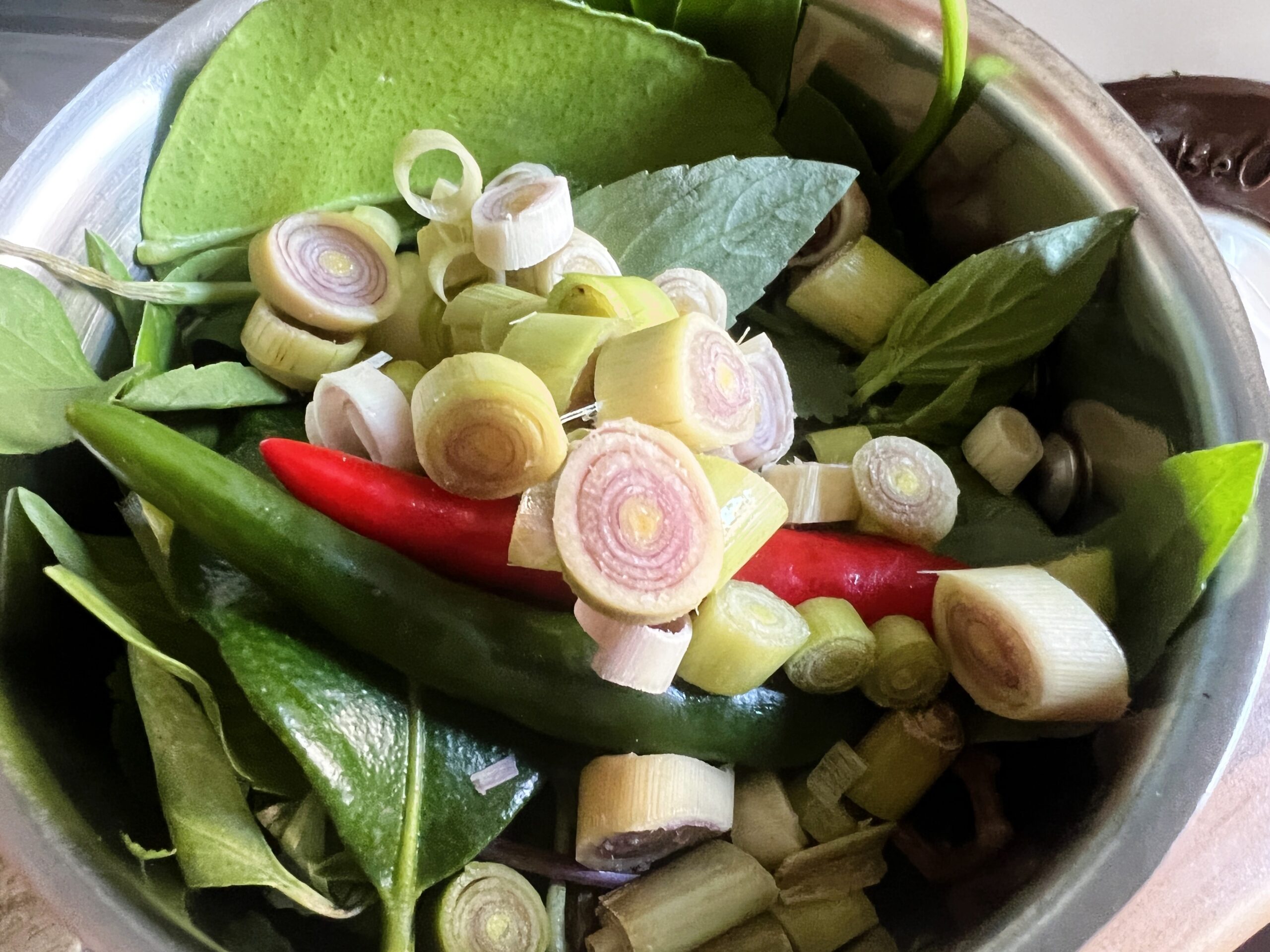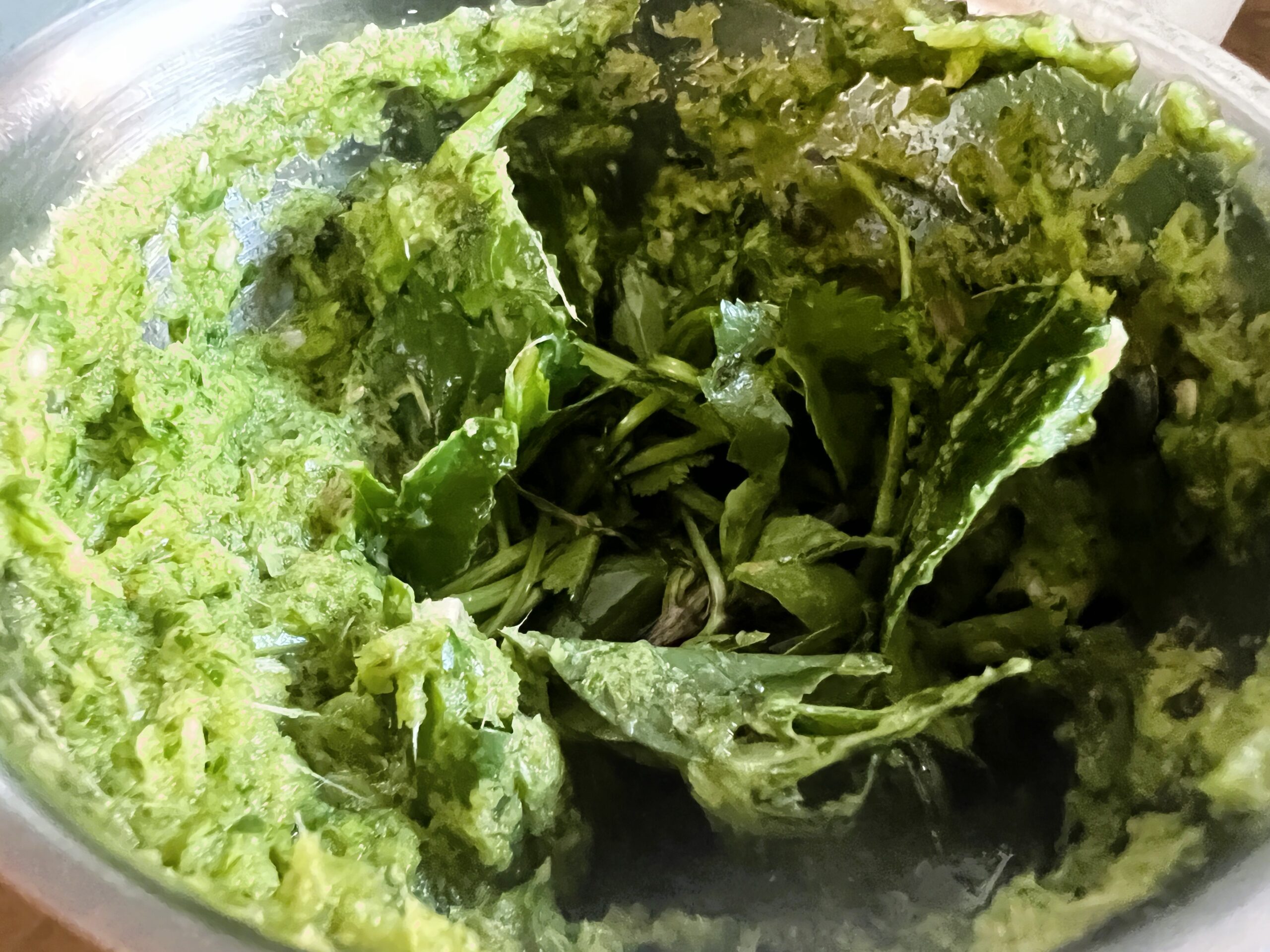 Roughly chop all the ingredients for the marinate and grind it into a smooth paste in a blender. You can add 1-2 teaspoons water if needed. Make sure to not add too much water as we do not want very thin marinate.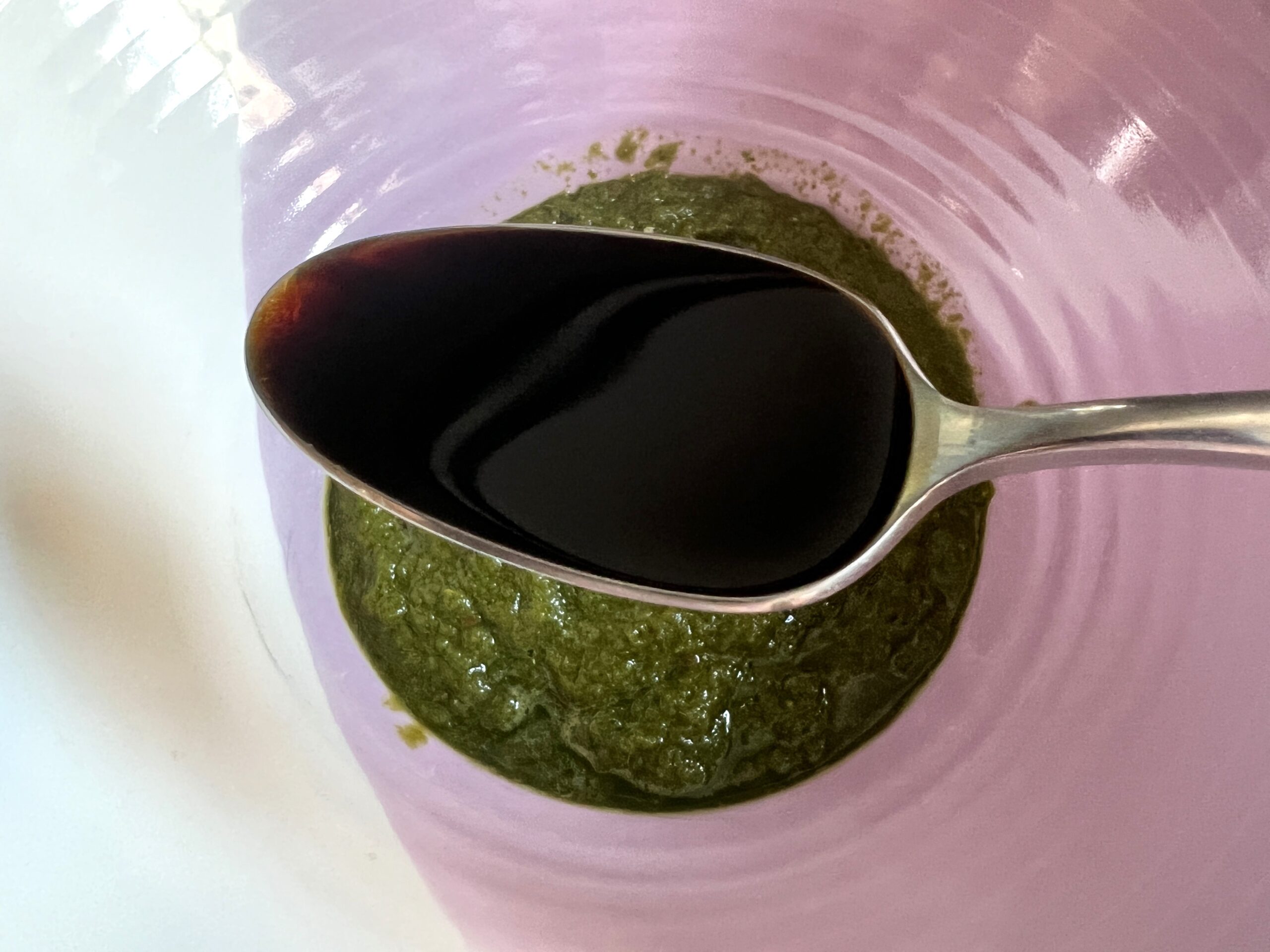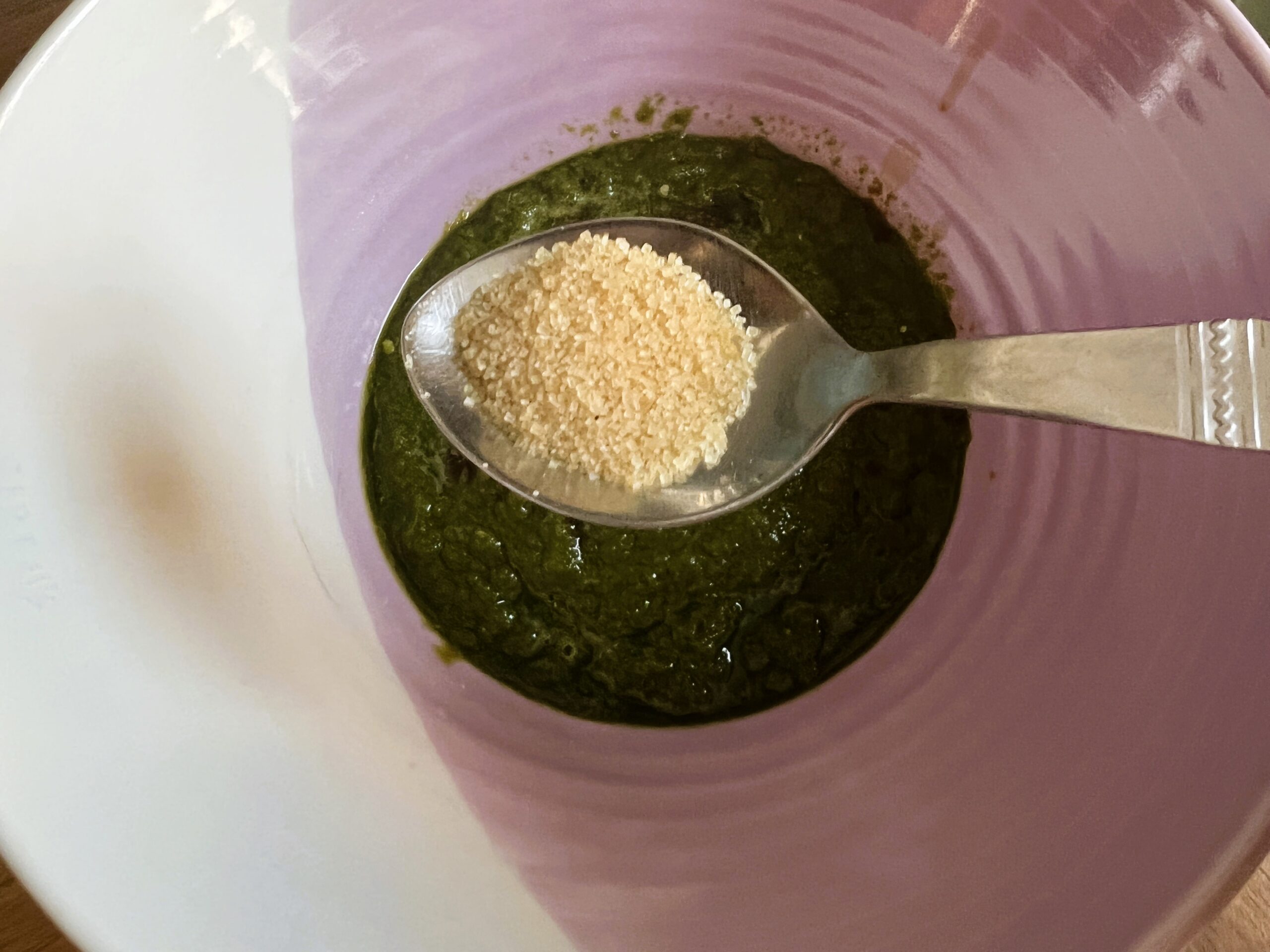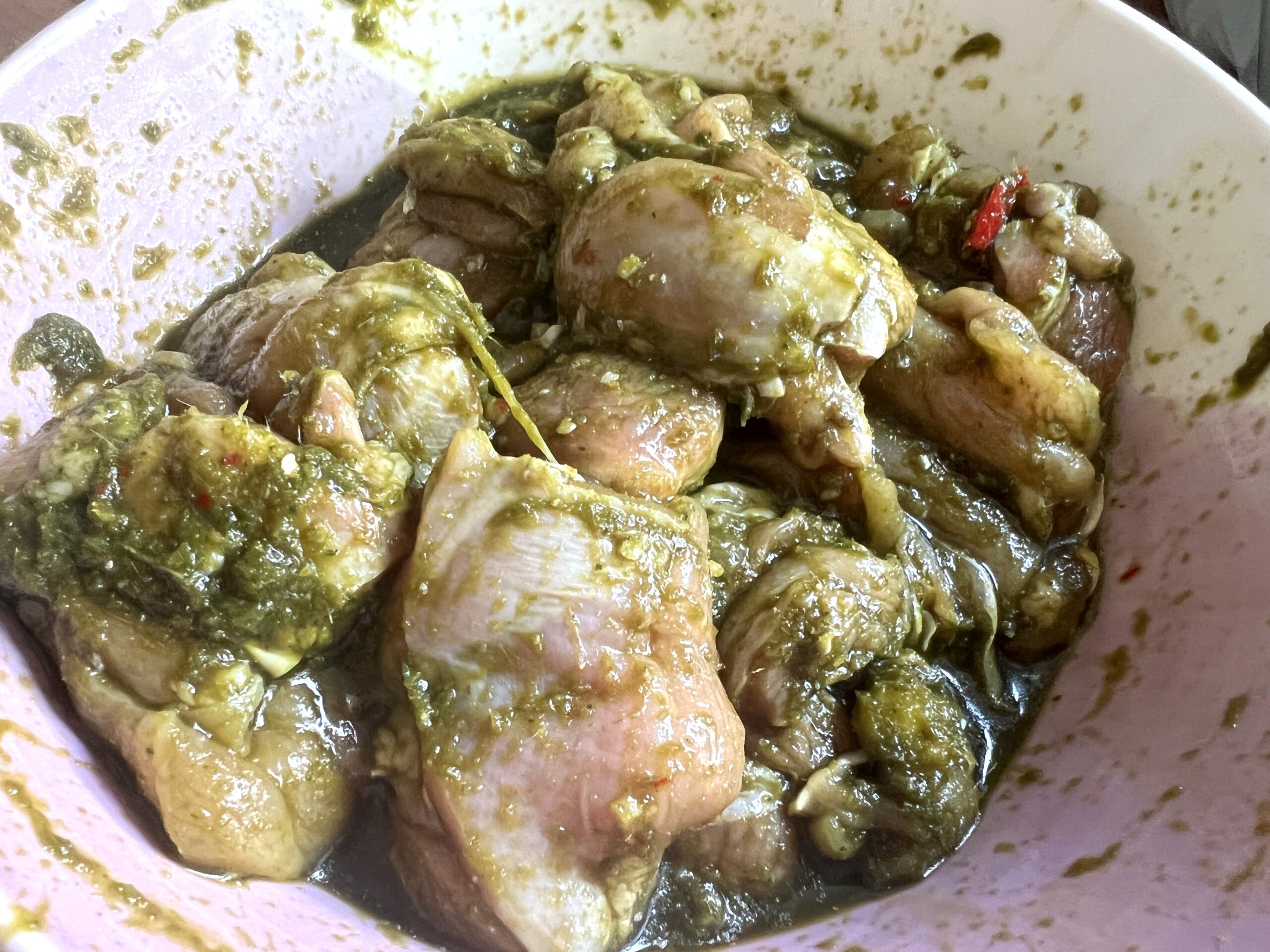 To the marinate add soya sauce, fish sauce, salt, and sugar. Mix and adjust the seasoning according to your taste. The marinate should be spicy with touch of sweetness. The marinate mellows down when we add the chicken hence make sure it is punchy at this point.
Add the chicken and massage to spread the marinade over the chicken. Marinate for a minimum of 3 hours, preferably overnight (up to 24 hours).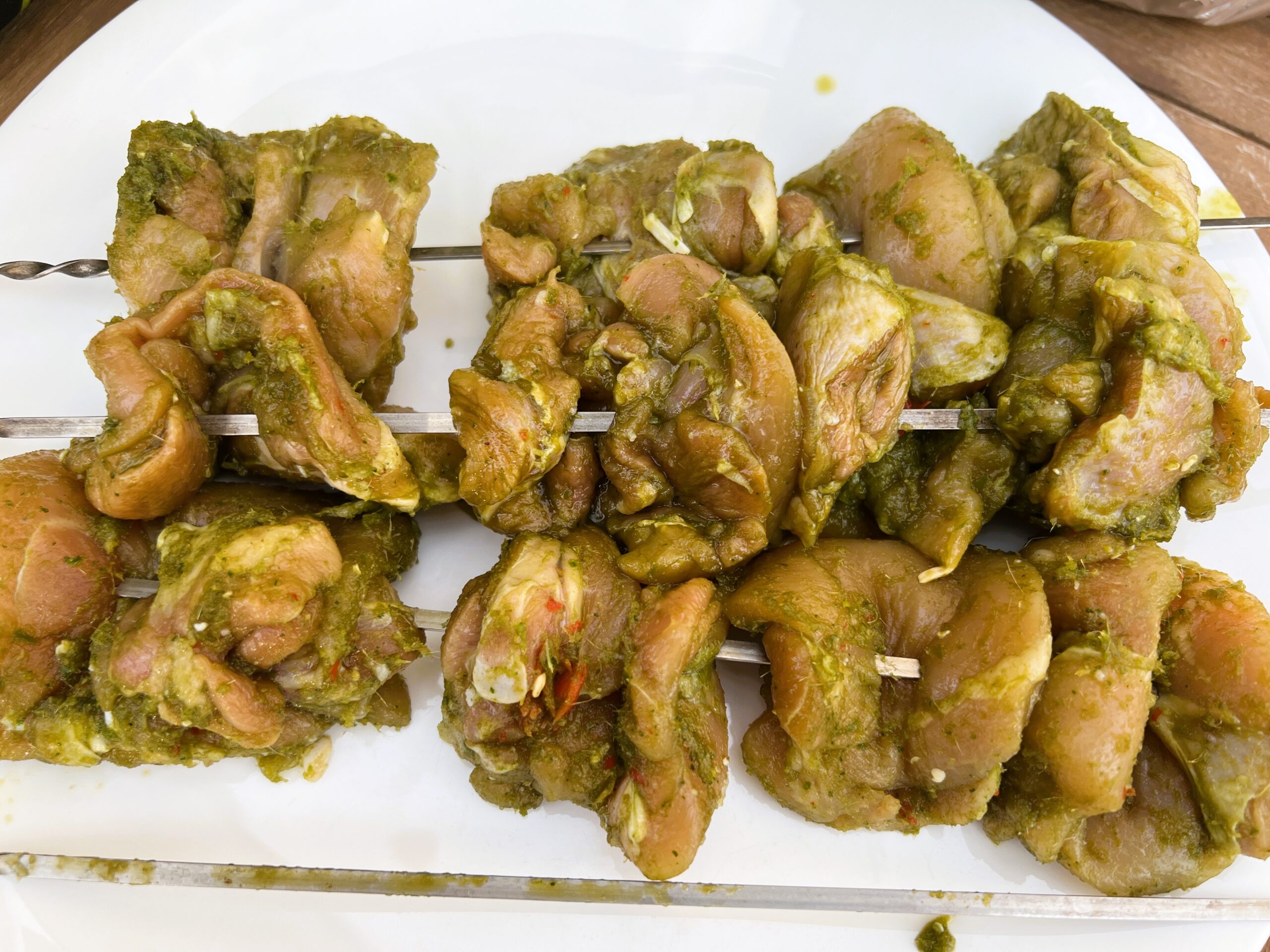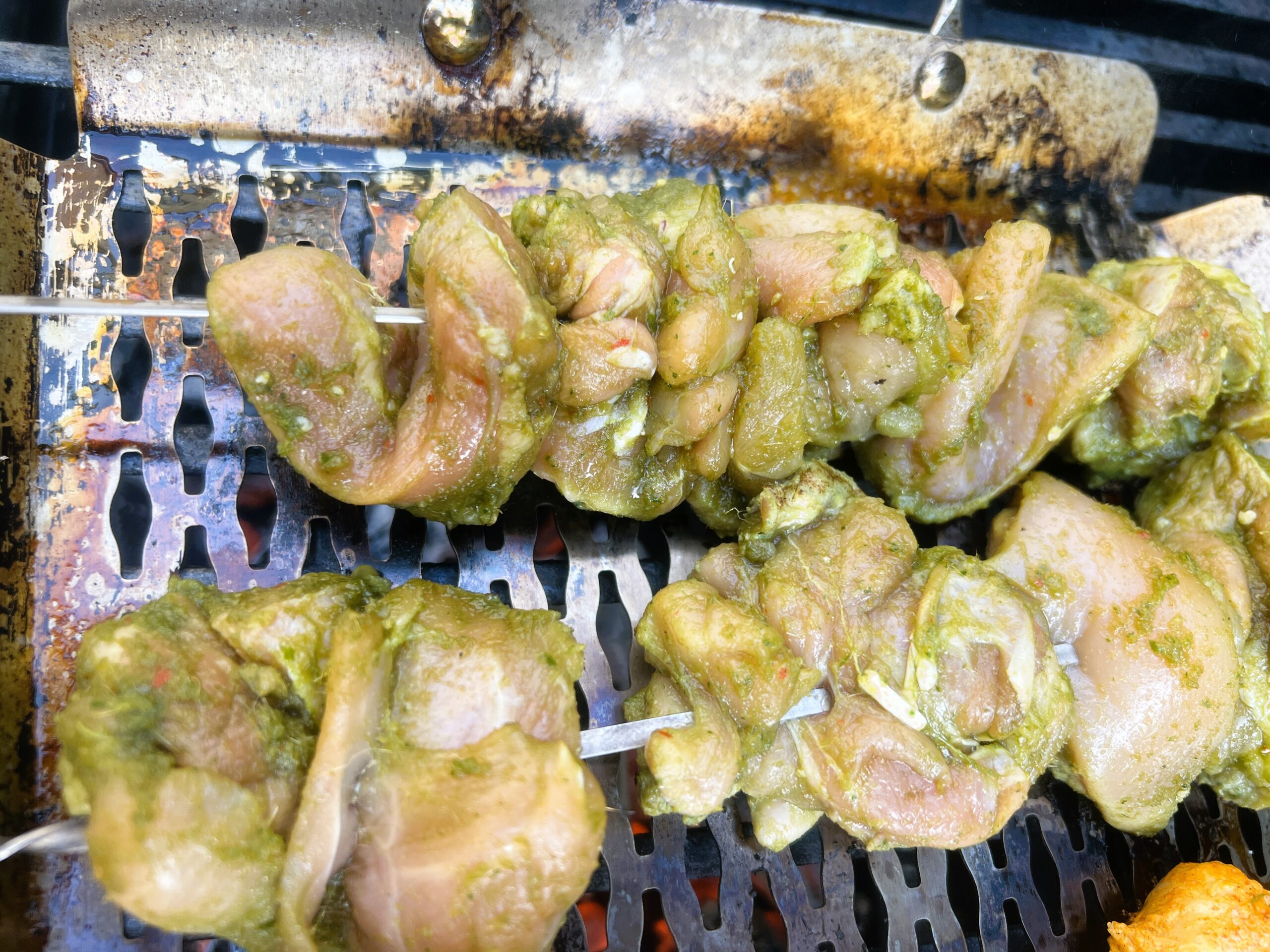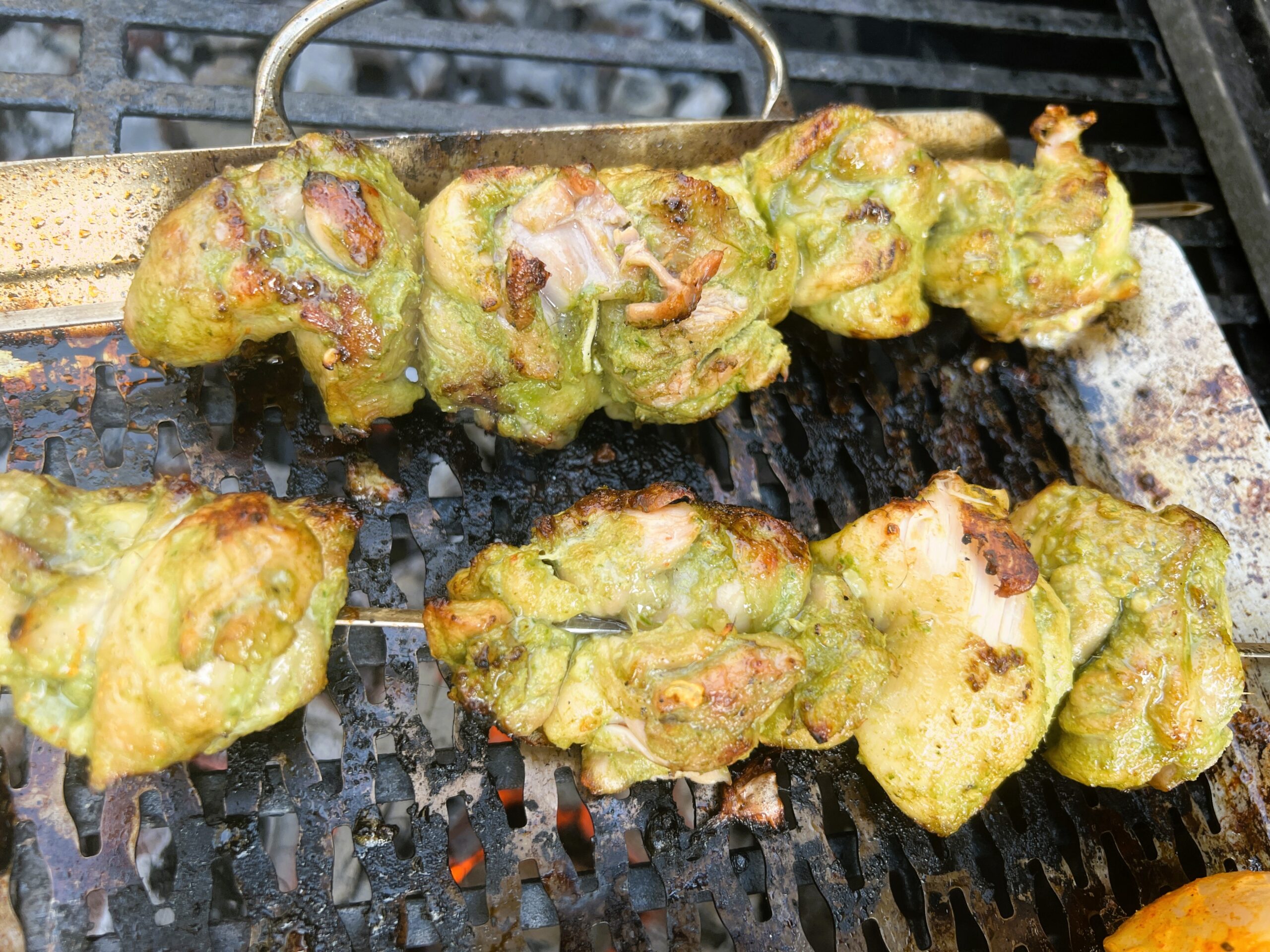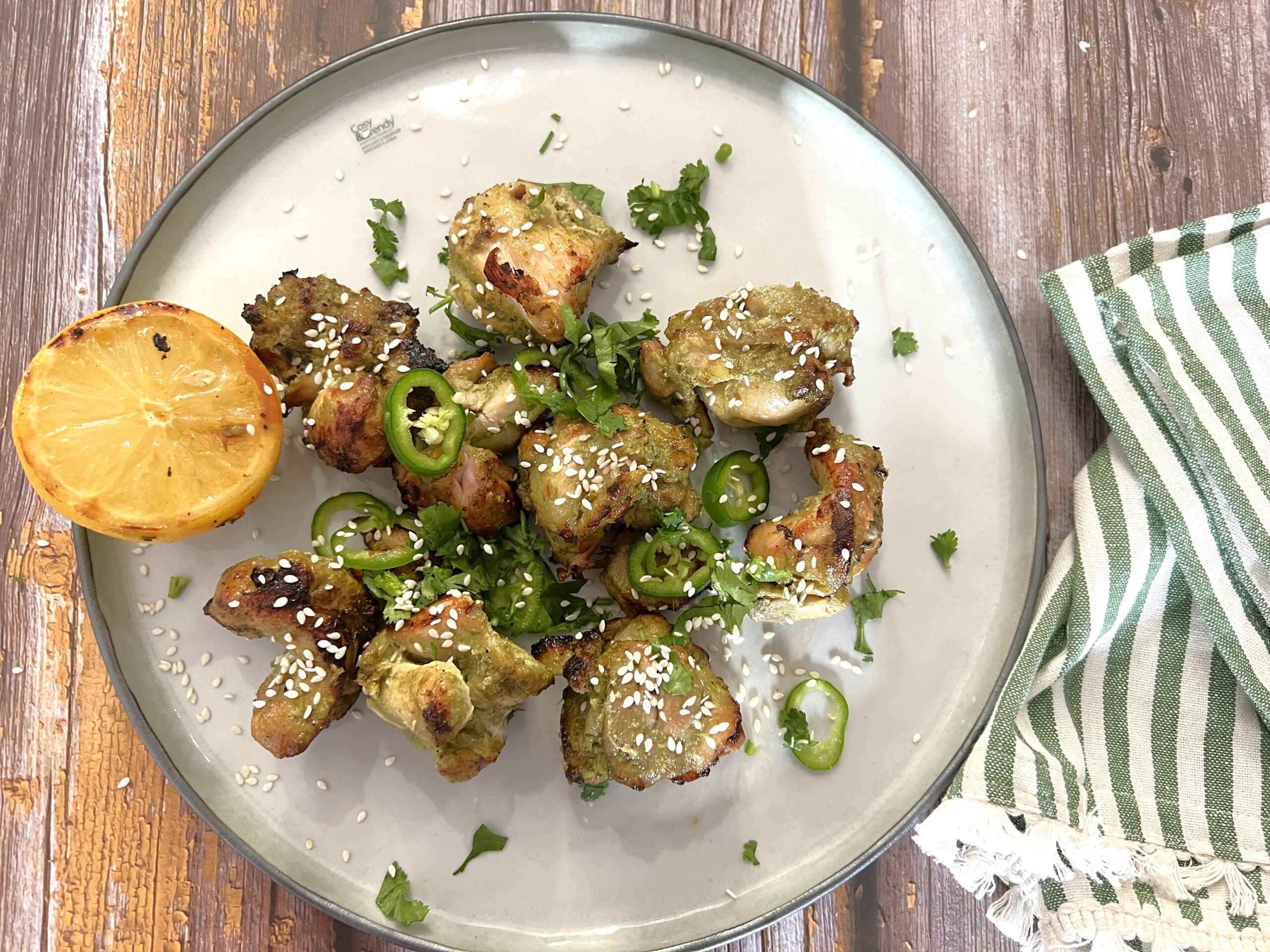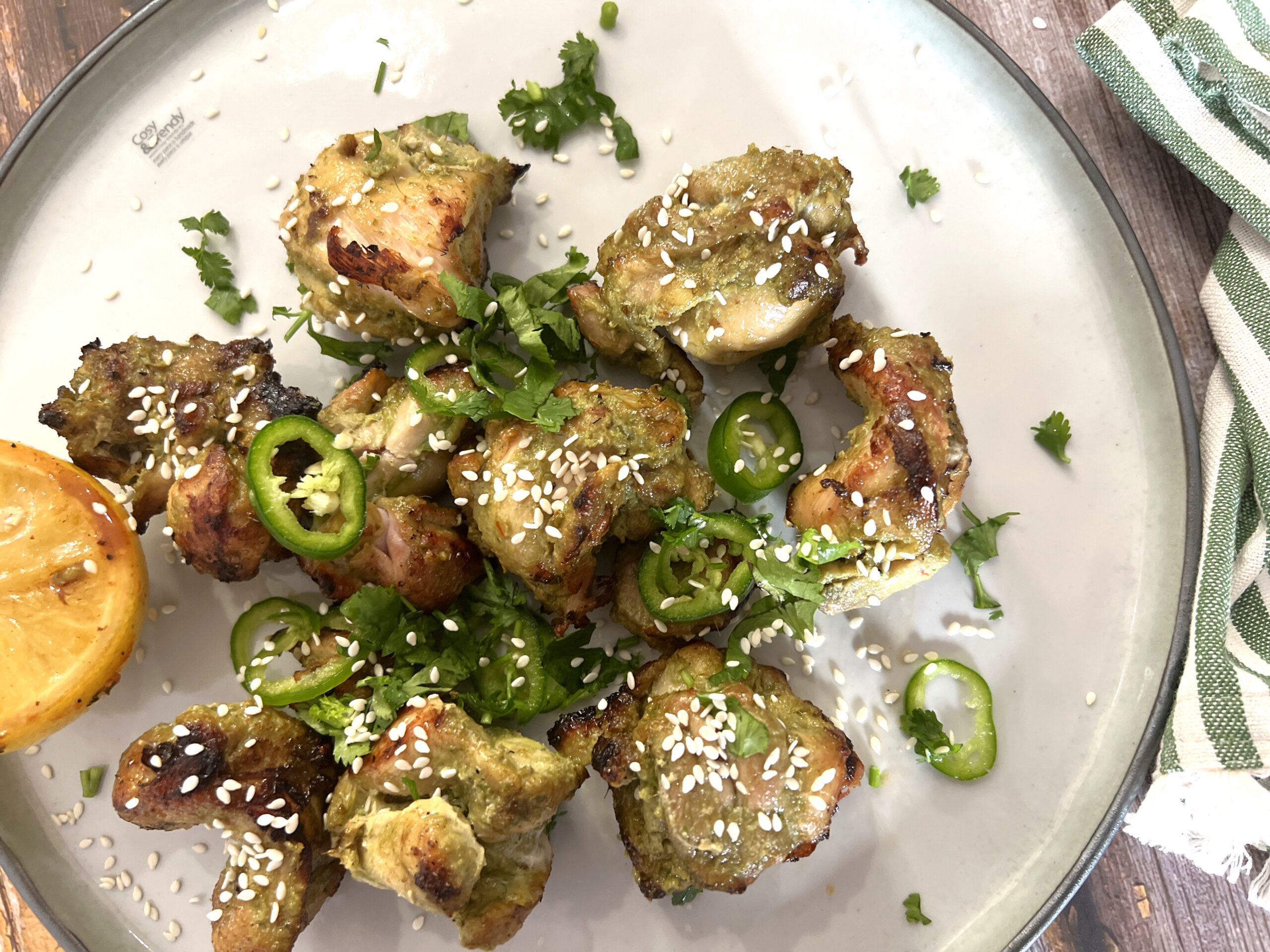 Heat the outdoor grill on medium high. Thread about 5 to 6 chicken pieces onto one metal or wooden grilling skewer.
Gently place the skewered chicken over the hot coals. Be sure to rotate the skewers regularly so that the chicken chars on the exterior and cooks evenly through. It takes around 6-8 minutes to cook it. You can baste the chicken with some oil/ or even left over marinate while cooking.
Once cooked sprinkle some sesame seeds, coriander and jalapeno and serve hot.