Domatokeftedes/Tomatokeftedes
Domatokeftedes/Tomatokeftedes (tomato fritters)are fried tomato balls popular in the Greek island of Santorini. Domatokeftedes (in Greek: ντοματοκεφτέδες, pronounced doh-mah-to-kef-TEH-thes) is made from crushed tomatoes and flour kneaded into a thick batter along with spices, parsley, mint, and onion and fried until golden and crispy. It is traditionally served with a big dollop of dill yogurt.
This dish definitely brings back memories from my holiday in Santorini. The heart-stopping sunrises, quintessential landscape of whitewashed houses with sea blue roofs, its remarkable volcanic setting and simple delicious food using the local produce like Domatokeftedes, Greek salad. Just thinking about it transports me to a happy place! Santorini's local cherry tomatoes are blessed with an intensely sweet flavour due to the volcanic nature of the soil, which is full of minerals and nutrients. Domatokeftedes are perfect bites of sunshine, an explosion of freshness and herby goodness in every bite. A taste of Greece, in the literal sense.
Some versions of the Domatokeftedes uses feta too in the batter but I feel it dulls the flavour of tomatoes and herbs hence I cook without the feta. There are a couple of secrets to a good Domatokeftedes. The first is to knead the tomatoes, onions and herbs by hand as it helps in releasing all the flavours and juices in the mix. Secondly is to leave the batter resting for a few hours so the flavours marry well making it more flavoursome and scrumptious.
A delicious crispy flavoursome treat for starters!
Ingredients
200-250 grams red cherry tomatoes (or plum tomatoes)
½ finely chopped red onion
1 tablespoon finely chopped fresh mint
1 tablespoon oregano
1 tablespoon parsley
6-7 tablespoons plain flour (approximate)
¼ teaspoon baking powder
Salt to taste
½ teaspoon black pepper
Oil for frying
Dill Yogurt
100 gm Greek style yogurt
1 tablespoon finely chopped dill
Salt to taste
splash of olive oil
To Serve
Lime wedges
1 teaspoon finely chopped parsley
Directions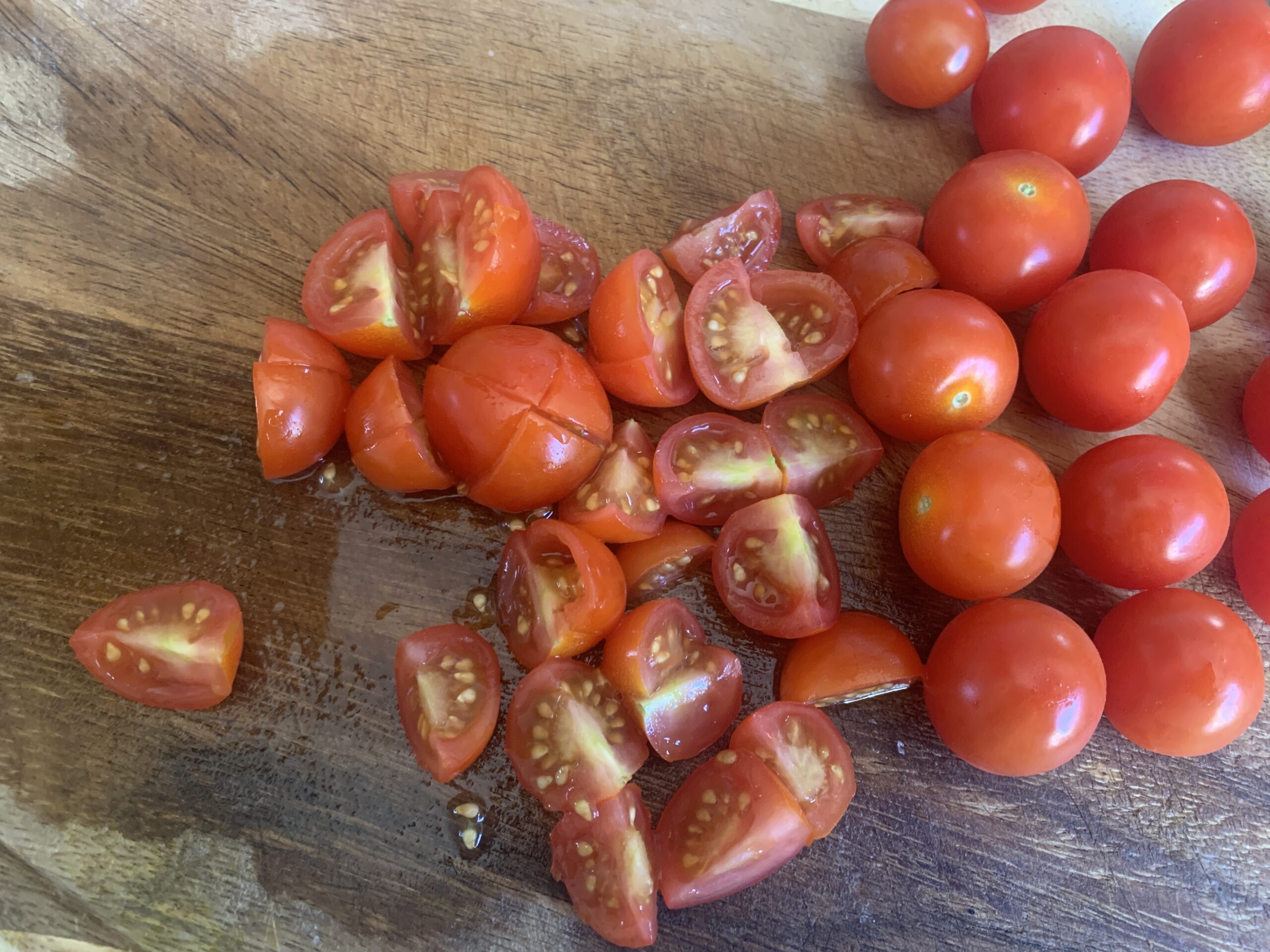 Cut the cherry tomatoes length ways and then into quarters and leave the seeds in. (if using plum tomatoes scoop the seeds out before finely chopping the tomatoes.)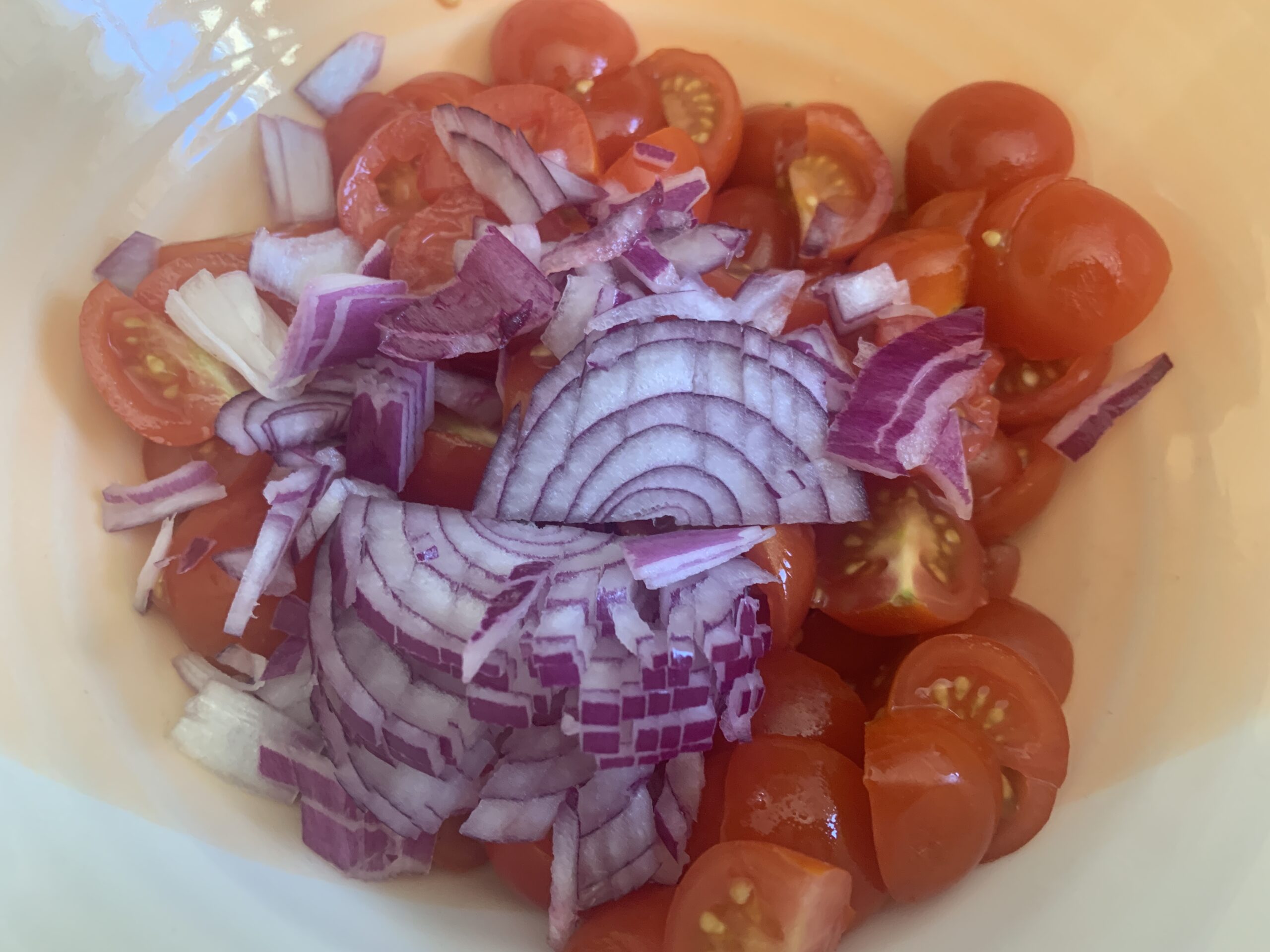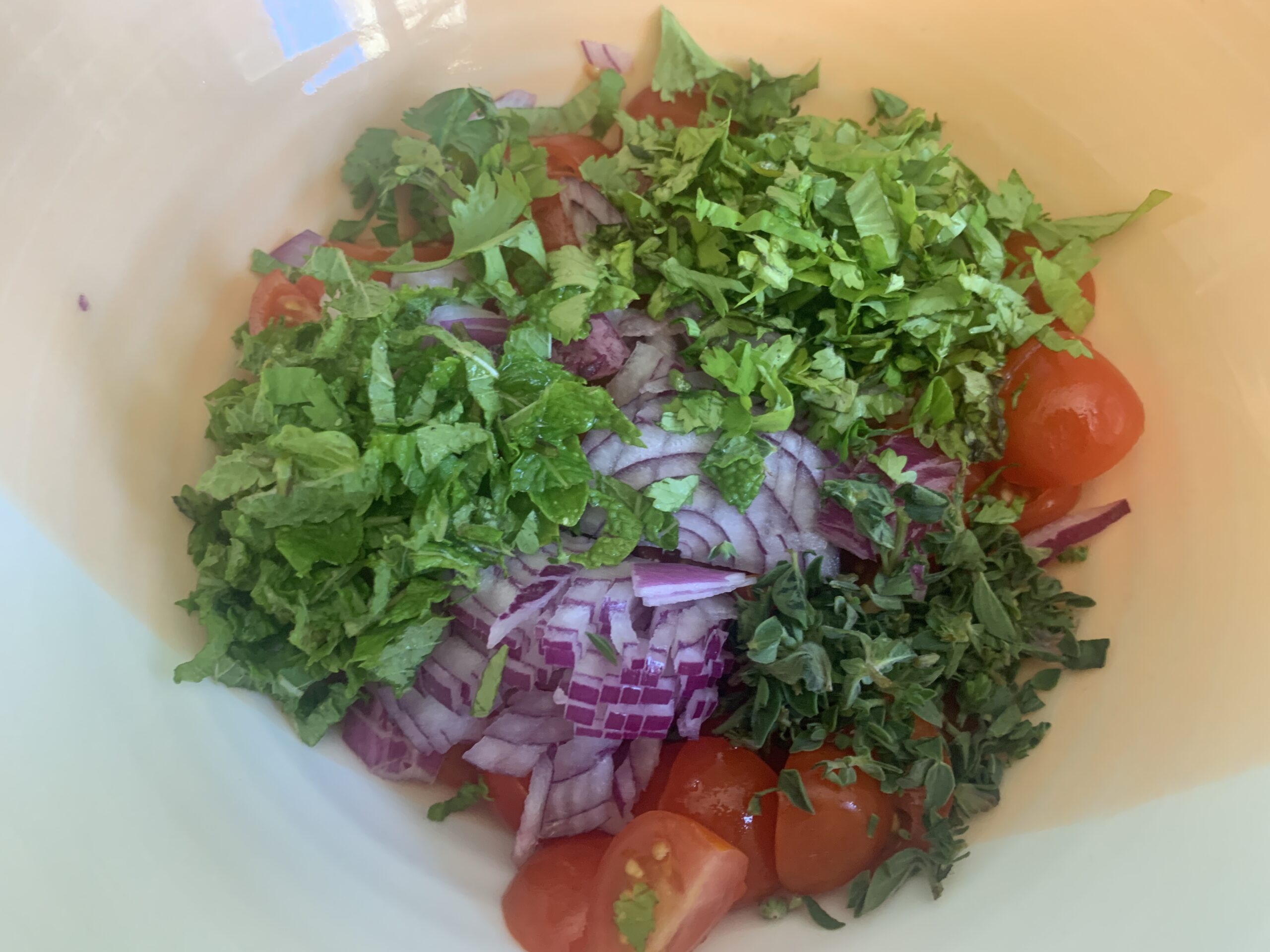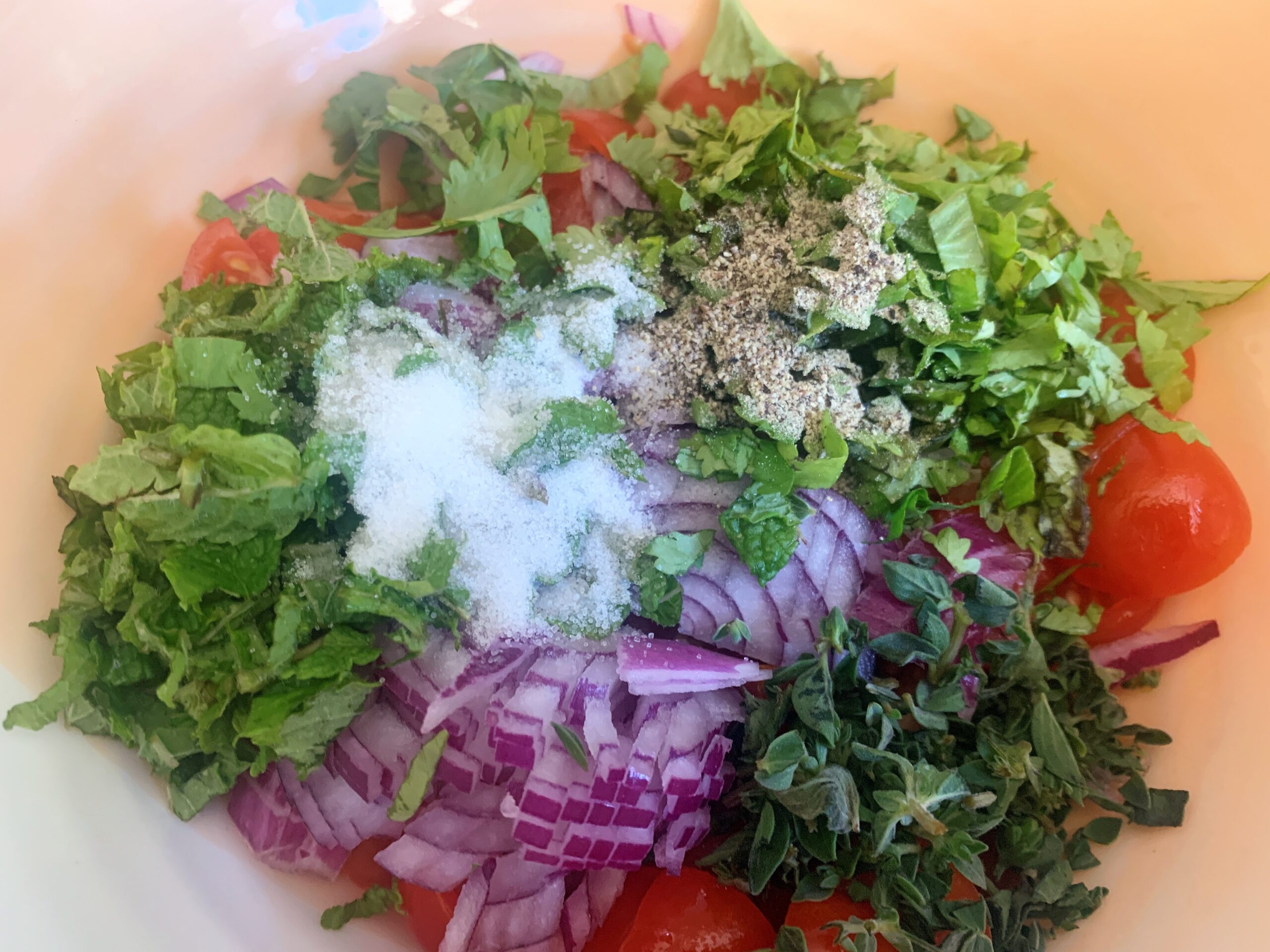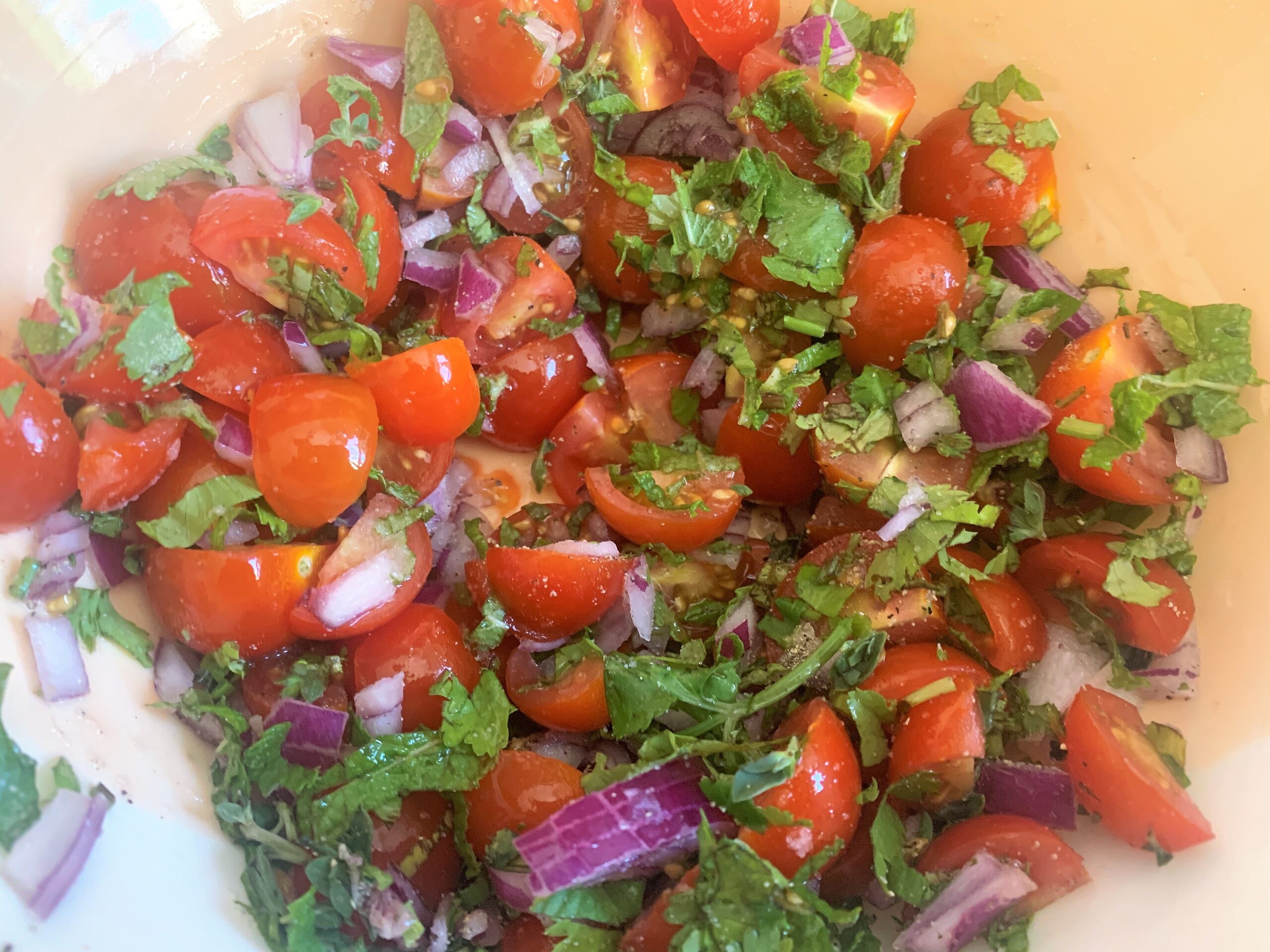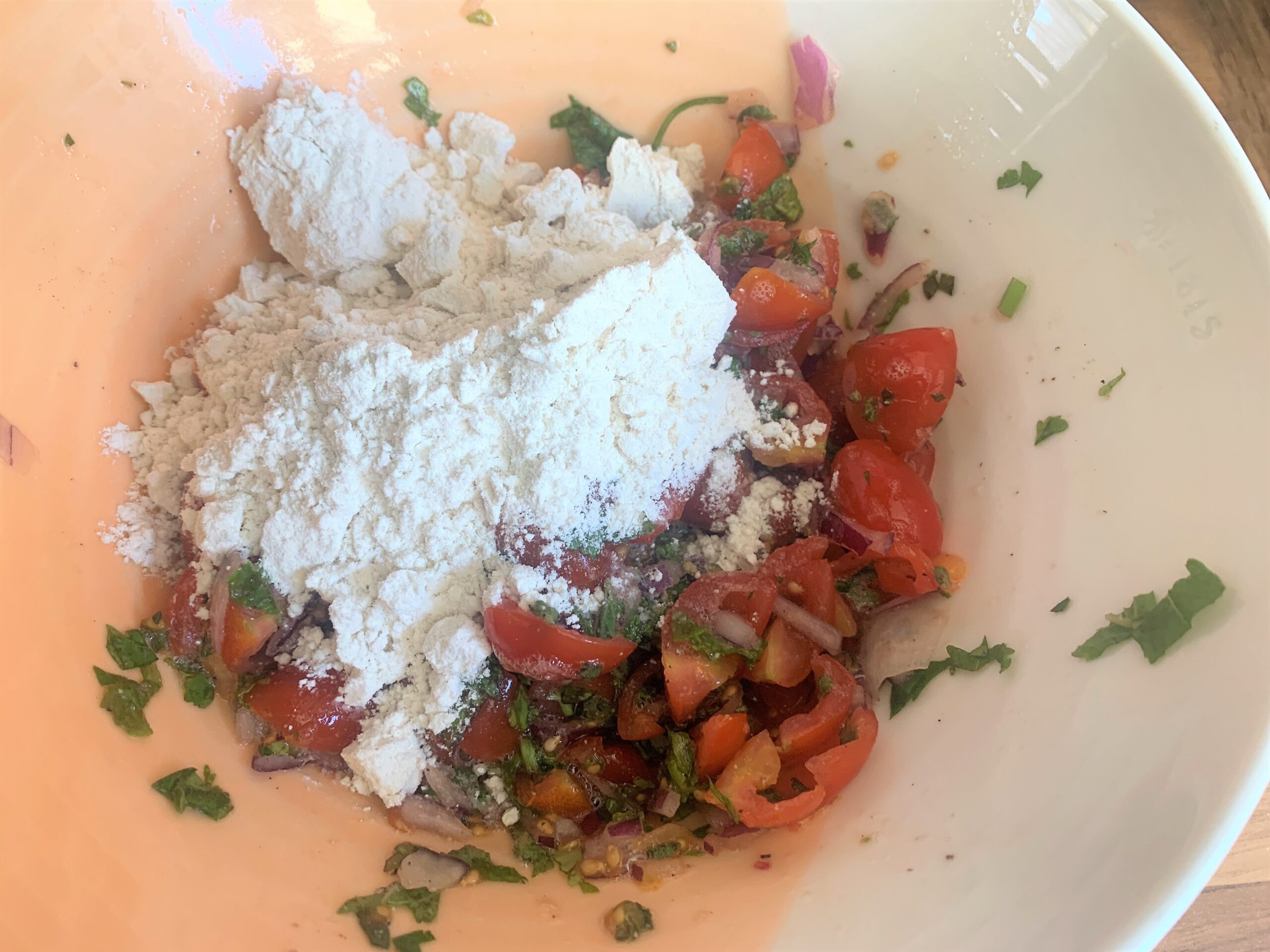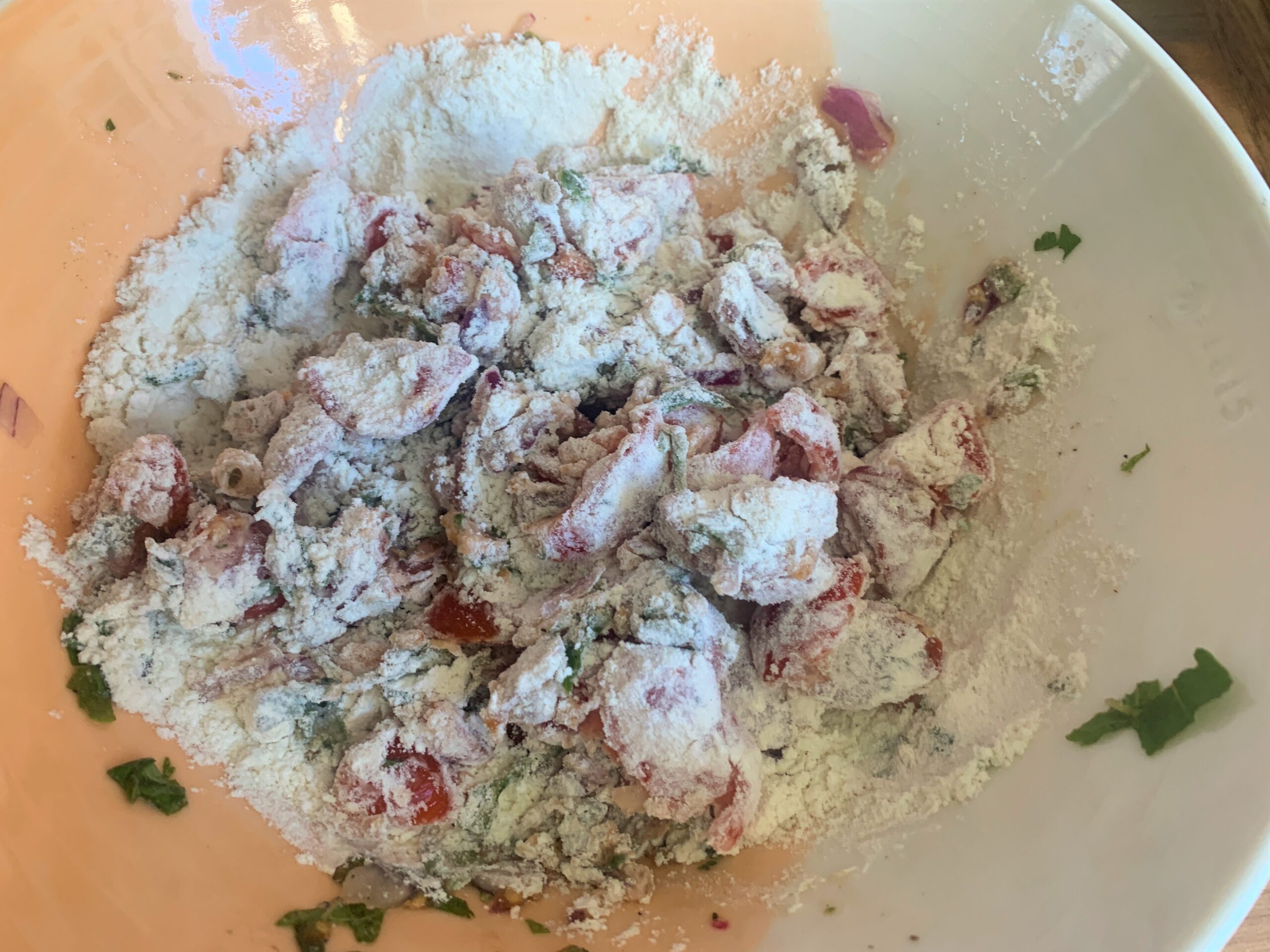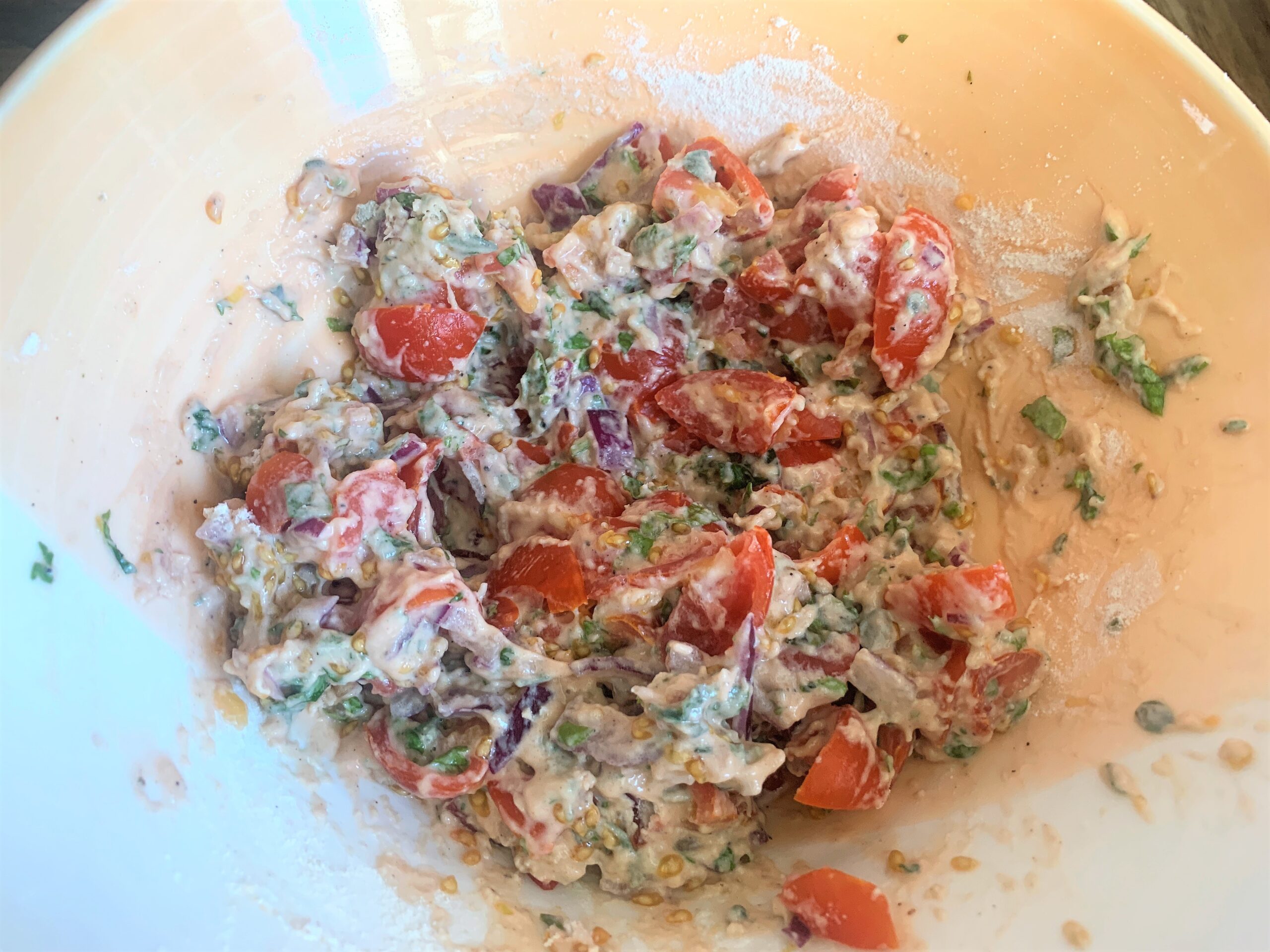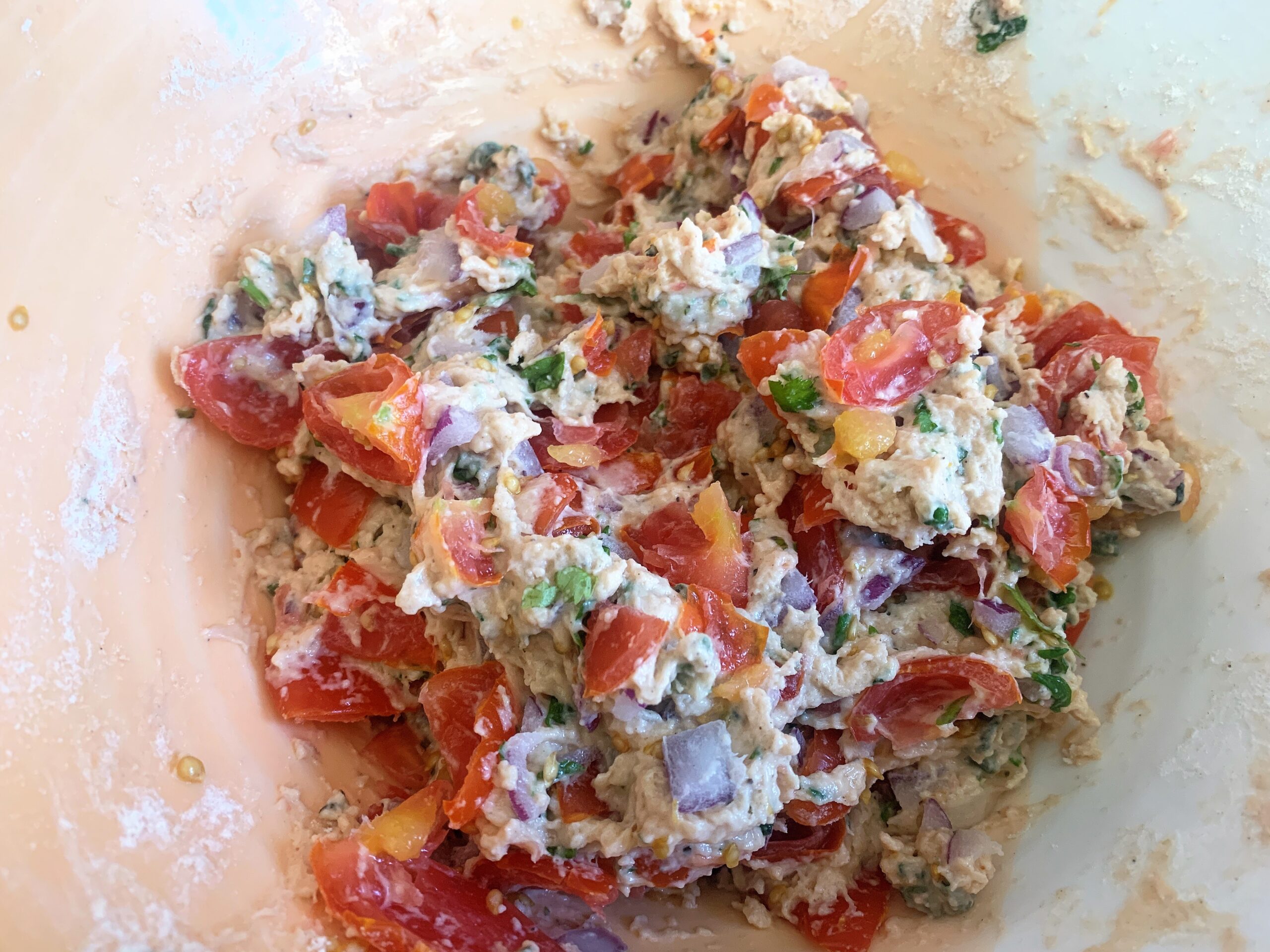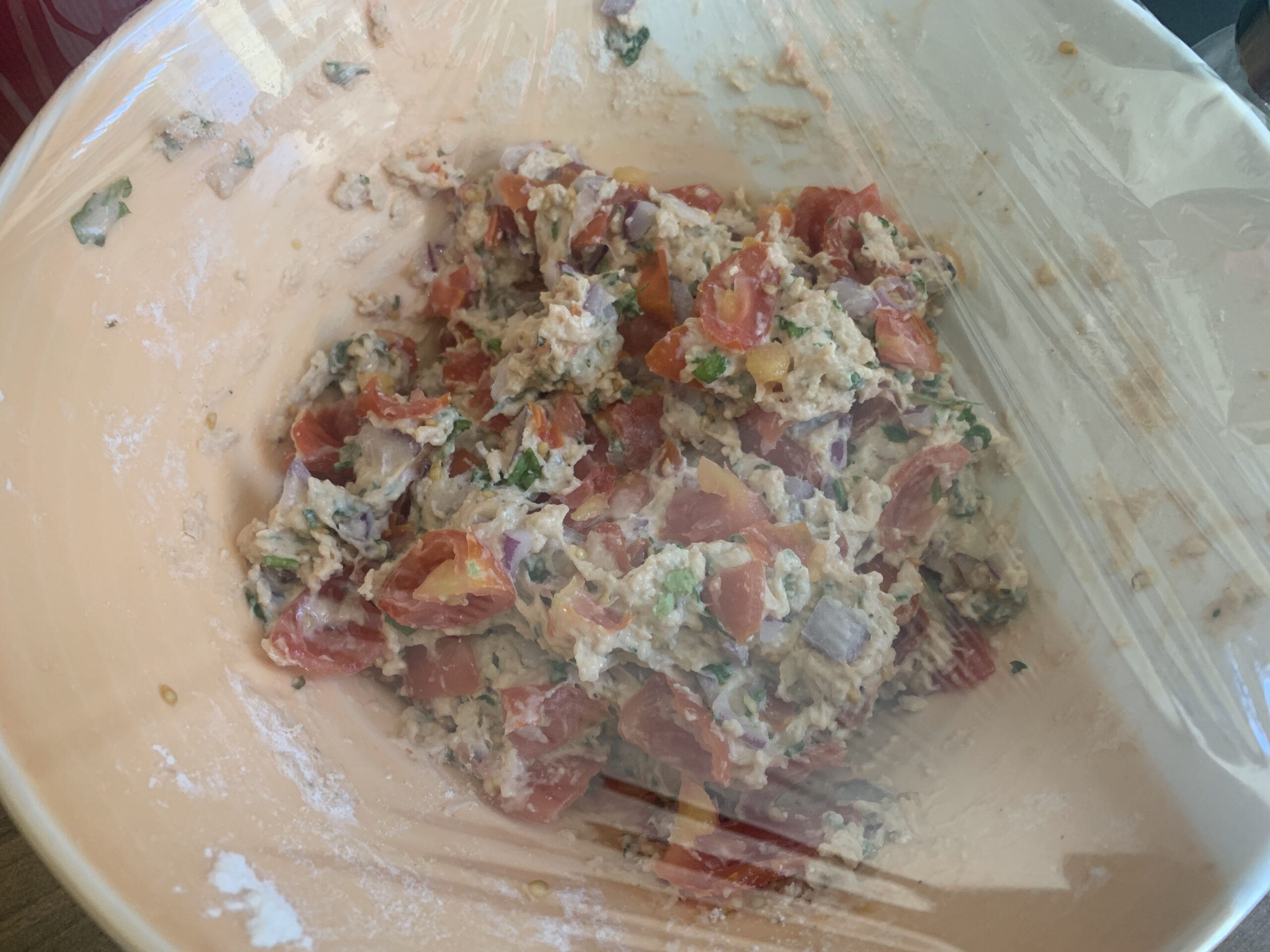 Add the onion, mint, oregano, parsley, salt, black pepper to the tomatoes and mix well. Add the flour and mix to combine all the ingredients. Adjust the amount of flour to make a thick batter. Cover and place the bowl in the fridge for 30 minutes, or preferably 2–3 hours.
Add the baking powder and mix.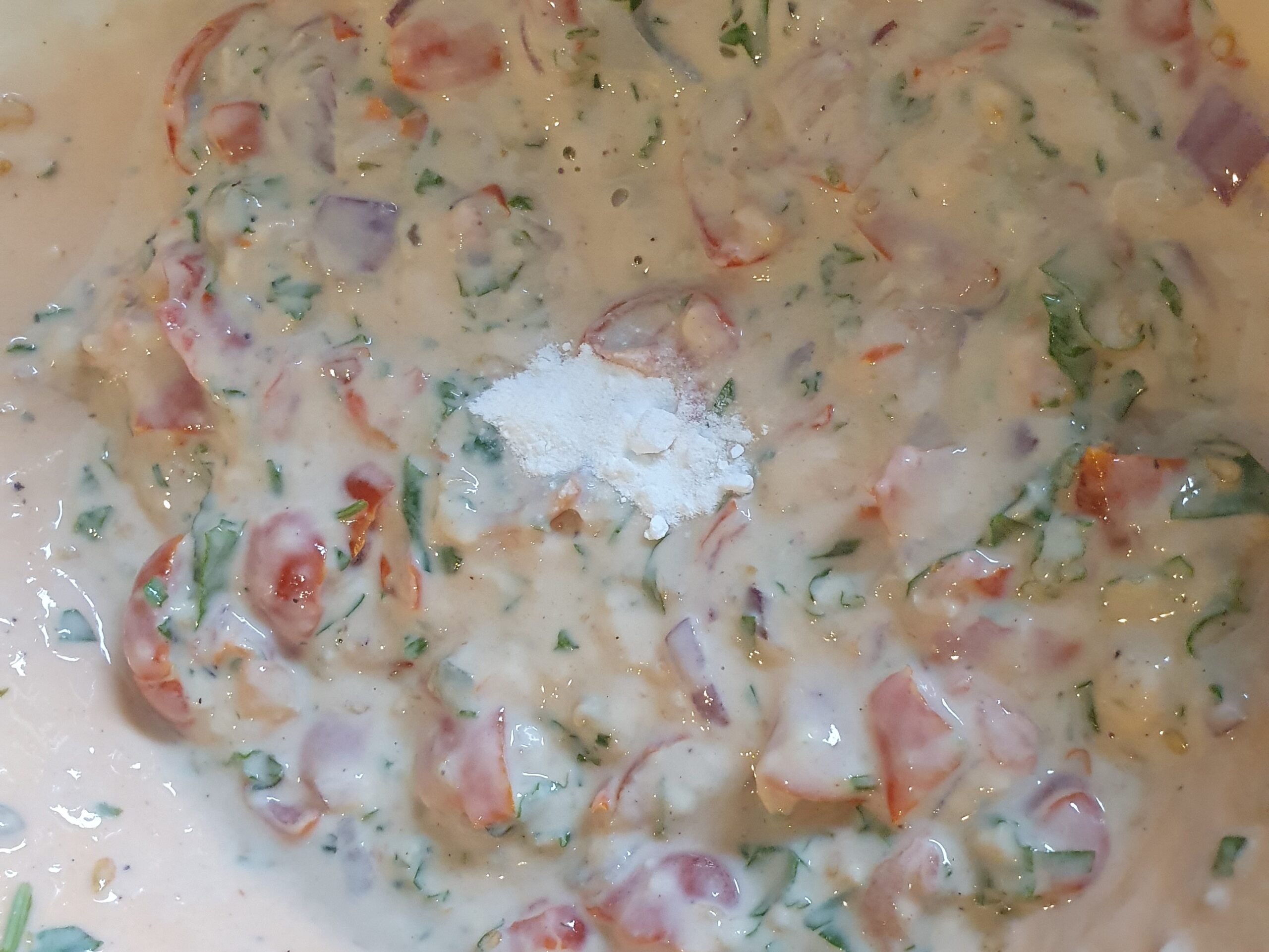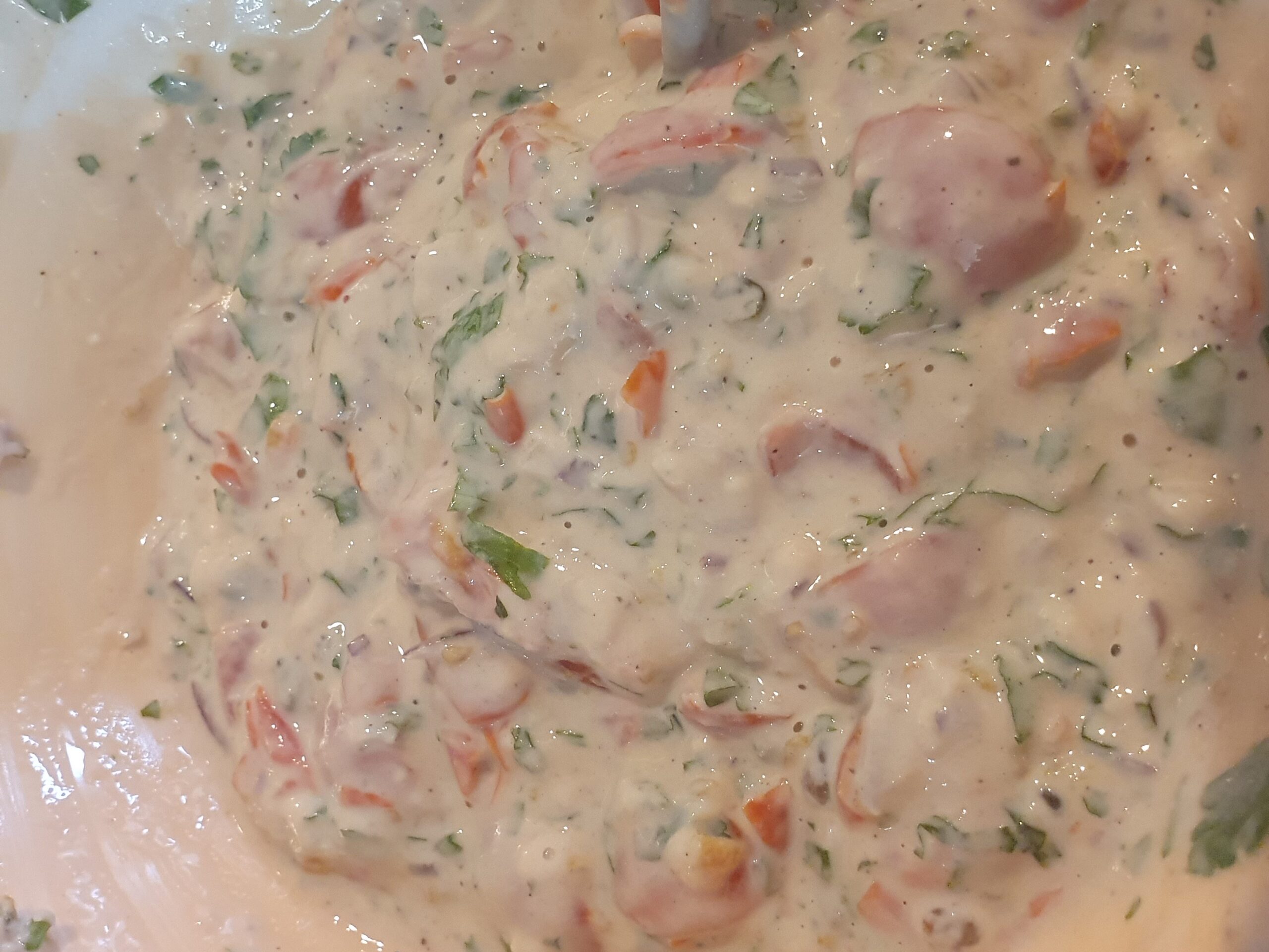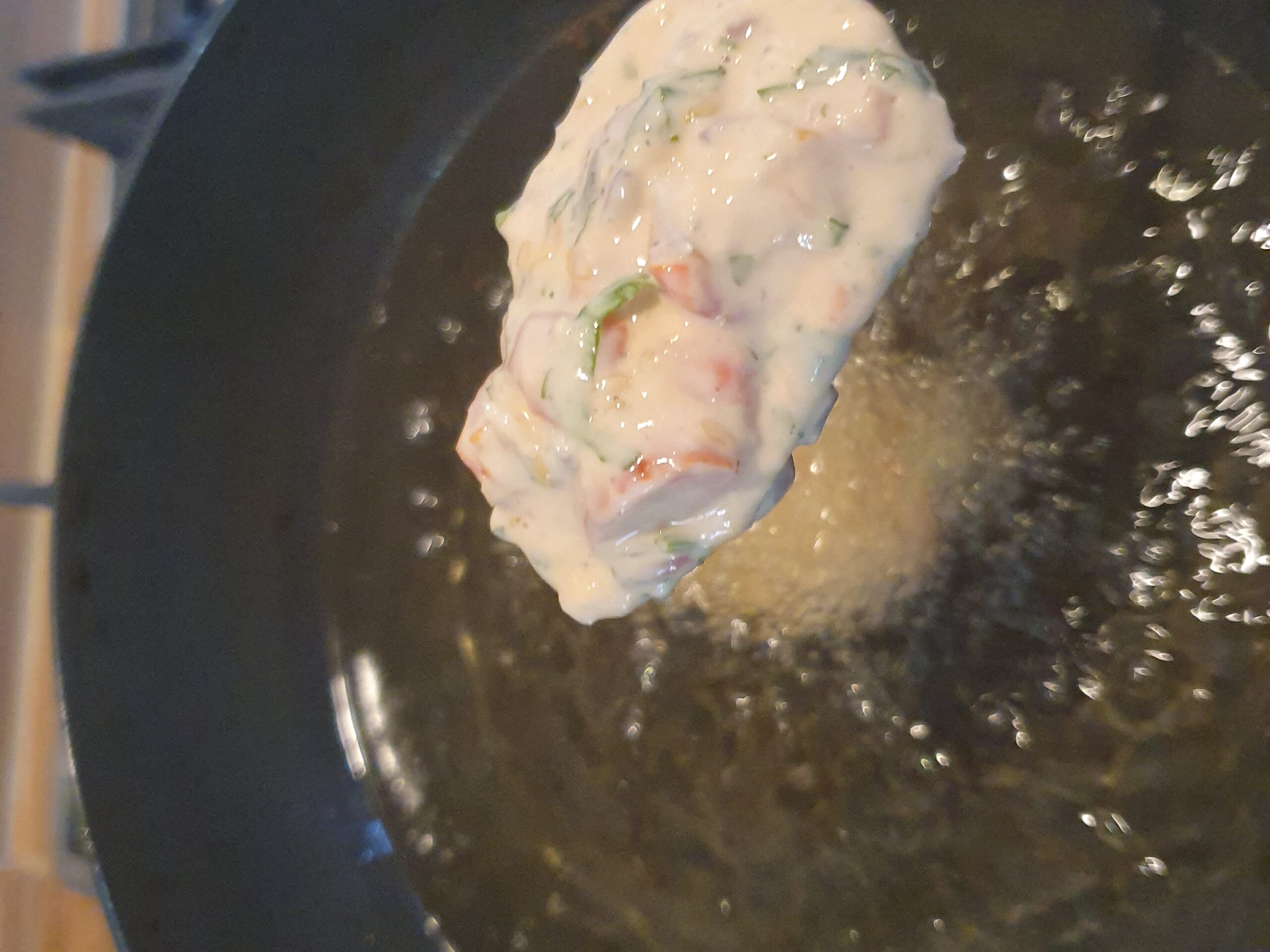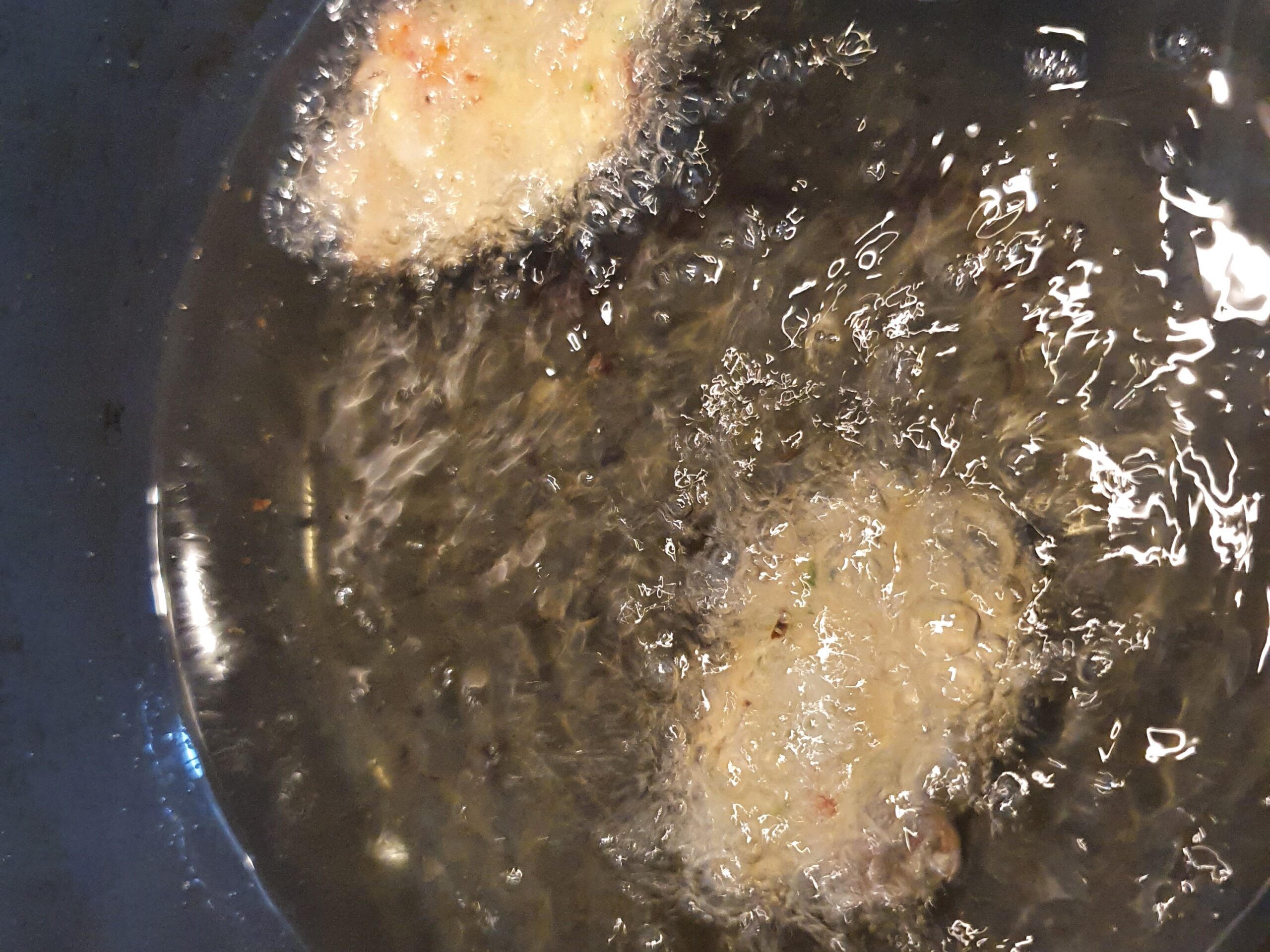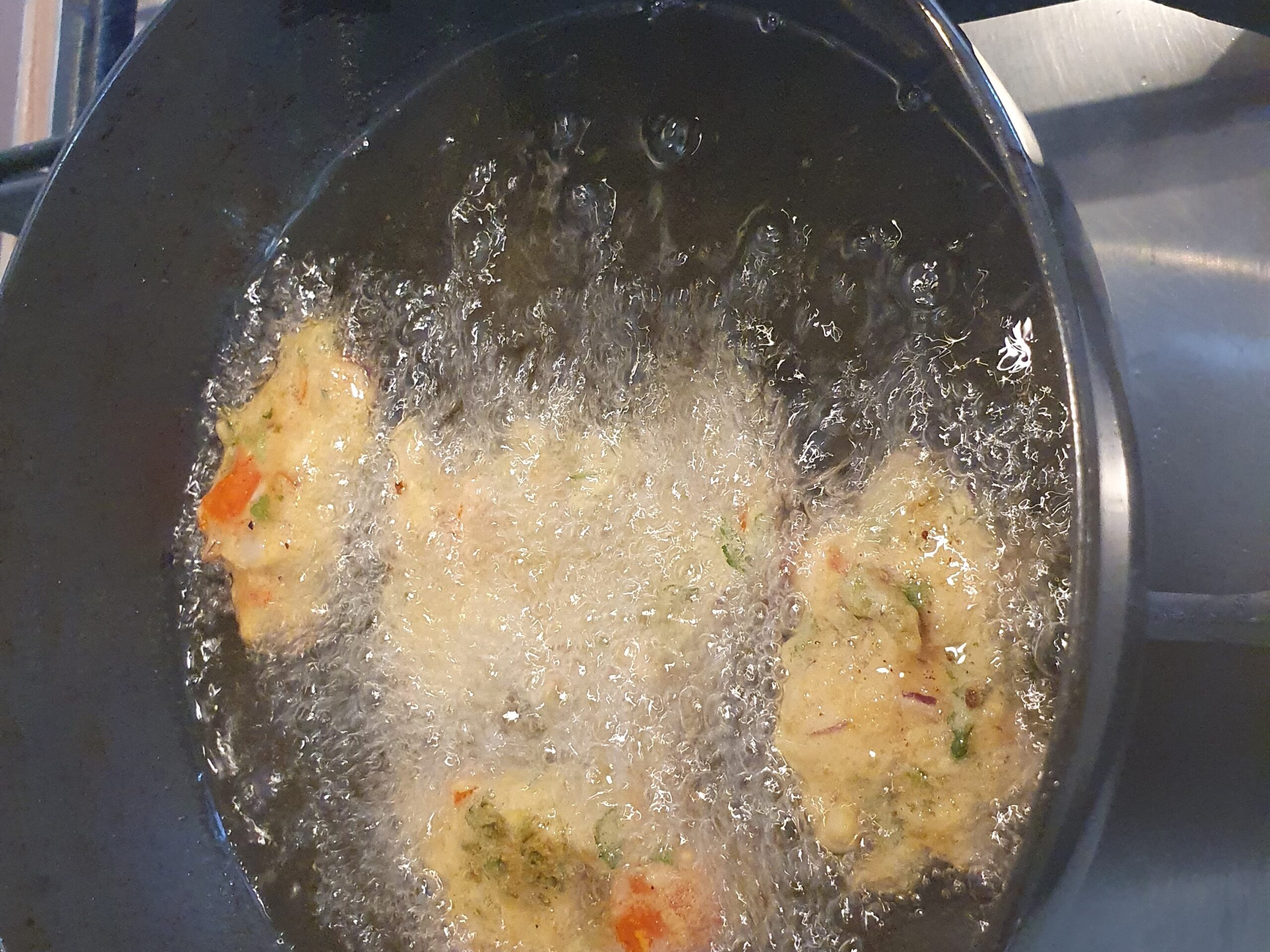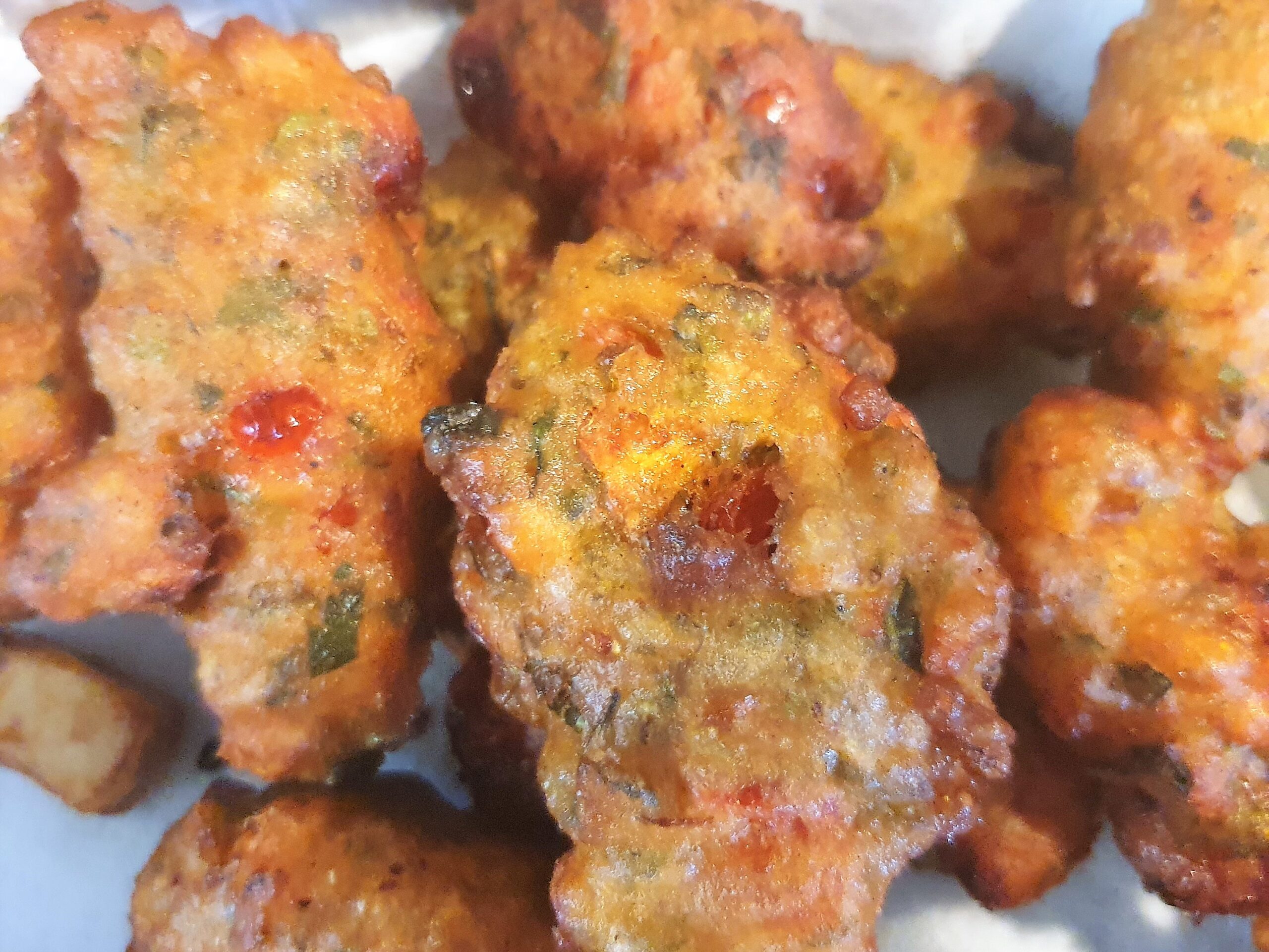 Heat oil for frying to medium hot.
Add the baking powder to the batter and mix.
To check if the oil is ready for frying drop half a teaspoon of batter in the oil. If it sizzles quickly, the oil is ready. Using a lightly-oiled spoon, carefully drop large tablespoons of the batter into the oil and fry the fritters for about 2–3 minutes on each side until golden and crisp. Drain on paper towel.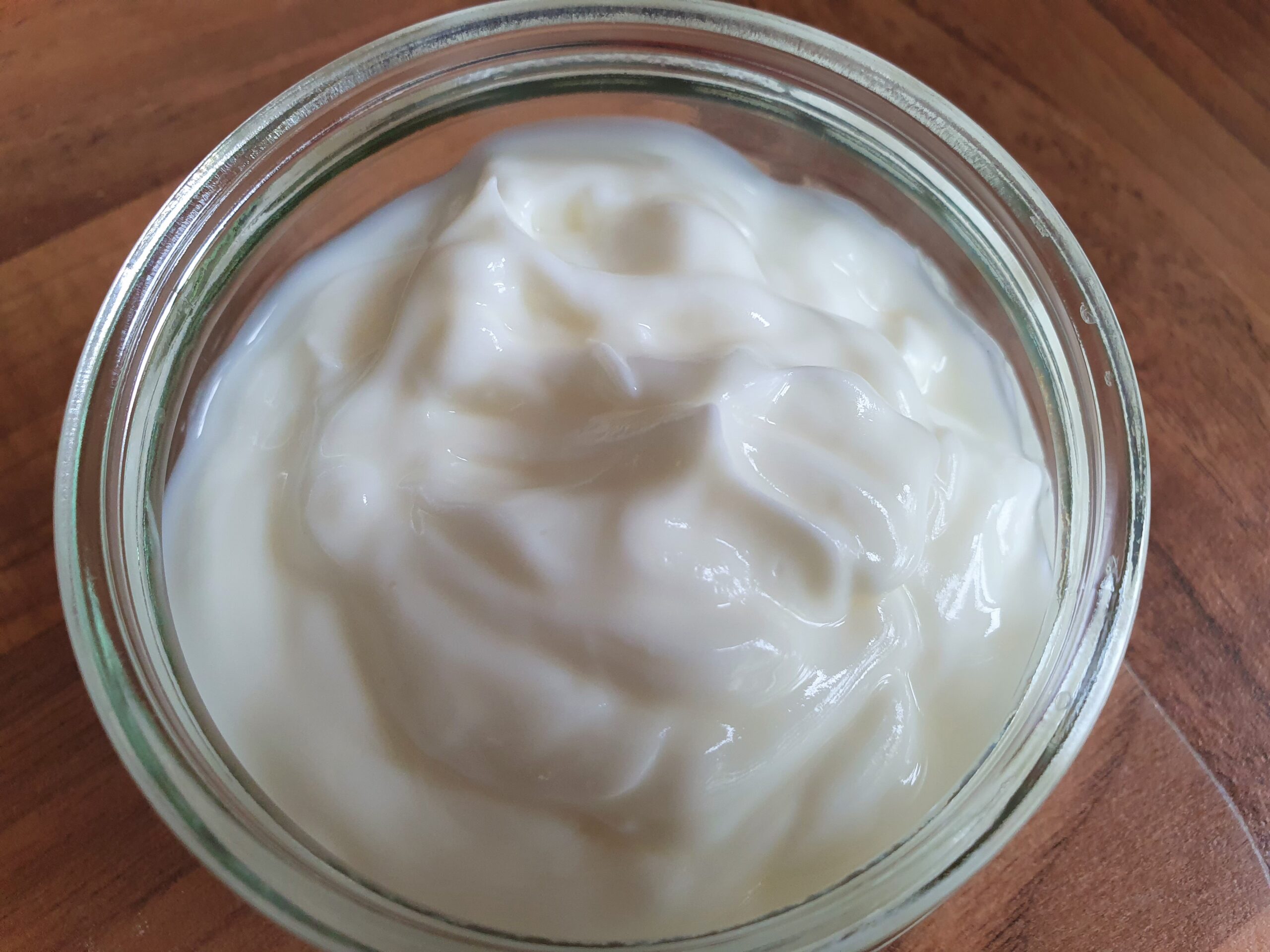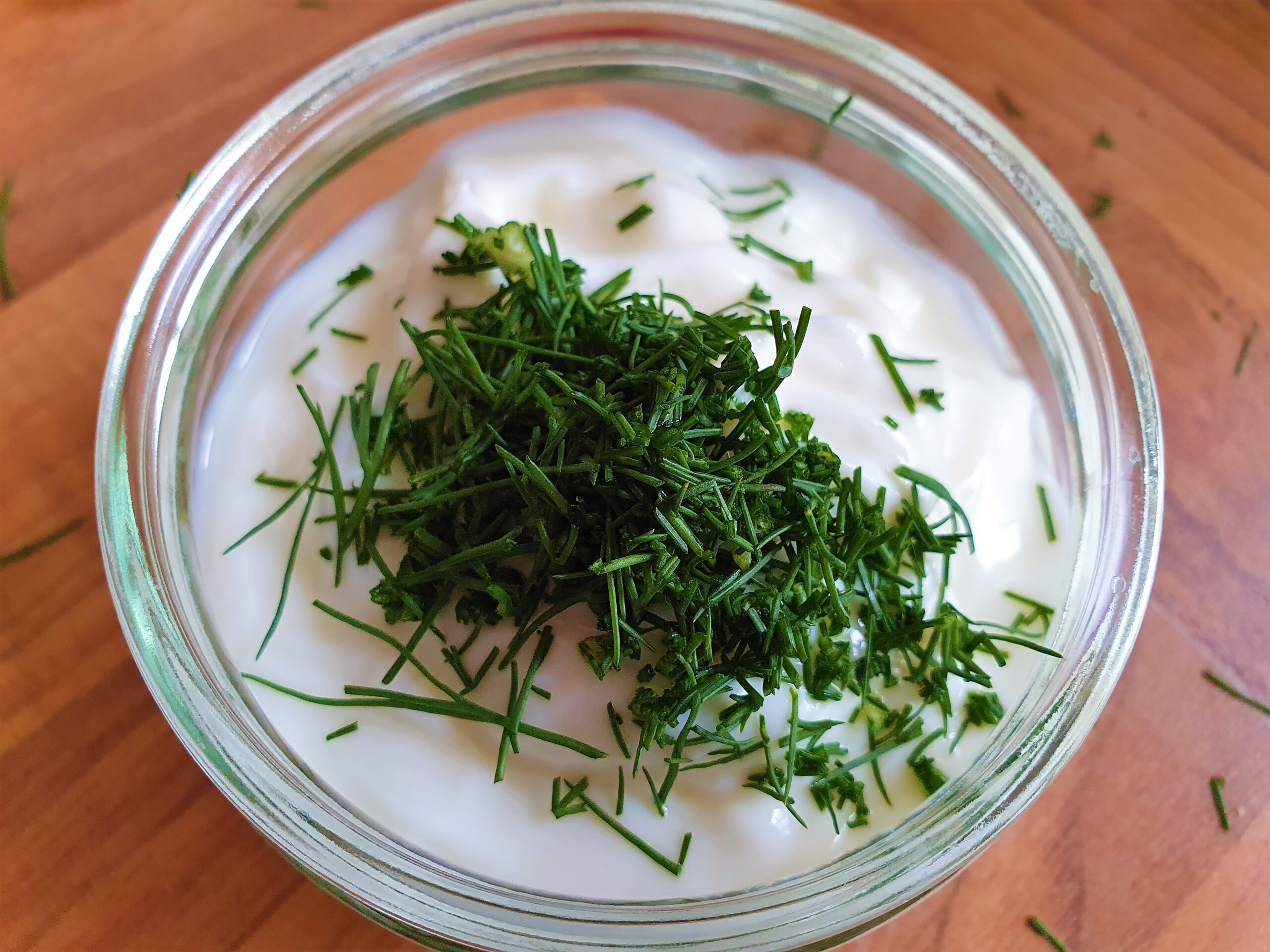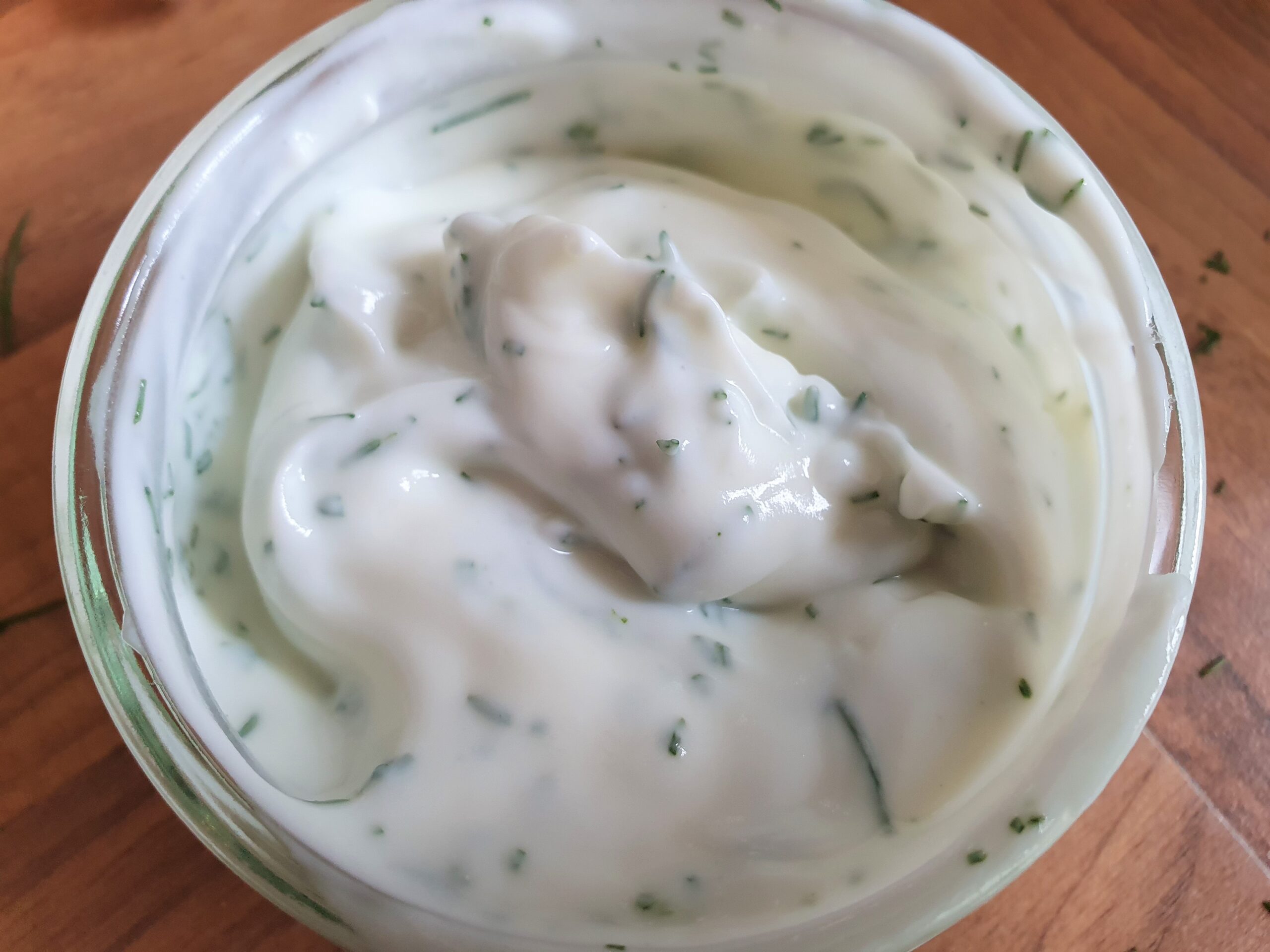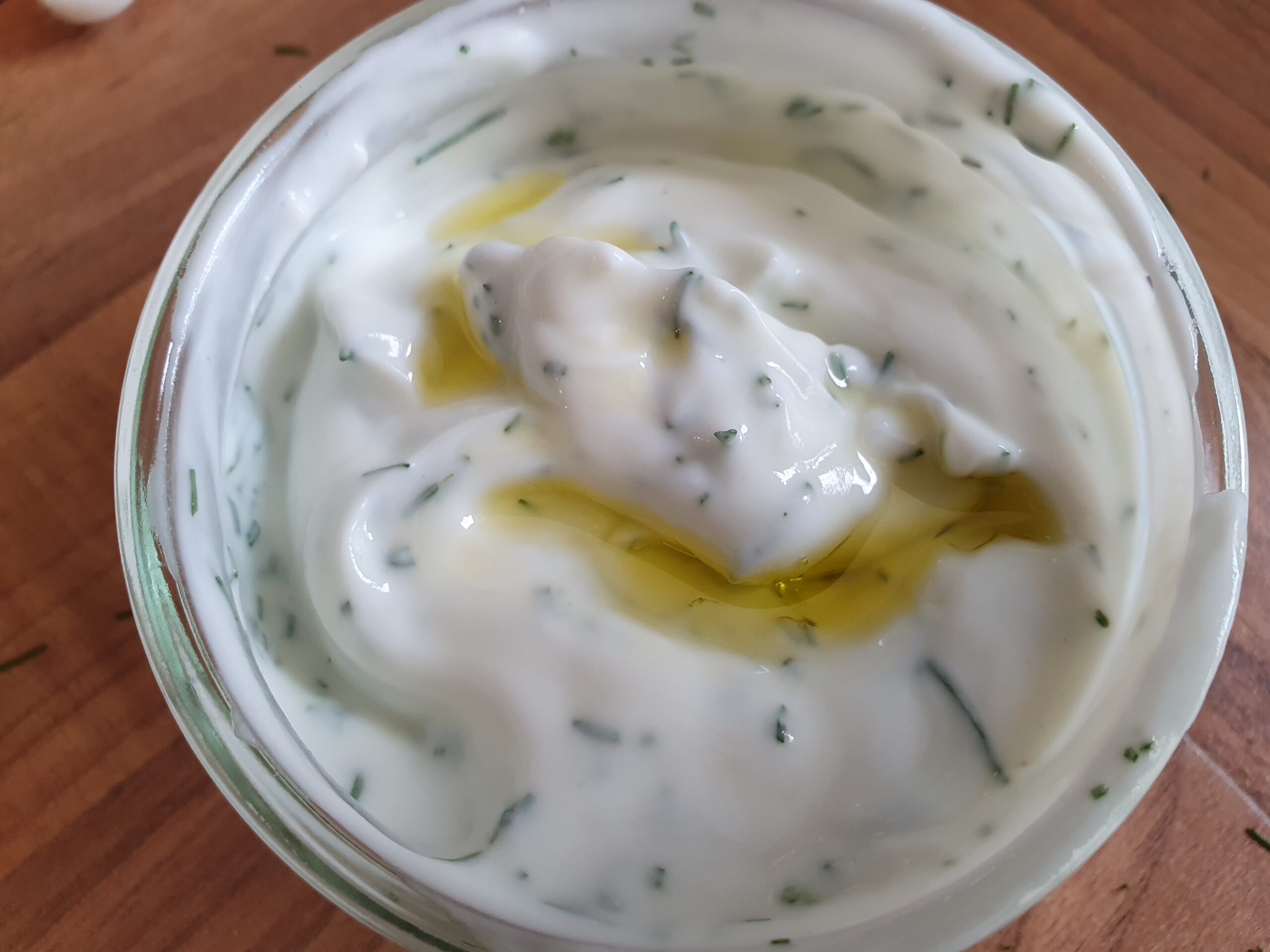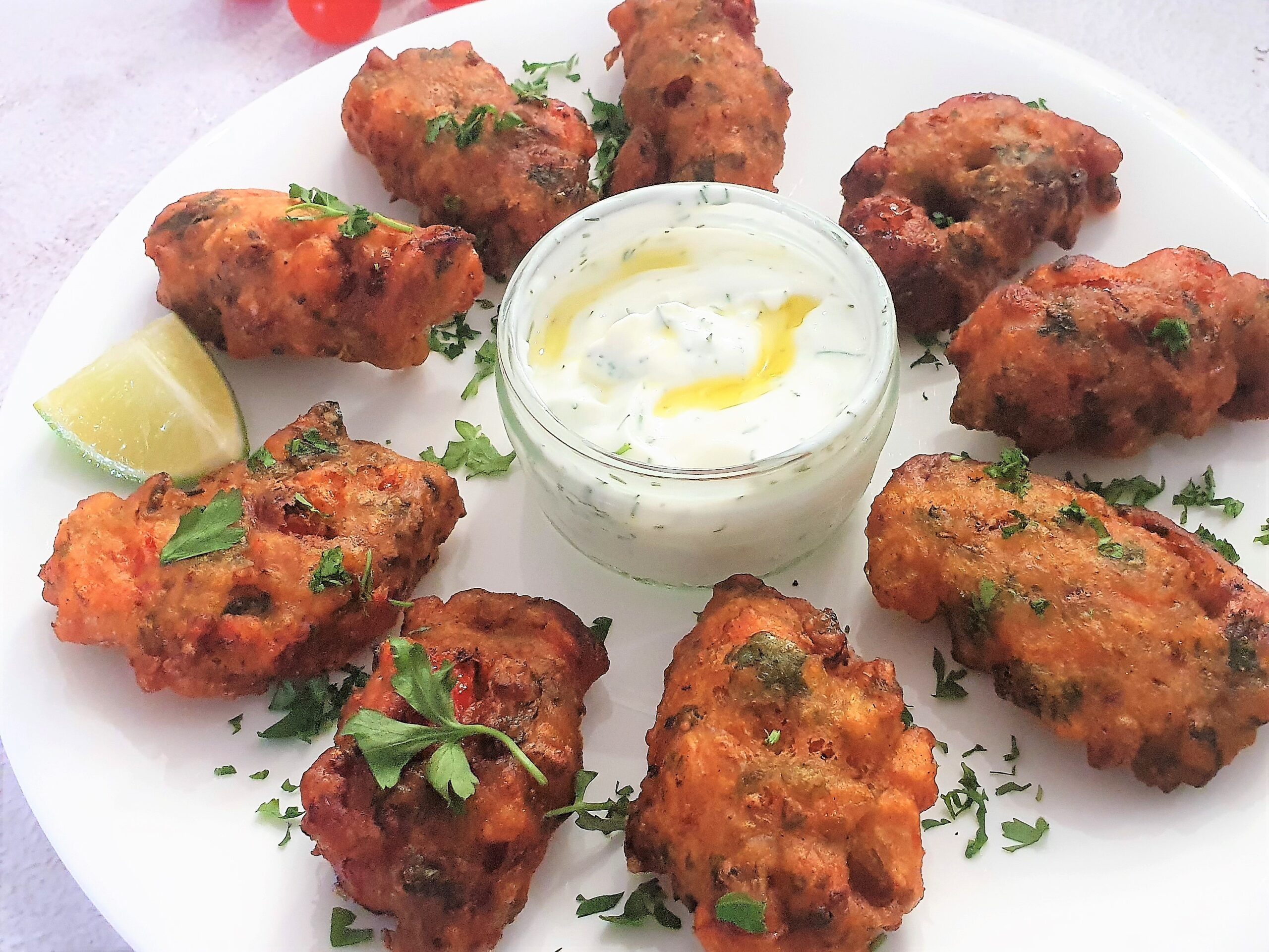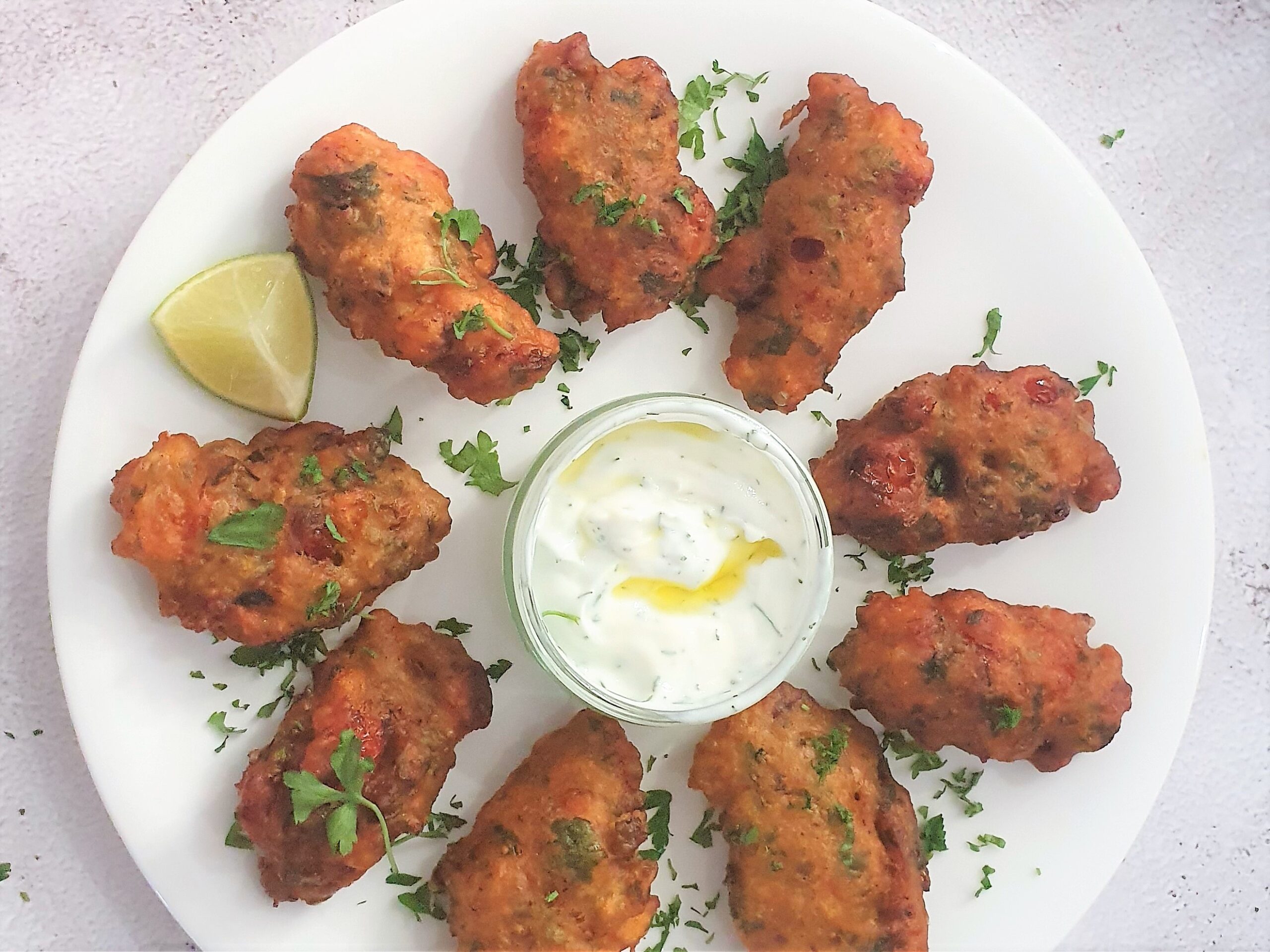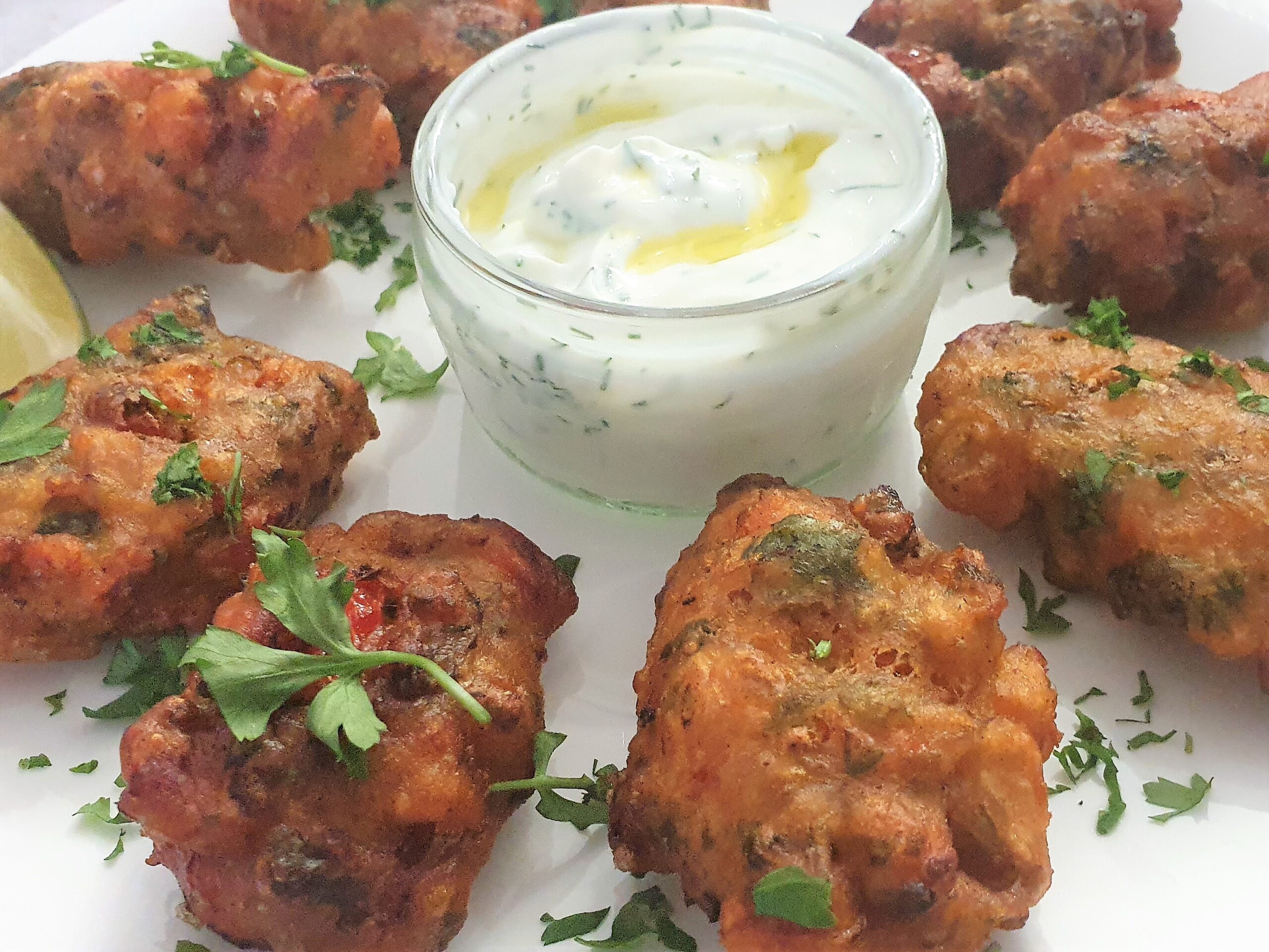 Combine the yoghurt, dill and salt in a bowl. Drizzle some oil on dill yogurt.  Sprinkle some parsley on fritters and serve with dill yogurt and lime wedges.