Creamy Vegetable Fusilli Pasta
Creamy Vegetable Fusilli Pasta is one of those dishes that is fabulous for a quick mid-week meal. It is creamy, comforting, delicious pasta dish packed with loads of fresh vegetables.
This soul-satisfying creamy vegetable fusilli pasta recipe is velvety and nourishing comfort food at its best, with fusilli smothered in a rich cheesy cream sauce flavoured with garlic, sauteed vegetables and tangy flavours of tomato. The addition of oregano and chilli flakes adds delicious flavours to the pasta.
Creamy Vegetable Fusilli Pasta is one of my daughter's favourite dishes. She loves this pasta with a side of a bread. I always add plenty of vegetables in this pasta dish as it not only adds to the flavour but makes it nutritious too.
This is a real winner for busy evenings when you just need something hearty and satisfying on the table quickly. This satiating and soul satisfying recipe is perfect for lunches, dinner, potlucks, parties and even lunchboxes. Like most pasta recipes, this Creamy Vegetable Fusilli Pasta is very much customizable. You can add more vegetables to it or just make it with one vegetable. If you do not want the cream, skip that, and will still taste delicious!! Have fun making this dish as it is a simple satisfying recipe.
Ingredients
1 cup Fusilli Pasta
For the Sauteed Vegetables
2 teaspoons extra virgin olive oil
¼ cup broccoli florets
¼ cup baby corn (1 inch)
¼ cup carrot batons (1 inch)
¼ cup chopped french beans (1 inch)
¼ cup diced onions
¼ cup diced green pepper
For the Sauce
2 tablespoons butter
Few drops of extra virgin olive oil
1 tablespoon minced garlic
2 tablespoons plain flour
1 cup milk
2 tablespoons cream
½ cup grated parmesan cheese
¼ cup grated cheddar cheese
Salt to taste
1 teaspoon white pepper
1 teaspoon red chili flakes
1 teaspoon oregano
2 tablespoons pizza pasta sauce
Few basil leaves
Directions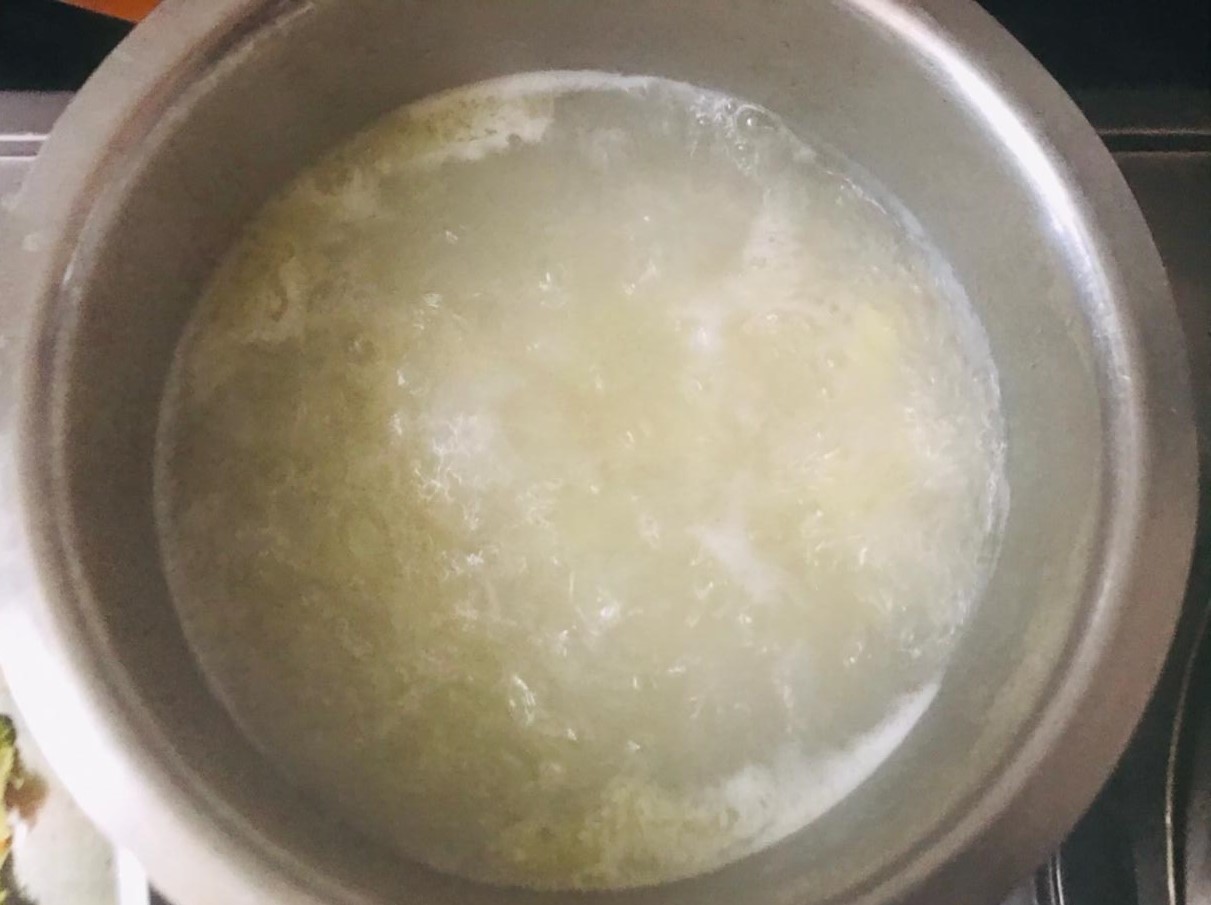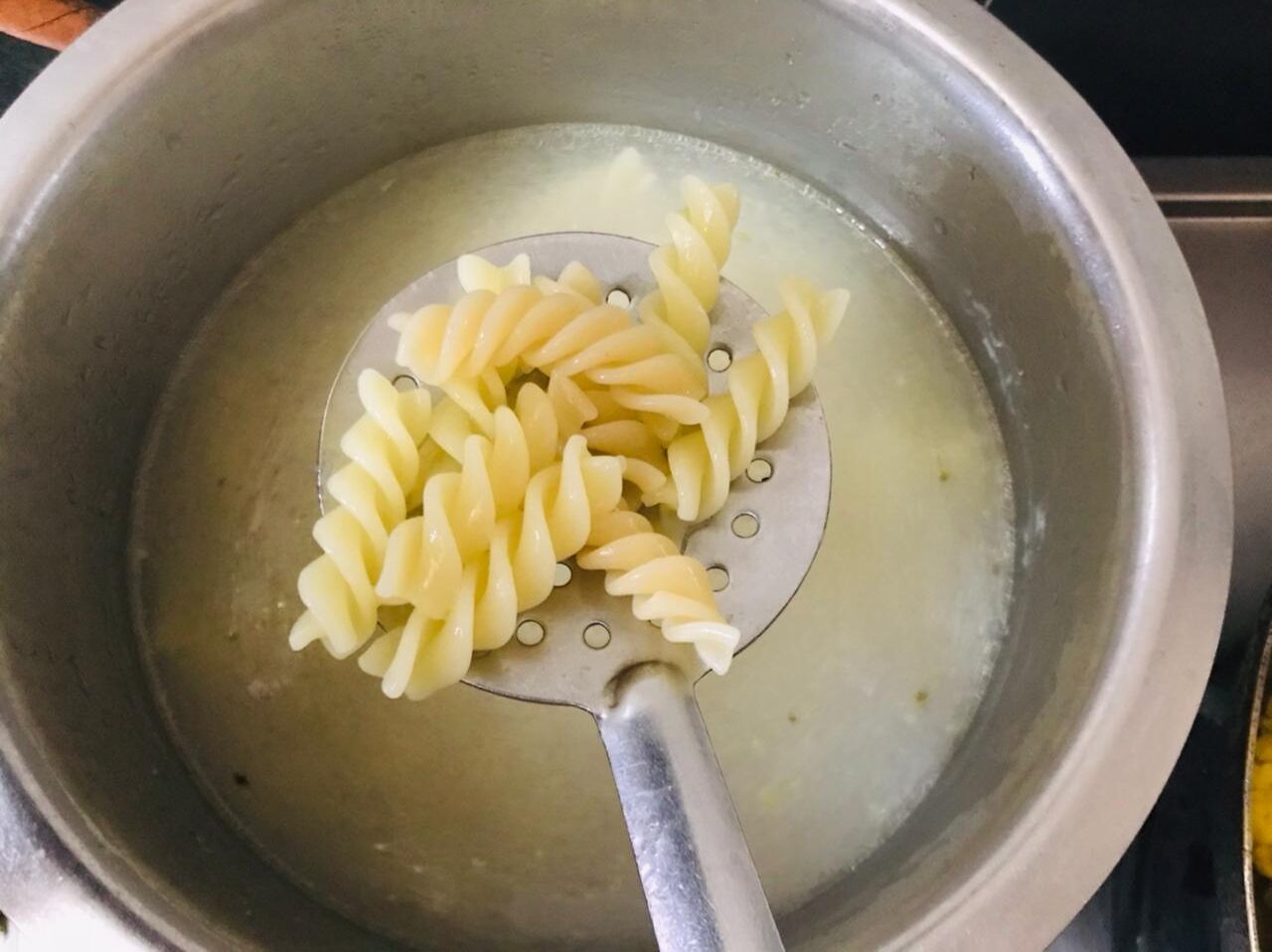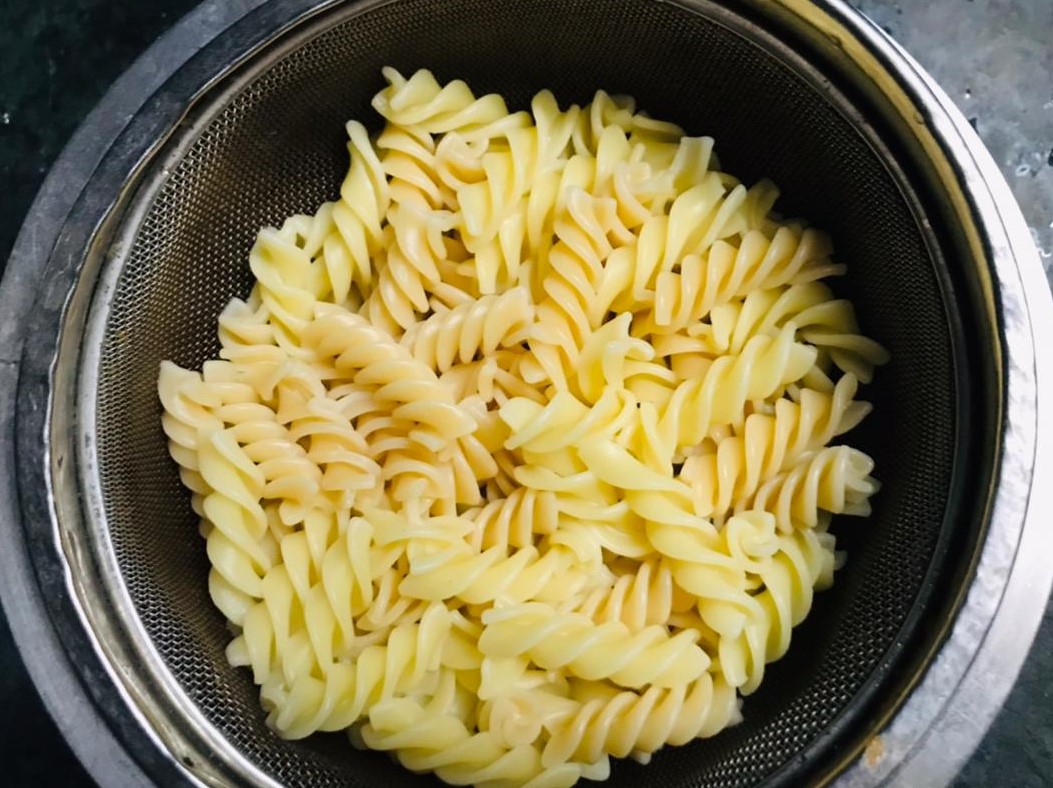 Boil 6-8 cups of water in a large high sided pan. When it begins to boil, add the fusilli, and let it boil for 7-8 minutes or until it is al-dente. (Check the boiling time on the packaging as different brands have different boiling times).
Drain the fusilli and keep the drained water in a bowl.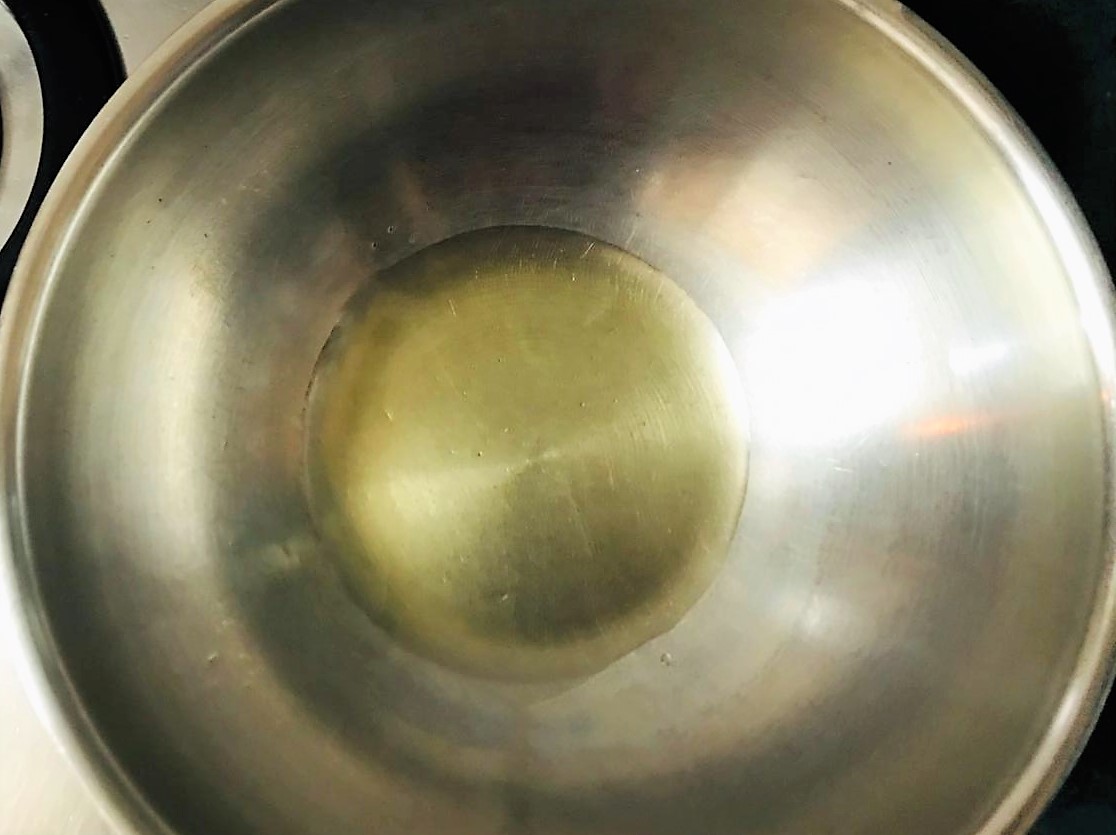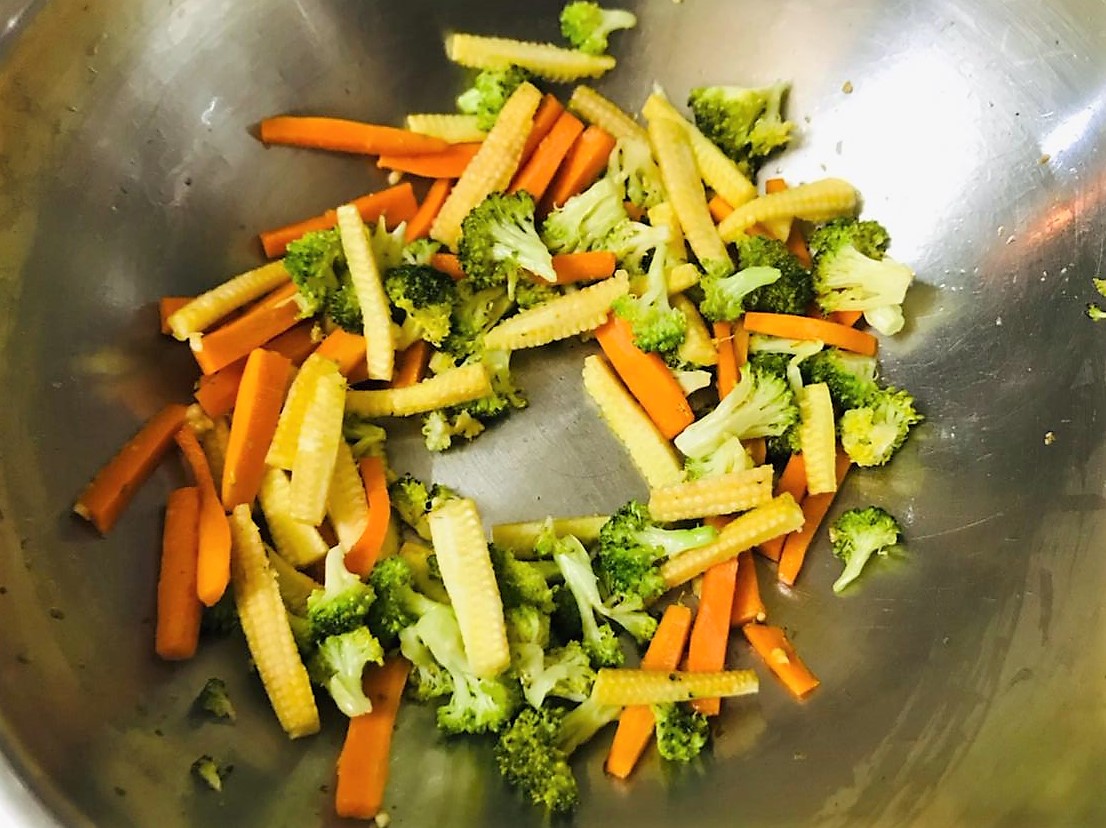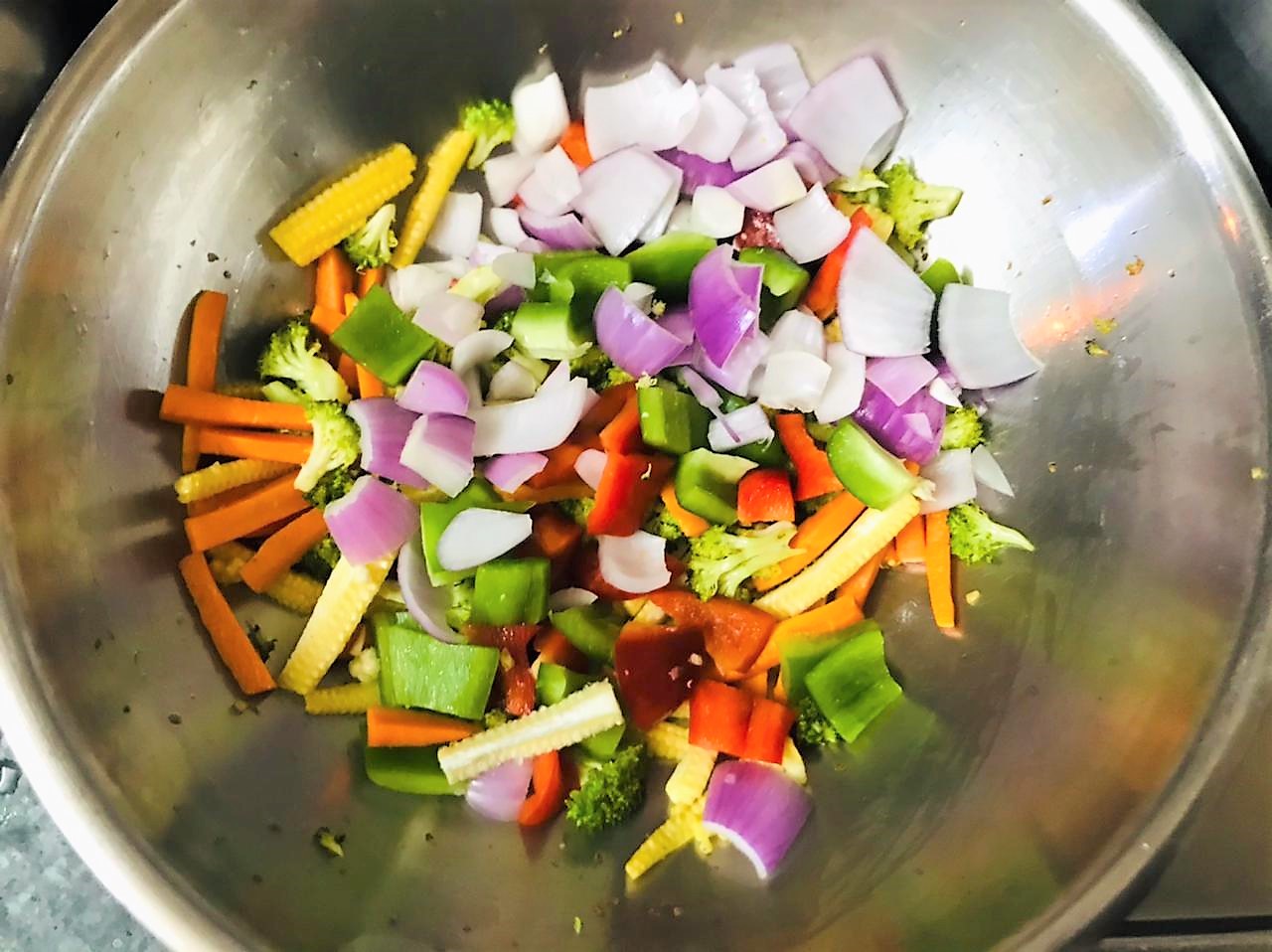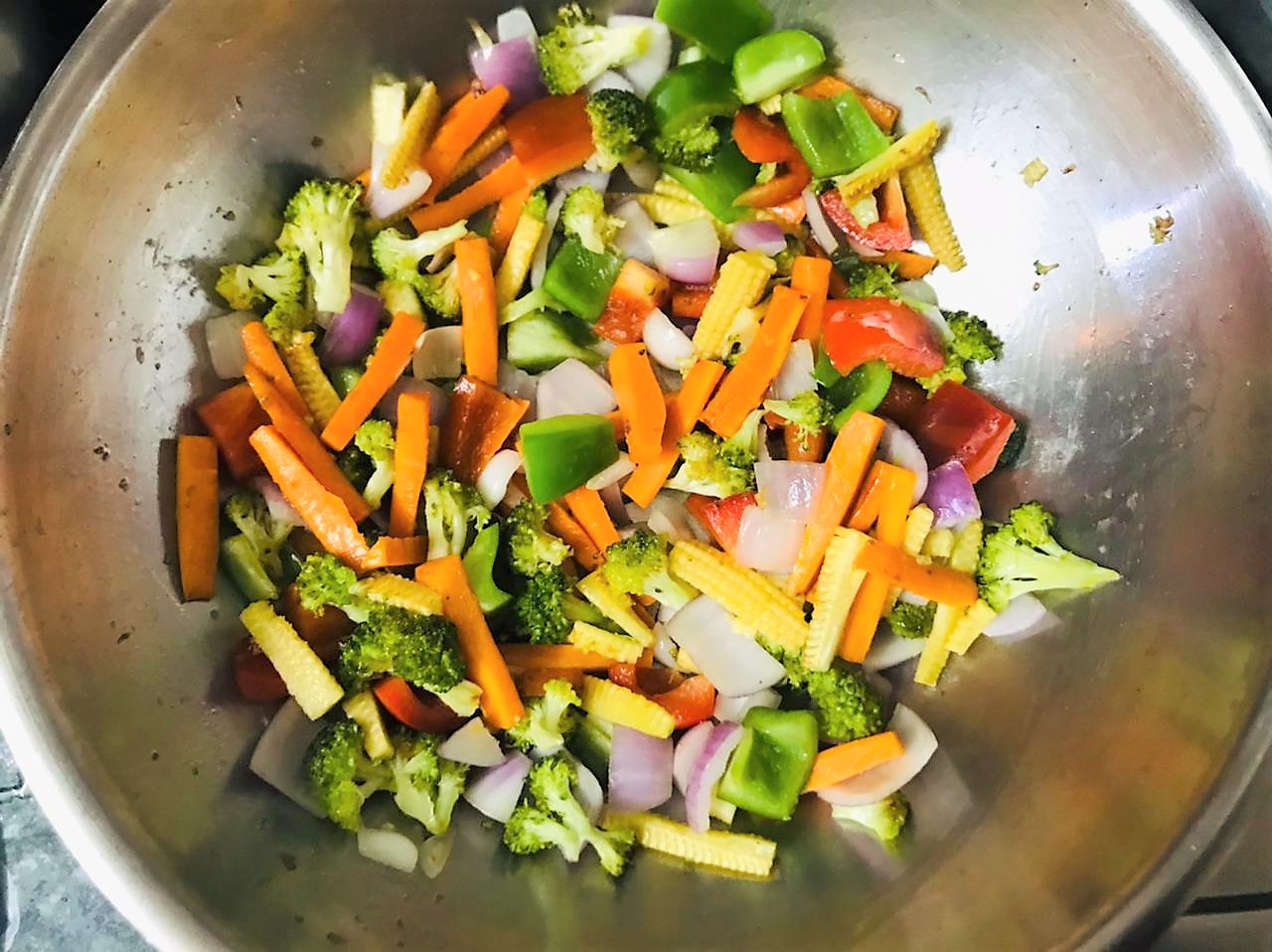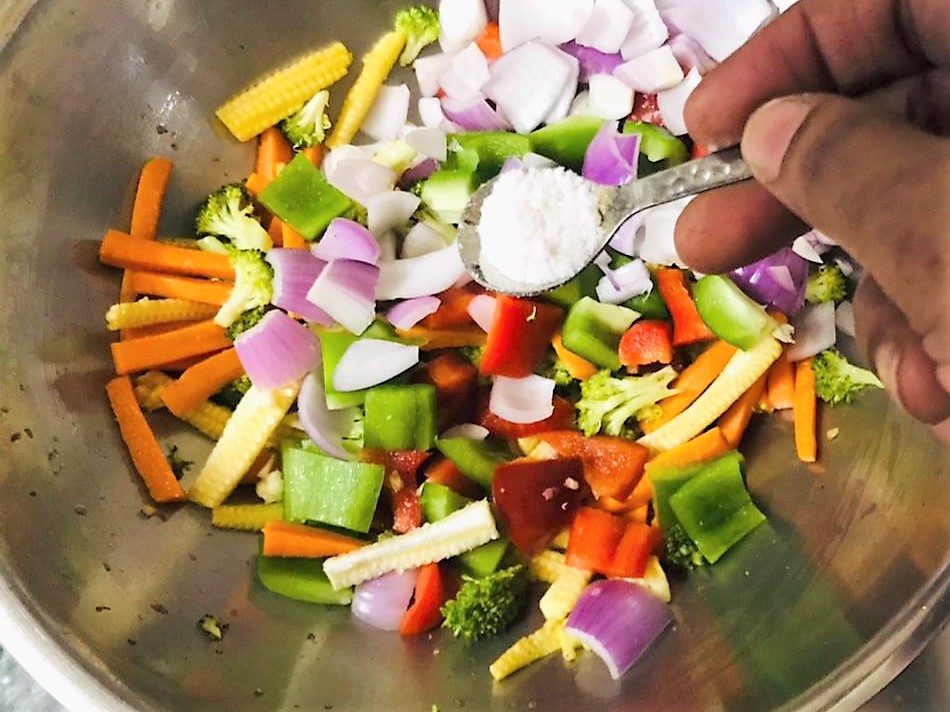 Heat oil in a pan and sauté the broccoli, baby corns and carrots for couple of minutes on medium heat. Next add the onions, peppers and salt and sauté the vegetables for couple of minutes. The vegetables should have a bite to them and not overcooked. Turn off the heat and keep them aside.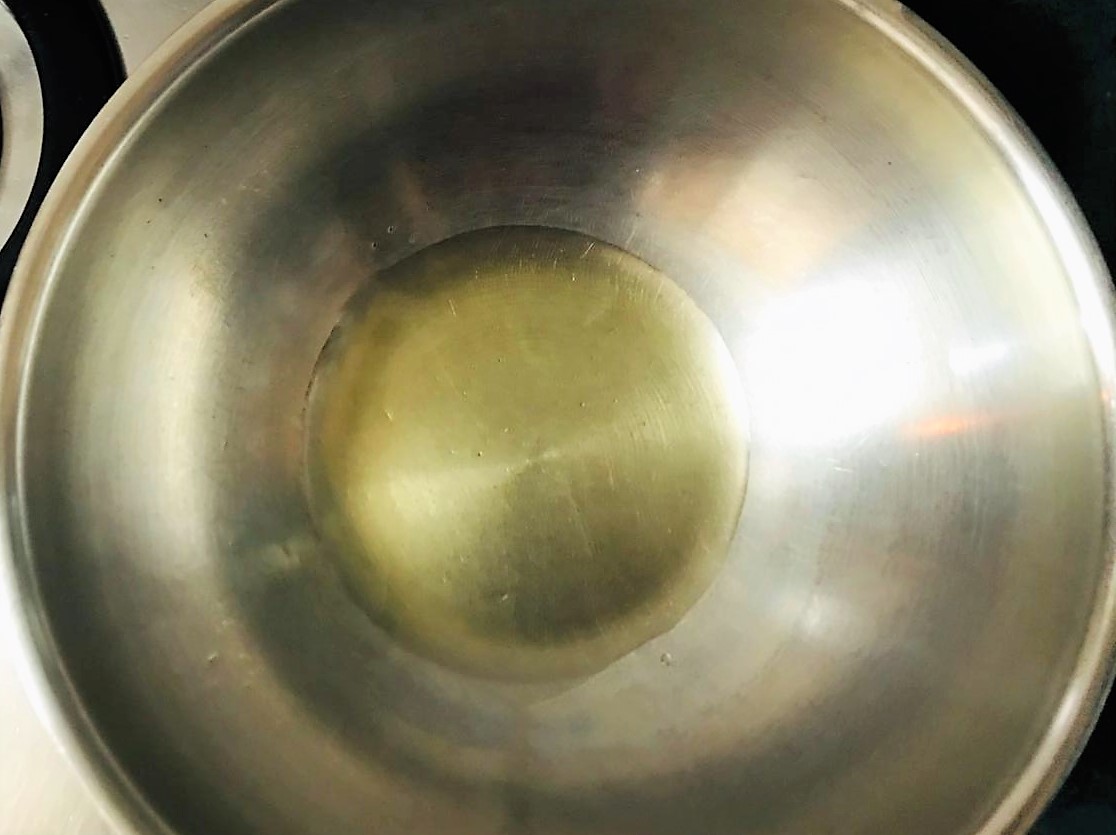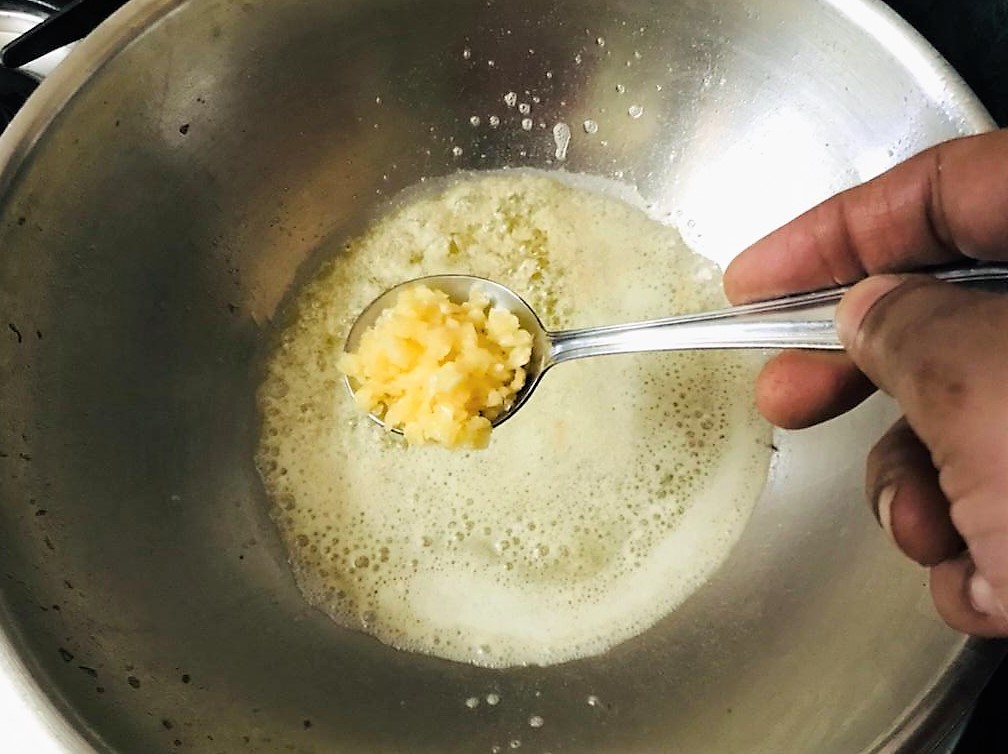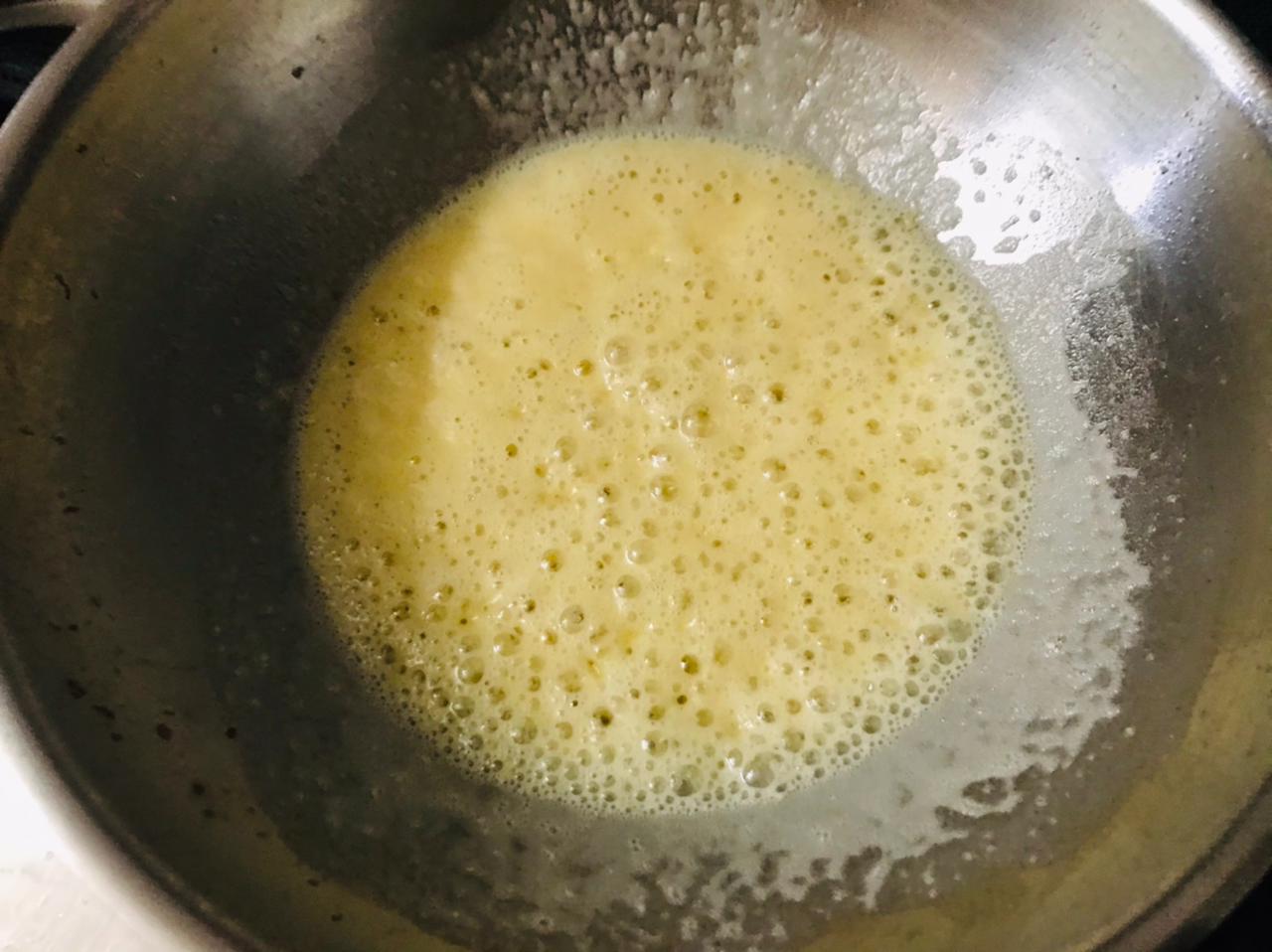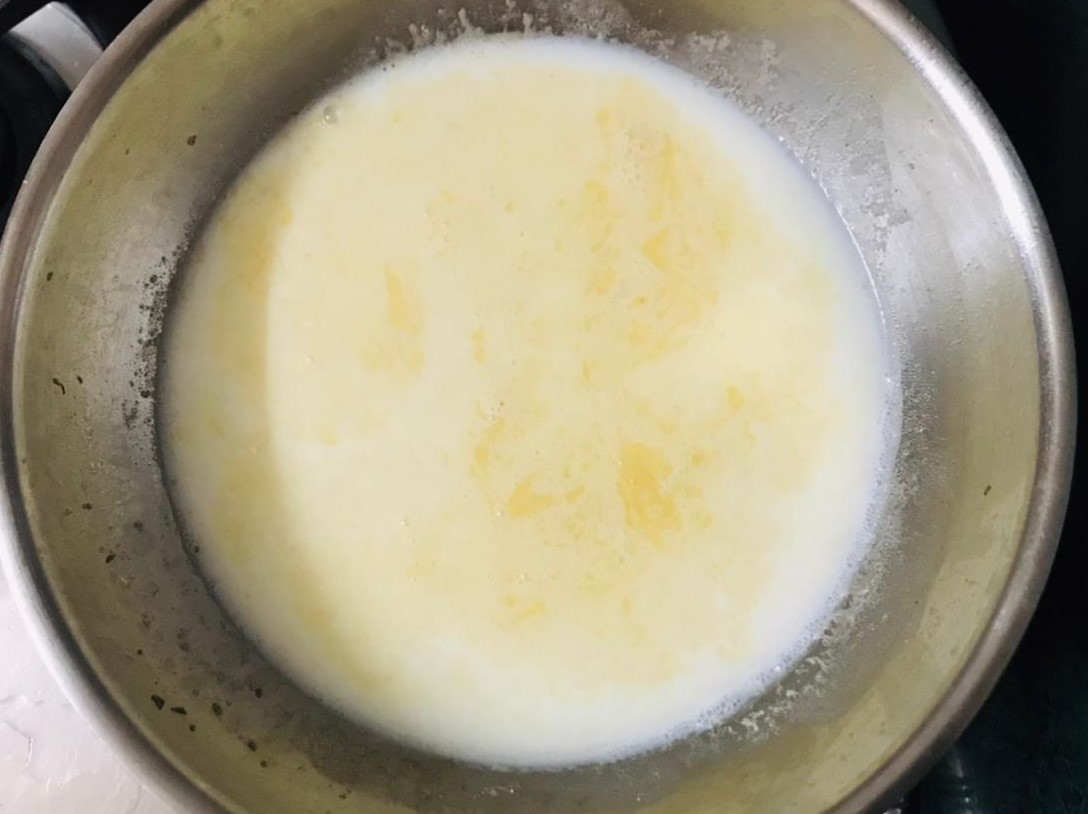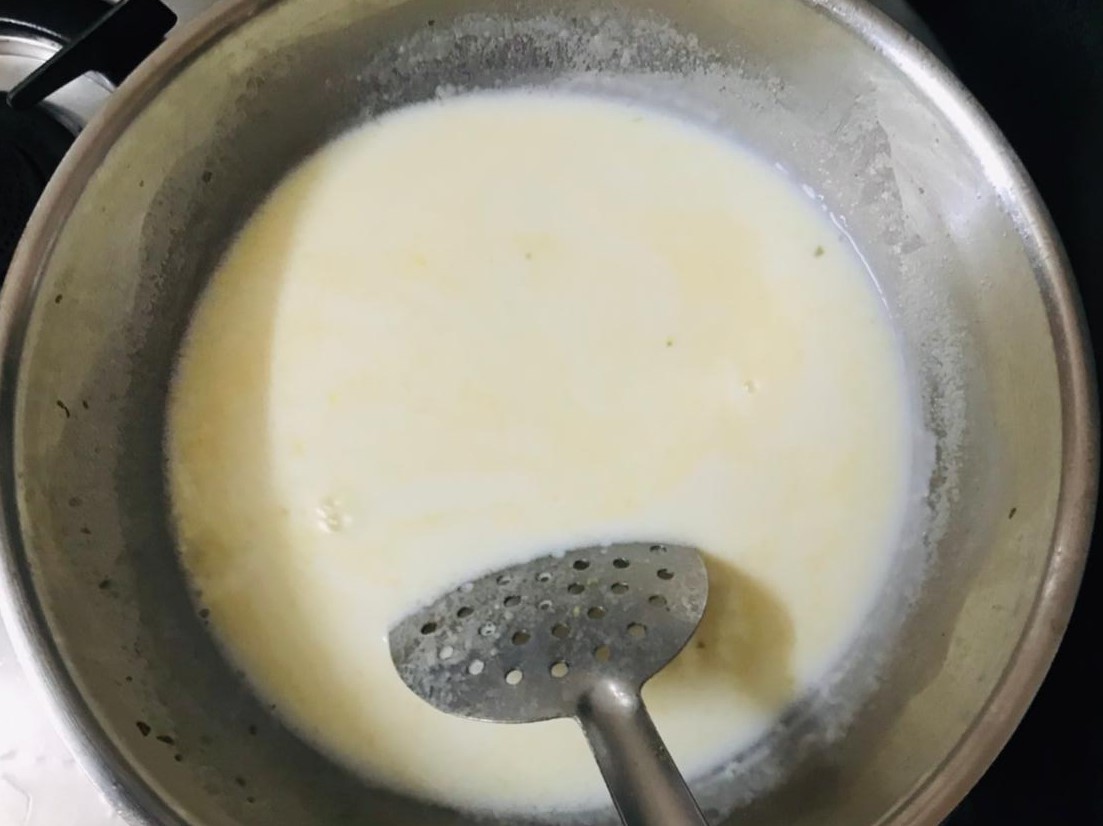 Melt 2-tablespoons butter in another pan with few drops of oil and then add the minced garlic and plain flour. Stir continuously until a paste forms. Continue cooking for 2 minutes. Add the warm milk to the roux gradually, stirring as you go, until you get a smooth sauce. Cook for 2-3 minutes, stirring continuously, until the sauce has thickened.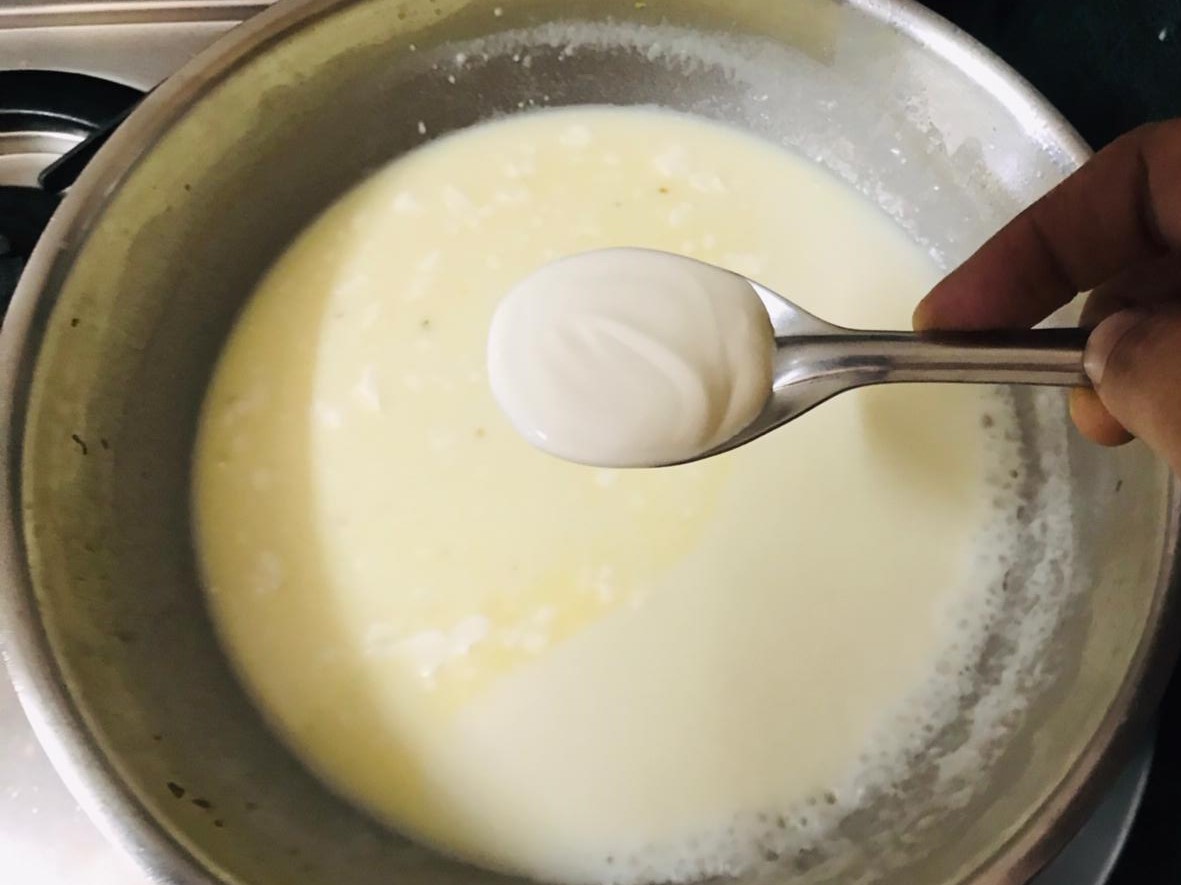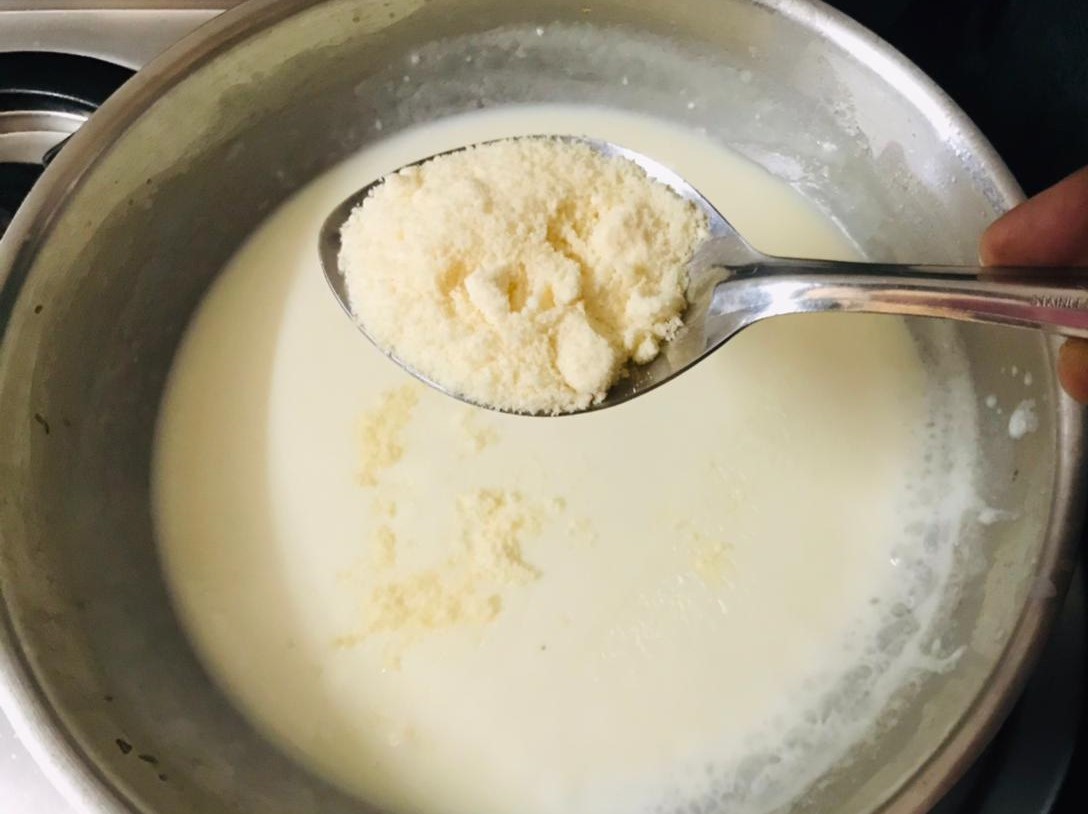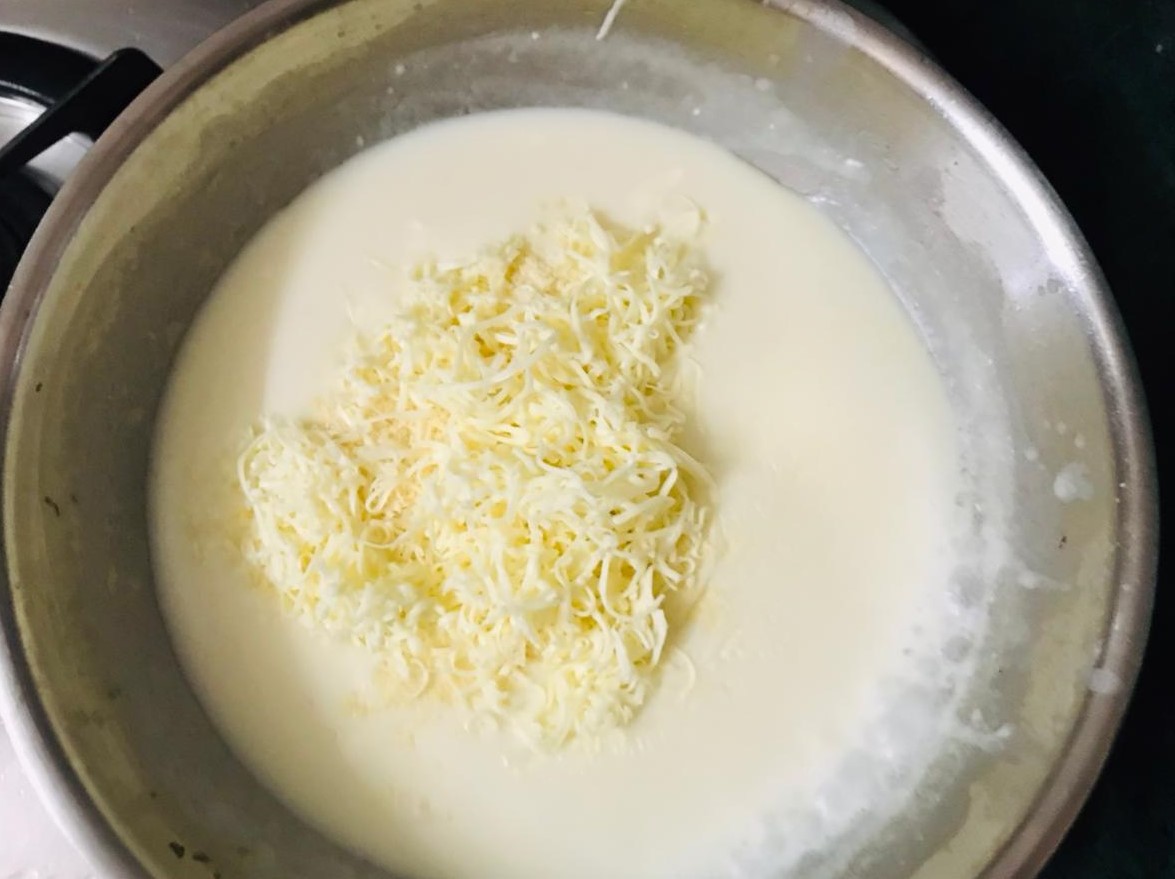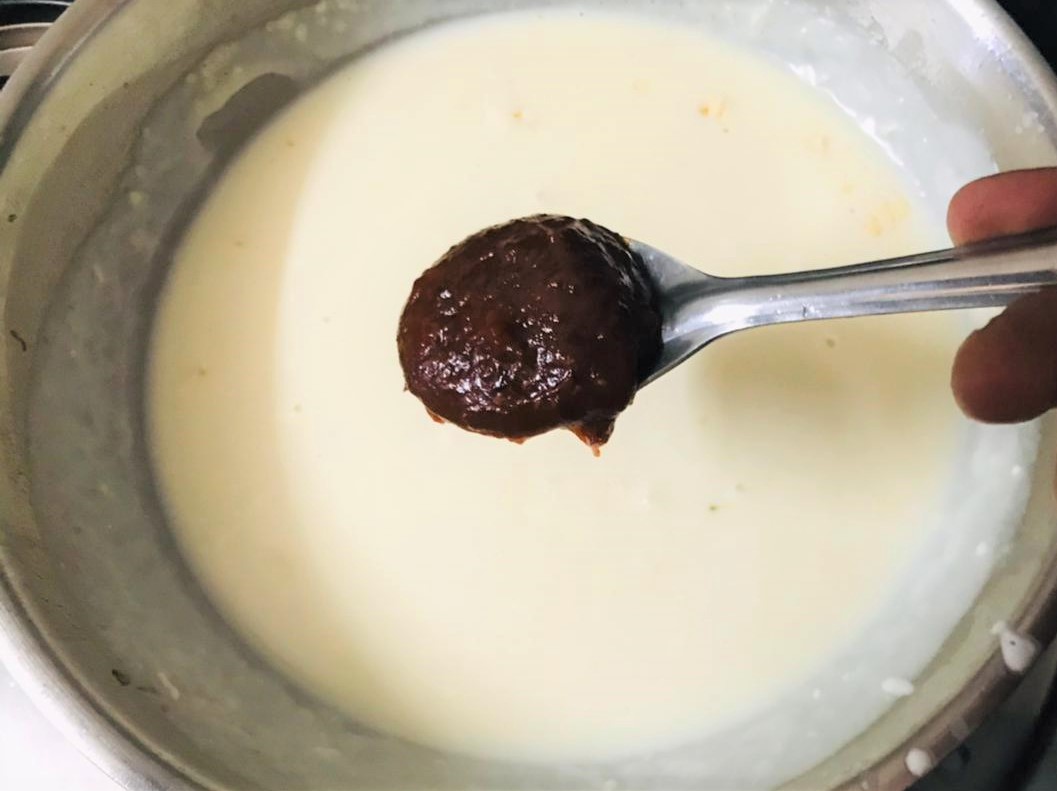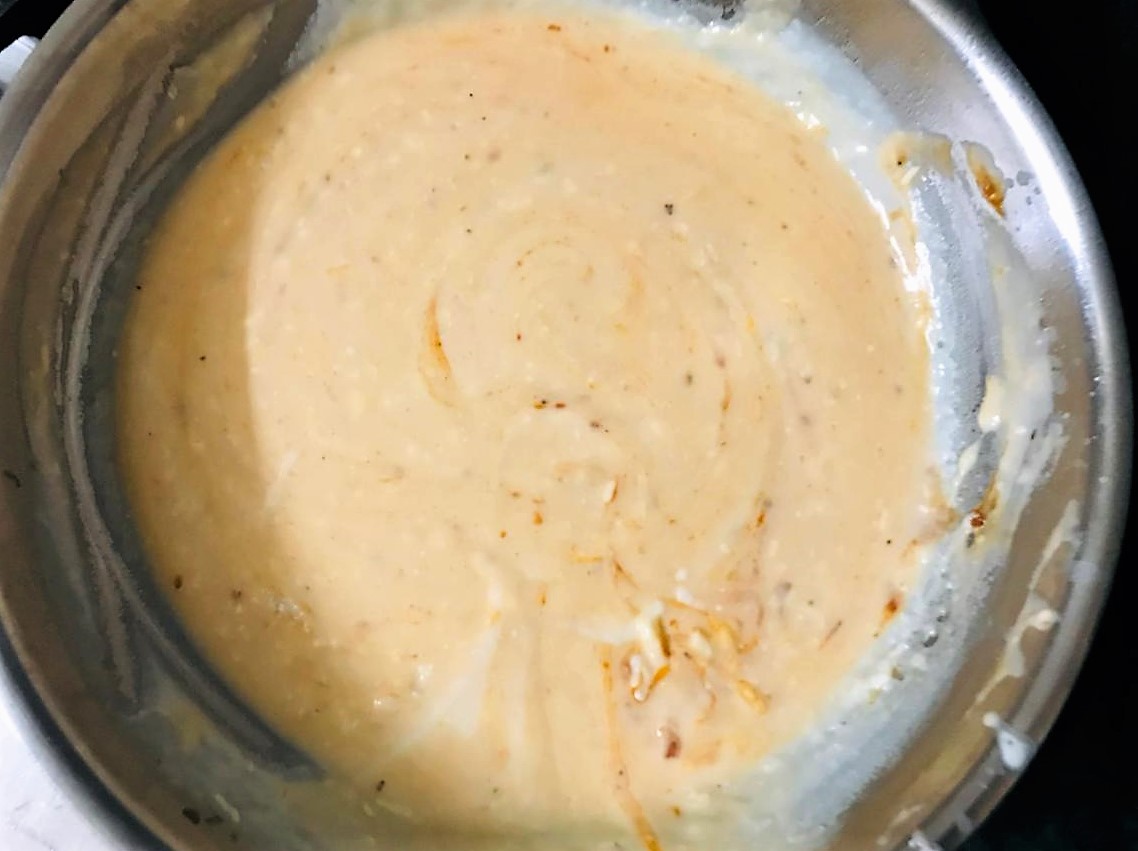 After the sauce is thickened, add the cream, parmesan cheese, cheddar cheese and pizza pasta sauce and mix.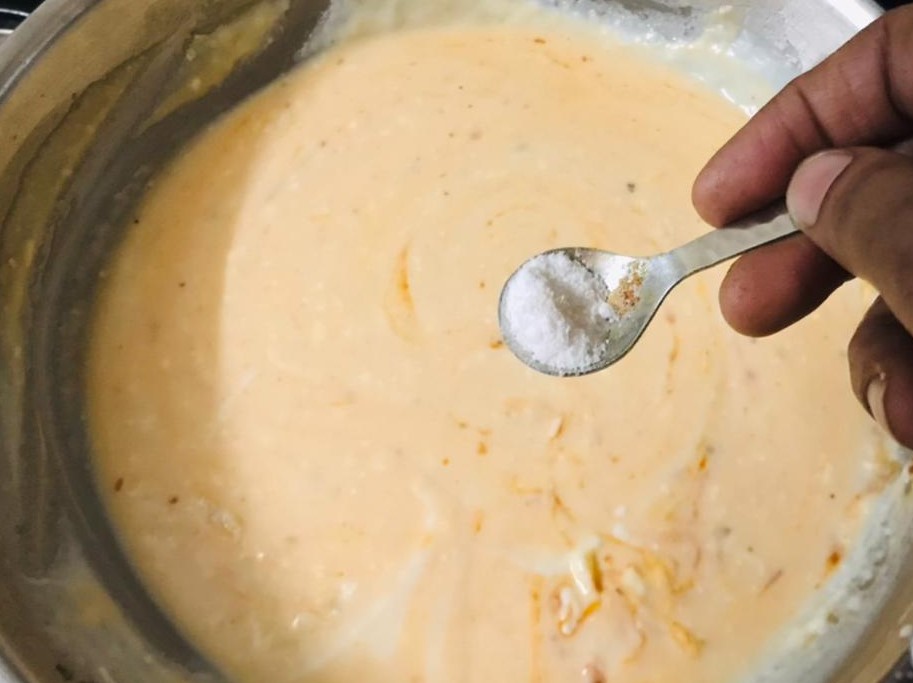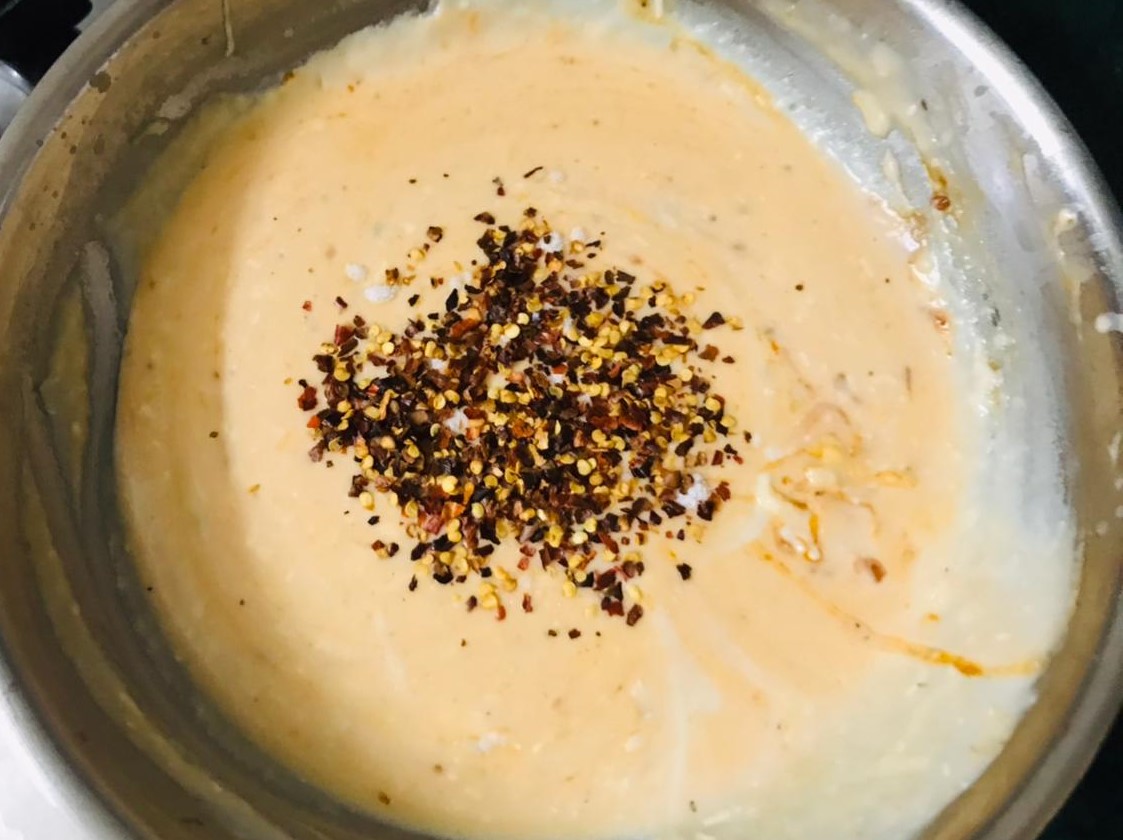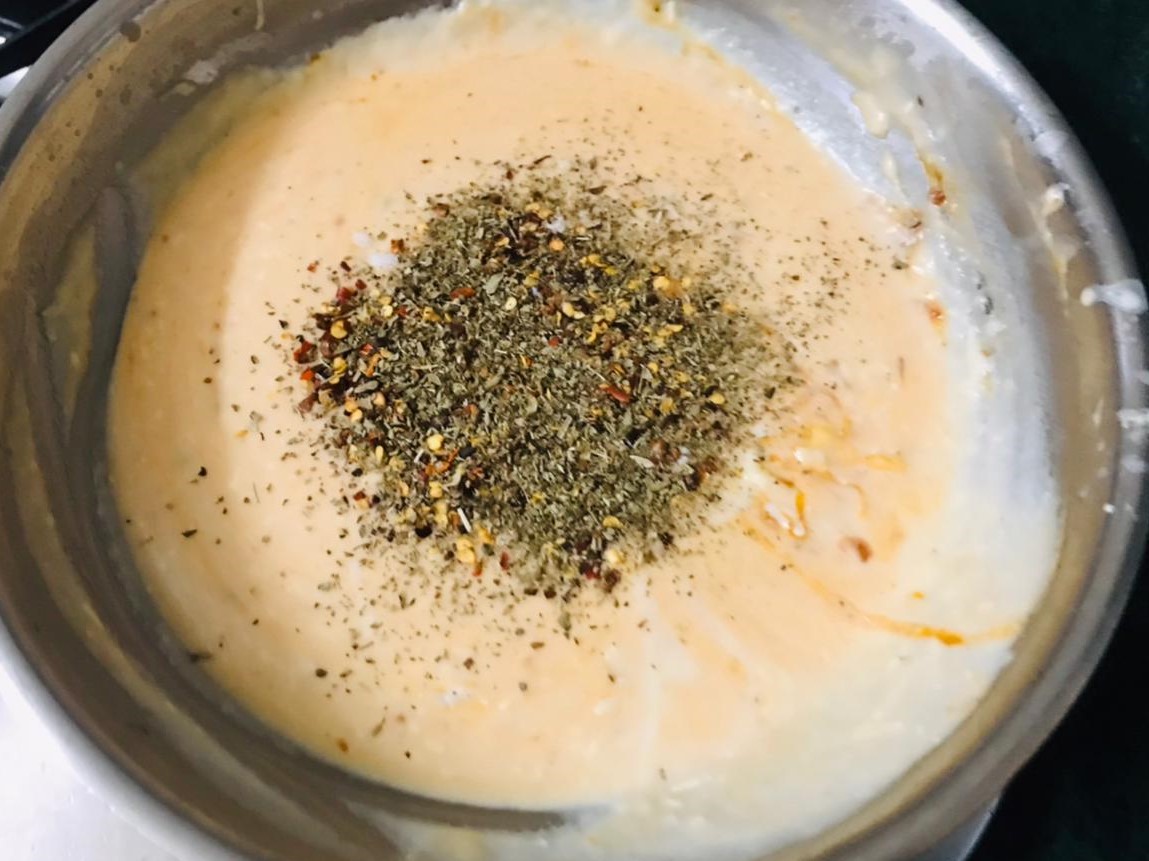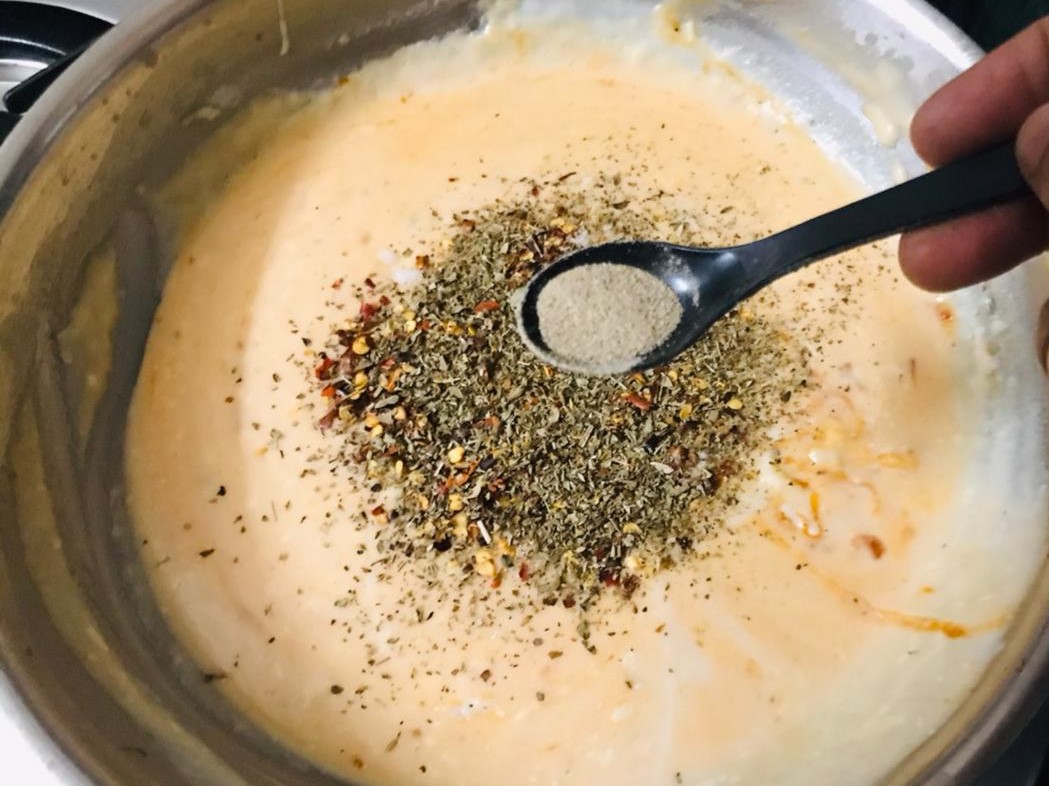 After that, add the salt, white pepper, oregano and red chili flakes and mix.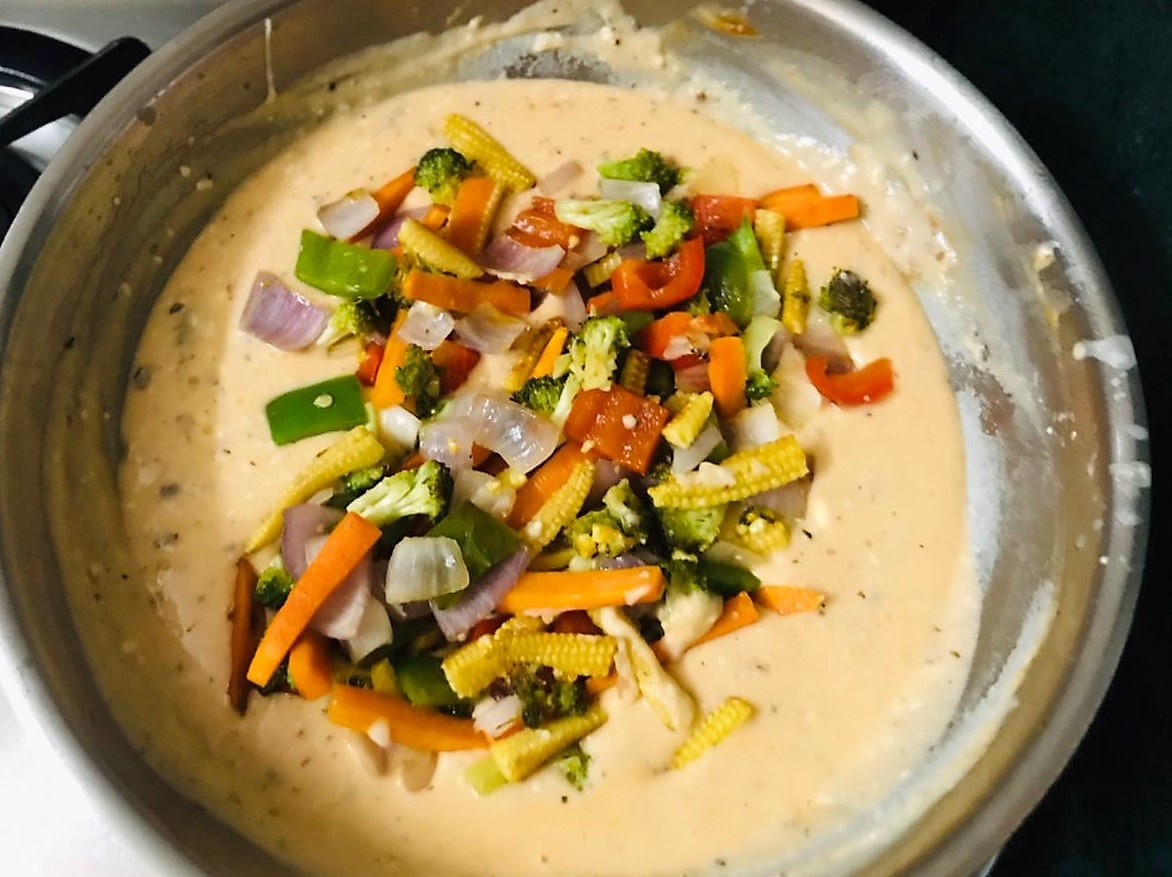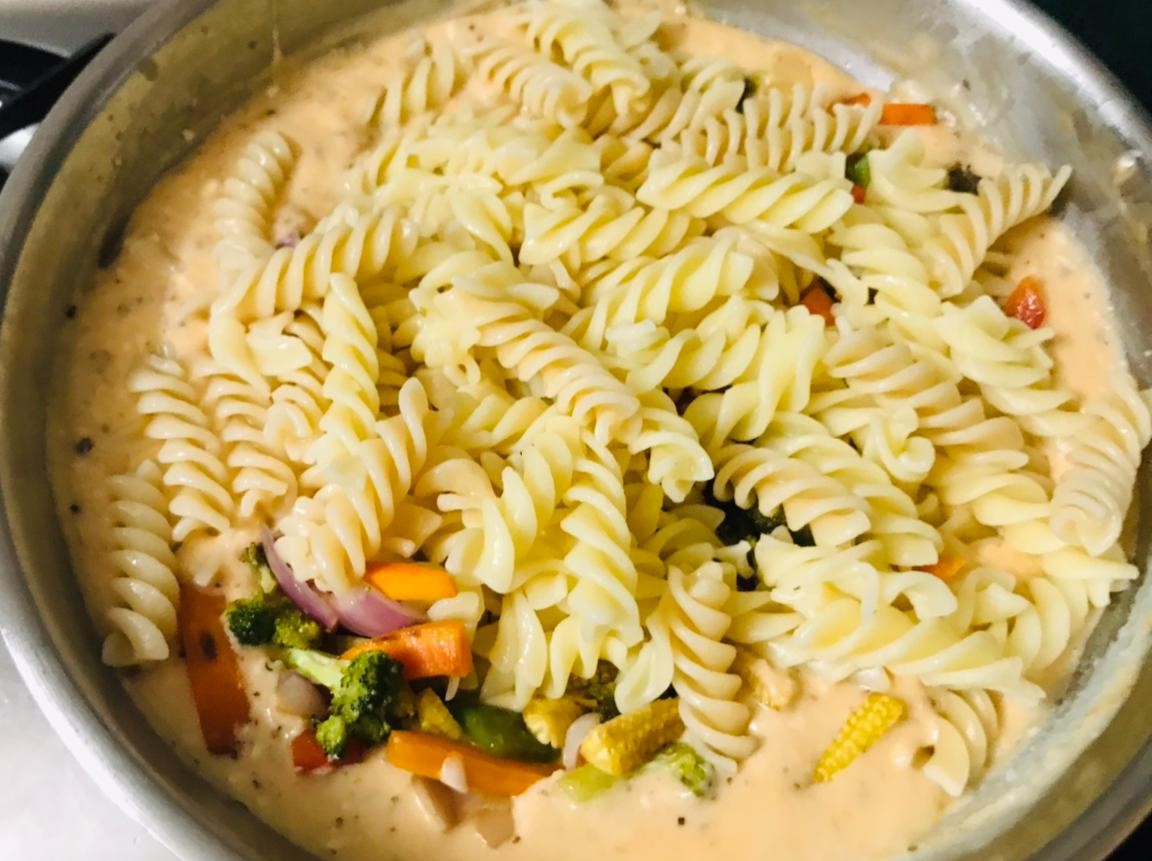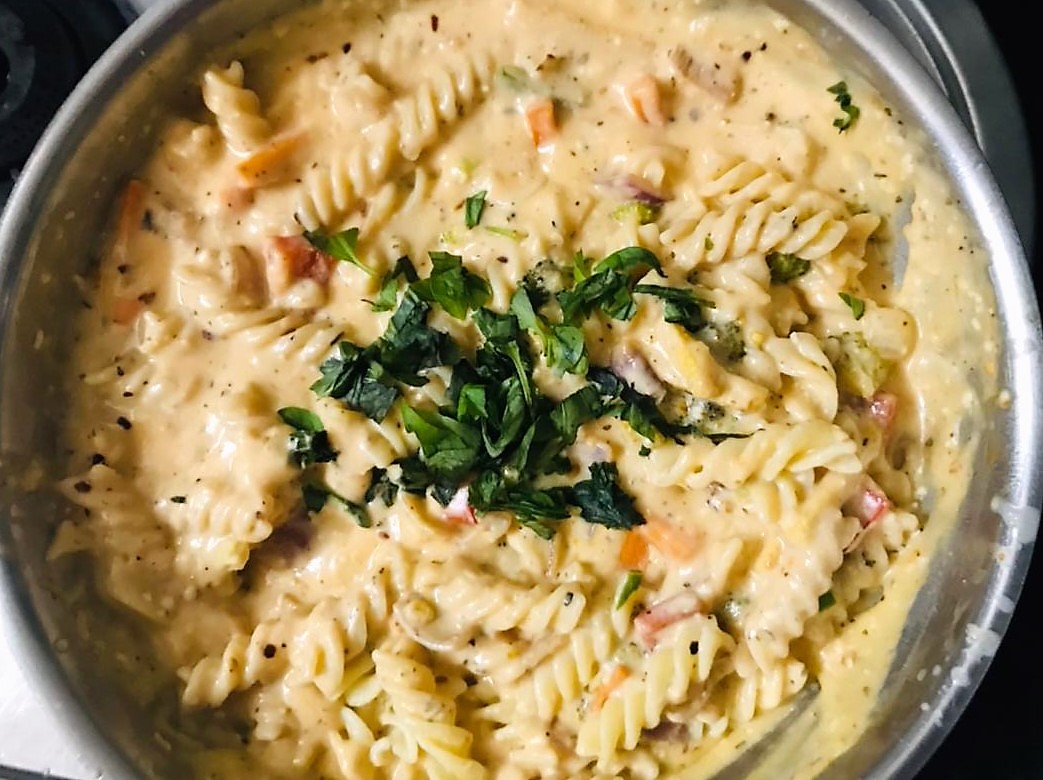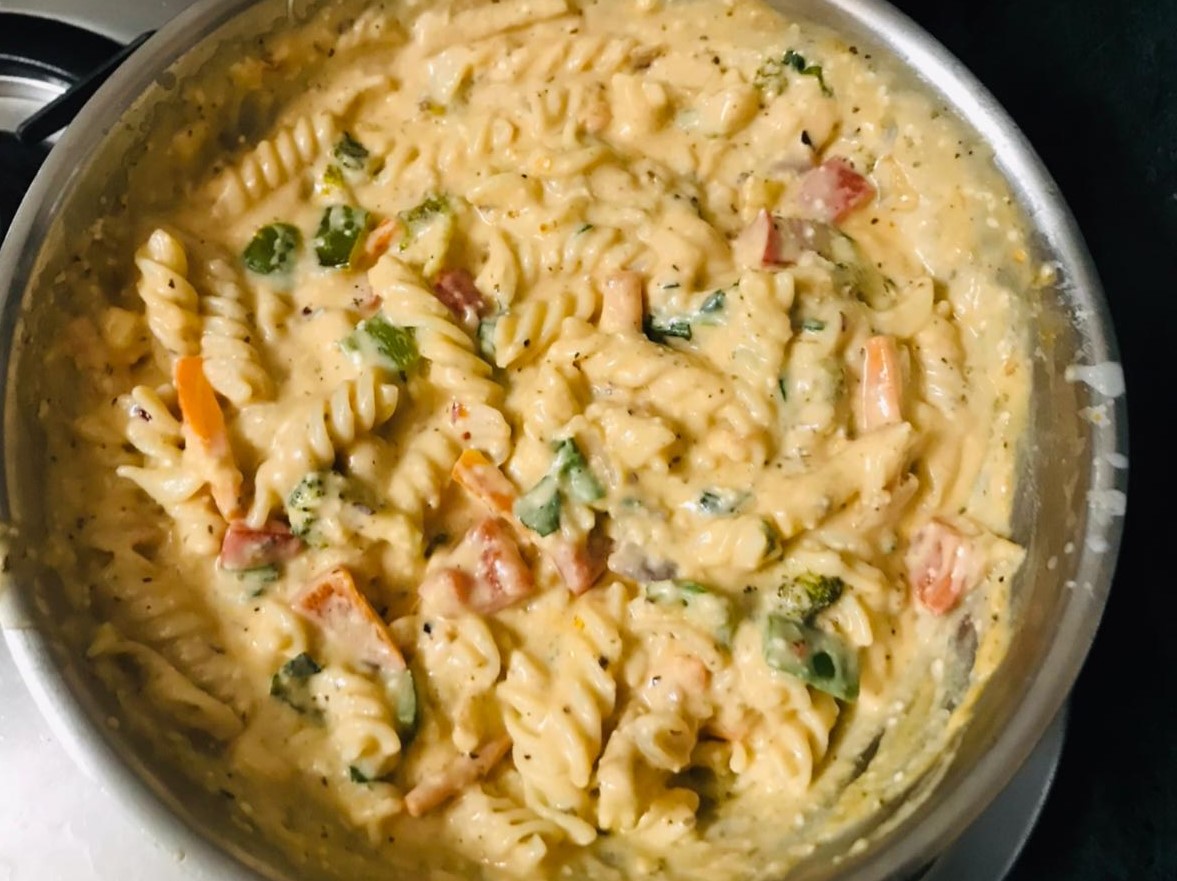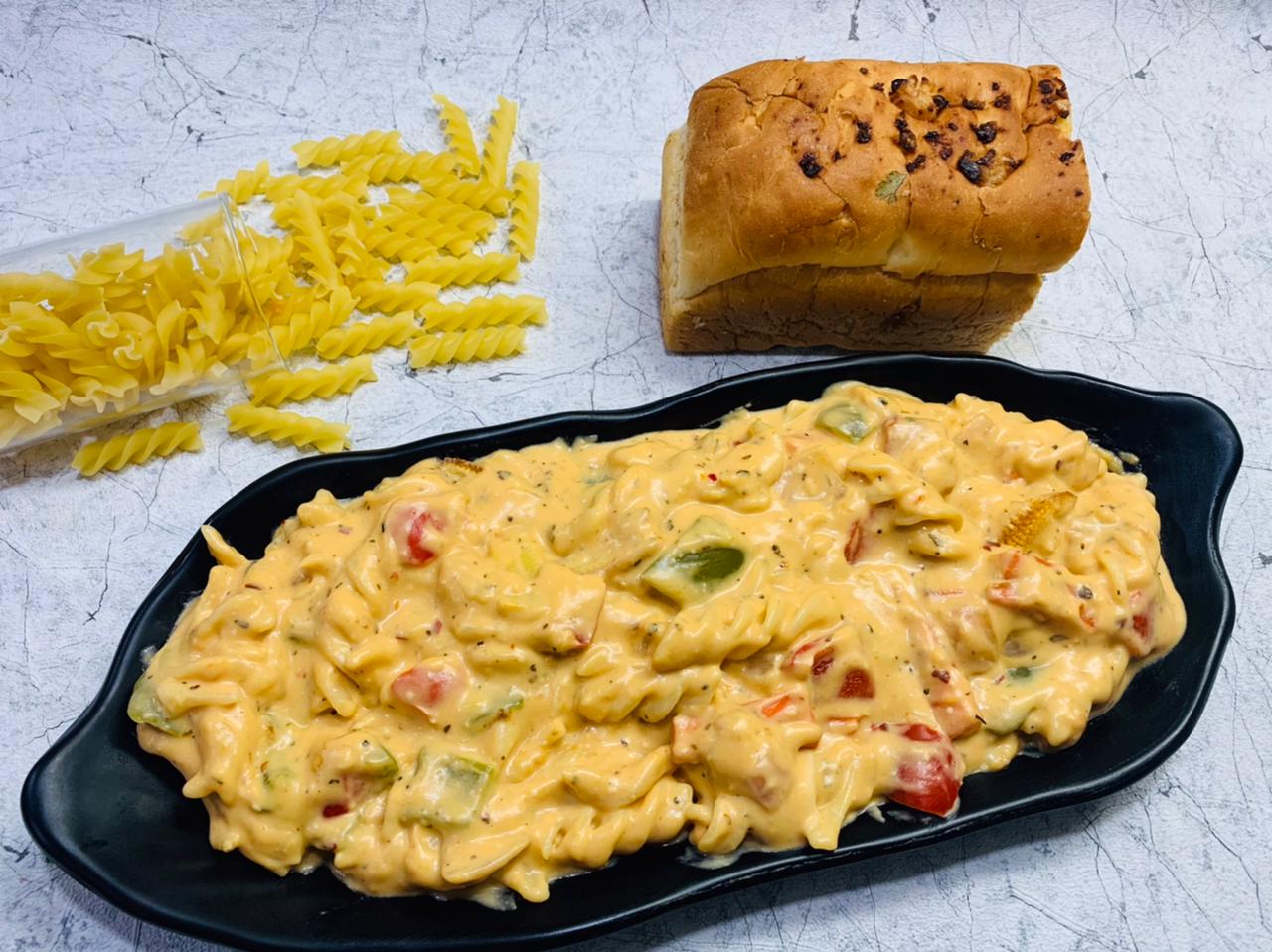 Finally add the sauteed vegetables, boiled fusilli and basil leaves and mix together for a couple of minutes. (If the sauce is too thick, add couple of tablespoons of drained water that we kept after boiling pasta to adjust the consistency.)
Serve hot on its own or a slice of garlic bread and/or focaccia