Burmese Pyajo
Pyajo is a delicious dish from Myanmar (Burma). Crispy fried chickpea vadas/fritters in a spiced curry and laced with different condiments and toppings for layers of flavour.
Most people don't quite know what to expect from Burmese food and Myanmar is not yet known for its cuisine. However, Burmese food is tasty, plentiful and, and vegetarian friendly. Perched between great food nations like India, Thailand and China, their influences can be noticed in the local dishes, and Pyajo is one of those dishes. It has elements from all the countries reflecting that Burmese food is a blend of flavours and senses.
My parents are from Myanmar and my mother often cooks pyazo at home as this is our family favourite. During my visit to Burma (Myanmar), I explored Burmese food to the fullest by frequenting street food stands, eating in restaurants, even enjoying a few home-cooked meals at my relative's house. One dish that really stood out to me was definitely pyazo.
The Pyazo curry looks a mellow yellow and is bursting with flavour – bold Southeast Asian flavours, the creamy comforting curry served with crispy vada/fritter and papdi, the heat from chili spiced potatoes, and the crispy crunch of onions and cabbage. I can eat bowl after bowl of it and still not get enough.
Ingredients
For Dal Vada
1 cup split chickpea lentil (chana dal)
1 cup finely chopped spinach
1- inch ginger
3-4 green chillies
2 tablespoons oil
2 teaspoons salt
2 teaspoons red chilli powder
1 teaspoon Kashmiri red chilli powder
2 tablespoons wheat flour
Oil for deep frying
For Papdi
1 cup plain flour
1 teaspoon salt
2 teaspoons oil
½ teaspoon carom seeds
¼ cup water
Oil for deep frying
For curry
2 cups yoghurt
2 tablespoons gram flour
2 cups water
1 teaspoon salt
1 teaspoon turmeric powder
1 teaspoon red chilli powder
2 teaspoons ghee
½ teaspoon cumin seeds
½ teaspoon fennel seeds
½ teaspoon asafoetida
6-8 curry leaves
1 tablespoon coriander leaves
For Potato Masala
1 cup boiled mashed potato
1 teaspoon salt
1 teaspoon red chilli powder
For Assembly
1 cup finely chopped onion
1 cup finely chopped cabbage
1 cup green chutney
1 cup tamarind chutney
1 tablespoon red chilli powder
Salt to taste
Directions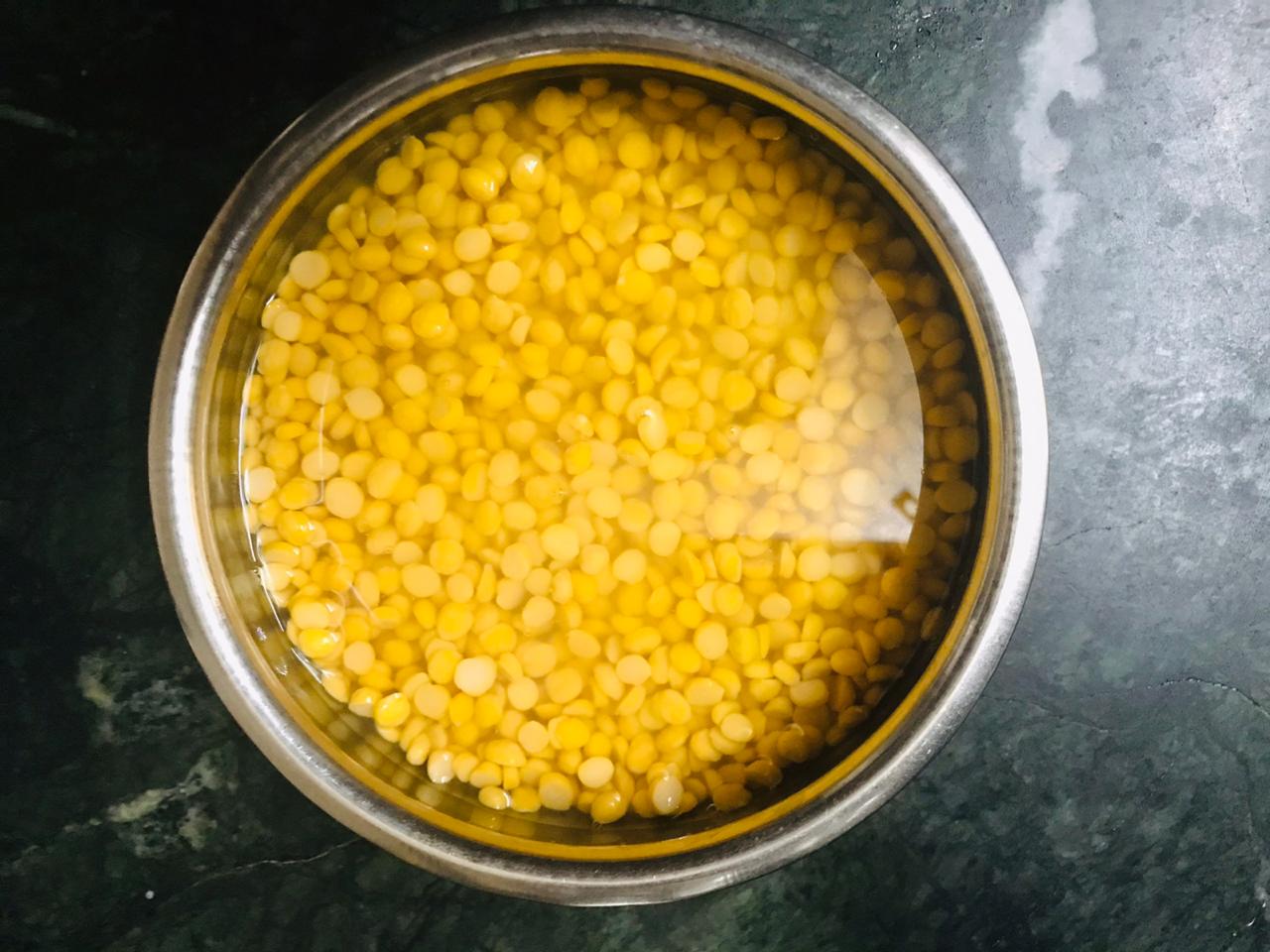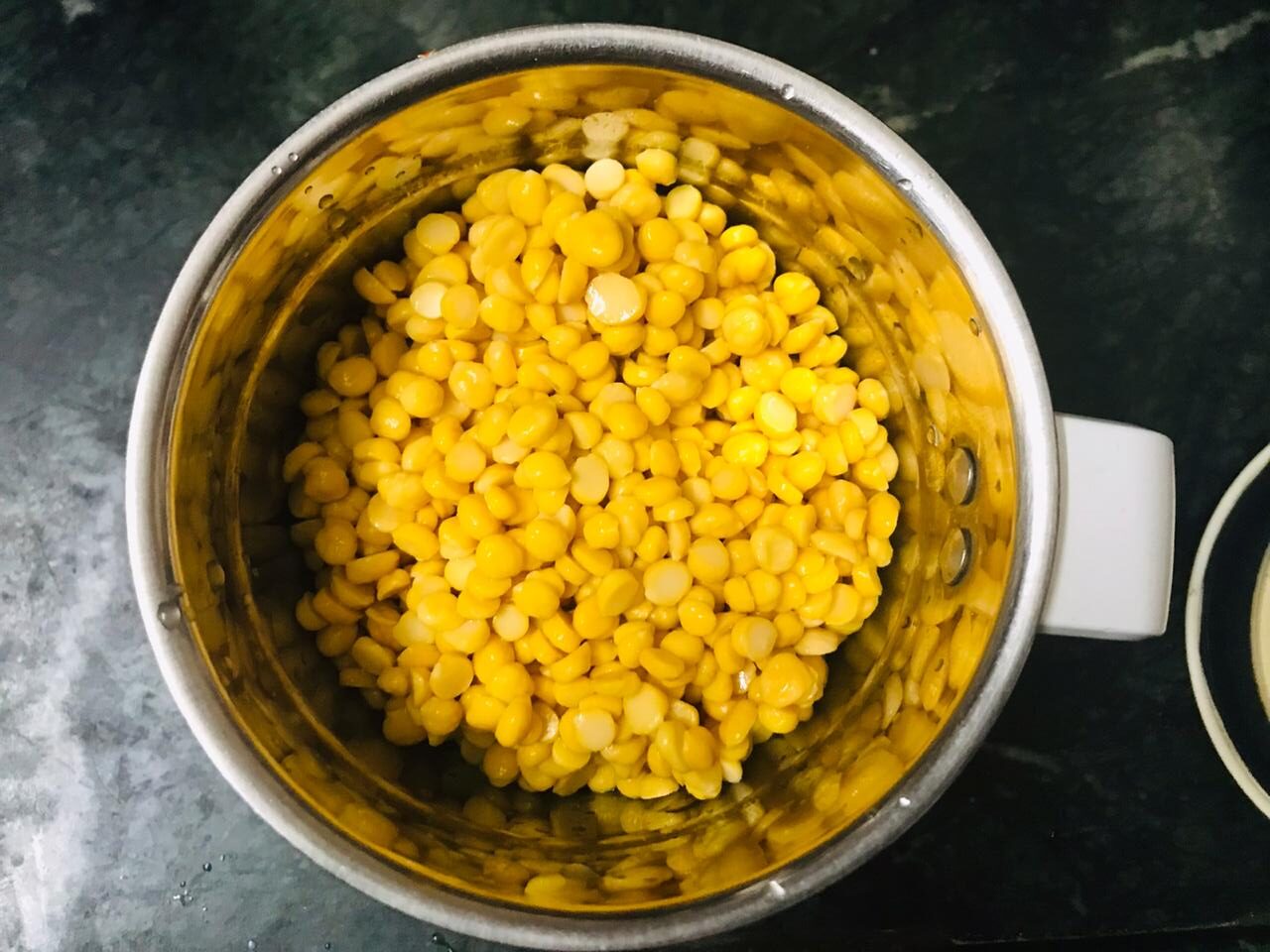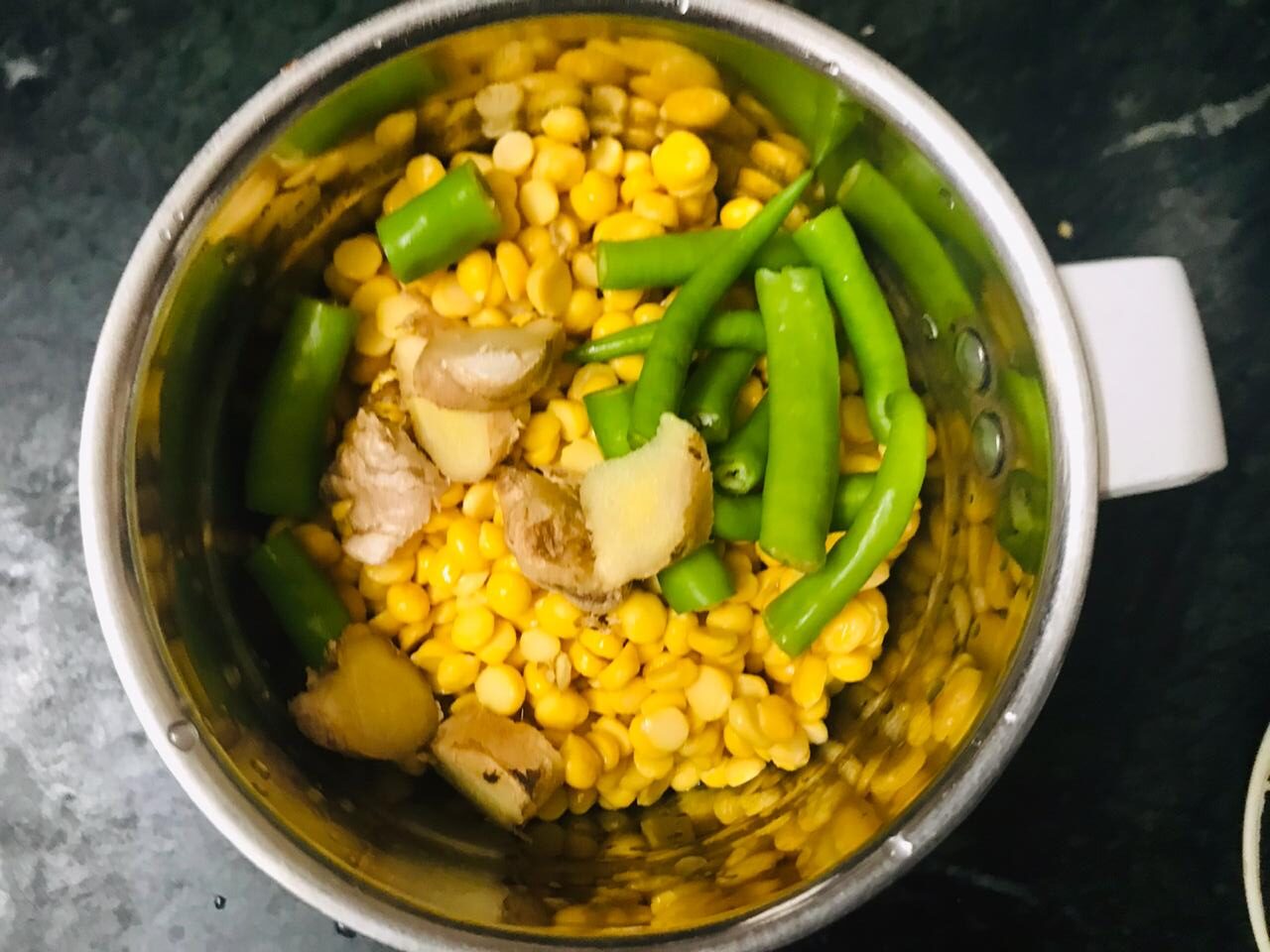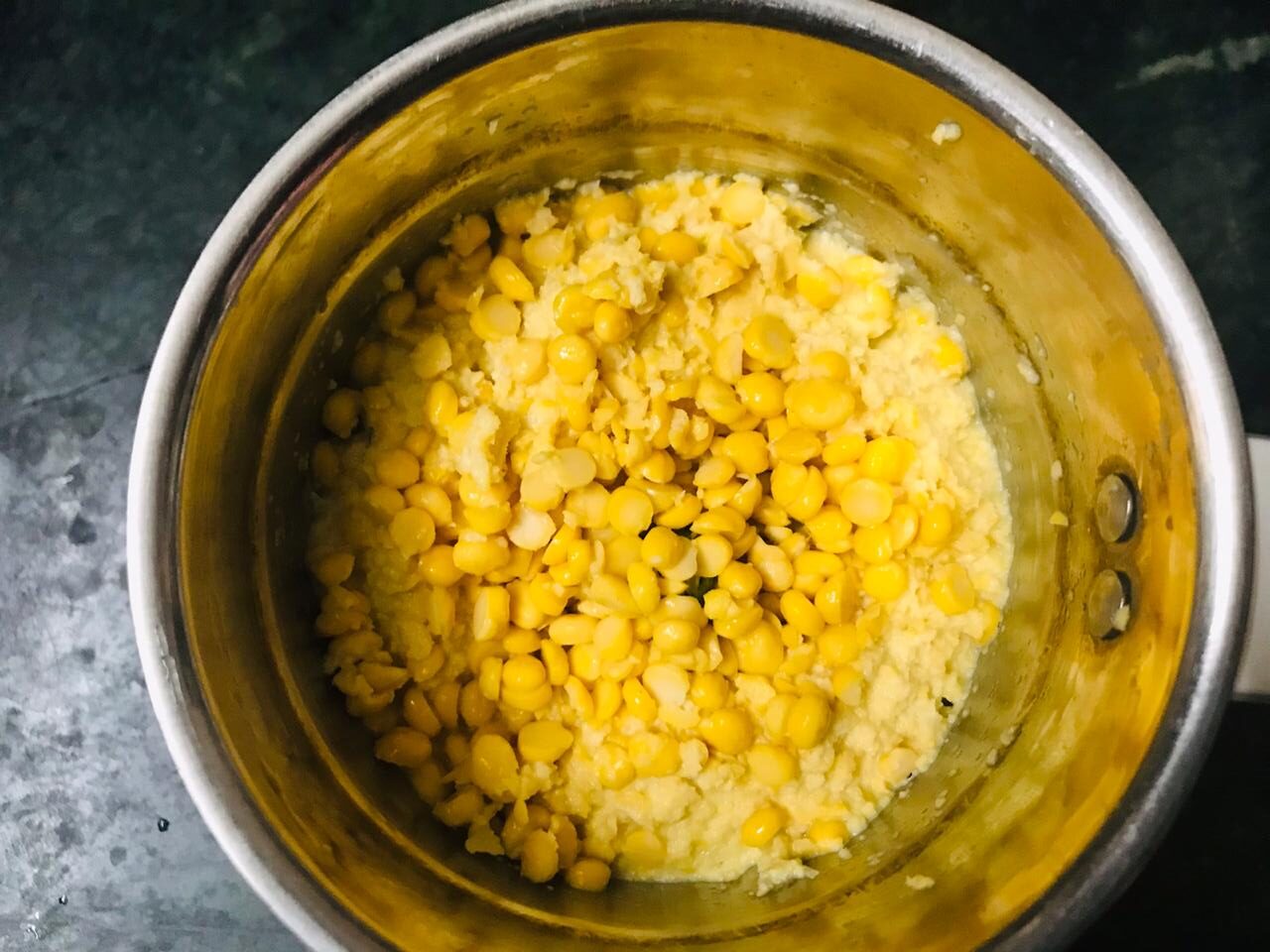 Wash the dal with water at least 3-4 times and soak for 4-5 hours in 4 cups water.
After 4-5 hours drain the soaked dal and add ginger and green chilli. Add 3-4 tablespoons of water and grind the dal to a fine, smooth batter. The batter should not be grainy when touched. Adjust the water according to the need while grinding.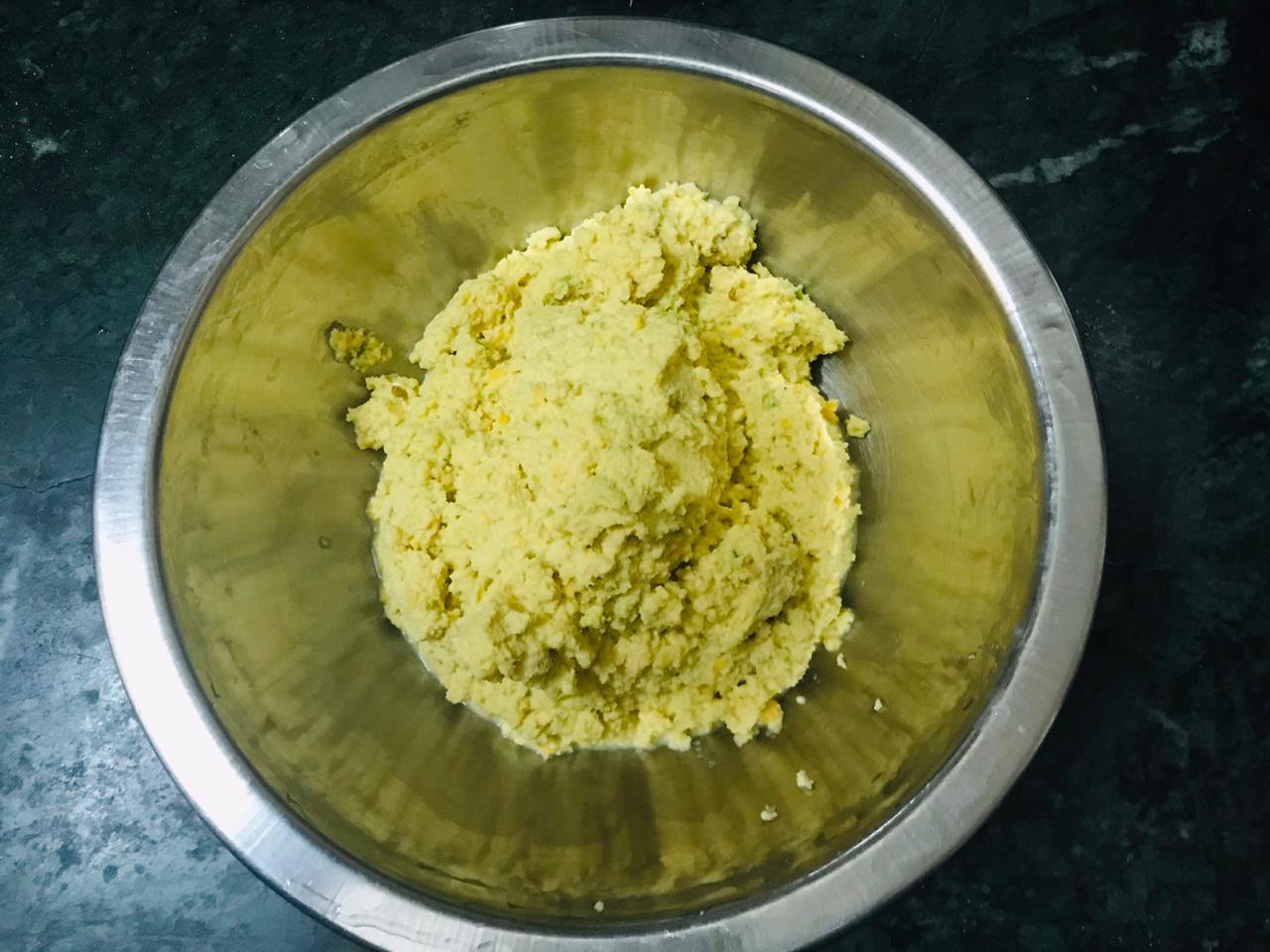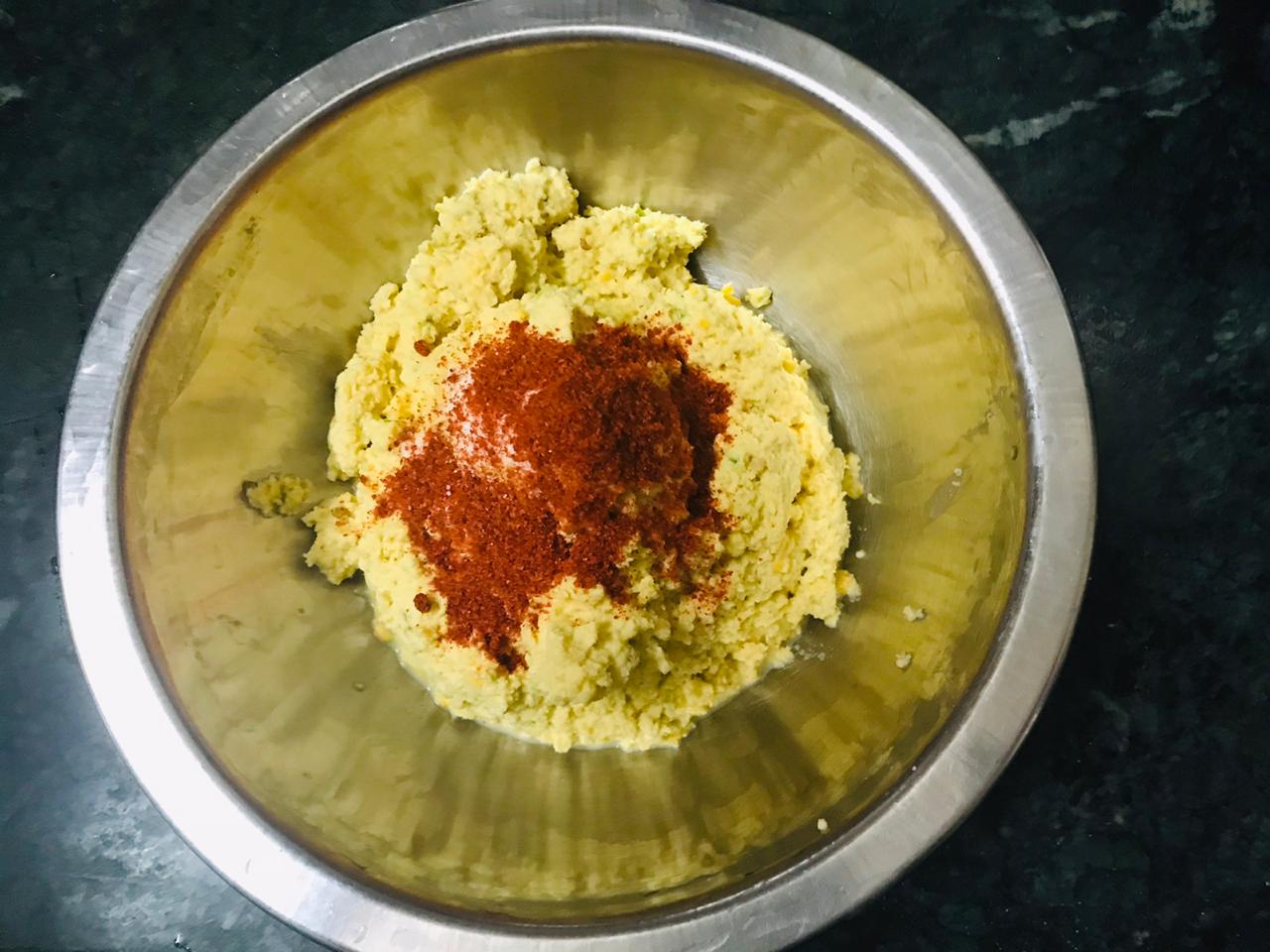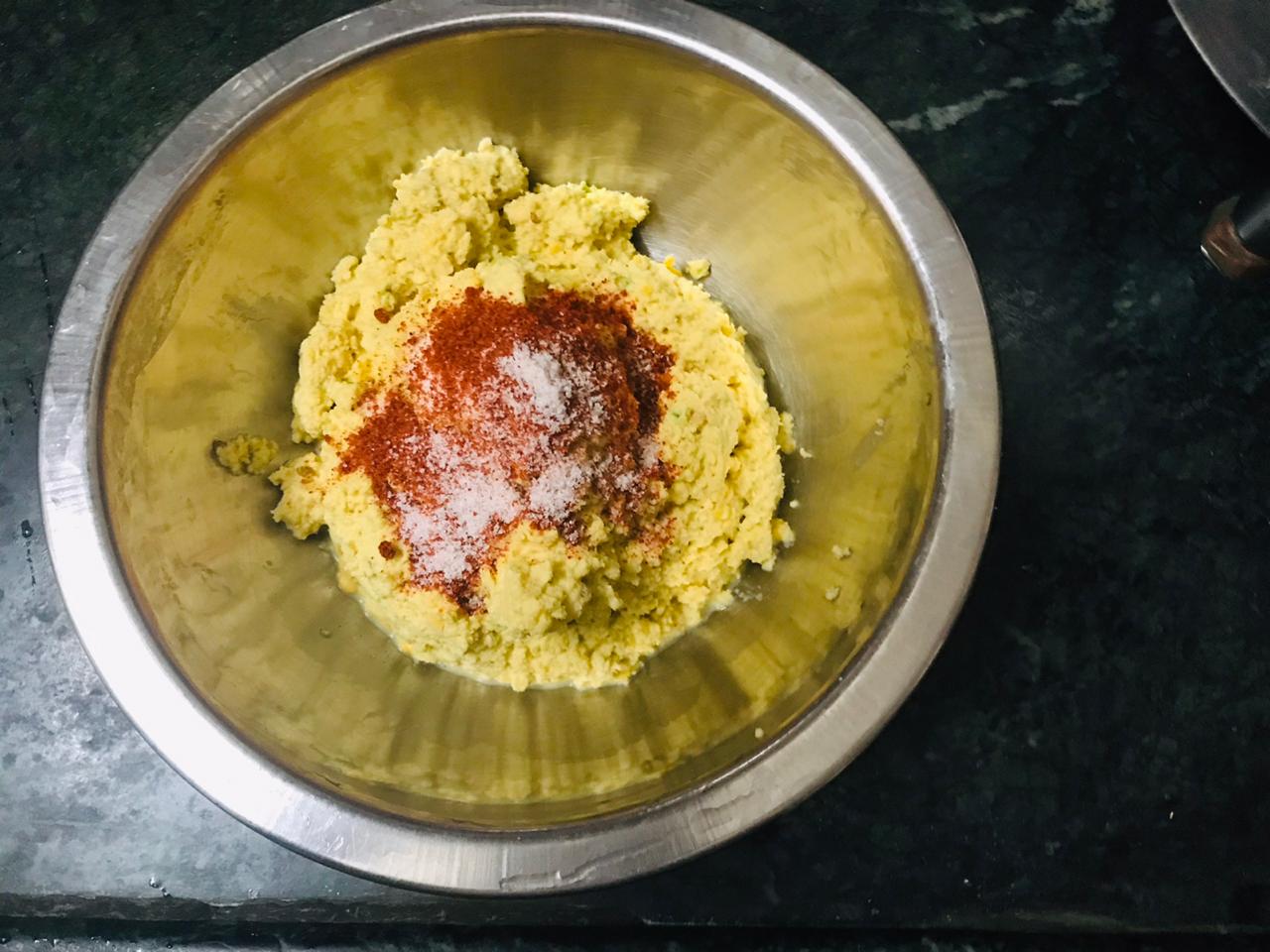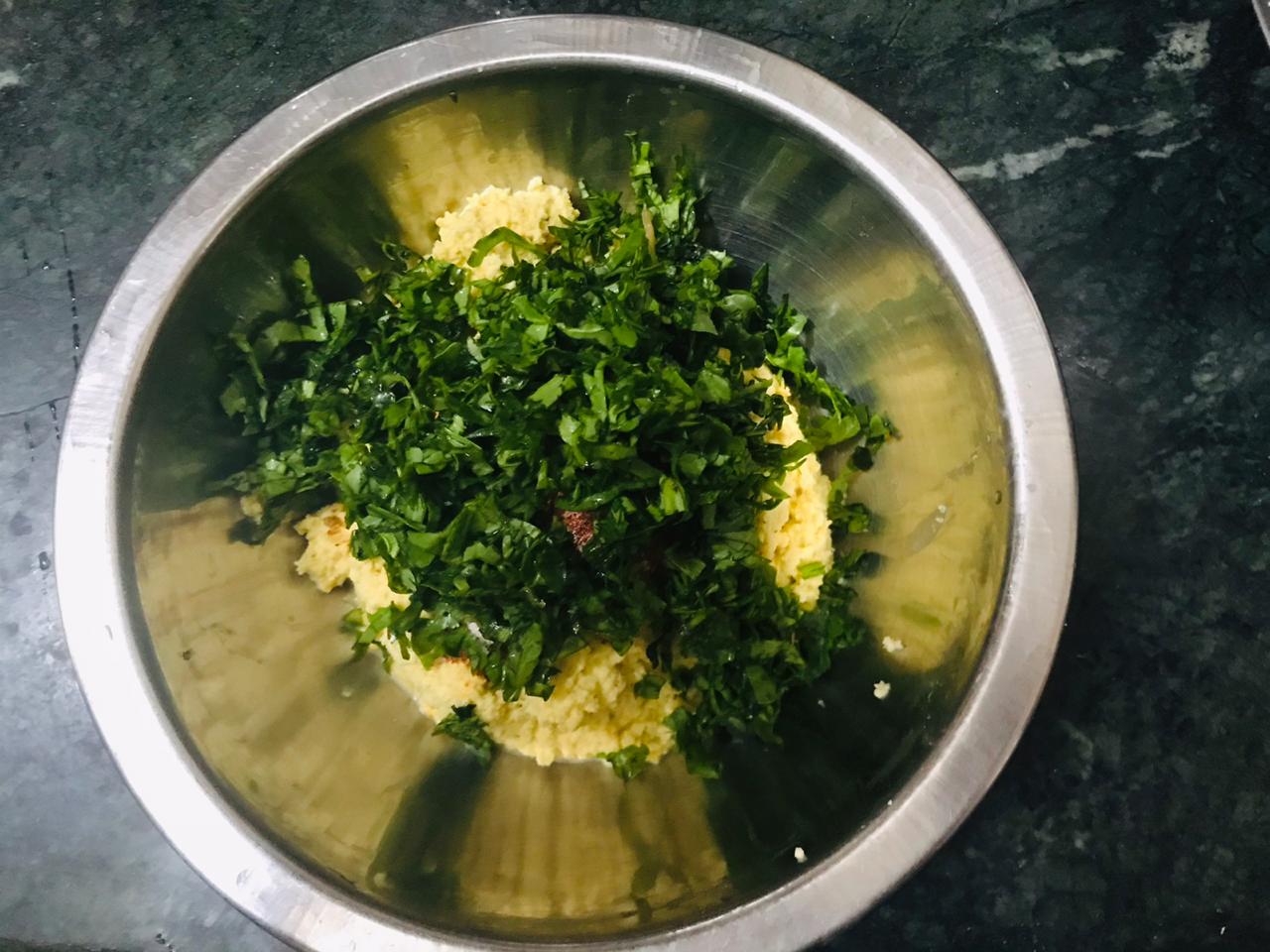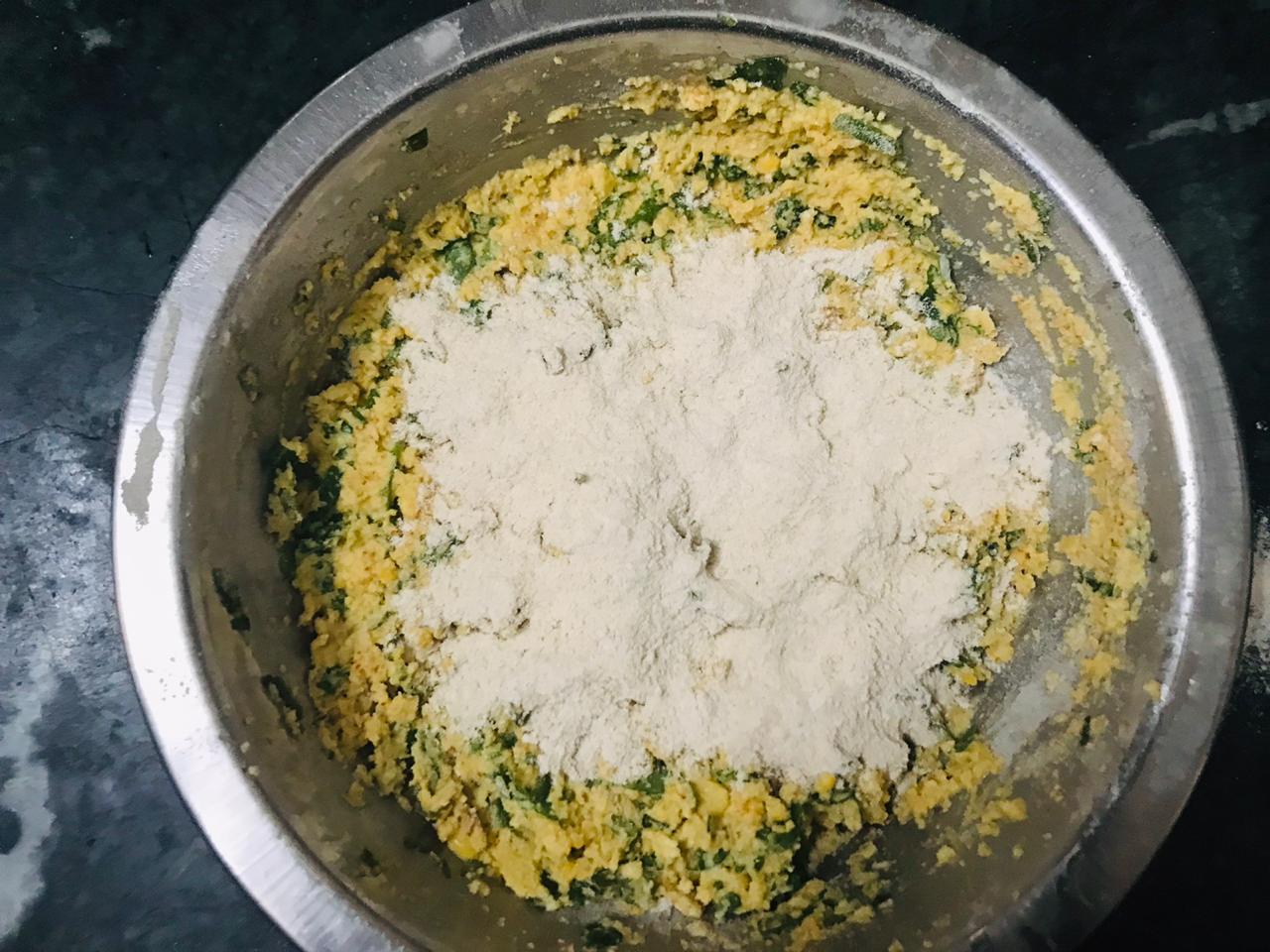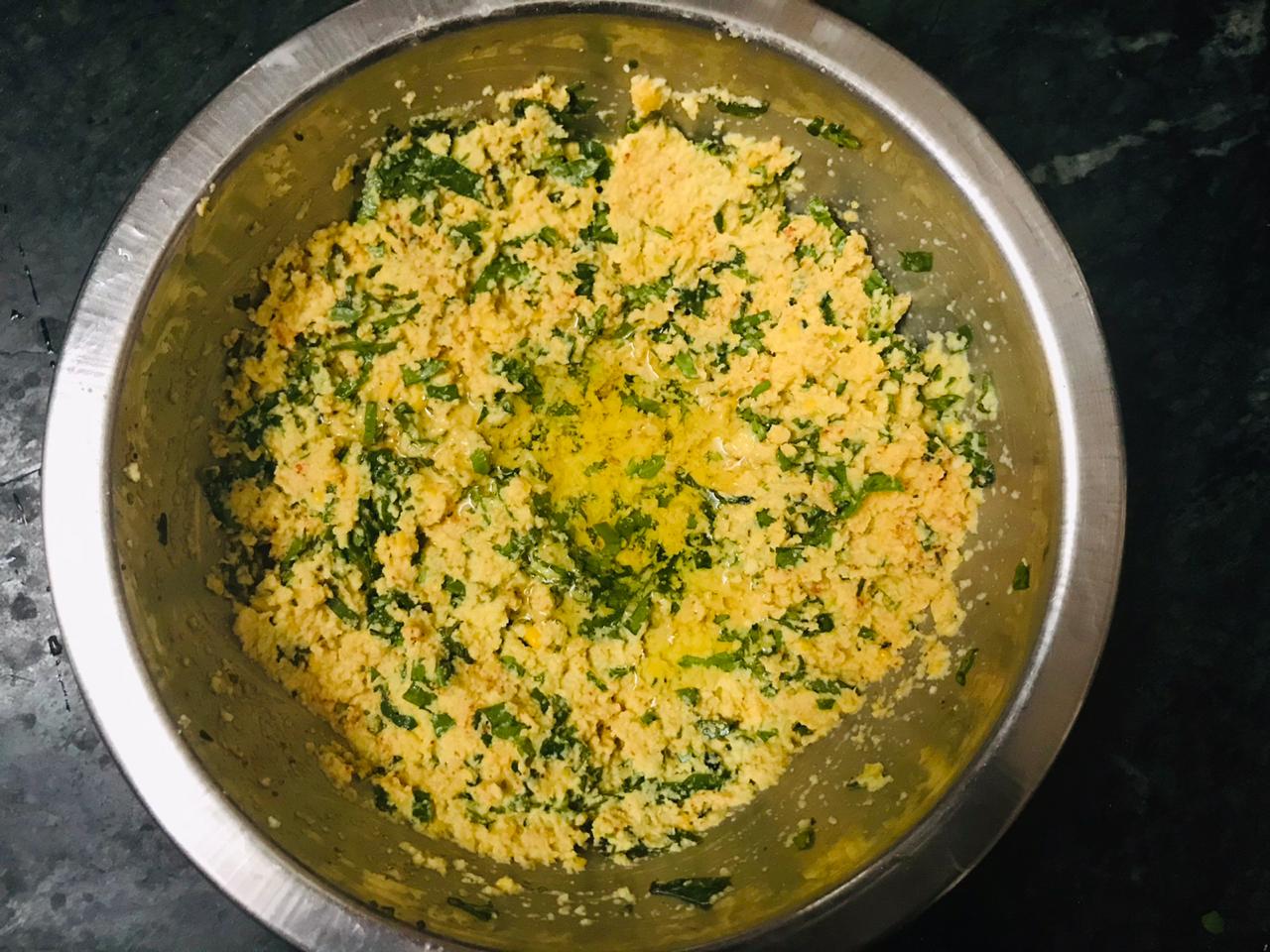 Transfer the batter in a bowl and add salt, red chilli powder, Kashmiri red chilli powder, spinach and wheat flour and mix.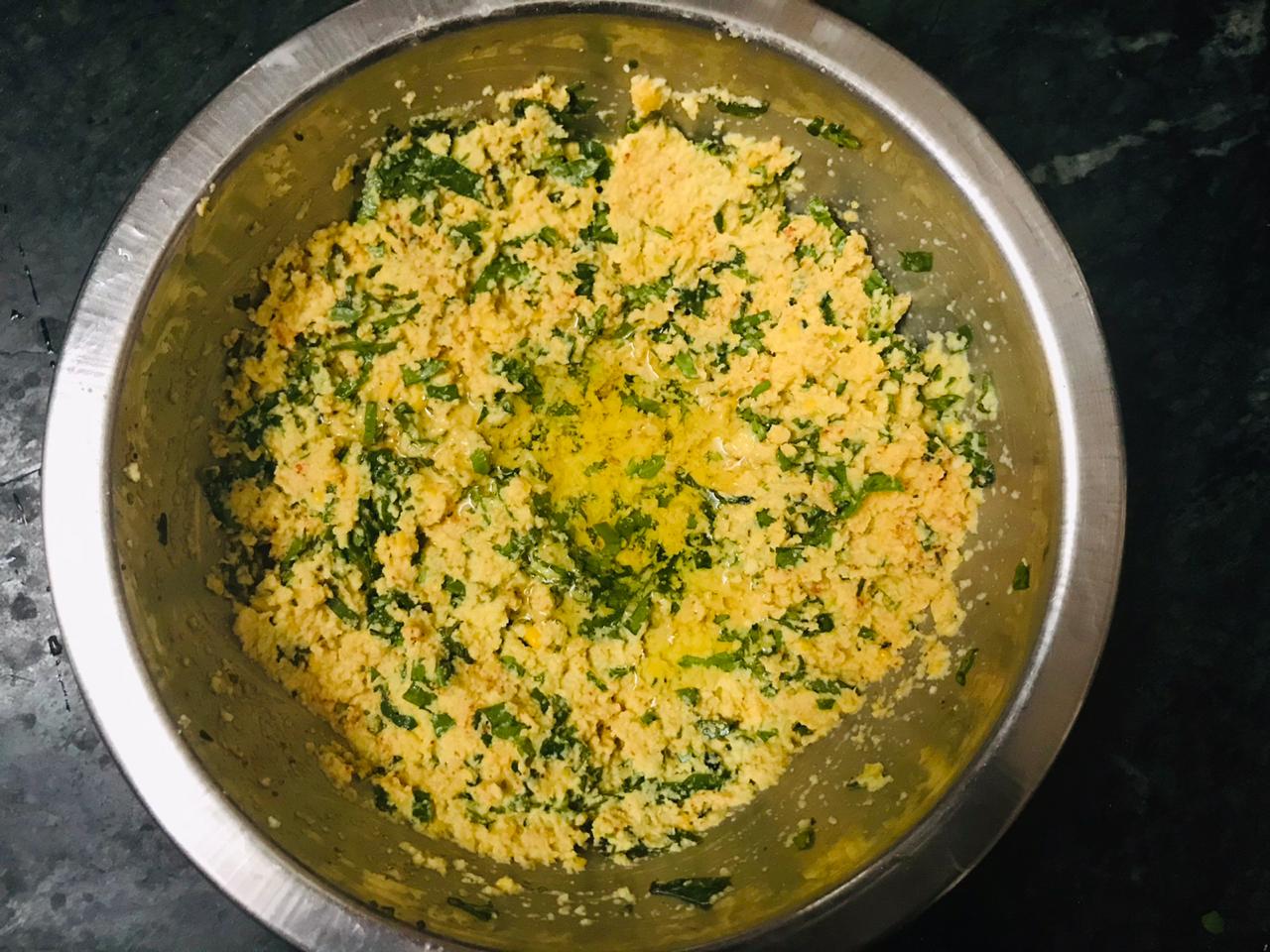 Whisk the batter for couple of minutes to make it fluffy. Next add the oil and whisk again for 2-3 minutes.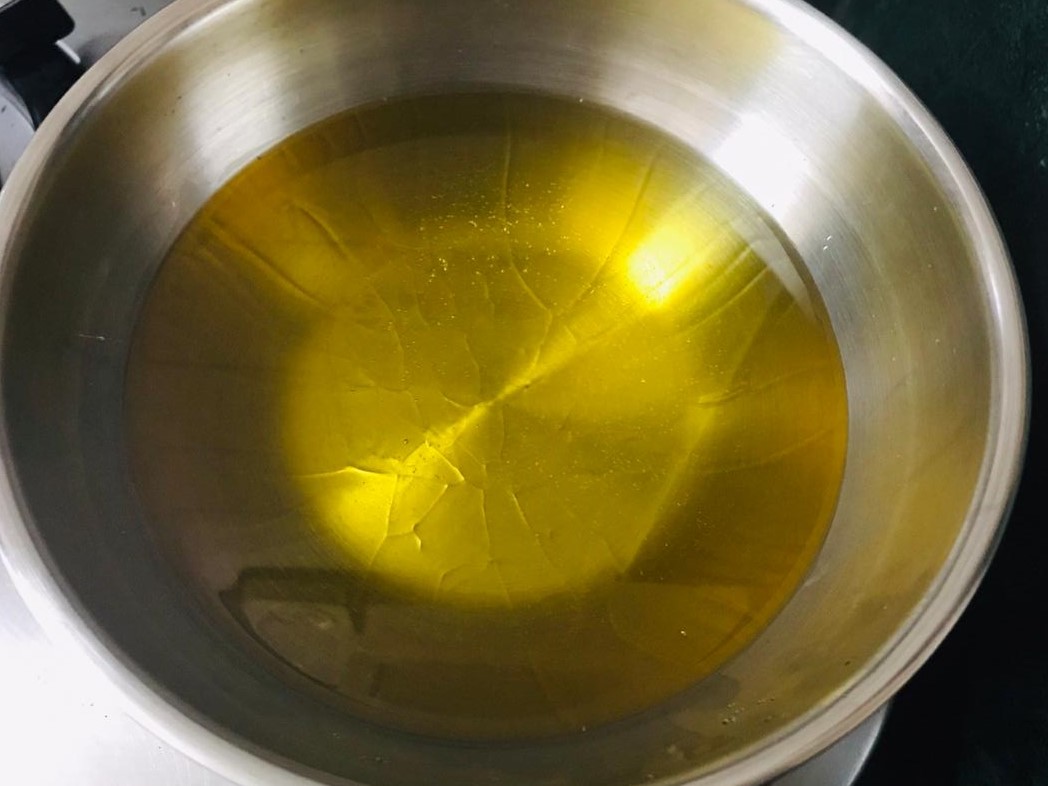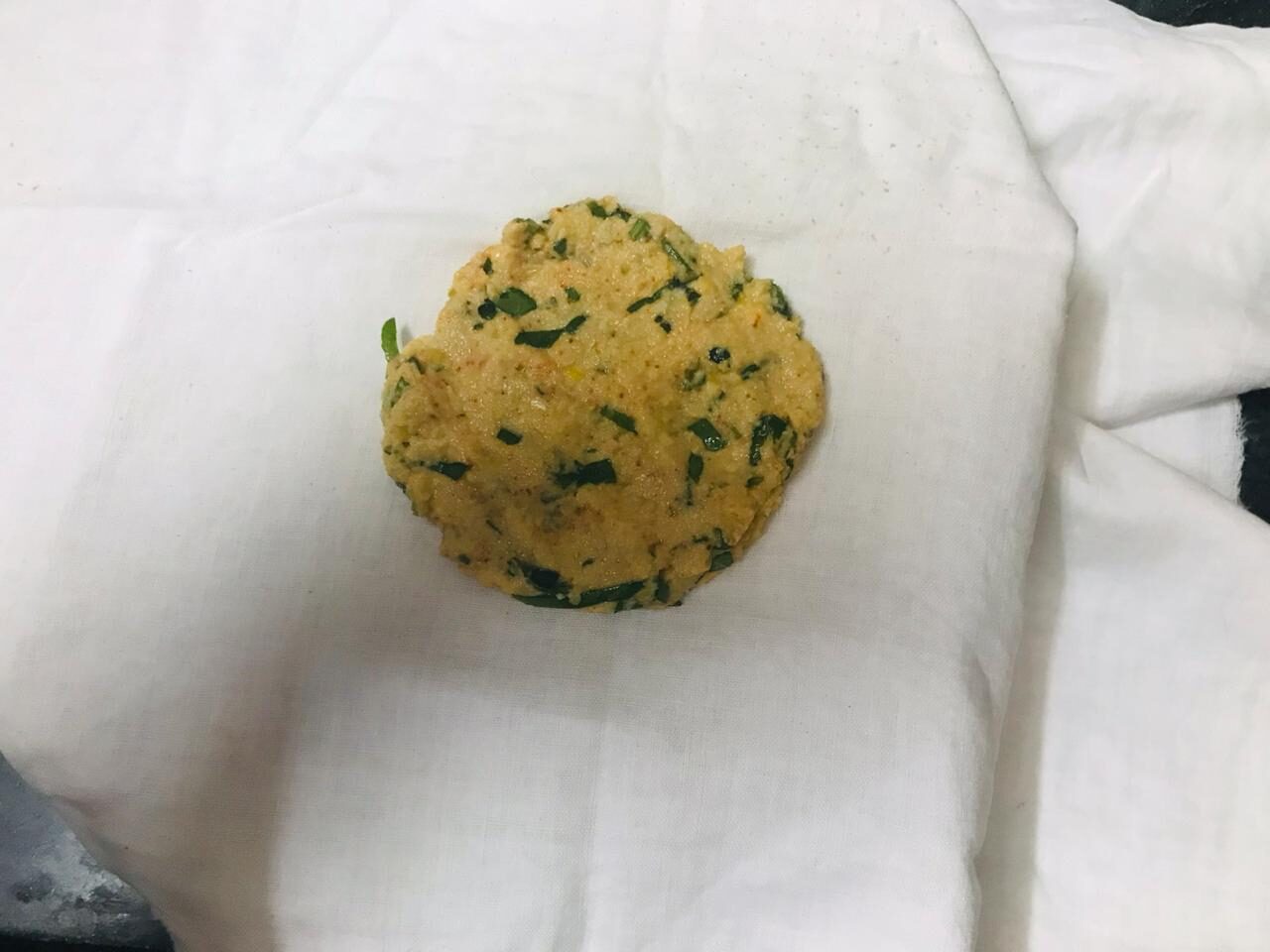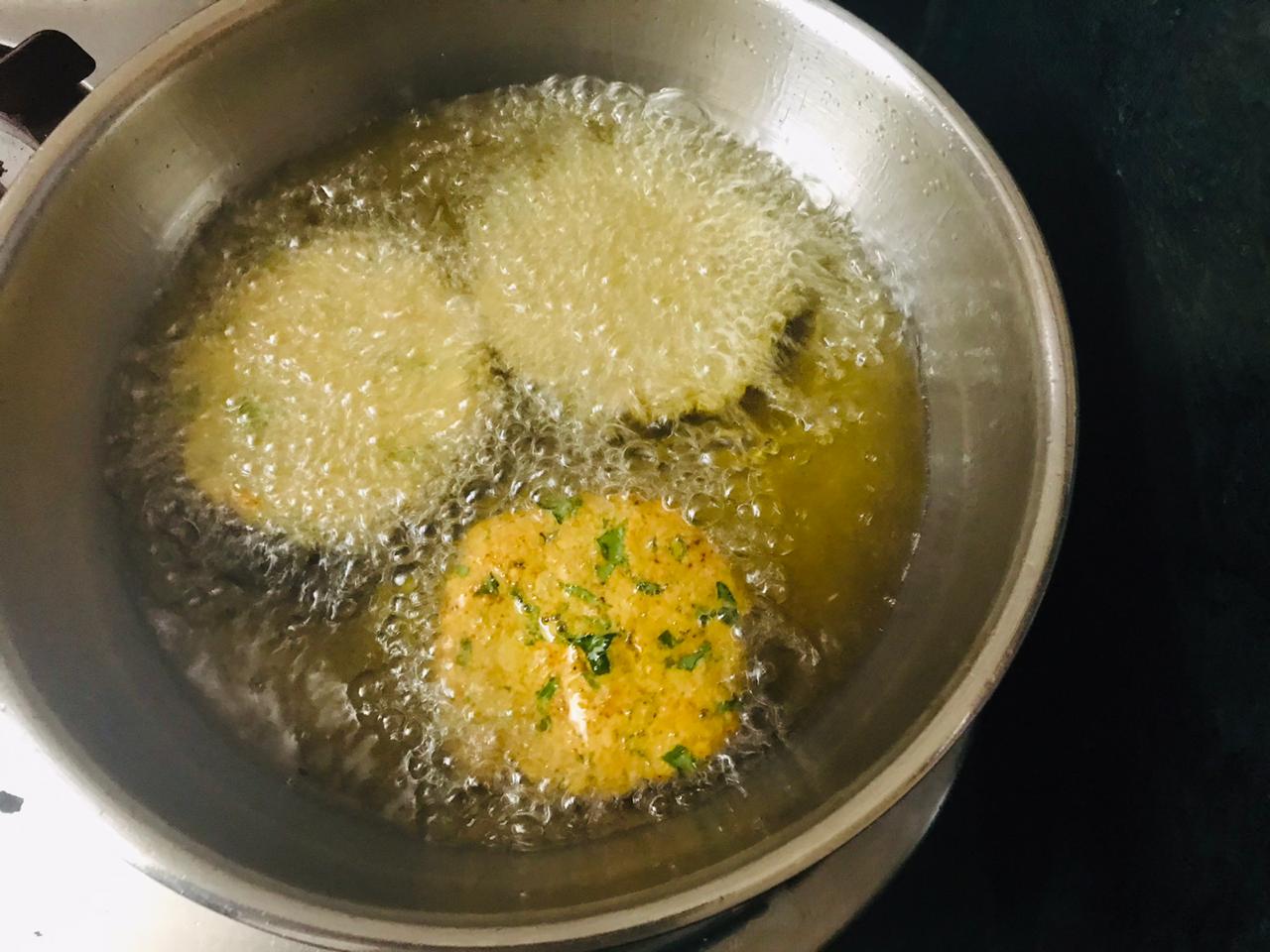 Heat oil for frying. To check if the oil is ready for frying add a small amount of batter in the oil. If it comes steadily and quickly on the surface, then that means the oil has the right temperature to fry.
Once the oil is ready to fry, place a cloth on rolling board and rub some water on cloth to make it moist. Take a spoonful of batter on the cloth. Flatten it with your hands and very gently lift it with your hands and slide it in the pan for frying. Fry on medium- low heat.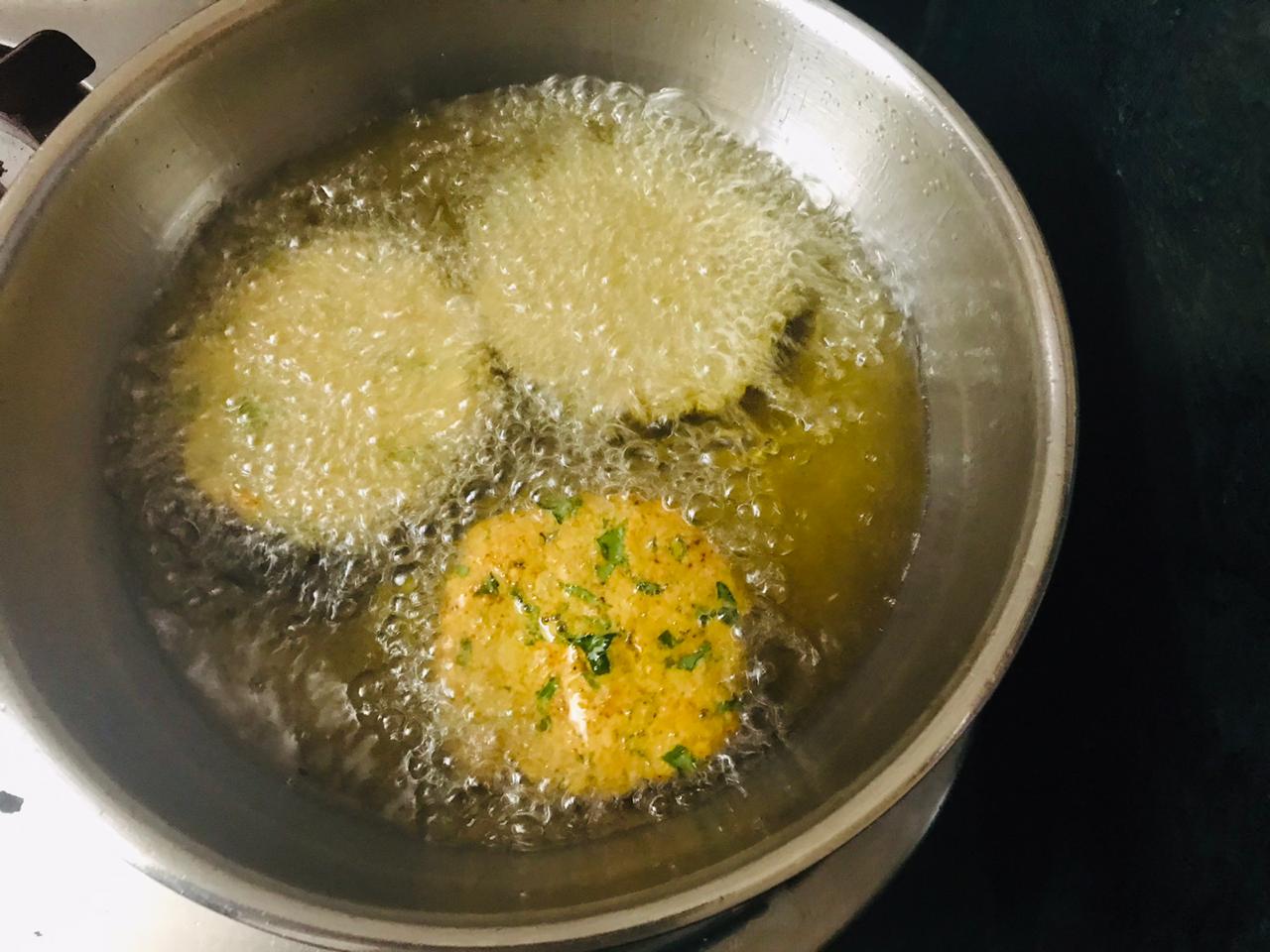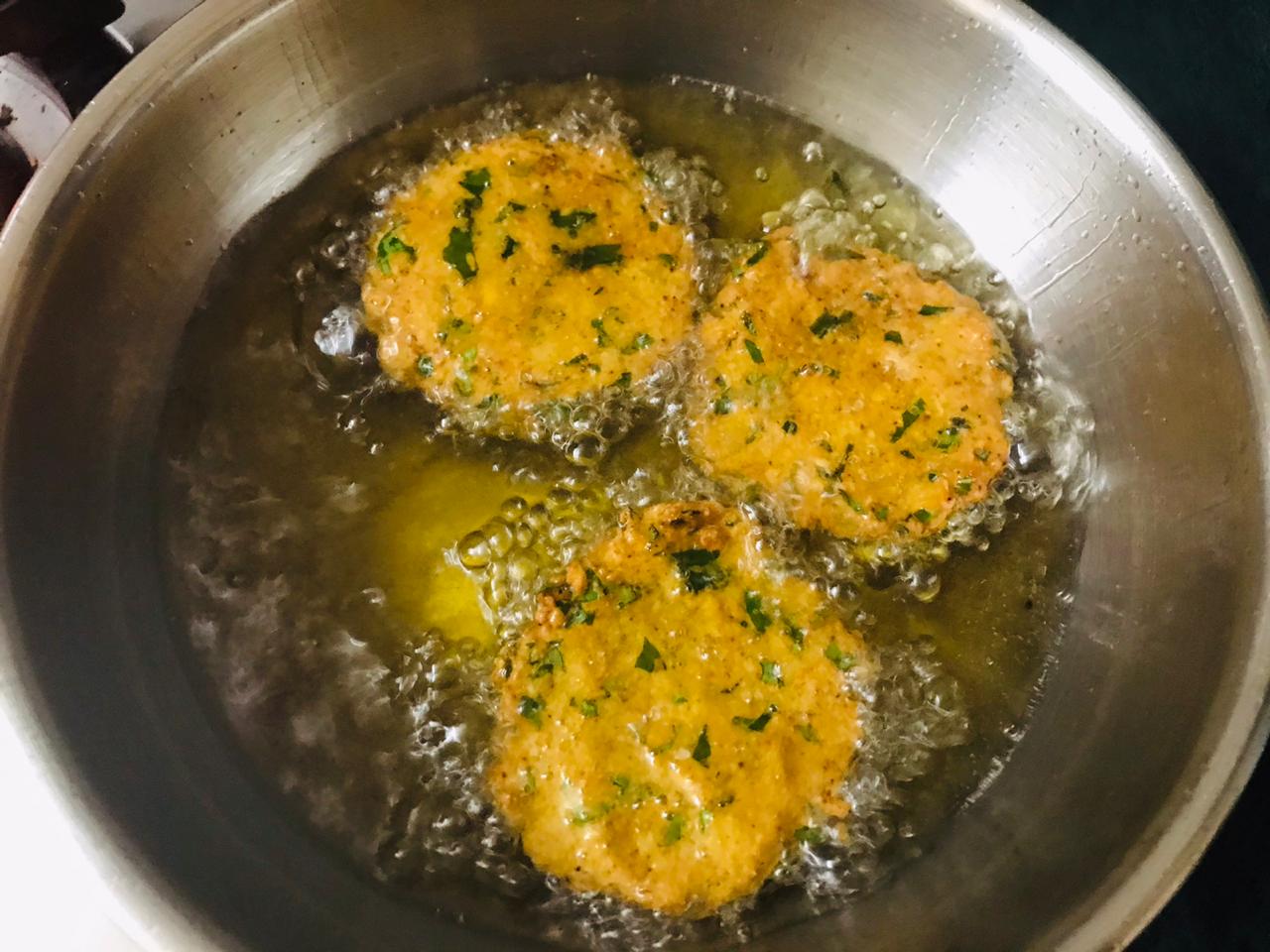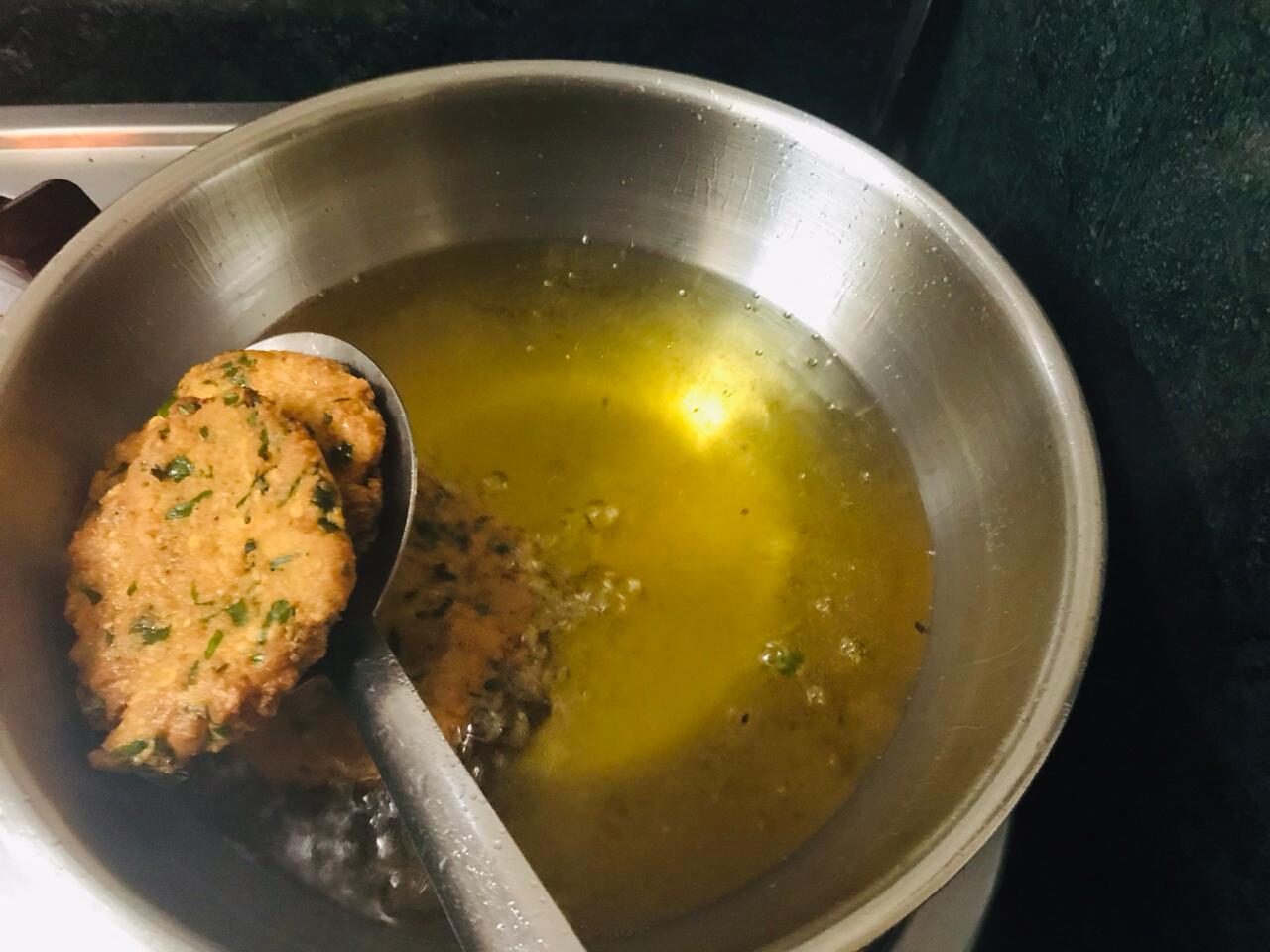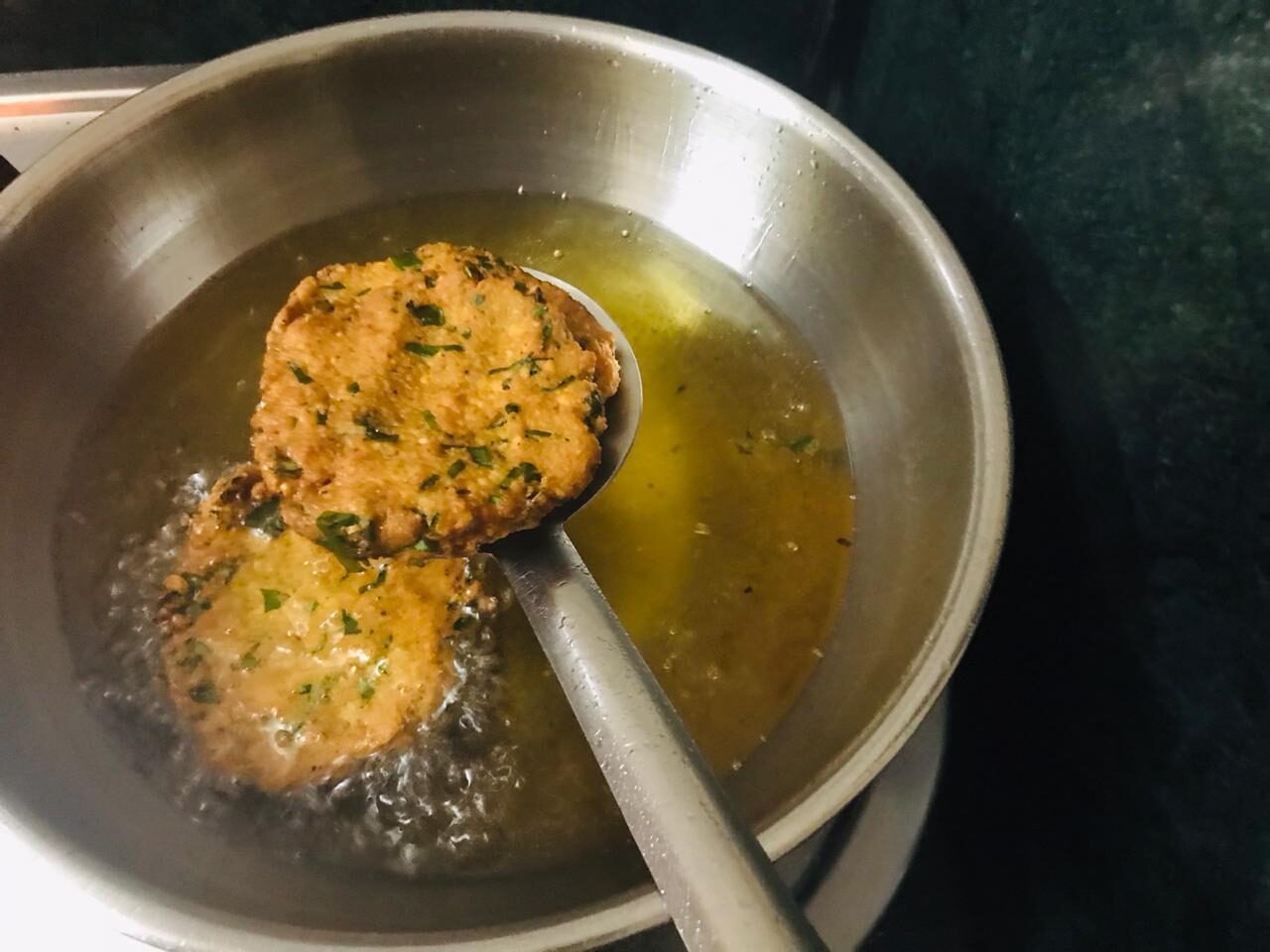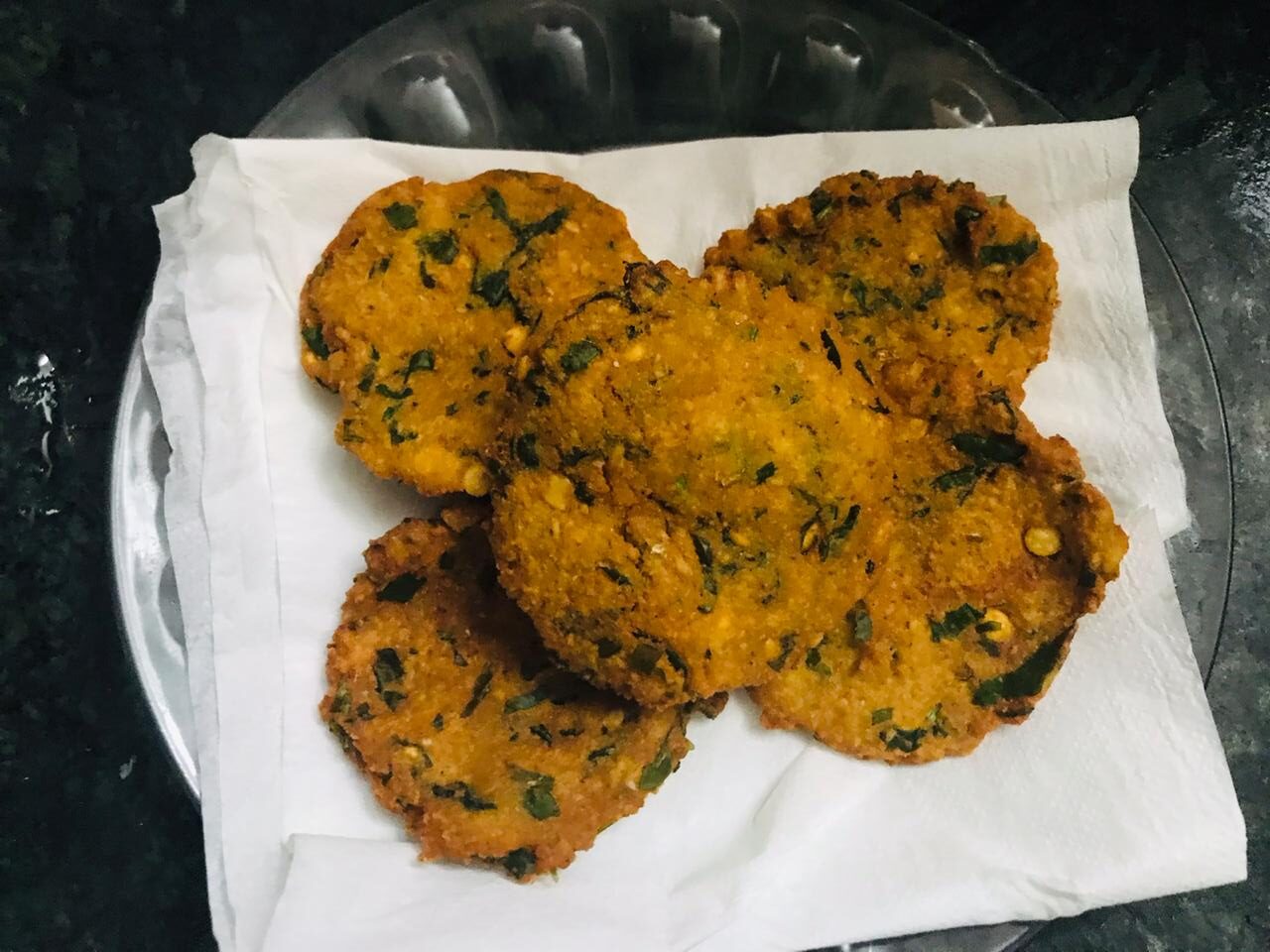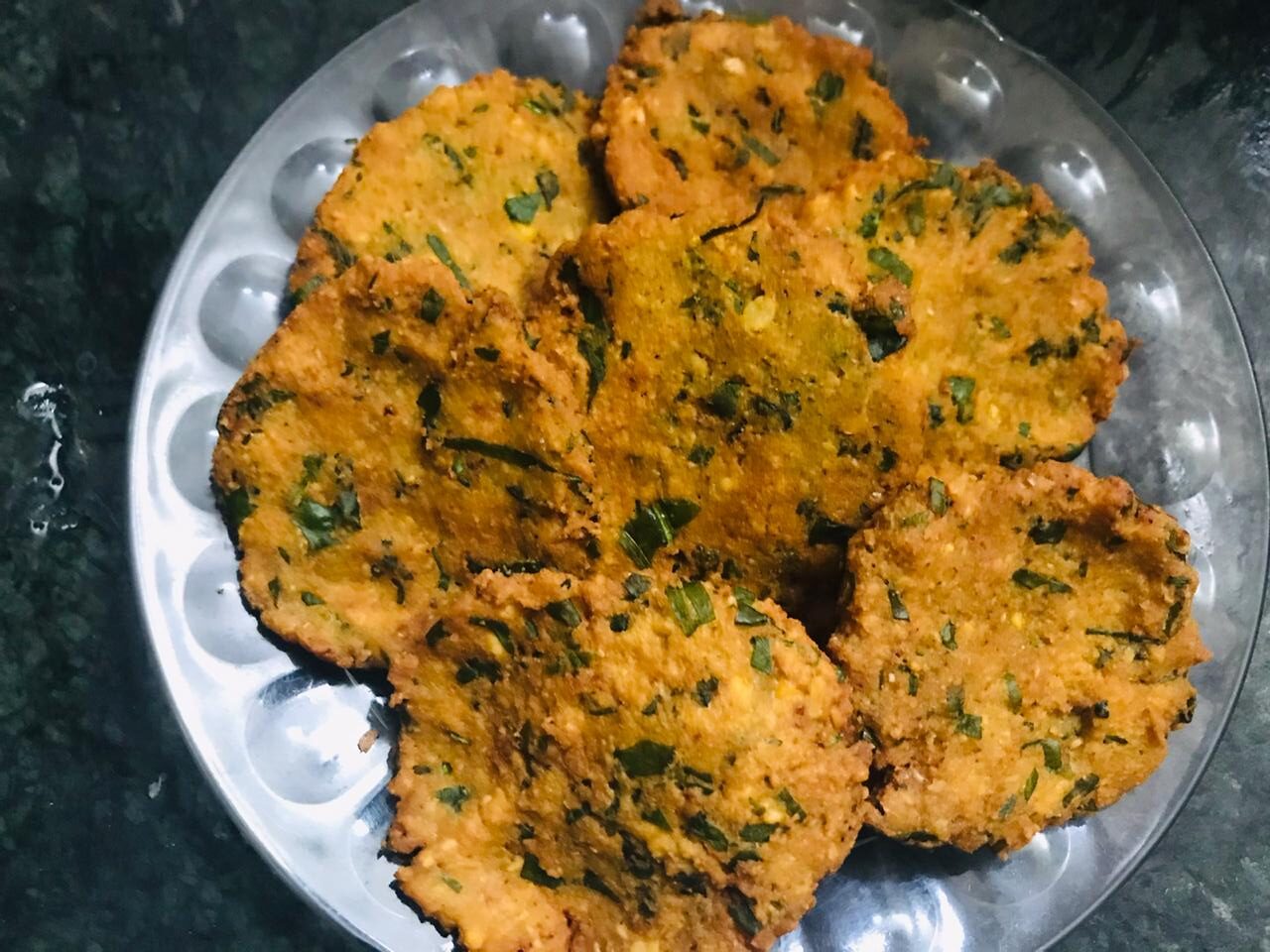 When they are golden in colour, flip the vada on the other side. Fry them until they become golden and crisp turning them few times while frying. Remove with a slotted spoon on absorbent paper towel. You should have 12-13 vadas from this batter.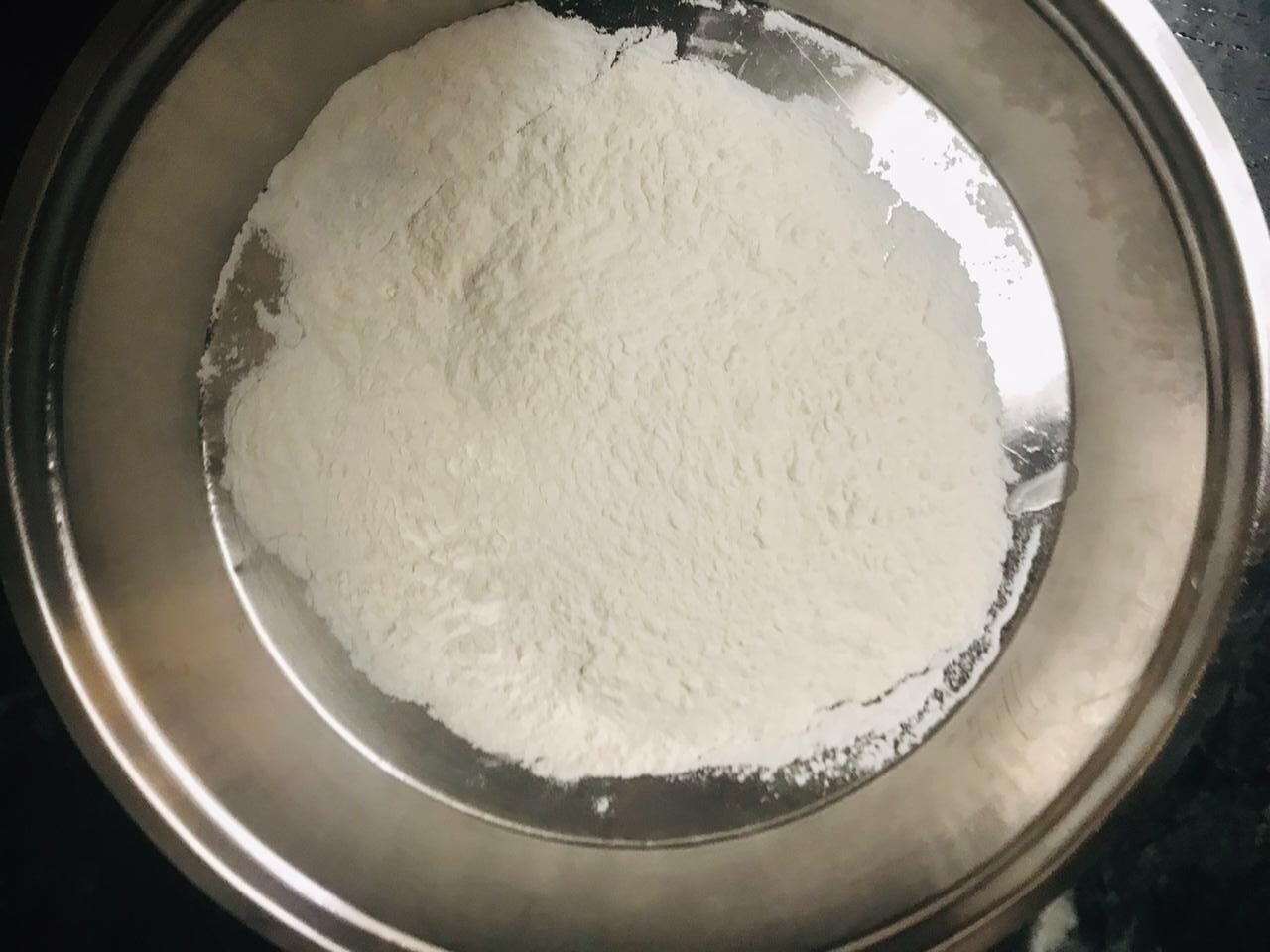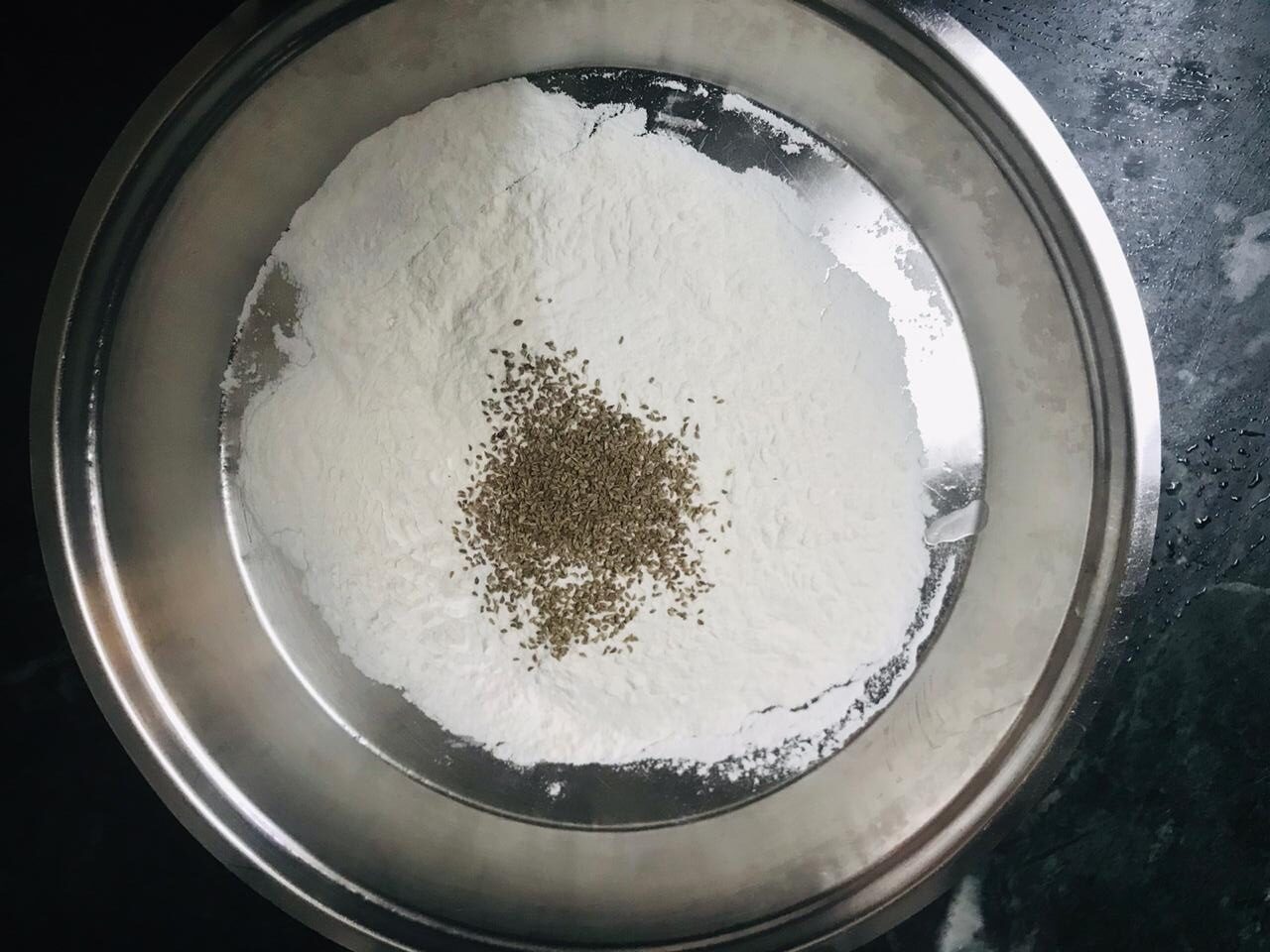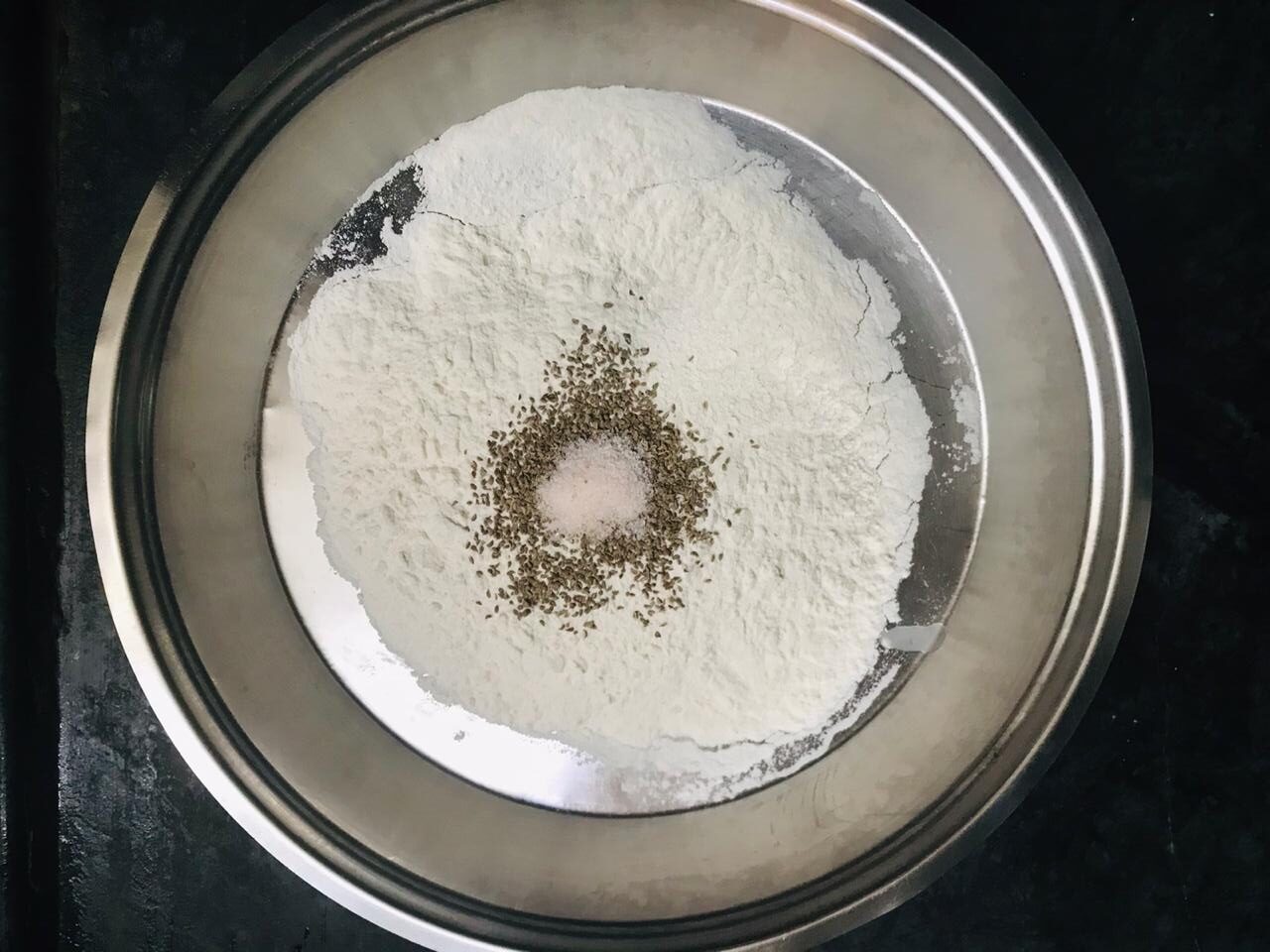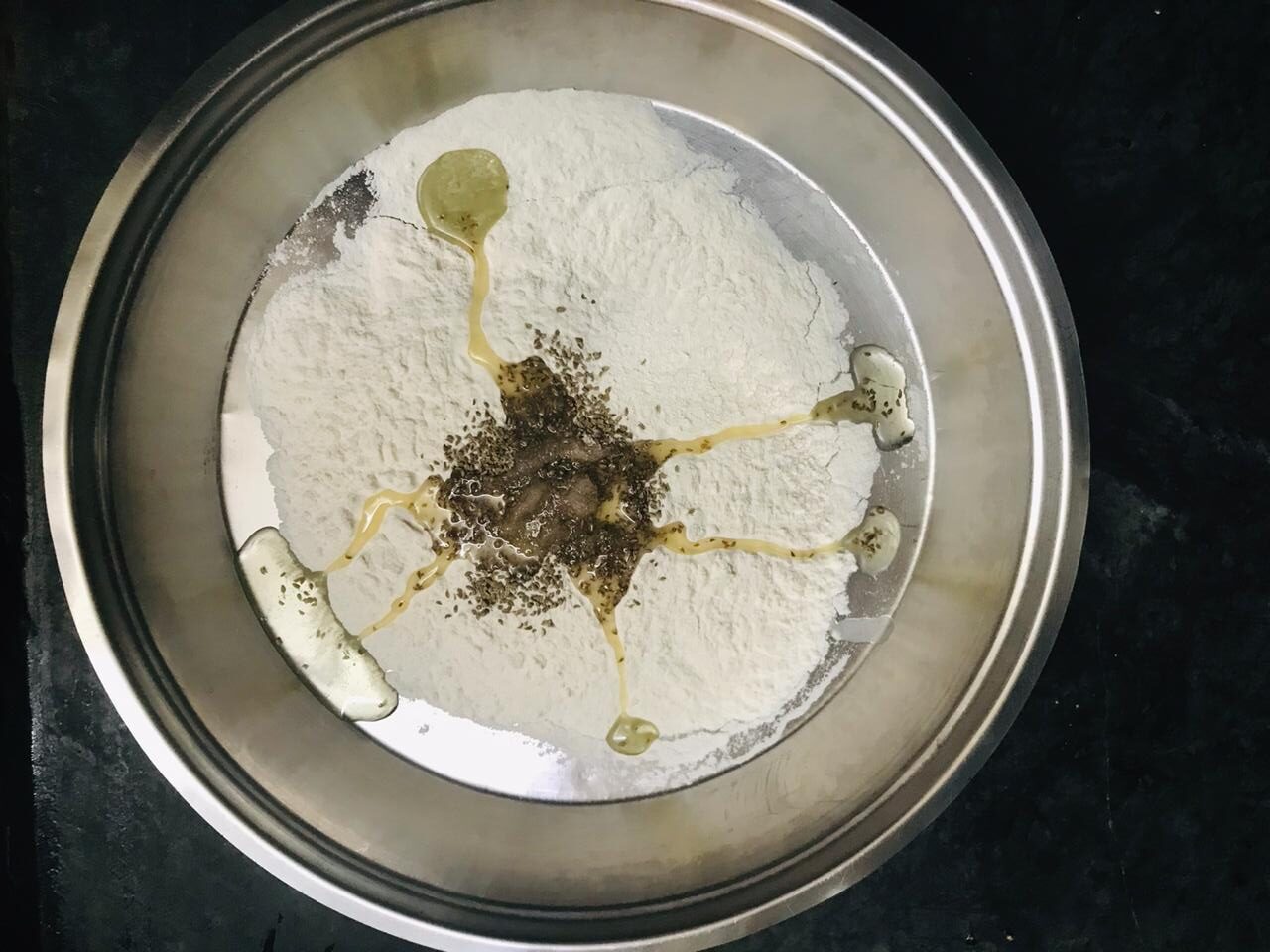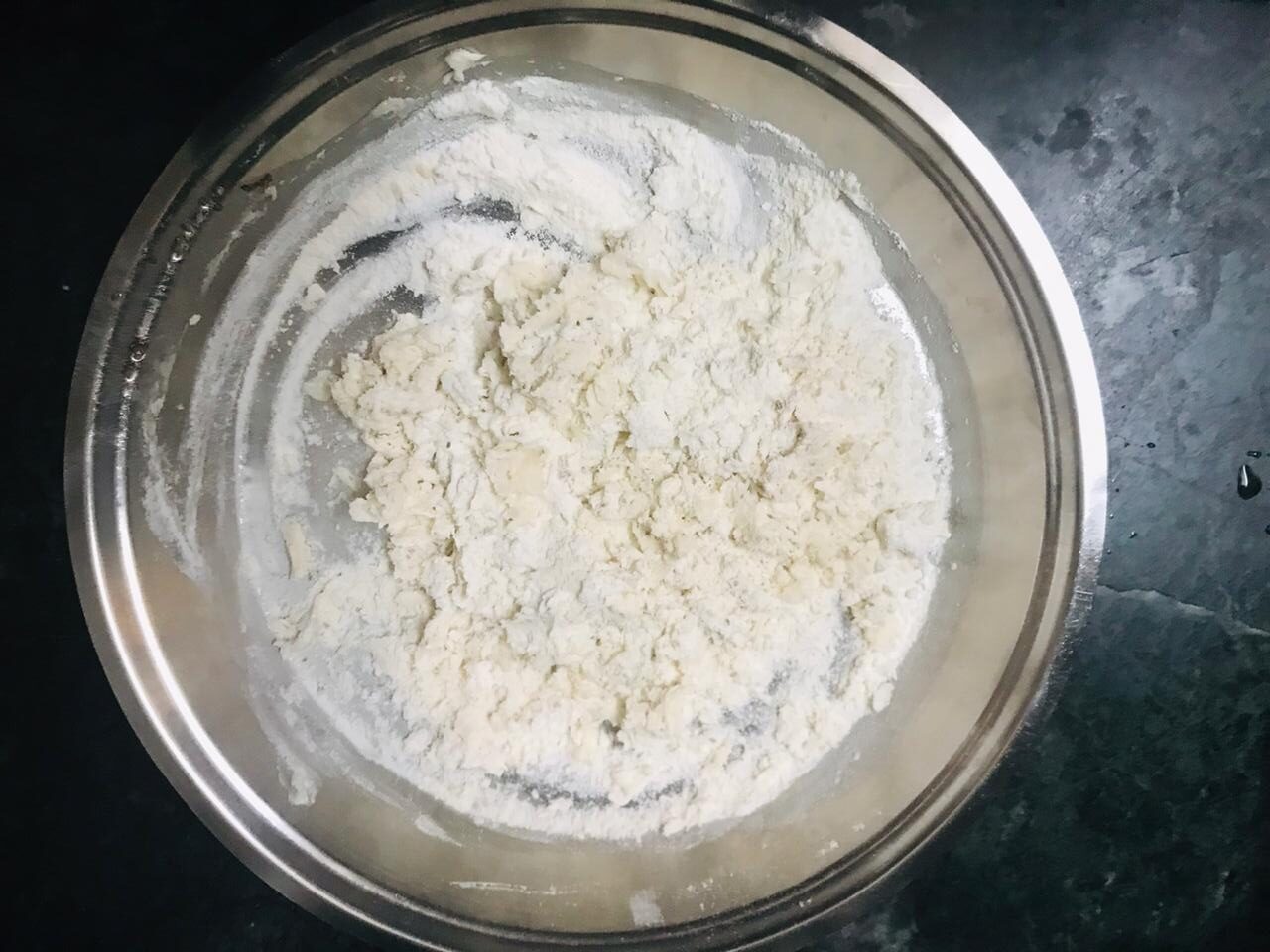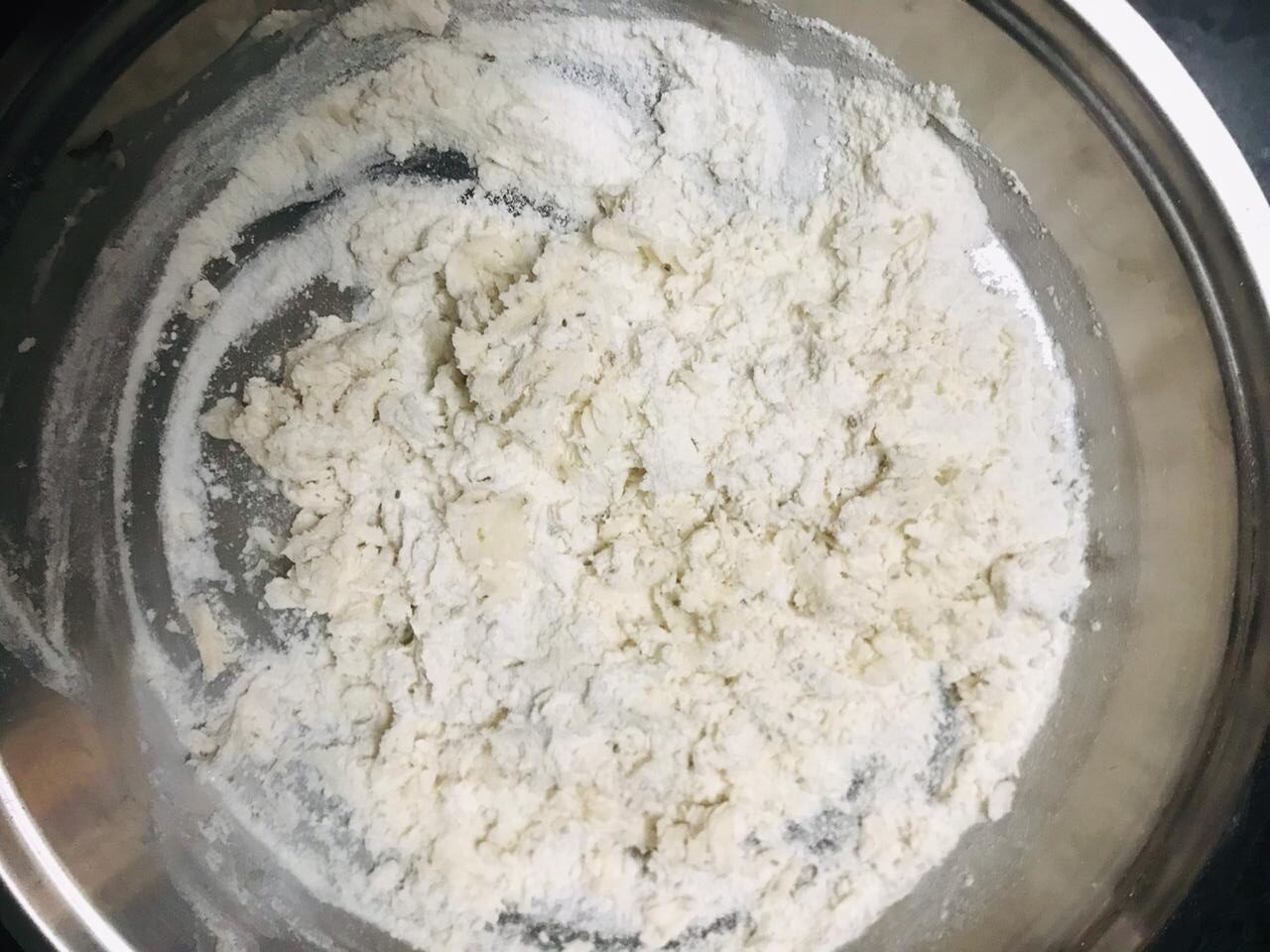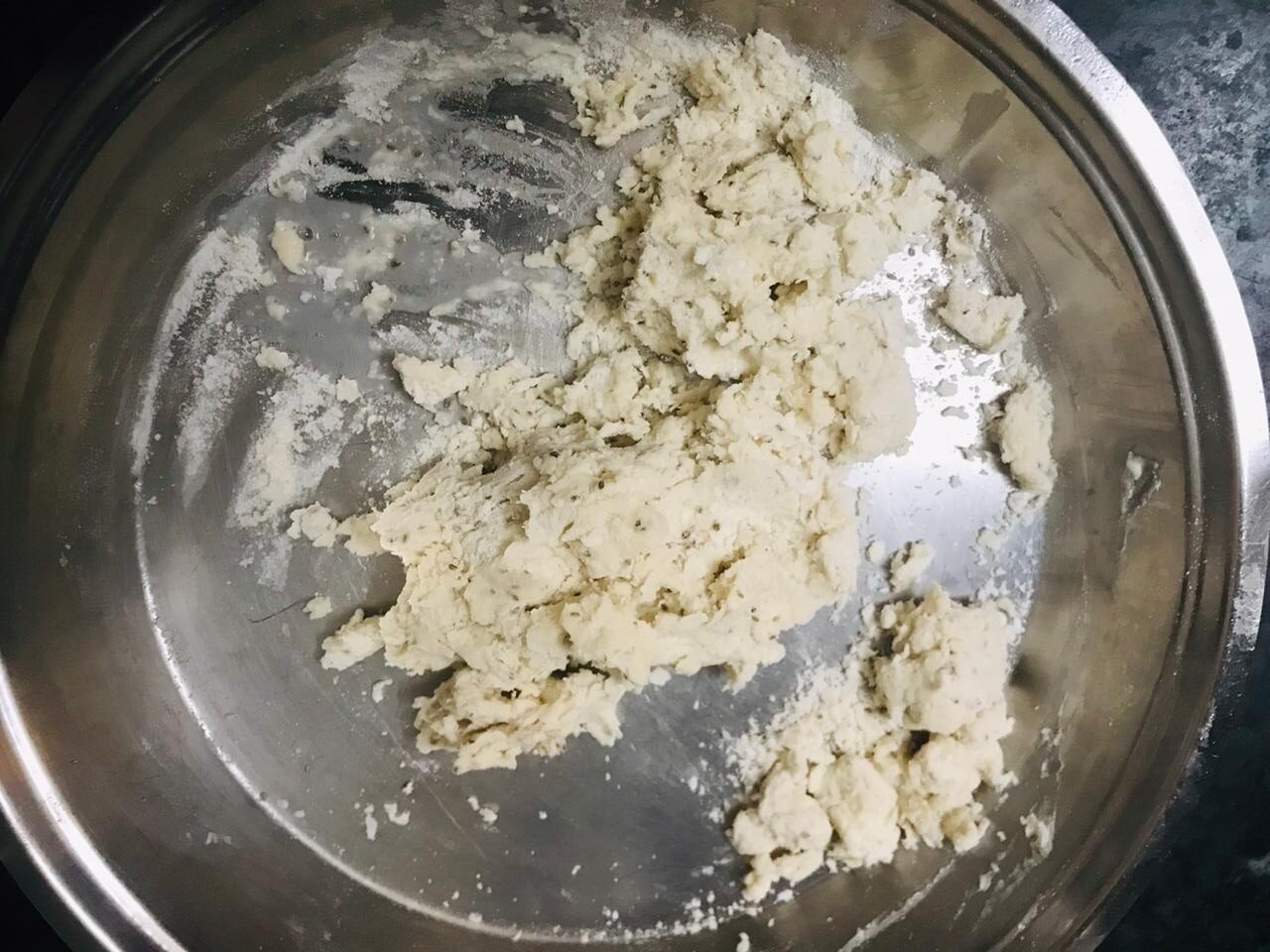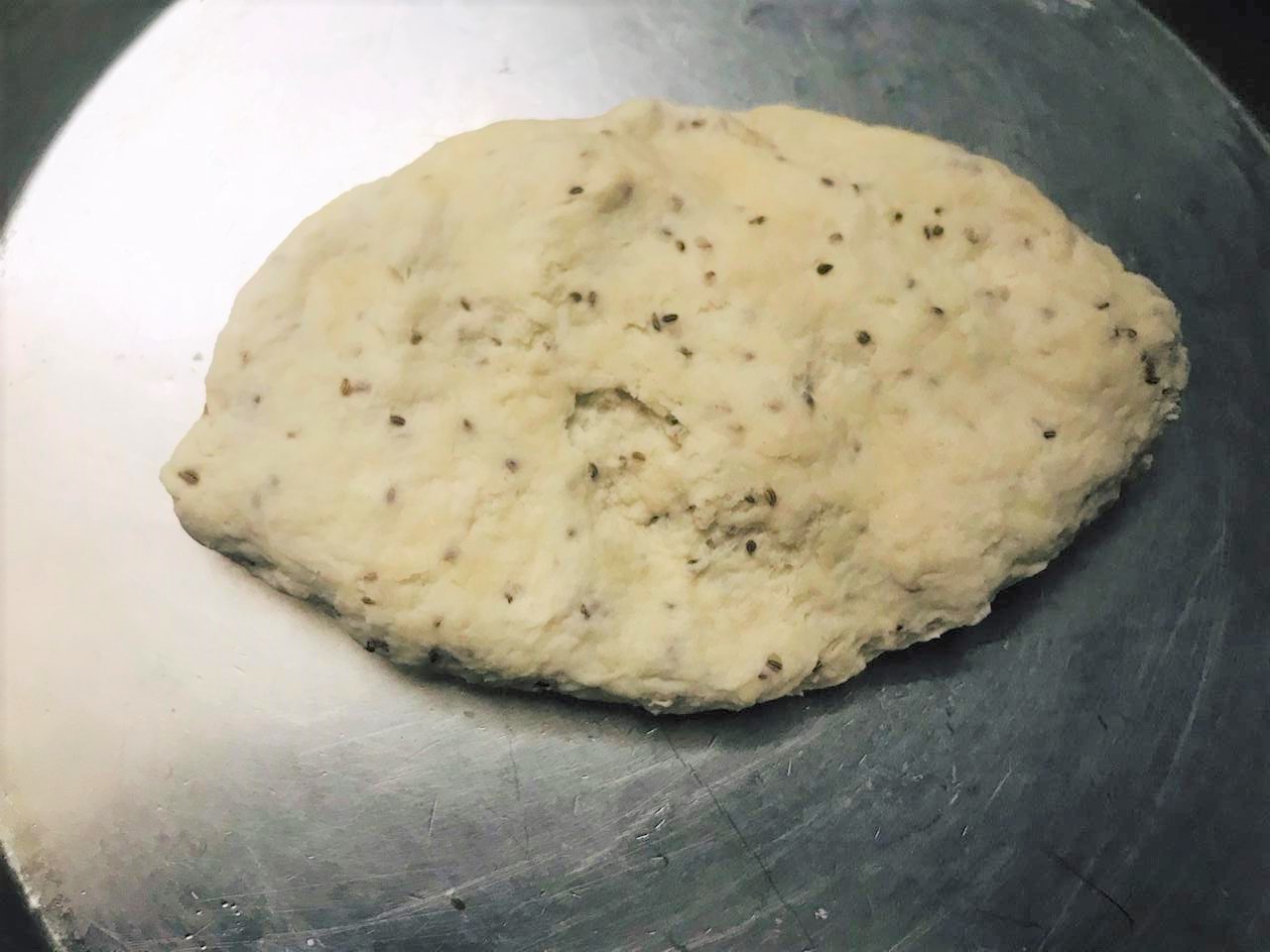 Papdi
Place flour, oil, salt and carom seeds in a bowl and rub the mixture together. With your fingertips rub the mixture together till it resembles like bread crumb.
Add the water slowly until the dough comes together and knead a dough. The dough should be hard.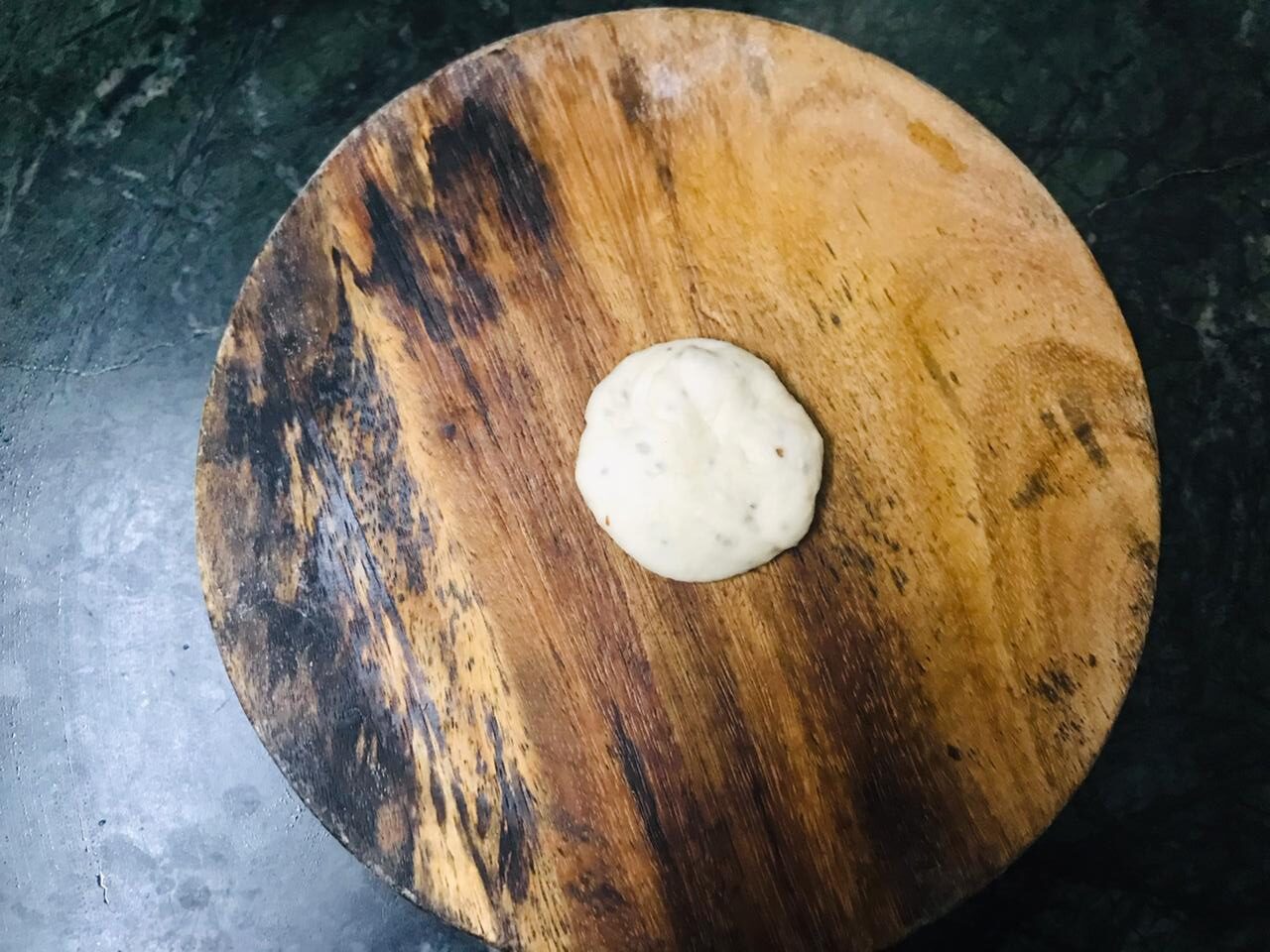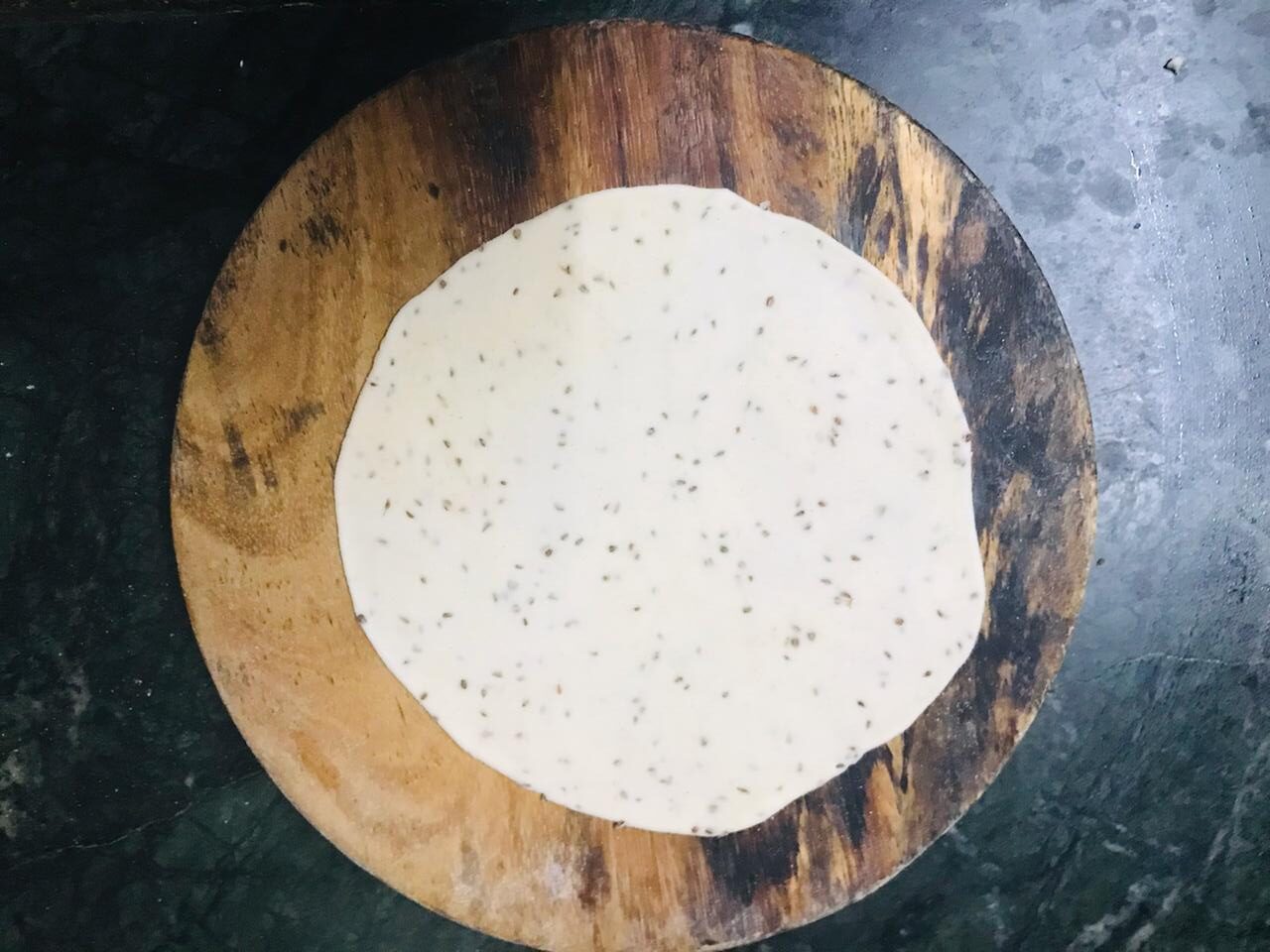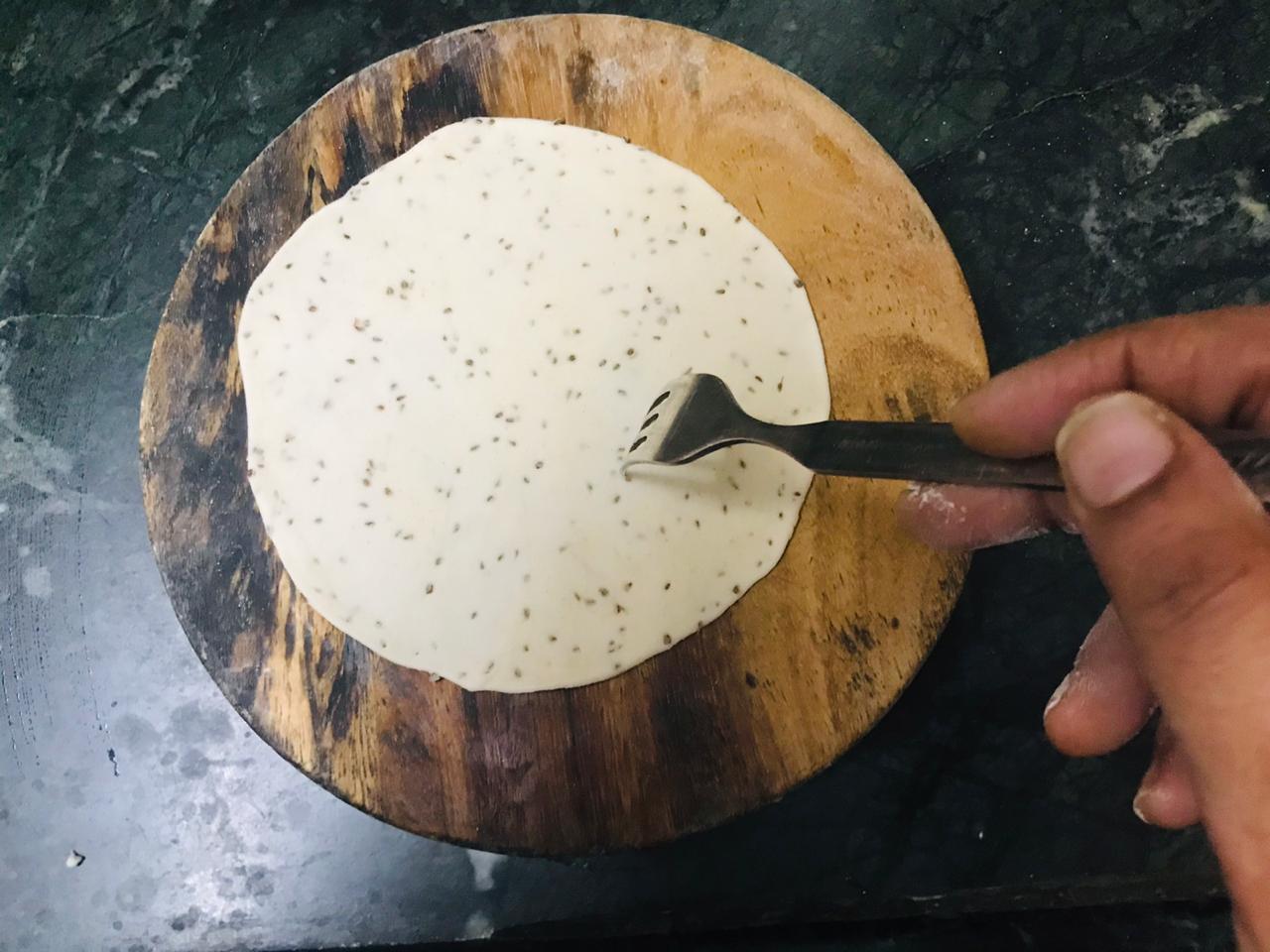 Make small 10-12 balls out of the dough.
Gently flatten the dough balls and roll them into circles approximately 4-5 inch in diameter. Poke holes using a fork at regular intervals.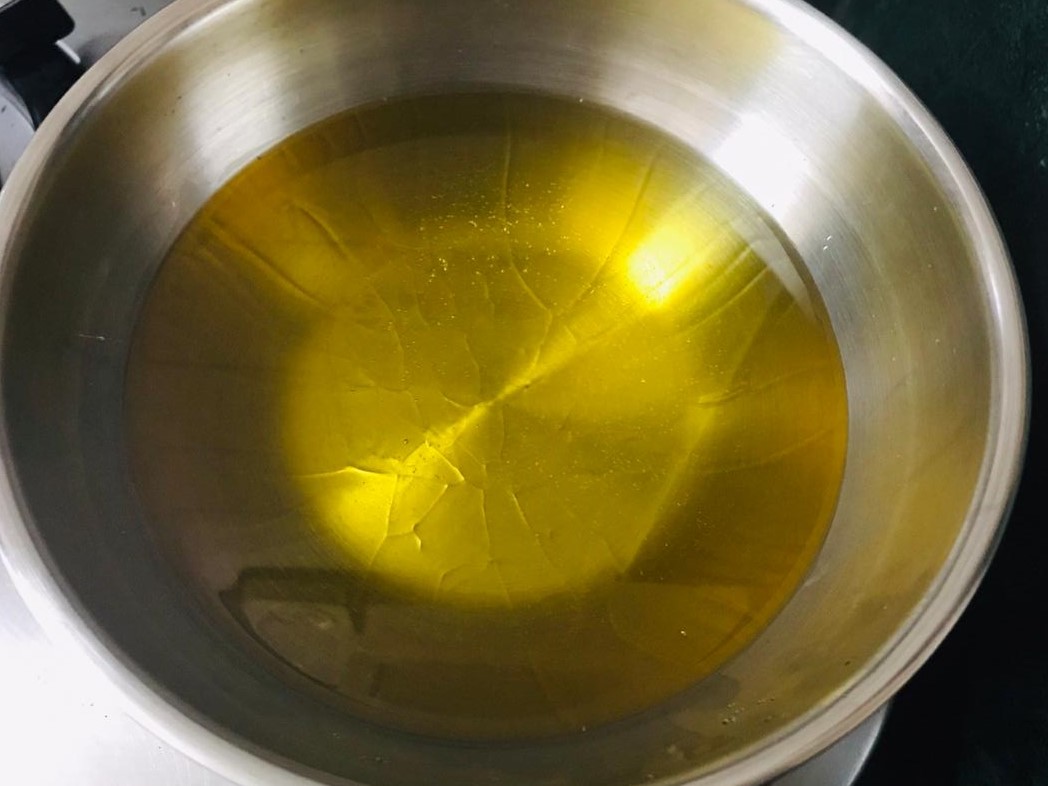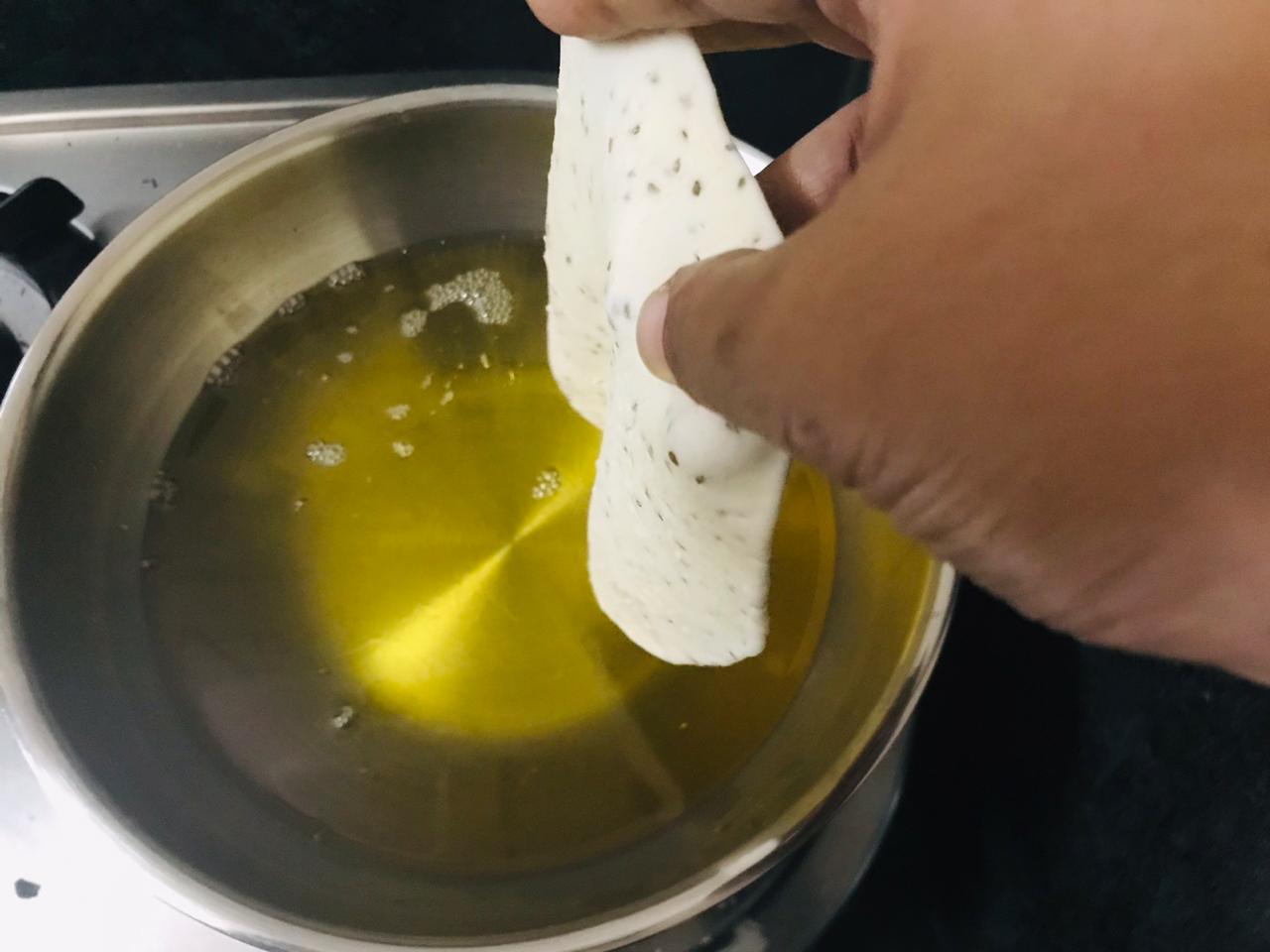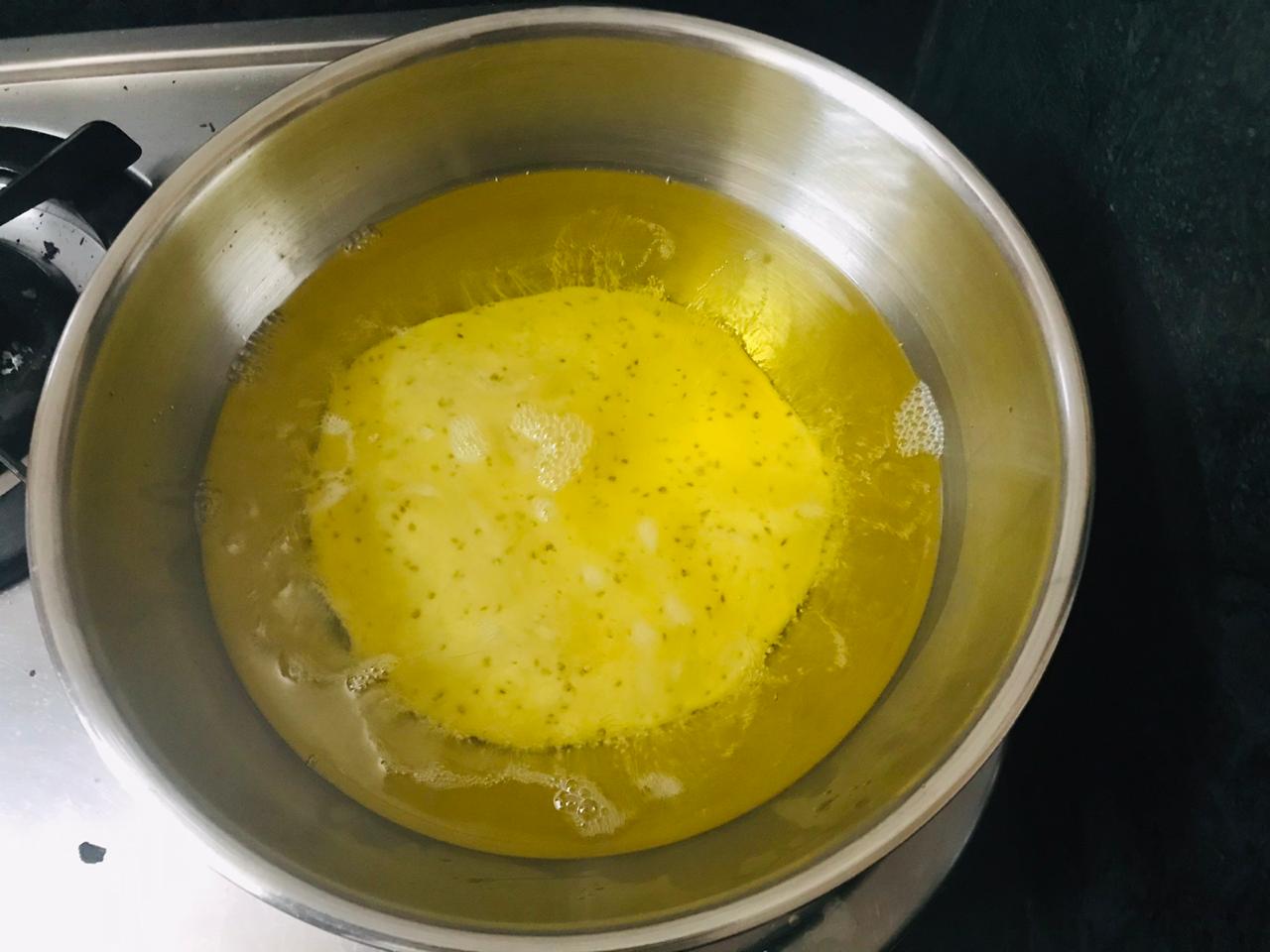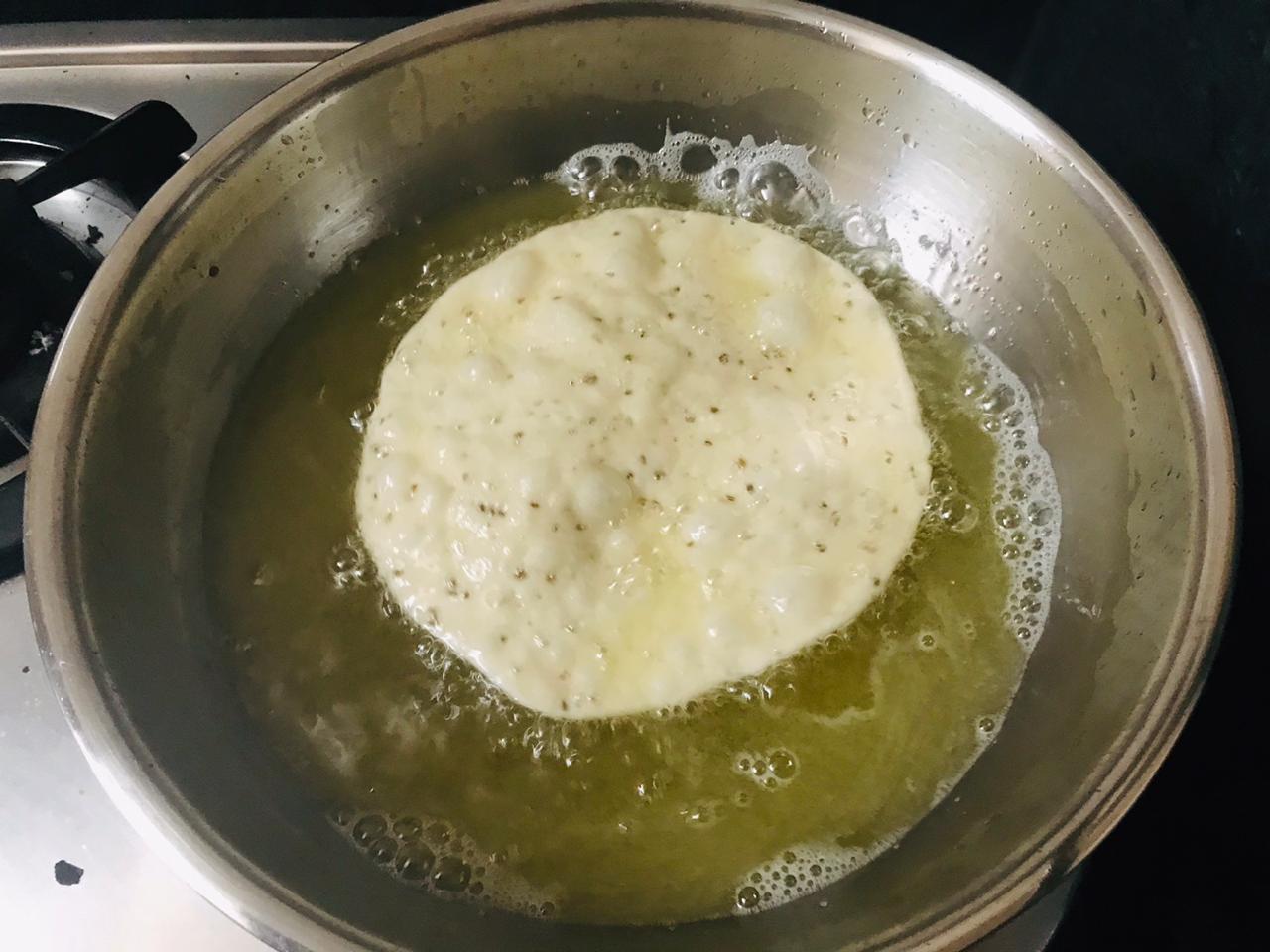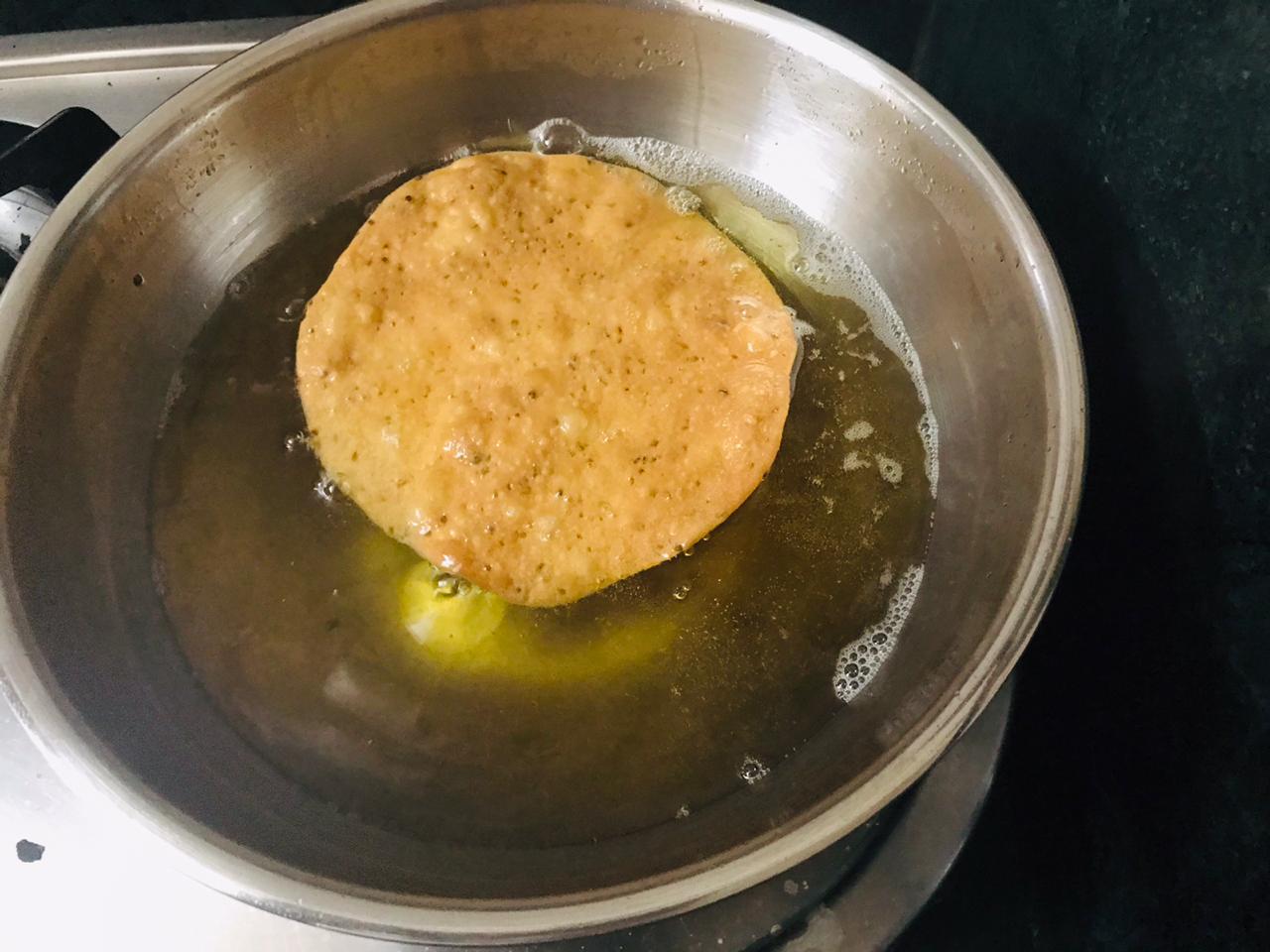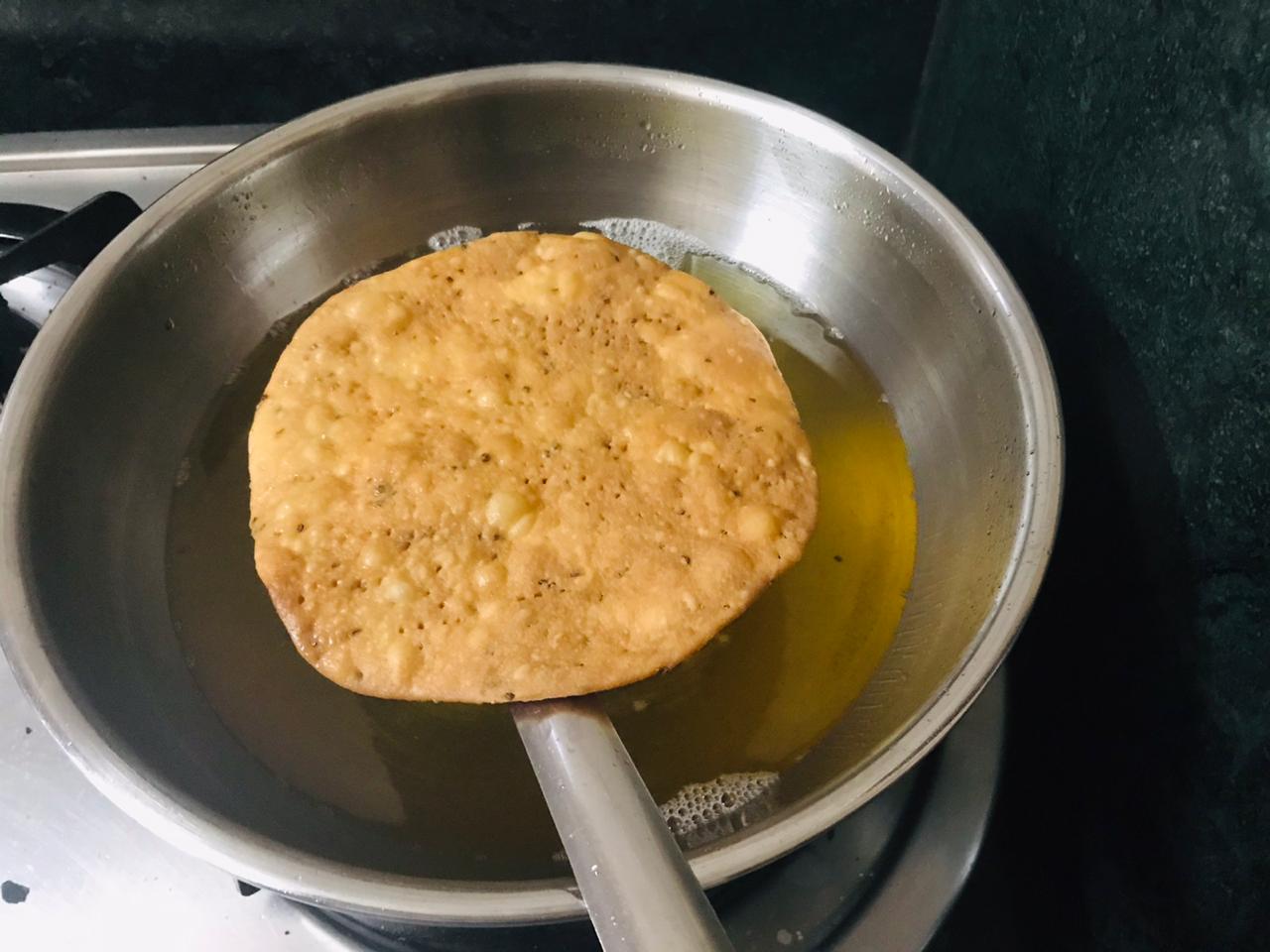 Heat oil for frying. To check if the oil is ready for frying add a small piece of dough in the oil. If it comes steadily and quickly on the surface, then that means the oil is at the right temperature to fry.
Once the oil is ready to fry, gently slide the rolled papdi into the oil and wait for a couple of seconds. Turn the papdi on the other side until it turns to golden in colour. Remove the papdi onto some absorbent kitchen towel.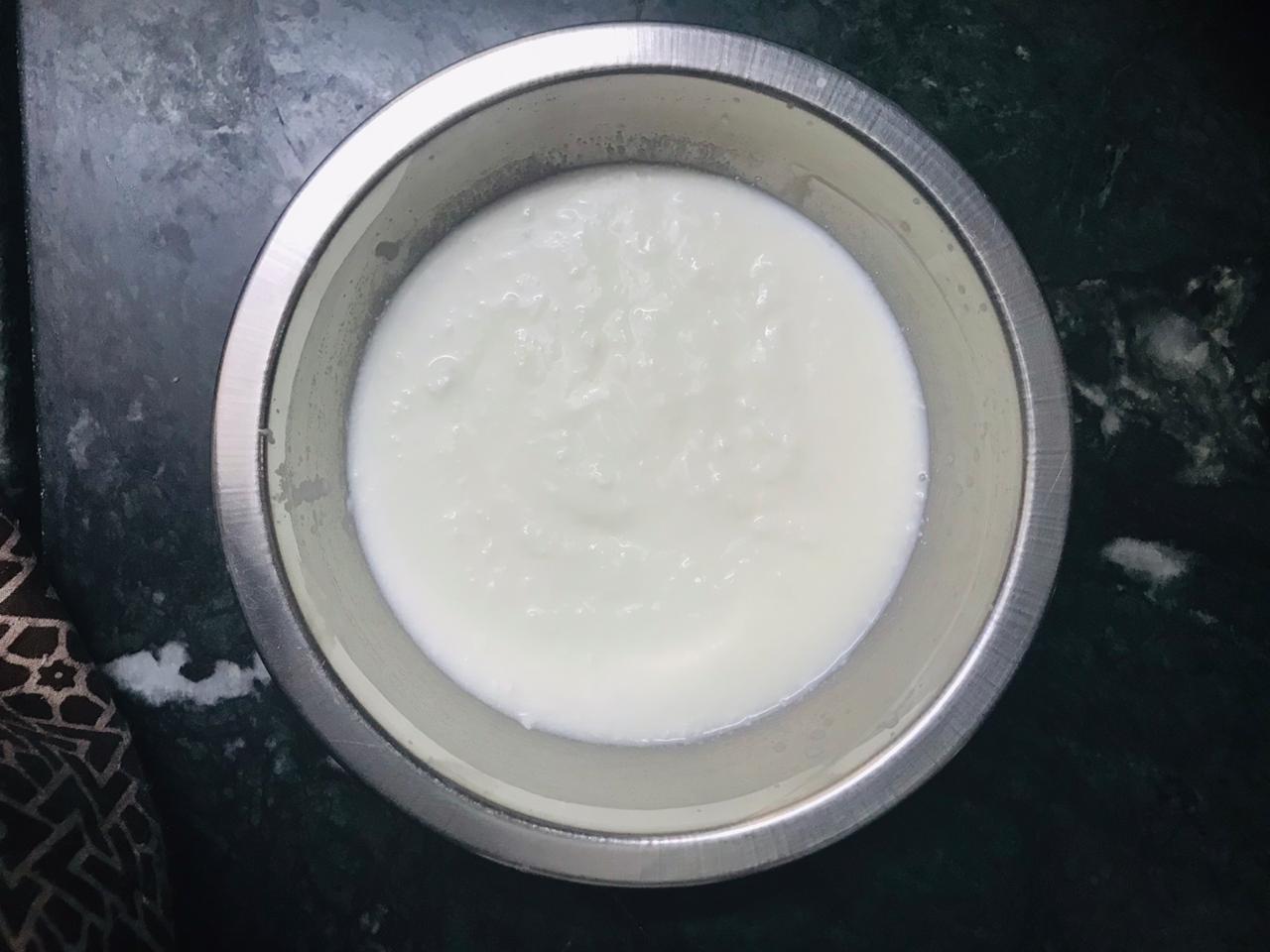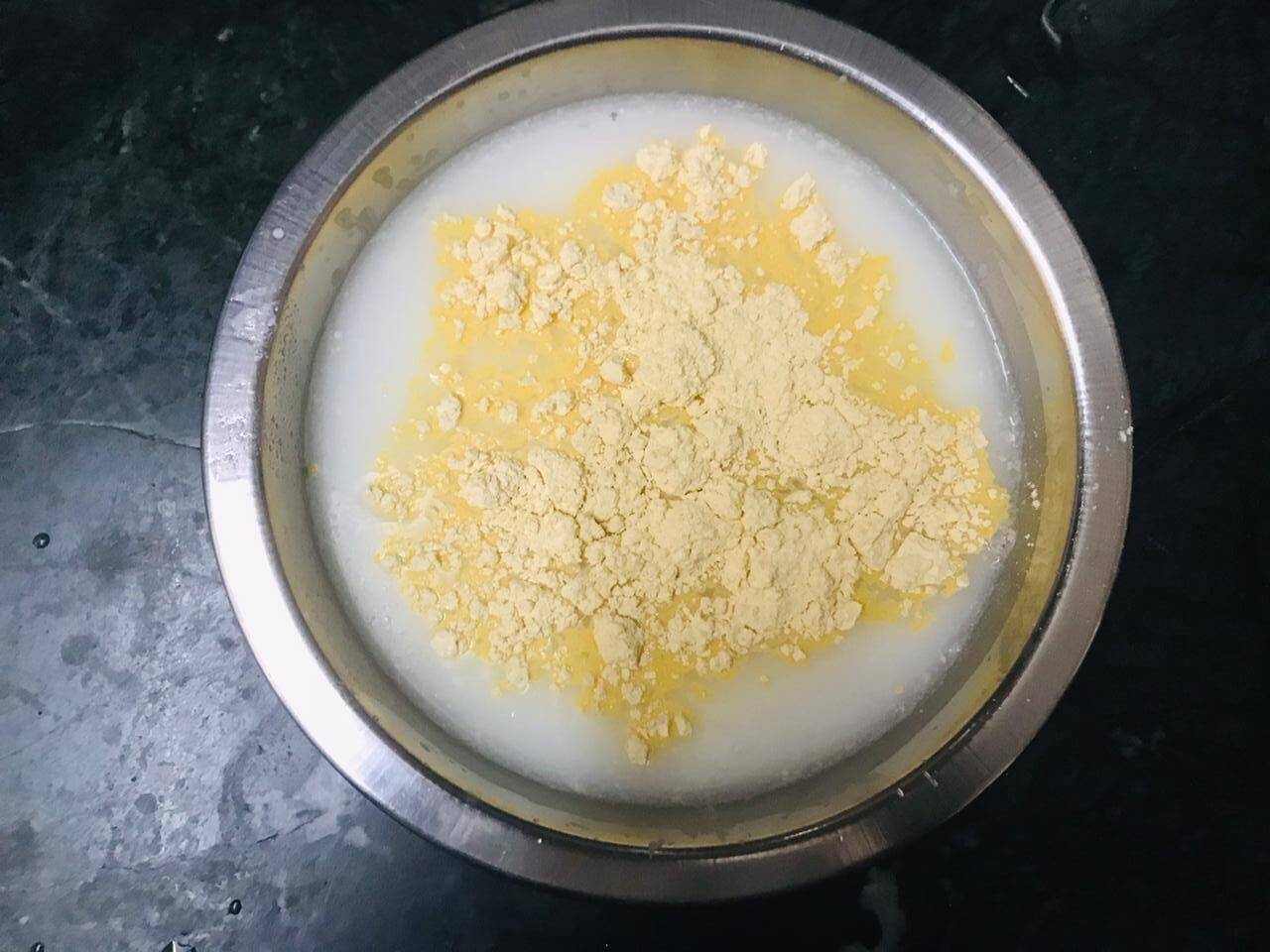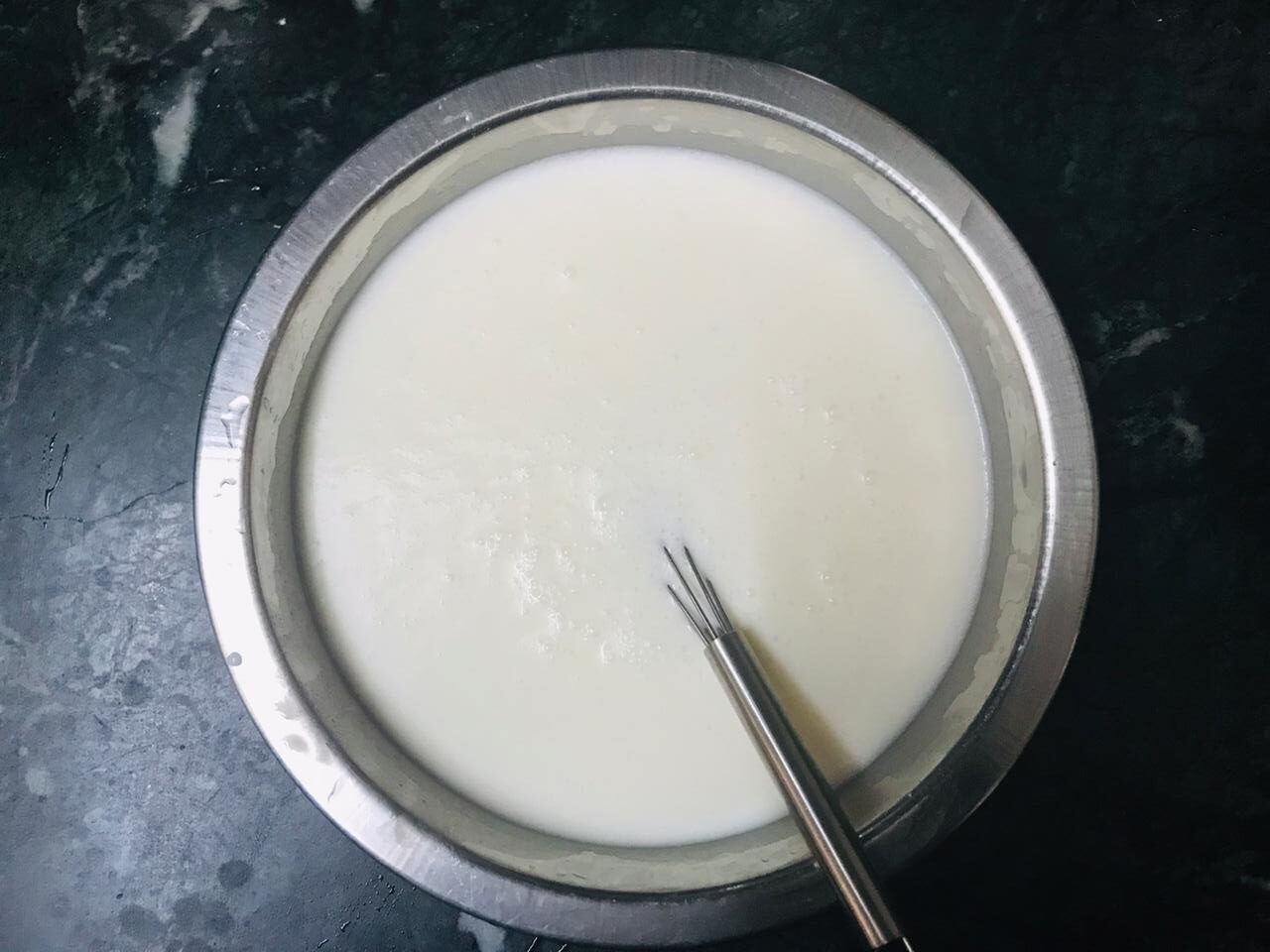 In a bowl, mix yoghurt, gram flour and water. Whisk it into a smooth thin consistency.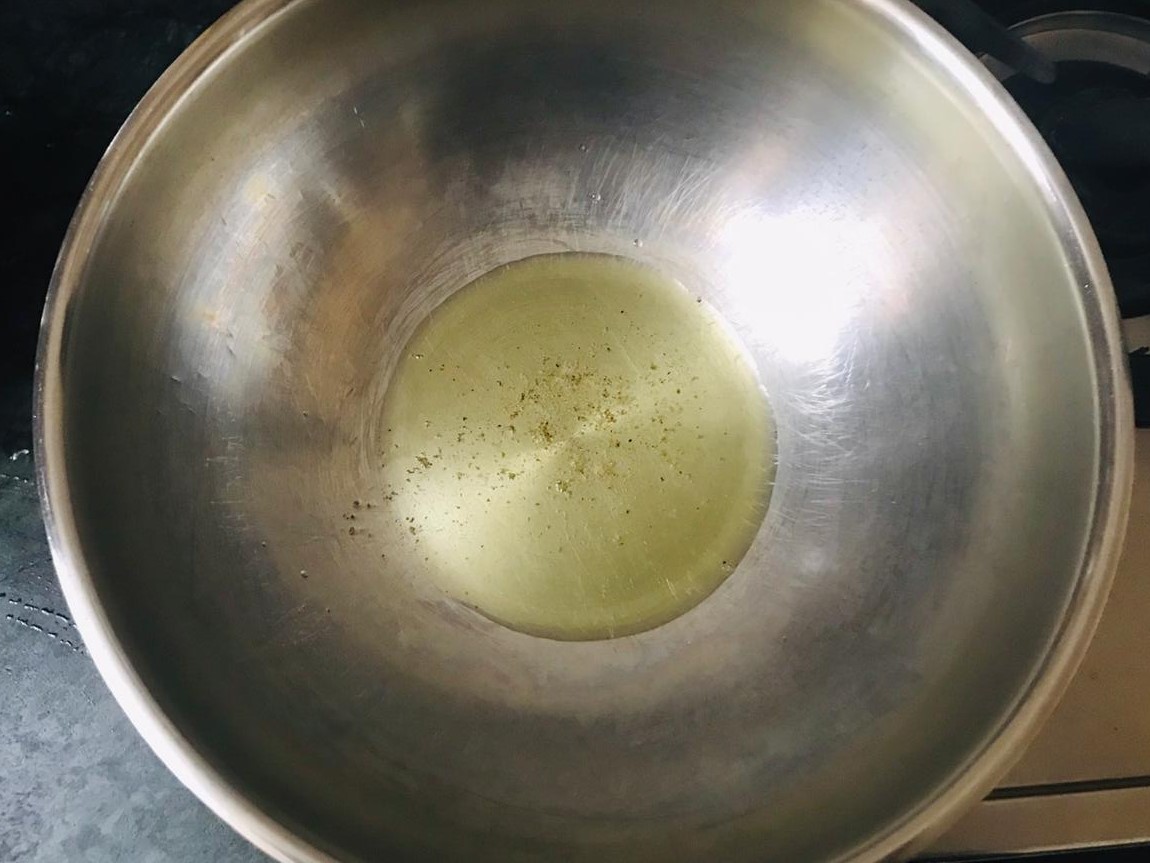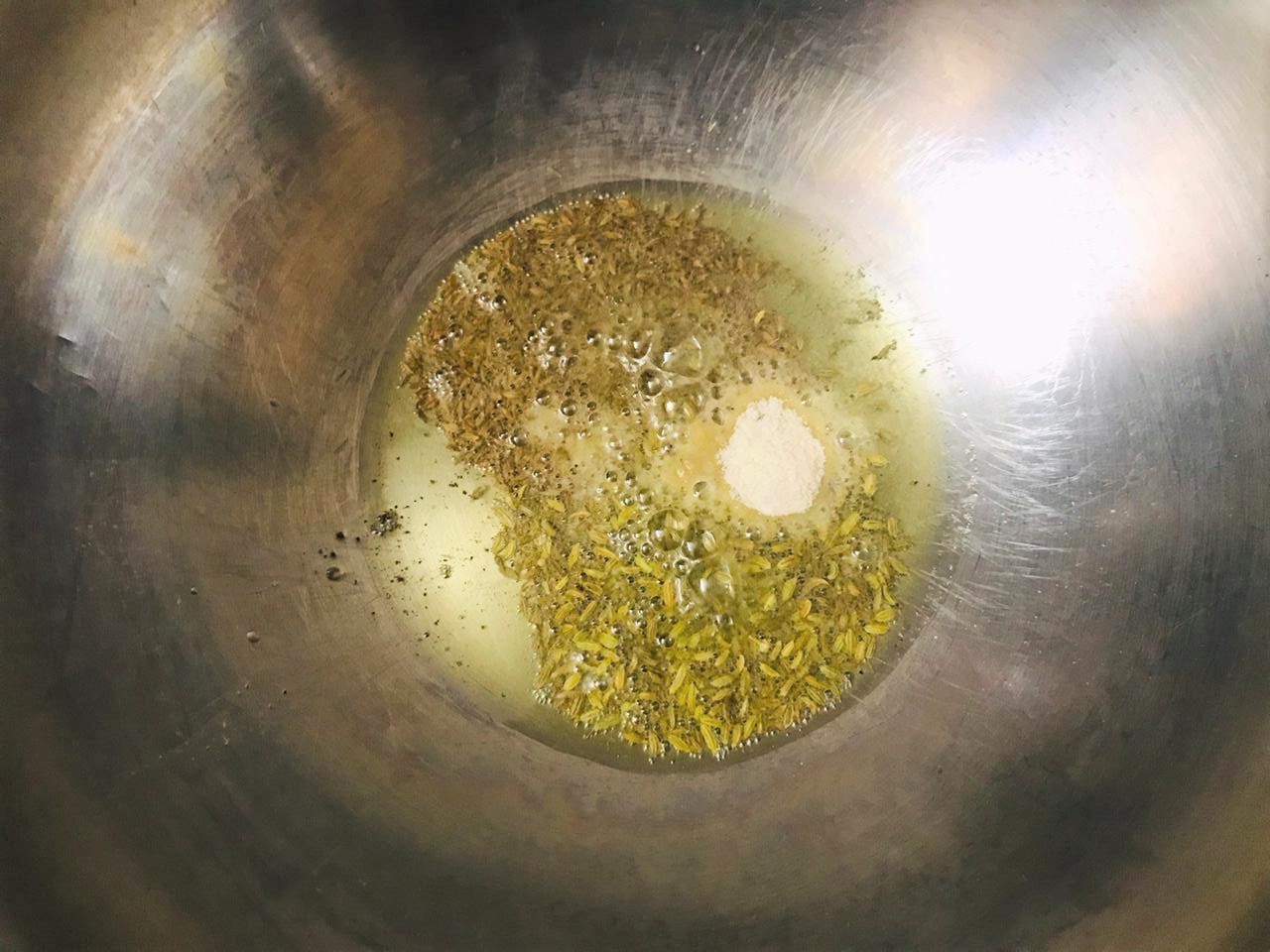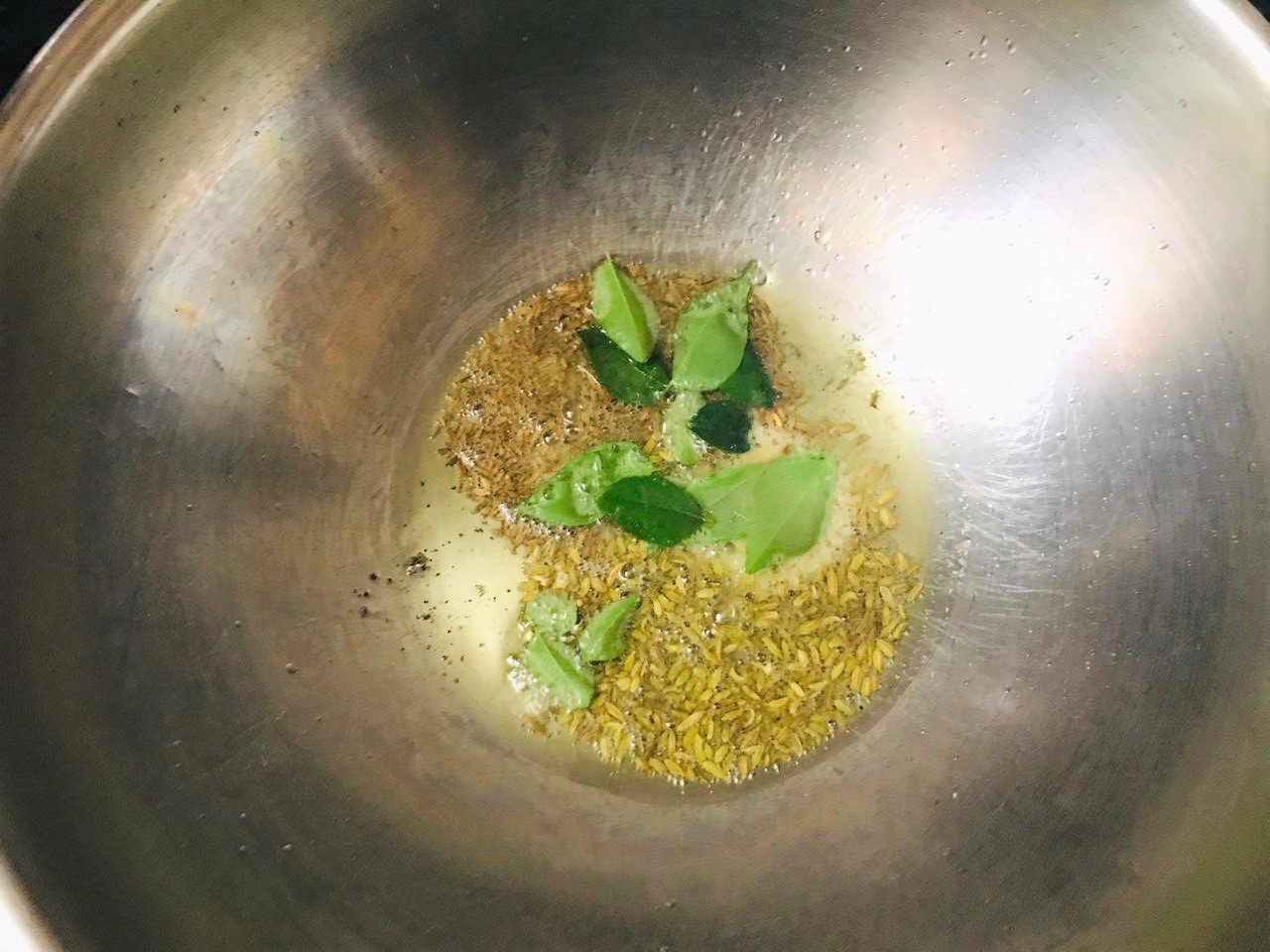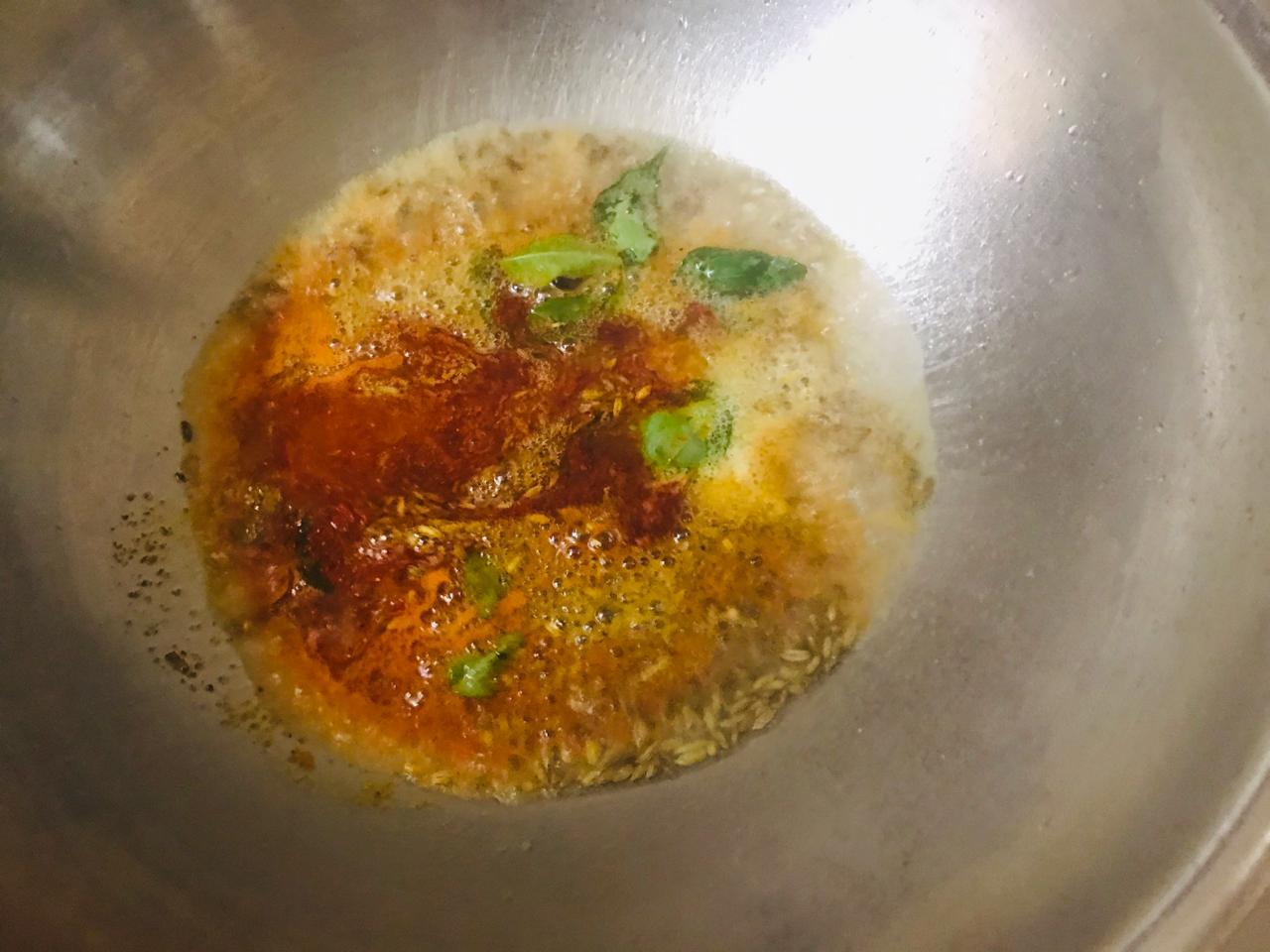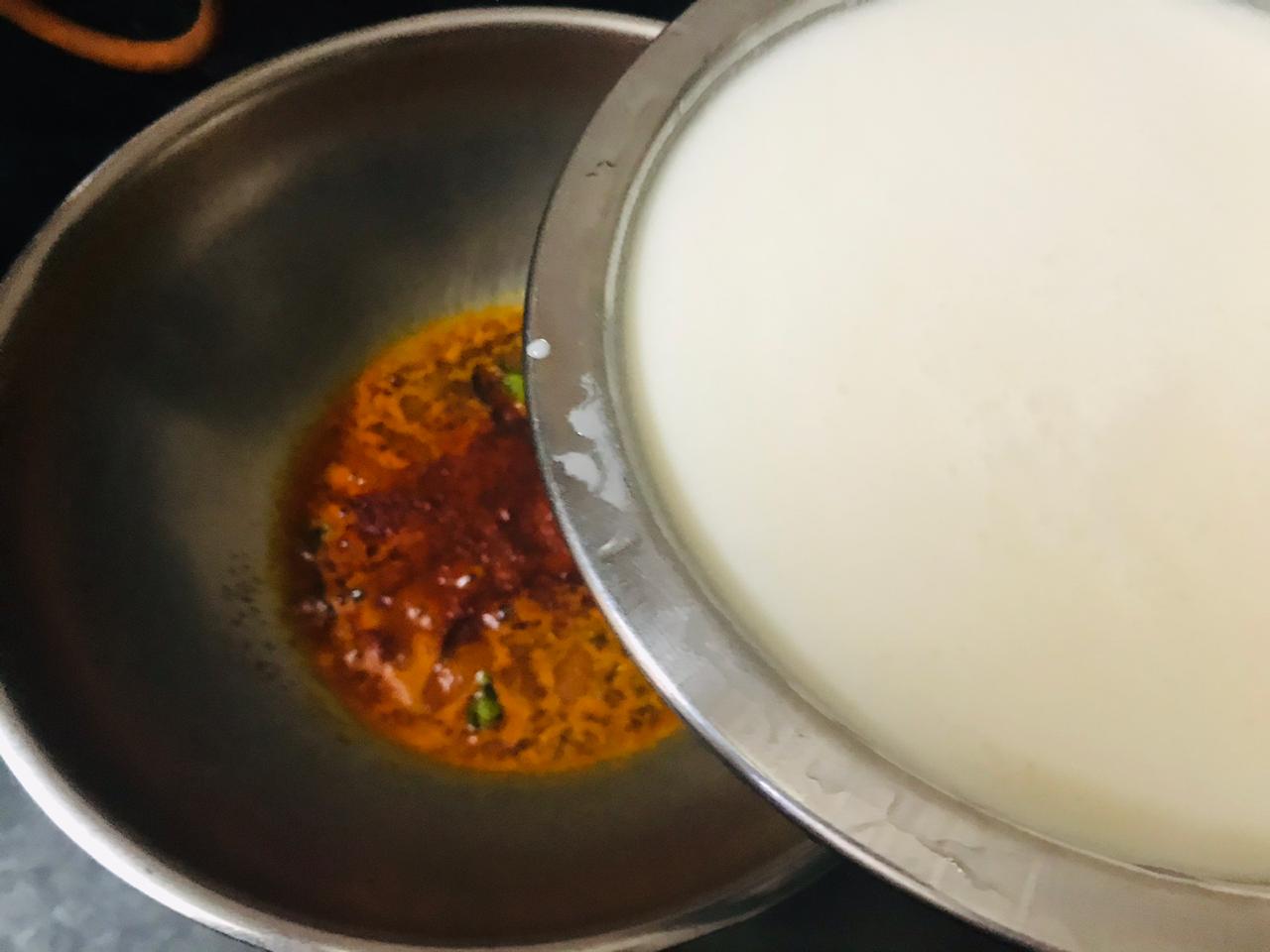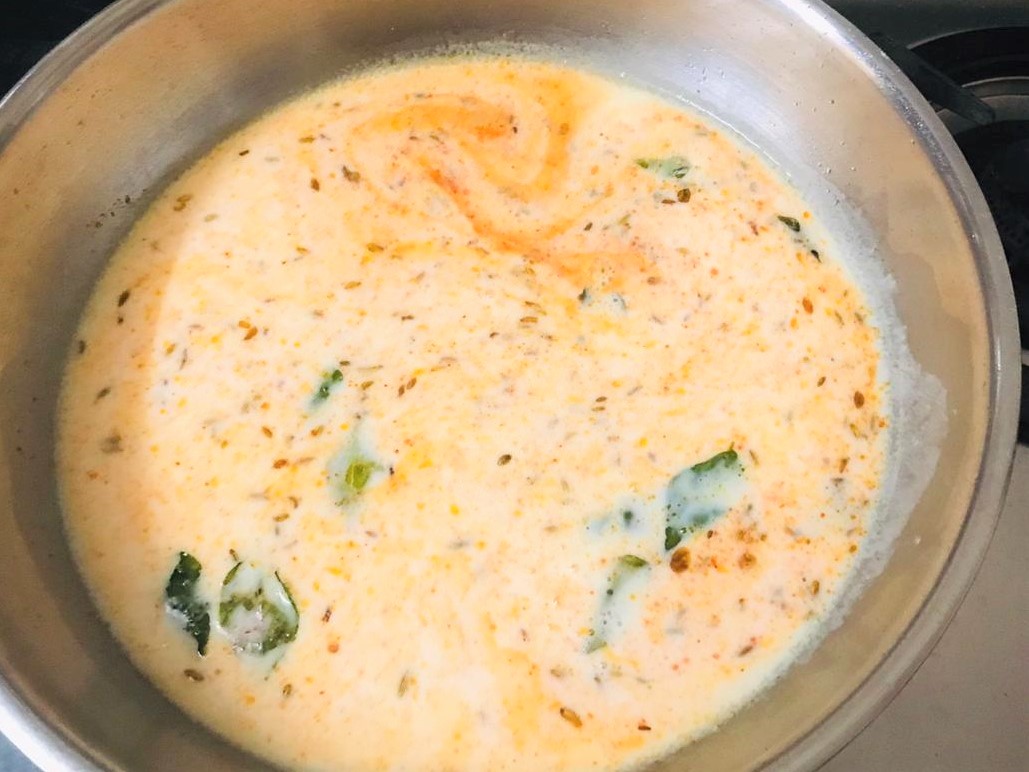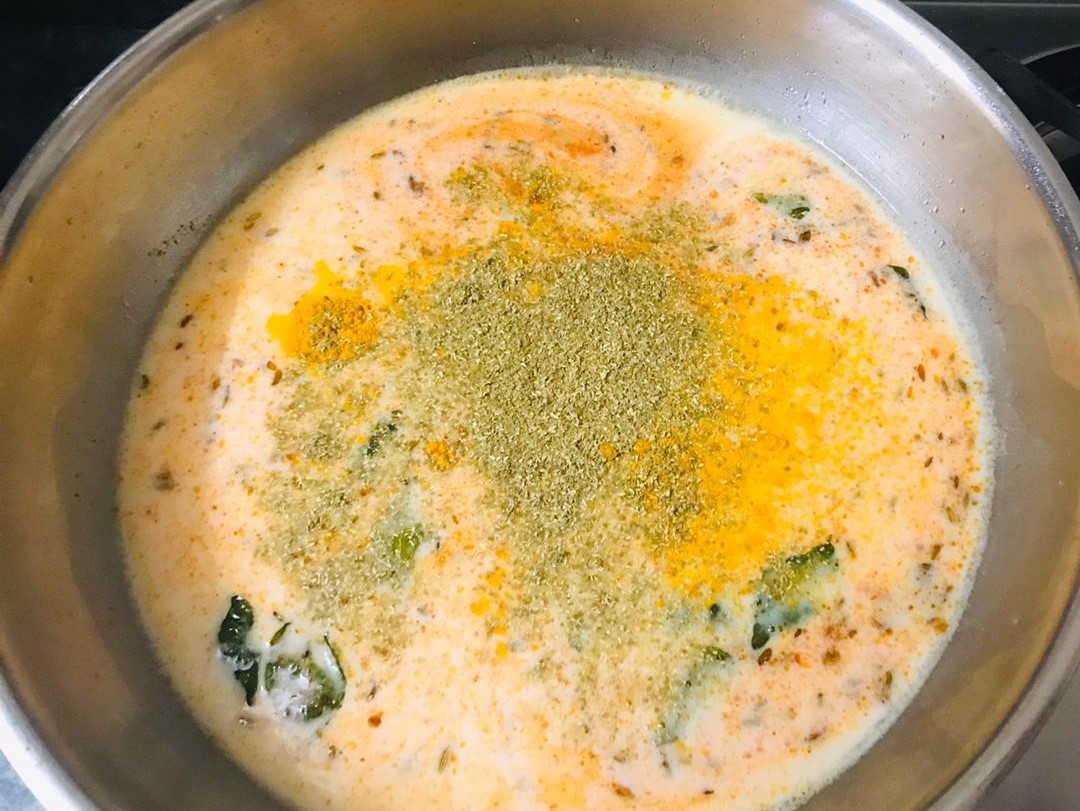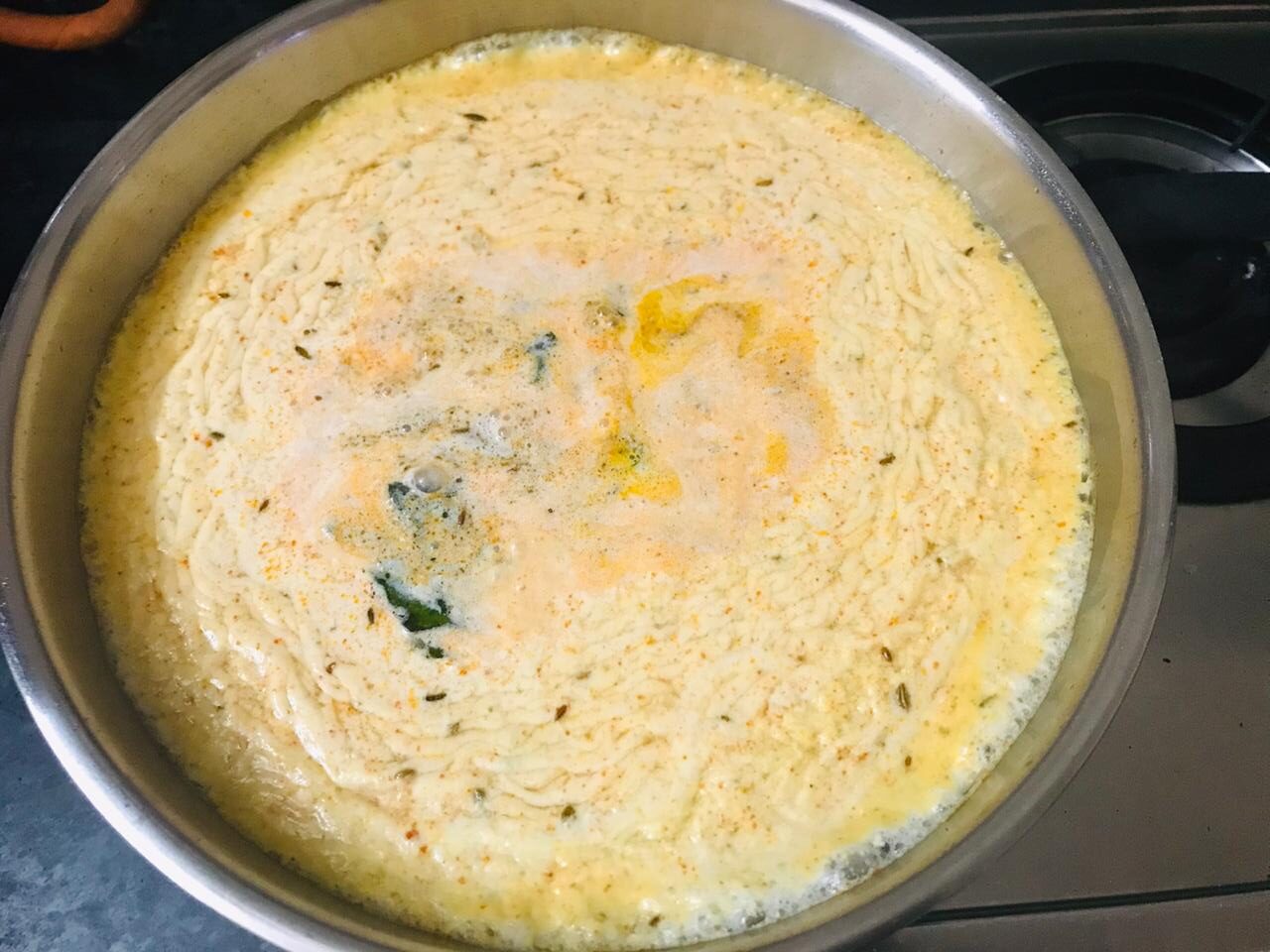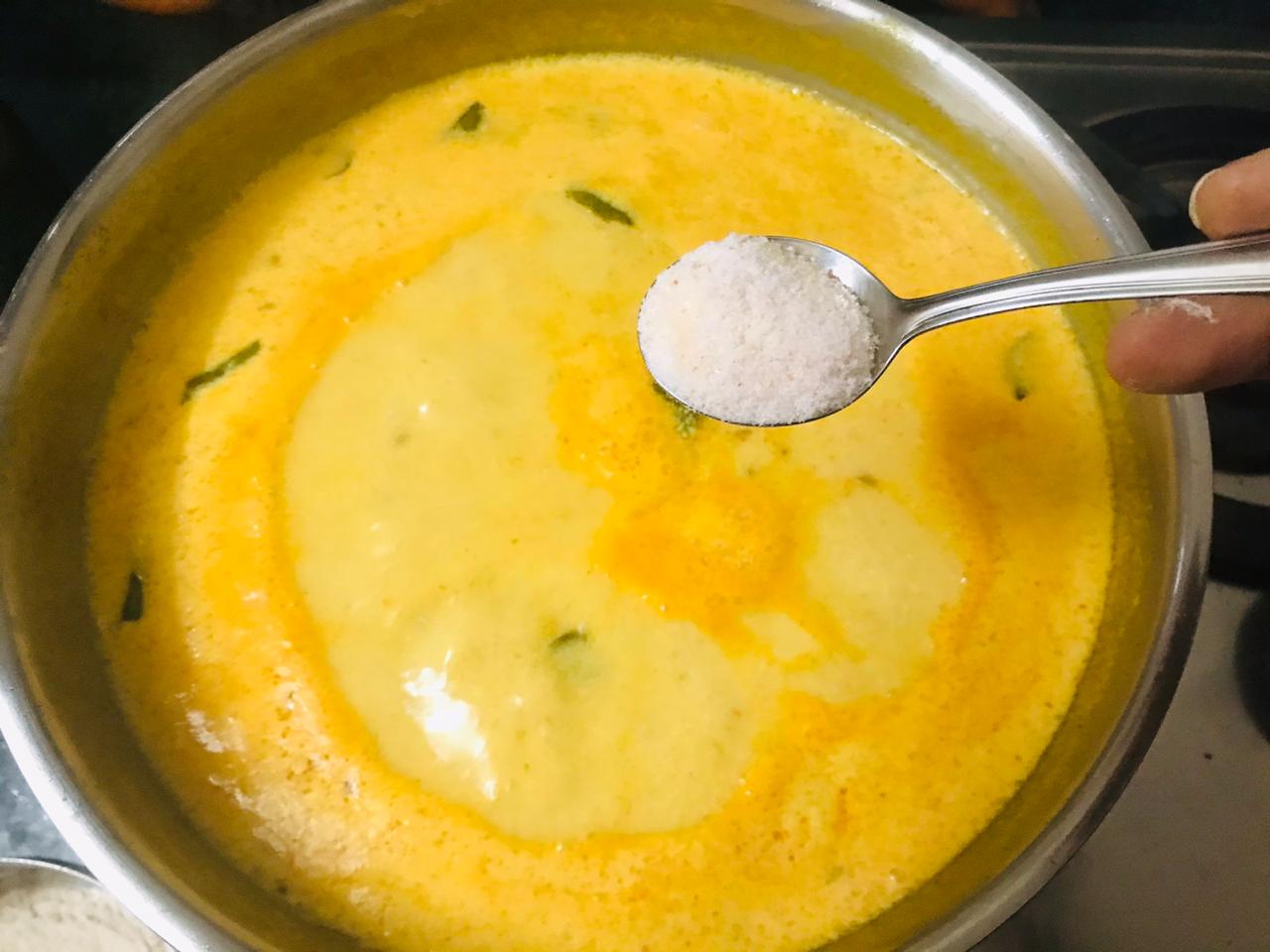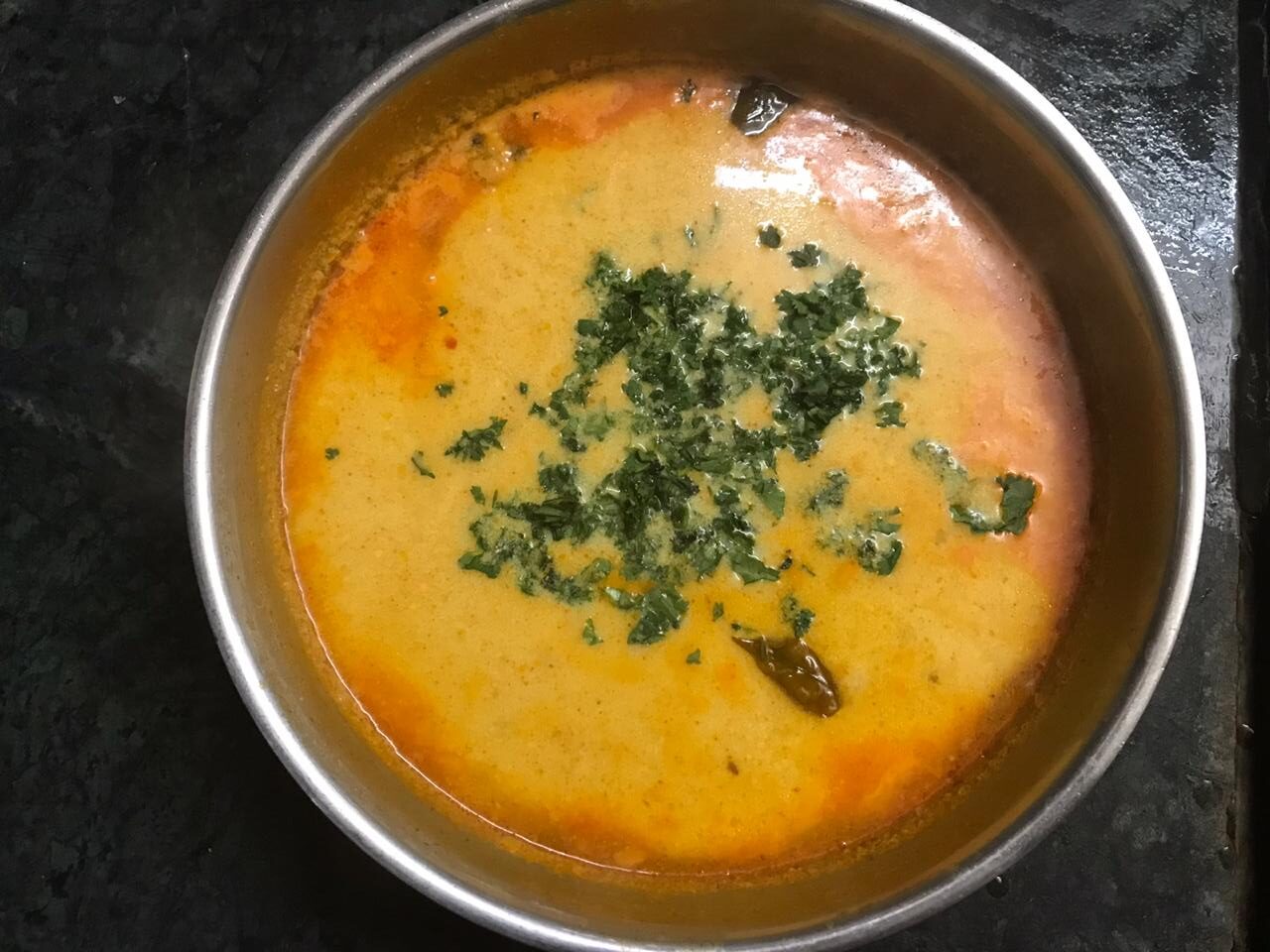 Heat ghee in a pan. Add cumin seeds, fennel seeds, asafoetida and curry leaves. When the seeds turn golden, add red chilli powder, curry batter, turmeric powder and coriander powder.
Without mixing, let the curry come to a boil. When it starts boiling add salt and let it boil on low heat for about 10 minutes. Sprinkle coriander leaves.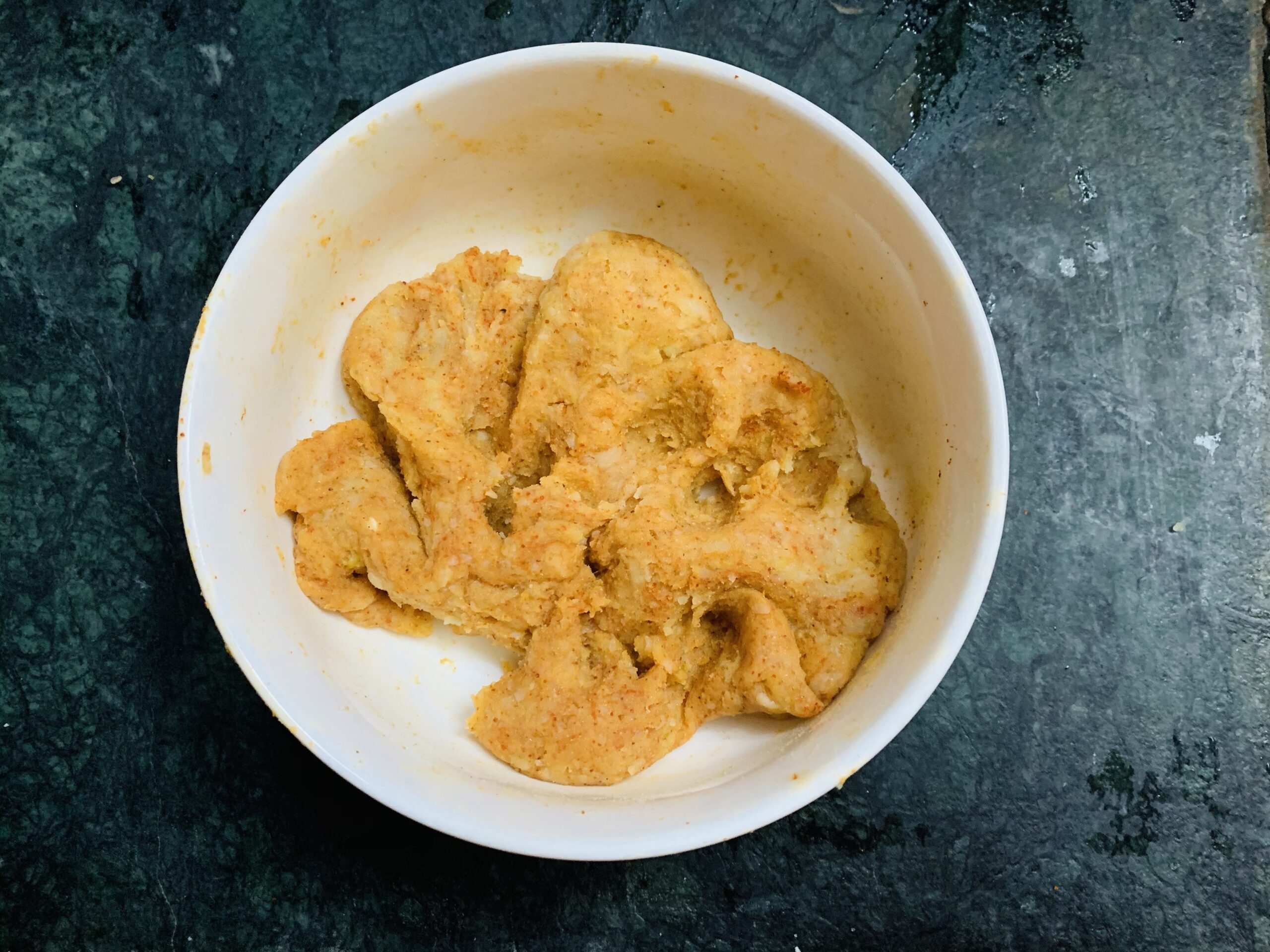 Potato Masala
Grate the boiled potatoes and add salt and red chili powder. Mix them with gentle hands.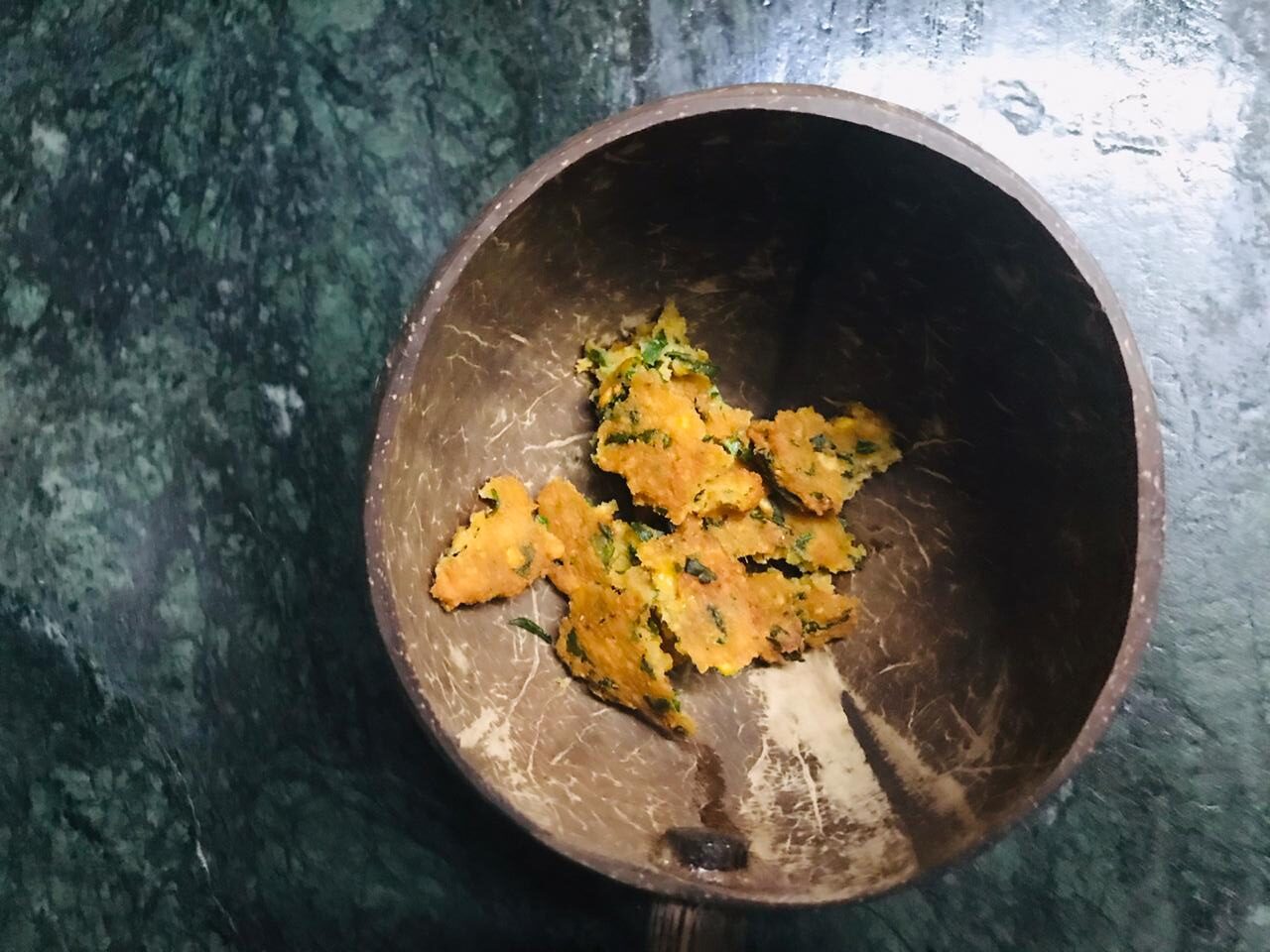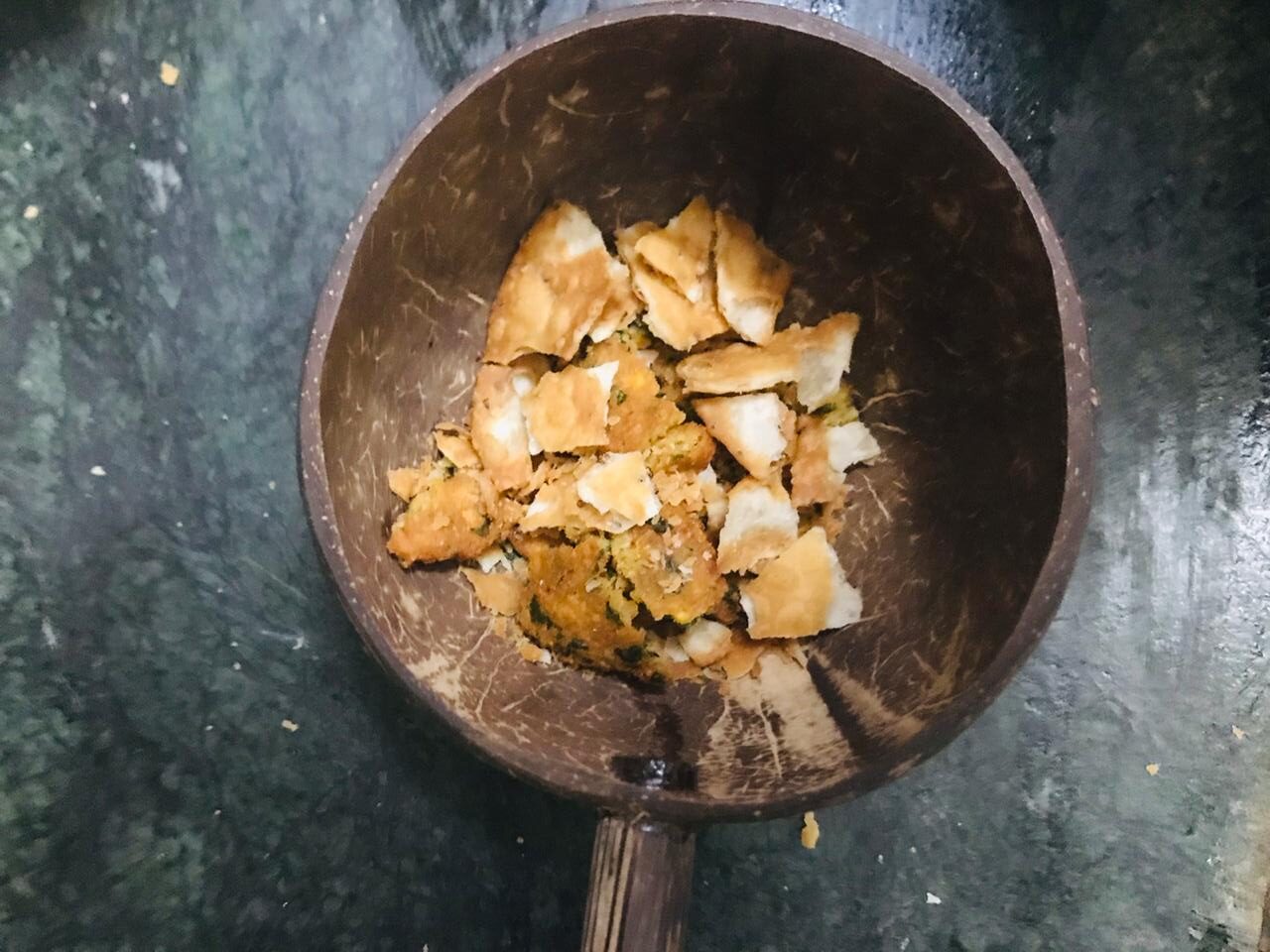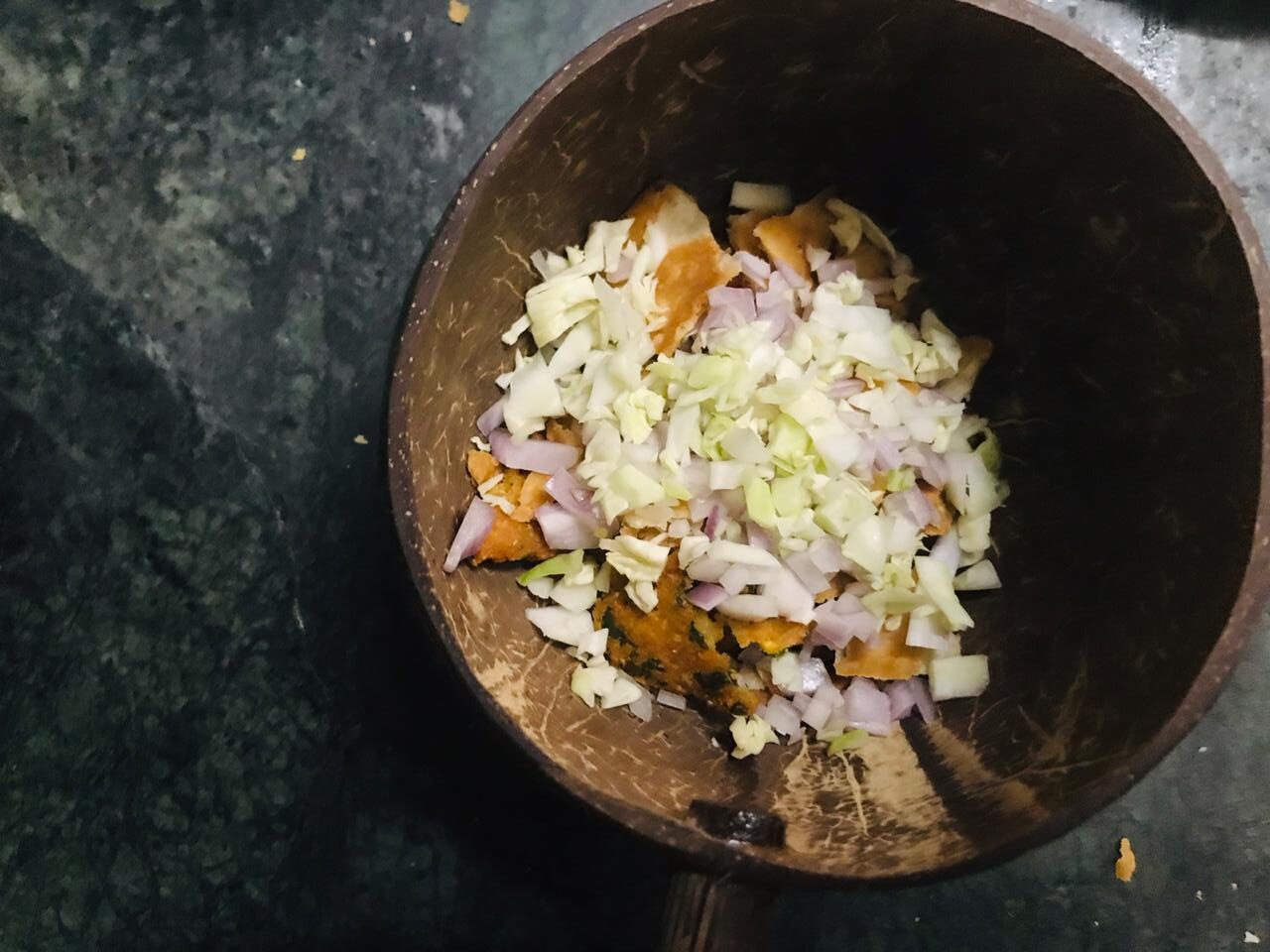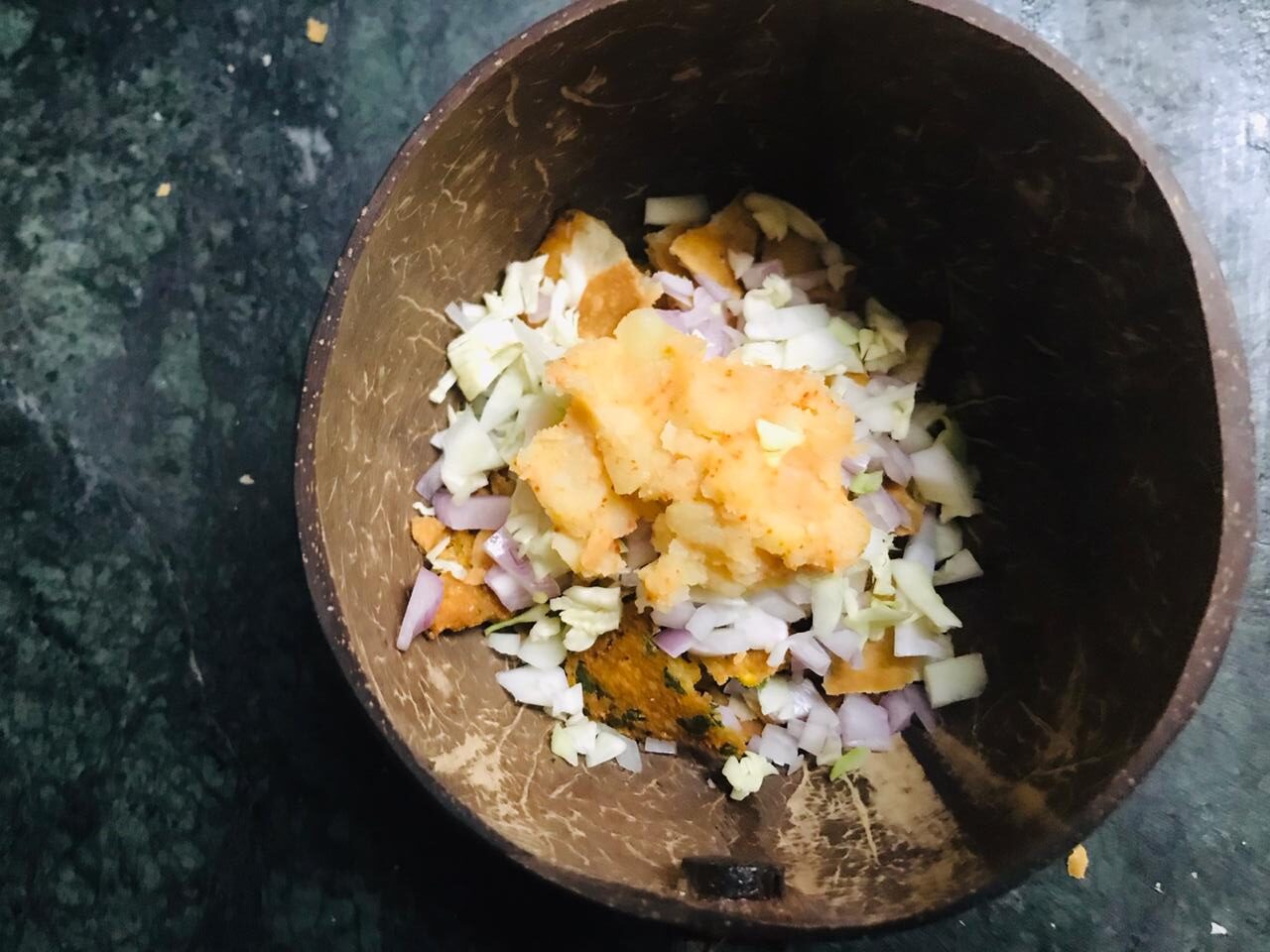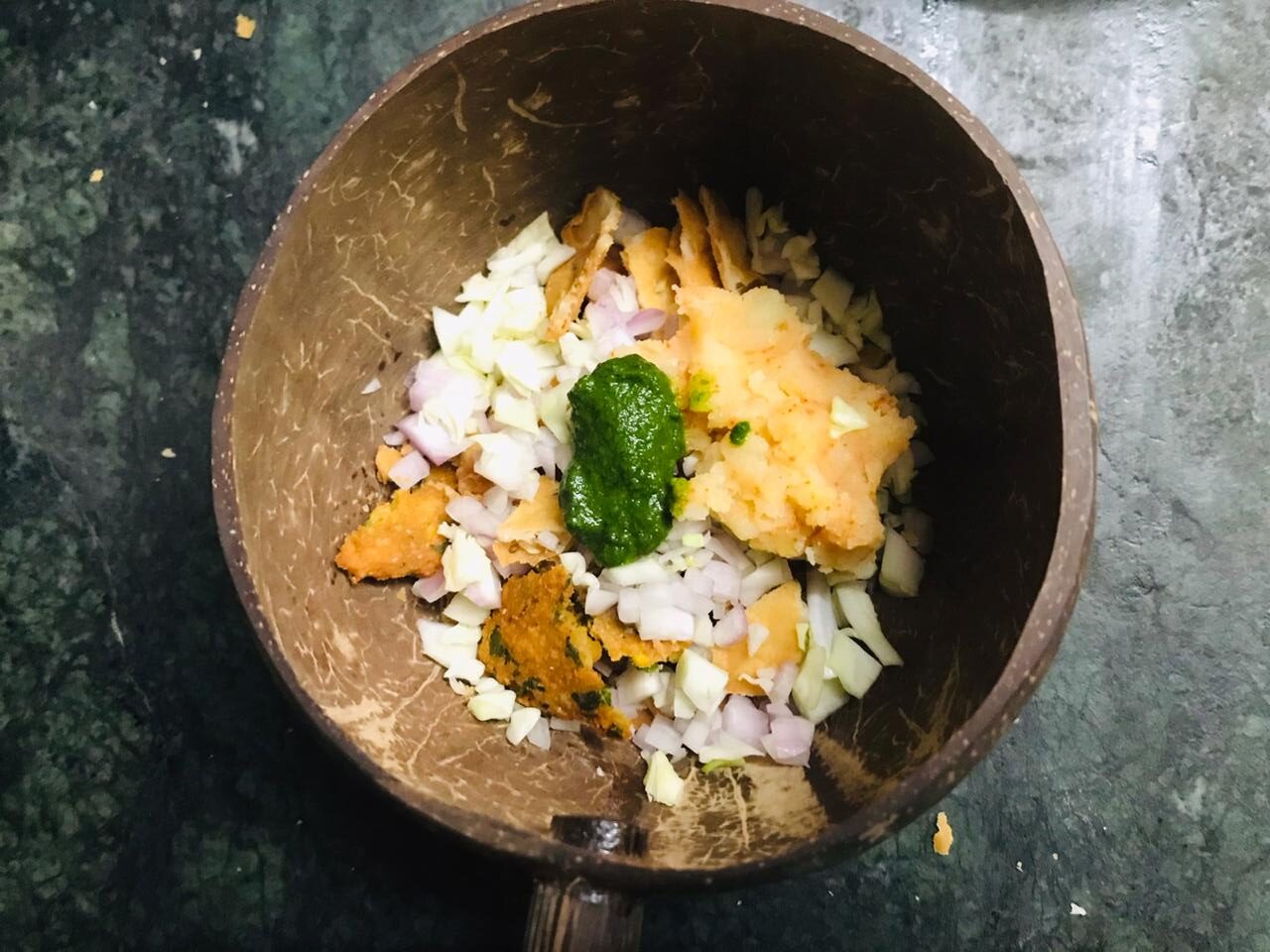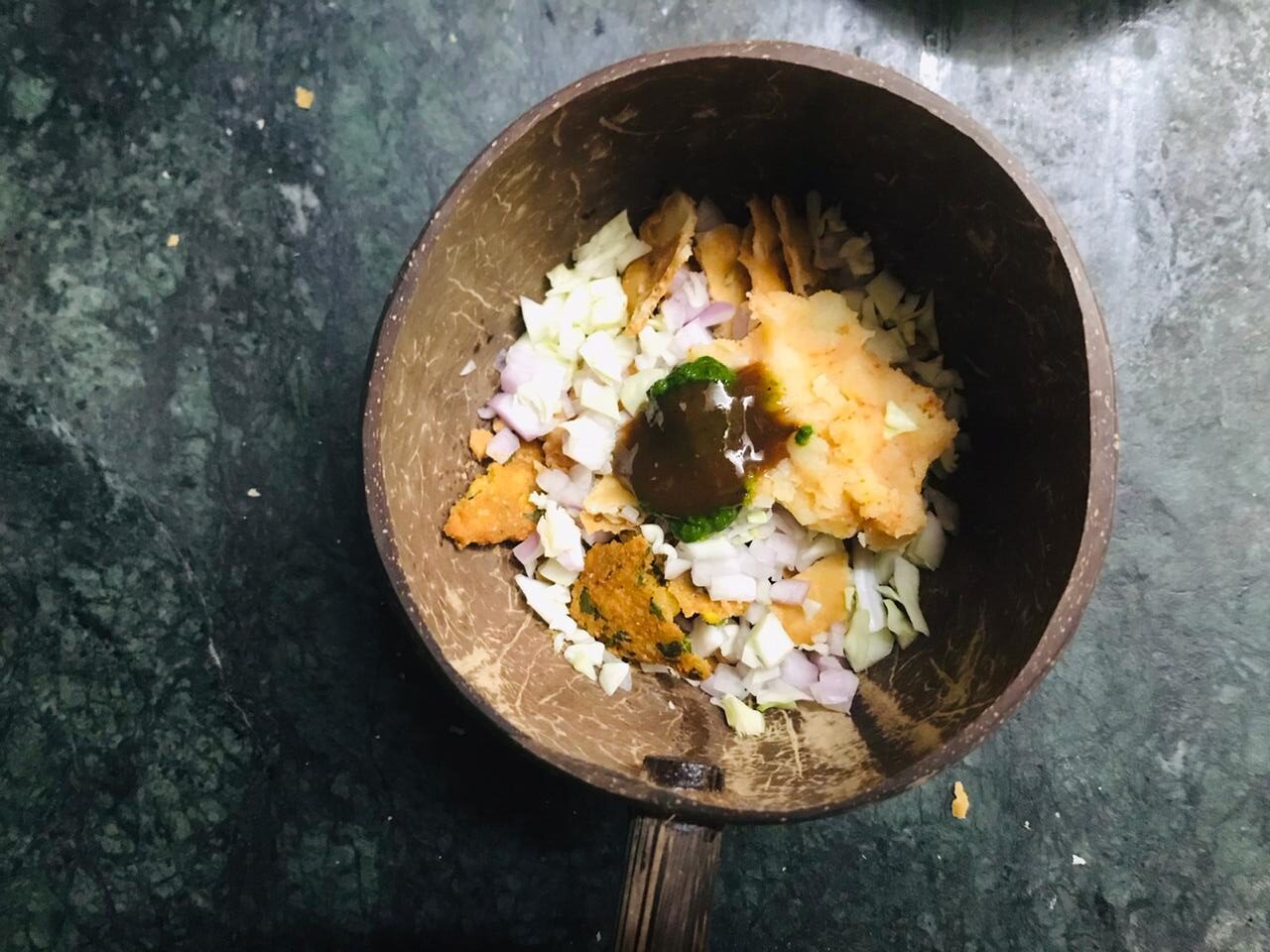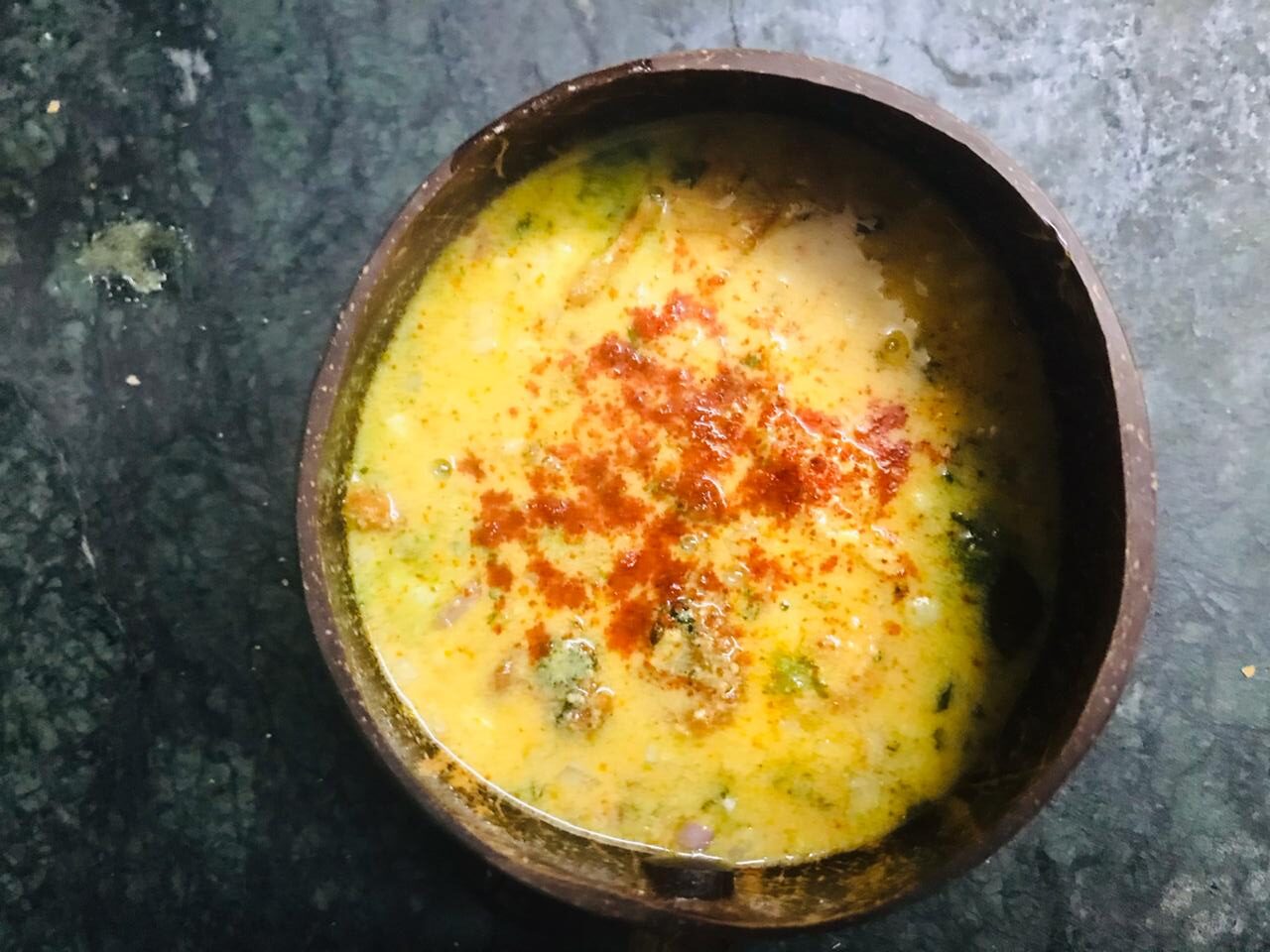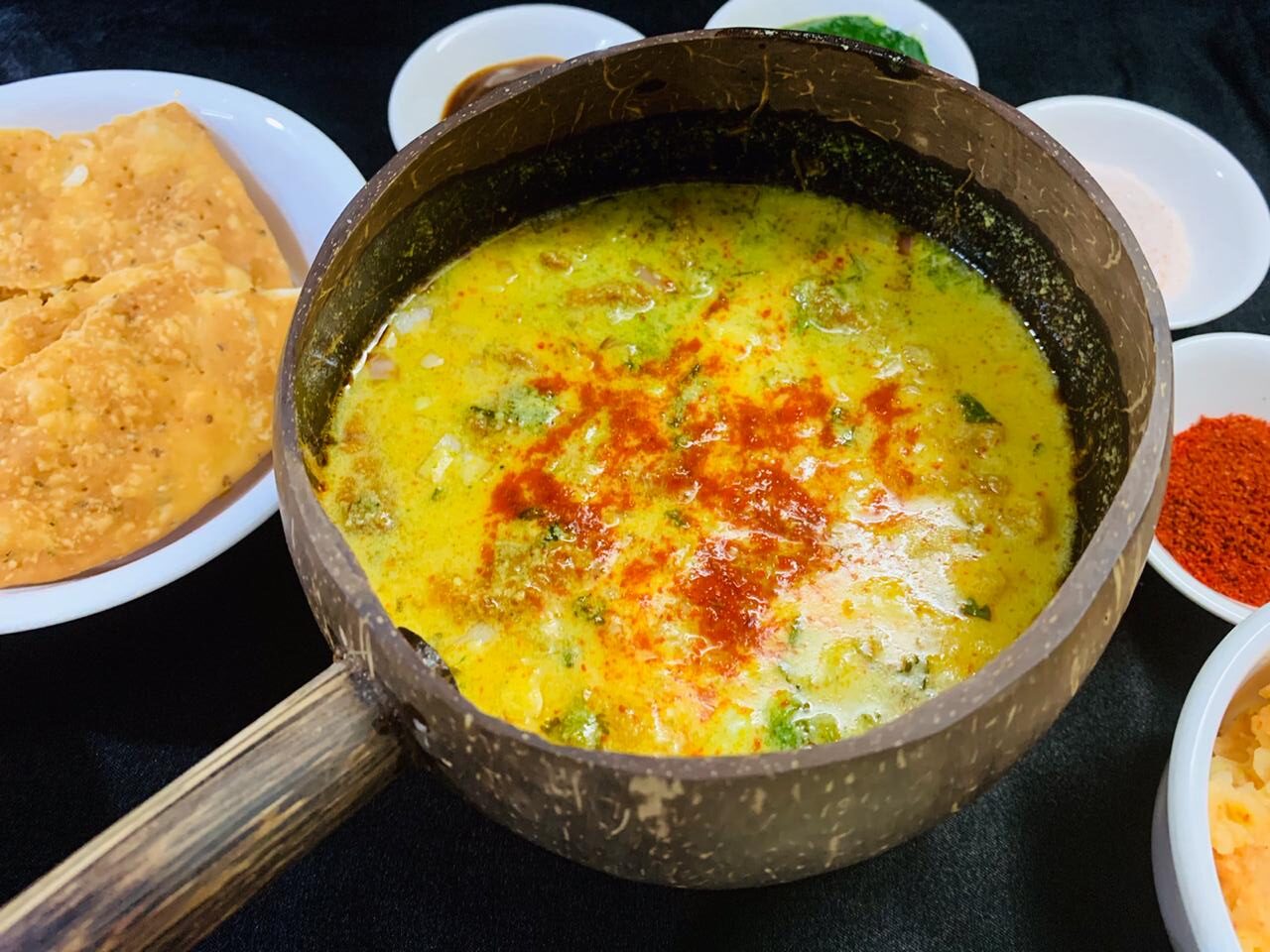 Assembly.
Gently crush 2 vadas and papdi in a bowl. Add 2 tablespoons of potato masala, finely chopped onions and cabbage, green chutney, tamarind chutney add curry. Sprinkle salt and red chilli powder.
Serve it!