Usal Pav
Usal Pav is a popular street food from Mumbai, Maharashtra. Street food is sizzling in Mumbai and there is lots of variety to choose from like Vada Pav, Pav Bhaji, Misal Pav, Bhel Puri, Pani Puri, Dahi Puri, Kheema Pav, and the list goes on…. The street shops are open from around 6.00pm until 2.00 am in the morning with hordes of people appeasing their hunger pangs by feasting on these delicious snacks by the side of the road.
Today I am sharing the recipe of Usal Pav, favourite breakfast and street food of Maharashtra. You are likely to find it at every street corner and in every local restaurant.  
There are two dishes with similar names 'Misal Pav' and 'Usal Pav' that you will find in Mumbai. Often people get confused between the two.  The simplest way to remember is that 'Misal Pav' is made with one type of sprouted beans whereas 'Usal Pav' is made using sprouted beans and white peas. Usal is served with buttered pav/bread rolls, garlic gravy and finely chopped onions. Saying that there are soo many versions of this dish that some people serve Indian farsan (fried savoury mixture) as a topping too. There is no right or wrong! After all, any food should be what you like to eat!
Usal Pav holds a special place in my heart! Growing up in Mumbai, I had Usal Pav often and was one of my favourite dishes. The love for the dish has been passed on to my daughter as she equally enjoys this dish.
Ingredients
For Garlic Green Chilli paste
½ cup garlic clove
4-5 green chilli
For Onion Paste
1 cup finely sliced onions
1 tablespoon coconut powder
1 tablespoon oil
For Usal Gravy
½ cup dried white peas (safed matar)
½ cup moth beans (matki)
1 cup whole green gram (moong beans)
Pinch of baking soda
1 cup finely chopped tomatoes
1 tablespoon oil
1 teaspoon mustard seeds
1 teaspoon cumin seeds
½ teaspoon asafoetida
1½ teaspoons salt
1 teaspoon turmeric powder
1 teaspoon red chilli powder
2 teaspoons coriander powder
1 teaspoon Kashmiri red chilli powder
1 teaspoon garam masala
1 teaspoon misal masala(optional)
For Garlic Tari/Gravy
1/2 cup garlic clove
1 teaspoon oil
½ teaspoon salt
½ teaspoon Kashmiri red chilli powder
1 cup water
Other Ingredients
2 tablespoons finely chopped coriander leaves
1 finely chopped onion
6-8 pav/ bread rolls
2 tablespoons butter
Directions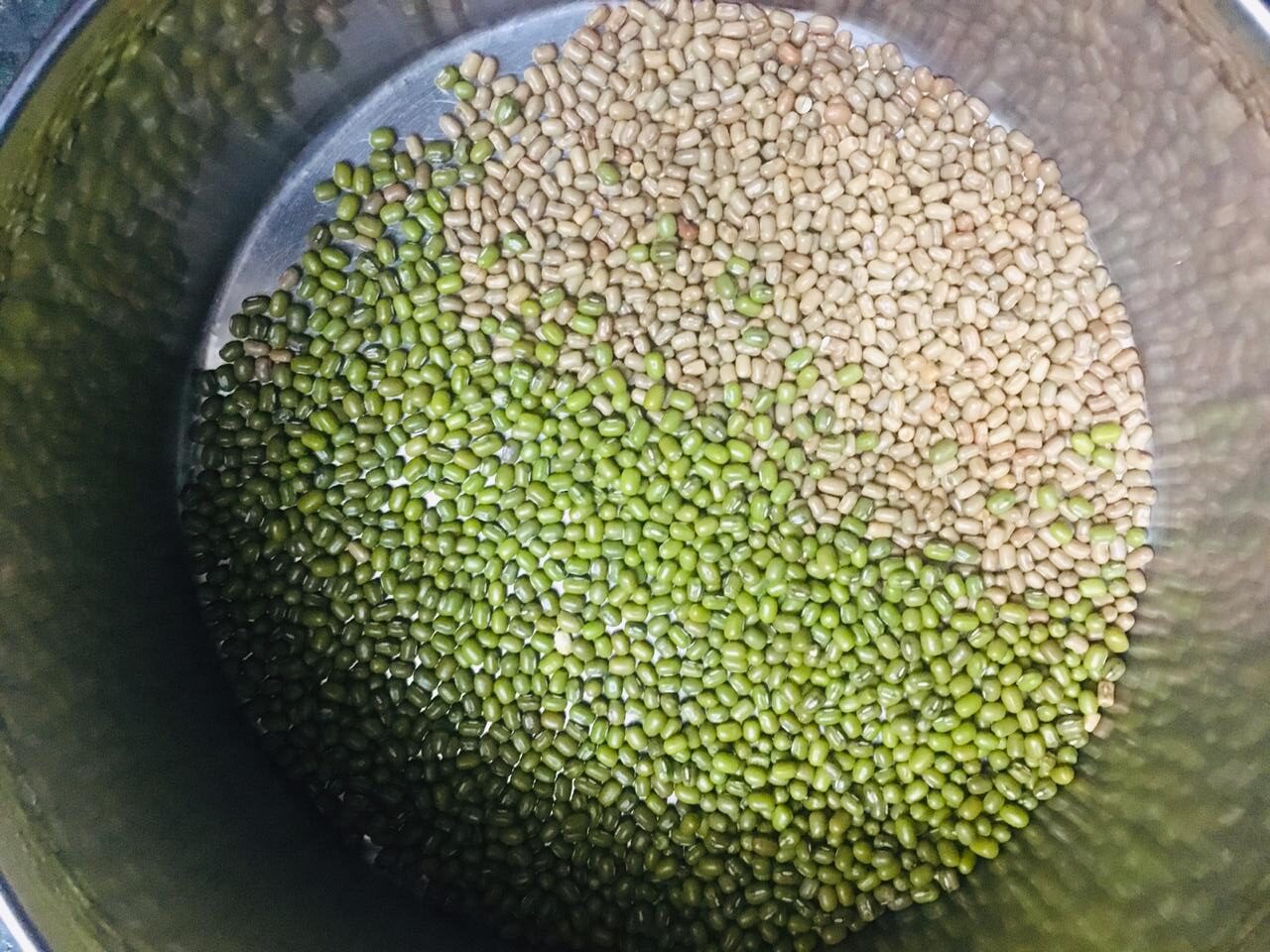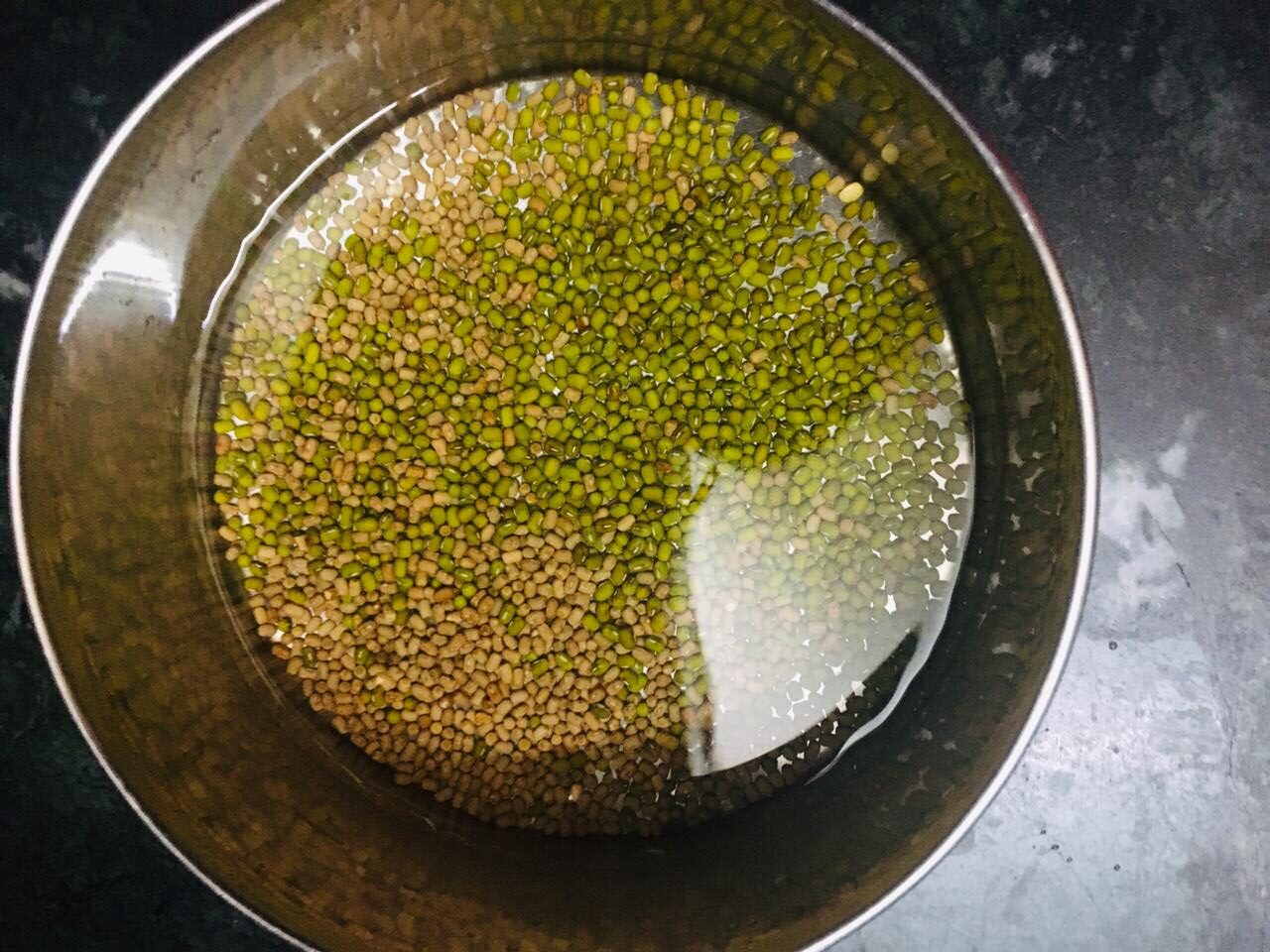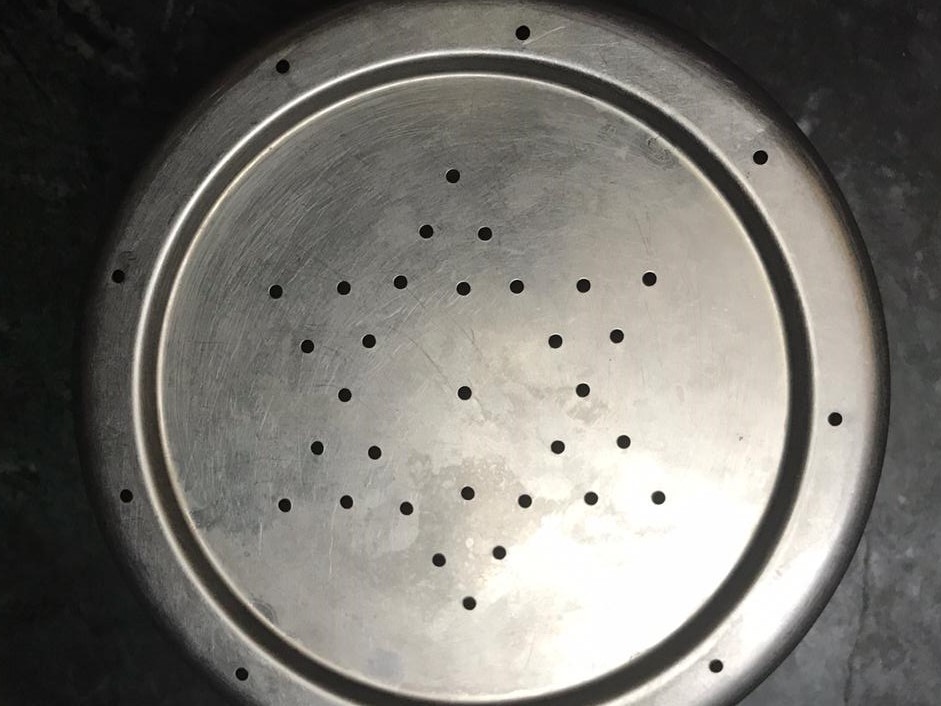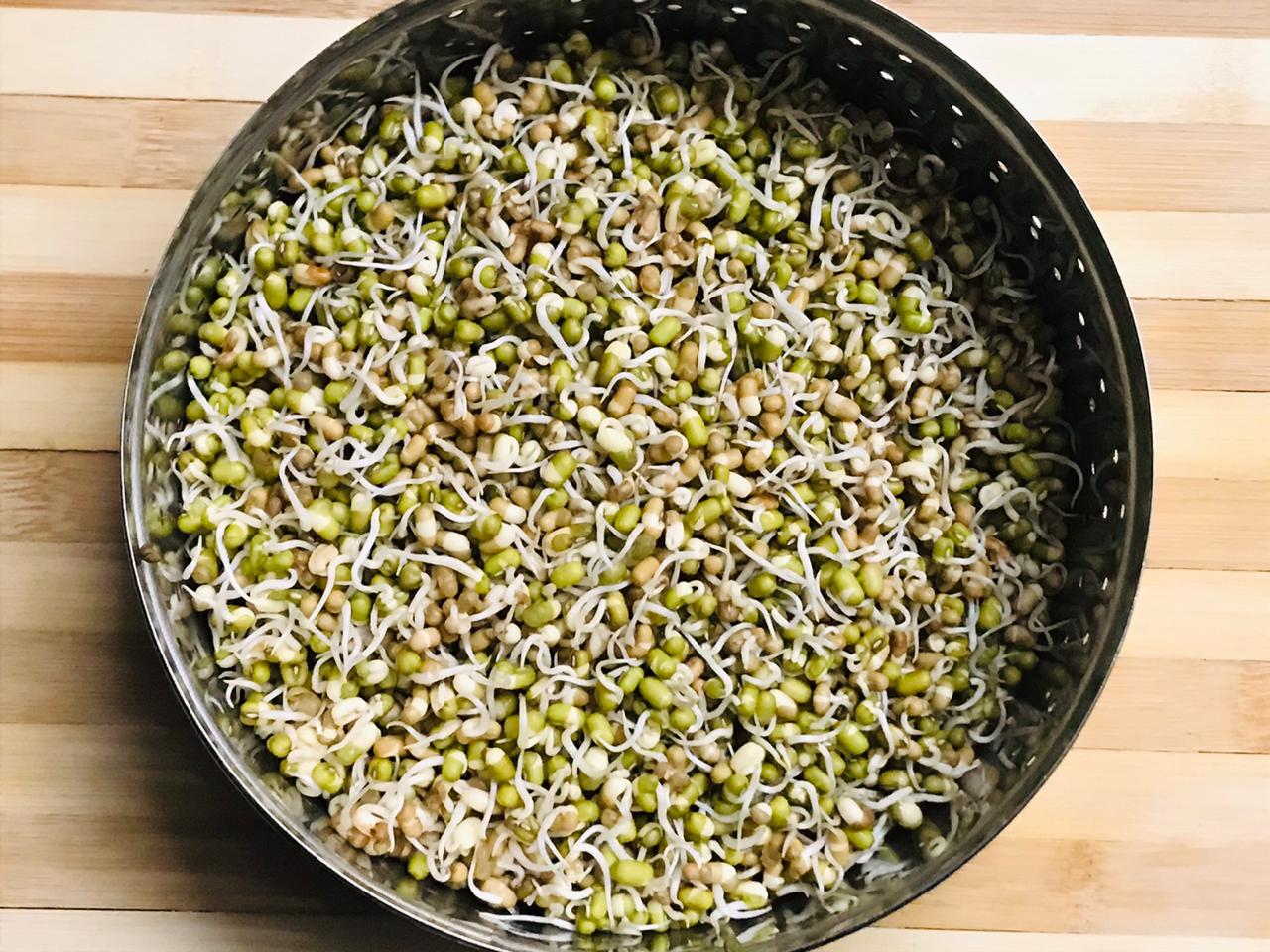 Wash and soak the moth beans and moong beans in 1 cup of water for around 6-8 hours. You may soak them overnight also.
Strain-soaked beans through a strainer to get rid of excess water. There are few ways to germinate the beans. I usually use a perforated container to germinate them at home. I have written other ways to germinate in the 'Tips and Variations' section.
Place the soaked beans in a perforated box and sprinkle water over the beans and place them in a warm place to germinate. It takes 1-2 days to germinate in summers. To keep the beans moist, everyday rinse the beans using light water pressure. Your goal is to not move the bean while you are rinsing them. The beans will develop short shoots and that means they are ready to use.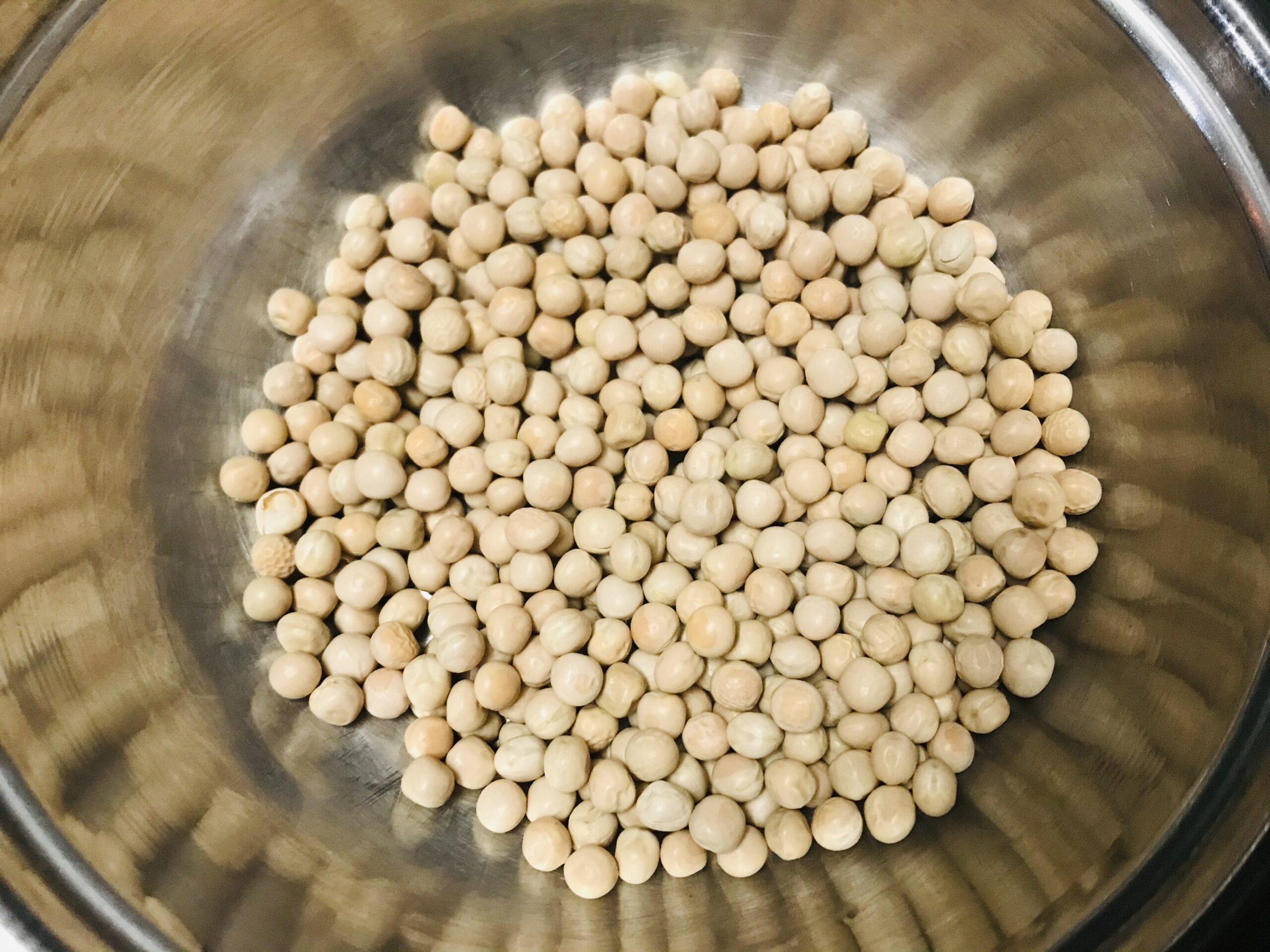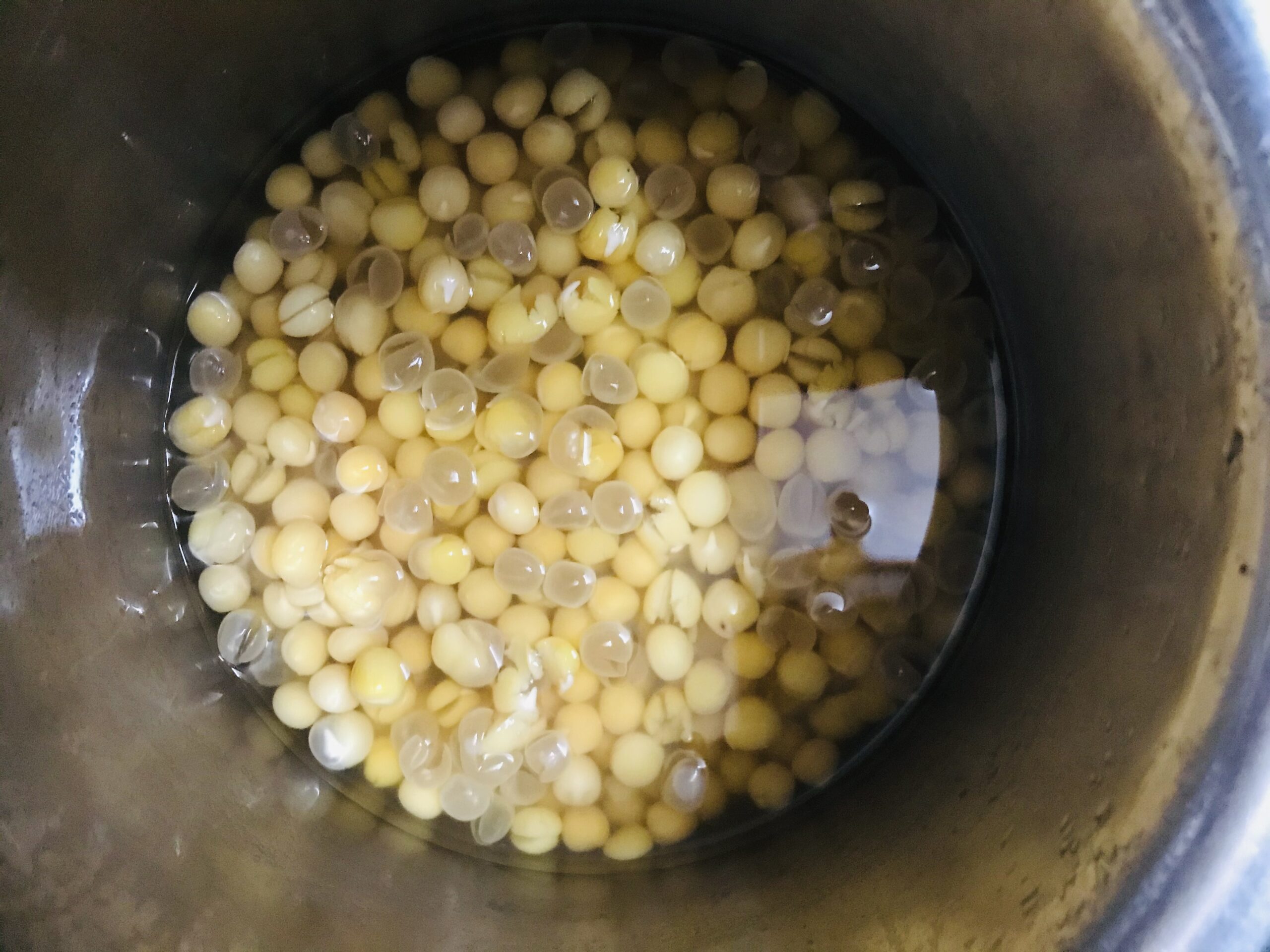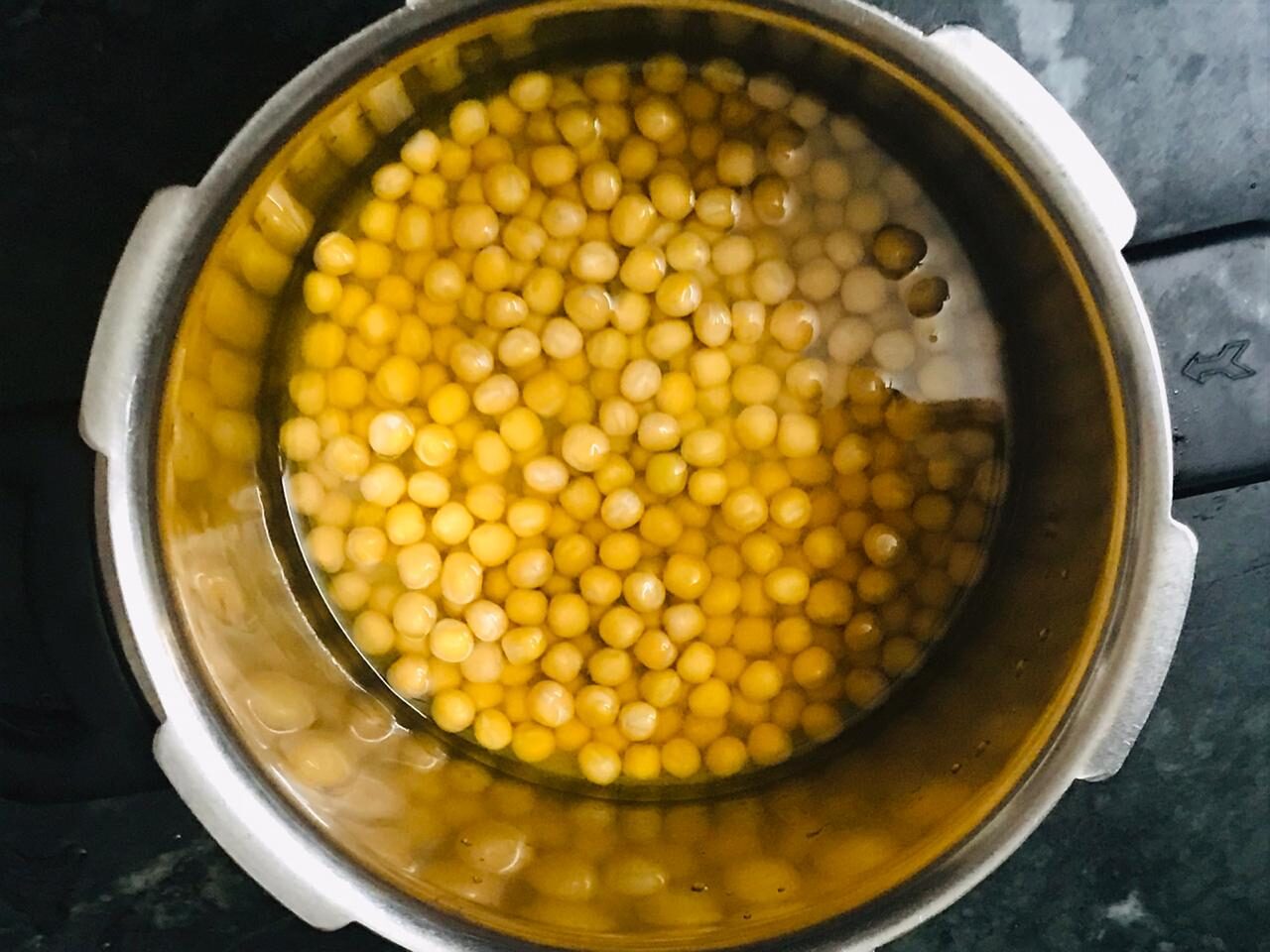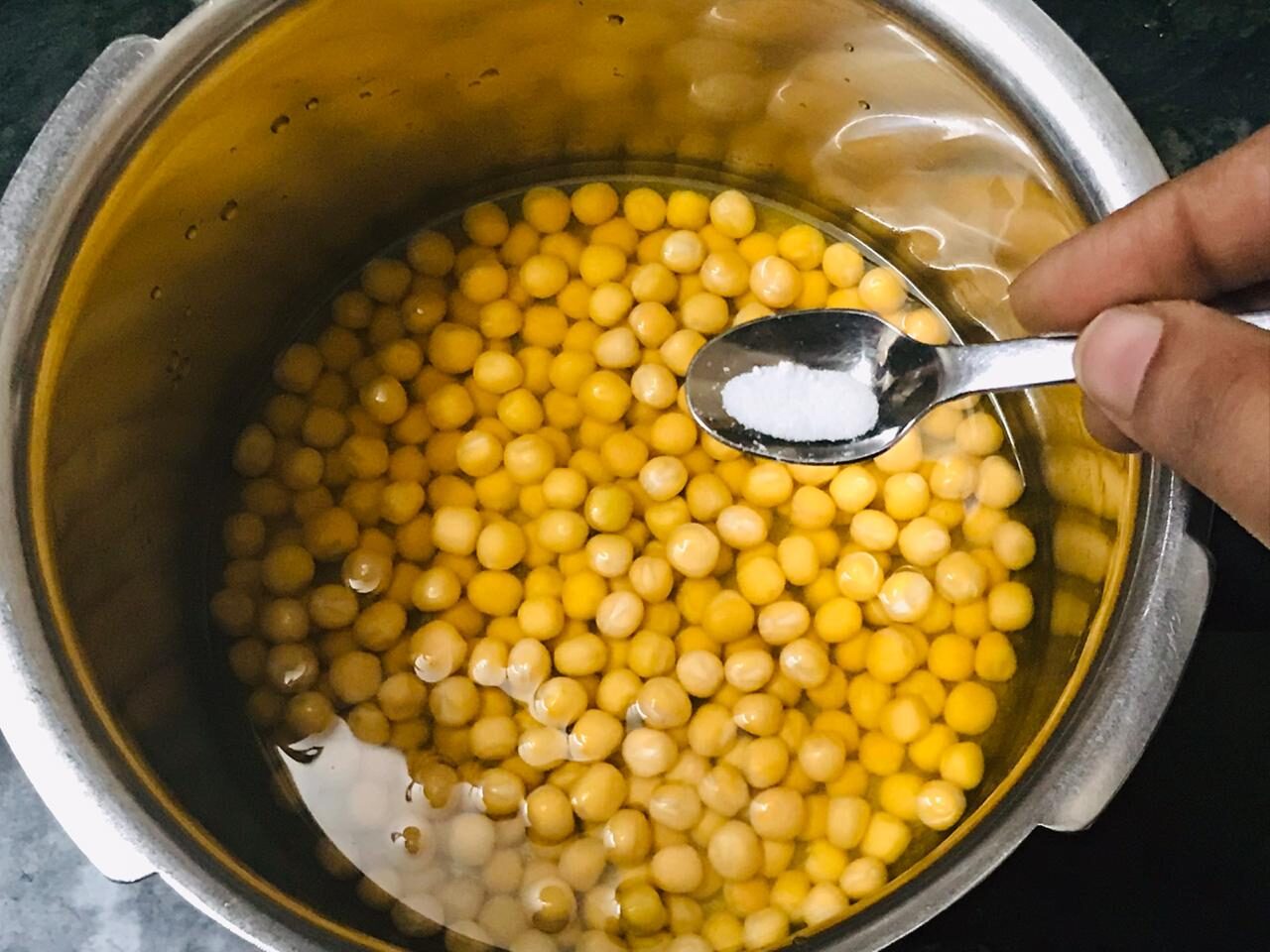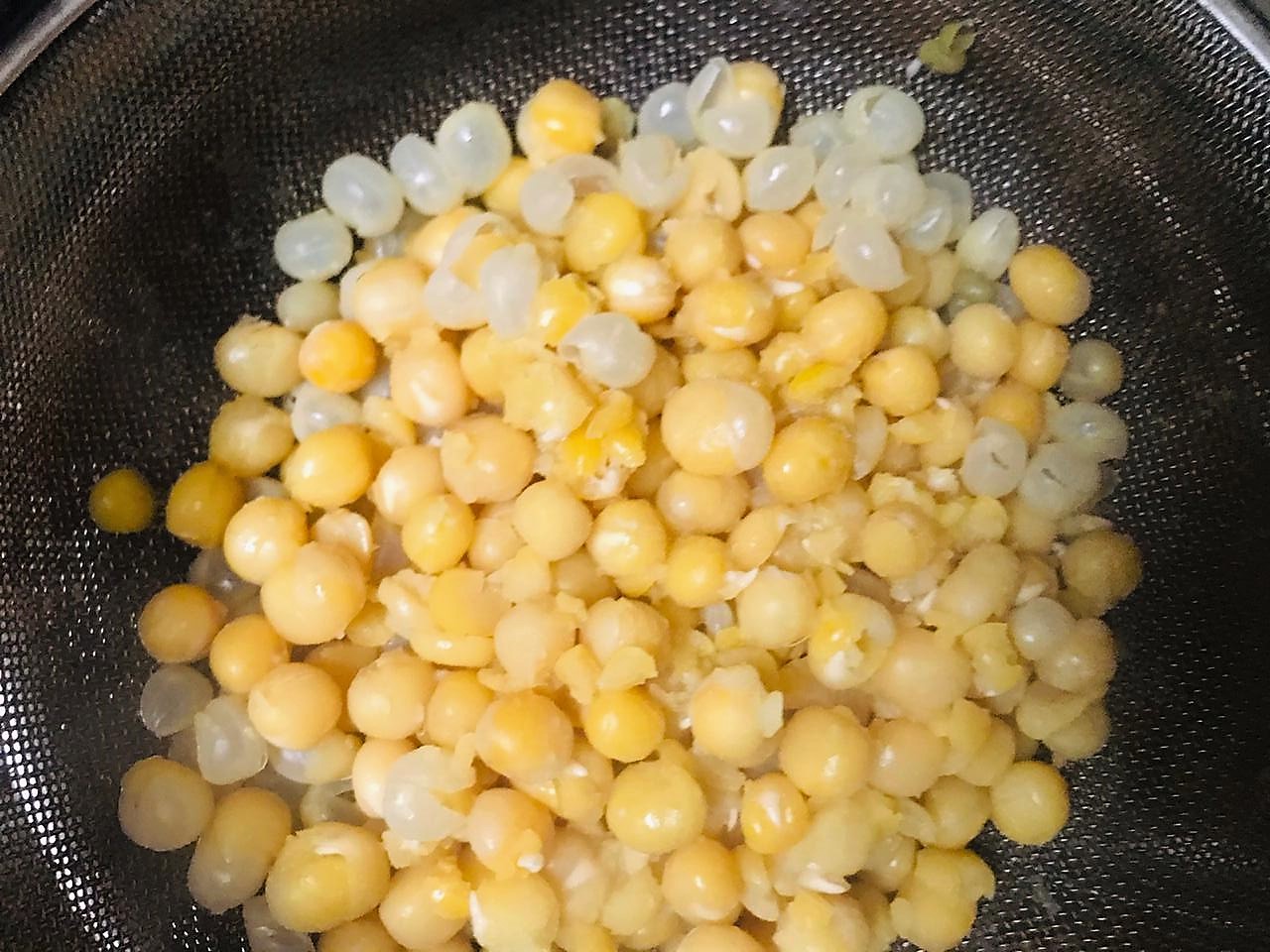 Wash and soak the white peas in 1 cup of water for around 6-8 hours. You may soak them overnight also.
Boil white peas by adding baking soda and a pinch of turmeric powder in pressure cooker for around 3 whistles.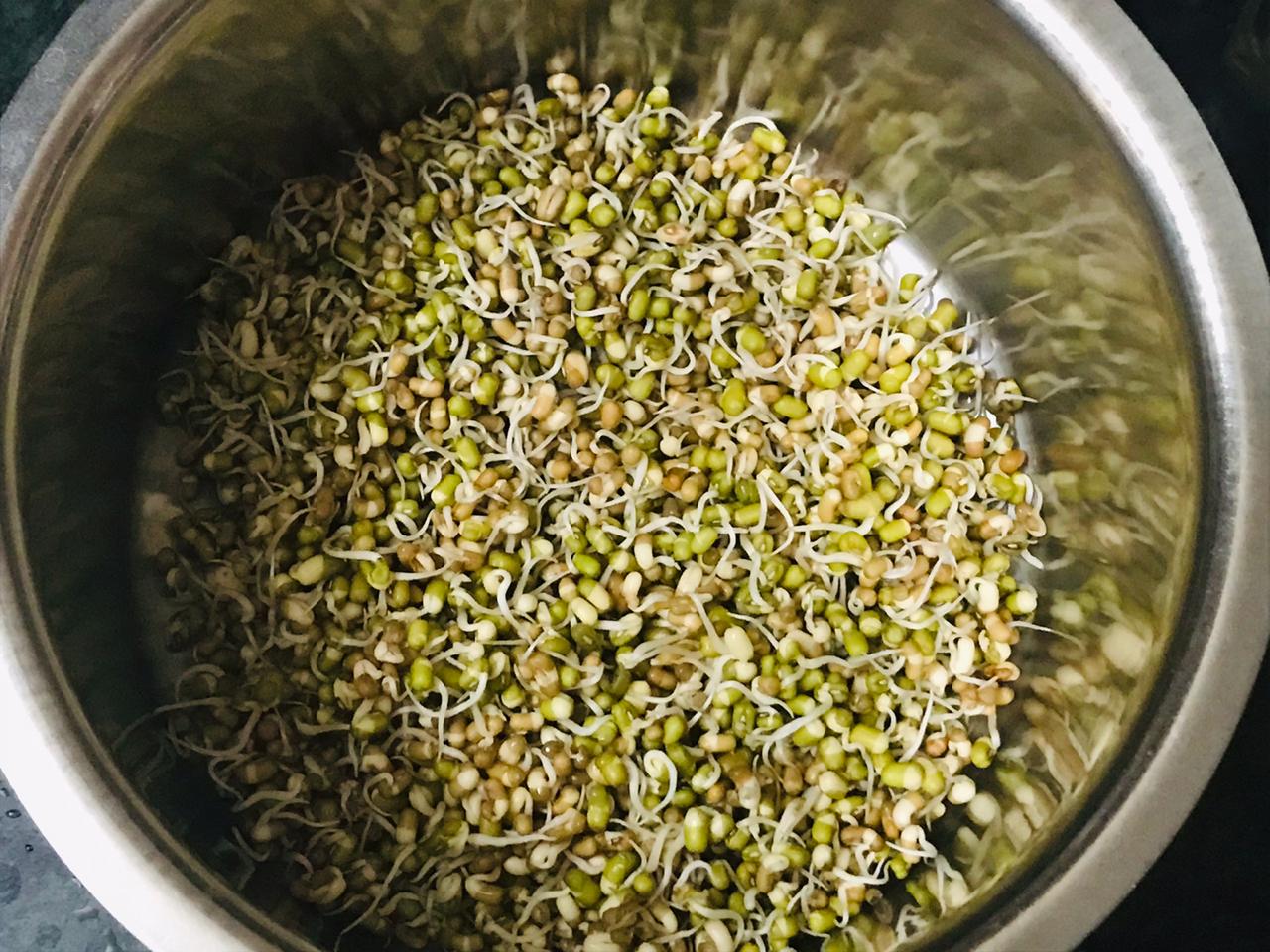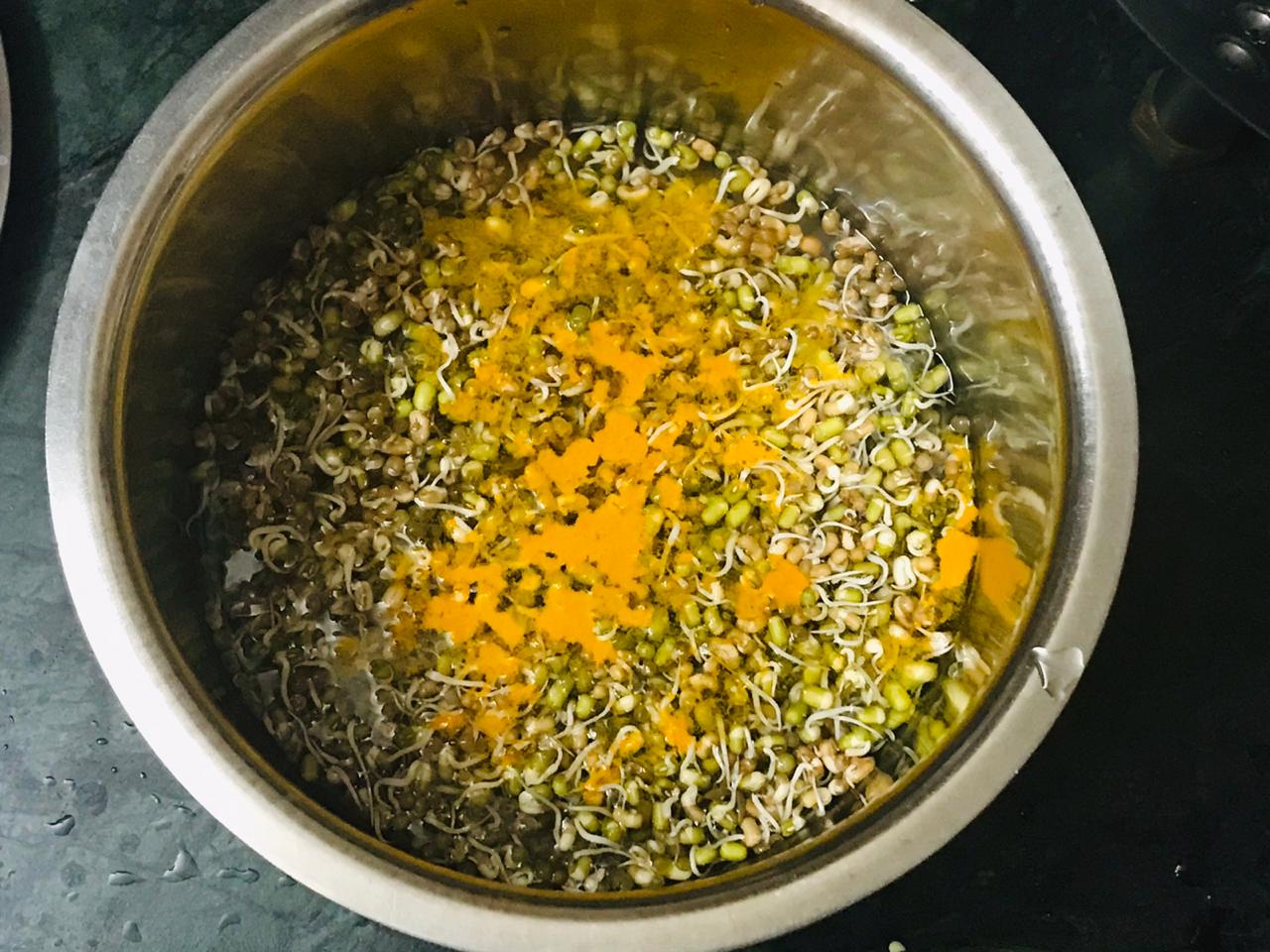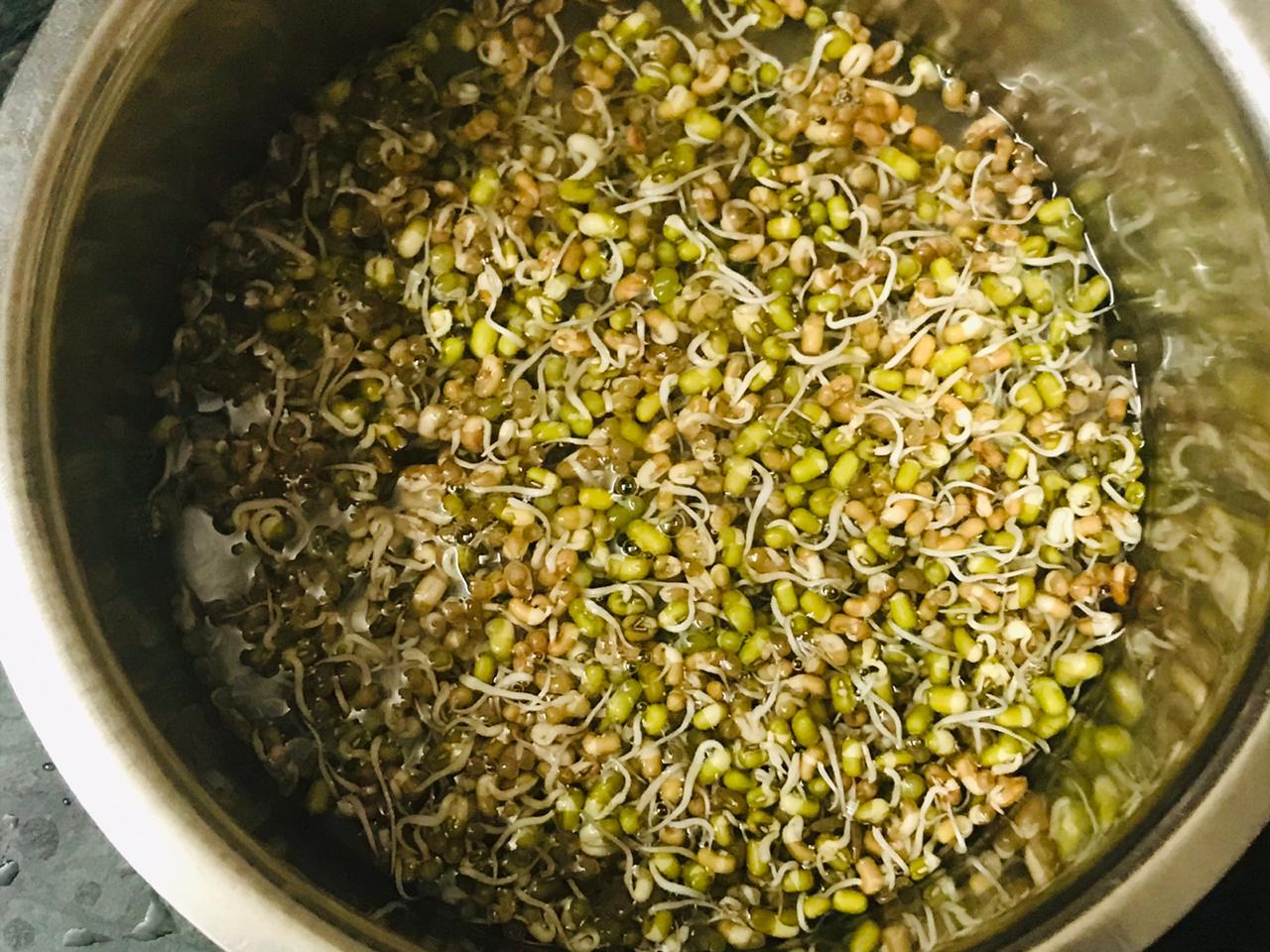 Boil the sprouted moong and moth by adding ¼ teaspoon turmeric powder in 2 cups water for around 7-8 minutes until they are soft.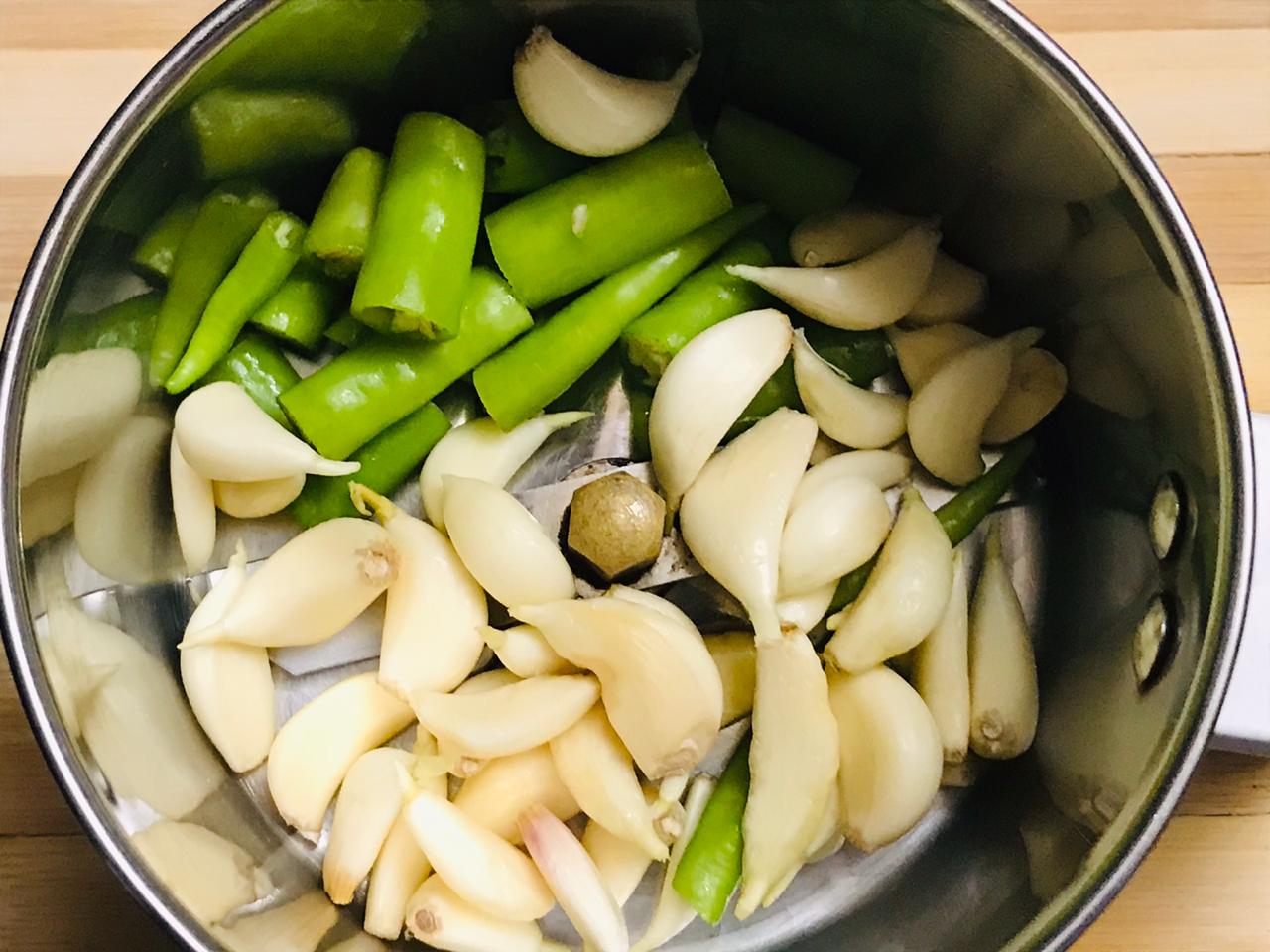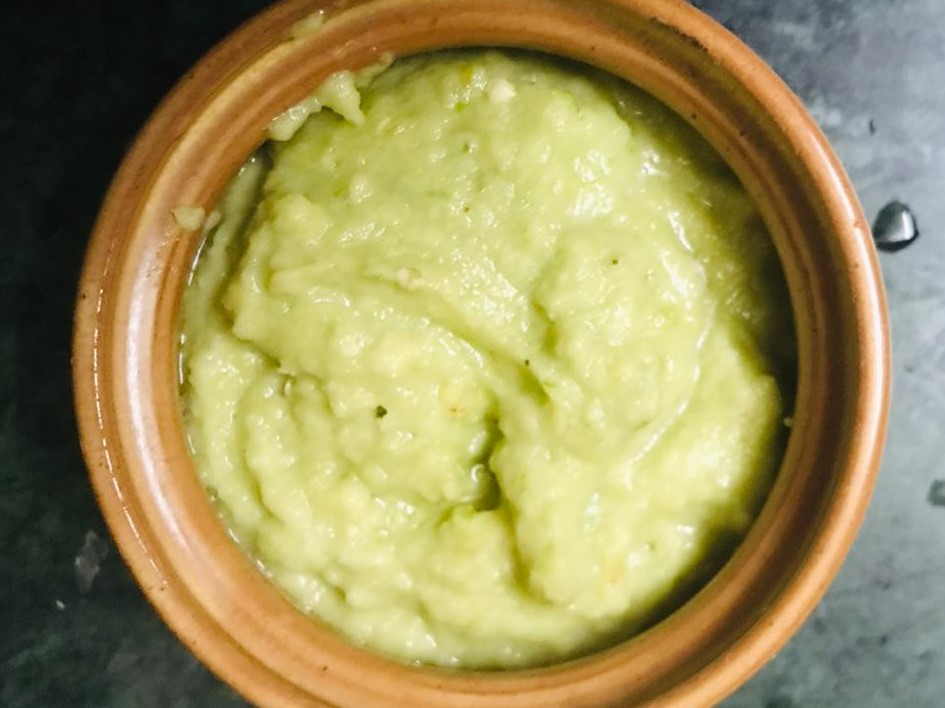 Grind garlic and green chilli to a smooth fine paste.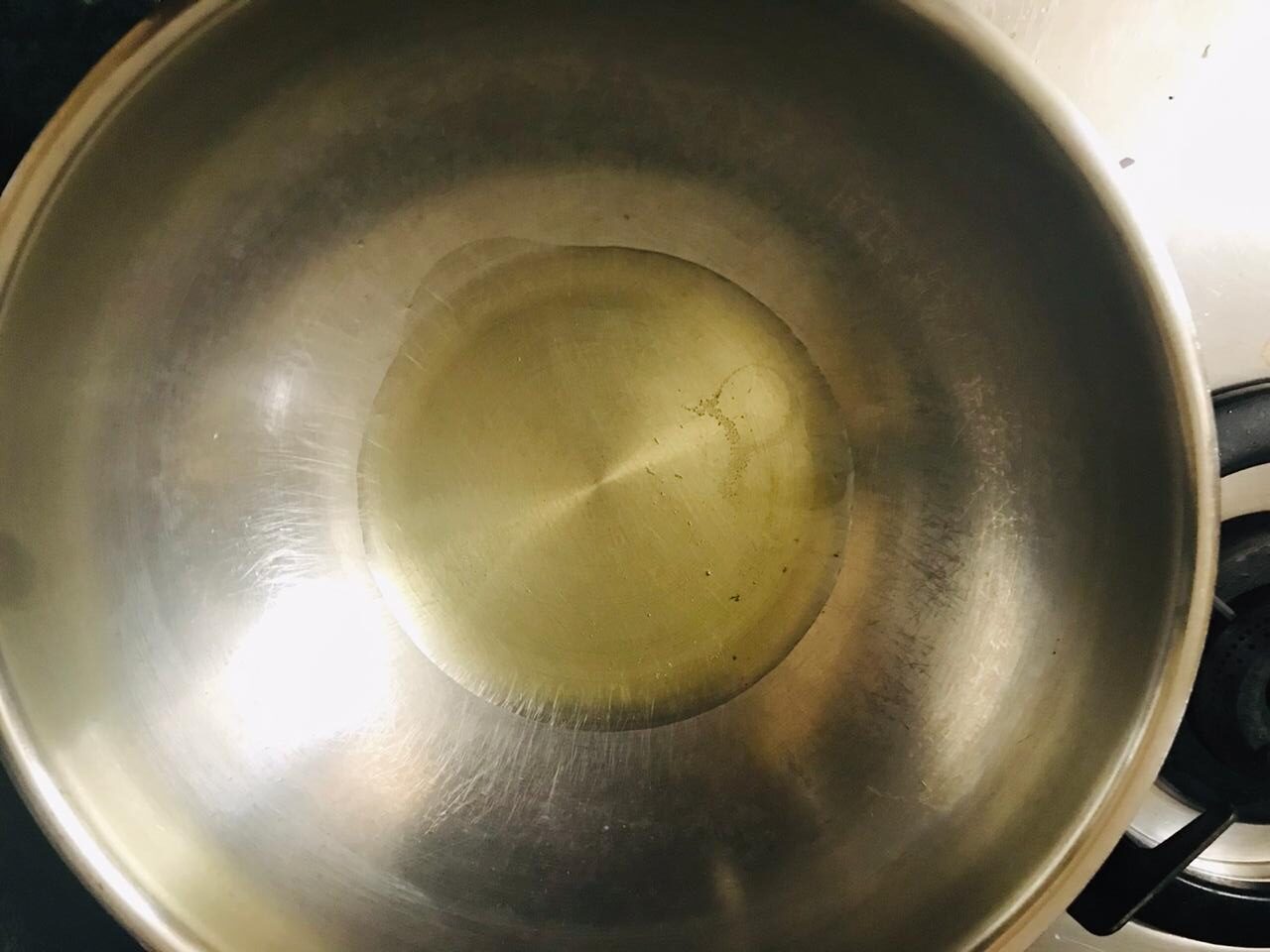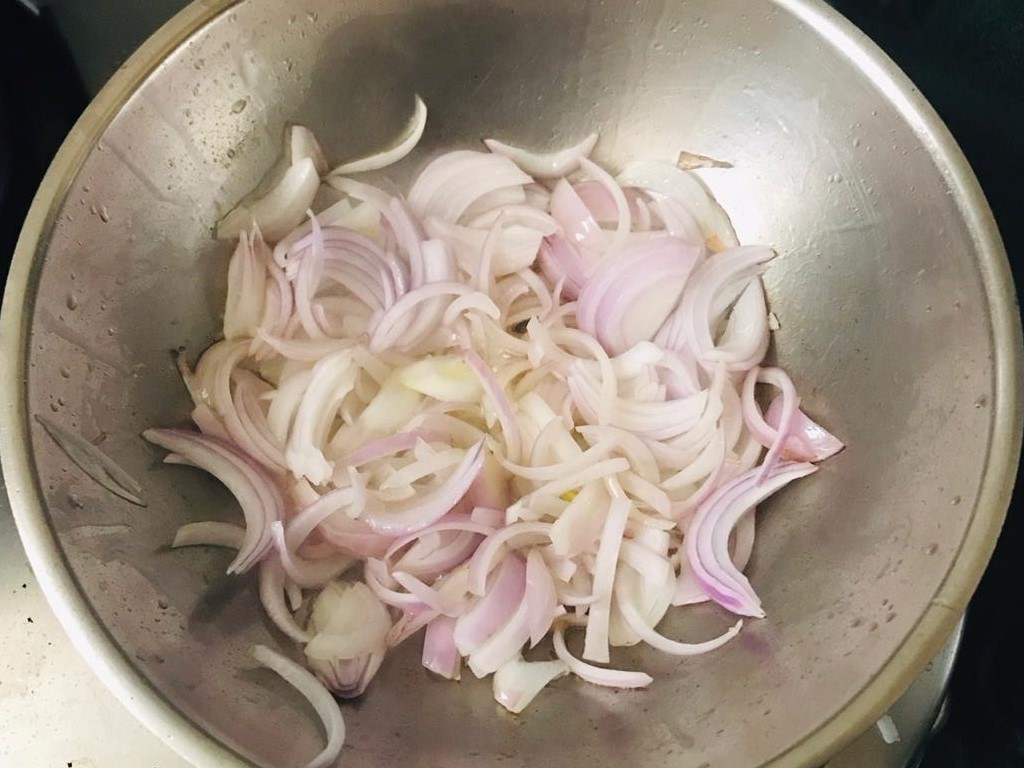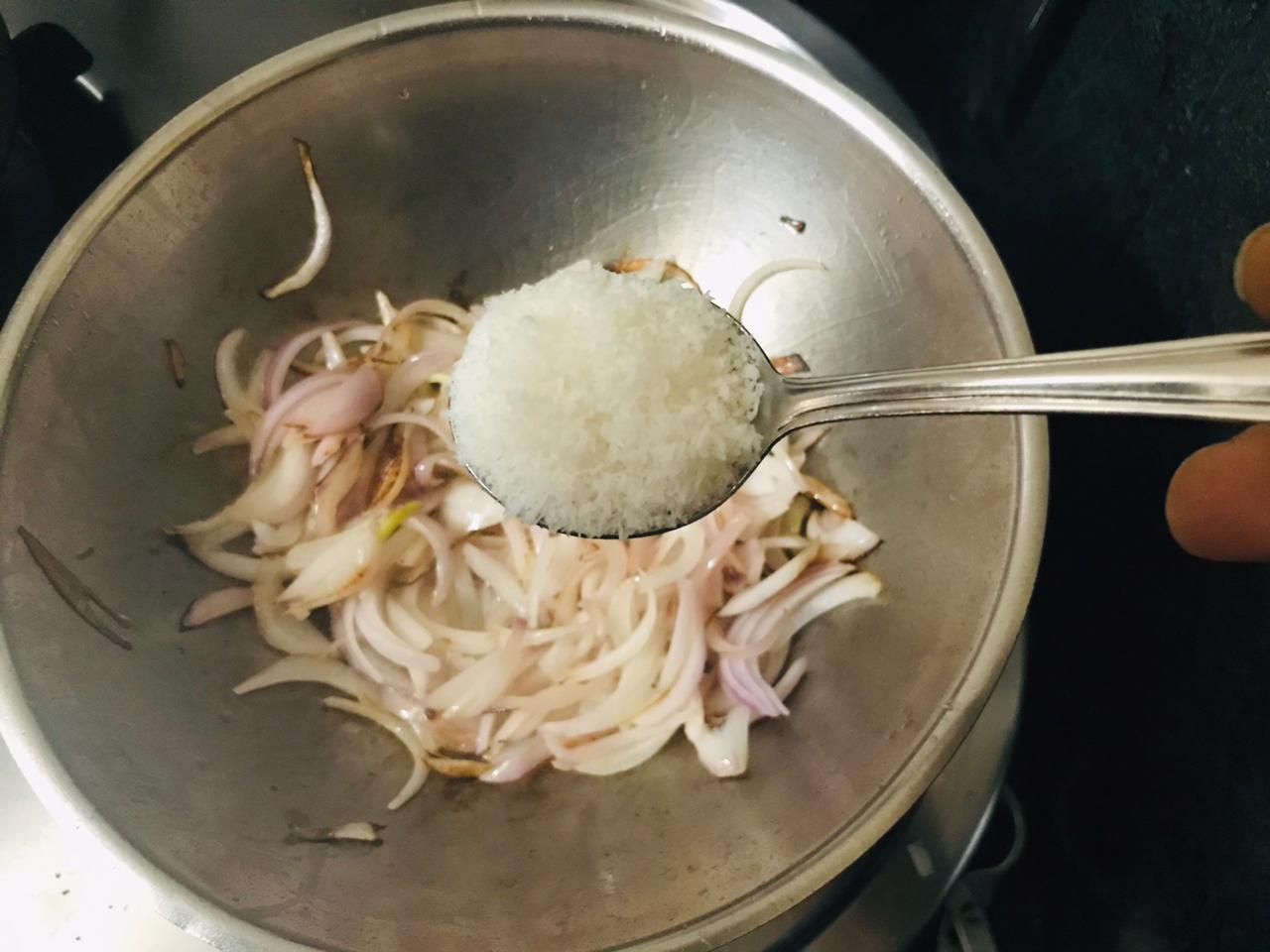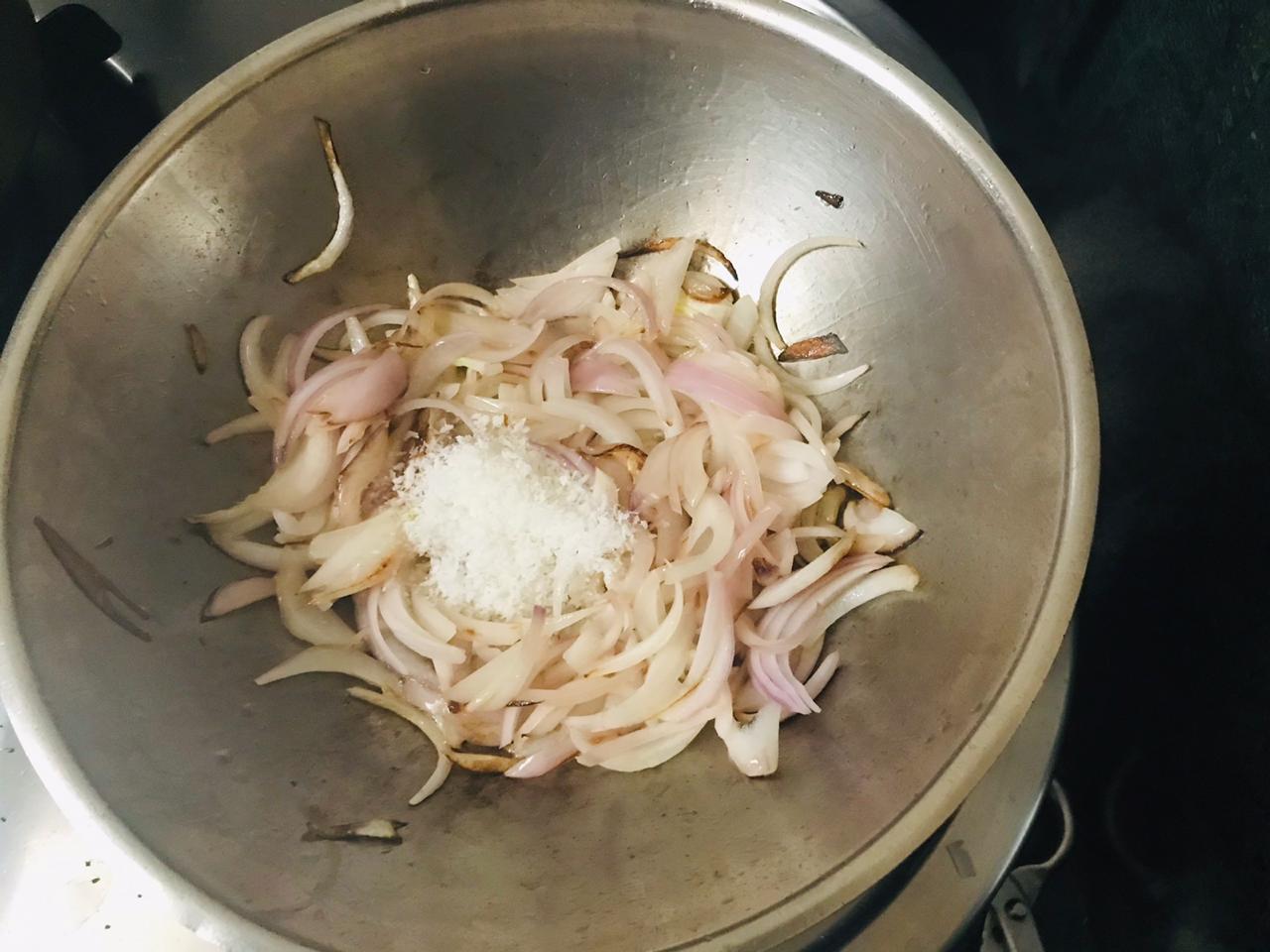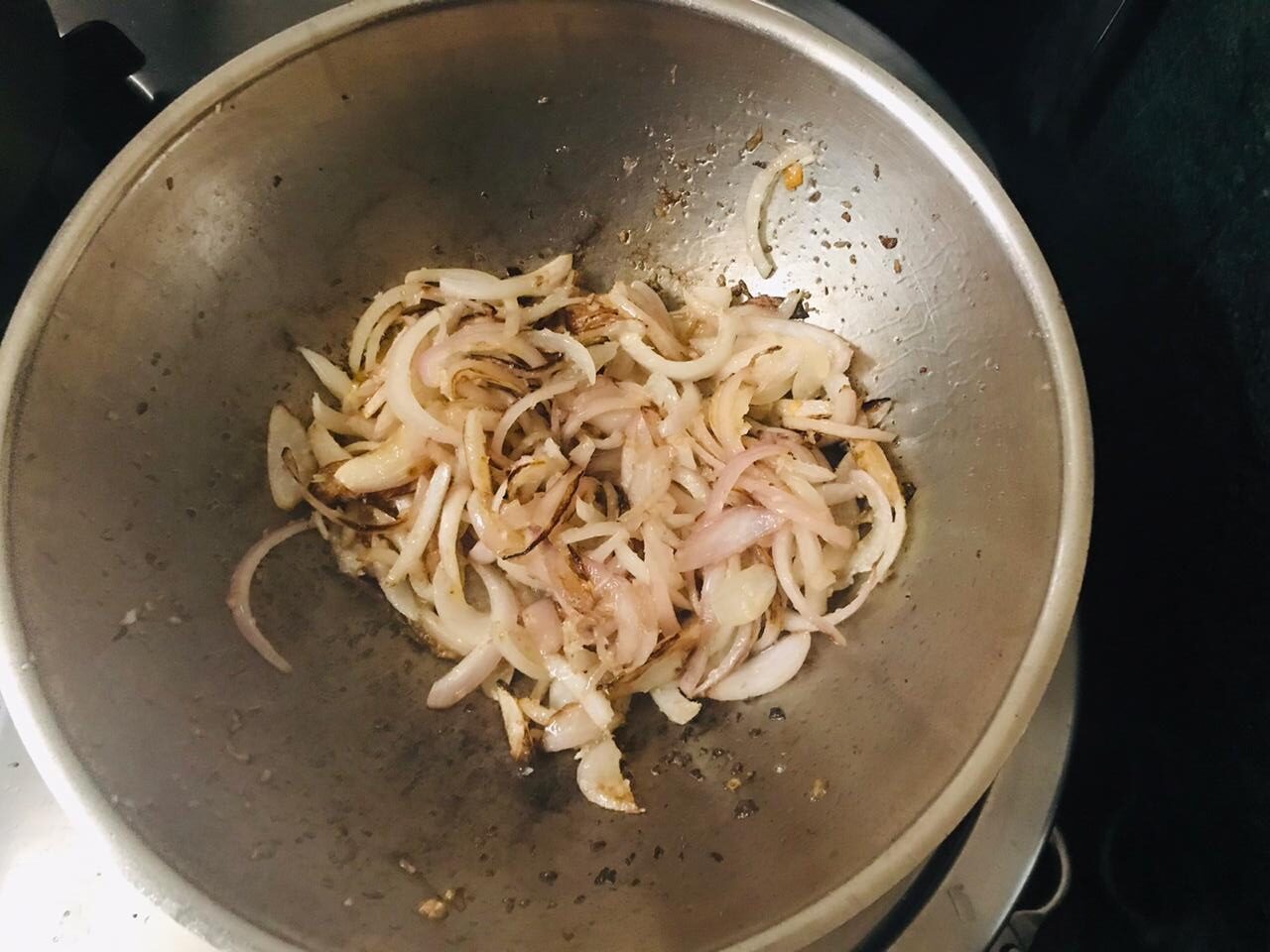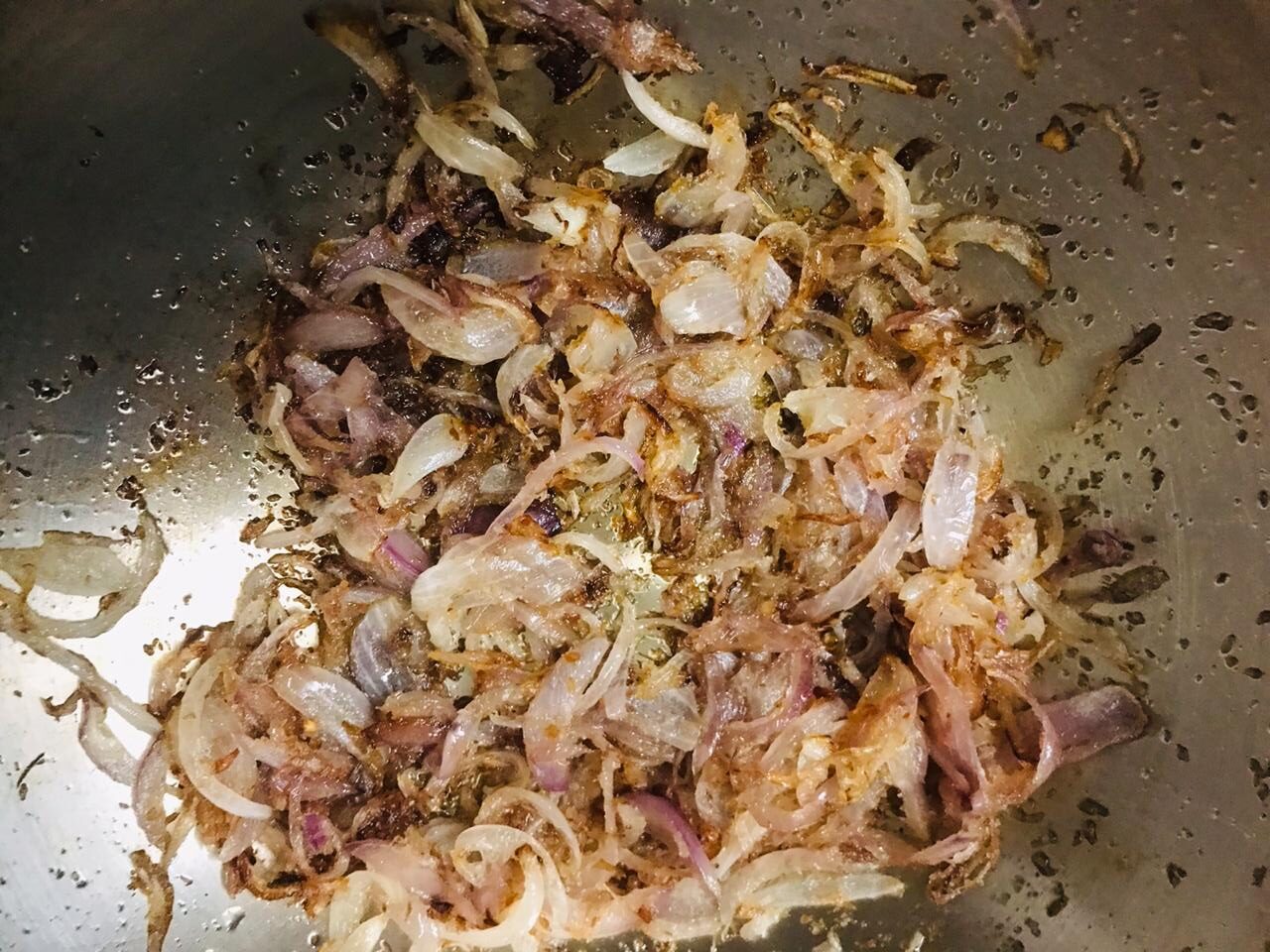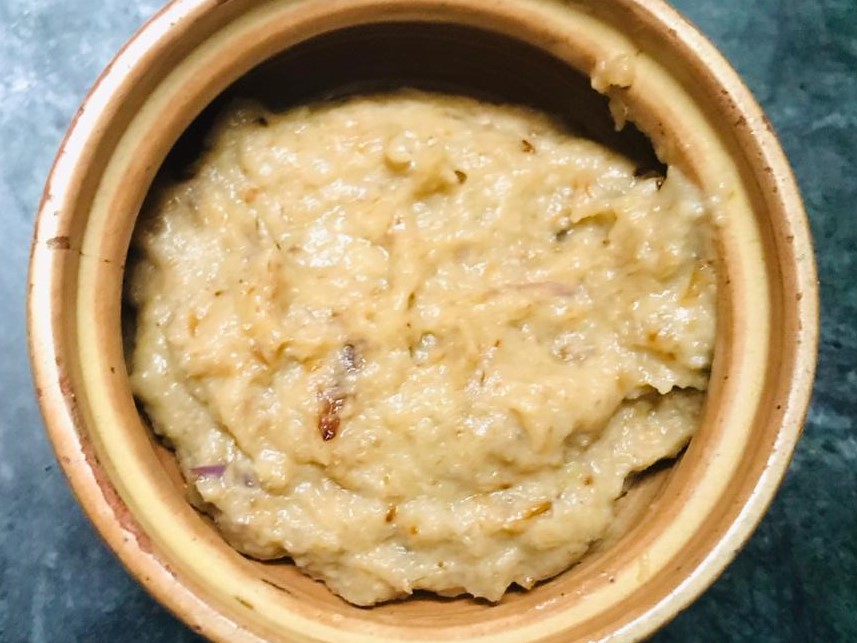 Heat oil in a pan and add the sliced onions and sauté until they turn golden brown in colour. Add coconut powder and sauté for a minute. Switch off the heat and let it cool.
Grind the onions to a fine paste.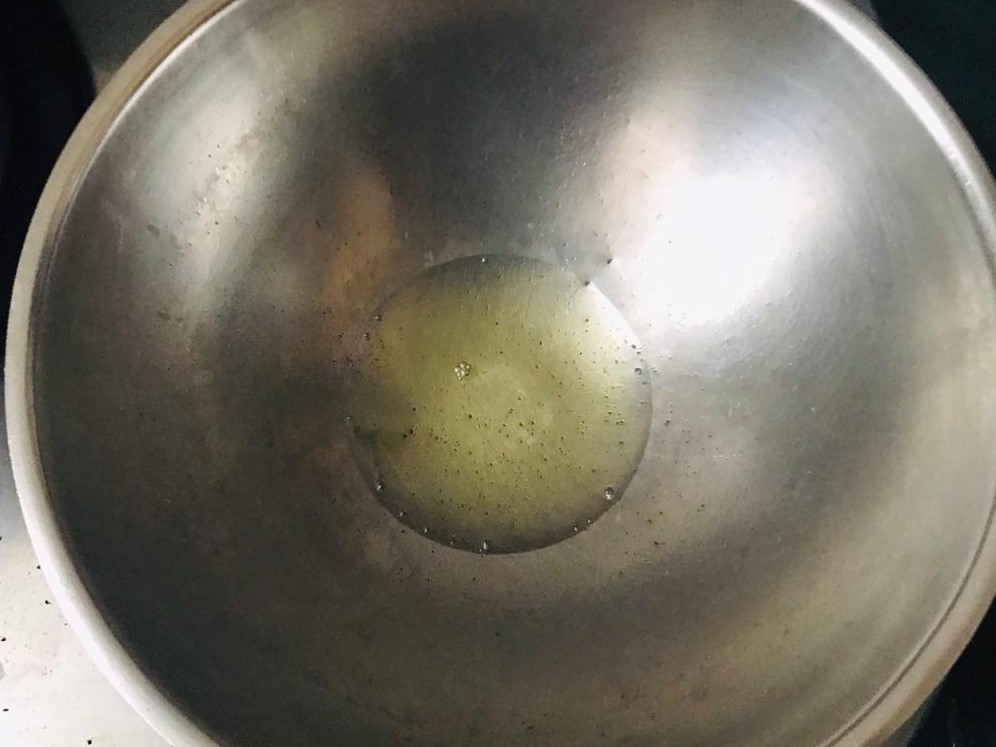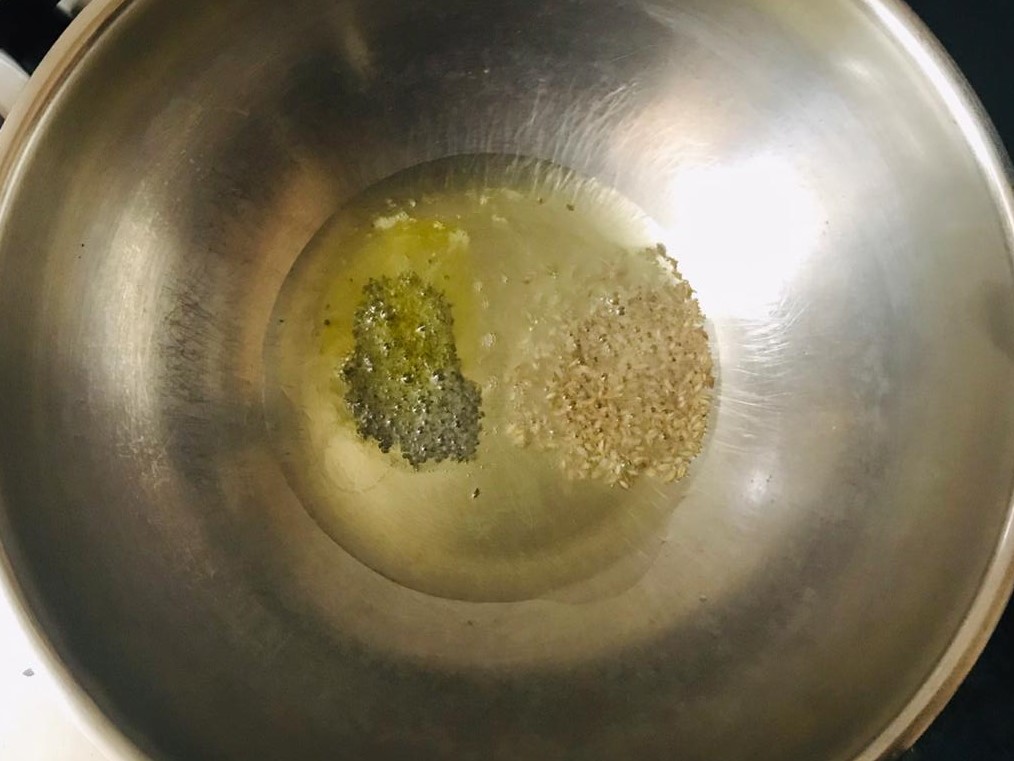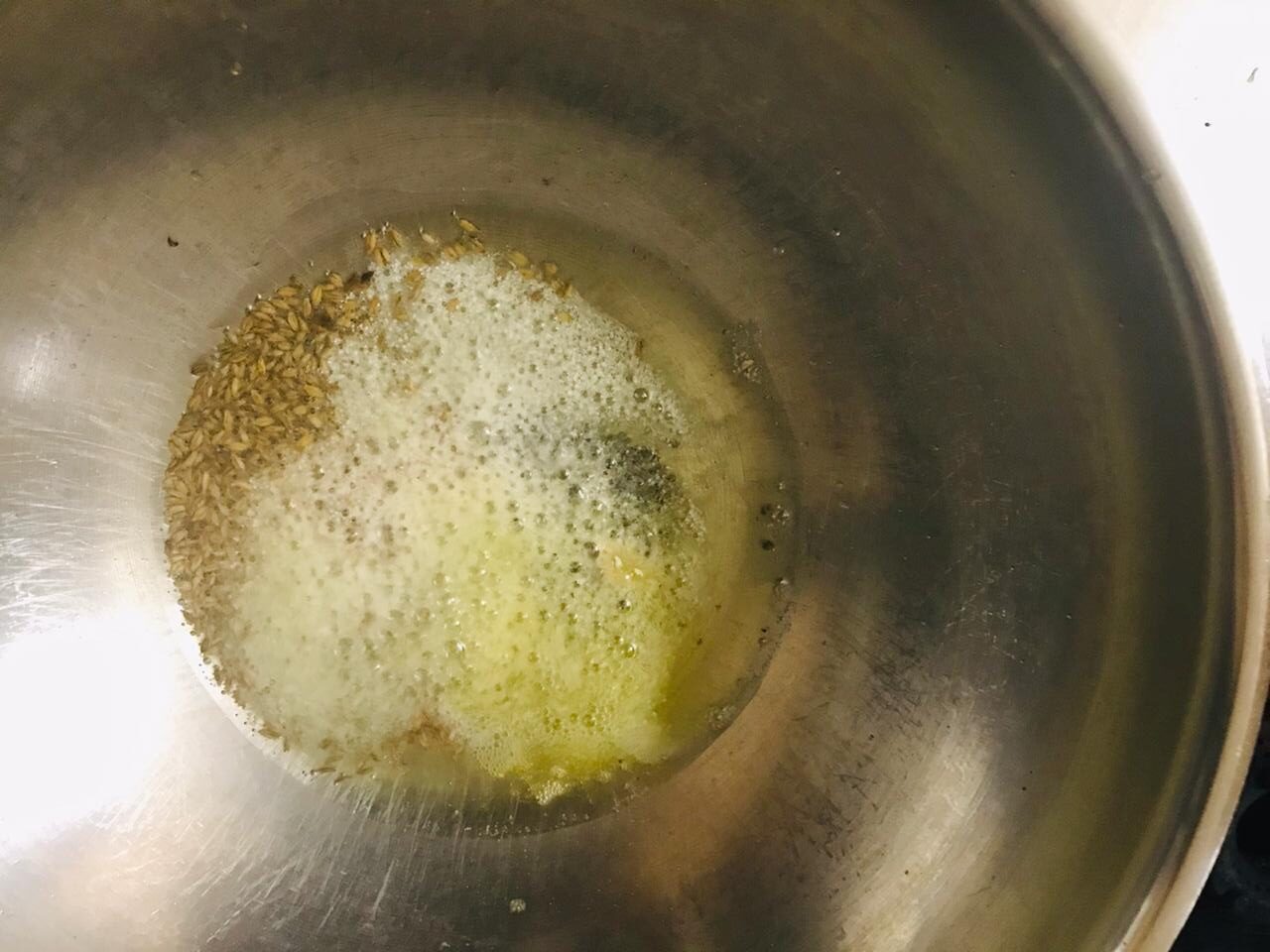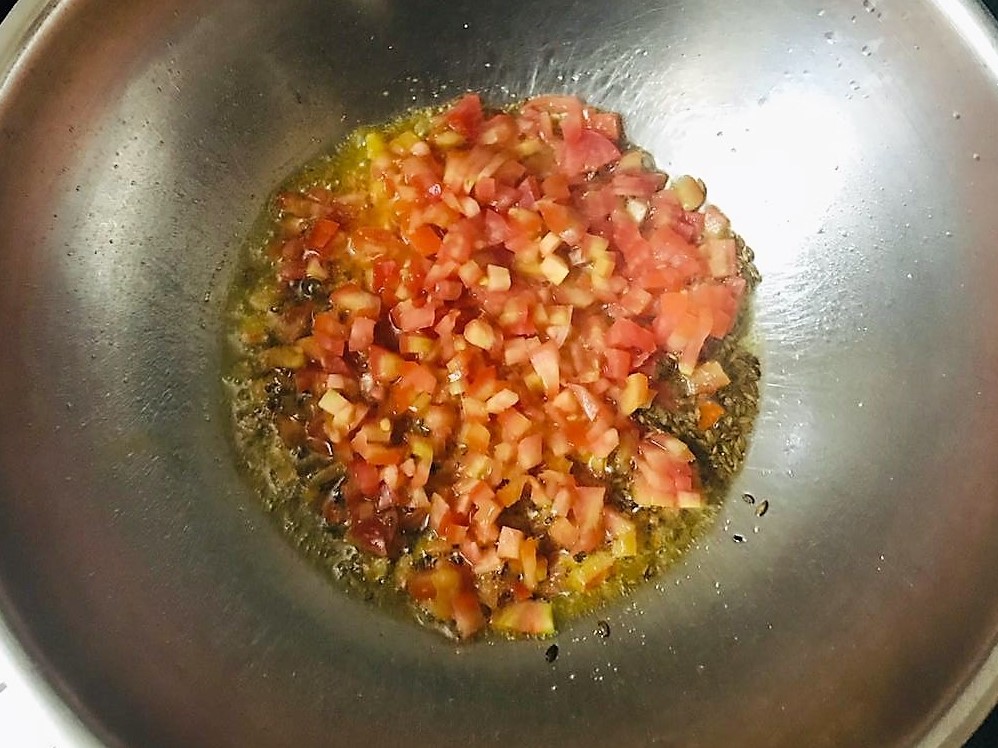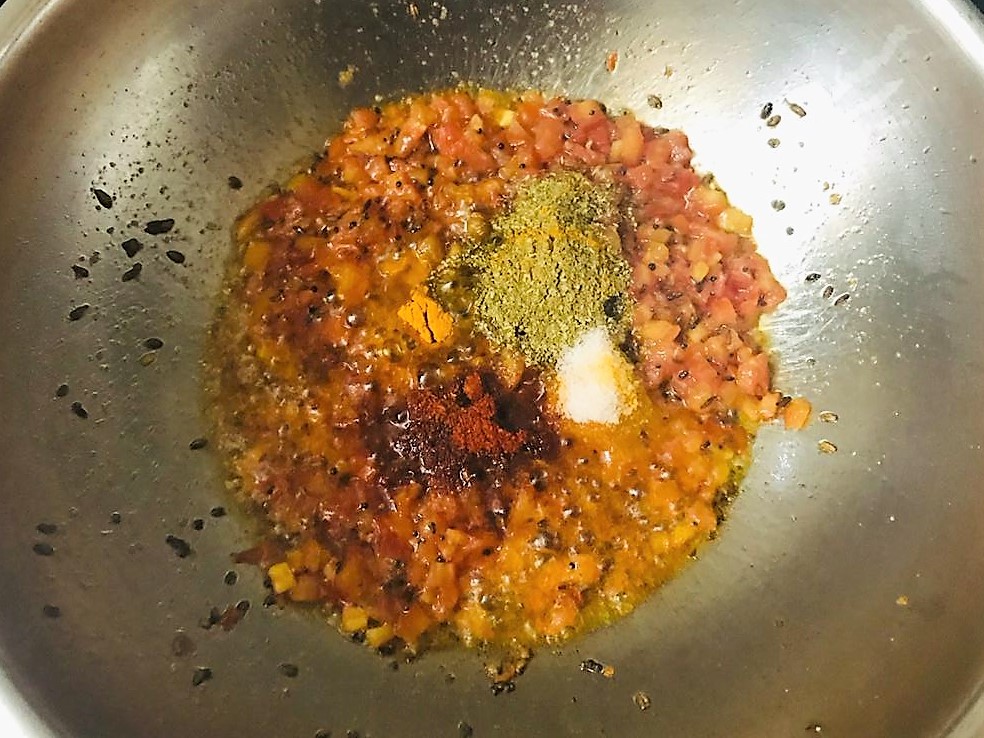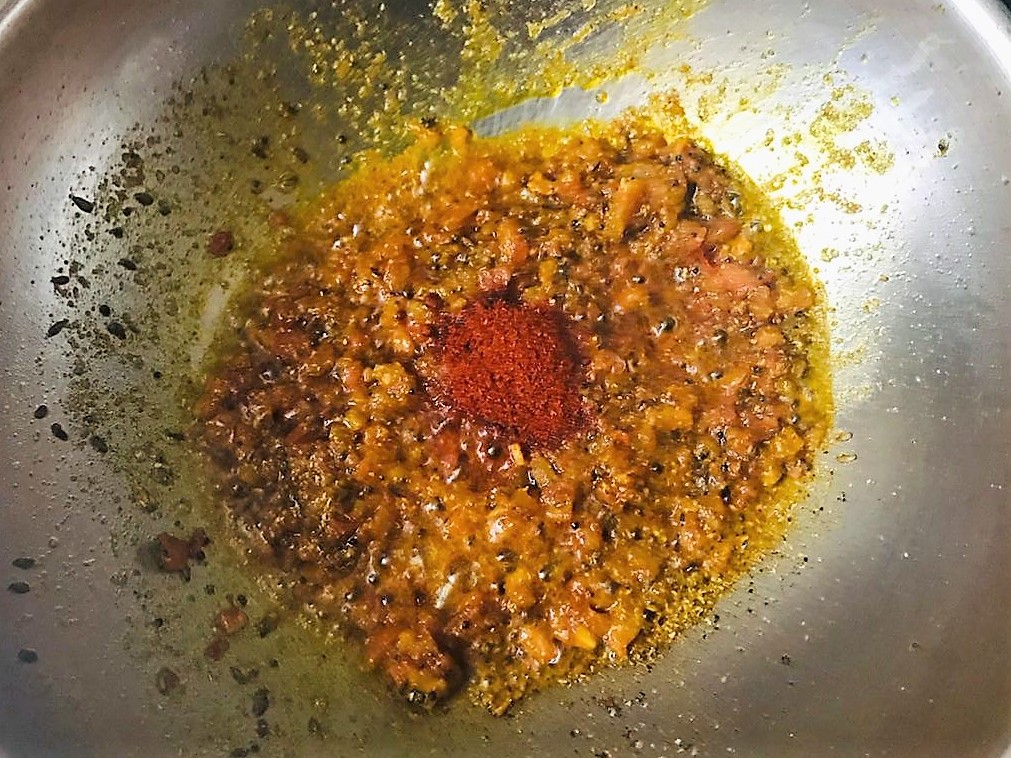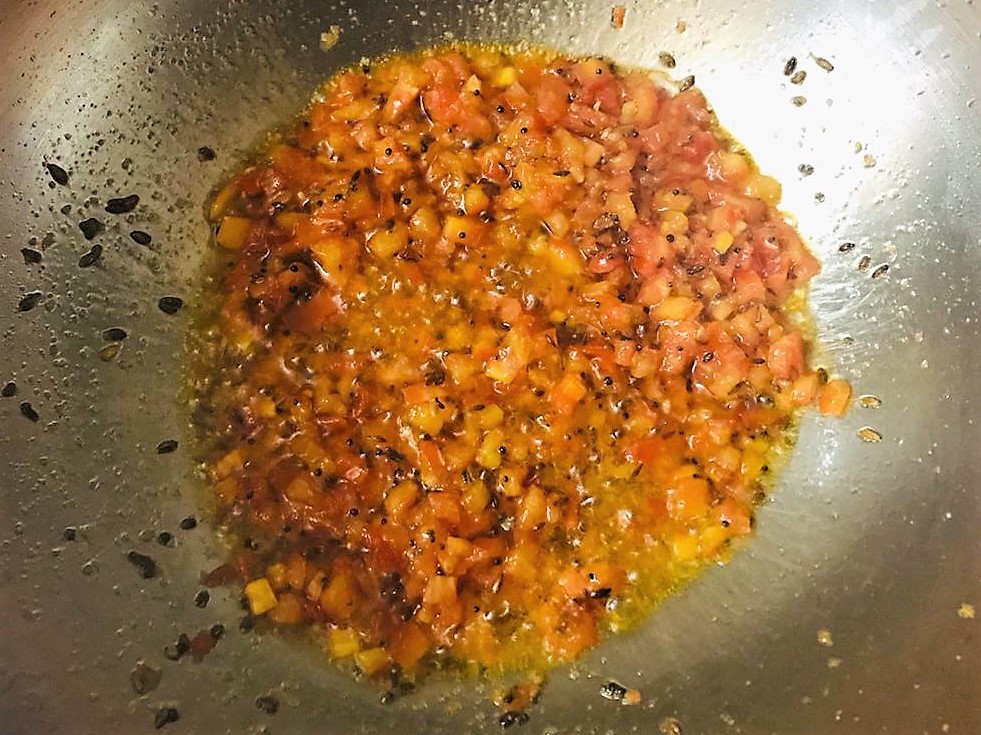 Heat oil in a pan and add mustard seeds, cumin seeds and asafoetida. Once the seeds begin to splutter add the chopped tomatoes and sauté for 2-3 minutes until, they turn soft and mushy. Then add turmeric powder, red chilli powder, coriander powder, salt and Kashmiri chilli powder and sauté for a minute.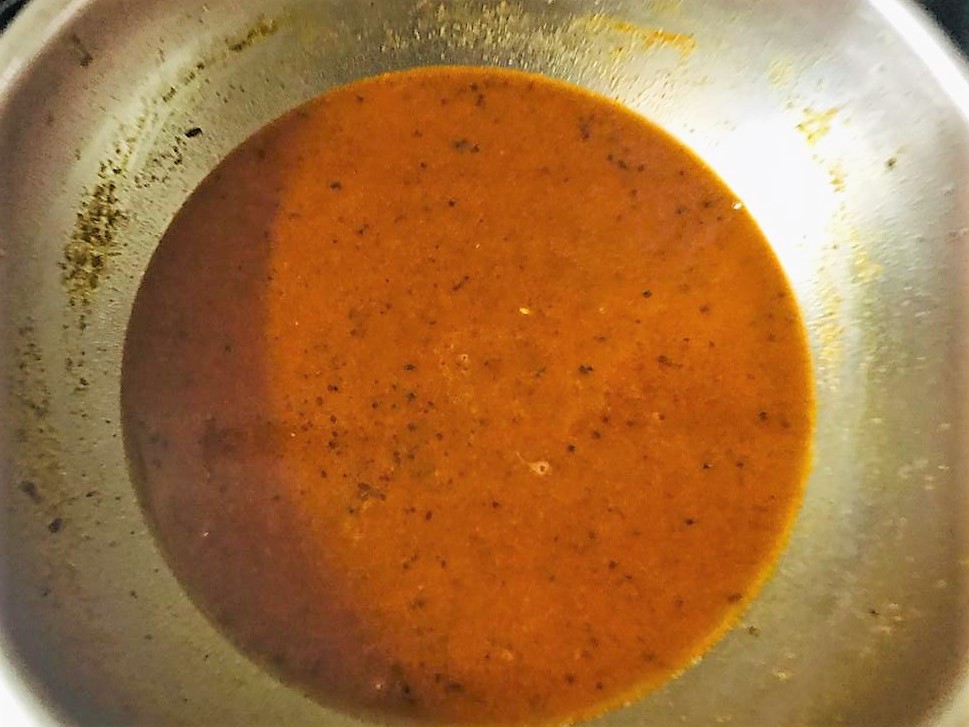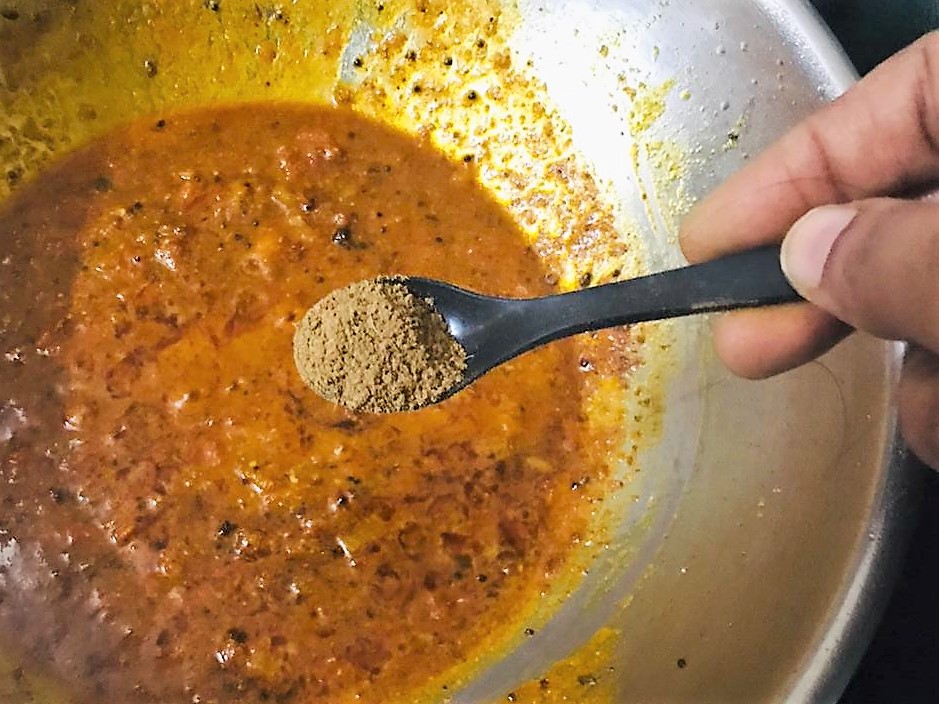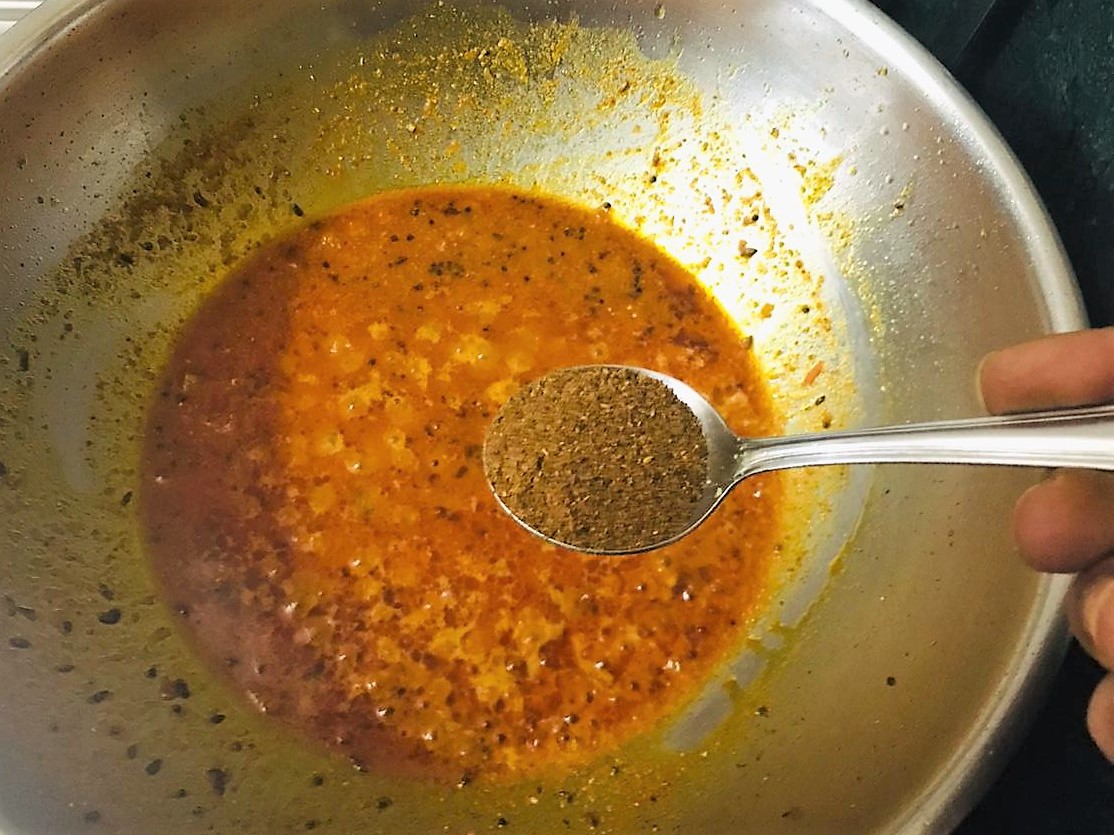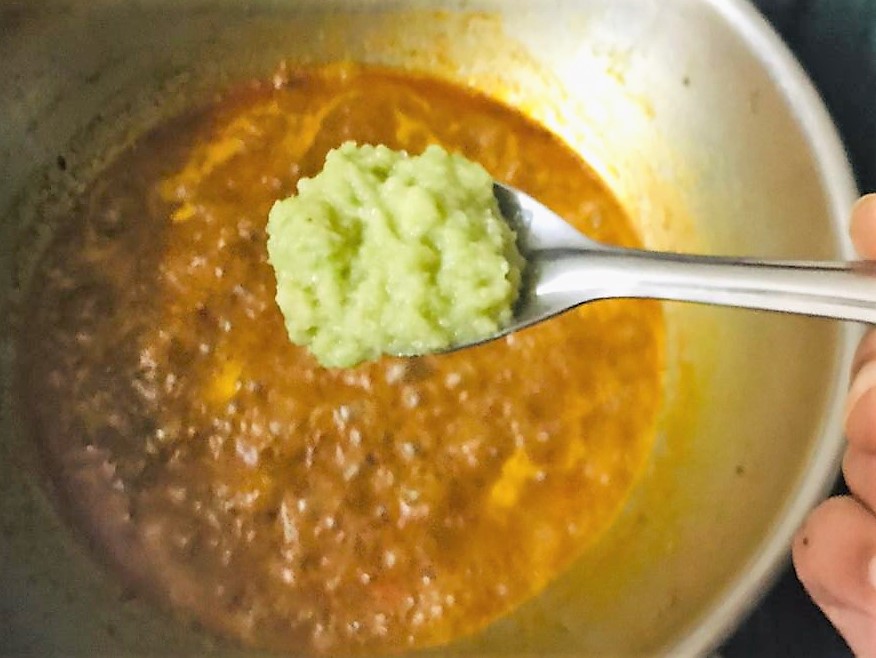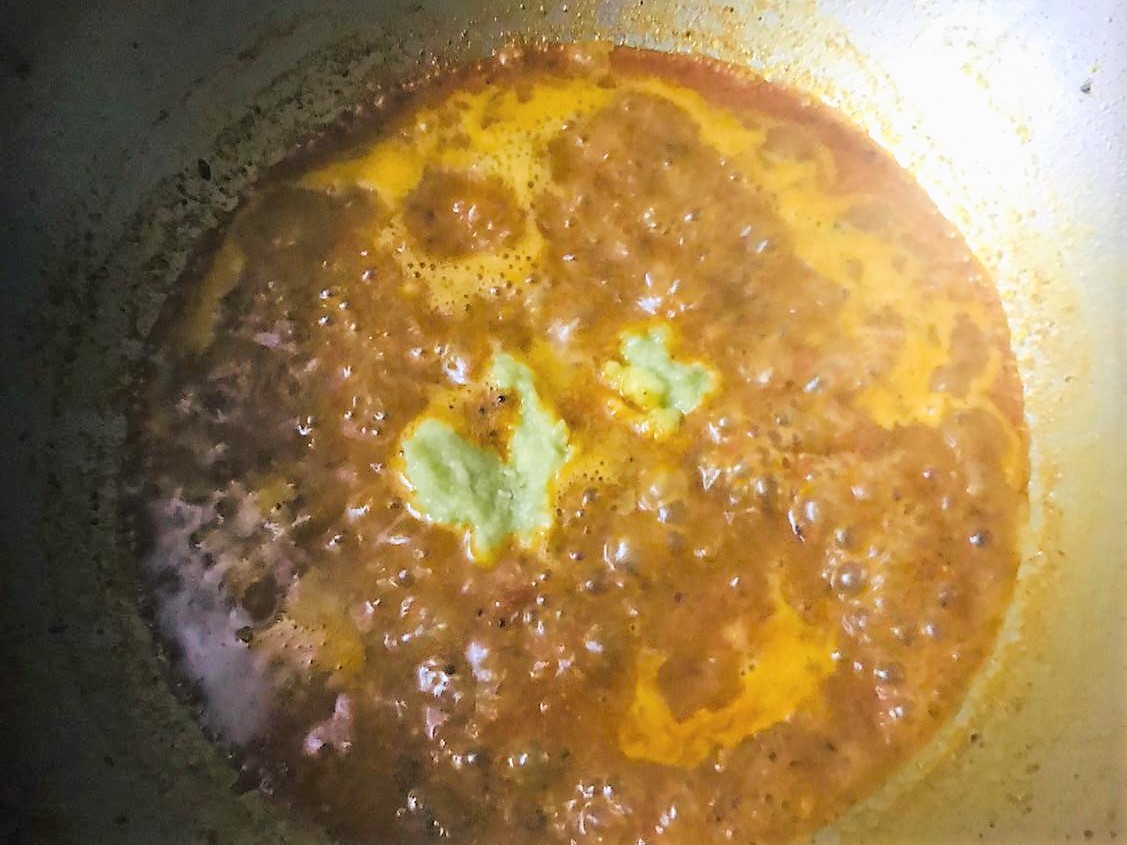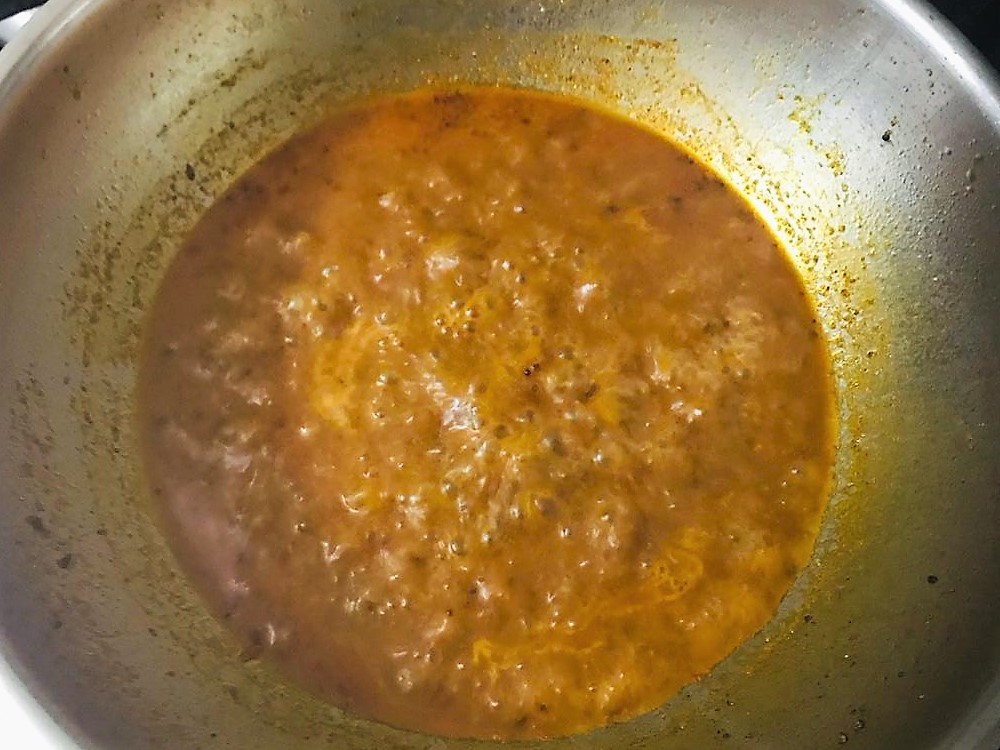 Add ¼ cup water, garam masala and misal pav masala. Let the water come to boil and then add the chilli garlic paste and mix well. Finally add ½ cup water and cook it covered for 5-6 minutes.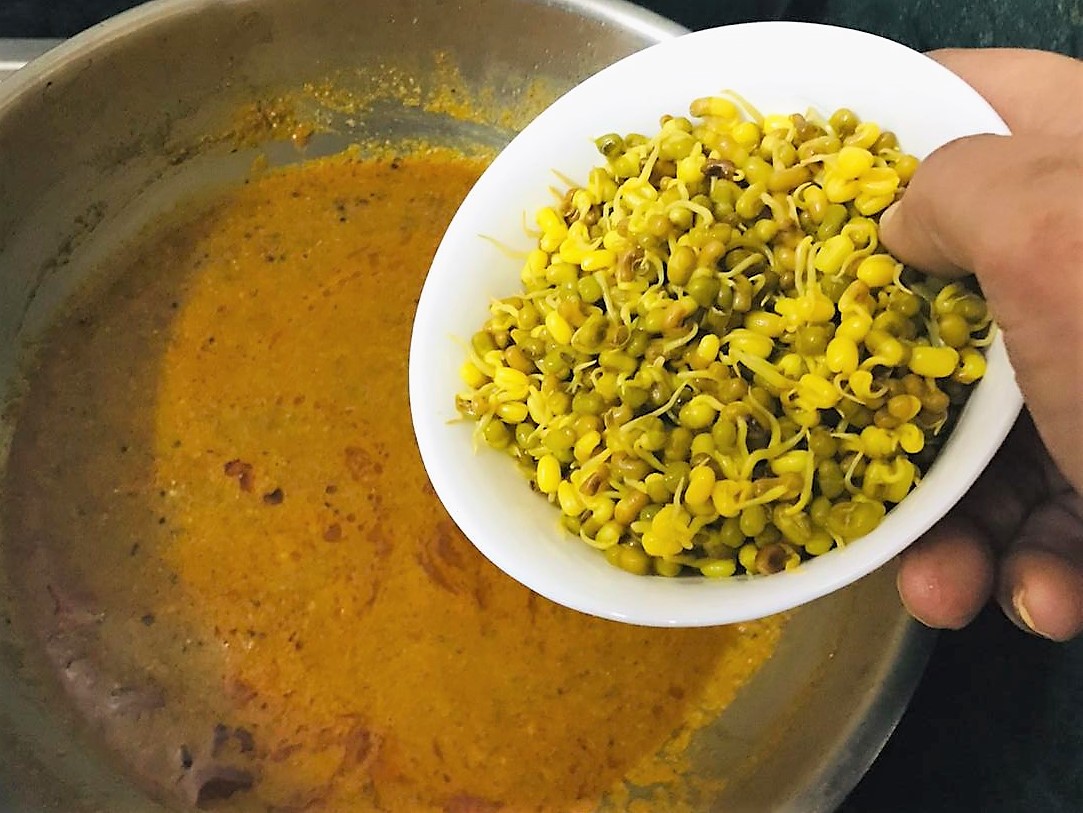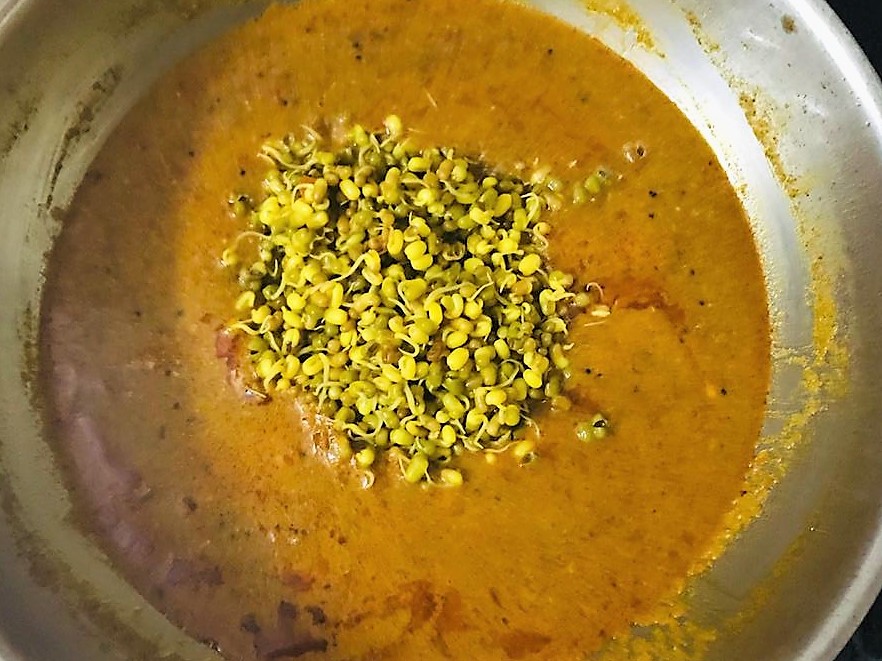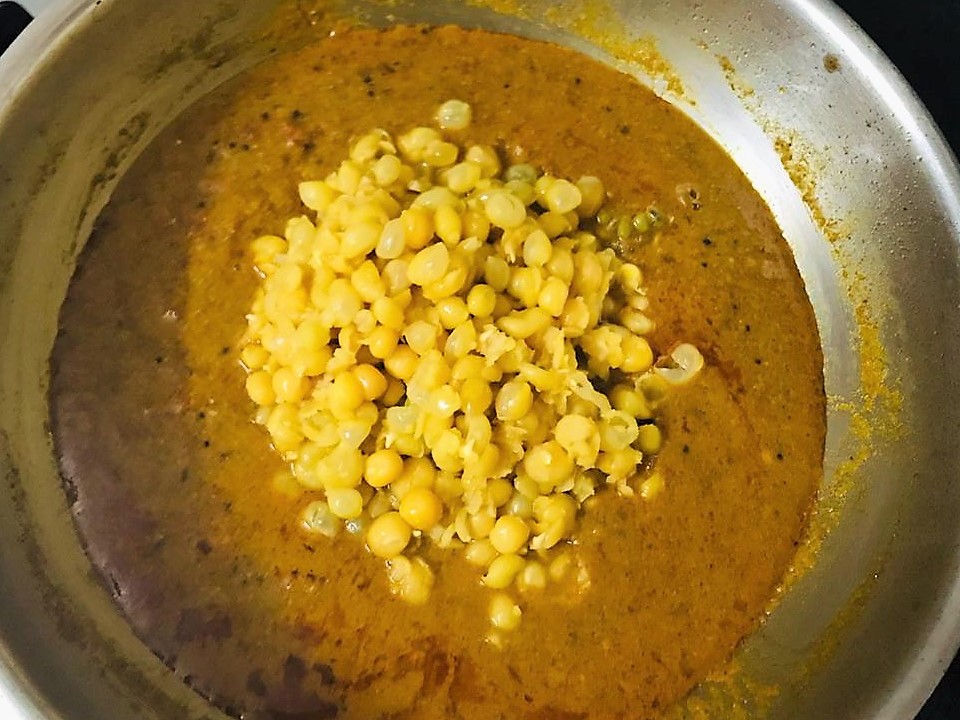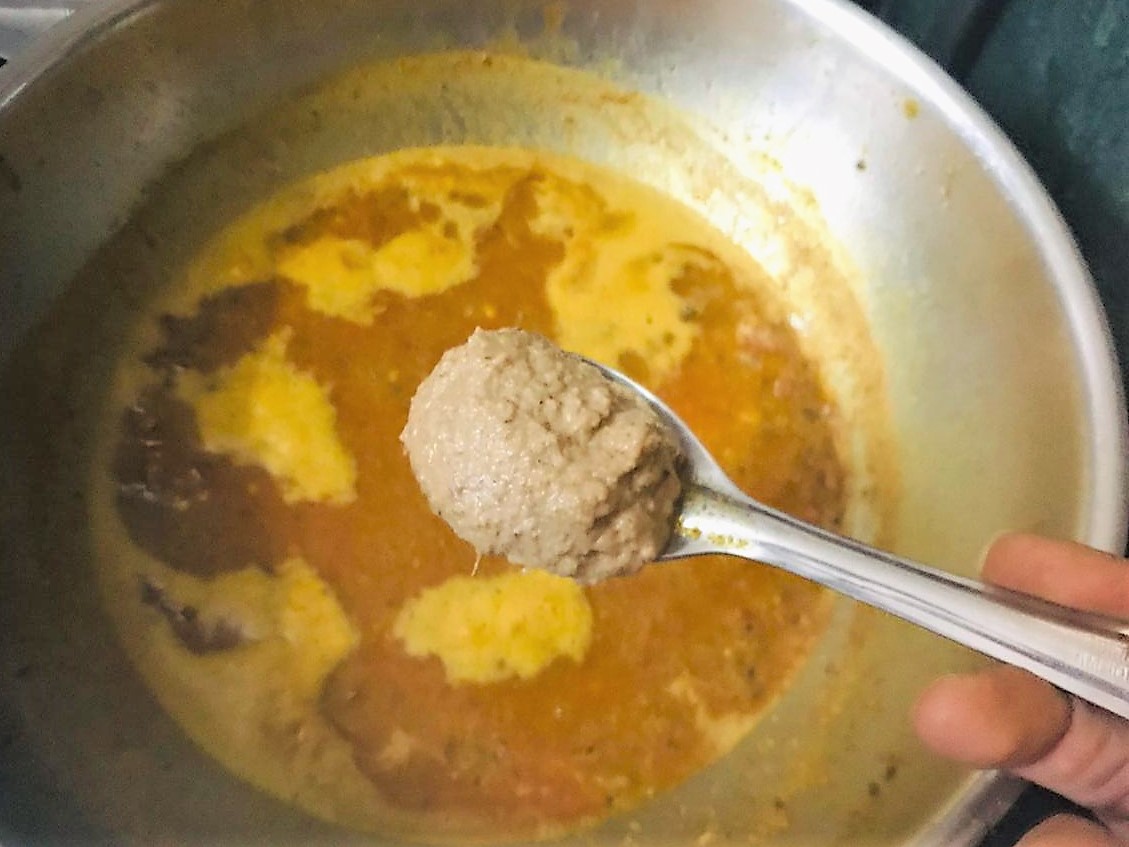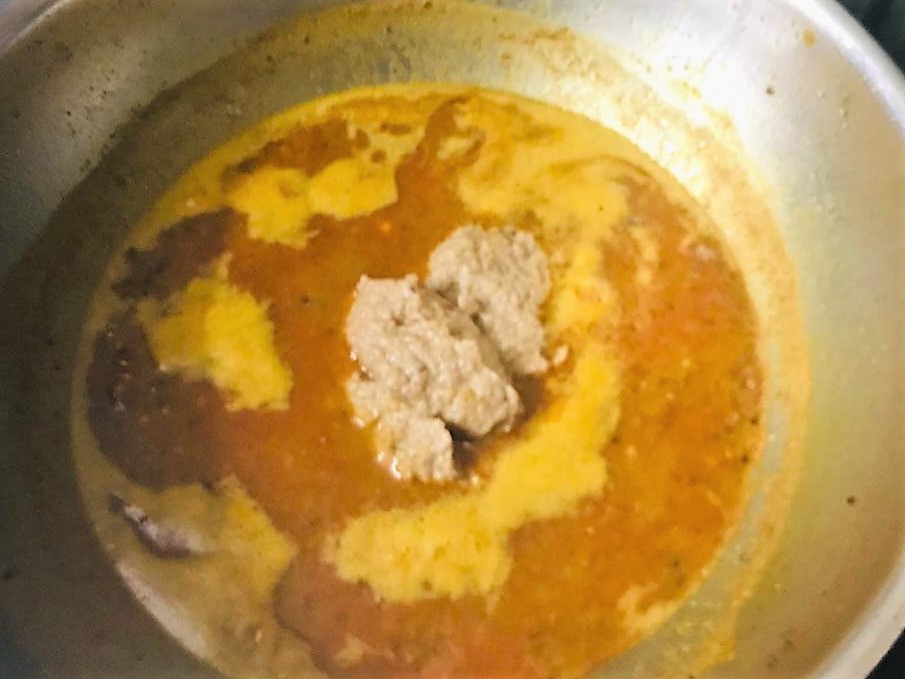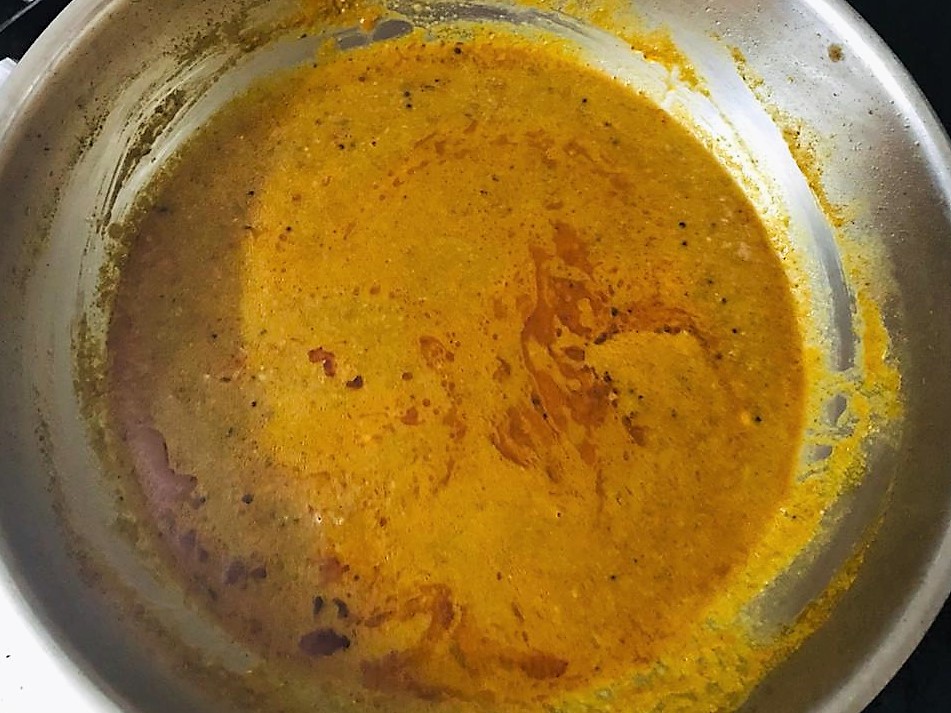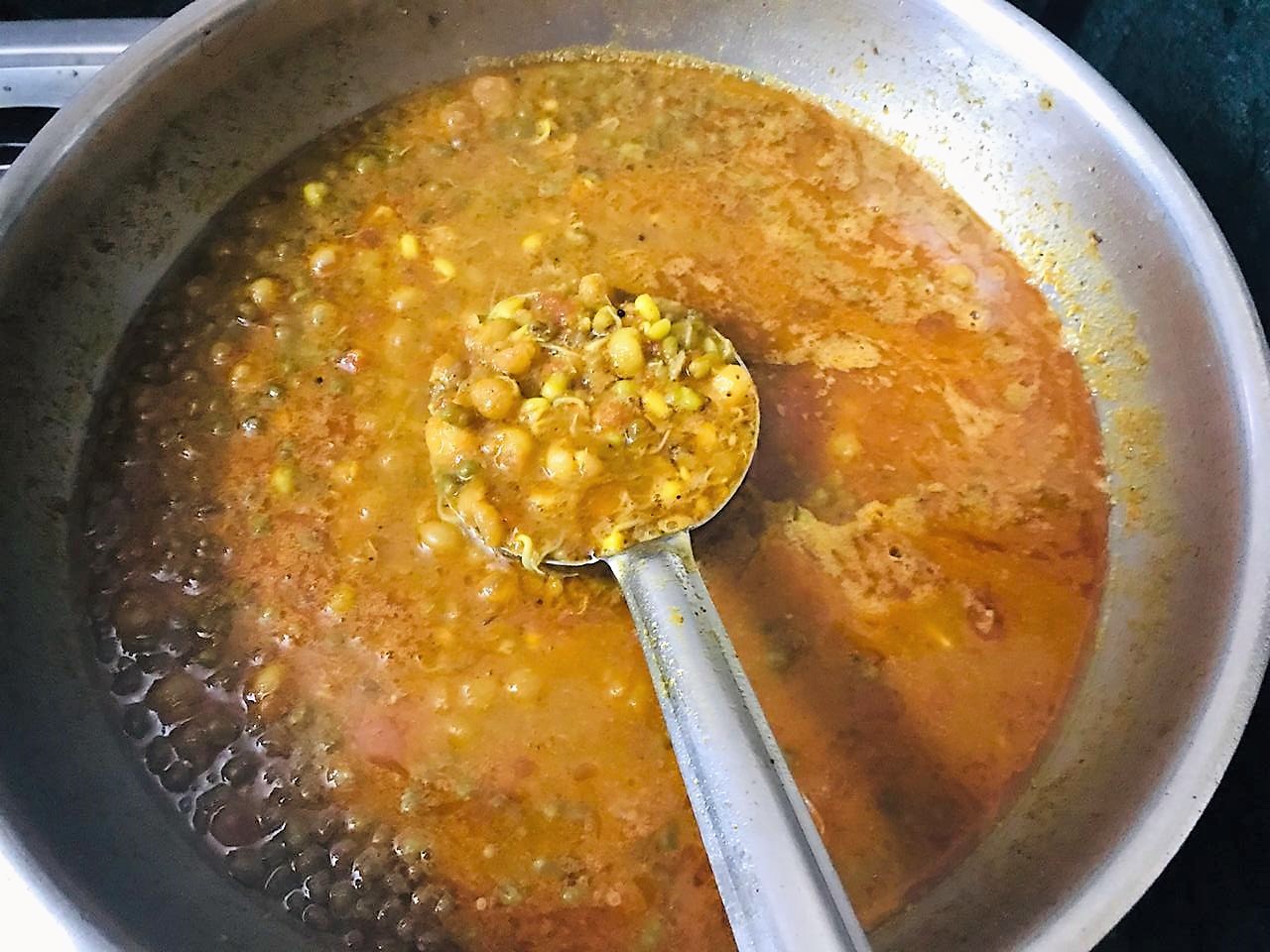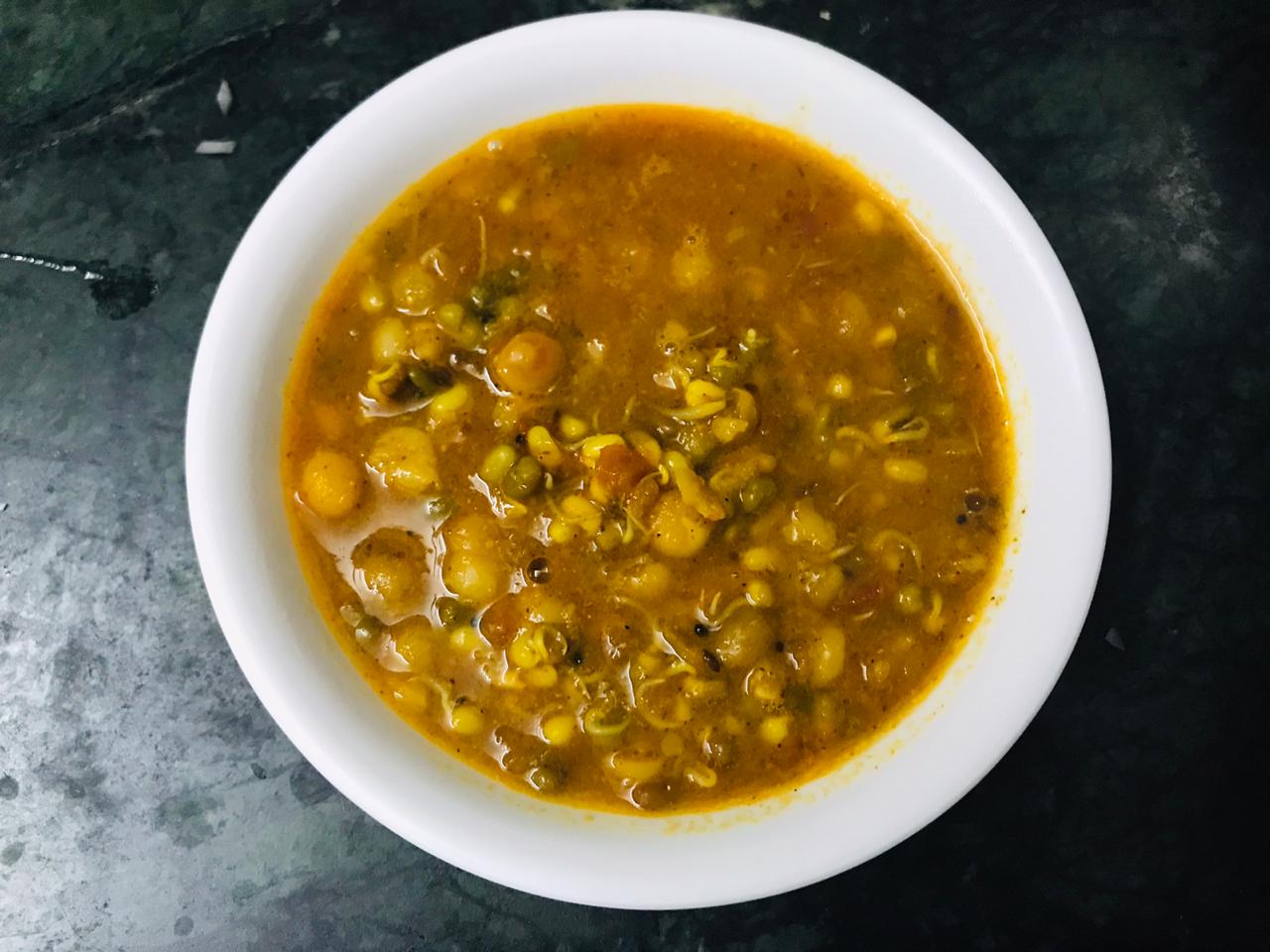 After 5-6 minutes add the boiled moong, moth, white peas, onion paste and cook for 5-7 minutes on medium heat. Add 1 cup of water if the gravy is too thick.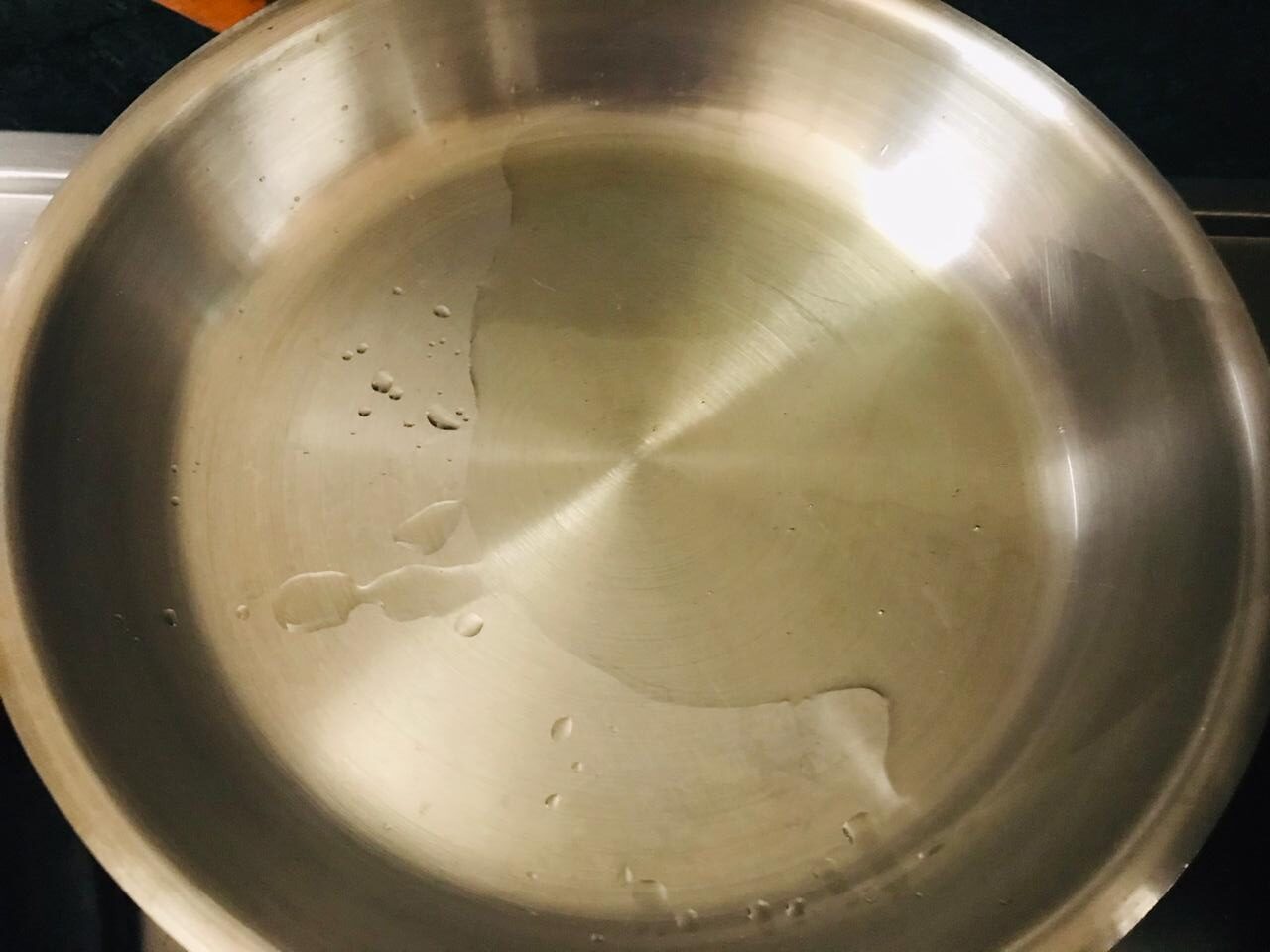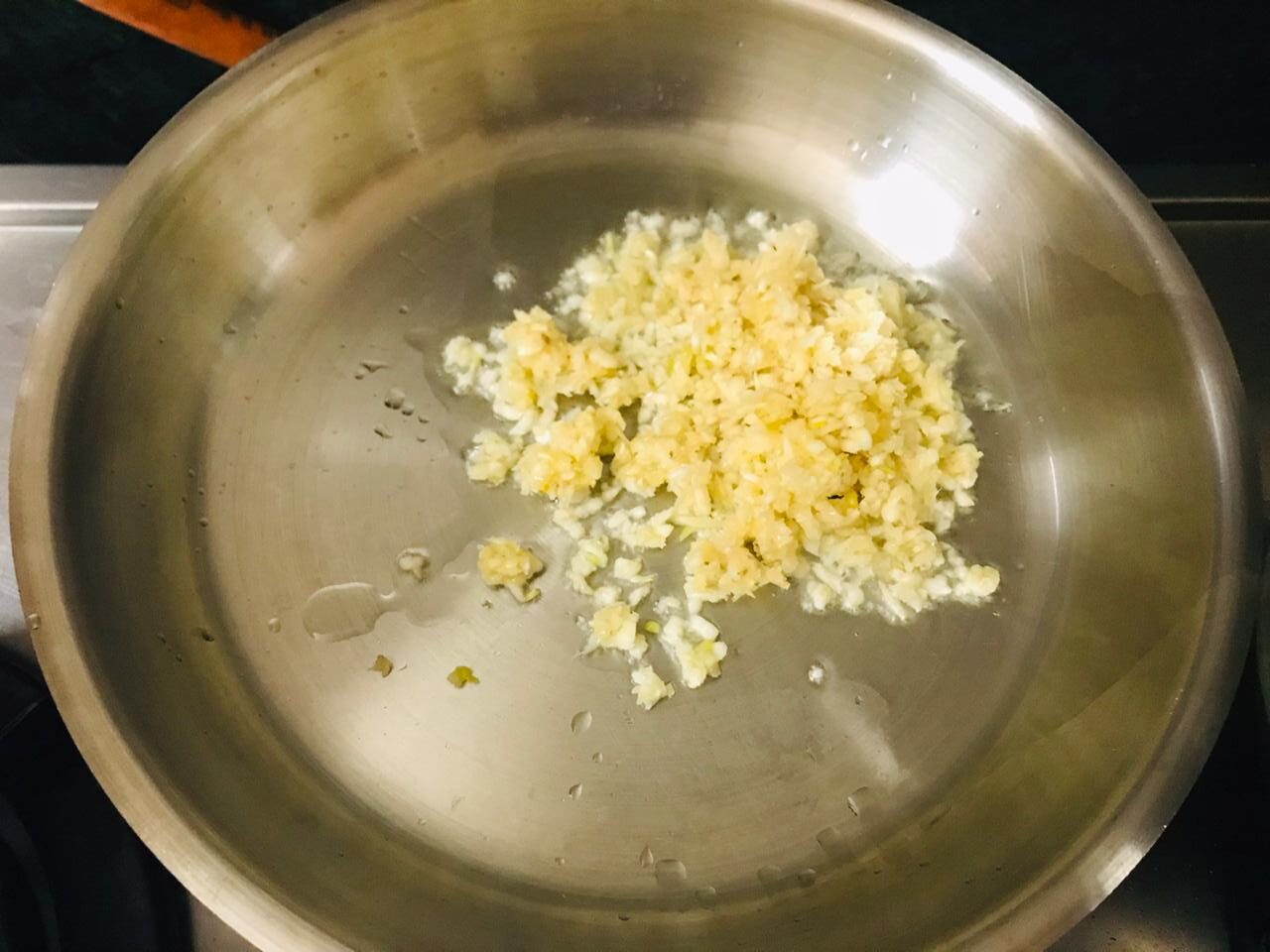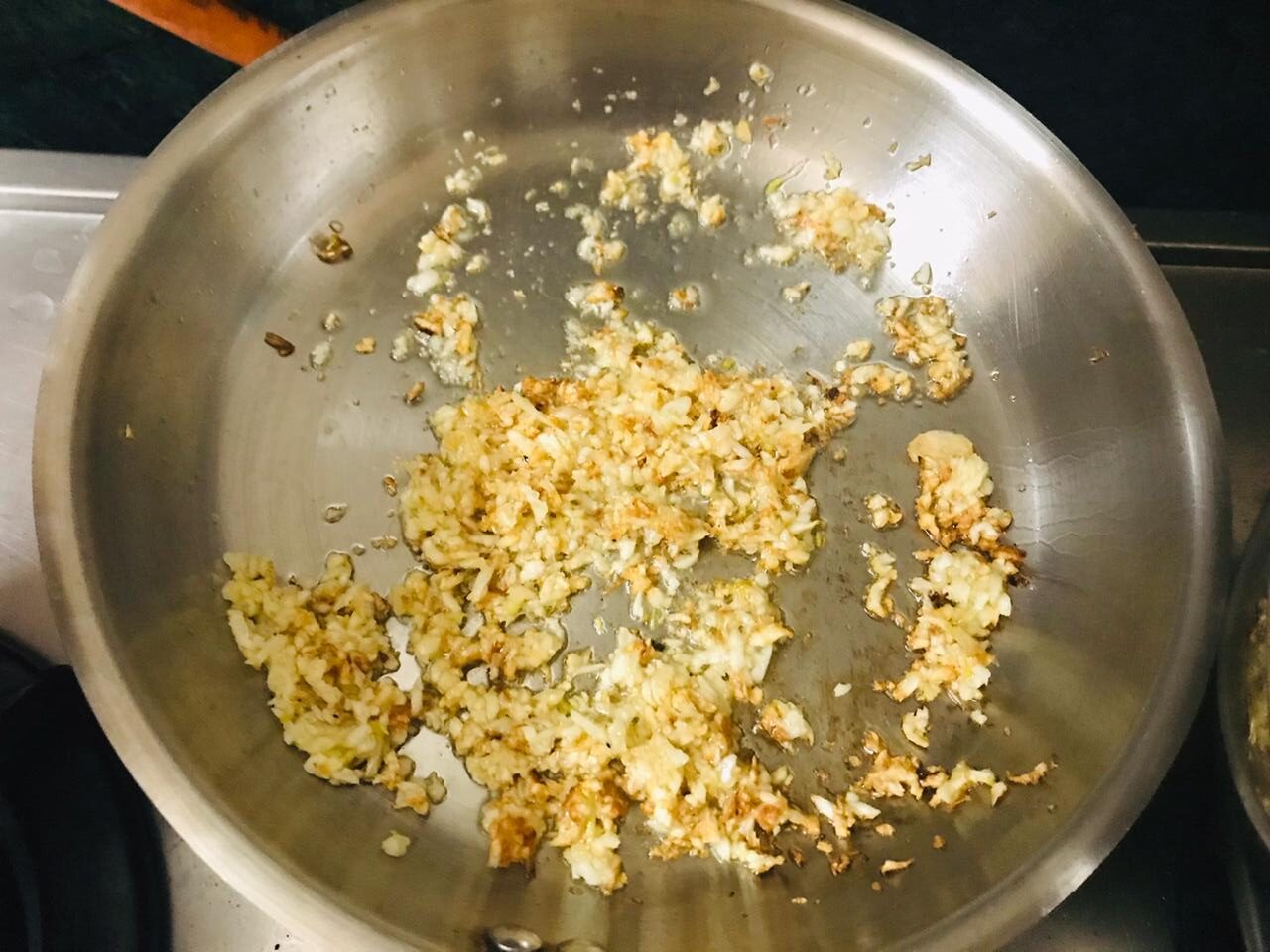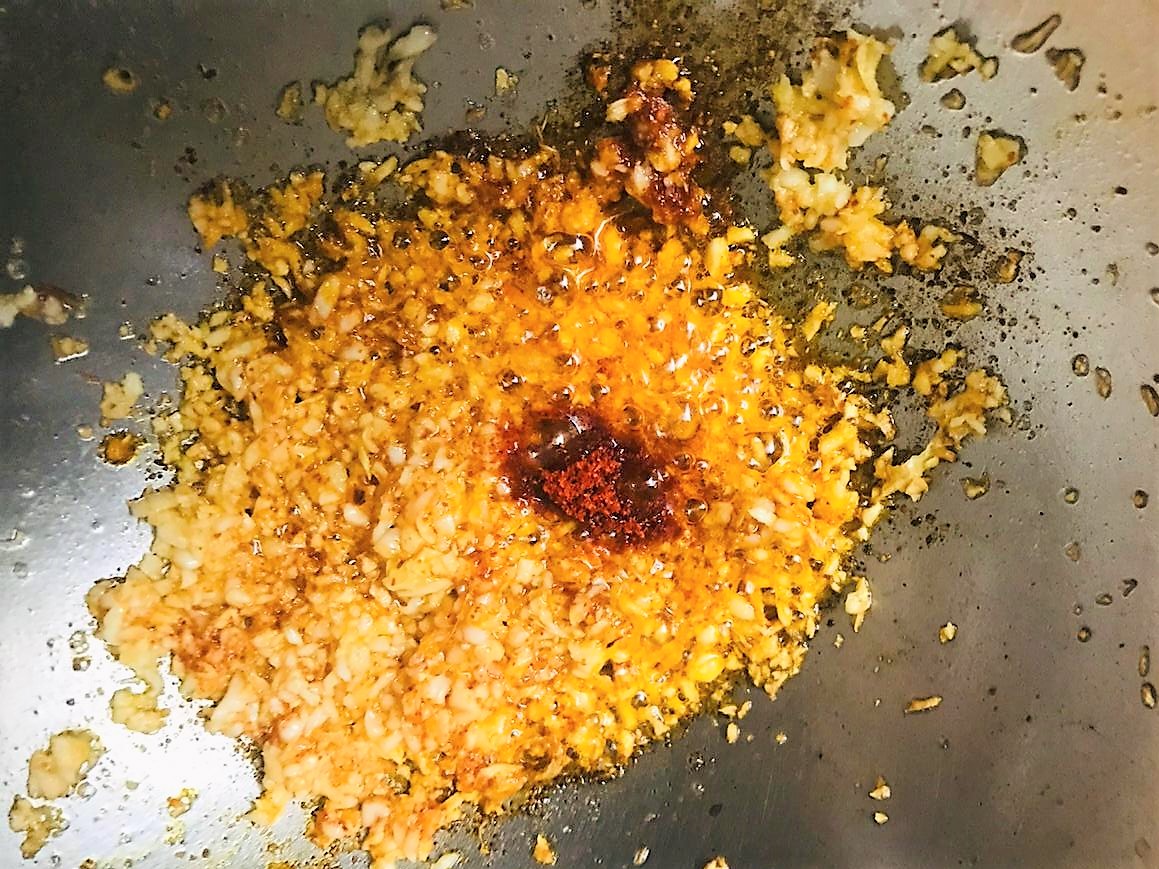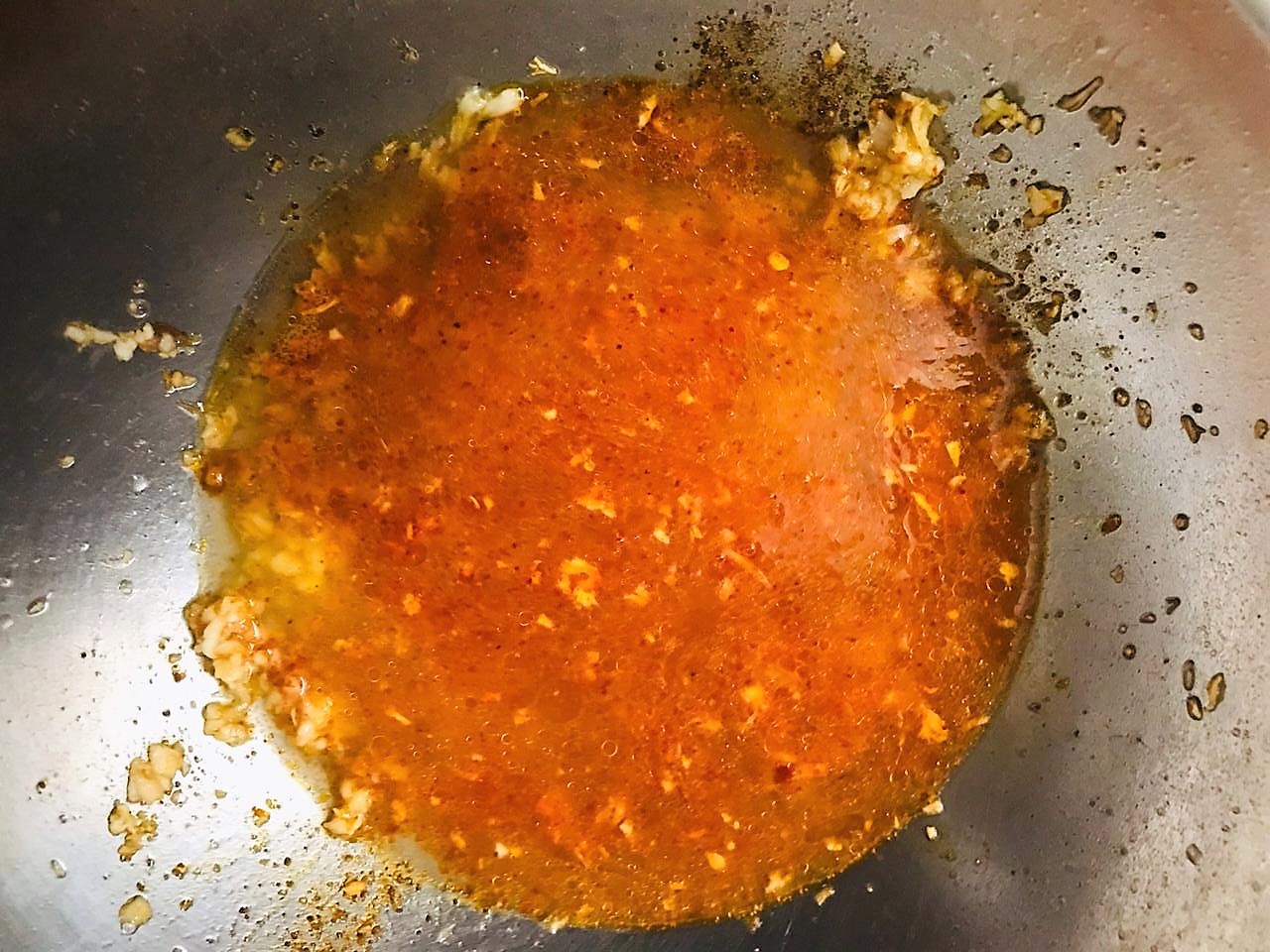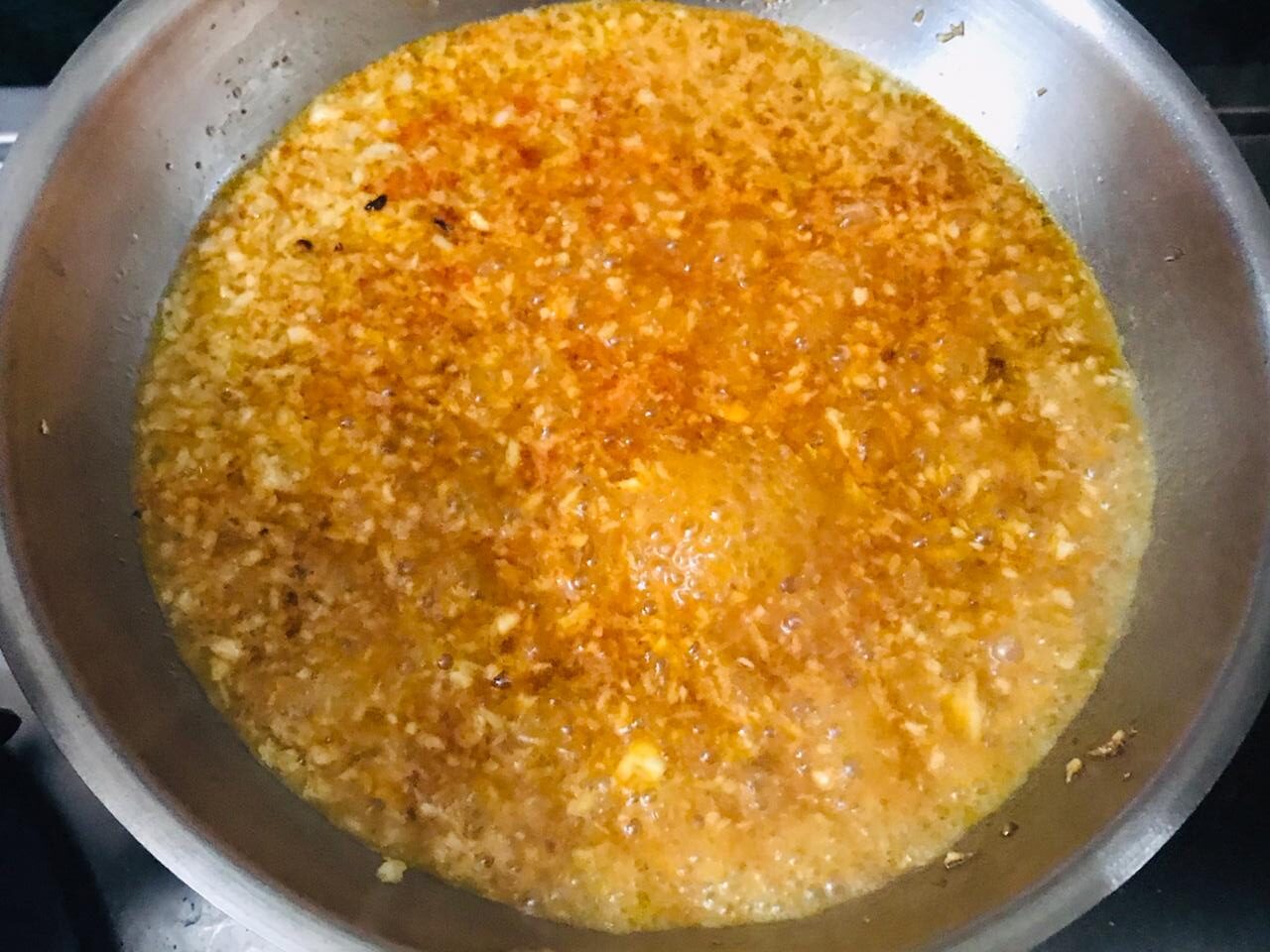 Garlic Tari/Gravy
Heat oil in a pan and add garlic. Sauté the garlic paste on low to medium heat until it turns golden in colour (3-4 minutes). Add salt and Kashmiri red chilli powder and sauté for a minute. Add 1 cup of water and cook it for 2 minutes. Switch off the heat and empty it in a serving bowl.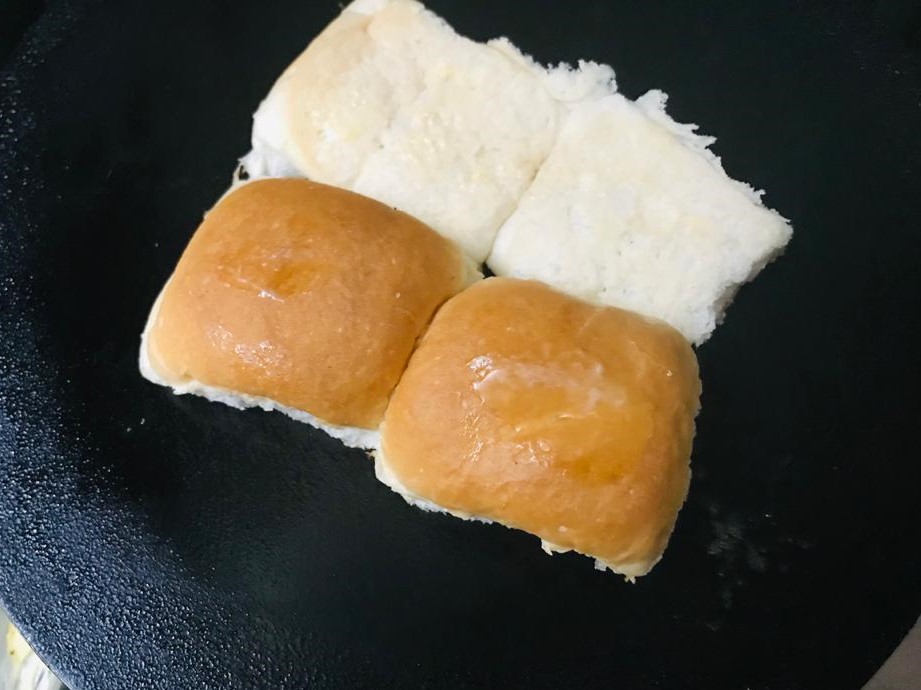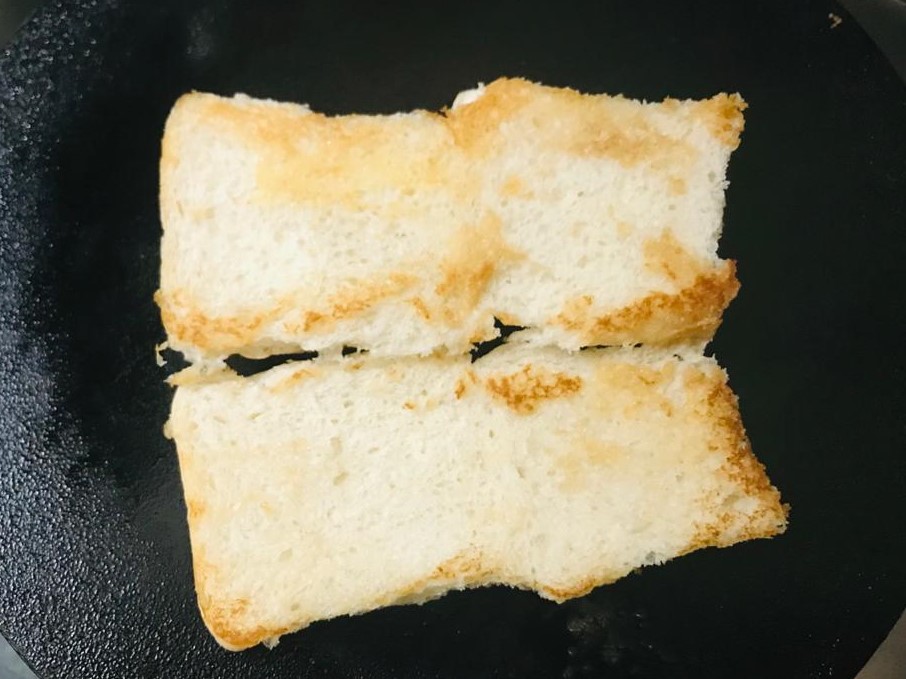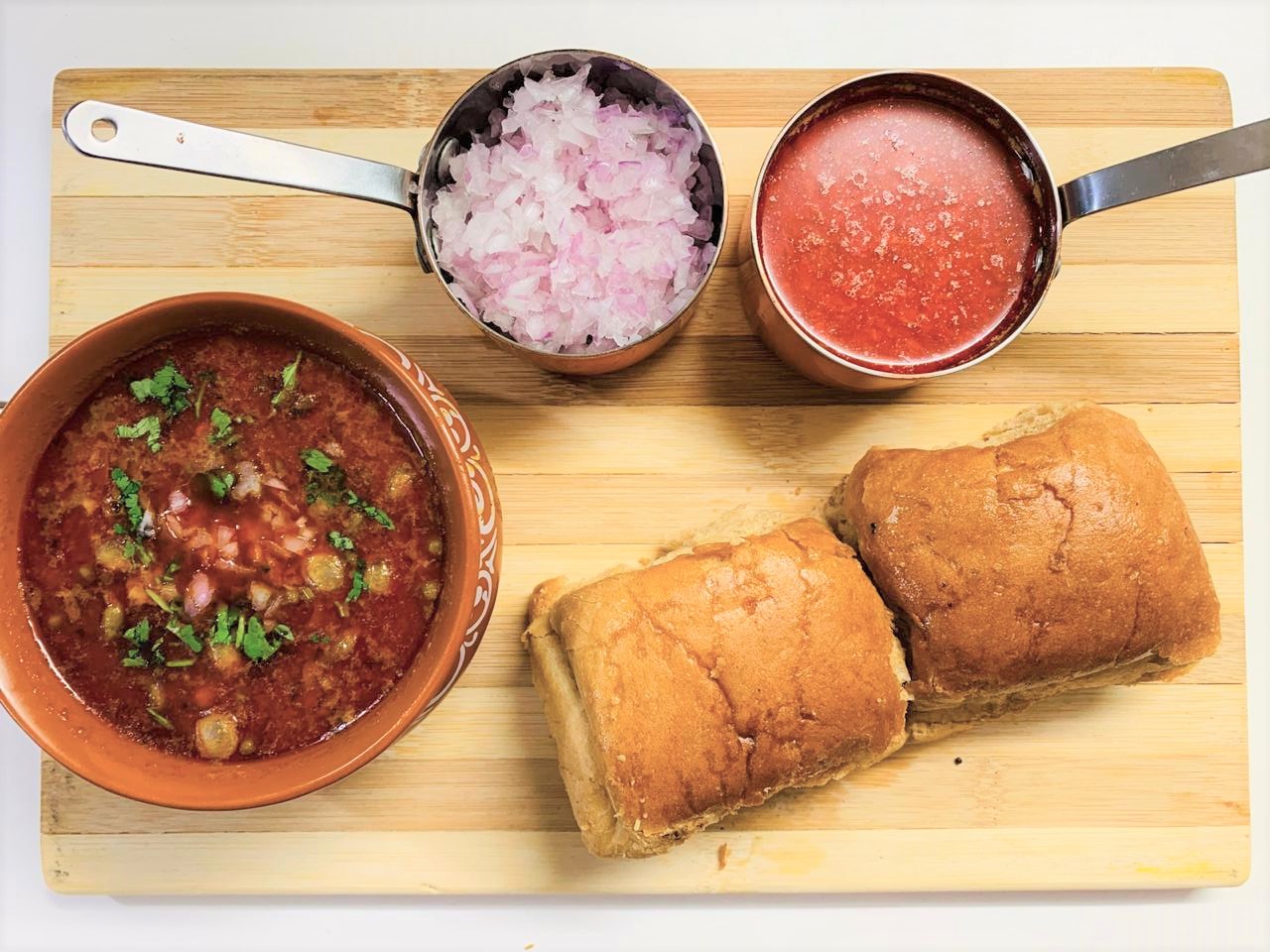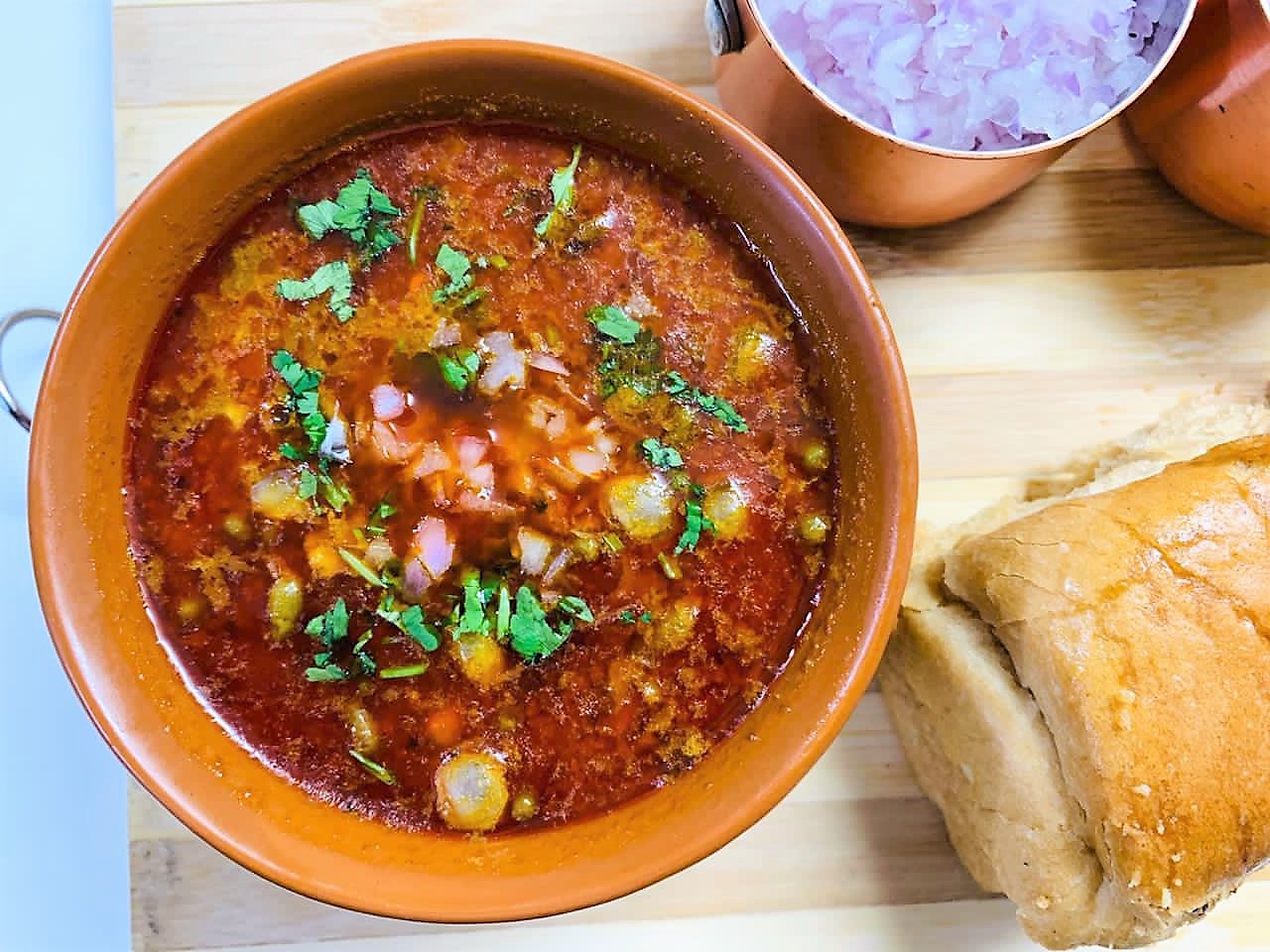 Heat a flat pan. Slice each pav into the half. Spread some butter on both sides of the sliced pav. Cook the buttered side on the hot pan for 1-2 minutes or until they are golden brown. Take off the heat.
Place the usal in a bowl, garnish it with coriander leaves. Serve it with garlic curry, pav and finely chopped onions.