Taro Nest
Taro nest is a Indo-Chinese dish. Once it appears on the table, it disappears with lightning speed because it is just that tasty.
Growing up, my absolute favourite cuisine for eating out was Indo-Chinese dishes. So, what is Indo-Chinese exactly? It is Chinese food adapted to Indian tastes, or marriage of Chinese ingredients like soy sauce and vinegar with garlic, ginger, and chilli. Indo-Chinese cuisine originated in India and is a uniquely South Asian phenomenon, drastically different from the Cantonese Chinese cuisine available in the rest of the world.
The most popular vegetarian Indo-Chinese dishes are vegetable manchurian, hakka noodles, chilli paneer, American chopsuey and fried rice amongst a whole array of other dishes.
I have distinct memory of eating 'taro nest' at a Chinese restaurant maybe 25-30 years ago. I had gone out for Indo-Chinese dinner with my family and we ordered 'Taro nest' as it was a new dish on the menu at our favourite Chinese restaurant. It was so delicious that we went back quite a few times just for this dish.
I taught this dish to an old friend few years ago for a special event and it was a huge success. Although our friendship has parted ways this dish holds a special place in my heart owing to the beautiful memories of time spent with my family while relishing this dish and also of the day I spent teaching this dish to an old friend.
Traditionally in China, grated 'taro' is formed into nests, deep fried to a delicious crisp and used as the base for fillings. I had eaten it with noodles hence I have used noodles as the base for the nest.
Ingredients
150 gm medium noodles
3 tablespoons cornflour
2/3 cup diced baby corn
2/3 cup diced carrots
2/3 cup diced peppers
2/3 cup bamboo shoots
2/3 cup diced onion
2/3 cup fine beans
1 cup quartered mushrooms
2-3 tablespoons finely chopped spring onions
3 tablespoons sesame seeds oil
1 ½ tablespoons ginger paste
1 tablespoon garlic paste
2 tablespoons green chillies paste
Salt to taste
Oil for frying
1 ½ cups water/vegetable stock
For Sauce
2 tablespoons dark soya sauce
1 teaspoon vinegar
1-2 teaspoon chilli sauce
½ teaspoon black pepper powder
1 teaspoon sugar
1-2 tablespoons cornflour slurry
Directions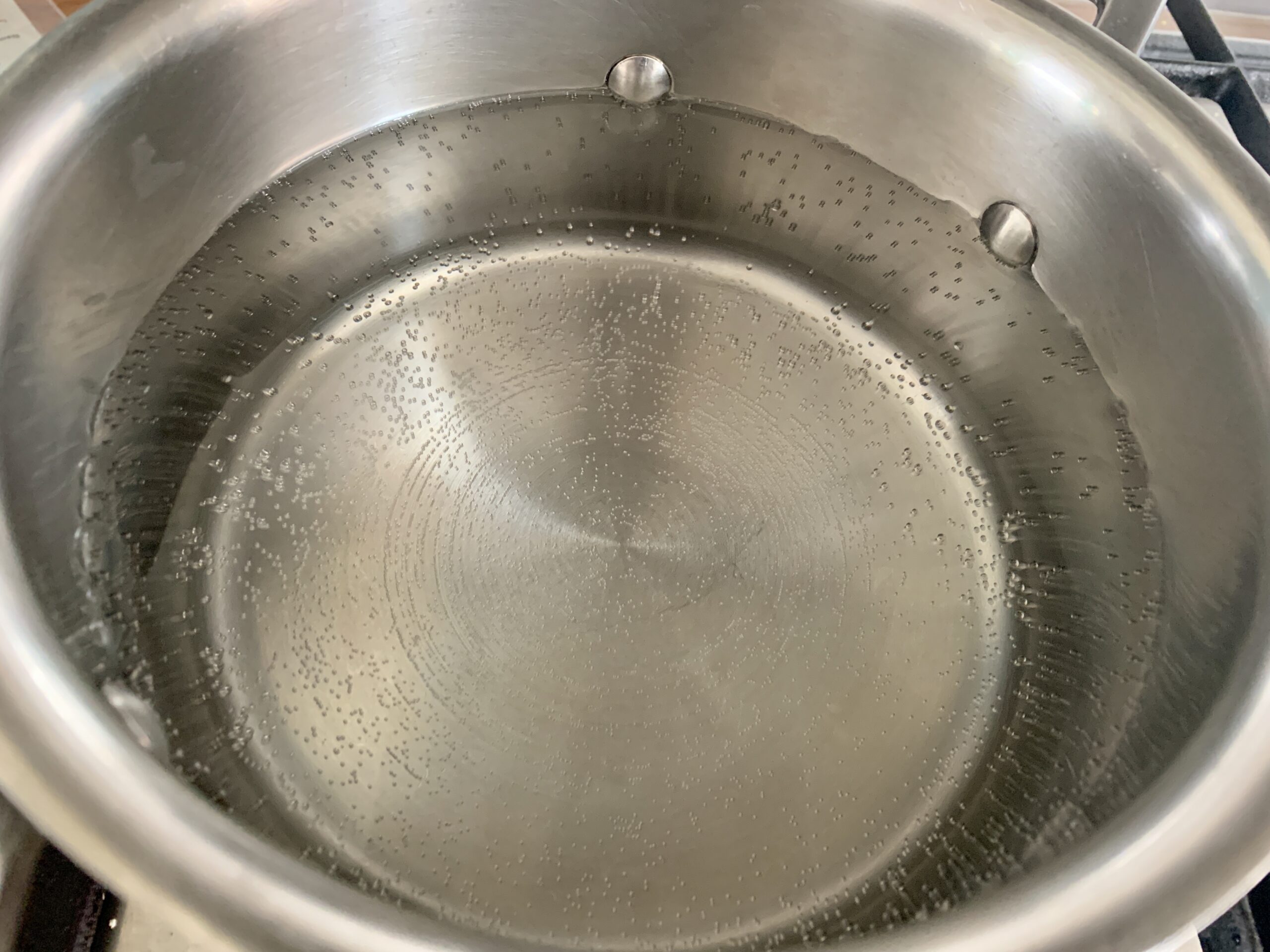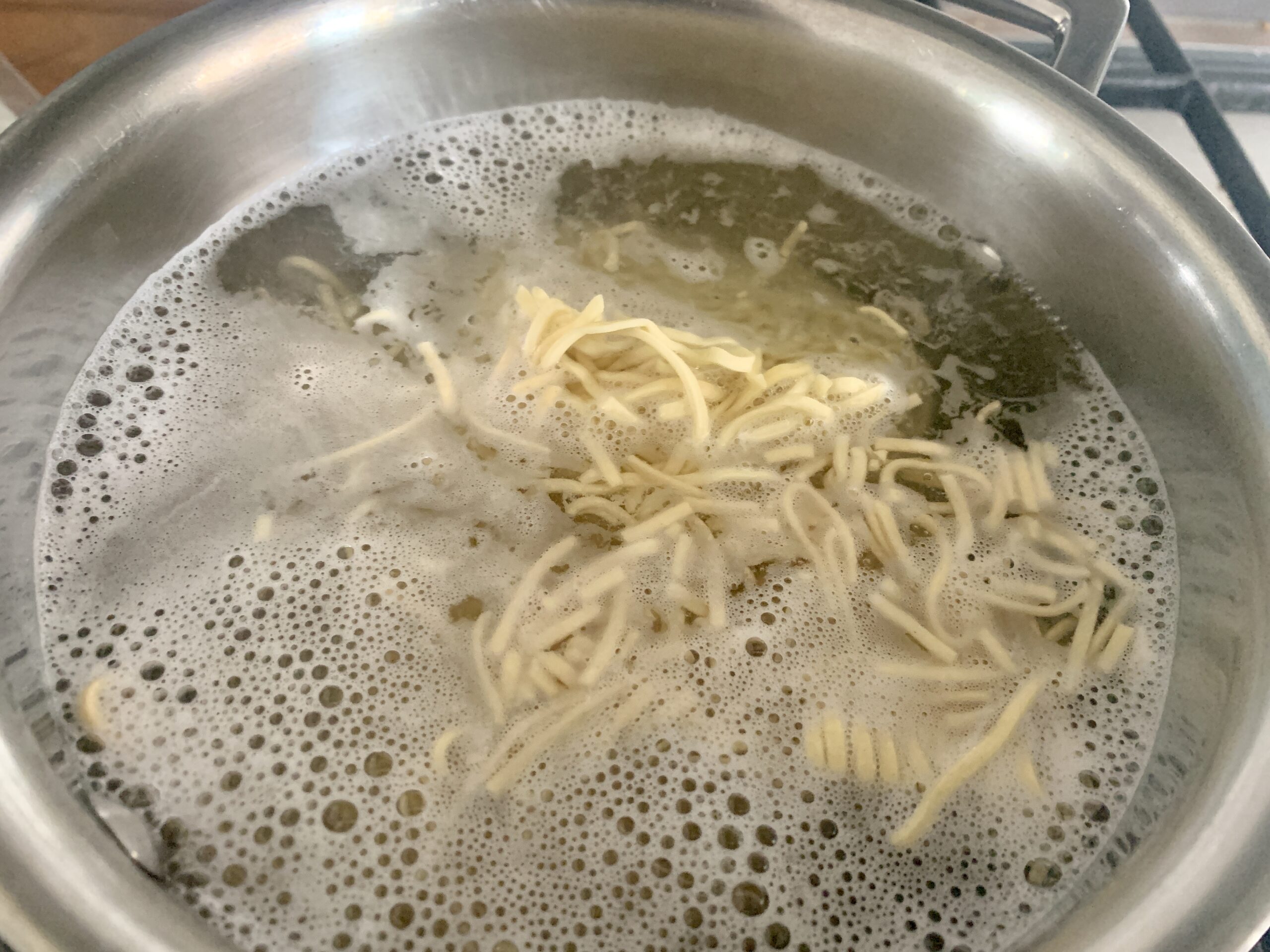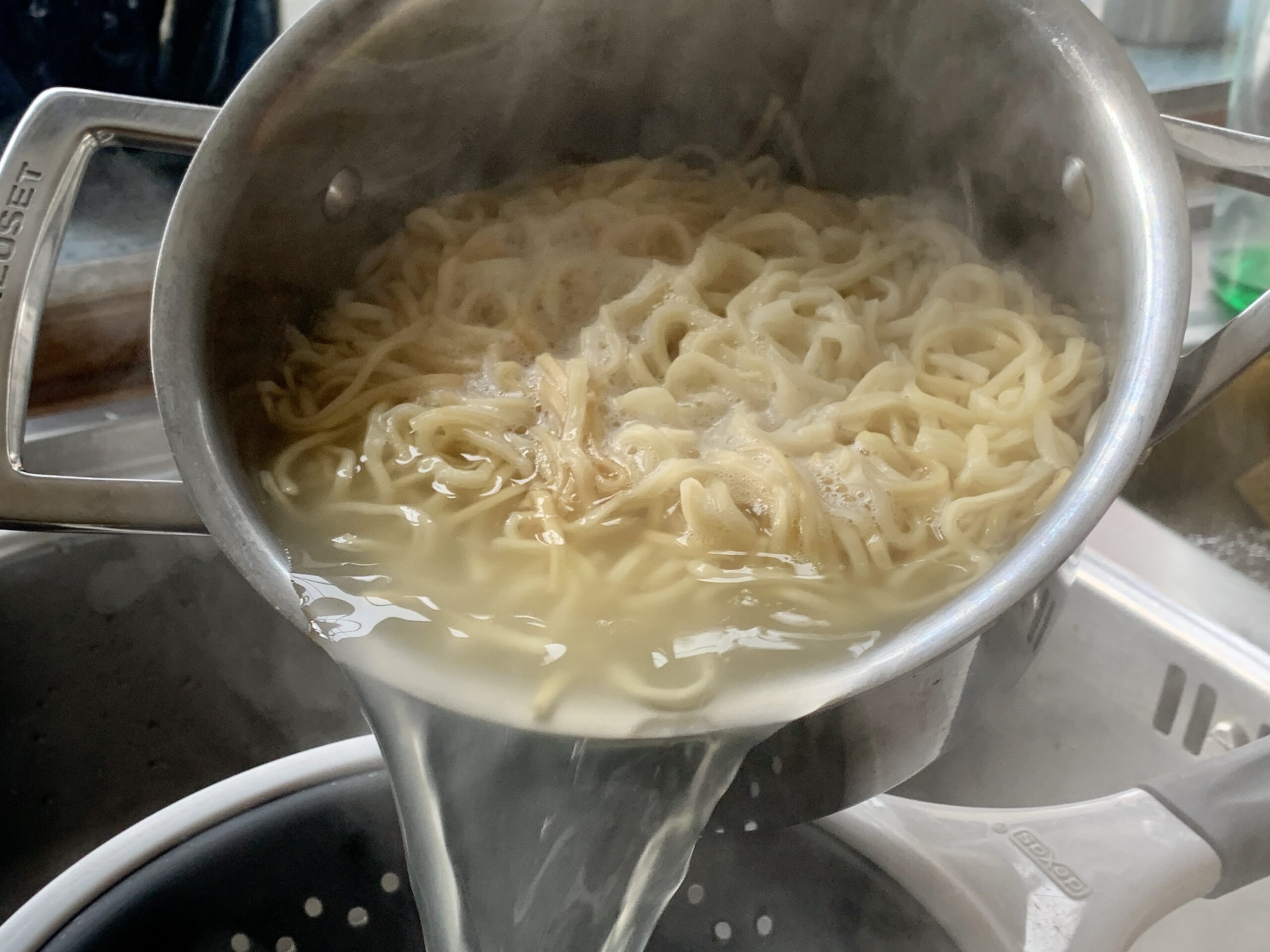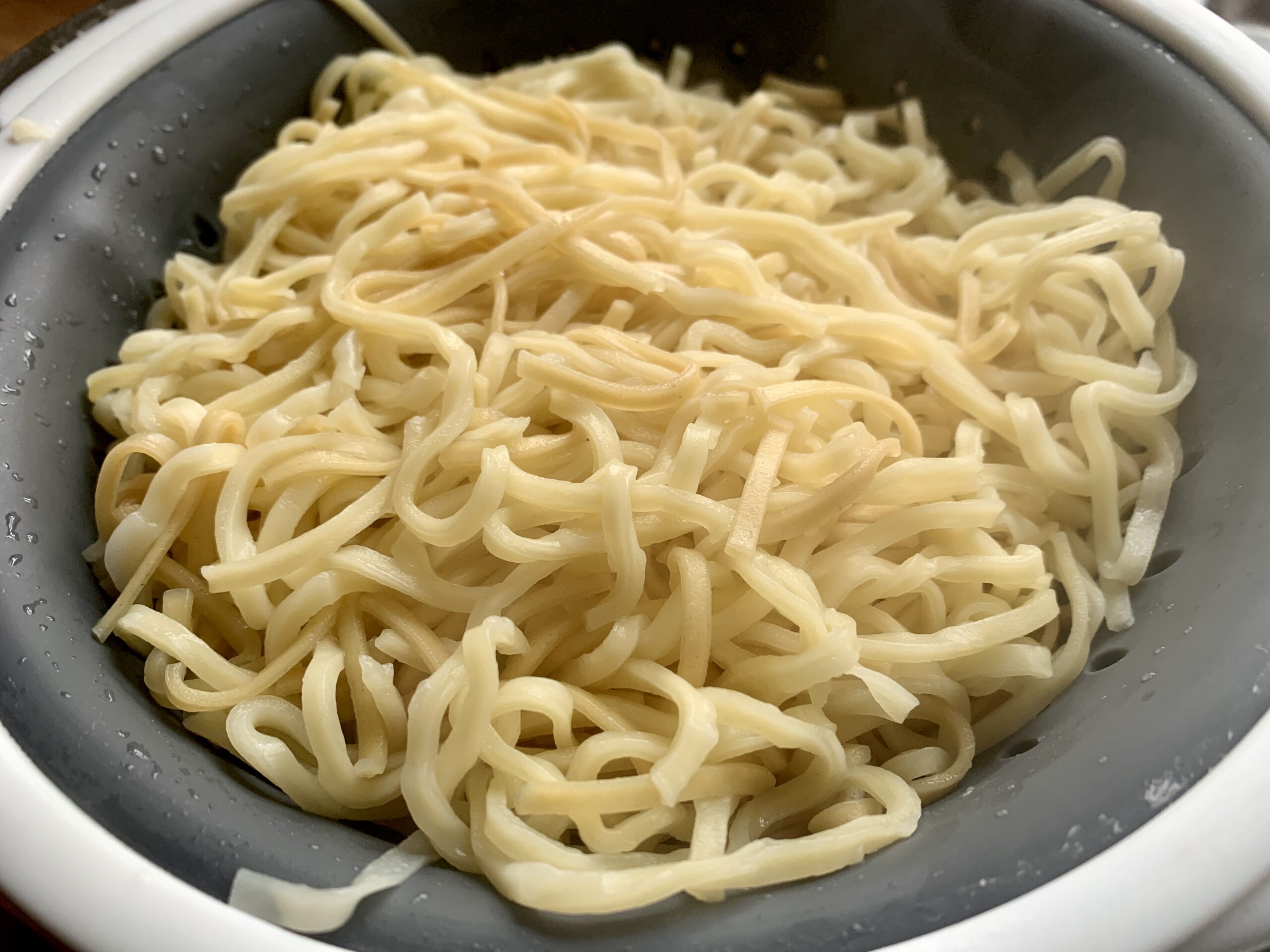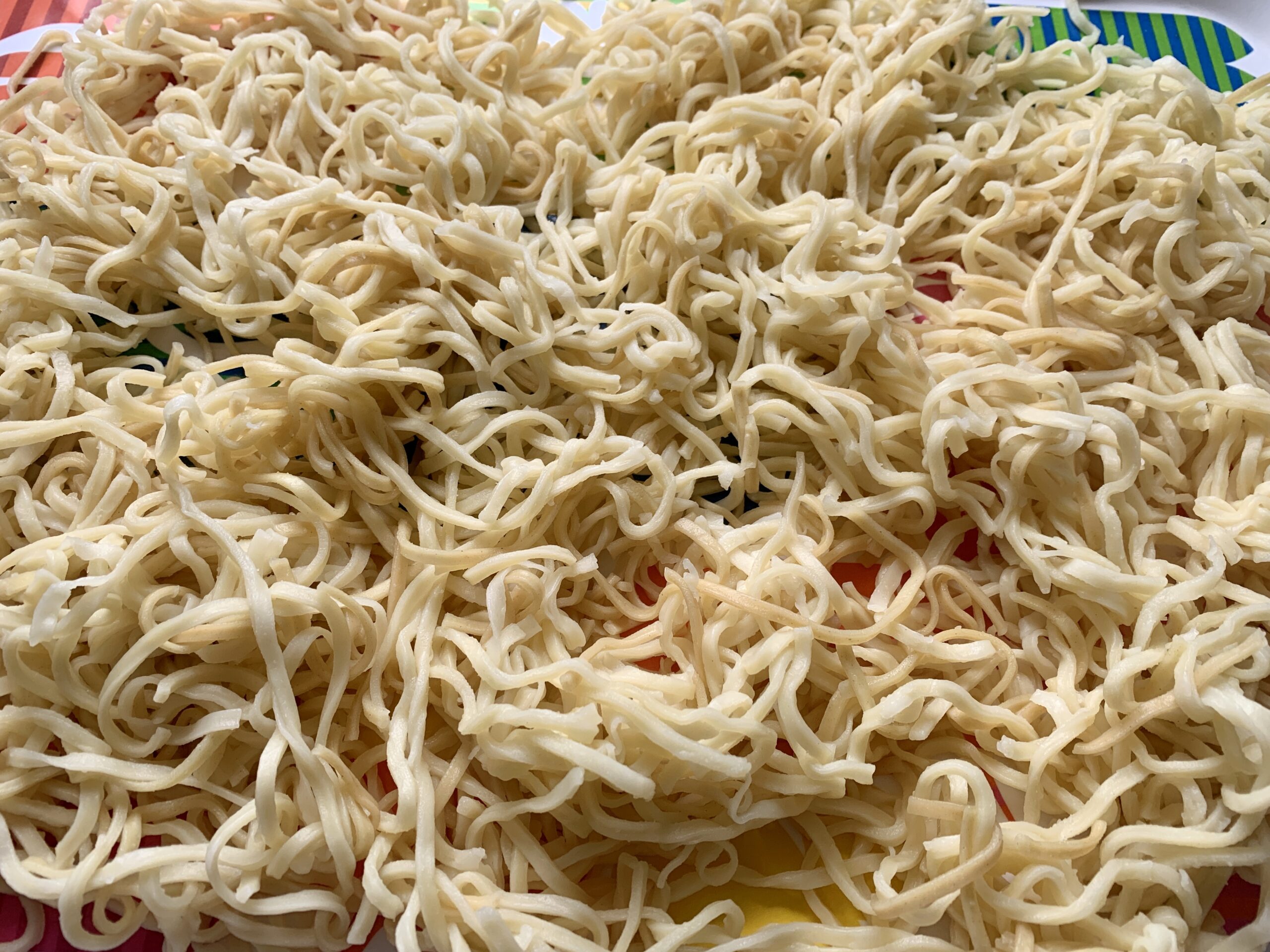 Boil noodles as per the instructions of the packet. Drain in a colander and then spread it out in a tray to cool.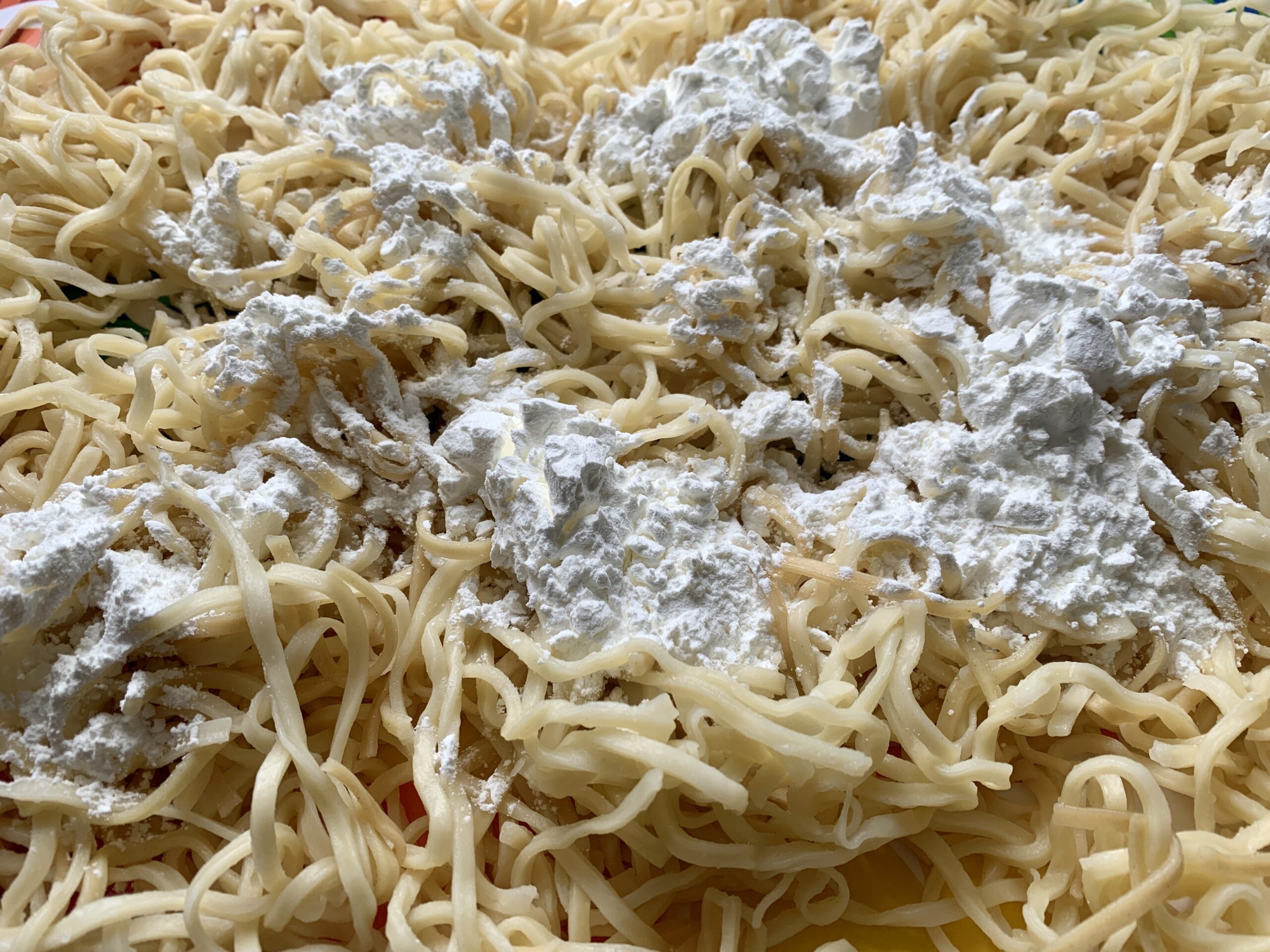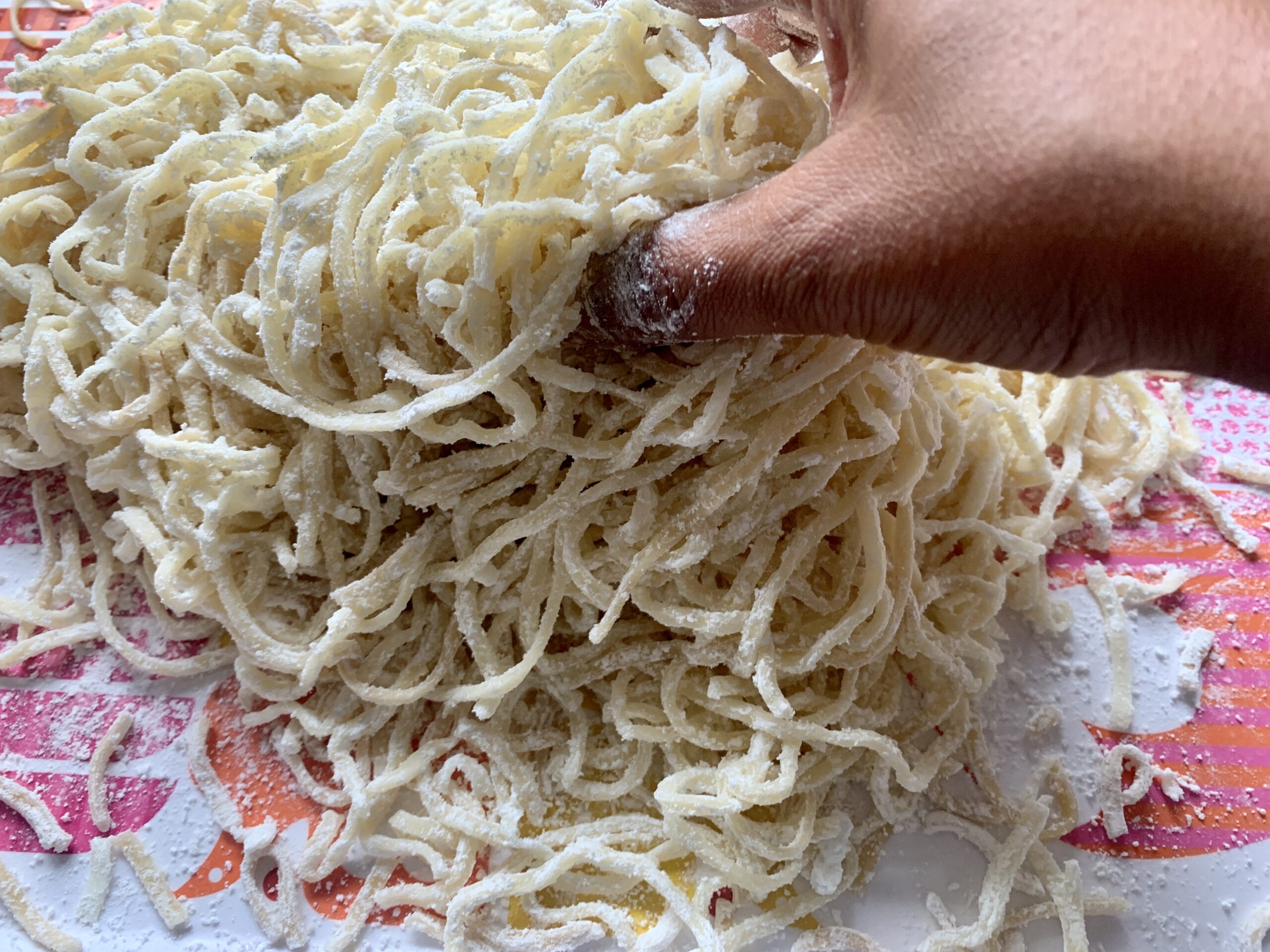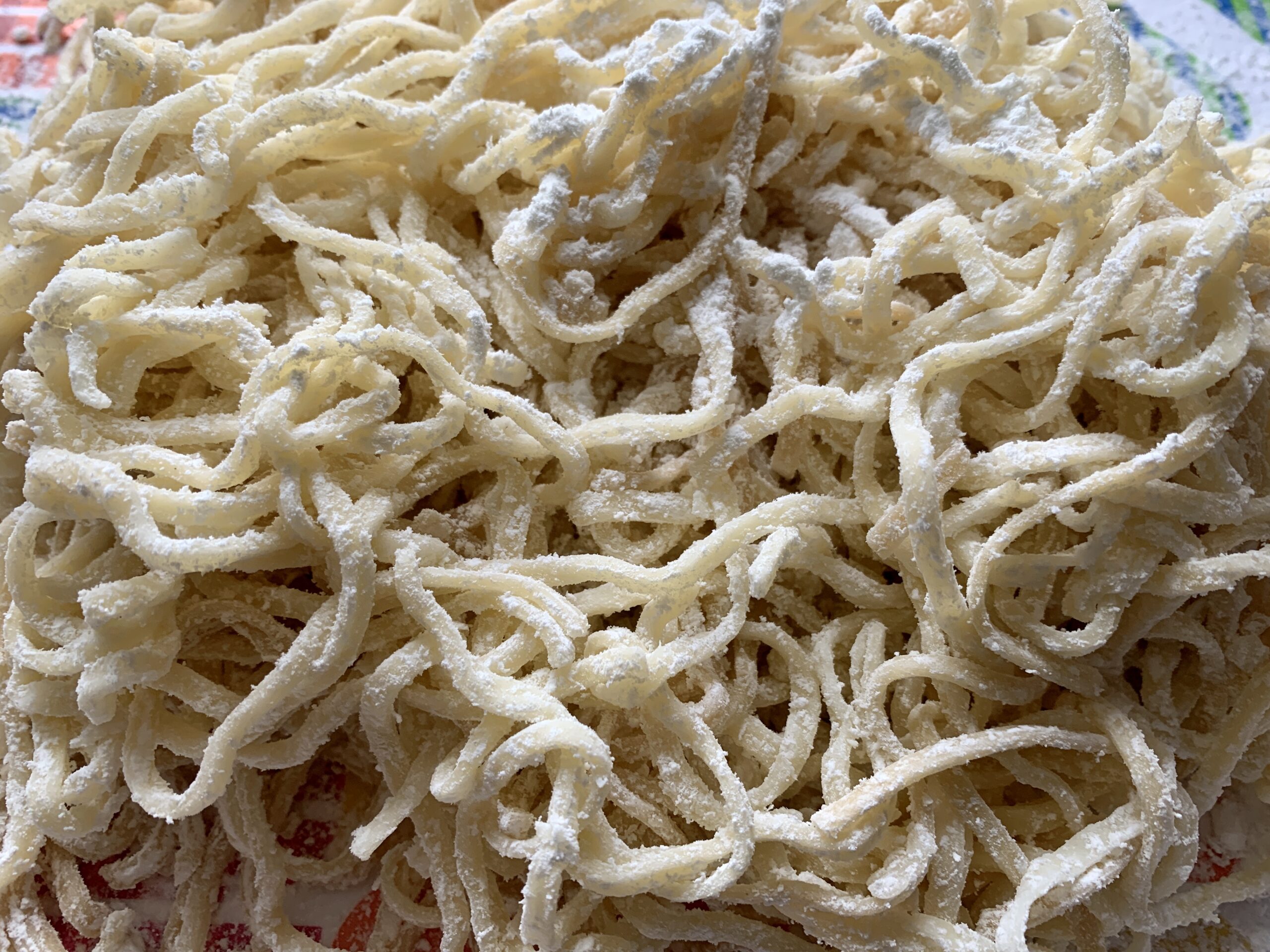 Once noodles are dry and cooled down, add 3 tablespoons cornflour, and coat the noodles evenly and leave aside.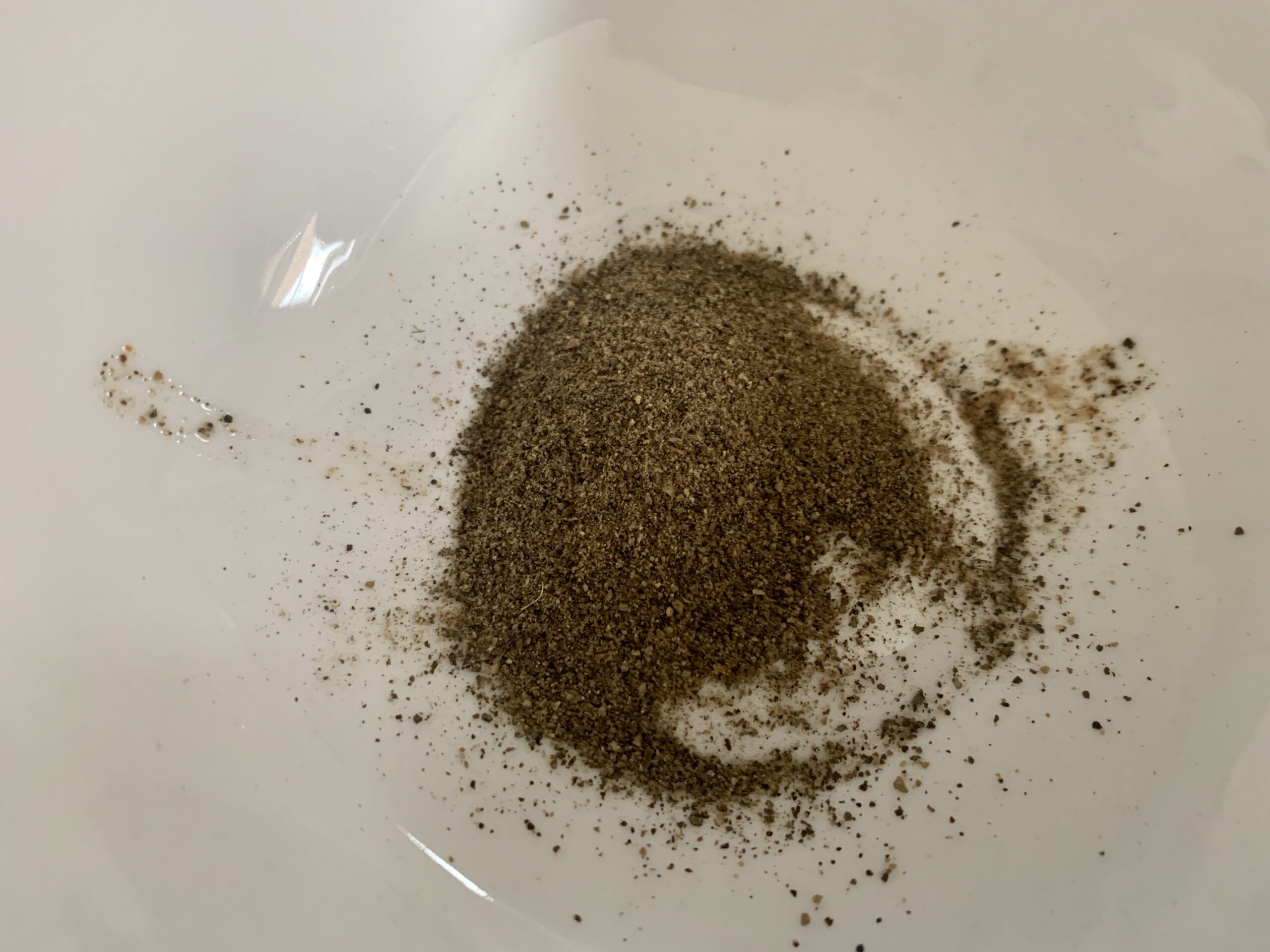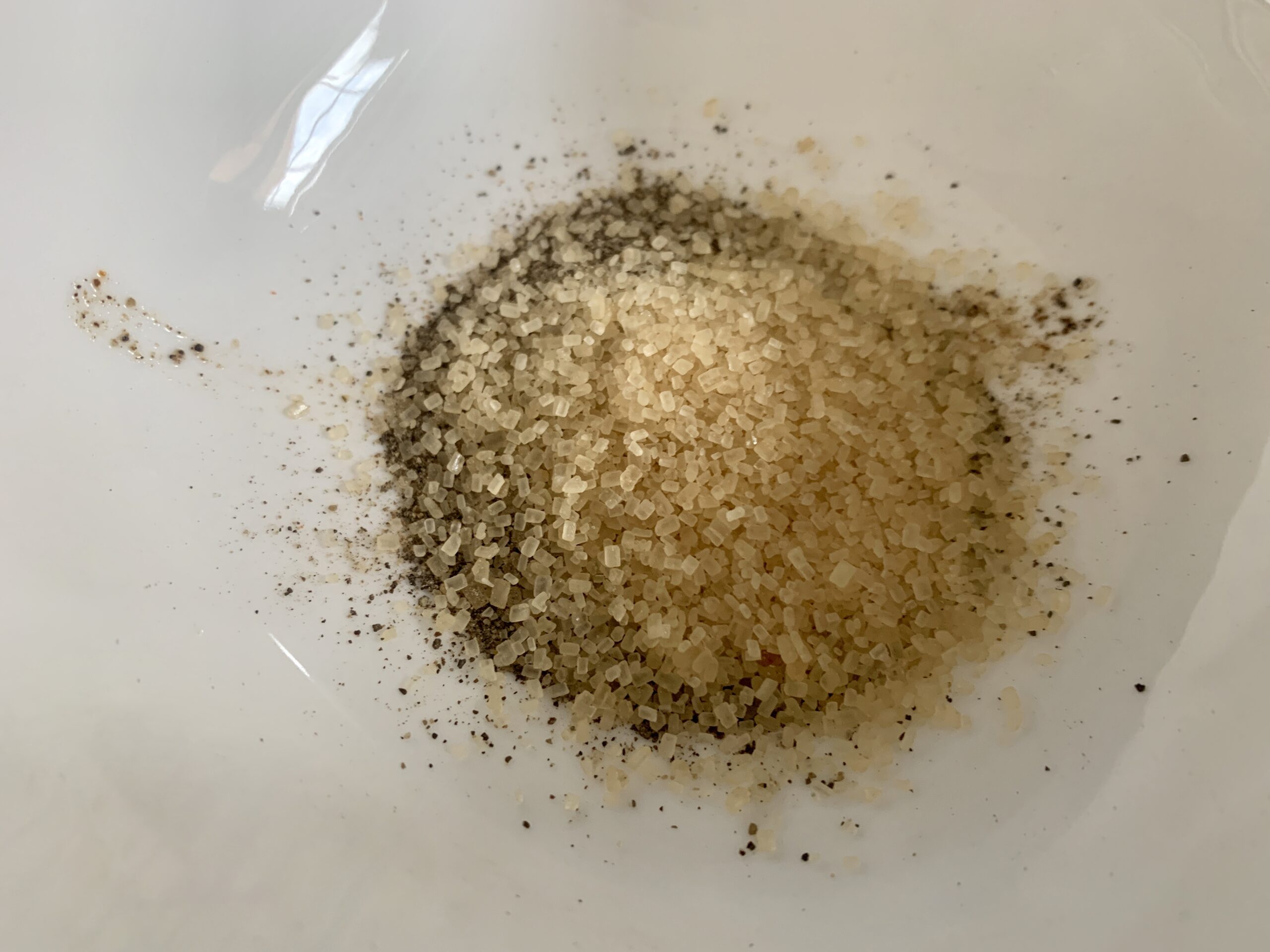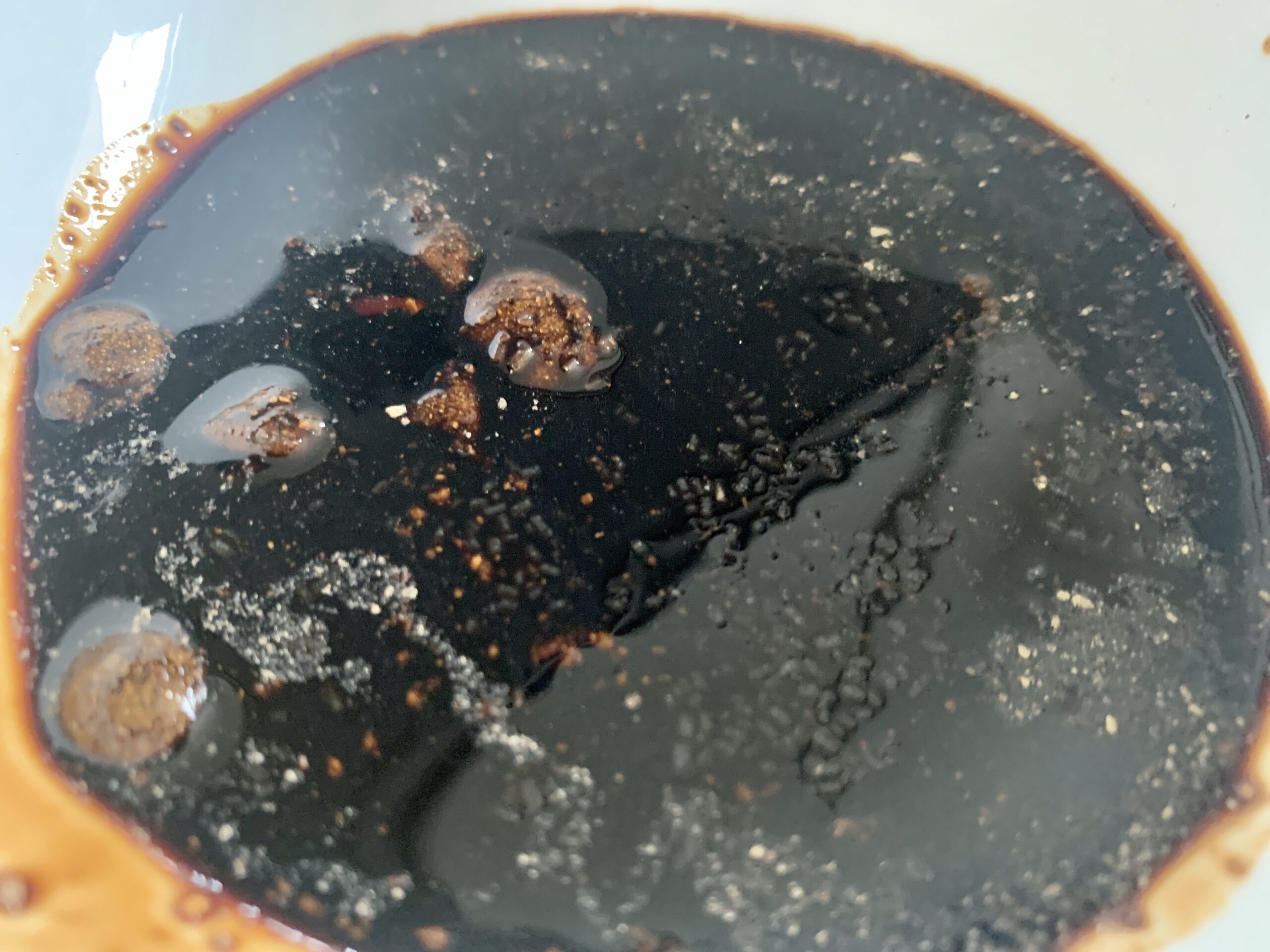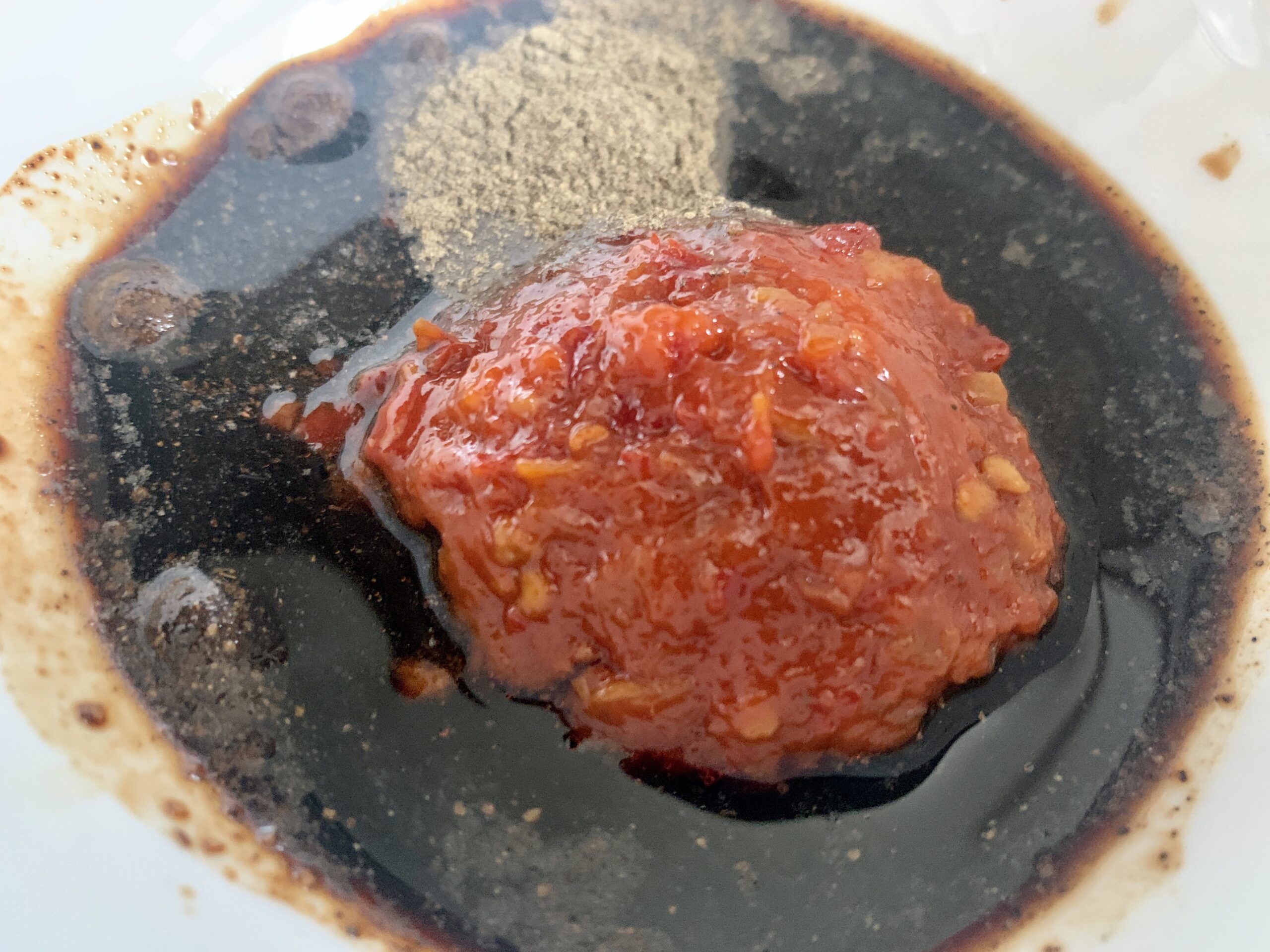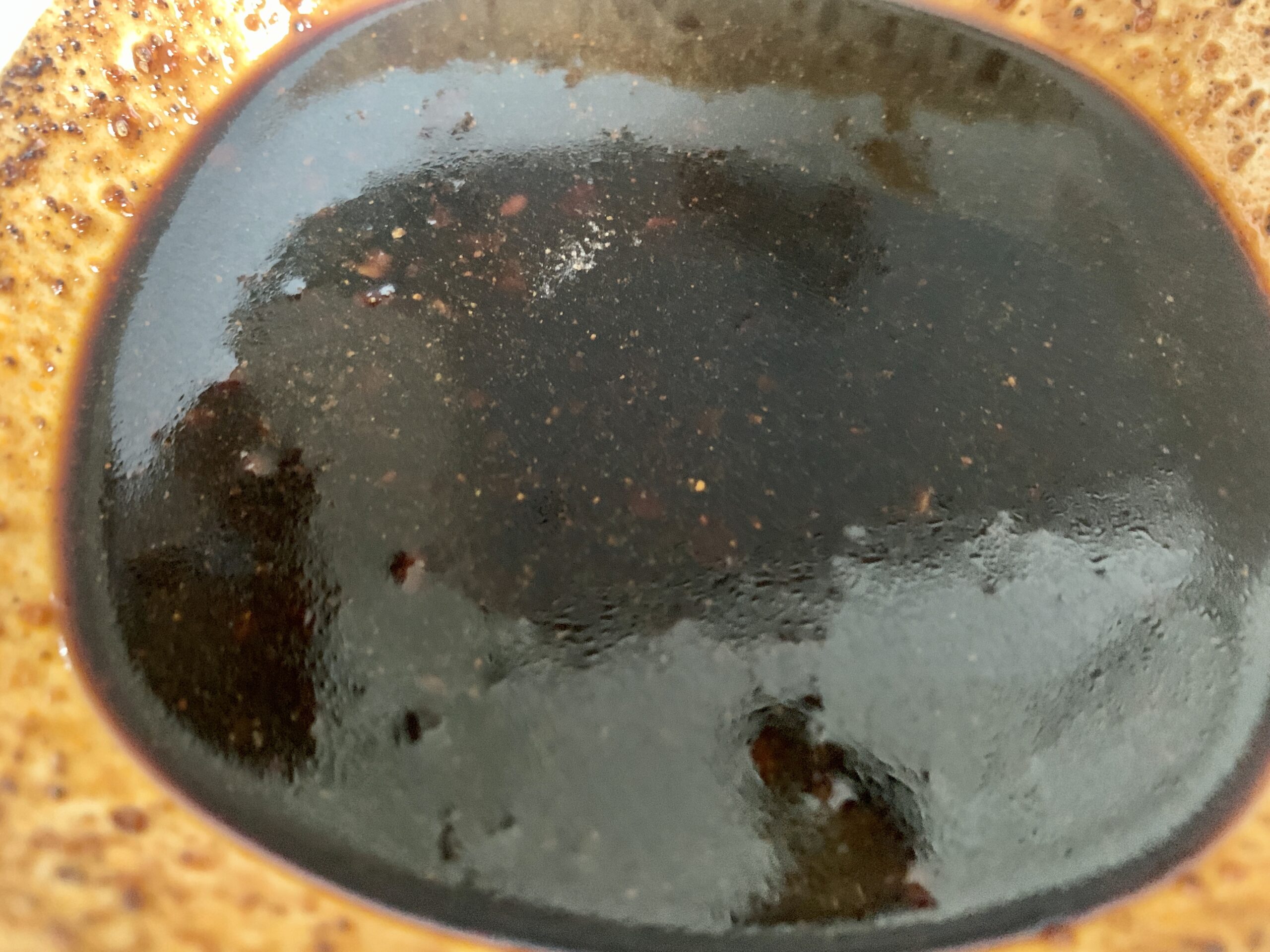 Mix black pepper powder, sugar, vinegar, soya sauce and chilli sauce. Keep it aside.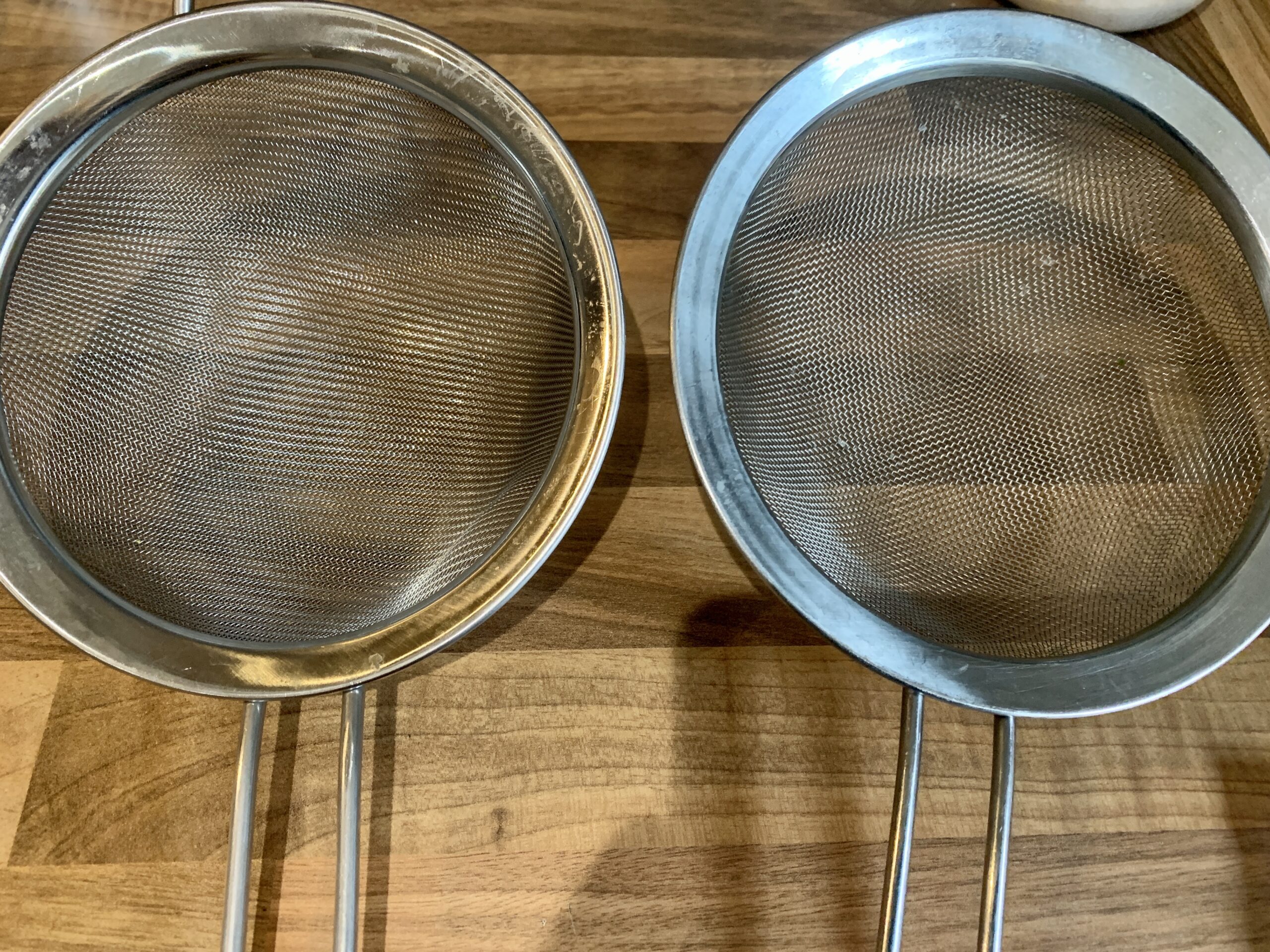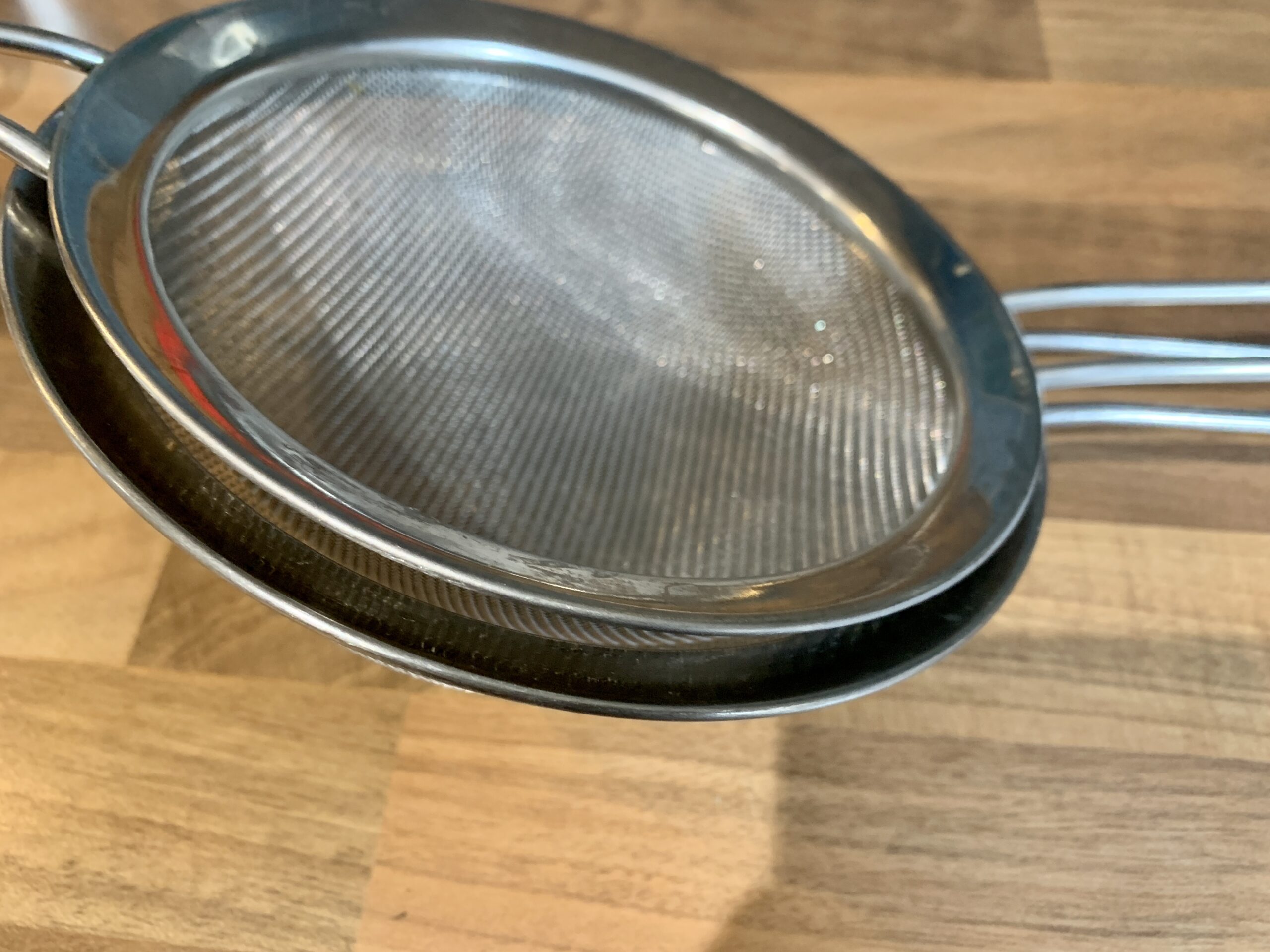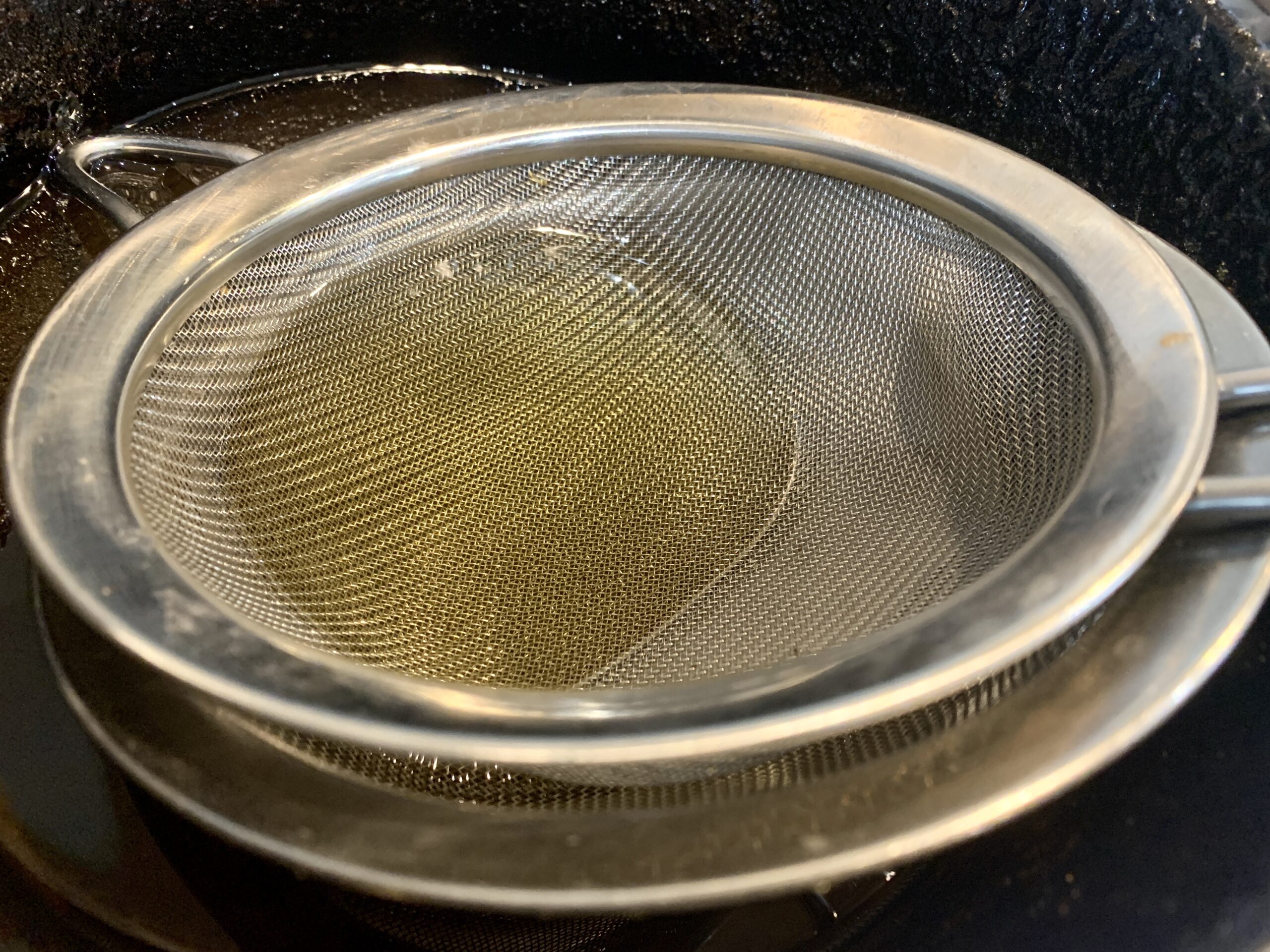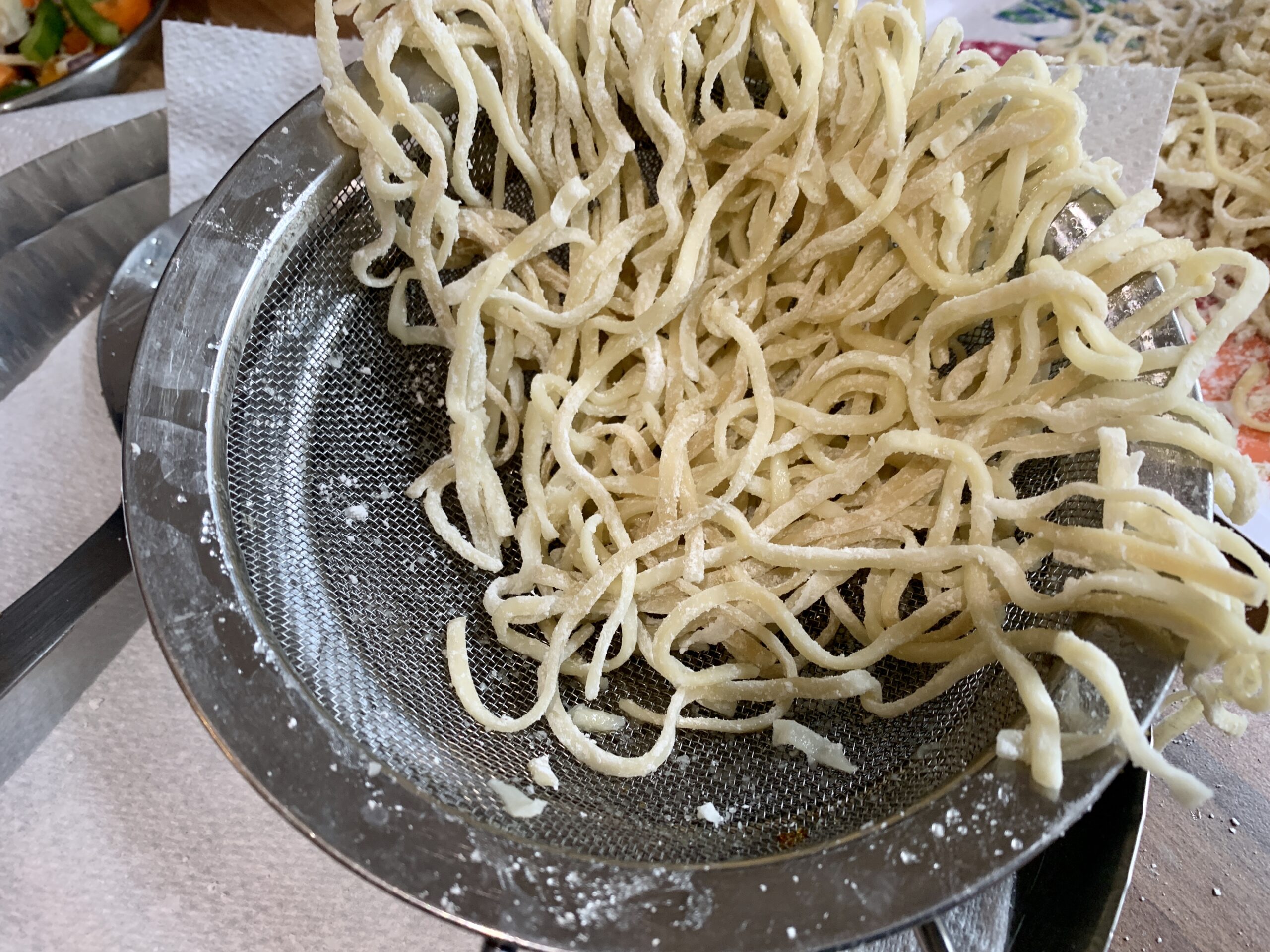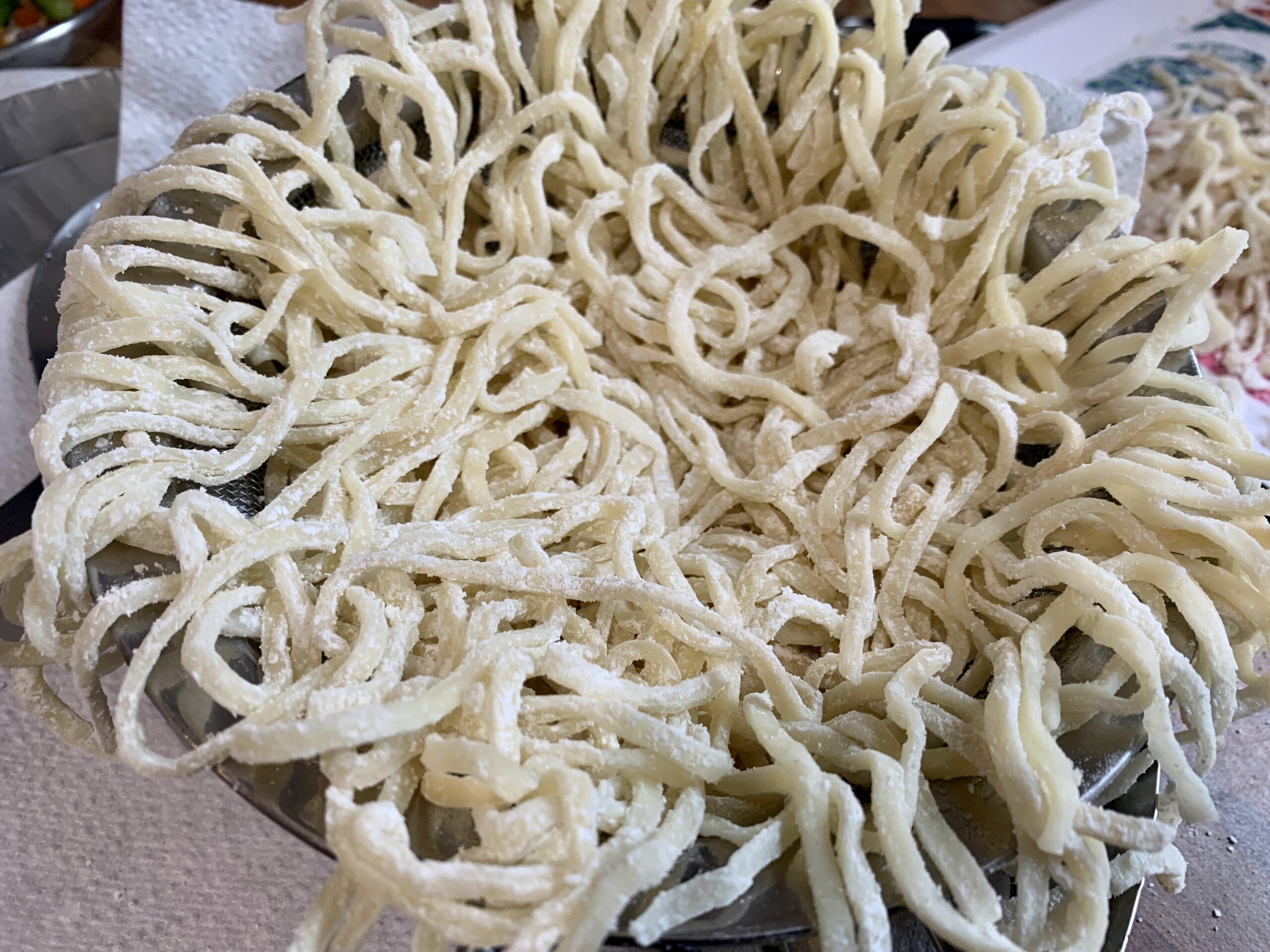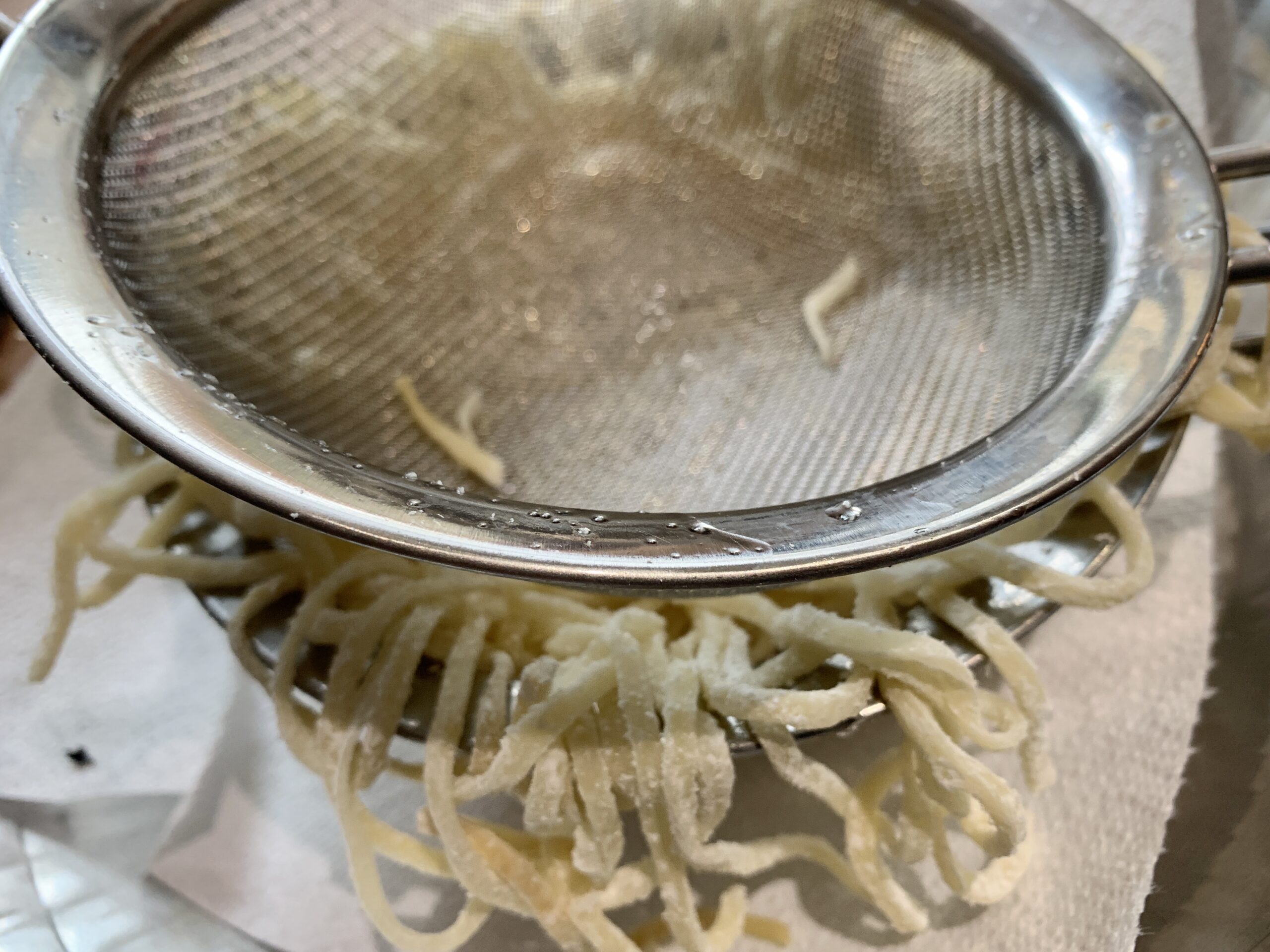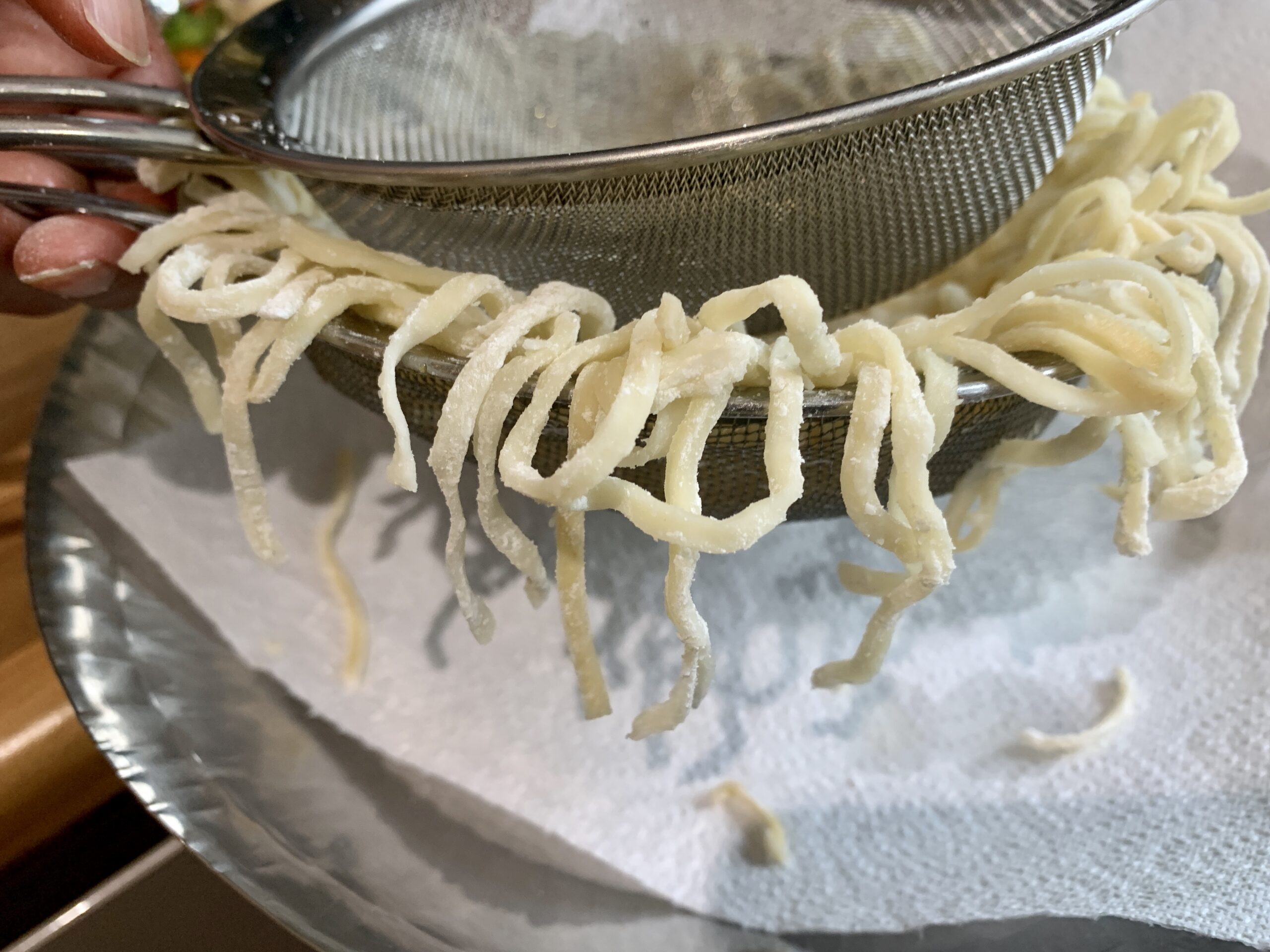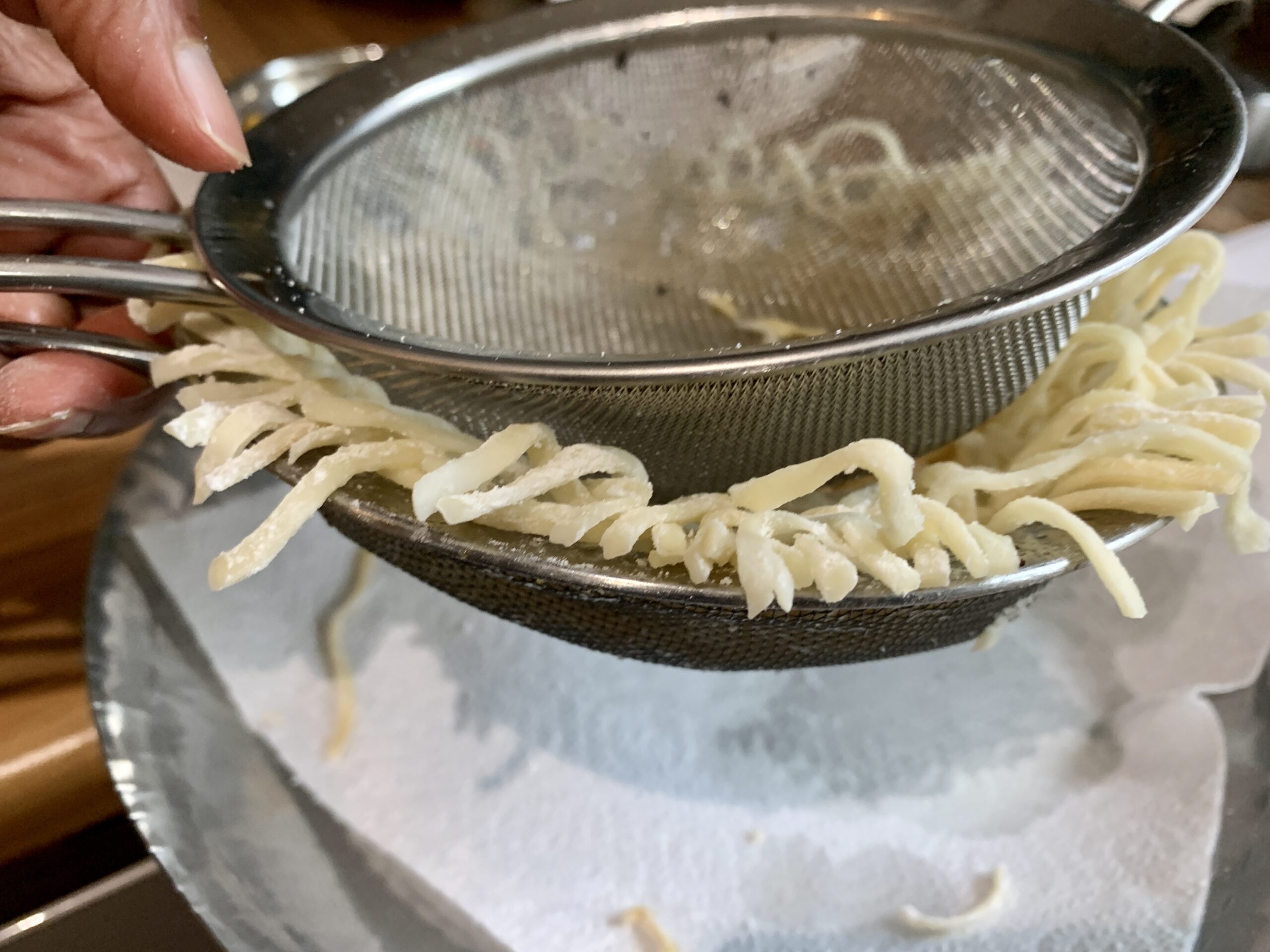 Heat oil for frying. Take 2 sieves making sure they fit on top of one another. Dip them in the oil to grease them.
Put a layer of boiled noodles on the sieve making sure it is not too thick. Place the other sieve on top and cut the extra overhanging noodles using scissors.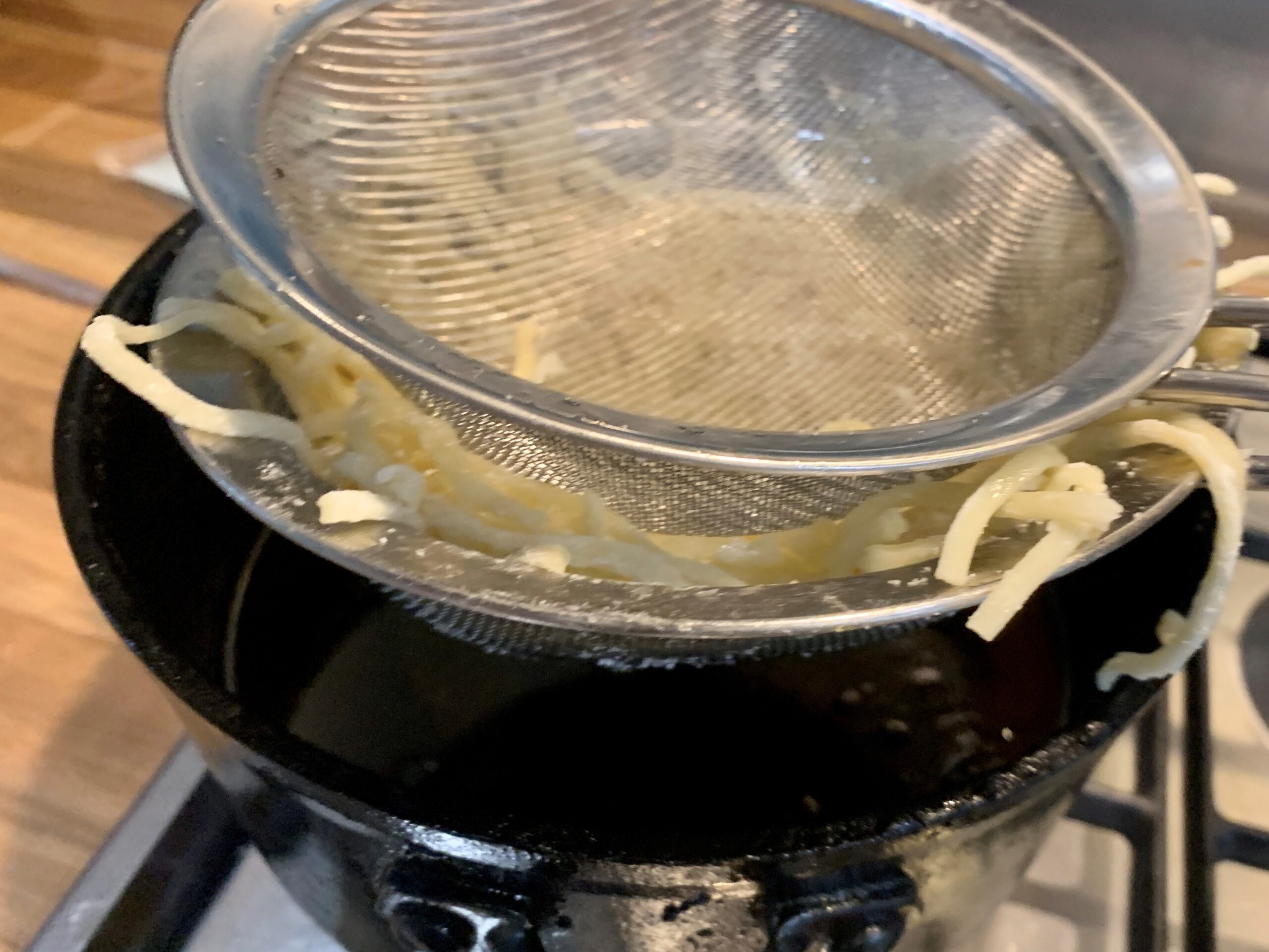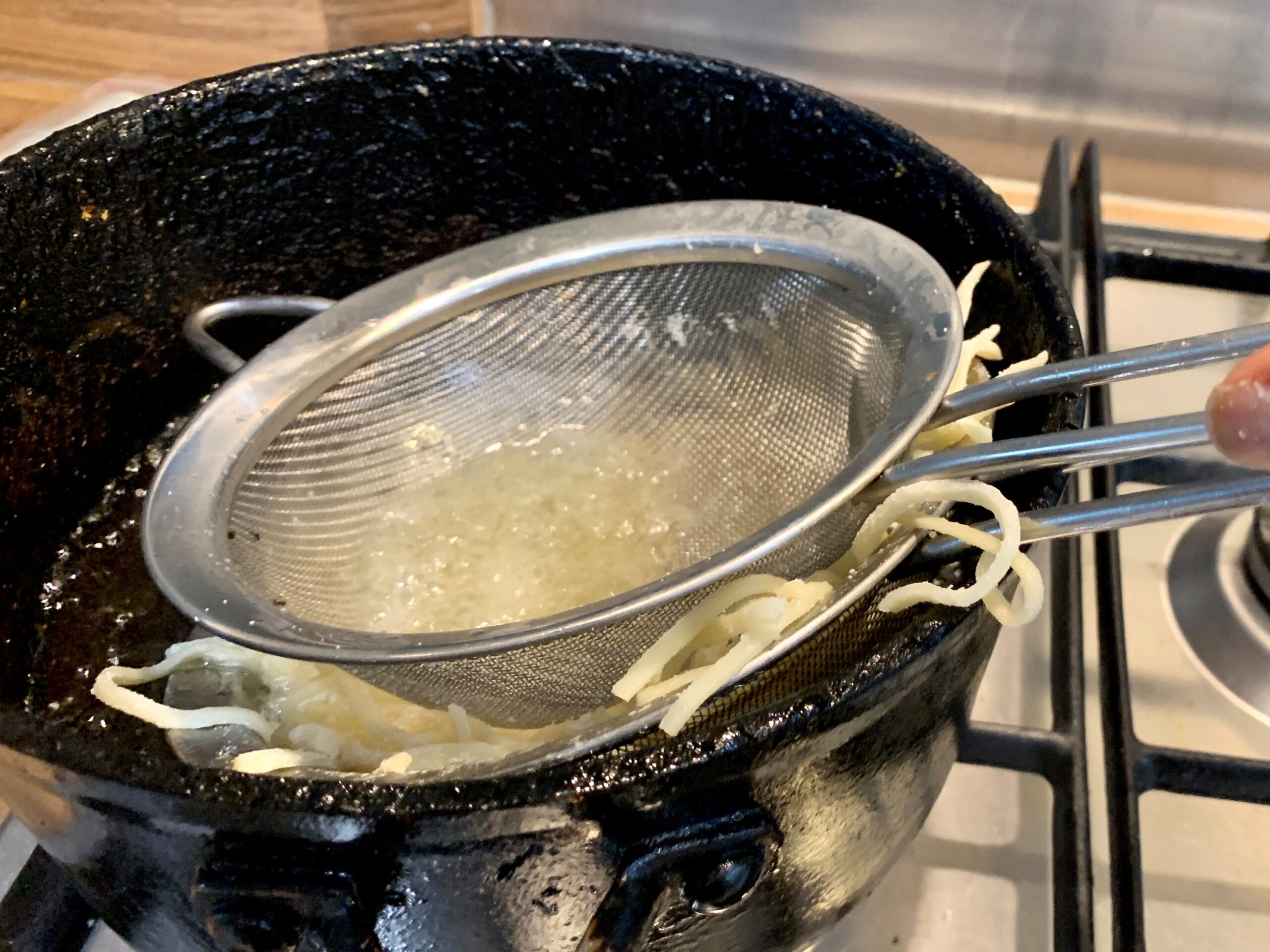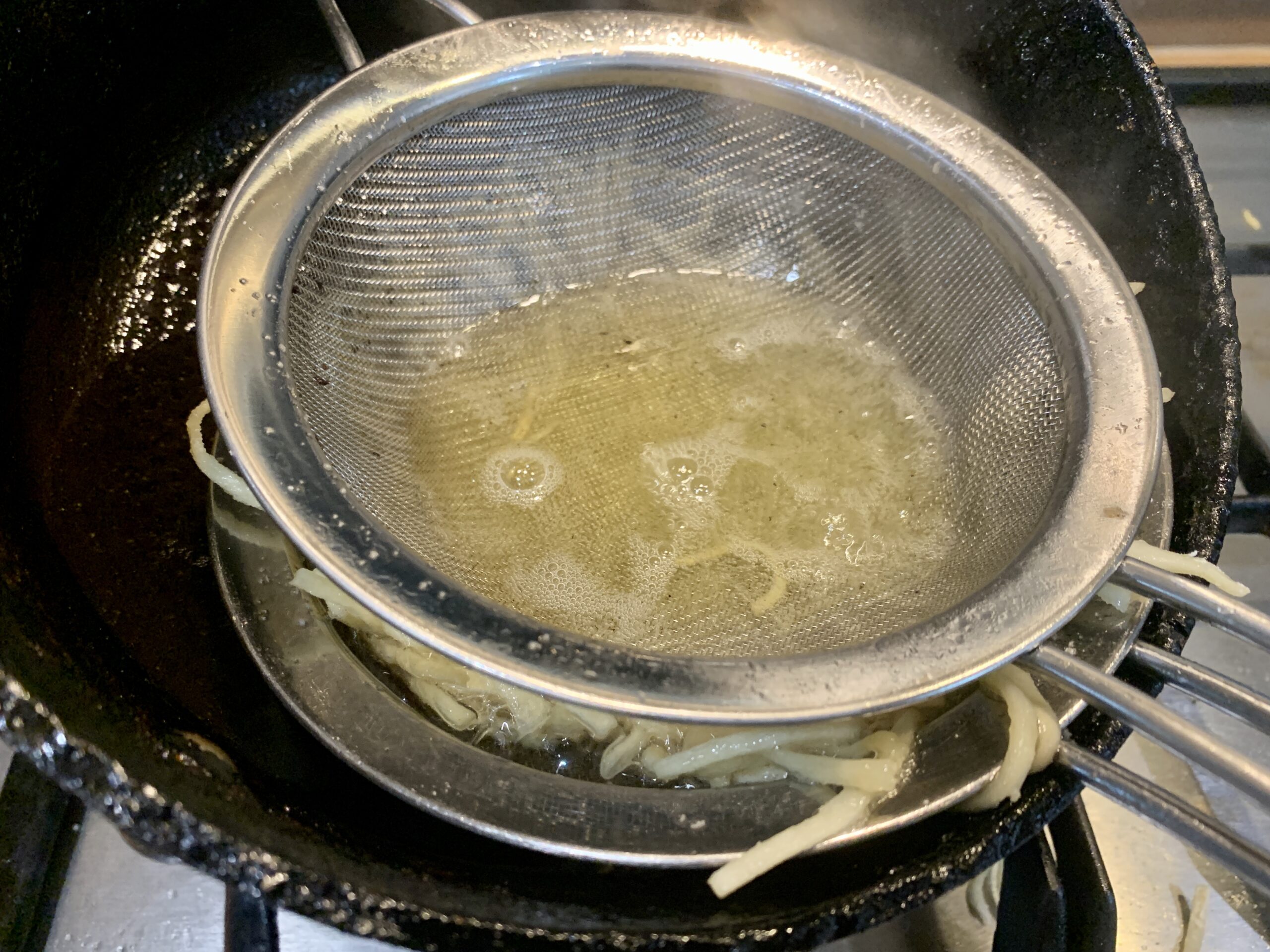 Once oil is hot gently place the double sieve in the oil to fry the noodles. Keep rotating the sieve, so that the noodles are fried from all sides evenly. It takes approximately 8-9 minutes to fry them till golden brown.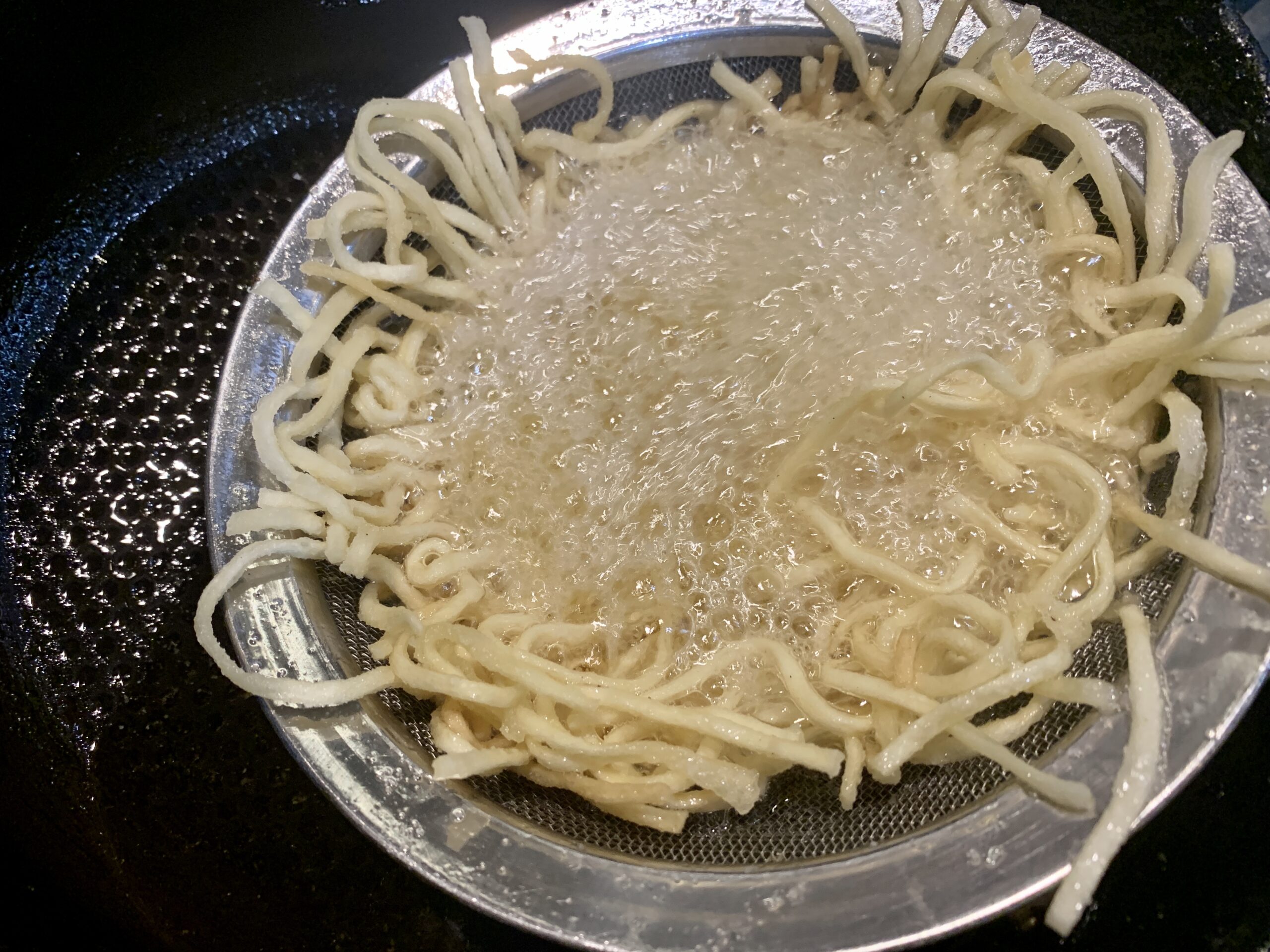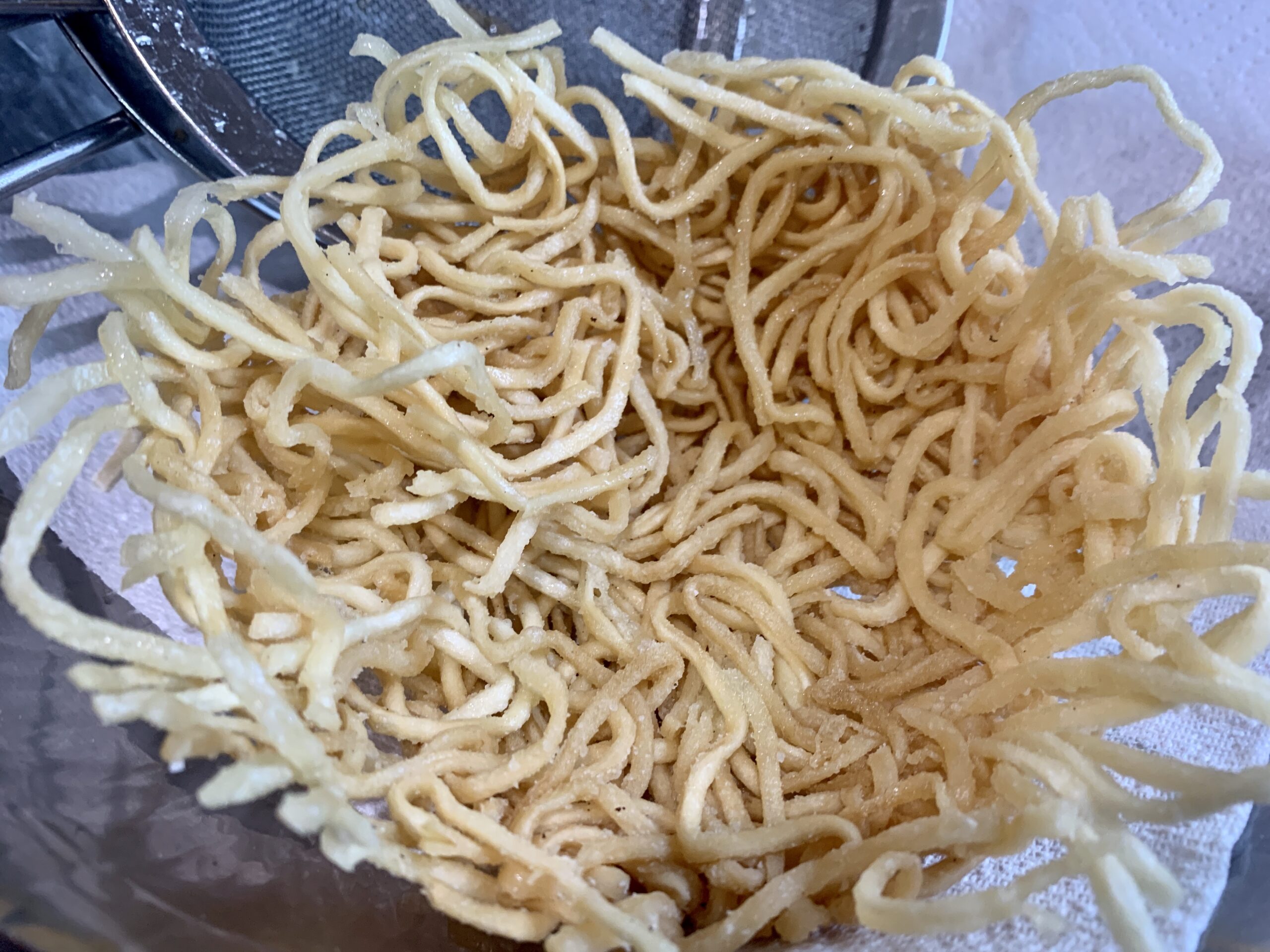 Take the top sieve off carefully. If some noodles are stuck, you can use scissors to cut them off.
Gently pull the noodles nest out from the second sieve and leave it aside. If the nest is not coming out with some gentle push, then it might need some more cooking. Drain the nest on an absorbent paper.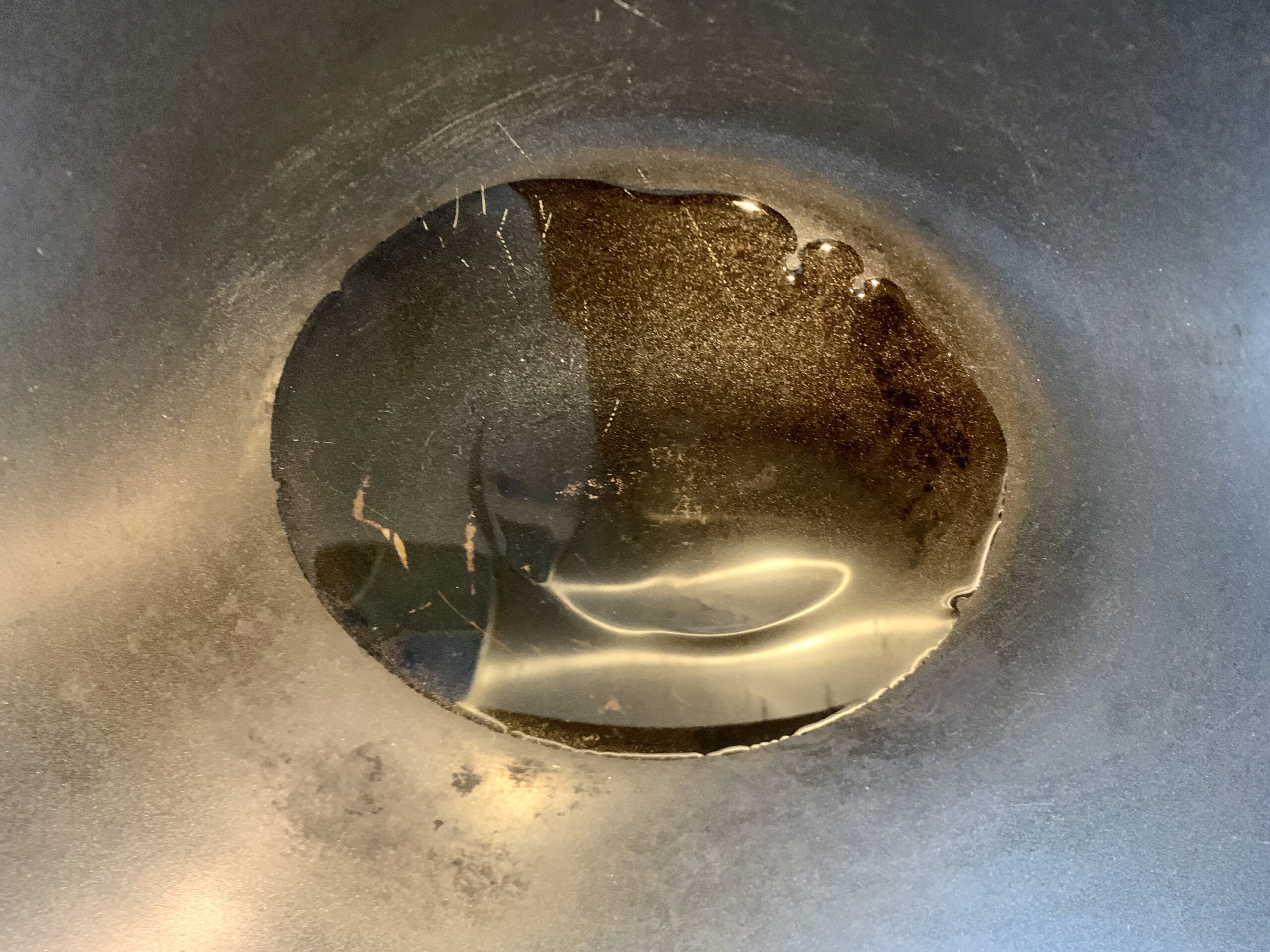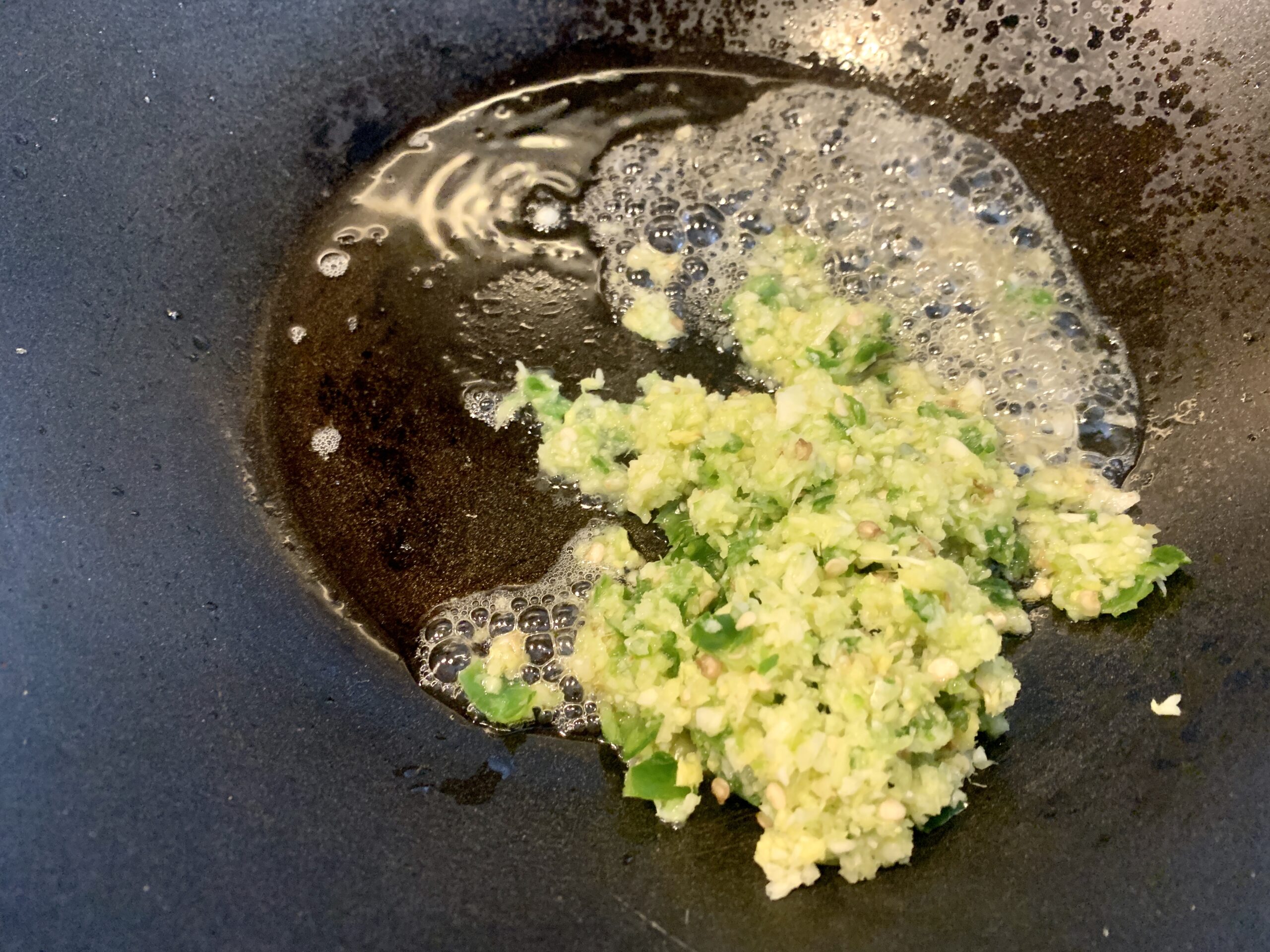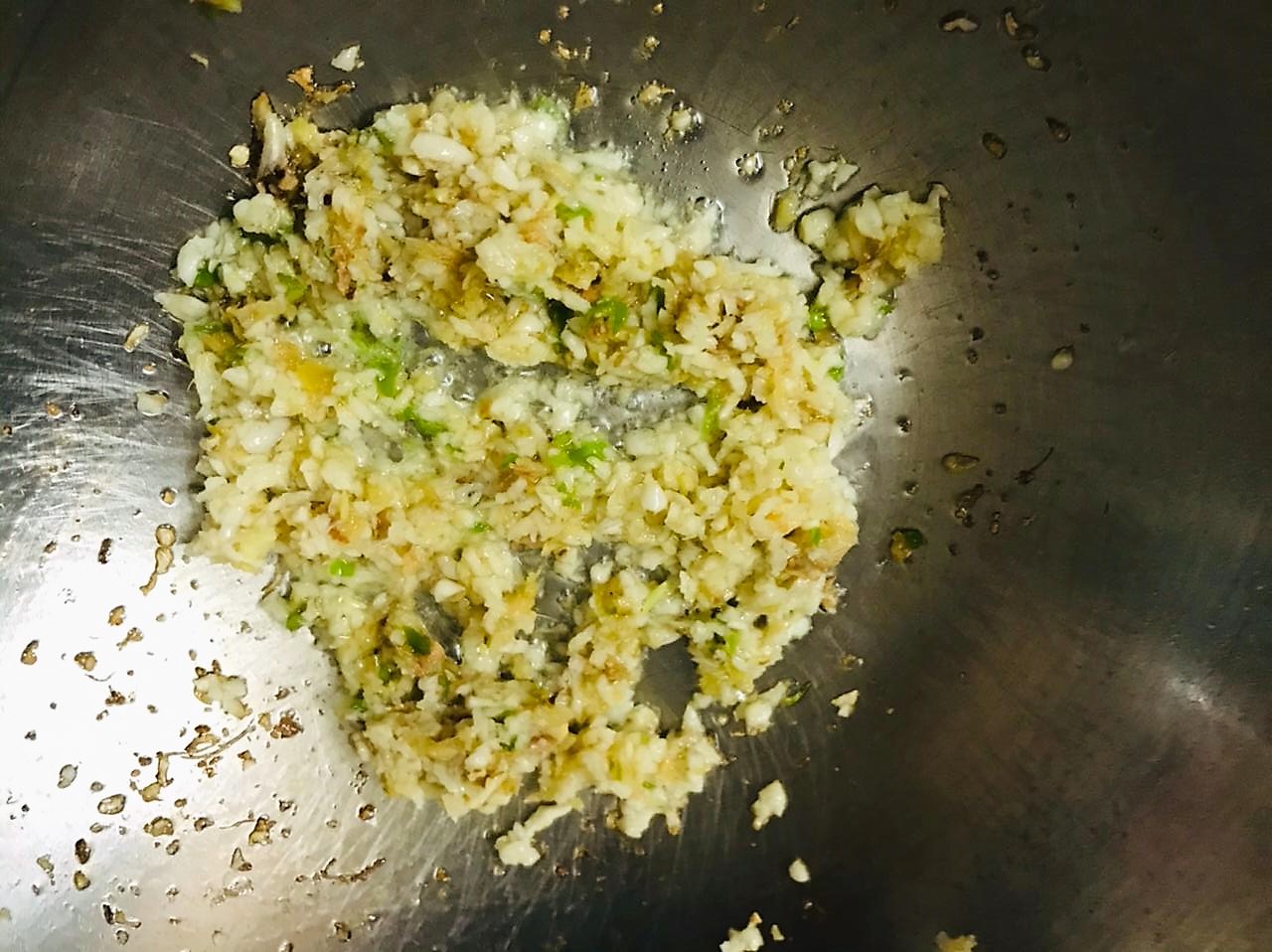 Heat oil in a wok and add the ginger, garlic and chilli paste and sauté for couple of minutes.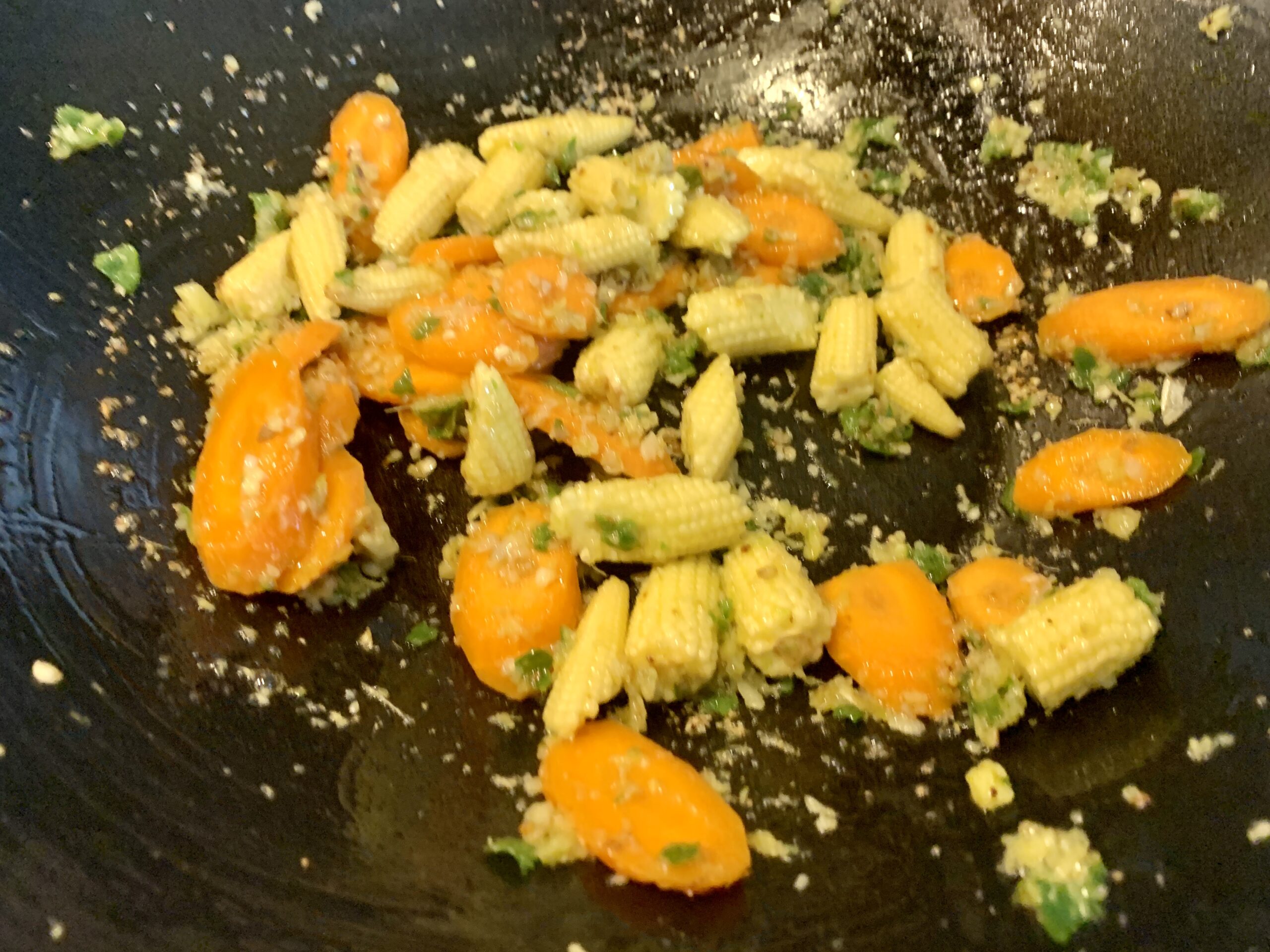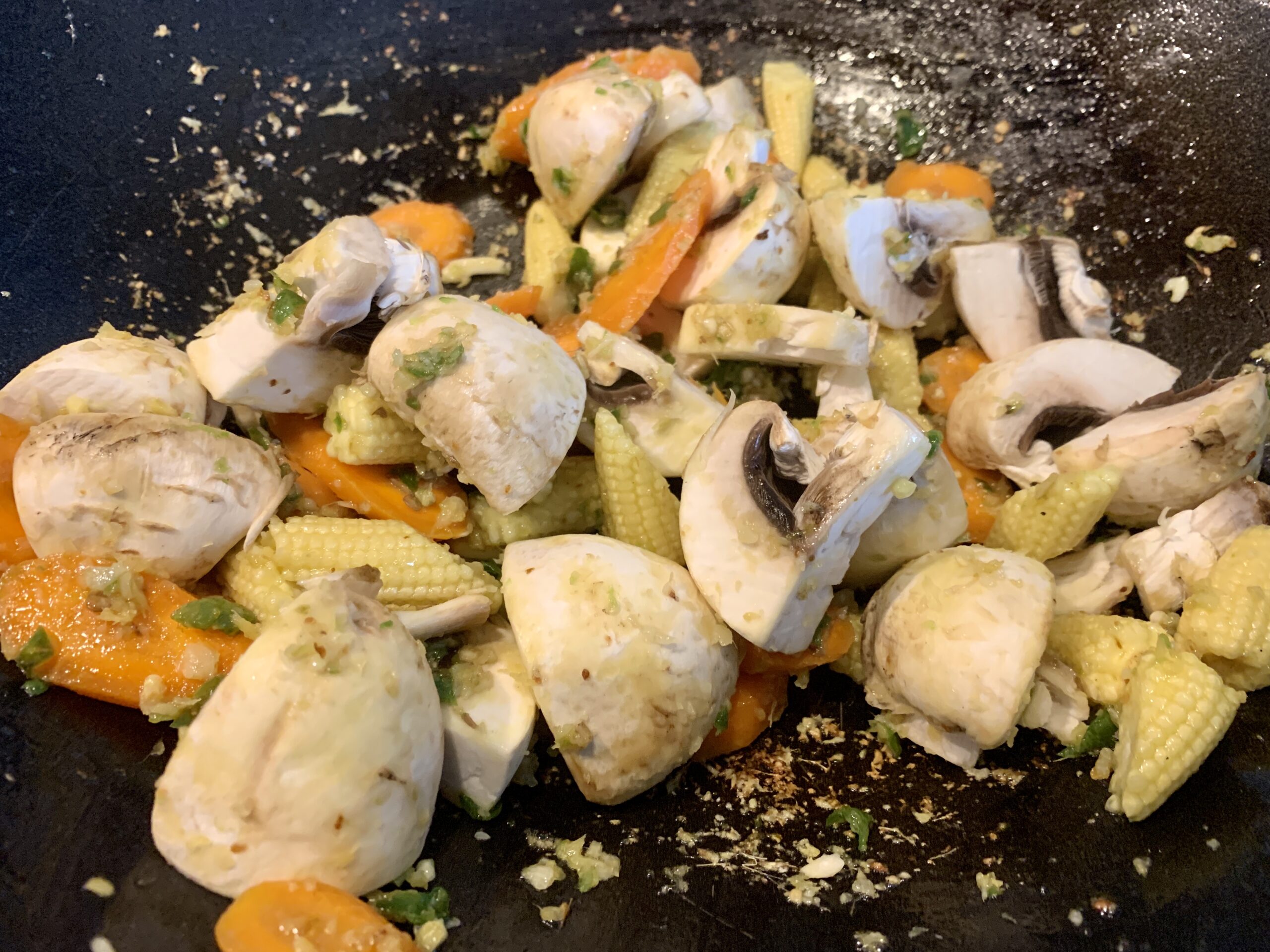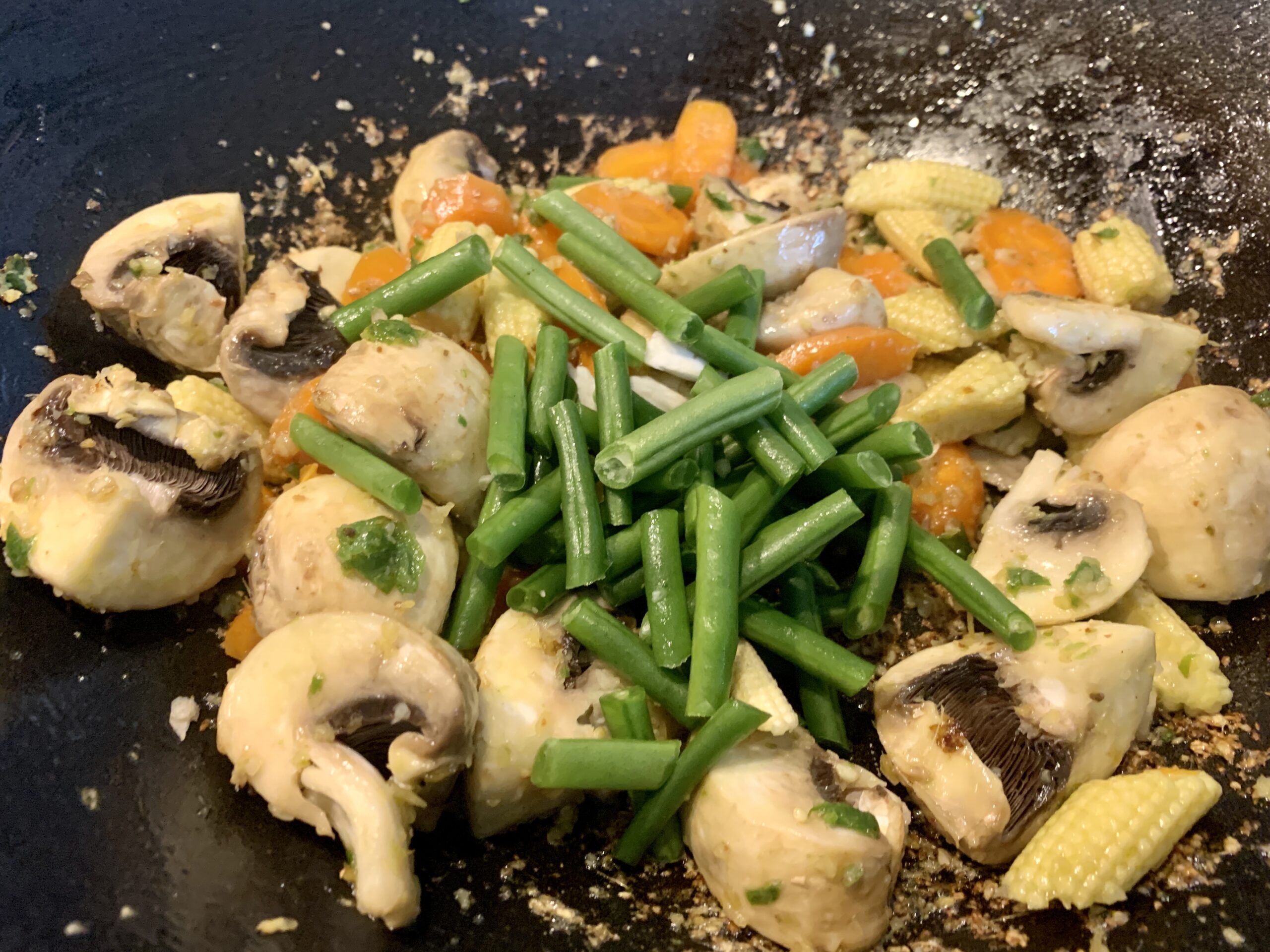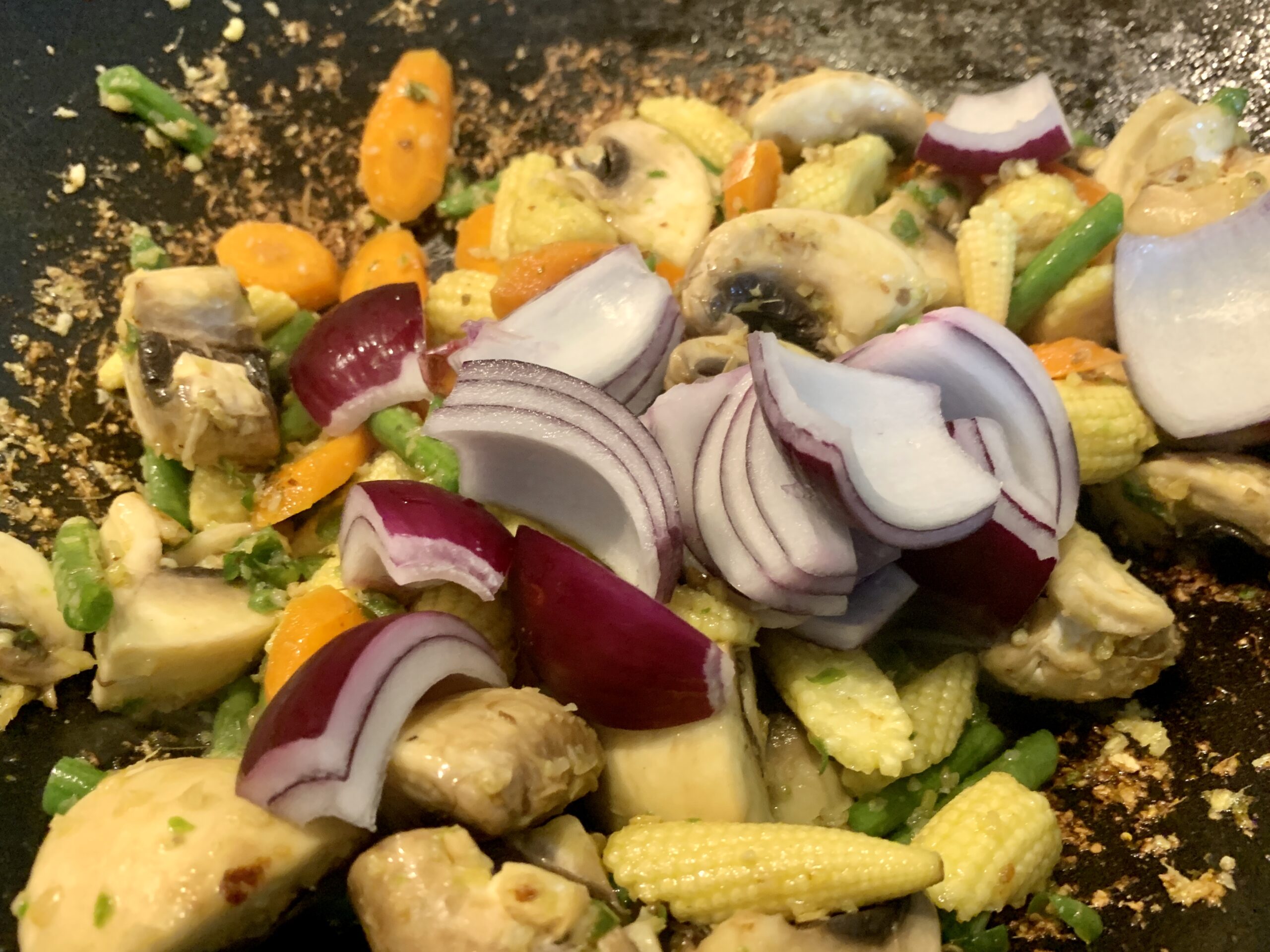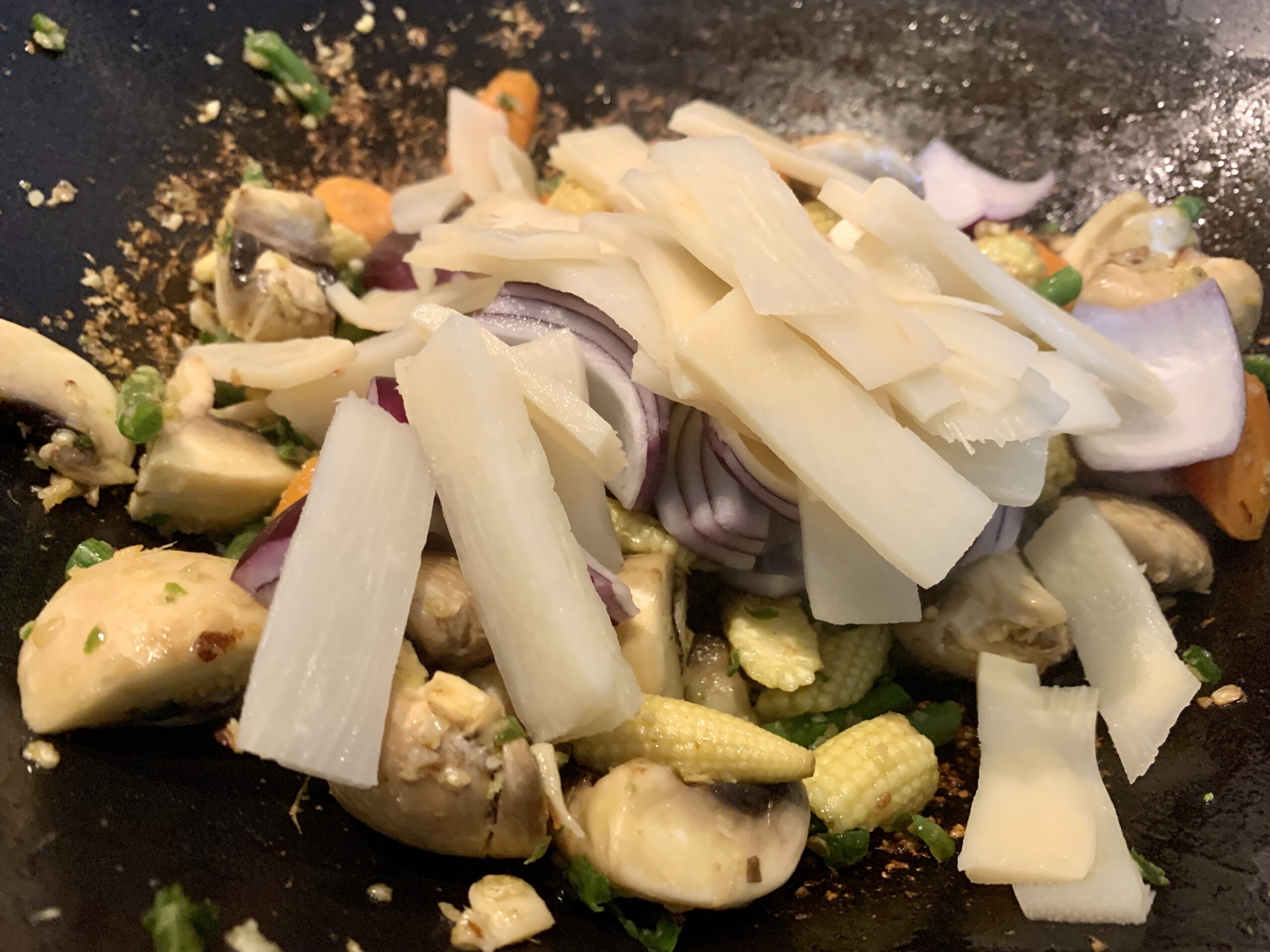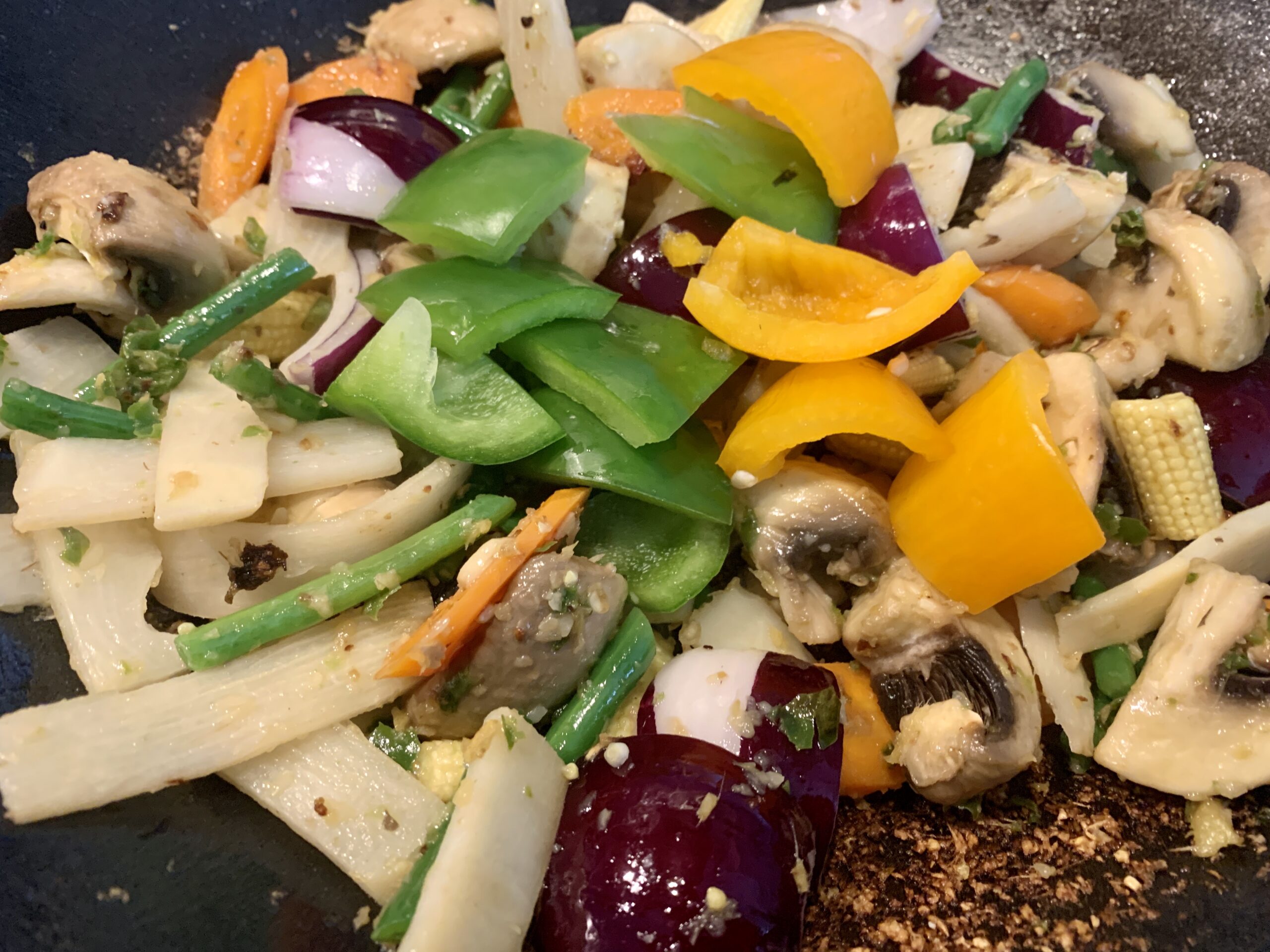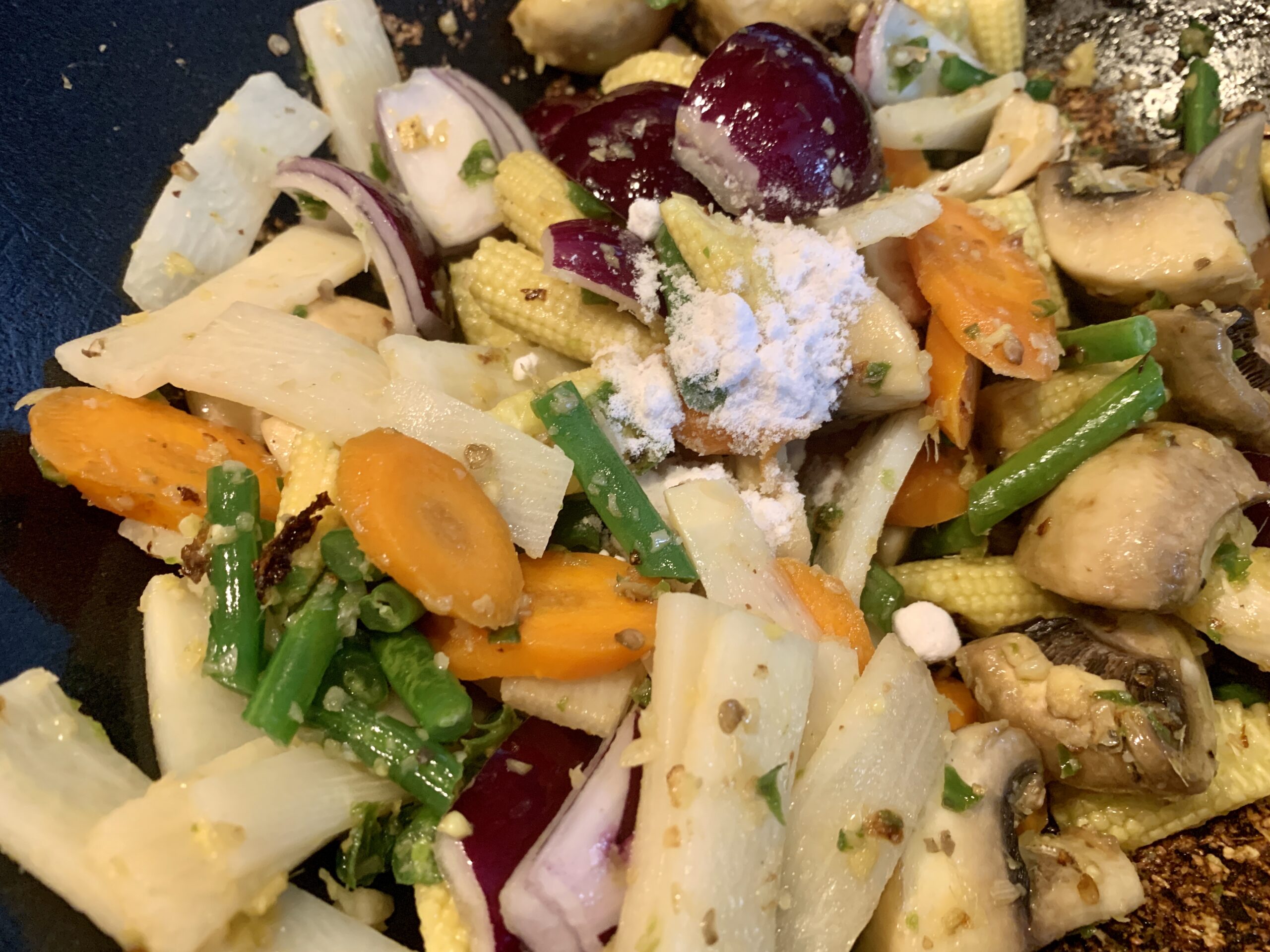 Add the diced carrots and baby corn and sauté for 1 minute.
Next add the other vegetables and salt and cook on high heat for 2-3 minutes.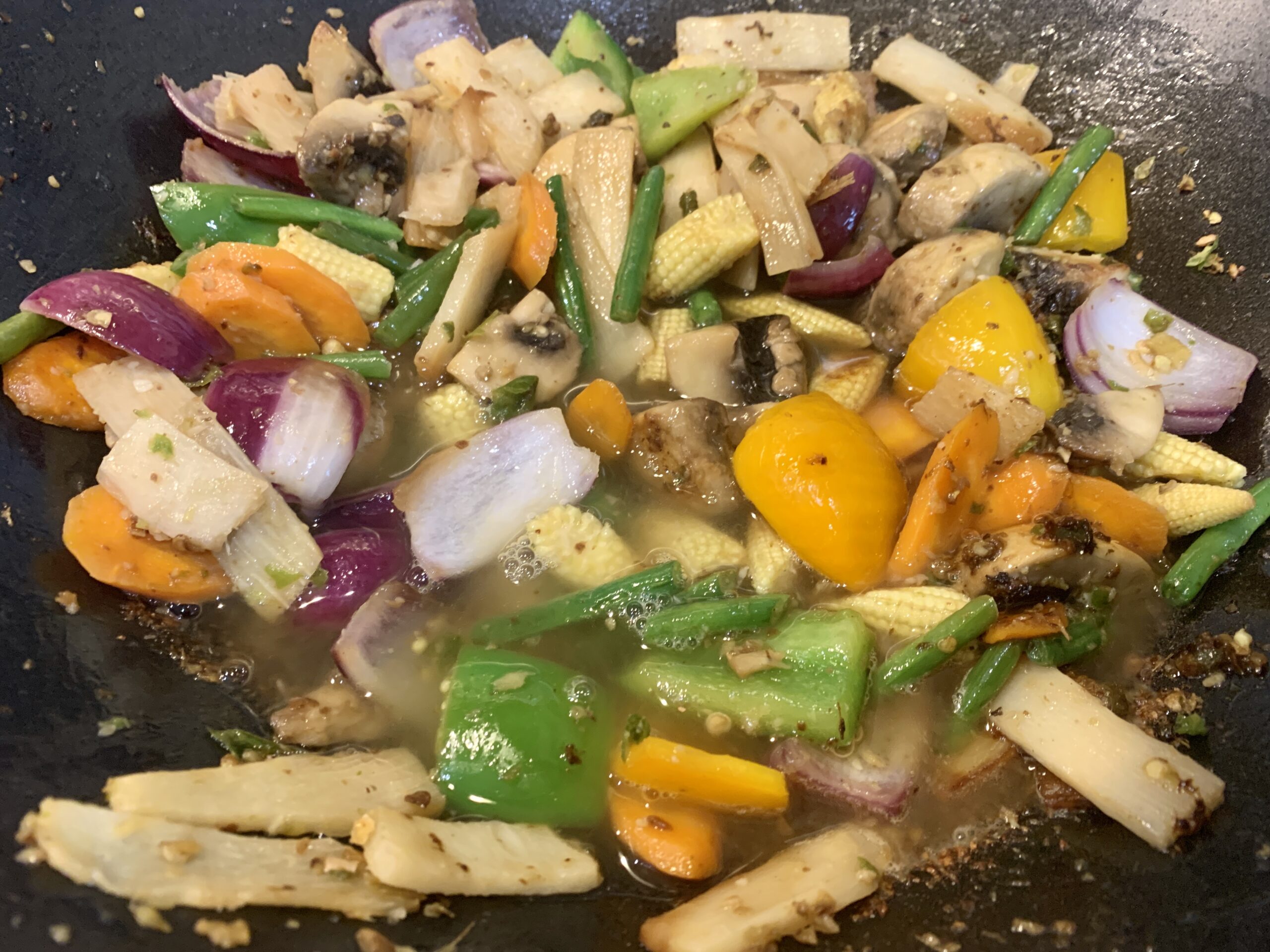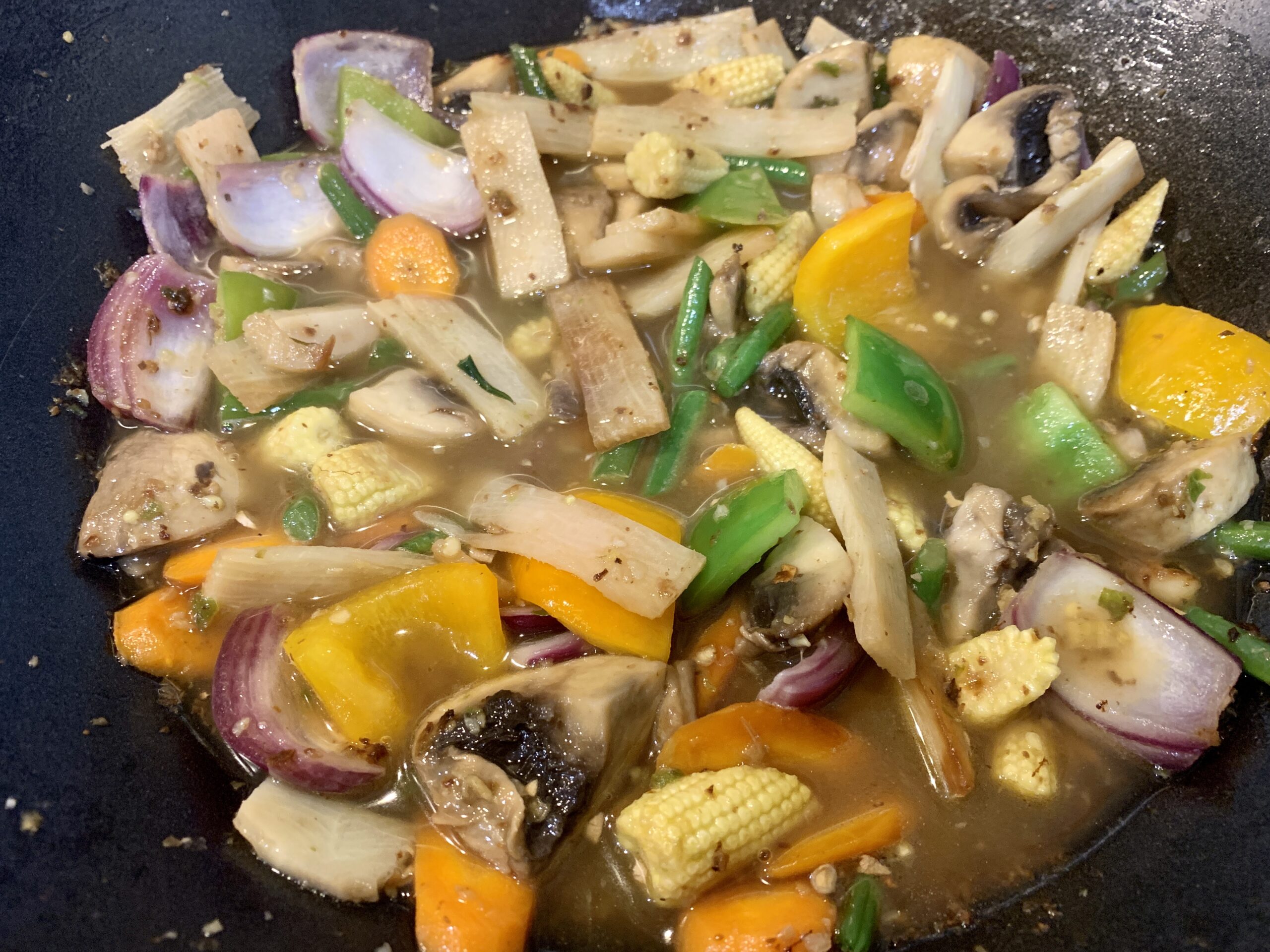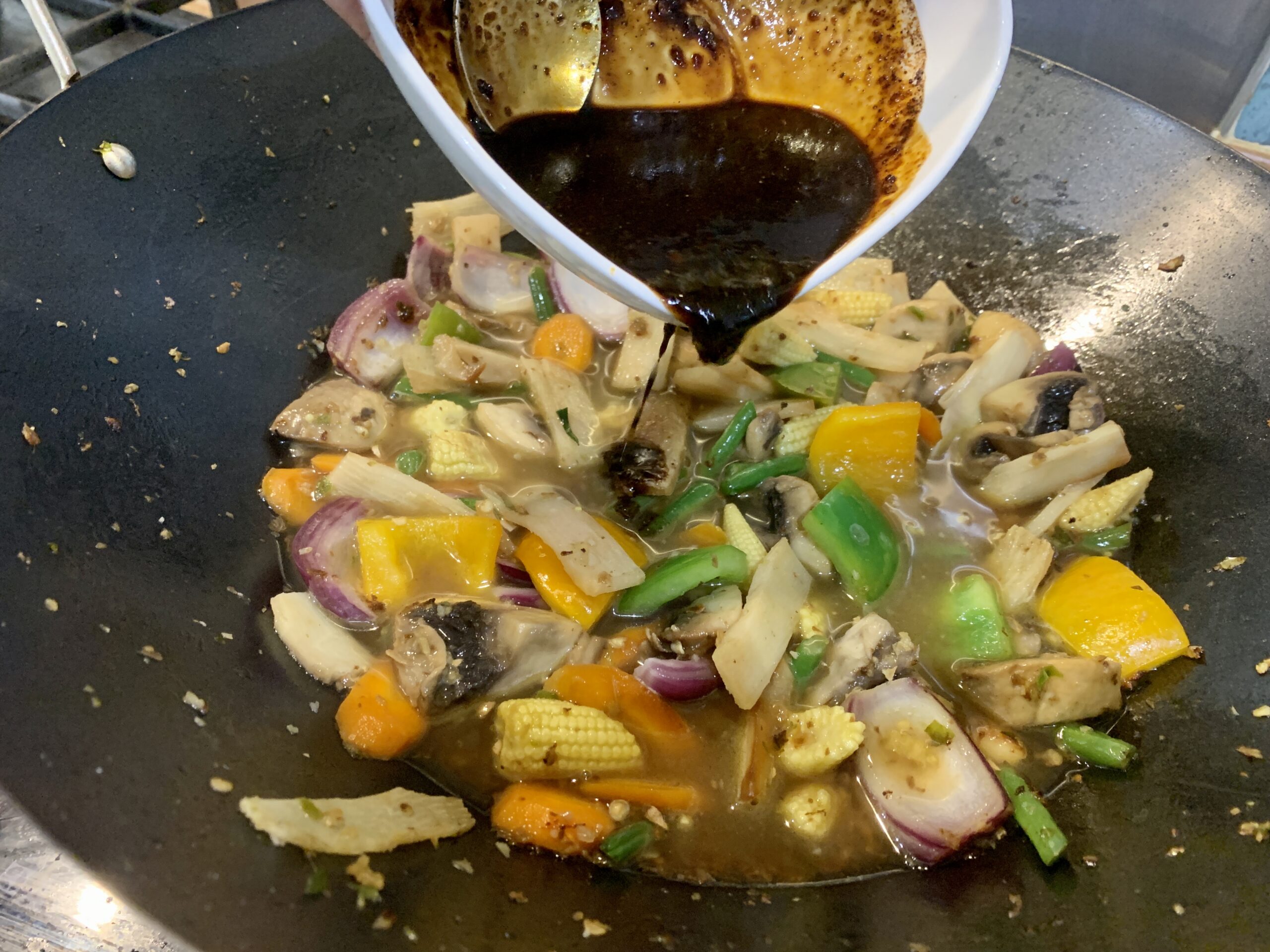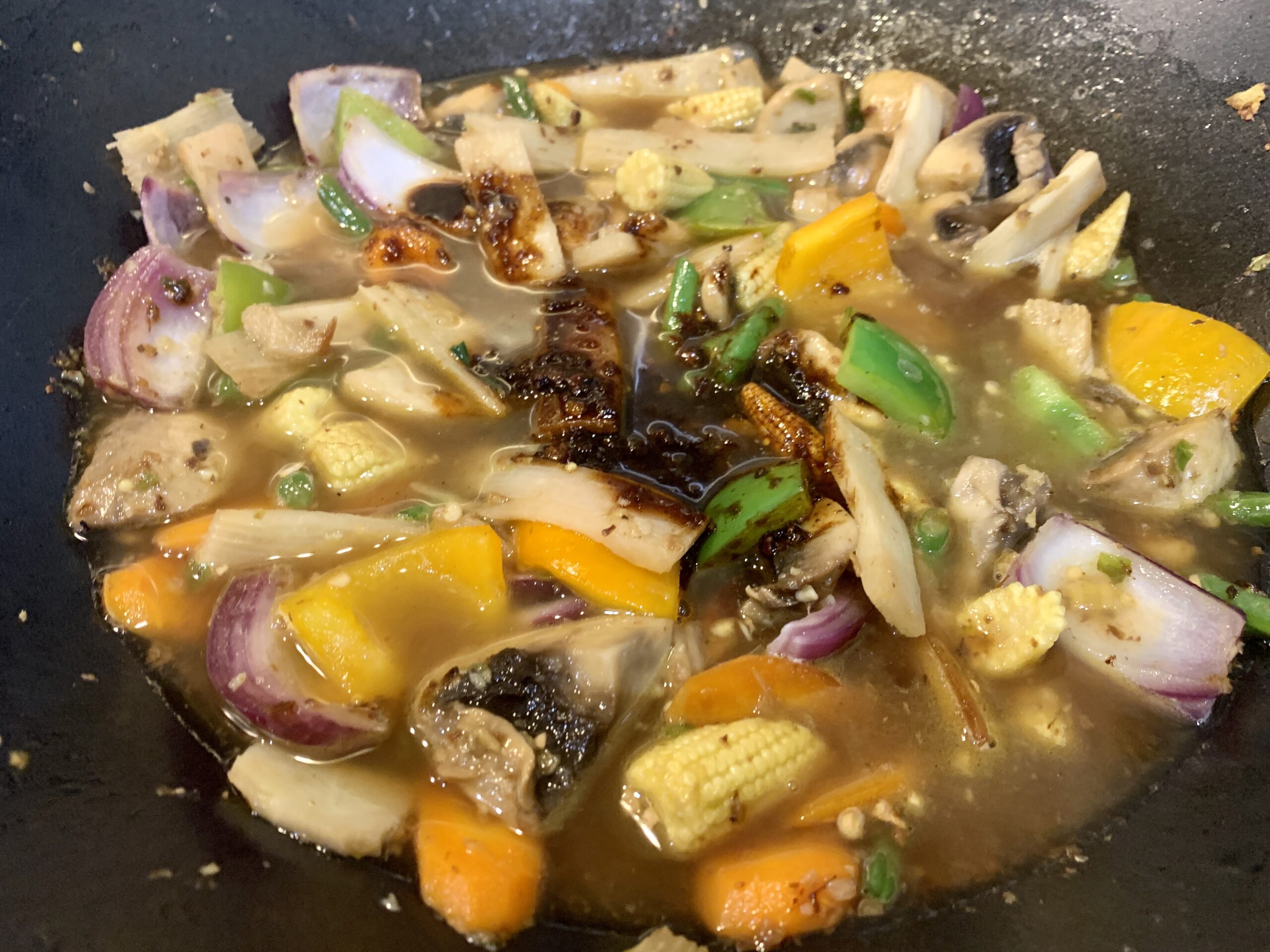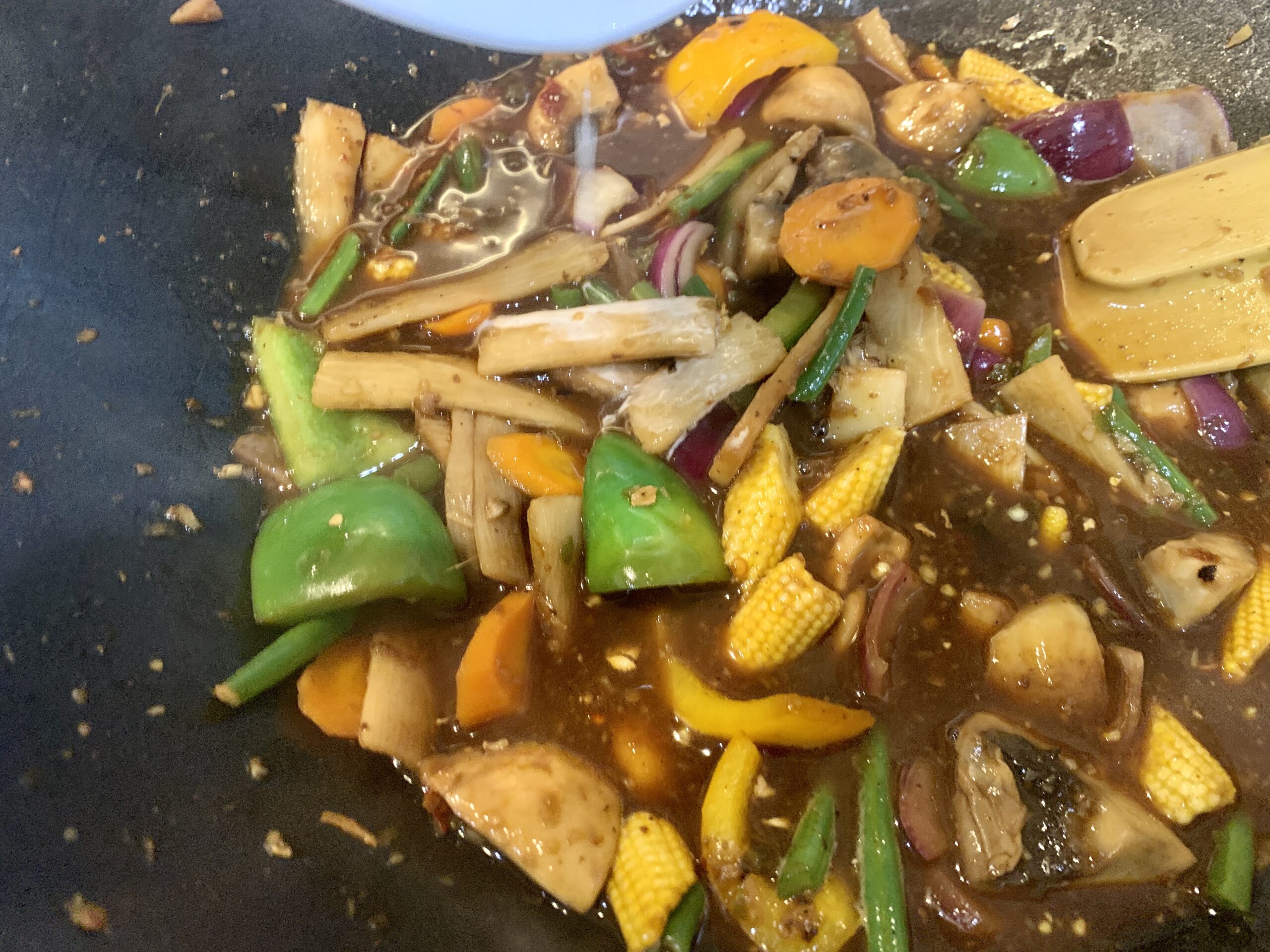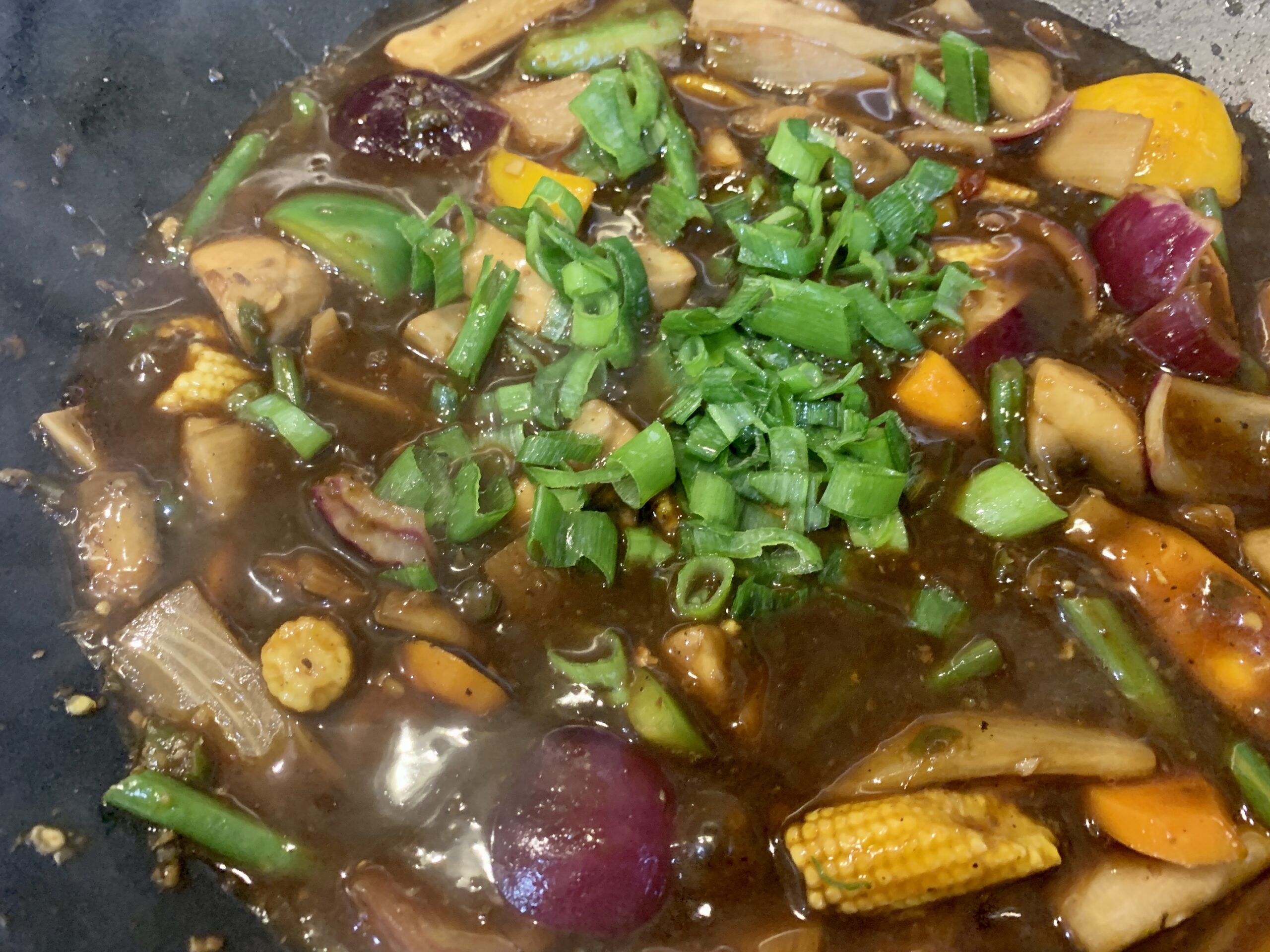 Add 1½ cups water/vegetable stock and let it boil. Add the prepared sauce and gently mix. Add the cornflour slurry and cook for another minute while the sauce thickens.
Add the finely chopped spring onions and mix.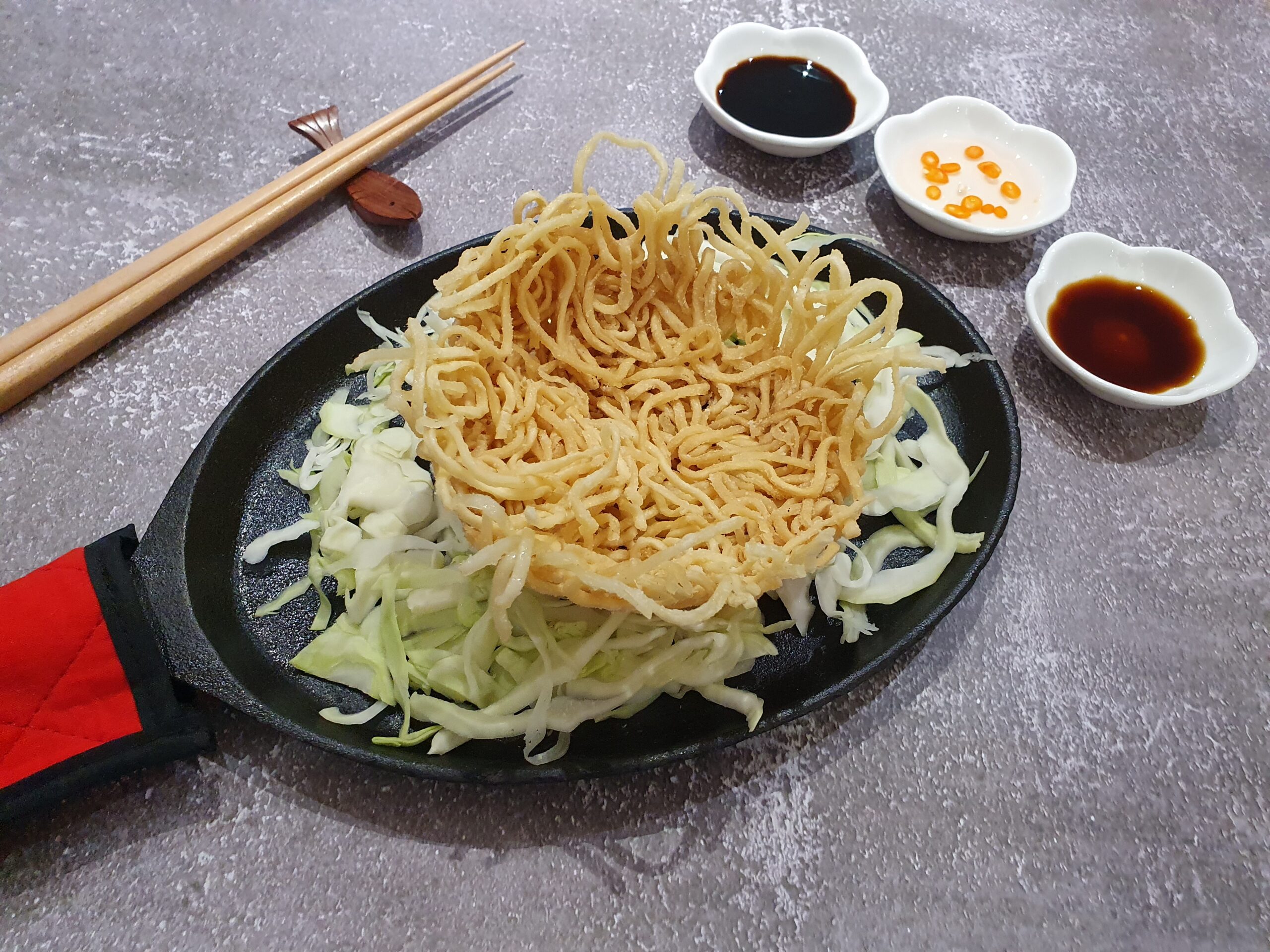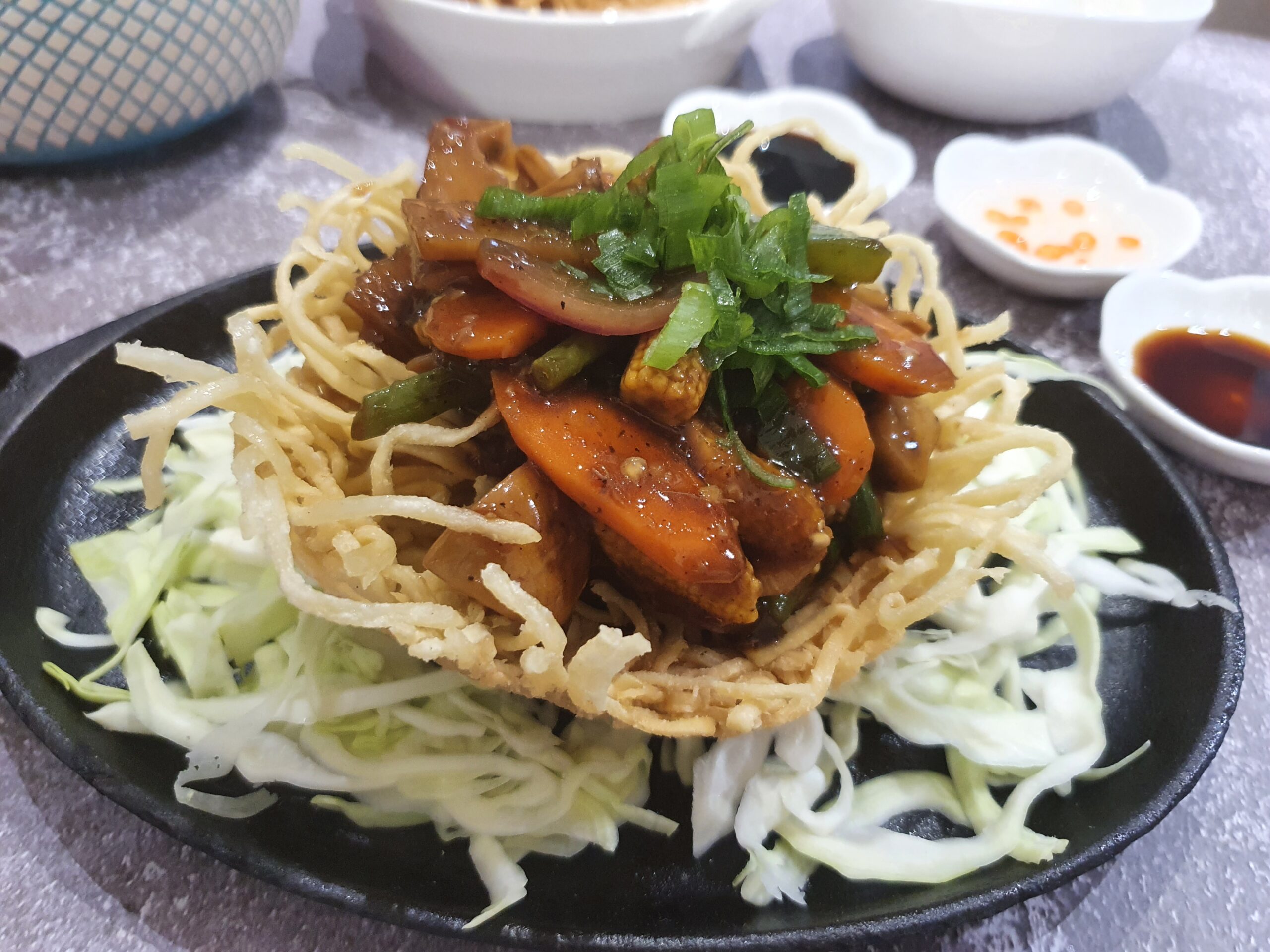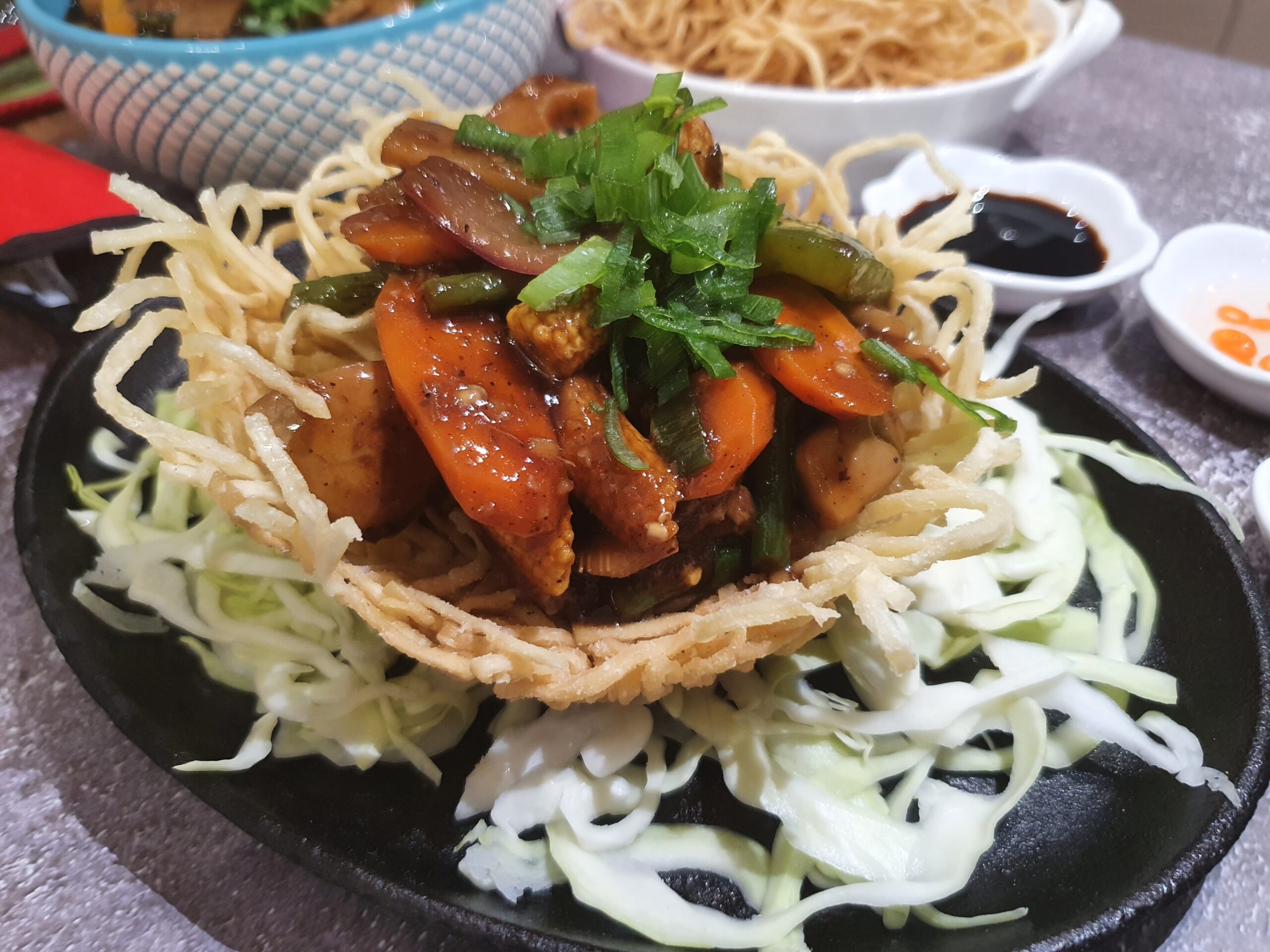 Gently fill each taro nest with the vegetables, garnish with spring onions and serve hot.