Kurkuri Bhindi/Okra
Kurkuri bhindi or Indian crispy okra is definitely one of my favourite dishes to eat. 'kurkuri' in Hindi means 'crispy'. Okra is also called 'lady finger' in some countries. In Hindi Okra is called 'bhindi'. For this recipe, the bhindi/okra is battered in gram flour with Indian spices and shallow fried.
Bhindi is a significant part of Indian cuisine. Bhindi is cooked in variety of ways in India from simply cooking in a pan with spices to simmering in a curry to coating in seasoned flour and deep-frying, as in this dish. I always think bhindi is like 'marmite' either people love it or hate it. I definitely fall in the 'love it' category!
I am a huge fan of bhindi! Growing up my mum would cook it with spices and sometimes with onions or karonda or even raw mango. These crispy bhindi's are so delicious that once you start munching on them there is no stopping. We often have arguments at home as to who will eat the last few. My daughter who is not a very keen vegetable lover cannot have enough of these crispy spicy morsels.
These crispy masala bhindi/okra makes a great side or you can even serve them as an appetizer or snack.
Ingredients
250 grams bhindi
3 tablespoons gram flour(besan)
2-3 tablespoons oil
1 teaspoon salt
1 teaspoon turmeric powder
1 teaspoon red chilli powder
2 teaspoons coriander powder
1 teaspoon garam masala
1/2 teaspoon chaat masala
Directions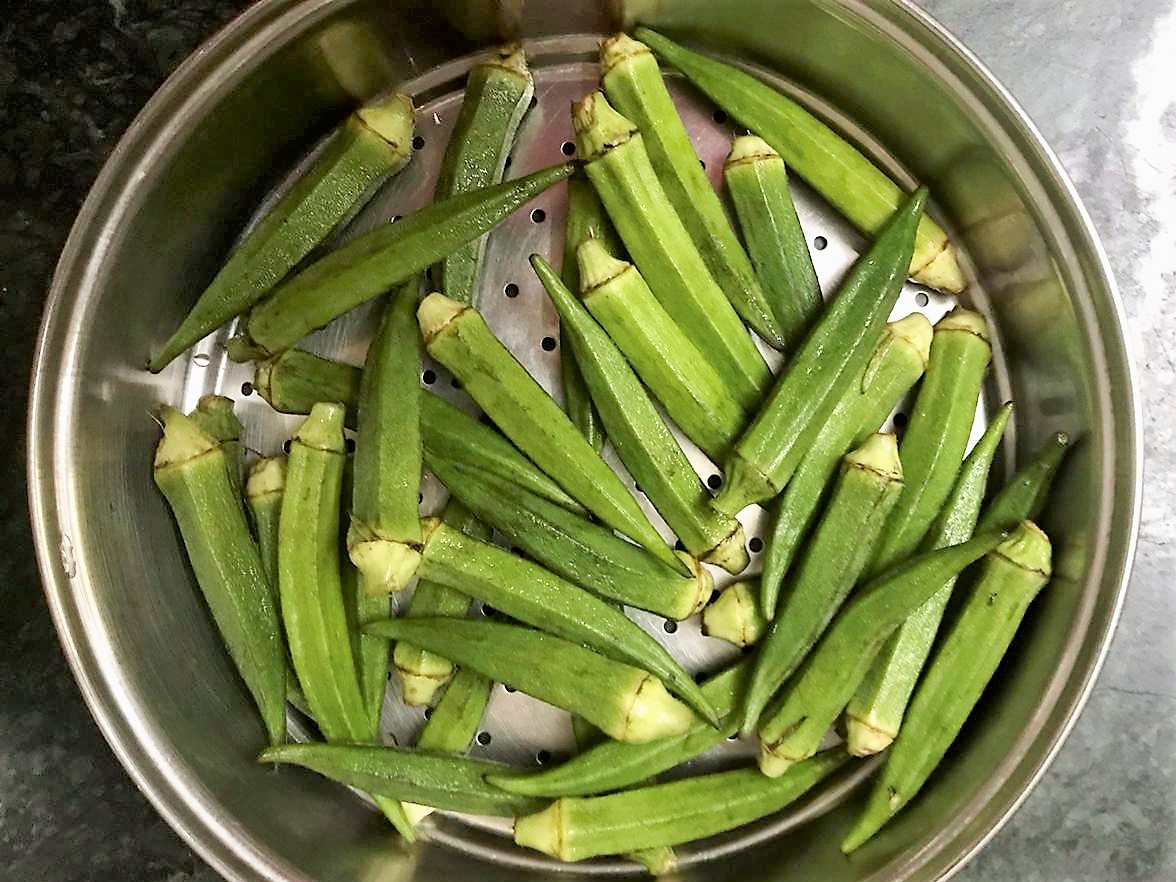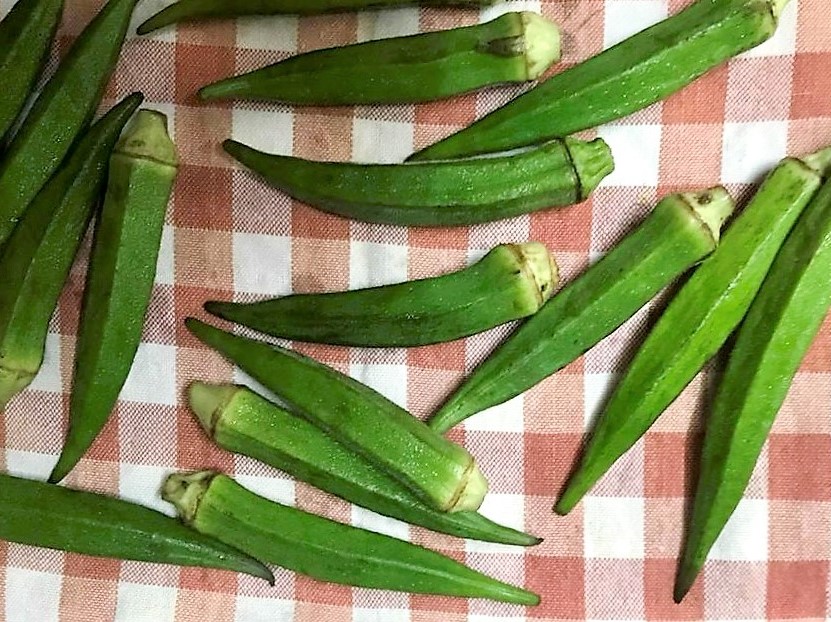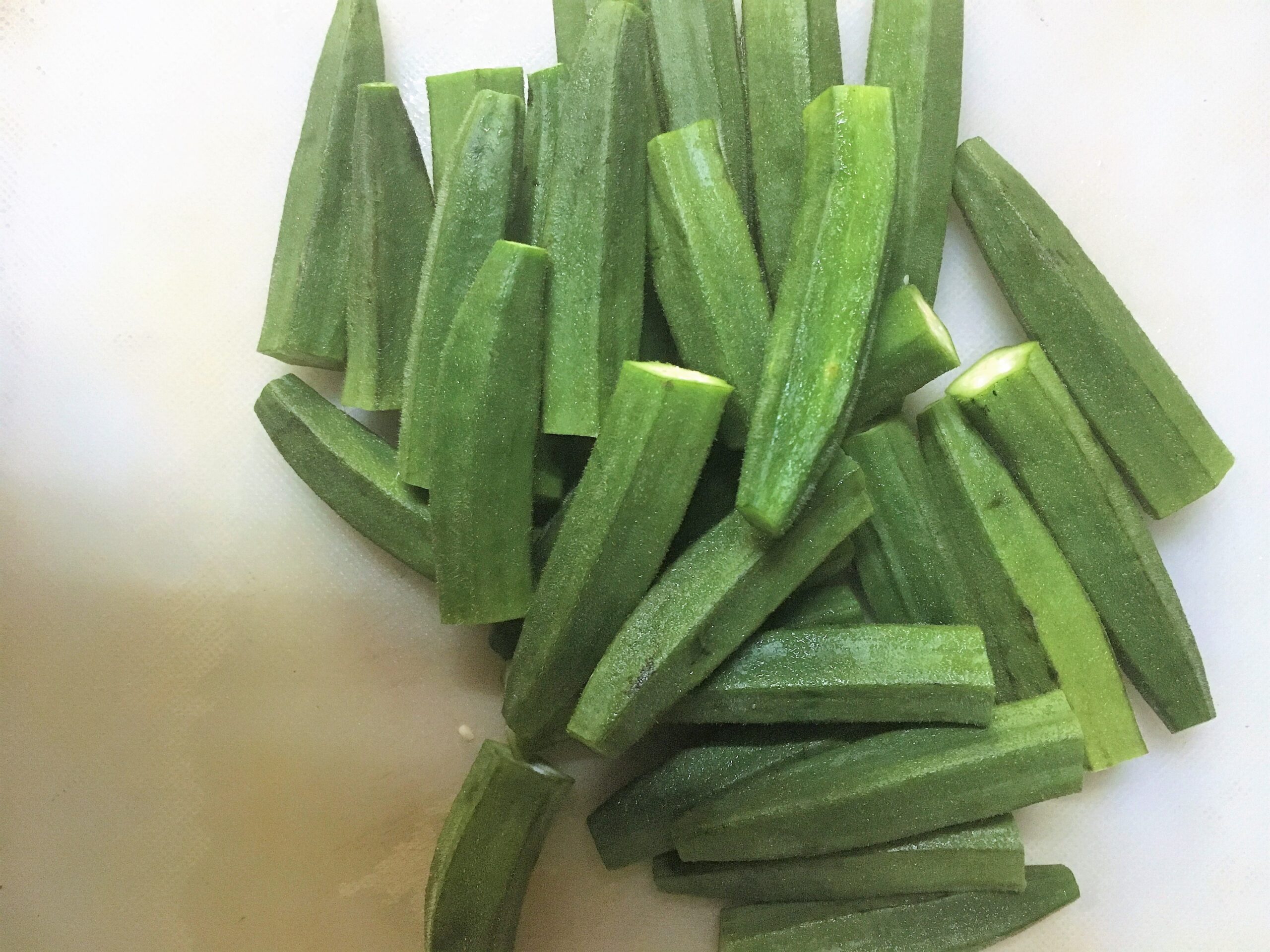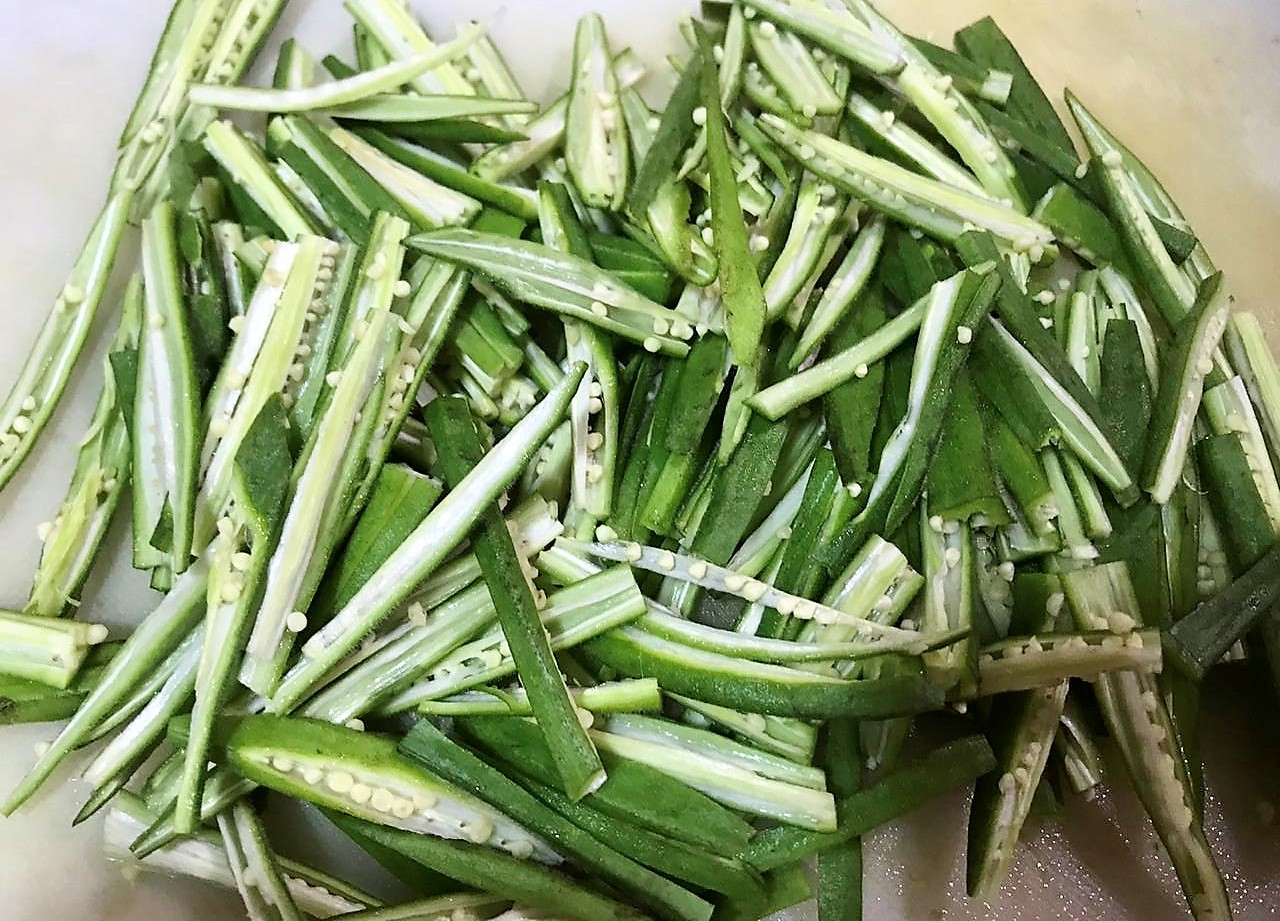 Wash the bhindi/okra under running water and dry thoroughly using a cloth.
Once dried, remove the head and tail of the bhindi/okra and then cut each bhindi/okra into 4-5 pieces lengthwise in thin pieces. If your bhindi/okra is small, you may cut them into 2-3 pieces.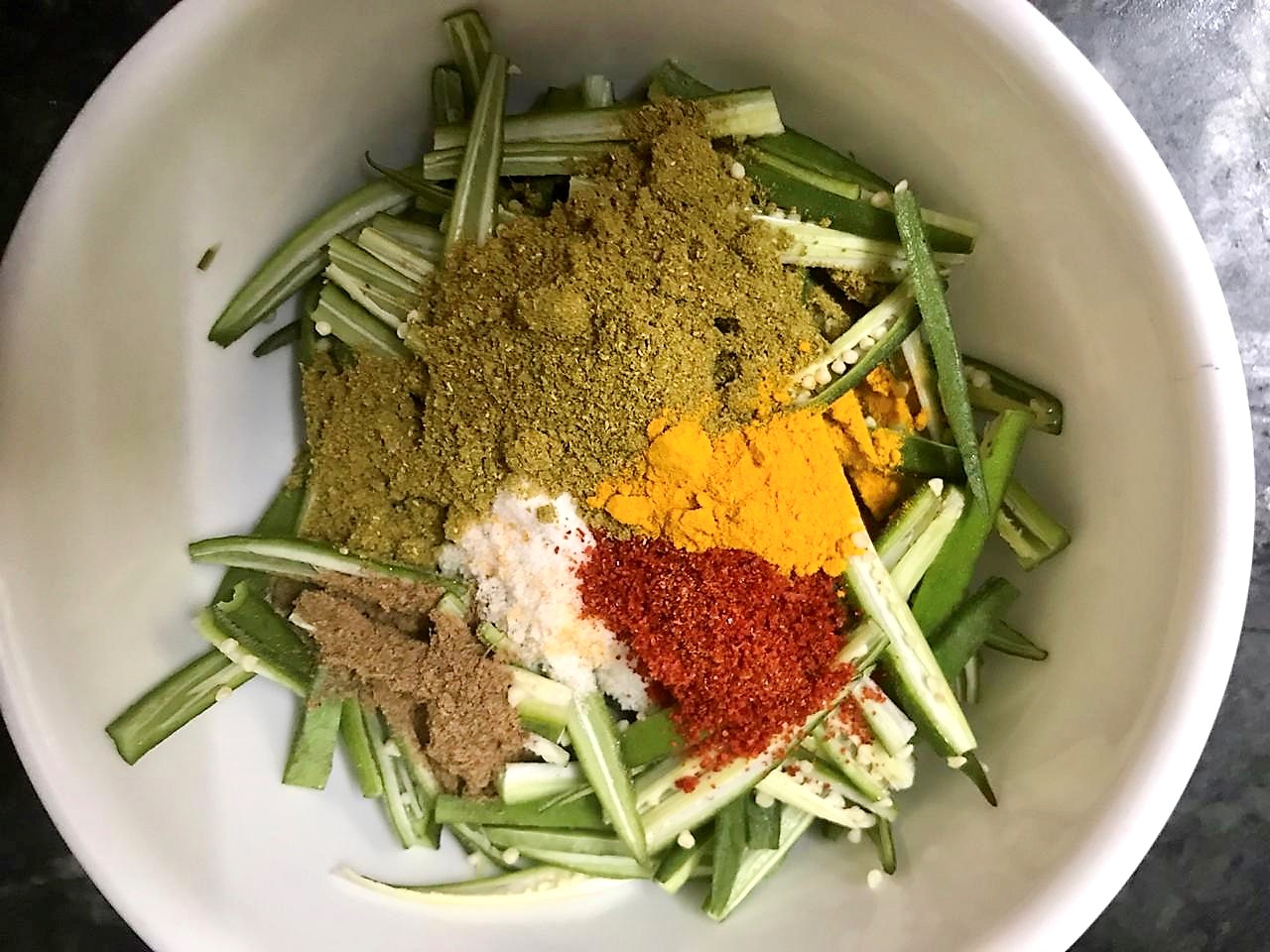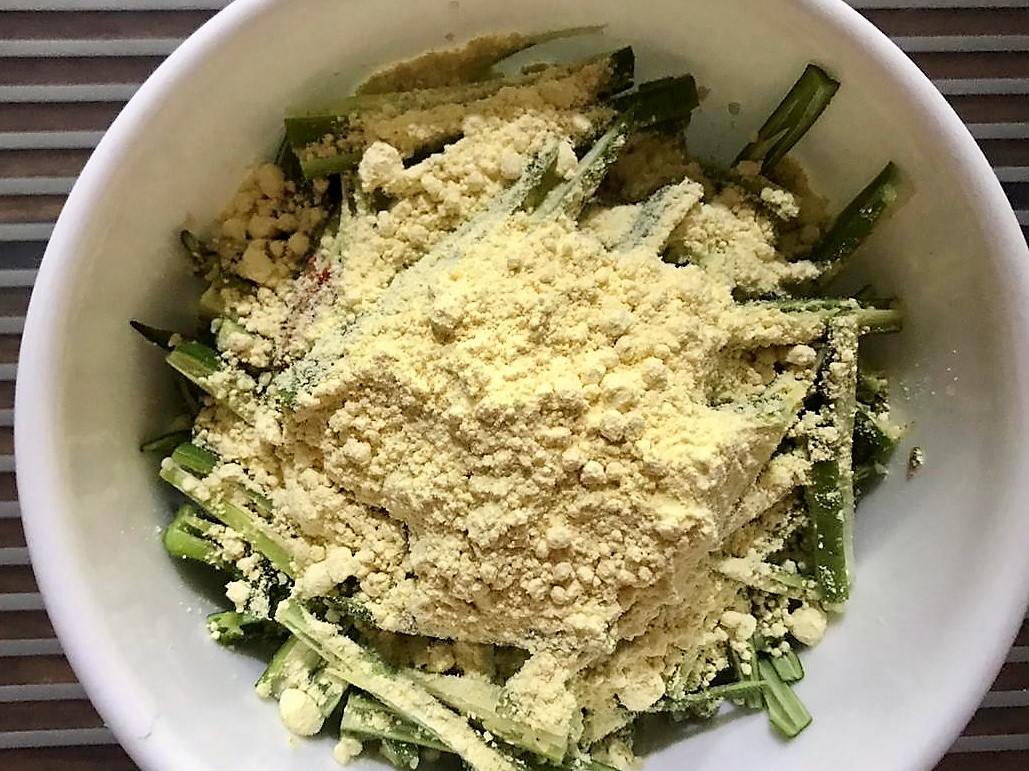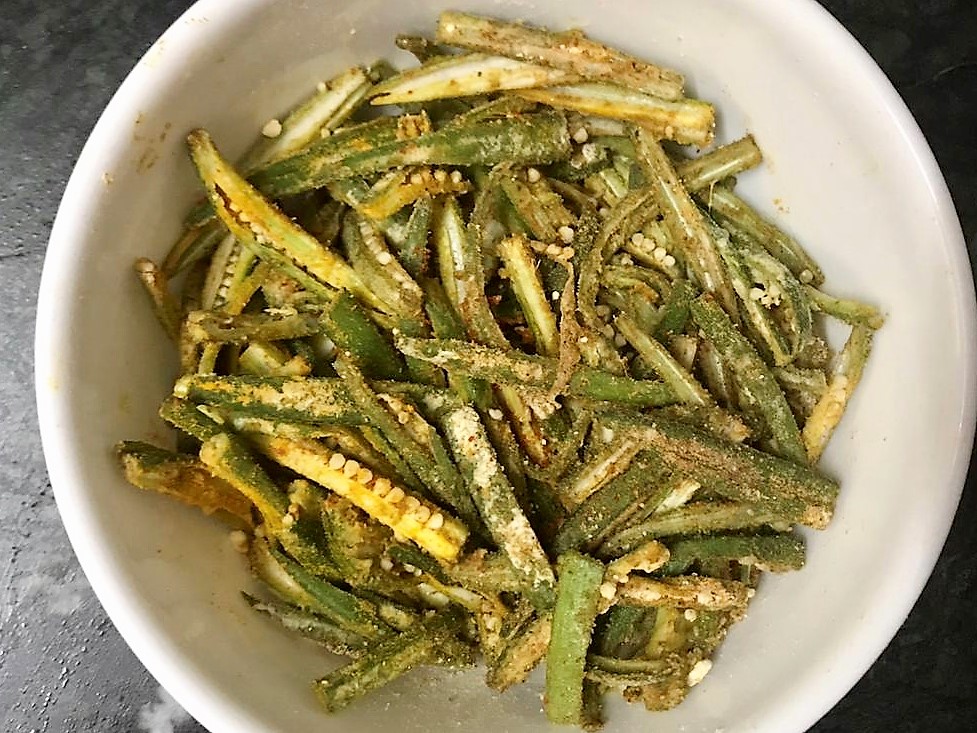 Add salt, turmeric powder, red chilli powder, coriander powder, garam masala and gram flour and toss the bhindi/okra pieces.
Gram flour and the spices will make a light coating on the bhindi/okra pieces. Leave it aside for about one hour.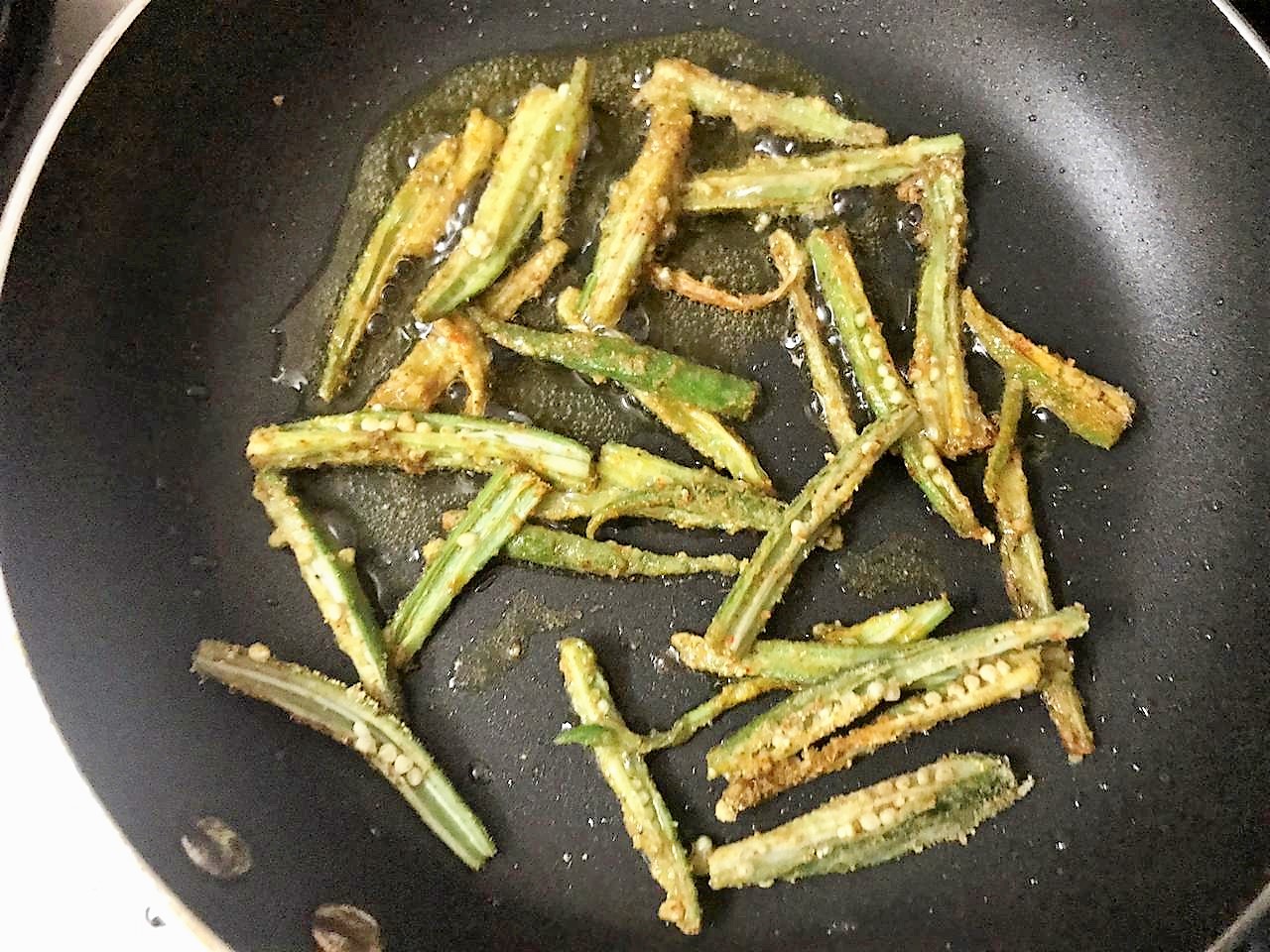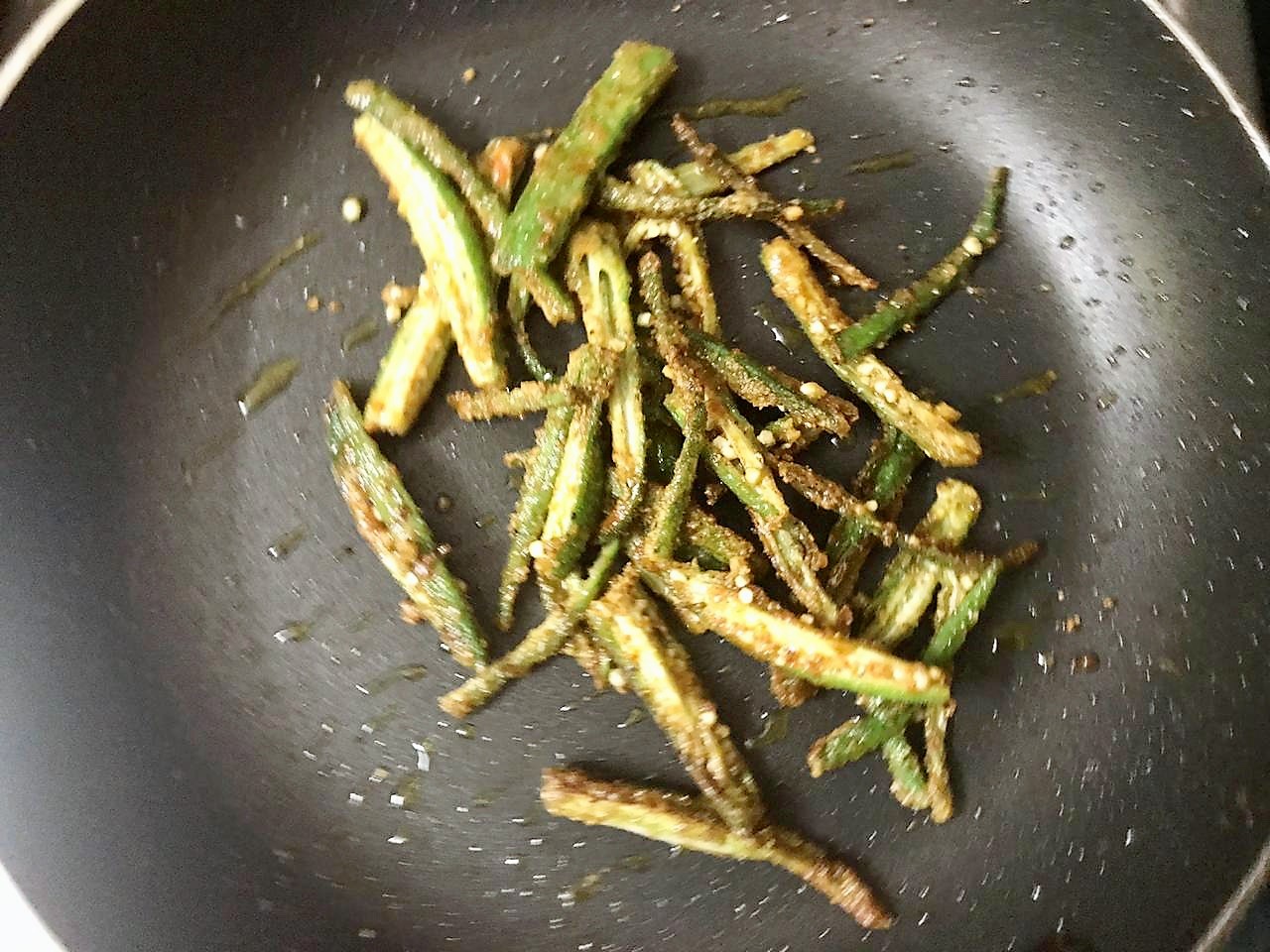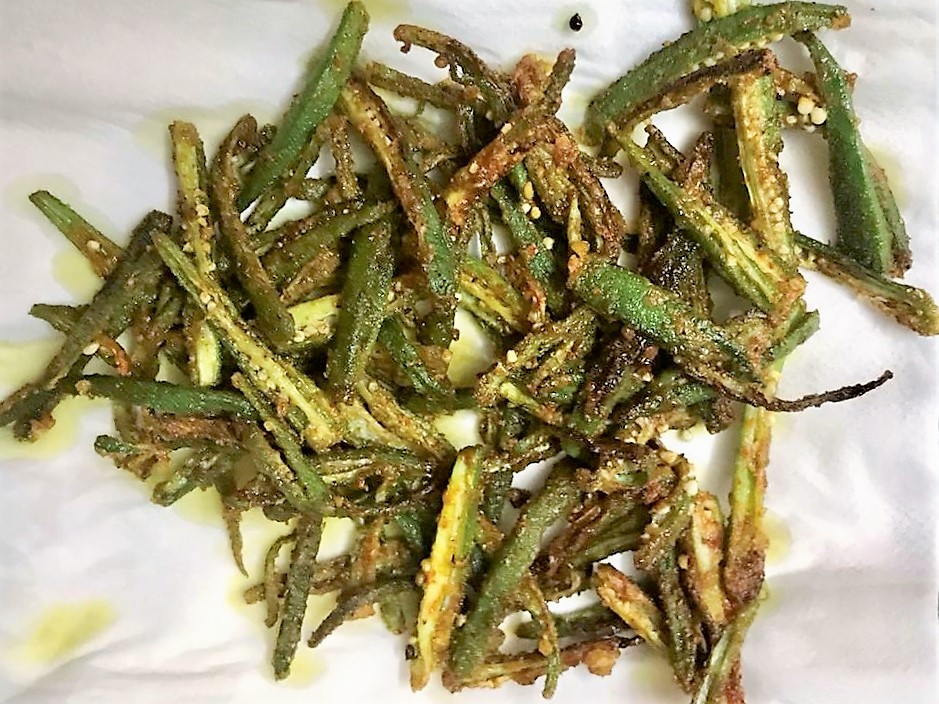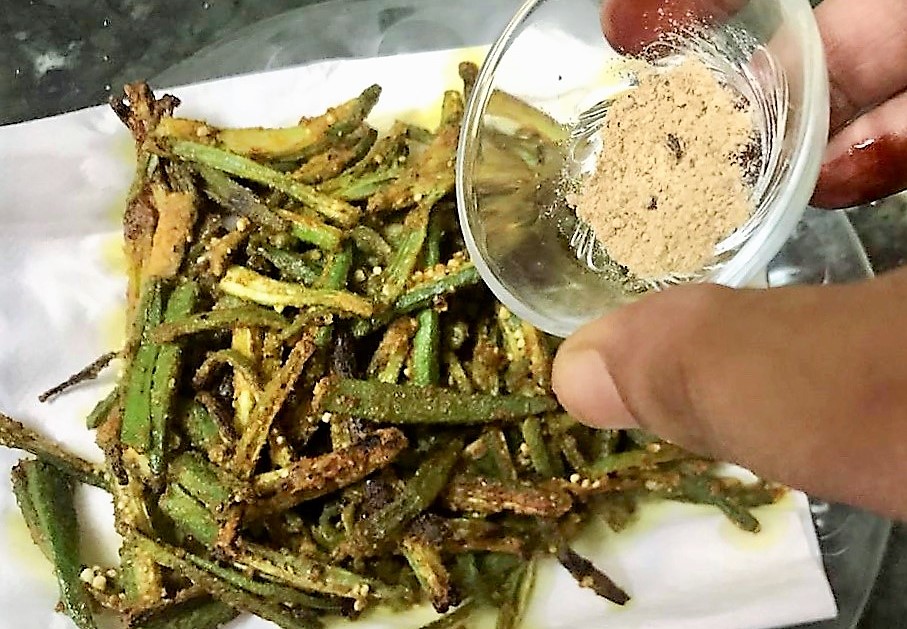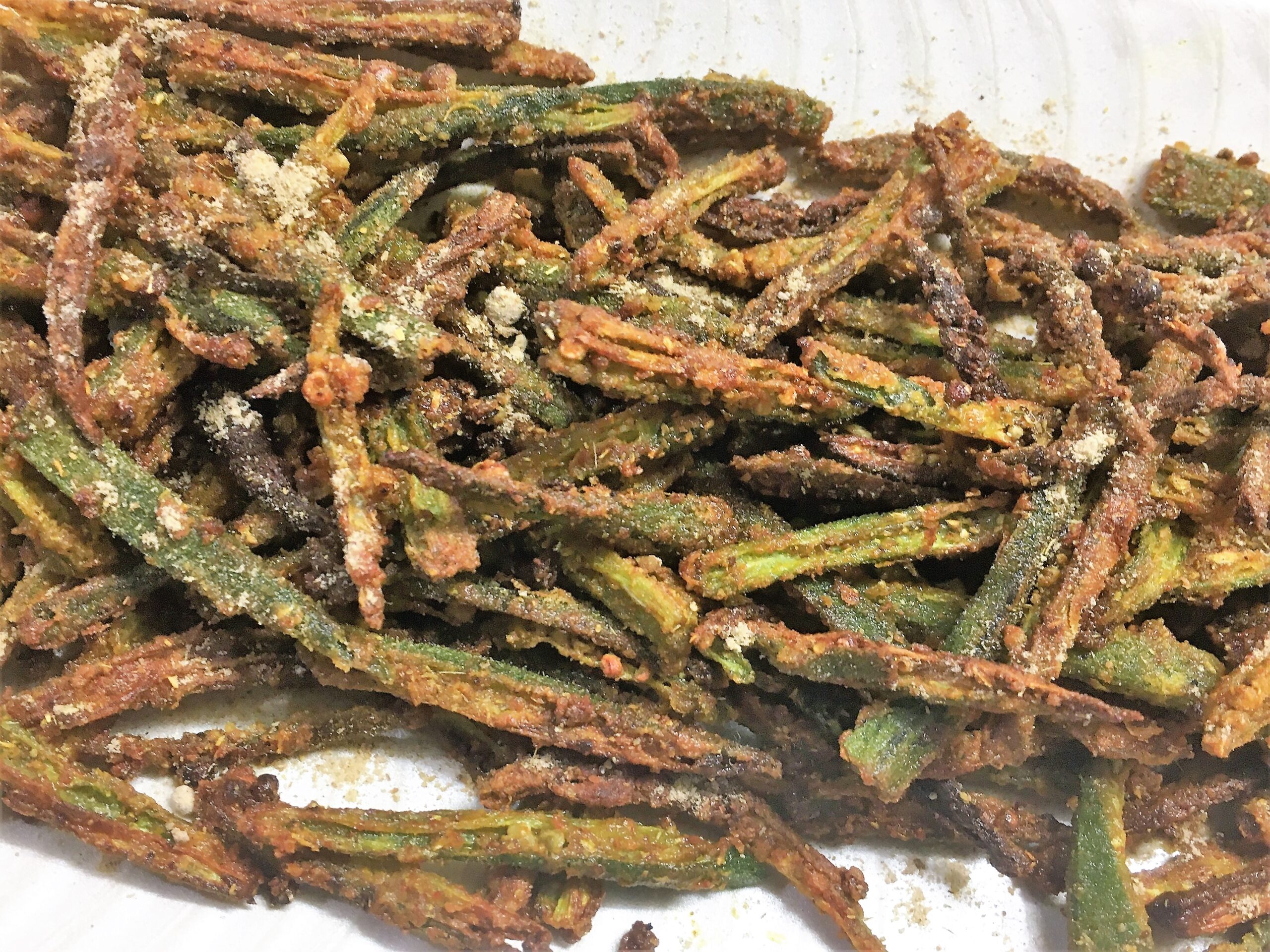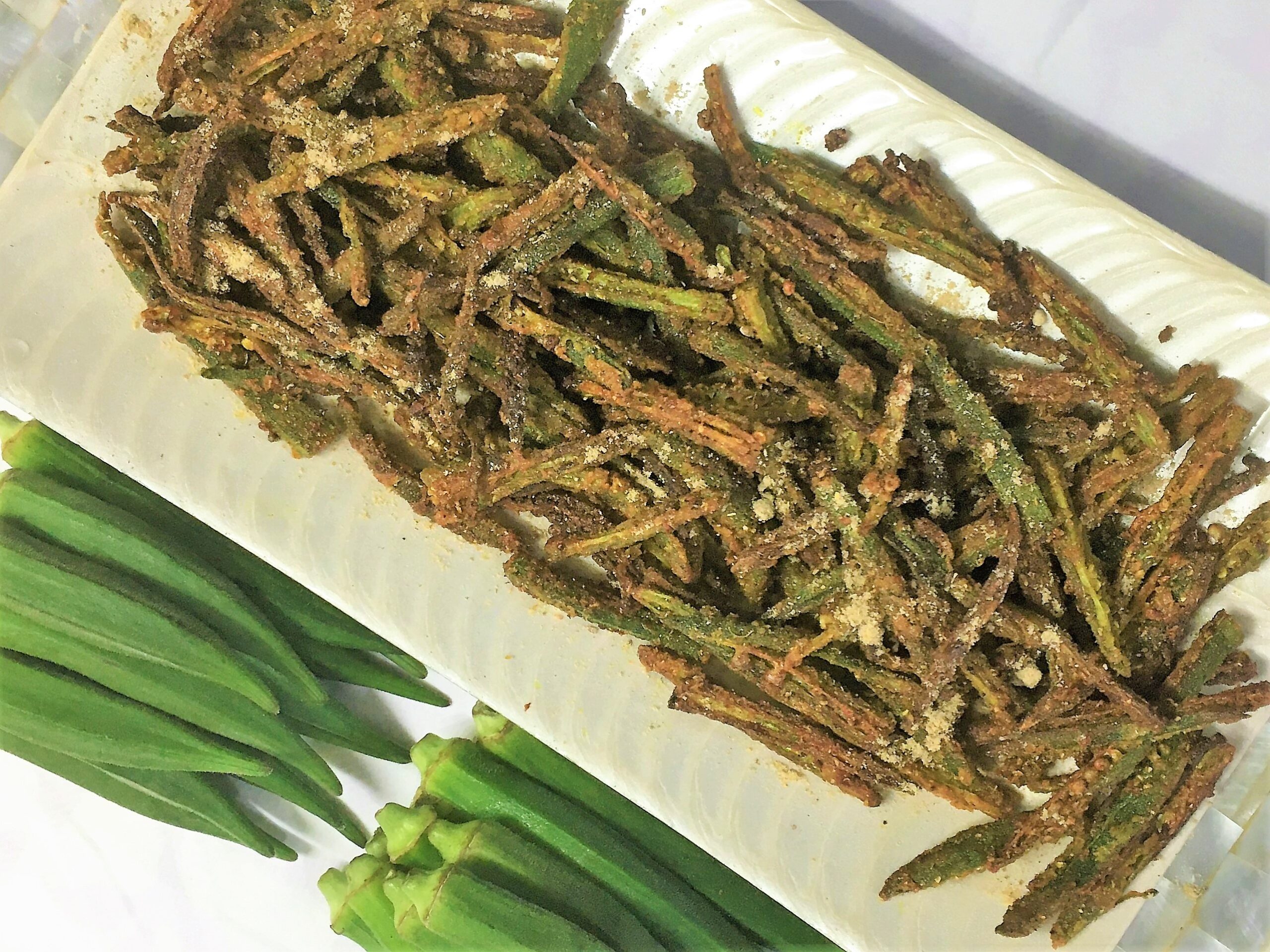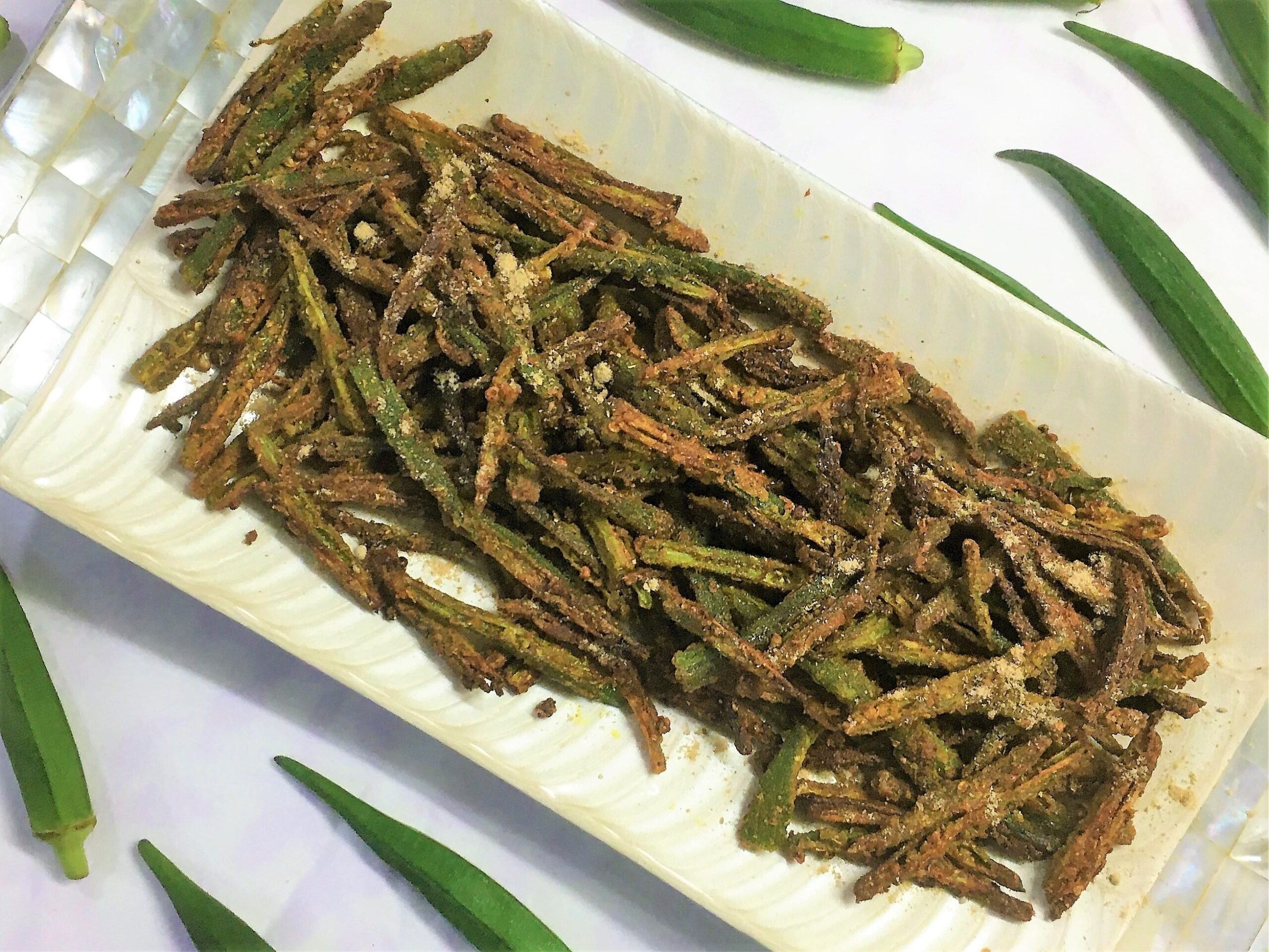 Heat the oil in a pan. Add 10-12 slices of bhindi/okra and shallow fry them on medium heat. When they become crisp, turn over each bhindi/okra and fry them on the other side. This should take 4-5 minutes.
Once the bhindi/okra is fried from all sides and is crisp, remove them on an absorbent paper towel to remove excess oil.
Repeat the same with the other bhindi/okra in small batches.
While serving, sprinkle chaat masala and serve hot.