Khasta Besan Kachori
Kachori is a famous Indian street food and snack. 'Khasta' in Hindi means flaky. Khasta Besan kachoris have flaky and crispy texture and is loaded with a spiced gram flour filling. These heavenly bites, deep fried in hot oil, are perfect to gorge on a rainy day.
In North India, kachoris are served with aloo sabzi(potato curry) as a breakfast or with chutneys as a snack. Besan kachoris are filled with besan (gram flour) stuffing sautéed with other spices and deep fried till crispy and golden brown. Kachoris make a perfect brunch on Sunday's or have them with your evening tea. My mother enjoys making kachoris. Besan kachori being her favourite as they are simple to prepare and super crispy and flaky. Everyone in my family love eating these crusty, crispy and super delicious besan kachoris.
Kachori can be made and stored for a couple of days in an airtight container. Besan kachoris have a longer shelf life as compared to other kachoris due to the dry filling. The gram flour gives the kachoris a delicious nutty flavour.
Ingredients
For the Dough
2 cups plain flour
1 cup wheat flour
2 tablespoons fine semolina
3-4 tablespoons oil/ghee
Salt to taste
½ cup cold water
For the Filling
1 cup gram flour(besan)
1 inch piece of grated ginger
4-5 finely chopped green chillies
Salt to taste
1 teaspoon black salt
1 teaspoon cumin (jeera) powder
1 teaspoon garam masala
1 teaspoon amchoor powder
2 teaspoons Kashmiri chili powder
1 tablespoon fennel seeds
1 teaspoon finely ground black pepper
1 teaspoon chaat masala
For Frying
Oil
Directions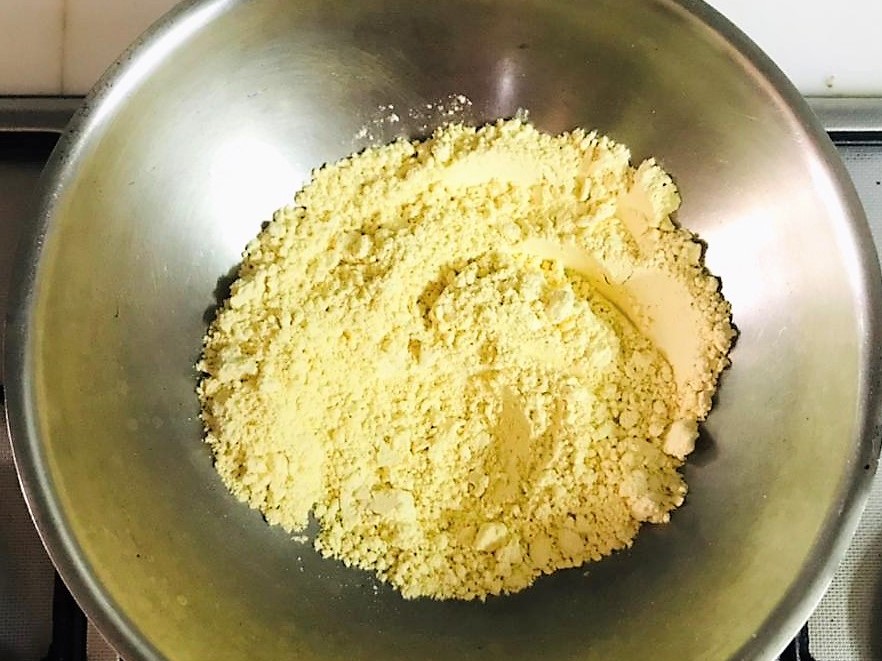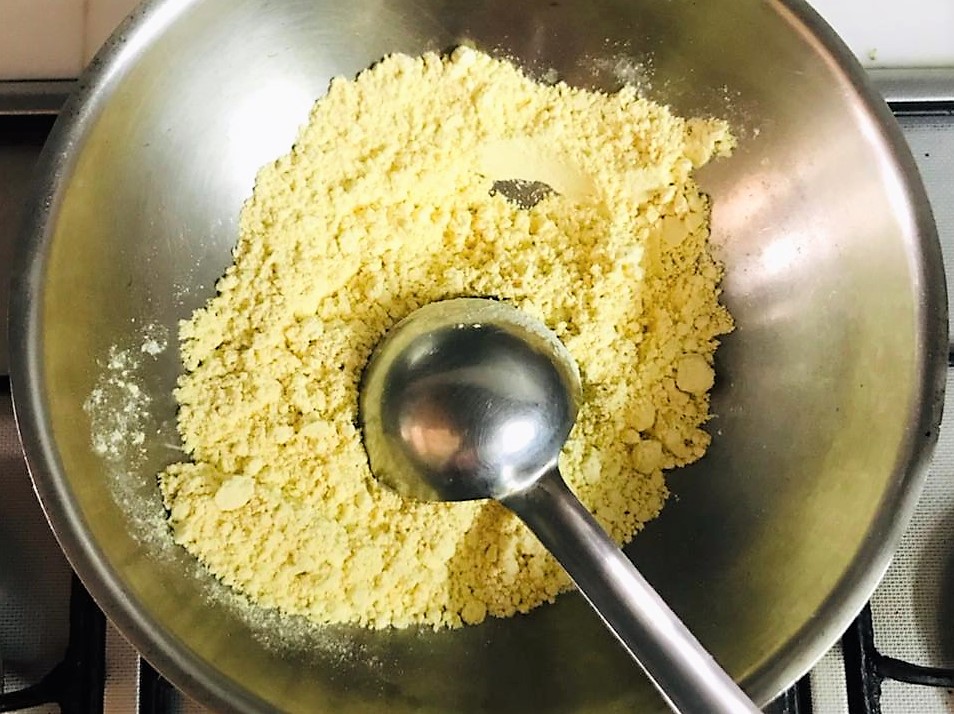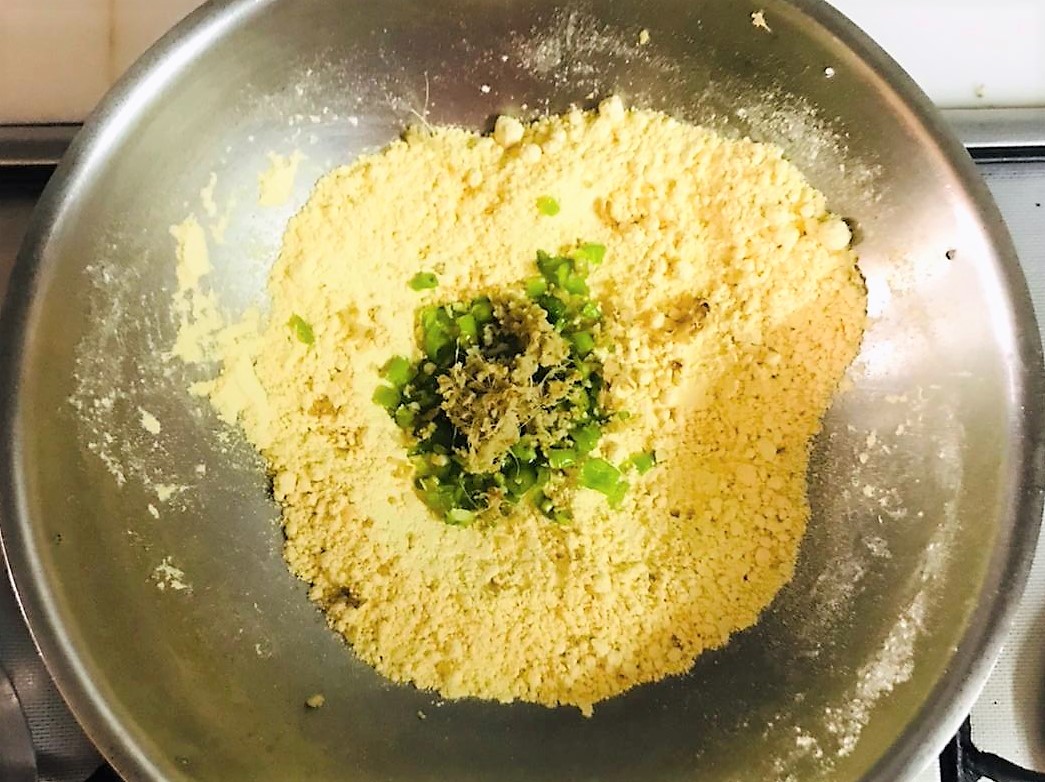 Roast the gram flour in a pan on low heat. Add the green chilies and ginger and cook on low heat for a minute.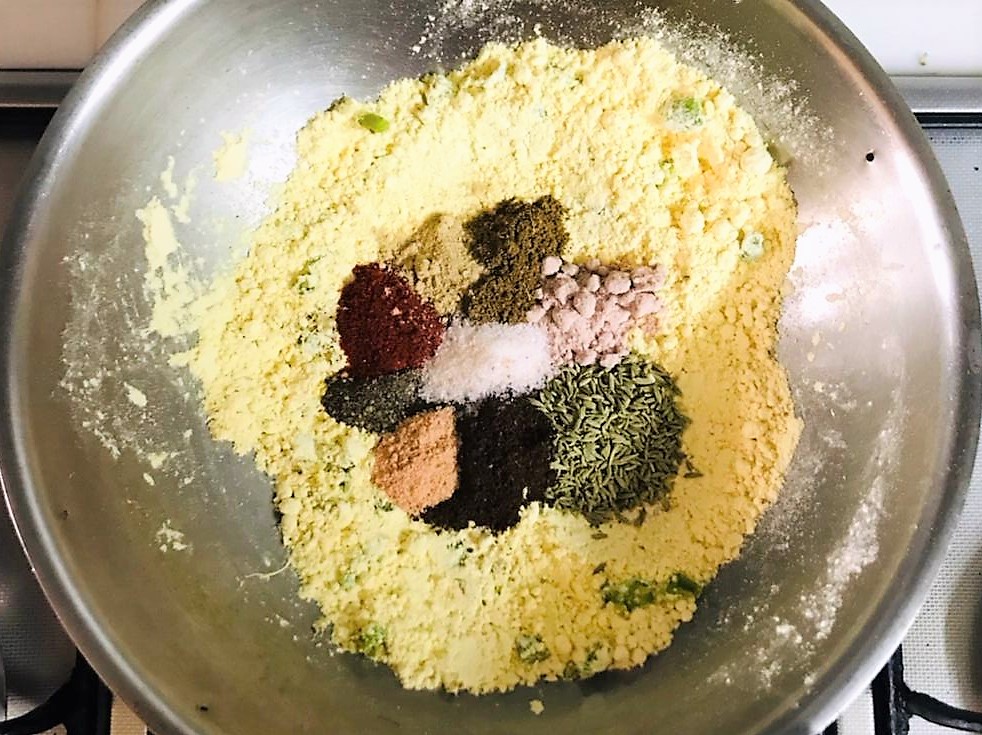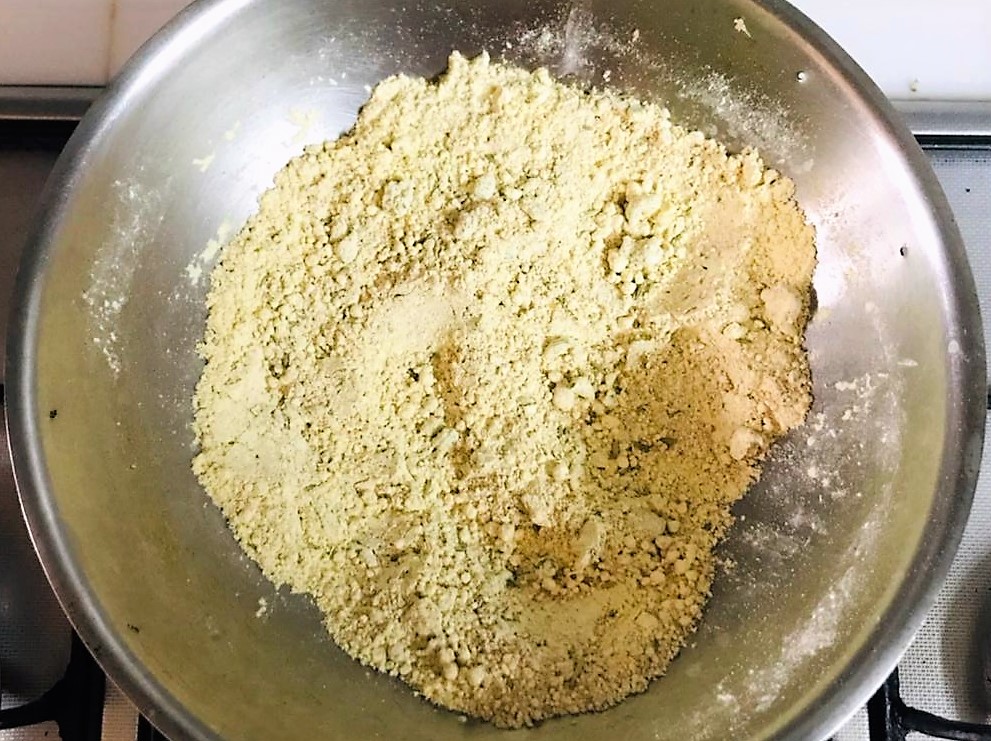 Add the salt, black salt, cumin (jeera) powder, garam masala, amchoor powder, Kashmiri chili powder, fennel seeds, black pepper and chaat masala and roast the gram flour and spices for 3-4 minutes on low heat until it turns slightly golden. Turn off the heat and keep it aside to let it cool.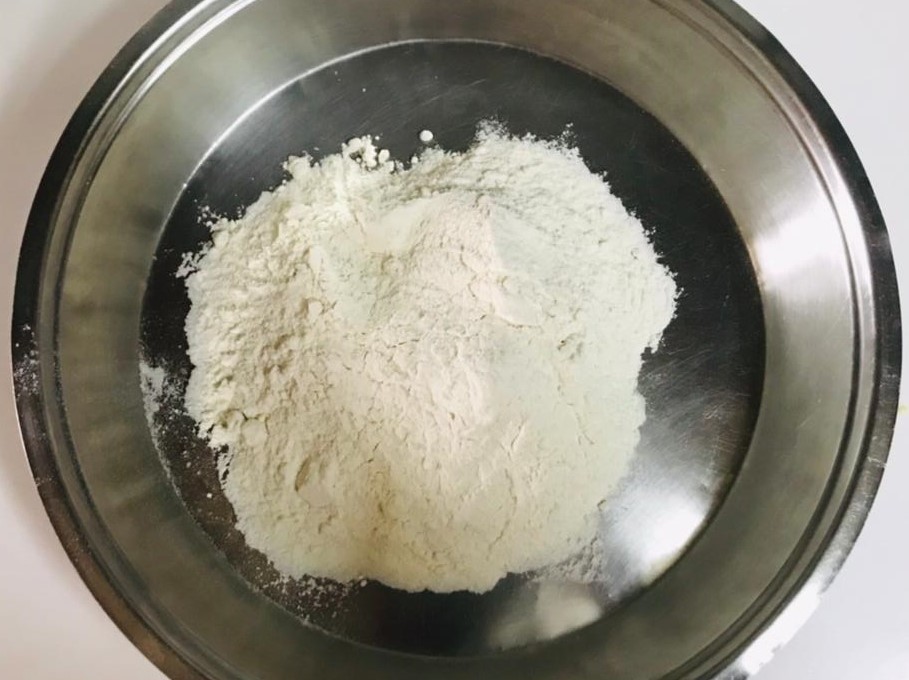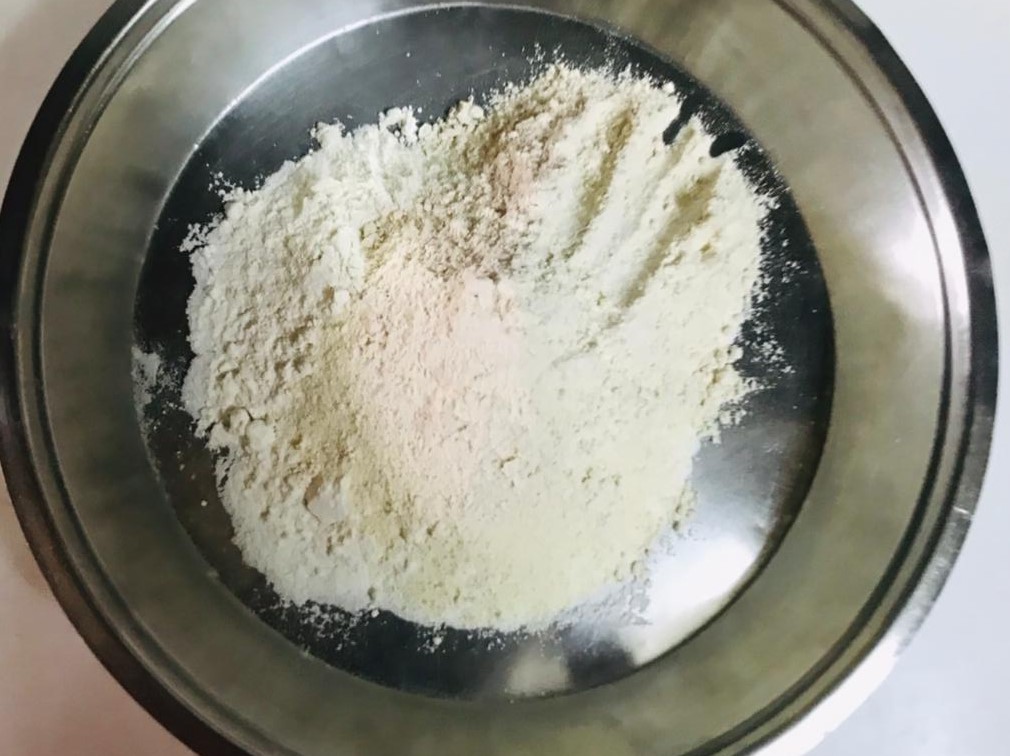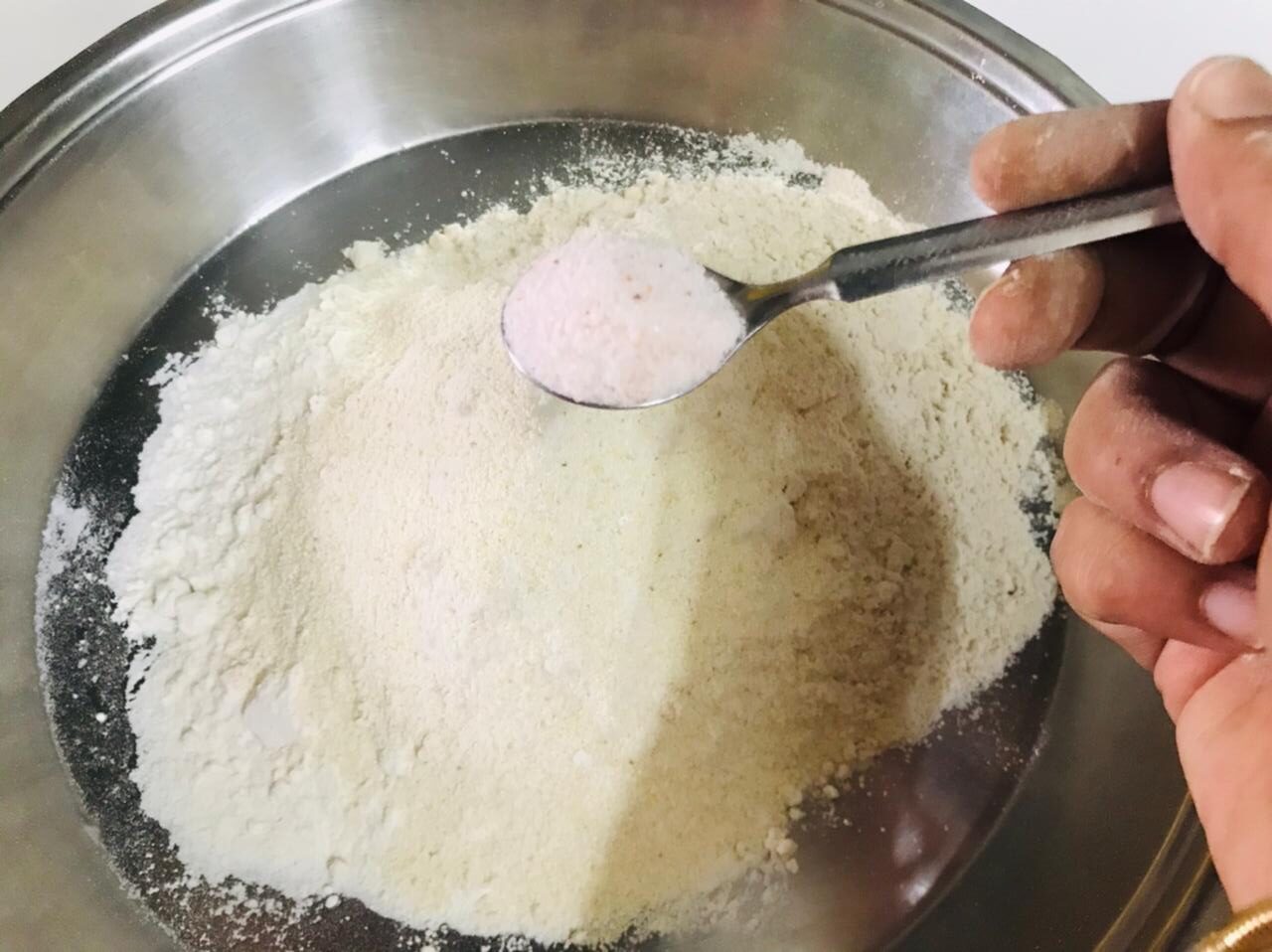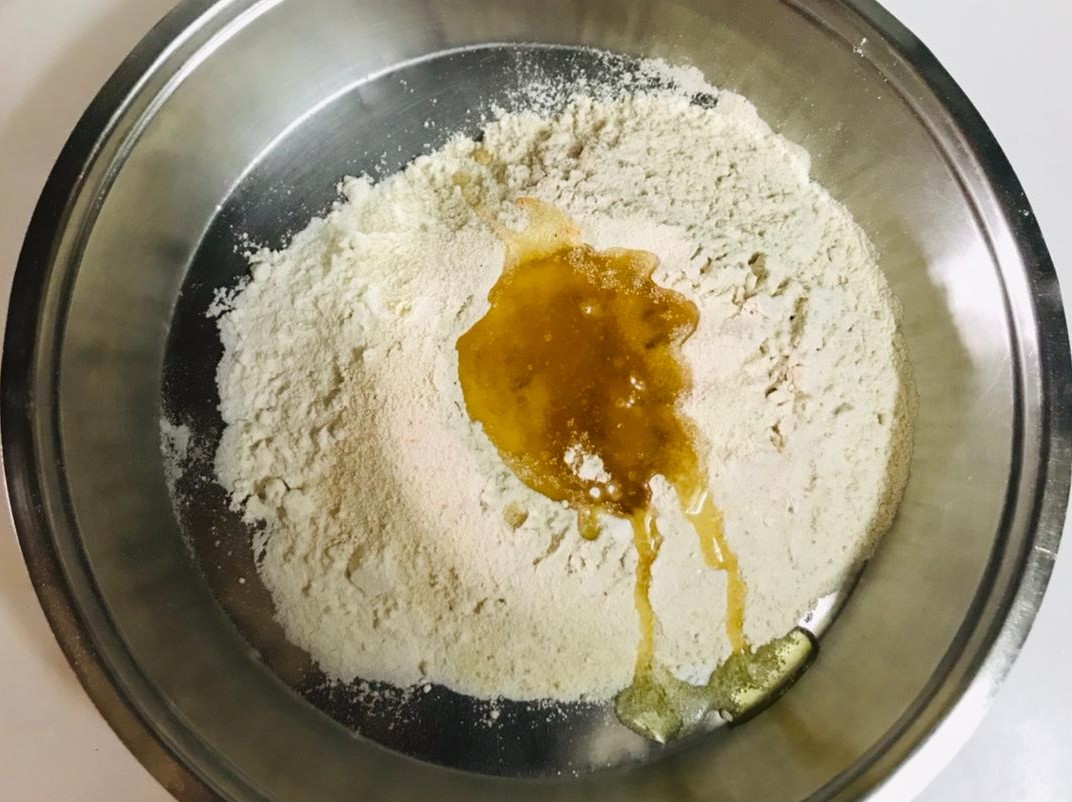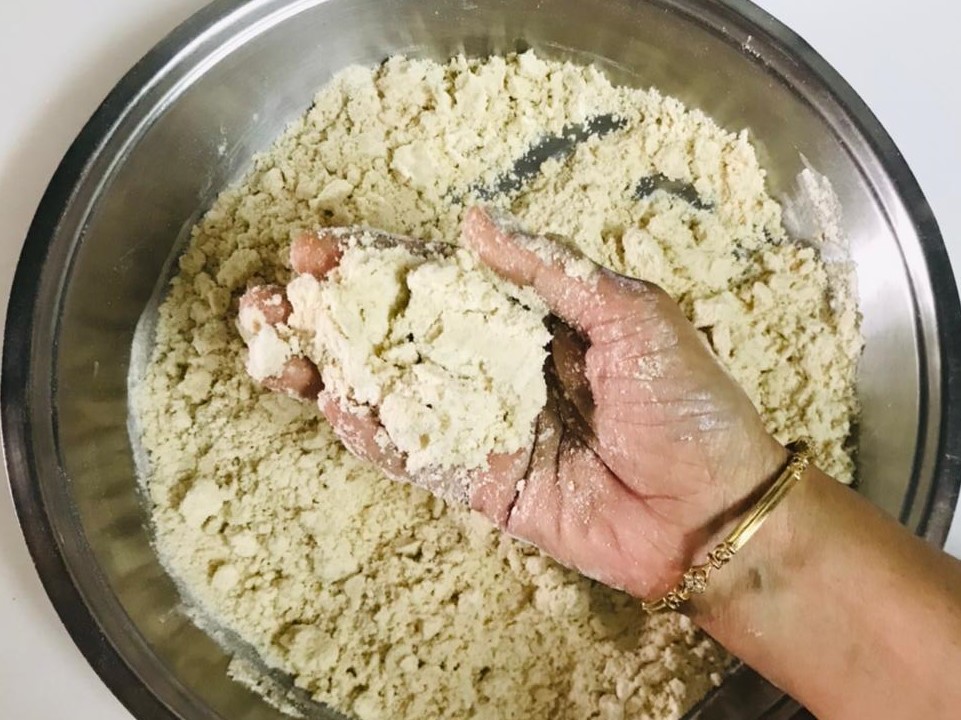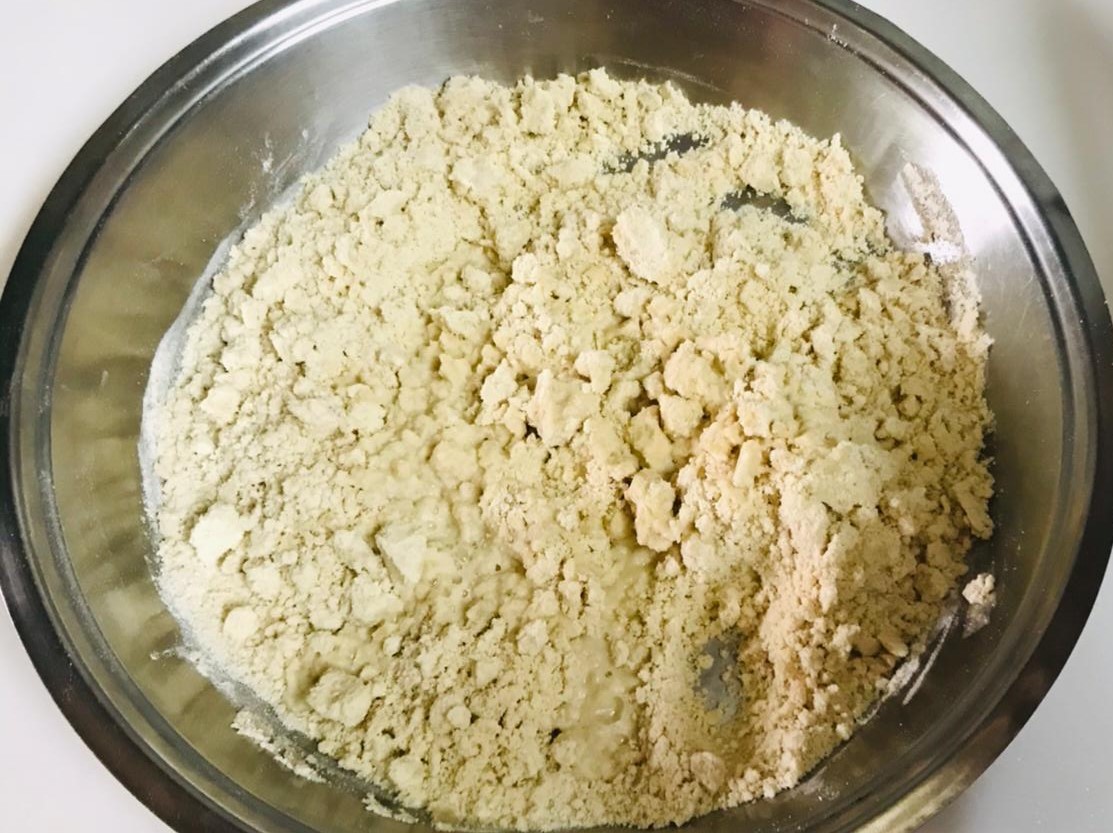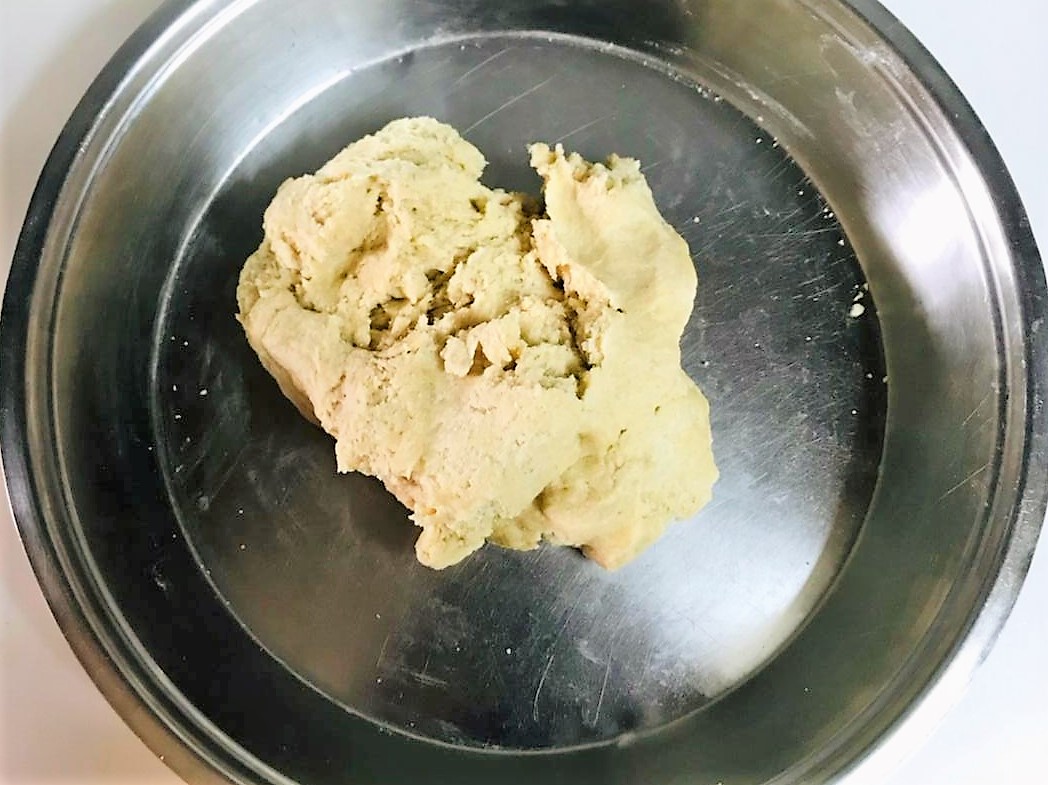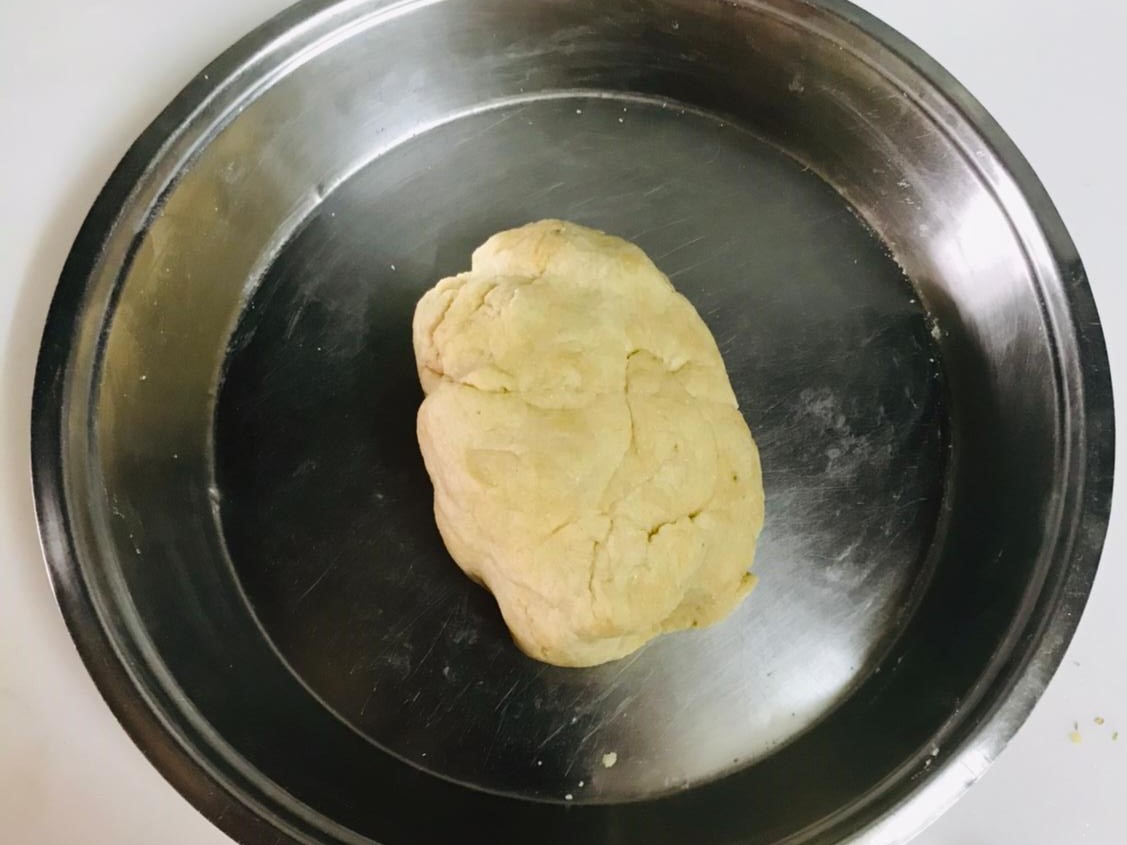 In a bowl, add the plain flour, wheat flour, semolina, salt and oil.  Mix the oil in the flour with your fingertips for a few minutes till you get a breadcrumb like texture in the mixture. You should be able to make a ball of the flour after mixing oil/ghee. Adjust the oil at this stage and add a few more drops of oil if you are not able to make a ball.
Add water in parts and knead a soft dough. Cover the dough with a moist muslin or kitchen towel and let it rest for 30 minutes.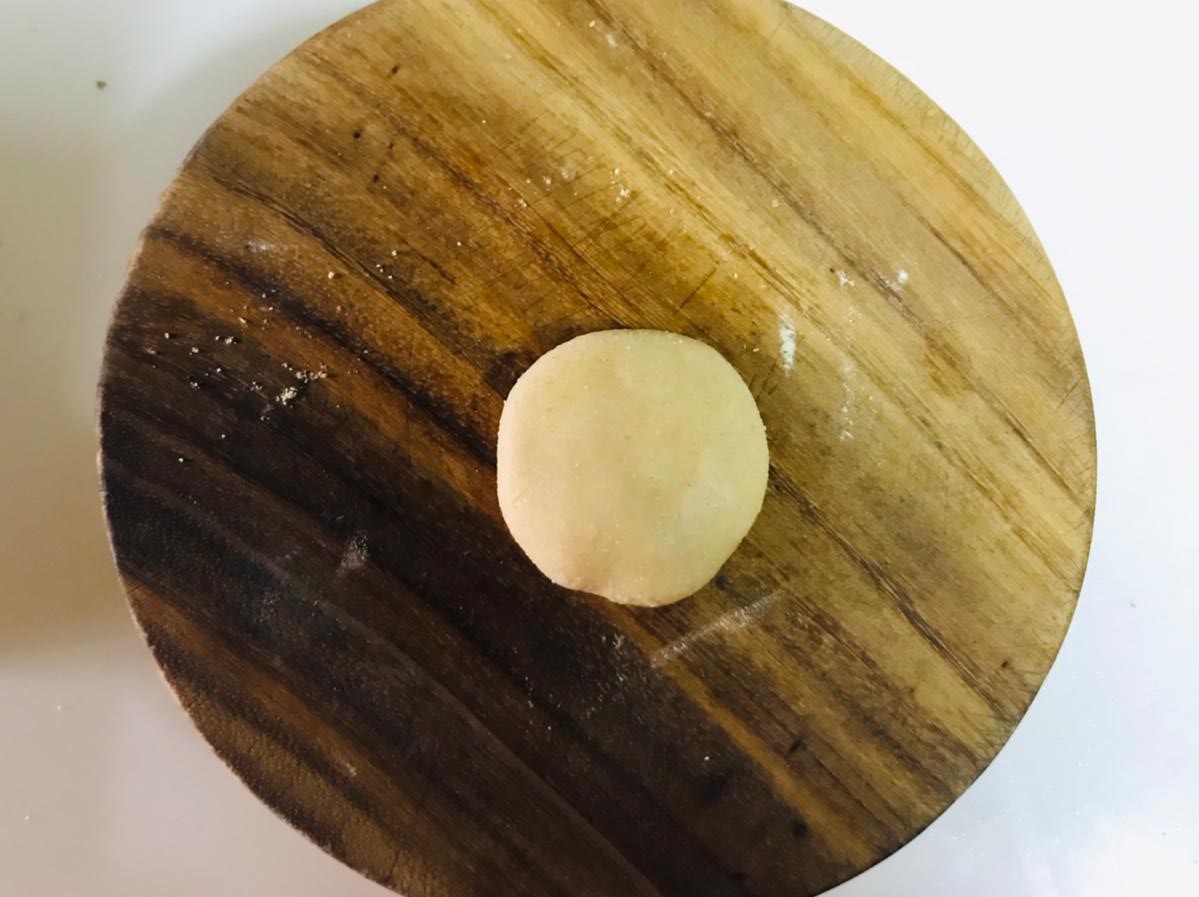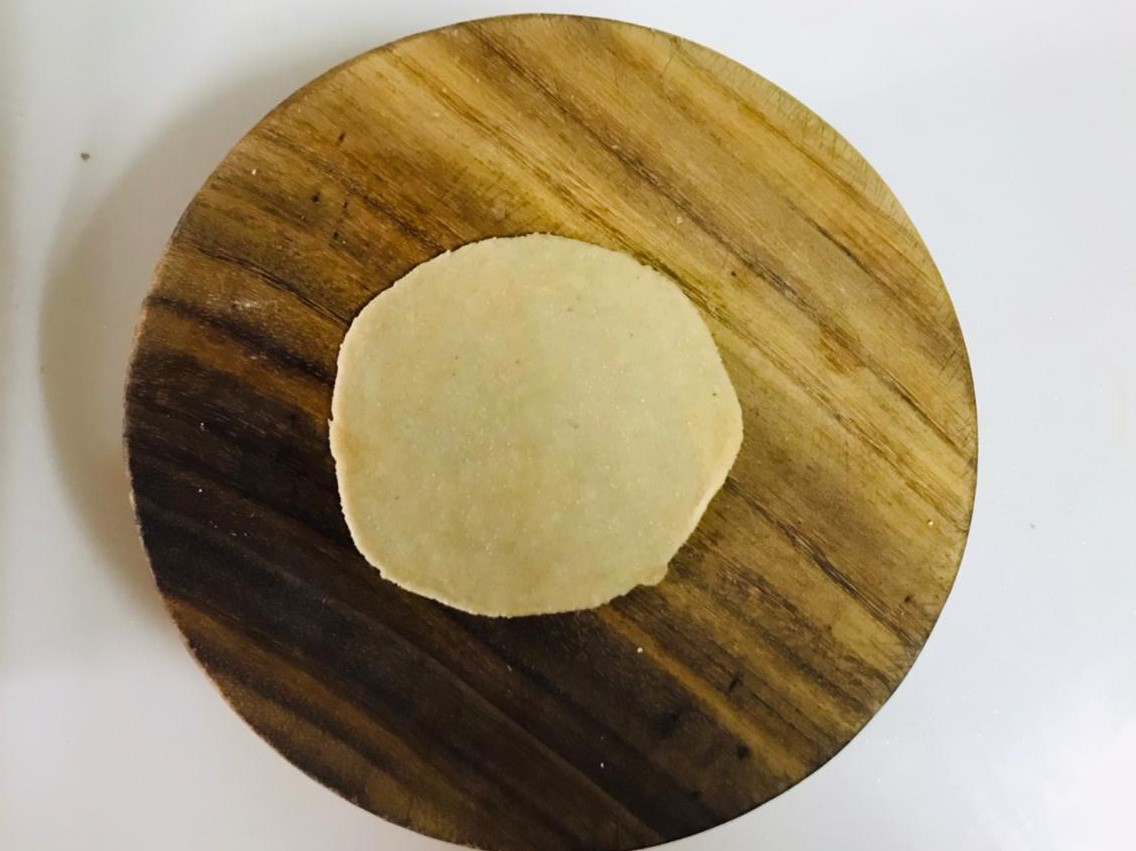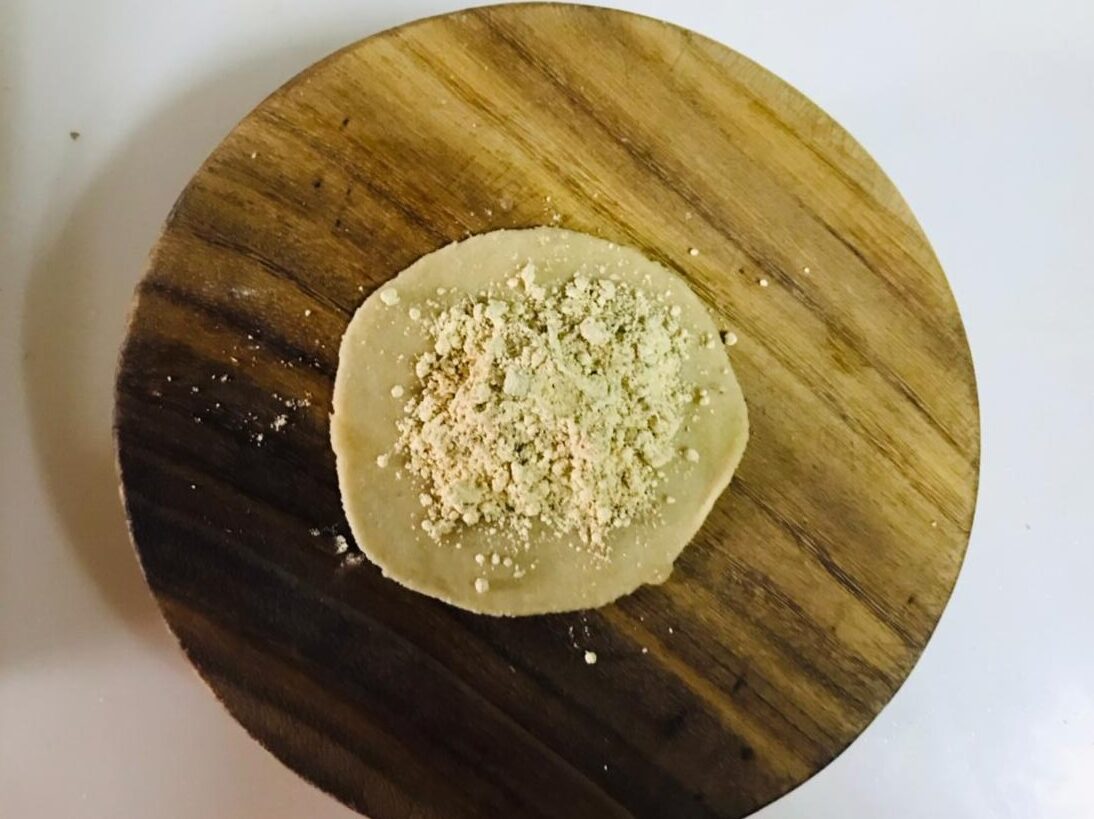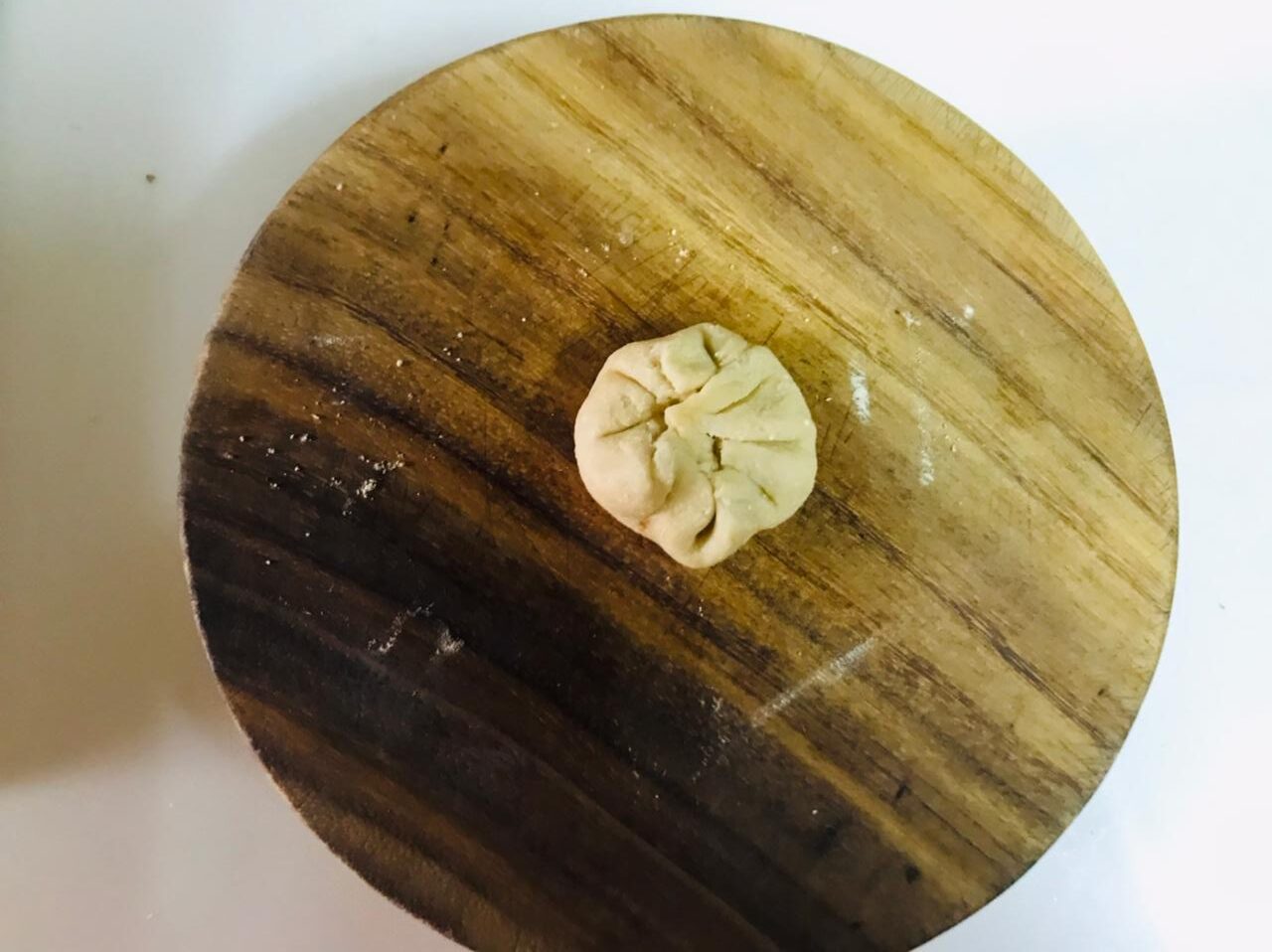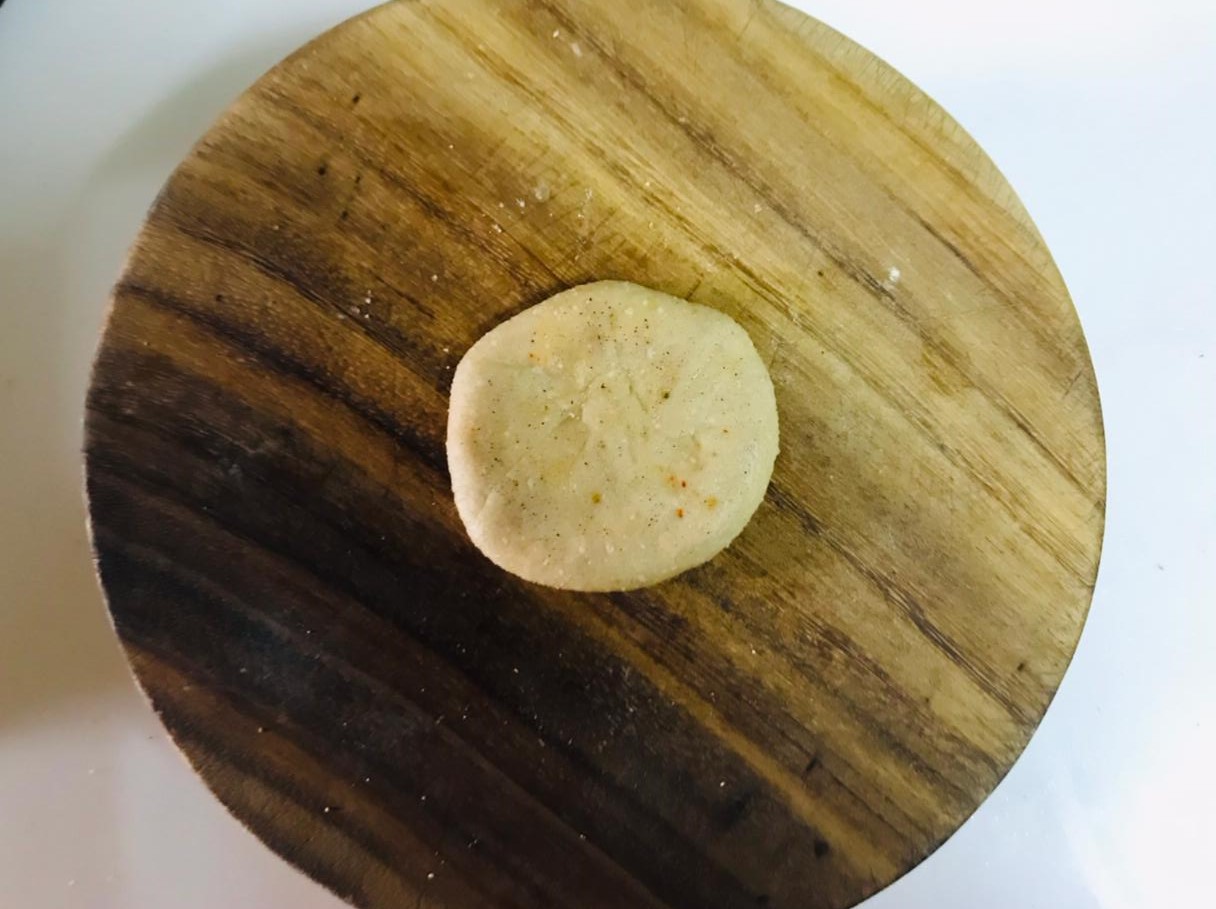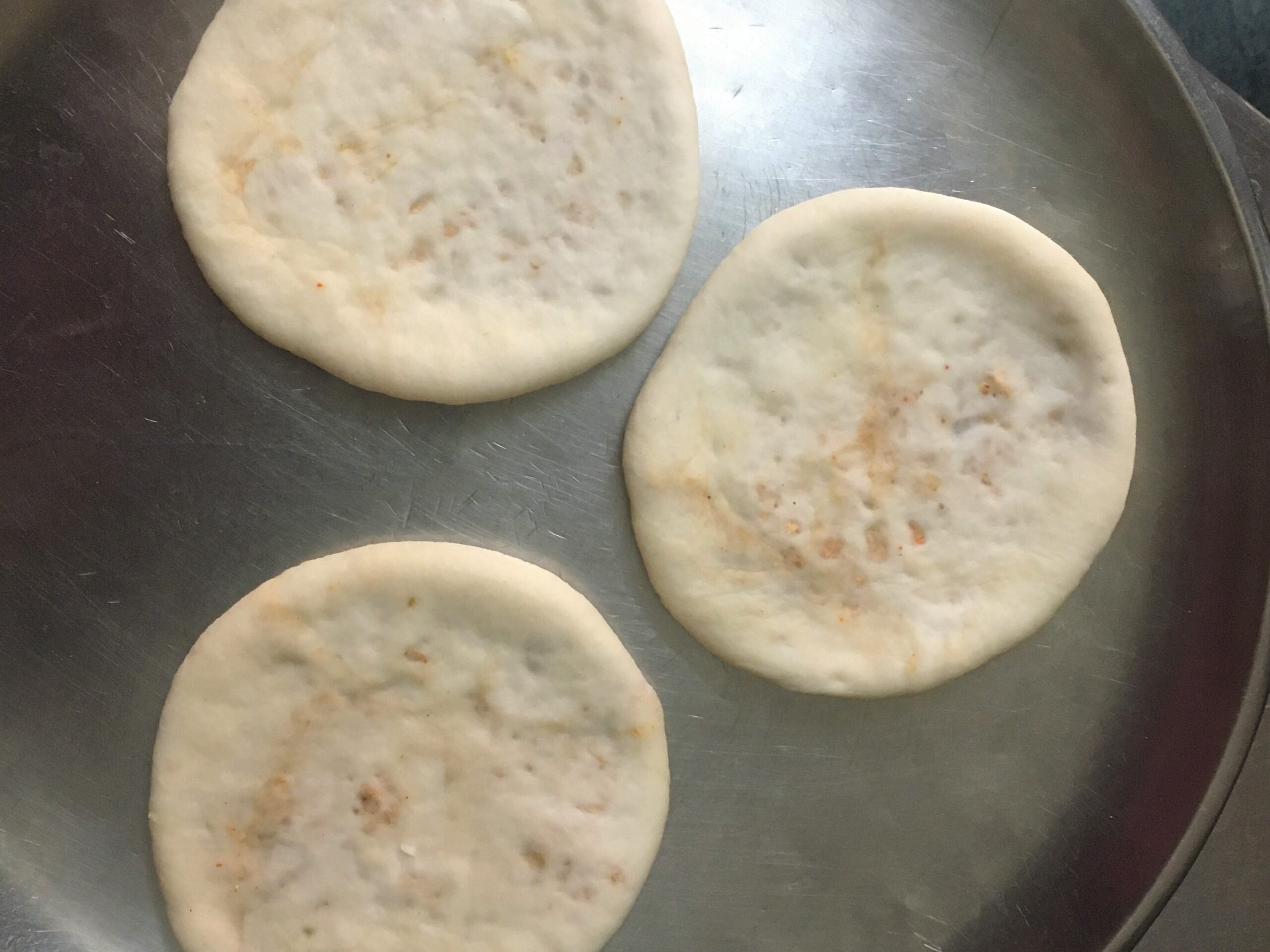 After 30 minutes of resting knead the dough for a minute and divide it into 14-15 equal sized balls. Flatten the dough using a rolling pin and make a bowl shape. Place 1 teaspoon of prepared stuffing in the center and gather the edges and cover the stuffing. Seal it properly. Slightly roll it again to approximately 2-inch circles.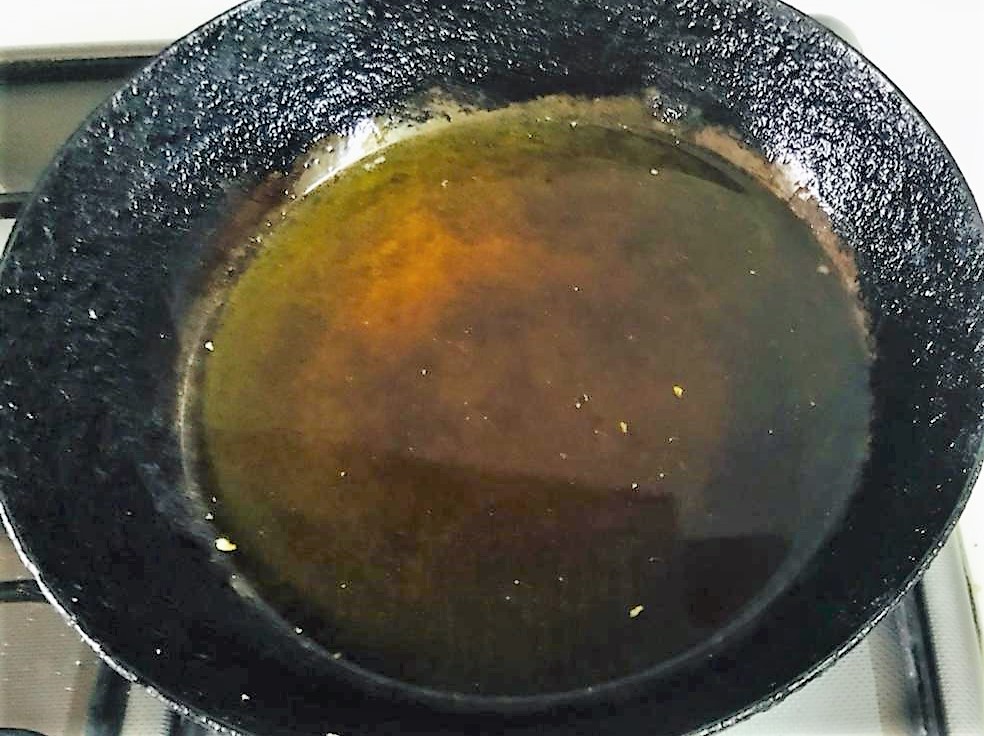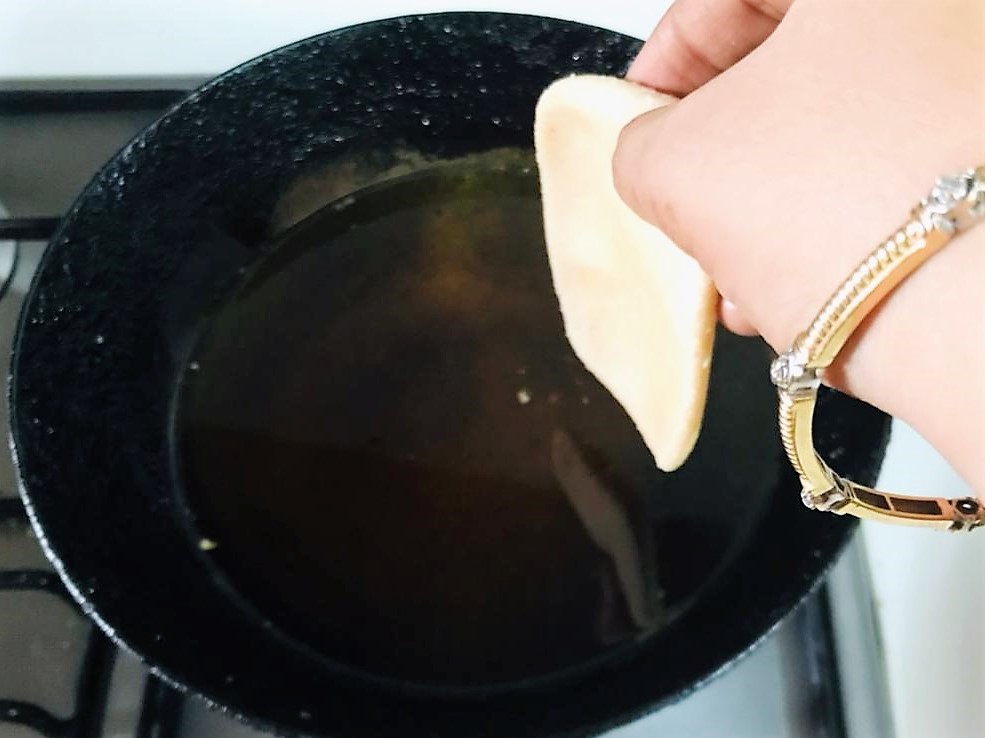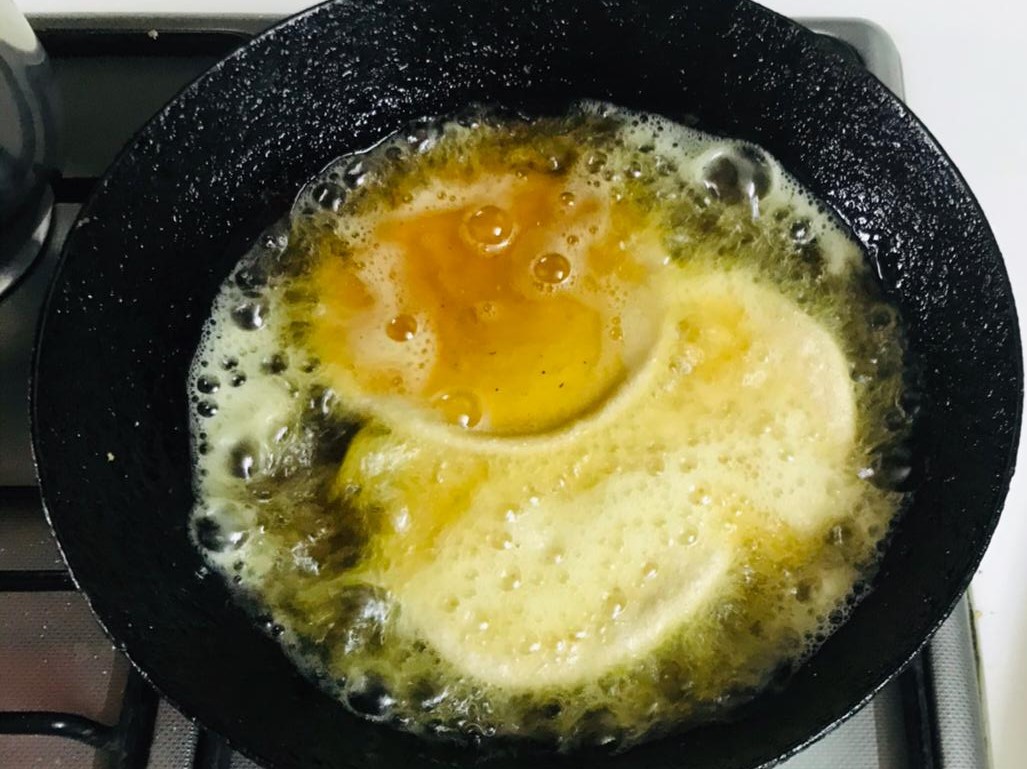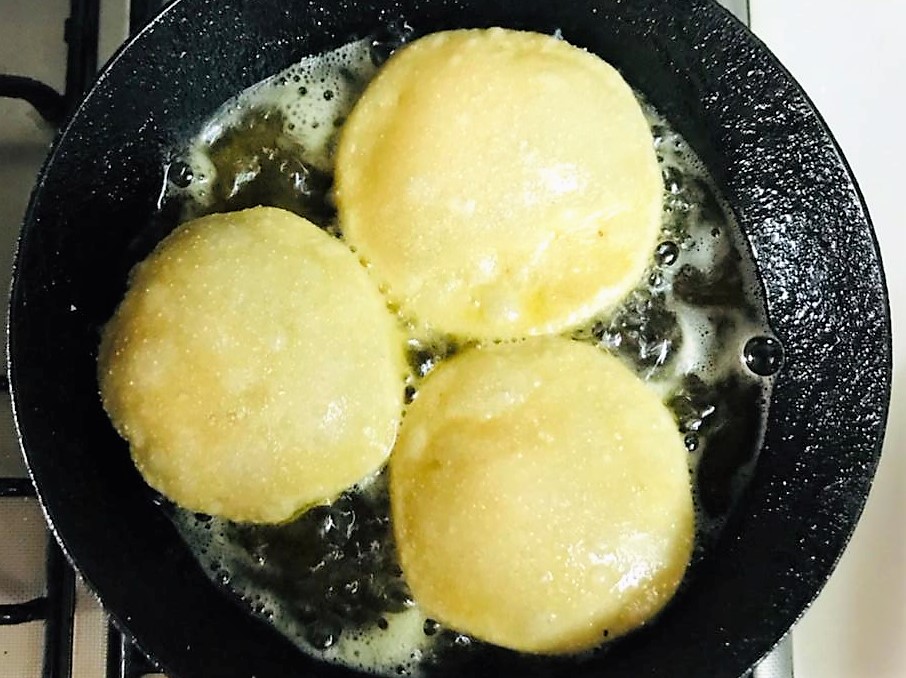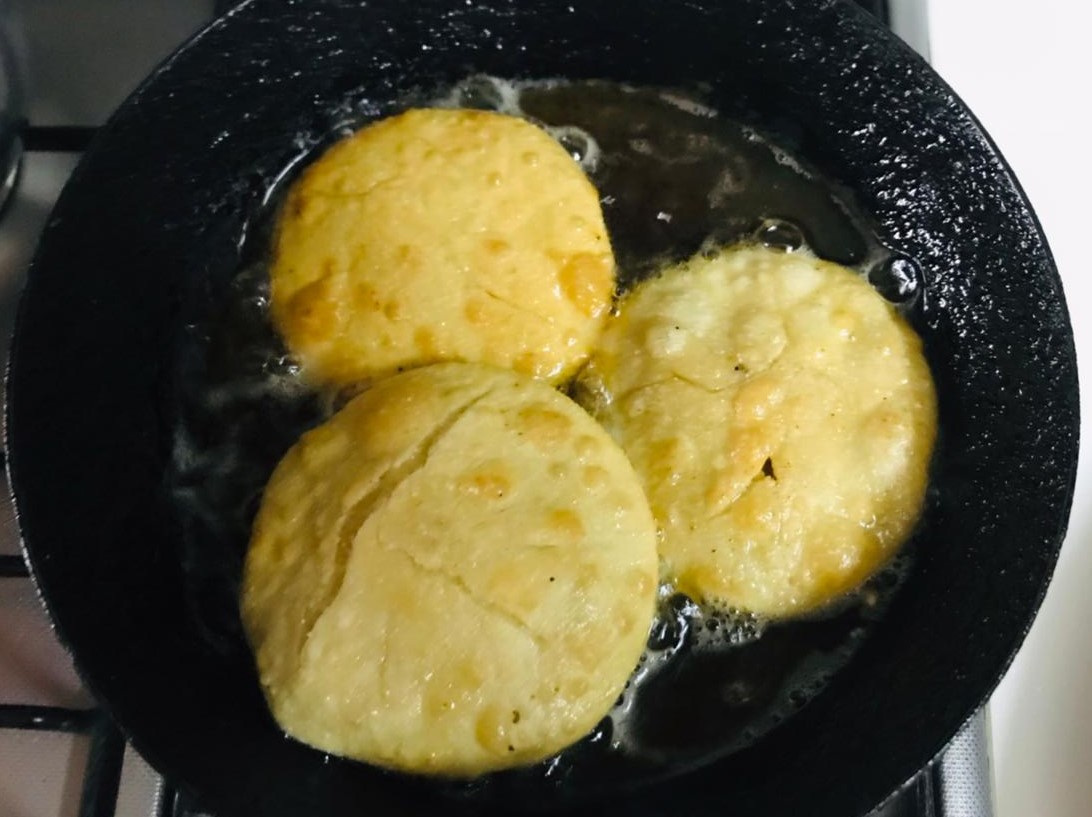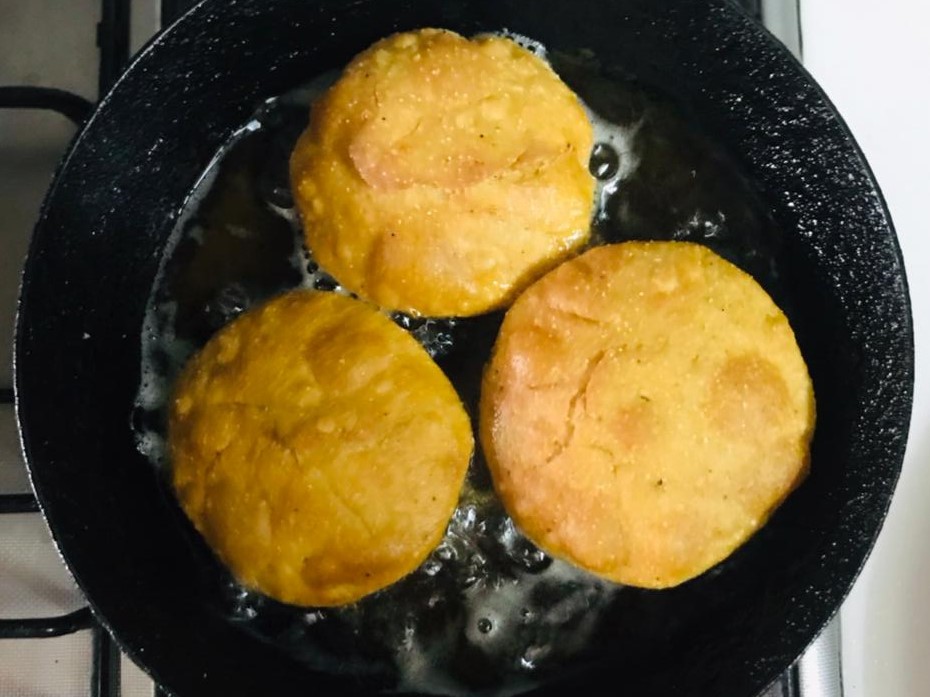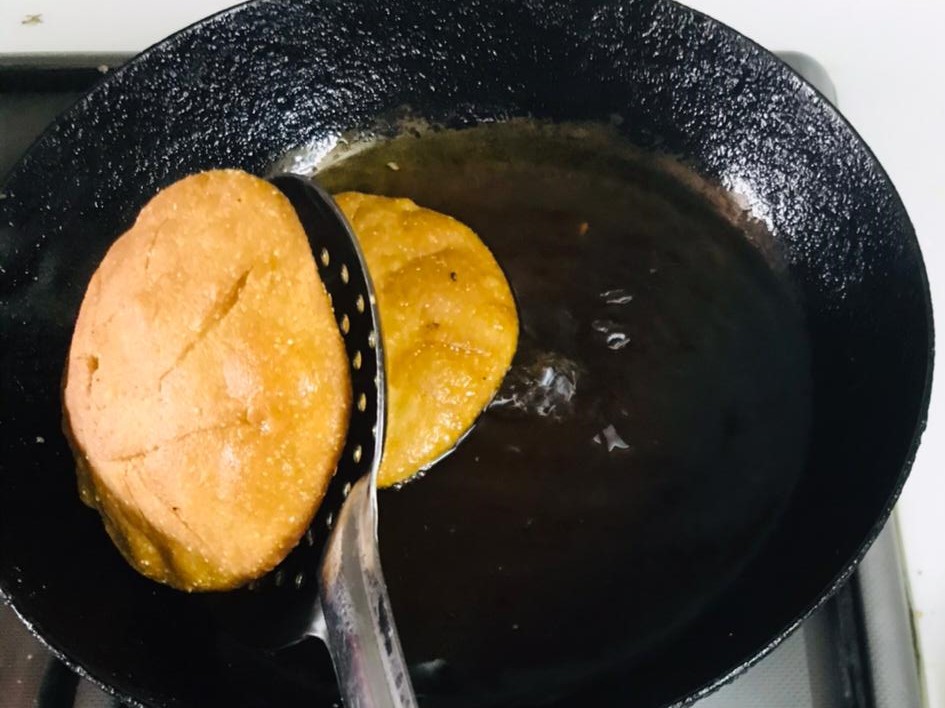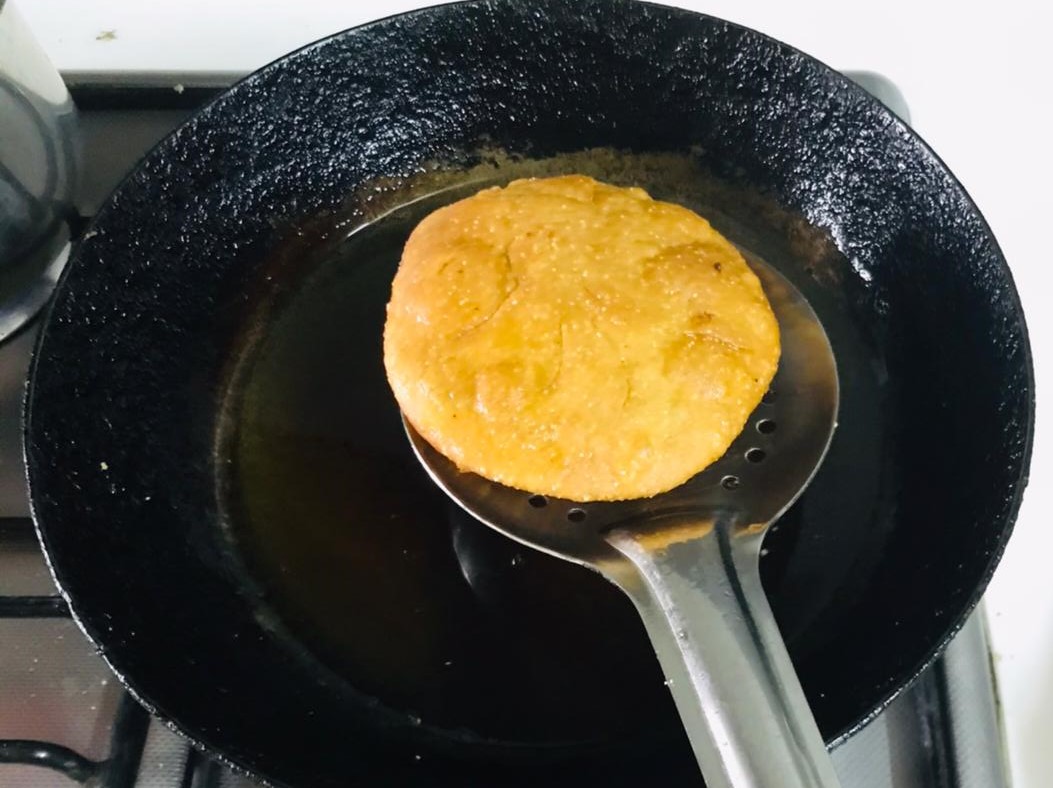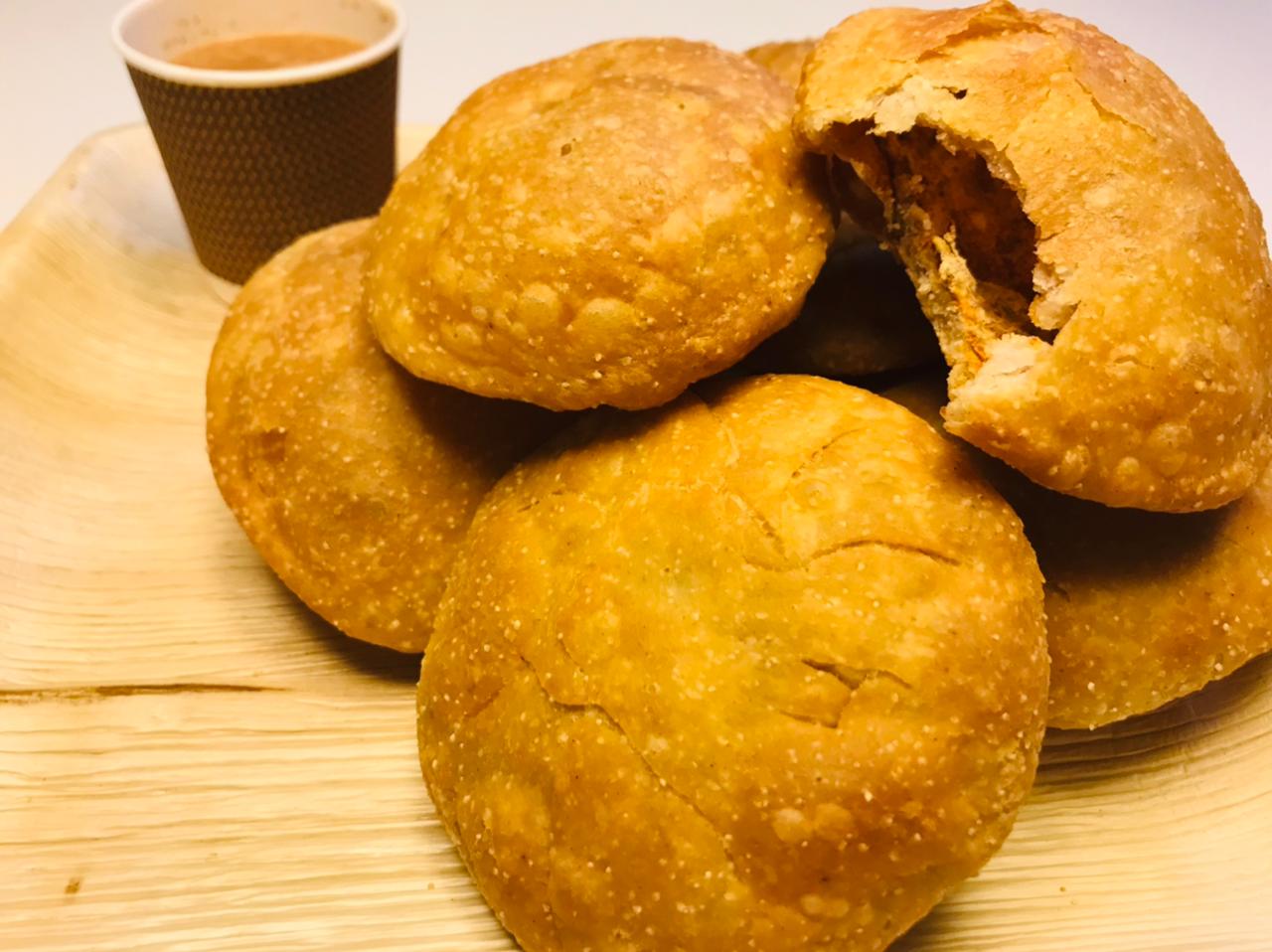 Heat oil in a pan for frying. To check if the oil is hot enough to start frying, add a pinch of dough to the oil and if it bubbles up immediately then you know the oil is ready for frying.
Gently slide the kachoris in the oil. Flip them once and turn the heat to medium. Fry them until they turn golden in colour on low to medium heat.
Use a slotted spoon to remove them from the oil. Drain them on a kitchen roll/absorbent paper to soak excess oil.
Serve hot with chutney or potato curry!