Homemade Vegetable Spring Roll
Homemade Vegetable Spring Roll is a super easy and delicious recipe of the popular Chinese recipe. These Spring Rolls are light with crisp-crackly skin and small enough to enjoy in 4 bites. The filling is also light, full of tender-crisp vegetables and you should be able to taste and distinguish every single ingredient in the filling. Delicious and authentic!
Spring rolls are a common dish throughout Southeast Asia, especially in China, Vietnam and Thailand. It is a simple recipe of vegetable filling wrapped in paper thin sheets of pastry, served either deep fried or completely fresh. They are made with a variety of fillings, including vegetables, noodles, meat, and seafood.
Filling is the part where one can get creative. I have used 4 simple vegetables in the filling as I like each flavour to stand out while eating. You can add mushrooms, bean sprouts, courgette, red peppers, green peppers, boiled noodles to name just a few other ingredients. The possibilities are plentiful!
I feel the only tricky part in making a spring roll at home is the rolling part. Now, after 30+ years of cooking, I have seen endless videos on how to roll them and the science behind it. The most important part to remember is to take your time and seal all the ends! It doesn't matter if it is rolled using 'envelope' technique or 'log' technique or any other 'fancy termed' technique. If you assemble the spring rolls sloppily, you might risk them falling apart while frying. Just make sure that you roll the spring roll tightly so that there are no air gaps and to use the plain flour sludge as a glue to bind the ends together! Simple as that!
You may like our other recipes like Honey Chilli Lotus Stem, Crispy Chilli Lotus Stem, Paneer Firecracker Rolls, Onion Rings, Chinese Bhel, Crispy Chilli Corn, Salt and Pepper Baby Corn, Dry Gobi Manchurian, Chinese Style Crispy Vegetables and Taro Nest.
Ingredients
For The Filling
2 teaspoons sesame oil
¼ cup carrot Juliennes
¼ cup finely sliced cabbage
¼ cup finely sliced green pepper
¼ cup finely sliced onions
Salt to taste
½ teaspoon white pepper
1 teaspoon white vinegar
1 teaspoon soy sauce
1 teaspoon green chilli sauce
2 tablespoons finely chopped spring onions
Other Ingredients
10-12 spring roll wrappers
Oil for deep frying
2 tablespoons plain flour
2 tablespoons water
Directions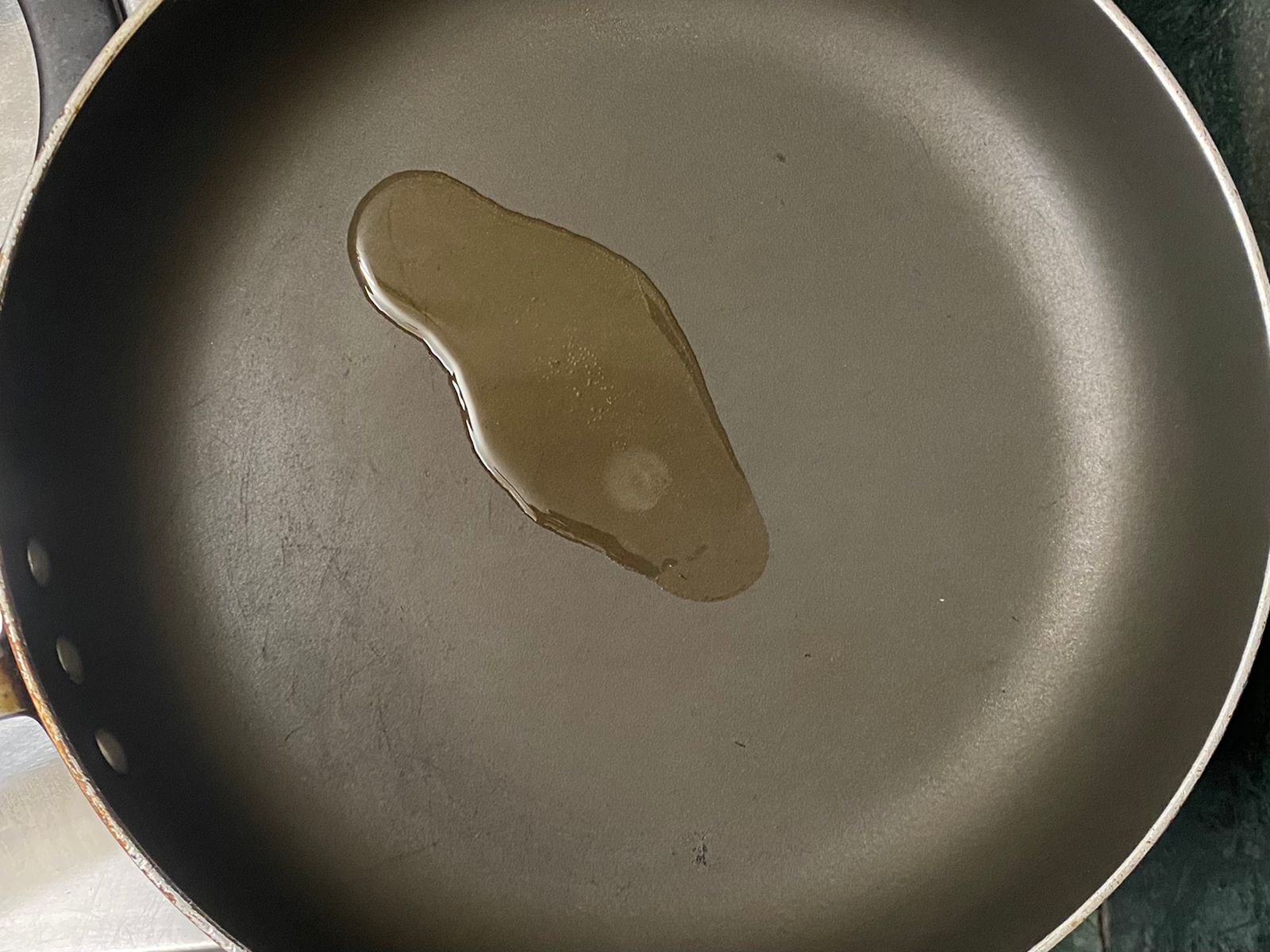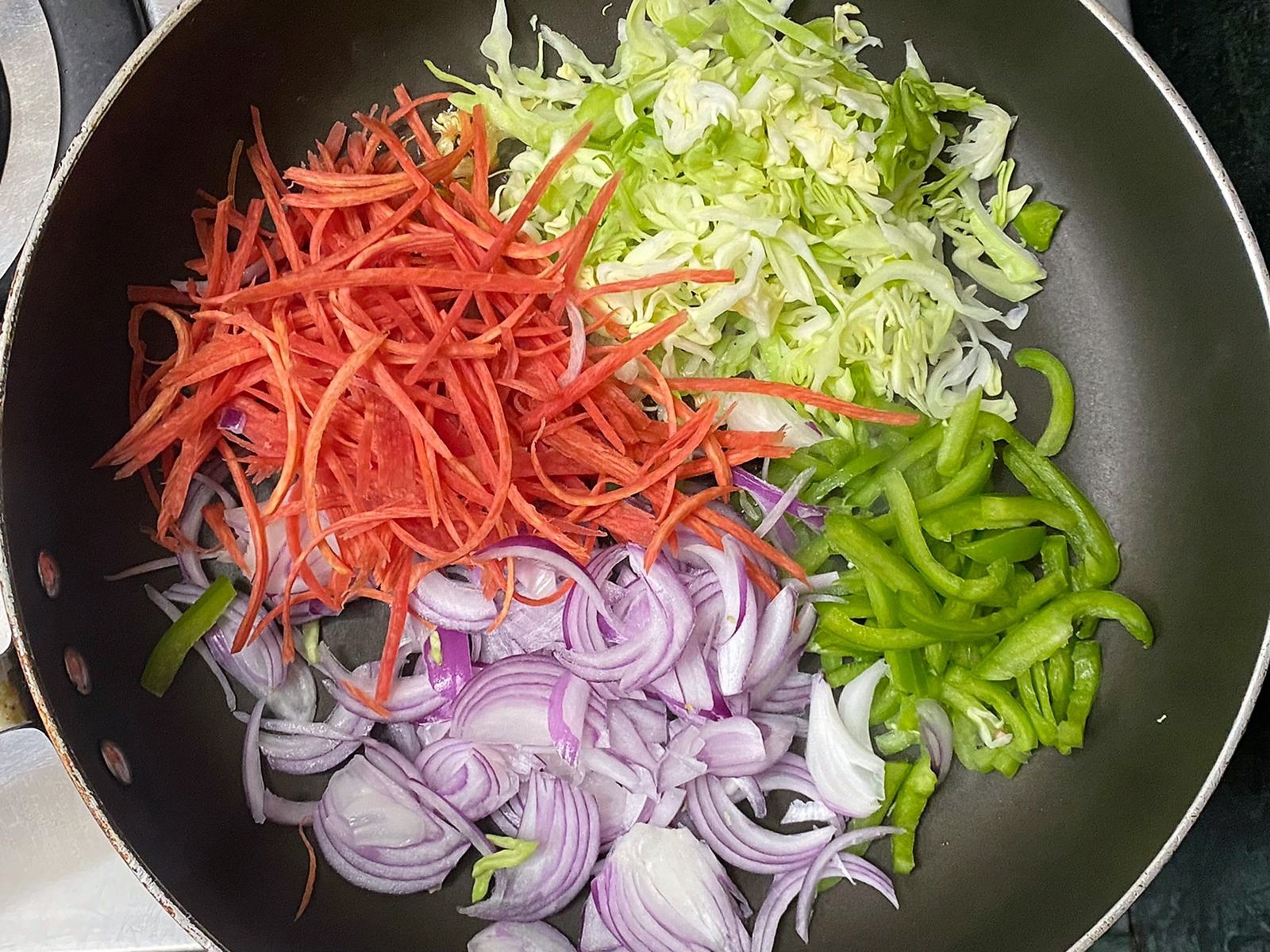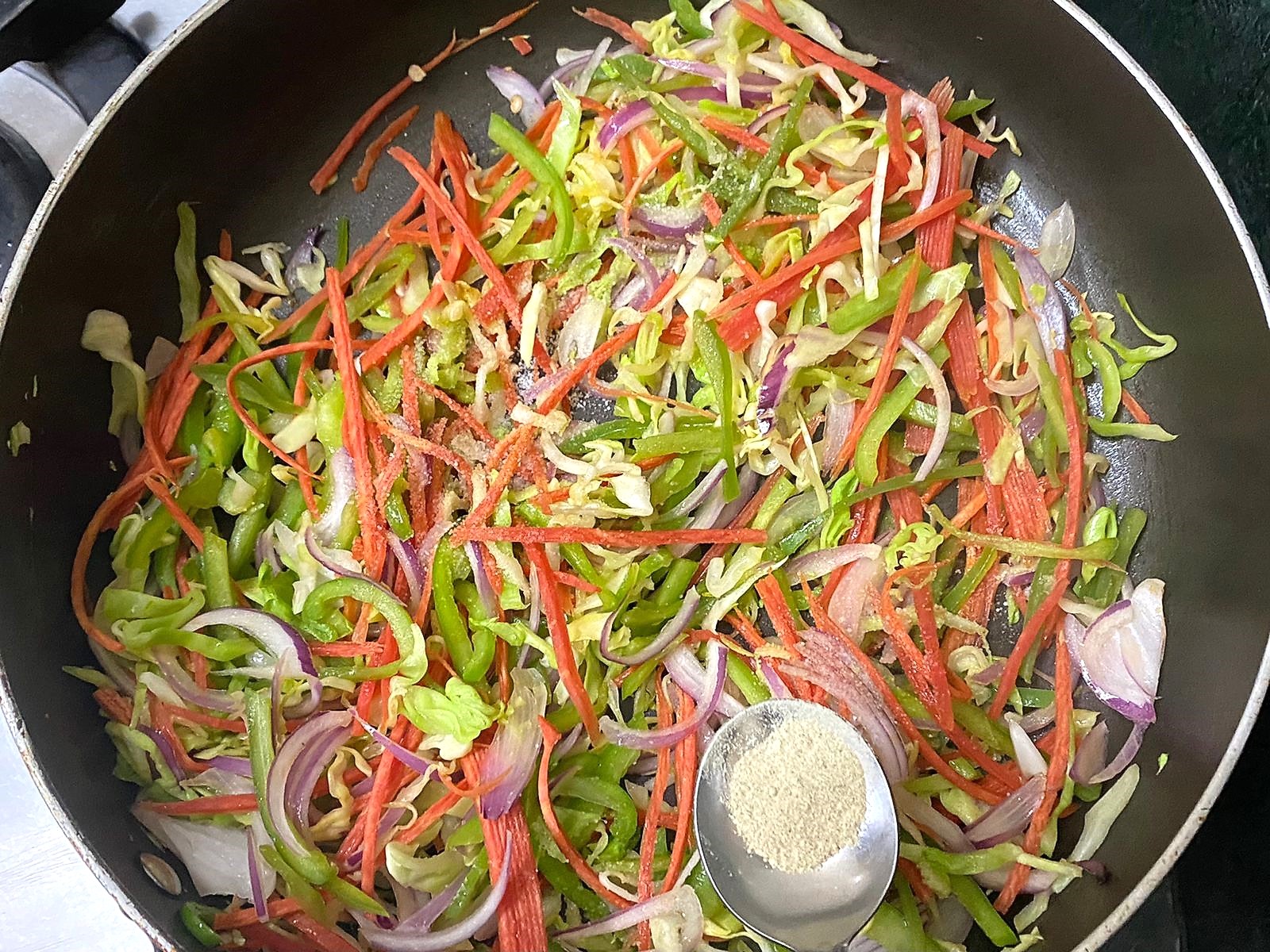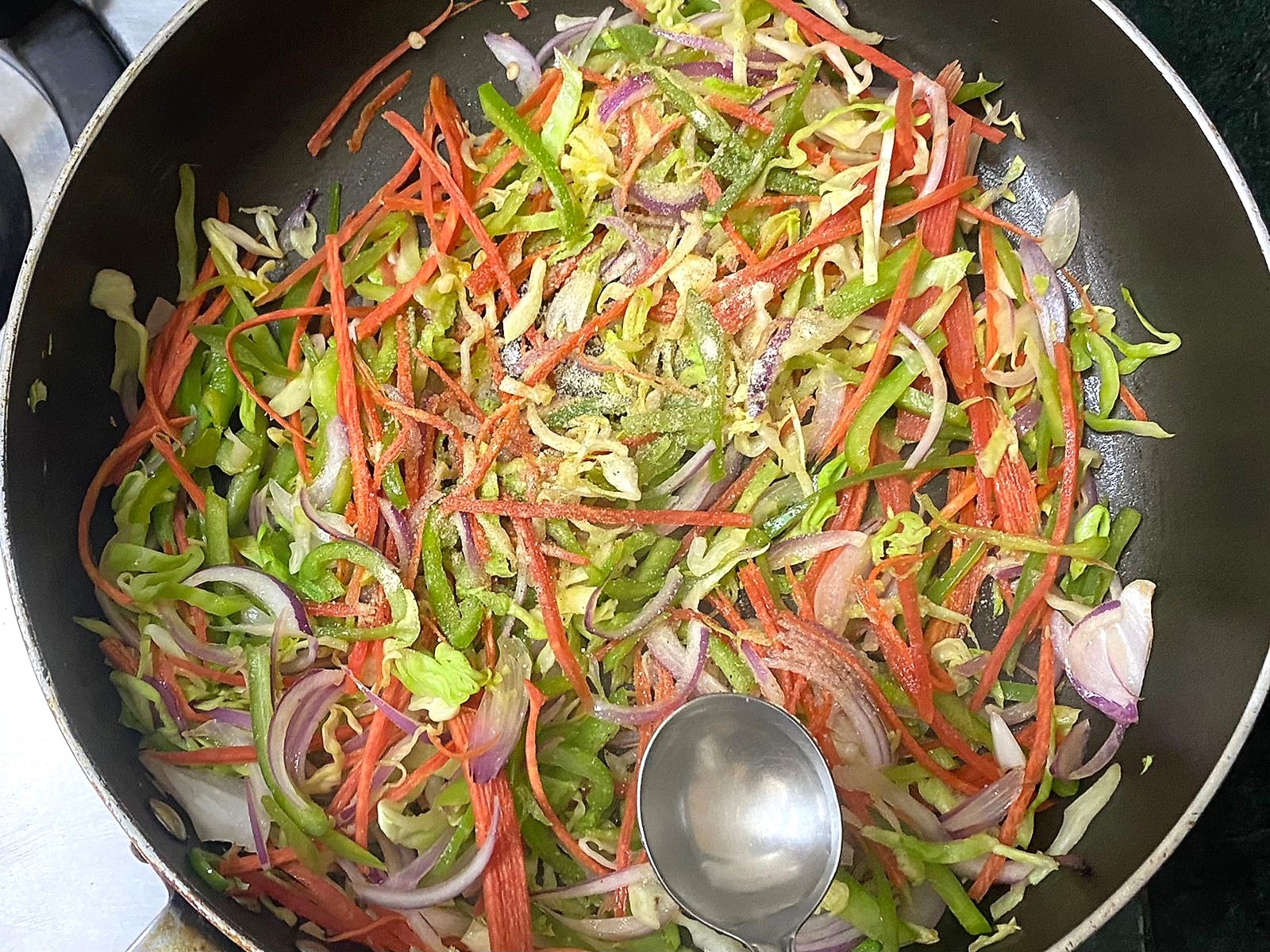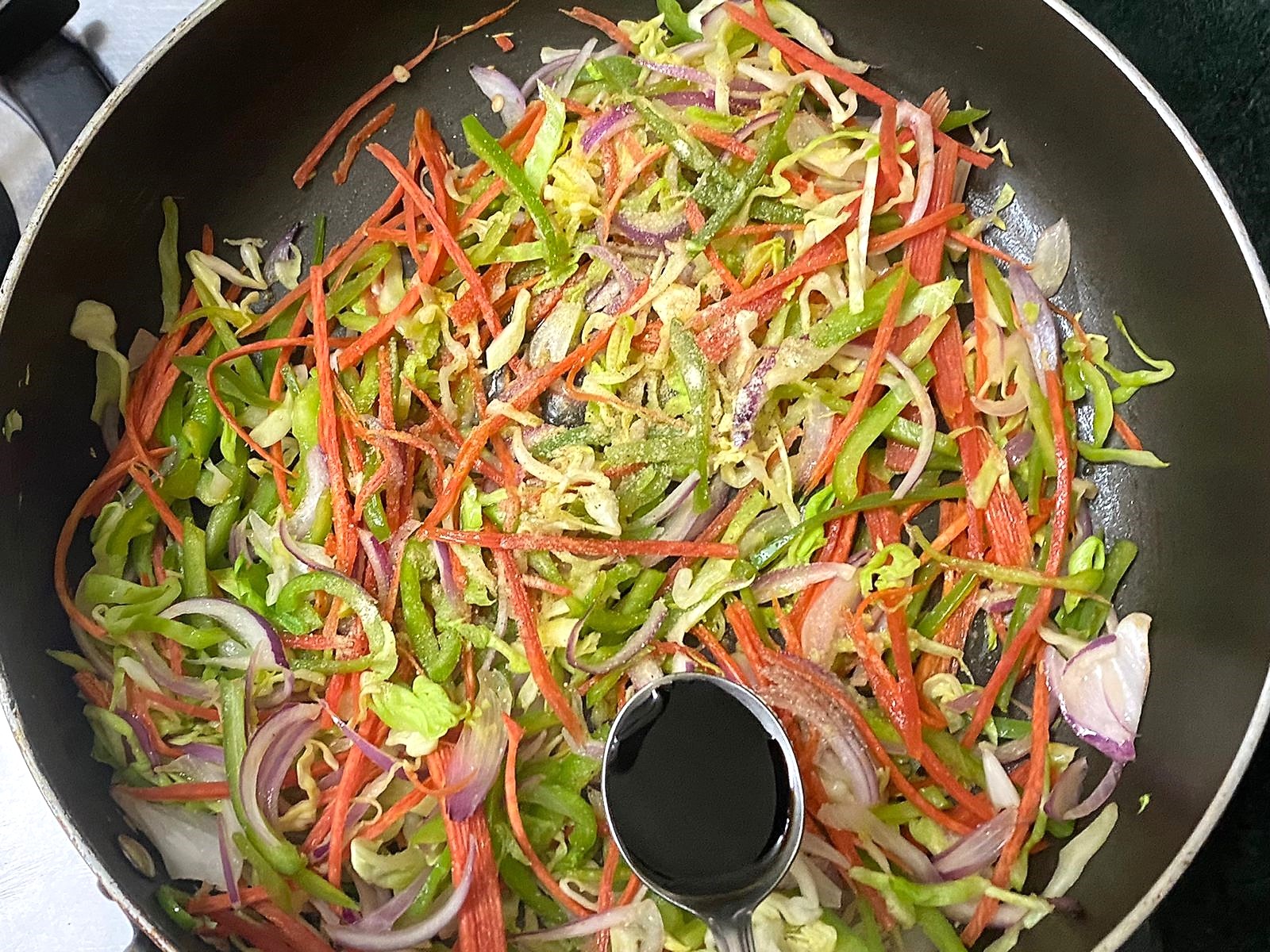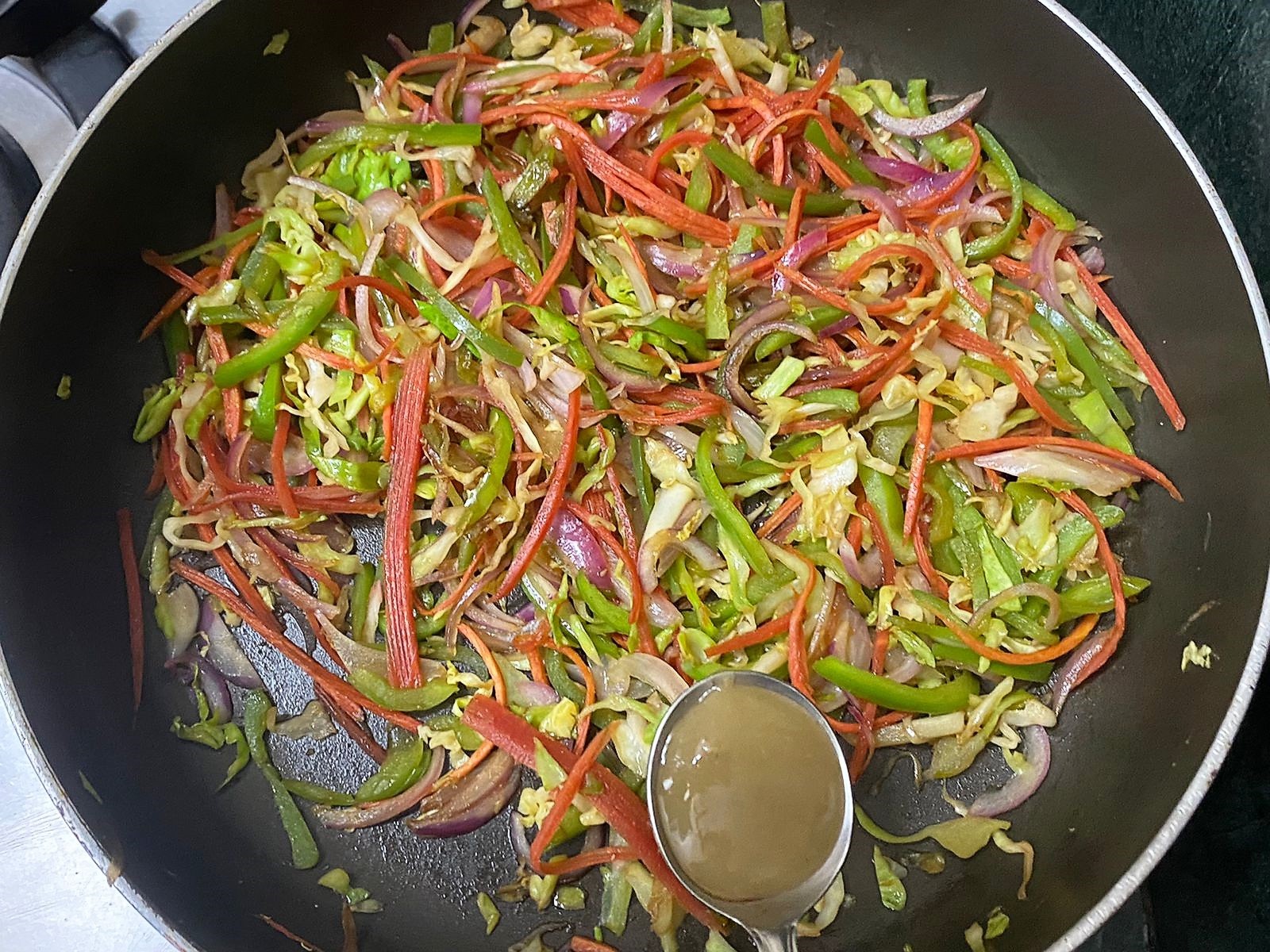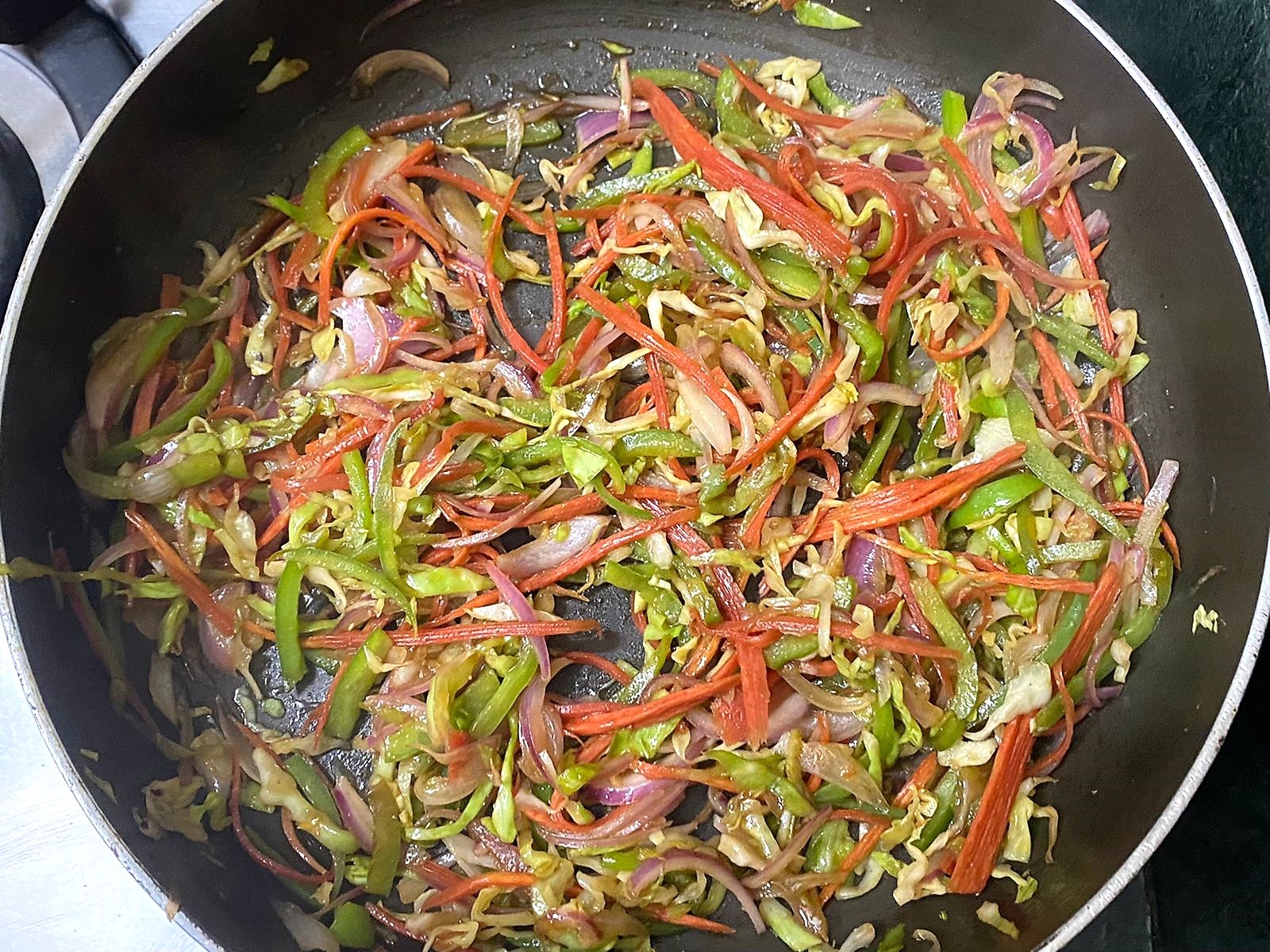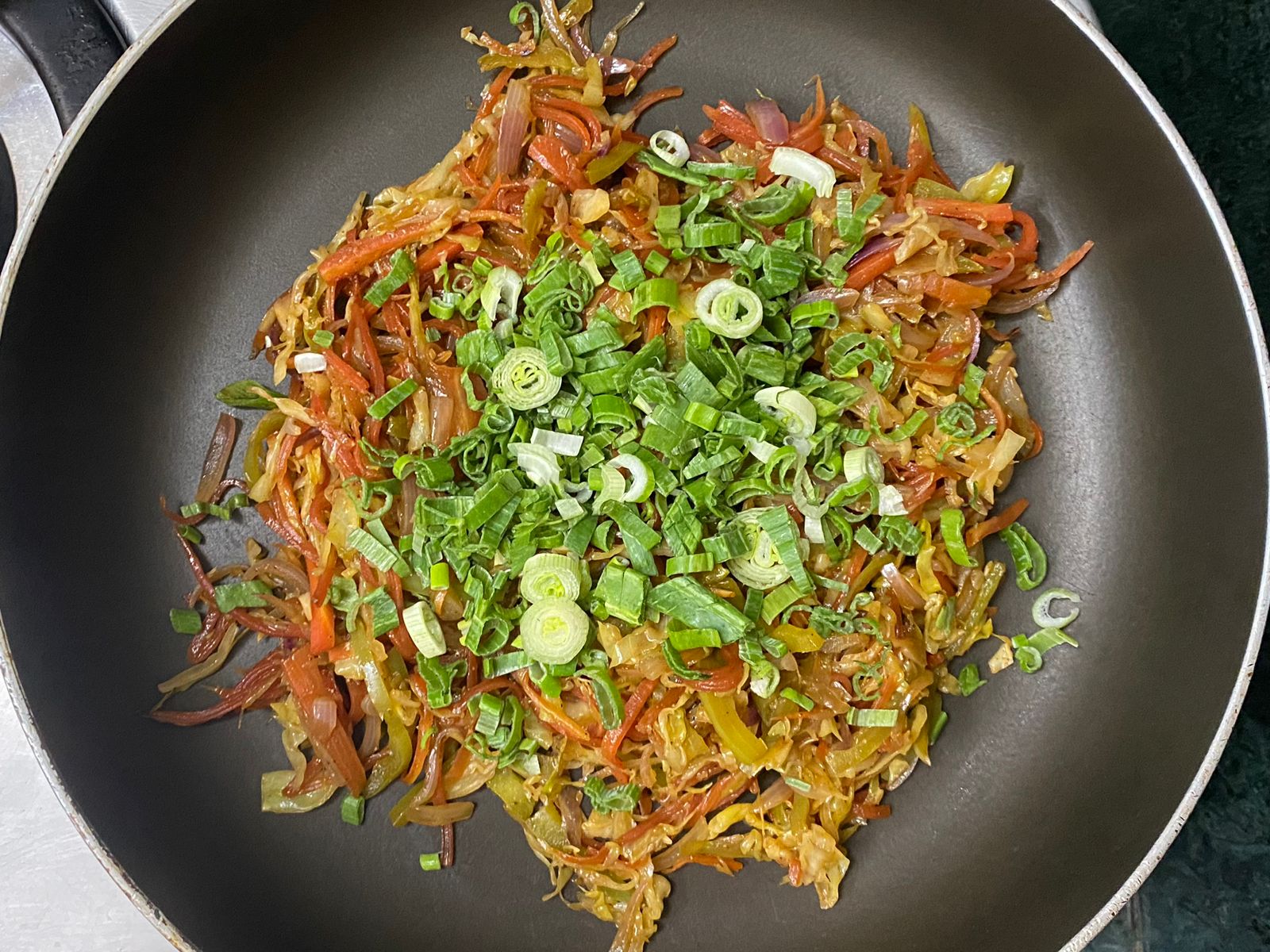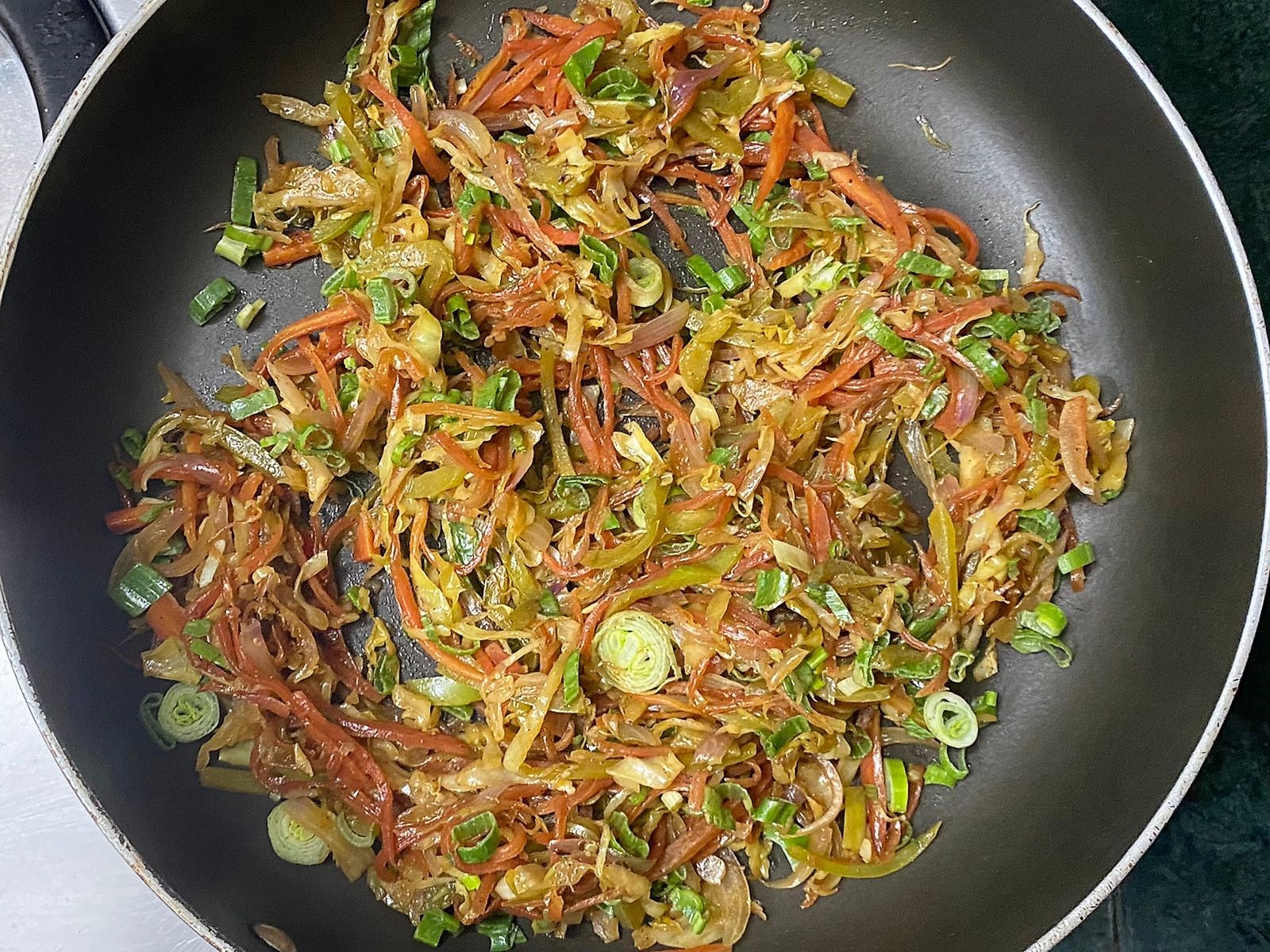 Heat the oil in a pan and add carrot, cabbage, pepper and onion and mix on high heat for a minute.
Next add salt, white pepper, chilli vinegar, soy sauce and green chilli sauce.  Toss the vegetables for another minute to mix the sauces. Add the spring onions and toss. Turn the heat off and keep the filling aside to cool down.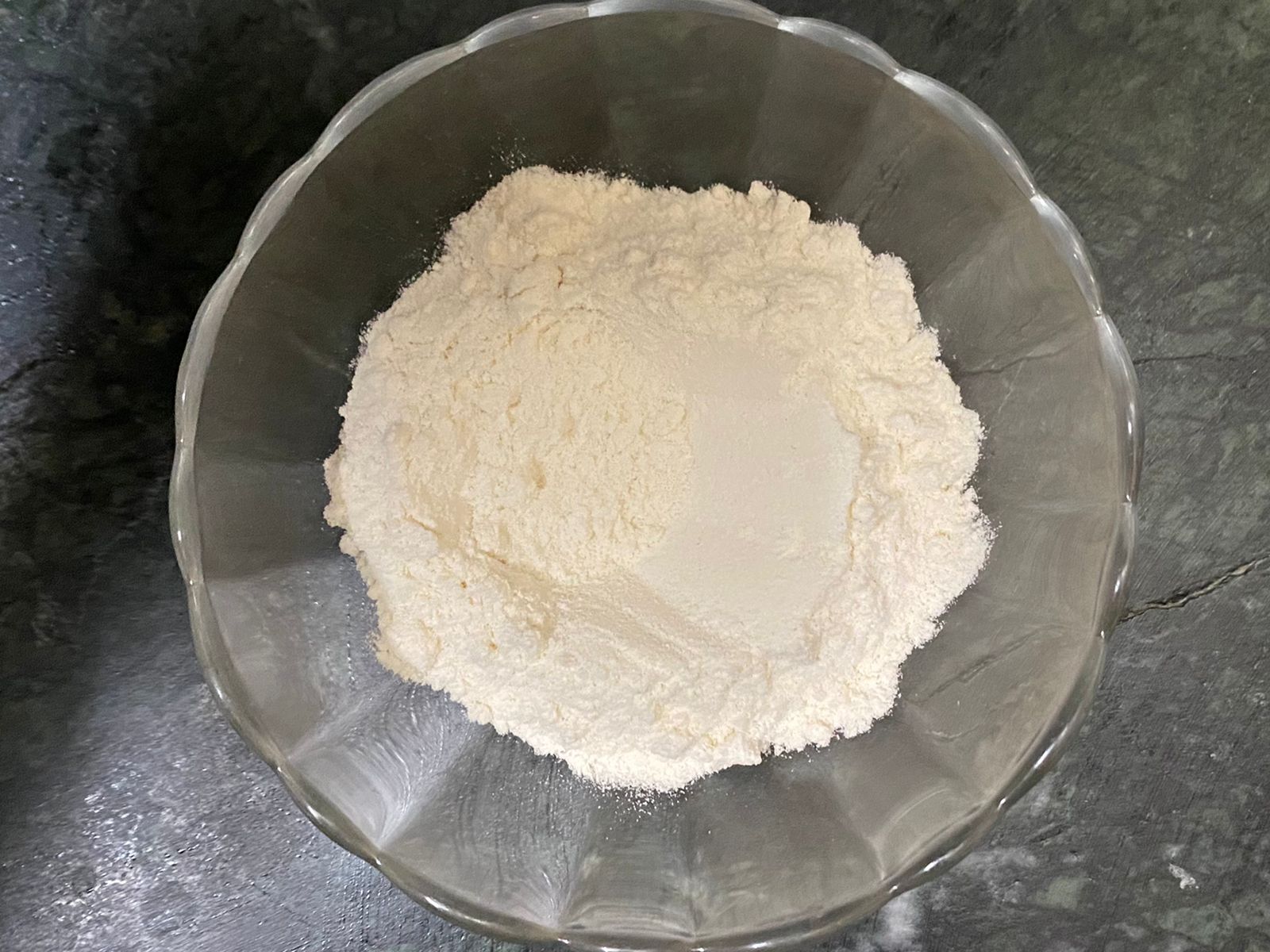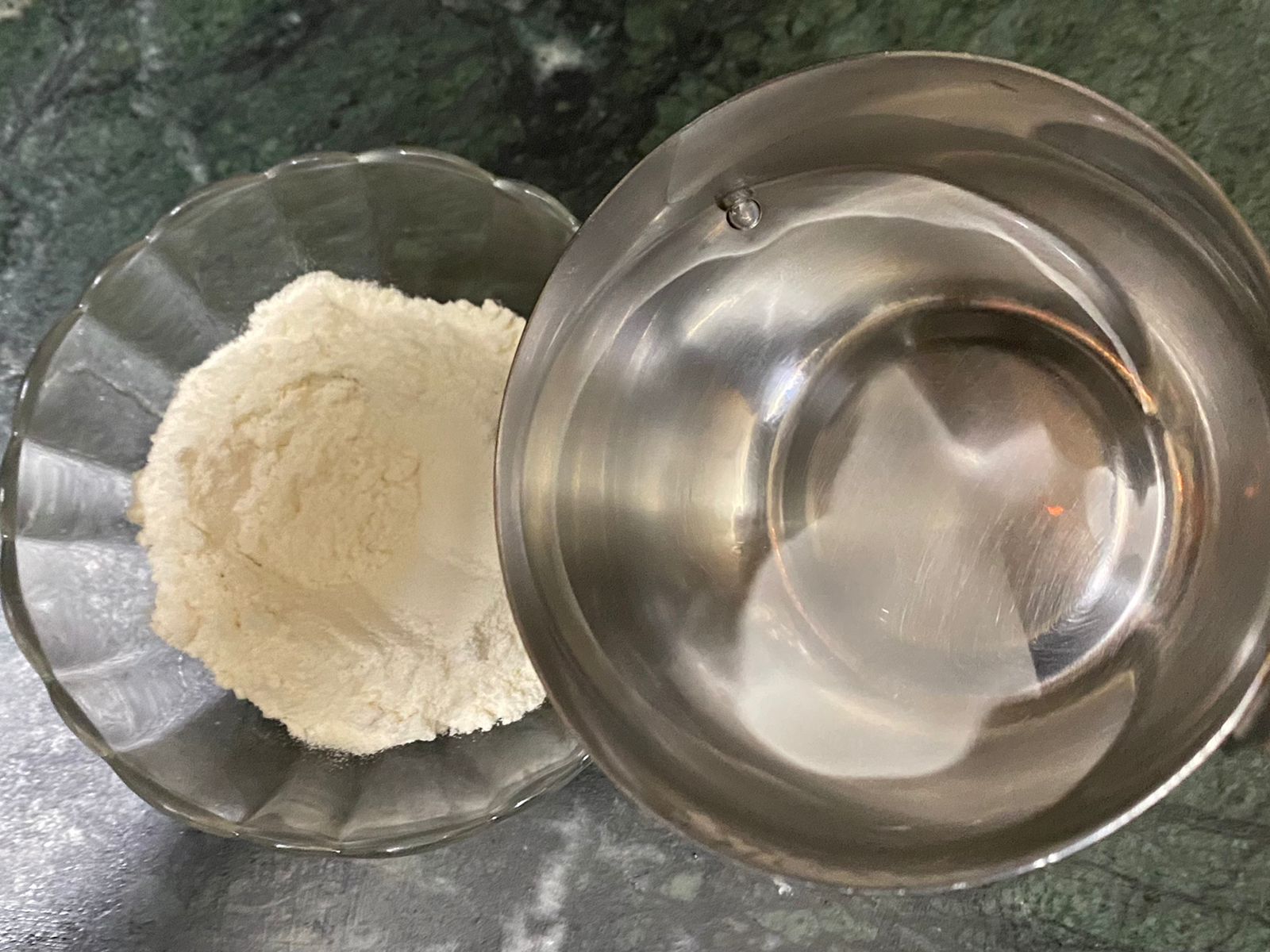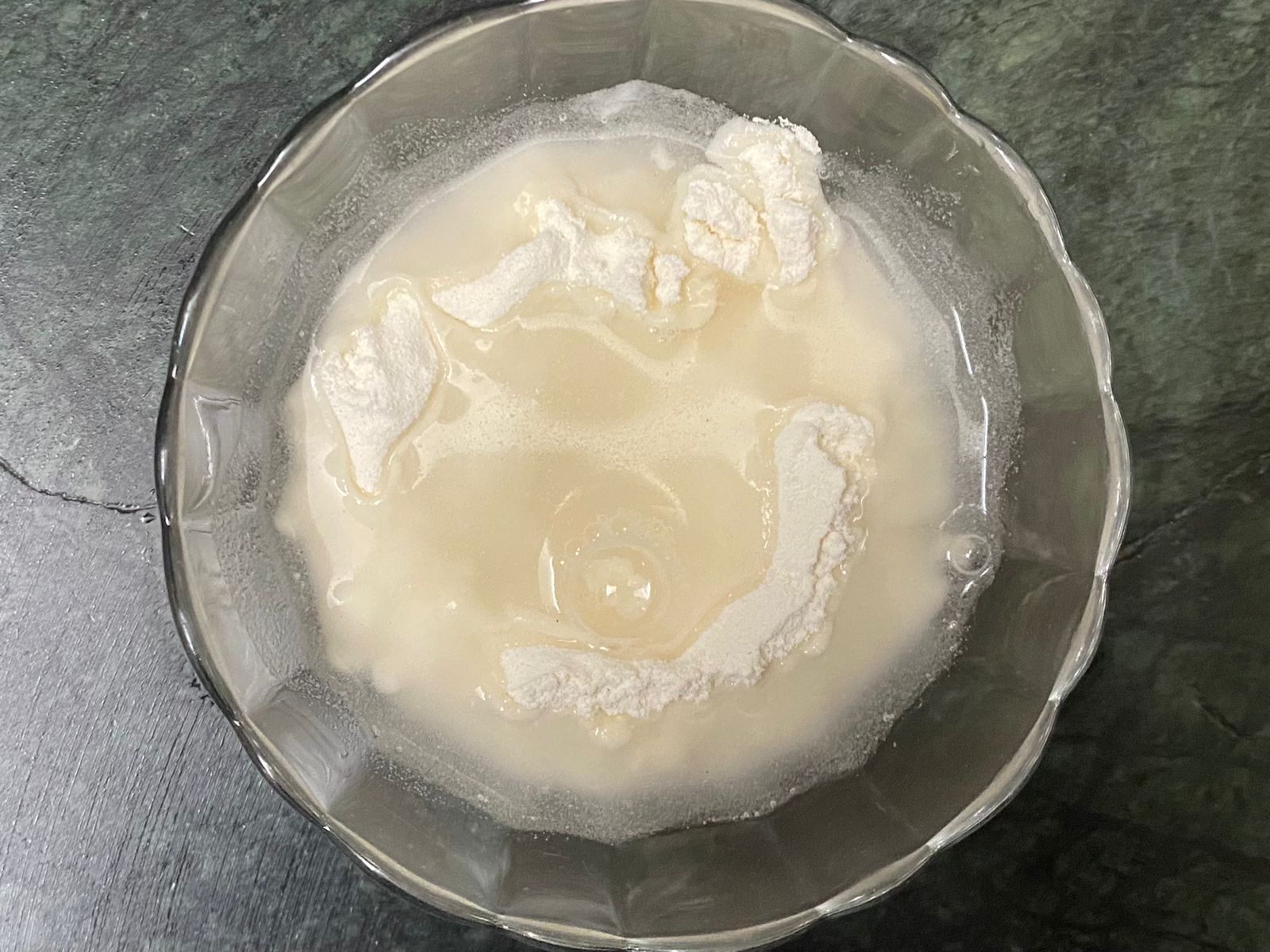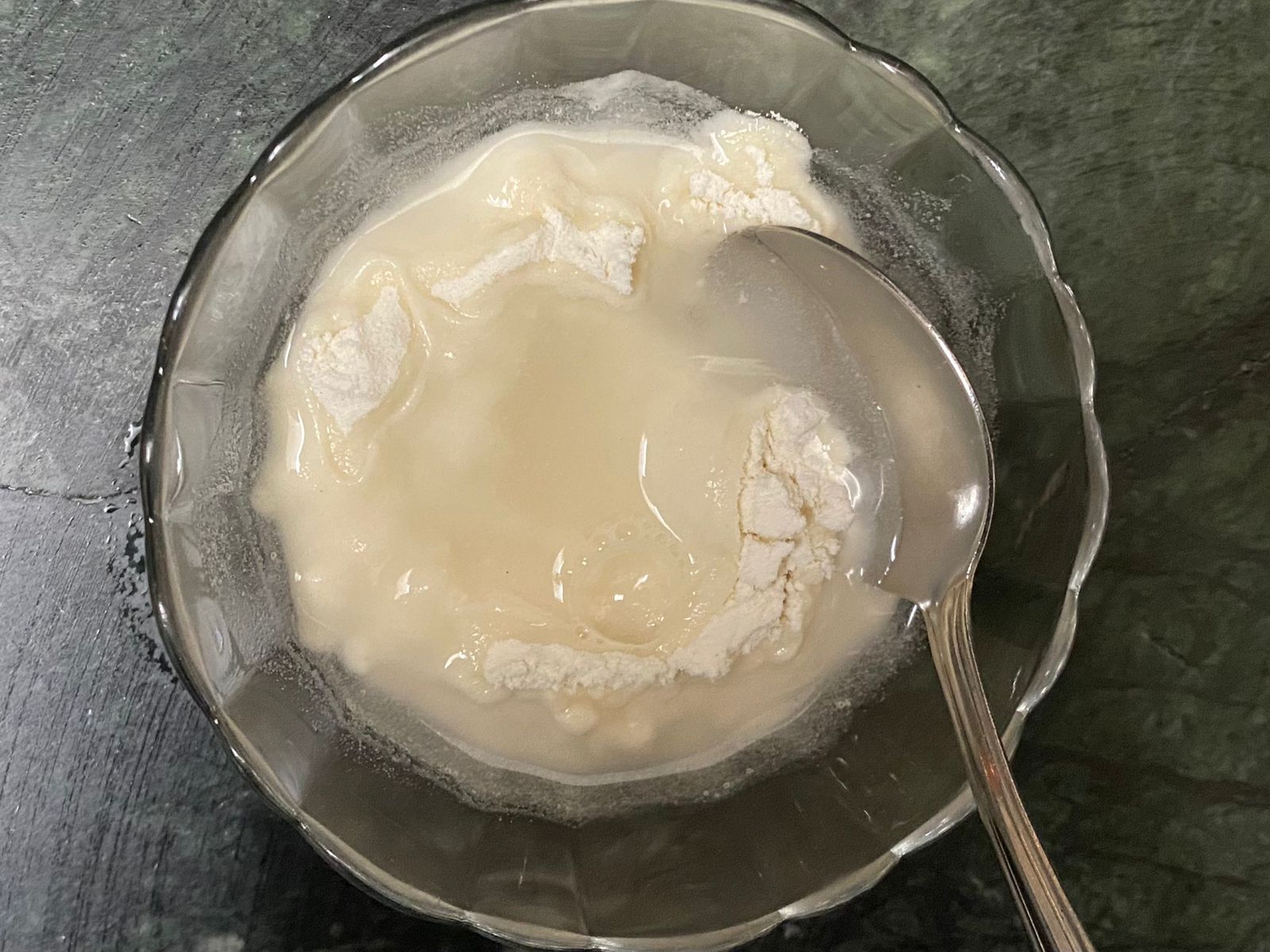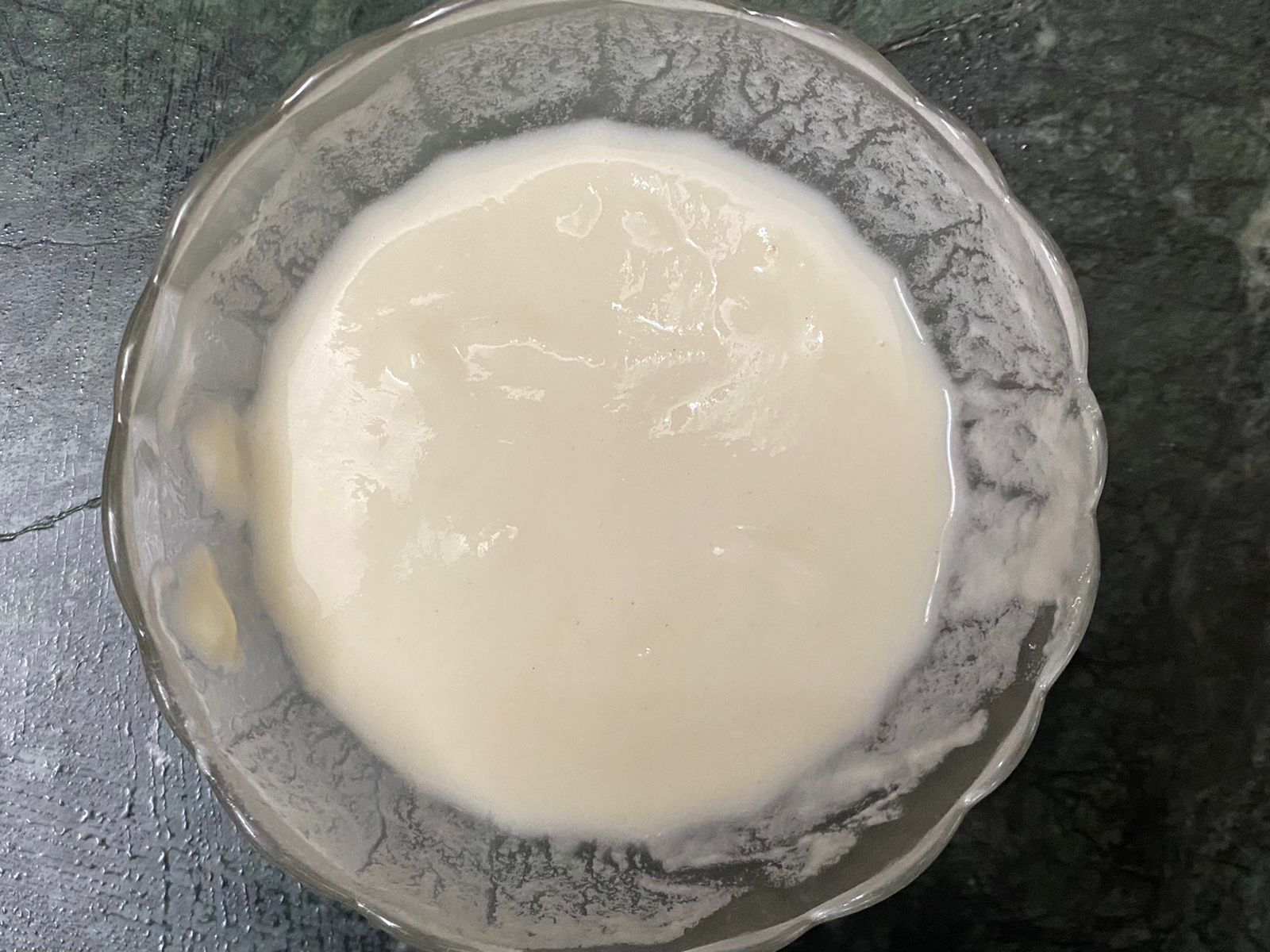 Mix the plain flour and water to a smooth thick consistency sludge and keep it aside.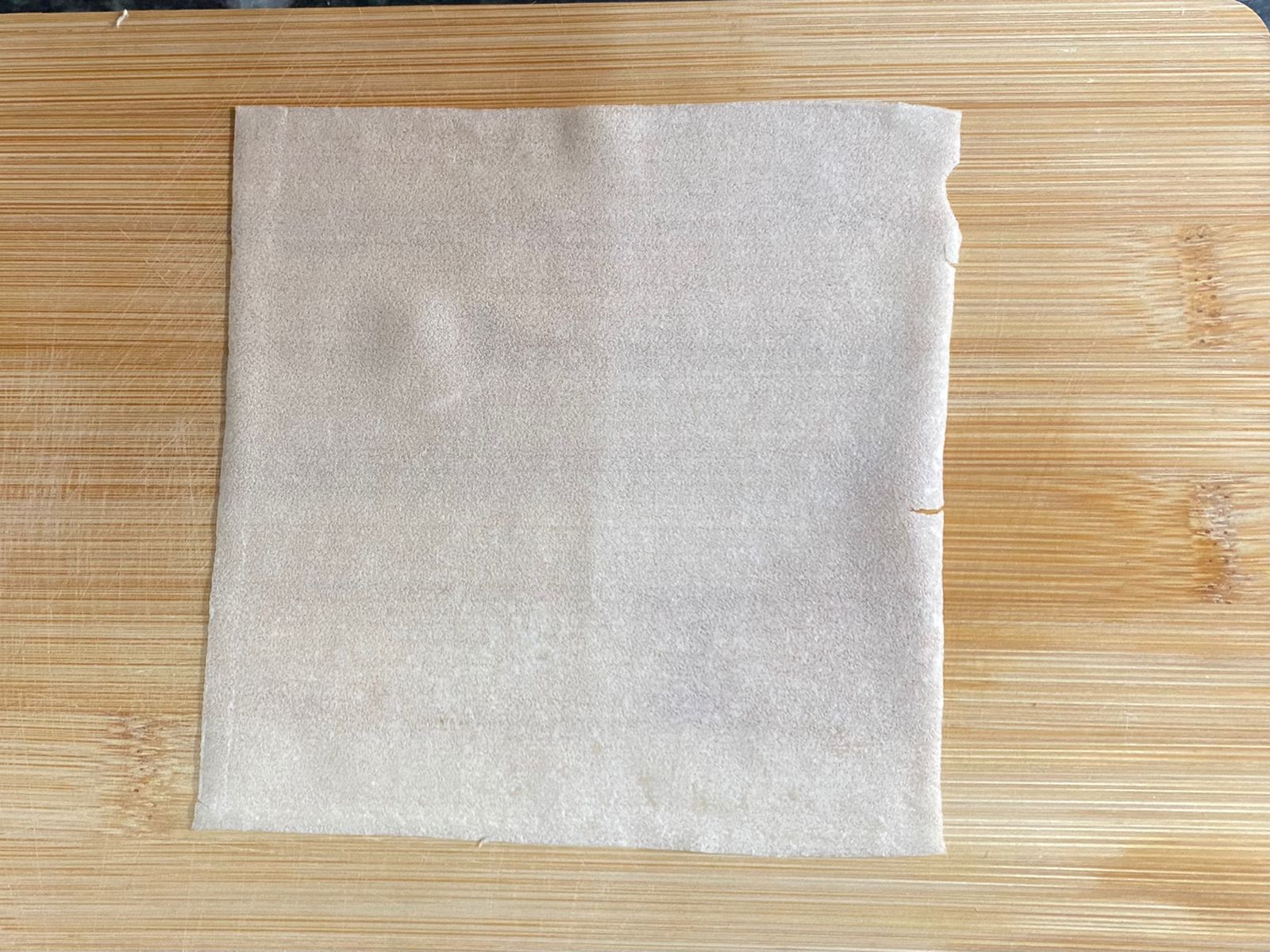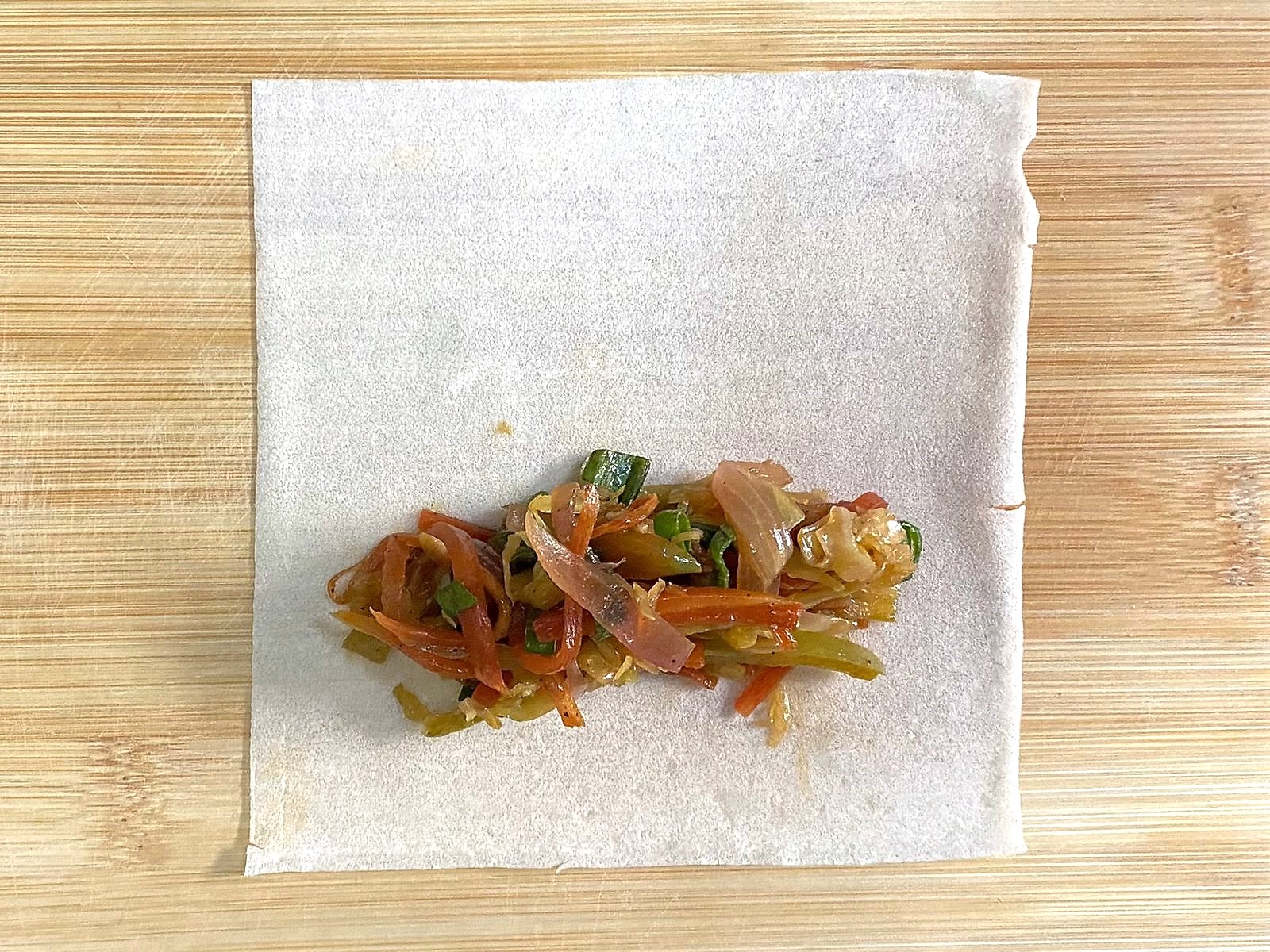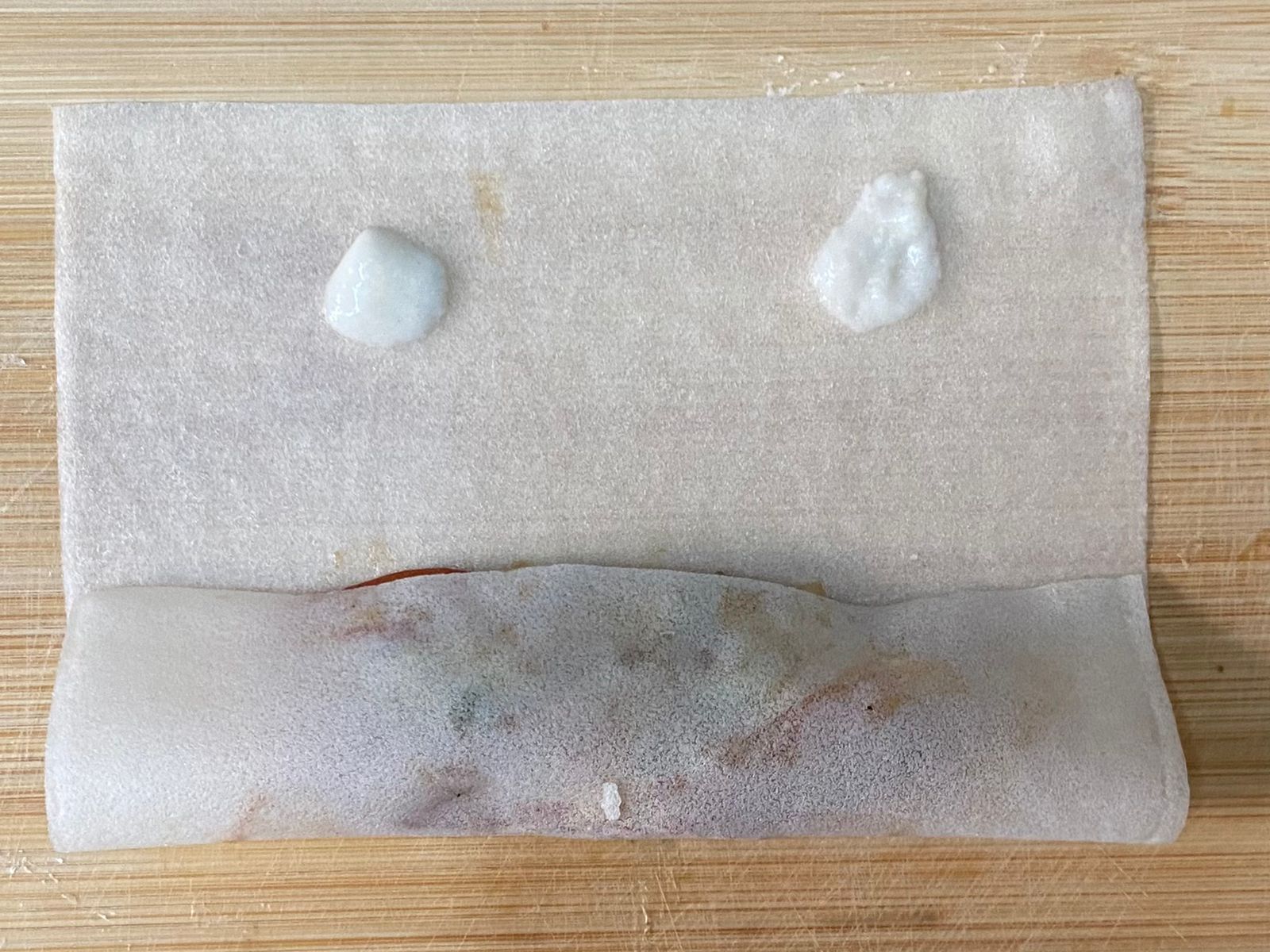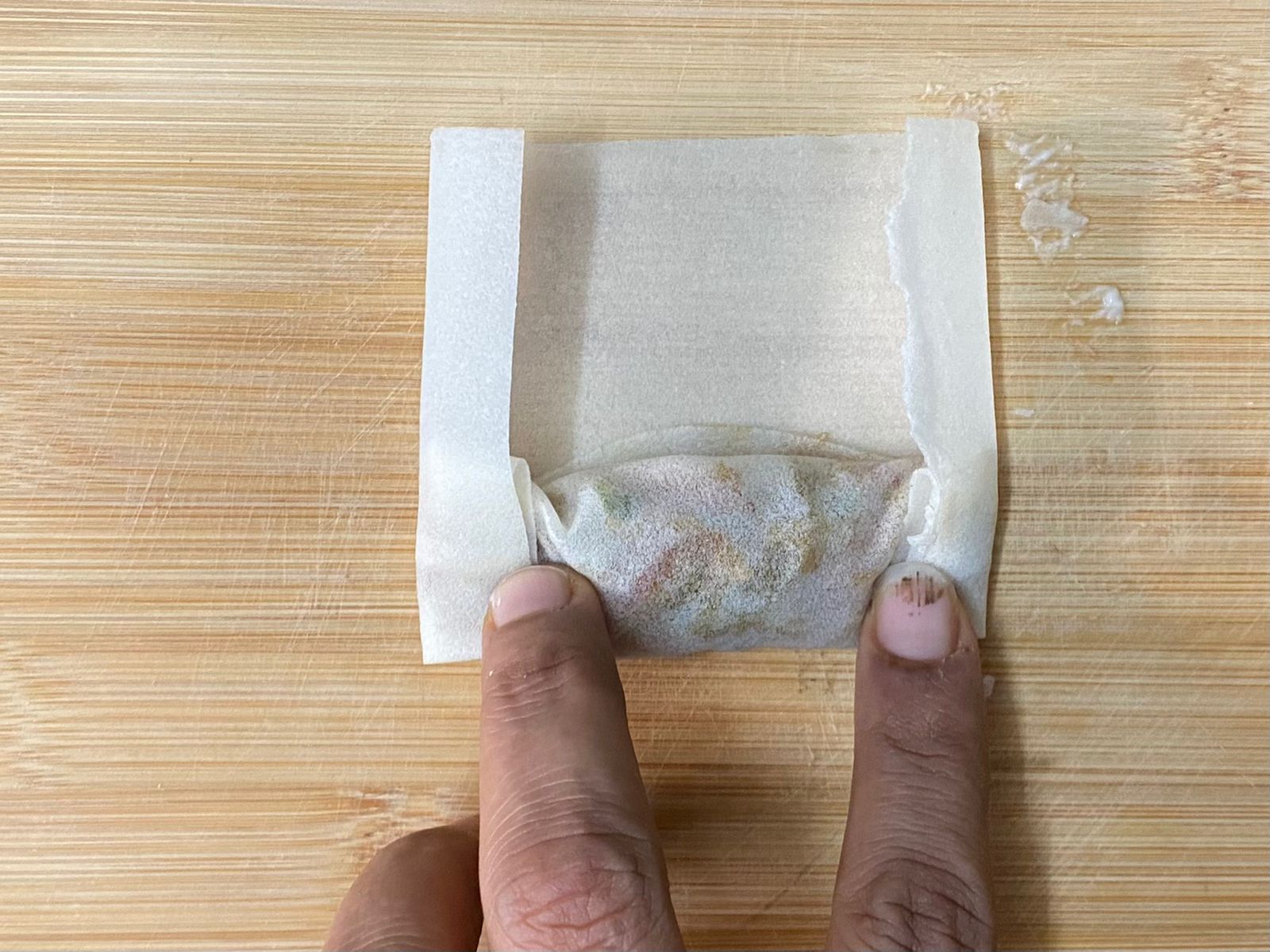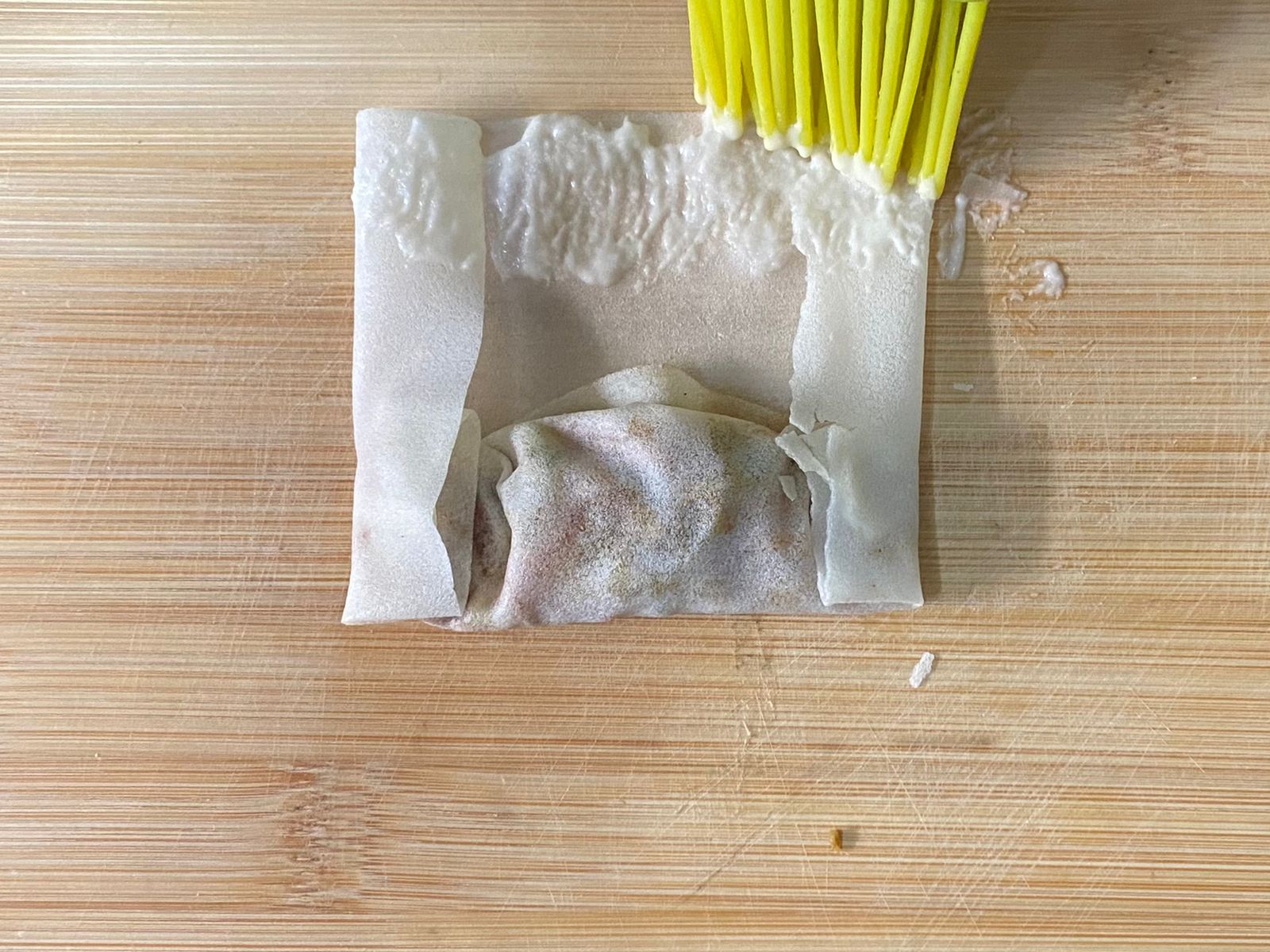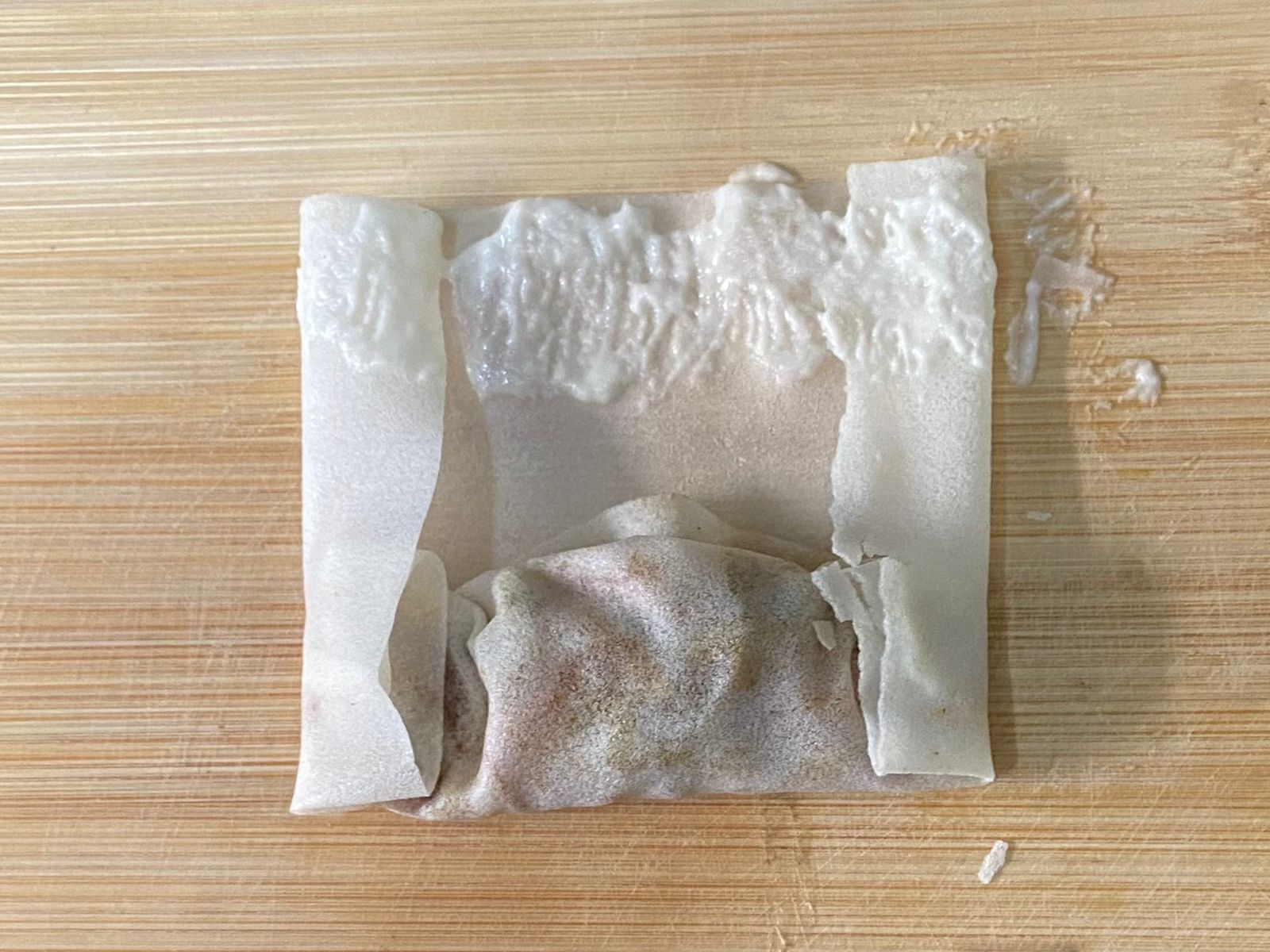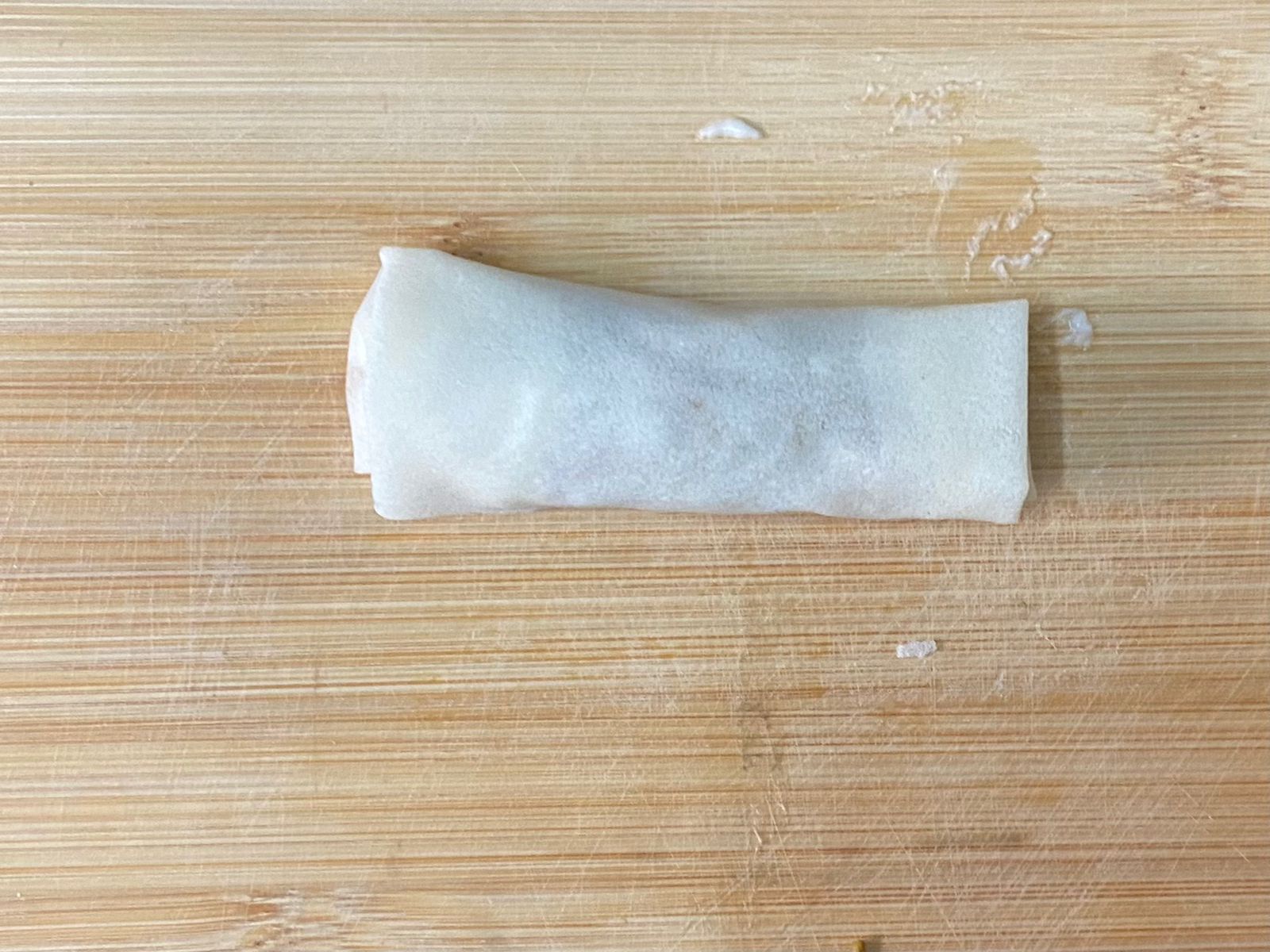 Arrange one spring roll wrapper on the work surface. Spoon 2 teaspoons of the filling starting at the bottom corner about 2cm/¾in from the edge. (Make sure the filling is cool and not too wet – otherwise the spring roll will be soggy and there are chances of the wrapping tearing during rolling or frying) Roll over the filling, squeezing any air out as you roll away from you. As you reach the middle bring the two sides towards the middle (as seen in picture). Continue to roll and tuck the top edge in and seal it with a little flour paste. Place them seam side down (helps secure the ends so that it doesn't pop out) Repeat with the remaining spring roll wrappers and filling. Keep them all covered with plastic wrap to prevent drying out.
Repeat the same process with the other spring roll and make them ready.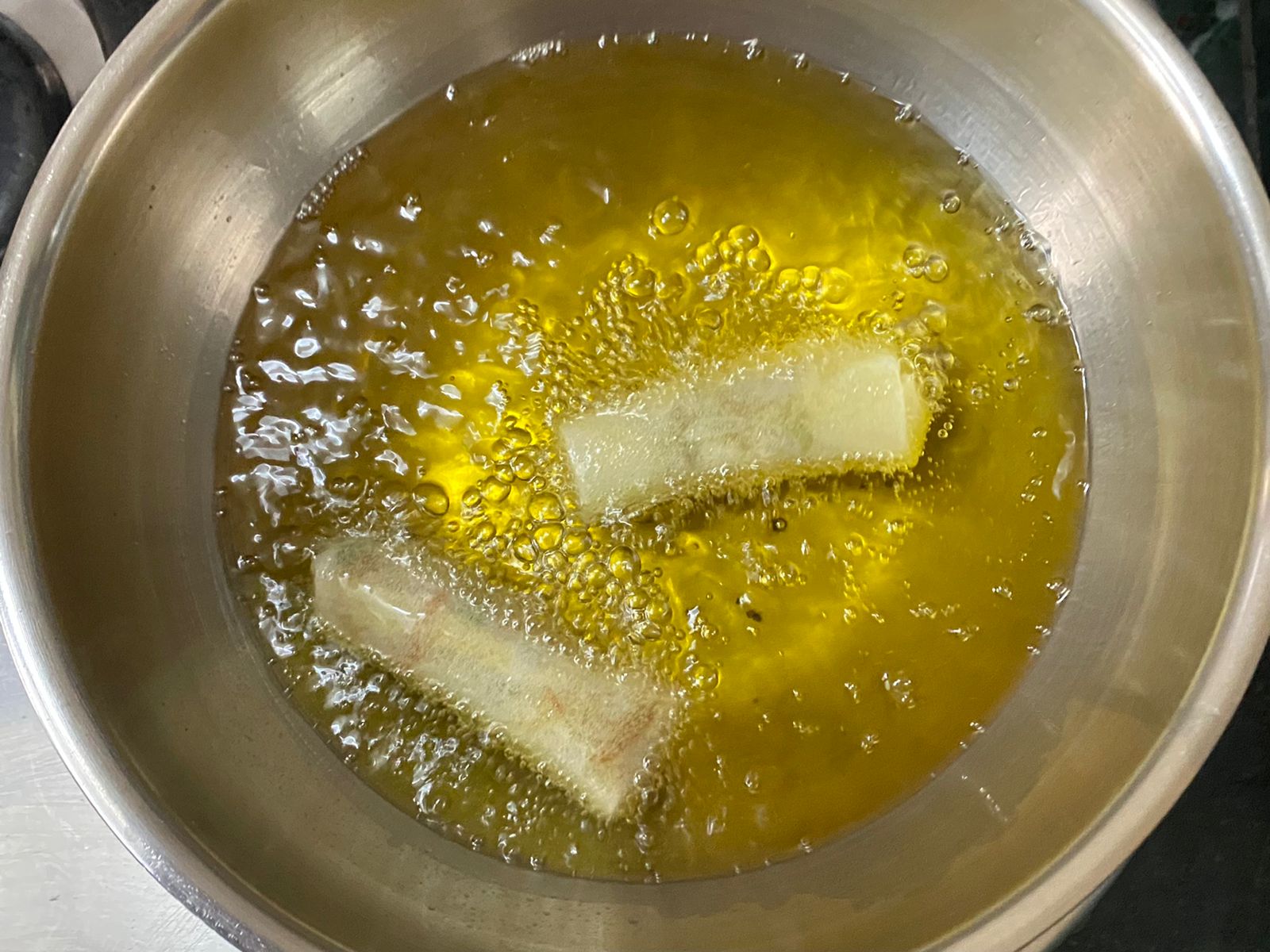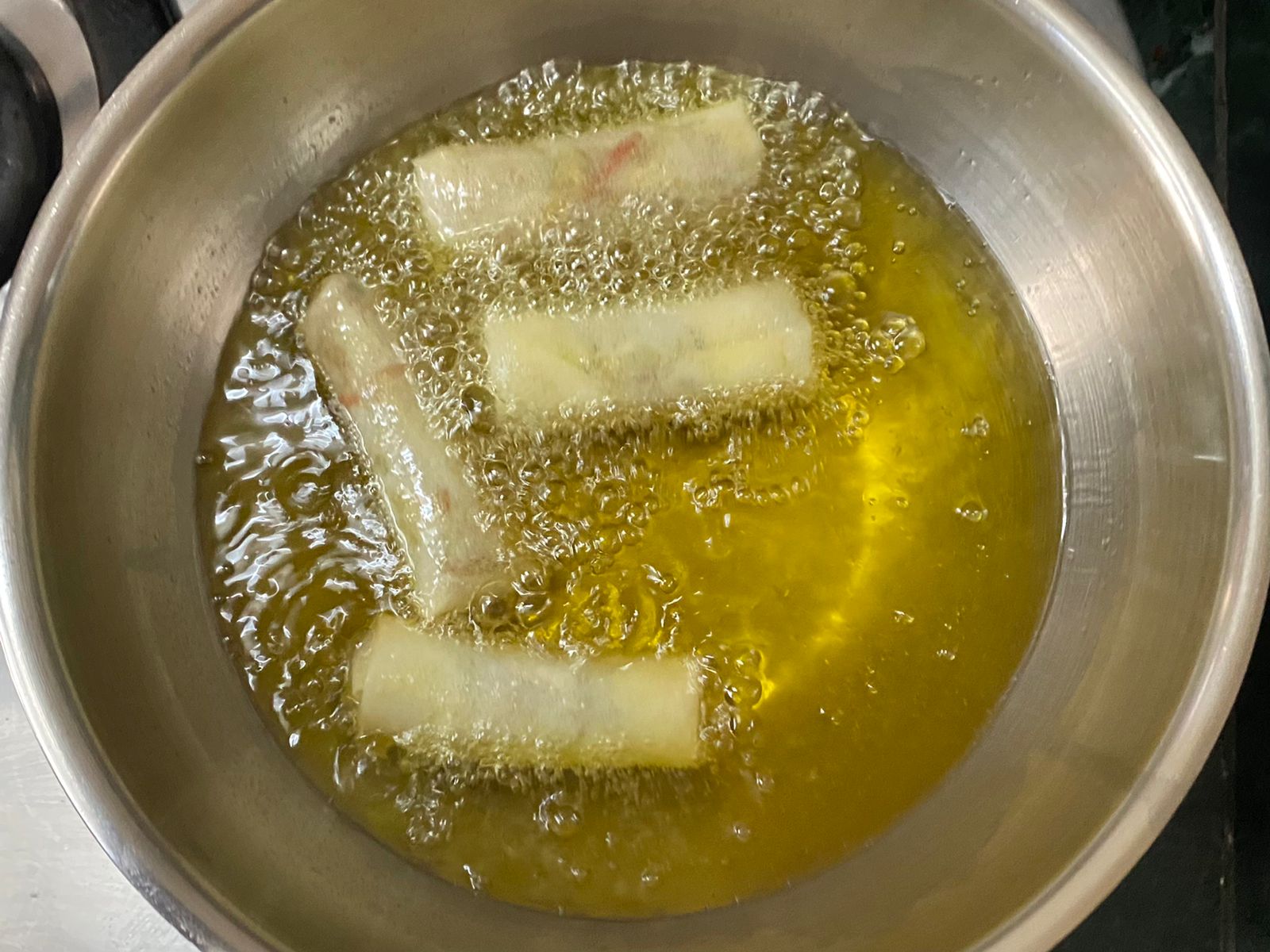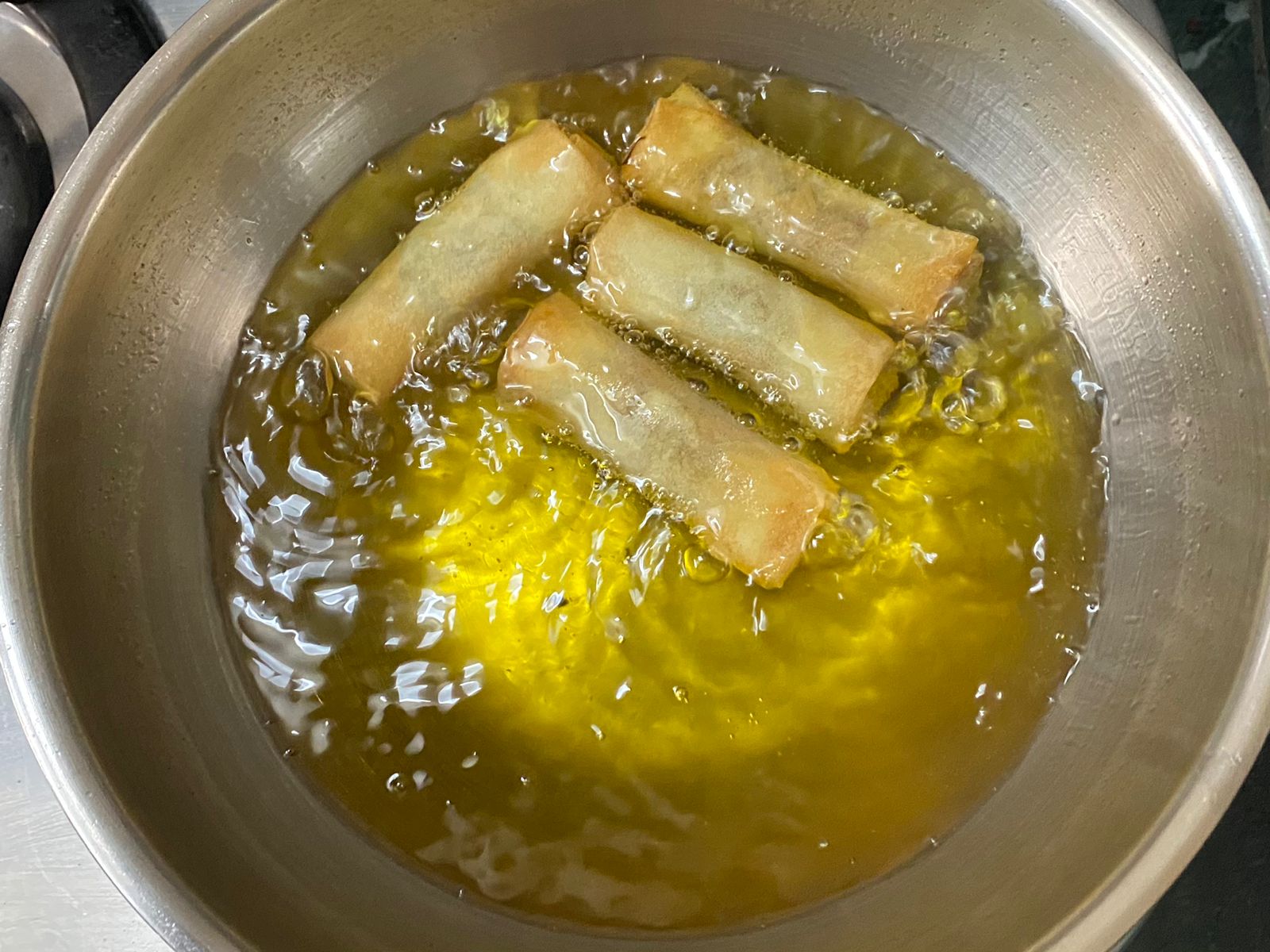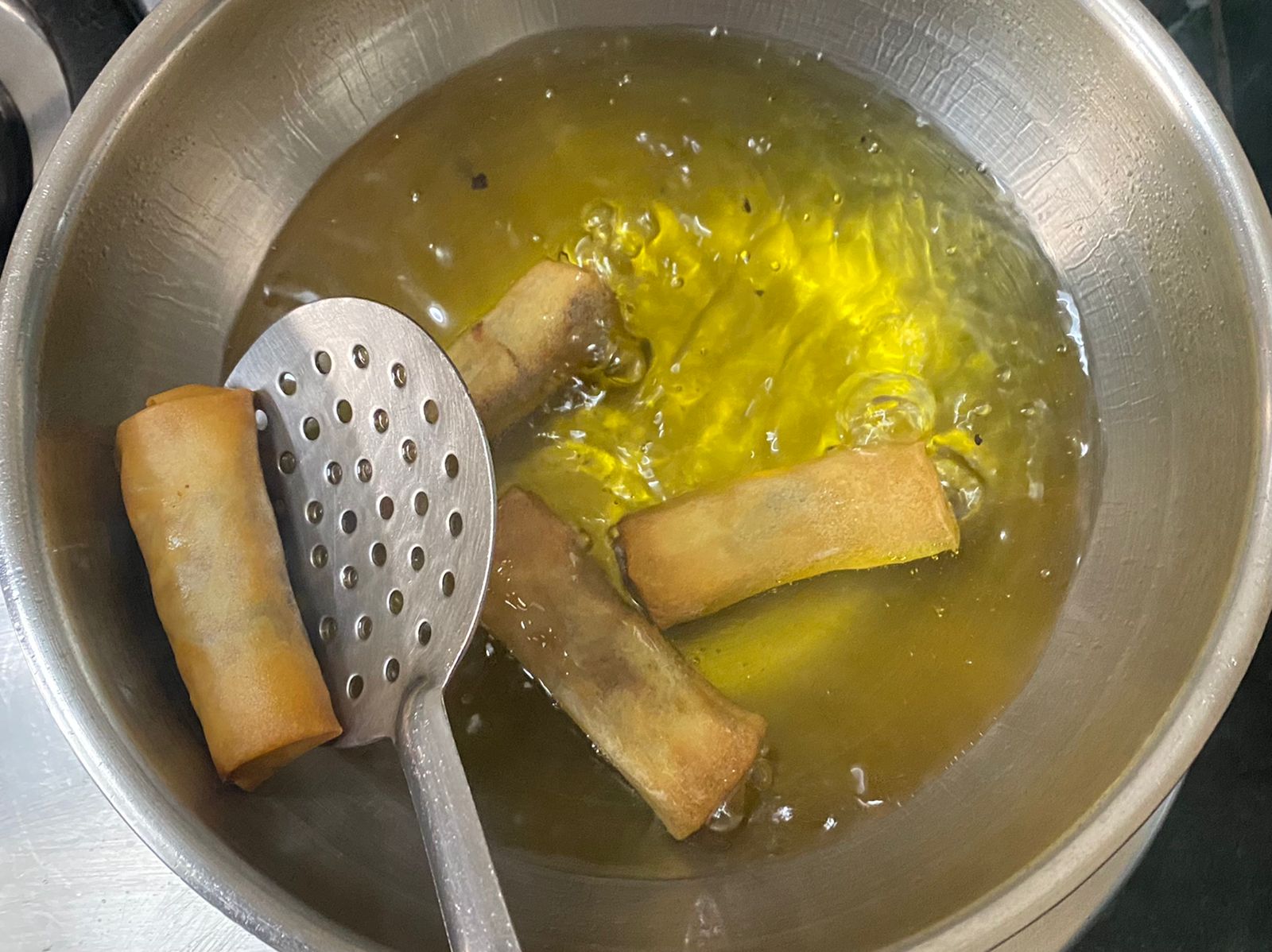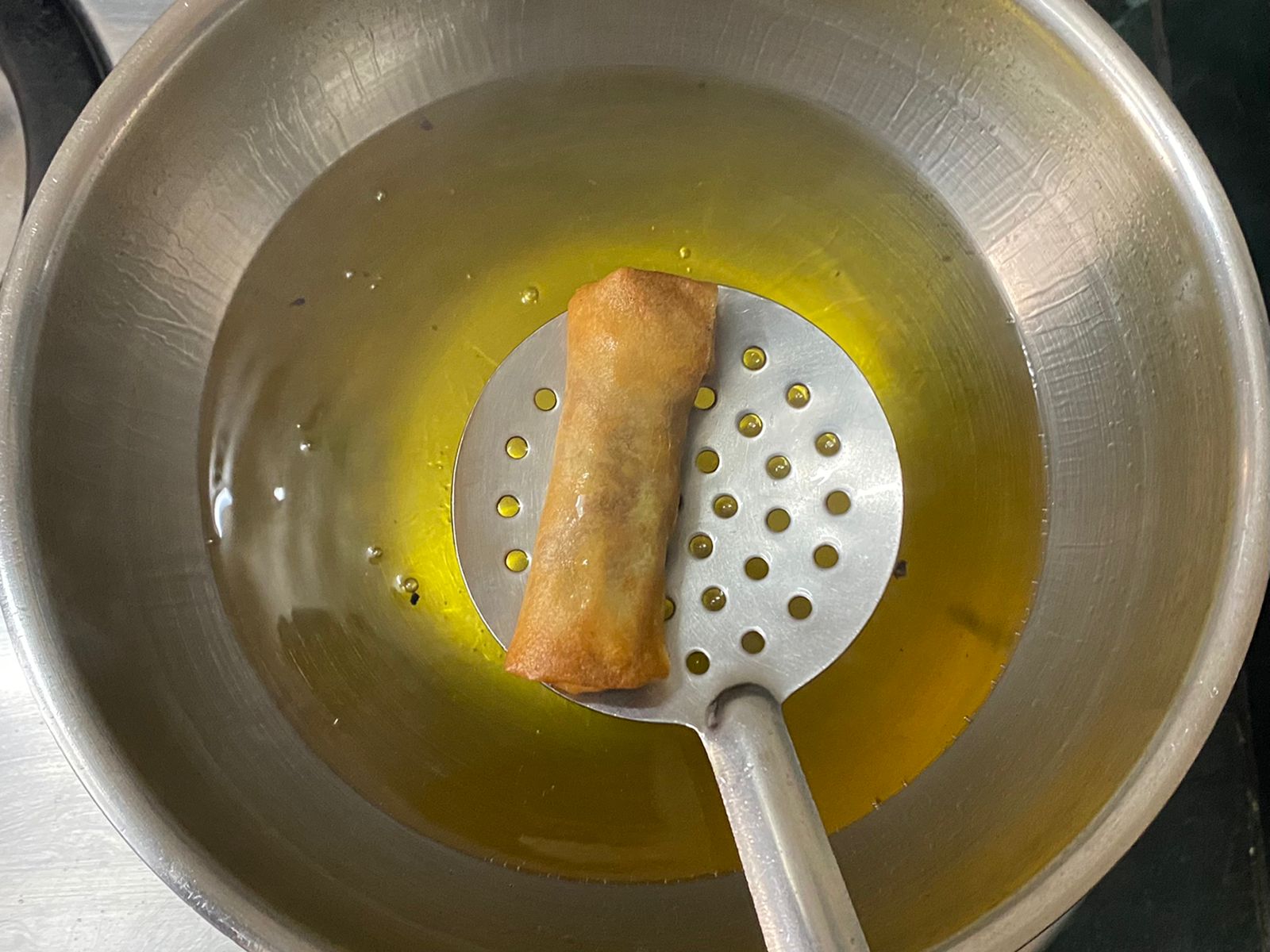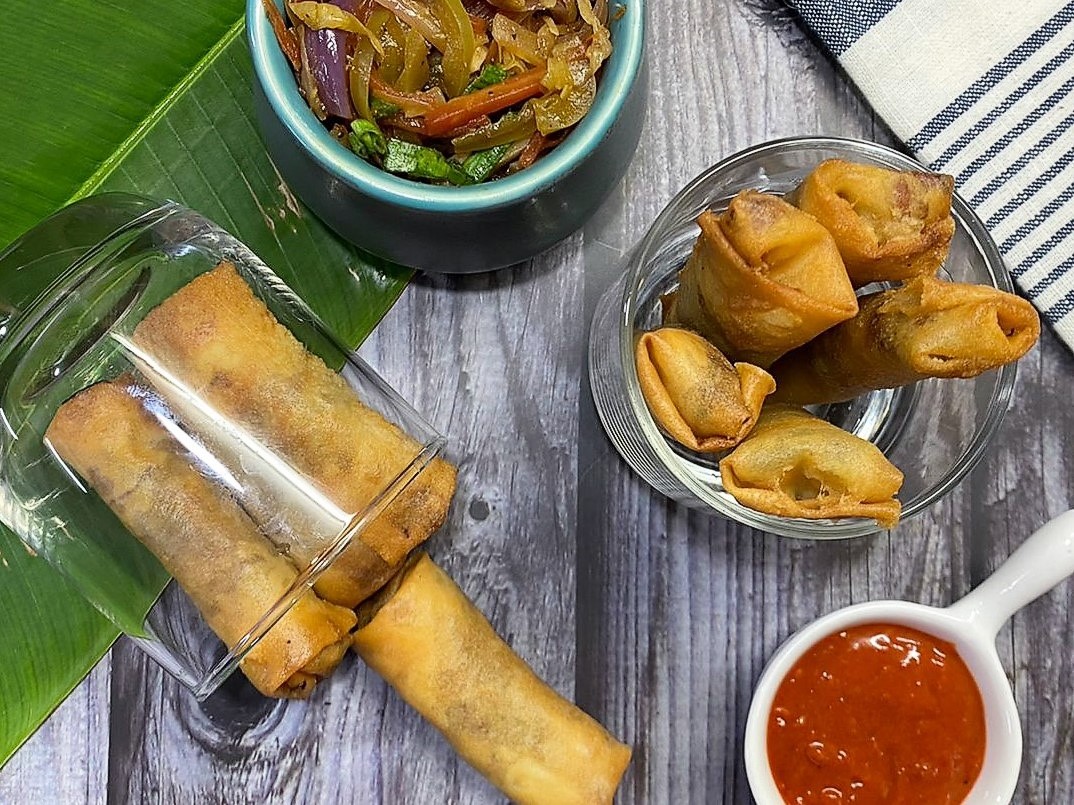 Heat oil for frying. To check if the oil is ready for frying add a small piece of pastry in the oil. If it comes steadily and quickly on the surface, then that means the oil has the right temperature. Slide each spring roll in the hot oil and fry them on medium heat.
Fry the spring roll in batches until they turn golden and crisp on all sides.
Use a slotted spoon to fish them from the oil. Drain the spring roll on a kitchen roll/ absorbent paper to soak up excess oil.
Serve hot with sweet chilli sauce or schezwan sauce.