Thai Green Curry
I think green curry is the best-known curry in Thai cuisine, and one of my favourite too!
This is the first Thai curry that I learned to make from scratch. I used to always buy the premade curry paste and it never tasted the same as a Thai restaurant. Few years ago, I had the opportunity to visit Thailand and I was balled over by the quality of the curry paste. I happened to talk to an old lady in a small market and she told me that premade curry paste will never taste the same as the beauty of the paste is in the freshness of the ingredients. The conversation I had with the lady resonates with me till now.
One thing I also learnt while I was in Thailand is that Thai curry has a mild, creamy, sweet pea green colour. It is not 'leafy green'! It has shades of very subtle green. I do not like artificial colours or preservatives in my food and when I make green Thai curry at home, I always get the similar shades of green I had in Thailand.
As mentioned before Thai green curry uses all fresh ingredients. It is also the only Thai curry in which fresh chillies are used. The proportions of chilli, I have given you here are just a guideline. It can be varied based on your taste and the amount of heat you like in the curry. Thai green curry is traditionally meant to be fiery and hot. I do not like super-hot food, so I use 2-3 hot chillies and 1-2 jalapenos. I always find green curry is the easiest curry to make at home if you have the right ingredients or right alternatives for each. I have written about it in the 'Tips and Variations' section.
I must add here though that please do buy the best quality coconut milk if you make this dish. To check if it is the best quality with no additives is when you open the tin and the coconut cream is floating on top. Some coconut milk tins contain additives or emulsifier that keep the coconut milk from separating. In that case the coconut milk will not separate and is not the best coconut milk for Thai curry. So, if you find a brand which has clear separated coconut milk then you know it does not contain any additives and hence is of a good quality.
Ingredients
Green curry Paste
1 tablespoon galangal/ginger
2 tablespoons chopped lemon grass
4 tablespoons chopped garlic
5 tablespoons roughly chopped red onion
3 roughly chopped green hot chillies
2 deseeded jalapeno chillies
1 teaspoon coriander roots
1 teaspoon kaffir lime leaves
1 teaspoon cumin seeds
1 teaspoon coriander seeds
½ teaspoon black pepper corns
For the curry
1 diced carrot
6-7 baby corns diced
6-7 mushrooms diced
½ cup fine beans
2-3 florets of cauliflower
¼ cup peppers
1 teaspoon palm sugar
1 teaspoon salt
2 cans of coconut milk (400 gm each)
½ cup of Thai basil leaves
Directions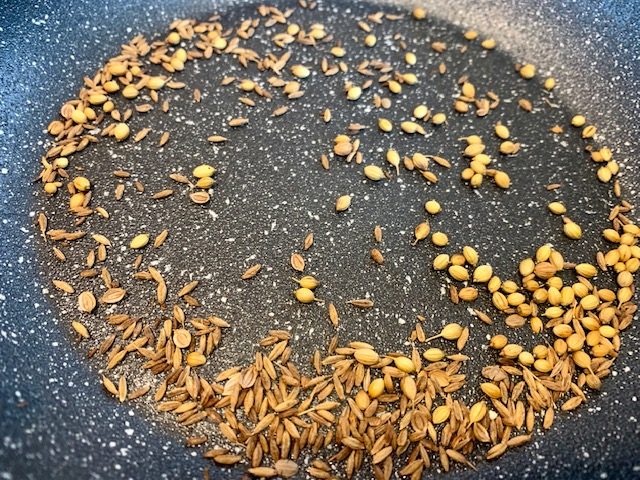 Roast the cumin and coriander seeds over medium heat until they release the aroma and turn slightly brown.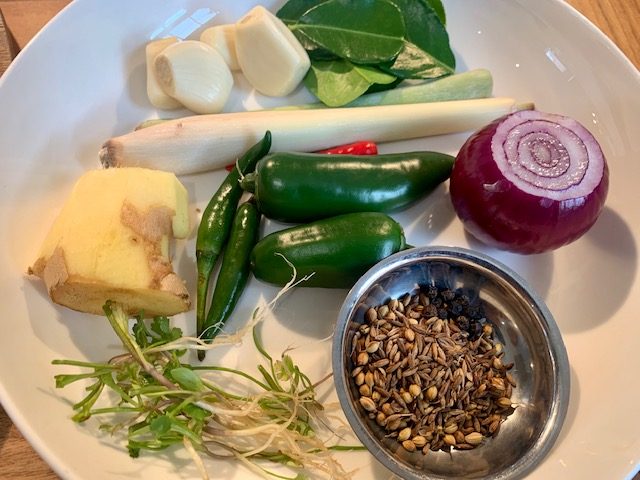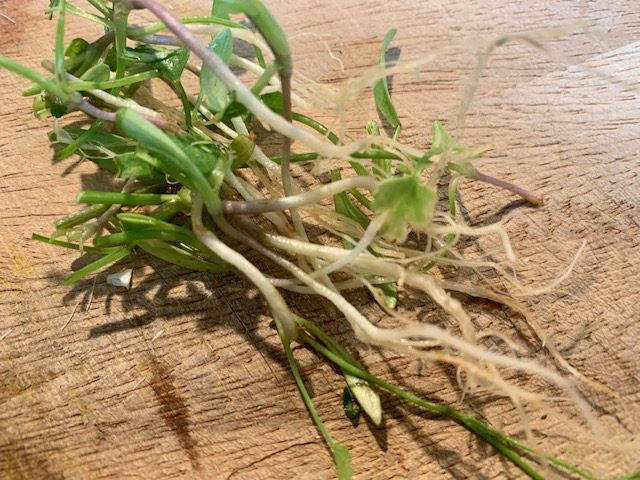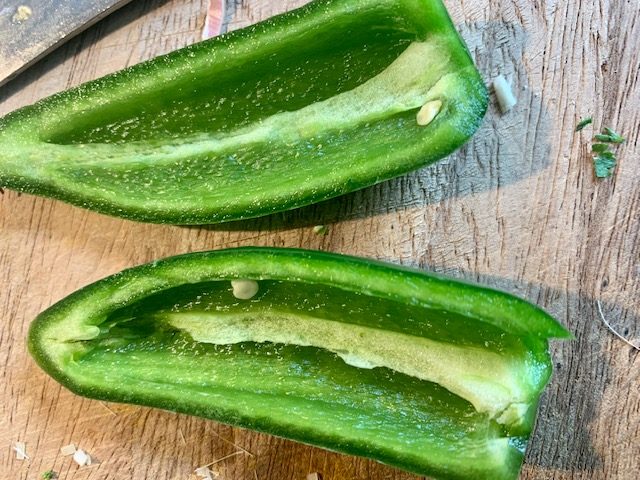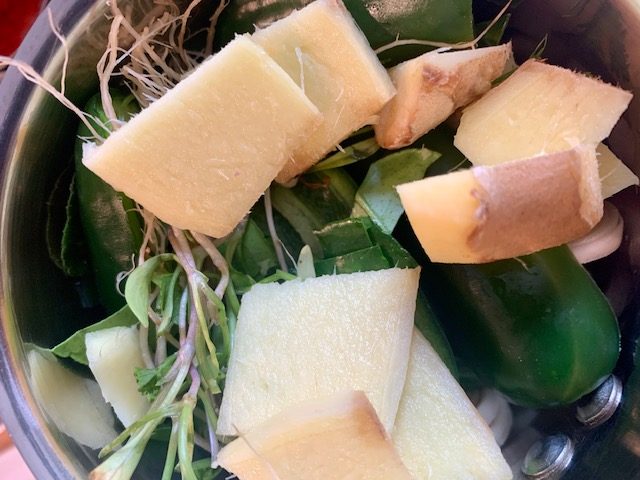 Take all the ingredients for curry paste and grind it into a smooth paste in a blender or using a pestle and mortar.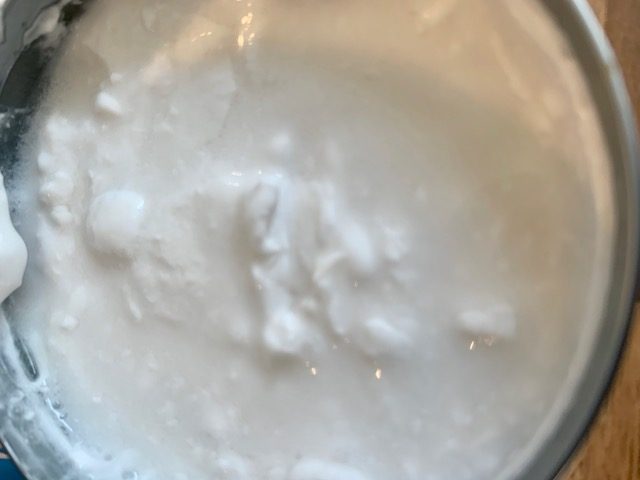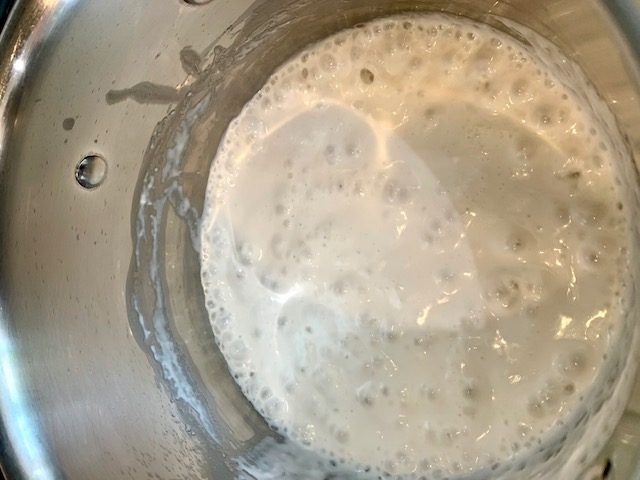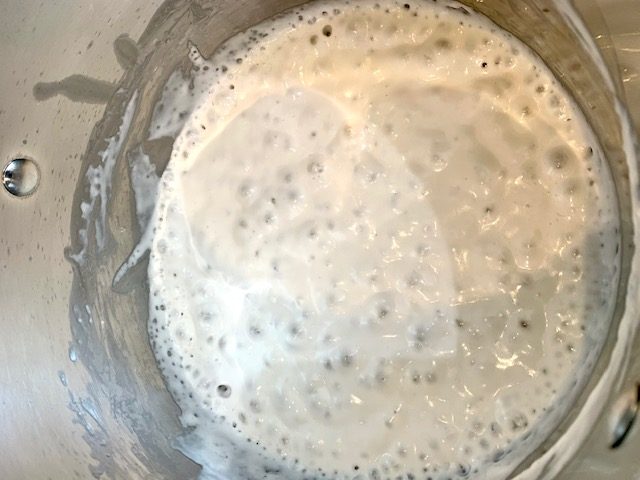 To make the curry, open the cans of coconut milk, carefully remove the thick cream, and spoon it into a large pan. Cook it slowly, stirring all the time, until it reduces to a thick paste and the oil starts to separate. You will see a layer of film start to form and oil separate from the cream. (approximately 5-6 minutes)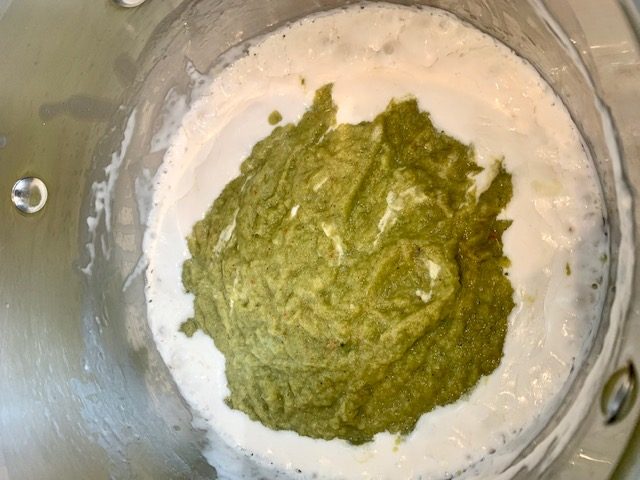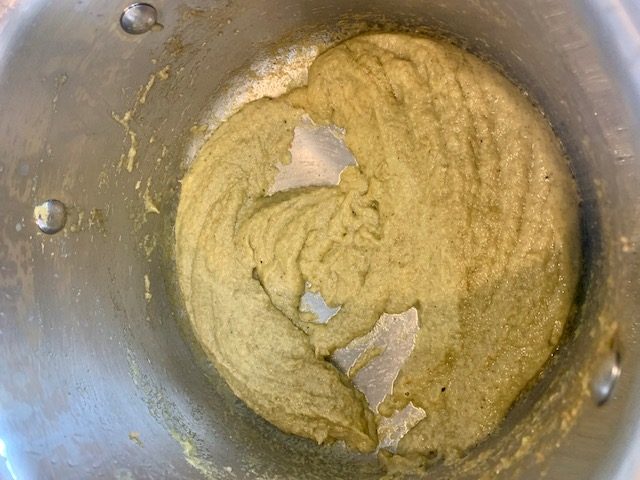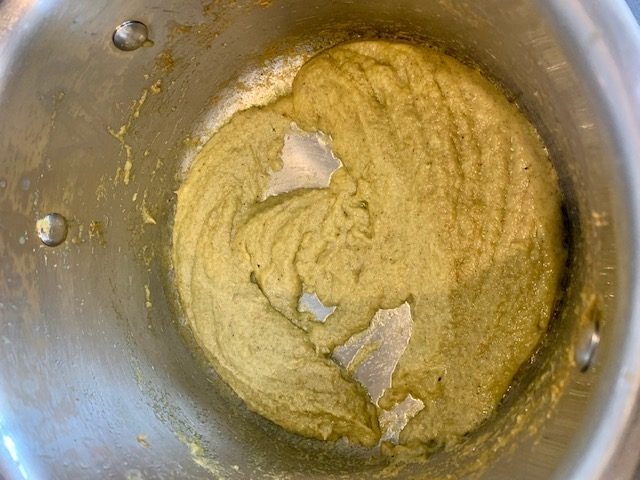 Add the curry paste to the bubbling coconut cream and keep stirring. Keep the heat medium to high at this point. The curry paste needs to be cooked thoroughly or it will make your pot of curry bitter. Cook for approximately 6-7 minutes.  You will notice some oil begins to separate at the ends and at this point we can start adding the vegetables.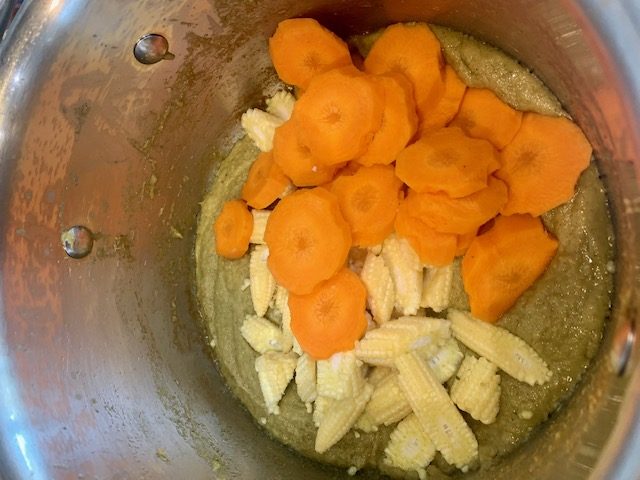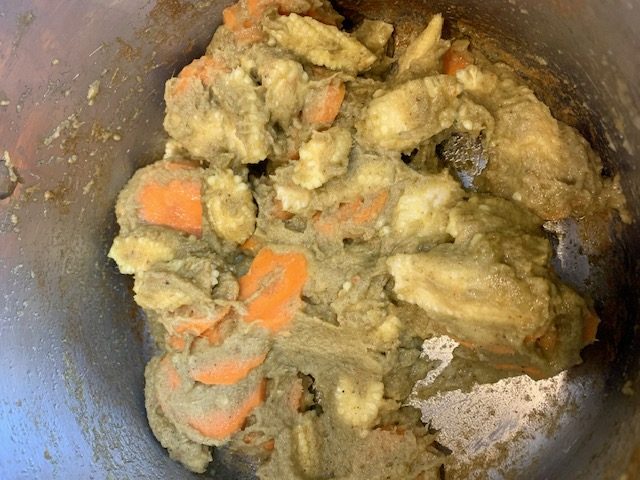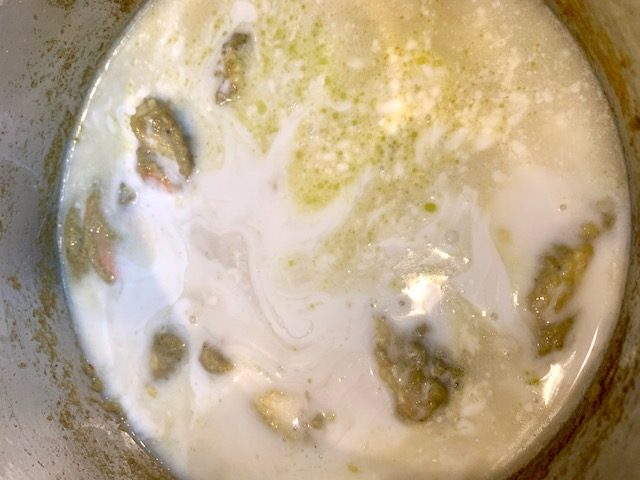 Once you have cooked the curry paste, then you are ready for the vegetables. Add the carrots, baby corn to the cooked curry paste and coconut cream. Pour in the rest of the coconut milk, Let the sauce bubble for about 5-6 mins until the coconut milk starts bubbling.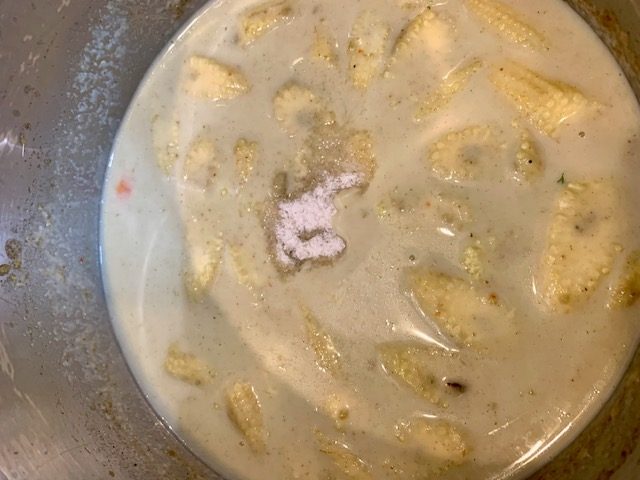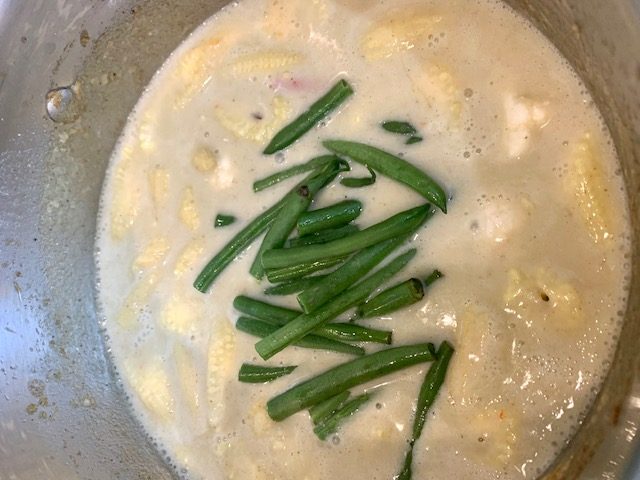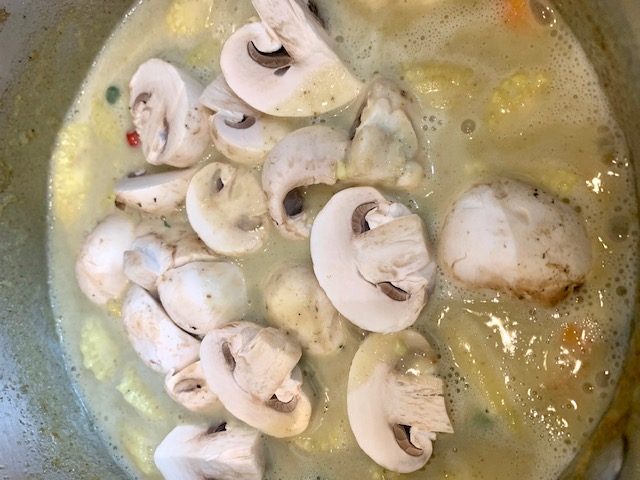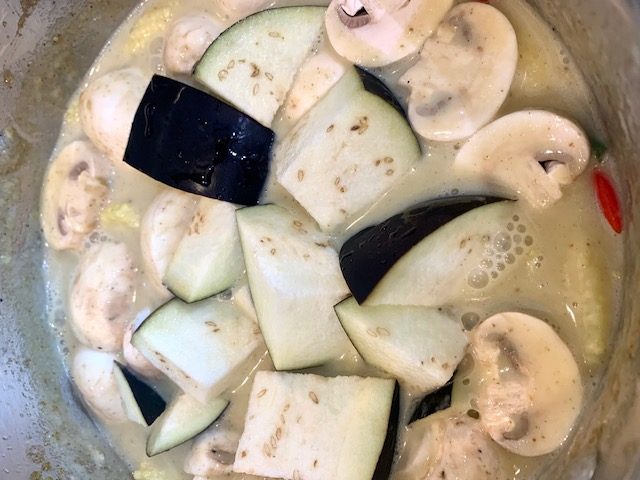 Next add salt, palm sugar, cauliflowers, beans, aubergine and mushrooms.
Taste the sauce to adjust the seasoning at this stage. It should be hot from chilli, sweet from palm sugar and slightly sour from lime leaves. Simmer the curry for approximately 5 minutes or until all the vegetables are just cooked.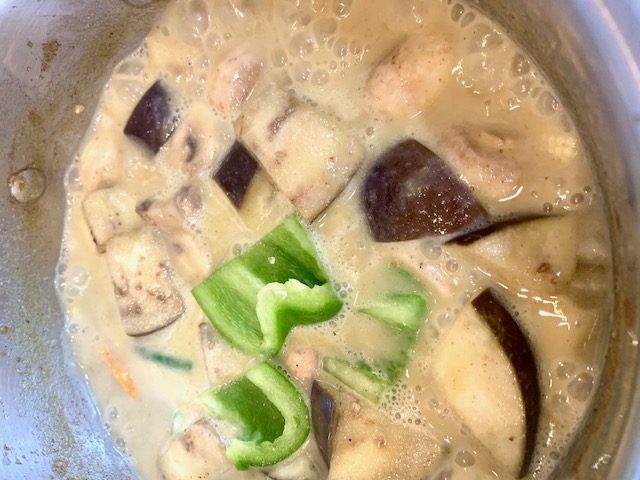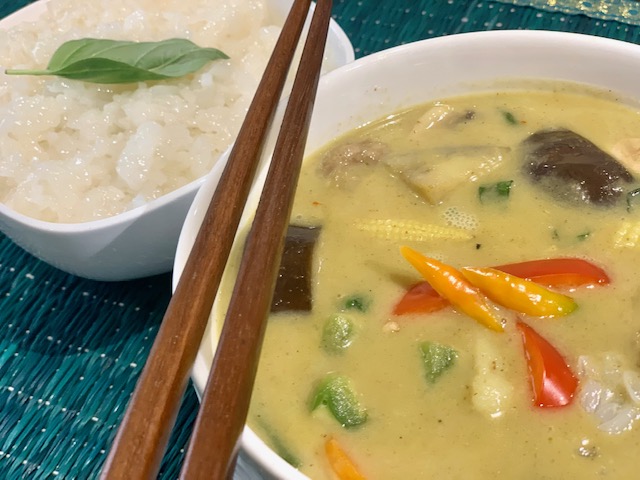 Turn the heat off and scatter over the peppers and Thai basil.
Serve with Thai sticky rice or jasmine rice.